Kids' birthday parties are always a fun (and often chaotic!) time, especially when your child requests a themed birthday party. Even if they're too young to choose a theme, parents often have a great time choosing for them based on what their child shows an interest in. When it comes to the best kids birthday party ideas, the only limits are your or your child's imagination!
And planning your child's birthday party doesn't have to be stressful, either. There are so many amazing, easy, and fun DIY decor and party game ideas that you, your child, and their friends will enjoy. Kids birthday party ideas don't have to be overwhelming!
So, to help you get started, I've rounded up the best birthday party ideas for a kid's birthday. And I've also included birthday party themes that were a huge success for our own kids!
Those will give you tons of ideas for themes and activities that we've already tested out for you to help make your child's special day extra special and give you more than plenty of birthday party ideas for kids of all ages! 🙂
I love putting together birthday parties for my babies and love sharing all the details to help inspire others in their party planning too.
Kids birthday parties and coming up with party ideas for kids doesn't have to be stressful.
You can put as little or as much effort into planning the event as you'd like, all that matters is that the birthday boy or birthday girl feel special on their day!
It fills my heart with such joy to see my children's eyes open wide when they walk out and see their party decorations on the day of the event.
They love all the party food, the treats, the birthday cake, the party favors, the photo booth, the birthday party games and all the FUN!
From their first birthday party as a baby and beyond it's all about making the memories and taking all the photos to capture the Happy Birthday joy.
I hope these birthday party ideas for kids help to inspire your next celebration!
Disclaimer: this post contains affiliate links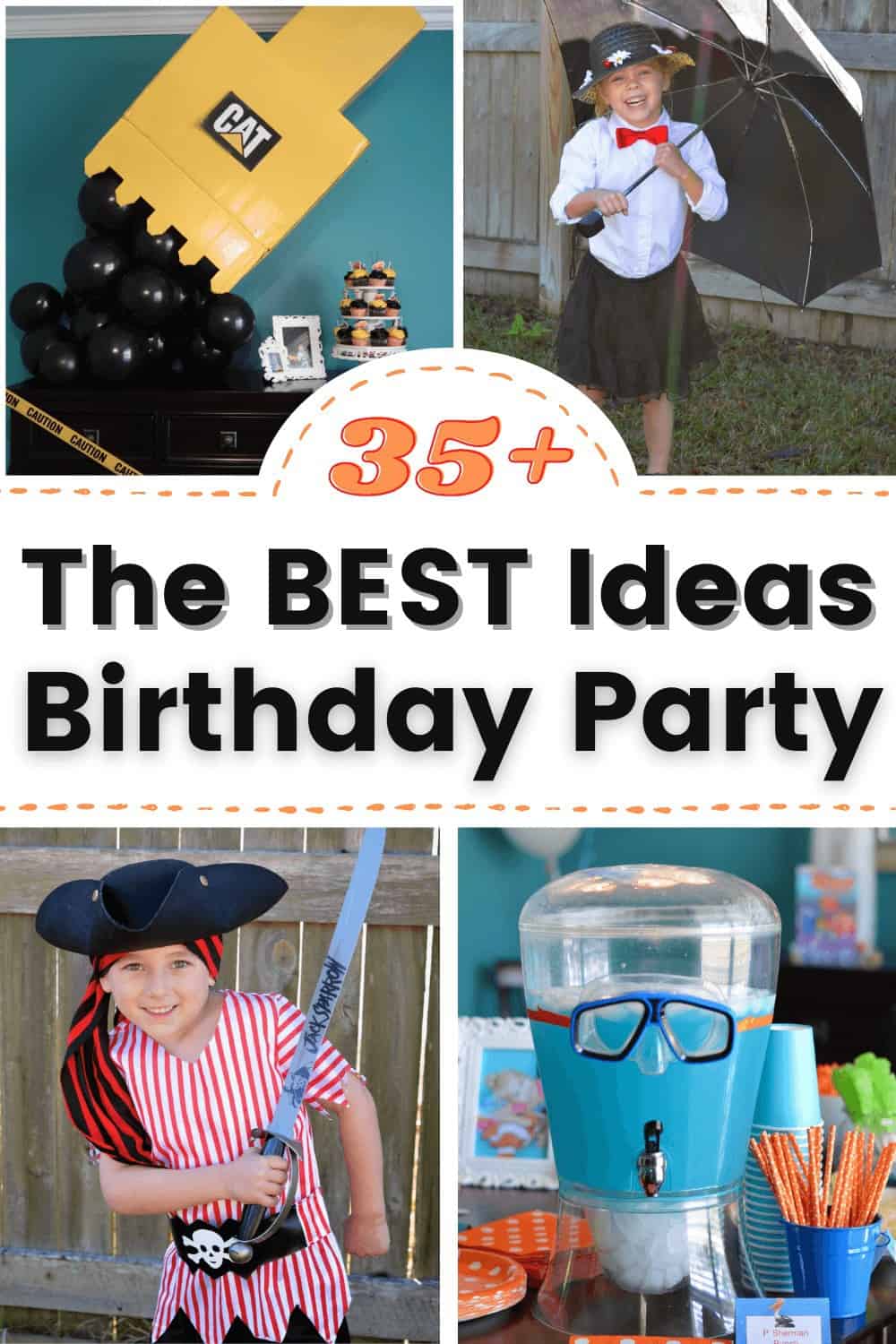 Kids' Birthday Party Ideas: Best Activities
There are as many options for party games as there are for party themes, but which activities you choose and come up with ideas for kids birthday party depends on several factors.
The number of kids at the party, whether they're older kids or younger children, and what you know your child enjoys. It's all about knowing your family and what's a priority for your family life at your current stage in parenting.
For younger kids, you know those energy levels are going to be up high. (Especially with all the sugar!)
So active games like hide-and-seek, tag, relay races, an obstacle course, or even a bounce house or trampoline are all great ideas. 
One great way to keep a group of young children entertained is to have a dance party! Not only is it fun, it's easy to set up right in your living room and doesn't require any fancy party supplies.
You can even turn it into a game, where they have to freeze when the music stops. Kids love it and it's among one of the easiest kids party ideas there is!
Another easy way to ensure all your party guests have a good time is to throw the party someplace where kids can play.
A local park is always a great place, especially if it has an outdoor picnic area, too. Many local businesses also offer options for birthday party places.
Maybe a trampoline park, gymnastics facility, local swimming pool, or other kid-centered fun play places! Children birthday party ideas don't need to require a clean house or a bunch of guests invading your home – take the party on the go and keep it easy for yourself.
You can even still have kids birthday party themes by bringing along a themed birthday cake, themed birthday balloons or themed birthday banners and other decorations.
For older kids, you might be able to do activities that are more complex, like arts and crafts or an ice cream sundae bar.
I've also heard that food trucks are becoming super popular to cater a child's birthday party, which can be really fun, especially for older kids who know what foods they like to order!
Older kids may also enjoy local attractions for their parties like going to play laser tag, arcade games, paintball, movie theaters, or even an escape room!
No matter what the age of my kids they ALL love it when I come up with themed party food ideas.
It doesn't have to be elaborate, just come up with your party theme and think of ways to make simple food items fit that theme. A simple and fun way to add a special touch to the party theme.
Even something as simple as hot dogs can become lightsabers or slinky dogs or hot diggity dogs. Make a little label and a creative name and bam! Party food ideas are done and you've got a super cute theme your kids will love.
—–> Need tips for how to plan a birthday party for kids? Check out this post!
Best Kids' Birthday Party Ideas
Here is my comprehensive list of kids' birthday party ideas, organized by themes that are geared for boys, geared for girls, and geared for any kid! Kid party ideas for ALL ages and genders.
Here are epic party ideas kids love for their celebrations:
Best Kids' Party Ideas for Boys
When you're planning a party for your birthday boy, there are tons of fun themes to choose from.
From cars to dinosaurs to video games, no matter what your little man likes, decorating and finding fun activities is a no-brainer.
Here are some great ideas for a kids birthday party geared towards younger or older boys, though of course there's no age requirement!
Kids Birthday Party Ideas: Car Themed Birthday
Red, yellow, and green balloons, a table decorated to look like a paved road, and orange traffic cones are all perfect for a car-themed birthday!
What little guy doesn't love vehicles? A car themed event would be fantastic for a toddler or preschool birthday party! And a cute activity idea could be racing the cars along a homemade track.
Check out Car Themed Birthday Ideas Here!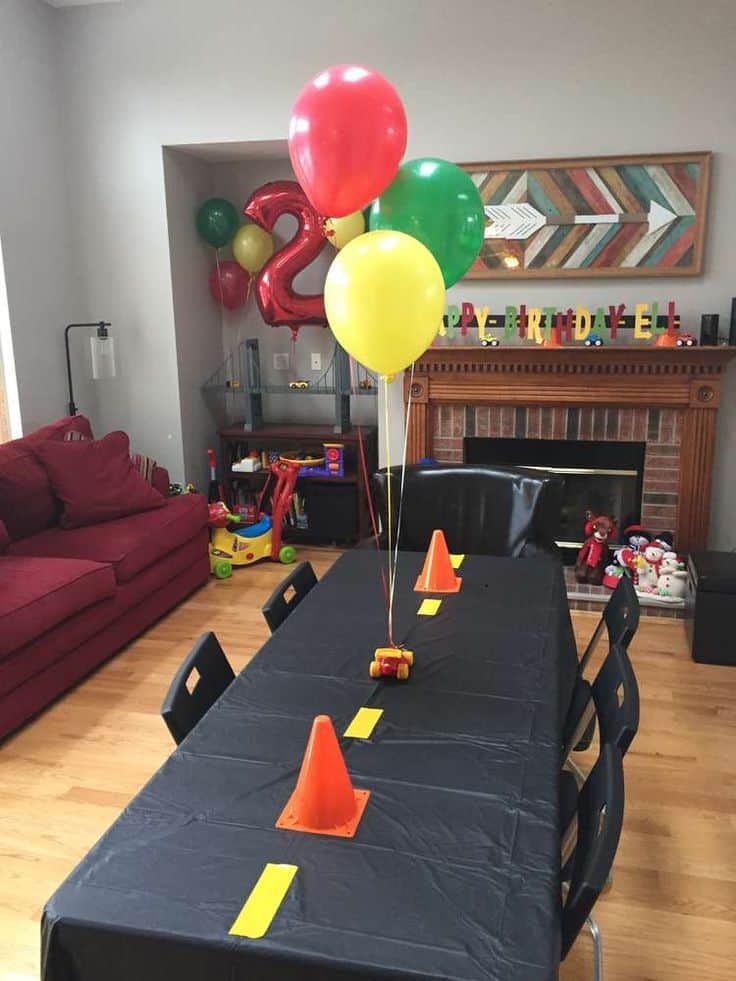 Birthday Party Ideas for Kids: Paw Patrol Party
Paw Patrol is super popular with kids, especially little boys! If your child loves it, then they're sure to love a Paw Patrol-themed party. (And these days, you can find merchandise everywhere!)
Check Out Paw Patrol Birthday Ideas Here!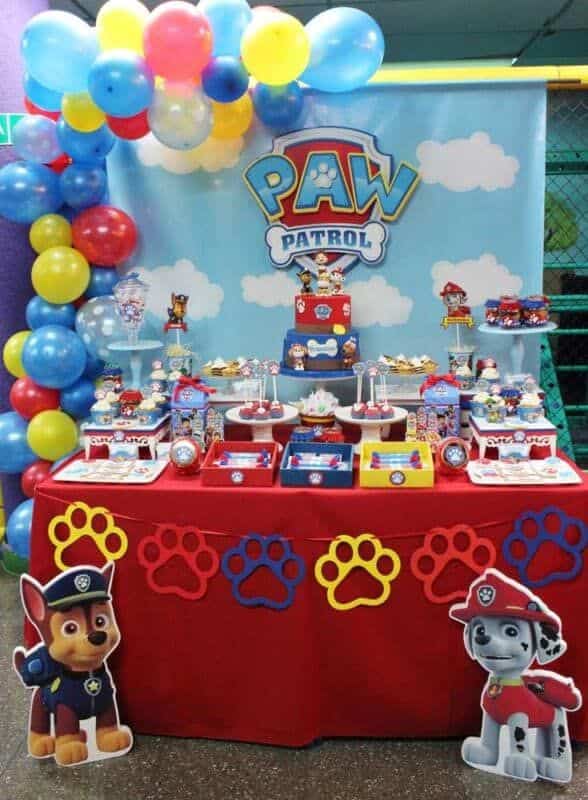 Kids Party Ideas: Construction Birthday Party
Dump trucks, construction tape, and black balloons turn your living room into a fun, festive construction site!
Check out Construction Birthday Party Ideas Here!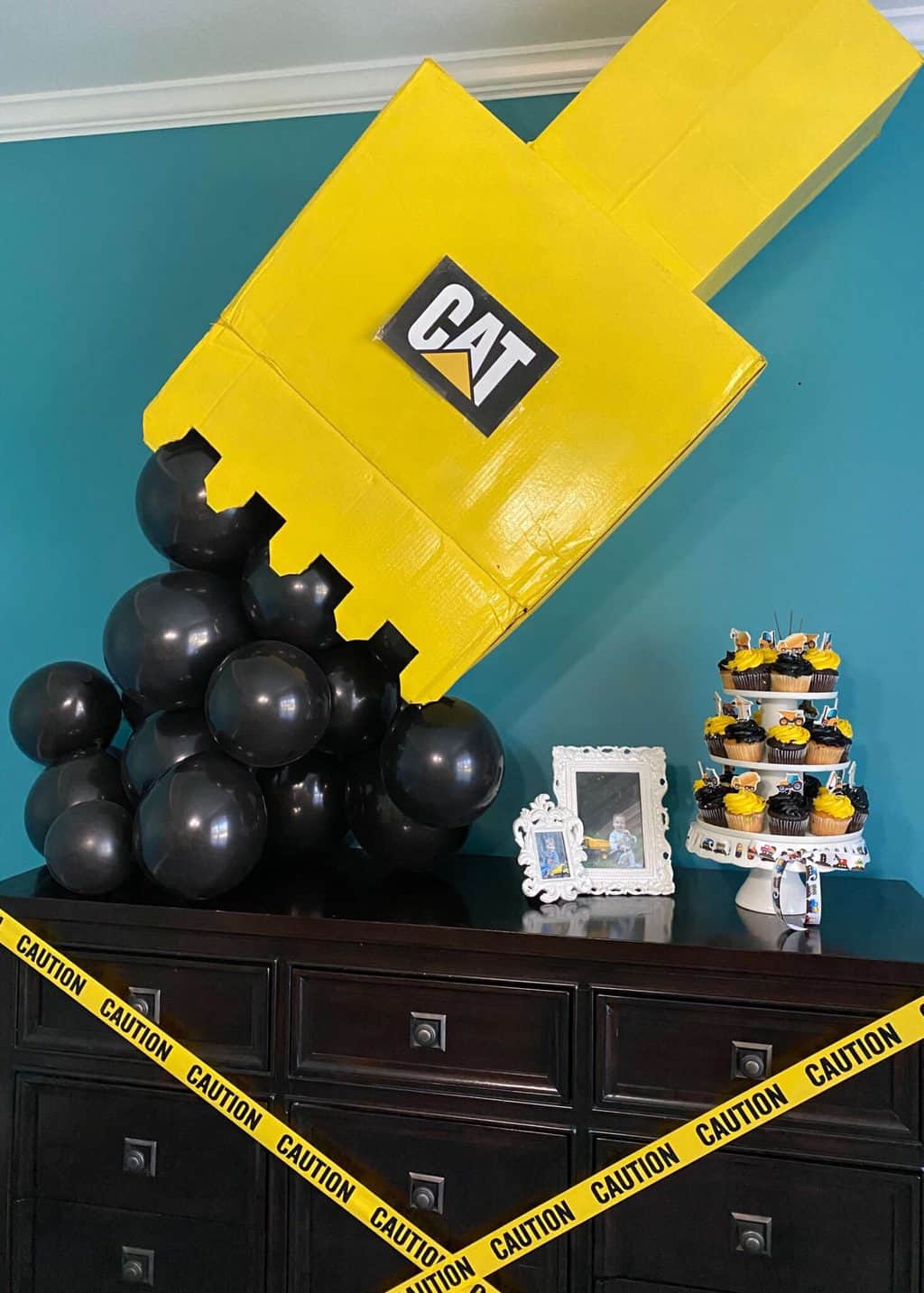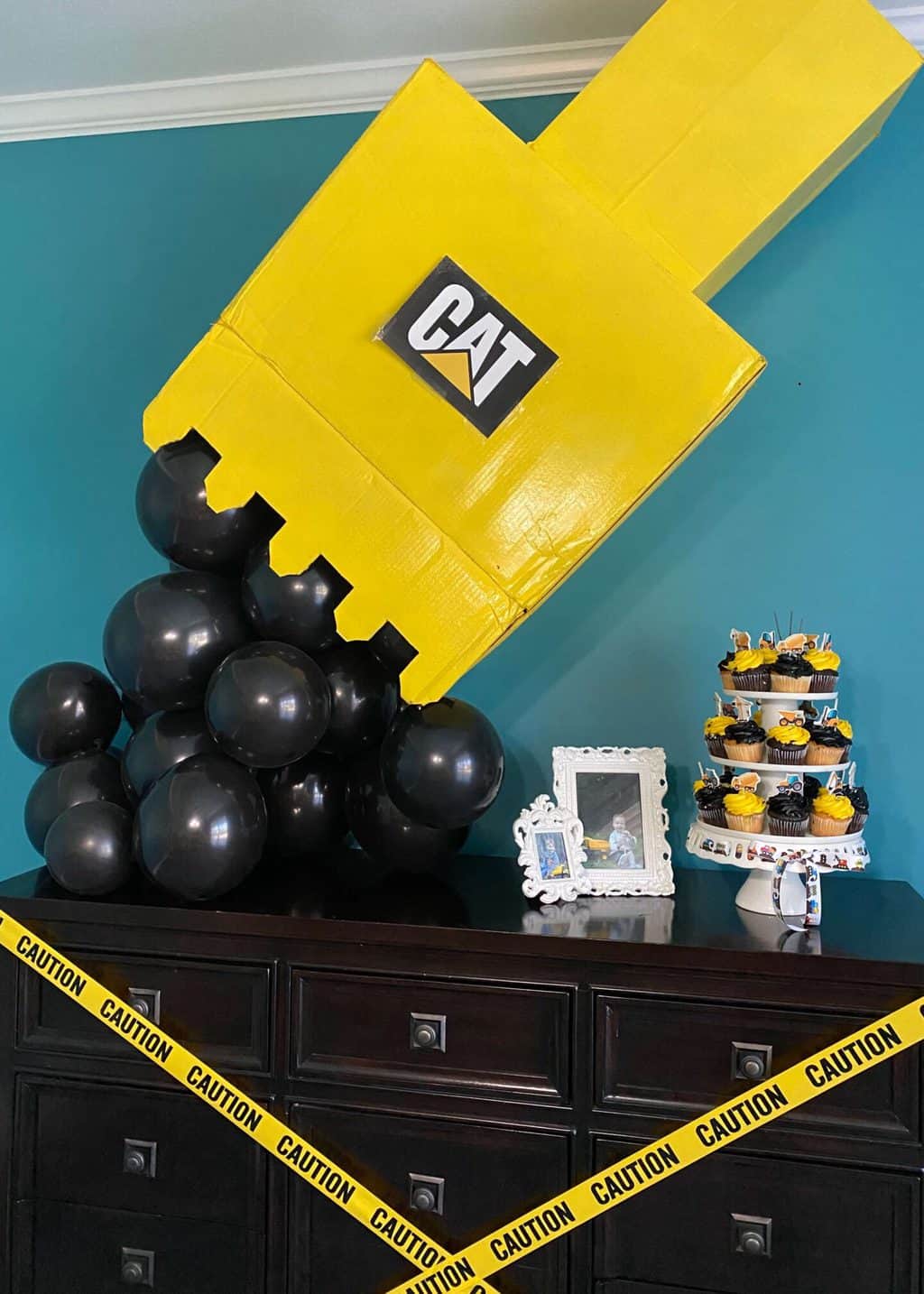 Kids Birthday Party Ideas: Pirate Party Decor
Kye loved when we threw him a pirate-themed birthday party.
There are so many fun pirate-themed activities you can do (including a scavenger hunt turned into treasure hunts!), it's enough to make you want to say, "ARGGG!" (In a good way!)
Check Out Pirate Party Decor Here!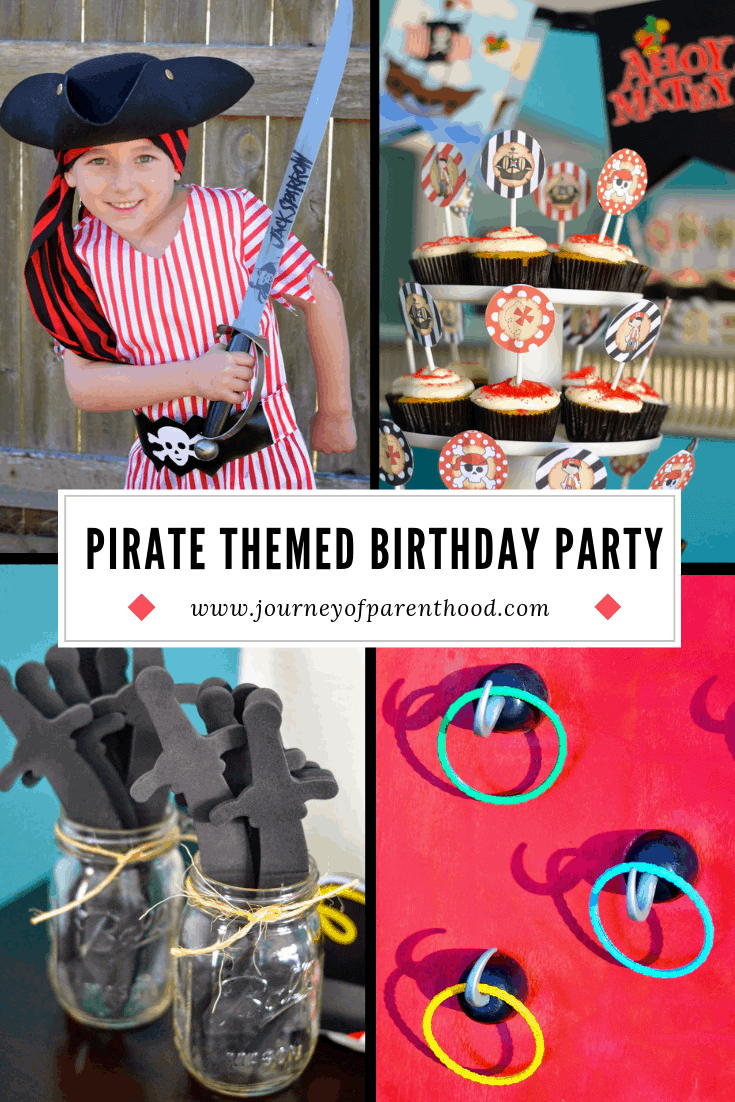 Party Ideas for Kids: Firetruck Party Decorations
If your little boy loves fire trucks, he'll love this firetruck-themed party! Lots of red and lots of fun! A great kids party theme for those who love rescue vehicles 🙂
Check Out Firetruck Party Decor Here!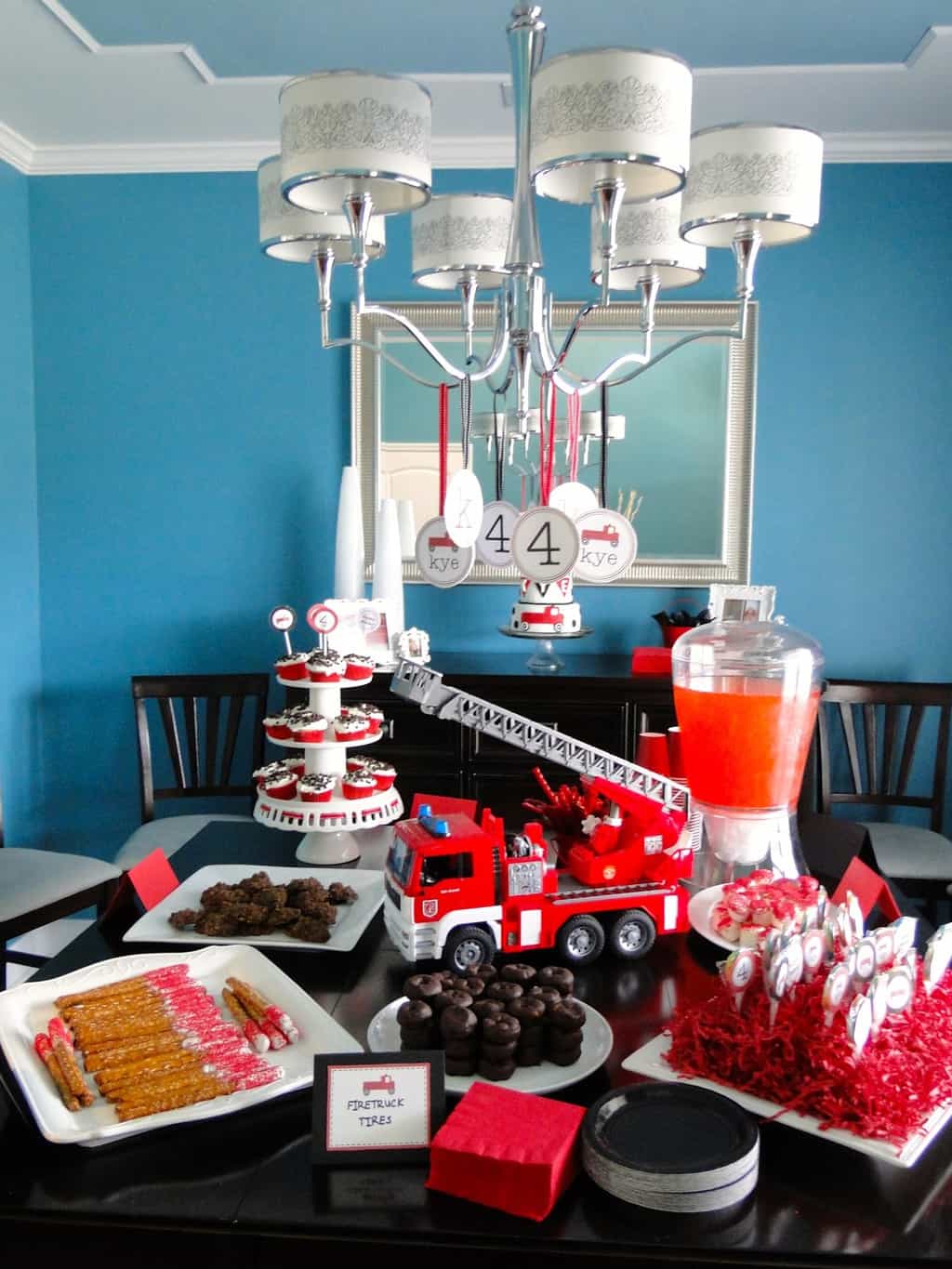 Ideas for Kids Birthday Parties: Lego Birthday Party Ideas
Legos are not only a classic toy, they're also a classic party theme! The amount of fun lego-shaped snacks you can make is amazing! So easy and so fun!
Check Out Lego Birthday Party Ideas Here!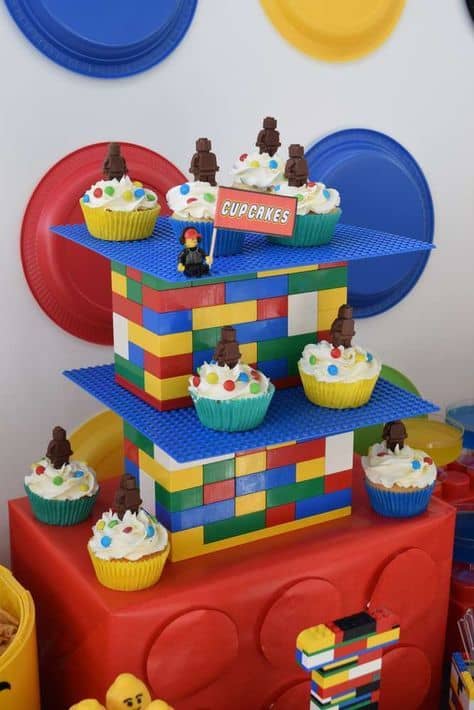 Kid Party Ideas: Dinosaur Birthday Theme
What little boy doesn't love dinosaurs? You can go wild with a dino theme and even come up with fun outdoor activities like a fossil dig (aka toy dinosaurs in a sandbox!)
Check Out Dinosaur Birthday Theme Here!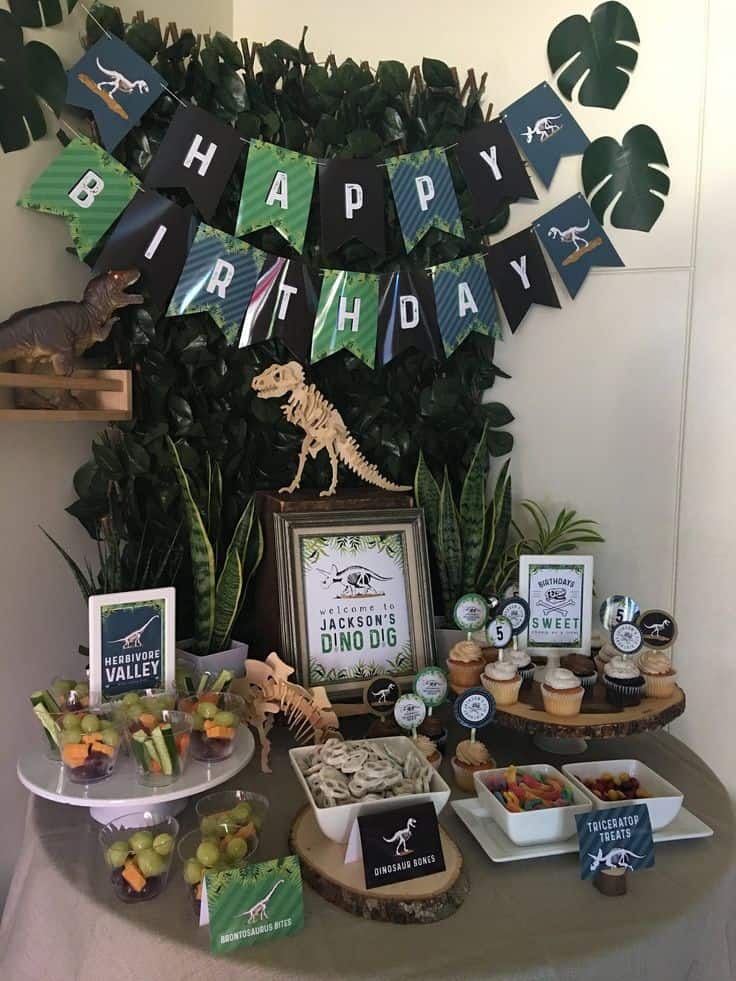 Kids Birthday Party Themes: Train Birthday Theme
You can always count on trains to be a crowd favorite!
With a few conductor hats and some wooden trains to paint, everyone will be on board!
Kindergarten birthday ideas are always tricky to find and this adorable train theme could be perfect 🙂
Check Out Train Birthday Theme Here!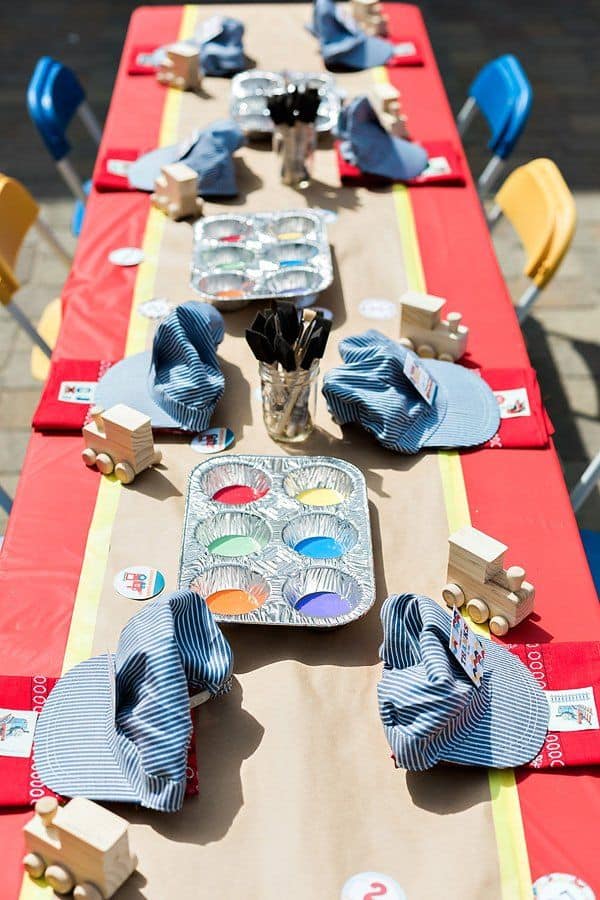 Kids Party Themes: Star Wars Party Decor
What's more popular right now than Star Wars? Kids of all ages love it, and if your birthday boy is one of them, then you can count on it being a fun party!
When you view this post you'll also see some easy out of this world recipes!
Check Out Star Wars Party Decor Here!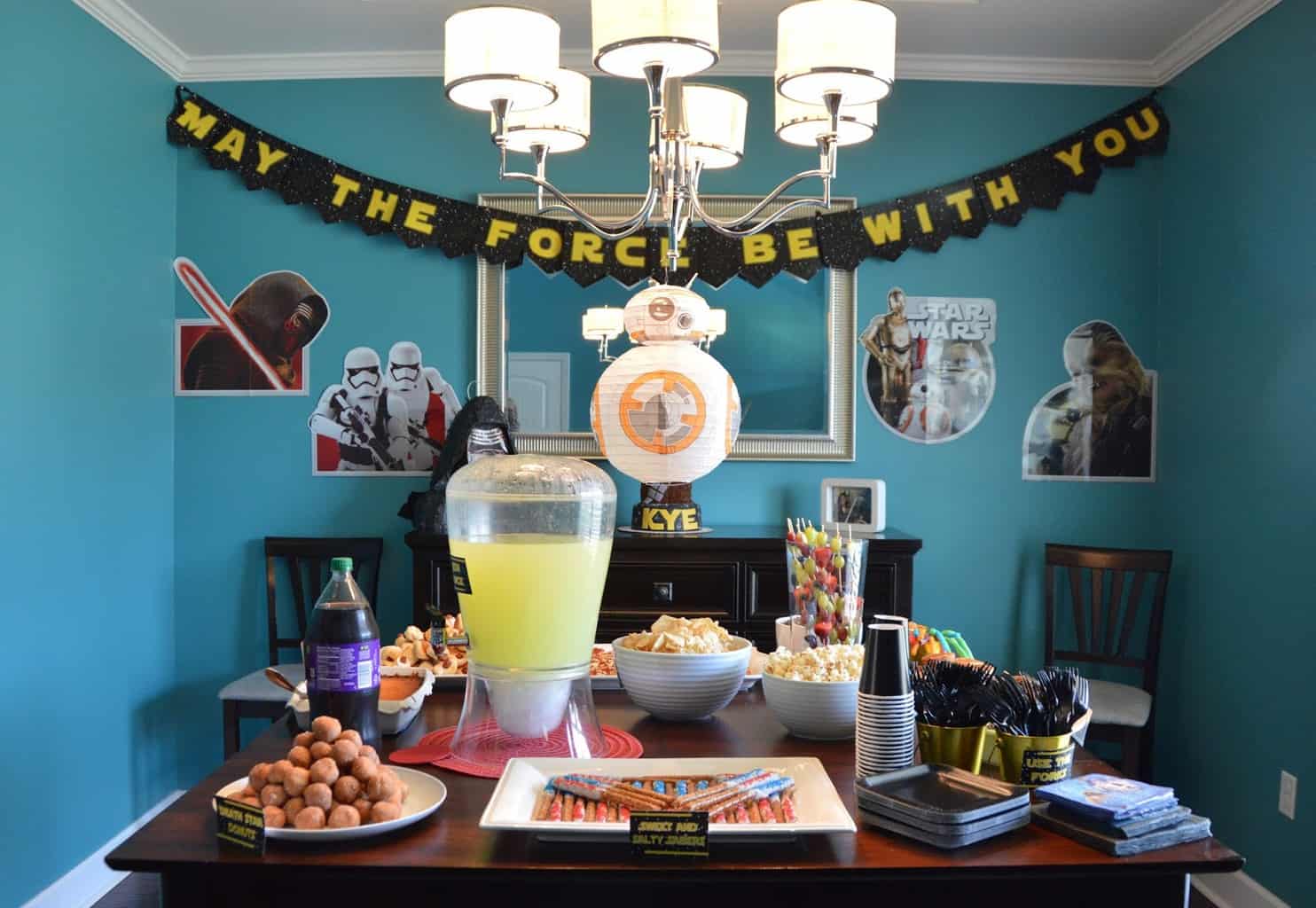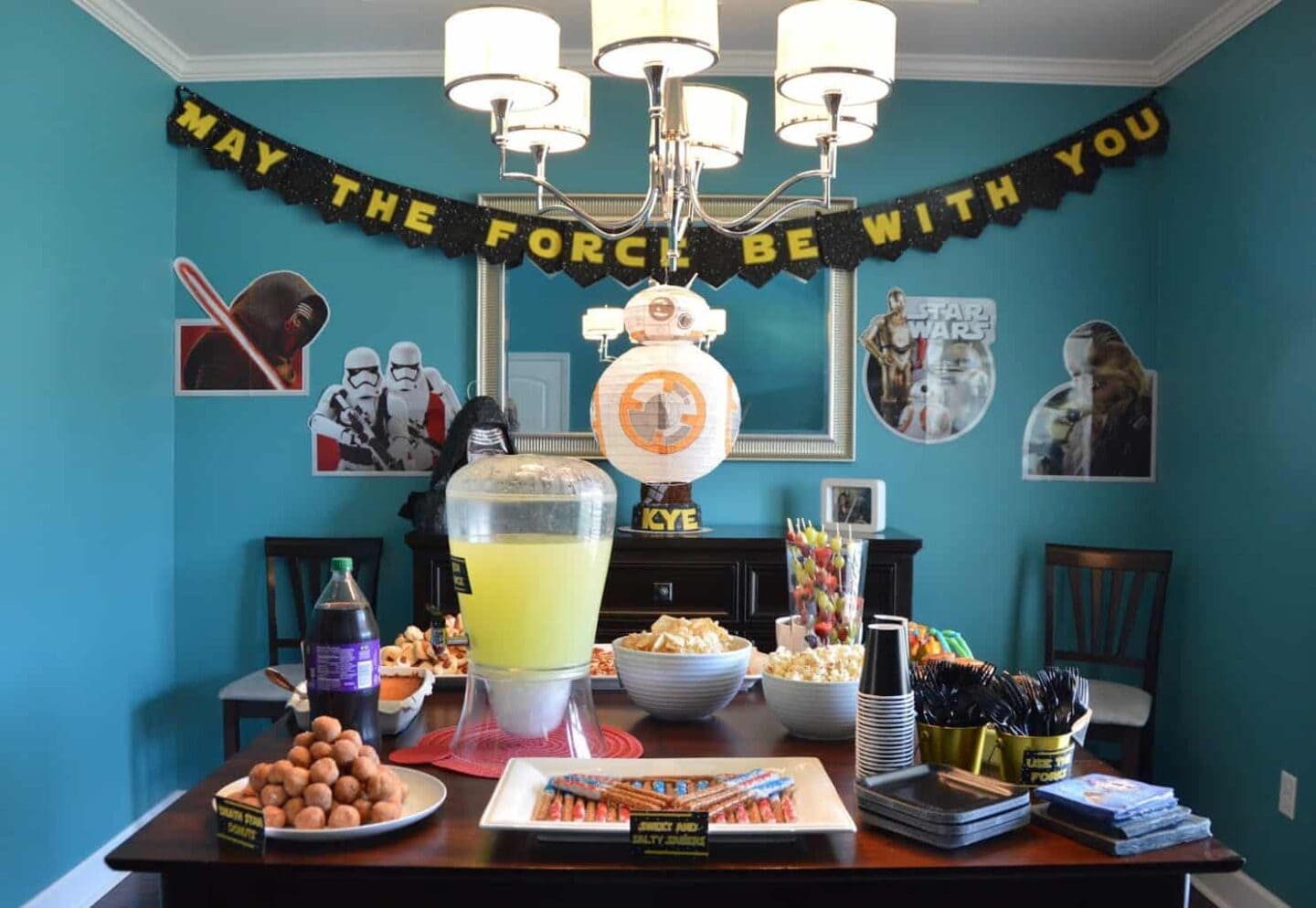 Best Kid's Birthday Party Ideas: Army Party Ideas
I actually helped put together this super fun army party for my mother in law on her 60th birthday.
It turned out SO adorable and would be so perfect for any little soldier or military loving boy.
Or would also be fantastic for an adult themed get-together too. We loved the army theme and all dressing in camo!
Check Out Army Party Ideas Here!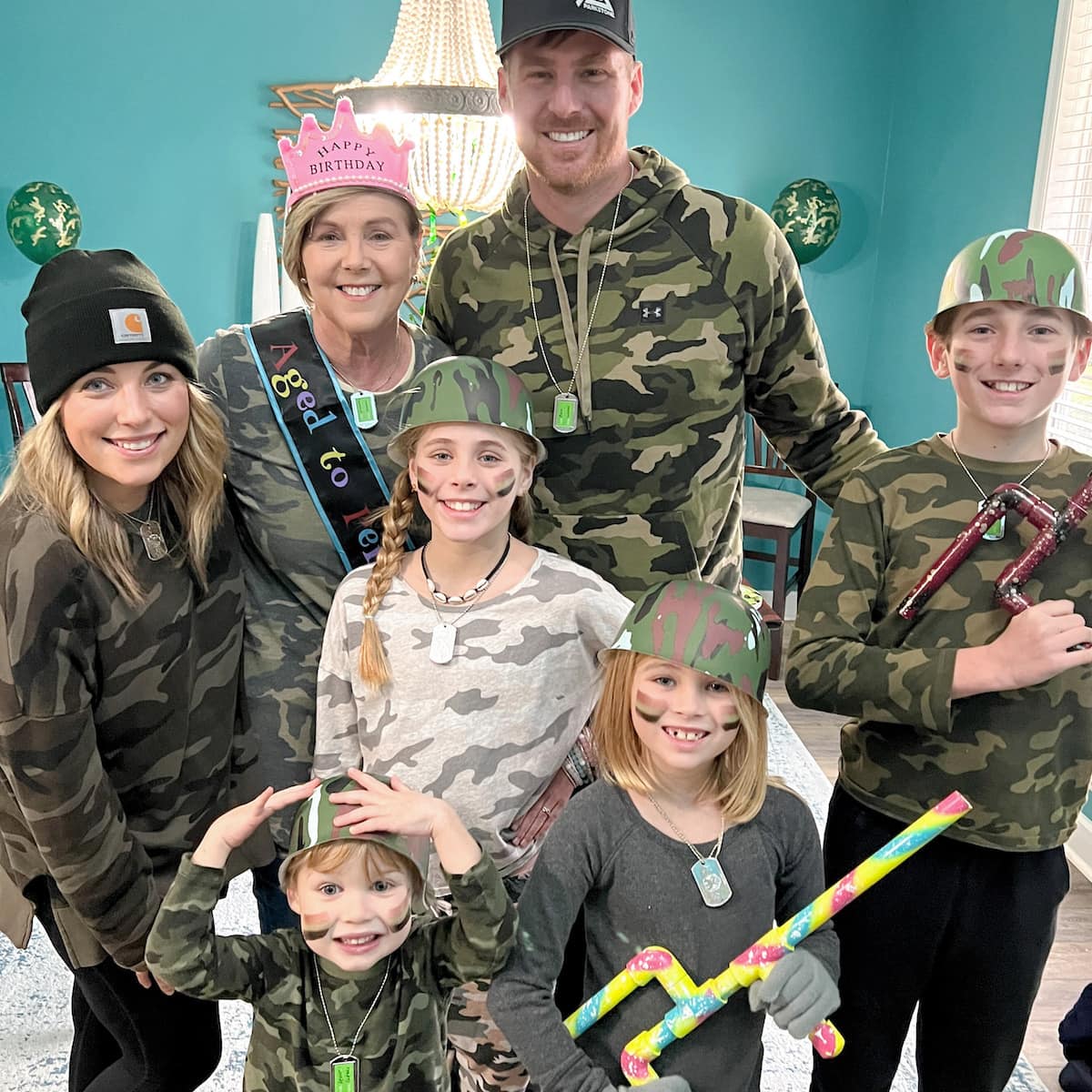 Ideas for Kids Birthday Party: Football Birthday Party
Even though I put football in the "older boys" category, as you can see, little boys love it, too! Our youngest, Spear, had a blast at his football-themed 2nd birthday, "Fear the Spear!"
Boys birthday party ideas gotta involve some sports right? Sports and boy birthday themes just go hand in hand!
Check Out Football Birthday Party Ideas Here!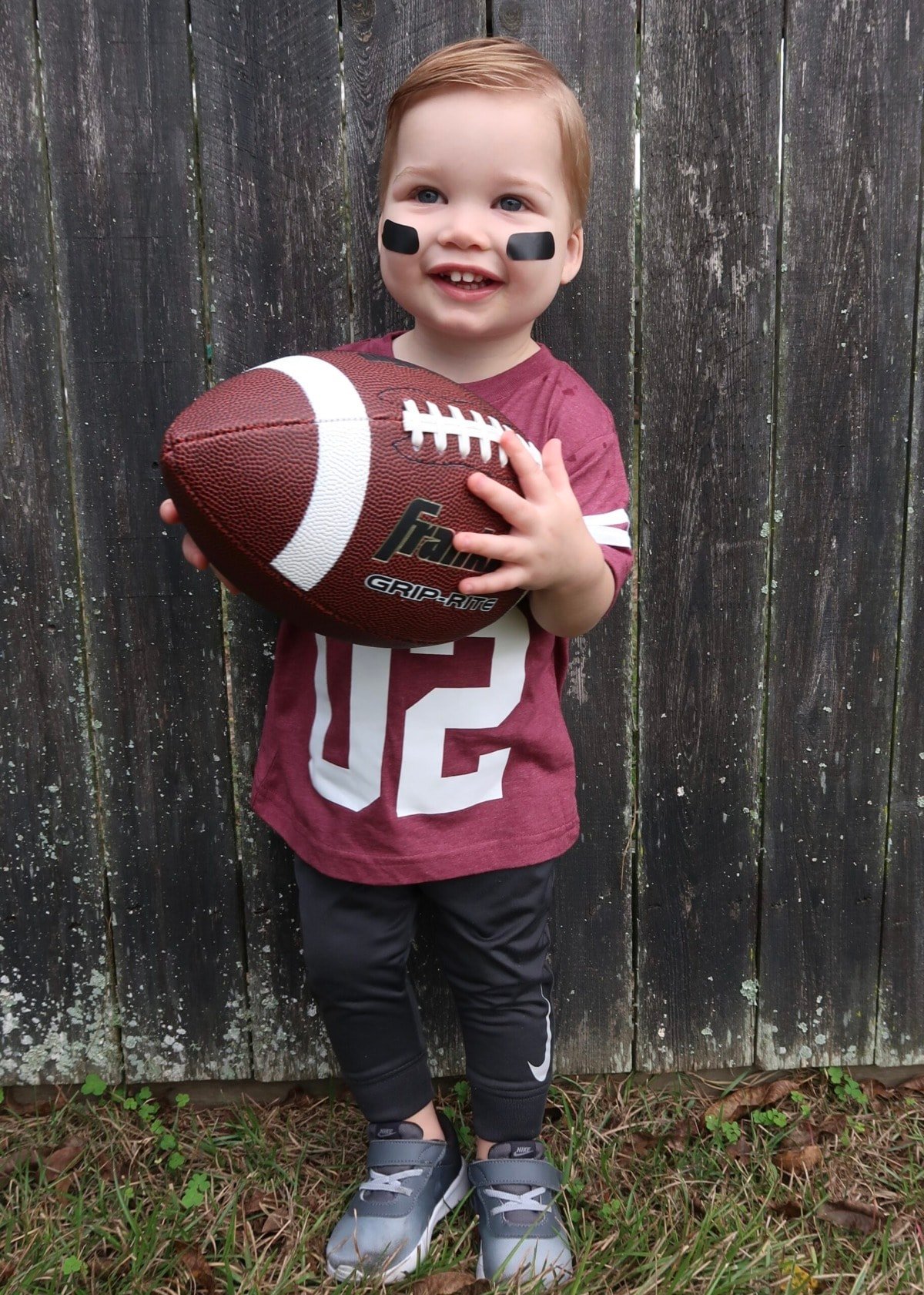 Birthday Party Themes for Kids: Woody Party Decorations
We loved throwing a Toy Story-themed party for our oldest, Kye! If your child loves Toy Story, too, then you'll love these ideas!
Check Out Woody Party Decorations Here!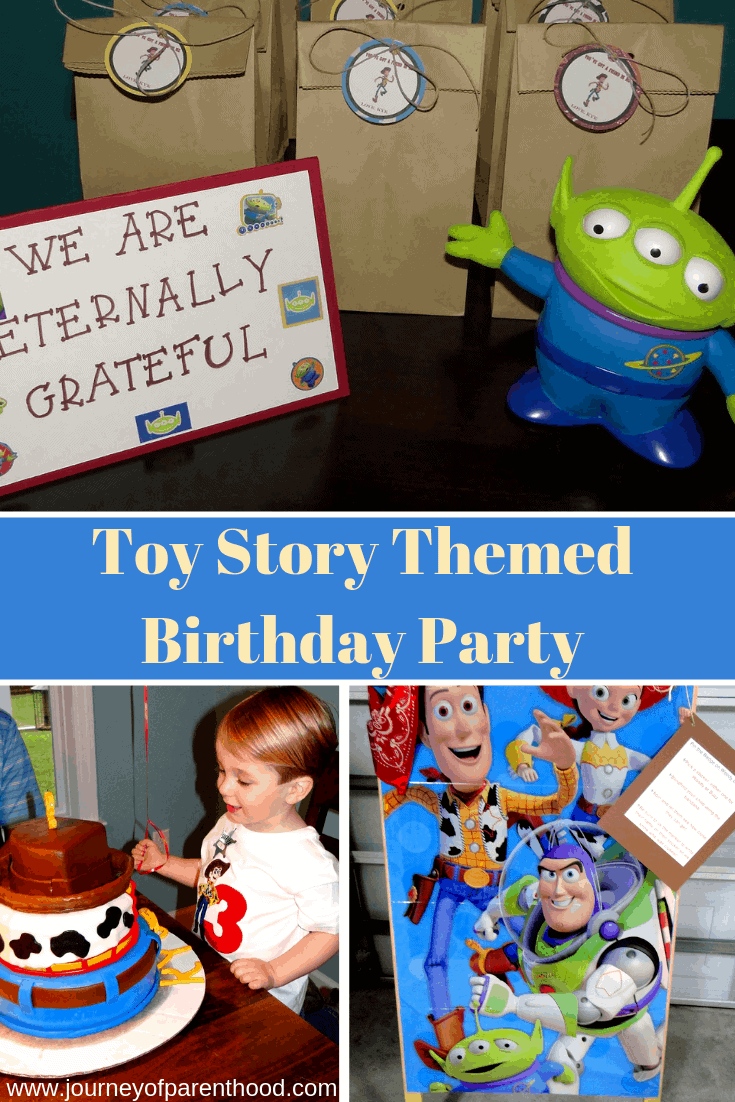 Kids Party Idea: Golf Party Decor
Sports themes are often popular with boys, and a golf theme is no exception!
Check Out Golf Party Decor Here!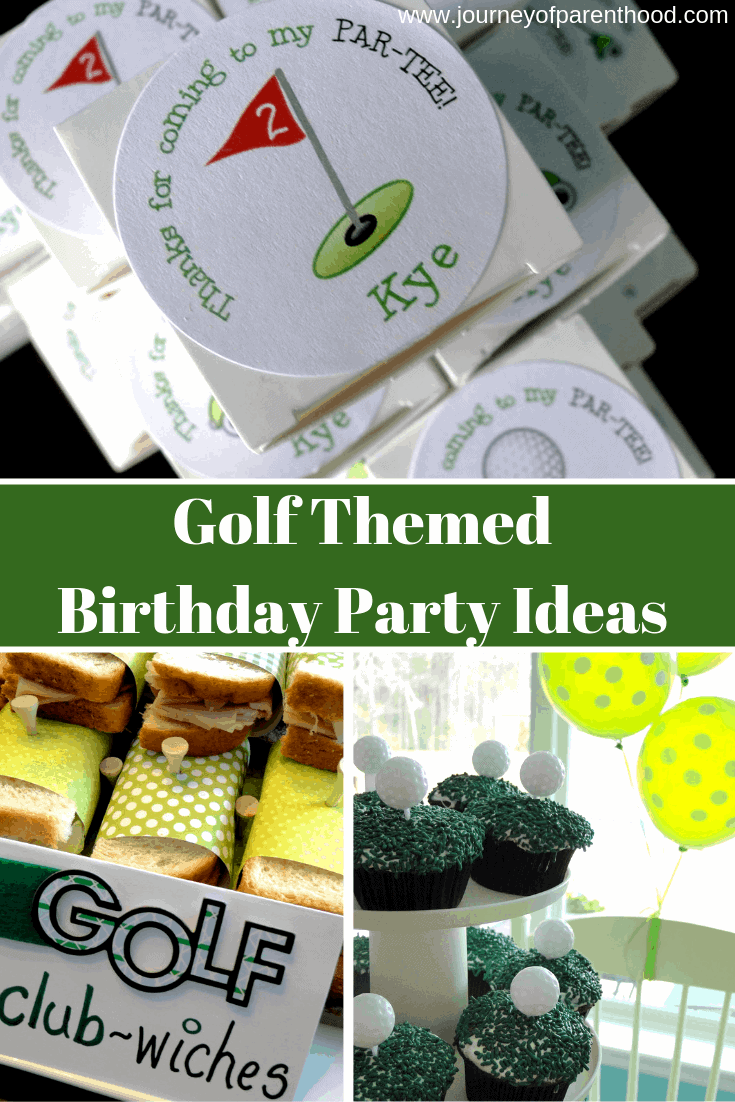 Kids Birthday Themes: Outer Space Party Decor
The sky's the limit when you do an outer space or astronaut theme! Rockets, silver balloons, and a moon-shaped cake make it out of this world!
Check Out Outer Space Party Decor Here!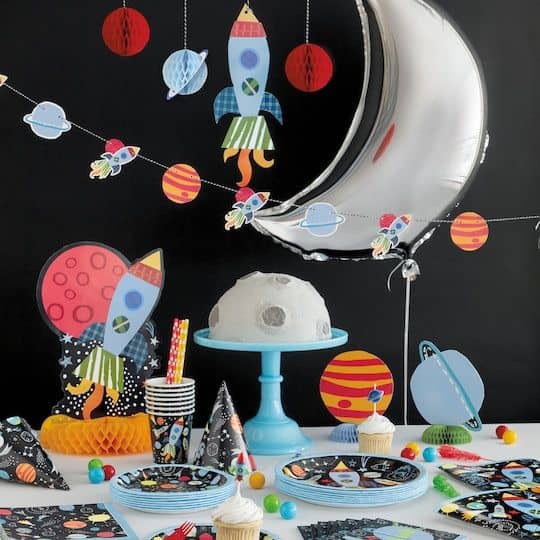 Best Kids Birthday Party Ideas: Super Mario Birthday Theme
If your birthday boy is a video game fan, chances are he's played Super Mario Brothers. Fun, family-friendly, and classic, it makes a SUPER fun birthday theme!
Check Out Super Mario Birthday Theme Here!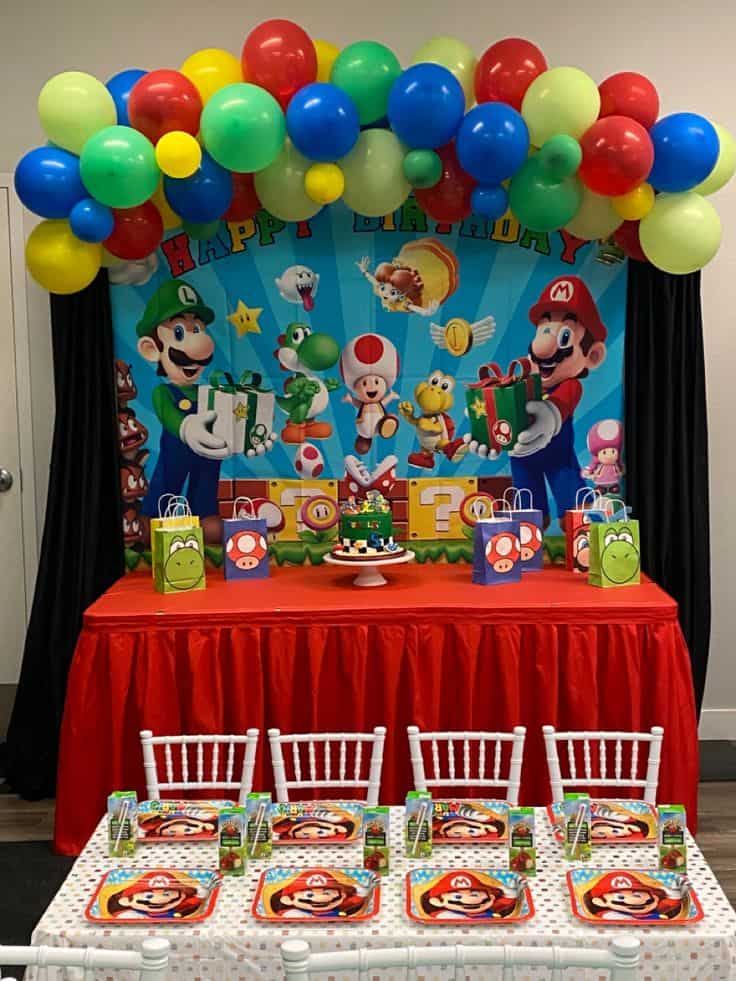 Birthday Parties for Kids: Super Hero Birthday Party
Last but not least, you can't go wrong with a super hero theme! I included a general one here, but if there's a specific character your little boy loves, go for it!!!
Check Out Super Hero Birthday Party Here!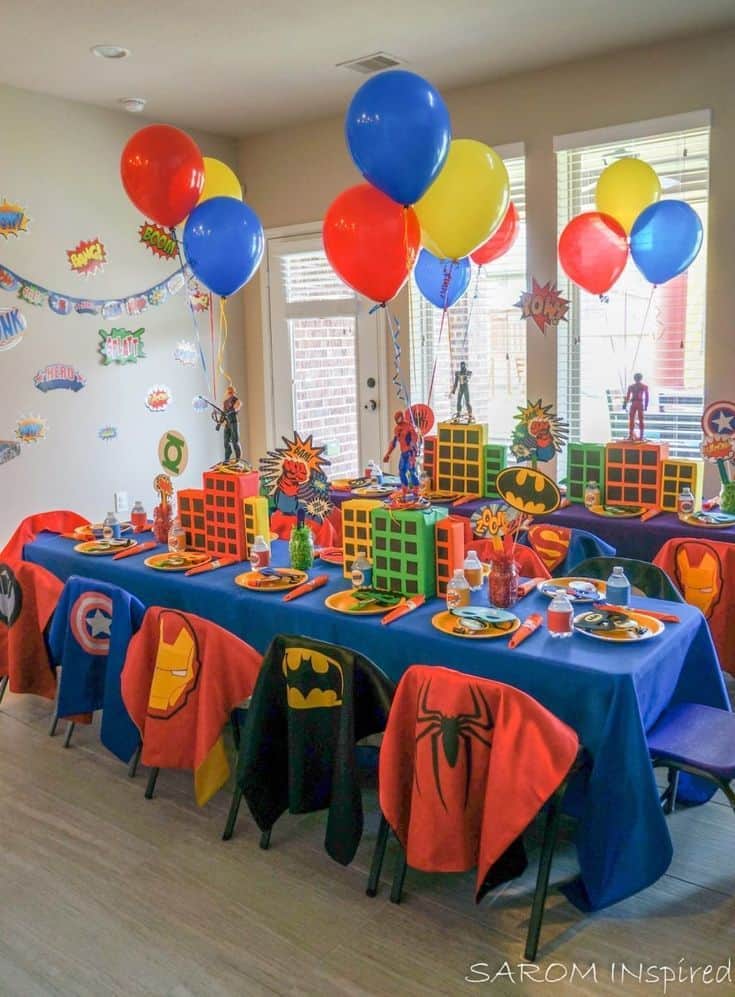 Best Kids' Party Ideas For Girls
If you have a birthday girl, then there are endless ideas for how to decorate for her special day.
From ballerinas to princesses to super girls, you can find the best themed parties for younger and older girls here.
Once again, none of these have an age requirement, they're just a way to get you started!
Children Birthday Party Ideas: Ballerina Birthday Party
Tutus, tiaras, and twirls make a ballerina birthday theme a tried and true favorite for little girls!
Check Out Ballerina Birthday Party Here!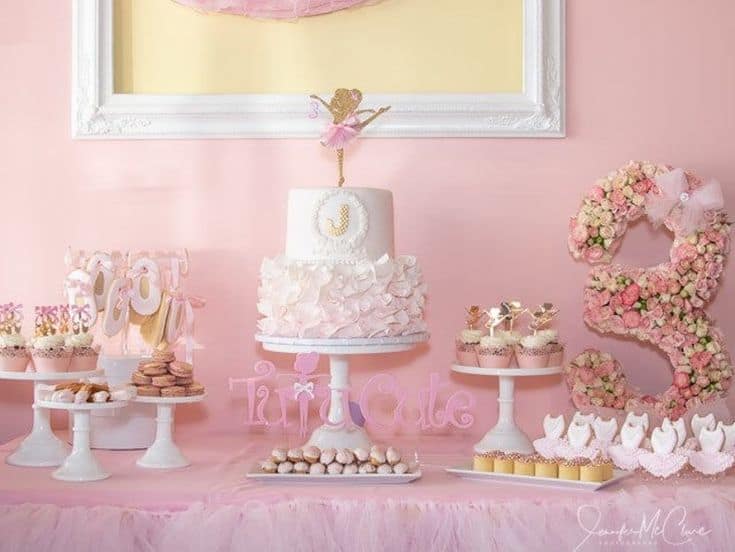 Party Themes for Kids: Trolls Theme Birthday Party
The Trolls movies are fun, colorful, and super popular with kids. Little girls in particular especially relate to Princess Poppy!
Check Out Trolls Theme Birthday Party Here!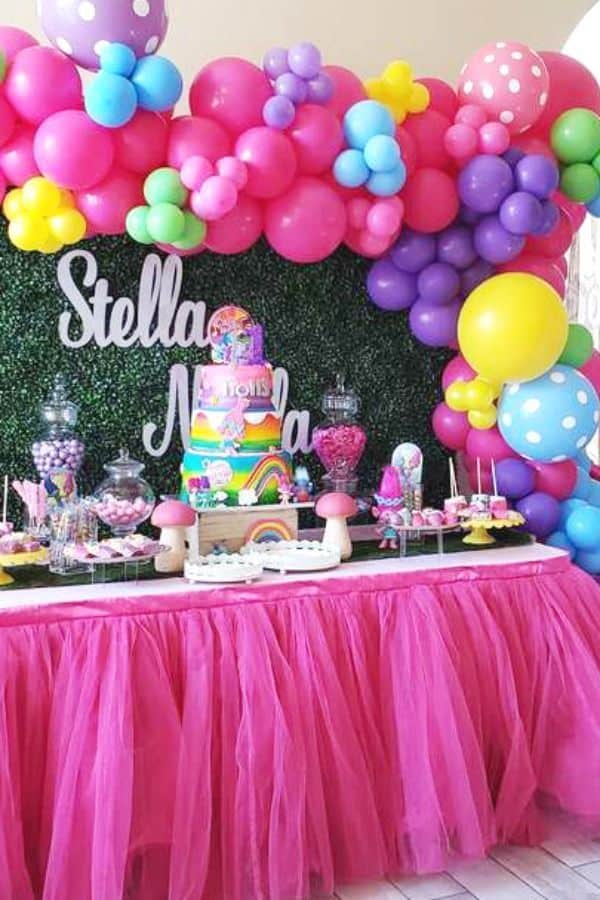 Birthday Ideas for Kids: Frozen Birthday Party
The Frozen movies are still super popular, which means that Frozen-themed birthdays are, too!
Check Out Frozen Birthday Party Ideas Here!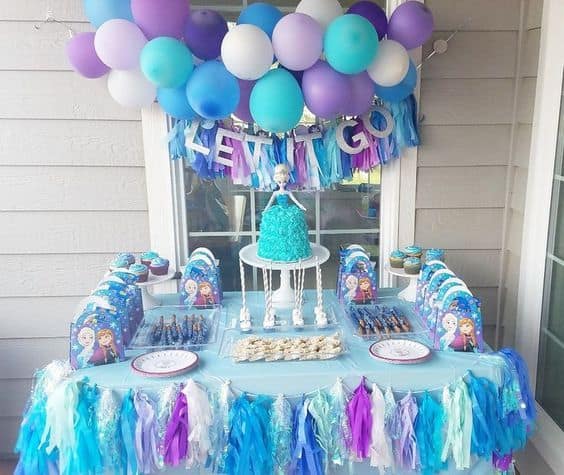 Children's Birthday Party Ideas: Flamingo Party Decor
For the little girl in your life who loves pink, a flamingo-themed party is a perfect fit! We threw this one for one of our daughters and it was a hit!
Girl birthday party ideas tend to lean towards pink color schemes and what better animal than a flamingo to bring all the pink to life?
Check Out Flamingo Party Decor Here!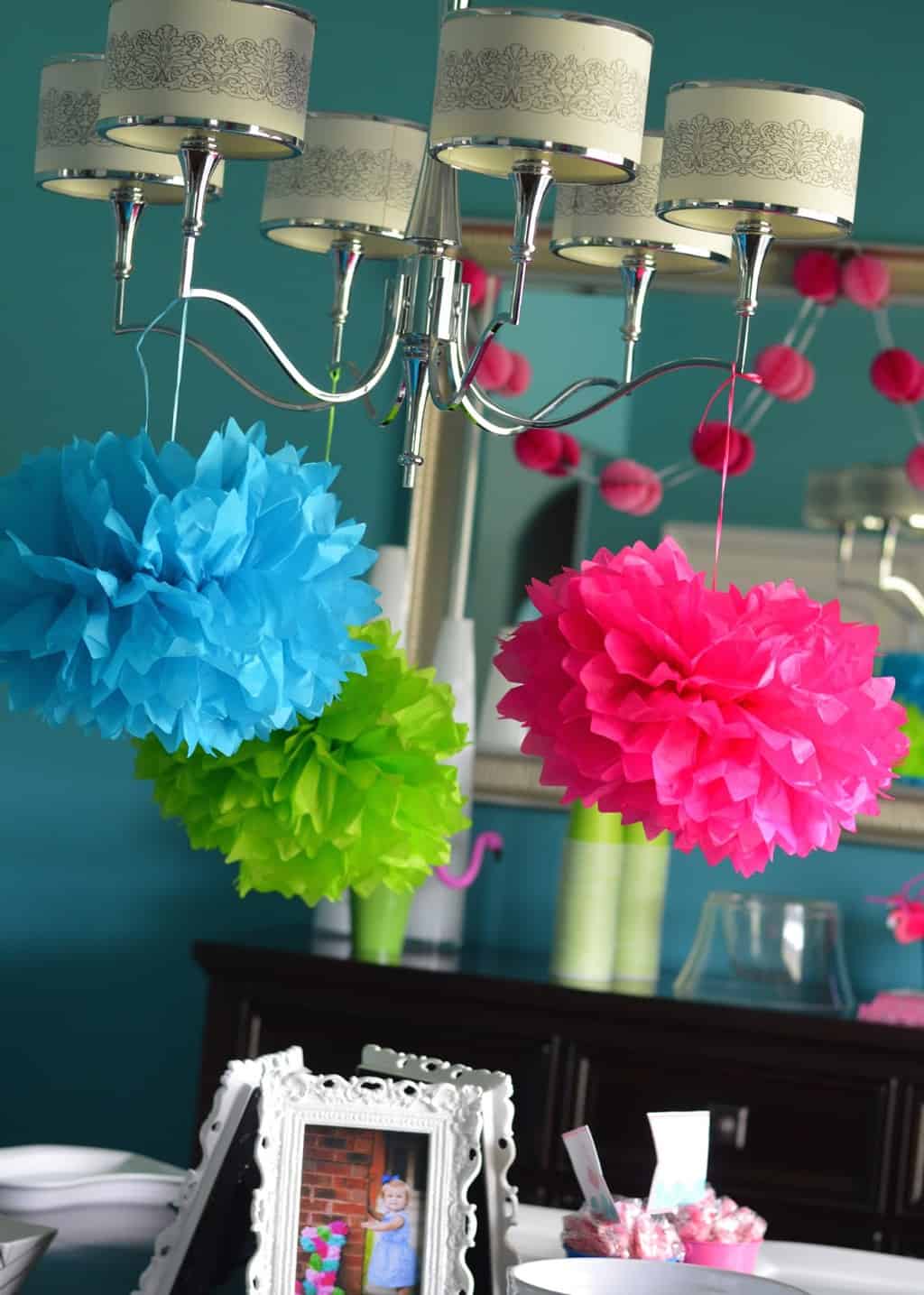 Fun Kids Birthday Party Ideas: Snowflake Party Decor
For a winter birthday extravaganza, a snowflake birthday party is a great choice! Here's how we threw our daughter's snowflake-themed birthday!
Little kid birthday ideas are always fun because you have more freedom to be creative without their input since they are too little to have a favorite theme or favorite character.
I have always loved planning a first birthday party for my babies because it allows me endless idea opportunities!
Check Out Snowflake Party Decor Here!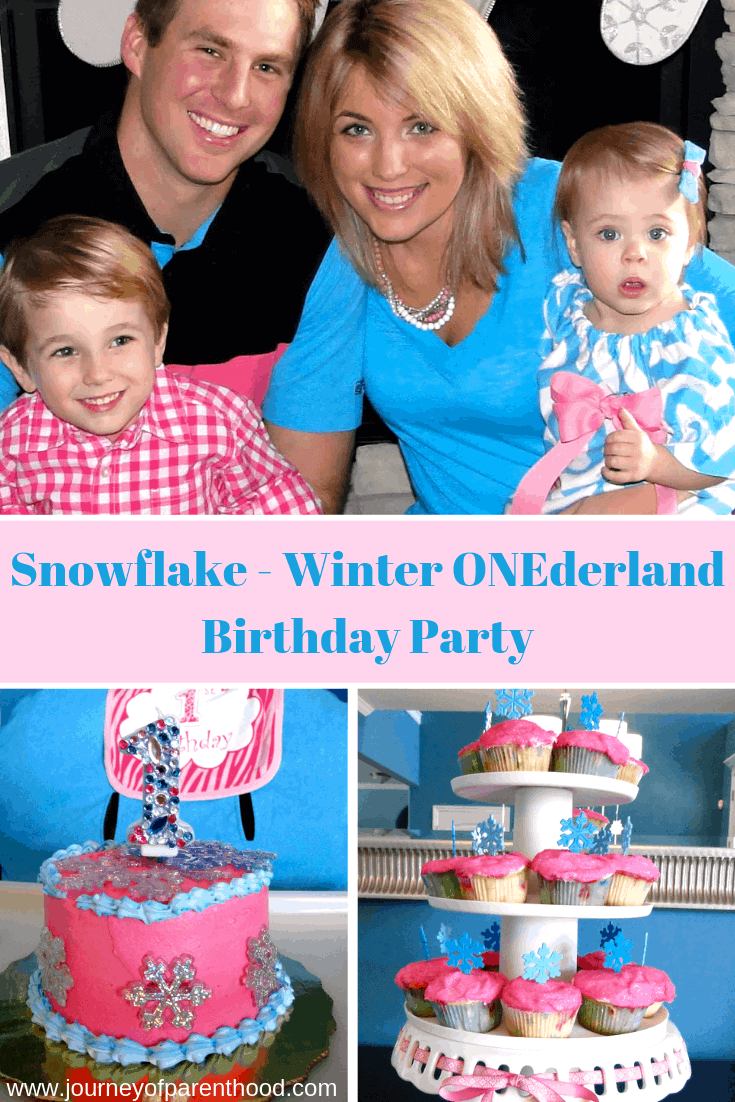 Birthday Themes for Kids: Disney Princess Party Decor
Disney Princesses are always a popular theme and for good reason! Of course, if your little girl has a favorite, then you can make the whole party's theme revolve around one princess! (See: Frozen!)
Check Out Disney Princess Party Decor Here!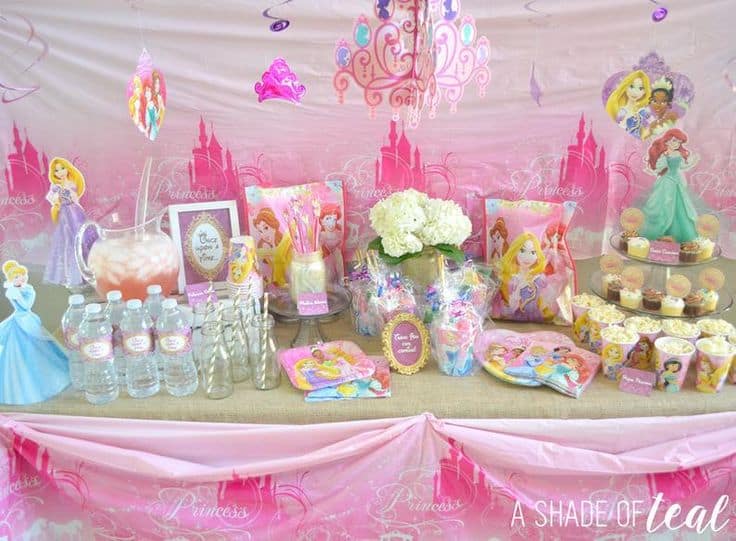 Fun Birthday Ideas for Kids: Mermaid Party Decor
For the little mermaid in your life, a magical underwater theme with seashells, pearls, and fishtails is sure to wow her and all her friends!
Check Out Mermaid Party Decor Here!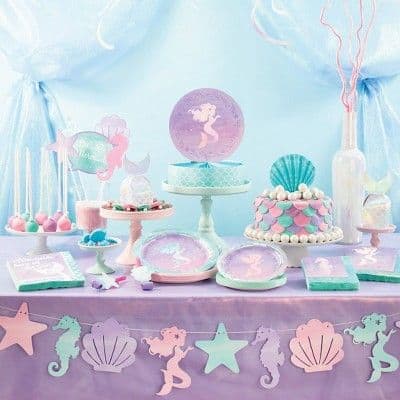 Children Party Ideas: Unicorn Birthday Party
You can really go all out with a unicorn theme: rainbow streamers, colorful frosting, and pin-the-tail-on-the-unicorn are all huge hits!
Check Out Unicorn Birthday Party Ideas Here!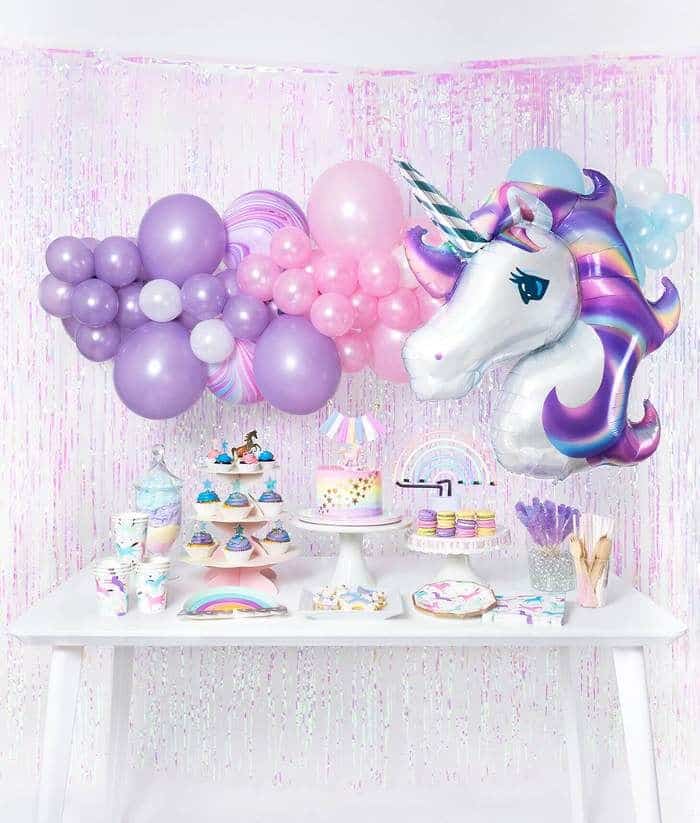 Fun Birthday Party Ideas for Kids: Mary Poppins Party Decor
If your birthday girl loves Mary Poppins, then do I have the themed birthday for you! We had a blast putting this one together for our daughter!
Check Out Mary Poppins Party Decor Here!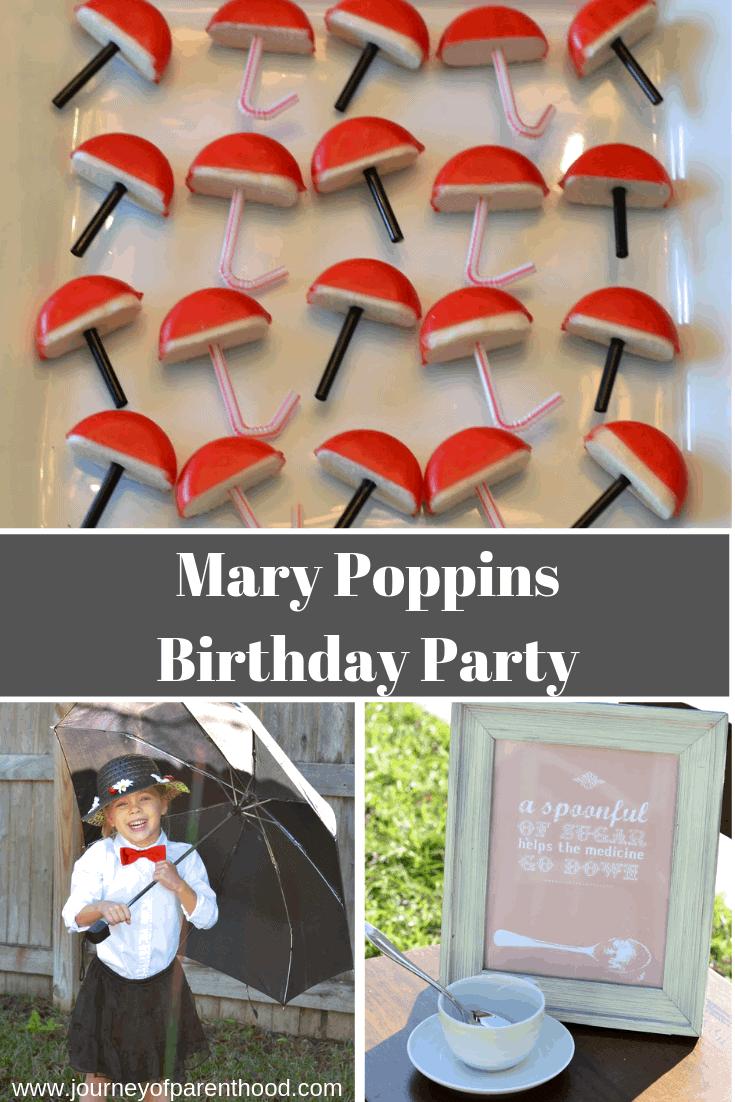 Child Birthday Party Ideas: American Girl Store Birthday Party
Considering an American Girl Doll Birthday Party for your little girl? Here are all the details to plan the perfect American Girl Birthday Party!
Check Out American Girl Store Birthday Party Here!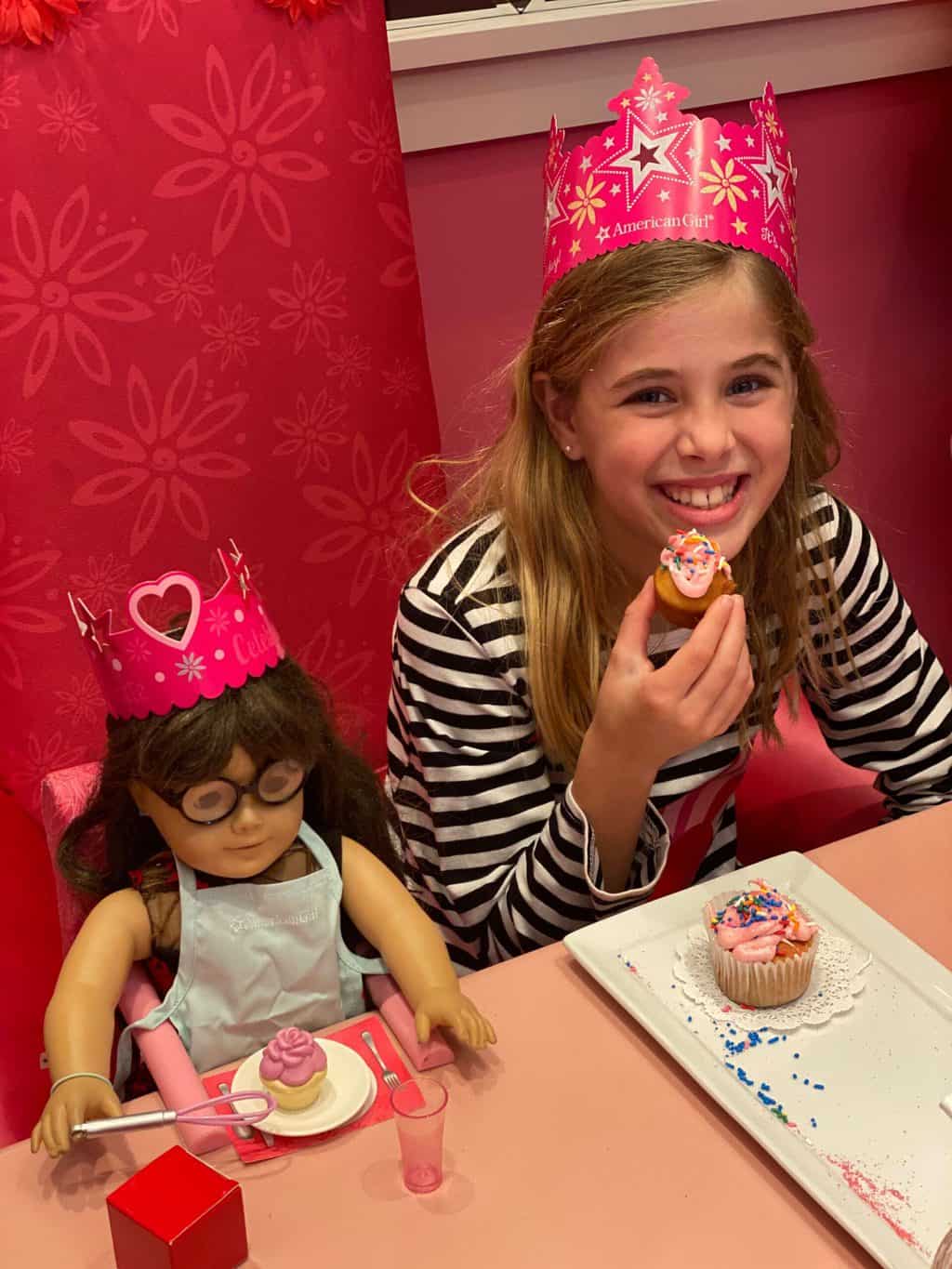 Best Kid Birthday Party Ideas: Girl's Space Party
Go out of this world with a space-themed birthday! Not just for boys… stars, moons, and fun, galactic colors make this perfect for your little astronaut!
Check Out Girl's Space Party Theme Here!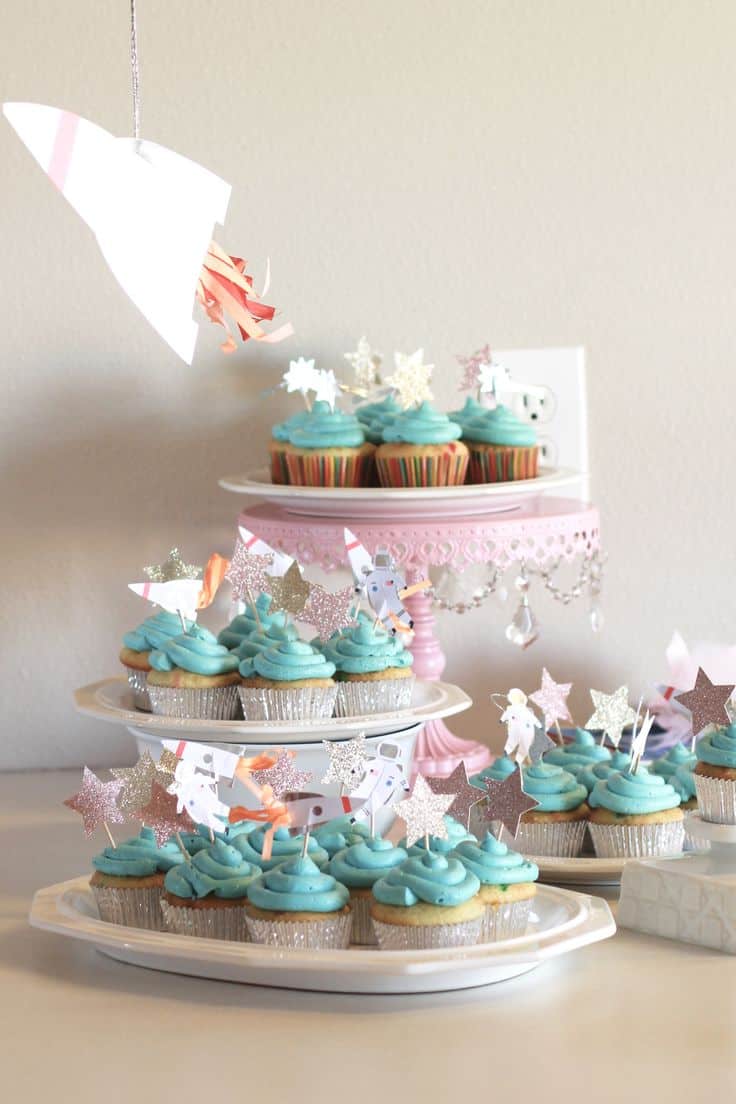 Best Kids Party Ideas: Super Heroine Party Theme
Girl power! For your little super-girl, a super heroine-themed party is perfect!
Check Out Super Heroine Party Theme Here!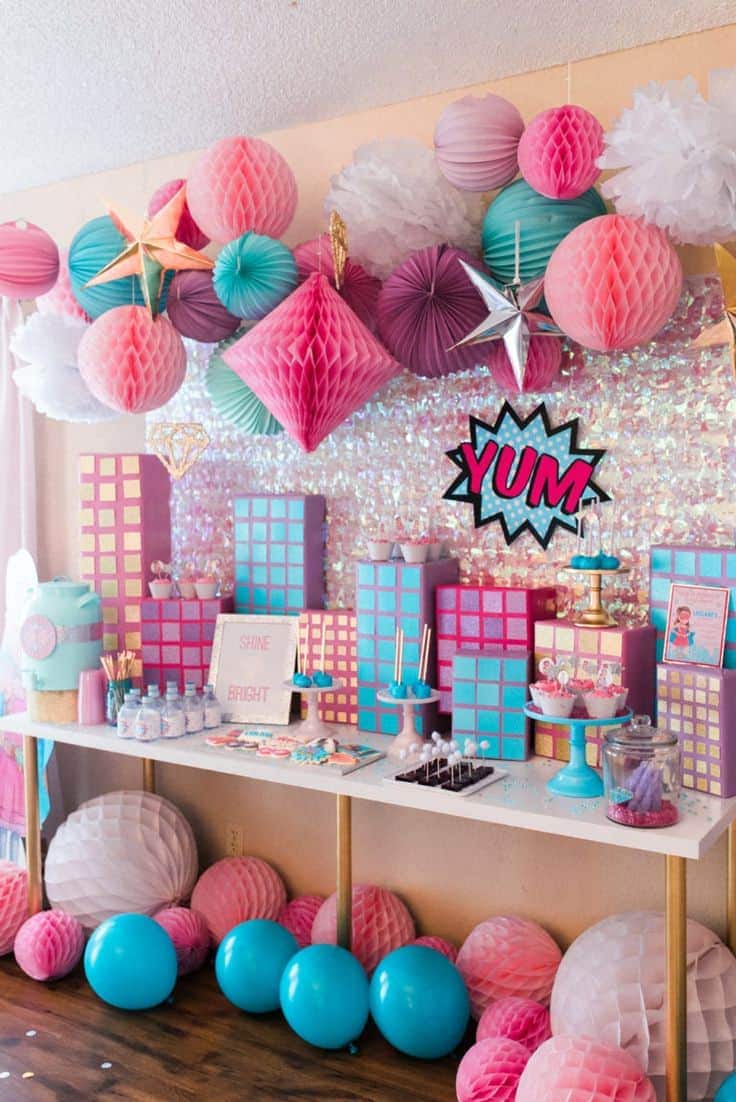 Kids Bday Party Ideas: Garden Tea Party
Classy, elegant, and perfect for an outdoor venue, having a garden tea party is as fun for the adults as it is for the kids!
Check Out Garden Tea Party Theme Here!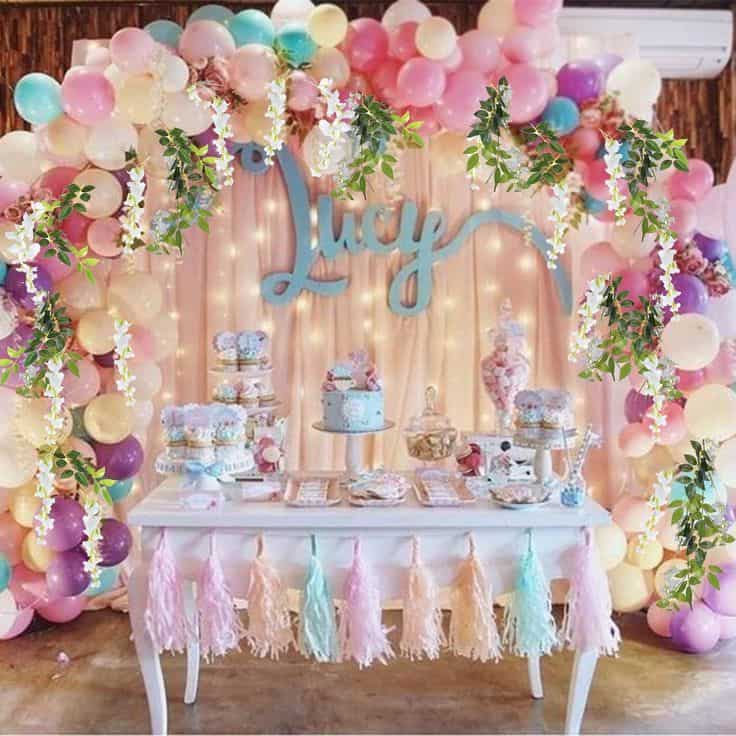 Dessert Birthday Party Theme
Ice cream, cake, candy, donuts… if your birthday girl has a sweet tooth, why not make the whole part all about dessert?
I think this is also one of the best birthday party ideas for kindergarteners as what little kid doesn't love donuts?! So fun!
Check Out Dessert Birthday Party Theme Here!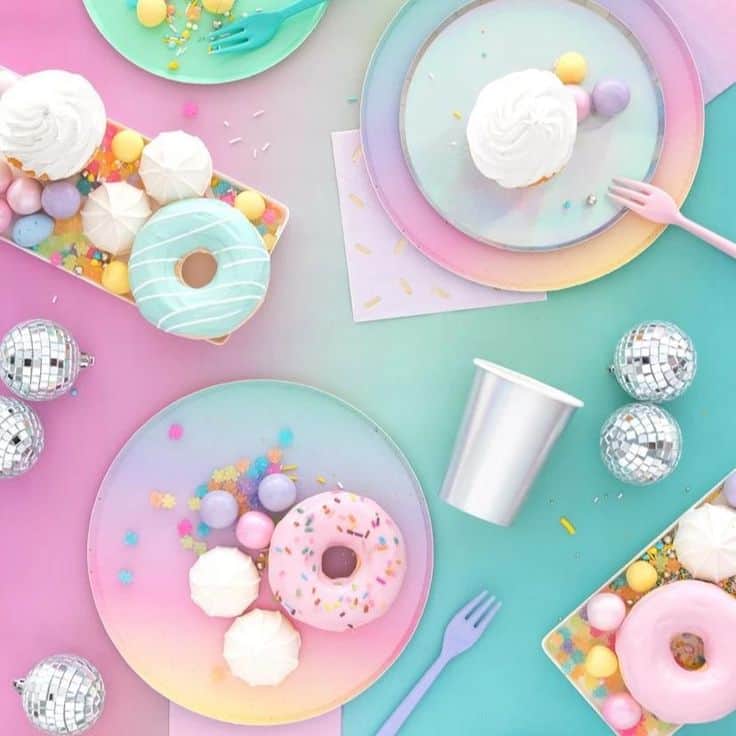 Kid Birthday Ideas: Girl Dinosaur Party Decorations
Dinosaurs: also not just for boys! I love the idea of having a neon-themed dino party with lots of pink and orange. Super fun and a unique spin on a more popular themed party.
Check Out Girl Dinosaur Party Decorations Here!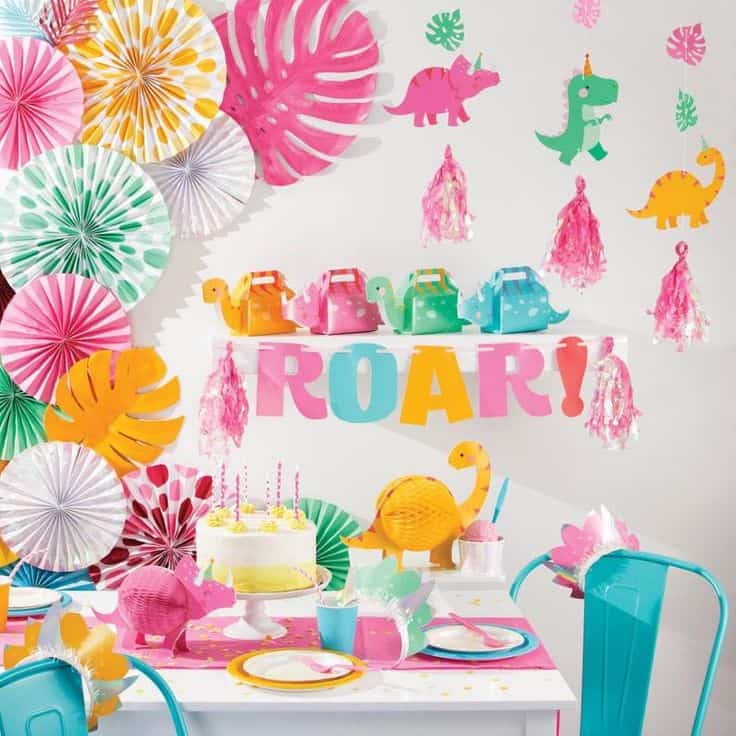 Best Kids Birthday Ideas: Makeover/Spa Theme
If your birthday girl is starting to show an interest in makeup or cosmetics, why not have a makeover or spa party? With some adult supervision, it can be super fun!
Check Out Makeover/Spa Theme Decor Here!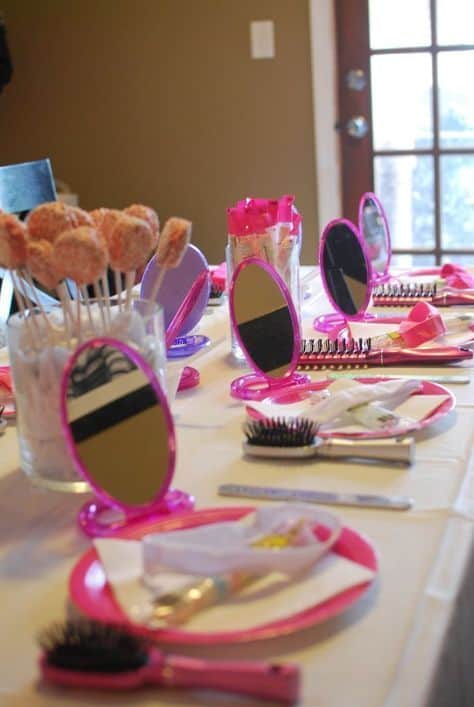 Best Age and Gender Neutral Kids' Birthday Party Ideas
While many of the ideas above could be modified to fit any child's special day, there are some themes that are just universal no matter what.
Here you'll find the best gender-neutral and age-neutral party ideas for your birthday child!
Ideas for Kids Parties: Mickey and Minnie Mouse Party Decor
If you're a Disney family like we are, you know you can never go wrong with a Mickey or Minnie party, no matter what kid it is! When it comes to toddler birthday party themes nothing can top the classic Mickey or Minnie!
Mickey and Minnie Mouse Party Decor Here!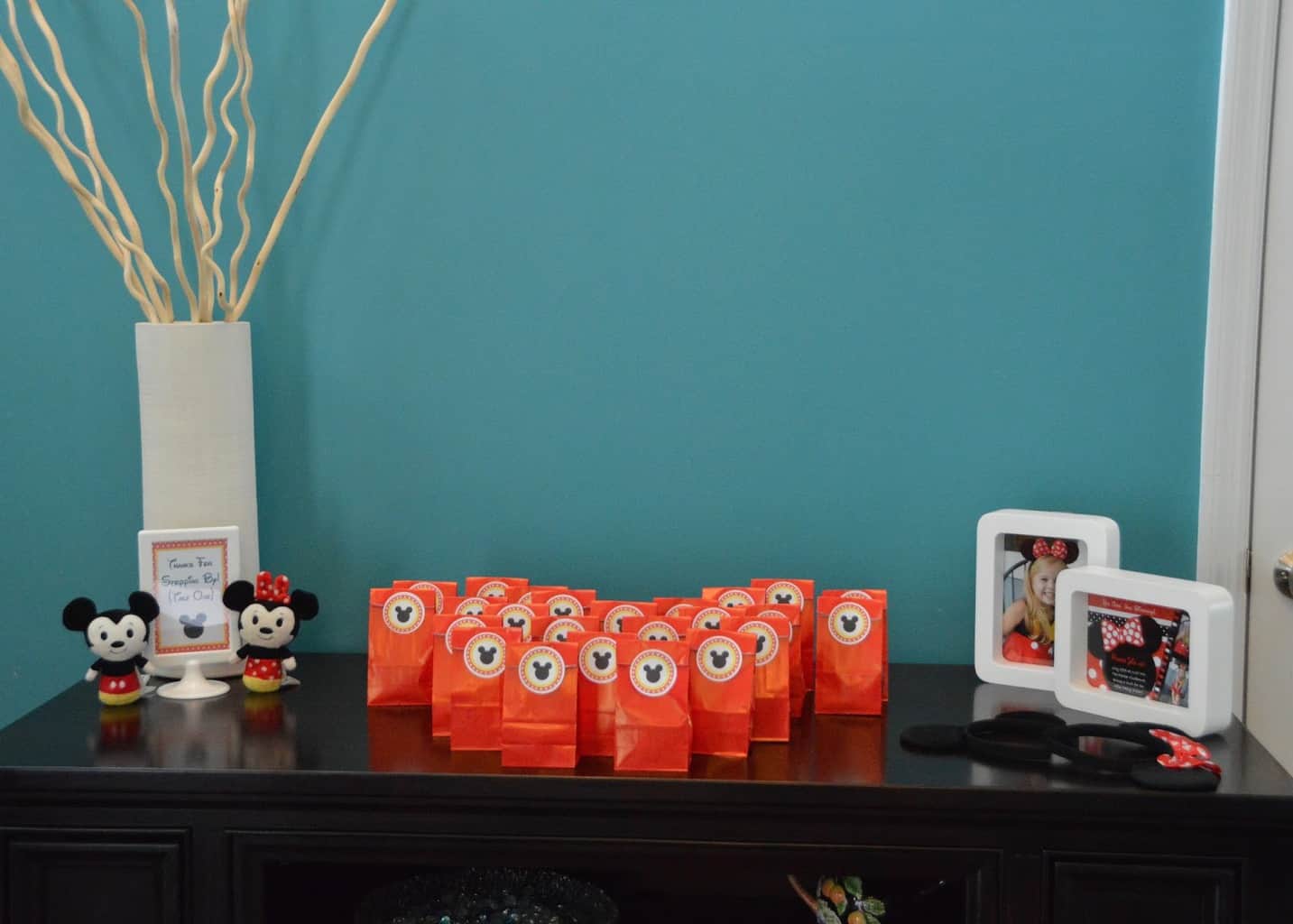 Best Kids Birthday Party Ideas: Finding Nemo and Dory Birthday Party Decor
Another favorite amongst boys and girls of all ages is Finding Nemo! If you're looking to throw a great Finding Nemo-themed birthday party, I've got some great ideas for you (plus one of my favorite birthday theme cakes!)
Check Out Finding Nemo and Dory's Birthday Party Decor Here!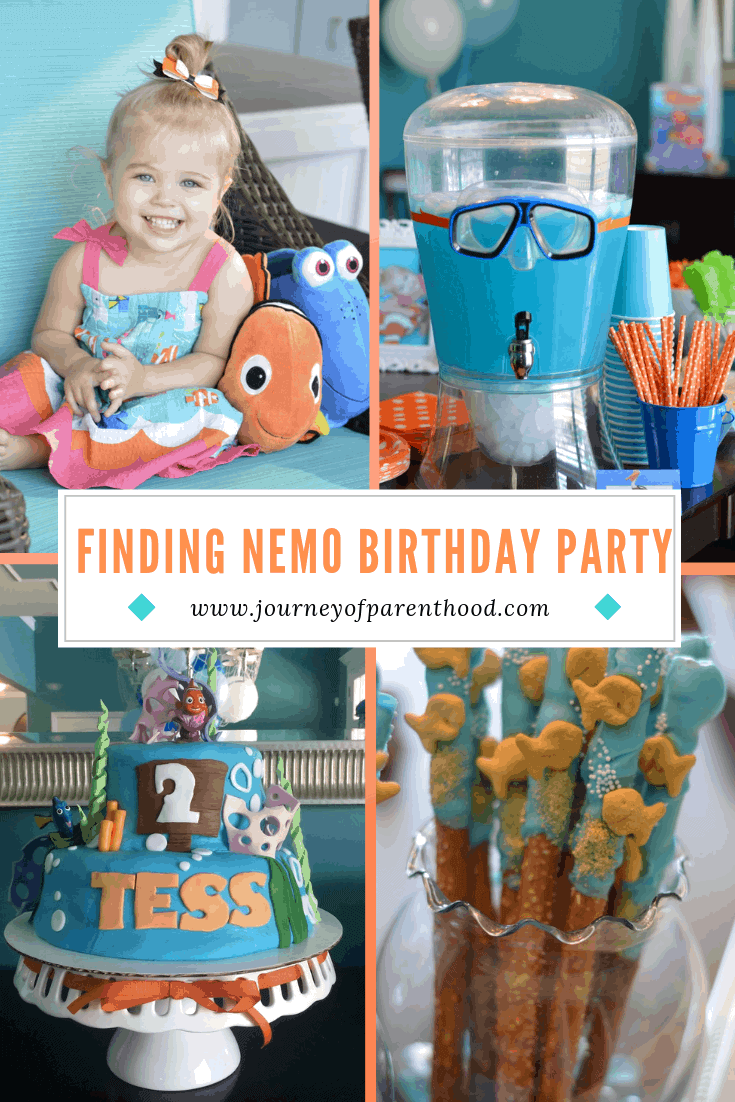 Childrens Birthday Party Ideas: Donald Duck Birthday Party Decor
Donald Duck is another Disney favorite that makes a great party theme no matter who it is! We had a great time with this one and it was the perfect option for our little Donald Duck fan.
Check Out Donald Duck Birthday Party Decor Here!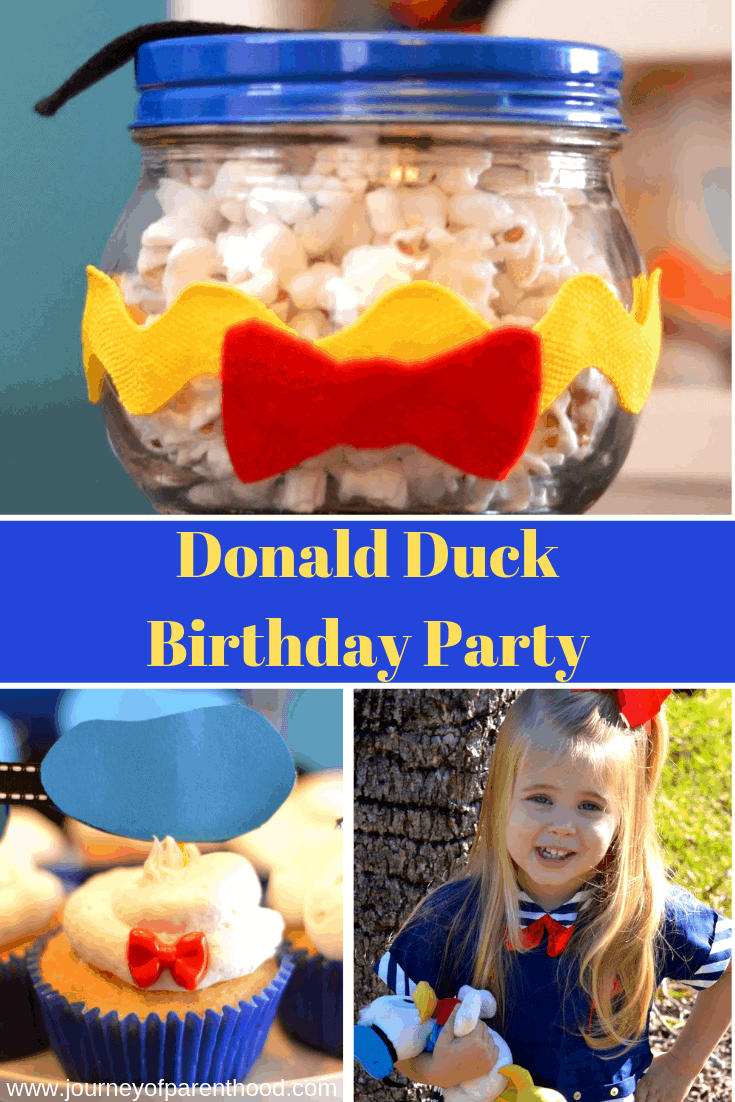 Ideas for Kids Birthday Party: Sunshine Birthday Party Decorations
Who doesn't love sunshine? This is a great theme no matter the kid or the time of year! Summer party? Yes! Winter party? Makes the room feel warmer!
Check Out Sunshine Birthday Party Decorations Here!
Kids Theme Party: Monkey Party Decor
You can never go wrong with your child's favorite animal! For example, check out this monkey-themed party we did for our oldest's first birthday!
Check Out Monkey Party Decor Here!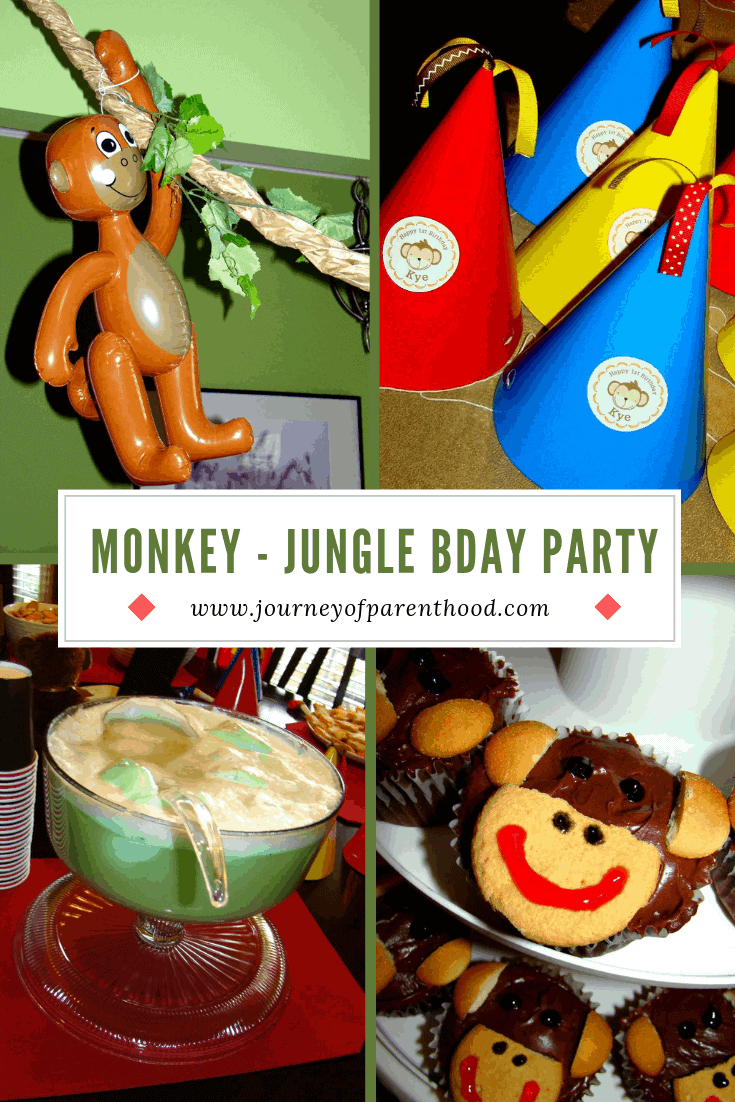 Kids Parties Ideas: Dr. Seuss Birthday Party
Iconic and classic, Dr. Seuss's books make great party themes with their bright colors and lively imaginations. Cat in the Hat is always a favorite!
Check Out Dr. Seuss Birthday Party Here!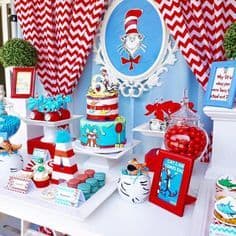 Birthday Party for Kids Ideas: Minions Birthday Party
Ever since the first Despicable Me movie came out, the Minions have taken the world by storm. So there are tons of creative ways to put together an adorable Minions-themed party!
Check Out Minions Birthday Party Here!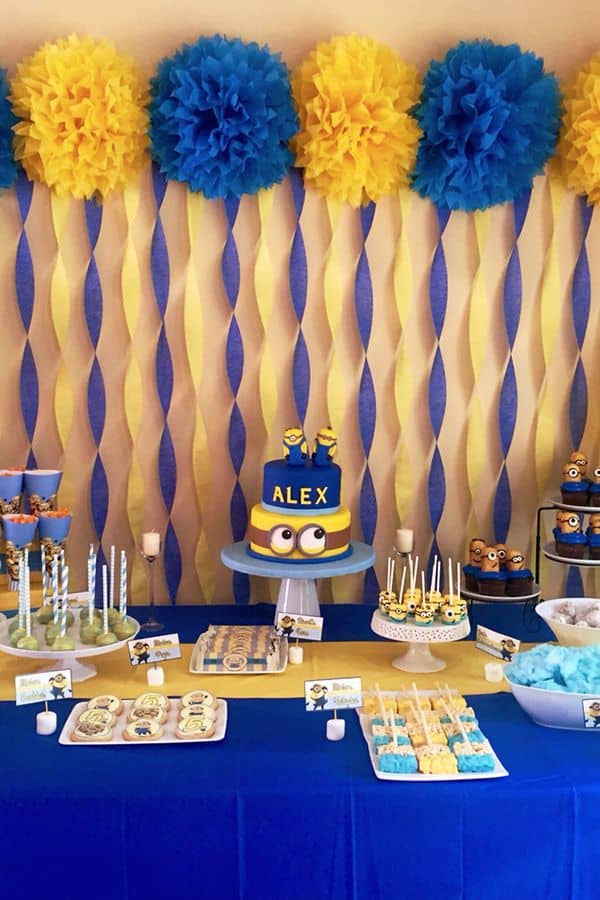 Fun Kid Birthday Party Ideas: Jungle Safari Birthday Party
You can really let your imagination run wild with a jungle safari party! With lots of green foliage (and, if available, a jungle gym) you can create an adventure right at home or a great theme for outdoor games and fun too!
Kindergarten party ideas can be tricky and I know all kids around ages 5-6 LOVE animals so this jungle safari party would be a great one for this age group too (but let's be real, even older kids and adults love a good animal theme).
Check Out Jungle Safari Birthday Party Ideas Here!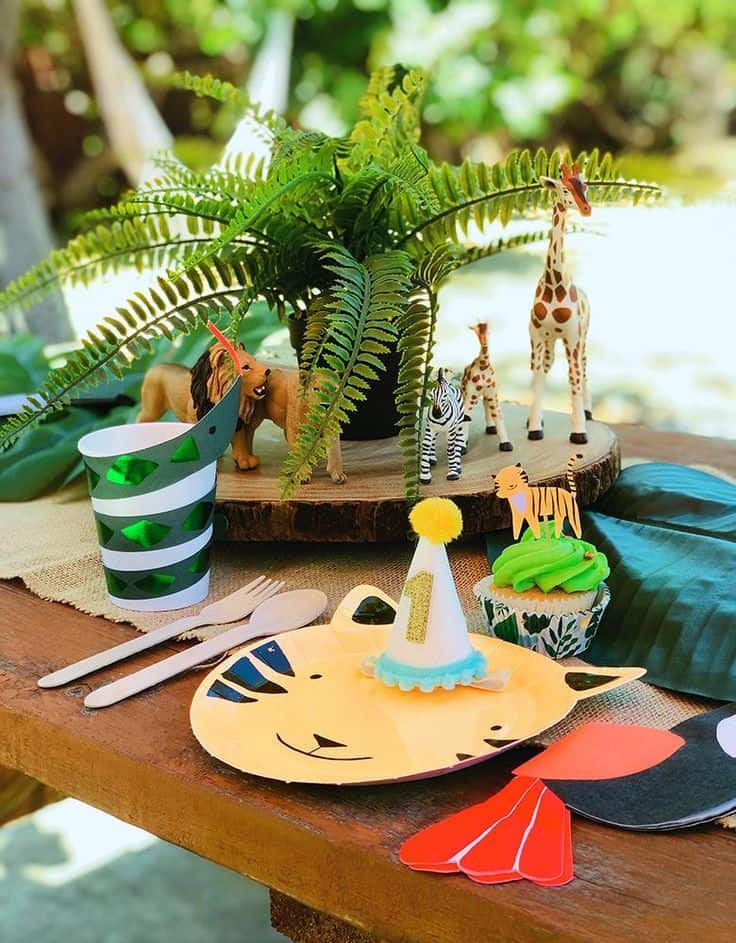 Kids Birthday Party Gift Ideas
Looking for that perfect gift for the little one on their special day? FUn kids birthday party ideas include fun gifts to give too! Having four kids means I've had a LOT of experience in birthday gift giving as well as knowing what items my kids loved to receive too!
I've put together several gift guides to help give gift ideas for that perfect kids birthday ideas at every age: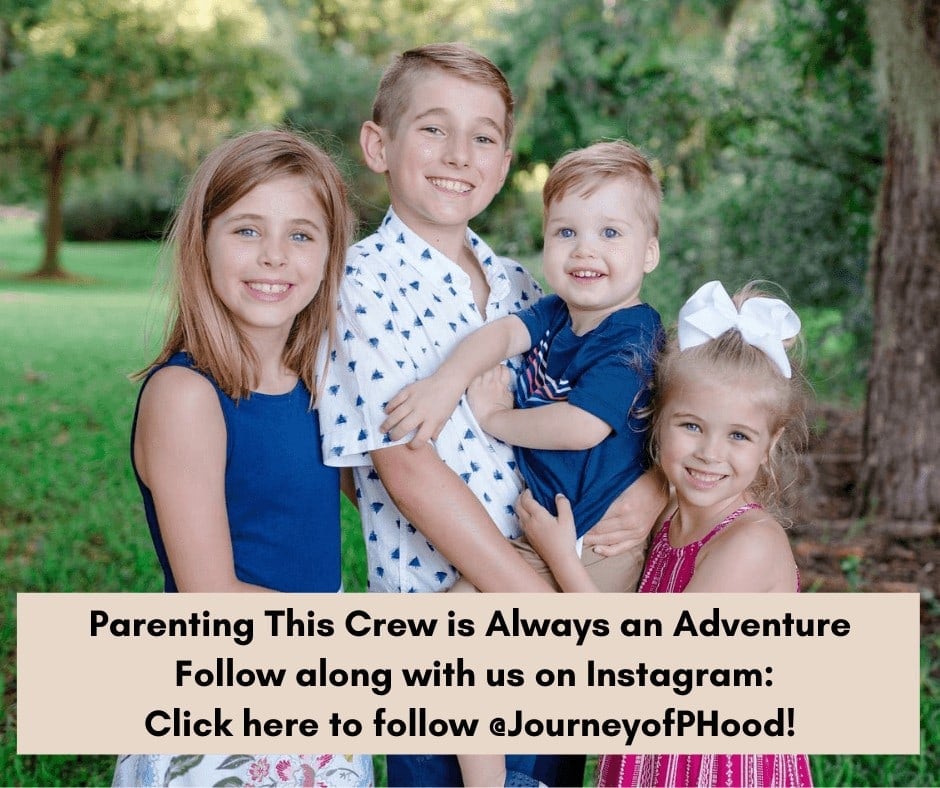 Birthday Parties in the age of COVID
Even now, many places are still under COVID restrictions that limit how many people can gather at a time. That means, as the party host, you may want to be extra careful about how you plan your kid's birthday party.
Be sure to check your local regulations for more details. But in general, here are some tips to keep in mind as you plan and come up with kid birthday party ideas:
The guest list. How many kids and parents is it safe to invite, or that you feel safe inviting? Consider the number of guests you're comfortable with in your home or at the event location.
Social distancing. What activities and spaces can accommodate staying six feet apart?
Masks. Will you require them? If so, will you provide them?
Renting a private room. If you're not throwing the party at home, consider renting a private room so you have control over sanitation.
Zoom party. If you or your child's friends are uncomfortable getting together as a group, consider hosting a video call. There are even games you can play over Zoom that can make everyone feel involved.
Conclusion
Birthdays are fun and special occasions, so I hope these kids' birthday party ideas help get the gears rolling so you can enjoy the celebration!
If you have any other great birthday themes for kids or children's birthday party ideas to share, leave them in the comments below!