Kids' birthday parties are always a fun (and often chaotic!) time, especially when your child requests a themed birthday party. Even if they're too young to choose a theme, parents often have a great time choosing for them based on what their child shows an interest in. When it comes to kids' birthday party ideas, the only limits are your or your child's imagination!
And planning your child's birthday party doesn't have to be stressful, either. There are so many amazing, easy, and fun DIY decor and party game ideas that you, your child, and their friends will enjoy.
So, to help you get started, I've rounded up the best birthday party ideas for a kid's birthday. And I've also included birthday party themes that were a huge success for our own kids! Those will give you tons of ideas for themes and activities that we've already tested out for you to help make your child's special day extra special! 🙂
I love putting together birthday parties for my babies and love sharing all the details to help inspire others in their party planning too. Kids birthday parties don't have to be stressful. You can put as little or as much effort into planning the event as you'd like, all that matters is that the birthday boy or birthday girl feel special on their day!
It fills my heart with such joy to see my children's eyes open wide when they walk out and see their party decorations on the day of the event! They love all the party food, the treats, the birthday cake, the party favors, the photo booth, the birthday party games and all the FUN! From their first birthday party as a baby and beyond it's all about making the memories and taking all the photos to capture the Happy Birthday joy!
Disclaimer: this post contains affiliate links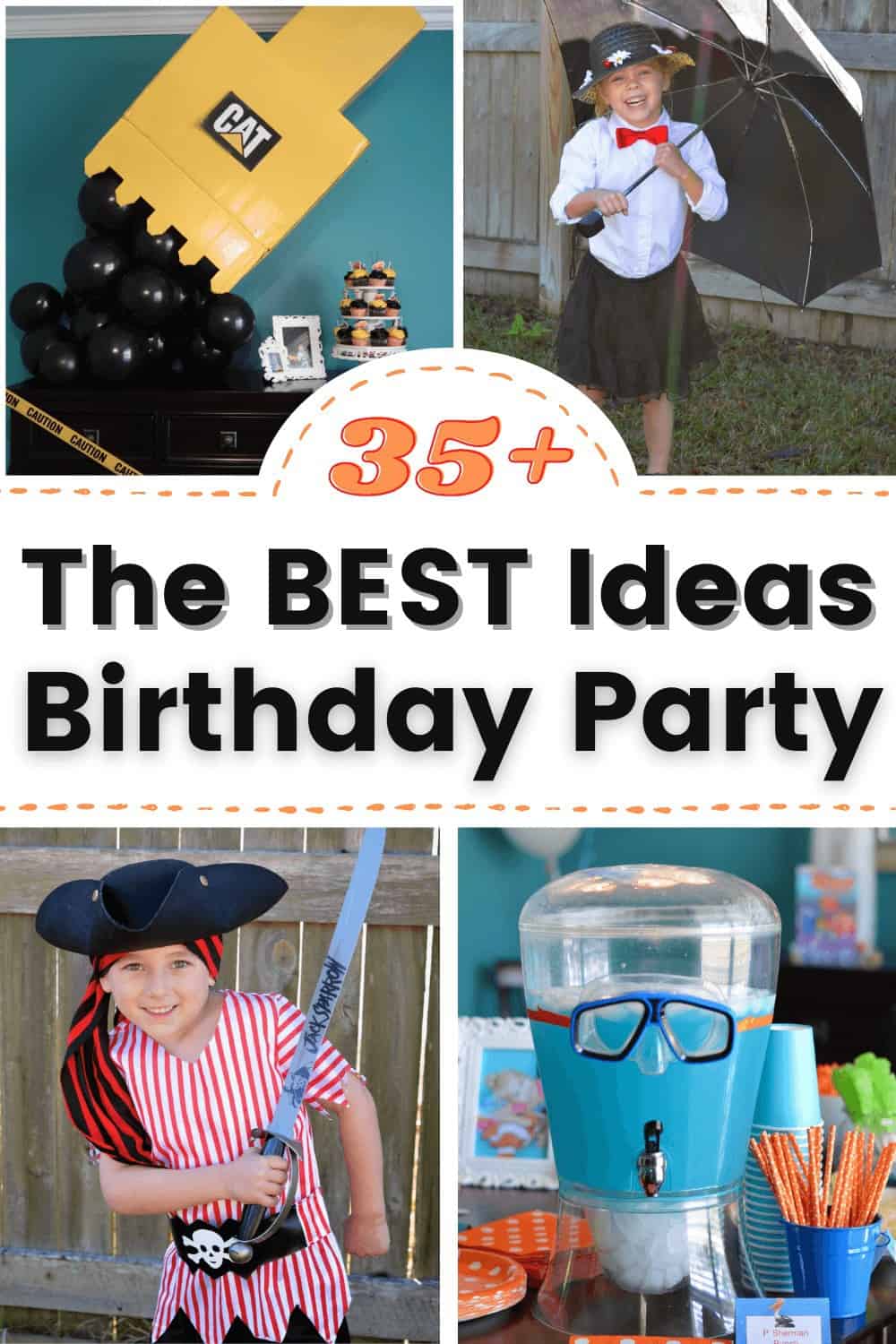 First, a word about birthdays in the age of COVID
Even now, many places are still under COVID restrictions that limit how many people can gather at a time. That means, as the party host, you may want to be extra careful about how you plan your kid's birthday party.
Be sure to check your local regulations for more details. But in general, here are some tips to keep in mind as you plan:
The guest list. How many kids and parents is it safe to invite, or that you feel safe inviting? Consider the number of guests you're comfortable with in your home or at the event location.
Social distancing. What activities and spaces can accommodate staying six feet apart?
Masks. Will you require them? If so, will you provide them?
Renting a private room. If you're not throwing the party at home, consider renting a private room so you have control over sanitation.
Zoom party. If you or your child's friends are uncomfortable getting together as a group, consider hosting a video call. There are even games you can play over Zoom that can make everyone feel involved.
Best Activities for a Kids' Birthday Party
There are as many options for party games as there are for party themes, but which activities you choose depends on several factors. The number of kids at the party, whether they're older kids or younger children, and what you know your child enjoys.
For younger kids, you know those energy levels are going to be up high. (Especially with all the sugar!) So active games like hide-and-seek, tag, relay races, an obstacle course, or even a bounce house are all great ideas.
One great way to keep a group of young children entertained is to have a dance party! Not only is it fun, it's easy to set up right in your living room. You can even turn it into a game, where they have to freeze when the music stops. Kids love it!
Another easy way to ensure all your party guests have a good time is to throw the party someplace where kids can play. A local park is always a great place, especially if it has an outdoor picnic area, too. Many local businesses also offer options for birthday party places. Maybe a trampoline park, gymnastics facility, local swimming pool, or other kid-centered fun play places!
For older kids, you might be able to do activities that are more complex, like arts and crafts or an ice cream sundae bar. I've also heard that food trucks are becoming super popular to have cater a child's birthday party, which can be really fun, especially for older kids who know what foods they like to order! Older kids may also enjoy local attractions for their parties like going to play laser tag, arcade games, paintball, movie theaters, or even an escape room!
No matter what the age of my kids they ALL love when I come up with themed party food ideas. It doesn't have to be elaborate, just come up with your party theme and think of ways to make simple food items fit that theme. A simple and fun way to add a special touch to the party theme. Even something as simple as hot dogs can become lightsabers or slinky dogs or hot diggity dogs. Make a little label and a creative name and bam! Party food ideas are done and you've got a super cute theme your kids will love!
Best Kids' Birthday Party Ideas
Best Kids' Birthday Party Ideas
Kids Birthday Party Gift Ideas
Looking for that perfect gift for the little one on their special day? Having four kids means I've had a LOT of experience in birthday gift giving as well as knowing what items my kids loved to receive too!
I've put together several gift guides to help give gift ideas for that perfect birthday present at every age:
Come Hang With Our Fam and Keep Up With Our Adventures:
Conclusion
Birthdays are fun and special occasions, so I hope these kids' birthday party ideas help get the gears rolling so you can enjoy the celebration! If you have any other great themes or ideas to share, leave them in the comments below!