Construction Birthday Party Decor
Spear turned three this year and I've known ALL year long what party theme I wanted to put together for him. He LOVES all things vehicle-related, especially tractors, and also loves building with Daddy so a construction themed birthday party was the perfect way to celebrate our little builder!
In this post I'm sharing all the decorations, activities and food for his construction birthday party and will be linking up everything I can at the end of the post!
My goal for this party was to really spend a LOT less than I do for a normal party. Not only did I spend the least I've ever spent on a party, but it all still turned out just as cute and as fun as the more expensive parties too 🙂 Yay for a budgeting win!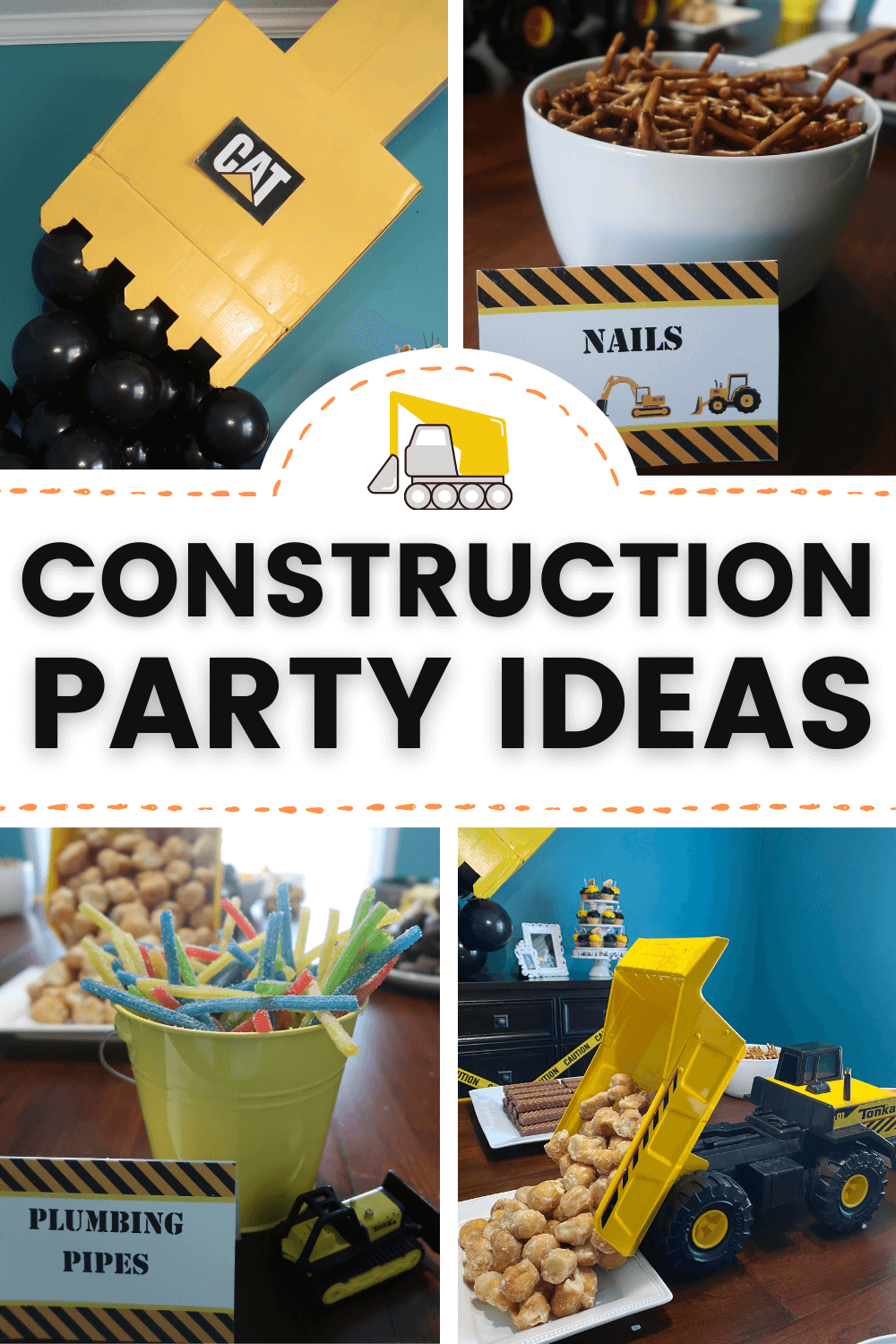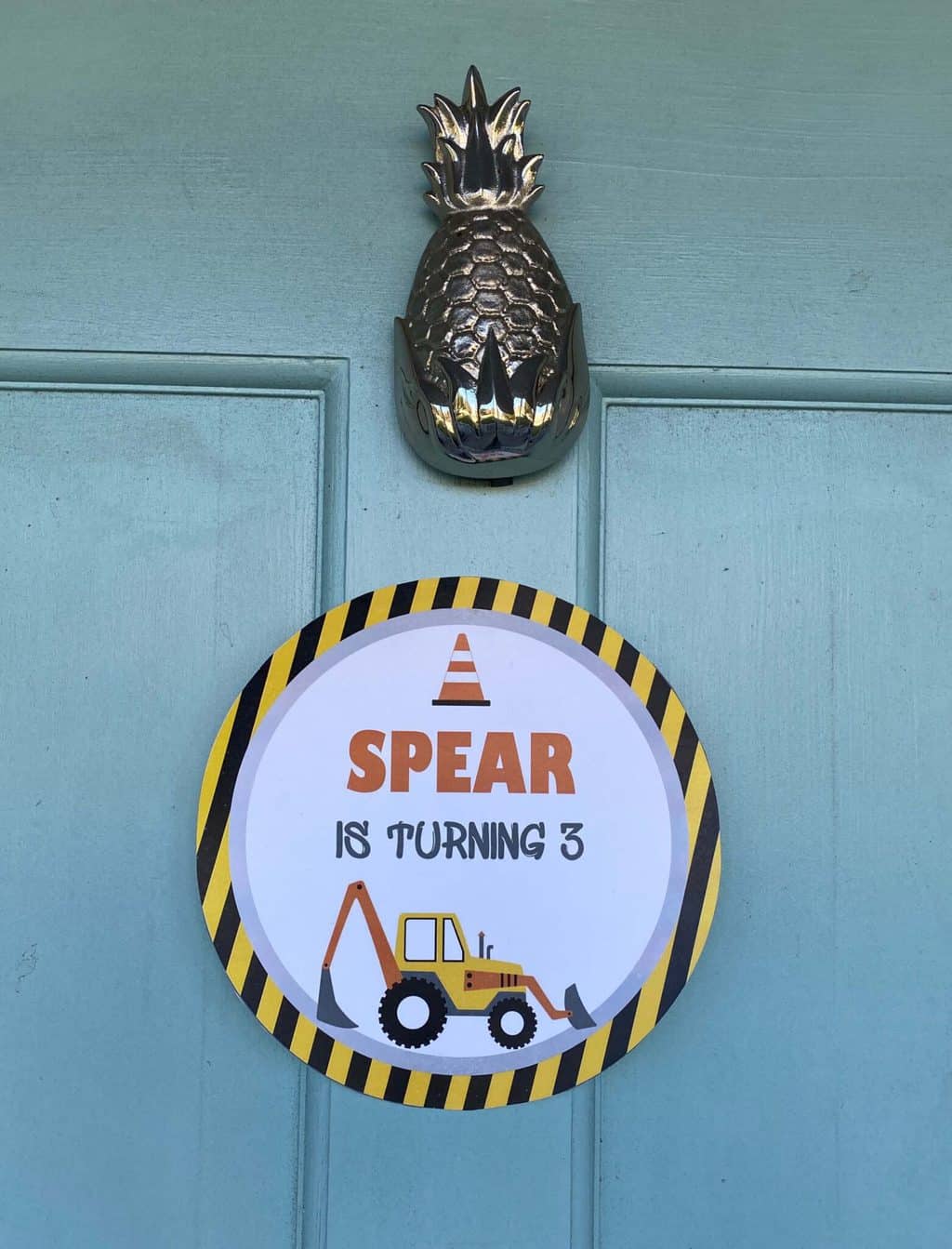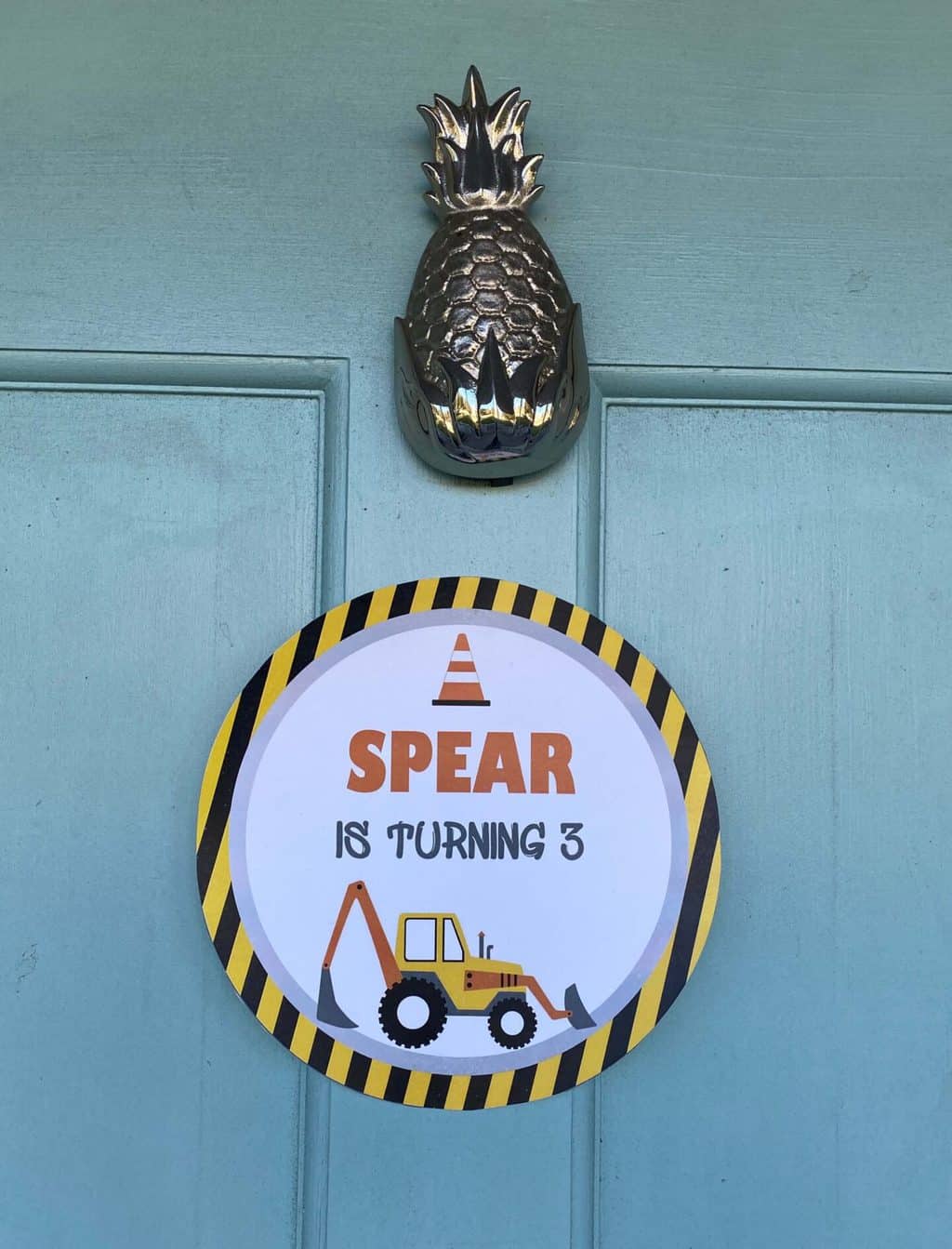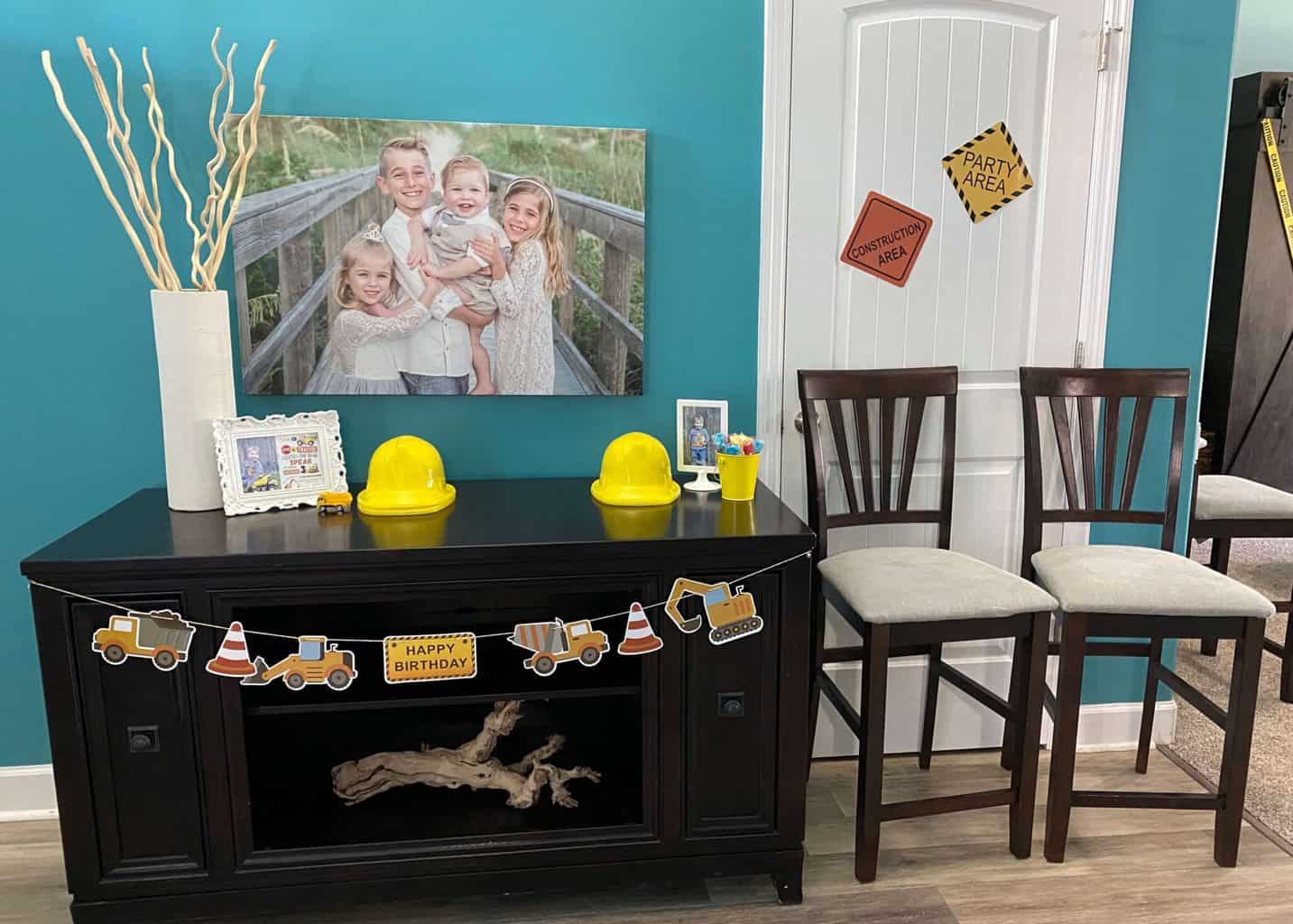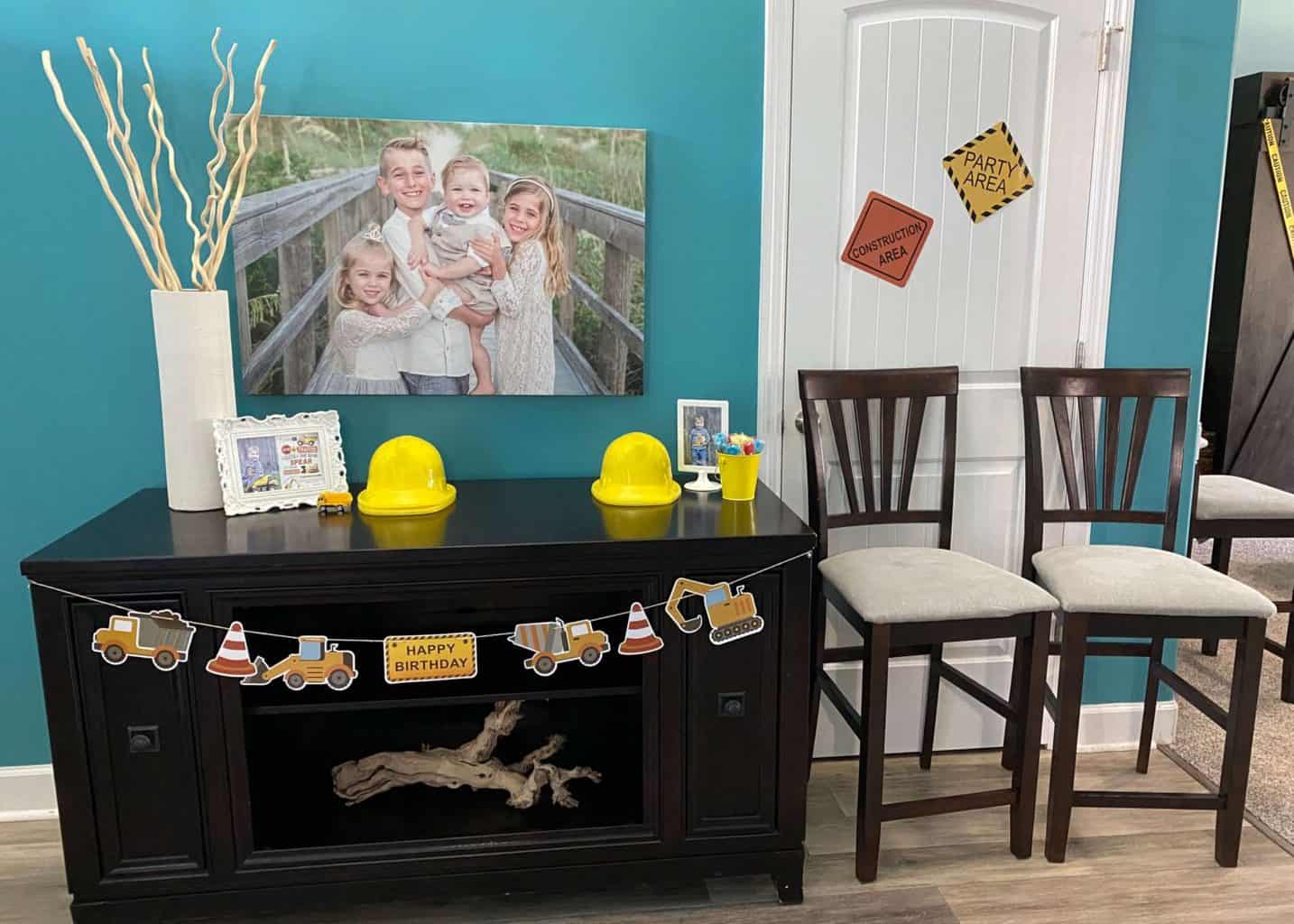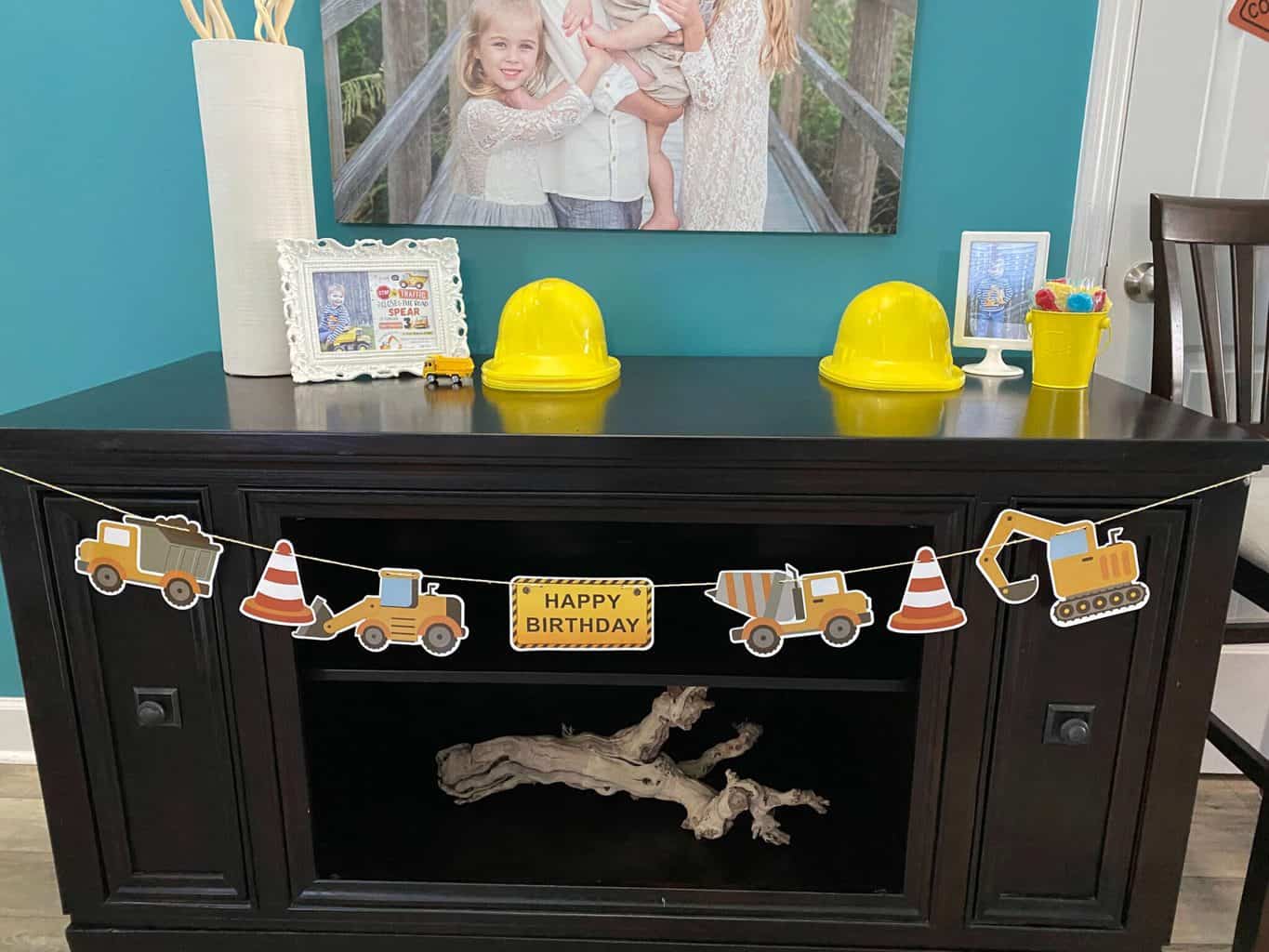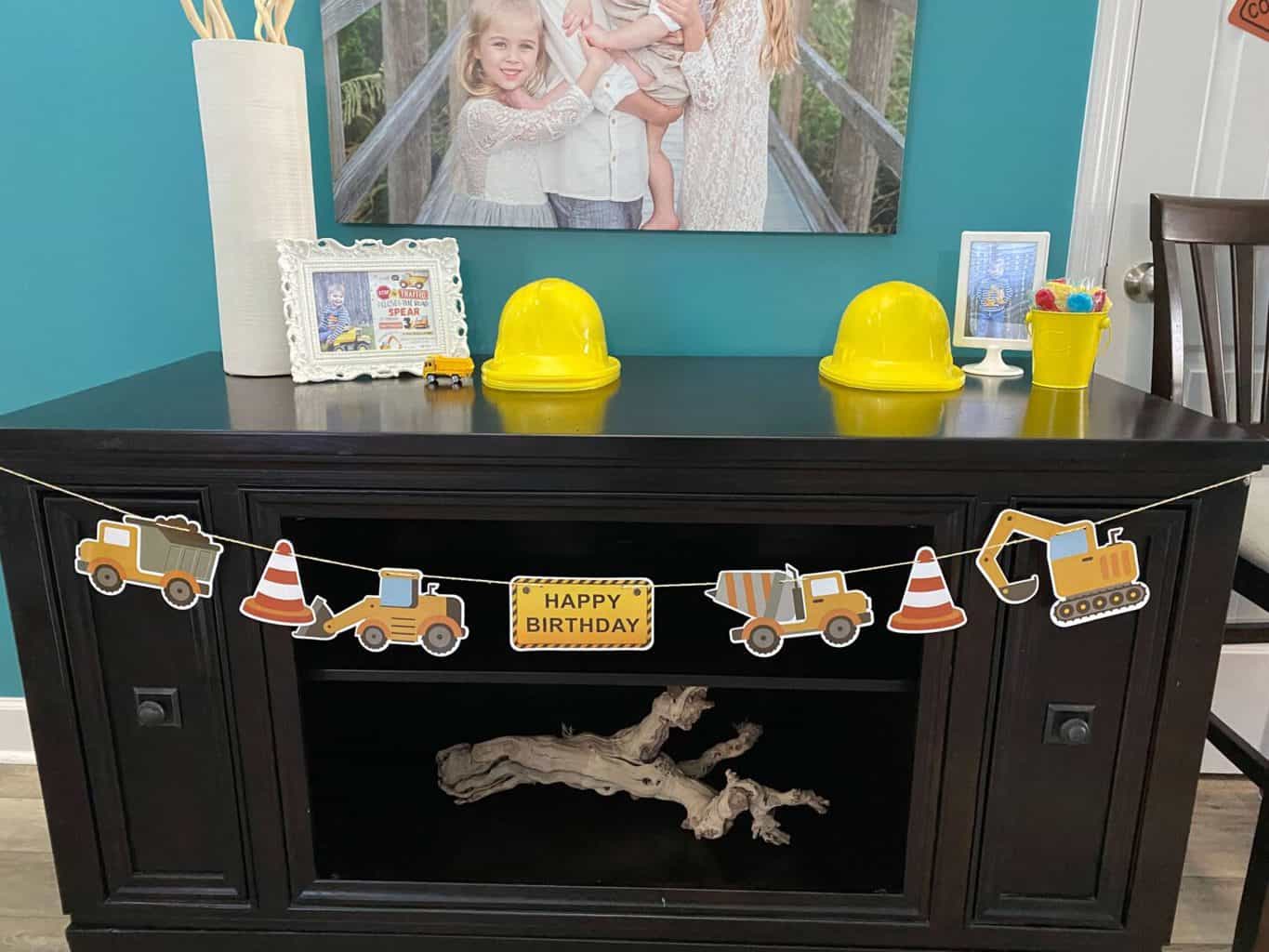 Hard hats and tool shaped suckers for all the kids!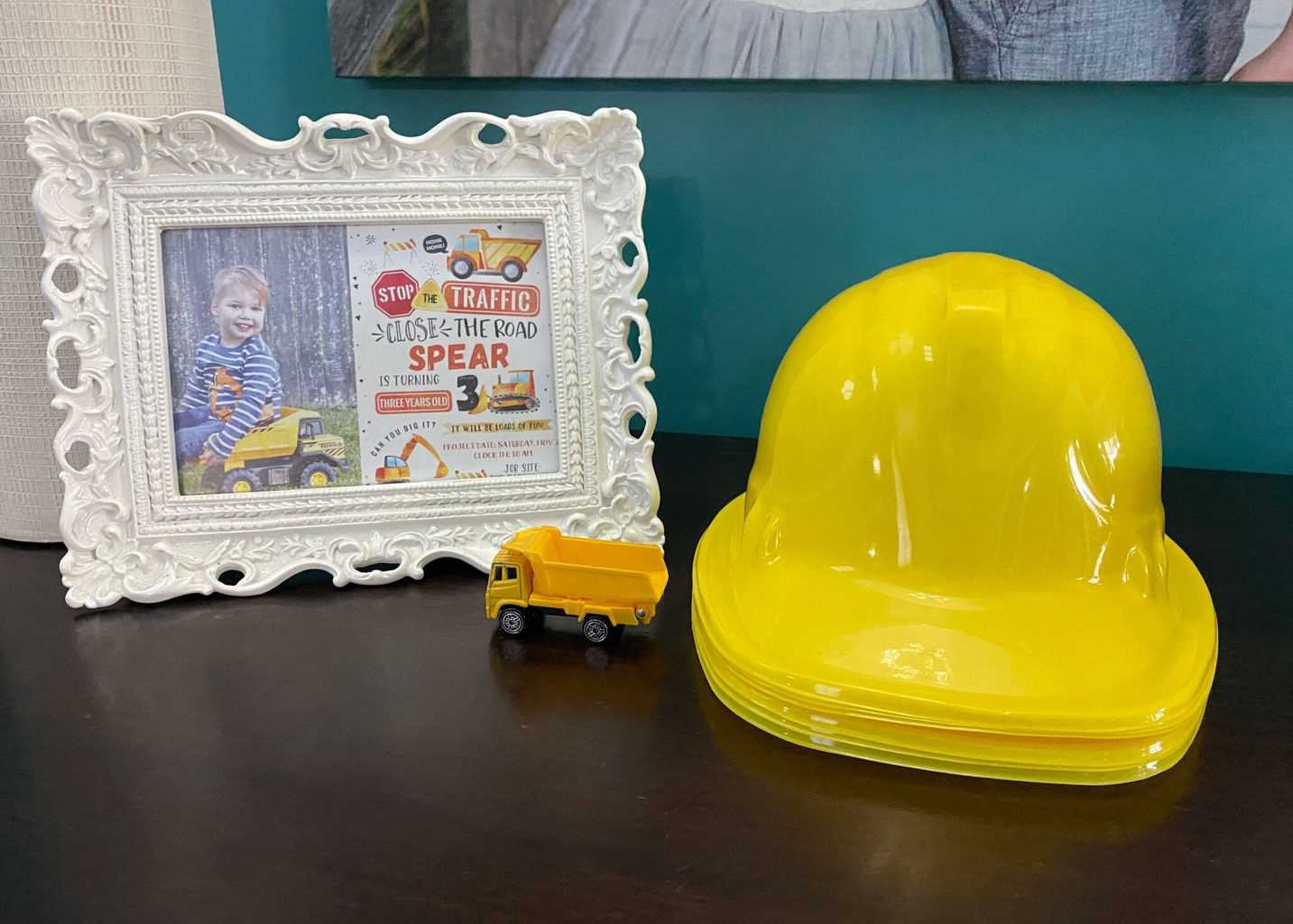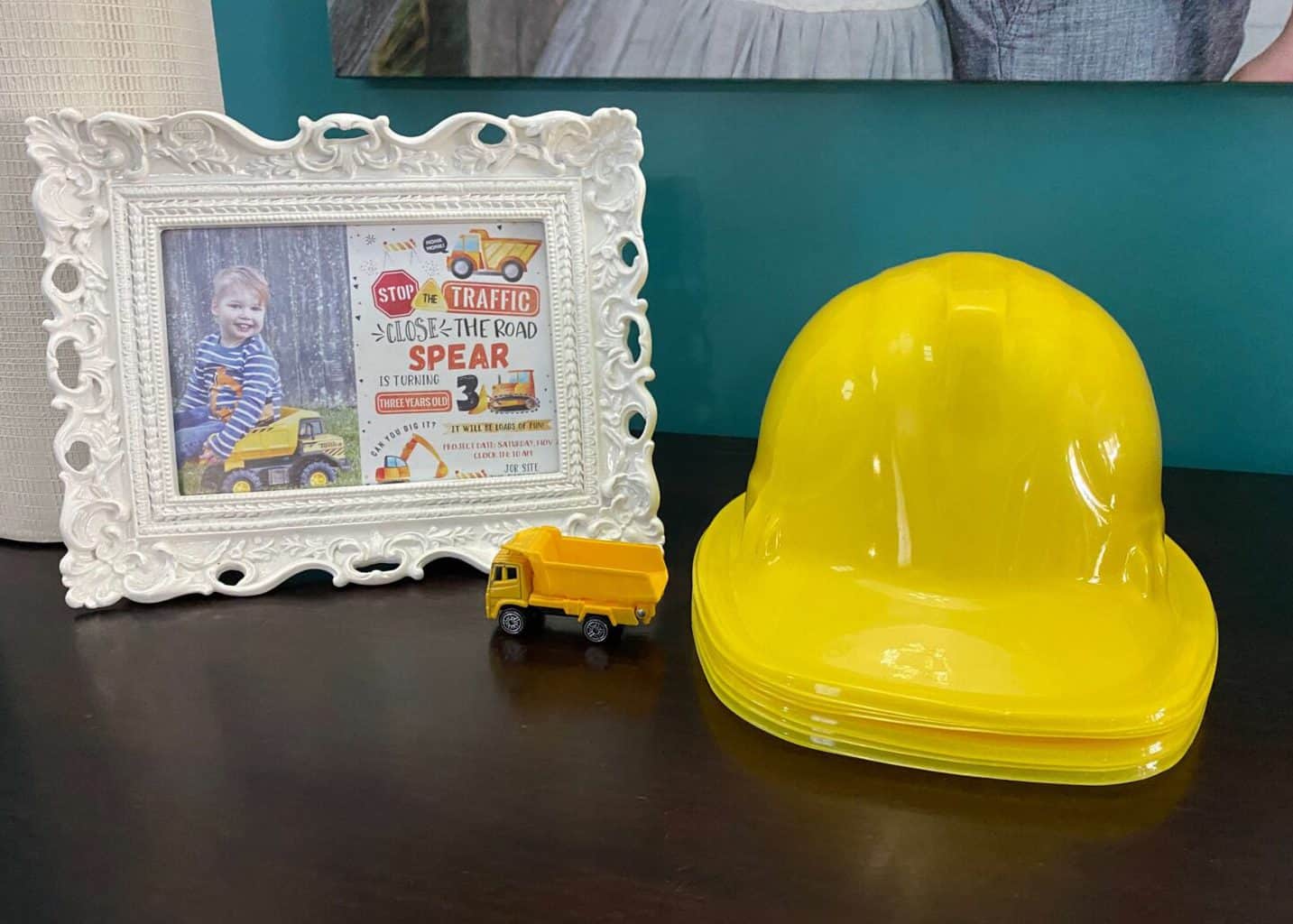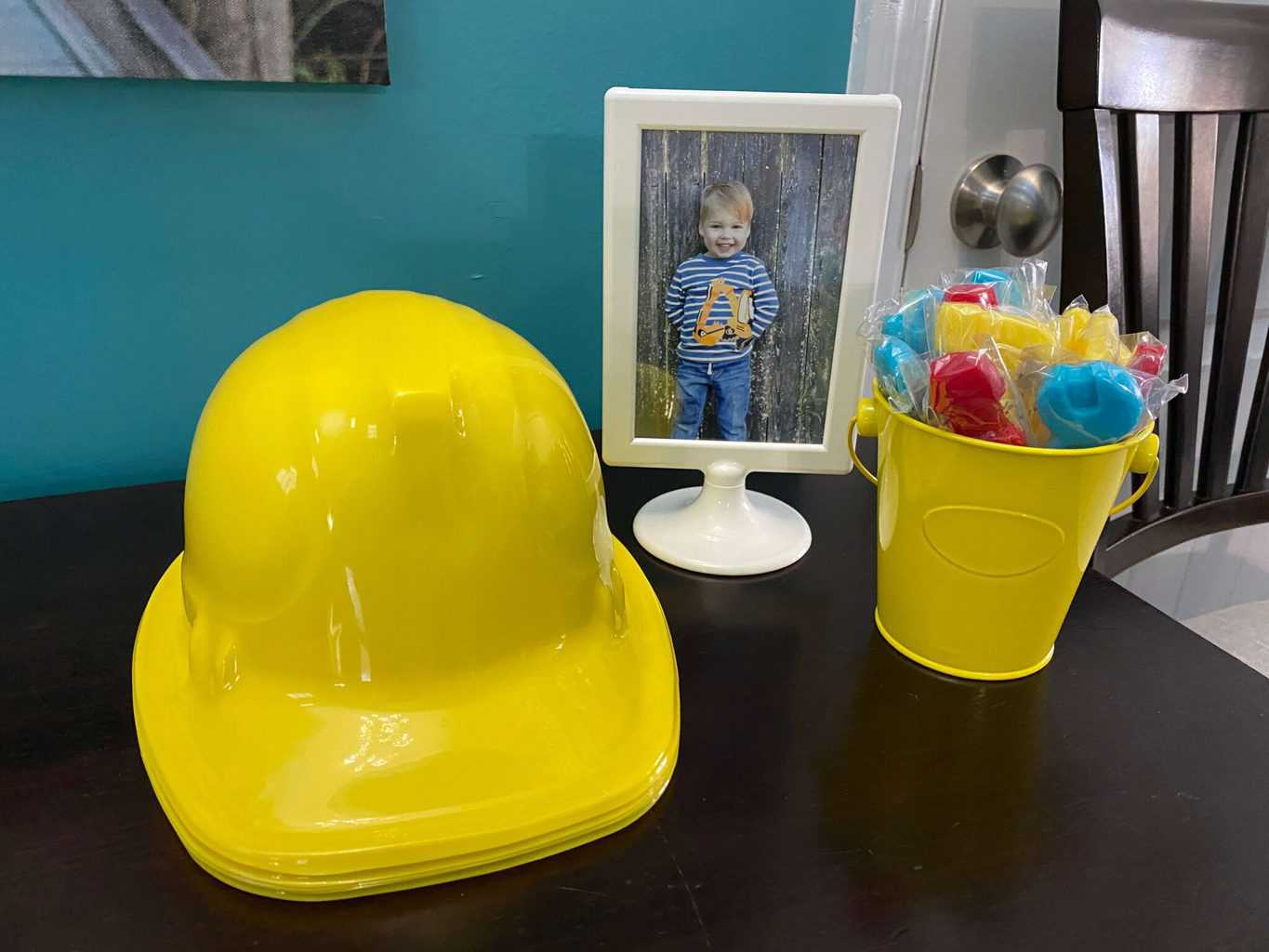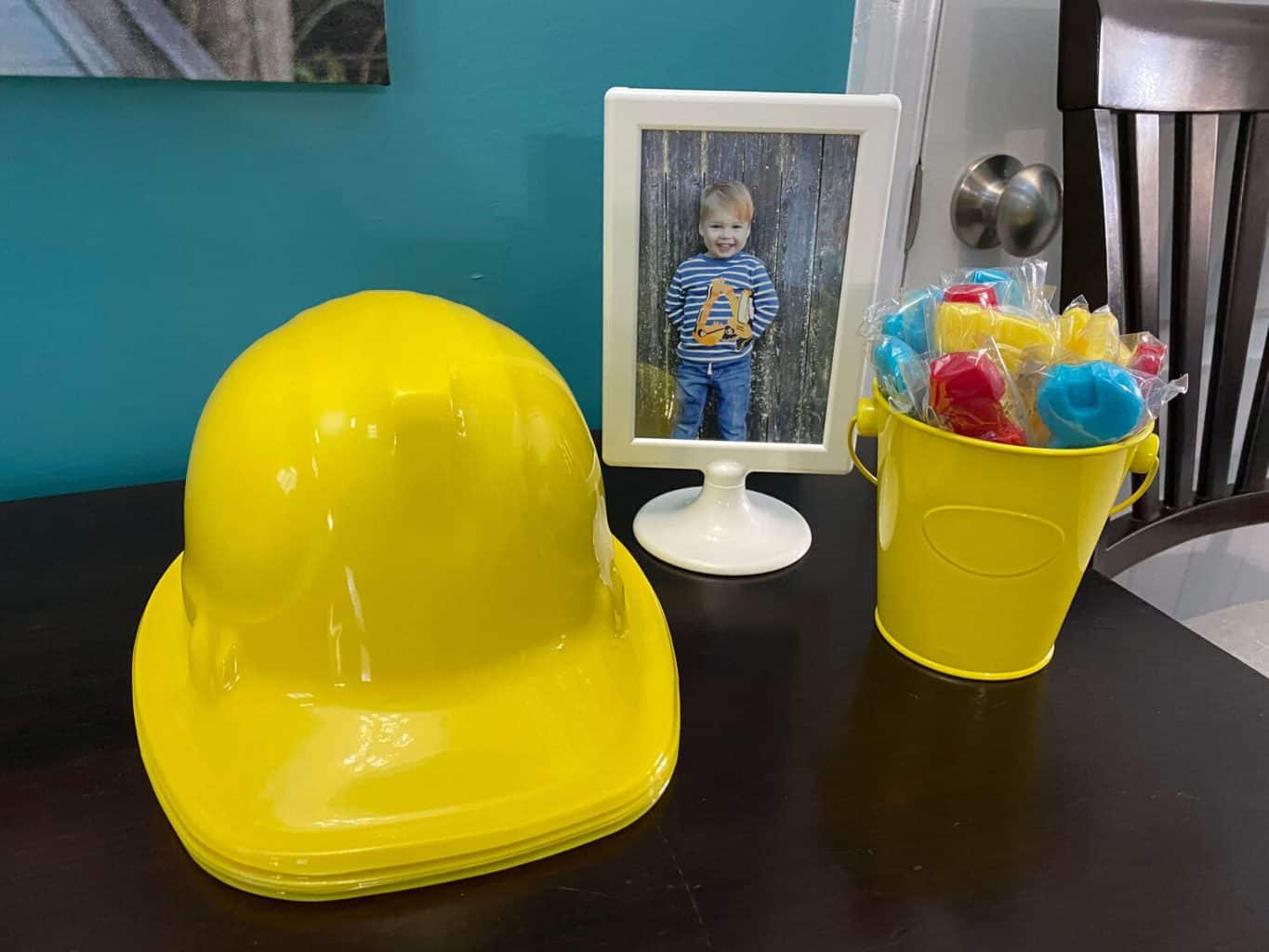 I always like to have the birthday slideshow playing during the party – and this time it legit got watched too!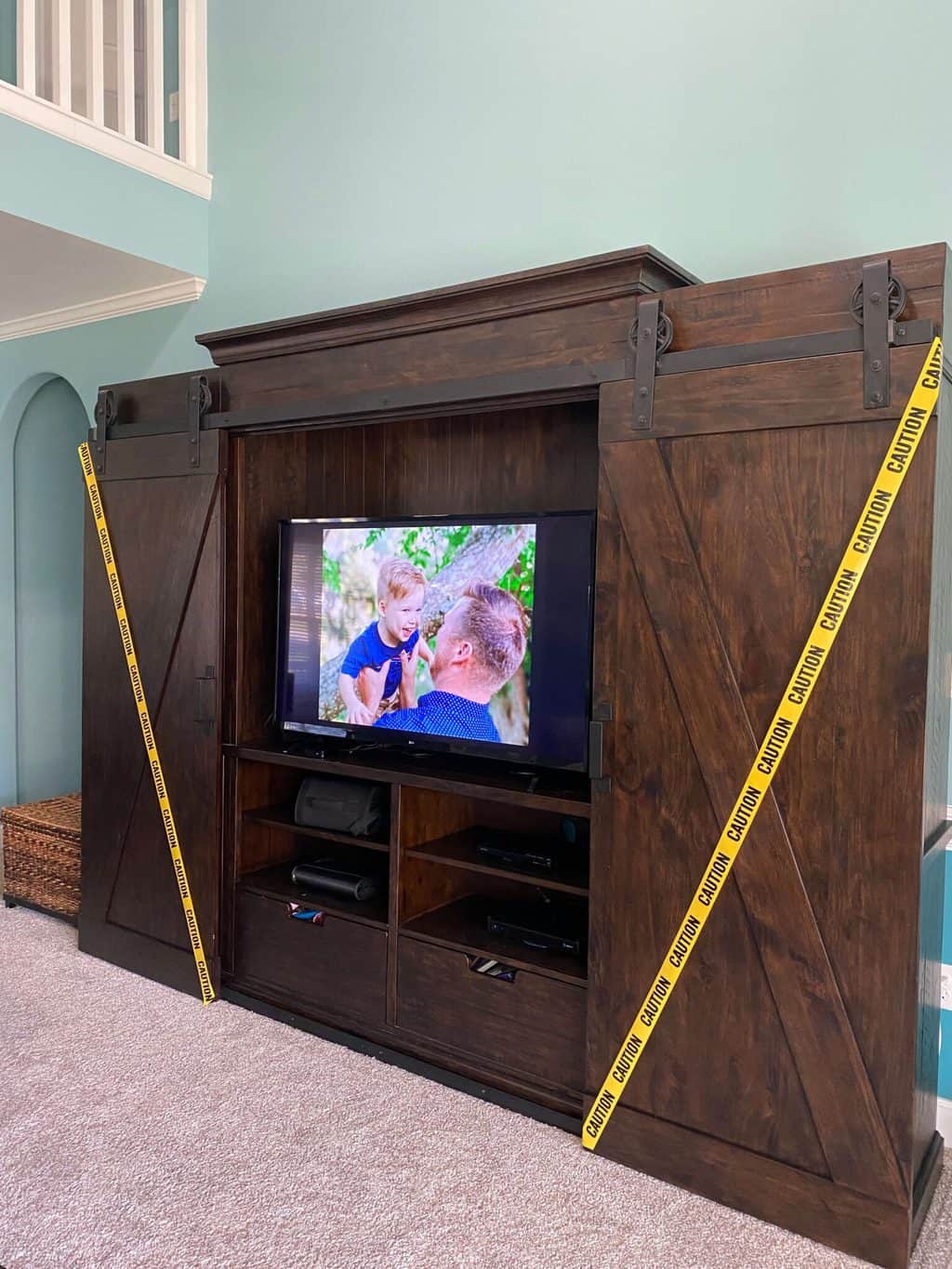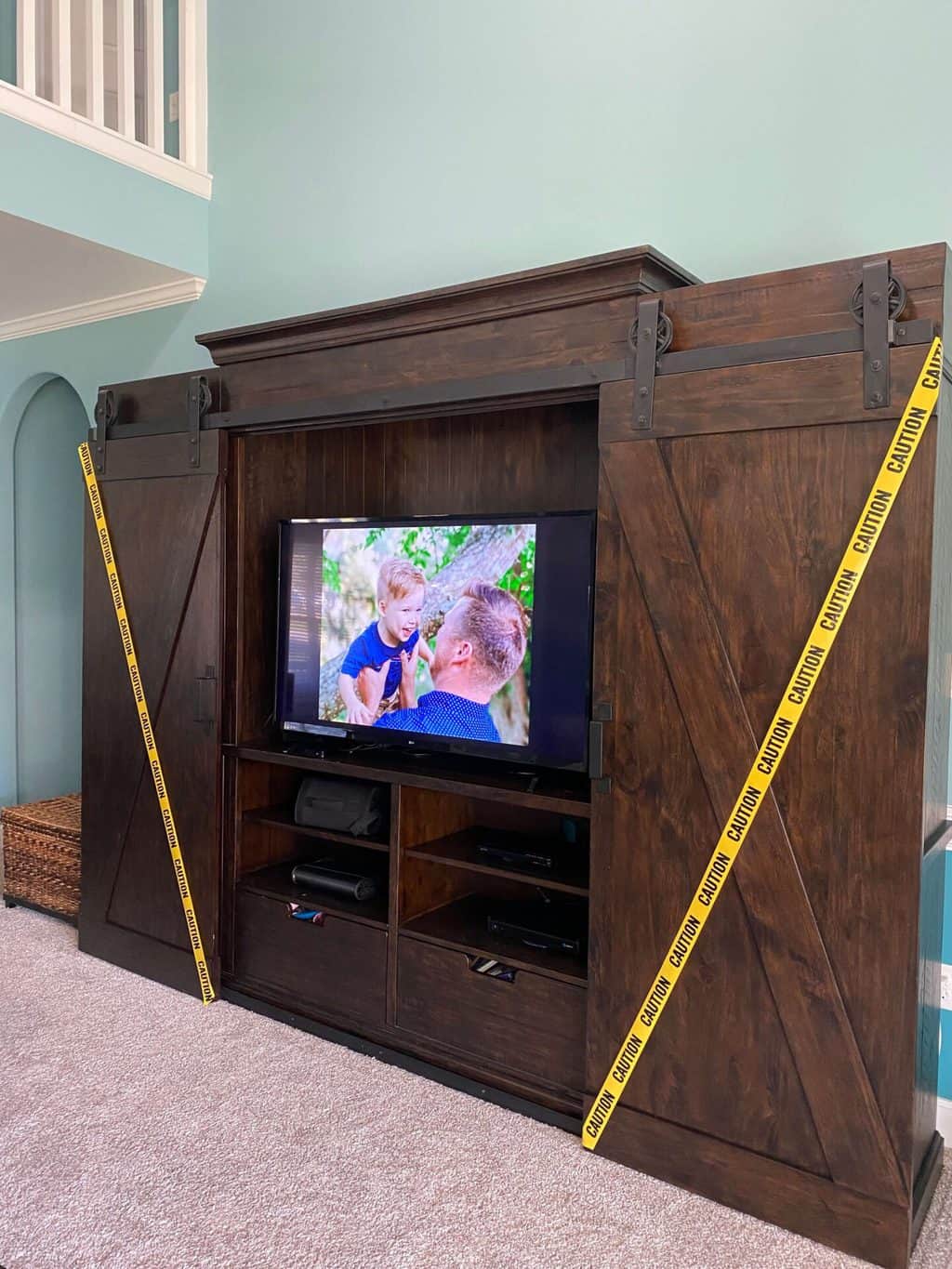 Gift opening always happens at the mantle!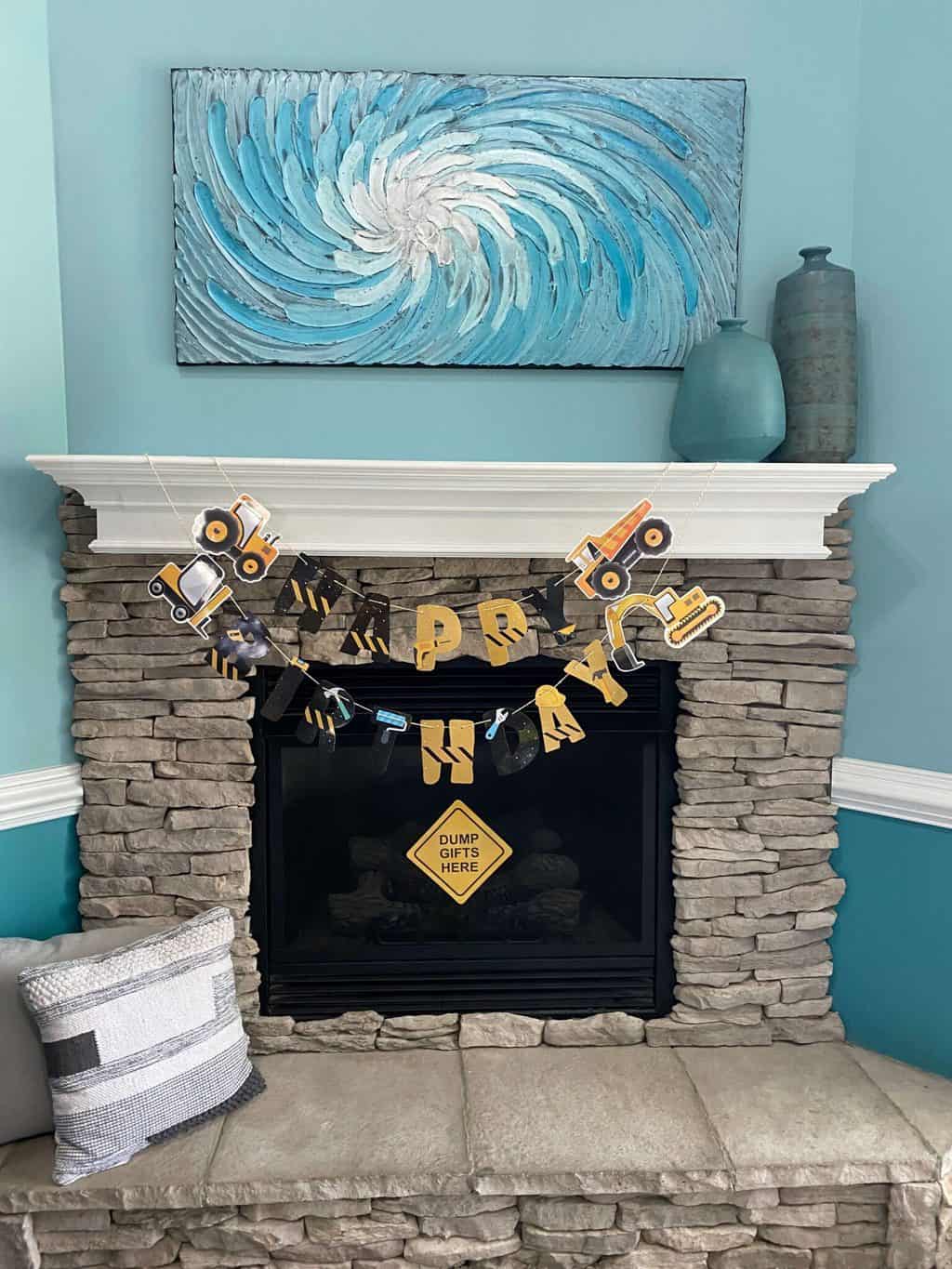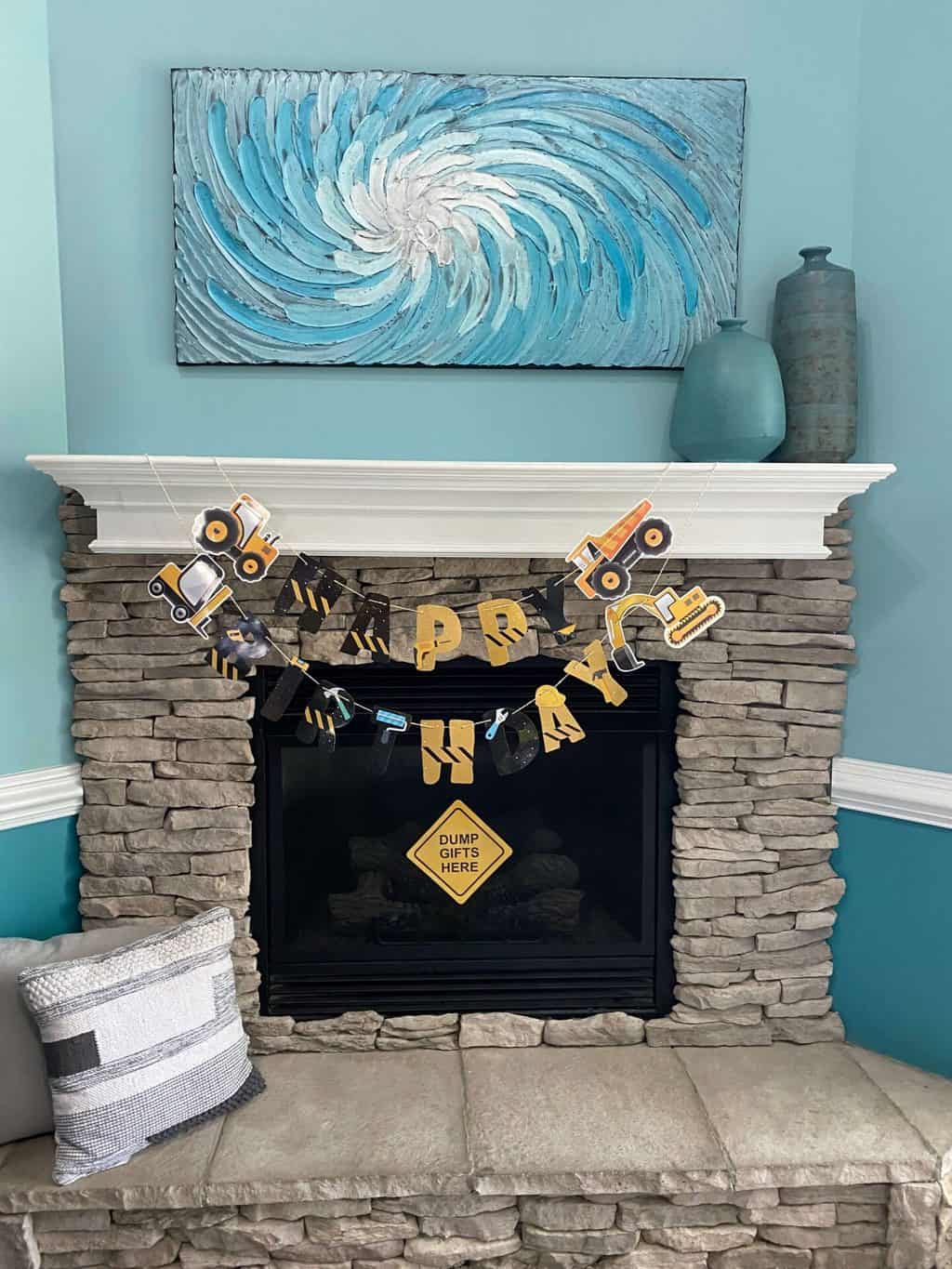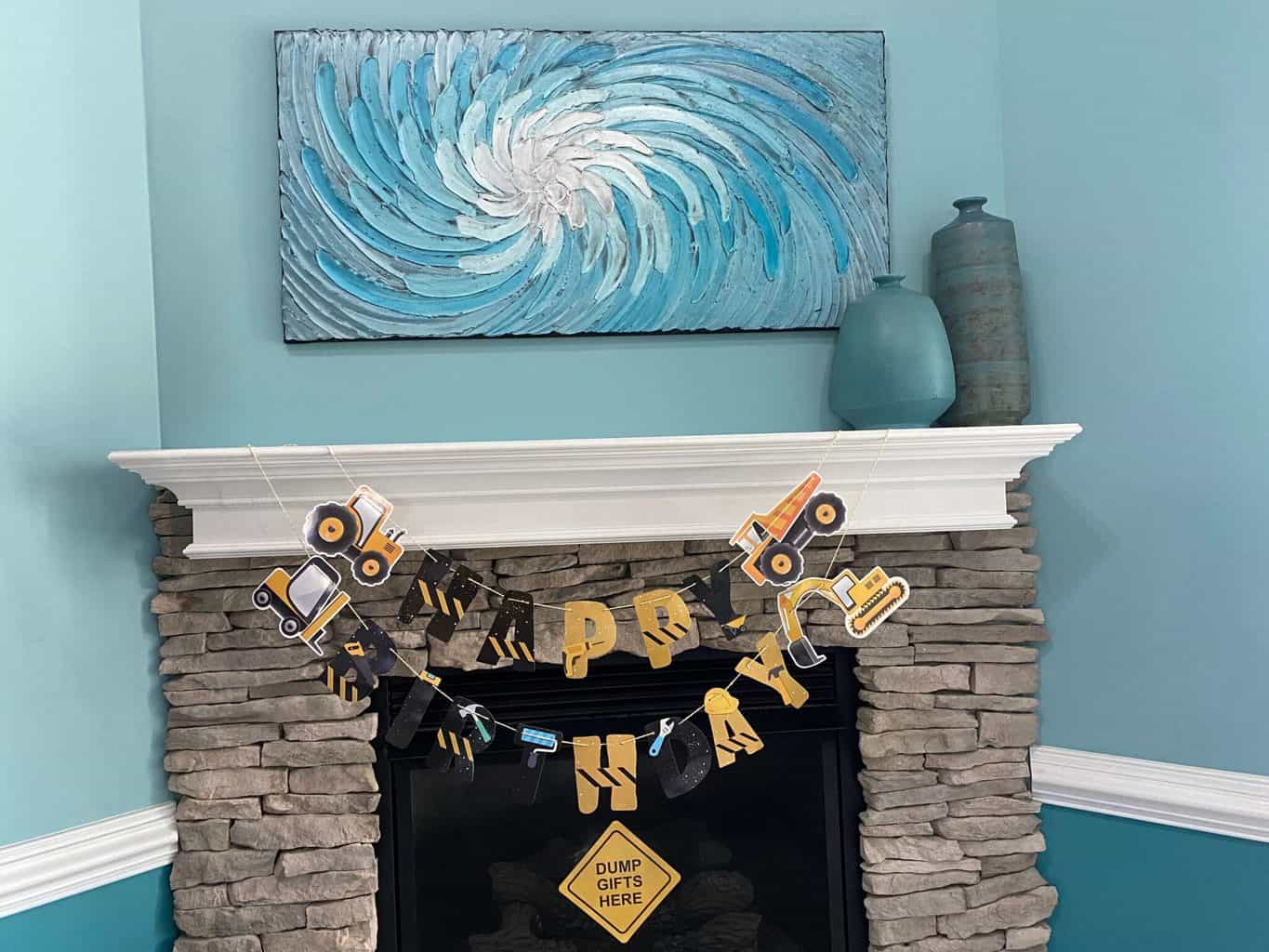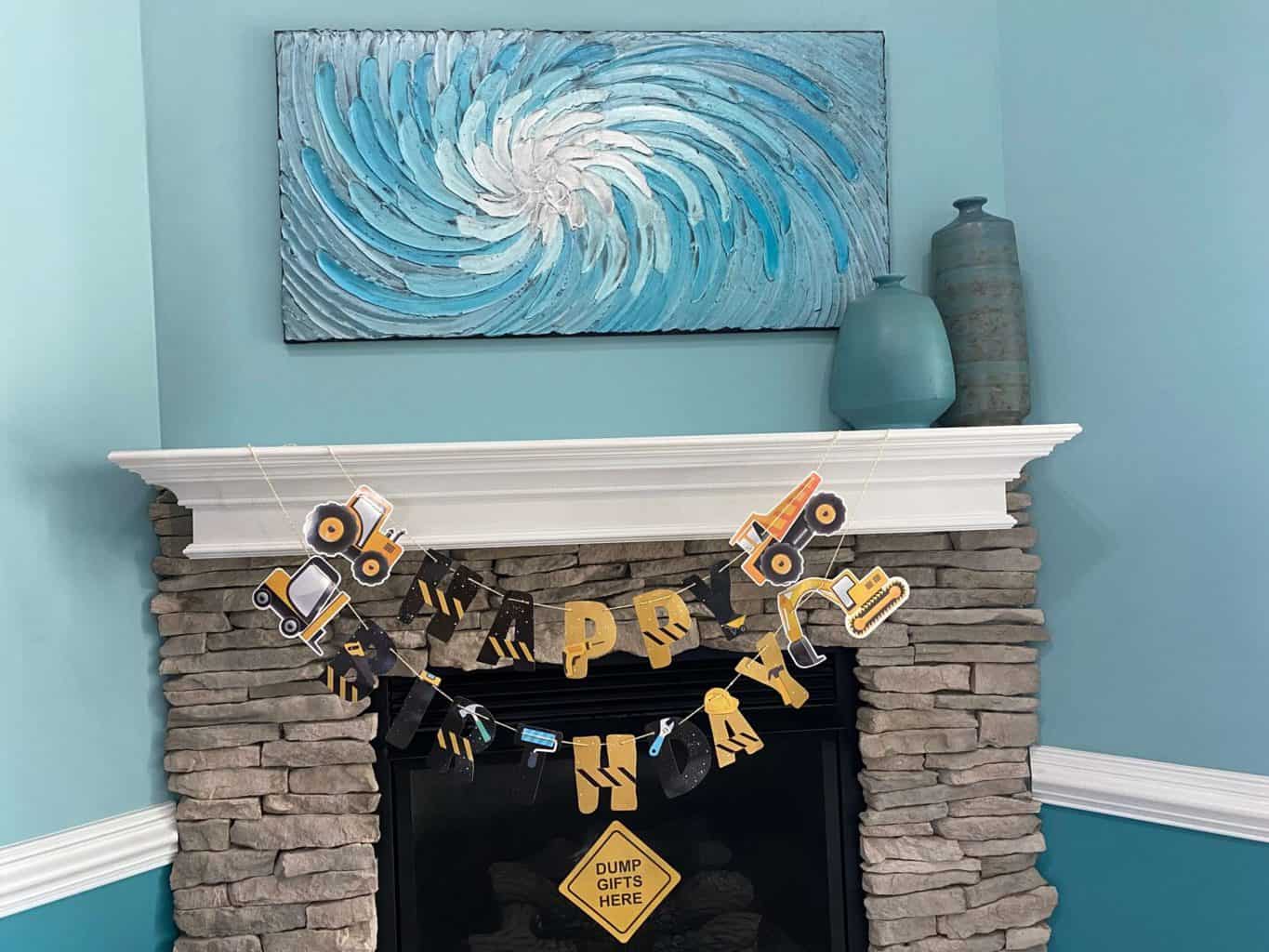 Weather is always questionable so I like to have a craft option just in case. We lucked out with gorgeous weather but the kids still enjoyed coloring these construction stickers!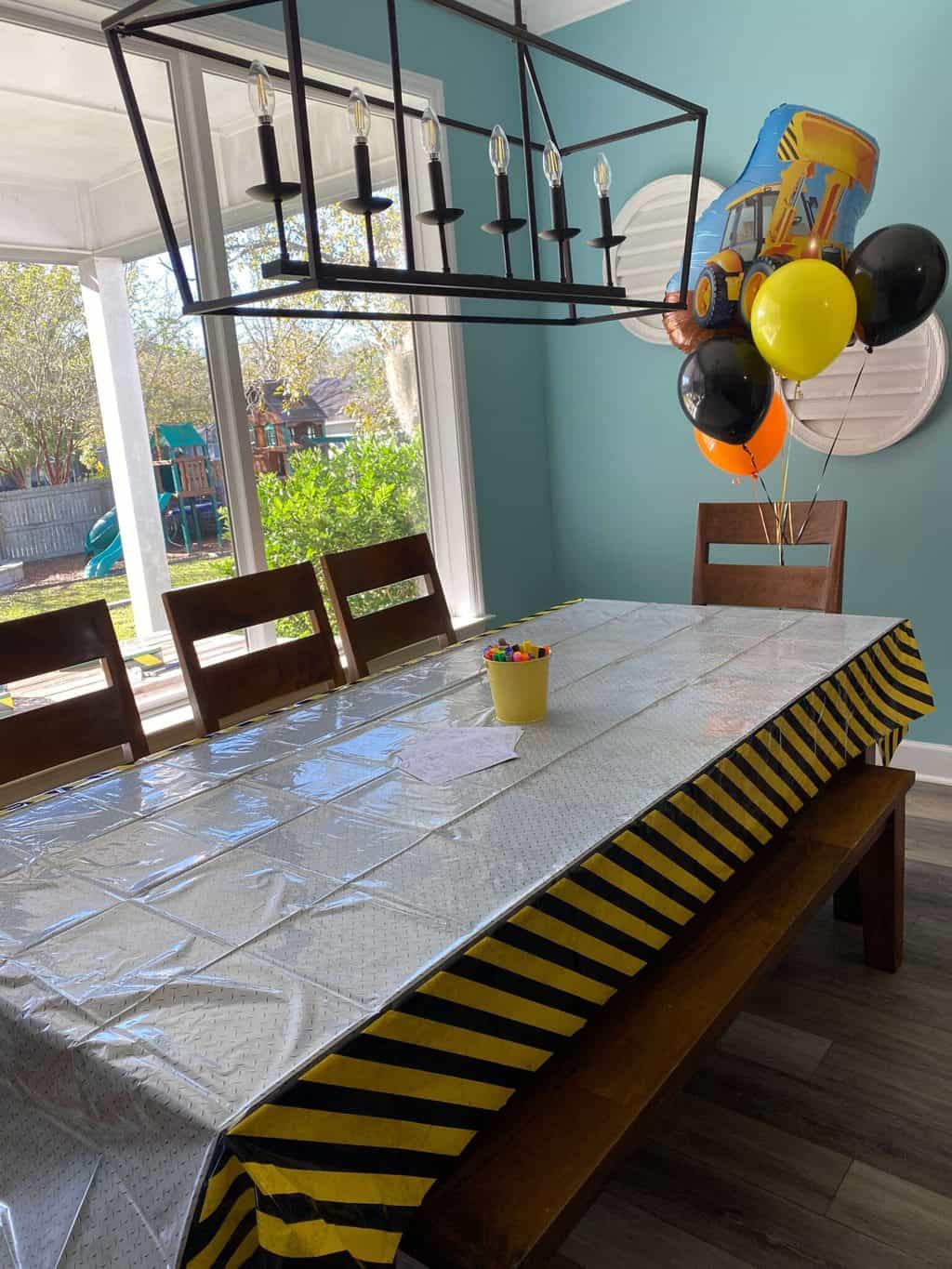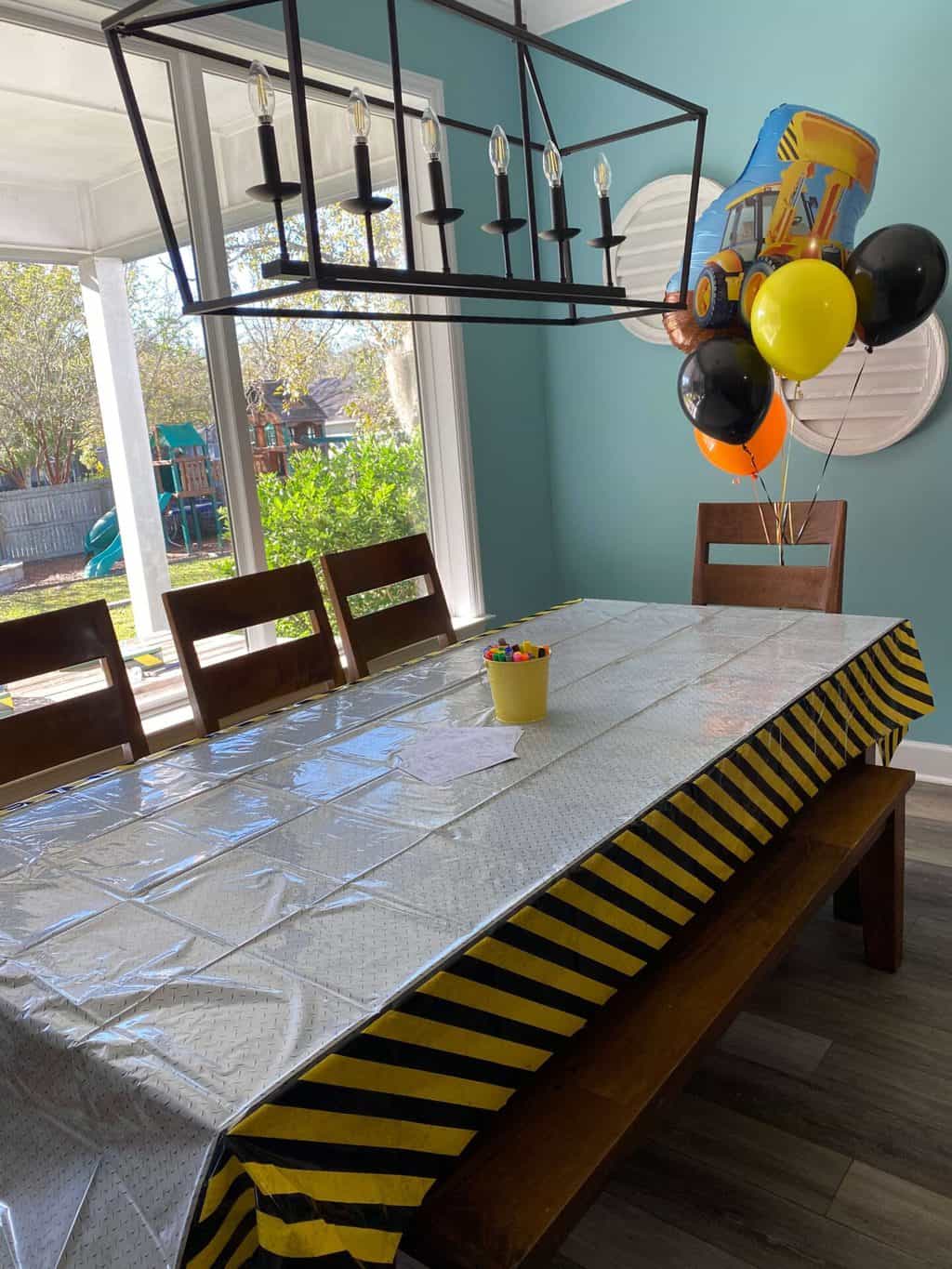 I also always like to have a big birthday balloon for the birthday child! Rather than do a bunch of balloons for party decor, we just did a bundle at his chair.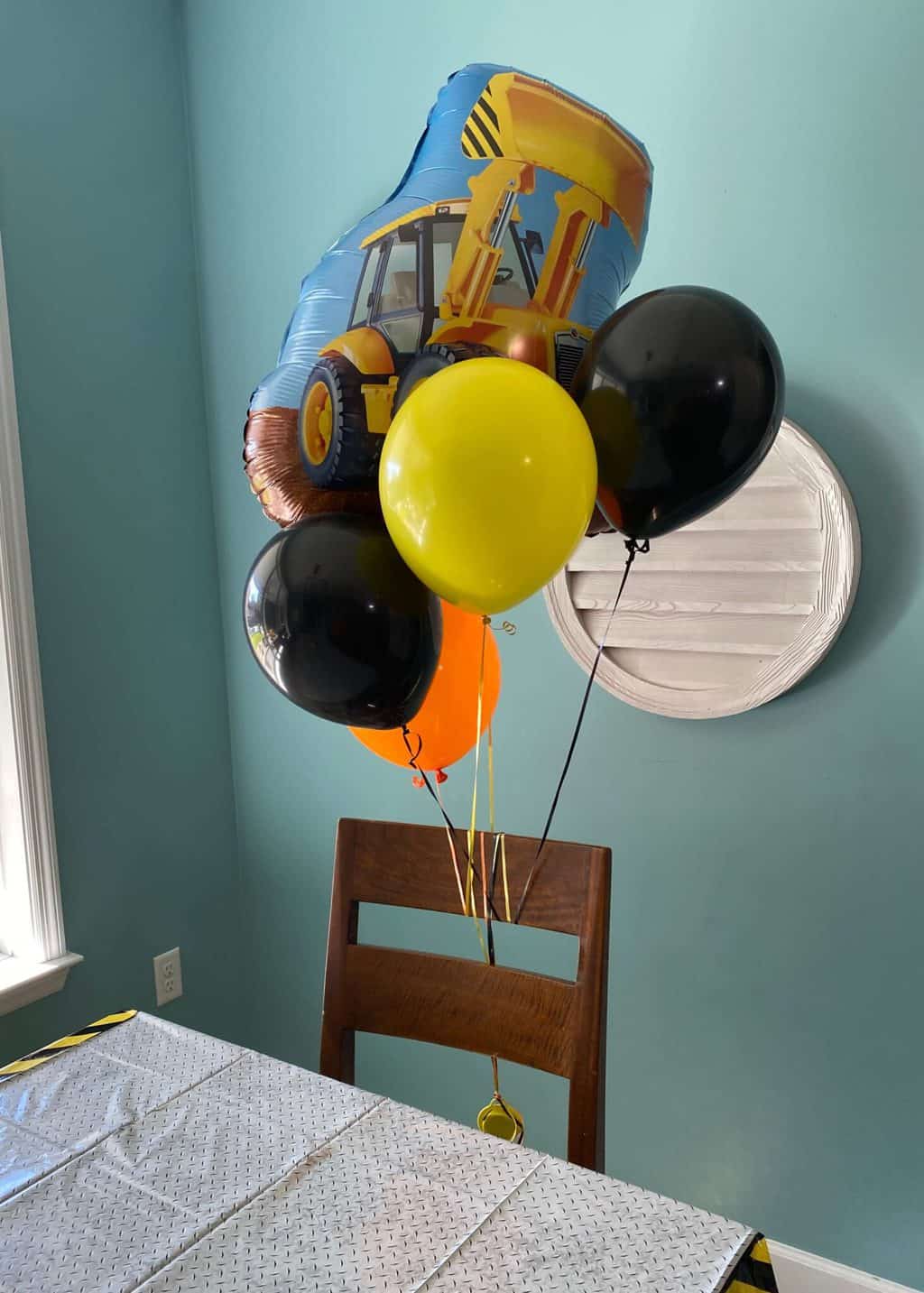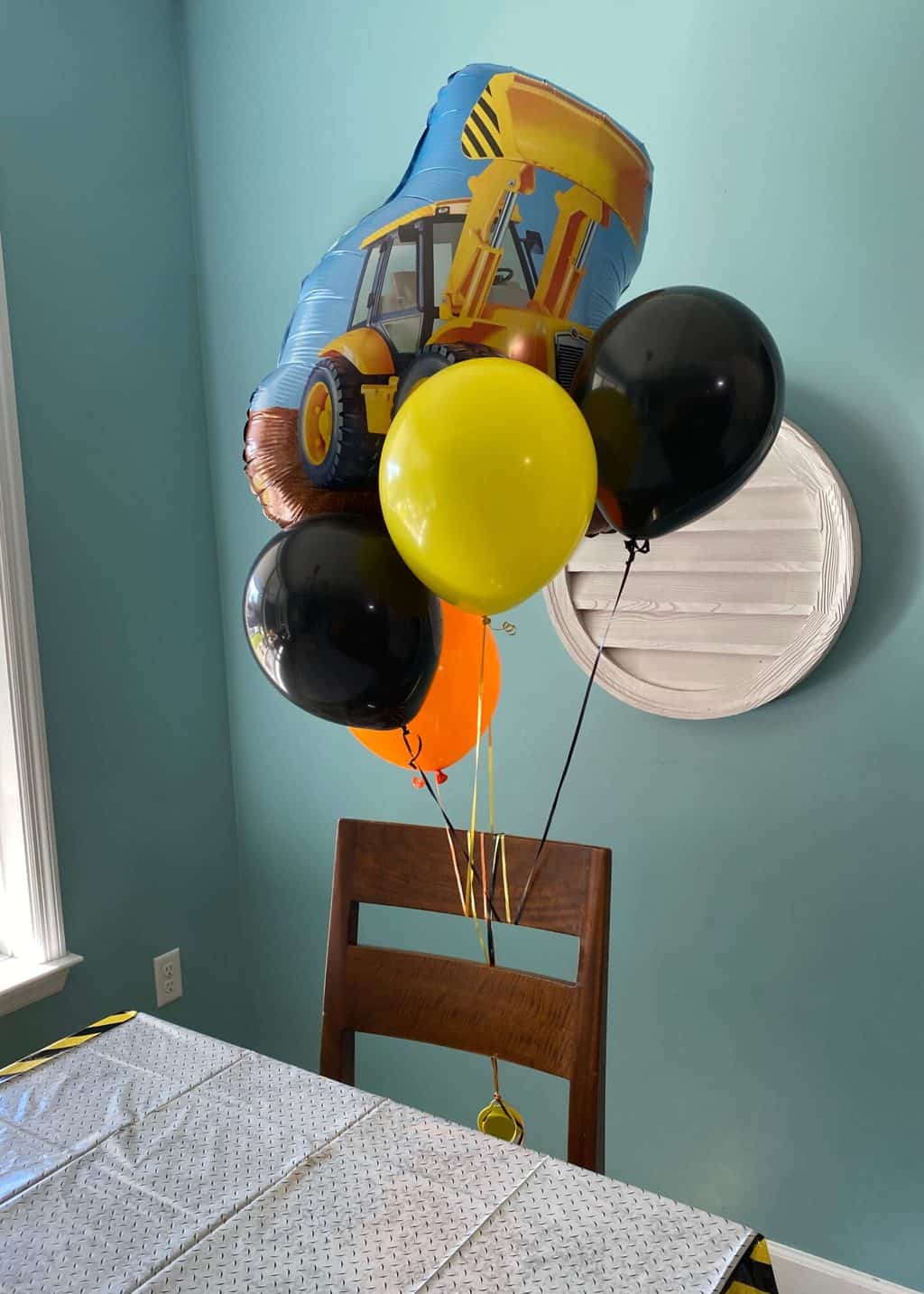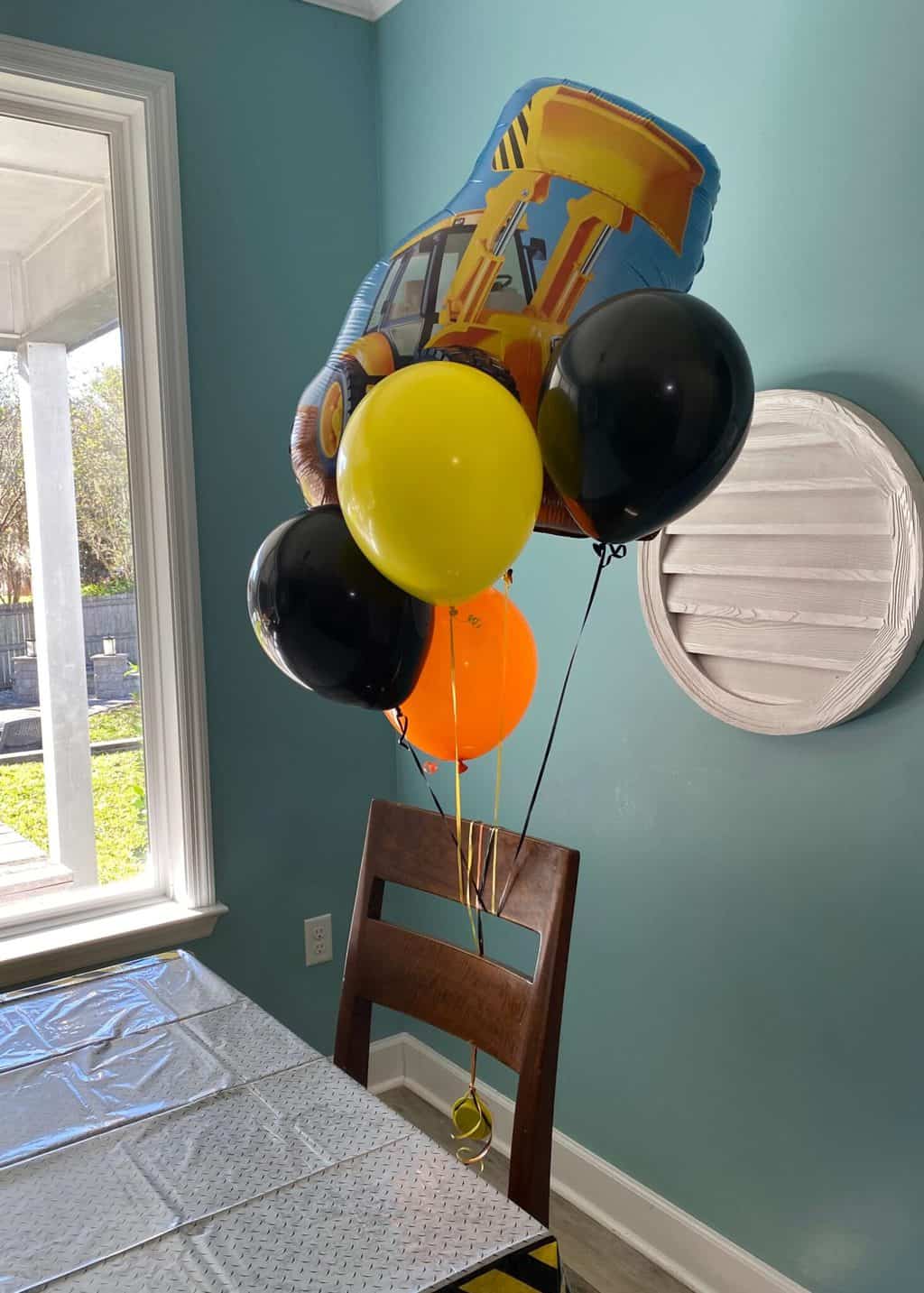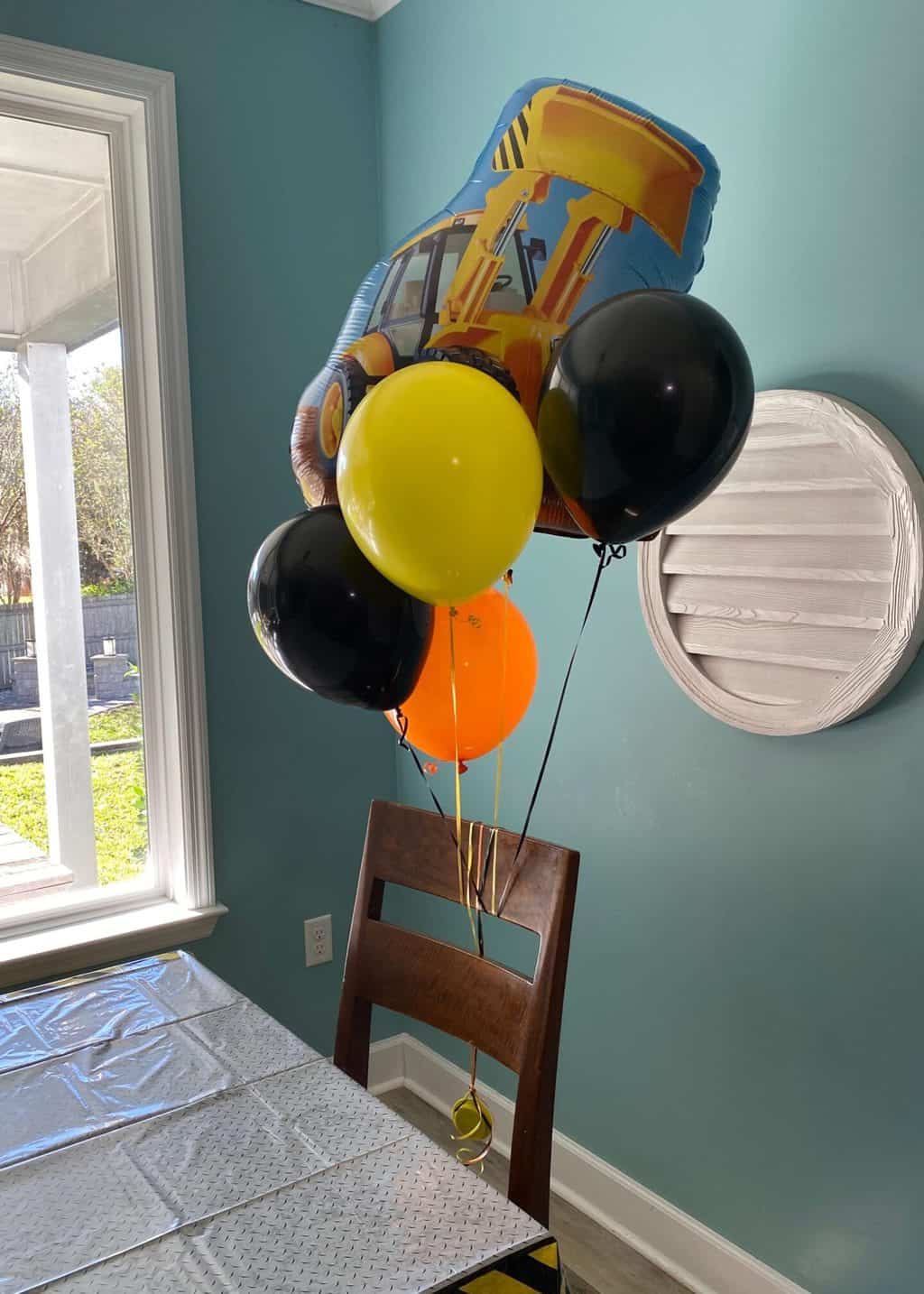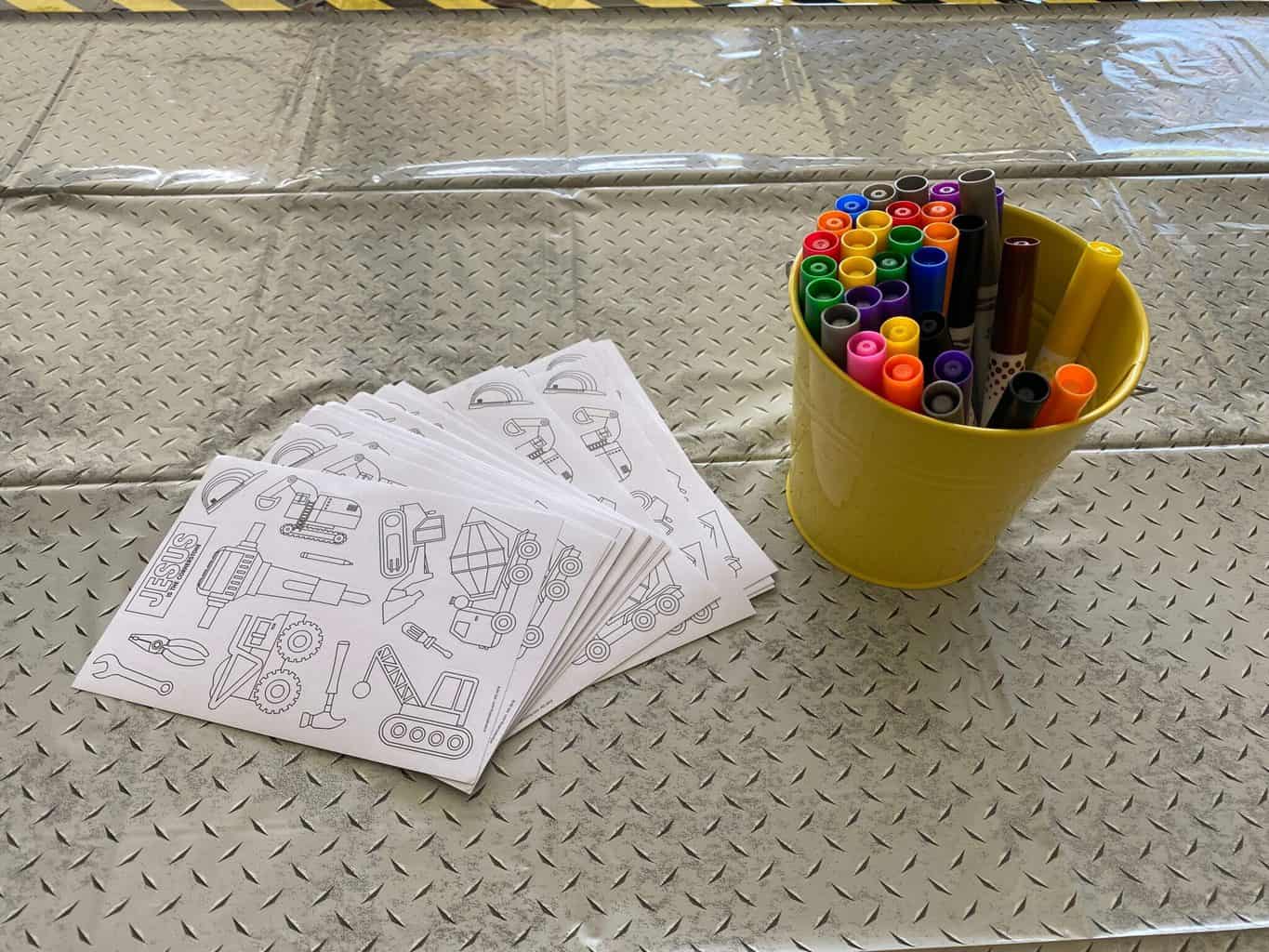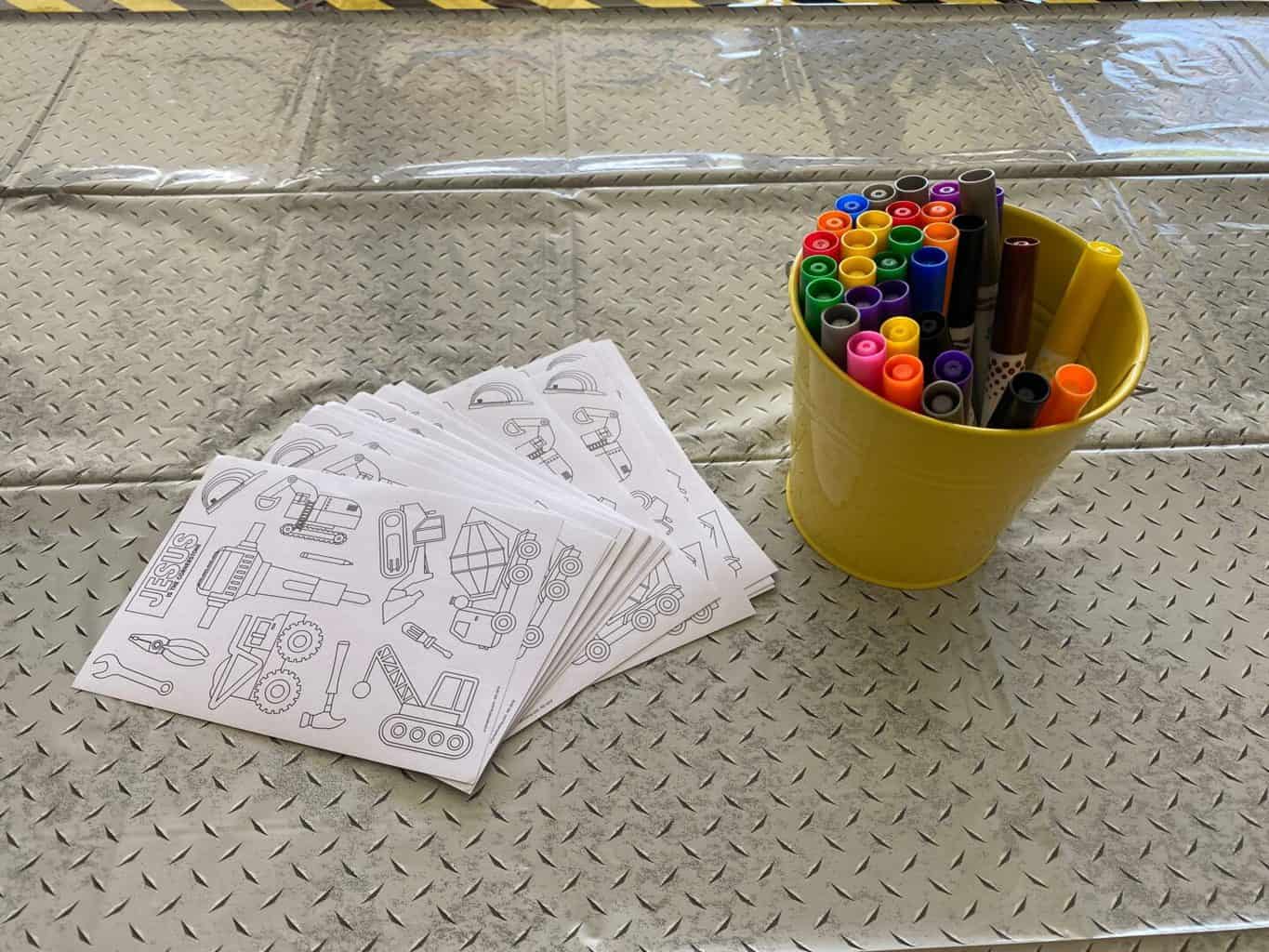 The party is always all about the FOOD! For this party I kept it simple and geared towards snack foods that kids would enjoy. We did a 10:30 AM party so heavy food wasn't really needed!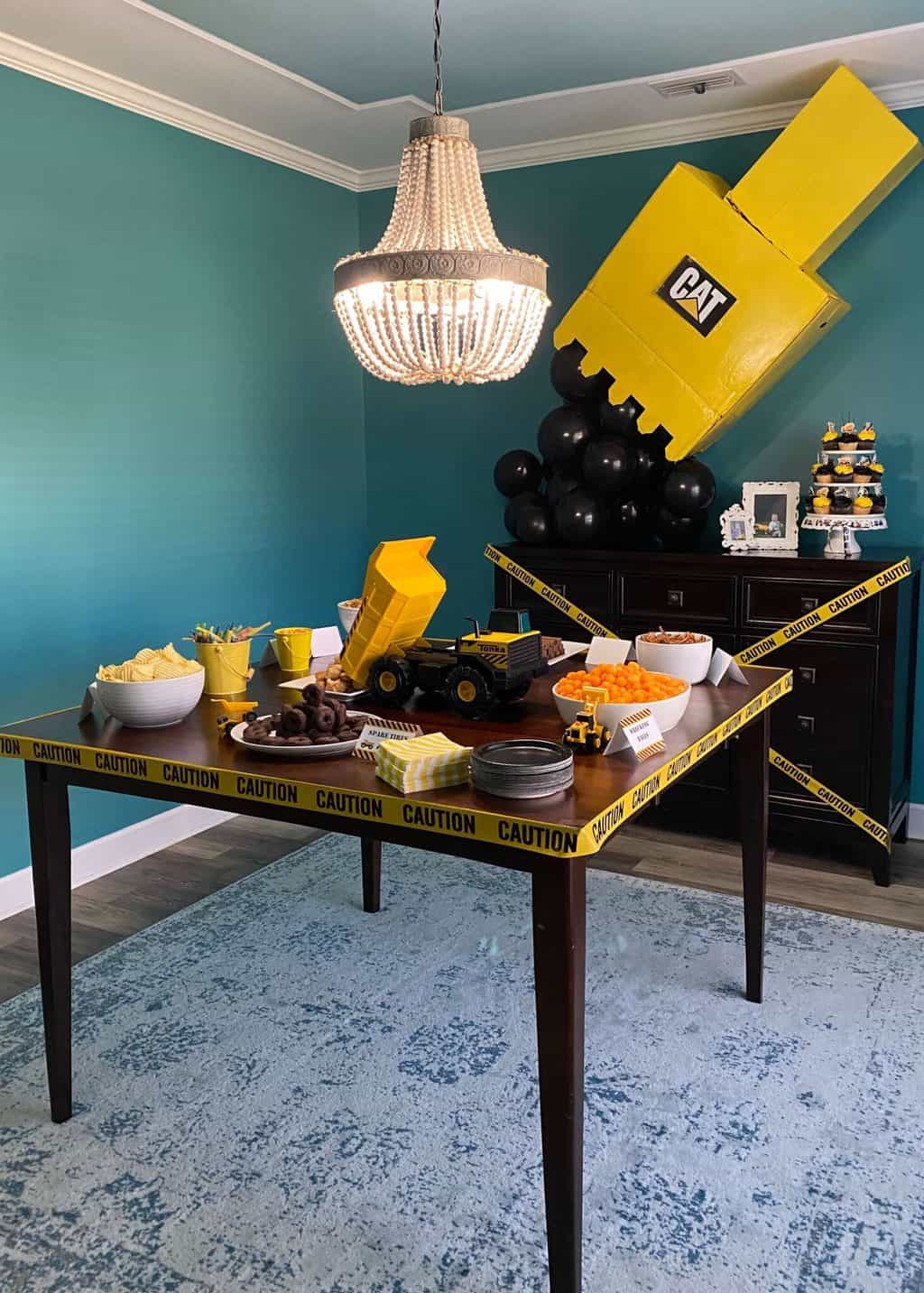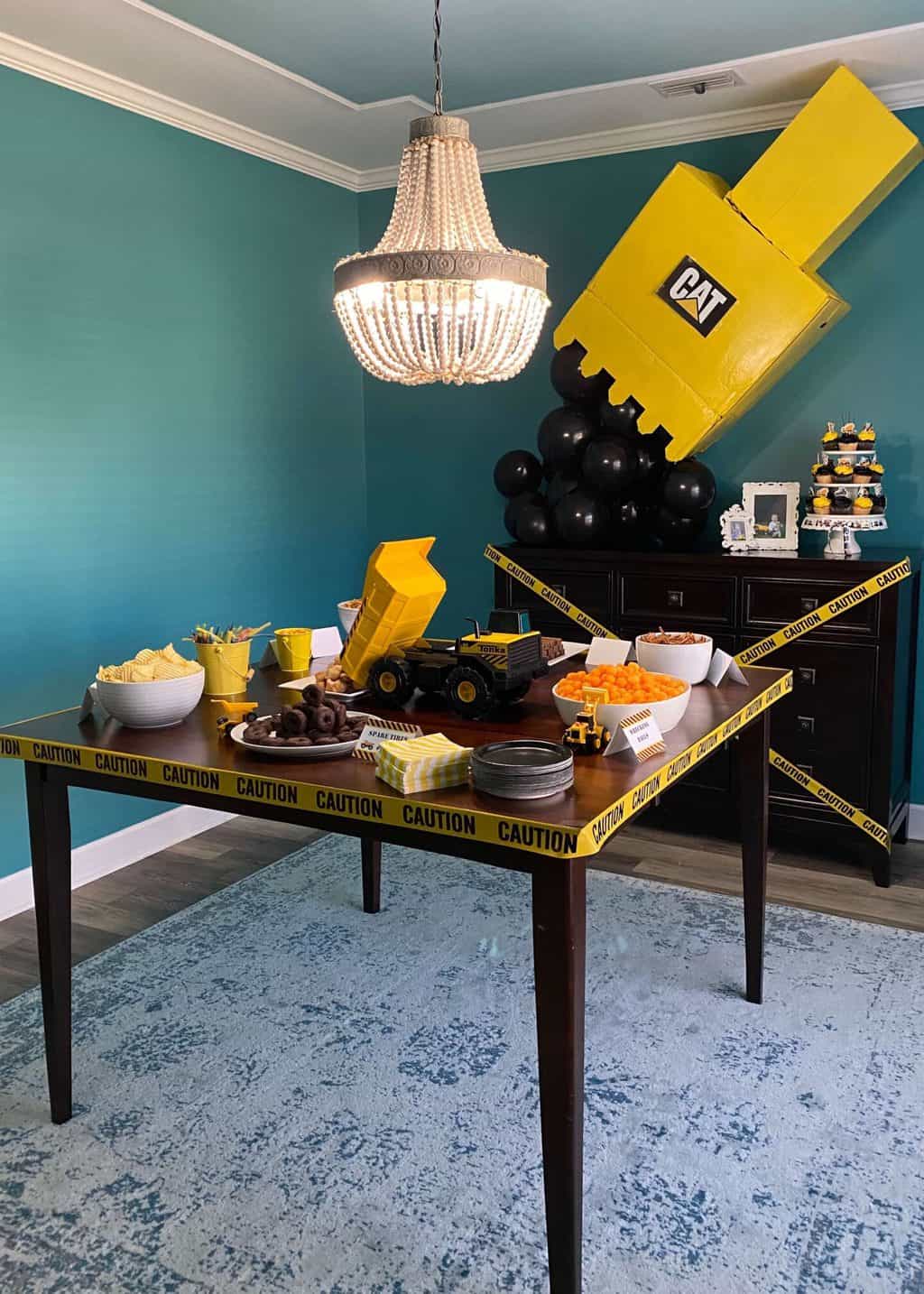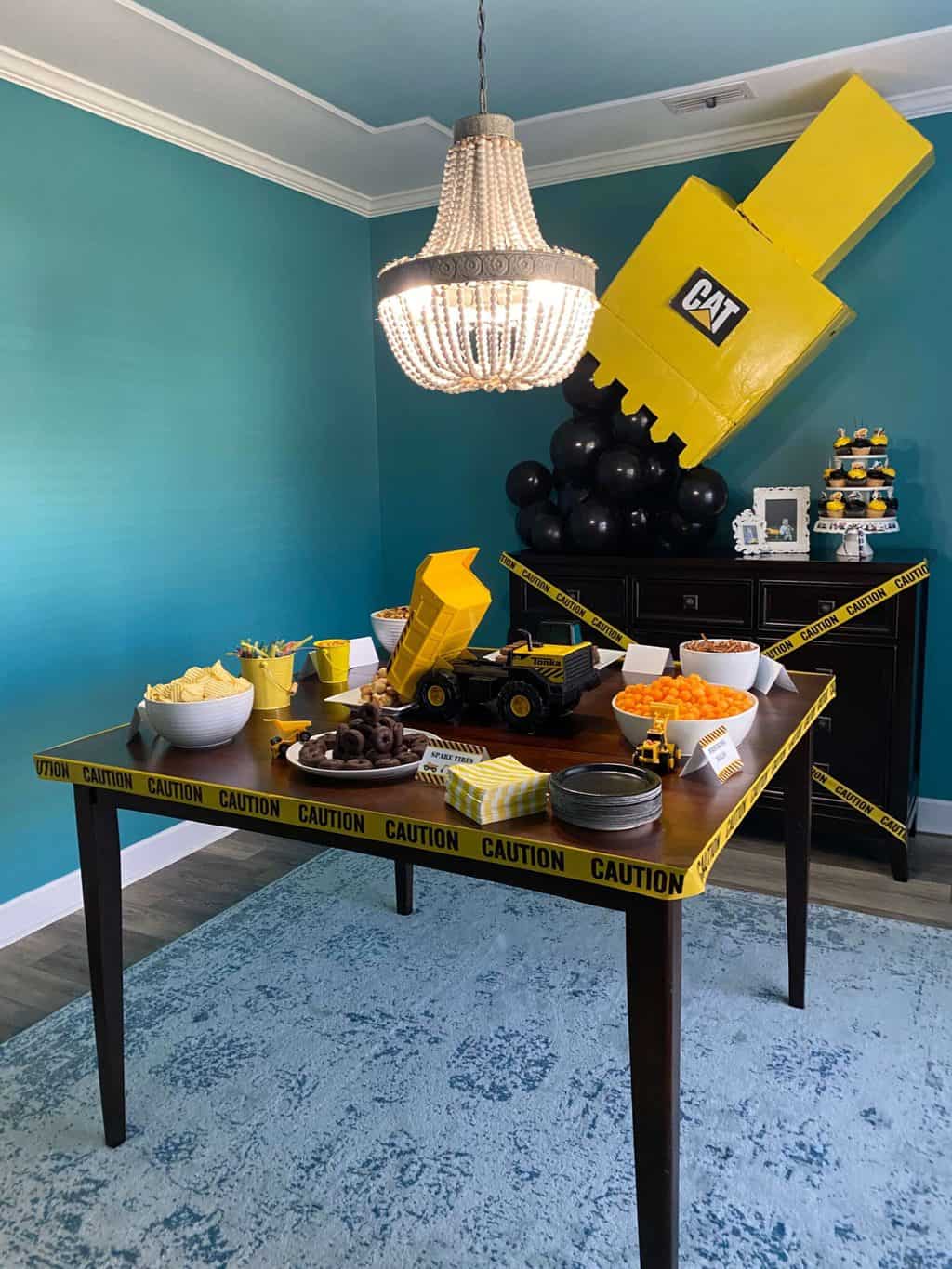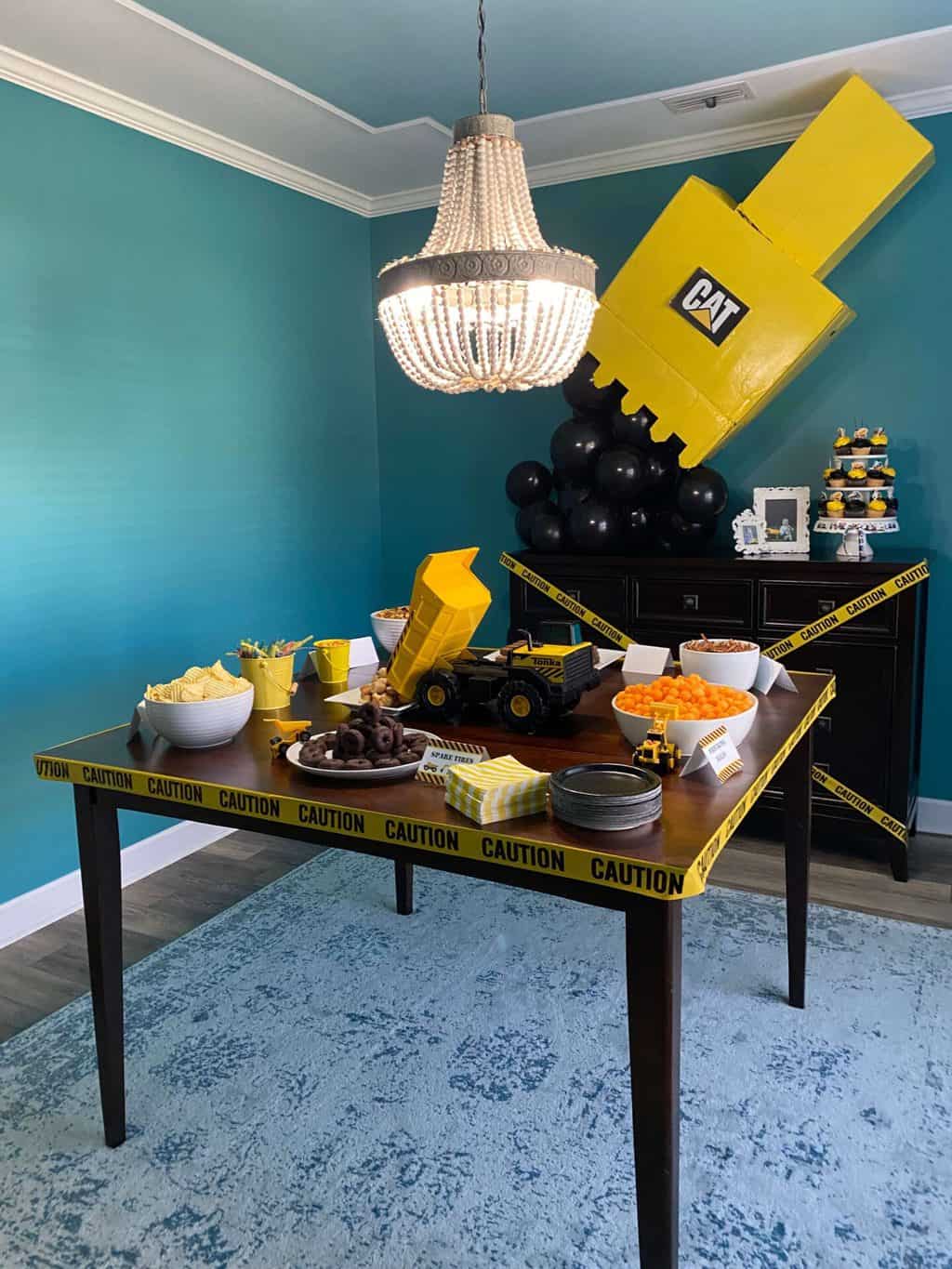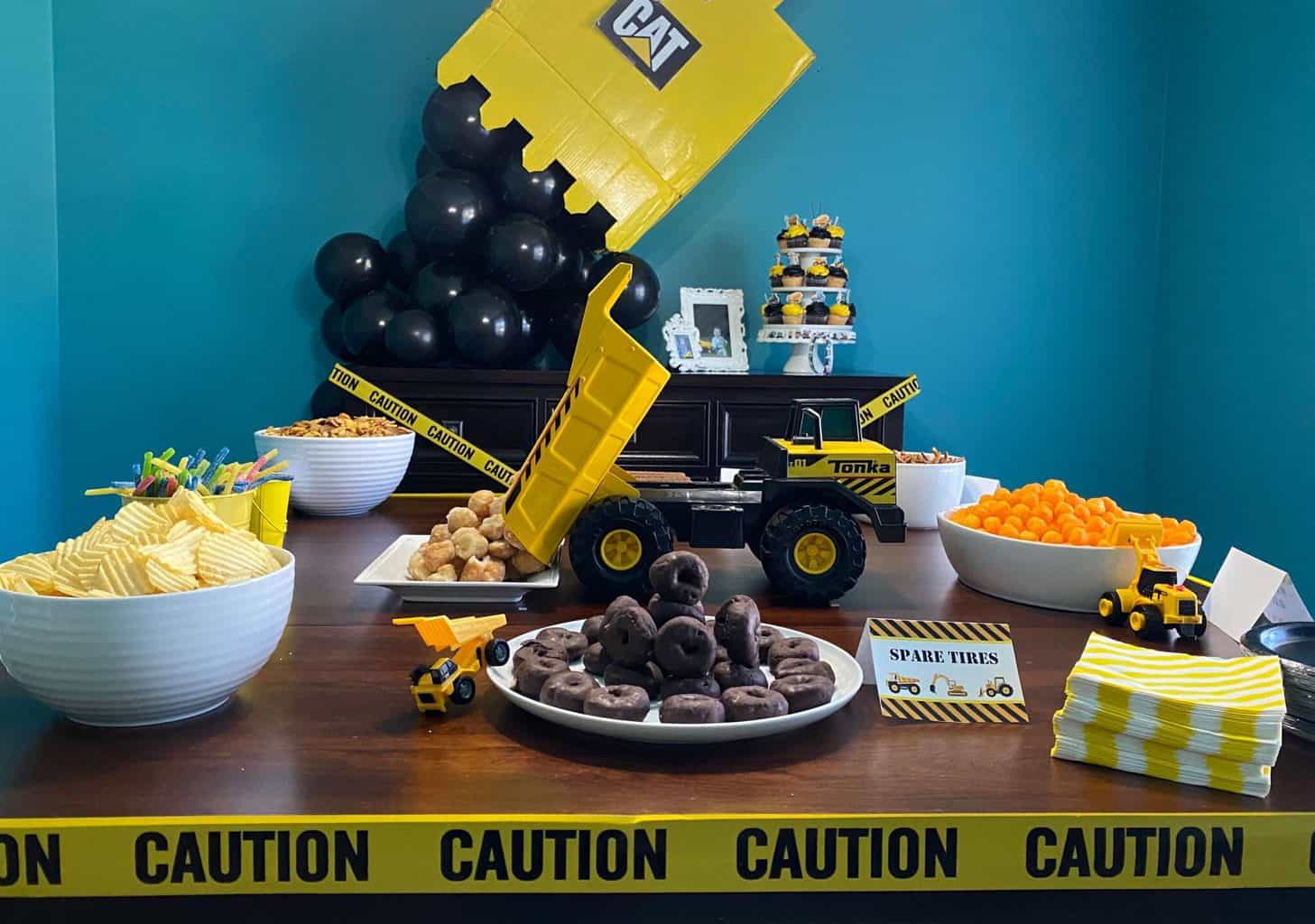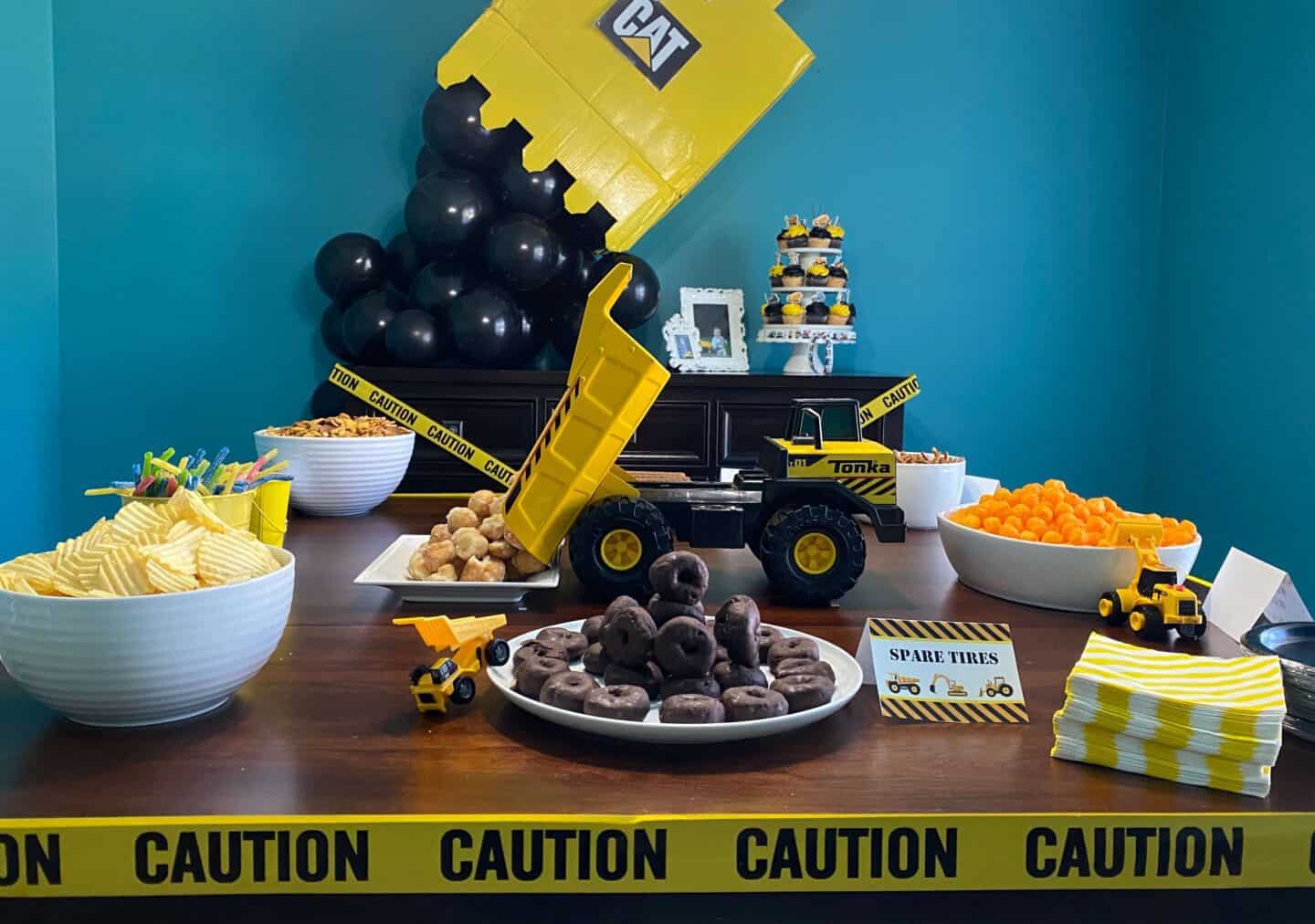 Chocolate Donuts = Spare Tires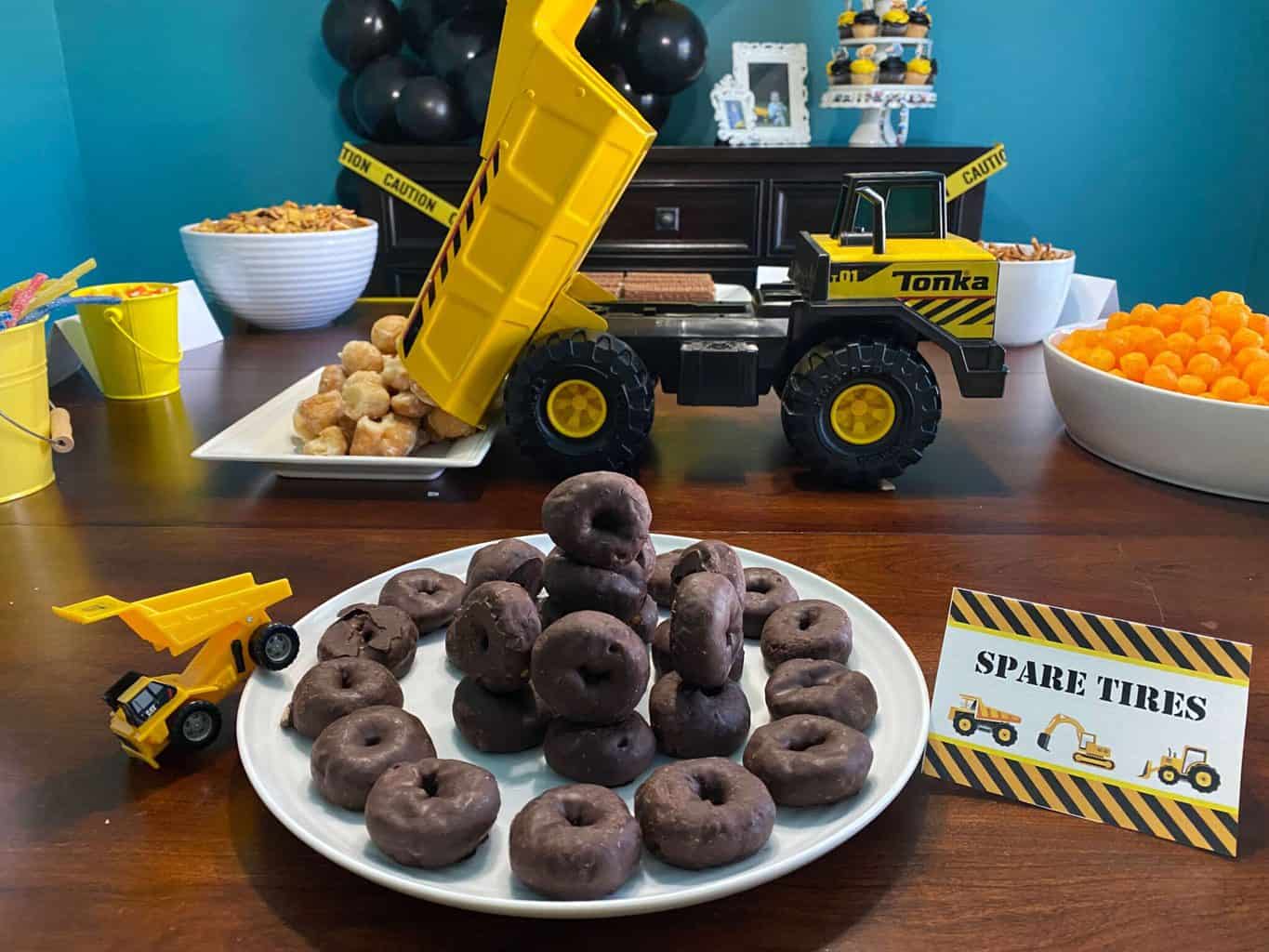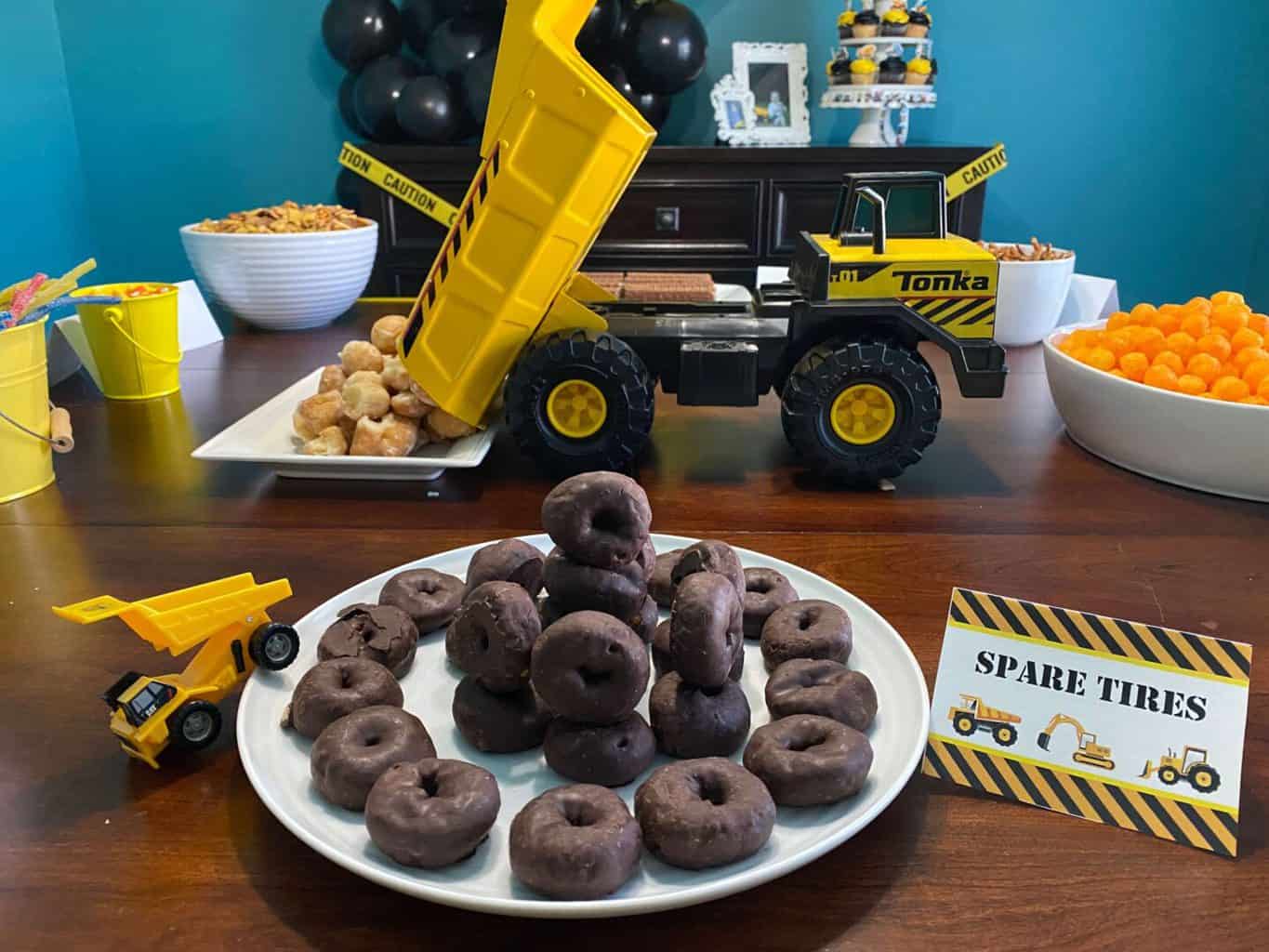 Cheese Puffs + Wrecking Balls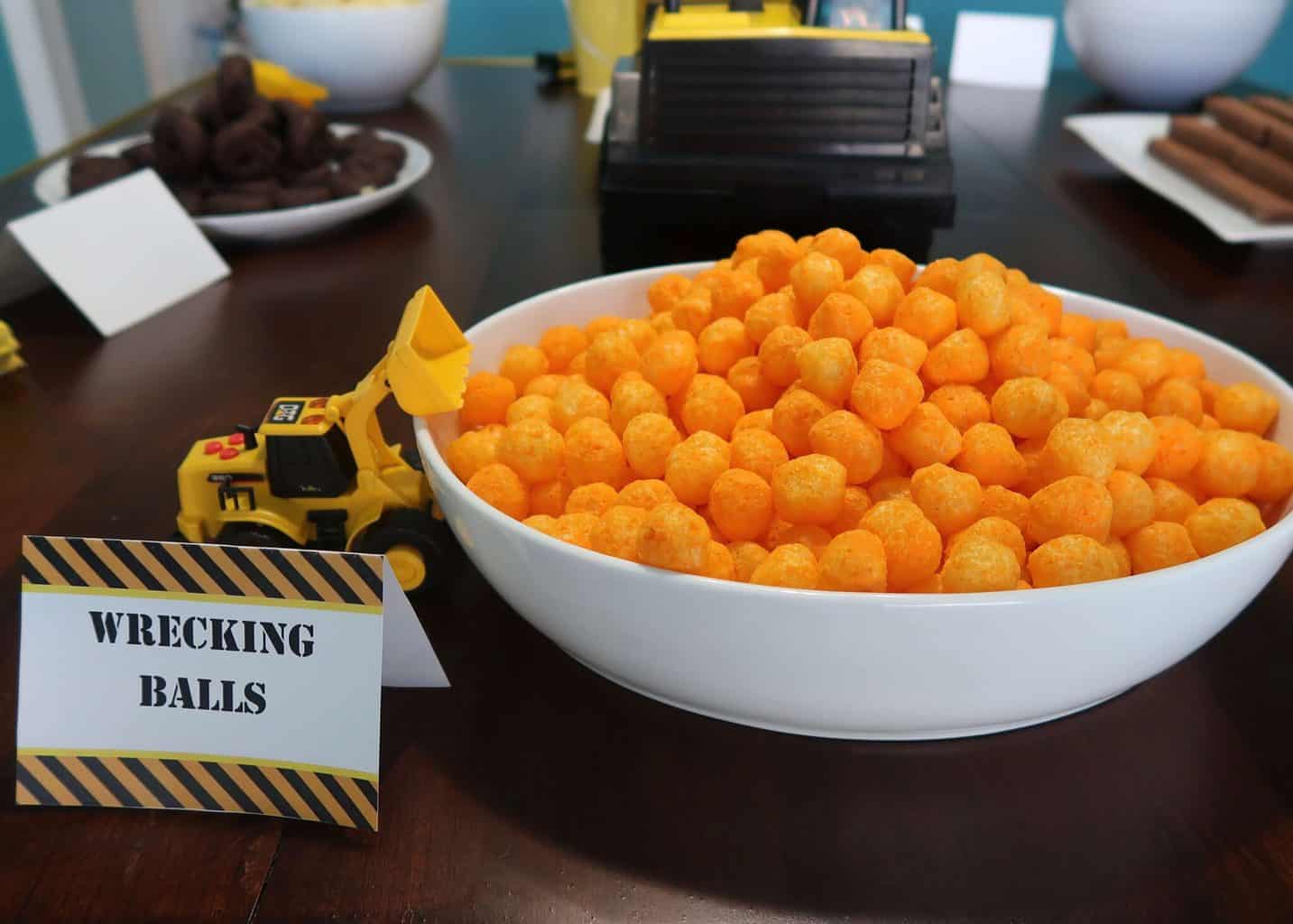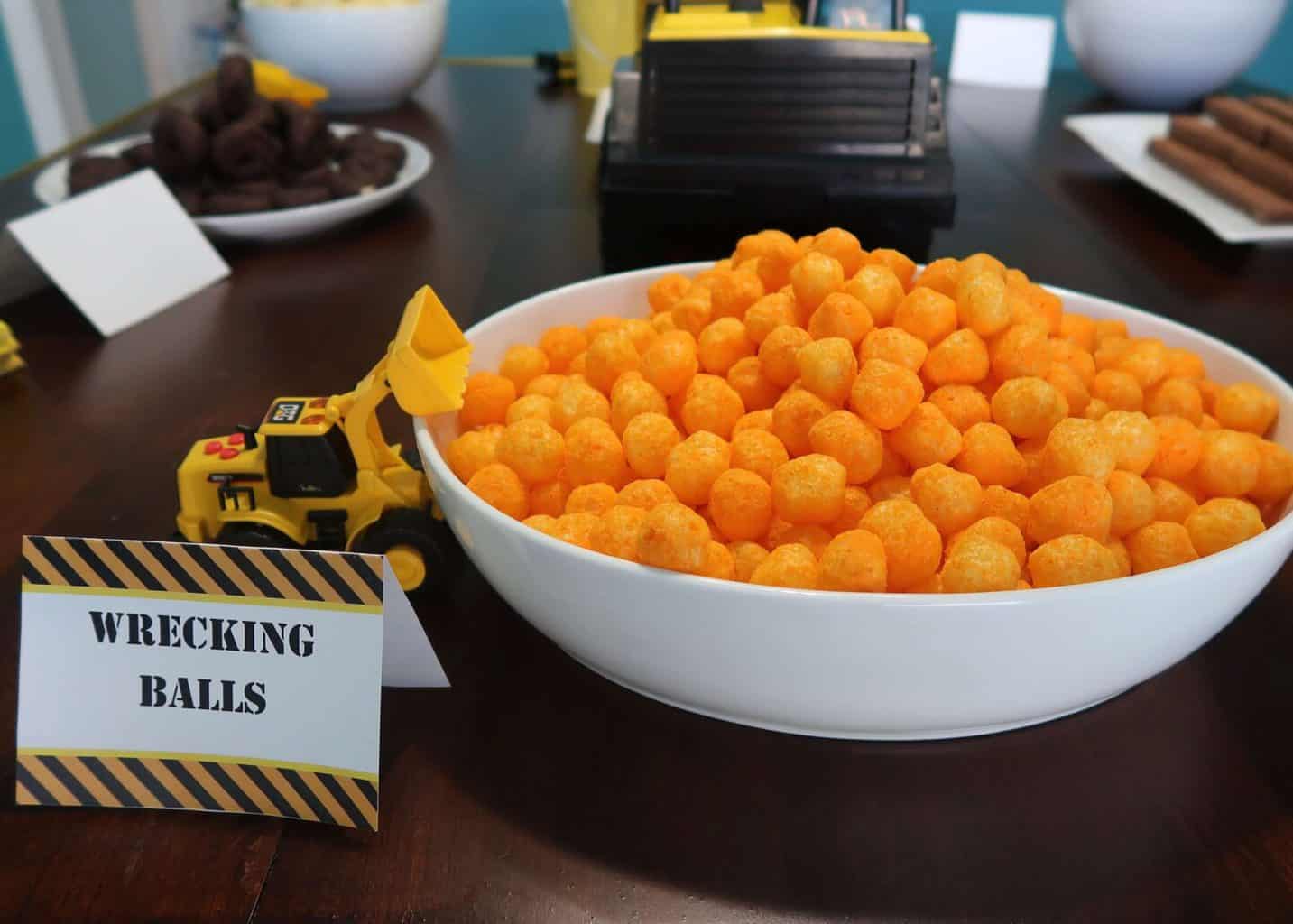 Ruffles Chips = Woodchips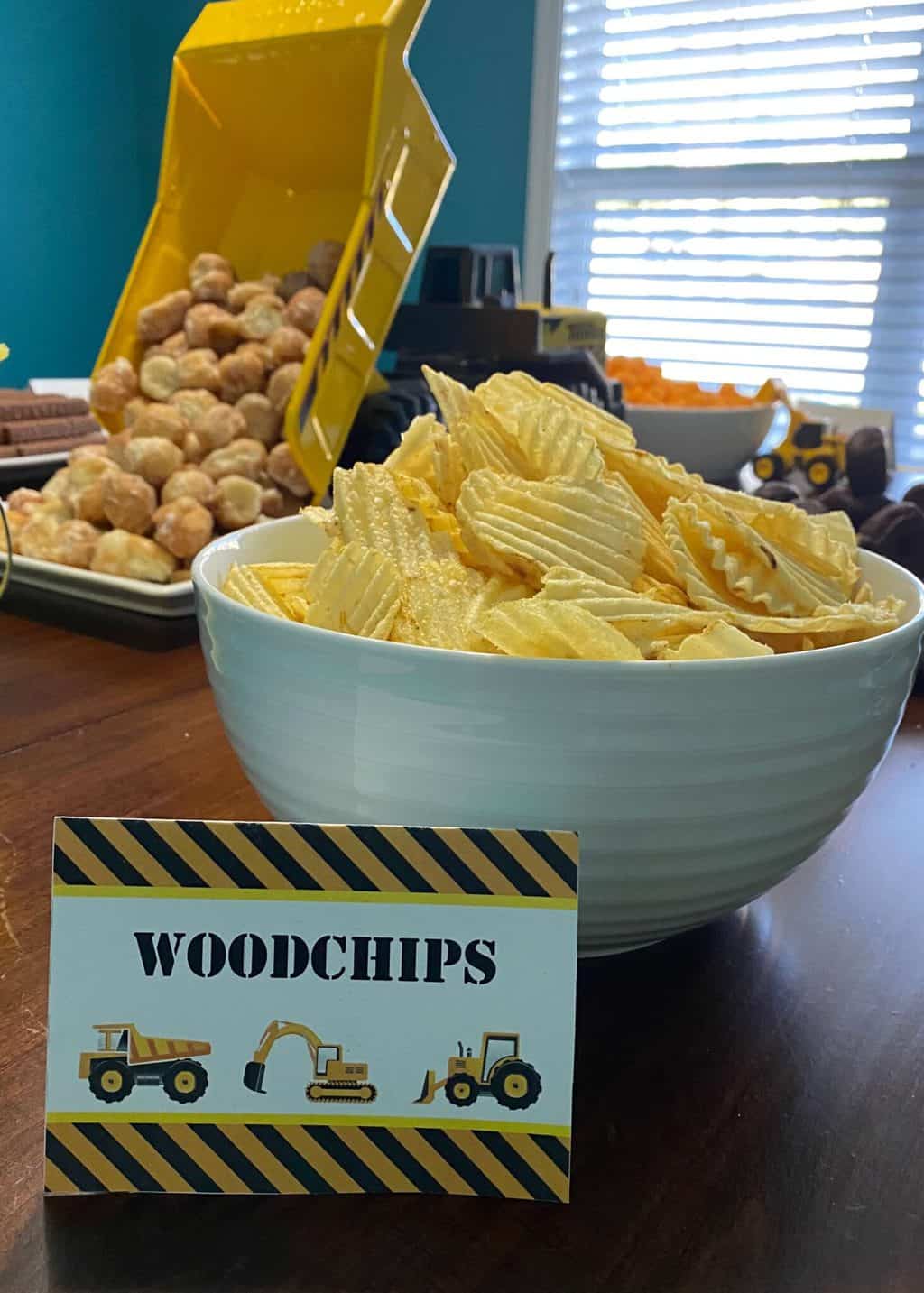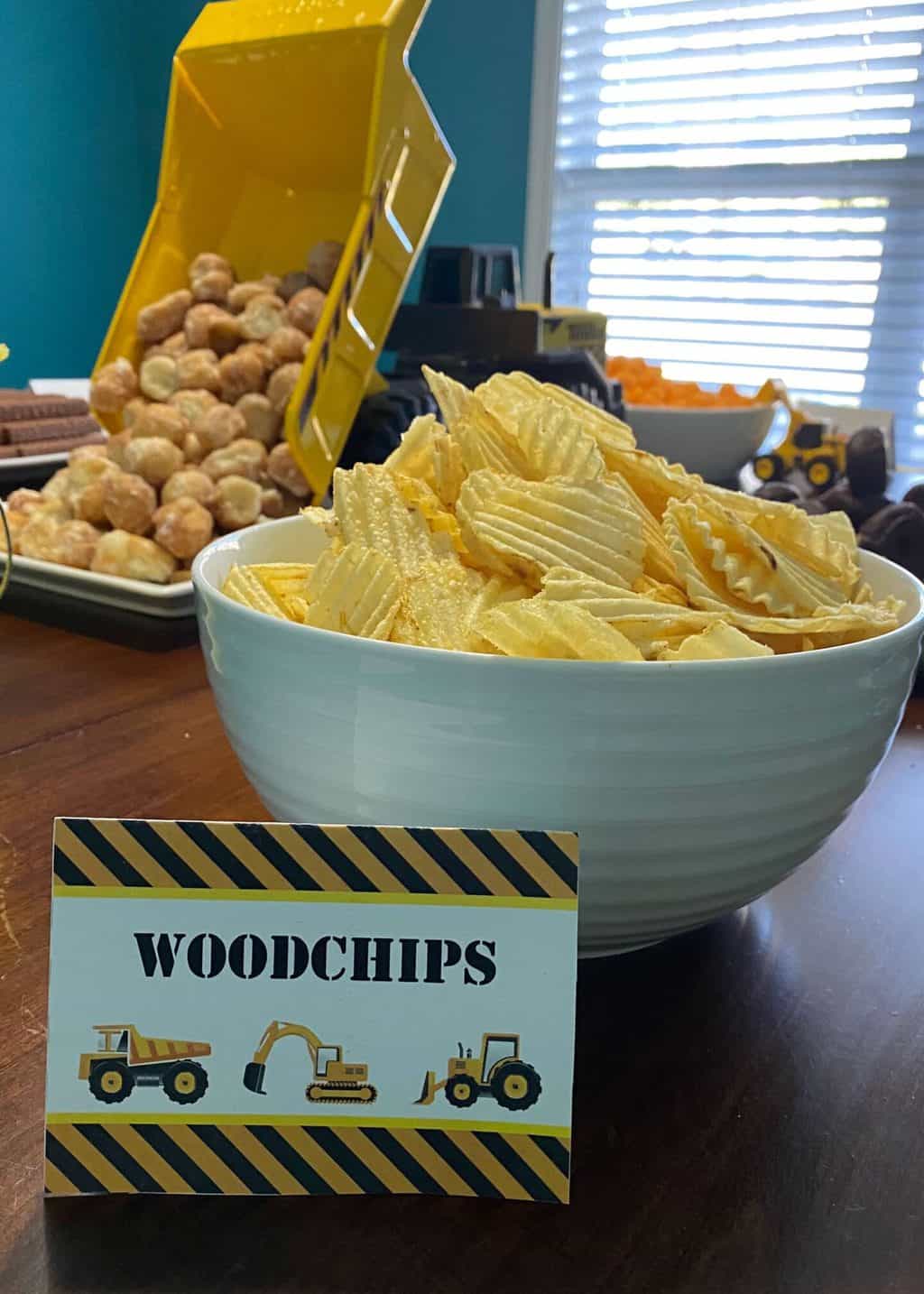 Sour Straws = Plumbing Pipes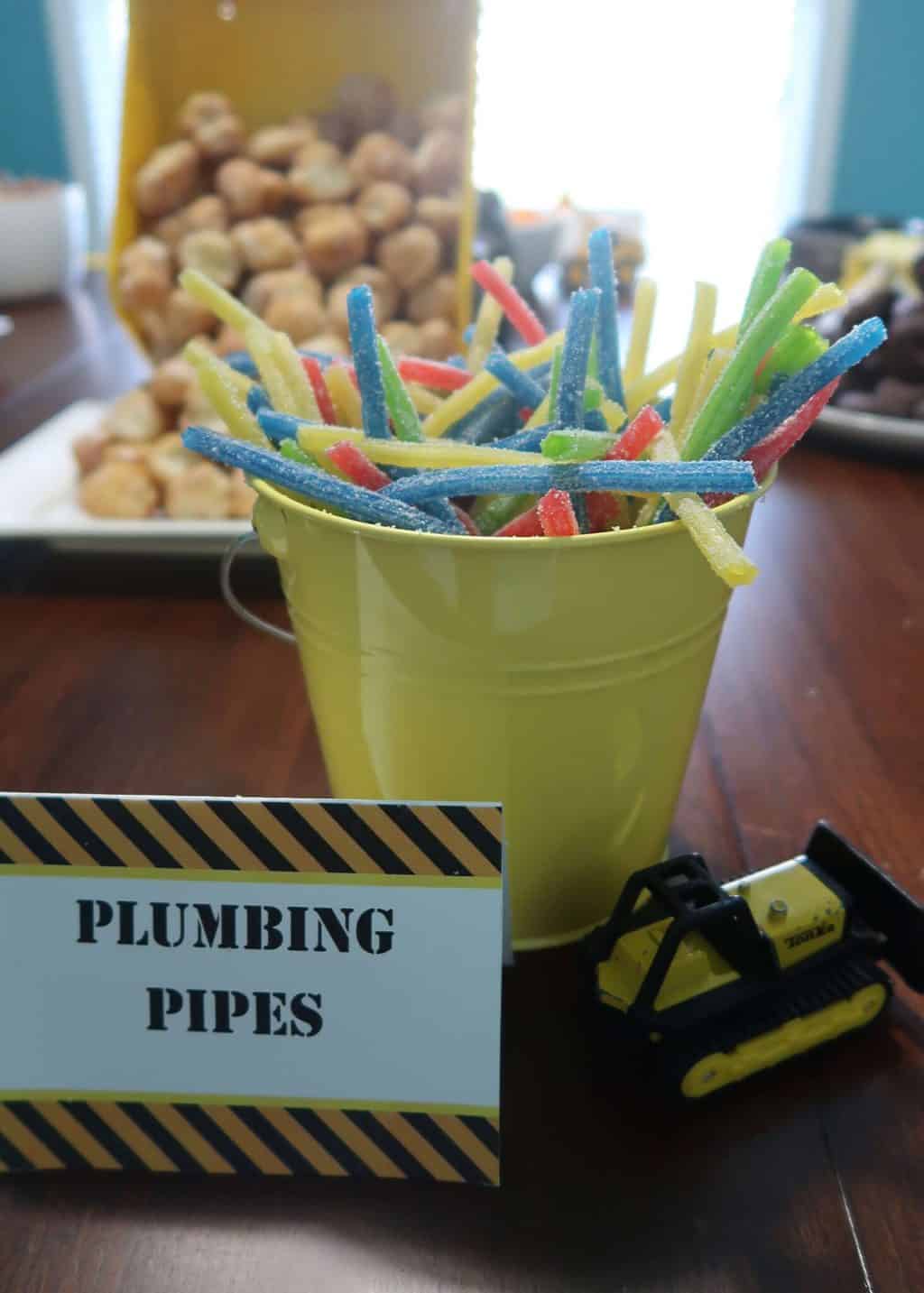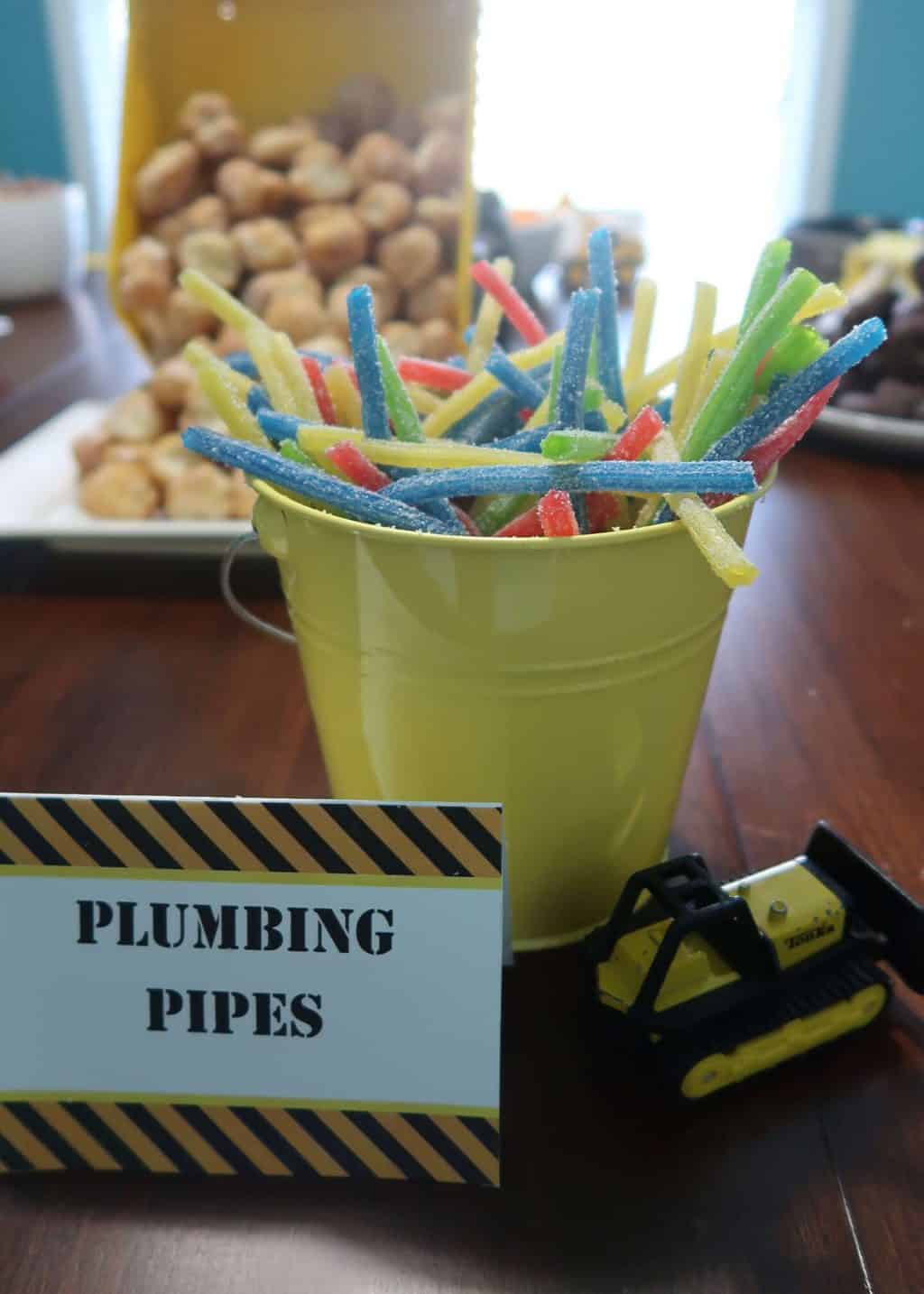 Chex Mix = Nuts and Bolts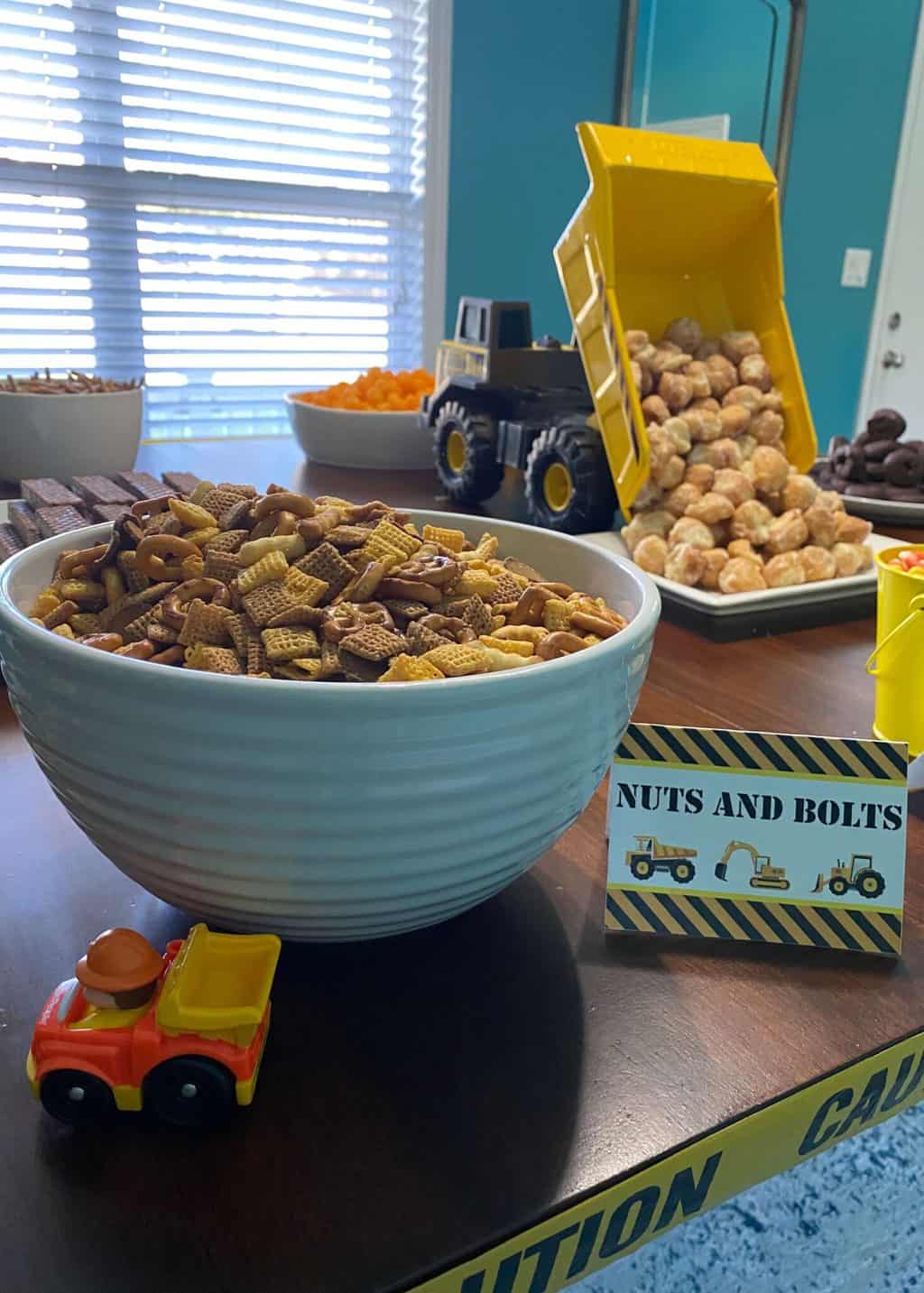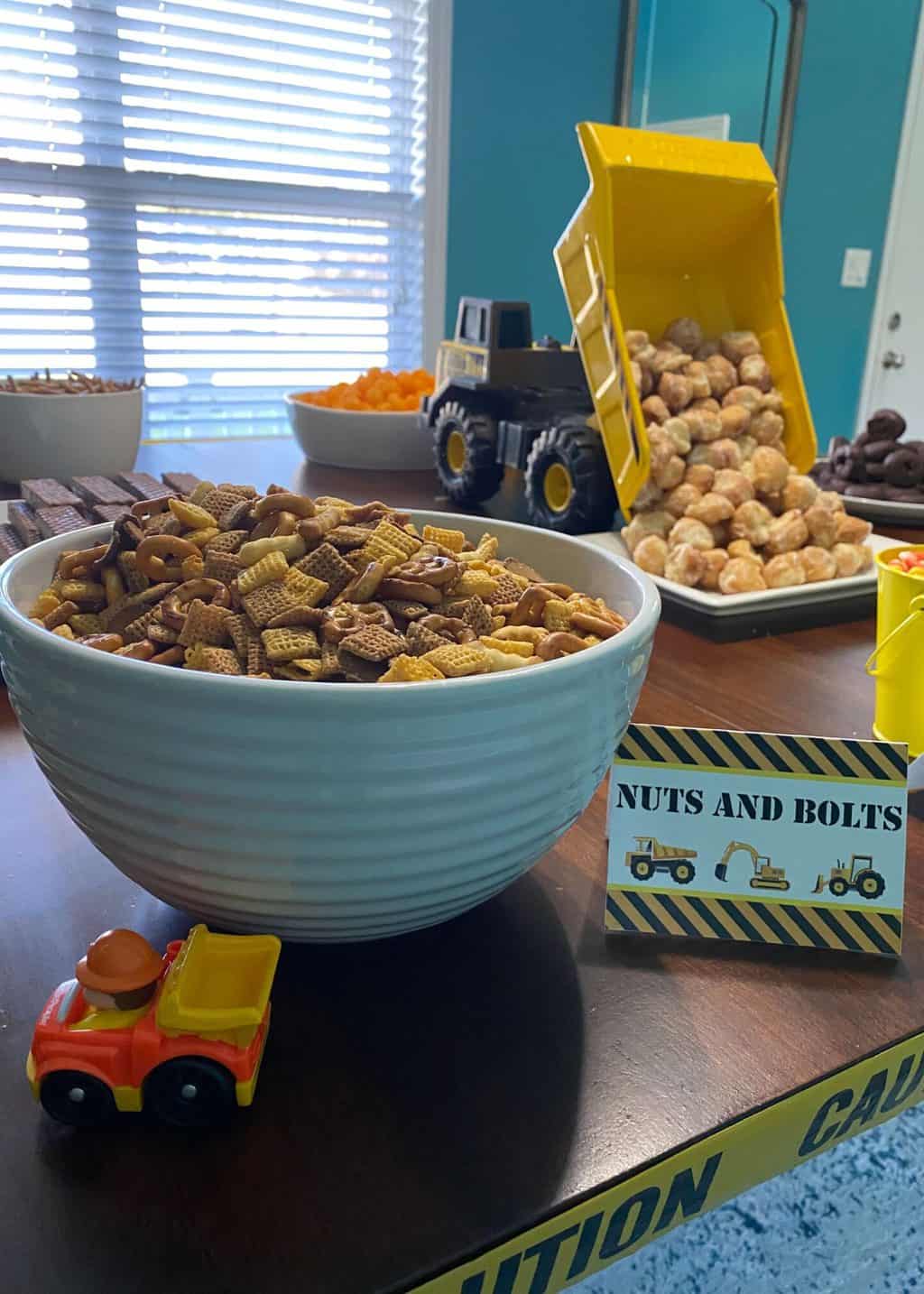 Candy Corn = Construction Cones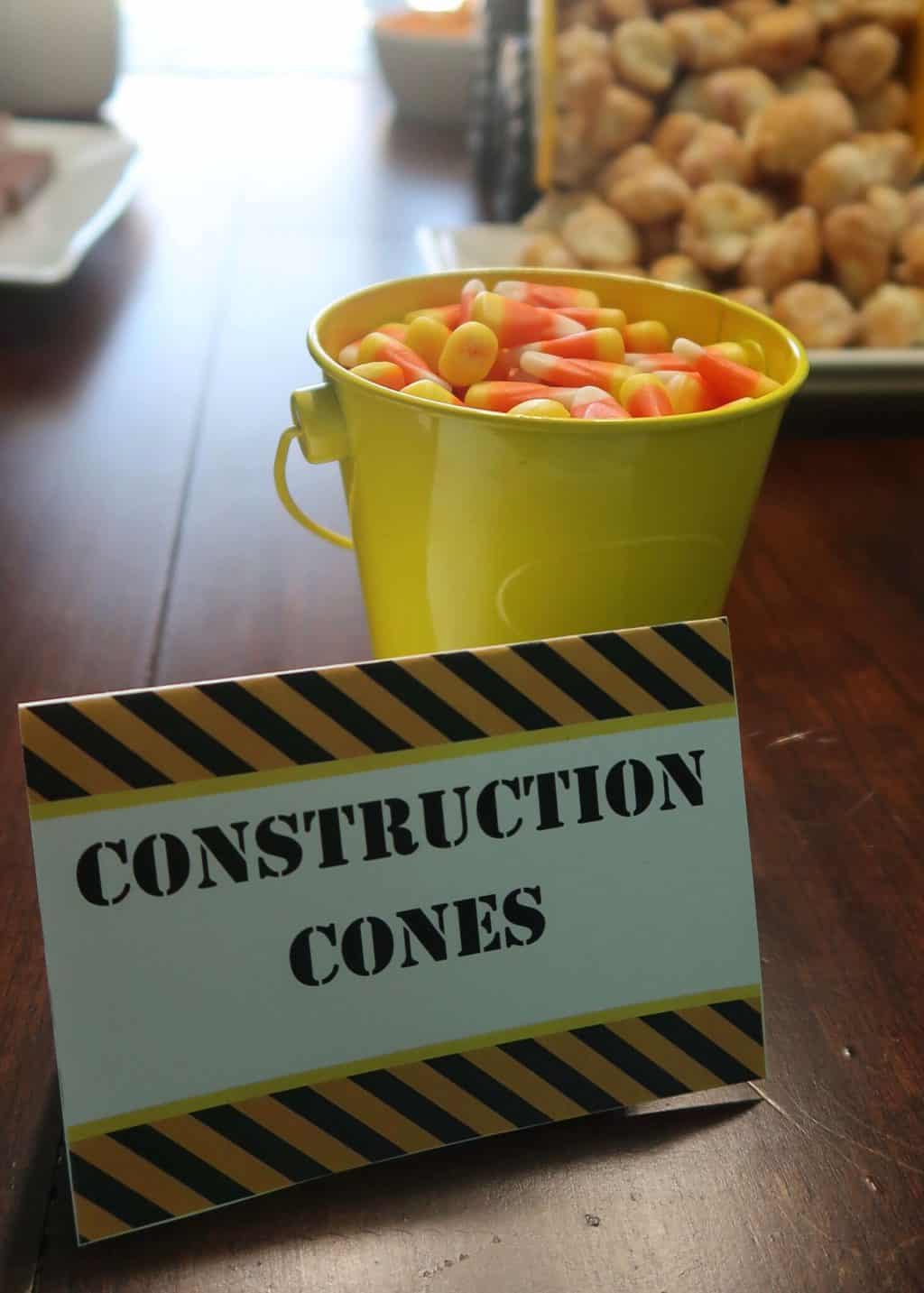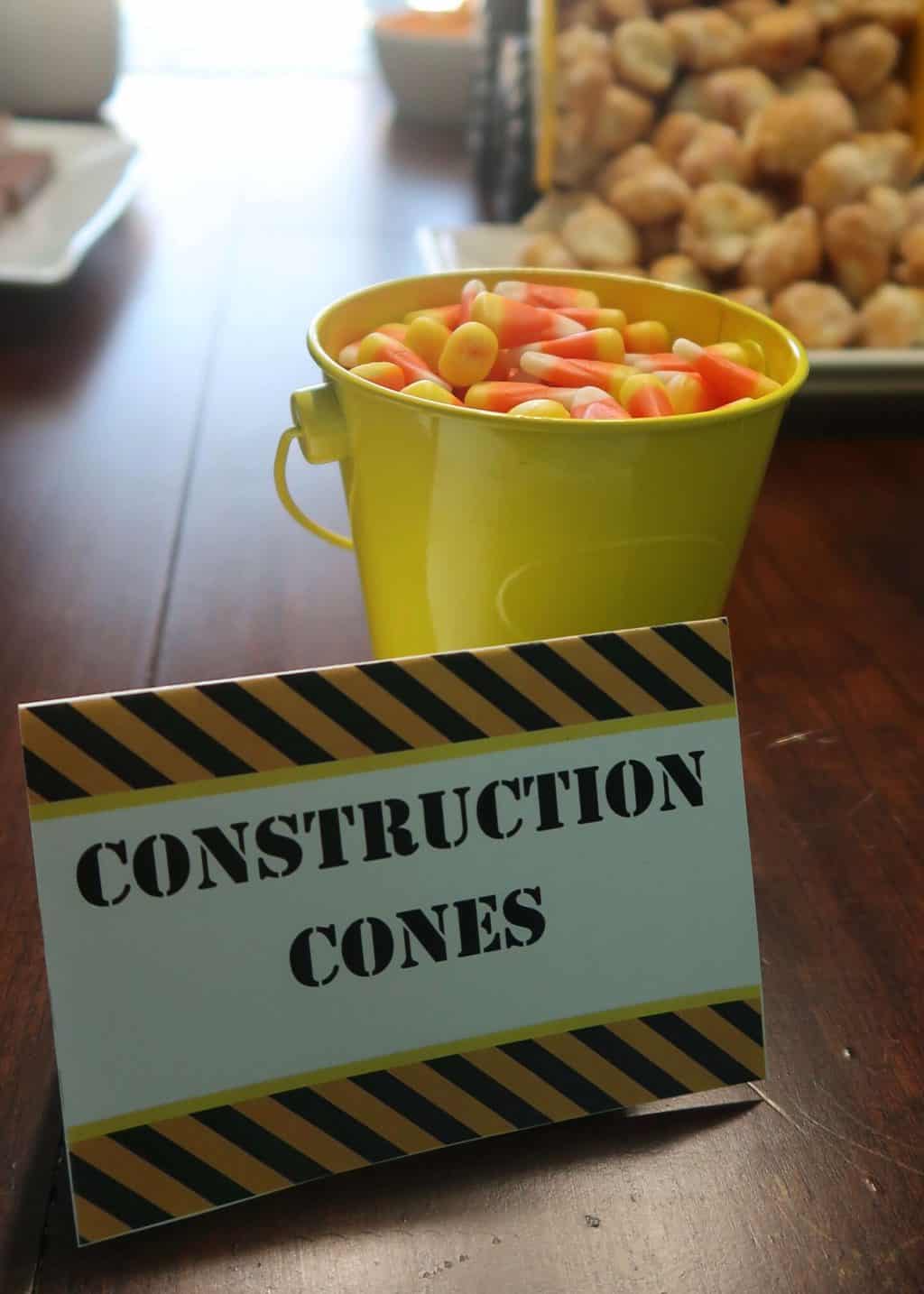 Nutter Butter Bars = Lumber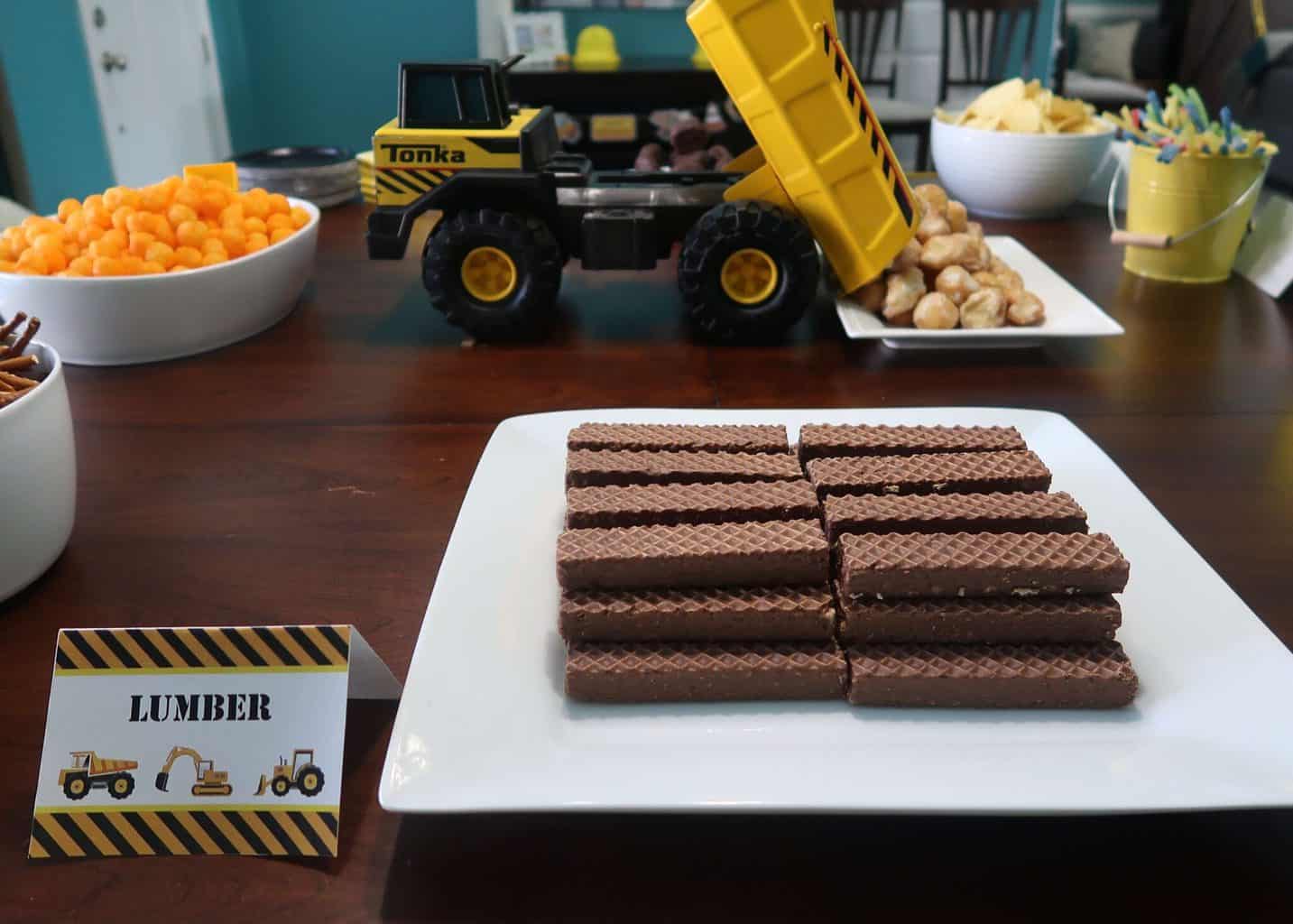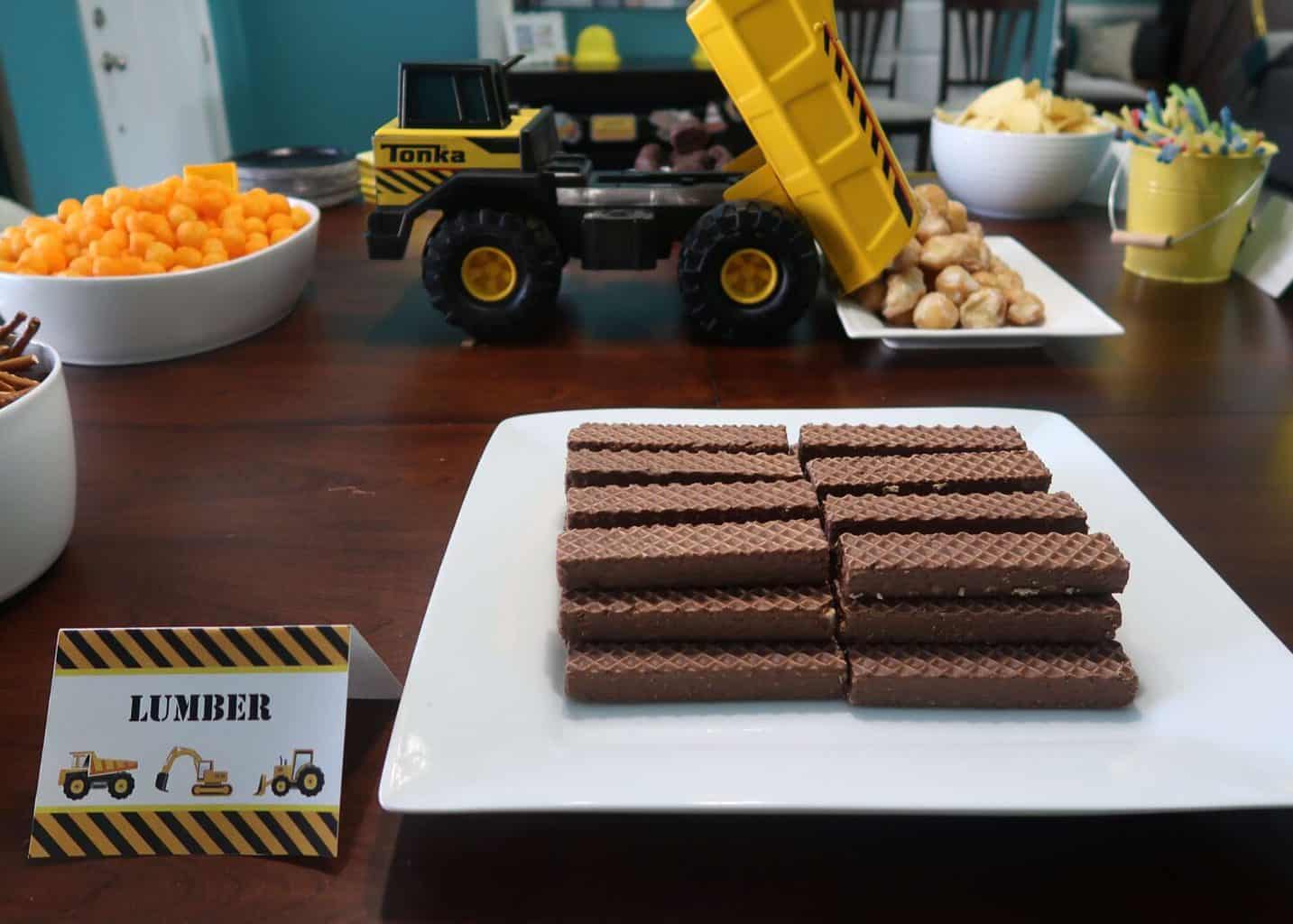 Pretzel Sticks = Nails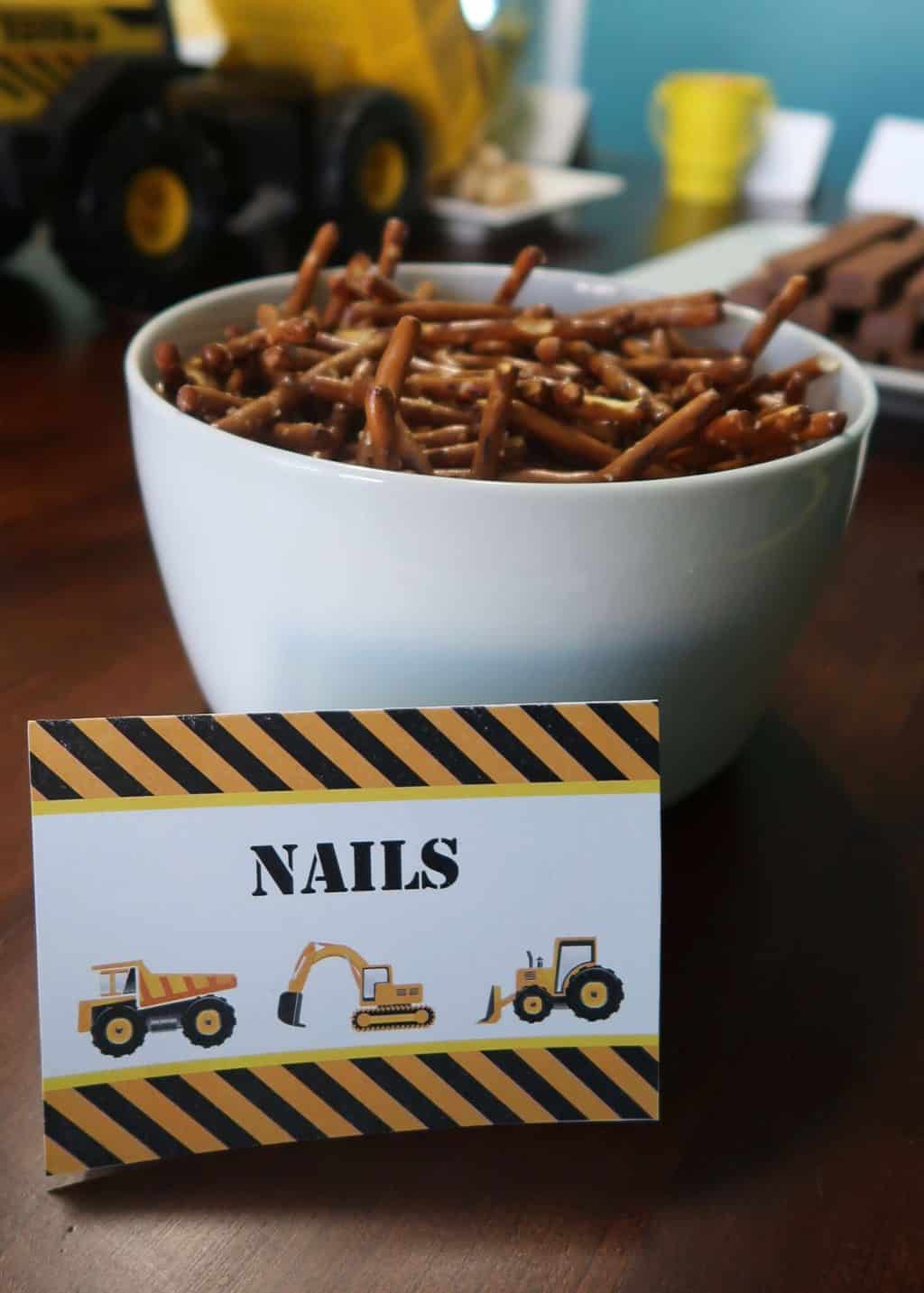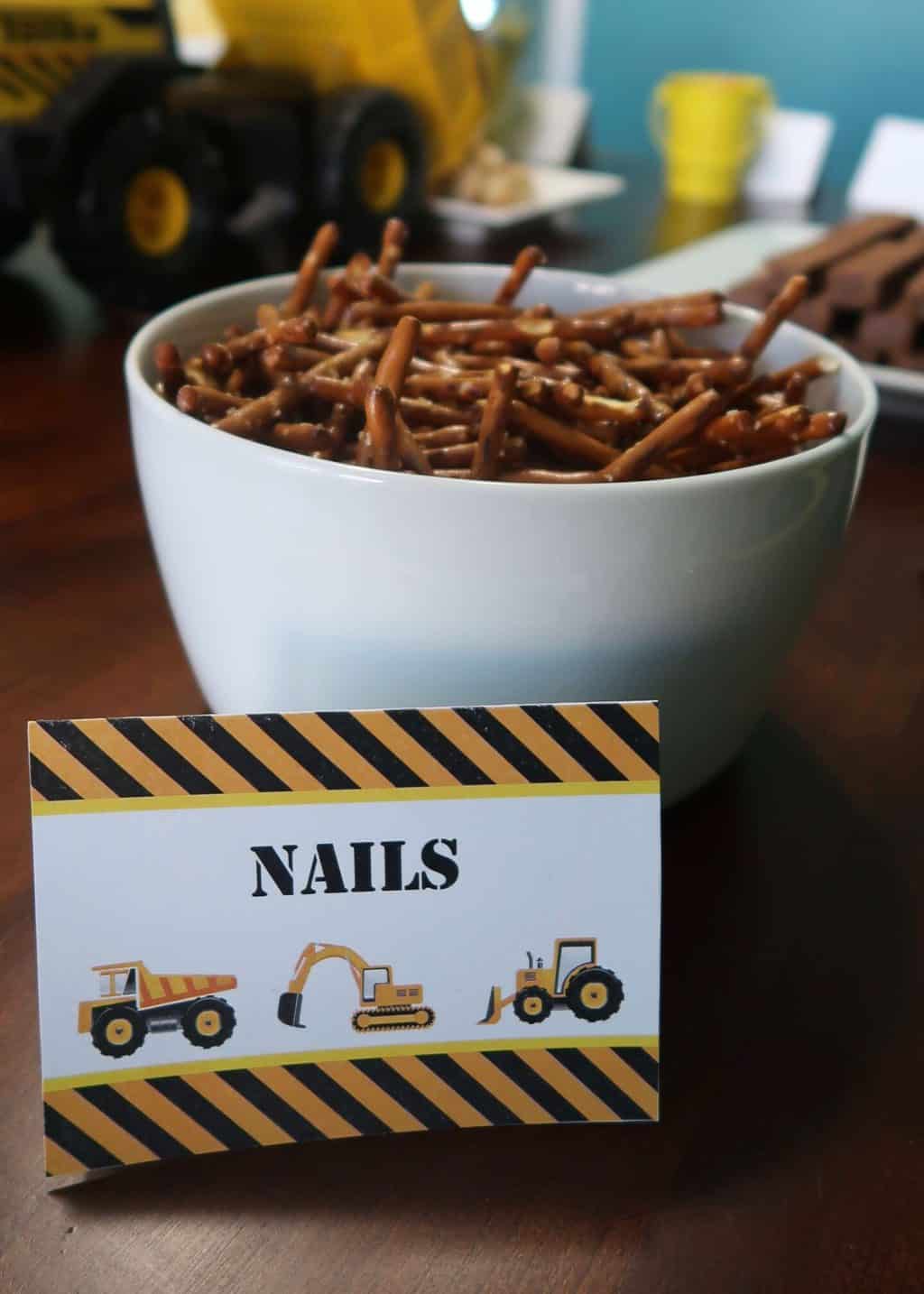 We used a dumb truck to display donut holes! If you do this for a party – order a LOT more donut holes than you think you need in order to have the full effect. We ended up with 8 DOZEN donut holes to put this together!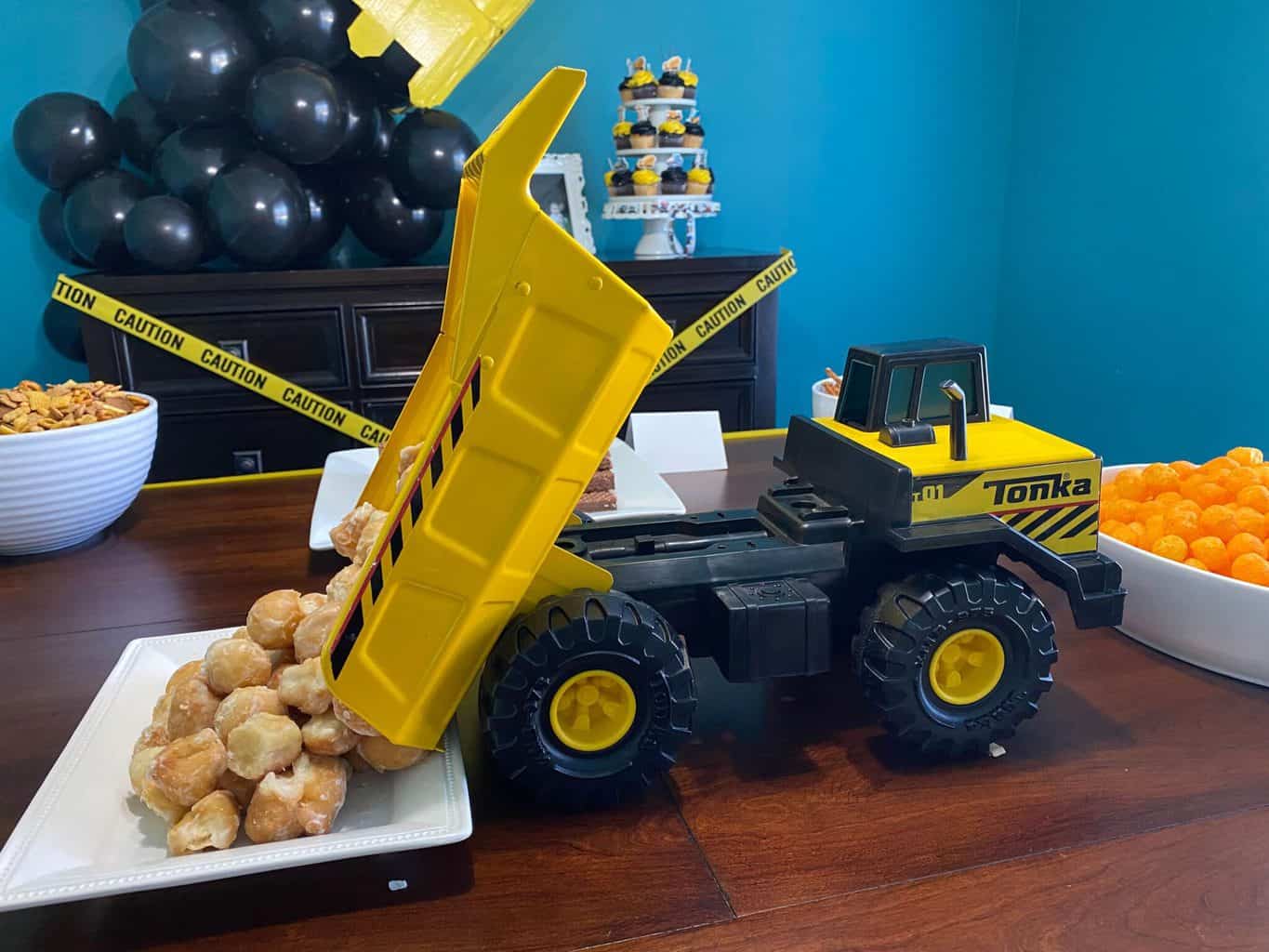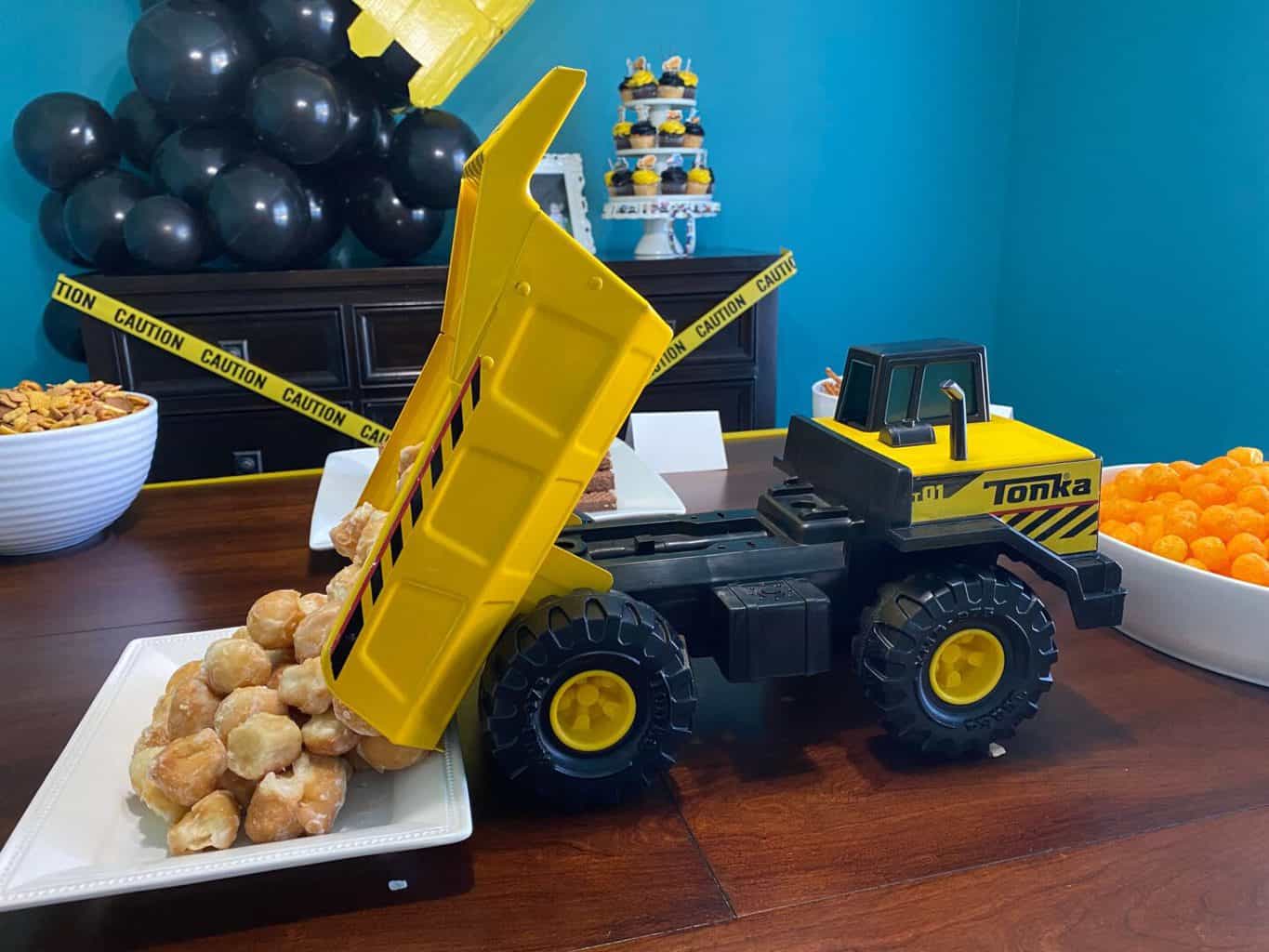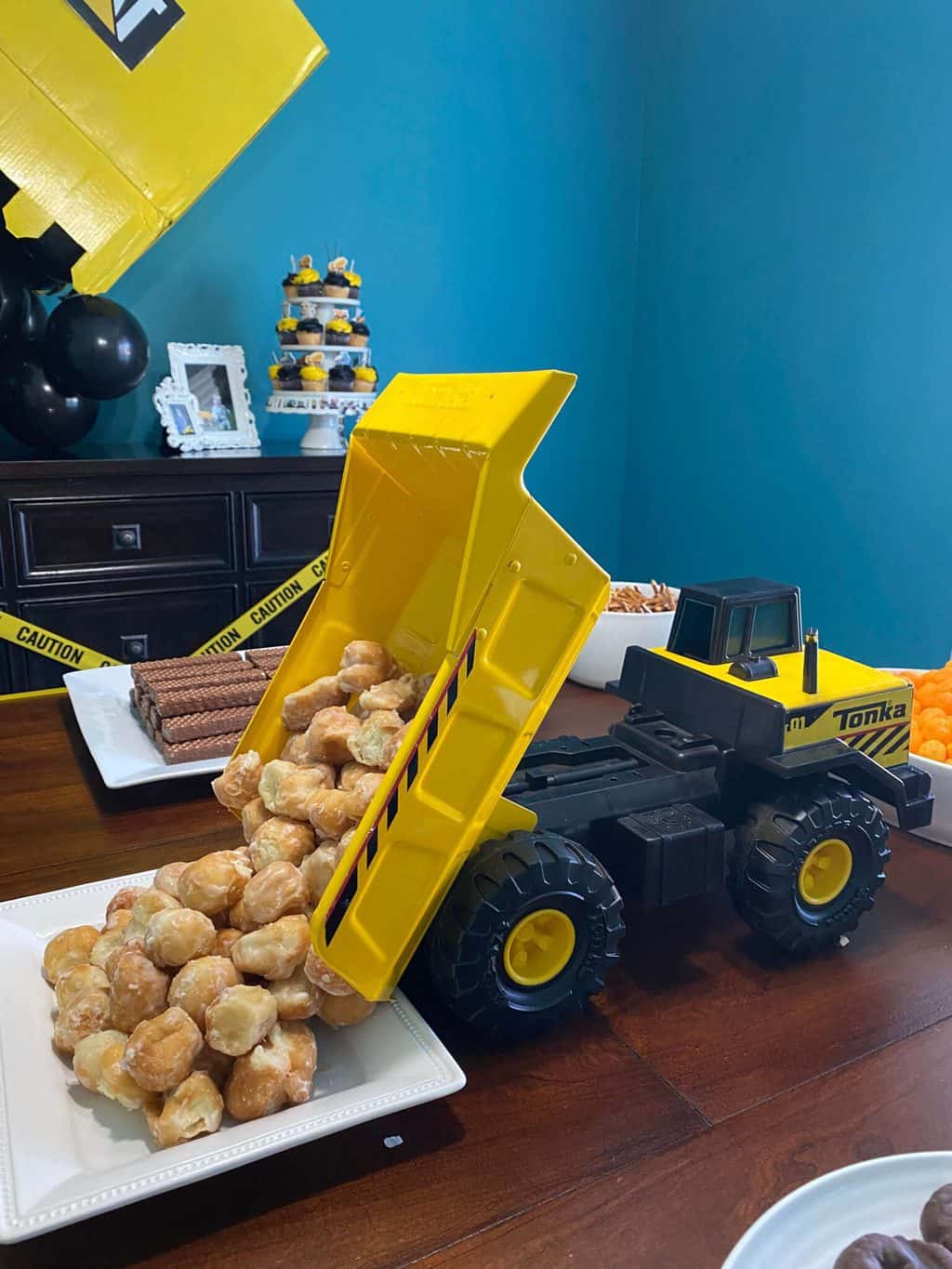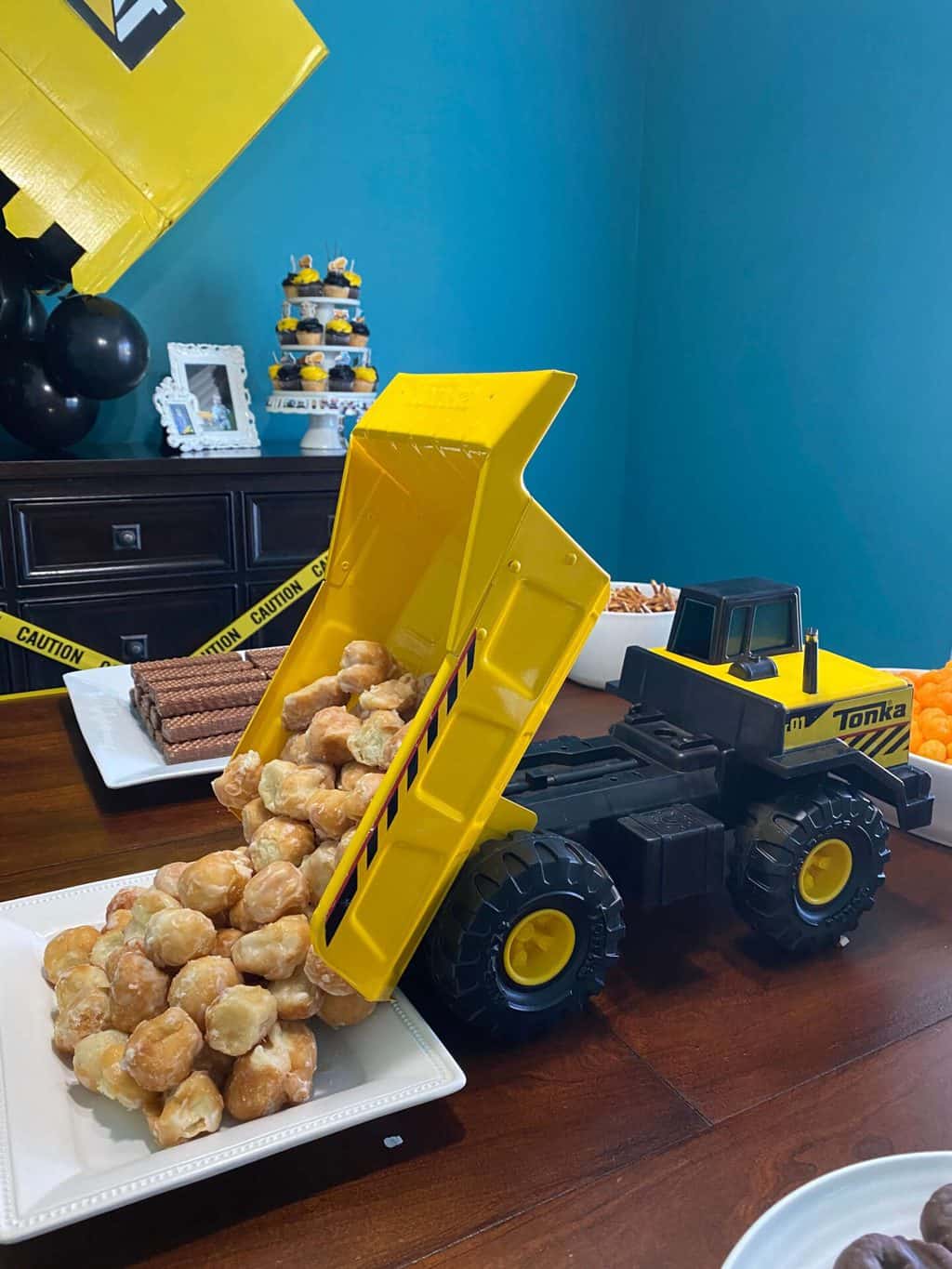 My husband never disappoints! The crane turned out even better than I'd imagined! VERY few things are needed: just two boxes and some yellow spray paint! We printed off a CAT symbol and filled black balloons with just air (no helium). Then tied them strategically to be "falling" from the crane!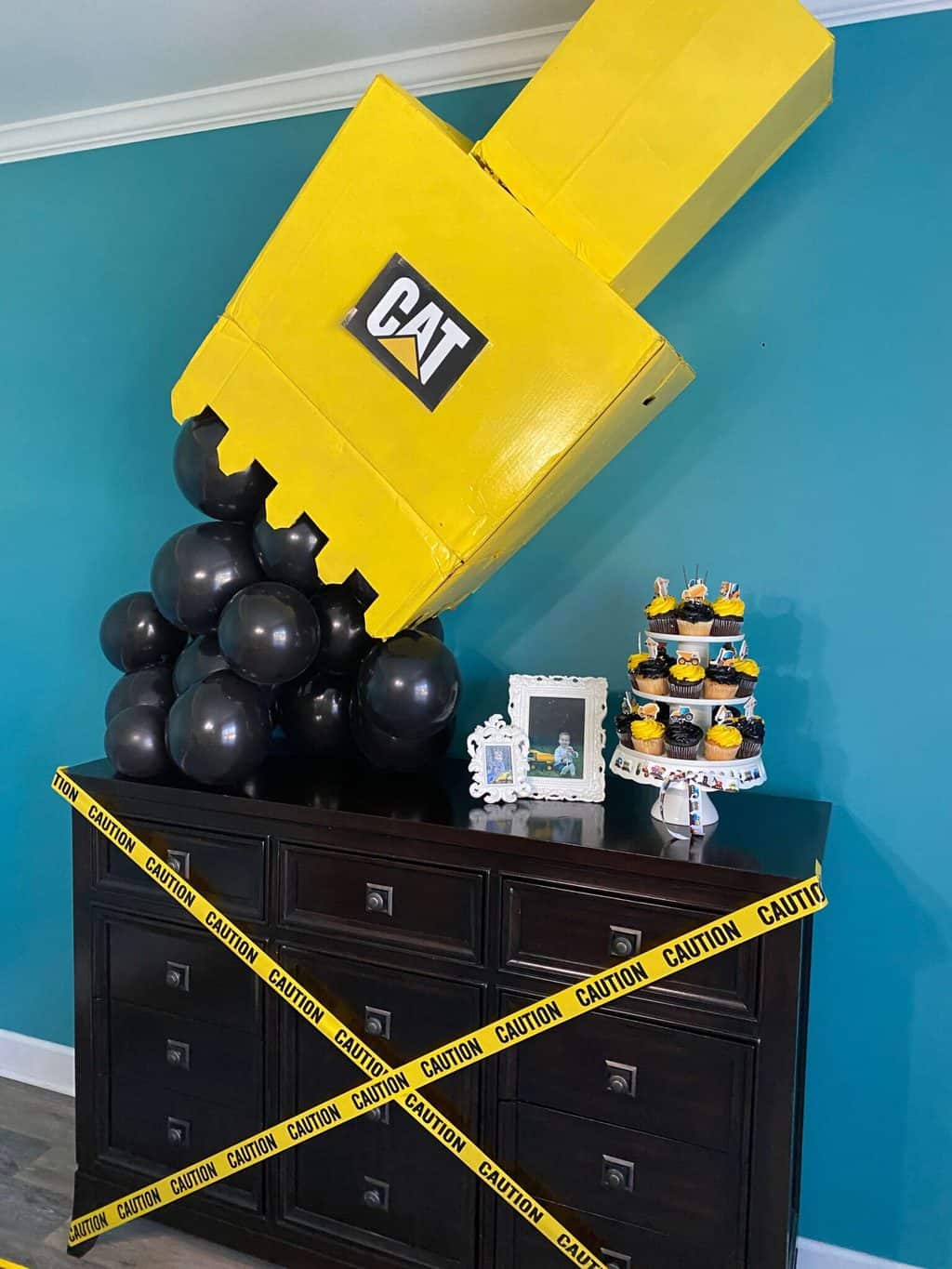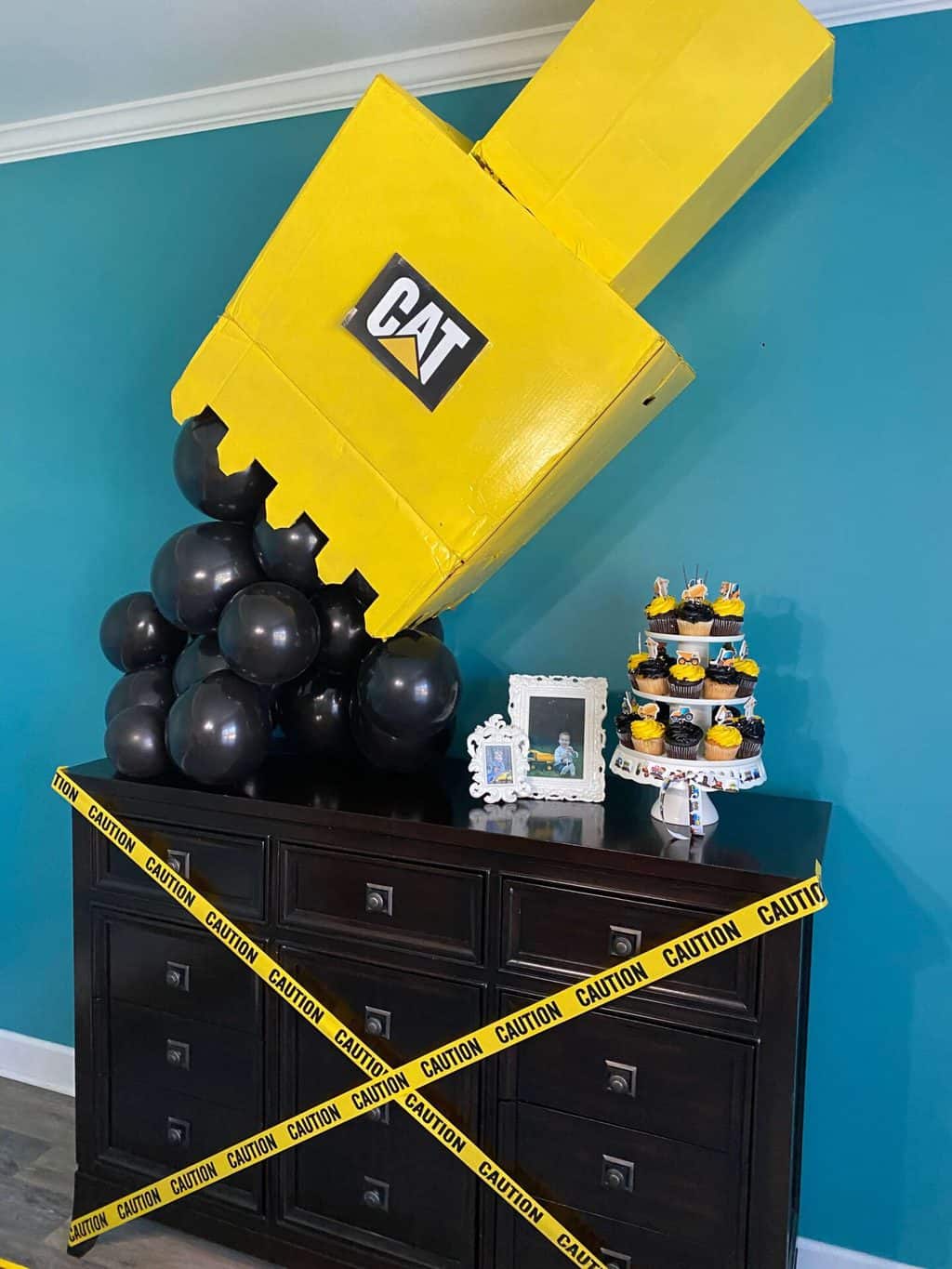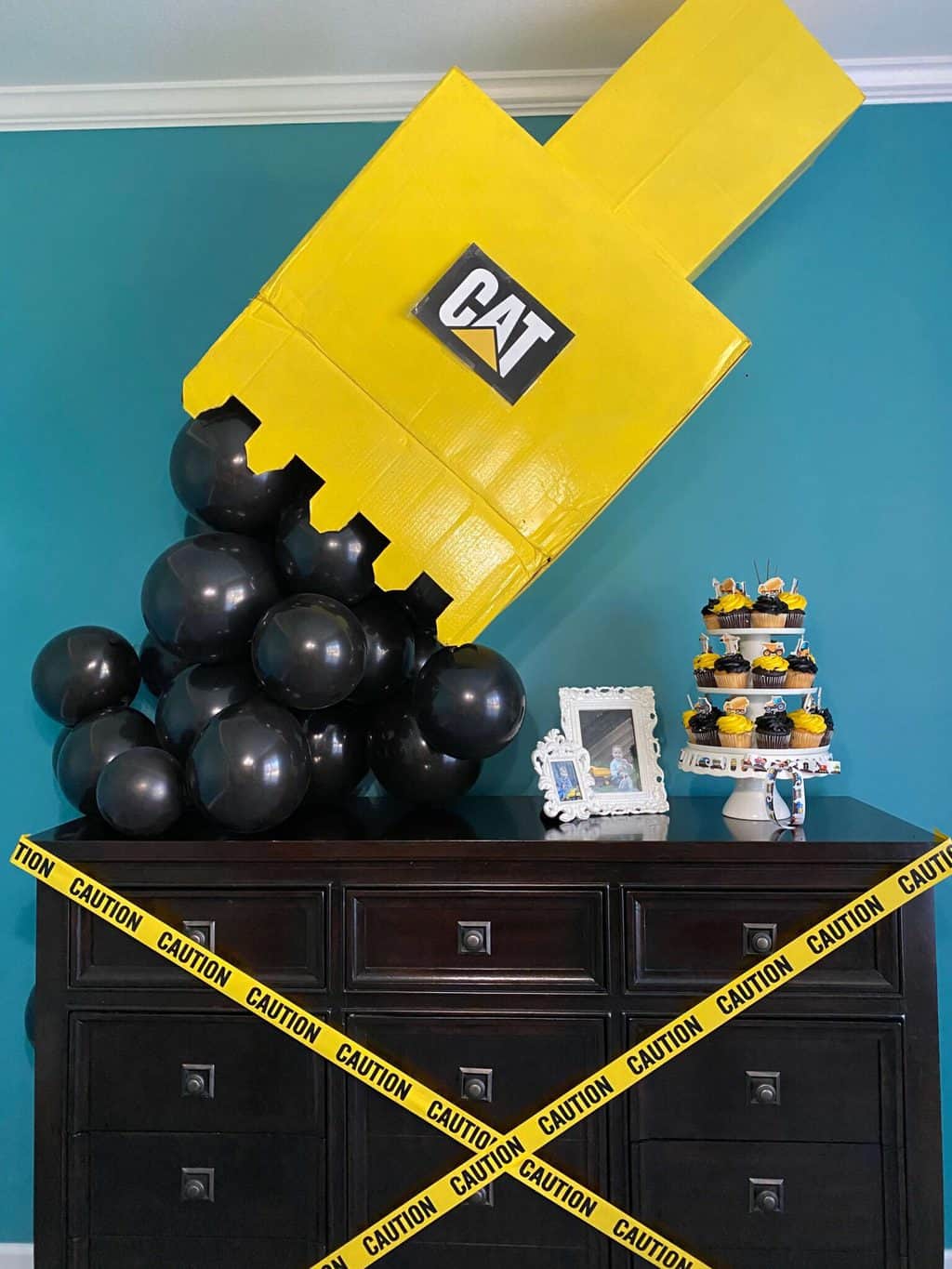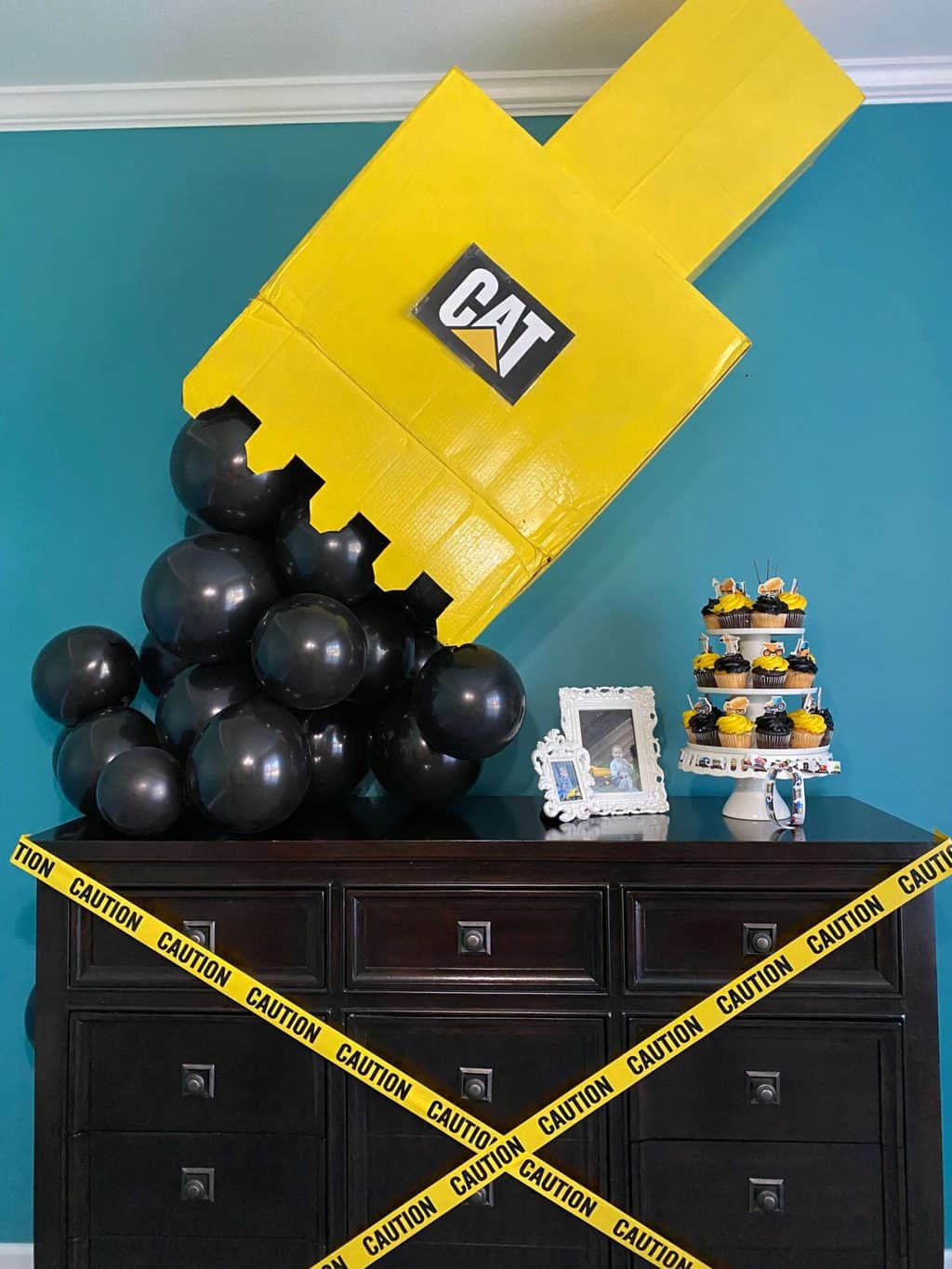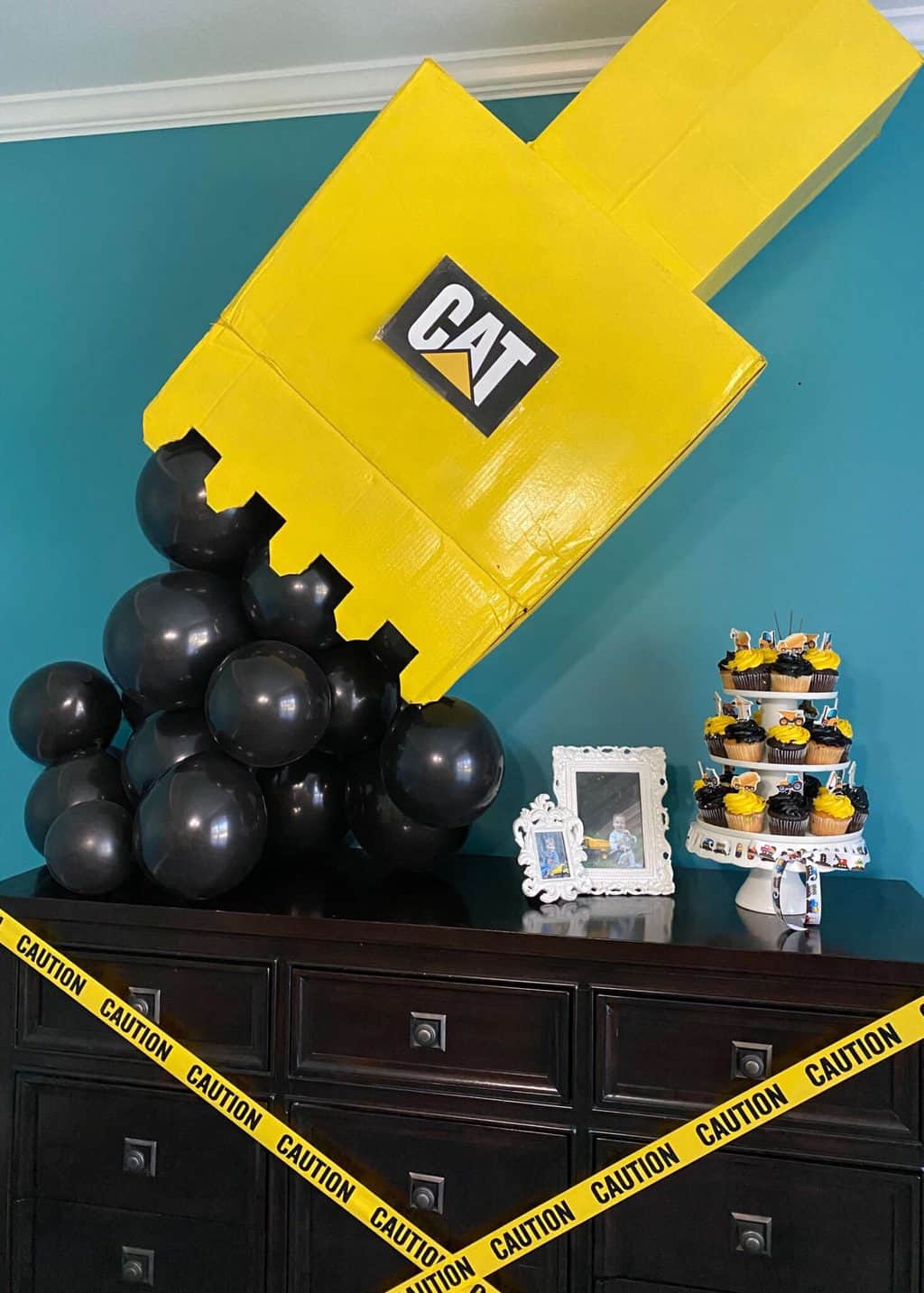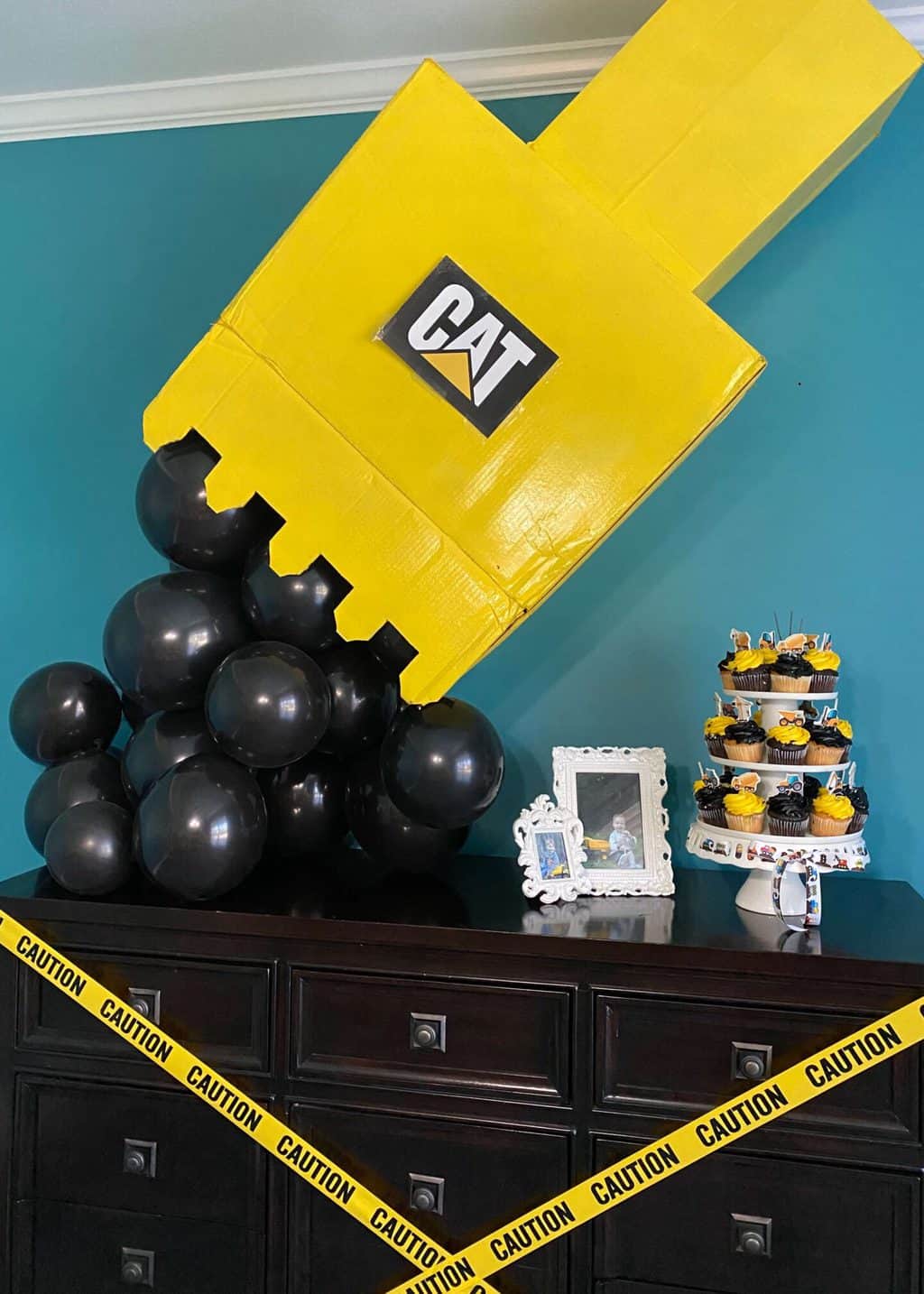 I love to use photos as decor too! I ordered cupcakes from Sam's Club and they were DELICIOUS. However a tip: do NOT order black icing. Anyone who ate them had some interesting colored poop for a while haha. Next time I'll do regular chocolate frosting instead!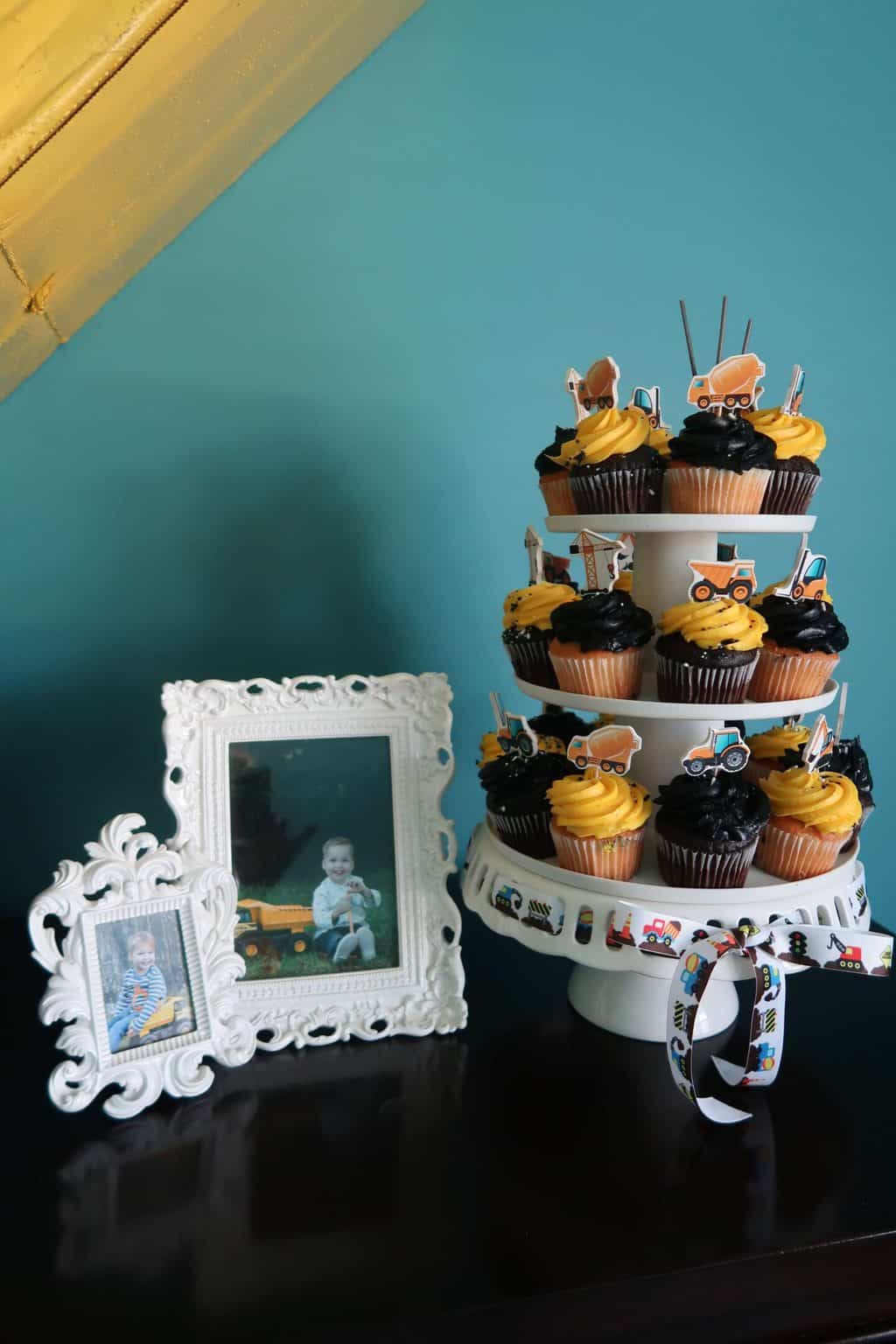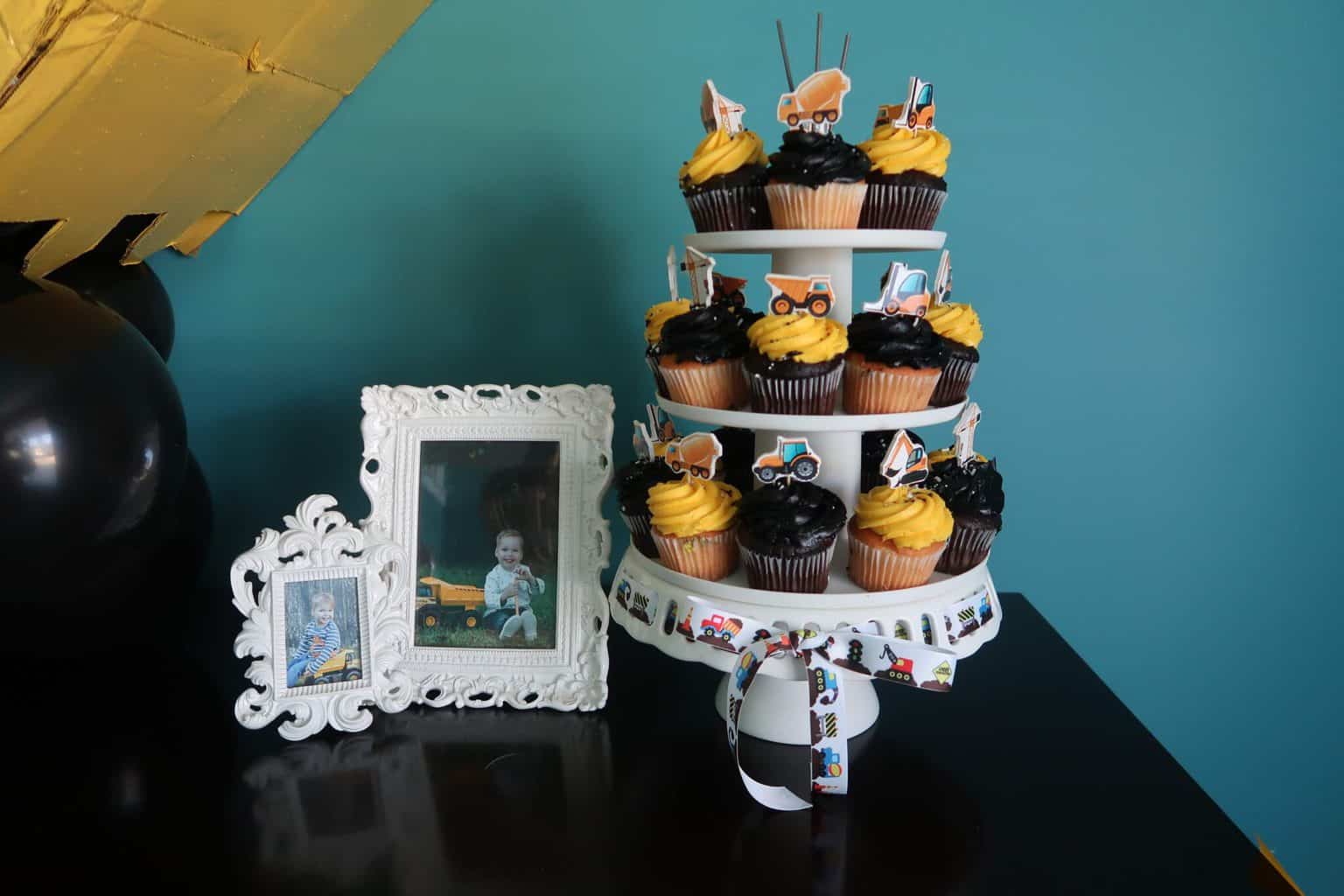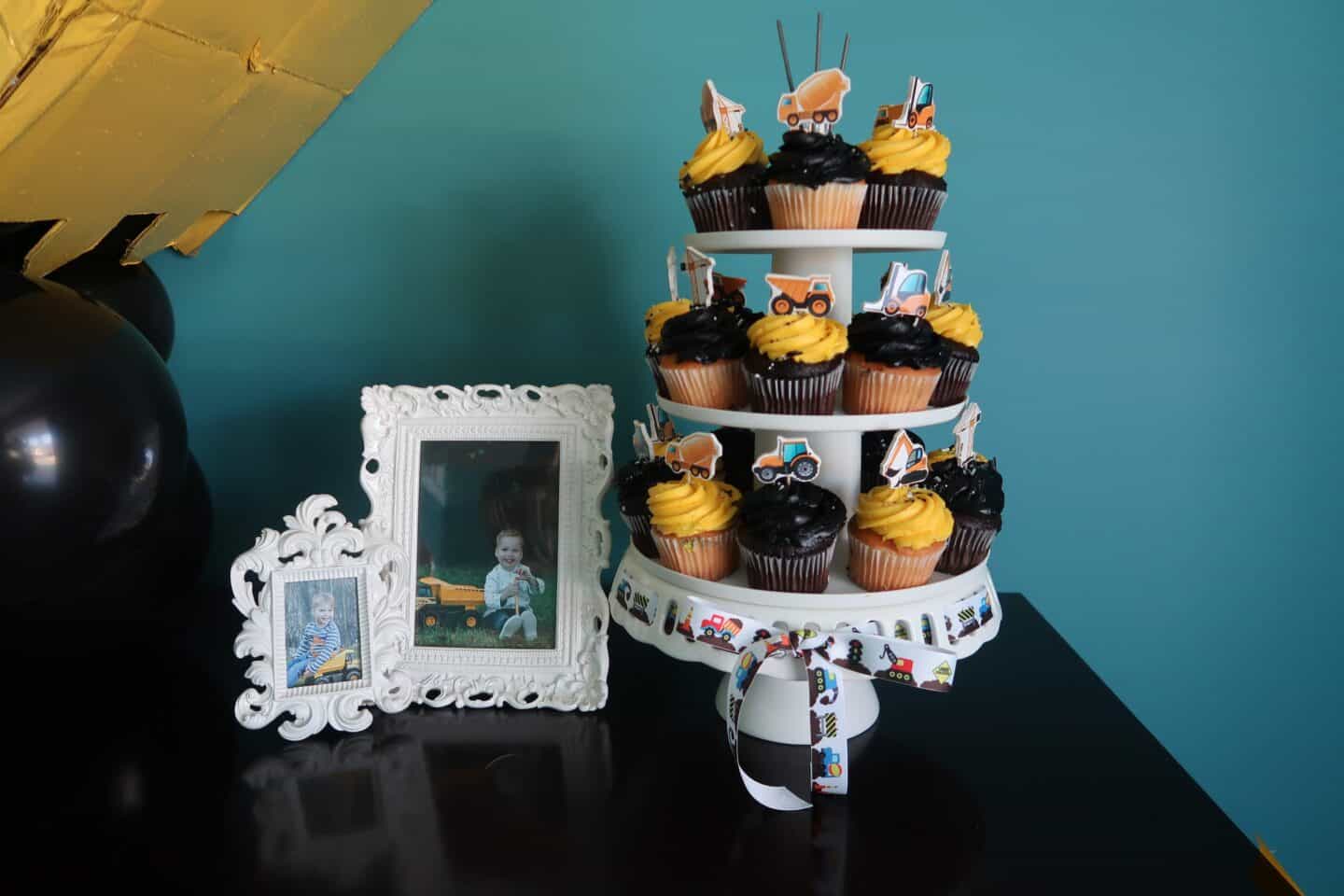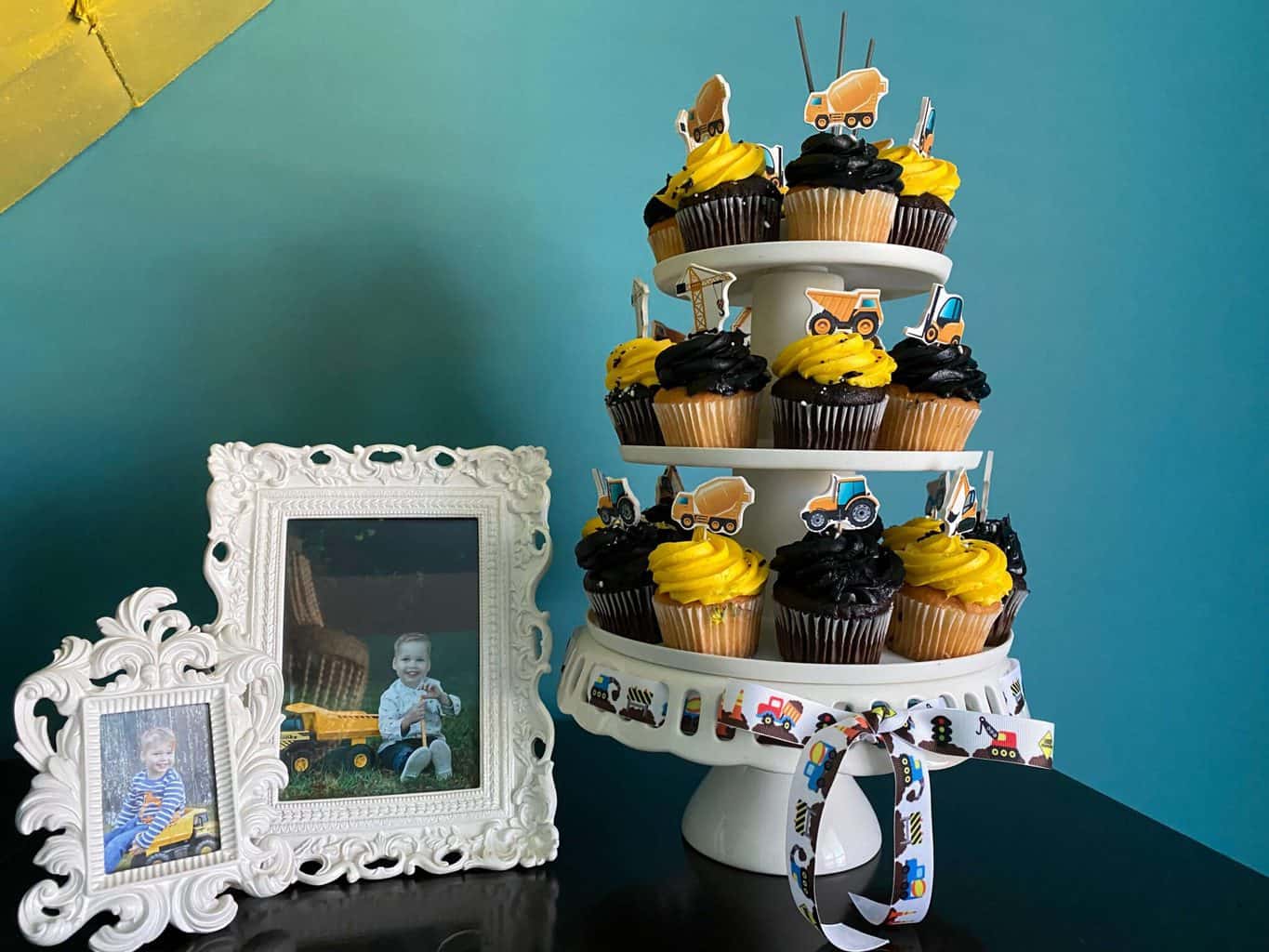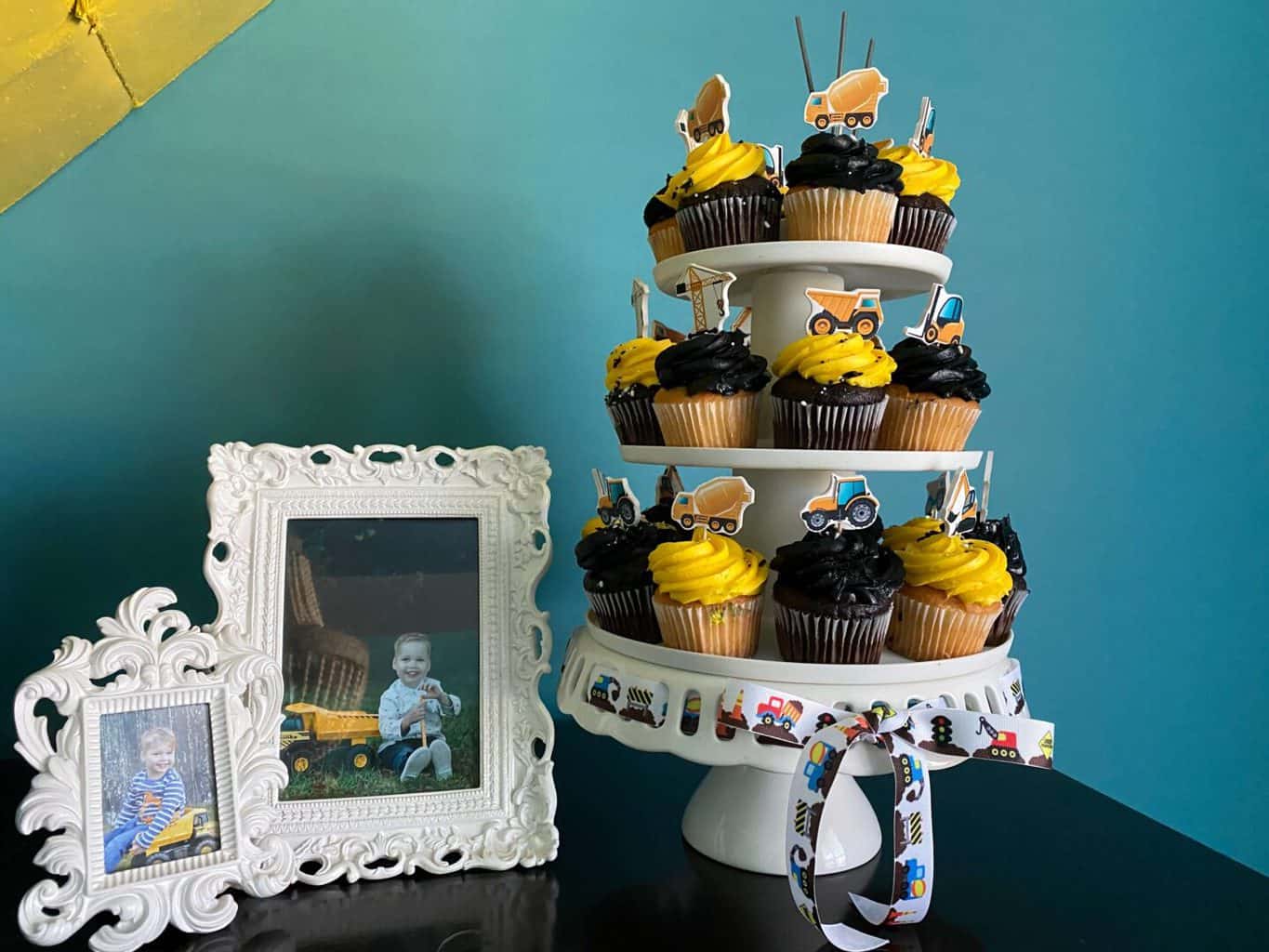 Lemonade for the Fuel Station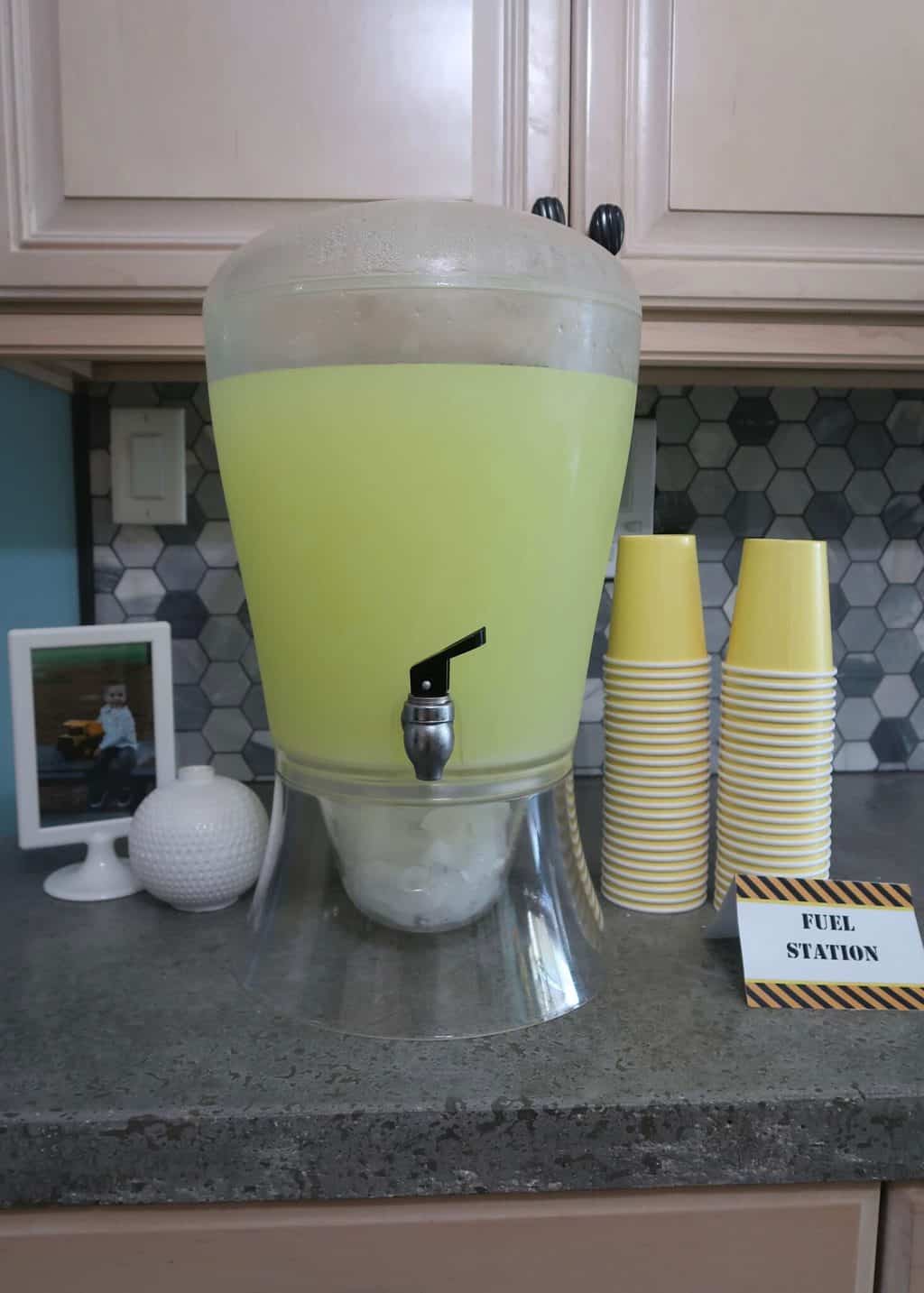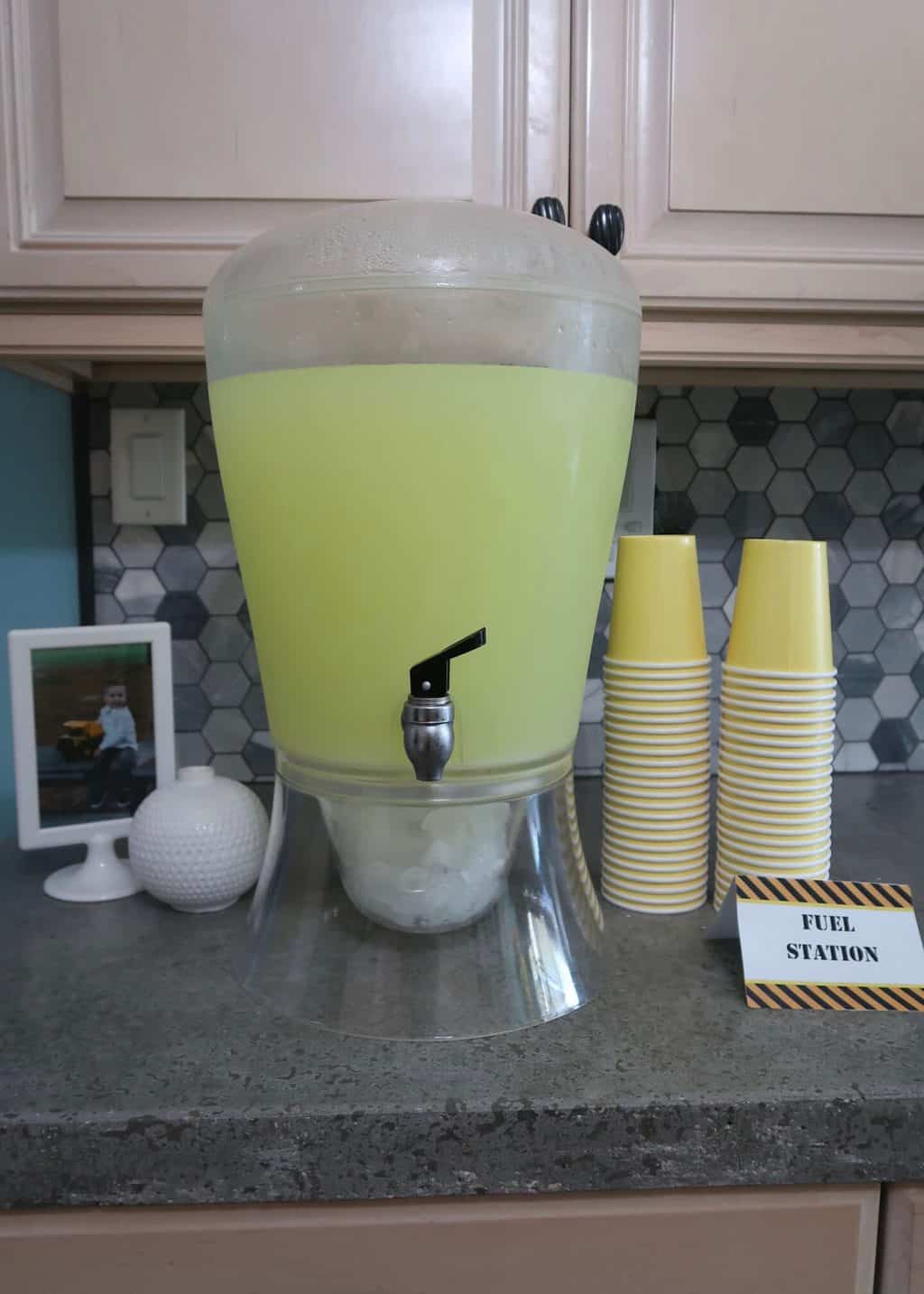 It was a gorgeous morning and we have a large backyard with PLENTY to entertain kids but I always like to have a couple of themed options too so we put construction tape around fake flower foam and used old golf tees (from our oldest son's 2nd birthday party which was a golf theme) for the kids to hammer!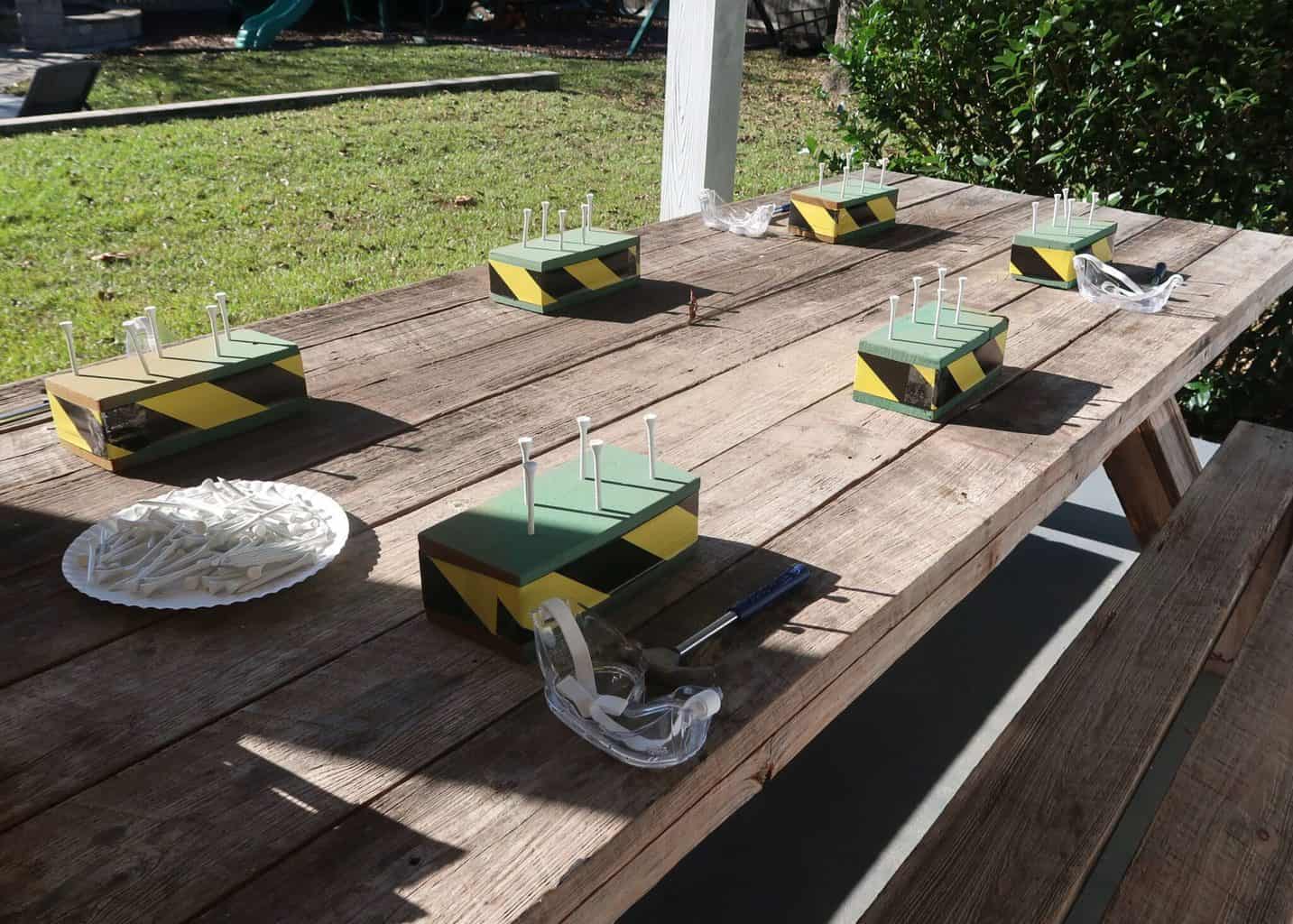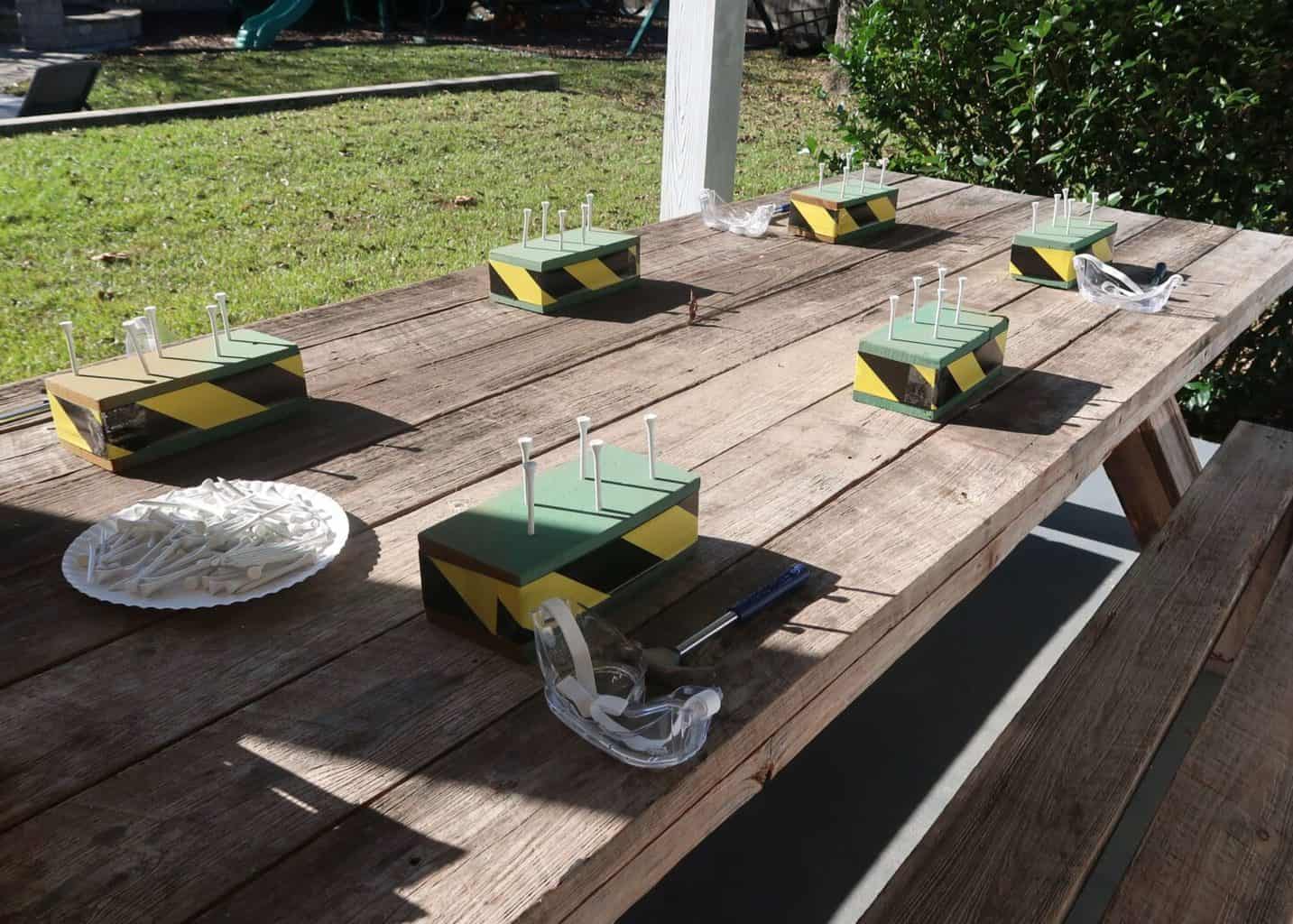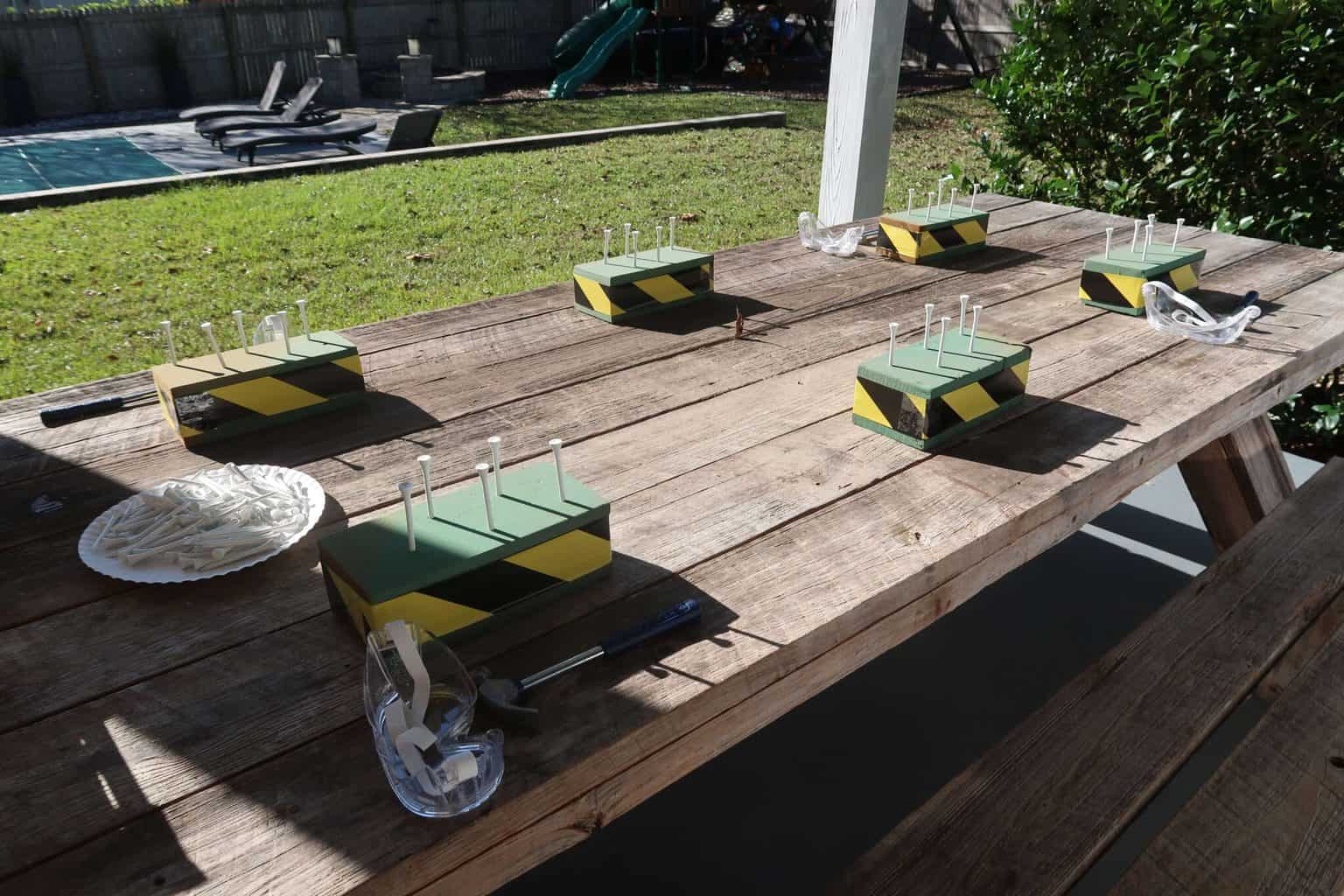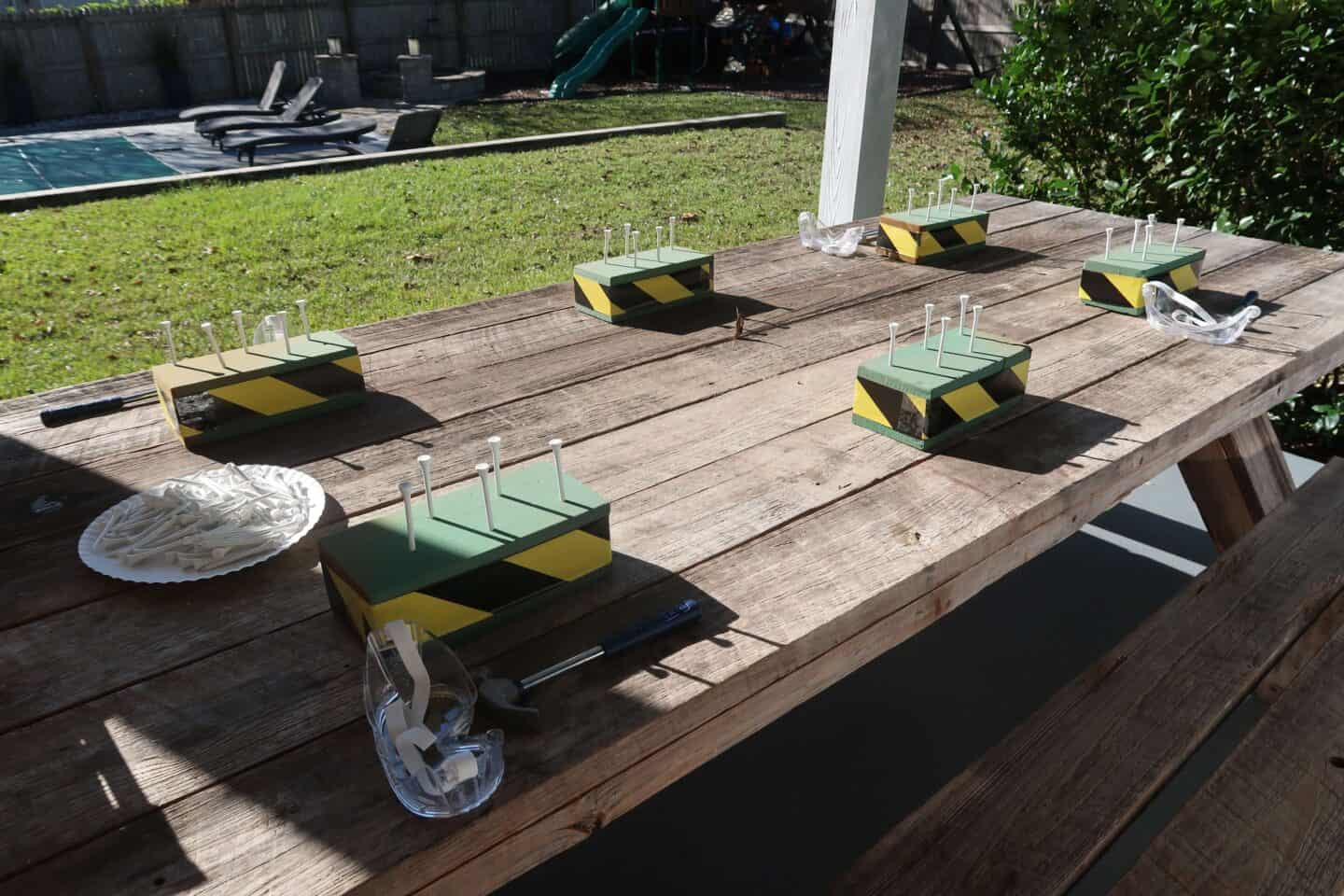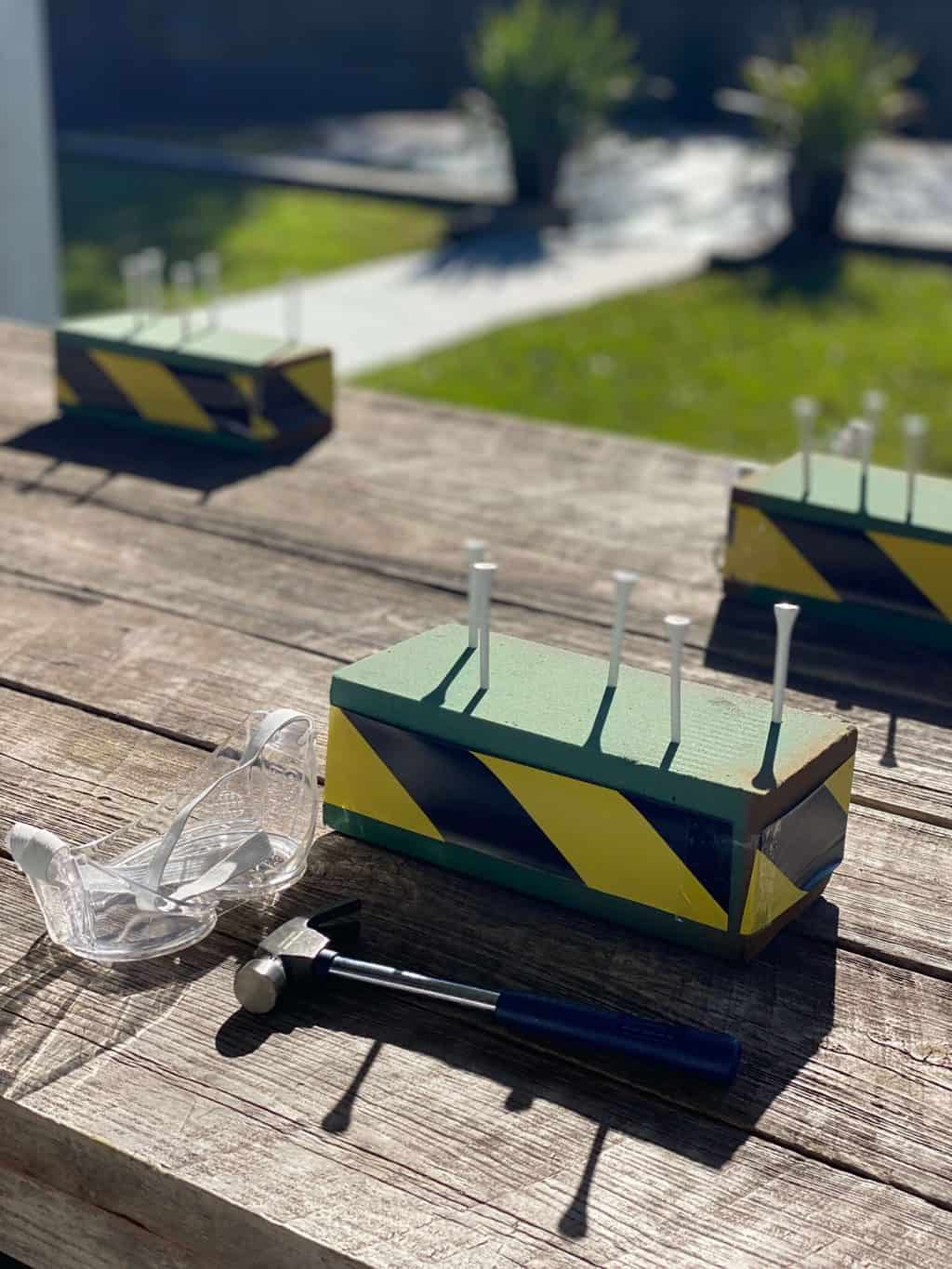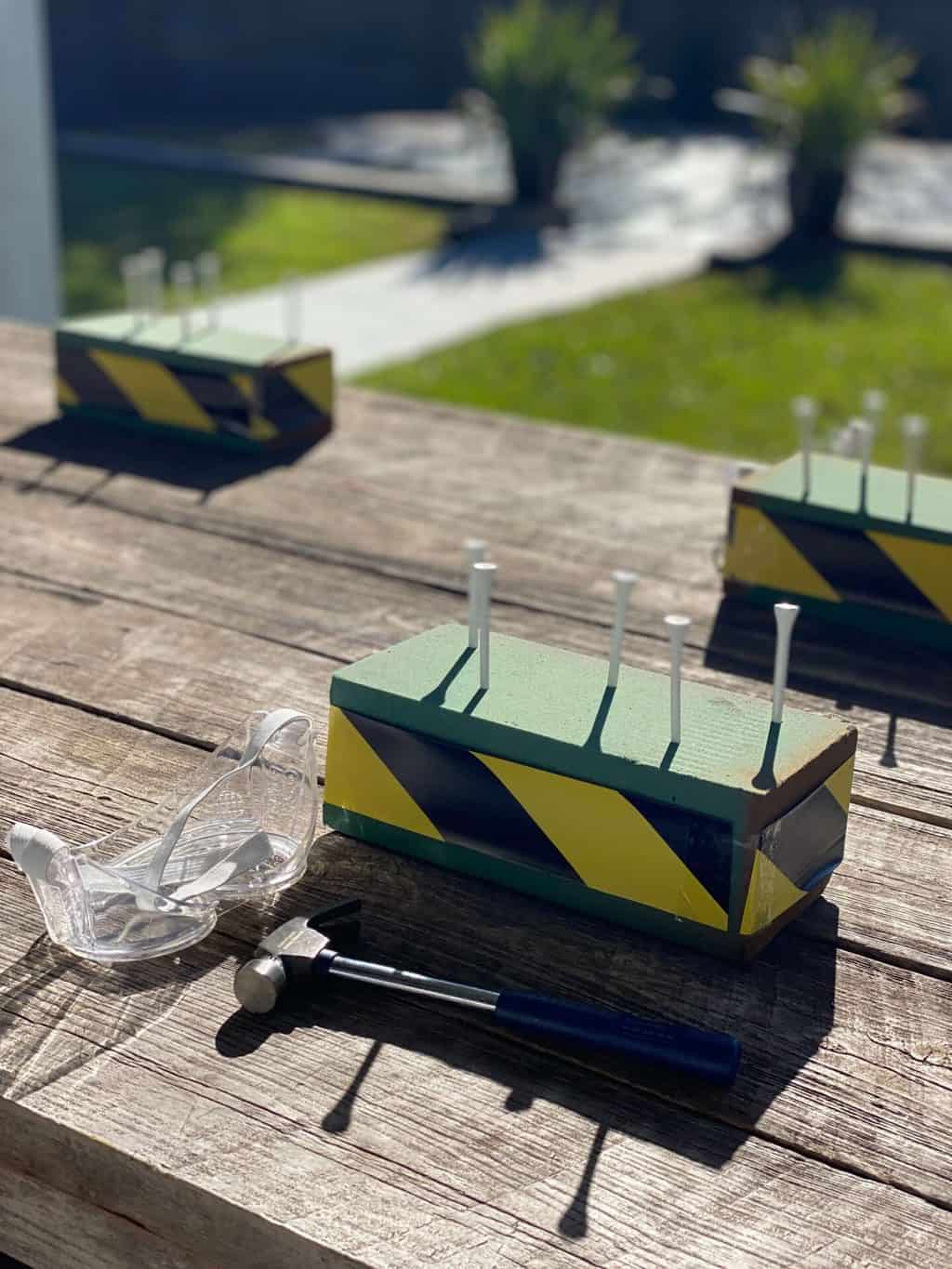 We also pulled out our sandbox and all the construction vehicle toys we could find around the house!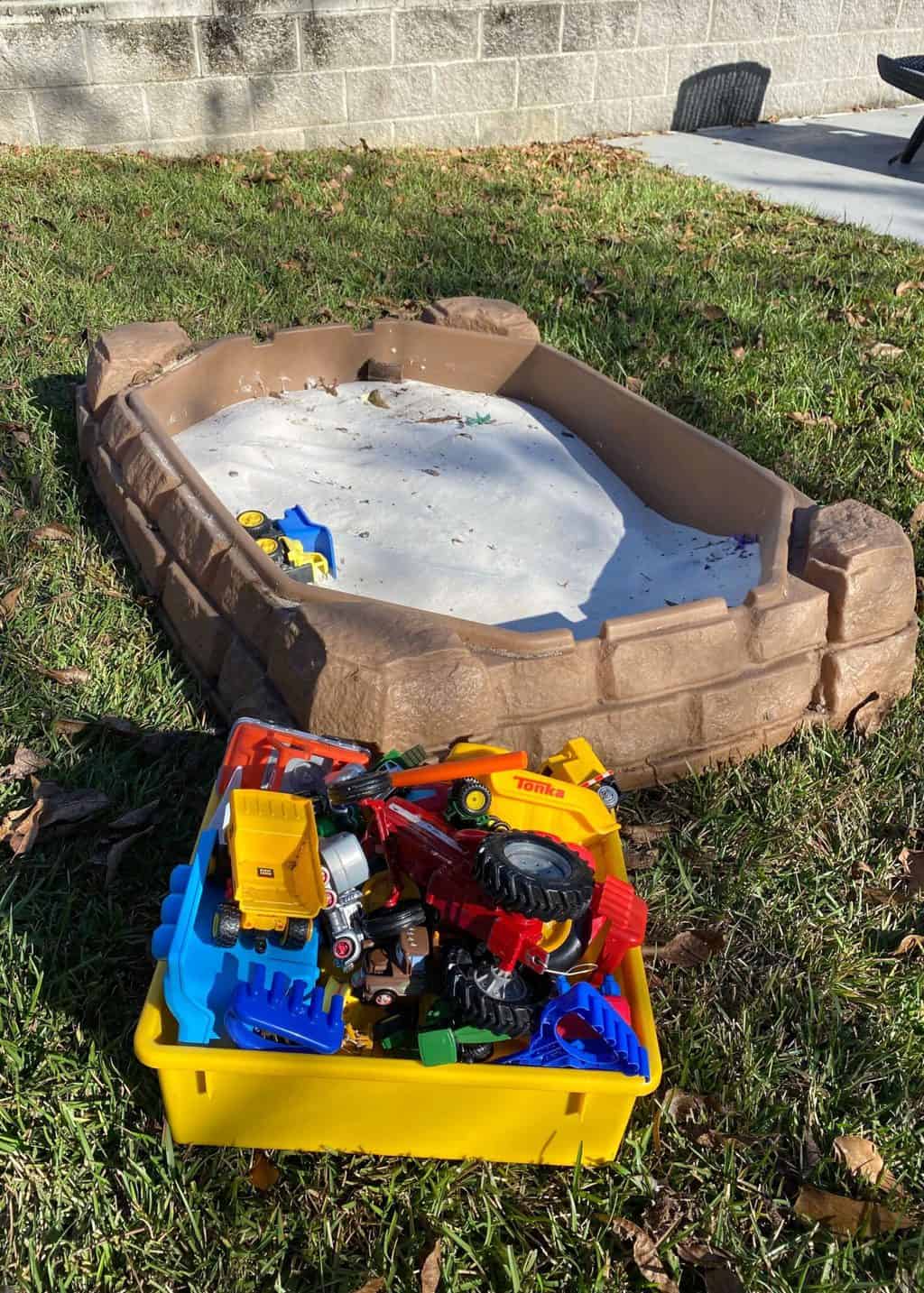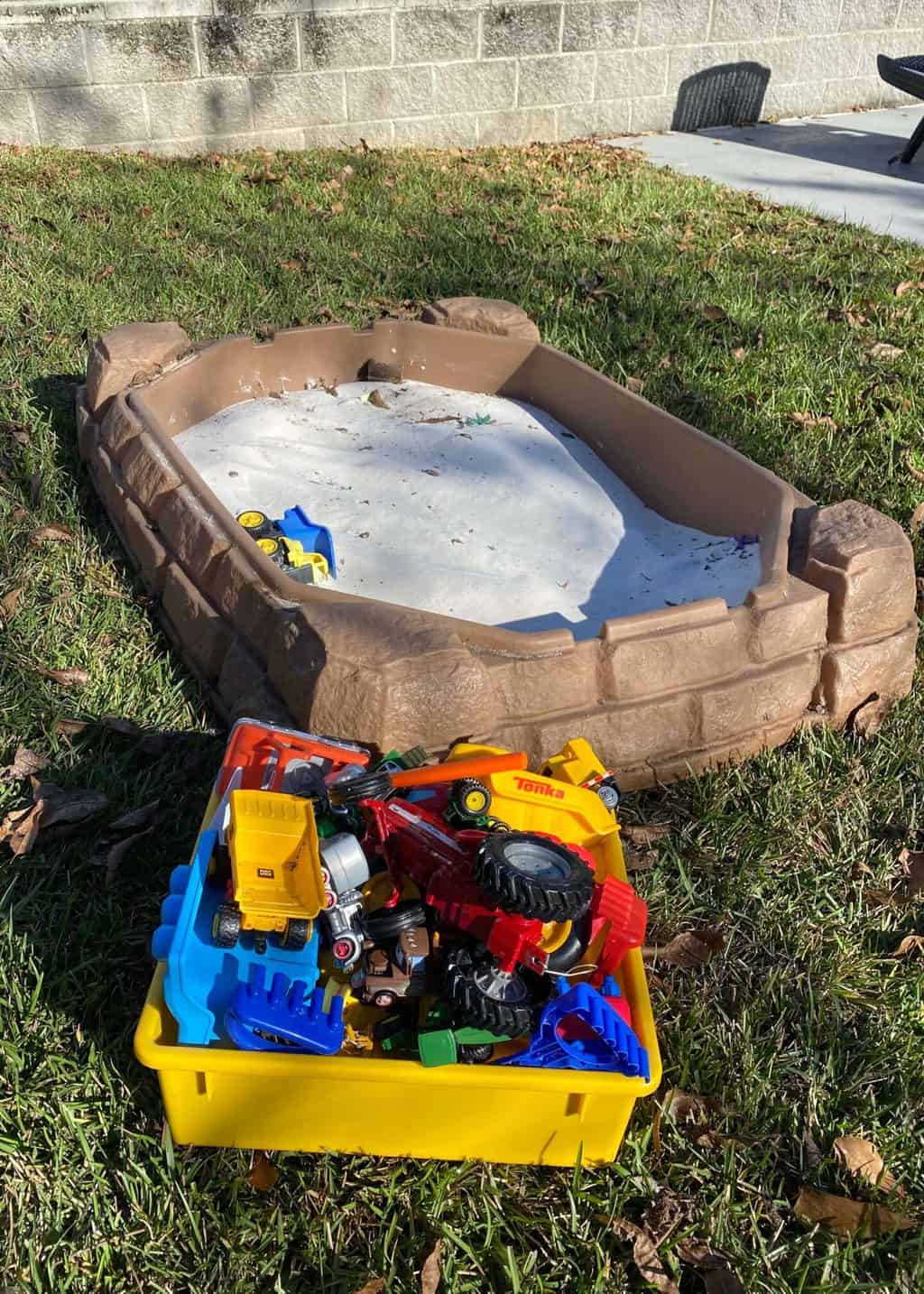 I also bought a few inflatable tools for the kids to play with and the birthday boy was READY to PARTY!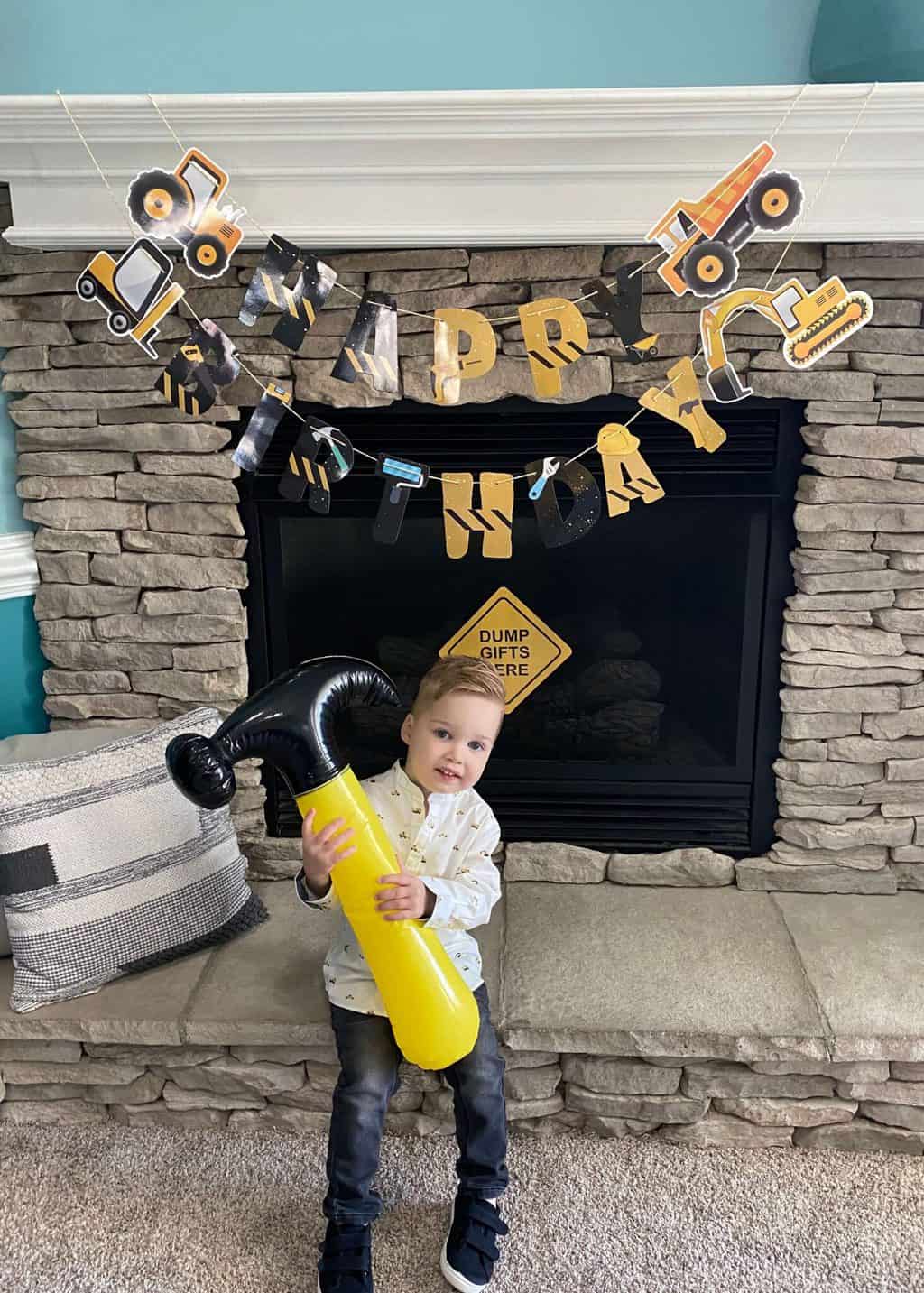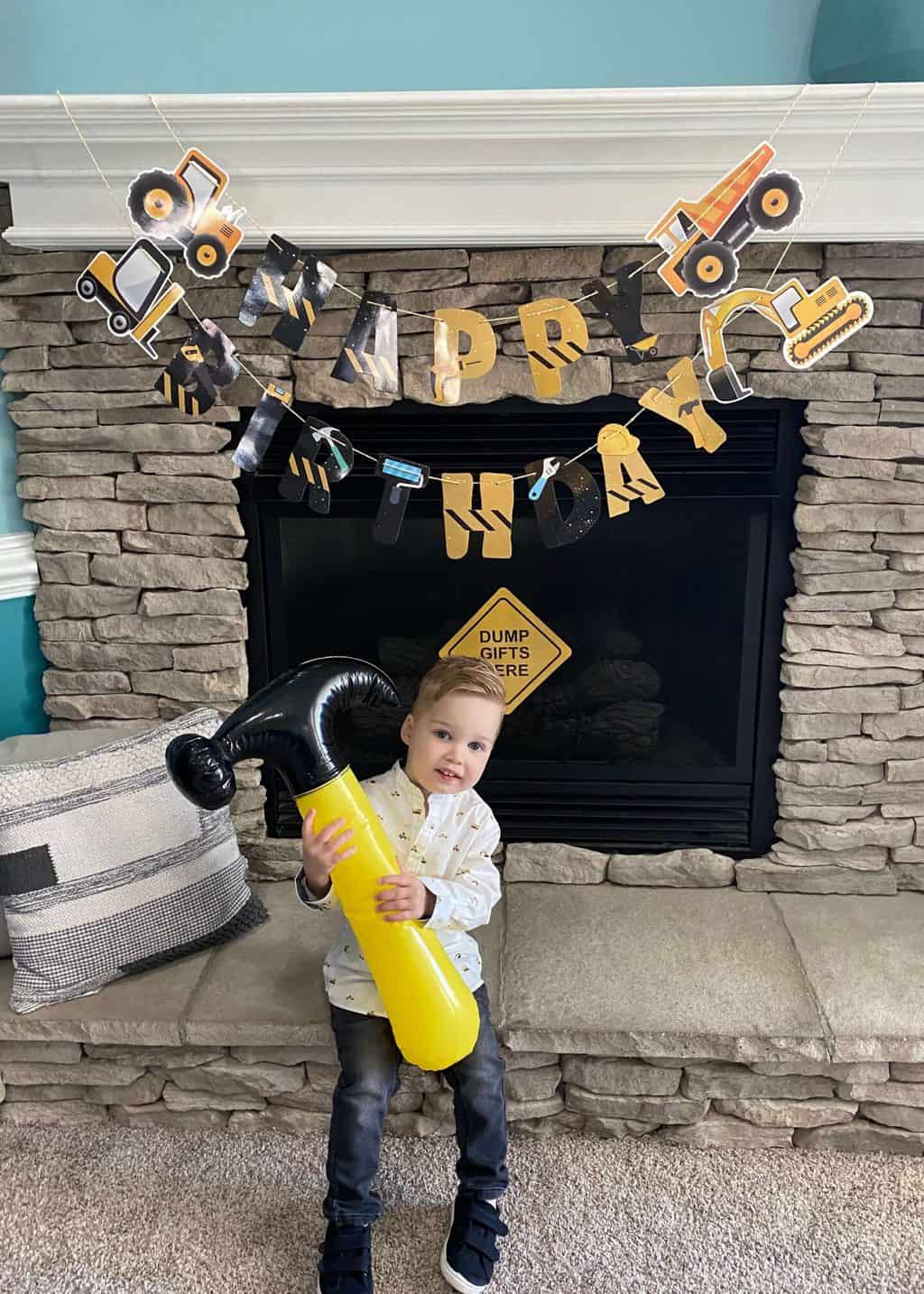 His invite turned out SO CUTE too: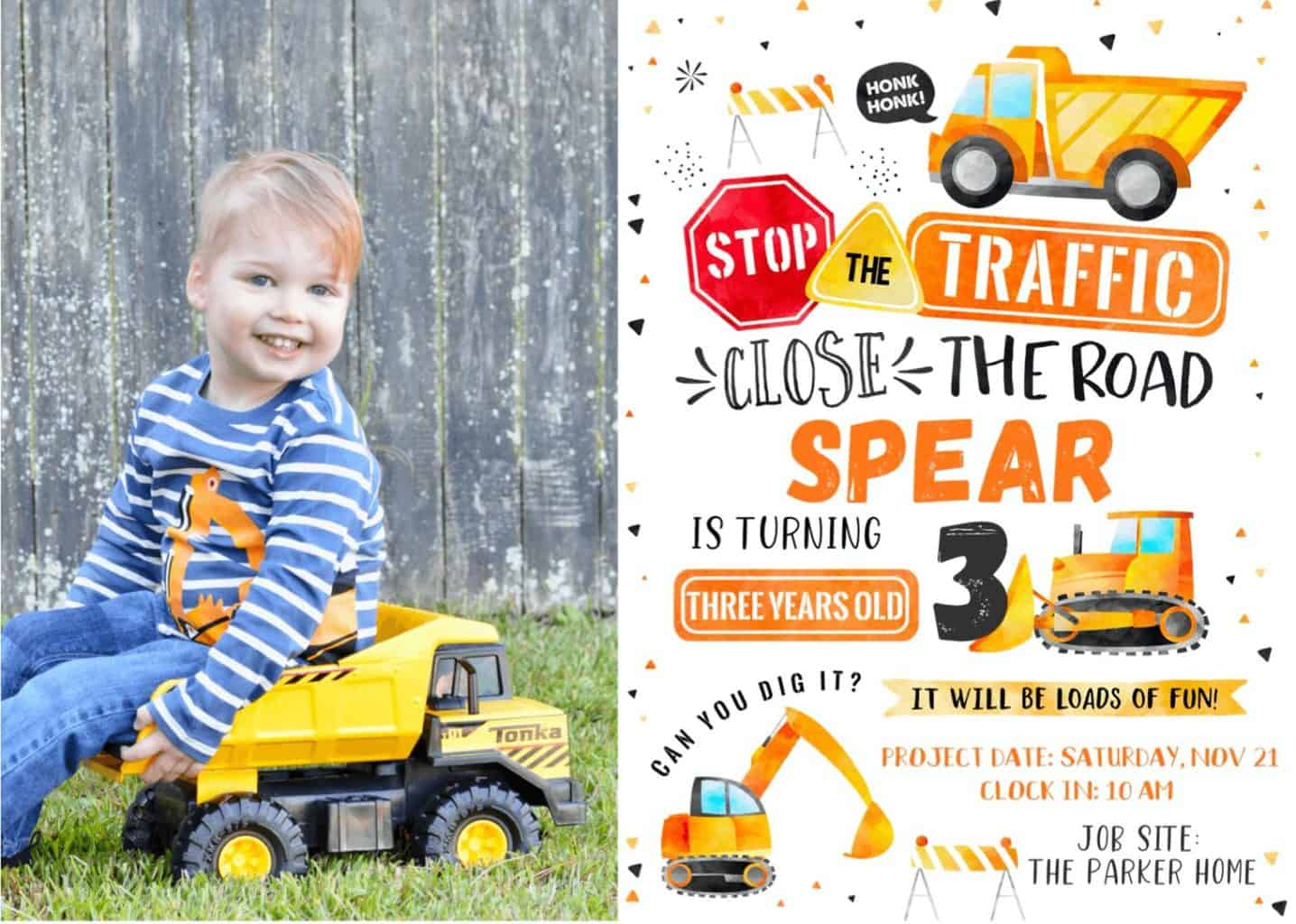 I did a little mini-photo shoot to have pictures to use for his invitation and to put up around his party. I love how these turned out, my sweet boy is getting SO BIG!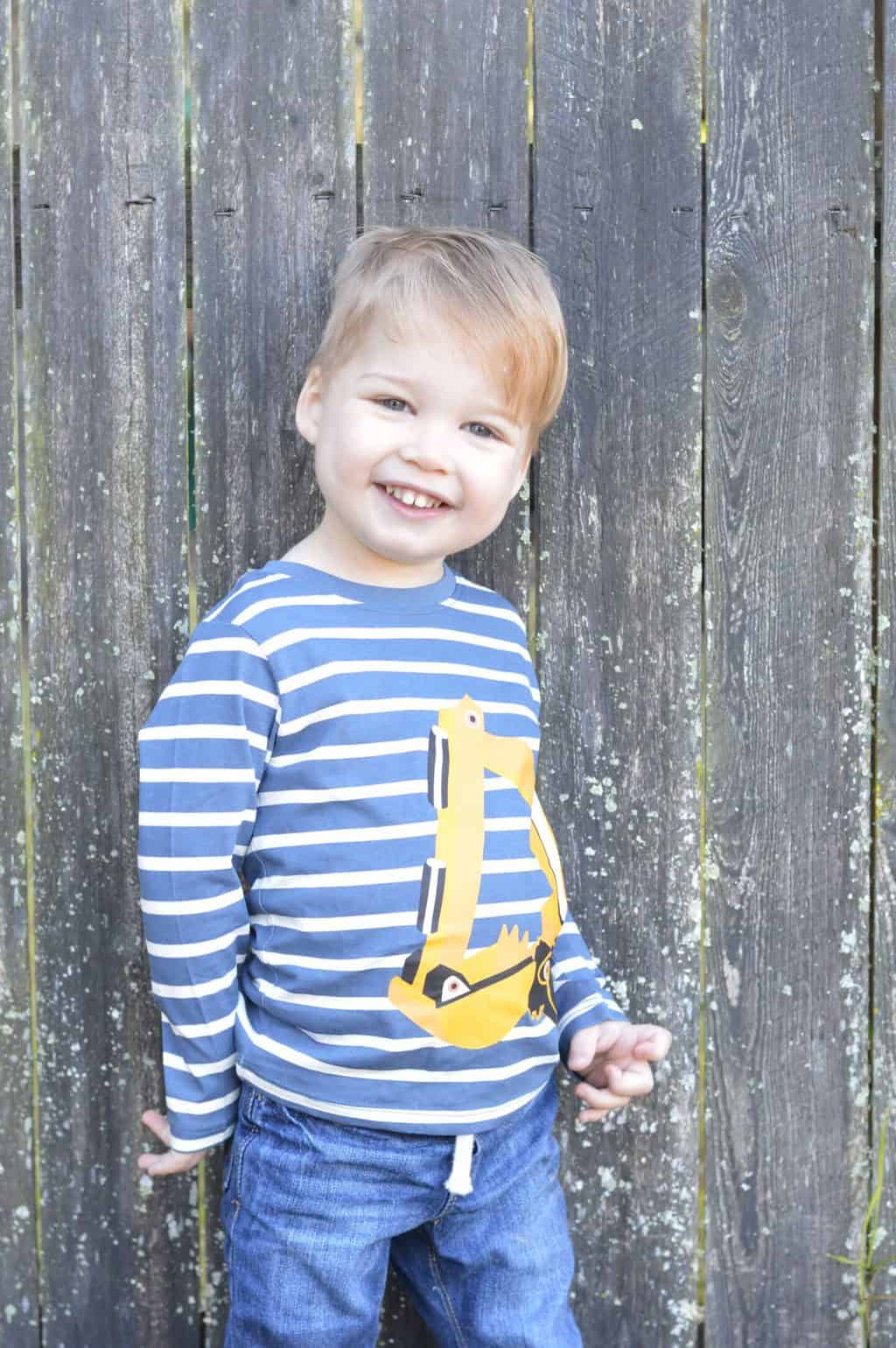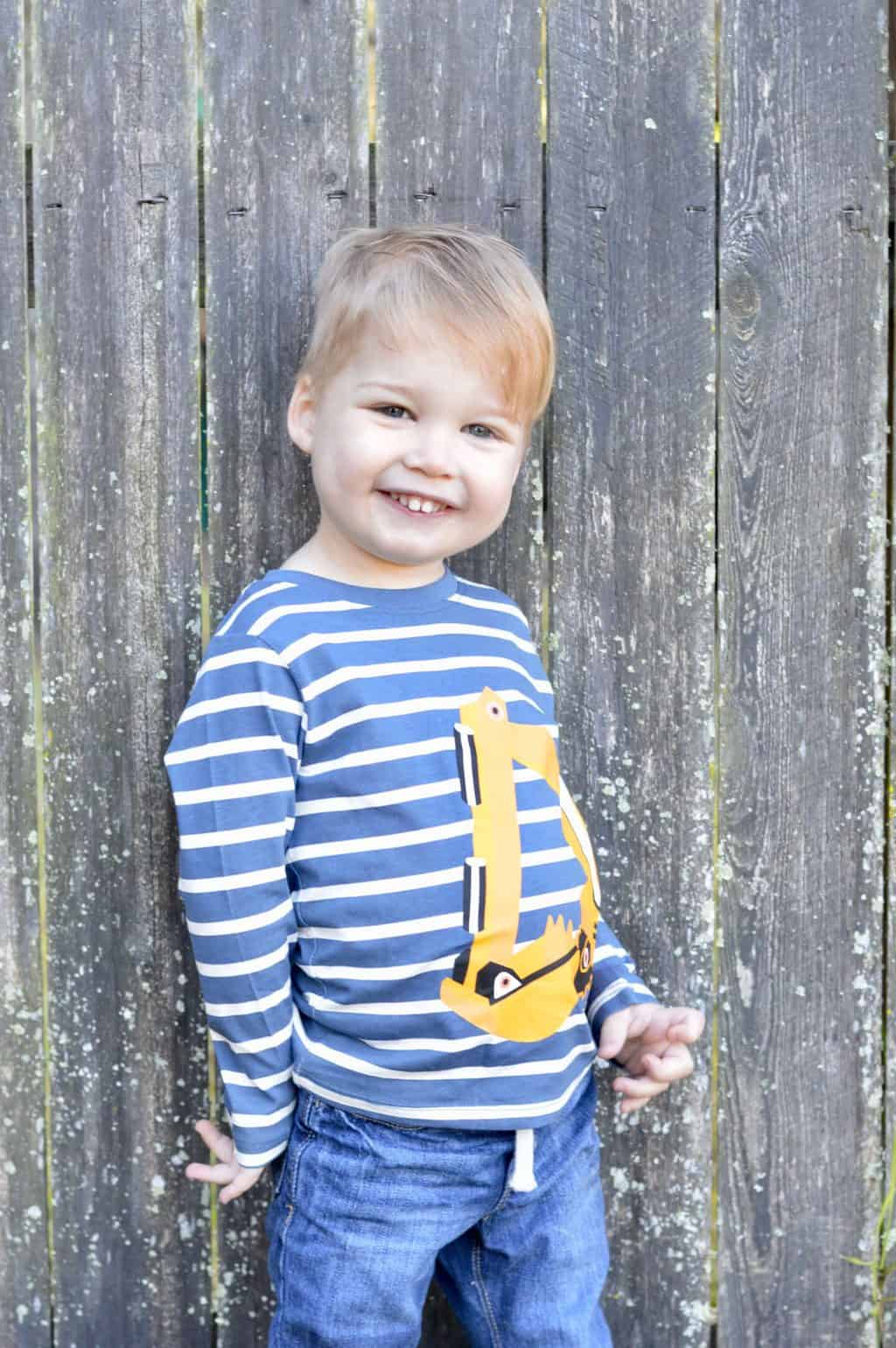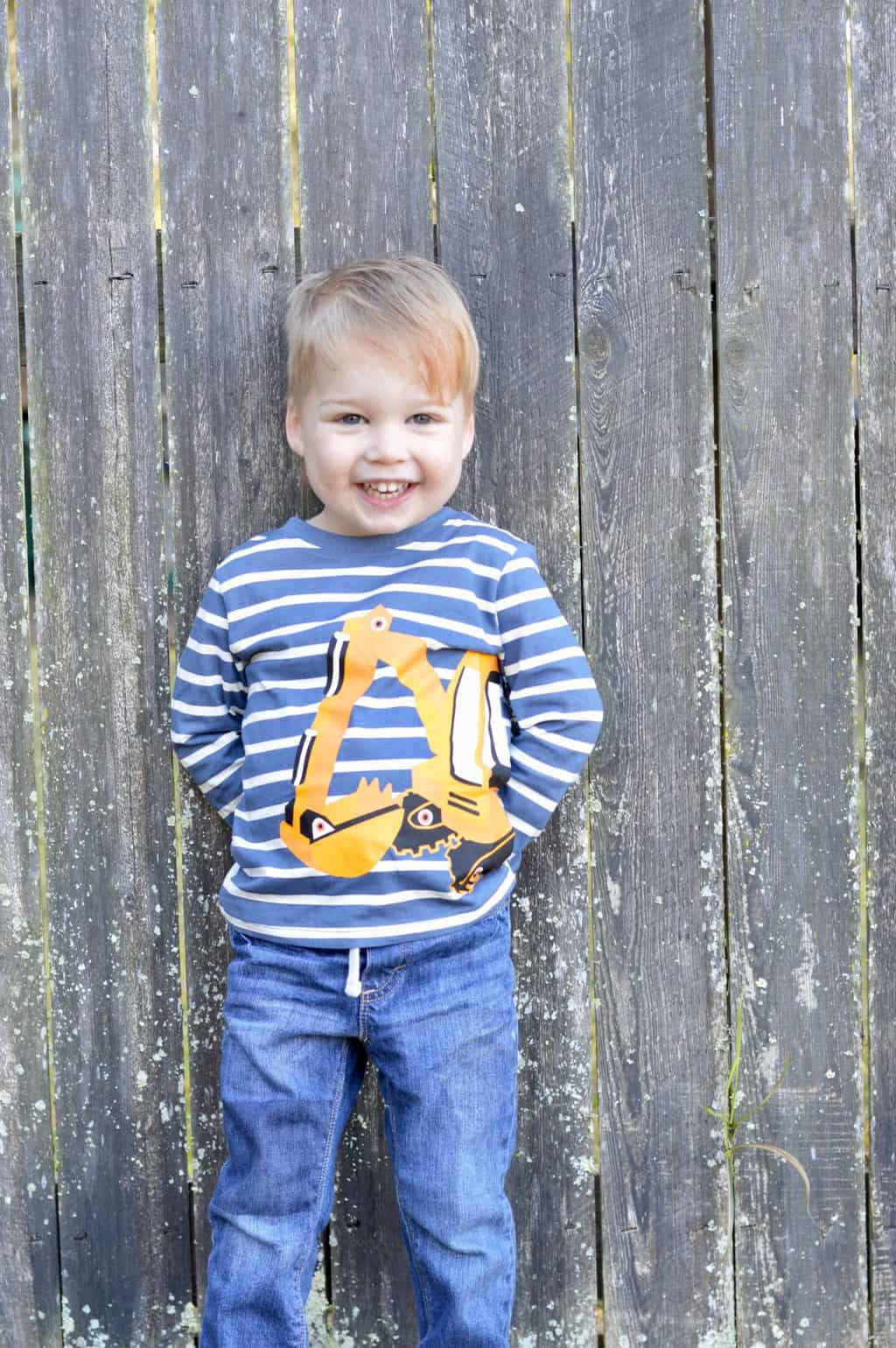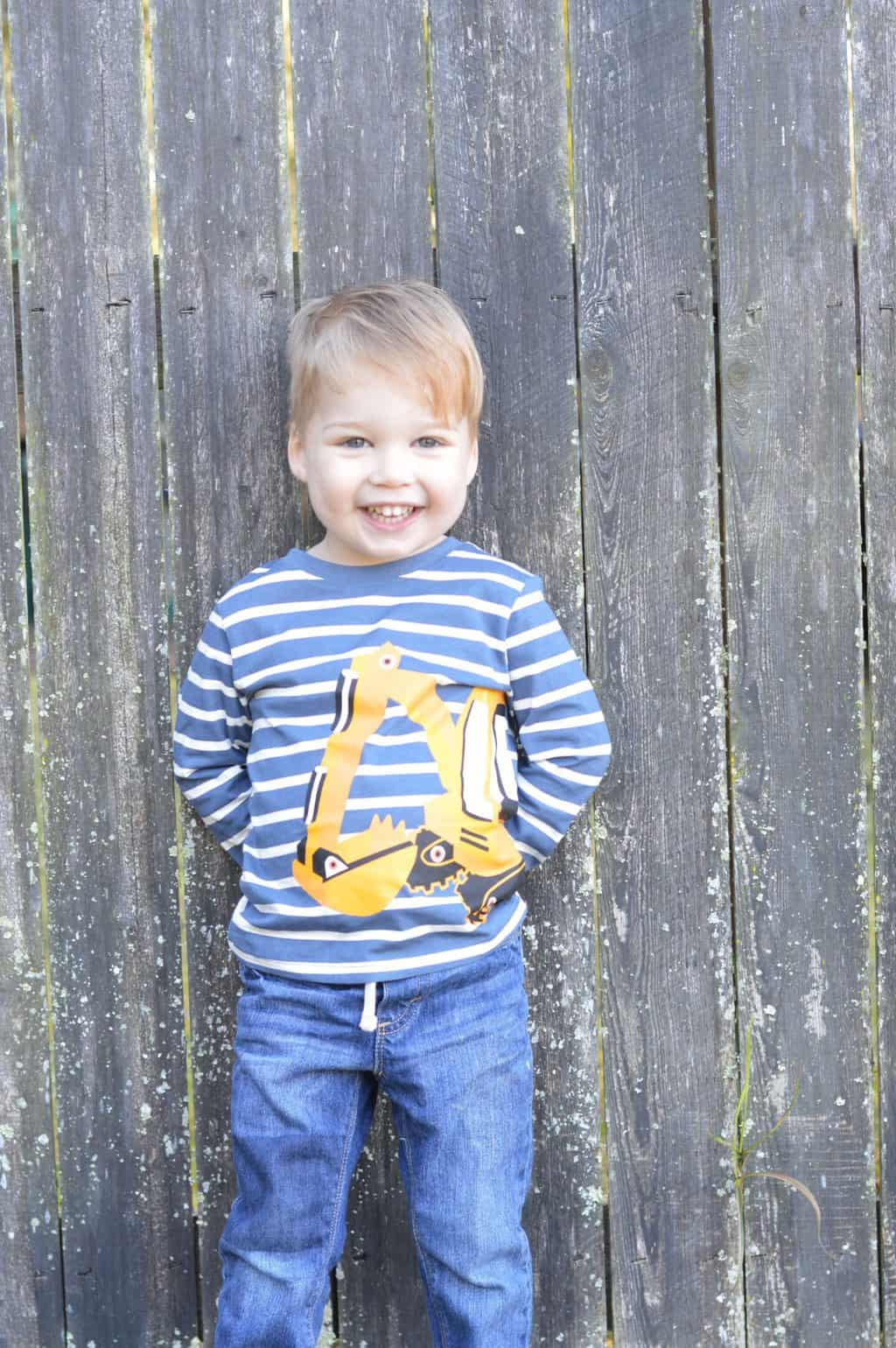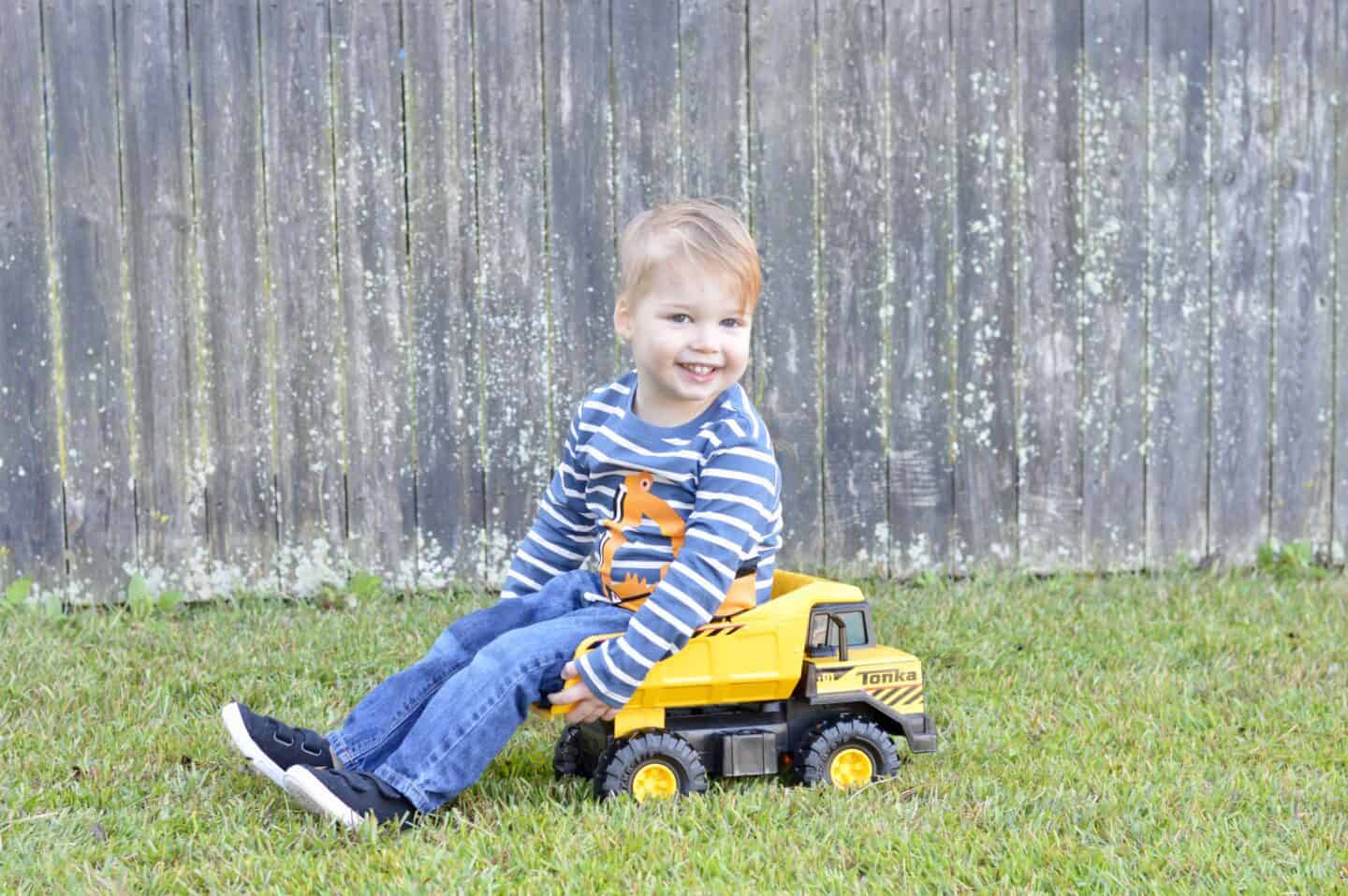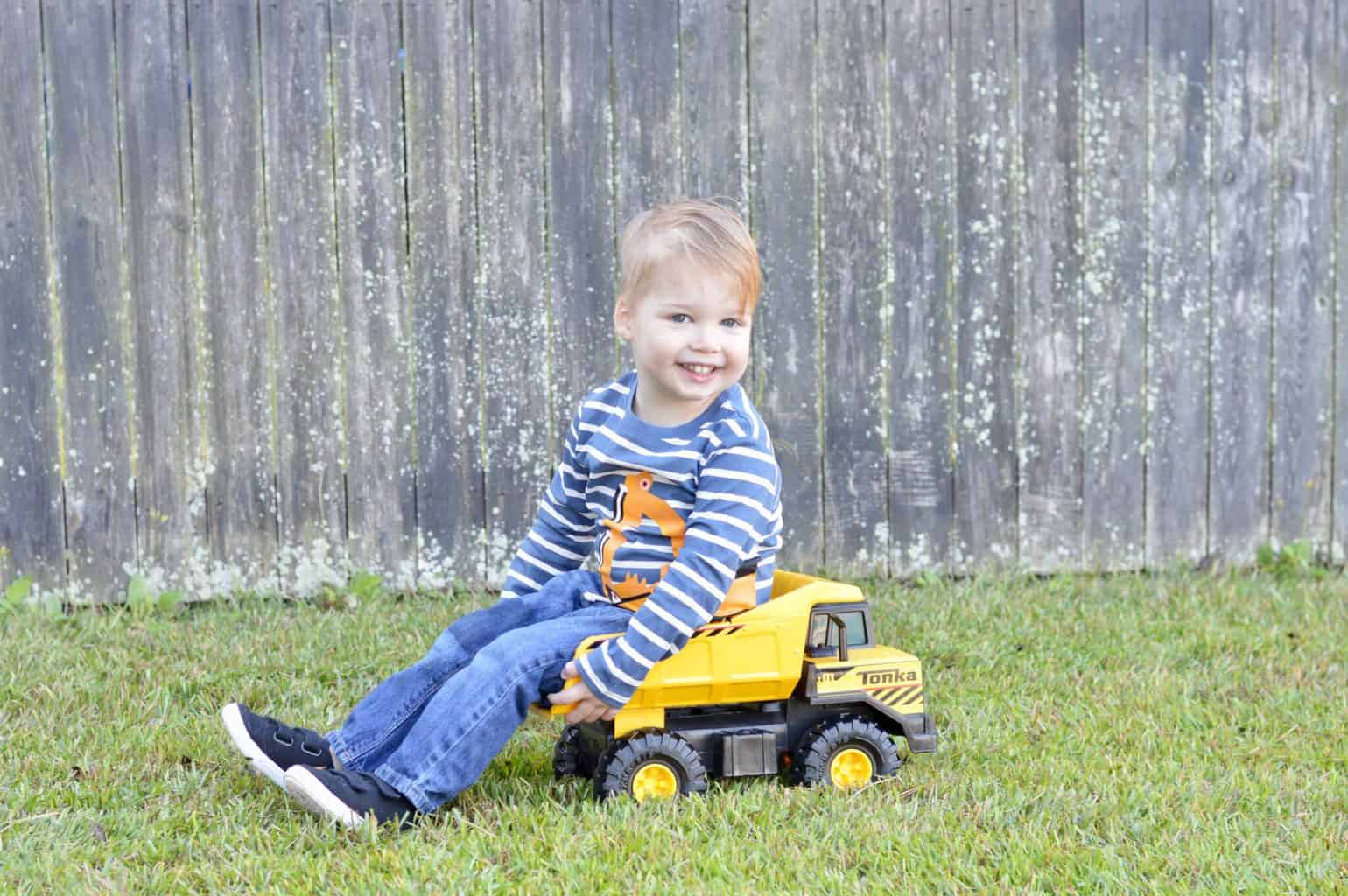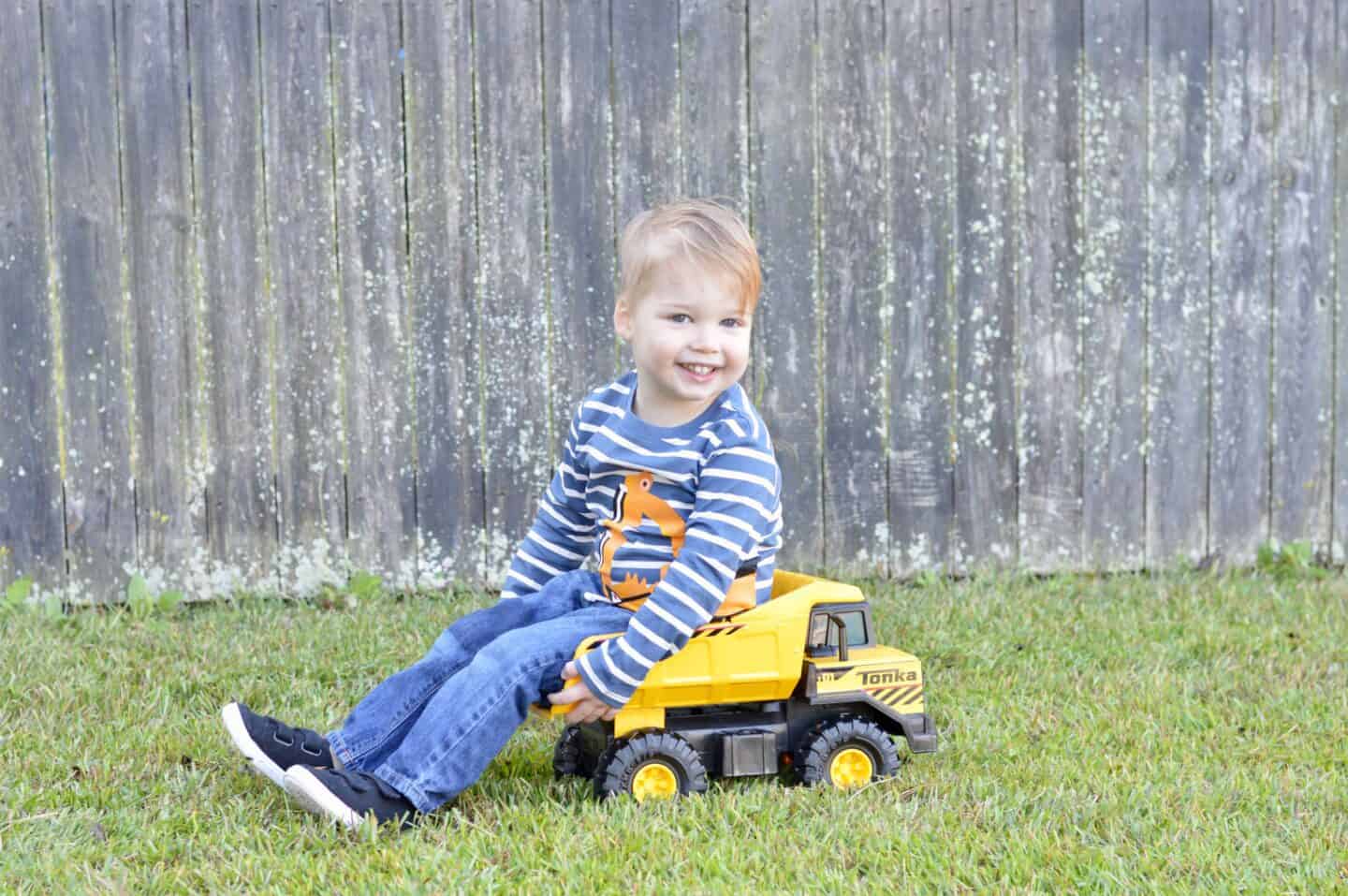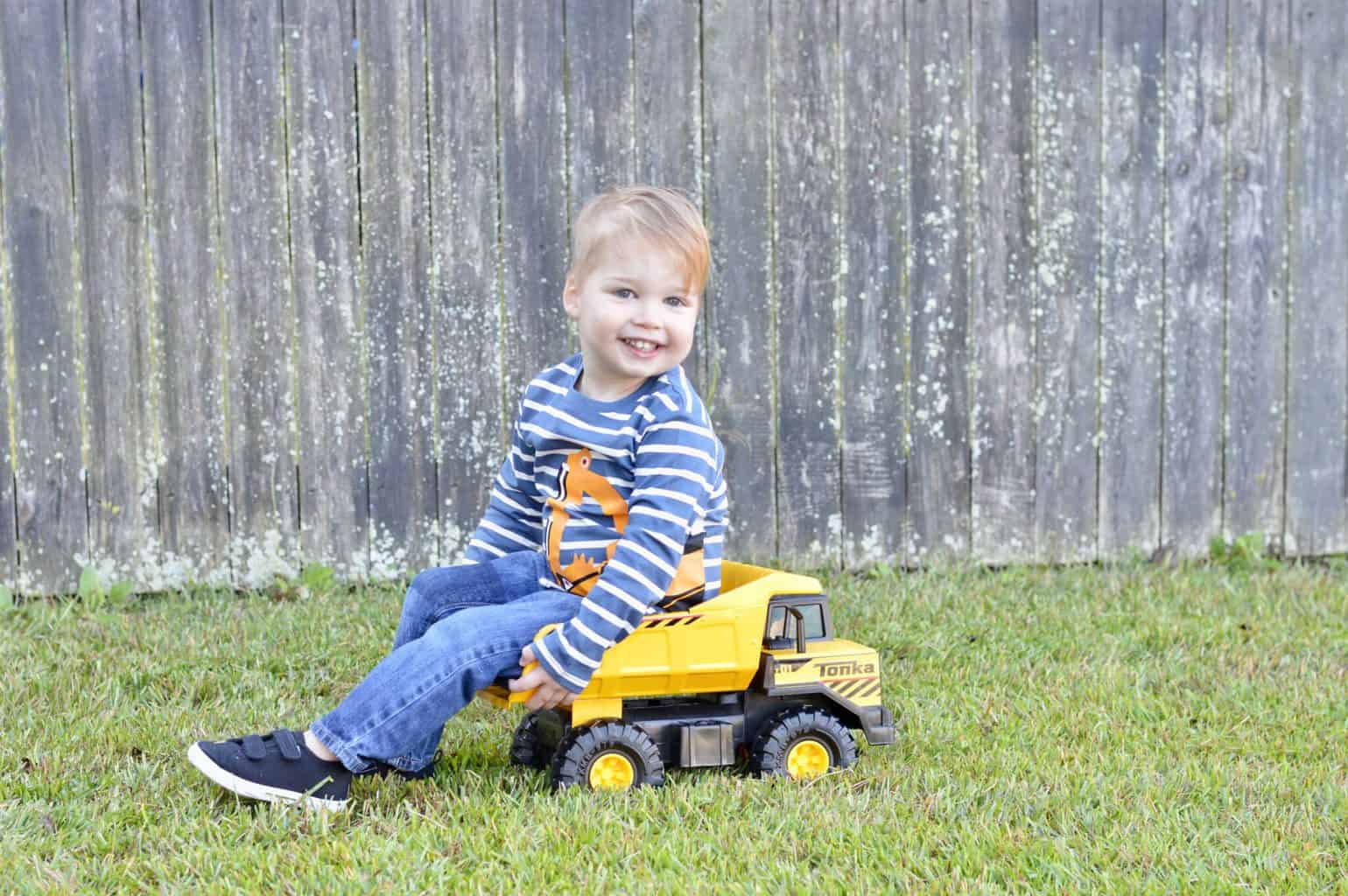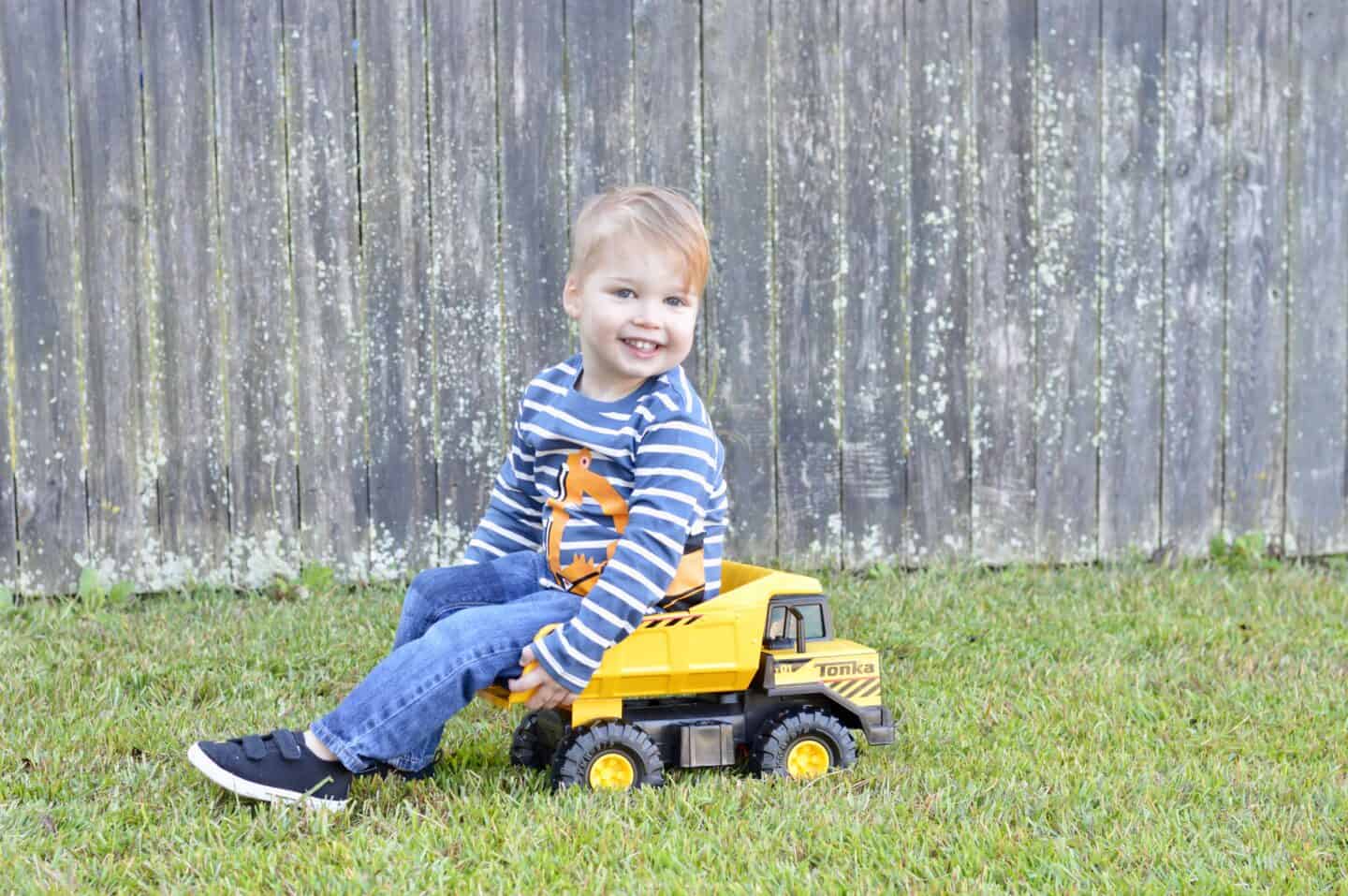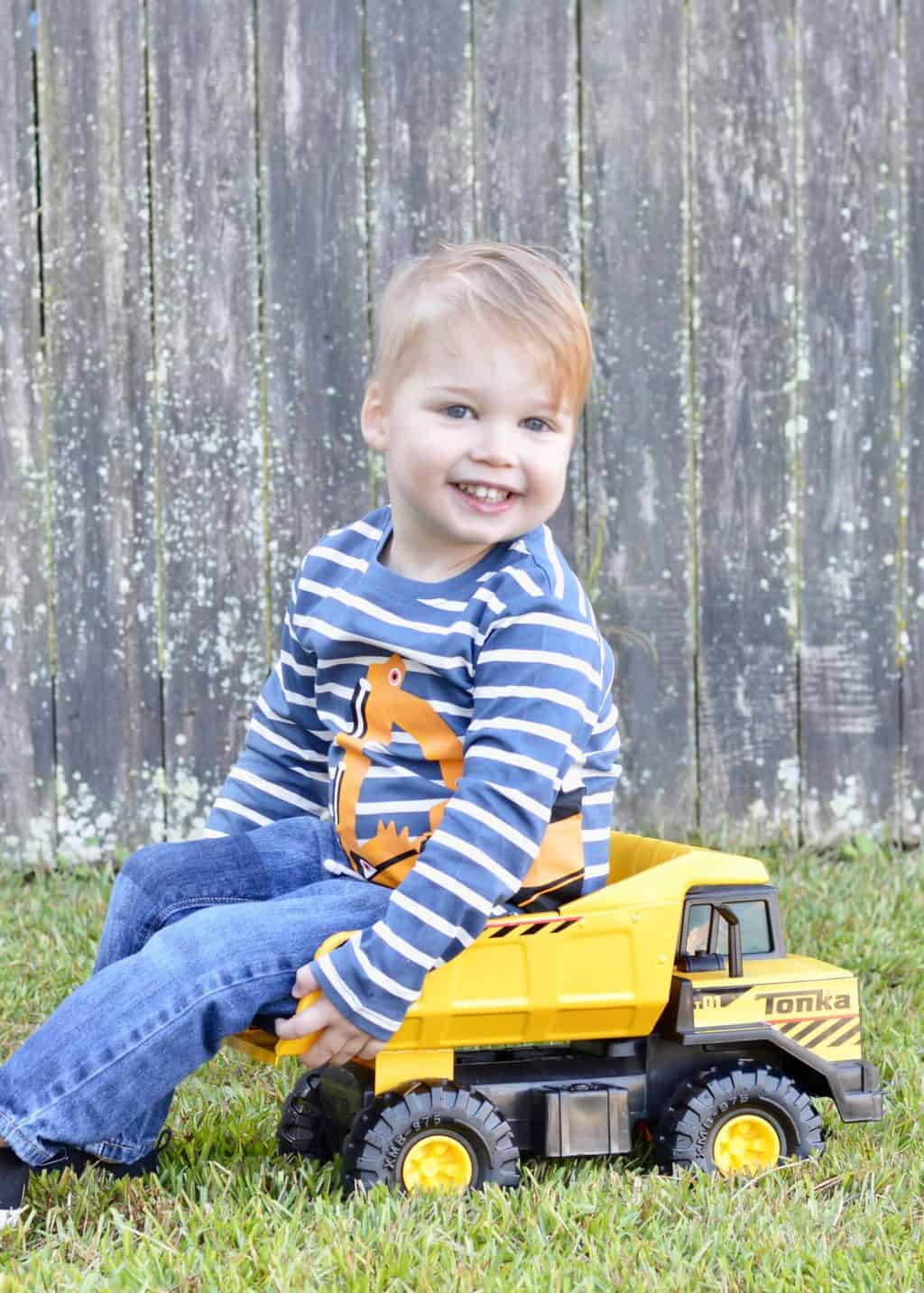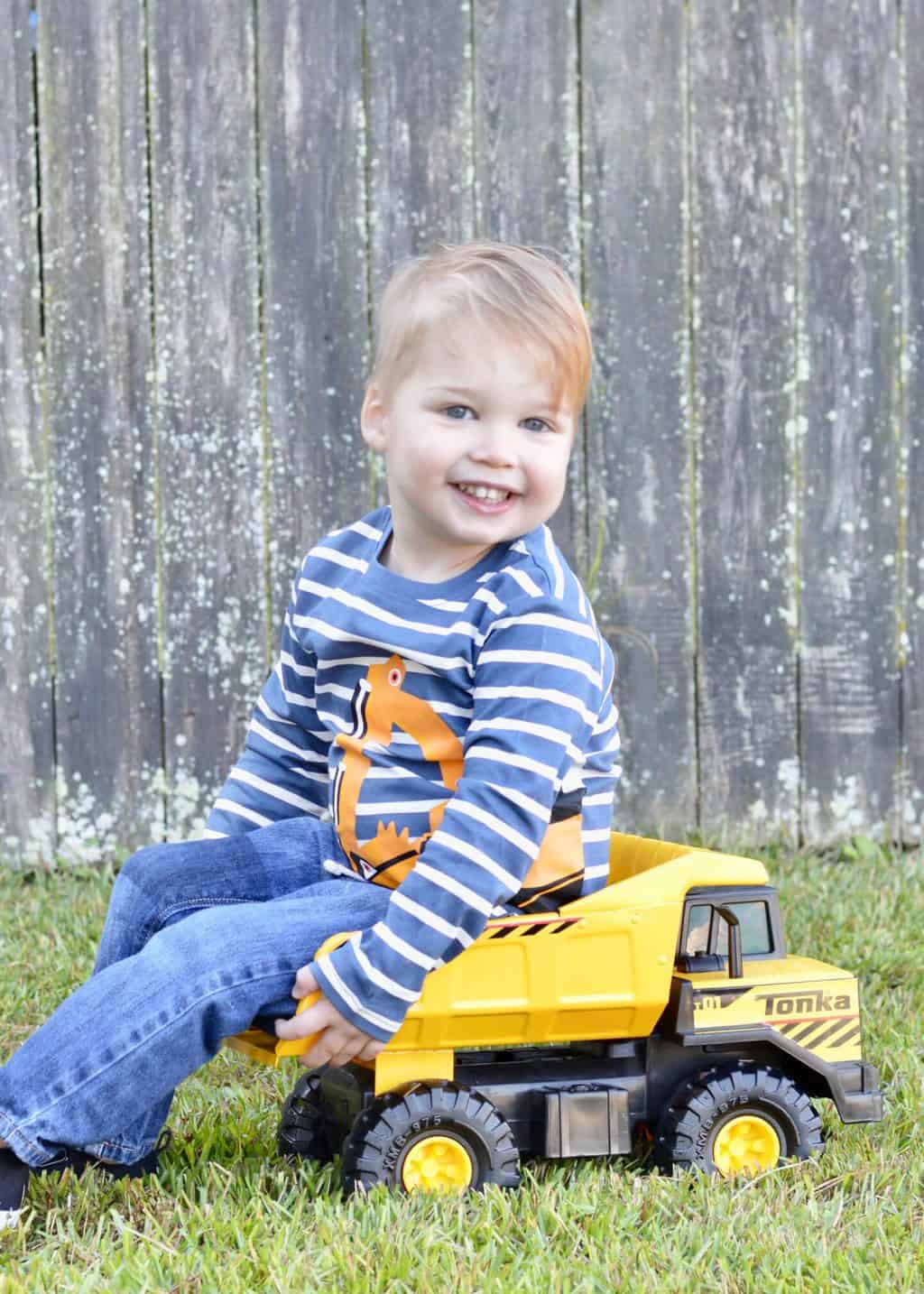 Looking to plan your own Construction Birthday Party? Here's where to buy the items found in this post:
You can also shop all of the links here:
Looking for more party inspiration? Here are all the parties I've put together over the years for my kids: