It's that time of year again: fall, the season of changing leaves, shorter days, and all things pumpkin spice! With those cooler temperatures (more or less depending on where you live) comes more opportunities to be outside… which means there are a myriad of fall outdoor activities for kids to choose from!
We live in South Georgia, so it takes a bit longer for things to cool off here… but that doesn't mean we don't still love the fall season and try to do as many fun things during this time as possible! Obviously, not every region gets a vibrant display of autumn leaves or chilly October evenings, but with a little bit of imagination and creativity, you can certainly make the most of this exciting season!
And of course… there's always Halloween! We love planning our family Halloween costumes every year, which usually revolve around one of our favorite Disney movies!
Feel free to check out our roundup of Disney costumes and family costume ideas to help you jumpstart your Halloween planning!
But there's more to do during autumn than just trick or treat… from September to November, there are all kinds of outdoor fall activities for kids to enjoy!
Here are my favorite fall activities for kids and fall family activities too!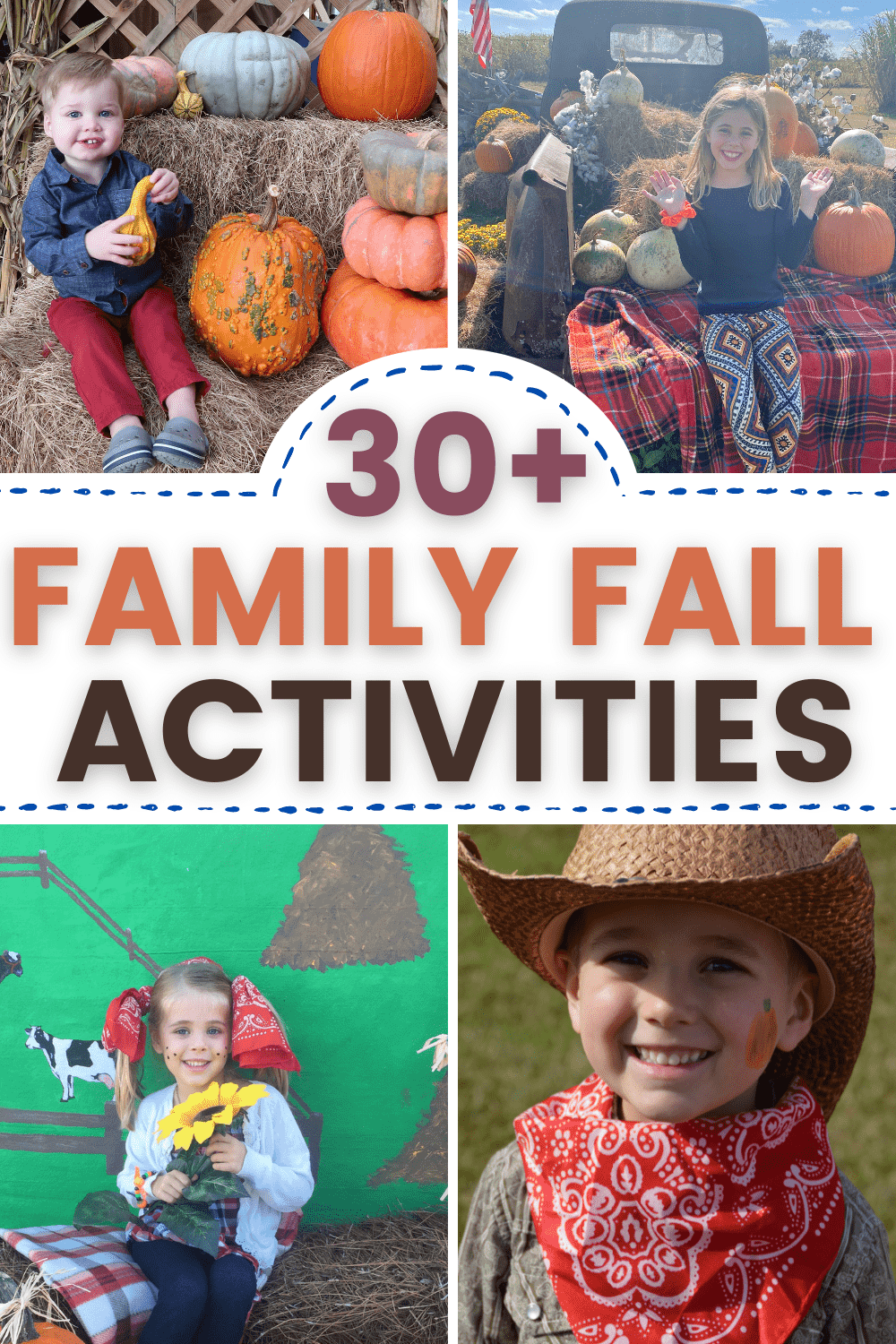 Disclaimer: post may contain affiliate links.
30+ Best Fall Outdoor Activities for Kids
1. Visit a Corn Maze
Nothing says harvest season like the corn mazes that pop up around the country during this time of year. Even if you don't live in a rural area, chances are there's a corn maze somewhere in your vicinity! These make great activities for kids and adults alike and are often paired with pumpkin patches, hay rides, and apple cider donut stands. You will not regret going out of your way for this fall family activity!
Our little family has actually done a cane maze – same essential idea and concept as a corn maze but with cane 😉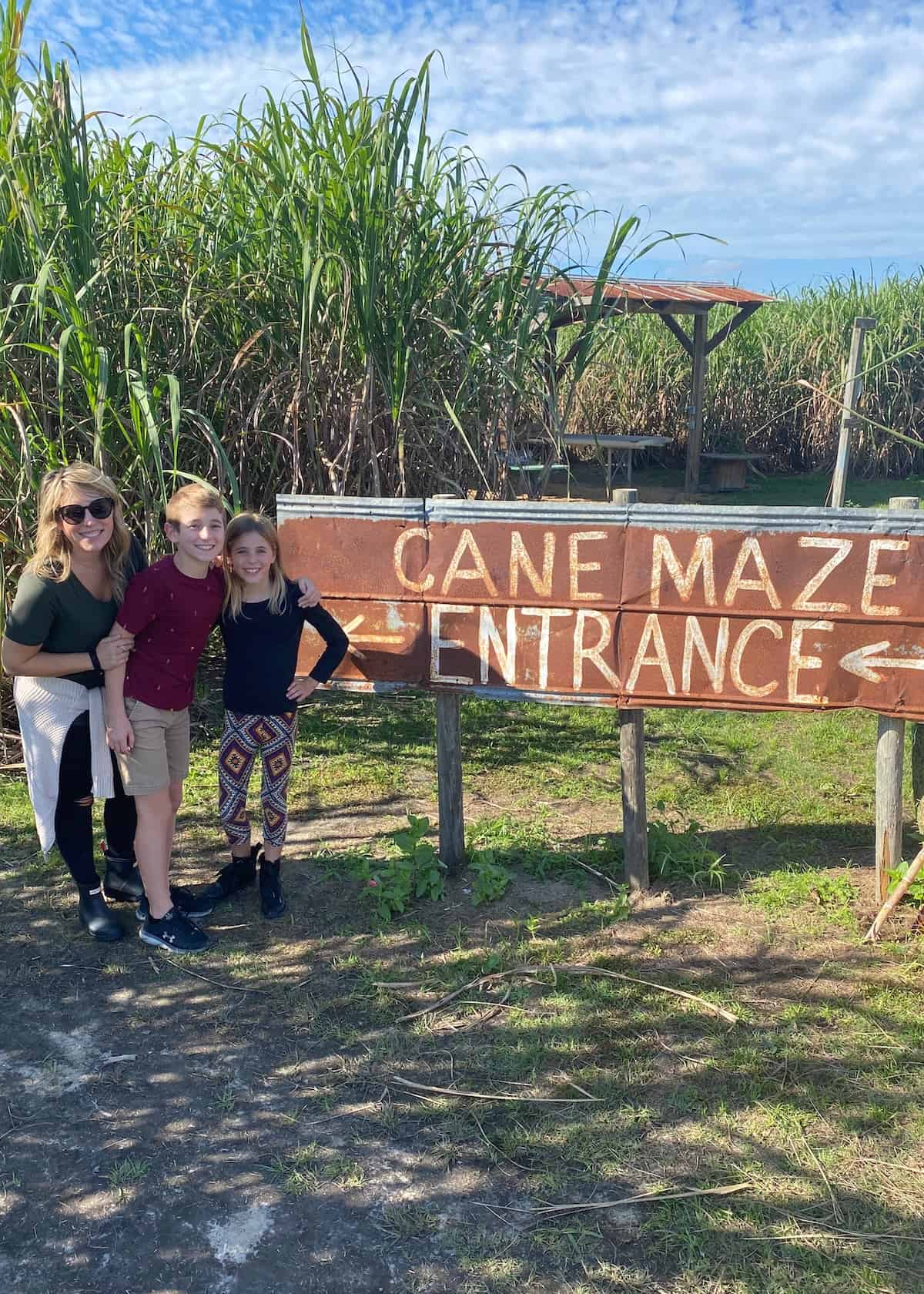 2. Make a Leaf Pile
What's more quintessential during the fall than jumping in a big pile of leaves? It's great when you can do this in your own backyard (you're going to have to rake leaves anyway!) but if not, visiting a local park is likely to provide you with the number of leaves you need to jump away!
3. Visit a Local Orchard
If you have access to an apple orchard, then take advantage of the opportunity for this fun seasonal activity and go apple picking! The apple harvest window is short so it's usually first come-first serve but it's so worth it! Most apple orchards also have other fun activities for kids to do as well as a selection of seasonal products to buy, like apple cider and apple butter.
4. Go on a Nature Walk
Fall is the perfect time to get outside and enjoy the wonders of nature! Not only are the temperatures usually better, but there also usually aren't as many bugs. However, there are plenty of fun things to look for, such as changing leaves, fungi, pinecones, persimmons, acorns, and more! You can even turn it into a scavenger hunt! Be sure to collect leaves as you go to use for other kids activities 😉
5. Find the Perfect Pumpkin
What would fall outdoor activities for kids be without the pumpkins? They make great front porch decorations and, of course, carving pumpkins is a Halloween tradition for many families! While you can buy pumpkins at practically any grocery store, why not make it extra special and visit a pick-your-own pumpkin patch? It's way more fun for kids of all ages plus it makes for a great photo op 😉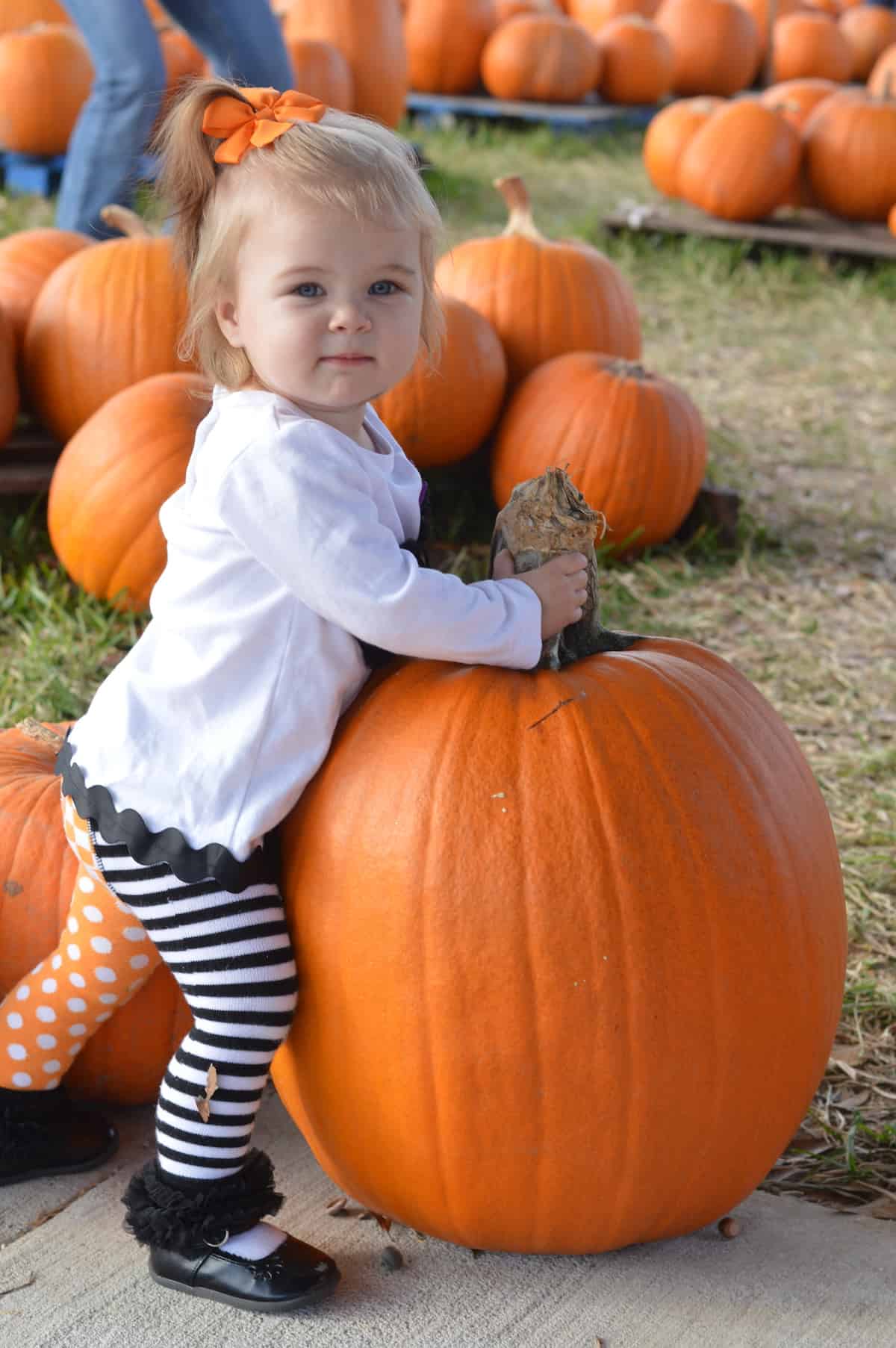 6. Attend a Fall Festival
Most regions have an annual fall festival that's free to attend. It's a wonderful way to celebrate the arrival of the season–there is usually a parade, carnival rides and games, food trucks, vendor booths, and more! Research what's going on in your area and go have some fun!
7. Leaf Prints
The number of fall crafts you can find online are endless… but when it comes to fall activities for kids, doing crafts outdoors means they can be as messy as they want without you having to worry too much about the cleanup! One of my favorites? Using fall leaves from a leaf hunt to make beautiful works of art by painting on them and using them as stamps!
And if you're looking for a good indoor craft to fill a rainy day, check out these easy Halloween paper crafts for a simple craft idea that will encourage fine motor skills and become a fun activity to keep little ones busy.
8. Press Leaves
Another great way to utilize fall leaves? Press them for future crafts! Your kids are going to want to collect and save them anyway, so use an old book or clamp two pieces of wood together for an easy leaf press! Just make sure they know that those vibrant reds and oranges are probably going to turn brown overtime 🙂
9. Throw a Bonfire or Fire Pit
When the nights get cool, it's the perfect opportunity to have a bonfire or start a fire pit. This can make a great neighborhood get together or family gathering! Roast hotdogs and marshmallows, sip hot cocoa, and let the kids throw in twigs, leaves, and old paper for kindling! Our favorite thing to do as a family is to gather around our fire pit and talk, laugh and even tell "spooky ghost stories." It's always so much fun!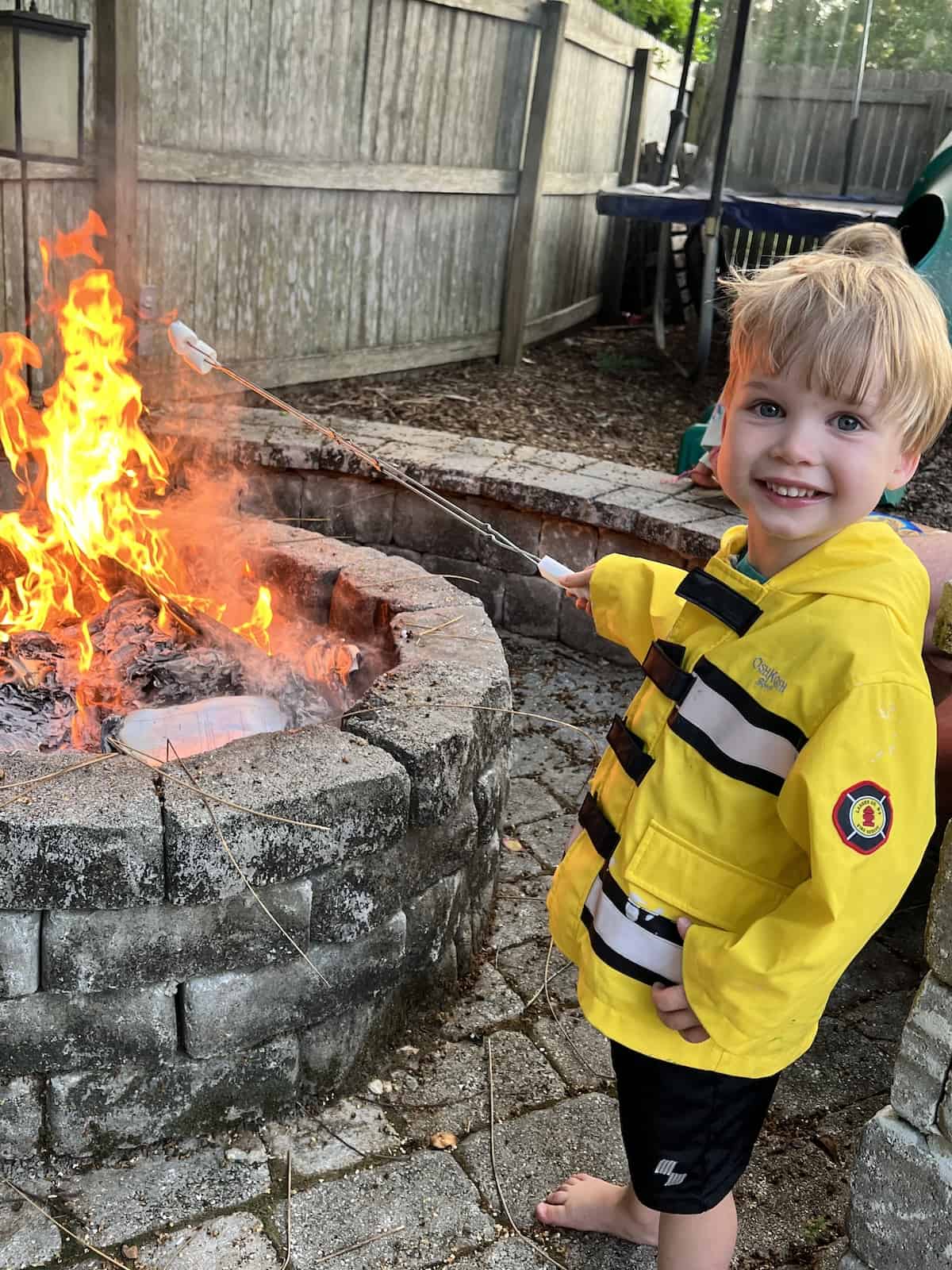 10. Stargazing
The colder it gets, the clearer the air is, which means it's better for stargazing. Fall offers some prime opportunities to observe the night sky and maybe even catch a shooting star or two! Among the most prominent constellations to look out for are the Big Dipper, Cassiopeia, Pisces, and Aquarius!
11. Camping
Fall is also the ideal time for camping–in most areas, it's not too cold at night or too muggy during the day, making it more manageable for sleeping outdoors. Combine this with some marshmallow roasting and stargazing, and you've knocked out several fall bucket list items at once!
12. Flashlight Tag
If you have access to a field or park, take advantage of the cooler nights to play tag in the dark–whoever is "it" has the flashlight and has to tag people by shining the light on them! Just spooky enough to get everyone in the Halloween mood without it being too scary or dangerous!
13. Go Trick or Treating
Naturally, the peak for most families during the fall season is Halloween, which includes going out Trick or Treating! If you're not big on the candy thing, there are other fun alternatives that kids can do with their bounty: donate it, play sorting games with it, or even smash it with a hammer!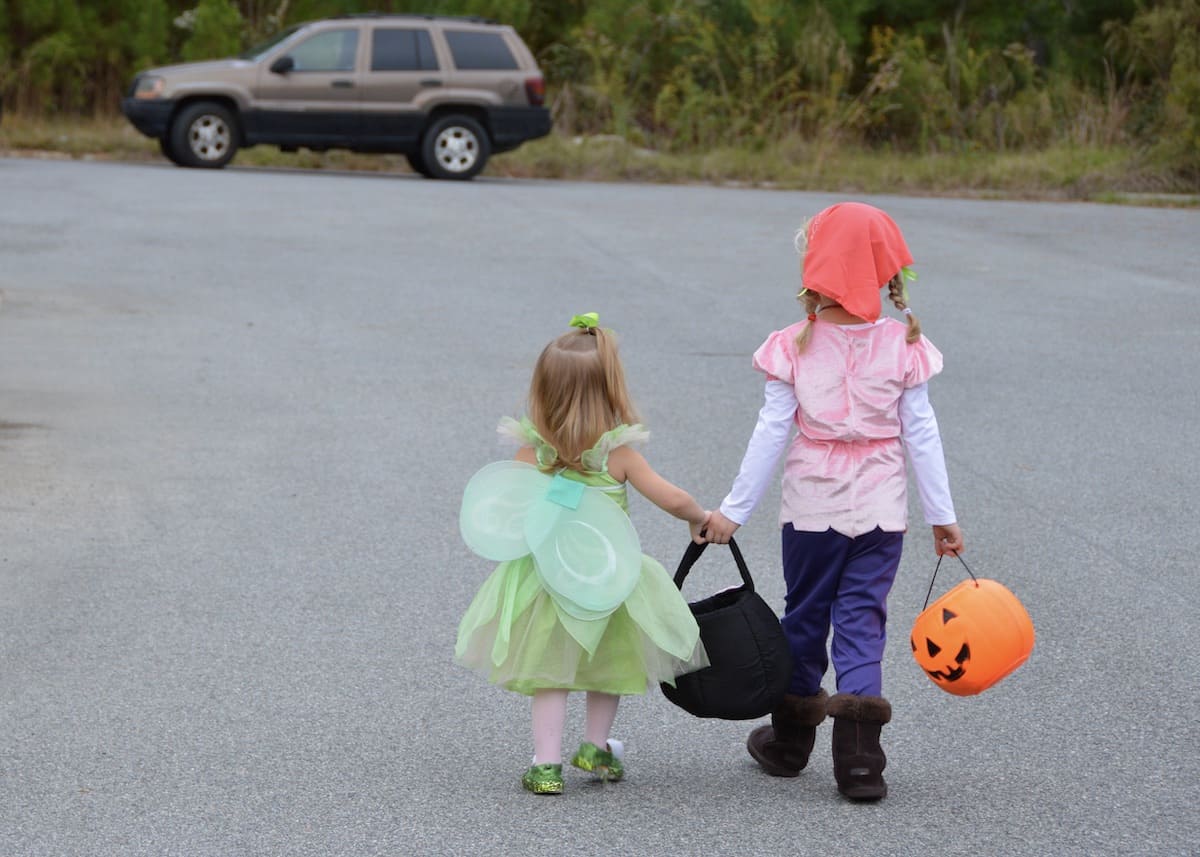 14. Plan an Outdoor Picnic
Plan a fall-themed picnic with seasonal foods: warm soup, hot cider, pumpkin bread, sunflower seeds, and whatever else you can think of!
15. Make a Leaf Crown
Another fun way to use all those leaves your kids have been busy collecting? Turn them into a leaf crown! All you need is some florists' wire and florists' tape to make a beautiful garland that could even work for a DIY fairy costume!
16 . Leaf Rubbings
Seriously, the number of fun things you can do with just leaves could be its own post. Use chalk or pencils to make an impression of a leaf on a piece of paper for a fun, easy craft (and a fun opportunity to teach kids about photosynthesis!)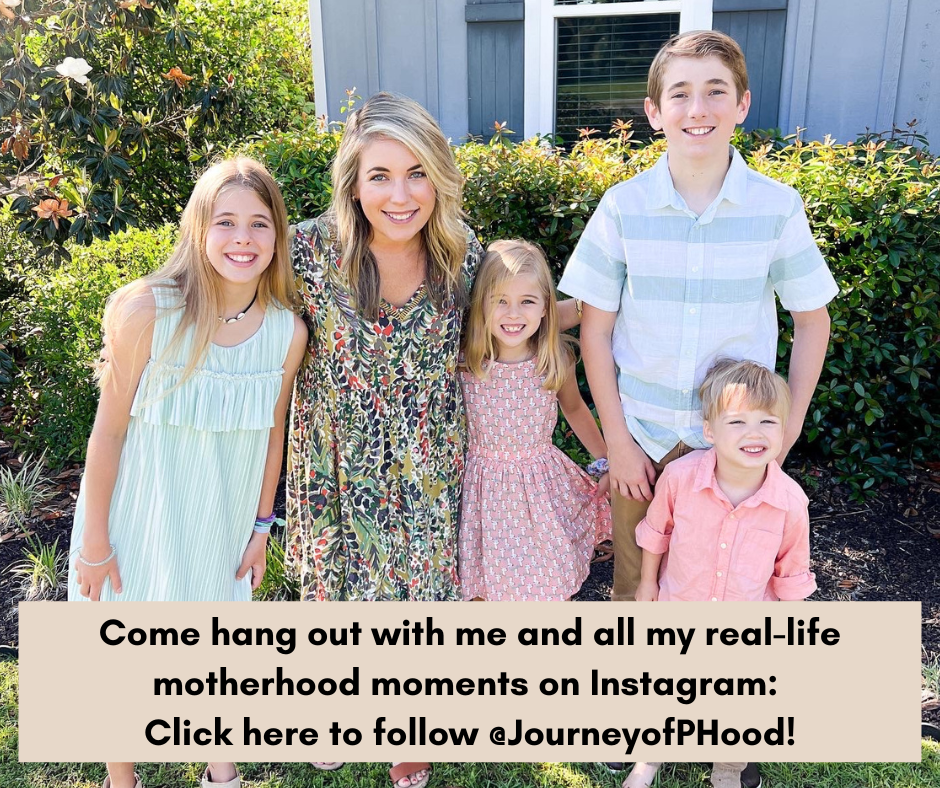 17. Gravestone Rubbings
This one's a little weird but… also kind of cool, especially for older kids who have a taste for the macabre! Visit a local cemetery (make sure you check local laws and have permission) and, using charcoal or crayons, take an impression of a well-preserved gravestone. It can actually be a neat opportunity to learn about history or look up some genealogy! Halloween activities gotta be a little spooky right?
18. Paint Pumpkins
When you don't feel like carving, painting pumpkins is always a great alternative, especially for younger kids who aren't quite ready to handle carving tools! There's also a lot more creative freedom when you paint. Make sure you buy outdoor paints so they don't wash off in the rain!
19. Collect Acorns, Conkers, Pinecones, or Walnuts
All sorts of fun things fall from the trees during this time of year other than leaves, and kids love collecting them! You can put them into bowls as super easy decor or creative a sensory bin for younger kids to explore and learn about the world around them on a nature scavenger hunt!
20. Carve Pumpkins
Nothing says "fall fun" like the classic tradition of carving Halloween pumpkins! Nowadays, you can find practically any template and free printable under the sun for free online… or you can always get really creative and draw your own! Remember, you don't want to do this too early in the season or else they'll be rotting by the time Halloween arrives! Our family doesn't personally enjoy eating pumpkin seeds but as you "gut" your pumpkin you could also bake the seeds as another fall treat.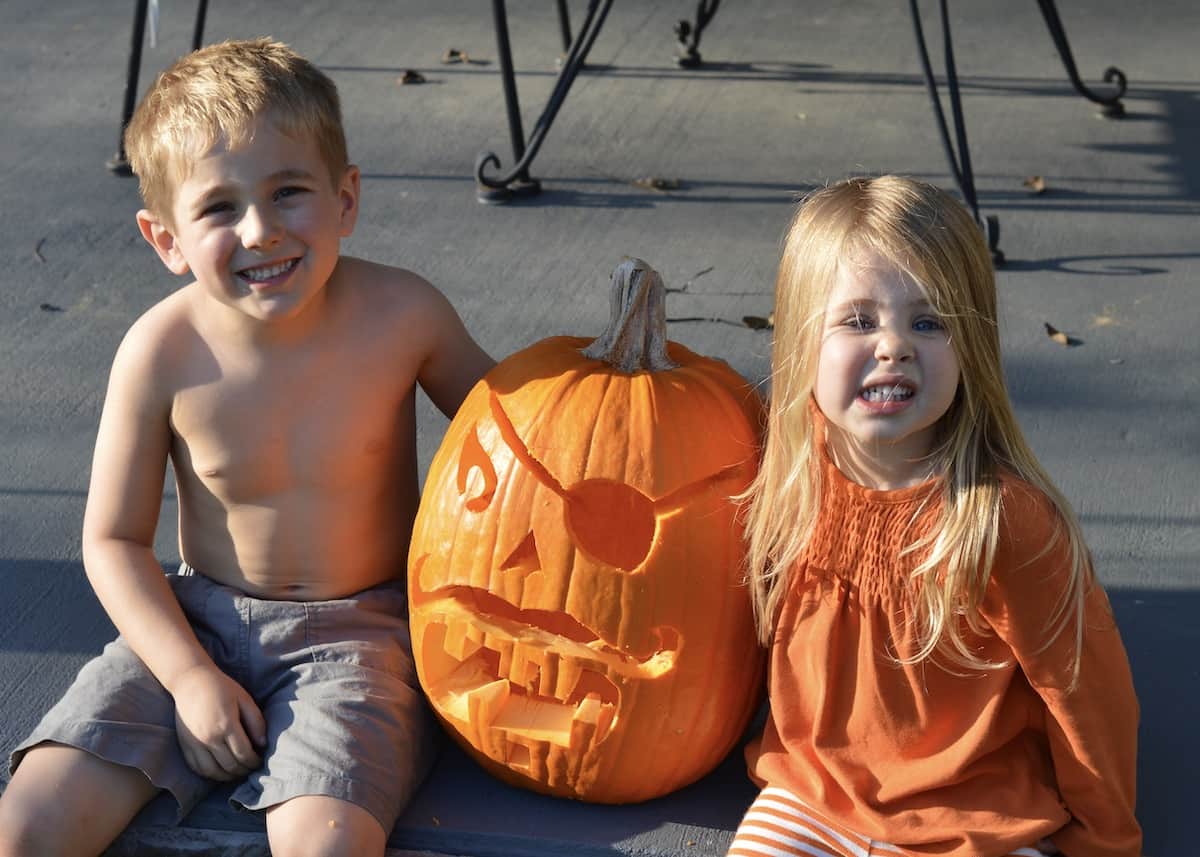 21. Plant a Spring Garden
It may be too late to plant corn or pumpkins, but fall is actually the perfect time to start planting for spring! It's also a fun way to get kids outdoors and teach them about agriculture… and patience as they wait for their seeds to grow!
22. Go to a High School Football Game
Fall means Friday Night Lights! Support your local highschool football team and get your sports fix by attending a Friday night game with the kids! This is an especially good idea if you have boys who play football. Maybe it'll inspire them to play through high school!
23. Fall Photo Shoot
Fall is also a great time to plan a family photo shoot … the weather's nicer, the leaves are (most likely) changing, and you can dress everyone up in gorgeous autumnal color schemes! I have a whole post on how to plan the perfect fall/winter photo shoot with plenty of outdoor ideas and outfit inspiration!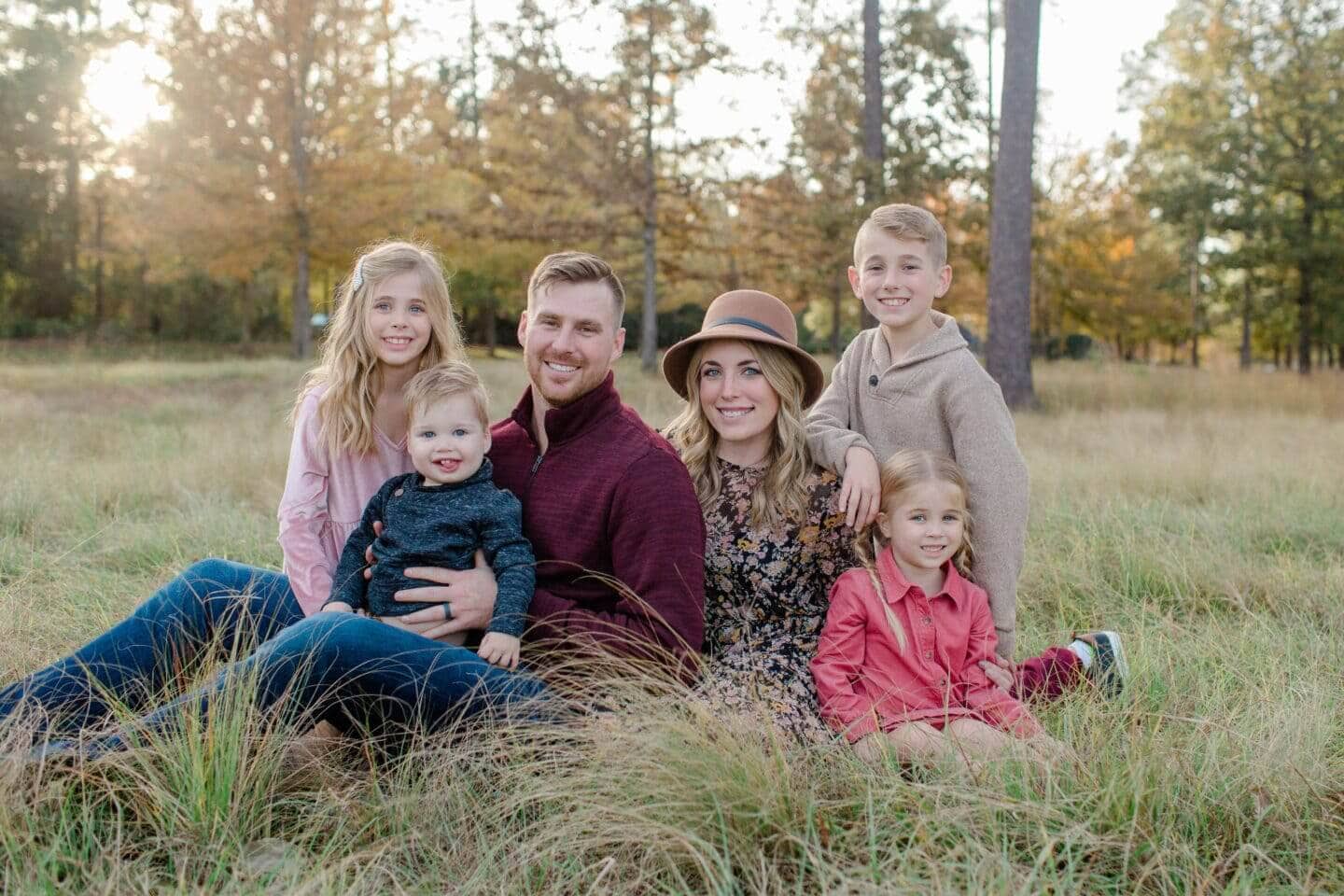 24. Visit a Botanical Garden or Nature Sanctuary
Fall still boasts a variety of gorgeous botanicals and foliage that you can enjoy with the kids, which is another great way to get that nature walk or fall scavenger hunt in.
25. Go on a Bike Ride
A lot of times, summer is just too hot to do outdoor exercise, but fall makes it so much easier to be active! Bike rides are a great way to cover a lot of ground and see lots of fall colors in a short amount of time! Hit your local nature trails or go around the neighborhood and spy out all the Halloween decorations!
26. Play Autumn "I Spy"
With so many colors and shapes appearing around this time of year, you can easily play a very fun game of I Spy with the kids! Add it to your nature walk or while at the pumpkin patch for easy sensory play! Fun outdoor activities don't have to involve going anywhere or spending any money. Even just a walk around the neighborhood can be really fun and provide quality time together as a family.
27. Have an Outdoor Story Time
One way to get your kids excited for the season is by reading books that are specifically about changing leaves and pumpkin patches! Even better, read to them outside and then go do whatever activity they talk about in the book!
28. Visit a Local Farmer's Market
Farmer's markets are also usually in full swing during this season and can offer lots of fun fall baked goods and vegetables!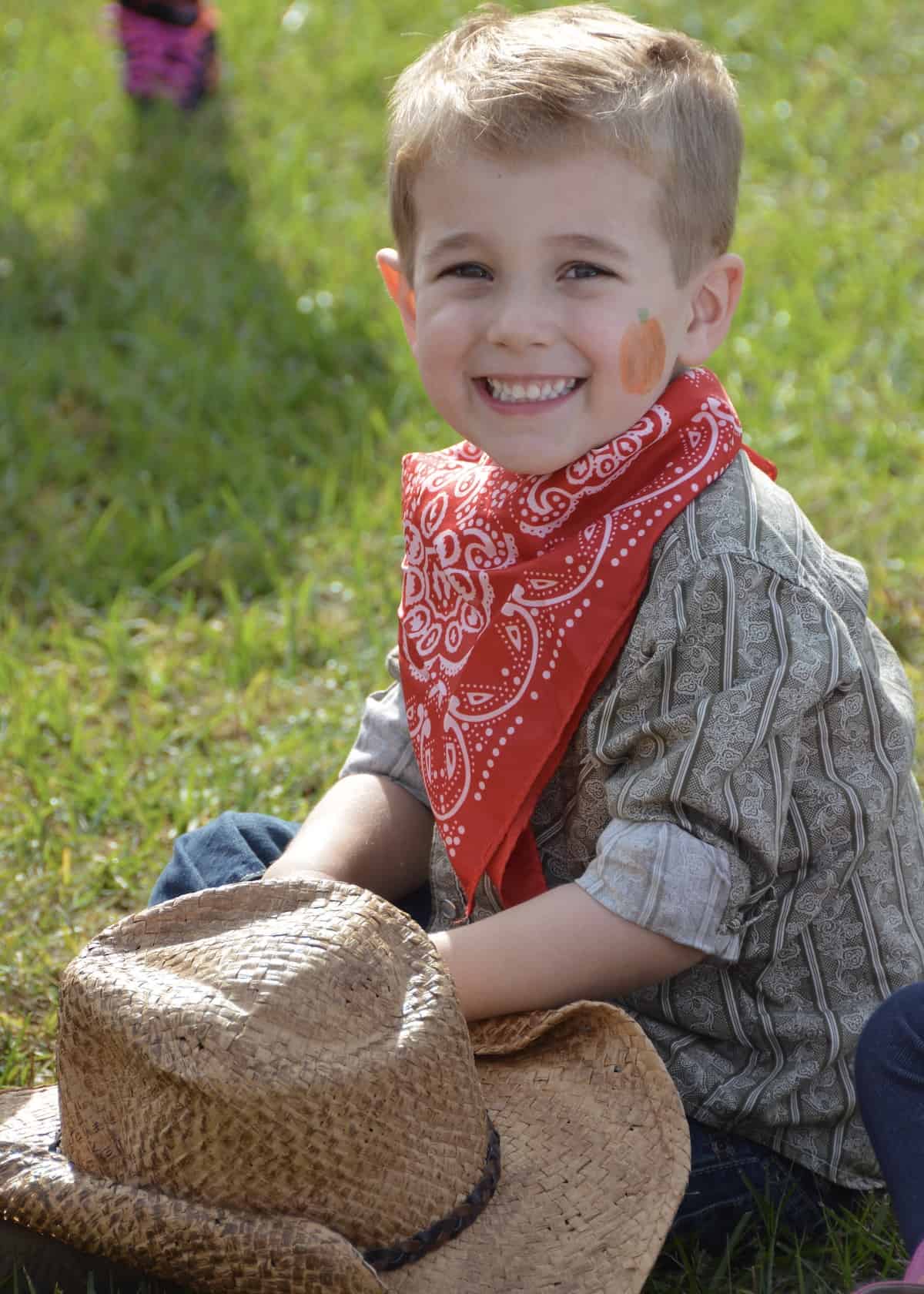 29. Bob for Apples
This traditional game can get pretty messy inside so moving it outdoors is ideal for families who want to play without the mess! A bag of apples can be purchased at any grocery store and this is a fun activity that doesn't involve sugary candy – which is a rare find during Halloween season.
30. Family Game Night
Of course, playing games together as a family is fun anytime of the year but why not bake some pumpkin chocolate chip cookies and curl up under a warm blanket while sitting around the table for a family game night. I even have a list of some of our favorite family board games here!
31. Mickey's Not So Scary Halloween Party
This one assumes that you either live near Orlando or have the means to get there but as a Disney family, I couldn't leave out this yearly tradition!
If you have the opportunity to visit Disney World in the fall I highly suggest you do so! Not only is it not as sweltering hot, but you have Mickey's Not So Scary Halloween Party and other fun fall activities that the entire family can enjoy!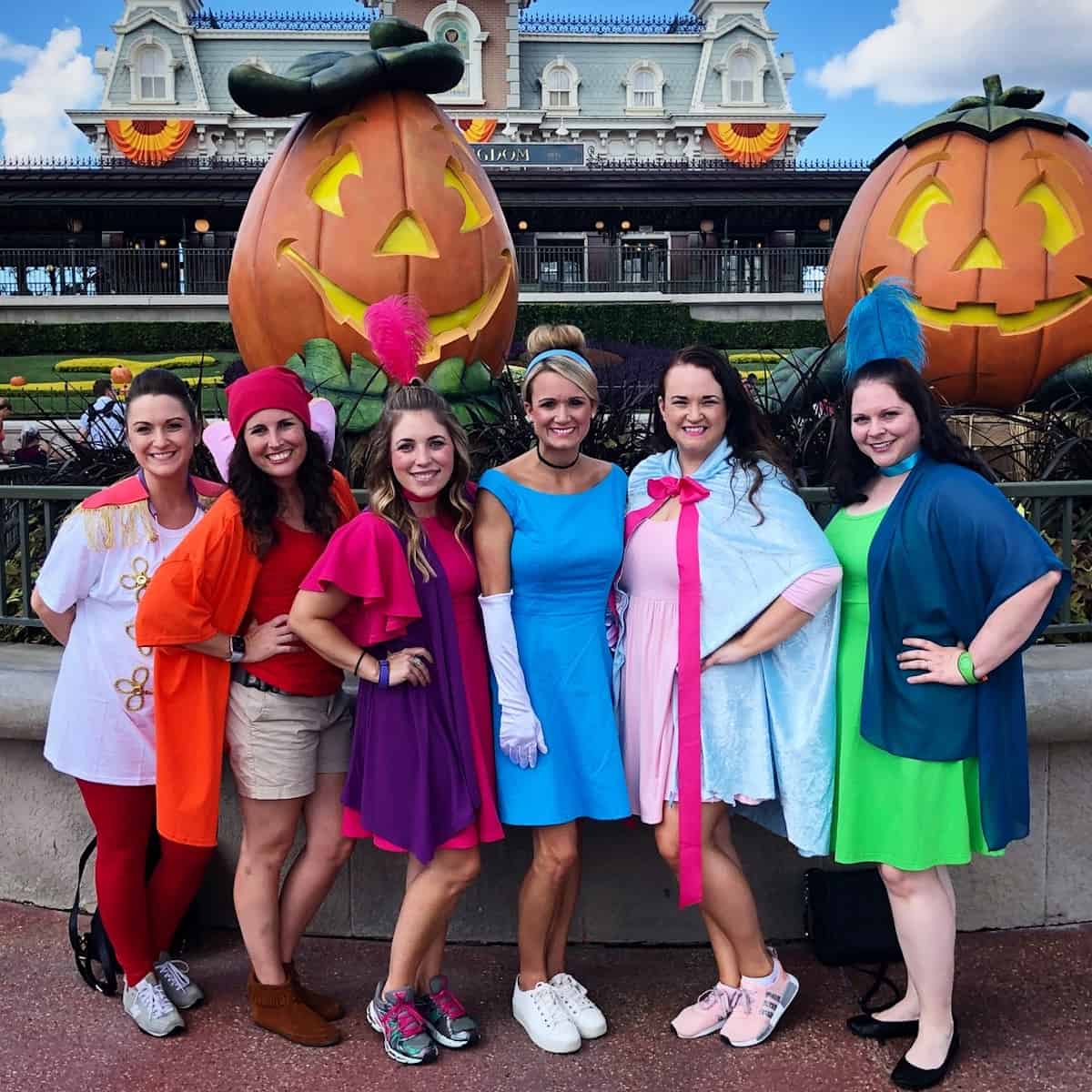 The Best Fall Outdoor Activities for Kids: Final Thoughts
Whenever fall rolls around, often it seems like it's over before it's hardly begun (especially for us southern states!) which means you only have so much time to enjoy the season before the holidays begin.
While you shouldn't stress about doing everything (it's probably not possible anyway!) making a fall bucket list can be a helpful way to plan and decide as a family what your must-do activities are. No matter what, don't forget to have fun and make some memories!
What are your favorite fall outdoor activities to do with the kids? Share them in the comments!
Other Posts You Might Like: