Do you have a six year old's birthday coming up? Then you've got to check out my list of the best 6-year-old gift ideas for girls, boys, and both!
At six years old kids are really starting to develop their own unique interests and are quick to have collections and a passion for certain characters or types of toys.
Six year olds are very fun to buy for as they are still in that easy to please stage of childhood and also old enough to appreciate a thoughtful gift and show enthusiasm for something they love.
I love to build upon prior gifts for my kids as it helps to minimize clutter when organizing toys and keeping similar items stored together.
Many of my recommendations from previous gift guides will make wonderful gifts at this age as well so I highly recommend checking out all of my gift guides for each age:
I take my gift guides very seriously. I know we all have seen the generic gift guides floating around every year and it's important to me to only suggest items that I have personal experience with and truly recommend.
I go through all of my blog posts and past purchases and birthday and Christmas lists for my kids to see what they owned at this age and also what items have been continually enjoyed beyond the age of six too. What things their siblings have loved and what HASN'T ended up forgotten or in the yard sale or Goodwill donation bin!
I also look over reviews and try to make sure that other people have had similar good experiences. So without further ado, here are my top picks for 6 year old gift ideas! There are great toys here for 6-year-old girls, 6-year-old boys, and toys that are great for both!
Disclaimer: post contains affiliate links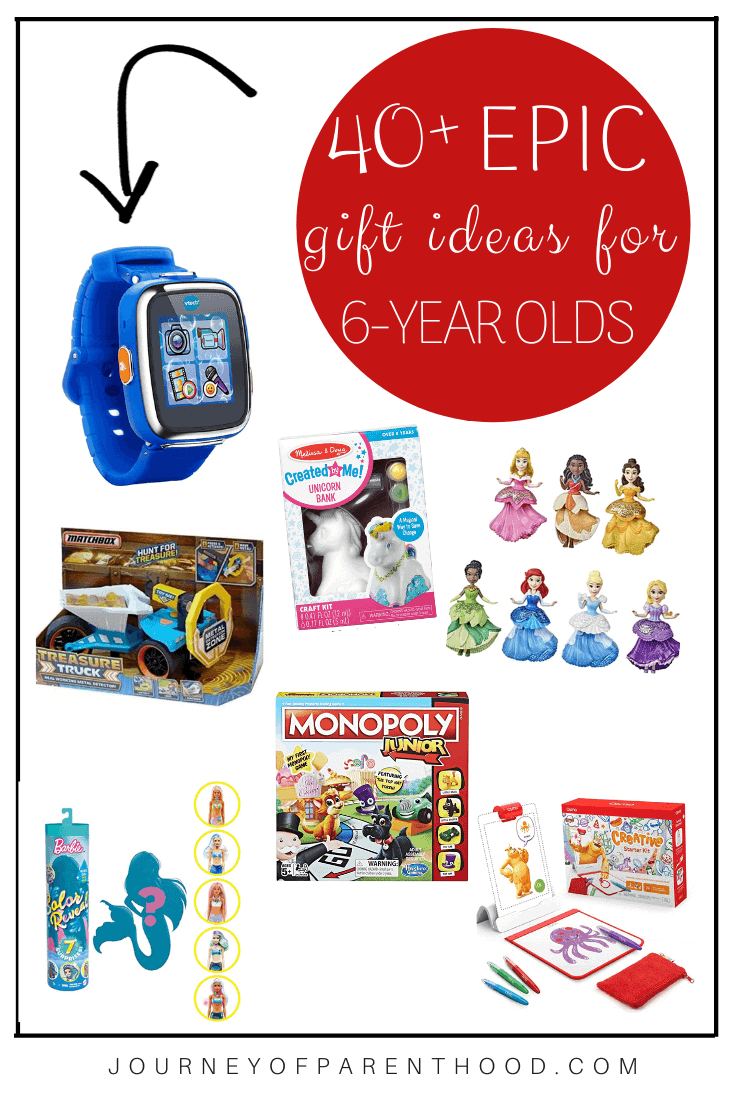 Best 6 Year Old Gift Ideas
Many toys at this age are geared towards one gender or the other. Typically a birthday party will be filled with pink gifts for girls and rough and tough toys for boys.
However, boys and girls often enjoy playing with the same type of toys and I personally love gender-neutral gifts and they can be passed down to siblings.
Even the gifts geared towards a boy or a girl usually end up being played with and enjoyed by ALL of our kids! In many ways, my kids do tend to fall into gender stereotypes (my boys love trucks, my girls love dolls) but not always!
By the way, if you're looking for great birthday party ideas for a 6 year old, here is my guide to the best kids' birthday themes!
Gender Neutral Gifts for 6 Year Old
My favorite 6 year old gift ideas to give and receive tend to be the ones that are gender-neutral and can be given as a group present for everyone to have fun TOGETHER. I love any excuse to get my babies interacting with each other in a positive way!
Scooter
A scooter makes a FANTASTIC gift at this age. Easier than riding a bike and much easier to store for Mom and Dad too 🙂 The razor type scooters do make me nervous so even though my 6 year old would have been able to handle riding the one featured, I actually ordered her this one (which is my personal favorite scooter) as I've known so many kids to break an arm on a smaller scooter and wanted something with more stability.
Check Price for a Scooter here!
Monopoly Junior Board Game
Around this age kids are better able to play board games and understand the rules of a game. Up until age 6 my daughter would always want to "be on someone's team" but once she turned six she had more confidence to play games on her own.
Monopoly Junior is a fantastic gift for this age as it's MUCH quicker paced than the original version so it can keep their attention the whole time and it's easier to follow and understand as well.
Check Price for a Monopoly Junior Board Game here!
Pie Face!
Family games make great gifts too – the age of six is a VERY SILLY age! This is the time to be goofy and silly with your child. They laugh easily and think everything is hilarious.
Playing Pie Face as a family will bring out that silliness and get everyone laughing – make sure Mom and Dad get in on the fun! Also be sure to buy a can of whipped cream in advance to have on hand.
Check Price for Pie Face Game here!
Kids Headphones
My kids LOVE to have their song playlists on their ipads and walk around listening to them as they do their chores. I've tried getting them wireless Bluetooth ear bud style headphones but at this age a six year old's little ears just don't work well with the ear bud style.
This headphone set has been so great and is such a cute design! My current six-year-old finally broke hers after having them since she was around 4 and she's asked for a new set for Christmas this year.
Check Price for Kids Headphones here!
Lite-Brite
I LOVED my Lite-Brite and think it's awesome that it's making a comeback! It has a LOT of tiny colorful pegs that can be a struggle with little ones and age 6 makes for a perfect age to gift this classic favorite.
Check Price for a Lite-Brite here!
VTech Kidizoom Smartwatch DX
A smartwatch is a common gift for kids to ask for around this age and we bought this one for our son when he turned six. It is NOT a watch that has any sort of phone capabilities.
I really didn't want a watch with a lot of game features but this one only has a couple and it was a good opportunity to teach our son about resisting temptations. It has a camera and video options and also tracks their steps (which is something all my kids think is SO cool).
Check Price for a VTech Kidizoom Smartwatch DX here!
Ultra Dash
Speaking of counting steps, winter months are a common struggle to get kids MOVING and Ultra Dash is a fabulous way to help kids stay active even if indoors and includes sound effects.
It's a simple to follow game that is lots of fun for kids of any age but I'd say started around age 6 it makes a great gift.
Check price for Ultra Dash here!
Play School Set
I find that around six years old my kids all started to really love to get to "be in charge" on some level. They love to get to be the one to choose the movie for movie night or tell the rules of a board game.
This play school set is an awesome chance to let them "play teacher." My current six year old LOVES playing school with the almost three year old!
Check Price for a Play School Set here!
Baby Tooth Book
Developmentally most kids start to lose their baby teeth around age 6. If your kids are like mine then they will LOVE this tooth book so they can keep (yes, I said KEEP) their baby teeth. Yes, I had one as a kid and YES I found it and it still has all my baby teeth in it and NO I have no idea why.
But my kids are all about it and it allows the tooth fairy to pay them less since she doesn't get to keep the teeth 😉 Not into the keeping baby teeth idea? A tooth fairy pillow, like this one, would also make great gift at this age.
Check Price for a Baby Tooth Book here!
Mad Libs Junior
Who else remembers Mad Libs as a kid? Mine were recently gifted them and had a BLAST. I loved that it was screen-free time that was also educational and simple and FUN. They make such great gift ideas for 6 year olds!
I was also excited to learn about Mad Libs Junior – it's an easier version for new/emerging readers that has a word bank for the kids to choose from. Perfect for that first grader and makes THE silliest stories. We were all cracking up! Great stocking stuffer idea too!
Check Price for Mad Libs Junior here!
Magnetic Easel and Whiteboard for Kids
Another gift along the lines of school – 6 year olds are just excellent little students who truly love the classroom and love "being like teacher." Dry-erase boards become SO COOL to this age and this adorable magnetic easel set is perfect for this age and is a simple gift that will provide endless entertainment.
Check Price for a Magnetic Easel and Whiteboard for kids here!
Osmo – Creative Starter Kit
I know I have recommended Osmo in previous gift guides but I wanted to recommend it here again as if you don't already own a starter kit the creative kit is a GREAT starter set for a six year old age group. All of my kids loved the Osmo set but the 6 year old has the most joy with this kit.
The great thing is once you own a starter set you can easily add on additional sets for much less cost. This would be a fantastic gift for siblings to share or even maybe a gift from Santa!
Check Price for a Osmo-Creative Starter Kit here!
Osmo – Math Wizard and The Magical Workshop
This is a newer Osmo kit on the market that I am actually gifting to my 6 year old this Christmas. It's REALLY awesome and reinforces the math facts she's learning in the classroom in a super fun way.
I feel like so often toys and games focus on the reading aspect at this age and while those reading skills are crucial, math is important too! We love ALL of our Osmo kits and I have our favorites linked here 🙂
Check Price for a Osmo_Math Wizard and The Magical Workshop here!
Karaoke System
This is another item I've put on multiple gift guides but truly it's just a fantastic gift, especially with lots of siblings! You can also add on these additional microphones which would be a wonderful add-on present too.
I love that this one has a CD option so you're not having to be connected to Bluetooth all the time in order to have a playlist of songs.
Check Price for a Karaoke System here!
Marker Maker
I have literally purchased this kit THREE times. Out of all the many arts and crafts kits we've owned over the last decade of parenting this has been the hands-down biggest hit.
It's great because the kids have fun making the markers and then enjoy getting to use them too! Great gift for boys and girls alike as well as a sibling gift if needing more of a group present.
Check Price for a Marker Maker kit here!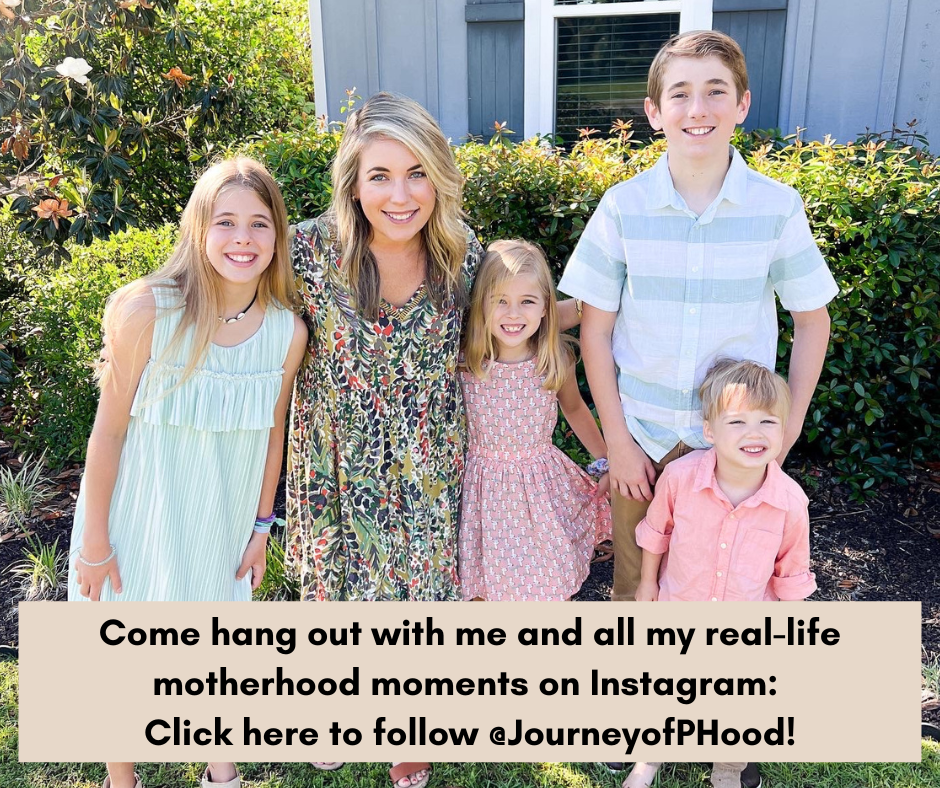 Best Birthday Gifts for a 6-Year-Old Girl
My youngest daughter just turned six this year so I'm very in the "now" as to what a six year old girl really wants and enjoys.
It's interesting to look back on my blog posts from my older daughter as this age and to see just how alike both girls are and it makes me confident that many of the 6 year old gift ideas THEY have enjoyed at this age other girls of the same age will love as well!
Charms & Beads Set
Friendship becomes more and more important to girls as they get older and having that sense of community becomes more valuable to them.
Matching with friends and sharing common bonds is super fun and being able to gift their friends friendship bracelets is a great way to encourage that community-building and socialization. This set is super cute and has lots of bead options!
Check Price for a Charms & Beads Set here!
Mermaid Costume
My girls really got into dressing up at this age. They LOVE playing pretend and acting out different roles and this particular dress up outfit has been THE biggest hit in our house.
More than any expensive brand name princess dress, my younger daughter ADORES this one! Love that it comes with gloves and accessories too and is so affordable! It's light and not itchy too.
Check Price for a Mermaid Costume here!
Created by Me – Unicorn Bank
Crafts are always a win for 6 year old gift ideas! I especially love to gift craft type gifts to kids for birthday party presents or when welcoming a new baby sibling. At six years old kids can better handle simple craft kids without needing a lot of adult supervision so it's a great break for the mom and makes for a "double win" type of present!
I love craft kits that include an item the child will actually use and enjoy even after the crafting session ends. Like this cute bank!
Check Price for a Created by Me – Unicorn Bank!
Barbie Color Reveal Doll
If your daughter hasn't yet discovered Barbie Color Reveal Dolls then you are in for an AWESOME gift surprise. My daughter received this as a gift for her 6th birthday and we ALL had a blast with it.
Super fun surprises and the hair is so fun and the doll itself is perfect for swimming or going in the bathtub too! This is THE gift to give this year to any little girl, especially in the 6-10 age range!
Check Price for a Barbie Color Reveal Doll here!
Scribble Scrubbie Pets
I am SO excited to gift this toy to my 6-year-old daughter for Christmas. I keep hearing how awesome these sets are and I know she will love it (and so will her older sister too).
Check Price for Scribble Scrubbie Pets here!
Beanie Boo
My girls LOVE stuffed animals and the Beanie Boo phase is going strrrrrrong in our house! I love them too because they remind me of the original Beanie Babies I collected as a little girl myself. Their size is perfect for snuggling but also for play and for on the go too.
Check Price for a Beanie Boo here!
LEGO Storybook Adventures
I made the mistake with my older daughter in investing in LEGO kits when she turned 6 and she ended up never really enjoying them.
Now that my younger daughter is six she's also showing interest in LEGOS but rather than invest in larger kits that are both expensive and time-consuming to put together I found these ADORABLE storybook adventure kits! They are PERFECT for a "first LEGO" as they don't include a ton of pieces or complicated instructions.
Check Price for Lego Storybook Adventures here!
​Barbie 3-in-1 Dream Camper Vehicle
My youngest daughter really started to enjoy Barbies around age 5 and from Santa this year she's asking for the Barbie Camper as her big gift. I've done extensive research into the different Barbie Camper options and am happy to share that the less expensive option is actually better than the fancier one!
With this camper the vehicle detaches to allow Barbie to enjoy a drive while the camper itself stays behind! It comes with lots of cute accessories too.
Check price for a Barbie 3-in-1 Dream Camper Vehicle here!
Twisty Petz
At this age girls start to really love all things accessories. My daughters LOVE Twisty Petz as they are little toys that transform into jewelry. They're fun collectable items that make for great gift ideas for 6 year olds, and they're something they will actually use longer than just the initial wow factor when they open them.
Check price for Twisty Petz here!
Disney Princess Small Dolls Collection
As a mom I really love this size of toy for my kids as they are fabulous to take on the go! Great when traveling or going to drs appointments and these small dolls are gorgeously made and truly adorable.
The dresses are fun to clip on and off to switch up their looks and my girls LOVE playing with this set.
Check the Price for Disney Princess Small Dolls Collection here!
Disney Princess Royal Collection, 12 Fashion Dolls
I love the smaller dolls but the "barbie" sized dolls are also a hit among this age group. I really think around age 5-6 is when young girls can handle the responsibility of caring for Barbie and her hair.
I passed down my Barbie collection to my daughter but her favorites have been the ones she received as a gift in this Disney Princess pack. Growing up with Disney movies and characters it's natural for little girls to be more drawn to the princesses they know and love and this set is really well made!
Check Price for Disney Princess Royal Collection, 12 Fashion Dolls here!
Doc McStuffins First Responders Backpack Set
Anything that includes a bag and small "treasures" to put inside of it is a huge win with this age group. The Doc Mcstuffins kit is super cute and has held up very well over time for us.
Check Price for a Doc McStuffins First Responders Backpack Set here!
Best Gift Ideas for a 6 Year Old Boy
Six-year-old boys are so FUN! This is an age where they really expand on the things they've loved at younger ages but at an entirely new level.
It made my heart so happy to look back at my oldest son at this age and it was so encouraging to see that he still enjoys MANY of these items even now that he's a middle schooler.
It is important to me when I purchase gifts to think long-term about the item and it makes me especially happy that five years later so many of these items are either still being enjoyed or have been well-loved by the girls and now our youngest son too!
Star Wars: 5-Minute Star Wars Stories
My son and daughters have both loved this book. We start allowing our kids to watch the Star Wars series when they turn 5 so by the age of 6 they are really into the characters and storylines and these 5 minute stories are great for new readers and short enough to keep bedtime routine flowing 😉
Check Price for Star Wars: 5-Minute Star Wars Stories here!
Bruder Vehicles
Vehicles are SO fun for boys from an early age but as my oldest son reached around age 6 is when he was really into all the parts and pieces and more imaginative play options with his trucks and cars. I discovered the Bruder brand of trucks and was blown away impressed.
They are vehicles that he will be able to pass down, not only to his little brother but to his children as well. Extremely well-made and durable for all the tough boy moments!
Check Price for Bruder Vehicles here!
Magic Kit – Abracadabra Collection
Imaginations really start to sore at this age and a magic kit is a fantastic present idea! However, magic kits we have owned in the past have resulted in a lot of frustration and not much fun.
I am usually a mom that likes to buy gifts a bit above age level for them to grow into and appreciate more as they get a bit older but when it comes to a first magic kit I recommend going with something simple, like this one. See how they like it and then invest in a more detailed set down the line!
Check Price for a Abracadabra Collection here!
Imaginext Shark Bite Pirate Ship
This is an item I have featured on earlier gift guides because the Imaginext items have been such a huge hit for my son. He started playing with them around age 5 and the collection really grew over the holidays when he was six.
He is now eleven and these are still toys that he plays with on a regular basis. They are the ideal size and SO well made!
Check Price for a Imaginext Shark Bite Pirate Ship here!
Metal Detector Truck
This is another item I've frequently gifted to boys turning 6. I've been told multiple times that it was the favorite present the birthday boy received! It works really well at detecting metal and picking it up. Super cool truck for any vehicle-loving boy on your list.
Check Price for a Metal Detector Truck here!
NERF Nitro Toy Blaster
This is a great combo gift for a kid who is interested in NERF guns but not quite ready yet for them and loves vehicles. It has a "wow" factor to it and is really fun for older boys too.
Check Price for a NERF Nitro Toy Blaster here!
Slime Kit
I'm not a cool slime mom. I don't do DIY slime and I have some hardcore rules about Slime staying in the kitchen. But man kids are OBSESSED with it! Having the DIY factor to it is a great way to make the entertainment value last a little longer with the slime too.
Plus it has a science kit element so it's sort of educational, right? This is one of those gifts that is the perfect grandparent present because the child will LOVE it and it's something a parent really doesn't want to buy ha!
Check Price for a Slime Kite here!
Stomp Rocket Ultra Rocket
Another HUGE win for 6 year old gift ideas! I love that the stomp rocket encourages outdoor play and is something that can be enjoyed by a group.
It's one of those that the kids want to race outside in their Christmas pjs to try it out and one that Dad may just be even more into than the kids 🙂
Check Price for a Stomp Rocket Ultra Rocket here!
Hot Wheels Ultimate Garage
I see this on the "must have" toy lists every year and every little boy I've ever met has asked for it. My oldest son included! I personally haven't had great experiences over the years with Hot Wheels or Matchbox sets like these.
The pieces are a struggle to get together and to actually STAY attached. When my oldest son asked for it as his big gift the year he turned six I did some research and actually decided to get him one like this instead. It's held up GREAT over the years and is a toy we'll be able to pass down to the youngest son and beyond. If you can steer your son in the direction I did you won't regret it!
Check Price for a Hot Wheels Ultimate Garage here!
PLAYMOBIL
Playmobil sets are great for this age group. They say ages 4+ but I find that the small pieces can be a bit of an issue for the younger age range and at 6 kids can better handle smaller pieces and keeping things together and not have them get lost!
Check Price for PLAYMOBILE here!
6 Year Old Birthday Gift Ideas: Final Thoughts
I am always adding new gift ideas to my Amazon lists and they are THE most up-to-date way to track the must-have items I recommend for gift-giving and beyond!
You can see more of my 6-year-old gift ideas on the Amazon list here!
Check out all my gift guides: