I'm super excited to share with you the best gift ideas for the 4-year-old in your life. Whether you're celebrating a birthday, Christmas, or just because, here is my gift guide to get you started!
Every age and stage of childhood is fun for different reasons and every parent has their favorite ages!
I LOVE the age of three and four! It's a fun age of childhood in general, but also super fun to buy for at the holidays.
When kids first turn three they are finally able to play with "big kid toys" that have potential choking hazards for younger kids and by the age of four they are truly enjoying those items and have developed their favorites.
It's an age where they have developed further in their gross motor, fine motor, hand eye coordination and other developmental milestones and skills.
It's also an age where favorite characters develop. As you can tell from my gift guides my family is big on Disney so most of the themed items are Disney or Pixar in some way.
I know many kids at this age love Paw Patrol and Superheroes and Thomas – just know your kid and what they'd like best!
I like to build on toys with my kids as they get older and add onto collections and purchase things that are compatible with toys they already own. So with that said, let's dive in to the best 4-year-old gift ideas!
Also, be sure to read my three year old gift guide, two year old gift guide and one year old gift guide!
Have older siblings you're also shopping for? Be sure to check out my five year old gift guide, six year old gift guide, seven year old gift guide and eight year old gift guide too!
Disclaimer: post contains affiliate links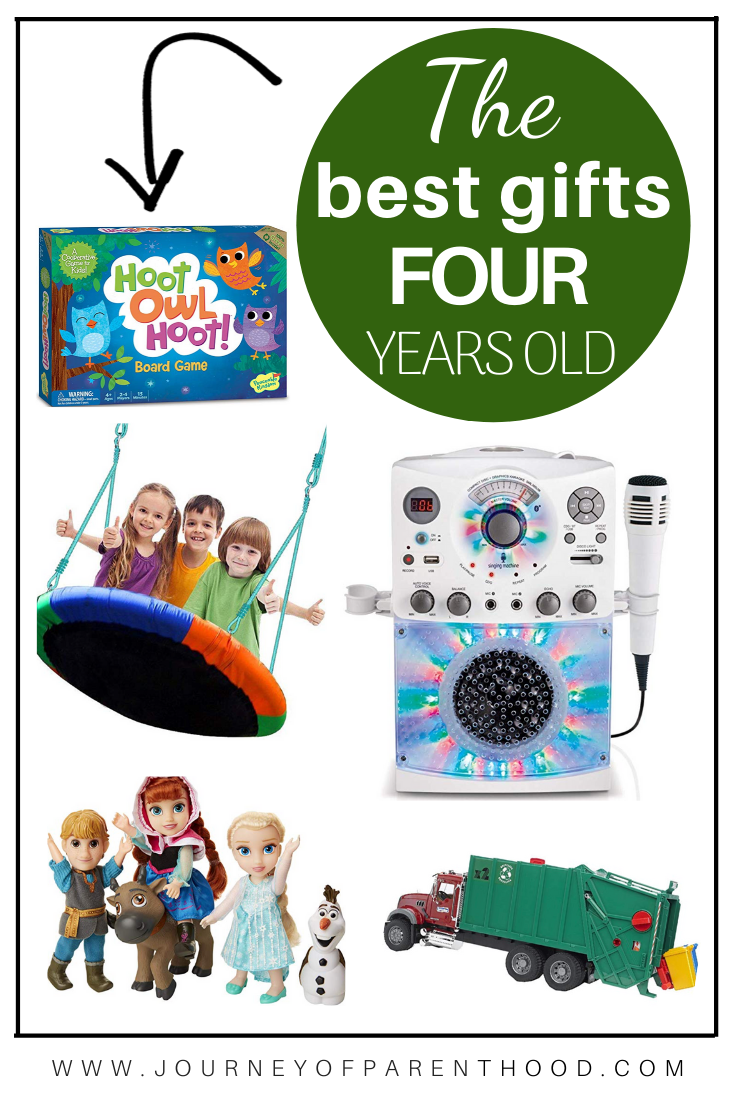 4-Year-Old Gift Ideas – The Best Toys for 4 Year Old
This is a gift guide for both four year old girls and four year old boys.
I have four children but currently have three kids who are older than age four.
I have spent time going through all my old blog posts for each age and seeing what toys they received as gifts, which they loved best, and which have been continually enjoyed as they've gotten older (and passed down to siblings!).
Gift Ideas for Four Year Old Girl or Boy
Having so many kids though I truly do try to find gender neutral items whenever I can and I especially love toys and games that encourage my kids to play together.
That sibling bond is so important and I really find at around age 4 they are able to play solo with siblings, work out any issues they arise on their own, and know playing etiquette like taking turns etc!
While all toys can be enjoyed by both girls and boys, I like to split the list up into categories too based on what my own children enjoyed most.
Tree Swing
I bought this on an impulse and am so glad I did!
We have a backyard playground set and this swing hooks into the same spot as a regular swing but it provides so much more fun to our kids.
Great as a solo gift from 4 and up or makes a great "for the family" present too!
It also easily fits 2 kids on it with no problems and mine love taking turns pushing each other!
Check price for a tree swing here!
Melissa & Doug Puppet Set
This is a great age to introduce puppets as kids love to role play.
At four my kids start loving "putting on shows" and productions and having puppets to use for storytelling makes it even more fun!
Check price for a Melissa & Doug Puppet Set here!
LEGO Classic Medium Creative Brick Box
If your child has enjoyed playing with Duplo Legos then they can be graduated to the real deal Lego sets at age 4.
Be sure to always check the age suggestions when buying LEGOS…it's not as much about a safety thing as it is about a frustration one.
Older age range sets are MUCH more difficult with MANY more pieces.
This classic box is a great starter into the world of LEGO.
Check price for a LEGO Classic Medium Creative Brick Box here!
2-Person Dome Tent
My kids love sleepovers and when they turn 4 I feel like they are able to handle having a sibling sleepover.
We have a small tent and it's been great to add fun to sleepover nights!
They love to pretend to go camping and it's also great for a backyard campout or a play tent living room movie night too!
Check price for a 2-Person Dome Tent here!
The Sneaky, Snacky Squirrel Game
Family game time is one of our favs and this game is SO adorable and perfect for the preschooler age where they can't read yet but still want to participate in games and master those color skills while using fine motor skills too!
Gotta love educational toys and board games 🙂
Check price for the The Sneaky, Snacky Squirrel Game here!
Hungry Hungry Hippos
A classic we all remember from childhood and another great game for a non-reader.
It's also very fast moving which is great for younger kids who need to get in the bed 🙂
Check price for Hungry Hungry Hippos here!
Peaceable Kingdom Hoot Owl Hoot
Of the games I've mentioned in this post, this is my favorite to play with my kids!
I LOVE that it's cooperative – which means players work together and "win" or "lose" as a team.
No reading needed, but still super fun. Even the 10 year old loves playing it and I truly enjoy it too!
Check price for Peaceable Kingdom Hoot Owl Hoot here!
LeapFrog LeapStart Interactive Learning System
Four is an age of rapid learning and a stage where kids enjoy completing tasks and being recognized for jobs well done.
Separate books can be purchased for this set and it's VERY easy to use for preschoolers and FUN.
A much better alternative to a screen but still entertaining and perfect for car trips, rainy days or times when older siblings may be using screens and your 4 year old wants to "be a big kid too!"
Check price for a LeapFrog LeapStart Interactive Learning System here!
Singing Machine Karaoke System with LED Disco Lights
Kids love to perform and singing is a BIG way my crew love to do that!
It's tricky to find karaoke machines that still have cds and I prefer a cd than using my phone or a tablet for the kids to have music to sing along to.
This one can also use bluetooth so there are options! You can also purchase additional microphones.
Check price for a Singing Machine Karaoke System with LED Disco Lights here!
The Big Picture Story Bible
This is my favorite Bible geared towards kids. The stories are easy to follow along with and the illustrations are adorable.
Our copy came with a CD version as well and my kids have listened to the entire thing on their karaoke machine!
Check price for The Big Picture Story Bible here!
Preschool Scooter
While I love to encourage kids to get outside with outdoor toys, I tend to be very anti-scooters because I know so many kids who have broken bones from riding them (well from falling off while riding).
But this scooter is GREAT because it has a wider foot area and is the perfect size and also high quality. 
Super fun themes and accessories and my kids even ride it around in the grass in our backyard! I love this scooter so much that I wrote an entire blog post about why I think it's the best scooter for kids age 2 and up! 🙂
Check price for a Preschool Scooter here!
Mickey Mouse Tri Fold Wallet Blue
At age four I start having my kids pitch in around the house in the form of doing chores in exchange for earning allowance money each week.
Even four year olds can begin having chore charts and four is a great age to gift a child their first wallet and each of my older children have this same style of wallet (in different styles like the little princess for the girls and even Star Wars for my older son) and it's perfect for their spending money!
Check price for a Mickey Mouse Tri Fold Wallet Blue here!
Jumbo Floor Puzzles
By age four the toddler puzzles they loved at age 2 and even 3 are now "babyish."
A great first "big kid" puzzle is a large floor puzzle.
The bigger pieces make it easier for the child to navigate and to see how to best fit them together.
Check price for Jumbo Floor Puzzles here!
Bath Robe
Around this age is really when we start to teach our children about modesty and a great gift is a nice bathrobe!
Perfect to throw on after bathtime when making that mad dash for the bedroom to get pjs 🙂 Children of all ages love the soft material and the fun pattern options and a bath robe is also a very thoughtful gift to give on a special occasion to a kid who may seem to already have everything!
Check price for a Bath Robe here!
Play-Doh Fun Factory Deluxe Set
love the independence that starts to come at this age and that I can trust my four year old to handle play-doh without it being a nightmare 😉
This is my favorite play-doh set! It has tons of cutting options and will keep the kids entertained until dinnertime!
Check price for a Play-Doh Fun Factory Deluxe Set here!
Best Gifts for Four Year Old Boy
These are specific items that my son loved at the age of four and that I know many boys around this age enjoy!
Bruder Garbage Truck
I know this is pricey. But the Bruder brand is WORTH it. It will be passed down to grandkids someday!
They make such great quality trucks for boys. I did tons of research and purchased the firetruck for my son.
I know most boys at this age LOVE trucks and I plan to get the garbage truck version for my second son when he's four! It really works too!
Check price for a Bruder Garbage Truck here!
Dress 2 Play Pretend Costume with Accessories
My son took a little longer than my daughters to enjoy playing dress up (but he's still dressing up at age 10!).
At age 4 he started to really enjoy pretending to be different characters and pretend play and things and a dress up set with accessories makes a great gift!
Check price for a Dress 2 Play Pretend Costume with Accessories here!
LEGO Duplo Construction Set
As far as LEGO sets go, I like to keep the age range right at my child's age to avoid any frustration (as mentioned earlier).
I have just classic LEGO and DUPLO sets with a variety of block options but this is a great age to start being able to handle instructions for putting together specific sets.
Keep it simple for the beginner and DUPLO offers larger piece sets to keep the process FUN!
Check price for a
LEGO Duplo Construction Set here!
KidKraft Ramp Racing Set
The big gift my son wanted from Santa when he turned four was a "car garage" and this is what Santa brought him!
He STILL (yes 6 years later!) plays with this on a regular basis!
It's held up great and is fun to put the cars up the elevator and then put his race car down the ramps!
Check price for a KidKraft Ramp Racing Set here!
Hot Wheels Cars Pack
Speaking of toy cars…if you're looking for a stocking stuffer or quick gift for a birthday party for a four year old boy…a pack of hot wheels cars is ALWAYS a WINNER!
A boy can never have too many toy cars and they are great to stick in a quiet bag for church or take when running errands too! They make all kinds of varieties of the cars but I couldn't resist this adorable Toy Story one!
Check price for a Hot Wheels Cars Pack here!
Wooden Train Track Sets
Wooden train sets make a GREAT gift that can be added onto easily and is enjoyed for many, many years.
I like to add onto the basic train set with fun pieces like this police station and the cute signs and features
Check price for Wooden Train Track Sets here!
Brio Farm Train
A wooden train set makes an excellent gift at this age. I personally store our wooden train set in storage tubs in our garage and pull them out for rainy day activities or at other times when I need the kids to play nicely, quietly and for a long span of uninterrupted time. ALL of my kids LOVE the wooden trains!
Check price for a Brio Farm Train here!
Fisher-Price Imaginext Dragon
As I've mentioned, I like sets of toys that allow for expansion and Imaginext sets are wonderful for this!
This dragon is a great addition to an Imaginext set (mentioned in my 3 year old gift guide!) but also stands along as a wow present too!
Check price for a Fisher-Price Imaginext Dragon here!
Best Gifts for Four Year Old Girl
My girls have both always been pretty girly and they really got started around this age!
It's so fun and so easy to buy for little girls because there are so many inexpensive options for them.
I feel like my gift budget mostly goes towards my boys as their stuff is just so much more expensive!
Disney Deluxe Petite Doll Gift Set
Disney makes TONS of these petite dolls and they are a great size for this age.
I love them because they are so easy to store and they are a great item to take on trips (or to Disney while waiting in lines!).
And having individual pieces is great to share with siblings and play together. The horses are SUPER cute too!
Check price for a Disney Deluxe Petite Doll Gift Set here!
Frozen Musical Jewelry Box
Storage and organization are both big joys at the age of four and my girls love having a jewelry box to store all of their jewelry and other knickknacks.
Check price for a Frozen Musical Jewelry Box here!
Bead KidsSet for Jewelry Making
Making necklaces is a great way to practice patience, hand-eye coordination, colors, and patterns for young children and is also a great way to keep them nice and busy for a long time too (truly endless hours of fun) 😉 
Plus it's a great way to teach your child about giving to others as they can make necklaces of all different colors for friends and family!
Check price for a Bead KidsSet for Jewelry Making here!
Color N Style Purse
Purses are super fun for four year old girls (more organizing and carrying around ALL THE THINGS!)
This set is really cute and we actually have several of them. It gives the girls a chance to design their own purses using bright colors!
Check price for a Color N Style Purse here!
Princess Dress Up and Play Shoe and Jewelry Boutique
Dress up clothes continue to be a big deal at this age for little girls and adding accessories to their collection will only make them want to be dressed up more often!
Playing dress-up is such a fun way to let the girls be their favorite Disney princess in their fancy dress and play make believe that they are living in their dream princess castle.
Check price for a Princess Dress Up and Play Shoe and Jewelry Boutique here!
Disney Princess Deluxe Figure Play Set
These are my absolute favorite toy sets. I love them because they can stand up!
We bring these with us to Disney World as they fit easily in a gallon size bag and are perfect for long line waits or rides in the car.
I know often people are drawn to larger toys but I like this little one a lot!
We have the boy sets too (Star Wars etc) and keep them all in a big basket in our living room and they are played with regularly.
Check price for a Disney Princess Deluxe Figure Play Set here!
Lip Smacker Disney Princess
I am anti-real makeup for little kids but am totally okay with them having "lipstick" to wear at home only.
Lip Smackers is a PERFECT "lipstick" for young girls. It's fun, it's often flavored (even like ice cream!), and it is "the real deal" without being actual lipstick.
Perfect to put in their stockings or as a last minute birthday party gift. This is also the perfect princess gift because it can fit in their little hands and represent their favorite Disney character without breaking the bank.
Check price for a Lip Smacker Disney Princess here!
Calico Critters Luxury Townhome Gift Set
If you have a young girl animal lover then she will LOVE Calico Critters! The little animal families are so cute for imaginative play and I love that this house allows us to store everything inside of it.
It folds up nicely to fit in the closet when it's not being played with which makes it an excellent "wow" birthday gift or Christmas present too.
Check price for a Calico Critters Luxury Townhome Gift Set here!
Tea Set Basket
When writing this post I went through all my blog posts from each child when they turned four and celebrated Christmas as a four year old.
BOTH of my girls received a "real" tea set at this age!
And ironically they both were playing with those sets this very week (and they are now almost 8 and 5). Not only is this a great choice for a girl who loves baby dolls but my daughters even just love to play with the little set on their own.
This set is super cute with the basket and the dainty cups. Just be sure to set up a hard rule at the start that tea parties can only be in the kitchen…ask me how I know 😉
Check price for a Tea Set Basket here!
Hatchimals CollEGGtibles
These technically say for ages 5 and up but my youngest daughter was four when she started to collect them.
Both of my girls have the regular Hatchimals and don't enjoy them NEARLY as much as they enjoy these little ones in the smaller sets. They are OBSESSED with these and I literally buy them a new set every holiday!
I skipped buying them on one holiday and my youngest cried because "all she wanted was Hatchimals" According to my girls you can never have too many!
It's also great that the case it comes with can be used to store the little ones once they hatch!
Be warned that the eggshell pieces can get everywhere as they hatch so stick to the kitchen. This is a gift that all 4-year-old girls will truly love.
Check price for Hatchimals CollEGGtibles here!
Want an easy way to shop the items in this list? Check out my Amazon List Here! And simply click the items to add to your cart – shopping DONE!
Check out my other gift guides here: