Ready to Book a Disney Vacation rental home? Visit the VRBO listing here for all the information on availability and to book your stay!
Visiting the Orlando, Florida area can be overwhelming at all the options for places to stay.
Having space to spread out, a fabulous location close to all the theme parks and fun family activities, and the ability to enjoy your own backyard pool are all important features to look for in Disney vacation rental homes.
It is also so convenient to come back to the house to rest mid-day during the hot months in Orlando and to have a place to prepare meals to help keep costs down while traveling.
Our family are long time lovers of both travel as well as Walt Disney World Resort and when we made the decision to purchase a second home there was no doubt where we'd want to be located.
We not only wanted to be close to the theme parks but also wanted to have plenty of room for our entire family to truly enjoy our vacation days!
We were very specific in the features we looked for in location, neighborhood, as well as the home itself and are overjoyed with our decision to purchase "Hidden Mickey Hideaway." This Disney vacation rental home is located not only near Disney World, but other Florida attractions as well!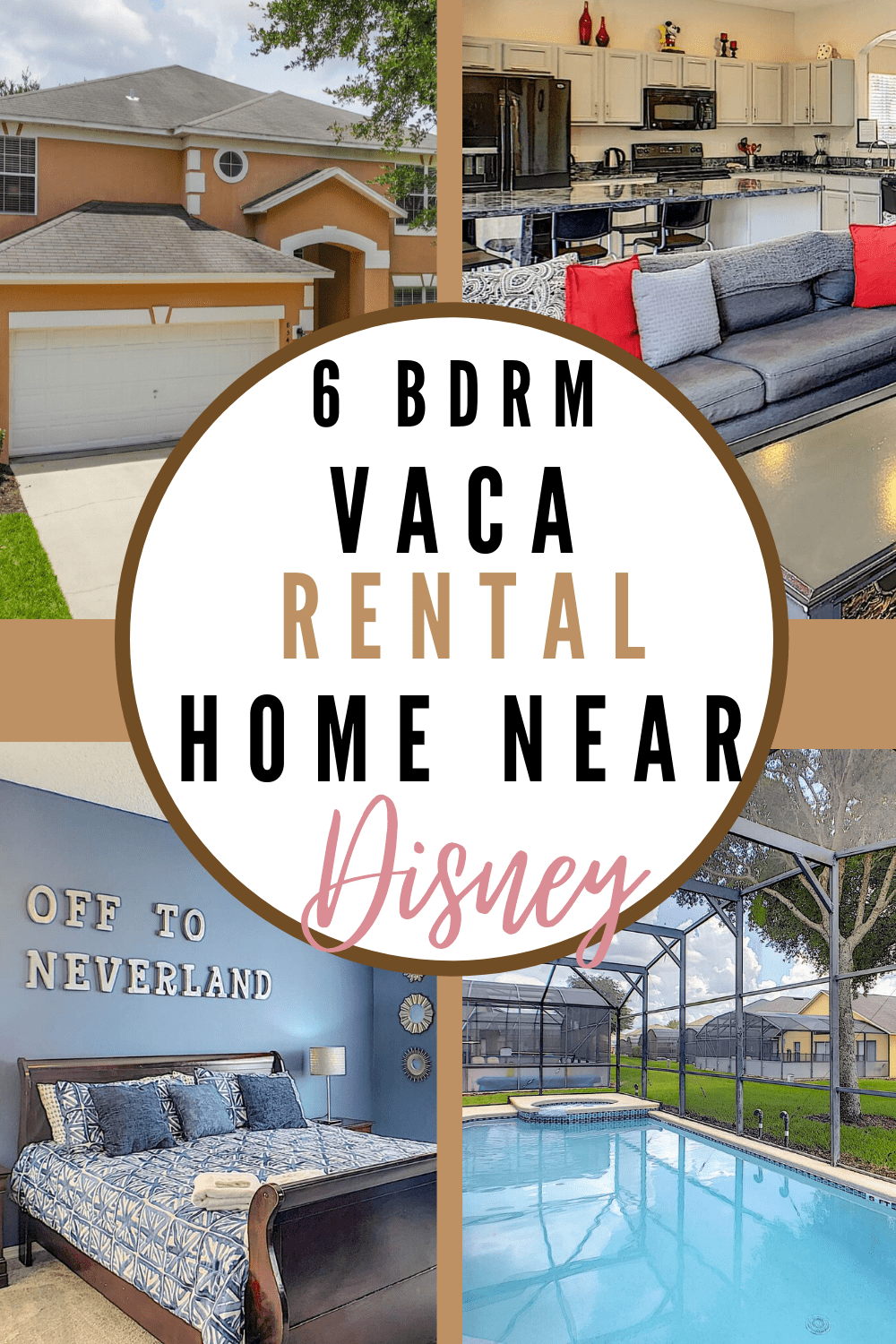 Location of Disney Vacation Rental Home
Our Orlando vacation home is located only three miles from the Disney theme parks in Kissimmee, Florida.
It is also only 25 minutes from Orlando International Airport, Universal Orlando Resort as well as Sea World Orlando.
We are annual pass holders at Walt Disney World and enjoy the short trip to the parks from the house… in the mornings we leave the driveway of the rental home and are parking in a parking spot at the parks in under 10 minutes! It's the perfect spot for your Disney area vacation.
—–> Read why we don't love to stay on property at Walt Disney World Resort here!
The beach is only an easy 45-minute drive away in nearby Cocoa Beach and there are countless other family fun vacation options located just minutes from our property.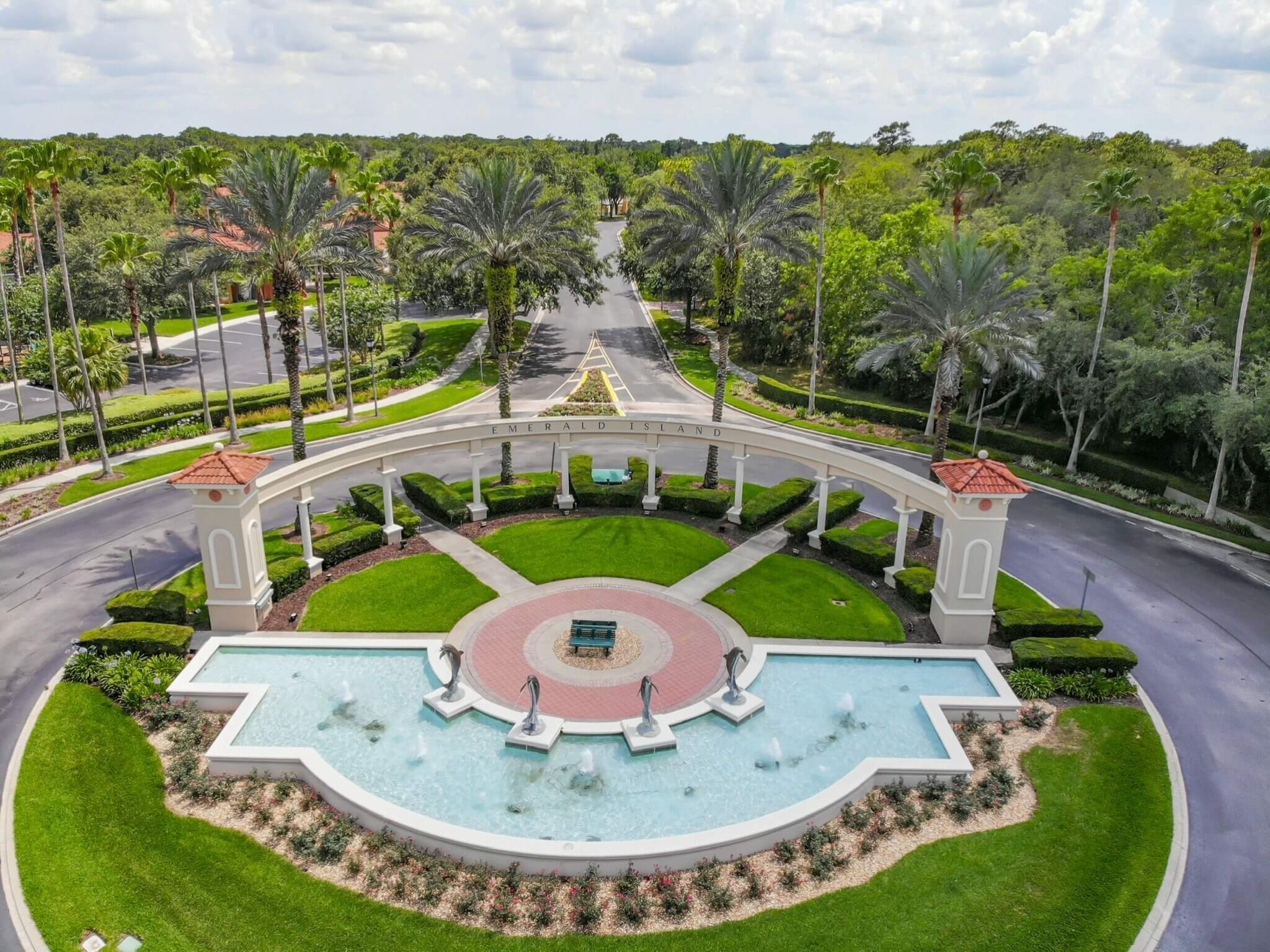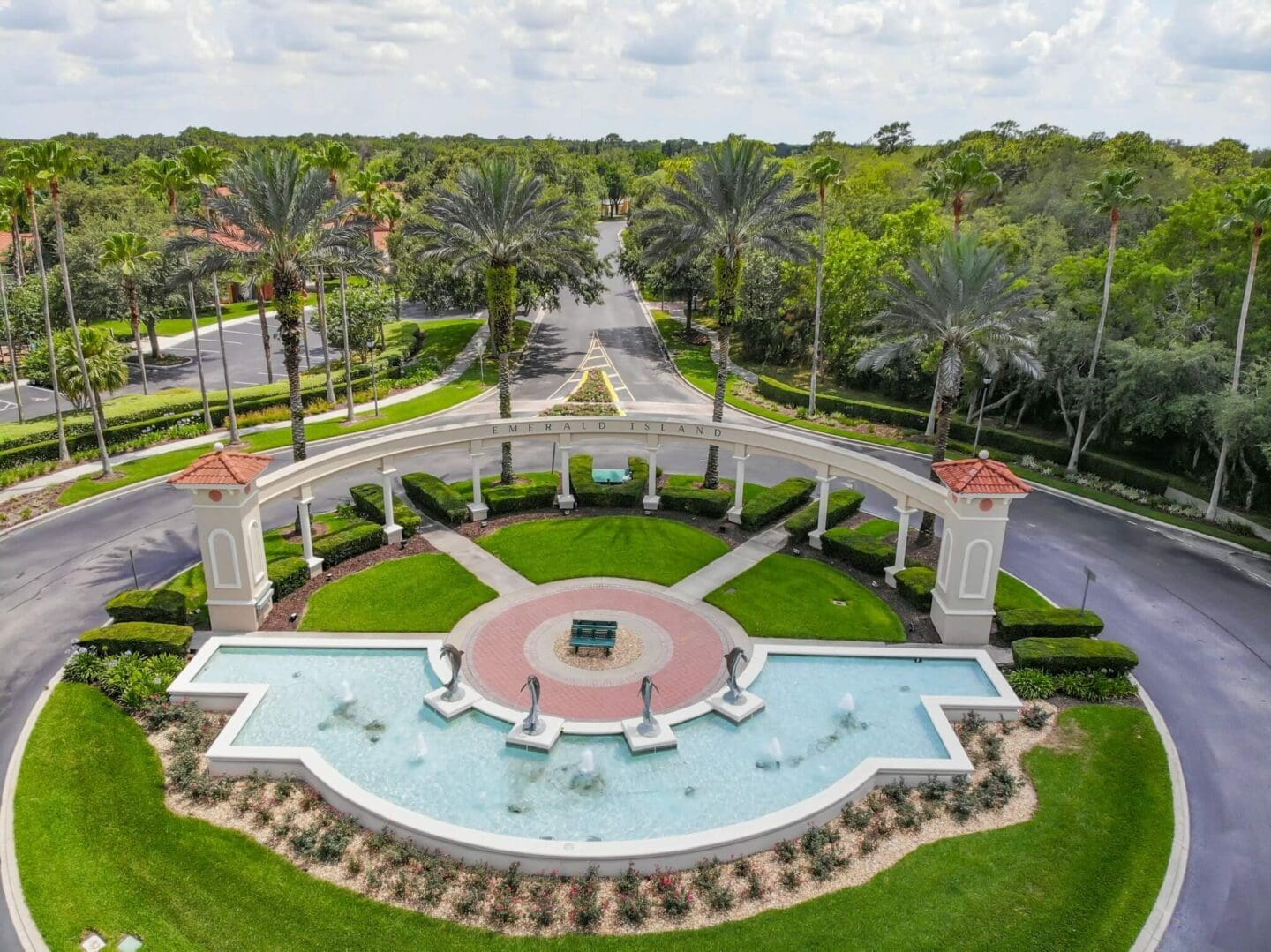 Disney Vacation Rental Home: Amenities at Emerald Island Resort
The home is located in the beautiful, gated community of Emerald Island Resort. There is security on staff driving around the clock throughout the neighborhood and we've been impressed at their instance on safety and upholding HOA regulations.
When we were looking at potential properties to purchase we noticed that a lot of the vacation rentals near Disney World were not as well kept. Many of the area vacation rental homes seemed worn down and the communities run down and I worried about our safety in some of the prior vacation rental home locations we've stayed in the past.
Safety is something our family highly values and it was important to me that I feel safe to visit our home by myself with our four children! I feel EXTREMELY safe in the gated resort community of Emerald Island Resort.
In the past, we have stayed in vacation rentals at Windsor Hills Resort (very close location to Emerald Island) as well as Regal Palms Resort and Reunion Resort (both further away theme park vacation area options) and I am, by far, the most impressed with Emerald Island. I was very specific as to which resorts we'd be willing to buy in and Emerald Island was THE top of my list!
The entrance is so welcoming and well-kept. The HOA is constantly making updates to the clubhouse and amenities. All yards are very well maintained and well-manicured and I also love the free community amenity options. It's truly a luxury area vacation option!
The HOA has just recently completely updated the clubhouse, Tiki Bar as well as the community pool.
I also love how quiet the neighborhood is. It is very peaceful and enjoyable and there aren't any loud parties all night long! We have spent a lot of time in the community and have always felt very welcomed by others and have never had any bad experience.
There are villa rental options in Emerald Island Resort but we much preferred to purchase one of the private pool homes and have no regrets 😉
Anyone who frequents Disney World can tell you about the nightmares of having to drive on Highway 192 and a BIG perk about the location of Emerald Island Resort is the many options for avoiding 192. The community is located in an ideal spot away from the crazy rush of traffic.
A new water park (Island H20 Live) is less than 5 minutes from the front door of our property as well as a new outdoor shopping and dining area called Sunset Walk. (Be sure to eat at Ford's Garage…BEST burger EVER.)
TONS of great restaurants and shopping options are located nearby to Emerald Island Resort including a Walmart, Target and Publix. There is also a brand new Starbucks less than 5 min away plus a Krispie Kreme around the corner for those hot and fresh donut mornings.
The Disney area only continues to grow and develop and every time we visit it seems like there is a new restaurant to try out or a new activity to enjoy! Even if you don't visit the parks during your Orlando vacation you will NOT be bored!
Personal Favorites: The Target near the house is AMAZING and I would shop there every day if I could! Girlfriends and I have a tradition of always hitting up the Five Below next door as well! Our family also always utilizes Walmart pick up for our groceries.
Along with a fantastic location, Emerald Island Resort also has LOTS of fun options to enjoy within the neighborhood. These amenities are all FREE to use and enjoy – there is NO resort fee or upcharge to utilize resort amenities!
Another perk of staying at our vacation rental home? No nightly parking fees either! Simply check-in at the clubhouse to register your vehicle for the security gate entrance during your length of stay. There is currently a one time $20 charge per vehicle which allows parking for the entire length of stay as well as access to all the resort amenities. Up to four cars can park at our rental home and street parking is allowed as well.
Resort Amenities Include:
clubhouse with sauna and gym
heated community pool and spa
Tiki Bar at clubhouse
volleyball court
nature trail
newly updated gym equipment including Peloton with free account access
sports courts including basketball, tennis, and pickle-ball
clubhouse playground
additional playground located just around the corner from our house!
free bike rentals to use around the community
newly installed putt-putt course!
Not only are the vacation rental homes in Emerald Island in a great location, but our actual home is also in a perfect spot!
The Emerald Island Community is a larger development and our home is located near the front of the resort, but off of the busier main street.
It is located on a corner lot with a huge yard – perfect for lots of playing!
The sidewalk is so nice for walks around the neighborhood and our crew loves to walk just around the corner from our home down to the playground nearby. Lots of shade, a large beautiful grass area, and slides and swings provide a fun spot for the kids to have fun.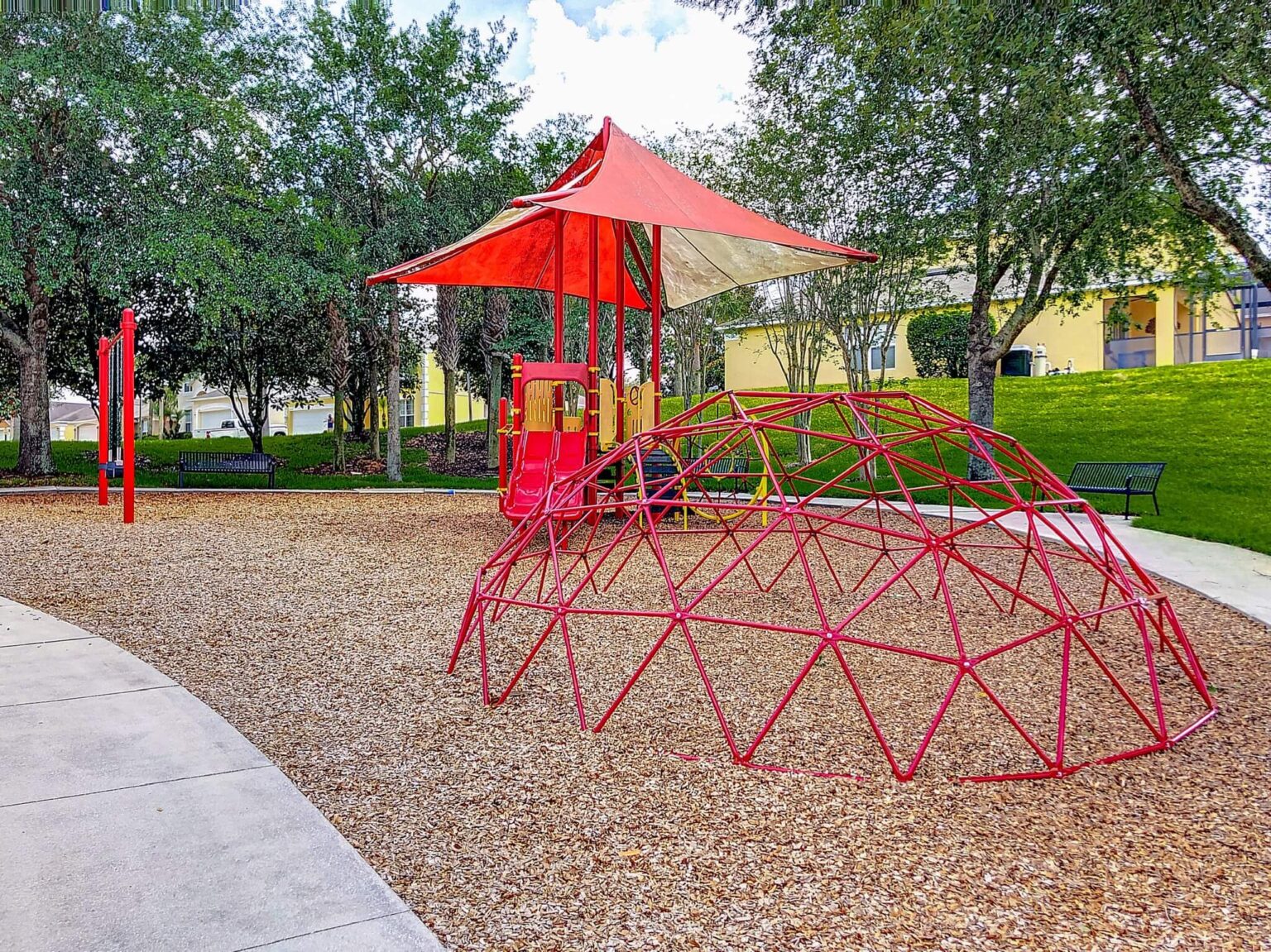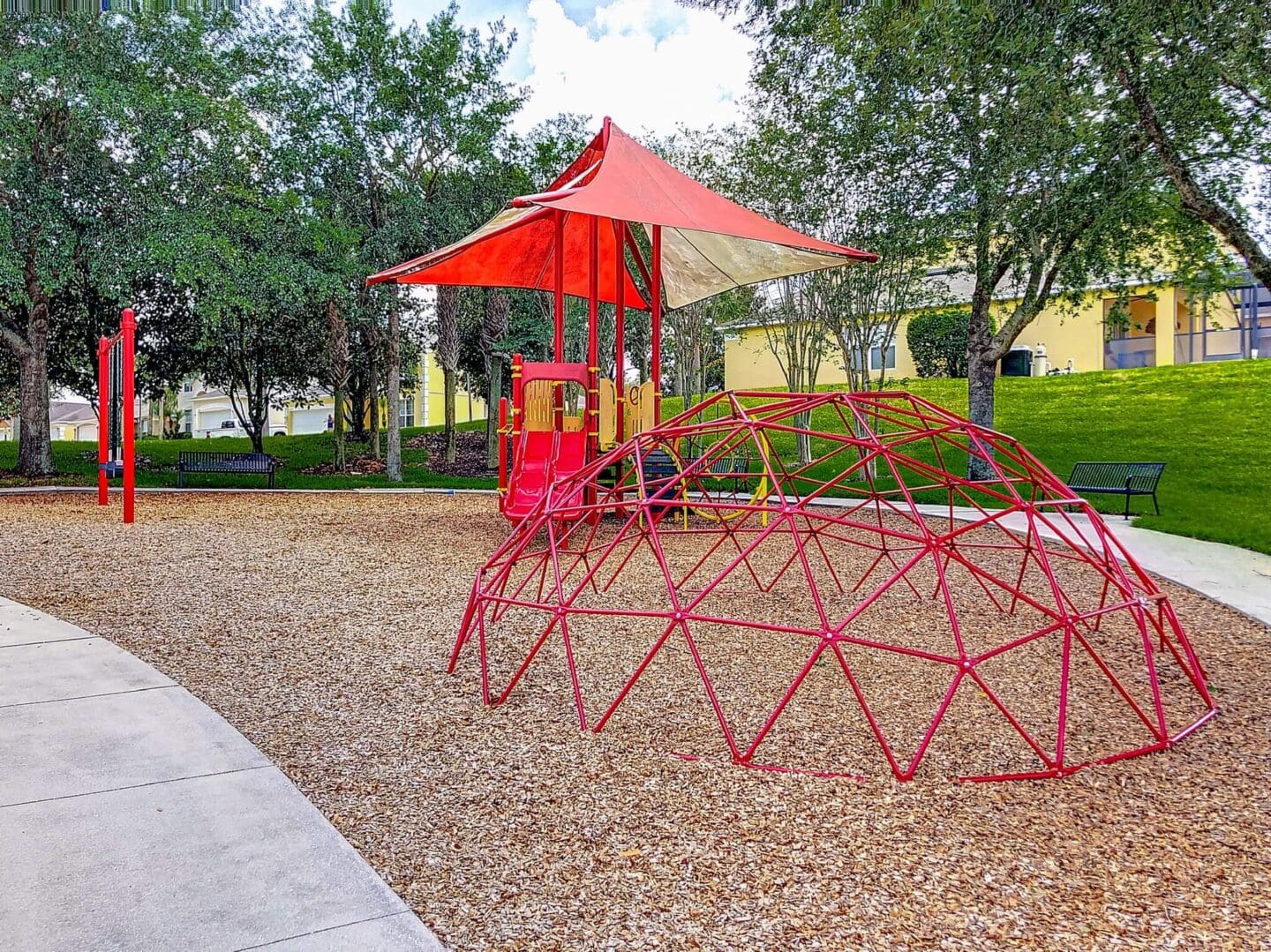 Details About Our Disney Vacation Rental Home
Our goal in looking at Disney vacation rentals to own was to find a home that would allow for our entire family to stay and enjoy – now and into the future.
We are a family of six and my husband's mother often travels with us to Disney World so we wanted to make sure we had enough rooms for our whole crew!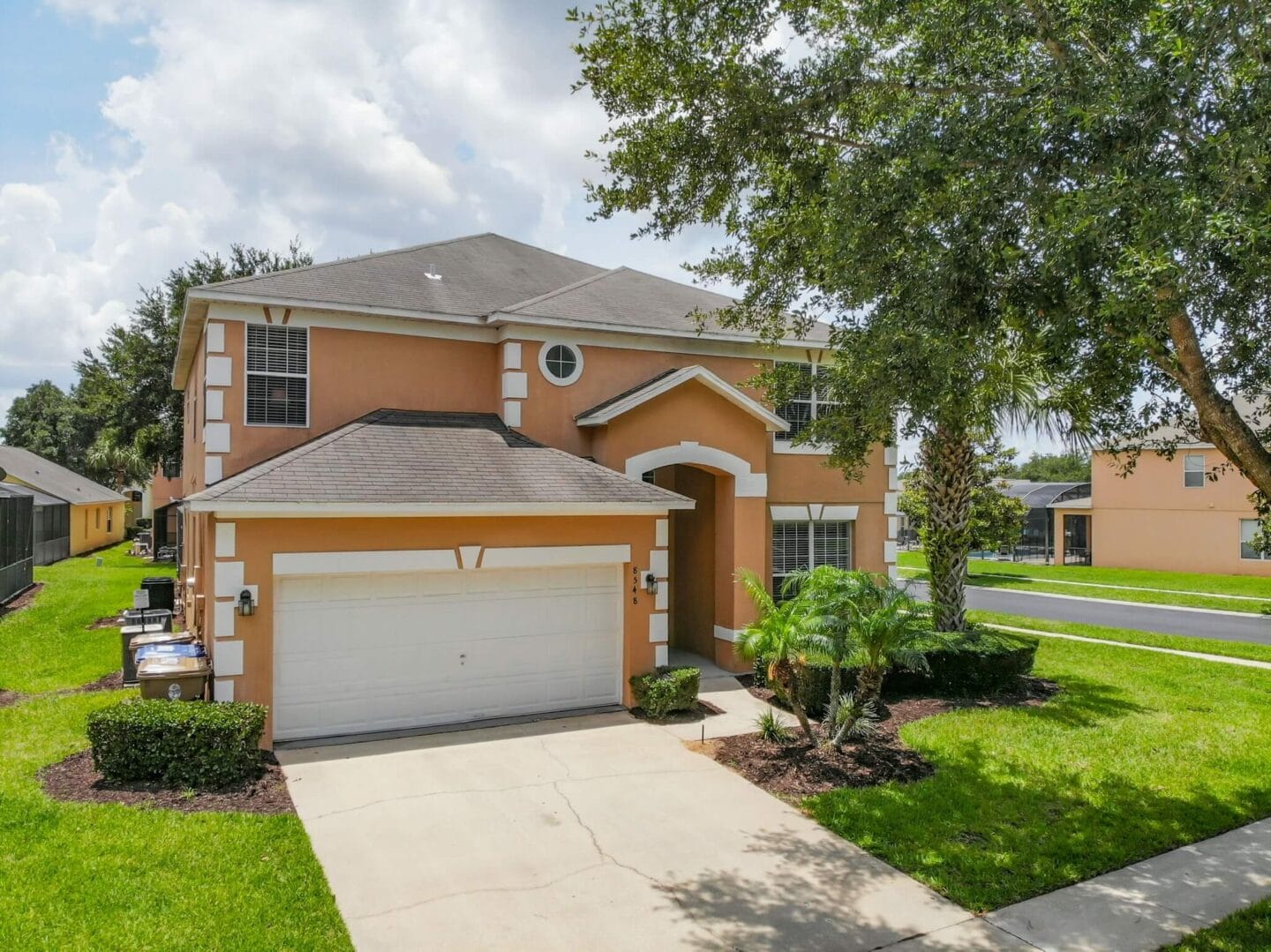 Bedrooms at Our Disney Vacation Rental Home
We LOVE that Hidden Mickey Hideaway has six bedrooms as well as 4.5 bathrooms. It is a very welcoming and cozy home with brand new carpet installed throughout. If you like Disney vacation homes with themed rooms (that are still subtle) you'll enjoy this one!
Each bedroom has it's own wall-mounted flat screen tv with DVD player to allow for relaxing downtime in the bedrooms.
There is a master bedroom (with king bed) on the main level with its own master bath as well as an additional half bath on the main floor. It features a large window overlooking the view of the private pool area.
The bathroom has a large counter space (perfect for getting ready), beautiful natural light, a large tub as well as separate glass enclosed shower. I also love that the toilet is a separate water closet – we use our bathroom frequently for the whole crew to get ready and it allows one in the shower, one on the toilet and a couple in the tub 😉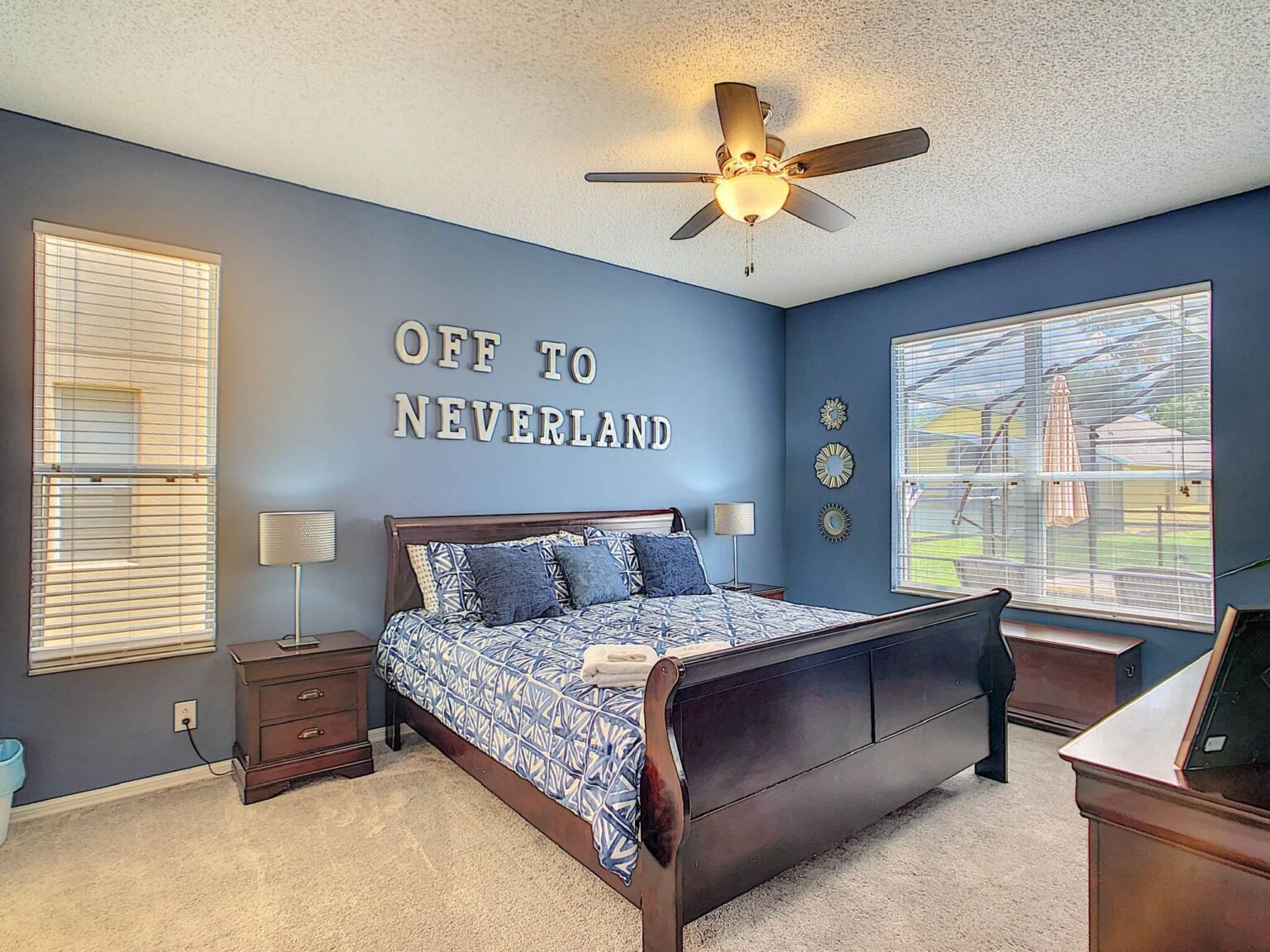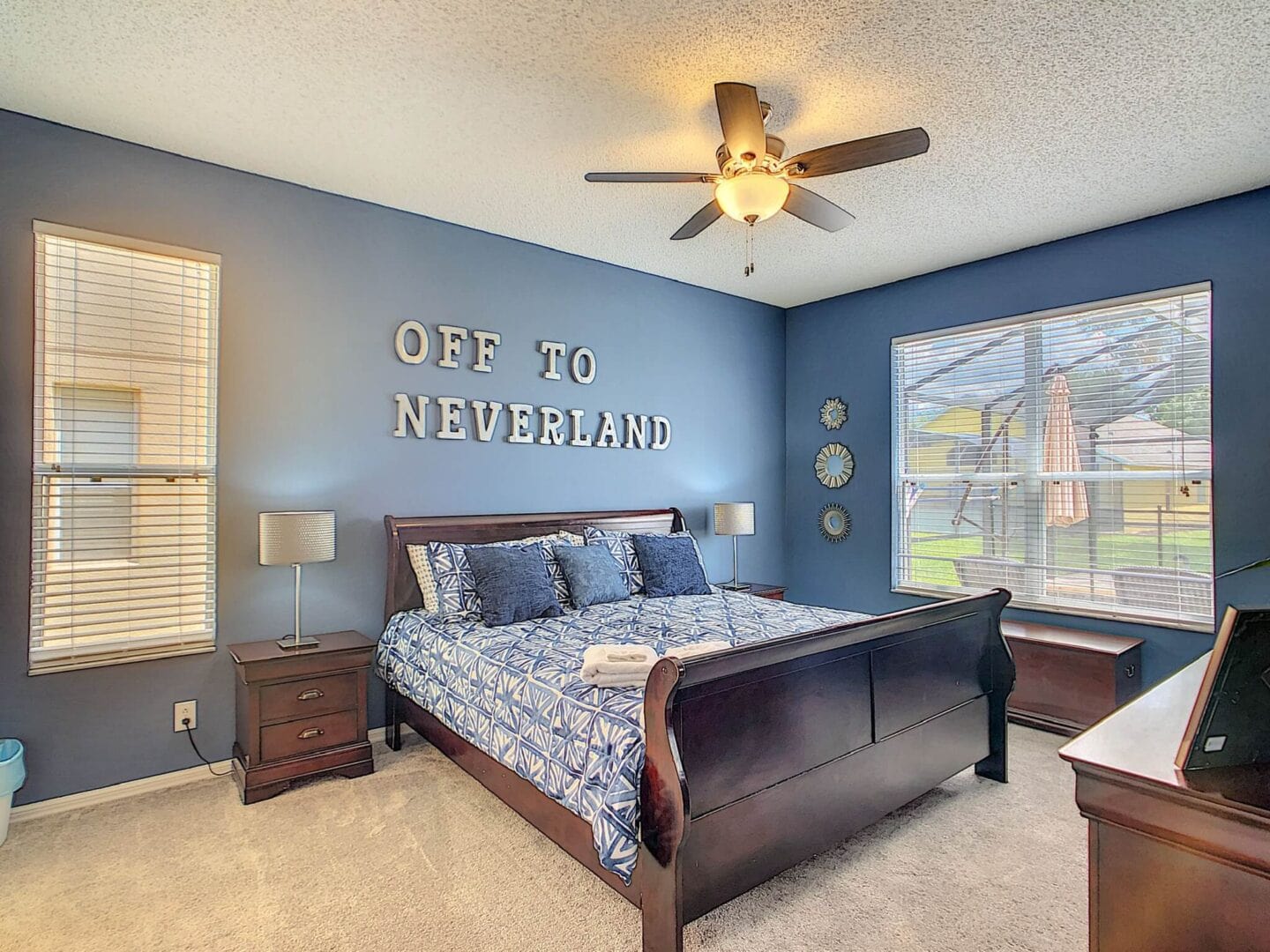 Upstairs there is a second master bedroom, also with a king bed and its own bath. We love having this space for my mother-in-law and call it "G-Mama's room" because she's able to have her private space away from all the kids to rest when she visits Orlando with us.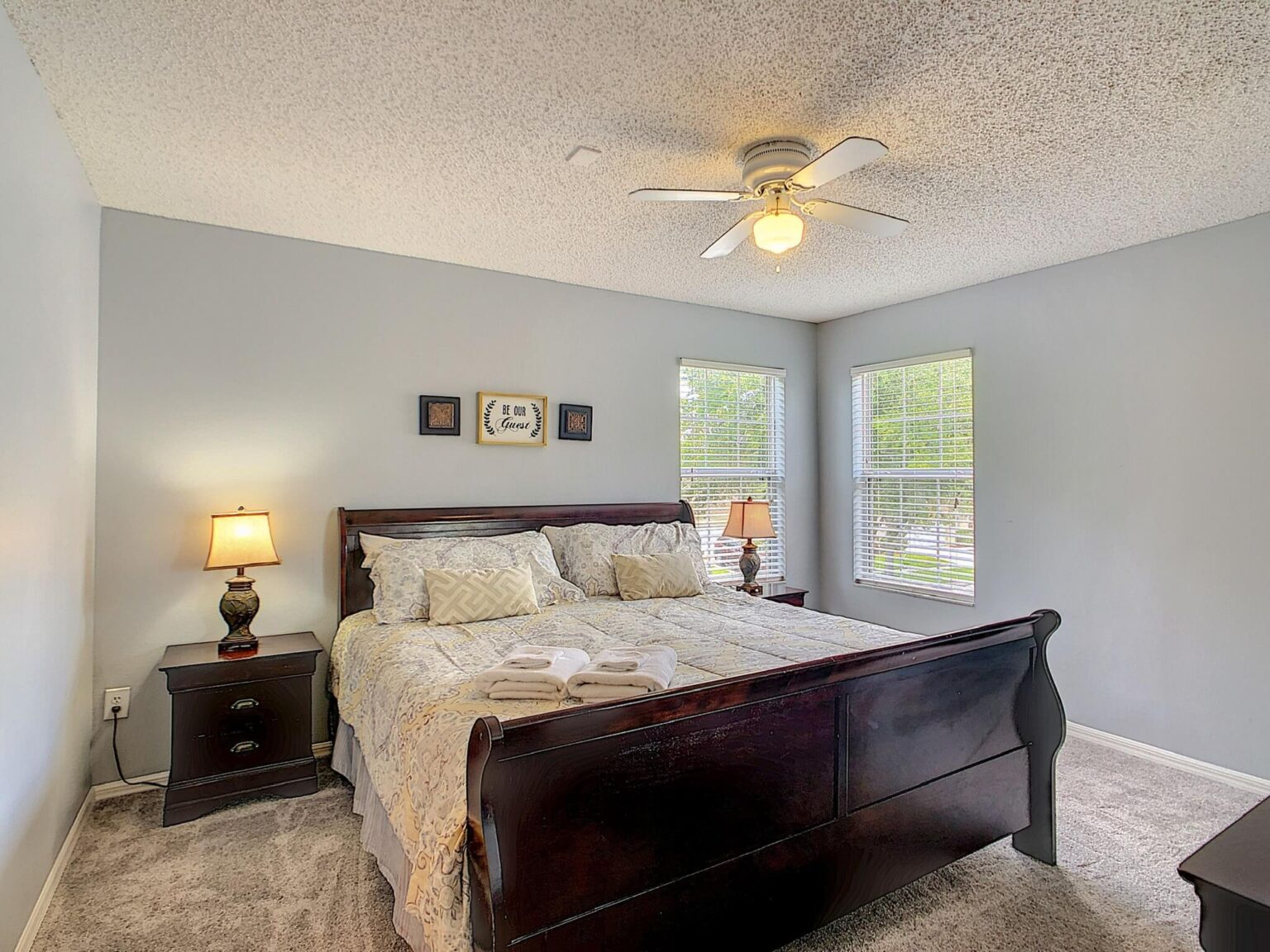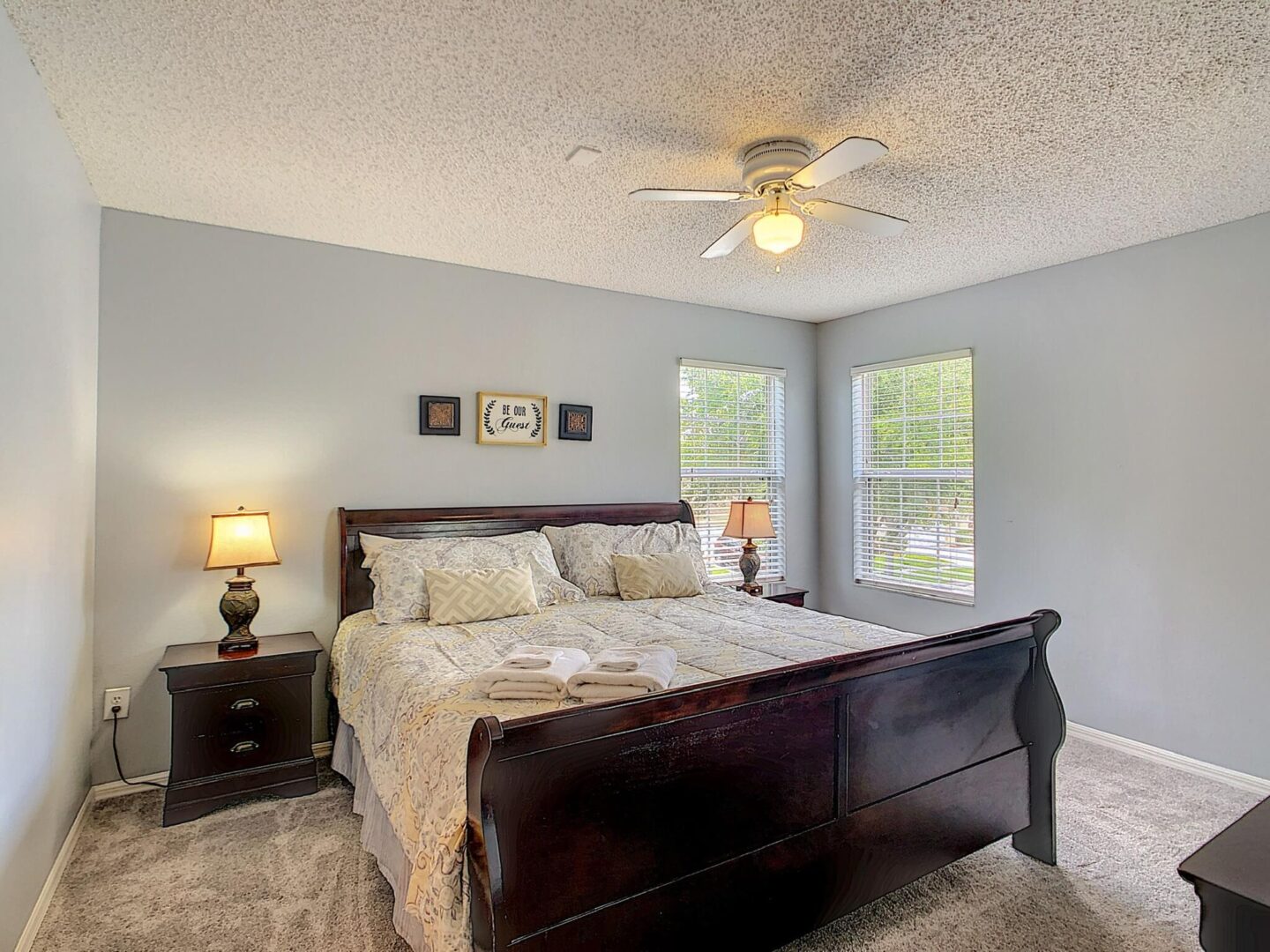 In addition, the second story also has two bedrooms with two twin beds each (one themed in Star Wars and the other themed in Moana) as well as a bathroom between them.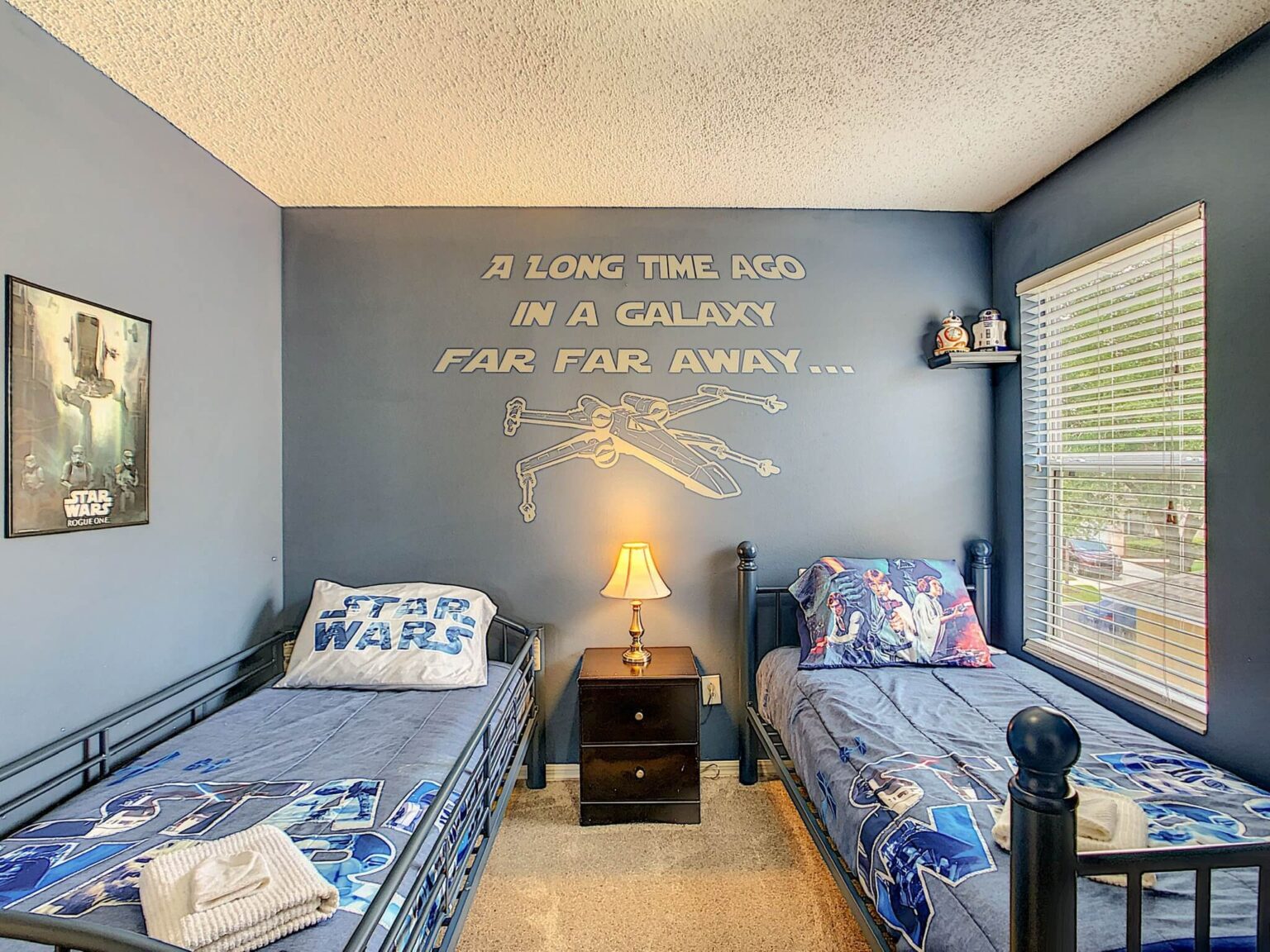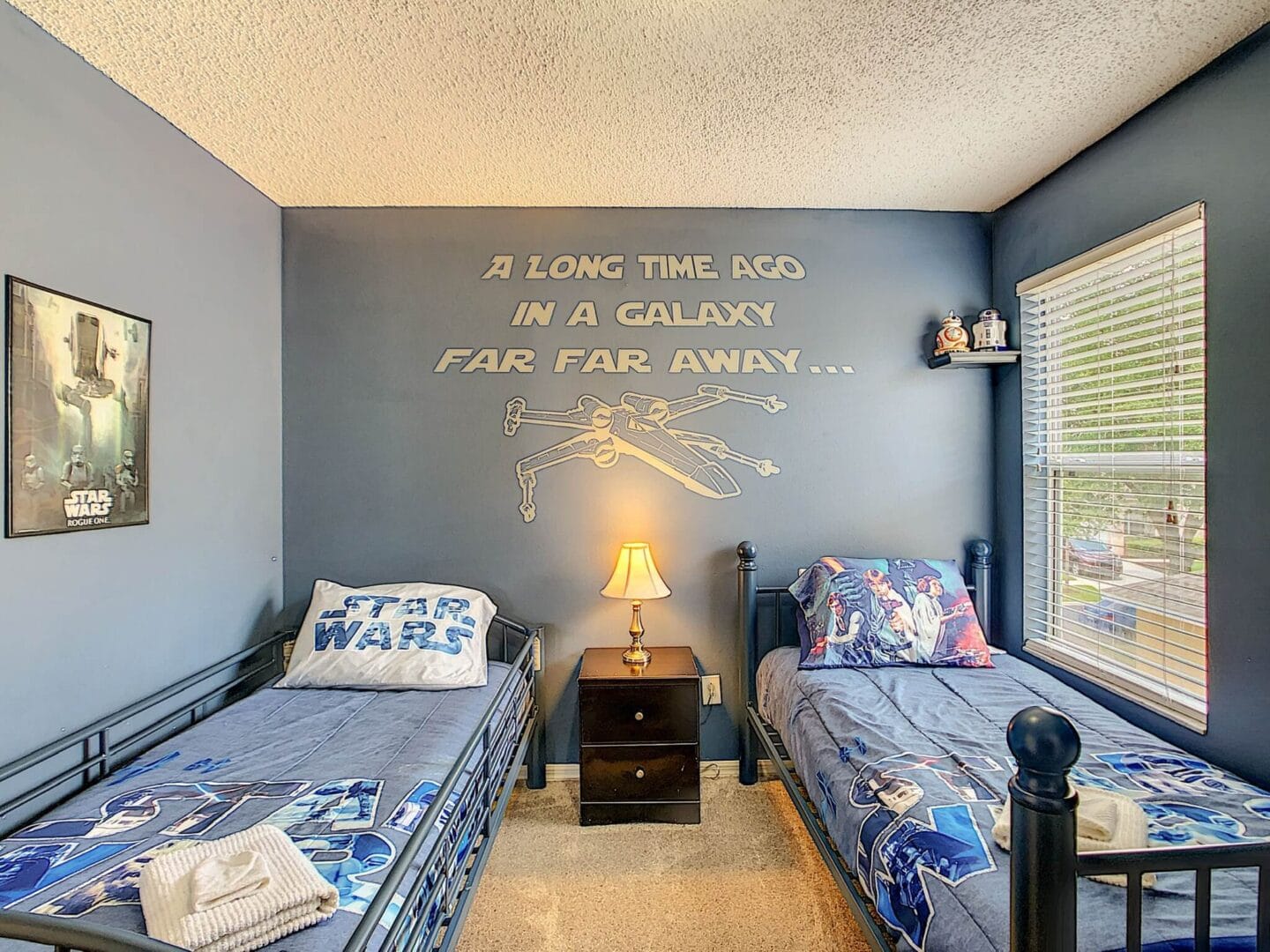 Across the walkway on the second story are two additional bedrooms, each with queen beds. One has a slight "Jungle Book" theme while the other has some fun Mickey touches. Another bathroom is located between these two rooms.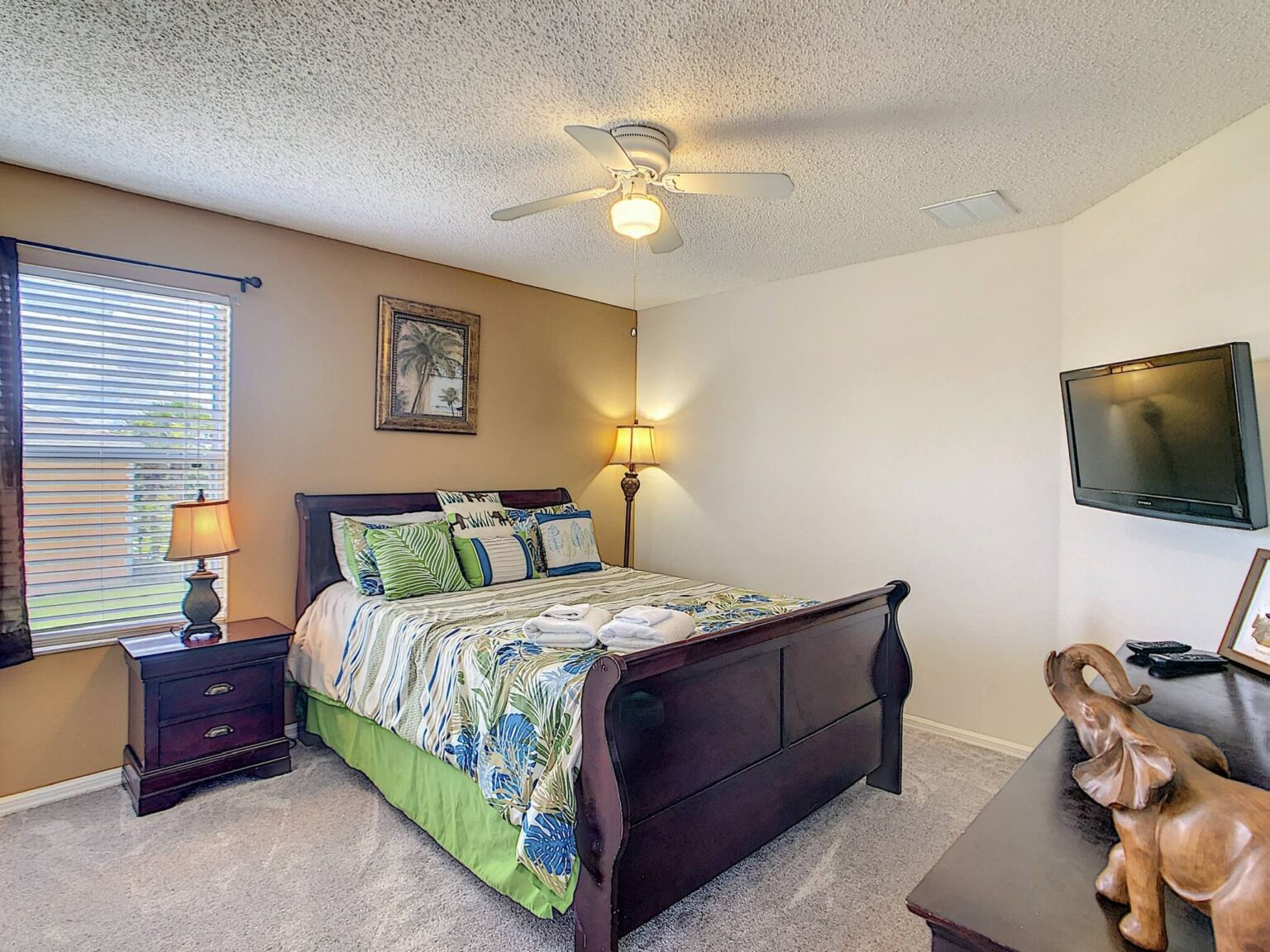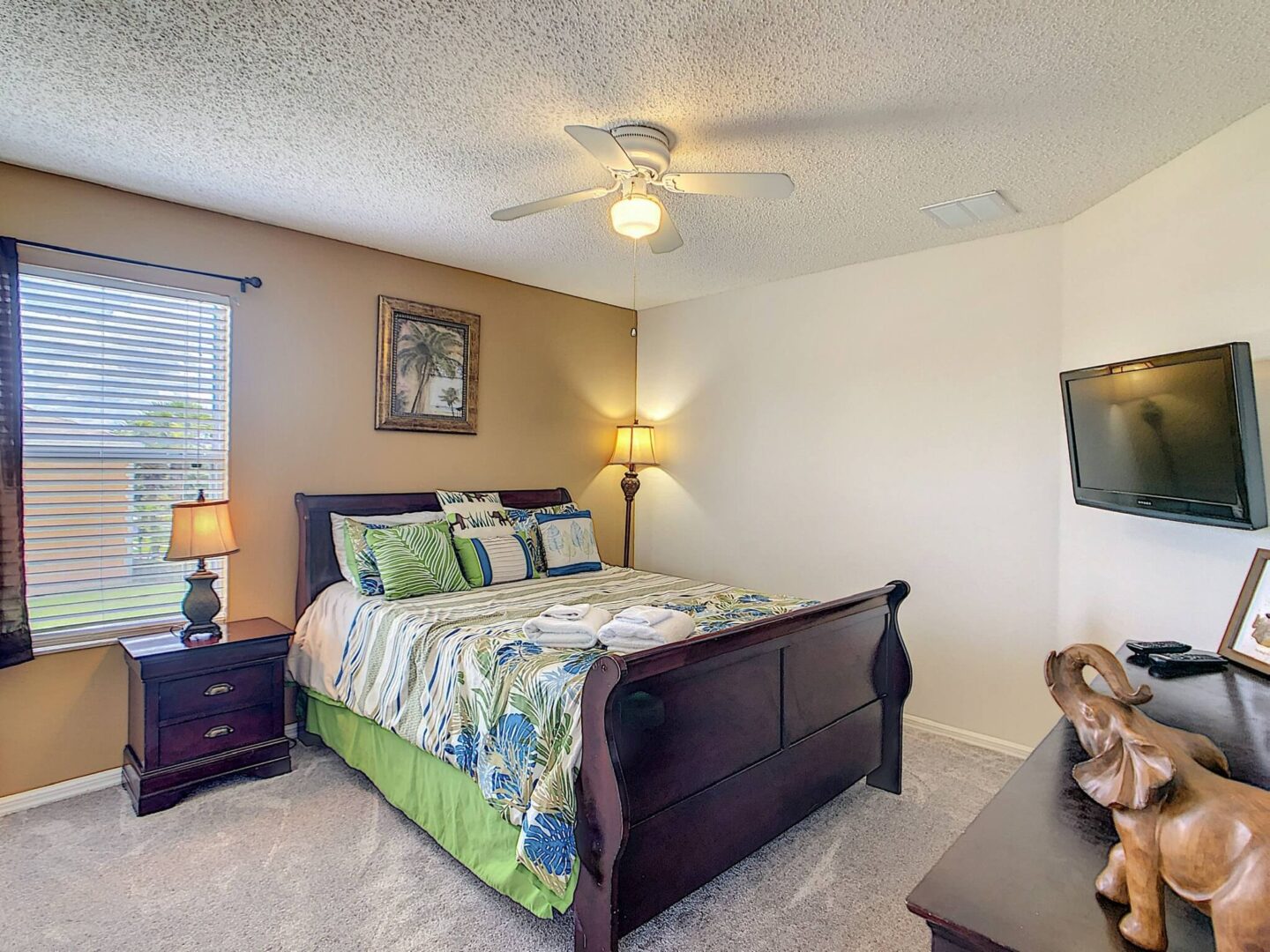 The layout is so great for my husband and I to have our space downstairs and allow for the kids to have fun in their rooms upstairs!
We also love the HUGE master bedroom closets. Both the downstairs and upstairs are HUGE and have plenty of room to put a pack and play for when babies visit.
While there are 8 total beds there is also two pack and plays, an air mattress, and a fold-out bed. The house easily sleeps 17-18 people comfortably and we do not have a limit on the number of guests allowed nor is there an additional charge for added guests. We understand the cost involved with traveling with a large family and try to make our home as comfortable as possible for larger groups!
All of the bedrooms have a touch of Disney theming but we didn't want anything overly obnoxious either – just gentle nods at some of our favorites!
Speaking of Disney theming… we named the home Hidden Mickey Hideaway after our family's love for looking for Hidden Mickeys while visiting Disney World. We've hidden over 20 hidden mickeys throughout the home as a fun scavenger hunt for families to enjoy while visiting!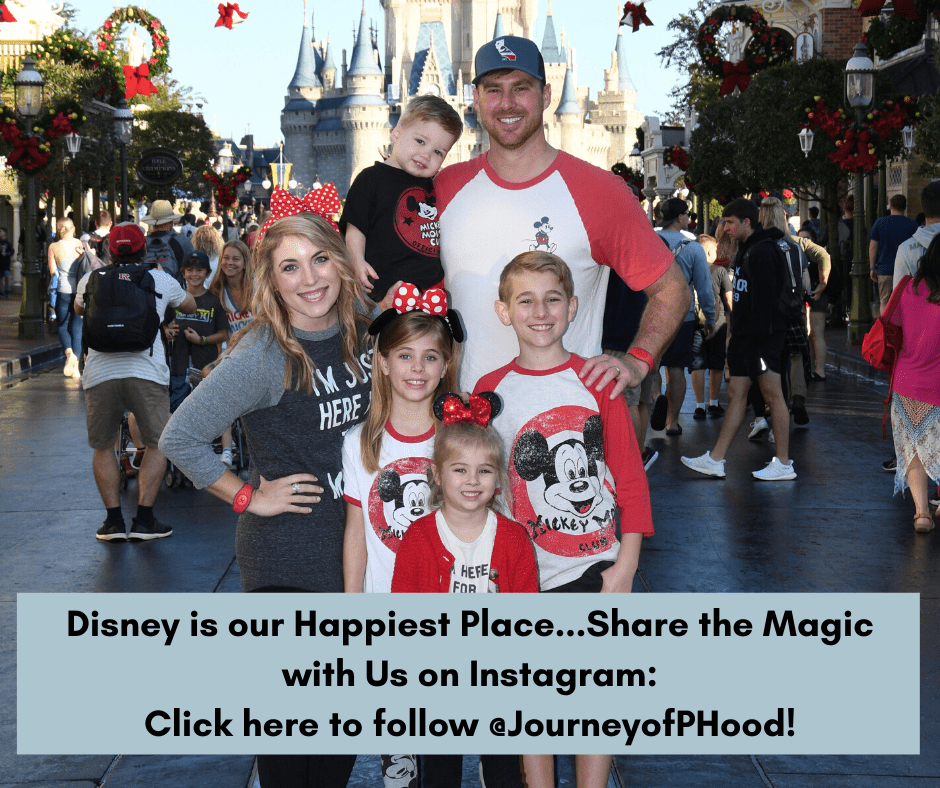 Living Areas at our Rental Home near Disney
A benefit of staying in a Disney vacation rental home isn't just the sleeping arrangement options – there's also a large amount of living space.
We've had all of Zach's extended family stay in the home at one time (16 of us!) and had PLENTY of room to spread out and not feel like we were squished on top of each other!
When you first enter the vacation home you're greeted with a large sitting area with beautiful natural light and a large coffee table – perfect to lay out a puzzle to work on during your stay and great for family game time too!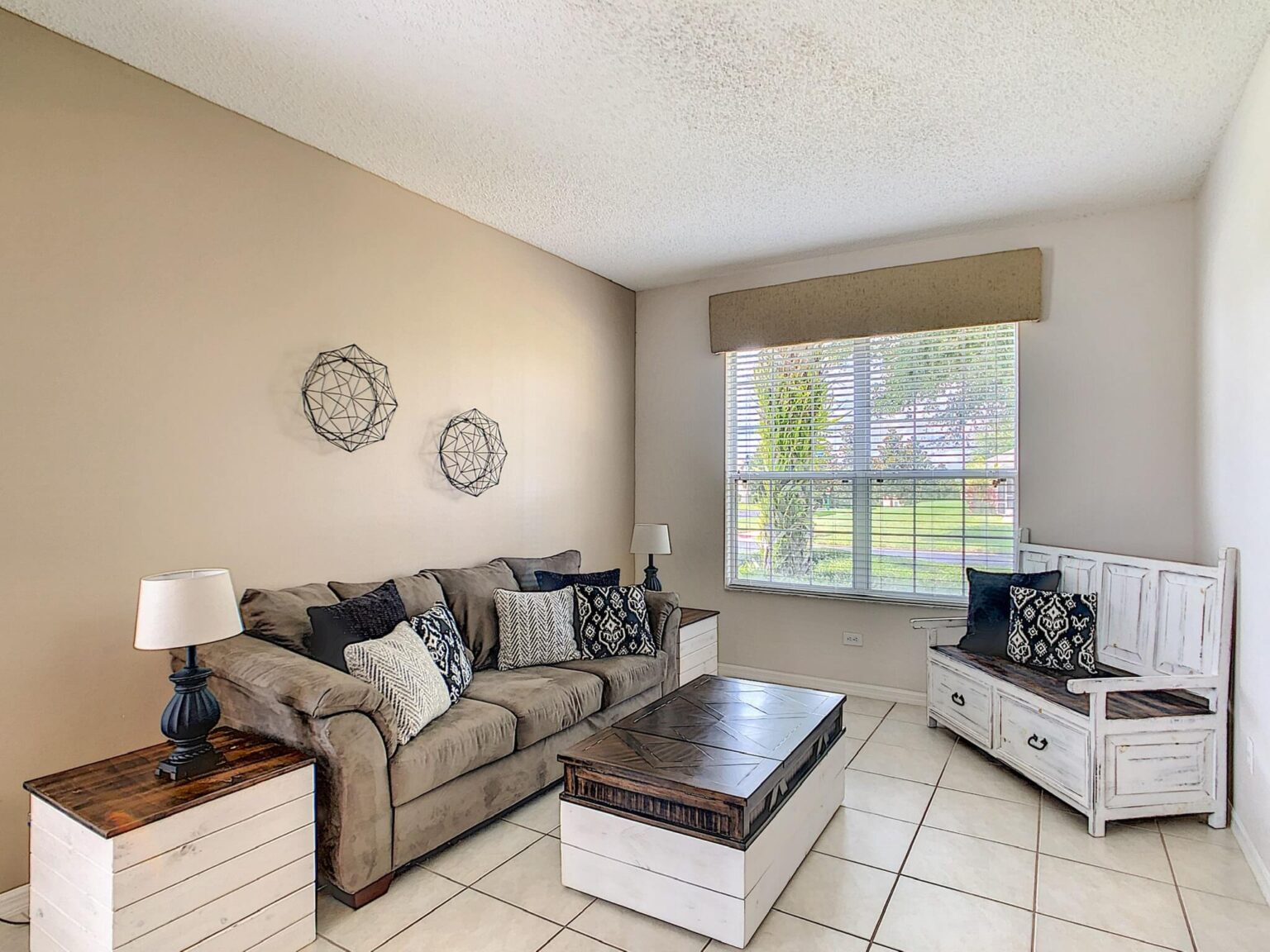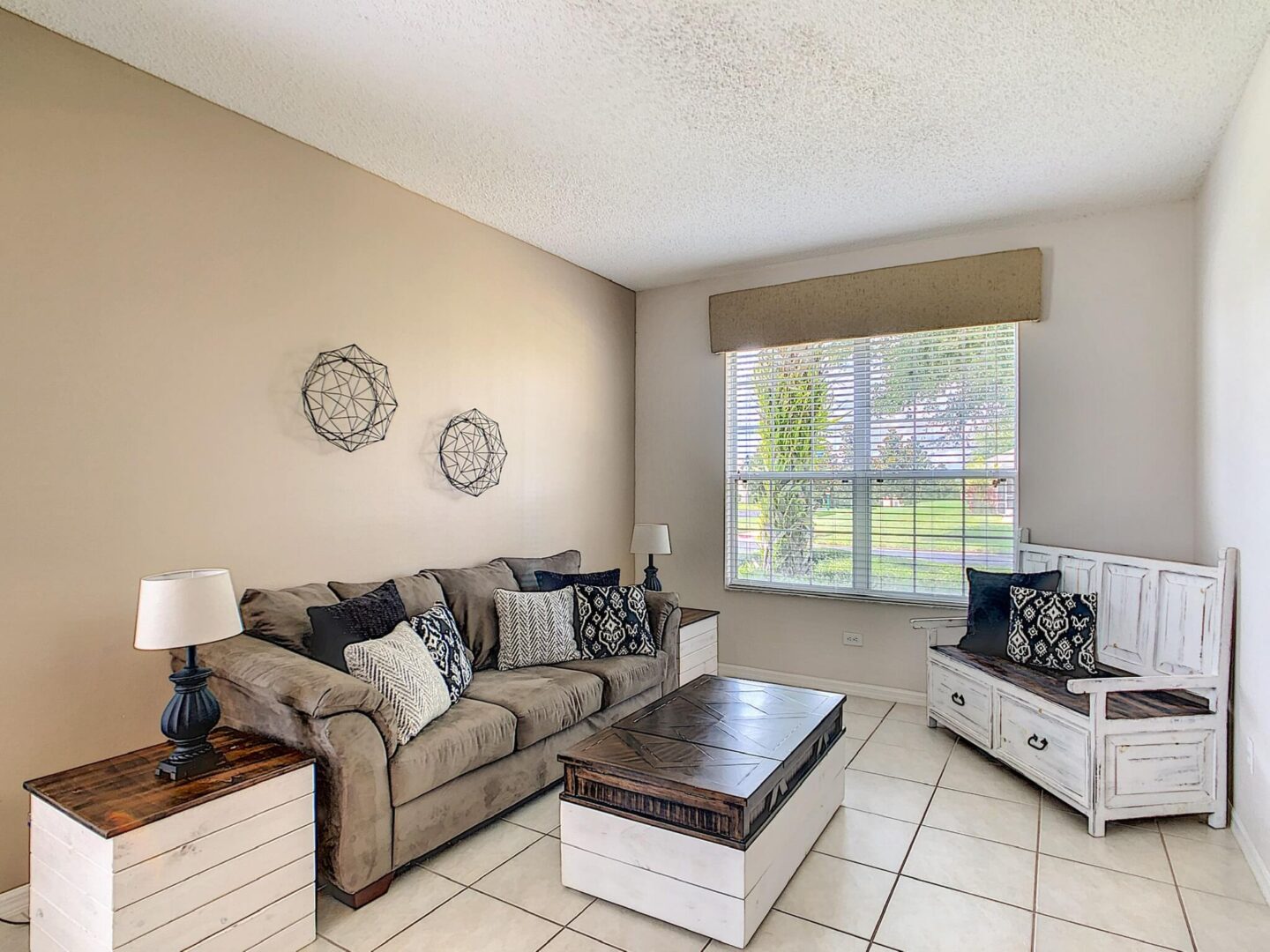 The floor plan is open and the sitting area is shared with the dining room. A large wood table seats 8 comfortably and can easily pull in additional seating from the kitchen if needed! There is a pass-through bar that opens over the kitchen sink. Makes cleaning up a breeze after a meal!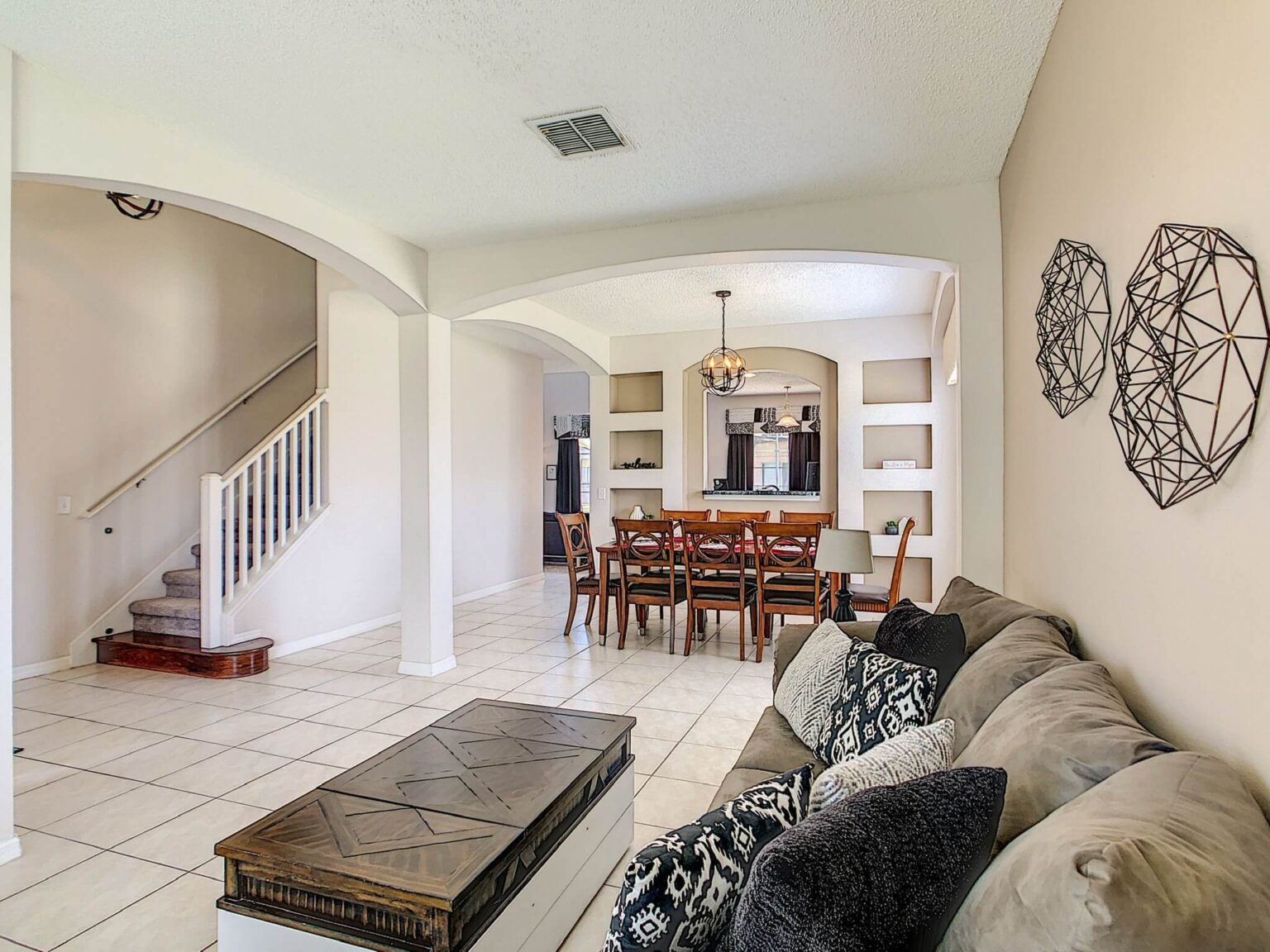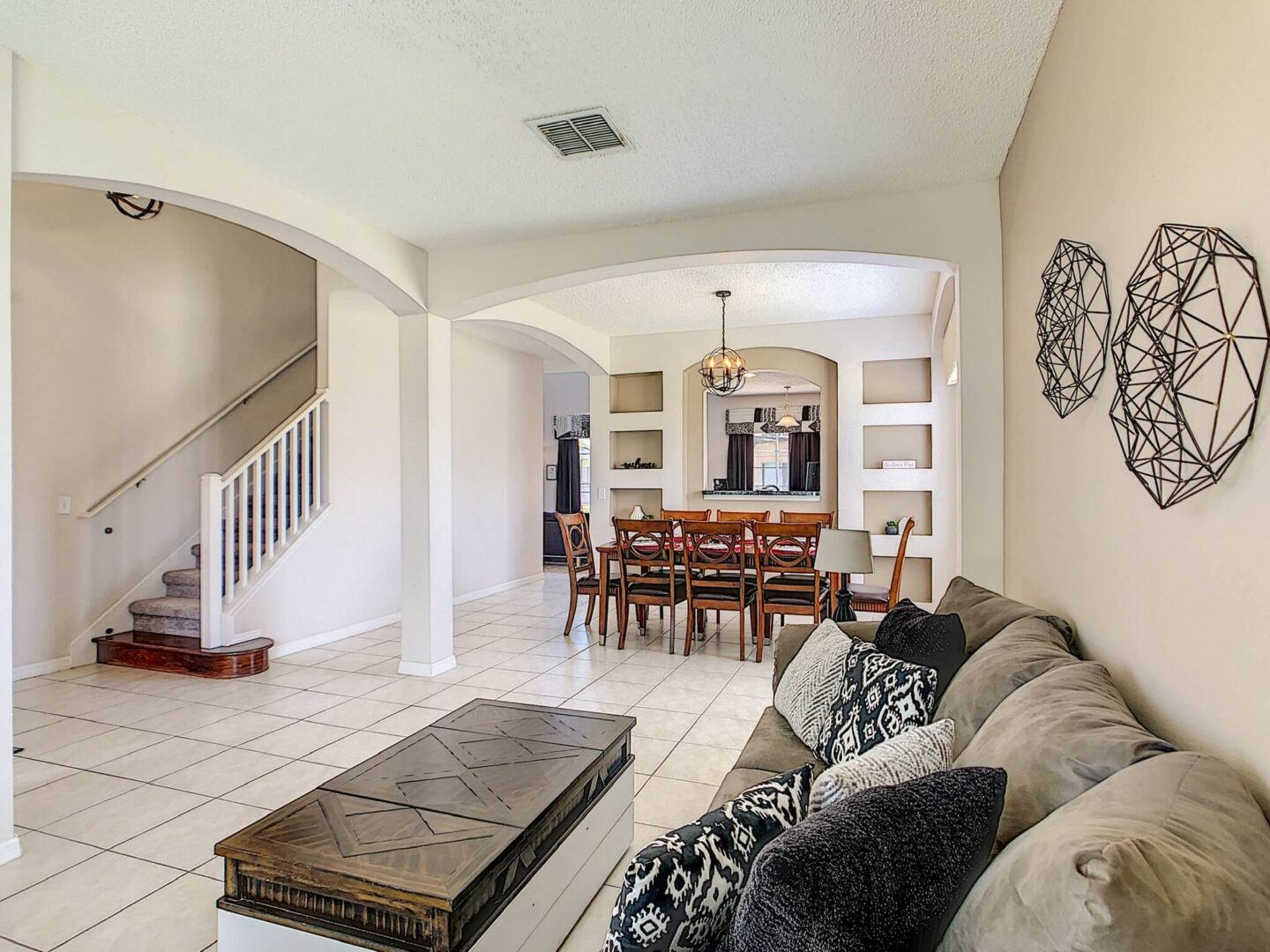 It was important to us to have a fully equipped kitchen in our rental home near Disney. A big way we save money on our Disney travels is to cook meals at the house whenever possible.
—–> Read tips for saving money on food at Disney World here!
We tried to think of everything a family may need or want while visiting. We have updated appliances, a crockpot, both a Keurig and regular coffee maker, toaster, blender, electric can opener, and plenty of cooking utensils. We strive to keep all of the items in the kitchen up to date and are regularly replaces pots, pans and other items that may get worn with frequent use!
This is truly a second home for us and everything we like to have on hand in our own kitchen at home we also strive to have readily available for guests in the fully equipped space.
In addition to a well-stocked kitchen, we also wanted to make sure to leave plenty of cabinet space available for guests too. We like to stock up on grocery items and are always frustrated when vacation home rentals have TOO much stuff in the cabinets! While you'll find everything you need, you'll also have room to store the items you bring along too.
Disney World and many other theme parks in the area allow outside food to be brought into their parks so it's a great way to cut costs by preparing meals at home.
Along with plentiful cabinet spaces there is also a large pantry with lots of shelving and a large trash can with lid – every parent knows the frustration of those tiny trash cans under the sink!
The kitchen tends to be the place people gather and we find our crew spending most of our meals seated around the large island bar. There are six stools and plenty of space to eat a quick meal on the go or sit and visit awhile too.
I love that the kitchen opens to the private pool. It's easy to fix the kids lunch and take it out to them on the back porch!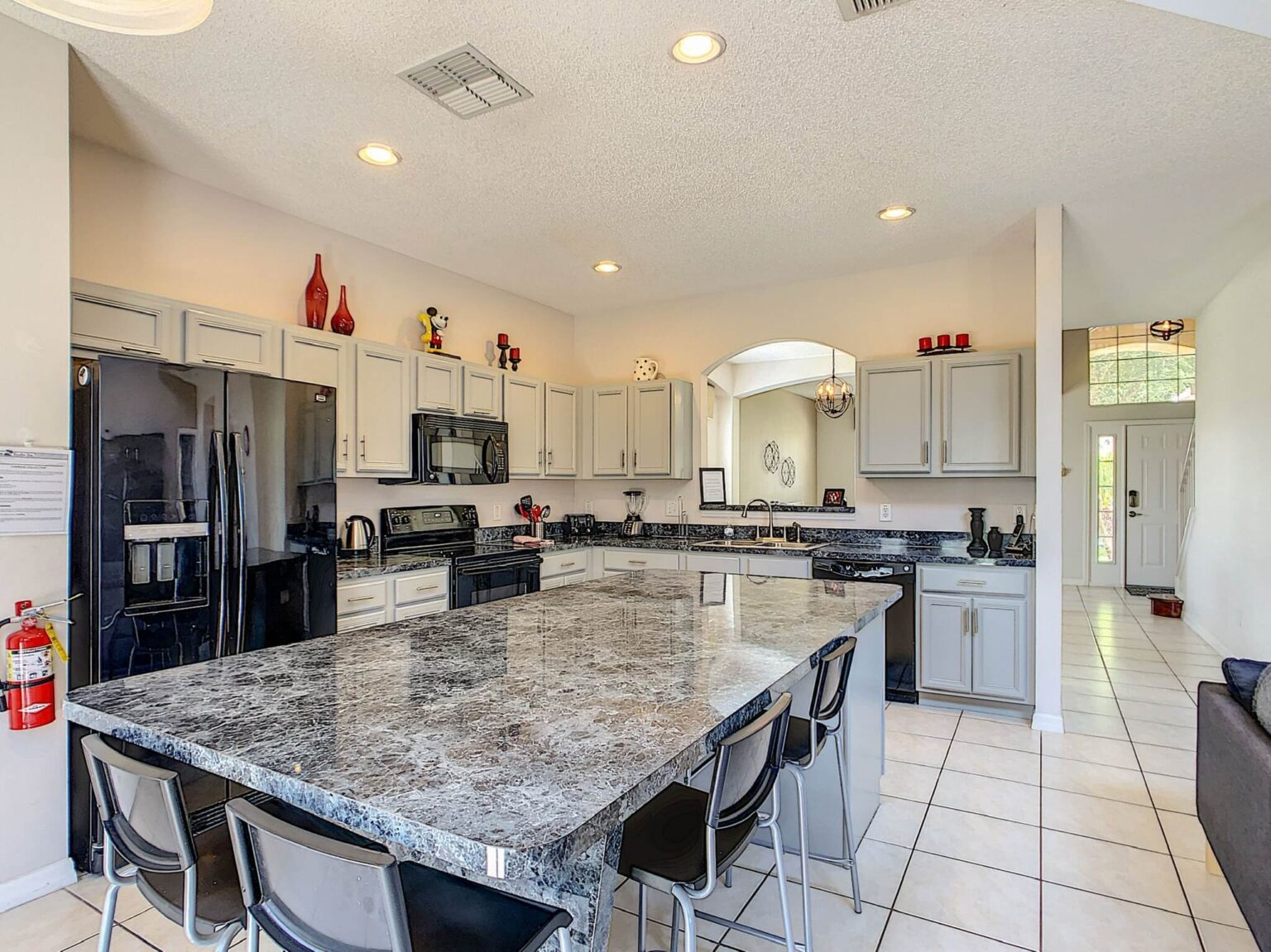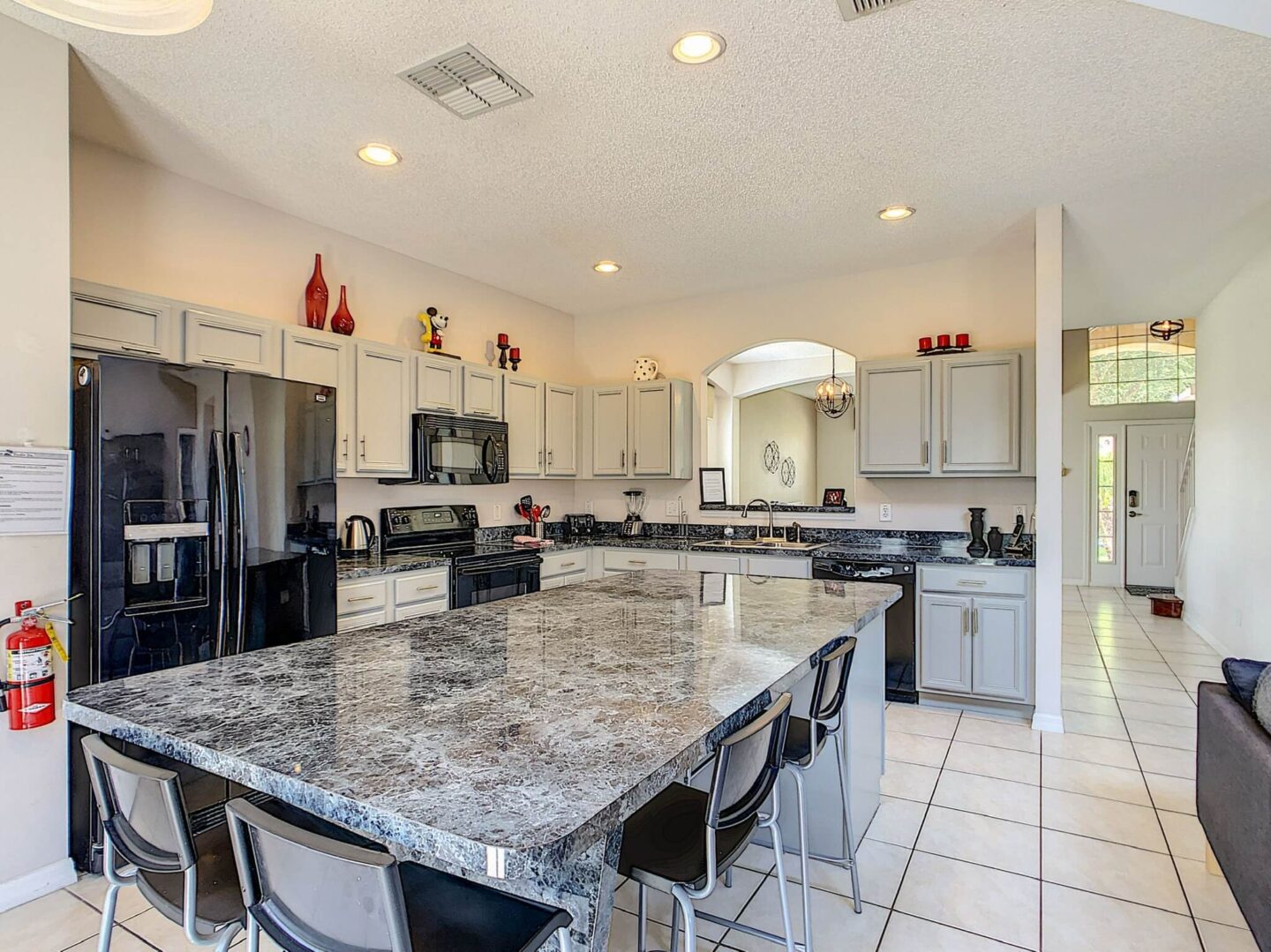 The open floor plan is great for families as the kitchen space is open into the living room area as well.
We love lounging on the large sectional couch and enjoy watching TV on the large flat screen television.
The TV is large enough to be seen with ease from the island kitchen area too and many days my husband will enjoy eating lunch during one of our theme park breaks from the island while catching up on his sports 😉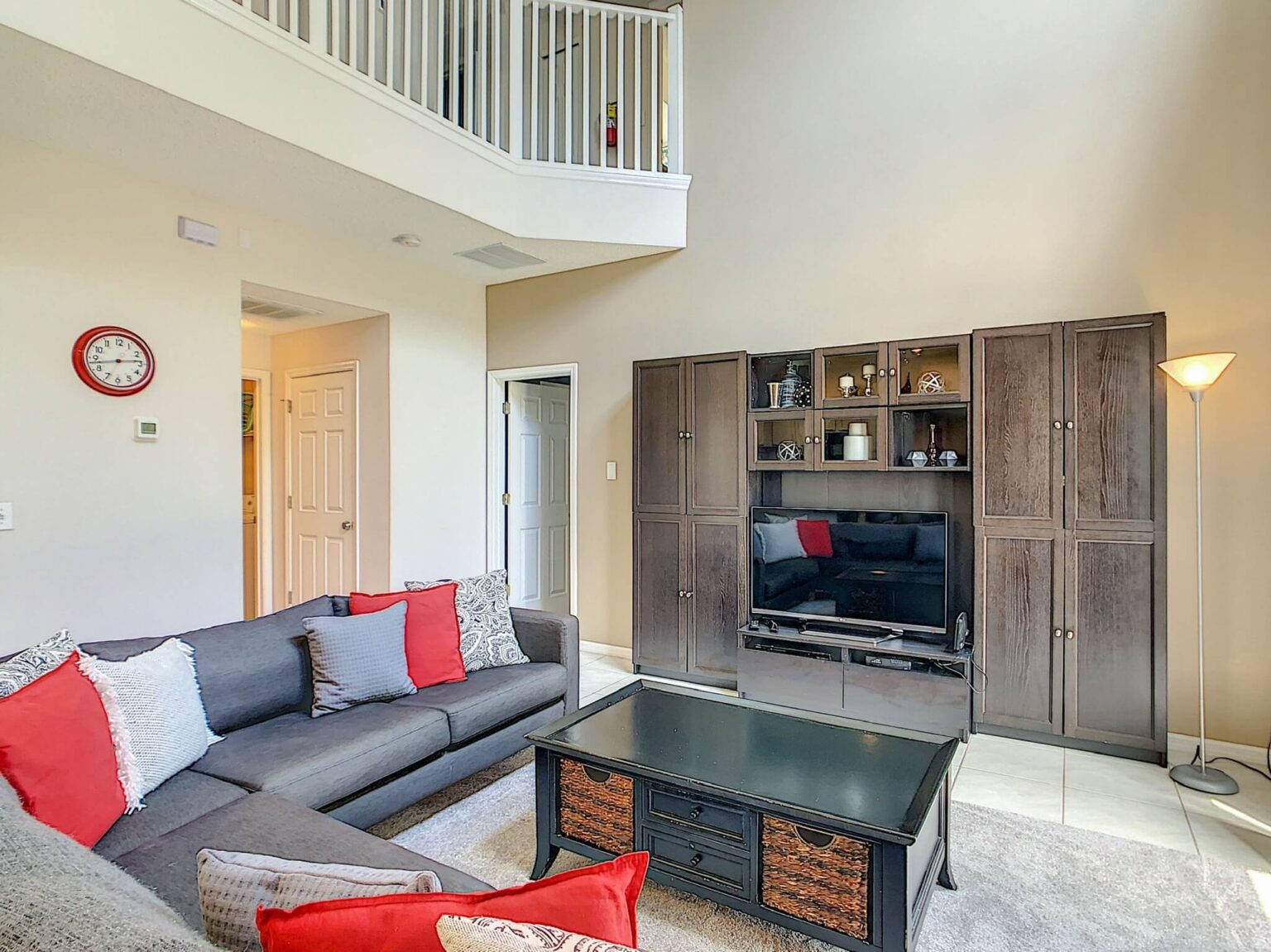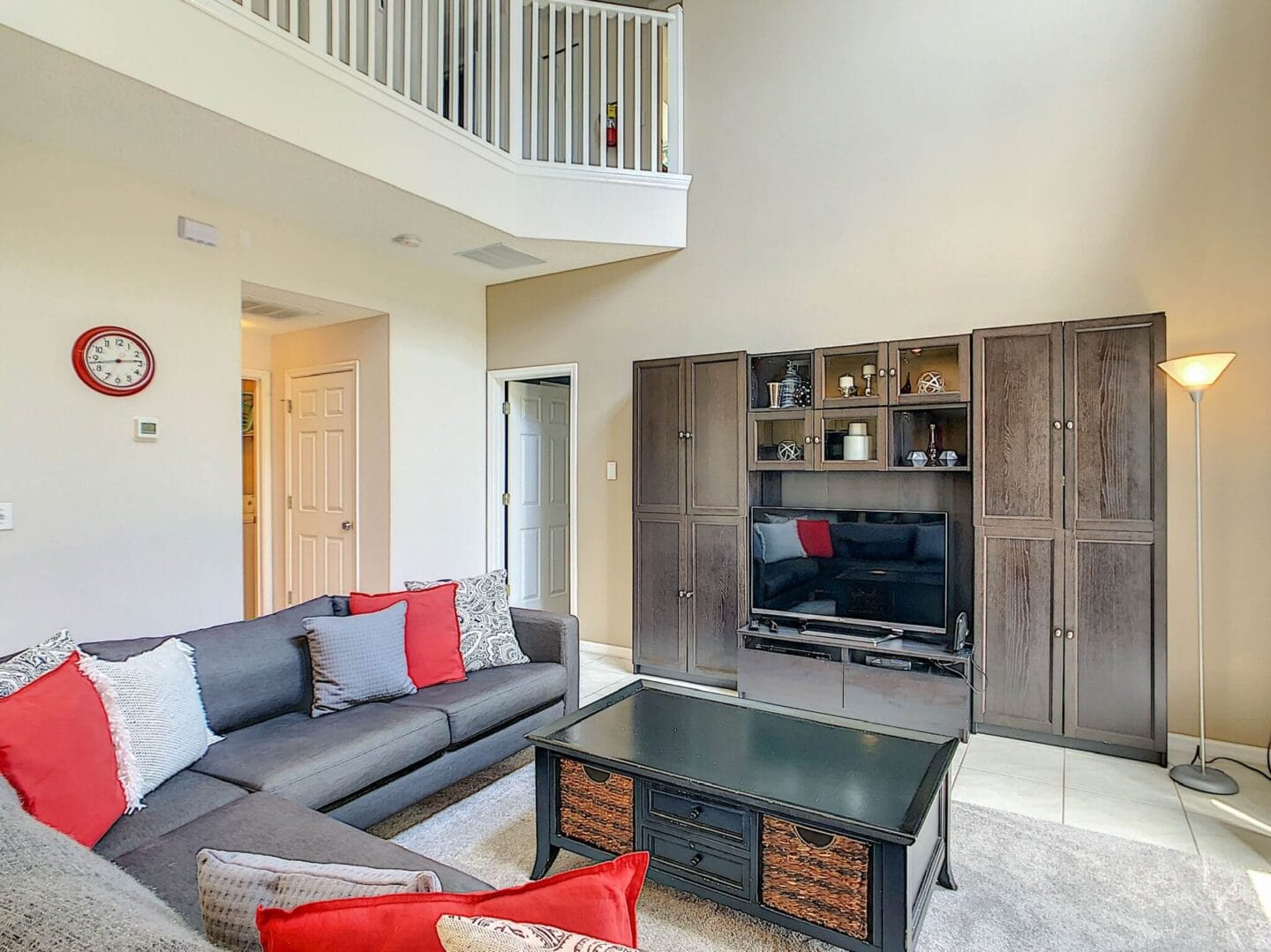 The comfort and living spaces don't end on the first floor! The second story has a large loft area perfect for entertaining.
There is a second, large sectional couch that pulls out into a full size bed. An additional flat screen TV is located in the loft area along with lots of gaming systems to provide endless entertainment.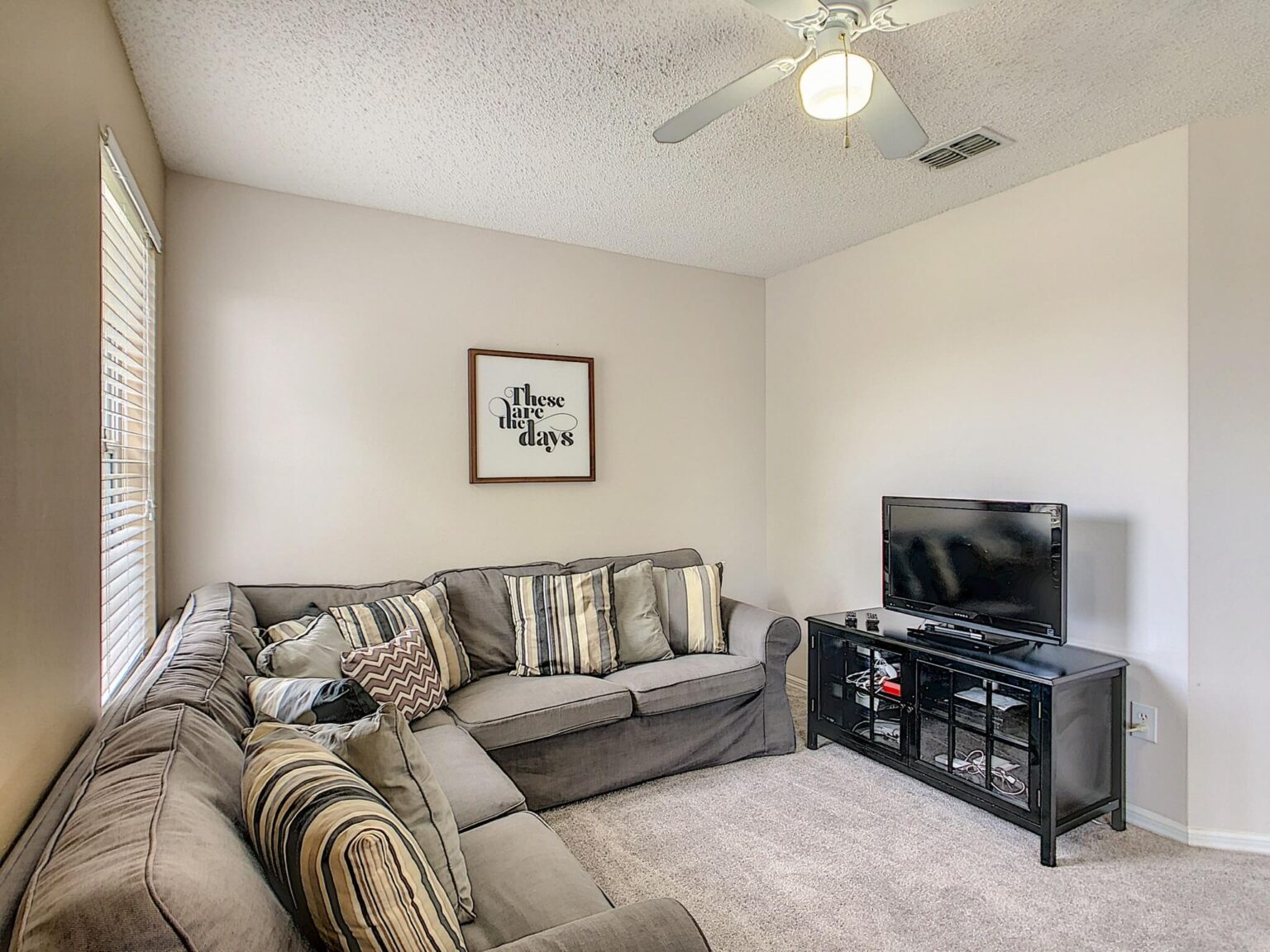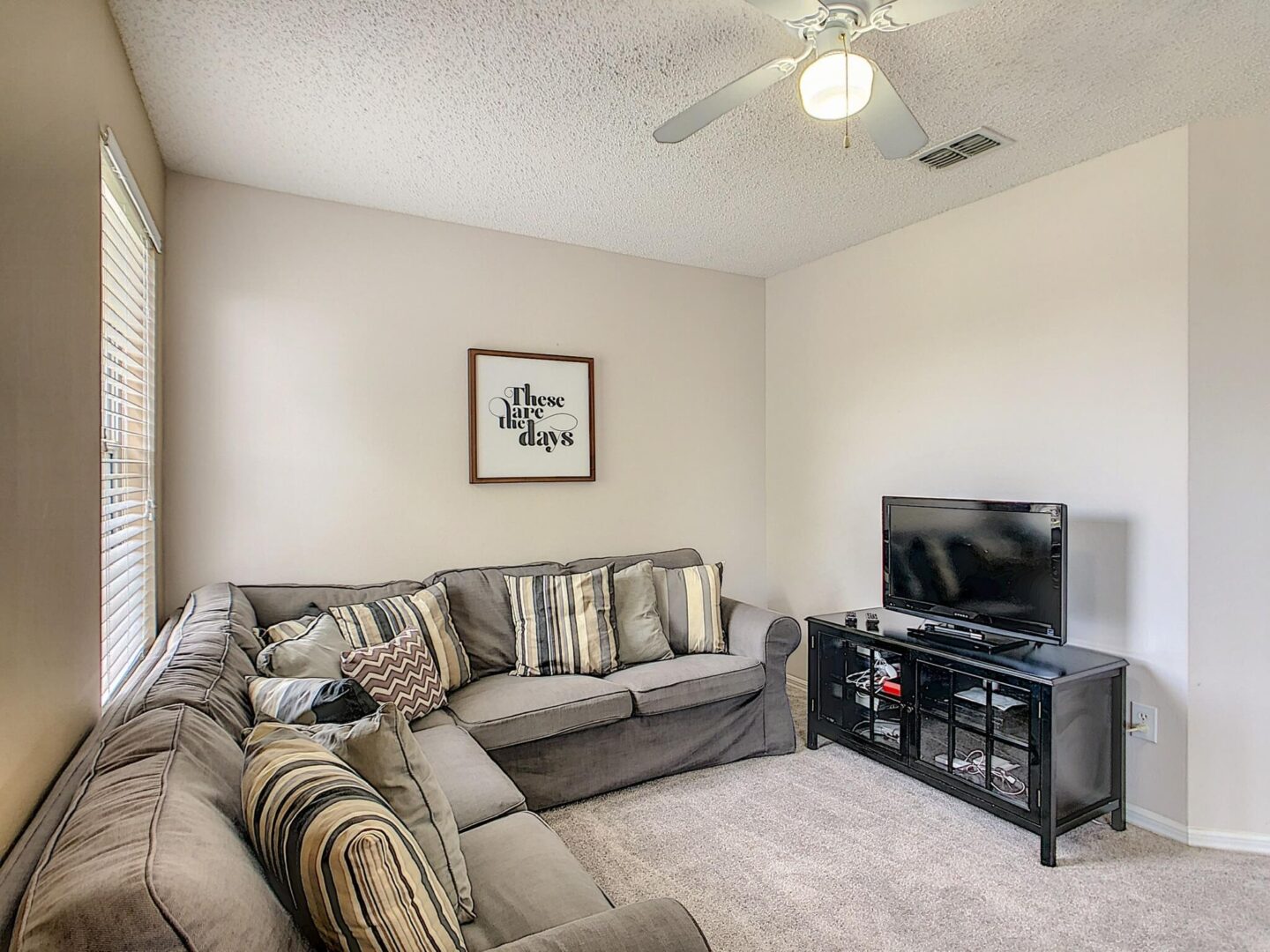 Being a single family home unit the house also has a laundry room with a washer and dryer. It makes doing laundry a breeze and can help minimize overpacking when you're able to wash items during your stay!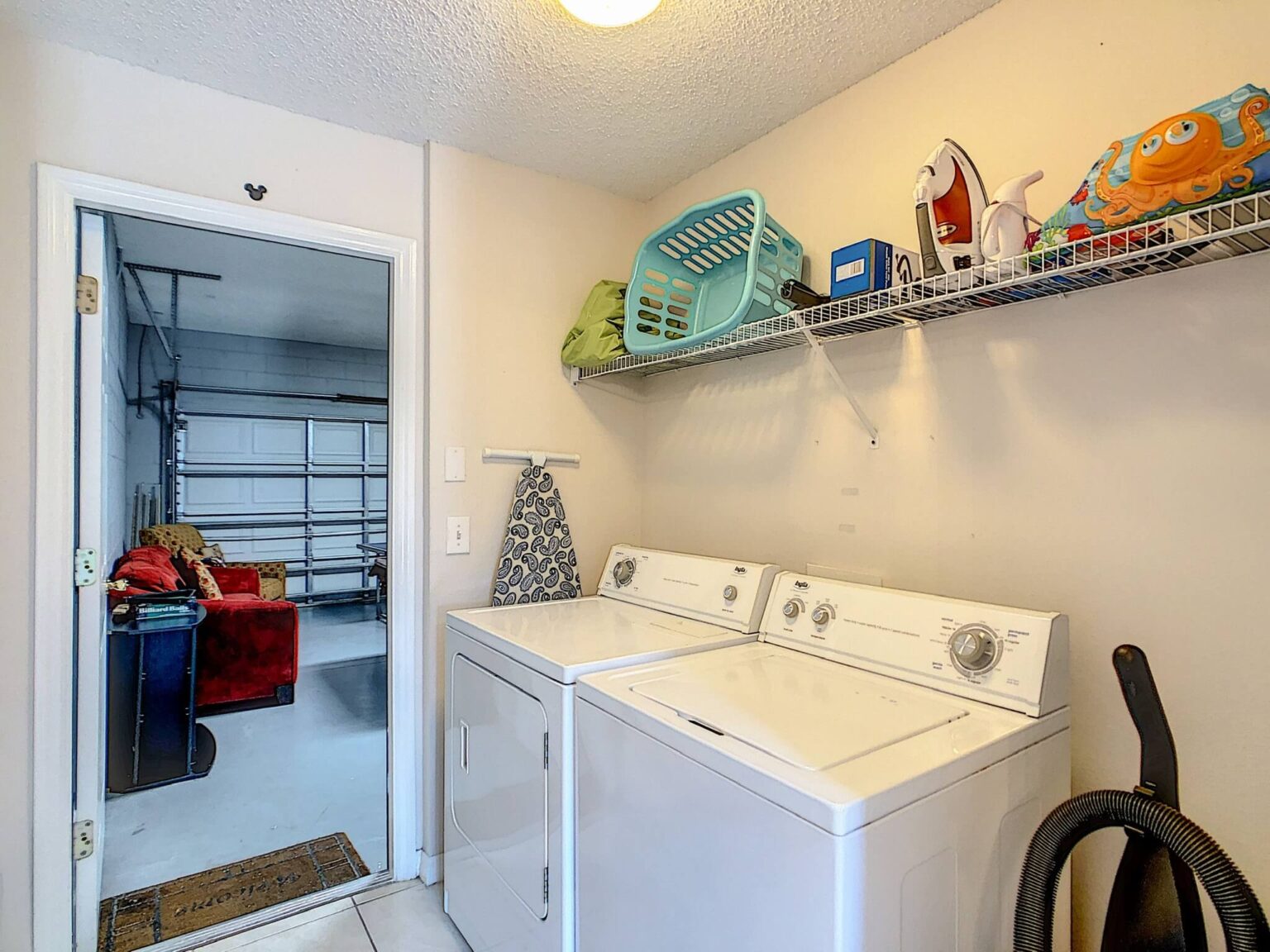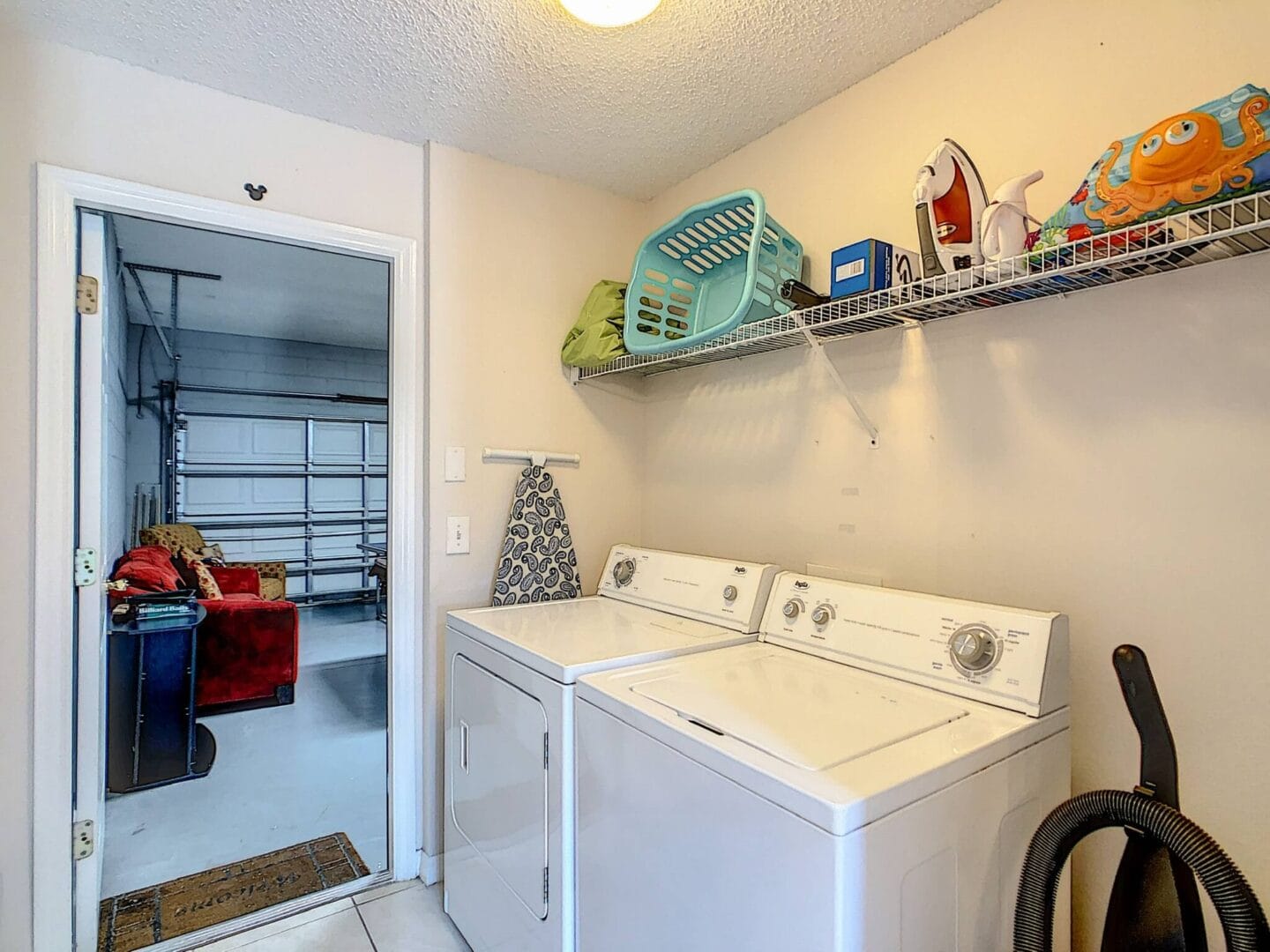 Ready to book? Visit this link for all the info and to check availability!
Entertainment Items at Our Rental Property
A wonderful benefit for staying at an individual home geared towards vacation rental is that your per night cost includes a good bit of free entertainment too 😉
As parents of four kids we are all about finding ways to keep the kids entertained and having fun during the downtime of vacationing. Disney World and other theme parks can get expensive and it's nice to have free fun at the house too!
The biggest perk? The pool!
Our rental home includes a private screened in pool and spa area. Both the pool and hot tub now come with FREE HEAT all year long! The heated pool and spa are a great relaxation spot after a long day in the parks.
The pool area has a new safety gate that helps ensure safety for kids (it can also be easily removed if desired) and our crew LOVES to eat out on the outdoor seating areas.
We have four lounge chairs perfect for laying out (or watching the kids swim!). We also have a large table with six outdoor chairs to allow families to eat outside and enjoy the beautiful Florida weather.
Two HUGE umbrellas can be opened and adjusted to allow for shade wherever you may need it and a towel rack is conveniently located by the sliding door to allow for drying out of any towels or swimsuits. Speaking of, we also provide plenty of beach towels for guests to use – no need to pack your own!
The home itself is in an excellent location and the south facing pool combined with the large tree in the backyard provides the perfect mixture of sun and shade all day long!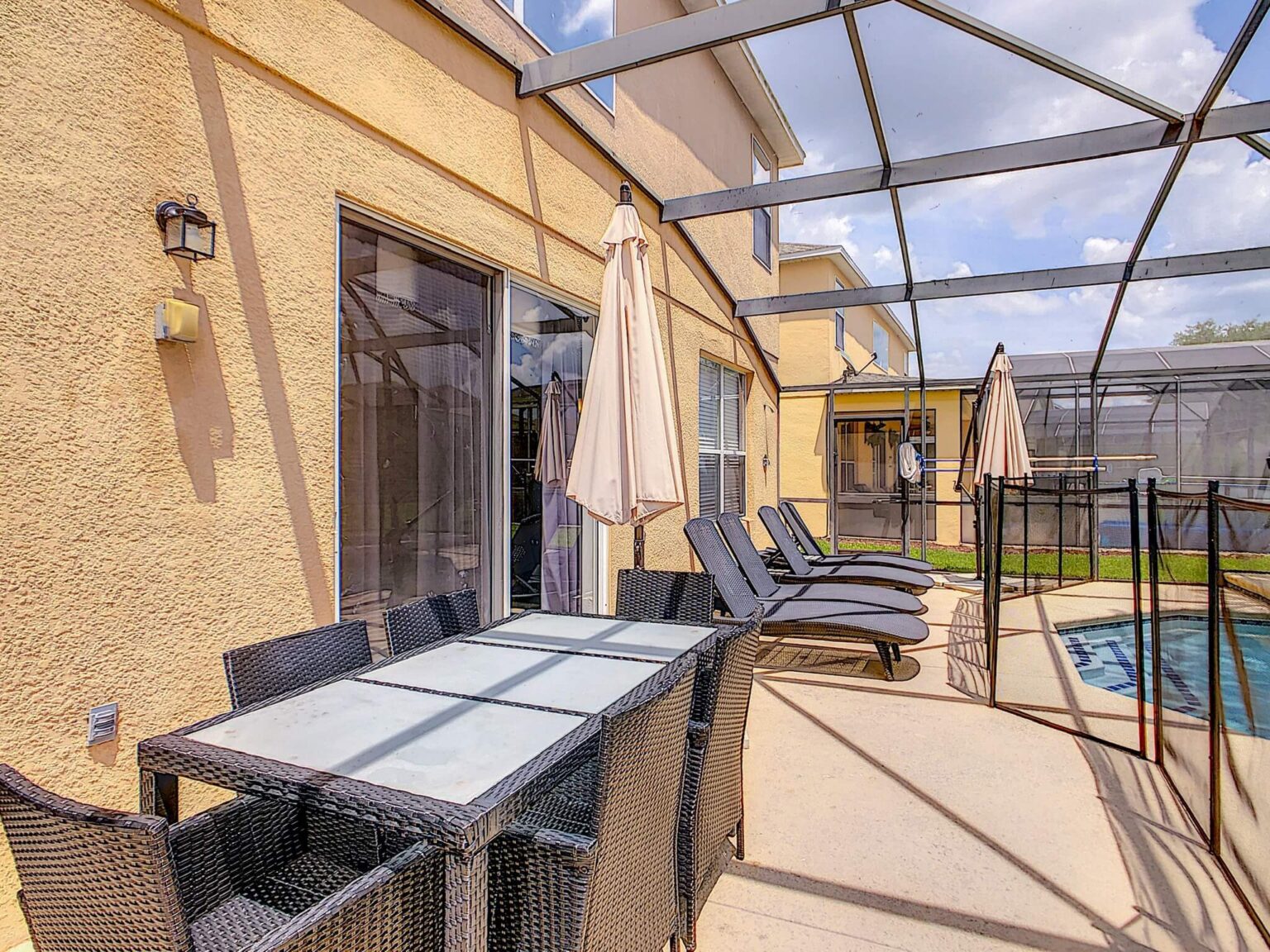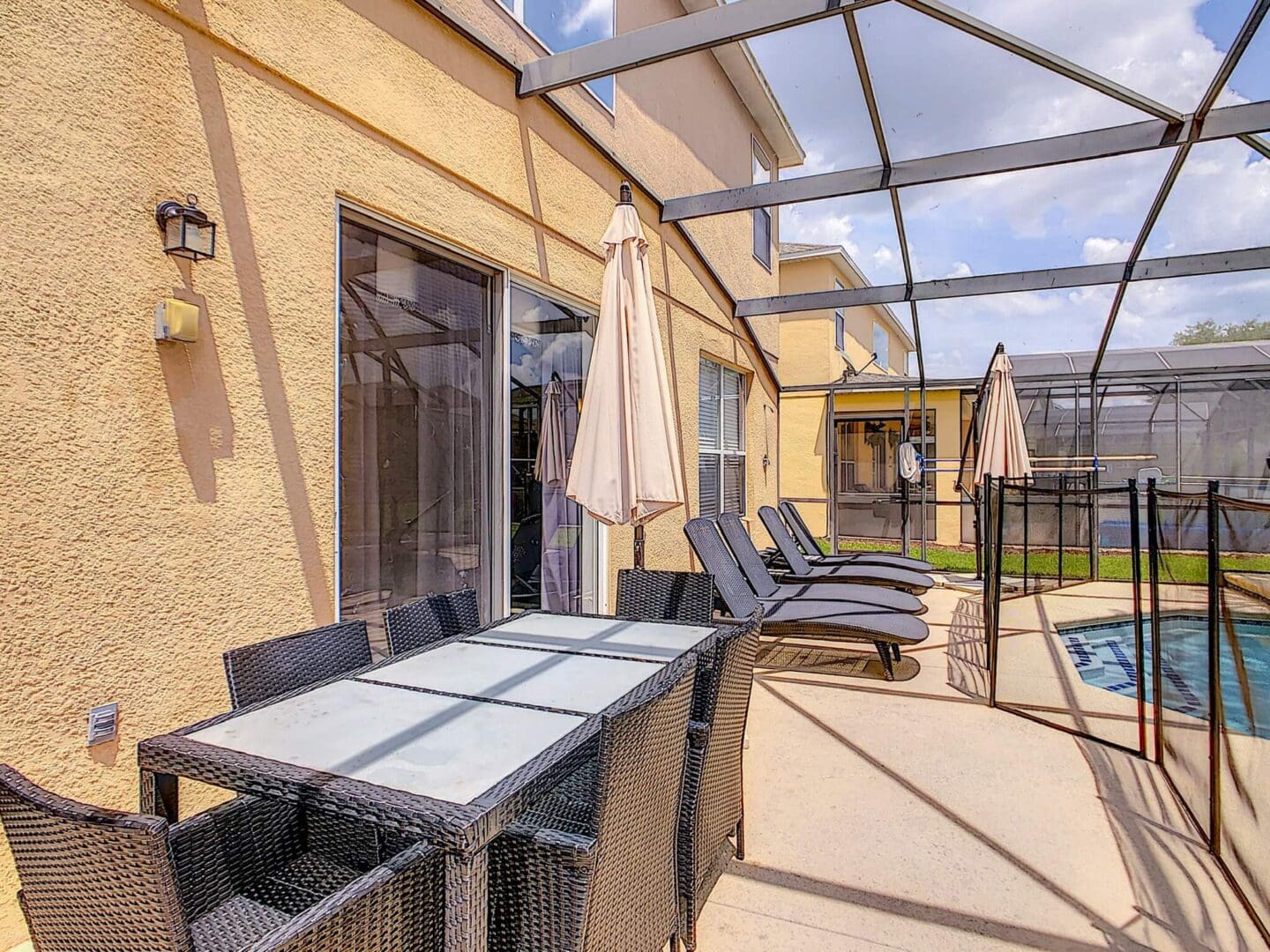 If you need a break from the heat and just some chill time there is also plenty of entertaining fun inside the house too!
The house has FREE WIFI for guests (Confession: I wish our wifi at home worked as well as the wifi does at the rental house! It's FAST and perfect if you need to get some work done or want to stream anything!)
We have the entertainment center in the living room stocked with countless books (both for kids as well as adult reads), games, and a huge DVD collection guests are welcome to use during their stay.
The upstairs loft area has an entertainment center as well filled with popular gaming systems such as a Nintendo Wii, Playstation Classic, and NES Classic.
The garage has also been converted into a large game room perfect for kids and family time.
The game room has a pool table, ping pong table, air hockey table, foosball and basketball game. There is also plenty of seating (both a comfortable couch and a nice chair) to allow for hanging out together!
Our goal in our vacation home has been to allow a place for families to bond together – even if not visiting any theme parks or doing any activities in the surrounding area. Just spending quality time together at our rental home will be a vacation in itself and I love reading our guest book hearing from guests who say these very things!
The games room is def a favorite spot for our kids and a place the adults enjoy gathering as well.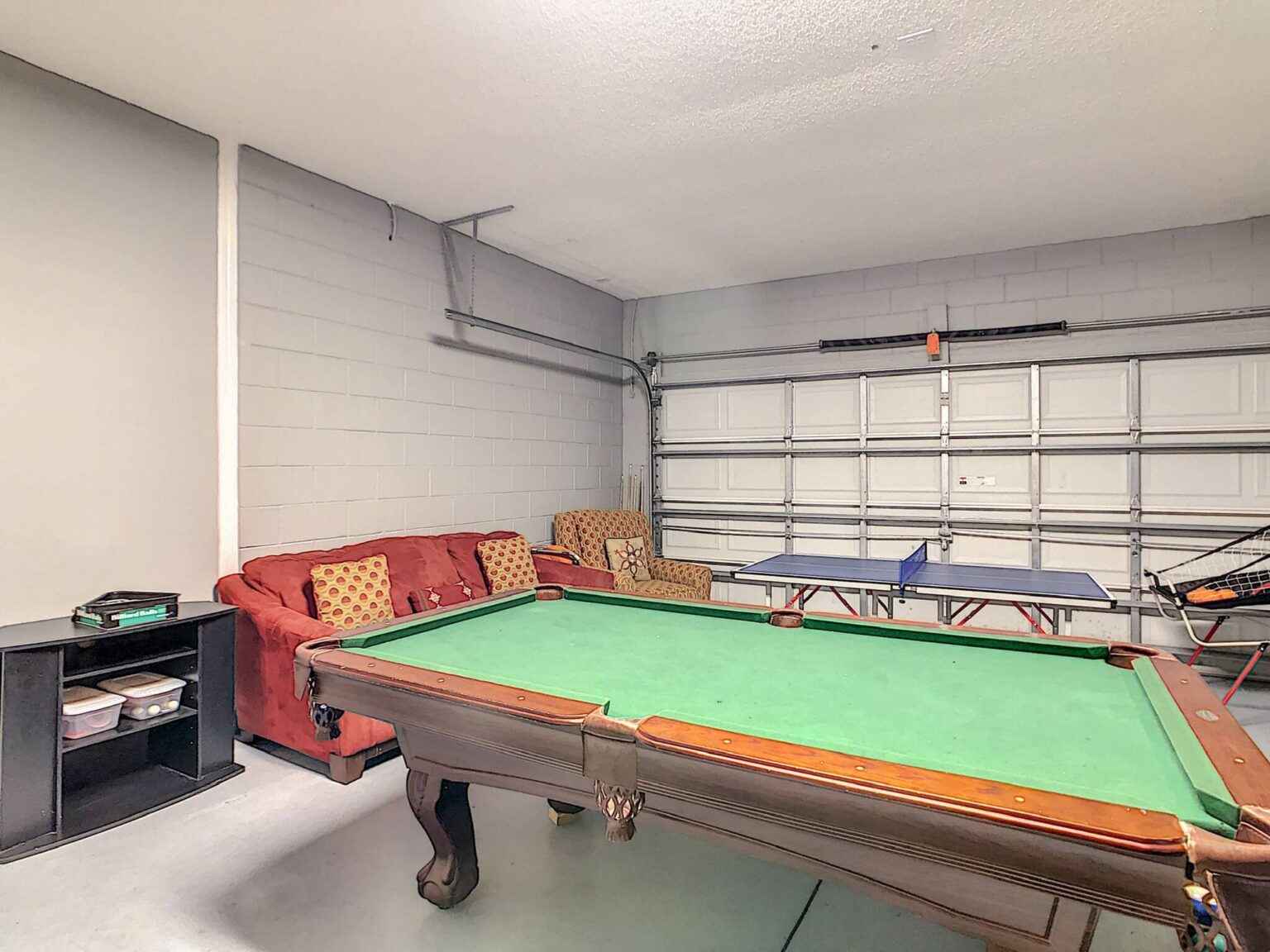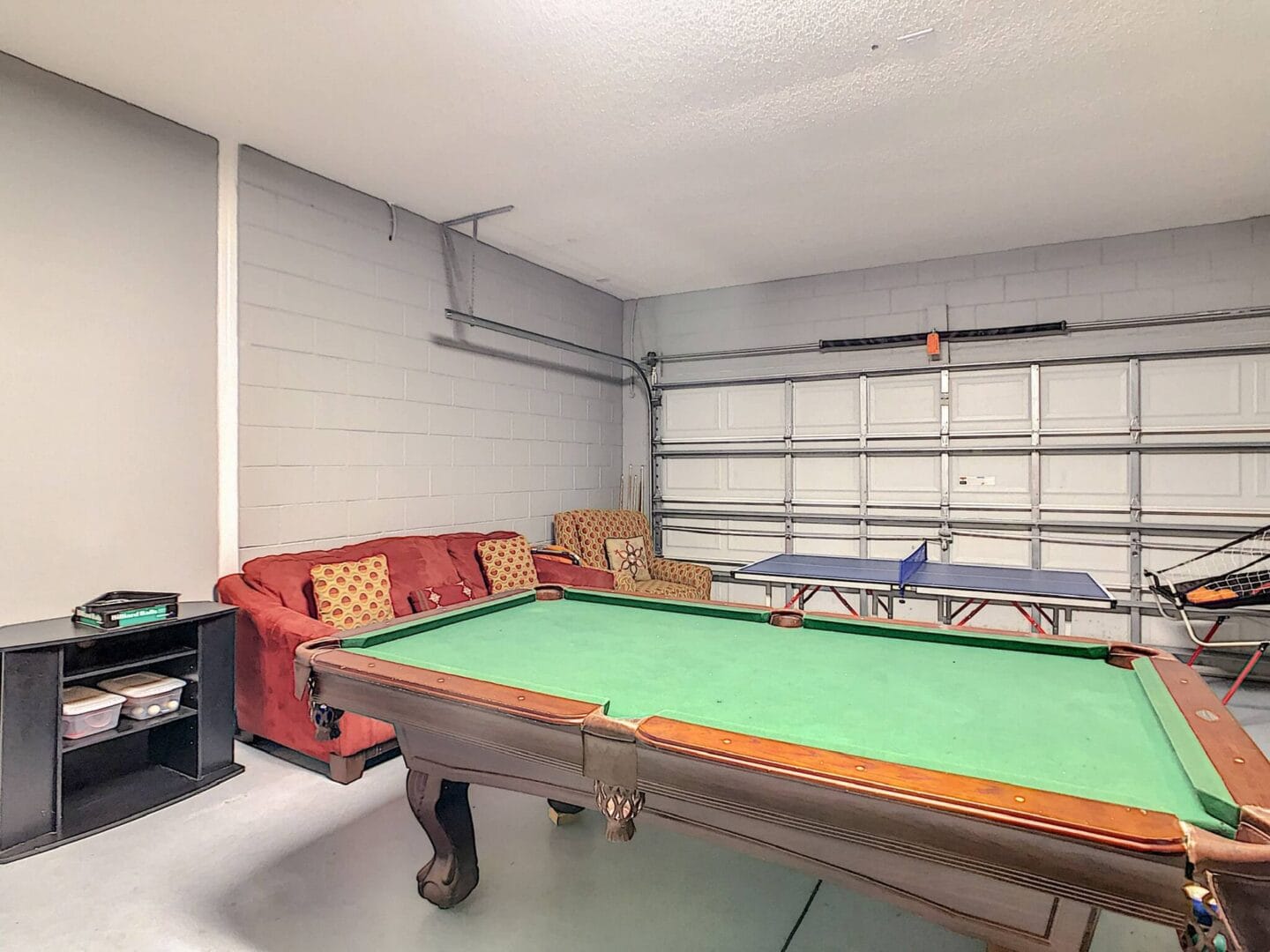 Check Availability for Your Stay Here!
Amenities Provided at Our Vacation Rental Home
We are frequent travelers ourselves and always appreciate thoughtful touches when we visit vacation rental properties.
We wanted to make our rental home a relaxing and convenient location to help families focus on quality time together without worrying about having to leave the house!
We are very hands-on in every element of the home and are frequently visiting making adjustments, updates as well as purchasing new items.
Here are the amenities we provide at the Disney vacation rental home:
two pack and plays
two high chairs (one attaches to table, the other is a stand-alone)
infant baby swing
full length mirrors in each of the master bedroom closets
two blow-up air mattresses with air pump and extra sheets
wall mounted flat screen tvs in each bedroom (as well as DVD players)
Keurig coffee maker as well as a traditional coffee maker
crockpot
three strollers
steamer for clothing as well as an iron and ironing board
beach towels to use at pool (cleaning staff does NOT clean these towels and they must be washed by renters prior to check out if used)
box fans in each bedroom (6 total)
large collection of books for guests to use
games
large collection of DVDs – both for kids and adults to enjoy
gaming systems – WII, NES Classic and Playstation Classic
Fast and free WIFI access
Items to Bring From Home or Purchase
As with all vacation rental homes cleaning and inspection are completed upon check out of guests. During this time the cleaning staff will replenish certain items. It is standard for stand alone homes to provide an initial garbage bag, roll of toilet paper in each bathroom, and packaged hand soap in the bathrooms as well.
Here are items I personally purchase to bring with us whenever we visit any rental home and items I highly recommend purchasing in advance to your visit, or picking up upon arrival to allow for your vacation to be the most enjoyable and relaxing!
trash bags (standard size trash bags)
dishwasher detergent
dish soap
toilet paper
paper towels
any toiletry items
laundry detergent (typically 2 sets of bath towels are provided per bedroom so you'll for sure want to toss a load of towels in the wash if you're staying more than a couple of nights and utilizing all the rooms!)
pool floats or toys (pool towels are provided)
~ As you begin your planning please note this property is both a smoke free as well as pet free home~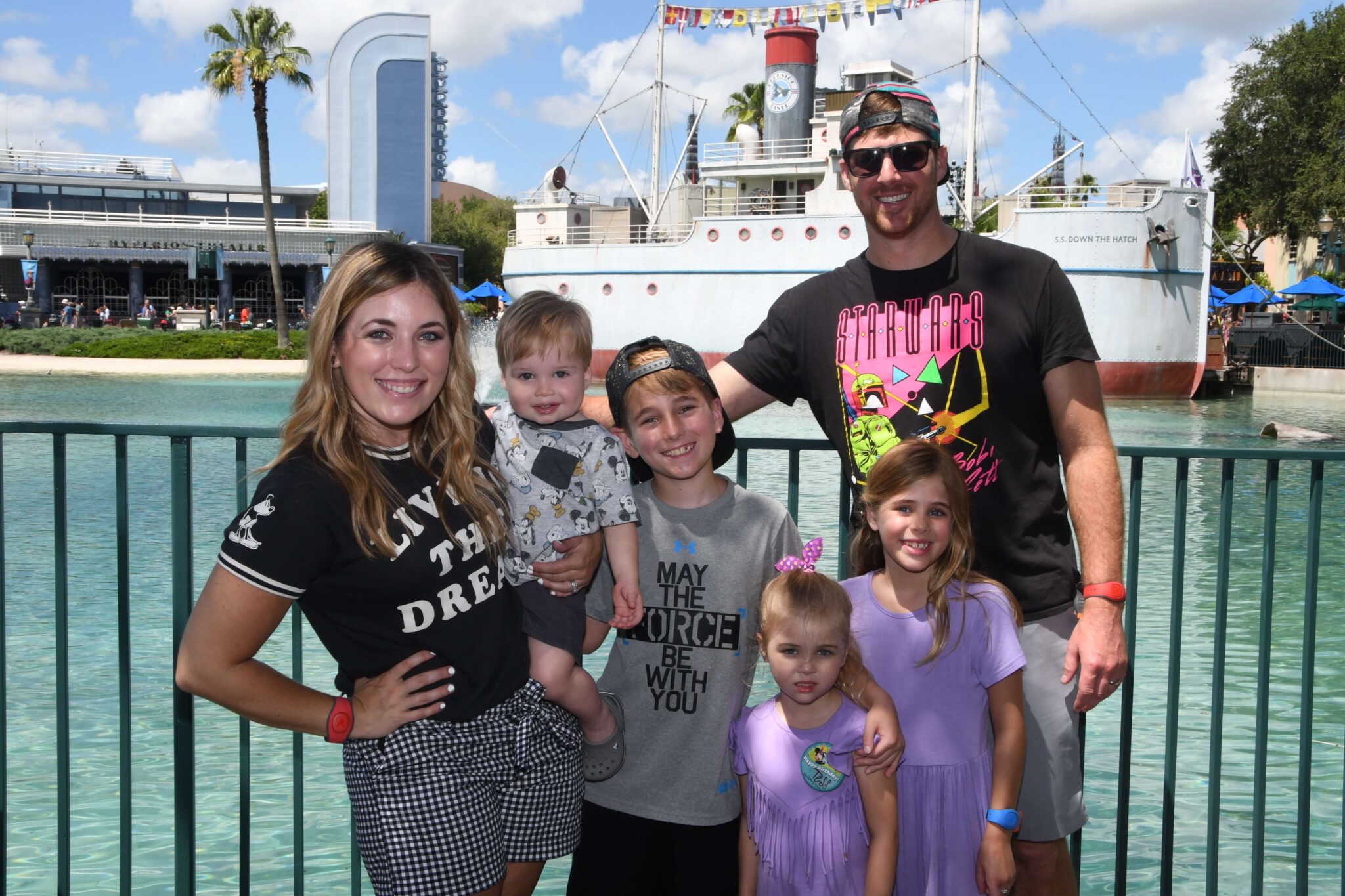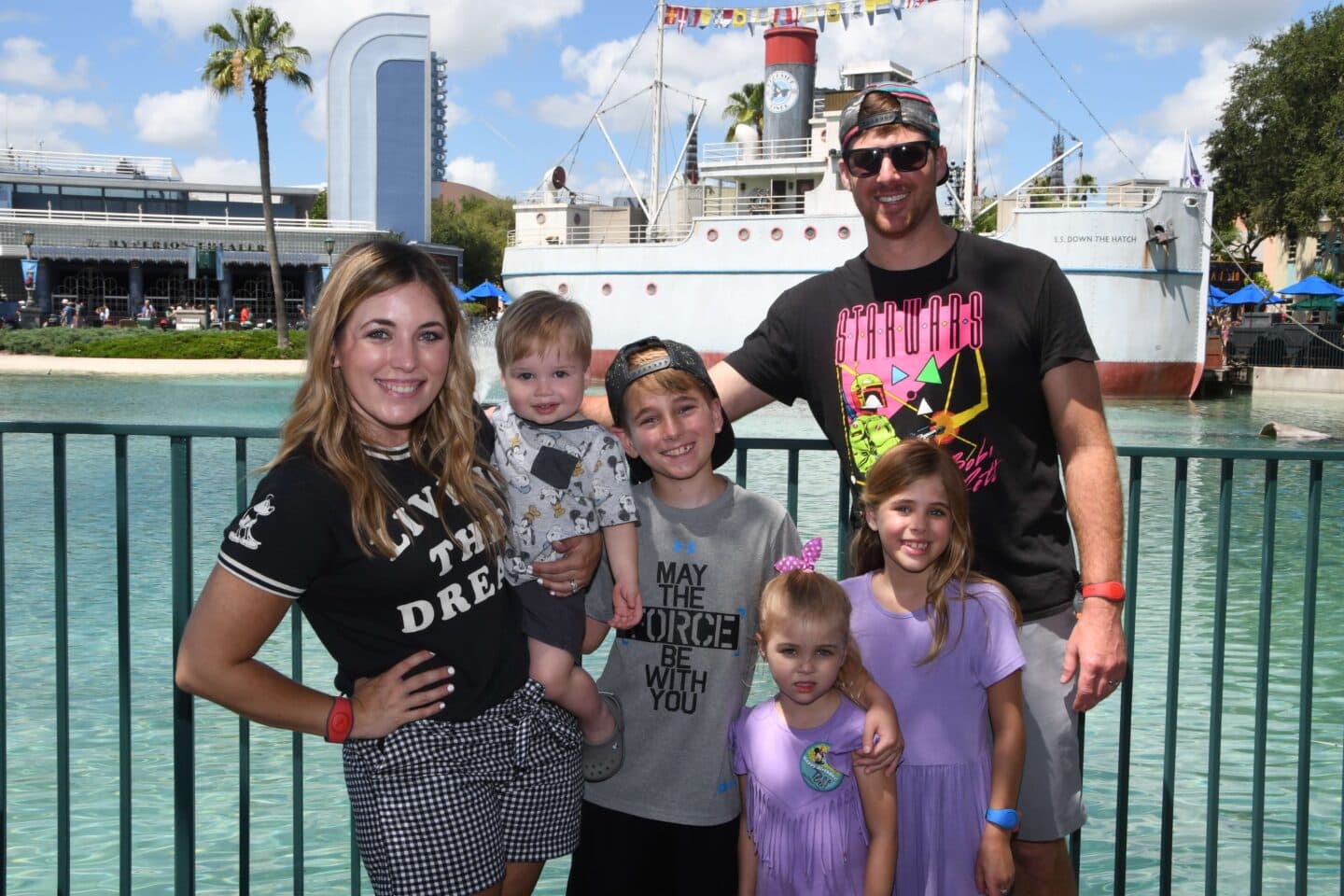 Booking Our Rental House Near Disney World
We are SO thankful to be working with an incredible property management team who has been in the rental house business for over 25 years.
They are hands on with our home and take excellent care of each guest. They are always available during your stay if any communication needs arise and we have been beyond impressed with the great care they provide for our home and guests.
It is a big goal for us to help other families make magical memories together and want to be able to offer as affordable as an option to do so as possible.
Rates do vary per season but when comparing with the on-property rates at the Disney Resorts you'll ALWAYS come out with saving a LOT of money and having a MUCH larger space to enjoy during your trip!
We would be honored to have you visit our Disney vacation rental home and look forward to hearing from you soon! Can't wait to read your comments in our guest book and hear how many of the hidden Mickeys you were able to find 😉
Even if you're just looking for an affordable getaway, no theme parks included, we know you'll have a magical stay at our Hidden Mickey Hideaway!
A complete home walkthrough tour should auto play in this post, if it doesn't you can access the video here to see every detail of our rental home.
Have You Visited Our Rental Home?
Reviews are SO helpful for people to read as they look to plan their vacation travels. We'd love and appreciate if you'd leave your reviews on the VRBO listing or in a comment below!
If you've visited and have any feedback for us please don't hesitate to reach out. We visit the property frequently and are constantly staying on top of updates and any changes that need to be made and always appreciate insight from guests!
Thank you and we hope to host you soon!