Britt was SO excited for her Mary Poppins birthday party and I was excited to plan for it! If you've never seen Mary Poppins then I highly recommend it. Not only does it have a great message and awesome music but it also has so many different elements that can easily create a festive party theme.
Since the majority of the people who came to the party haven't seen the movie I'm pretty sure most of the references were lost but those who have seen it enjoyed them 😉
This was a very fun party to plan because Britt is old enough where she was truly excited for all the elements of the party and loved being part of putting it all together! I really enjoyed the end result and we had a supercalifragilisticexpialidocious good time!
Planning a Mary Poppins birthday party? I've tried to link to where I found everything… you can also see more of my inspirations on my Pinterest board here!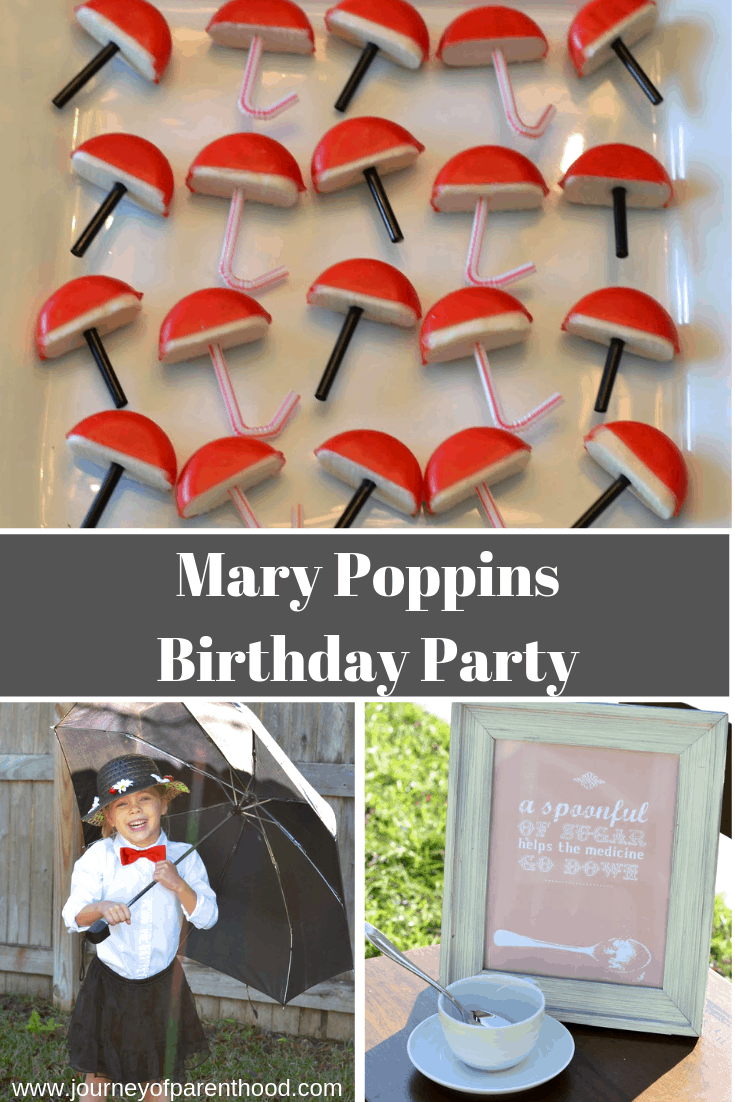 Disclaimer: post contains affiliate links.
Originally published January 21, 2016
Mary Poppins Birthday Party: The Decor
Olive Kate Designs designed the invite for me along with several other elements of the party including the door sign, food labels and favor tags!
The little umbrella centerpiece hanging from our light fixture got the most compliments and I was pretty proud of it b/c I got the idea from my brain 😉 I mean now-a-days every idea is from Pinterest right?!?! So having my own creative idea made me proud! Here is a similar Umbrella!
Umbrella is from Oriental Trading Co
The Food
With a 3:30 party I like to stick to snack foods to keep it light and easy for me to prepare! I really love themed food 🙂
Chimney Sweeps made from marshmallows dipped in chocolate and sprinkles
Chocolate covered Oreos are my party specialty (this is the first party in awhile that I didn't have pretzels dipped in chocolate too!)
Kite suckers from Oriental Trading
Chocolate gold coins (Tuppence, duh) also from Oriental Trading
Can't have a Mary Poppins party without a spoonful of sugar!
This was a BREEZE to do! I just literally took little plastic spoons and scooped out melted chocolate on each one and topped with sprinkles. Britt LOVES chocolate so I didn't hold back on the chocolate treats as you can tell 🙂
My personal favorite party food were the umbrellas! Babybel cheese cut in half (leaving on the red covering) then stuck a straw in it!
Peanut butter and jelly penguin sandwiches
A Berry Jolly Holiday Grapes! (I had to google to make sure grapes are considered berries haha)
Mary Poppins Corn
Find the cups and plates here!
And of course practically perfect pink lemonade!
Another element of the party I was really pleased with was Britt's birthday banner. I decided to make it myself this go round and thought it'd be cute to use little kites and hang them on the mirror in our dining room.
I even kept it easy for myself and just bought black sticker letters to use so literally all I had to do was cut out the kite shapes, stick on the sticker and tie a piece of wrapping ribbon on for the tail! Boom done! Here is a link to some Construction Paper designs that are similar!
I debated doing a birthday cake for this party (I feel bad that Kye has had some COOL cakes for his parties in the past and Britt really hasn't) but then I saw this idea to spray paint drink umbrellas black.
I had a TON of extra umbrellas from Tess's party so why not just use them? I also happened to see some cute spoons at Hobby Lobby so I used those too to mix things up!
More Decor!
I did splurge a little and buy a few Mary Poppins books from Ebay. I couldn't resist and I know Britt will enjoy them for years to come! Here are some similar items here!
When we went to Publix to get the balloons filled the guy who filled them said he was so proud that we weren't having a Frozen themed party 😉 Find some similar balloons here!
Mary Poppins Birthday Party: Favors & Activities
I never like to plan on nice weather for parties. I've been burned too many times in the past to trust the weather man! Therefore every single party I host will ALWAYS include an indoor activity of some kind. Typically a craft or a color page. This time it was a simple craft: kite bookmarks! (from Oriental Trading).
This was also my first party where I used free printables for decorations! You can see the Let's Go Fly a Kite one here. I didn't have any cute baskets to put the bookmark pieces in so I covered the boxes the suckers were packaged in with some of the paper to match the banner from the dining room!
We ended up having BEAUTIFUL weather (It's crazy in South Ga. Kye's birthday is in March and it's usually freezing and then Britt's is in Dec and it's usually HOT and SUNNY) so we got to enjoy all the outdoor activities I had planned!
We had a Spoonful of Sugar relay race (free printable here)
Britt's fav song is "Step in Time" and she was most excited about having instruments outside and dancing to her songs. I set up a cd player with a cd of all Mary Poppins music playing throughout the party just for her! (Free printable here)
Originally I intended to have a horse race for the kids and bought two blow up horses from Oriental Trading but we had a little accident in party prep and one got popped.
A couple years ago I would have gotten upset about that but Emily-with-three-kids is a WAY cooler Emily. I legit didn't mind and we just set out the horse we had and another from our playroom and let the kids play with them at their leisure 🙂
Can't have a party without a photo backdrop 🙂
I originally got this idea from Robyn and used the same concept for Britt's Donald Duck party last year. It's very cheap and rather easy to make.
Just get three plastic table cloths (mine were all from the dollar store) then lay them flat on top of each other and cut into strips leaving a good bit at the end. Hang it up and braid them a little way down. Zach and I made this together a week before the party and the kids didn't mess with it 🙂 Here are some similar streamers!
Can I give a shout out to my man real quick? He had THE BEST attitude about this party planning process and it made it FUN for us both! It meant a lot to me that he put in so much effort to help and have a happy heart as I know it's not his favorite thing 🙂
I wanted to have photo props so I used an old black umbrella I had along with a black bag (it's actually a Mary Kay bag I randomly had in my closet), lace white gloves (Oriental Trading), a black foam hat (Hobby Lobby), chimney sweeps (Zach made them by spray painting a wooden dowel black and then hot gluing black straws around the top and covering the top with a piece of black felt), and a Mary Poppins hat (hat purchased in a set from Oriental Trading then Zach spray painted it black for me and I hot glued flowers around it from Hobby Lobby)!
Favor table! Everything was from Oriental Trading except for the big box of chalk which I ordered on Amazon simply b/c it's more of a seasonal thing and I couldn't find it locally in November 🙂 (I already had the buckets and covered a box for the chalk!)
I LOVE these wooden bird whistles!
I added the favor tags to each of the bags as the bags ended up being MUCH larger than I had anticipated when I ordered them. Here are some similar bags!
I loved planning this party! It's been really neat planning parties for Britt. She may be ALL GIRL but she's always chosen really unique party themes! I hope that trend only continues 🙂
More than how the party came together I am IN LOVE with how Britt's party outfit turned out! I wanted to go with the more traditional Mary Poppins look (I don't love the white dress with red details).
I found the shirt from The Children's Place, bowtie from Amazon, I made the hat and she already had the skirt and shoes! It was CHEAP, simple and adorable. She rocked it and didn't want to take it off! I took these pics prior to the party to use as part of the decor! I love the pure joy on her face!!!
HUGE thank you again to my amazing husband for being my rock and my party helper! This party was even more fun for me because I had him by my side 🙂