I can't think of a kid who doesn't like backyard playgrounds… if you've got slides and swing sets in your backyard then you're the cool kid on the block! But not only are playgrounds cool, they're also great way to encourage children to play outside and just be kids. And of course, the best backyard playground is the one that kids of all ages will be able to enjoy.
Our kids range from 4 to 12 so having a good-quality, long-lasting playground in our backyard was a must so that it would last all the way through the younger children! We first started shopping for a playground when our oldest was around age 3 and our second was an infant. I took a lot of time to review and research different playground options.
I knew I wanted a backyard playground that our kids would be able to enjoy from infants to toddlers and beyond. We've owned our family playground now for over a decade and STILL love it just as much as we did when we first purchased it – and it still gets plenty of use too!
I'm definitely happy with the one we settled on, and I'm excited to share the best backyard playground I've ever found with you!
Disclaimer: post contains affiliate links.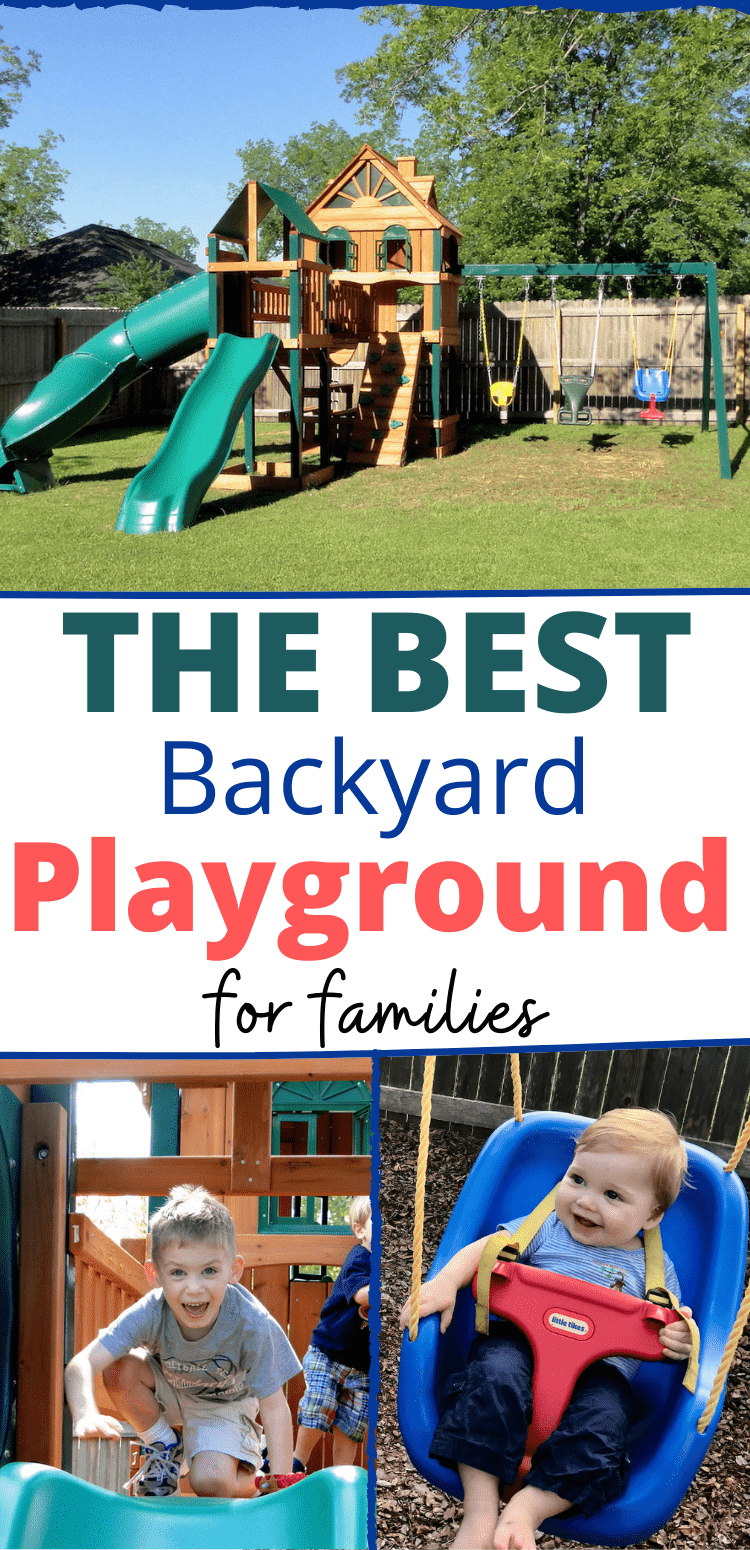 Choosing the Right Backyard Playground for You
When you're considering what kind of backyard swing set you want, it really comes down to two things: budget and yard space. Obviously, if you have a big budget and a big yard, the possibilities are endless!
If it's a matter of space, then you'll want to make sure you take into account the perimeter around the play structure as well; most manufacturers recommend at least six feet for safety.
You may also want to enclose the area and fill it with different materials, such as rubber mulch or wood chips. It's an extra safety measure but totally up to you!
We have a rectangle-sized backyard so we decided to put our playground in a corner area of our yard space. It allowed us to easily create a boundary for the playground area and to fill it with mulch without having to worry about my husband needing to mow any grass behind it. There is plenty of space for our kids to safely play but it's also not an eyesore to the rest of our outdoor space.
Then there is also the material of the playset to consider. Most popular choices are going to be either metal swing sets or wooden ones. Personally, I think the best swing sets tend to be made of wood because they're generally sturdier, resist the elements better, and have the added bonus of not rusting.
We have a wooden set made from cedar wood and are extremely happy with it. In my opinion, the cedar wood swing sets tend to age better, especially if they're high-quality! A very simple way to extend the life of your wood playset (and to help it look nicer for longer too) is to apply a stain to it. My husband stained our playground about a year after we purchased it and it's lasted SO well! It's worth investing in a bit of a more expensive wood stain to really help add that protective coating on the wood from the elements. He visited our local Home Depot and explained what he was wanting to help seal the cedar wooden swing set and they lead him in the right direction!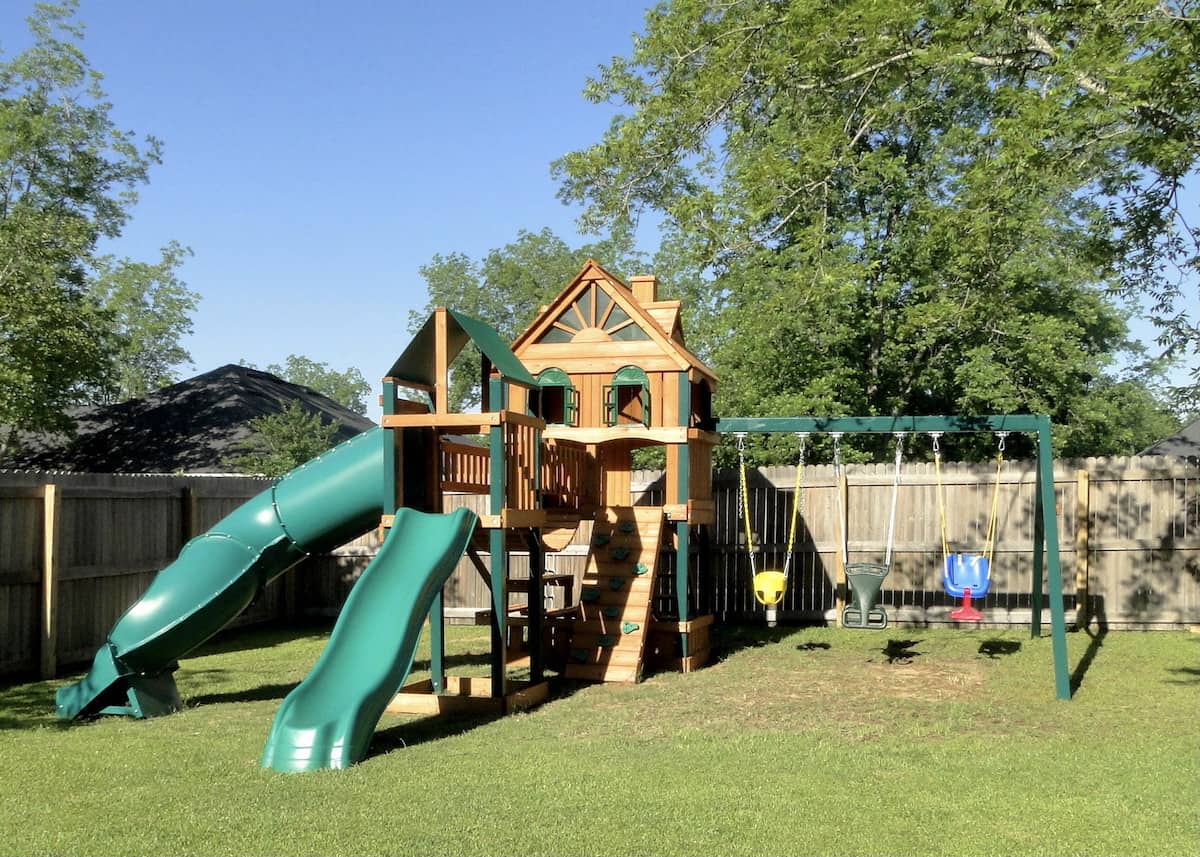 The main features you may want in a play set will depend on what your kids enjoy, but here's what I would consider the bare minimum of what a set offers in the play set features:
A good swing set (at least two swings with sturdy swing seats, and bonus if there's a trapeze bar! Great for kids who like gymnastics)
At least one slide. Two different ones are a huge bonus! I love that ours has the six foot wavy slide as well as a tunnel slide too.
A sturdy play deck, preferably roofed!
Fun little add-ons (or options for add-ons). Things like a ship's wheel, a telescope, or tic-tac-toe are great for imaginative and interactive play!
I personally wanted enough swing spots for ALL of our kids. At the time when we purchased our play place we only had two kids but knew we planned on having four kids total so finding a set that had plenty of add on space for swings was an important feature for me.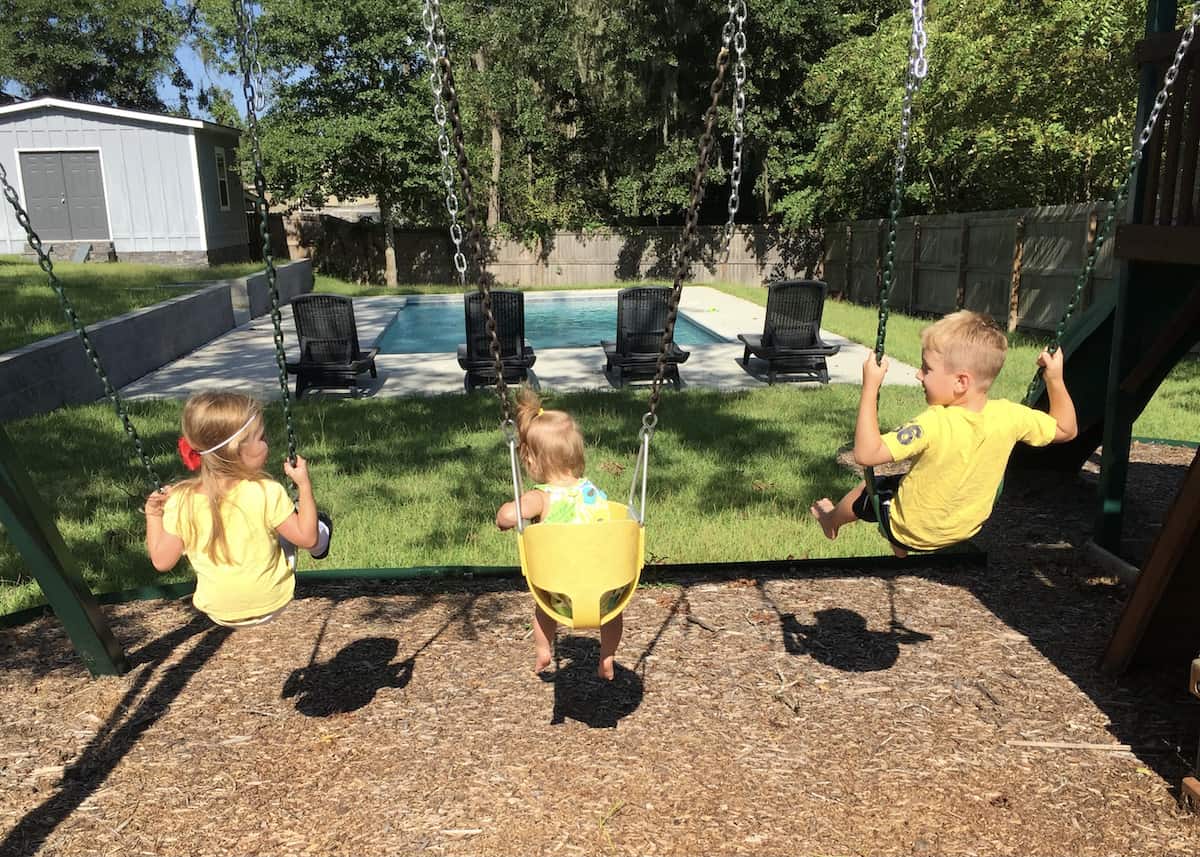 I was not wanting to invest in a playground with a monkey bar set. I have heard of many kids who get a broken arm due to monkey bars so that wasn't a must-have for me. If you're team monkey bars (and let's be real, lots of kids LOVE the monkey bars!) then you may want to check out the Backyard Discovery Skyfort as a playground to consider.
I also didn't care much about having a rock climbing wall. Ours did end up having one and the kids do enjoy it, but it wasn't something I HAD to have.
Our Best Choice for the Best Backyard Playground
The absolute best play area I've ever found, the one we bought for our own backyard and that has been a great investment for our 4 kids, is made by Gorilla Playsets. Many fancy brands that make the best wooden swing sets are actually Gorilla playsets with a different name on them (ours is by PlayNation but after doing some research I learned that PlayNation sets are actually made by Gorilla!).
And this is the newer, updated version from the one we bought! Improvements include a mesh-covered bridge and all wooden roofs, no tarp! Definitely some good upgrades here, that's for sure!
Our playground has the tarp roof and that has been the ONLY issue we've had with it over the last decade or so. One of our tarps is currently ripped and I've had a hard time finding a replacement for it. A wooden roof would be a game-changer and I wish that option had been available when we purchased ours!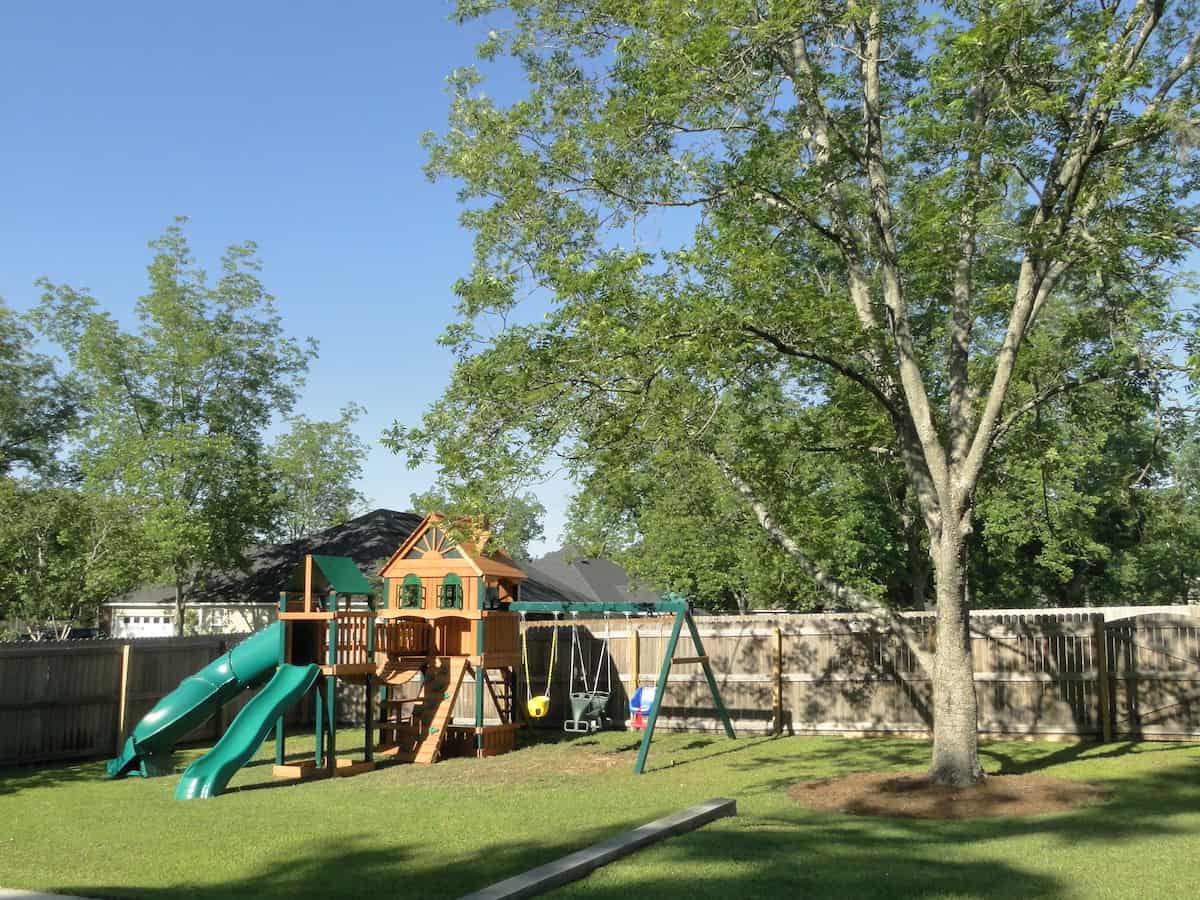 It's an all wooden swing set made out of cedar for protection from the weather. It includes 2 slides: a wave slide and a tube slide, a swing set with belt swings and trapeze bar (total weight limit is 800 pounds so you do NOT have to worry about stability!) a rock wall, a rope ladder, a picnic table, a clatter bridge (now with mesh guard) and more!

It seriously has EVERYTHING you could possibly want in a backyard swing set and is practically like having a public park-level playground right at home!
It's as good for small children and younger kids as it is for older kids (recommended for kids ages 3 and up) and is built to last, making it a great option for a large family because you know you will get a lot of mileage out of it!
YES assembly is required (and it will be a weekend project at the least, I will be honest! But if you have a handy husband he'll probably enjoy it ) but once it's up it is NOT going anywhere!
It took Zach a full total 24 hours to assemble our playground. He had a little help, but not much and did majority of the assembly on his own. He had a great attitude about it and was truly excited to be able to provide our kids with a place to safely and happily play in our backyard.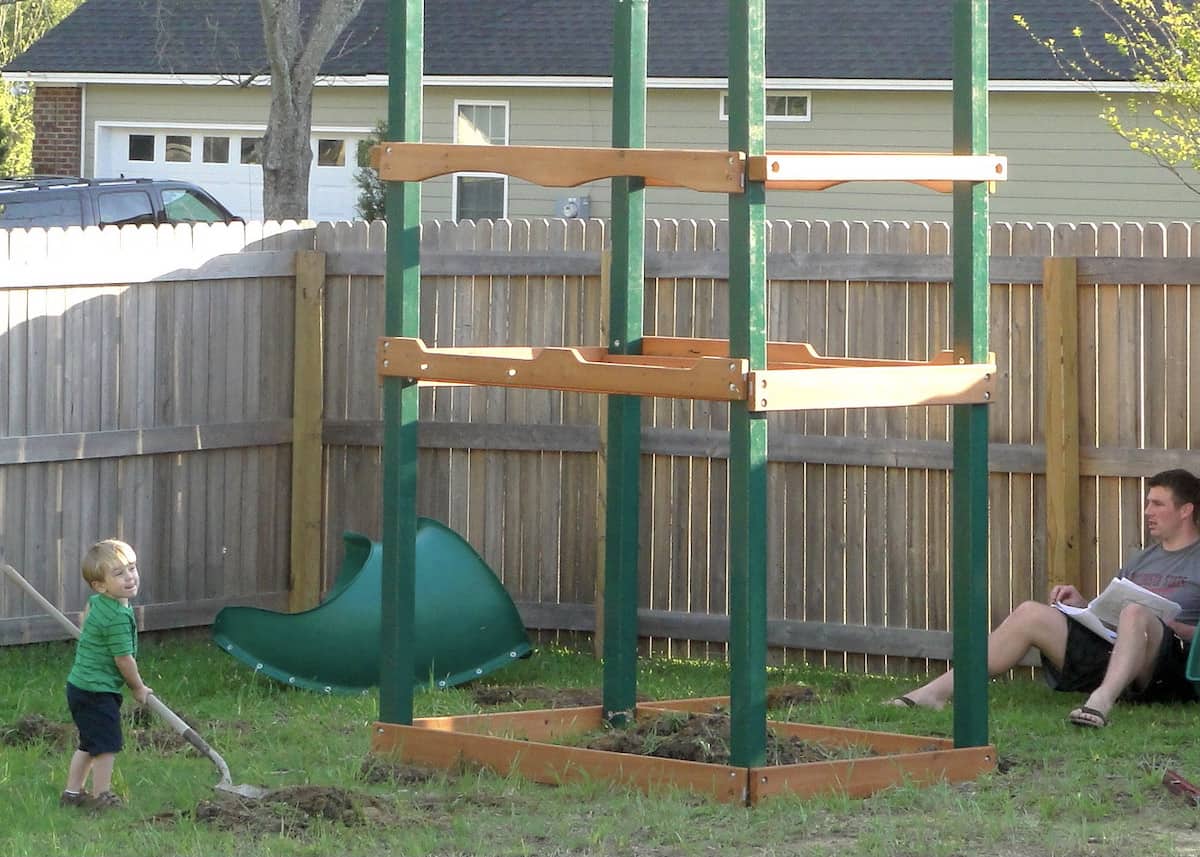 Gorilla should hire me as their saleswoman, right? Seriously, this post is not sponsored by them, I just really think they make the best backyard playgrounds!
What About Accessories?
Gorilla really does make some of the best playgrounds, and it's so nice that you can order them off of Amazon! Not only do they make great playgrounds, they also make a bunch of accessories you can add on after you've already purchased a play set.
From extra swing seats and swing chains to basketball hoops and different steering wheel options, you can add fun features or replace worn-down parts! Any of these would make a great addition to an existing playset.
I have purchased quite a few accessories over the years for our playground. One of my best tips is to purchase additional swing options. The swing hooks are EASY to swap out and we have used infant swings (the Little Tikes brand is my fav for an infant swing), bucket toddler swings, regular swings, a saucer swing, and even a tandem swing on our playset.
While I'm not a fan of monkey bars I did invest in a trapeze bar adventure swing which gives my kids the ability to do fun tricks and hang without the safety concerns of the monkey bars.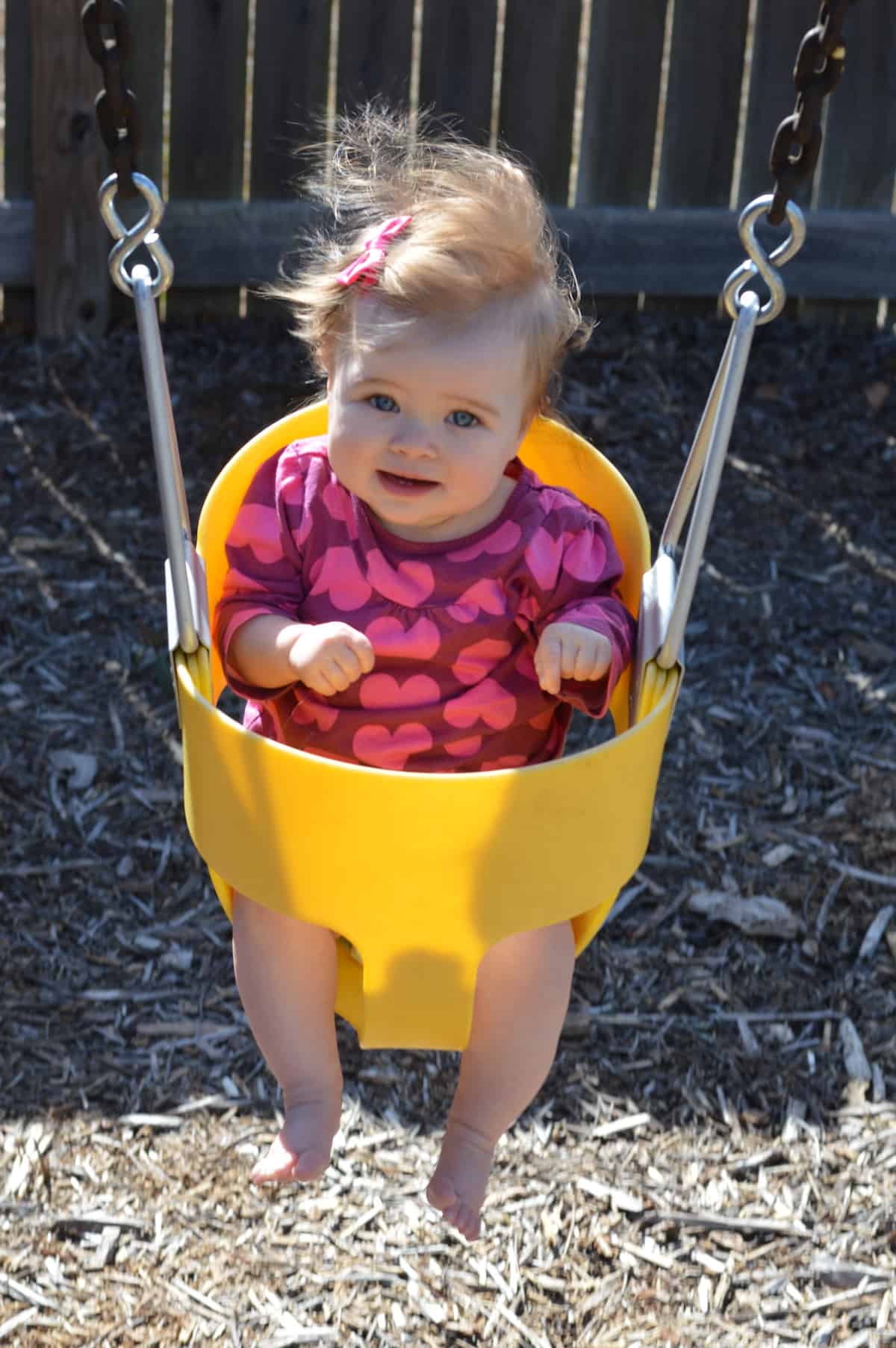 Another worthwhile investment when it comes to playground accessories is purchasing rubber mats for under the swings. These have helped prevent mud and messy shoes as well as have made it easier for the kids to stop swinging when they are done. I just bought ours a few years ago and wish I'd purchased them from the beginning!
Our swing set also has a lower area featuring a bench and picnic table as well as a place to hang a tire swing. We opted not to install a tire swing and instead have used the area to store our sandbox. It's the perfect spot to keep the sand box away from the elements and provides plenty of play space. Our youngest son LOVES to play in the sand so a sandbox makes a fantastic addition to a backyard playground. We have this sandbox and the lid stays firmly in place and we've had NO issues with any water getting in!
Check out all the Gorilla playset accessories here!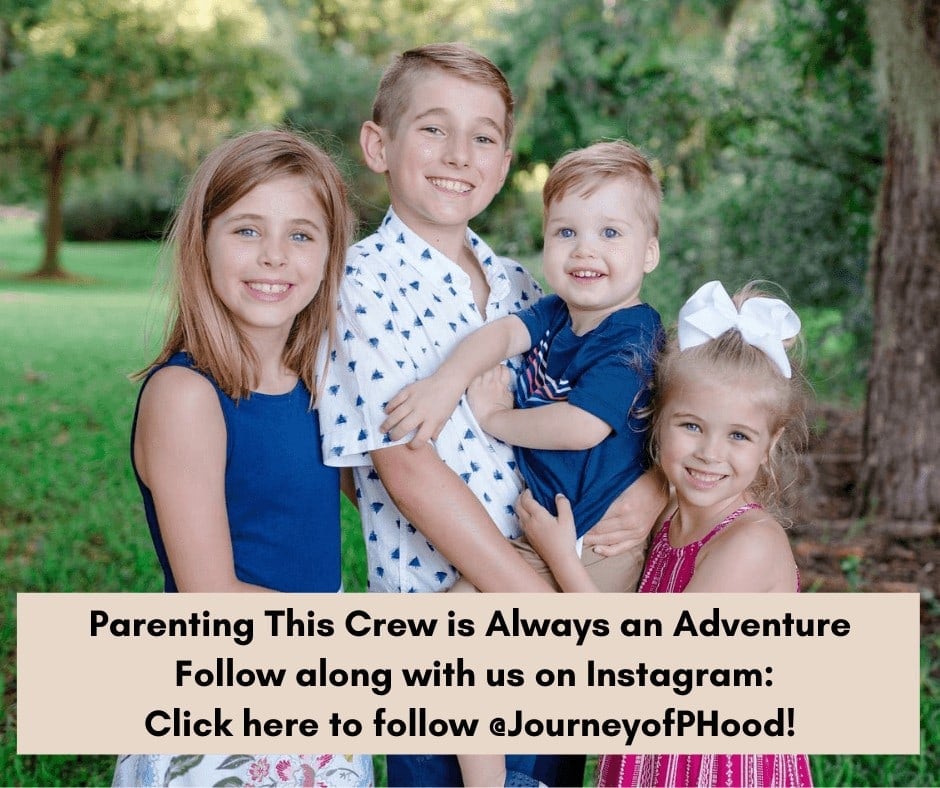 Other Great Playground Options
I know what you're thinking: Looks great but WHEW that price tag! For me personally, a top-quality backyard playground and outdoor swing set were worth saving up for and spending more money on. I wanted the best backyard playset I could find that would last a long time and I feel like ours was a great choice!
However, if the playground we have is not at your price point there are still so many other great play set features to be found in more affordable options! Even the Gorilla brand has plenty of other playground models that may be better for different budgets!
Honestly, for a good quality playground, you should expect to drop no less than a grand. But it's a long-term investment that will last you and your children of all age ranges for years, and if you go to sell your house, it ups the property value and is a huge selling point for families looking to buy!
But do you have to buy the most expensive one on the market? No, of course not! Here are some other great options for different price ranges!
You can also check out the full Gorilla Playground line here!
This one shares a lot of similarities with ours, but the main thing it doesn't have is the bridge!
This model is more compact and features two 10-ft side-by-side wave slides and a five-foot tube slide. Still a great variety of features, including a rock wall, a sand box, two swings, and more!
While having multiple swing options was an important feature for me, if you have trees in your backyard you could always save money by having fewer swings on your playset and instead purchase a ranger wooden swing to hang from a tree in order to provide additional swinging options. There is something so classic about a wood swing right?!?
This is a great deal for how much this playset comes with! The main difference other than the smaller size is that it only has one wavy slide, but as with the others, there is still a climbing wall, ladder, swings, and sand pit! This would be a good option for smaller yards.
Another really great value and a better option for small yards! This one has two short wave slides, a rock wall, swing and trapeze, and a sand box! There really aren't any in this line that are plain or boring–they all come with plenty of great features that kids will love!
Best Backyard Playground: Final Thoughts
If you want your kids to spend a lot of time outside playing, making memories, and just being kids, then a backyard playground is always a good idea! We're extremely happy with our backyard swing set. The kids love it and we love having the convenience and safety of our own play system right here at home!
I love that my kids will all play together on our playset and I love overhearing them in their pretend play games and having a way to get their energy out through physical activity without having to leave home is a bonus for sure 😉 As I mentioned our personal playground is over ten years old and is still going strong!

Do you own a Gorilla play set, or do you have other backyard playgrounds you highly recommend? Share in the comments!
Other posts you might like: