At 9 years old, kids are still kids, but just starting to tow that line between kid and pre-teen… but don't worry, they're not teenagers yet! When it comes to 9-year-old gift ideas, a lot of kids will still accept toys, but some may be getting more invested in big-kid interests or gadgets, too. It just depends on the kid!
The trick is to find those fun items that inspire creative play but that also don't come off as too "kiddy." Most nine-year-olds will take more of an interest in games, puzzles, and other activity-based toys that challenge their developing brains!
These 9-year-old gift ideas seek to find the happy medium between fun toys and big-kid gadgets. There's also books and journals included too, since 9 years old tends to be the age that many kids start really getting into reading and writing!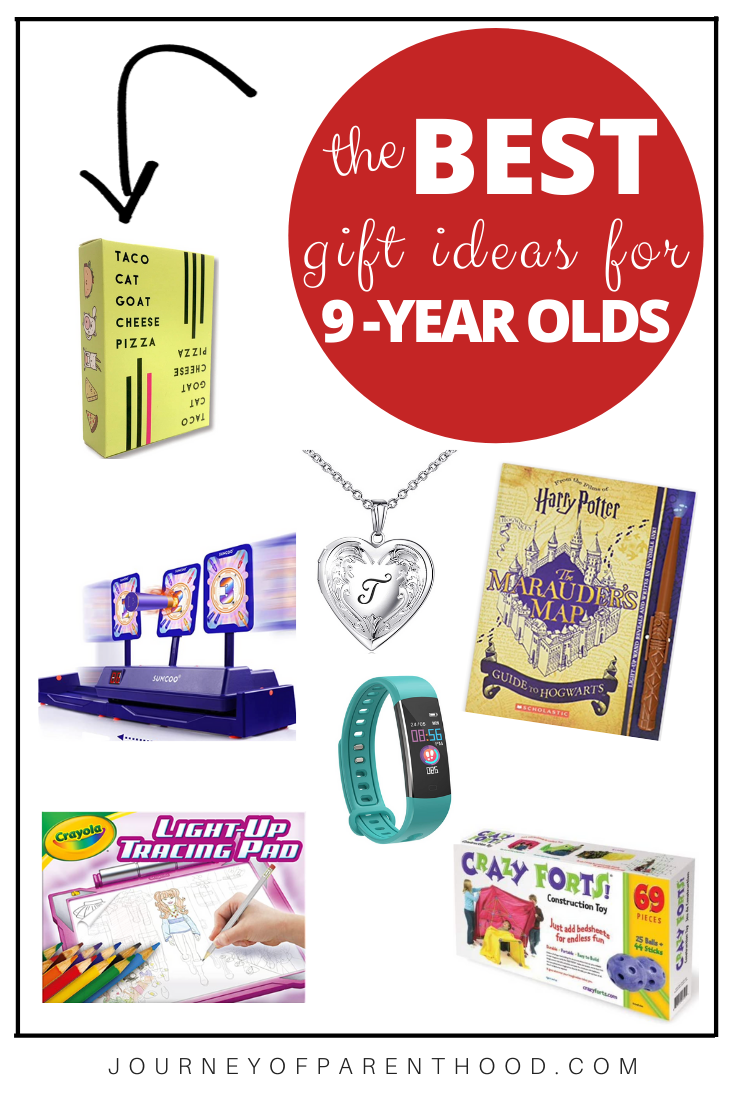 I take my gift guides very seriously. I know we all have seen the generic gift guides floating around every year and it's important to me to only suggest items that I have personal experience with and truly recommend.
I am a mother of four with two boys and two girls (you can follow all of our family fun on Instagram!) and gift-giving is my personal love language so I take pride in my gift purchasing skills and hope this is a helpful list for others looking for that perfect present!
Disclaimer: post contains affiliate links.
Gender Neutral 9-Year-Old Gift Ideas: The Best Gifts for 9 Year Olds!
From games to gadgets, these are my top picks for toys and activities that are great for any kid! Having two boys and two girls myself I can confidently tell you that just about any present is truly a gender-neutral gift. My girls love having nerf battles with their brothers. My boys love playing house with their sisters. As their mama I just love anytime they all play together and I seek out gifts that encourage sibling play.
Walkie Talkies
Walkie-Talkies make great gifts for 9-year-olds because they're tech-y enough to feel sophisticated but still technically a toy that encourages imaginative play. With these, I love the multicolors and the fact that it comes with 4 instead of 2! Perfect for siblings or friends and great to use around the house or to keep tabs on the kids when they play outside.
Check Price For Wishouse Walkie Talkies Here!
Star Wars: The Clone Wars (Complete Series)
The Clone Wars is a popular TV show amongst adults and kids alike, especially older kids who can appreciate the story and characters! One of the best 9-year-old gift ideas for your Star Wars fan.
My older kids love watching this series together while their younger sibling naps during the summertime schedule. It makes for a great "big kid" gift.
Check Price For Clone Wars Here!
Q&A a Day Journal
Many 9-year-olds really start to take an interest in writing or journaling… as well as figuring out who they are and what they like! This Q&A journal is the perfect way to help develop their writing and self-introspective skills with a question a day for 3 years… which then turns into a fun and fascinating keepsake!
I had a similar journal when I was young and LOVED writing in it everyday and it is so fun to look back on now. Having this question format helps prompt the child and can really help in your connection as well. This would make a great part of a nightly check-in as part of your child's bedtime routine.
Check Price For Q&A Journal Here!
Just Dance 2021 (Nintendo Switch)
If your 9-year-old has a Nintendo Switch (or you plan on getting them one) then Just Dance is the perfect game to gift them! With tons of songs to dance to, it's a great way to stay active and get the whole family involved! (Also great for sleepovers)
We regularly have family board game nights at our house and we've enjoyed adding in some family video game time into our routine to mix it up a bit! Our family has LOVED Just Dance! It is an excellent way to keep kids staying active inside while also spending quality time together bonding. Plus it is competitive so it has that challenging aspect to it as well.
Check Price For Just Dance Here!
Jelly Bean Boozled
If there's anything 9-year-olds, in particular, tend to really get a kick out of, it's practical jokes. Bean Boozled is a harmless (well, depending on your perspective!) prankster game where you take a risk on jellybeans… is it popcorn, or puke flavor? Yeah, disgusting, but older kids sure get a kick out of it!
This is a fantastic gift because it's not something you'd walk in the store and randomly purchase but it's perfect for a one-time sit around the table together as a family experience.
Check Price For Jelly Bean Boozled Here!
Disney Clip-on Light
For the 9-year-old who loves to stay up reading, a clip-on reading light is a great way to encourage that love without sacrificing "lights out." (Very useful if they share a room with siblings!) These come in different colors with iconic Disney characters printed on the clip.
I bought one of these for each of my older children to keep in the car for our road trips. We travel often, and attend church that is about 30 min from our home, so they like having these reading lights on hand in the car to read!
Check Price For Disney Clip-on LIght Here!
Jesus Calling Book
Perfect for Christian families, this devotional book by the same author of the popular adult version is designed with kids and preteens in mind! My oldest two were baptized believers around age 9 and this has been a fantastic first devo book for them in their own Bible studies.
Check Price for Jesus Calling Book Here!
Marauder's Map Guide To Hogwarts
"I solemnly swear that I am up to no good." Yep, that about sums it up! For the Harry Potter fan in your life, an interactive Maurader's Map is probably one of the best 9-year-old gift ideas money can buy!
This has become one of my favorite 9 year old birthday gifts for kids who like Harry Potter. It is SUPER cool and very, very affordable. The "wand" doubles as an invisible ink pen and a light. The book folds out to a map and is SUPER fun!
Check Price For Marauder's Map Guide To Hogwarts Here!
Harry Potter Invisibility Cloak
Another must-have 9-year-old gift for your resident Potterhead: a real-life invisibility cloak! Does it actually make you invisible? Well, thanks to the app it comes with, yeah, it kinda does! This thing is SO COOL!
I gifted this for my 9 year old daughter's big Christmas gift and it did not disappoint. You can install the app on an iPad as well (my kids don't have phones) and it worked great. She loves to play Harry Potter and this cape adds to the fun in a huge way as it makes her feel like she's part of the magic.
Check Price For Harry Potter Invisibility Cloak Here!
Wallet For Kids
9 years old is a great time to get your child their own wallet; not only does it make them feel like a grown-up, it also helps teach them fiscal responsibility! I am a big believer in paying kids for chores and at this age they start to want to be more in control of their spending money when we go out and about and having a simple wallet for them to store their money in is great.
Check Price For Kids Wallet Here!
Slime Kit
Fun, interactive, and craft-y, a slime kit is one of those 9-year-old gift ideas that can make a great stocking stuffer or group activity! This stuff tends to get messy, which is why it's ideal for older kids. I like to wait until this age to really introduce slime kits because I do NOT like dealing with the huge mess slime makes and at age nine they can handle clean-up pretty independently!
Check Price for Slime Kit Here!
Taca Cat Goat Cheese Pizza
Our family loves to play board games and this is a super fun, super easy card game that the whole family can enjoy! Just the name is enough to make you laugh, but it only gets better from there. It's very easy to learn and pick up on and very fast-paced and engaging. It's one we've even played with grandparents and they enjoy it just as much as the kids!
Check Price For Taco Cat Goat Cheese Pizza Here!
Harry Potter, Wizard Training Wand
Can you tell we like Harry Potter, haha? These toys are seriously great for Harry Potter fans. A wizard training wand is a must! When hunting a wand for a gift for my kids I came across this one by chance and it was so affordable I gave it a try and was SUPER impressed with it.
You get to learn the motions for spells and you can even interact with other wands and play games, including realistic sound effects! It's held up great over time and is a gift that kids can collect all the different wands of their favorite characters too.
Check Price For Harry Potter, Wizard Training Wand Here!
150-Foot ZipLine Kit
Yeah, bet you didn't know they sold these! Sound scary? It's not! In fact, it's the perfect outdoor activity for adventurous 9-year-olds. Ideal, too, for big backyards with lots of trees!
I love gifting my kids toys to enjoy outdoors like scooters and a backyard trampoline and this zip line kit is a great way to encourage kids to get outside!
This makes for an excellent wow birthday gift or Christmas present.
Check Price For 150-Foot ZipLine Kit Here!
Kids Fitness Tracker
Another great choice for an active 9-year-old, this FitBit-like fitness tracker is designed with kids in mind. Plus, it's super stylish!
When my kids asked for a "Fitbit" I did a good bit of research and decided on this one because it shows all the steps and time etc without having to use a device. It does have to be synced to the app occasionally but I just have the app on my phone and ever so often sync it as needed. The kids are able to use the tracker for a watch as well as step counting but no distractions like games.
Check Price For MoreFit Kids Fitness Tracker
Harry Potter Chocolate Frog Plush
This chocolate frog plush is way cuter than you'd expect! And so is the plush case that it comes in. I love the detail that went into this pillow/toy, and your Potterhead will, too!
Check Price For Harry Potter Chocolate Frog Here!
Detective Agency
Osmo is the king of educational and STEM games for kids, and this Detective Agency game is great for building those critical thinking skills while teaching geography, history, and more! You have to have an iPad or tablet to play, but the game board ensures that your child isn't just interacting with a screen!
I love any chance for my kids to have fun while learning and Osmo is GREAT for that. They have tons of different options and the Detective Agency set is great for this age group.
Check Price For Detective Agency Here!
Crazy Forts
This is SUCH a great idea! Do your kids love building forts? Well, no longer do they have to tear apart the living room furniture in order to have some fun! This construction kit basically works like a customizable tent frame. All you do is add some bedsheets and BOOM! Instant fort!
This has been a great gift to encourage sibling bonding with my kids. My oldest loves using it to design forts for the little ones to play in.
Check Price For Crazy Forts Here!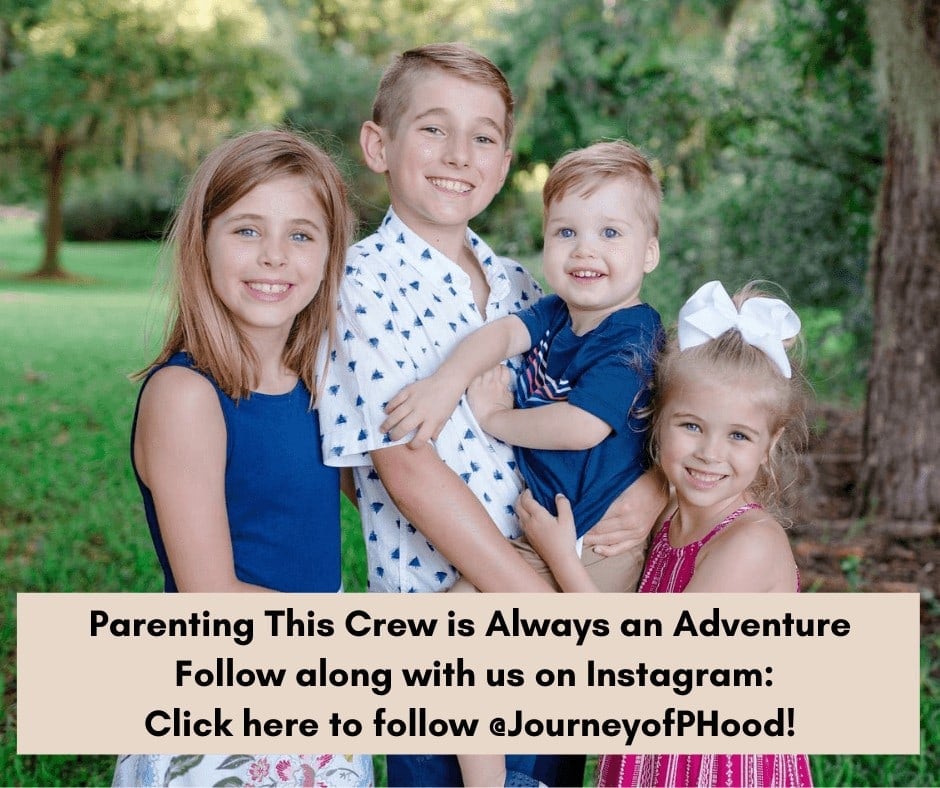 9-Year-Old Gift Ideas: Boys
9-year-old boys definitely still love to run around outside, but they also might start showing an interest in brain games or books. These gifts are some of the best I've found, many of which my own 9-year-old (now 12-year-old!) has enjoyed!
Monopoly Bid Game
A fun, fast-paced card game based on the popular board game Monopoly. Perfect for kids who love a little friendly competition! It's also a quicker option for Monopoly fun without the time it takes to play the regular board game version 😉
Check Price For Monopoly Bid Game Here!
Nintendo Switch
As far as video game consoles go, I think the Nintendo Switch is the most kid-friendly. And if your child is showing an interest in video games, I think 9 years old is a pretty good age to start letting them play!
The best thing about investing in a Switch is that it's both handheld and multiplayer, which means the whole family can enjoy it!
In my research, I felt like Nintendo offers THE most family-friendly game options and the most games that don't require any sort of online gaming. We have been SUPER happy with our decision to invest in the Switch
Check Price For Nintendo Switch Here!
Diary Of A Wimpy Kid
Diary of a Wimpy Kid is a popular series among young boys in particular, probably because of the lighthearted potty humor and simple, cartoon-style illustrations. For the soon-to-be middle schooler who loves to read, Diary of a Wimpy kid is a fun series to start them out on!
Check Price For Diary Of A Wimpy Kid Here!
Mastermind Game
This is such a great game for kids who may be showing an interest in coding or STEM! It's a simple strategy game where you try to crack a code using logic, deduction, and the process of elimination. You and your kids will feel like real codebreakers!
This was a favorite game as a kid growing up and I love to play with my oldest. It's a game that is great for one-on-one time bonding.
Check Price For Mastermind Game Here!
Kidzlane Laser Tag Guns
What 9-year-old doesn't love laser tag? And now you can bring the laser tag rink home with this indoor and outdoor set of laser guns!
This is another one of those 9-year-old gift ideas that make a great family fun activity. Laser gun battles are our JAM! The neighbors and cousins love coming over to our house to get a chance to play.
Check Price For Kidzlane Laser Tag Guns Here!
Mini Drone
Hone those fine motor skills and have some technological fun with a remote control mini drone toy! This one has some really nice safety features (like a height lock that keeps it hovering at a certain height) and can do fun flips and tumbles. A great beginner drone option and one that doesn't break the bank.
Check Price For Docon Foldable Mini Drone Here!
Shooting Target for Nerf Gun
If your 9-year-old boys love Nerf guns, then this is the perfect way to let them practice their aim! This little device has moving targets (kind of like a carnival game!) that test your sharpshooter's marksman skills!
This has been a great find for our oldest son. His sisters get SO ANNOYED when he sneak attacks them with his nerf guns so giving him a way to still enjoy the guns on his own has been great. He is happy, and they are less aggravated 😉
Check Price for Shooting Target Nerf Gun Here!
Stem Kits
If you have a science loving kid an award winner stem toy by National Geographic is a Earth Science Kit. This science kit includes several STEM activities for kids including crystal growing, erupting volcanoes, two separate dig kits and more!
Nine year old boys and erupting volcanoes just go together right? 😉 The kit comes with everything you need for a realistic volcano kids build on their own. If your child has stem toys on their list this one has you covered!
Check Price for the National Geographic Stem Kit here!
Mario Tennis Aces
If your 9 year old has a Nintendo Switch and loves Mario, then you've got to check out Mario Tennis Aces! It's like Wii Tennis meets Super Smash Bros. and it is a BLAST! Another great competitive option for the family to enjoy together too.
Check Price For Mario Tennis Aces Here!
9-Year-Old Gift Ideas: Girls
Girls around this age may tend to still like toys, but they may also start becoming interested in art, fashion, or other crafts! I currently have a 9-year-old and we've gotten her many of these as gifts with great success!
Hatchimals Hatchtopia Life 2-Pack
These plushes are cute and collectible, and cracking open the egg to find out which one you got is a fun surprise! They make perfect 9-year-old girl gifts for the kid who loves stuffed animals!
Anything "surprise" is going to be a hit for this age group and my girls LOVE little small collectables. We've been a fan of all things Hatchimals for YEARS.
Check Price For Hatchimals Hatchtopia 2-Pack Here!
Unicorn Gifts For Girls
I love gifts for a 9 year old girl that come in a set, and this unicorn-themed gift set is perfect for the 9-year-old who loves to accessorize! Inexpensive, practical, and super cute!
We gifted this to my niece and it was her favorite gift for her birthday and one that my girls asked for after seeing her open. It's become my favorite gift to buy for any 9 or 10-year-old birthday present!
Check Price For Unicorn Gifts For Girls Here!
Fashion Angels Fashion Design Sketch Profile and Carry Keeper
9-year-old gift ideas that promote hobbies and interests are always a win in my book, so if you have a girl who's showing an interest in art or fashion design, this sketch portfolio set is the perfect introduction!
My girls love putting together different stencils to create their own fashion looks.
Check Price For Fashion Angels Fashion Design Sketch Profile and Carry Keeper Here!
Unicorn Sequin Journal
I always love gifting journals and notebooks to older children, because this is about that age where drawing, writing, or journaling starts to become more common! This unicorn sequin journal is as dazzling as it is practical. Plus, it has that fun reversible changes color effect that kids love!
My girls are OBSESSED with any sort of journal. They use them all the time. As prayer books, drawing books, creative story books. And, yes, even as actual journals too.
Check Price For Unicorn Sequin Journal Here!
LatchKits
This is such a neat craft that also doubles as a real item your 9 year old can show off in their bedroom! I'm a big fan of anything hands-on, and this latch hook kit also teaches them a new skill (or at least introduces them to it)!
A Latchkit is an excellent first craft kit and I think 9 is a great age to gauge ability and interest in these sorts of crafts. My daughter showed so much patience and it really made me proud to see her stick with it until she finished the whole thing. I'm investing in a more advanced set for her this year!
Check Price For PlayMonster LatchKits Here!
Super Girl Mindset Coloring Book
Coloring books are great, but this one has the added bonus of including uplifting phrases and affirmations to help teach your 9-year-old girl self-confidence! Definitely not a bad idea, especially at that age where they start becoming more aware of their self-image!
Instilling positive self-esteem is SO important to me with all of my kids but this age is especially tender for young girls and any tools I can invest in to help them feel positive about themselves I'm all for.
Check Price For Super Girl Mindset Coloring Book Here!
Crayola Light Up Tracing Pad
This tracing pad is a fun way to let your 9-year-old practice her art skills and basically make her own coloring pages! Kids love to trace images they like so this makes it easy for them to accomplish.
I bought one for each of my girls and they have been a HIT in our house and one of the gifts that have been used regularly since Christmas morning. A great gift to give to a kid who "has everything" too.
Check Price For Crayola Light Up Tracing Pad Here!
Friendship Bracelet Making Kit
Friendship bracelets are always a favorite among girls at this age and make great 9 year old gift ideas. This braiding kit is a great craft to do alone or with friends, with different types of woven bracelets and charms they can mix and match!
I find that 9 is when friendship bonds start to really become more valuable and meaningful and it's important to me to raise my girls to be includers. Making bracelets for each other and all their friends in their classes and such is a great way to encourage little acts of kindness.
Check Price For Friendship Bracelet Making Kit Here!
Charm Bracelet Making Kit
Another popular craft that makes a great 9-year-old gift is a charm bracelet kit! Girls can really unleash their inner designer stringing the charms and customizing gifts for family and friends.
So often these types of kits are what I call "junky." I know people mean well when they purchase craft kids for kits but when the kit falls apart or has hard to follow instructions it can just lead to tears and frustrations and NO FUN for anyone!
My daughter was gifted this charm bracelet-making set and I was SUPER impressed with the quality of it and how EASY the bracelets are to make but also how well the hold up over time. Awesome gift idea!
Check Price for HiUnicorn Cham Bracelet Making Kit Here!
Stuffed Animal Storage Bean Bag Chair
For cute and practical 9-year-old gift ideas, you can't go wrong with this bean bag storage chair. It's a creative way to save space while still adding a super soft and stylish touch to a little girl's bedroom!
What kid at this age doesn't have a billion stuffed animals? I love this storage solution that also doubles as a comfortable spot to sit.
Check Price For Stuffed Animal Storage Bean Bag Chair Here!
Fujifilm Instax Mini 9 Instant Camera
9 years old is definitely old enough to learn how to take photos, and an Instax is a fun (and pretty old school!) way of introducing a kid to photography! Just point, shoot, and it prints the photo right there, kind of like a Polaroid.
The film is not cheap so I like to stock up on it when it's on sale over Black Friday or Amazon Prime Day each year.
Check Price For Fujifilm Instax Mini 9 Instant Camera
Bible Cover
A stylish Bible cover is the perfect gift to accompany a kid's first Bible. Not only does it personalize it, but it also keeps it from getting damaged!
My kids really start reading God's Word more at this age and start doing their own self-lead Bible Study time in the evenings so I love gifting them Bible-related gifts and they take so much pride in having their own Bible covers. I like the ones that offer a handle as well as a pocket to store their Bible highlighters in.
Check Price For FINPAC Bible Cover Here!
Personalize Your Own Tumbler
It's a craft, but also a practical item that encourages your 9-year-old to drink more water! This BPA-free tumbler comes with TONS of stickers that they can decorate it with plus two plastic liners so they can switch designs!
This is another legit great craft kit gift. It is easy to do, fun to assemble and truly useful and practical!
Check Price For Personalize Your Own Tumbler Here!
Coloring Brush Pens Markers Set
If you have an artistic kid, buying them new art supplies is all they could ask for and make great 9 year old gift ideas! This impressive brush pen set has TONS of colors and comes in a stylish storage case. They actually look really professional but for a fraction of the price!
I put together an "artist" gift set with these along with the lighted tracing board and my girls were SO pumped about it 🙂
Check Price For Coloring Brush Pens Markers Set Here
Hogwarts School Of Witchcraft And Wizardry DeskTop Stationary Set
Another great gift option for the Potterhead in your life, this stationery set is honestly so neat! Almost too nice to write on… but hopefully they're encouraged to practice their penmanship anyway!
If your child enjoys Harry Potter they will LOVE this set. My daughter wanted a "real quill" and unfortunately, real quills don't work so great. This was WAY better suited for her and she loves writing notes on her "parchment" and in her journal 🙂
Check Price For Hogwarts School Of Witchcraft And Wizardry DeskTop Stationary Set Here!
Barbie Color Reveal Doll Set
At 9 years old, most girls are still into Barbie dolls, but they can also appreciate some of the more intricate Barbie toys, like this Color Reveal set! Water reveals the doll and animals and changes the colors on the wigs for a fun surprise!
This was a gift for my younger daughter and I was surprised how much my older daughter loved it too. They had SO much fun together revealing the doll and spent the whole day playing Barbie's together.
Check Price For Barbie Color Reveal Doll Set Here!
"American Girl Doll"
What little girl doesn't love a baby doll at some point in their childhood? As a one year old girl I bought my daughters their first baby doll. Like most nine-year-old girls my oldest daughter is less into baby dolls at nine but VERY much into American Girl Dolls at this age (so much so that we celebrated her 9th birthday at the American Girl Doll Store in Orlando).
American Girl dolls are great quality but also come at a great cost. I have found that the Our Generation version of dolls are the same size and style of the more costly American Girl brand dolls at a fraction of the cost.
Since it's less of a financial investment it's easier to gauge how much your daughter enjoys this type of doll before purchasing a more expensive one. Or, if yours are like mine, they may prefer multiples of the Our Generation dolls instead of ONE of the American Girl brand ones!
Check the Price for Our Generation Dolls here!
Locket Necklace
Of course, 9-year-old gift ideas don't always have to be toys. Many 9-year-olds start getting interested in things like clothes and jewelry, which is why a personalized locket can make such a great gift at this age!
I did a LOT of research before purchasing a locket and I was so excited to find this one. I ended up buying a second one for my younger daughter and they both have held up GREAT. The great thing about this locket is that it's a larger size. I was able to actually fit tiny pictures of our entire family in the heart for them.
The locket is easy to open but also not too easy where it opens on its own. The chain is good quality too, especially for the price.
Check Price for Locket Necklace Here!
9-Year-Old Gift Ideas: Final Thoughts
Finding the perfect gift for your 9-year-old or soon-to-be 9-year-old does not have to be a chore! If you've gifted any of the items I recommended, or if you have a gift idea you love that's not on this list, feel free to share in the comments.
As I find other gift ideas for this age I update my list of 9-year-old gifts on Amazon so be sure to check here too while you shop!
Meanwhile, check out all my other gift guides by age: