If you're looking for great toys for five year olds, you've come to the right place! Today, I'm talking about the best 5 year old gift ideas!
Typically five year olds are in kindergarten and begin entering the world of peer influence.
Five year olds are also usually getting a bit more screen time than they did at earlier ages and will start to be influenced by commercials and catalogs that arrive in the mail.
Play is still very important at the age of five and developmentally the sky is basically the limit as to what they are able to play with and enjoy.
Gift giving hits a magical sweet spot between the ages of 5 and 8 where kids in this age range just love receiving presents. 5 year olds tend to be super appreciative and excited about birthday presents and other gifts, and are easy and fun to buy for!
I like to purchase toys that can go along with items I've previously purchased for my children.
It takes up less space and is much easier to clean up when sets can be stored together!
Many of my recommendations from previous gift guides will make wonderful gifts at this age as well so I highly recommend checking out all of my gift guides for each age:
But with that said, let's check out the best 5 year old gift ideas for girls and boys, plus ones that both can enjoy!
Disclaimer: post contains affiliate links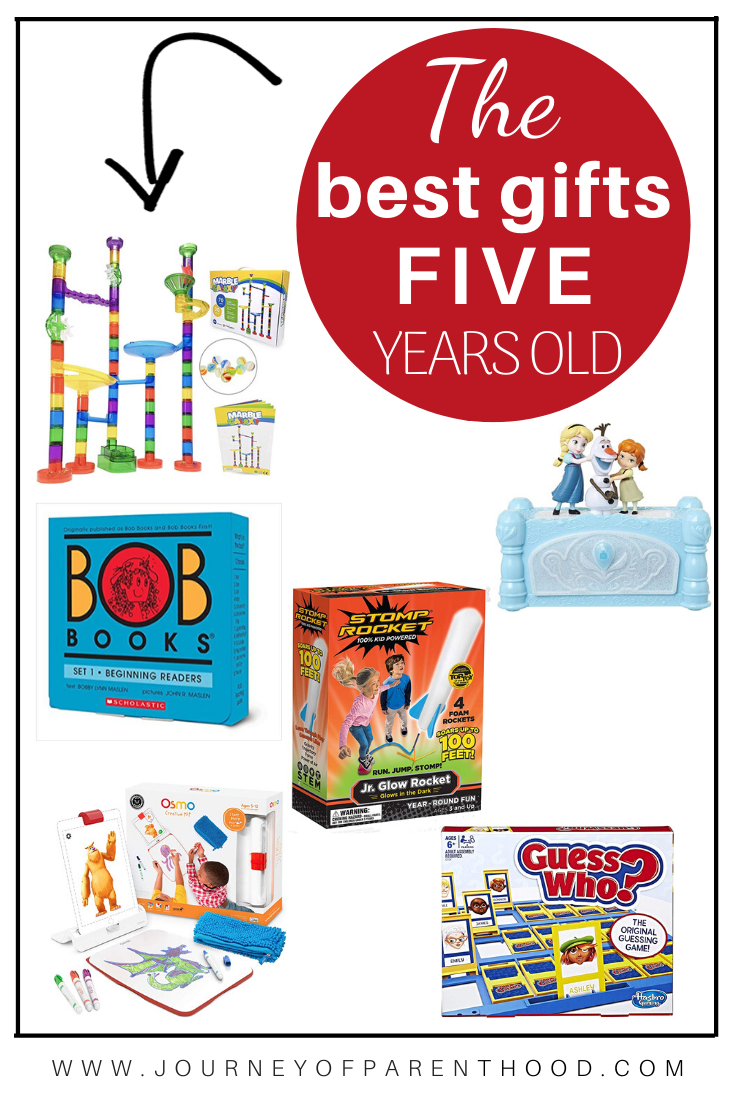 5-Year-Old Gift Ideas: Best Toys For a Five Year Old
This is a gift guide for both five year old girls and five year old boys as well as items that both genders will enjoy!
I have four children but currently have three kids who are five or older.
I have spent time going through all my old blog posts for each age and seeing what toys they received as gifts, which they loved best, and which have been continually enjoyed as they've gotten older (and have been passed down to siblings!)
These gender-neutral 5 year old gift ideas will give you a great head start, whether you're buying for a birthday party, a holiday, or just because!
Best Toys for 5 Year Old Boy or Girl
Gender neautral items are gifts I love to give and love when my kids receive because they can be enjoyed by all siblings together.
It is interesting to me how as my kids get older they are more likely to choose to play with more typical toys of the opposite sex.
While my five year old daughter probably won't be asking for Star Wars LEGOS for Christmas, she LOVES sitting in her big brother's bedroom with him and playing with his LEGOS together.
Of course all toys and books and games can be enjoyed by members of both sexes, I find it is easiest to break up these guides into gender specific sections!
The items in this portion are ones that are gender-neutral.
Bob Books, Set 1: Beginning Readers
Books tend to make fantastic 5 year old gift ideas. Typically around age 5 kids start to learn to read in the classroom and it's great to encourage those skills at home.
This set of books is GREAT for a beginning reader. Usually at this age kids are eager and excited to learn to read and will love the process of starting to read independently.
Check the Price of Bob Books Here!
Roald Dahl Collection – 15 Paperback Book Boxed Set
At five years old most children cannot read on their own and are just in the early stages of learning simple words and phrases.
However, children at this age are capable of holding longer attention spans and absorbing more advanced content than simple picture books.
It's a great time to begin reading chapter books together and this set is a wonderful one to start as so many of these stories we recall from our own childhood and will enjoy reading together with our children during our story time routine.
Check price for The Roald Dahl Collection here!
Where's Waldo?
I start purchasing Look and Find type of books when my children are toddlers as they are SO great to keep in the car!
Around age 5 my kids graduate to more advanced look and books and Waldo is a classic we all love 🙂
Check Price for Where's Waldo here!
National Geographic Little Kids First Big Book of Animals
At this age, most kids have their own interests and many will tell you what they want to be when they grow up.
My current five year old LOVES animals and is always asking endless questions about them. She has loved looking through the pages of her "animal facts" book.
National Geographic makes tons of varieties of similar books on different topics and I'm sure there is one to spark interest in your child too!
Check price for a National Geographic Little Kids First book of Animals here!
Guess Who Classic Game
Kid-friendly board games make great 5 year old gift ideas! My kids LOVE Guess Who and it's a great game to help teach colors, opposites, descriptive language plus the other benefits that come with playing games like taking turns, patience and good sportsmanship.
Even if your child can't read they can enjoy this game and my non-readers will spell out the name of the person they are guessing 😉
Check Price for the Guess Who Classic Game here!
Eye Found It Board Game
This game is hands down one of our absolute family favorites. Players work together as a team against the clock and it's SO FUN.
We all love it and it makes a great gift at age 5 or beyond!
Check price for a Eye Found It Board Game here!
Monopoly Junior Board Game
Having family board games nights are a great way to bond together as a family unit and spend quality time together.
At five, kids are really able to understand more complex game instructions and strategies and Monopoly Jr is a great first family board game and is one that siblings can even play together without, much if any, adult supervision.
Check Price for Monopoly Jr. Board Game here!
Osmo – Creative Kit for iPad
While my kids don't have an iPad at age five, my husband and I do and the Osmo kit is an EXCELLENT screen time option.
it's very, very interactive and will hold the child's attention span as well as encourage learning and FUN that even the pre-teen brother will get excited about!
Osmo makes lots of add on kits but this is the one to start things off with and help brings learning home instead of just at school too. I'm a big fan of 5 year old gift ideas that are educational like this!
Check price for a Osmo-Creative Kit for iPad here!
Melissa & Doug Deluxe Wooden Stamp Set
As kids get older they are able to do more with craft time on their own and mine all enjoy making cards for family, friends and siblings.
A fun stamp set is a great way to expand the craft kit collection and at 5 they are responsible enough not to get ink all over the place…hopefully 😉
No slime for this mama… I'll stick to stamps! Wooden toys are always a favorite of mine for their quality and this wooden stamp set is another high quality item that we've used for multiple kids for open ended play art projects and beyond!
Check price for a Melissa & Doug Deluxe Wooden Stamp Set here!
Crayola Projector Light Designer
Making craft projects and simple art kids are wonderful Christmas gift ideas or birthday presents for 5 year olds.
This is a gift that combines the fun of artwork with the fun of night lights! My kids LOVE going into a darkened room and turning on the light to see the images on the wall that they've created!
Check price for a Crayola Projector Light Designer here!
Tracing Kid Projector
Much like the concept of the light design artwork, this takes it one step further in providing your children the ability to trace their favorite artwork and create their own designs from art they love.
I have found that at five years old my children become easily frustrated when trying to freehand or copy drawings but LOVE to trace.
Check price for a LEERFEI Kid Projector here!
Pretend & Play Calculator Cash Register
Over time our play kitchen in the playroom has transitioned into a "restaurant" and the kids all enjoy "cooking" a meal for a customer and taking turns being the chief, waiter, and customer.
This is a great quality cash register that has held up to the test of time. My kids loving playing with a shopping cart and loading it up with grocery items for check out 😉
If you have smaller toddlers I do recommend not using the change as it is a choking hazard and I also laminated the bills to keep them nice!
Check price for a Pretend & Play Calculator Cash Register here!
VTech Kidizoom Action Cam
This generation of children are growing up with parents constantly taking their photos!
It's only natural for them to desire to have a camera of their own.
My kids all start off with a very basic camera around age 3 and then graduate to this one at age 5.
This camera takes both pictures and videos and has a great water proof case! It does also have some games on it which I don't love about it but my kids are all good about not using that feature unless they ask first 😉
Check price for a VTech Kidizoom Action Cam here!
Magna-Tiles Clear Colors 100 Piece Set
When it comes to great 5 year old gift ideas, I cannot recommend Magnatiles enough! If you already own a set, add on to it!
These make a GREAT gift and hold up SO well overtime and are an imaginative and creative item that all of my kids continue to enjoy, even as they get older.
Check price for Magna-Tiles Clear Colors 100 Piece Set here!
Printed Umbrellas
I love practical, useful gifts and umbrellas are great to keep in the car for moments of rain.
At age five all of my kids have been able to handle the responsibility of managing an umbrella and have the fine motor skills to allow them to open and close the umbrella.
It's a "big kid status" sort of gift! This link has both super cute boy and girl patterns!
Check price for Printed Umbrellas here!
5 Year Old Birthday Gifts for Boys
This section of the gift guide covers gift ideas for boys at the age of five.
It has been five years since I've had a five year old boy.
Many of these bring back fond memories and many are great suggestions of favorites from friends and Instagram followers with boys at this age!
ZOOB Moving Mind-Building Modeling System
This came from a friend on IG and these look SO AWESOME!
For sure something I will keep in mind for when my current 2 year old turns 5 and has the fine motor abilities and the imaginative play skills to enjoy this!
Check price for a ZOOB Moving Mind-Building Modeling System here!
Stomp Rocket Jr. Glow Rocket
A stomp rocket is one of my favorite gifts to give a birthday party for a five year old boy.
I love toys that encourage outdoor play and this is one of those toys that dads get just as excited about as their sons 😉
Check price for a Stomp Rocket Jr. Glow Rocket here!
Marble Run
Of all the recommendations I have regarding birthday party gifts for a five year old, our marble run has been the biggest hit.
My oldest is 10 and still plays with his marble run on a regular basis.
It is an activity that encourages siblings to play together. They make a little game out of it and take turns using their different colors of marbles to race down the marble run.
They have even written down notes and kept score and will track times!
Check price for a Marble Run here!
Magic Tracks Xtreme
A toy that every five year old dreams of owning: Magic Tracks.
They are fun to put together and they glow in the dark. What kid doesn't want some car tracks that light up at night with cool color changing effects?
We own these and they are NOT an item that has gotten a lot of play over the years, however, we've also had many a yard sale in the time period since my son received them as a gift and he's yet to be ready to get rid of them either.
Check price for a Magic Track Xtreme here!
LEGO City Heavy Cargo Transport
As kids graduate from Duplos to Legos most often the first sets little boys want to assemble are some sort of vehicle.
My son specifically requested "no buildings" and only wanted vehicles when first starting his LEGO collection.
Be sure to examine the sets prior to purchasing as LEGO gives a specific age range for a reason, if your child is younger than the age suggestion then they will likely become frustrated!
Check Price for a LEGO City Heavy Cargo Transport here!
Playmobil Safari Plane
Toys with tiny pieces are best avoided for little ones but as kids get older they are better able to avoid putting small toys into their mouths and enjoy the smaller toy sets and toy kits.
Playmobil makes high quality toys that last forever (I still have my sets from my own childhood and they look brand new).
Check Price for a Playmobil Safari Plane here!
Two Way Radios – Handheld Walkie Talkies
When we decided to get our oldest a set of walkie talkies I did a lot of research as I wanted a product that would not only last, but also legit WORK.
This set is great and it comes with four which allows for family to use them as needed!
Most of the time our kids use them to hide around the house and spy on Mommy 😉
Check price for Two Way Radios-Handheld Walkie Talkies here!
Kids Tool Set
Little boys often love to be Daddy's little helpers and this realistic toy tool set allows him to feel like a big kid and work alongside Daddy on any home project!
Check price for a REXBETI 25-Piece Kids Tool Set here!
Fisher-Price Imaginext Shark Bite Pirate Ship
Imaginext toys continue to be a HUGE hit at this age and my son's entire fifth birthday was filled with Imaginext toys!
A huge hit for this stage and sure to be a favorite!
Check price for a Fisher-Price Imaginext Shark Bite Pirate Ship here!
KidKraft Bucket Top Construction Train Set
Another set I love to add onto as my kids get older is our wooden train set!
This is another great item that will grow with your child…and one that my 10 year old son still enjoys to play with.
Check Price for a KidKraft Bucket Top Construction Train Set here!
Disney Kid's Cars Watch
At five kids are starting to have a concept for time (my current five year old still gets confused that naps aren't the start of a new day though!).
A watch is a great gift that helps them to feel like a "big kid" but be warned…you will constantly being hearing minute to minute updates on the current time!
Check price for a Disney Kid's Cars Watch here!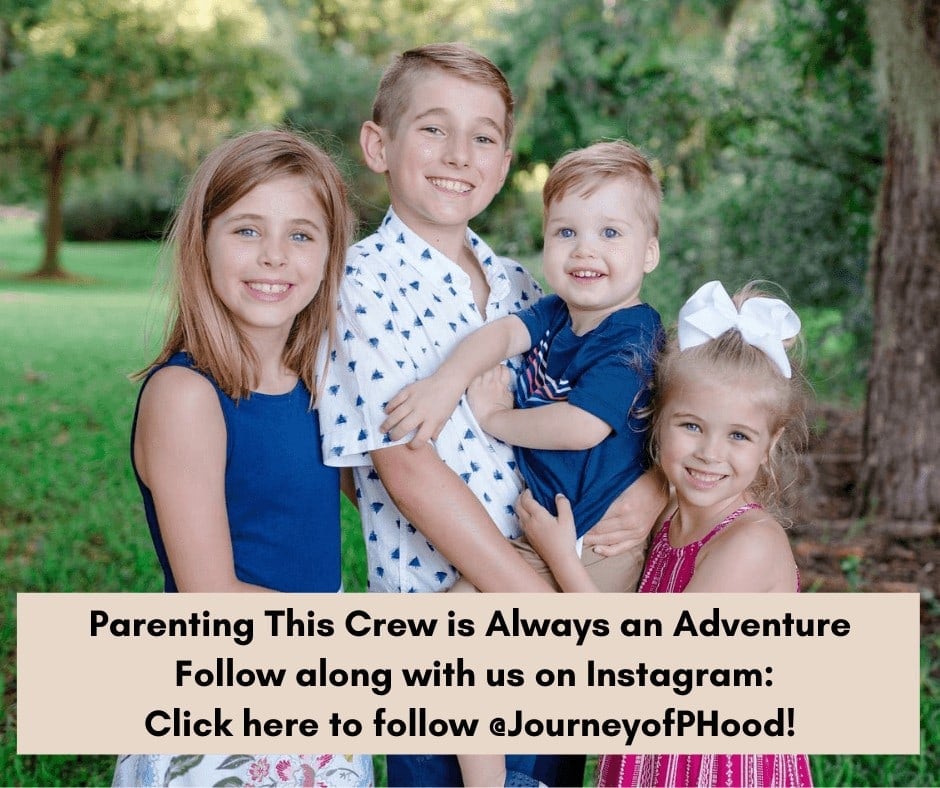 5 Year Old Birthday Gifts for Girls
Five year old girls are so fun and so into everything that it makes shopping for them so easy!
My current five year old does have an older sister so a lot of the things she loves and enjoys are influenced by her sister but she also has her own opinions too.
Pretend play is really at an all time high at this stage.
Barbie Play 'N' Wash Pets Doll & Playset
An example of something my youngest daughter loves that my older one never did are Barbies.
I LOVE that she's so into them and excited about playing with Barbie dolls as I was super into them as a kid myself and love passing that on!
A nice thing about Barbies too is that they are a very affordable gift to give.
Check price for a Barbie Play 'N' Wash Pets Doll & Playset here!
Hatchimals CollEGGtibles
The small hatchimals continue to be THE favorite gift at age 5 and a collector item that even my current 8 year old loves to receive.
Another very affordable gift and a great one for a birthday party…it'll be the hit for sure!
It's also a gift that is different each time as each egg includes a surprise toy!
Check price for Hatchimals CollEGGtibles here!
Beauty Makeover Compact with Mirror for Girls
Both of my girls love to play with makeup at home and a cute makeup set is a fabulous gift at this age.
Also anything with Disney Frozen Elsa or Anna on it is guaranteed to be a winner!
Check price for a Beauty Makeover Compact with Mirror for Girls here!
Princess Elsa Dress Up Party Accessories
Speaking of the world of Disney Princess – this is the age to start going all out on the princess fun!
Dress up clothes, pretty accessories…my girls both loved wearing it all around the house (and still do!)
Check price for Princess Elsa Dress Up Party Accessories here!
KidKraft Majestic Mansion Dollhouse
Along with the love for Barbie Dolls I really wanted my daughter to have a Barbie House but wanted to get something that is better quality and am SO excited about this house!
I read it's a beast to put together but it'll be so worth it!
Check price for a KidKraft Majestic Mansion Dollhouse here!
Kids Cooking and Baking Chef Set
My girls love to help in the kitchen (even if it's just making ice cream ha!) and at this age many kids have dreams and goals of what they want to be when they grow up.
My oldest daugther wants to be "a baker" and loves baking!
This set is super cute and would be great to monogram as well.
Check price for a Kids Cooking and Baking Chef Set here!
Little Live Pets Bird with Cage
Kids begging for a pet but parents don't want to deal with the responsibility that comes with pet ownership?
Hello little live pets! All the fun, none of the work or mess 😉
Check price for a Little Live Pets Bird with Cage here!
Dalmatian Vet Kit
Along the same lines with a desire for a pet and an idea of a dream career…this set is so cute for any animal lover!
The kids love the little crate for the dog to carry it in and the "animal doctor" set to care for their "pet"
Check price for a Dalmatian Vet Kit here!
KIDKRAFT Princess Table & Stool
If your little princess is into all things girly they will love this vanity set.
Perfect for dress up and play makeup.
I added a vinyl decal to personalize ours and it's been a huge hit!
Check price for a KIDKRAFT Princess Table & Stool here!
Minnie Mouse Kids' Watch
A girl version of a great watch for properly learning how to tell time right from the start and featuring a fun character every kid recognizes – just be sure to remove it before bathtime as it's not water proof! 😉
Check price for a Minnie Mouse Kids' Watch here!
Stuffed Animal Unicorn
Unicorns are my personal favorite animals and my girls have taken a liking to them as well.
Stuffed animals continue to be a favorite present for five year old girls and these LARGE sized ones are a great WOW gift that they love bringing everywhere and that add a fun element to all the crazy forts they design too!
Check price for a Stuffed Animal Unicorn here!
American Girl Doll
When each of my daughter's turned five I gave them one of my American Girl Dolls from childhood.
Five is such a "big kid" age and I felt like it was a great time to introduce them to the world of American Girl!
They are mature enough to know how to properly care for the doll and old enough to appreciate such a special gift.
Check price for an American Girl Doll here!
Calico Critters Baby Tree House
Calico Critters are another toy I remember enjoying from childhood and a fun collection to start with a five year old girl too!
The little animals are so cute and there are lots of different pieces to go with the sets.
The baby ones are especially adorable and I'll be gifting this treehouse to my five year old at Christmas!
Check price for a Calico Critters Baby Tree House here!
Frozen Musical Jewelry Box
A first jewelry box is a special gift for little girls and a perfect place to keep all their little trinkets and treasures.
And trust me…five year old girls somehow collect a ton of them!
I adore this jewelry box. It's so cute with the Frozen friends design and it even sings!
Check prize for a Frozen Musical Jewelry Box here!
5 Year Old Birthday Gift Ideas: Final Thoughts
I hope this list helps knock off some gift ideas for the 5 year old in your life! Whether you're shopping for a holiday, celebrating a 5th birthday, or planning a special surprise, find the perfect gift!
You can shop all of these items and more on my Amazon list here 🙂
Check out all my gift guides here: