How did we decide on a sunshine birthday party? Well, I'll start at the beginning: as a girl growing up, my mom sang "You Are My Sunshine" to me every night before bed. When I first held Britt in my arms and had my little girl to sing to…I knew I'd also sing that special song to her!
Zach sings "My Girl" to Britt when he tucks her in and Britt's favorite song in the car is "Zippity Do Dah." Do you know what all three of those songs have in common? They all have reference to "sunshine" in them! So, her favorite songs inspired the theme for her party this year!
I knew I wanted to use a sunshine theme… but the problem is her birthday is in December. Not exactly the typical season you'd expect to have a sunshine birthday party 😉
I decided to go with gray and yellow as party colors to "winterize" the theme a little and I think it all worked out wonderfully!
If you're wanting to know where I got everything… scroll to the bottom for links! I'll also put some links throughout. Here's how we did Britt's sunshine birthday party!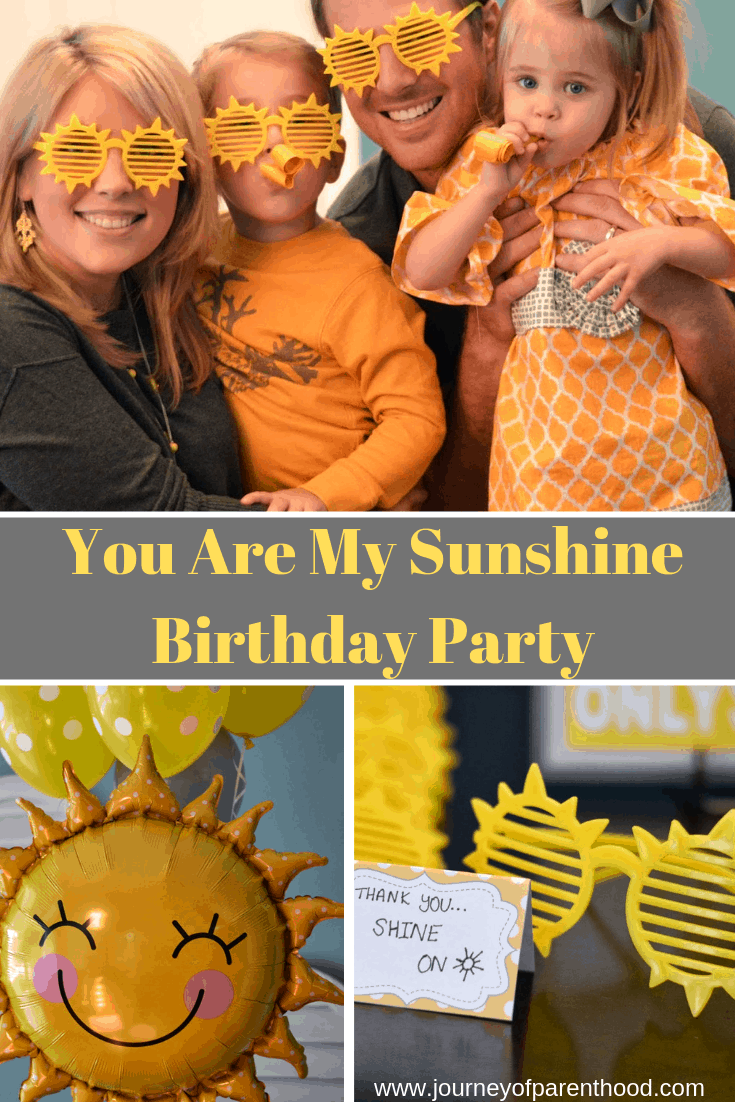 Originally published January 22, 2014
Disclaimer: post contains affiliate links.
Sunshine Birthday Party Ideas
Signage
While the tape is tacky… I learned the hard way from Kye's firetruck party that the welcome sign will not stay on the door without tape. Turns out this fell too so now I'll be using a lot more tape next time 😉
I had prints made up using the lyrics to the three songs that included "sunshine" in them 🙂 I wanted to make sure people understood the inspiration! I also used those three songs to play for Britt's Birthday Video which I had going in the living room! I framed Britt's party invite and also framed other pictures of her for decorations!
Casey was a HUGE help to me in getting the party together the night before! She used the yellow poster board I bought and cut out a sun. I also bought yellow tissue paper pom poms and put one on each side of the cut out (only opening them halfway). We hung it from the light in the dining room and it was perfect! It turned out even cuter than I had expected!!!
Food
No cake this year… since I did a sweets party I stuck with cupcakes!
Then, there we also chocolate-covered Oreos with yellow frosting…
Yellow "sixlet" type candies…
Chocolate-covered pretzels with yellow sprinkles (these were the biggest hit of the party!)…
And yellow lollipops! I used the straw wrappers from the party pack I purchased and wrapped them around the suckers instead which I thought made a cute touch! Here are some similar lollipops!
Other sweets included: Lemon Cookies
Did you eat these little sundae cups as a kid?!?! ohmygoodness they bring back hardcore memories for me! And they are SO amazingly delicious!!!
For drinks, there were Capri Suns for the kids!
And lemonade for all (you know Kye was ALL about the lemonade!)
Decor
I've never had a mini banner before but it was included in my Sunshine Birthday Party Pack and I really used it in several places! Def a new favorite party item!!!
Yellow polka-dot and gray balloons!
I think it's SO FUN for the birthday child to have a BIG special balloon on their chair! My kids LOVE it and it really adds to their day. Tell me this isn't the cutest balloon ever?!?!
Birthday Banner! Had a hard time choosing where to hang it since our Christmas tree was covering my usual spot in the living room. I hung it in the breakfast nook and it was cute!
Used the mini banner again along with ribbon and an old frame (which is getting a ton of use btw) to display some of Britt's recent pictures!
Activities
Coloring pages to keep the kids busy! Here is a similar coloring sheet and crayons!
When I decided on the sunshine theme I just kept thinking of sun catchers. Remember those from childhood too? Turns out they are kinda tough to find and you have to use special paint for them too.
I worried if they would turn out okay because a lot of the reviews of the paint said it didn't work but I took a risk because I was committed to my idea haha.
I know it's a little bit of an "older kid" craft for the 2 age group but the majority of the party guests were actually around age 4 so I knew they'd enjoy it and thought the younger ones would as well! Plus I LOVE a craft that doubles as a favor that the kids will really enjoy and not just toss in the trash can!
Other Fun Sunshine Birthday Party Stuff
I always set out my kids baby books at their birthday parties. A good thing for people to browse through during the gift opening if they are bored 😉
I know toddlers love noisemakers!
Mini-banner got used again! Told ya I love that thing!!! For favors, I kept it simple. Last year for her party I went all out on the favors and they were a beast.
I also spent a good bit on the suncatcher craft and needed to keep my cost down on the favors to make up for it. However, when I saw these glasses I knew I had to get enough for the adults to have one too 🙂 I saw lots of cute photo opportunities ahead!!!
Where to Find the Party Supplies:
Want more Sunshine party themed inspirations? Check out my party Pinterest board here!
You can look back at past birthday parties here: