It is no secret that our family LOVES Disney!
We have always chosen to stay off-property in order to save money and maximize space so we can all have great sleep to be in the best moods for the parks.
With our Disney knowledge and experiences over the years of renting at many different locations around the Disney area, we decided to purchase an investment home!
Book Hidden Mickey Hideaway NOW Through this Link!
Our home is Hidden Mickey Hideaway and is located 3 miles from the Walt Disney World theme parks and is in the gated (with security) community of Emerald Island.
We were VERY picky when it came to location for our rental home and chose Emerald Island because it is very safe (gated with guard), has many great amenities (community pool, basketball court, volleyball court, tennis court, etc), is beautifully landscaped and well-maintained and it's SUPER close to Disney as well as tons of other great restaurants and shopping locations (a brand new super nice Walmart and a Super Target less than 5 minutes away!).
It takes us less than 10 minutes to get from our rental home to Disney which allows us to come back for naps, to have meals at the house to save money, and enjoy the pool and spa when we need a break from the busy park days.
Here are details about Hidden Mickey Hideaway:
6 bedrooms: King master on main floor, 2nd king master on 2nd floor, 2 rooms with twin beds in each (Moana and Star Wars themed), 2 rooms with Queen beds.
4.5 bathrooms: Half-bath downstairs off living room, 2nd bath downstairs in master. 3rd bathroom upstairs in 2nd master bedroom, two additional full bathrooms upstairs.
Screened in Pool and Spa (can be heated for $15 per day)
Large kitchen with bar for seating up to 6 and all the amenities from home to allow for cooking (Disney allows food to be brought into parks!)
Large, mounted flat screens throughout home including DVD players and NES gaming system
Dining room with plenty of seating for 8
Two living areas and an additional upstairs den with couches and tv. We are adding in a sectional couch with fold out bed for the upstairs den!
Washer and dryer to allow for doing laundry on your stay!
Garage has been converted into a game room featuring a pool table, air hockey, ping pong, and basketball goals.
Entertainment center in the living room is stocked with a huge collection of books, dvds, and even family board games to use during your stay.
The home is on a corner lot with a HUGE yard and a short walk away from a great outdoor playground.
We have free wifi and cable with plenty of channel options
Including the fold out couch, there are enough beds to sleep 14. There are two pack and plays provided (and both master bedrooms have HUGE closets perfect for a baby to sleep). We also provide two twin size air mattresses.
We don't have a max number of allowed guests so if you have a larger family and want to do air mattresses etc to make it work we are very understanding and flexible (Zach's family is big so we get it!).
The most up-to-date photos can be found on the website but here are a couple to give an idea as well:
Completely updated living room, sliding doors to pool deck area.
View into kitchen, fully stocked with everything you'll need!
Screened deck and pool/spa area with resin lounge chairs and table to seat 6
(pool fence is easily removed)
Downstairs King Master (has it's own bathroom with separate shower/tub)
Upstairs King Master (also with it's own bathroom and shower/tub combo)
Moana Room with Twin Beds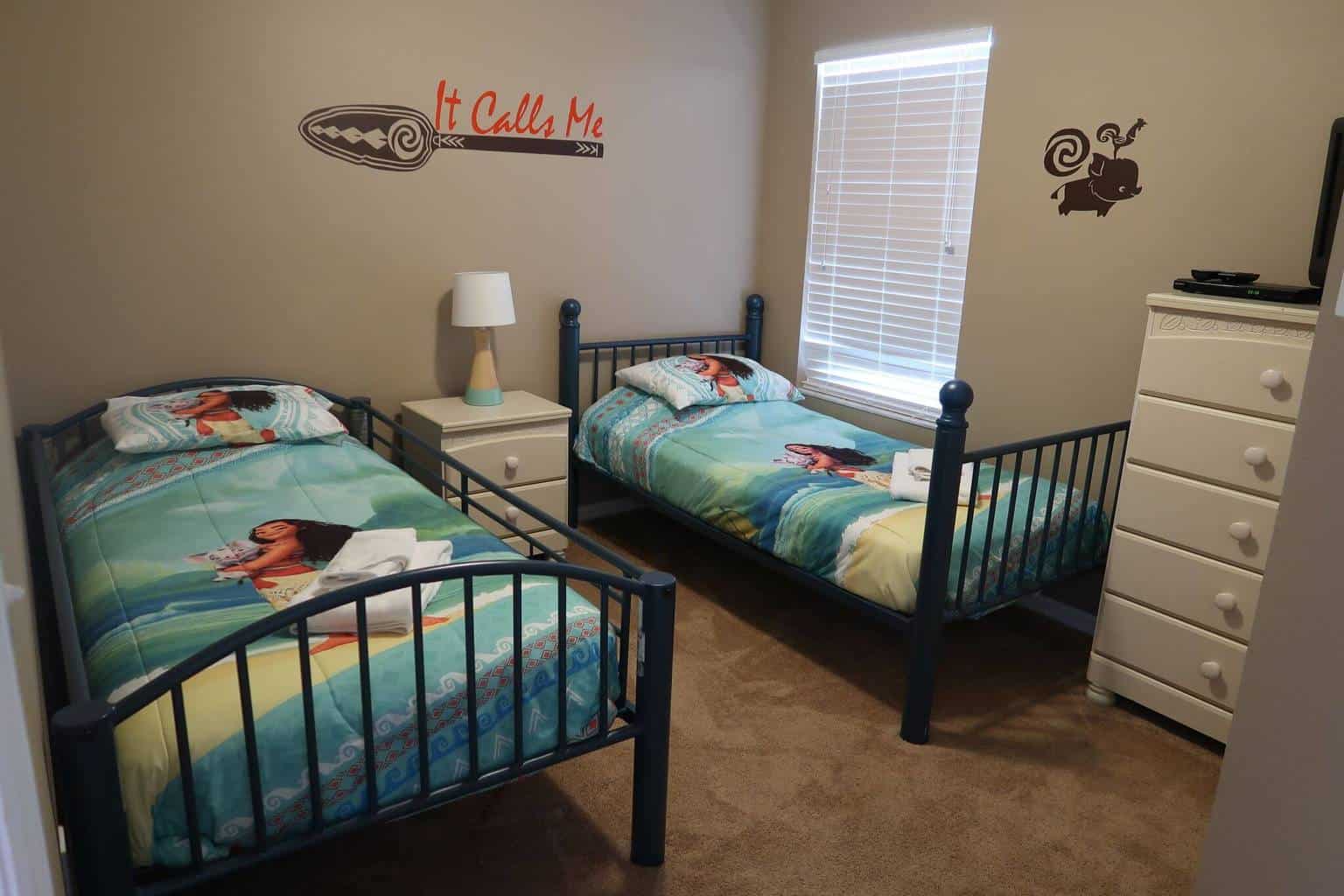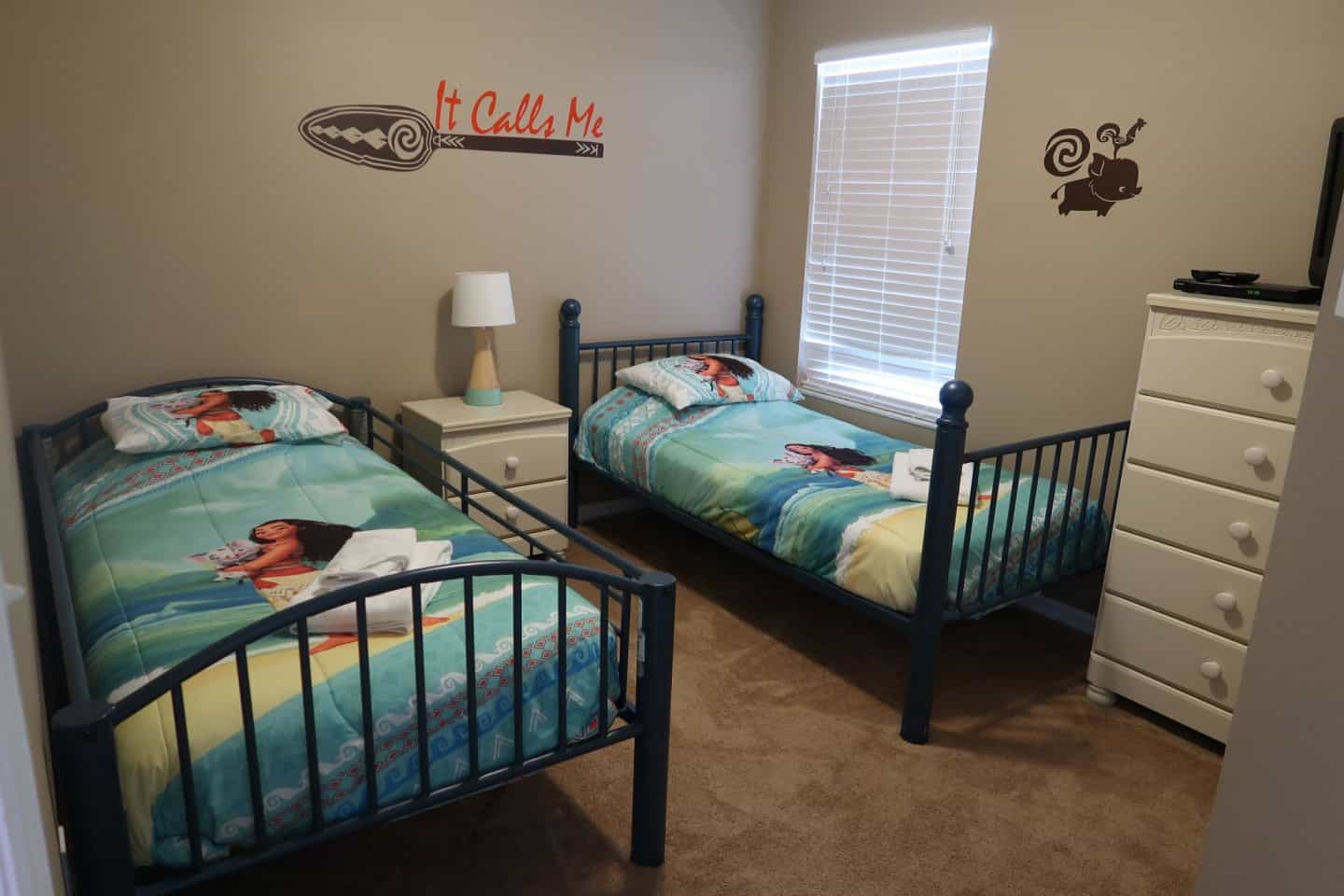 Star Wars Room with Twin Beds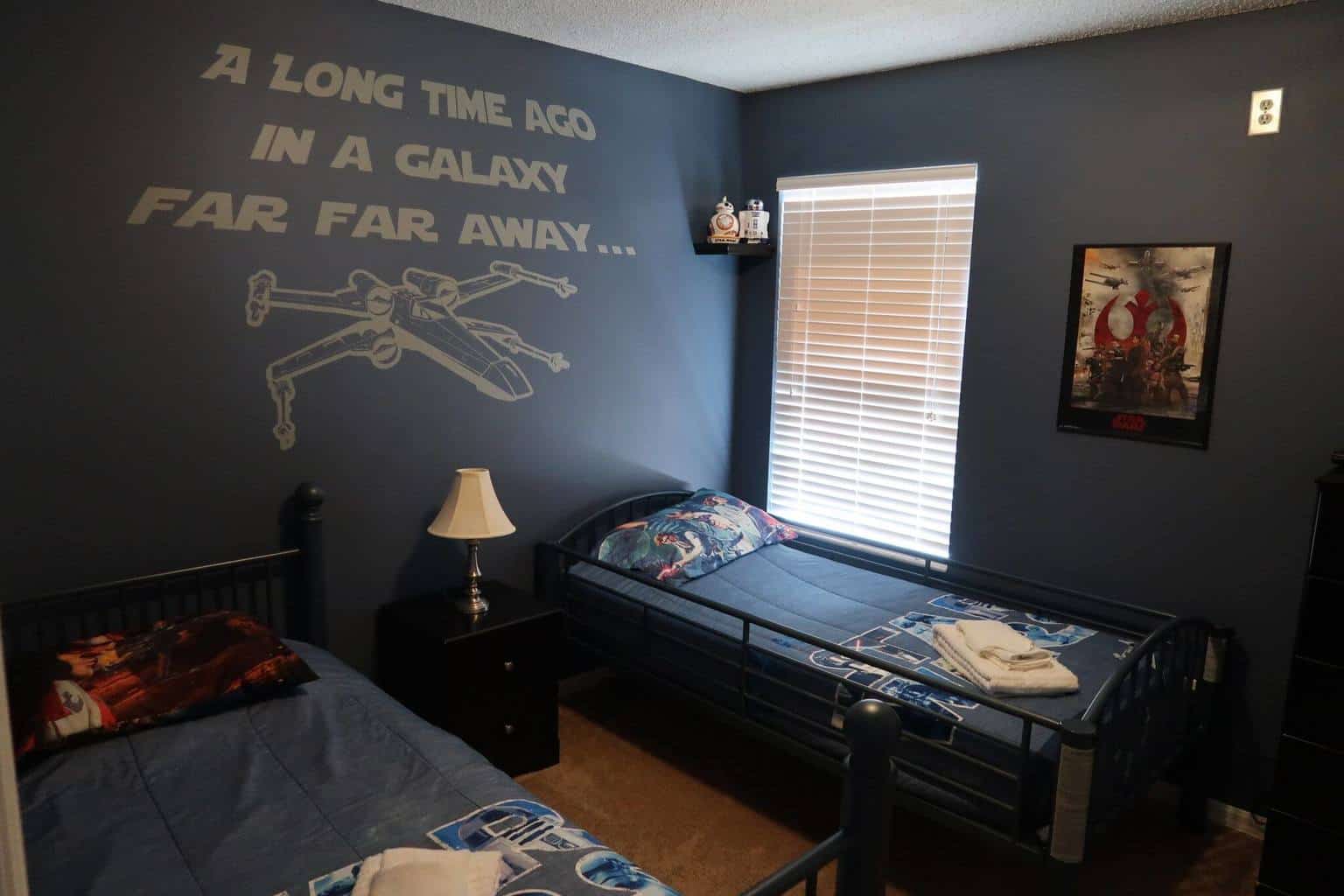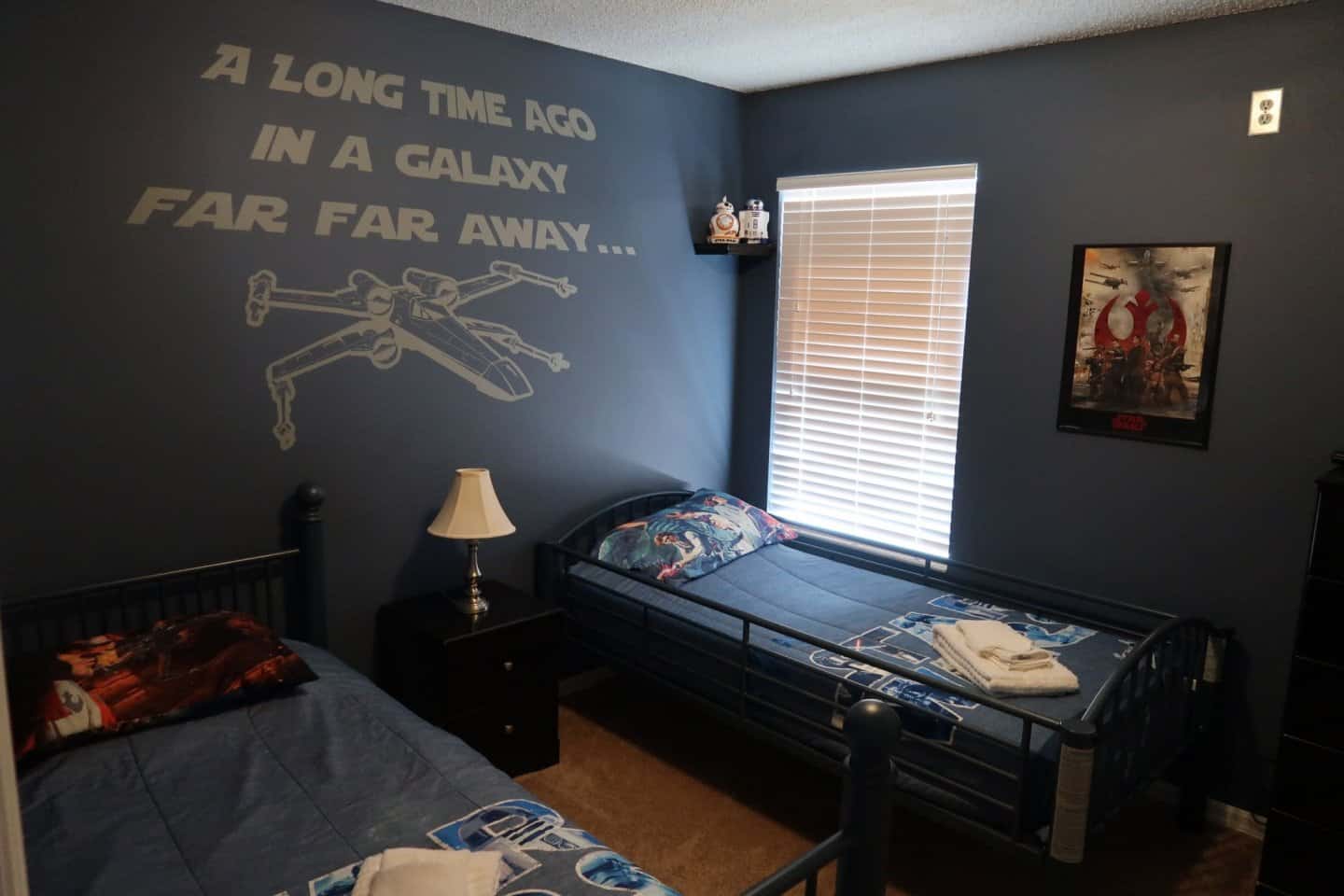 You can see additional photos including the bathrooms and the two queen size bedrooms on the home website.
We've done a TON of updating in the home. Painted all of the bedrooms, added new bedding and theming throughout.
We also updated the living room couch and entertainment center and have provided brand new towels.
On the back deck we have a brand new outdoor table with seating for 6 and 4 lounge chairs to enjoy the pool area (and we provide pool towels to use during your stay!)
We will constantly be doing updates and upgrades (the benefit of renting a home from a family who will be there often!) and the website will be featuring updated photos as we make those changes.
To see the before and after photos check out this post!
We are excited to be working with an incredible property management team who have been doing this for over 25 years.
They are always available to help guests with any of their needs during their stay. They are fully managing the website and all bookings from that end.
Our family loves Disney and truly believes it's a happy place that everyone should get to experience.
It is important to us to be able to offer our home for rental at the lowest price possible to our friends, family, and to blog readers!
We want this to be a place others can enjoy and to help families afford the Disney experience (Disney ain't cheap and every little bit of savings helps!).
If you're interested in booking at Hidden Mickey Hideaway:
Visit this link for the most up to date info and to BOOK NOW!