Whether you have a family member heading off to basic training, a child who loves army men, or a relative who's a trooper, these army party ideas are worthy of a salute!
When my mother in law turned 60 we wanted to throw a fun, themed birthday party in her honor. She is THE toughest person we all know. We constantly talk about what a soldier she is and how she pushes through pain every single day – nothing will slow her down or stop her from showing up for her family!
We decided to throw her a diy army themed birthday party in recognition of the soldier she is and how much she will go to battle for those she loves 🙂 My oldest son and I had so much fun coming up with all the army birthday party ideas and I hope these help to inspire your next event!
Disclaimer: this post contains affiliate links.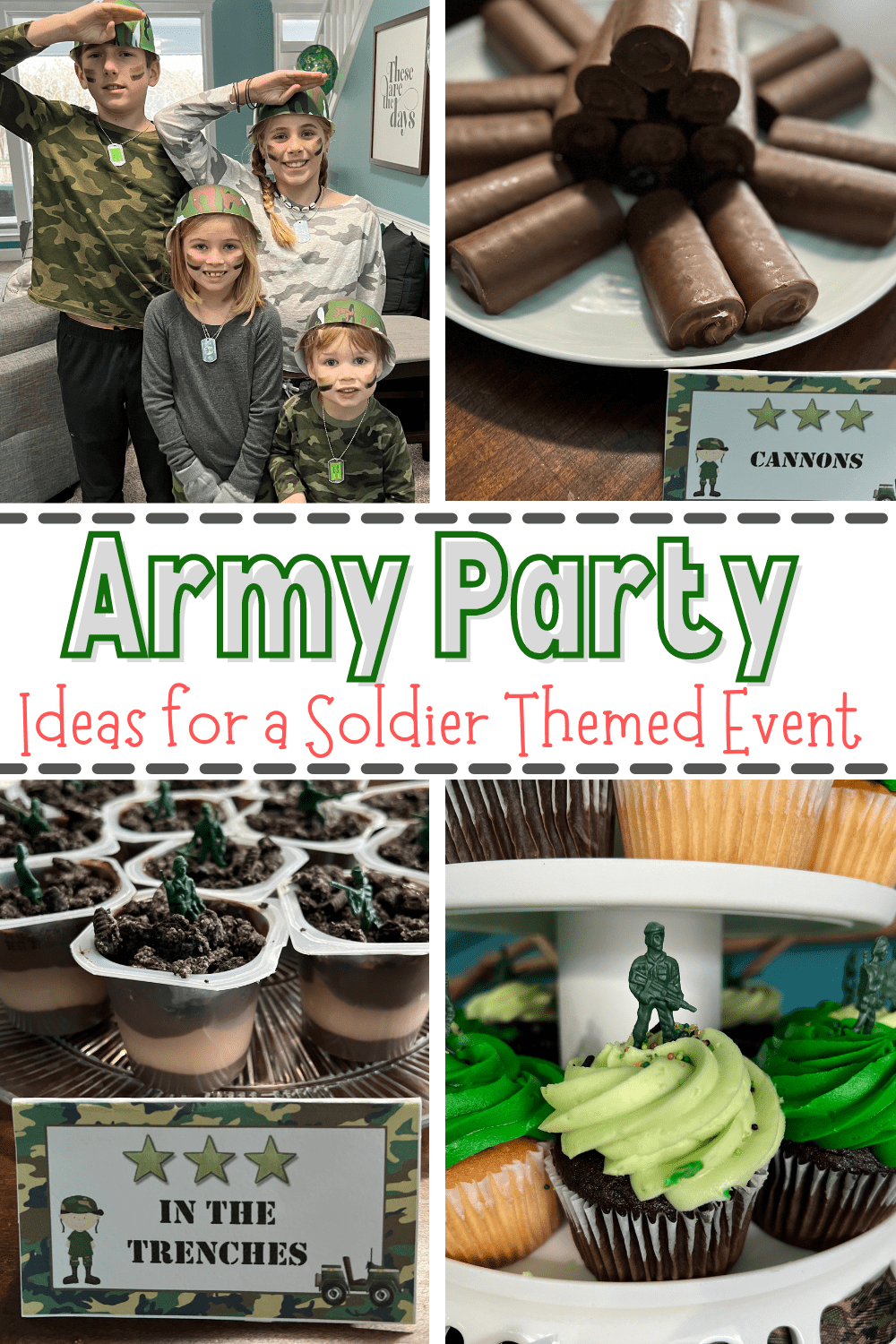 Army Party Ideas
There are lots and lots of ways to put together an adorable army party fit for any little soldier or adult who would appreciate a fun army-themed party idea. It'd also be so cute for a military retirement party or even a send-off party for someone heading to basic training.
We have a large family (18 of us) so we wanted to keep the event intimate and simple while still coming up with fun ideas and party decorations to make sure it was clearly an army theme party! It was a family-only party so no party invitations were needed 😉
I purchased most of the items used for this party from Hobby Lobby or Amazon and have linked them all throughout the post to help make your army party supplies easier to purchase during your party planning process!
Army Party Decorations and Army Party Favors
Being a very competitive family we had a LOT of army boot camp activities planned so we kept the decorations to a minimum sticking with using some of my son's toy army guys, tanks, and other toy soldiers along with camouflage green balloons.
We requested that everyone wore camouflage attire for the special day and upon arrival, I made a sign for all the soldiers to "gear up!"
We had personalized dog tags for each member of the family along with army helmets, bandanas and even a camo face paint stick to bring home the camo look.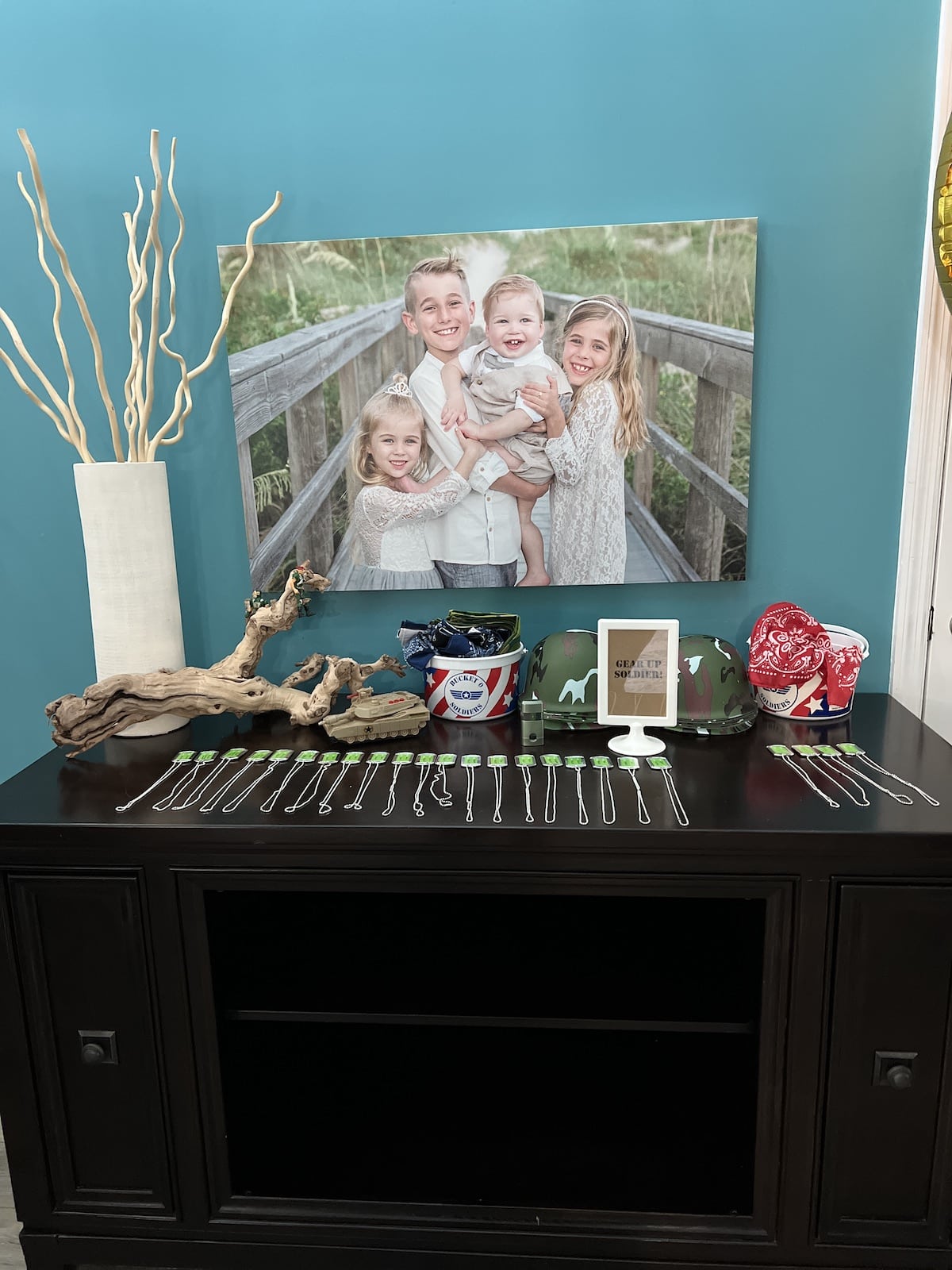 My oldest son had a lot of fun researching the different military ranks and assigning each family member an official title on their army dog tags! If you were hosting an army birthday party for a child you could also put the army birthday party supplies in a army themed goody bags or even just in plain paper bags as goodie bags which would still fit nicely with the theme and be a little cheaper 😉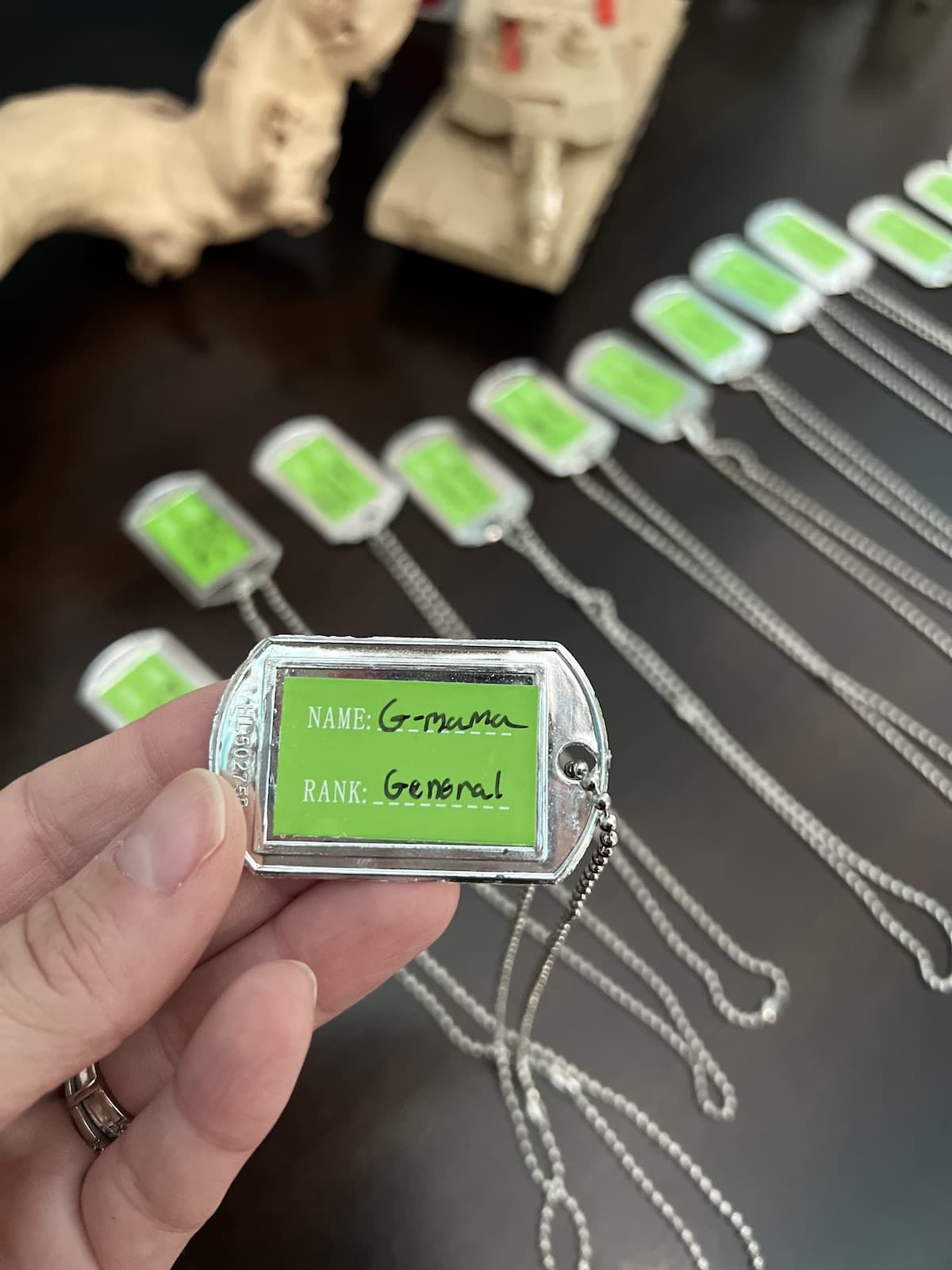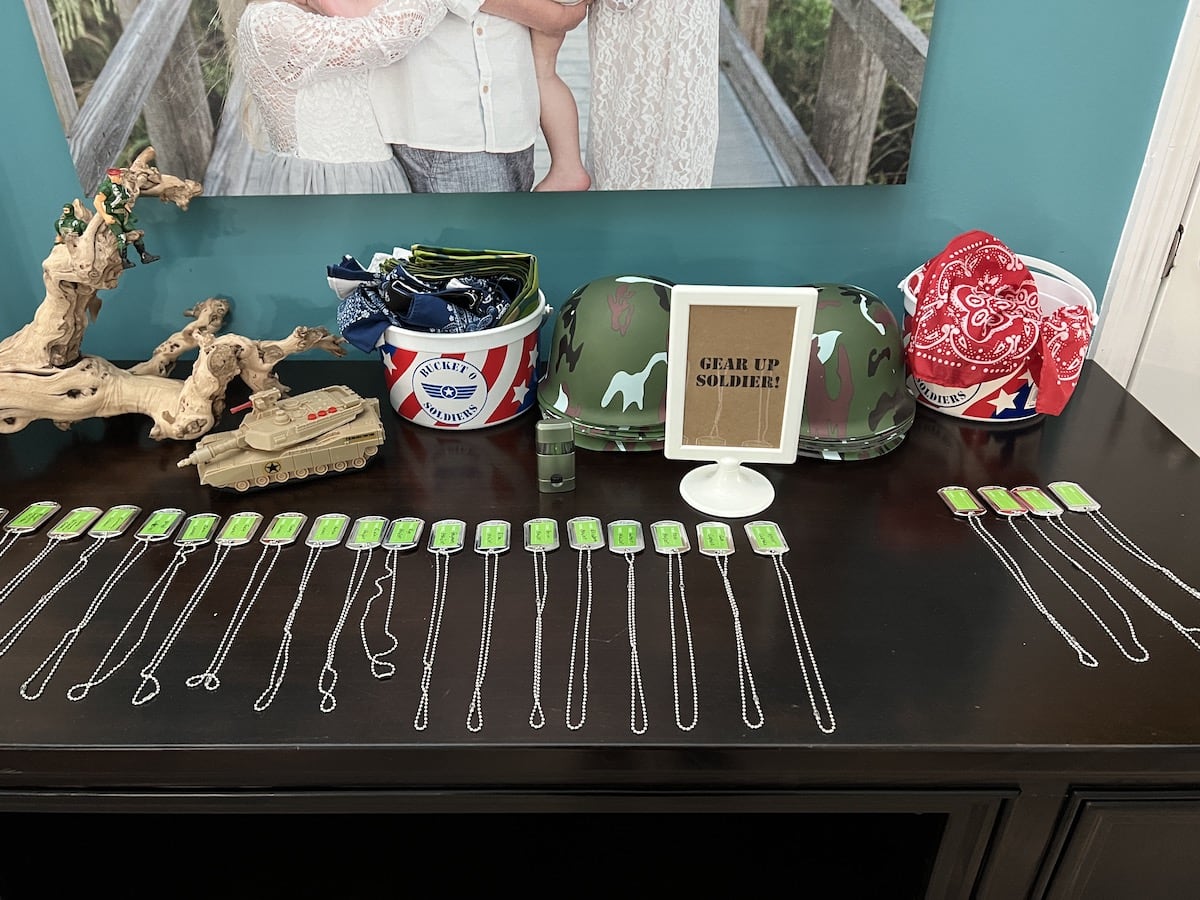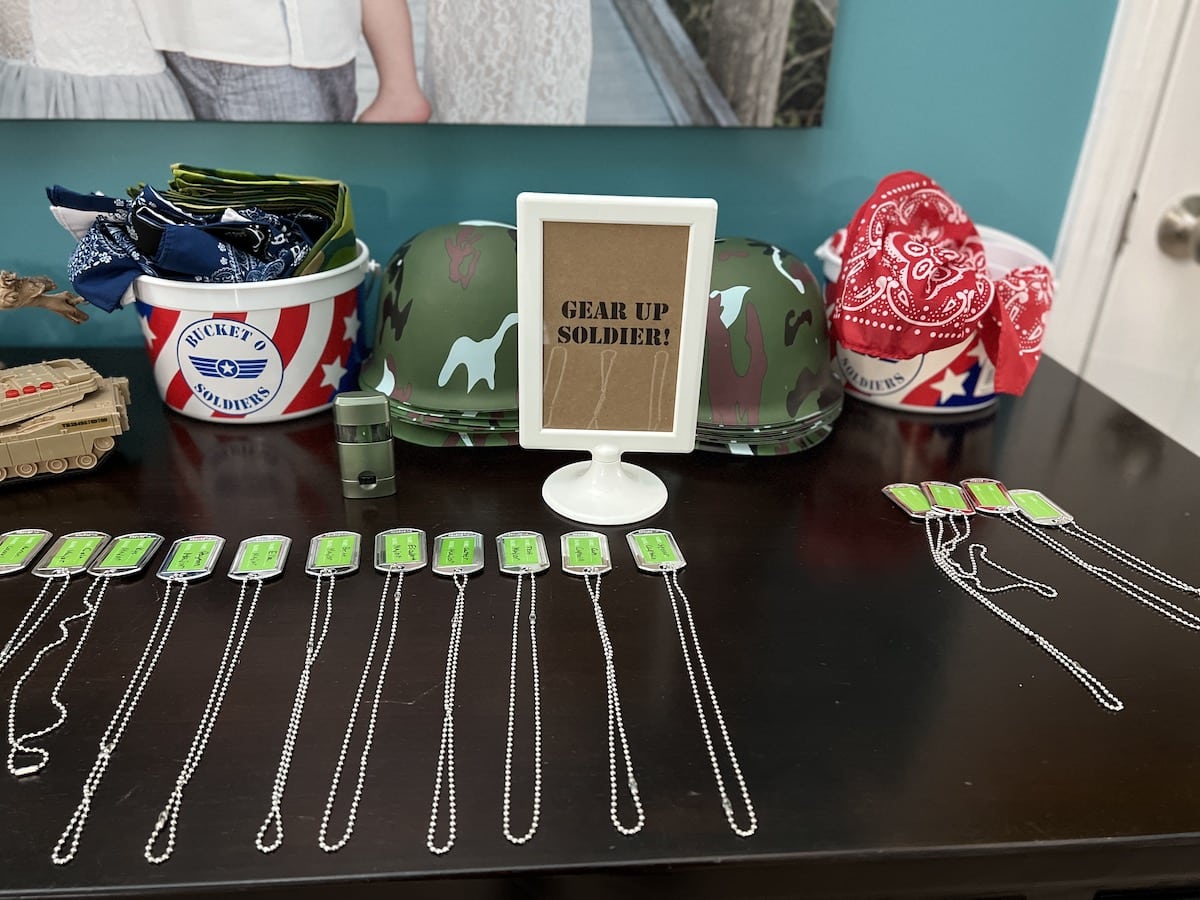 The party was in celebration of my mother-in-law's 60th birthday so we had to have the big 6 and 0 gold foil balloons along with mixing in plenty of the camo latex balloons too.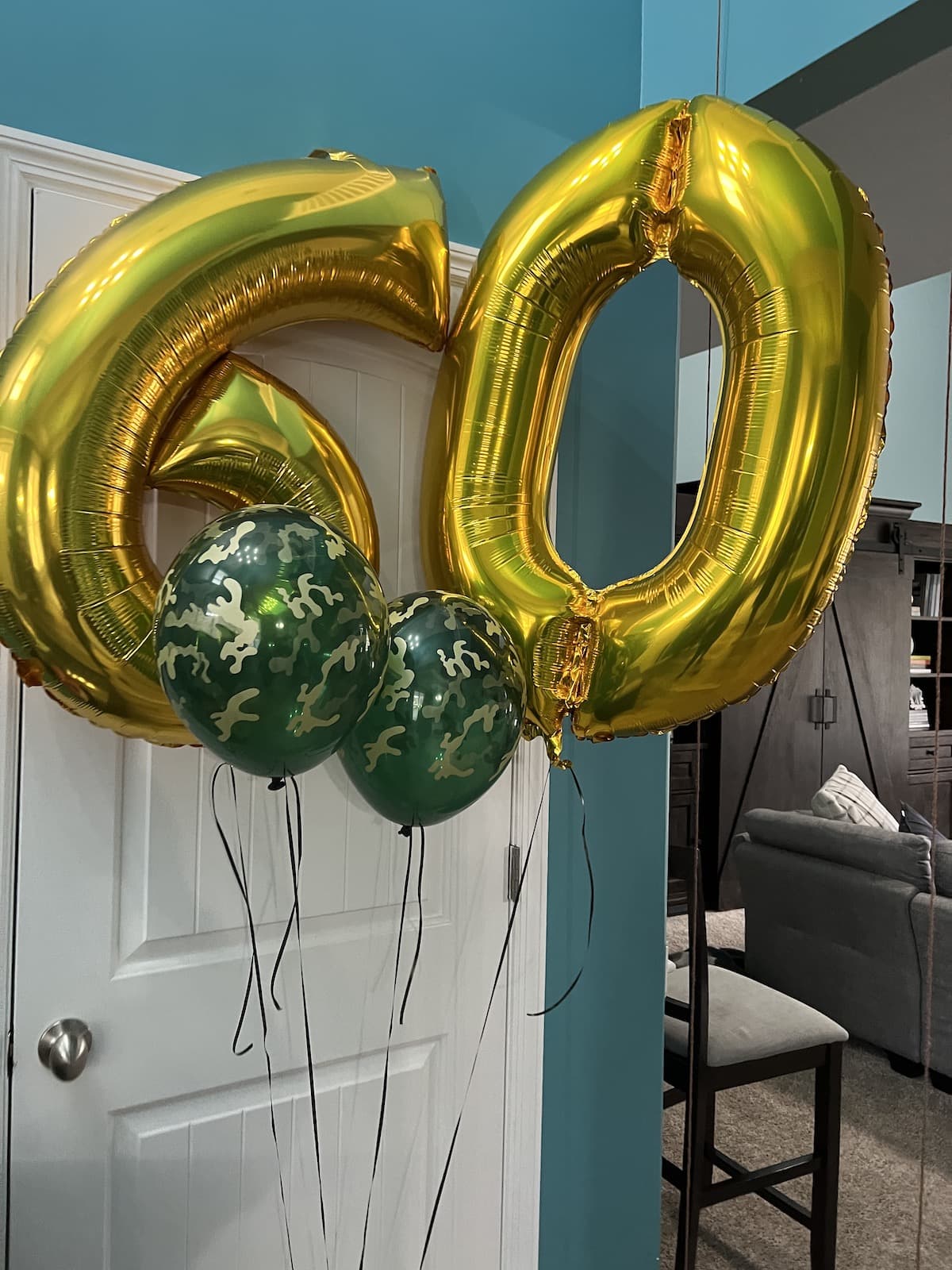 My mother-in-law has many "famous" phrases she says frequently so one great idea we had was to cut out strips of paper to allow all the party guests to share their favorite "G-Mama Quote." The army had it's slogans and G-Mama has her famous sayings!
I used an old picture frame (which I've actually used for countless parties and events and baby showers at this point) and found some camo print ribbon to staple across it along with some green miniature clothespins and as fellow soldiers wrote down their favorite quote they could add it to the display for the guest of honor to read during the party. I also put all the pens and extra pieces of paper in a little green pail. It was a huge hit and a perfect idea to honor the matriarch of the family!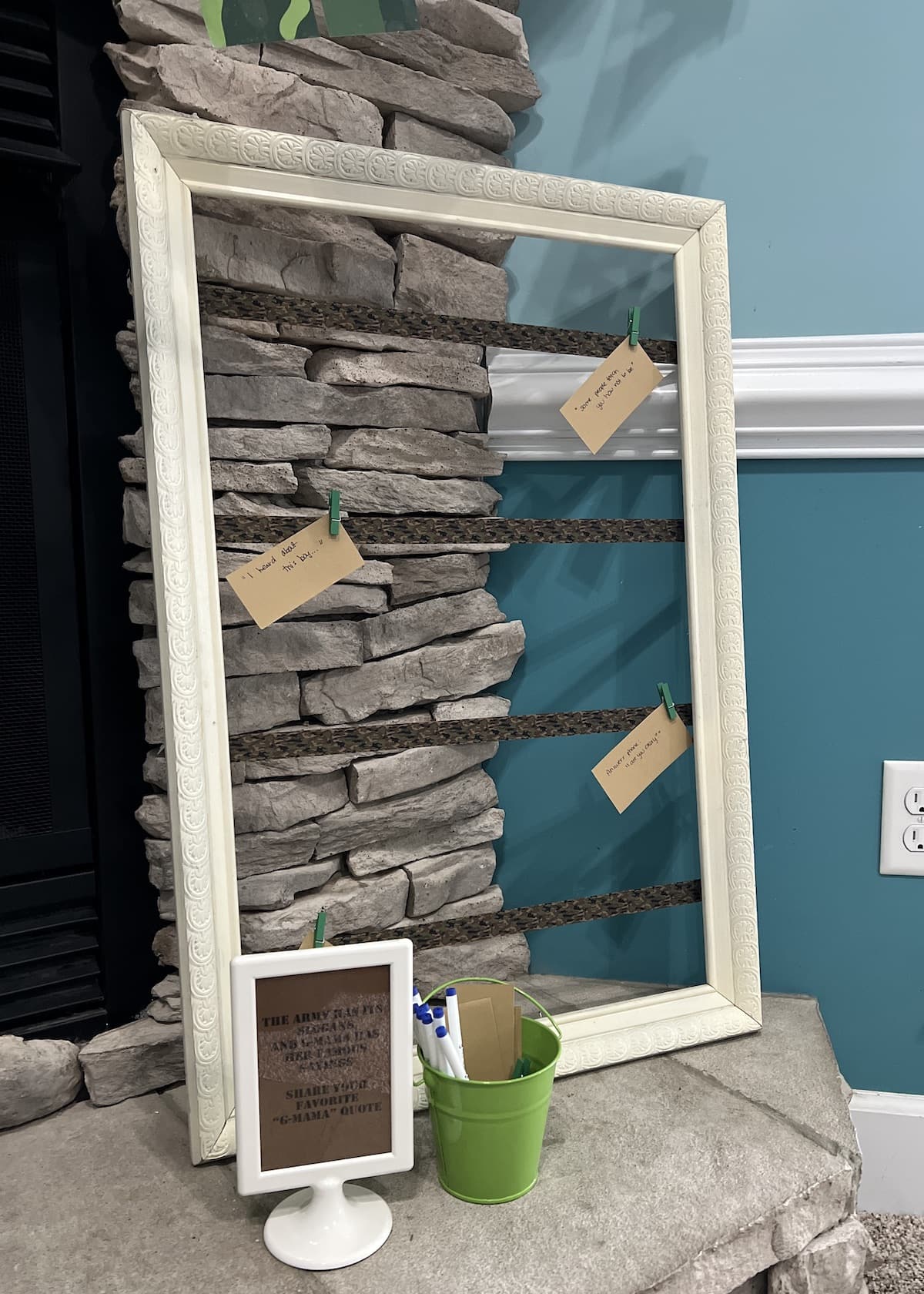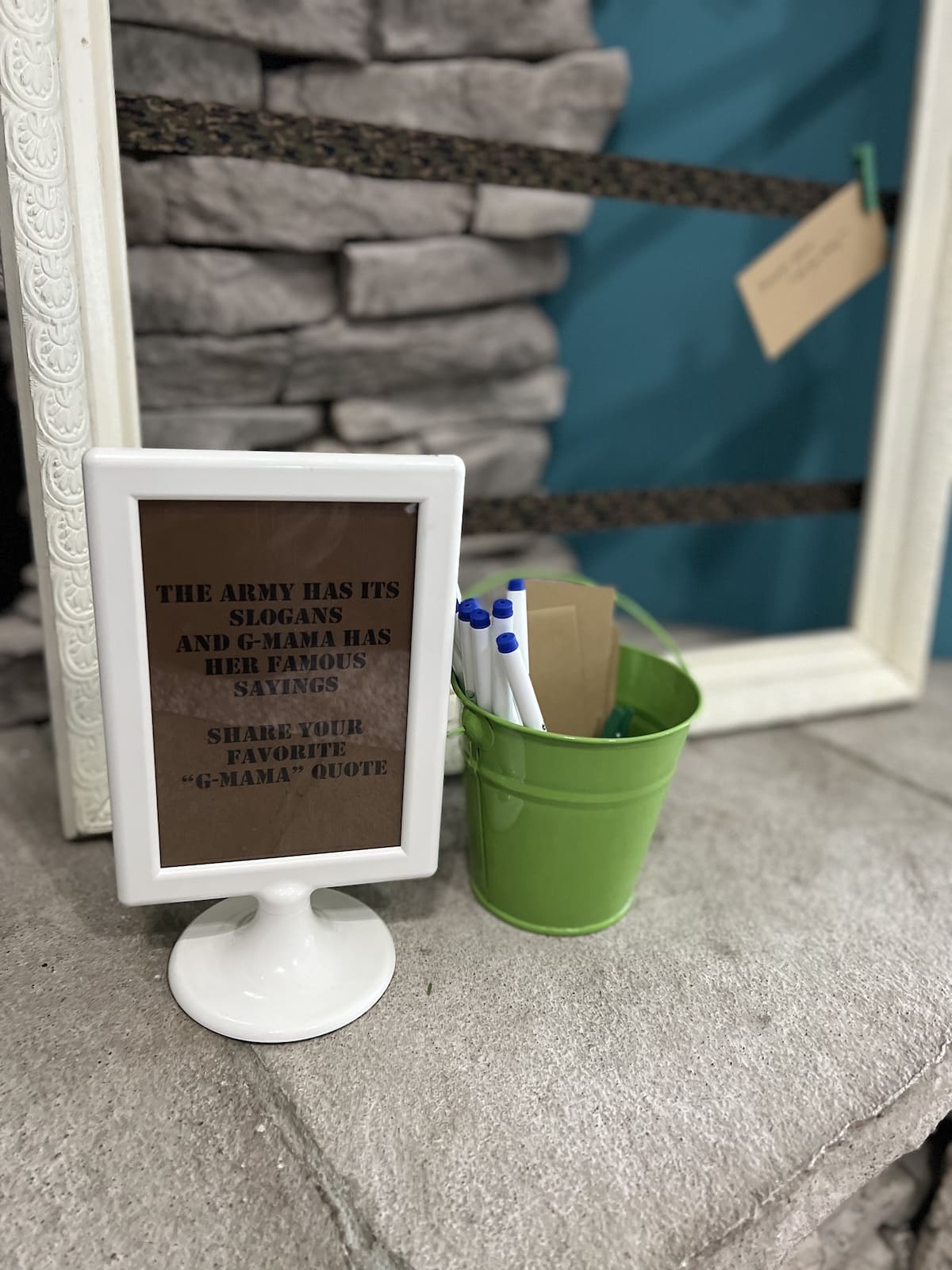 I wanted to purchase a Happy Birthday banner and was excited to find a camouflage banner to place across our fireplace mantle, this set also came with some additional army birthday party supplies that were perfect for adding themed touches around our home.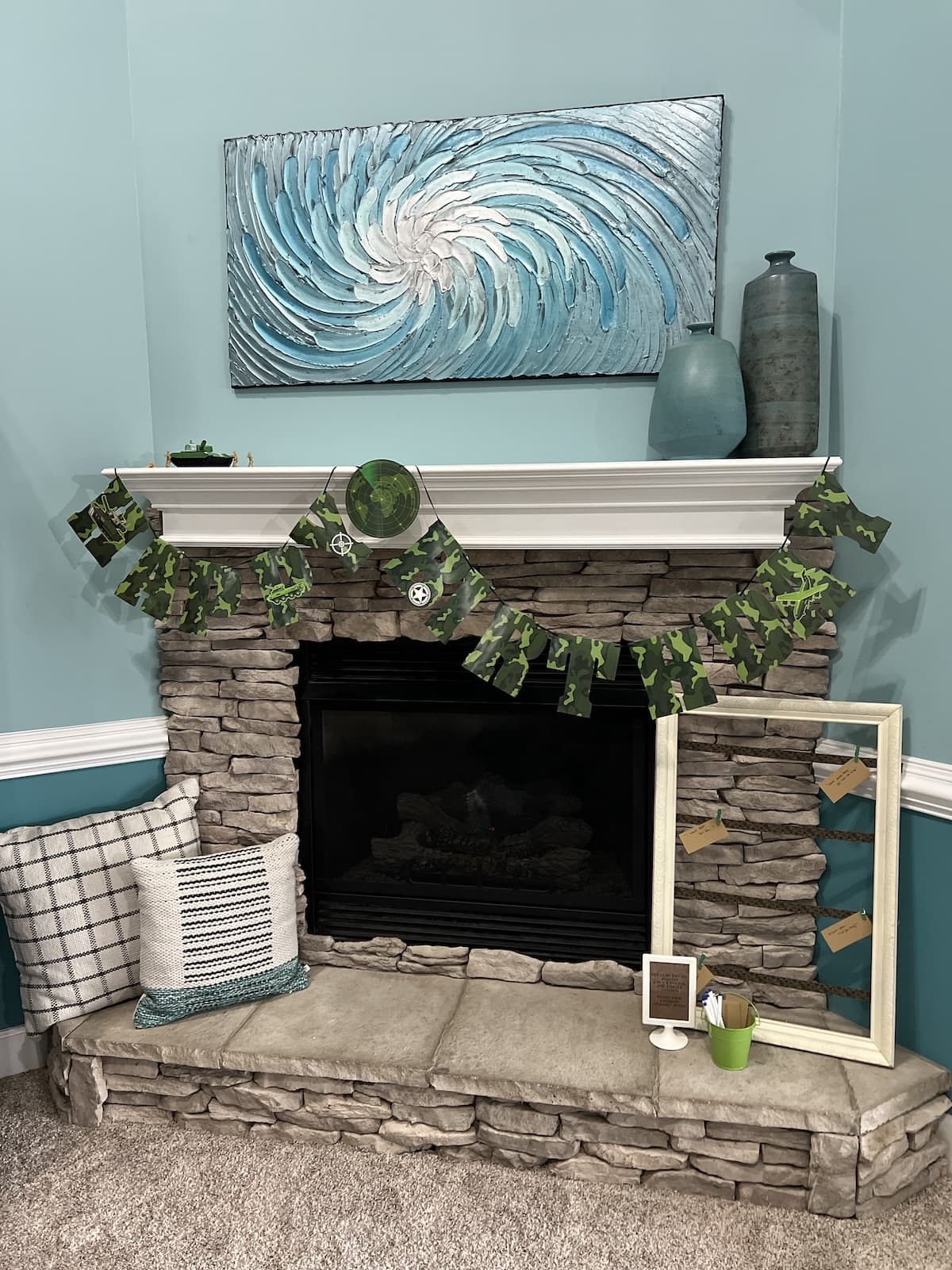 The fun part in party planning is seeing everything come together! We hung some of the hanging decorations from our kitchen light, tied some of the camo balloons on the chairs, and even bought a camouflage netting set to use as a makeshift table cloth to complete the mess hall kinda vibe. The camo netting really added a great touch and was a top secret purchase that even wowed me the first time I saw it all on display!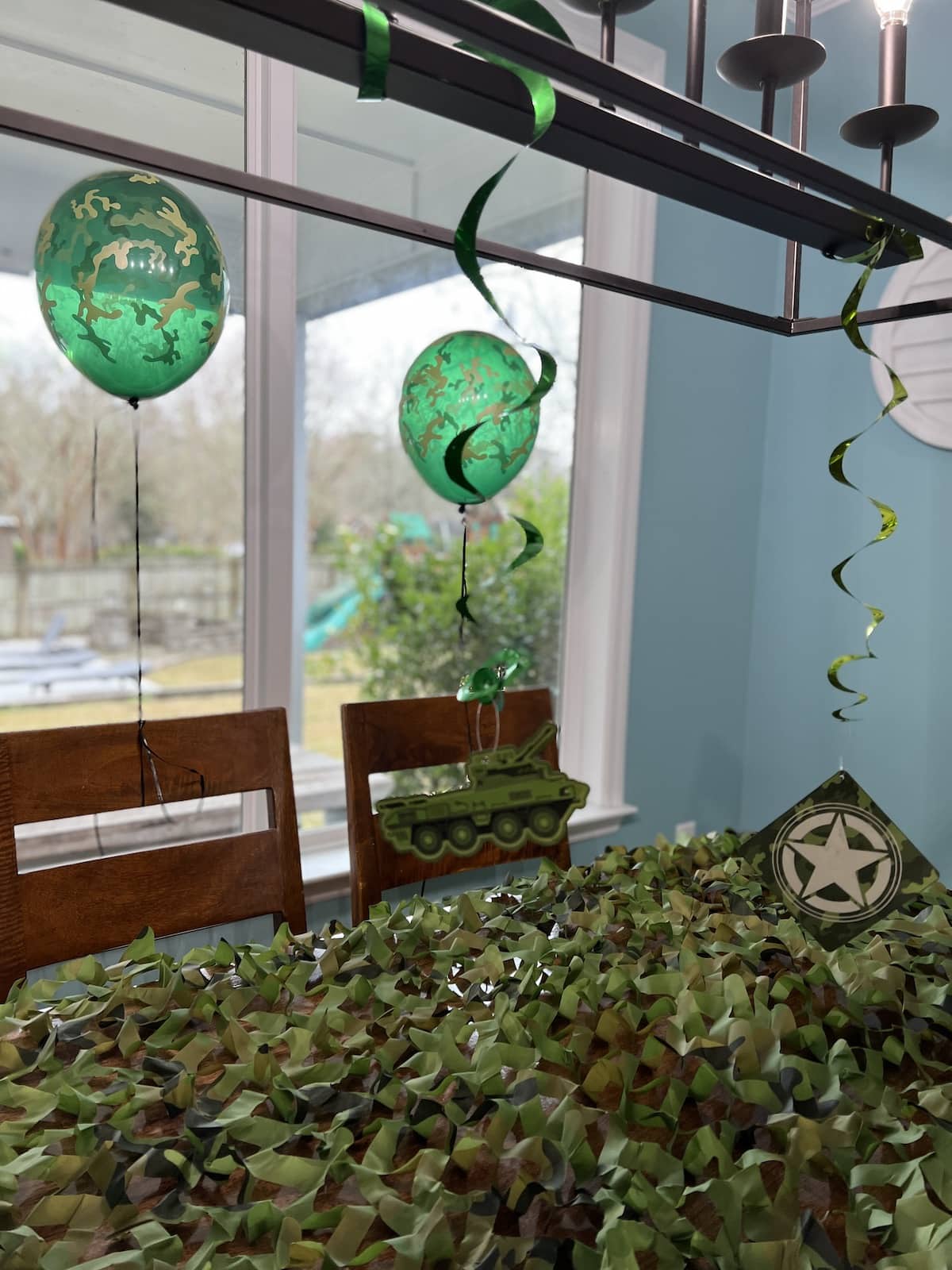 We had several team competitions and party games planned and the first team to win each event would all receive these cute little trophies at the end of the party! Of course every real army man knows the real winners take home the honor of winning and that means more than a trophy 😉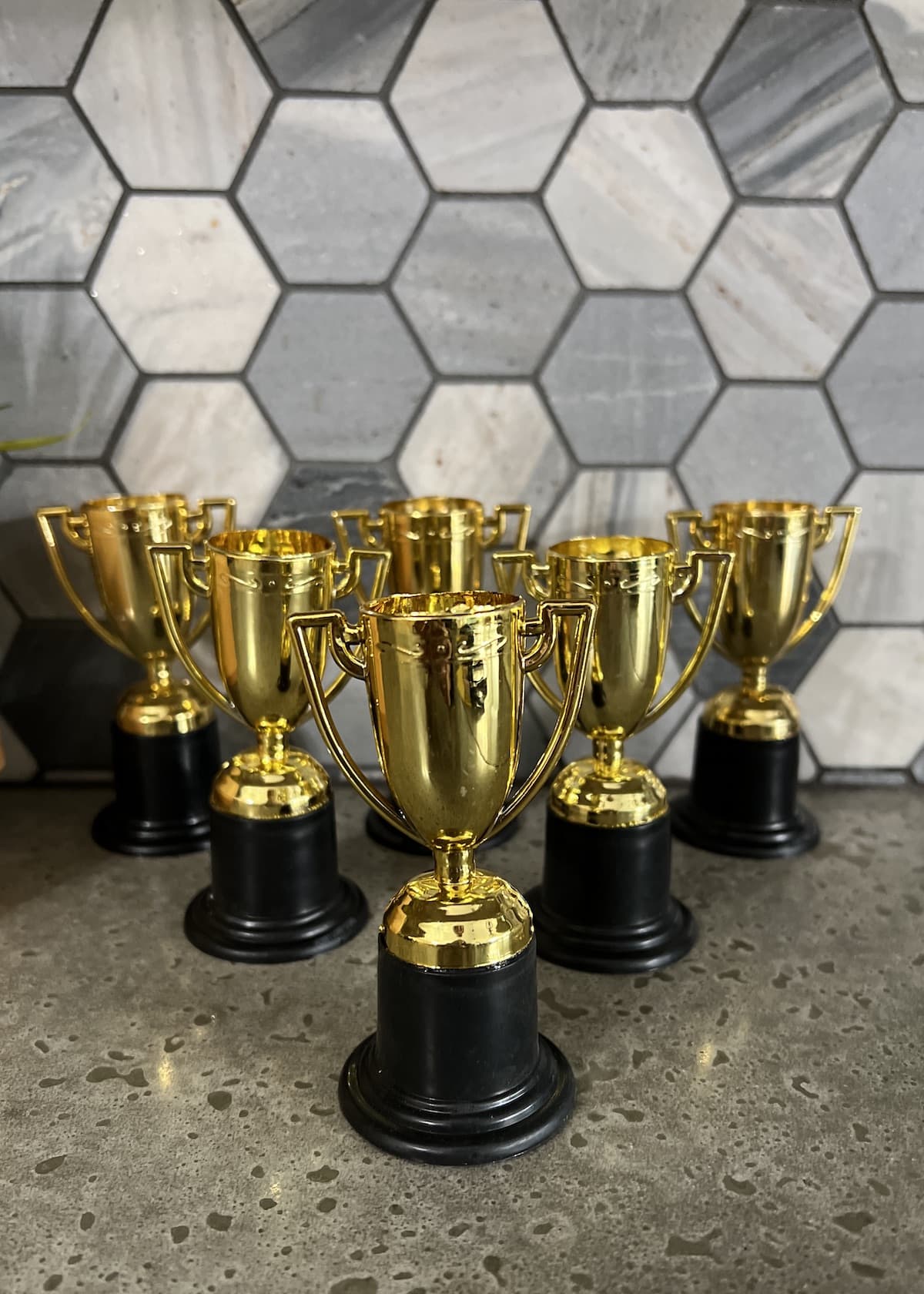 The Party Food
When it comes to any party, the best way to have a successful celebration is to have lots of PARTY FOOD! I love doing themed food for my parties. It's always a fun activity to get creative on naming the foods with themed names and thinking up unique party dishes that everyone will enjoy.
I steer clear of anything overly difficult to make or time-consuming to put together. I'm not the cake pop making kinda mama. I prefer to buy as much as I can in advance and spend the time prior to the party setting everything up rather than stressing out in the kitchen. Rice krispie treats and themed cupcakes purchased from a local grocery store or bakery are more my speed. 😉
I co-hosted this event with my sister in-laws and they brought several of the party food items! We brainstormed on favorite treats and dishes that my mother-in-law loves and focused on those for the party food and dessert table.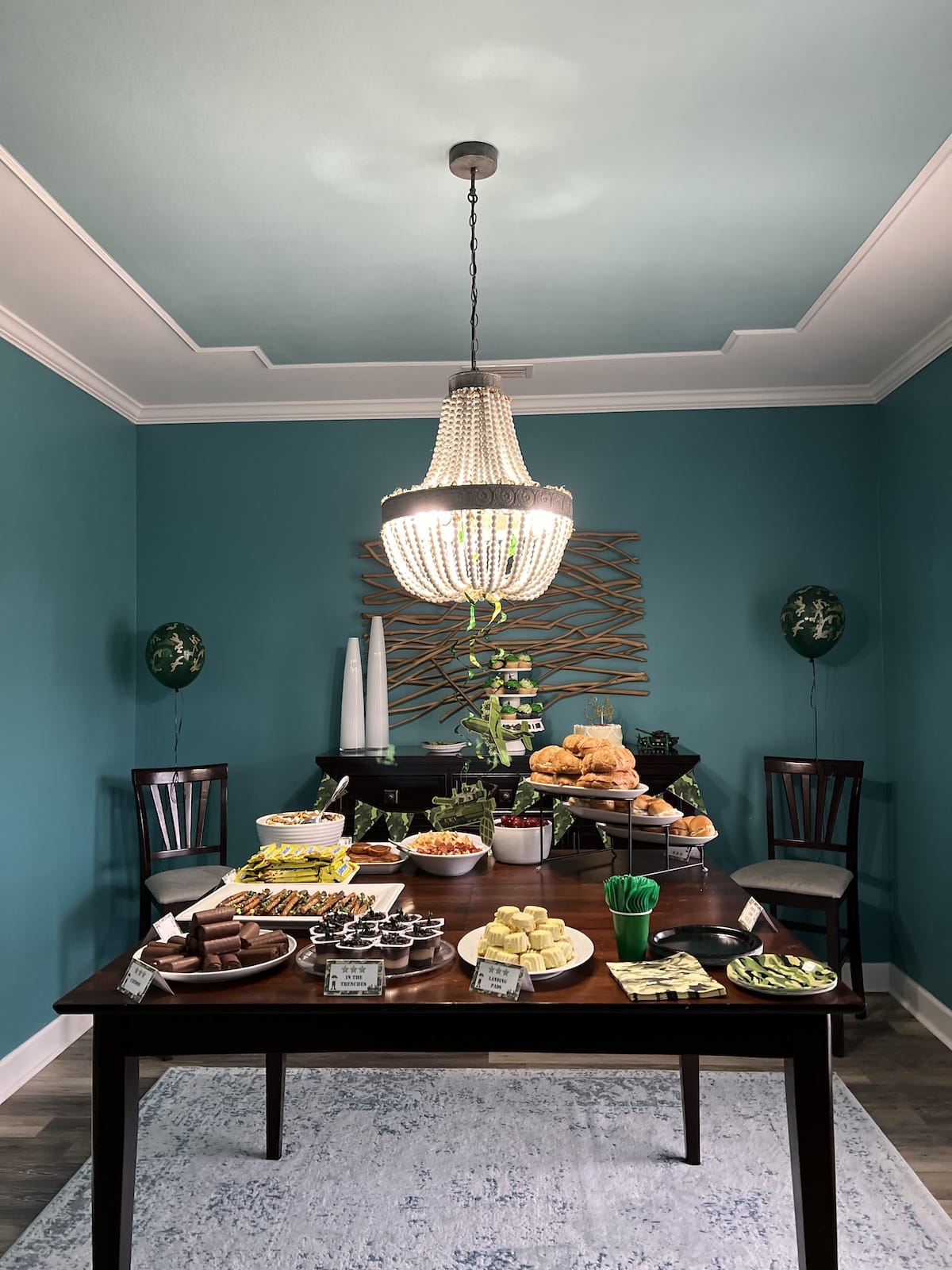 I like to keep the decorations very minimal and let the party food speak for itself. I hung a camo banner on our buffet table as well as some of the hanging decors from our light and a couple camo balloons on nearby chairs.
We bought a camo paper plates set along with green utensils and green party cups!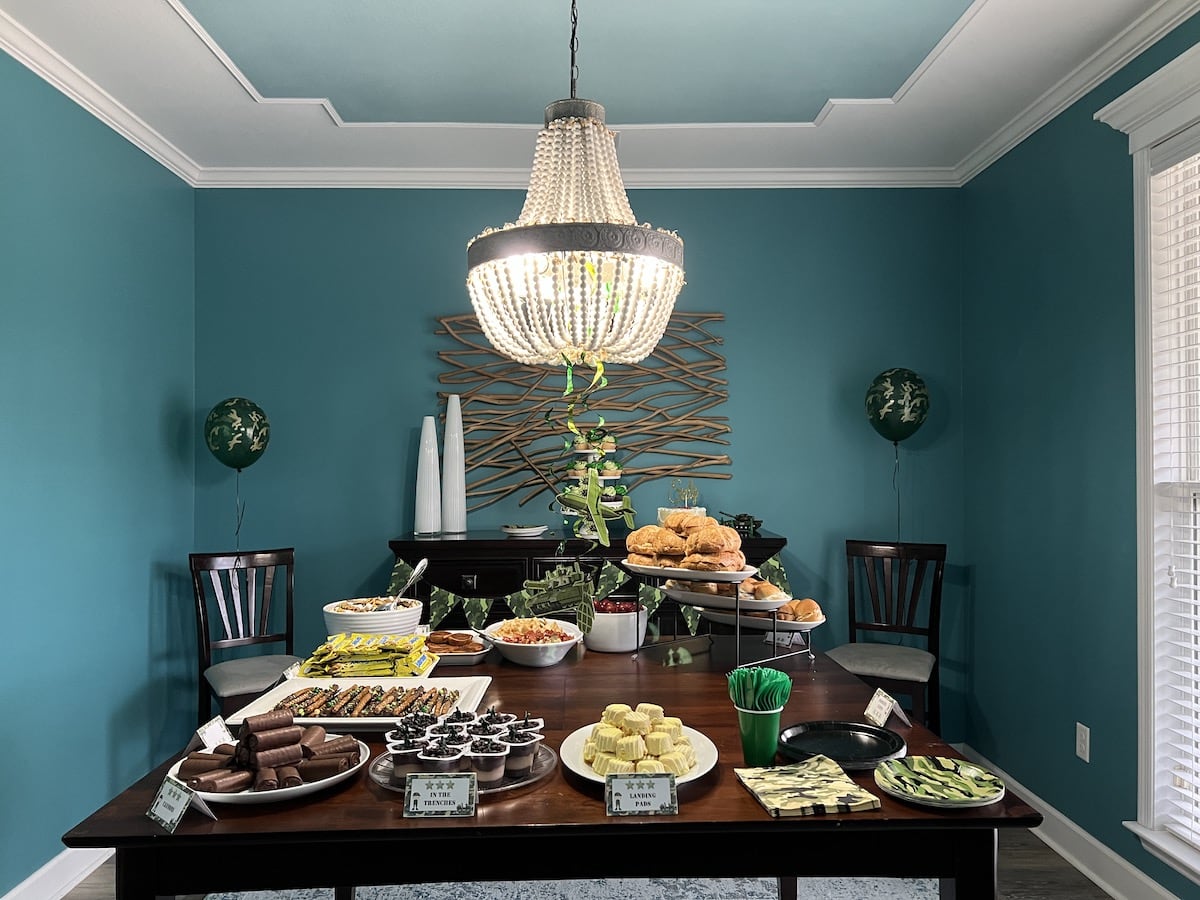 My son had a lot of fun setting up his army men and toys as additional decorations for the dessert table.
At the fueling station, we had a large bucket of ice and lots of soda choices along with themed green cups. I found the food labels and was able to print them for free from here! However, if they are no longer available I also found these camo food labels at a really affordable price that would work great too.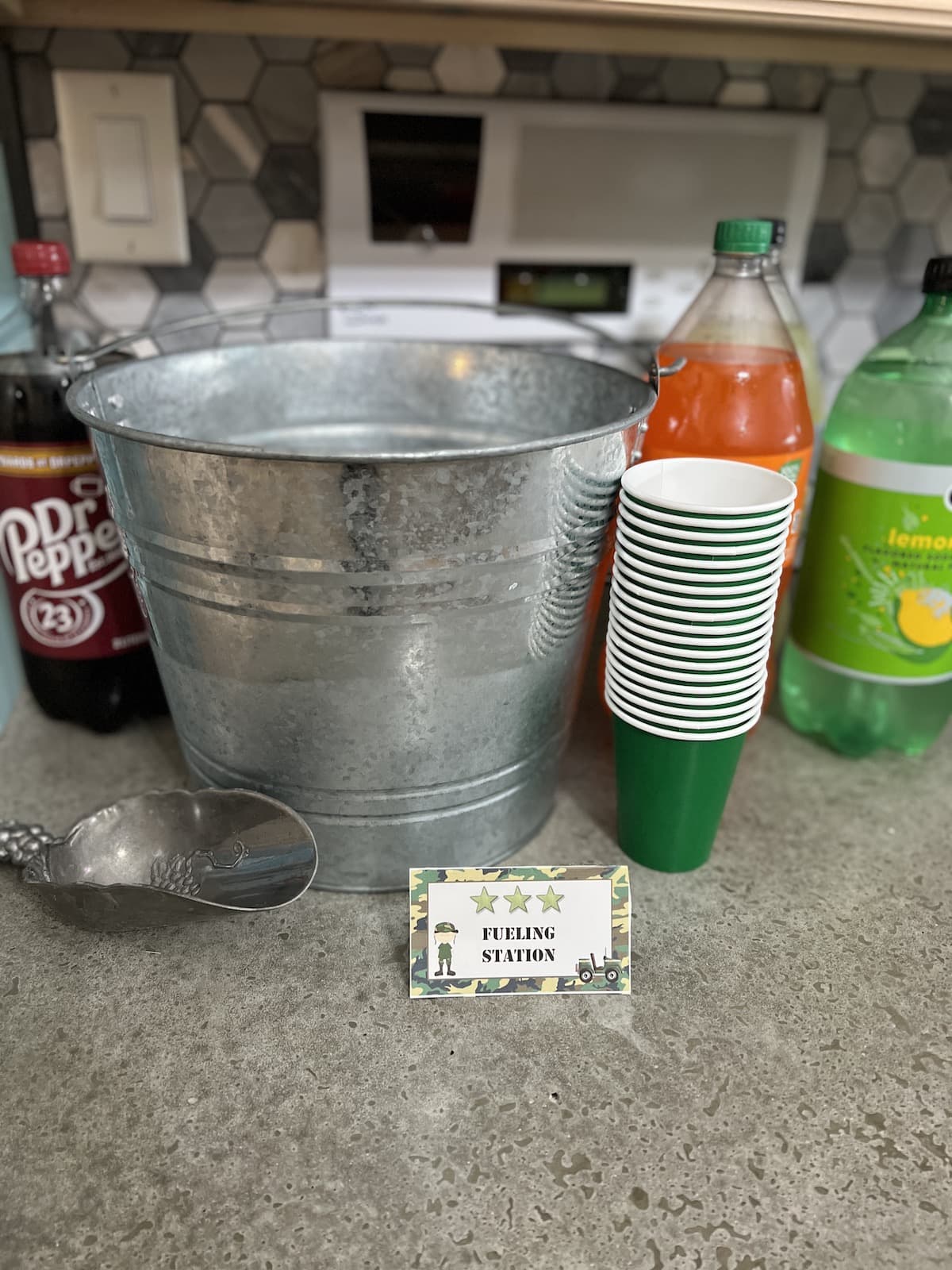 Chicken Salad Sandwiches and Pimento Cheese Sandwiches "Daily Rations"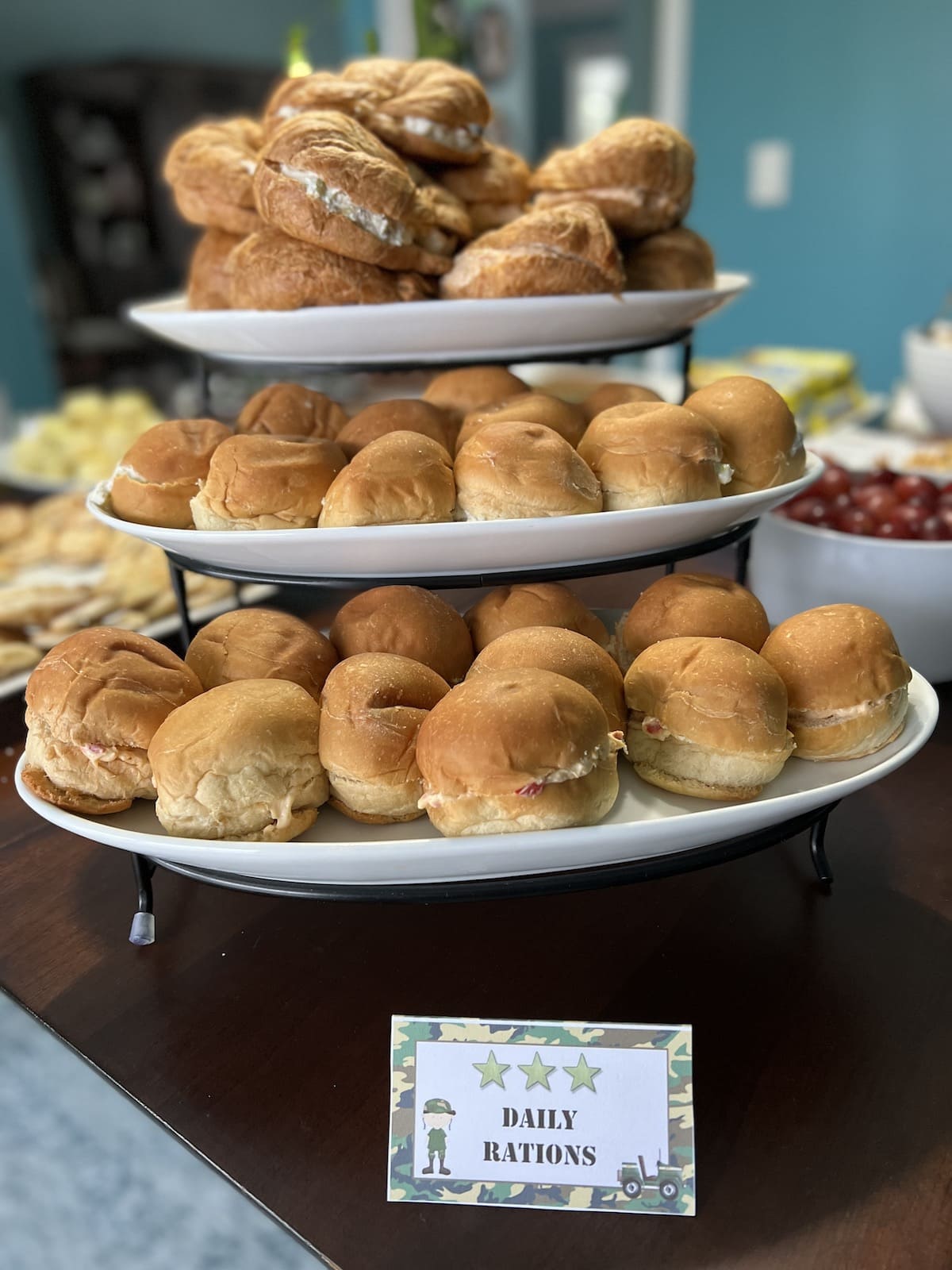 Lemon Cakes "Landing Pads"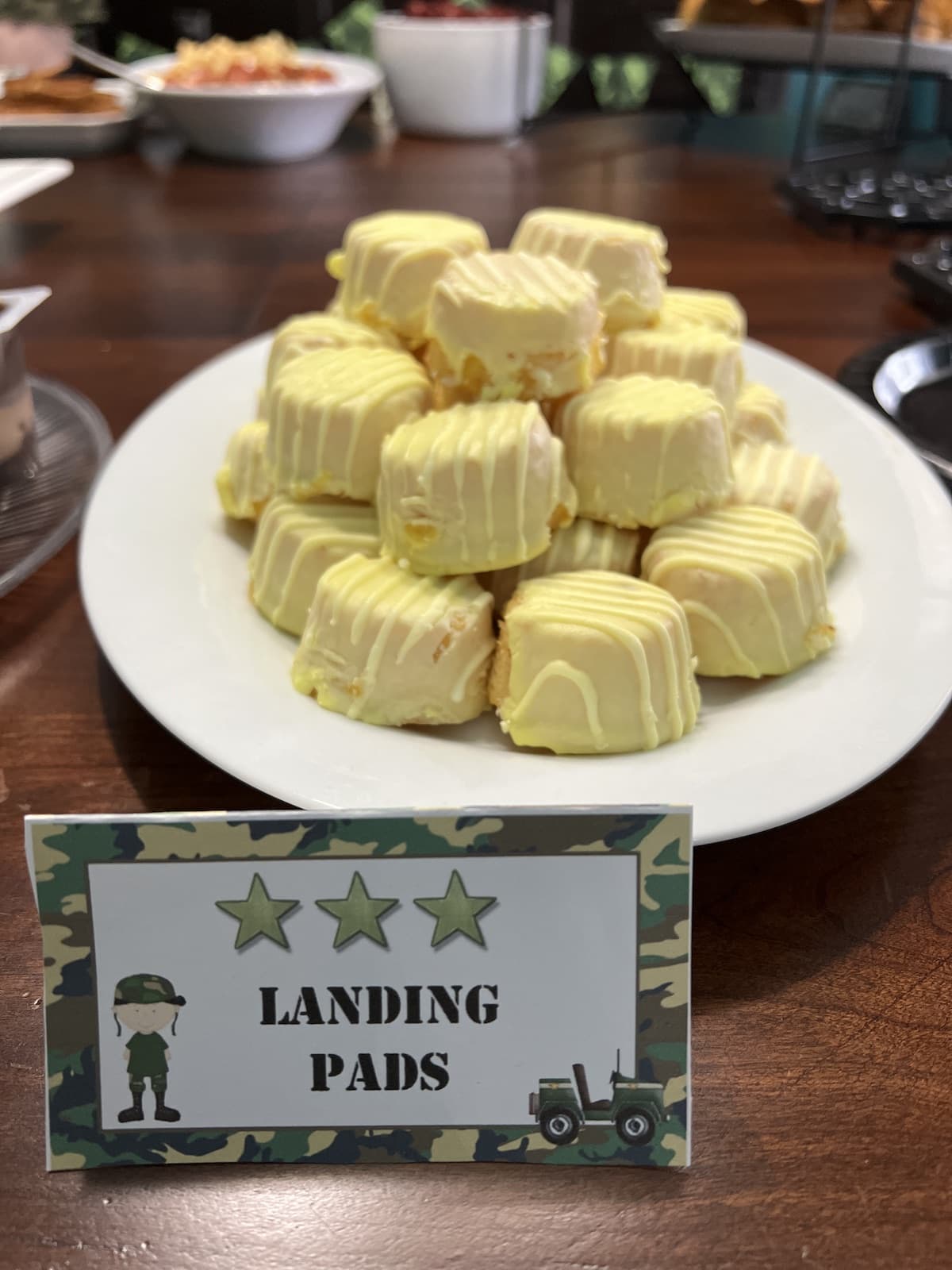 Pudding Cups with crunched-up Oreos and topped with a toy soldier "In the Trenches"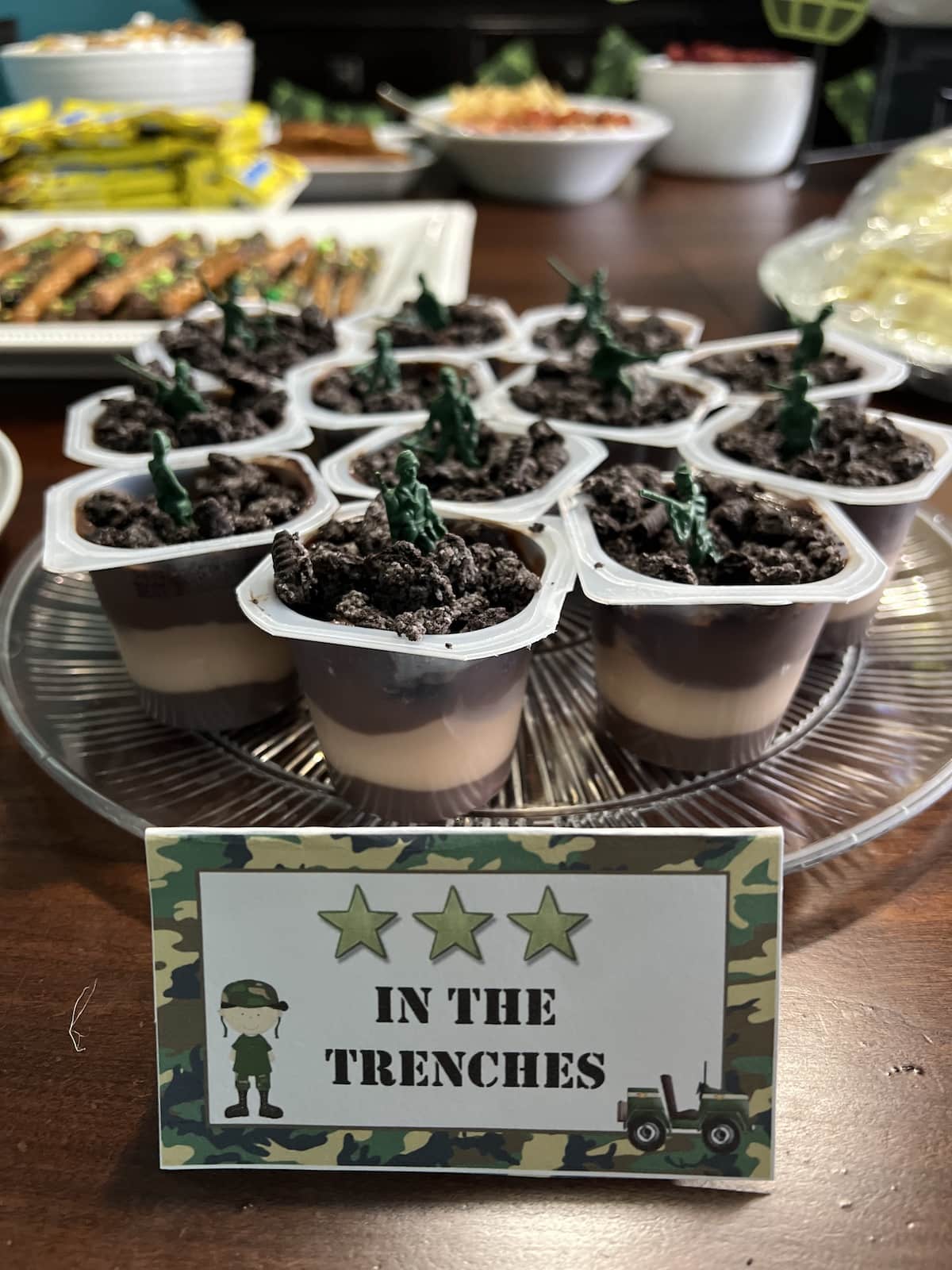 Grape "Bombs"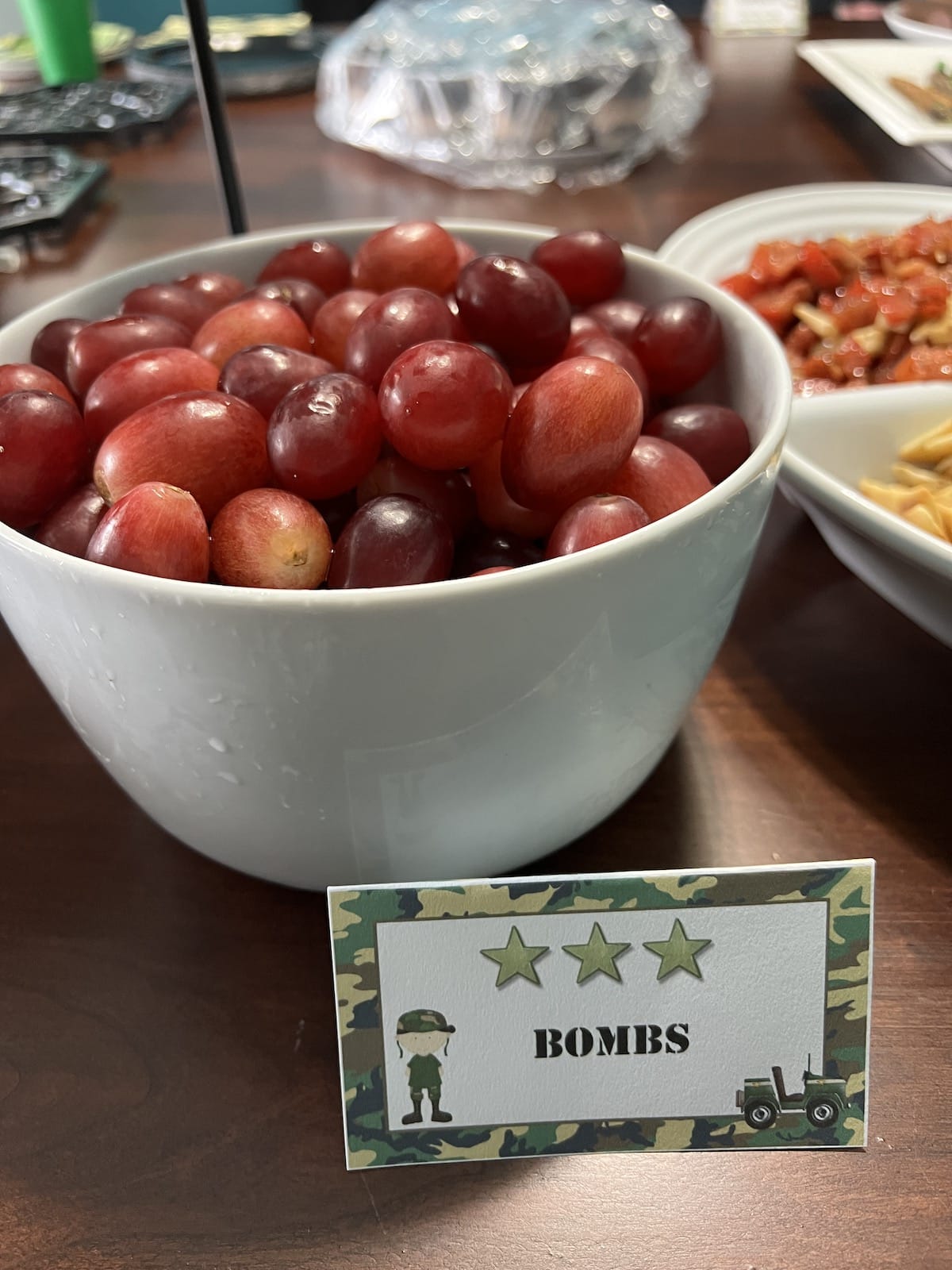 Bruschetta "Roadside Bombers"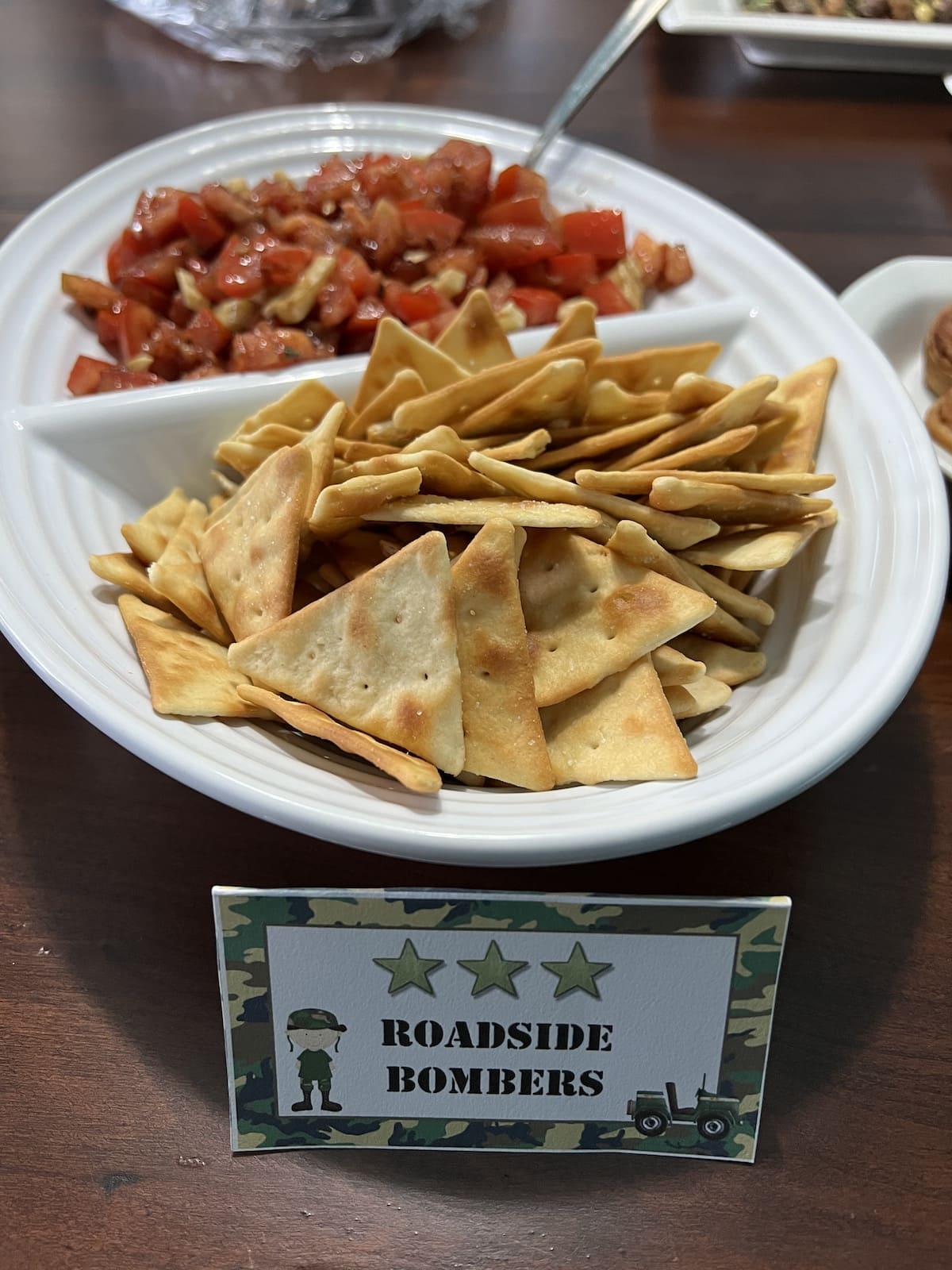 Pecan Twirls "Hummer Tires"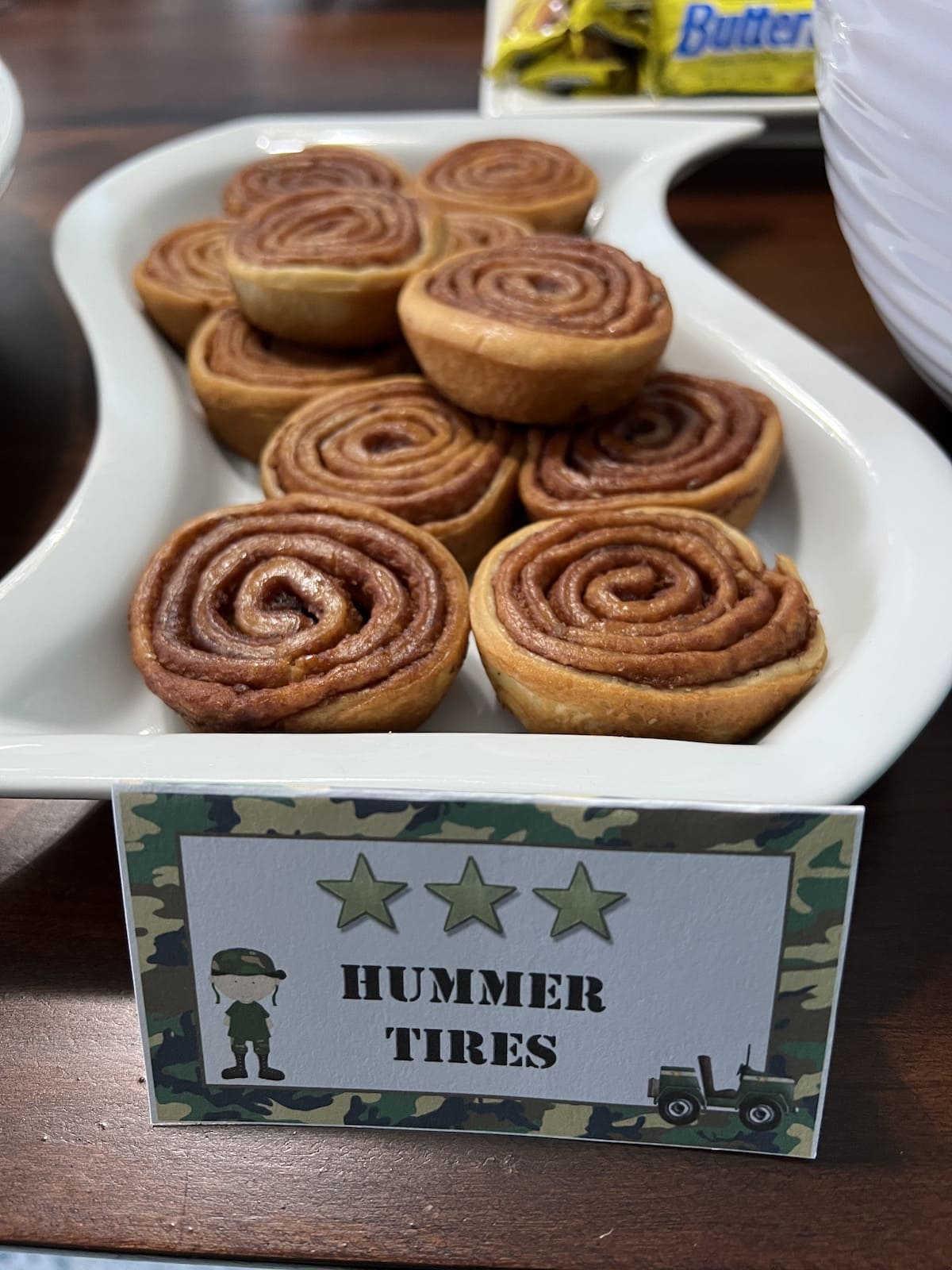 Trail Mix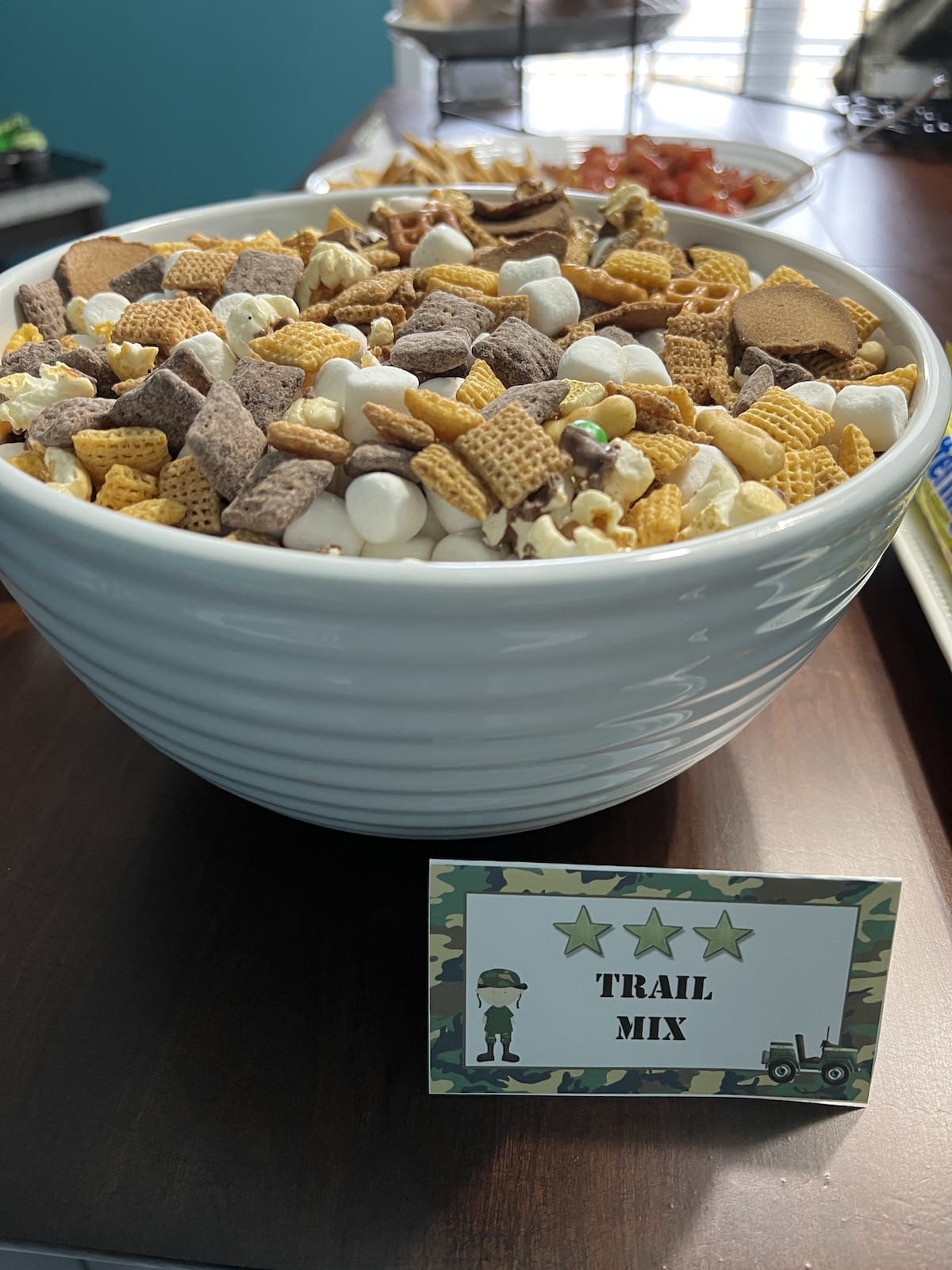 Had to have G-Mama's favorite candy! Butterfinger "Barricade"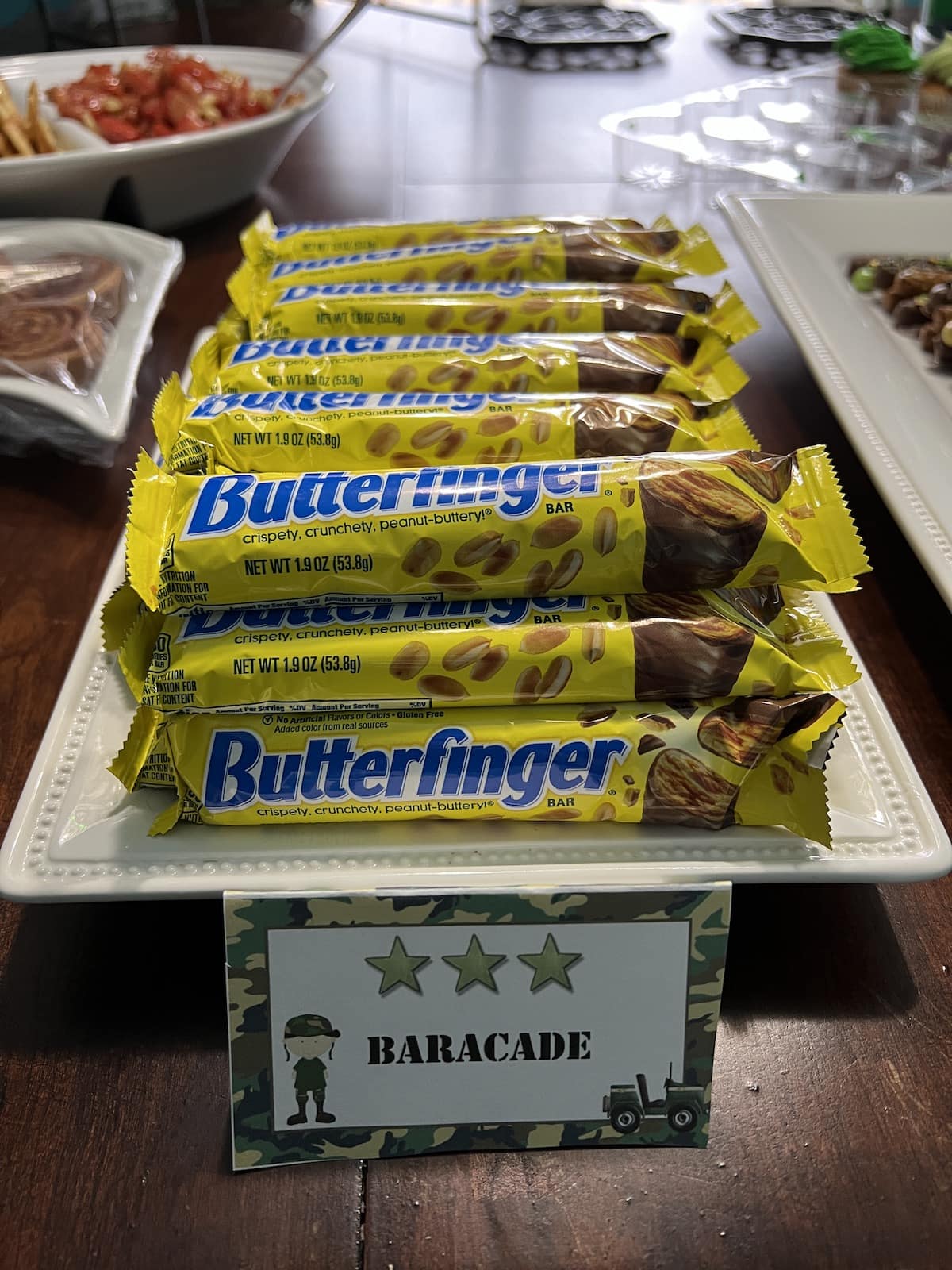 My go-to party food item is always large pretzel sticks dipped in chocolate and sprinkled in themed sprinkles! This party they served as "Missles"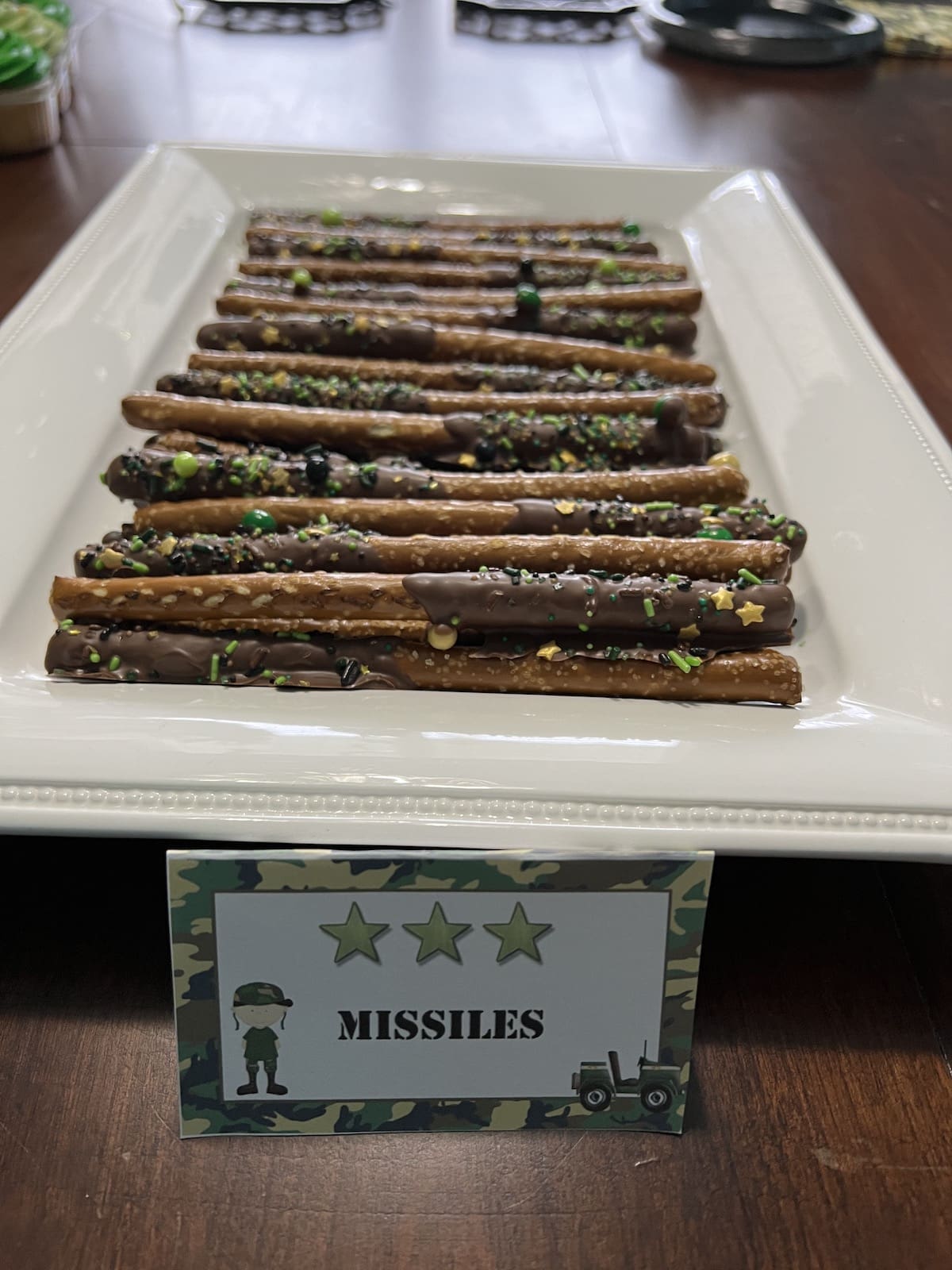 Swiss Roll "Cannons"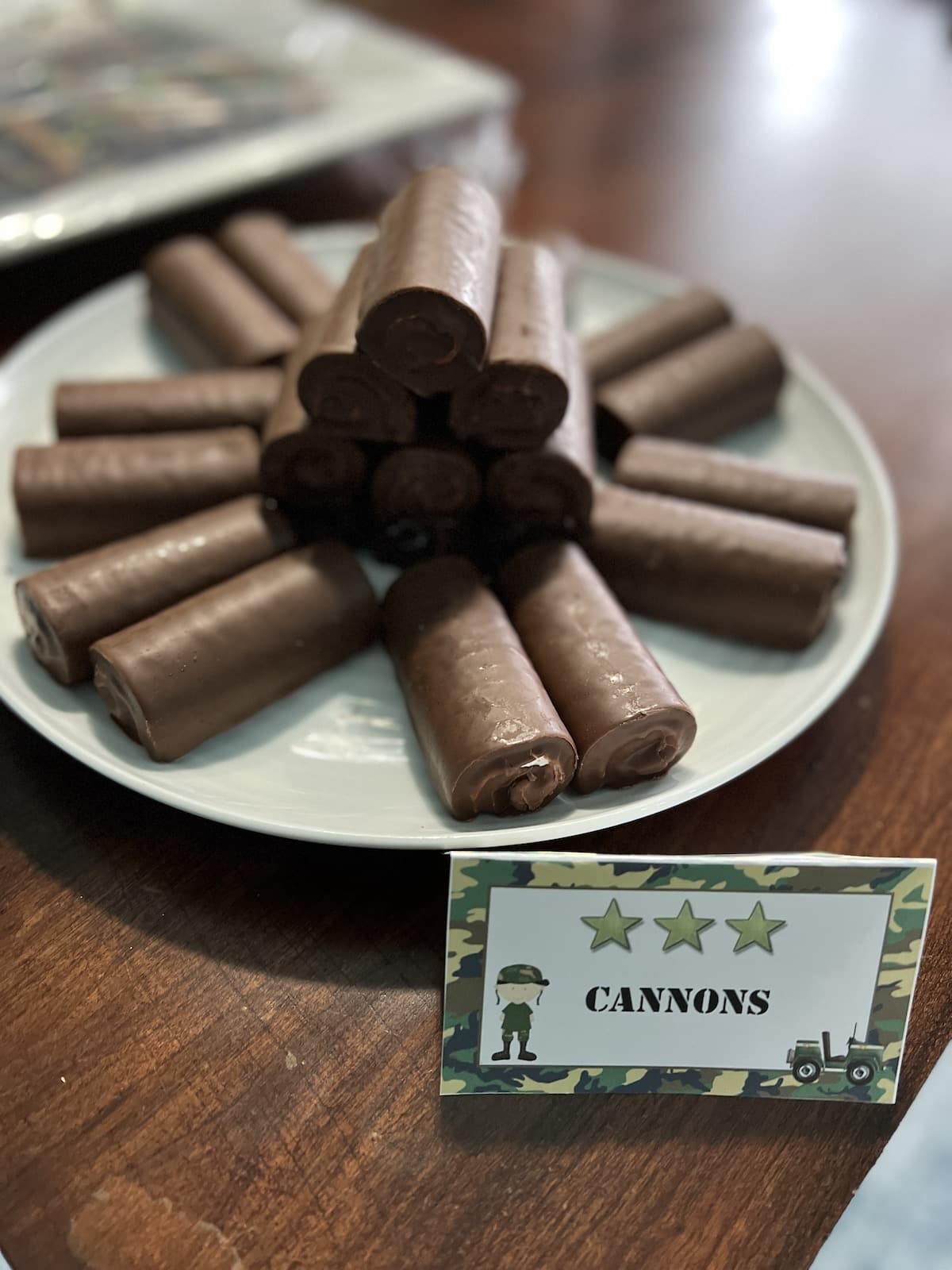 We did not do a themed cake as my mother-in-law mentioned her favorite type of cake and we wanted her birthday cake to be FOR HER! We did add a cake topper making sure no one forgot the milestone birthday we were celebrating 😉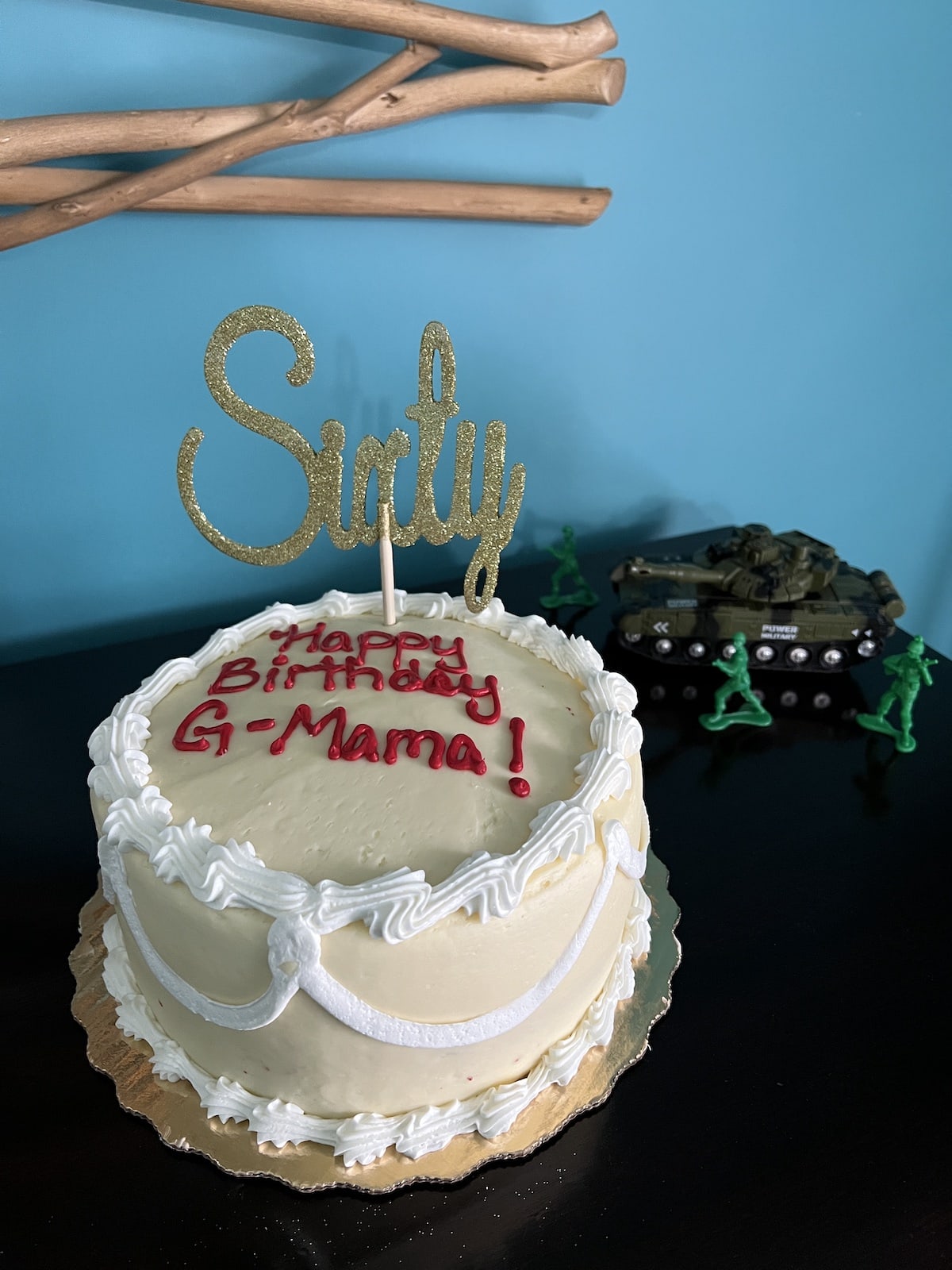 Last but not least we did camouflage cupcakes! In the past, for parties, I have used themed cupcake liners but learned that it's better to focus on making the frosting and the top of the cupcake cuter than it is worth the time or expense to have a themed cupcake liner.
This party I ordered cupcakes from Sam's Club in different shades of green frosting. Then I added themed sprinkles on top along with an army man! I had extra of the camo ribbon that I put through my cake stand for a finishing touch to complete the military birthday party army camo theme!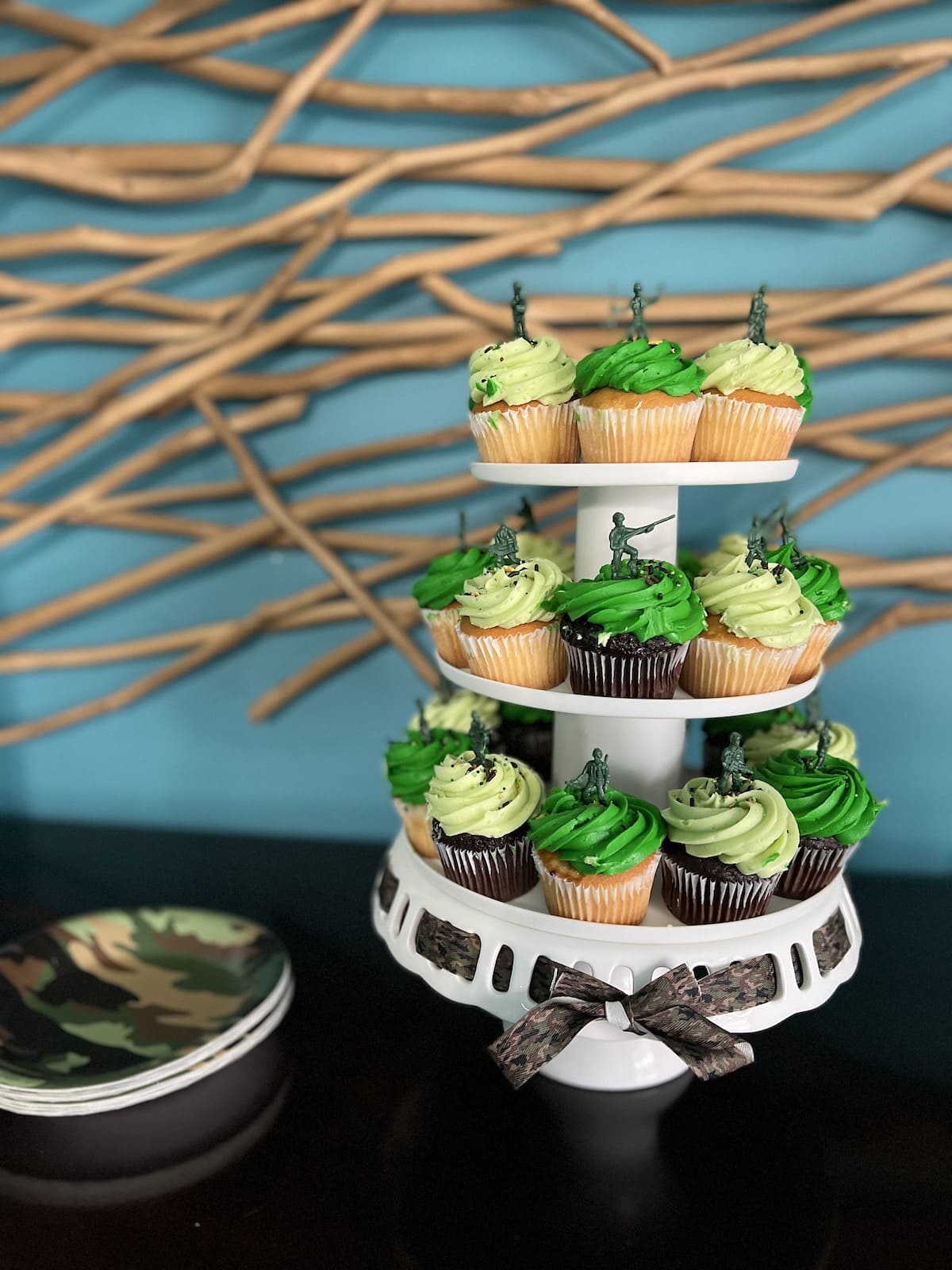 DIY Army Themed Birthday Party Final Thoughts
When it comes to party themes I'm all about getting creative while also making sure to keep it fun and simple. I want guests to feel welcome and to be excited about the details, not overwhelmed by them. The kids were SO thrilled with the camo birthday party event for G-Mama and I wouldn't be surprised if we have a toy soldier birthday or military party for one of the kids before long!
Our army themed party turned out awesome and we had such a fun-filled celebration! I hope these army party ideas help to make your event successful as well 🙂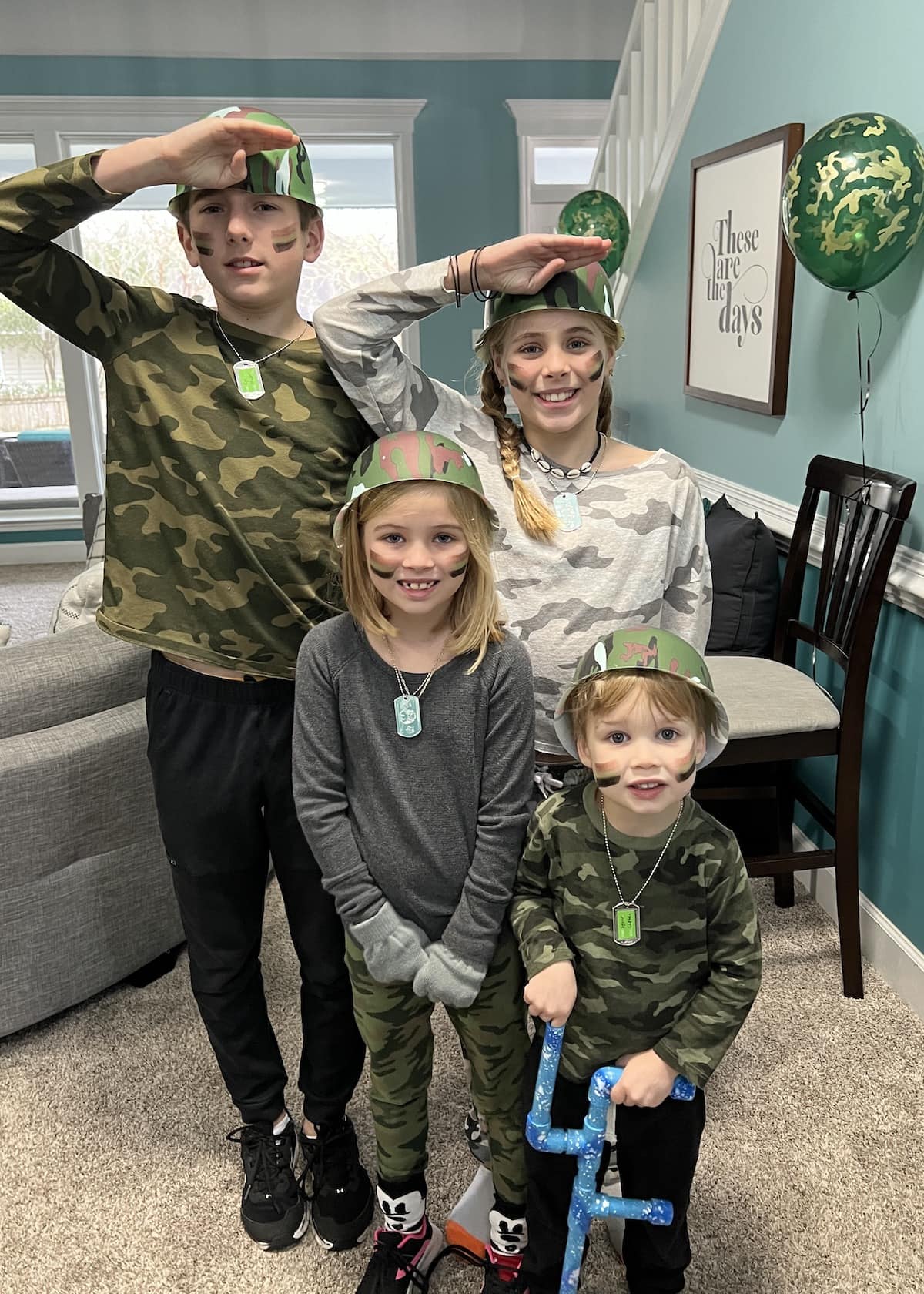 More Party Inspirations:
Looking for more party inspiration? I have a full post on the best party themes for kids. Plus, here are some of the other birthday themes I've done over the years for my kids: