I was pretty excited to plan this party. I enjoy a challenge and there is nothing out there for a Donald Duck birthday party theme.
I have always enjoyed planning parties…once Pinterest came around party planning got even more fun because there are SO many ideas available to me! Usually I have a hard time narrowing down what things I want to include for our parties…until now.
Britt has been a big Donald Duck fan since our Disney visit last year. You buy a little girl tons of Minnie Mouse and Princess stuff and then she chooses to pick Donald Duck as her favorite?
When it came time to choose a party theme for her 3rd birthday, Donald was the obvious choice.
Yes, you can do a Mickey Mouse Clubhouse thing and include Donald…but that's not what we wanted! My kids have only seen a few episodes of that show anyway! I knew she wanted a Donald Duck party so a Donald Duck party I was going to give her!!!
I used Pinterest, as usual, and hunted as many ideas as I could find. If you happen to be planning a Donald party yourself then be sure to check out my Pinterest board here!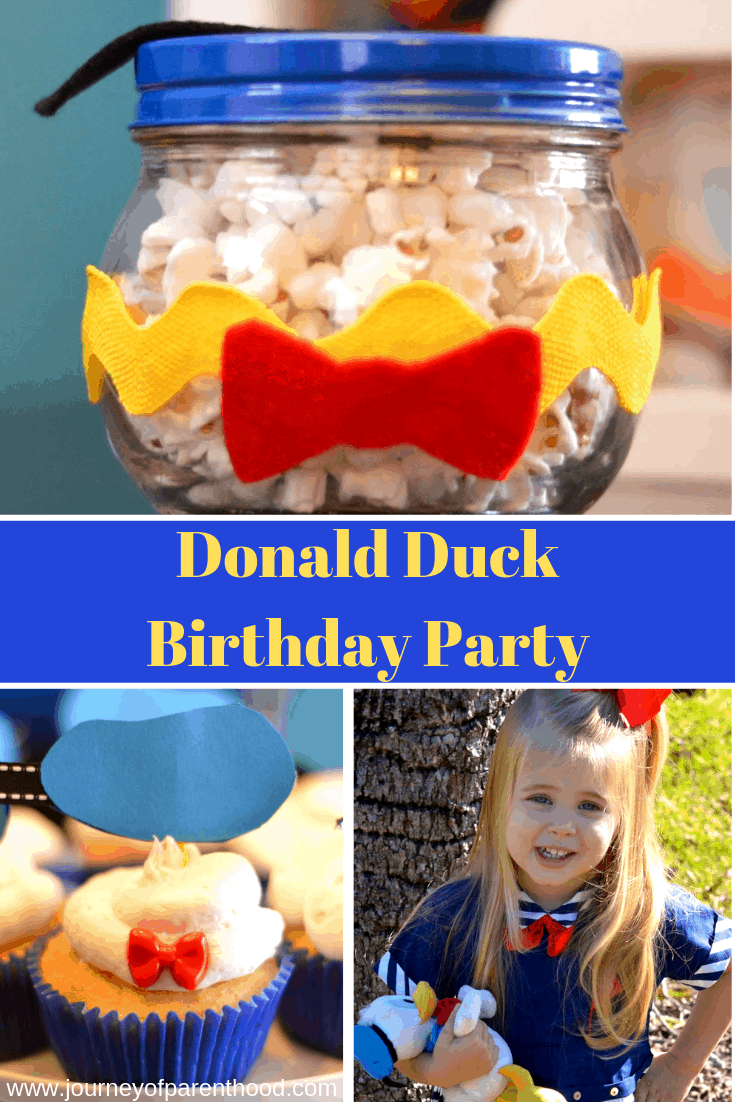 Originally published January 19th, 2015
*Post contains affiliate links
Our Donald Duck Themed Birthday Party
The Decor
I knew even prior to planning that I wanted to steal the backdrop idea Robyn did for my baby shower! I'm SO thankful that she and Casey came over the night before the party. It took four of us (Zach helped too) to make this beast! Casey and Robyn did the majority of the work and I really appreciate it and think it turned out great!
It's a very inexpensive project and if you have enough people it's also pretty quick to put together. It's made from three-dollar store table cloths! You can find instructions on how to make it here.
I was PUMPED about the Donald cut out! I found him on Oriental Trading and I knew Britt would DIE when she saw him. And, I was right, she totally freaked 🙂
Many of the parties I could find with Donald involved a "sailor" theme. Which was the first time I ever noticed that Donald is a sailor?!?! I never realized that before haha! I didn't want to go a sailor theme route so instead, I stuck with primary colors and kept it basic and fun.
For most parties I purchase a party printable pack…it makes it SO EASY to put together a cute theme. I lucked out BIG TIME and found a seller on Etsy who had a party pack for a baby boy baby shower using Donald 🙂
I worked with her and she changed around her design for me to make it fit! I also purchased the invites from her and love how they all turned out!
She's not on Etsy anymore (as of 2021) but you can find similar products that are just as adorable!
I used pics of Britt with Donald spread out throughout the room as well
My girl and her love of the Disney Duck!
Finding a Donald birthday balloon did prove to be impossible. Thankfully she was happy with her generic character one 🙂
The Activities
You can't have a great photo backdrop without photo props!!!
The headbands were all from eBay and very inexpensive (they shipped from China) and the cutouts were a pdf file download for only $5 for them all (on Etsy)!
I like to have activities planned that relate back to the theme. This ended up being the MOST active party we've had and it was SO FUN.
For pin the tail on Donald I got an image online and had it printed and then glued it onto the poster board. I then bought large white puffs and glued them onto a white sticky foam board.
I glued the puff onto the foam part and then we peeled each sticky side off as the kids had their turns. It worked out perfectly!
I was pretty proud of this idea 😉 I bought several foam visors (we used the same ones for Kye's golf party!) as well as some foam stickers and foam markers and the kids decorated their own "cap" like Donald wears.
You will probably never see a party I plan that doesn't include coloring pages! Such an easy, inexpensive, time filler activity!
I asked Zach and Kye to help me come up with fun ideas for the party. I'm not super creative with stuff so I appreciate their perspective.
They ended up deciding to have a duck race in the pool! I got a pack of ducks from Oriental Trading (and of course, you can always find some on Amazon) and Zach set up the pool to have a section where the ducks wouldn't float all over the place. Each kid wrote their name on a duck and we raced them…the first duck to get in the pool drain won. Yes, it was THE hit of the party 😉
The Food
I had a first at this party!!! It ended up falling on Britt's actual birthday. Which I was pretty bummed about and didn't want to spend her whole day working on the event.
So we decided to have it at 11:00 am! I did brunch-type foods and had more hearty, filling stuff since it was more of a mealtime than our normal 3:30 parties.
I cleaned the house and got the majority of the party set up and ready the night prior. I also asked for help from Casey and Mrs. Charlotte in making a few of the food items so I wouldn't be completely overwhelmed the day of!
Chicken Salad and Crackers
Donald's saying is "aw phooey" so I decided to make some crockpot cinnamon rolls for the "gooey rolls" 😉 I used this recipe and they were FANTASTIC!
Sausage Balls for the "duck droppings"
I make these super yummy breakfast casserole muffins and I knew everyone who was coming to the party has had them before and has liked them so I made two batches! You can find the recipe here!
Britt's one request for party food? DONUTS!
If you're looking for an easy but also cute party food item… chocolate-covered Oreos are legit!
We decided not to get Britt a cake for her party and instead we did cupcakes. I was inspired by this pin and was thankful to be able to find little bow fondants on Etsy.
There was no way I was going to attempt to make them myself! The icing was tricky and it took all three of us to figure out what to do haha. For future reference what worked best was just regular white icing from the store put into a plastic bag with the tip cut off.
I think they turned out ADORABLE! I didn't eat one but I heard they were pretty yummy too!
Donald Duck Birthday Party Favors
My favorite part of the decorations were the favors. I know people don't expect favors at parties but it's one of my favorite things to do!
Sometimes I do stuff just for the kids, sometimes for everyone, and sometimes just like "one per family" type stuff. This time I went the family favor route due to cost and effort 😉
I bought jars with lids from Hobby Lobby and spray-painted the lids blue. I then used yellow ribbon to glue around them and cut out a piece of the place felt for the top. For the bow, I used sticky felt and cut them out! I filled the jars with popcorn and they turned out so cute!!!
I love how this Donald Duck birthday party came together!!! There were lots of touches of Donald incorporated into everything and I think the theme came across well without really having a lot of options to pull from! Big thanks again to Robyn and Casey for ALL your help! My little Donald Duck fan was very happy with her special party 🙂
Check out my full list of birthday party themes for kids!
You can see Britt's past parties here:
1st Birthday – Snowflake Theme