Pretty much since Kye was born Zach and I have wanted to have a pirate themed birthday party. We talked about it a couple years ago and all agreed that when he turned 6 it'd be the perfect age!
We wanted it to be a lot of fun activities and 6 is a great age because they have the ability to do a lot of games and also still ENJOY doing them.
I was SO excited to throw this party and Kye has been talking about his pirate party since he was 4 😉 He's a planner like his mama! Even after going to Disney last year for his birthday Kye said he would rather have a pirate themed birthday party at home than go to Disney this year. You KNOW that means he was pumped!
This post covers all the decorations, food, and activities for the pirate themed birthday party!
Yo ho ho! Avast, ye scallywags!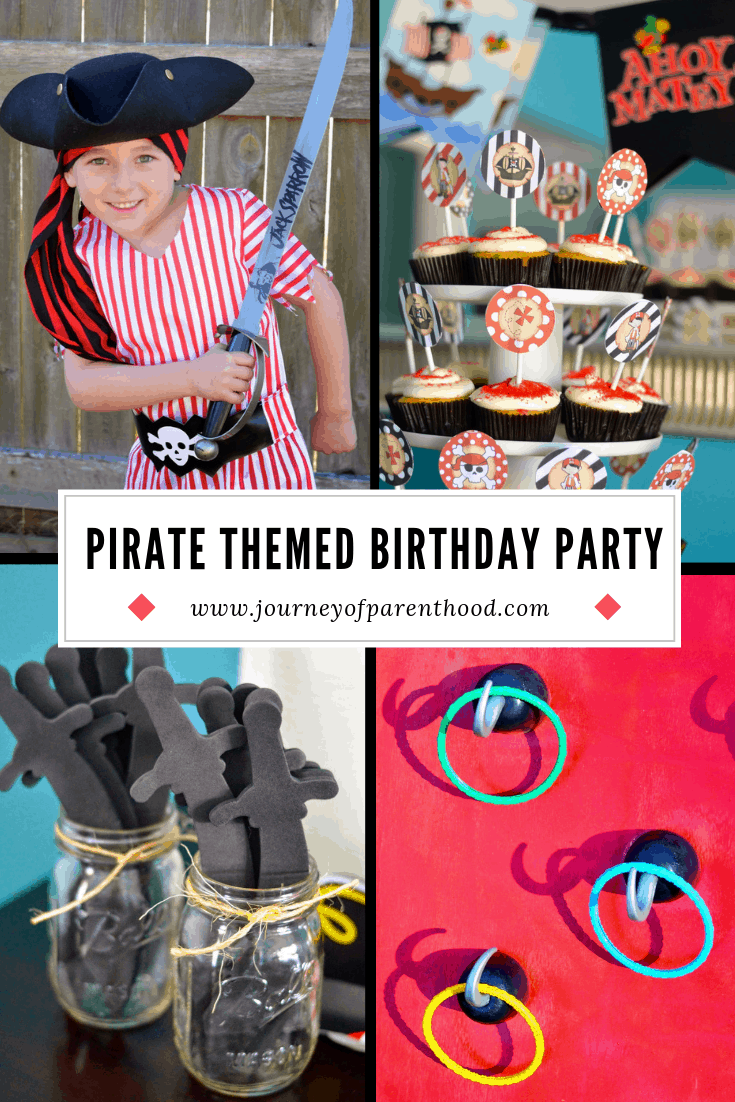 Disclaimer: post contains affiliate links.
Originally published April 17, 2015
Pirate Party Decorations
I wanted to have a backdrop for picture taking and decided to try making one out of streamers.
Zach cut a rope for me and I bought red and black streamers then tied them to the rope. It was pretty time consuming and required a careful hand (hello… streamers are flimsy!) but I really like how it turned out! Here are some similar streamers!
Red and black everything, of course!
The more parties I throw, the savvier I'm getting about them. By the time I have grandkids I'll be able to help throw their parties in my sleep (pllllllease future daughter in law…let me help plan their parties!).
The invitations, banner lettering, cupcake toppers and food tents all came from Feels Like a Party. Very affordable, easy to work with, quick, and great quality!
The hardest part of planning a pirate party is that there are SO MANY awesome ideas and cool stuff! I wanted to buy it all!
I loved how easy it was to combine different pirate things and it all worked great. I mostly shopped from Hobby Lobby, Oriental Trading, and Amazon.
Pirate Balloon on Amazon
Pirate Party Food!
Zach and I did everything for this party ourselves. No one came to over to help and no one brought any food. I had a crazy busy week the week of the party so I got a majority of it done the weekend prior.
Which was genius and is something I want to really start doing for every party! It took all the stress away big time!
For food we kept it VERY simple. I only had to make a couple of things and that was it. It was very inexpensive and turned out just as cute as the more costly parties have!
Kye, Zach and I had fun with some gold food spray paint (from Hobby Lobby) to make the gold dabloons!
I was SUPER happy with how these turned out! I just made one box of brownies and then made little sails for them. SIMPLE!
Buffalo chicken dip in the crock pot gave a more "adult friendly" food option
Aren't cupcakes the BEST party food? So much cuter, easier, and cleaner than cake!
Pirate Themed Birthday Party: Activities!
The thing I was most looking forward to about planning a pirate party was planning a treasure hunt. I wanted this party to be 100% ALL about the kids. I didn't worry about how bored the adults would be. At this age, I think it really needs to be about KYE and his friends and having FUN, not about grown-ups. Right?!
I was inspired by this blog post and used her kick-off "clue" as my springboard to do our hunt. All the other clues were 100% my own creations 🙂 I surprised myself how quickly and easily I was able to make them all up. Maybe I should have a side job as a clue creator haha!
I typed them all out and glued them down on some treasure maps. I also burned the edges of the maps to make them look more authentic (I know, it didn't matter…but it was kinda fun!).
The plan was for the kick-off clue to be read first. Each clue would lead the kids to an activity. After each activity, they'd get a treasure. And the last clue would lead to the biggest treasure of all 🙂
For a while now I've been collecting baby wipe boxes. Zach spray painted them all for me and they served as a treasure box for each child at the party.
The kids would carry their boxes from each activity to the next and would put their prizes into the box as they went. These were a WAY bigger hit than I'd ever anticipated!
Once the kick-off clue was read I would hand out the boxes to get the fun started!
Then the first activity clue would be read and it'd lead the kids to a pin the patch on the pirate game
I had the game set up in our foyer to leave plenty of room for lots of spinning! The game came with an eye cover that busted the first time we went to use it so I'm thankful I had a red sash on hand to use just in case!
Pirate Patch Game on Amazon
(can't beat the price!)
Once they completed the first activity then the next clue would be read and it'd lead them to the kitchen to complete a pirate coloring page
The 3rd activity was a really fun one! We filled black balloons with some pirate tattoos and put them in a huge pirate ship Kye had from Christmas. The kids would get to pop the balloons (aka "cannon balls") to get their prizes!
The pirate ship was MASSIVE. Kye wanted to have it all colored for the party but it took so long. I told him not to worry about it and just roll with it 🙂
The next clue would lead the kids outside for a ring toss game
Zach made the hook ring toss for me and I love how it turned out!
Hooks were a tad tricky to find but Hobby Lobby ended up having some. You can also find them for cheap on Amazon!
After the ring toss, they would get to dig in a chest for some treasure!
Again, my husband is awesome. He made this treasure chest out of a box. It looked so legit!
We put play sand in it and buried several treasures for them to find (jewel rings and gold coins)
You can't have a pirate party without having some guests walk the plank!
We got a plastic pool on clearance at the end of summer and Zach made a plank for the kids to have to walk across. He even painted it.
Can you tell we were both super excited for this theme? I got some pirate ducks for Oriental Trading to float in the water and to serve as the prize for the kids to keep once they made it across. Here is a similar play pool!
The very last clue was SO awesome. Since we were doing party prep at home for so long my kids knew about all the activities we had planned. I think it helped make the anticipation for the party even more fun that they had a hand in everything. Except for the final activity!
I found a pinata on Amazon that could double as a centerpiece on the dining room table. I didn't tell the kids and instead had it be a big surprise as the last activity and the BIG treasure 🙂
Pirate Ship Piñata on Amazon
The candy to fill the pinata cost more than the actual piñata did!
Since the kids would have their treasure chests I didn't do any type of favor for this party. I did, however, get some pirate gear.
Even though the invitations specified to dress up like pirates, I was a little worried that some kids might not be dressed up.
I didn't want anyone feeling left out and thought I'd provide a few pirate things just in case. Since all the kids did end up being dressed for the theme, I did hand them out as they were leaving as a favor to add to all their other goodies! Here are some similar swords and hats!
Gotta have swords to be a pirate…but smart moms provide foam swords 😉 Here are some similar swords!
Pirate Themed Birthday Party: More Photos!
If you can't tell, we really had fun planning this party. And, even better, we had a BLAST participating in it!
I took some pics of Kye in his pirate outfit to use on his invitations. He cracks me up because he's just so much like me in the way he thinks.
He felt so awkward being dressed up and it was hard to get a "pirate looking" picture out of him. He was excited and wanted to be dressed up, but just didn't know how to act. He makes quite the adorable pirate either way 🙂 Here is a similar pirate costume!
Ninja Pirate?
The winner 🙂
Here are more of my parties I've put together:
Looking for even more party planning tips and inspiration? Be sure to check out my Pinterest boards for ideas and you can also see over 35 of the best kids party ideas here! Happy Planning 🙂
Next year Kye says he wants to go to Disney again so we probably won't get to plan another big party for him for a couple years. I'm so glad he wanted to do the pirate theme though for this year!