If you've got a ten year old to gift shop for in the near future, then these 10 year old gift ideas will save you time by giving you plenty of kid-approved options to choose from!
Ten year olds have finally hit those double digits, which is exciting for them but crazy to think about for you! Many kids enter puberty at this age. In about a year, they'll be entering middle school, and then the teenage years aren't far behind! Like, whaat? How did that happen?
At this age, they are still kids who enjoy playing and having fun but they are also starting to develop more mature interests as they find their hobbies such as drawing, reading, writing, building, and athletics. Video games also tend to be a popular pastime. Overall, they desire to be seen as "not little kids anymore" and usually want to distance themselves from things that are too childish.
Since this age is also more likely to have a distinct friend group that they talk to and hang out with regularly, group activities are a great way for them to socialize and find common interests, which is why many of these gift ideas for 10 year olds are games, puzzles, and crafts!
The trick is to find those fun items that inspire creative play but that also don't come off as too "kiddy." Most ten year olds will take more of an interest in non-toy items or items that are more complex and involved. The options at this age are really far and wide!
I take my gift guides very seriously. I know we all have seen the generic gift guides floating around every year and it's important to me to only suggest items that I have personal experience with and truly recommend.
I am a mother of four with two boys and two girls (you can follow all of our family fun on Instagram!) and gift-giving is my personal love language so I take pride in my gift purchasing skills and hope this is a helpful list for others looking for that perfect present!
These 10-year-old gift ideas seek to find the happy medium between fun toys and big-kid gadgets. There are gift recommendations for girls, boys, and both!
Disclaimer: this post contains affiliate amazon links.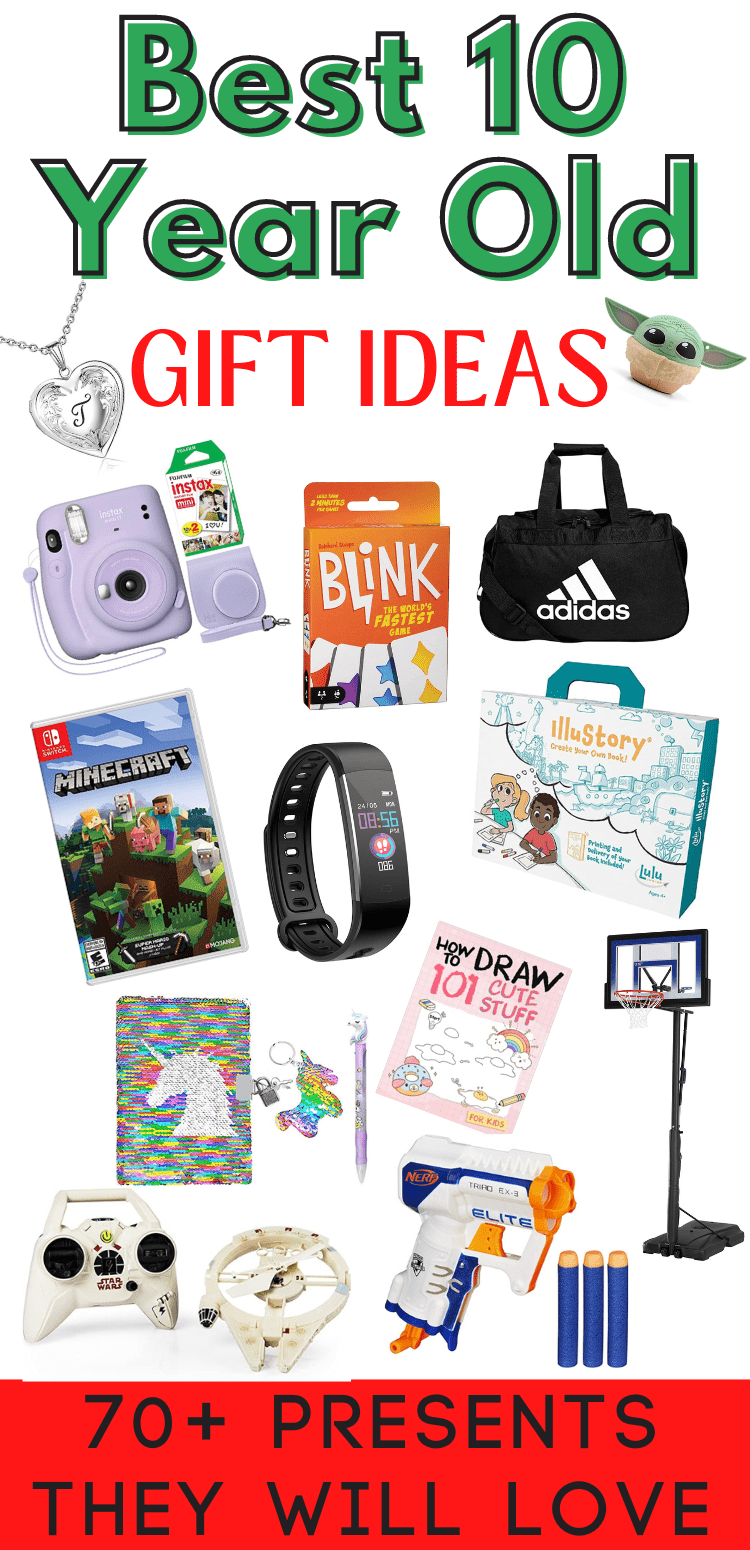 10 Year Old Gift Ideas for Girls
Here are some of the best 10 year old gift ideas for girls. These gifts would be perfect for a 10th birthday gift for your little girl or make excellent Christmas presents as well as Easter or Valentine's Day gifts too!
A common rite of passage for kids around this age is getting their ears pierced, so buying stainless steel studs as a gift is a great way to congratulate them on the big-kid milestone! My daughter and I have found that screw-on backs are THE way to go for earrings. She can do gymnastics, go swimming, and jump on our backyard trampoline without worrying about her earrings falling out.
Many 10-year-old girls become interested in makeup and nails, so this glitter nail spa set is a perfect way to introduce them to nail art for an affordable price! I have two daughters and they love kits like these that they can do together.
This Bluetooth Karaoke Microphone makes a fantastic gift for kids who love to sing, and it's a great thing to have for sleepovers and birthday parties so they can sing along to their favorite songs with their friends!
Encourage your upper elementary kids to drink more water by gifting them their own reusable water bottles that they can decorate themselves! Not only is it good for the environment, but it's also good for your wallet, too. This is a favorite gift to give at a 10 year old birthday party as it's always a hit!
10-year-old girls tend to develop and interest in decorating their own rooms and expressing their own styles. Fairy string lights for a bedroom are a great addition to a girl's room and will make them feel like real decorators! I love these because they have little clips attached to allow your preteen to hang up all those pictures and fun mementos without damaging the wall 😉
I love this mermaid tail blanket as a gift for 10-year-old girls, especially ones who love mermaids and mythical creatures! It's super comfy and cosy and encourages them to engage in imaginative play. I am always looking for ways to keep my kids KIDS and I love fun gifts like this to help encourage them to continue playing make-believe for as long as possible.
Older kids tend to handle messier crafts way better. Add that to an increased interest in cosmetics and hygiene, and this soap and bath bomb making kit is the new hot ticket item for 10-year-old gift ideas! Self-care is important at every age and the pre-teen stage of life is a great time to start teaching our kids to invest in selfcare like a relaxing bath with bath bombs!
As kids get older, they start developing their own hobbies, with many showing an interest in art. This How to Draw 101 Cute Stuff is an awesome prompt book for kids that will get them practicing drawing. And what kid doesn't love cute stuff? My girls LOVE this book and spend a lot of time drawing the cute stuff in it. It's easy enough for beginners but also engaging for kids who may already be more developed in their art skills. It'd be adorable to put together a little art gift basket with this book along with a sketchbook and artist pencils!
For the Potterhead in your life, this Harry Potter figurines set makes a great gift and a great addition to their Wizarding World collection! Speaking of which, if you need more Harry Potter gift ideas, check out this post for a TON of them!
If you're buying Harry Potter figurines, you have to have some place to put them! This Wizarding World Hogwarts Castle dollhouse has a ton of neat features and props to encourage imaginative play! My 10 year old received this for Christmas just after her 10th birthday and LOVES it. It's also adorable to have on display in a Harry Potter themed bedroom 🙂
Keeping with the Harry Potter theme, this LEGO Harry Potter & Hermoine Granger set is an ideal choice for kids who enjoy building with complicated Lego sets. The box says ages 10 and up, so this is perfect!
This Harry Potter time turner necklace is such a neat collectible keepsake and makes a great addition to a Hermoine Halloween costume!
Another fun craft gift idea for older kids is this weaving loom, which teaches a useful skill that can serve as an introduction to knitting, crocheting, or other classic "home ec" type hobbies! My daughter LOVED this so, so much and spent most of her Christmas break working on it and continues to have the finished product on display in her room a year later.
I also love this How to Draw Cute Stuff drawing book as a 10-year-old gift idea! Having tutorials and prompts definitely helps them feel more motivated to practice their artistic skills and would be great to include with the earlier cute stuff drawing book art set.
A sweet and sentimental gift, especially for a daughter, this You Are My Sunshine music box plays a familiar tune and makes a lovely keepsake! My daughter likes that she can see the music box mechanism and how it works. It's very calming while also listening to the music it plays and can be a helpful tool to transition into bedtime.
This unicorn scratch art book is another arts and crafts favorite for 10-year-olds and especially for unicorn-lovers! These scratch off books are SO fun and very relaxing too. I love to give this at a 10 year old birthday party as well as it's very popular among this age group (and who doesn't love unicorns!)
I also recommend this Wizarding World 7-piece mini figure set as a Harry Potter themed gift that goes great with the Wizarding World castle dollhouse!
This S'more squishy toy has been such a hit and I don't think I even have to explain why: look how cute it is! It makes a great stress toy but it's also huge, my girls are OBSESSED with squish type of toys and this has been the favorite. It is also better quality than a lot of the cheaply made squishy toys they have and has held up great over time and continued to be a favorite gift they've received. Your 10-year-old girl is sure to love it.
Super cute and super stylish, this set of glitter jelly bangle bracelet set is the perfect addition to a 10-year-old girl's jewelry box! My daughter LOVES bracelets but gets frustrated by how easily they break. I am so glad I bought her this set (and I've gifted it to my 10 year old neices as well) because there is no worry about them breaking and they stay looking brand new even after lots of wearing.
I've mentioned this unicorn sequin journal in other gift guides, and for good reason: it really is a crowd favorite with young girls, and upper elementary school is still prime time for loving unicorns, mermaids, and sequins! I find that at this pre-teen age girls also start to enjoy journaling more and having a private place to write down their thoughts makes for a thoughtful gift. I think we ALL have childhood diaries we enjoy pulling out and re-reading from time to time.
An initialed heart locket necklace makes a great keepsake jewelry item for a young girl, and they absolutely love the opportunity to put pictures of their family or best friends in the tiny compartments! I LOVE this locket SO MUCH because it's BIGGER than the traditional locket. It has been amazing quality and has been easy to put photos in for my girls.
Some girls around this age really love charm bracelets and jewelry making, which makes this unicorn bracelet making kit a fantastic 10-year-old gift idea that comes with tons of charms so they can make cute bracelets for all their family and friends! We've had many bracelet type kits over the years and this is THE BEST by far. The quality of the beads and bracelets far surpass any other kit we've owned.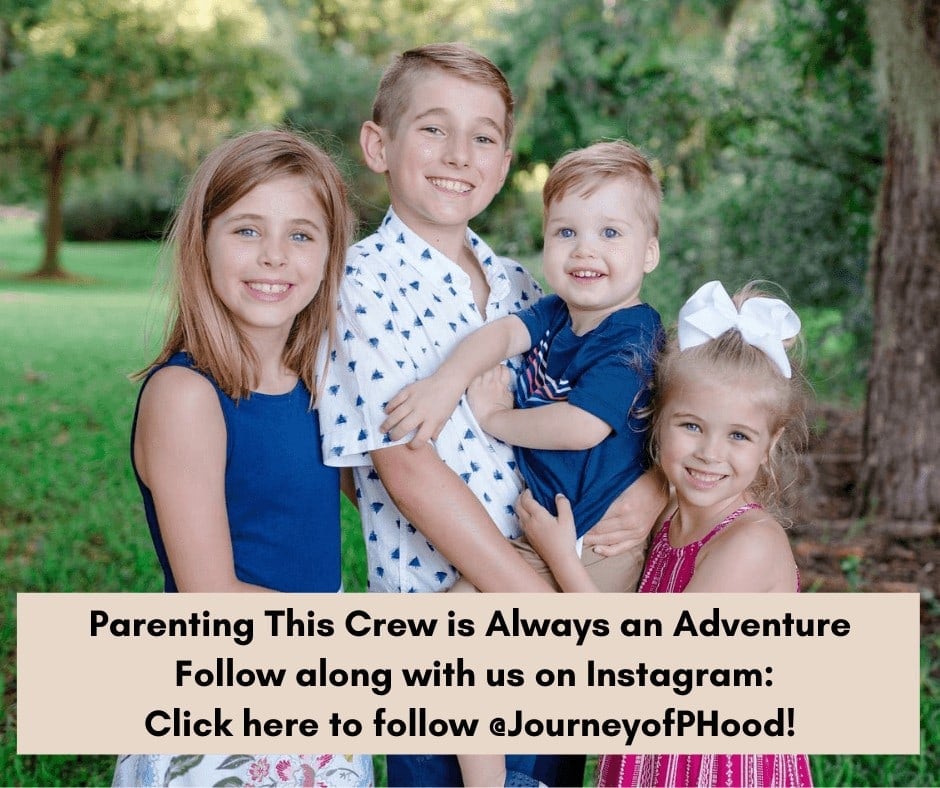 Best Gifts for 10 Year Old Boy
Here are the best Christmas gifts for 10 year old boy that also make excellent 10th birthday gift ideas as well as gift for any holiday – Easter, Valentine's Day etc!
10-year-old boys around this age tend to love legos, but the older they get, the more complicated builds they're likely to be interested in. The LEGO Star Wars Imperial Shuttle is a great set, especially for Star Wars fans!
Tweens start to really desire a little more independence and this walkie talkies set is among the great gift ideas for this age as they can use the walkie talkies for fun play or for practical use like walking down to play with a neighborhood friend!
What 10-year-old doesn't want to fly the Millenium Falcon? Okay, so maybe they can't literally fly it, but this Air Hogs Star Wars remote control Millennium Falcon should be a close second!
For your child's next birthday party, you can't do much better than his or her own laser tag set so they can play with their friends! It's also a great way to encourage sibling play and friendly competition. I love that it includes 4 guns as we have four kids and we actually bought a second set to have when the cousins come over too. This is probably th best toy we've bought for our kids and has proven to give YEARS of joyful use.
You can't go wrong with a pack of airplane launchers for a birthday present or Christmas gift. If you have a big backyard or open field nearby, these are an absolute blast for kids! When you first look at this you may think it's better geared towards younger kids but even my teenage son still loves these big foam airplanes. They are always a hit and a good idea for your gift list!
Some boys tend to gravitate toward army-themed toys and games, making this ultra-detailed military playset and tower set a top-notch choice as a 10-year-old gift ideas!
If you have ten-year-old boys, you know that they love having NERF gun wars (and so do the girls for that matter, though if you have both, it's a great way for them to play together!) The NERF Elite 2.0 Commander R-6 Blaster is a top-tier choice to gift your 10-year-old this next holiday season… just make sure no one shoots their eye out!
For kids who love to read, The Last Kids on Earth boxed set is a great series to get them started on! It came highly recommended by my middle-school-aged son, which you can read about here! Educational gifts are always a good choice and anything to get a kid reading is a win.
Another high quality NERF gun option to put on the 10-year-old ideas list, the NERF Elite Titan CS-50 Toy Blaster is definitely a prime choice for the hardcore NERF gun enthusiast!
Pokemon Sword for Nintendo Switch is another video game that come highly recommended by the Parker household, especially for kids who are already fans of the Pokemon franchise! This makes a great birthday gift for a kid who already owns a Switch.
Star Wars Resistance is a great show for upper elementary school kids who are fans of the Star Wars franchise and we totally bought the entire first season so they can watch it whenever they want! We have a DVD player in our van and like to have dvds for the kids to watch on road trips.
A really interesting and unique project to get a 10-year-old with a Nintendo Switch is a Nintendo Labo VR Kit, which is basically like a cardboard VR headset! These are cool, educational building projects that encourage STEM and problem solving skills plus you can actually use the item with your switch. A great combo of a science kit with video gaming ability.
A basketball hoop is a classic addition to the driveway and is a great investment for the entire family! Your ten year old boys might've started asking for one… well, here's your chance to surprise them. And don't forget to include a ball too! This glow-in-the-dark basketball is a fun option.
Another top-notch LEGO bricks set recommendation is this LEGO City Capital City building kit, which is complex enough to challenge your 10-year-old son but not so overwhelming that they'll get frustrated and give up!
Keeping with the NERF theme, the NERF N-Strike Elite Triad EX-3 is a fun miniature gun to add to the arsenal and makes a great stocking stuffer for Christmas! I know it seems like a small gun and maybe not as cool as some of the bigger ones but this little guy gets played with THE most out of all of our Nerf guns because it's easy to hold and carry and great for those sneak attacks on sisters 😉 Every boy mom knows nerf guns make for the absolute best gift ideas and I love when they also can be inexpensive gifts too.
Gender Neutral Gift Ideas for Ten Year Olds
The classic board game Sequence is a great choice for older kids who are showing interest in games that are a little more challenging! This is my personal favorite family board game and one we all love and enjoy.
For a fun at-home science project (and low-maintenance pet), an Ant Treehouse Habitat is one of those unique gift ideas for 10-year-olds that also has educational value! What kid doesn't want an ant farm at some point in childhood, right? 10 years old is a great age to handle the responsibility!
It's never too early for Teaching Kids How To Spend Smart and How to Manage Money. I love the idea of this electronic piggy bank to encourage kids to save their money in a fun way!
Older children can really enjoy puzzle games that are more complex, and if you've never done an Escape Room with your kids, this Escape the Room game is a great way to introduce the concept of using clues to solve a puzzle! Don't be fooled by the "ages 13 and up" label… 10 year olds can enjoy this too!
Another version of this game is Escape the Room: Stargazer's Manor, which has such a neat aesthetic and would be a great idea for a 10-year-old's birthday party or sleepover! Or have a family game night with the older kids and get everyone in on the fun!
Older kids can also usually be trusted with more technology, and if you have a child who is interested in photography, a Fujifilm Instax Instant Camera would be a perfect gift. That way, when you go on your next vacation, they can snap their own pics and make their own memories! Plus it's fun to see life from their point of view. Just be sure to buy plenty of extra fujifilm instax mini film.
Lava lamps are back in style, and you can't deny how groovy they are! Kids love these lamps and it really adds a special something to their rooms. Plus, it's a way to teach them responsibility since they have to make sure they're turned off when not in use! My daughter LOVES her lava lamp so much and it brings back such happy memories of my own childhood too.
I've talked about this board game before in other gift guides, but for older kids developing their STEM skills, the Mastermind game is a fantastic way to exercise their brains and have some fun in the process!
A great craft to have for car rides, flights, and long lines, this scratch art paper crafts set can really come in handy and give kids a creative outlet for their artistic skills during the tween years!
Yes, Crocs are cool and they're super comfy! They make great slip-on shoes for kids, and these rainbow tie dye Crocs are a particular favorite, though they come in so many colors and patterns these days you're bound to find a pair that suits each kid perfectly! Crocs are super popular among preteens and these are sure to be among their favorite birthday presents.
Many kids become interested in writing and journaling around this age, and this leather journal is so neat and vintage-looking they'll just have to use it and it provides the freedom for use for a variety of different projects.
Fidget poppers come in all shapes and sizes, but how many of them are educational? This multiplication table fidget popper serves two purposes: as a sensory toy and as a way to help them memorize their multiplication facts! Ingenious! When it comes to poppers the bigger the better and this will be a great "wow" present under the Christmas tree without a steep price tag. I also love that this isn't a safety concern if there is a little brother or little sister wanting to be part of the popping fun!
A Kindle Paperwhite may be a pricier piece of technology, but it's a great idea for upper elementary school, early middle schoolers and big kids who are showing specific interests in reading. They're better for travel, ebooks are generally cheaper to buy, and you can store so many books on one device! We invested in a kindle for our son when he turned 10 and it was THE best investment. He carries it with him everywhere and it's easy to download books and much cheaper than always having to buy paperbacks.
I love this LEGO Creator Santa Claus as a fun stocking stuffer idea for 10-year-old who enjoys legos! The Christmas theme makes it ideal for the holiday season! It's also a great gift for your Elf on the Shelf to bring the kids and helps keep the Christmas magic alive, even for older children.
I highly recommend this foldable scooter for older kids! It's easy to pack up and store and as an added bonus, it looks super cool! (You know how much 10 year olds want to be "cool"!)  Want to learn more about THE best scooter for kids? Be sure to read this post!
Pool volleyball is a great outdoor activity to gift your older kids, though actually something like this makes a fun family gift that everyone can enjoy once summer comes around and pools open again! Love an outdoor game to get kids outside everychance they can.
You know what 10-year-olds really want? Glow sticks! I'm not kidding: kids love these and you can get a lot of traction out of them for birthday parties, sleepovers, the roller rink, you name it! We use them for night swimming during the summer months and they are always a blast.
If we're talking big ticket items for a birthday or for Christmas: a Nintendo Switch! We're definitely a Nintendo Switch family. I love how it can be a one-person console or a multiplayer console so siblings or friends can play together and bond! If you want to entrust your 5th grader with a big piece of technology, this is an exciting choice! We waited to invest in a gaming system until our son turned 10 and it made for an excellent big present for his 10th birthday. He's now a teenager and still uses his switch on a regular basis – it's been a very worthwhile investment.
If you're buying a Nintendo Switch, you need some games to go with it, right? The Minecraft and Super Mario Bros mash-up is a fan favorite that 10-year-olds absolutely love! Minecraft and Mario? What a great combo!
Ten year olds can also generally handle the responsibility of owning a pair of wireless earbuds, which are super great for road trips and screen time! My kids love these for listening to music while doing their chores too.
Shopping for a Star Wars fan? This Star Wars Grogu mini bluetooth speaker is adorable and super portable so kids can take their music on the go! It may be small but it works AWESOME. Our kids got theirs in their Easter Baskets and have used them on a regular basis since.
Another great choice for wireless listening, these Bluetooth headphones are designed with kids in mind! These are my FAVORITE headphones for kids. They are awesome quality, are recharable, and come with a carrying case to protect them. I also love that they have a regular headphone jack for airplane travel too.
For the Harry Potter fan who has everything, The Young American's Unofficial Guide to the Very British World of Harry Potter is a unique and super helpful book to gift fans of the book series who maybe get lost in all the British references. It's also a good way to teach about another culture!
A family favorite, Blink is a quick, easy card game that kids of all ages can enjoy, and can be a fun sleepover activity or something the whole family can play together on game night or staying overnight in a hotel room! This is a two player game and one that I enjoy with my kids during one-on-one quality time. It's fast-paced and easy to learn.
For fans of the Mandalorian, you can't get more iconic than this adorable Grogu plush that kids can care for as if its their very own Child! Confession: I own this for myself 😉
Once you have your pair of Crocs, it's time to decorate them with stylish charms! These Harry Potter shoe charms for Crocs are a particular favorite, especially for those who are fans of the books and movies! These are not only a great affordable gift option (I got them for my daughter for Valentine's Day) but they are WAY better quality than you'd expect – they've stayed on her Crocs even with daily wear.
I highly recommend this Nintendo Switch controller clip mount as an accessory for a Nintendo Switch. It gives kids the option to enjoy playing their favorite games with a classic video game controller! It works so perfectly in the car and my son uses it everytime we travel.
Ten is a great age to start encouraging your kids to build healthy exercise habits, and this Fitness Tracker for kids makes it easy and fun! They'll feel like a big kid with a trendy piece of technology and you both will be able to keep track of how much activity they're getting. I struggled with finding an off-brand fit bit for my kids and this has been an excellent choice and doesn't require a phone in order to be able to track. You can connect it with the app but it also works fine on it's own which I appreciate since my kids don't have phones.
For a unique and super creative craft idea, this book making kit really encourages kids to let their inner author and illustrator come to life as they build their very own picture book! At this age I wanted to be an author when I grew up (blogger is as close as I think I'm gonna get though!) and this is an opportunity for your little writer to become published 😉
Having an extra Nintendo Switch charging stand is a serious lifesaver, especially if you're traveling or if several siblings share the Nintendo Switch!
Nintendo Switch Joy-Cons come in a variety of colors aside from the standard red and blue, allowing kids to customize their Nintendo Switch to fit their personalities! It's a great investment to have extra controllers so the whole family can play games together – our family favorite games include Mario Kart and Just Dance!
Many kids at this age are in sports, and having a good sports bag for packing up equipment and gear is a must. These Adidas Duffle Bags are super stylish and come in a variety of different colors! I have found at this age my kids start to travel a bit more. Field trips, cousin sleepovers, quick overnight stays. They love having their own bag to pack for these adventures and this bag has held up GREAT and has been the perfect size for their needs.
The number of LEGO sets on the market are endless, but I especially like this LEGO Donut Shop set and in the past, my kids have liked it, too!
A Kindle Fire Car Headrest mount is a great investment if you're already planning on getting your 10 year old a Kindle and is super handy for long roadtrips! This can also be used to hold the Nintendo Switch (it's how my son uses it) or an Ipad!
A good-quality Nintendo Switch carrying case is a must if you're going to invest in the console, both to protect it from damage and make it easy to travel with! We love this case as it protects the switch when on the go.
Legend of Zelda: Breath of the Wild is a highly recommended Nintendo Switch game and the perfect addition to your child's video game collection. This is my sons favorite switch game!
Super Mario: Odyssey is another Nintendo Switch game I highly recommend; my kids have had a blast playing this one and you really can't go wrong with most Super Mario games!
On that note, Super Mario Maker 2 is another one that makes the list of 10-year-old gift ideas!
10 Year Old Gift Ideas: Final Thoughts
So there you have it, my ultimate guide of 10 year old gift ideas! Are there any any gifts not on this list that you think are great ideas for 10 year olds? Are there any on this list you've bought for your kids and that they have loved? Share in the comments!
Check out my other gift guides: