Britt's American Girl Doll Birthday Party was such a blast! If your daughter loves American Girl, feel free to use any of these great ideas for her next party!
One of my goals in going through the craziness that is 2020 is to cut waaaay back on how much I DO for Birthdays. I tend to go overboard and do all the things and the reality is I can do much less and my kids can still have an incredible birthday trip!
For Britt's "birthday trip" I set aside one day of our trip to really be dedicated to HER birthday celebration.
It ended up being THE BEST DAY and it was extra fun that everything special was all in the same day for her 🙂
Here's what we did for Britt's American Girl Doll birthday party and I hope it helps give you some party planning help with girl party ideas for your American Girl Doll fan!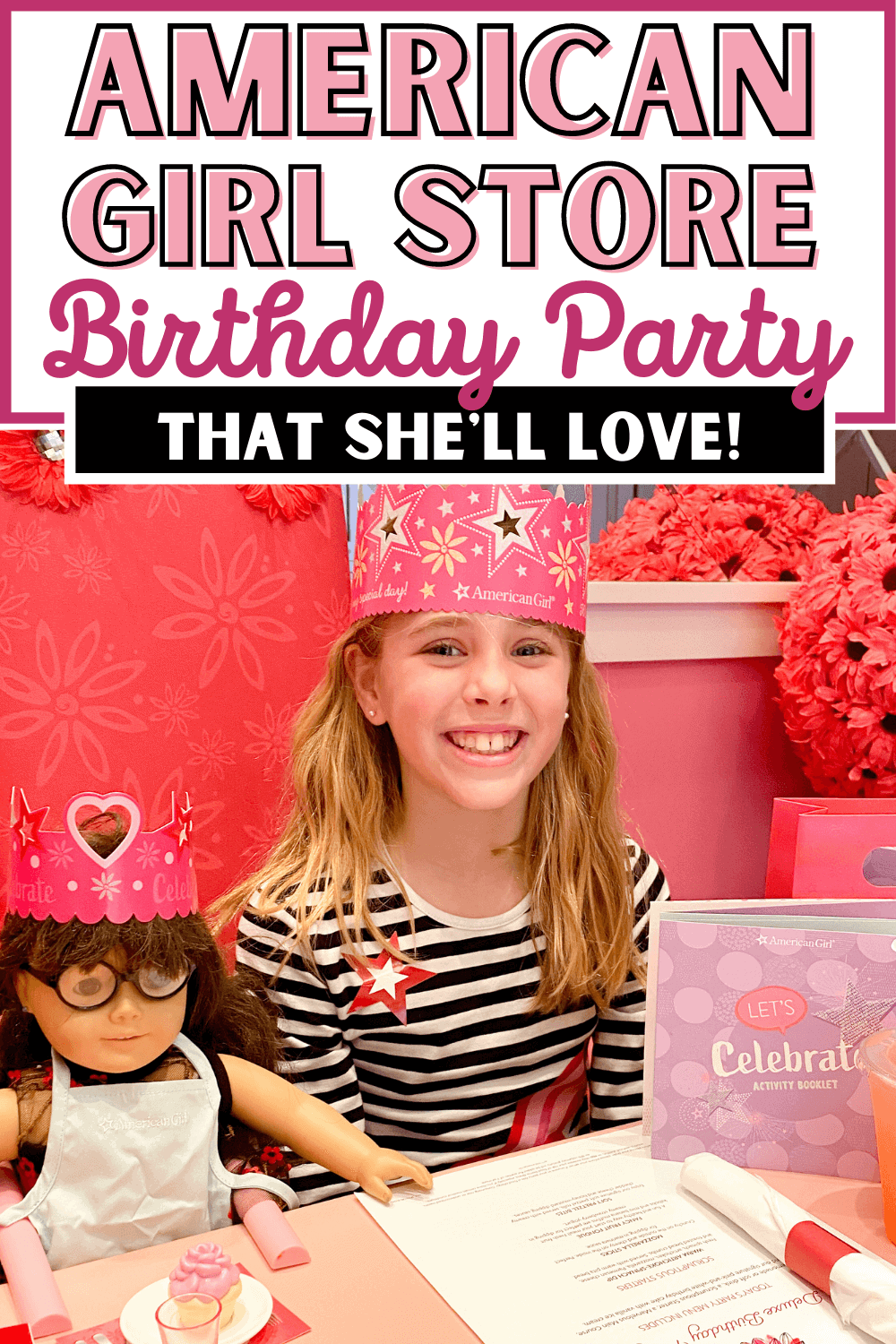 *Disclaimer: post contains affiliate links
Britt's American Girl Birthday: The Mall & Ear Piercing
We kicked off the morning with a BIG surprise for the birthday girl…
A trip to the American Girl Orlando Store AND to the Florida Mall to get her EARS PIERCED!
I was super sneaky when packing for our trip and packed all three of our American Girl Dolls (the far left is my original Samantha, the far right is my "Truly Yours", and the middle is MaryEllen who Britt got for her bday last year) and I even bought them these matching little dresses to wear for our special GIRLS ONLY day 🙂
I had also bought Britt some earrings from Disney (they are Mickey Mouse heads with her birthstone) as part of her surprise!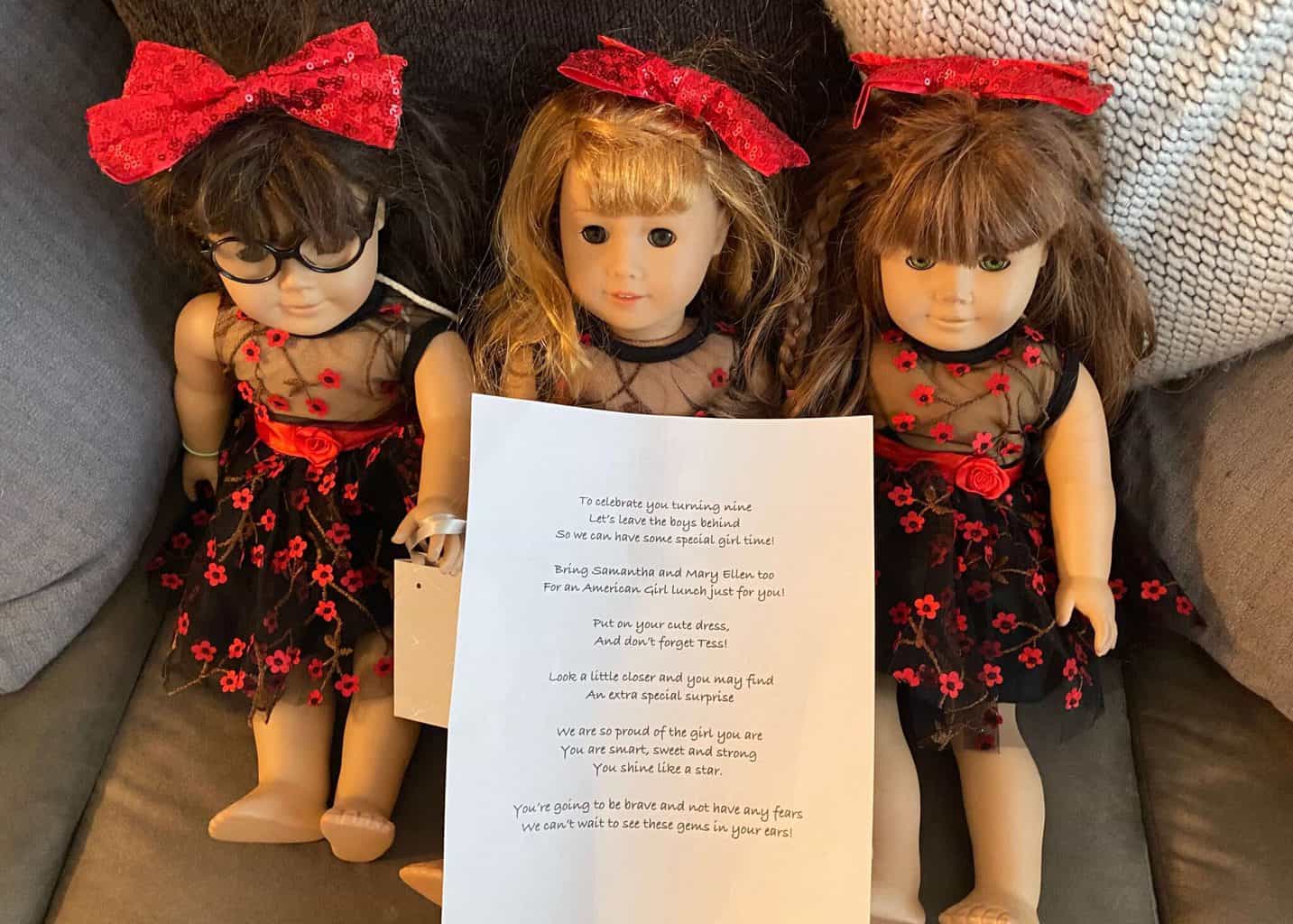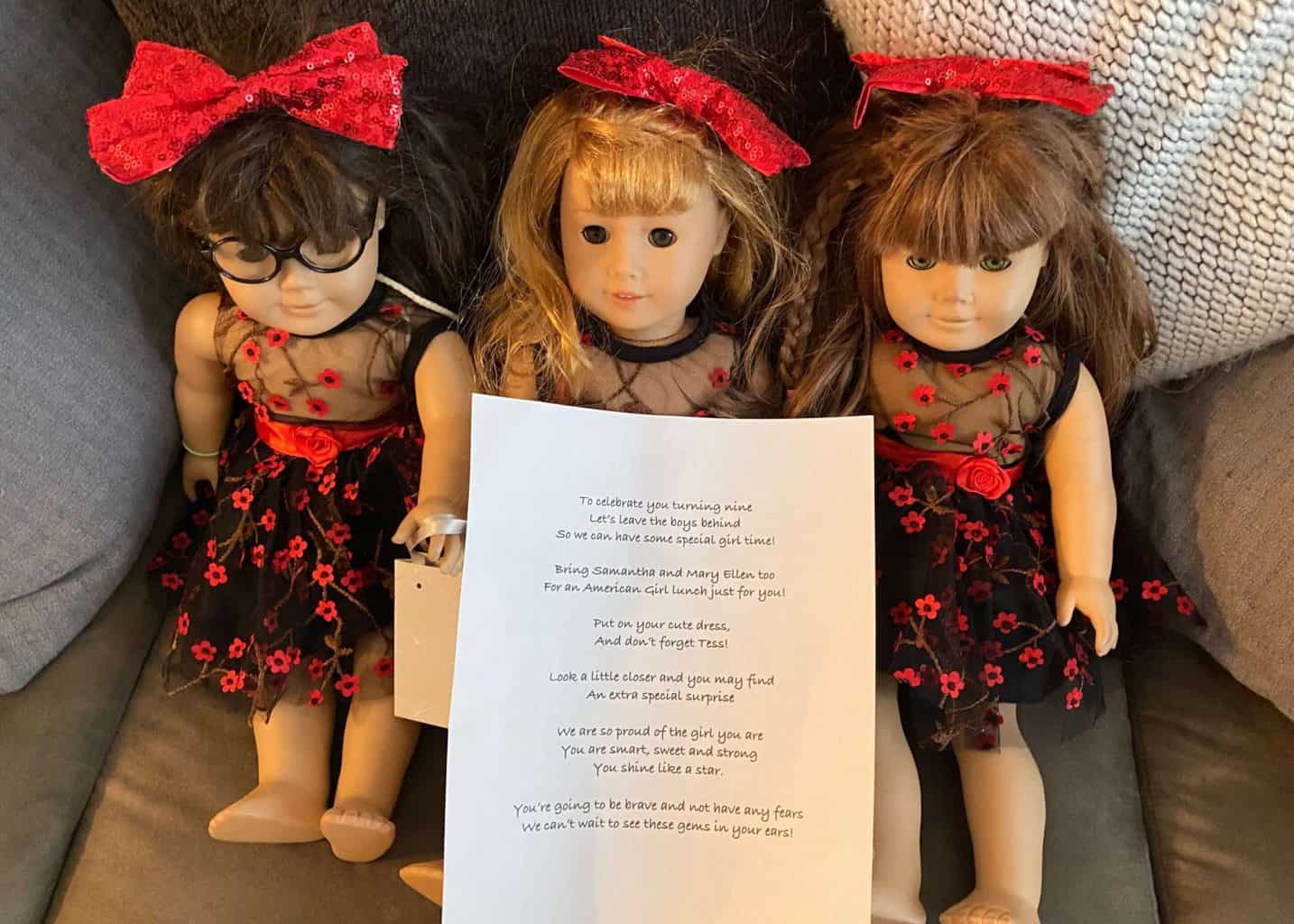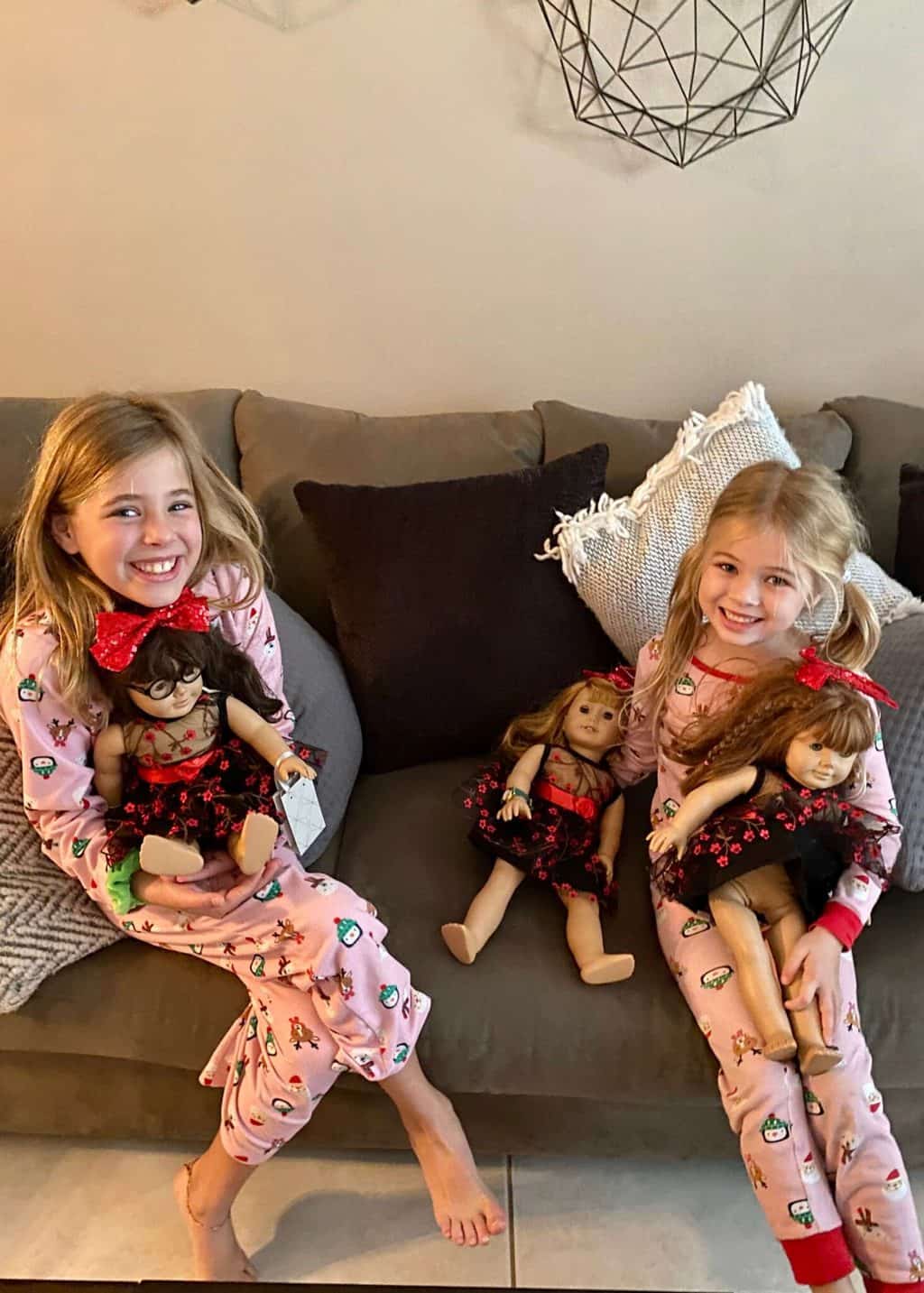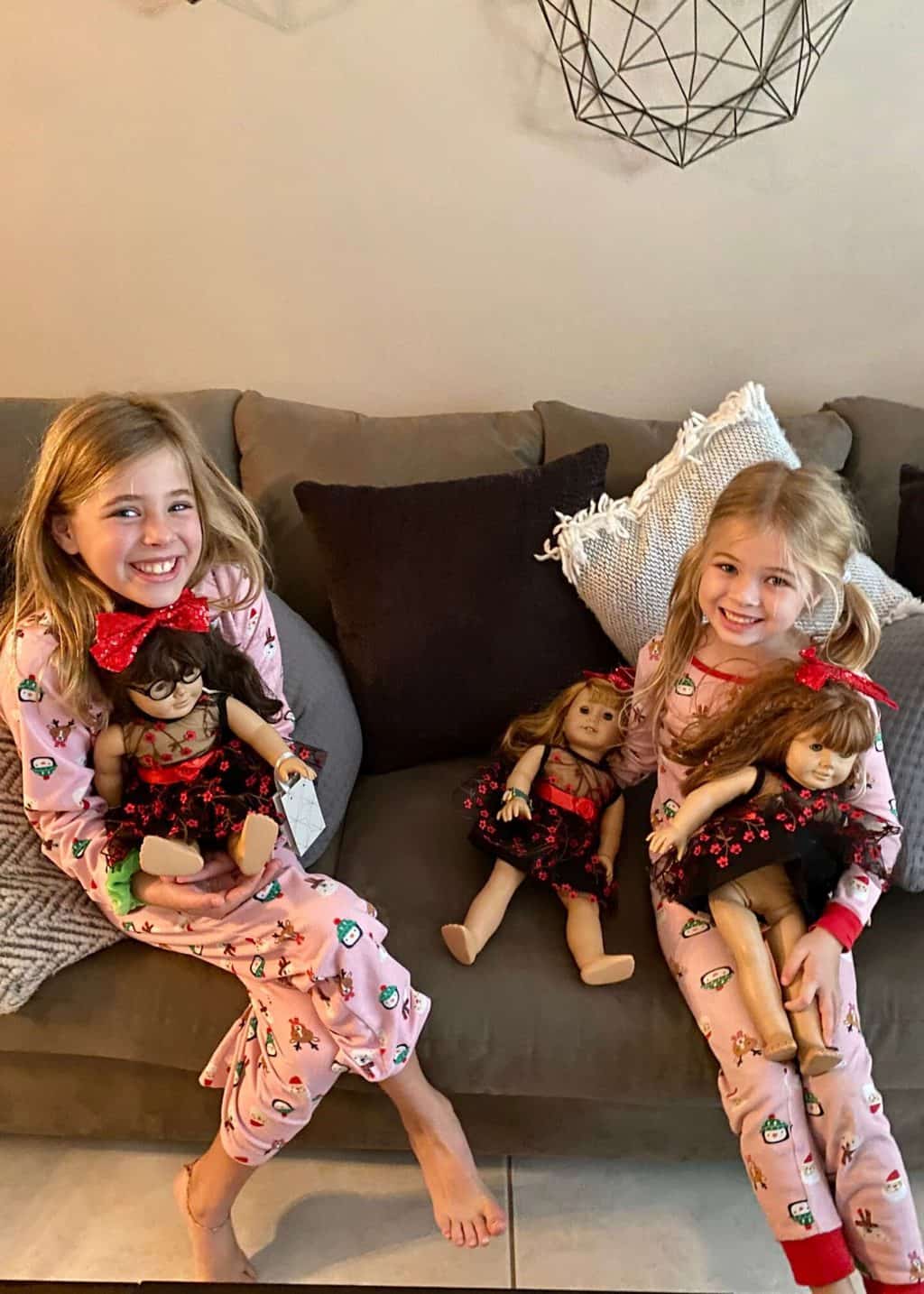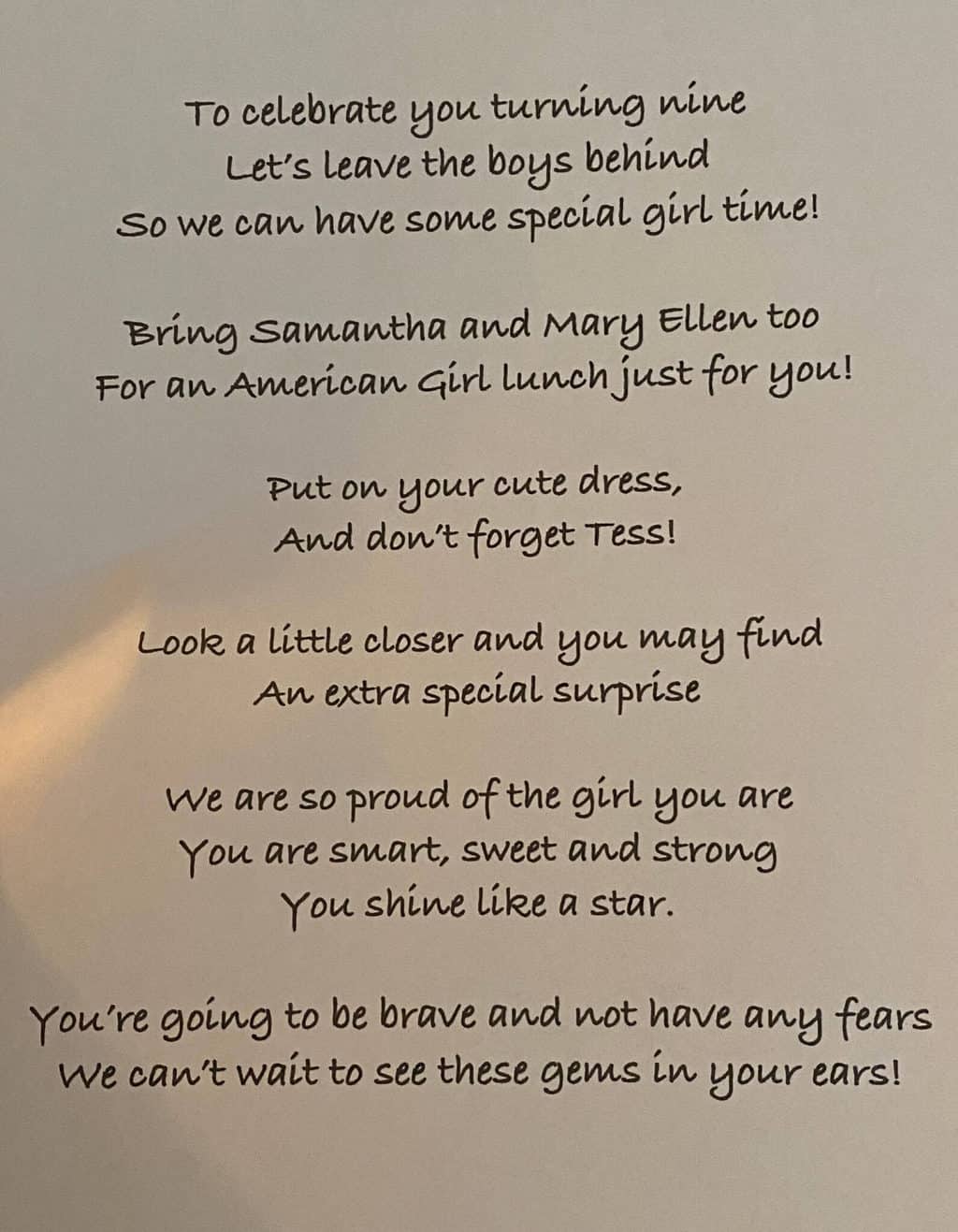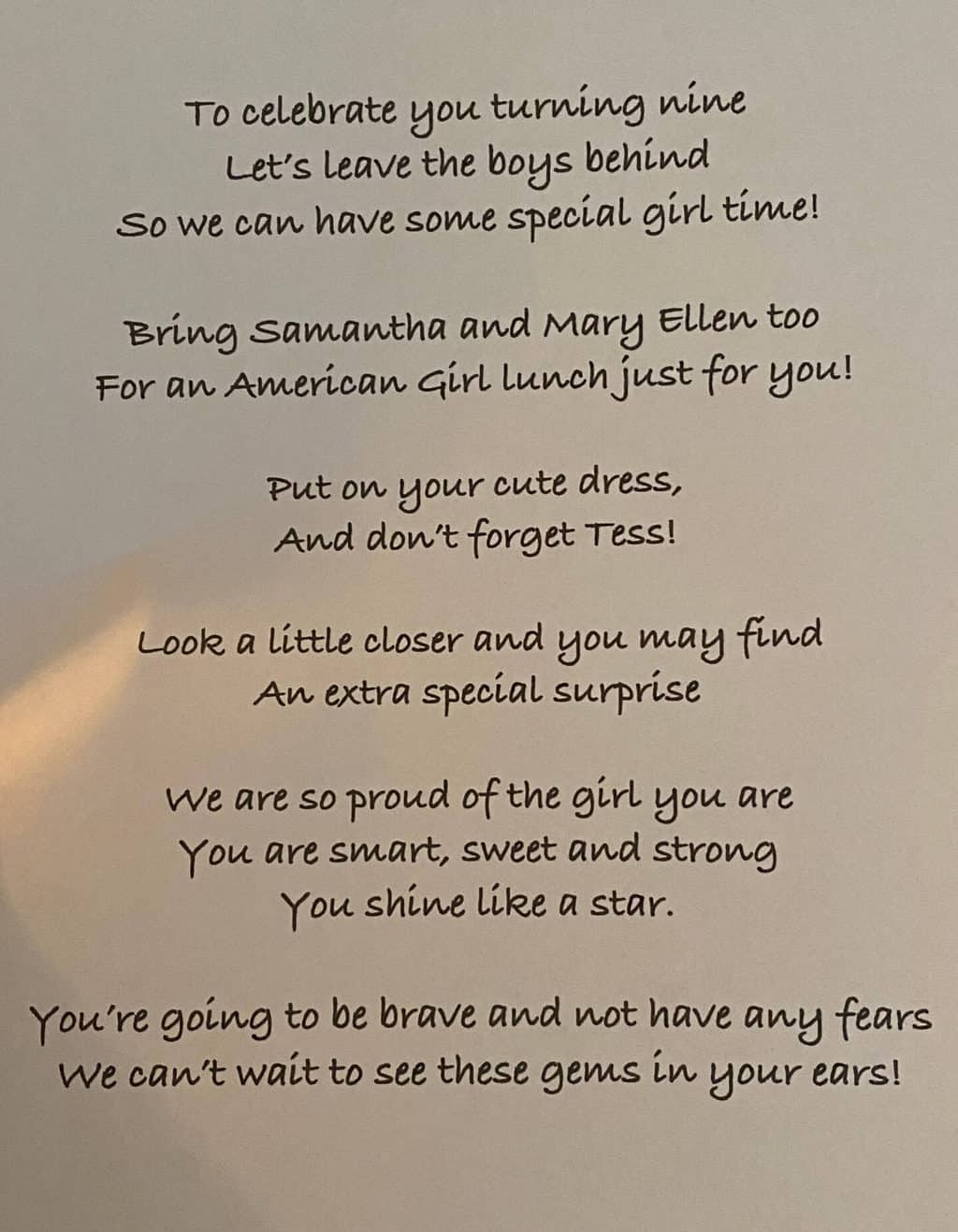 Why We Love American Girl
I think so highly of the American Girl brand. I love that they keep girls LITTLE GIRLS. In this crazy world we live in I want to preserve my daughters' innocence for as long as possible and there are so many benefits to having kids who PLAY.
I also love that they are heirloom quality dolls. I was able to gift my dolls to my girls and they are still in excellent quality.
When we visited the American Girl Store in Atlanta (which is now closed for good – so sad to see so many of the American Girl stores closing!) I felt guilt that I didn't bring Mrs. Charlotte with us. The store and Bistro are SO adorable and a visit makes for SUCH an excellent multi-generational outing.
I packed the girls matching dresses and told Mrs Charlotte the colors we'd be wearing so we could all be coordinated. As any girl knows – coordinating outfits makes any event feel extra special and so much fun, duh 😉
I called ahead to book make sure an ear piercing store in the Florida Mall was doing piercings (the American Girl store DOES pierce DOLLS ears only) and we headed to the mall as soon as it opened to make sure we beat any sort of rush with it being the weekend after Thanksgiving!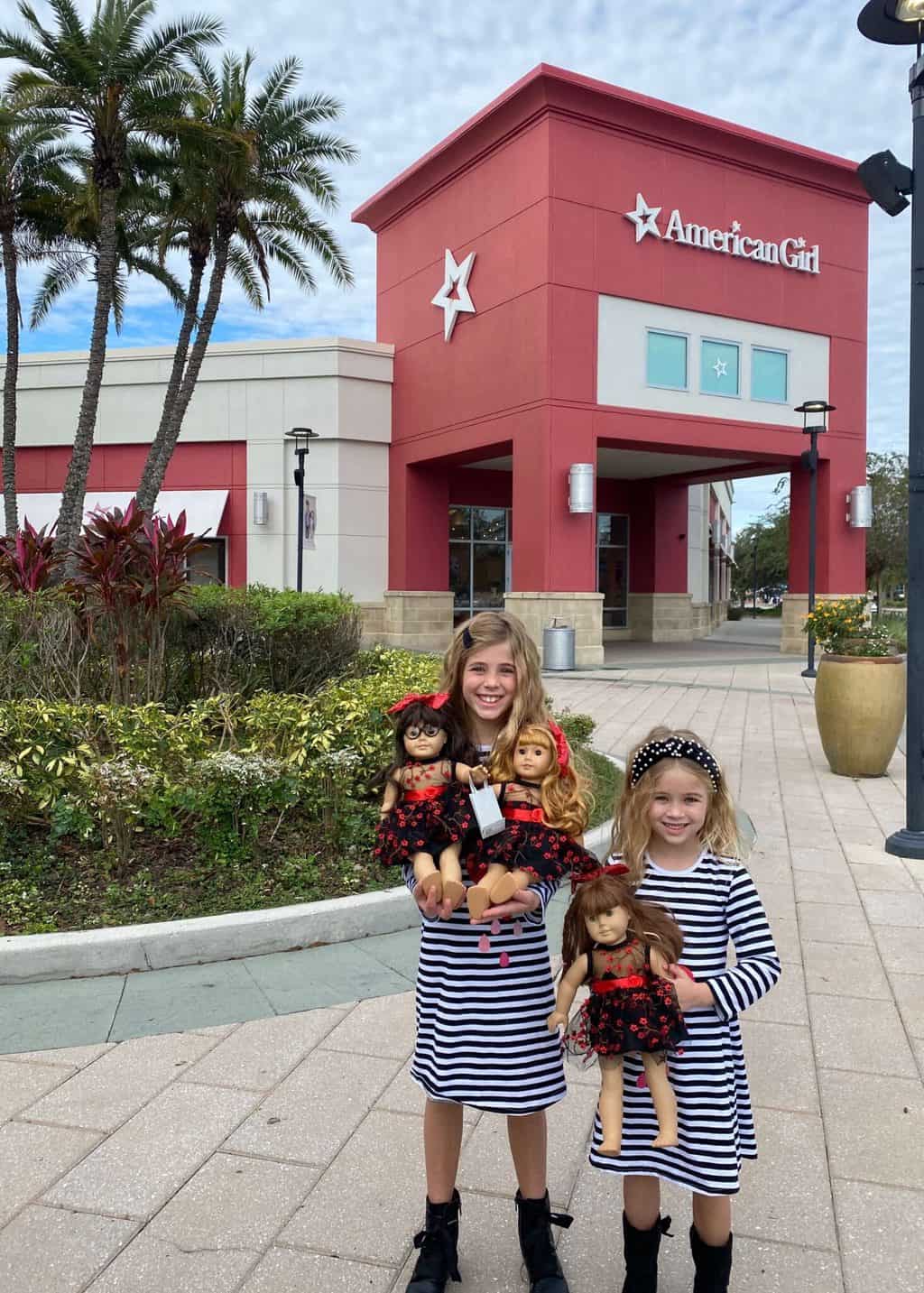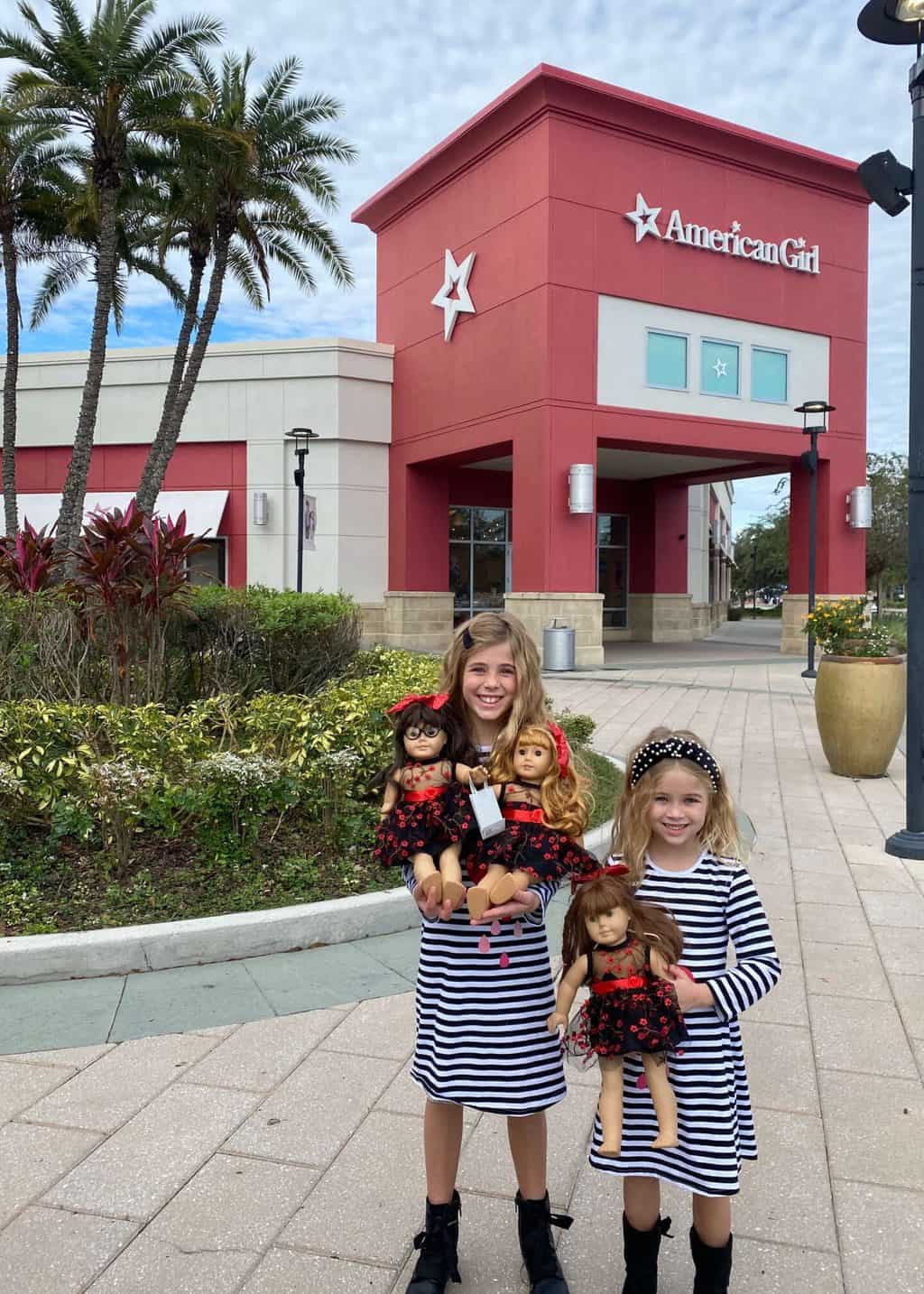 Why We Chose This Birthday for Ear Piercing!
I was nine when I got my ears pierced and I think it's a GREAT age for it. It makes it a special rite of passage age and a nine year old is able to handle the responsibilities of caring for the piercings too.
When I babysat in college the little girl I babysat for everyday was also nine when she got hers pierced and it was such a special thing as she wanted me there with her for the big moment 🙂
Since we were celebrating Britt's 9th birthday on our trip I thought it was THE perfect birthday surprise for her. An American Girl Birthday fit for our special girl!
She was SO excited until we got there and then she got super nervous. The online opening times weren't accurate so we were actually there a good thirty minutes before they would pierce her ears which I think only added to the anxiety of the moment.
I intentionally surprised her with the ear piercing so she wouldn't have a ton of time to be overthinking, overworrying, and making it more dramatic than necessary 😉
As it got closer to time she got more and more nervous and I told her it was NO PRESSURE. She did not HAVE to do it. But that I also wasn't going to be coming back. She could do it NOW or she could wait but I didn't know when she'd get to do it again. It was truly up to her!
So she decided she for SURE wanted to do it! She said she wanted to pray and then said "God is with me – I am READY."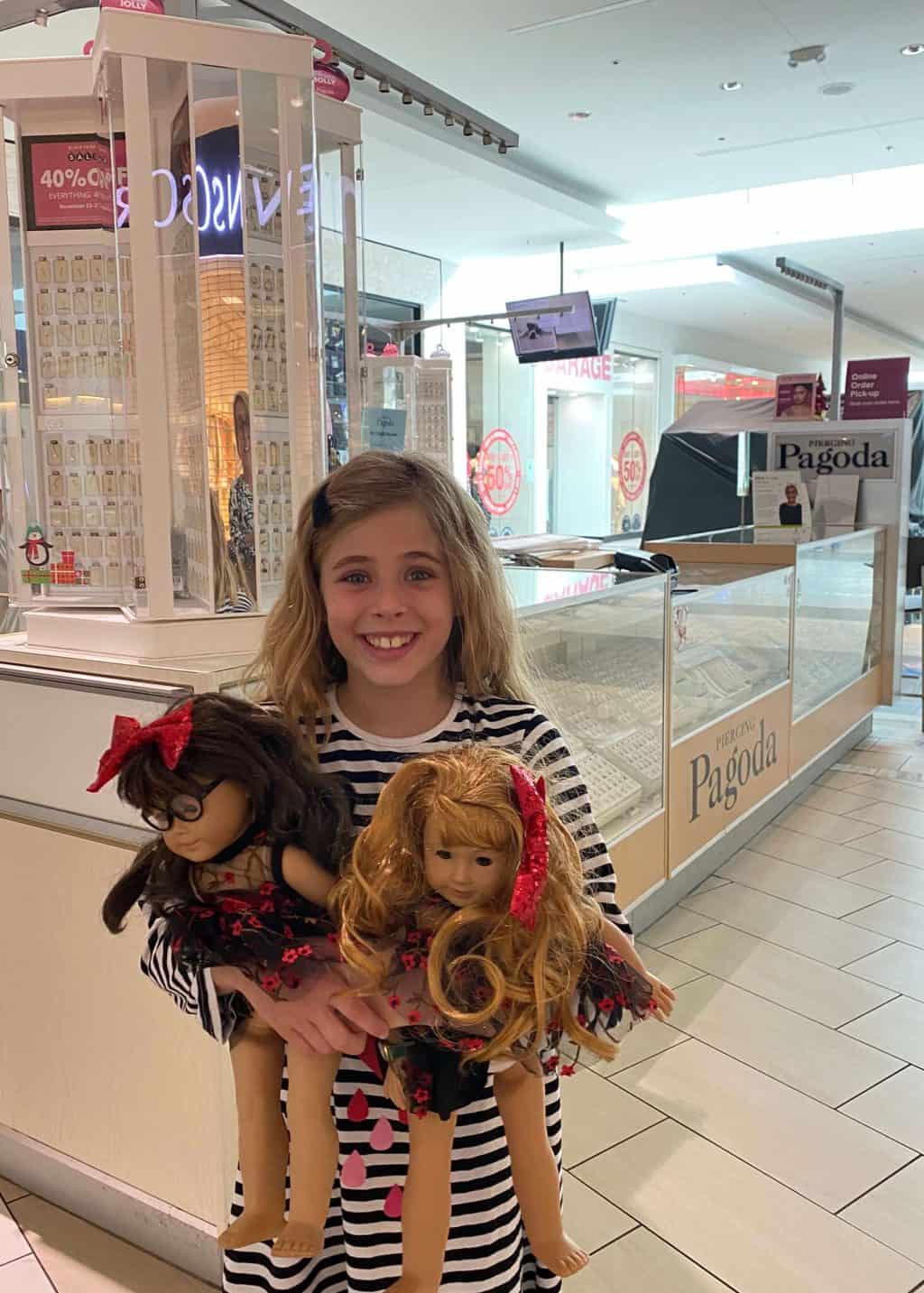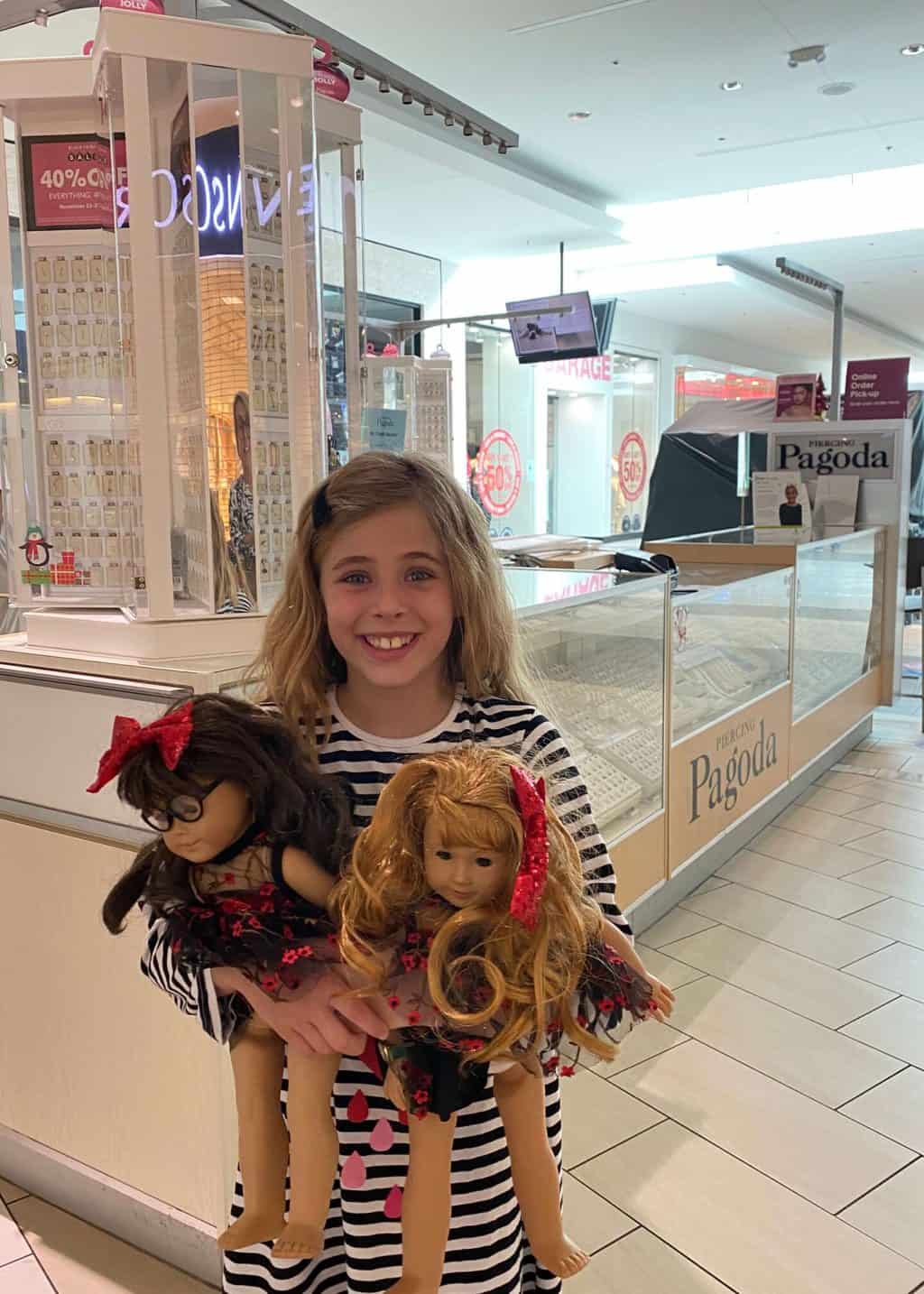 They did one ear at a time which did surprise me as I'd assumed they'd do both at once. It was sucky that she had to wear a mask the whole time as feeling anxious and nervous is hard enough but with a mask on it's even WORSE.
But she did A-MAZING! I'm so, so, SO proud of her!
And I was BLOWN AWAY how she instantly looked SO MUCH OLDER too. I cannot handle it.
For the earrings we did go with real gold starter earrings. I have sensitivity to cheap earrings so I want to make sure to set Britt's up for success and will probably always stick to high quality earrings for her until she's older and can decide for herself if she wants to take that risk!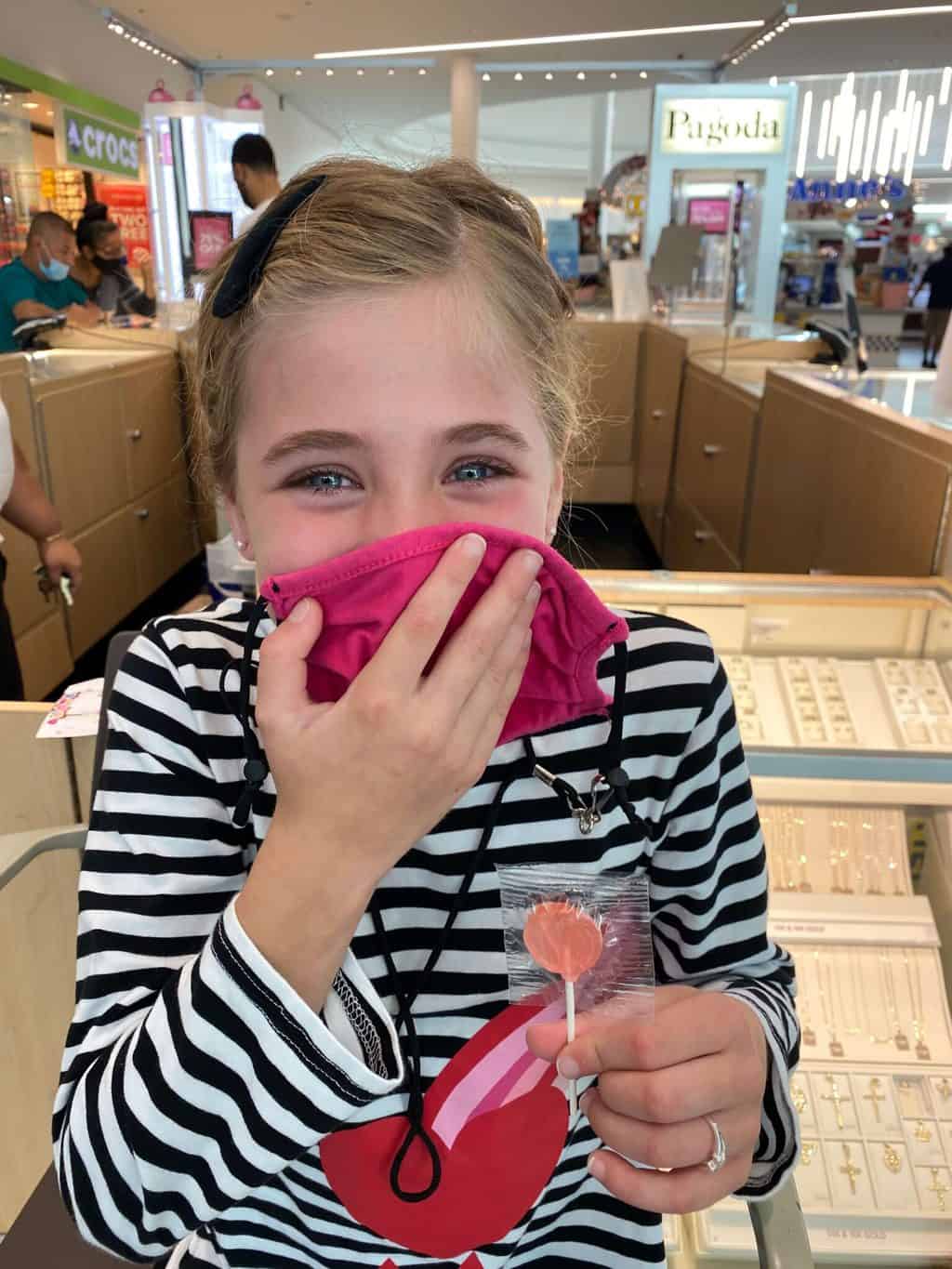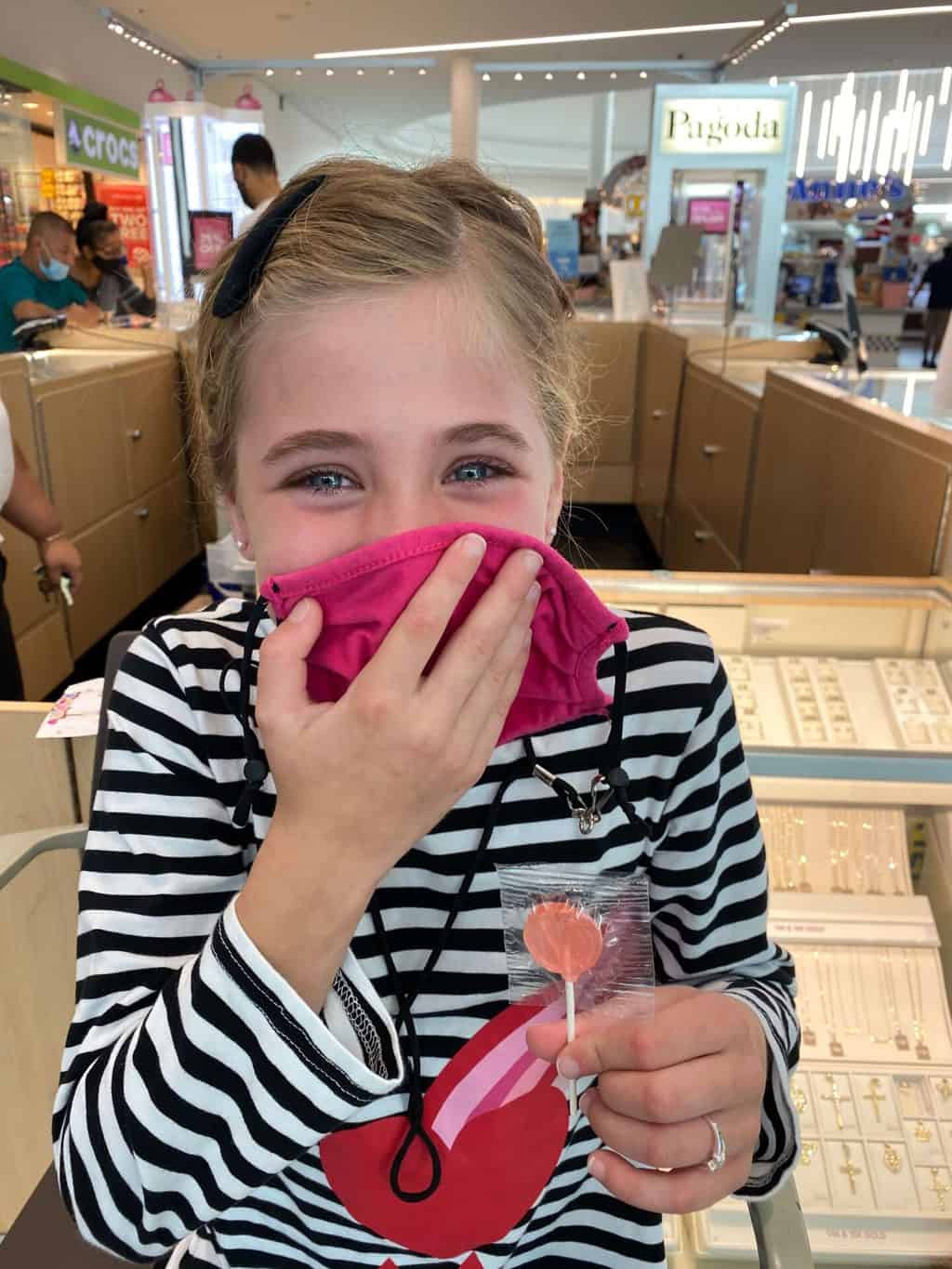 After we finished up we headed over to American Girl Orlando!
Britt's American Girl Birthday Party: American Girl Orlando
I surprised Britt with an appointment to get one of her doll's ears pierced too! It's $16 for a doll ear piercing. You make an appointment in advance on the website (here). The doll piercing was way quicker than the hair style BUT I will say if it's a first visit to the store the hair style was super fun and special and has lasted a super long time too (you can read more about the American Girl Salon experience here)
Included in the price for the piercing was a pack of three pairs of earrings for her doll! I feel like it was a super great price and the doll's ears heal much quicker – you only need to wait a couple of days before swapping out the earrings. Britt chose Samantha for the special experience and they both looked so pretty with their new earrings!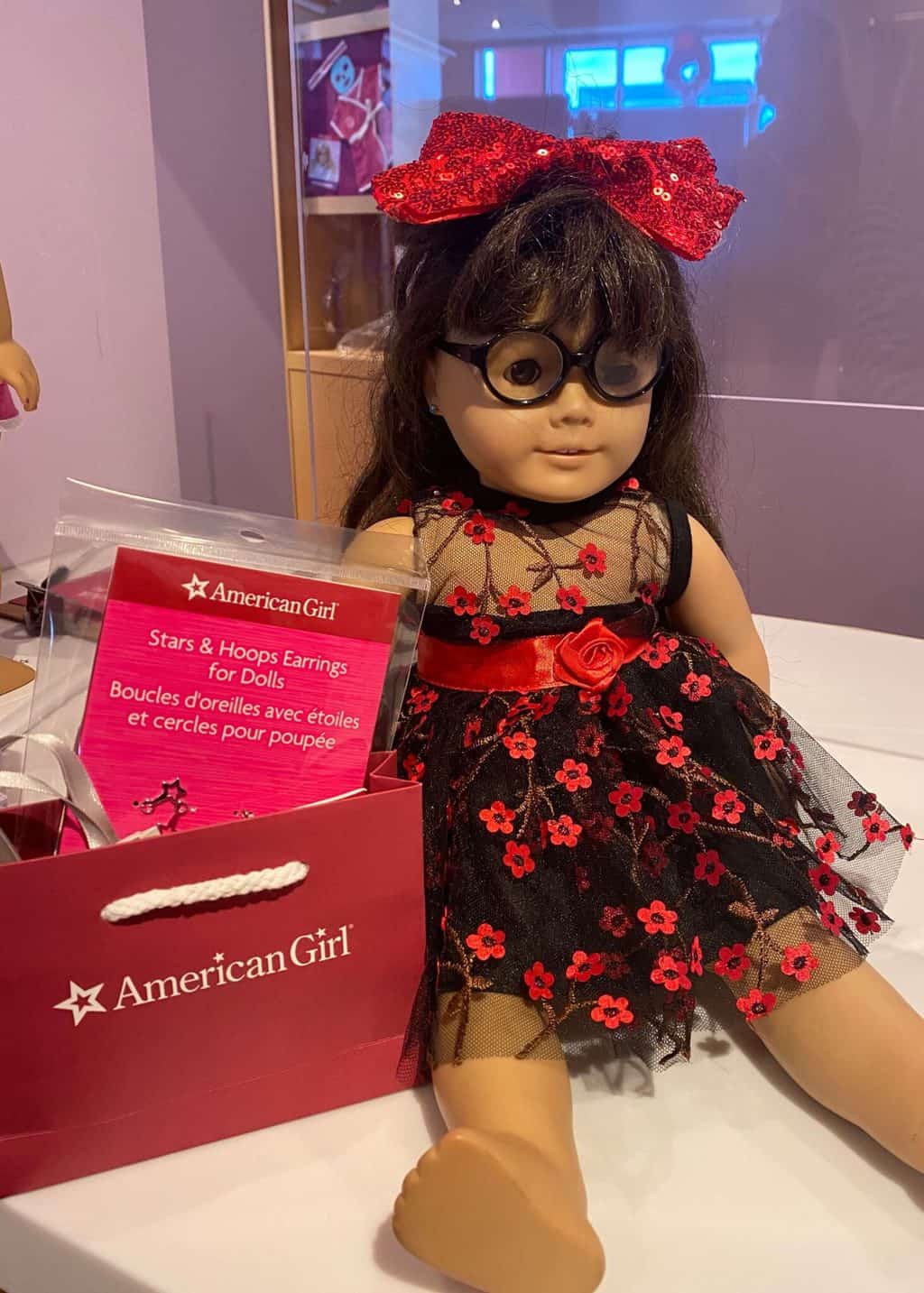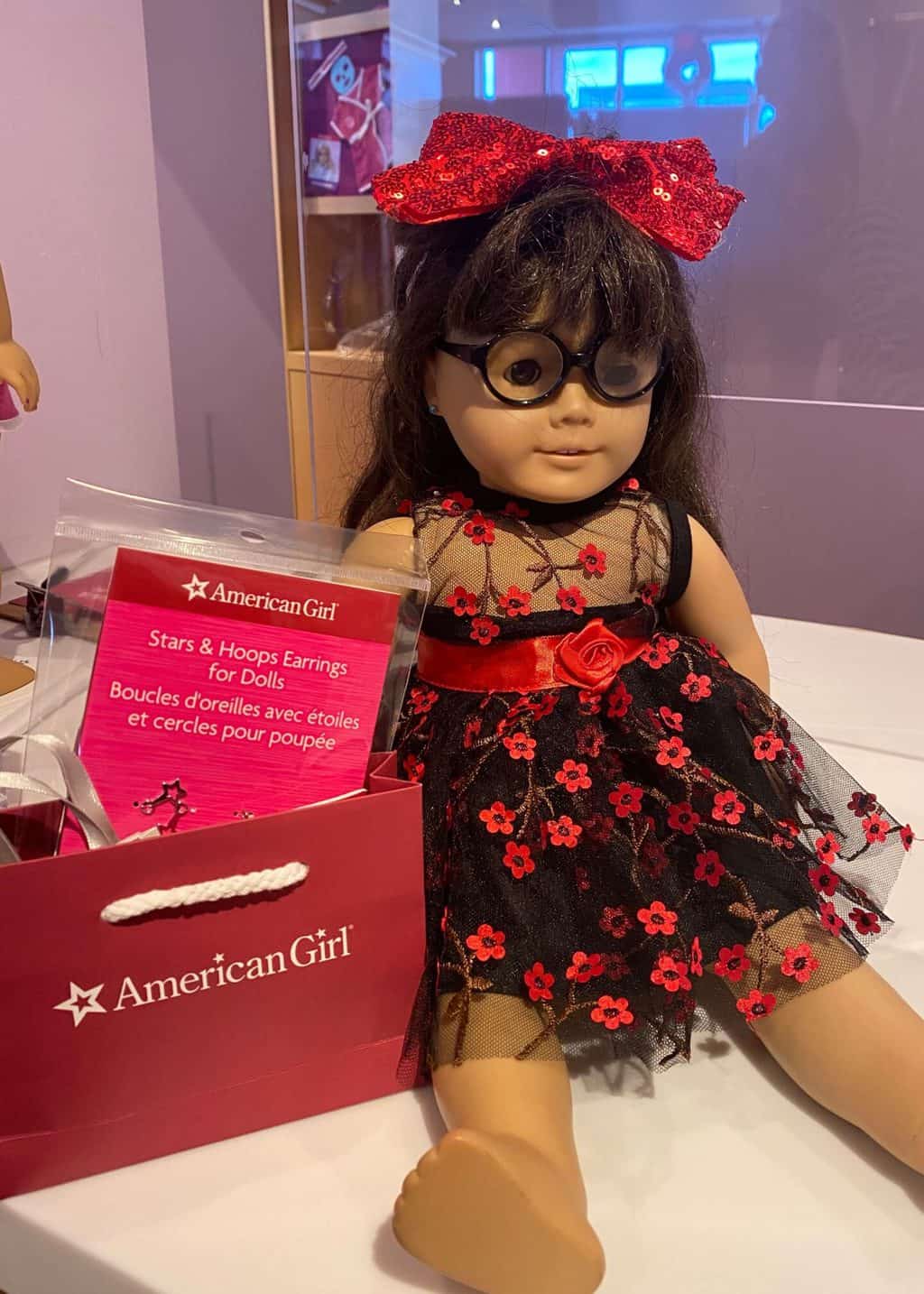 Along with making advanced appointments for any sort of doll salon experience, you can also book in advance for the American Girl Bistro as well as their party options.
We were SO excited to be hosted for Britt's special birthday celebration and we appreciate American Girl Orlando so much for having us!
We had a bit of time before our Bistro reservation so the girls did some browsing and shopping. The American Girl Orlando store is not just a store – it's an experience all on it's own! Lots of spots for the girls to have their dolls test out items and the set up is so well organized so you can easily find accessories for each specific doll.
I love that American Girl really focuses on positivity and building up girls and their self esteem. These Smart Girls Guide Kits are ADORABLE and have themes like friendship troubles and liking yourself. A great gift idea for the pre-teen ages especially when girls start to feel different and can often struggle with self worth.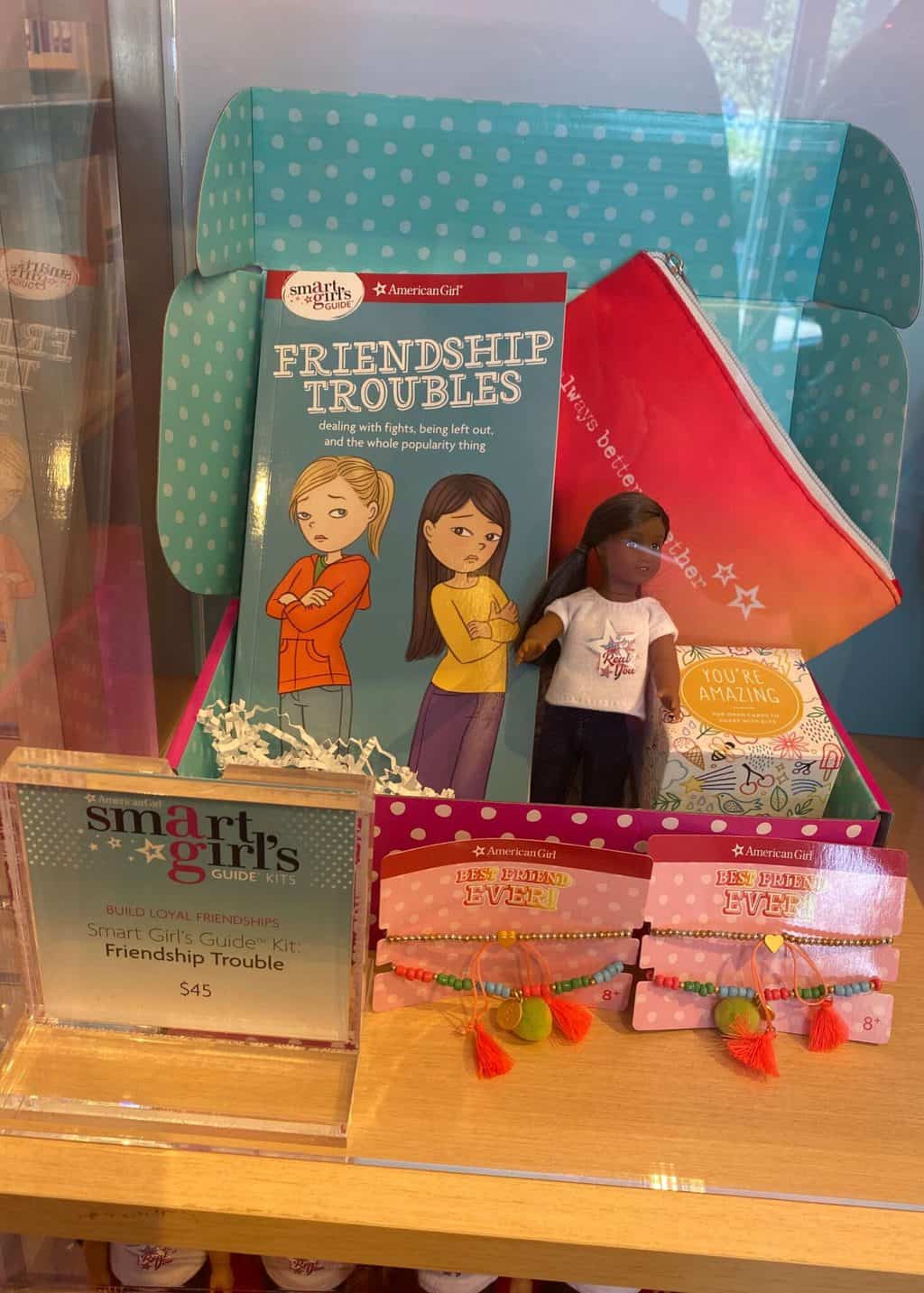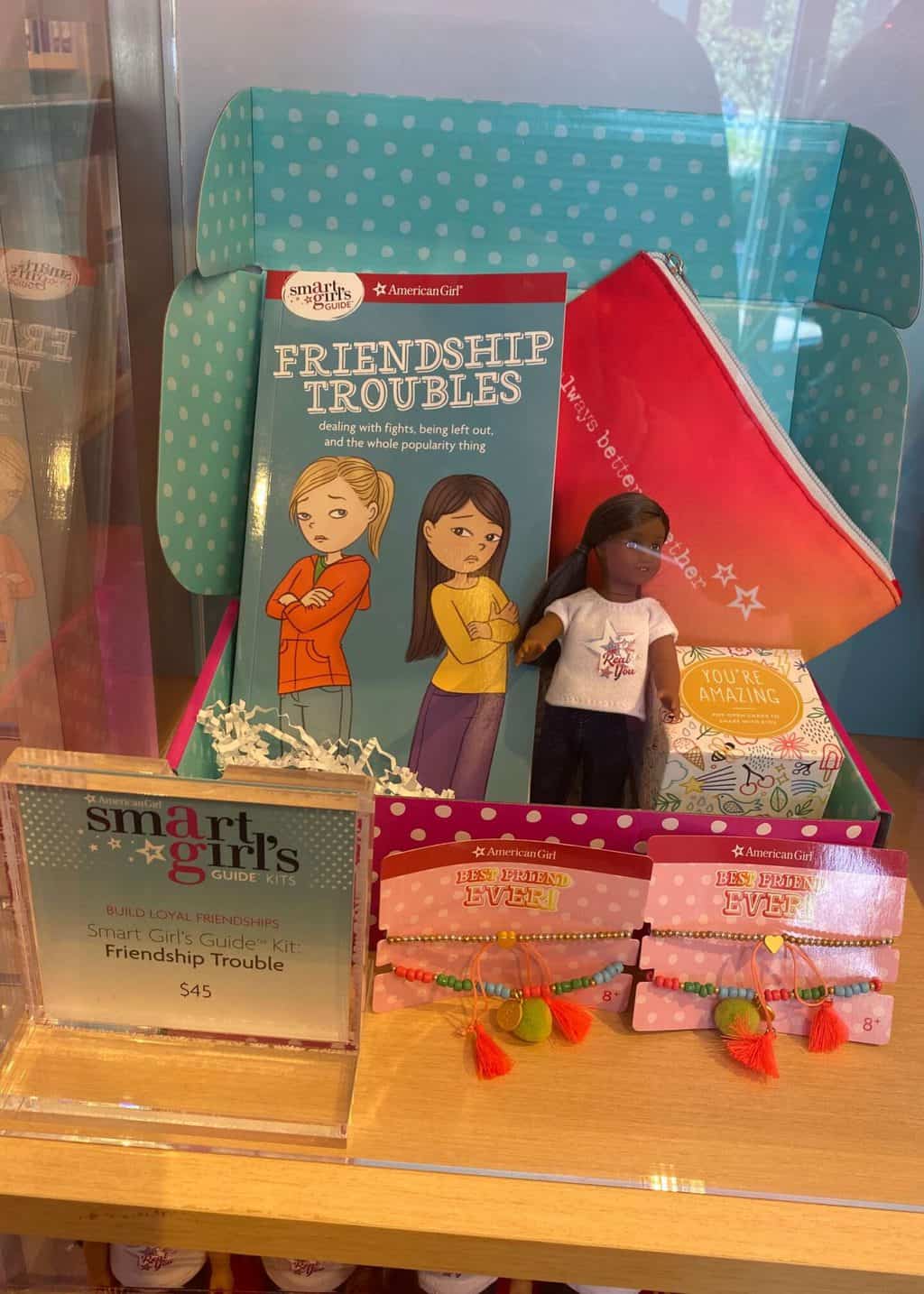 G-Mama loves spoiling her grand babies so she told the girls they could each choose one thing to purchase and it made it extra fun to shop the store in search of that item they'd want to buy! I liked arriving early with the time to browse prior to our eating and the American Girl doll birthday party experience and that gave the girls the meal time to ponder what they wanted 😉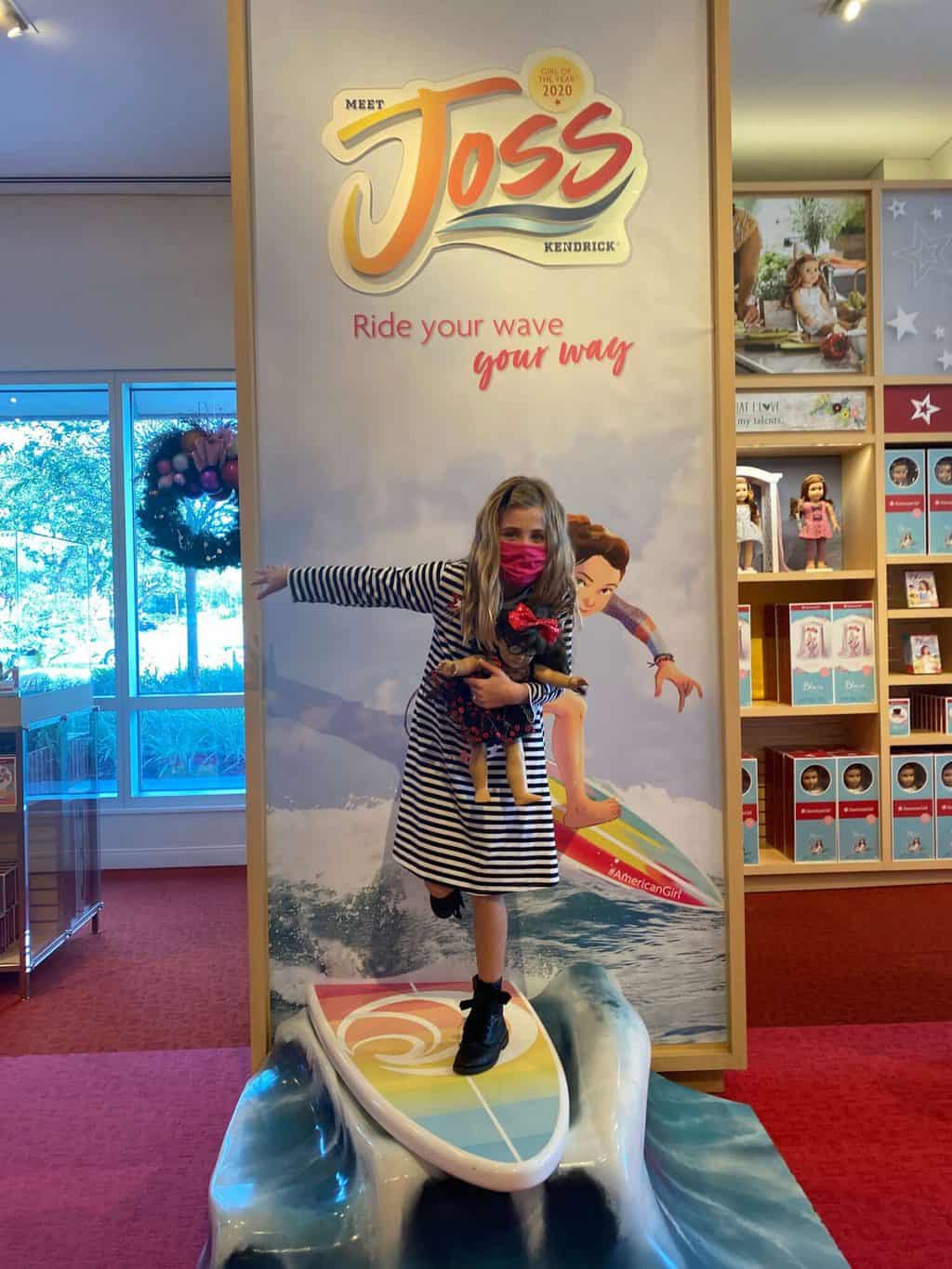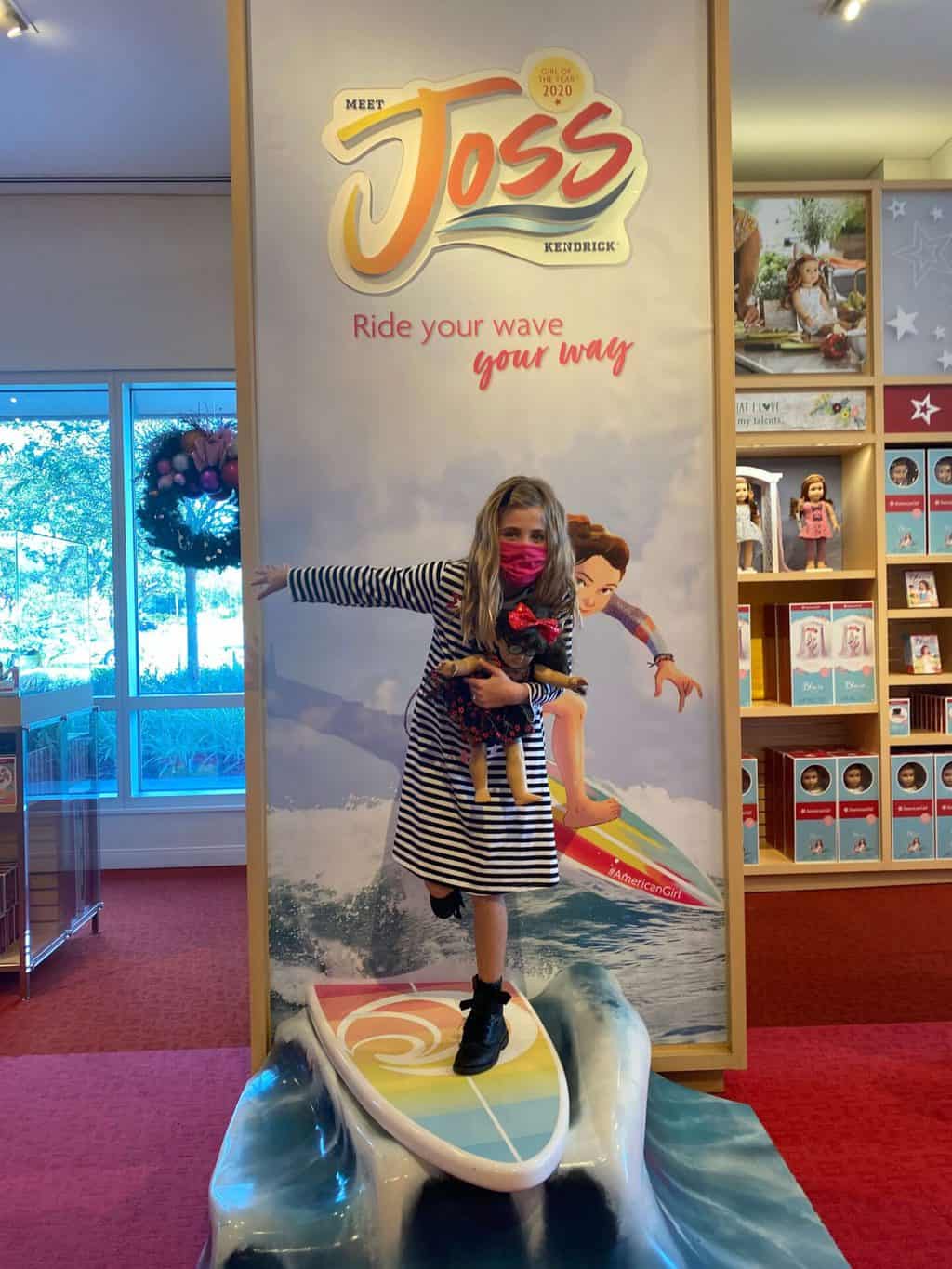 American Girl Orlando is doing their part with updated health and safety guidelines including cure themed reminders throughout the store and in the bathrooms too.
Face coverings are required and proper hand washing is encouraged. Of course my favorite thing about the American Girl Store is that they have doll hooks in the bathrooms – keep the dolls germ free while you do your duty 😉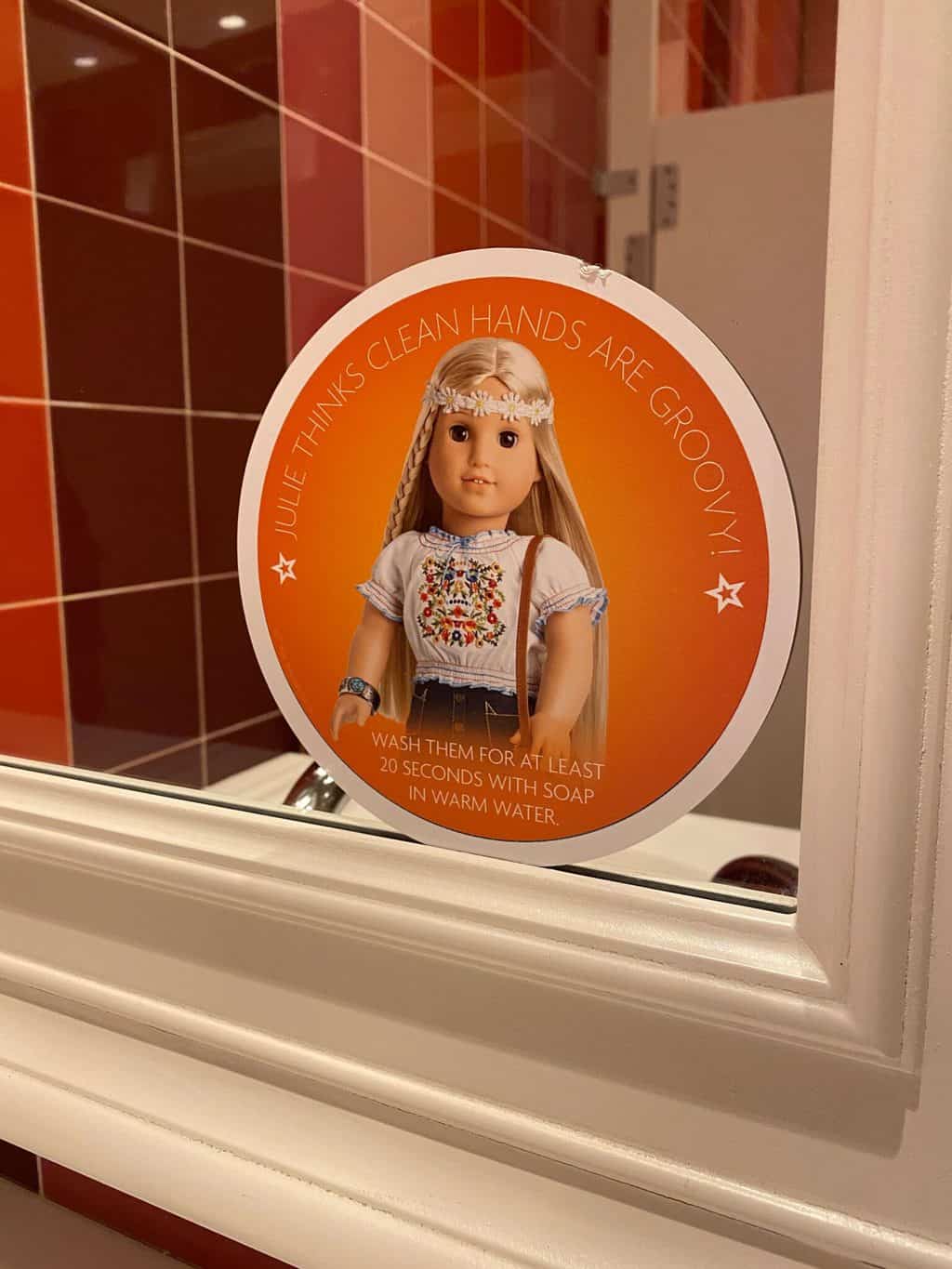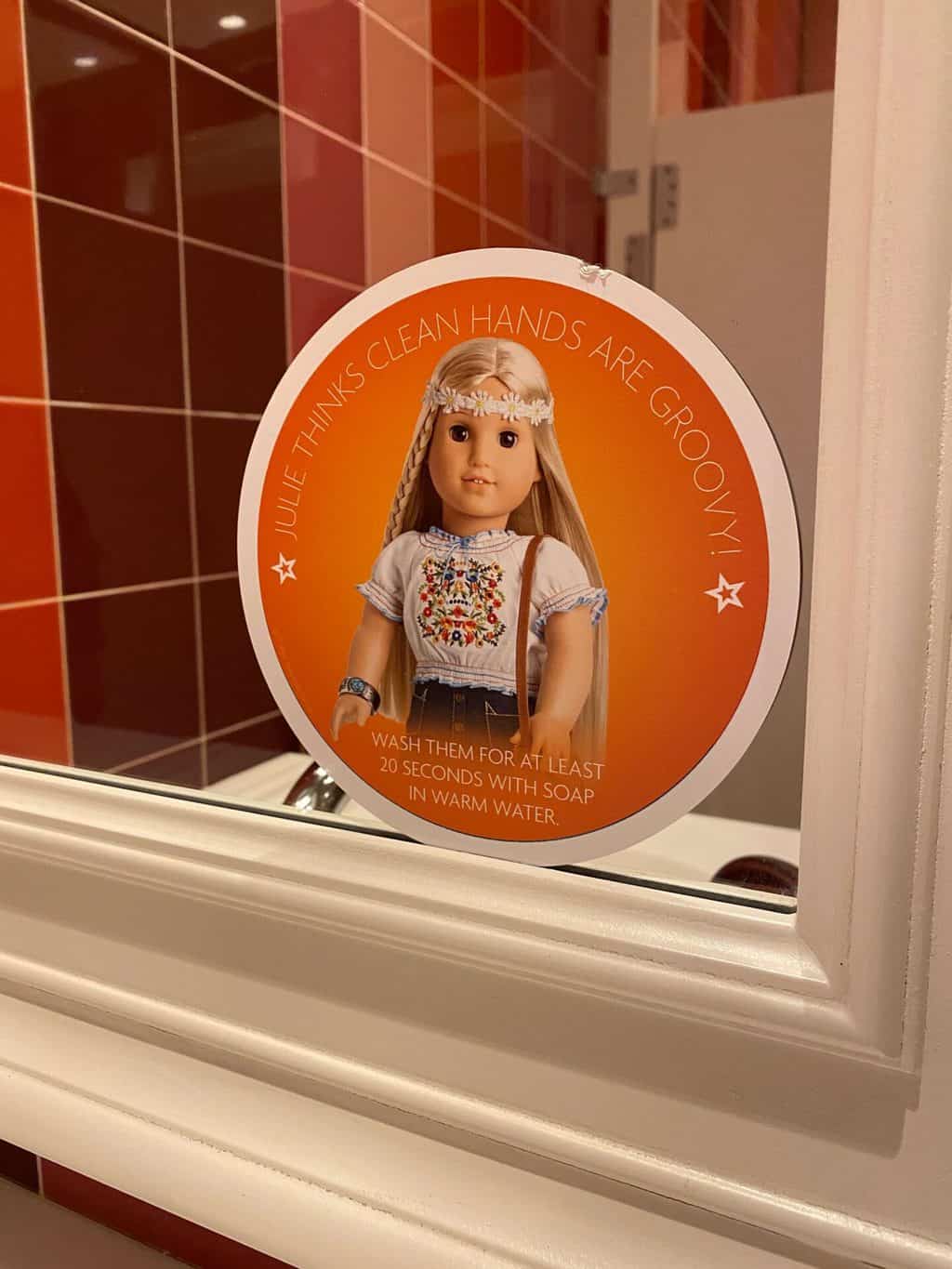 Britt's American Girl Birthday Party: The American Girl Bistro
Next, we headed over to the Bistro (located within the store at American Girl Orlando) for our scheduled American Girl Doll birthday party fun!
We booked the Deluxe Birthday Party as it allowed us to have our own private room and SO MANY birthday goodies! Y'all when I say we were BLOWN AWAY I mean truly we were BLOWN AWAY.
Mrs. Charlotte and I could not stop saying how incredible the entire experience was from start to finish. So many adorable details. So well thought out and planned. Every little thing was fabulous. Above and beyond.
And SUPER affordable too (especially when you're used to paying Disney pricing like we are!). Both of the girls had the most fantastic time and even Tess ( who wasn't even the birthday girl) kept saying it was the best day ever 😉
You can learn more about the American Girl party idea offerings at American Girl Orlando here!
When I read over the options I decided to book the Sweet Sprinkles Deluxe Party Package because Britt loves baking and I knew she'd really enjoy the cupcake decorating activity! I loved the Deluxe Package because it allowed us our own room which made it all feel even more special to have that intimate experience.
The American Girl Bistro Birthday Sweet Sprinkles Deluxe Party Includes: 90 minutes party time, meal, cake and ice cream, cupcake decorating activity, goody bag stocked with baking gear and goodies for their doll, a birthday gift for the birthday girl, crown and tiaras for the birthday girl and party guests. Plus invites (which we didn't need obviously since our party was just us four!).
The current price is $47 per girl and $37 per adult. It's for groups of 5-12 (I called ahead and since it wasn't booked we were able to do just the four of us with no issues).
Again, I just love the details American Girl puts into EVERYTHING. Each of the dolls had a birthday crown to wear and their own seats that attach to the table plus their own little plates and cups and everything they needed to be "part of the fun!"
For the meal we were able to choose both an appetizer and main course as well as unlimited soft drinks. They make a killer pink lemonade that Britt and Tess couldn't get enough of, perfect for a little tea party treat 😉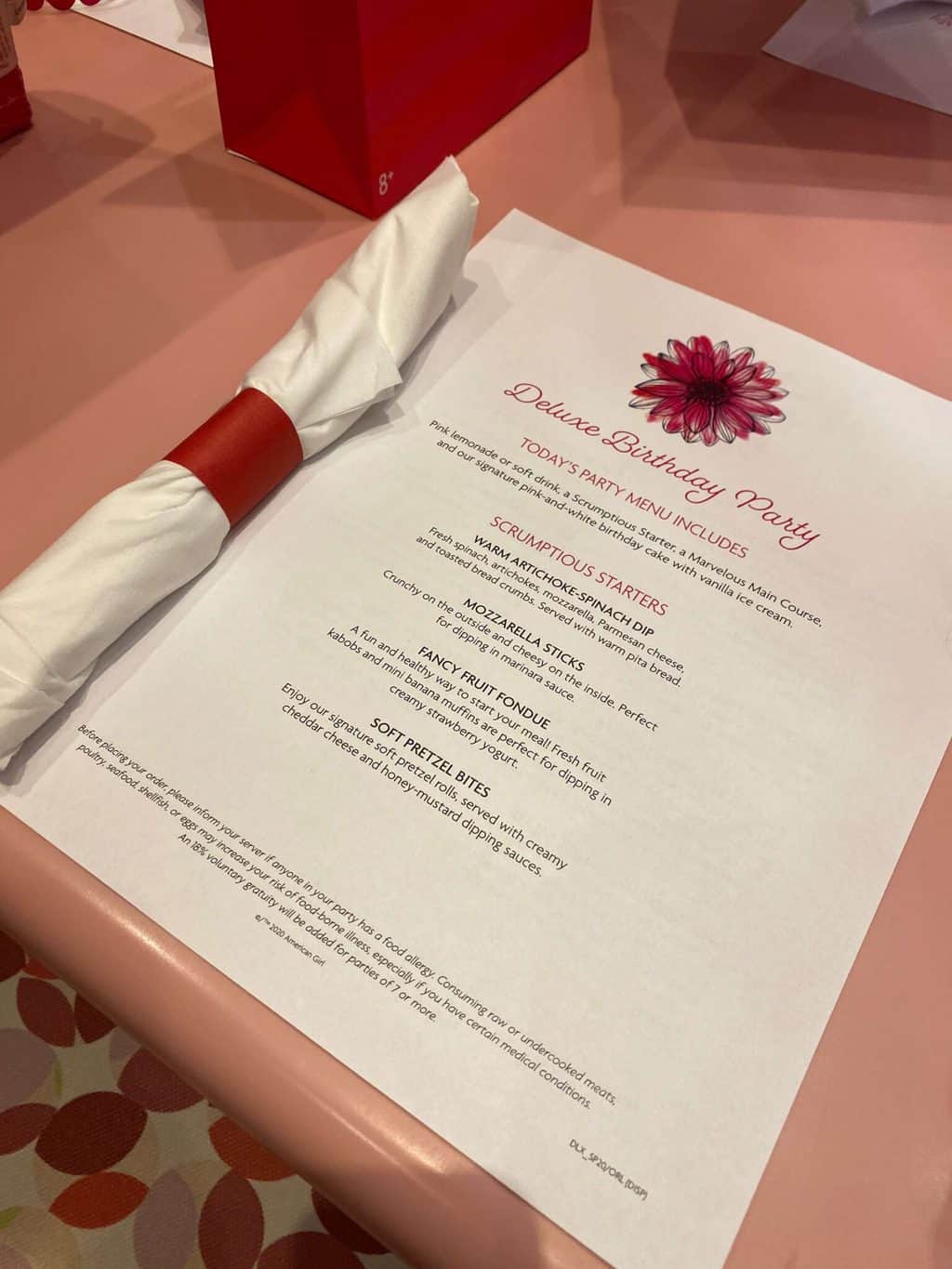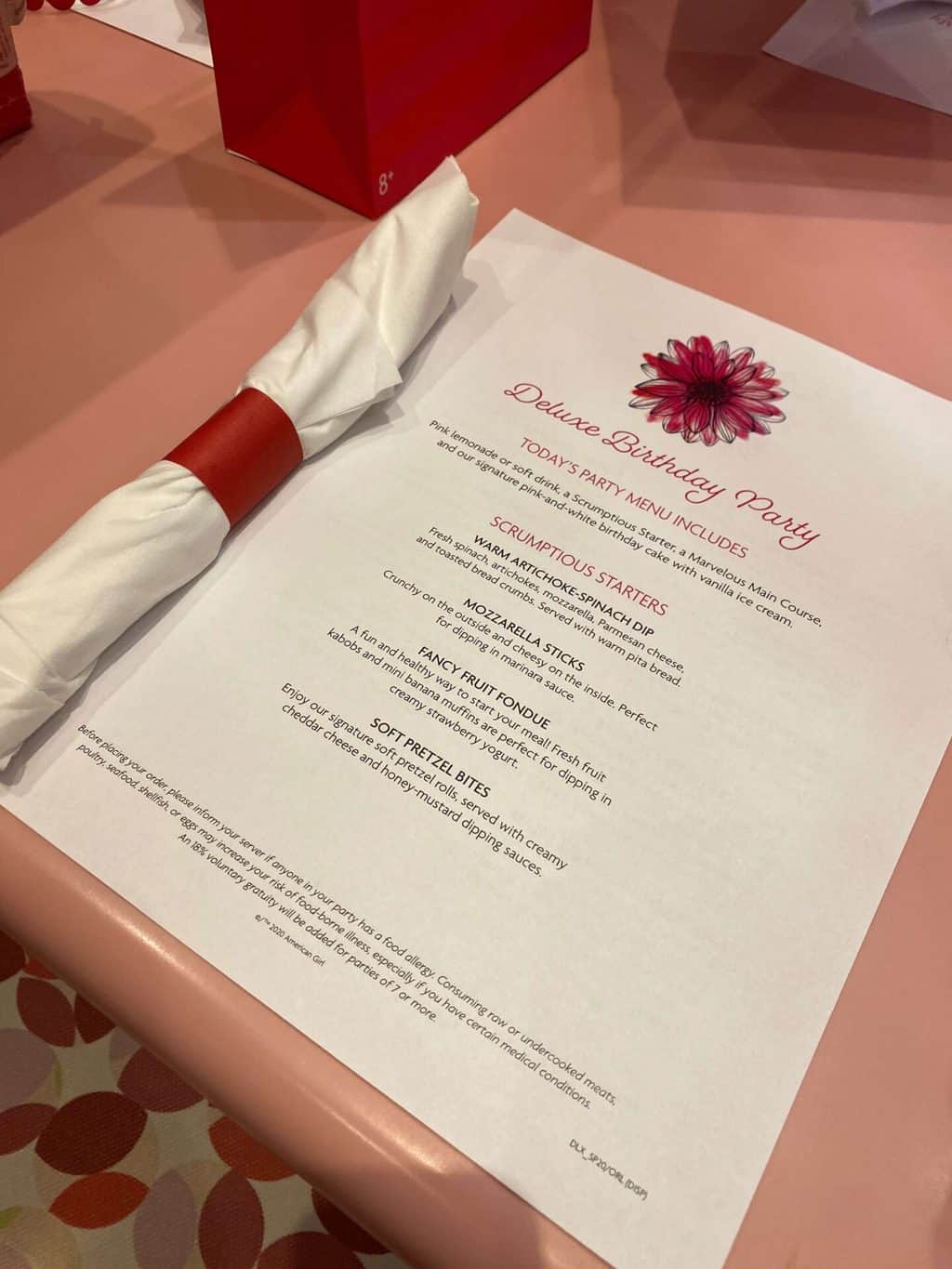 We had above and beyond service as well which only enhanced our experience. Our waitress was SO awesome at checking in with us regularly. The entire party flowed super smoothly. There was never a lull of any kind but it didn't feel rushed either.
When planning events I always like to make sure there are enough activities to keep things flowing but also not too many activities which can cause boredom and this was the perfectly-timed event!
We ordered our food choices and she brought out our cupcake decorating kits and even brought one for Mommy and G-Mama too!
Of course, the cupcake decorating was also very well thought out. The icing was already in a baggie to minimize mess and each girl had little containers of sprinkles. Each kit included a larger cupcake as well as one to decorate for their dolls too 😉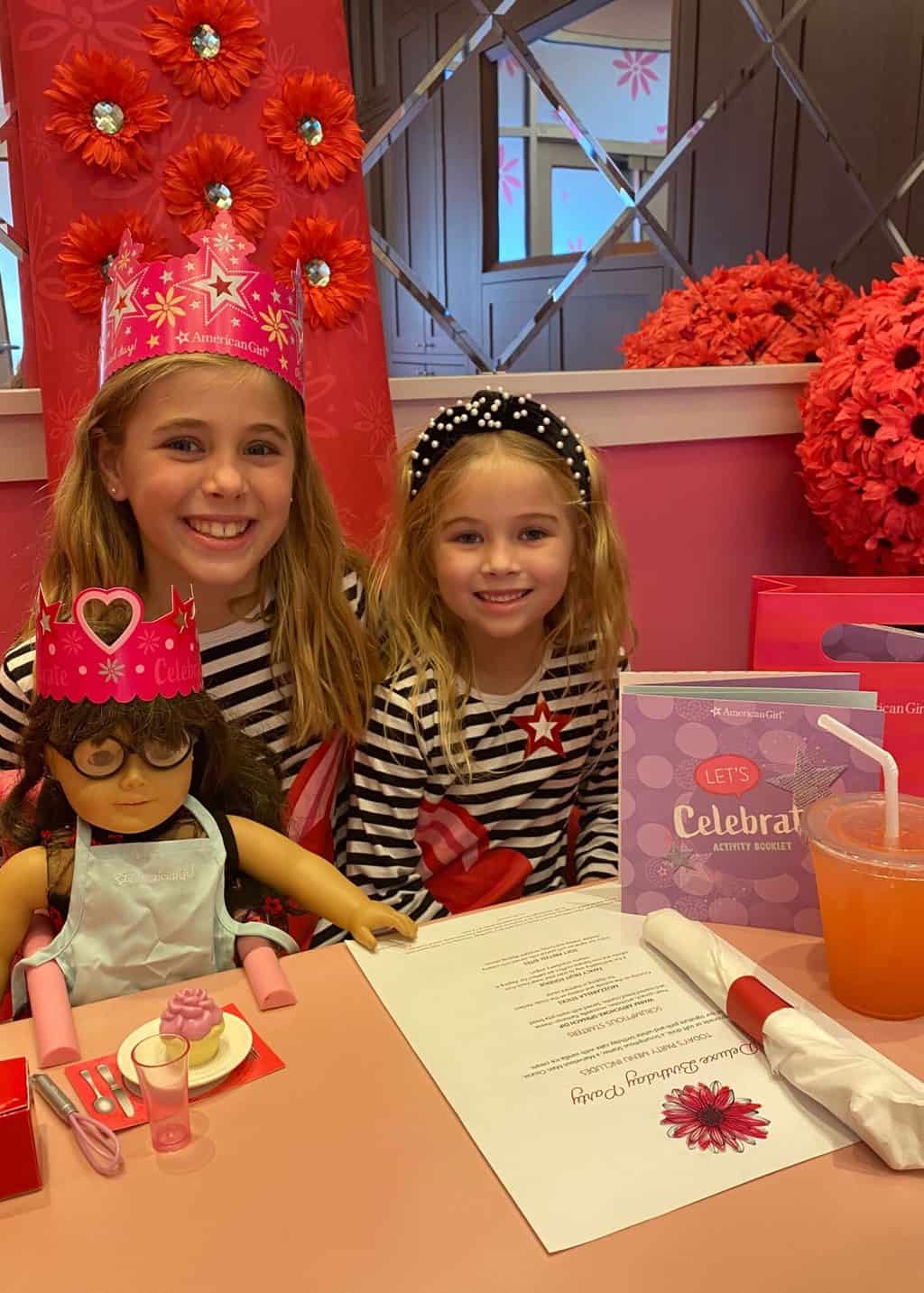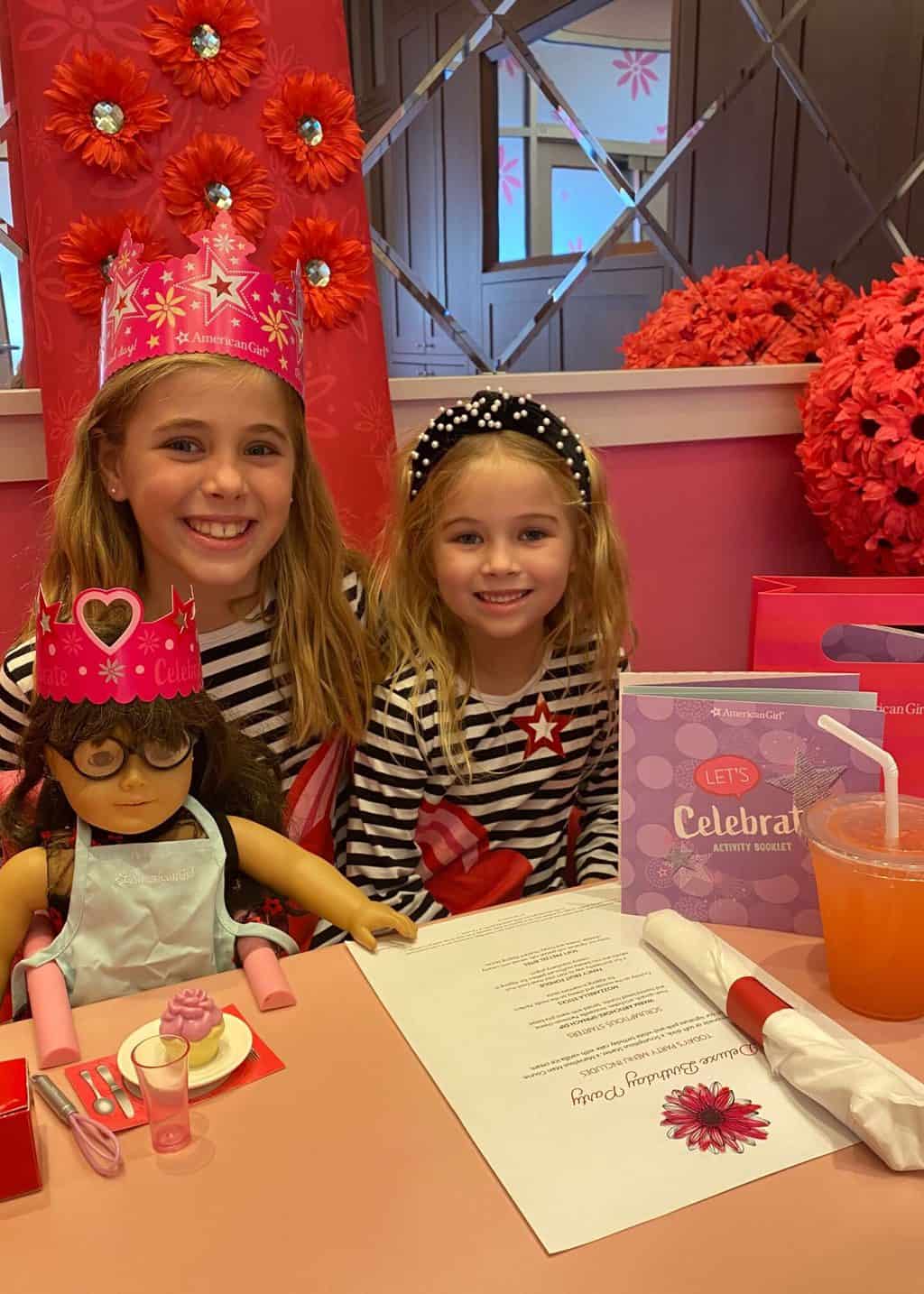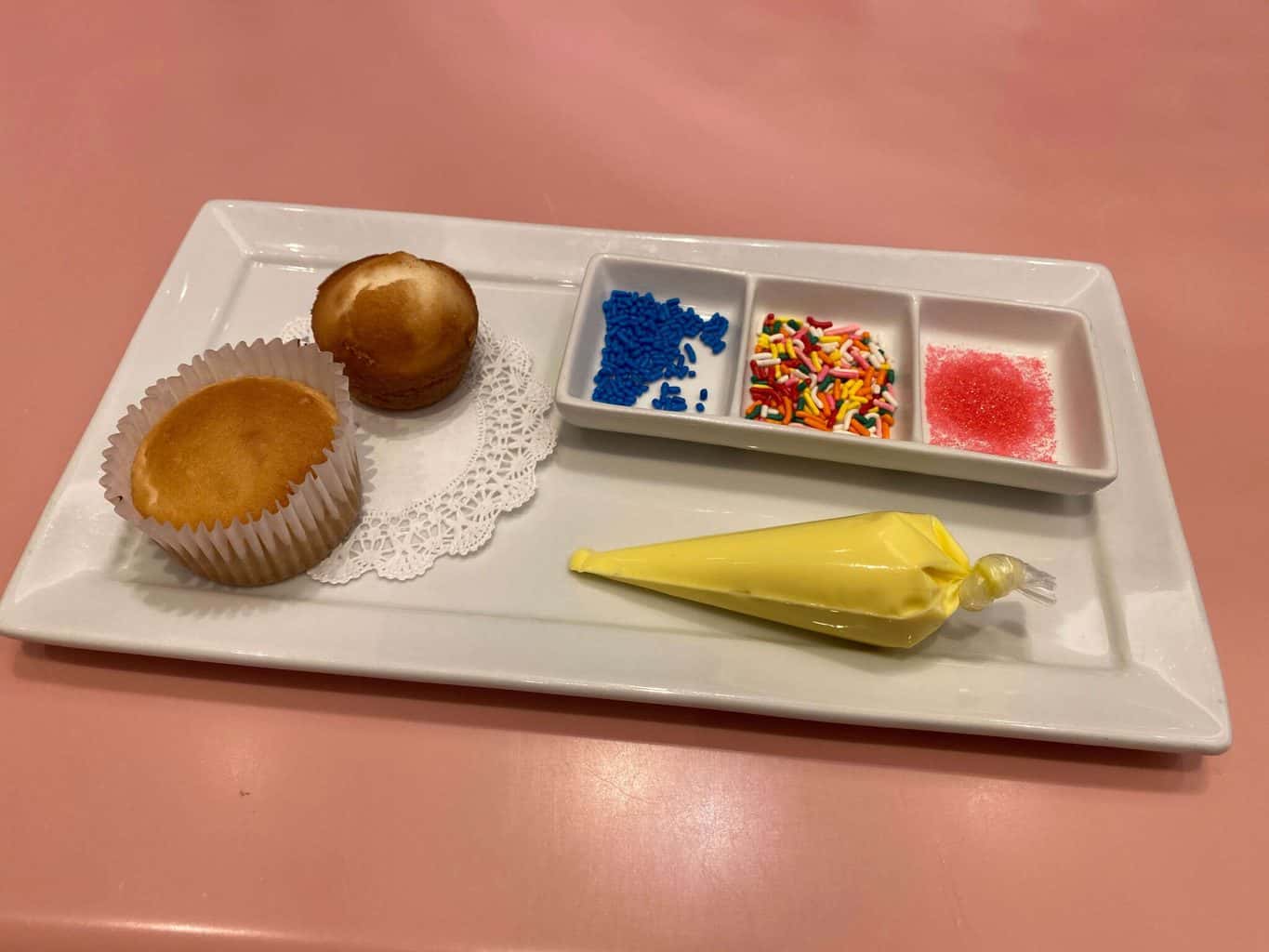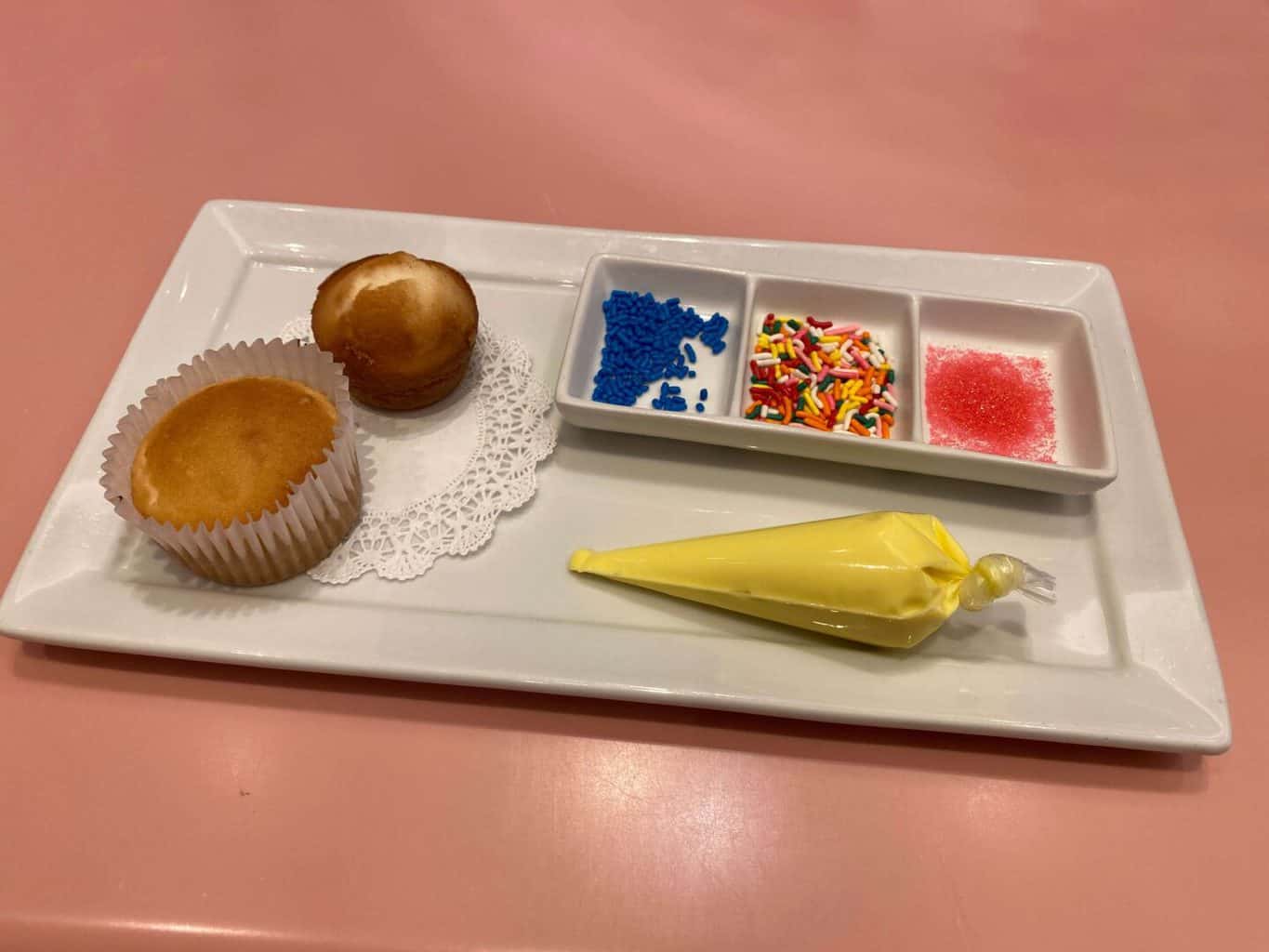 Once we finished up our cupcake decorating we played a few of the party games available in the room. I love that American Girl is a FAMILY brand. All about bonding. Relationships. Connections.
The questions were so fun – even for just four people to ask each other. It was a great way to dig a little deeper in a light-hearted, fun way.
The food at The American Girl Bistro doesn't have to be fantastic – but it is. We pay higher prices for food that isn't HALF as delicious as the Bistro! I felt guilt that Zach and Kye didn't come along as they would LOVE the food 🙂
My favorite is the appetizers though. The girls got the pretzel bites and they are SO good. I got the spinach dip and it's AMAZING.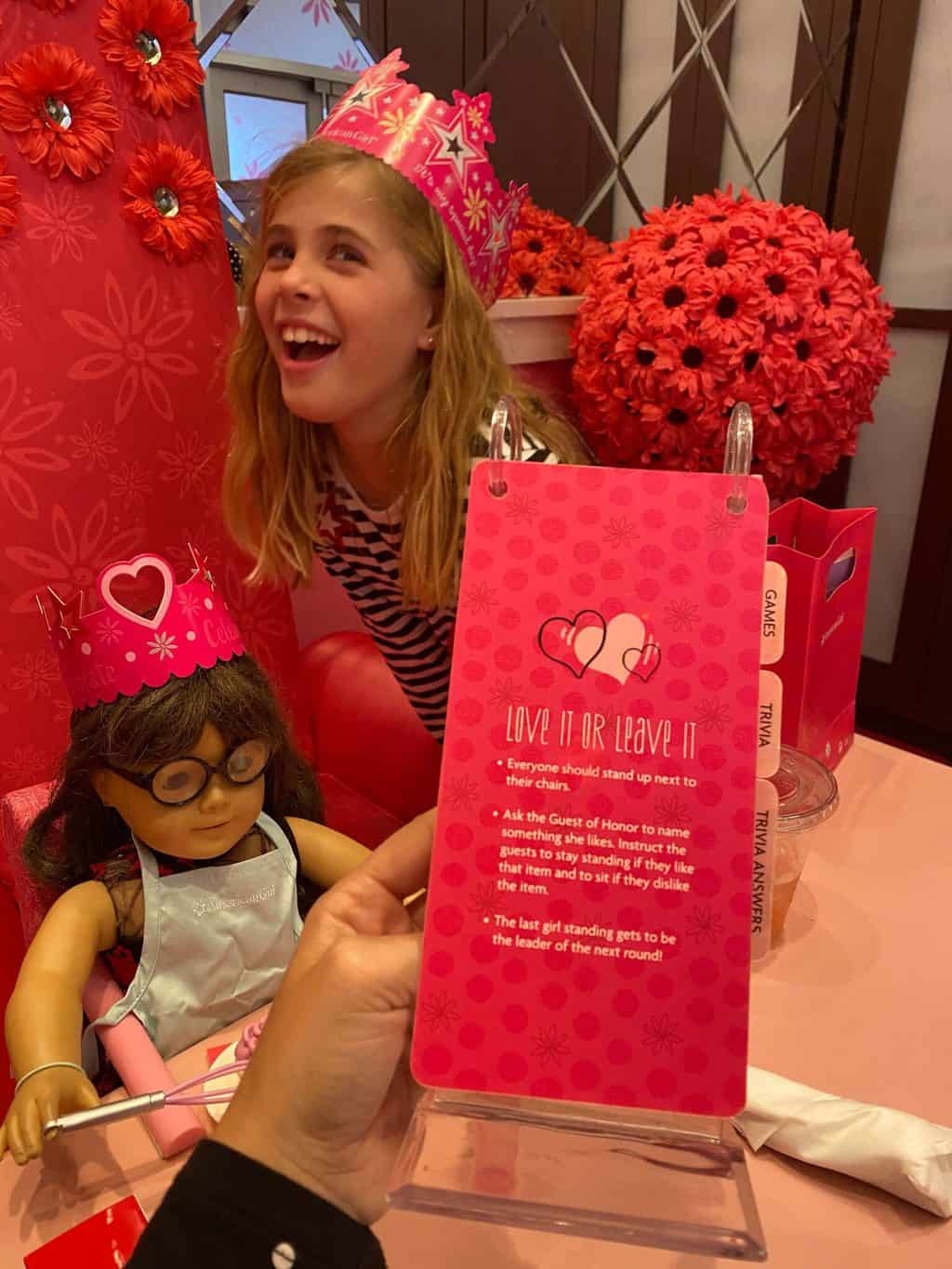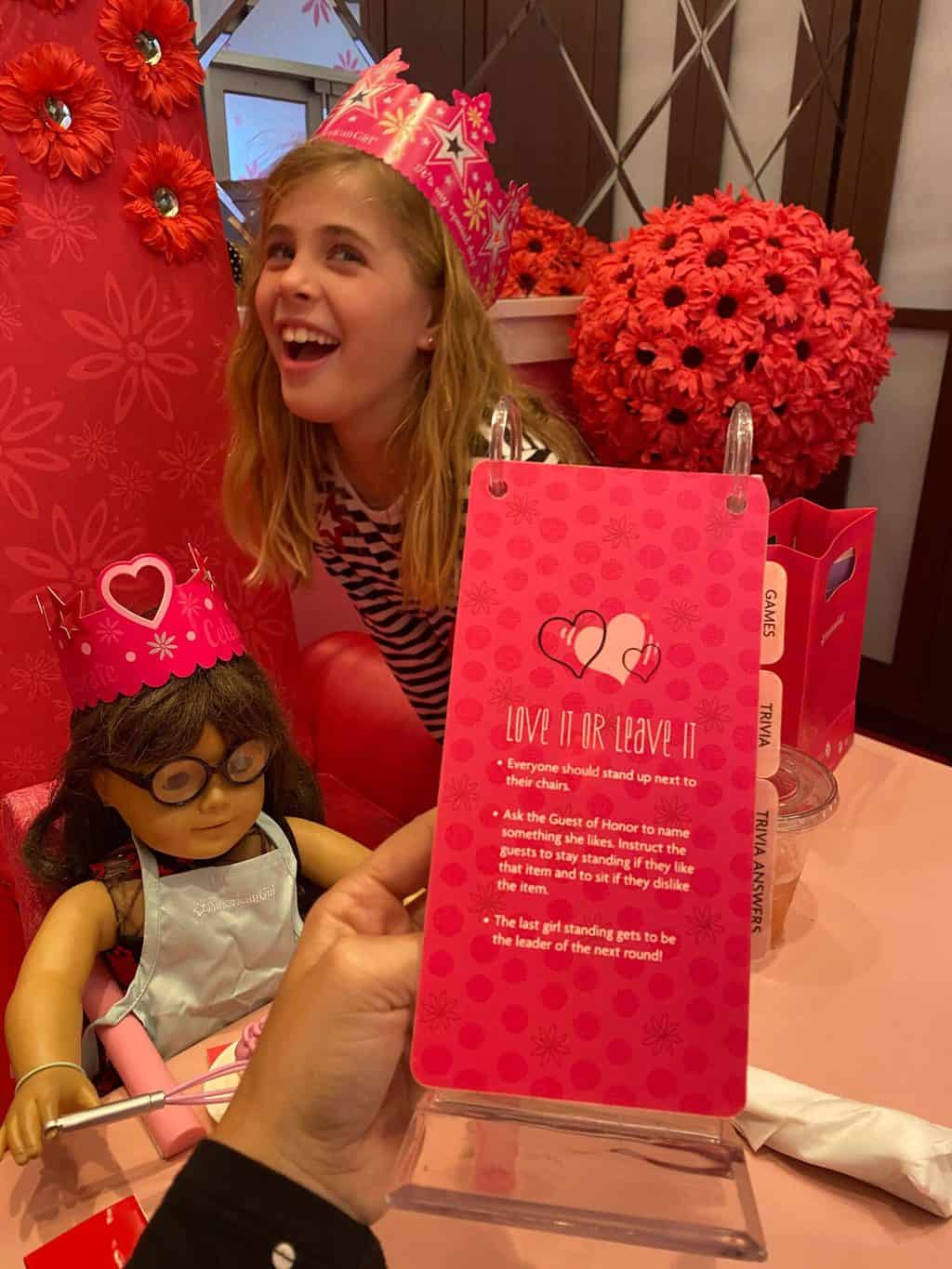 We didn't even remember that on top of everything else Britt also got an entire birthday cake. AND ice cream!
The cake was gorgeous. Simple and sweet. Just perfect for a little princess!
It was also SO GOOD. We brought it home and continued to eat on it for a good week or so from the fridge. We may have even used it as Spear's birthday cake that next week 😉
The ice cream was served in an adorable little "flower pot" and we were all beyond stuffed pretty quickly!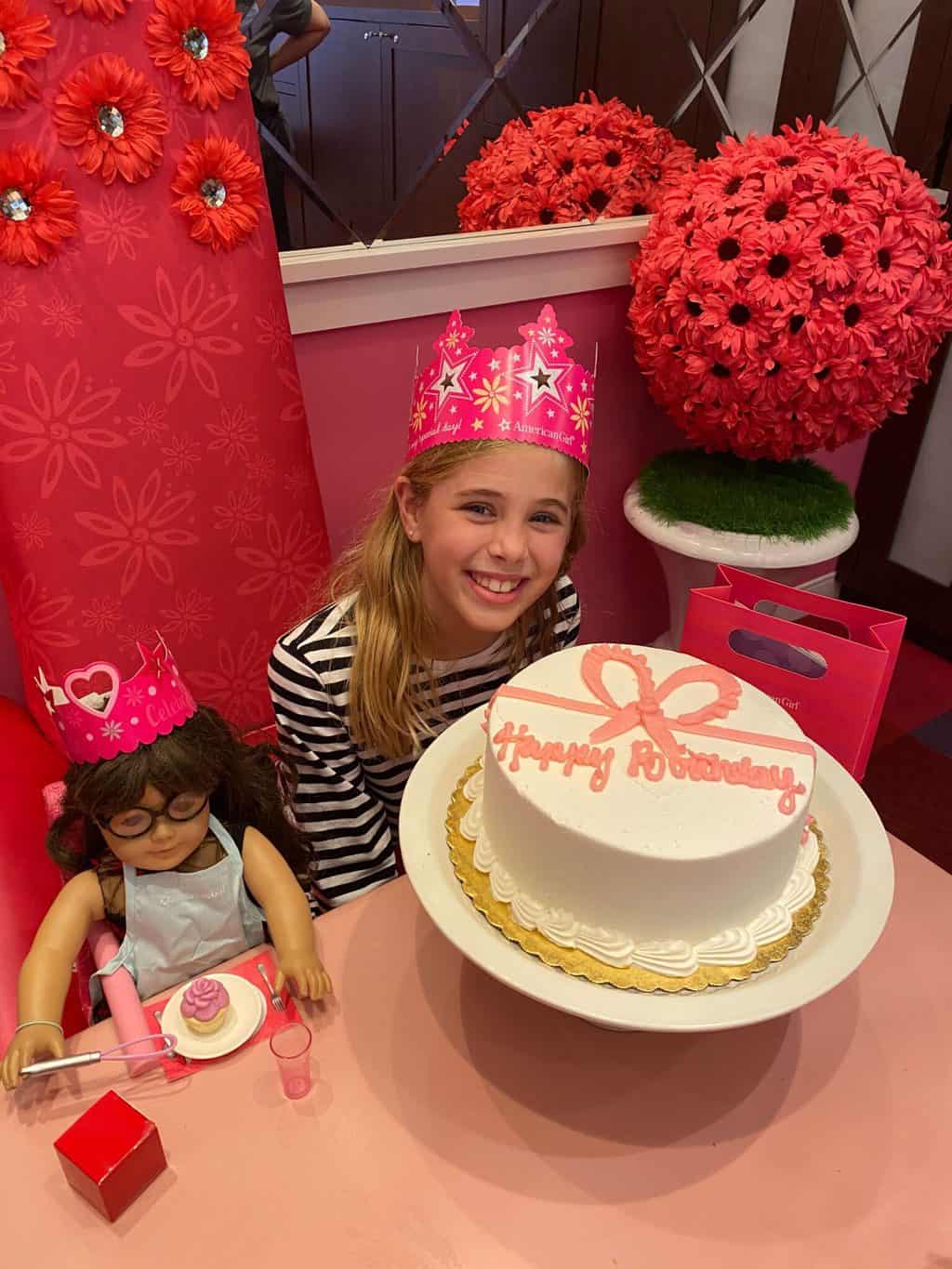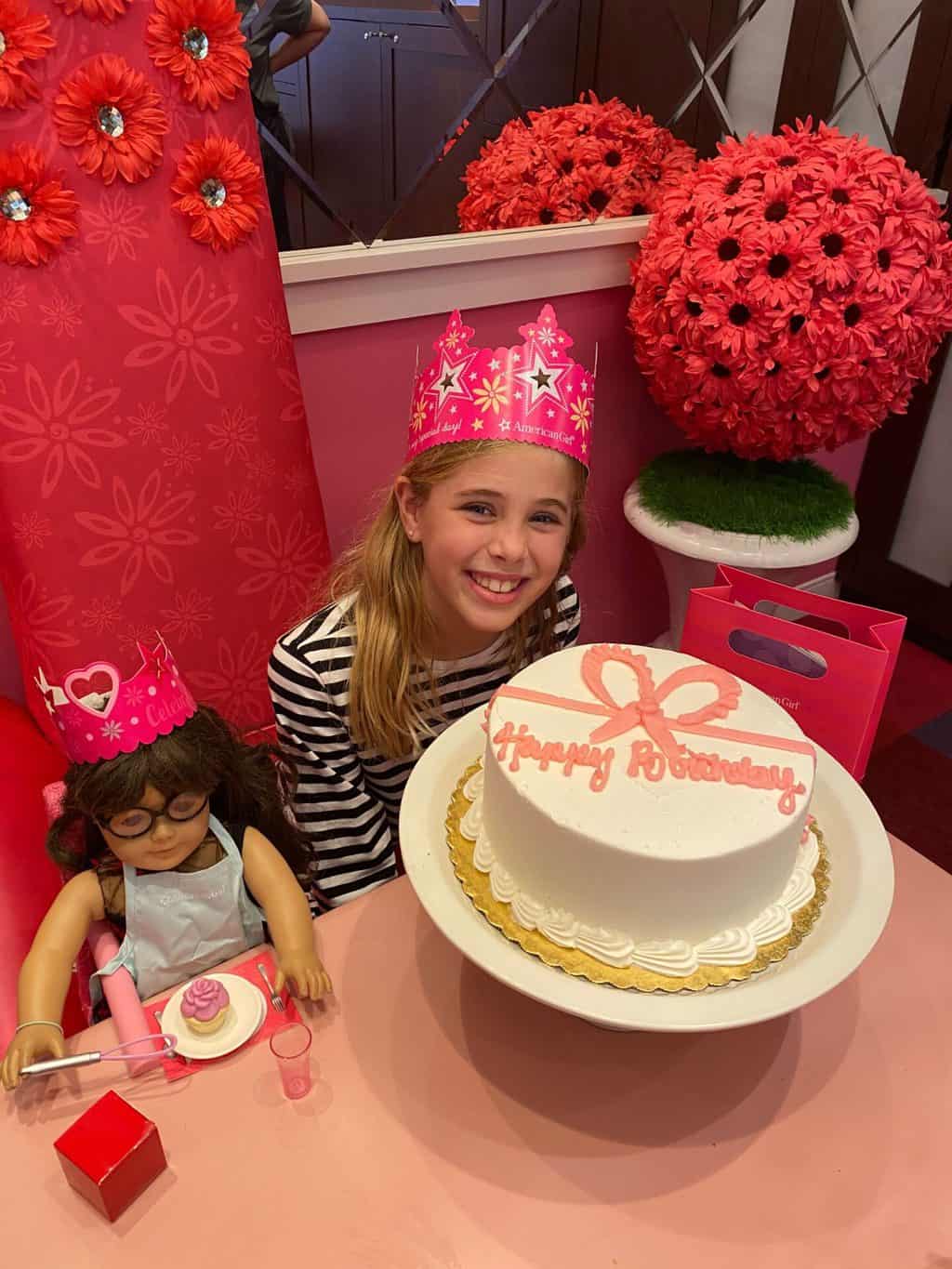 The room not only had seating for the dolls but also had great little hooks to store dolls out of the way as well. It was so funny because we put Samantha sitting with Britt and MaryEllen sat down at the end of the table. G-Mama kept seeing MaryEllen out of the corner of her eye and thinking she was a person and kept trying to bring her into all of our conversations haha.
No dolls felt left out 😉
Britt had SUCH an awesome American Girl Doll birthday party! It was, by far, her most favorite ever and Tess has already made it clear that we WILL need to be coming back for her American Girl store party for her birthday too!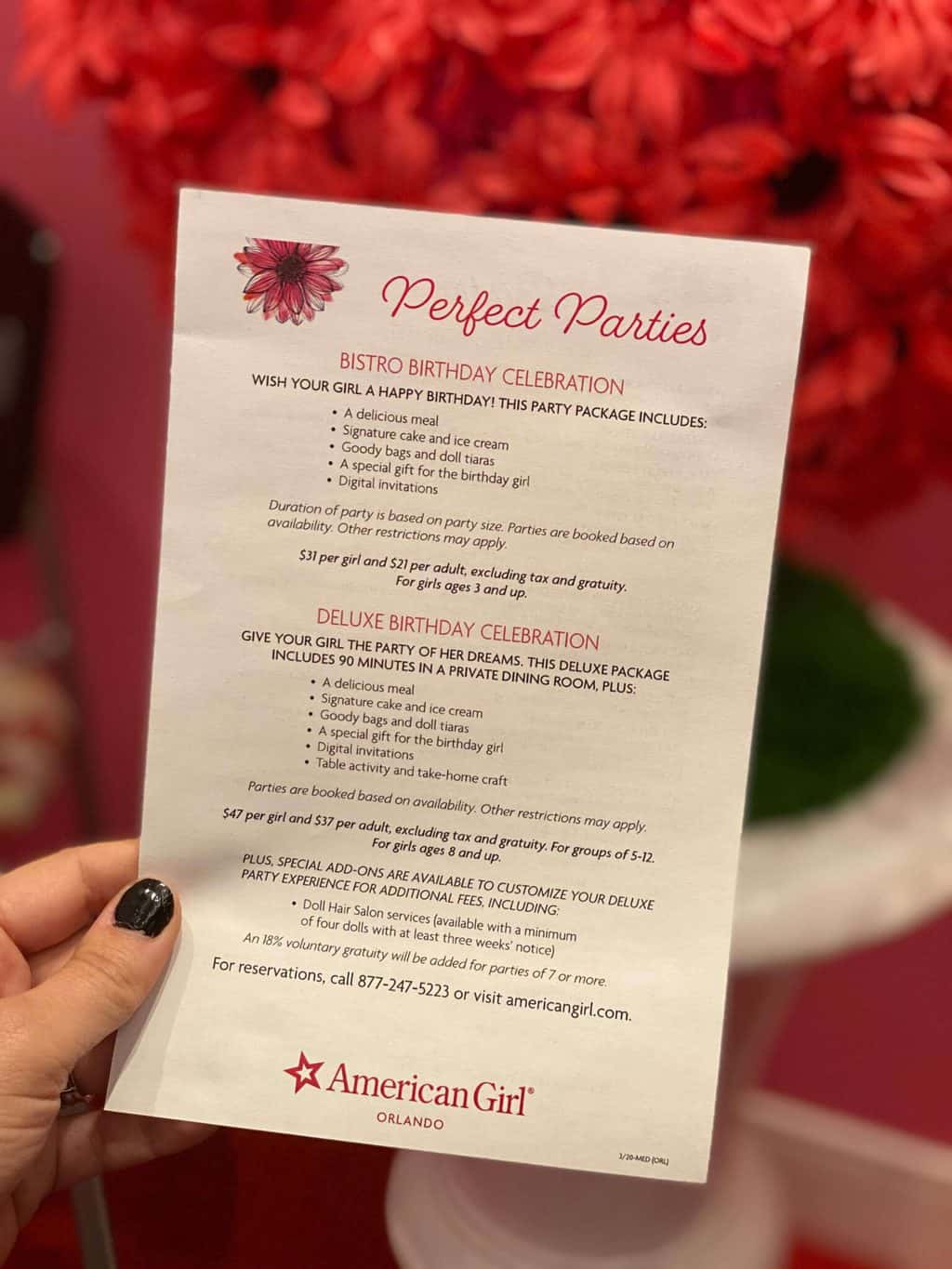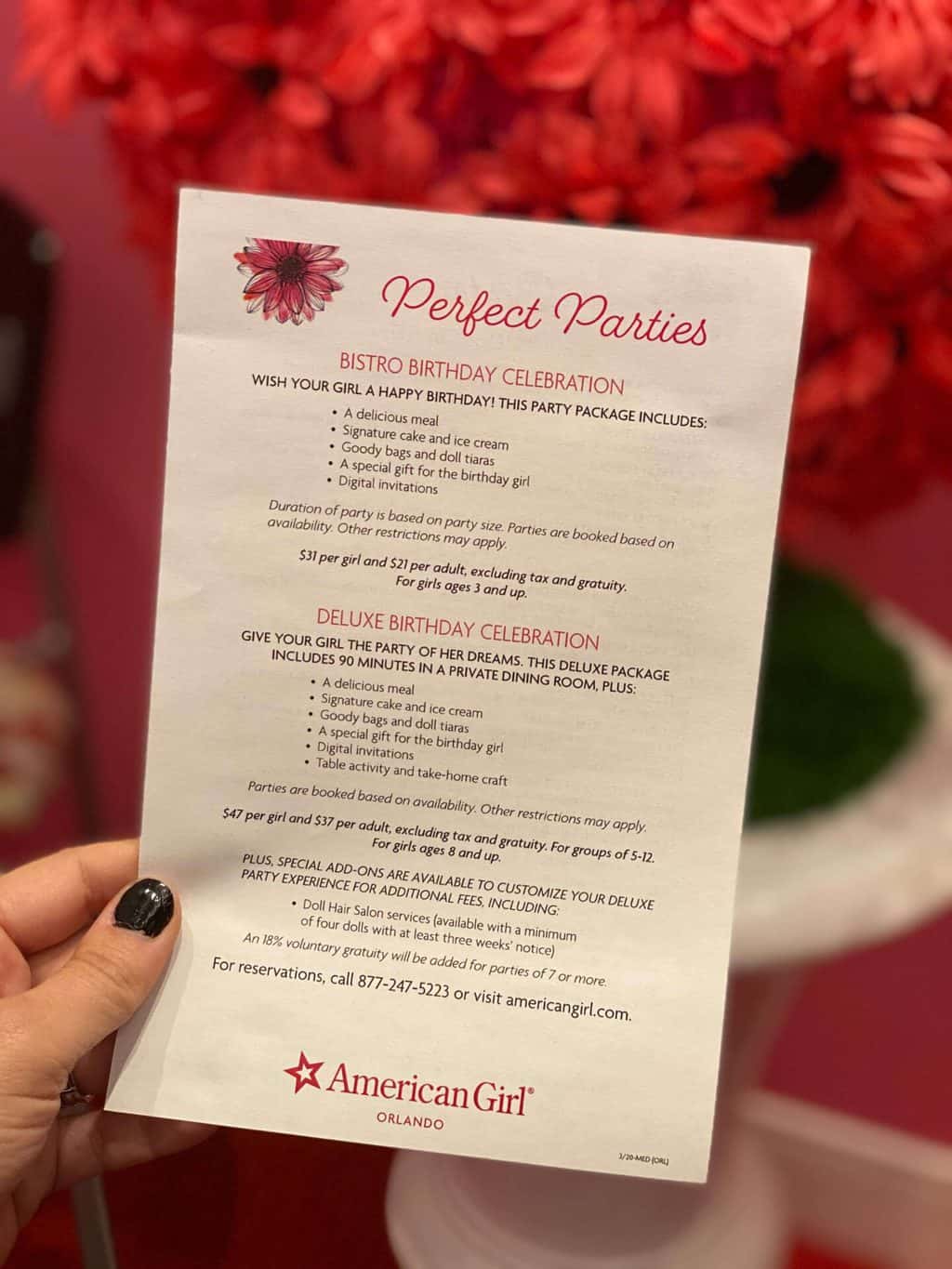 We finished up eating and then did our final decision making on our purchases. Tess LOVES bags. She opted for a super cute back to school set for her doll that has a book bag and school accessories.
Britt really fell in love with some pjs but we discussed it and decided to go with American Girl Orlando shirts instead! We sized up to the biggest size they had to allow her to wear it as a night shirt and it's WAY more special because it has THE actual American Girl location we visited 🙂
We had a wonderful experience from start to finish and I highly recommend American Girl Orlando, the Bistro dining, and the Birthday Packages for a really fun party!
If you're wondering "what are some fun places to go for birthday parties?" The American Girl Cafe Birthday Party may just be the PERFECT solution for your birthday girl 🙂
To learn more visit the American Girl website here – don't have a location near you? You can now also have an American Girl birthday party at home! Purchases for the American Girl birthday party set can also be made on the website 🙂
And American Girl just announced their newest Girl of the Year – Kira! Tess is hoping to have a new doll for herself this year and Kira is the perfect fit for her as she is ALL about caring for animals which is right up Tess's ally 😉 You can check out Kira here!
Want to visit American Girl Orlando and looking for a place to stay? We'd love to host you at our vacation rental home! Only 3 miles from Disney World, 20 minutes from Universal and 20 minutes from American Girl Orlando too. You can see photos, a full video tour, and learn all the details and discounts we offer here 🙂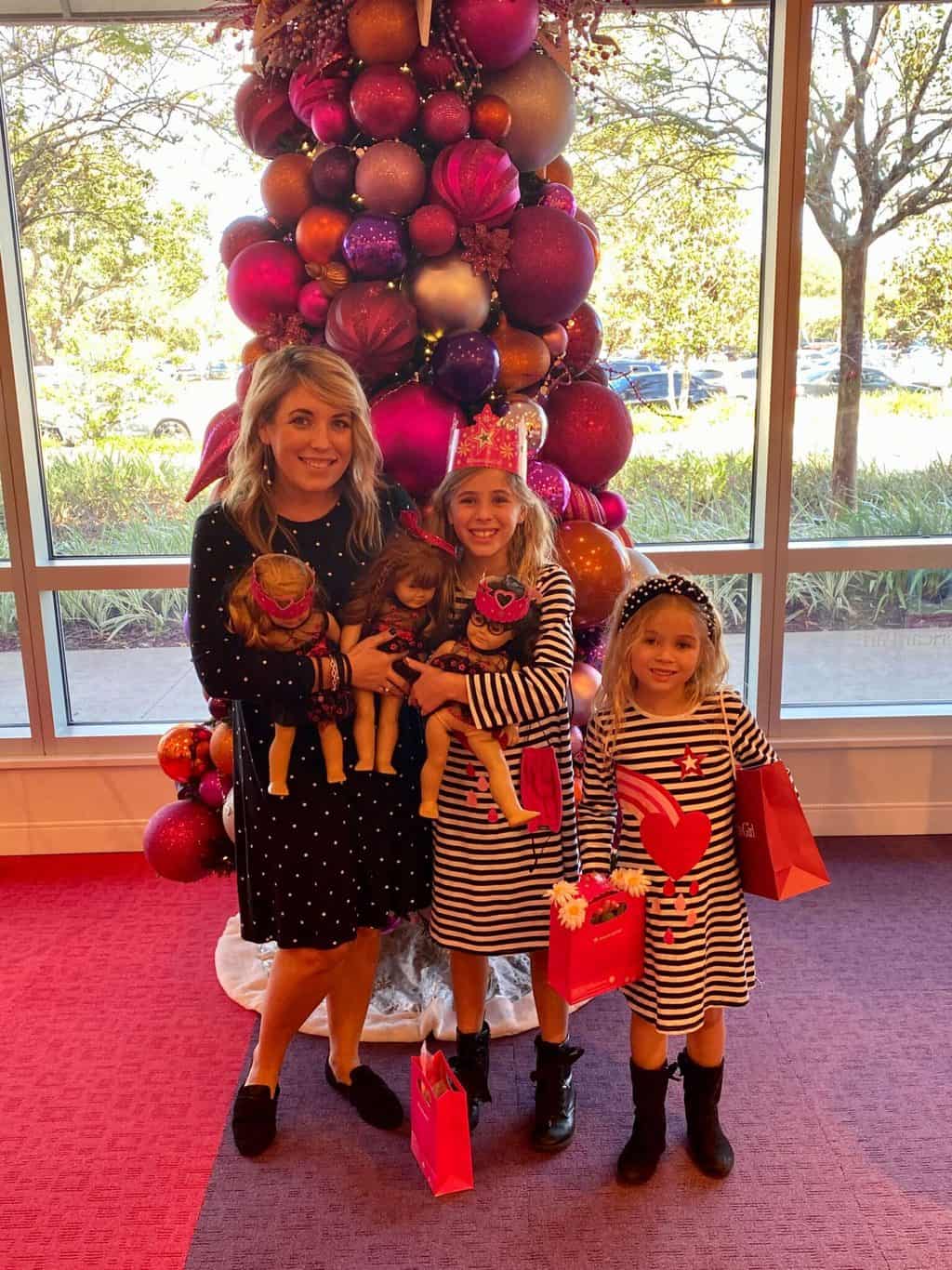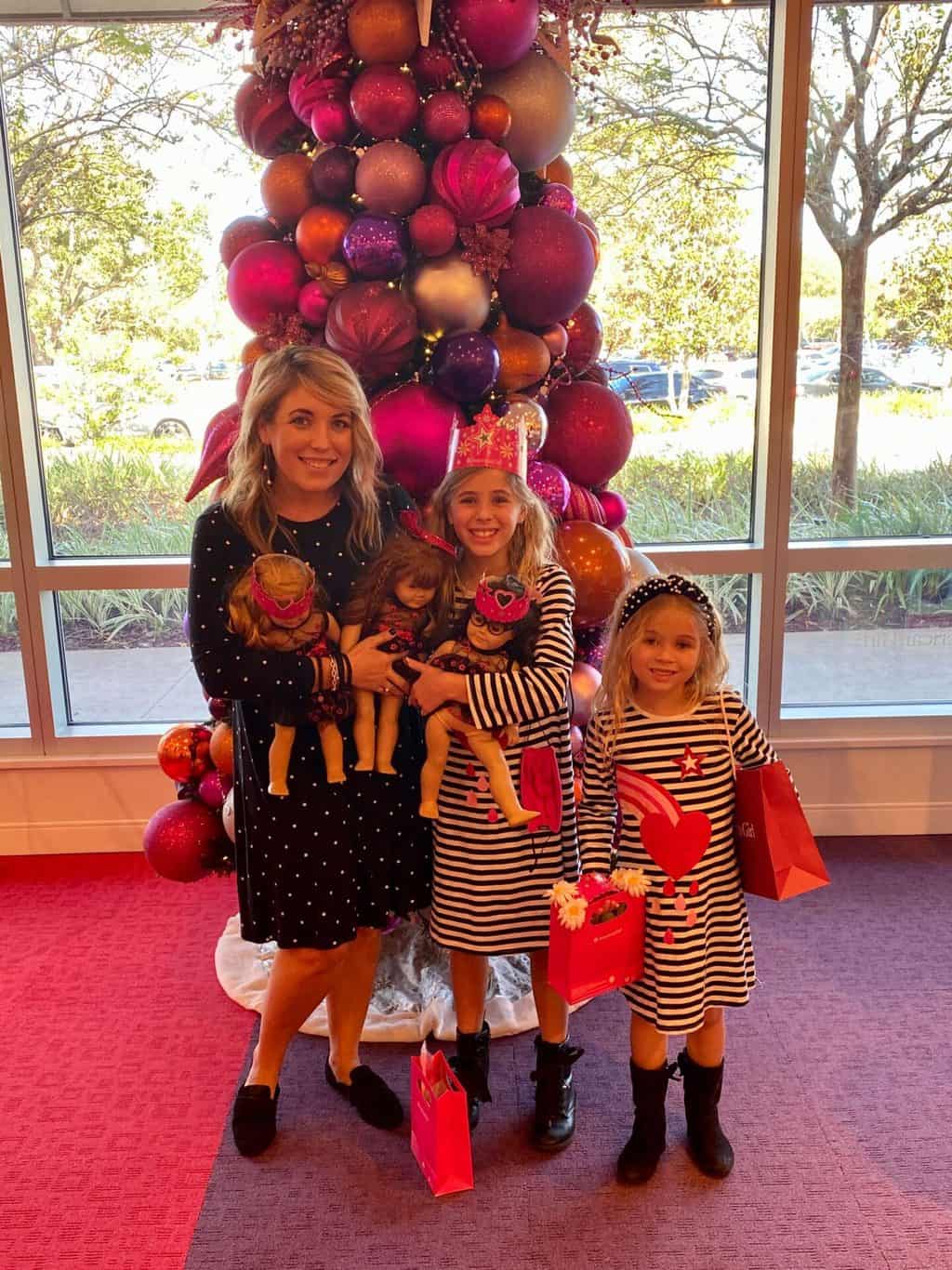 A video should auto-play in this post that showcases the big surprise, Britt getting her ears pierced and some of our party fun 🙂
American Girl Store Birthday Party Ideas
There are many different American Girl Bistro Party Packages to consider:

Considering an American Girl Doll Birthday Party for your little girl? Here are all the details to plan the perfect American Girl Birthday Party!
Instructions
Decide if you're like to visit an American Girl Store location for your party or if you'd prefer to bring an American Girl doll party home by purchasing a themed party kit! (Perfect for a slumber party!)
American Girl Birthday Celebration ($31 per child/$21 per adult) includes a delicious meal, signature cake and ice cream, party favors and doll tiaras, a special gift for the birthday girl, and digital invitations
WellieWishers Birthday Celebration ($31 per girl/$21 per adult) includes a delicious meal, signature cake and ice cream, themed WellieWishers goody bags and doll tiaras, a crown for the birthday girl, and digital invitations
Sweet Sprinkles Birthday Celebration ($33 per girl/$21 per adult) includes a delicious meal, signature cake and ice cream, digital invitations, a goody bag stocked baking gear (including a doll whisk, doll-sized apron, toy cupcake and more), doll tiaras and a crown for the birthday girl.
There are also deluxe versions of each of the standard parties that include a private party room!
Other Things Included
At the American Girl Doll Store, it's not just about meals or gift bags, it's so much more. The Bistro is very detailed and geared towards girls and their dolls. Special chairs are given for the dolls to be able to sit at the table and be part of the entire experience.
The dolls are also served a cute little plate and cup and even the napkins have an adorable hair tie as the napkin holder. All goodies you get to keep!
Additional Things To Note:
Some of the birthday party themes have recommended ages as well as a minimum and a maximum number of guests, be sure to call your local American Girl Store directly to find out more.
A deposit is required when booking and no outside food or beverages are allowed.