When it comes to the best scooter for 2-year-olds, I've got you covered. Isn't this such a fun and wild stage? It feels like one day your baby starts walking, and the next, they've got a need for speed and a need to take their motor skills to new levels.
The warmer months mean lots of time spent outside, which means having outdoor activities to keep your kiddos busy! I already gave you the inside scoop on the best toddler pool I've ever found, but what about something with a few more… wheels?
Remember those summers spent going up and down the street (or, if you were super sporty, to the skate park!) on your blue or pink Razor scooter? You know, the one with the worn-out handlebars and whose rear fender brake got WAY TOO HOT?
Well, those are great for older kids who have better balance and more highly-developed motor skills, but what about your toddler? What happens when they want to ride a scooter, either because their friends have one or their older siblings? What is the best scooter for 2 year old kids?
You don't have to worry about them trying to ride that old Razor anymore, because these days, they make good scooter options specifically with the 2-4 year old age range in mind. Finding an appropriate 2 year old scooter may not be as difficult as you think!
Getting your toddler their first scooter can be super exciting and fun, but you want to make sure you choose the safest, most high quality option available… one that won't topple over every time they try to ride it! Thankfully, I've found the BEST scooter for 2 year olds and the best scooter for toddlers in general!
Disclaimer: post contains affiliate links.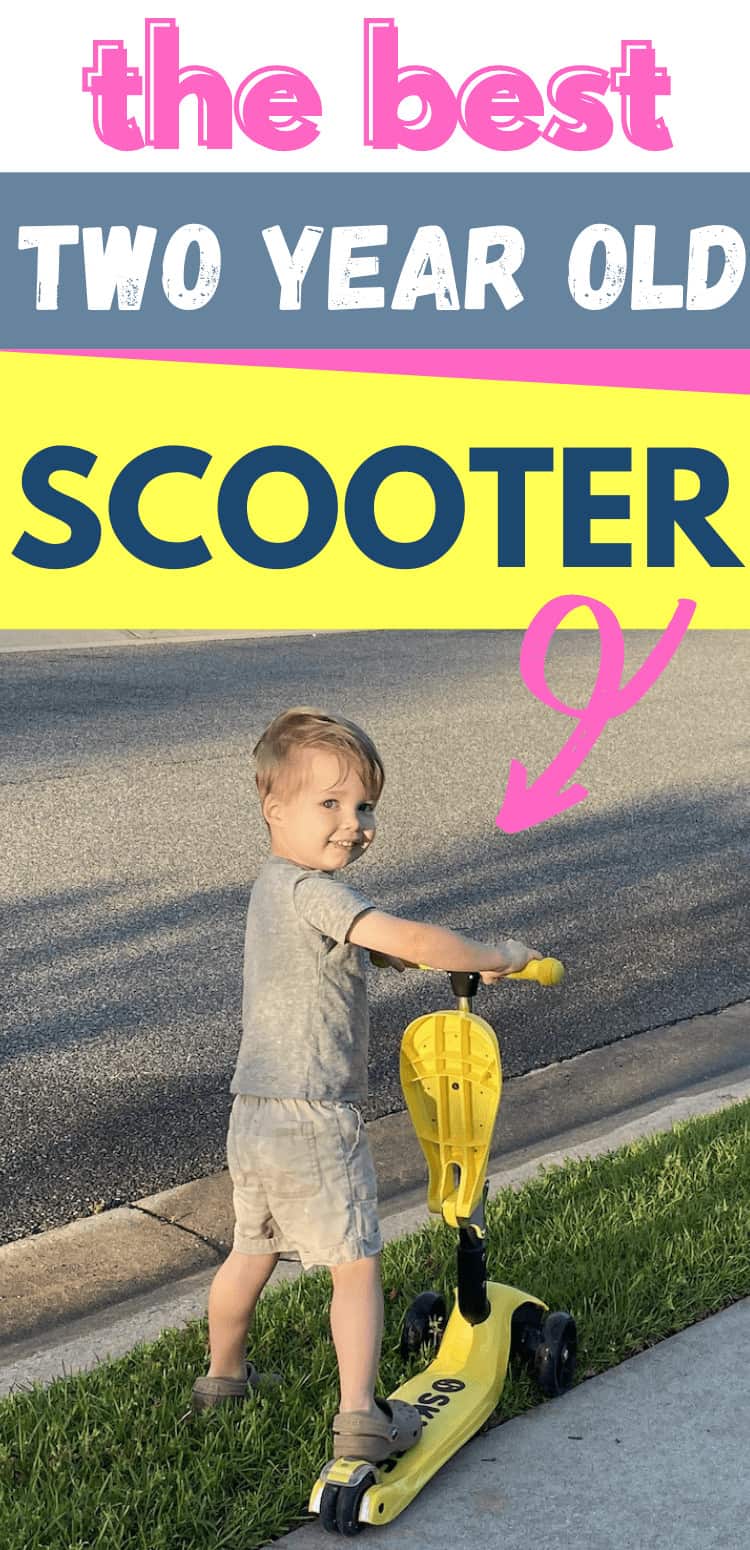 Why You Shouldn't Let Toddlers Ride Just Any Scooter
There are plenty of logical reasons why a toddler shouldn't really be given a scooter that isn't intended for young kids, but let me mention a couple of the big ones.
The first big factor is body weight: It's our nature to think "the higher weight capacity the better." But most regular scooters are designed with a weight limit of about 80-220 lbs, meaning they're likely to be too heavy or bulky for toddlers. (With an average weight of around 25-30 lbs, 2-year-olds are waaaay too light!) In the case of purchasing a toddler scooter…you are looking more at minimum weight capacity more than maximum weight capacity!
The other big factor is balance: most 2-year-olds don't yet have the development to balance on an inline scooter, which means they're more likely to fall over! So the biggest thing is to look for 3-wheel scooters. That will ensure a smooth, safe ride for your little one! The three wheel design will make scooter riding easier for your toddler and less stressful for mom too 🙂 When it comes to choosing a scooter for two year old toddlers, three wheels is the way to go!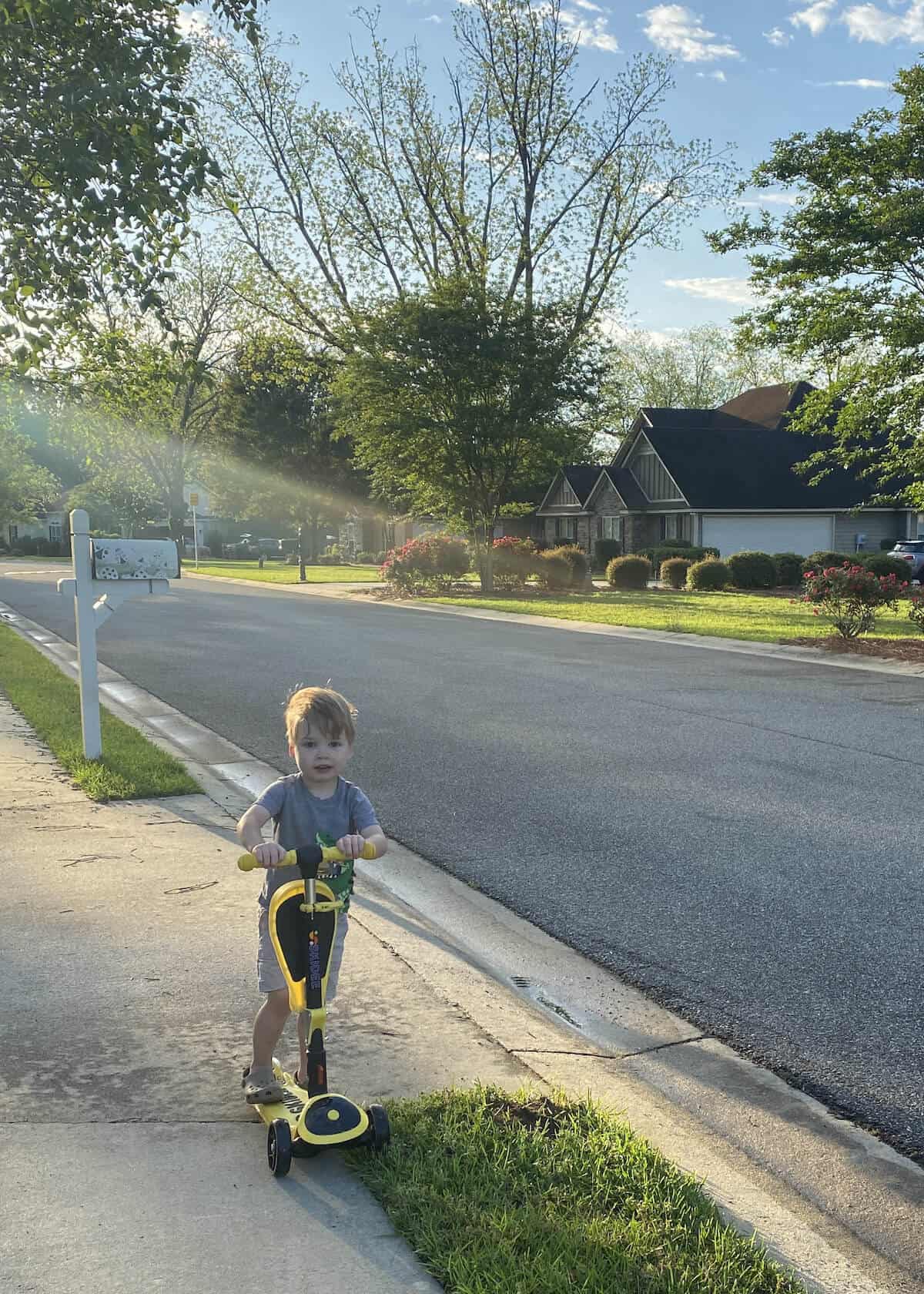 Choosing the Best Scooter for Toddlers: What to Look For
When choosing a toddler scooter, there are a few important things to look for:
3 wheels, with 2 big front wheels (I've seen some with 2 rear wheels, but personally, I think 2 front wheels adds extra stability!)
Durable plastic wheels (usually polyurethane) to minimize bumps
Adjustable T-Bar (a.k.a., adjustable-height handlebars)
An easy-to-use rear brake
A wide deck, or an otherwise grippy surface so it's easy for them to stand on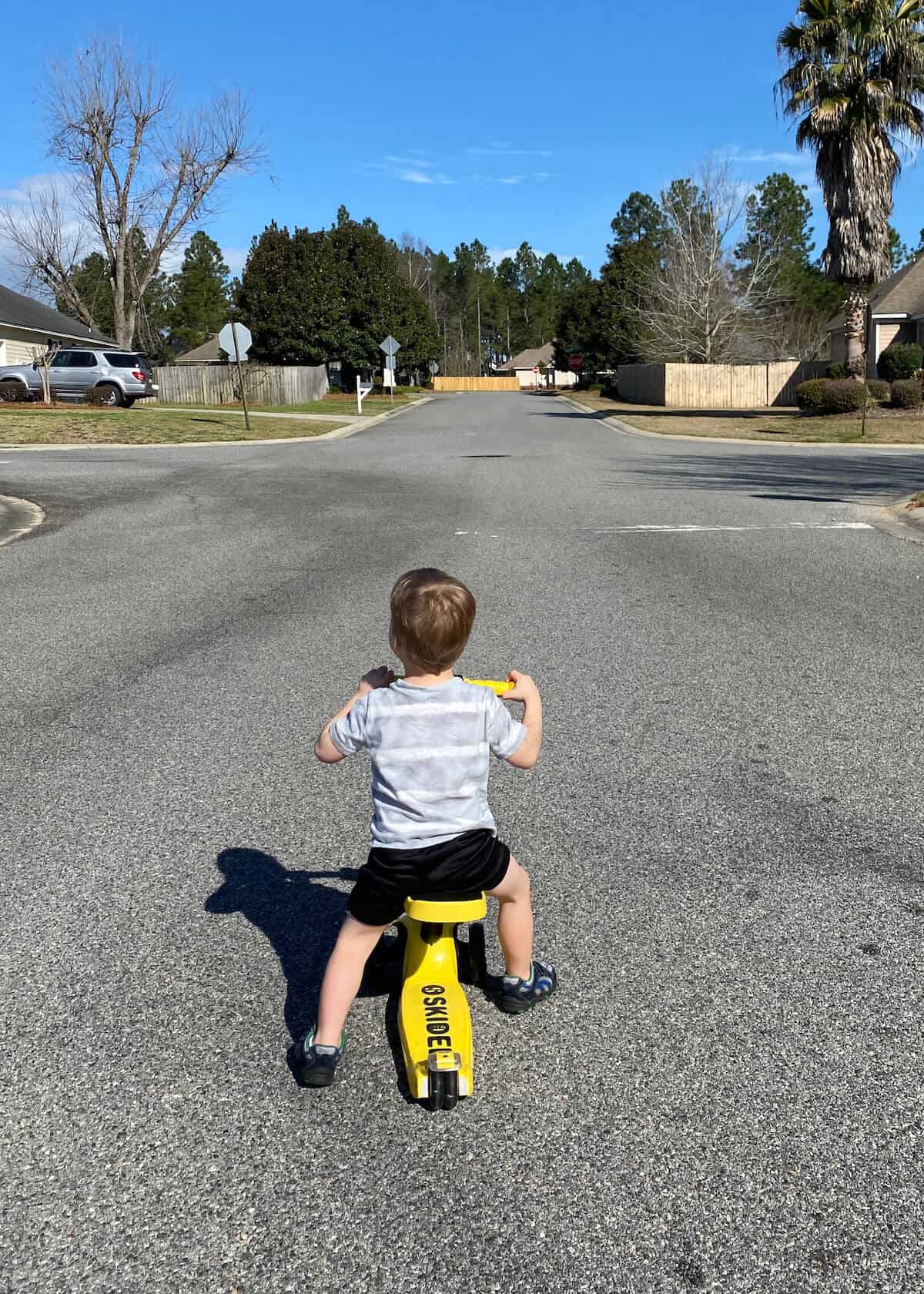 The Best Scooter for 2-Year-Olds
My top pick for a toddler scooter: the SKIDEE Kick Scooter! Guys, I LOVE this scooter and so do my kids. Right now, my youngest, who's 3, uses it all the time and he loves it!
What makes this one such a great option as the best scooter for 2 year old toddlers?
Of course, it has a three wheel design, and the two front wheels are big and made of heavy-duty polyurethane, which makes it a smooth ride when going over rough surfaces! The wheels also light up, which is fun! Kids love those extra features!
It has an adjustable and removable seat, so toddlers can choose to sit or put the seat up and stand when they're ready! You won't find that everywhere.
It also has adjustable handlebars to allow for adjustable height changes, so you can change it to different heights as your child grows.
It's lean-to-steer, so when your toddler turns, it doesn't tip the whole scooter, just the handlebars. This steer design is a great way to protect from sharp turns while teaching them how to balance without too much tilt!
It folds up for easy storage and transport! As a mom our bike and scooter rides often turn into me needing to carry things as their little legs tire out so I appreciate the lightweight and easy fold and go feature with this scooter. I can even stick it in my baby stroller if my toddler gets tired of scooting on our walks 🙂
It also comes in 17 fun colors, which is always a great bonus and allows for siblings to have different colors that fit their unique personalities.
It's super high quality and made of sturdy materials, so you know it'll last a long time! It's also made to grow with your child (the age range is 2-12, which you don't see often!) so they can enjoy it for years to come. (Plus, your older children can ride it, too which also makes it a great investment for sibilngs to share!)
So yeah, there are a lot of reasons to love this scooter, and if you're looking for one that a toddler can enjoy, I highly recommend checking it out!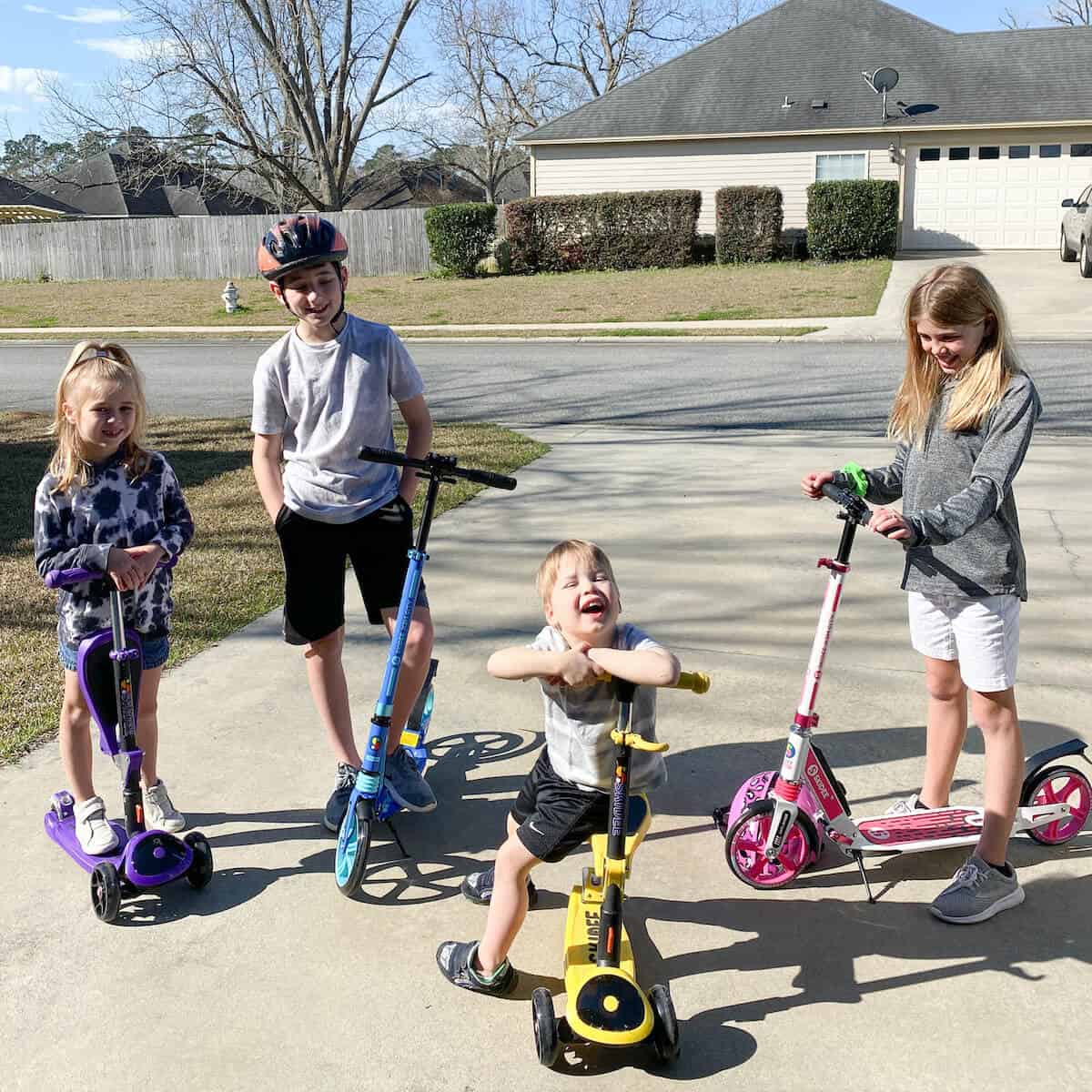 All four of my kids have the SKIDEE scooter, the older two have this teen-adult version with a weight limit of 220 lbs and they both LOVE the break feature and the design of their scooters.
Other Great Scooters for Toddlers
Yes, I know I'm biased, but I've seen some other great kids scooters and toddler scooters floating around, so I thought I'd present you with a few more options in case you want to comparison-shop.
If you're like me then you are probably totally over-thinking this scooter purchase and browsing other popular toddler scooter options can help make the decision easier!
Micro Mini Deluxe 3-Wheel Scooter
I see the Micro Mini everywhere, so I thought I'd at least mention it! It's a little bit on the pricier side, but it is Amazon's Choice, which counts for something.
Micro scooters in general have a good reputation, but as far as this one goes, I personally prefer SKIDEE just because of the removable seat and extended age range. (This one is recommended only for 2-5 years old.)
X-HOBON Scooter
The X-HOBON has a nice, wide deck and big, sturdy wheels (that also light up). It doesn't come in as many colors as the SKIDEE, and doesn't have the sitting option, but it's about the same price and a good option for older toddlers or younger kids!
Hiboy Q1 Scooter for Toddlers
The Hiboy Q1 scooter is designed specifically for the 2-6 year old age range, which is great because not many scooters (aside from SKIDEE, that I've found,) advertise themselves as made for kids under 3.
The only downside is that your child will likely age out of this one quicker, so unless you have other younger children to pass it down to, its life span may be shorter than most others.
Hiboy Hidy Scooter
The slightly bigger-kid version of the Hiboy Q1 is the Hiboy Hidy. This is another adjustable scooter that was built with toddlers in mind, but that can grow up with your young children. (The age range here is 3-12, so not bad.)
I like their reinforced rear fender for easier breaking; it's nice to know someone's thinking not just of how to go, but how to stop!
Razor Jr. T3 Kick Scooter
I know I mentioned Razor scooters earlier, but wouldn't you know it, they actually do make scooters for toddlers and younger kids!
It's called the Razor Jr. line and though it doesn't look AS durable as some of the other options, it has good reviews and could be a good choice if, for whatever reason, your toddler just HAS to have a name brand 🙂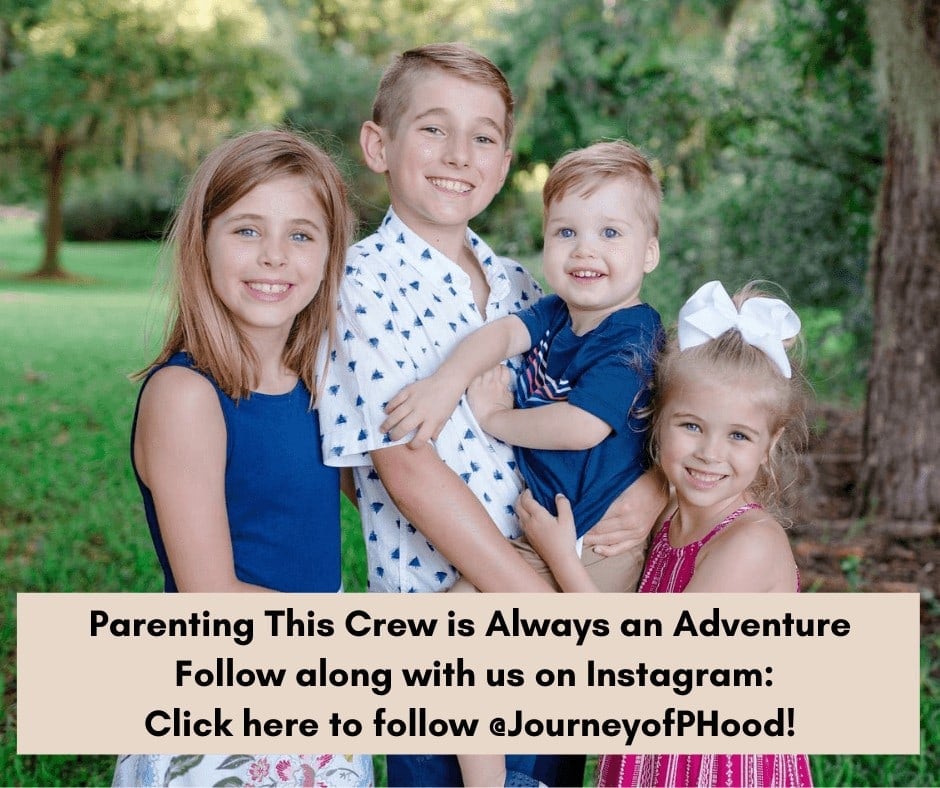 What About An Electric Scooter for Toddlers?
Whether or not to invest in an electric scooter for a toddler is a personal choice. I personally prefer the traditional scooters as they allow kids to burn more calories and energy and help them learn how to balance. I am also a believer that when you rely on technology, it'll fail you. A classic scooter doesn't have a lot of ways to malfunction like one that relies on batteries or needing to be charged to work!
Electric scooters are newer on the scene and have become more popular in recent years. Several companies have started producing electric scooters for the younger aged kids too, however, most motorized scooters on the market are geared towards ages 6+.
In looking over the electric scooters available for the two year old, toddler, age range there really aren't a lot of options and of those most have horrible reviews.
If I were purchasing an electric scooter for my two or three year old I would personally go with this Huffy electric scooter. Huffy is a brand I know and trust and many of the bikes I've personally owned have been Huffy brand and they have held up great over time.
This scooter is intended for ages 3-5 and a rider weight limit of 50 lbs. The 6 volt battery is said to last 40 minutes when fully charged. Plus it can also be used as a manual foot powered scooter too – plus bubbles project from the scooter as your child rides!
You can learn more about the Huffy Bubble Electric Scooter here
Don't Forget Your Helmet!
No matter what scooter they're riding, it's important to make sure those heads and joints are protected!
Even a three-wheeled scooter can tip over, and as your toddler is learning how to balance, they'll probably take a spill a time or two. So while you're at it, make sure they have a good set of helmet and pads handy!
This set by Lanova is a great choice because it has everything you need for a reasonable price, and is made specifically for toddlers and younger children. It also comes with wrist guards, which is a nice feature!
Looking for More Outdoor Fun?
I have several posts about all of our favorite outdoor items for all seasons:
Now, Scoot!
There you have it, the best scooter for 2-year-olds that I've found, plus some extra! If you've bought any of these for your toddler, let me know what you think of them in the comments!
And if you're looking for more great toys and gifts for 2-year-olds, head on over to my 2-year-old gift guide for a comprehensive list!