Finding the best stocking stuffers for kids should be as stress-free as possible, which is why I've put together this handy gift guide for you to make your holiday season shopping a breeze!
Every kid loves waking up Christmas morning and finding presents underneath the Christmas tree… but an added bonus, and often just as fun, is that Christmas stocking filled with small toys and other little goodies!
Personally, I love stocking stuffers! Something about those little extras is just so much fun, and often delivers the same amount of joy and delight as the big gifts do! (Makes you think, doesn't it? But come on, the big gifts are fun, too!)
There is a seemingly endless amount of stocking stuffer ideas lining the shelves, but anyone else notice how weirdly overpriced some of them are? It's easy to think you're not spending that much on stocking stuffers because it's a bunch of little things, but man, do they add up fast!

Before you know it, you've spent just as much on your children's stockings as you have on their gifts!
While everyone's holiday budget looks a little bit different, who doesn't like saving money, especially this time of year? One of the best tips for keeping your stocking stuffer costs down may seem like the most obvious, but it still bears repeating: Set a price limit for each stocking and stick to it!
I've pulled together my top picks for some of the best stocking stuffers for kids and toddlers, prioritizing the best deals I could find! It's not too late to get your online holiday shopping done. And let's be real, anything to avoid those holiday crowds, especially after last year!
Disclaimer: this post contains affiliate links. If you purchase using my links, I may receive a small commission at no added cost to you.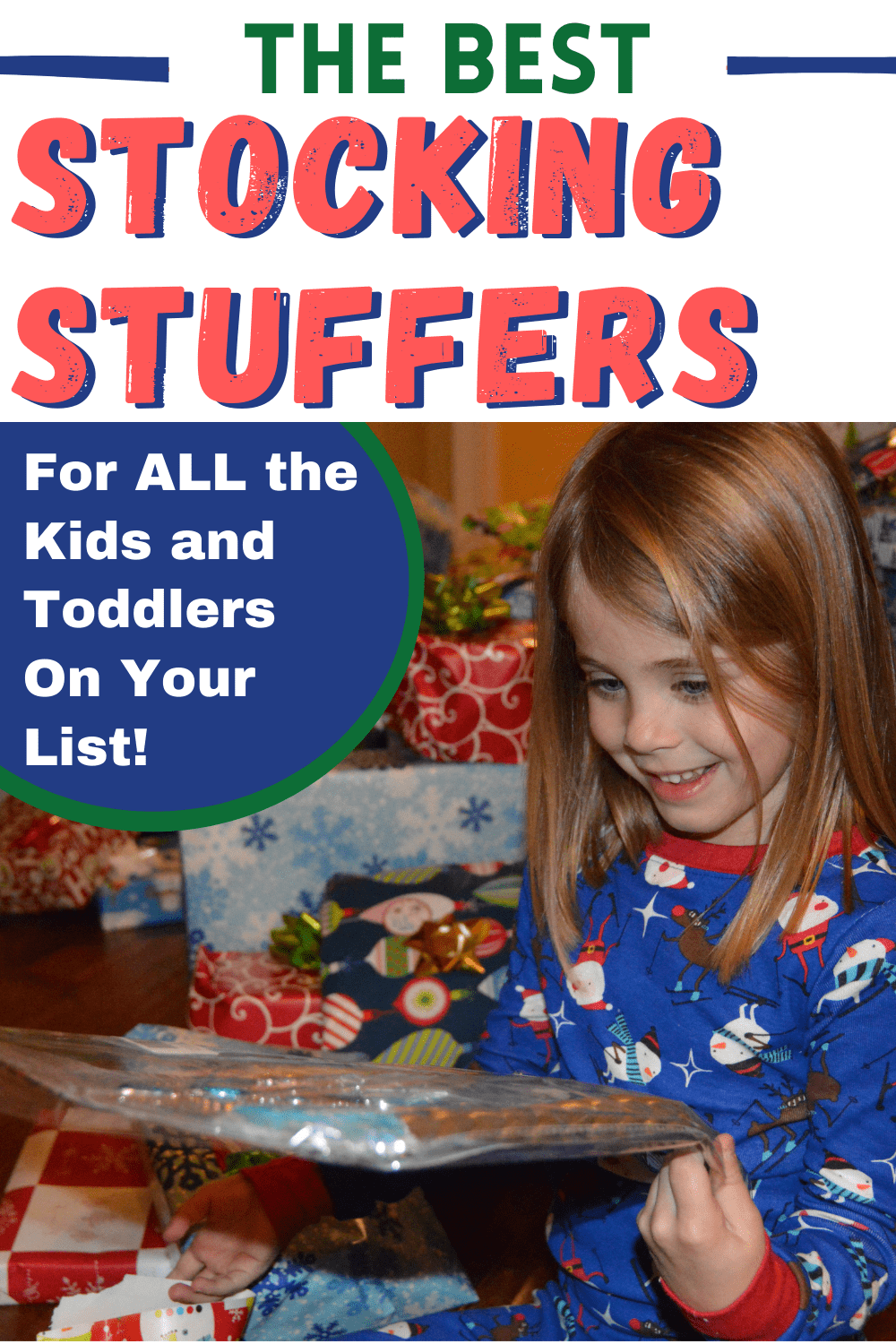 The Best Stocking Stuffers for Kids: $5 and under
You gotta love those cheap stocking stuffers! Anything $5 and under is a win in my book – Target in general has a great selection of inexpensive stocking stuffers, and Walmart's selection is pretty decent, too! Of course, Amazon is always a win as well for that quick (and usually free) shipping! 🙂 Here are just a few of my top picks for stocking stuffers kids will love:
It's way easier to get kids to brush their teeth when they have a cool toothbrush like this Batman one! I get my kids a toothbrush every single year in their stockings and love to find ones that are their current favorite characters.
If you've got girls like I do, you know that hair ties are gold! A 60 count pack for less than $5? Score! You can NEVER have too many – I like to spread 'em out around the house to always have one handy 😉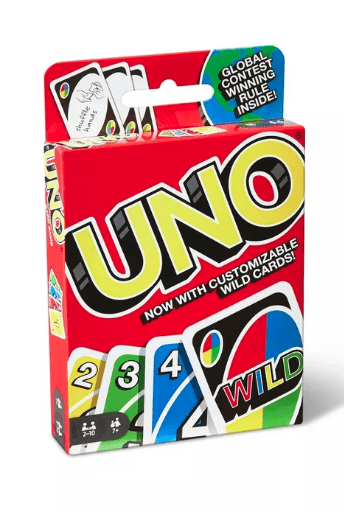 A classic card game that kids love and that the whole family can enjoy! Based on my family and our personal reviews of Uno…if you don't own it YOU SHOULD 😉 It's always a winner for us and a classic among the card games out there.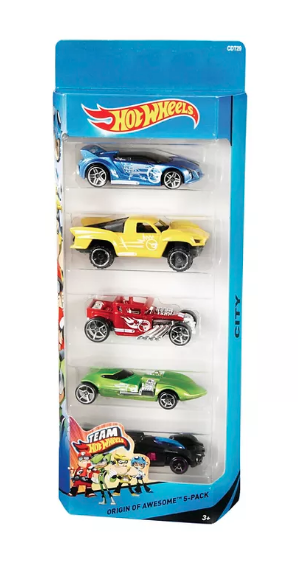 For boys who love cars, you can't go wrong with a new set of classic Hot Wheels cars! Less than $5! You can even open the pack and put each car in individually to count as more than one stocking stuffer present 😉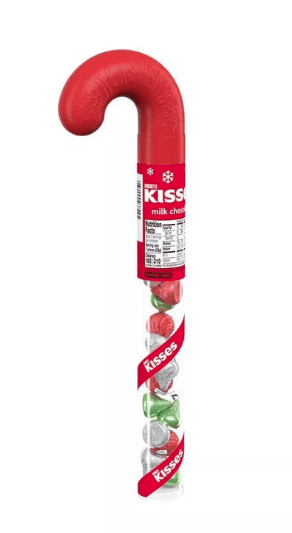 The best thing about stocking stuffers (aside from the toys)? The candy! And these candy-cane shaped treats are an old favorite!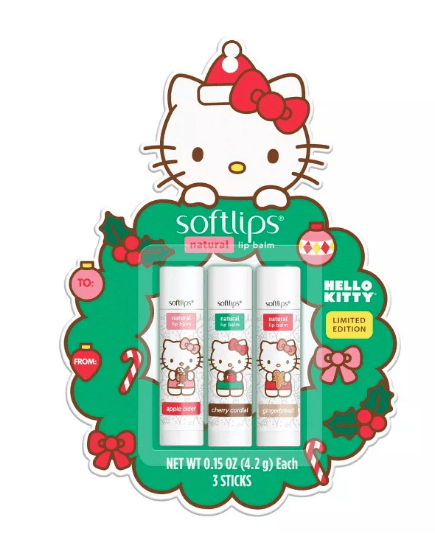 These Hello Kitty lip balms are just too cute! For the girl who loves Hello Kitty but who is also getting into lip gloss, these are a great way to introduce her to it and you don't have to worry about her getting into your makeup or having chapped lips that also are common this time of year.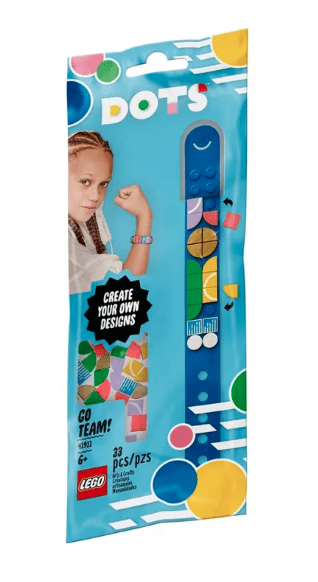 What a neat idea! This is a customizable LEGO bracelet where kids can create their own designs using small, snap-in pieces.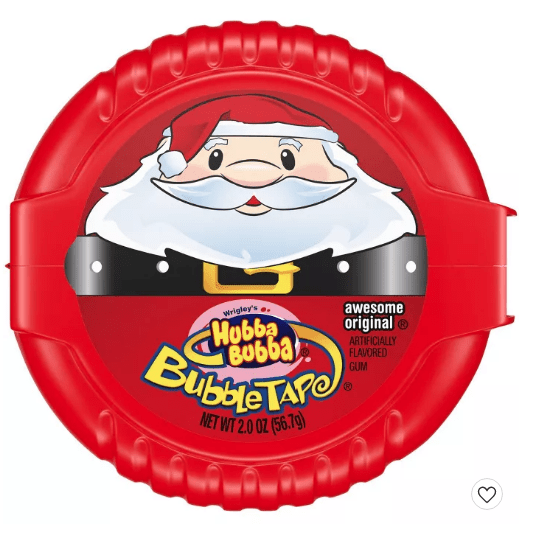 Kids love Hubba Bubba Bubble Tape, and this Holiday Edition is the perfect way to add some holiday flair to your child's stocking! Best of all, it's only $1 at Target! My kids get SO pumped for gum!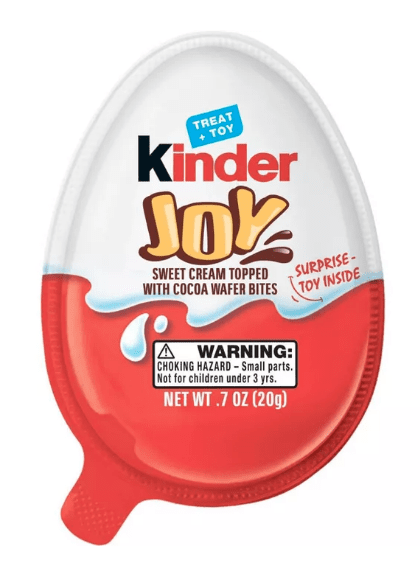 Kinder Joy make perfect stocking stuffers because they're two for one: a treat and a toy!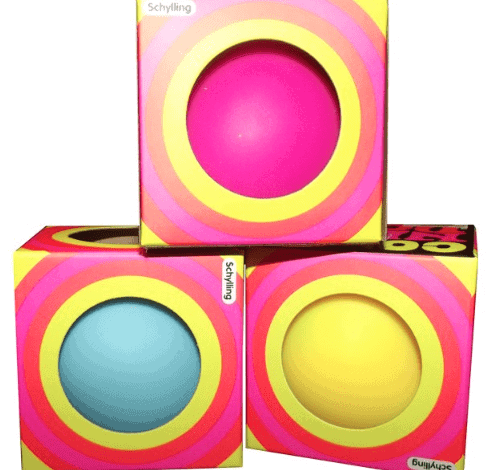 I don't know, under normal circumstances gifting a stress ball might seem boring, but these color changing squish balls are just so cool! Plus, they're only $3 at Walmart!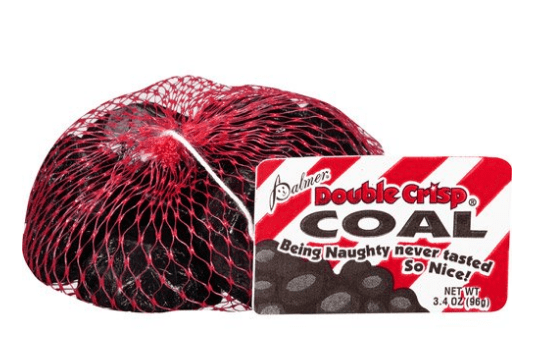 If your kids have a great sense of humor (my own kids definitely do!) then gifting them some "coal" can make a fun stocking stuffer gag gift! It's probably the only time they'll be happy to have coal in their stockings! Britt even asked for coal this year!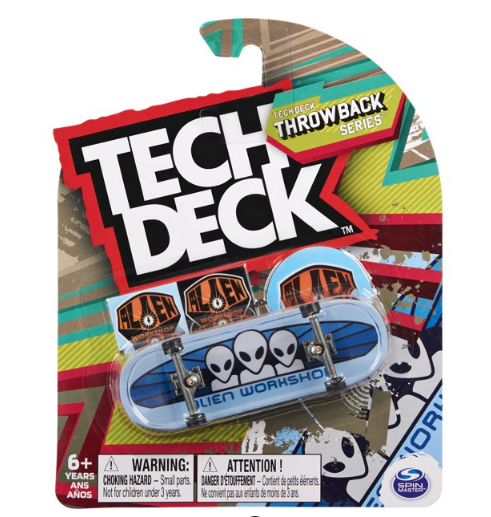 These fingerboards are a fun collectible that young boys tend to enjoy, especially if they're into skating! I remember these being so popular when I was a kid – it's so funny the trends that pick back up.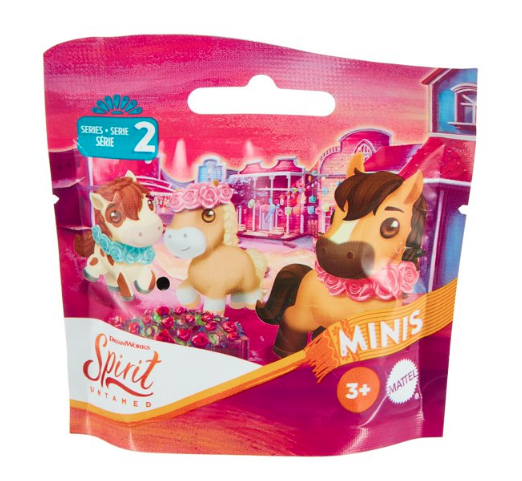 Blind bags with a surprise figurine inside make a great gift, and these Spirit Untamed ones are especially perfect for the little girl who loves horses! Literally ANY sort of blind bag is guaranteed to be a hit with little girls.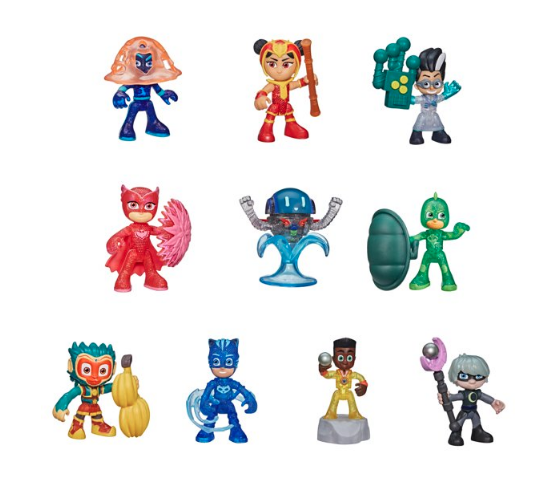 These blind bags with surprise figurines inside are a great find for the kid who loves the PJ Masks TV show! A great bling bag version for boys.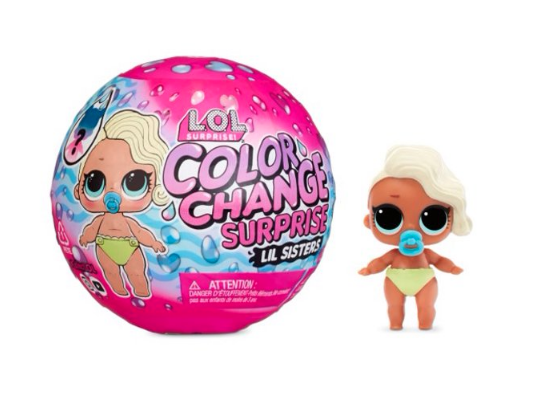 If your little girl loves LOL dolls, these Color Changing Surprise dolls would make a great addition to her stocking! We're not an LOL family but I stocked up on these for angel tree gifts this year as they seem to be a super popular item children are asking for.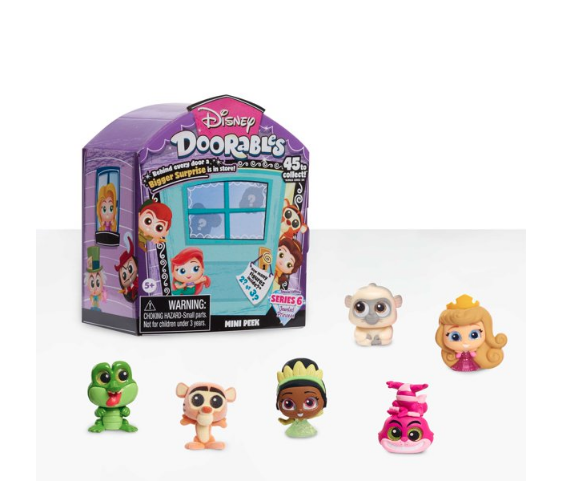 Disney fans get ready! These collectible Doorable figurines are too cute for words! Now this is one collection I can get behind. All the pieces are SO CUTE. Another good one to spread out if needed too!
Mickey Mouse Clubhouse is a favorite among little kids, so a look-and-find book is sure to delight them! I absolutely LOVE these books and keep them in the car. Perfect for kids of all ages, a bit big in size for a stocking but I still love em.
Highly recommend these number and alphabet bath toys for toddlers! Bath toys are among my favs for stocking stuffers as it's a great chance to clean out old stuff too.
The Best Stocking Stuffers for Kids: $10 and under
For fun stocking stuffers with a little more umph, here are some great ideas for the kids on your list:
Kids love temporary tattoos, and these are some of our favorites not just because of the fun designs, but because they glow in the dark, too! So cool and fun for winter break when you don't have to worry about them going to school all tatted up!
This Grogu nightlight is as cute as it is practical – its dusk-to-dawn sensor detects changes in light so you never have to turn it on or off! Anything baby yoda is a hit in my house 😉
These colored hair extension clips are perfect for the little girl who always asks about dying her hair crazy colors 😉 I'm not big on the hair chalk or hair dye and these are also fun because they can clip them in Barbie hair as well as American Girl doll hair too.
If you're a Disney family like we are, you know you can't go wrong with Disney Princess gifts for girls! This collectible Tangled doll with clip-on fashion is a personal favorite. We have several of these types of dolls and they are an ideal size for on the go fun – great to even bring to the parks to play with while waiting in line.
You know you can't go wrong with a new stuffed animal for a little girl, especially one as cute and colorful as this one! My girls are obsessed with "sparkley eyes" and it brings back such great memories for me of the TY Beanie Baby stage of childhood.
A bubble gun is a fun stocking stuffer that any kid can enjoy! I love that it also is a great toy for outdoor play and one that encourages sibling together time.
You really can't go wrong with Nerf guns – kids love them, especially boys, and when they have siblings, you know a Nerf gun war is bound to happen! My 12 year old even loves this smaller gun because it's easier to sneak up and attack his sisters.
We love these Bible highlighters for kids, perfect for the young Bible student learning verses!
For slightly older kids, gifting them a little pocket wallet is a great way to teach them about finances. We start having our kids do chores and get paid for them around age 4 and it's a big milestone moment to receive their first wallet.
Nail polish is always a winner for girls who are showing an interest in doing their nails! And since it's clear, a topcoat is a good, safe place to start. This is my FAV top coat and is a great stocking stuffer for girls of all ages, including moms 😉
Love this massage shampoo brush – so nice for bath time, not to mention relaxing and really helps ensure the hair gets CLEAN.
An on-the-go friendship bracelet making kit is the perfect stocking stuffer for girls aged 8 and up! My daughters are superrrrr into all things crafting and bracelets so this is a guarantied win.
Can't go wrong with gum! Kids love gum, and this is a yummy flavor! The grape is Zach's and ALL the big kids favvvvv and they chew this every Sunday on the way to church 😉
A portable neck fan! If you visit the Florida parks a lot like we do, you won't regret getting your kids one of these! I love a practical, useful gift. These are great for Disney and a great gift too if you have a trip planned and want to surprise your kids!
Hatchimal Eggs are a fun surprise that little girls love – my girls STILL get excited for Hatchimals and have since they were itty bitty!
This fun, quirky card game is a favorite in our house. It's simple, funny, and the whole family can enjoy it! Taco, Cat, Goat, Cheese, Pizza is even a fun game for adults to play – so it makes a great stocking stuffer gift for teens and adults too.
This is another super fun, super fast card game great for kids 7 and up! This is my personal FAVORITE game EVER and I love to buy it as a gift – great for a white elephant gift exchange too.
Parachute men are a classic! What kid doesn't like throwing these guys from a balcony and watching them float to safety? Even my older son loves these!
A Jokes for Kids book is the gift that keep on giving… giving laughter, that is! My 7 year old is obsessed with joke books and loves to read them all to the family on a regular basis.
These scratch art notes are such a neat idea, and a really fun way to leave a little note! Perfect for a great gift that also doubles as a babysitter as my kids will sit for HOURS scratching these off – just make sure you have a trashcan nearby for easy clean up 😉
We love these fleece-lined socks for kids – they're super warm and come in tons of patterns! Cozy socks are a hit for ME let alone for my crew too. Who doesn't love snuggly socks?
A nice, new pack of Crayola Twistable Crayons is never a bad idea for the kid who loves to draw! We keep these in our bag for church and they get used every single Sunday and have held up great. You can even use them to highlight in your bible and they won't bleed through.
For the kid who loves word searches, this Christmas-themed word search book is ideal for a stocking stuffer!
Mini glider airplanes never go out of style, and they're bound to keep the kiddos entertained!
For kids who are fans of Star Wars, you can go wrong with one of these awesome LEGO Star Wars mini kits!
These mini building blocks come in all sorts of shapes – great for older children who like Legos but want something a little more challenging!
Paw patrol finger puppets are perfect for a toddler or preschooler who loves the show and double as fantastic bath tub toys or busy bag items too.
Puffy stickers make great stocking stuffers for kids of all ages!
A pack of classic playing cards is a great stocking stuffer idea for an older child, especially when they look as cool as these Nebula Edition playing cards do!
WikkiStix is a classic sensory toy that's hours of fun!
Young kids always want to play with scissors, but they're not exactly safe! However, learning scissor skills is a great way to hone that hand-eye coordination. This scissor skills kit is great for little hands designed for 4 to 7 year olds!
For creative play, nothing tops a classic toy like Play-Doh!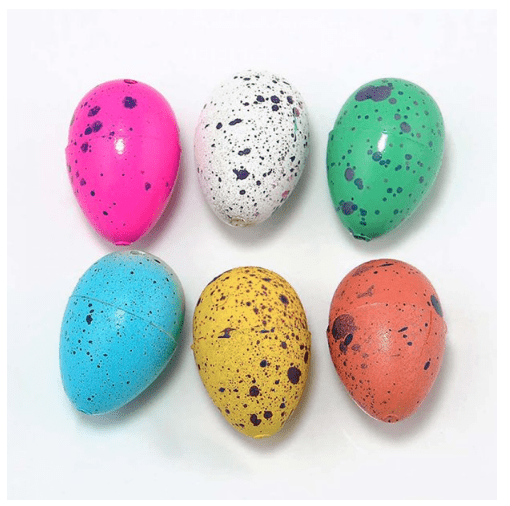 When placed in water, these dino eggs grow into mini dinosaurs! Kids love these water growing toys and they make fun surprises to put in a stocking!
Toddler-Friendly Stocking Stuffer Ideas
Boats! A classic bath toy that toddlers love!
Love these Finding Nemo bath toys for toddlers and young kids who enjoy bath time… and the Finding Nemo movies!
This magnetic fishing toy is perfect for toddler bath time!
Bath crayons are another bath time favorite that toddlers love!
For toddlers, there's nothing wrong with getting a few useful stocking stuffers, too! Besides, they're sure to appreciate a new sippy cup, especially if it has fun characters on it!
The Best Stocking Stuffers for Kids: $20 and Under
Many of these are actually value packs that break down to $5 or less per item, but if you like buying in bulk or have a big group of kids to buy for, you can find some really good deals here!
This Q&A journal is the perfect gift for the older child who likes to write and journal! Such a great way to learn more about yourself and create a keepsake at the same time. Perfect for bonding together, especially during tuck in time as part of their nightly bedtime routine.
Here's a neat idea and ideal for families who love card games: hands-free playing card holders! My kids struggle to fan out all of their cards so they use these on a regular basis.
Farm animal figurines are so great for pretend play, and they're the perfect size for a stocking! We love these because of the variety and detail!
These colorful hair bows are great for little girls of all ages, and this value pack of 40 means you can give each girl their favorite colors!
Mini hair brushes are a great addition to a girl's stocking – Wet Brush is a great brand and this pack of 3 means they're only $4 each! I like to keep several around the house as well as in the car. I swear you can never have too many hair brushes!
If your kids play Nintendo Switch, then I highly recommend this clip mount that attaches the Switch to classic game controller. This is not only an awesome stocking stuffer for an older boy but it makes a great stand alone gift as well. I bought it becuase it was a cheap gift but Kye has LOVED it so much!
I'm a big fan of encouraging my kids to read, and it doesn't hurt to give them a few fun reading accessories… like this Elsa reading light! My kids have these in the car for night reading when on the go.
Dinosaurs on wheels! We love these dino-shaped pull-back cars, and for boys' stocking stuffers, what could be better?
Love this colorful sequin unicorn notebook kit, and so will your unicorn-loving girl! My daughters have this set and LOVE it so much and it's a great wow gift in their stocking.
These Disney Princess Edition LipSmackers make a great stocking stuffer for girls!
Blank books for journaling: a neat stocking stuffer idea for the creative kid! I feel like my girls have a million journals but are still always asking for more. It's one of those gifts that you can never have too many of.
Glow in the dark stars are an old favorite that kids of all ages enjoy! I have great memories of having these hung over my own bed and my kids love to put them on their bunk beds too.
What kid doesn't love paper airplanes? But with this paper airplane making kit, they can learn to make different kids with fun designs!
This multipack of colorful flashlights are great for the outdoorsy family… or just for fun! My youngest is alllll about being a farmer and worker with Daddy and has been begging for his own flashlight.
This Hot Wheels set features cars from Fast & Furious – perfect for the kid who loves cars!
These squishy pens are so cute – my kids love them and they are a great addition to the journals.
Socks make a great stocking stuffer because they're both fun and practical! These Star Wars socks for boys are a great choice! (A pack of 3 breaks down to $5 a pair – great for multiple kids!)
Star Wars is for girls, too! These cutesy Mandalorian socks for girls feature everyone's favorite Baby Yoda and break down to about $3 a pair!
Up your bubble bath game with these rainbow bubble bath bombs! A pack of 8 breaks down to about $4 a bath bomb – great for big families! We don't personally use bath bombs for my girls or myself but my boys even LOVE 'em!
This variety pack of animal finger puppets is great if you've got lots of nieces and nephews to buy for, too! A pack of 20 breaks down to less than a dollar per puppet!
Mini action figures that are too small to wrap up make perfect stocking stuffers! $3 each for a 10 pack!
A water bottle can make a good stocking stuffer for a preteen or teen – you could also fill it with candy or other extras! I like these because they're stainless steel and come in different designs. My preschooler uses this as his daily cup for school and it's lasted all year without spilling or leaking.
What stocking is complete without a candy cane? These jumbo peppermint sticks are a classic Christmas novelty and not to mention, delicious! About $3 a piece for a pack of 3!
These fidget toys are all the rage right now, so why not make them a stocking stuffer? These keychain versions are the perfect size and are less than $2 a piece for a 6 pack!
Another fun fidget popper option, but this time a little more festive! 🙂
For the kid who loves a good brainbuster, this little puzzle game is the perfect size for a stocking!
LipSmackers lip balms are a great gift for a little girl who is showing an interest in makeup but who isn't quite old enough to use it! Also great for preteens and tweens who just like lip balm in fun scents!
Tamagotchi is a classic digital toy that older kids and preteens really enjoy! It's like having a virtual pet, and it's the perfect gift to add to a stocking!
These make-your-own race car kits are a good idea for the kid who is artistic but also loves to build!
Toddler-Friendly Stocking Stuffer Ideas
Toddlers can be tricky when it comes to a toddler stocking stuffer gift. You want to find something FUN for them but that will also be toddler-friendly and not turn into junk tossed in the trash within a couple days 😉 Here are some simple ideas for your toddler stocking this year that your little ones are sure to love:
Water Wow coloring books make such a great toddler stocking stuffer! It lets them practice coloring without any of the mess… perfect for car rides and road trips!
Introduce your toddler to the alphabet with this LeapFrog fridge letter set that's as fun as it is educational! This is another one I love to take with us when we travel with our babies as it's great to play with on the go or in a hotel room.
These simple puzzles are great for a toddler's stocking! With their bright colors and fun shapes, they're great for building those fine motor skills and help lead to the days when your toddler can participate in family board games. A 4 pack comes out to $5 a puzzle!
This mini basketball hoop is designed to suction onto a bathtub wall, which makes it a great way to combine fun with bath time! It's great for toddlers to help develop their hand-eye coordination… and teach them a fun sport!
Musical shaker eggs are great for small hands and make a great gift for toddlers who are starting to get into music!
Jumbo nuts and bolts are another fun way to build fine motor skills in toddlers. The vibrant colors are great for sensory play and the drawstring bag offers easy storage – another great one for that church quiet bag too.
I love Melissa & Doug brand in general but the water WOW reveal reusable pads are awesome for church, road trips, and drs appointments when you need to keep a toddler entertained without a mess!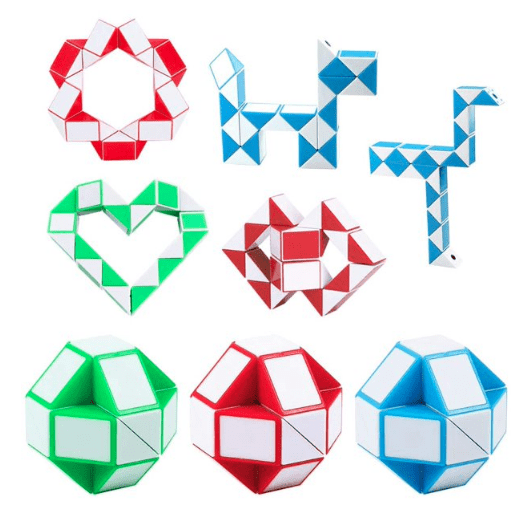 Puzzles and brain teasers make great stocking stuffers for both kids and toddlers! These cube snakes are just as good for pretend play as they are for brain busting!
Even little ones who may not understand the concepts of puzzles enjoy fun fidgets and they are an easy addition to your list for toddler stocking stuffers this year.
The Best Stocking Stuffers for Kids: Over $20
In case you want to splurge, here are the picks that didn't make the cut for $20 or under 🙂
These dinosaur building block sets combine two things that boys love: dinosaurs and Legos! A pack of 4 breaks down to about $6 a set!
World's Smallest Super Soaker: as cute as it is fun! A pack of 3 means everybody gets one! My preteen found these and they are SO COOL. He really has enjoyed it and I don't even mine when we sprays me because it's so small 😉
The Best Stocking Stuffers for Kids: Final Thoughts
I've really only scratched the surface on stocking stuffer ideas, but hopefully these give you a good place to start and help relieve some of the stress of holiday shopping so you can focus on what matters: making those lasting memories with your family! Happy Holidays!
Are there any other great stocking stuffers for kids that you swear by? Share them in the comments!
More Gift Ideas for Kids:
As a mom of four I take my gift-giving pretty seriously and have put together gift guides with favorites that my kids have loved over the years as well as the items on their wishlists: