If your family enjoys the Elf on the Shelf tradition but the holiday mayhem has you short on time, don't worry! These last minute elf on the shelf ideas for tired or busy parents are here to help!
What parent hasn't experienced that frantic moment when the elf on the shelf has been forgotten and you're laying in bed drifting off to sleep when you suddenly remember that he (or she, or even they!) needs moving?
We've all been there and that's why having super quick and easy last minute elf on the shelf ideas handy is helpful! Here are free elf ideas that will take you less than 10 minutes to throw together – no visit to the North Pole is needed 😉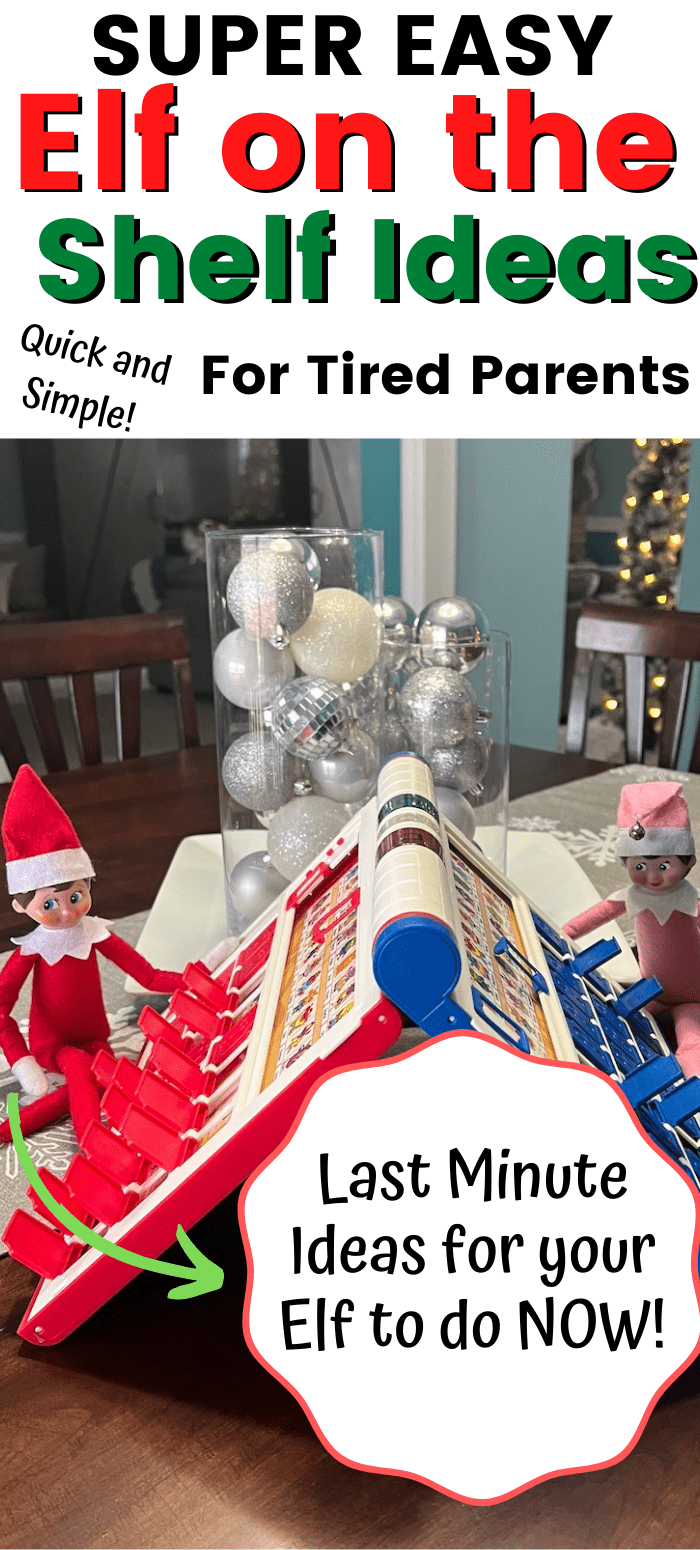 Disclaimer: this post contains affiliate links.
20 Last Minute Elf on the Shelf Ideas
1. Bake a Favorite Christmas Breakfast
Our elves like to announce their arrival for the holiday season with a fun kick-off breakfast that they make! Your elves don't need to make anything from scratch, or even at all. No fancy recipes!
Just pick up some of your favorite breakfast items that aren't part of your normal, daily routine at home with you kids and it'll be special and fun.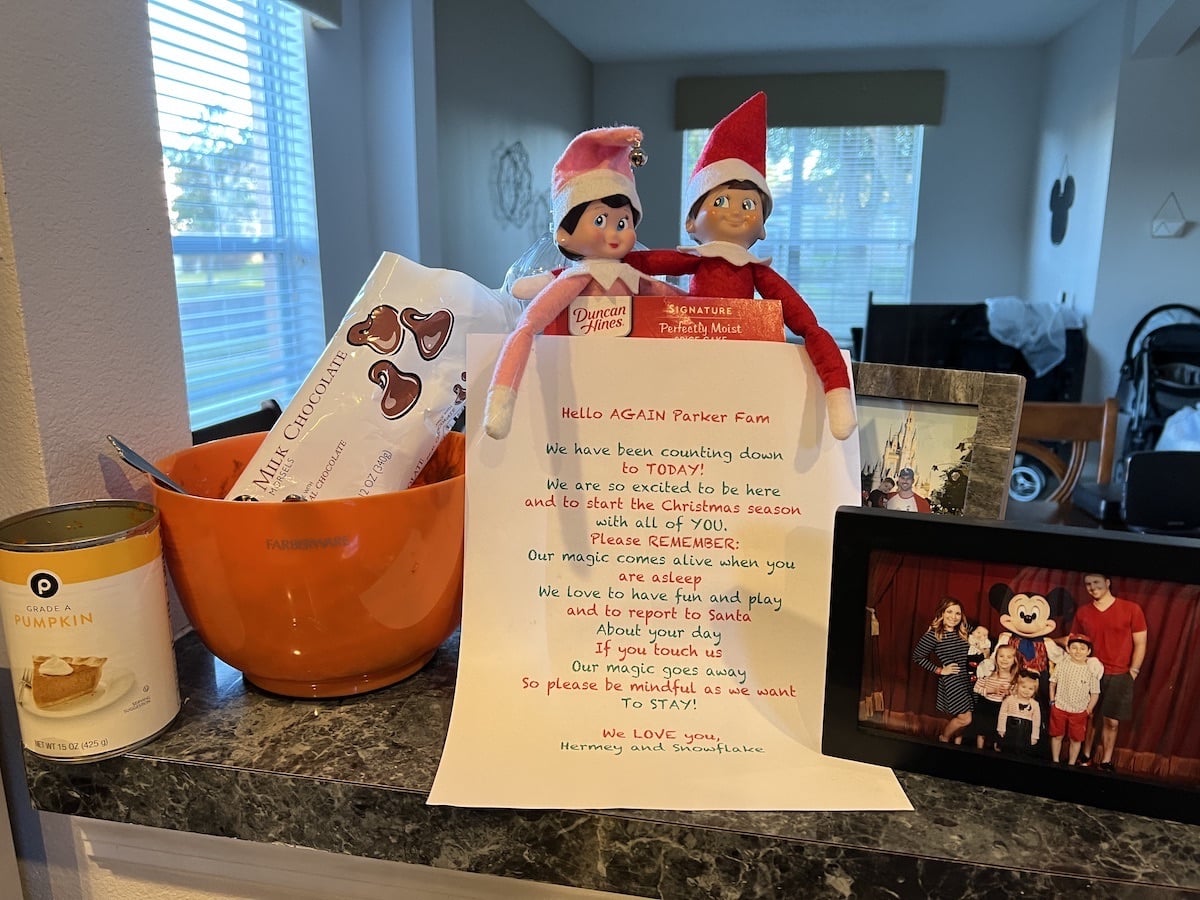 2. Dreaming of Vacation
Got a backyard sandbox? Or a kinetic sand kit? Toss some sand in a container and let your elves be dreaming of warmer weather during the often rough winter months. An easy elf idea that takes little effort.
This idea is also a great way to surprise your kids with a trip. Even if it's just visiting family you can set them up with the news of the holiday fun plans!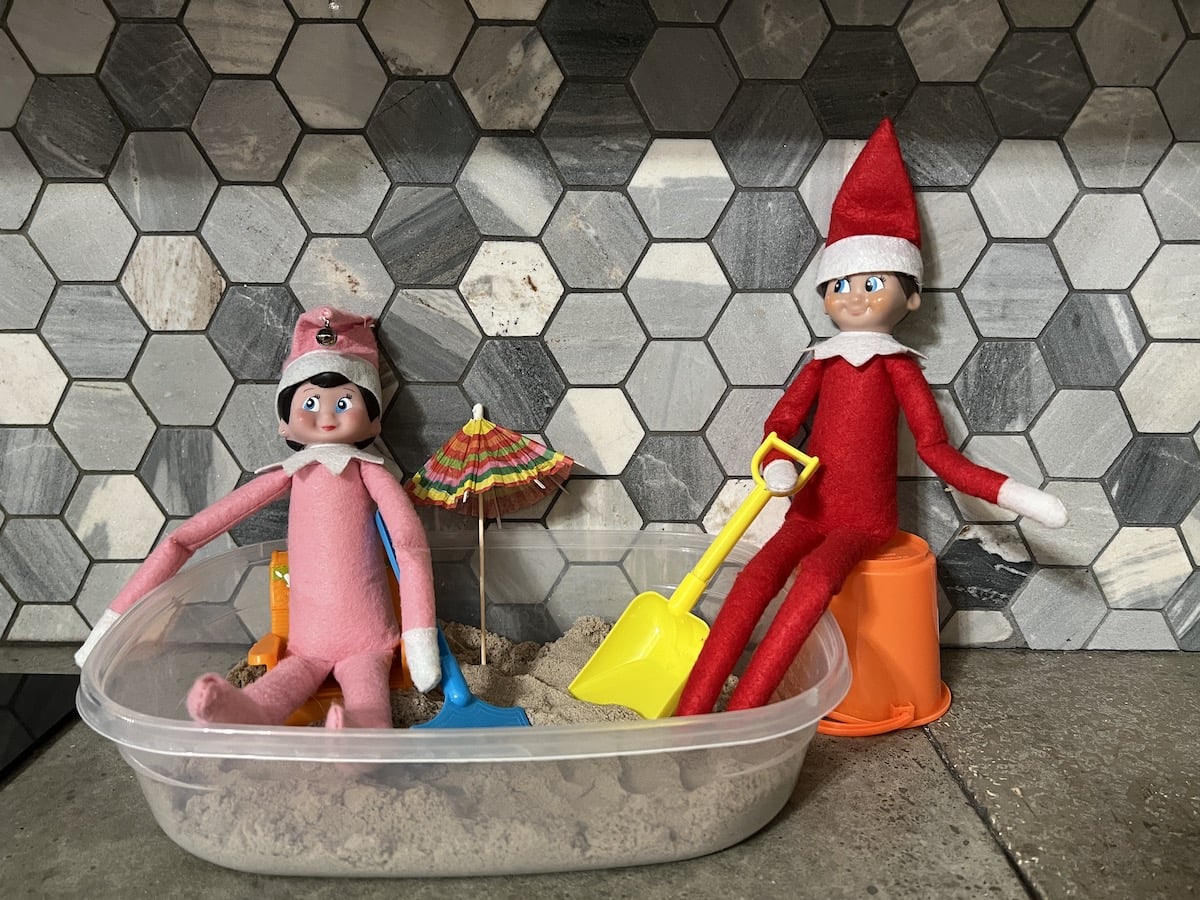 3. Elves Visit Friends
Perhaps the easiest, yet still fun elf idea is to hide them throughout the house with friends.
Utilize what you already have – got kids who love toys? Use their favorites in the set up!
You can even make it a bit of a funny elf moment by setting the elf up on a "date!"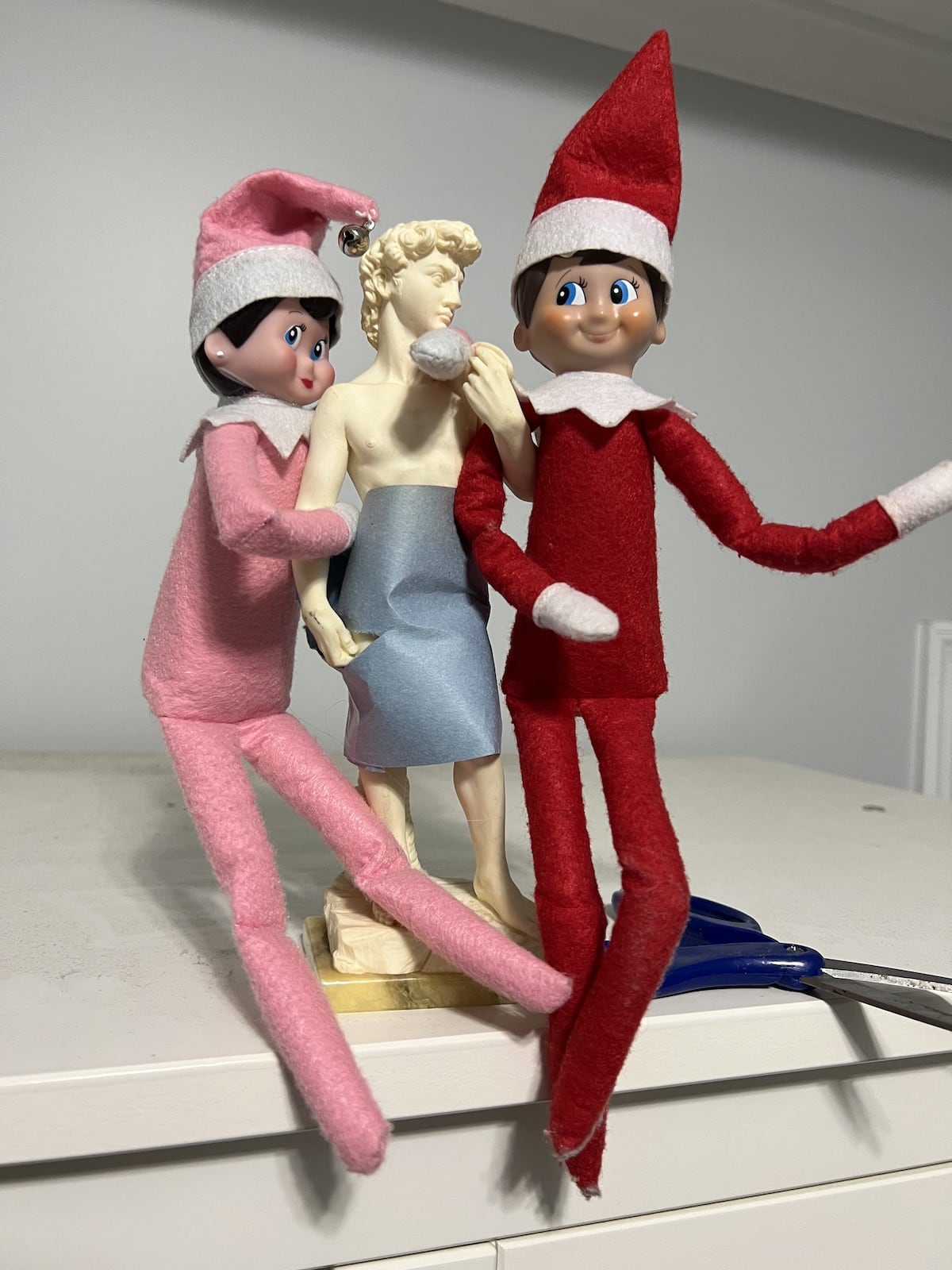 4. Cheer on Your Team
Are you a sports loving family? Love all the sports things? Set up your little elf friend as your team's biggest cheerleader!
Any sports fan has something showcasing their team – round it up and put it to good use.
I especially love using this set up for a big game day so the elves are helping root for the win!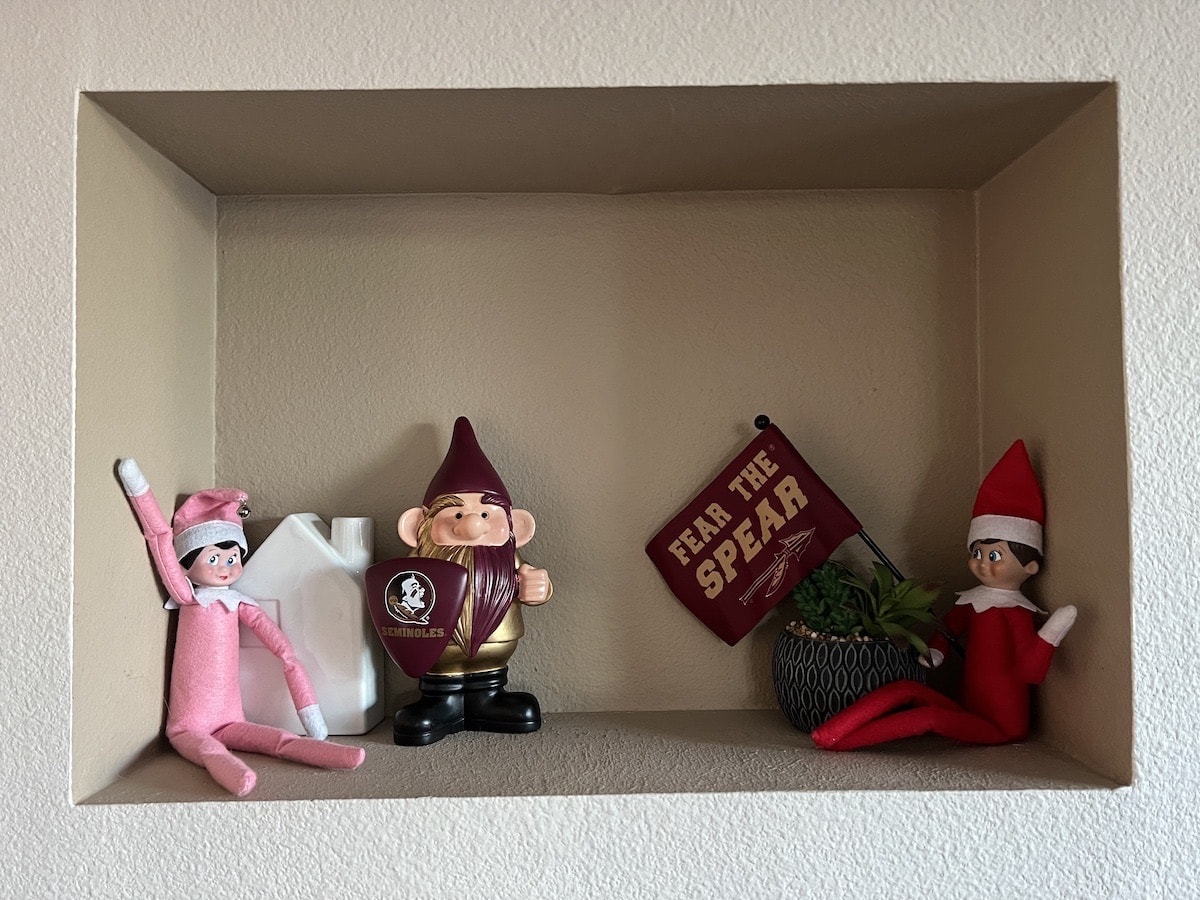 5. Talking Telephone
Many families have more than one elf and the advantage is that you can set them up to interact with each other in cute ways.
A super simple one? Have them playing a game of "telephone" hiding them in different areas of the house and set up with some phones for their conversations!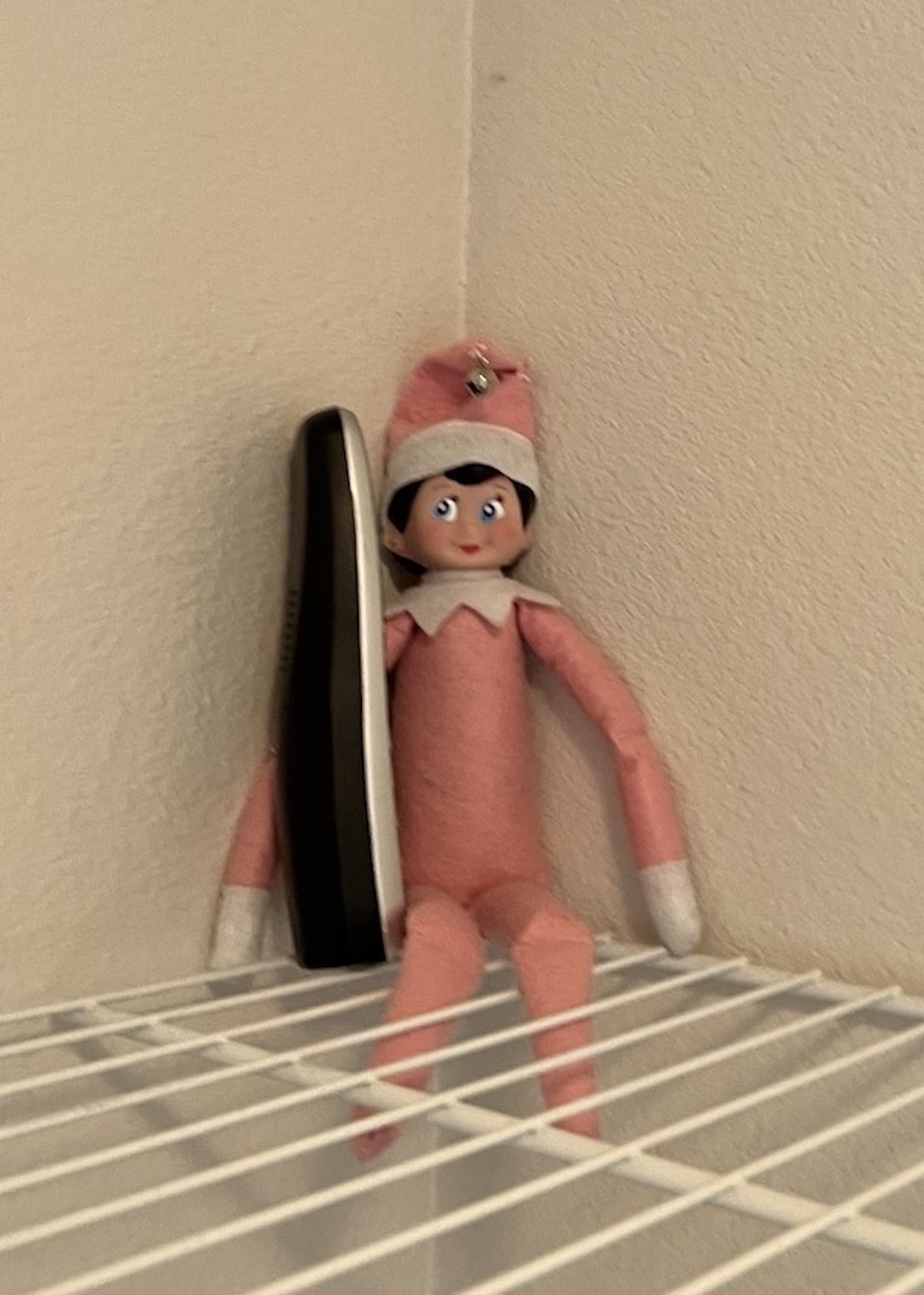 6. Celebrate December Birthdays
We all know adults who dread having their birthdays in December. Having a birthday near Christmas does have it's disadvantages.
I have not one, but two, December birthday kids and I try my best to make them excited and happy that they were born during such a festive time of the year!
One way I do that? I put the elves to work!
Your December birthday child will feel extra special with a visit from their good friend the elf on the shelf on their special day.
Find an elf on the shelf printable with a birthday message or write one yourself and you can even include a little fun treat or gift to kick off their birthday!
Birthday elf on the shelf ideas don't have to include purchasing the official Elf on the Shelf a Birthday Tradition and can instead just involve your Christmas elf making the birthday child feel special!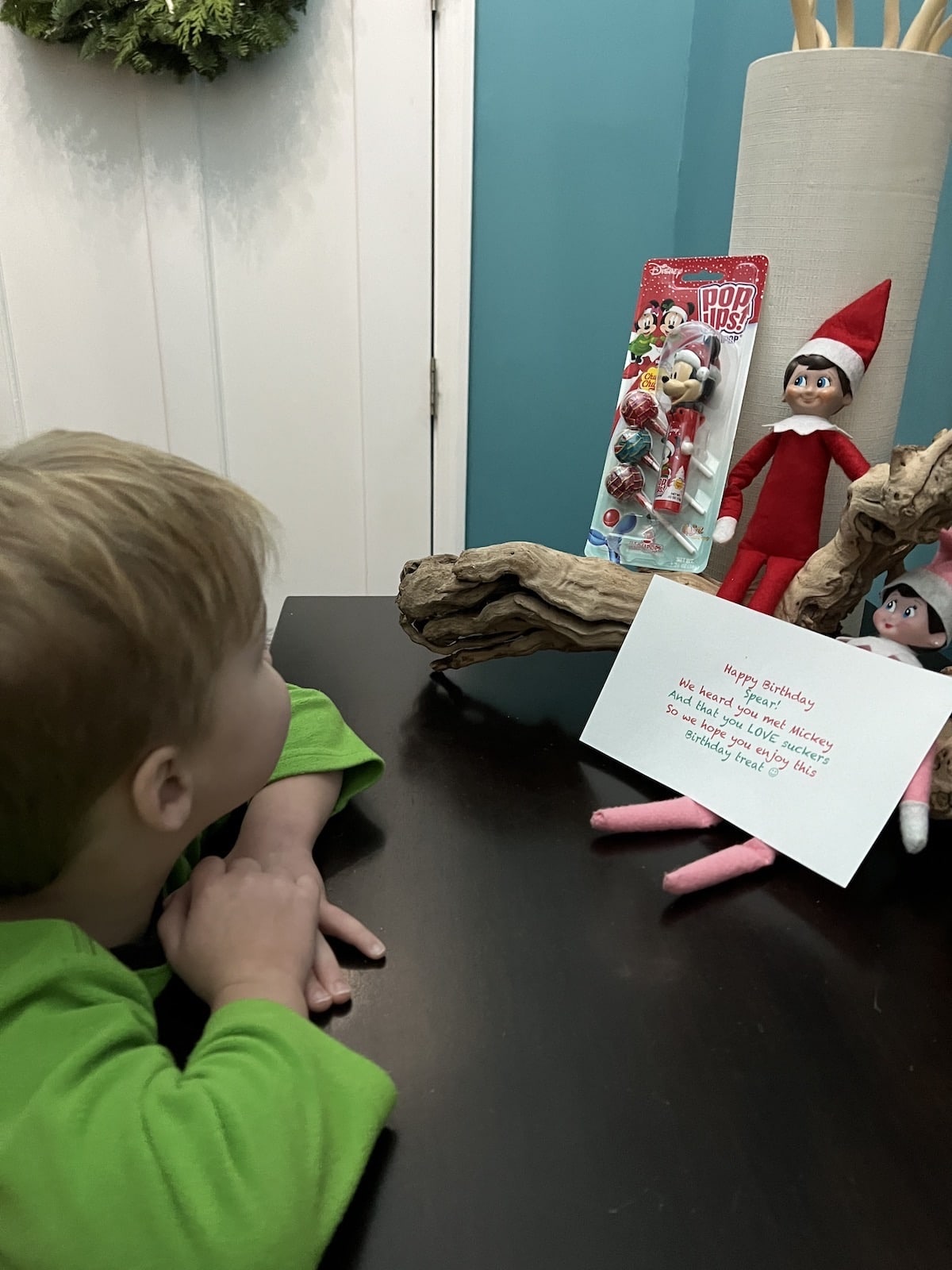 7. Hide Elf in Christmas Tree
The easiest of easy, am I right? Stick your elf on the shelf in the Christmas tree and you're good to go!
For an added twist with very little added effort, you can also have your elves mix up the ornaments, add extra ornaments (we've collected several pickle ornaments over the years when I've thought I "lost" them so our elves had fun with them!), or even add a string of lights to your tree.
We do white lights and our elves added a small strand of colored lights!
8. Play an Elf Game
Our family loves playing games together and so do our elves! In a hurry and need a last minute elf on the shelf idea that is sure to make your kids smile?
Pull out a family favorite game and set up your elf or elves playing!
You can even find free printables online with elf sized games (but, let's be real, that takes more effort than we're probably wanting to deal with).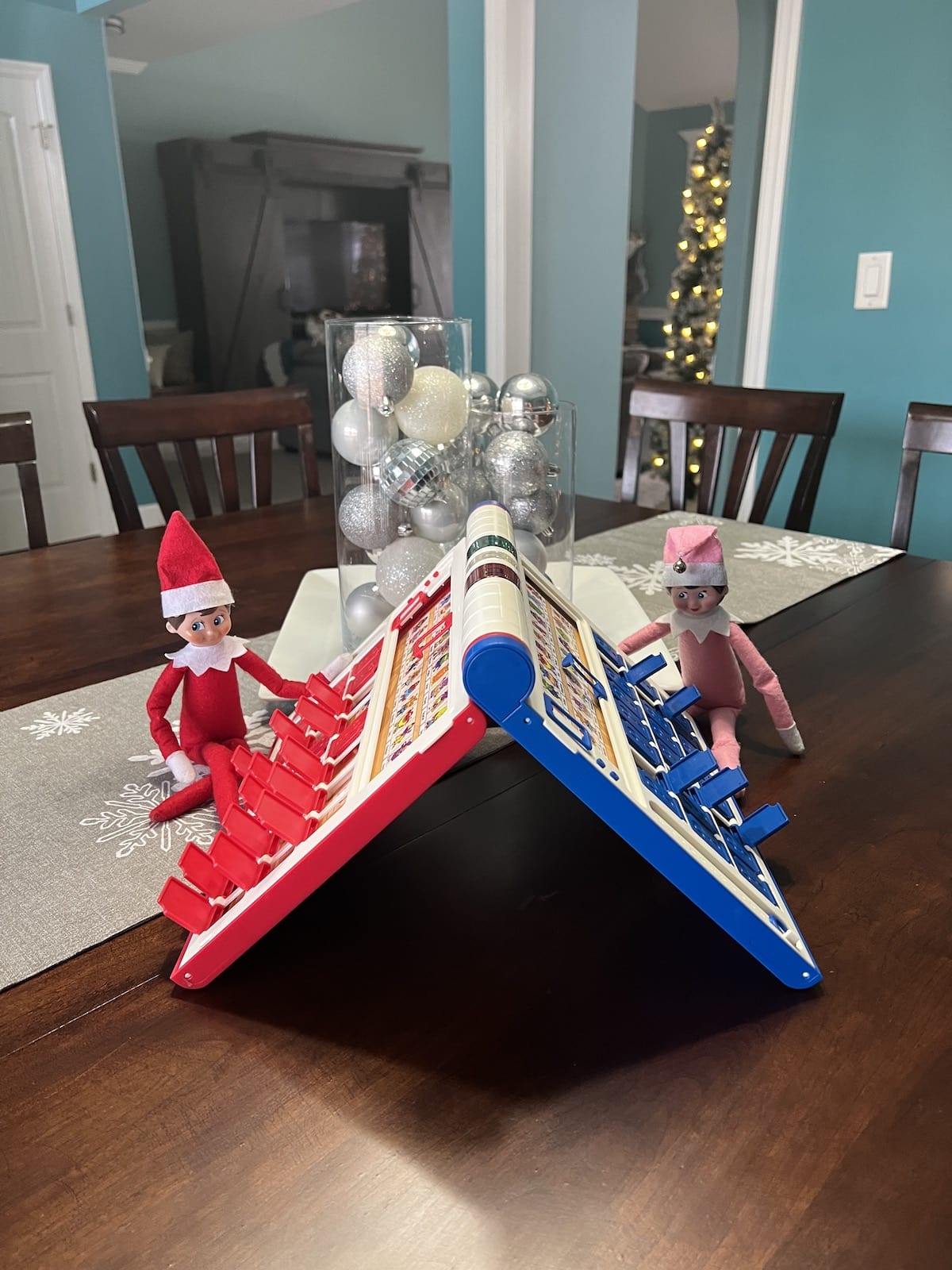 9. Send Elf a Letter
Something my kids love to do is to make drawings or write letters to their elves.
Sometimes it's just as a gift and other times they send the elves notes asking questions (a sure sign that THE Santa question is probably looming…).
It makes for an easy elf on the shelf task for the night though – simply answer the questions!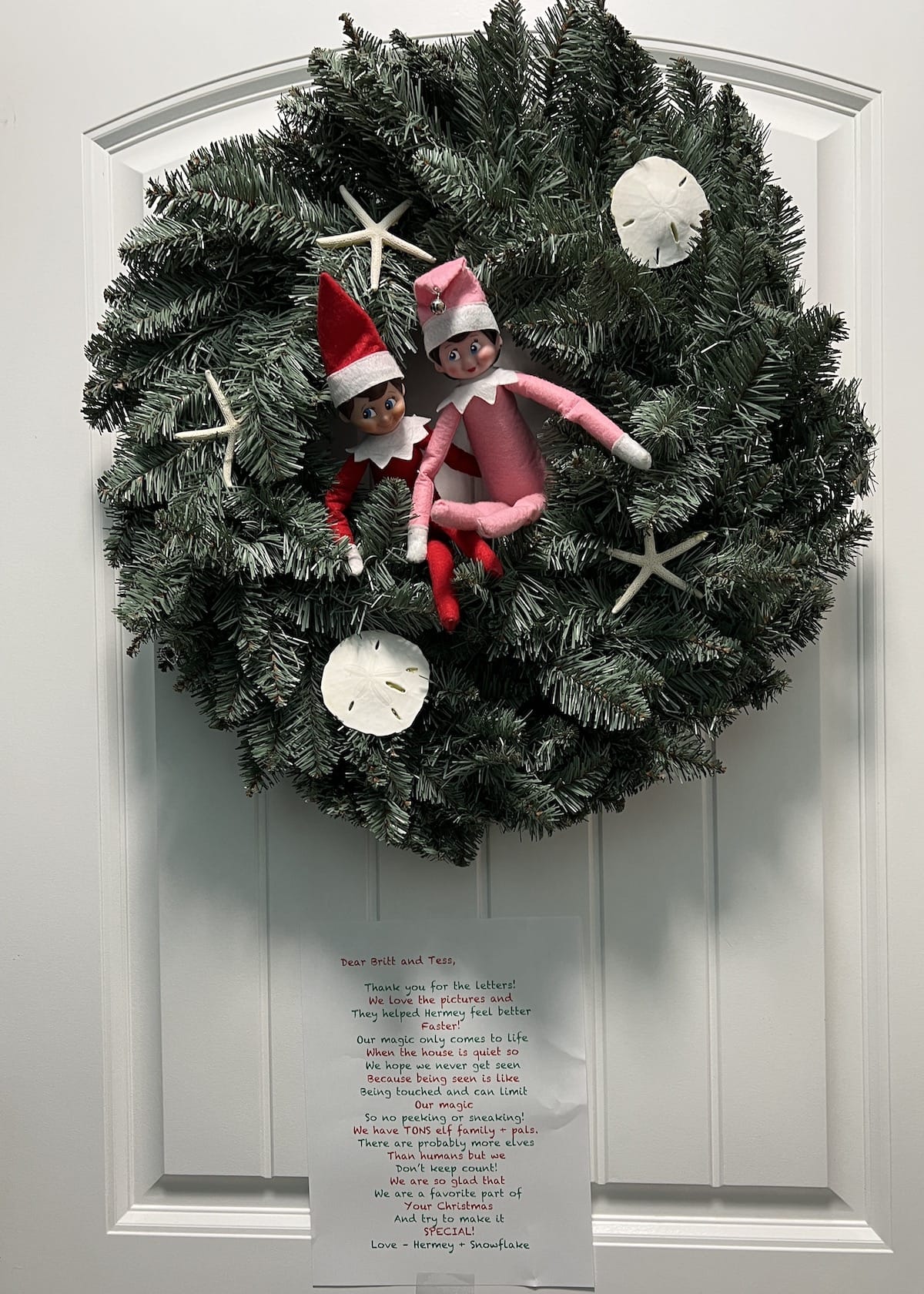 10. Use the Elf in a Teachable Moment
Nothing helps get a kid more on board for a milestone than a little nudge from Santa or his Elves.
Our youngest son was working on his "poop chart" while potty training over the holiday season so our elves set up their own little potty practice spot. Complete with toilet paper, "poop" and even their own little poop chart.
Using the elf in a way that reinforces teachable moments is an easy way to help your child feel motivated and encouraged! Last minute elf ideas can still be valuable 🙂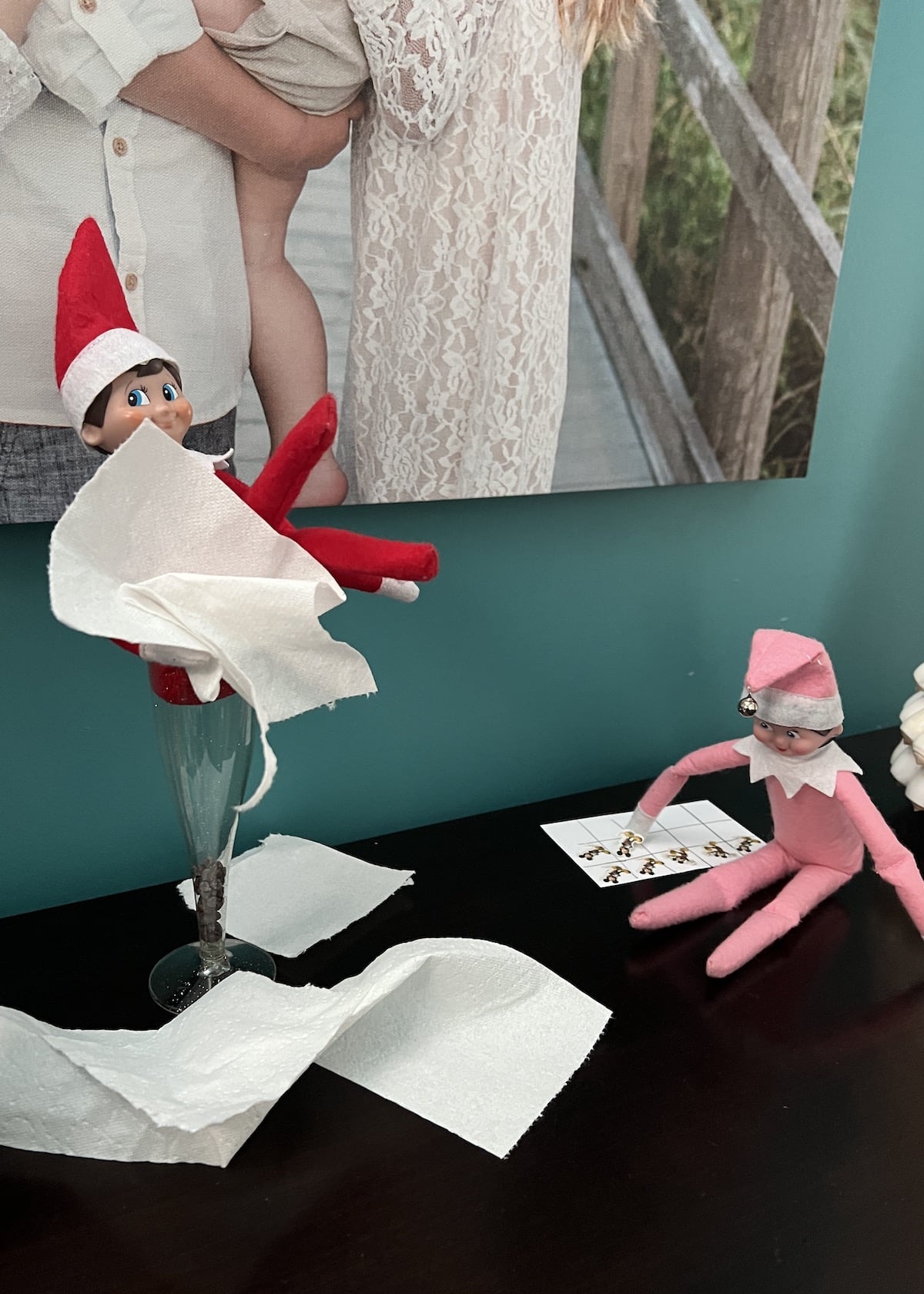 11. When Elf is Touched
Sometimes our kids make our elf job easier by touching the elf on the shelf. You know what that means? A break from having to move 'em!
If our elves are touched they become sick and risk losing their magic. I have a simple letter I type up from Santa who explains everything for me and the rules to help the elves feel better and restore their magic (and, yes, it involves a few days of rest aka no moving).
There are lots of elf printables regarding the elf being touched and I'm sure a free printable exists on this topic too if that's easier than writing your own letter. For me personally when I think of last minute elf ideas I don't think of hunting down printables 😉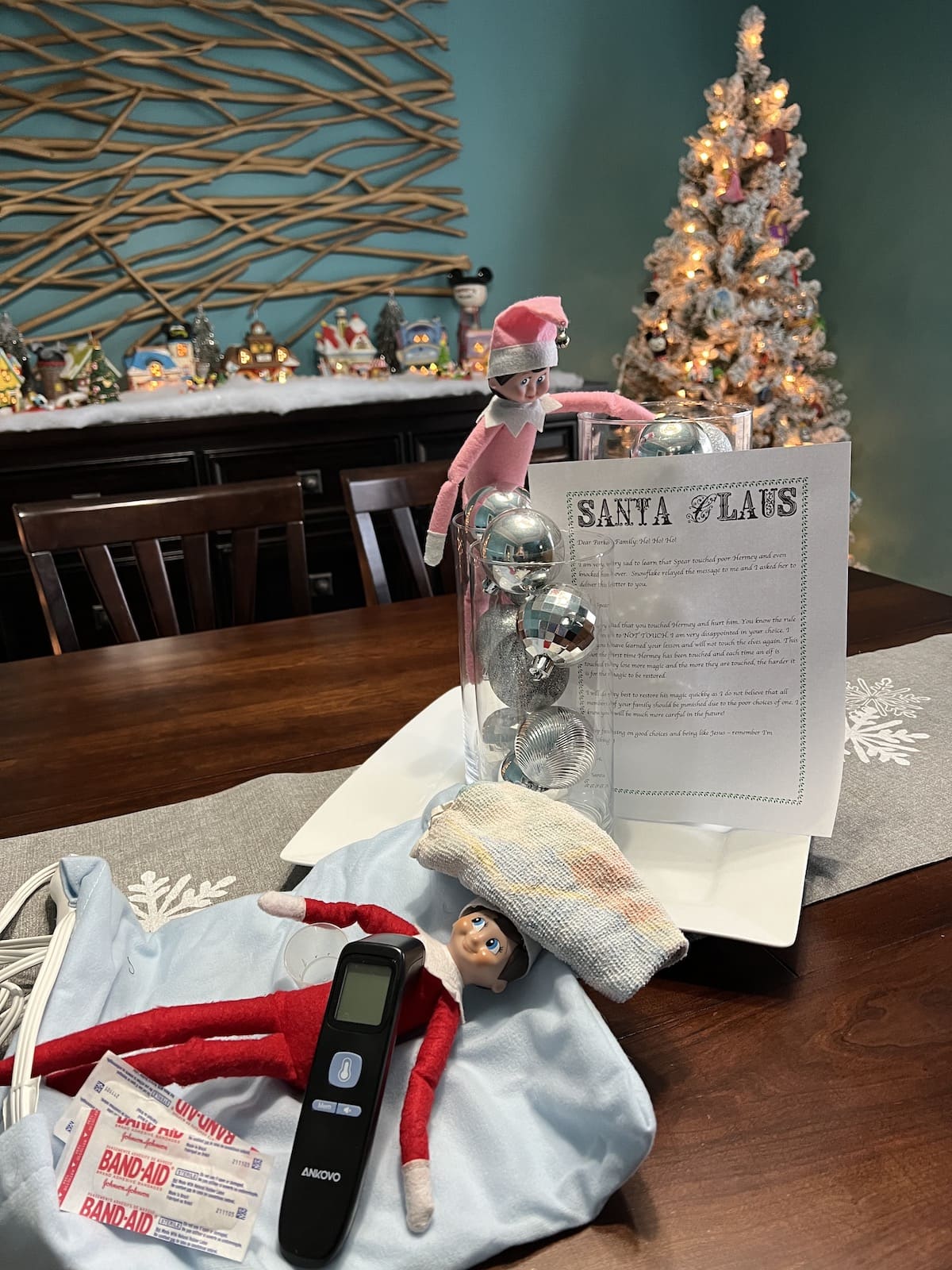 12. Photo Wall Fun
We have a family photo wall in our house but even if you don't you can do this set up with any framed photos! Let your elf have some fun drawing on people's faces.
Simply use a dry erase marker on the glass of the picture frame and then set up your elf with the marker.
It's always a fun one for our kids and it's an easy clean up too just using a bit of glass cleaner to wipe the marker away!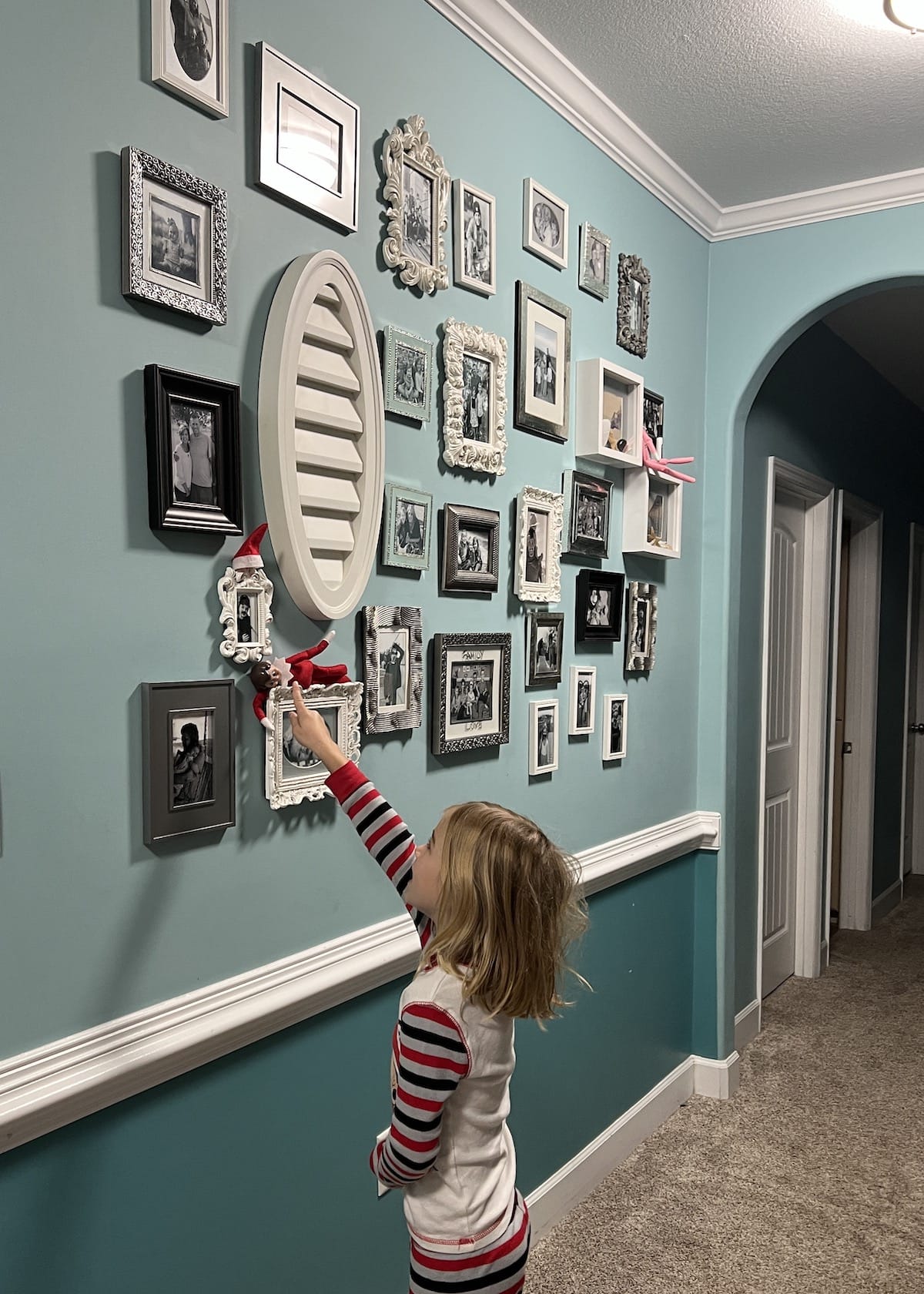 13. Elf Food Art
Another favorite that we do every year is have our elves draw silly artwork or faces on food items.
Bananas are excellent for this as are oranges or other fruit! Using a sharpie ensures the art doesn't fade before the kids wake up!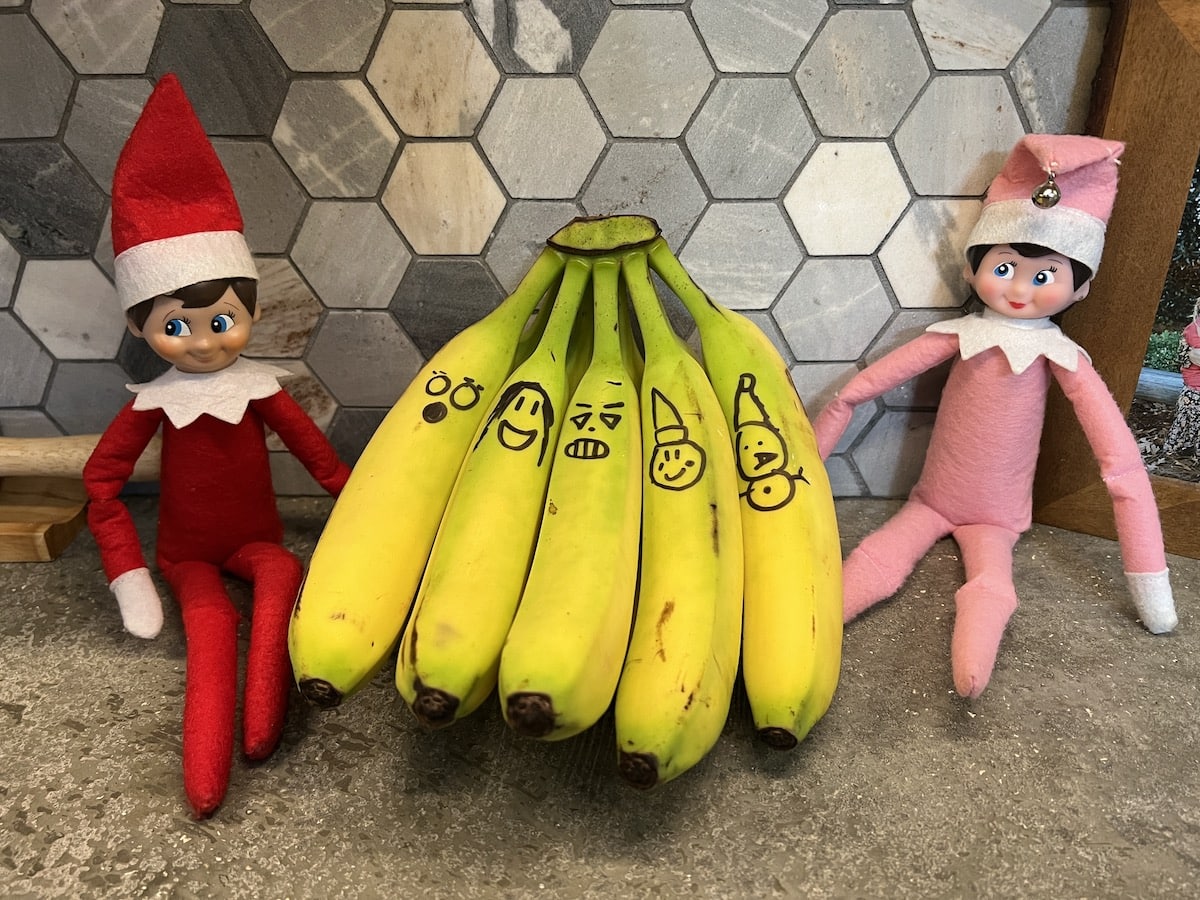 14. Elf Delivers Treats
Another easy and last minute elf on the shelf idea? Have your elf deliver treats to your kids!
Set 'em up with hot chocolate with the plan for your kids to get to have a cup while they watch their favorite Christmas movie.
Have your elves deliver cookies or mini cakes or other festive treats!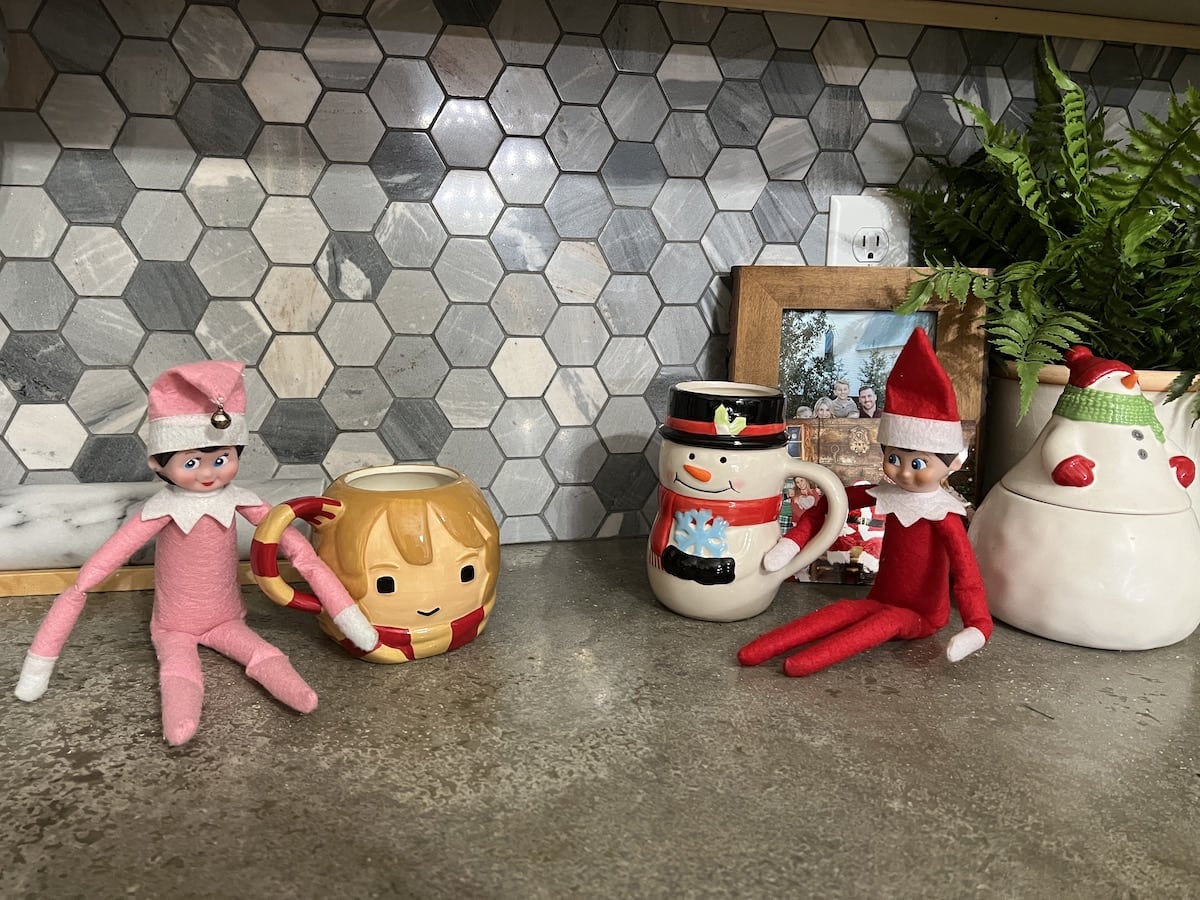 15. Epic Elf Battles
Another idea utilizing toys – and this is one my teenage son always loves to help set up – is to create a battle scene or "elf in danger" situation using the toys to tell a story.
Here we have our elf trapped in a cup by the bad guys and the hero elf coming to her rescue.
This is a great one to ask your husband to do as it's such a "guy thing" to want to have some sort of villein and hero scenario!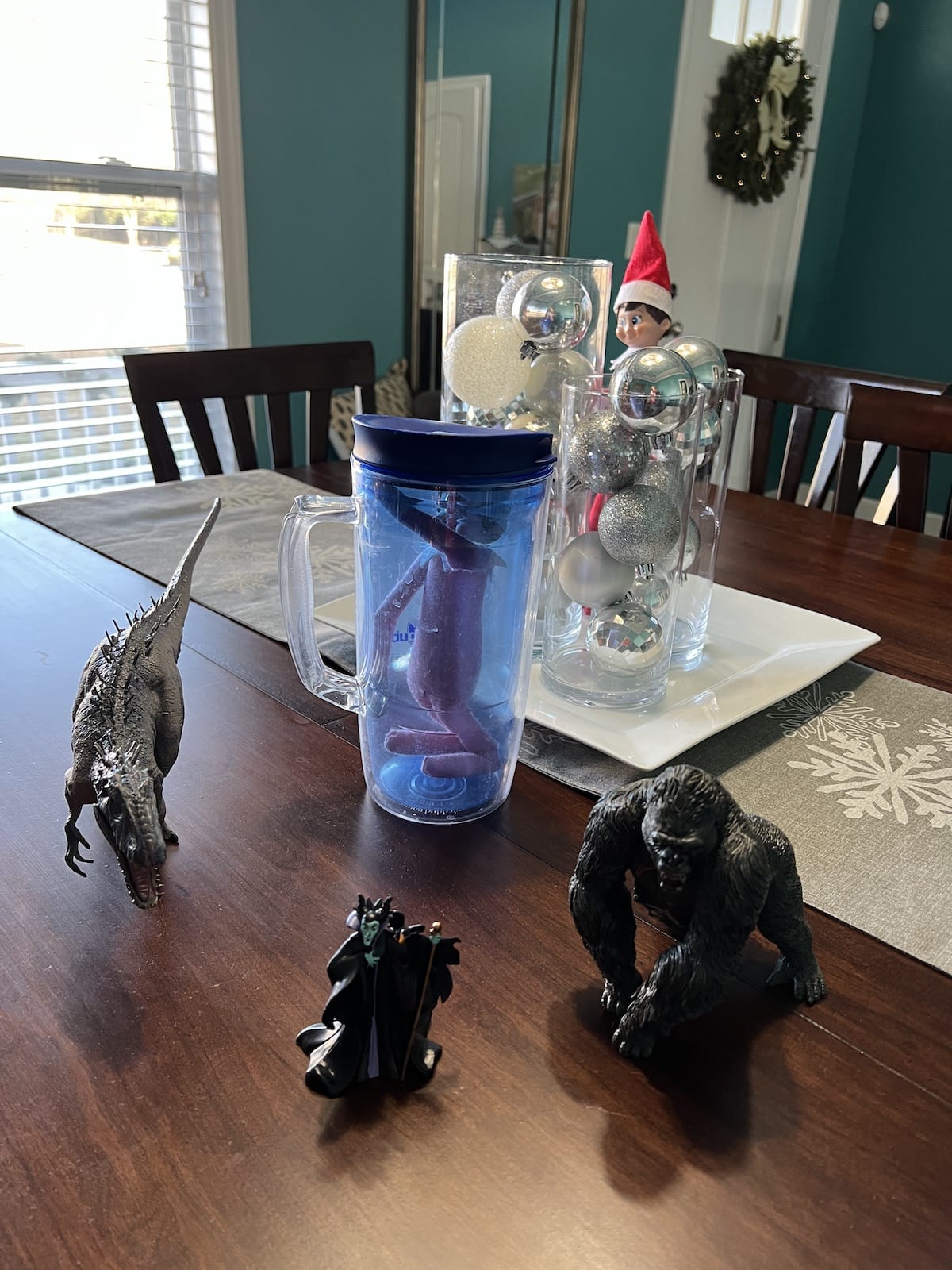 16. Elves Help Wrap
On those late wrapping gifts nights the last thing you feel like doing is trying to come up with a creative elf on the shelf idea. So put that wrapping paper to good use and have your elves "help wrap."
They can wrap up anything or even just put gift bows in random places!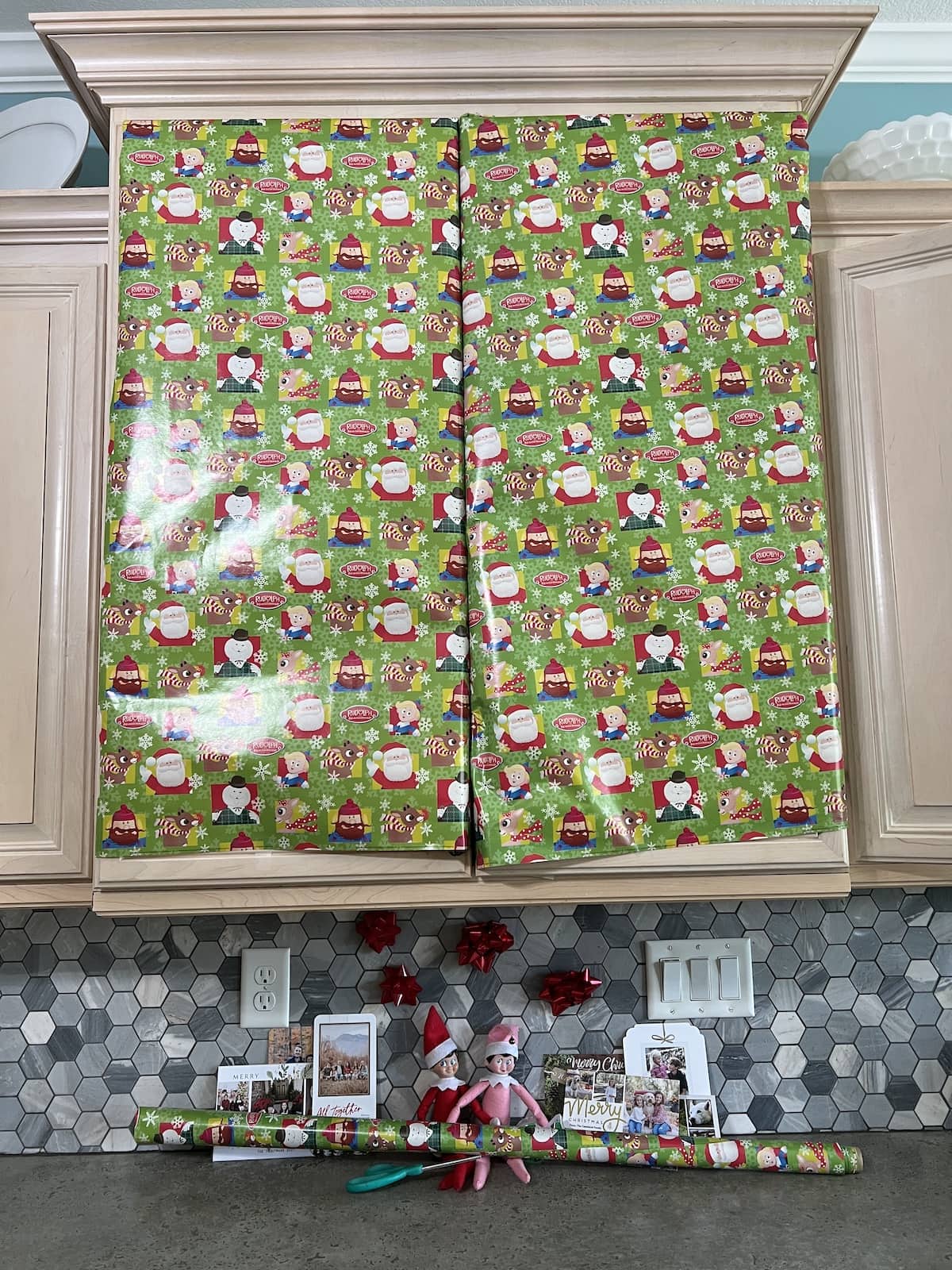 17. Elf in the Stocking
Another super easy way to hide the elf with zero effort? Have him hang out in one of the stockings on the mantle! Since they aren't filled with stocking stuffers yet, there's plenty of room for him to chill out!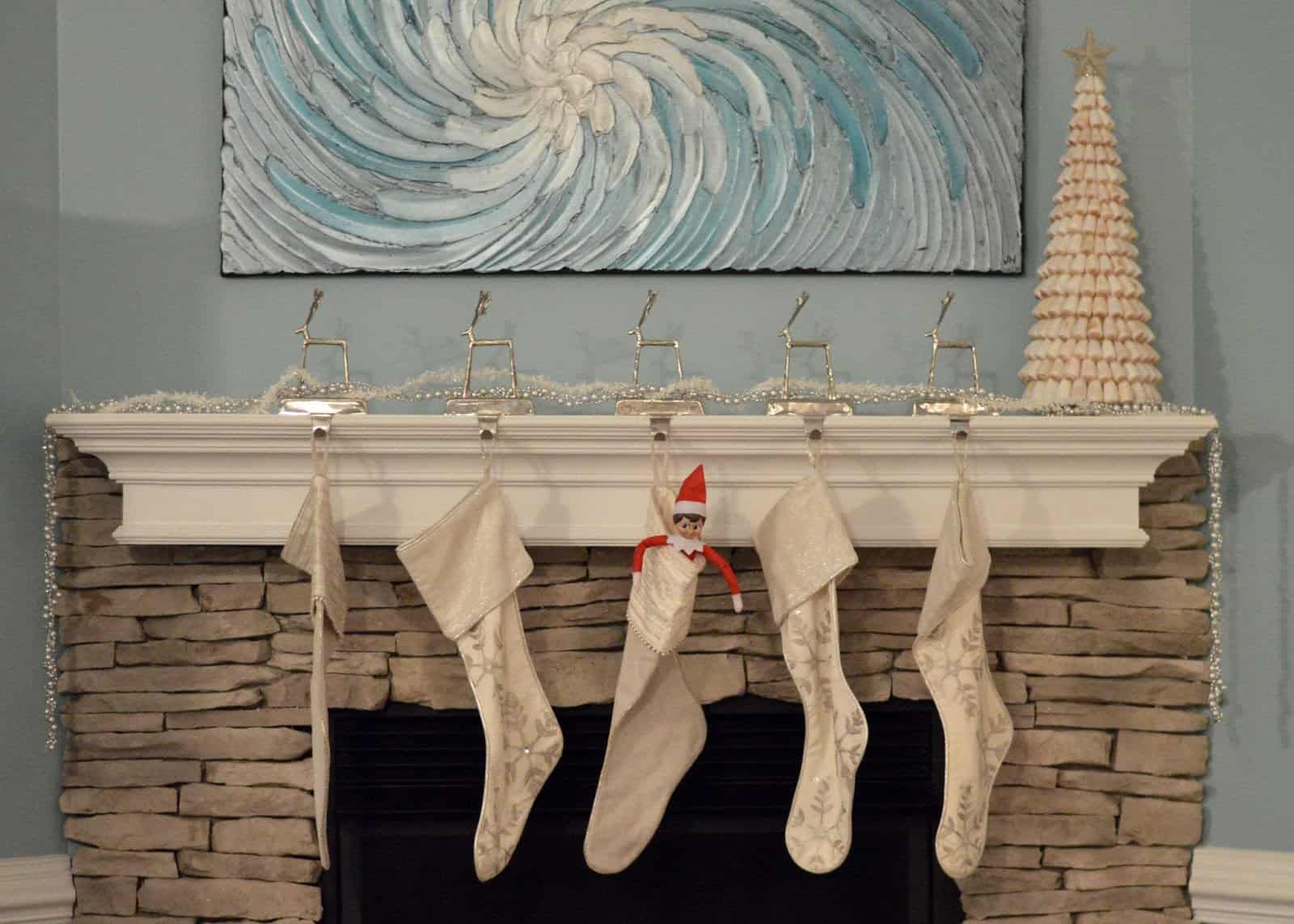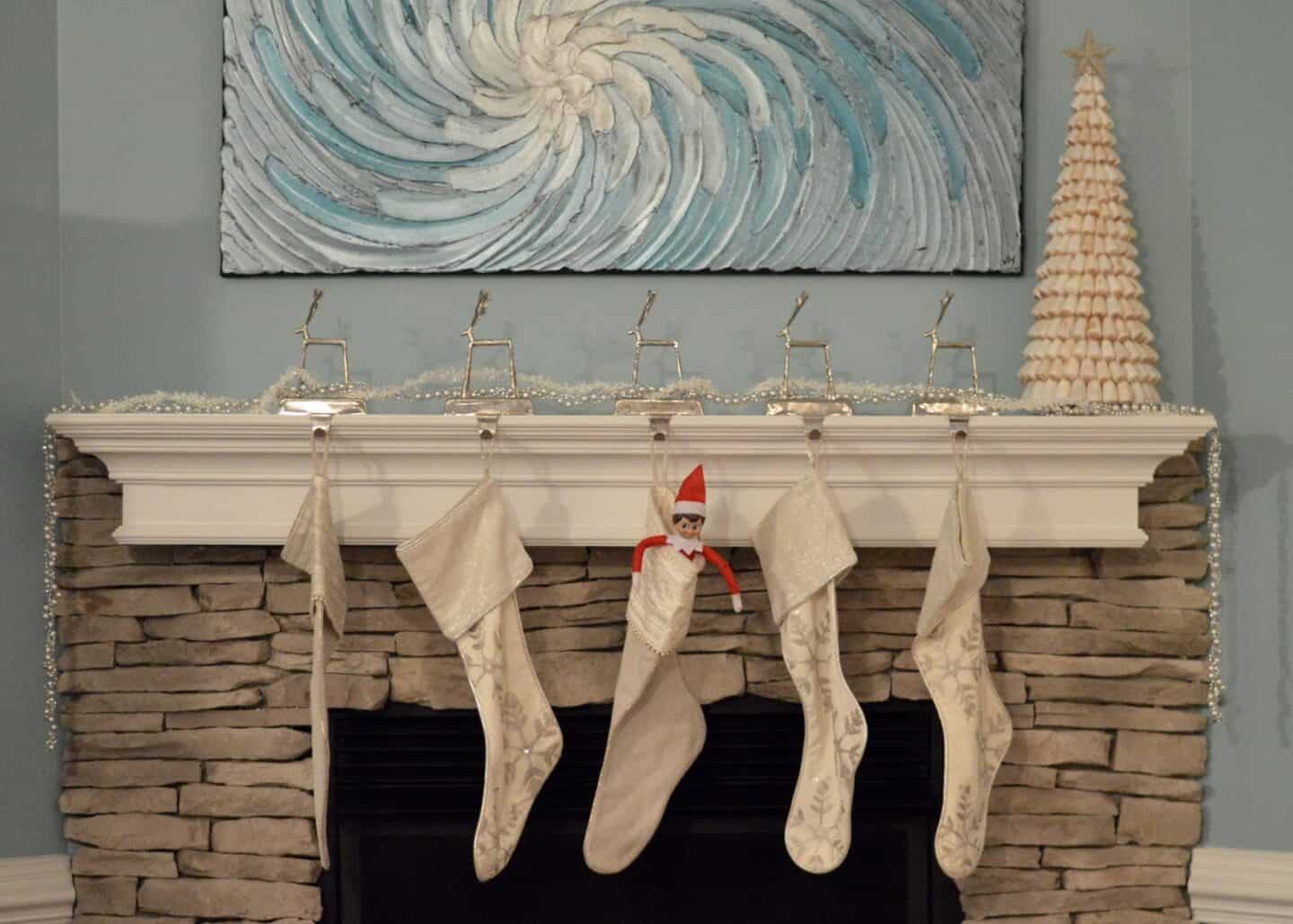 18. Not That Cookie!
If you have pets, then one fun and easy idea is to have the elf "eat" a dog biscuit and leave a note saying how disgusting the "cookie" he found was!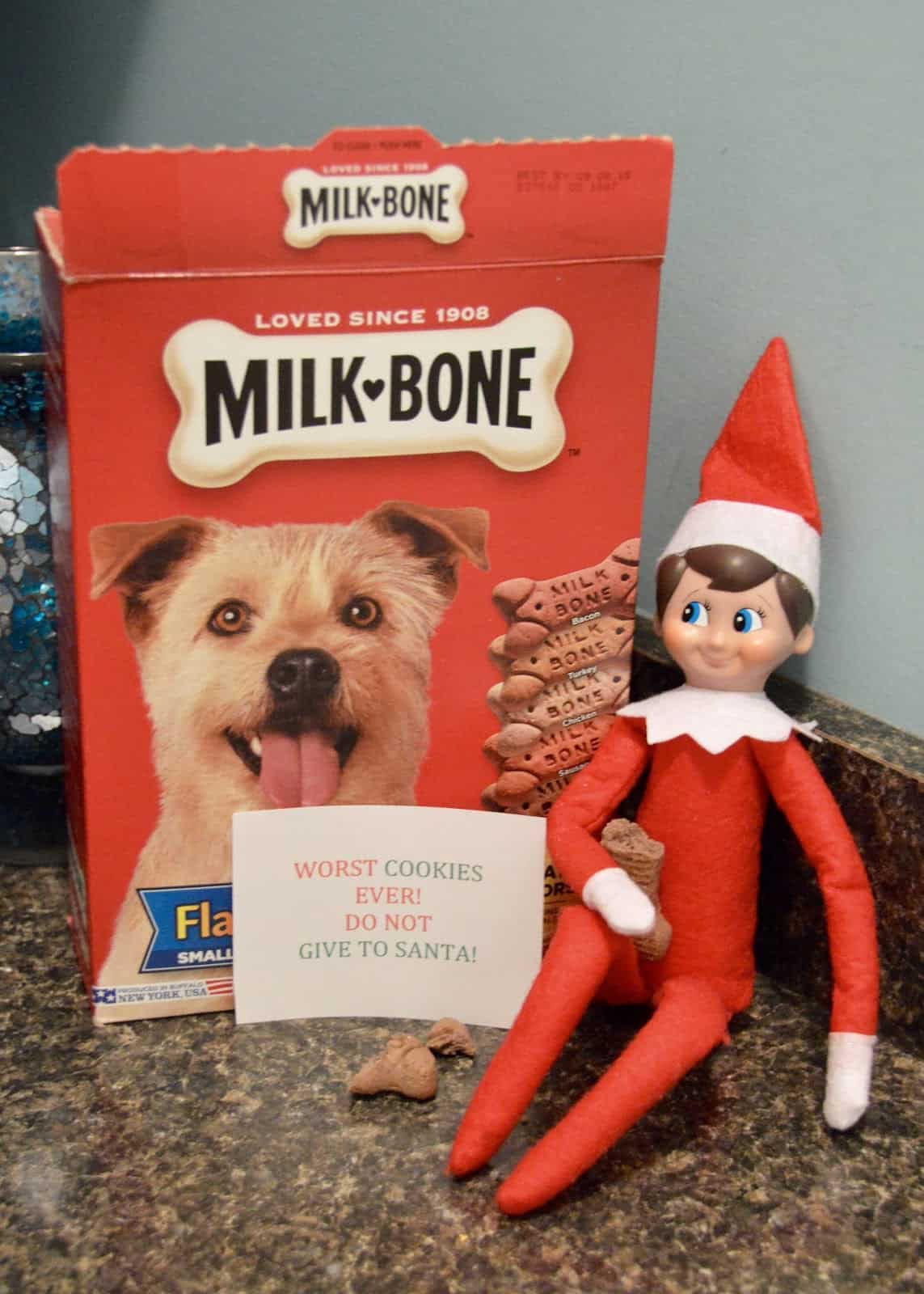 19. Reading Book Loving Elf
We do holiday themed books for the season and keep them all out in an easy to reach for basket so our kids can read them in anticipation for the holiday to come. I like to purchase new Christmas books after Christmas when they are on deep discounts.
I store them in a cabinet and then have our elves deliver the new books as a gift!
However, even if you don't have a new book on hand, setting up your elves so they are reading Christmas books will be a great last minute idea!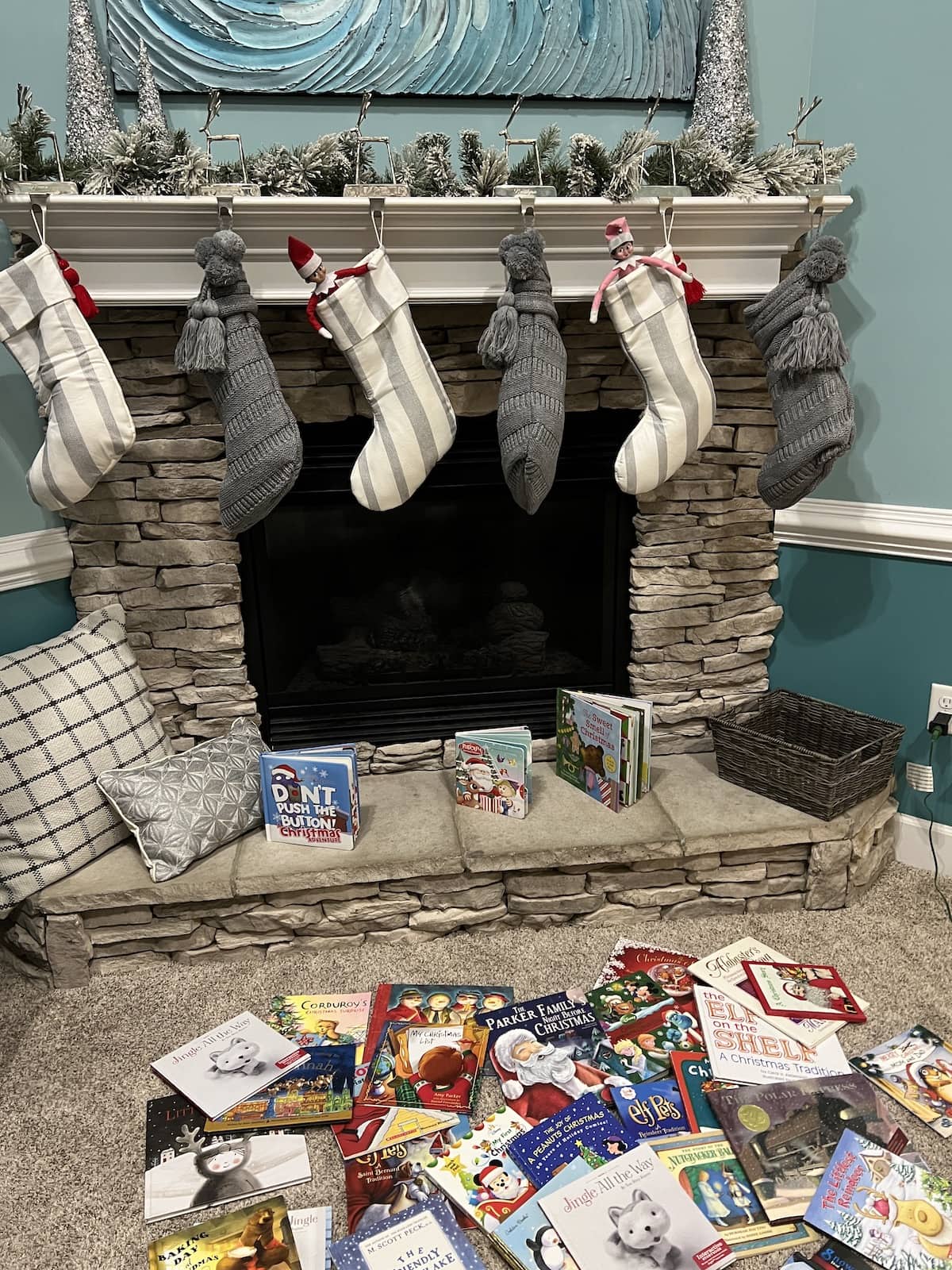 18. Hidden Candy Canes
Our Elves head back to the north pole on Dec 24th so they always leave a goodbye note to the kids and some sort of fun send off. A super easy last minute elf on the shelf send off idea?
Hide candy canes around the house and let your kids find them! Mine loved this activity and enjoyed the sweet treats too. I love this simple solution when looking for last elf on the shelf ideas!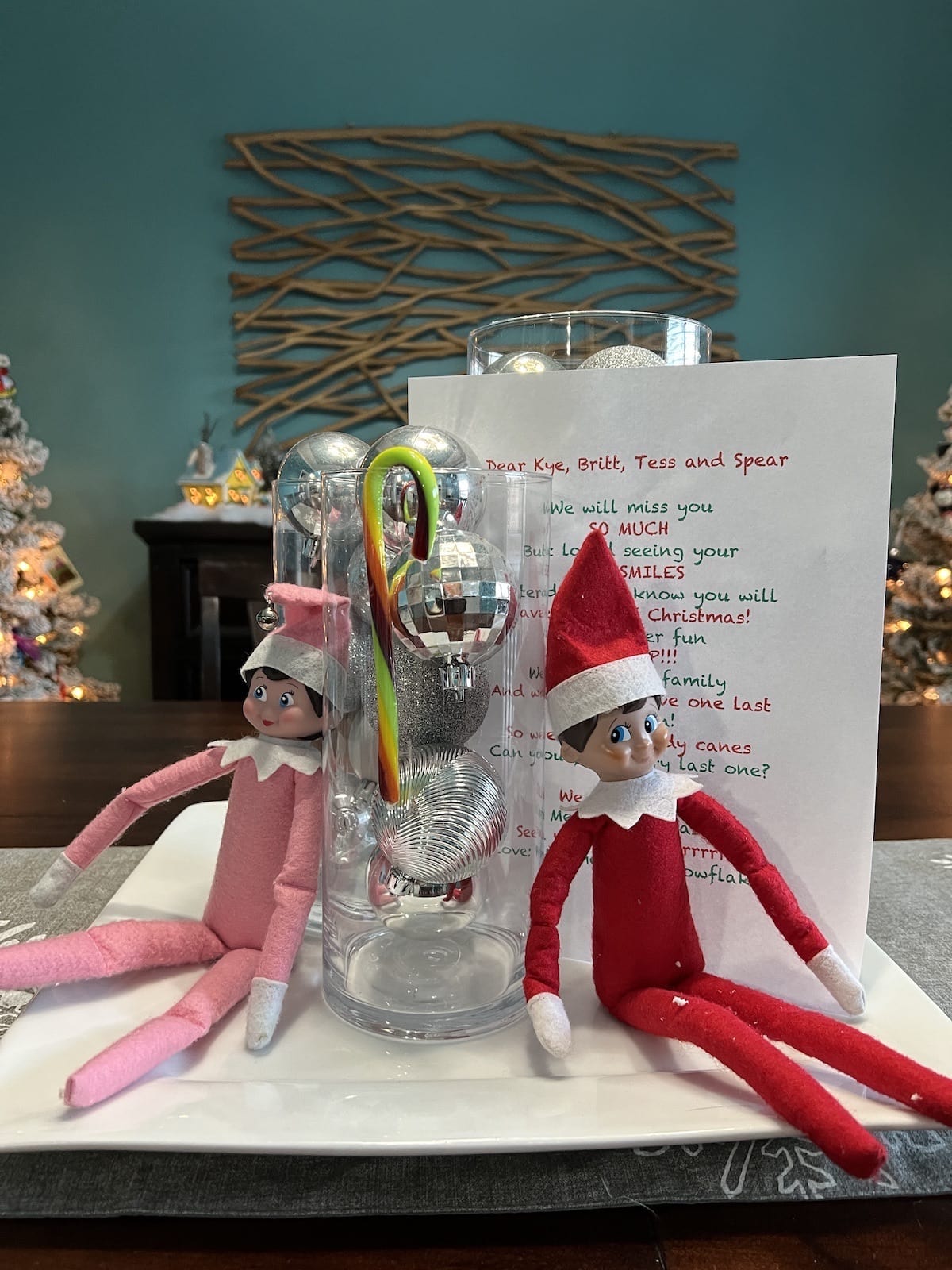 More Ideas for Fun With Elves!
Looking for more easy last minute elf on the shelf ideas from a mom who GETS IT?
I've shared many of our elf adventures over the years in blog posts so check them out for further inspiration for easy elf on the shelf ideas:
You can also follow me on Instagram where I post the current year's Elf on the Shelf adventures!