Ah, Easter! As a kid, there's nothing like waking up Easter morning to a basket full of jelly beans, chocolate bunnies, and other Easter treats. And while surprising your kids with their favorite candy isn't going to go unnoticed, what if the Easter bunny wanted to come up with some different Easter basket ideas?
I love gifting toys and games in my kids' Easter baskets that they can enjoy all season long! Since April is right on the edge of summer vacation, and the weather starts warming up (especially in this region!) I always try to include some summertime goodies to get them hyped for swim season!
If you're looking for the best Easter basket ideas, then these are my top picks for boys and girls of all ages plus some that are geared toward toddlers!
—> Be sure to read my full post all about the BEST Easter baskets for kids here!
By the way: I take my gift guides very seriously. I know we all have seen the generic gift guides floating around every year and it's important to me to only suggest items that I have personal experience with and truly recommend!
Disclaimer: post contains affiliate links.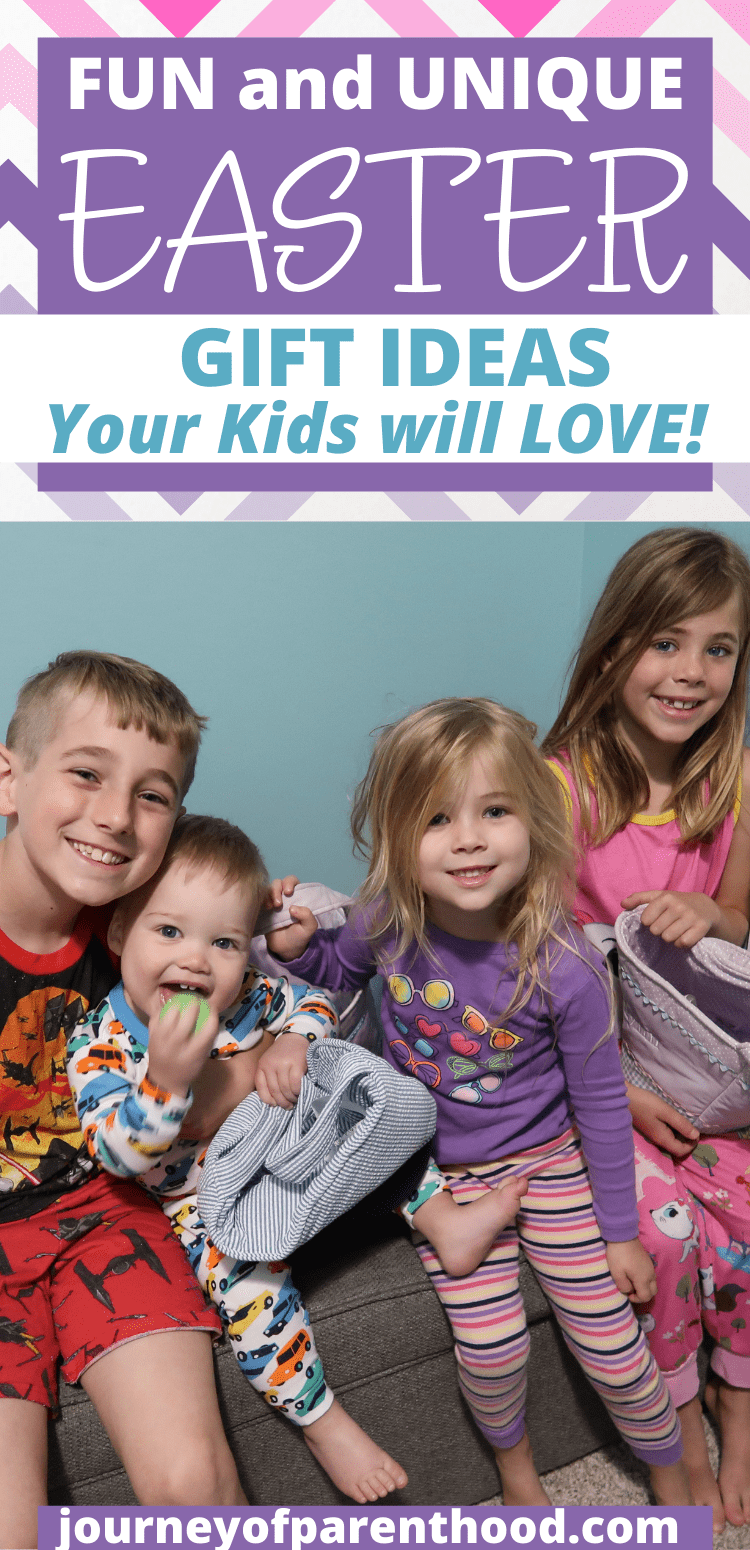 The Best Easter Basket Ideas for Boys and Girls
First, if you're going to put together an Easter basket, you might need… a basket, right? And if you don't have one, or you want to upgrade the ones you have, I am absolutely in love with the ones from Pottery Barn kids! We use ours every year and they are excellent!
They have different styles and colors but they are all stylish, timeless, and great quality! You could put these around the house for the rest of the year and no one would question it!
Now that you have your baskets all lined up, it's time to fill them!
I know lots of stores sell pre-packaged Easter Basket filled with themed easter toys and easter candy and lots of easter grass etc but personally, I am a diy Easter Basket kinda mama 🙂 I enjoy finding little things that my kids will use and enjoy and personalizing their baskets for them.
I don't do anything "Pinterest" worthy or go overboard. We celebrate easter morning at home in our pjs and just spend family time together looking through our easter bunny basket of goodies 🙂 Here are several ideas for your diy easter filler gifts that your kids are sure to enjoy just as much as mine have over the years!
Girls
Velvet hair scrunchies make a great gift for girls and this pack of 60 is a great value that can last you through several holidays! There's basically every color in the rainbow so you can pick out your girl's favorites. If you're like me and have more than one daughter you can also easily split up this large pack. AND scrunchies can roll up so tiny you could even stuff a few into plastic eggs 🙂
TY Beanie Boos are super popular with kids, and while they make different animals that are all adorable, we especially love the chihuahua! This is an EASY collection to add onto for girls as mine can never have too many.
A Minnie Mouse watch is a great idea for the girl who loves Disney! If your family is anything like mine, Disney-themed gifts are always a winner and, again, I love practical gifts. A watch is a gift she can wear each day and enjoy!
What's better than Easter eggs in your child's Easter basket? Hatchimals egg cartons! This super popular kids toy is basically just plastic eggs with little figurines inside. It's the perfect Easter basket idea! My girls have loved these for years and continue to get excited about them every time they receive them as gifts.
Treat your girls to this simple swim cover-up to prepare for a great time at the pool or beach! I'm pretty hardcore when it comes to cover-ups and getting a new one each summer helps it be less annoying for the girls and something they are more likely to be excited about wearing.
Love this one-piece swimsuit for girls! Perfect for summer fun as the weather warms up and pools start opening! Springtime is the perfect time to update summer wardrobes, and every year my kids need new suits!
Another one of my favorite Easter basket stuffers are these stress relief squishies, which come in a pack of 28 with a variety of adorable animal shapes! My girls are OBSESSED with "fidgets" and "squishes" and this set is so great because you can split it up and they are also so little they may fit inside plastic eggs too!
Instead of messy nail polish, I definitely prefer these false nails for kids, which are easy to apply and have all kinds of designs already printed on! Girls love these! My girls are old enough to handle applying these completely on their own and they have so much fun doing it and then the nails fall off in a few days. Totally worth it for me not have to deal with nailpolish 😉
Hair curlers are the perfect Easter basket stuffer for the little girl who likes all things hair! I definitely prefer these to heat tools when introducing girls to hair styling… much safer and super easy to roll in their wet hair before bed.
Boys
This race car wooden craft kit is the perfect Easter basket addition for the little boy who loves cars AND arts and crafts! I love activity options that keep kids BUSY – especially during the rainy days of spring where indoor activities are key.
This pack of pull back mini cars make a fun Easter basket idea for little boys! There are 9 in the pack (for a great price!) so you can divide them between kiddos!
This swimsuit set is a great choice for older boys and also has UV protection, which is awesome! I always like to have a rash guard for my boys. Not only for our beach trips to make boogie boarding less painful but even just for our backyard pool as it makes sunscreen application a BREEZE!
Pre-teen and teen boys don't tend to care as much about toys or colored eggs, but that doesn't mean you can't get them a gift they'll love! For the sporty kid, you can't go wrong with a basketball!
Stomp rockets make a great gift for kids of all ages, though these tend to be especially popular with boys! Not only is it a fun game, but it also teaches science and is a very affordable "wow" gift option.
These foam planes are awesome! They're bigger than you think which means they fly WAY further and hold up way better! Kids love throwing these across the yard and in open fields. This is a favorite gift I love to give for birthday parties and makes a great Easter basket filler gift as well with the nicer spring weather to enjoy outdoor fun with kids!
Move over, chocolate bunny, it's time to have a Nerf gun war! And if you have Nerf guns, then you're going to need Nerf darts… lots and lots of them!
Take your basketball hoop to the next level with this glow in the dark basketball net! Perfect for outdoor pick-up games when the days get longer and kids are outside having fun! I gifted this to my 12 year old nephew for his birthday and even he was excited about it so it's a great option for older kids too.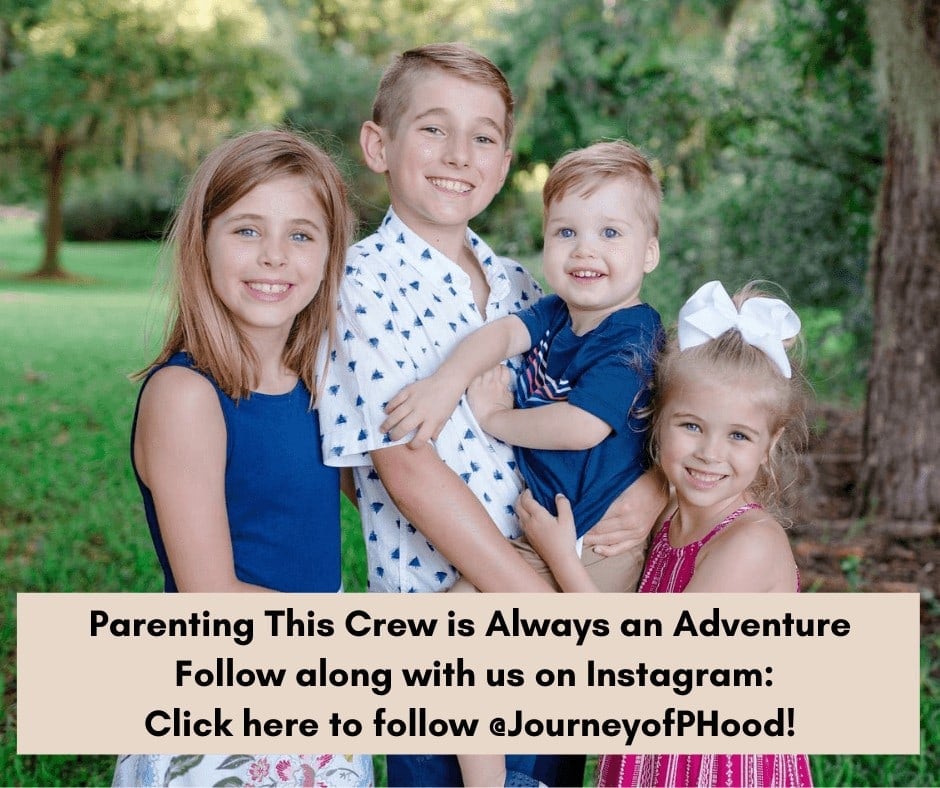 Any Kid
Super Silly Mad Libs Junior are a super fun fill-in-the-blank game that can be enjoyed by kids of all ages! You can't go wrong with one of these in the Easter basket as it provides endless laughter and fun.
When it comes to Easter books, what better than a collection of stories from the good book itself? An illustrated Big Picture story bible is a good way to teach kids lessons from the Bible in an easy-to-read format! I LOVE this Bible and my kids have read and re-read it cover to cover.
If you live in a warmer climate like we do, then you already know that the Easter egg hunt can get HOT. Including an instant cooling towel like these in the Easter baskets will help keep everyone cool! As I mentioned, we're a big Disney family so gifting practical useful items that my kids can use at the parks is always helpful. We LOVE these towels during the warmer months in the Florida heat!
These Croc charms are the perfect addition to a kid's everyday Crocs! So many to choose from! With Crocs being so trendy right now these charms are a great gift for that preteen or older croc loving kid on your list.
You can never really go wrong with practical Easter gifts, and a kids' umbrella is a great way to prepare for the rainy season! My kids all love their little umbrellas and its perfect for those dancing in the rain kinda days.
Also on the subject of warm weather, a portable neck fan is a fun way for kids to cool off while they're enjoying the outdoors. We also take these to Disney World and they are awesome and the kids love them!
Ideal for big kids who are ready for the responsibility of their own Bible, a kids' Bible case is perfect for Easter Sunday and all church outings as well as home Bible studies. I like this case as it has a pocket to store notes, bible highlighters etc.
Bible safe highlighters take your older child's Bible study to the next level by encouraging them to mark their favorite verses to revisit and memorize! This is such a "big kid" kinda gift that my kids all feel very proud to receive. I like to gift them Bible highlighters after they are baptized as a way to help them feel like "grown ups" as they begin their Christian lives.
The Blink family card game is one of our all time favorites for game night. It's quick, easy, and perfect for kids aged 7 up! When it comes to Easter ideas I love opportunities to give gifts we ALL can enjoy as a family together.
A great easter basket idea for boys and girls who love to read is this clip-on book light! We love all things Star Wars and this is such a cute, inexpensive and practical Star Wars gift to give too.
Silly Scents Twistable Crayons are the perfect art supply for younger kids! They're easy to use and grip, they won't break, and they have fun scents. Even my older kids LOVE to color with these – we toss them in our church bag too.
You can't go wrong with a good water bottle, and this stainless steel thermos is designed to keep liquids nice and insulated all day long! This is another gift that works so well for Spring Break travels (especially to Disney World which is where we're usually heading!)
Parents know that water in the eyes during bath time is no fun, which is why a shampoo rinser is a great addition to the bath time routine. I like to use Easter as a chance to replace our shampoo cup rinser as they tend to get moldy over time and any excuse to toss the old one is good by me!
We're a Nintendo Switch family, and his Nintendo Switch controller mount is one of our favorite things we've bought as an add-on to the console! It's fantastic for our many travels and my teenage son LOVES it. Probably one of THE best gifts I've gotten for him.
We got this headrest mount for Nintendo Switch last year and it is such a great travel accessory for the kids! It's also good for tablets so if you have a long road trip ahead, just queue up a movie or TV show for some screen time fun!
Another Nintendo Switch attachment that we like is this steering wheel controller, perfect for Mario Kart or any other racing game! So much fun!
If you're one for creative easter basket ideas and if your kids love video games, then this Nintendo Switch microSD card is totally going to blow their socks off because it will store all their games for easy on-the-go!
When it comes to fun ideas for Easter baskets, I'm always a fan of things that can be shared with friends and siblings! This Laugh Out Loud Jokes for Kids book is a great way to get everyone laughing together!
A pair of wireless headphones for kids is a great easter basket idea, especially for the kid who enjoys listening to their own music! Of course, they're also great for travel or screen time too. Mine use their wireless headphones while doing their chores. I love this particular headphone set because they also come with a wire to plug in if needed, like when flying on an airplane with kids.
This Create Your Own Window Art kit is a fun time for everyone, especially on a rainy day or laid-back weekend! Something about warmer weather and longer days makes you want to capture that sunlight, too!
If you're looking for Easter basket filler ideas, you don't have to default to candy! Random as this sounds, child shower slides are a big hit, especially when you're preparing for pool season. Having new sandals or flip fops in their baskets get them ready to hit the beach or the pool or wherever Spring Break or summer travels may take your family.
New sandals make great Easter basket fillers and I love these simple slides for kids!
You can go wrong with some kids' sunglasses! Sometimes I pick these up from the dollar store but I really like the style and variety of colors in these 2 packs. Sunglasses are one of those items that I will forget to replace over time and then my kids will go to use them and will realize they grew out of them. They make a great basket filler item for sure.
I love Easter basket gifts that encourage outdoor play while the weather is nice! A pair of kids' binoculars also come in handy for things like zoo trips and sightseeing or just playing in the backyard looking for insects or creatures.
This pirate diving set is the perfect summer-ready toy to add to your Easter basket! My kids enjoy playing with this in our backyard pool and my little ones even take it to the beach to play with in the toddler pool we always bring along too.
Another pool toy we love are these torpedo shark diving toys!
Squirt guns are great for pool parties and this 4 pack means you can have the ultimate water gun war! Again, with weather warming up I LOVE gifts that get the kids playing outside to burn off energy and enjoy the brighter days with daylight savings time ahead.
Swim goggles are another summertime essential you can include in an Easter basket to get the kids hyped up for swimming! This is another item that frequently needs replacing so why not use them as a gift in their baskets right? We own this pair and they work SO well!
Love these beach towels for swimming and travel – they're designed to be quick-dry for easy on-the-go! This is a pricier gift, especially for kids. However, I used to buy a new themed fun beach towel every year for my kids Easter baskets. Once I discovered these towels though? I haven't bought them another towel since! These are worth every penny! If you're doing any sort of adult Easter Basket gift (or thinking ahead to Mother's Day even) seriously stock up!
You can never go wrong with sidewalk chalk as an Easter basket gift! As the weather warms up and the days get longer, kids have a blast decorating sidewalks and driveways with colorful pictures.
Who doesn't love bubbles? I know my kids do and this fun, dolphin-shaped bubble machine is a great investment! I seriously get lightheaded from trying to blow bubbles for my kids so I have zero regrets about finally purchasing a bubble machine.
A fast, fun craft you can include in an Easter basket, these Easter-themed magic scratch cards are a hit with boys and girls alike! Be warned that the scratching off DOES make a bit of a mess so my kids know they have to do these in the kitchen only.
Always a popular choice with older kids, you never know what your fortune will be with the Magic 8 Ball! I love that this one comes in retro packaging. So classic! I bought this for my daughter vThe Best Valentine's Gifts for Kids and she was so excited that she literally jumped up and down.
Combine two of the post popular fidget toys and what do you get? Pop fidget spinners! These come in fun, wacky patterns and are a great Easter basket filler for boys and girls! Trust me, of all the gift ideas I've shared in this post you're kids will probably get THE most excited about these haha!
The perfect size to fit in any Easter basket, the World's Smallest Super Soaker is the cutest water gun you'll ever see (but yes, it actually does work)! This is another one that makes a great gift for an older kid. My teen thought it was awesome and had so much fun sneaking up on us and squirting us.
My kids LOVE water balloons but they are such a pain to fill up and they create such a mess in the yard that we usually have to say NO to doing them. I was super pumped when I found these reusable water balloons. I'm putting them in my teenage son's basket this year and know he'll be excited for lots of "water balloon" attacks on his sisters this summer 😉
Who else has epic memories of a Slinky growing up? My kids recently discovered them and I thought it'd be so fun for the three older kids to each get one in their Easter Basket this year! I bet they will have a blast racing them down the stairs 🙂 This Slinky set of Three is a great low-cost gift addition to any basket! I even read the reviews that a family gifted them at Christmas as a gift to the adults and had a blast with them too. Everyone loves a slinky 😉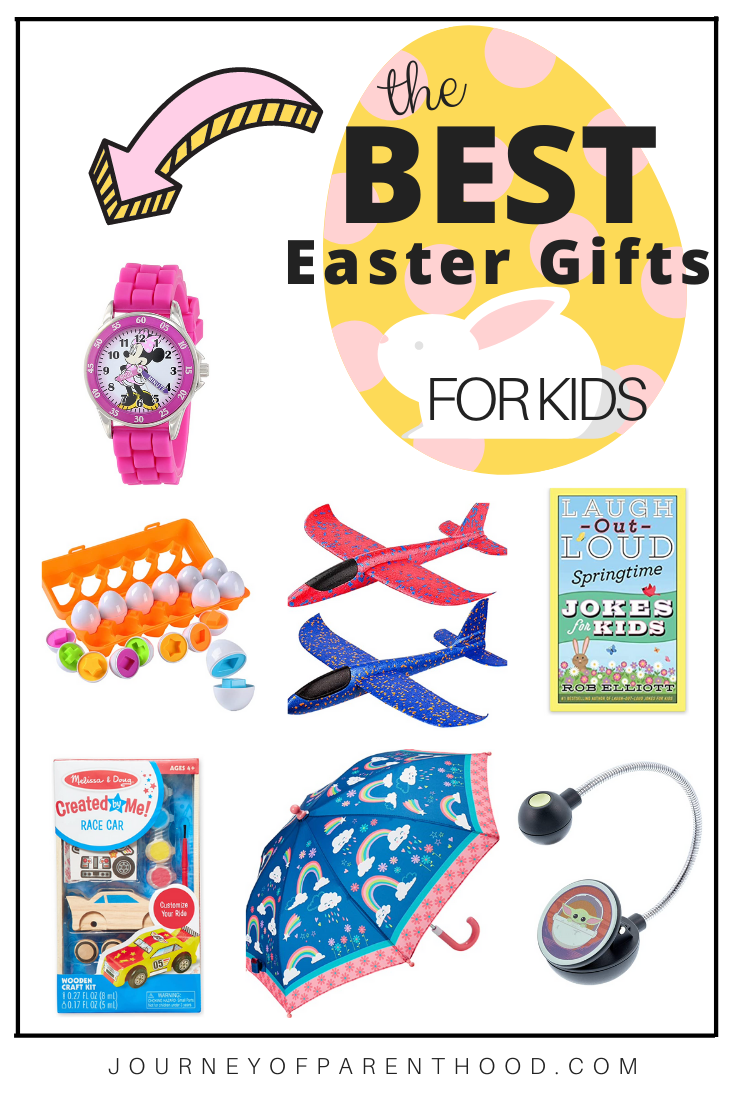 Best Easter Basket Ideas for Toddlers
For a toddler's Easter basket, this food matching memory game is an excellent choice! The illustrations are so cute! Toddlers are just starting to be able to play and enjoy simple games and matching games are also a great opportunity to encourage language development skills.
This toddler backpack is the perfect size for a toddler on the go! It comes in different designs and they're all adorable! A small backpack for toddlers is great for traveling or to take around town on errands, to doctors visits or even to church. Toss in a coloring book and some crayons and you're good to go!
This Baby's First Photo Album is ideal for little hands and actually holds photos, which is great for infant development and cognition! I love to give this gift at baby showers as well as it's fun to fill with pictures of family and friends and helps babies learn names and recognize faces, especially when family may not be local.
Having small toys in the bath always makes bath time more fun, but why not sneak in a little learning, too? These bath letters and numbers are perfect for toddlers learning their alphabet and counting! Plus they make a great chew toy when baby is teething.
Using a holiday as an excuse to buy new baby gear? I say yes! Whether you need diapers or sippy cups, babies really don't care about Easter baskets, so you can pick up things like these silicone baby teethers and they'll be more than happy!
If you've got a child who's potty training, rewarding them with a fun treat is a great way to get them excited! This dinosaur potty training chart is perfect for that!
Seek-and-finds are a great way to get kids engaged with reading and sharpen their powers of perception! This On the Farm board book has been a favorite in our house and would make a great addition to any child's library! We have used these a TON with my speech-delayed son and they have helped SO much. They are, by far, his favorite books.
Matching shape egg toys are excellent for toddlers learning their colors and shapes, and the fact that they're eggs definitely fits the Easter theme!
When in doubt, pajama sets, am I right? This adorable easter basket idea 6-piece set for a toddler girl comes in a variety of colors and patterns for a great price!
On the flip side, these pajama sets are perfect for a toddler boy! PJs are another great gift to give this time of the year as you'll finally be packing up the Christmas pjs and fleece, warmer, sets in exchange for lighter cotton and more breathable materials to help keep little ones cool as the temps heat up.
I love this boys' swimsuit for toddlers, complete with rash guard for comfortable swimming!
Water Wow Activity Pads are one of our favorite toddler gift ideas for travel and on-the-go because they're mess-free! They also help develop fine motor skills and teach little ones how to color!
My four year old LOVES drawing in the car on his magna doodle but it's so big and doesn't write all that great or erase all that well over so much use. I decided this Easter to purchase the LCD Writing Tablet for Kids. I like the size, that the "pen" is attached, and that it's easy to erase!
Easter Basket Ideas: Final Thoughts
Easter is a special time for making memories and celebrating family traditions, and while it doesn't have to be a big present exchange like Christmas, Easter baskets are still a fun way to treat the kiddos to something special! And while candy is great and all, I'm always down for gifting toys and games that will last and that they can enjoy all summer long! Those adorable Easter smiles always make the gift ideas gathering and the time it takes to shop for all the goodies so worth it.
What are your favorite Easter basket ideas? Are there any fun Easter traditions that you have with your family? Share them in the comments!
Check out all of my gift guides here!