Seriously, there's no book series quite like the Harry Potter books by J.K. Rowling. It has left such a huge impression on pop culture that I honestly can't think of a single person who hasn't at least heard of it! But for those of us who are fans of the books or the movies (or that have a Potterhead in their family!) having a Harry Potter gift guide at the ready this holiday season is a must!
As a parent, I do love the good vs evil storyline, and though I know many Christians have issue with the magical elements to the stories, we present it as fiction to our children and enjoy some make-believe ourselves. I see nothing wrong with enjoying the stories as long as kids know fantasy from reality!
They're often cited as some of the best books for middle-grade readers (even if they do get progressively darker as the series goes on… your kids will mature with them!) making them a great way to get your children into reading. I personally have never read them all but my daughter, Britt, has loved the books ever since she was an 8 year old kid and we all enjoy watching the movies together!
We've also had a blast visiting The Wizarding World of Harry Potter as a family on several occasions, which is so immersive and exciting! If you're a fan of the movies or Harry Potter in general I highly recommend you check it out at some point!
But you don't have to wait to go to Universal to snag some awesome Harry Potter themed gifts… there are so many great gift ideas right at your fingertips, and over the years, I've compiled an ever-growing list of the best ones I've found and purchased for friends and family. Finally, at long last, I present this Harry Potter gift guide to you here and now!
Hang on to your broomsticks and get ready to leave the Muggle world behind, because we're going to Hogwarts!
Disclaimer: this post contains affiliate links.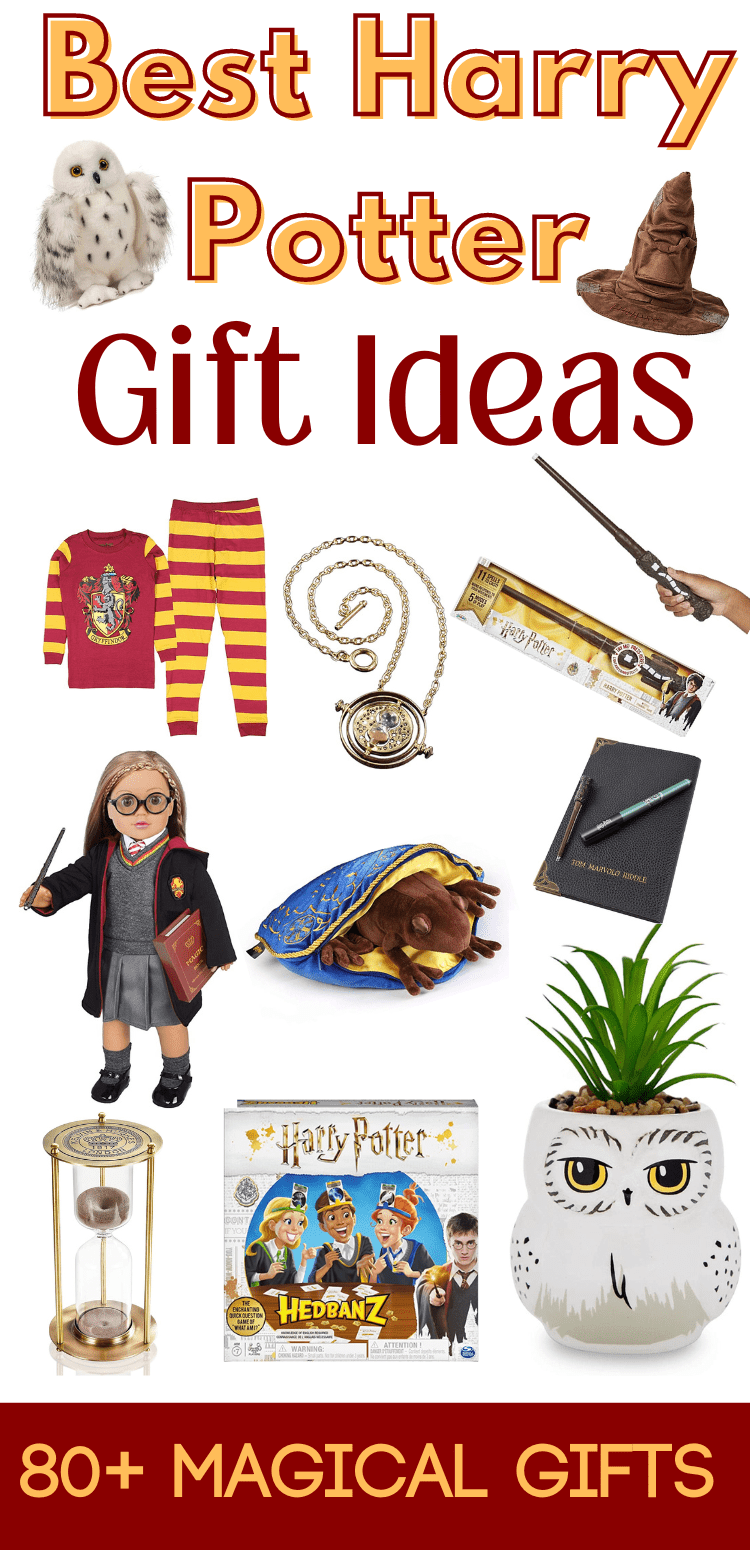 Harry Potter Gift Guide: Best Gifts for Any Potterhead
First up, all-purpose gifts for Harry Potter fans of practically any age! From boxed sets to keepsake items, there are so many awesome gift ideas that would make great additions to a Potterhead's collection!
Best Harry Potter Gifts: Books and Movies
No Harry Potter gift guide would be complete without Harry Potter books! While there are tons of special editions to choose from, I especially love the illustrated ones! They're so vibrant and really bring the story to life. Five out of the seven are currently available on Amazon but my particular favorites are:
Harry Potter and the Sorcerer's Stone: The Illustrated Edition
Harry Potter and the Prisoner of Azkaban: The Illustrated Edition
Harry Potter and the Goblet of Fire: The Illustrated Edition
And if your kids gobble up all the Harry Potter books, another must-read after the series is Fantastic Beasts and Where to Find Them. Which also now comes in a gorgeous illustrated version too!
For fans of the books, having a complete set is a must! This paperback box set is classic and very affordable for a 7-book set. We have all the illustrated books as well as this set and I know they will be books we keep forever and pass down to the future Parker Potterheads to come.
This special edition Harry Potter boxed set is an awesome surprise for fans of the books! All seven hardback volumes packaged in a trunk-shaped box is a really great deal, and the smile on their face when they open it up? Priceless! This is actually the exact set we have and the box has been well-loved and is part of my daughter's bedroom decor and a great place to store all of her Harry Potter related treasures.
Artistic fans of the series will love having their own Harry Potter coloring book to enjoy. The drawings can get pretty intricate so I'd say this is a better gift for older kids or adults who enjoy coloring as a form of relaxation. Britt enjoys coloring the photo book while listening to the Harry Potter audiobooks.
A super fun way to bring the world of the books to life? Making recipes from the Wizarding World of Harry Potter! The Unofficial Harry Potter cookbook is chalk-full of familiar recipes and would a really fun thing to have for a Harry Potter movie night where you make themed food! You may even want to sneak in some Bertie Bott Every Flavor Beans 😉
You can't talk about Harry Potter gifts without mentioning the Marauder's Map Guide to Hogwarts! This one includes invisible ink and a UV pen so you can manage mischief without the mess! This is one of my FAVORITE gifts to give to any Harry Potter fan on my list. It's an affordable gift that is super unique and fun to both give and receive.
What do you get the Harry Potter fan who has everything? Well, if they live in the US, then the Young American's Unofficial Guide to the Very British World of Harry Potter! This is actually a brilliant idea and is as educational as it is entertaining, allowing kids to learn about British culture and how it ties into their favorite book series! Great for older readers! Britt was in 4th grade when I got this book for her and she LOVES it. She loves learning about British facts and it's helped her have a better understanding of the terms she hears when listening to the audiobooks.
Another great companion book to add to a Potterhead's library is this Harry Potter Spellbook, which outlines all the known spells mentioned in the Harry Potter series, how they work, and where they're used.
For the comedian in your life, this The Unofficial Harry Potter joke book makes a great present, offering all sorts of Wizarding World humor and fun!
Even if you haven't read the books, most of us have seen the movies, which are a lot of fun, even if the later ones can get a little dark for small children! Owning the Harry Potter film collection is a must for fans of the series and simply has to be part of this Harry Potter gift guide on principle. I do recommend watching them as a family and you may want to hold off on showing younger siblings the 4th movie and beyond as they do get scarier as they go and may frighten younger ones.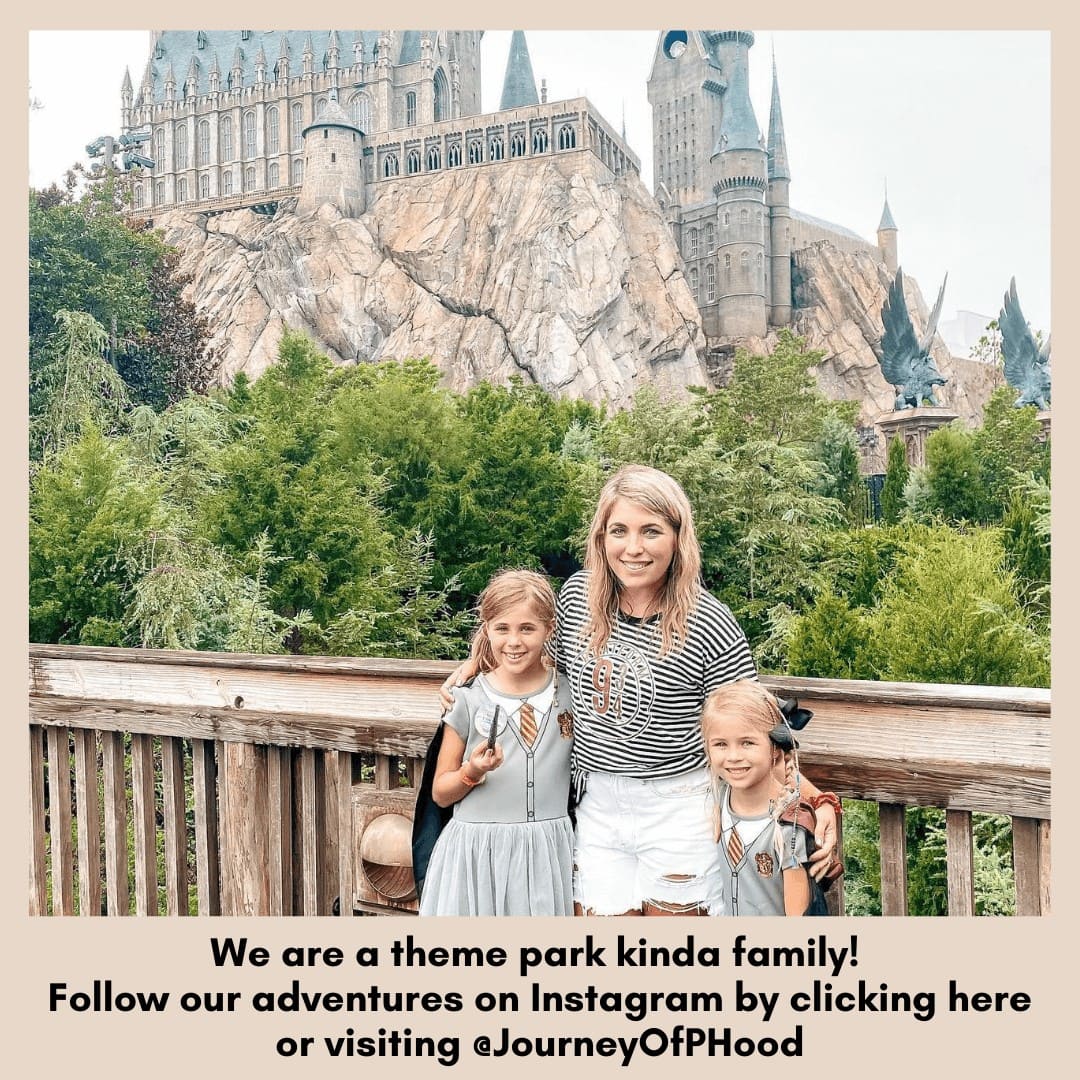 Harry Potter School Supplies and Stationary Gifts
For the Potterhead who loves to read (whether it's the Harry Potter books or other great middle grade reads!) these adorable Harry Potter bookmark page clips featuring all your favorite characters will make sure they always keep their place. This makes an excellent stocking stuffer gift too.
Enter the world of the Chamber of Secrets with Tom Riddle's diary notebook set, which includes invisible ink and a UV want so you can write secret messages, just like in the book and movie! This has been another favorite gift for Britt – the invisible ink is SO cool and works great.
This is a really cool set of Harry Potter Wizarding World wand pens! 4 come in a set and the designs are based on Harry, Hermoine, Dumbledore, and Voldemort's wands. These would make great stocking stuffers if all of your kids enjoy Harry Potter and on the plus side, they can double as toys too 🙂
This Gryffindor backpack is super stylish, almost like a modern take on Hogwarts with cool varsity patches! Perfect for back to school, airplane travel, road trips or just everyday use.
Another awesome Harry Potter gift idea for kids of all ages (and adults for that matter!) is this themed laptop sticker set that can also be used to decorate water bottles, notebooks, phone cases, and more!
I love this Gryffindor Tote Bag, which makes a great practical gift for adult Potterheads who want to represent their favorite series in a stylish, subtle way! Britt likes to store her Harry Potter journals in this bag to tote around with her.
I love this collectible Hogwarts Trunk set, it includes so many neat keepsakes and the unboxing experience is so fun! Based on Harry's trunk in the movies, it's a great gift idea for a collector!
If you're looking for more imaginative Harry Potter gift ideas, this vintage leather journal is a great choice! It totally has a Hogwarts, Wizarding World, old library vibe to it! Once Britt filled her Tom Riddle journal I bought her this one and it's SO cool looking with the worn pages. While it may not be a true Harry Potter themed item, it has the VIBE.
A neat and very sophisticated gift for a slightly older Harry Potter fan, this Harry Potter wax seal set is great for kids who enjoy writing and really looks like something you'd find at Hogwarts! Owl mail, anyone? This has been an excellent investment for Britt. Even at the age of ten she has practiced and knows how to use the kit herself and LOVES sending everyone in the family surprise letters on their pillows.
This Gryffindor stationery set is a super easy way to encourage your kids to practice their penmanship… with a fancy quill pen, no less! The quill pen MAKES this gift and is a really fun way to encourage writing for kids.
Harry Potter Gift Ideas: Home Decor and Collectibles
Anyone who has a love for Harry Potter films and books will probably have the desire for magical Harry Potter touches in their bedroom or favorite room in the house (the room under the stairs perhaps?). When looking for items to create a wizarding world Harry Potter space you'll quickly notice how expensive themed decor can be. Pottery Barn Teen by Williams Sonoma has lots of beautiful pieces from a golden snitch clock to bedding, furniture and beyond. While I personally love the quality of Pottery Barn items, I don't love the price tag so I'm sharing items I've gathered for my daughter's Harry Potter room that won't break the bank 😉 You can also shop the entire Pottery Barn Teen Harry Potter Collection here if you'd like to check it out!
This hourglass sand timer isn't Harry Potter branded but it has such a Hogwarts-y Wizarding World aesthetic that it fits right in! It makes a great addition to a Harry Potter themed room or desk set and my kids love playing with it. Britt has it on display in her room and loves that it actually works too.
Every Potterhead needs their own Hogwarts uniform! This Harry Potter costume for kids is perfect for Halloween or for an upcoming trip to the Wizarding World of Harry Potter!
These long Hogwarts House socks are a great addition to a Harry Potter costume or just for everyday wear! Another great stocking stuffer gift and one that is well-used in our fam.
I don't know about you, but my family loves Crocs! They're comfortable, they're fun, and you can decorate them with all sorts of Croc charms, including this set of Harry Potter themed charms! This was a HUGE hit with Britt and another really thoughtful, affordable gift idea for a young Harry Potter fan. She's had them a year now and they're still staying strong on her Crocs too.
I love this Hedwig beanie, especially for older kids and preteens. Not only is it stylish, it's also warm! Britt wore it on our ski trip to Colorado and it was ADORABLE on her. You could even toss on this cute Harry Potter scarf to have the full look!
This Harry Potter plushie pillow is so cute and soft, ideal for a Harry Potter themed bedroom or just for anyone who loves comfy pillows! It's SUPER soft and SUPER cute!
Another cool Harry Potter gift idea that looks like something straight out of a gift shop is this chocolate frog plush pillow. You wouldn't think a chocolate frog stuffed animal would be a hit, but it totally is! This is really neat as it opens to reveal the Harry Potter chocolate frog, it's very authentic and is on display in Britt's chair in her room.
This flying keys decor set is actually intended for wedding decor but these would also make great party favors or decor for a Harry Potter themed birthday party. Plus, kids love playing with these and they're such a good deal for how many come in the set! We used them to attach to little clips and Britt hangs all of her pictures from our visits to Hogwarts and Hogsmeade at Universal on them on display in her bedroom.
Another great idea for a Harry Potter party are these LED candles that look a lot like the floating candles from the Hogwarts dining hall! I found some really cool old-school antique candlesticks and mounted them on Britt's wall and used these as the candles instead of real candles. They fit perfectly and come with a remote so Britt can turn on the candles from her bed.
What a cool idea! These personalized broomstick name plates make excellent Harry Potter themed room decor and can be customized with each kids' name and their Hogwarts house colors! We got one for Britt and have it hanging over her bedroom window.
A neat twist on a popular item, this Golden Snitch fidget spinner feels as much like a keepsake as it does a toy! Everyone loves a Harry Potter golden snitch right? My daughters love to play Harry Potter pretend games and they use this toy snitch all the time on their magical adventures.
This Hogwarts houses party plate set is perfect for your next Harry Potter themed birthday party!
Another great idea for a birthday party, this Harry Potter cake topper features many familiar elements from the franchise and just looks plain cool! I love this cake topper because it can turn ANY cake (or cookie cake) into a themed treat 😉
This is just a fun little extra I found for Britt's 9 3/4 party that makes a great cake decoration for a Hogwarts birthday party: Gryffindor sprinkles!
One iconic prop from the books and movies is Hermoine's time turner from The Prisoner of Azkaban. This is an authentic keepsake that comes with its own display box, making it an essential addition to any Harry Potter fan's collection it is even authentic from the Noble collection.
This Hedwig faux succulent planter is a great option for adults or older kids who want to decorate their rooms a little bit more "mature." It's also a great stocking stuffer idea!
This is such a neat Platform 9¾ nightlight that can be mounted to a wall in a bedroom or even in an entertainment room as a fun feature! 
This Kensington Station double-sided wall clock isn't Harry Potter branded but it does look like something straight out of the train station! All aboard the Hogwarts Express!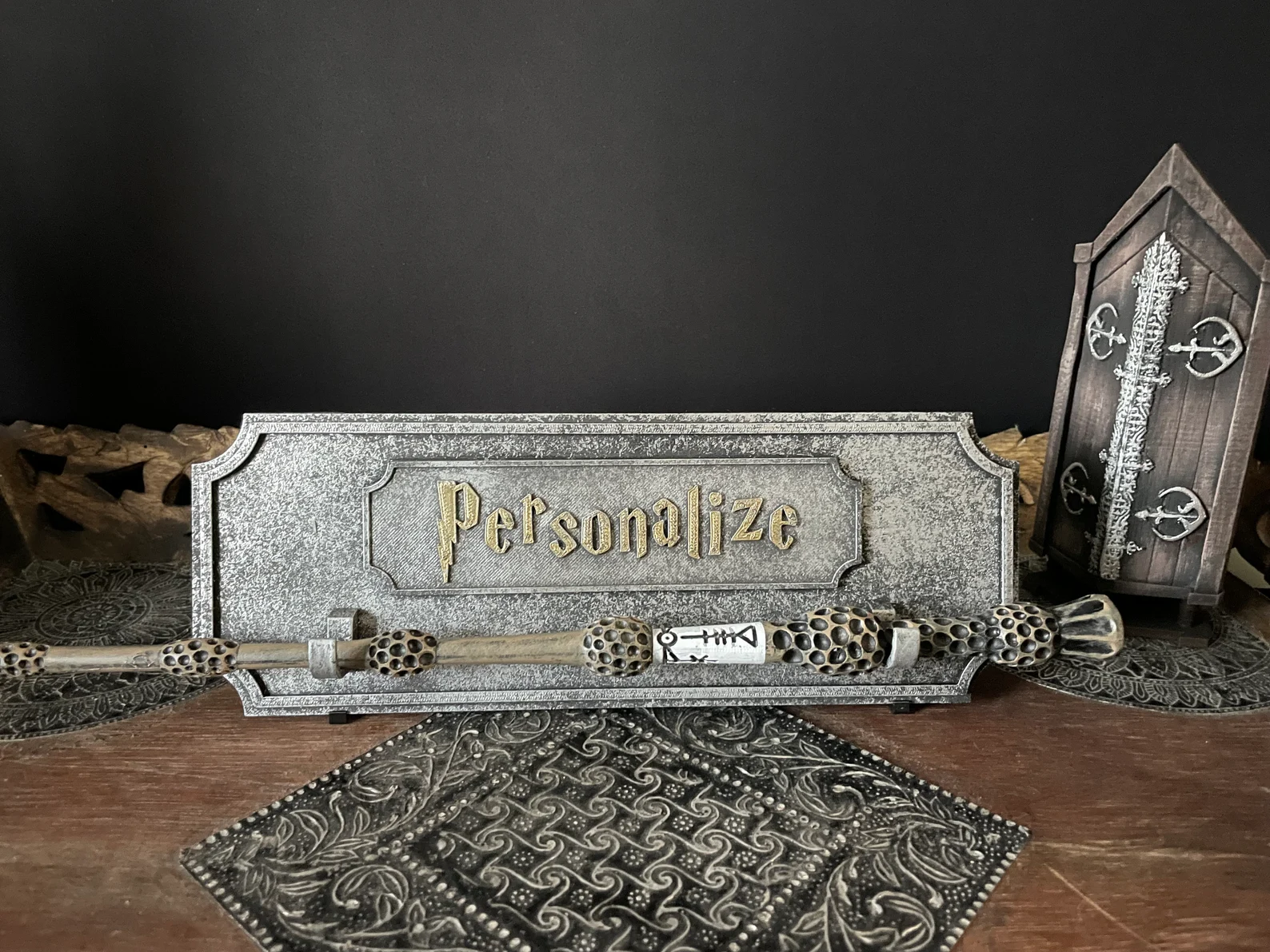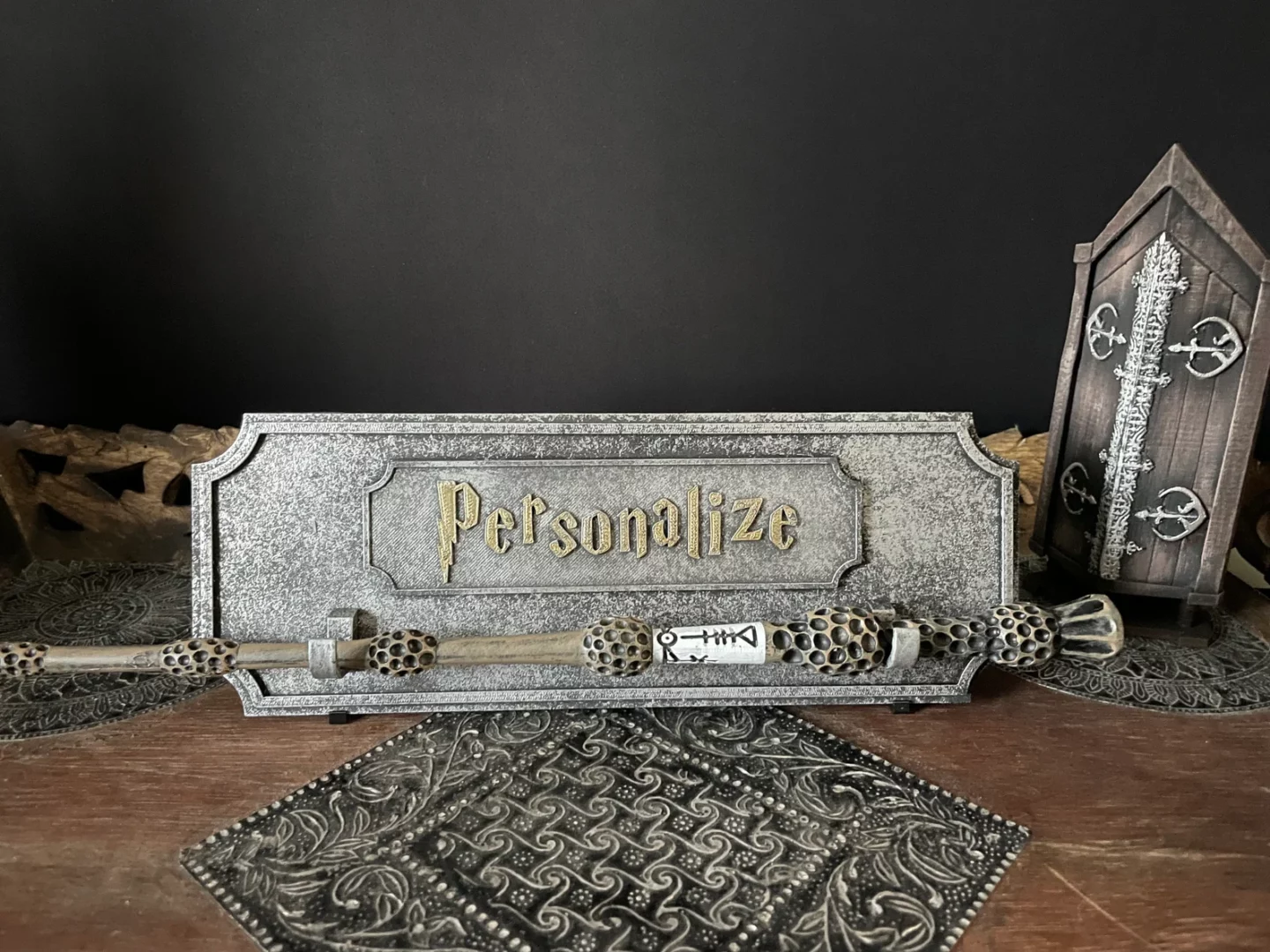 I love any chance to personalize gifts for my kids and Etsy is a great spot to shop for personalized Harry Potter items. This Harry Potter wand stand would be a perfect touch for any Harry Potter bedroom.
Harry Potter Toys and Gifts for Kids
Here are all the best toys I've found over the years that make fantastic gifts for Potter-loving kids!
The LEGO Harry Potter sets are so cool and make such great gifts for boys and girls alike who enjoy building things and seeing their favorite scenes and set pieces come to life! This LEGO Harry Potter Hedwig set is perfect for kids ten and up and, trust me, your kids will spend plenty of time working on these sets and be so proud when they finish!
The music from the Harry Potter movies is iconic, and now your Potterhead can enjoy Hedwig's Theme with this gorgeous Music Box! My daughter loves this music box and listens to it every night as she falls asleep as part of her bedtime routine.
When it comes to flying brooms, it doesn't get much better than the Nimbus 2000! Ideal for a young fan who loves to pretend play, it's a fantastic toy to wrap up for Christmas and watch the kiddos guess what it is.
I love these Harry Potter pajama sets for kids, featuring each of the Hogwarts houses so each kid can pick their favorite house and sport it proudly! What I really love about these is that they're unisex, so both boys and girls can enjoy them – and they can be passed down to younger siblings too 😉 When you've got a house full like the Weasley's you're always looking for ways to pass things down!
This Hedwig stuffed animal is really high-quality and authentic! It's the perfect companion for your Harry Potter fan and paired with a decorative cage (see below!) they'll be ready to board the Hogwarts Express!
Another decor item that isn't strictly Harry Potter branded, these decorative bird cages remind me so much of the ones that Harry carries Hedwig in during the movies that I think they'd make great props for imaginative play! Kids will enjoy placing their own Hedwig stuffed animals inside and pretending like they're on their way to the Hogwarts Express. We hung this from Britt's ceiling as a great decor item.
I love this soft backpack that features cartoon versions of Harry Potter and comes with fun stickers of the characters! It's cute and the perfect size for a young kid or great for a short trip too.
A great toy to gift your Potterhead is this Harry Potter Minifigure set featuring all your favorite movie characters and goes great with the Hogwarts castle!
This Night Bus LEGO set is a fun project for older kids and doubles as a toy they can use to reenact their favorite zany night bus scenes!
This Harry Potter Hagrid's Hut LEGO set is so cool and comes with so many awesome pieces, including a ton of character figurines.
What kid doesn't want an invisibility cloak like the one Harry Potter gets in Sorcerer's Stone? This invisibility cloak is such a neat idea! On one side, it looks like the material of the movie cloak, but flip it over and it's green. Why? Because there's an app that basically turns your phone camera into a green screen and allows the wearer to become invisible! You and your kids will have a blast with this! My kids don't have phones and this still works great with their ipads. It's AWESOME and truly magical! A wow-gift they will love.
Another great LEGO set option to add to your kid's collection is this Divination Class set that packs up nicely in a book-shaped Lego brick for easy storage!
If you want something a little more interactive than a stuffed animal, this Enchanting Hedwig toy is a lot of fun! It moves, reacts to voices, and makes noises when it's hungry, like a FurReal Friend.
Another fun stocking stuffer or special surprise is these Harry Potter magic capsules that contain cute character figurines that kids can collect and trade!
Y'all, these Wizard Training wands are such a hit! Not only are they great for imaginative play but you can also "literally" learn spells with them by memorizing a series of gestures… and then you can play actual multiplayer games with them, like spell practice and Wizard tag! This is such a fun way to get siblings to play together and my kids have had a blast with these. I found them by accident when one of our pricey wands got broken and this has become a favorite gift not only for my crew but also a favorite gift to give to others too. Great to have on hand for that last minute birthday party invite 🙂
This Harry Potter scratch magic pad makes a fun road trip activity or a good thing to pack for a trip to the Wizarding World of Harry Potter, to pass the time while waiting in line or hanging out in the hotel room! My girls LOVE the scratch magic pads and the Harry Potter theming makes it extra fun to reveal the images beneath.
This Mystery Wand series is another great idea for a stocking stuffer. With a surprise wand inside belonging to one of nine Harry Potter characters, it makes for a fun collectible and an interesting toy!
Immerse yourself in the world of Harry Potter with an interactive talking sorting hat that places you in your Hogwarts house! A must-have if your kids like imaginative play like mine do.
A fun craft for kids on a rainy day, this Harry Potter Perler bead kit comes with design templates so that kids can make their favorite characters or design their own.
Harry Potter Gift Guide: Best Gifts for Girls!
Since my daughter is the biggest Harry Potter fan in our family, I've developed a special eye for Harry Potter gifts that are geared toward girls! The franchise is definitely beloved by boys and girls both and many of the gifts in this guide are gender-neutral, but I thought I'd group together my favorite girlier gifts for you as well in case the Potter-head your buying for is a little mini-Hermione like mine:
A great gift option for young girls, these Harry Potter scrunchies are fun and stylish, featuring the Hogwarts crest, cartoon-style characters, and the marauder's map. No girl can ever have too many scrunchies 😉
Another great gift idea for the girl who loves Harry Potter is this hair band set, which is really stylish and unique with 9¾ and Deathly Hallows charms!
The perfect addition to a Harry Potter fan's playroom or bedroom, this Hogwarts castle dollhouse includes many of the features from The Chamber of Secrets and is great for imaginative play!
Encourage imaginative play with this Hermoine and Hagrid Figures set, which goes perfectly with the Hogwarts castle and other figurine sets to transport your kids to Harry Potter Hogwarts world! You can also purchase additional sets featuring all your favorite characters like Harry Potter Hagrid, Bellatrix Lestrange, Neville Longbottom, Draco Malfoy, Ron Weasley, and more.
I love how simple and stylish this Golden Snitch necklace is, making it the perfect gift idea for the girl in your life who loves Harry Potter but is a little too grown up for toys!
For the girl who loves American Girl dolls AND Harry Potter (I have one of those!) you can't go wrong with this Hogwarts American Girl Doll outfit, which allows her to dress up her friend in a Hogwarts school uniform! Now she's ready to go to the Potions class!
A fun dress up option for girls, this Hogwarts dress and cloak makes it easy for them to enter into the Wizarding World and have fun pretending to be their favorite character with their magical items!
Same with this Hermione Granger costume for kids, which is perfect for the daughter who loves the franchise and identifies with Hermione! Mine wore this outfit to the Universal theme parks on a regular basis and we always got TONS of compliments on them. Cute, comfortable and wash easily too and are GREAT quality.
Another piece of jewelry that would make an excellent gift is this Hogwarts charm bracelet featuring memorable icons from the series!
These stylish Hogwarts Houses headbands for girls are a great compliment to a school outfit or a Hogwarts Halloween costume or wear on a trip down Diagon Alley!
These Harry Potter Wand Makeup Brushes are under $10 and make a perfect gift or stocking stuffer for a Harry Potter loving tween or teen, or even grown woman 😉 Never too old for a touch of magic!
Harry Potter Board Games
There are so many amazing Harry Potter themed board games, I had to make a separate section just for them! These make great gifts for the whole family and these are what I'd consider the best Harry Potter board games:
If your family are fans of the crowd-favorite guessing game Headbanz, then you'll love the Harry Potter version of this classic party game!
Ever wanted to be in the Triwizard tournament without all the danger and Death Eaters? This Triwizard Cup maze game is the opportunity you've been waiting for! It's a fun family board game ideal for ages 5 and up!
Another family favorite, UNO Harry Potter Edition puts a new card spin on a classic card game with themed cards and even a new rule or two!
A great way to get the whole family in on the board game fun, this Harry Potter Cooperative Deck-Building Game is intricate and imaginative, perfect for older kids or even adults!
How can you have a Harry Potter game cabinet without Wizard Chess? Fortunately, this Harry Potter Wizard Chess set is a little more user-friendly than the one in The Sorcerer's Stone!
We love this Harry Potter Edition of Scrabble, it's just like the classic game except it includes themed bonus cards for extra points and a fun themed game board too.
There are several different versions of Harry Potter deck-building games, and this Defense Against the Dark Arts Game is another really fun way to get everyone involved!
Play as your favorite Hogwarts house and Harry Potter Ludo and make it across the board the Hogwarts first to win! Kids of most ages can enjoy this game making it a fun choice for a family game night!
This Pin the Scar on Harry Potter game is perfect for a Harry Potter themed kid's birthday party! A great game that can have any number of players and is a little easier without needing any true Harry Potter knowledge to play!
For kids who love video games, the LEGO Harry Potter PS4 collection is the ultimate gift! LEGO games are known for being a lot of fun and these are no exception. My kids love these games and they really are a fun, LEGO-fied version of the movies and include both iconic characters as well as magical creatures.
If you enjoyed the Hogwarts Battle deck-building Harry Potter games, this Hogwarts Battle expansion pack will keep the fun going with new cards and abilities to go along with the strategy game.
This Sequence Harry Potter Edition offers a Wizarding twist on another classic board game with cool themed cards and tokens!
What a great idea for a crossover! Clue Harry Potter Edition is everything you love about the classic whodunnit original Clue game but set in the Wizarding World! Play secret agents as you enjoy traveling through secret passages and avoid the dark mark.
You can't go wrong with Trivial Pursuit Harry Potter Edition, this Harry Potter trivia game is the perfect way to put your family's knowledge of the Wizarding World to the test with trivia questions for the ultimate Harry Potter fan.
This Quidditch board game is fun and energetic, featuring a Golden Snitch that actually launches into the air for players to try to catch! This fun game is a perfect party game for a Harry Potter themed event or a 9 3/4 birthday celebration 😉
When it comes to kids and collectibles Funko Pop! figurines are super popular and in this Funkoverse strategy game they get to put their Funko Pop! Harry Potter figurines into action and battle it out to win!
In this worker placement game players get to represent their favorite Harry Potter House in Harry Potter House Cup Competition. This is an easy to learn game and is a combination of a Harry Potter trivia game, favorite card games, and a fun house cup game board. No two plays are ever the same so you're kids will want to play again and again as they learn more knowledge, gain magic and complete challenges!
Does a 1000 piece jigsaw puzzle count as a game? I think so! Put the pieces together yourself or get a group together and work as a team. I especially love this Harry Potter puzzle as it showcases many of the favorite characters. Once completed you could even frame it to put on display in a Harry Potter themed bedroom!
Harry Potter Gift Guide: Final Thoughts
There you have it: the ultimate Harry Potter gift guide for fans of all ages! Even though Britt is our biggest Potterhead, we've all had so much fun with this immersive franchise! It really is a magical world with so much opportunity for excitement, imagination, and memories that will last a lifetime!
Of course, this isn't even an exhaustive list of Harry Potter gift ideas… I'm sure there are tons more out there that I haven't discovered yet! If you have any you think should be in this Harry Potter gift guide, let me know in the comments!
Other Posts You Might Like: