I had a friend post her son's 10th birthday celebration on FB and I noticed the Happy Birthday sign she had for him had the 9 3/4 symbol on it. It gave me a "lightbulb moment" idea! Britt's 10th Birthday is Dec 6th so her 9 3/4 Birthday would fall on September 6th.
How can my Harry Potter loving girl not celebrate her nine and three quarters birthday, right?!?!
Not only did I love the idea – but I realized that her 9 3/4 birthday actually fell ON Labor Day when we would BE at our Disney Rental House. SO PERFECT.
I have a tendency to overdue things so I made myself keep this whole idea and gameplan and early birthday celebration SIMPLE.
Zach and Kye made a cookie cake for me and I ordered these sprinkles to add a Harry Potter touch. I also topped it with this cake topper for her and packed some Harry Potter birthday decorations too!
I also ordered her a new Harry Potter shirt and a Harry Potter puzzle book and Harry Potter stickers as a little gift for her special day.
Of course since we'd had a late night the night prior at Magic Kingdom Britt slept in. The kids and I waited patiently for her so we could surprise her when she woke up!
When she came down the stairs we all sang "Happy nine and three quarters Birthday to You!" in our best British accents. She was SO confused and it took her a minute to understand what was happening. I had to eventually explain to her that Sept 6th = Her 9 3/4 Birthday.
She was BEYOND happy and kept saying how much it meant to her and how special she felt!
And you can't turn 9 3/4 and be IN Orlando and NOT visit the Wizarding World of Harry Potter right?!?! We ended our Labor Day weekend trip with a morning at Universal Island's of Adventure for our Potterhead!
We typically are early morning park people but with our late night the night prior (both us girls at MK and the boys with the football game) we decided to slow roll things a bit and arrived at the park about 10 min before opening. It was crazy to see how LONG the entrance line gets!
My ONLY goal for the morning was to be able to let Britt ride Hagrid's as it's her FAV ride at ANY theme park. Anything else we got to do was just bonus!
We were all SO PUMPED to learn that Tess is finally officially 48 inches and SHE got to ride toooooo! It made Britt's special day even more special and Tessie was BEYOND excited! Such an epic morning!
Not only does Tess being 48 inches tall mean she can ride Hagrid's but it also meant that she could ride any ride with a 48 inch height restriction or under ALONE. Zach was sure enough happy about this day – she was able to ride with the big two on Forbidden Journey and he didn't have to ride! 🙂
Instead he rode Flight of the Hippogriff with Spear while I ran into Owl Post to have their wands checked. The interactive wands that are purchased at Universal are a LIFETIME guarantee. That means anytime you visit the parks just pop into Owl Post or Ollivander's to do a wand check. If they are broken or not working with the spells they will magically repair them (aka replace them) for FREE. I'm in a routine to just get ours checked first thing in the morning!
Britt was so happy to be HOME!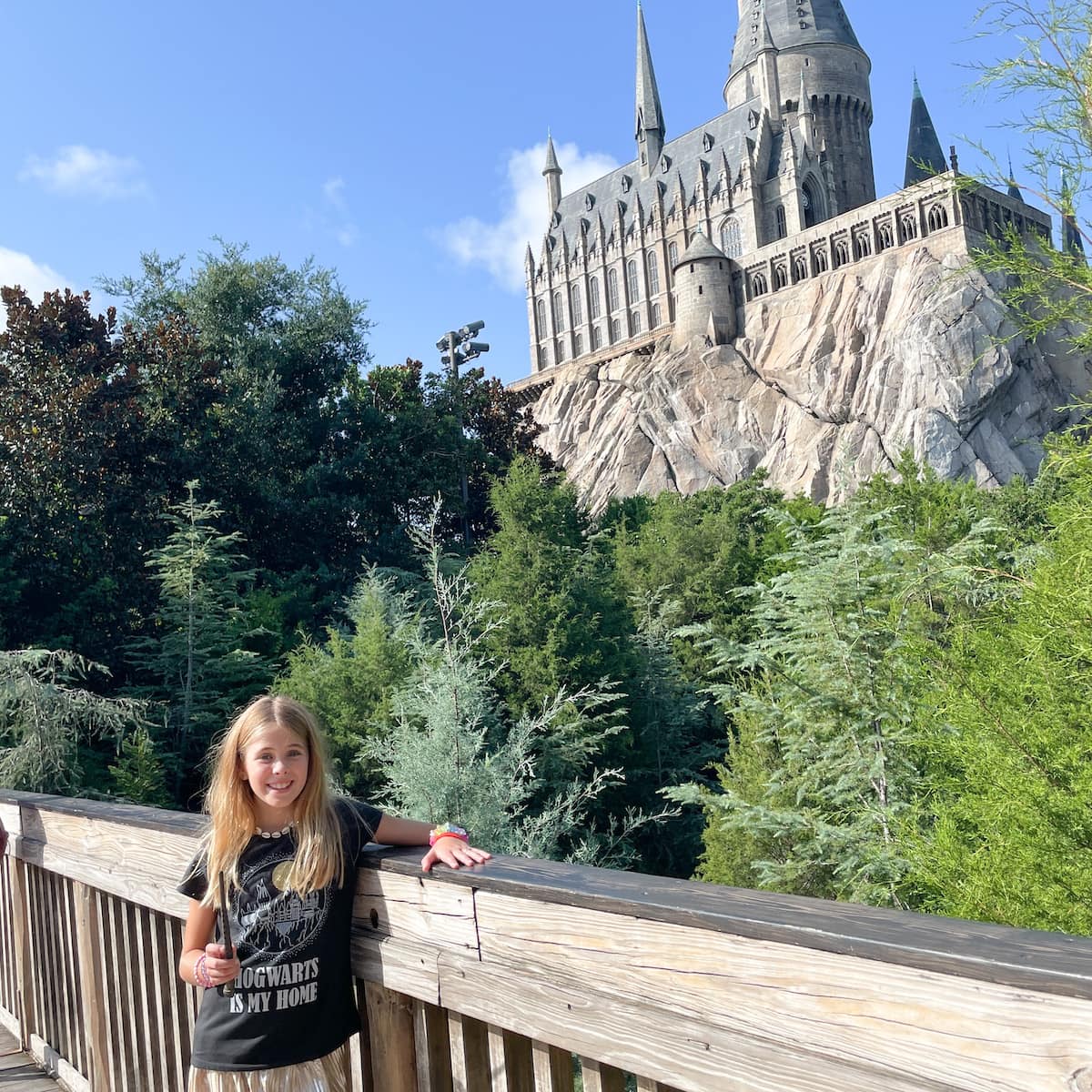 Our must-ride at any Universal visit is Kong as it's mine and Spear's fav and this time the ride was even better because they removed the partitions so we could fully SEE!
We've also always wanted to do the Raptor Encounter and were a bit bummed that we didn't get to meet the actual raptor but the baby one was still cute. I love that Britt always wants a solo picture 🙂
Of course no 9 3/4 birthday could be celebrated without Butterbeer!
The Velocicoaster is the BEST rollercoaster EVER according to Zach and Kye. While they rode I took the others (Britt rode it once and once was enough for her) into the Jurassic Park Discovery Center. This place is AWESOME. We spent over 40 min inside and never got bored!

We've been in it before but our Universal experience is alllll based in the post-Covid world so I know things weren't normal and are slowly returning to normal. I feel like the more normalcy that comes to Universal the more we enjoy it!
This area of the park is wonderful for younger kids – Spear was in HEAVEN with all the dinosaurs and areas to explore and hands on activities.
They have a dinosaur nursery with Dino eggs and dinosaur specialists came out with artifacts and to answer questions. It was a VERY Disney-like experience. They were SOOOO in character and I don't know enough about Dinos to know if what they were saying was legit or not. So I kept asking questions too. I literally can't even tell you what was real or fake. Like were the Dino bones we held legit?!?! NO CLUE.
Spear was SO into it. He kept his little hands in his pockets the whole time and paid super close attention.
The kids even got to hold Dino teeth! The specialist guy said they were real but then later I saw them in the gift shop so I'm assuming they aren't. Ha!
Then another guy came out with a different cart that had a dinosaur egg. We all got to hold it and we could feel the dinosaur inside moving! It was AWESOME. Spear talked about the experience non-stop!
While we were holding the egg we heard a loud alarm go off and learned that a baby Dino was about to hatch! We ran over to watch it and they did a FANTASTIC job with the whole storyline and experience.
The crowd even got to help name the cute little baby. Tessie raised her hand and was chosen and named her "Alexa."
My favorite line of the day was the end of the experience when he said "And don't forget, it all started with a mosquito"
We moved on to look for fossils and check out the gift shop and a Team Member came over and found Tess to present her with a birth certificate for Alexa. SO special! Yall know I'm a Disney person through and through but this experience realllllly made me appreciate Universal in a new light!
We headed out after the guys finished up riding Velicoaster. It was a pretty perfect morning for all of us and a great way to make Britt feel extra special 😉
We headed back to the house to eat some lunch and get loaded up and drive home. On our way we always stop at a rest stop and it was so funny when Britt asked why we've never seen any venomous snakes. Like she was disappointed that we've stopped there so many times and have yet to see one!
When we got home a special letter was in the mailbox!
A letter to Britt from HERMOINE to wish her a happy 9 3/4 birthday! It was BEYOND magical and I've never seen Britt so thrilled or excited before like she was about that letter.
I love chances to surprise my babies and have them feel extra loved and special and this was such a fun celebration day for our Harry Potter loving girl 🙂