With summer in full swing, it's the perfect time to sit back and relax by the pool. But we've all been there: that old poolside chair is stiff, uncomfortable, and gets so hot in the sun. You need the best pool lounge chairs so you can relax all summer long!
We have an outdoor pool at our house, and if you're anything like me, you want outdoor furniture that's not only durable, but stylish and comfortable too! Nowadays, you don't have to settle for just any chair… there are some really well-designed options on the market for any budget!
And of course, I'll be sharing what I consider to be the best pool lounge chairs I've found, both in terms of quality, comfort, and value!
Note: even if you don't have an outdoor pool in your backyard, these chairs would still be great for your outdoor patio, whether you're sunbathing or just sitting out with a good book and a cold beverage!
I'll also be sharing some other great options for pool lounge chairs that are well spoken of. But you know me: as with any of my product guides or gift guides I'm always advocating for the products I've personally used and like!
Disclaimer: post contains affiliate links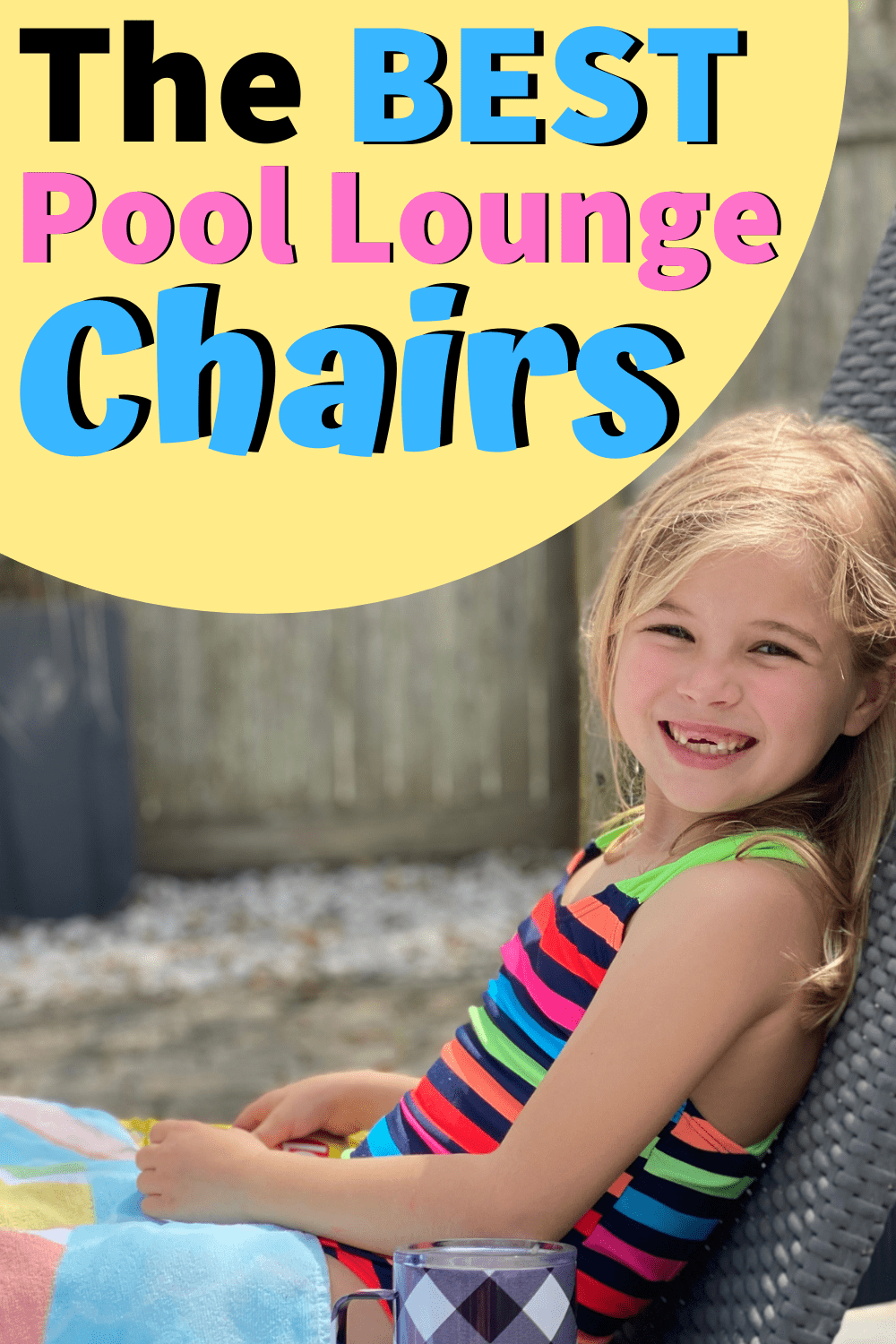 What is the best place to buy pool lounge chairs?
You can find pool lounge chairs just about anywhere you buy furniture: Amazon, Walmart, Ikea, Costco, you name it.
If you're going to buy them online, I prefer Amazon and Target because of the selection they offer, plus I feel like you get the best quality for the price. Also, the reviews are overall very helpful when determining if a specific chair is a good buy!
What's the best material for pool lounge chairs?
Lounge chairs are made from a variety of different materials that are usually waterproof or water-resistant (or at least, they should be!) In my experience, plastics or mesh fabrics that are UV-resistant tend to hold up better in the long run. Polypropylene resin is one material you'll come across that comes highly recommended!
And if you decide to get chairs with a metal frame, look for something rust-resistant like stainless steel!
How do you protect outdoor furniture from fading?
It's always a good idea to look for outdoor furniture that is made to be weather and UV-resistant (and that has the reviews to back it up), but there are ways to protect your furniture, and especially outdoor cushions, which are the most prone to fading in the sun.
Chair Covers
One way to protect your lounge chairs is to buy covers for them when they're not in use. If you have a storage shed, buying foldable chairs that you can easily store during the off-season is another good way to increase their lifespan.
If available, you can also cover or bring in your furniture when it storms to prevent weather damage!
Scotchgard
If you've never heard of Scotchgard, it is seriously a lifesaver for outdoor furniture (and indoor furniture for that matter!) You spray it on and it forms a protective barrier that shields your furniture from sun and weather!
It also makes it water repellant if it isn't already, which is especially important when you have pool lounge chairs that are definitely going to get wet!
The Best Outdoor Pool Lounge Chairs
Keter Outdoor Lounge Chairs Set of 2 in Charcoal Gray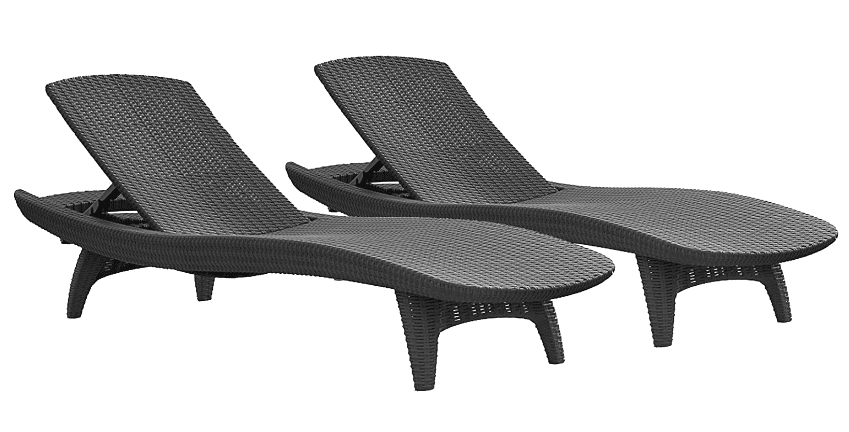 These. Chairs. Are. Amazing. I bought them for our pool and they quickly became a favorite for poolside lounging and tanning. They're made of resin rattan, so they have the stylish look of rattan furniture without the wear and tear associated with natural materials.
They're also made to be durable, weather-resistant, and UV-resistant, so they won't fade in the sun! A big plus when you want your outdoor furniture to look good year after year. So much better than having to buy new lounge chairs all the time!
And it's also the most comfortable outdoor lounge chair I've found! The curved design conforms to your body so you're not constantly readjusting yourself. Plus it's so stylish, giving you the feel of a luxury pool without ever having to leave your backyard!
And as an added bonus? The set of two is easy to assemble and they stack together for easy storage during the winter months, so you can transition from one season to the other with ease if you need to store them in the off-season or to repurpose your outdoor space.
Because we live in South Georgia I often lay out even in the wintertime (I don't hate those 85-degree Christmases!) so we NEVER store our chaise lounges. They have been sitting outdoors 24/7 for over 12 years and are still in amazing shape. I constantly get questions on Instagram asking where we got them (hence this blog post!).
I like to keep life as low maintenance as possible which is why I chose these chairs and why I also love them. I don't want the hassle of any cushions or covers or things I'd have to put away or worry about in bad weather. These chairs are durable, sturdy, comfortable and look great!
When I'm looking for a comfortable patio lounge chair I really want to be able to layout on both my back as well as my stomach. I love that this is an adjustable chaise lounge style that can lay completely flat to allow for tanning my back! Let's be real, I'm usually hopping in one of my favorite pool floats in the summer months to stay cool when I want to tan my front 😉
We love our chair lounge chairs so much that I even purchased the exact same set for our rental house at Disney World…and, again, they are outdoors all year round with TONS of use from guests who stay in our home and they continue to stand the test of time!
I personally love that these are not aluminum chaise lounge chairs nor are they wood materials. The "fake wicker" material they are made from looks awesome but, most importantly, is rust resistant. We have had to replace the coated steel frame outdoor dining set we purchased for the rental home as it got rusted and even caused rust damage to the patio. But the sun lounger chairs are still going strong from our initial purchase!
Check the price for these pool lounge chairs here!
You can also find a similar set (if not identical) with a matching side table at Target for a very similar price! Compare the sets here!
My personal set is the Keter brand but another great option are the same chaise lounge chairs with the wicker chaise lounge look by Christopher Knight Home. They tend to be a bit more expensive, but have excellent reviews and customer service.
Other Great Pool Lounge Chair Options
I wanted to hit on some other outdoor pool chairs that cover some other styles and budgets! These all come highly recommended and at the very least, it gives you a basis of comparison!
Segmart 3 Piece Outdoor Lounge Set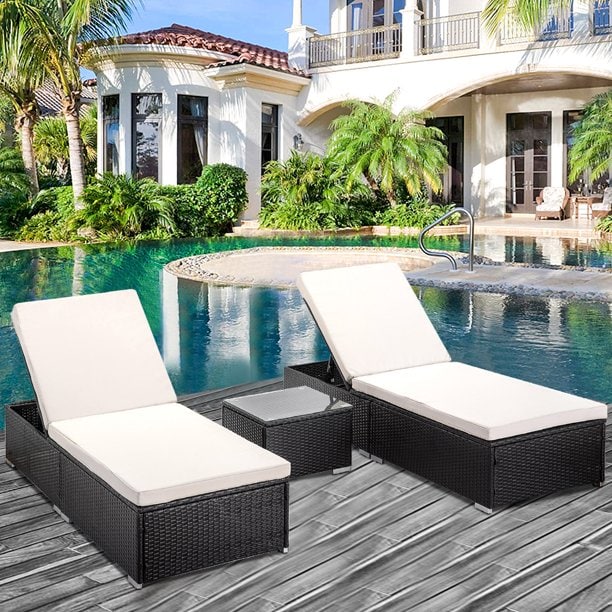 Right now at Walmart, these outdoor lounge chairs are on clearance, and it's honestly a great value for the style and quality! These have a great, trendy design that look like something you'd find at a luxury resort, and the side table is a great bonus, perfect for holding drinks and snacks!
The other nice thing is that this is a rust-resistant steel lounge chair covered with PE rattan, so you know it's going to be durable without heating up in the sun. This set would make a great addition to any outdoor hangout space!
Lacoo 3 Piece Outdoor Chaise Lounge Set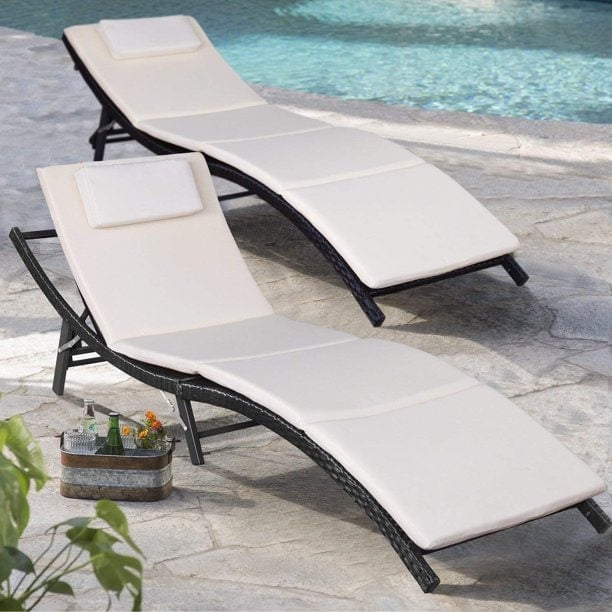 For an affordable pool lounge set option, these are simple and stylish with a modern flair! You can use them with or without cushions but I recommend you use Scotchgard or some other weather and UV protectant if you want your cushions looking new all summer long!
Double Chaise Lounge
If you're looking to get cozy on a two-person lounge seat, this double chaise lounge is a great option! With its curved design, mesh seat, and shading canopy, it's perfect for couples or if you just want to stretch out with plenty of space!
For the Kids: Double Chaise Lounge
If you'd like to treat the kiddos to their own kid-sized lounge chair, this double chaise is as stylish as it is adorable! With a sun shade and cupholders, it's the perfect way for the little ones to kick up their feet and relax after a day of fun in the sun!
Patio Chaise Lounge 2 Piece Set
These pool loungers are fun and vibrant with comfortable cushions and a PE rattan and steel frame to keep them durable and sturdy!
Zero Gravity Chairs
Another great option would be to purchase a reclining single chaise zero gravity chair like one of these! If you aren't quite ready to commit to a larger outdoor furniture purchase these chairs are easily transported and could be stored to use when desired.
They'd also be great to have on hand when you host an outdoor party or event and need additional seating.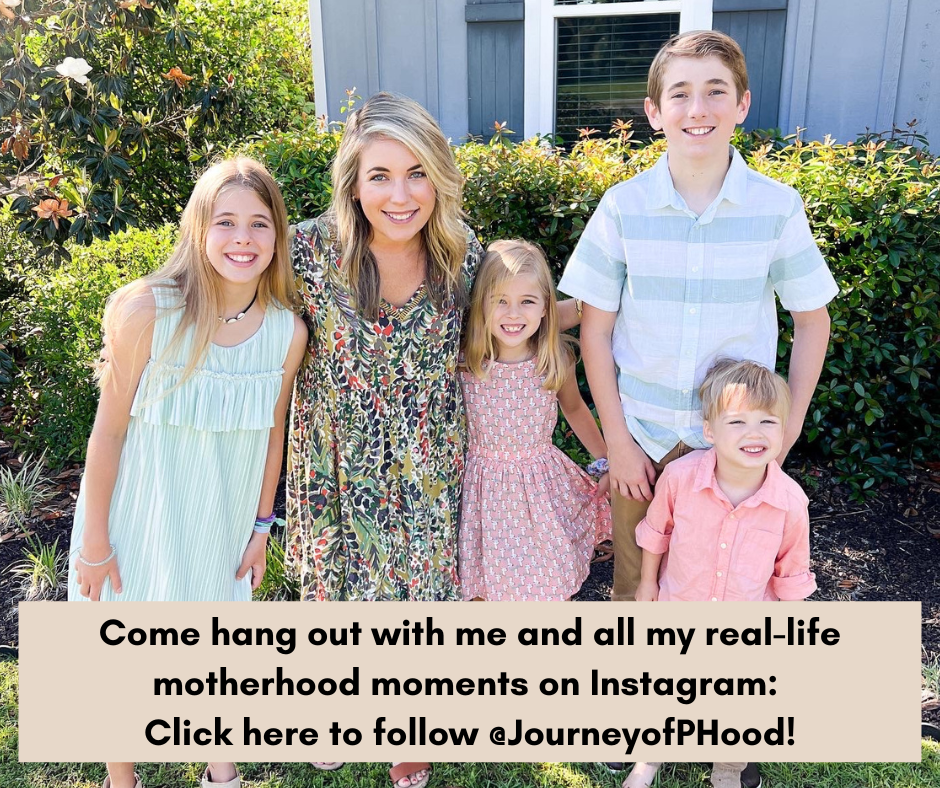 Outdoor Pool Accessories for Lounging
Now that you have the right chairs, you might want a few other items to help make your summer even more enjoyable! You can also find more great ideas in my full gift guide of summer essentials for moms AND my summer essentials for babies!
King Kool Inflatable Lounge Chair
Sometimes you don't just want to relax by the pool, you want to be in the pool, too! These inflatable loungers are my favorite not just because of how fun and summery they are, but also because of how well they work in the pool!
I always buy two so I have one on hand if one gets popped. I keep it in my pool all summer long and alternate from sitting in my pool lounge chair to cooling off in my pool float. The kids know they aren't allowed to jump on "Mommy's float!"
Intex Floating Pool Lounge Chair
Intex makes products designed for tubing and rafting, so their products are known for their durability! If you want to be able to float on the water without worrying about getting wet, this is the floating recliner for you!
Quick Dry Towels
These quick-dry towels fold up really easily for storage and don't get heavy or that dripping wet soggy situation after being used either. Plus they are simple to toss in the washing machine when you get home and they don't shed all over everything!
I feel really passionately about these towels (another blog post may be on the way ha!). They are amazing!!! At first I felt silly spending this much money on pool towels but I have no regrets and it's become a favorite gift to give too.
Sunglasses
When you're relaxing in your favorite poolside lounge chair, you need a good pair of sunglasses to keep the sun out of your eyes. These are my favorites, and the great thing is you don't have to be overly careful with them at the pool or in the car or at the beach. If you lose 'em or break 'em they are cheap to replace!
Kindle E-Reader
A kindle works GREAT outdoors and is also waterproof! I LOVE my Kindle and consider it one of my summer essentials for lounging by the pool!
Women's Swimsuit
Every pool day needs a fun swimsuit! I discovered these suits a few years ago and have like 5 of them at this point in a variety of colors and patterns. They are THE ultimate mom-suit! I LOVE the ruffle as it's cute and allows for no tan lines! The suit is super comfortable and super flattering and I LIVE in these all summer long!!!
Baby Pool Float
After having four babies and always having a pool in our backyard I've done QUITE a bit of research and real-life experience with baby pool floats and this is BY FAR the best baby pool float you'll find!
I love this baby pool float so much I devoted an entire blog post to it 😉
You can also check the price here!
Toddler Pool
I also wrote a whole post on this toddler pool because I had so much to say about it!
While you're lounging, you still have to watch the kids, and if that includes a toddler, having a designated toddler pool that you can set up next to your lounge chair is a great way to keep track of the little one while still being able to relax and enjoy the summer day!
Best Pool Lounge Chairs: Final Thoughts
Summer is a time to enjoy yourself, and I hope that if you're relaxing by the pool, you can enjoy yourself just a little bit more as you recline in the perfect lounge chair!
Other posts you might like: