The Wizarding World of Harry Potter and Universal's Volcano Bay. We were provided with complimentary accommodations and theme park tickets in exchange for coverage of our stay.
Be sure to read part 1 of our trip here and part 2 here.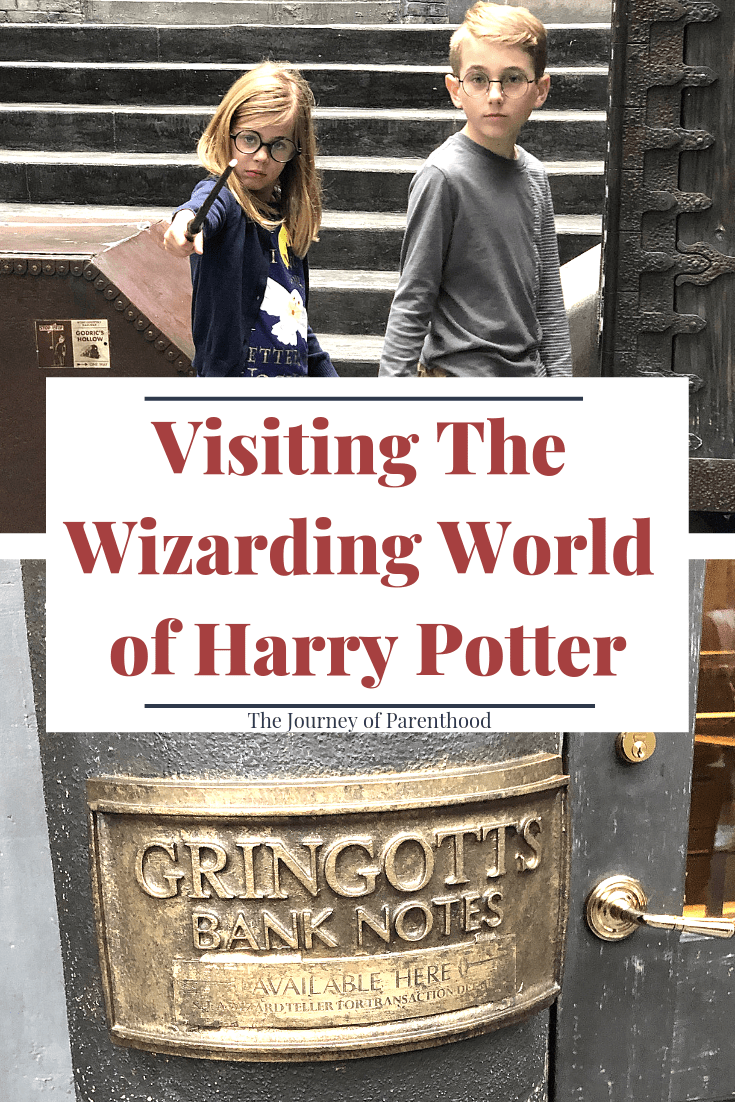 Our first day was pretty rough as far as sickness. But we knew we had a Day 2 and my goal for Day 1 became survival and to set us up with a successful and smooth sailing second day!
We put the kids to bed SUPER early and gave them all a good dose of Children's Advil and a nice warm bath/shower before bedtime. We put them down nice and early prior to the movie start time and everyone slept AWESOME.
After over 12 hours of sleep, everyone woke up feeling much better. Kye felt WAY better. Tess felt WAY better and Britt was having the start of the crud they'd had the day before.
We did another round of the Children's Advil and gave them a great breakfast and headed to the theme park a full hour before we'd be allowed into the park and had PLENTY of time, especially since we rode the water taxi rather than walking.
On the way Zach and I talked a lot about how much of an advantage it is to visit a place that you're already comfortable with. We felt SO MUCH more confident on our second day at the parks because we knew the layout of the resort and how to navigate our way to the parks and knew the layout of the parks etc. It made the whole day run so much more smoothly!
Universal Studios Florida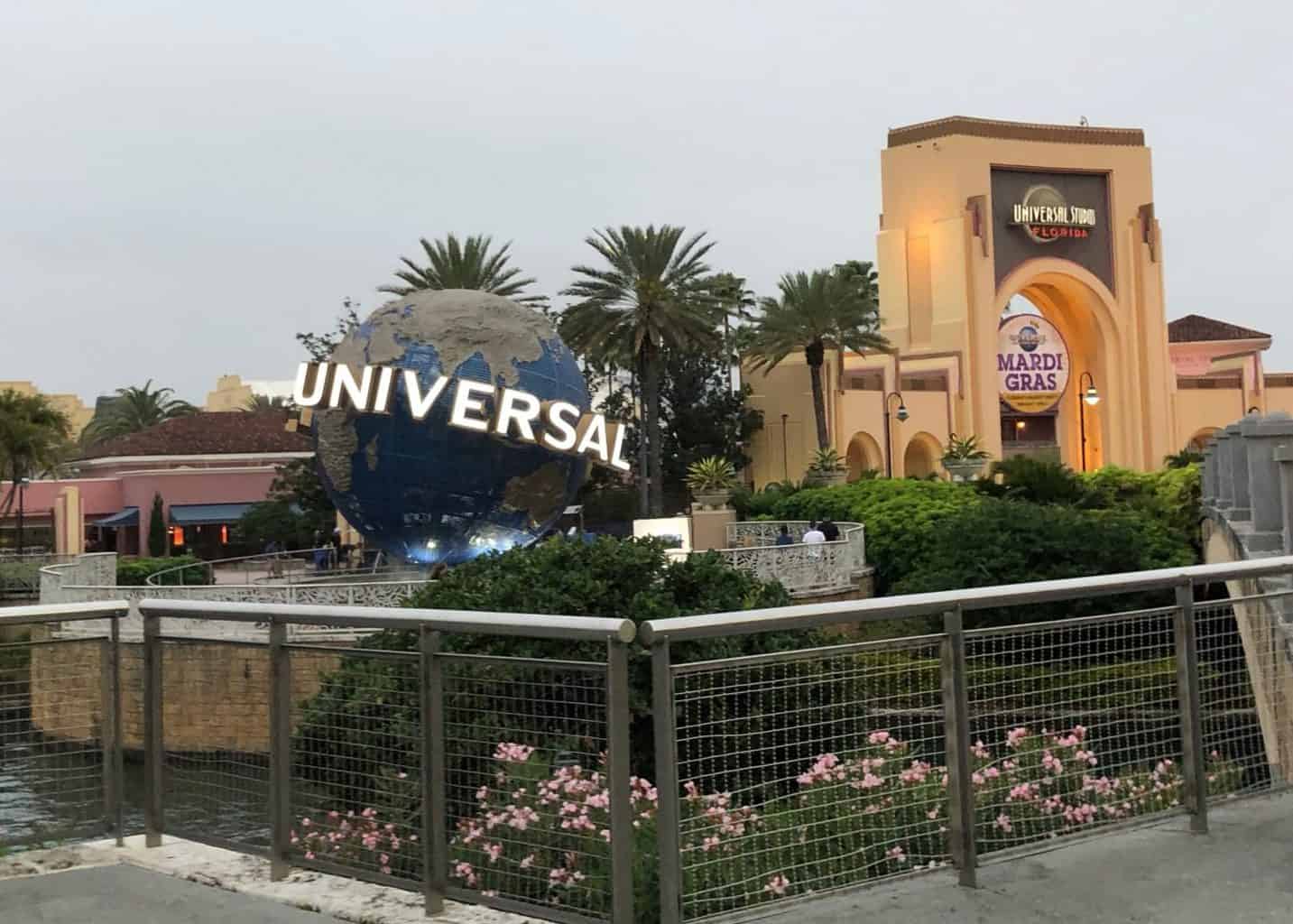 There was a "live set" outside of the entrance to Universal Studios Florida! It was neat to see the set up and even when we left it was still going on!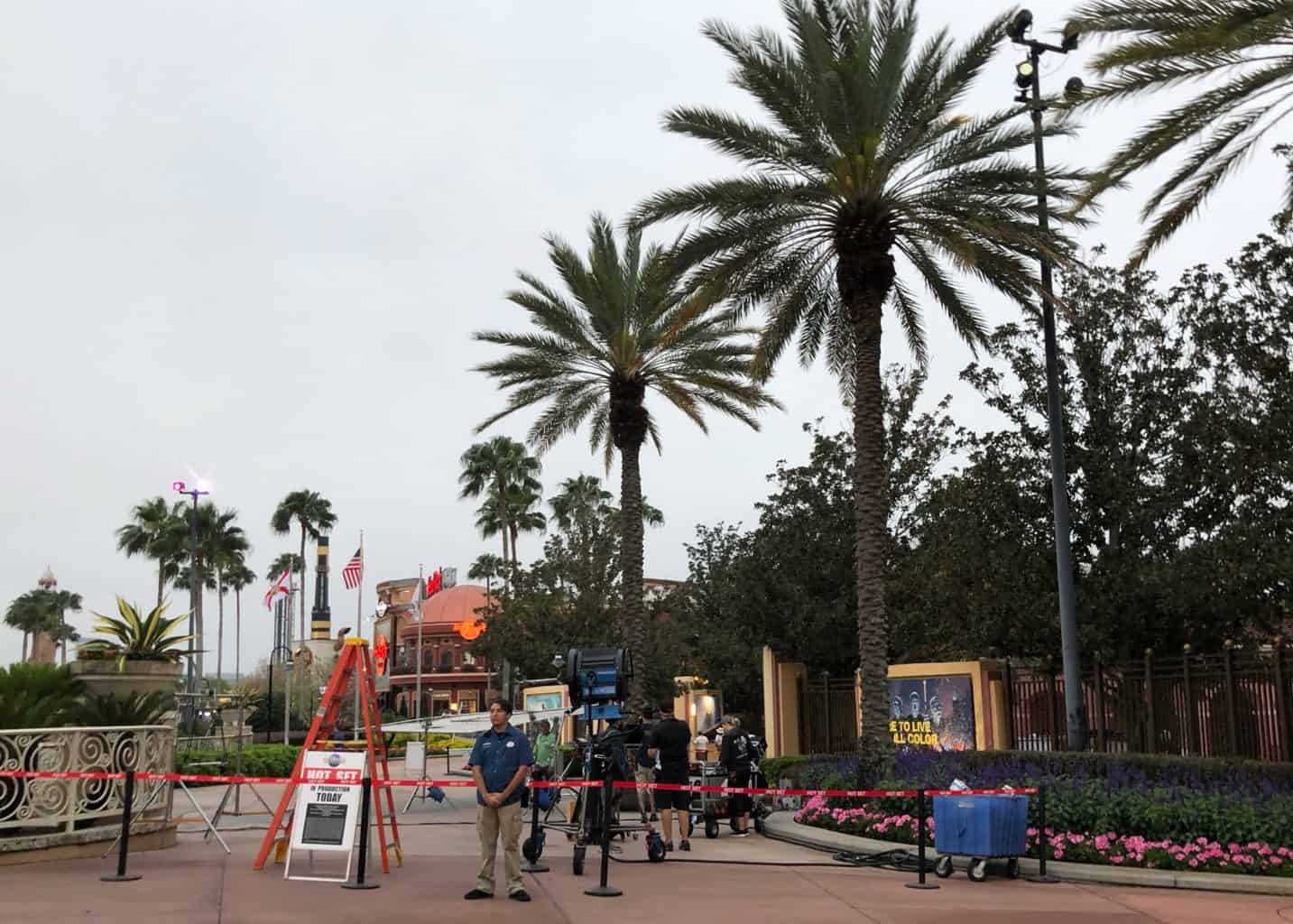 Something I REALLY appreciate about Universal Orlando Resort is that at each park they have these signs posted near the entrance to let you know how tall children need to be for each experience and ride.
This is SO great. It helped us know right away what Tess and Britt would be able to ride and what they wouldn't!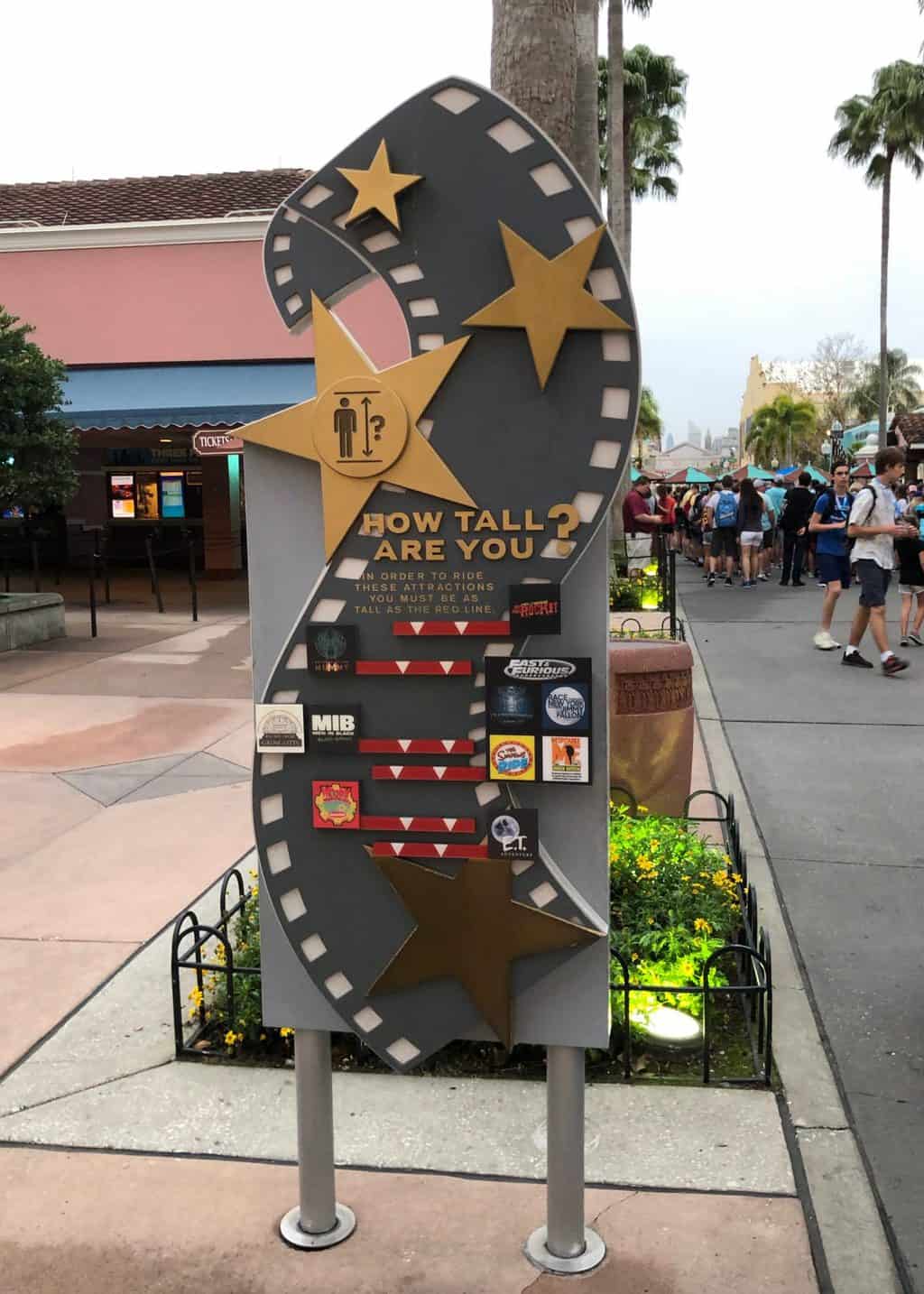 We arrived to the gates of the park about 15 minutes before we were allowed in and it was very chill and relaxing and so nice to take our time walking through the park rather than rushing!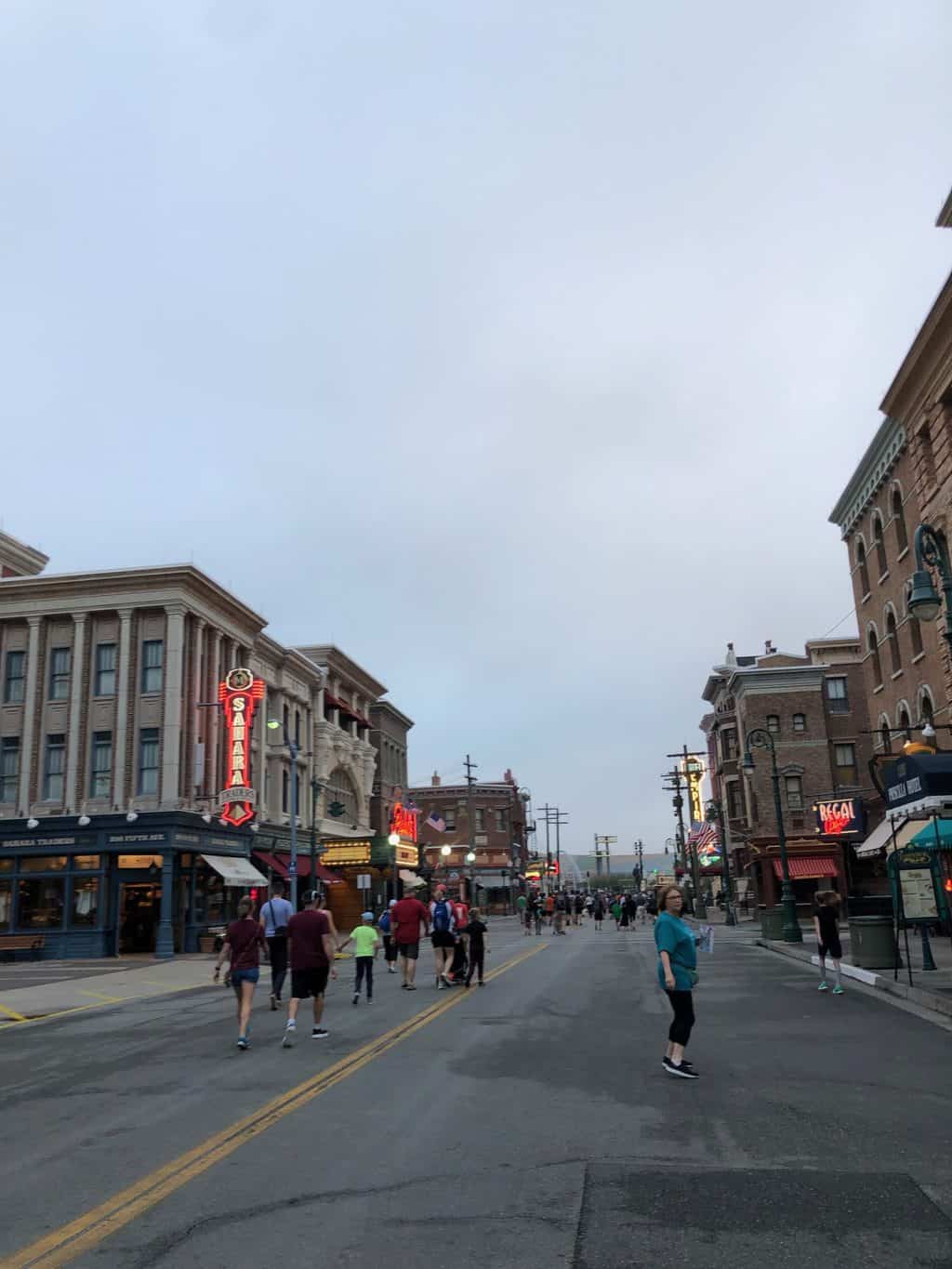 Zach and I LOVED our trip to San Francisco and it was really cool seeing this area at Universal Studios Florida! It was SO authentic!!!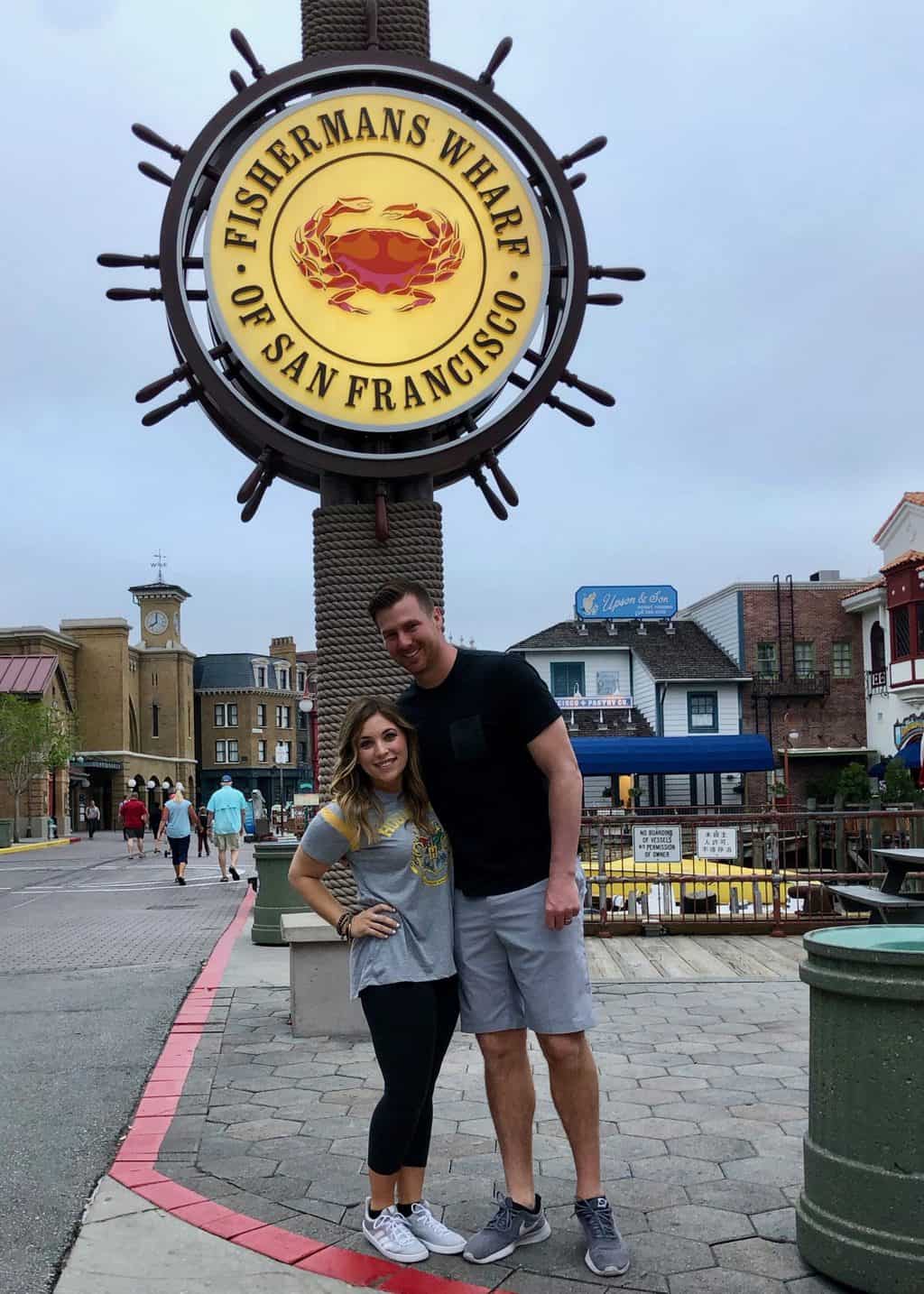 Our ONLY plan for Day 2 was to explore Diagon Alley in The Wizarding World of Harry Potter. We covered all of Hogsmeade the day prior and wanted to just really devote time and energy to enjoy that area of the park.
On our way in we saw The Knight Bus! I had seen a decent line at it the day prior and wanted to stop there first thing since no one else was stopping.
It was SO COOL and so neat to talk to the talking head!
The Wizarding World of Harry Potter: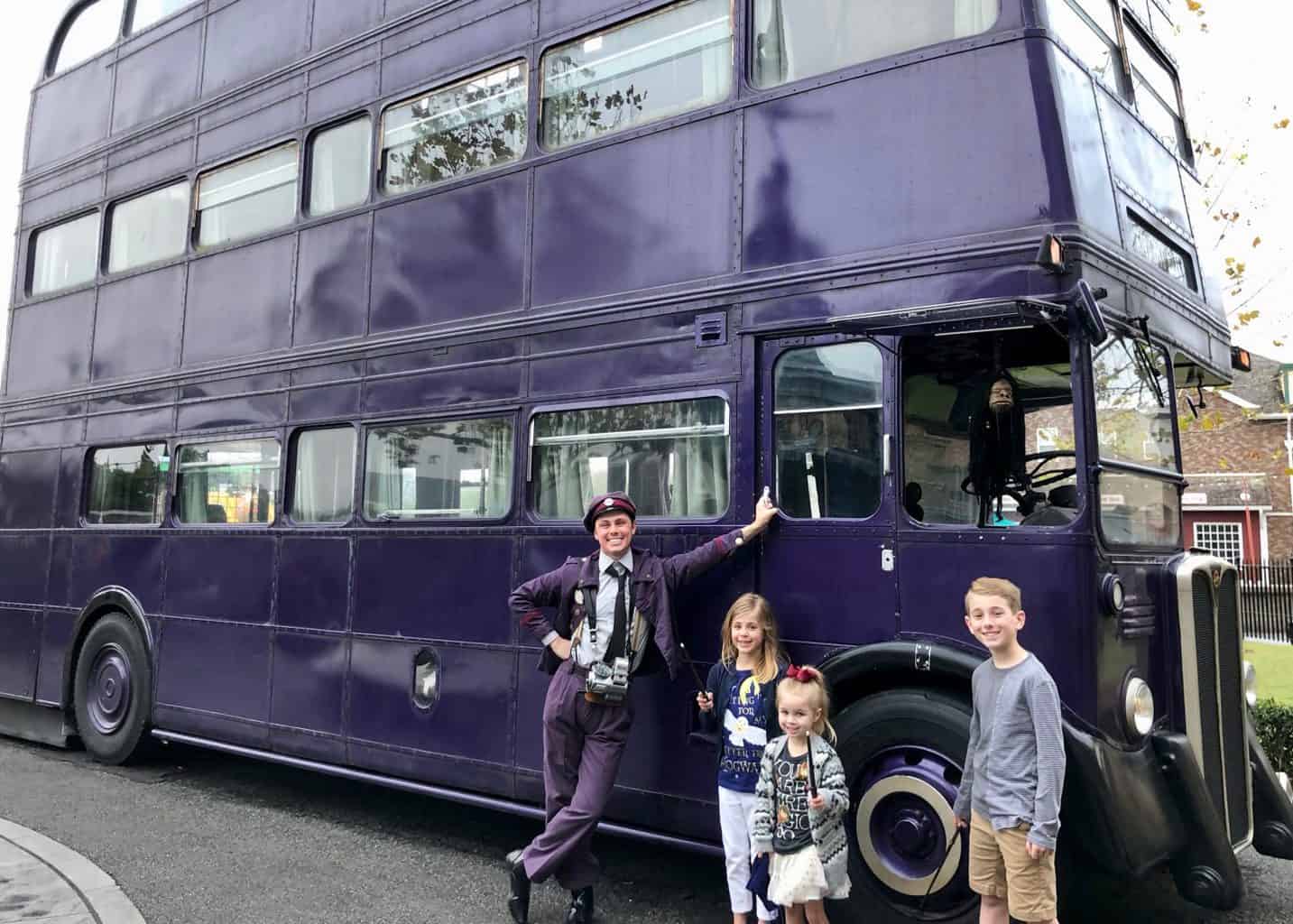 Entering Diagon Alley!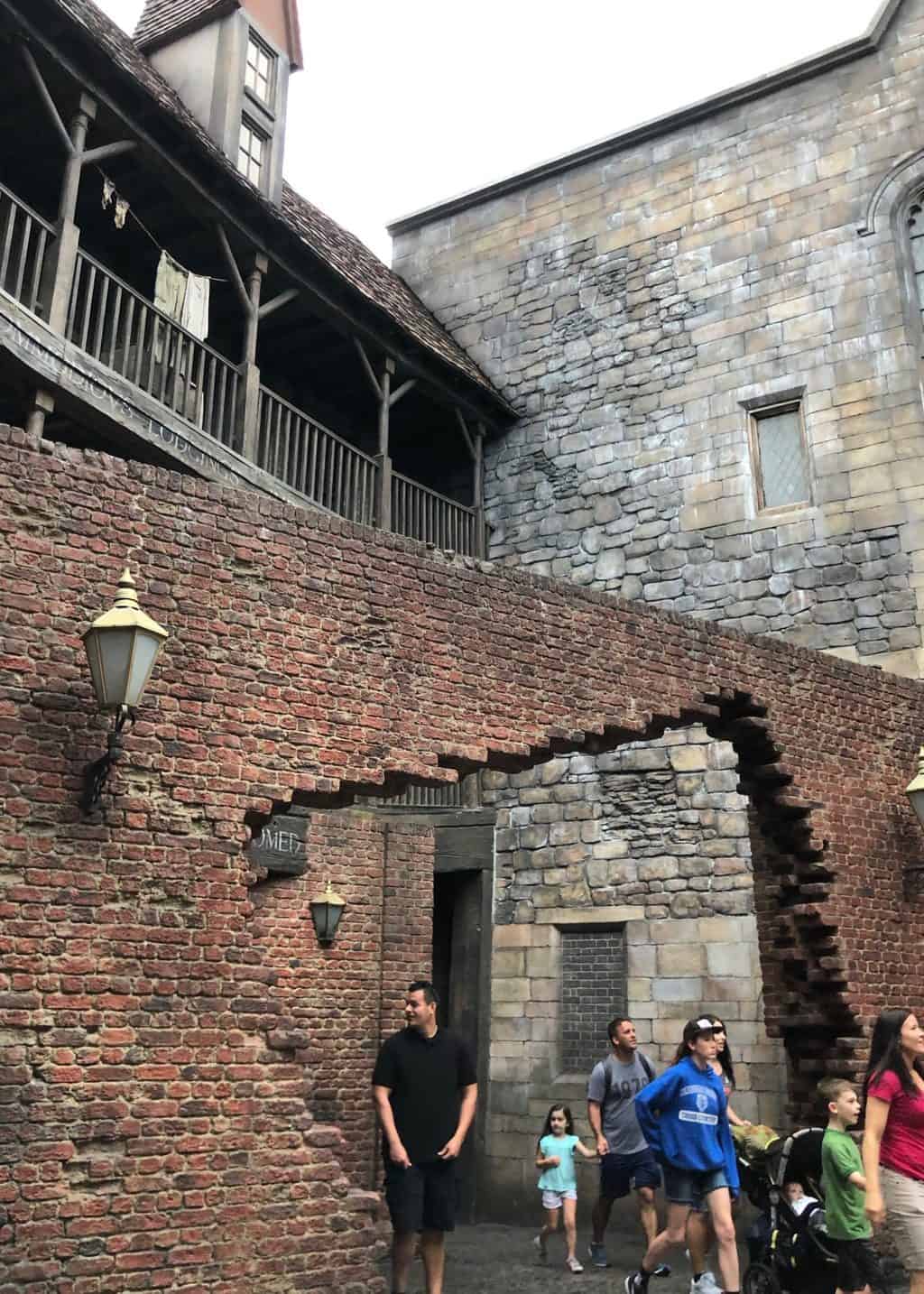 I wanted us to be able to take our TIME. Fully explore every single area of Diagon Alley. See every item. Walk through every shop. Cast every spell. Do. It. All.
My goal was to leave Universal Orlando Resort feeling like we fully absorbed every element of The Wizarding World of Harry Potter!
Our morning was SO fun. It was SO CHILL and relaxed and we all had a great time and fully enjoyed it!
Maybe this is what was wrong with Kye 😉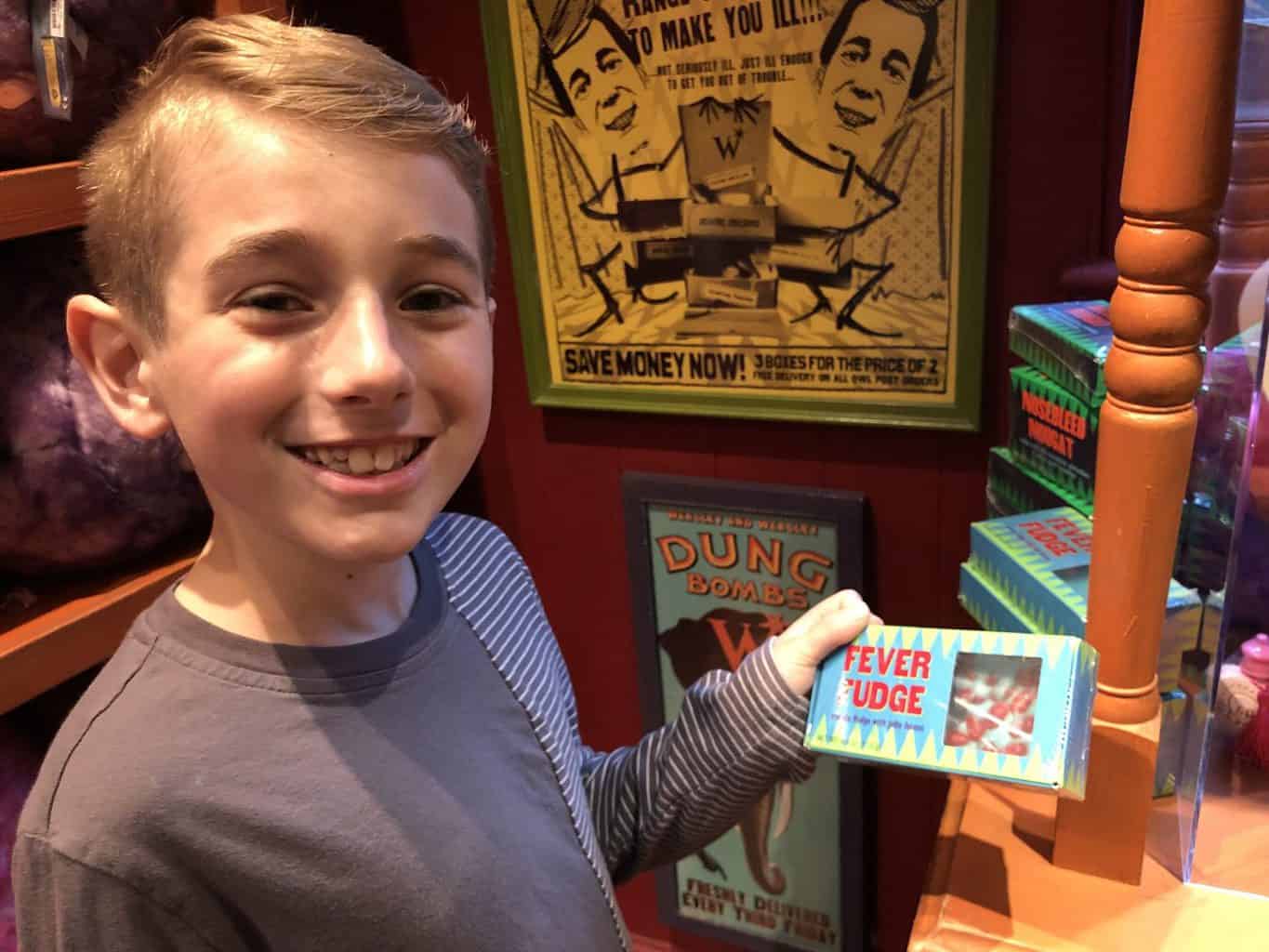 We loved wearing Harry Potter themed clothes and having fun accessories! Y'all know I love a good theme and dressing our family in coordinating outfits! Here's everything we wore on our trip:
We went into Gringotts bank to exchange our Muggle Money for Wizarding Money. You can make the exchange in Gringott's Bank and it's an even exchange.
However, the Wizarding Money can only be used in The Wizarding World of Harry Potter. We just got $10 as we knew we'd be using it for more Butterbeer later that morning 😉
The main focus of our morning was making sure we were able to complete every spell in the area. By the end of our morning the kids had done every spell possible in the entire Wizarding World of Harry Potter!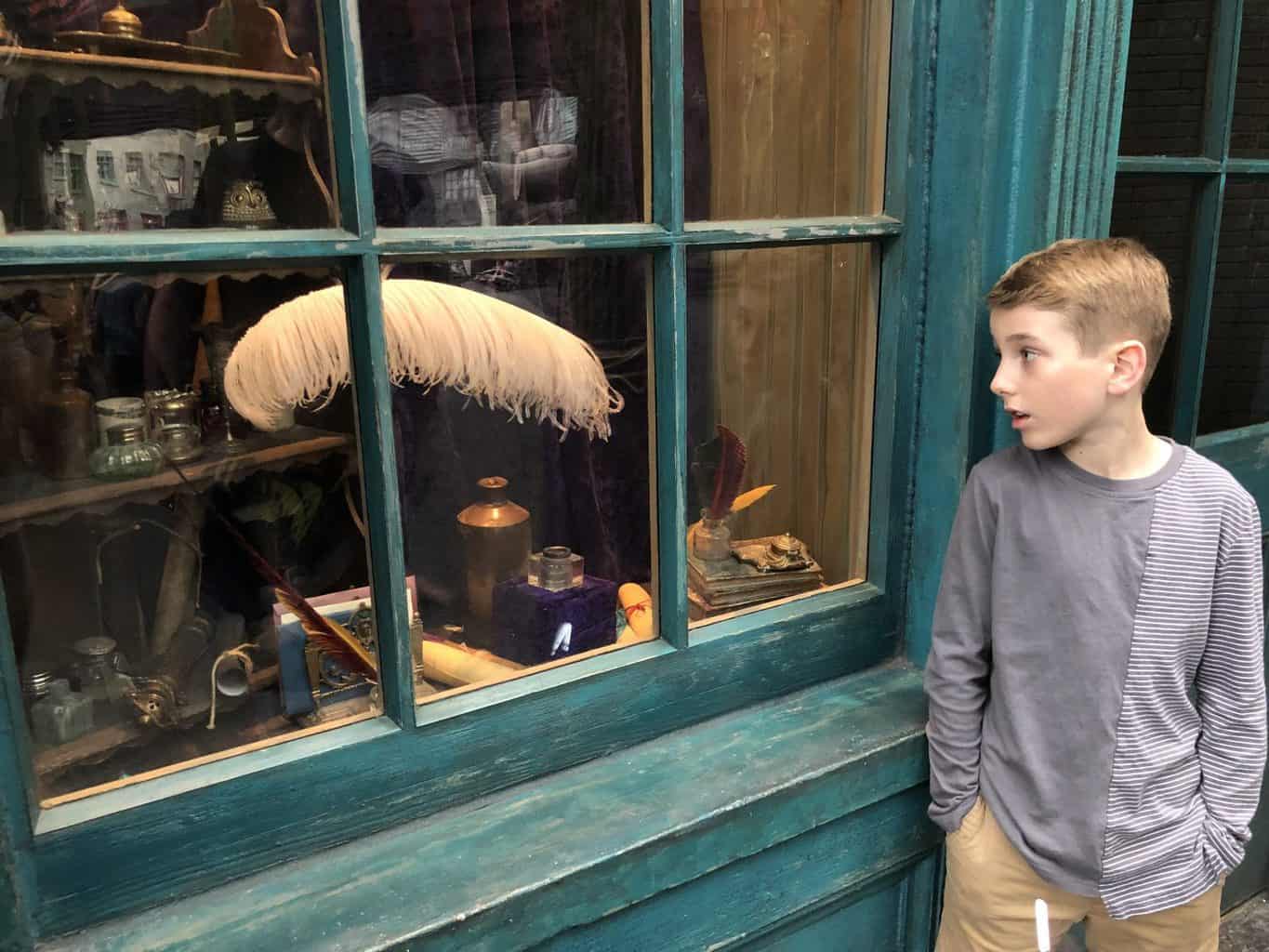 We did a little shopping and picked out our family Christmas ornament! We all agreed that the Plaform 9 3/4 one was perfect!
Casting spells all over the park!
Hagrid's motorcycle! It was SO nice not dealing with ANY crowds. Everyone that was in the park early (perk for staying on-site) was rushing to ride a ride while we just took our time looking around and didn't have any waits for anything we were wanting to do!
Here Are All The Videos of Our Spells Cast in Diagon Alley:
Within Diagon Alley is a hidden area called Knockturn Alley. We were really excited to get to take the time to check it out. If you're familiar with Harry Potter then you know this is a "creepier" area so it was VERY dark and had a fun spooky vibe. The spells in this area were super fun too!
We finished up with all the spells and every shop in the entire Diagon Alley area and rewarded ourselves with a treat!
Butterbeer all around! Zach and I both wanted the warm version again and we got a cup of the ice cream for the kids to share (oh my goodness it was FABULOUS!)
While we enjoyed our Butterbeer we talked through the rest of our morning. We were able to check out from our room at little later than the regular check-out time we were weren't in a HUGE rush.
However, we had to drive home that day and wanted to hit up Universal's Volcano Bay so we also didn't want to linger too long either!
We went back over the must-do recommendations from Rachel and Robyn and Zach and Kye agreed they wanted to do The Mummy and the Rip Ride Rocket Rollercoaster too.
Britt and Kye rode The Mummy while Tess and I walked around a bit and waited on them. With the Express Pass we had such short waits that it made knocking out a few rides really easy!
Once they finished up with The Mummy they met us so Britt, Tess and I could do Despicable Me: Minion Mayhem.
We've never seen any of the Minion movies but Robyn said the ride was cute so we went for it. Oh. My. Word. Big mistake for me!
With my motion sickness junk I should NOT have ridden this. It was basically a newer version of Back to the Future. I realized it right away and just completely took off my goggles and kept my eyes off of the screen.
Which worked great! I didn't get sick and the girls loved it! The boys finished up with Rip Ride Rock-It before we did and met us outside. They both LOVED the rollercoaster!
It was a PERFECT morning. Seriously so perfect. Gorgeous weather. Lower crowds. Relaxing. Fun! It was my favorite part of the trip.
We just had an amazing time exploring The Wizarding World of Harry Potter and had so much fun making these precious memories together.
We took our time and didn't feel rushed and just headed back to the resort to get packed up and eat some lunch before heading to Volcano Bay.
And y'all know my favorite part was walking holding hands with my biggest boy 🙂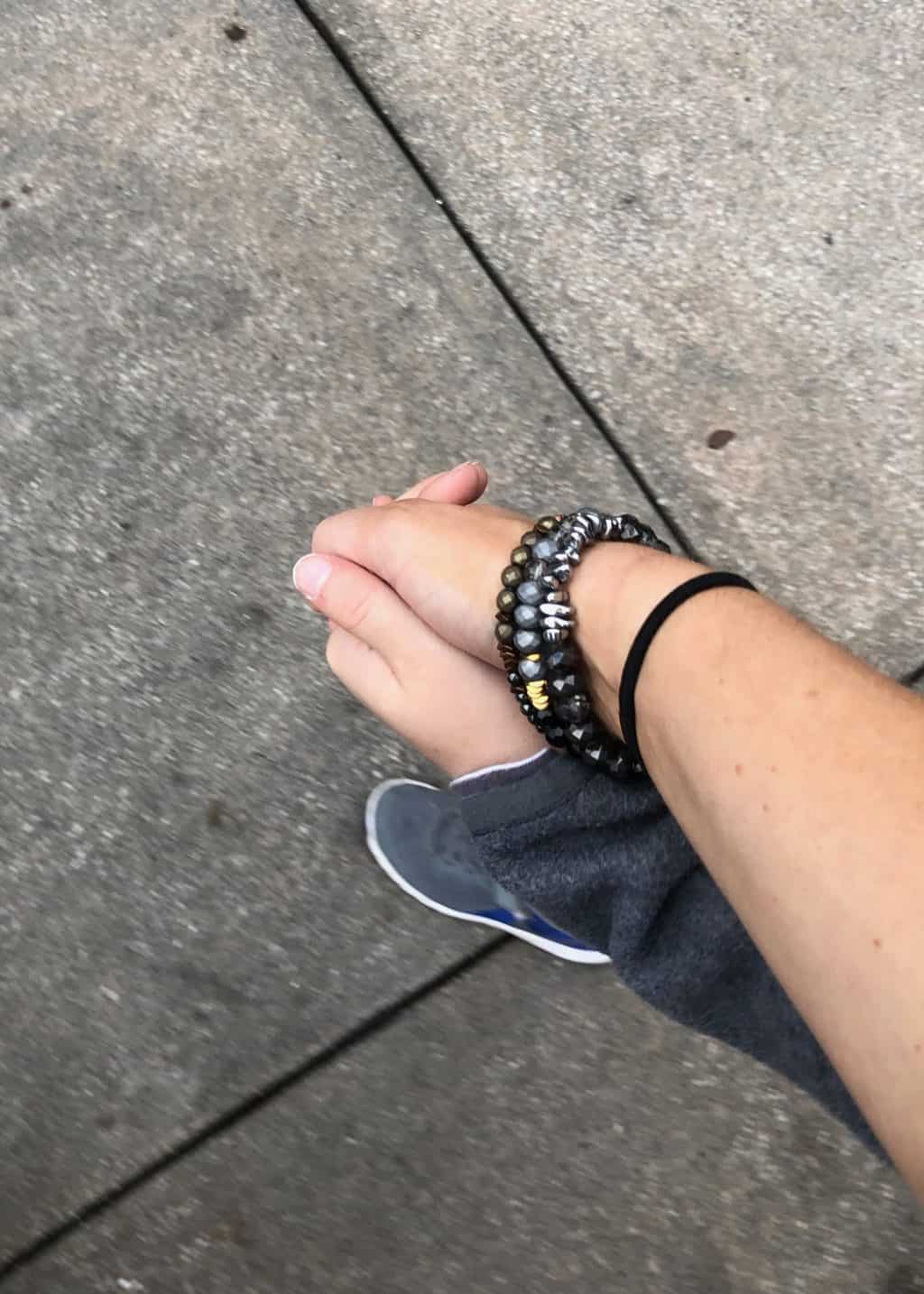 We got back to Cabana Bay Beach Resort and got everything packed and loaded in the car and got our bathing suits on for the water park.
We decided to eat lunch at the food court at Cabana Bay Beach Resort to save time and money. Volcano Bay is THE closest park to Cabana Bay so we had just a super short walk over after lunch!
Our weather was not the most ideal for a water park day. It was VERY overcast and only in the low 70s. Which for us Southern babies is pretty chilly 😉
It was super nice that it wasn't CRAZY hot though and made for a nice walk over to Volcano Bay!
A HUGE benefit to staying on-side is the security process. There are special security areas set up for on-site guests. We went through security prior to boarding the water taxis and therefore avoided having to do it at the actual parks.
Same with Volcano Bay…there was a separate entrance just for hotel guests and a quick and easy security spot!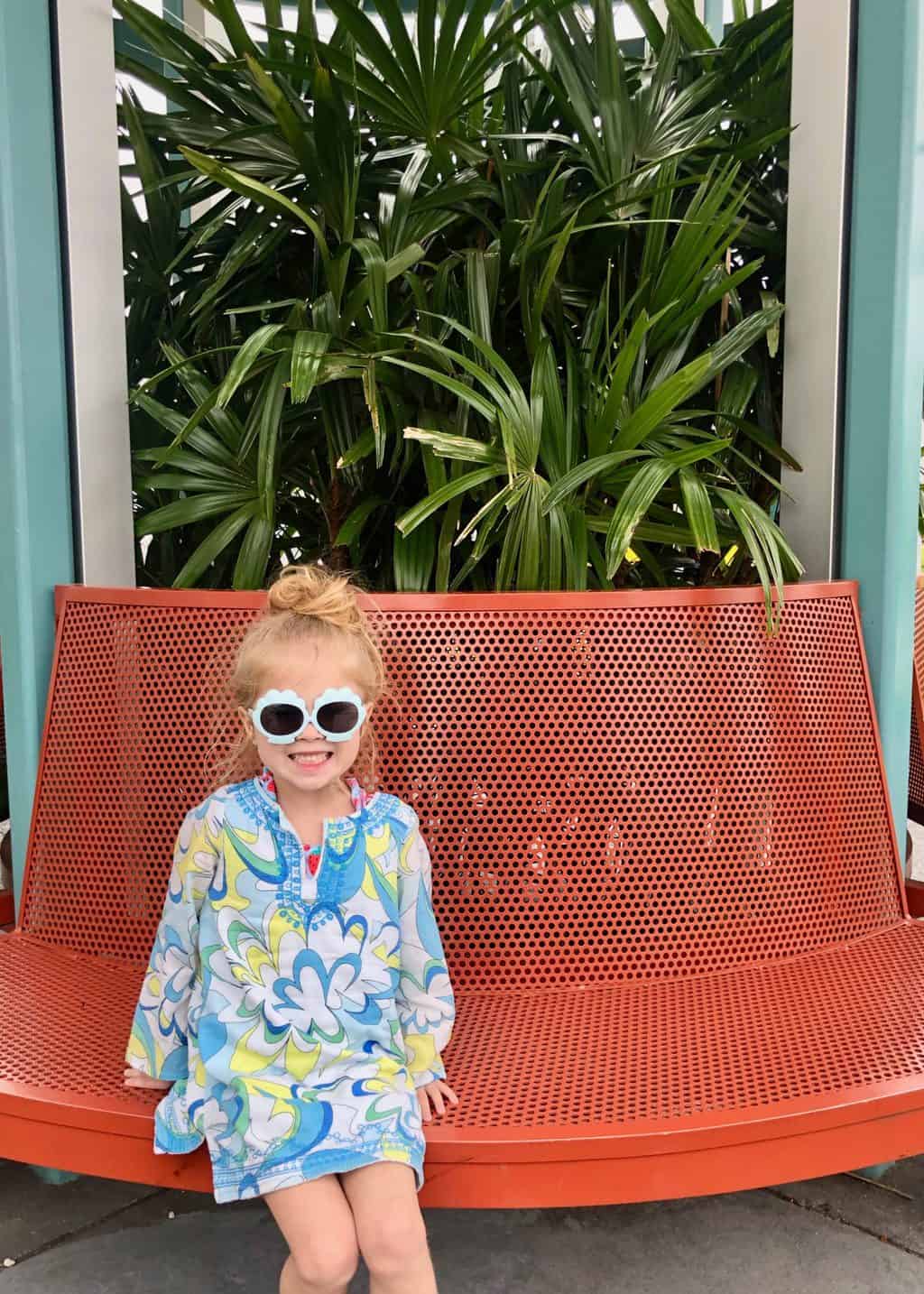 I knew very, very little about Universal Orlando Resort but had both of my good friends to help guide me. NO ONE I knew had ever been to Universal's Volcano Bay so I literally had NO CLUE what to expect.
Our family has never visited a water park together so this was a big first for us ALL!
Universal's Volcano Bay: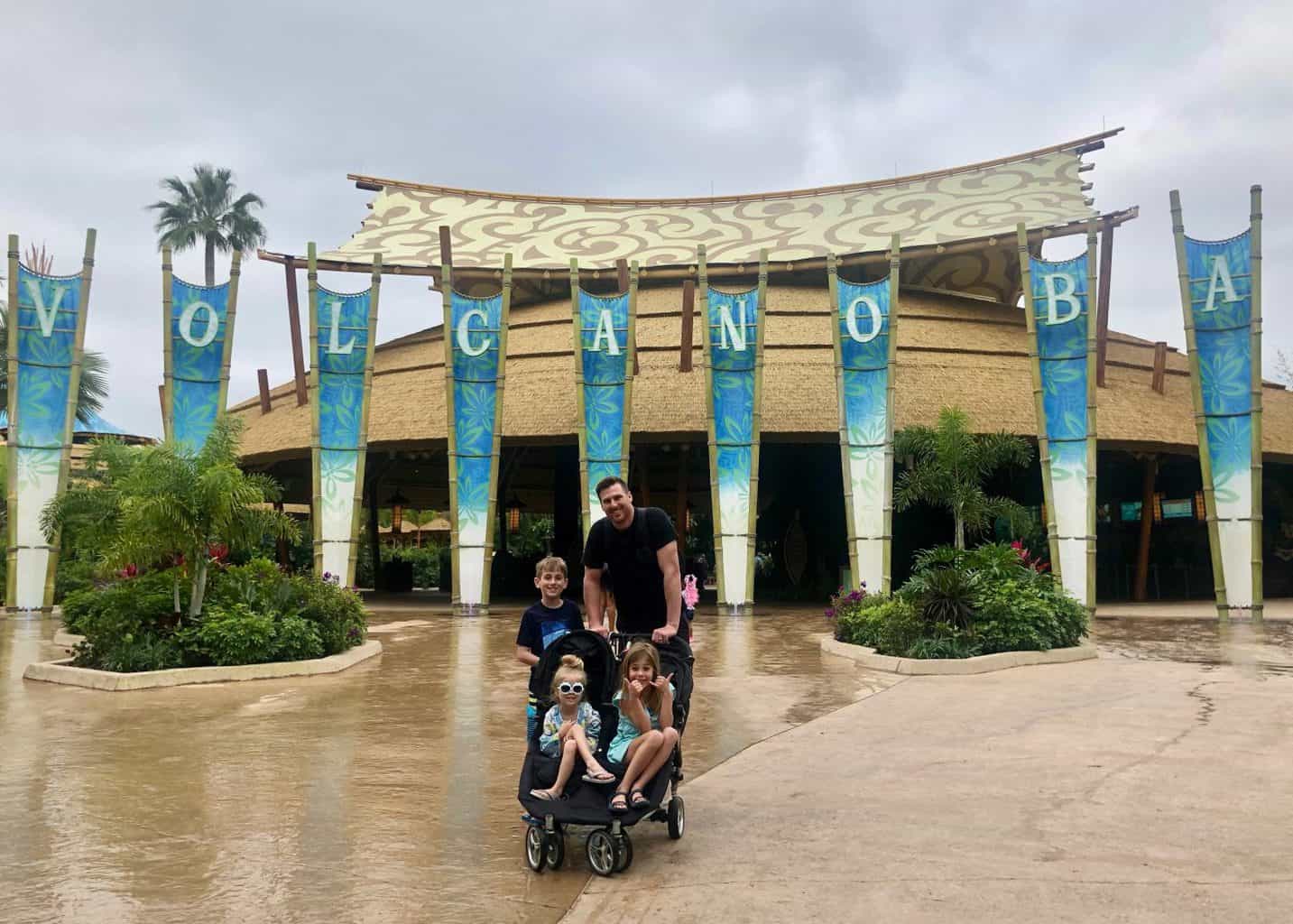 As soon as we entered the park we knew we would be in a little bit of a situation. There wasn't a SINGLE ride that Tess was tall enough for. Not. One.
That meant Tess would have to spend ALL of our time at the park in the toddler section. Which is fine, but also for toddlers. She's four. She loves rollercoasters. She loves "big kid stuff." A small toddler area isn't going to satisfy her for long!
Plus the toddler section has a height maximum of 48 inches which meant none of us could even experience any of that area WITH Tess. As a third kid she is not used to doing things solo and didn't really love the fact that no one could play with her.
Universal's Volcano Bay is meant for an older/taller kid crowd. So if you're planning a trip, it's wise to know this in advance. I don't regret going, but I wouldn't recommend it unless you have kids that are over 42 inches (Tess is 41.25!).
Ideally though? I'd wait until kids are 48 inches or taller so they can REALLY maximize all the fun that the park has to offer!
Volcano Bay has a REALLY awesome program that allows you to scan a band at a ride and be put into a virtual line for that ride and your band will communicate to you when to return to your spot in line.
We were there on such a cloudy, cool day that we literally had ZERO crowds. Zach said it was his favorite theme park day EVER. He said they just walked on every single slide and that it was AMAZING!
So we didn't really utilize the band capabilities on our day at Volcano Bay but they are a really awesome concept!
Hello Volcano Bay!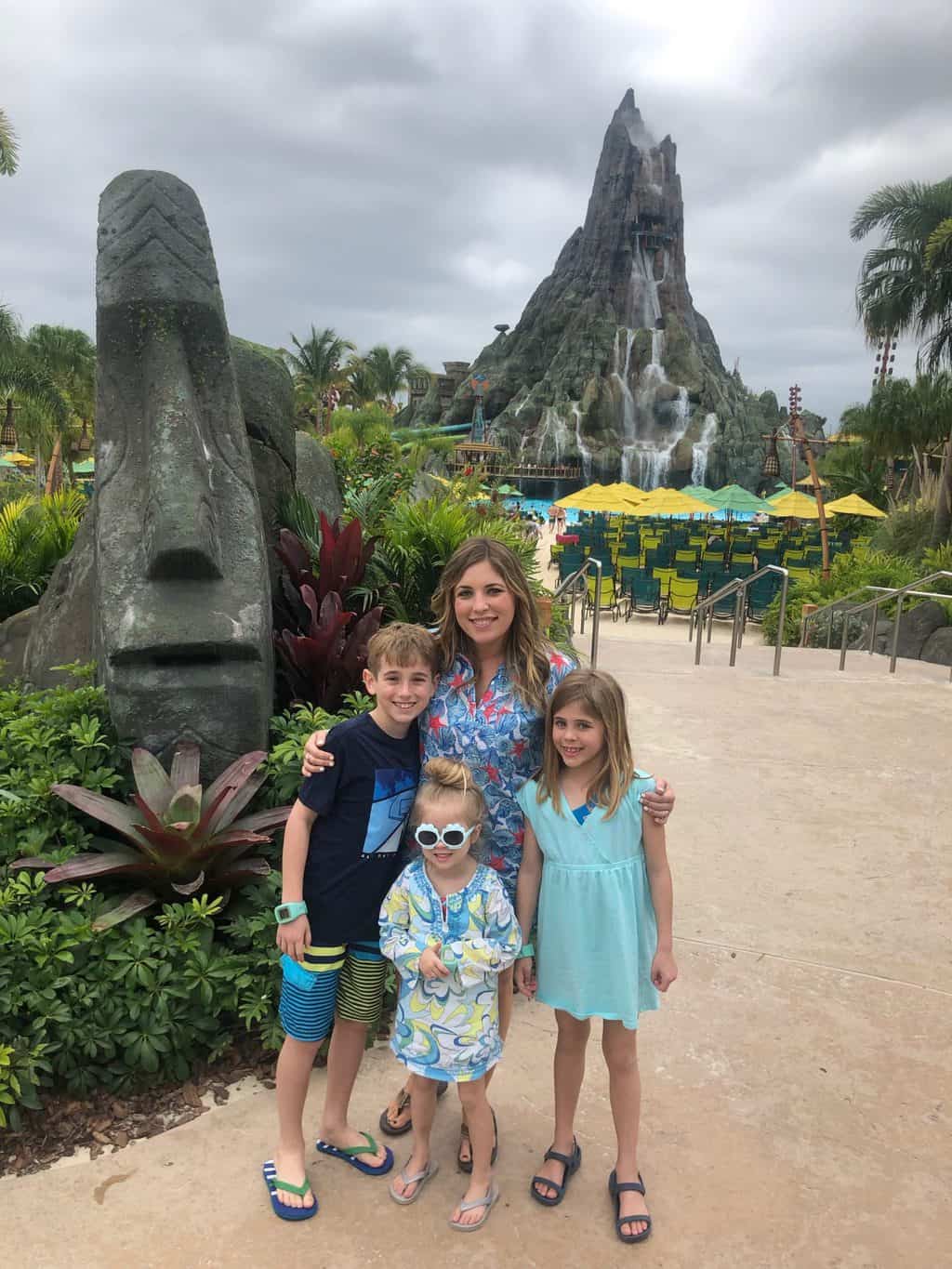 At first we got all set up at the wave pool area but then when we realized Tess would need to be in the toddler section we just decided to have that be our "home base" and headed that way!
Volcano Bay offers cabana rentals and they looked really neat…like tiki huts! Our day at the park was literally EMPTY so I can't fathom justifying the rental cost for the hut for that type of day. But I can see if we had all of Zach's family with us that it'd be a nice thing to have.
A good place for everyone to meet up. To allow for relaxation and for people who needed to stay out of the sun for a bit and wanted some quiet to escape the crowds on a more crowded, sunny day!
As many of you know Tess has been OBSESSED with her watermelon bathing suit over the last couple of summers. Well it is officially too small.
It's one of those clothing items that I totally put up in storage even though I'm sure her kids won't wear it…but I just couldn't get rid of Miss Watermelon!!!
I talked to her about a replacement suit and let her decide and she made the decision to become Miss Strawberry for this summer! Here's her grand debut!

I'm in LOVE with the suit! It's ADORABLE! You can purchase one here!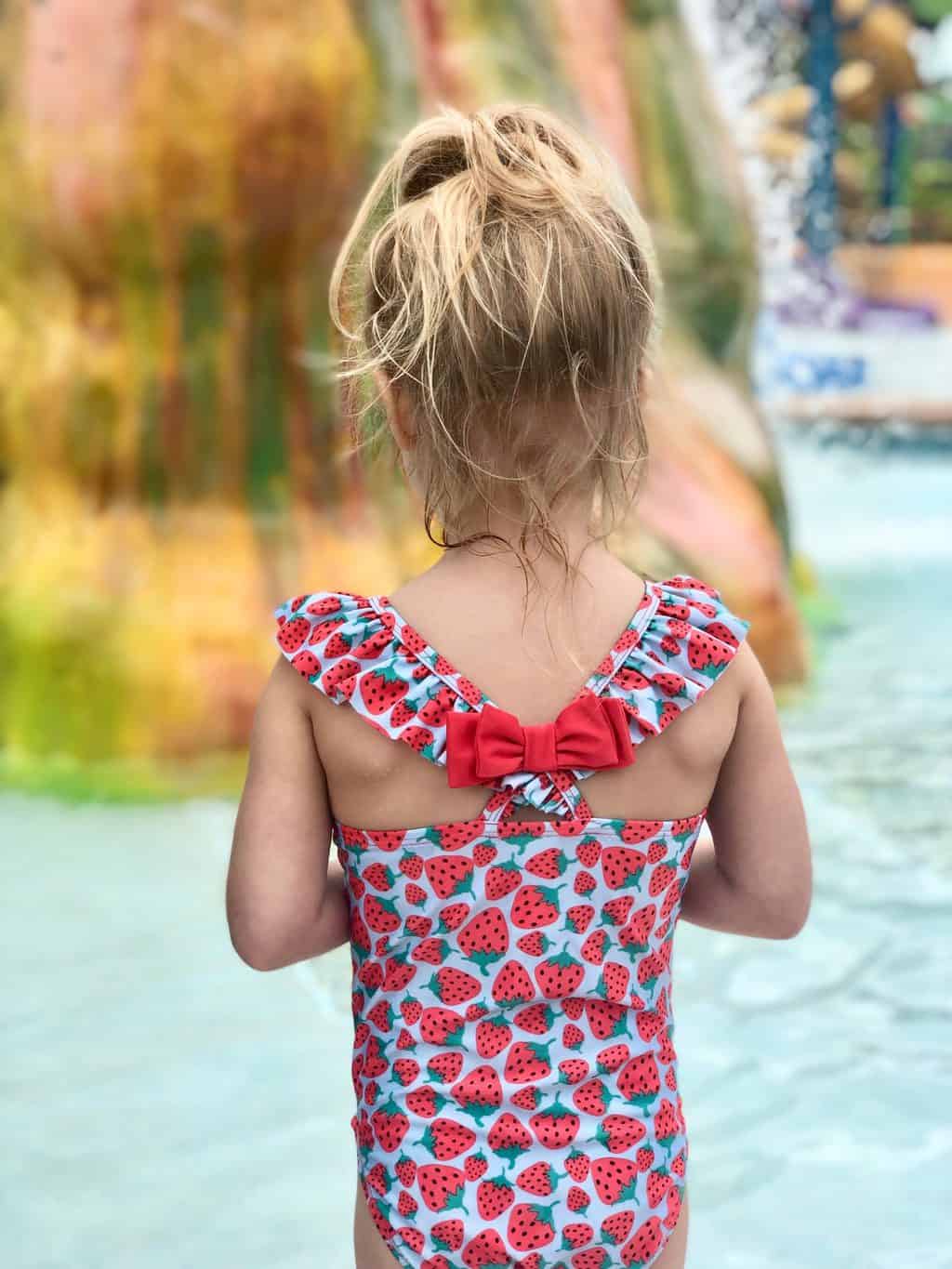 At first Tess was SUPER hesitant about the toddler area. She didn't like having to do it all on her own without anyone.
I talked to her about it and let her know she could totally just sit and hang out with me. Or she could have FUN. It was up to her!
She chose to have fun and I went with her to each slide and cheered her on. She had a good time and had just about the entire area completely to herself!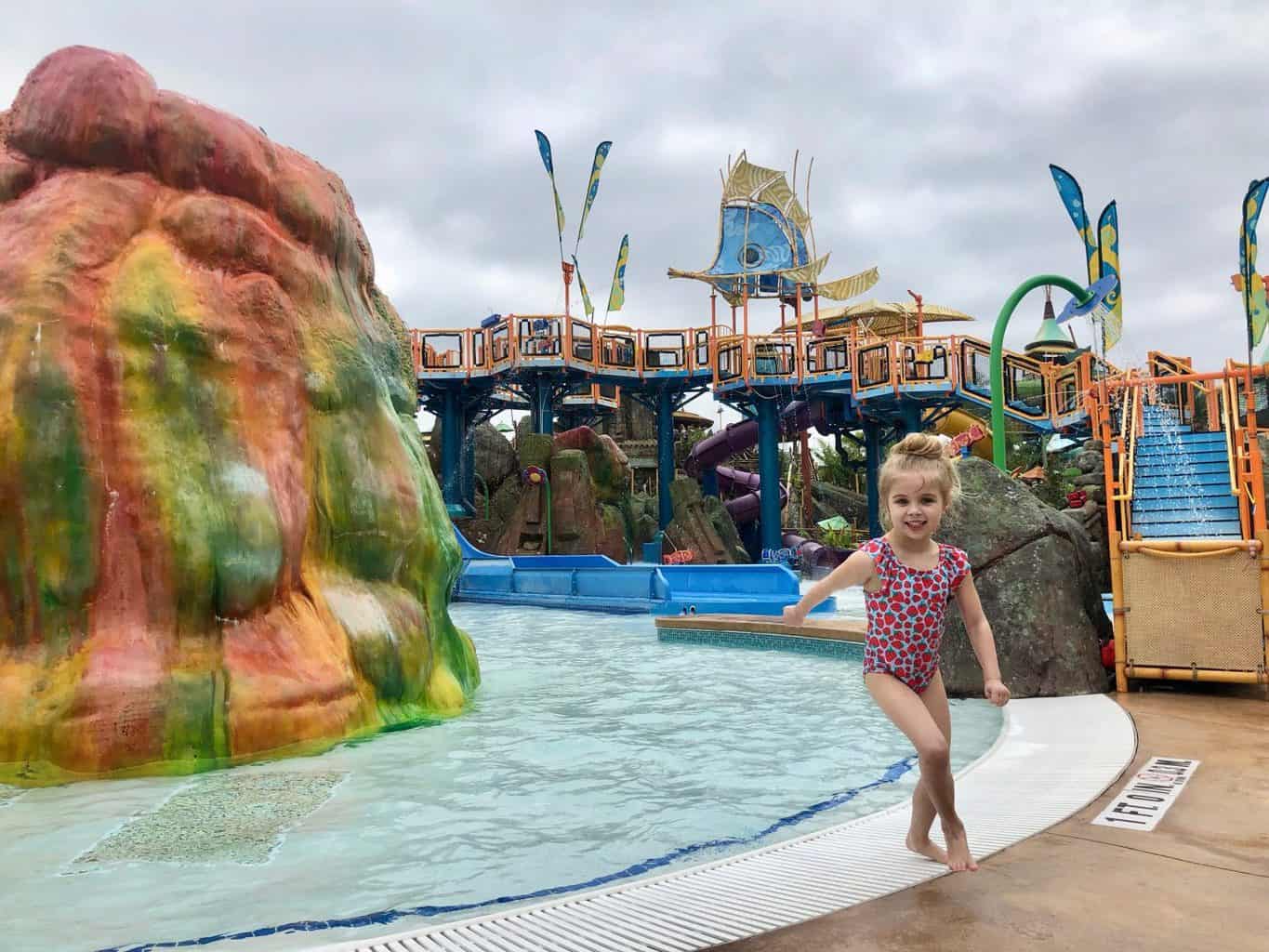 While she had fun…she was also FREEZING. When we got together with Britt she made the comment that all the other kids didn't seem like they were cold.
I explained to her that the other kids were probably from northern states and didn't feel cold because they were visiting from very cold climates! We are just used to the HEAT!
Luckily they provide plenty of towels at Volcano Bay (no need to bring your own!)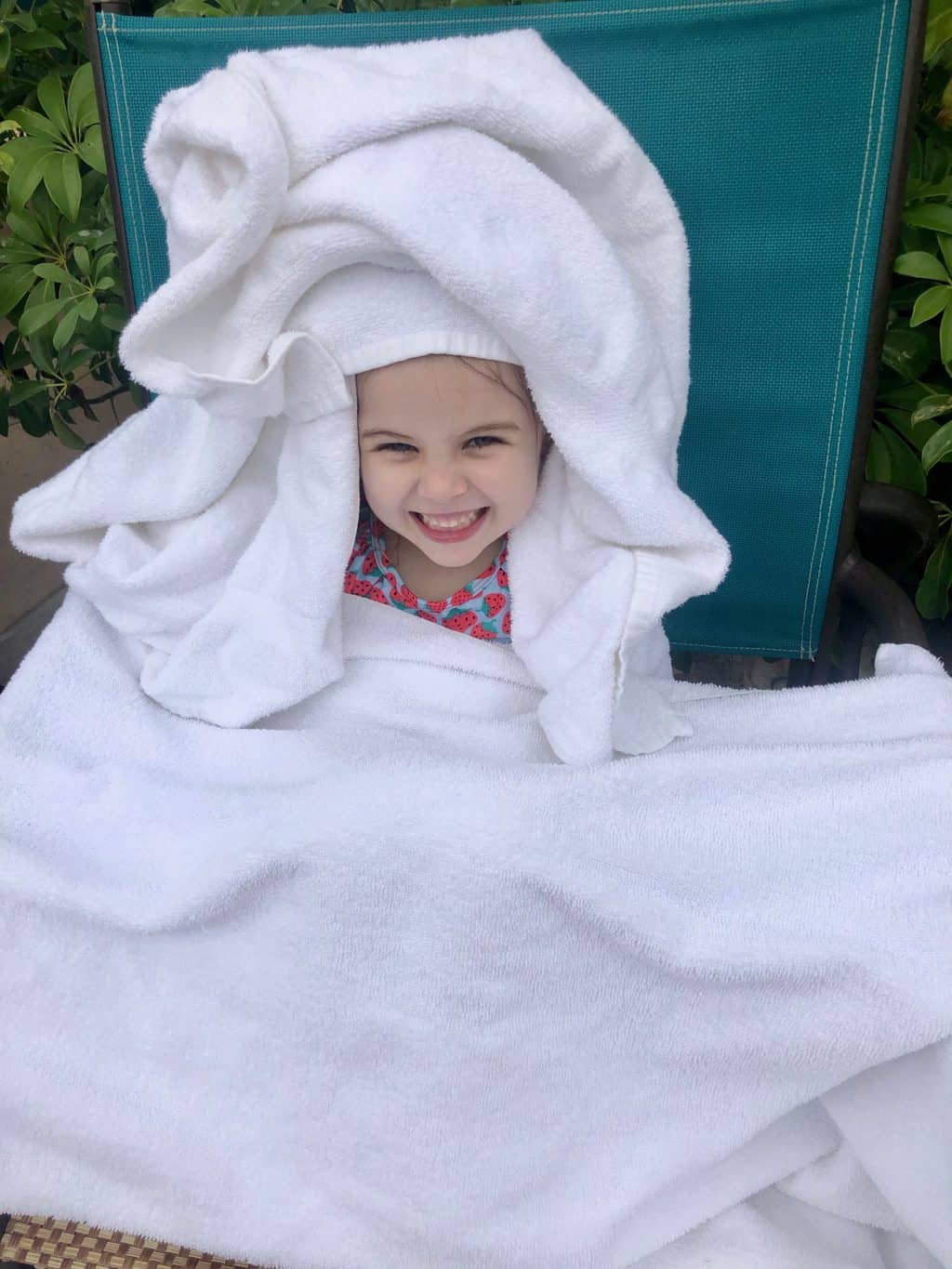 Zach, Kye and Britt completed the majority of the water slides in the entire park in under two hours time! It was crazy quick and they were so pumped when they checked in with us!
Poor Tessie was SO BORED so Daddy wanted to make sure she could have fun too! He went on a hunt to find something she'd be able to do with them…his first attempt was for a raft type ride that appeared to be a lazy river but it actually wasn't and she wasn't tall enough for it.
I was SO proud of Tess and how well she handled the rest of the crew going on the experience without her. She sat in the water to keep warm and just waited patiently!
Once they got back they were able to go to the true lazy river and Tess was able to float her way through with them!
I may have been a "lame mom" for not getting in…but I just didn't see the point in FREEZING when it'd only be for one ride!
There were a couple of water sides that even my Brave Girl Britt didn't want to do…including one that drops STRAIGHT DOWN.
Kye and Zach were ALL about it so Britt hung out with Tess and me at the toddler section while the boys went to finish up on the remaining slides. We had snacks and snuggled up to stay warm 😉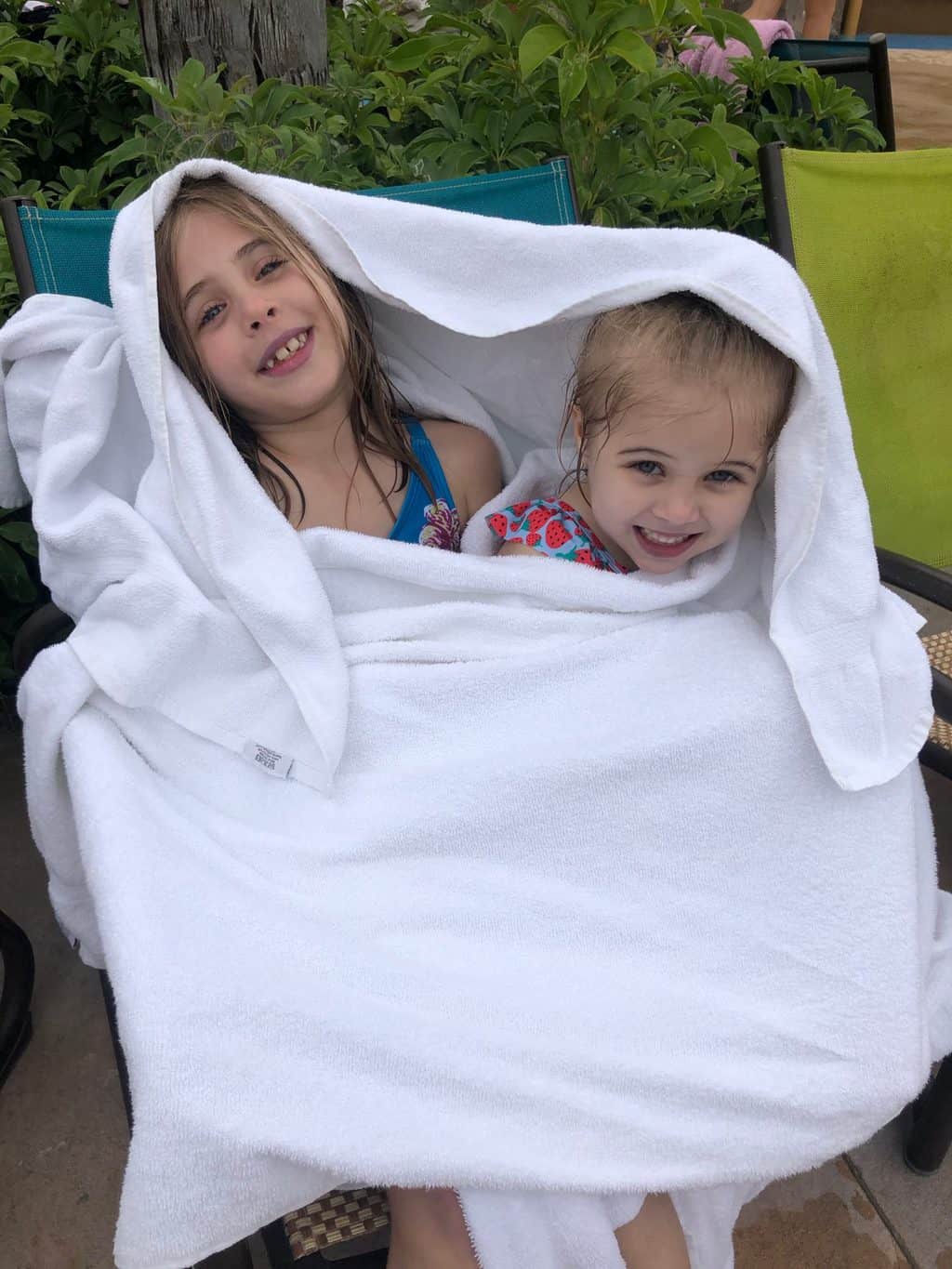 I am SO thankful Kye felt better for our second day. I hated he felt poorly during the first day but I knew the second day was really the most important regarding how he'd be feeling.
Waterparks while sick would be the worst case scenario to me! But he felt GREAT and he and Zach HAD A BLAST.
I can 100% see a future father-son trip to visit Volcano Bay! Zach said it was his favorite day at a theme park EVER.
He loved, loved LOVED it and loved having someone to experience all the fun slides with!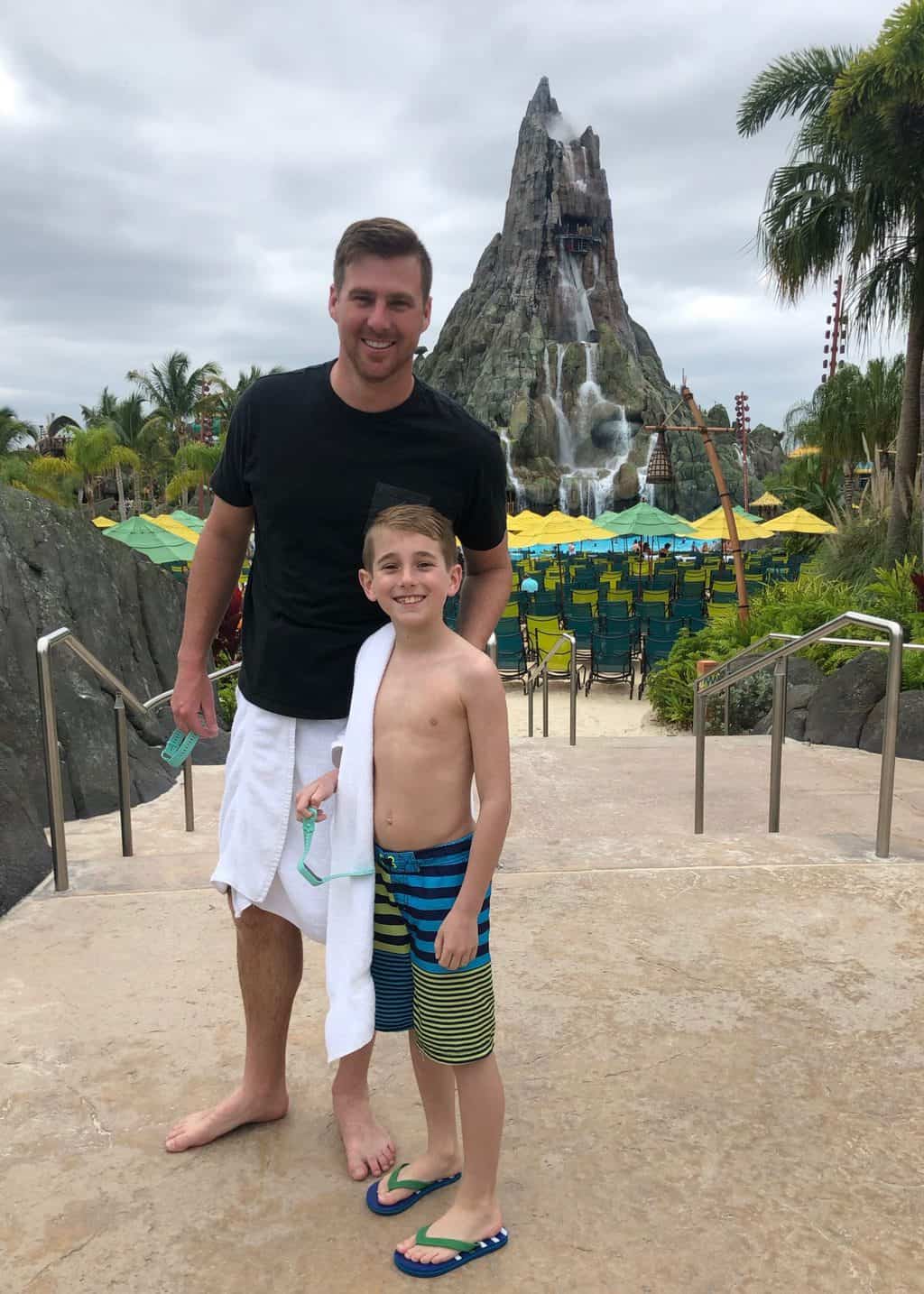 Another perk of staying on-site at Universal Orlando Hotels is that you're able to keep your parking spot on your checkout day.
We left our car at Cabana Bay Beach Resort and simply walked back over to the resort after finishing our time at Volcano Bay.
We changed into our travel clothes and hit the road to head back home!
Be Sure To Read All the Posts About Our Trip:
Our trip was SO FUN and such a great experience as a family! We LOVED Universal's Cabana Bay Beach Resort, had a BLAST at The Wizarding World of Harry Potter, and will FOR SURE be visiting Universal's Volcano Bay again in the future!
Thank You Universal Orlando Hotels!