Baby dolls have always been a popular choice for pretend play amongst little girls, and even 1 year olds can enjoy them! (You can never start them too early on learning those nurturing skills.) Finding the best baby doll for a 1-year-old is not difficult, though there are some things to keep in mind when choosing that special first baby doll that she'll always remember as "my first baby doll!"
The type of baby doll you buy for your one year old is likely going to be different from the type of doll you buy for a toddler or preschooler.
For one thing, you'll want to keep small parts in mind. One year olds, and even two year olds, can easily choke on small pieces. The best baby doll for 1 year old will have little to no accessories or parts that can detach and potentially cause choking hazards.
For another, you probably want something durable and machine washable – babies tend to be a little rougher on toys than older children, so you'll want one that will last a long time! Your baby's first doll needs to be able to hold the test of time and, hopefully, be the first doll for baby girl grandbaby one day too 😉
Baby dolls are a great choice for imaginative play and developing those fine motor skills. They make some of the best gifts and can become one of your child's first best friends! So I definitely think buying one for a 1-year-old shouldn't be overlooked!
What are the best baby dolls for a 1-year-old? I've got my top pick lined up for the best doll for 1 year old plus some other great choices so you can find the one that works best for you and one that your daughter will forever appreciate as her "my first doll" memory!
Disclaimer: post contains affiliate links.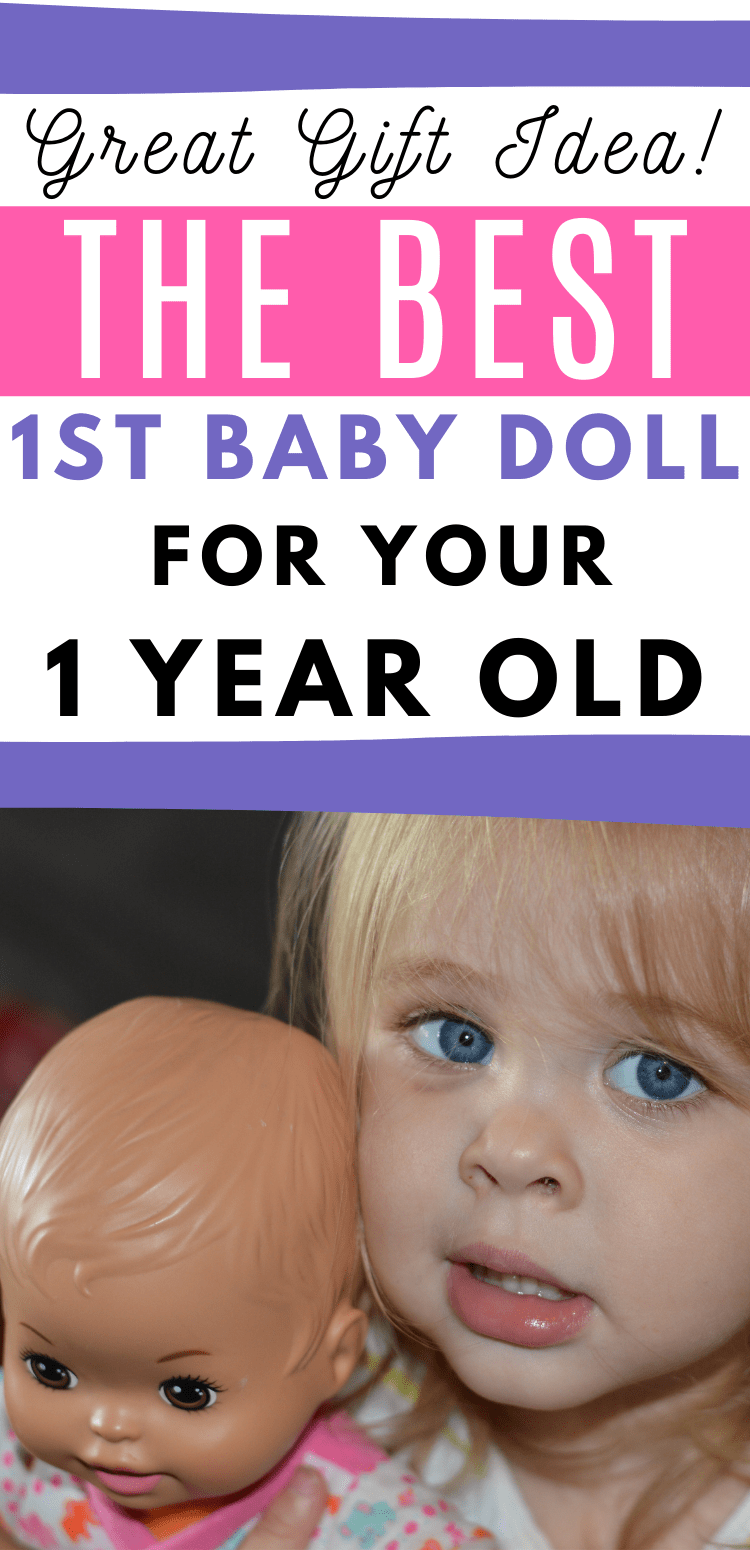 The Best Baby Doll For a 1 Year Old
In my opinion, the Baby Alive Sweet 'n Snuggly doll is the BEST doll I've found for age 1 and up! I've gotten this one for my daughters and they love it! I also feel really comfortable with it because it is designed for 18+ months, with large pieces, a soft body, and… best of all… the ability to throw it in the washing machine!
It comes with a cute bottle (that is big enough not to get lost right away!) and baby is also able to "suck" her thumb 🙂 I love her soft body but hard head and the fact that she doesn't have "real" hair so there is no worry about it becoming a diaster either. I also love that her arms and legs are made from plastic so they are able to feel "more real" than an all plush doll.
Baby Alive dolls in general are pretty popular, and the company has a good reputation for making safe toys. The Amazon reviews for this one are great, too!
Overall, the perfect doll to introduce your one-year-old to and my top baby doll for a 1-year-old pick! Over the years with having two daughters we have owned LOTS of baby dolls but my girls ALWAYS came back to this one. Again and again! It was THE most played with baby doll out of the bunch.
Other Awesome First Doll Options for 1-Year-Olds
JC Toys La Baby
This realistic doll is intended for children ages 12 months and up. It's a good size for babies and there's a good variety of options outside of the typical blonde hair and blue eyes. That includes a baby boy doll (or at least, a doll dressed in blue), which is pretty rare!
Something I like about these more realistic-looking dolls is that they tend to be a bit heavier which makes them feel life-like to hold and snuggle. However, that can also make them difficult for a smaller toddler to carry around and love on easily.
Eden Terry Soft Doll
This soft baby doll with a pink outfit is designed to be a first baby doll, geared towards age 0 and up! It's the kind of doll you display in the nursery and then give to baby when they're old enough to hold onto it. A good option if you want something super plush!
However, my girl's received this doll and it's SO plush that it doesn't really fulfill that desire for a baby doll. It's more like just any other stuffed animal on their shelf and because of that it rarely got played with.
Adora Playtime Baby Doll
Another realistic-style baby doll with adorable snuggly pajamas. Another version even comes in overalls. It's also machine washable, plus it's an ideal size and weight for one year olds!
Kidoozie Snug and Hug Baby Doll
A cuddly baby doll with a removable outfit and realistic features! It comes with an extra diaper and a bottle. The most fun part in owning a baby doll is caring for the doll so having accessories included adds to the appeal.
Gloveleya Baby Doll
These soft dolls are super cute and come in a variety of different styles. Even though they're less baby-ish, they're still a great choice for a little girl. These would be especially cute to add to a gender neutral baby nursery once the baby was born if it's a girl to add a bit of a girlish touch 🙂
Cabbage Patch Kids Baby Doll
Cabbage Patch Kids are classic, and many of us probably remember having one growing up! But did you know they also sell a baby doll version? The perfect size for your own little Cabbage Patch kid! These were my FAVORITE as a little girl and my girls each have one in their doll collection due to my personal love for the Cabbage Patch brand.
Manhattan Toy Baby Stella Doll
Wee Baby Stella dolls are another classic plush doll that little girls love! With cute faces and fun outfits, these dolls make a great gift for the 1-2 year old age group!
Out of all the dolls shared in this post the Baby Stella doll is probably the most popular one purchased for the young toddler as a "first baby doll" but it's more like a "first dolly stuffed." My girls both had one and neither played with her much. Again, I think the fully soft body just leans itself more to a stuffed animal rather than a baby doll. I also think little girls are more likely to play with a doll that they can interact with by "feeding" it or "giving it a paci" etc.
Bitty Baby Doll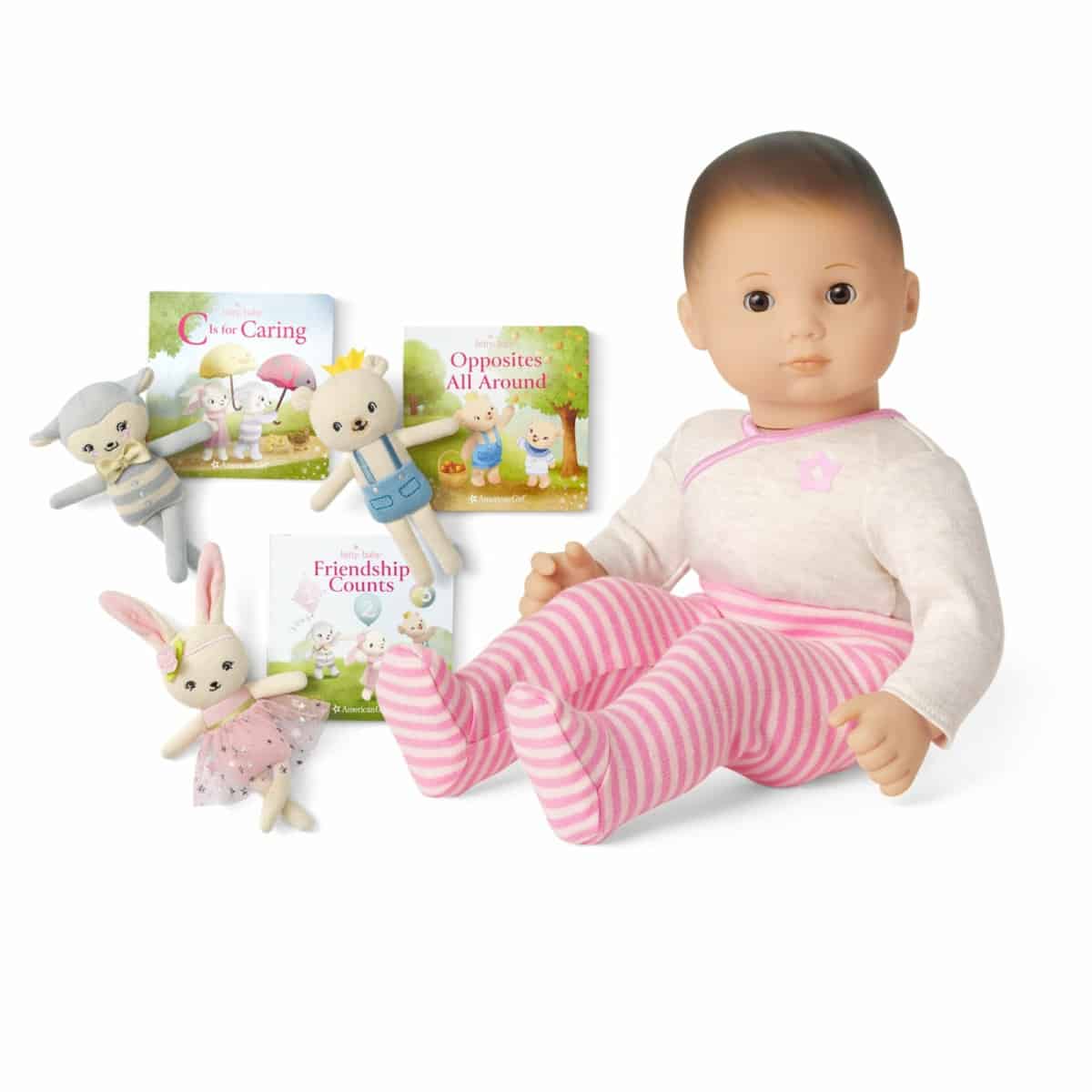 The American Girl Doll company has a pretty great reputation for making some of the best toys for little girls, and my girls have always loved their dolls. (Britt even had an American Girl Doll birthday party!) So it stands to reason that their baby dolls should be pretty great too!
Shop the Bitty Baby doll line here! The doll comes with little books and accessories too as well as an excellent warranty to help ensure it will be an heirloom item (I gifted my girls my original American Girl full sized dolls!).
MY personal favorite doll is the Bitty Baby. They are SO well made and just beautiful. I think American Girl does a fantastic job with their products and I really, really wanted my girls to love their dolls. Sadly, neither took much to their Bitty Baby and, again, chose the Baby Alive Sweet 'n Snuggly doll over the Bitty Baby every single time.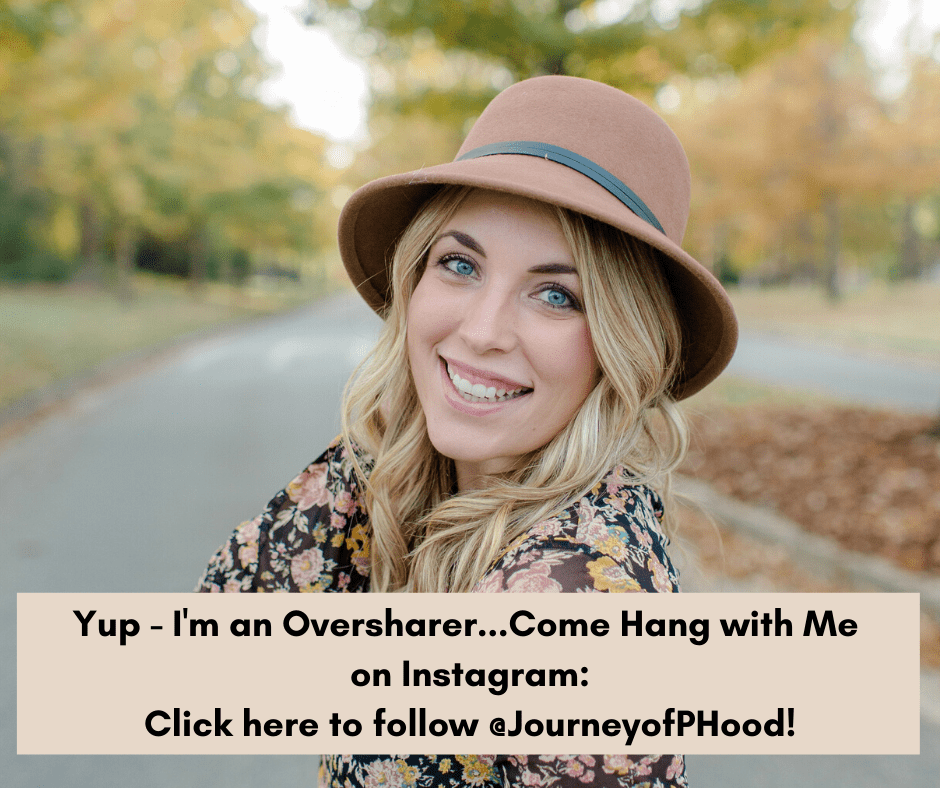 Storing Your Baby Dolls: The Best Toy Storage Idea!
If your little girl ends up loving her baby dolls, you're going to want a good way to store them. (Or, let's be honest, all the toys!) Fortunately, I've got you covered there, too: I have a great method for storing dolls that will help with your organizing ideas and home management solutions!
I like to have a solid system where every toy and item has its place. Not only does it help me to keep our playroom clean and tidy but it also allows the kids to help in decluttering all areas of the house! This doesn't have to be a huge project, even just asking your husband to build a small shelf can make a big difference in keeping toys put away and avoid have baby dolls all over the house.
The Best Way to Store Dolls and Other Toys
A simple cube organizer like this one is a versatile and efficient way to store kids' toys without much effort. You can buy your own storage bins in different colors and patterns to match your child's room or play area. The bins can also be plastic containers or made of cloth, cardboard or even wood. This affords a lot of space while still keeping things contained and (relatively) organized.
You can also get creative with the storage unit options: wooden crates, plastic bins, wicker baskets… sometimes you can find unique storage bins at the dollar store or second-hand store. But of course, there's always Target!
Related—-> How to Prevent the Toy Takeover!
Other Unique Ways to Store Dolls & Toys
If you'd like a toy organization method that also doubles as a toy itself, this is a great way to have the best of both worlds! It's a changing table designed for baby dolls, but it also has storage containers built-in. This can be the perfect place to store all your child's doll-related toys without it seeming like they're cleaning up!
This is another storage space idea designed specifically for young children – it comes in pink for girls, blue for a little boys room, and multicolored for a playroom. The different-sized bins are good for organizing a variety of toys: from board games and toy cars to small toys and action figures! A shelving unit like this is a staple in our own home 🙂
This cute little armoire a fairly inexpensive way to organize dolls, doll clothes, doll accessories, stuffed animals, and more! It's not very big, but it can be a great place to store your 1 year old's first doll and other small items!
One easy way to store toys is in a classic toy bin like this one! This toy chest is made of lightweight materials and is collapsible for easy transport! Nothing too fancy, but sometimes a large storage basket or bin is all you really need!
A popular trend for organizing toys while maximizing floor space is to use a shoe organizer like this one! The compartments can hold dolls and other toys, and it slides underneath a couch or bed for easy cleanup! A great idea for a small space, or if your kids tend to use the entire house as their playroom!
I like the idea of this shoe rack as a toy organizer because it can fit inside a closet, which is great for saving space! It may be difficult for a little kid to reach the highest compartments, but it could also be a good way to put craft supplies and other messier toys up high and out of reach!
This is another shoe rack option that I've seen floating around Pinterest: an easy way to store dolls over the bedroom door and save space! The shoe-sized pockets are also the perfect size for smaller baby dolls and Barbie dolls… as well as all the pieces!
Baby Doll for a 1 Year Old & Baby Doll Storage: Final Thoughts
I hope this helped you in your search for the best baby doll for a 1-year-old, as well as providing some really easy and fun ways to store dolls and toys! You really can't go wrong gifting a baby doll a little girl. And while 1 year old may seem like a really young age to introduce baby dolls (after all, they're still babies themselves!) you'd be surprised just how much they tend to enjoy them!
Introducing a baby doll is also an excellent way to help prevent sibling jealousy if you are pregnant or bringing a sibling home soon! I like to gift a baby doll as an older sibling gift when a new baby is on the way. It's a great way for the soon-to-be older sibling to practice helping.
I also use a baby doll in potty training! Even for my boys a baby doll is very helpful in making the connection to how to use the toilet!
Are there any baby dolls or baby doll storage ideas that aren't on this list that you highly recommend or love for your little one? Drop them in the comments!

Other posts you might like: