When it comes to Halloween costumes, nothing is more iconic than Disney characters. And the sheer amount of Disney costumes you can DIY means you'll never run out of ideas!
My family and I LOVE Halloween and we do themed family costumes every year. We also love Disney and Walt Disney World, so naturally, many of our costumes through the years have been Disney themed!
I will take a good Disney theme any time of the year: Halloween Thanksgiving Christmas – sign me up for 'em all 🙂
I also definitely prefer DIY when I can to buying new, overpriced character costumes every year.
Sometimes it worked out that I found a good deal (shopping at a thrift store and at garage sales for Halloween costumes is a great way to find gently-used options!) but most of the time, I worked with what I had, sometimes at the last minute!
In a lot of ways, it makes the costume more special when you have to put it together yourself.
The entire process becomes fun, not just wearing it for a couple hours on Halloween!
So if you want some fun ideas for easy DIY Disney Halloween costumes that are perfect for kids and adults, I've got you covered with some great options!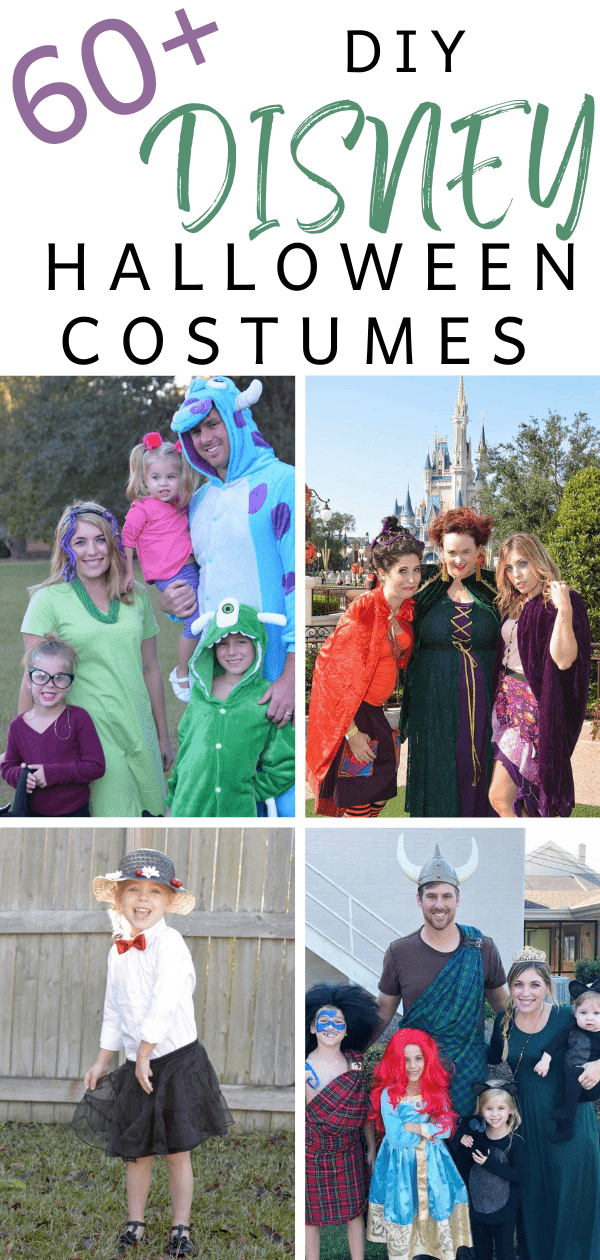 Disclaimer: post contains affiliate links.
DIY Disney Costumes: Mickey's Not So Scary Halloween Party
Many of these DIY Halloween costume ideas happened because of Mickey's Halloween Party, which is a great excuse to put together best friend Halloween costumes for a girls' trip or matching costumes for family trips to Disney World!
I know people at MNSSHP will dress up as all sorts of different themes and characters but, personally, I'm pretty passionate that if you're attending a Disney World event your costumes should be Disney inspired.
Here are the themes we've done in the past!
Sleeping Beauty
Sleeping Beauty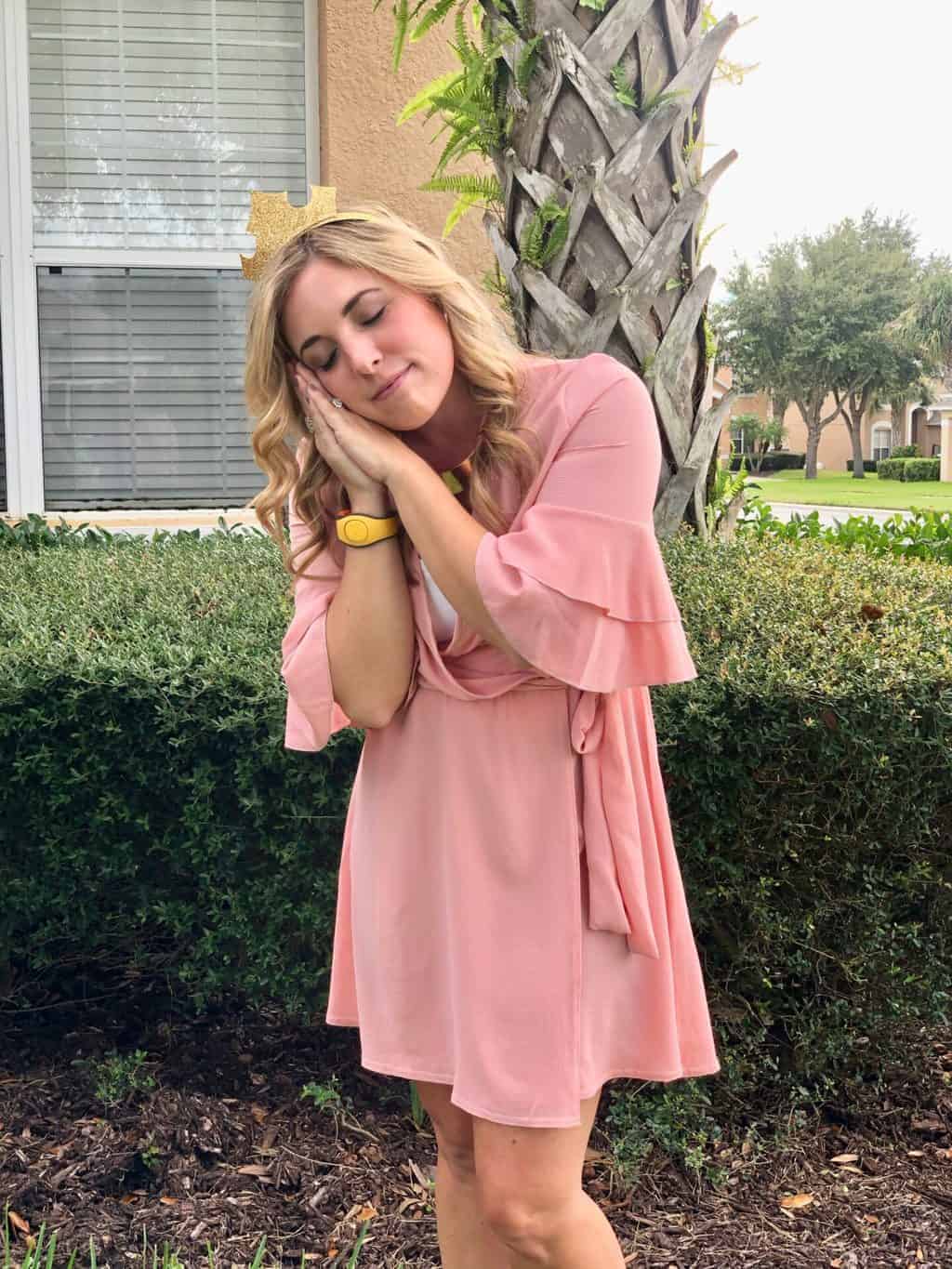 A pink (or blue) summer dress and a golden crown are all you need to make this Disney princess costume come to life! I also wore this gold necklace and earring set to tie the look together.
My exact dress is no longer available but this would be super cute and has a blue option too 🙂
Maleficent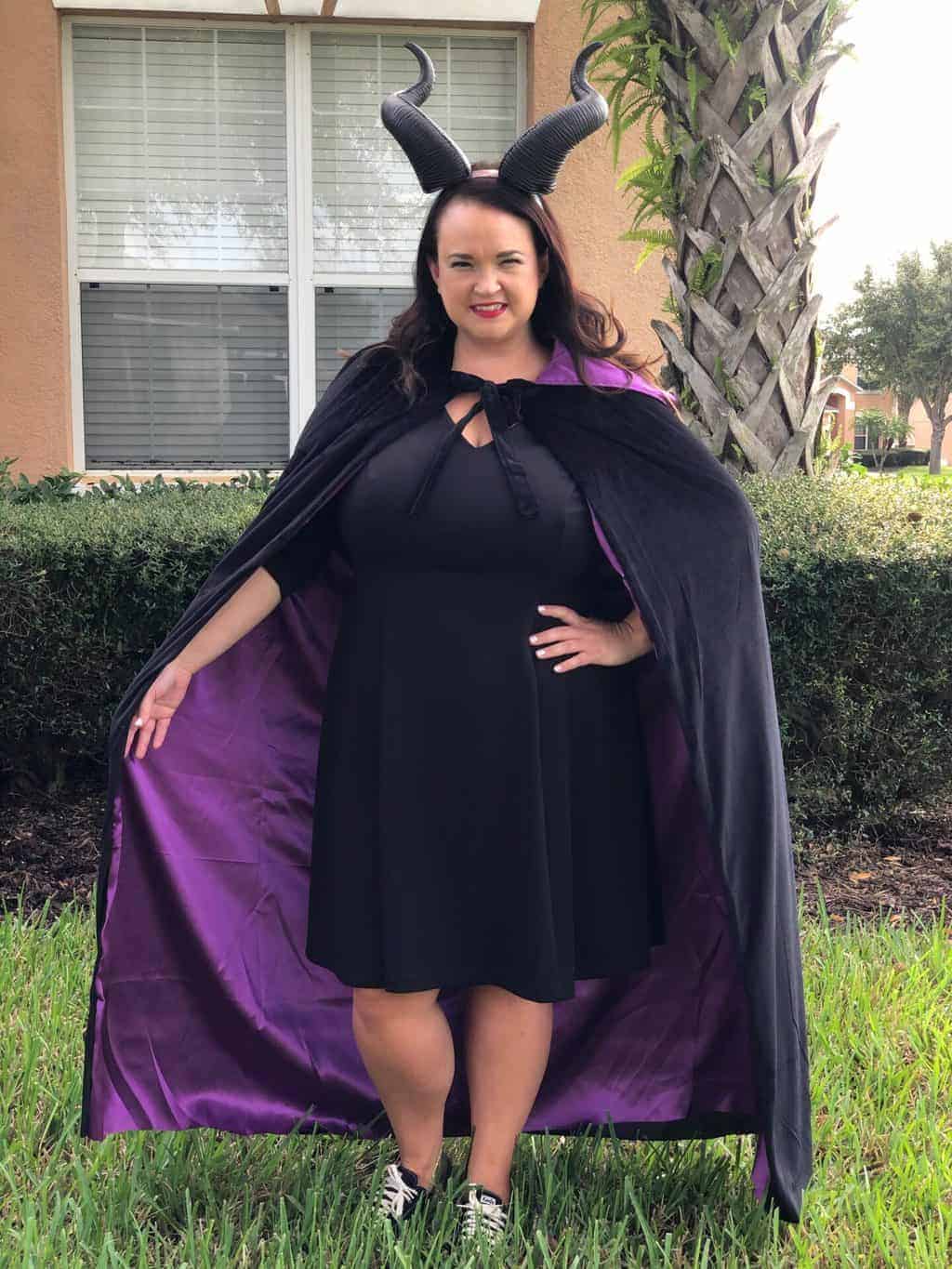 This classic Disney villain gets a DIY makeover with a simple black dress, purple cape, and horned headband!
Flora, Fauna, and Merryweather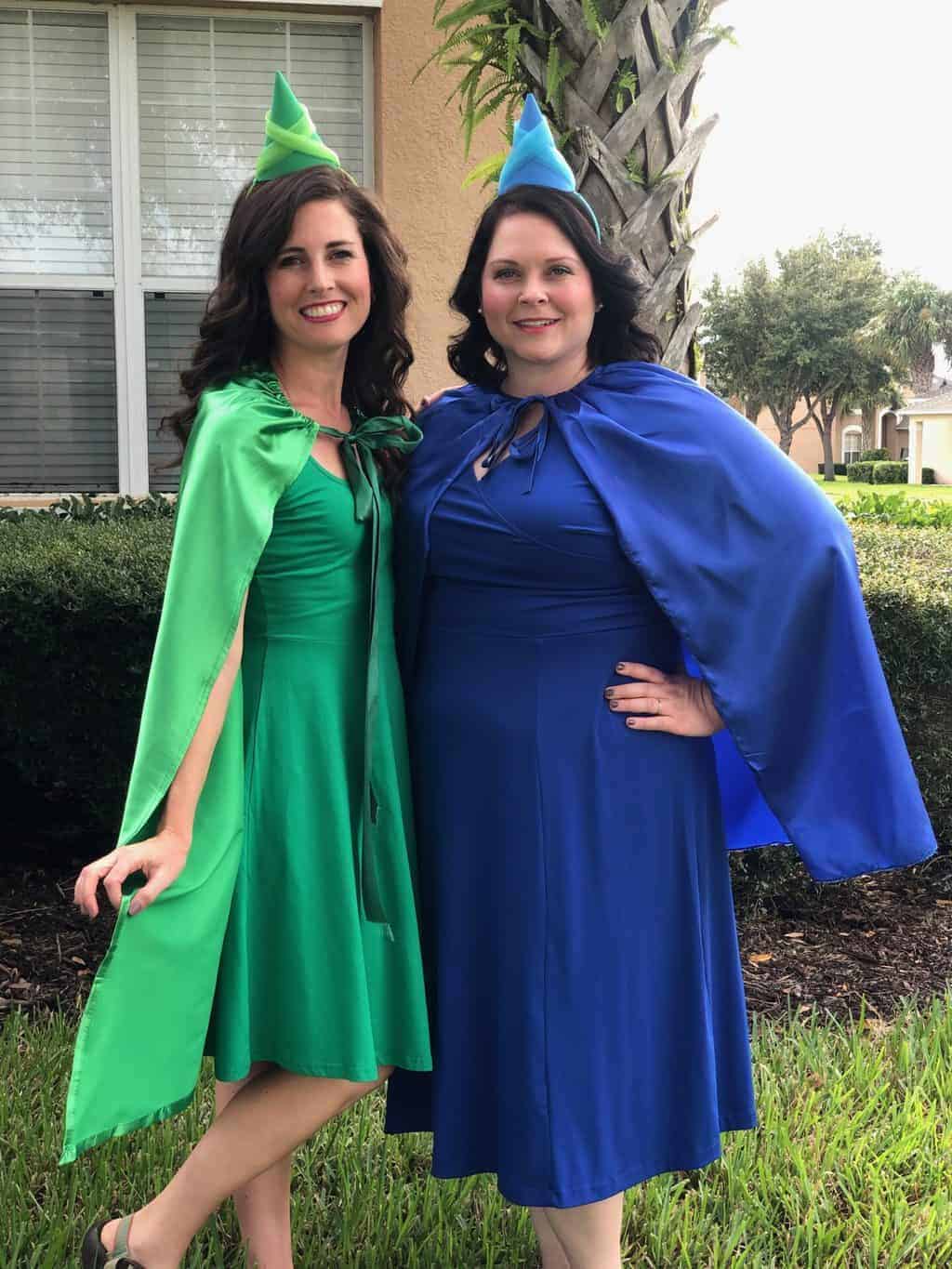 We didn't have a Flora in our group but the same principle applies: colored dress, matching cape, and a pointed hat!
Check out the full girls' trip to MNSSHP here!
DIY Disney Costumes: Cinderella
Cinderella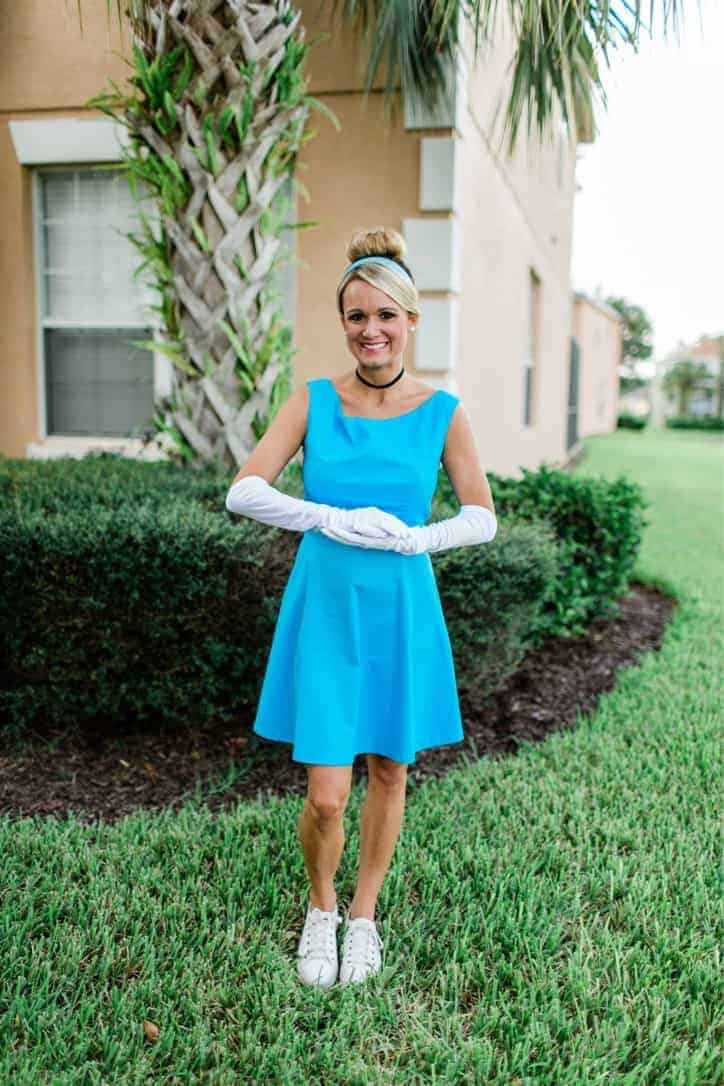 Keeping it simple as Cinderella with a blue dress, white gloves, simple choker, and classic bun updo with headband!
Anastasia & Drizella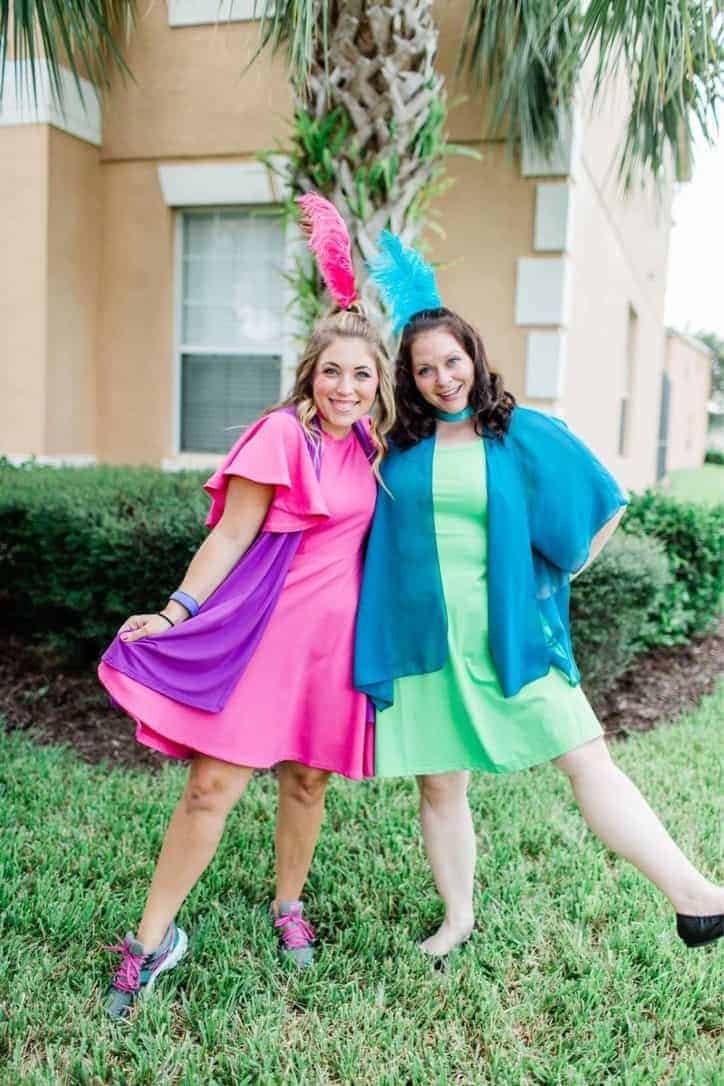 For the stepsisters, all you need are simple pieces to match their dress colors in the movie and a feathered headpiece so they're ready for the ball. This dress was SUPER comfortable for the parks and I love the color!
Fairy Godmother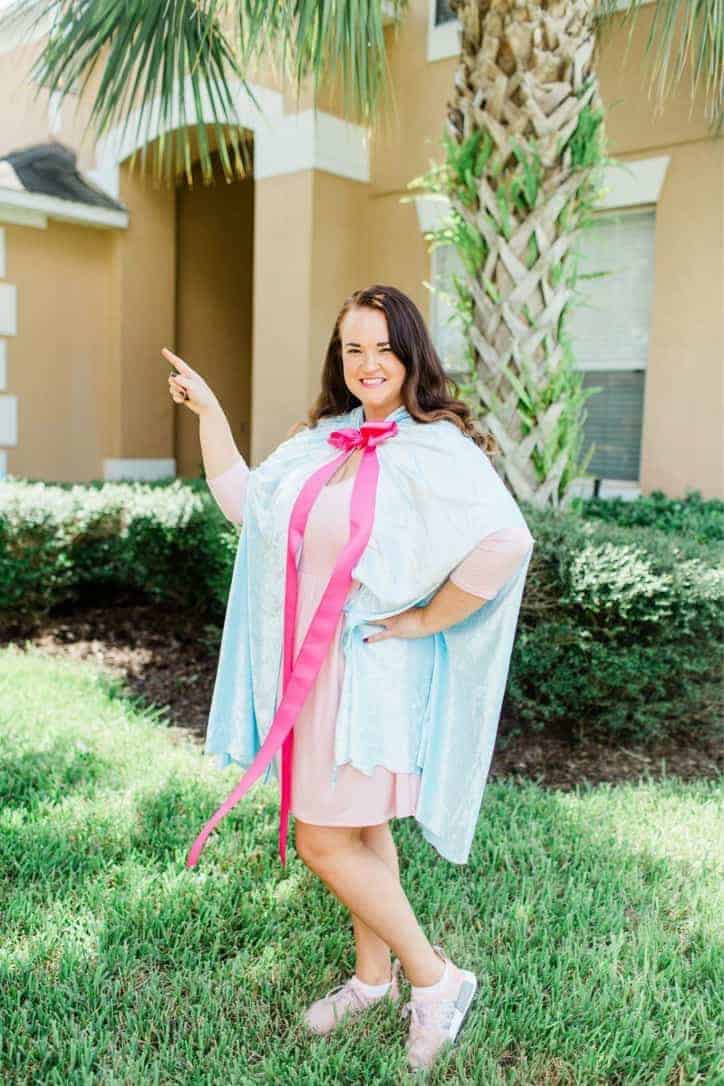 The Fairy Godmother costume was simple: just a light blue cape or poncho with a pink ribbon sewn on! Add a magic wand and bippity, boppity, boo!
Jaq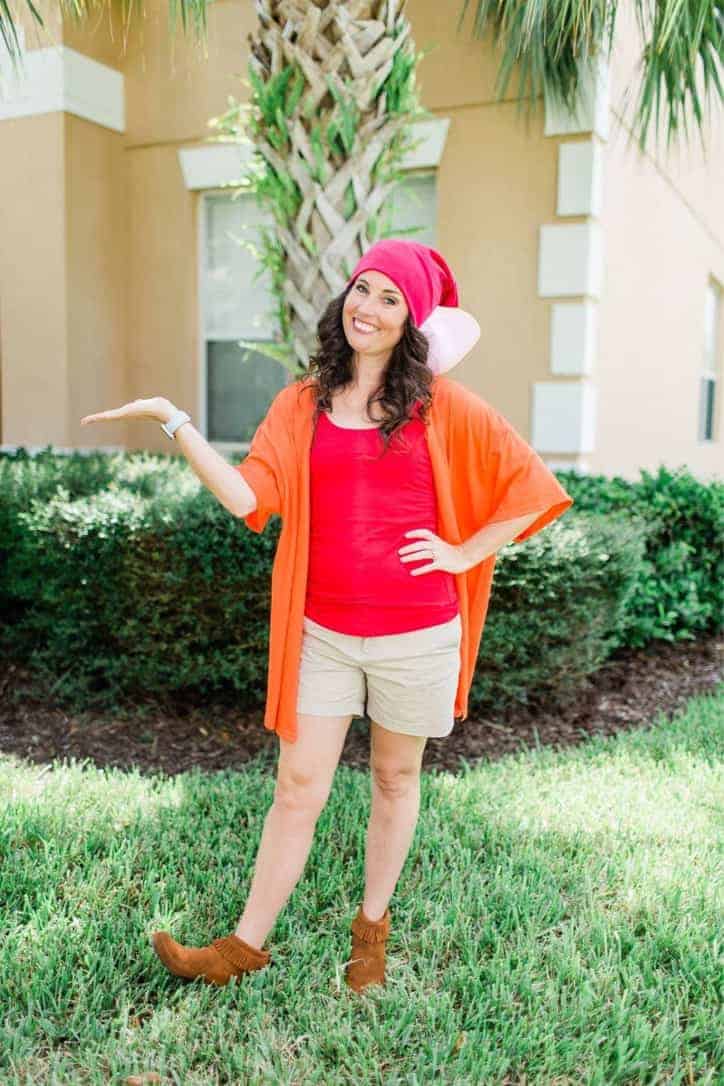 A red shirt and hat, orange cardigan, and brown booties are all you need to help Cinderelli get ready for the ball!
Prince Charming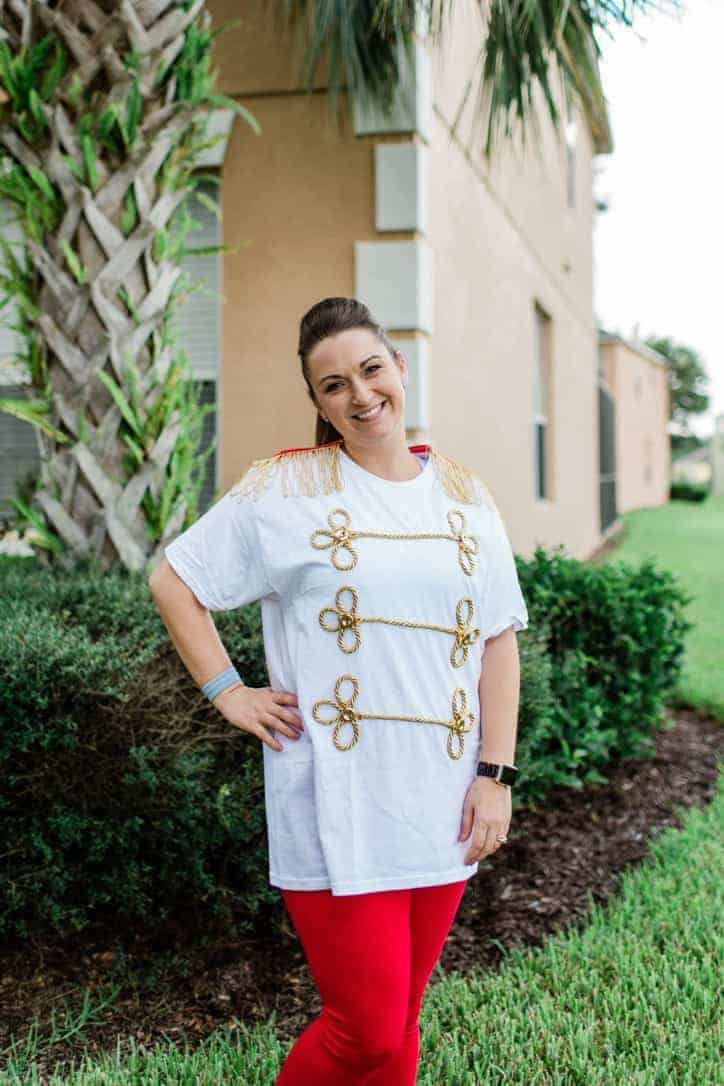 This DIY costume is as easy as it is charming! The white t-shirt has gold cording hot glue-gunned on the front along with felt shoulder pads with gold string for tassels. Add a pair of red tights and voila! The perfect prince!
DIY Disney Costumes: The Sanderson Sisters from Hocus Pocus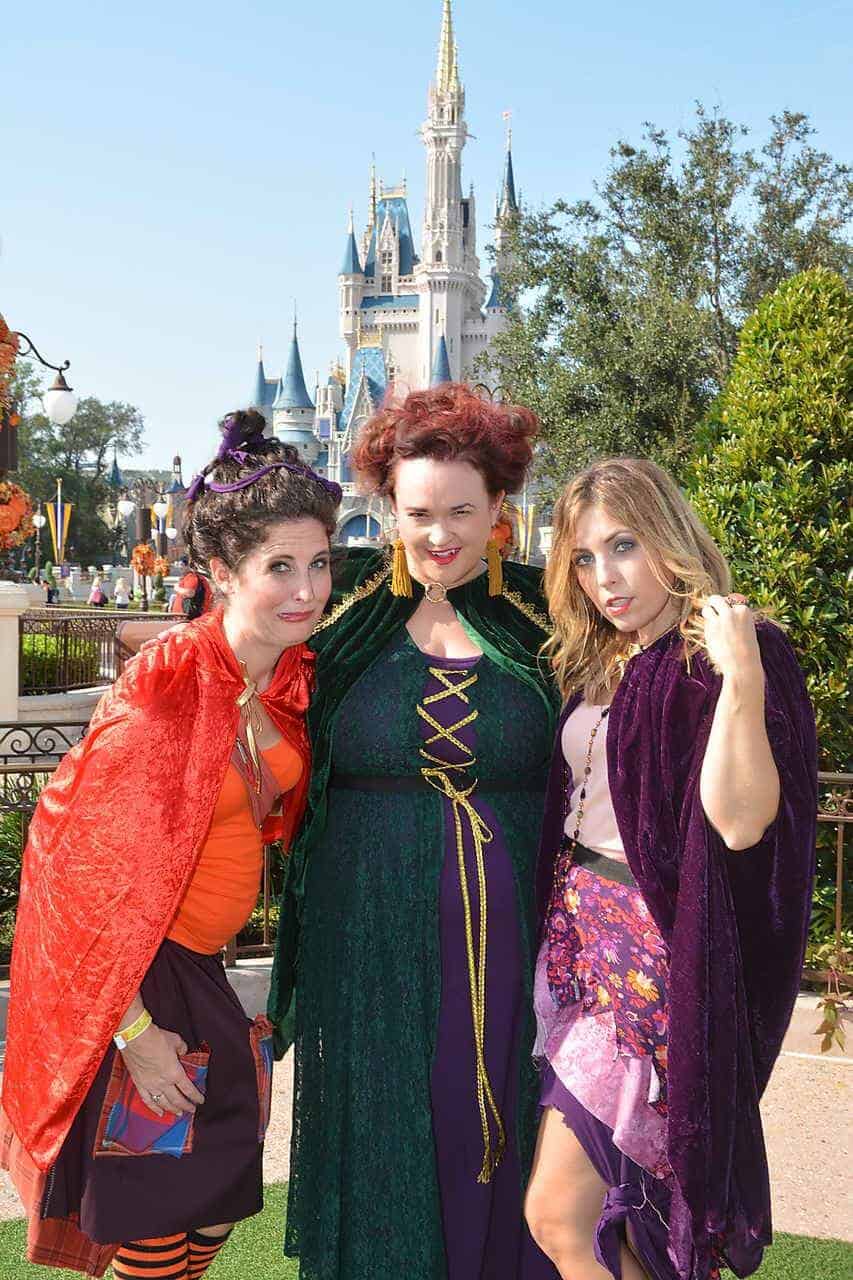 We had so much fun putting these classic DIY Disney costumes together and hopefully this gives you an idea of the end results!
You don't even need to cast a spell: most of these clothing items can be found second-hand or for cheap online.
The capes were really the most crucial element of these looks and we all ordered the same capes in different colors to reall coordinate.
See what all the Hocus Pocus is about here!
DIY Disney Costumes: Villains
Disney Villains make great Halloween costumes, and there are easy ways to DIY these classic looks!
We made the tutu skirts ourselves on a fun girl's night and the end results were cute and comfortable for the hot days and night at Magic Kingdom!
Queen of Hearts from Alice in Wonderland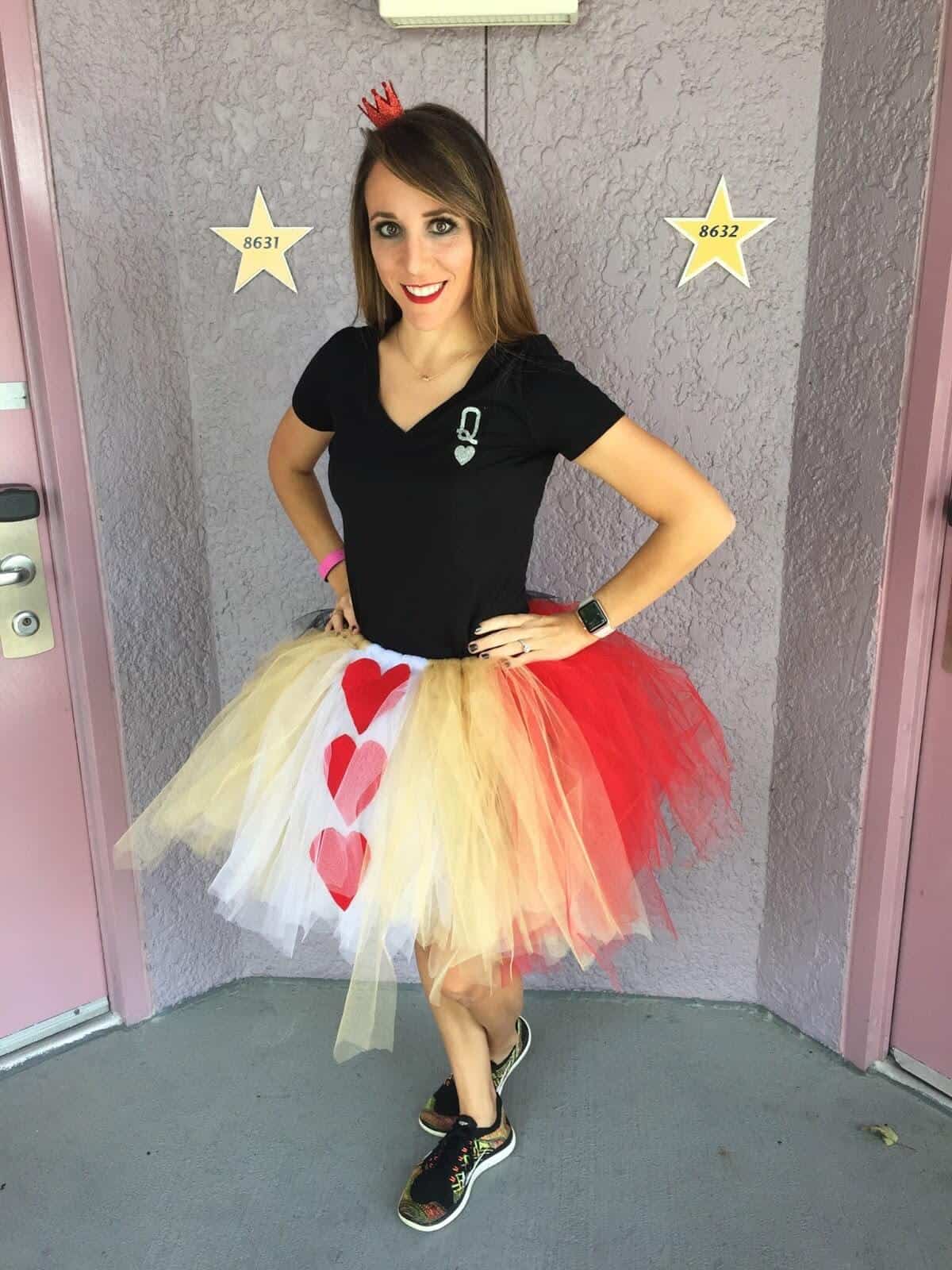 The mini crown headband really pulled this look together!
Cruella from 101 Dalmatians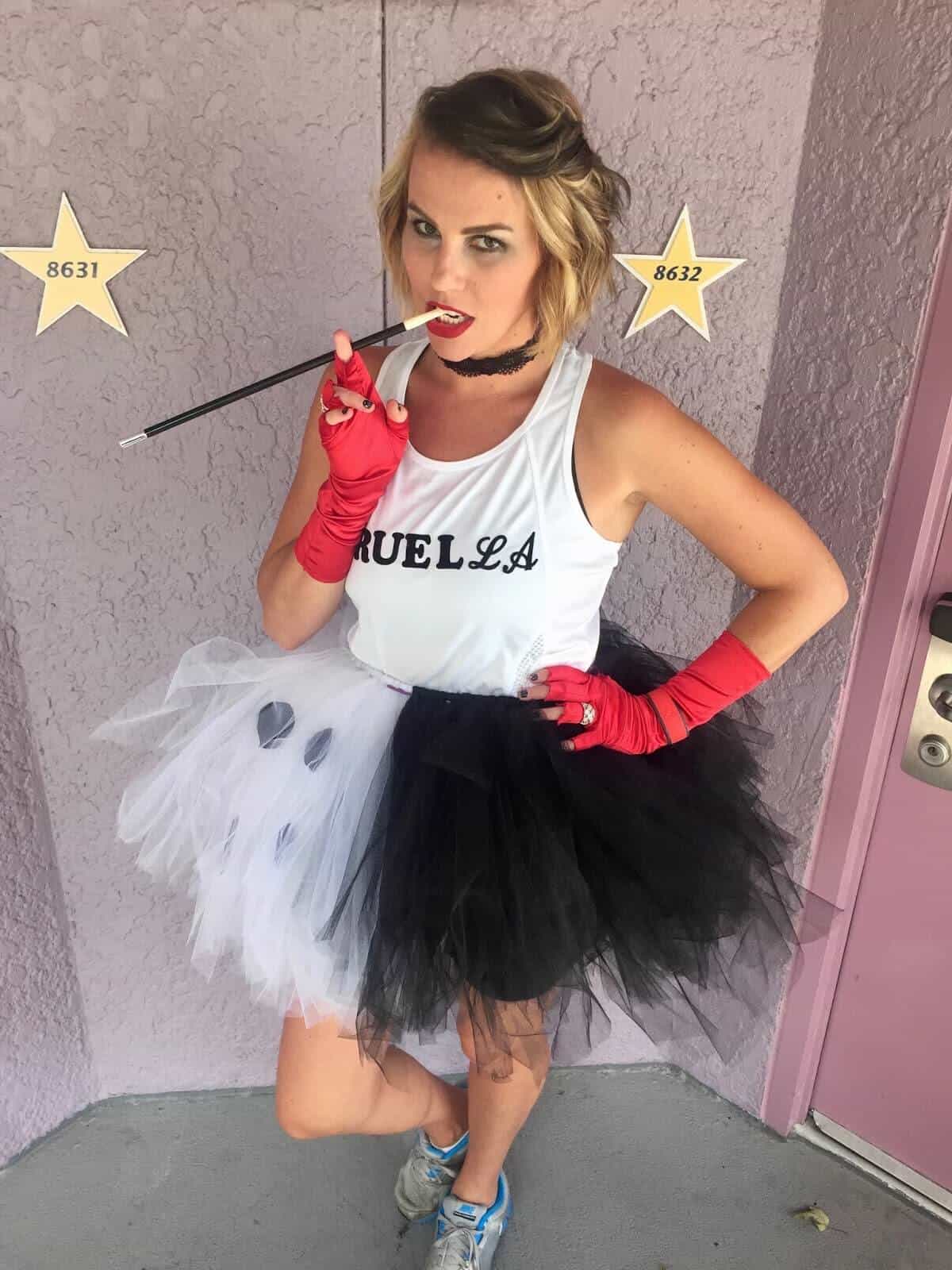 Adding in red gloves and the essential fancy cigarette holder along with the lace choker screams Cruella!
Ursula from The Little Mermaid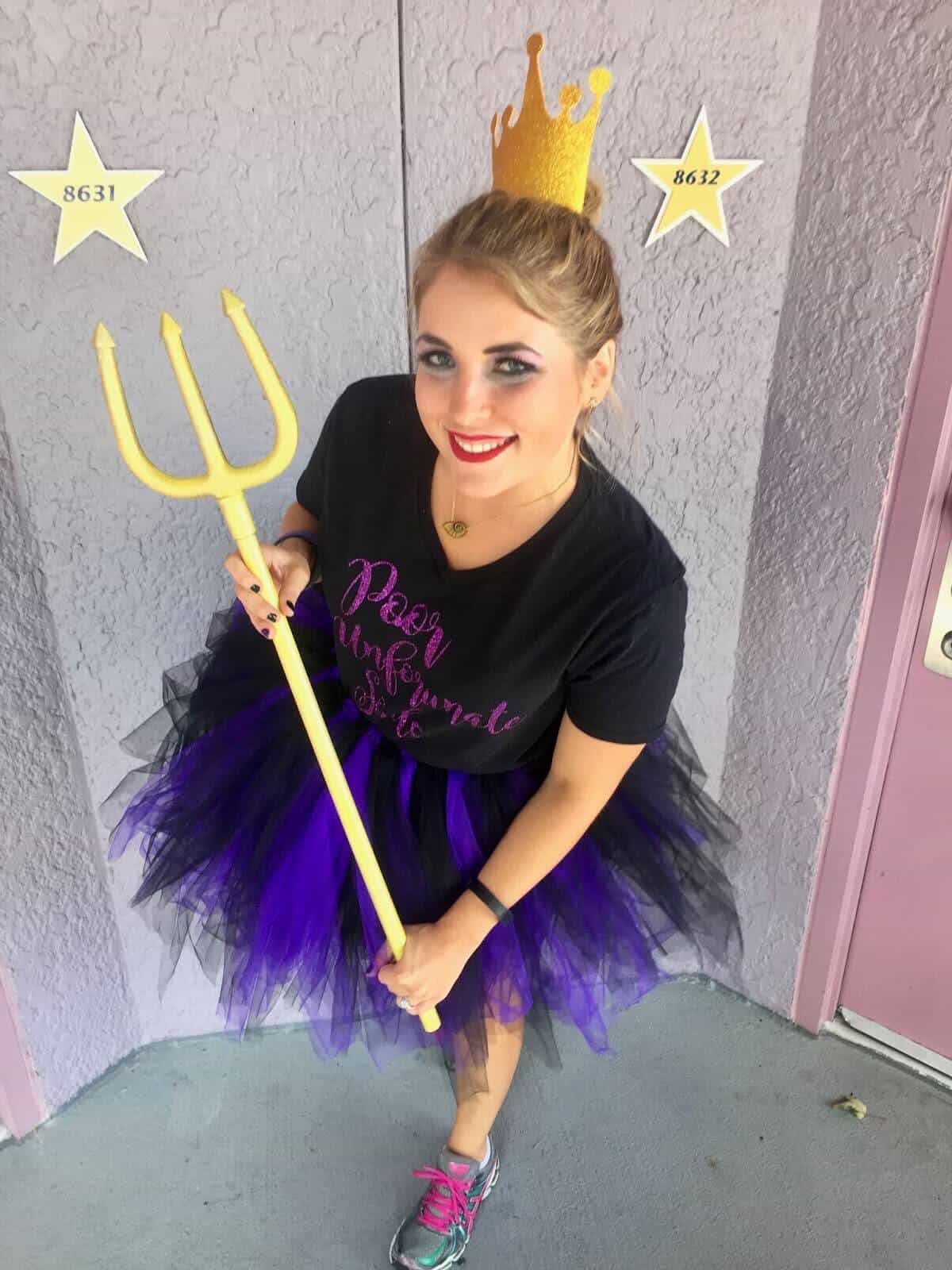 For my Ursela look I bought a devil pitch fork and spray painted it gold. I also bought a large gold crown and my ariel shell necklace was my favorite detail for this look.
Maleficent from Sleeping Beauty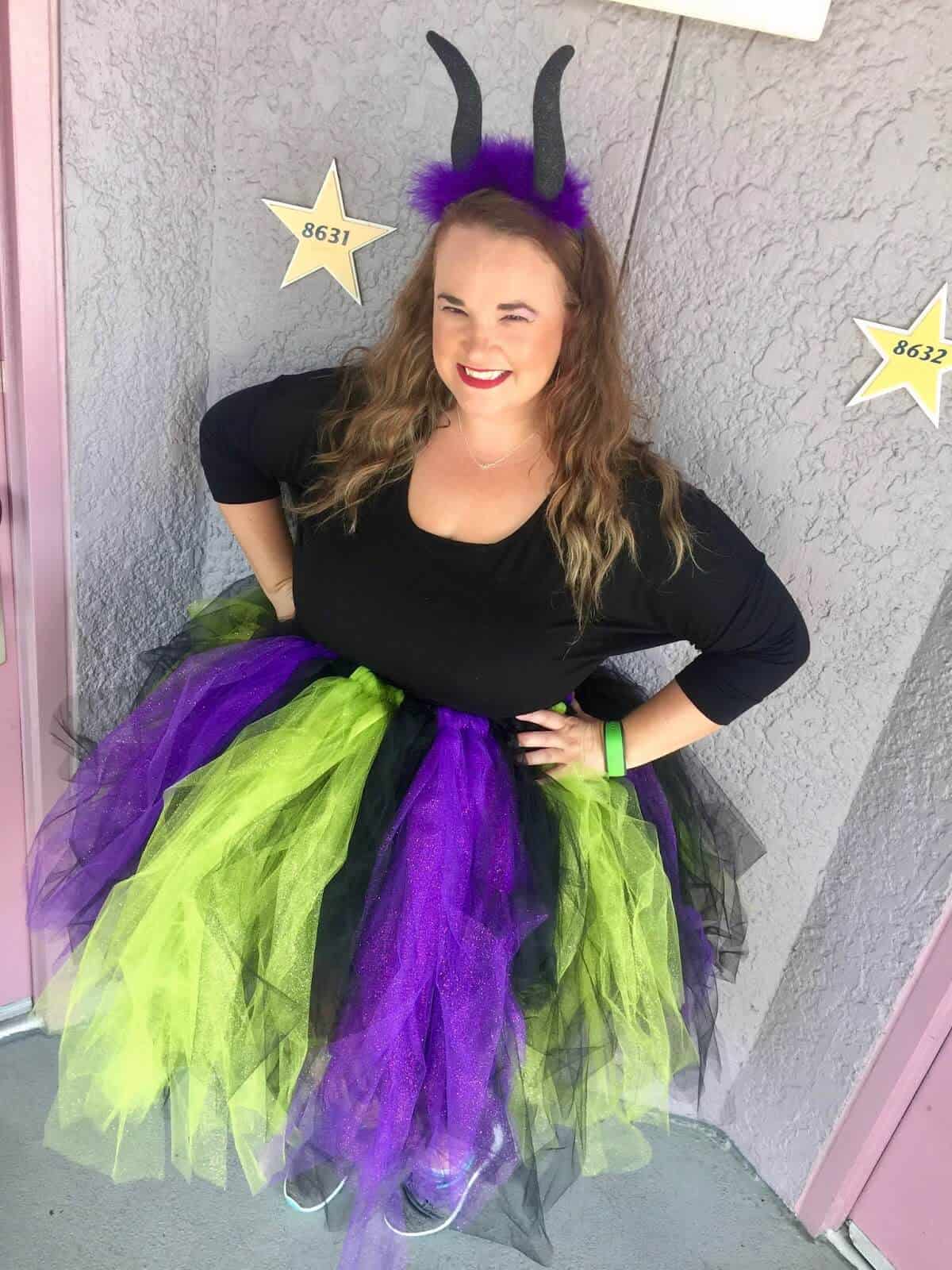 This is a more casual version of the Maleficient costume and Katie went with a more casual horn headband for this look as well.
Read about the full girls' trip here!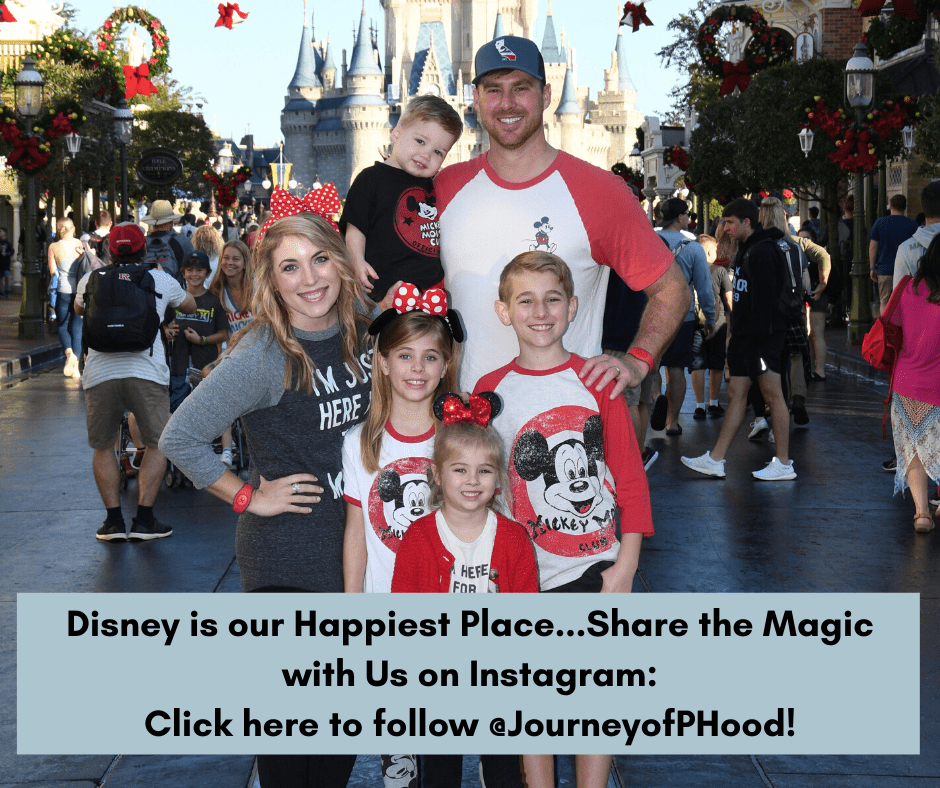 DIY Disney Costumes: Family Costumes
We love putting together themed DIY costumes for the whole family!
It's a fun way to get all your family members on board and excited for the Halloween celebration.
It can be tricky to find a fun theme for our entire crew but it's always a challenge we enjoy.
Here are the best Disney Halloween costume ideas we've done in the past:
Disney's Moana
Moana and Maui were not DIY'ed from scratch but the side characters were! For reference, here's the entire crew!
Moana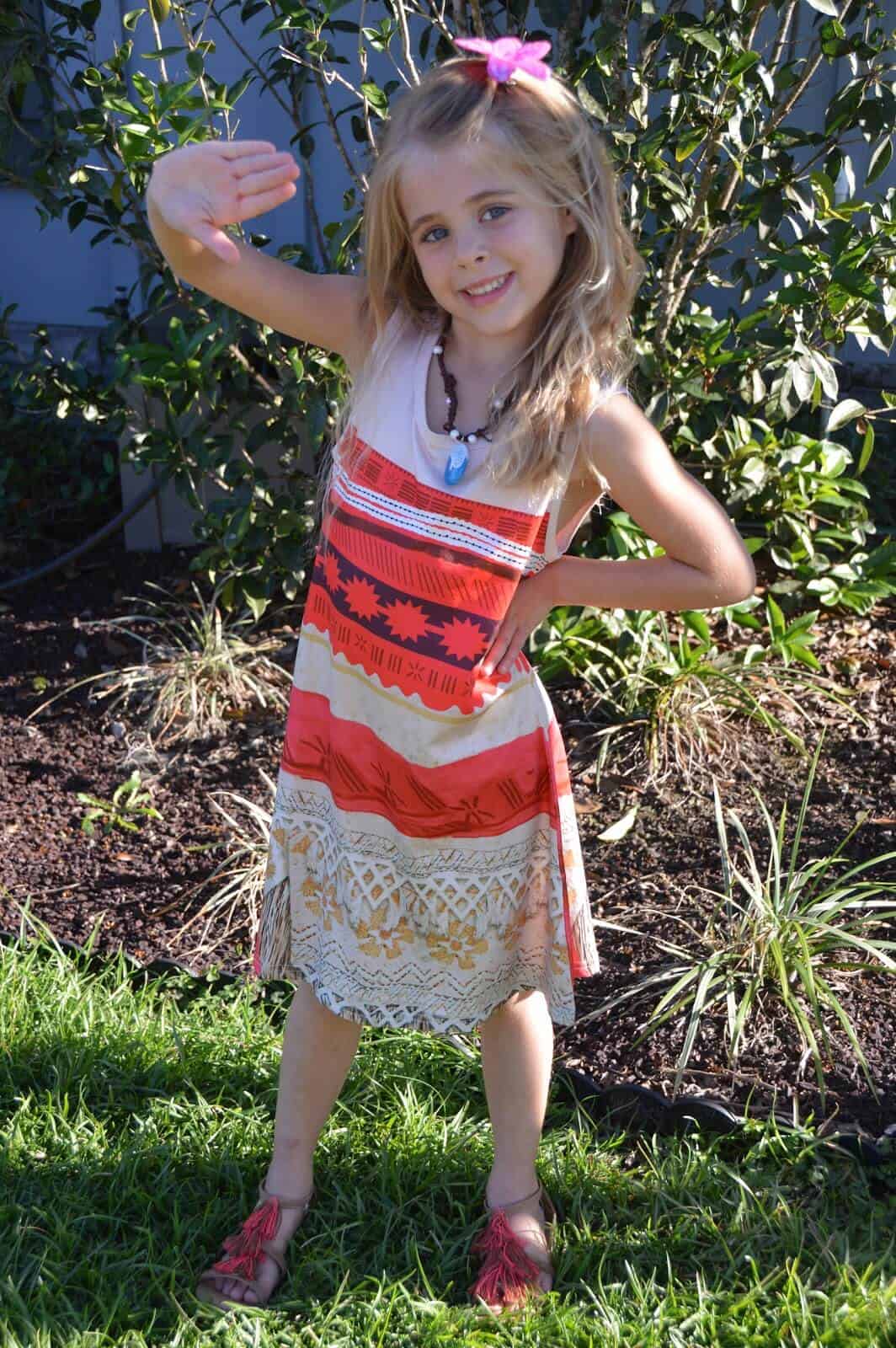 When on the hunt for the Moana look my Britt I wanted to find something that didn't show her tummy and I love this dress.
We added in some tassel sandals, a Moana necklace, and a flower clip for her hair (which I added some waves to by using this hair waver).
Maui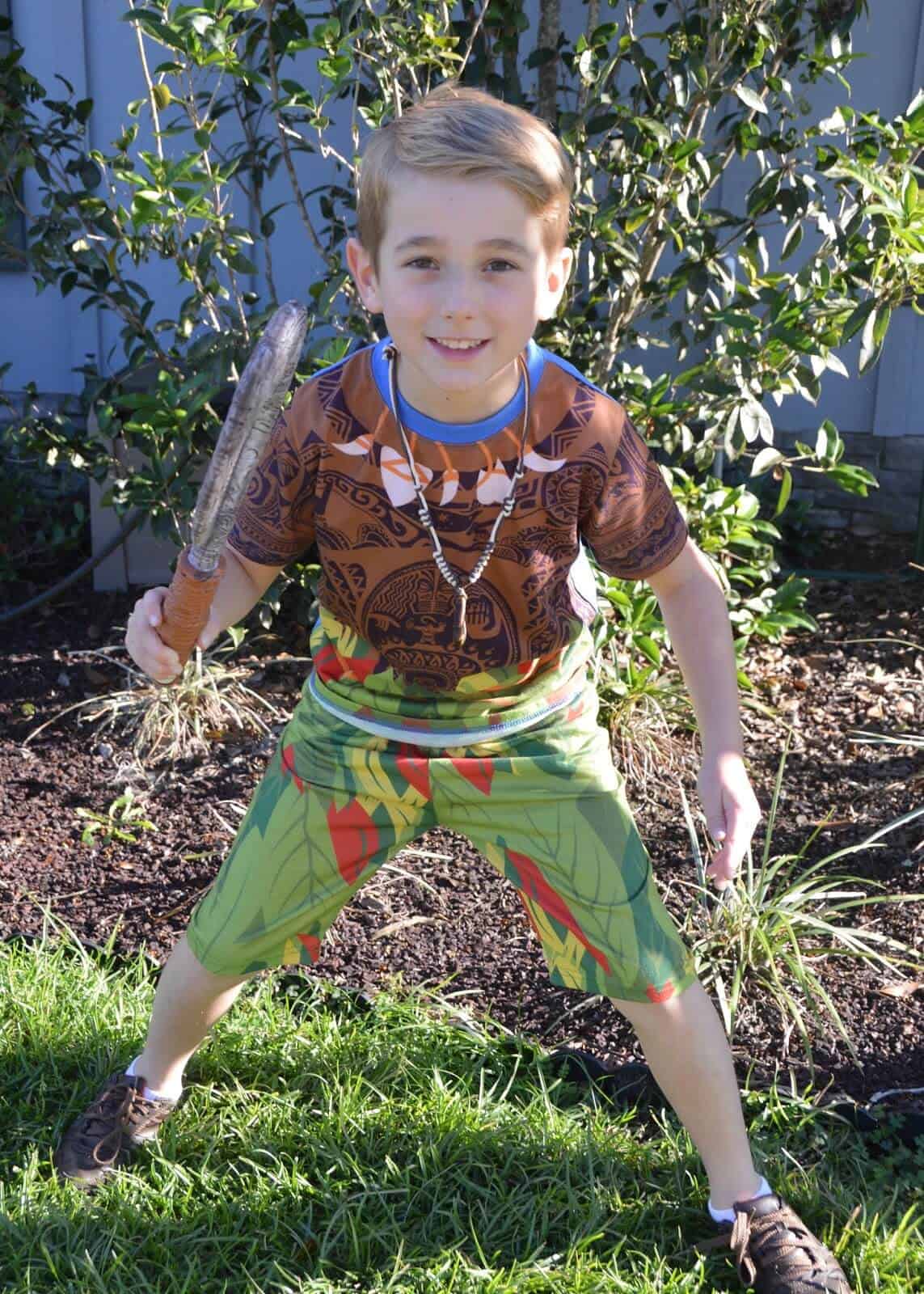 With the Maui outfit I actually bought these pjs and they were comfortable AND were well used and worn as actual pjs after Halloween.
We also bought a "Maui hook" as well as a hook necklace to bring the look together.
Moana's Grandmother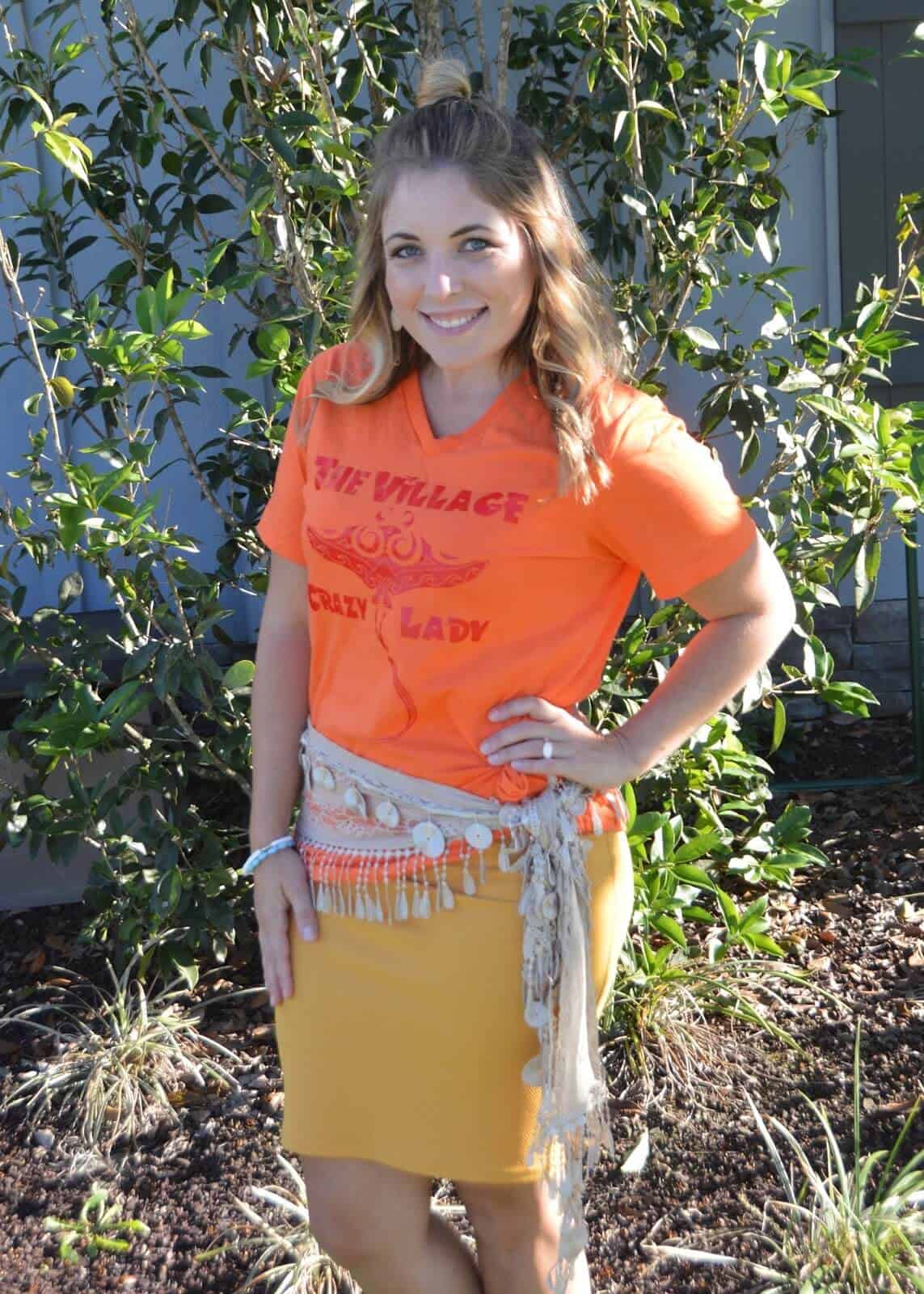 This shirt from Etsy was perfect for the grandmother costume! Add a yellow skirt and a beachy sash, and the look was complete!
Pua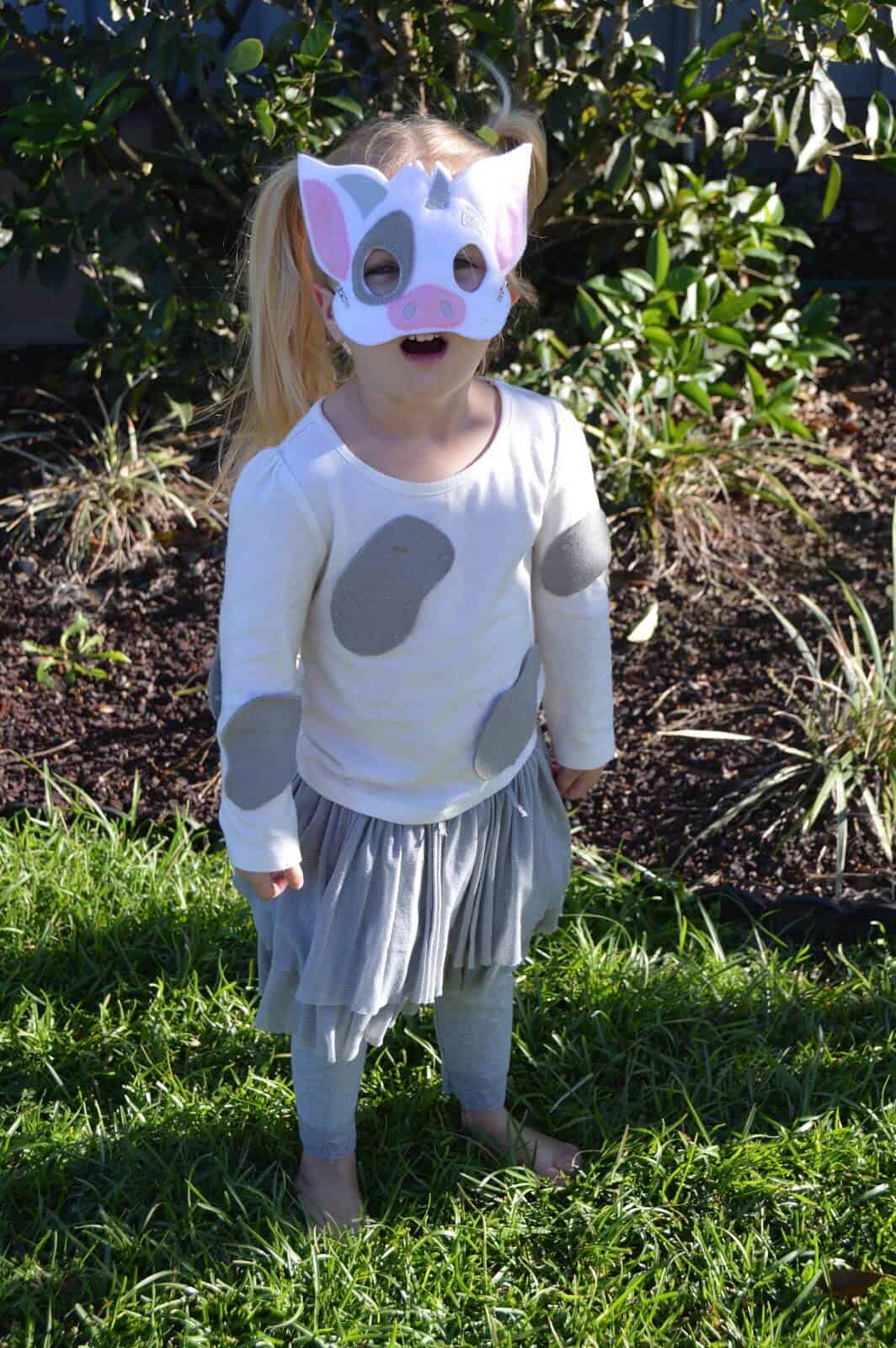 For Moana's pig sidekick, Pua, the mask and spots can be DIY'ed out of felt! I bought this mask to make the process easier but made the shirt myself.
Hei Hei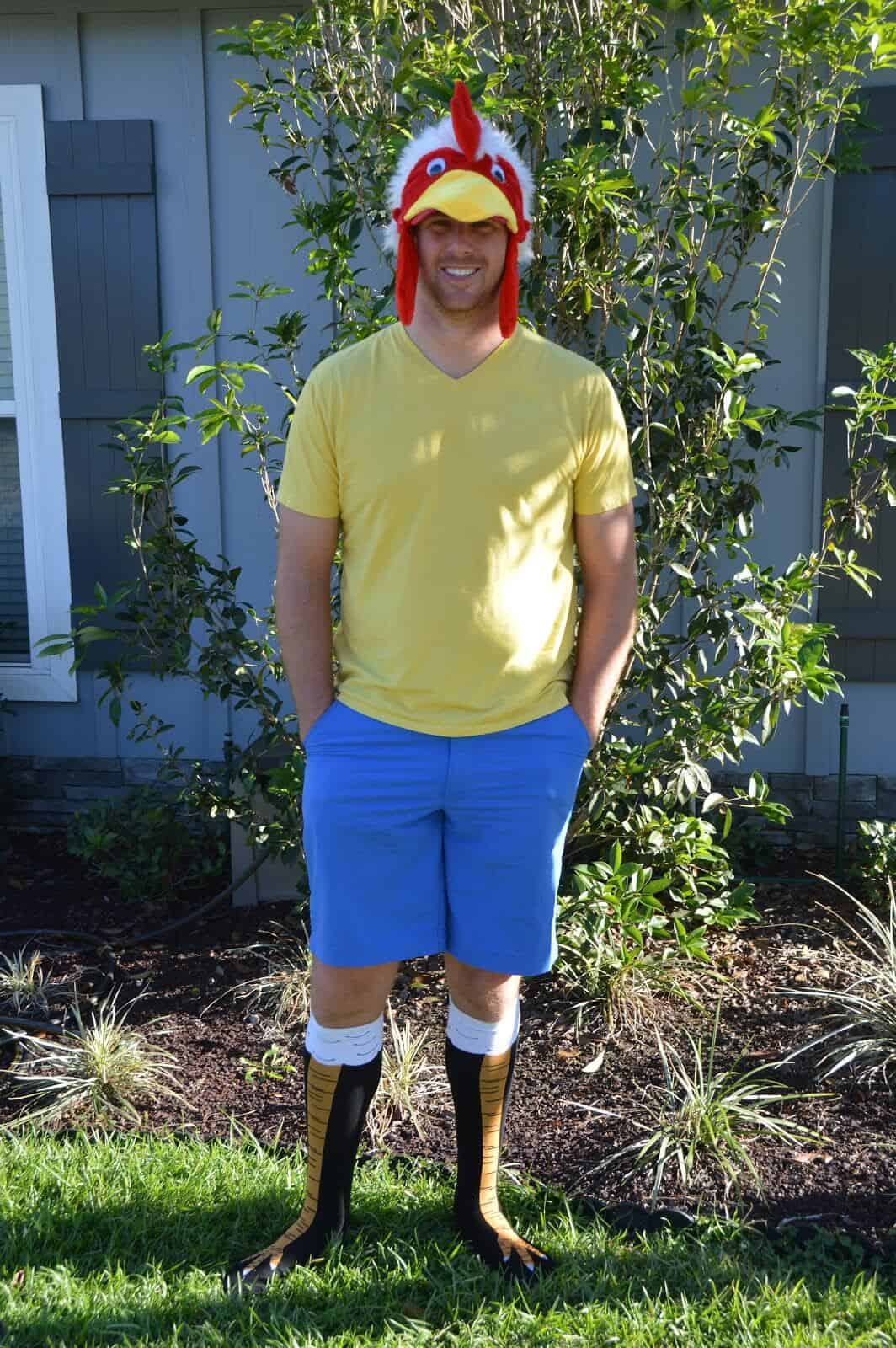 For the chicken sidekick, we pieced together items Zach already owned for his costume and added a fun pair of chicken feet socks as well as a chicken mask that we put over a hat and glued on some eyes! 🙂
Here's how we put together our costumes! (That year, it was for our family trip to MNSSHP!)
Monsters Inc.
Our Monsters Inc year was a fun one!
Mike and Sully were simple onesies but everything else was pieced together from second-hand clothes and cheap accessories.
You could easily DIY Mike and Sully with color-matched clothing and felt if you desired.
Mike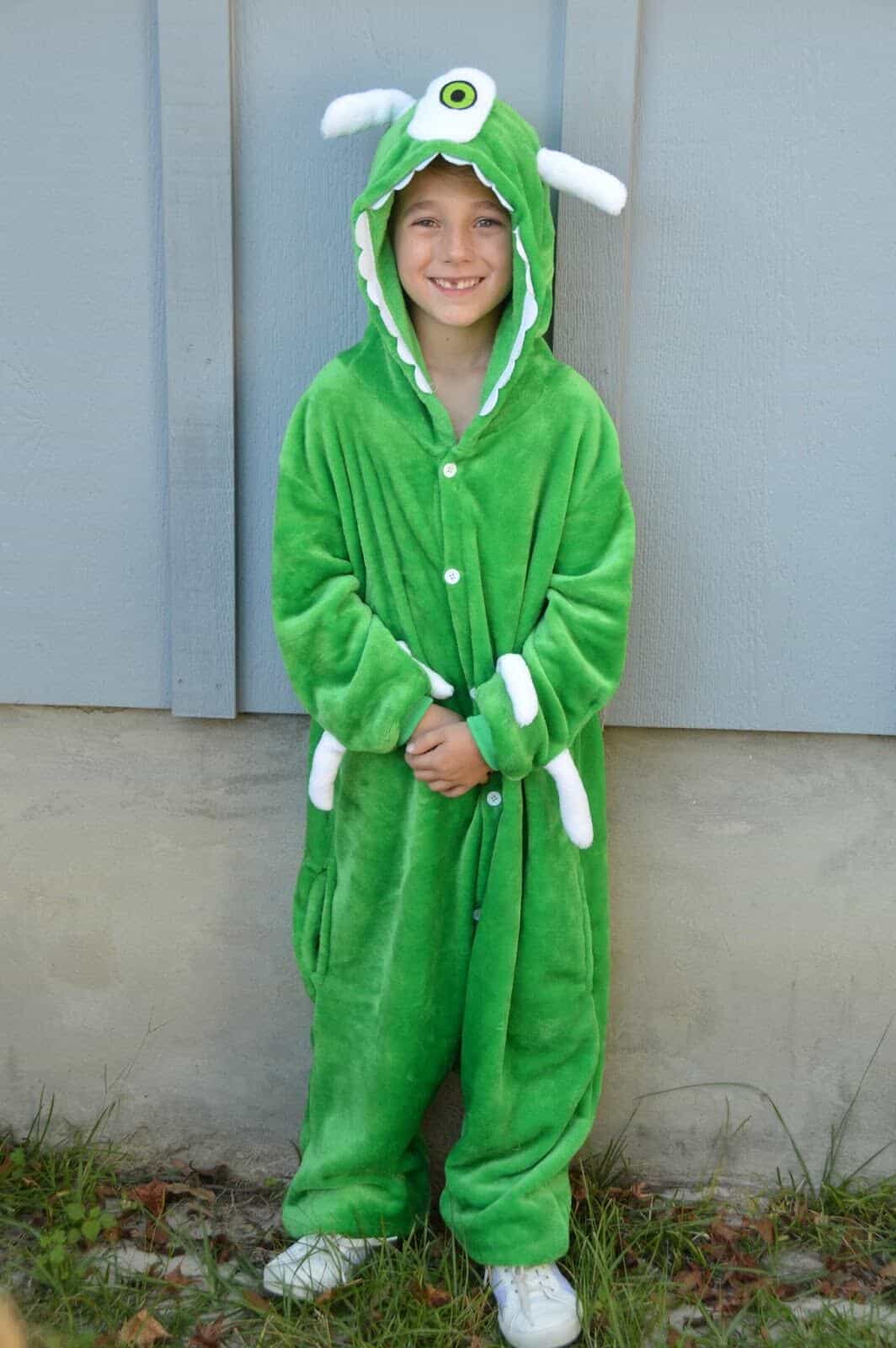 This Mike Wazowski costume was super cuddly and comfortable and something we reused around the house as lounge clothes for a long time as well.
Sully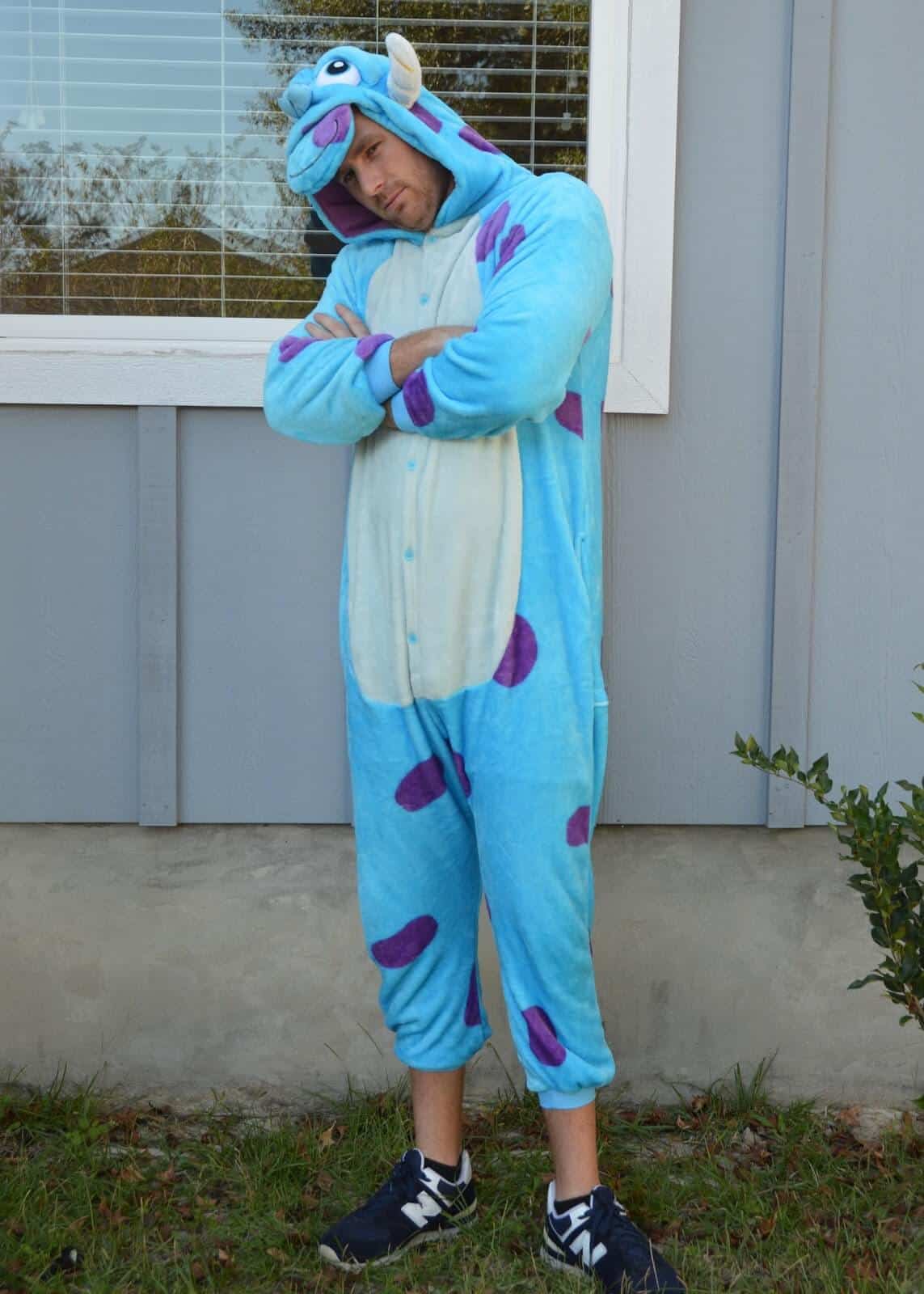 This was probably Zach's least favorite family Halloween costume of all time haha Every year when we plan out our costumes he always says "I don't care who I am as long as I don't have to wear a giant onesie again!"
But, really, we all know this onesie is perfection 😉
Boo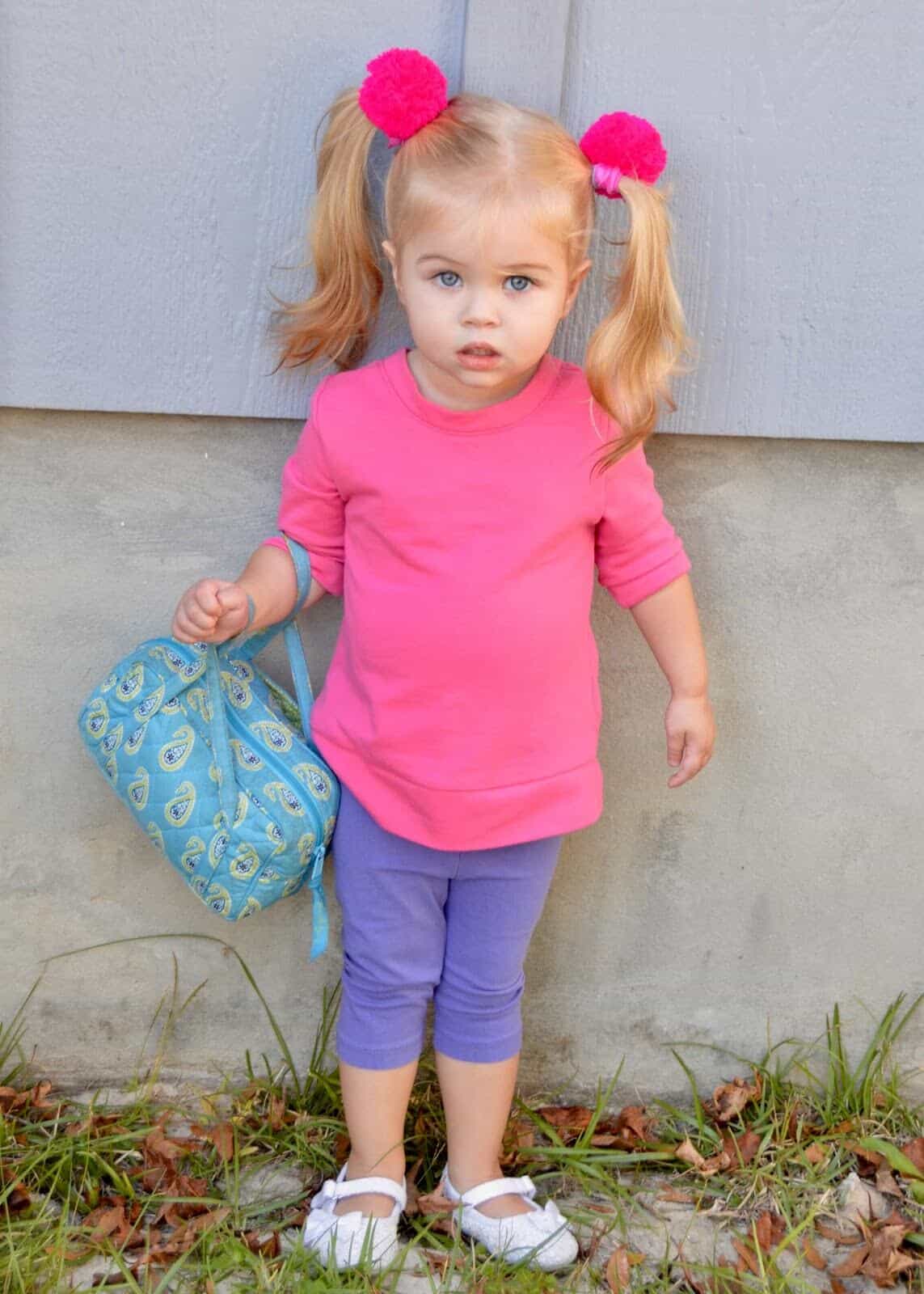 Tess was the perfect little Boo 🙂
And this costume was SO easy! Pink top, purple pants, white shoes and pom pom hair ties. All items she either already owned or could be reworn after the costume 🙂
Celia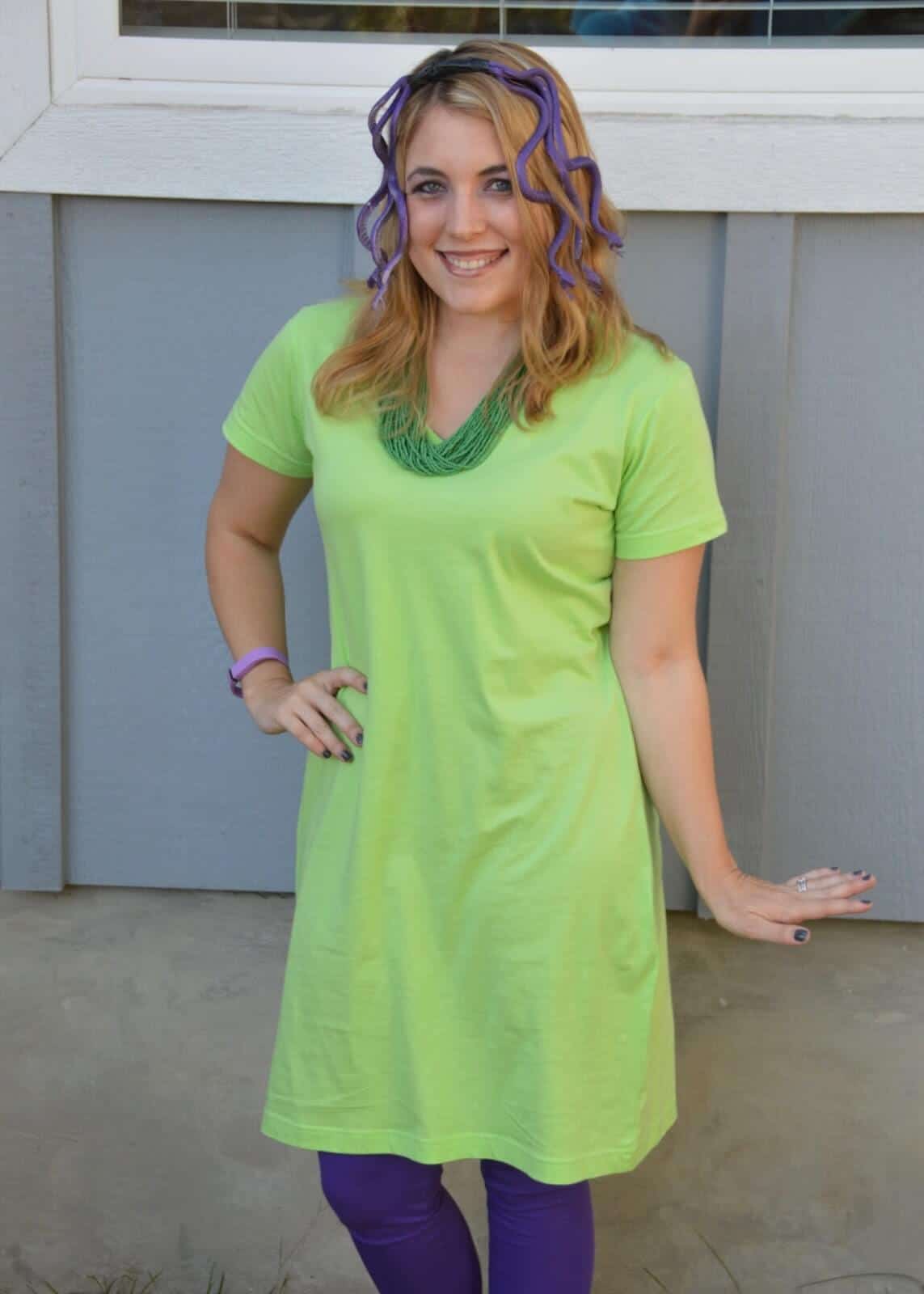 For Ceilia I wore a lime green cotton dress, purple tights, a green layered necklace and made my own snake headband by spray painting toy snakes purple and hot gluing them onto a simple black headband.
Roz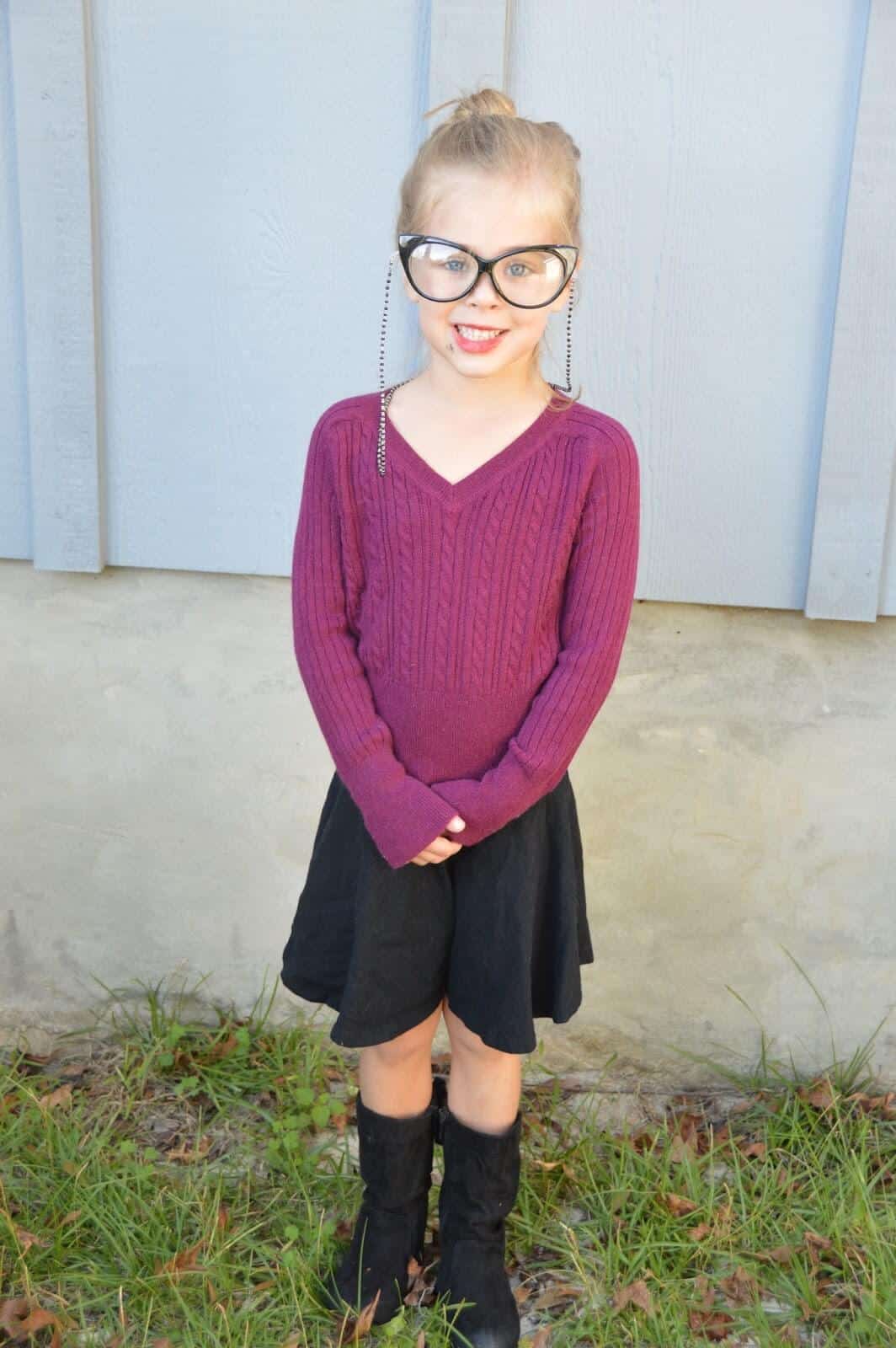 Roz was our fav look in the bunch though and Britt's Roz voice was amazing! We found her a cute pair of glasses, glasses chain and used clothes I picked up at the local Goodwill for her outfit.
View our Monsters, Inc. Halloween here!
Ducktales
We had a lot of fun putting together these DIY Disney costumes based on the Ducktales reboot.
All we had to do was find clothing that matched the character designs, add some cheap duck bills, and voila!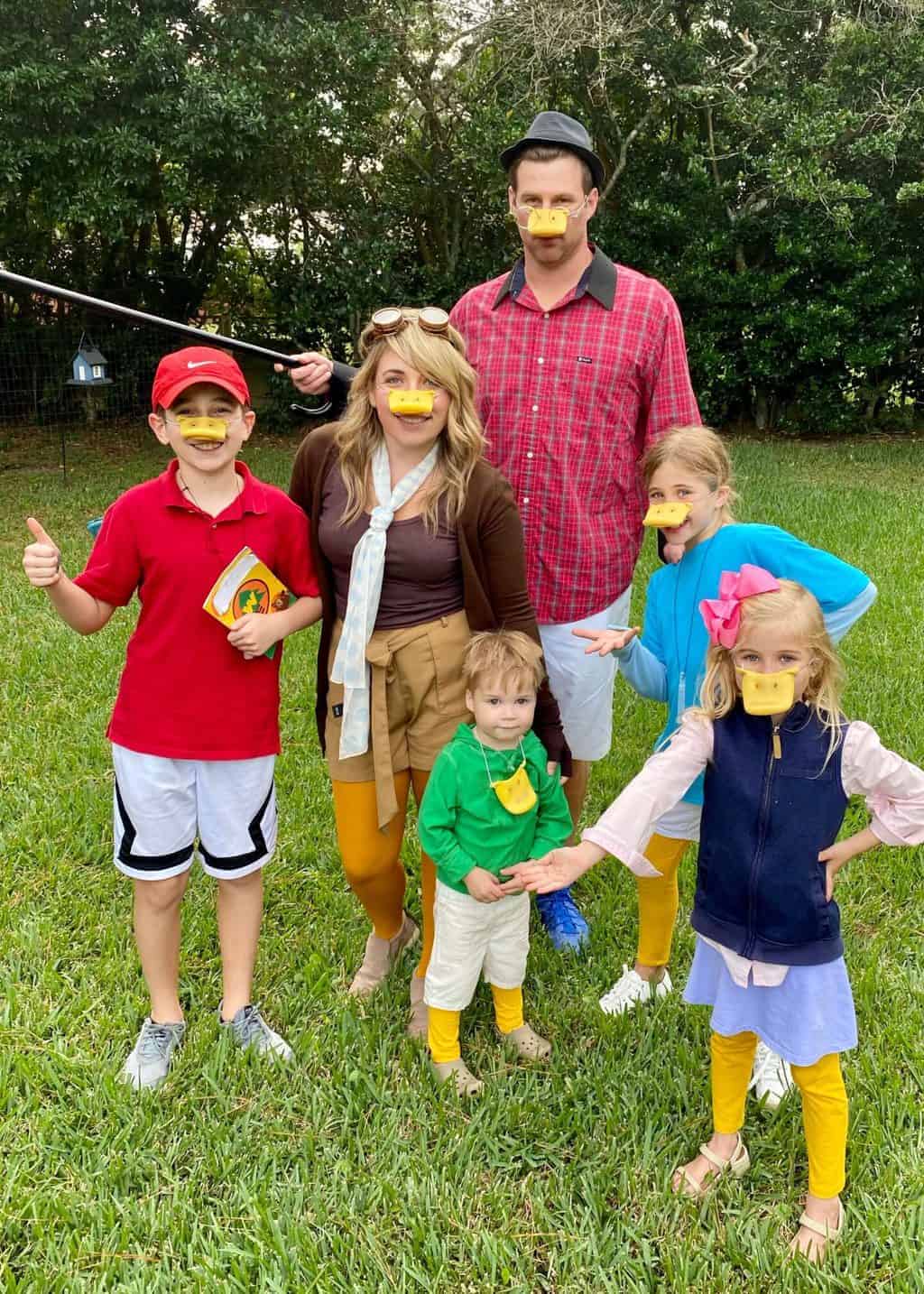 Pictured from left to right: Huey Duck, Della Duck, Scrooge McDuck, Louie Duck, Dewey Duck, Webby Vanderquack
Check out our full Ducktales family themed costume adventure here!
Peter Pan
When it comes to classic DIY Halloween costume ideas, you can't go wrong with Peter Pan.
We had costumes for the kids but DIY'ed Wendy and Captain Hook!
I really love to blend purchased looks with diy costumes as I think the two together make for a very do it yourself overall vibe while also keeping the work load in putting the looks together at a minimum.
Peter Pan & Tinker Bell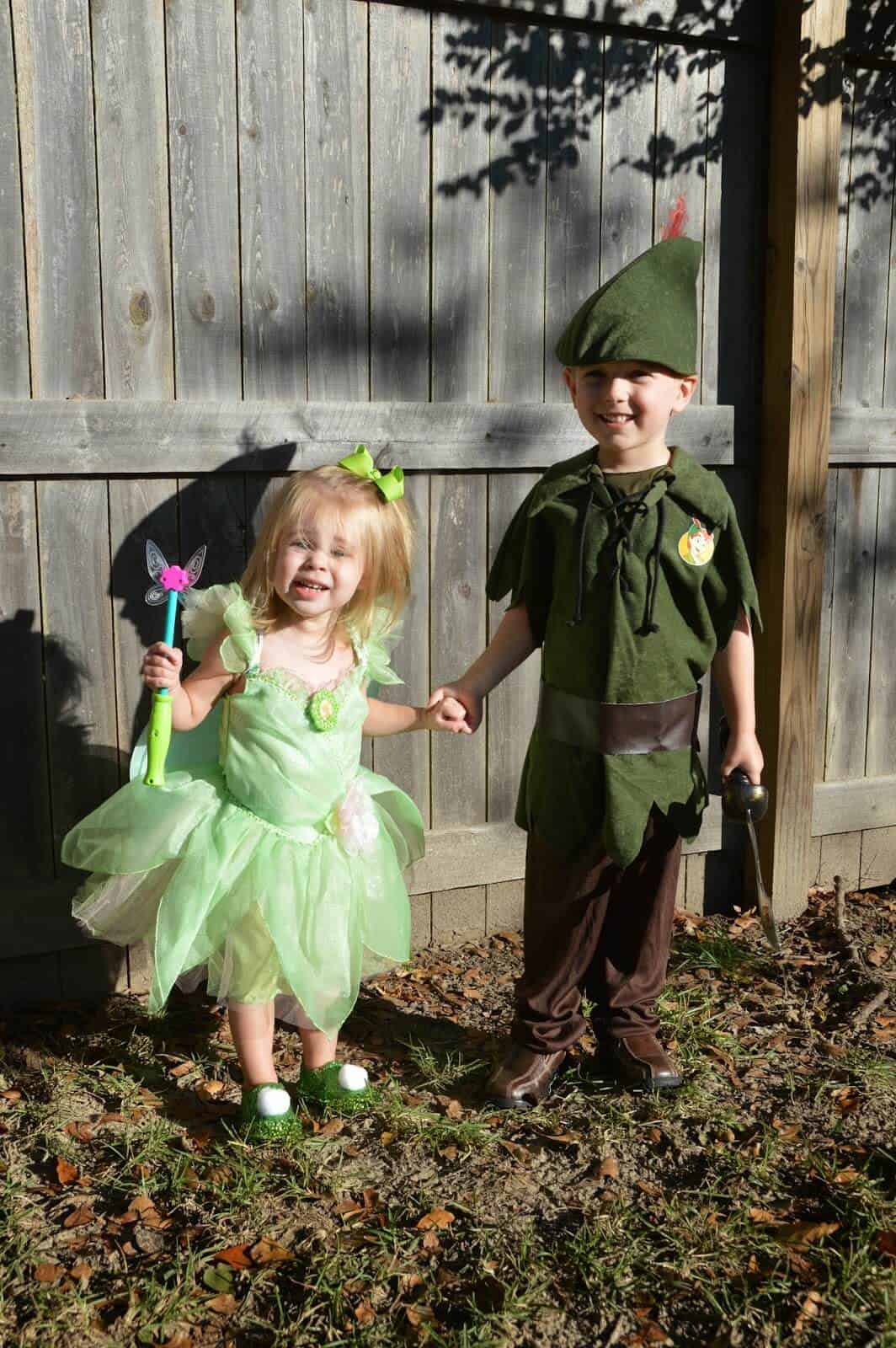 I bought this super cute Tinker Bell dress and wand for Britt's Tinker Bell Costume but made the shoes by hot gluing green squence on some old shoes and hot glued a white pom pom on top.
I also purchased Kye's Peter Pan outfit and added in a fun toy sword.
Wendy Darling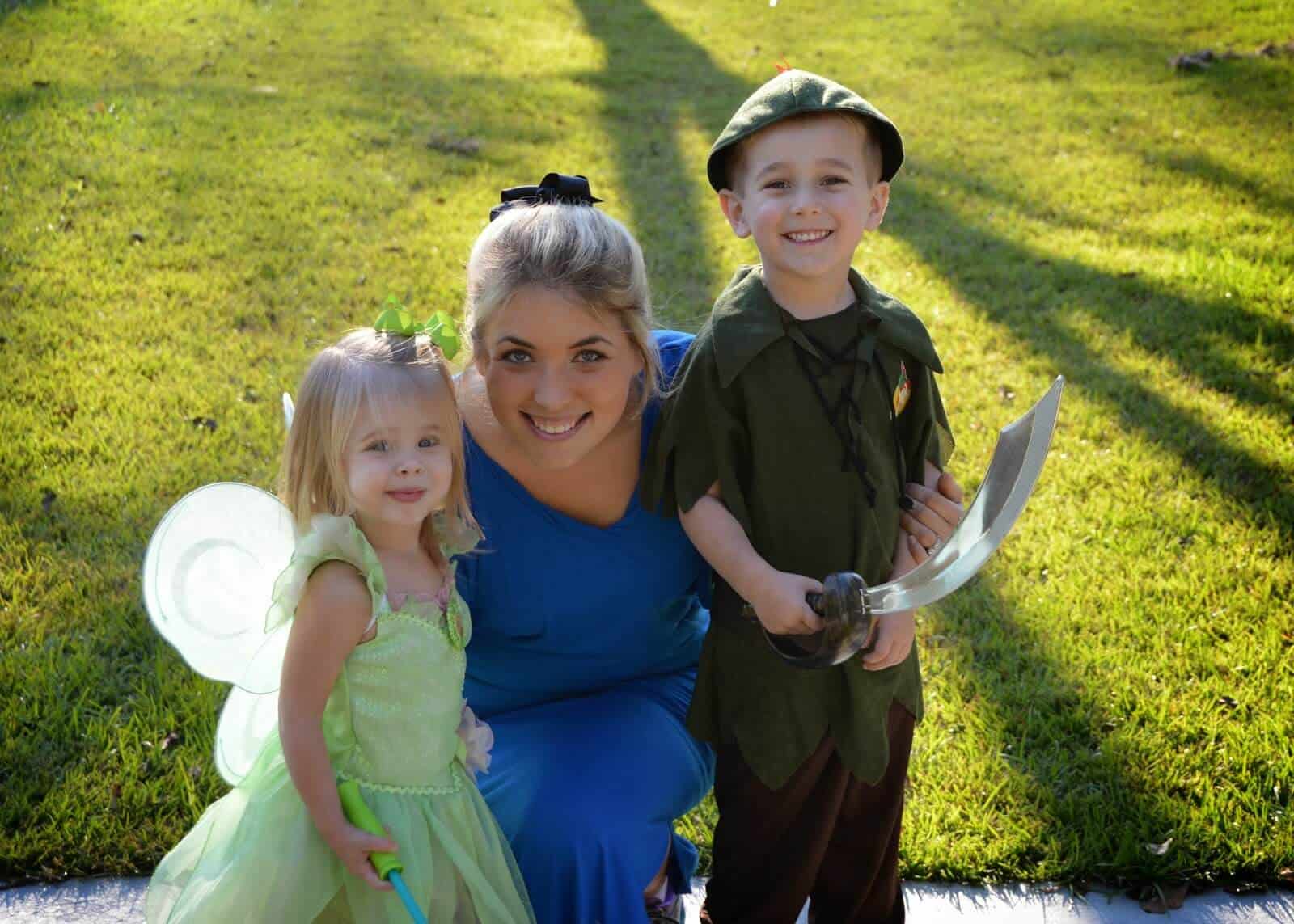 A long blue dress and a black hair bow was all it took to become Wendy!
Captain Hook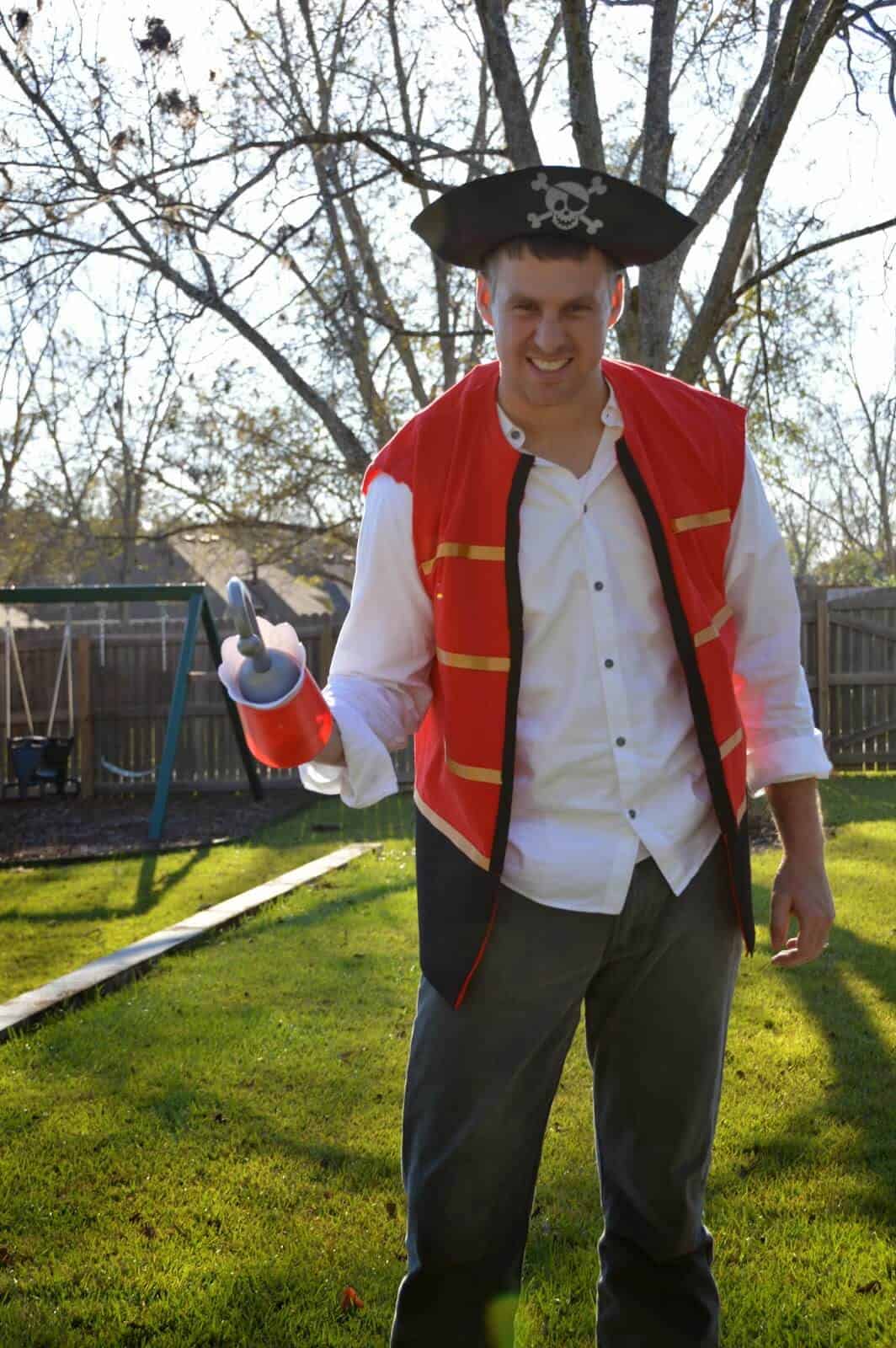 Pirate costume pieces are practically everywhere, so it didn't take much to piece together an easy Captain Hook costume!
We cut a red shirt and I hot glued on some gold ribbon and black felt. Then Zach wore a pirate hat and even a toy hook to complete his evil pirate look.
Here's how our Peter Pan Halloween went!
Toy Story/Toy Story 2
Woody, Jessie, Barbie & Ken
This year, the kiddos had most of their kids Halloween costume pieces already but Zach and I put together some easy DIY Ken & Barbie costumes using clothing pieces we already had.
Now that we have more kids I do think we're due for another fun Toy Story costume as I can just see my little Spear dressed up in a Buzz Lightyear Costume saving the galaxy (although Frozen would also be a fun theme as I can equally see him waddling around in an Olaf costume!)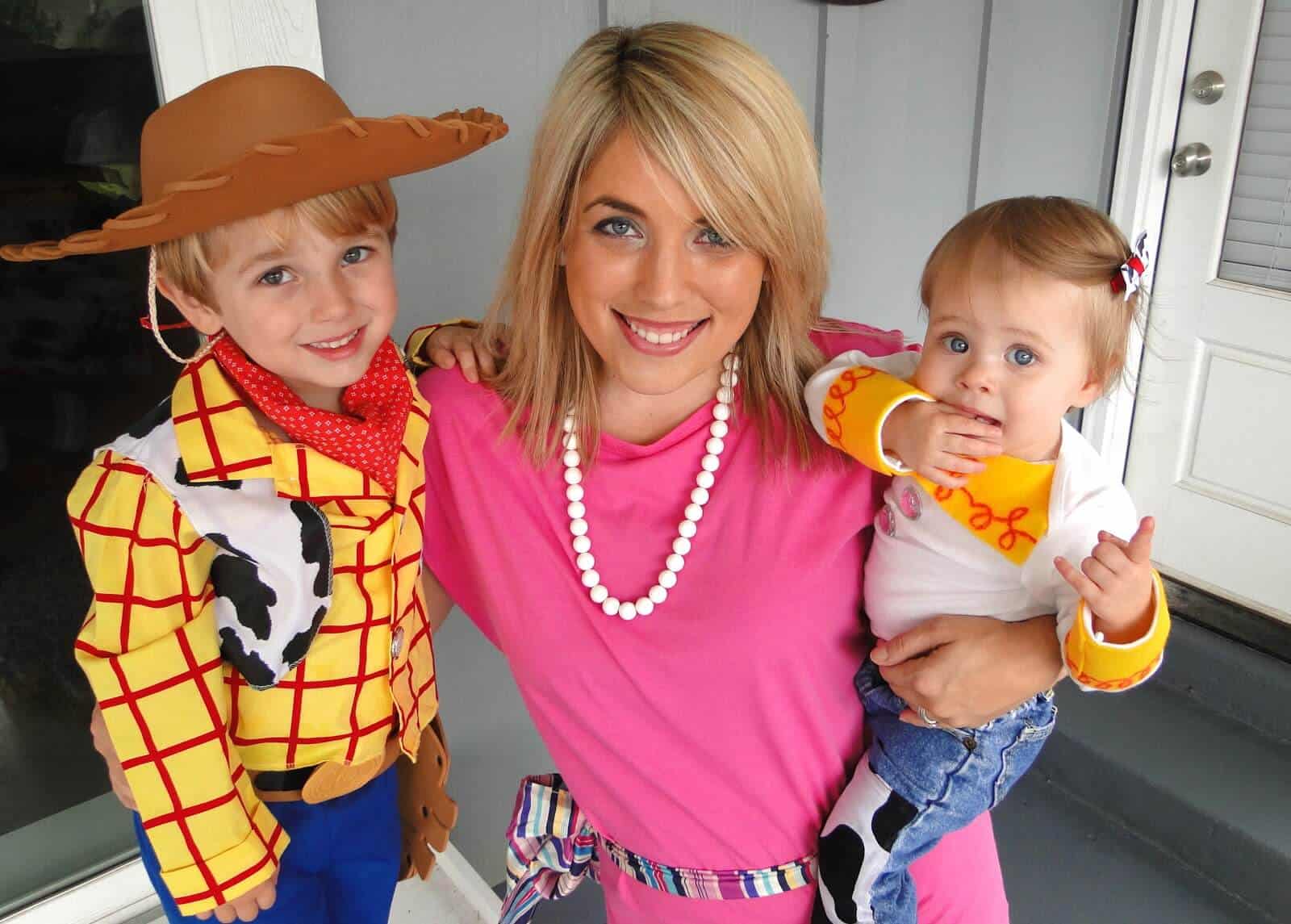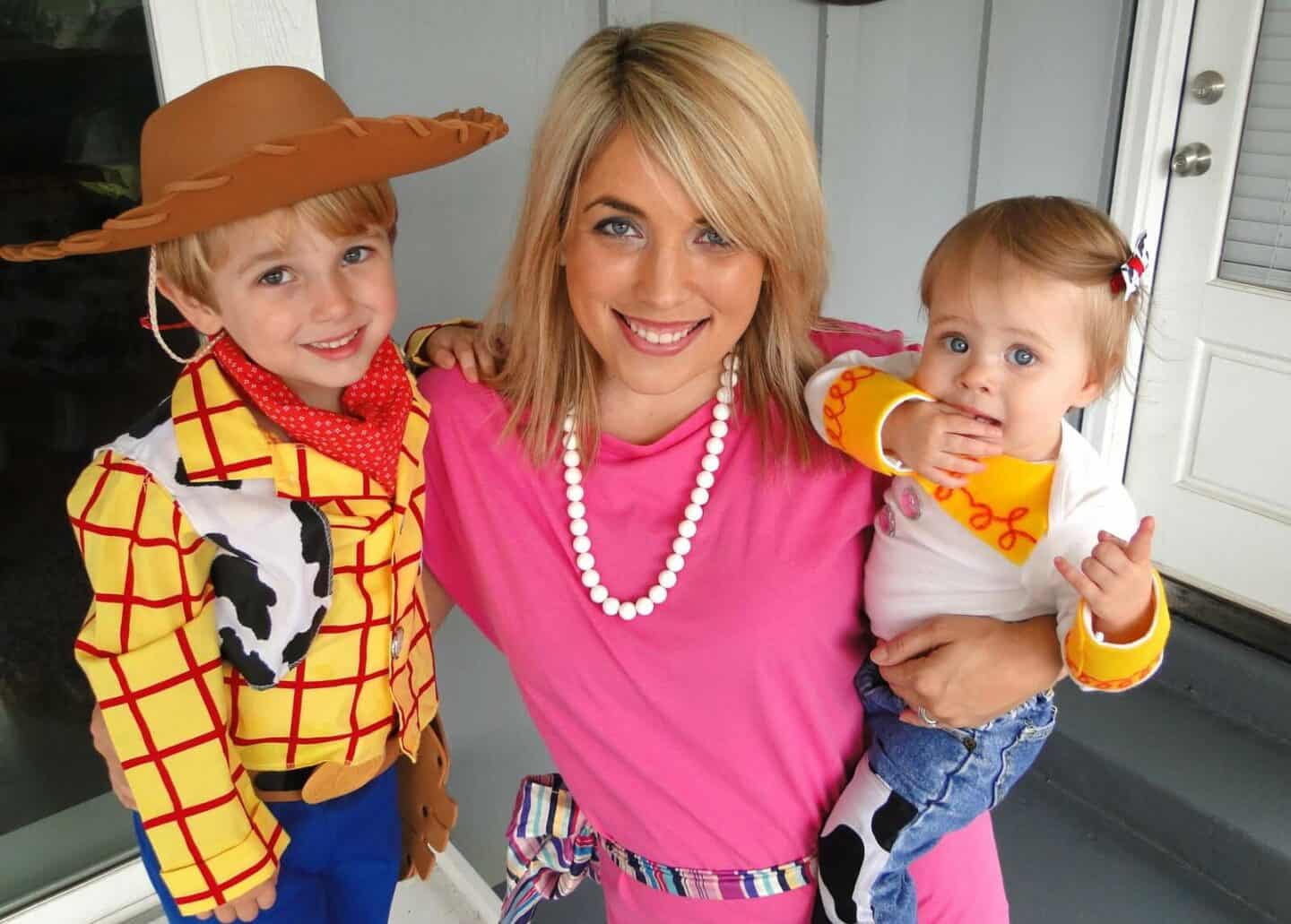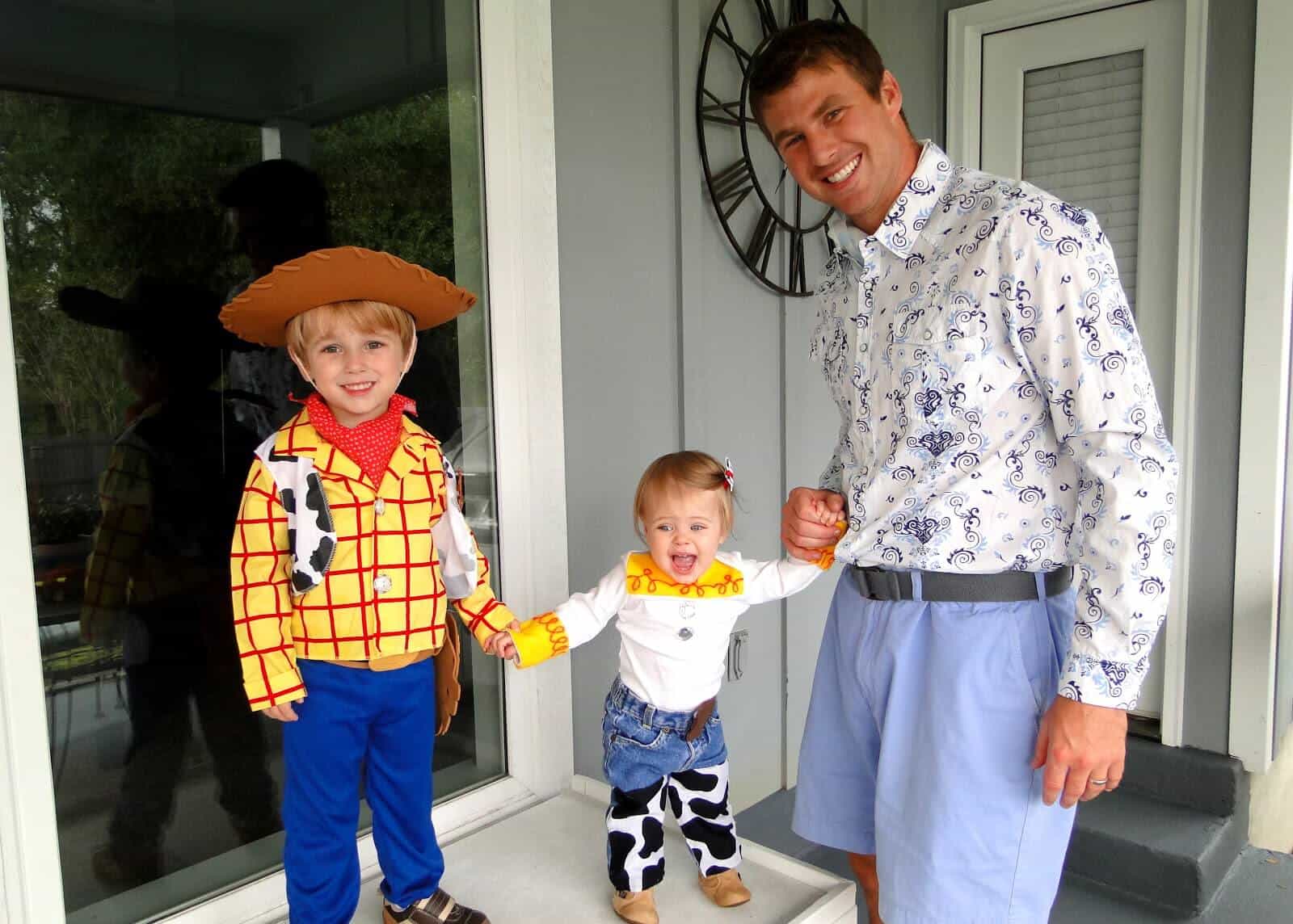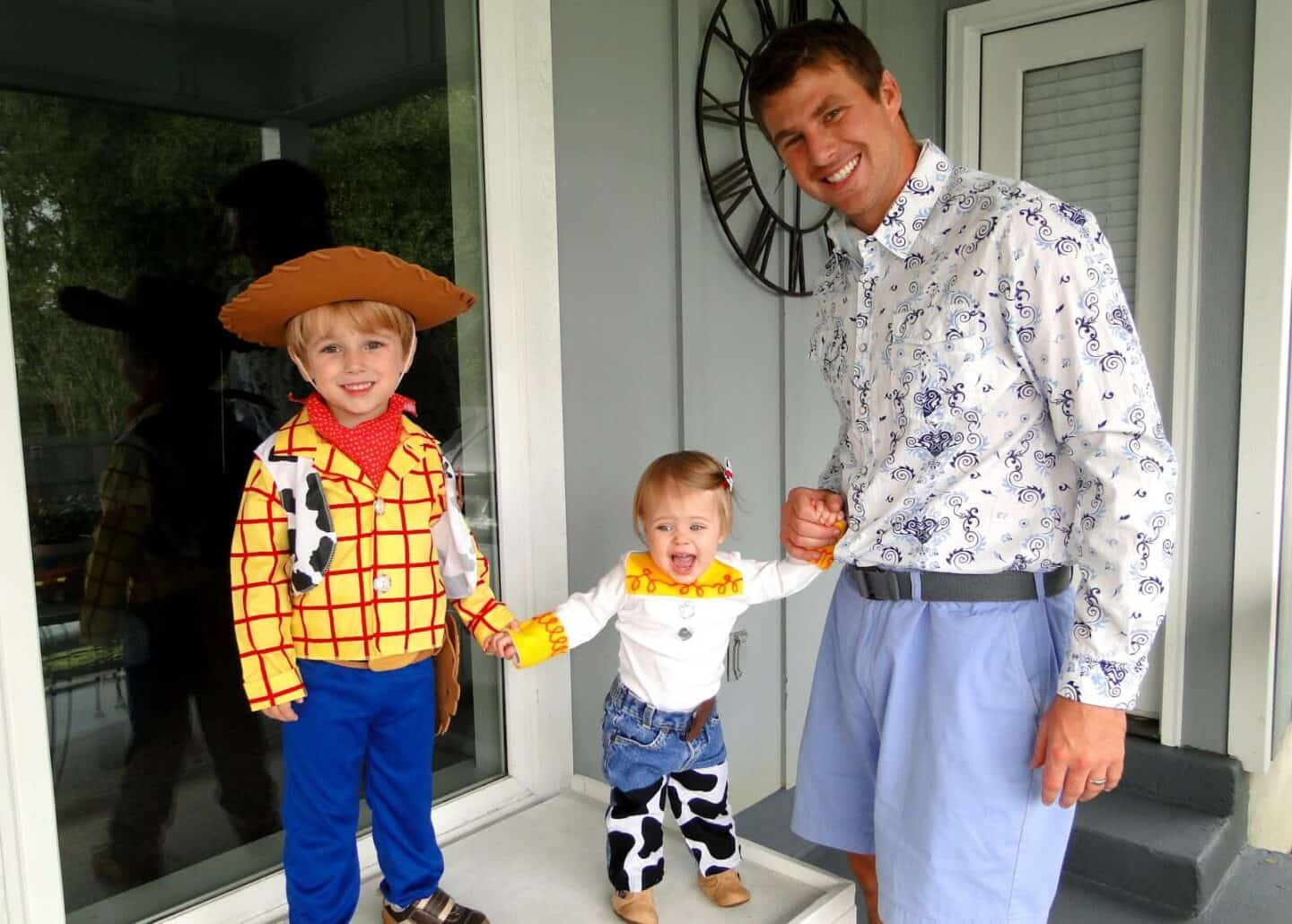 Kye LIVED in this woody costume at this age (he loved Toy Story so much we even did a Toy Story birthday party!).
For Britt's outfit I actually made it myself using a white onesie and jeans and hot gluing on the details.
See the full Toy Story Halloween photo shoot here!
Wreck-It Ralph/Ralph Breaks the Internet
We went pretty much full DIY for this one and it was a blast! I think these costumes turned out great and everyone enjoyed dressing up as their favorite characters from the Wreck-It Ralph movies.
We did a little combo of both the first and second movie in order to have enough character for our full fam.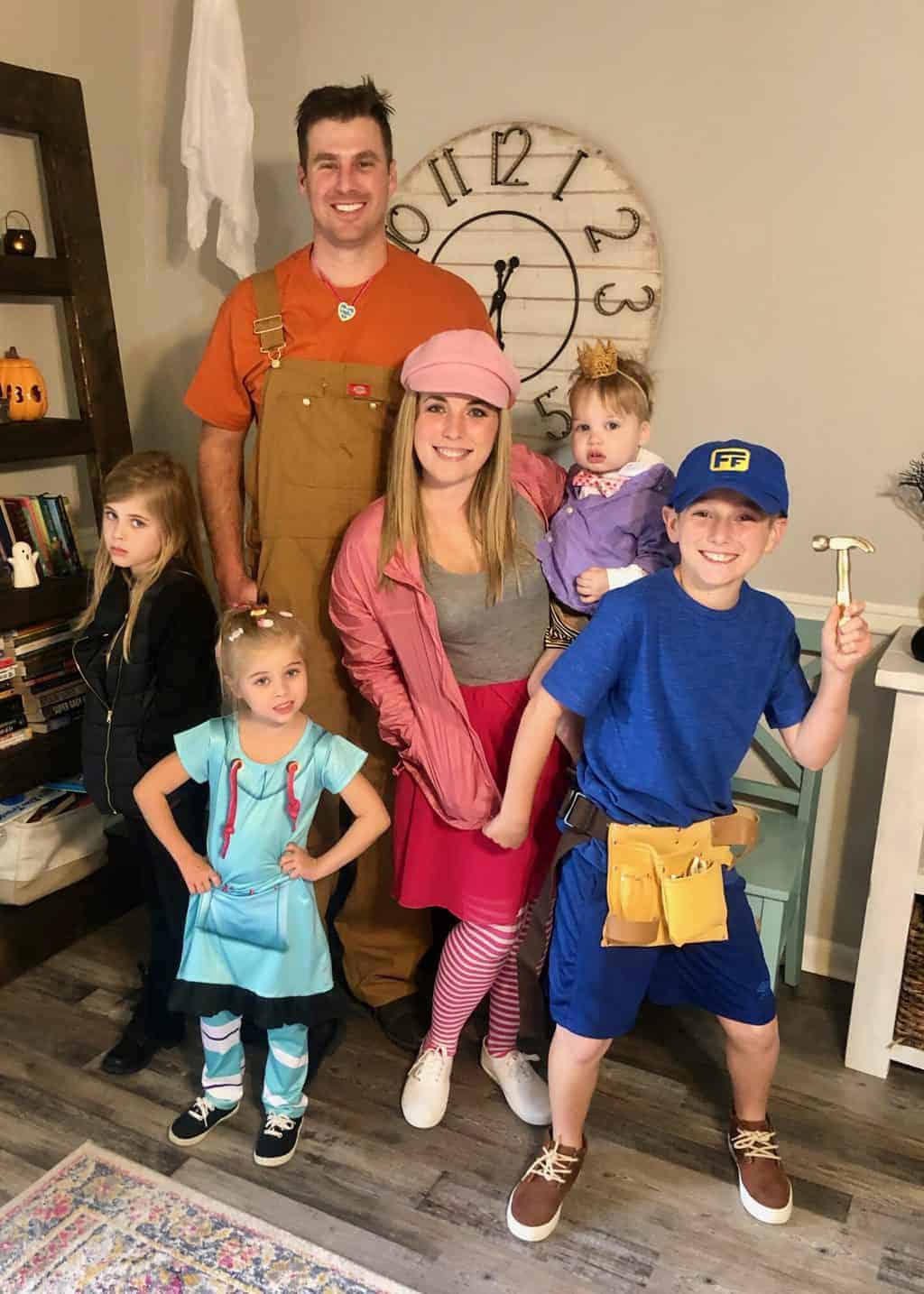 Pictured left to right: Shank (from Ralph Breaks the Internet), Vanellope Von Schweetz, Wreck-It Ralph, Taffyta Muttonfudge, King Candy, and Fix-It Felix Junior.
Zach as Ralph has ended up being the best Halloween costume investment ever as he wears these overalls ALL THE TIME working around the house.
Tess also still wears her Vanellope outfit as pjs too! We also wear the Fix-It Felix hat on Disney trips too!
Check out our full Wreck-It Ralph Halloween here!
Brave
This is another movie that was a great idea for family Halloween costumes!
We were able to DIY most of them with very little effort and transform ourselves into Scottish royalty!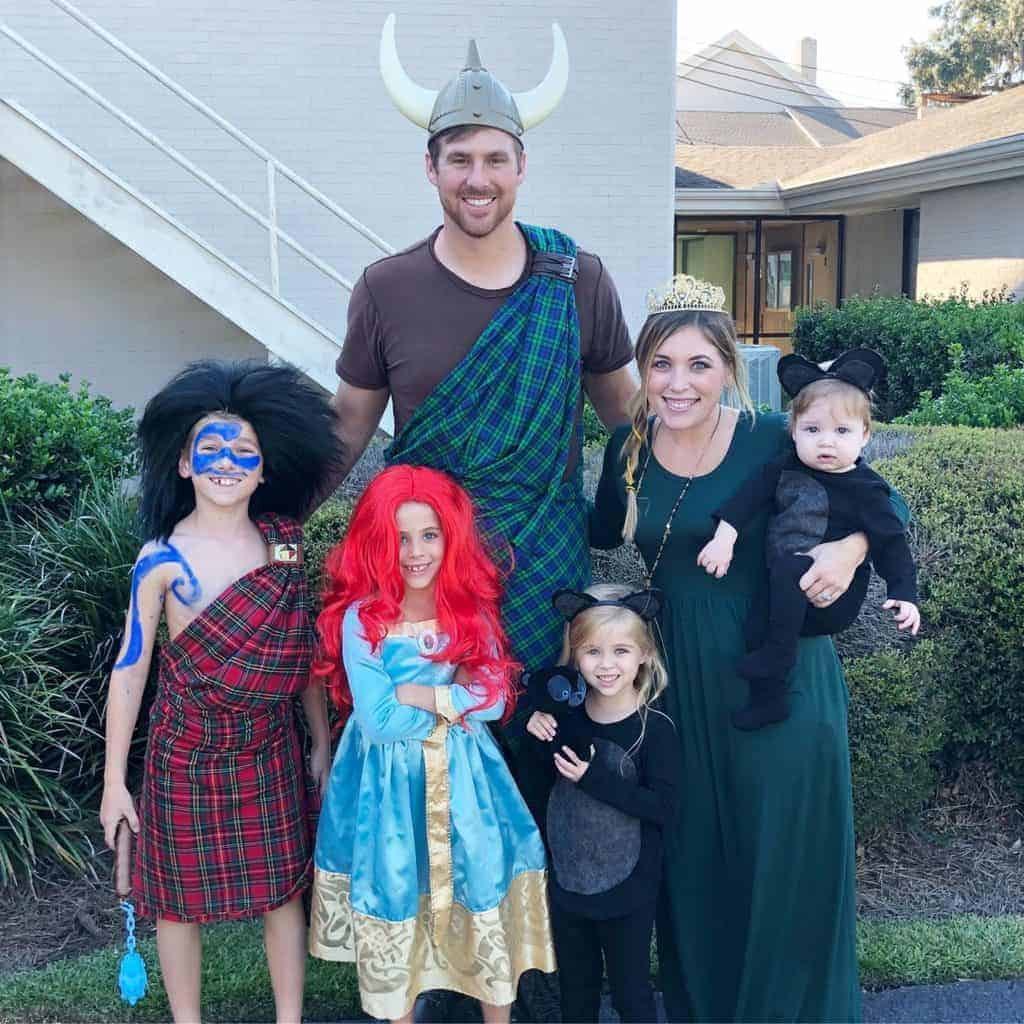 Pictured left to right: Lord Macintosh, Merida, King Fergus, Queen Elenor, Baby Brother Bears
Kye's wig MADE the Lord Macintosh outfit come together (I bought the fabric from Hobby Lobby).
Britt loved getting to wear her Merida costume. This Viking helmet was perfect for King Fergus.
And I already owned my green dress it was easy to add a crown for my Queen outfit.
I made both of the bear costumes with black outfits and gray felt!
See our full Brave costuming process here!
The Incredibles
If you're looking for easy DIY Disney halloween costume ideas, you can't get much easier than The Incredibles!
Everyone dresses the same and it's usually super easy to find the right pieces.
If your local department store doesn't carry red shirts and black shorts, you can find the right sizes for everyone on Amazon!
The only thing that takes effort is the iron-on Incredibles logo, which you can also find online!
We happened to have the perfect number this year, but you could easily add more to the family!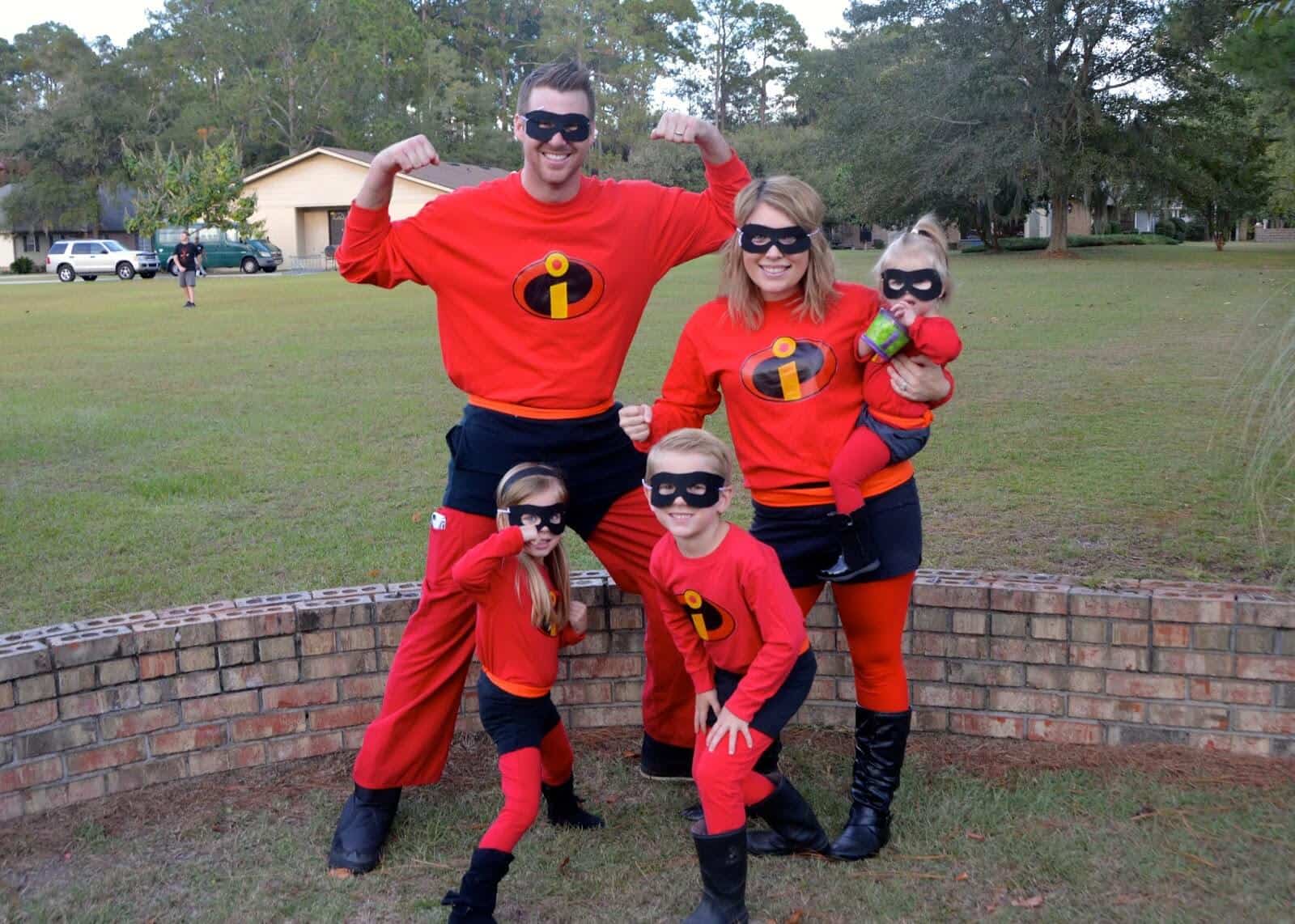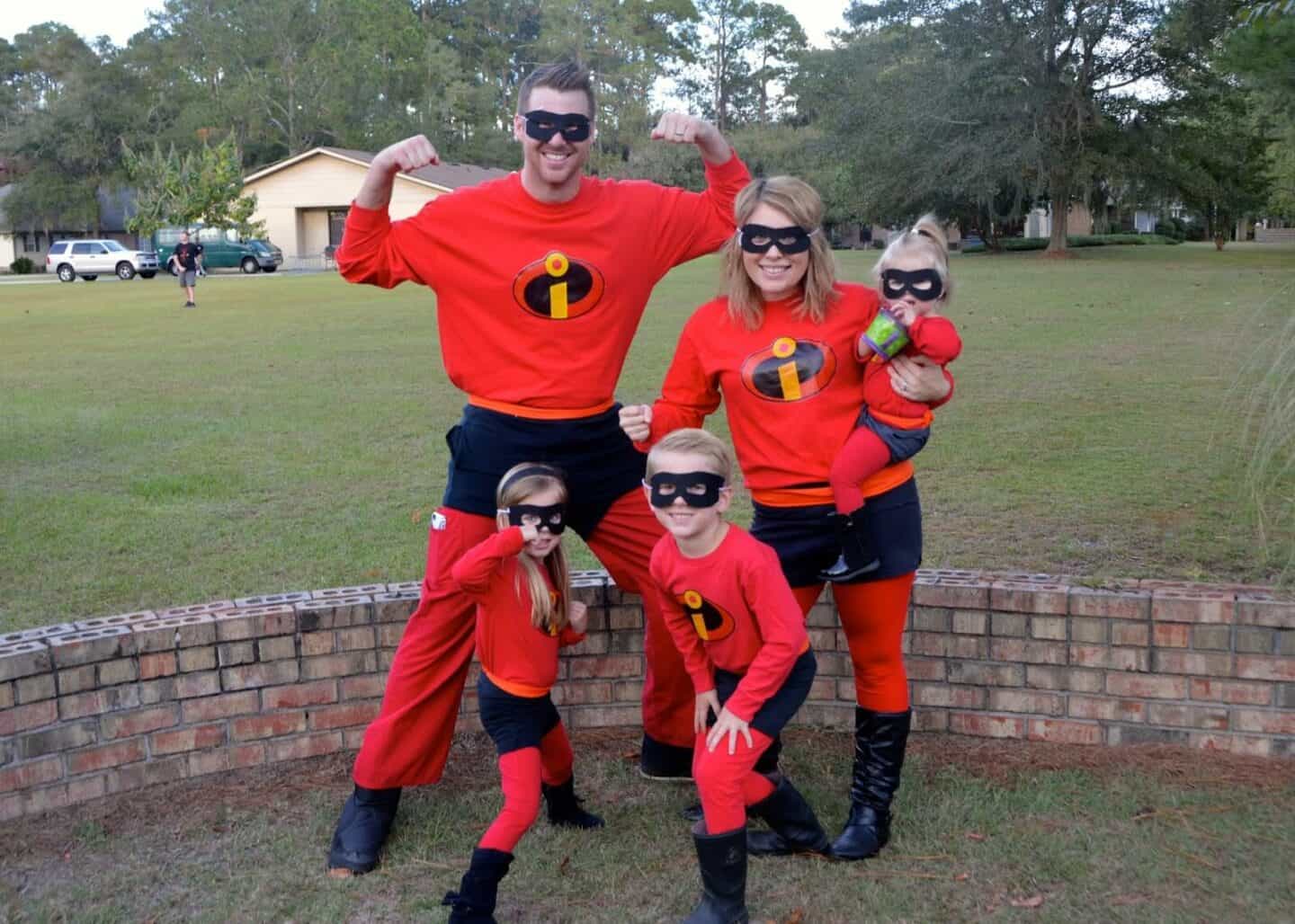 Here's how we transformed into a super hero family!
DIY Disney Costumes: Disney Fab Five
One adorable costume idea for a family is to dress up as the most classic Disney characters of them all: otherwise known as the Fab Five!
This lineup includes Mickey Mouse and Minnie Mouse, of course, plus Donald, Goofy, and Pluto!
With a few clothing pieces, white gloves, and felt ears, these are super easy to DIY in a pinch!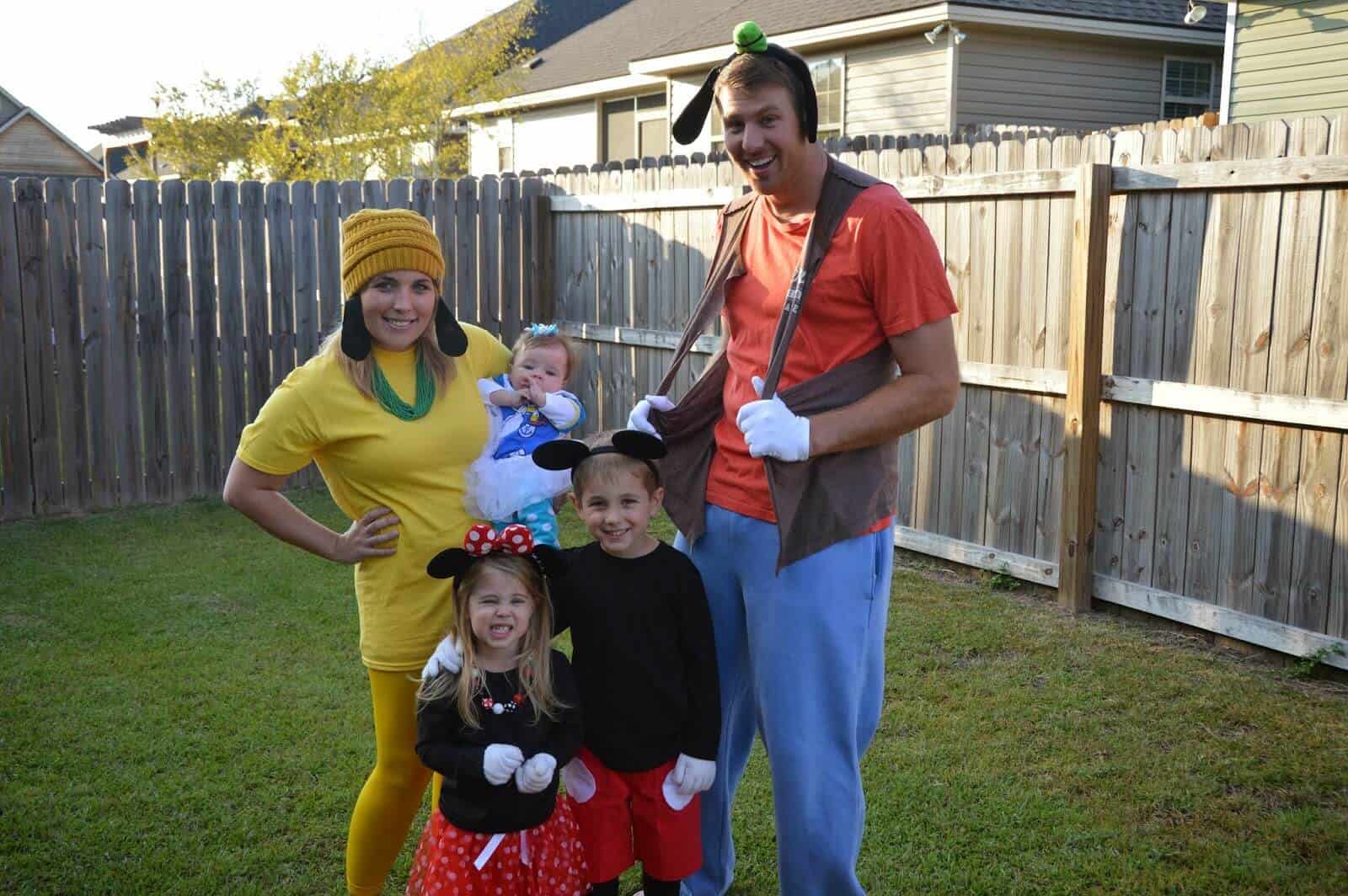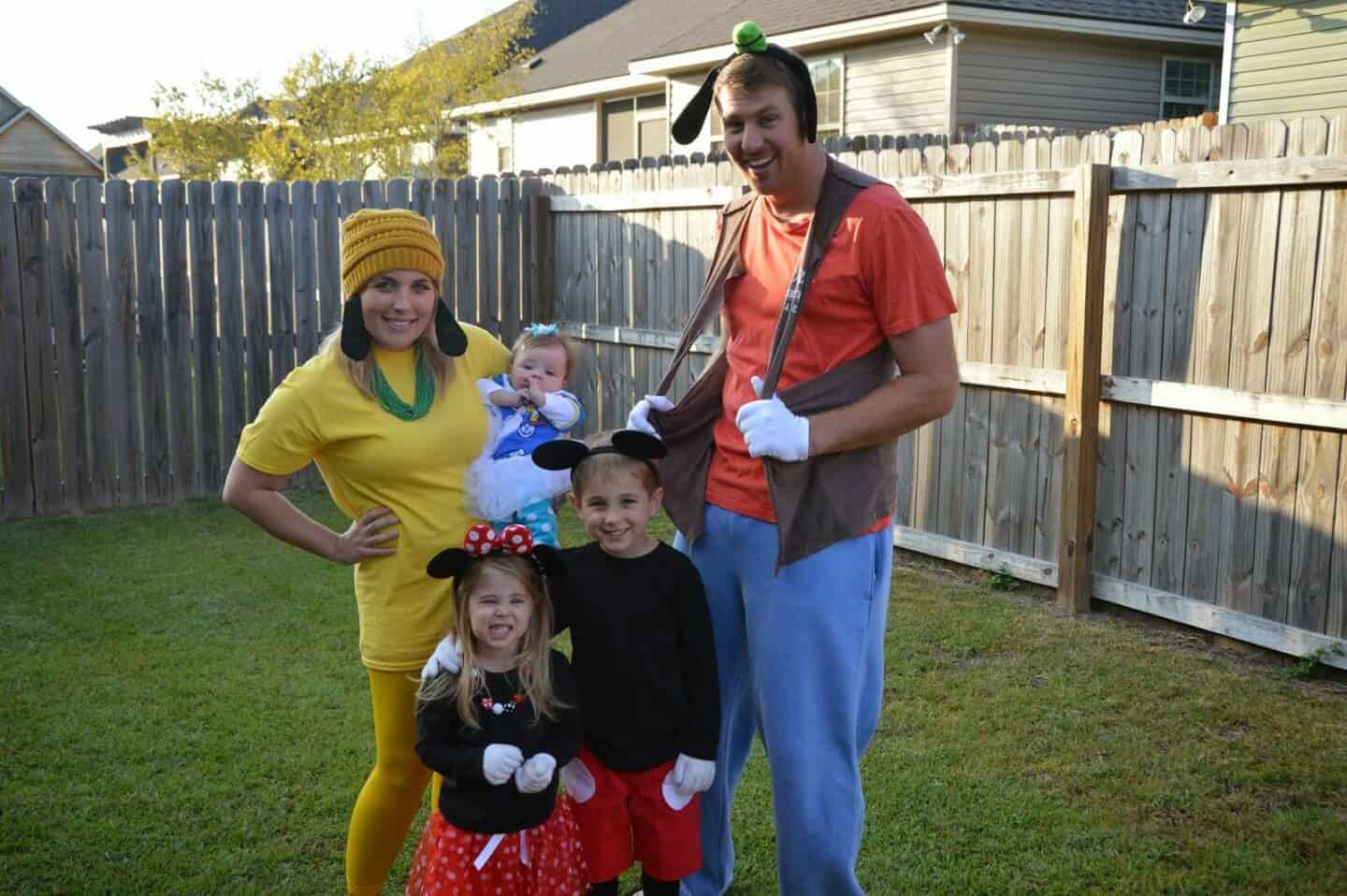 We used a lot of pieces we already had around the house. Even Goofy's vest was just a brown shirt we cut!
I bought Zach a goofy ear headband and he was good to go. For Mickey's costume, I glued on some white felt circles onto red shorts and had Kye wear a black long sleeve shirt with white gloves and Mickey's ears.
For the Minnie Mouse costume, I did the same concept but used a red polka dot skirt with Minnie Mouse ears headband.
See how our Fab Five costumes came to be!
We also put together this super cute Mickey and Minnie themed birthday party with lots of fun details!
Cruella/101 Dalmatians
When Cruella came out on Disney+ last year, we just knew we had to do DIY Disney costumes for Halloween!
The Disney movie aficionado will recognize classic Cruella, kid and young adult Estella, Horace, and Jasper.
And of course, you have to have at least one out of the hundred-and-one Dalmatians! (As you can see, our little boy was about as squirmy as a real puppy!)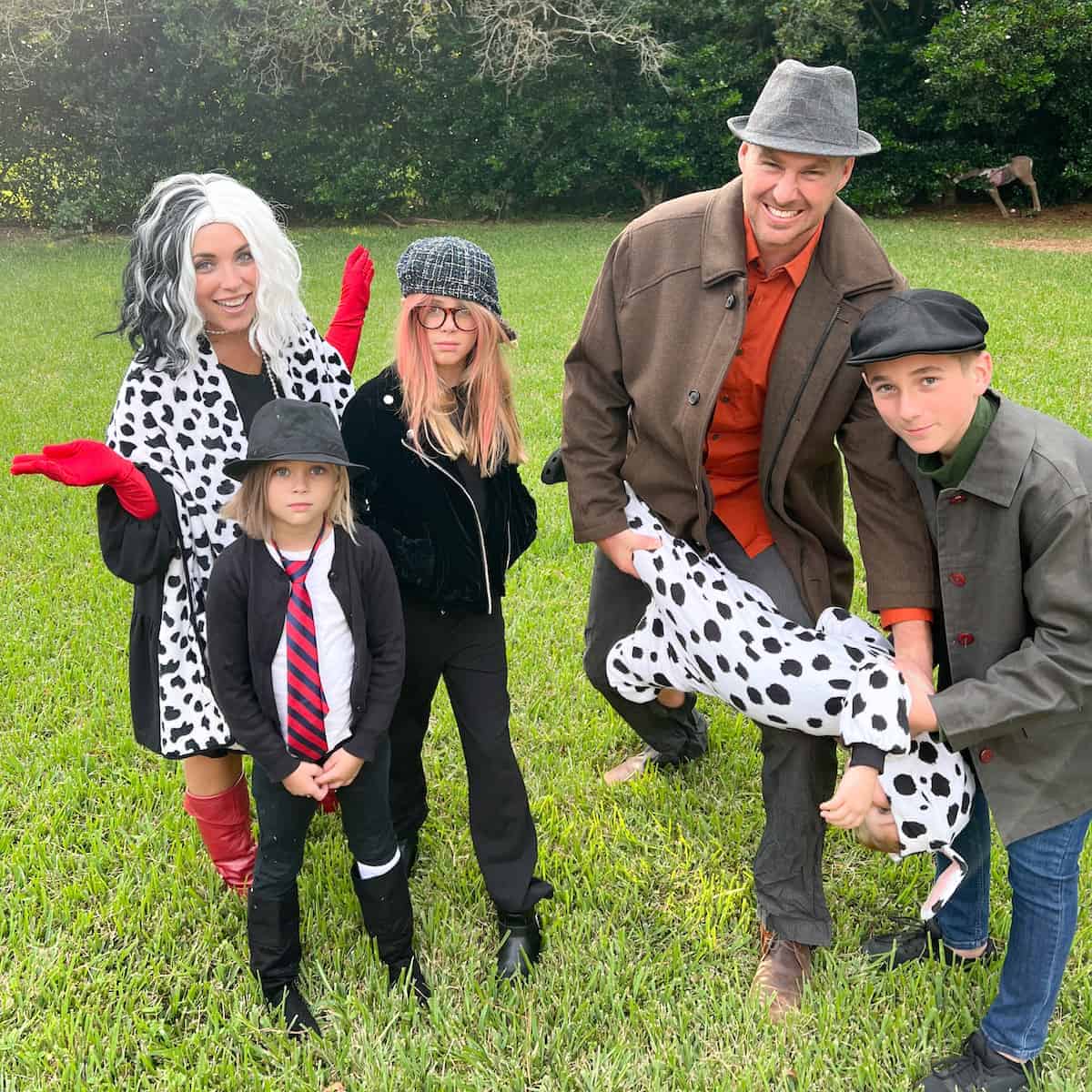 I ended up really loving my Cruella look! I wore this black dress that I already owned and paired it with this shawl and rocked the wig and red gloves.
Spear's Dalmatian costume was both comfortable and easy!
Here's how we put together our Cruella Halloween!
Aladdin
Any Disney adult had to love Aladdin as a kid – who doesn't want to be part of the whole new world?
We had so much fun putting this look together – and loved that every element was comfortable too (well maybeeee not my Jafar facial hair!)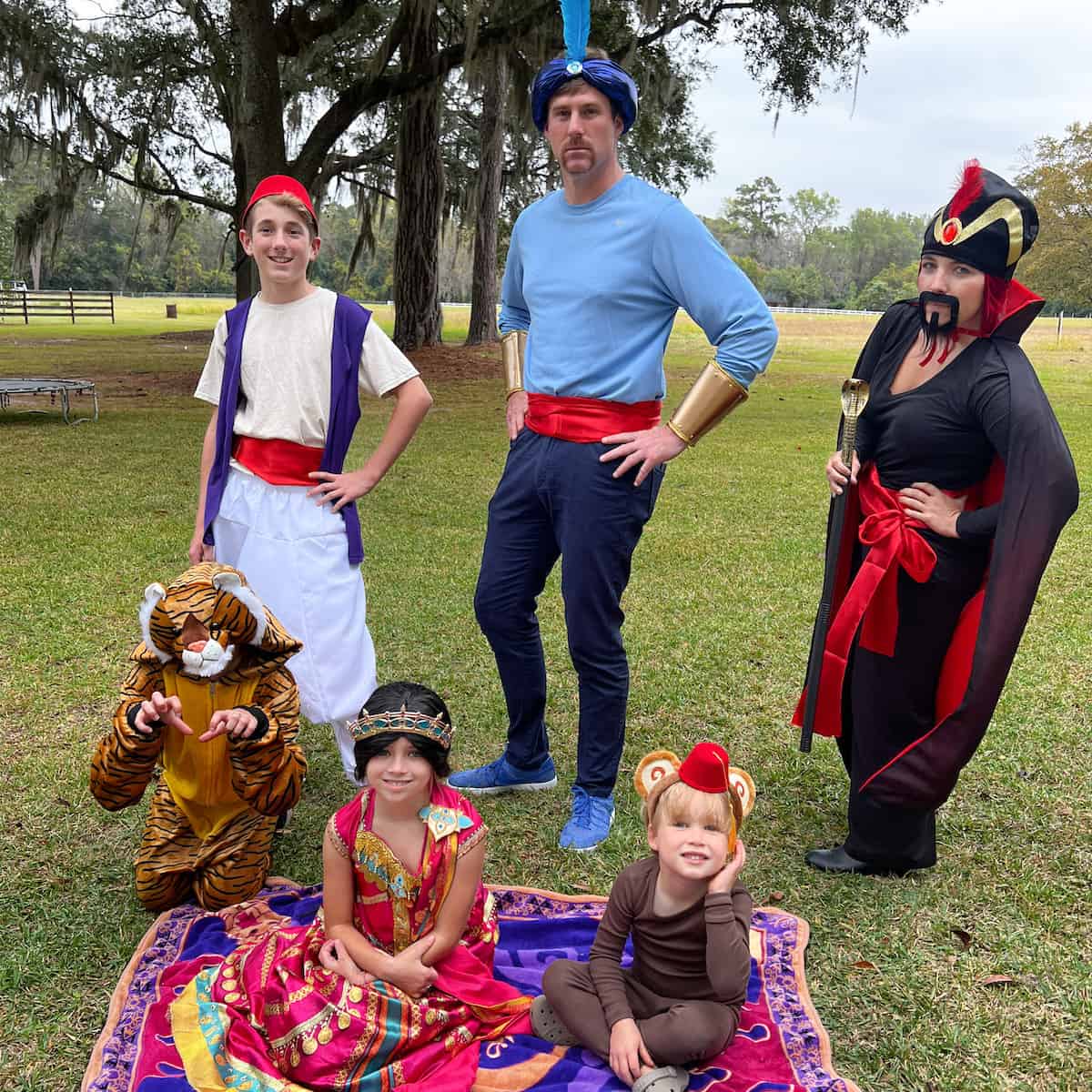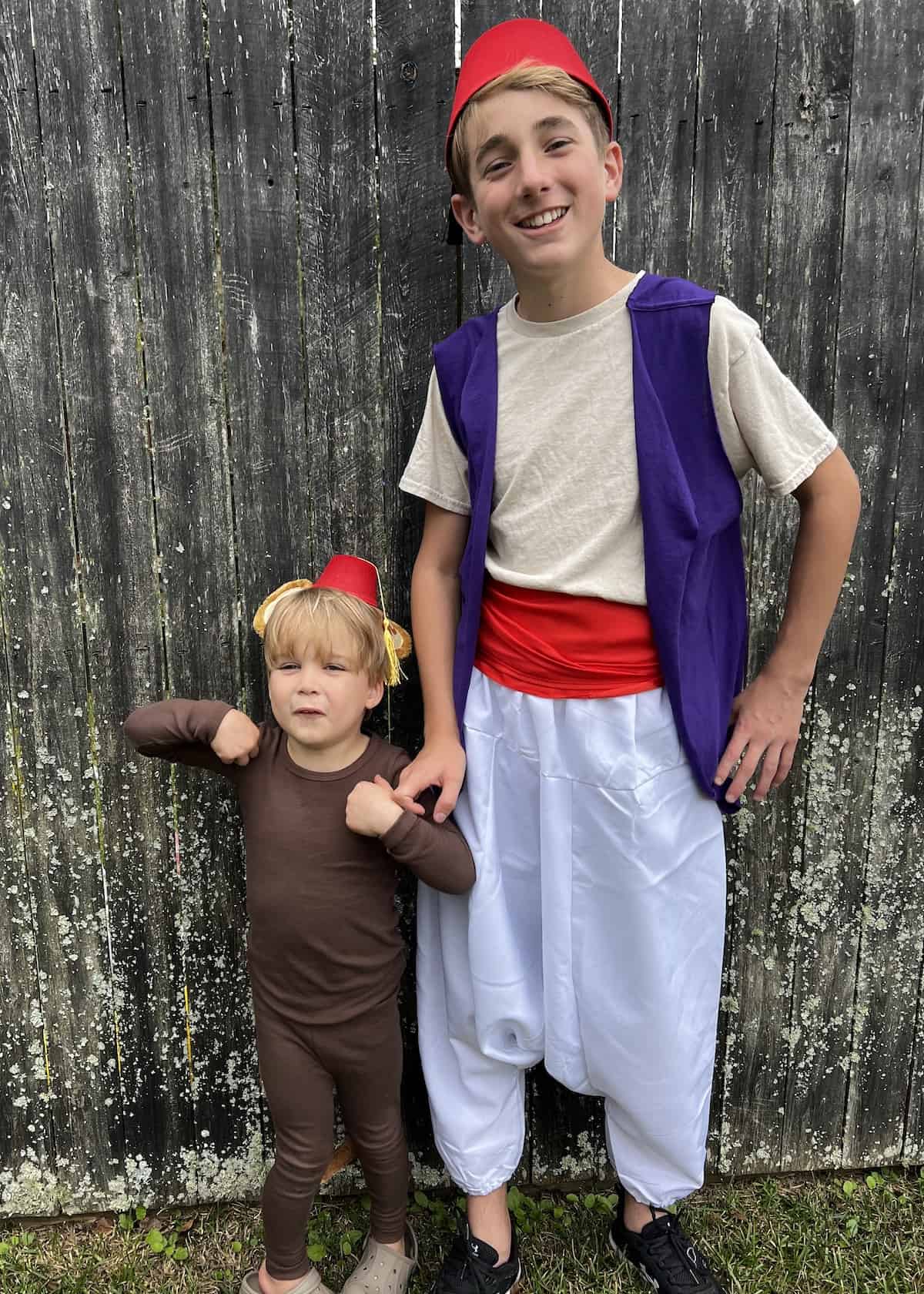 The magic carpet blanket was such a great prop and this set of three red sashes really brought our looks together.
See all the details of our Aladdin themed family Halloween costumes here!
Mary Poppins
We threw Britt a Mary Poppins themed birthday party one year and put together this DIY costume for her that I think would be perfect for Halloween!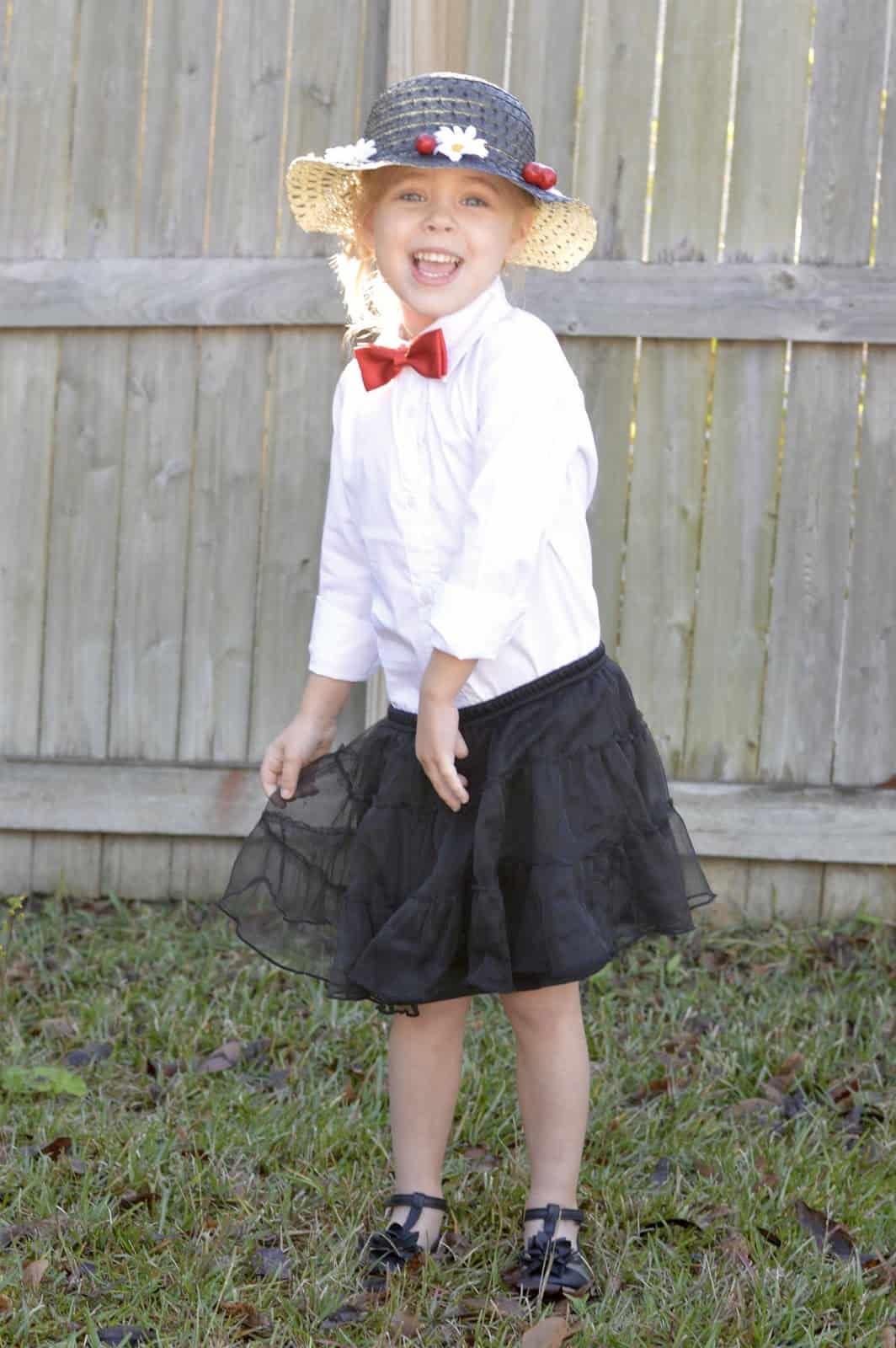 For her look I used a black skirt, white button down shirt, red bowtie and then spray painted a garden hat black and added cute flowers and berries with hot glue.
See all the DIY party theme ideas here!
DIY Disney Costumes: Final Thoughts
To me, the best parts of Halloween are the parts that get the entire family excited and involved.
Trick or treating is great and all (the sugar rush, not so much…) but the costumes are really the hallmark of the Halloween season!
DIYing costumes not only saves you some cash, but can also make the whole experience more special and more personal.
I hope these DIY costume ideas got the gears turning for this year, especially if you're a Disney fan and looking for simple ideas you can put together at home.
Happy Halloween and happy costuming! Looking for other fall-fun activities? Be sure to check out this post for the best fall activities for kids!
Other Posts You Might Like: