For the past several years now we've done a girl's trip to Mickey's Not So Scary Halloween Party! The crew has switched up a few times over the years but it's always a BLAST. You can see our past years' fun here: 2017, 2016, and 2015
This year the trip fell on the weekend after we got back from California. It was a tad crazy on the timing for me and all my planning efforts had to be going towards the Cali trip so I wasn't able to fully focus on the MNSSHP one until like the day of haha!
Each year we've gotten more and more into the theming of our costumes. It's SO FUN to be in character and be as authentic as we can be!
This year we all decided to do Cinderella as our theme. We had the largest group ever this year and that made costume deciding tricky…but it all came together SO WELL! I LOVED the bright colors together and thought all of our outfits were super fun.
Having our rental house made the larger group work out so easily too. Everyone had PLENTY of space to SPREAD OUT and get ready and have good quality sleep! Plus having the house meant we could add time to the trip that we're not usually able to do.
Typically each year we drive down the day of the park visit and get ready then go to the park. This year we all went down the night prior (Thursday night) and were able to chill and hang out Friday morning before getting ready to go. It was SO nice being able to relax!
If you're considering a trip to Disney be sure to check out our Rental House and the large discount we offer to blog readers here 🙂
Step Sisters!
Anastasia and Drizella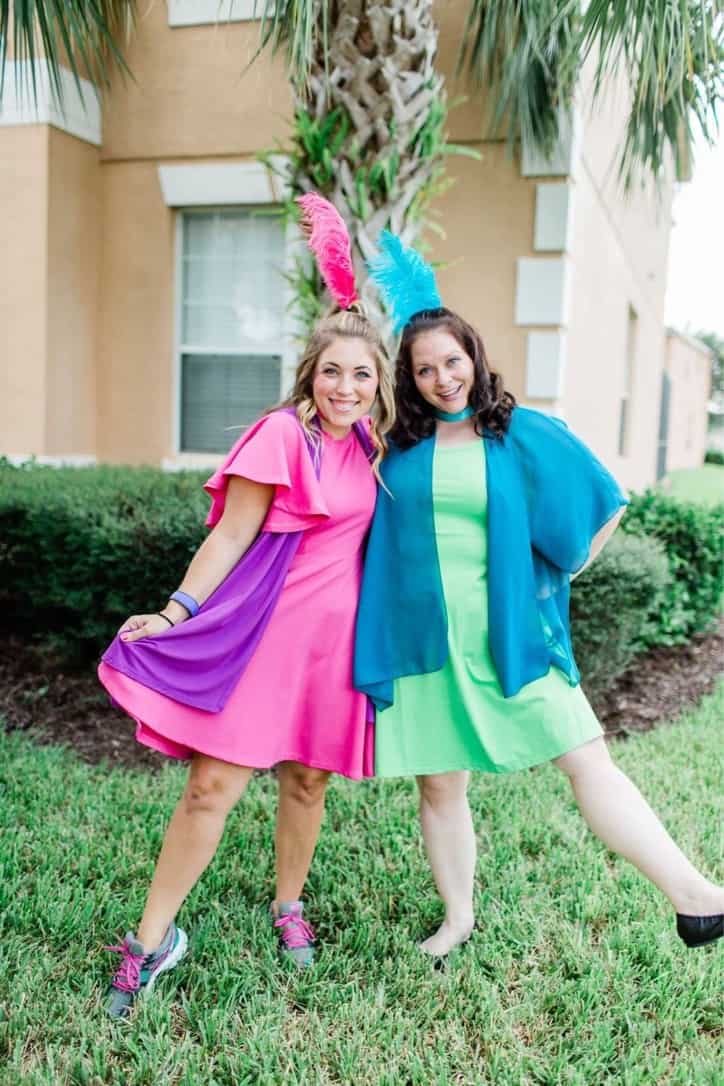 My costume was a rather last minute decision so I was SO THANKFUL for Amazon to hook me up with everything I needed! The feather is from Hobby Lobby but the dress is from this link and the cute vest is from this one. I can totally wear both items again so I didn't mind at all buying them!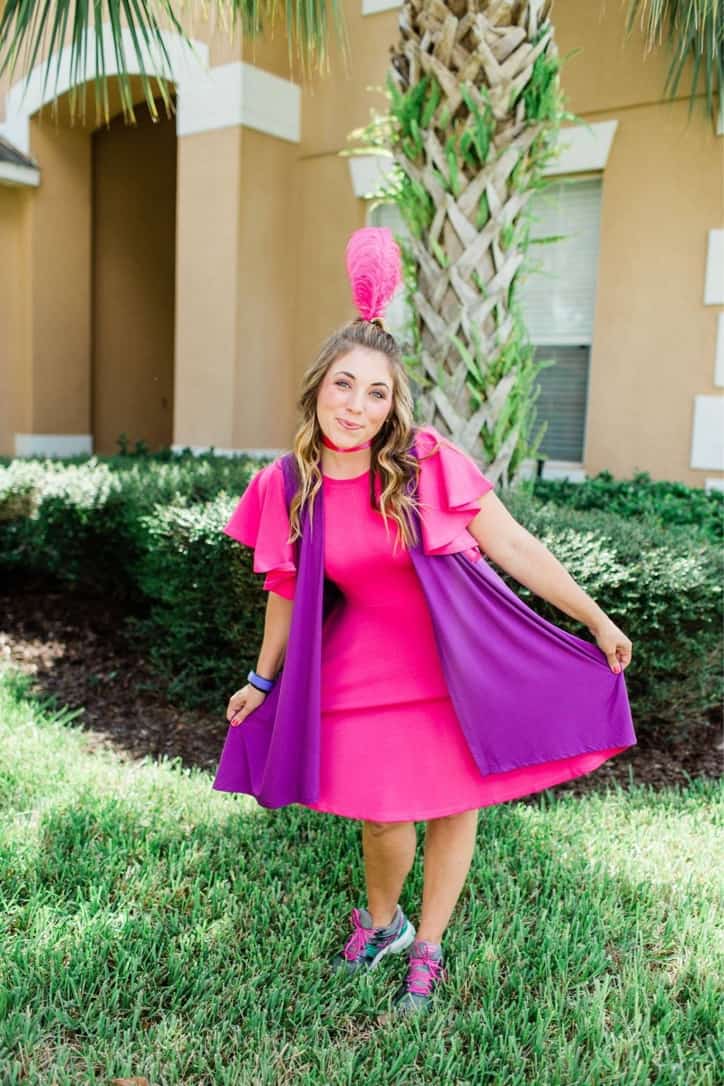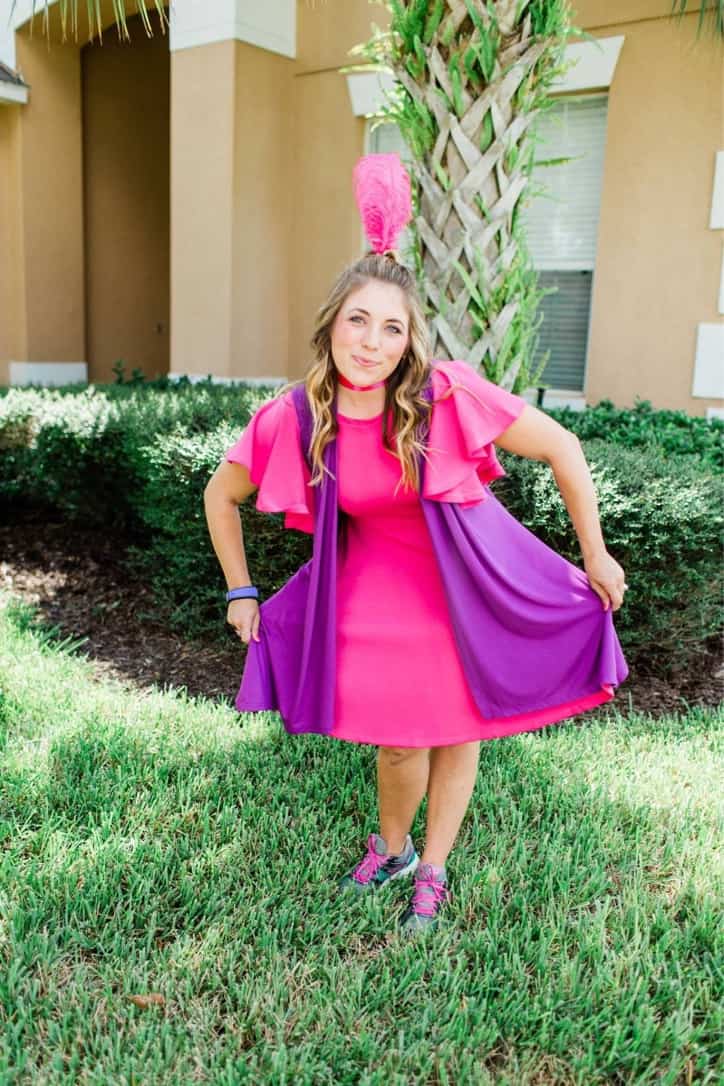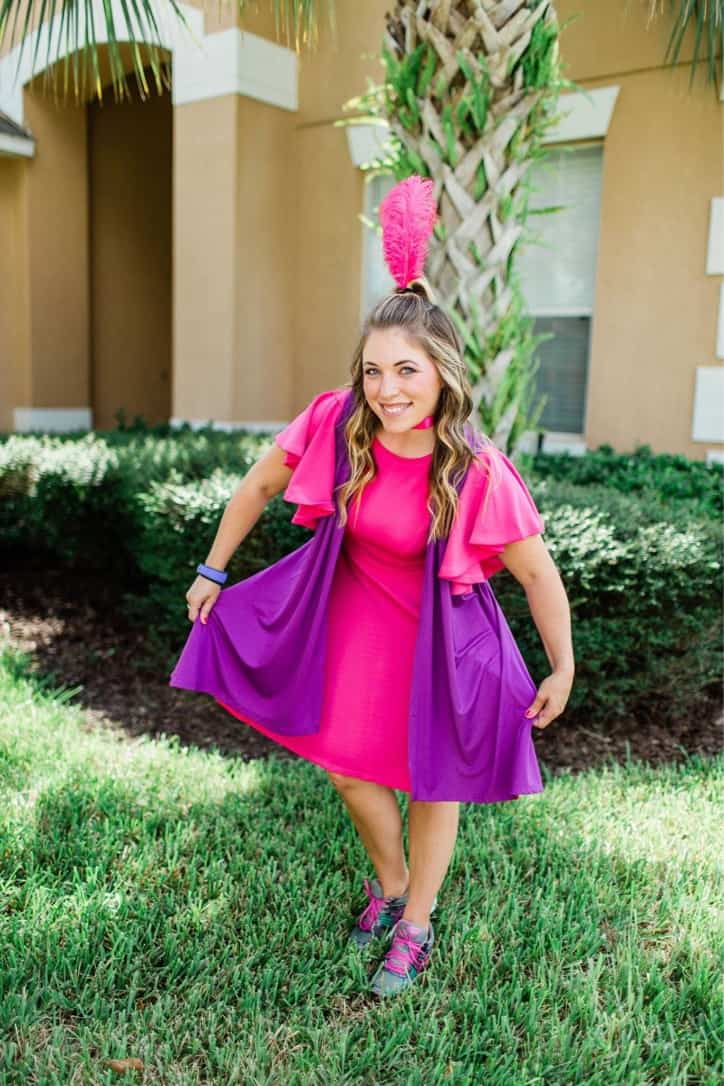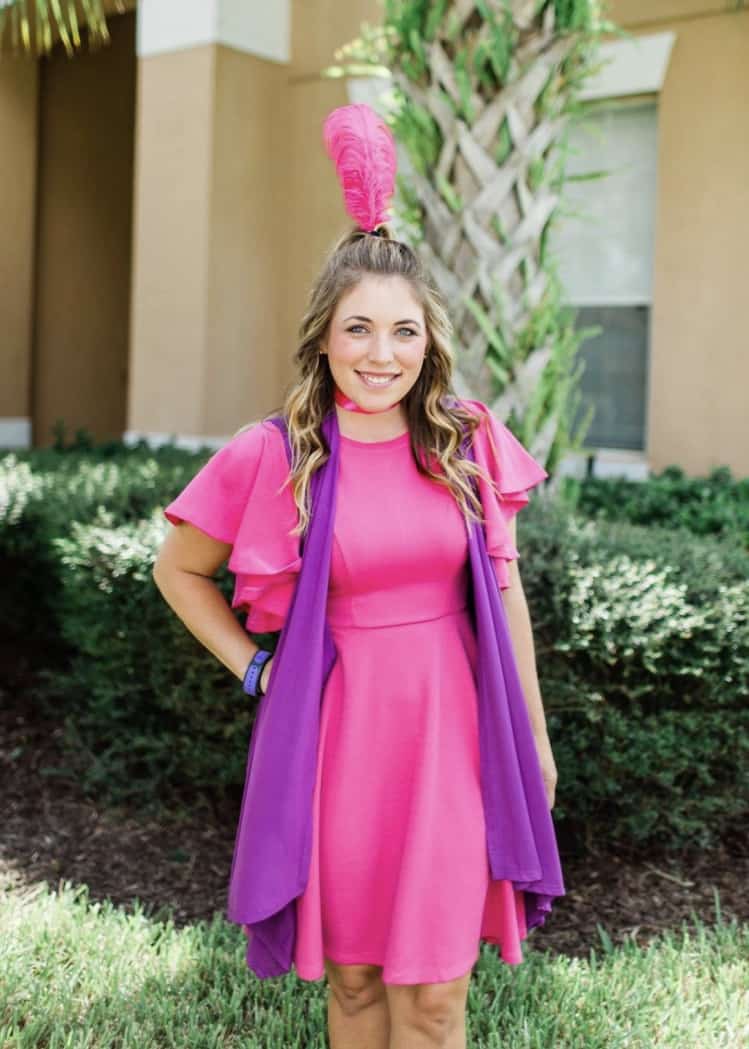 Rachel is a fellow Disney pass holder and a lover of all things Disney just like I am! We met through bookclub and I was SO pumped to have another hardcore Disney-er in the group this year…plus she was an epic sister 😉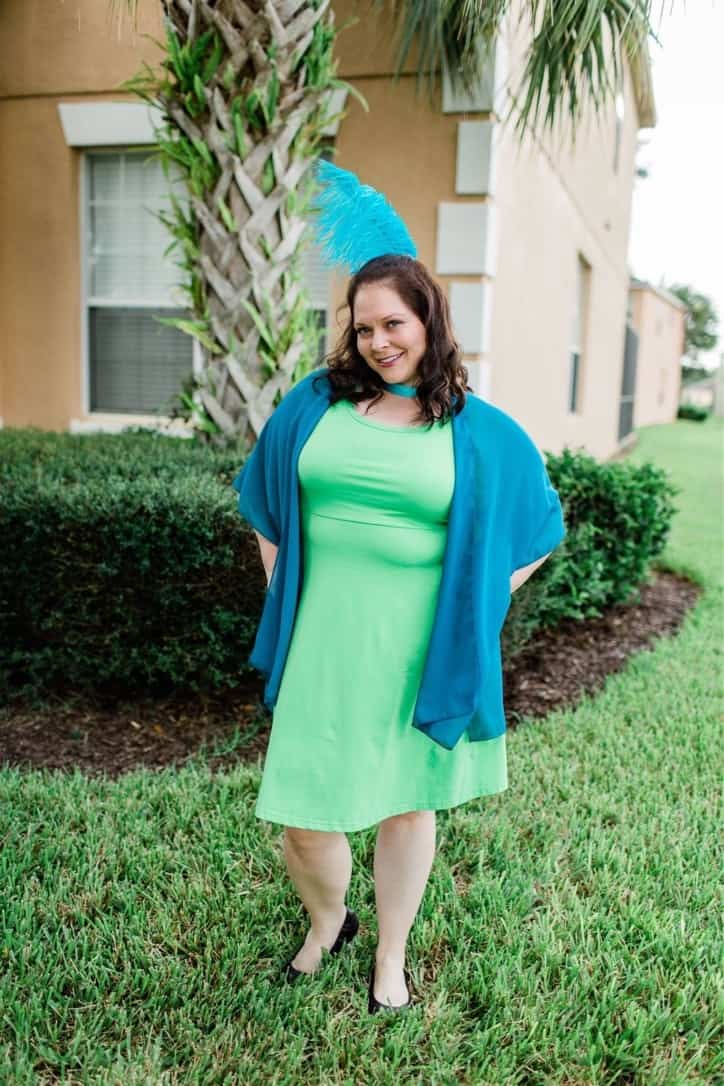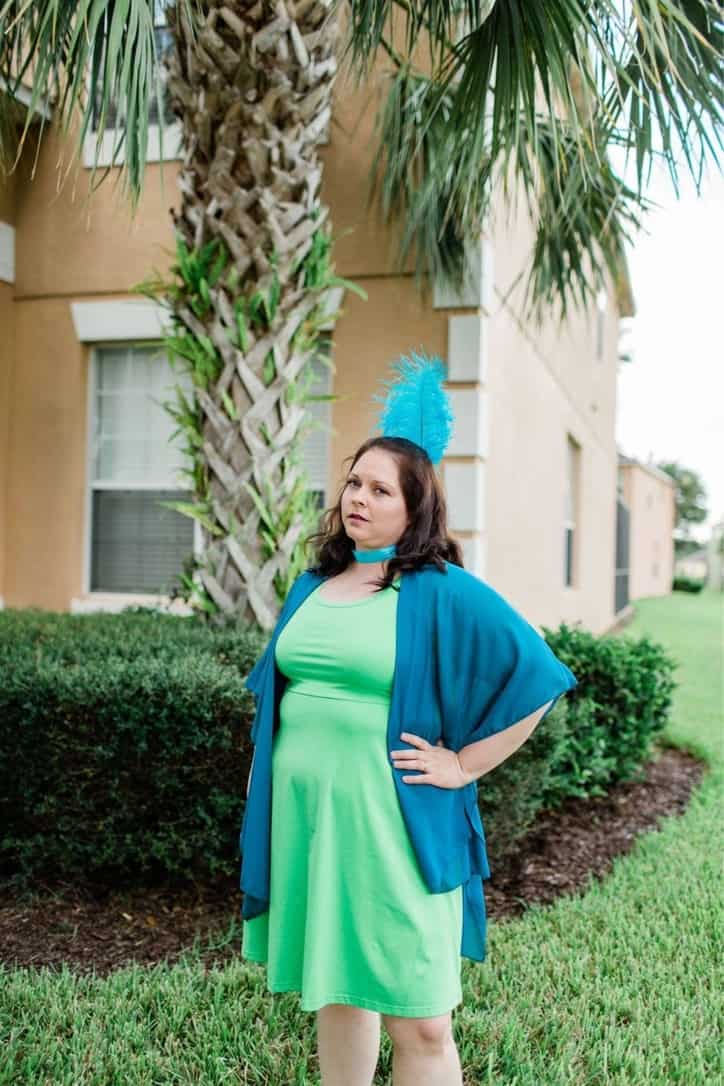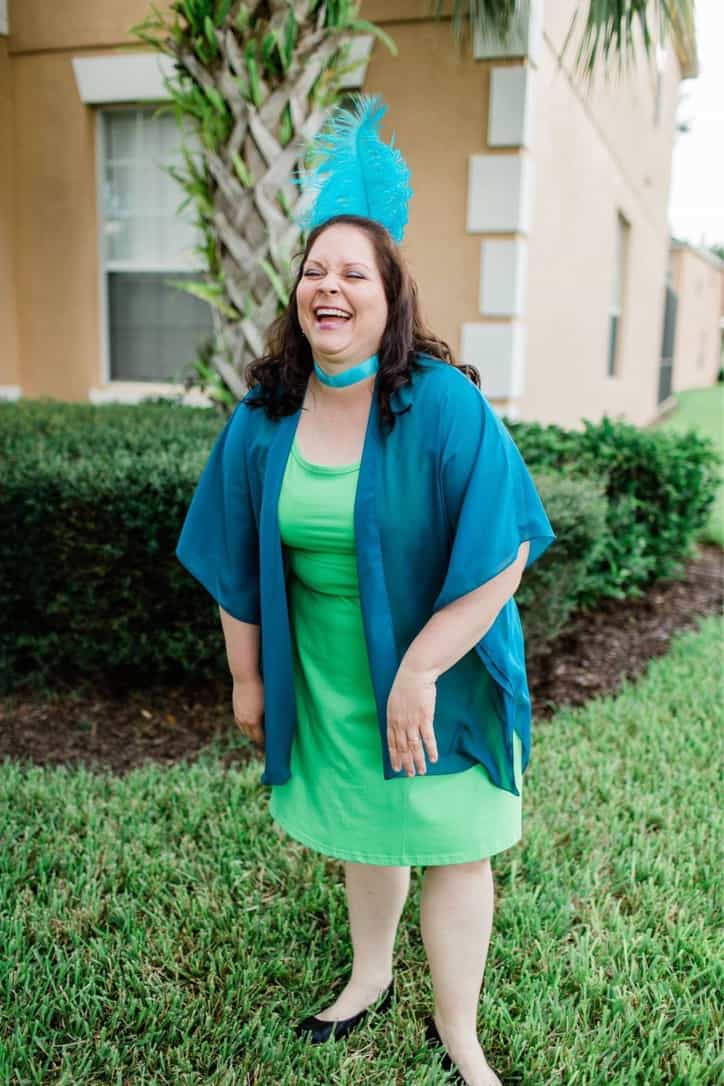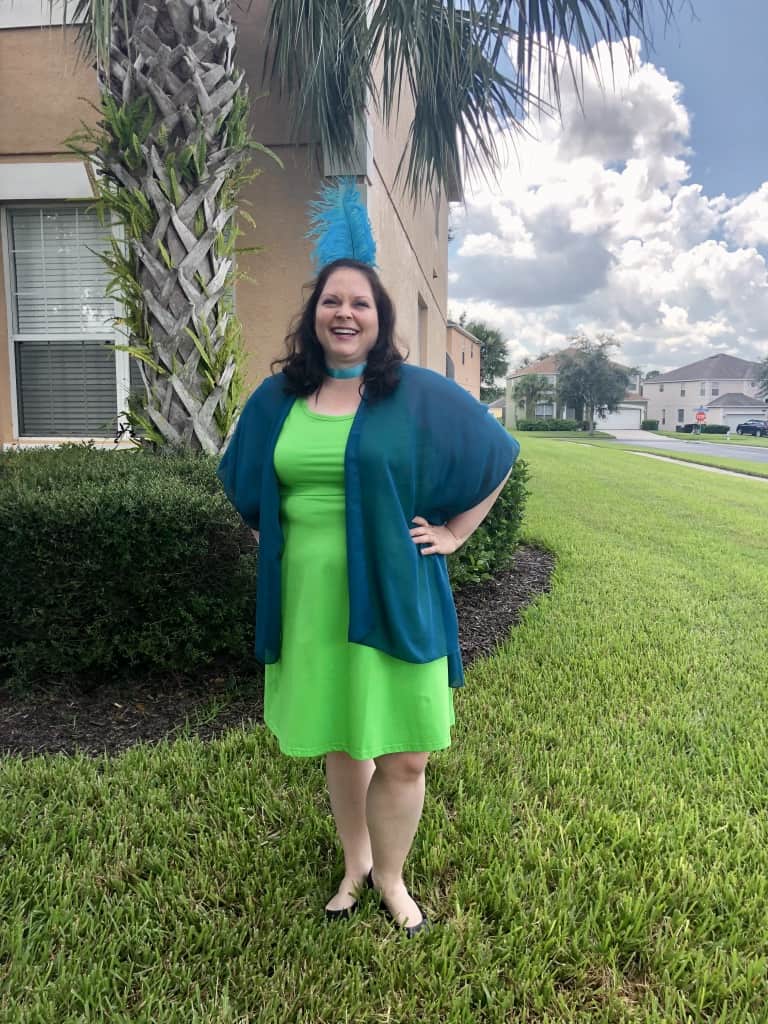 Can't have step sisters without someone to be evil to…Cinderella!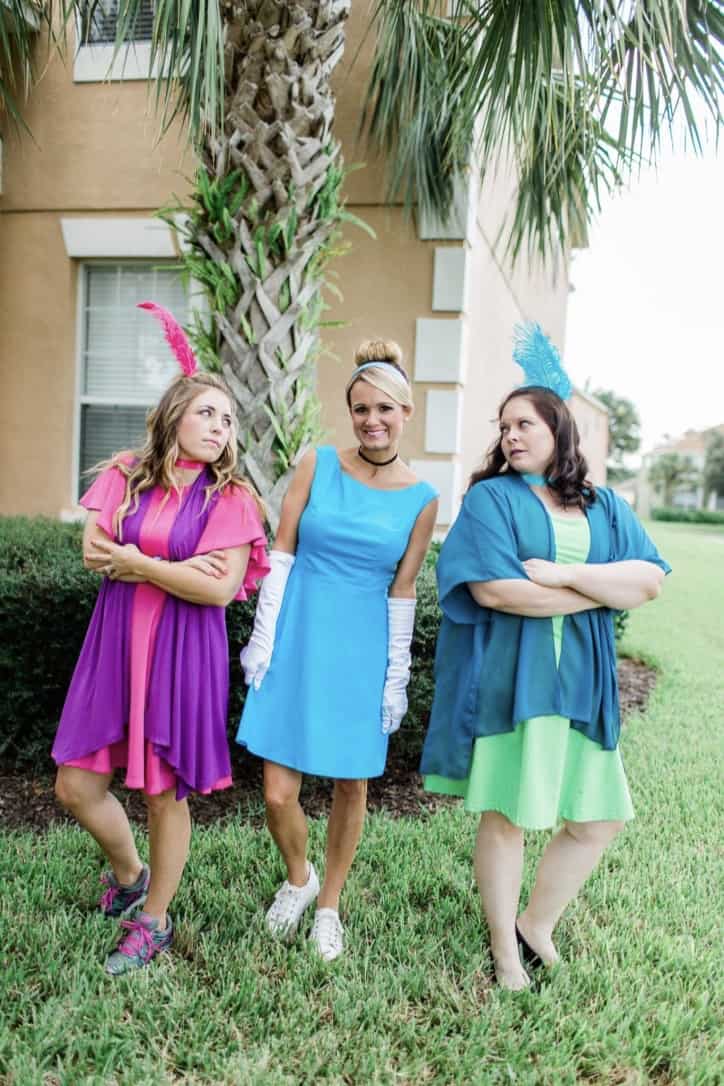 Yall. When the idea for Cinderella was tossed around we all KNEW Tiffany HAD to be our Cinderella. I swear she should book parties. Isn't she DEAD ON?!?! So, so pretty!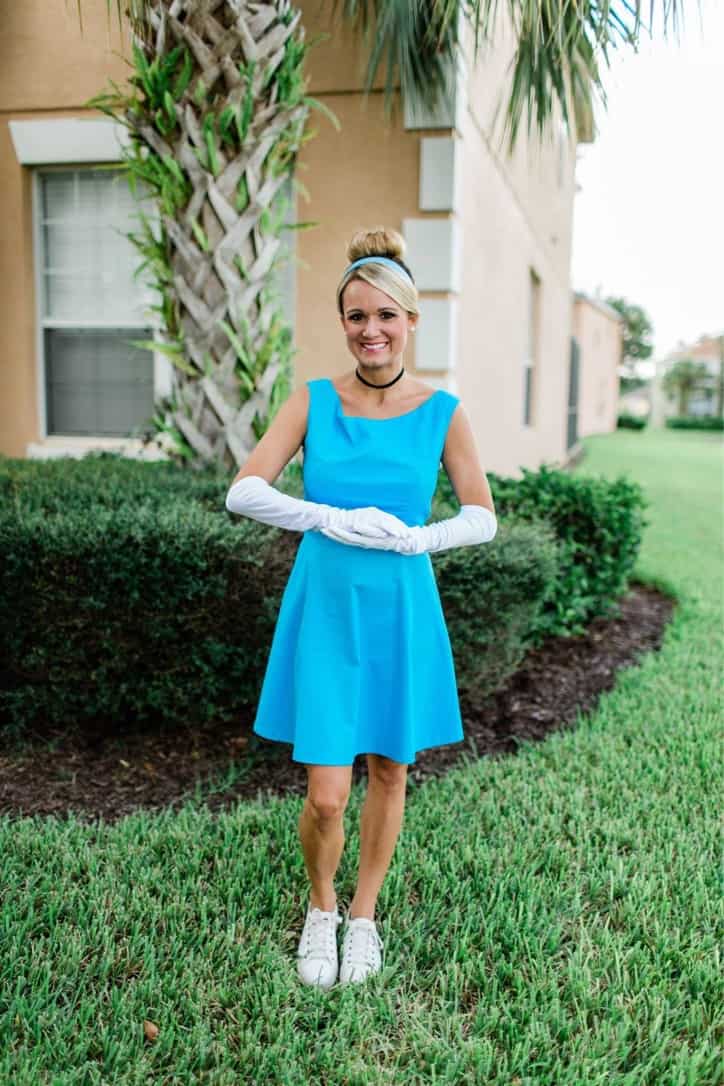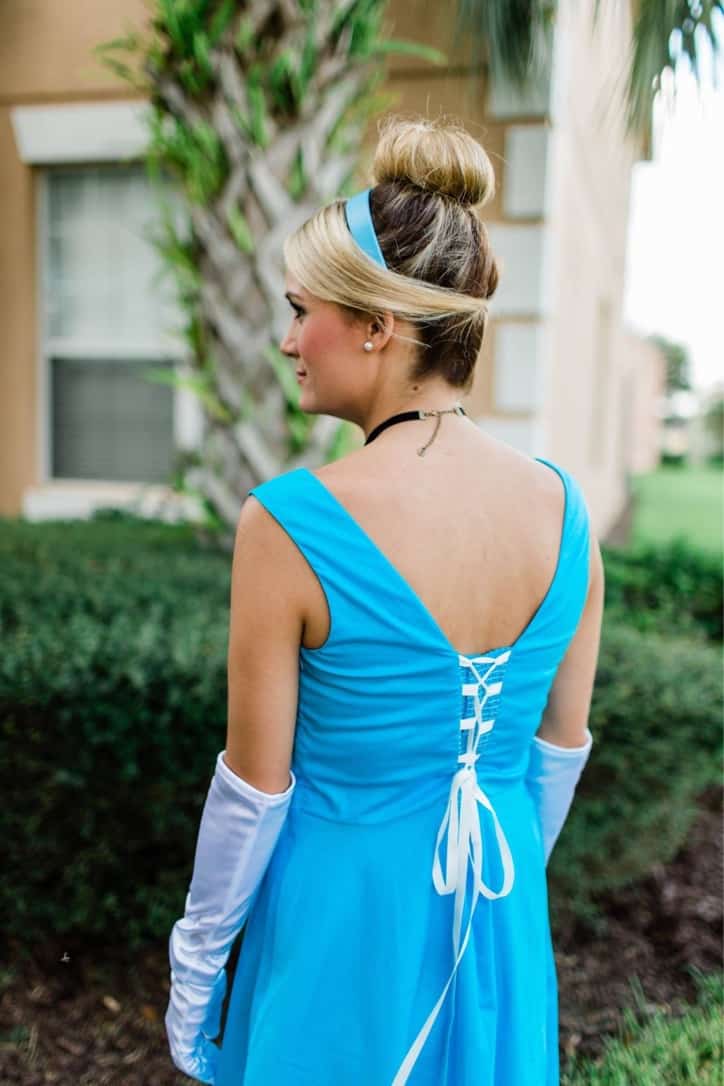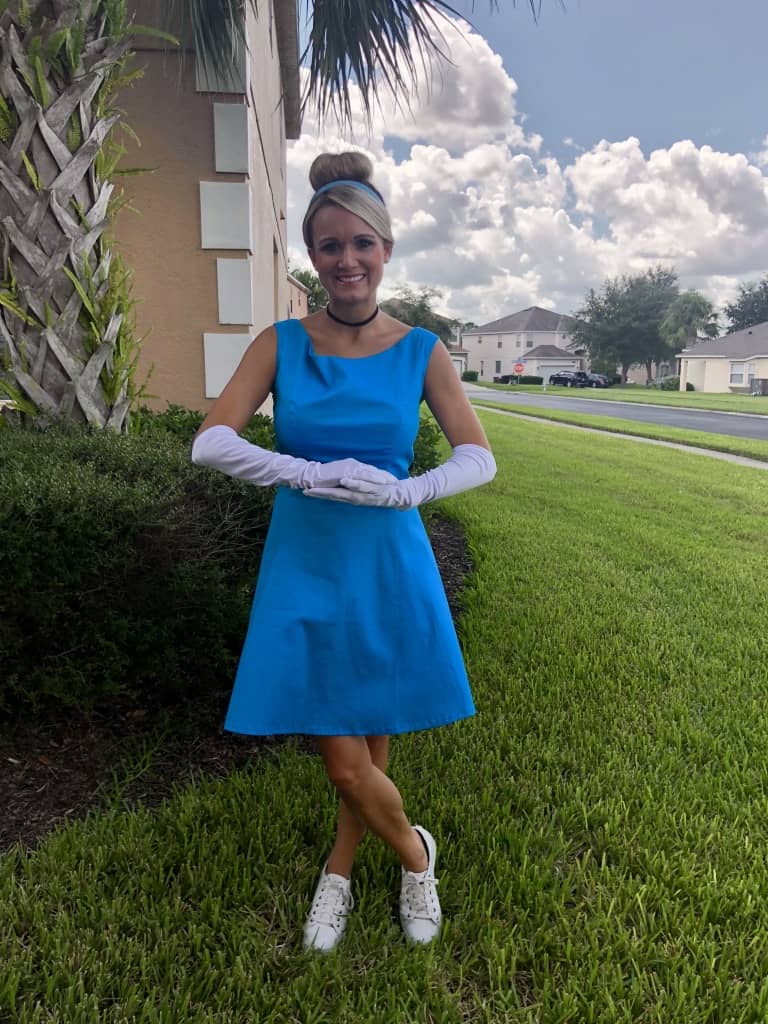 Every princess needs her…Prince Charming!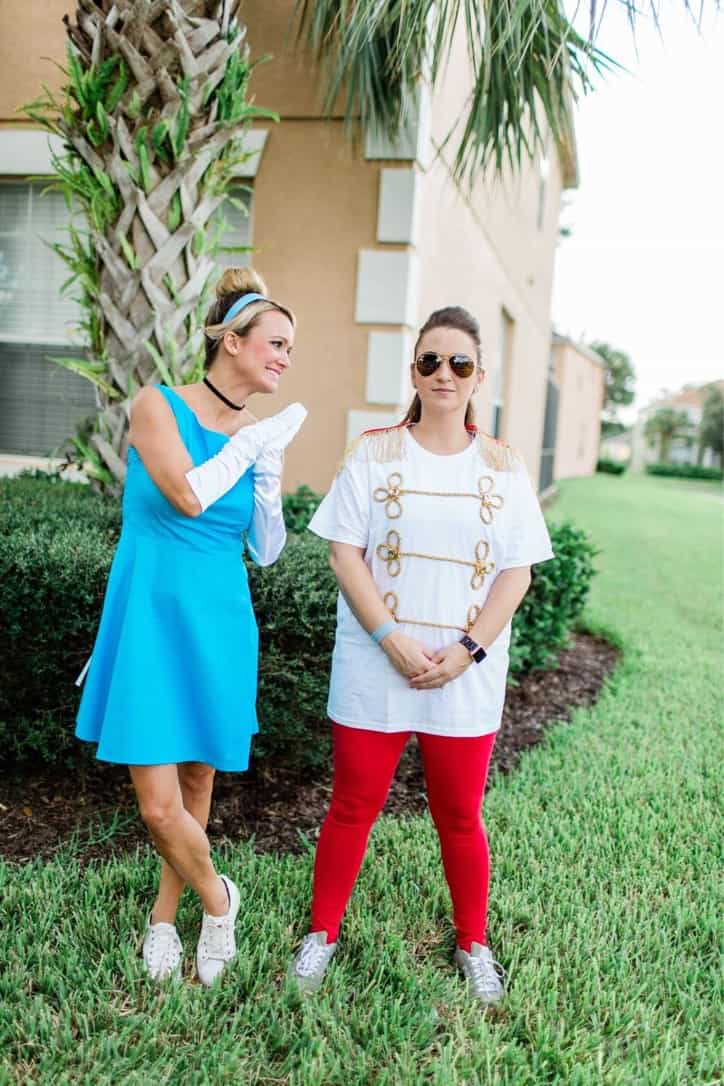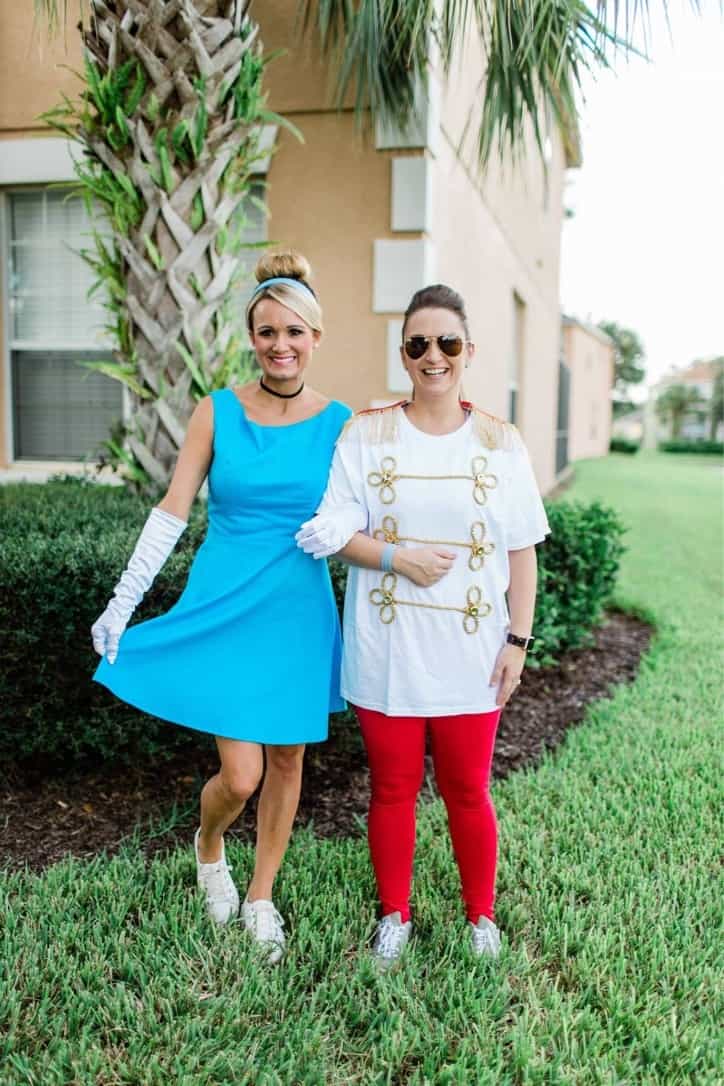 Gabe and Rachel are BFFs and I adore them both! When we talked about the trip at book club one night Gabe wasn't sure if she was really into the whole costume thing but then we thought about her being the Prince and she jumped on board haha it was a SUPER fun costume and she ROCKED IT!!!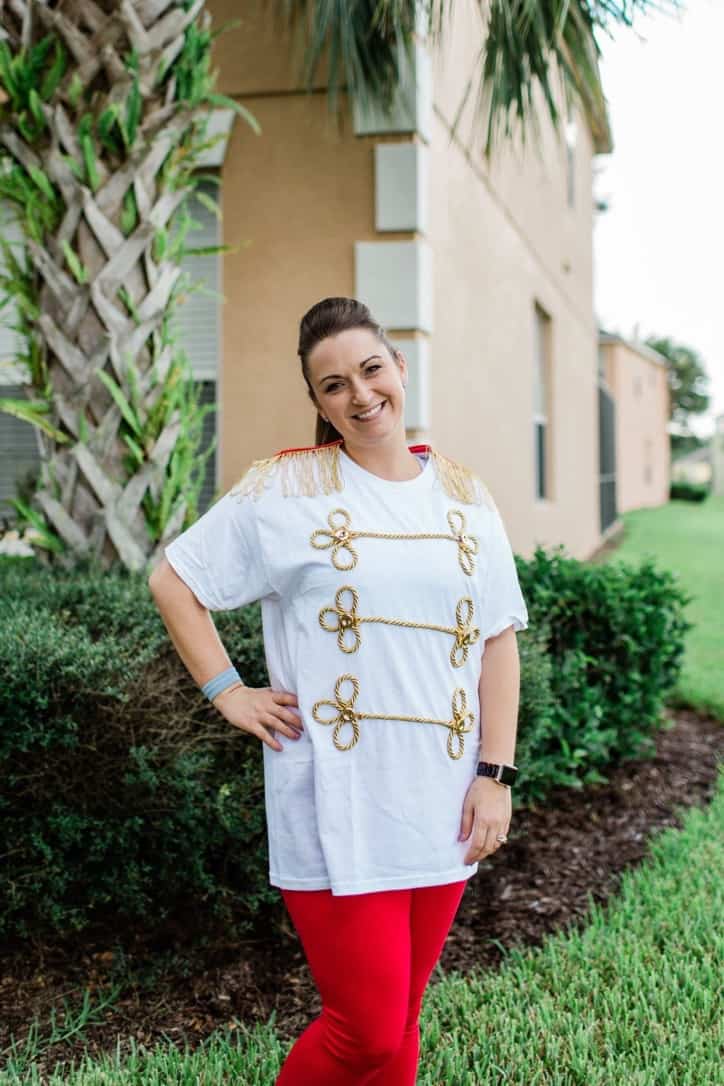 The prince had a surprise for us ALL! We were sitting around the couch before we got ready and Gabe mentioned driving separate to be able to come back earlier in the evening than the rest of us. She then whispered "because I'm pregnant." I was the only one who happened to see her say it and that one second of time when I was the ONLY one who knew was SO FUN haha!
It was a PRECIOUS moment and we're all so thrilled for her and omg the videos of her telling her husband and his family the news…I cried REAL TEARS. It is all just so exciting!!!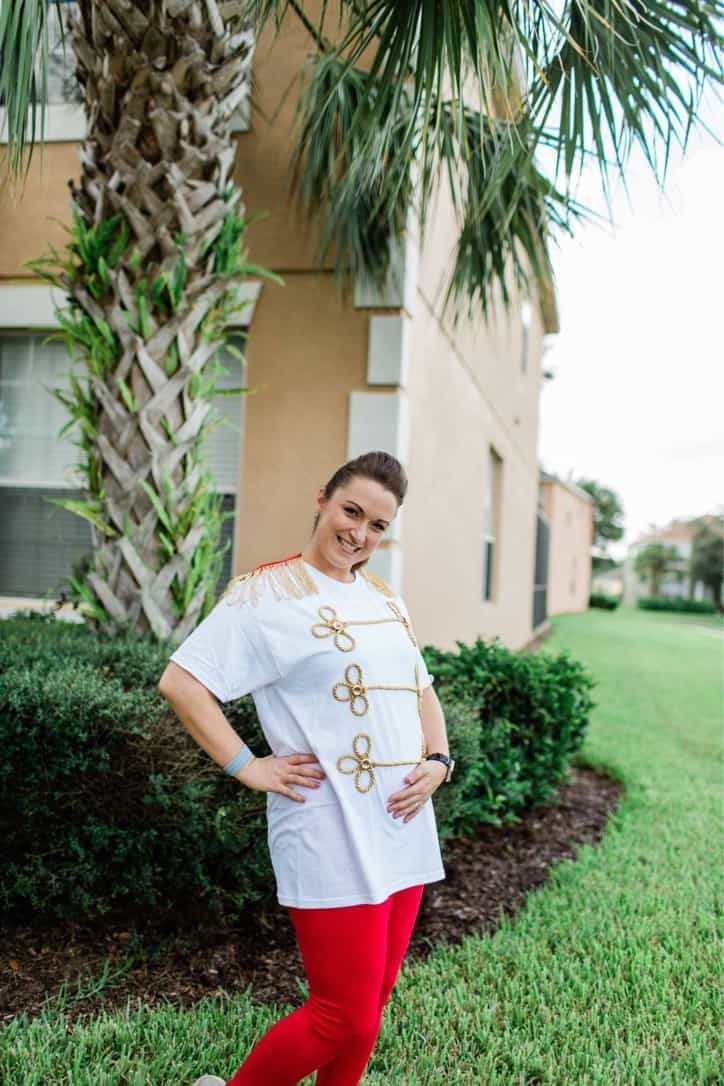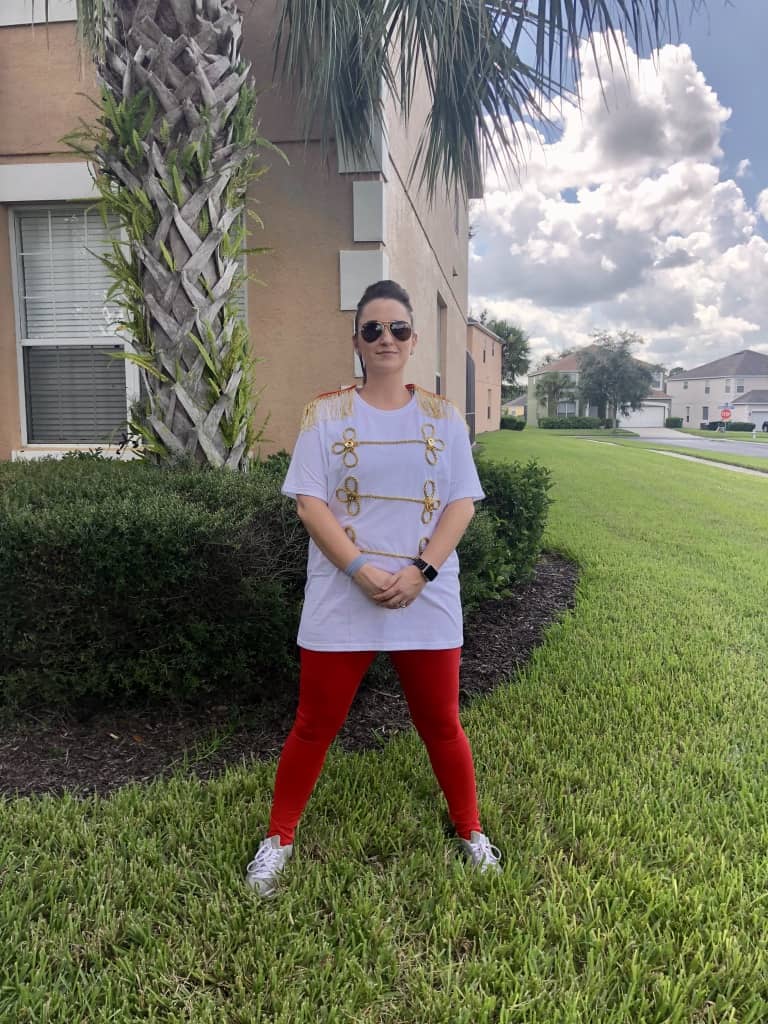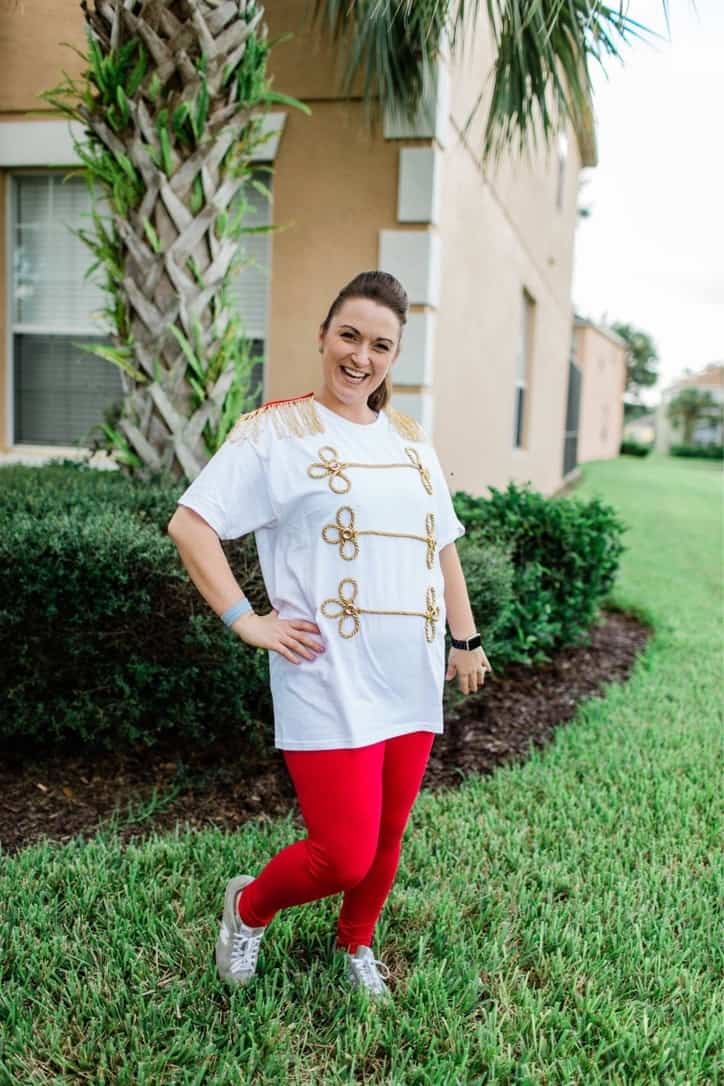 Of course Cinderella also needs her Fairy Godmother!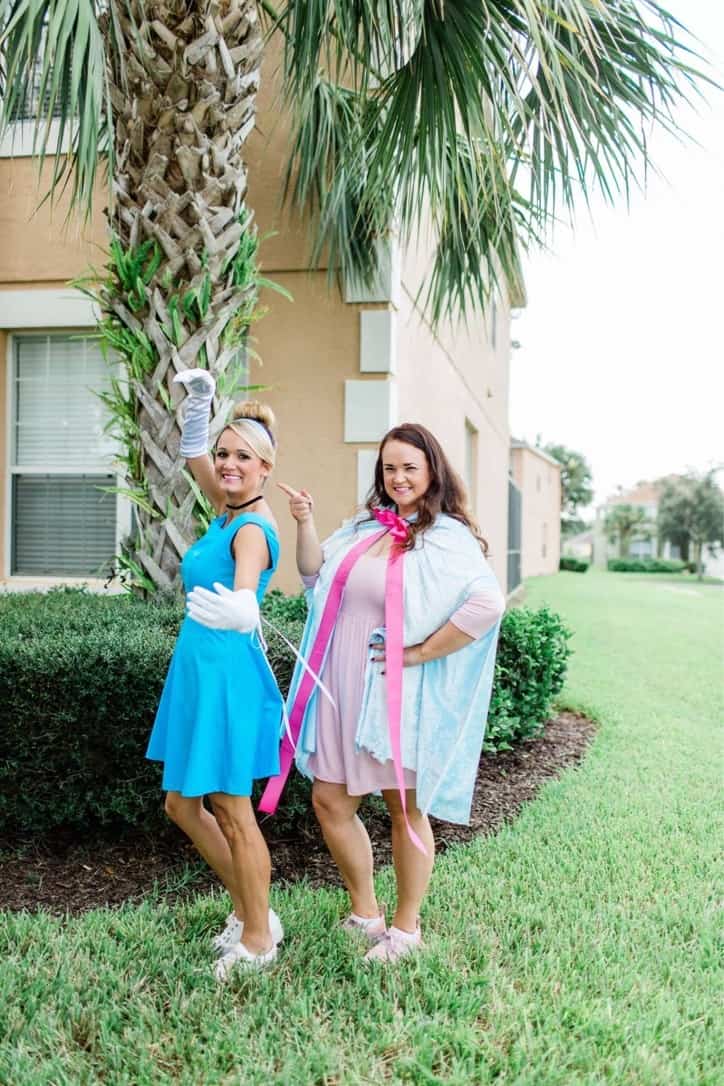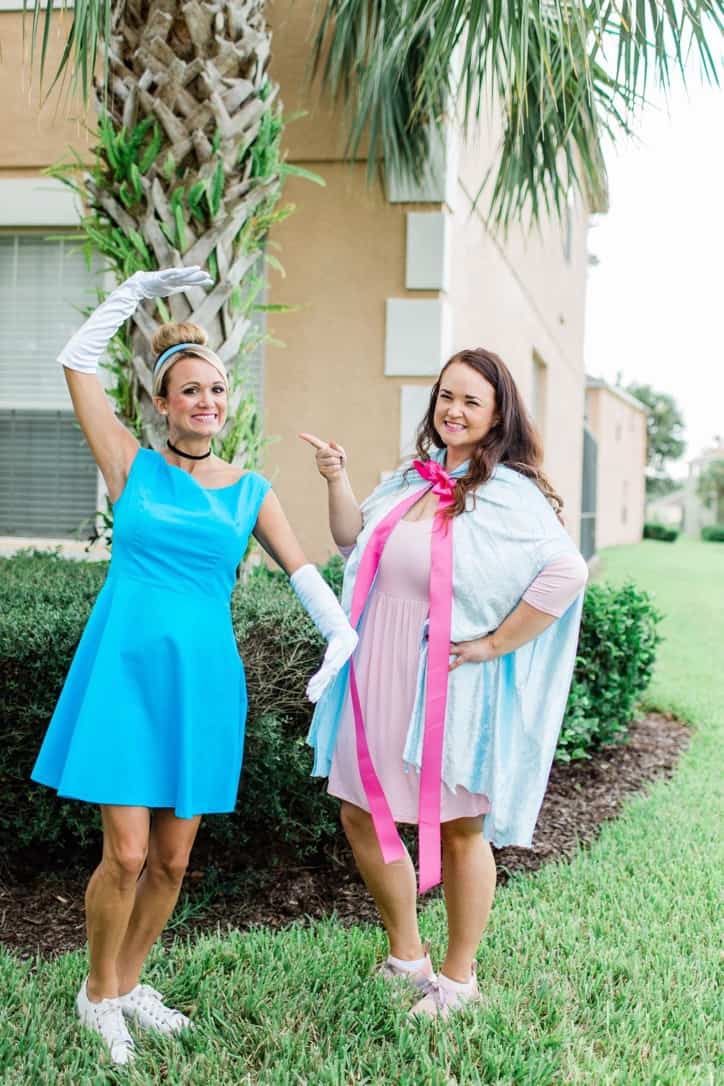 Katie requires no blog intro 😉 She and I are also the only OG's who have gone every year to the party since it started!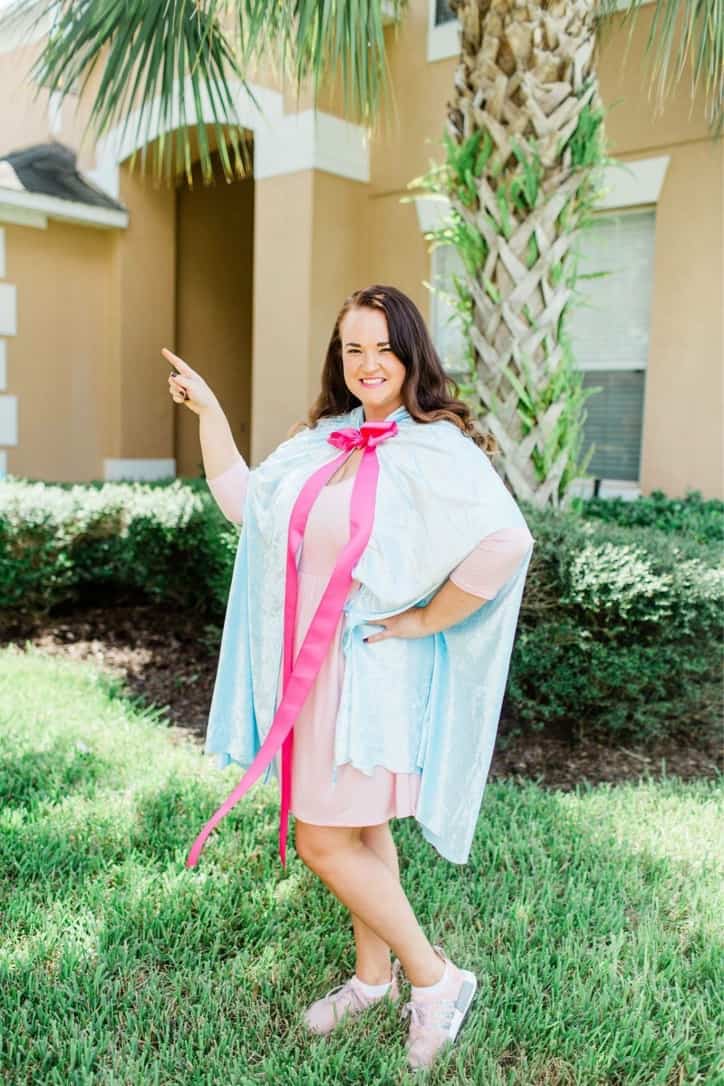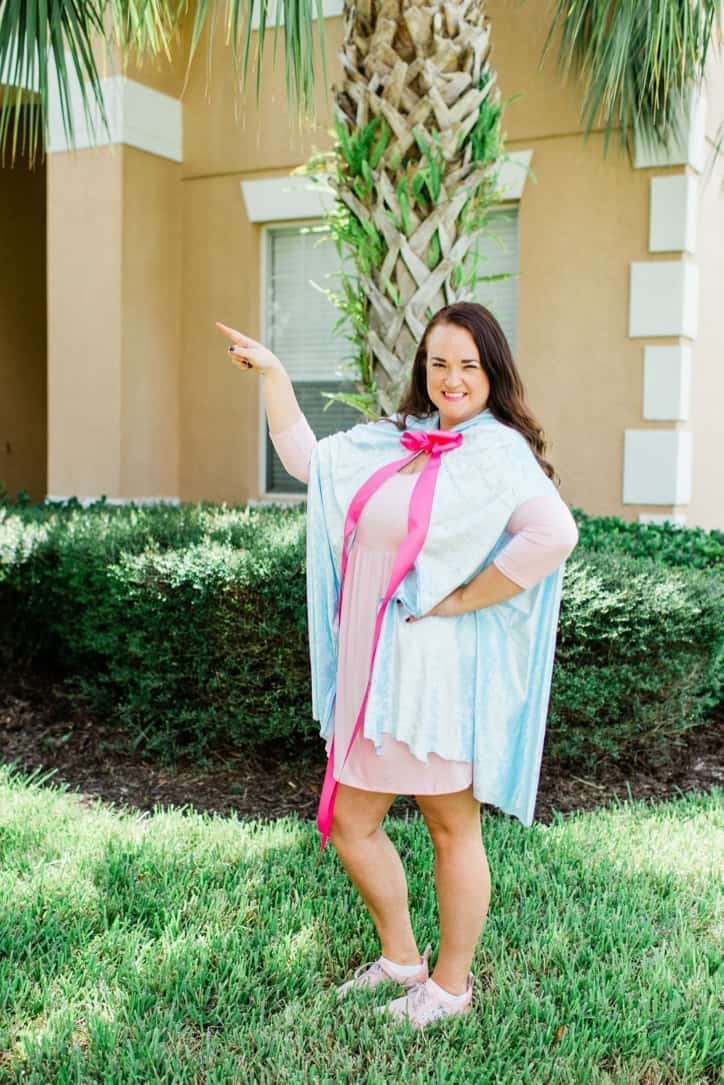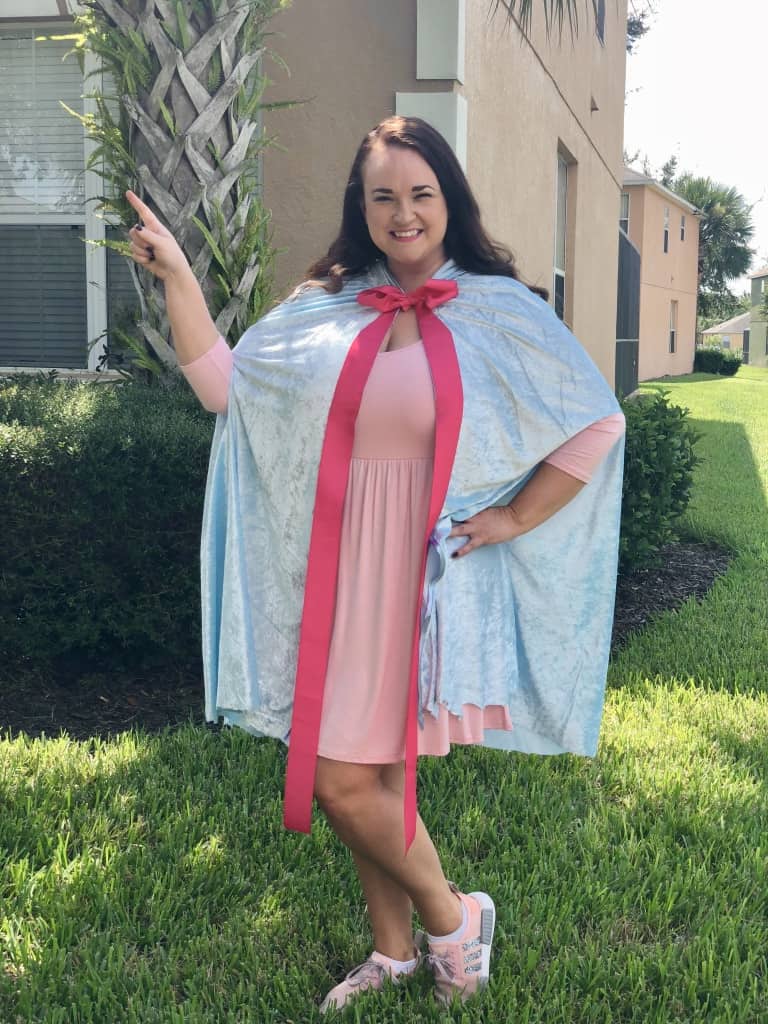 Lindsay was the PERFECT Jaq! Omg I couldn't get over how adorable she was the entire night!!!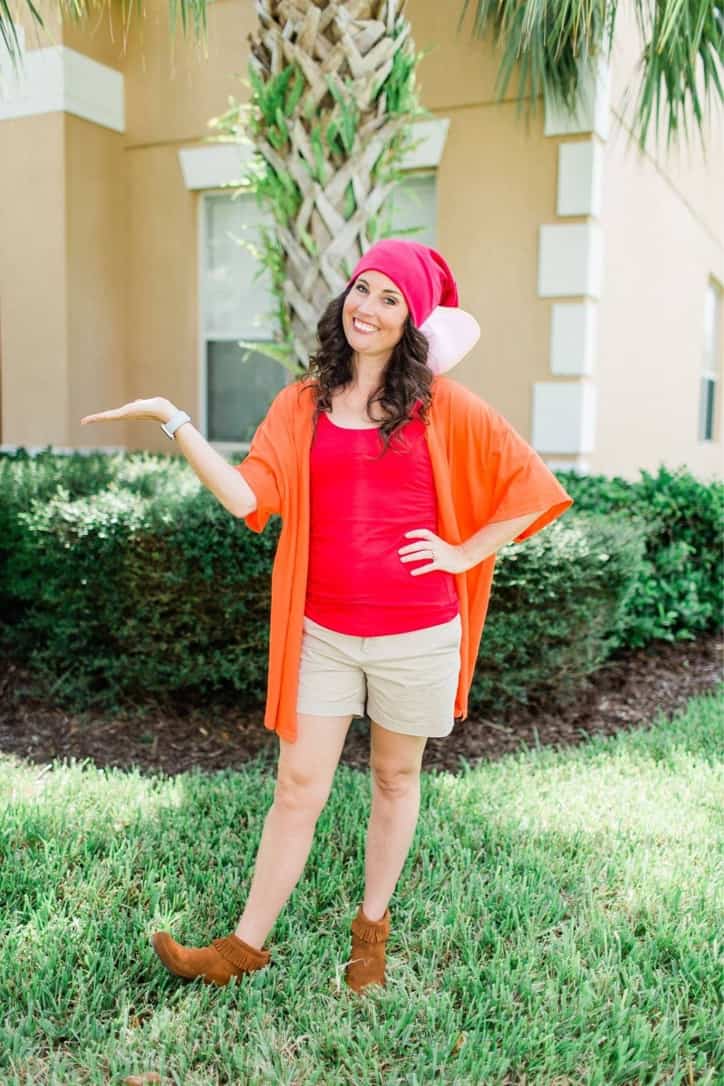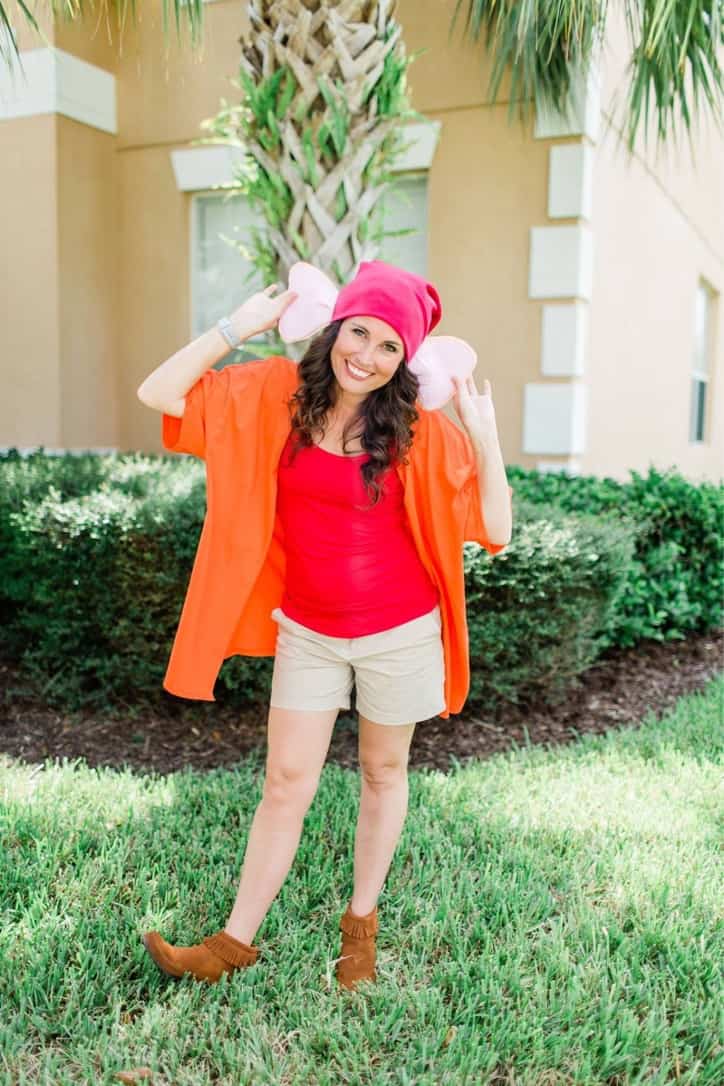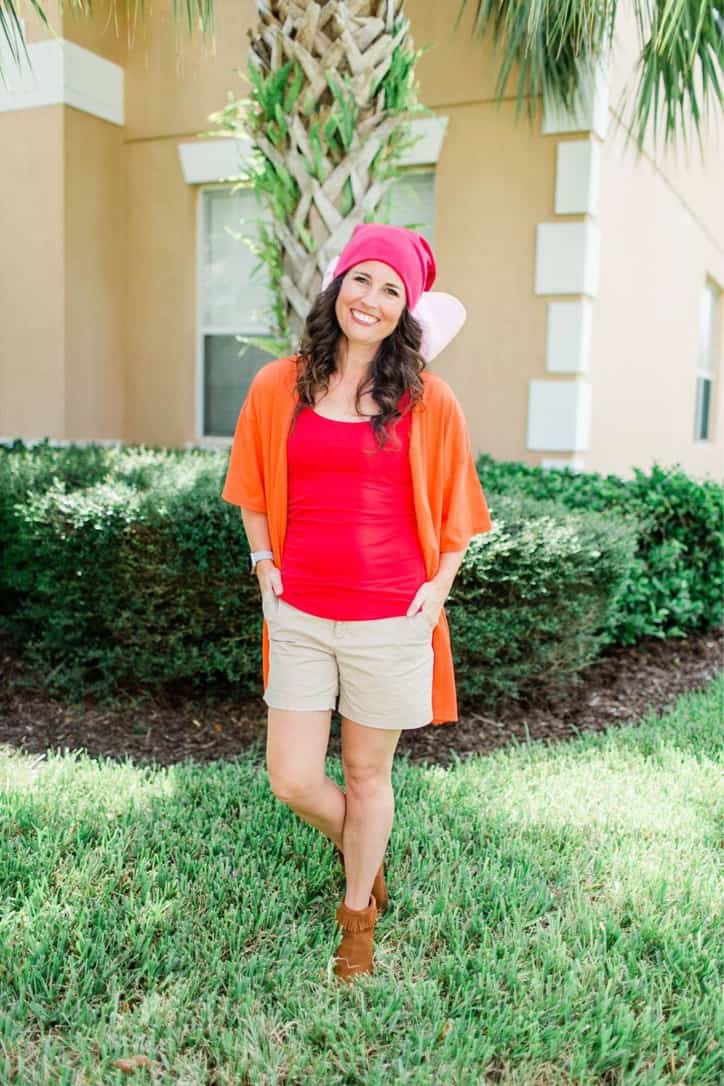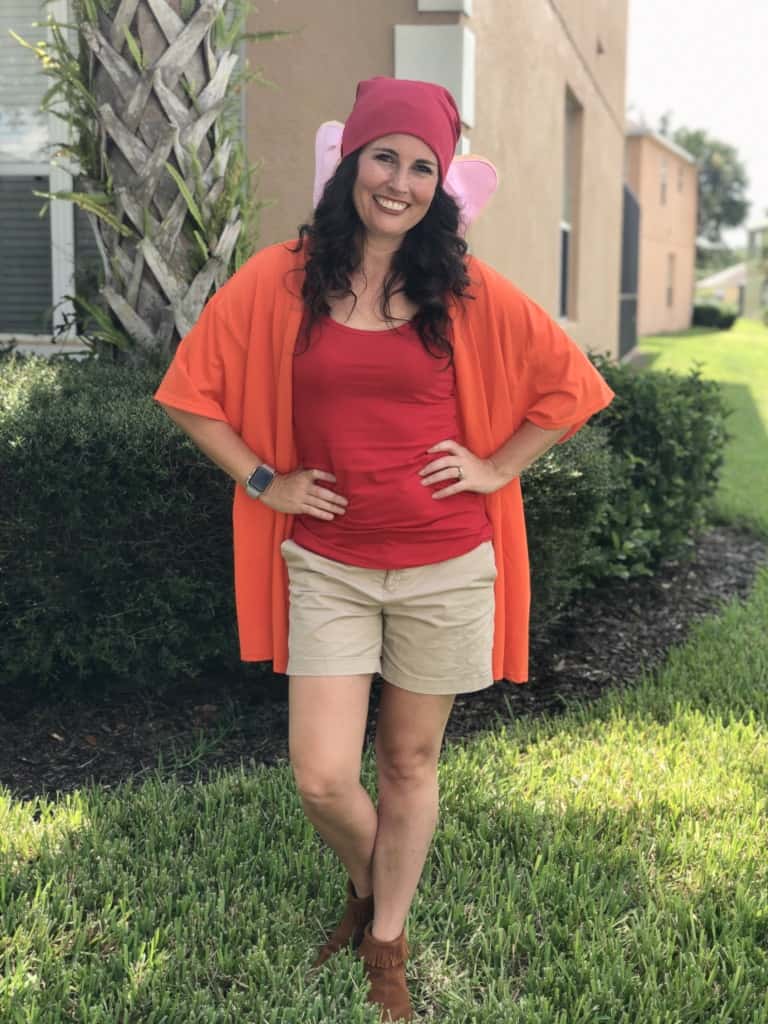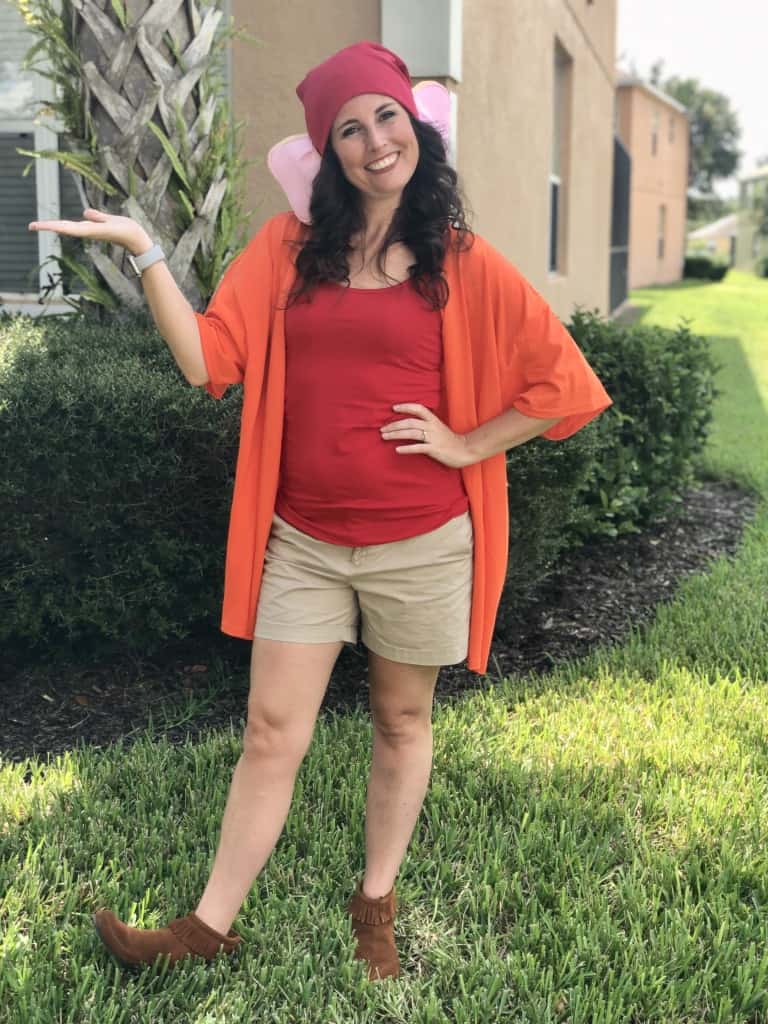 THE CREW!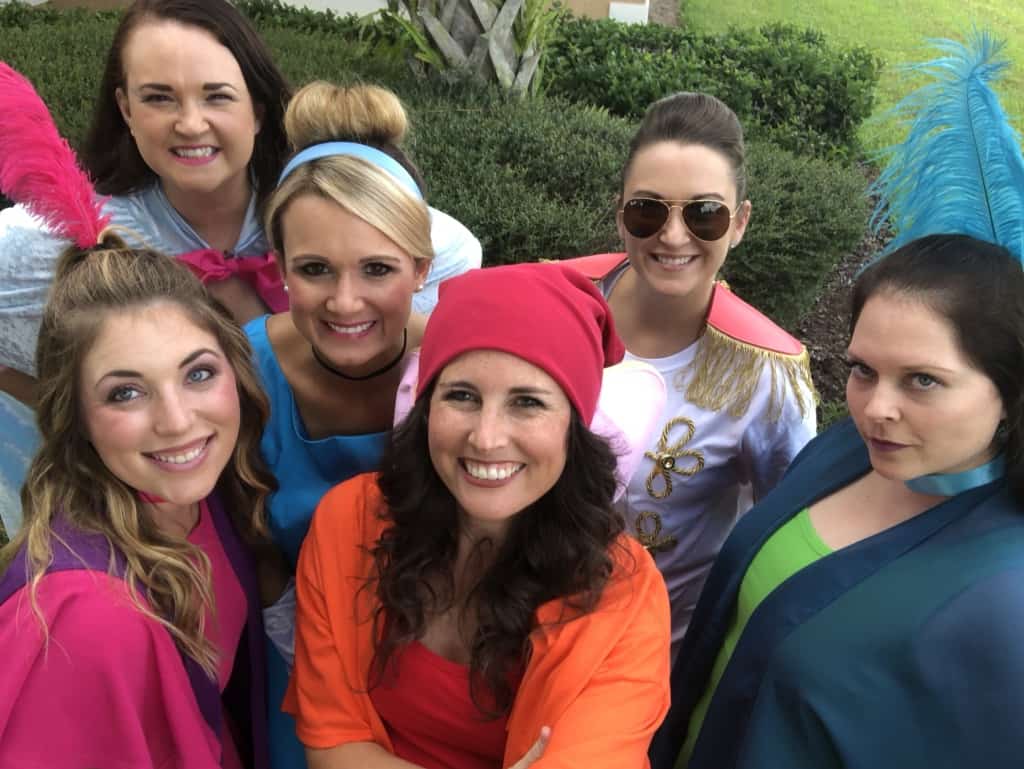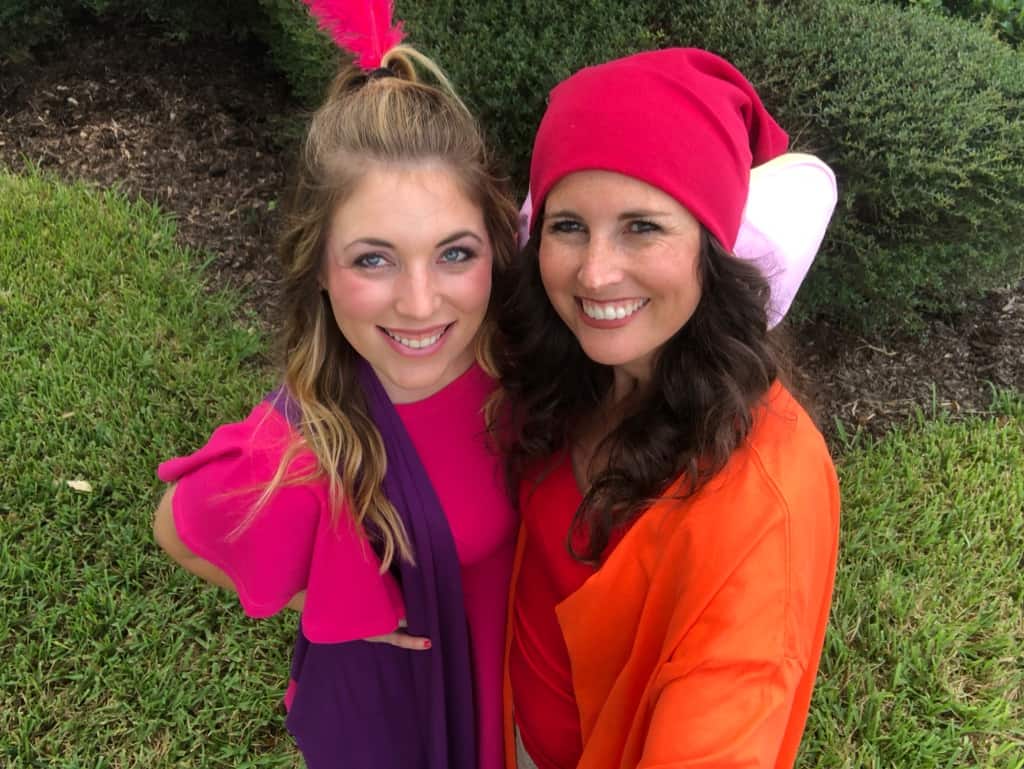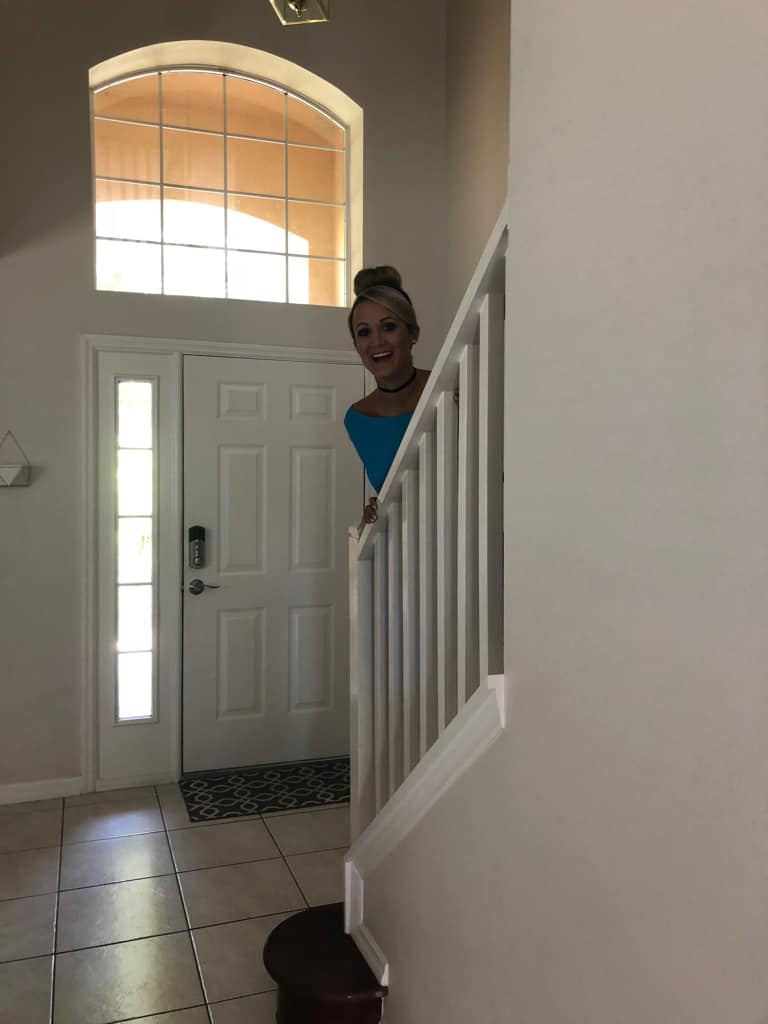 Here we gooooooo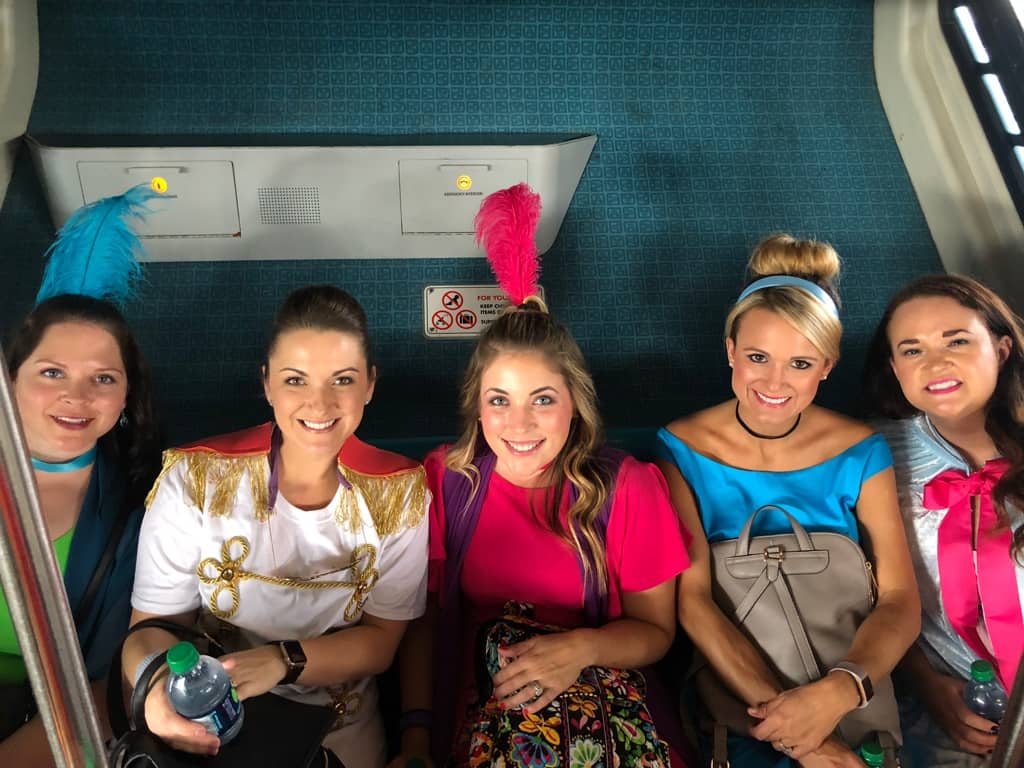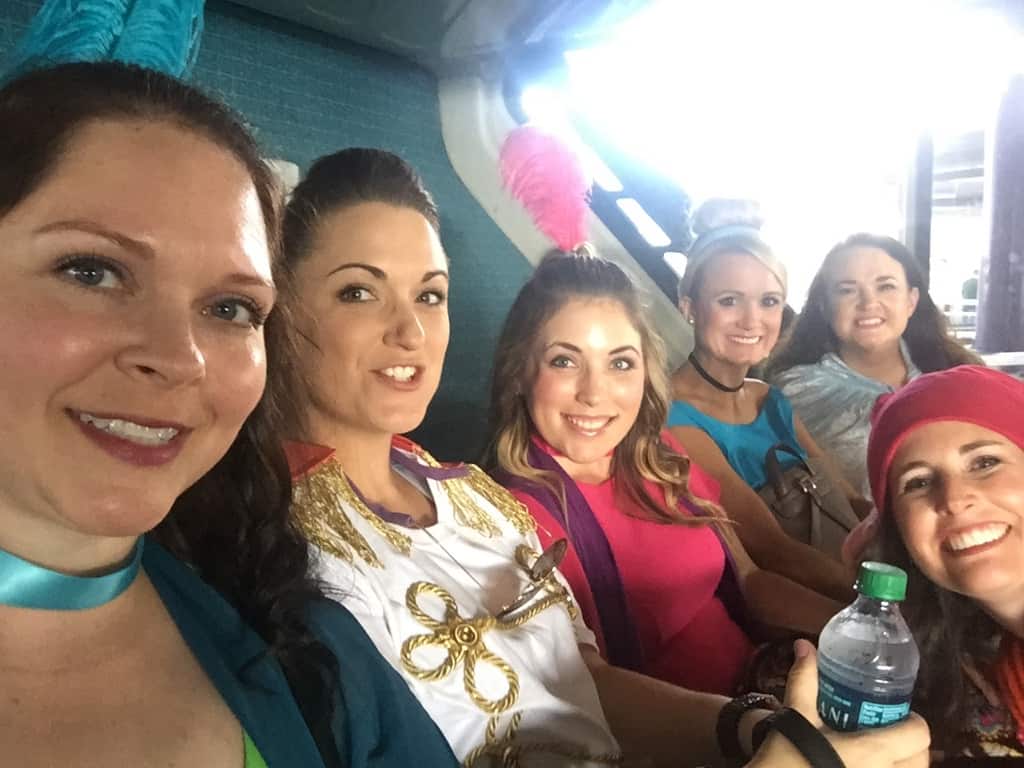 I will go ahead and say it: this was THE hottest year YET. Whew we were SO HOT. At least we all still looked cute 😉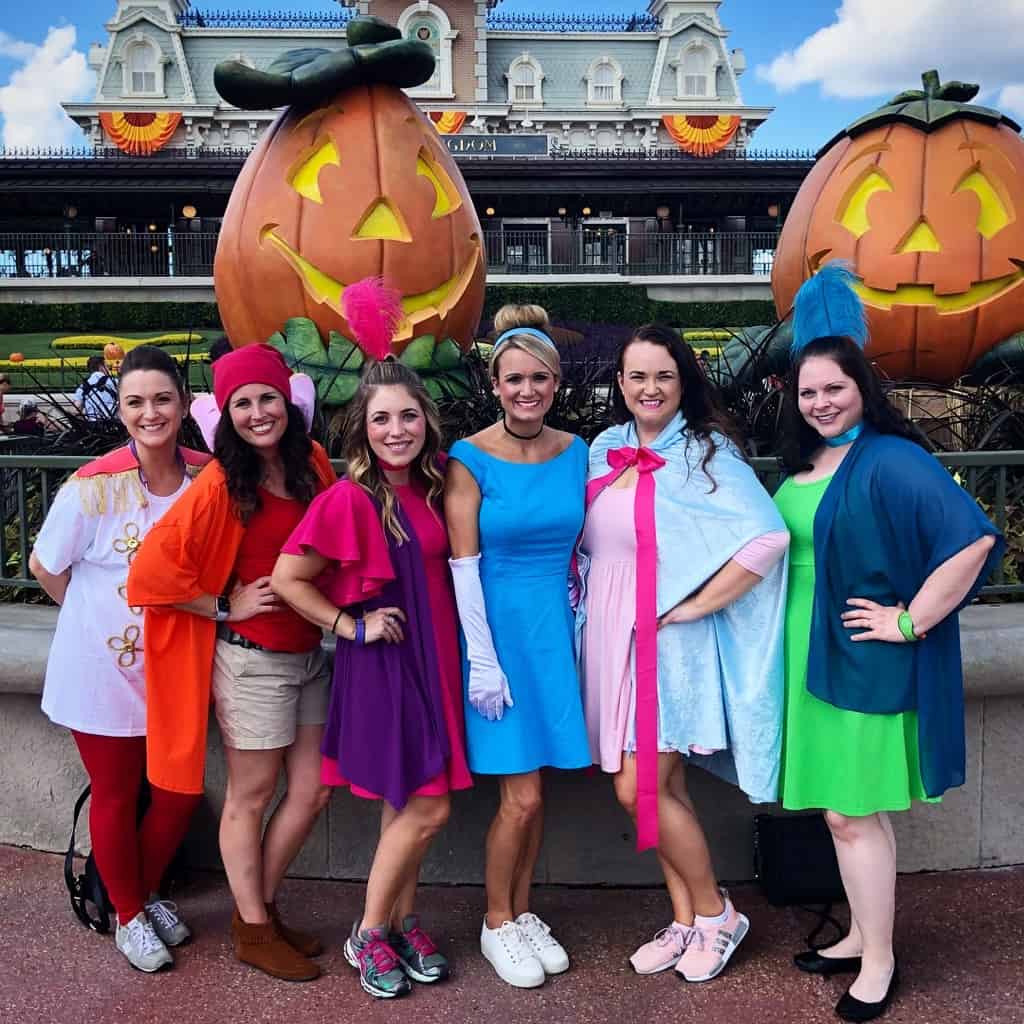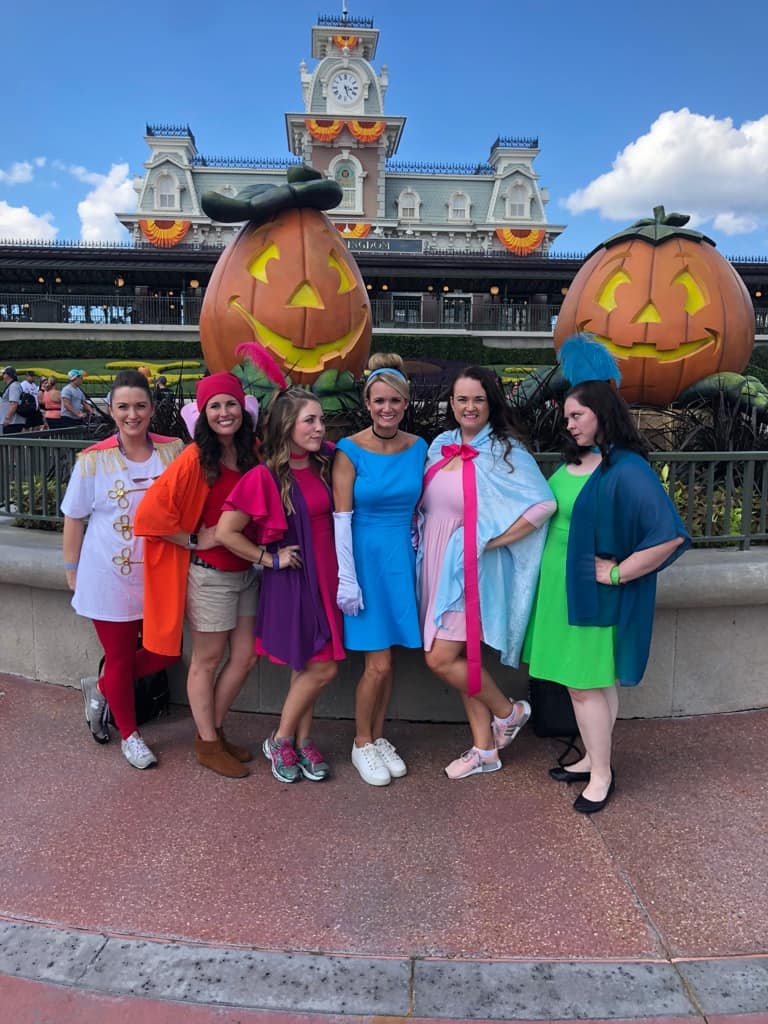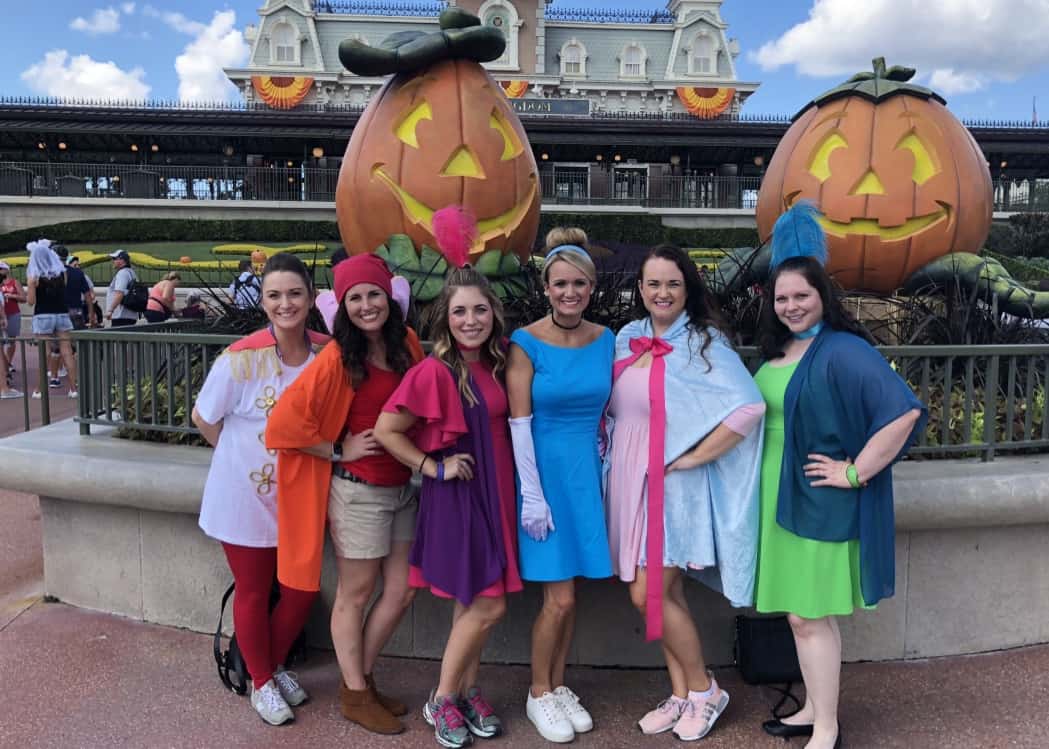 First up we had a FastPass to meet Mickey. Which really works out SO WELL to get COOLED OFF right away 😉 Plus the lighting to meet Mickey is the best in the entire park so the pics are always adorable 😉
Mickey is always Mickey, of course, but this Mickey was AMAZING. Seriously. Above and beyond. SO interactive and just made the entire experience extra fun! Even without speaking 😉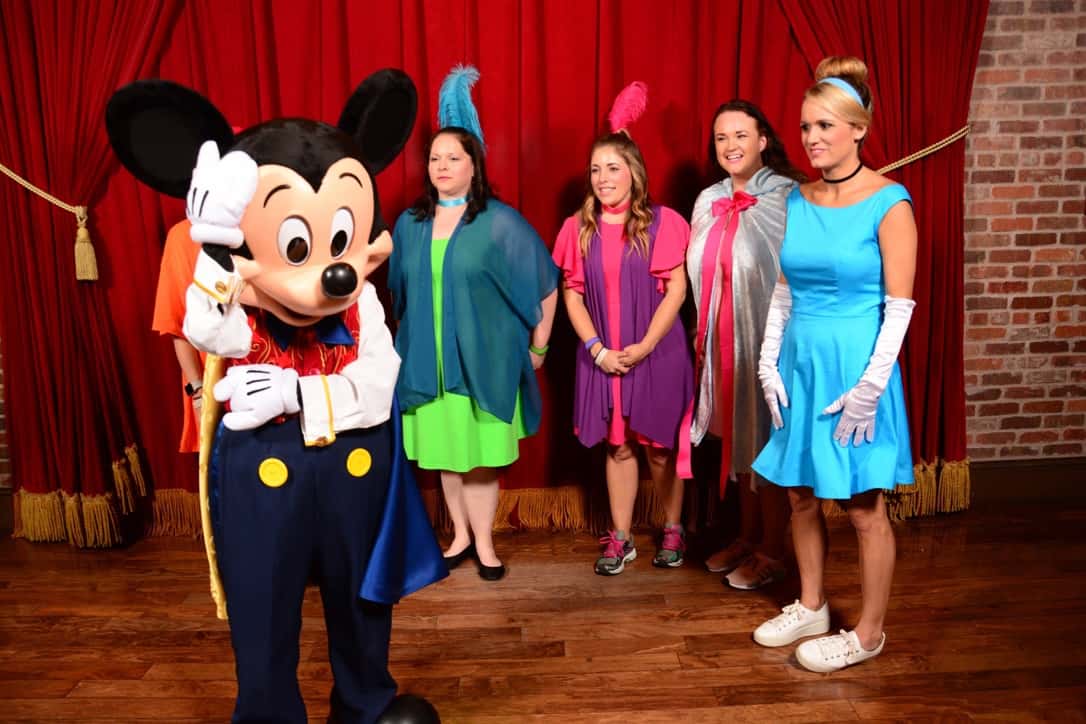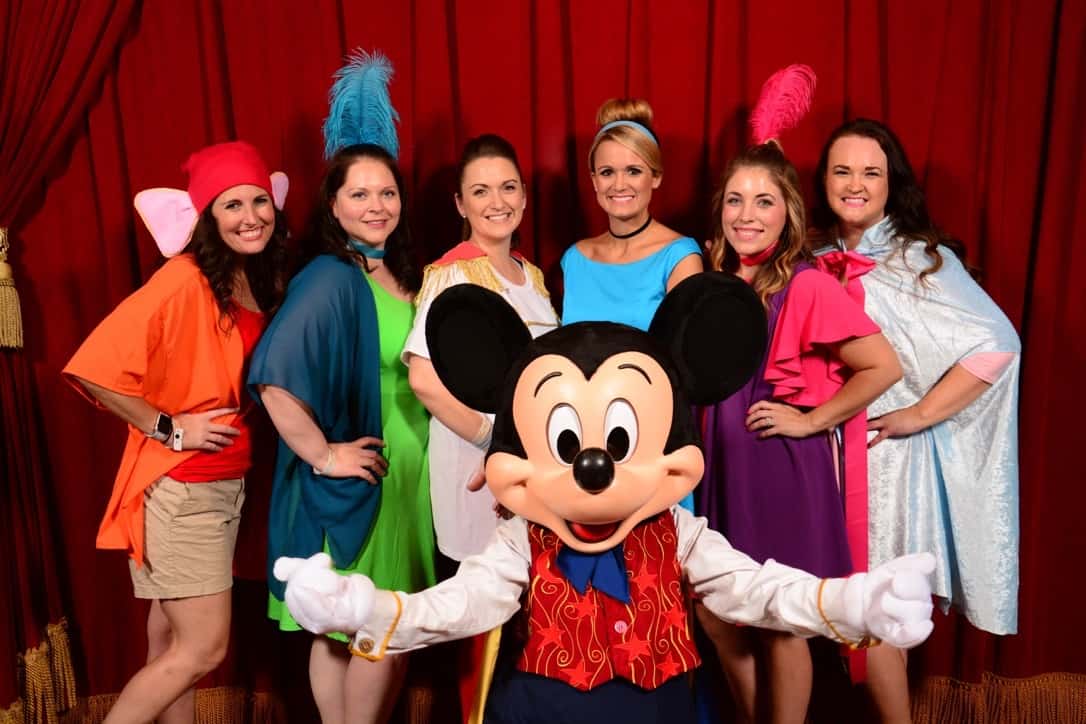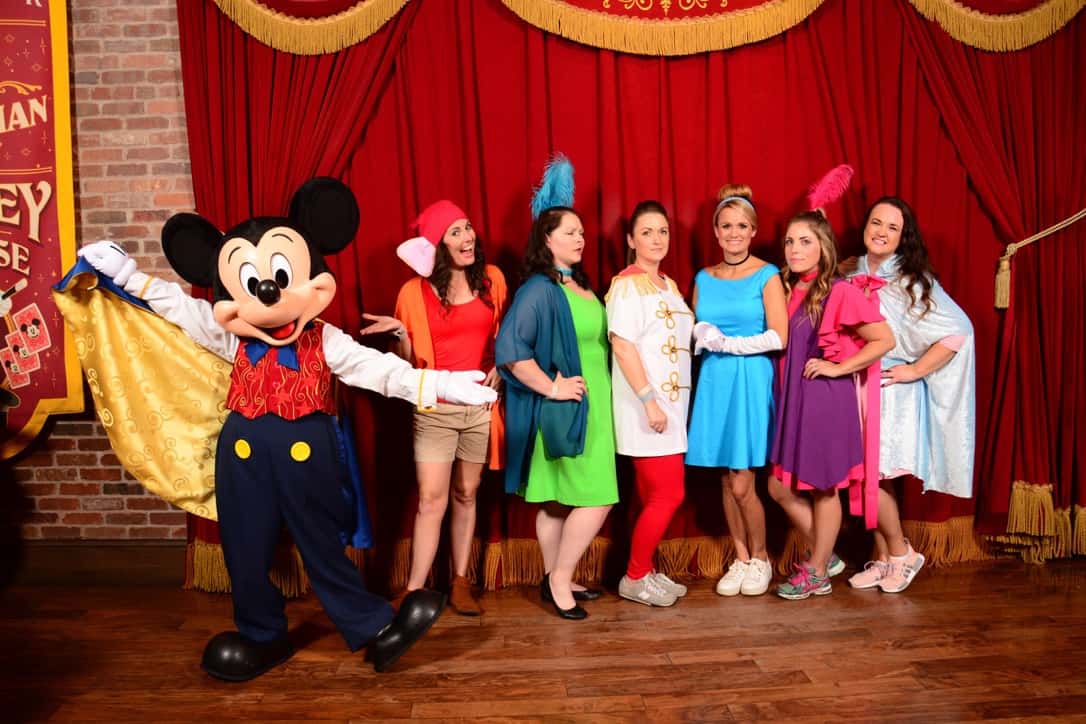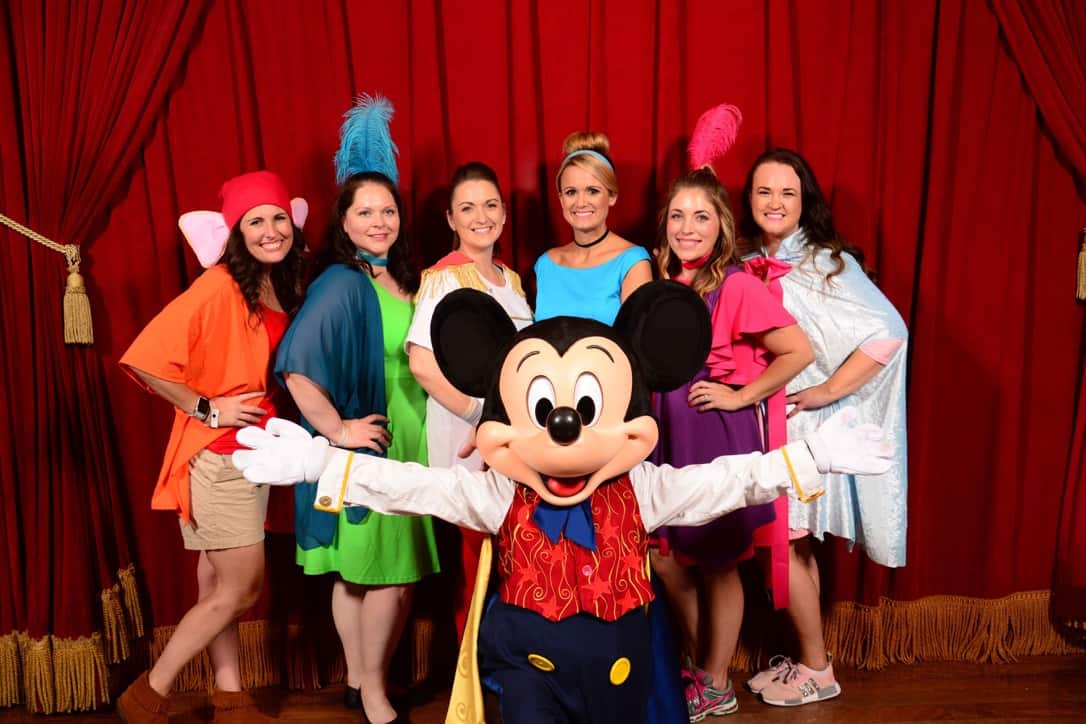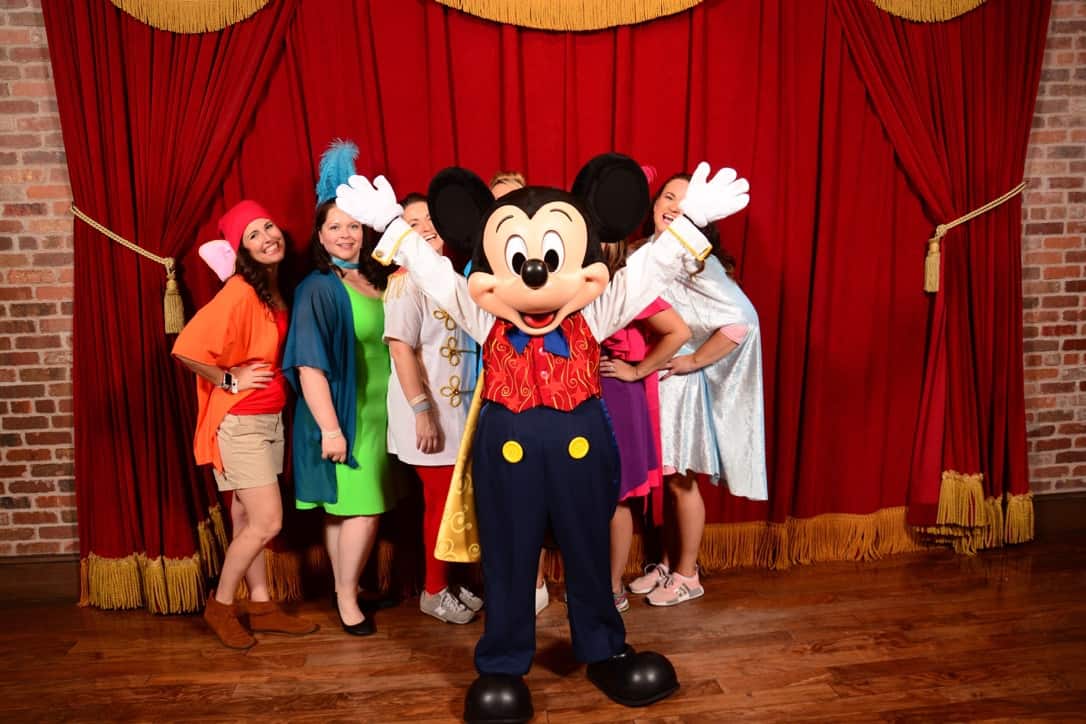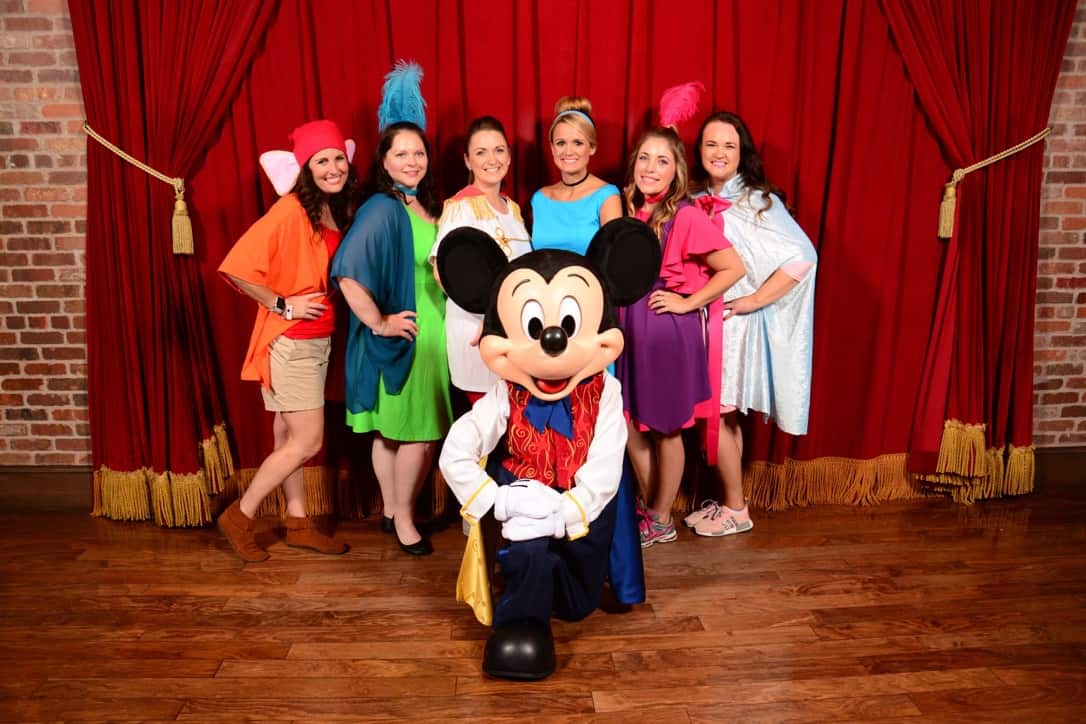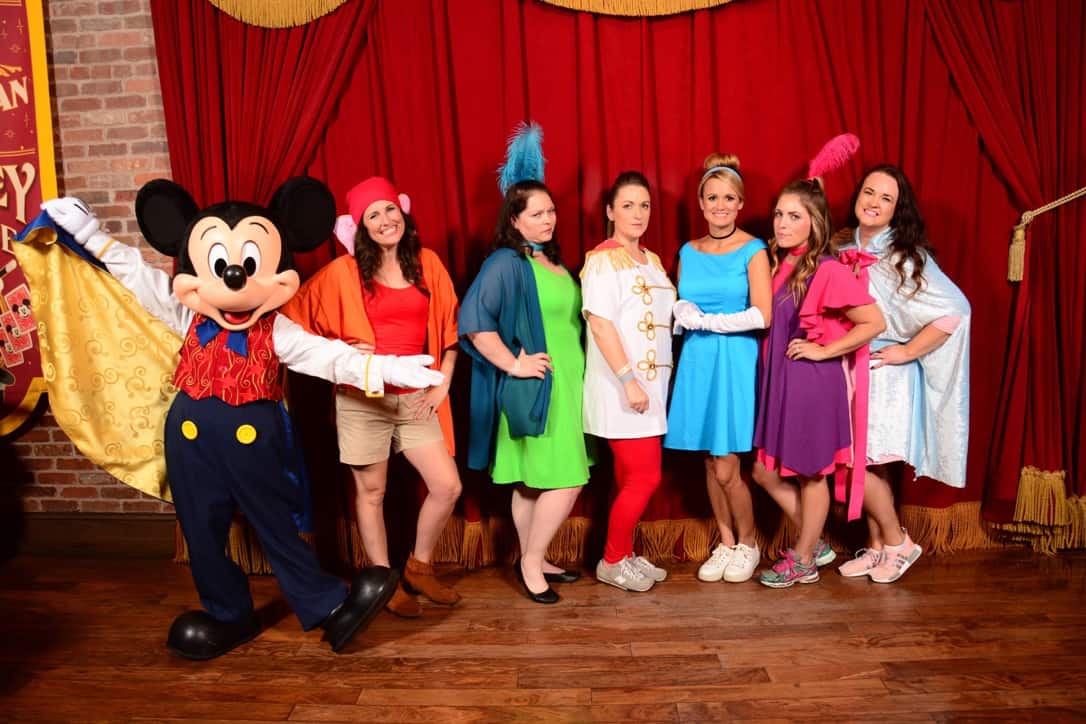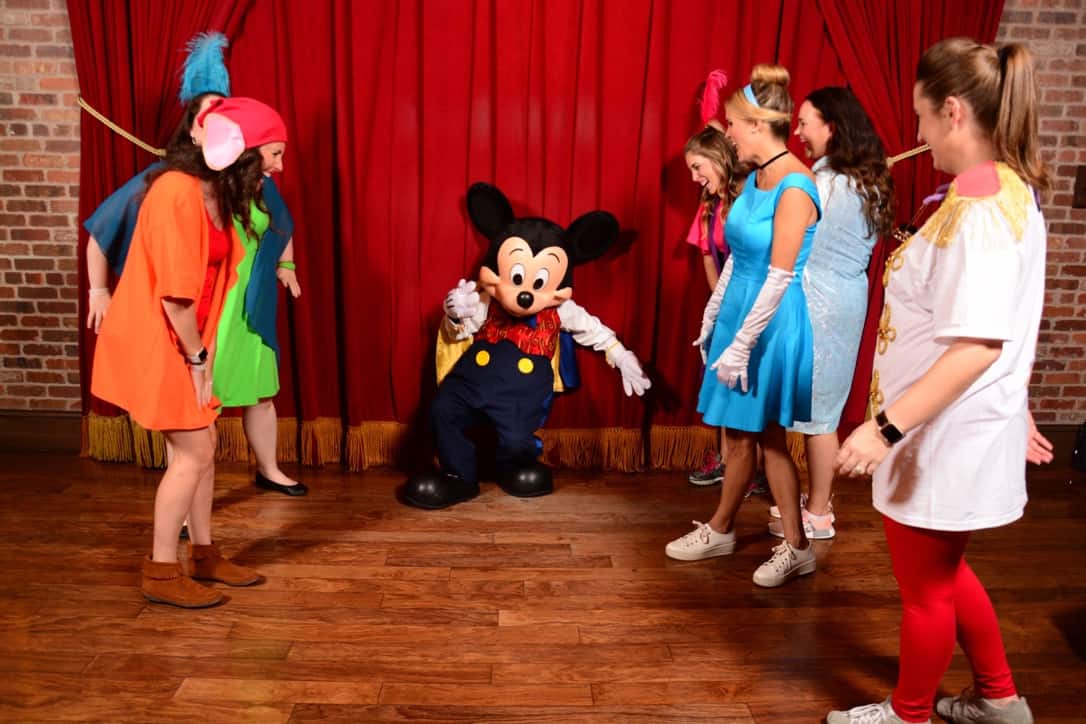 Had to get a Baby's First Mickey Meet and Greet Pic!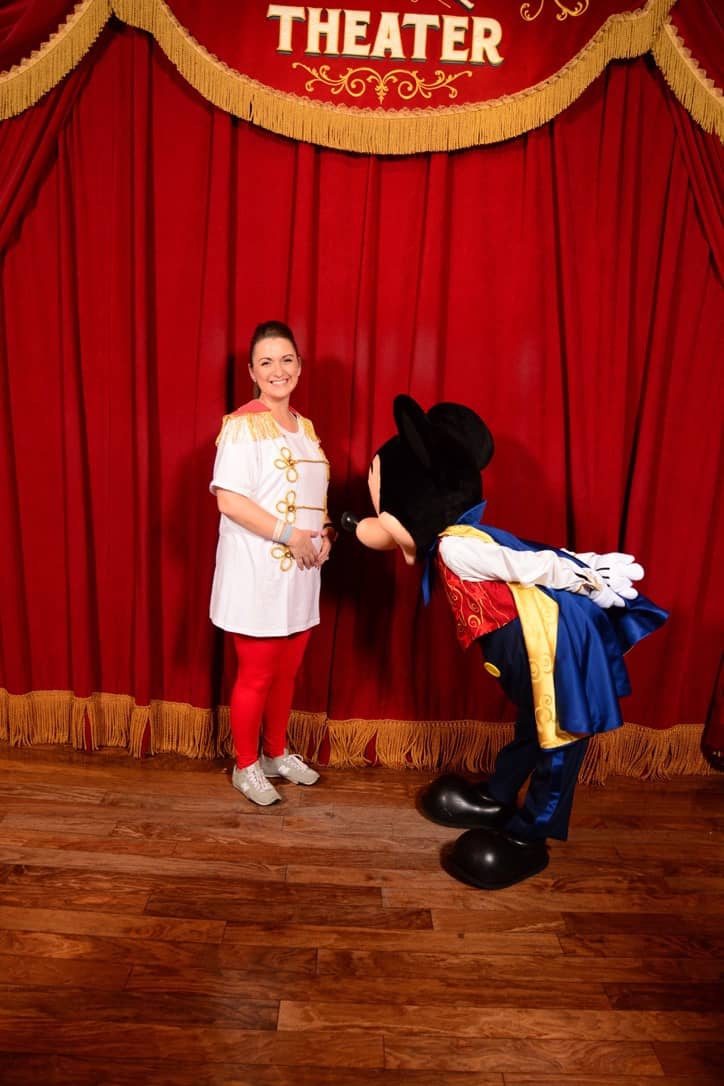 We were ALL SO emotional!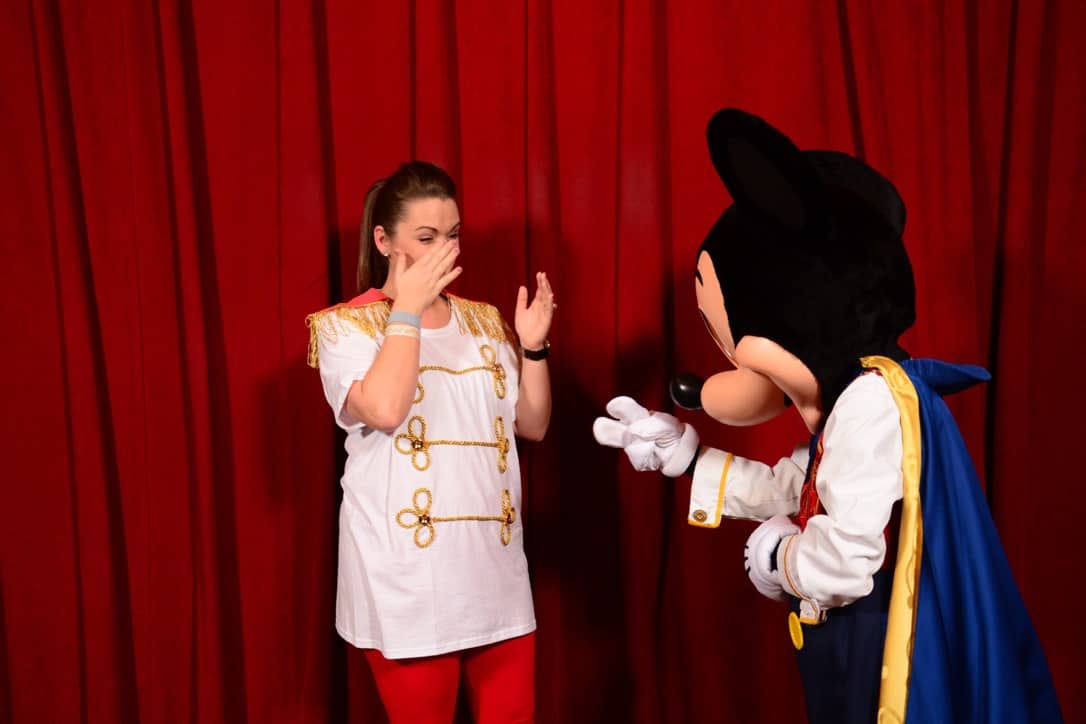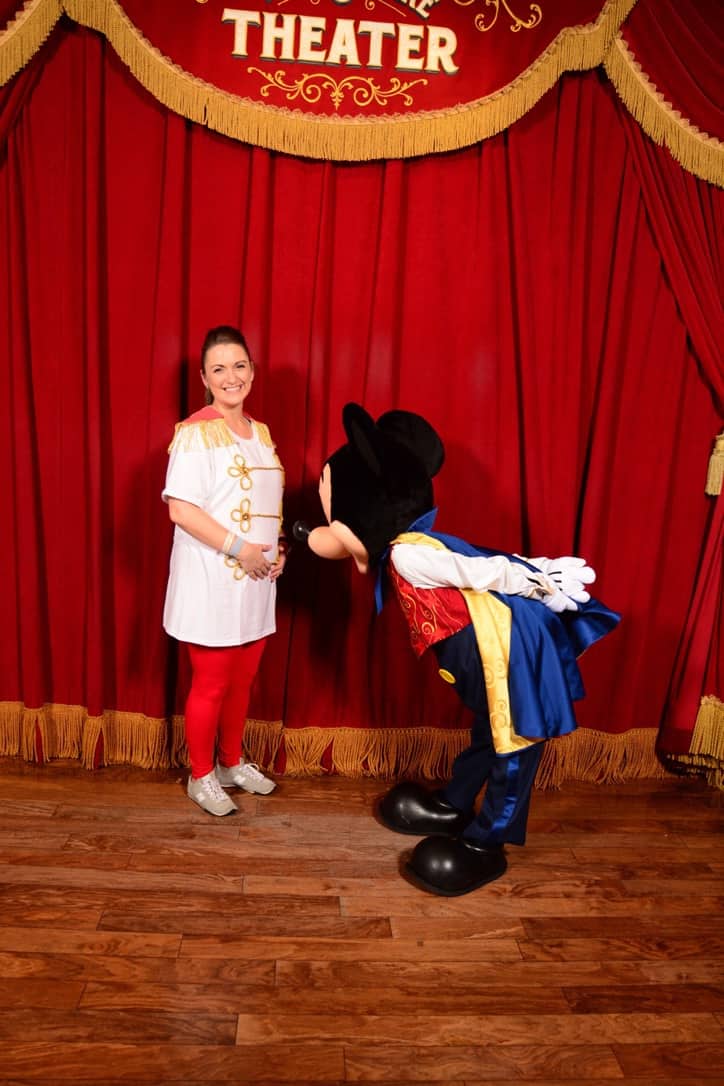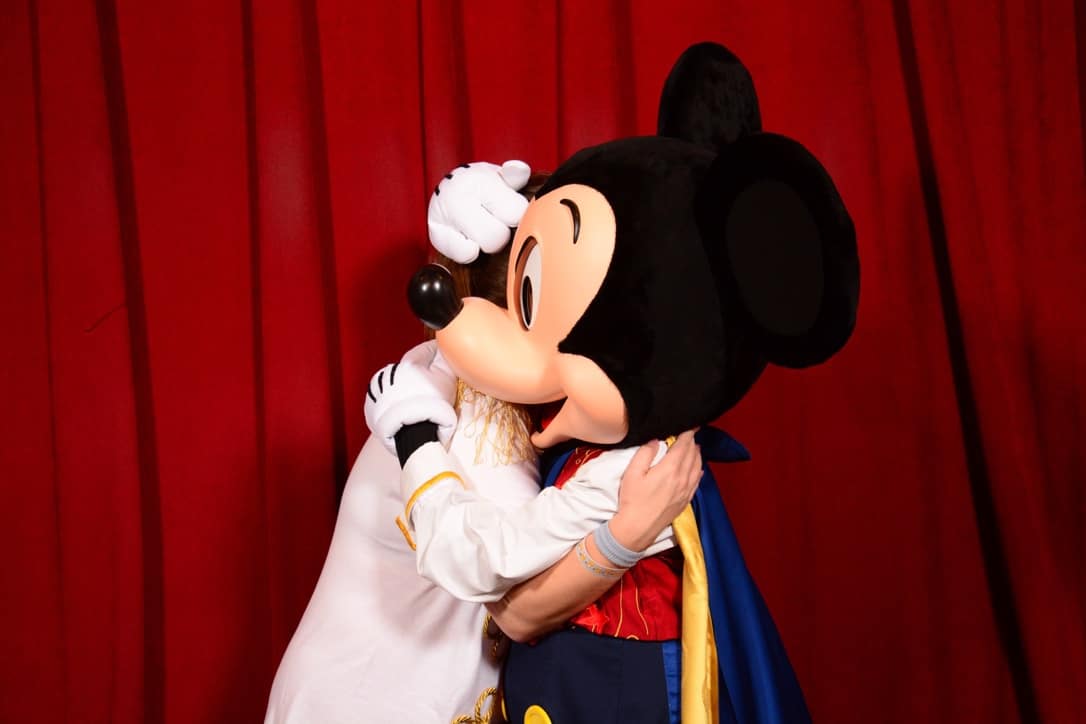 Then we had a FP for Buzz! Always a group fav!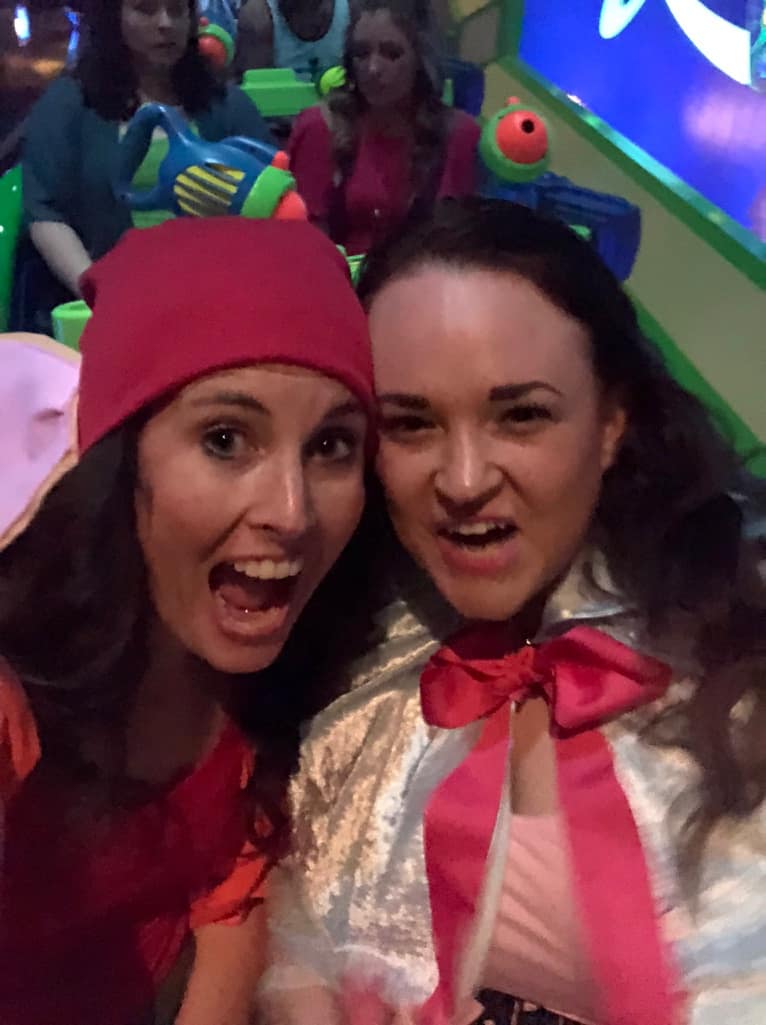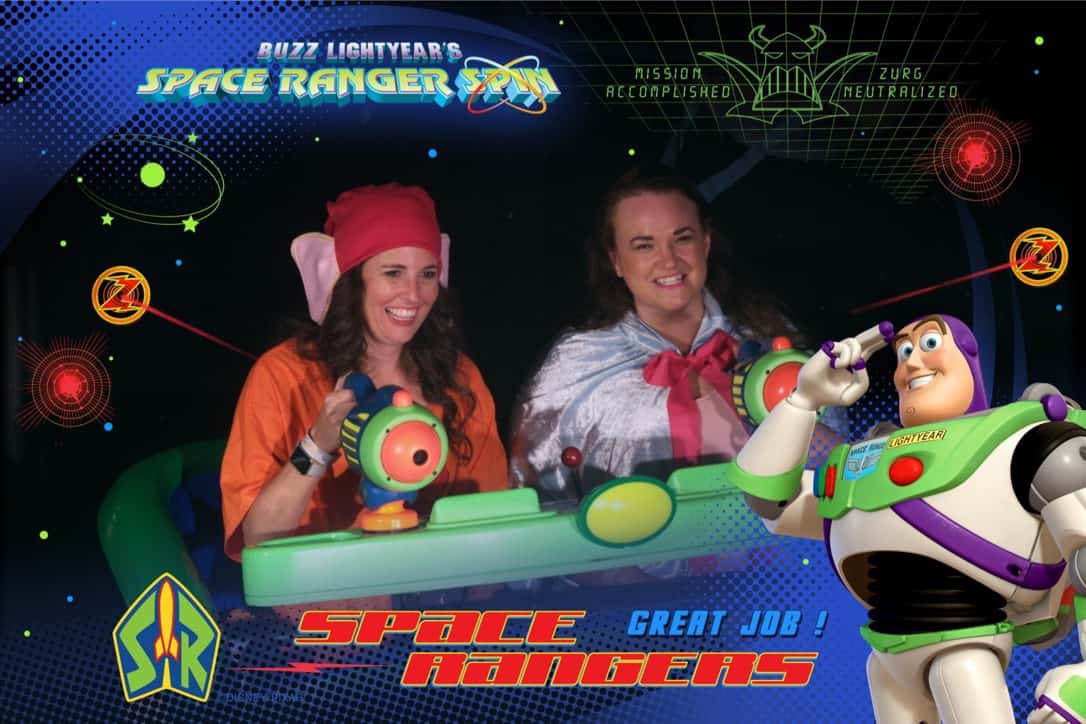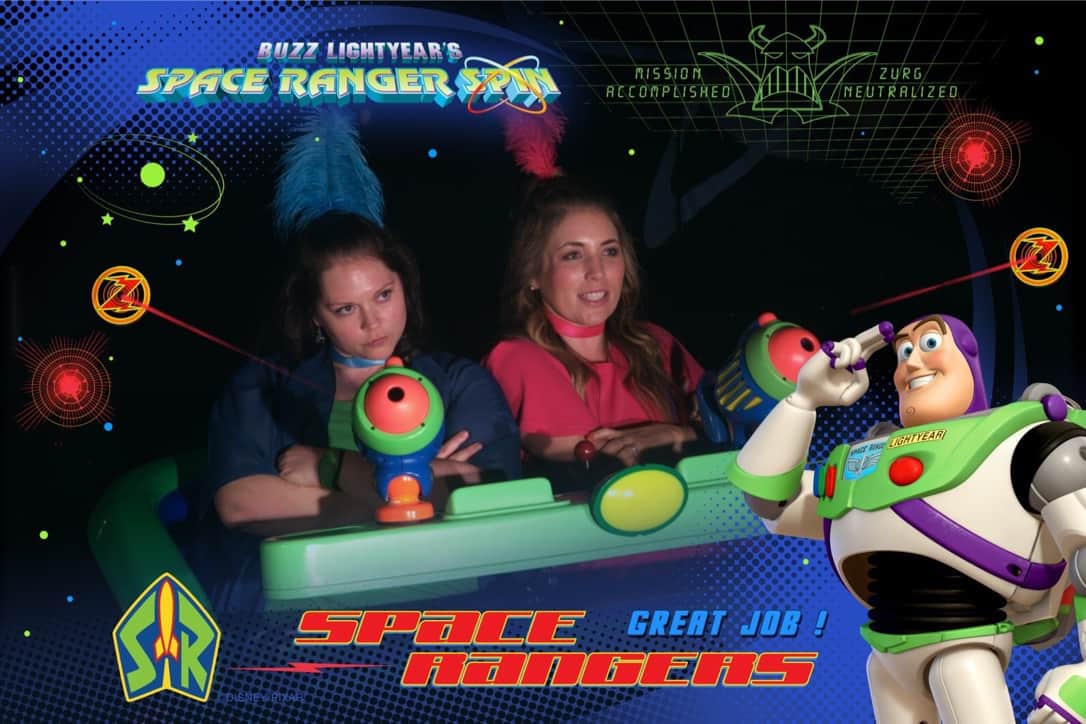 Cinderella…she can multitask like no other 😉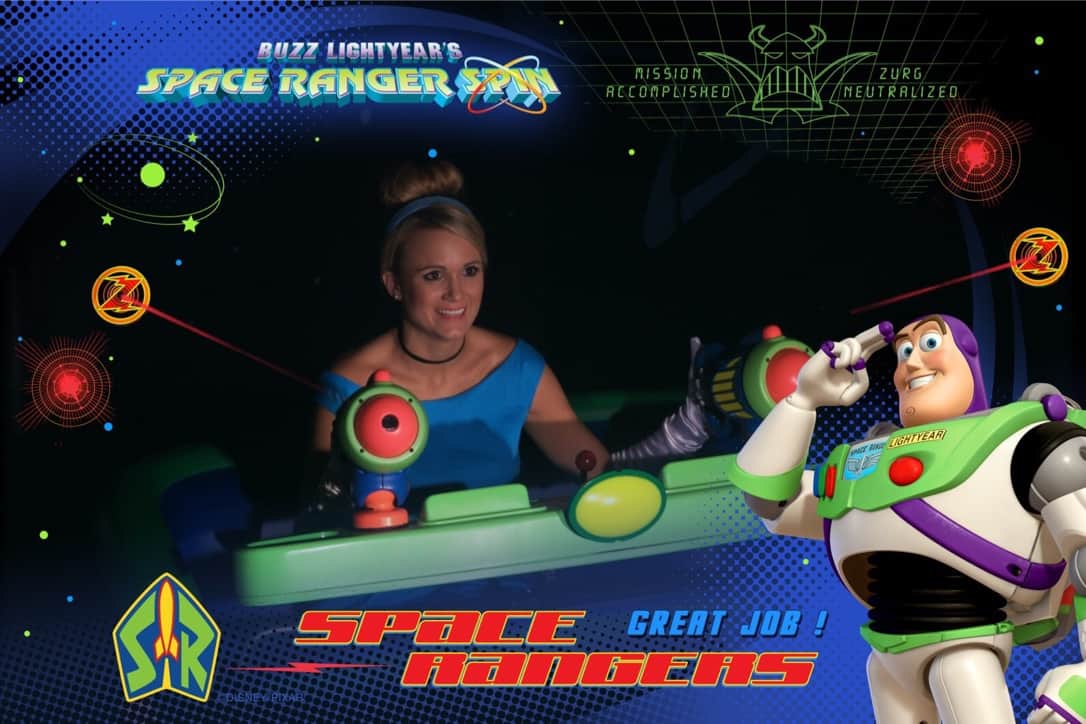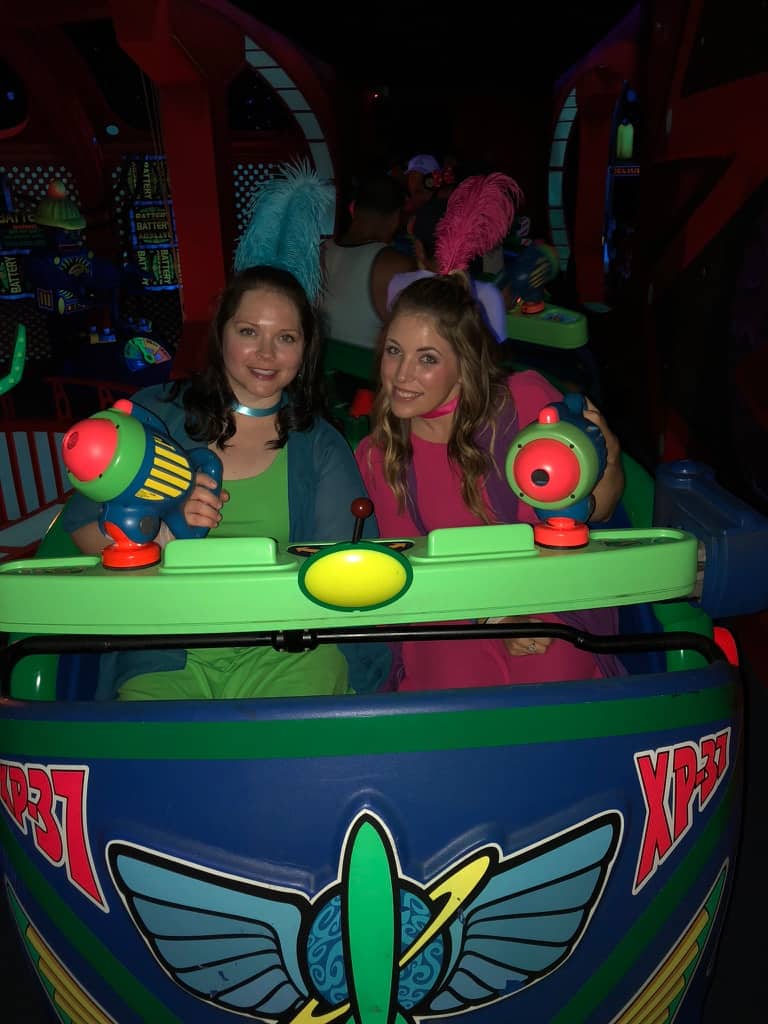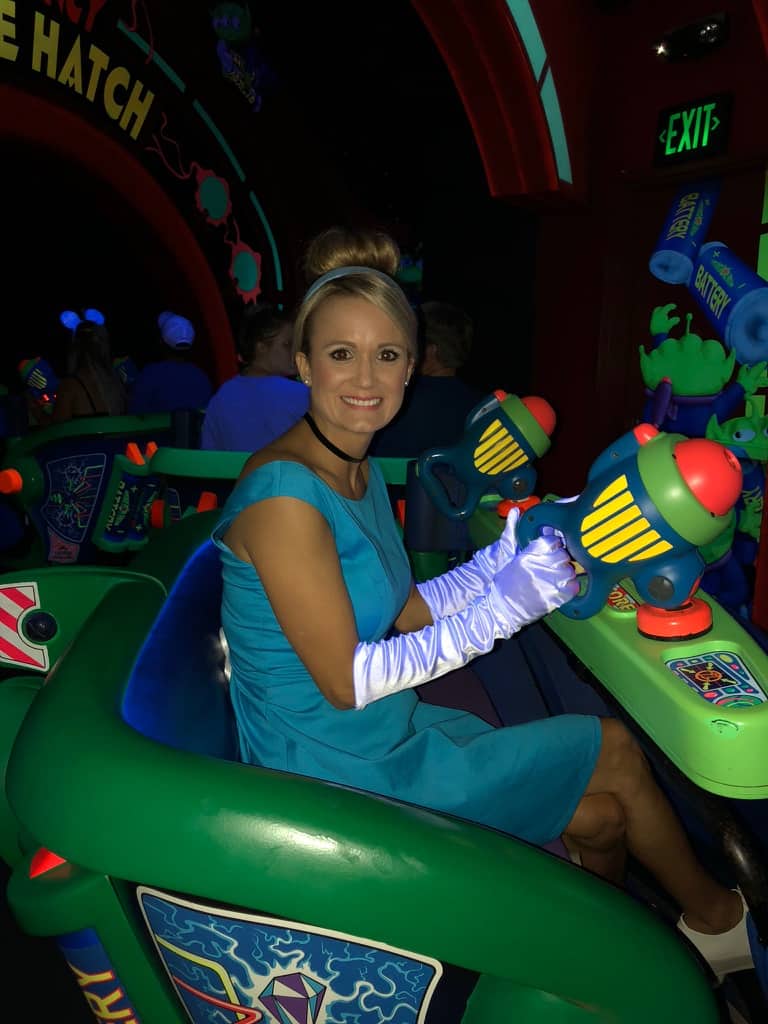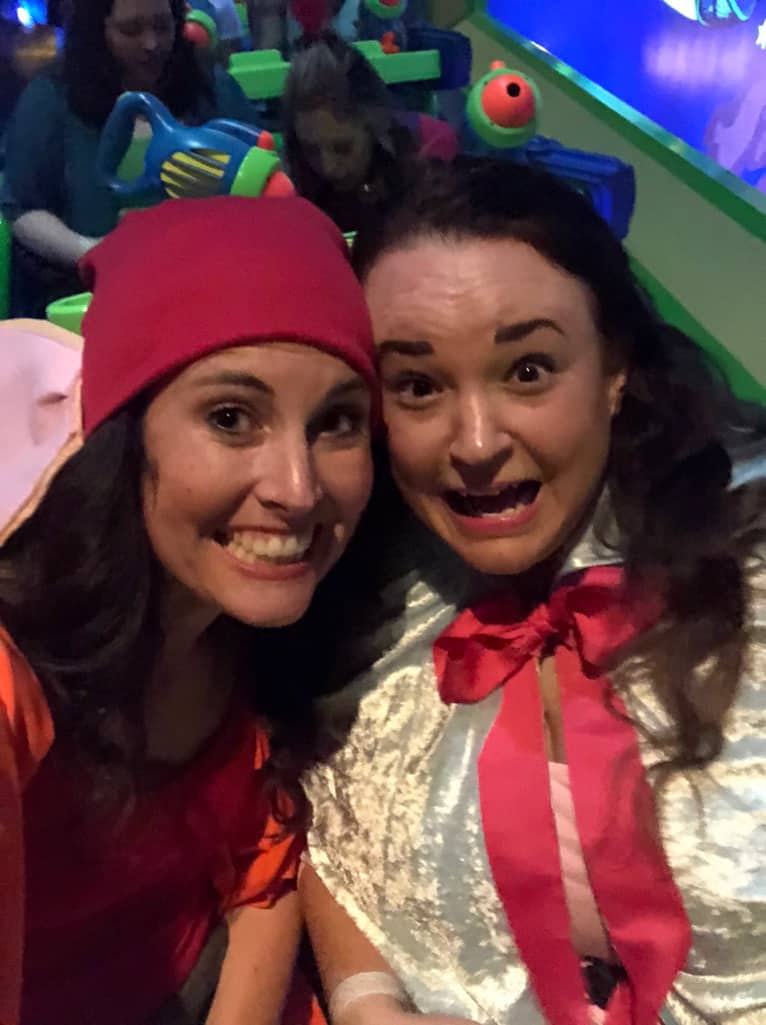 We got you Zurg 😉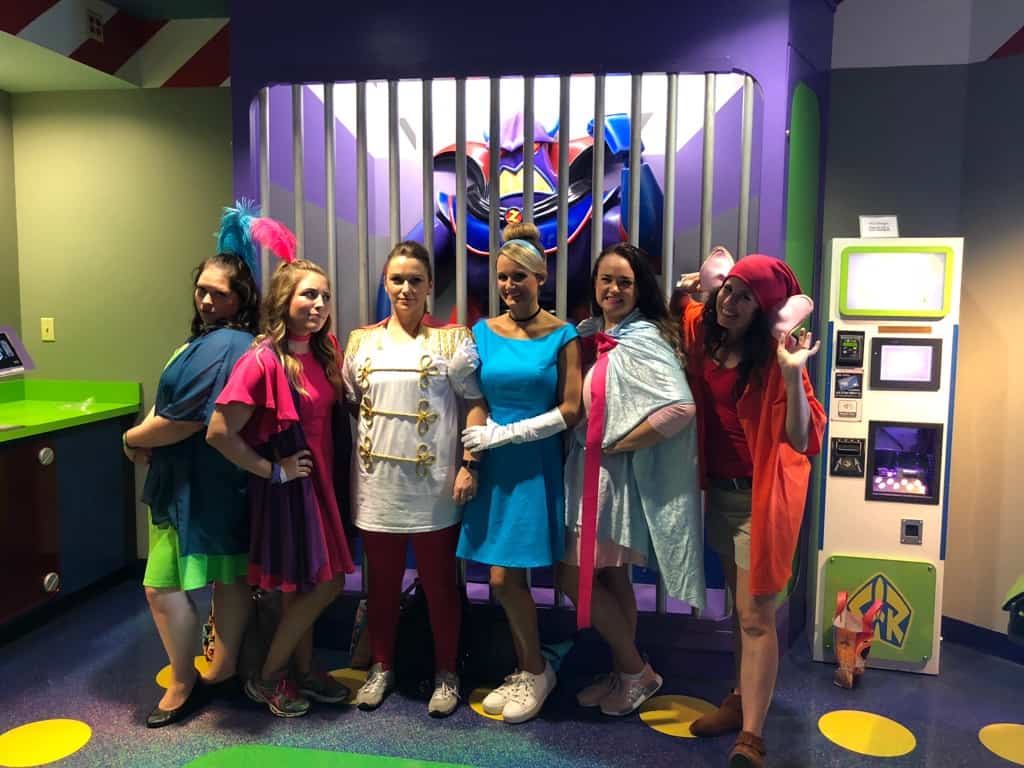 We had SO many of us taking pics and we all uploaded them to a shared group but omg y'all it's a mess to work through it all and try to put them in order. So a lot of things are gonna be wanky as far as timing is concerned…just roll with it 😉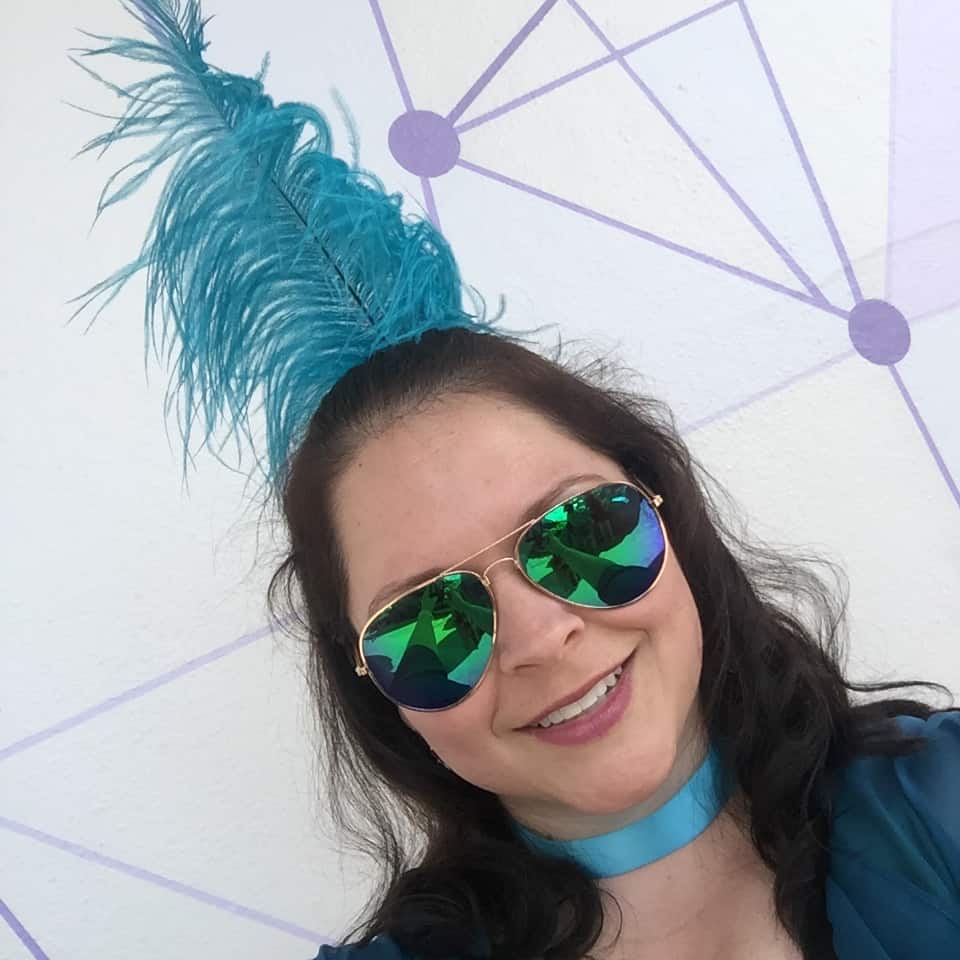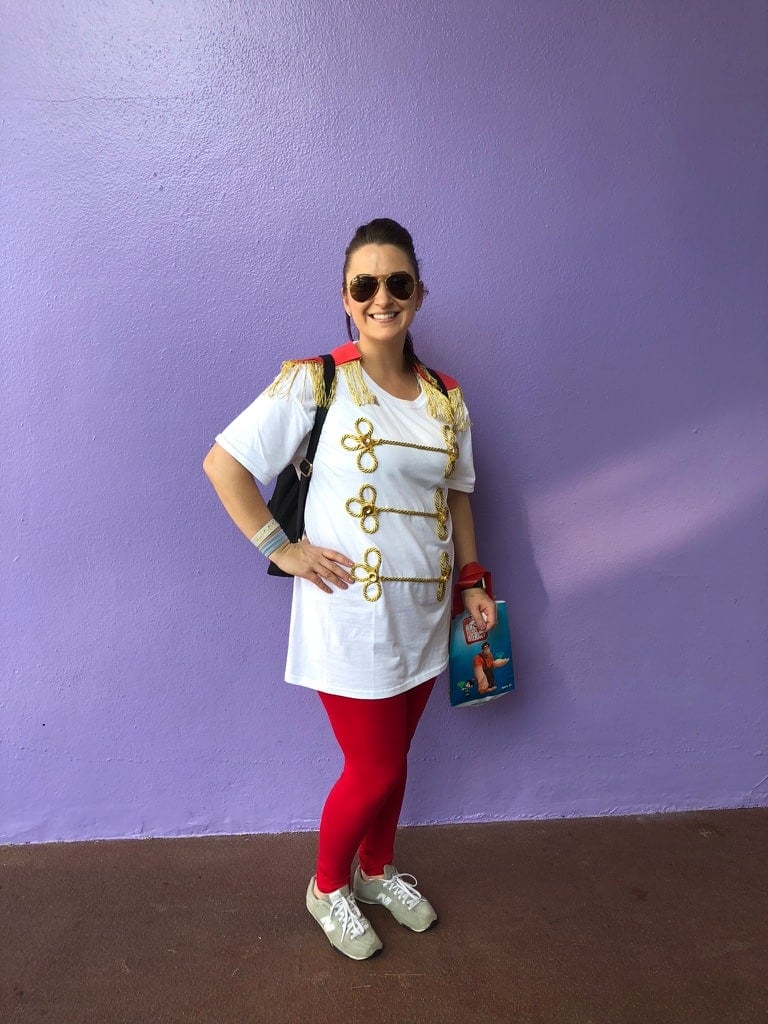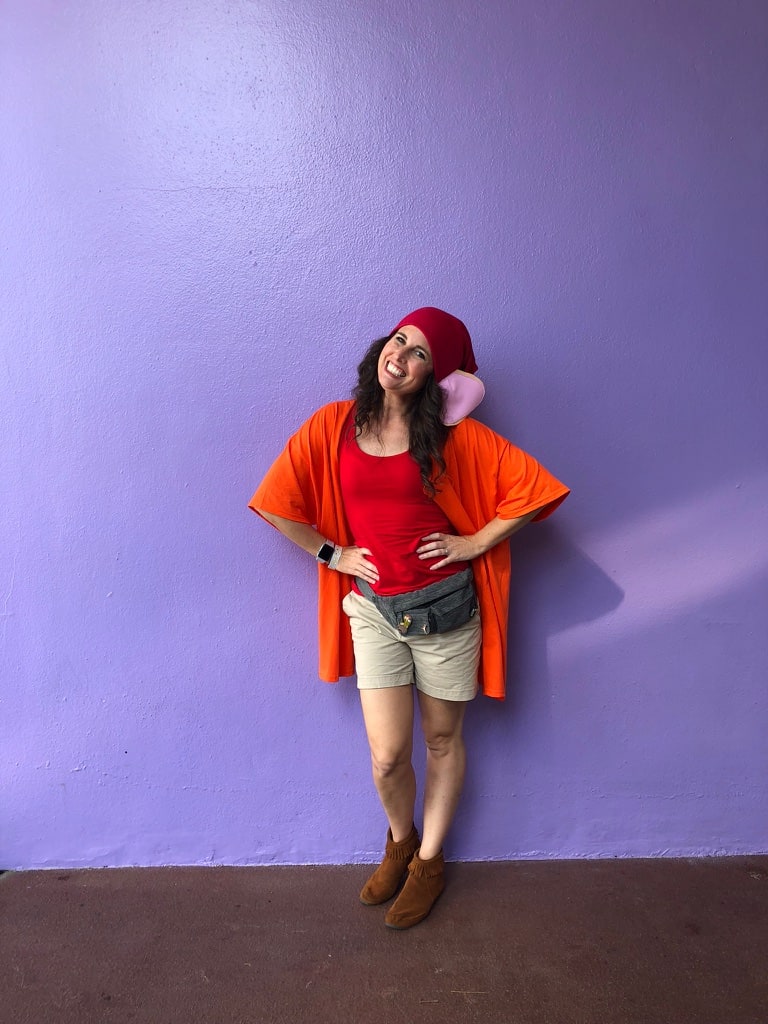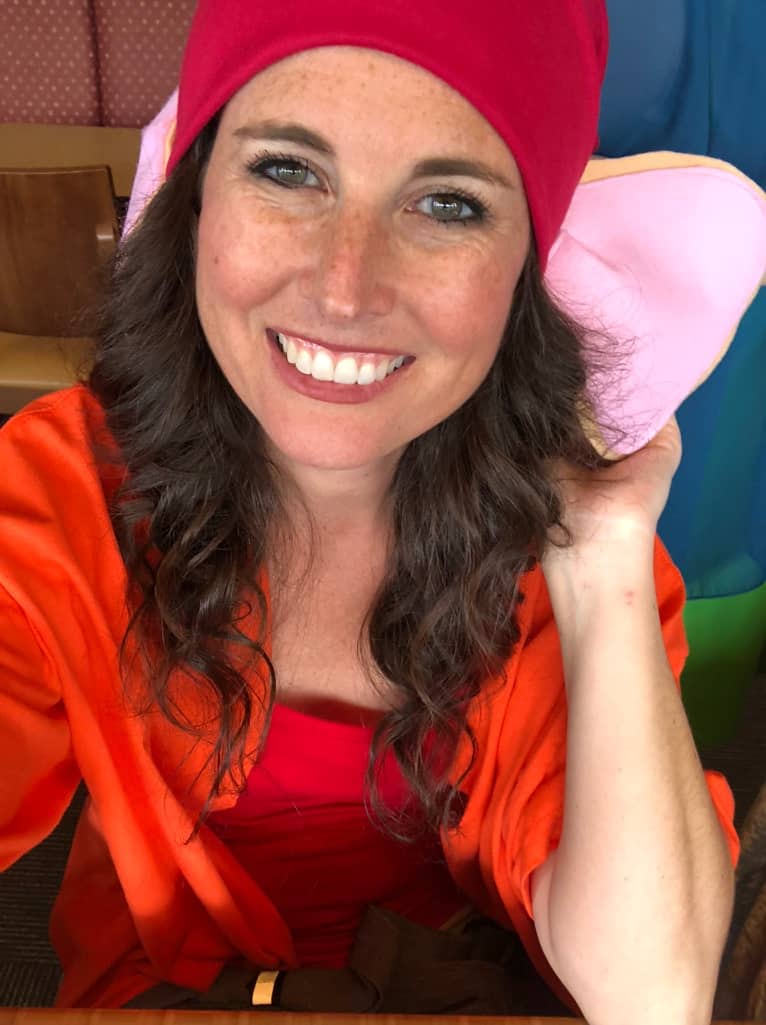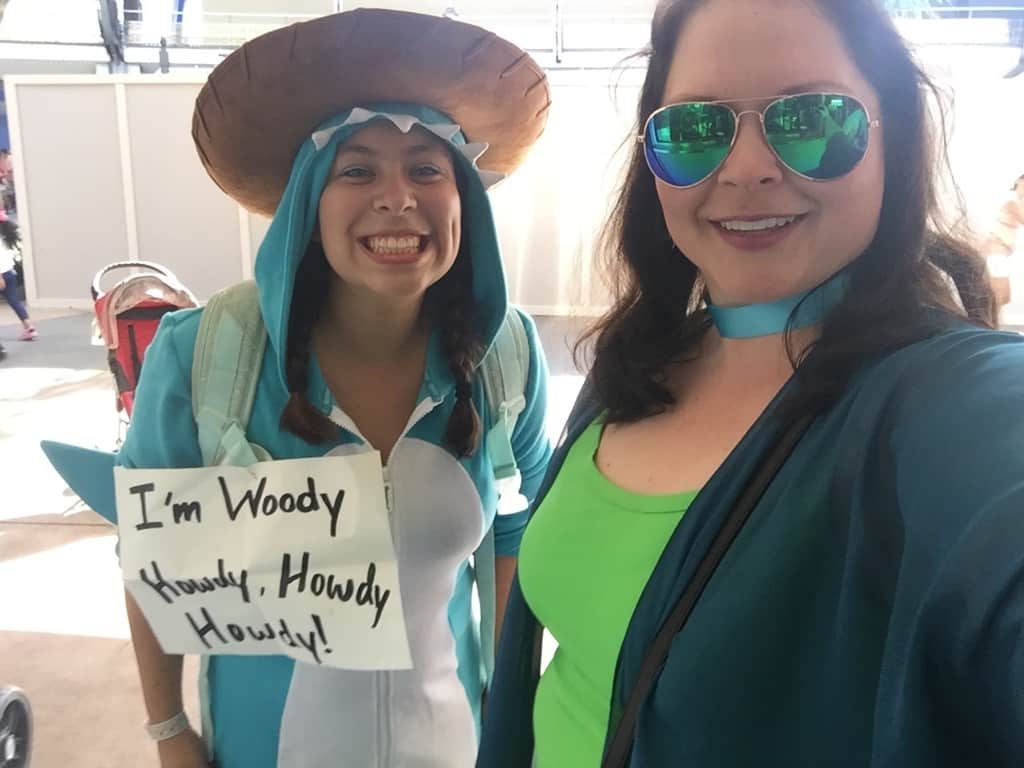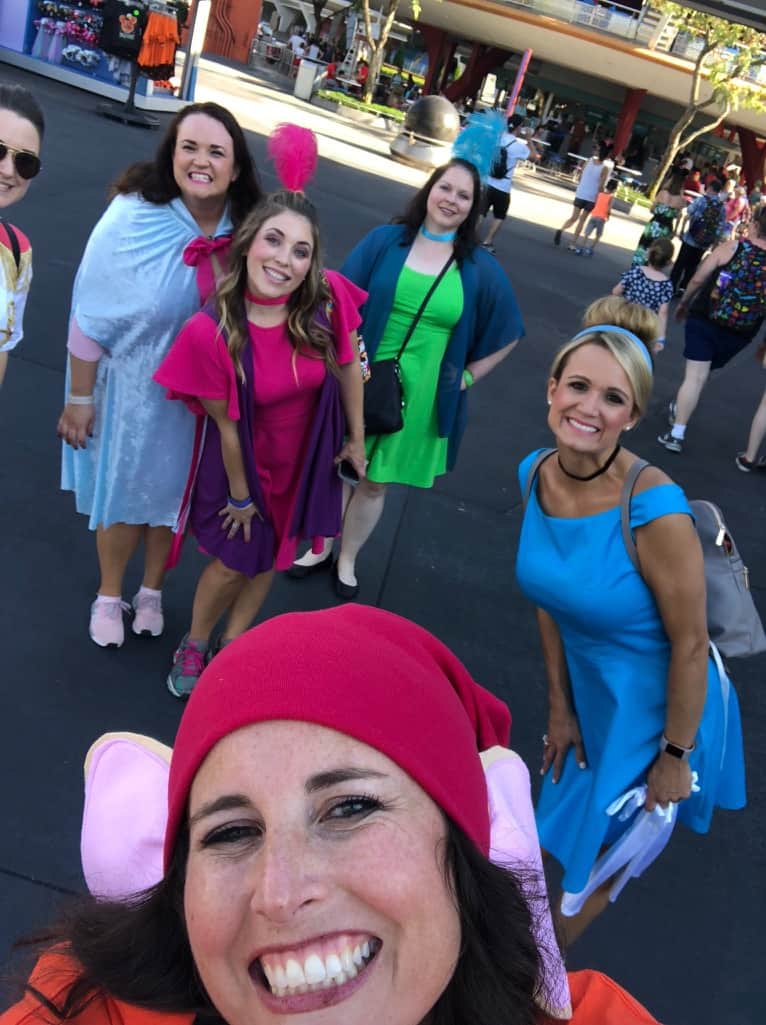 Had to get a pic with my matching flag in the line for Cinderella meet and greet (our third FastPass)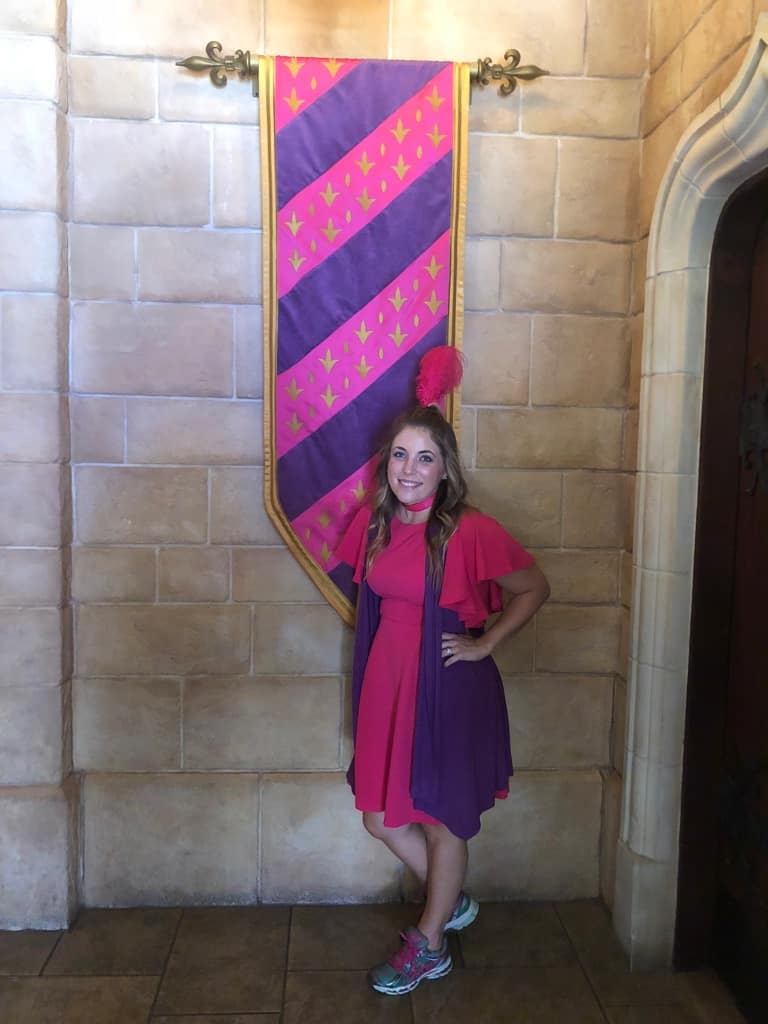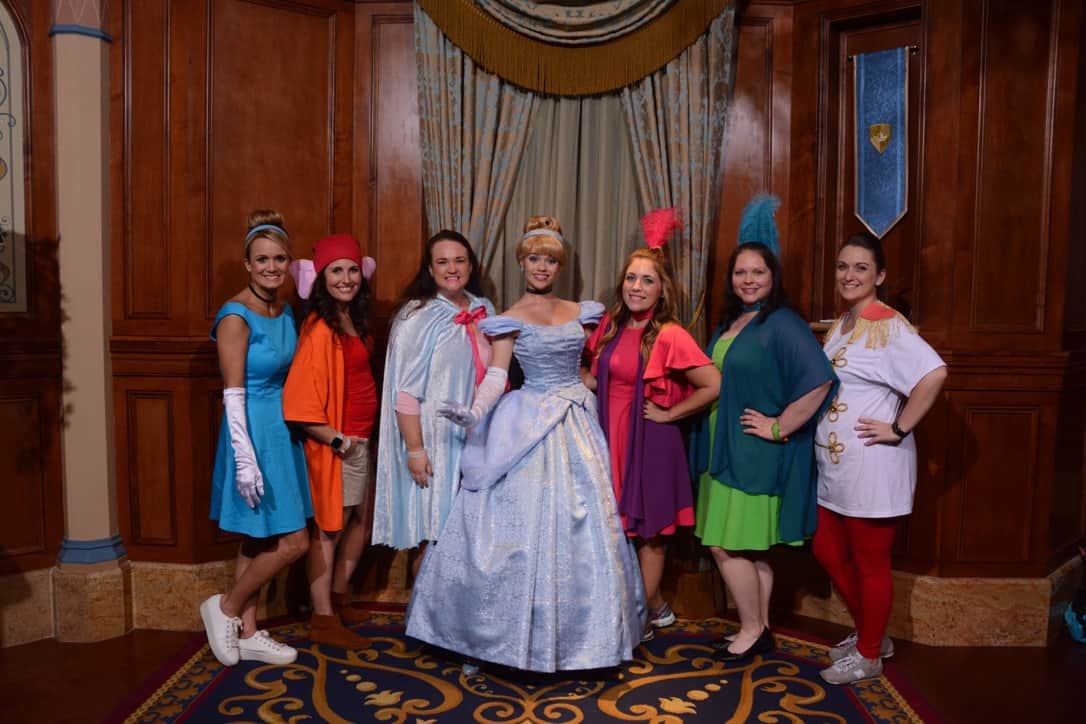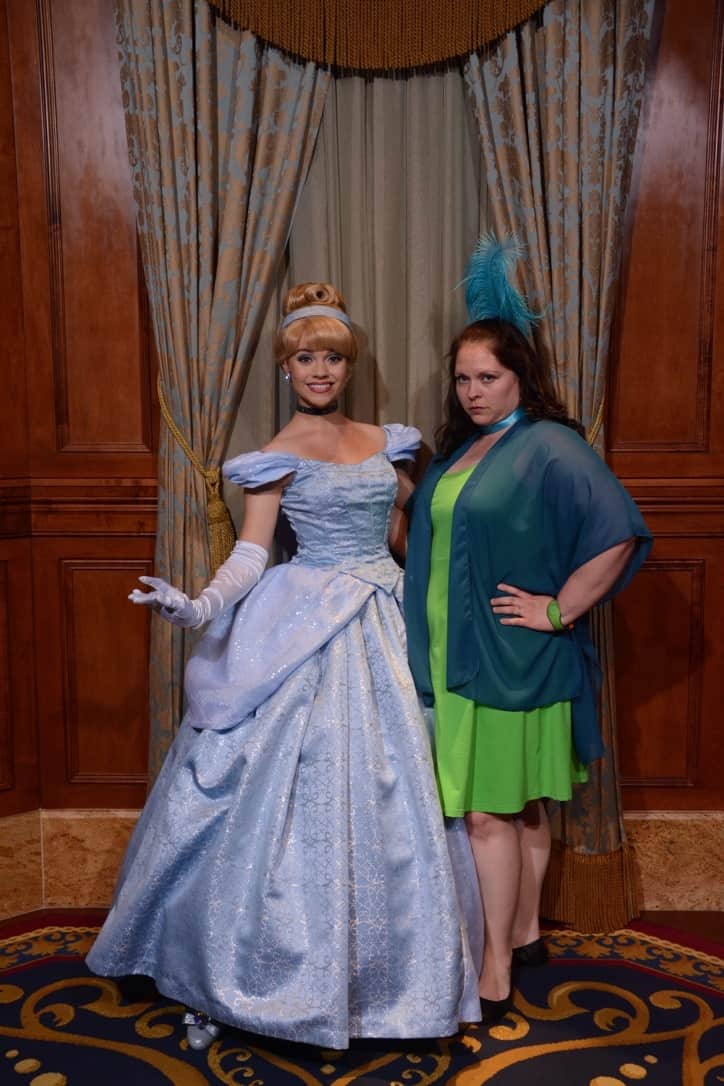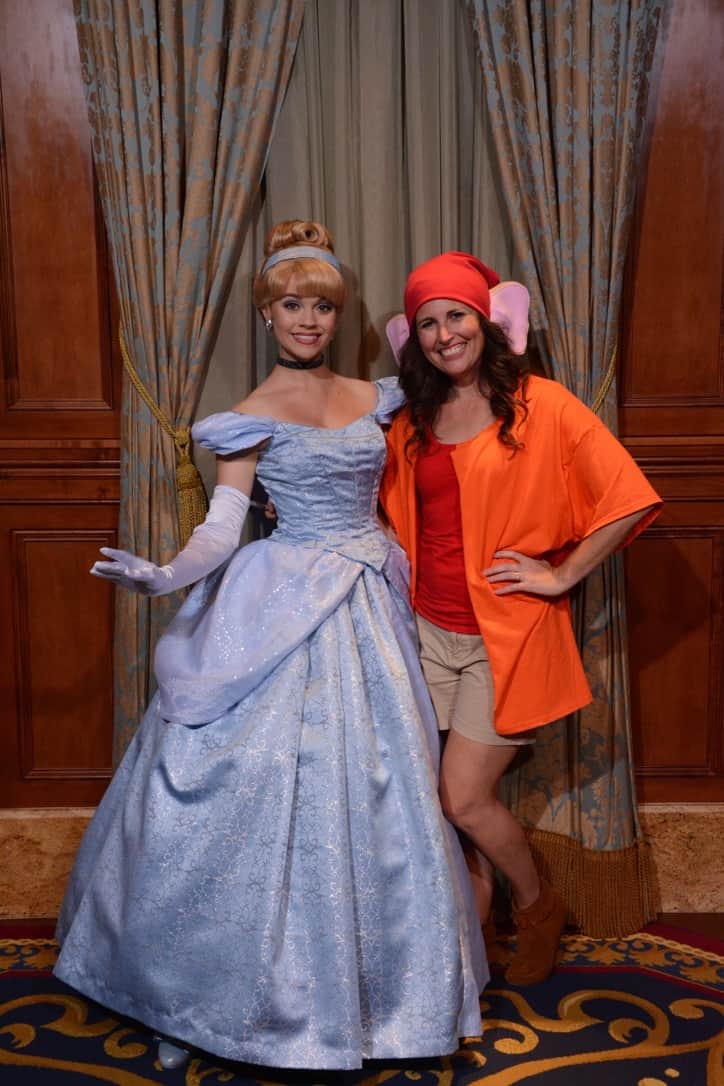 I swear y'all Tiffany is a better Cinderella than Cinderella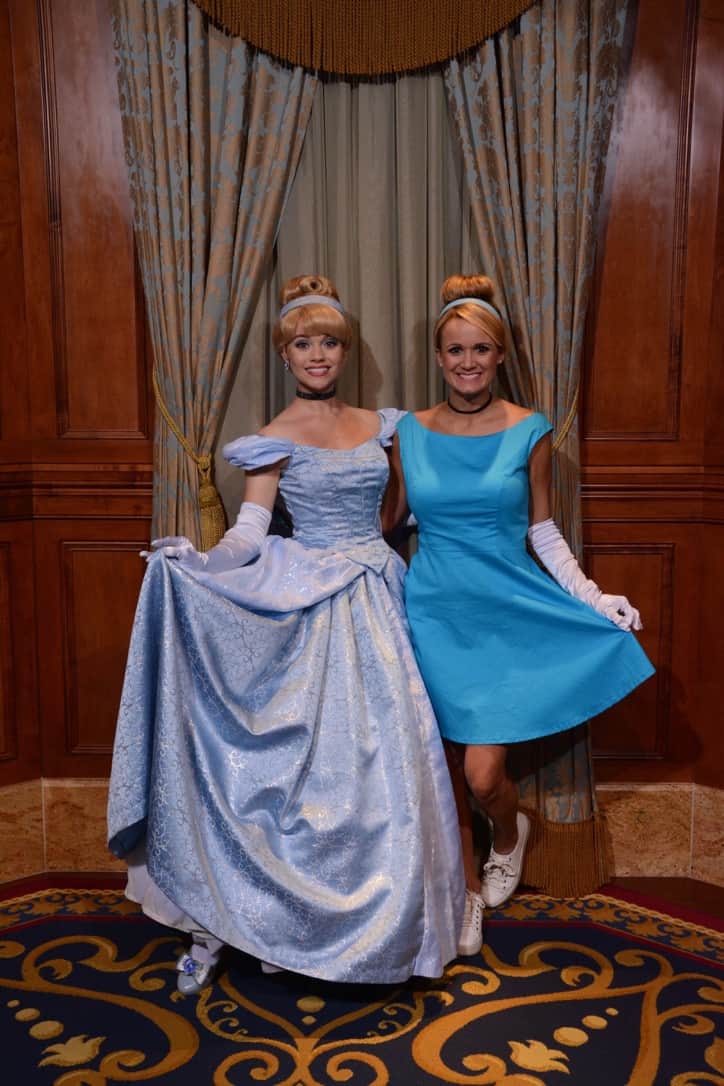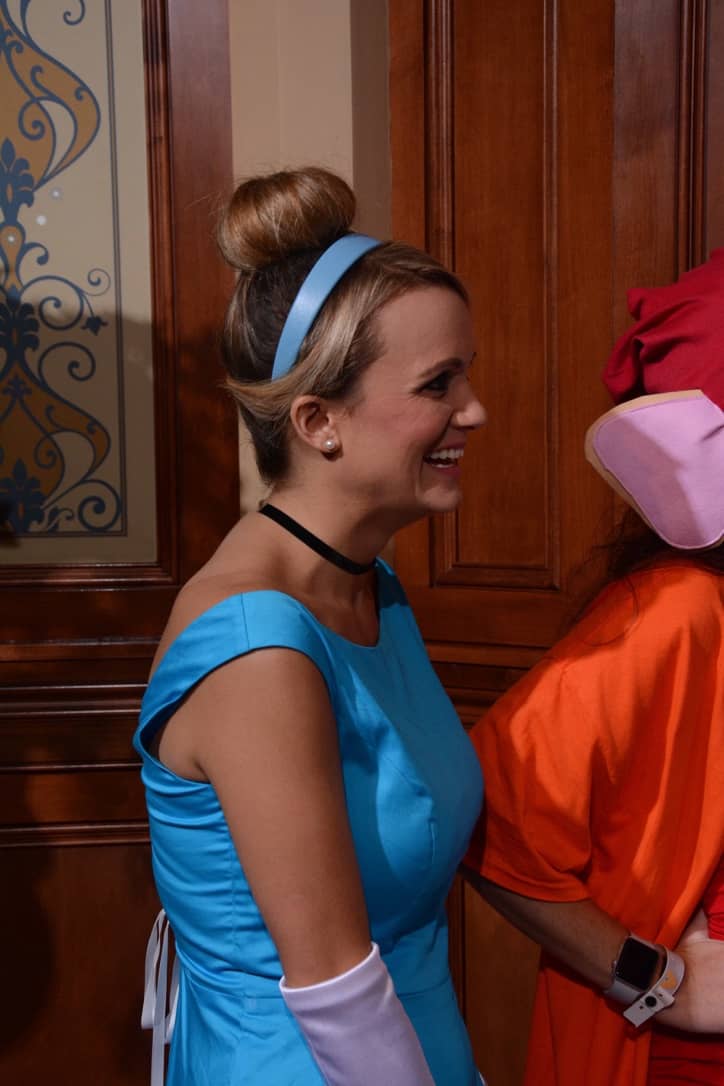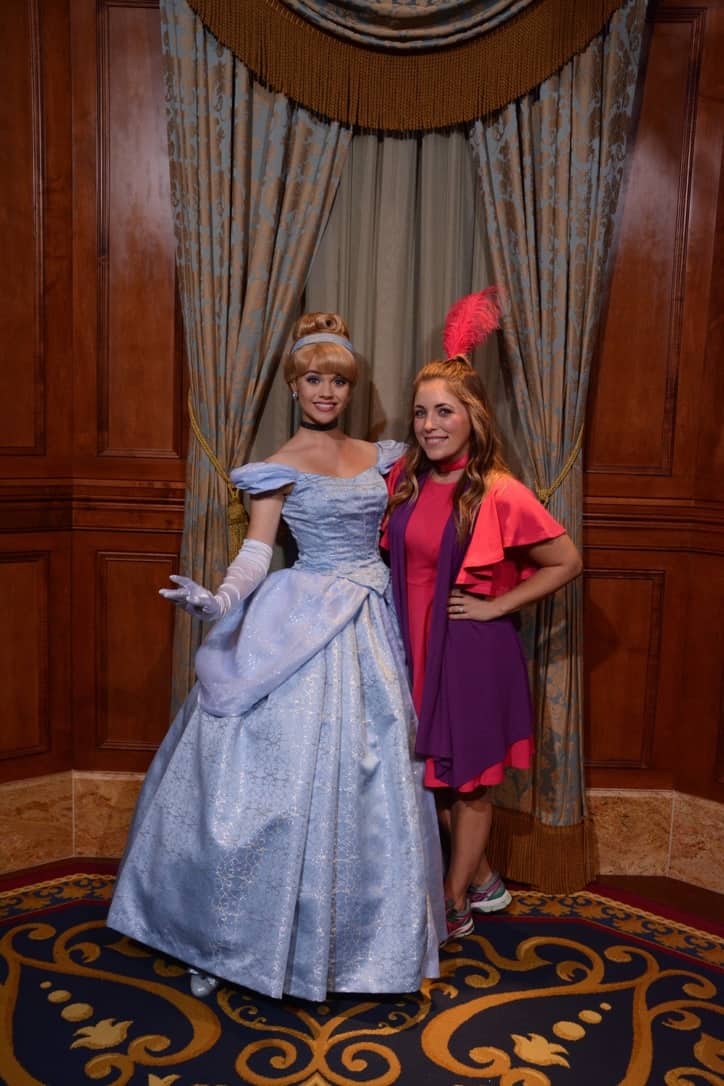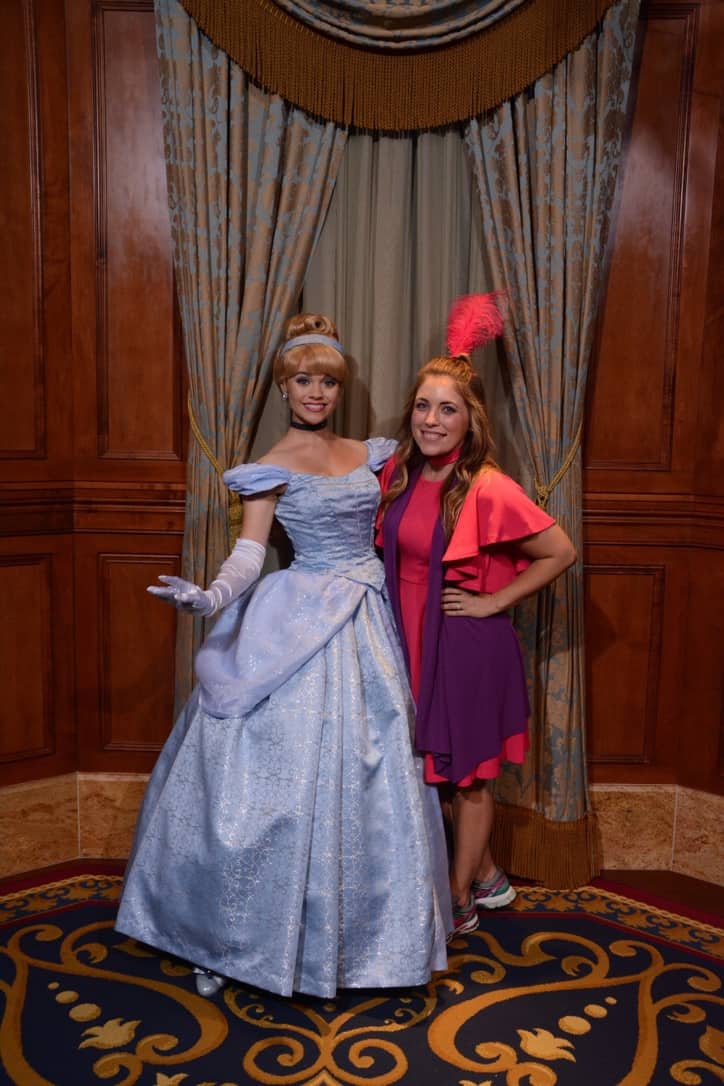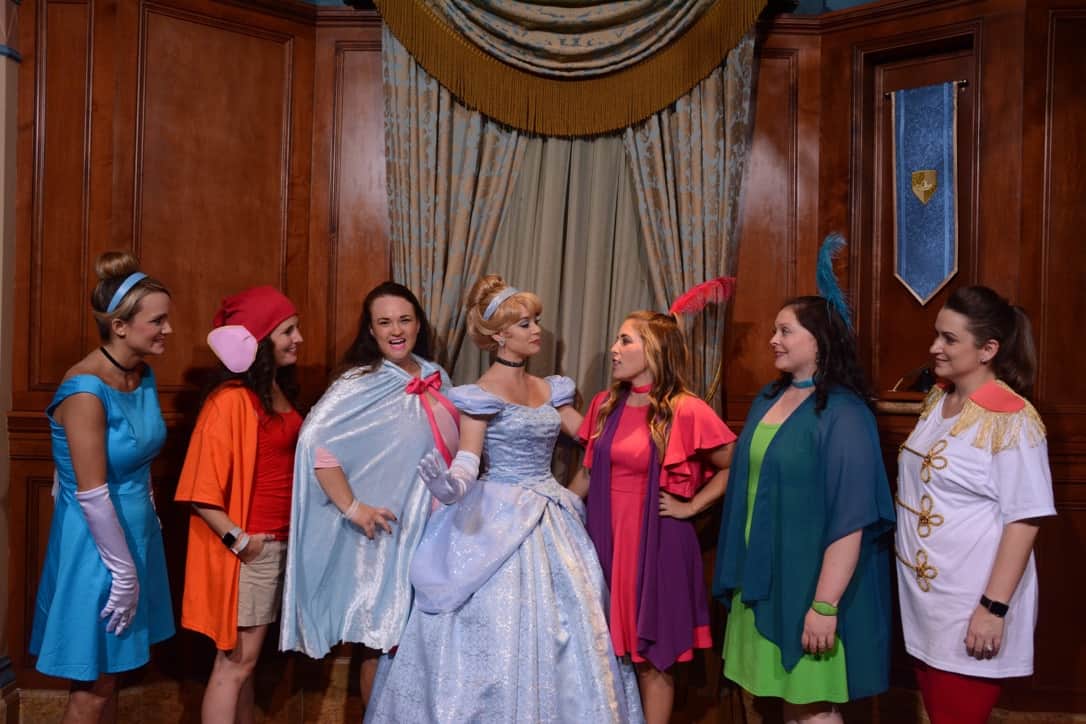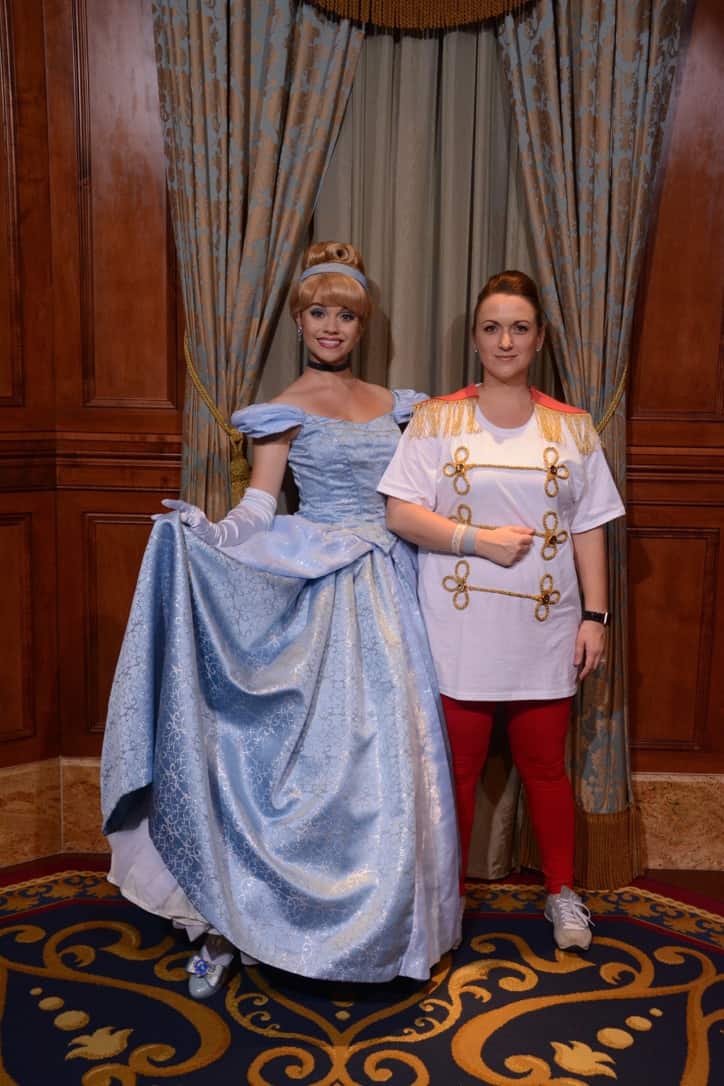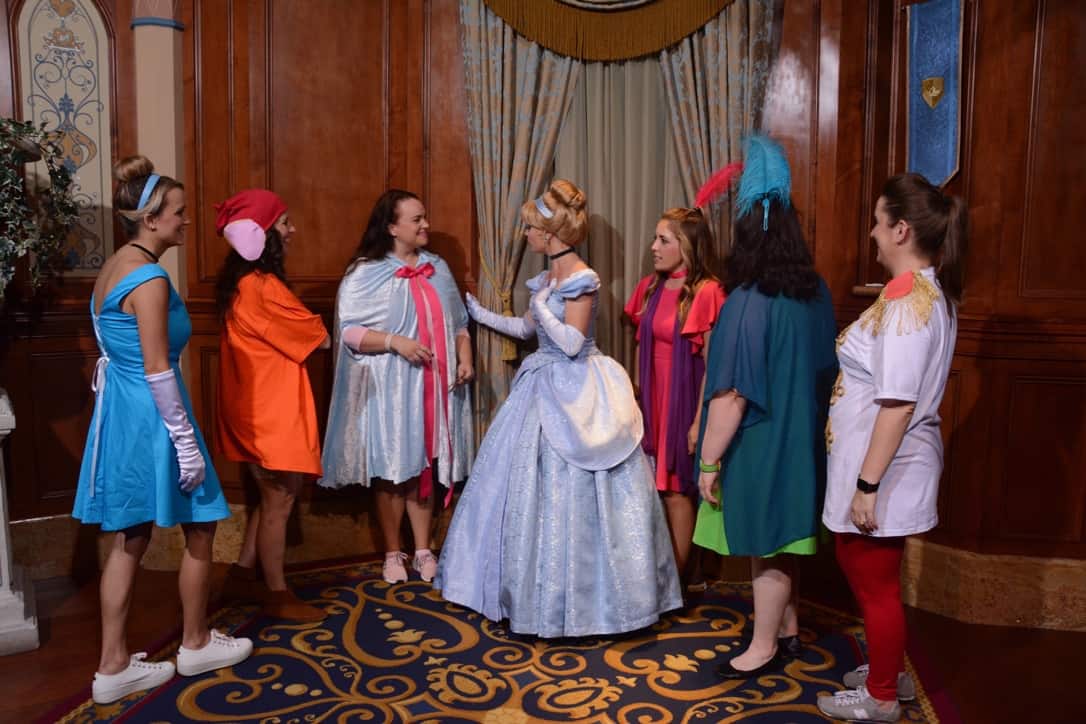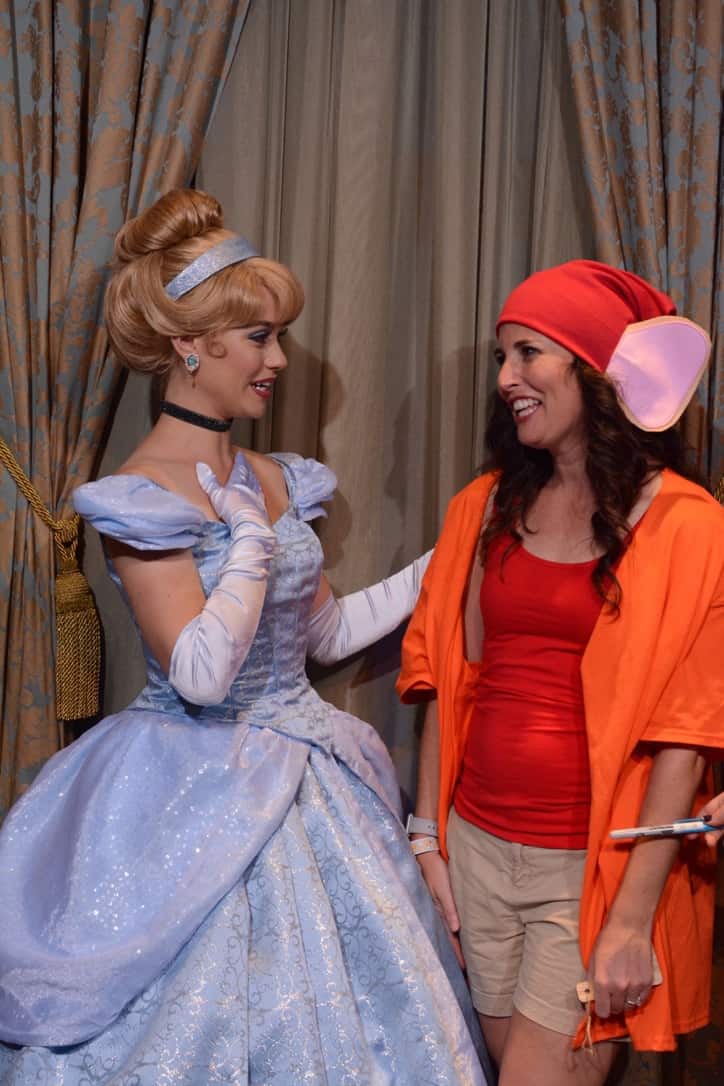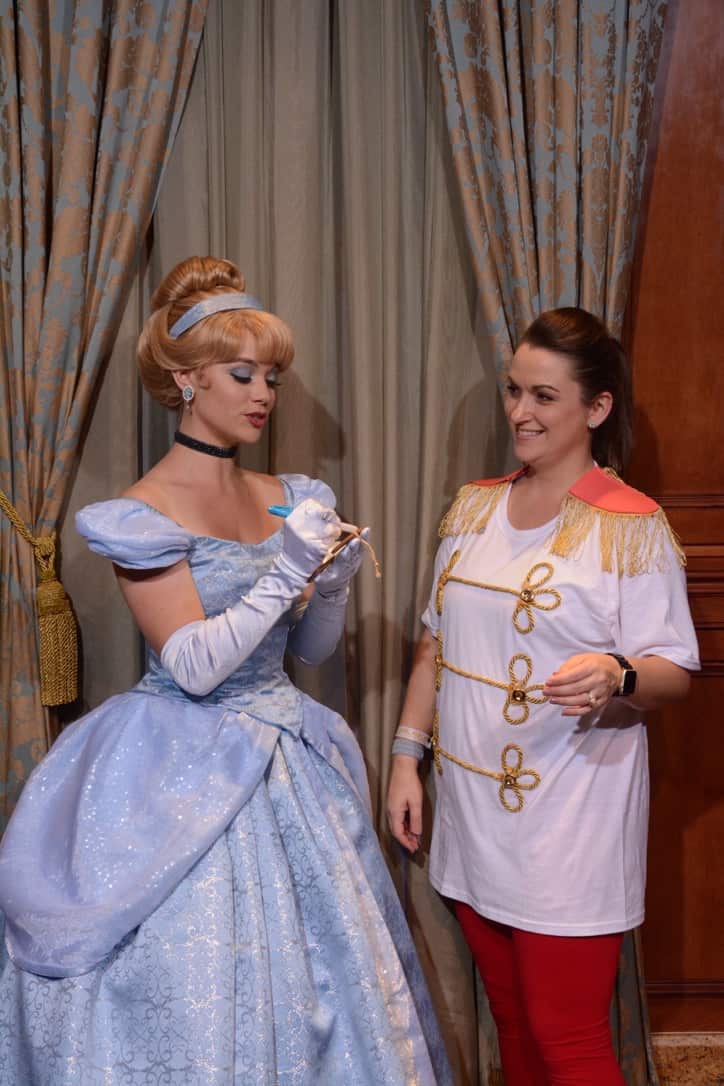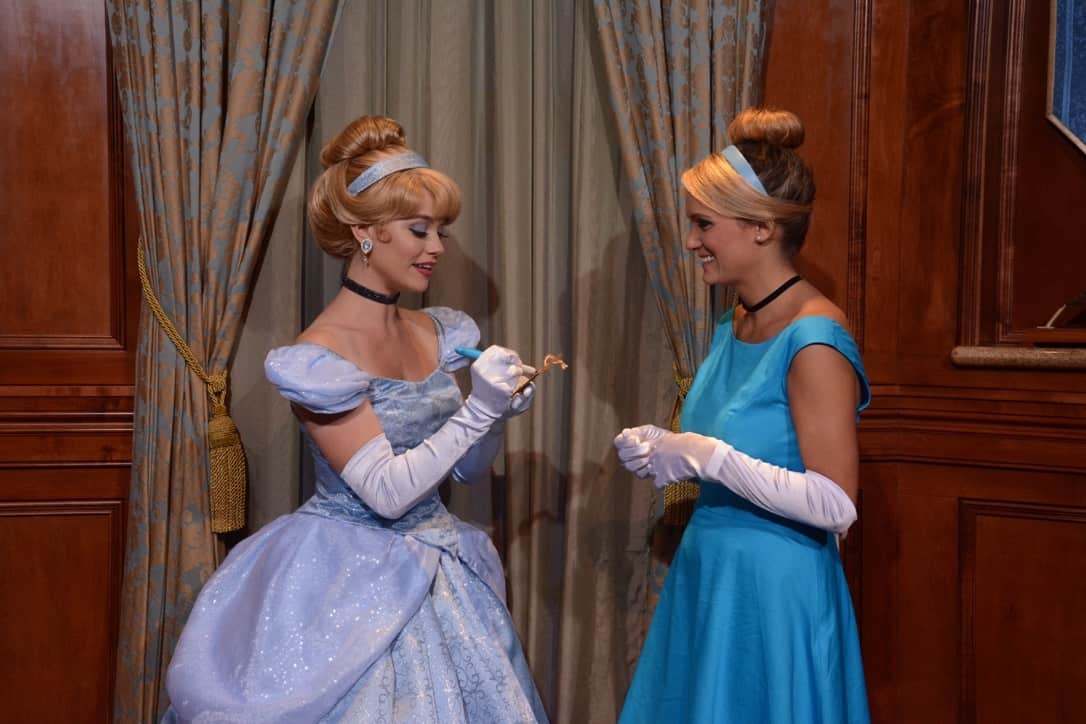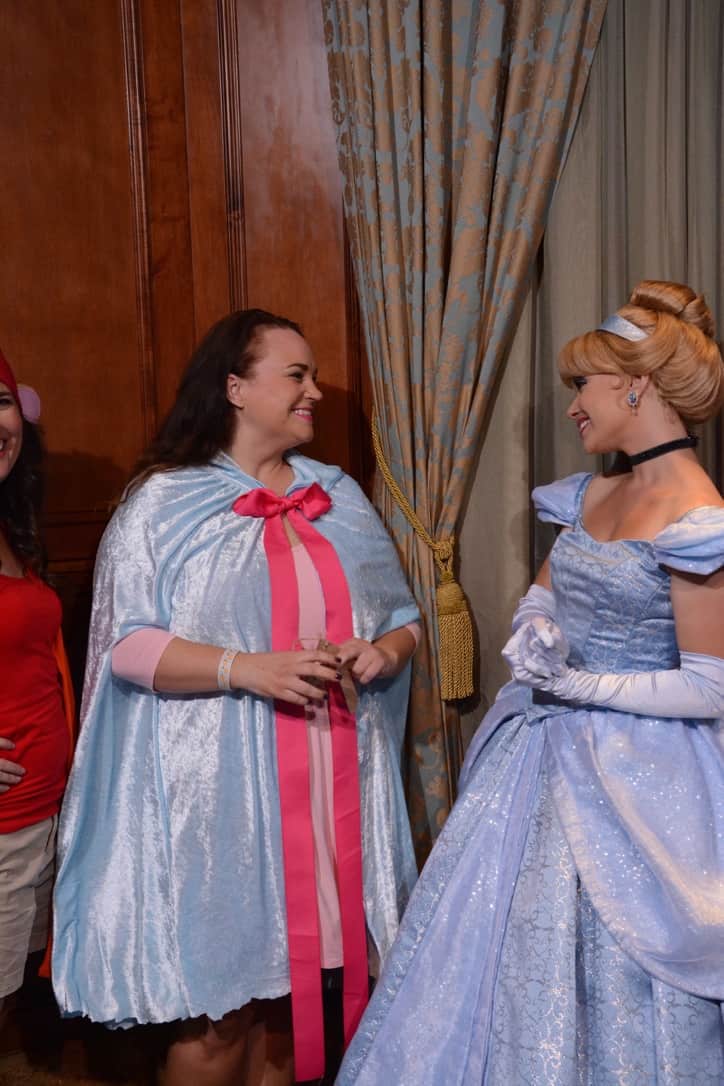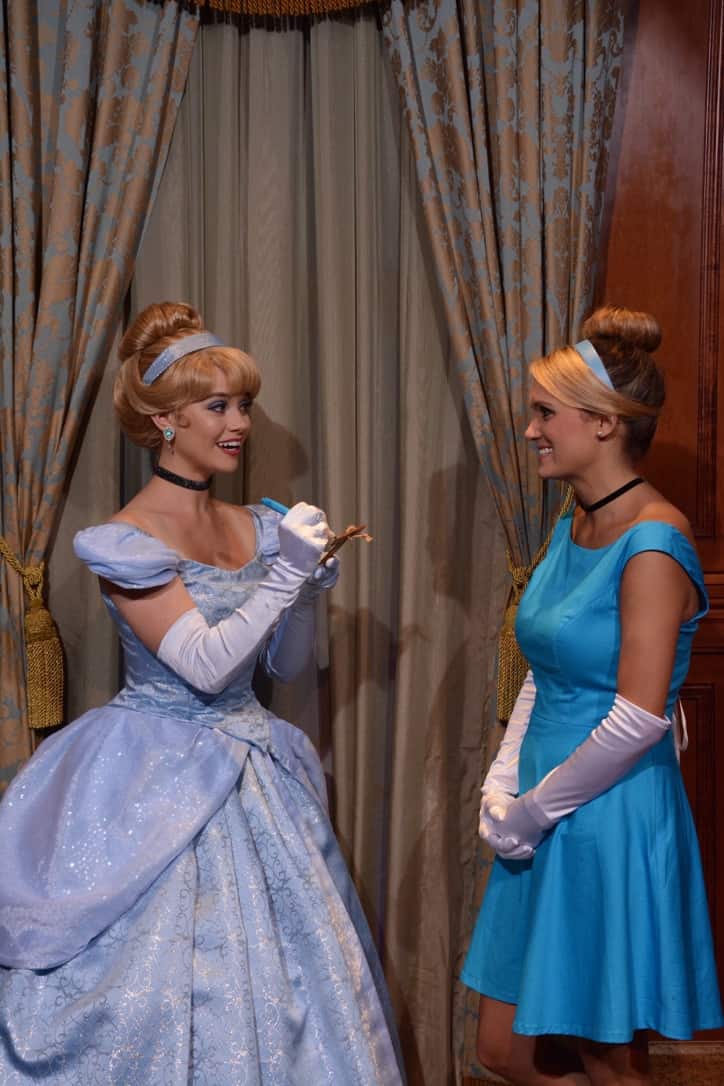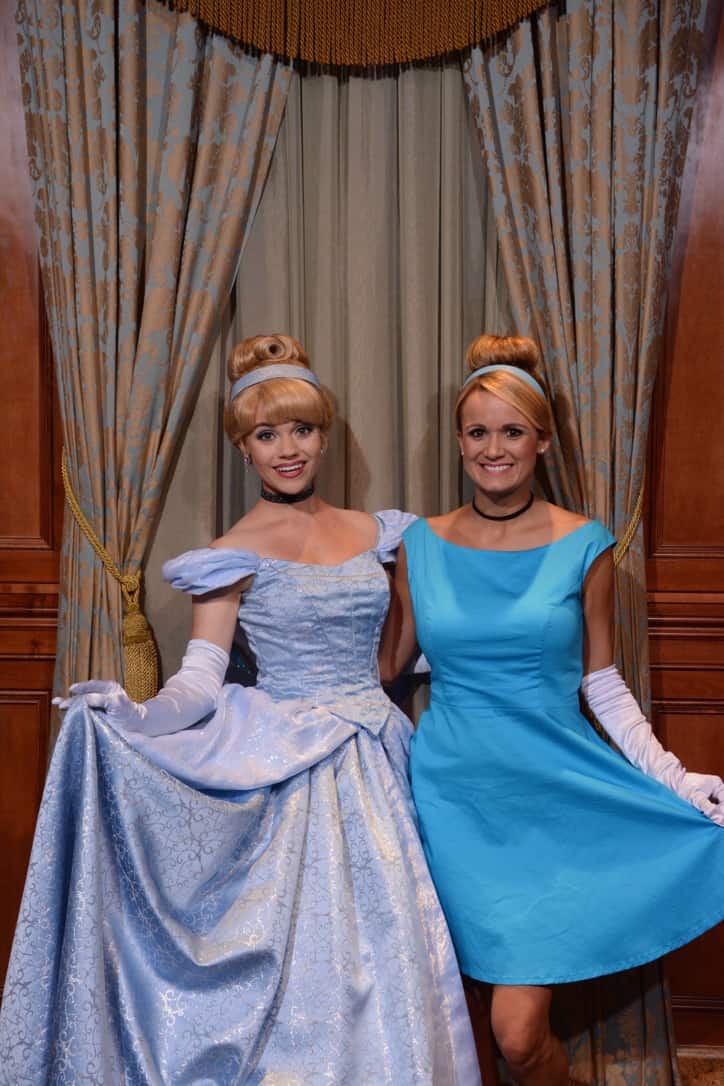 Rachel and Gabe handed out these ADORABLE ornaments to each of us with our first initial as a keepsake from the trip. SO thoughtful and it worked out PERFECT to use them for Cinderella to sign!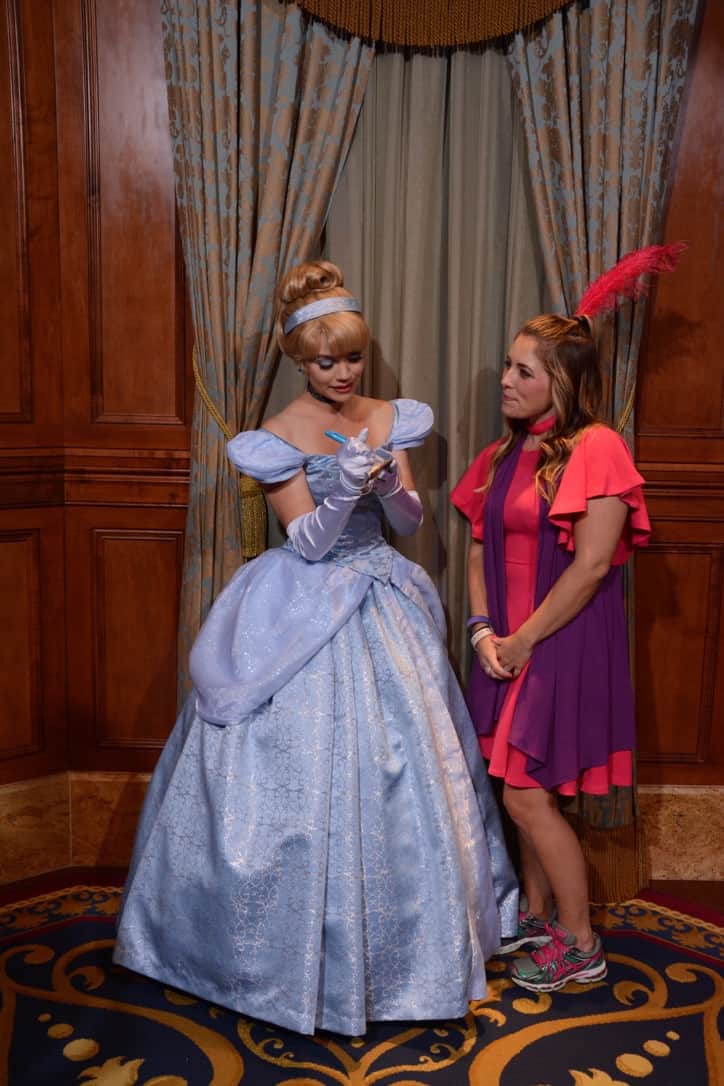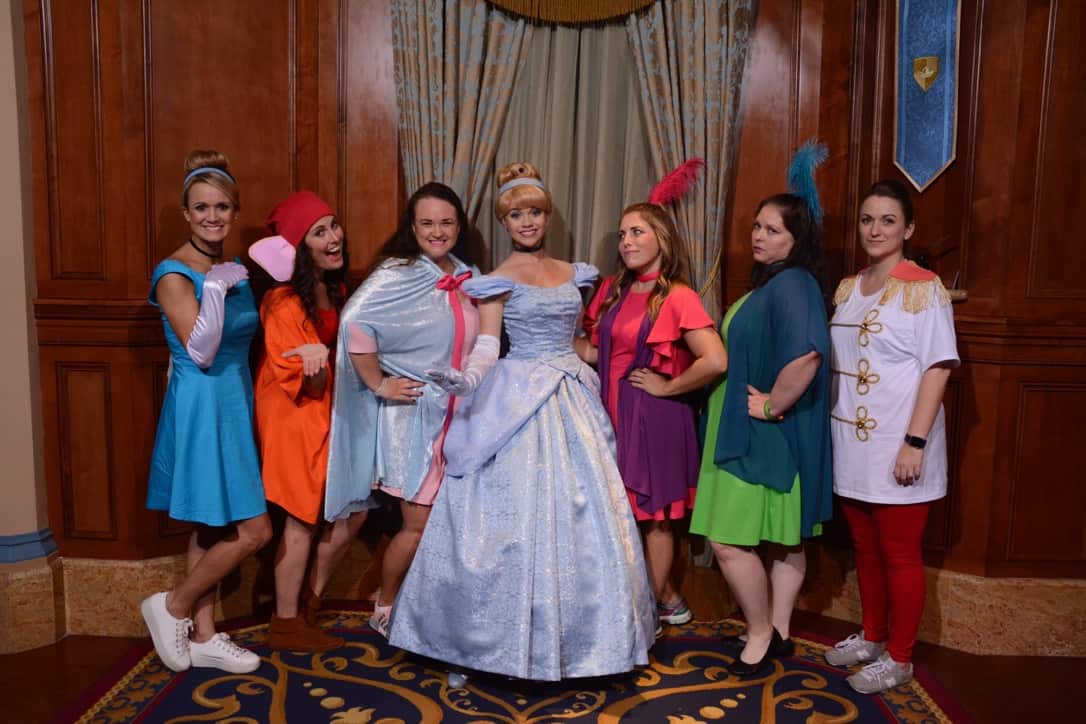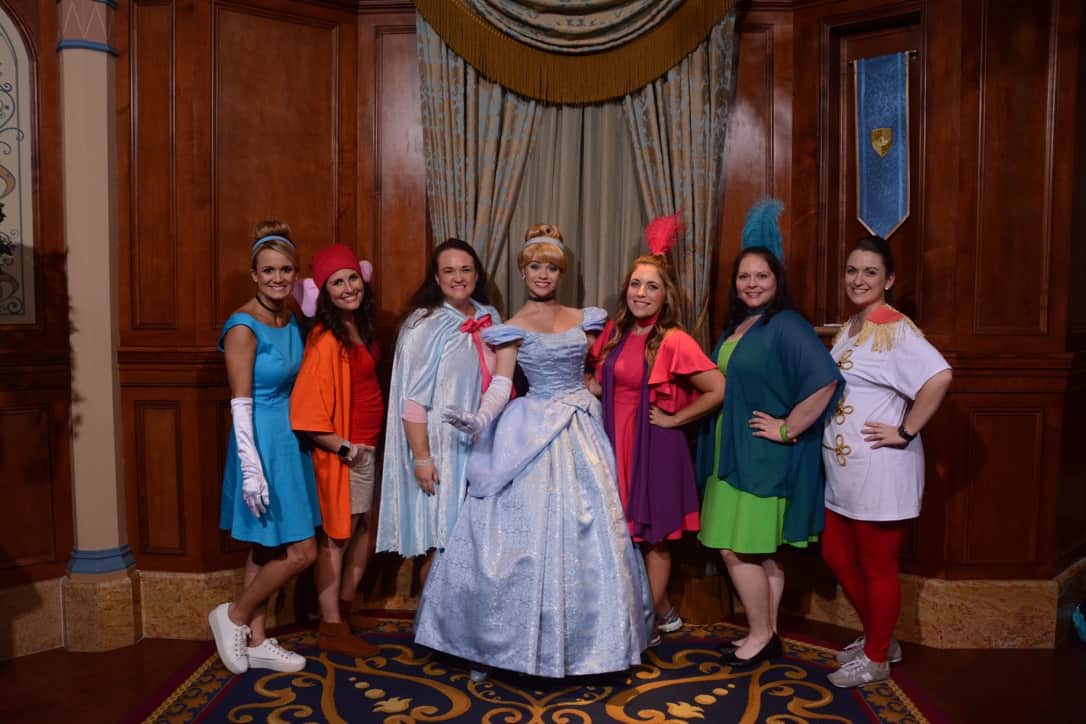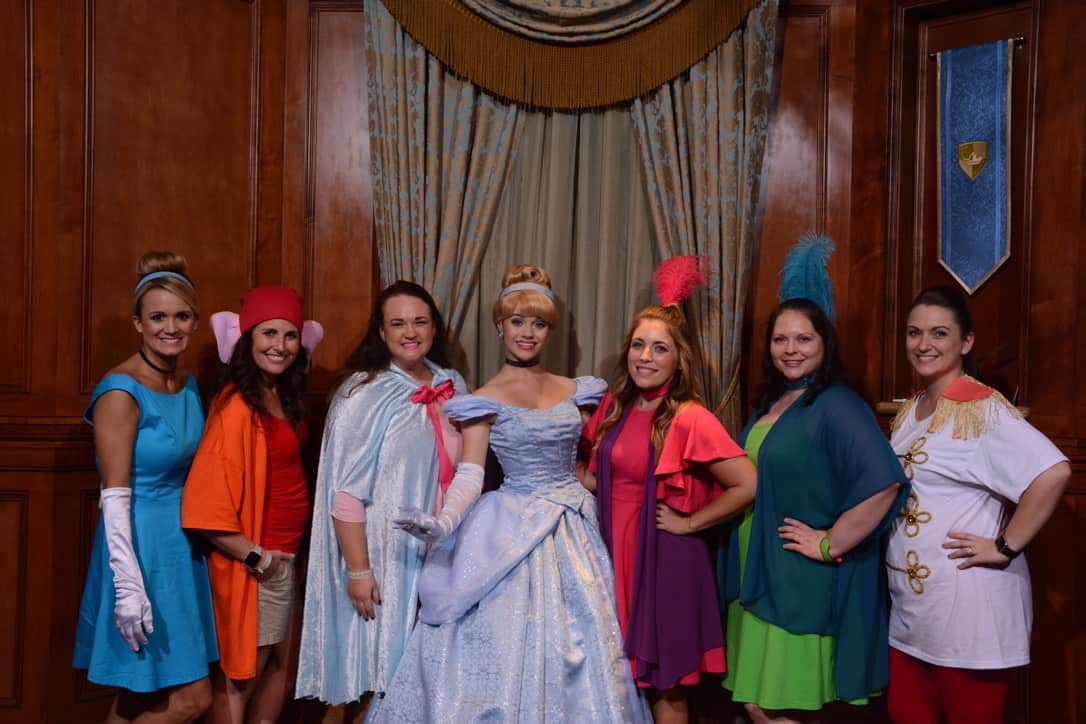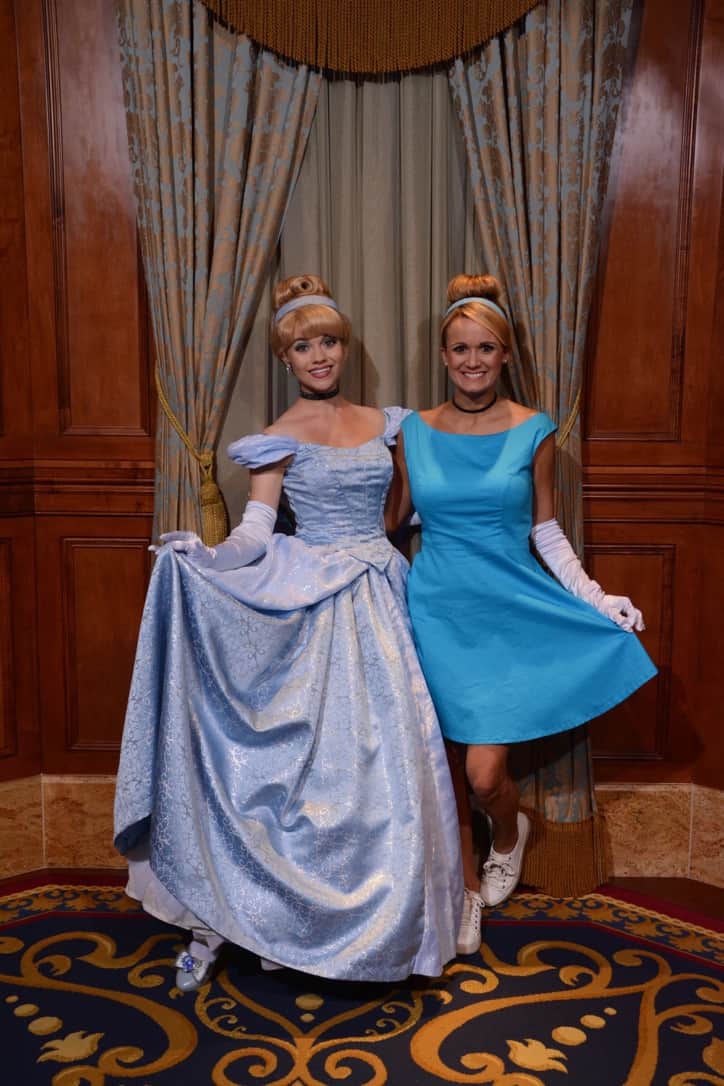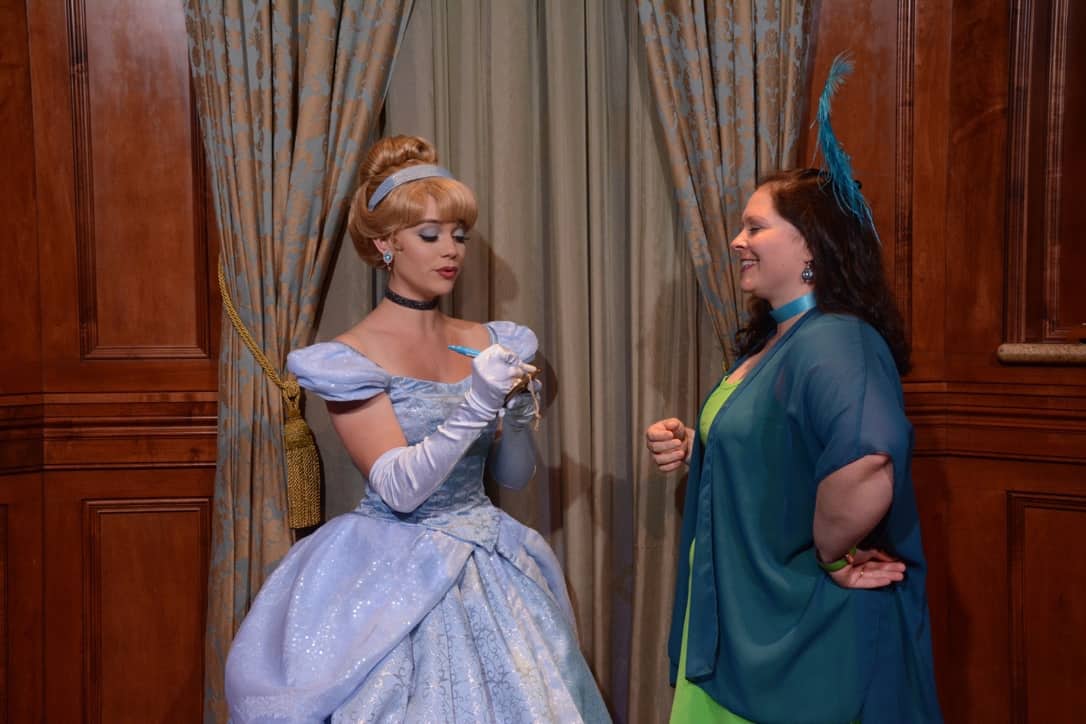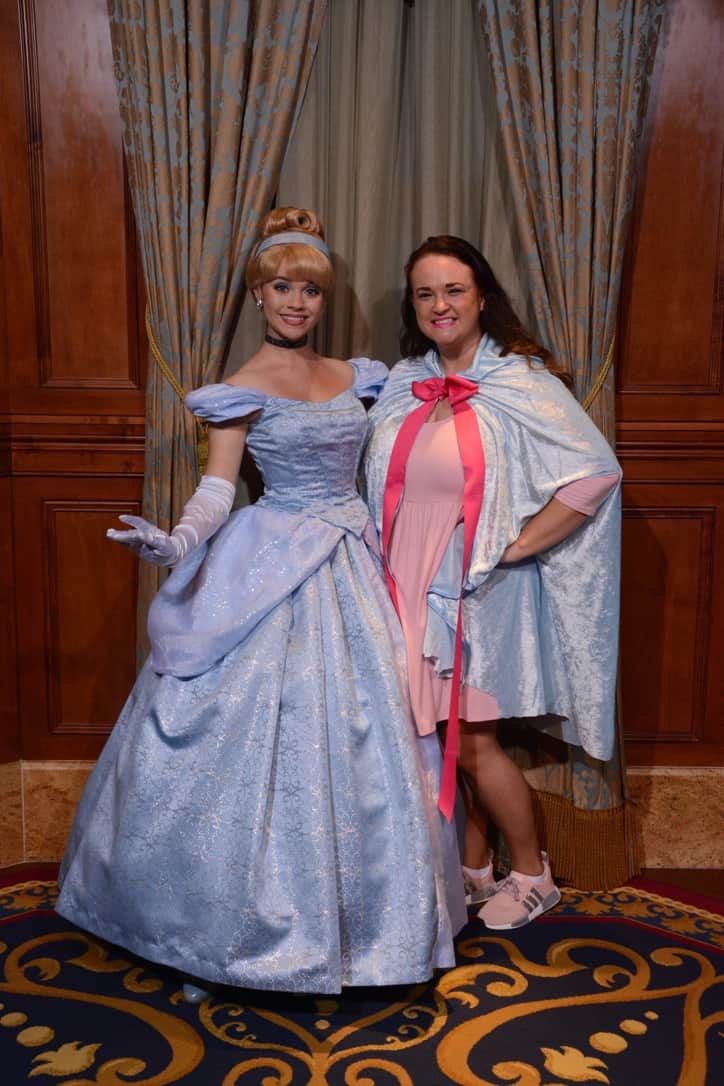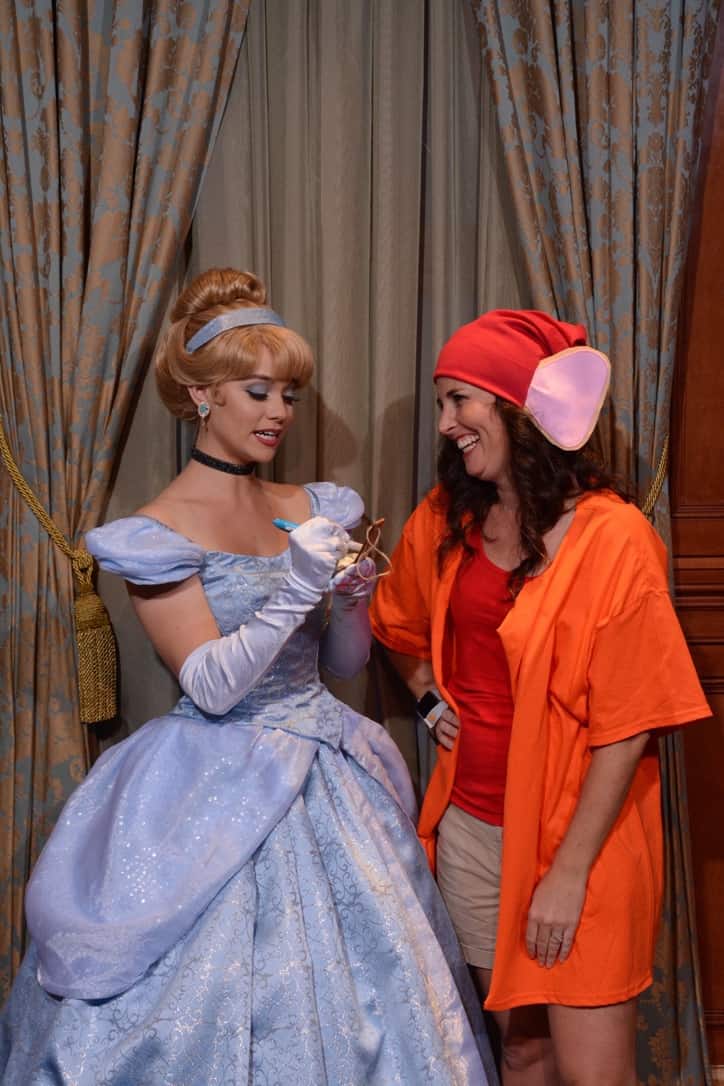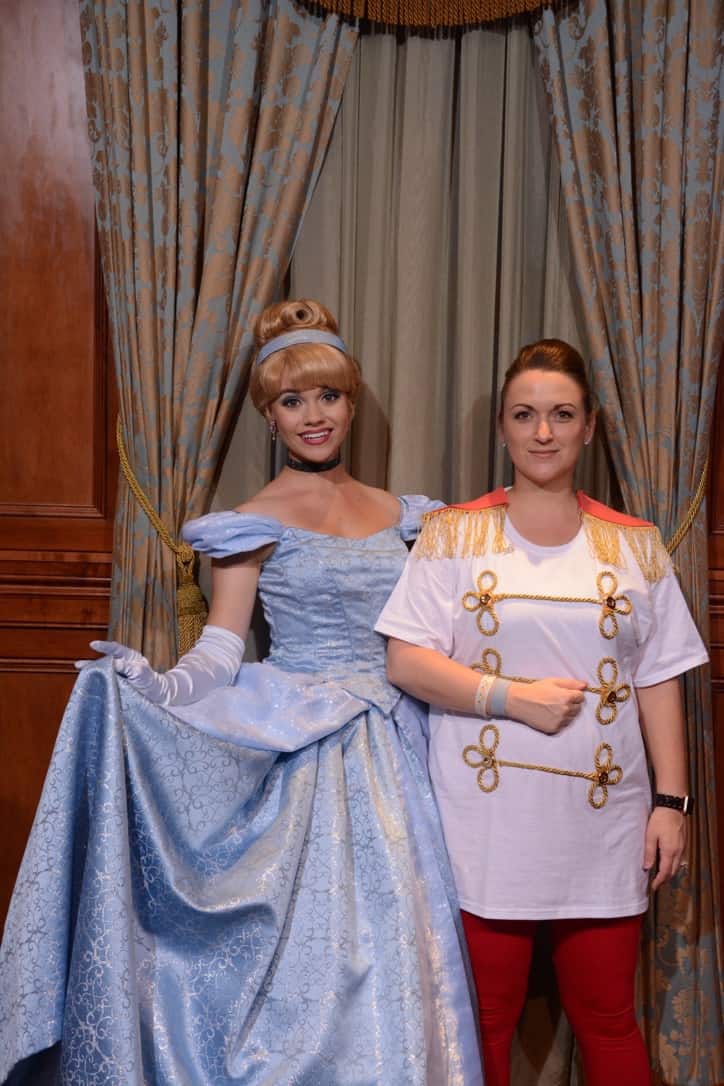 Elana's meet and greet is in the same room as Cinderella so we didn't want to hurt her feelings 😉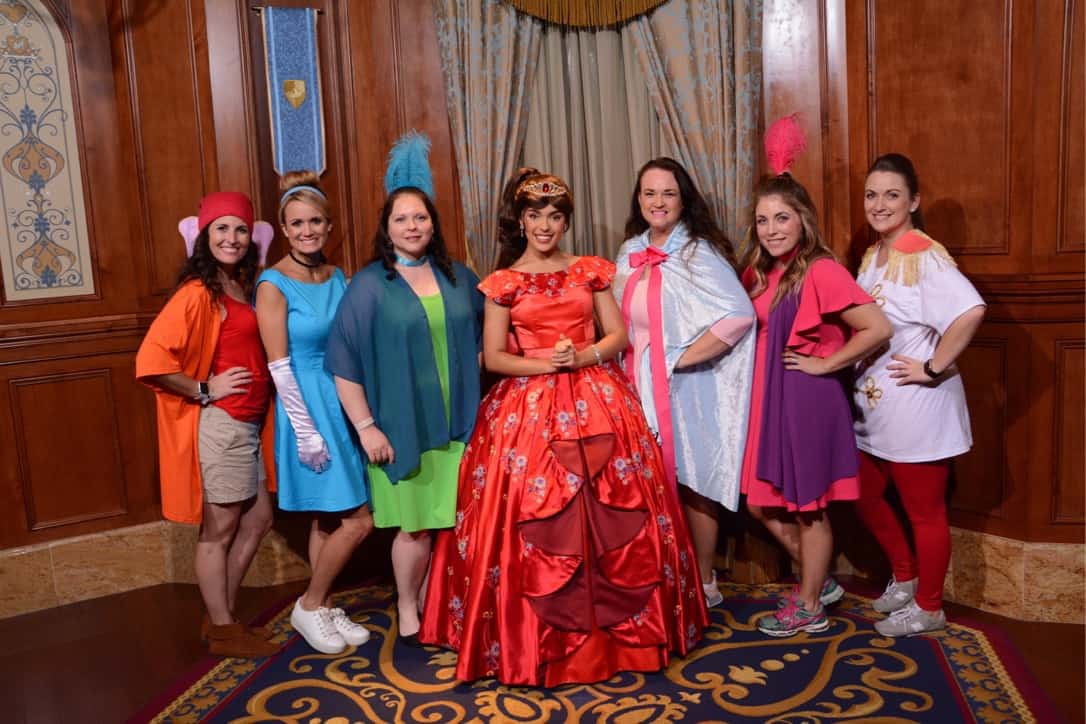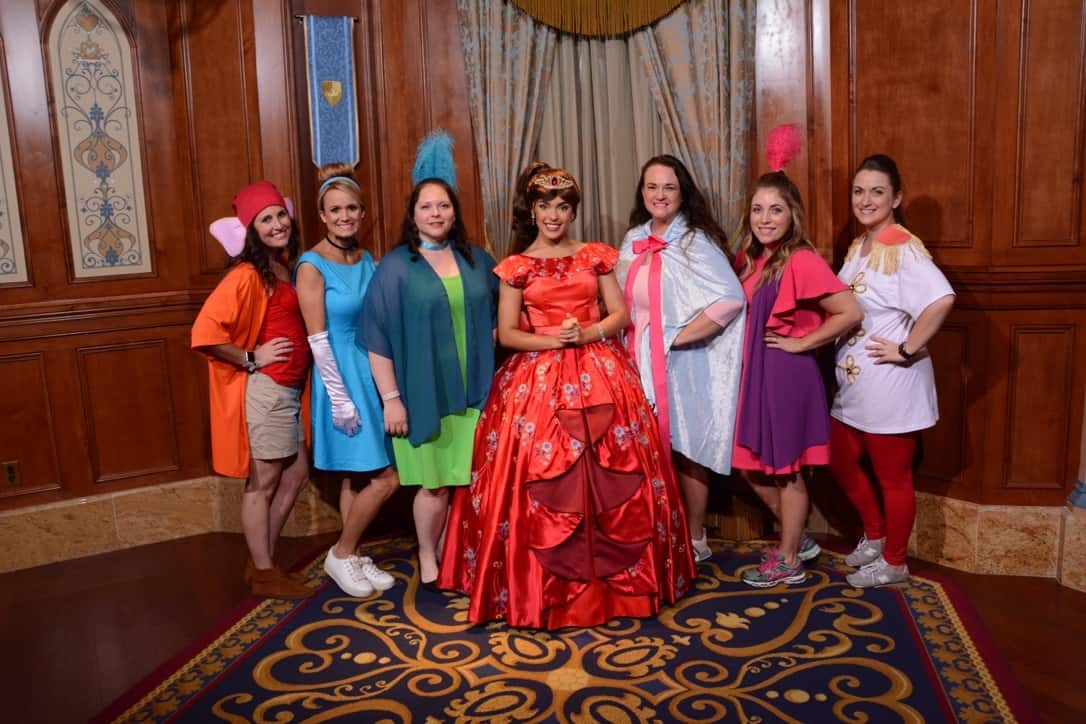 When we decided on Cinderella as the theme I hadn't even THOUGHT about the fact that there are SO MANY great spots at Magic Kingdom for Cinderella related photos!!!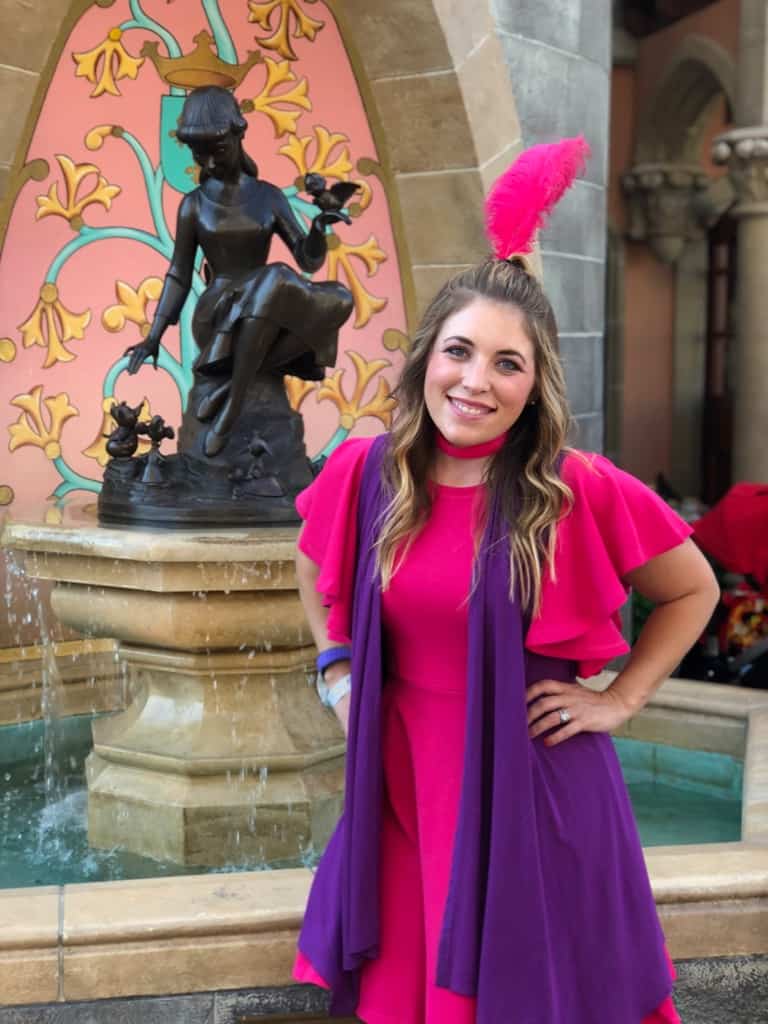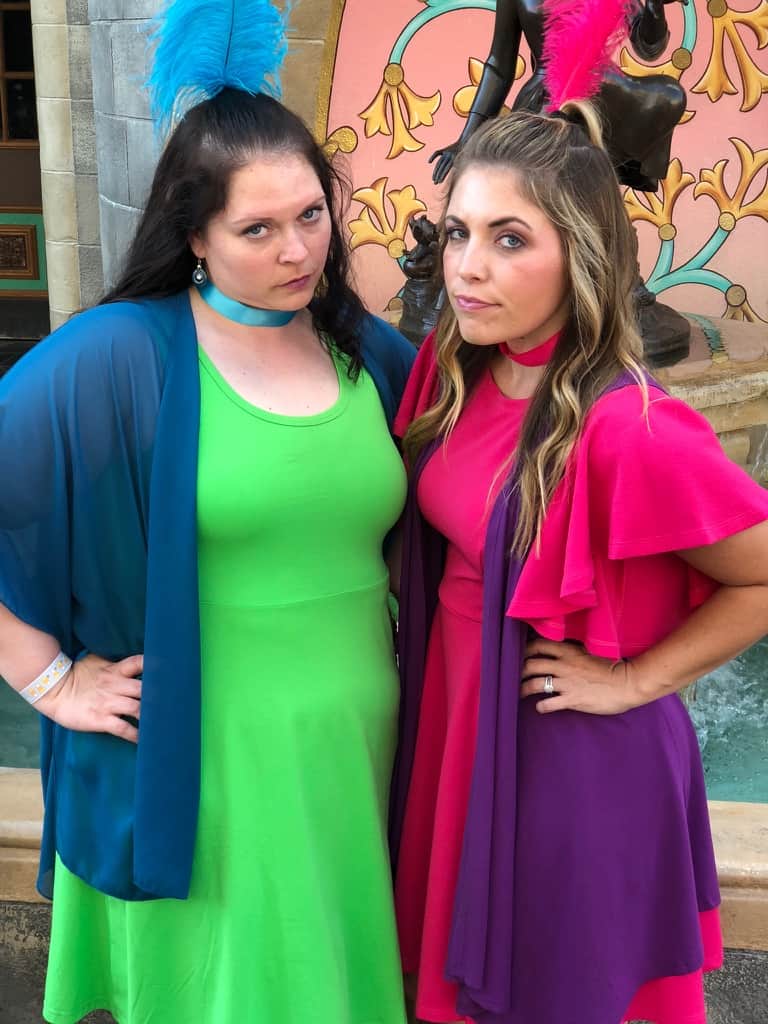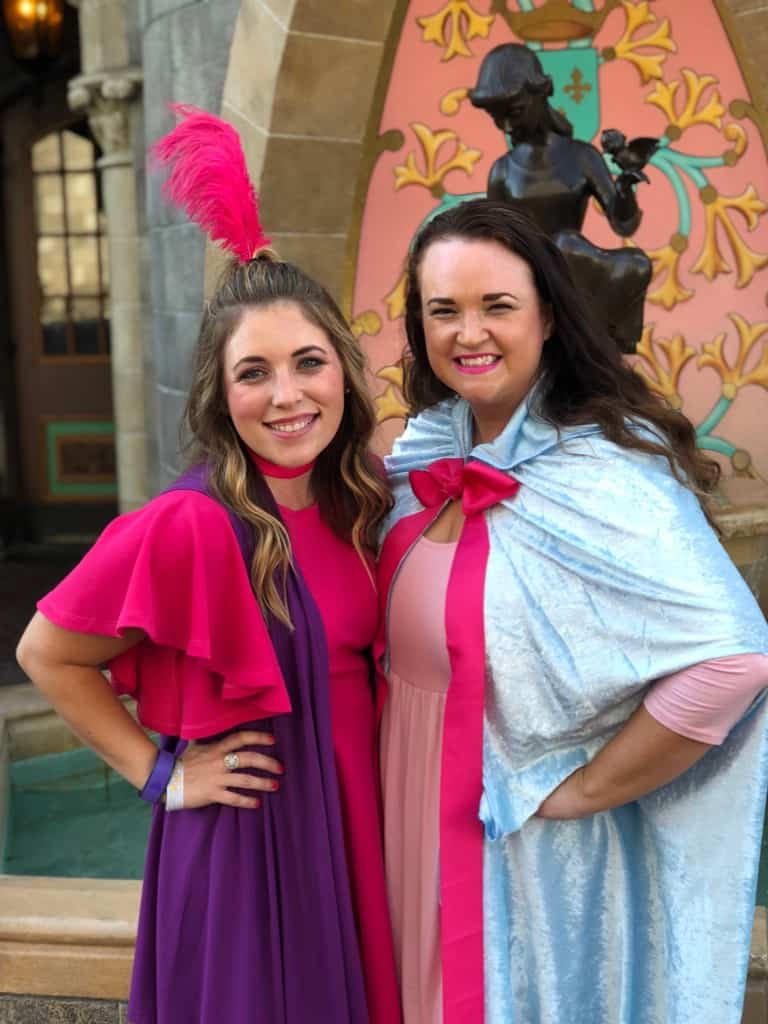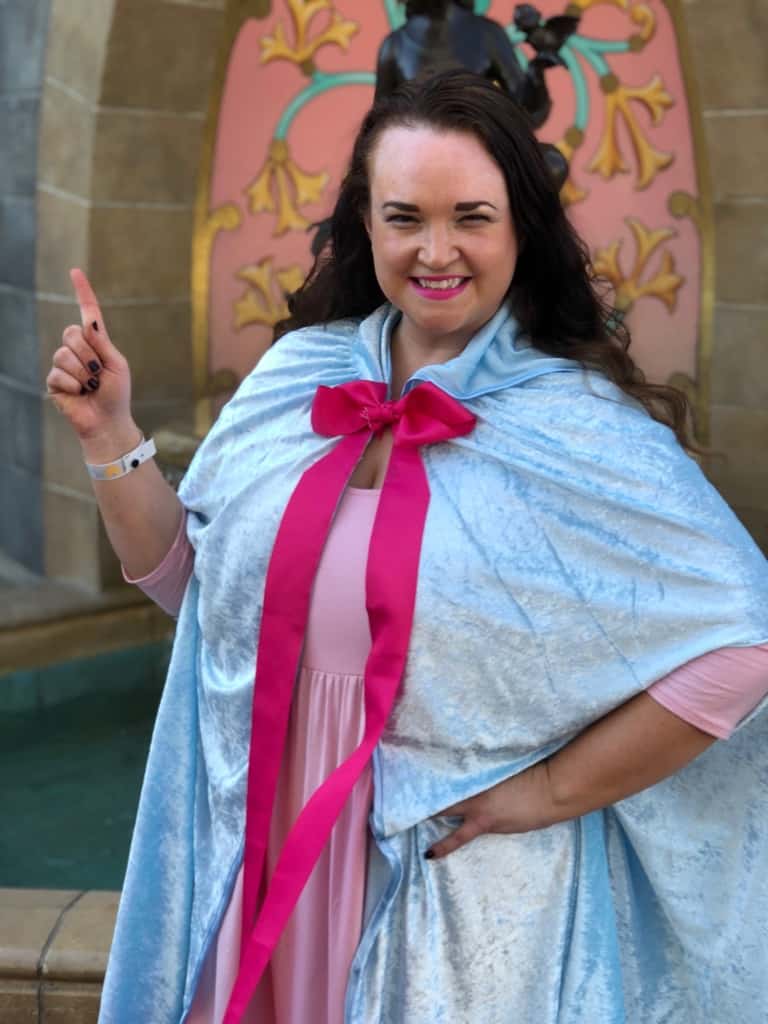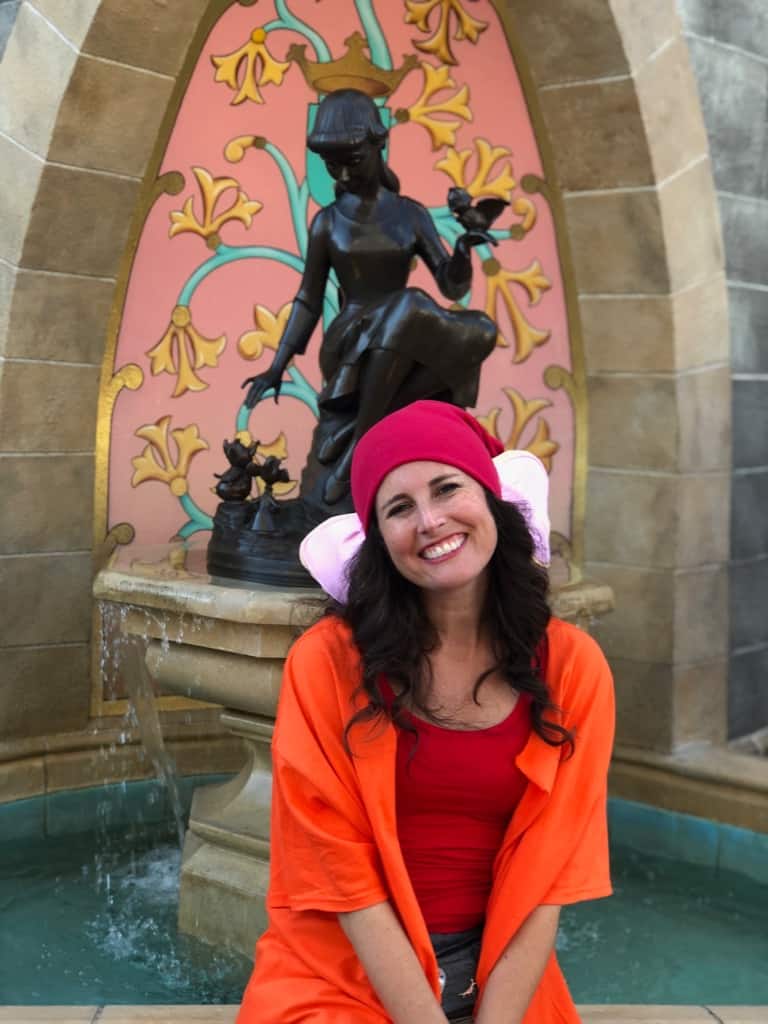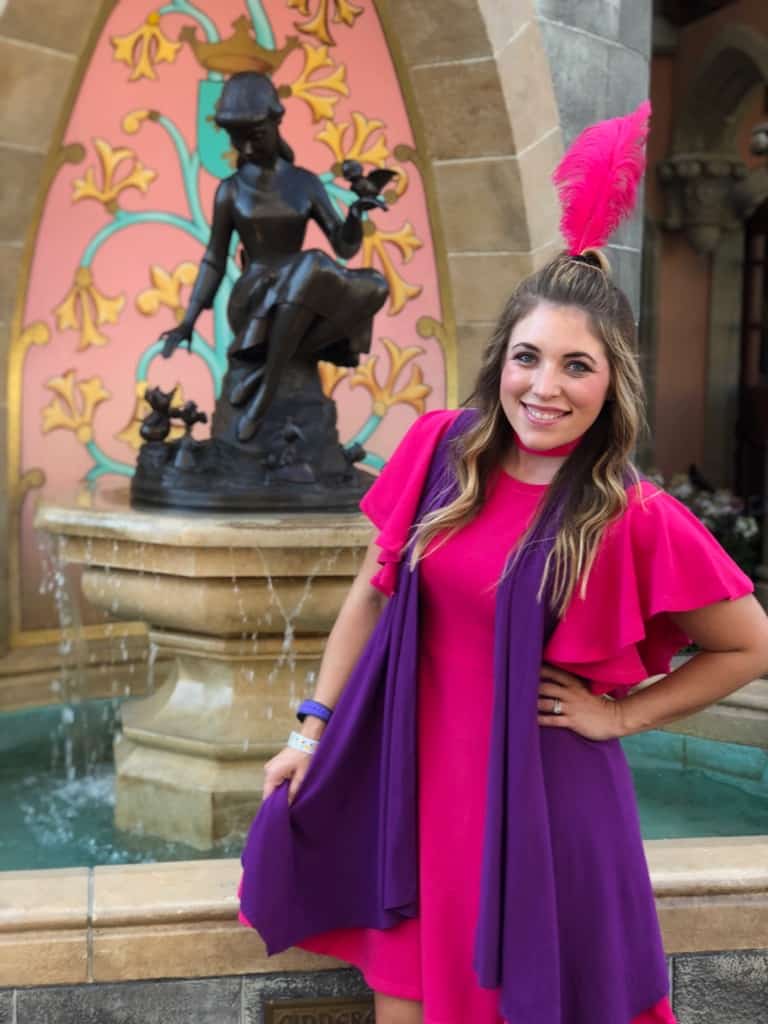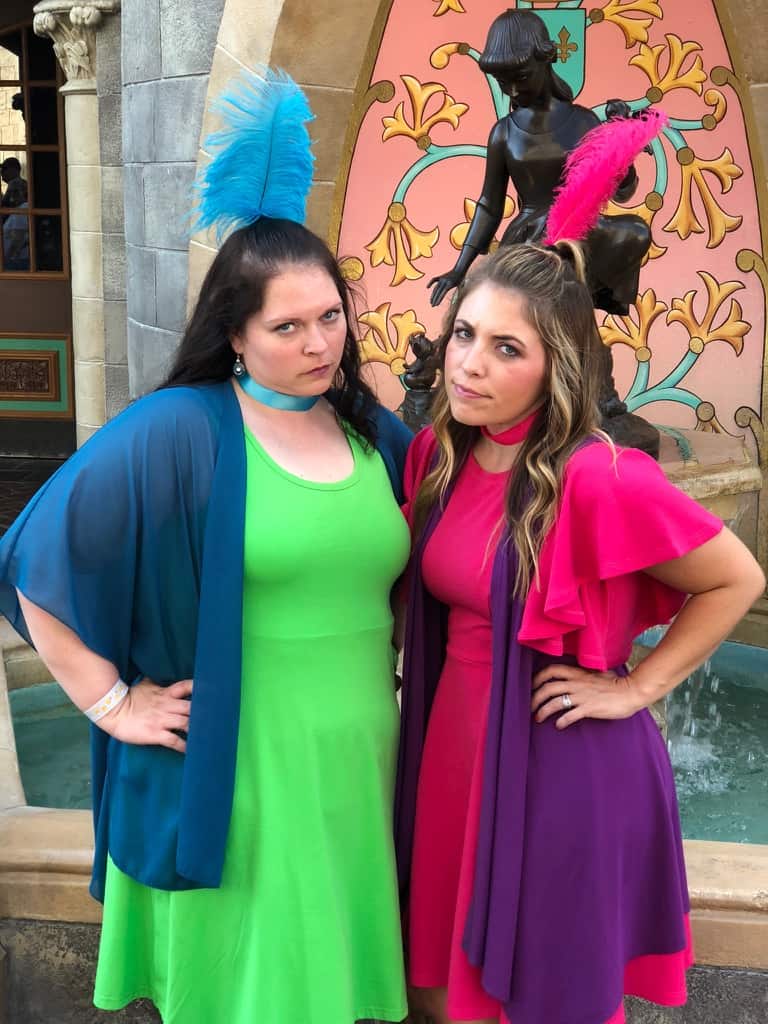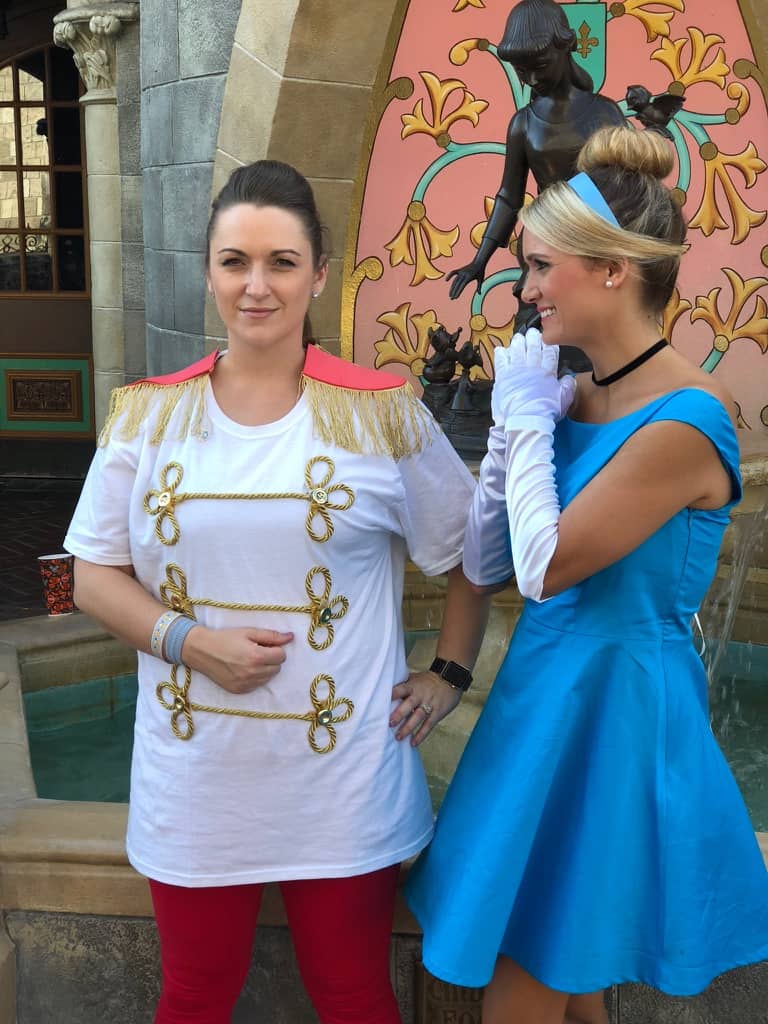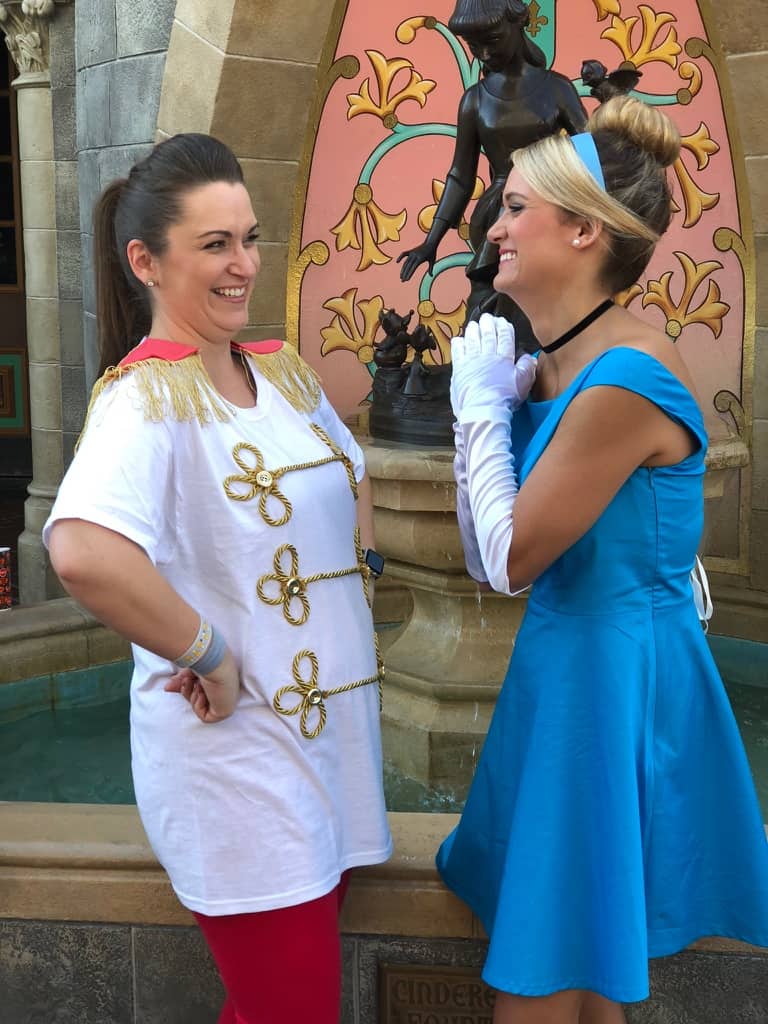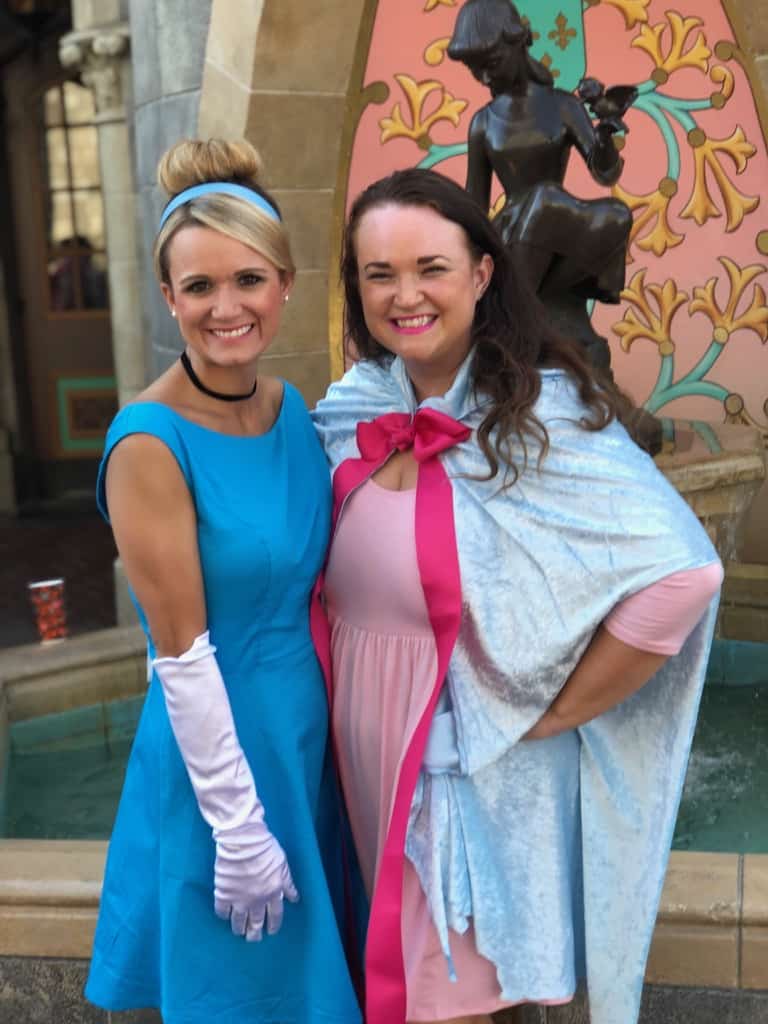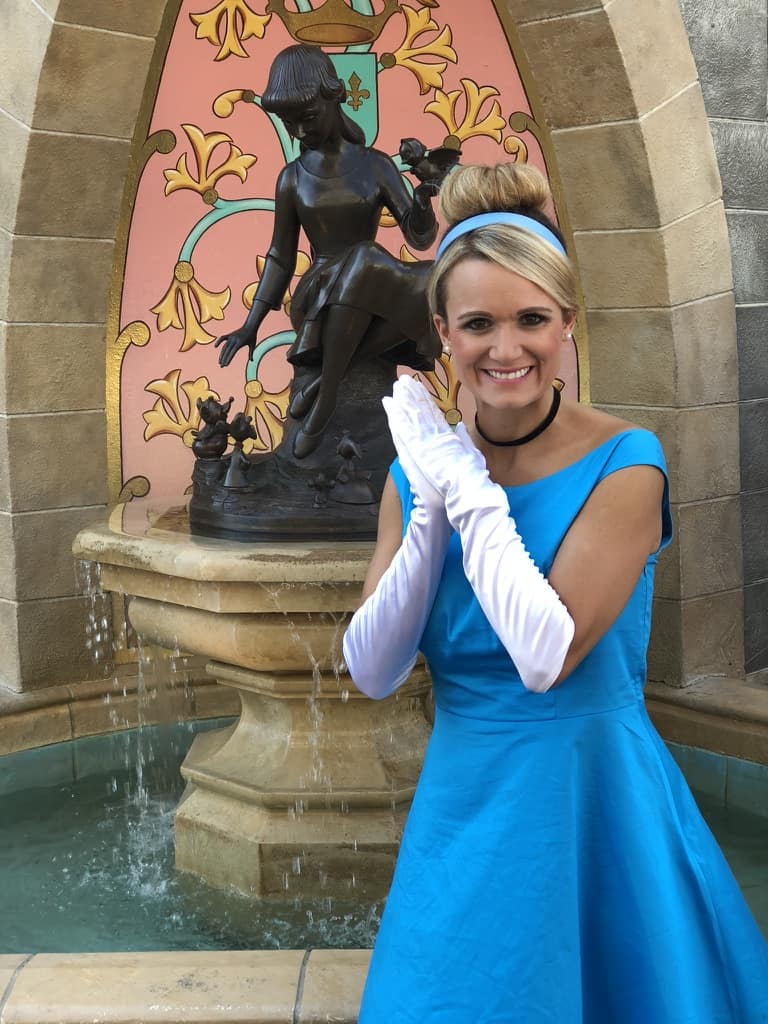 This was our largest group ever for the trip and I will say I feel like I dropped the ball as the "coordinator." I didn't really think about this trip much at all leading up to it since I was so swamped with California and I know if this large of a group goes in the future that we need a more solid game plan in place!
We didn't have any sort of agenda or game plan whatsoever outside of our fast passes so when it came time to eat we struggled to figure it all out. It's especially tricky on a party night as SO many of the restaurants close early.
In the future we'll plan out meals and snacks better. We ALL stayed together pretty much the entire night so if one person wanted one snack and someone else wanted a different snack we ended up in a lot of line waiting related to food. Which wasn't a big deal and didn't take away from the fun…because hello we're women. We can chat it up anywhere and have a good time!
But it would be wise for future trips to have it worked out in advance and have it planned if people need to split off to get their snacks etc. Have some pre-arranged meet up spots etc will help the whole night run smoother and free up more time for park fun!
Coco was a BIG costume this year and people were SO into it which was really awesome!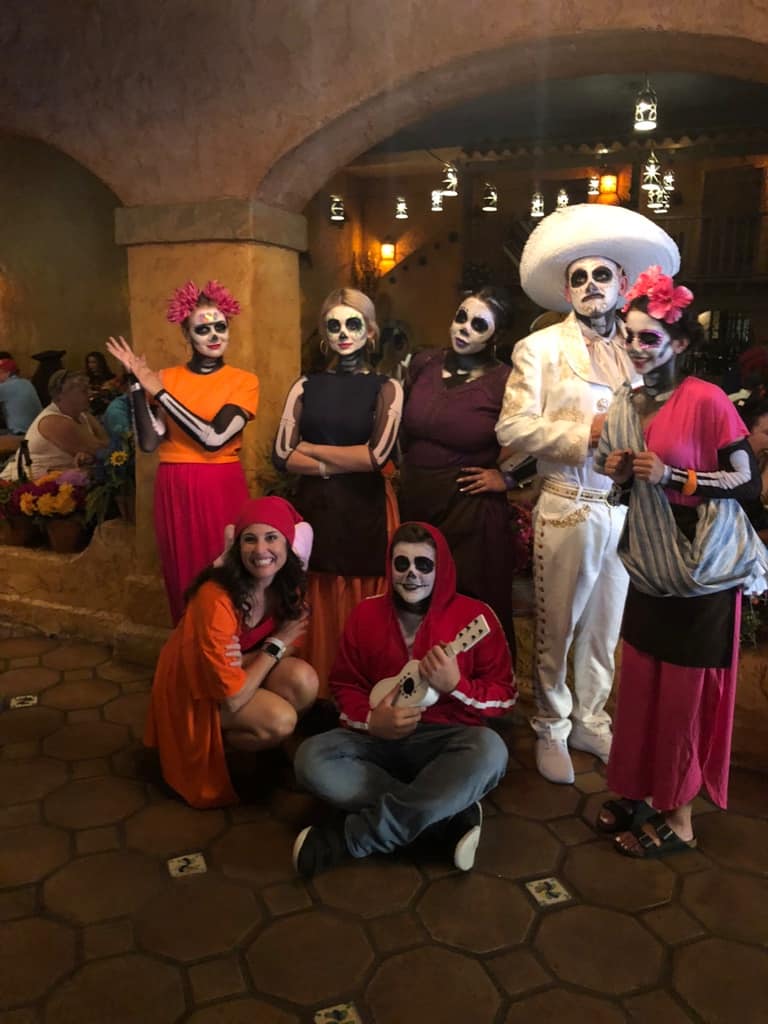 Y'all know my go to 😉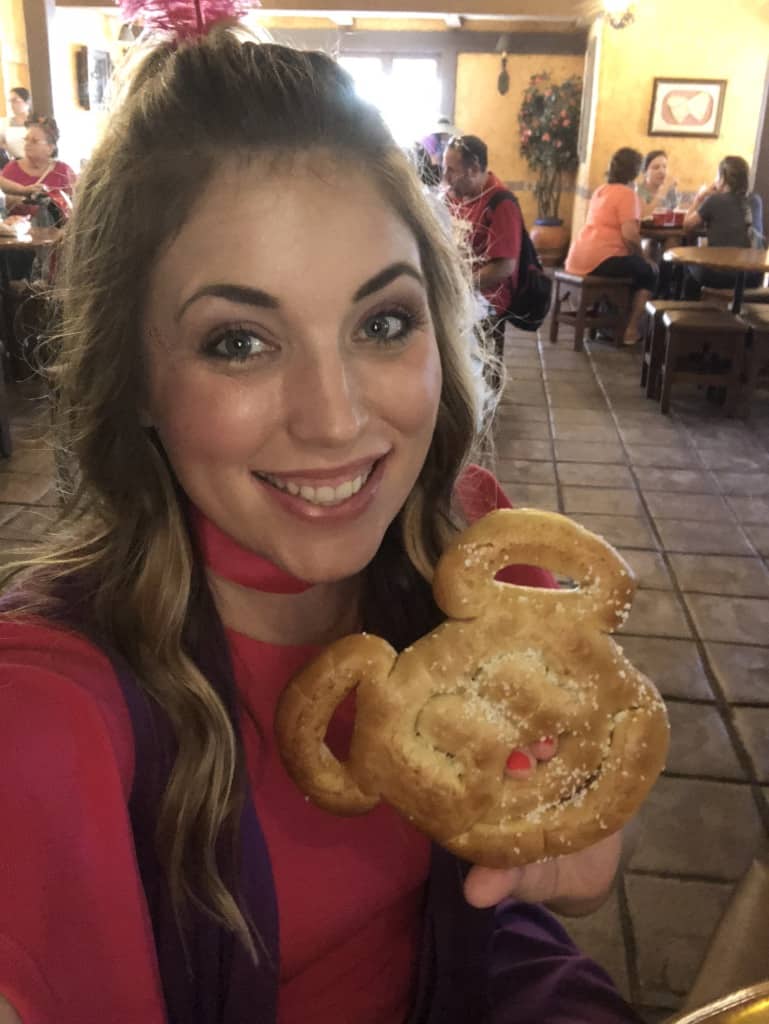 It's a Small World!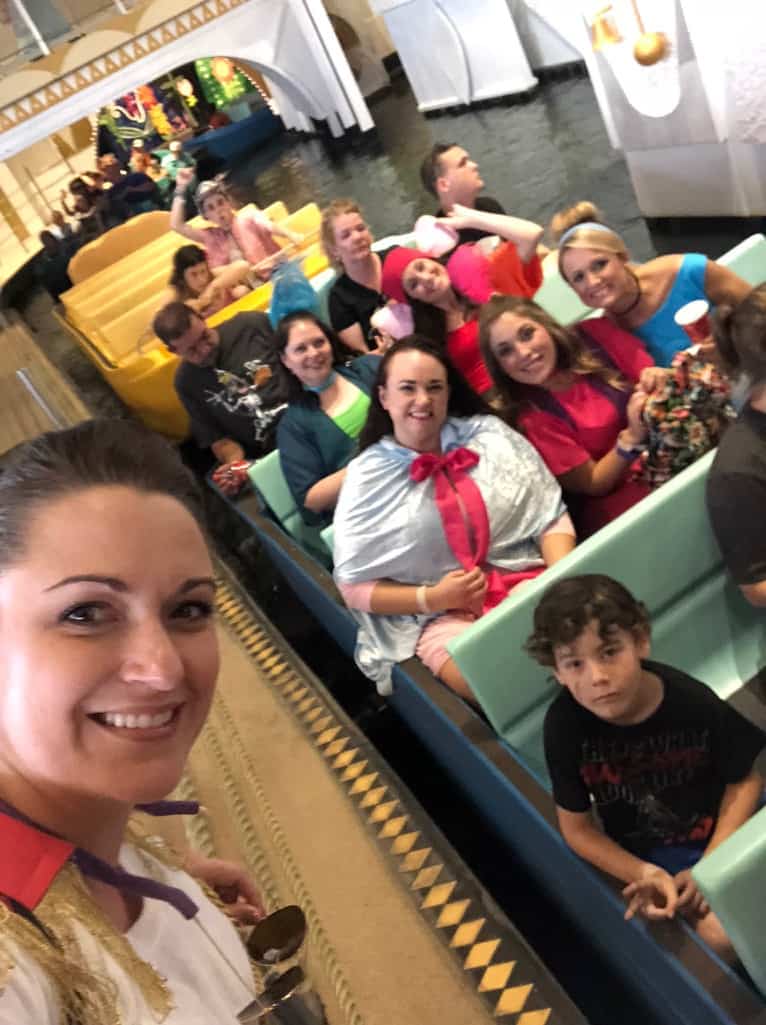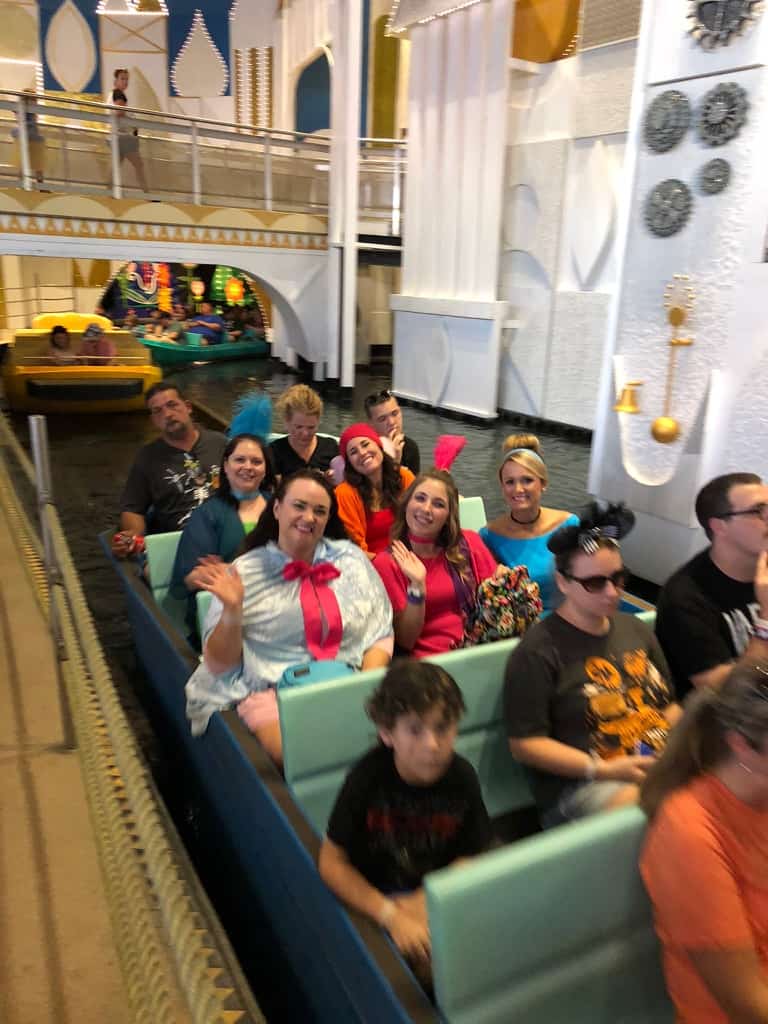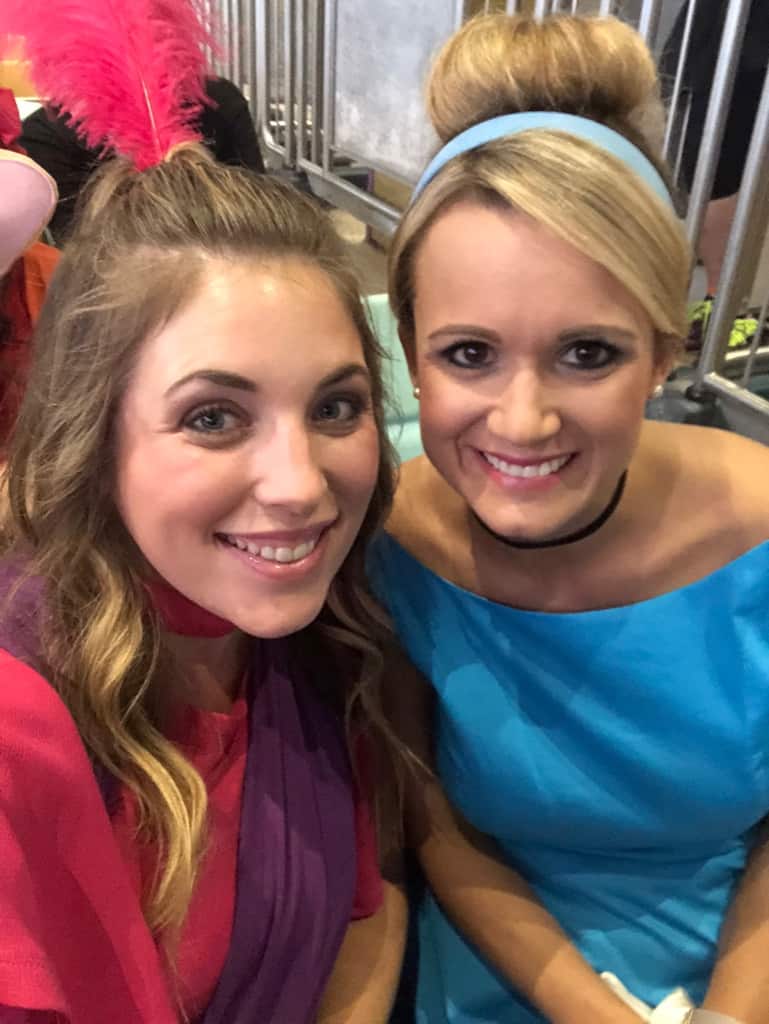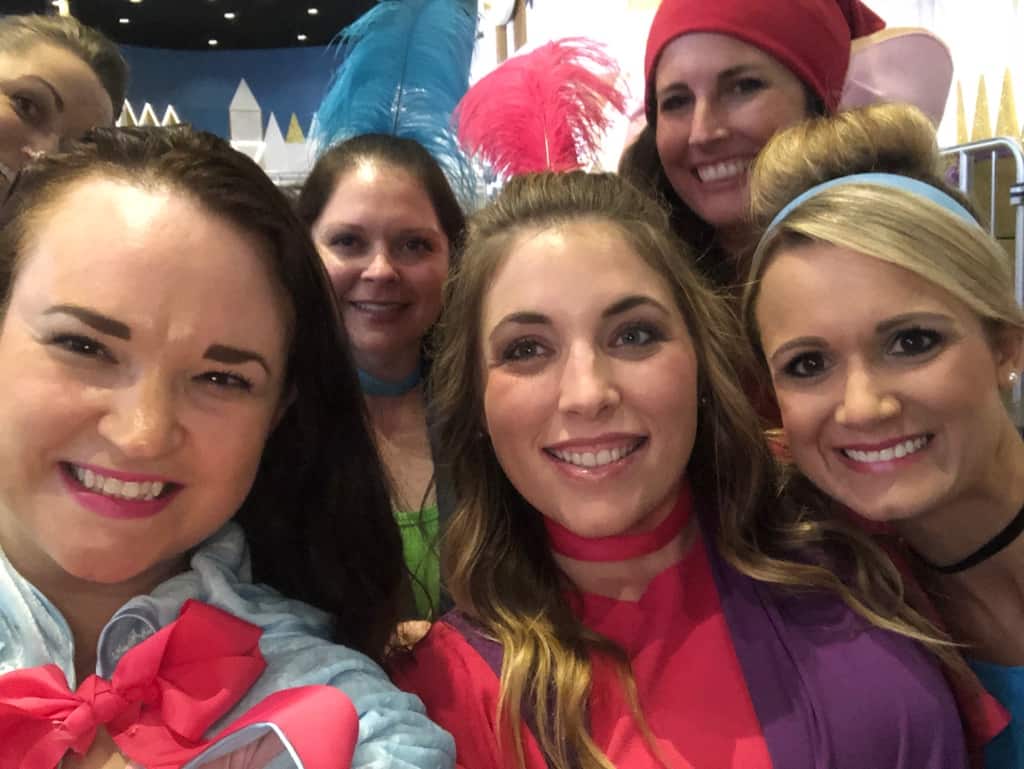 I LOVE that we took several behind the castle pics. I rarely stop to get pics from this angle and I always love this view of the castle!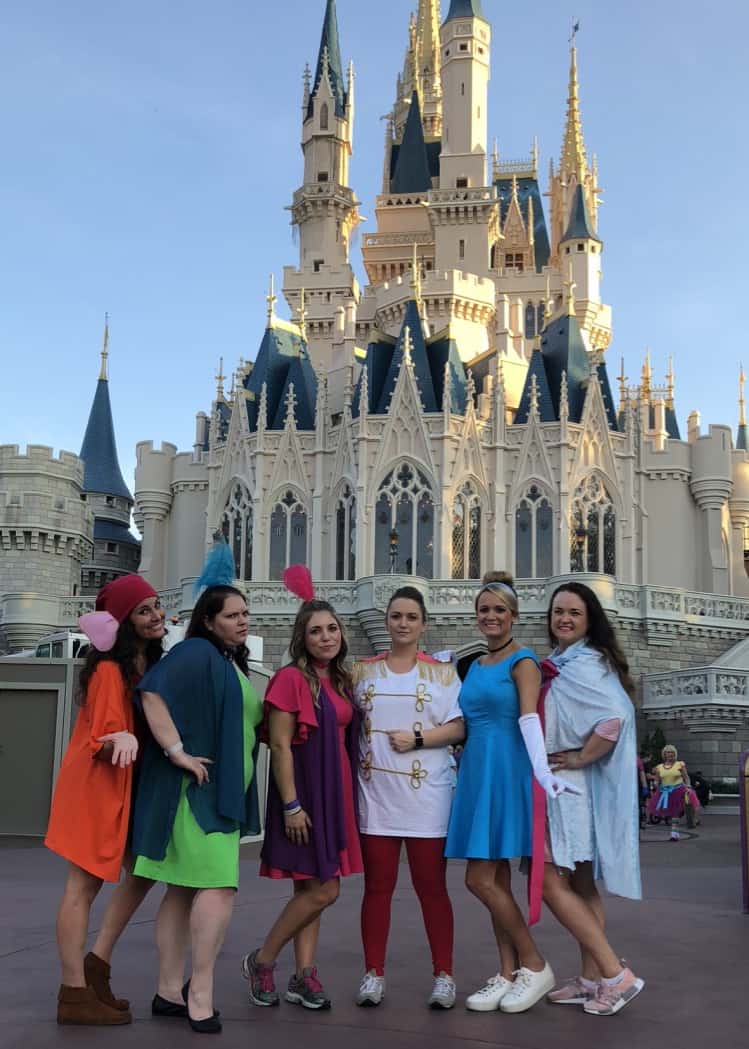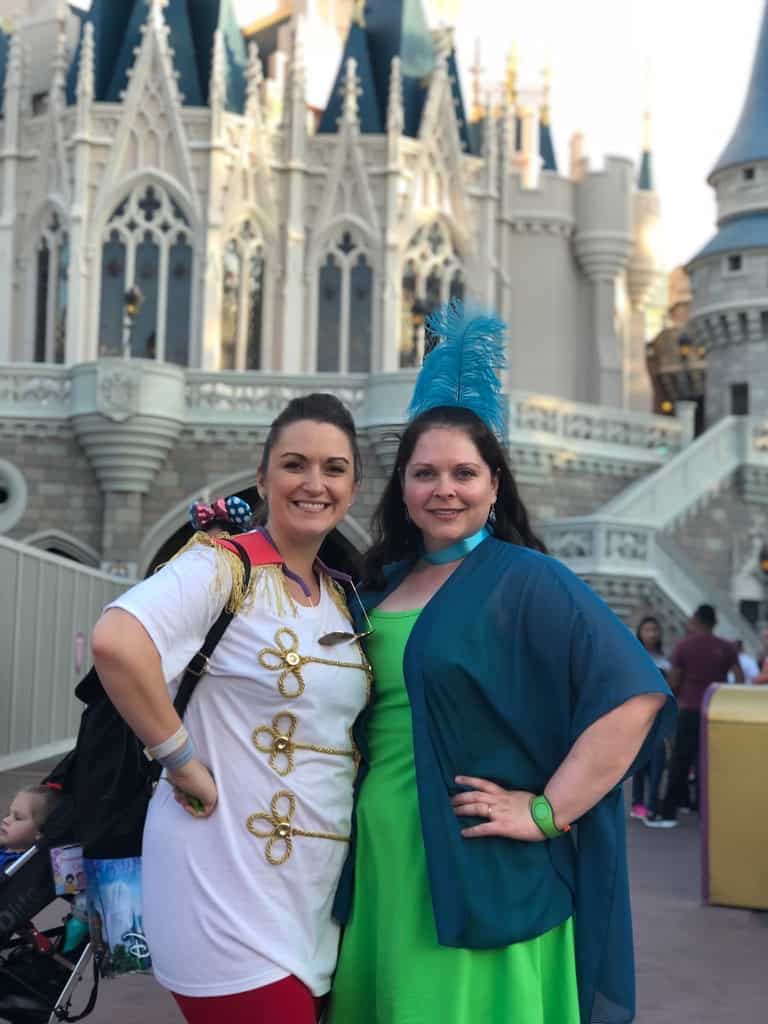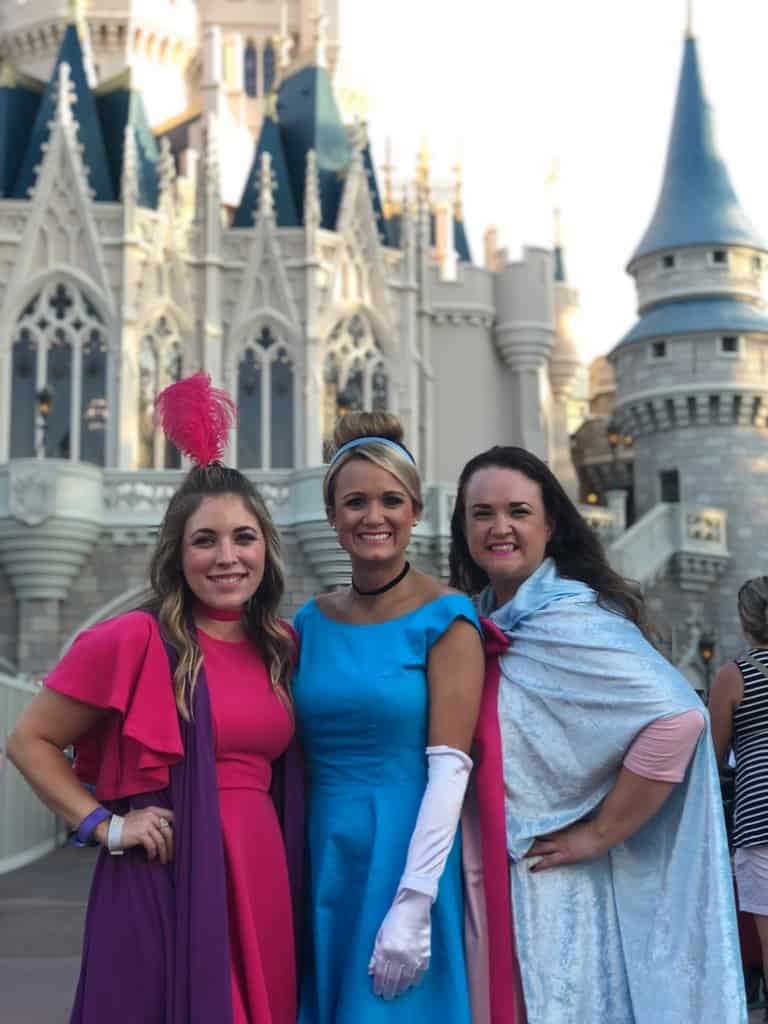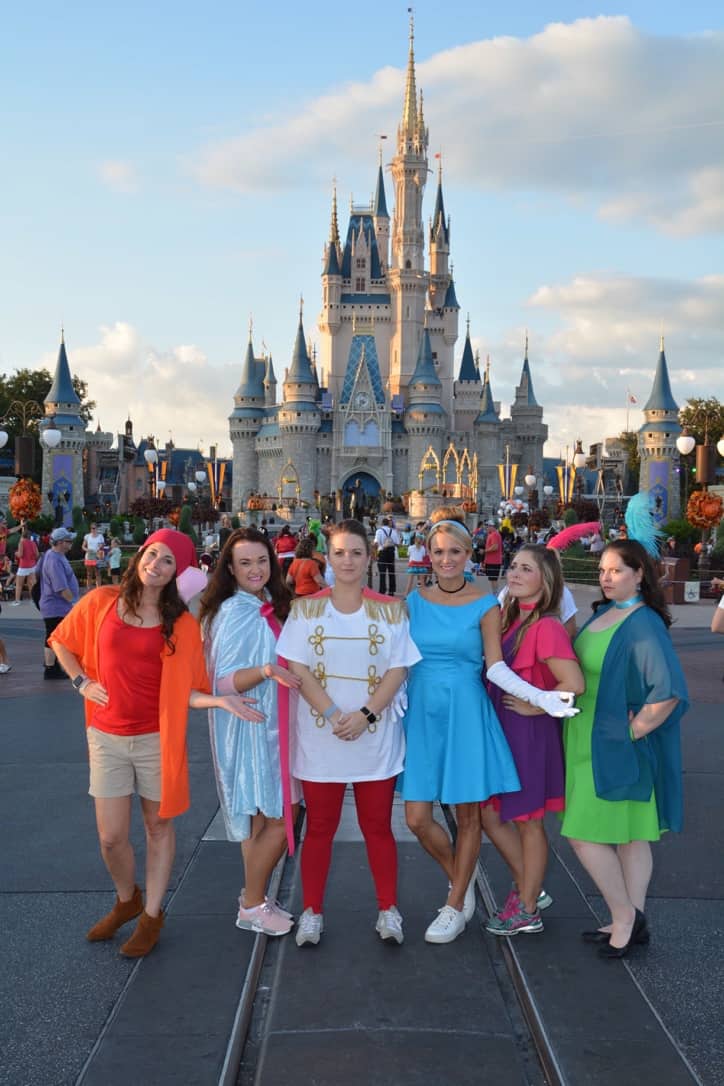 I mean we look like we should be spending the night in the castle 😉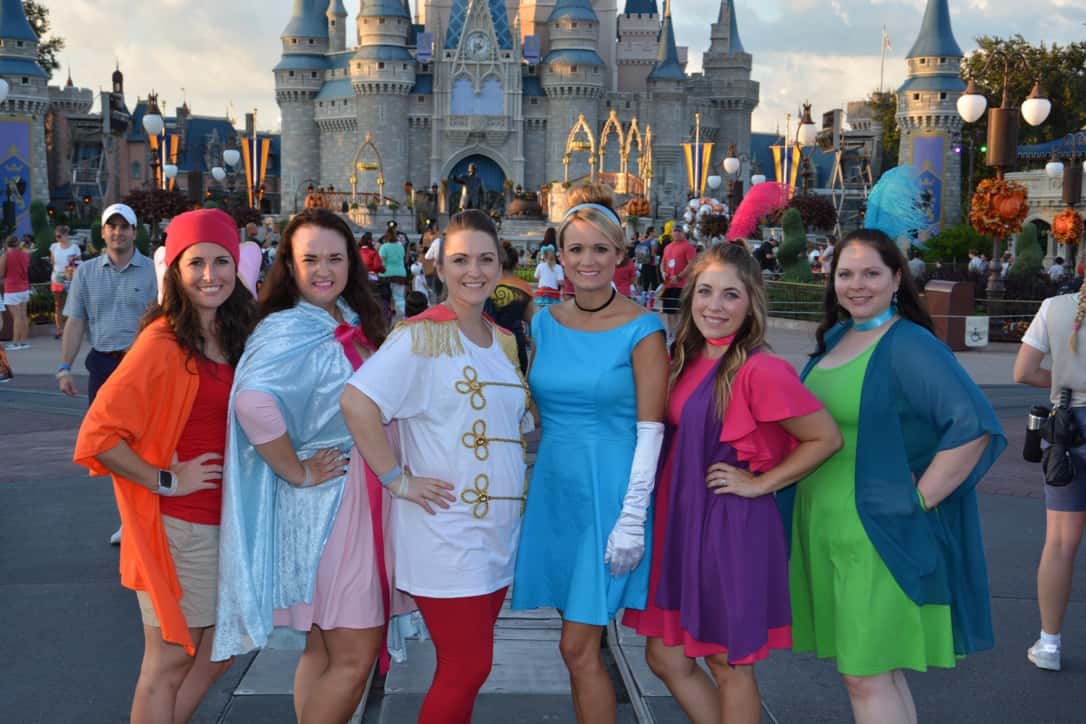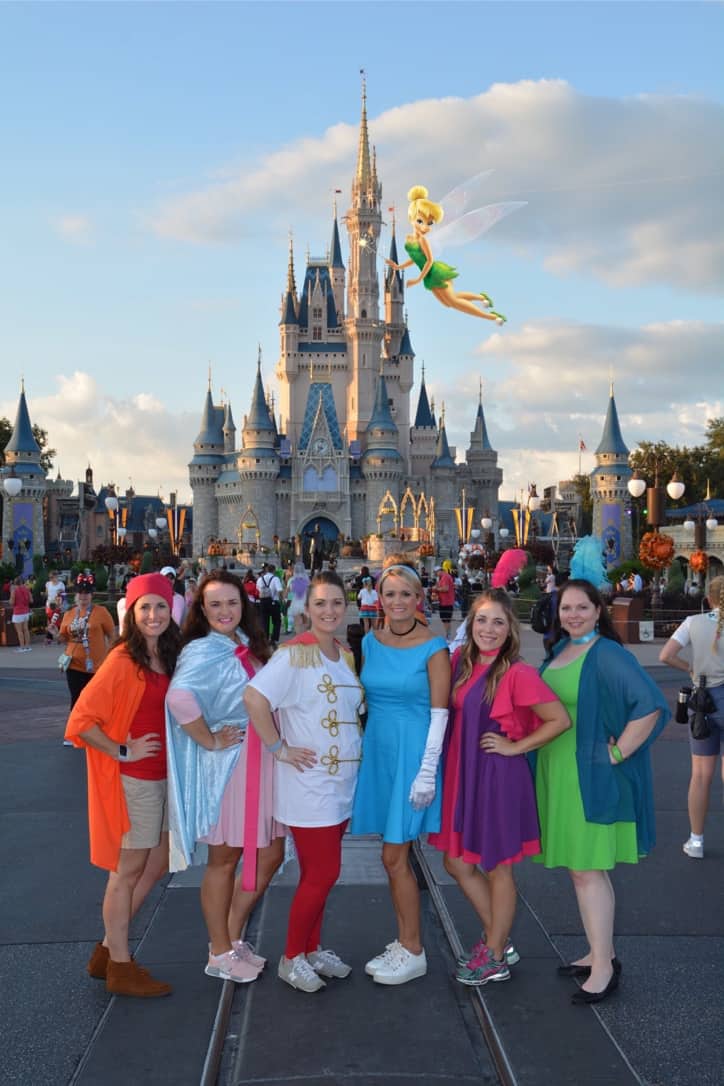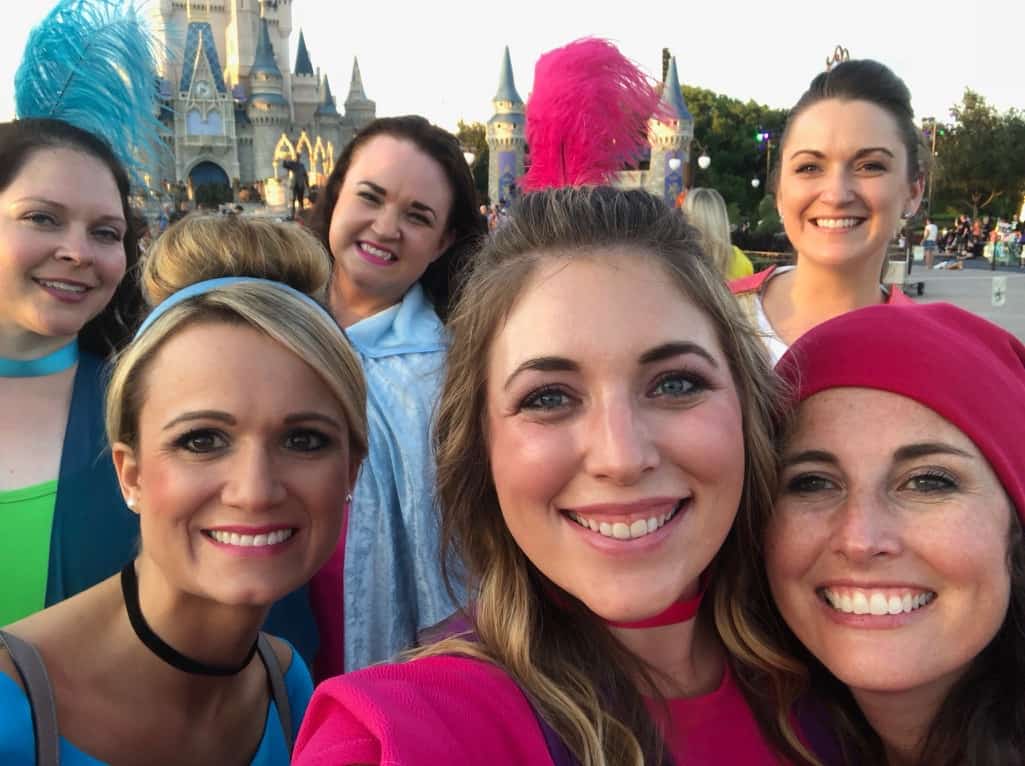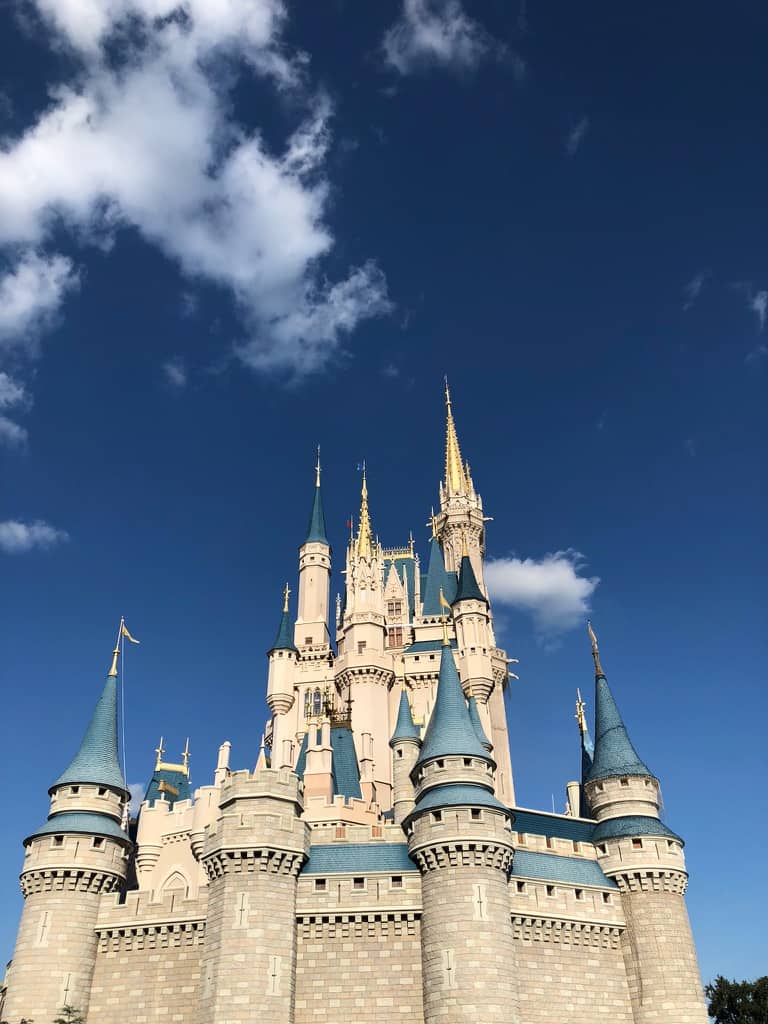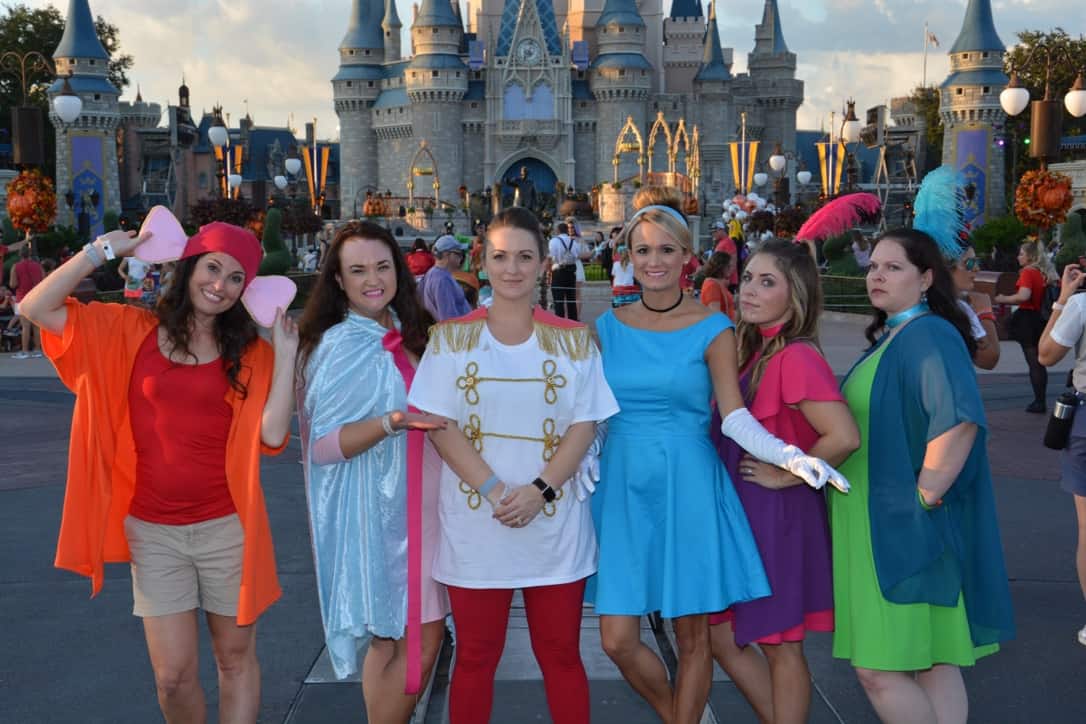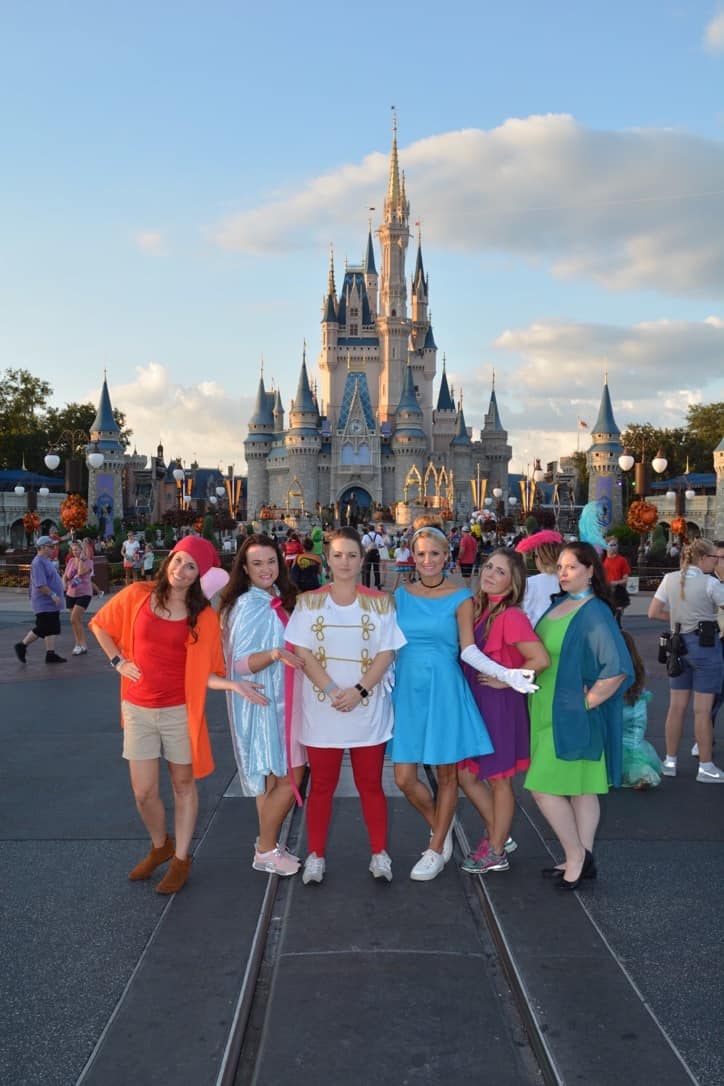 I'm not the biggest fan of the Halloween decor. It's cute but Christmas is THE prettiest and then just the regular park decor is my second favorite!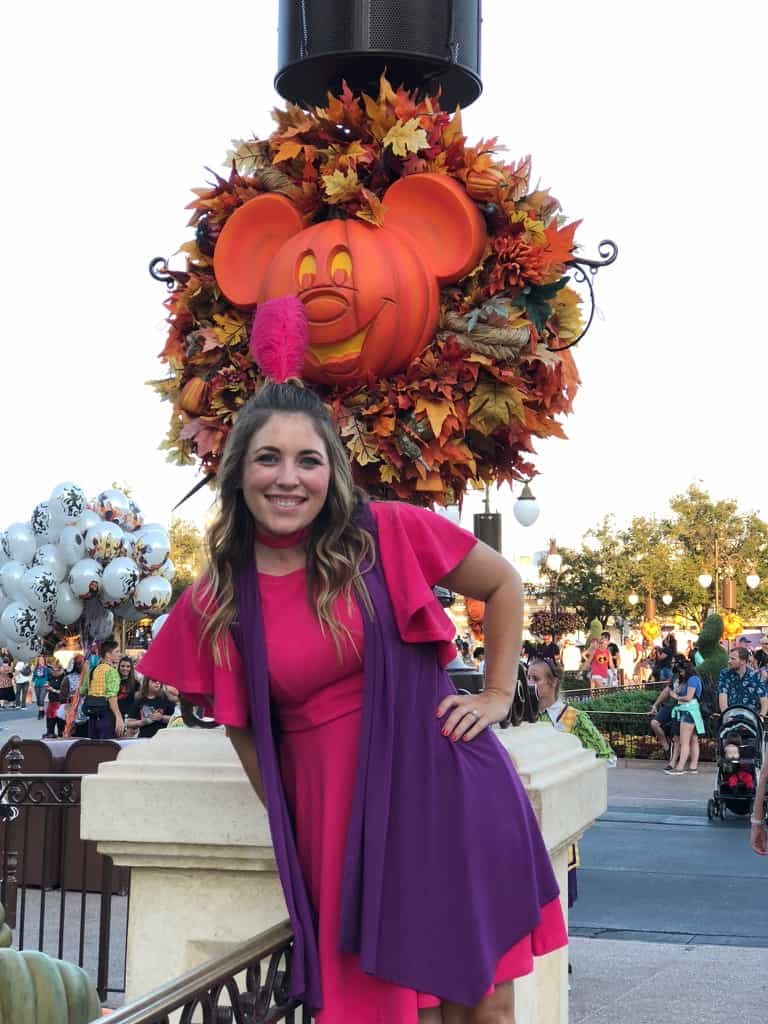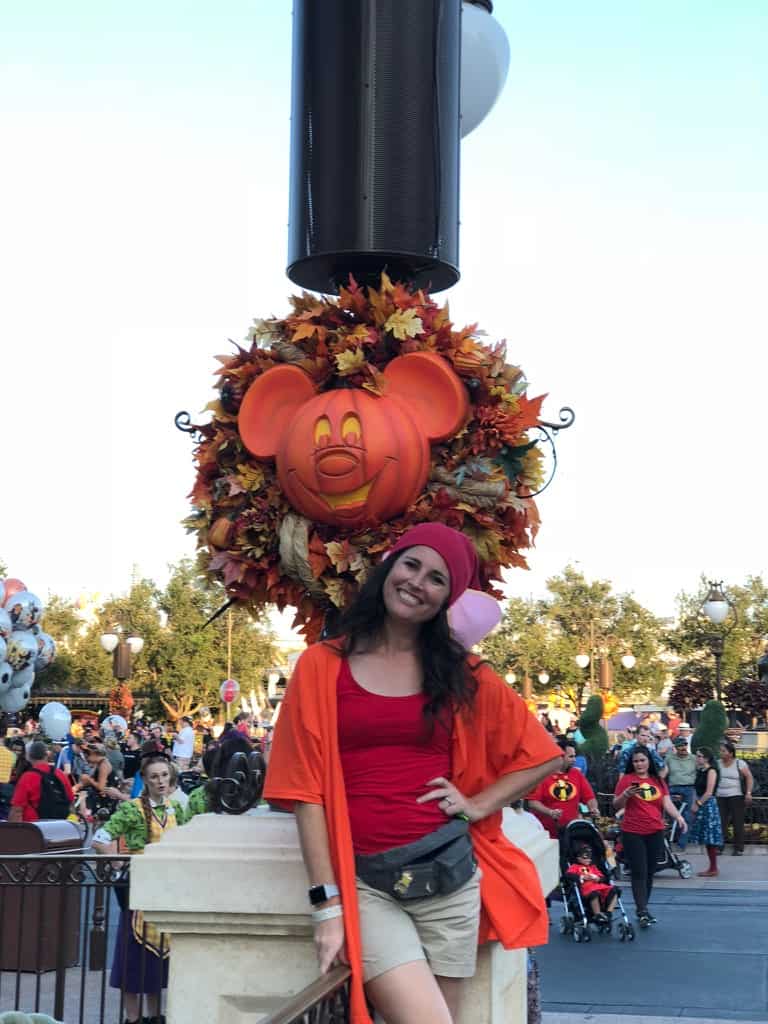 You know you are legit when cast members want your autograph 😉
It's a super fun game the cast members play where they find certain people dressed up as certain characters to fill up their board!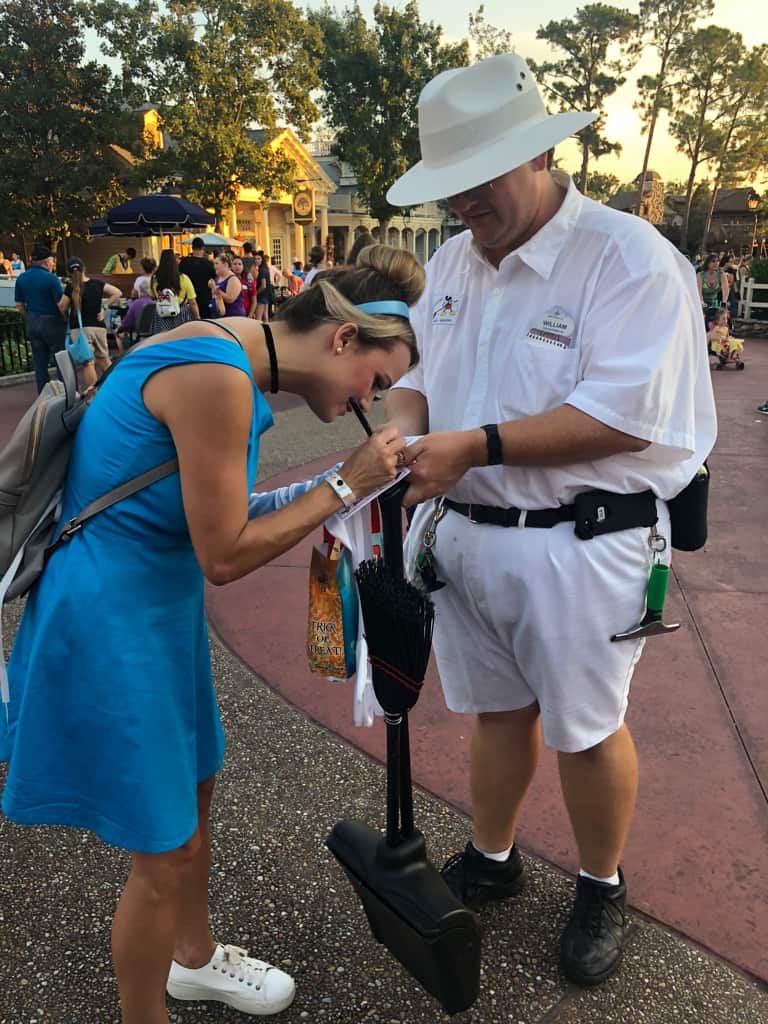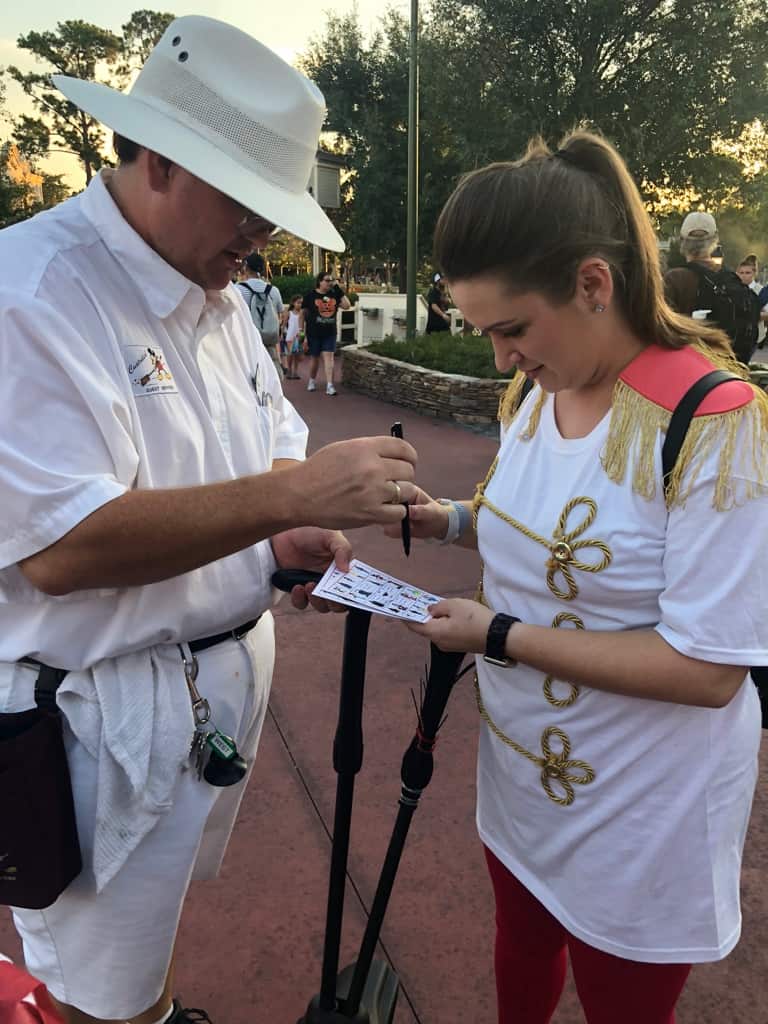 Alive Emily meets Dead Emily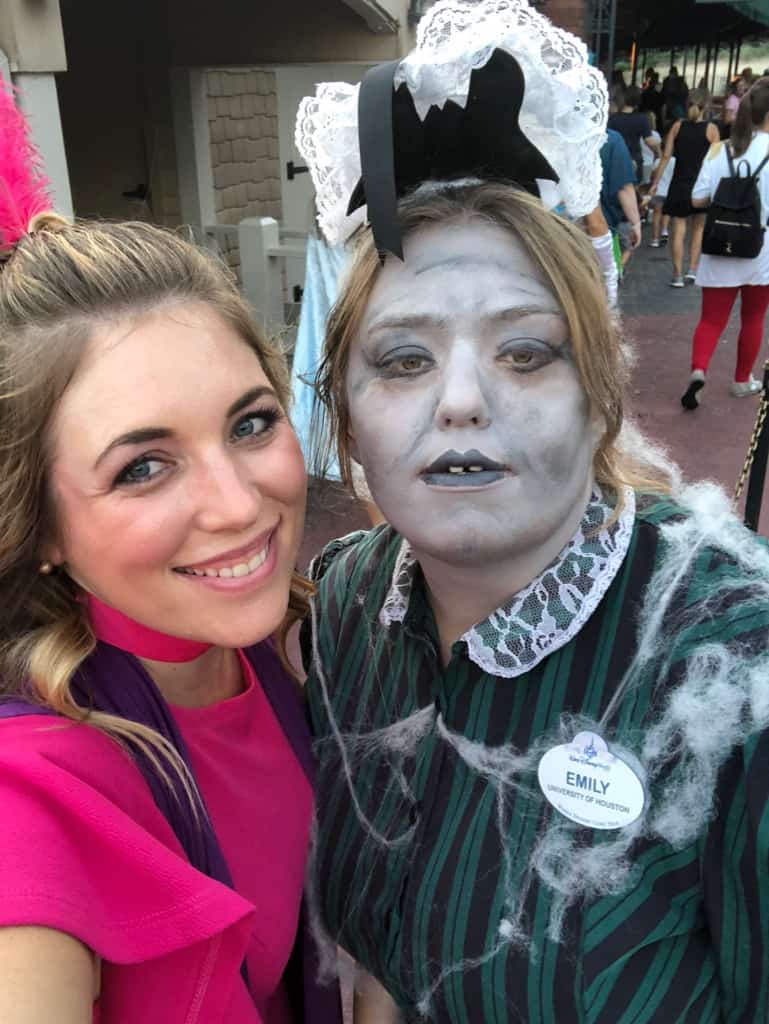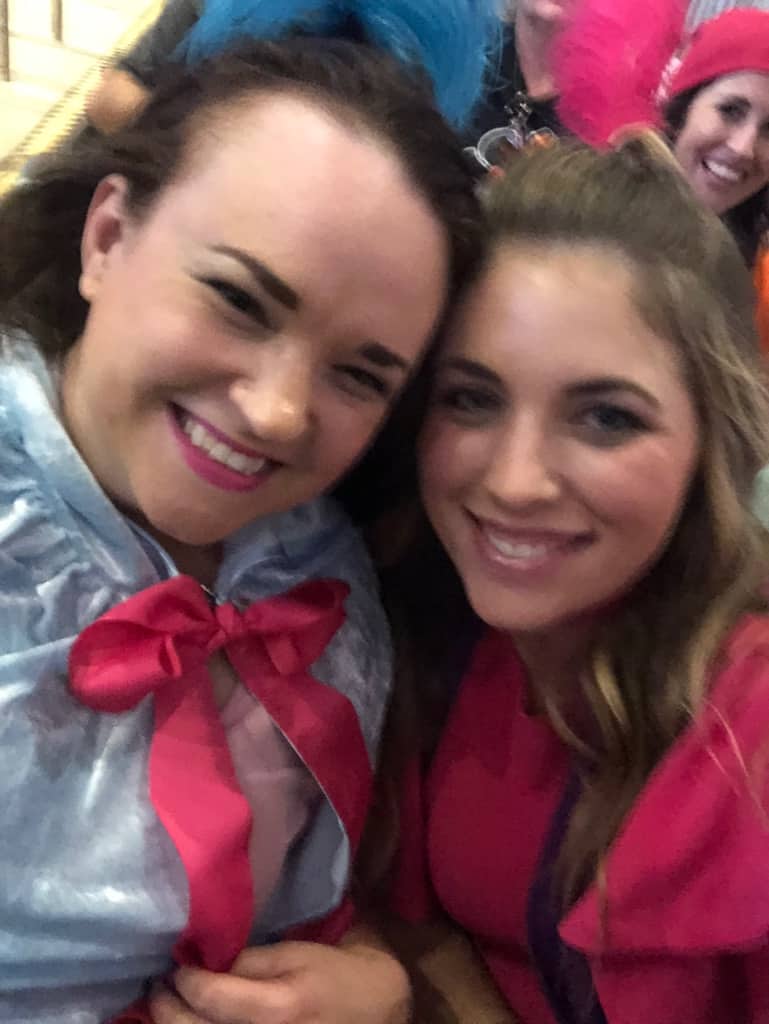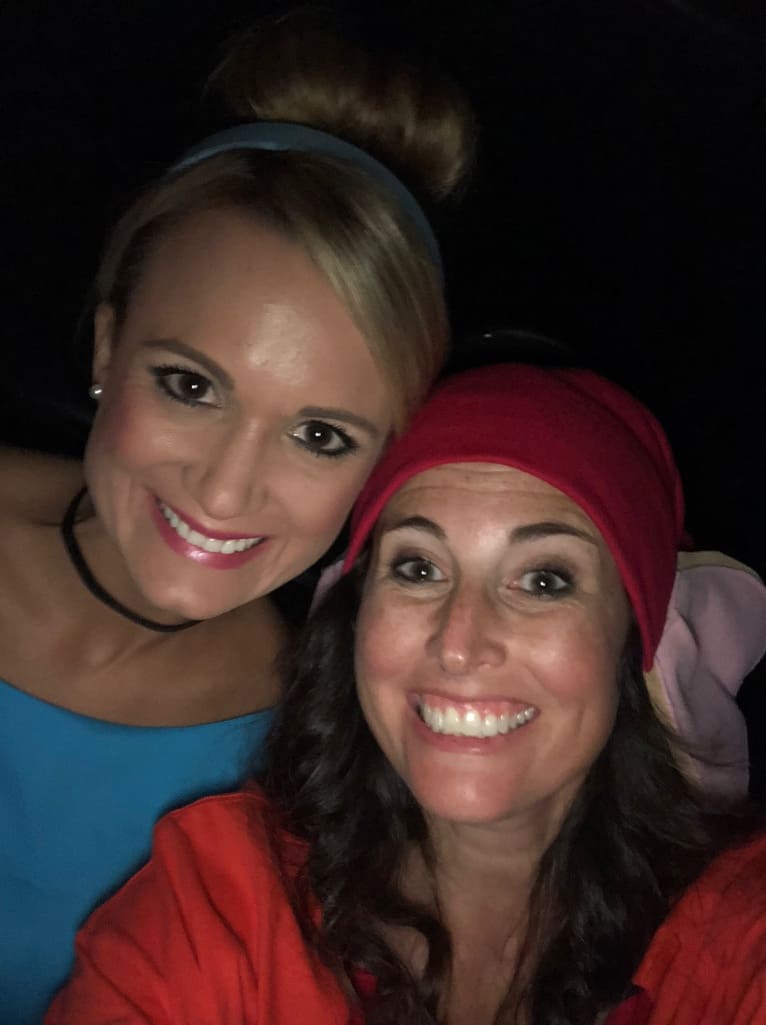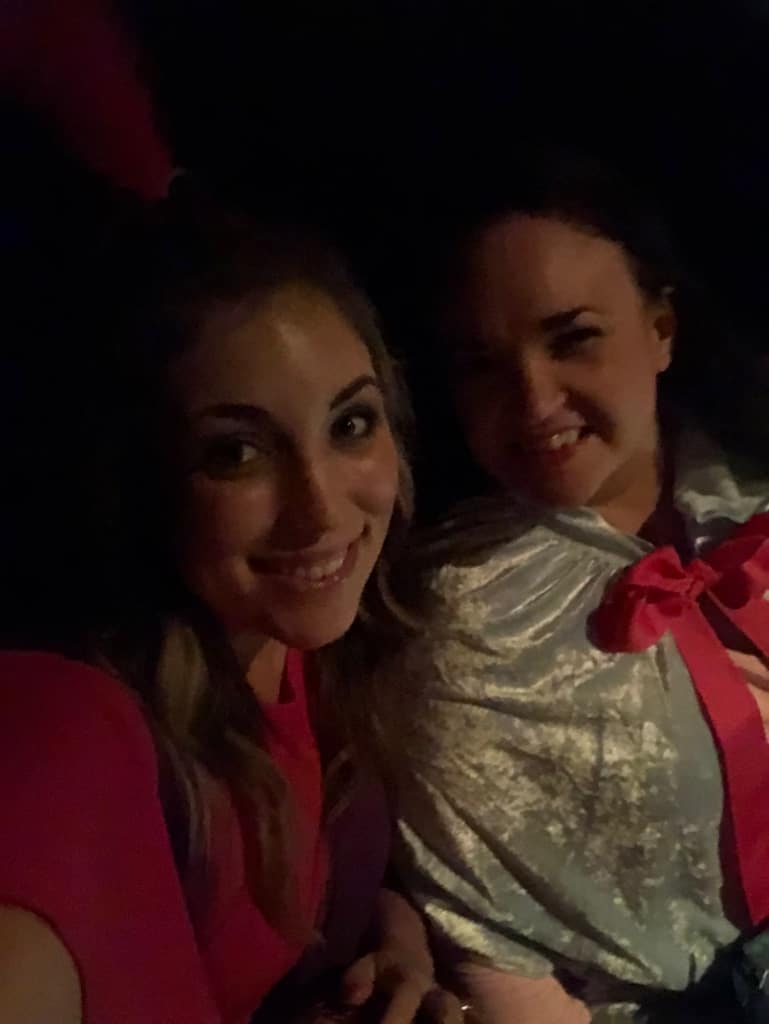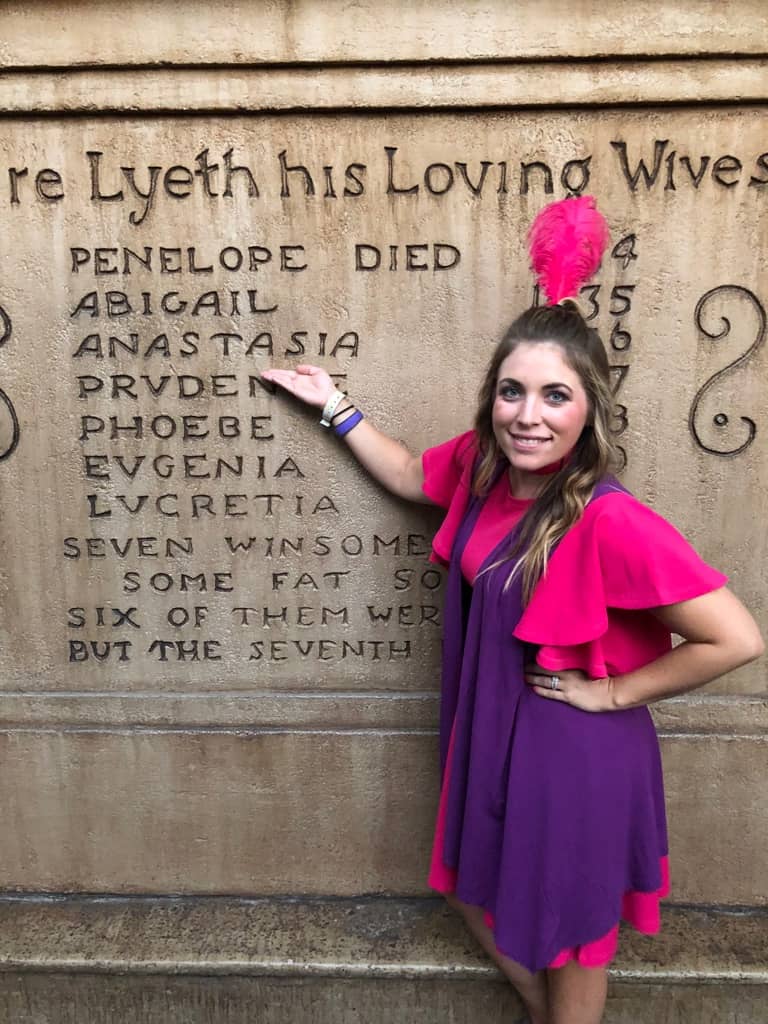 Haunted Mansion is always a must on a party night! I do wish they did more theming like Disneyland does 😉 But it's nice that it doesn't change during the party b/c we can knock it out prior to the party start time with less of a wait!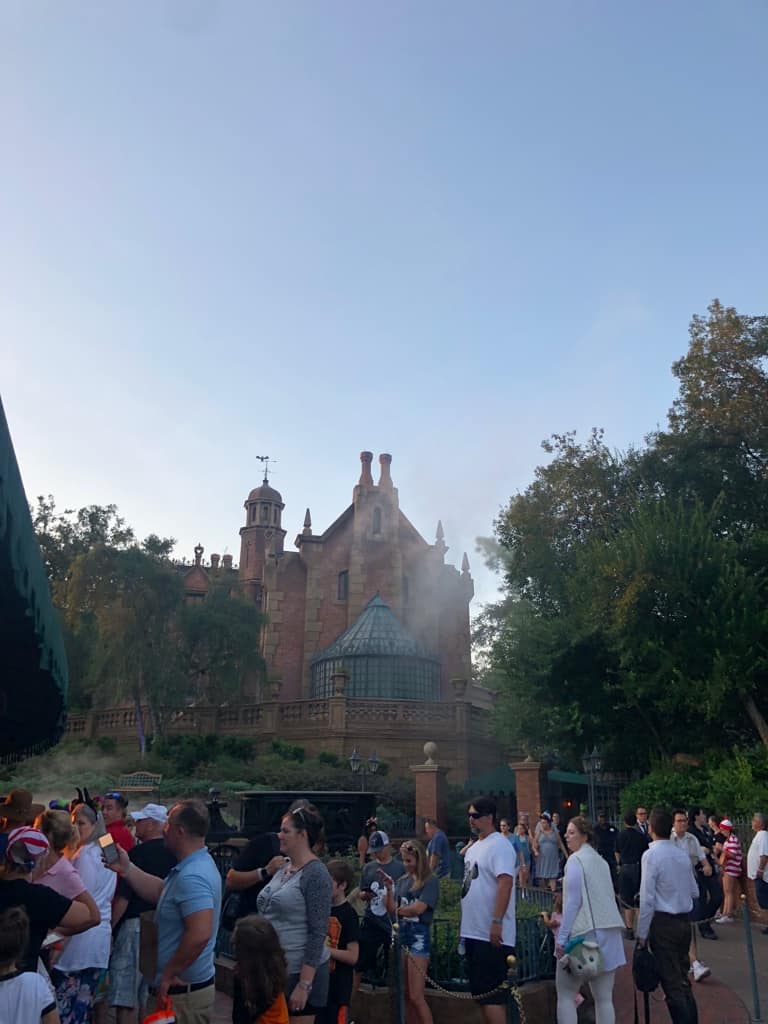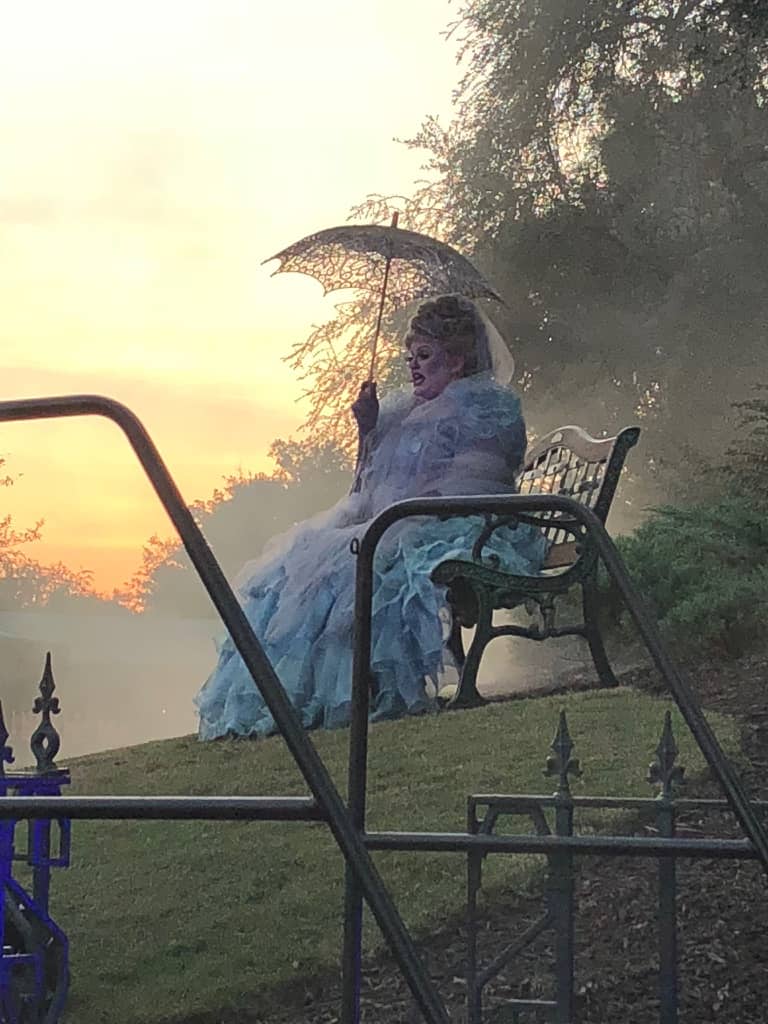 Lindsay got a Malicifient ice cream!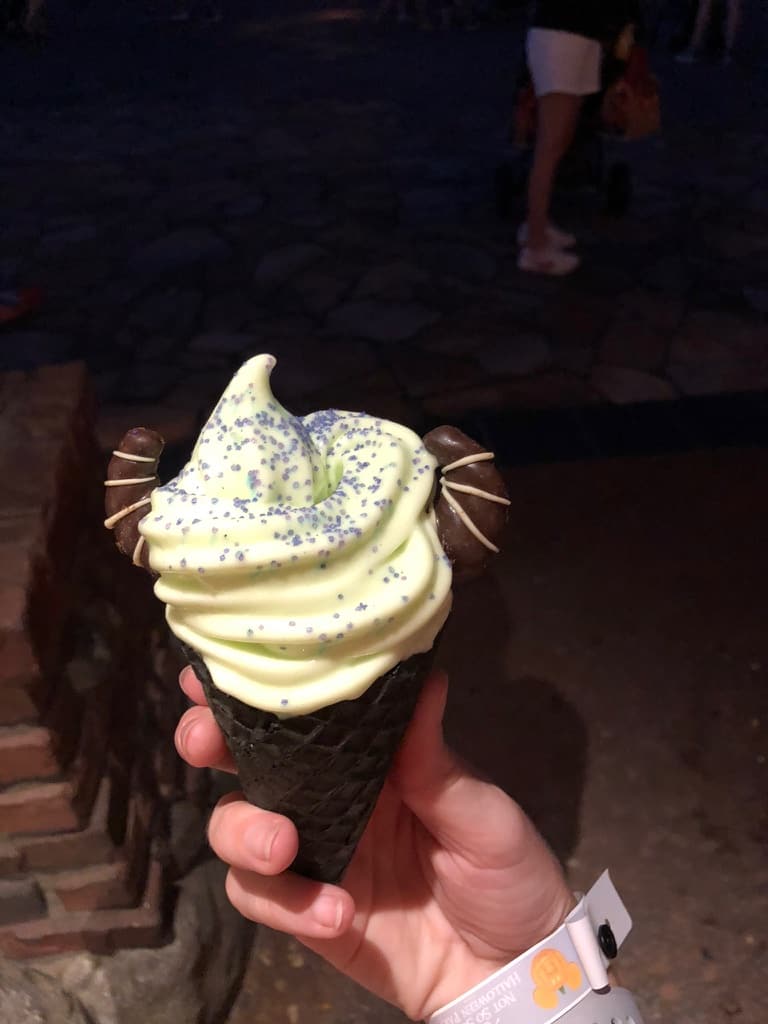 We found our mom!!!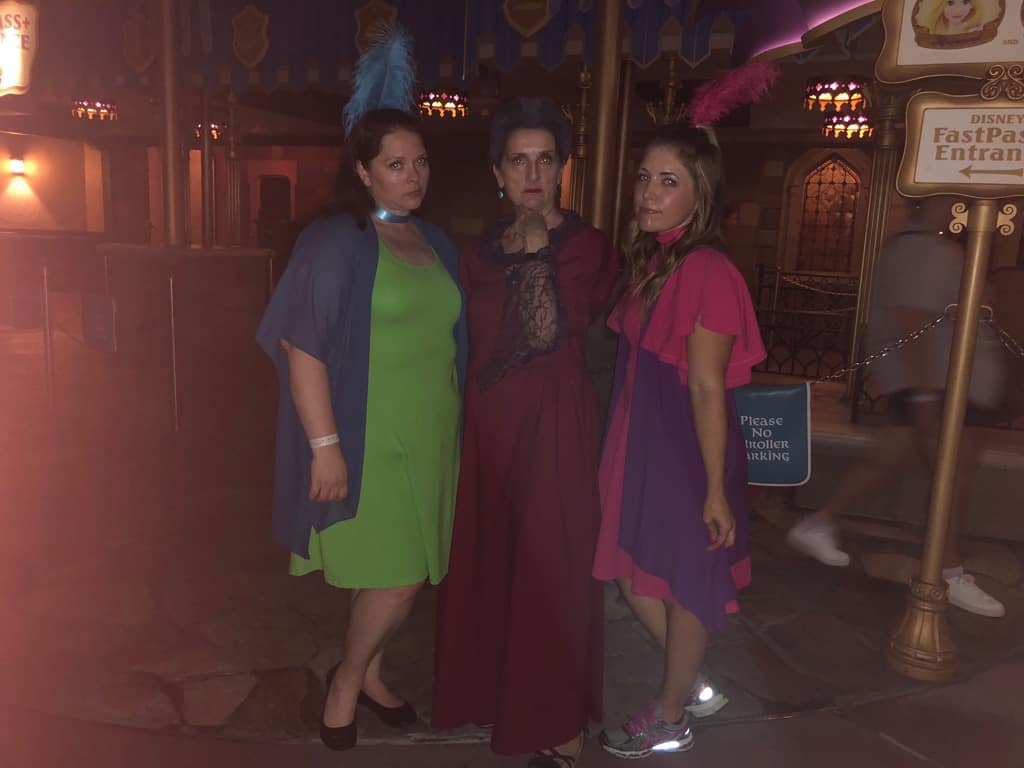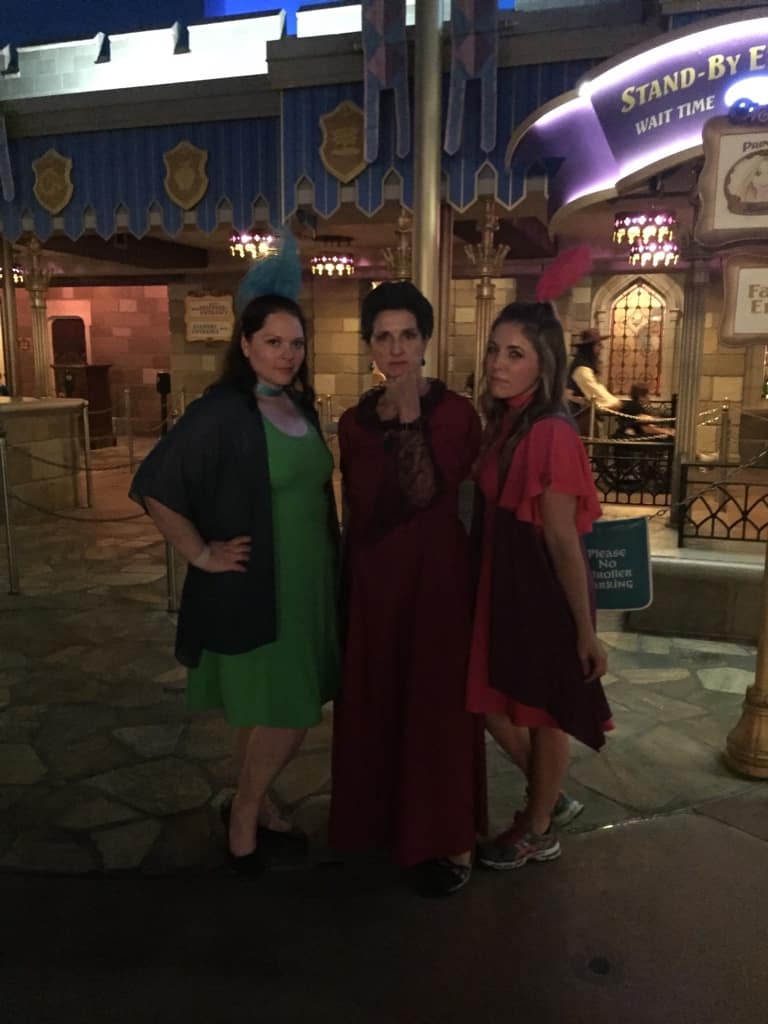 Y'all this was SUCH an epic moment! I hate it was dark so the pic isn't that great but we happened to be walking through Fantasyland and the real step sisters were there and were gathering up all the guests who were dressed up like them for the party! How fun is this?!?!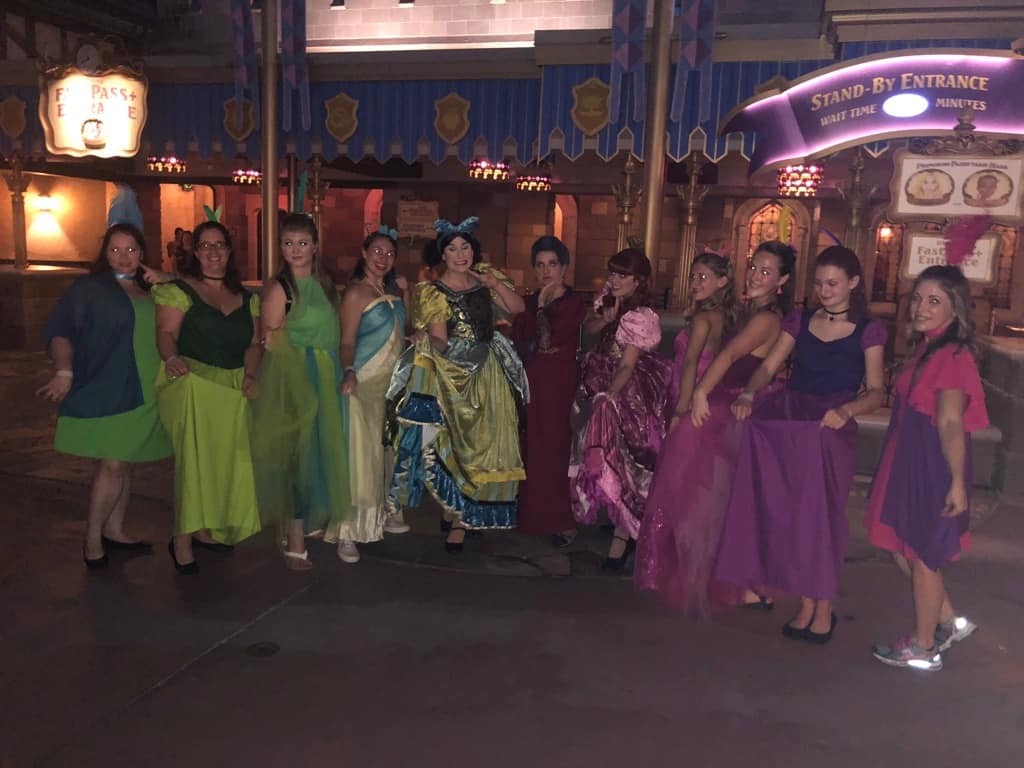 I for real thought she was the legit step mother at first!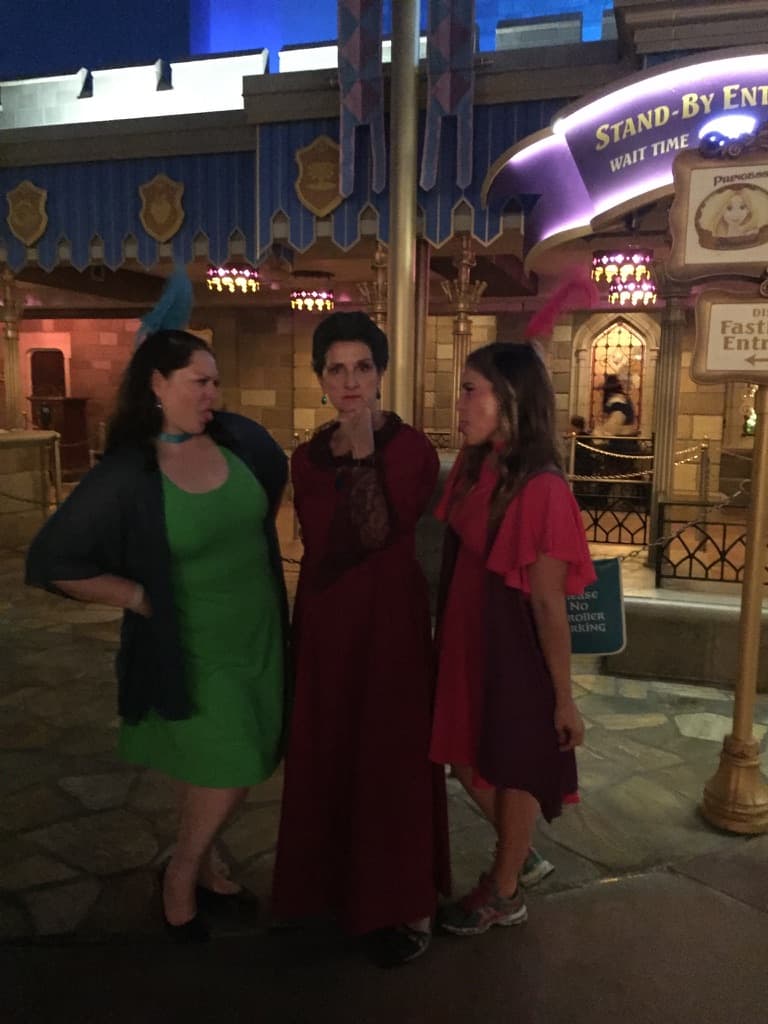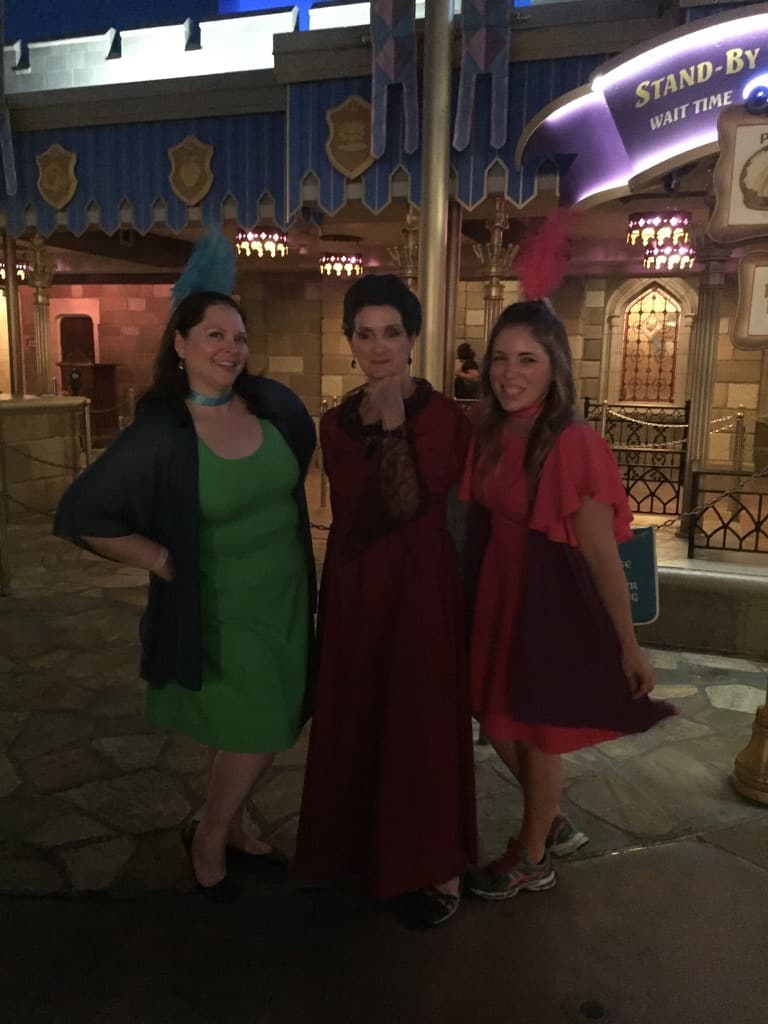 SISTERS!!!!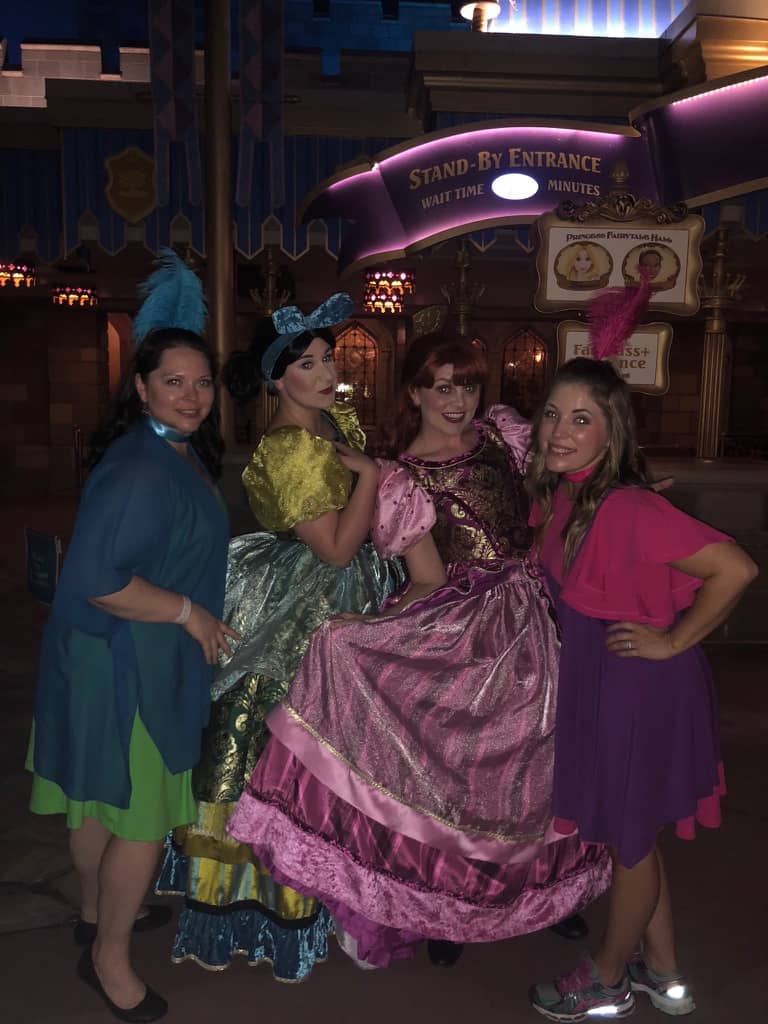 Mickey Pretzel for dinner…Carmel filled pretzel for a snack (it was SO GOOD)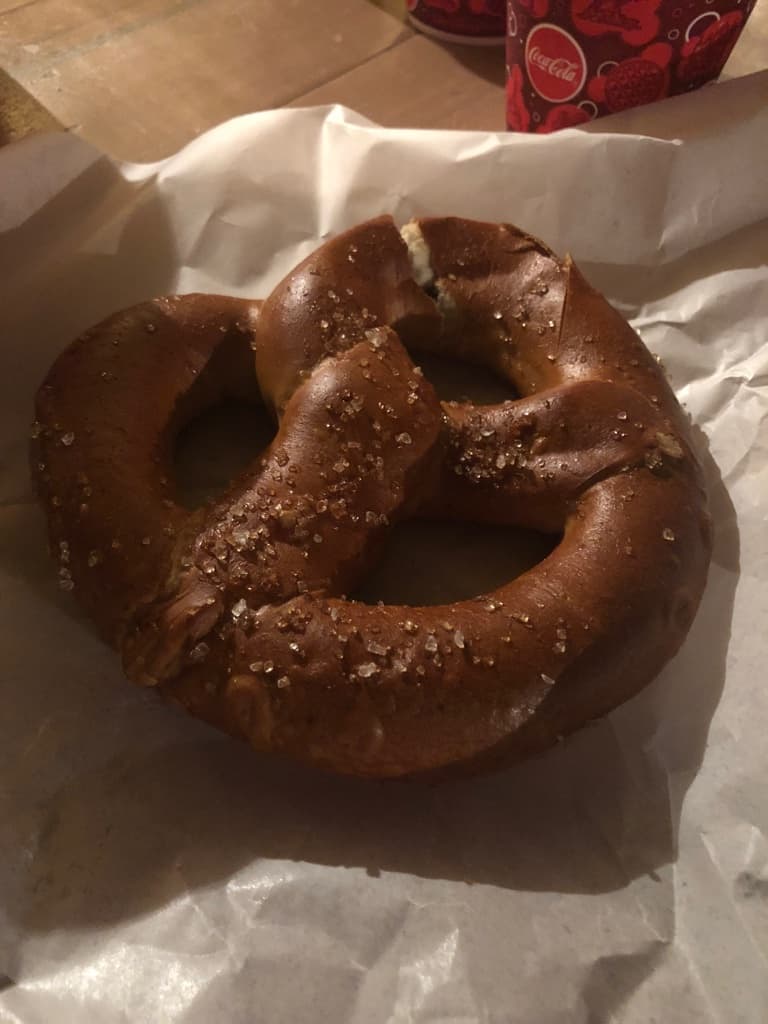 Watching the parade was something we all agreed was important to us. If you only ever watch one parade at Disney…the Boo to You Parade should be THE ONE. It's seriously phenomenal. Even Zach, who hates parades, loved it when we went as a family last year!
Videos from the parade: Headless Horseman, Peter Pan Float, Pirate Float 1, Pirate Float 2, Haunted Mansion Float, 2nd Haunted, Get it Hen!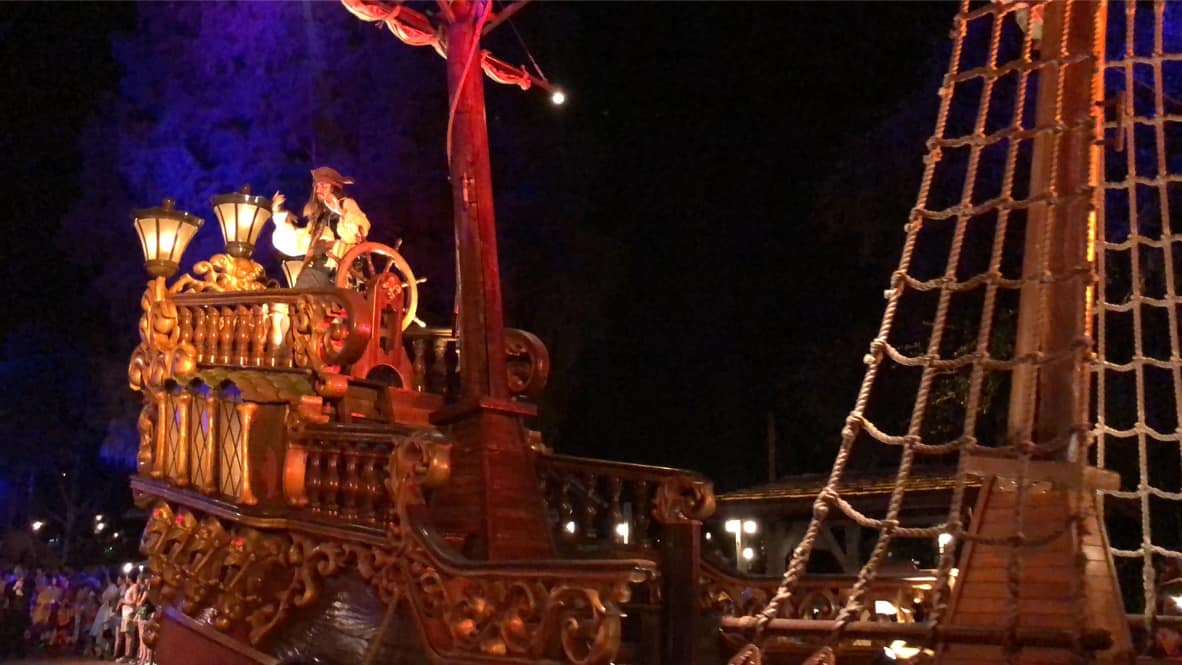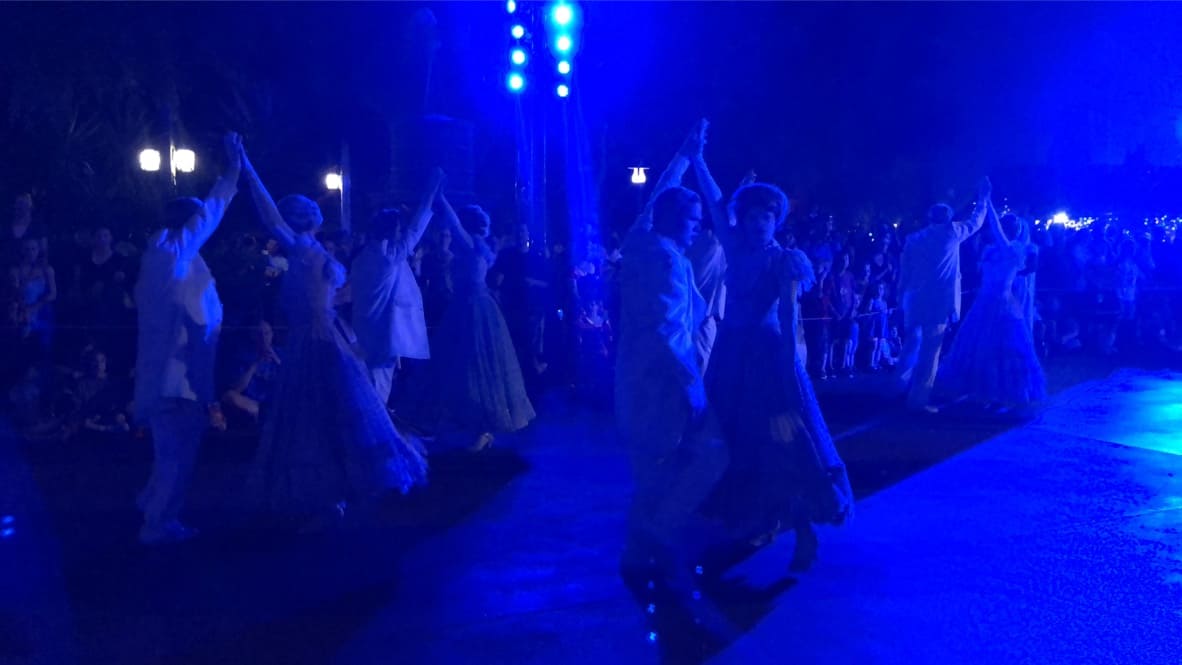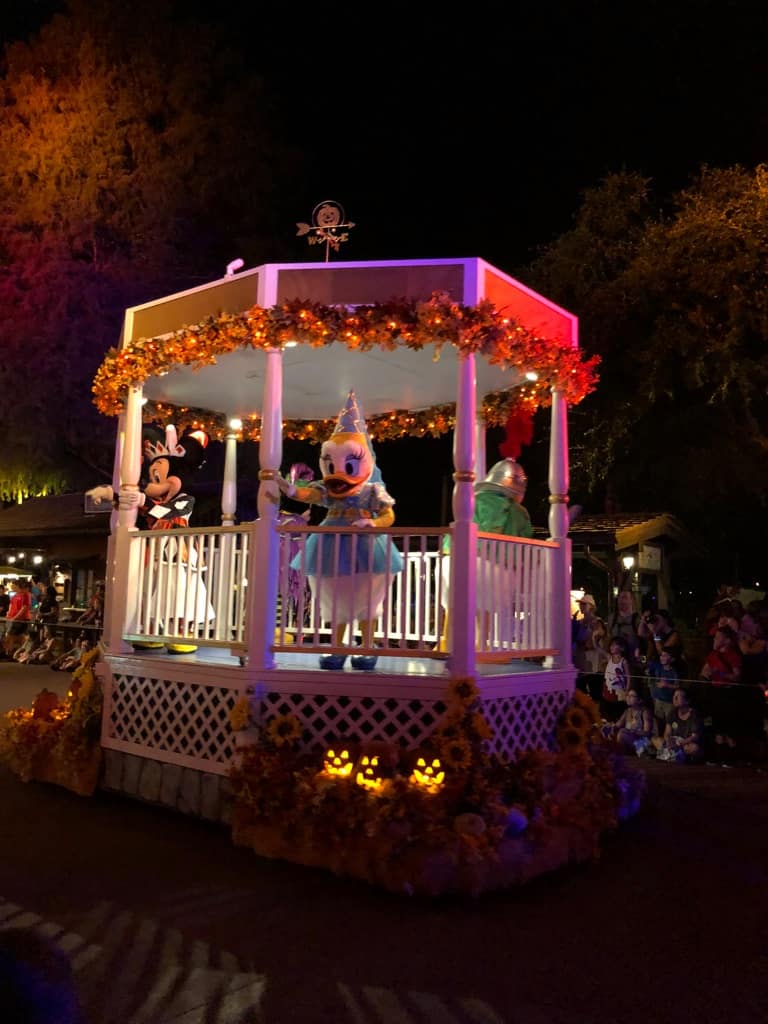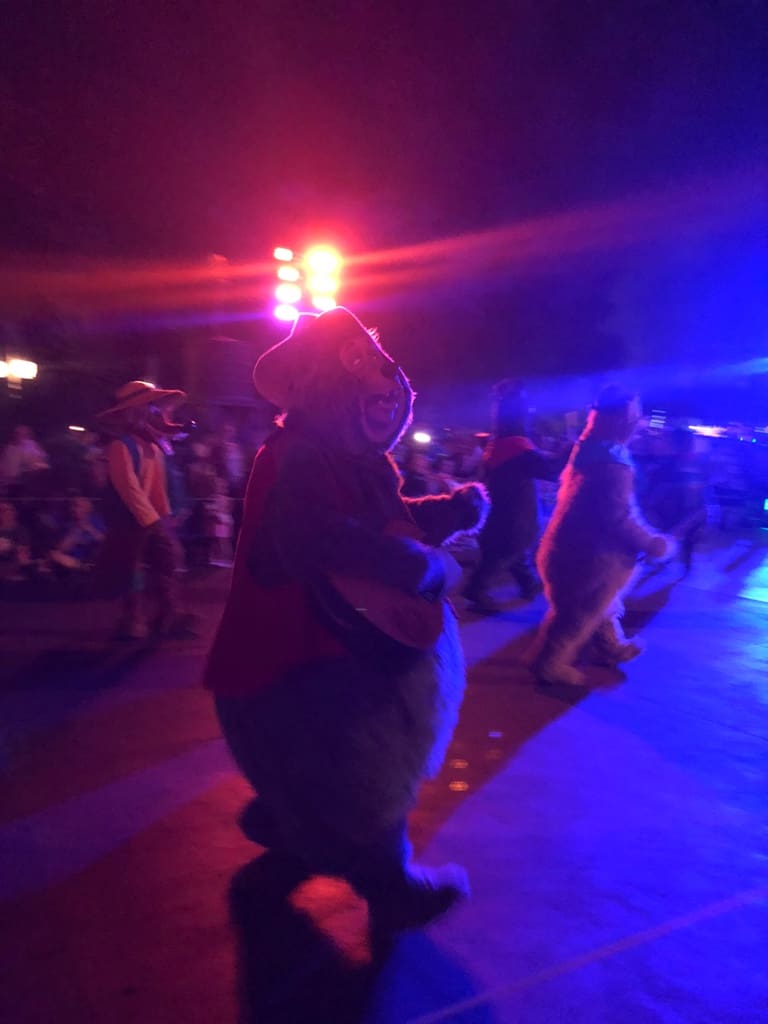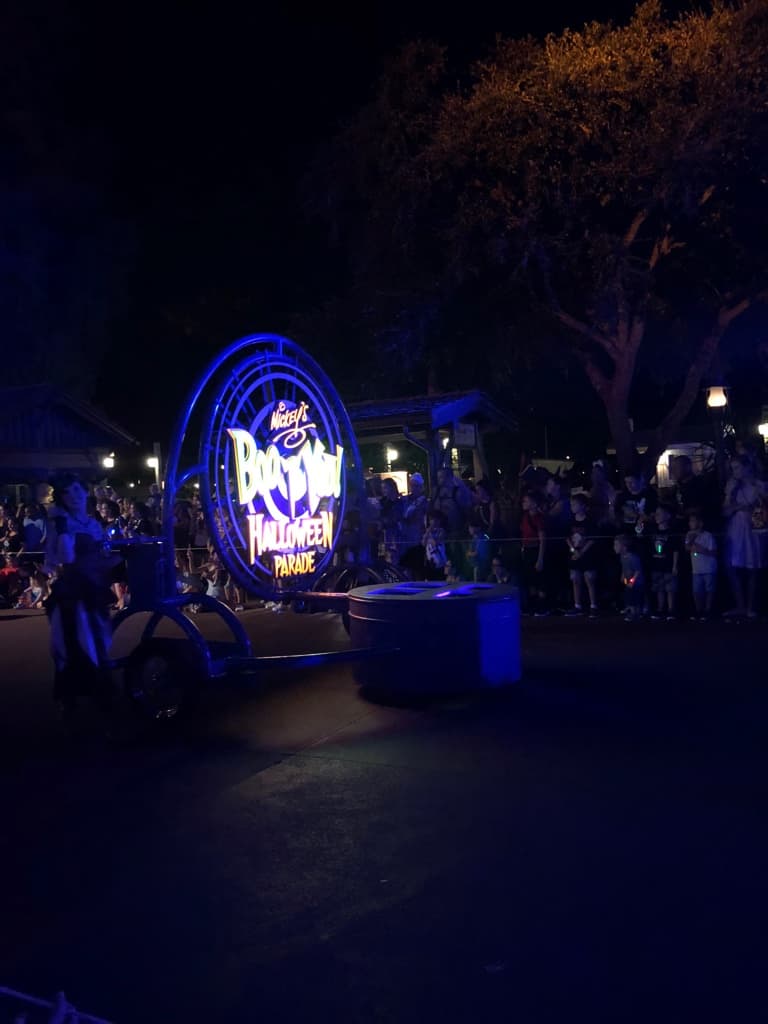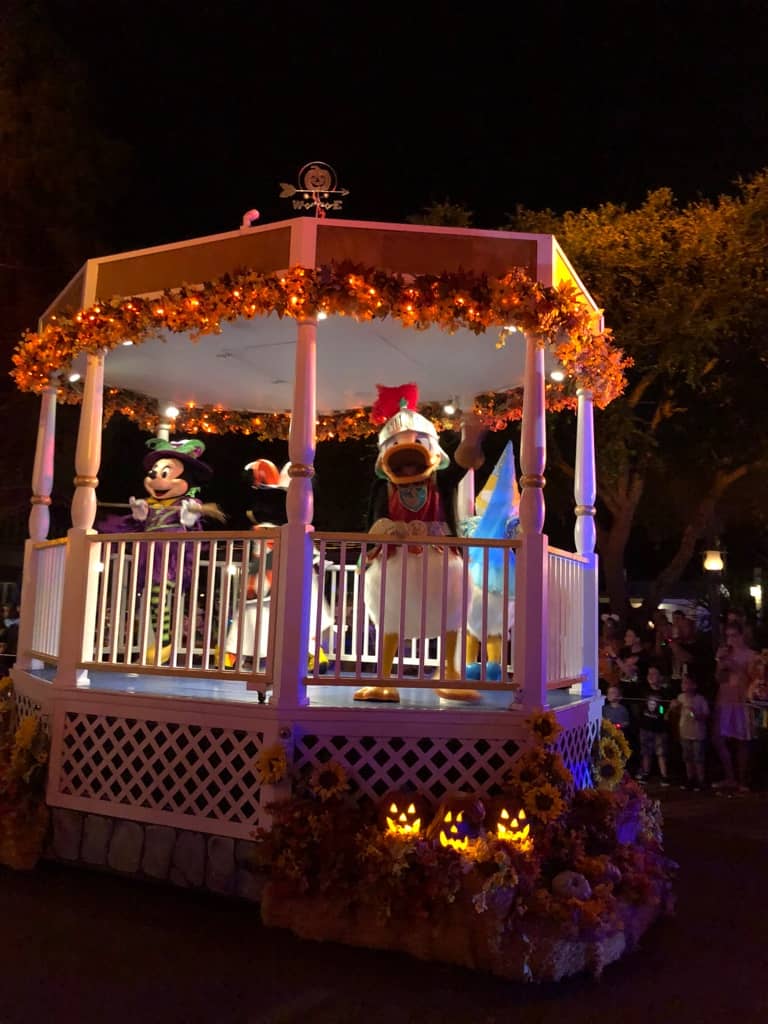 Something new this year were special photo pass areas set up for really neat magic shots!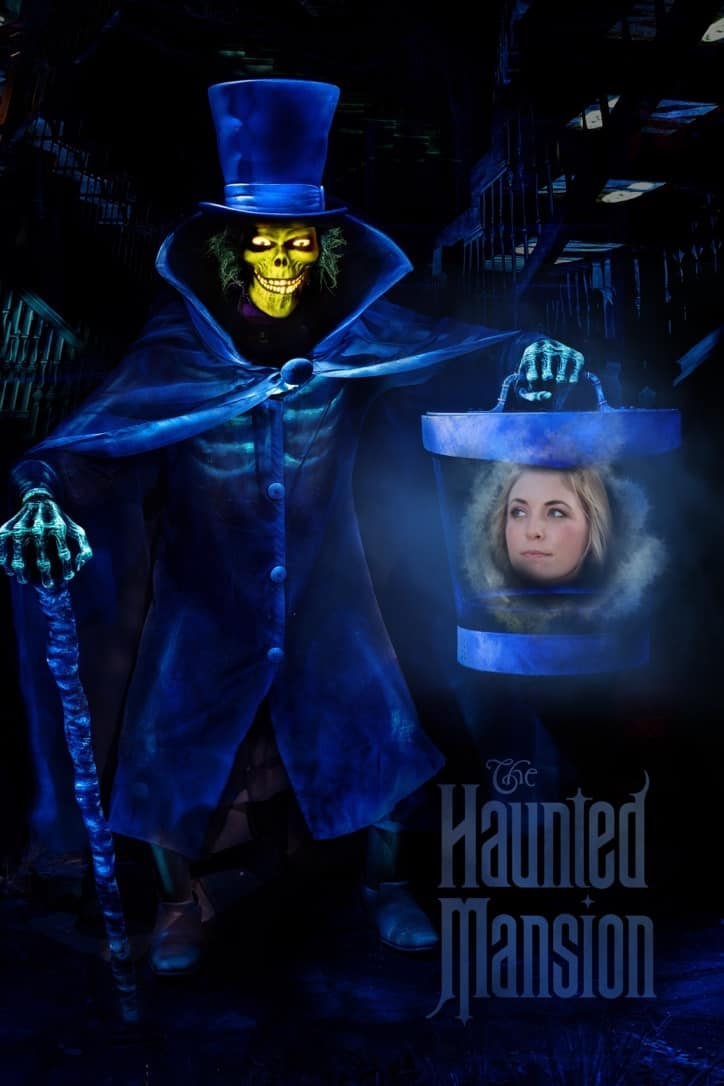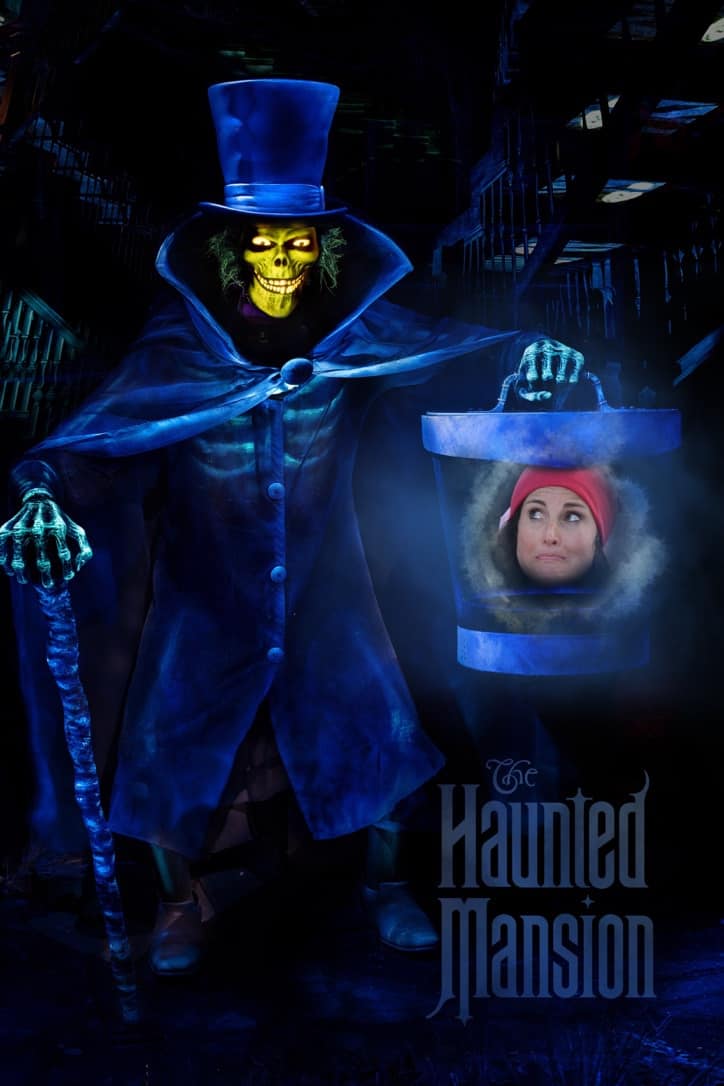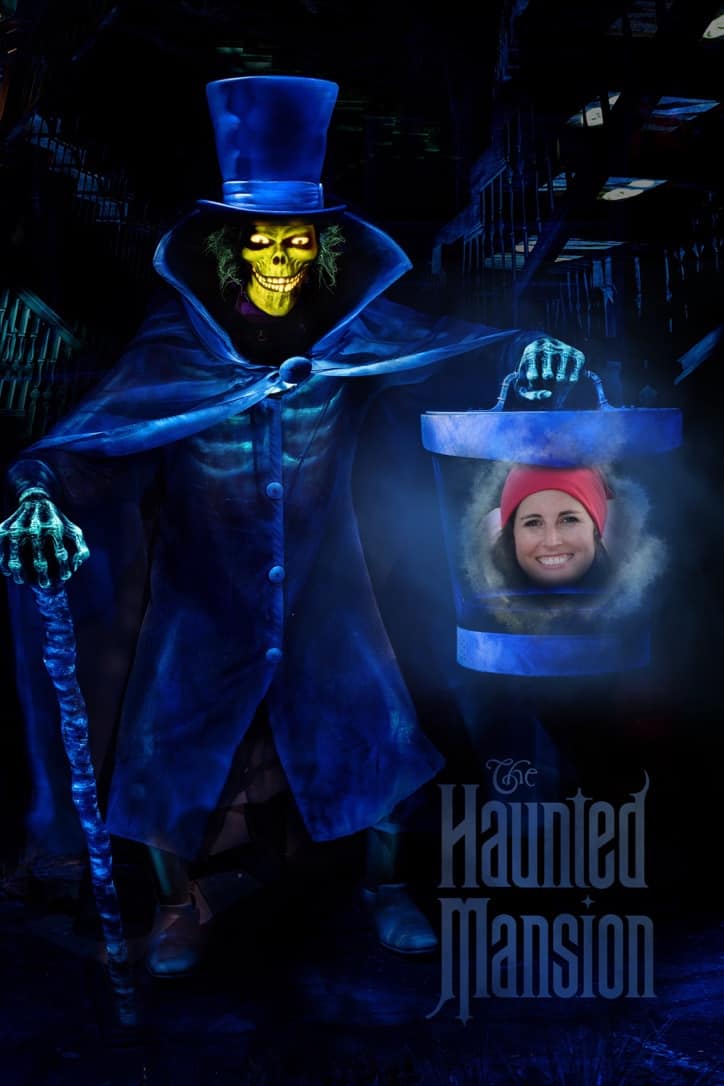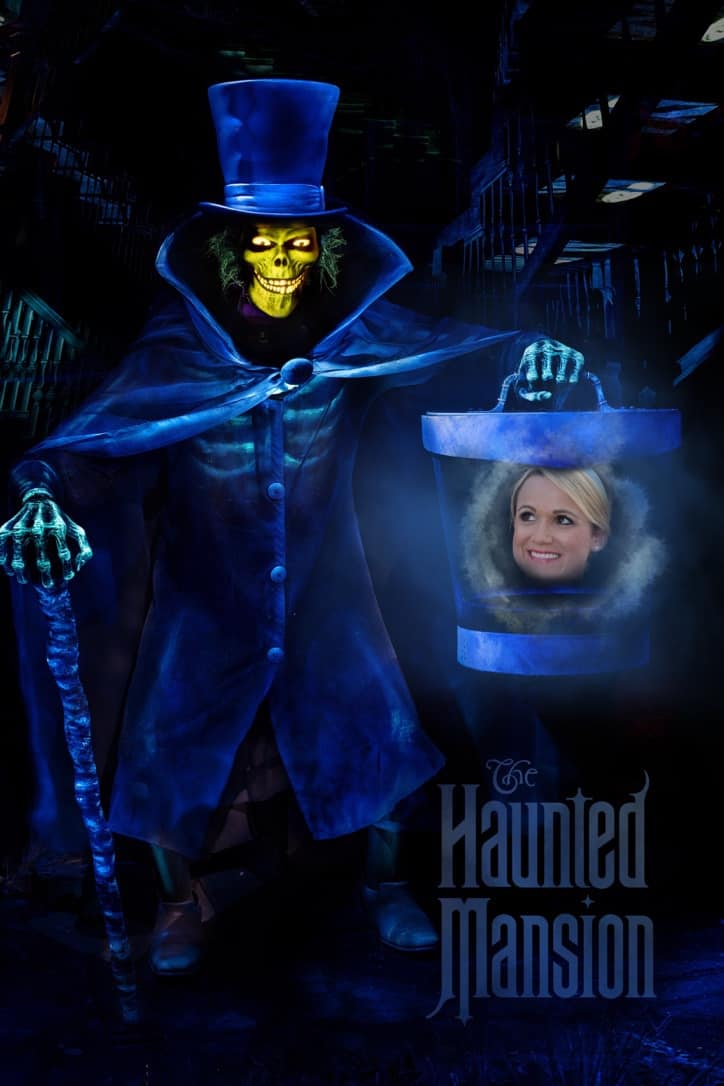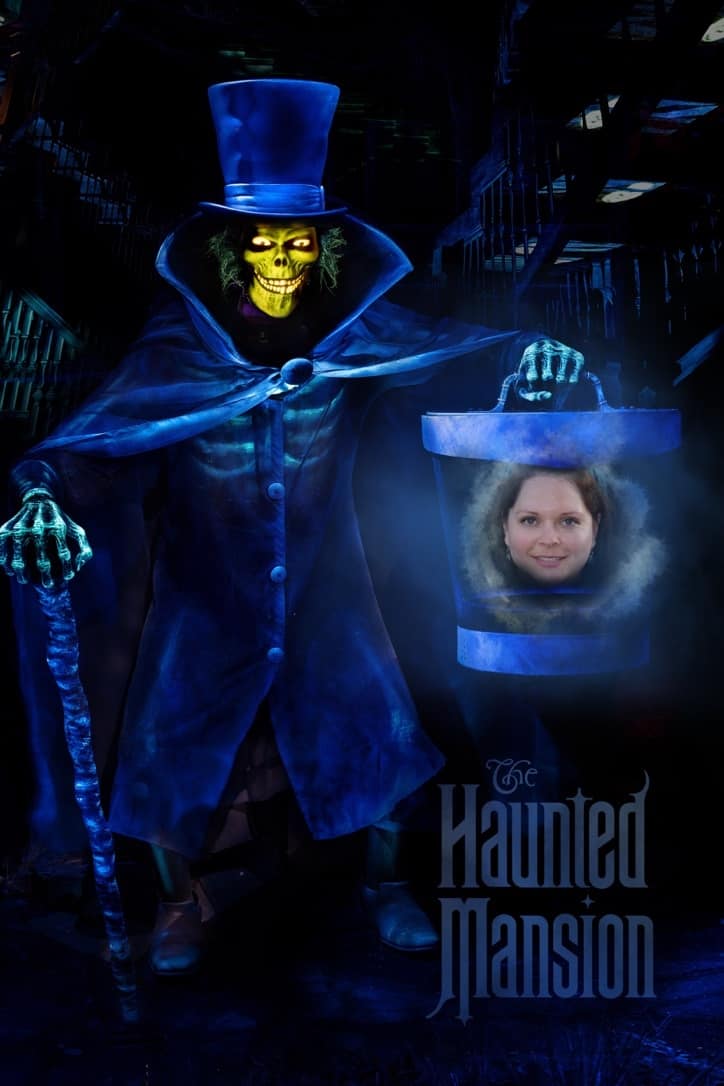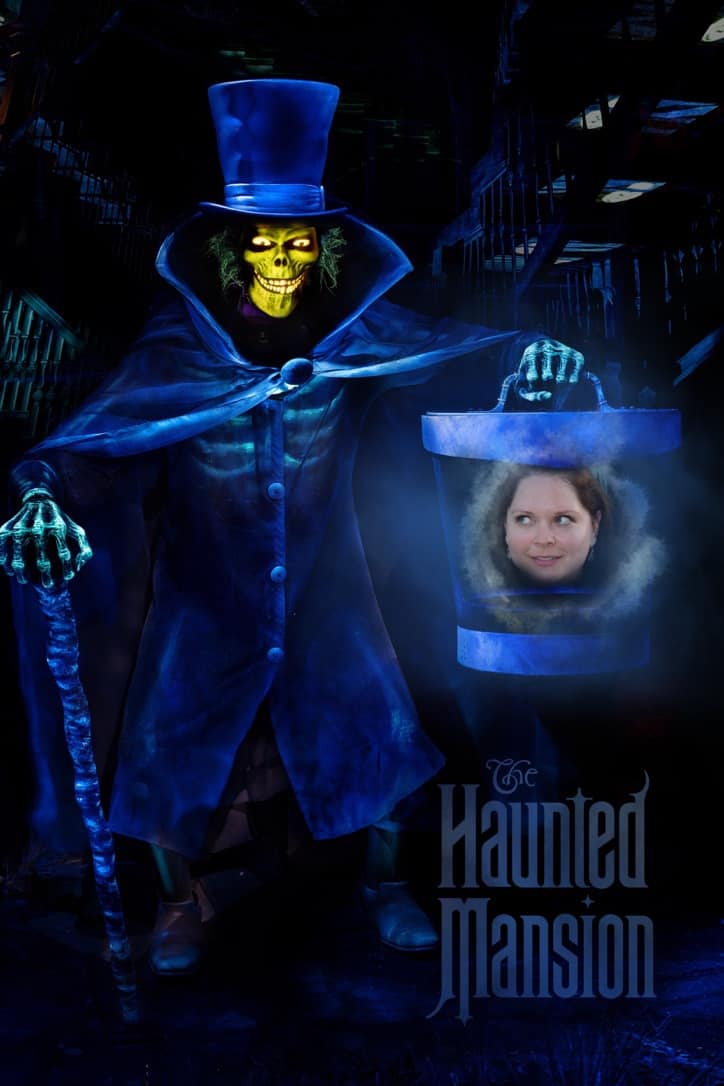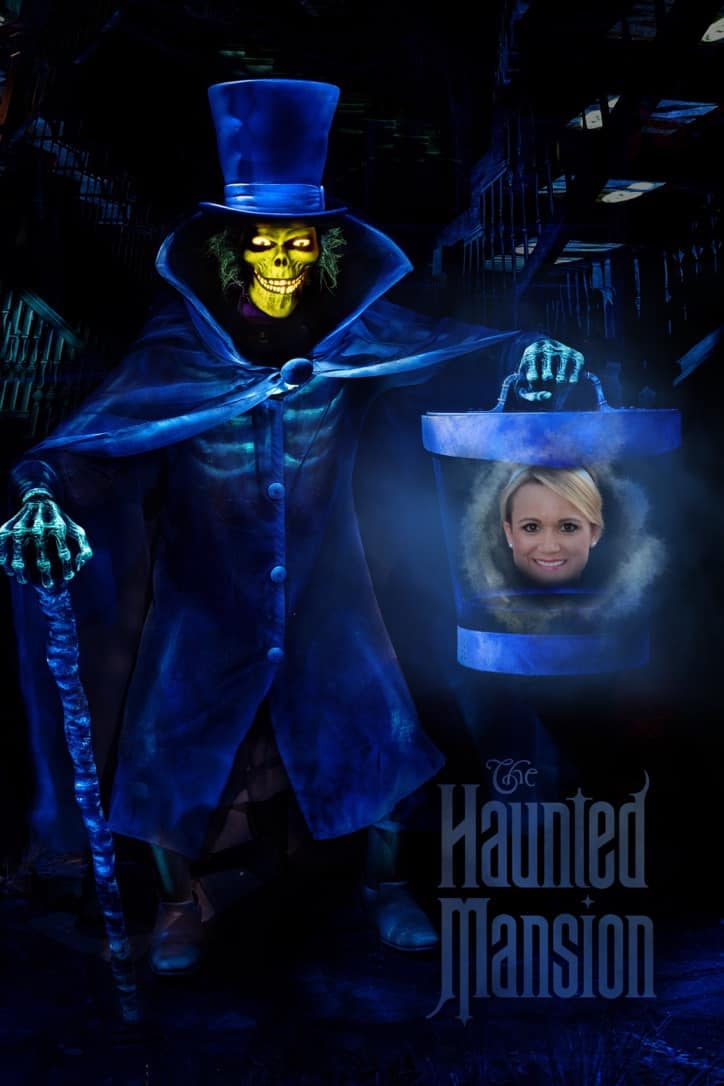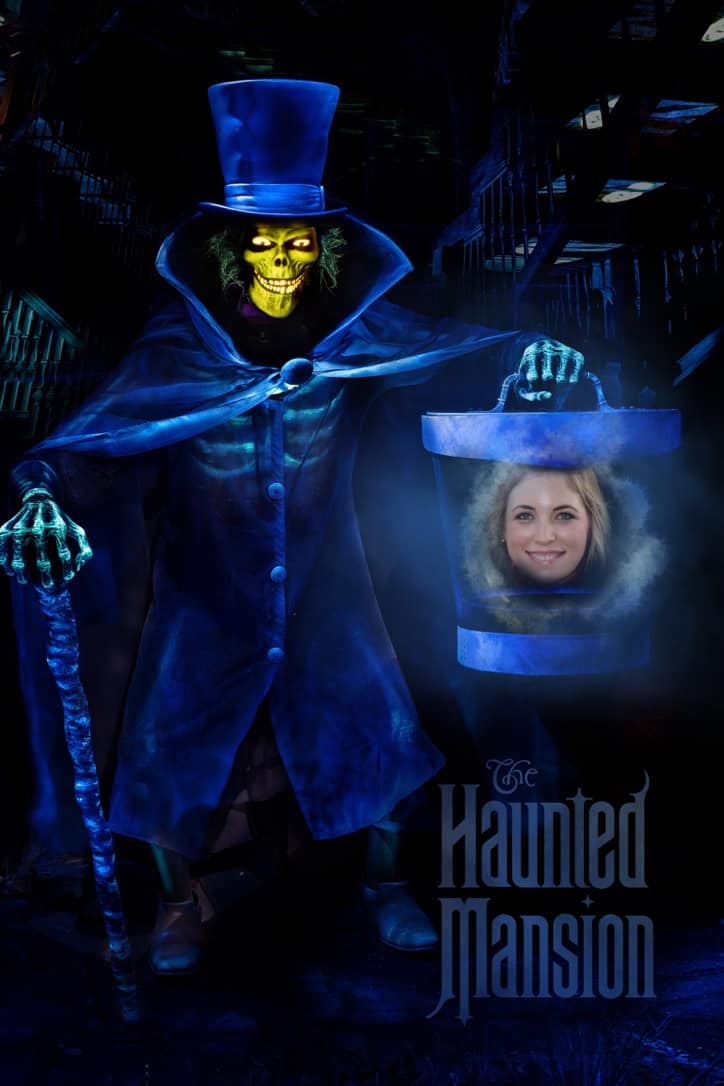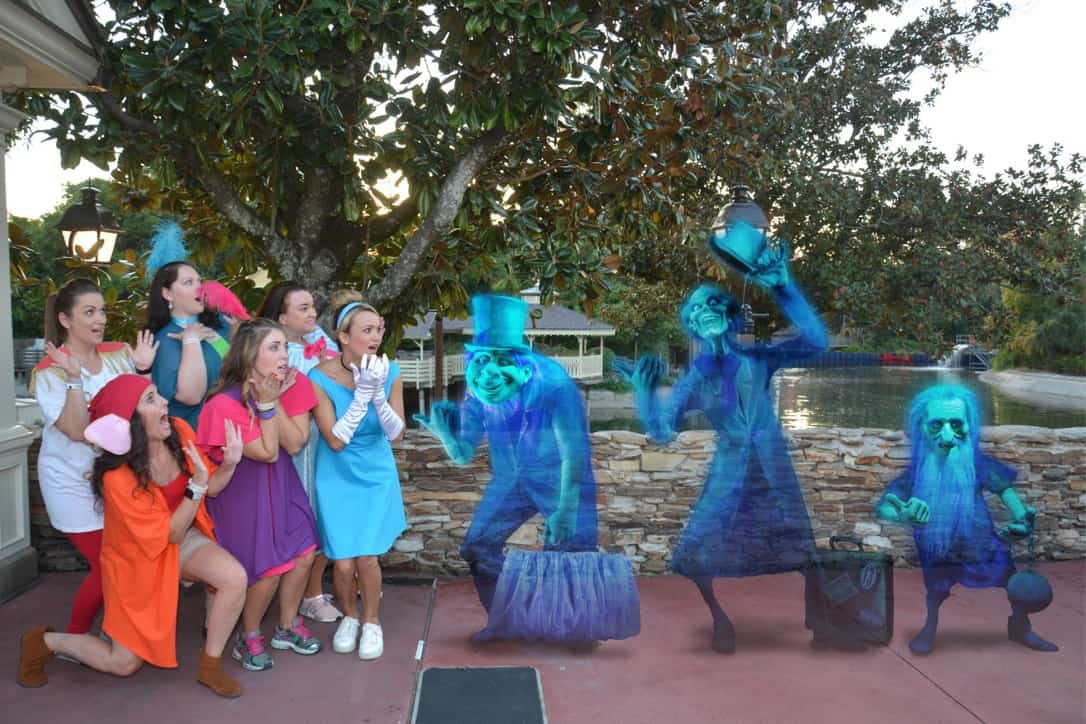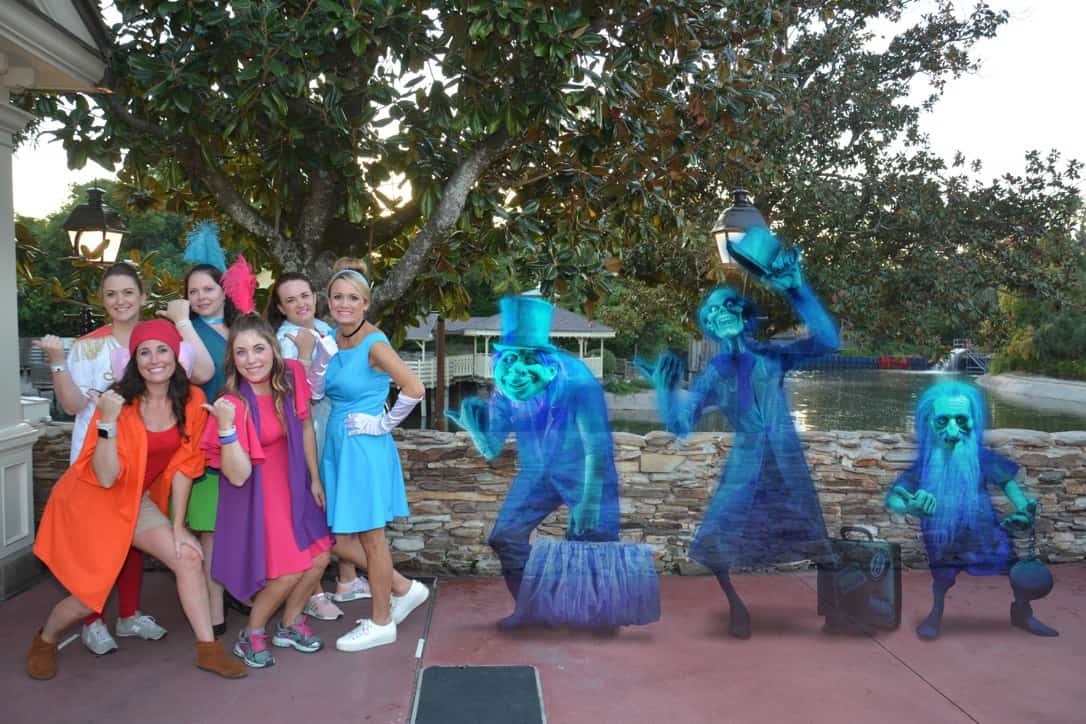 I LOVE character meet and greets! We were able to do a few new ones this year which was really fun and it's just neat to walk by characters who you don't typically see at the parks during non-party times. I mean Tarzan was wearing next to nothing (but yet still that's even more than many of the teenage girls wear to the parks haha).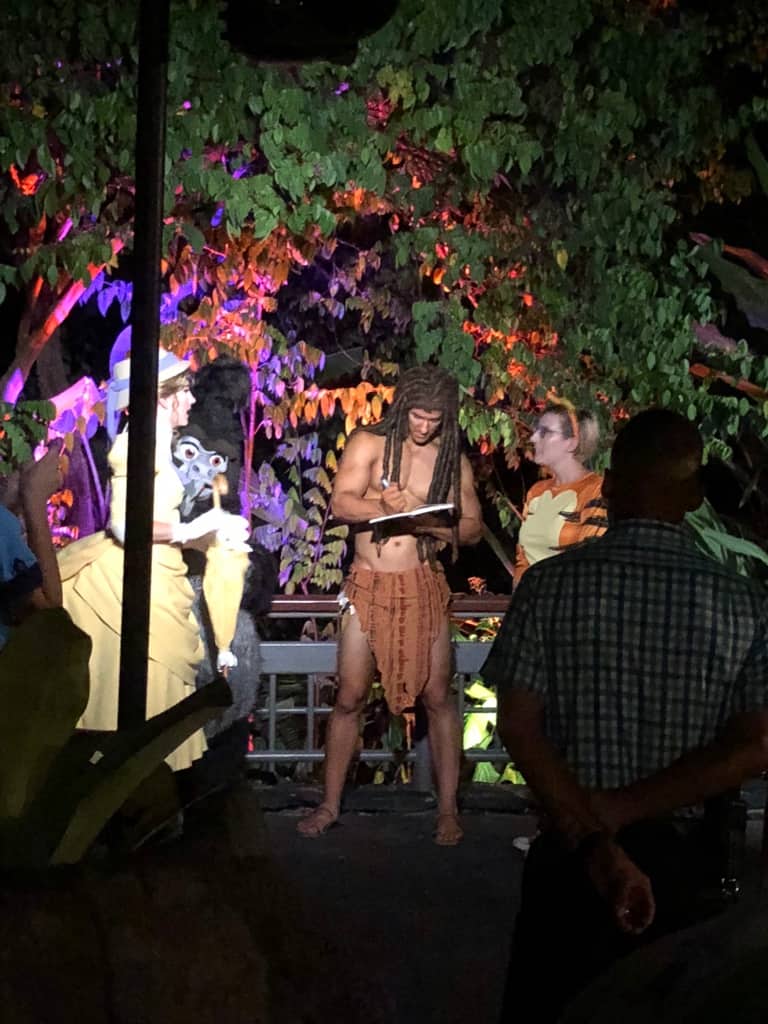 We made a stop at Casey's for some food and snacks and then got AWESOME spots for the Halloween fireworks show. This year they had fireworks around the park…not just behind the castle. Which was REALLY cool.
Fireworks Videos: One and Two.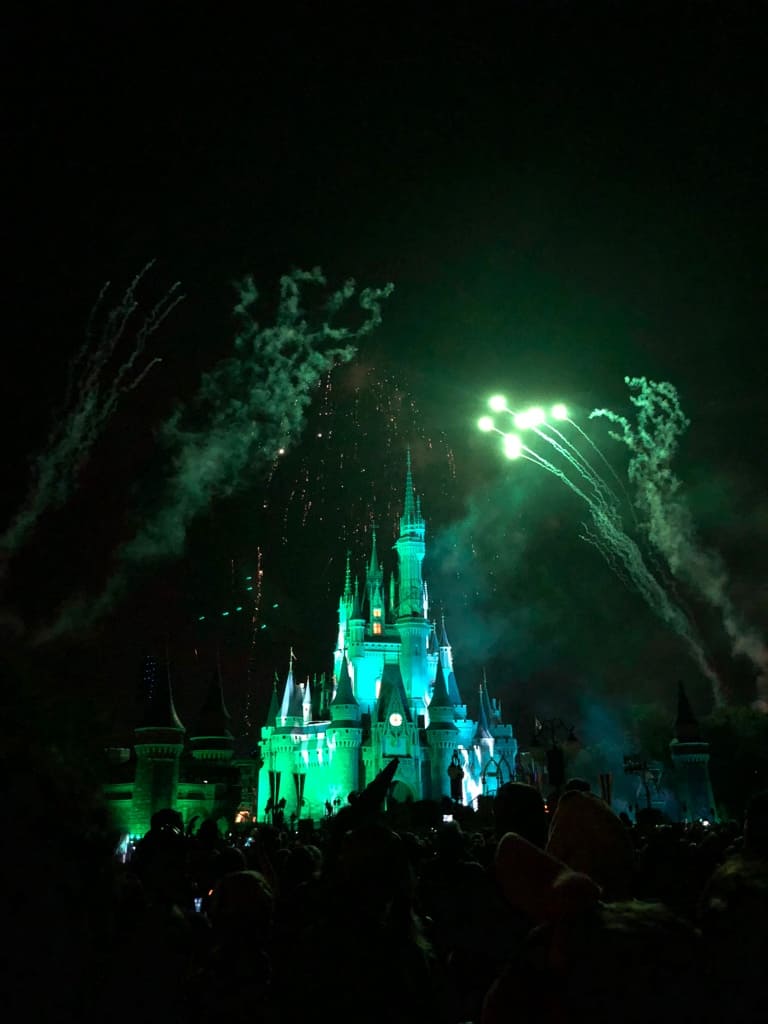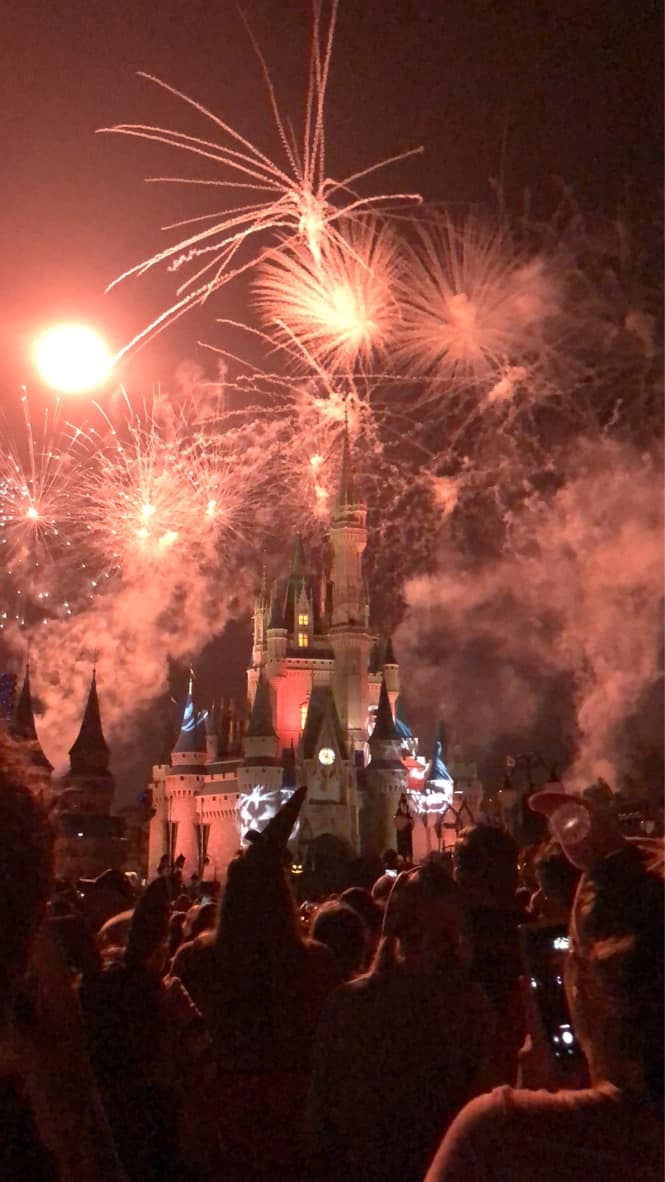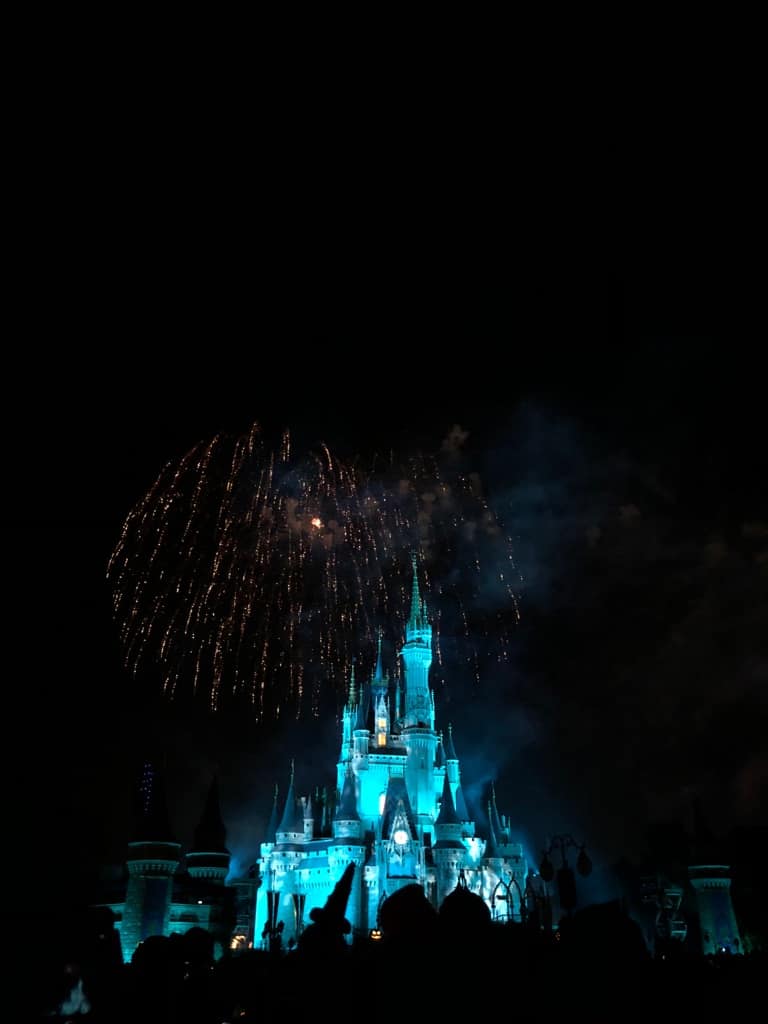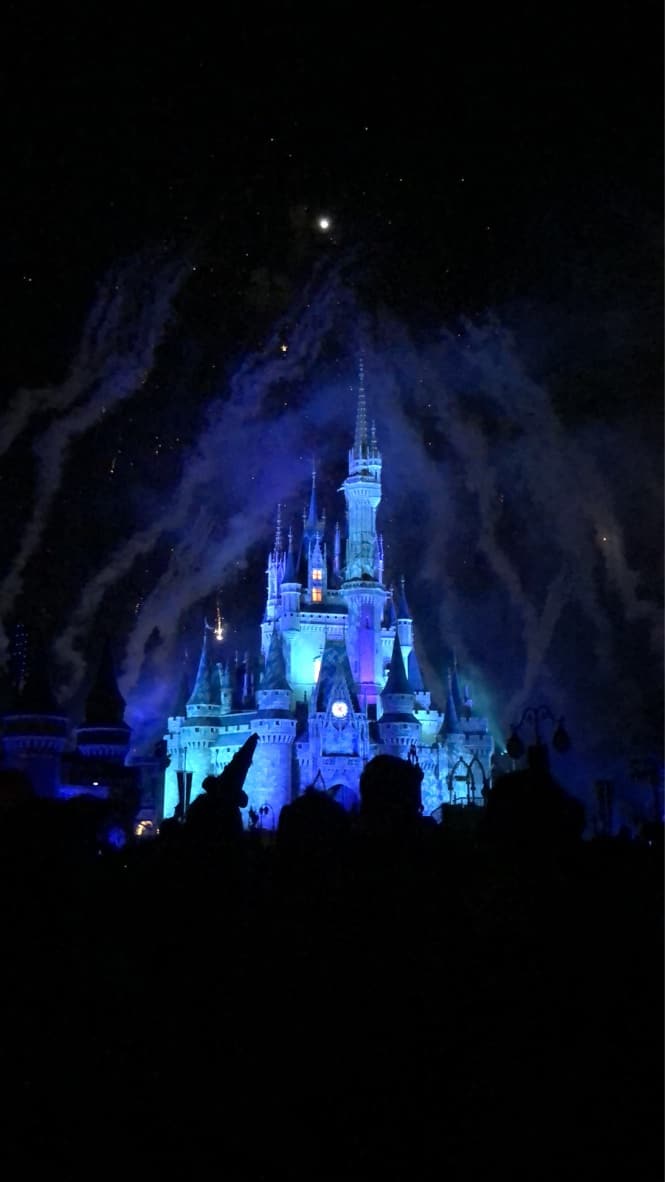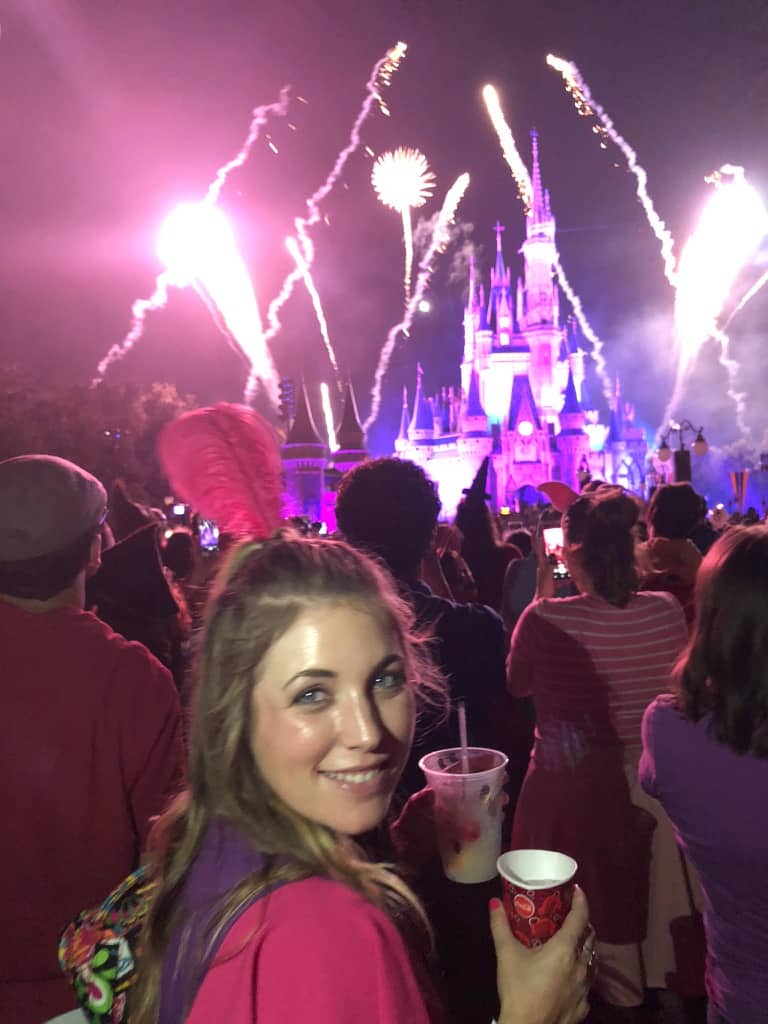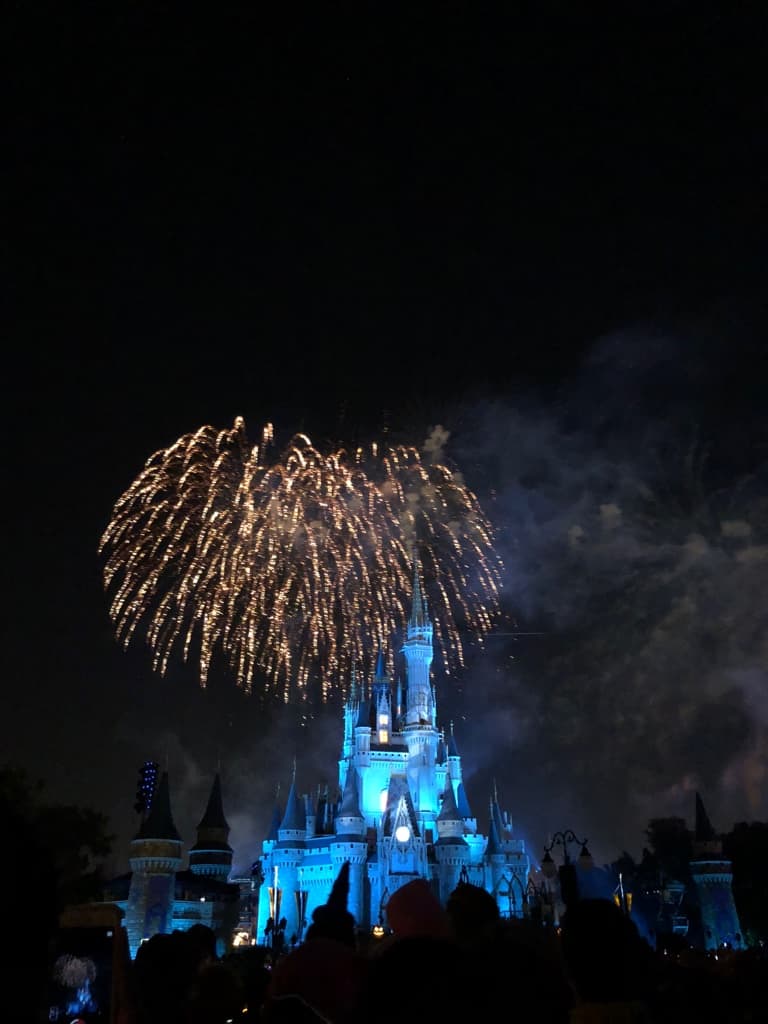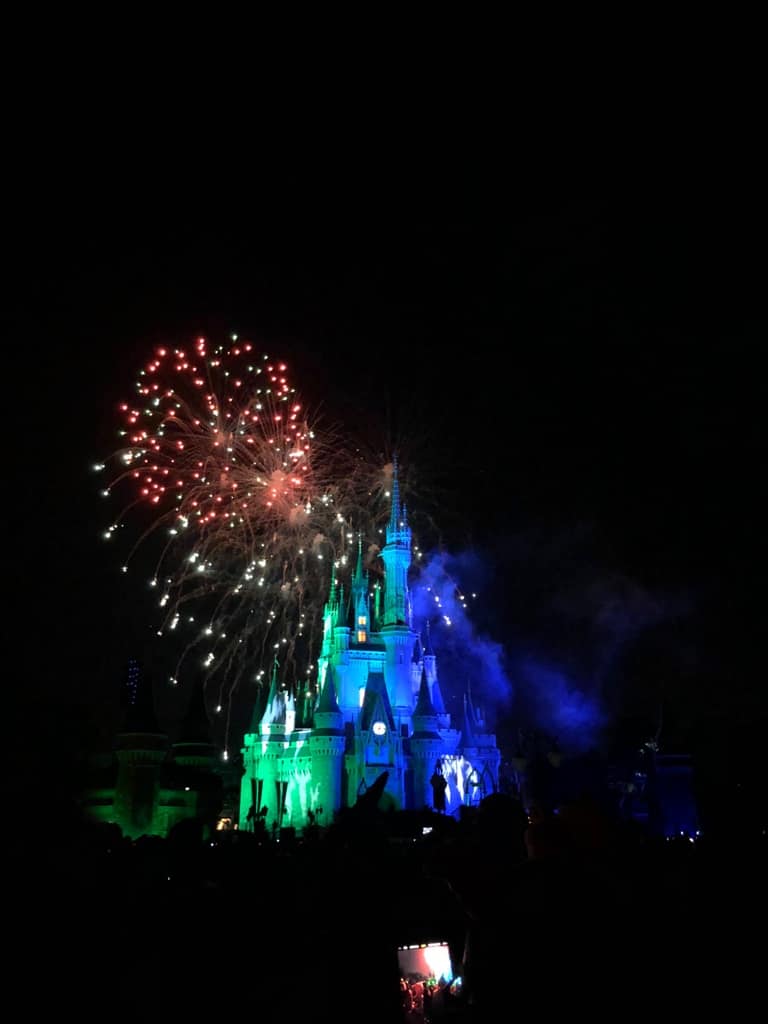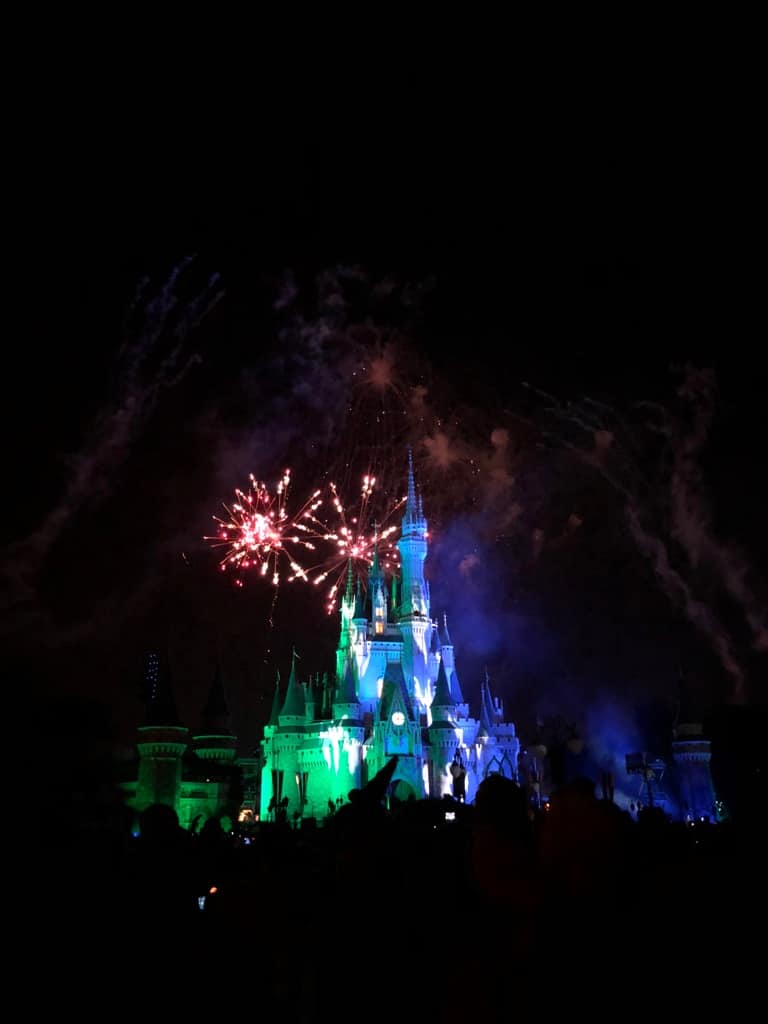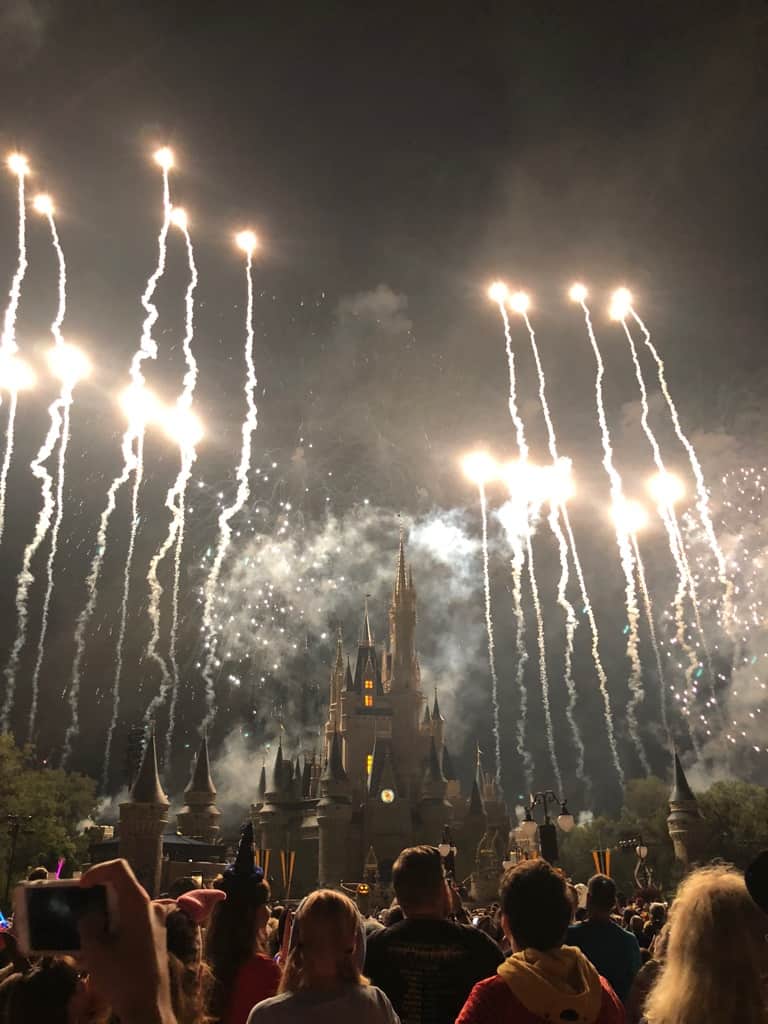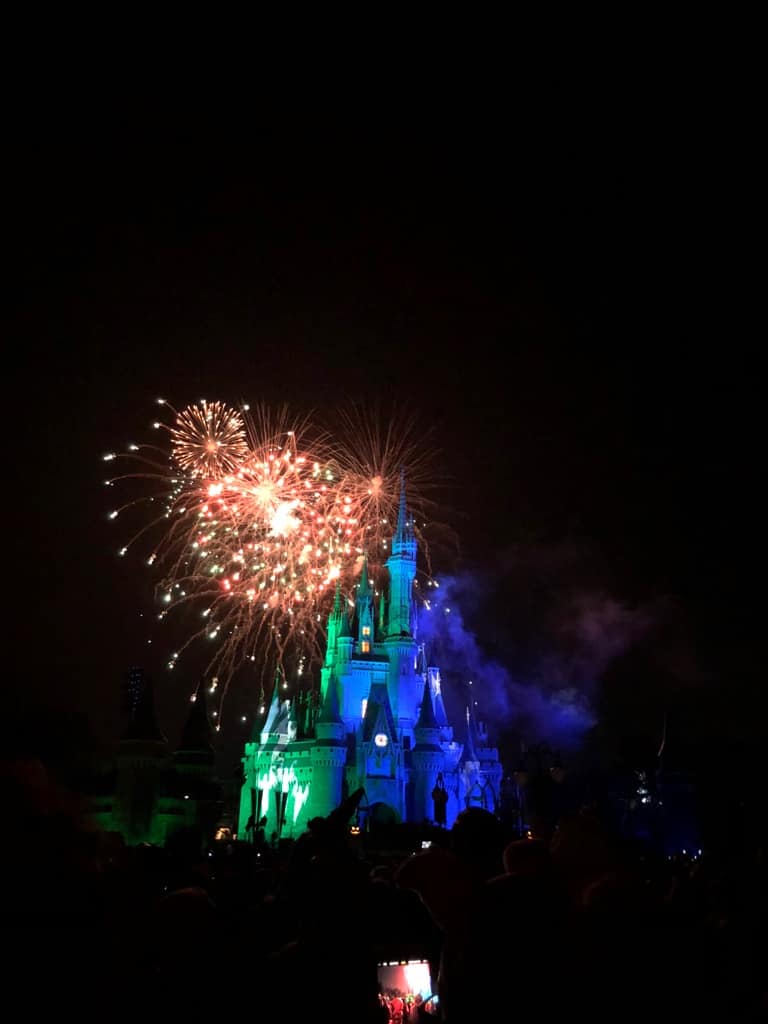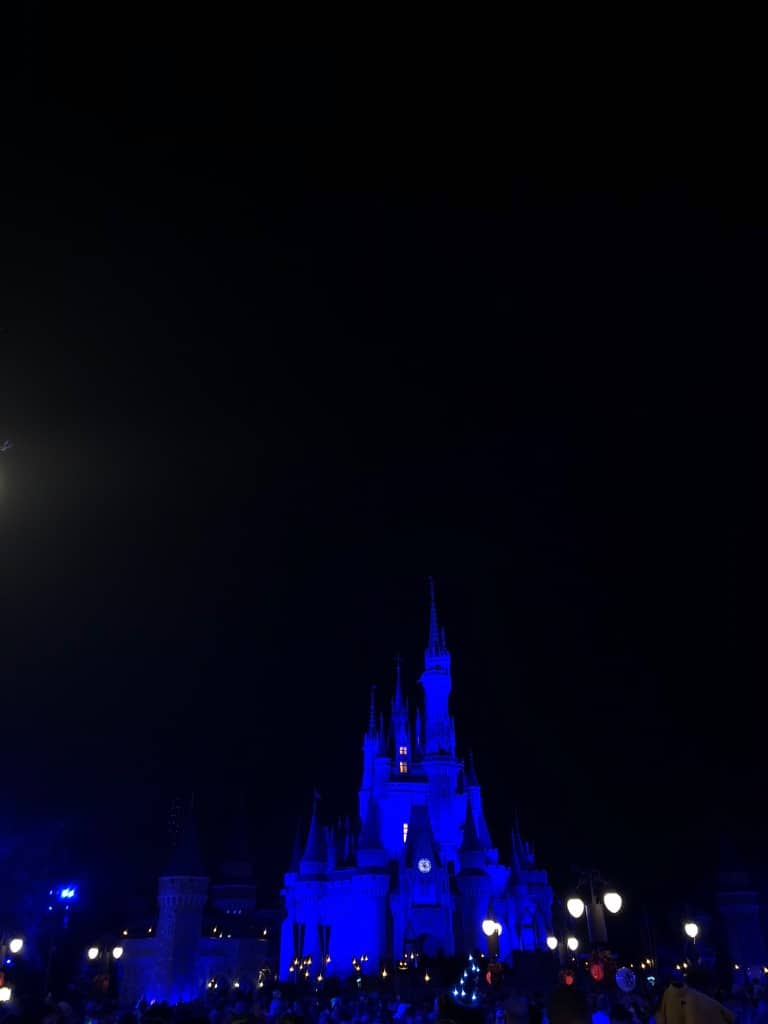 I've been wanting to try the Mint Julep Slushie from Casey's and was so excited about it but it was a BIG let down. It wasn't good at all which was a bummer but at least it cooled me off a bit during the fireworks!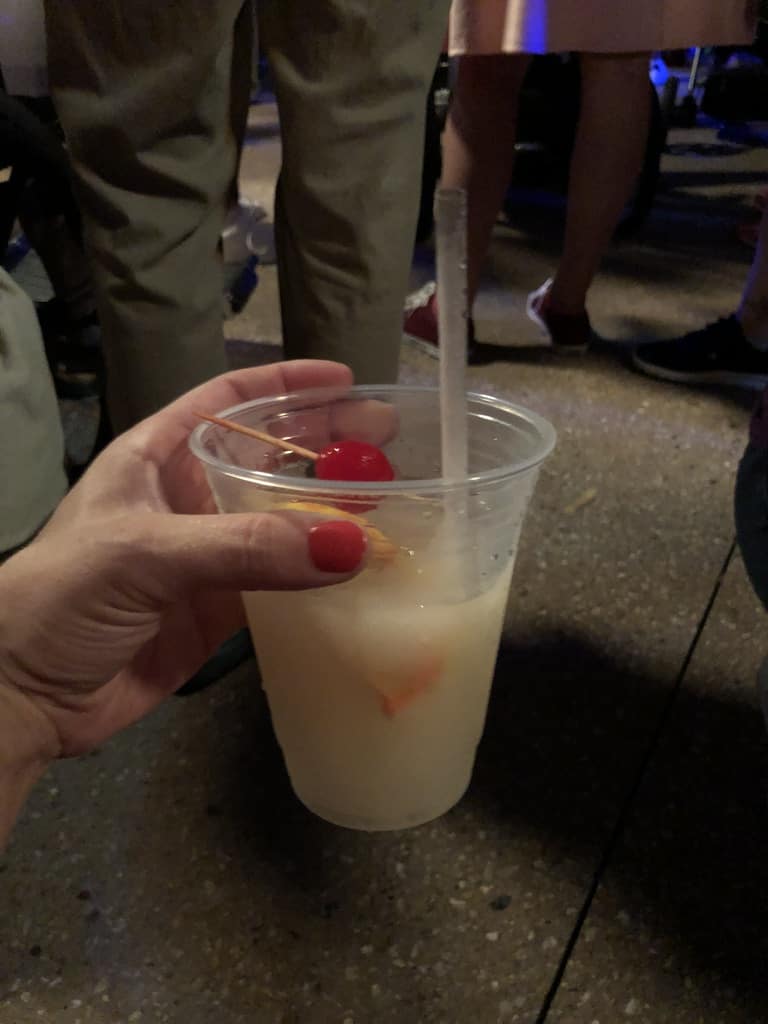 On Pirates during the Halloween Party nights they had REAL pirates throughout the line and in the actual ride! It was SO fun. I told Britt about it and she said she's glad they aren't there all the time. They did sorta pop out at you while in line which made me jumpy haha!
Space Mountain also had a change for Halloween but y'all know that's something I'll never be experiencing 😉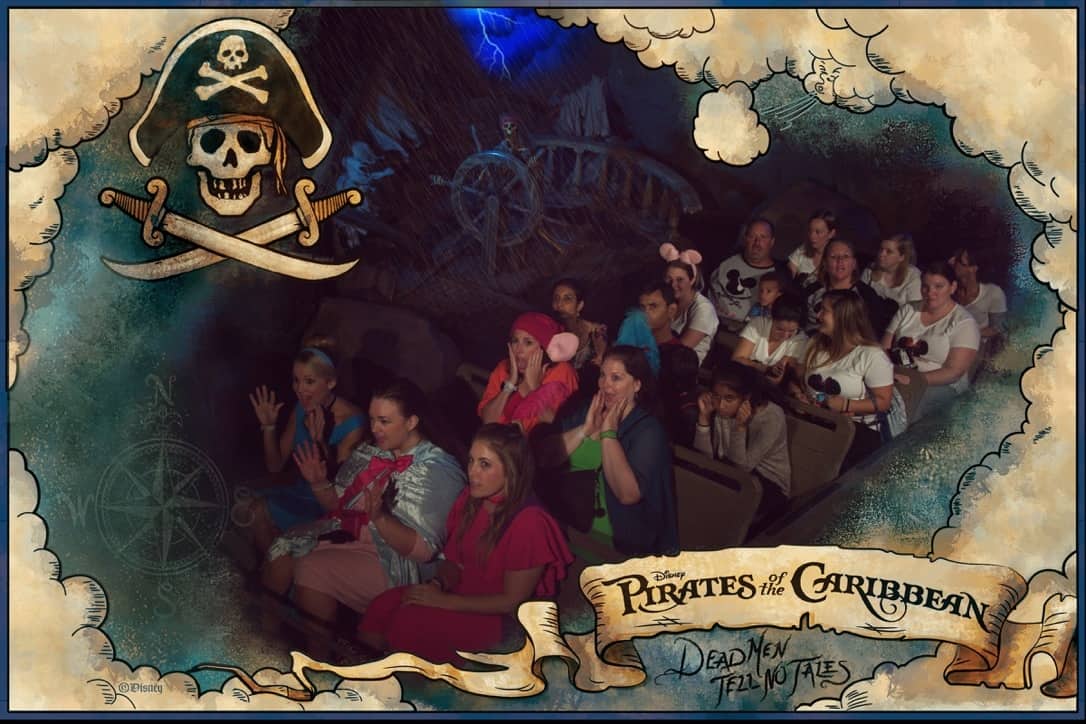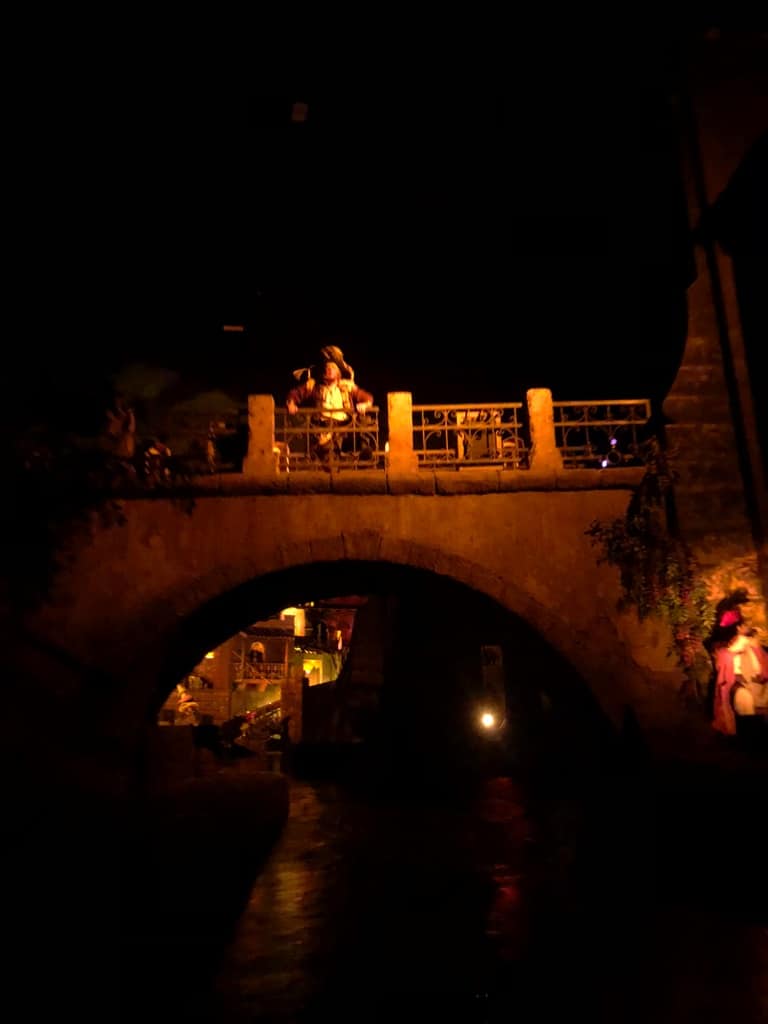 Our MUST HAVE item: candy corn ice cream!!! There is a big debate as to if it's actually candy corn flavored or just vanilla ice cream with food coloring. But I believe it's the real deal 😉
Katie got the candy corn milkshake this year. It was too sweet to me and I'll keep sticking with my ice cream!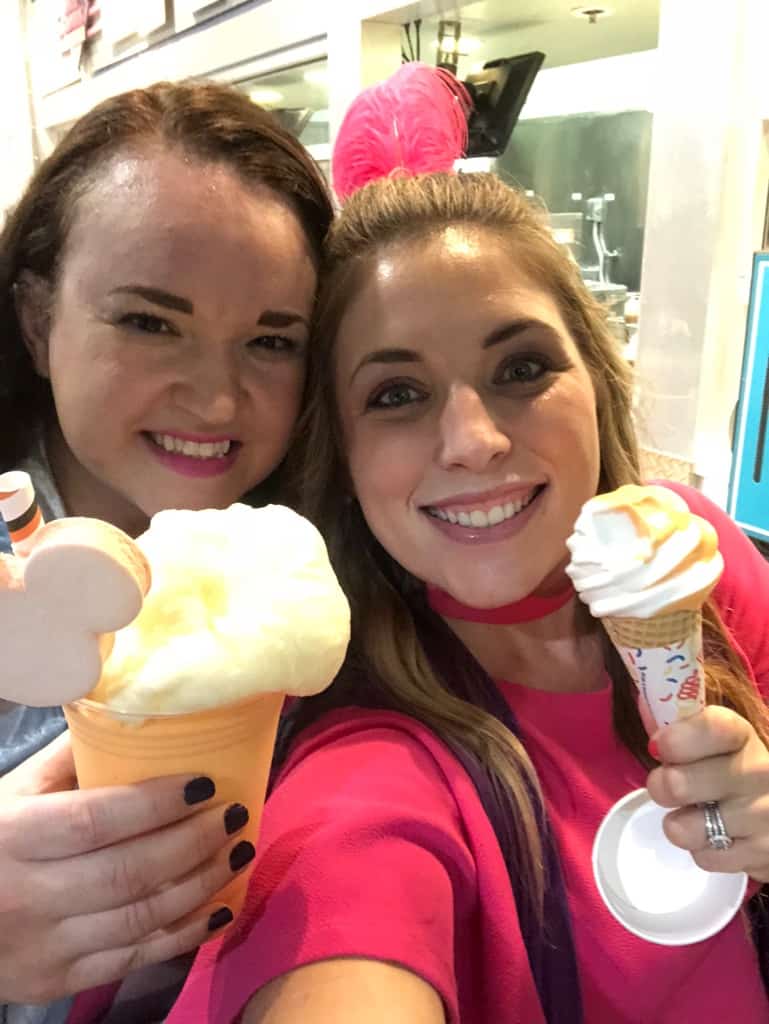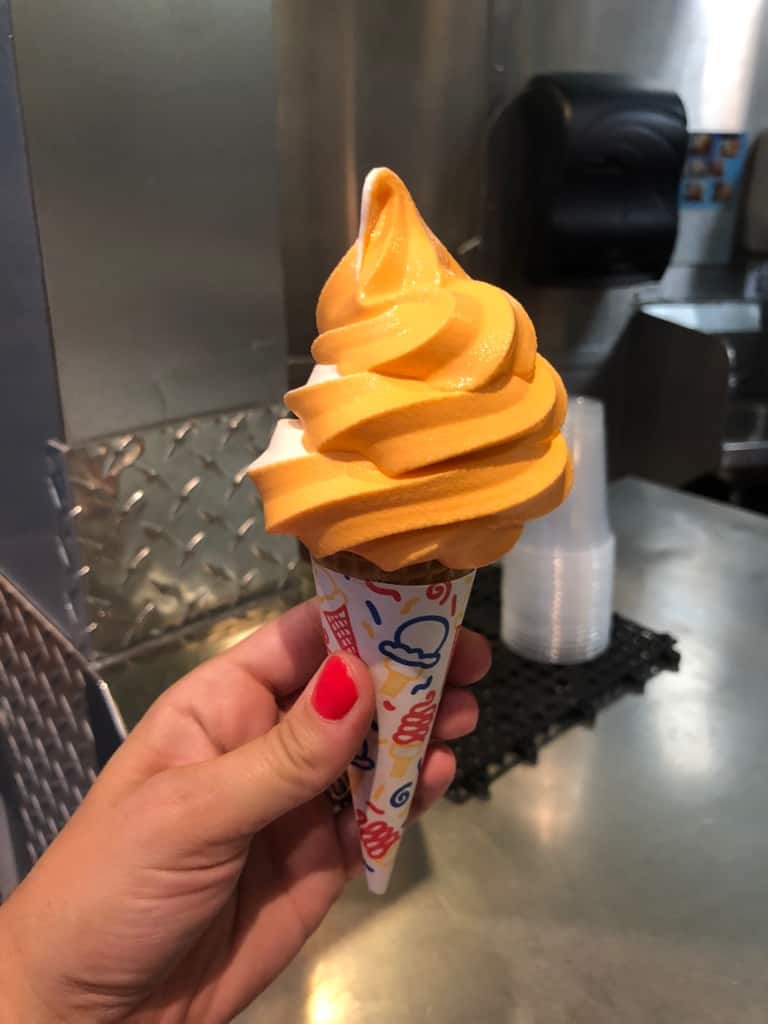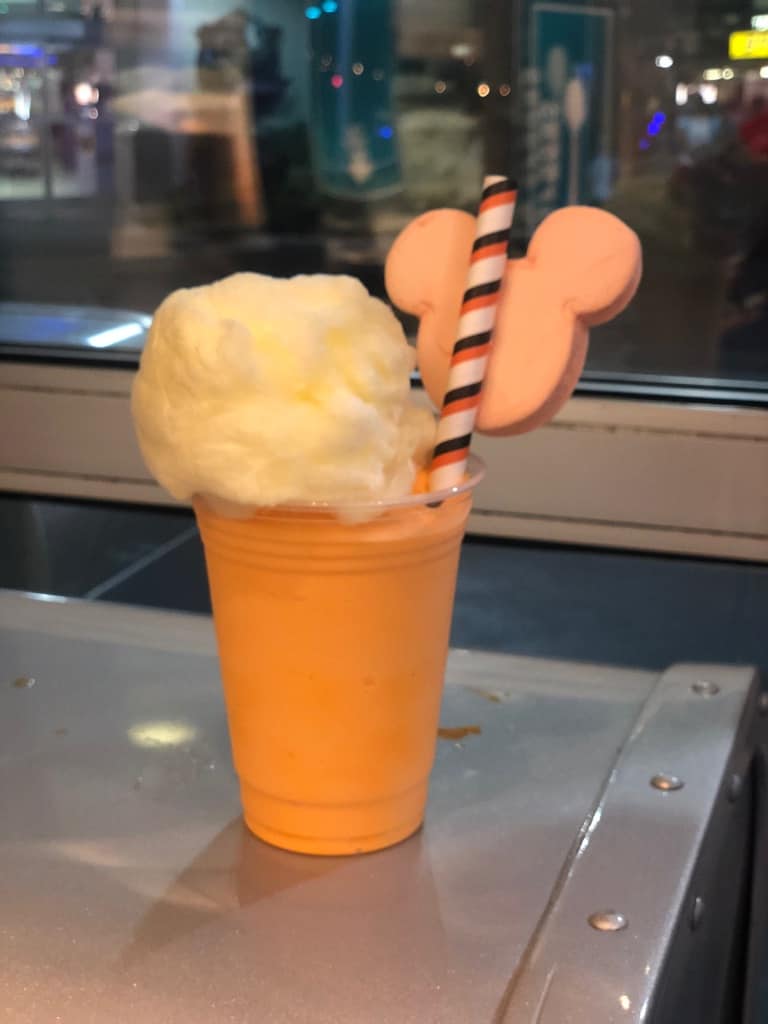 Gabe and Rachel went ahead and headed back to the room. Growing a baby is hard work and Gabe needed that rest! The rest of us went to go visit some good pals before the night ended 🙂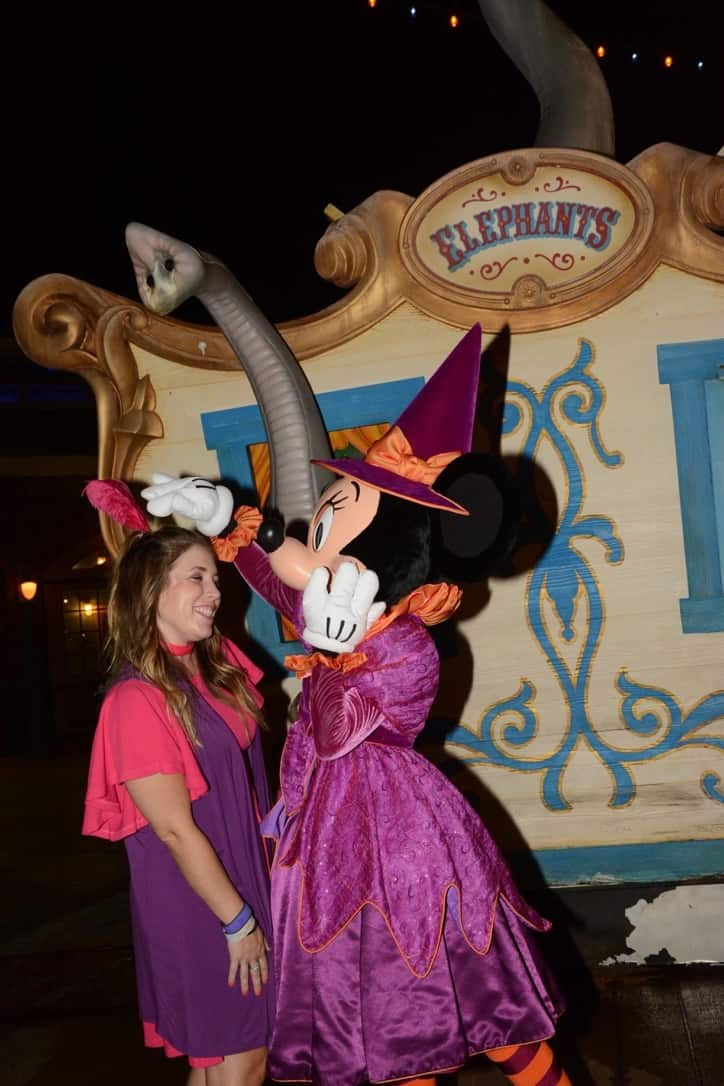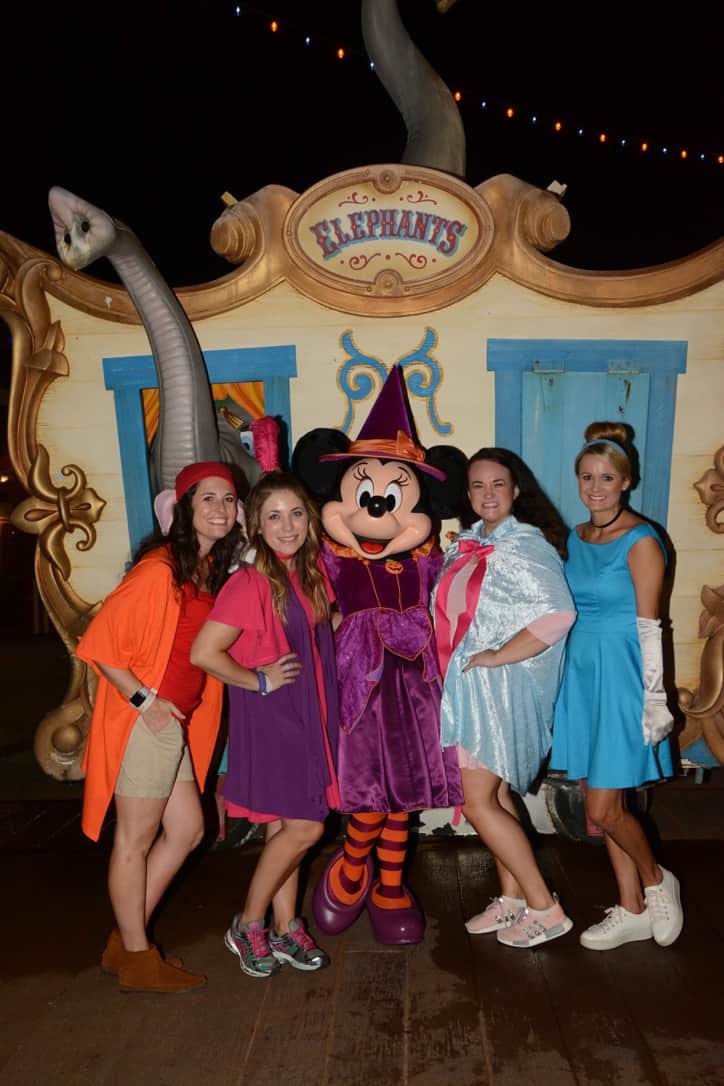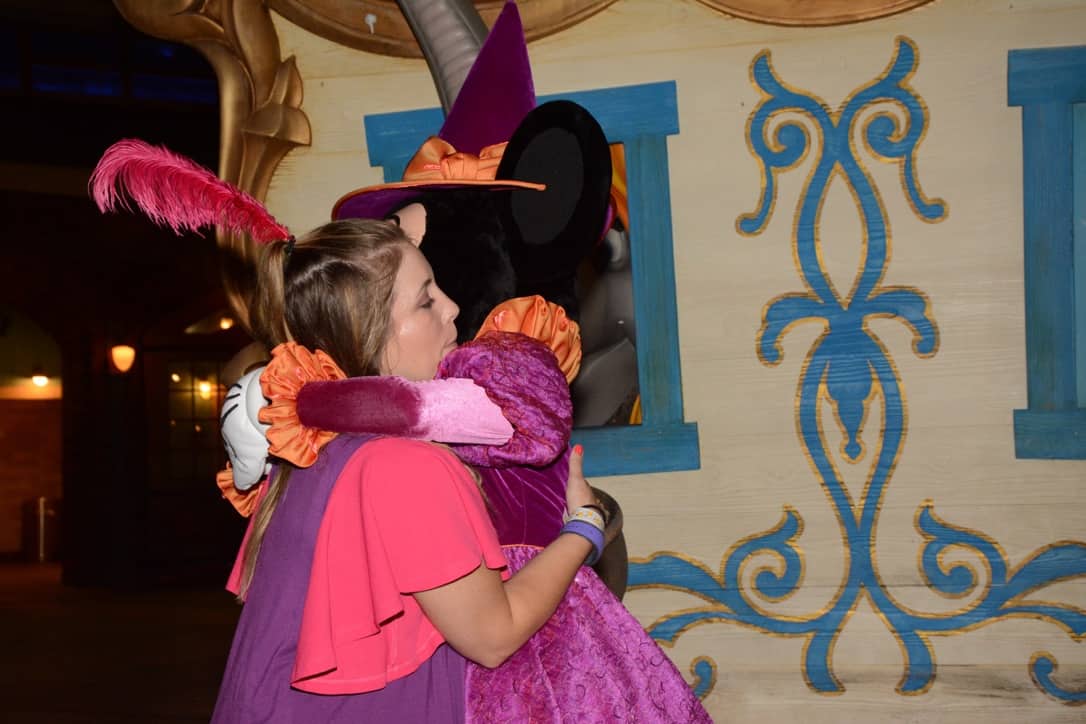 Pirate Goofy was SO ADORABLE!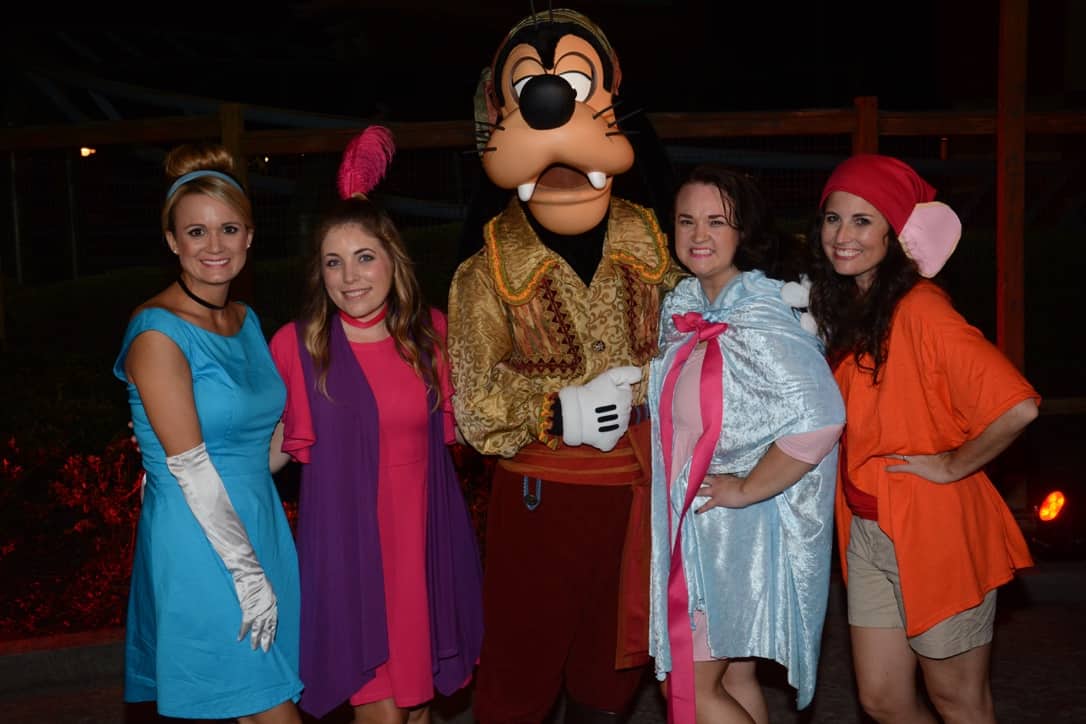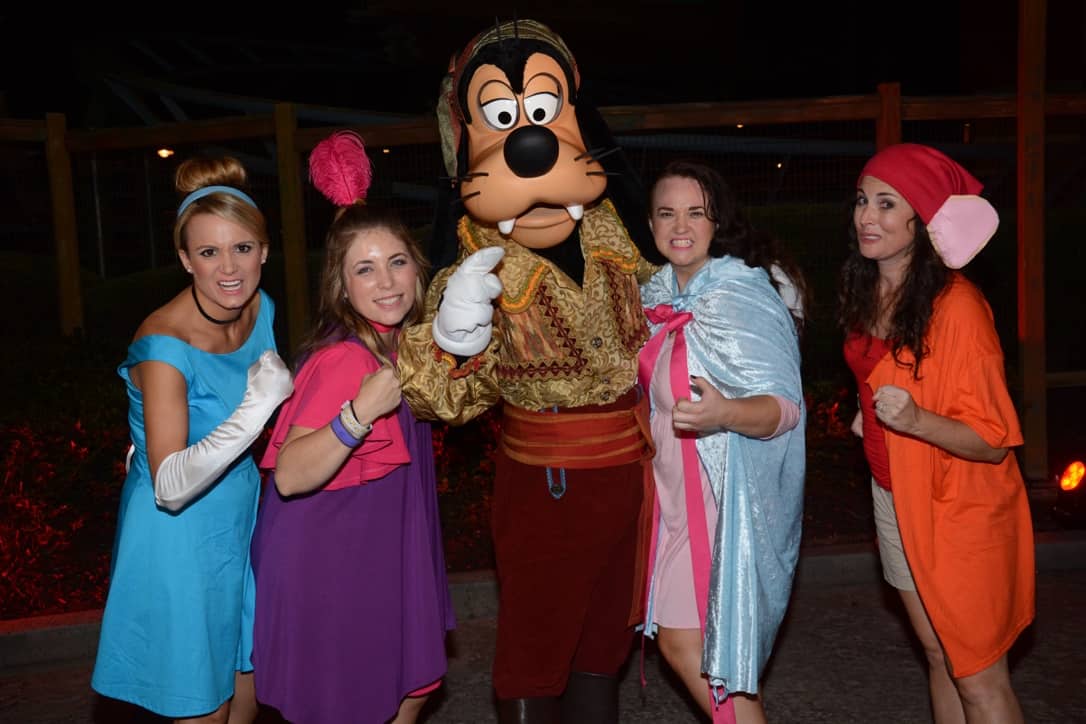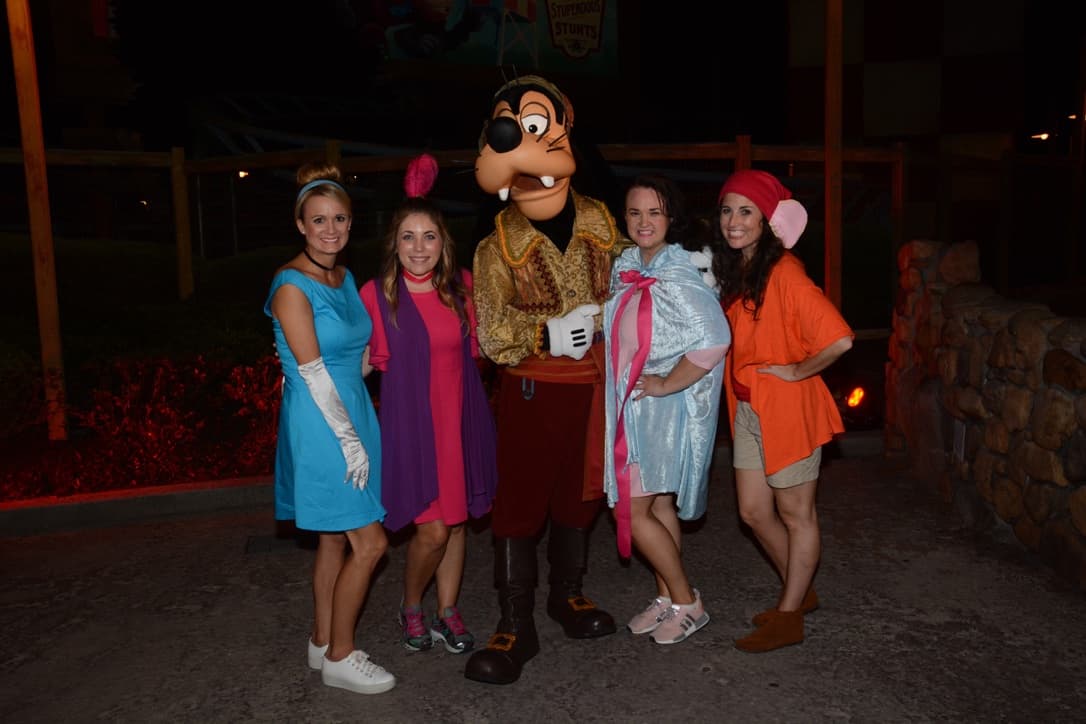 Yes we will!!!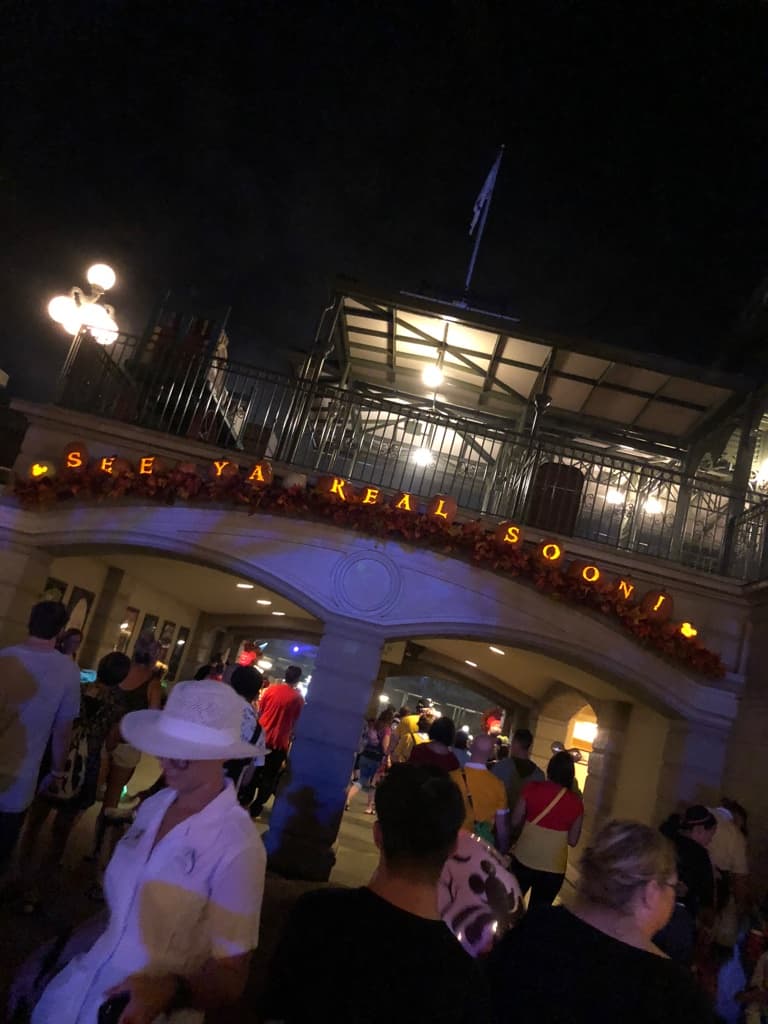 We have learned over the years to really slow roll leaving the park. There is just no reason in rushing. It's going to be a madhouse. You might as well take your time and just enjoy the moments because it can be MISERABLE dealing with the huge crowd!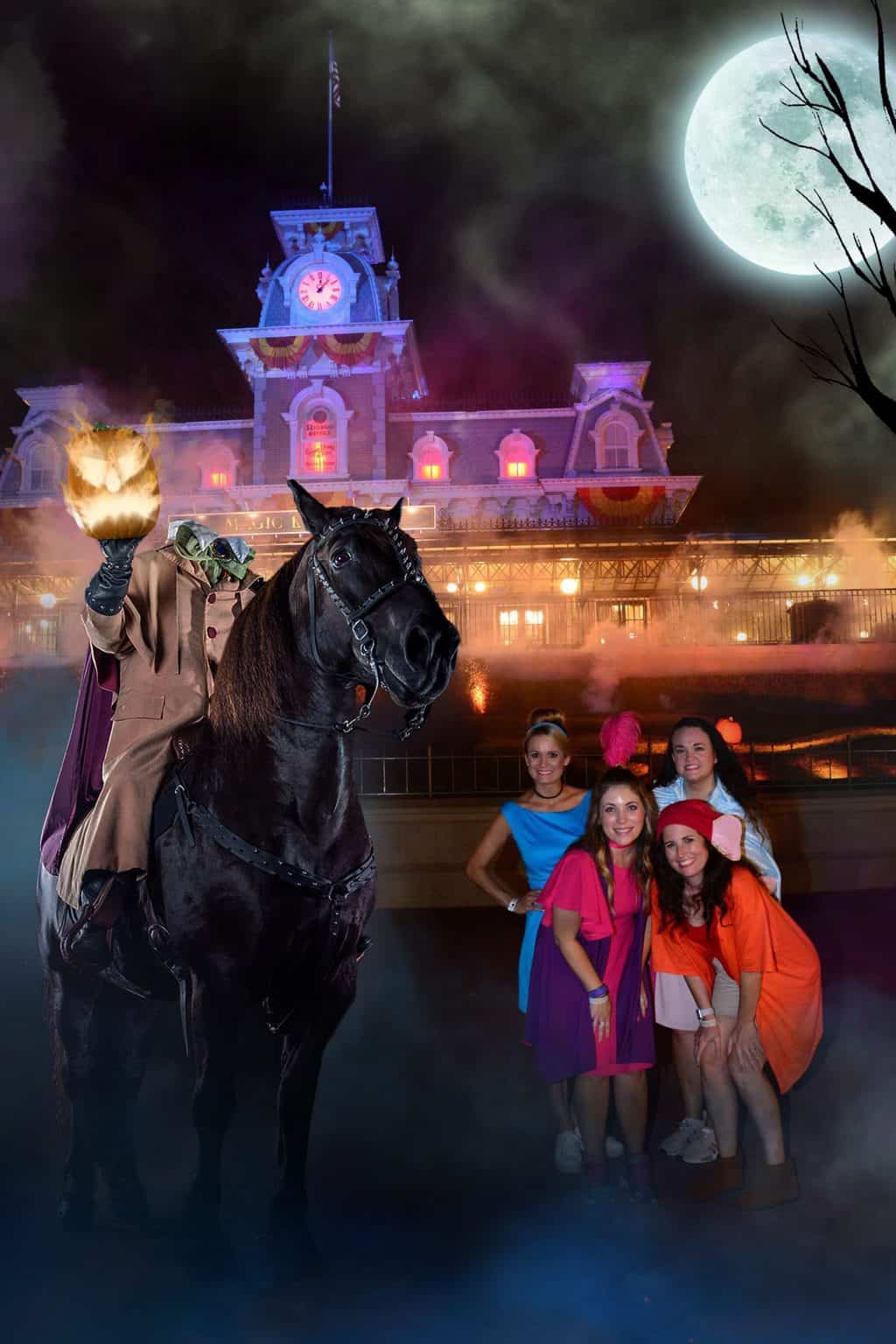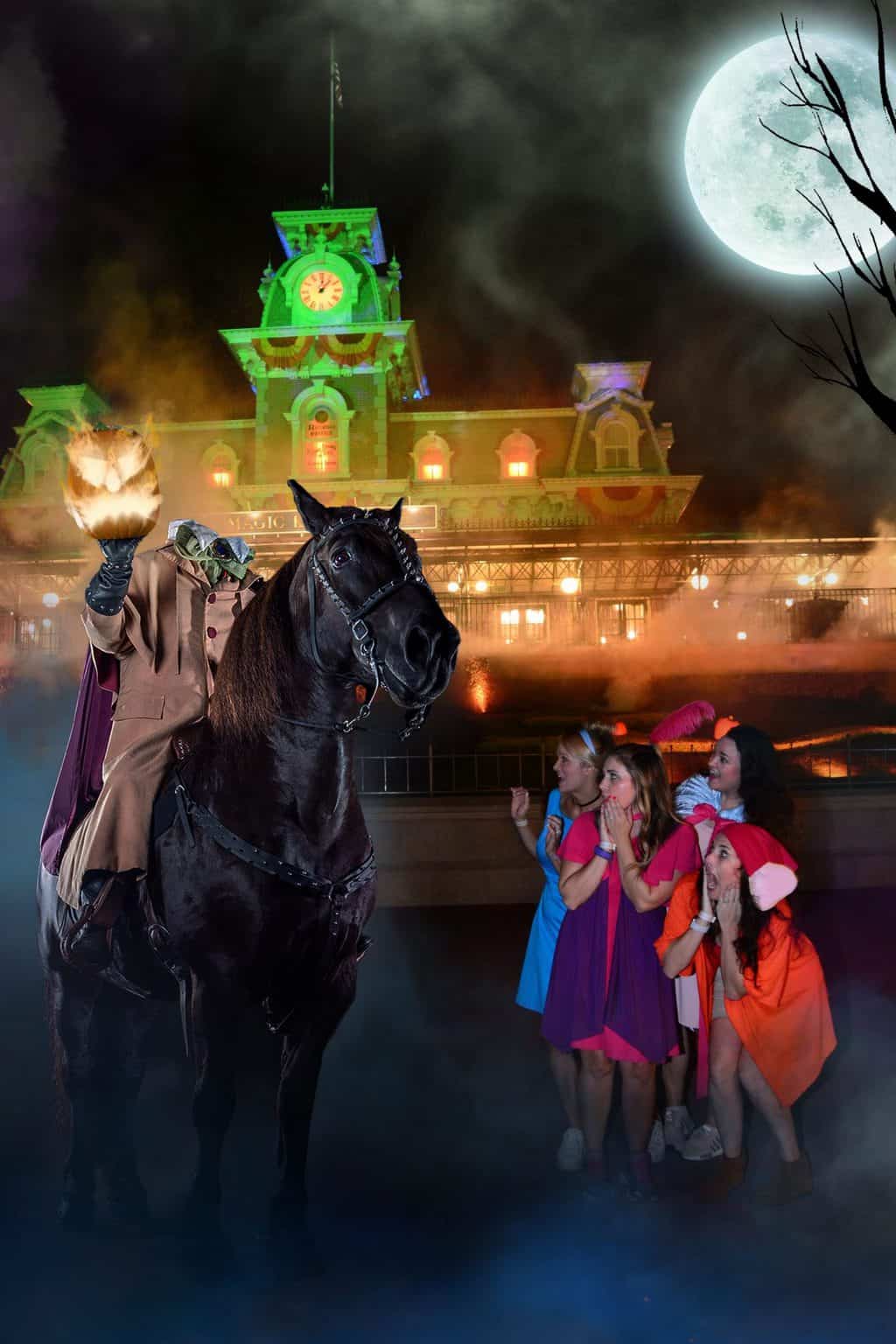 We snacked it up more this year than any other and had so much fun experiencing the park with new friends! Every year our costumes get more and more epic and I can't wait to see what we come up with next year! If you're considering a girl's trip to Disney I can't recommend the parties enough! It's really the perfect situation for a super fun time together 🙂
And a great thing on a girl's trip is having space to spread out…be sure to check out the big discount we offer on our Disney Rental House (only 3 miles from the parks!).