We love coming up with family themed costumes! This year, we decided on Monsters Inc family costumes for Halloween and it was a blast!
I know others with kids my kids ages and I def feel my crew is not the norm for still wanting to stick to a family theme.
I'm not against the kids doing their own costumes if they choose to, but so far the family theme thing has been FUN for our whole family.
We spend months hashing out ideas and deciding who can dress like who and then I go on a hunt to make it all happen 😉
My goal is always SIMPLE. I want simple costumes that are affordable, easy to put together, easy to tell who we are, and easy to WEAR.
Weather here is super unpredictable. We've had Halloween's where we are in shorts and others where we are in heavy jackets.
Disney is something we all love and we all have a lot of knowledge about so it's pretty easy to stick to Disney themed costumes 🙂
In the past our family costumes have included: Toy Story, Peter Pan, The Fab 5 (Mickey and Gang), The Incredibles. Adding to that list this year was our Monsters Inc family costumes!
Disclaimer: post contains affiliate links.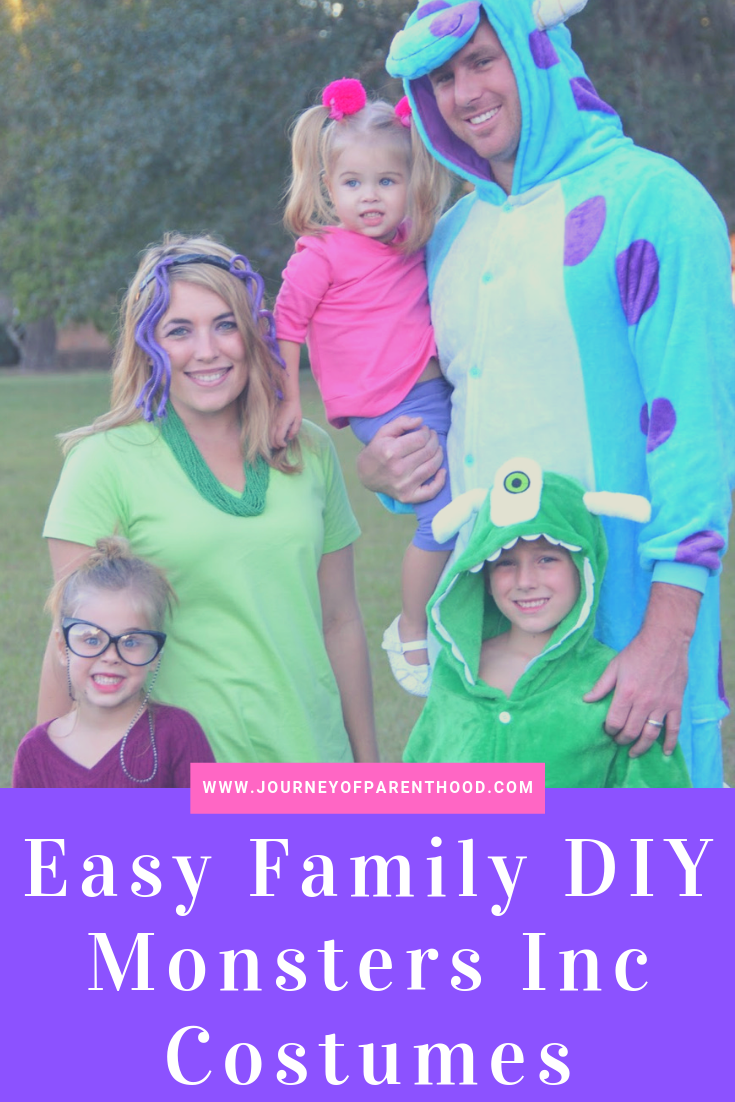 Originally published December 15, 2016
I had originally planned to find Kye one of those t-shirts that's all green with Mike's eyeball in the middle.
B/c it'd def work and be easy but then I found this one-piece outfit and it was PERFECT.
It's from China so it's not a dead-on Mike.
You can find more accurate ones that are super similar, though!
I also had sizing issues and they sent me one at first that was big enough to fit Zach haha I'm thankful I started the ordering process back in MAY or else there wouldn't have been time to get it all straightened out in time for Halloween 🙂
Super simple, super cute, and super comfy! We did have issues trick-or-treating though b/c the crotch was so low on the outfit that Kye had a hard time running haha
Monsters Inc Family Costumes: Mike Wazowski
Monsters Inc Costumes: James P. Sullivan A.K.A. Sully!
I mean is this not AMAZING?! And you can find the same one on Amazon!
Boo Monsters Inc Costume
Can't have Sully without Boo!
I was super mega proud of her outfit…I found the tunic and pants on clearance at Old Navy and got super lucky with the little pom pom hair ties in the dollar spot at Target! Score!
(Purse not part of outfit, she's just obsessed with carrying it)
If you wanted to Monster Boo as a variation, you can find some cute pre-made costumes… or get creative and DIY the whole thing (kind of like Mike and Sully did!)
Monsters Inc Halloween Costumes: Celia
I knew going in that I'd be the least recognizable character but I'm the mom, I'm cool with being in the background 😉
I'm Celia, Mike's girlfriend!
I randomly already had the purple leggings (and purple shoes haha) and the necklace!
I got the tunic from Amazon and Zach helped me make the snake headband…we just got cheap snakes and spray painted them then attached them to a headband with electrical tape!
Mike and Celia!
Roz Costume
Britt LOVES Halloween.
Last year she was SO PUMPED for Incredibles and this year she was hardcore about keeping our costumes a HUGE secret!
She practiced her best Roz voice and was just so excited.
It was precious and I felt so bad that people didn't "get it" and thought she was a secretary haha.
I started telling people up front who she was so they'd have a better reaction!
I already had everything for her costume, but I did struggle to find glasses (and eventually I did!) I'm glad I got the chain to keep them on her face and to really bring together the look!
Roz!!!
She's watching…
always watching…
So I get it. Most people aren't super huge Disney fans like we are.
Most people may not realize just how AWESOME our costumes were.
Out of any costumes, I'm probably the proudest of these because they were DEAD ON.
I did end up screens shoting pics of the characters to show people who didn't know who we were dressed up as 😉
Mike and Sully
Boo
Roz
Celia
The Monsters Inc Crew!!!
Here are some more Halloween costumes ideas:
Check out our other family Halloween costumes: