Halloween is coming! Our family has really grown to LOVE Halloween over the years. Even our oldest, Kye, is STILL all about some family Halloween costume ideas.
The past few years we've really gone all out with our family costumes and the kids like to keep them a surprise until Halloween 😉 It is something we enjoy planning together as a family and I enjoy the "hunt" to make the costumes come to life. Sometimes I buy pre-made stuff, but usually I like a solid DIY look!
I thought it'd be fun to do a round-up of all of our costumes over the years to help inspire anyone who may be brainstorming some family Halloween costume ideas… I've even included some of our family and friends who have also joined the creative costume club! If you need family Halloween theme ideas, I've got you covered 🙂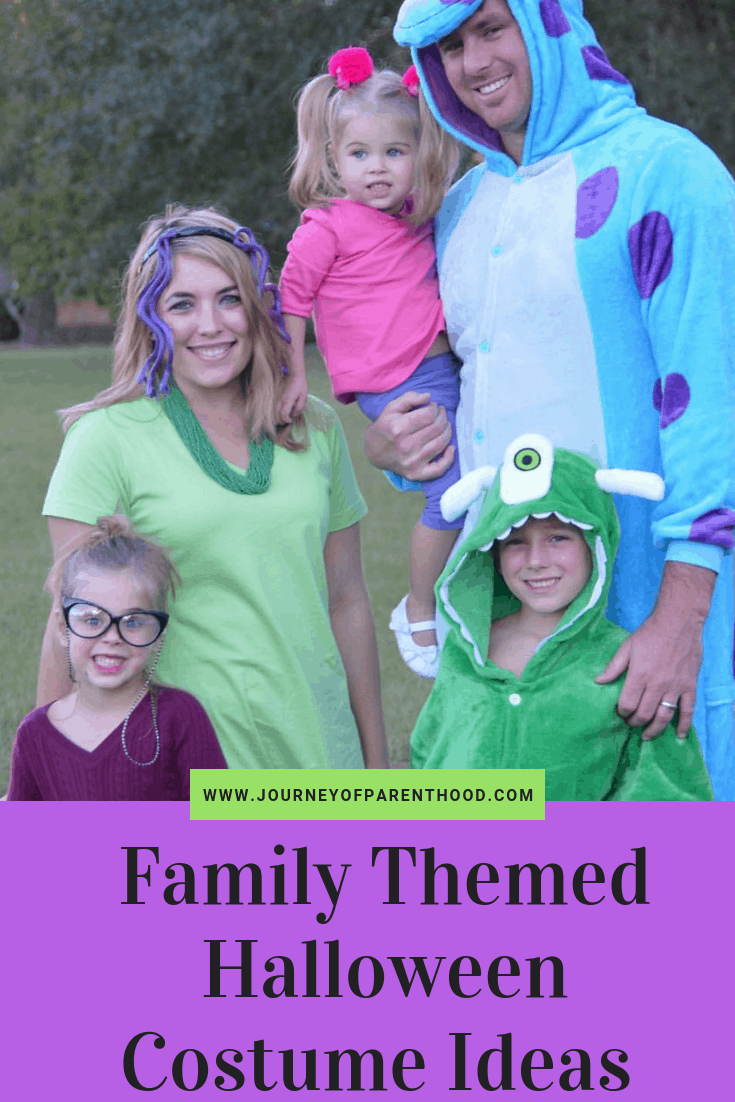 Originally published August 24th, 2017
Family Halloween Costume Ideas: Disney and Pixar!
A LOT of our inspiration comes from Disney. We love the theme parks, we love the movies, we are a proud Disney family 😉 So of course many of our family costumes would revolve around Disney and/or Pixar movies!
If you're looking for DIY Disney costume ideas only, I have a costume round-up exclusively for fellow Disney fans!
Toy Story Family Halloween Costumes
We've done Woody, Jesse, Barbie and Ken from Toy Story
Monsters Inc Family Themed Halloween Costumes
(Sully, Mike, Boo, Roz and Celia)
Peter Pan Family Costumes
Peter Pan, Captain Hook, Tink and Wendy
We even had Smee and the crocodile!
Disney's the Fab Five Costumes
Tess was my littlest baby at Halloween so I don't have a ton of experience with baby halloween costumes! Bless her heart her first Halloween she was dressed like Donald Duck 😉
And any Disney loving family HAS to do The Fab Five!
The Incredibles Family Costumes
Moana Family Halloween Costume Ideas
Disney's Moana-themed costumes with lots of DIY made a great family Halloween costume idea!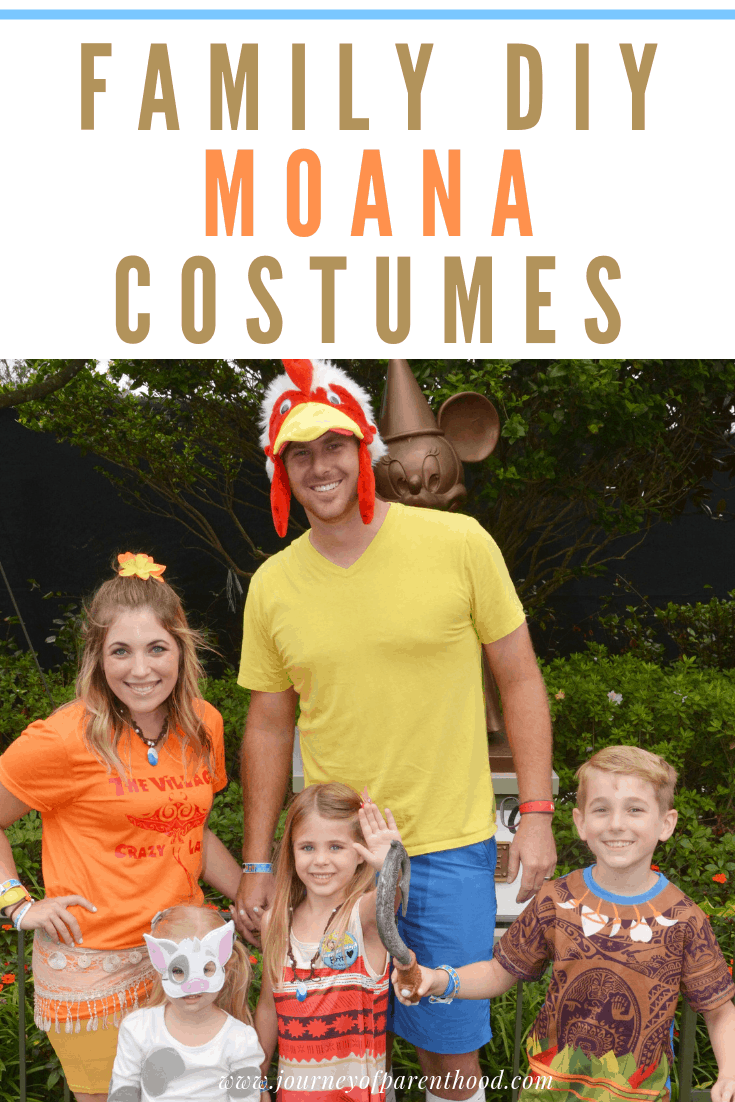 Brave Family Halloween Costumes
Costumes inspired by Disney's Brave, featuring Princess Merida, the triplets, and more!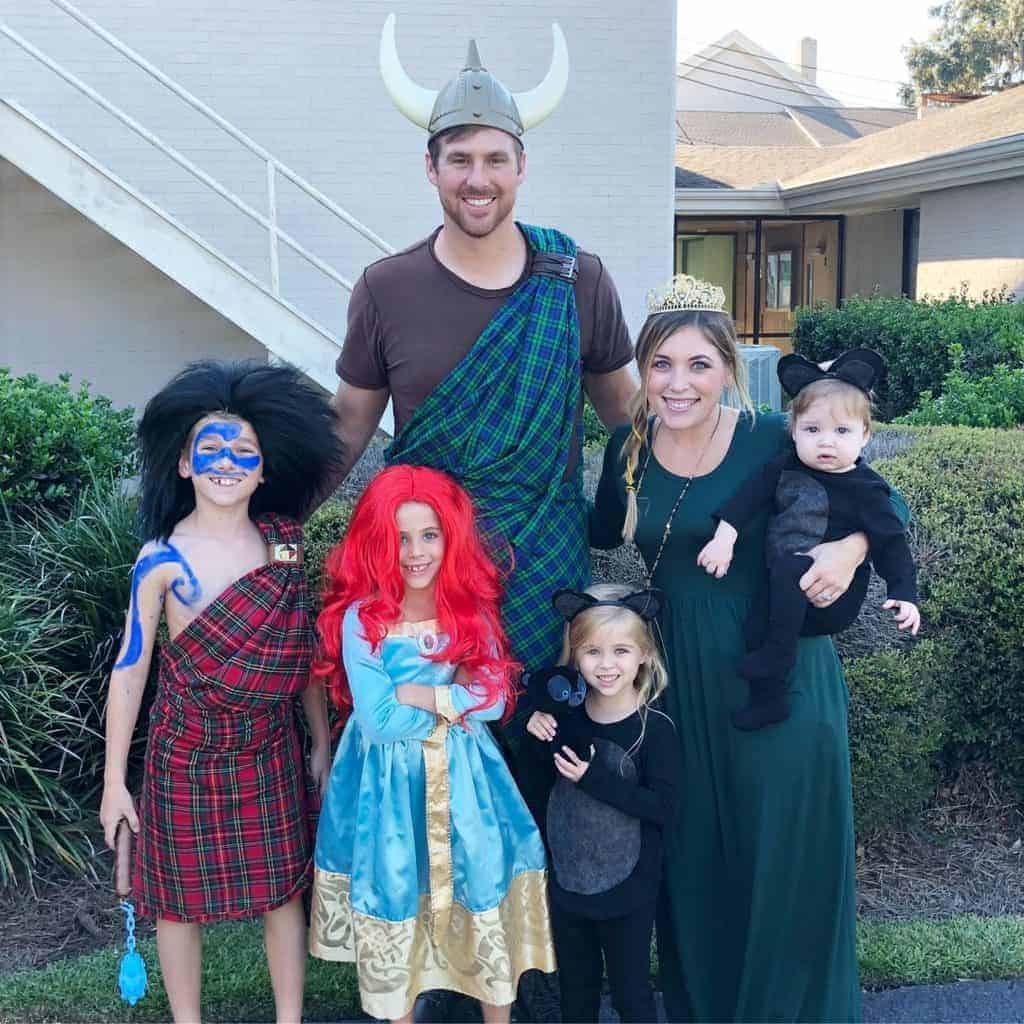 Wreck-It Ralph Family Halloween Costume Ideas
Wreck-It Ralph/Ralph Breaks the Internet costumes for the whole family!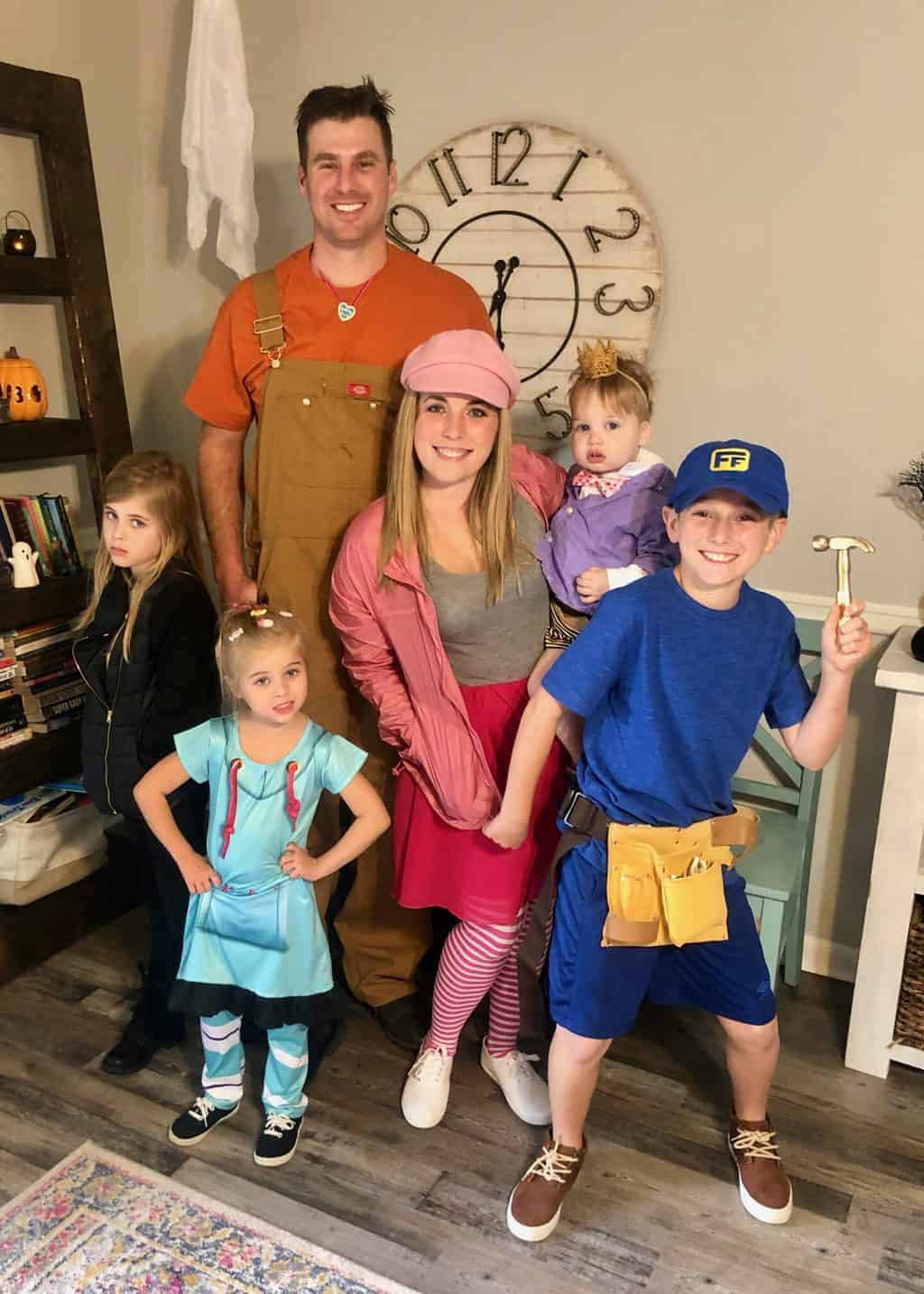 Ducktales Halloween Costumes
Scrooge McDuck, Della Duck, Webby Vanderquack, and of course, Dewey, Huey, and Louie! This might be my favorite cohesive group costume yet! I loved it because ALL of the kids knew their characters and owned their looks and were so hands on in choosing each element of the costume.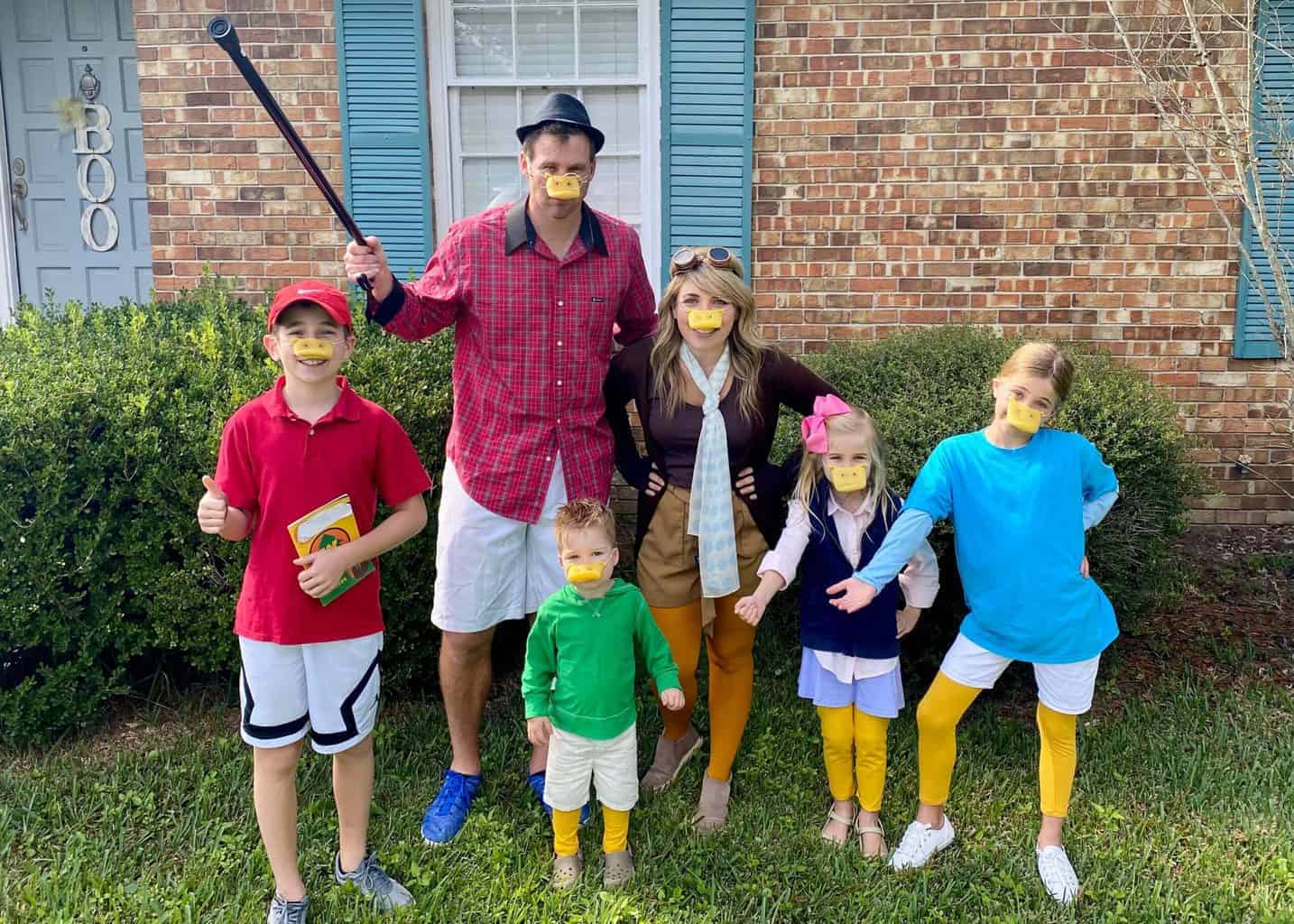 Cruella – 101 Dalmatians Family Costumes
We had so much fun putting together our version of the classic 1010 Dalmatians movie with a Cruella twist! My girls and I were each dressed up as a different version of Cruella De Vil and of course we had Horace and Jasper in the crew – and you can't forget the little cutie Dalmatian!
See all the Cruella costume details here!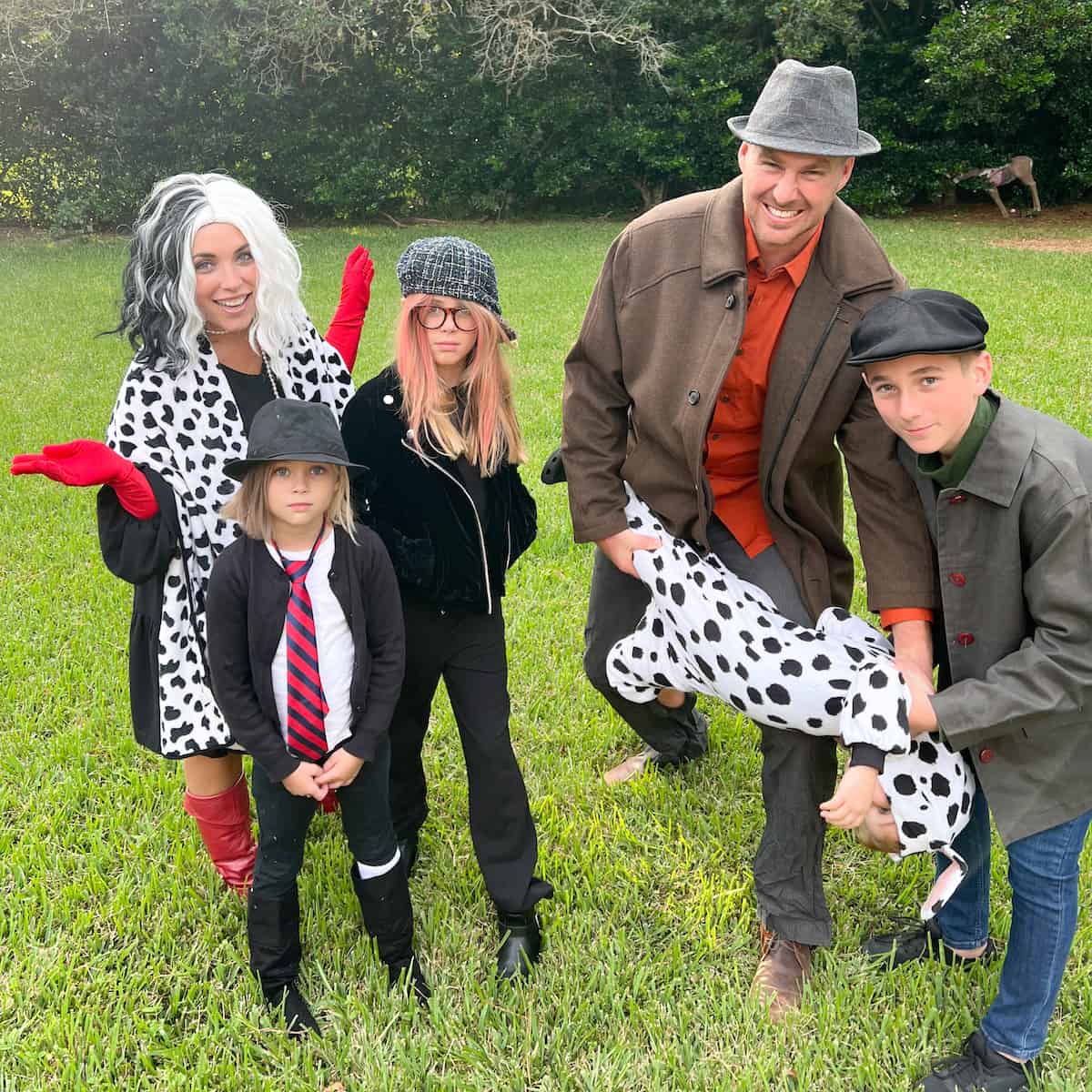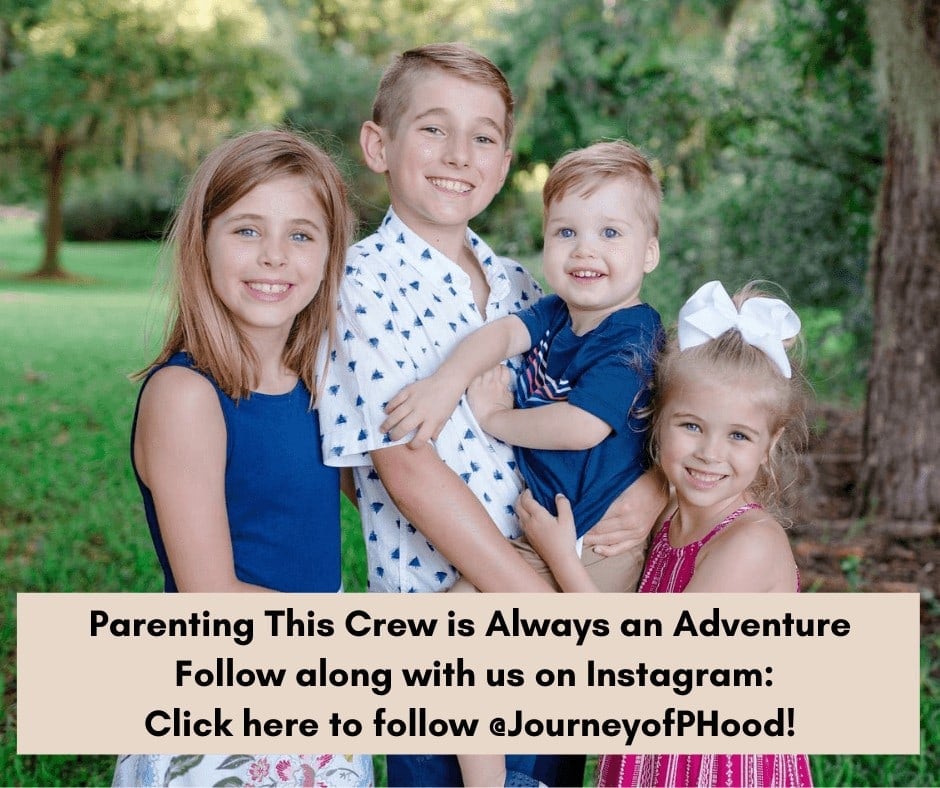 Other Family Halloween Costume Ideas
Finding Nemo Family Costumes
Nemo, Darla and the Scuba Diver (Finding Nemo) Such a cute family costume idea!
The Little Mermaid Family Costumes
Prince Eric, Ariel, Scuttle, King Triton and Sebastian from The Little Mermaid
Of course not every costume is always Disney-themed!
Our family has even had a pregnancy announcement incorporated into a costume! How cute is this from when Casey was pregnant with Carter?
An easy, simple but still fun go-to costume is pirates!
We did it for Kye when he was an only child 😉
And used the theme again for his pirate themed party!
When I was pregnant with Britt I was SO PUMPED to have a BELLY at Halloween and incorporated it into my costume!
Family Halloween Costumes Ideas: Final Thoughts
We have SO much fun planning our family costumes every year and I KNOW what yall are thinking. Where is the Harry Potter theme? How have y'all NOT done Star Wars yet? BOTH are coming… eventually… I keep putting them off because I feel like they are themes that EVERYONE in our family will ALWAYS enjoy getting to dress up as and I want to wait until Spear is fully old enough to be excited and into it like the older ones will be 🙂
Are there any family costume ideas you've done in the past that you really loved? Feel free to share them in the comments!