We've been doing family halloween costumes for awhile now and the longer we do them the more into it we all get. This year's Ducktales costumes were no exception!
It's super fun to pick a less popular theme and then be hardcore about it and see if anyone can even tell who we're dressed like 😉
This year the kids 100% led the way! DuckTales has been the first thing that ALL FOUR of our kids have really enjoyed together.
They love watching the show together and love talking about it and playing with DuckTales themed toys.
When brainstorming a Halloween costume theme, they came up with DuckTales costumes and even went as far as deciding who each person in our family needed to dress up like. I guess each of the kids is matched with the duck most similar to their personalities.
I think diy Halloween costumes are extra-fun and it can be challenging piecing everything together but it always pays off!
This year I did my best to shop our closets and use items we have and also made a trip to Goodwill to try to fill in the gaps I could in as budget-friendly as possible.
I LOVE how they all came together and most of all – the kids had a BLAST with it!!! Here's our DuckTales Halloween costume crew!
🎶 Life is like a hurricane, here in Duckburg. Race cars, lasers, aeroplanes it's a duck-blur!
Might solve a mystery or rewrite history!
DuckTales! Woo hoo! 🎶
Disclaimer: post contains affiliate links.
DuckTales Family Halloween Costumes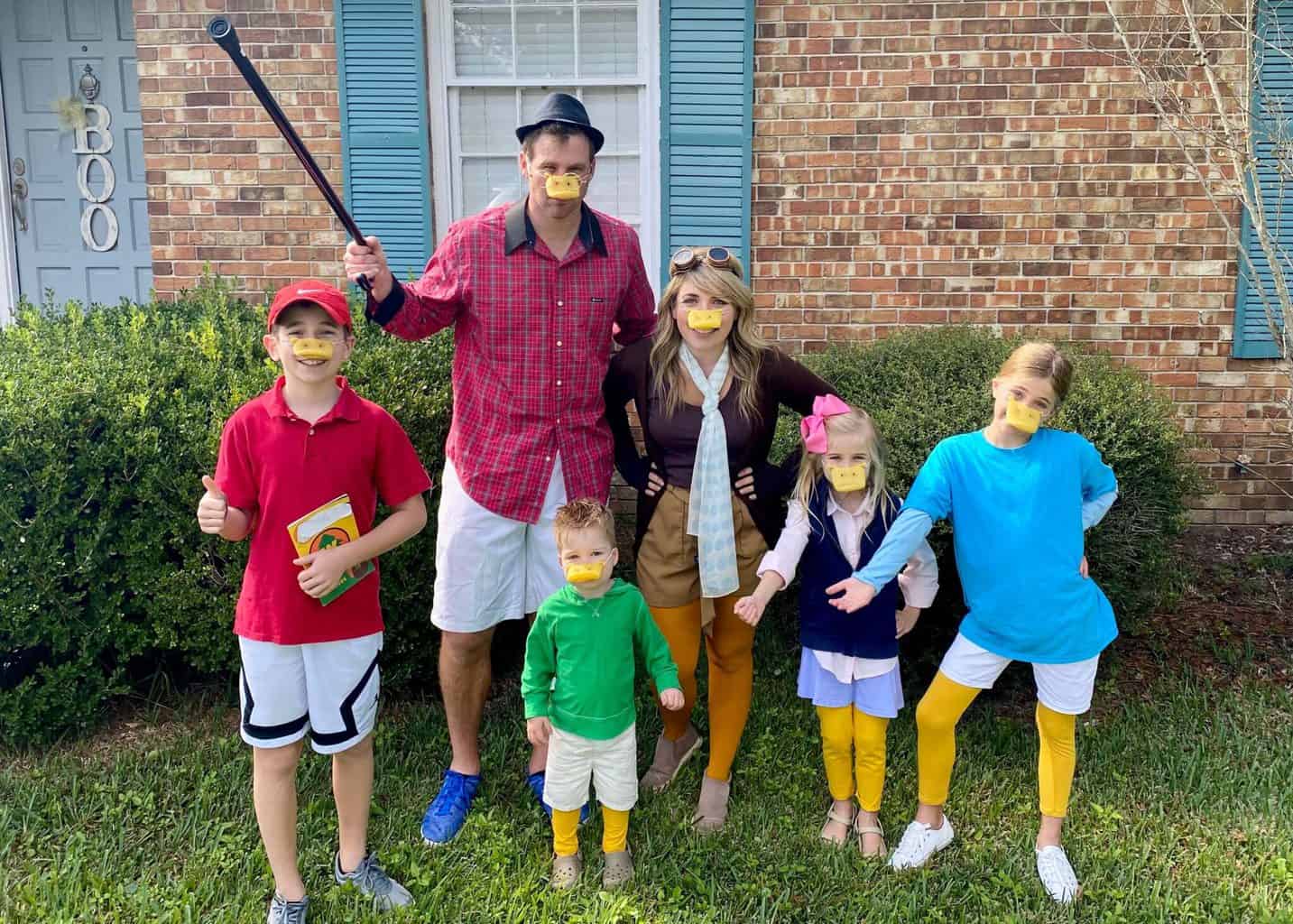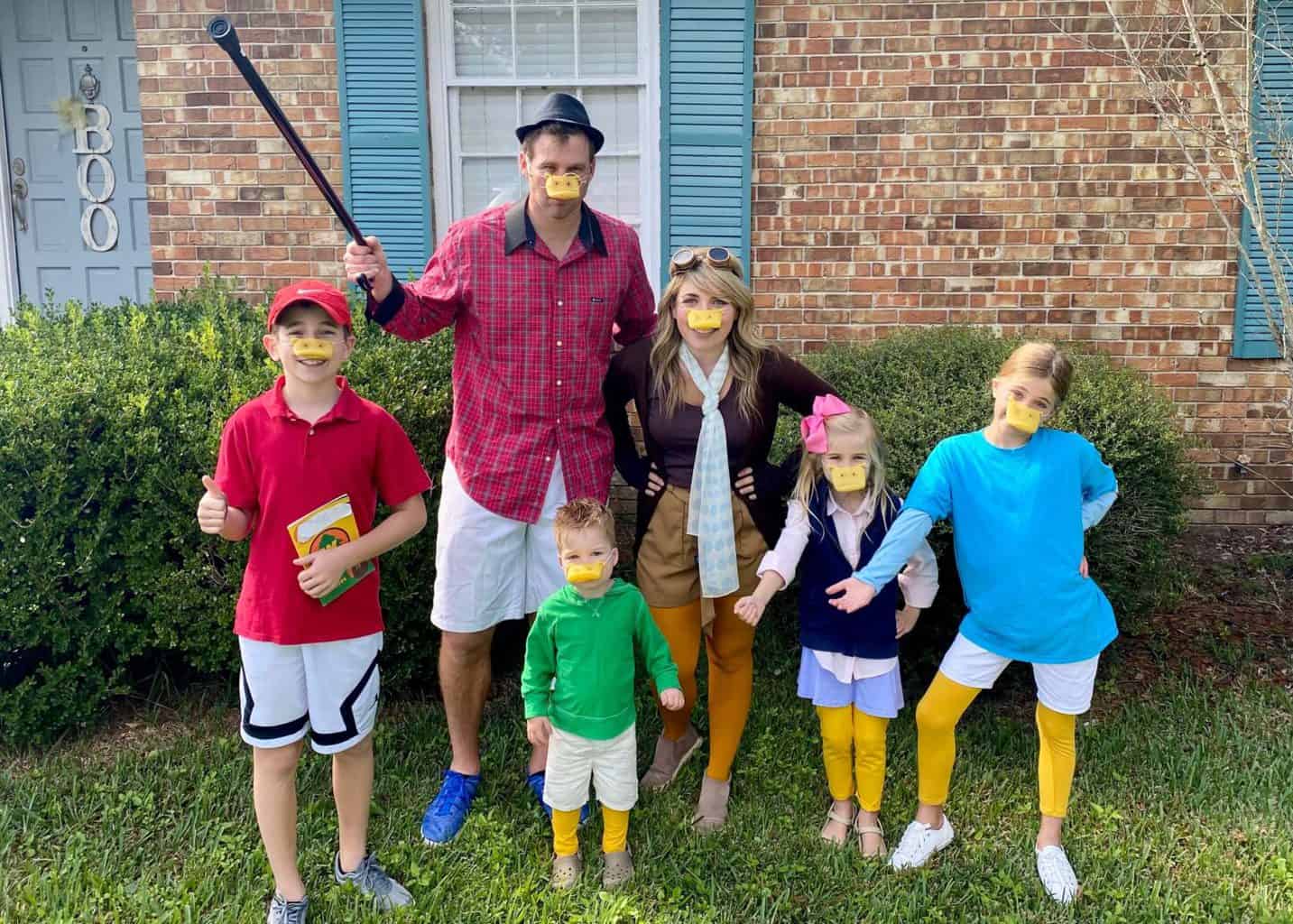 Meet Huey, Dewey, Louie and Webby Duck!
We all used these duck bills and they worked great! Mine just needed some extra stretching bc I have a huge head but everyone else's fit perfectly 🙂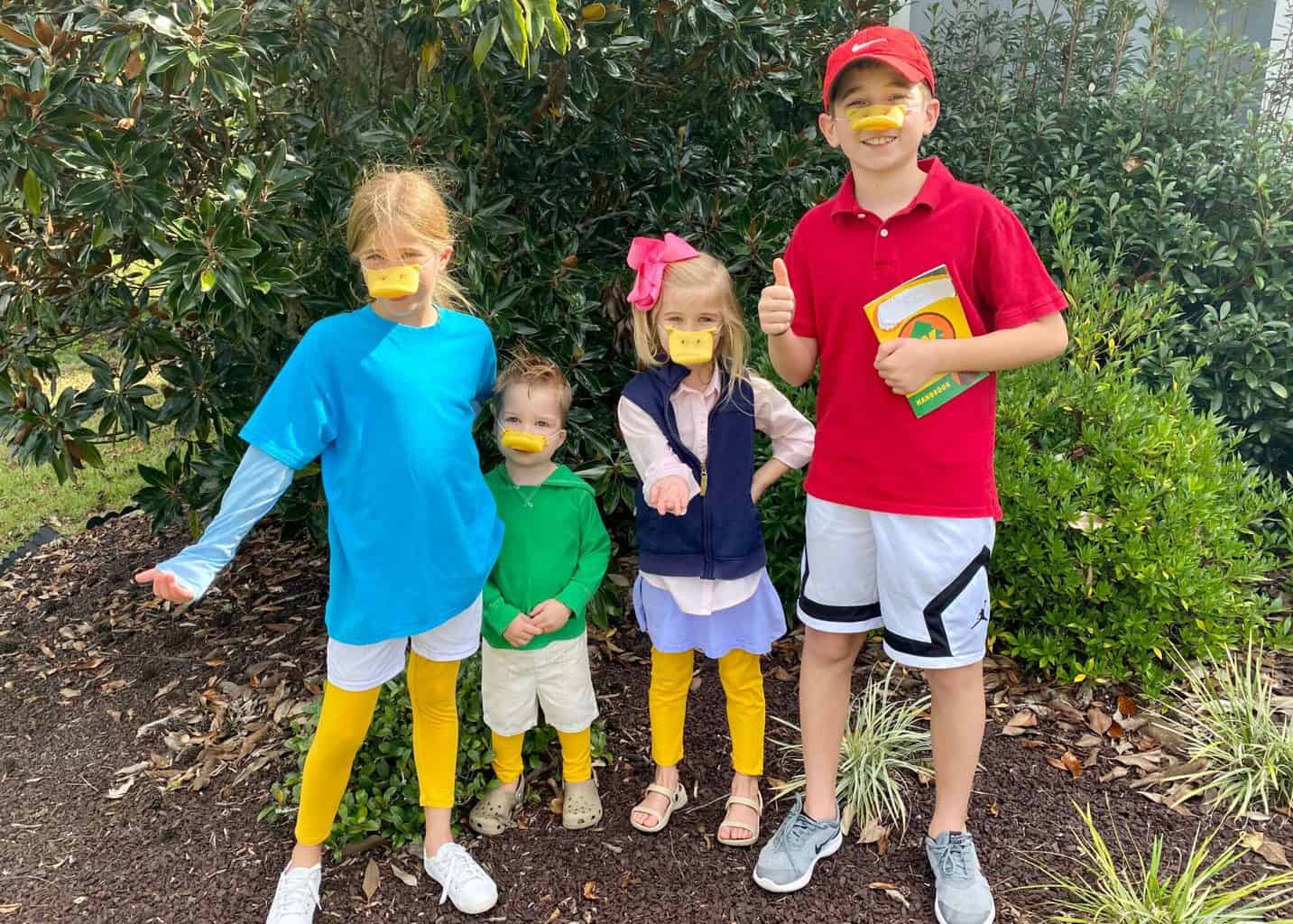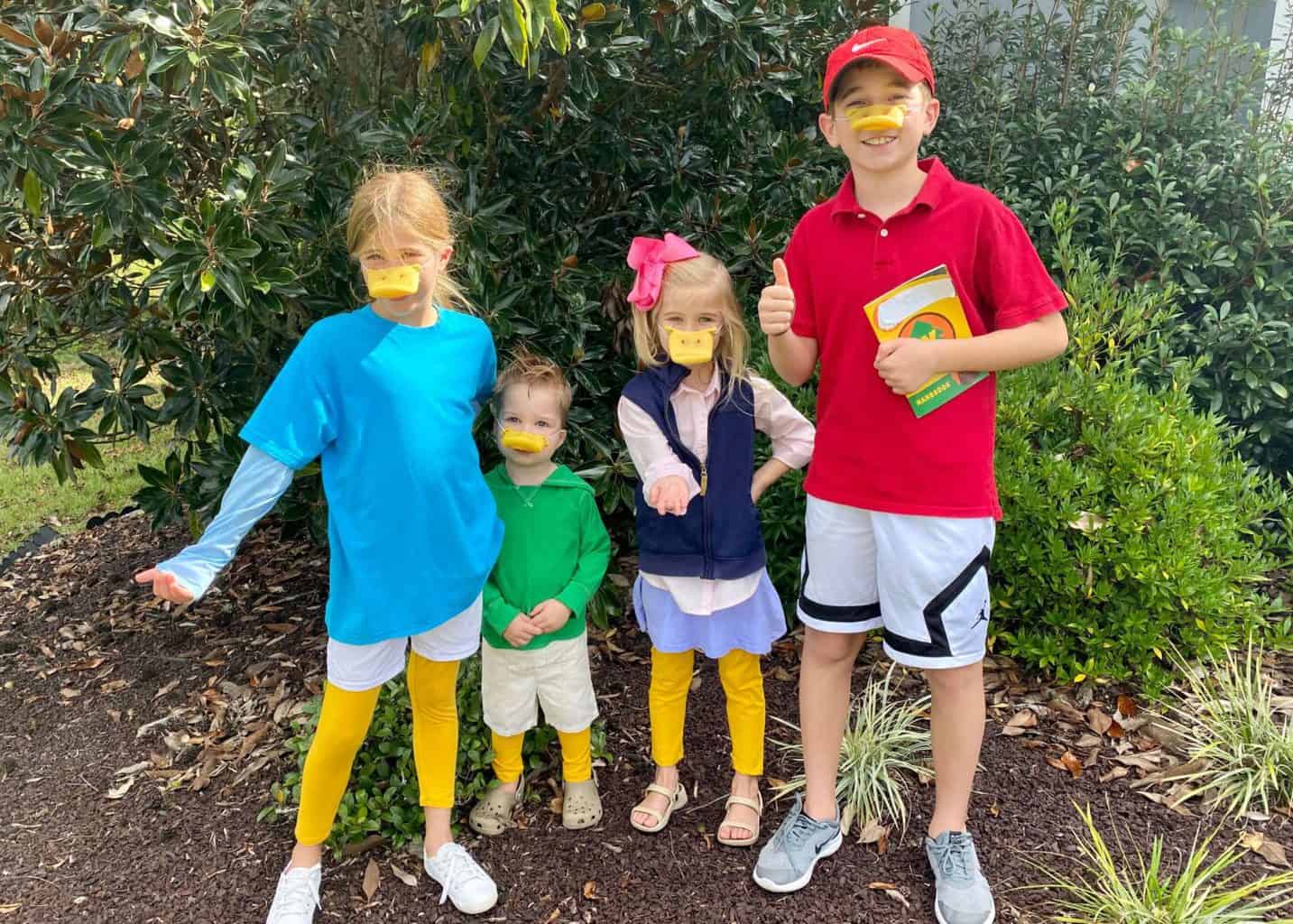 DuckTales Costumes: Scrooge McDuck
Of course Daddy had to be Scrooge McDuck!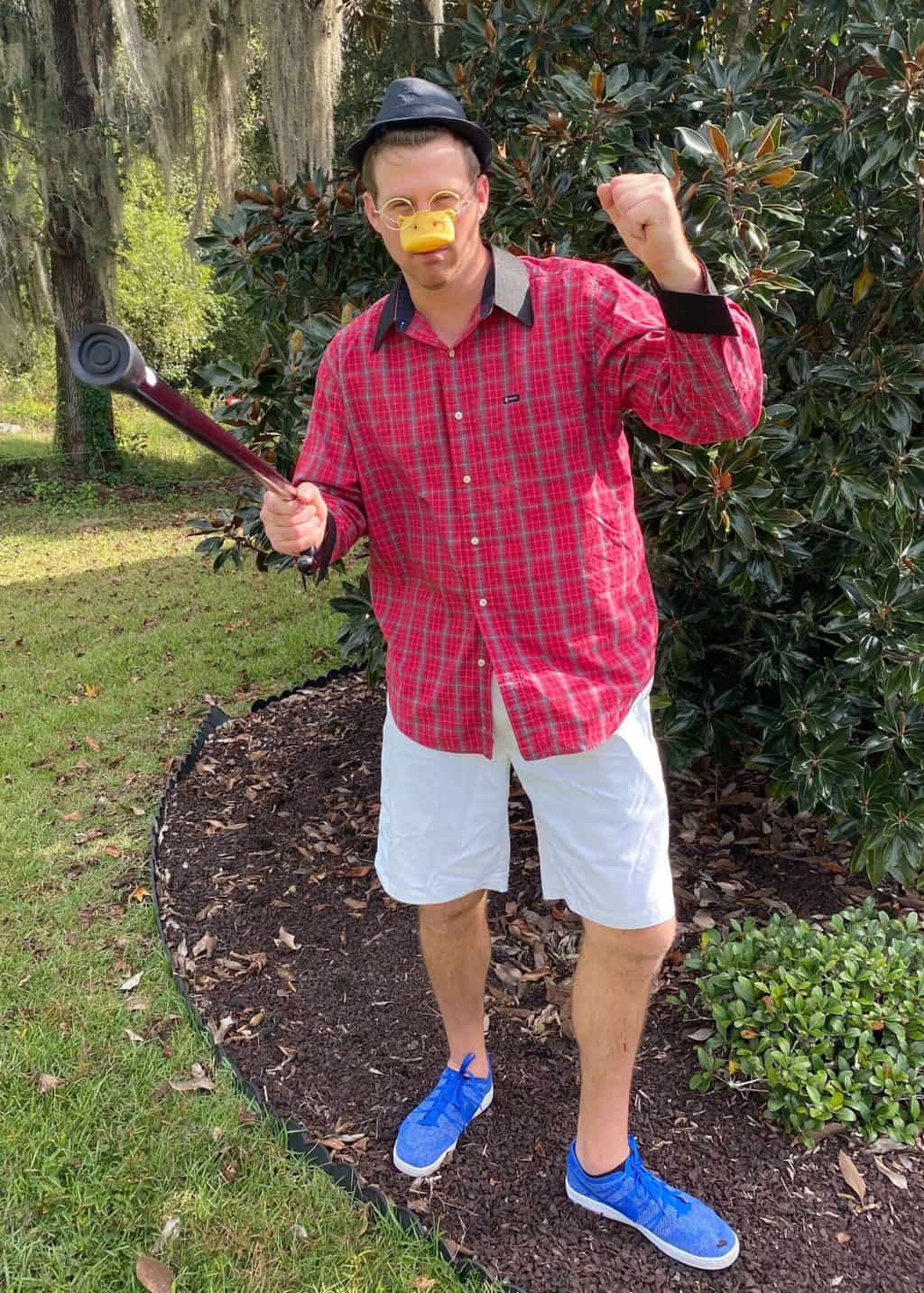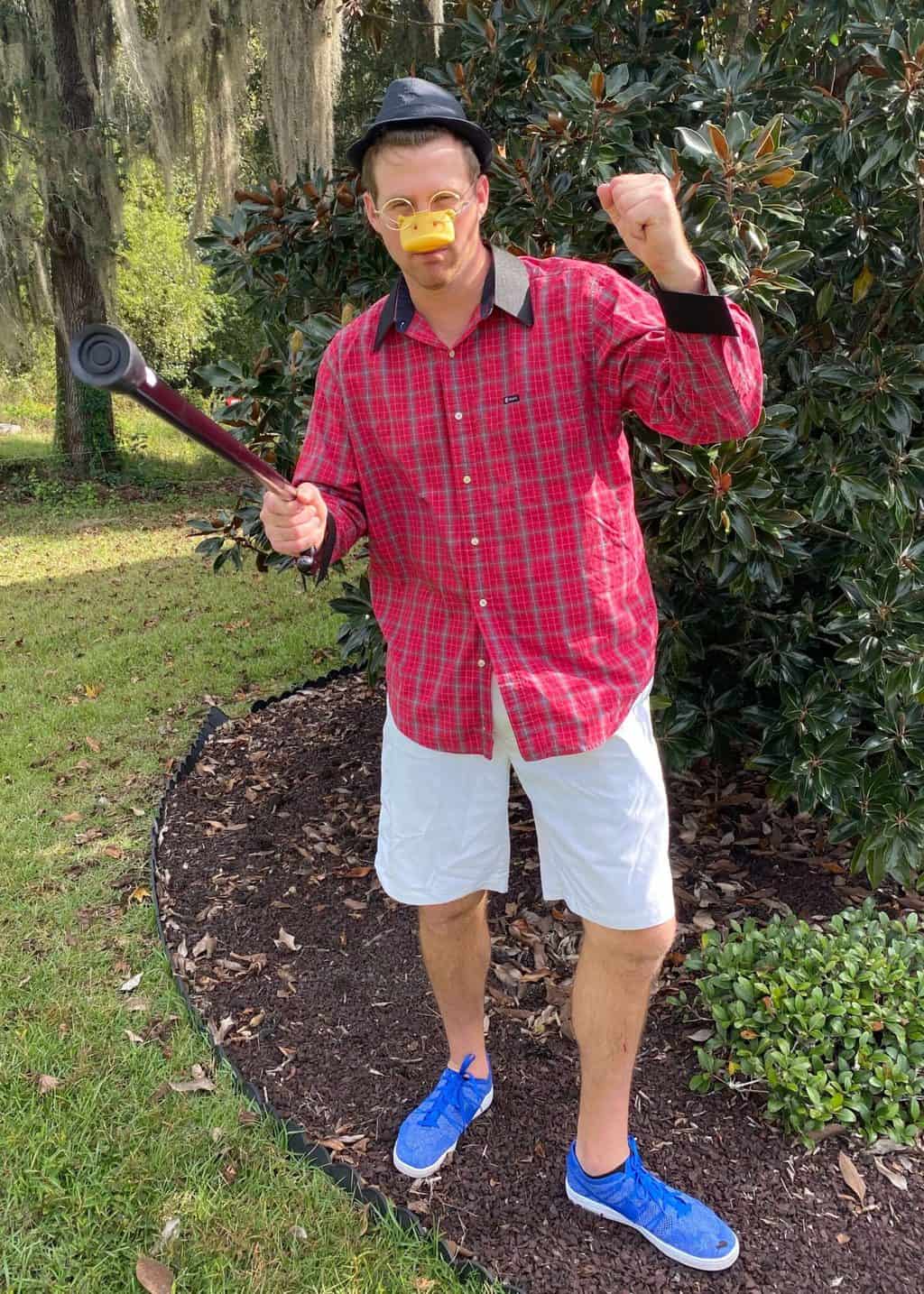 I love showing side by side photos so you can really tell how much we try to be legit in our costumes! Here's how we did Zach's Scrooge McDuck costume:
Zach's shirt is from Goodwill and I got some black felt and hot glued it on to be the collar
Hat we already owned but I did purchase this one and we were going to use it but then we found ours so I returned it!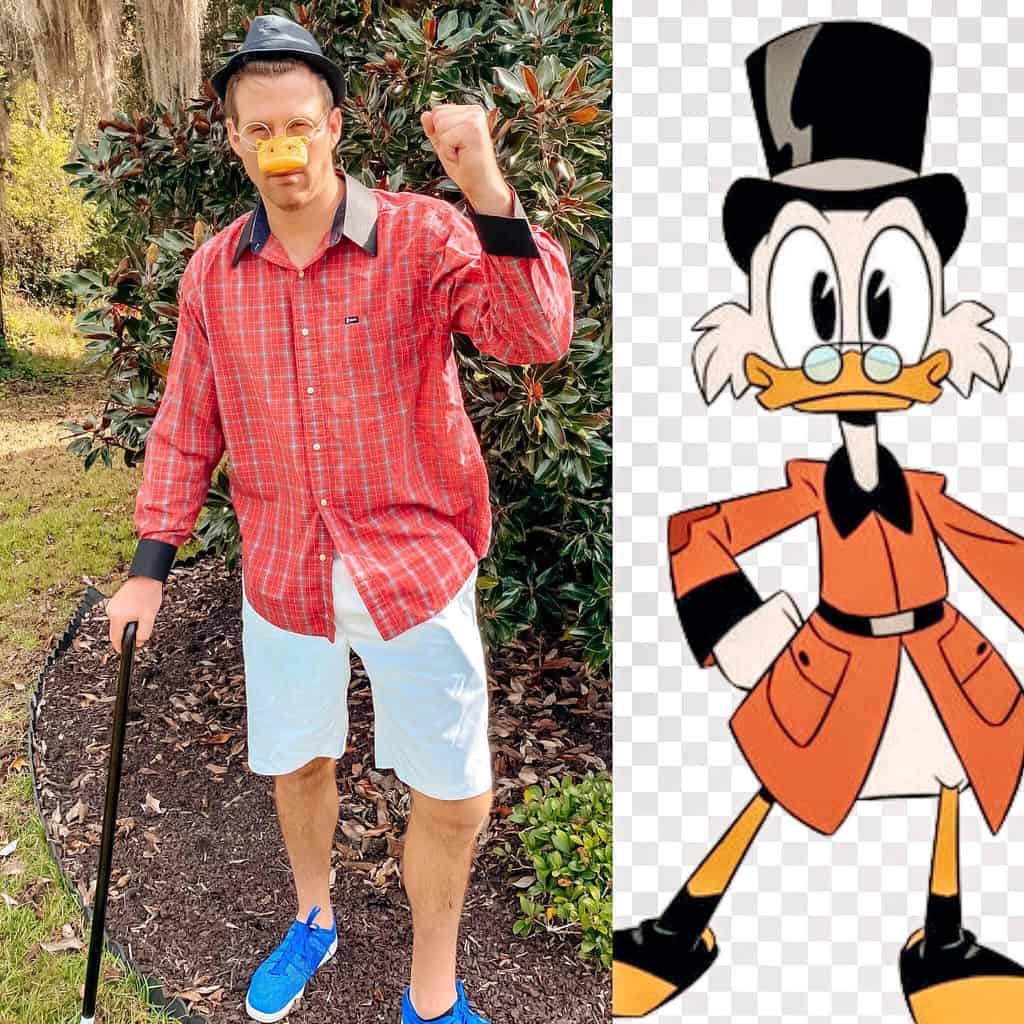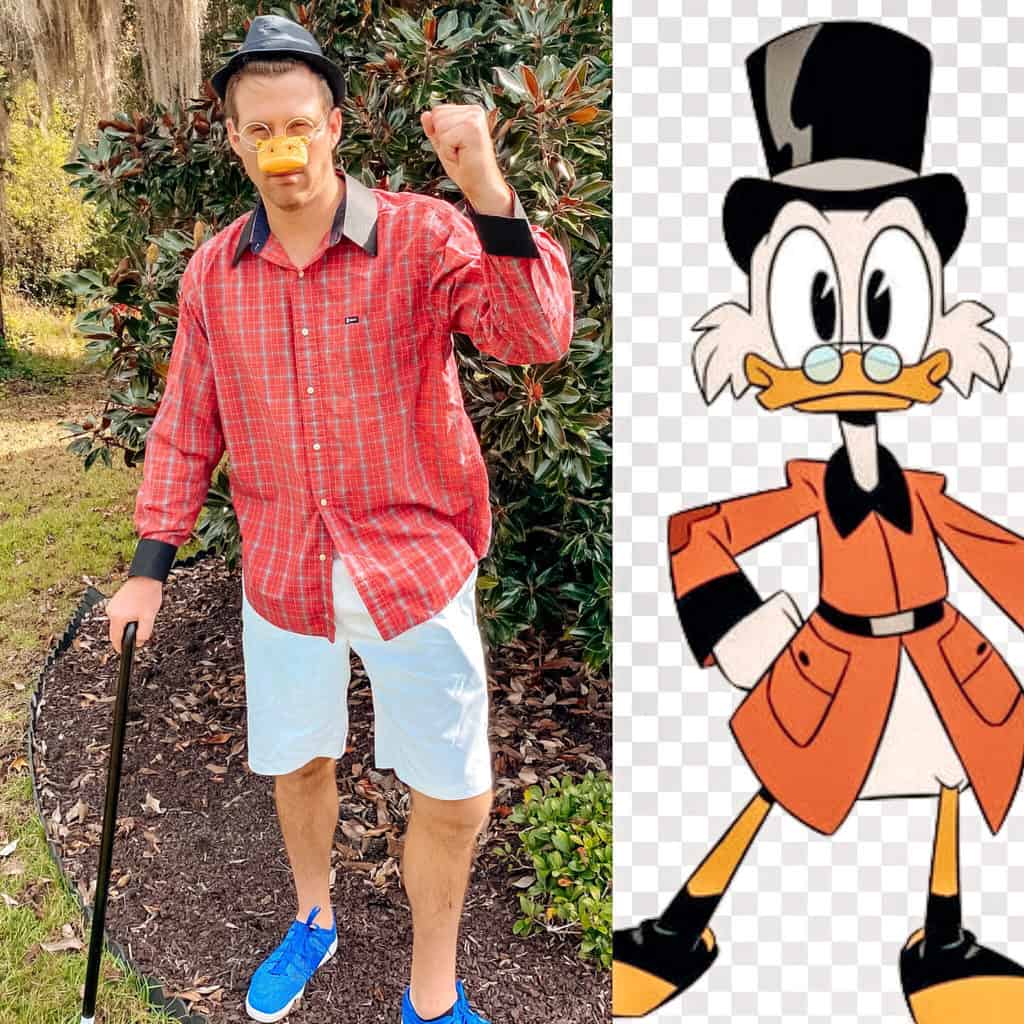 DuckTales Costumes: Della Duck
Della Duck Vibes!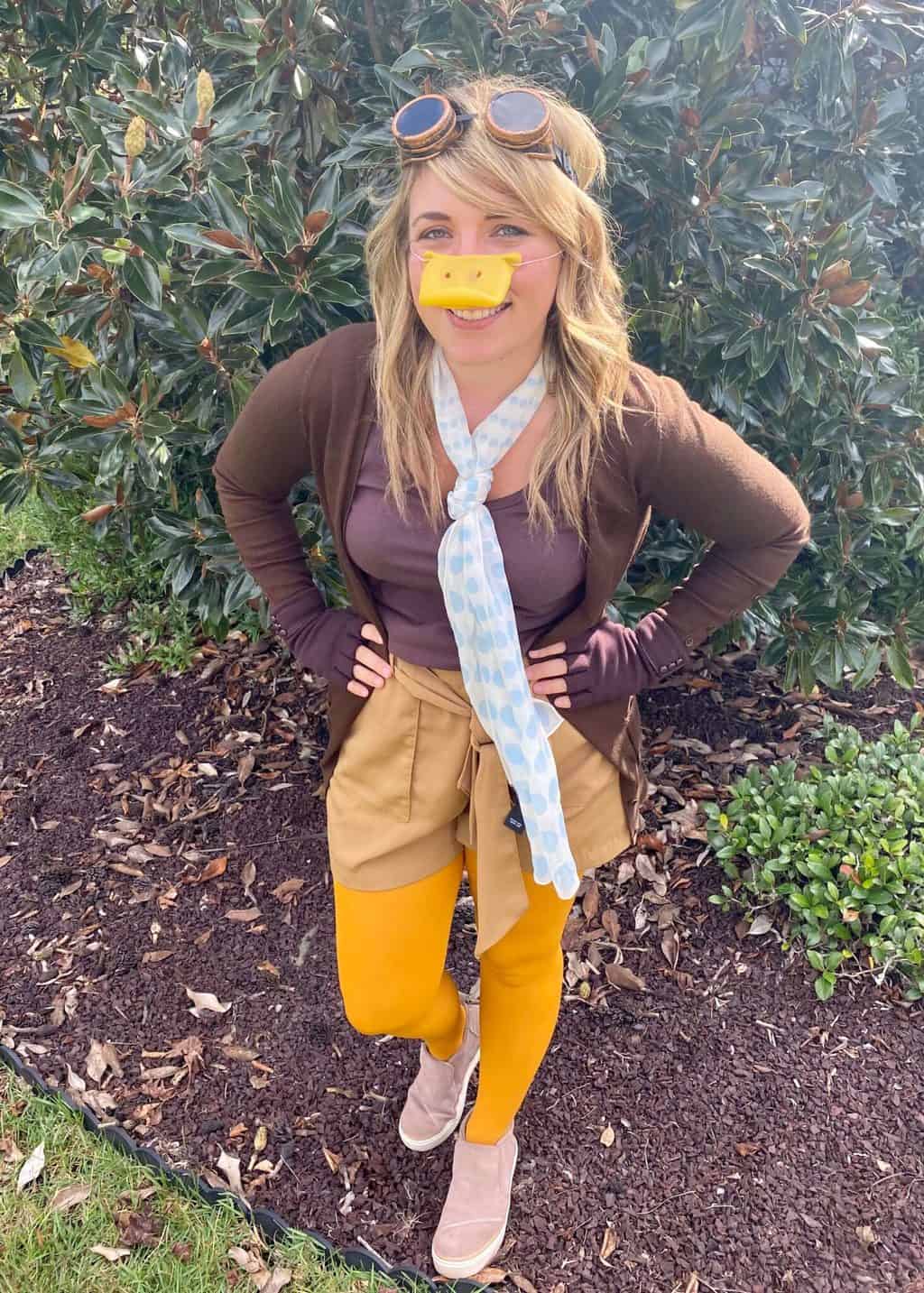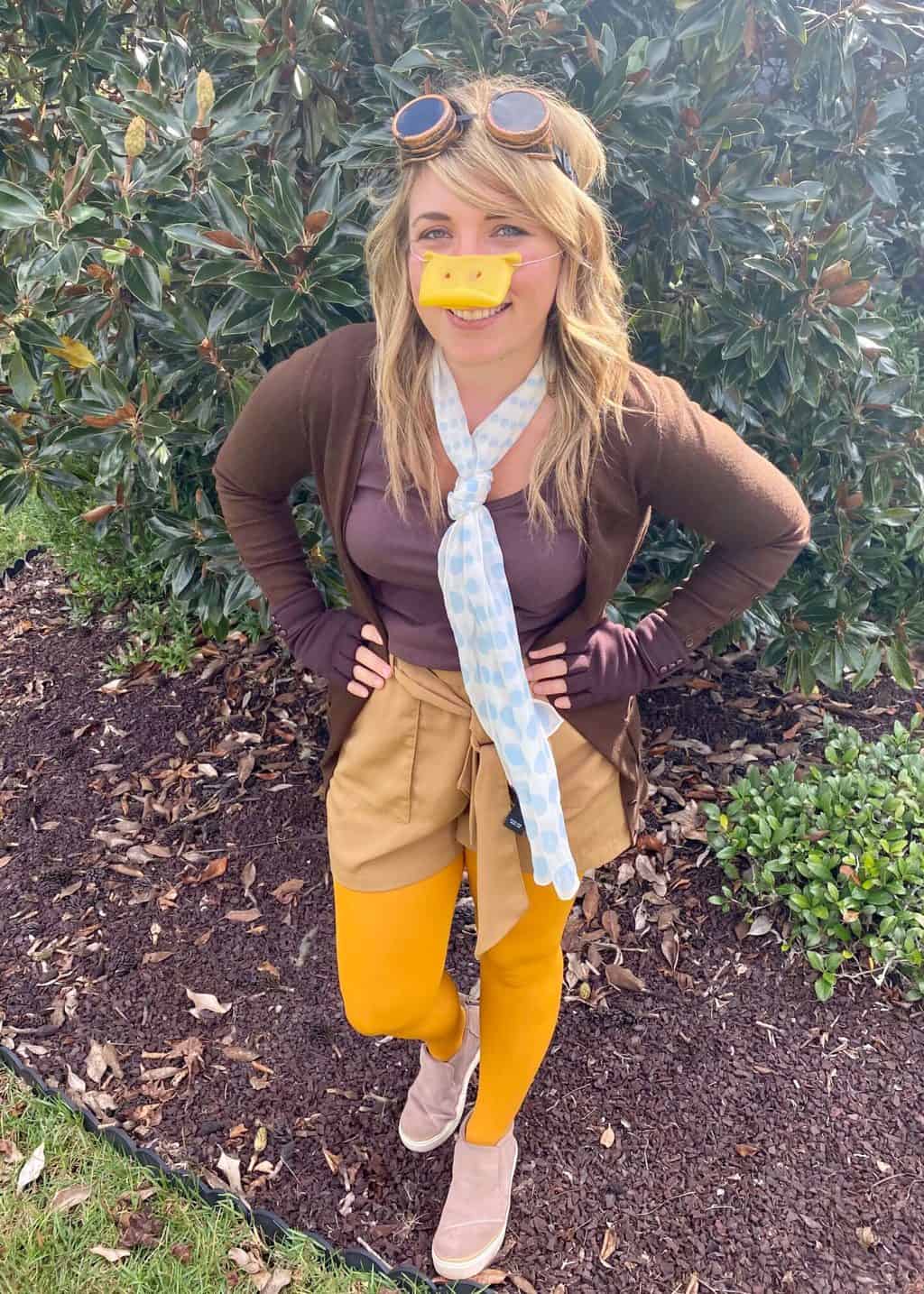 She's the "mom" so the kids said right away it's who I needed to dress like! Here's how I put together this Della Duck costume:
I already owned the cardigan, scarf, tank, and tights.
I did buy these shorts and think I'll get plenty of wear out of them in the future!
I also bought these gloves and cut off the fingers.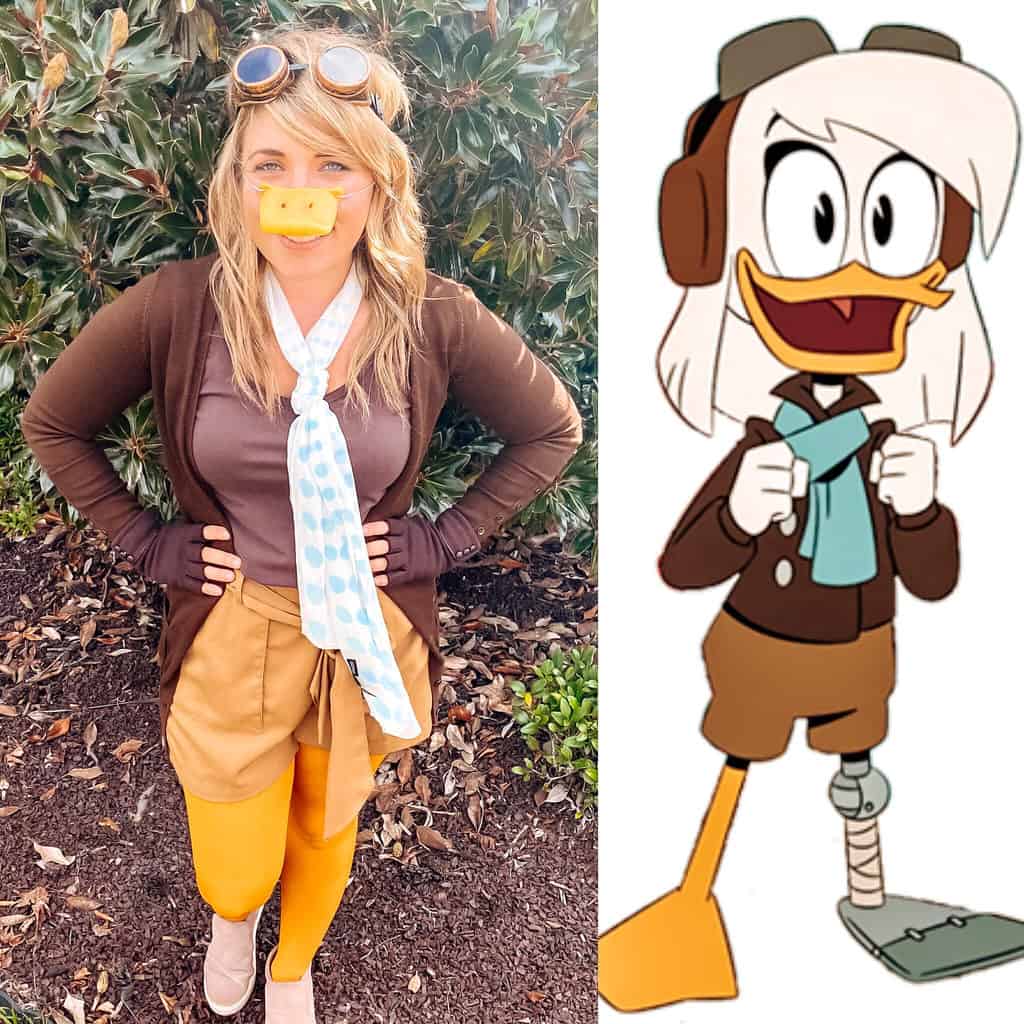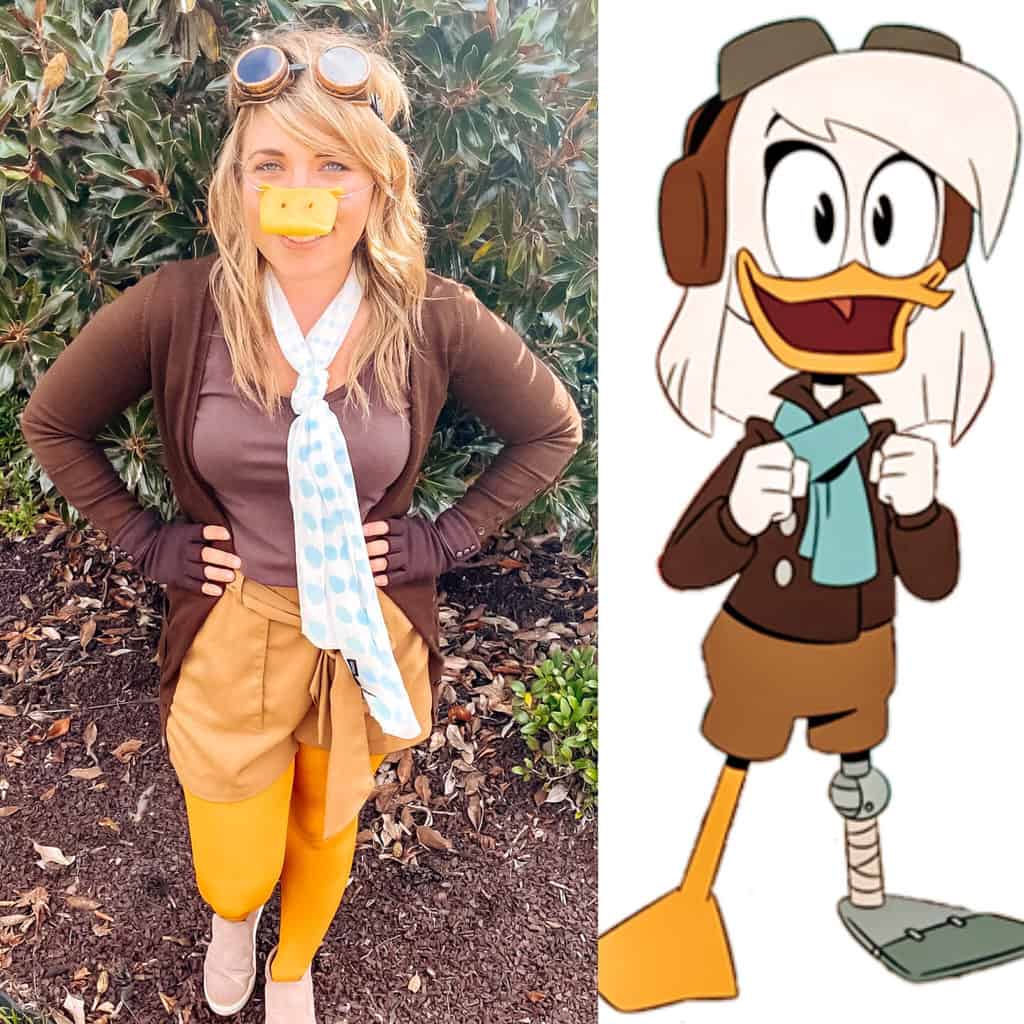 Huey, Dewey and Louie Duck Costumes
Ducktales wouldn't be complete without the classic trio!
Huey Duck Costume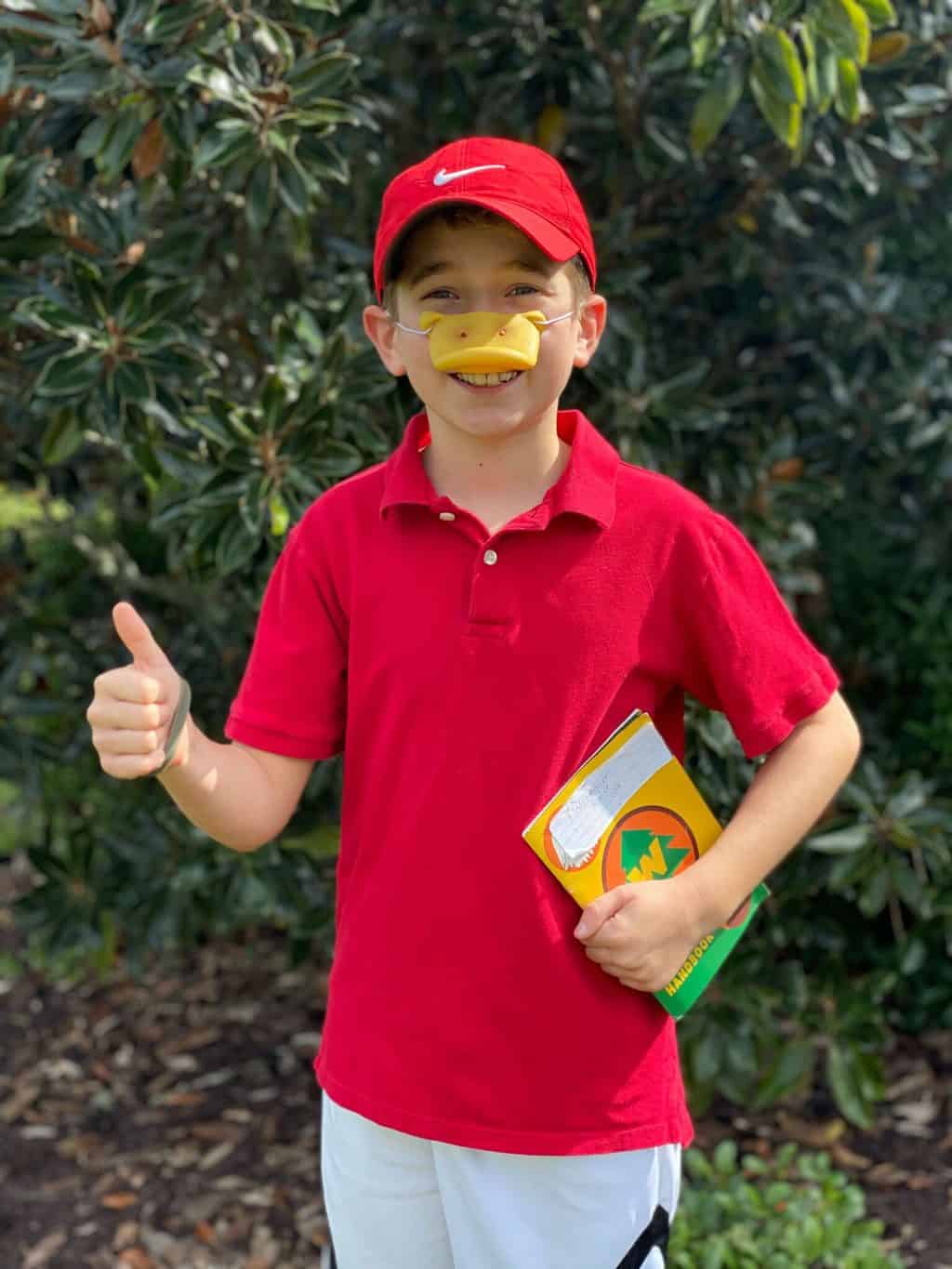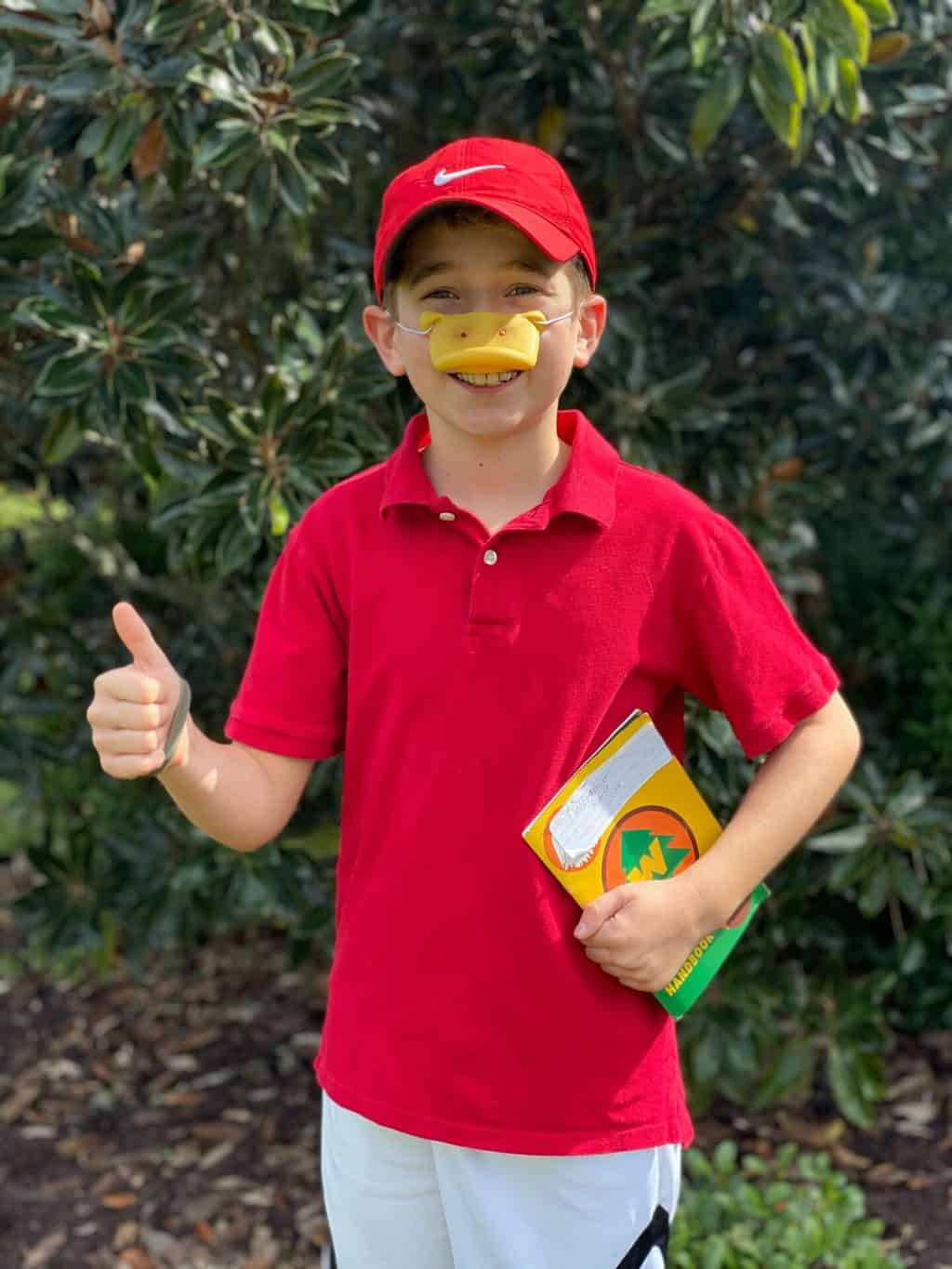 Aside from the duckbill we owned everything for Kye's look 🙂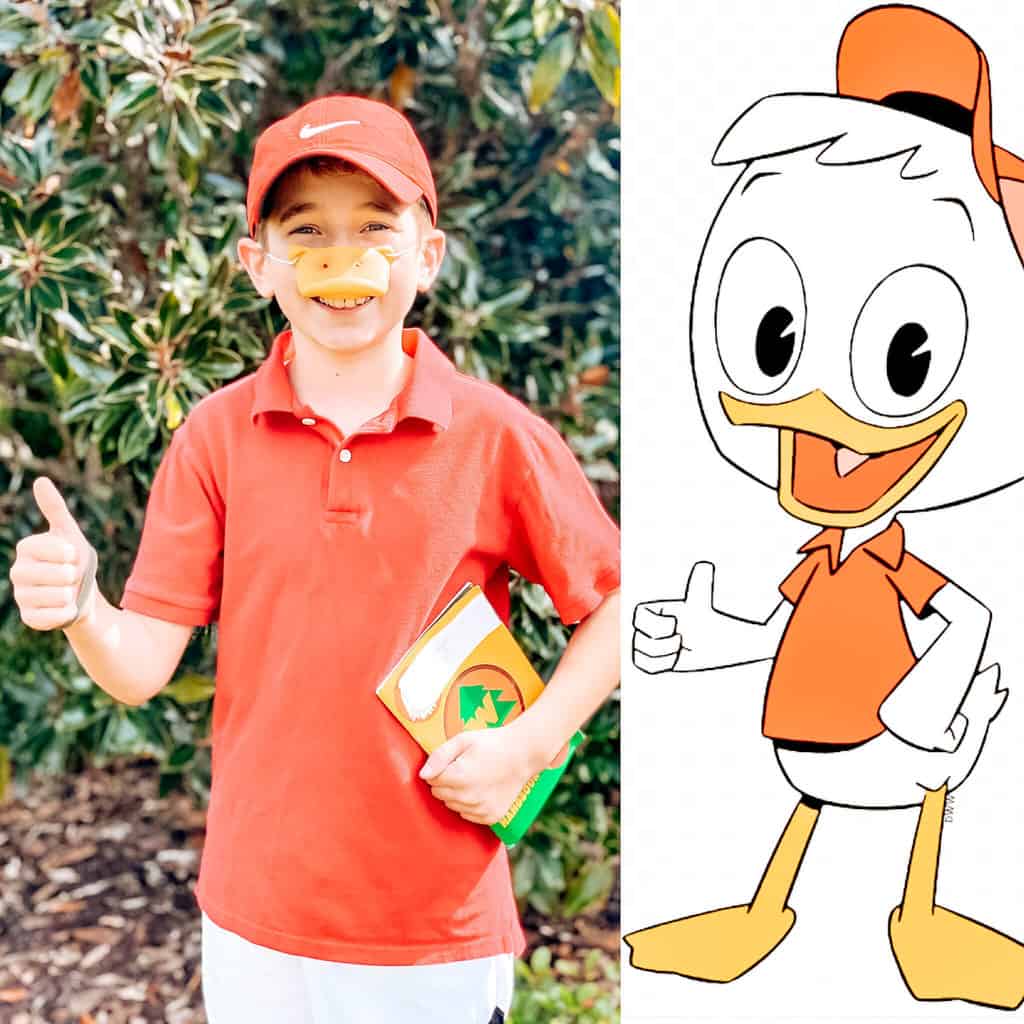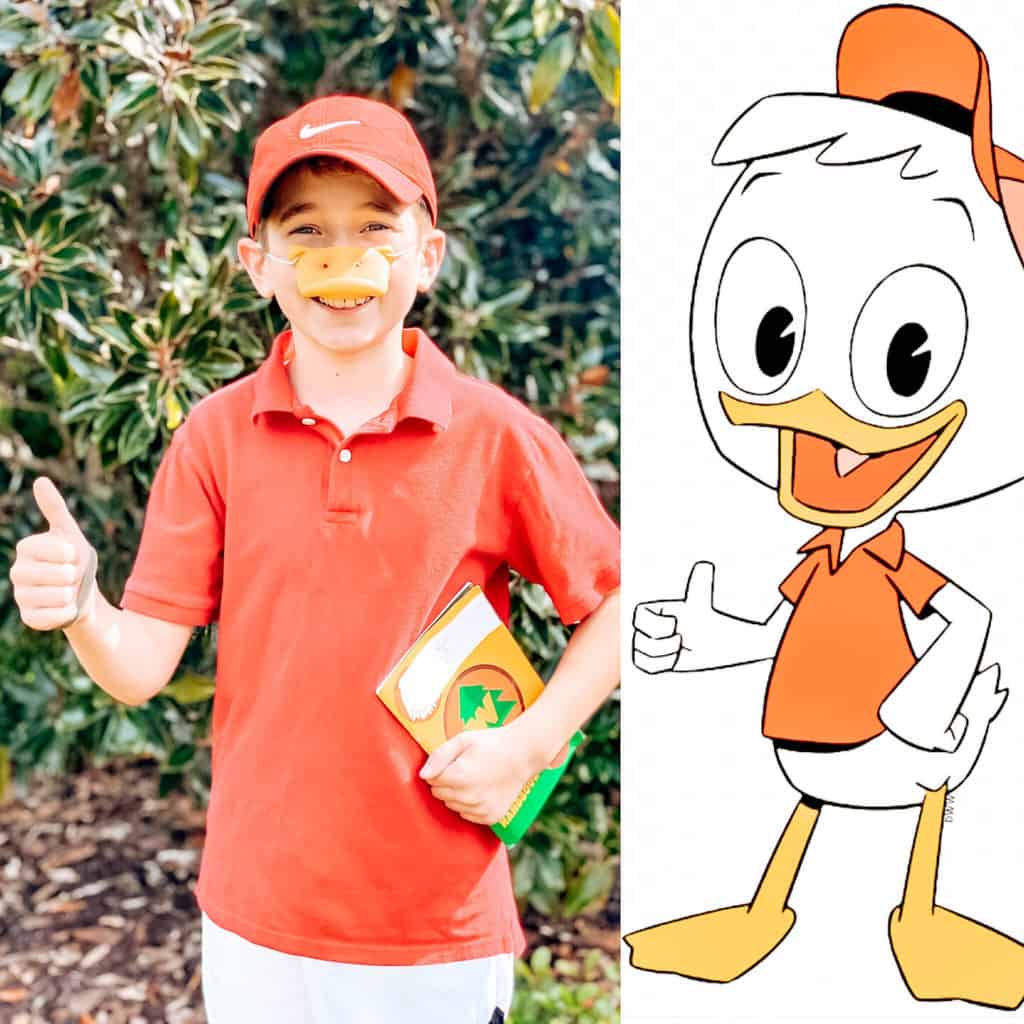 Dewey Duck Costume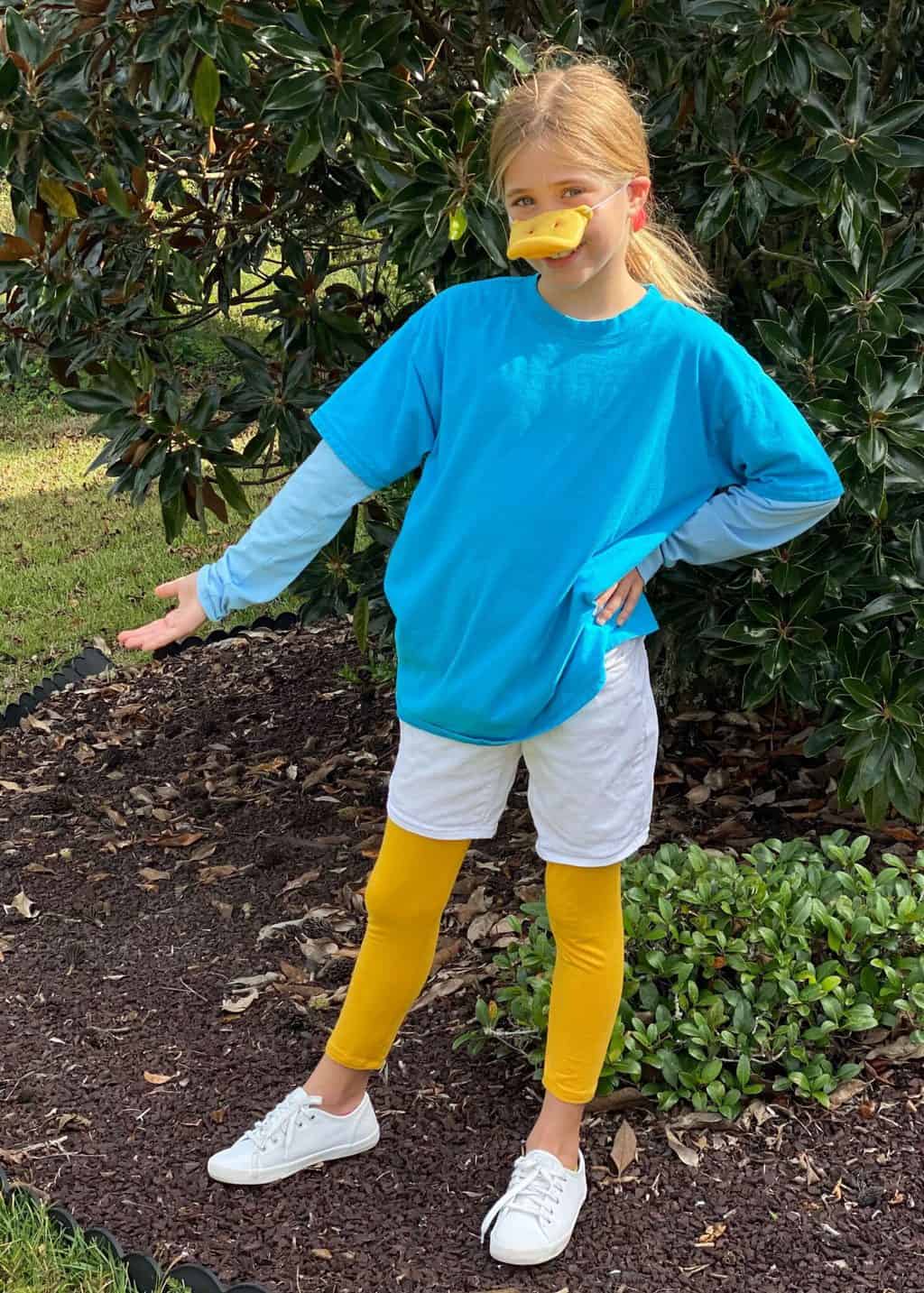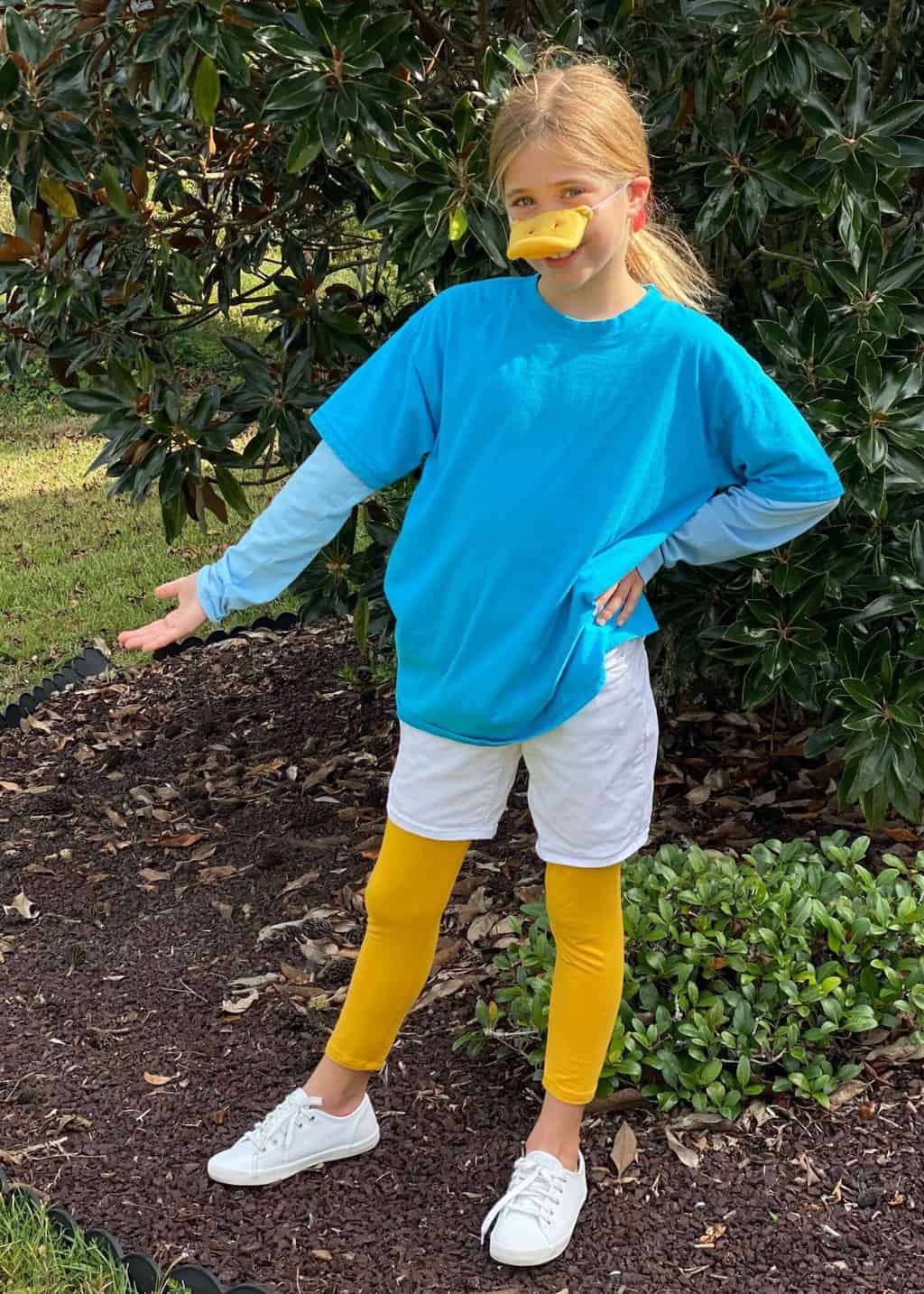 We did buy Britt's overshirt from Goodwill and a long sleeve undershirt. She will get plenty of wear out of it in the future too!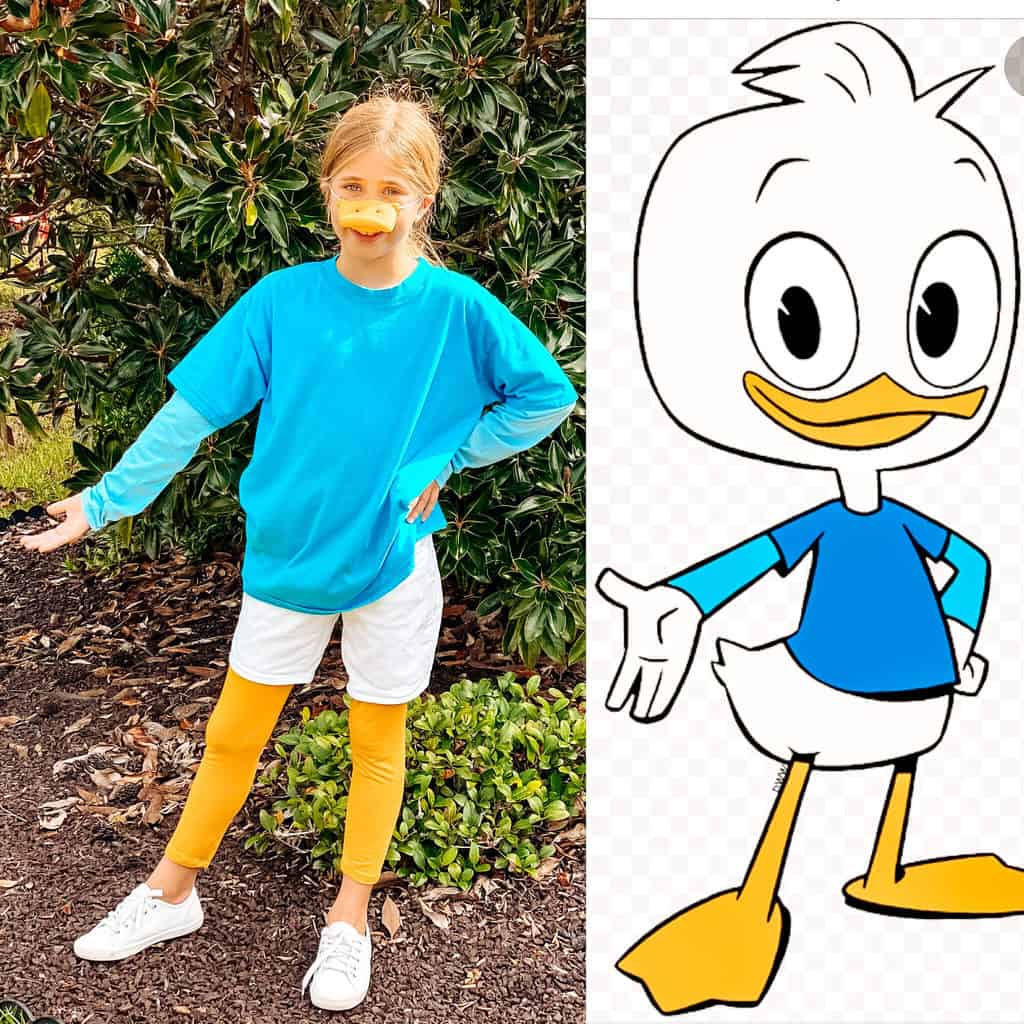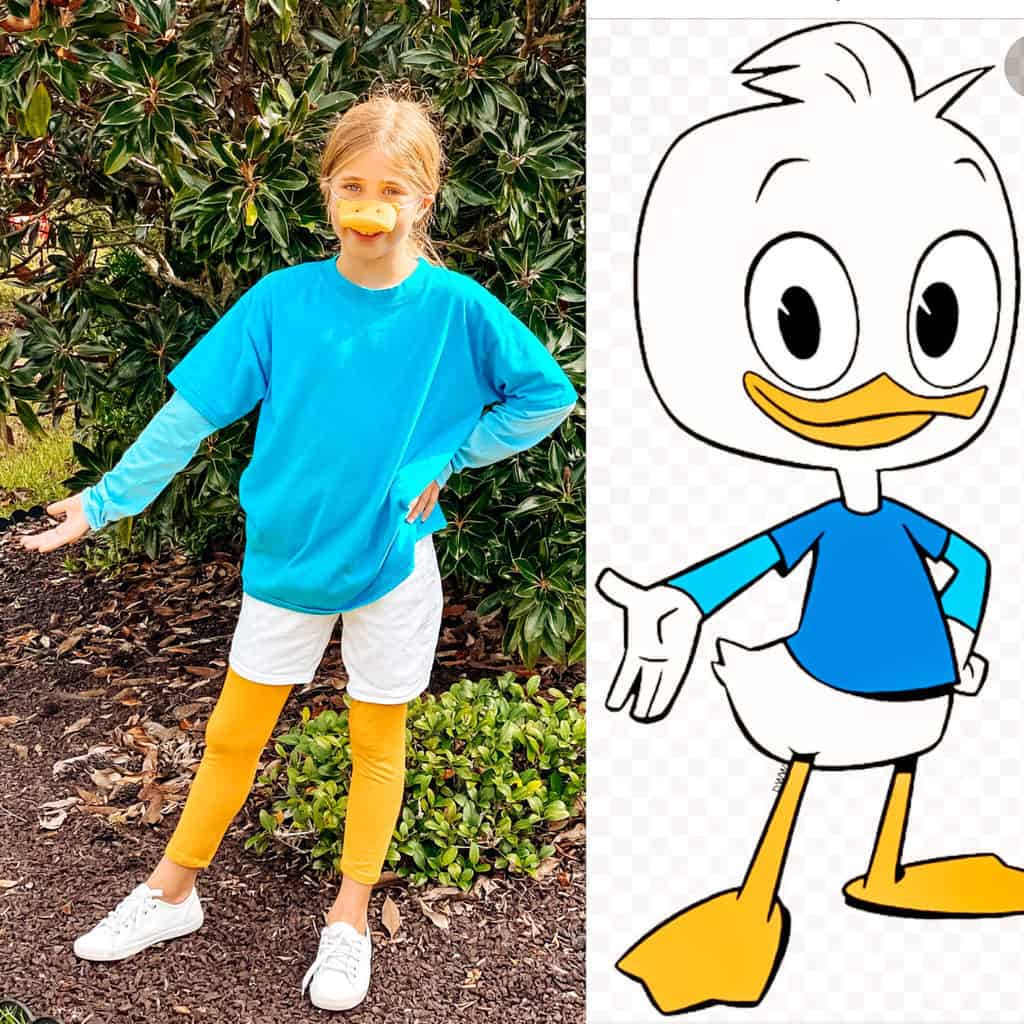 Louie Duck Costume
And lastly… there's Louie Duck!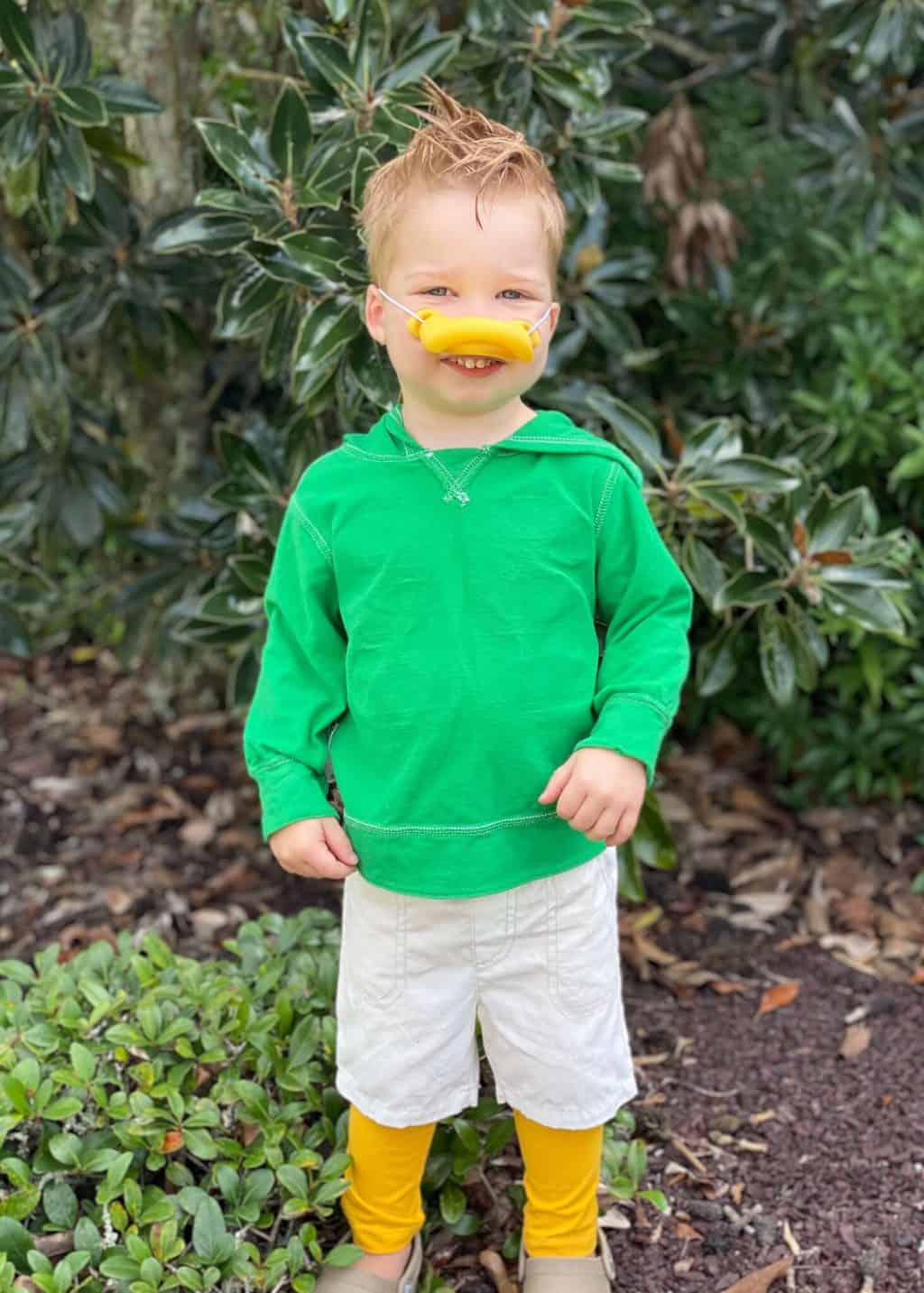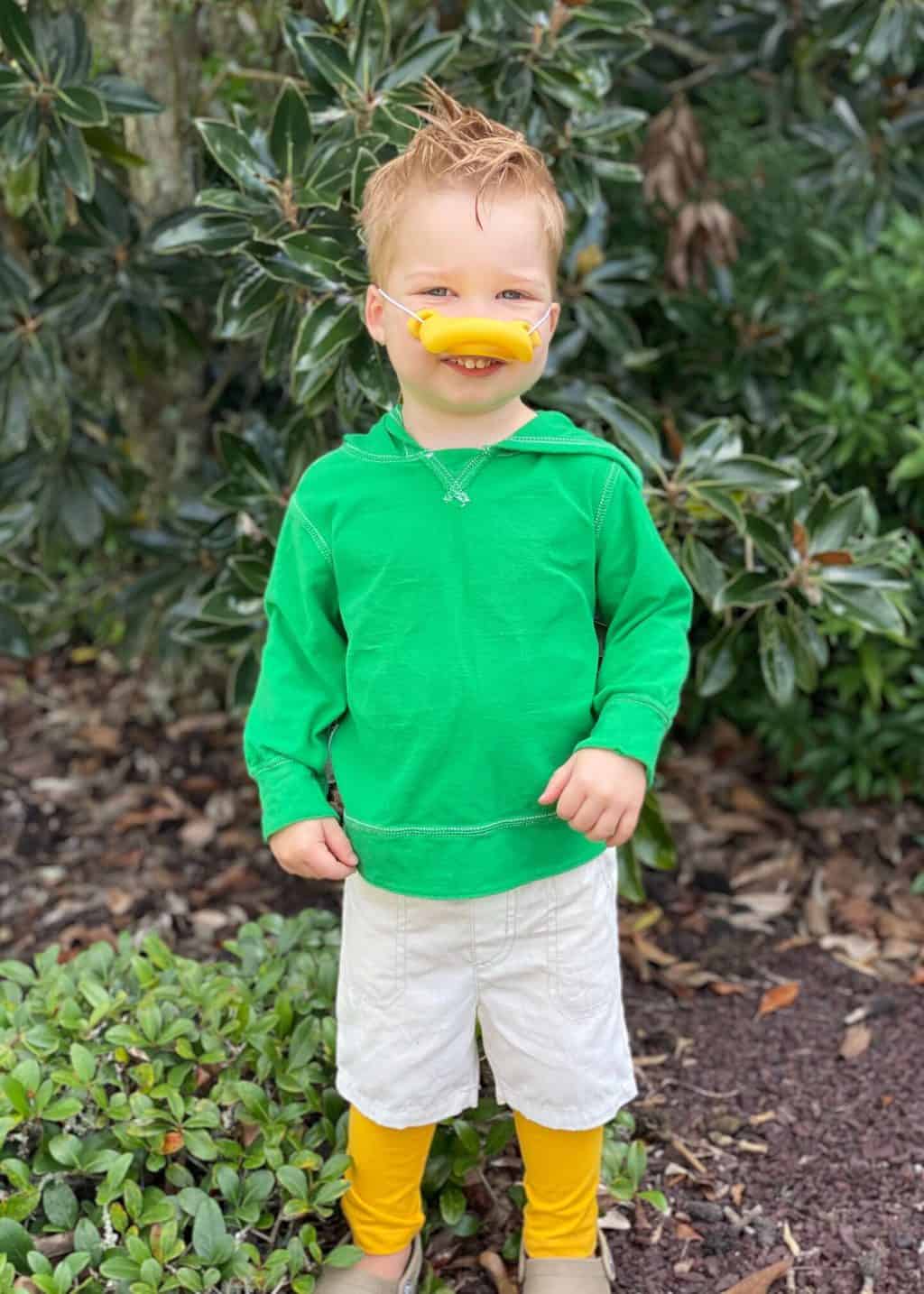 We already owned every part of his outfit 🙂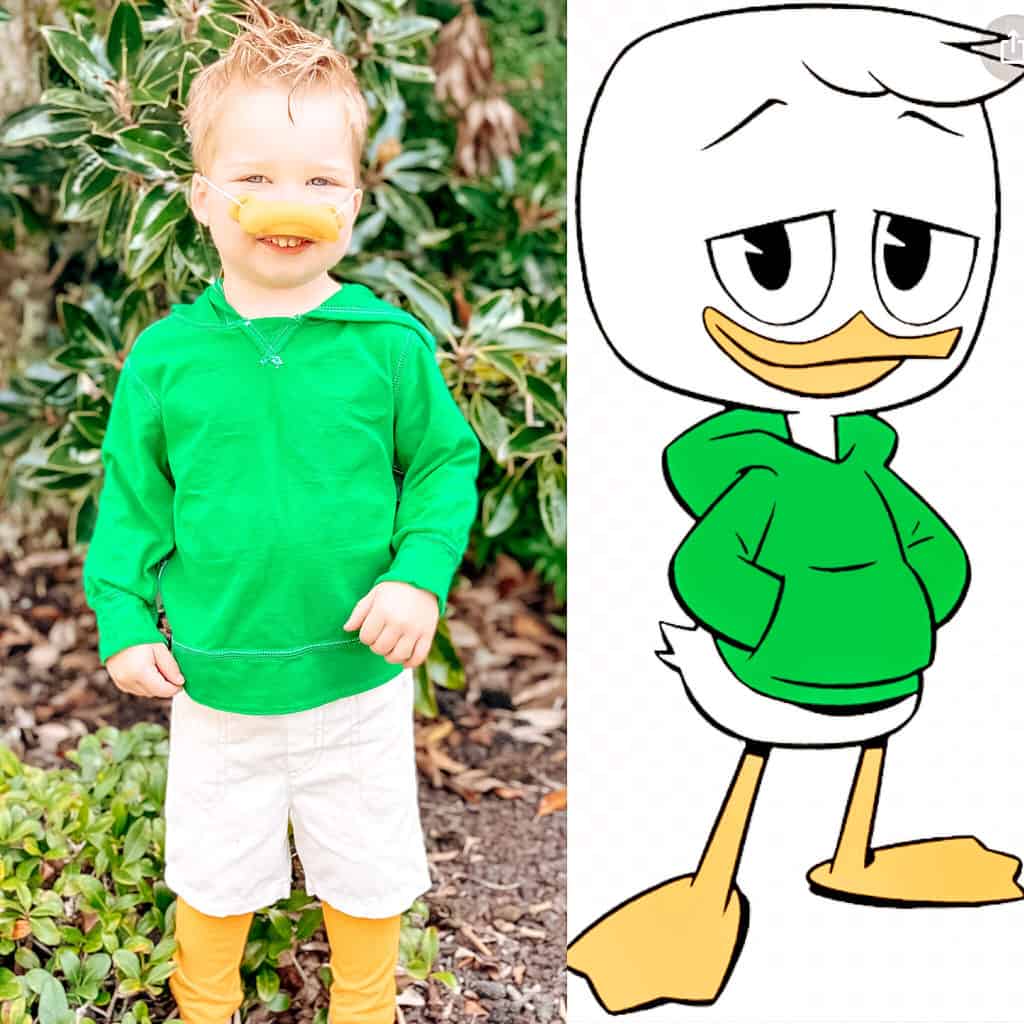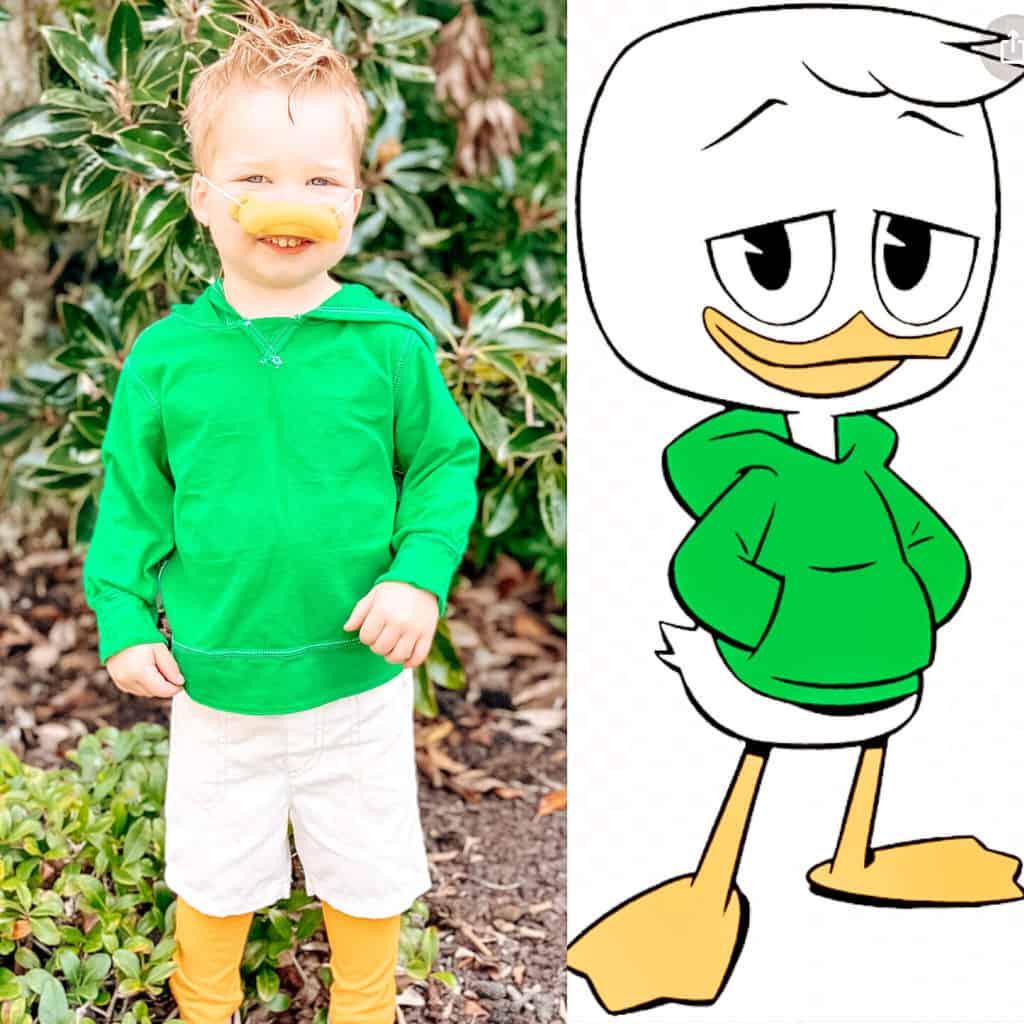 Webby Vanderquack Costume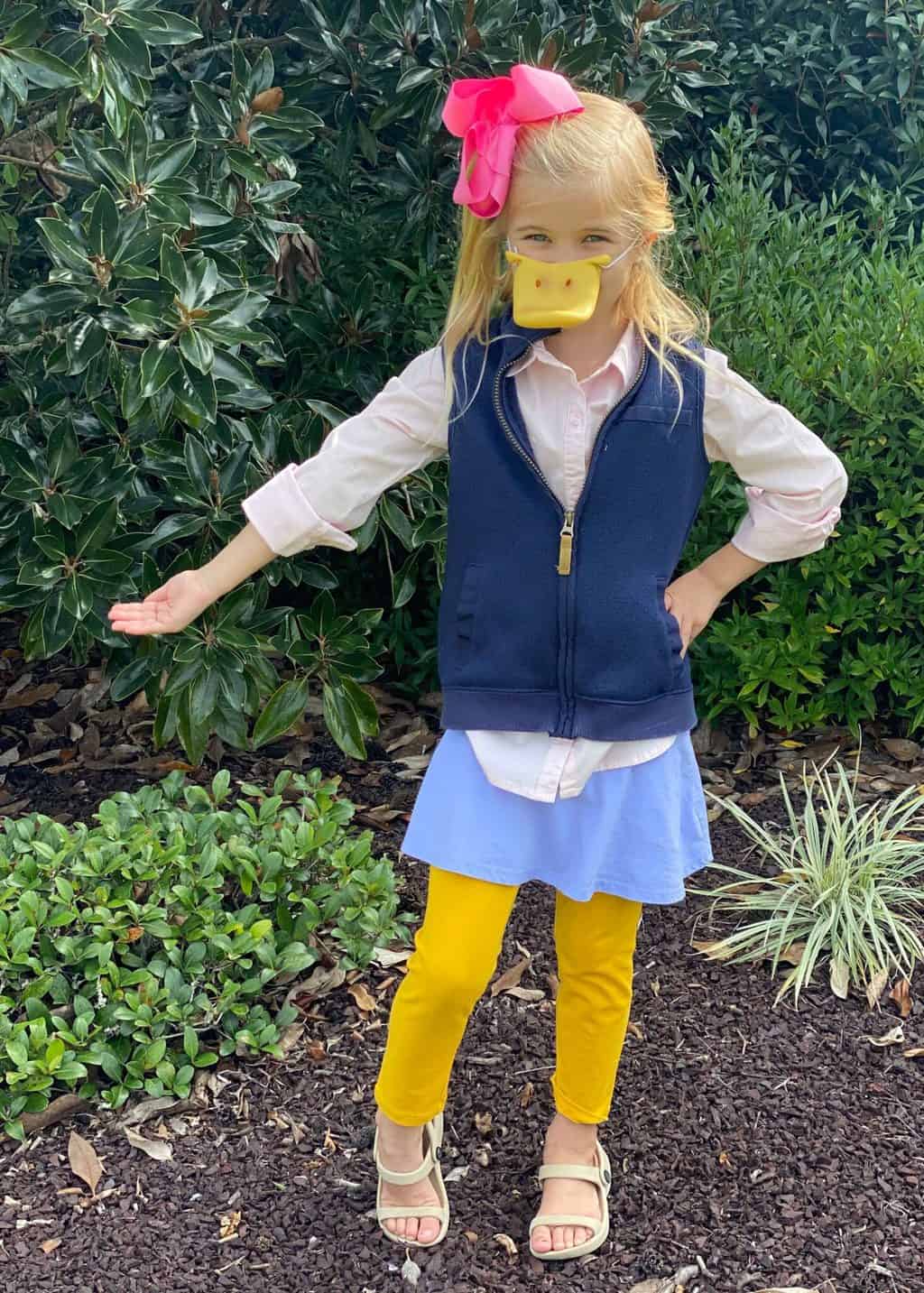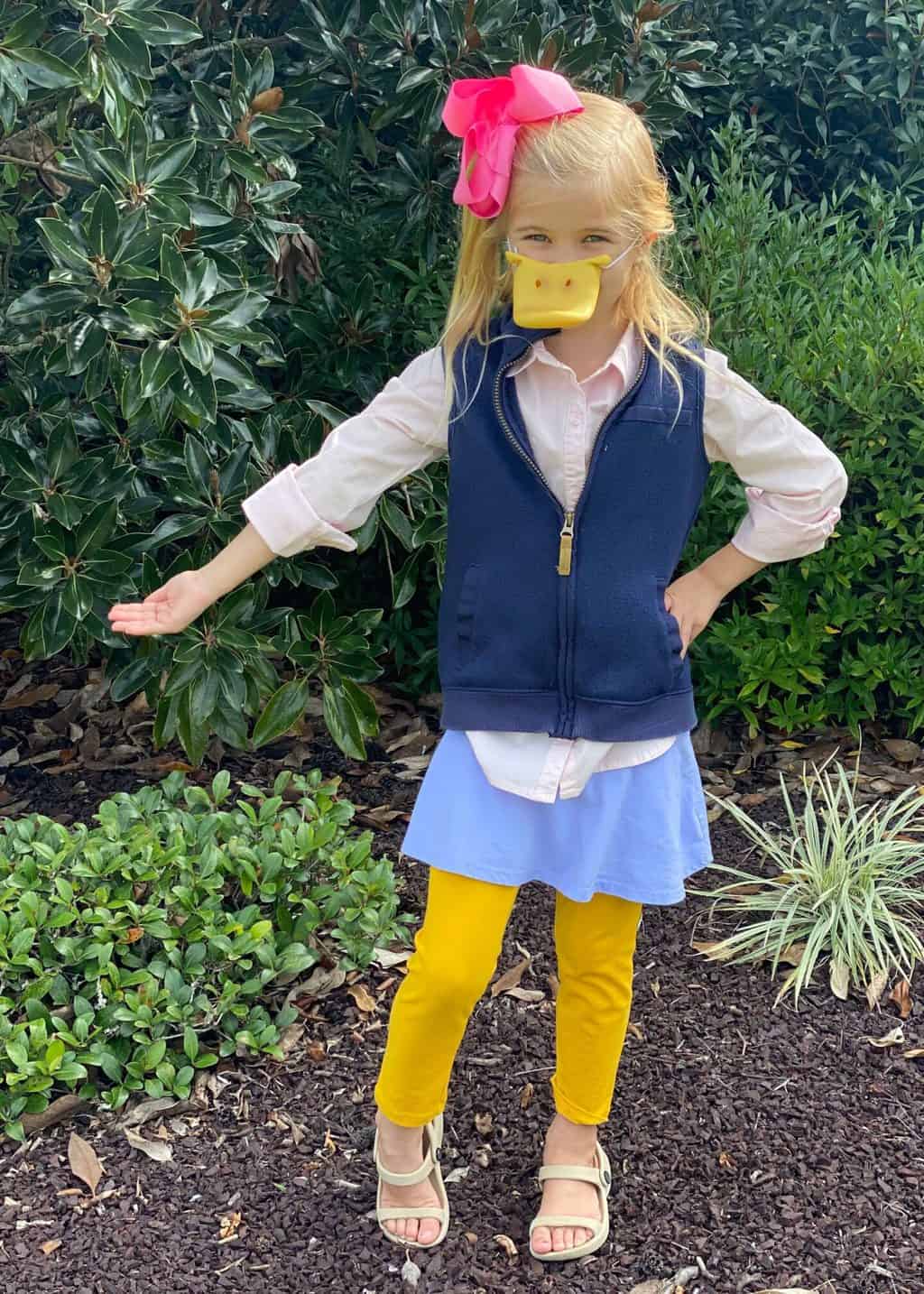 Her skirt and vest were Goodwill finds and her shirt is from Old Navy!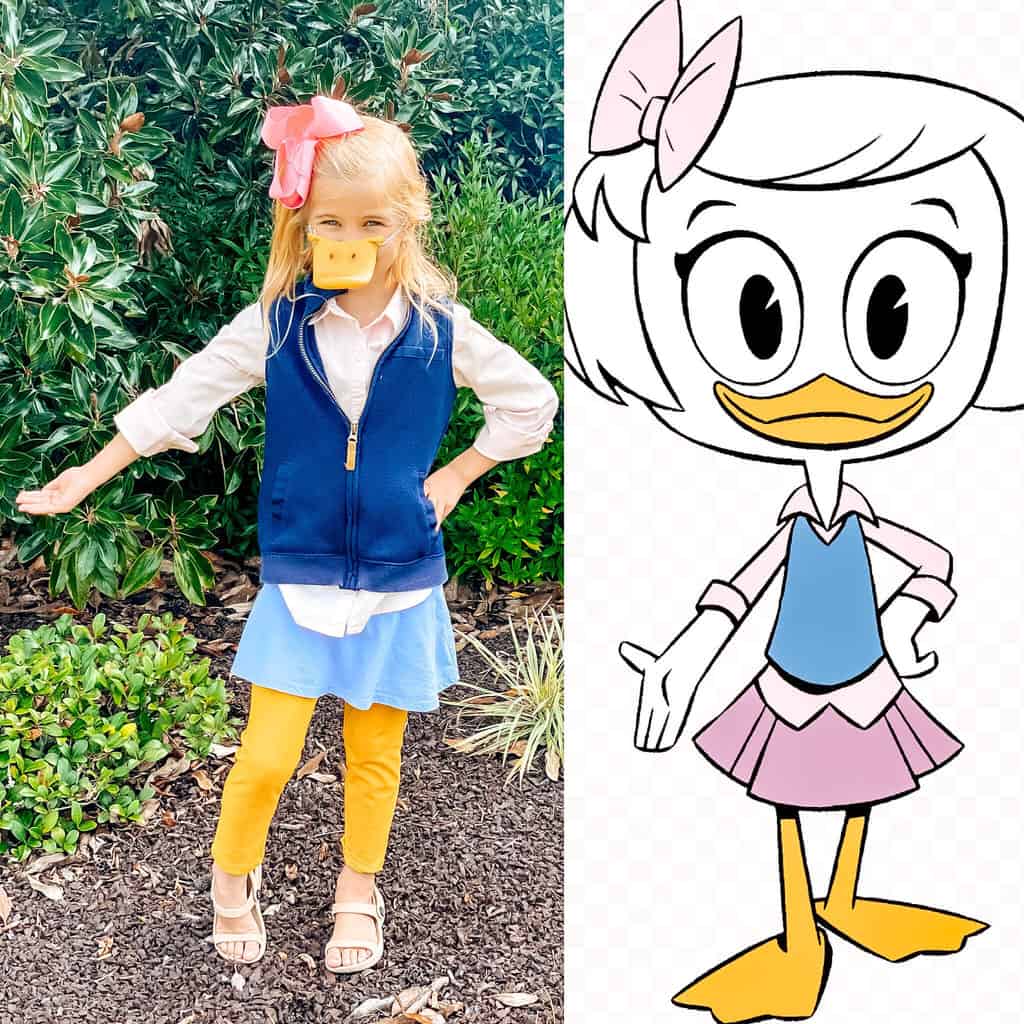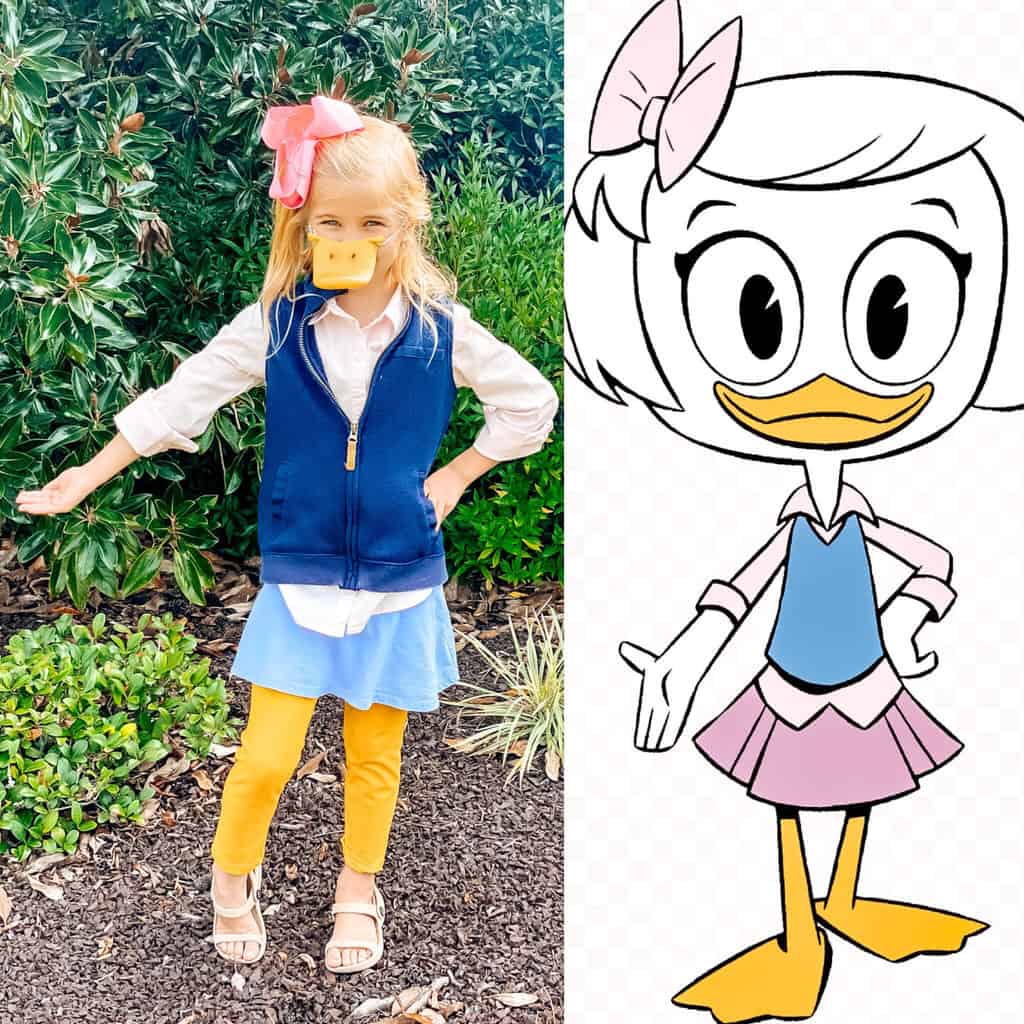 We all learned poses to go along with our characters and played the theme song when we introduced ourselves to the family party we attended.
It was SO FUN to do DuckTales costumes and I love that all the kids were so into it together!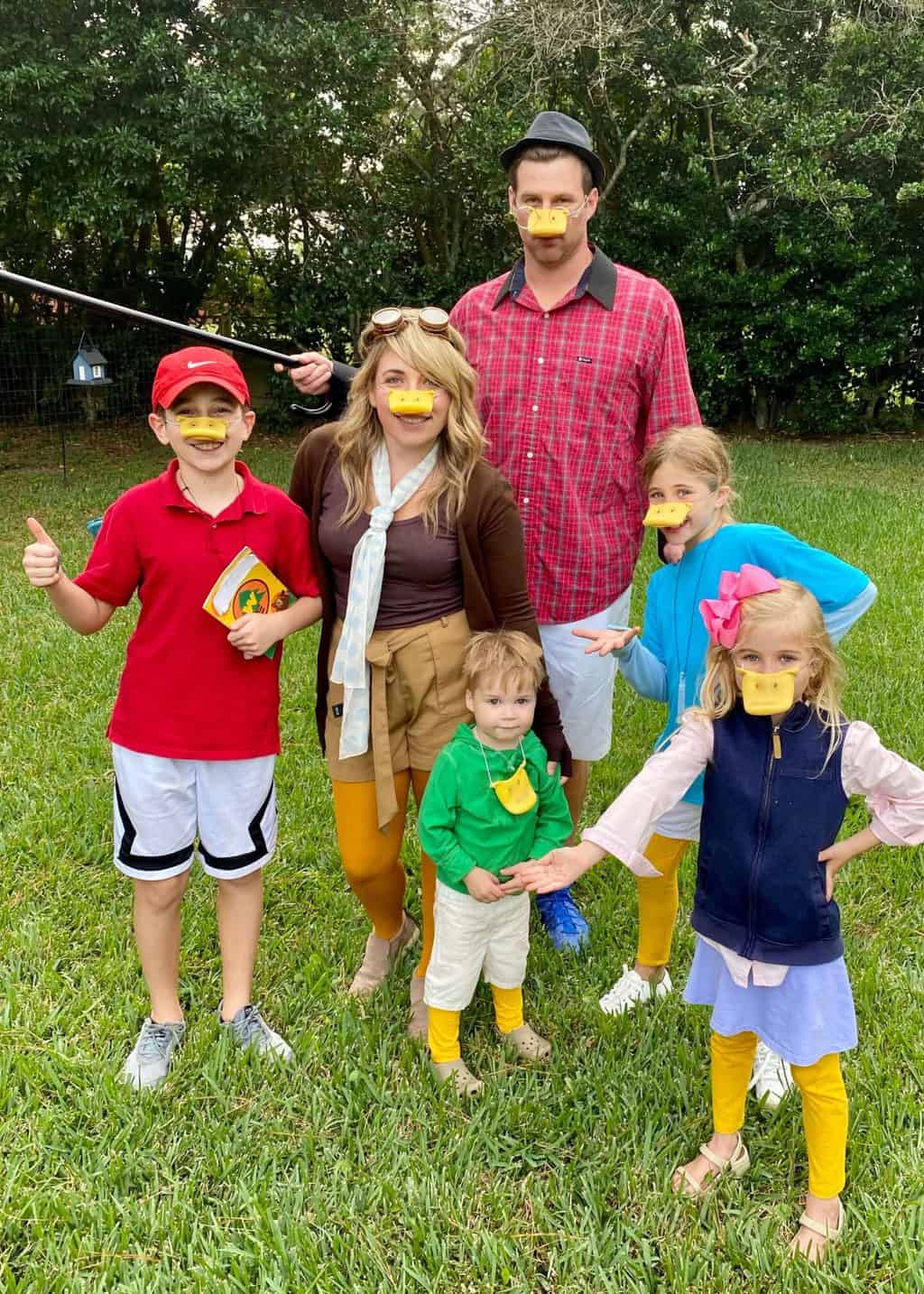 Check out more Halloween costume ideas!
You can see our past Halloween Costumes here: