Last year Kye mentioned an idea of dressing up for Peter Pan this Halloween and all of us being characters from the movie. Duh. I LOVED the idea of Peter Pan family costumes and jumped all over it!
Thankfully, Kye isn't one to change his mind about things and he still was excited for our costumes when Halloween actually rolled around 🙂 
Here's how we put together our Peter Pan themed costumes for the whole family!
Disclaimer: post contains affiliate links.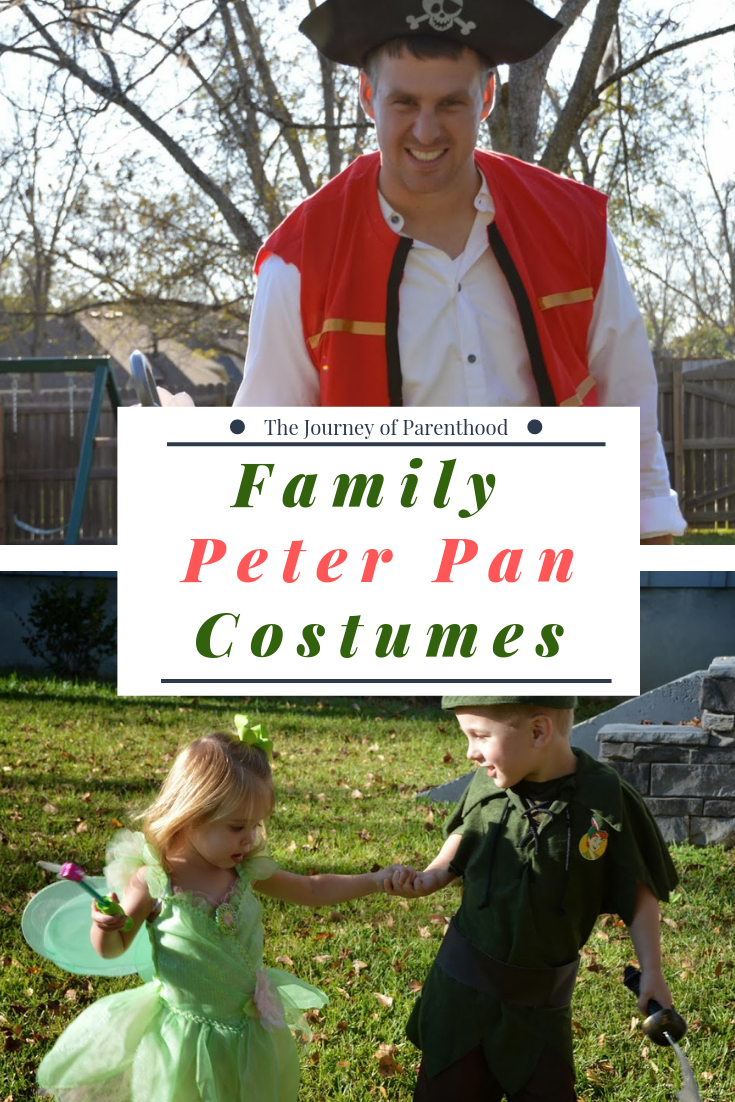 Originally published December 7, 2013.
Peter Pan Family Costumes: Peter Pan!
In years past I usually have some sort of "DIY" aspect to our costumes. Especially with us doing a family themed one… I didn't want to be spending a lot of money!
So this year, I decided to buy Kye's complete costume.
I found it on Amazon for $25 and I bought it big so he can use it for play clothes for a couple years.
I know Peter Pan would be a rather easy one to make myself but that hat intimidated me BIG TIME.
I looked around to see about buying the hat on its own and all the ones I could find were over $15 so it just made sense to buy the whole thing.
I also bought him a sword from Target for $1 that matched perfectly! Even if you can't find one that cheap, there are some decently-priced ones on Amazon, too!
The hat CRACKS me up! When I first put it on him he was like "it might not fit b/c my head is so big" Welcome to my world son 😉
Peter Pan Family Costumes: Tinker Bell!
Britt's costume I also ended up buying majority of. (She, of course, was Tink!)
I had a merchandise credit for the Disney Store because they had messed up an order awhile back.
I had $25 and the costume was on sale for $30. Boom! Grabbed it 😉 But of course you can also find Tinker Bell costumes on Amazon!
I found her wings at Target for $1.
Since Kye had the sword I went ahead and bought her a little Tinker Bell wand I saw at ToysRUs for $3.
The thing I decided to make myself for Britt was the shoes.
I thought I was being so clever and saving us money by making them but honestly? I learned that sometimes instead of "do it yourself" it should be "DON'T do it yourself."
I regretted not just spending the $10 from Disney Store for their shoes!
At least the finished product did turn out decently cute! You can see how I made them here.
To be honest, I cannot STAND Tinker Bell.
I'm a princess girl and have never understood the whole fairy appeal???
And have you seen Peter Pan? Tink is a brat! She's jealous and tries to KILL Wendy. Um, not a good example for little girls!
But my love for themed costumes won out and I have to say Britt made a pretty stinkin' cute Tink!
Tink: Always chasing Peter 😉
Captain Hook Costume!
Kye wanted Zach to be Captain Hook and I figured that would be a pretty easy costume for us to come up with!
All I had to buy was the hat and then I also made the vest.
I think Zach's costume was my favorite!
The vest was cheap and SO easy and I LOVE how it turned out!!!
Plus the hat and the hook were so goofy and he's so tall that it was pretty awesome 😉
Check out how to make the vest (no sewing involved!)
Wendy Costume
As for myself, Kye wanted me to be Wendy.
I was a little nervous about finding something to wear but I went to Goodwill and found the PERFECT dress for $6!
I wore my hair in a pony and stuck one of Britt's black bows in it and I was good to go!
Duel!
I REALLY love how our costumes turned out!
I hope you do too because you're going to see like 5 posts featuring them hahaha!
Kye has already been brainstorming for next year and I really do hope my kids always enjoy the family themed idea.
I think it's fun to still get dressed up, even as an adult. I just love getting really into stuff and being hardcore about things… and I'm thankful Zach is the same way 🙂
Check out more Halloween costume idea round-ups:
Other Family Halloween Costumes Posts: