Our family really enjoys themed Halloween costumes, so dressing up like the Incredibles family was a natural choice for costume ideas!
Zach and I used to get pretty into Halloween even before Kye came around but the past couple years we've enjoyed more of a family theme 🙂
We've always done some element of homemade with our costumes as that makes it WAY cheaper and a lot more creative and fun!
We pretty much start brainstorming for our costume ideas for the next year on Halloween 😉
Last year Britt came up with the idea for our family to be the Incredibles for Halloween and we all loved it!
Poor Tess had to be a boy for the 2nd year in a row 😉
Disclaimer: post contains affiliate links.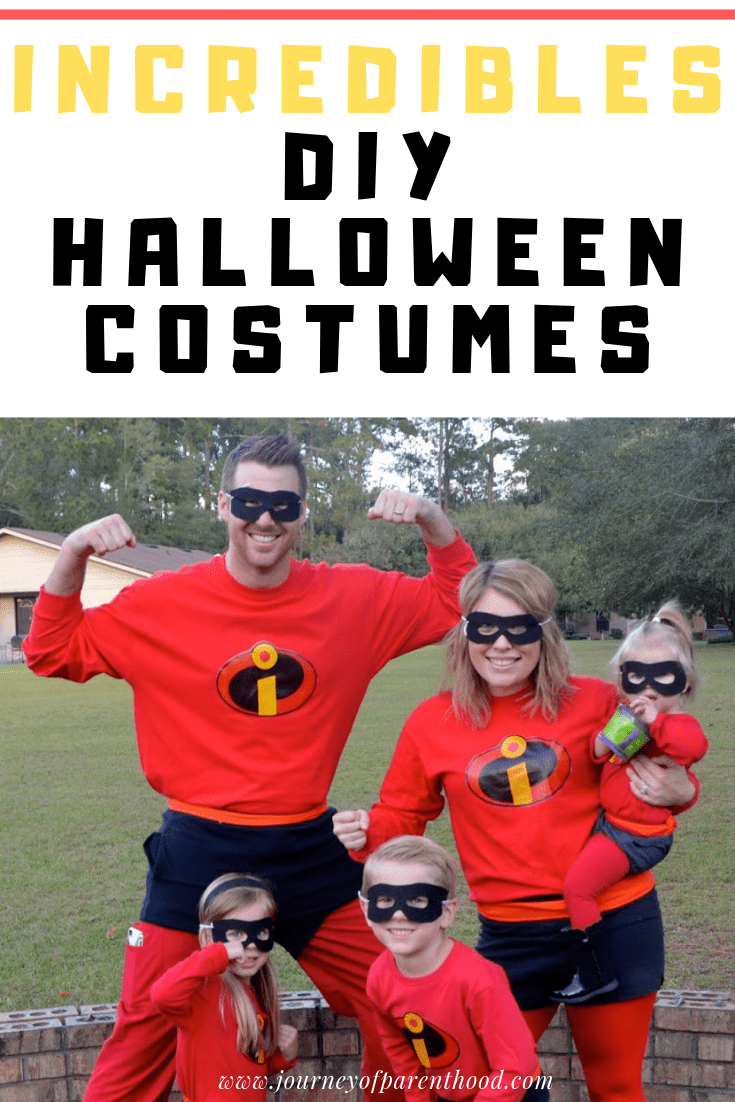 Originally published December 21, 2015
These are 100% made by us so they aren't flawless by any means… and it was a bit trickier than I had anticipated!
Finding all the red clothing was tough but I'm happy with the end result and most importantly the kids LOVED it!
But what makes Incredibles family Halloween costumes so easy is that they basically all look the same! So you don't have to overthink it.
Step One: find red sweaters and red pants or tights that fit everyone in the family!
Adult sizes (these are men's but I'd just order the same one for me because finding a women's version isn't really worth it!)
Kids' sizes (the same principle applies: they're basically unisex!)
Step Two: Black shorts and black masks cut from felt and tied with elastic!
Or grab yourself some pre-made ones off of Etsy! (There are adult versions and kids' versions!)
Step Three: Print or order iron-on "Incredibles" logos and attach them to the sweaters!
Step Four: Get yourself some orange fabric and cut it into strips to use as belts!
The Incredibles Family Costume Ideas
Meet Dash, Violet and Jack-Jack!
Violet's intensity is awesome
Mr. Incredible, Elastigirl, Dash, Violet and Jack-Jack!
Check out our Halloween costume idea round-ups here:
You can also see our past family Halloween costumes here: