This was our 5th year of our Mickey's Not So Scary Halloween Party tradition!
Katie and I weren't really sure if it'd be able to happen this year but it worked out SO well!
With Katie coming down to Disney over Fall Break with us we worked it out where Zach took the kids back home and Katie and I just stayed and then Lindsay and Rachel came down to meet us!
It was our first year doing the Halloween party in October AND first time doing it mid-week (we went on Tuesday Oct 15th) and it was really great – much nicer weather and much less crowded!
Lindsay and Rachel came down Monday evening and Katie and I got back to the house right as they arrived.
We all chatted and got finalizations made for our costumes then went to bed.
It's been SO nice the past two years having our Disney House to use for the stay. It's so great to all spread out and have our own sleeping spaces and to be comfortable!
We slept in and then just dressed super casual to hit up 5 Below, Target and Panera!
I love that we visit the area so often so we know where things are and are so comfortable with the area.
And of course when you see a photo spot you gotta take advantage 😉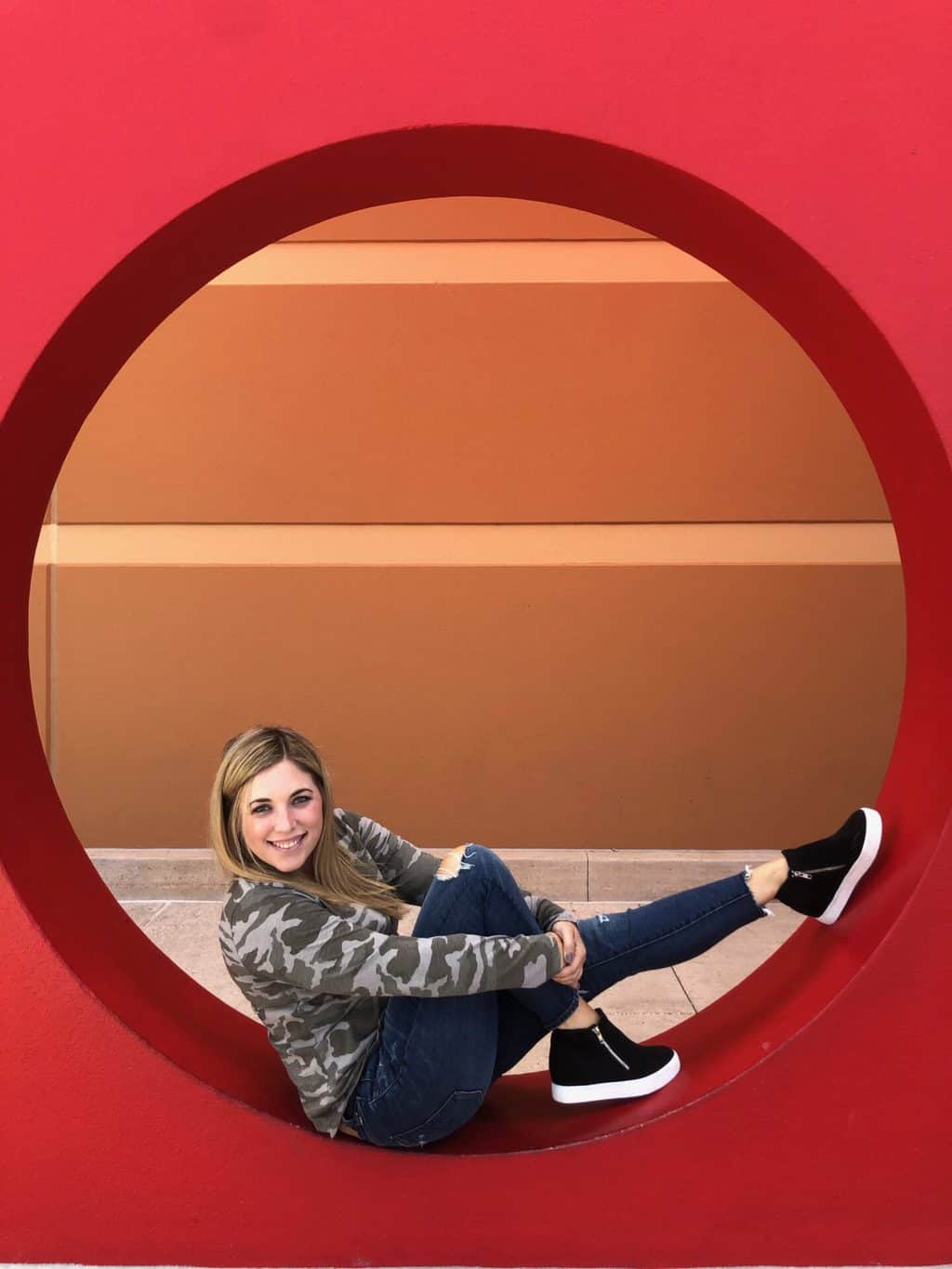 We had plenty of time to get ready and it was SO nice not feeling rushed.
I joke a lot about pre-annual pass Emily vs post-annual pass Emily and there is a big difference between the two.
When I didn't have an annual pass I felt this pressure when it came to Disney. I felt like I needed to maximize every minute and do every single thing possible while at the parks.
Now? I am CHILL when it comes to park stuff. I don't feel that rush or pressure. If it's super crowded? We stick to fast passes. Super chill? Ride all the things. I love that I don't feel like I HAVE to do ANYTHING.
I did make sure to chat it up with this crew though. Because I can also see being with a passholder being frustrating. I'm happy to just BE at the parks, but others don't get to visit Disney as often and I didn't want to be TOO chill either.
I'm fine with doing the rush and seeing all the things and riding all the rides too!
I think we had the perfect balance of chill mixed with goals we all wanted to do and the four of us meshed and flowed SO well together!
We got a coffee fix before heading out (Zach invented this coffee slushee that I made for everyone) and decided to opt for Premium Parking to avoid walking during the hottest part of the day and arrived at the gates right as they were letting the party people in!
It worked out so perfectly!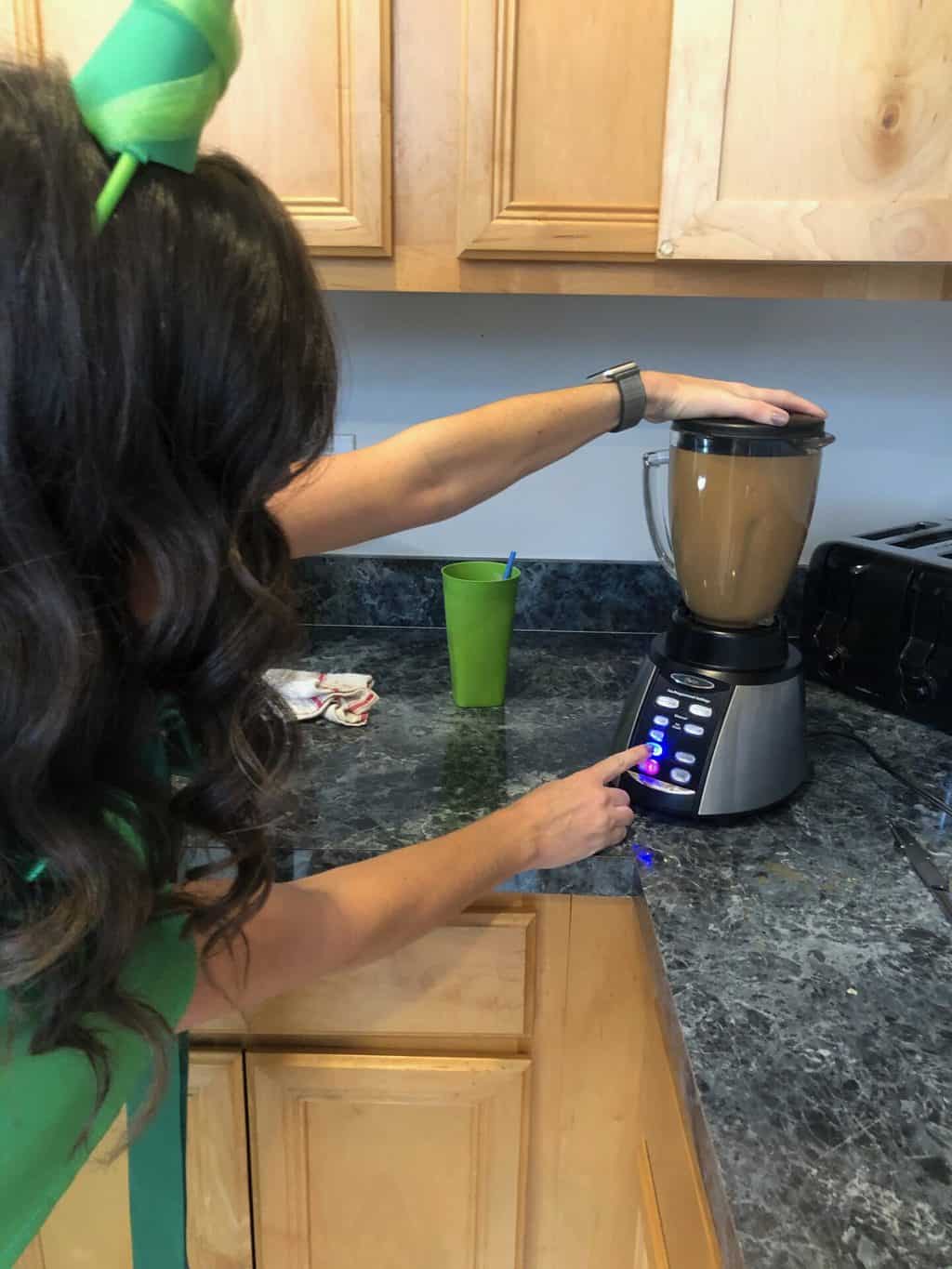 Mickey's Not So Scary Halloween Party Costumes
We even took time to make sure to get costume pics before loading up.
Our costumes this year were Sleeping Beauty themed. Princess Aurora, Fauna and Merrywhether (we booted Flora ha!) and of course Maleficent!
I will link all my pieces for my Aurora look at the end of the post.
I love that these costumes all flowed great but were also all so comfortable and EASY to put together!
Plus I love that mine totally played into my secret talent of being able to sleep anywhere 🙂 It became a bit of a theme for the night!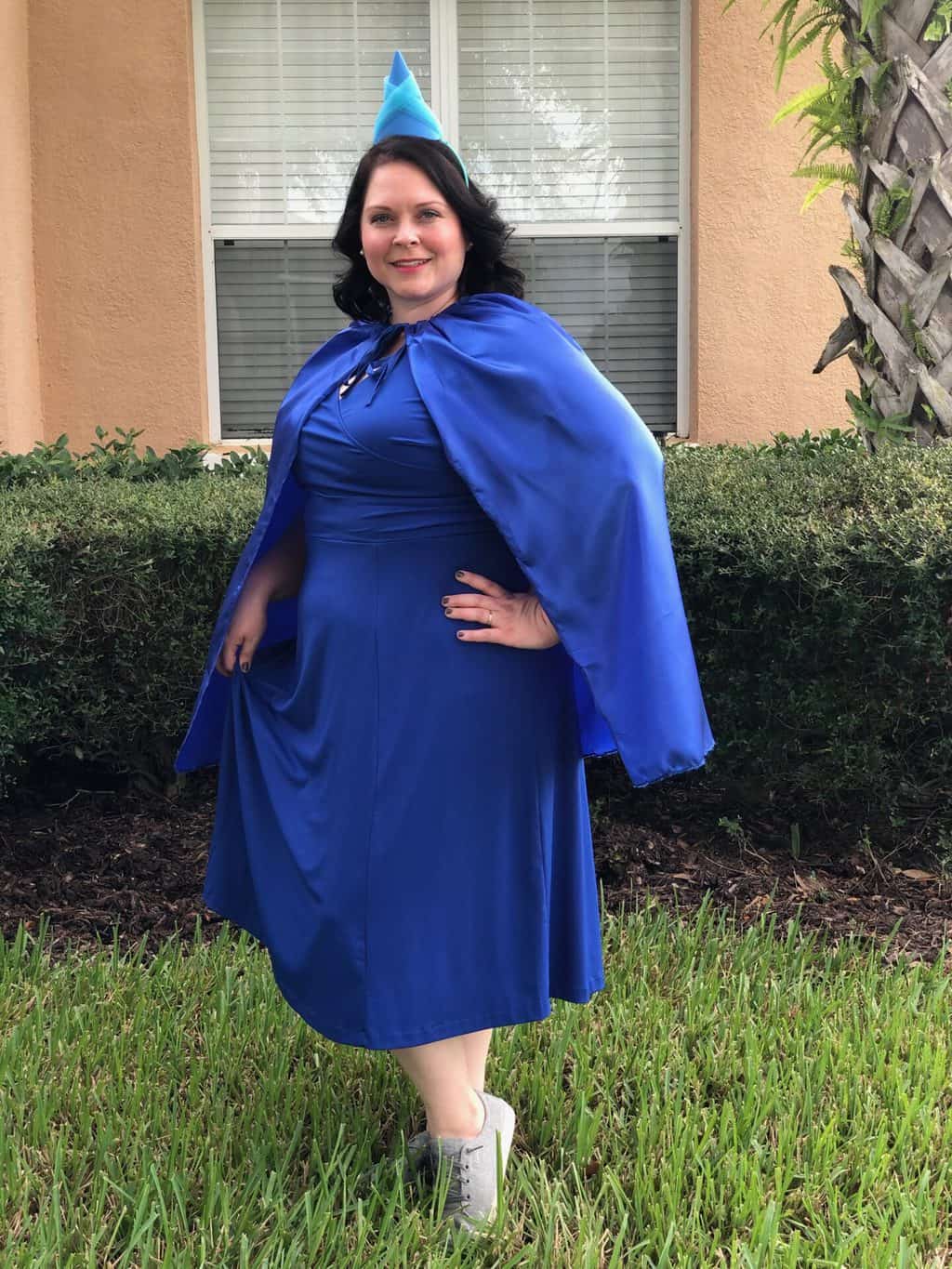 Monorail and Pumpkin Entrance Pics!
Sidenote but Costume Katie is like the BEST. We all agreed she has to be the star every year as it's so fun!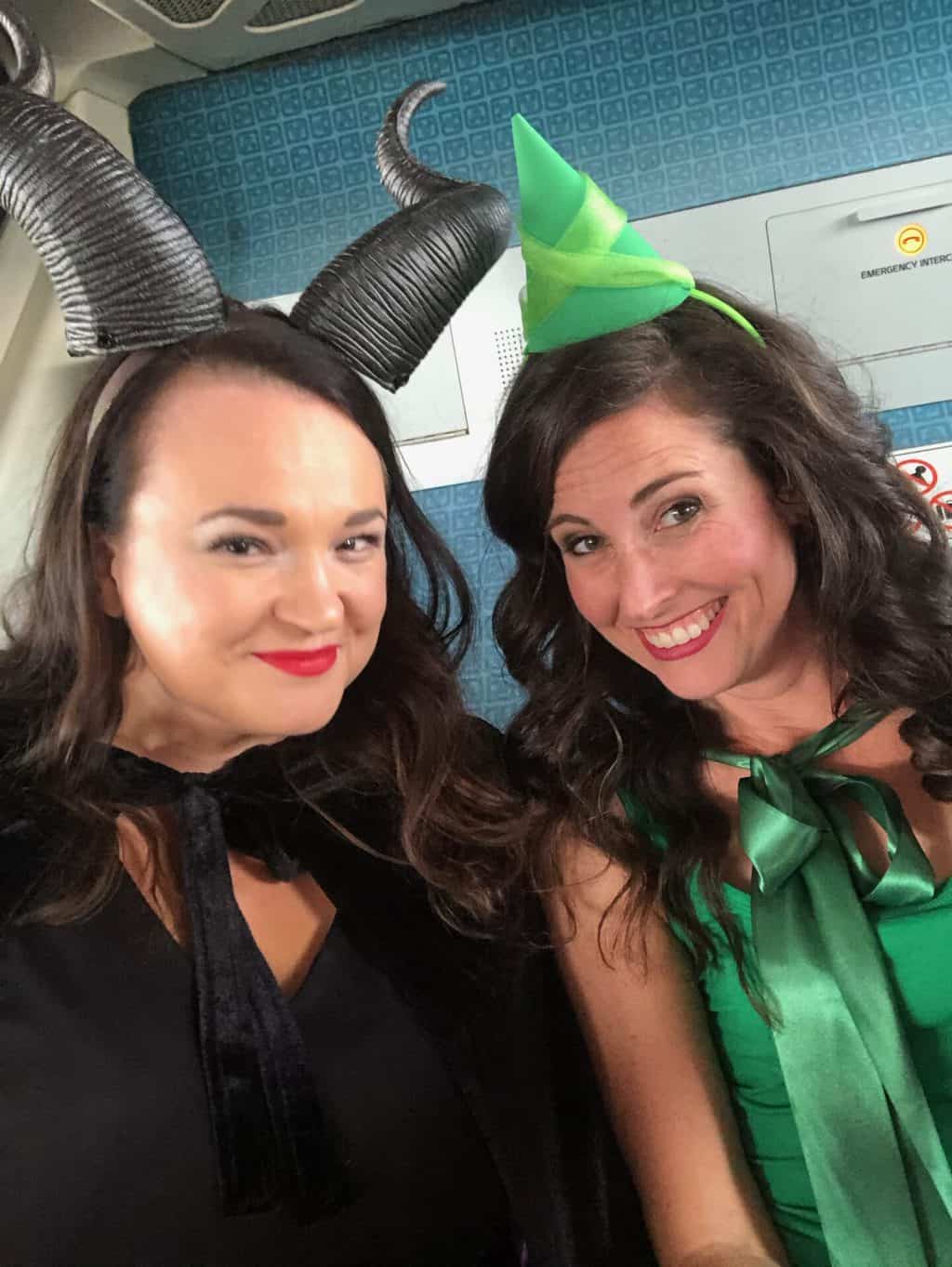 We headed straight for the potty and then hit up the Fire Station on Main Street.
Good to note for future party visits: they start handing out the special Party Sorcerer Cards before the party starts! We grabbed some for Kye and then headed to the party entrance 🙂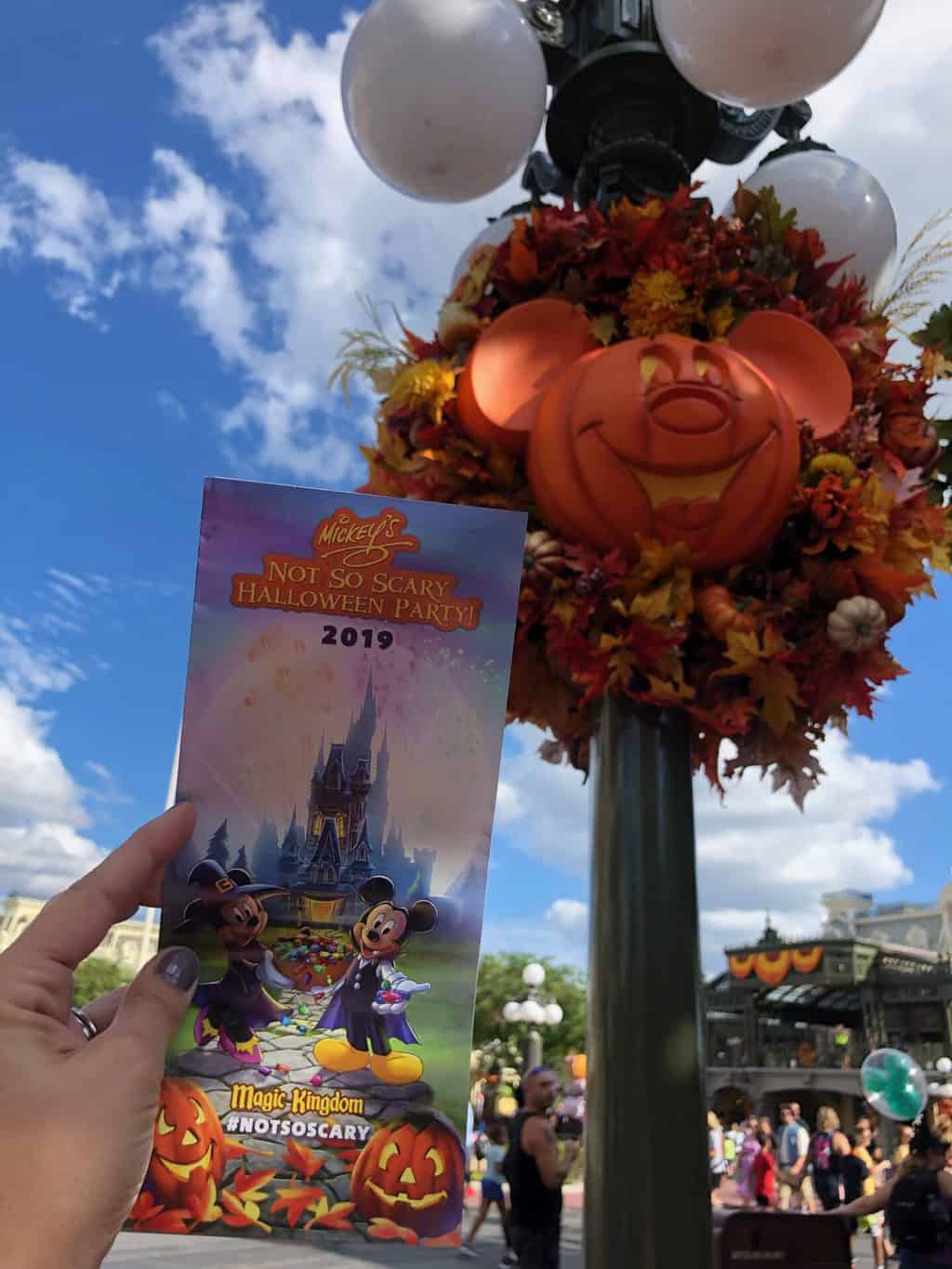 When you attend Mickey's Not So Scary Halloween Party or Mickey's Very Merry Christmas Party you're allowed entrance into the park at 4 pm.
Fastpasses are not available after 6 pm on party days so we were able to secure two fast passes for during the 4-6 PM window.
We headed straight for some purple wall pics and then to our first Fastpass at Buzz!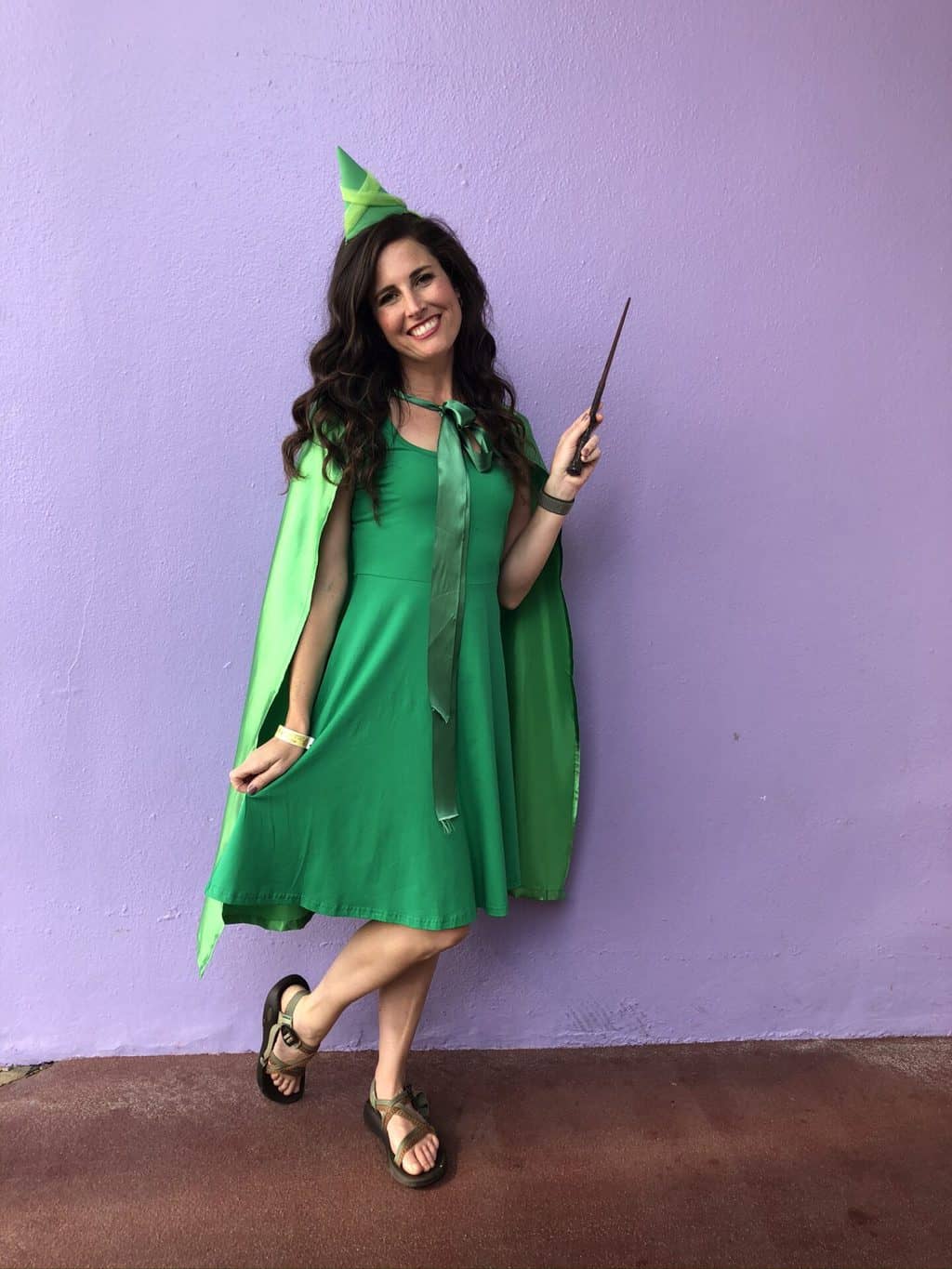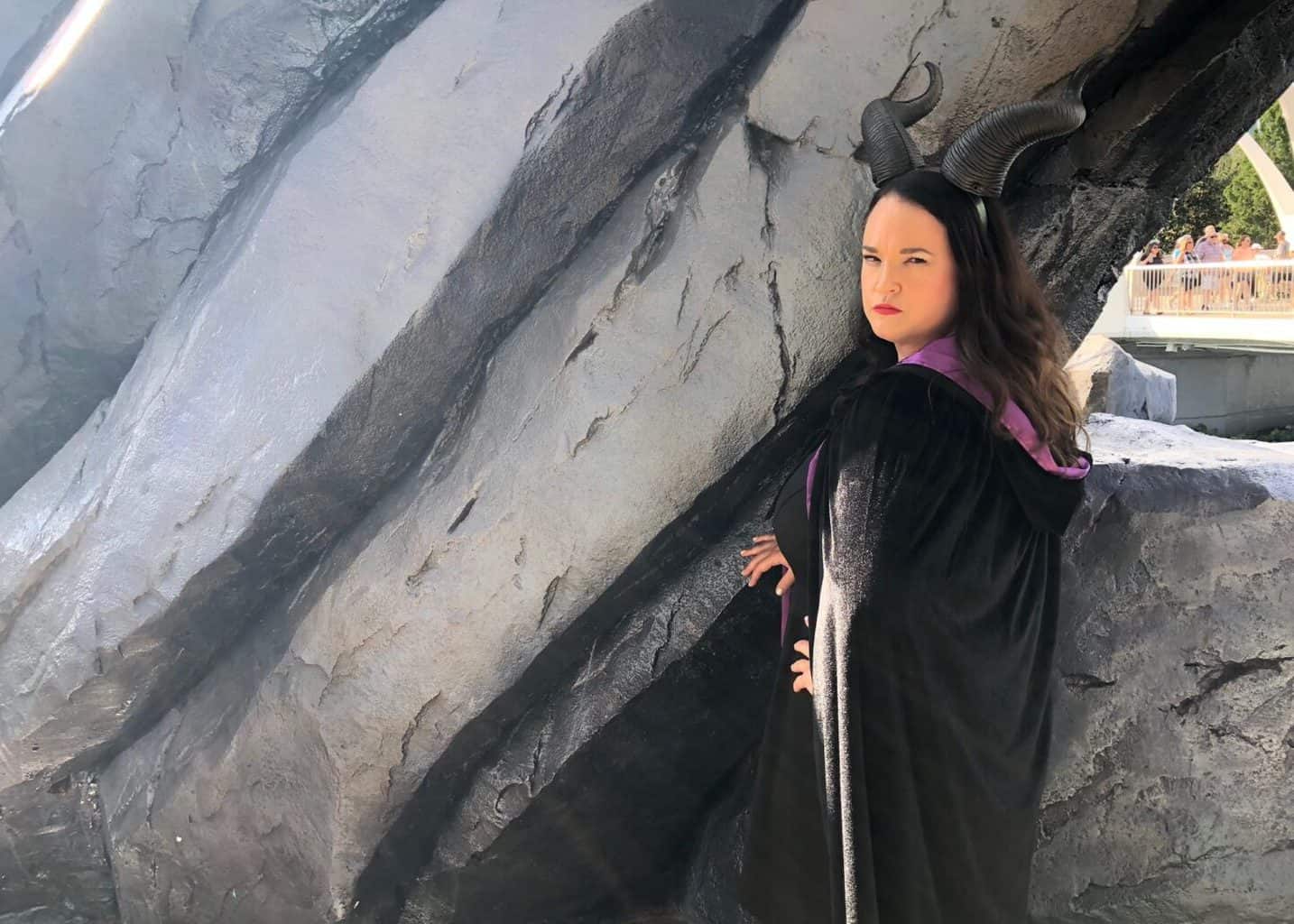 Arriving at Magic Kingdom
I tell people frequently that the halloween party is super fun but that, to me, Magic Kingdom just isn't as magical in the dark.
Our big plans prior to the party starting were to: ride our Fastpass rides, eat dinner and TAKE ALL THE PICTURES.
We def accomplished that mission!
We were kinda bummed in choosing Sleeping Beauty as our theme because there are actually NO Sleeping Beauty characters to meet at the park or during the party.
However, there are still tons of great photo spots and we def got plenty of great pics 🙂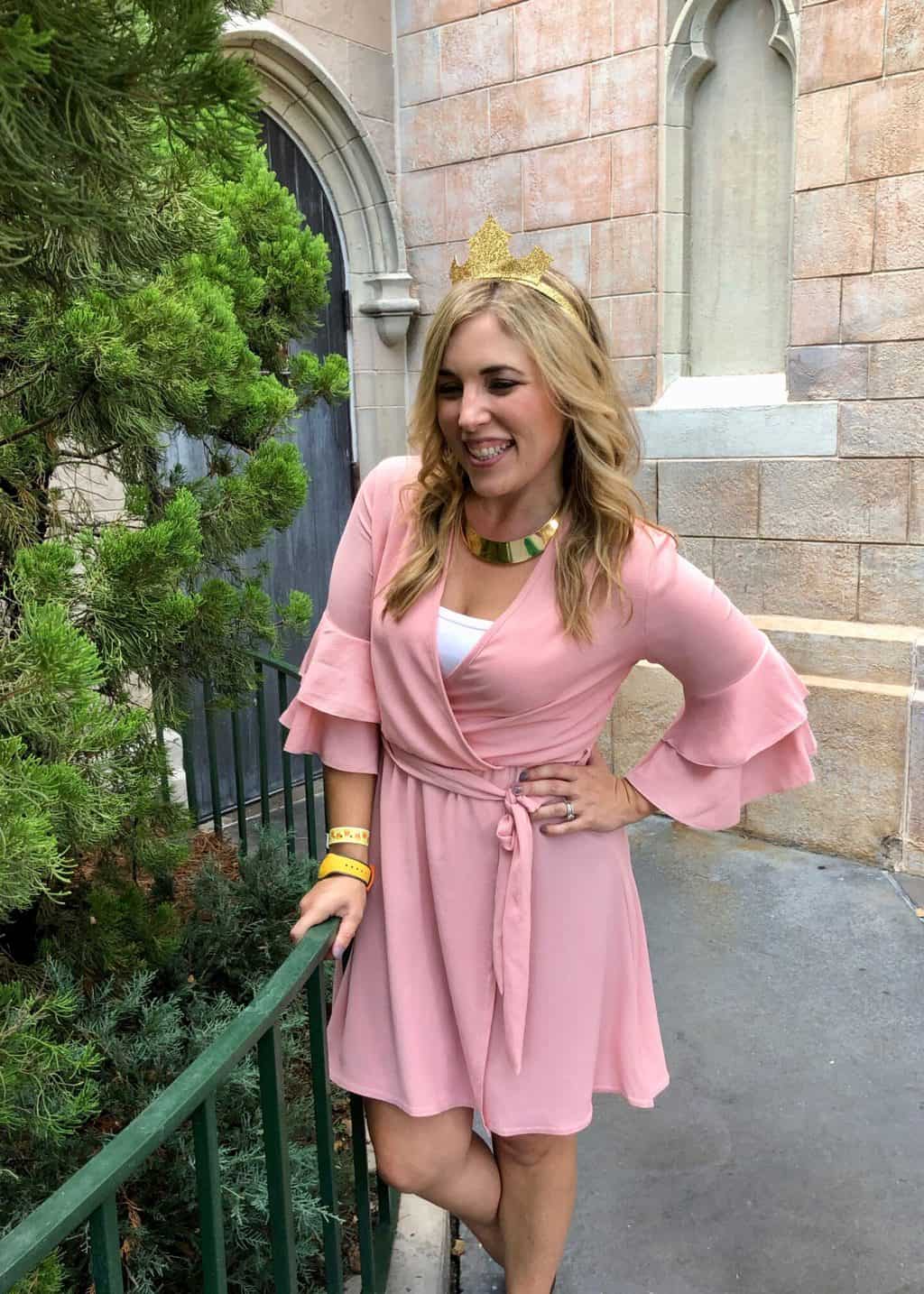 Rachel is pretty much as hardcore Disney as I am and she JUST stopped having an annual pass so she's going through MEGA withdrawals!
We all really wanted to make sure she got to especially do everything she wanted and Phillarmagic was on her list!
It's one of the attractions that is closed during the party so it was a must-do for us early in the evening!
We then headed over to Haunted Mansion to use our second Fastpass and then grabbed dinner at Pecos Bills.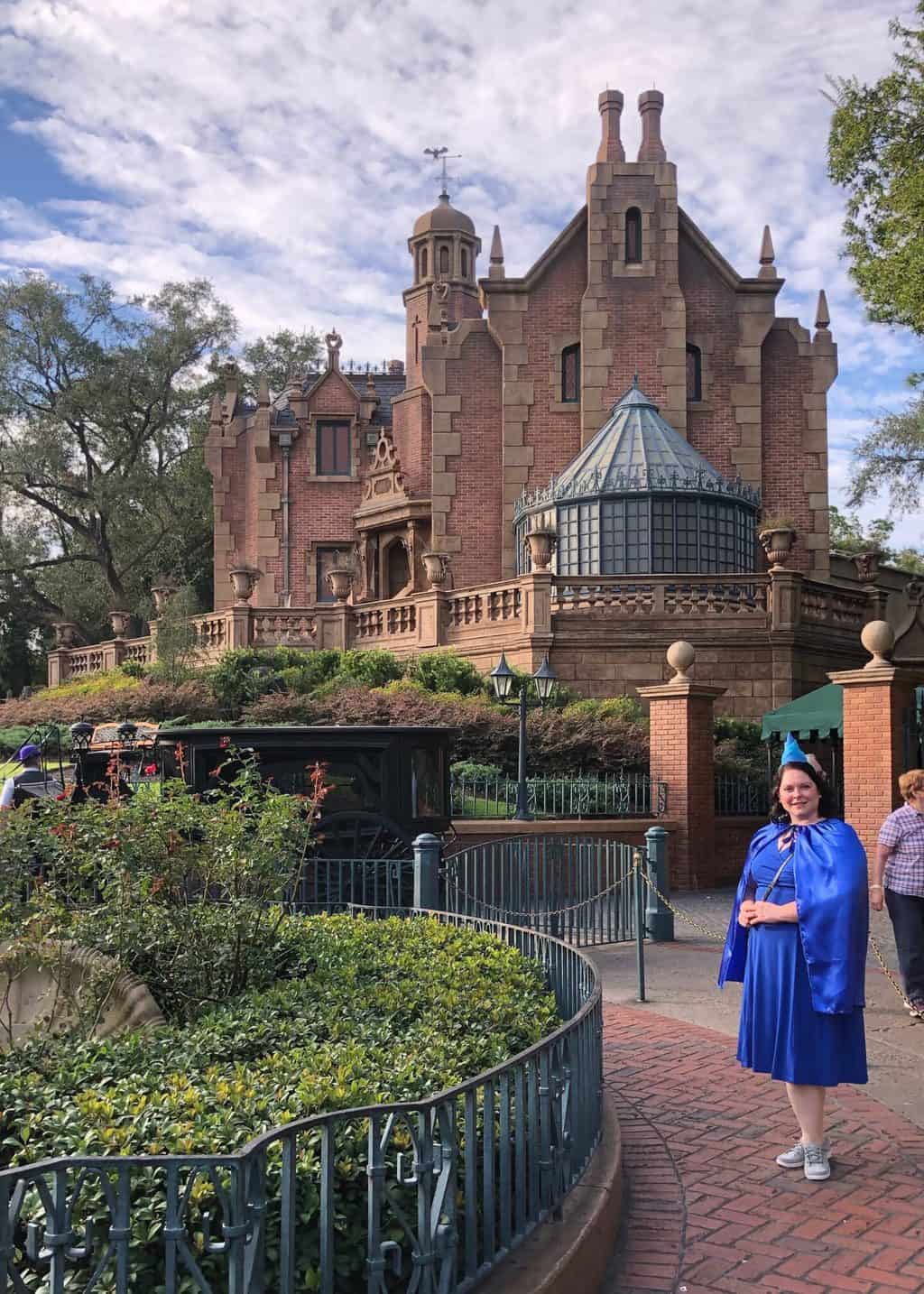 In the past it was a struggle to eat dinner because so many restaurants close early with the party. It seems like Disney is seeing that problem and working on fixing it because we all noticed that they had several food options on the party map this year!
Pecos Bills is always a great option for dinner and it didn't disappoint!
Another must-do-during-daylight is to get the castle pics!
I will say that castle pics on Main Street are ALWAYS better the further AWAY from the castle you can be. The closer you are, the more crowds are behind you and the harder it is to really get that GREAT shot.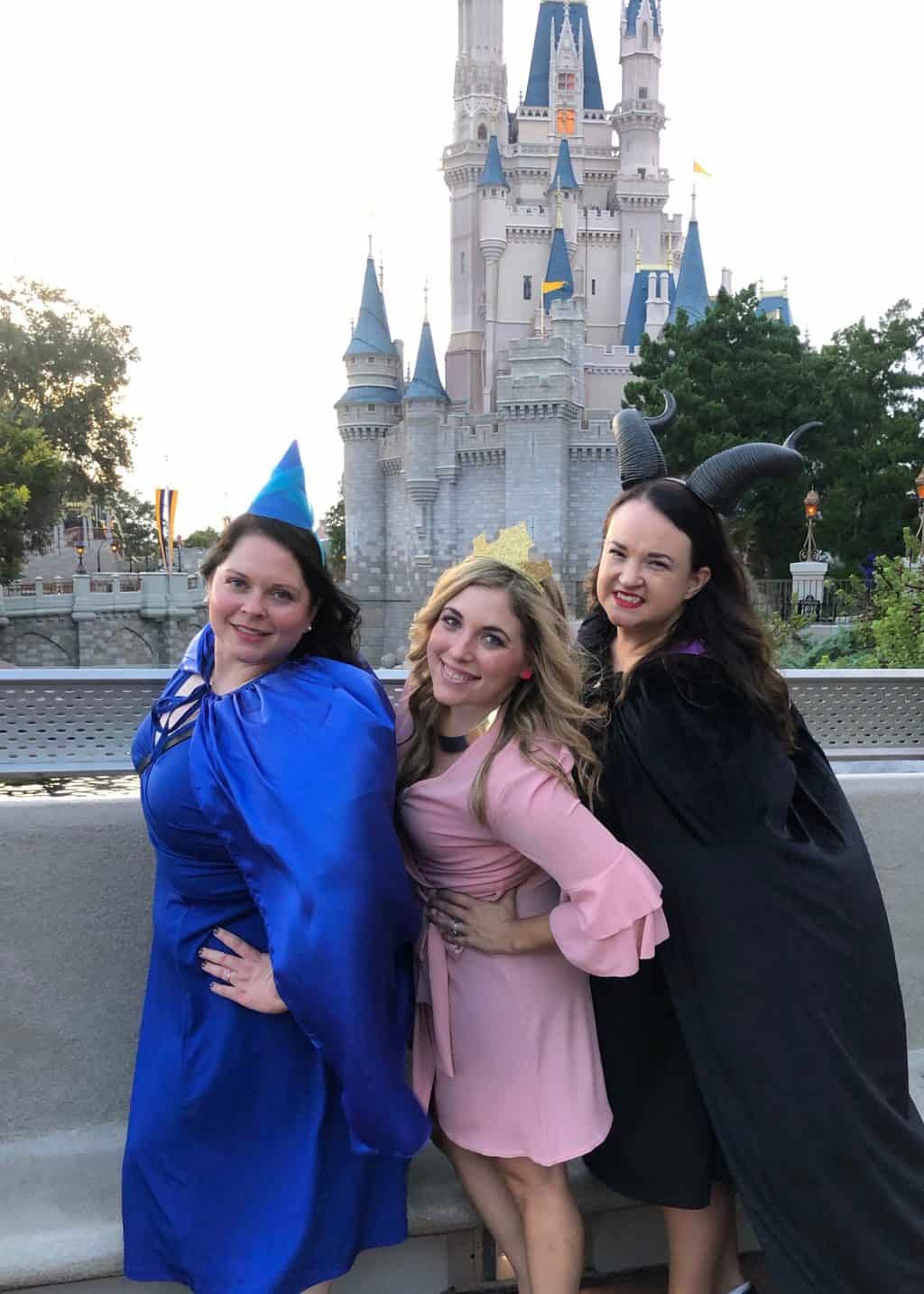 Mickey's Not So Scary Halloween Party
The park technically closes at 6 pm on party nights so the regular daily guests start heading out and the party gets started at 7!
I have heard people start lining up prior to the party start time in order to meet characters and we've never done that before, but we decided to head over to the Dumbo area to meet some of the characters and just got in line a little before 7.
On the way…Sleeping Beauty met Sleeping Beast 😉 This dude has no clue we even did this haha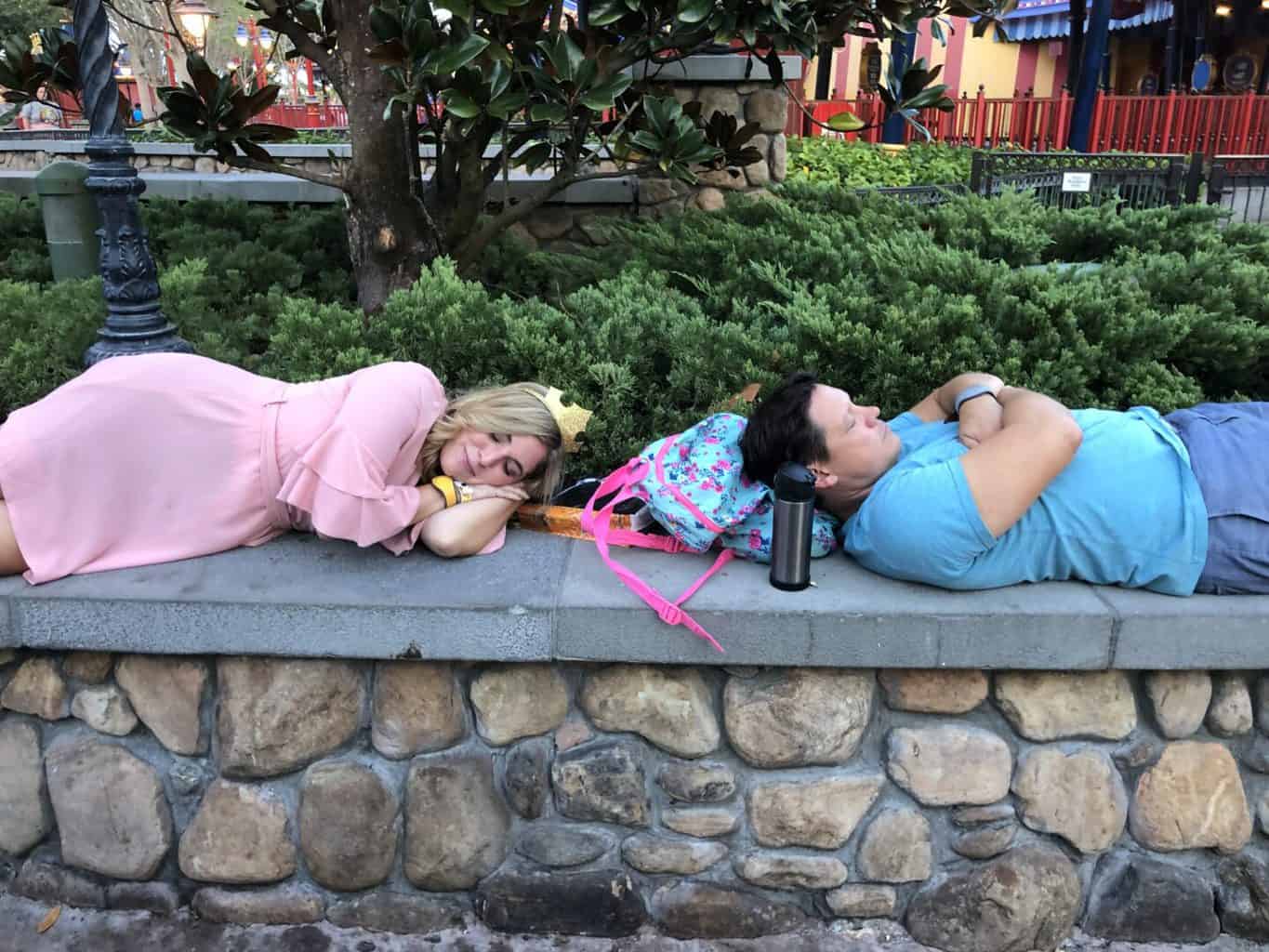 The cast member told us it was about a 25 min wait to meet Minnie, Donald and Daisy and we were like "sure, why not?"
Well. That 25 min wait ended up being right at an HOUR.
Thankfully none of us minded too much…you know…girl time is all about chatting anyway 😉
And Donald as a PUMPKIN? Worth it. He's so stinking CUTE!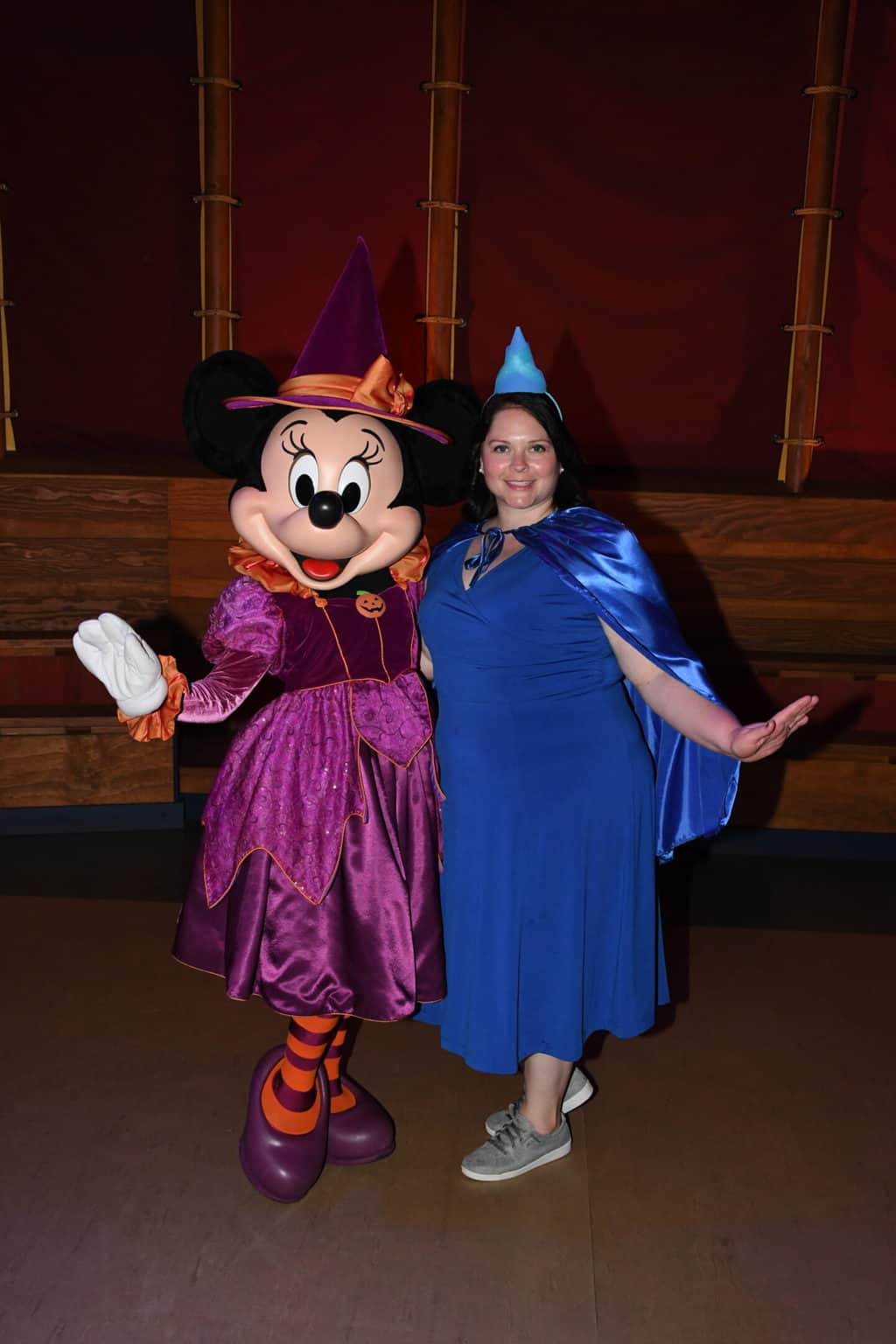 We waited a long time but then did luck out and were the last ones to meet them before they took a break. So Donald and Daisy walked out with us which was super fun and cute!
Prior to the party starting we had some goals, but we also had some for DURING the party too.
Our party plans were: get a snack, visit all the halloween themed attractions, see the parade, see the fireworks.
Pretty simple and def doable!
We headed over to Monsters Inc which ended up being a walk through with candy and a little show which was cute!
Then we headed to hit up some treat action!
Katie and I wanted to try the mickey waffle sundae so we went to get it at Sleepy Hallow and Rachel had her first Disney Magic moment when they gave her a free one!
When Lindsay and Rachel went to get a seat they saw some people doing hardcore vlogging action and asked if we cared about sitting near them and I was like duh sit near them.
We saw them filming and then saw random people coming up and asking for photos with them which was tempting to ask for a picture too even though we had no clue who they were.
We did some super sleuth work and found out it was a famous guy named Tim Tracker!
You can also see Lindsay and Katie around 17 min into this video!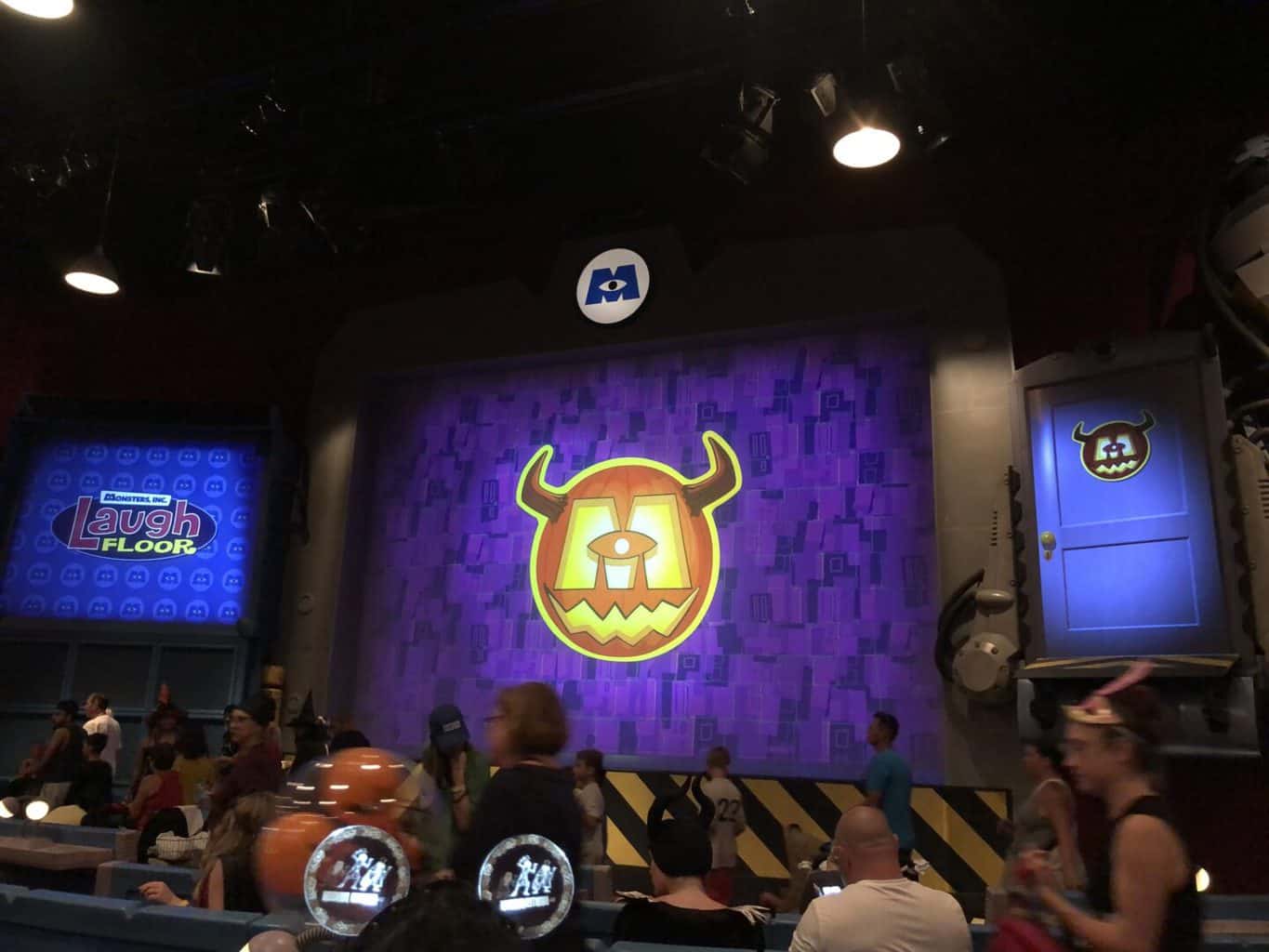 Lindsay found an awesome hidden spot with a new meet and greet – some of the dead guys from the parade.
It was SO FUN getting to meet them. It was no wait and we got to hit up a few photo spots in the same area too for magic pictures.
The guys were dead on (get it…) and it was fun messing with them!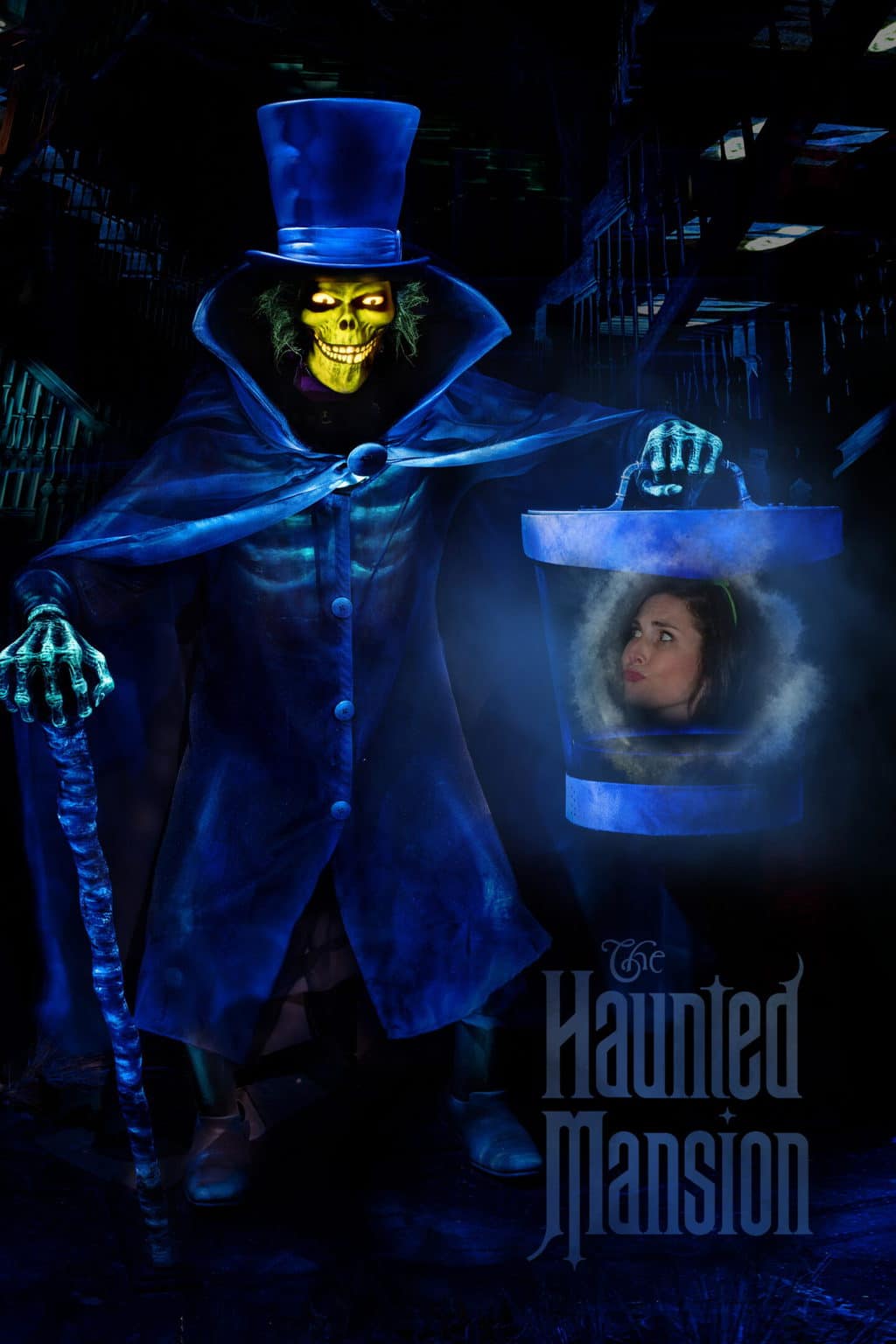 When we finished with Pirates we went straight to the fireworks and walked up with a GREAT spot near the area we saw them from last year (in front of Casey's).
It's a new fireworks show this year and incorporates a lot of castle projections and it was AWESOME!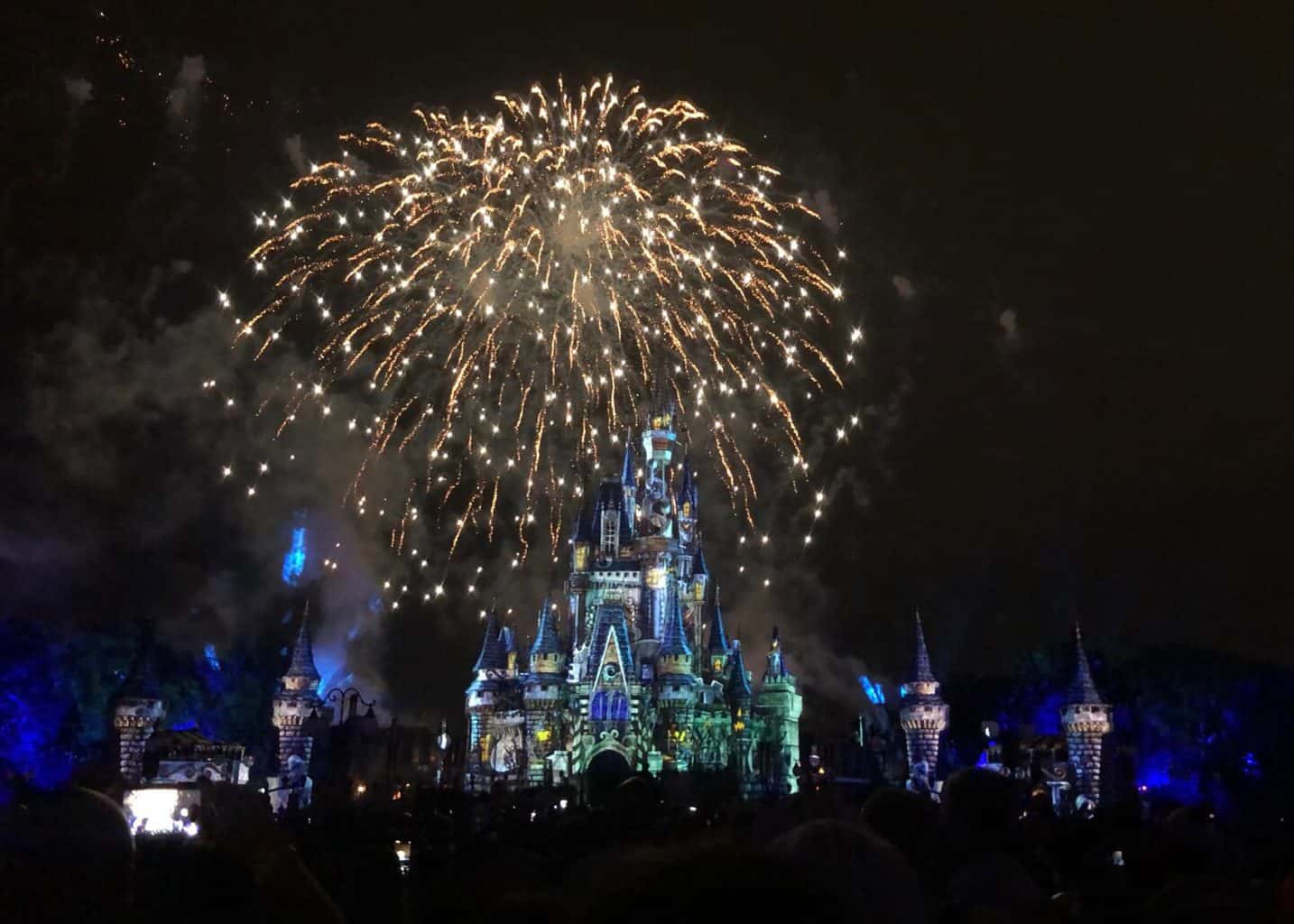 We went to our favorite spot for the parade and were able to SIT for the ENTIRE parade. AMAZING. We were so relaxed and chill and just got to HANG and truly enjoy the parade!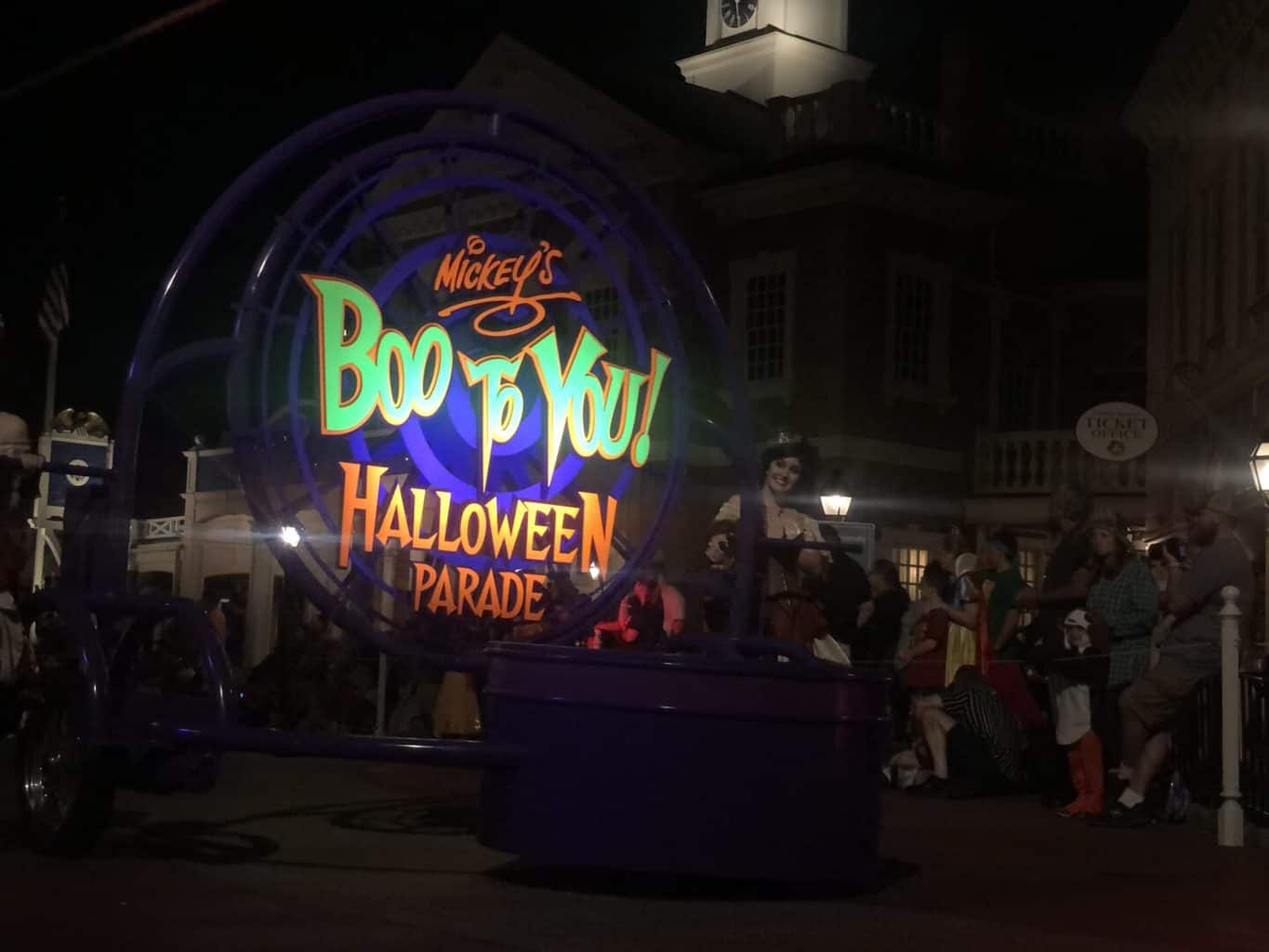 Meeting Mickey!
We popped in the Christmas shop to grab an ornament and then realized the party was about to end and we wanted to meet Mickey!
We literally were THE second to LAST people allowed in the door to meet Mickey and ironically the people who were behind us were the same people behind us in line to meet Donald and gang too (and the guy was a football guy so I got stuck talking football for awhile since he played D2 against VSU and we knew people in the same circle).
Often when you meet characters at the end of their time slots they can be tired, understandably. But Mickey? HE WAS ON and was SO GREAT!
He really interacted with us a ton and made my night by dancing with me and giving me a kiss and saving me from Maleficent 🙂
After meeting Mickey we went to do a little shopping and Katie and I had realized we didn't buy hats this trip! #friendshiphatfail.
We let Lindsay and Rachel know they were welcome to join in on our hat tradition but the four of us struggled to find a hat we really loved!
We all got a few goodies in the end and Katie, Rach and I all got Mickey hats to wear the next day.
Leaving the park wasn't bad at ALL and that premium parking spot was awesome 🙂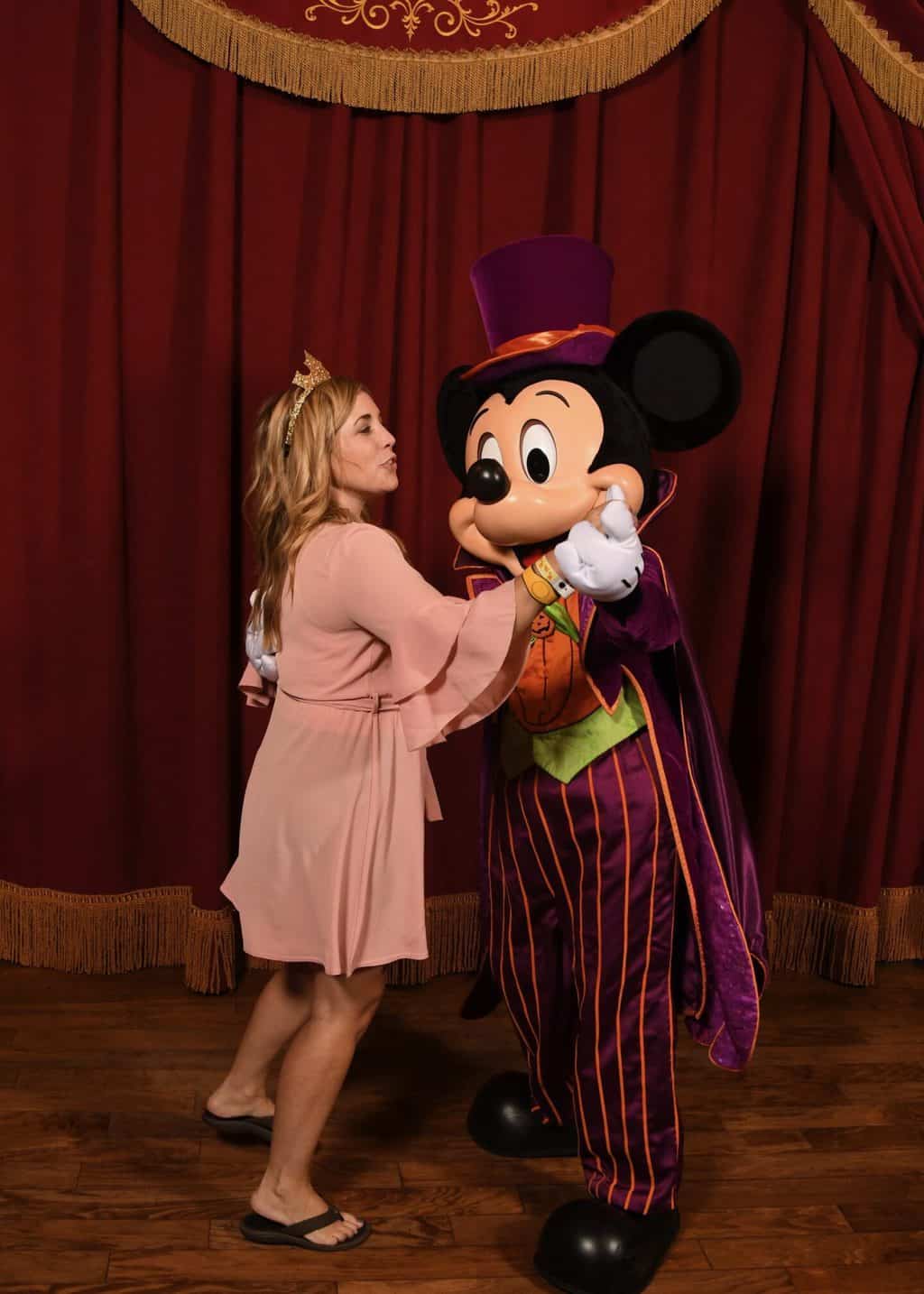 I love me a good tradition and this one has evolved and changed over the years. Katie and I are the only two OG attendees!
We've done a group of 4, 3, 6 and now 4 again and I do have to say that a group of 4 just works REALLY well for the parks.
With six it was tough to all be cohesive in what we were wanting to do and where we were wanting to go and it felt like a lot of our time was spent deciding things.
This year was THE easiest flow we've EVER had out of all the years.
I think it has a lot to do with the amount of times we've done the party. At this point we know the must-do stuff, we know the best spots for viewing, we know a basic plan to follow and it all just FLOWS in an easy, natural way!
We all four meshed super well too in all just happening to like and enjoy the same things which kept that flow going even smoother.
It was a super fun night and I'm so thankful we ended up being able to make it happen!
Countdown to next year is ON!
We all slept in the next morning and just took our time getting up and getting ready.
I had the cleaners coming to the house during that day as PHASE THREE of the EPIC trip got started.
We all went to Disney Springs for some delicious lunch at Blaze Pizza (not as good as Zach's pizzas…but close!) and did some super fun shopping too!
Lots of friendship 🙂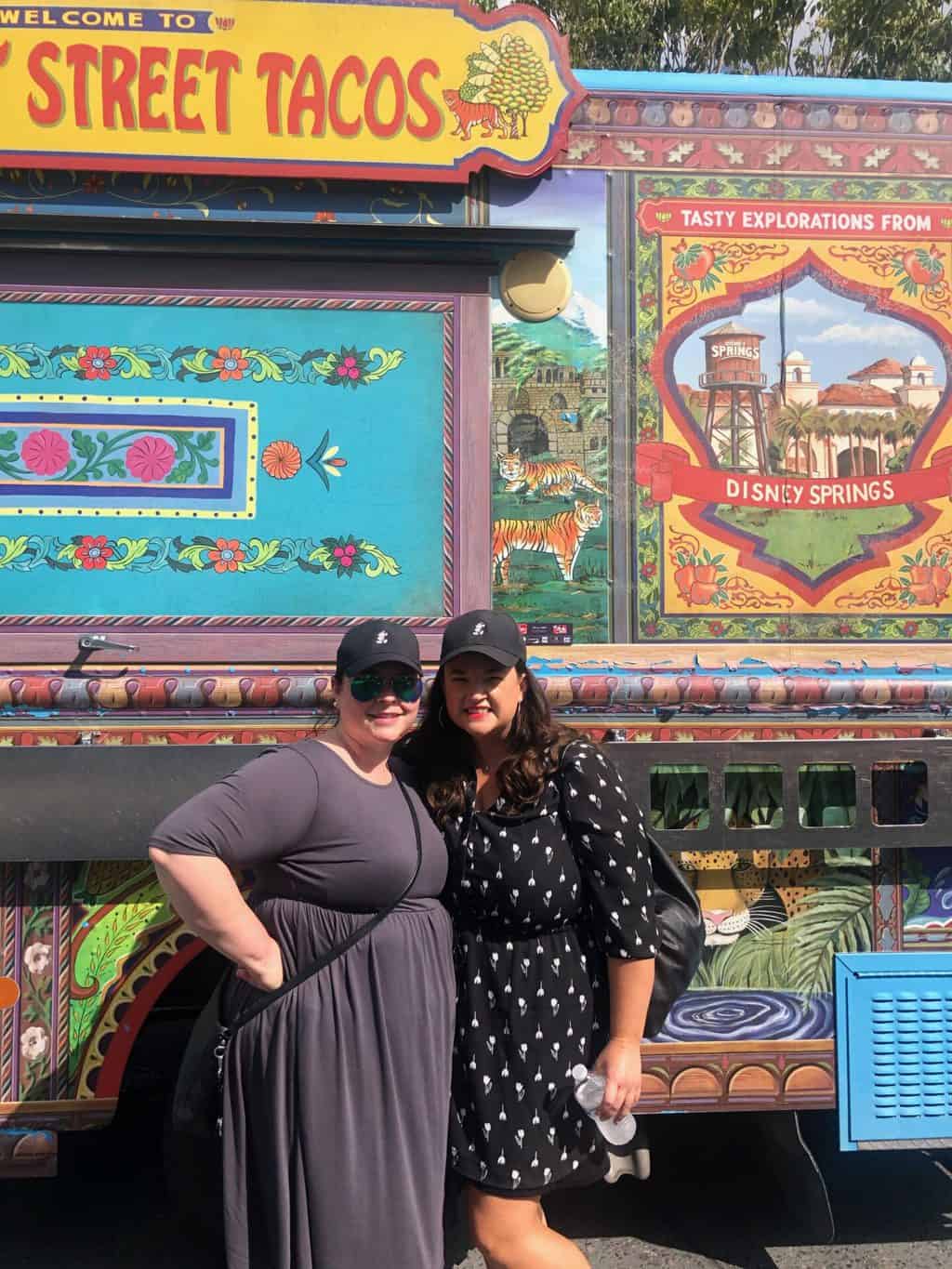 I had some hiccups with the phase 3 portion of the trip and I'm so thankful this group was down for me having to visit guest services to deal with some Disney tickets I'd purchased for people who weren't any longer able to come.
We all, again, just meshed great with the shopping too. Super chill vibes. Super go with the flow. Just PURE FUN!
We did a friendship soda drink toast and got friendship clips to celebrate 🙂
Even though I was super, mega excited for Phase 3 I did wish too that I could have driven back with everyone as I know car rides are such bonding experiences and I was sad to miss that!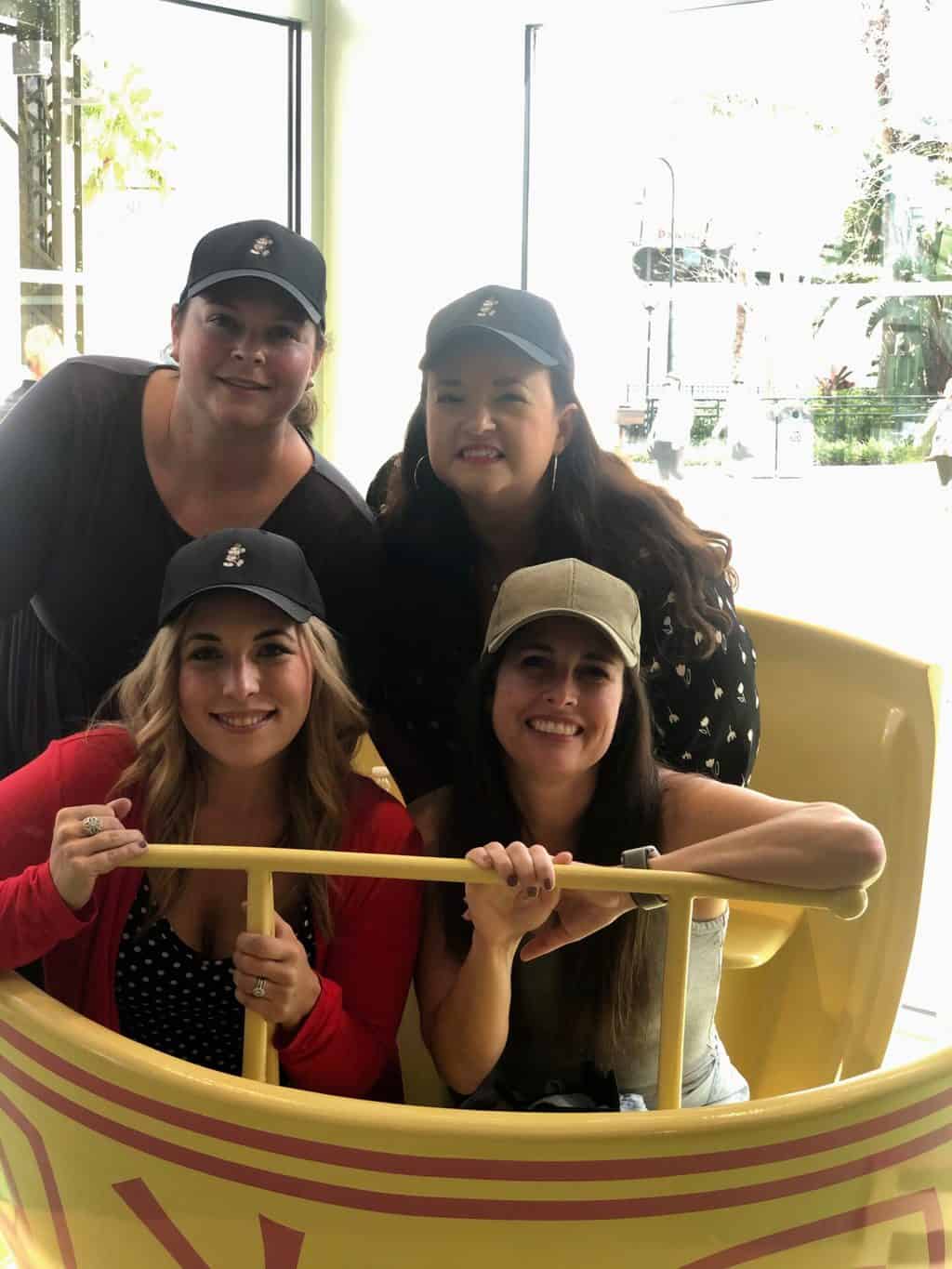 Mickey's Not So Scary Halloween Party: Final Thoughts
I know so many people don't get away with friends and I understand it's hard.
It's hard to leave babies. It's hard to leave daily routines. It's hard to leave husbands.
It's hard.
But yall. Friendship is SO important. And valuable. And just fills YOUR cup which is so important for us all!
Find friends. Love them hard. And go AWAY together! I'm so glad Zach encouraged the beginning of this tradition and thankful for the memories it brings each year!
You can see our past years at Mickey's No So Scary Halloween Party here:
Shop My Aurora Look Here: