Must-Do Moments at Walt Disney World: 19 Bloggers Weigh In!
Planning a trip to Walt Disney World can feel extremely overwhelming.
Especially as a first-timer or even as someone who hasn't visited recently.
SO MANY changes are constantly happening around the parks that even if you have visited Disney in the past, it's a whole new ball game!
There are people who enjoy Disney and people who are obsessed with Disney.
Those in the obsessed category who also happen to be bloggers?
Well they typically have a LOT of great tips and advice to offer up.
When I'm advising someone on what to do on their Disney trip I have my go-to "must do" items but I thought it'd be great to hear from other Disney lovin' mamas.
Every Disney fan has different perspectives and recommendations.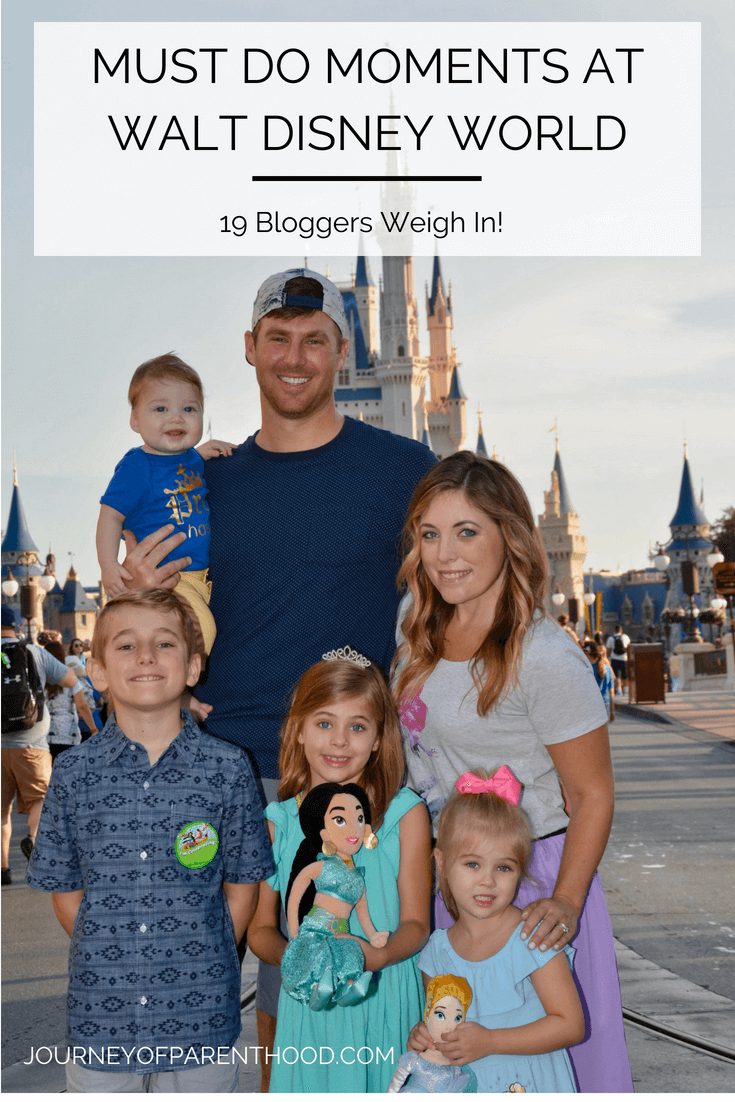 So what are the must-do items at Walt Disney World? Here's what 19 bloggers have to say:
"Take in the 'Ever After' fireworks show. It is our favourite way to end a day at Disney; allowing us to all come together and experience the magic of the show, while also allowing the kids to slow down from the hype of the day. We also try and time this for our last night at Disney each time we're there to cap off our trip."
Janine Young – Along With the Youngs
"

I think taking a day off during your Disney World vacation is a must do! I see so many people visiting Disney World with days planned from opening until close. When they get home, they need a vacation from their vacation. Be sure you take at least one day to relax with your family and just play. This could be swimming in your resort pool, renting bikes at the resort, or just playing a board game in your room. These are some of the best memories, when you just slow down and enjoy the moment during your Disney World vacation. "
Allison – Jones Family Travels
"

Fantasmic at night at Disney's Hollywood Studios!"
—–> Be Sure to Read This Post When Planning Your Day At Hollywood Studios!
Jennifer – My Boys and Their Toys
"

Happily Ever After! I cannot recommend a single experience more.  Watching my children experience that Magic is one of my greatest memories! It is truly a brand of Pixie Dust that only Disney delivers."
—–> Happily Ever After takes place at Magic Kingdom, be sure to read this post for all of your Magic Kingdom Fastpass Planning!
Angie Rumpf – Disney Parents
Ashley Saunders – Ashley & Company
"

You don't know the meaning of joy until you spend 15 minutes hanging around Club Cool, watching unsuspecting guests sample Beverly for the first time. Just thinking about it puts an instant smile on my face."
—–> Club Cool is located in Epcot – Be Sure to Read This Post for Epcot Planning Tips!
Theresa Mabe – In Sight: Full Life
"

MUST WATCH Happily Ever After at Magic Kingdom ~ it gets me every time!"
Tina M. Brown – Footprints in Pixie Dust
"

For my family, a must-do is always ending our trip with a visit to Disney Springs. There we can get last-minute souvenirs, have a nice meal and soak up as much of the magic as we can before heading home."
Lisa Cameron – Adventures in Familyhood
"

See the fireworks at least once in the parks."
Megan Miller – Gingy Love
"

Watching your kids experience Disney"
Devon Weaver – Mama Cheaps
"

We always have to see Mickey Mouse and the fab 5. You're not in Disney until you see at least one of them. We always make sure to ride Dumbo, Pirates, and Peter Pan."
Lucy McKenzie – Gigglebox Tells it Like it is
"

I think a "must do" at Disney World is Happily Ever After."
Carrie Hurst – A Princess and Her Pirates
"

Ride the monorail and resort hop."
Melissa Russo – The Farm Girl Gabs
Patty Moliterno – A Mother's Random Thoughts and WDWPov
"

My Disney must-do is the Happily Ever After fireworks at Magic Kingdom."
Tammy Graham – Living the Disney Dream
"

A MUST Do at Disney World would be to take one day to explore the different Disney World Resort properties to see what each has to offer."
—–> Animal Kingdom is a great resort to explore, be sure to read this post for FastPass planning tips!
Kim Seghers – This Ole Mom
"

Because I visit often, I know I will always get the opportunity to do my favorites but no trip to Walt Disney World is ever complete for me without a visit to the Magic Kingdom. A simple walk down the middle of Main Street USA makes my visit complete!"
Janice Brady – An Open Suitcase
Planning a Disney Trip? Here's Help:
Of the bloggers who chimed in on this question, 7 answered that their must-do at Disney World is to watch Happily Ever After at Magic Kingdom.
Happily Ever After is a new fireworks show that replaced Wishes and takes place in front of Cinderella's Castle on Main Street USA.
It is an incredible show and it really tugs at my heart each time I see it (we recently had the opportunity to watch it from the rooftop of the Contemporary which you can read about here).
Don't get me wrong…I LOVE Happily Ever After. And I also agree with the comment that Fantasmic at Hollywood Studios is amazing.
However, I'm a mom who appreciates having well-rested, happy kids.
And when my kids are little? The fireworks often are just too late to make them happen.
I DO think it's possible to have a SUPER magical trip to Disney and skip the fireworks.
Kye's entire first trip we never stayed up late enough for him to watch them and he didn't know the difference.
If Disney is a once-in-a-lifetime experience then yes, Happily Ever After is a can't miss.
But if it's a Disney first visit and you know you'll be back?
Don't stress pushing your child up later than you know they can handle!
The crowds leaving the park after Happily Ever After are also intense.
It takes much longer to leave the park so even if the fireworks take place at a reasonable hour you need to account for the crowds leaving the park, the line for the monorail and the traffic heading back to your room (or the bus ride if you're on property).
I personally put a lot of thought into answering this question.
What is my #1 MUST-DO? What is something I think EVERY family HAS to do while at Disney World?
My answer: Get a picture in front of Cinderella's Castle.
It's iconic. It takes only a few minutes to capture.
It's the most recognizable spot in Disney. It's the picture your kids will look at for years to come and one that will always bring a smile on your face whenever you see it.
It's a MUST DO moment! Now here's how to make it happen: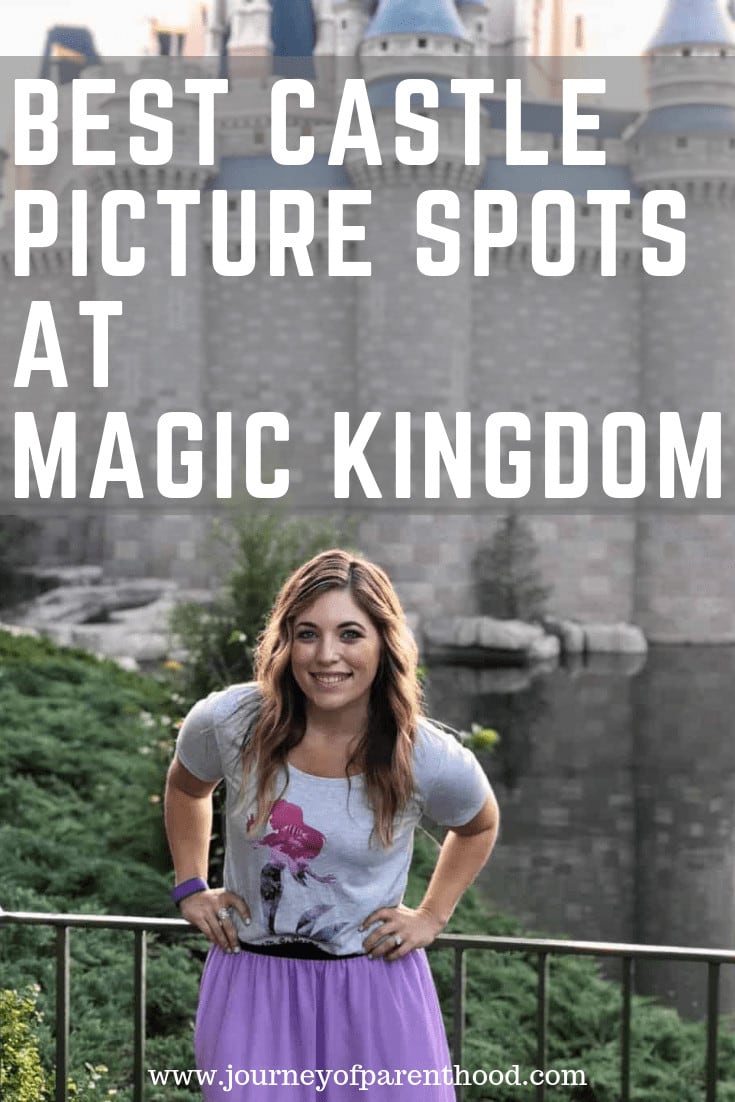 When to Take it
I persoanlly recommend snapping this photo as early in the day as possible. It gets hot.
It gets crowded. Kids (and husbands!) get grumpy.
The earlier you get that castle shot, the more likely you'll really LOVE how it turns out!
Plan on arriving to Magic Kingdom a good hour before the set time for park opening.
Most mornings cast members will allow guests onto Main Street USA before the actual opening time of the park.
It's hit and miss regarding when the photo pass photographers start taking pictures but I've often seen them there then!
Where to Take it
Main Street USA is filled with photo pass photographers ready to snap your castle photo for you!
If you take your photo on Main Street be sure to look behind you before you jump in a photo pass line.
Sun in your eyes makes for a squinty picture!
Find the spot that's covered in shade for your best bet.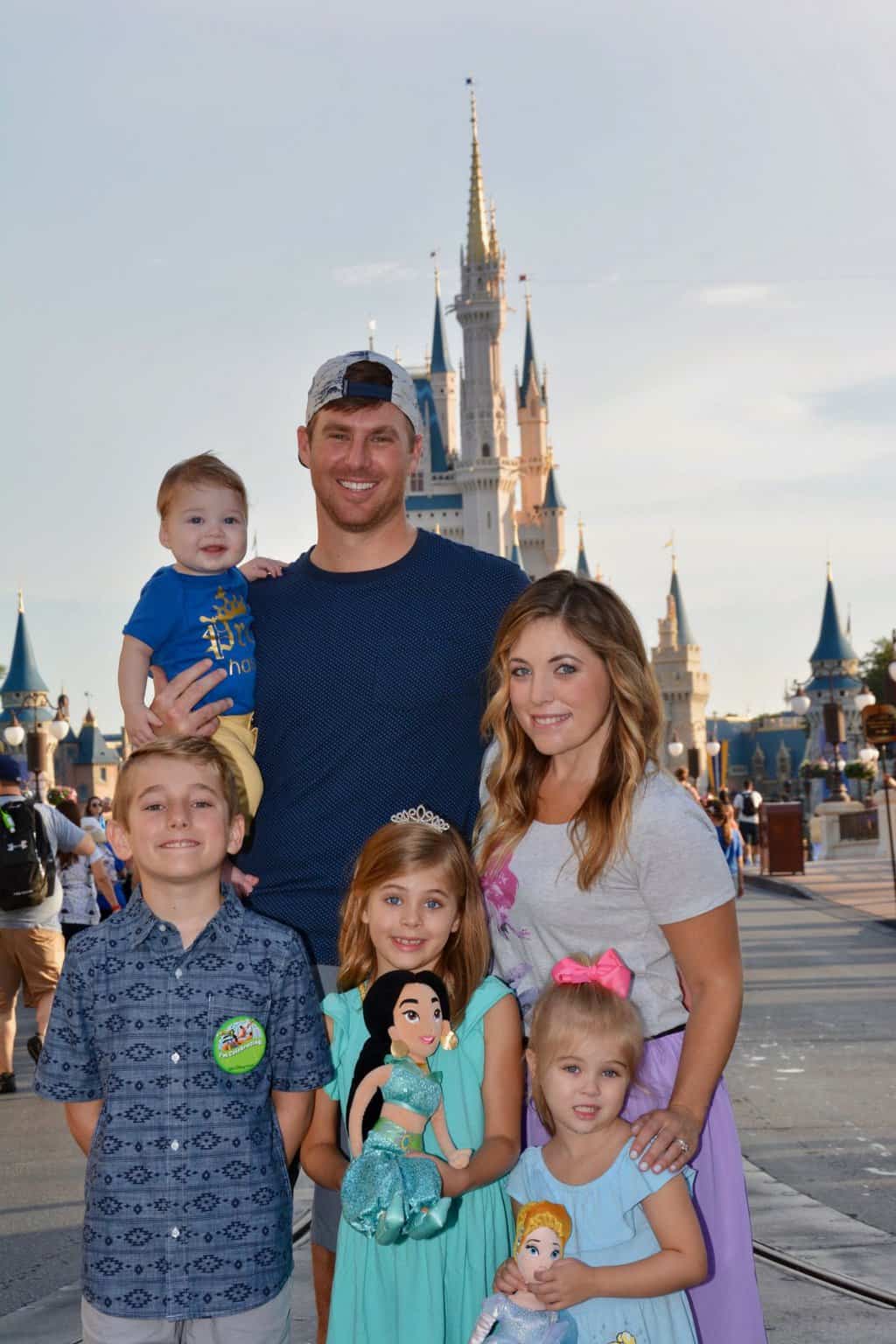 Also don't feel like you have to get in the first line you see…there are plenty of photo pass photographers all along Main Street but also in other great spots too.
If you get to the end of Main Street you can get great shots up close to the castle and often can have Walt and Mickey in your picture with you 😉
My personal favorite spot for castle pics are to the right or left of Main Street in the grassy area.
Usually there is no wait, the photo pass photographers tend to get more creative since they aren't as busy, and it's easier to get a shot with less random strangers in the background.
Another great spot is on the pathway towards Tomorrowland.
It's a side view of the castle from the bridge where there is no chance for strangers in the backdrop!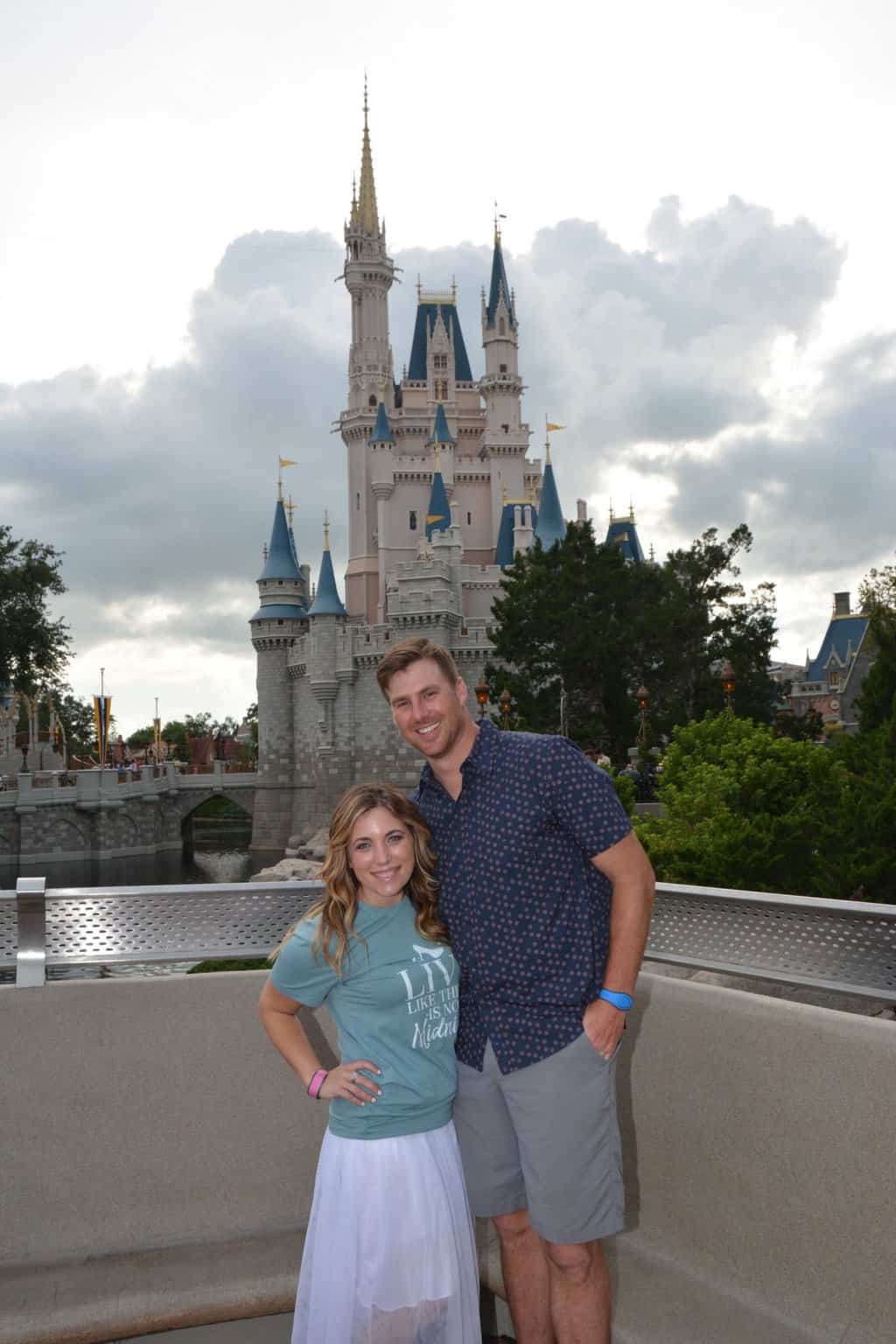 If you go around the castle via Liberty Square bridge there are some great little benches with a beautiful castle backdrop.
I've never seen a photo pass photographer at this location and sometimes this area is closed off for various shows on the castle but it's always a quiet spot and good for those individual shots and a different angle of the castle!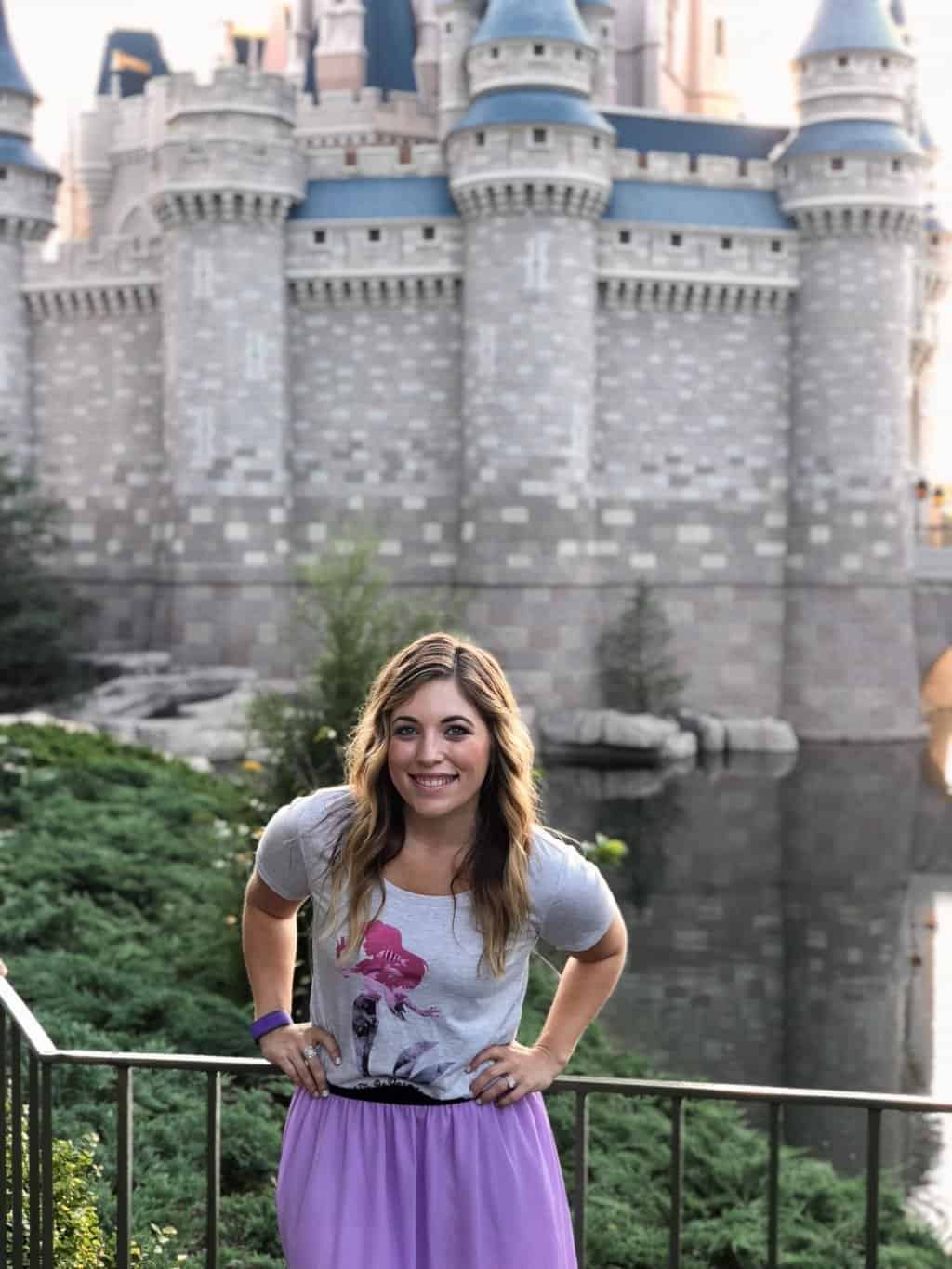 Who Will Take It
This answer may seem obvious: the photo pass photographer.
They are cast members who literally are hired by Disney to take your pictures.
Let them! I see SO many people trying to do a selfie or taking turns not being in the photo and this doesn't have to happen!
Even if you don't have Memory Maker (which allows all of your photo pass photos to be YOURS!), still get in the line for the photo pass photographer.
They will use their camera for the photo and you have the option to purchase it…but they will also USE YOUR CAMERA!!!
Hand 'em your phone or camera or whatever you have and they will gladly take a photo for you!
Make the Most of Your Moment
Get all the shots you want. Just Mom and Dad. Just the kids. Solo pics. Group Pics. Don't hesitate to ask!
Also be sure to ask for a magic photo as the photographer will add something magical to your picture.
My kids LOVE this and it perks them right up if they've been in a more sour mood.
If your child has a new toy they're obsessed with…don't make them put it down.
Little things like that will be what you love most about this picture for years to come! It's the reminders of the trip that mean so much 🙂
Relax and SMILE because your kids will love seeing your joy too!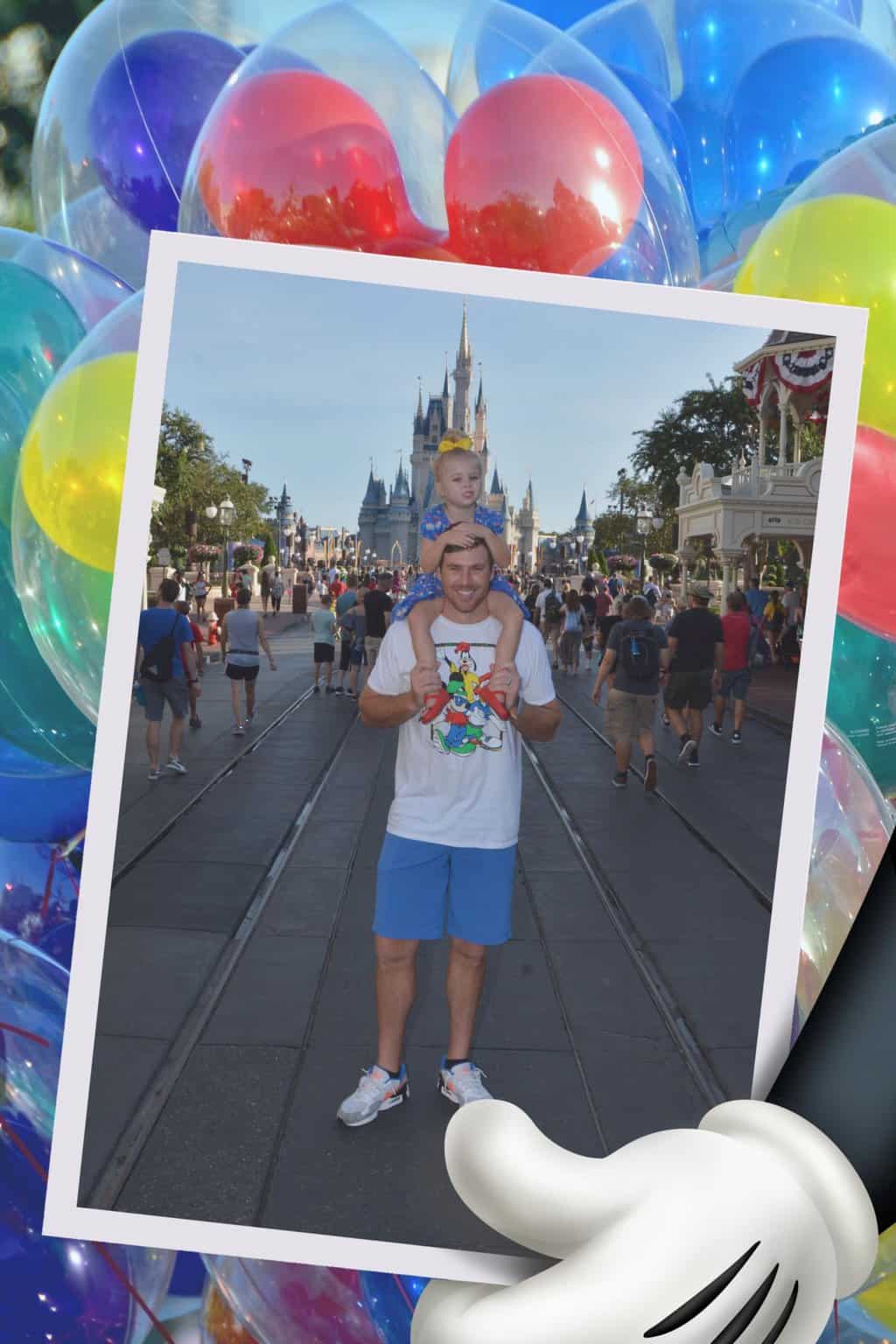 I love all the suggestions from fellow bloggers on their "must do" items for a vacation to Disney World.
Disney offers so many magical moments and incredible memories!
Make each trip your own and find what your family loves the most and what can become your own "Disney tradition" for visits to come!
Want more of our Disney adventures? Here's my Disney Page!
Disney Planning Help:
My favorite planning tool for Walt Disney World parks is Touring Plans. Being a member of their site allows you access to crowd calendars and daily itineraries to avoid waiting in lines! Learn more here!
Helpful Disney Planning Posts: