I work with several companies and links to any products within posts are affiliate.
Today for our Babywise Friendly Pinterest Day we are all posting about activities to do with children during springtime.
Not only does spring bring beautiful weather outdoors, but it also brings rain.
I thought it'd be a good opportunity for a post about the indoor activities I do with my children.
Not only do we stay inside due to rainy weather, but with nap schedules and such it is easier for me to have lots of indoor options to keep my children busy, quiet, and having fun!
1. Play-Doh Fun Factory Deluxe Set:
Play-Doh is such a fun, simply thing to enjoy!
We have the deluxe set and got it as a gift for Kye's 2nd birthday.
He's now 6 and we still have all the same play-doh that came in the set and still use all the accessories on a regular basis.
The kids love to pull it out and play with it.
Once a kid is old enough not to eat it then it is really a great activity for all ages.
I have them each use a cookie sheet to play with it on and they are only allowed to use one color at a time. It makes cleaning up a breeze and keeps all our play-doh nice 🙂 
2. Mini Trampoline With Handrail  
I am big about my children being active! We allow running in our house 🙂
We have a large playroom with a good bit of toys for the kids to choose from but this trampoline is the thing they play with the most.
They especially love to use a bean bag chair and jump from the trampoline into the chair.
The handle is GREAT to give them stability (and keep Mama from having a heart attack!) and we also took pool noodles and secured them around the screws on the legs of the trampoline to make it safer.
We've had it for several years now and it's still in great condition and I see it lasting through all of our babies! 
I was very hesitant to invest in Magna-Tiles when I first heard about them.
But then I started reading reviews and kept hearing from friends how awesome they were.
I'm SO glad we made this investment.
I love imaginative play and these tiles allow the kids to really think and create in a new way.
We keep ours in an easy to reach location so the kids can get them down on their own as well as put them away when they are finished building and playing.
This toy truly provides hours of entertainment!
Out of everything we own for our children their bounce balls are THE most used toys in our home.
We store them in our front hall closet and I can't think of a day that the kids haven't bounced around the house.
I love them because they allow the kids to burn so much energy and have a fun way to exercise. The kids love them because they bounce 😉
They are SO cheap yet are such a winner! If you're ever looking for a gift to give…a bounce ball with handles makes an excellent one!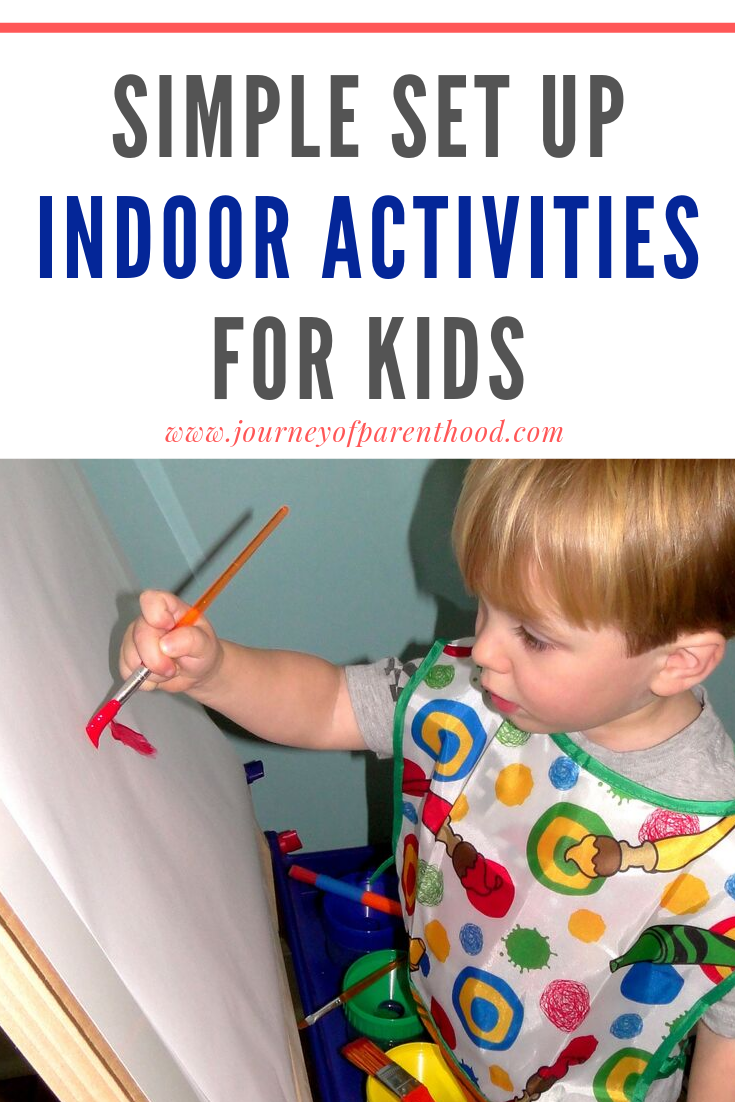 We have a rather long hallway in our home so it makes the perfect "bowling ally."
We set up plenty of pillows against the wall behind where the pins go so when they fall over they won't do any damage to our walls.
We take turns getting two tries to knock the pins down.
Obviously, older kids stand further away from the pins than younger ones.
The ball that comes in the set is pretty heavy so we have a "roll on the ground only" rule in place to avoid any injuries or house damage!
But it's a great indoor game that provides a lot of laughs and a little friendly competition!
6. Slide and Ball Pit: 
When we designed our playroom we tried to think of as many "active play" type items that we could.
The ball pit Zach designed has been the cool factor of the room!
When we have playdates the kids always end up in the ball pit.
I especially love that a slideis included with the pit to add that extra element of fun. You can see our entire playroom here!
I love having a play kitchen!
As part of our playroom we also have a grocery store and both complement each other very well. Both our son and daughter love the kitchen.
They "make food" and have lots of parties.
I bought our specific kitchen because I liked the space for storage.
I'm big on storage and I loved that most of the play food they have can be stored inside the kitchen to minimize mess and simplify clean up duty. 
When I first bought the kids each a mini golf set I didn't think about using it indoors but then I realized the balls were soft and the "holes" could easily stand up on carpet and tile.
A new family game was born! It's one we don't do often but is excellent on rainy days when boredom sets in!
We do a LOT of coloring and drawing and sticker decorating in our home.
I like for my kids to sit at the table and work on art type projects to help train them for behavior in school.
It also helps them to learn to focus on one task and to take pride in their work. They get SUPER excited when I pull out the easel.
I keep it in our garage right close to our house door so I can set it up easily and we always have paints and paper ready to go.
Standing up to do their art makes it a special treat and getting to paint and use large pieces of paper makes it even more fun!
10.Basketball 
When we first got my son his little basketball goal set I never thought it'd be used as much as it is in our home.
It's another fun way to burn energy and is another favorite item in our playroom.
They often use the trampoline to jump and make their shots into the basketball goal 🙂
Of all the sports, basketball really is the only one you can do indoors and the small-sized balls we have are soft enough where they can't really do any damage to anything.
When Daddy is on playroom duty…he always picks to play basketball 😉 
Rainy days or sleeping babies don't mean that my big kids miss out on any fun! What are some of your go-to indoor activities?