Got bad weather? Rain? Cold temps? Just need ways to fill the day with your kids while at home? I thought it'd be a good opportunity for a post about the rainy day indoor activities I do with my children.
Not only do we stay inside due to rainy or cold weather, but with nap schedules and younger siblings having independent playtime and such it is easier for me to have lots of indoor options to keep my kids busy, quiet, and having fun!
Life can be busy and sometimes it's just nice to hang out at home and have quality family time together just hanging out.
Here are our family favorite ideas for indoor activities on a rainy day!
Disclaimer: post contains affiliate links
Easy Rainy Indoor Activities for Kids
Play-Doh Fun Factory Deluxe Set
Play-Doh is such a fun, simple thing to enjoy, and this Play-Doh Fun Factory Deluxe Set makes it that much better!
We have the deluxe set and got it as a gift for Kye's 2nd birthday.
He's now 10 and we still have all the same play-doh that came in the set and still use all the accessories on a regular basis.
The kids love to pull it out and play with it.
Once a kid is old enough not to eat it then it is a really great activity for all ages.
I have the kids each use a cookie sheet to play with it on and they are only allowed to use one color at a time.
It makes cleaning up a breeze and keeps all our play-doh nice 🙂
Mini Trampoline With Handrail
I am big about my children being active! We allow running in our house 🙂 And, of course, jumping on the mini trampoline!
We have a large playroom with a good bit of toys for the kids to choose from but this trampoline is the thing they play with the most.
They especially love to use a bean bag chair and jump from the trampoline into the chair.
The handle is GREAT to give them stability (and keep Mama from having a heart attack!) and we also took pool noodles and secured them around the screws on the legs of the trampoline to make it safer.
We've had it for several years now and it's still in great condition and has lasted through all FOUR kids!
Magna-Tiles
I was very hesitant to invest in Magna-Tiles when I first heard about them.
But then I started reading reviews and kept hearing from friends how awesome they were.
I'm SO glad we made this investment.
I love imaginative play and these tiles allow the kids to really think and create in a new way.
We keep ours in an easy to reach location so the kids can get them down on their own as well as put them away when they are finished building and playing.
This toy truly provides hours of entertainment and is as great toy to encourage siblings to play together too.
Bounce Balls With Handles
Out of everything we own for our children their bounce balls are THE most used toys in our home.
We store them in our front hall closet and I can't think of a day that the kids haven't bounced around the house.
I love them because they allow the kids to burn so much energy and have a fun way to exercise.
The kids love them because they bounce 😉
They are SO cheap yet are such a winner for rainy day indoor activities!
If you're ever looking for a gift to give…a bounce ball with handles makes an excellent one!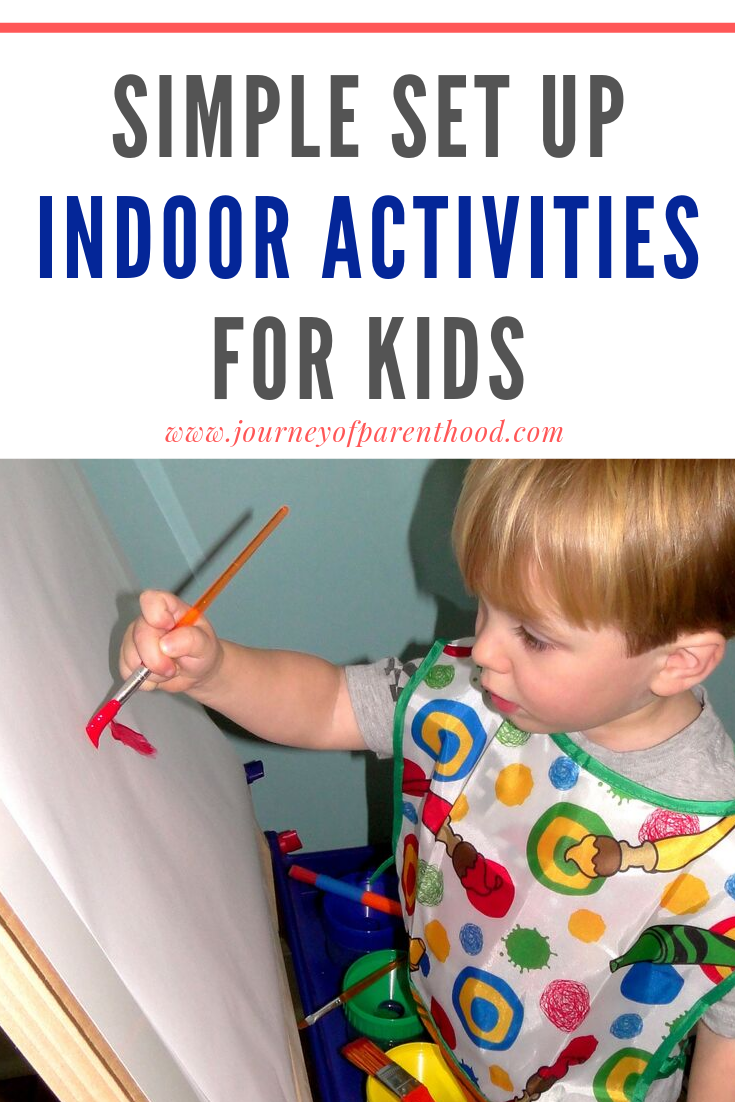 Indoor Bowling
We have a rather long hallway in our home so it makes the perfect "bowling ally" for indoor bowling.
We set up plenty of pillows against the wall behind where the pins go so when they fall over they won't do any damage to our walls.
We take turns getting two tries to knock the pins down.
Obviously, older kids stand further away from the pins than younger ones.
The ball that comes in the set is pretty heavy so we have a "roll on the ground only" rule in place to avoid any injuries or house damage!
But it's a great rainy day indoor activity that provides a lot of laughs and a little friendly competition!
I like that the older kids can manage set up and clean up on their own too.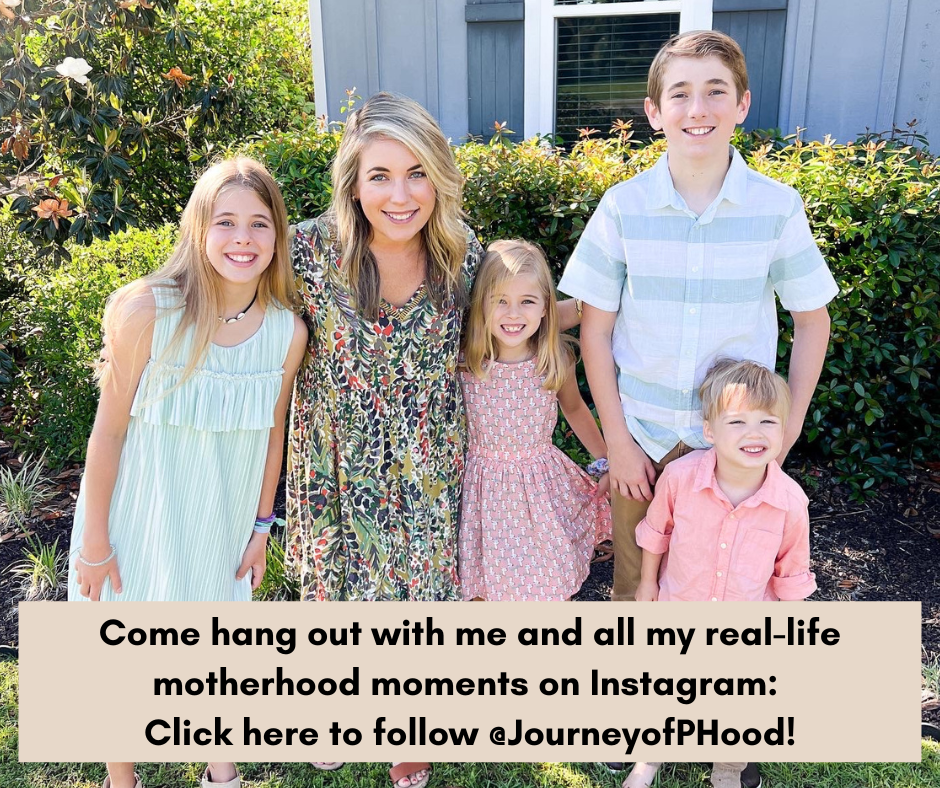 Slide and Ball Pit
When we designed our playroom we tried to think of as many "active play" type items that we could.
The ball pit Zach designed has been the cool factor of the room!
When we have playdates the kids always end up in the ball pit.
I especially love that a slide is included with the pit to add that extra element of fun.
You can see our entire playroom here!
Before we had our playroom with the custom ball pit we had this tent and tunnel set up with balls inside of it.
It worked great for a non-permanent option and the kids all loved crawling through the tunnels and playing in the balls too.
It is also great for an obstacle course, to use for indoor games, and they love it too for setting up a scavenger hunt!
I have ordered TONS of ball pit replacement balls over the years and this set has held up THE BEST to the test of time and is a great size as well as durable enough where it doesn't collapse during rougher play 😉
Play Kitchen
I love having a play kitchen!
As part of our playroom we also have a grocery store and both complement each other very well.
All of our kids LOVE the play kitchen. The 10 year old even still plays "restaurant" with the younger kids.
They "make food" and have lots of parties.
I bought our specific kitchen because I liked the space for storage.
I'm big on storage and I loved that most of the play food they have can be stored inside the kitchen to minimize mess and simplify clean up duty.
We've had this kitchen for 7 years and it still looks new!
Indoor Miniature Golf
When I first bought the kids each a mini golf set I didn't think about using it indoors but then I realized the balls were soft and the "holes" could easily stand up on carpet and tile.
A new family game was born!
It's one we don't do often but indoor miniature golf is excellent on rainy days when boredom sets in and a great item to keep stored to only bring out during those times where mama really needs a break 😉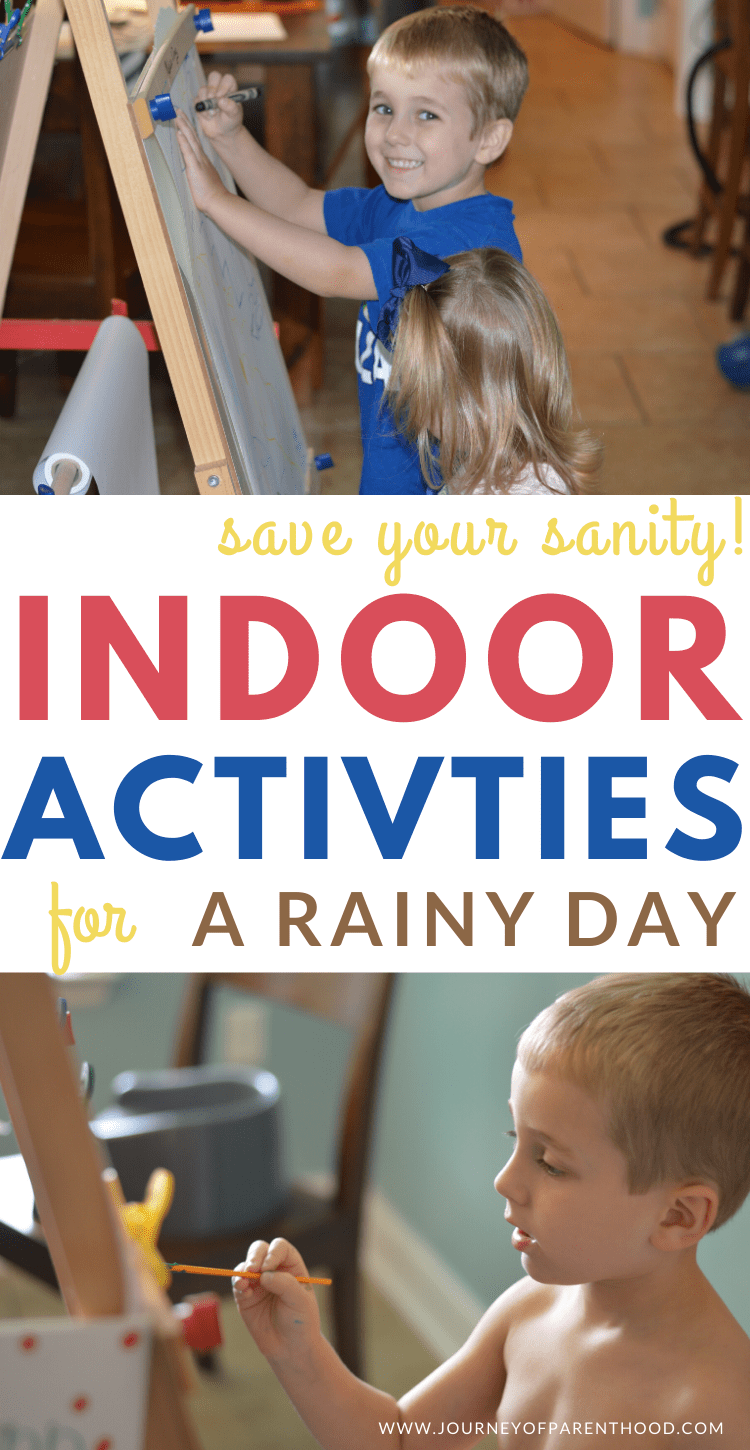 Art on the Easel
We do a LOT of coloring and drawing and sticker decorating in our home.
I like for my younger kids to sit at the table and work on art type projects to help train them for behavior in school.
It also helps them to learn to focus on one task and to take pride in their work.
Kids need to be able to have these skills in the classroom and working on art projects also helps to work on fine motor skills too!
They get SUPER excited when I pull out the easel.
I keep it in our garage right close to our house door so I can set it up easily and we always have paint, brushes and paper ready to go.
Standing up to do their art makes it a special treat and getting to paint and use large pieces of paper makes it even more fun!
I also love that the easel has handy clips that are perfect for attaching construction paper rather than having to use tape whenever I don't want to mess with the large roll too!
Basketball
When we first got my son his little basketball goal set I never thought it'd be used as much as it is in our home.
It's a fun way to burn energy and is another favorite item in our playroom.
They often use the trampoline to jump and make their shots into the basketball goal 🙂
Of all the sports, basketball really is the only one you can do indoors and the small-sized balls we have are soft enough where they can't really do any damage to anything.
When Daddy is on playroom duty… he always picks to play basketball 😉 
Play Sink
We recently purchased a play sink and it's A-MAZING.
Totally worth all the hype!
It's really fun for the kids to play with a "real" running water sink.
My wild toddler will actually sit still and "wash the dishes" for SO long which gives me time to cook dinner 😉
I cannot recommend this enough for rainy day indoor activities and it's a fabulous gift to give as well!
Osmo Kit
I like to think I allow a healthy balance of screen time with my kids.
We do our fair share of movie-themed activities and the older kids are allowed a set time per week for video games but for the most part we don't do a ton of screen time as a whole.
When I learned about Osmo Kits I was SUPER impressed and I've continued to be impressed with the sets the longer we've owned them.
Yes, they use a screen but it's not just a kid zoning out watching a screen…Osmo kits provide hands-on activities and creative opportunities!
Every parent I know whose child owns the set LOVES it and raves about it!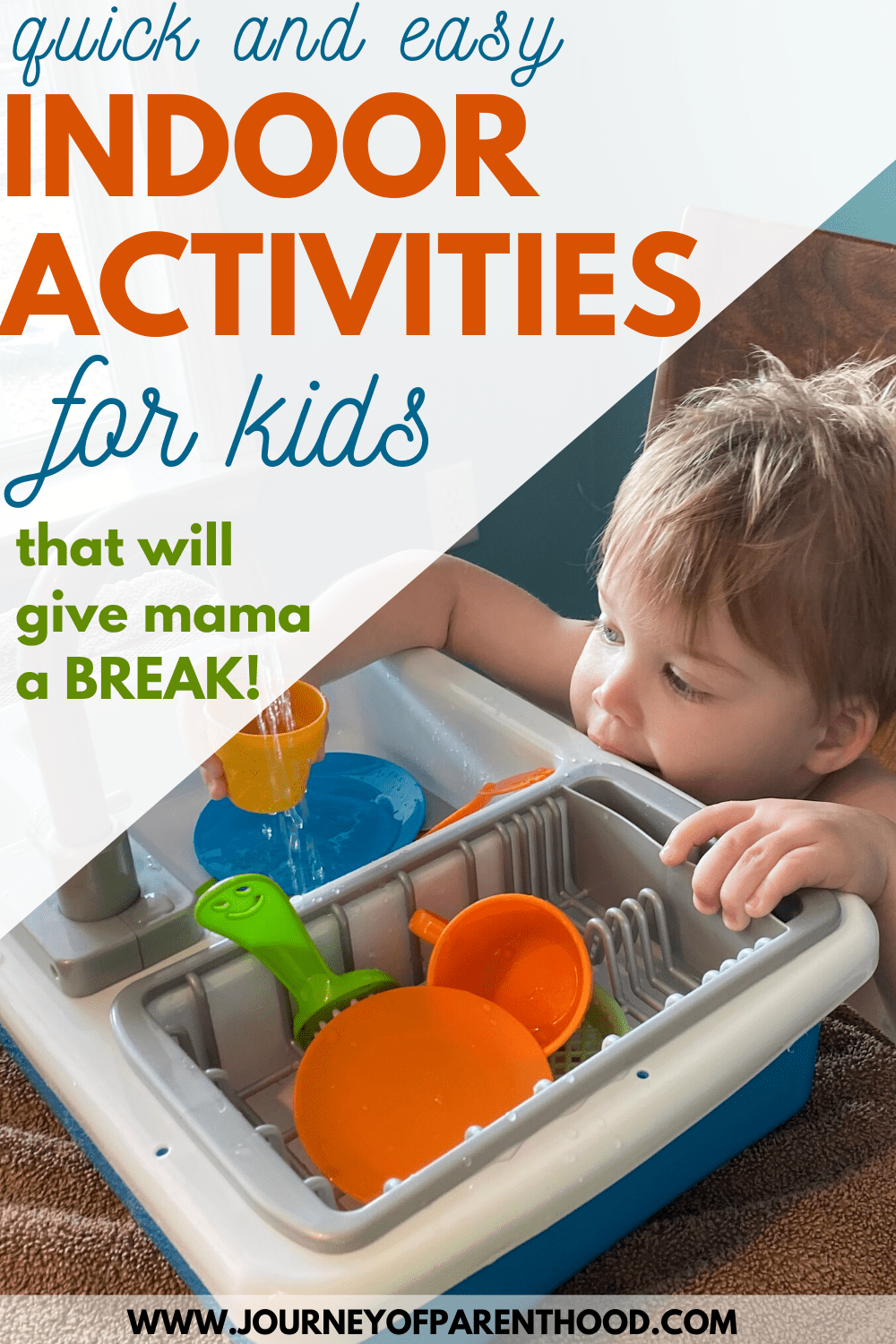 Marble Run Set
One of the best rainy day indoor activities for siblings to enjoy together is a Marble Run Set.
I have my kids set theirs up in the upstairs guest bathroom so we can shut the door and not hear the marbles over and over again – and so the noises don't wake the baby 😉
This also prevents younger siblings from getting ahold of the small marbles and choking.
Having a marble run provides a chance for creativity in the design of the set and allows for some competition when racing the marbles through the course!
It's great for just one person to play but also can easily incorporate a small group for fun indoor together time too.
Craft Kits
I am not a fan of crafts when my kids are little because they require so much supervision from a parent that I get frustrated and feel like it's more of a "mom craft" than a "kid craft."
However, once kids get around age 6ish they can start to handle craft kits on their own and they make for a GREAT rainy day or cold weather easy indoor activity.
I also prefer craft kits that provide an actual item they can enjoy after finishing creating it!
This window art set is super simple and makes for great gifts for the kids to give to others too 🙂
Wooden Train Set
This Wooden Train Set is another excellent toy investment that I keep stored in our garage in tubs and pull out on bad weather days or times where we're stuck at home and need a way to entertain the kids.
The tracks provide endless opportunities to be creative and put together different designs for the trains to drive on.
My kids all play so beautifully together with the train set and it's another one that even my older kids enjoy too!
Karaoke Machine
While having your children put on a musical performance may not be the most relaxing way to spend the day – it is guaranteed to be memorable!
We have family dance parties regularly and this Karaoke Machine is easy to use for kids.
I also love that it has an option for cd use as I purchase my kids' read-along stories and they can listen to them using the cd player!
Our kids will work together to come up with a show and will even dress-up for the parts and love having us watch their performance.
It's so good to encourage children to work together on a project to help encourage teamwork and communication.
Board Games
Our family LOVES playing board games together and it's our #1 way to spend quality time before bedtime with our kids.
We start playing board games when our kids are around 3-4 years old and consider game time not only a wonderful time together as a family unit but also a great way to teach our kids about taking turns and how to cope with both winning and losing too.
We have SO many favorite games that it'd be impossible to share them all in this post so be sure to visit my Family Board Game List to see them all!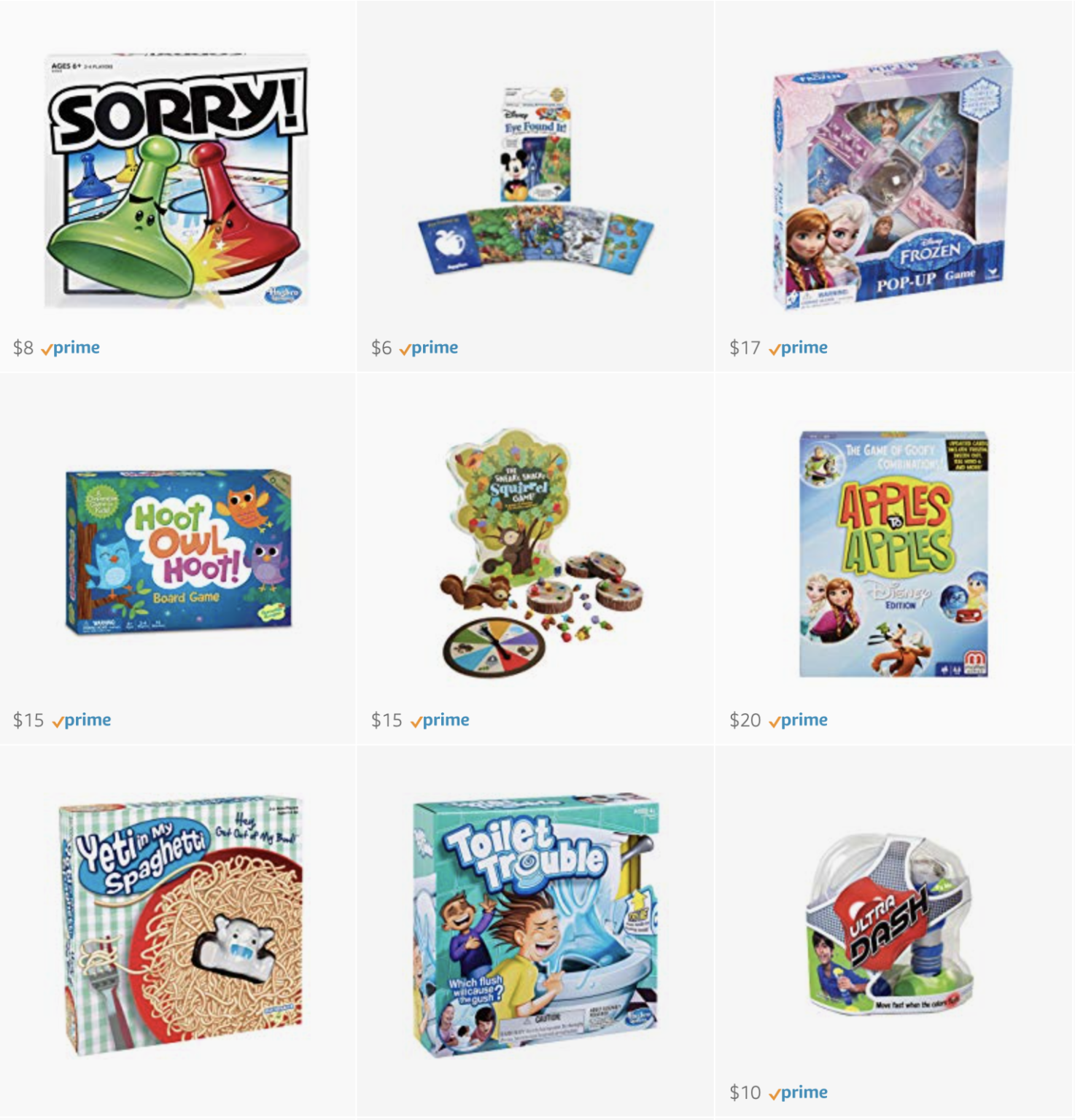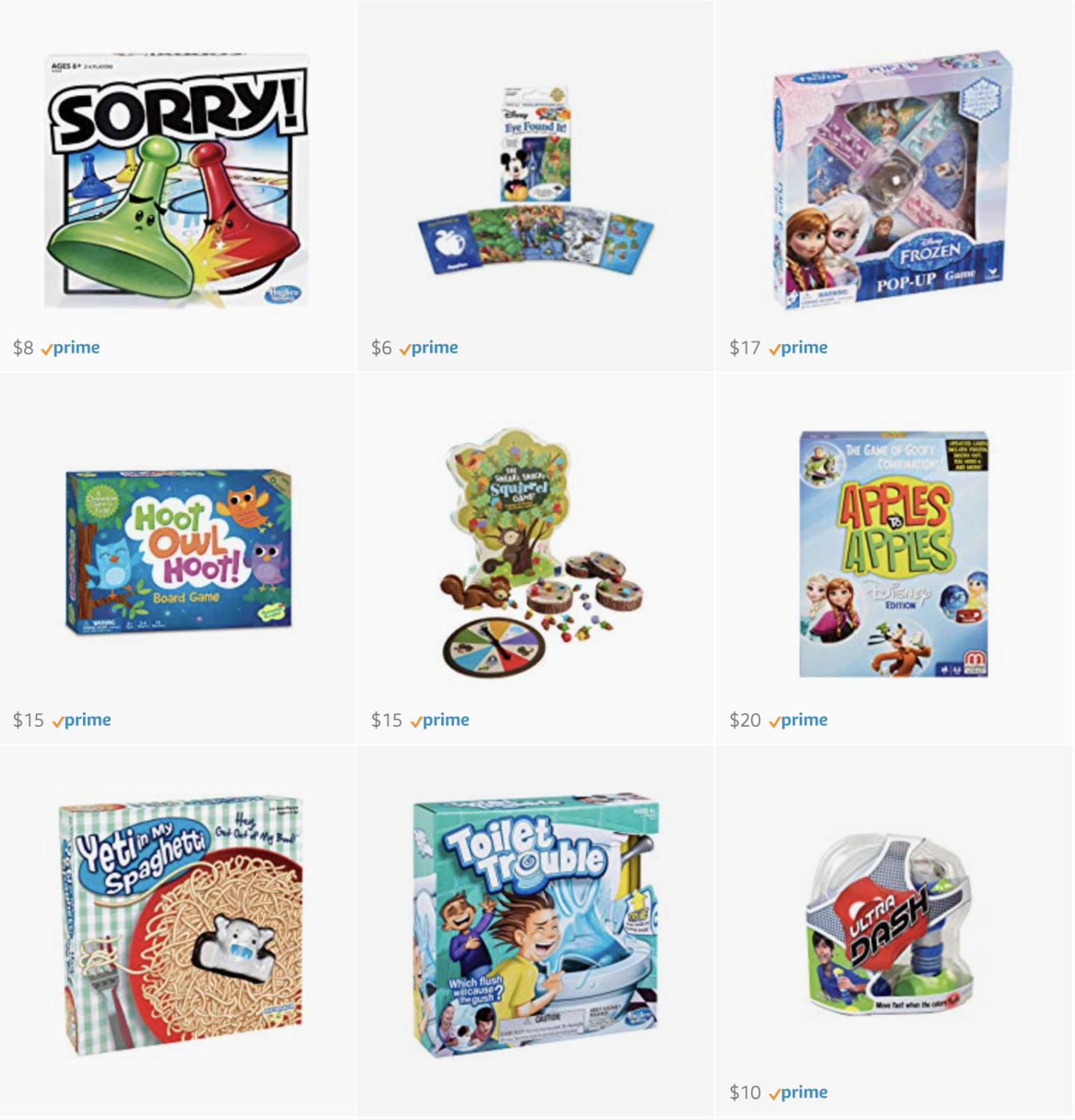 Rainy days or sleeping babies don't mean that my big kids miss out on any fun!
What are some of your go-to easy rainy day indoor activities?
Looking for Toys at a Certain Age?