What little girl doesn't love to play with dollhouses? There's so much room for imagination and creativity, even from an early age! And finding the best dollhouse for a 2-year-old is not as hard as you may think.
Two years old is NOT too young to start introducing dollhouses, though you do have to be a little more careful which one you buy. Some dollhouses aimed at slightly older girls will have small pieces that pose choking hazards to toddlers.
But thankfully, they do make some dollhouses with 2-year-olds in mind, which is why you shouldn't count it off your list the next time you're gift shopping for your toddler!
I have my top pick for the best dollhouse for a 2-year-old, one that I've bought for my toddler girl in the past and that she absolutely loved! But I also have some additional recommendations for other best toddler dollhouses in case you're looking for different styles or features!
*Disclaimer: post contains affiliate links.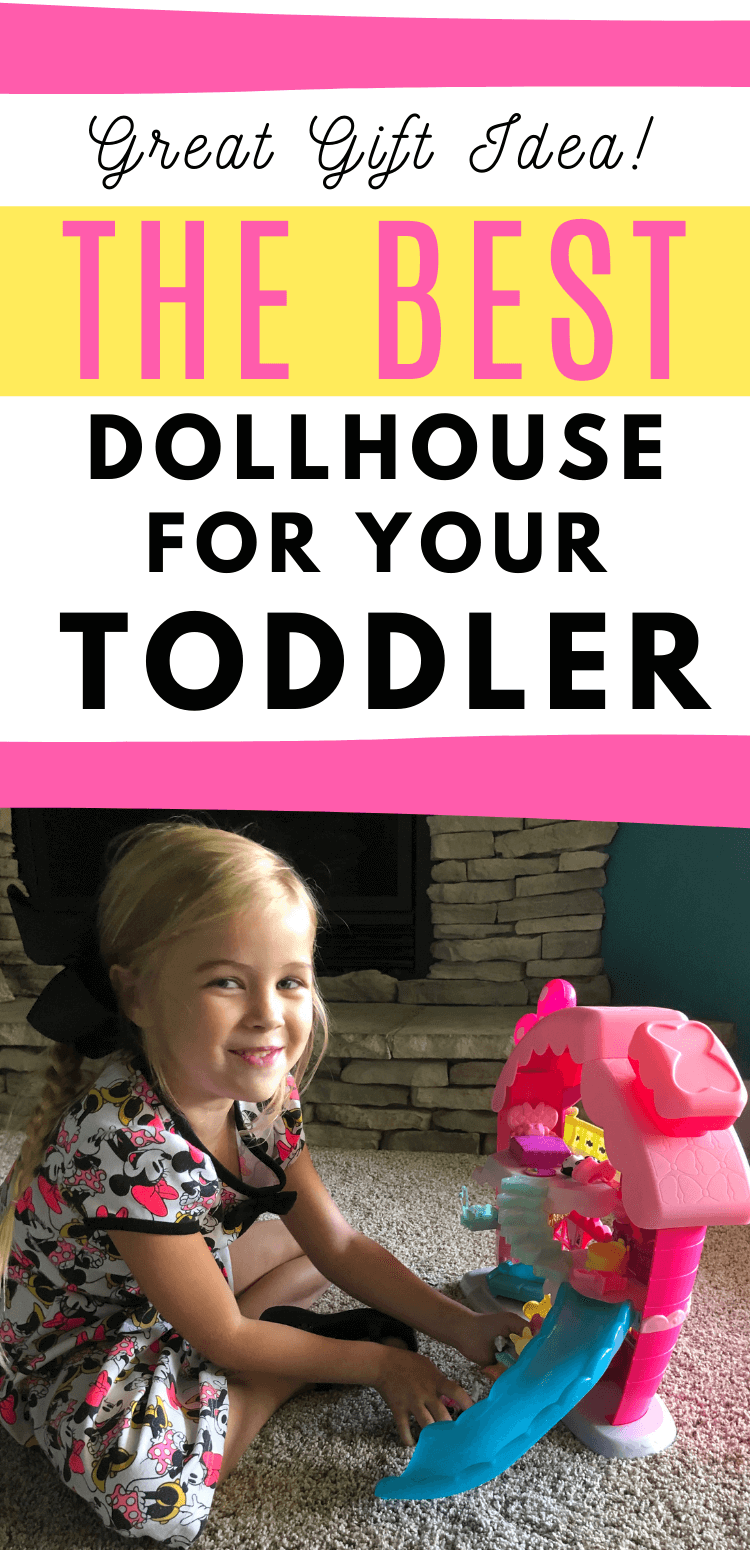 Why a Dollhouse for a 2 Year Old?
First of all, you may be wondering, why buy a 2-year-old a dollhouse? Yes, it's a toy that's very common amongst young girls, but it's common for a reason. Several, in fact!
Imaginative Play – dollhouses promote pretend play, which is a GREAT thing for cognitive development, even in toddlers! The freedom to choose how you interact with the house makes it a fantastic way to foster creativity and independence! 
On that note, it is a great toy to use during independent play, which teaches your little ones how to be content playing by themselves! (Very crucial as a busy mom!)
They last a long time – dollhouses, especially high quality ones, tend to be pretty sturdy and built to last. But not only that: since they're designed for imaginative play, the ways your child can play with it are practically endless, meaning they're less likely to become bored. And as they get older and their imaginations grow, the options only expand!
Related—-> The Best Gift Ideas for 2-Year-Olds
The BEST Dollhouse for a 2-Year-Old!
My top pick and the one my little girls LOVED as 2-year-olds is the Fisher-Price Little People Big Helpers Home. To me, this is the perfect dollhouse for several reasons:
It's designed for toddlers, so none of the pieces are too small
It has fun, bright colors that 2-year-olds will enjoy
The design isn't too complex yet still interactive
It teaches how to help around the house with lights and sounds!
Age range: 12 months-5 years
I am a HUGE fan of Fisher Price Little People. Just about anything from that line of toys is a win in my book as a parent. I love them for my sons and daughters. My older kids still enjoy playing with Little People and I LOVE that they are very safe for little ones to play with as well.
My oldest child is twelve and I've still held onto every single Little People set we've owned since he was a toddler. They've been well loved and enjoyed by all four of our kids! I also take them along to help keep our toddler entertained when running errands, waiting in lines at theme parks, to help stay quiet at church, or even to help keep busy while waiting for a meal out to eat or at a doctor's appointment.
This particular Little People Big Helpers Home dollhouse is great because it includes a few pieces of furniture, two little people figurines and even a pet! I also love that it folds up for storage and easy to take on the go!
One of the reasons I consider this the best dollhouse for 2 year olds is that it does NOT come with a ton of pieces. Pieces get lost. Keeping it simple is best especially with a two year old. The less we have to clean up or worry about losing, the better! I think this house includes that "just right" amount of pieces to keep toddlers happily entertained without being overwhelmed at clean-up time.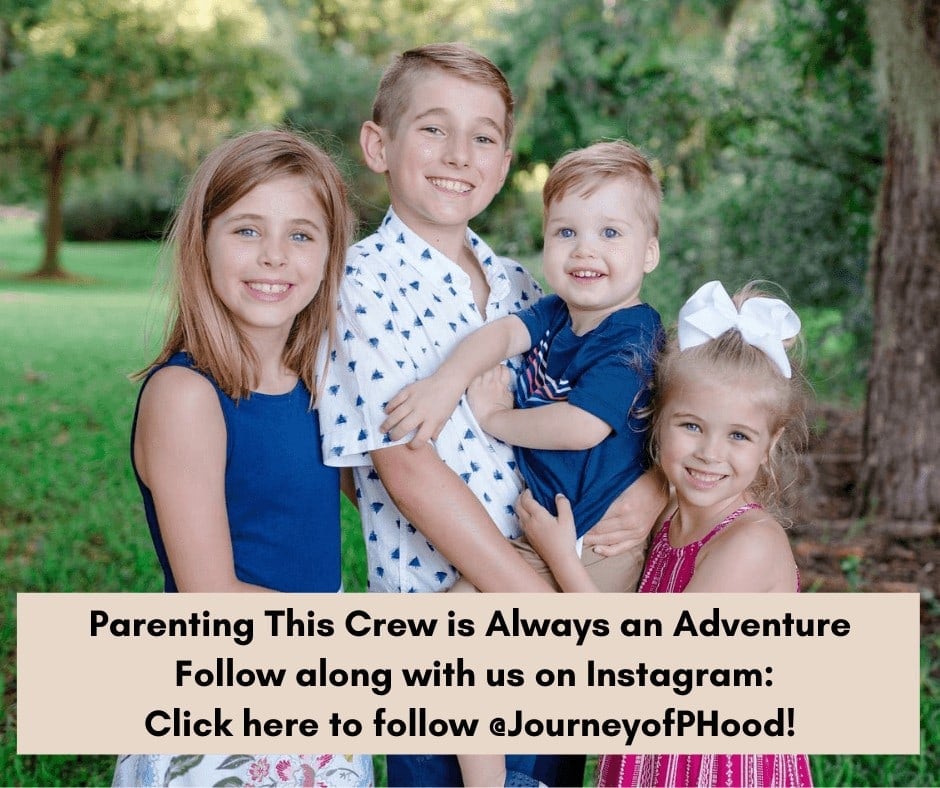 Other Amazing Dollhouses for Toddlers
Believe it or not, the dollhouse for a 2-year-old selection is not super extensive. Therefore, some of these are better suited for 3 years old and above.
I've made a note of which ones, so just use your best judgment! If you have a toddler who you think is ready to transition to 3+ toys, maybe one of these will be a great choice for an upcoming birthday!
Fisher-Price Little People Surprise & Sounds Home
A great option that's designed for 12 months and above, this version of another Little People dollhouse option has cute, toddler-friendly features like a dollhouse furniture bunk bed, big figurines, and fun sounds!
It is a bit pricier than my top pick but I also love that it folds up for easy storage and transport and that it includes multiple figurines to allow for lots of pretend and imaginative play!
If you're on the hunt for Little People house options you may also want to check out the Little People Friends Together Playhouse . It does not have the foldable feature but does include several additional furniture pieces as well as an outdoor pool and swing and lots of sound effects and learning features.
KidKraft Chelsea Doll Cottage
This one takes after more traditional dollhouses with several stories, wooden furniture, and more small pieces. The recommended age range for this one is 3 years due to the choking hazard, so keep that in mind!
KidKraft Majestic Mansion Dollhouse
The KidKraft Majestic Mansion Dollhouse is also a popular choice for older kids and is the dollhouse I purchased for my own daughters once they were old enough to handle both the house and the accessories with care and were old enough to be playing with Barbies.
This dollhouse is not only VERY tall and makes a fantastic WOW gift but in addition, this dollhouse comes with all the furniture for a price much lower than the Barbie brand of houses. I personally feel like this "Barbie DIY dollhouse" is much better quality than the often cheap plastic traditional Barbie houses.
Again, I would personally NOT recommend any of the KidKraft wooden styles of dollhouses for toddlers. In my opinion, the ideal age for this style of dollhouse would be ages 5+ even though they are marketed for ages 3 and up.
Related —–> Best Gifts for 5 Year Olds
Big Red Barn
Going off the beaten path a little, why not a farmhouse dollhouse? This is another one made with toddlers and young children in mind.
No small parts to worry about, just decent-sized plastic farm animals. And Old McDonald, of course!
Something is just special about a little toy farmhouse right? It reminds me so much of my own childhood and something I love about this set is that it is great for a two-year-old daughter or a two-year-old son too and a great option for siblings to play with together.
You & Me Happy Together Family Cottage
Want another option for easy transport and storage? I like how this one folds up with a handle. This one also has articulated figurines and a pet dog!
There are smaller pieces here so just be cautious – it's recommended for 3 and up! The You and Me Happy Together Family Cottage includes a LOT more parts and pieces than the Fisher Price Little People versions BUT I love the style of the dolls for the dollhouse.
Still made from plastic without any "real" hair or small pieces, these figurines are bendable and look more realistic which I appreciate!
Fisher-Price Loving Family Dollhouse for a 2 Year Old
Having two daughters means I have a good bit of experience with dollhouses. I was also a big time doll fan myself as a kid and this dollhouse reminds me SO much of that old school Little Tykes dollhouse I had back in the day.
We own several dollhouses and this is among my favorites for best overall dollhouse. I love the bendable figurines and how "realistic" they are. I love the simplicity of the pieces and that it doesn't have tons of sounds or gadgets to allow for maximum imaginative play experiences.
Minnie Mouse's Home Sweet Headquarters
For the kid who loves Mickey & Minnie, this is the dollhouse for her! This one has some cool features, too: the second floor has a turnstile closet and there's a working elevator (manual, but still fun!) that goes up to the third floor! 
Age range is 24+ months which is perfect for the two-year-old on your list! We are a Disney family and I love introducing my kids to Disney characters, especially when starting to plan for their first visit to Disney World 🙂
Barbie Dreamhouse Dollhouse
What little girl's playroom is complete without a Barbie Dreamhouse? If your daughter is showing an interest in Barbie dolls, it may be time to invest in one of these bad boys!
With their modern design and interactive features, these are known for being big and FUN. There's so much space and it comes with 70 pieces of furniture. Plus a hot tub with a slide! Recommended for 3+!
I remember begggggging my mom for a Barbie Dreamhouse as a kid and it's funny to me that as a parent I haven't actually purchased one for my own girls! I see the appeal, and they own the Barbie Camper, but we're sticking with the KidKraft Majestic Mansion 😉
Barbie 3-Story House
For another Barbie option, this modern dollhouse is stylish and fun! There's a manual elevator, a rooftop lounge with an umbrella, and a swinging chair.
Since it's Barbie, there are some smaller furniture pieces, so it's also recommended for 3+! Of the two Barbie House options, I personally owned one very similar to this one when I was a little girl.
I was slightly Barbie obsessed and I have great memories of riding my Barbie dolls up and down the elevator. IF I were to invest in a Barbie house, this would be the one I'd go for!
Disney Frozen II Arendelle Castle
Frozen is still as popular as very amongst young kids, especially little girls! So of course there's a dollhouse! This one comes with Anna, Elsa, and furniture for the bedroom and dining room – and it locks up with a key, which is pretty fun!
The recommended age is 3+ so I would be hesitant to purchase this for a two-year-old. However, my girls do own these figurines and they LOVE them. They are a great size for on-the-go play and I love that the castle set is small and easy for storage.
If you're two year old has older siblings and is not one to put things in their mouth I would go for this set, especially if she loves all things Frozen like most little girls do 😉
Disney Princess Comfy Squad
Remember the scene from Ralph Breaks the Internet where all the Disney princesses wear comfy pajamas? This is the castle they get to lounge in, with cozy chairs and couches in the living room and the bedroom!
Another option with lots of smaller pieces and with an older girl in mind. I would hold off on this for your young toddler but if you've got an older and younger daughter and want a great combination gift this may be a good option to look into!
Melissa & Doug Fold & Go Wooden Dollhouse for a 2 Year Old
You can't get more classic than this! A wooden house with wooden people and pieces of wooden furniture make this a simple and portable dollhouse that's ideal for younger children with great imaginations! The garage doors are a nice touch, too.
I have some good friends who really try to avoid plastic toys and stick with wooden toys as much as possible and I think this is an adorable set that could easily be passed down through the generations and never go out of style or down in quality.
Here's another Fold & Go option, too, this time with more color:
Both of these are recommended for 3+!
Final Thoughts on The Best Dollhouse for 2-Year-Olds
You already know what my top pick is, but hopefully, this list helps you find the best dollhouse option for the 2 year old or toddler in your life!
A dollhouse is a great addition to any playroom and provides a fun opportunity for imaginative play that lasts for years!
Other posts you might like: