St. Augustine Florida Travel Guide
Our family LOVES visiting St. Augustine, Florida!
My husband and I started visiting the area when we were dating and it was our very first tradition as a family once we got married and started having babies.
We've visited every single year since 2004 and it's one of our very favorite family vacations each summer!
I often receive questions about St Augustine and what I recommend so I thought it'd be helpful to put together a travel guide for families.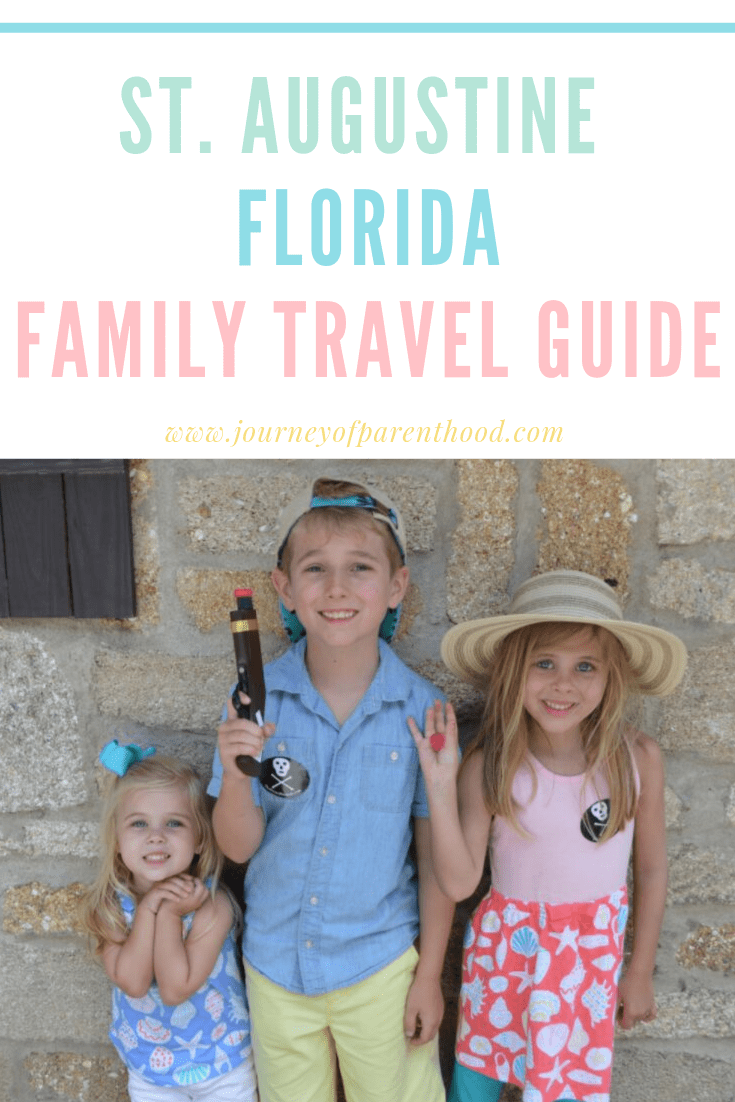 Where to Stay in St. Augustine, Florida
We have stayed many places over the years.
We have stayed close to the Old Town area, the most southern part of St Augustine Beach and the most Northern part of the area as well.
There are advantages and disadvantages wherever you choose to say but I will share the places we have stayed and hope they help in making a decision for your family:
Historic Area
We have had a great experience staying at Hampton Inn St Augustine Historic Area.
It is very close to everything in the downtown area. I wouldn't personally say it's in walking distance from Old Town but you could walk it if you wanted to.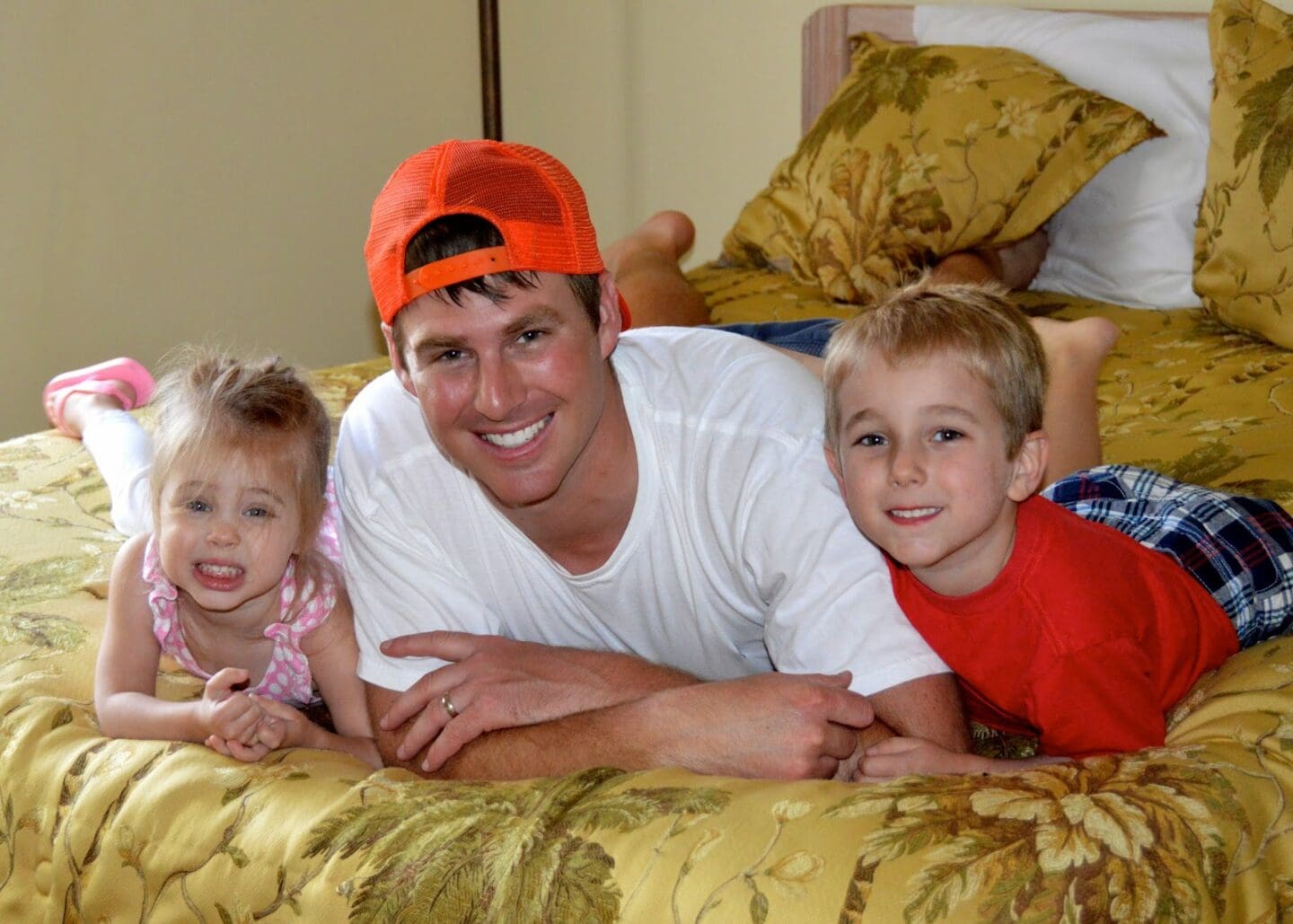 We have also stayed at The Cozy Inn which is located in the same general area and it was COZY to say the least.
However, if you're planning to do a lot in the Old Town area, it may be worth having closer quarters!
Vilano Beach Area
The St Augustine area has many great spots to enjoy the beautiful beaches.
One of our FAVORITE places we've ever stayed is The Inn at Camachee Harbor.
It's located in a GREAT spot close to Old Town area and super close to the beach.
It's not located directly on the beach but is a very close drive and the rooms are super spacious, on the Mariana, and pet friendly!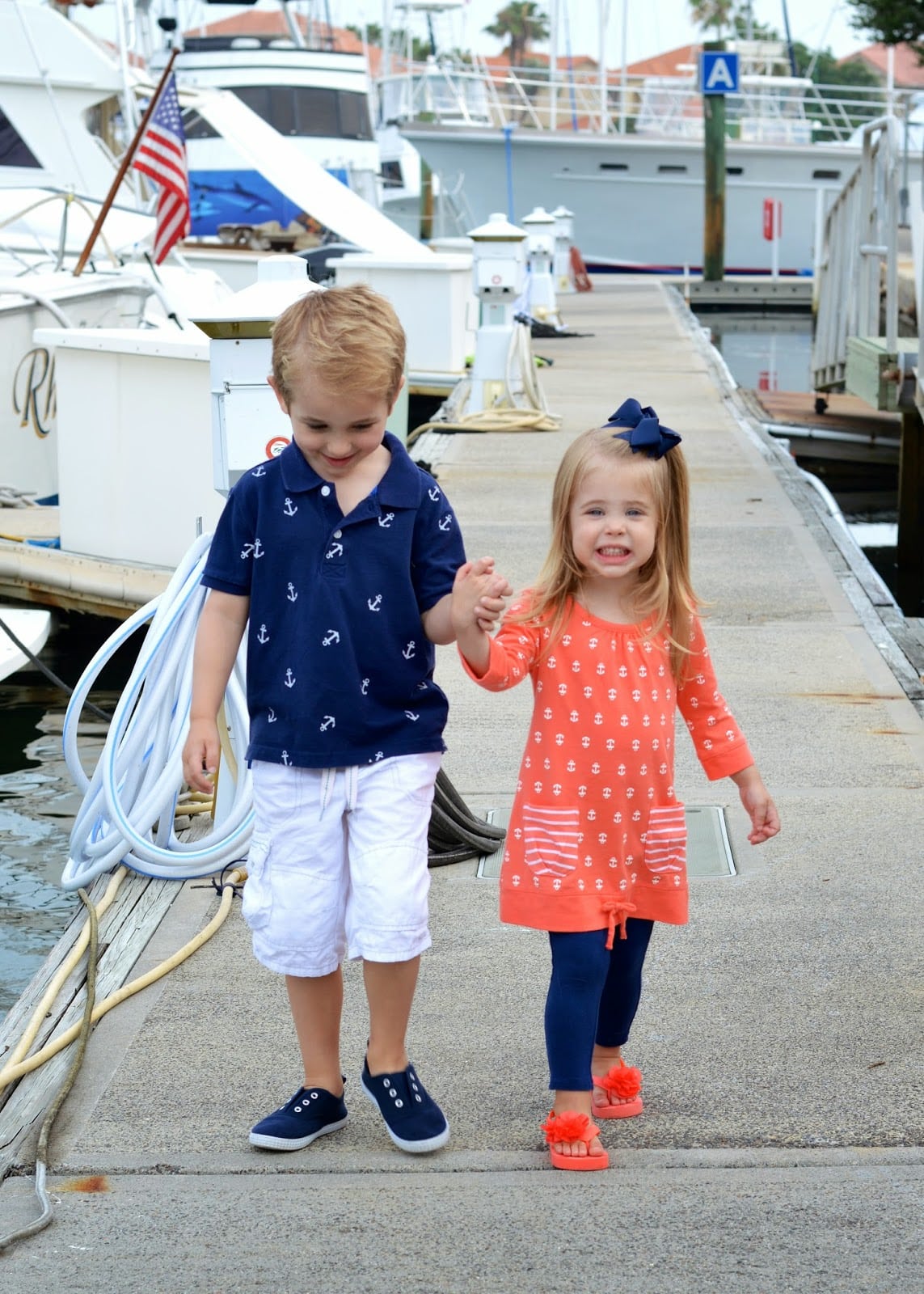 St Augustine Beach Area
Once our family outgrew Camachee Inn we decided to go further south in St Augustine and stay in the beach area.
We have stayed at two condominium units in St Augustine Beach.
Ocean and Racquet Club was a great place for our family for several years. It's located directly on the beach which made access SO EASY.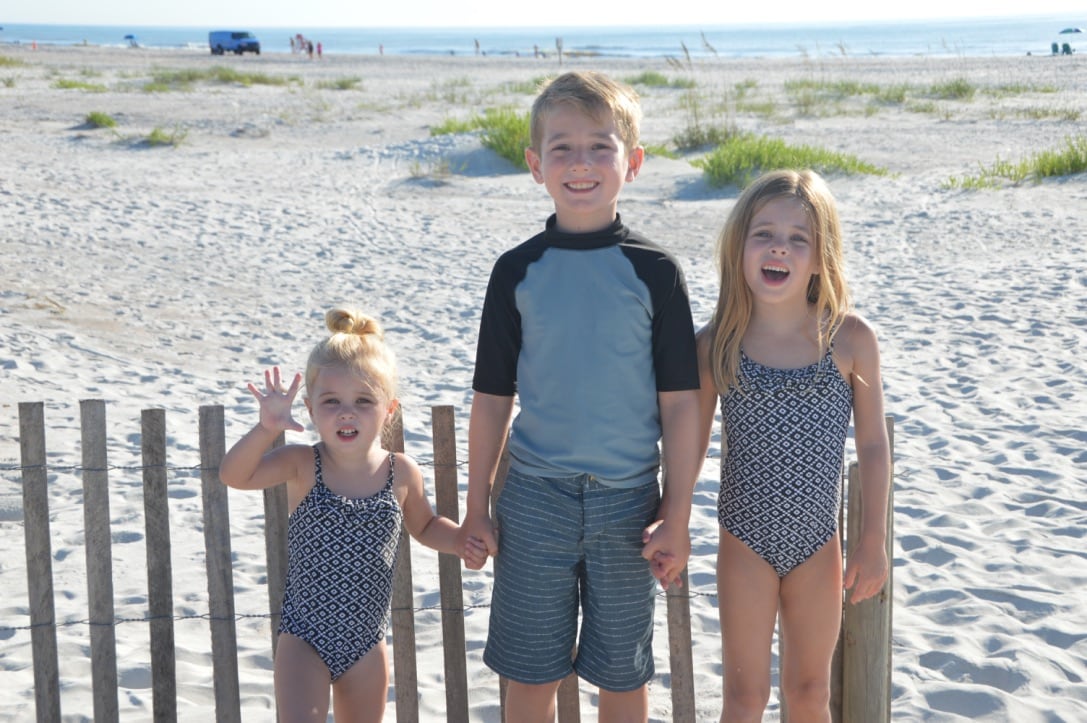 Once we added a fourth child we just weren't able to fit in a two bedroom unit anymore.
We recently switched over to another condo that is located next door to Ocean and Racquet.
Sea Winds Condos are also located on the beach and are much larger units, but also for a much larger price 🙂
I wouldn't recommend staying where we stay if you're a family traveling on a budget, but if you need a lot of space – it's wonderful!
Where To Eat in St. Augustine, Florida
We tend to not eat out often when visiting St. Augustine.
We have too many kids to spend that kind of money on a vacation and really many of the "must eat" places in St. Augustine just aren't all that kid-friendly.
We do have a few favorite spots for our crew:
Pizzalley's
Every single year we visit Pizzalley's.
It's located in historic downtown on St George Street and is SO GOOD!
Pizza is always an affordable option for a larger family 🙂
Kilwin's
We also have a tradition of walking a little further down St George Street and eating some ice cream at Kilwin's!
It is NOT cheap but they do have kid-size cones if you ask 😉 And another tip: don't let your kids eat Superman flavor. Hello, stains!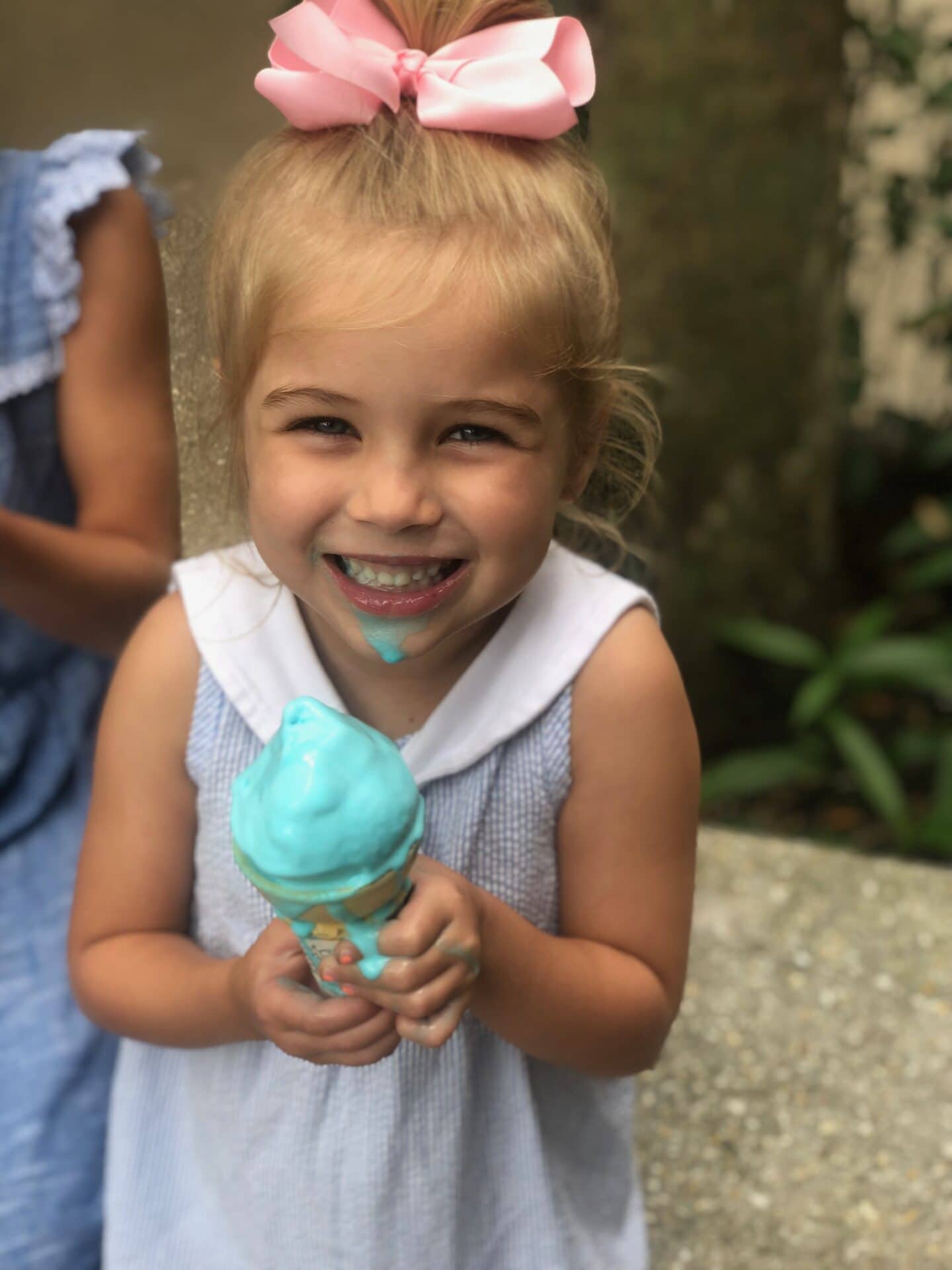 Sea Oats Caffe'
Since our move to staying on St Augustine Beach we have found a couple places that we really love.
Sea Oats Caffe' has DELICIOUS breakfasts! Especially the fun pancake options!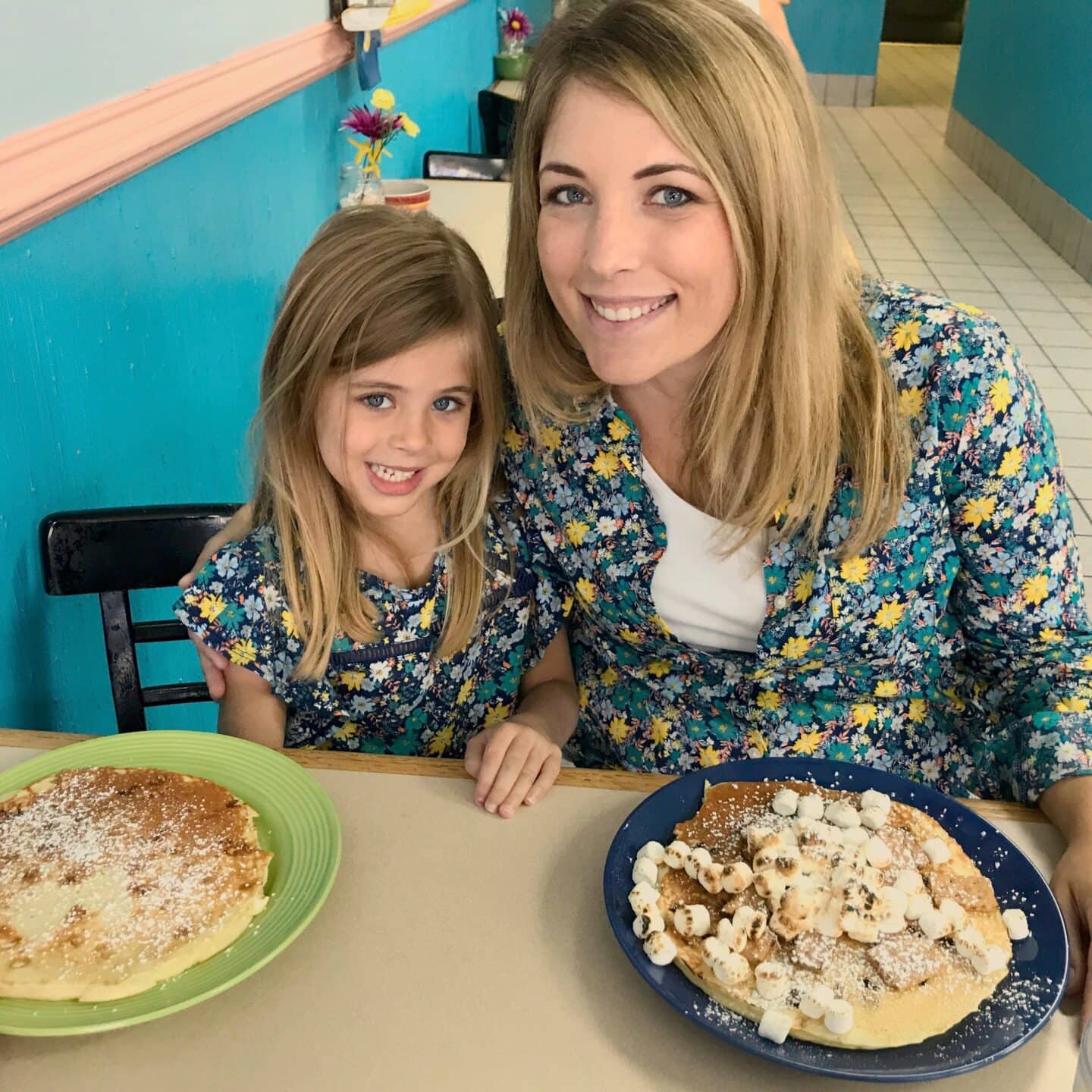 Obi's Fillin' Station
Obi's is also located beachside and is another fun-themed restaurant.
It's all based on car related decor and has a very relaxed, kid-friendly vibe.
And even features a donut hamburger on the menu – YUM!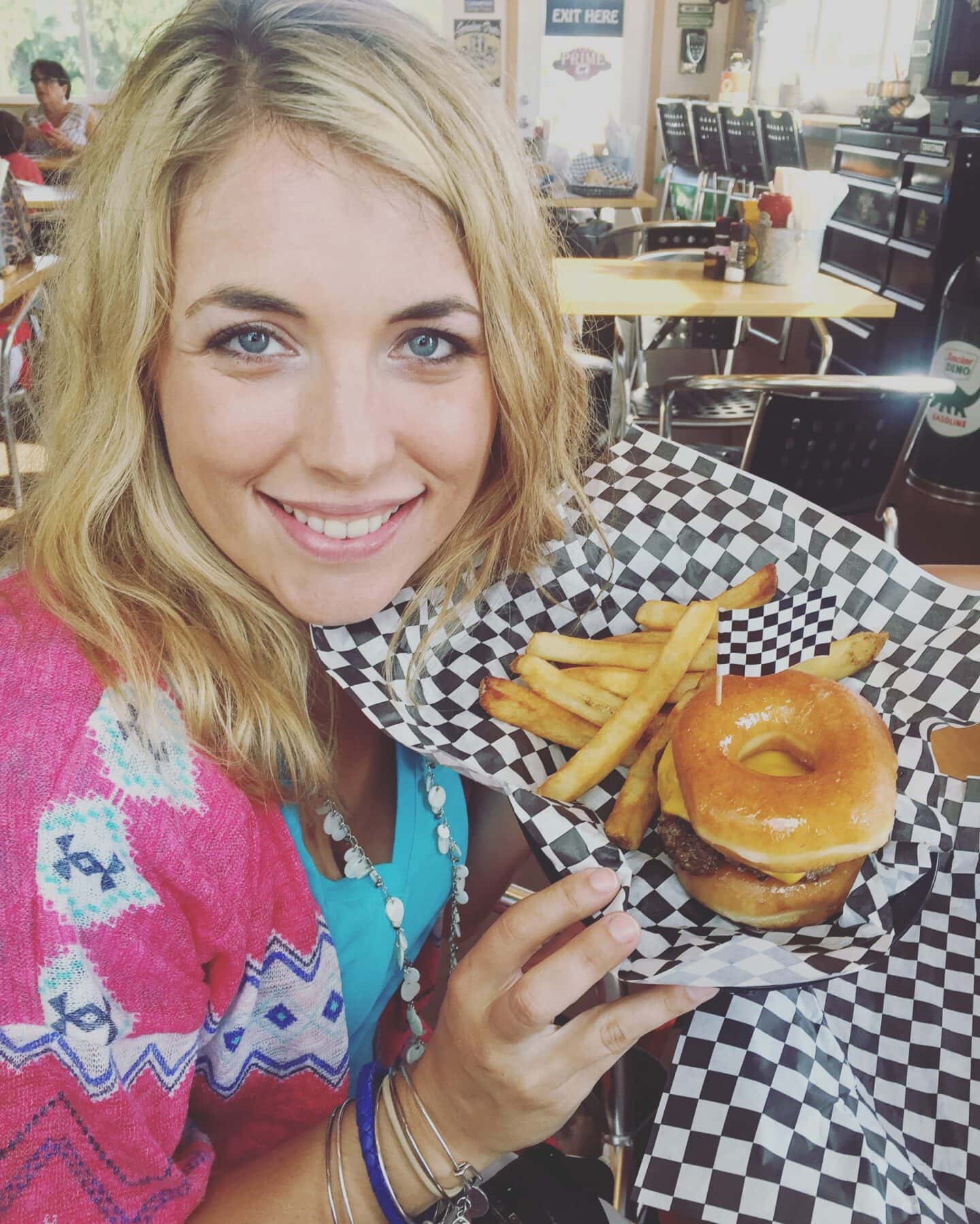 What to do in St Augustine Florida with Kids
We have visited St. Augustine many times without kids and during those trips we ate at different restaurants and did some different activities.
Shopping down St George Street? Late night ghost tours? Great to do kid-free but not so great with little ones.
So these ideas are what we recommend as a family:
Miniature Golf
Putt-Putt is our every year tradition!
We have found that Fiesta Falls (St Augustine Beach) is our favorite and there are often coupon codes!
It's also not overly crowded during the times we visit!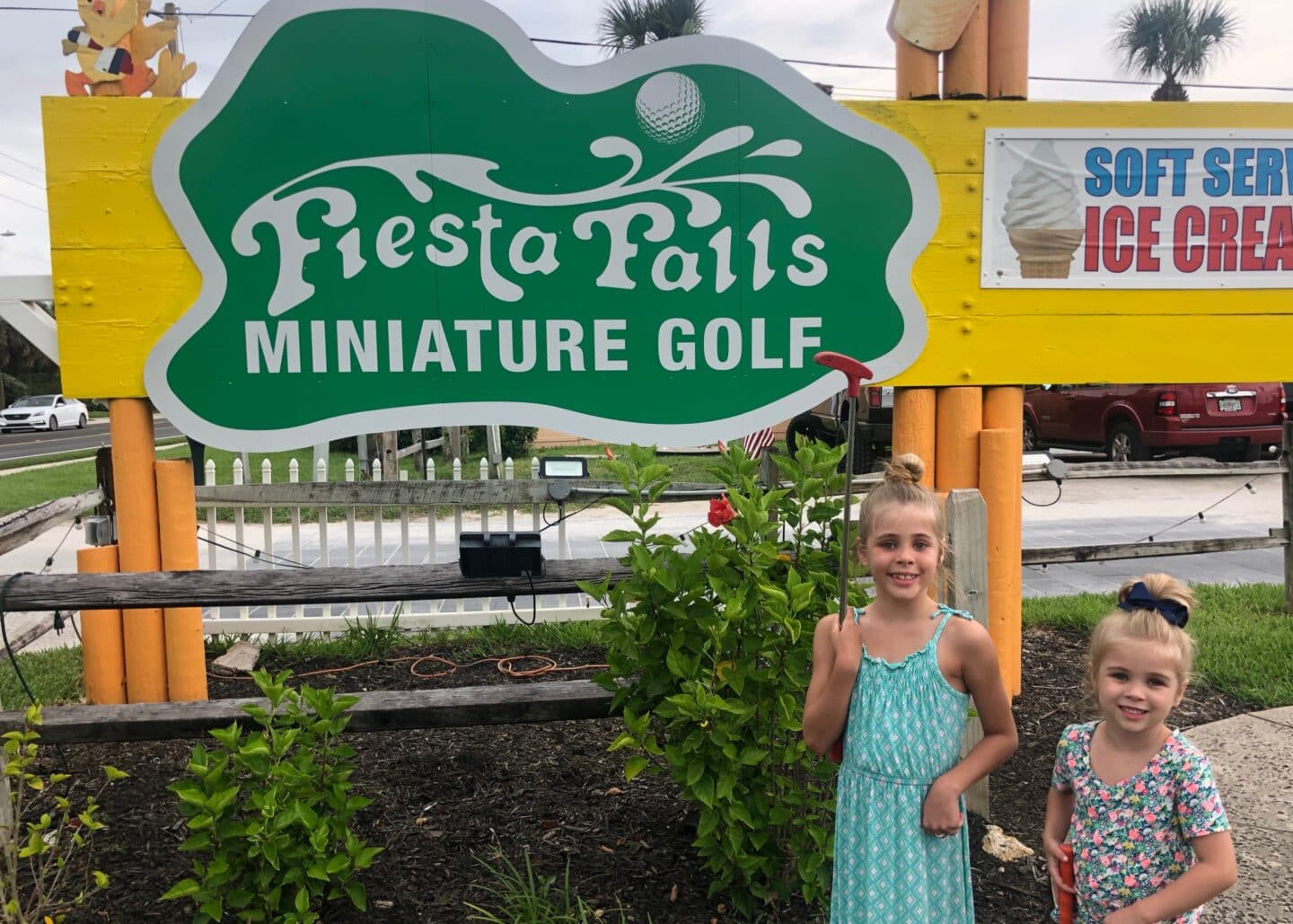 Alligator Farm
This one isn't something we do yearly but is a great outing every few years.
It's REALLY cool to see an alligator eat a huge rat. For real. It's epic.
They have great little shows and lots of hands-on fun and it's a small enough environment to only spend half a day and see it all.
It's also worth it to spend the money for the alligator holding photo – you don't have to buy the package they sell…ask to just buy the opportunity to hold the animals and take your own picture!
AND it's also good to mention that the gift shop is AWESOME. Very, very well priced and if you're allowing a souvenir from your trip, it's a great place to buy it!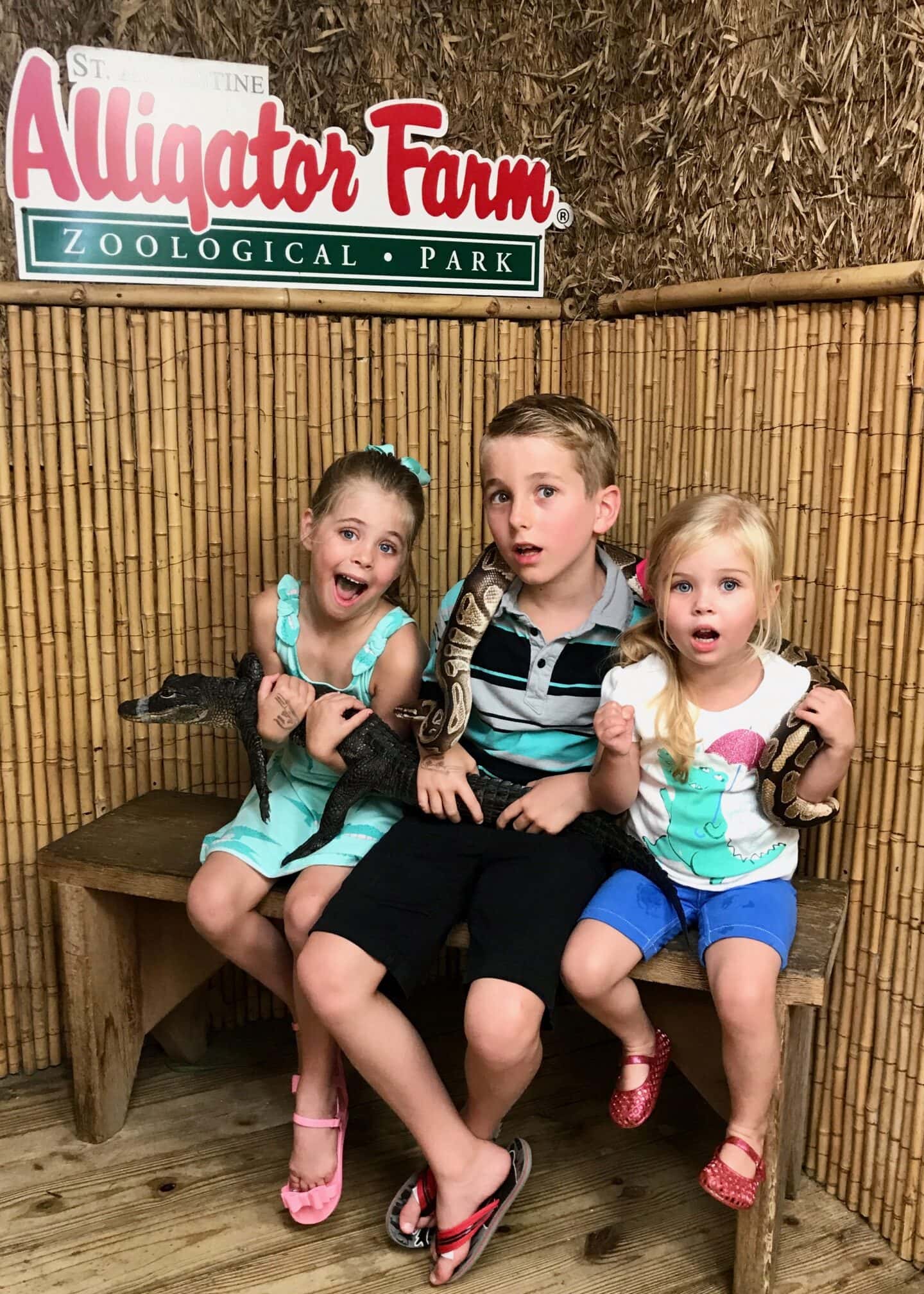 Outlet Shopping
It's a solid 25 minute drive from the beach to the outlets but it's a fun outing and the deals are usually pretty dang awesome!
St Augustine Premium Outlets are located off 95 and have TONS of stores! A great place to do some shopping for the kids, or yourself.
Be sure to google for coupons!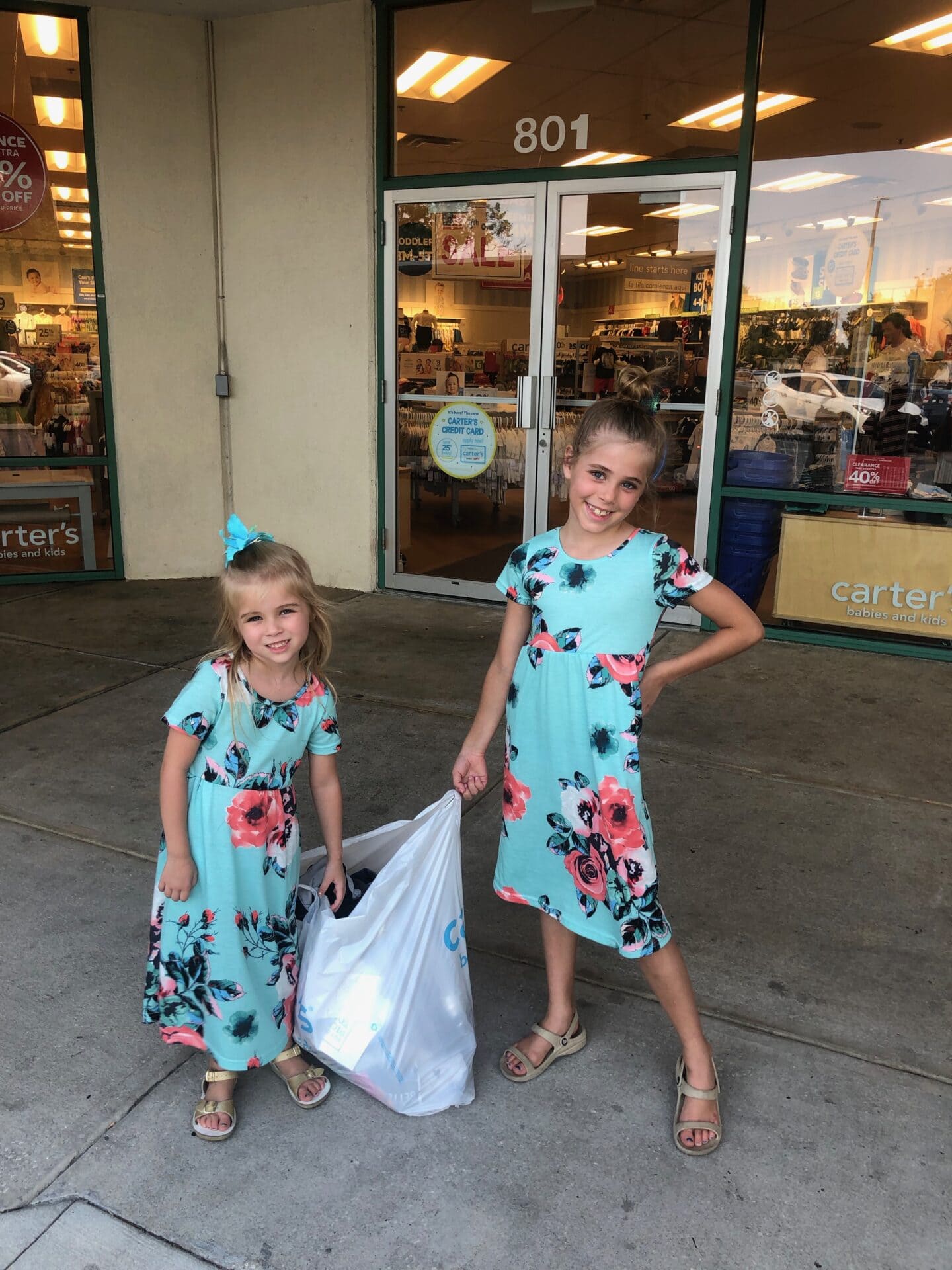 Tour the Fort
The fort is located in Historic St Augustine and is REALLY cool.
We have not ever paid for the tour but have been allowed to walk around the fort and really enjoyed it.
It's on our list of things to do again when the kids are older and better able to appreciate it!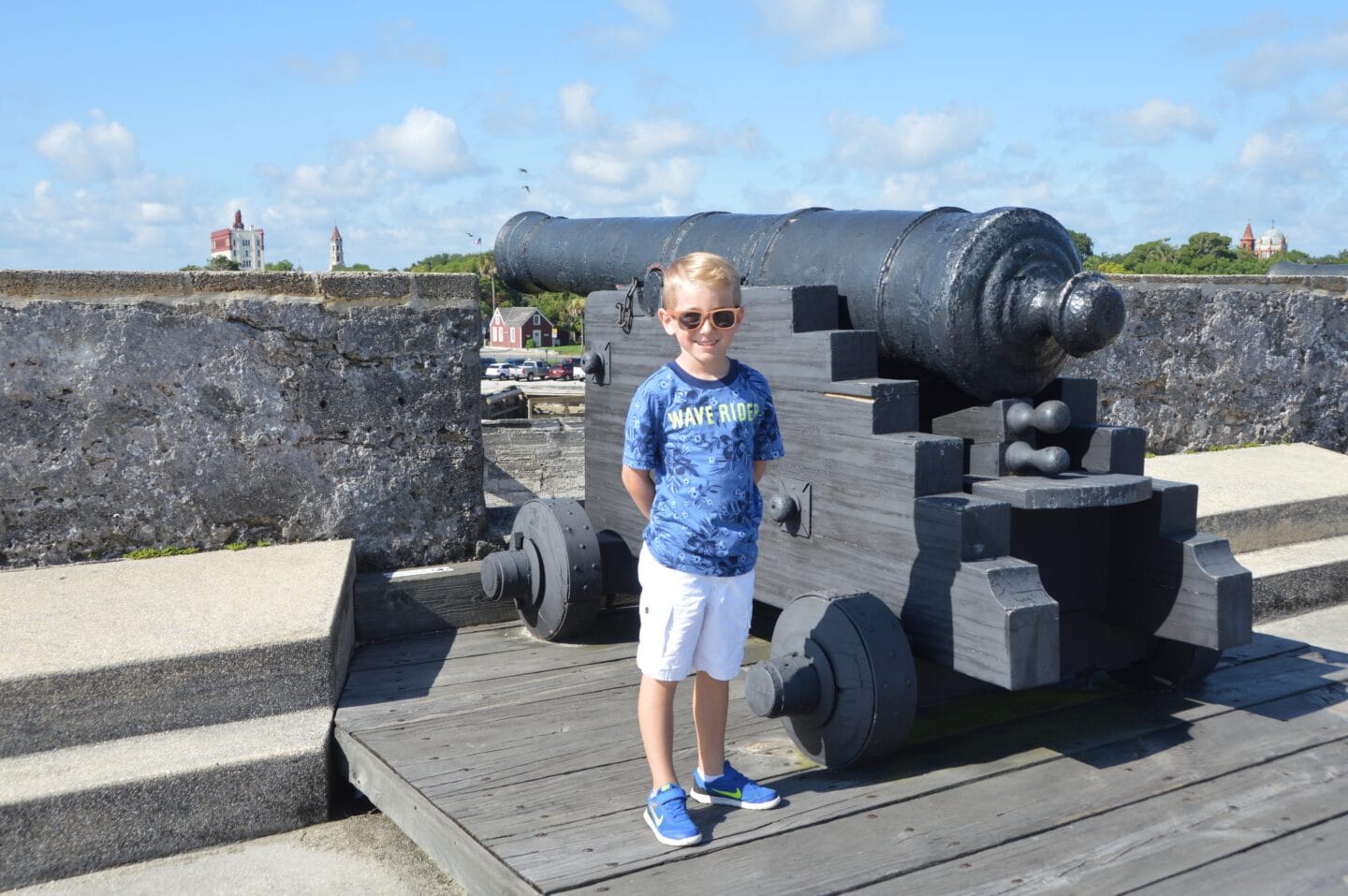 Explore Old Town
Old Town has a lot to it and isn't just about the shops or restaurants.
Just walking the streets can be fun, especially when it's not too hot 😉
We have an annual tradition of taking a photo on this canon in the square located across from the Bridge of Lions
There are also neat stores that kids do enjoy visiting. The magic shop is always a hit!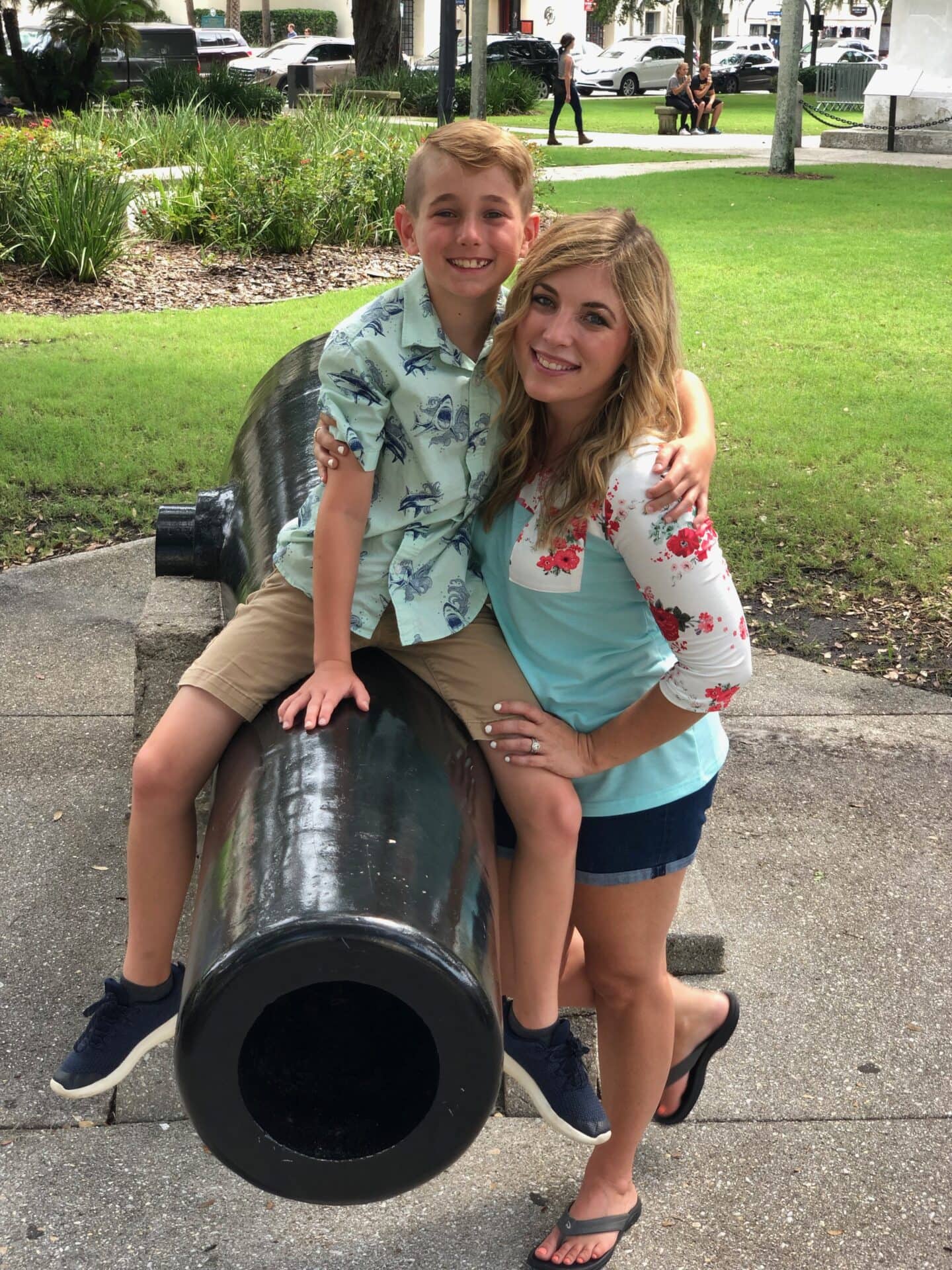 Pirate Museum
Usually you think museum and kids don't mix…but y'all the Pirate Museum is AWESOME and AMAZING.
We all LOVED it and would totally go back!
So many fun pirate facts and so well done that it was never boring and alway interesting.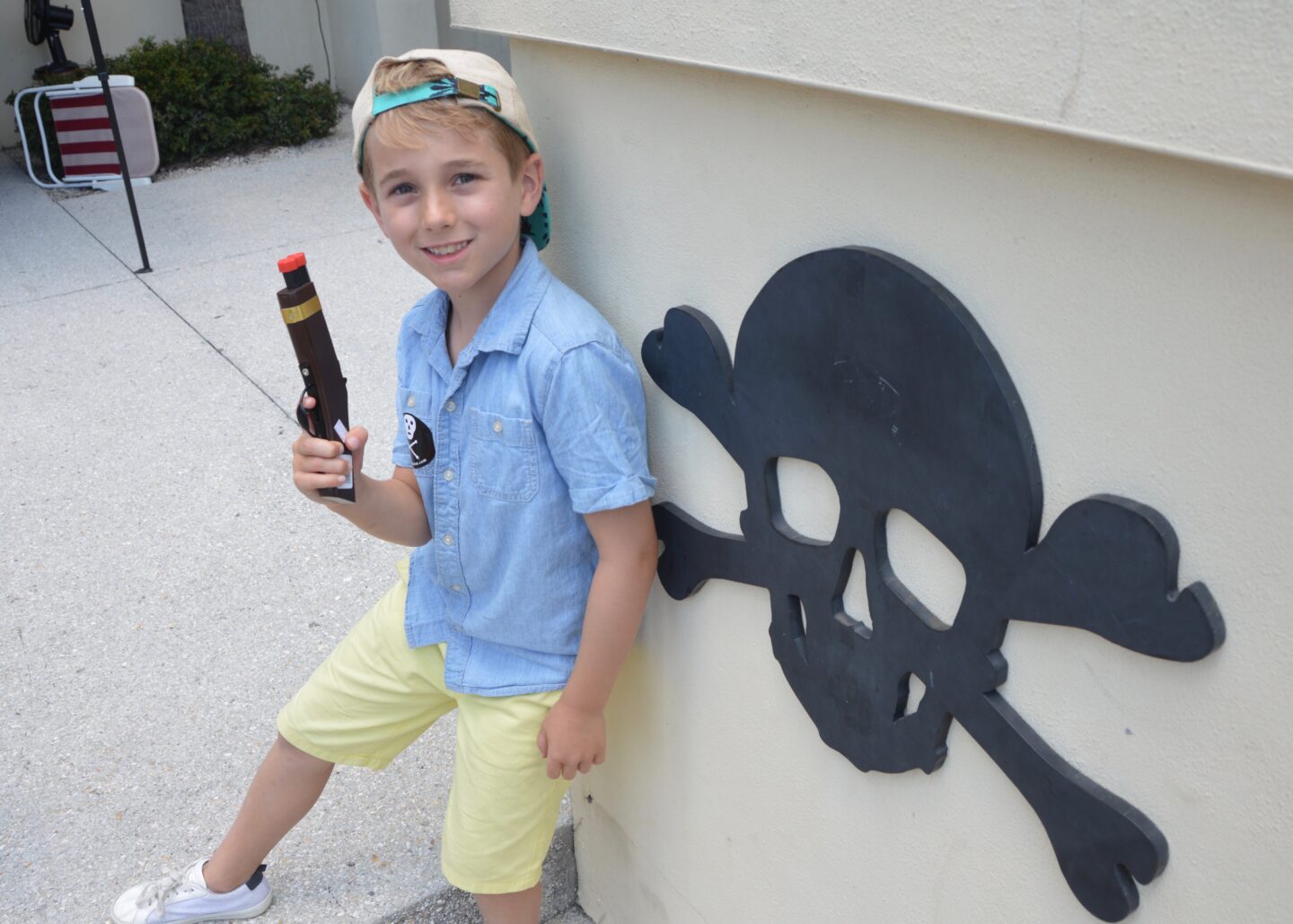 Davenport Park
Personally one of my favorite traditions each year is our visit to Davenport Park.
Even in the heat of summer the park stays cool thanks to the plentiful trees and shade.
It also has a working carousel (that can take credit cards!) and a playground the kids all LOVE.
I have so many sweet memories with each of my babies at this park.
It's a great place for families and there is a Subway nearby that is perfect for a picnic lunch too!
Beaches and Pools
It's tempting to fill up a family vacation with lots of things to do…but in St Augustine? ENJOY THE BEACH.
It's a gorgeous, family-friendly beach area.
Not staying on the beach? There are also many public beach access areas to allow for those beach memories!
Most hotels and condos also have a pool and pool swimming can provide a break from the beach from time to time as well.
You spend so much money on the accommodations…save money and just enjoy the FREE ocean!
Final Thoughts
St. Augustine has been a place filled with many memories for our family and a vacation spot we look forward to visiting every year.
As our children get older I know this list of activities and eating spots will probably evolve and change over time, but I think it's important for families with younger children to be able to know the best spots with the best value!