Our family LOVES visiting St. Augustine, Florida! There are so many things to do with kids in St Augustine and this St. Augustine Florida Family Travel Guide includes all of our family favorites to help in planning your next St. Augustine Beach trip!
My husband and I started visiting the area when we were dating and it was our very first tradition as a family once we got married and started having babies. Today, it continues to be a favorite spot for our whole family. One of the top things I love about Saint Augustine is that the area offers such a wide variety of activities and attractions. This means that even as our crew becomes older kids, they will still have lots of fun as it's catered to older children too.
We've visited every single year since 2004 and it's one of our very favorite family vacations each summer!
I often receive questions about St Augustine and what I recommend so I thought it'd be helpful to put together a travel guide for families. This will include all the fun things we enjoy during our St Augustine family vacation each year!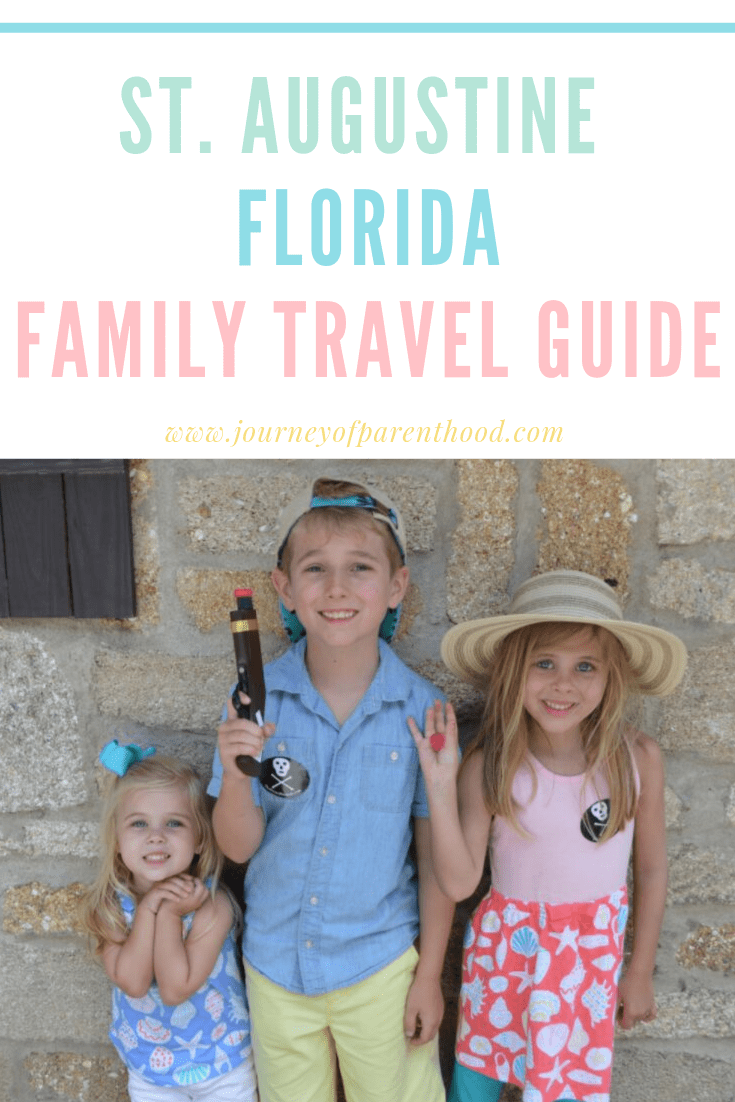 What to Know about St. Augustine, Florida
St. Augustine Florida is the nation's oldest city in the continental United States. It is located on the east coast of Florida and is just a short 2 hour drive from Valdosta, Georgia. It is also located just 45 minutes away from Jacksonville, Florida.
For our family, we consider St. Augustine to be the perfect distance from home! We love the easy drive and it makes for a great family road trip with the kids.
Where to Stay in St. Augustine, Florida
We have stayed in many places over the years during our visits to St. Augustine.
We have stayed close to the historic district area, the most southern part of St. Augustine Beach (Crescent Beach) and the most Northern part of the area as well (Vilano Beach).
There are advantages and disadvantages wherever you choose to say, but I will share the places we have stayed and hope they help in making a decision for your family:
Historic Area
We have had a great experience staying at Hampton Inn St Augustine Historic Area.
It is very close to everything in the downtown area. I wouldn't personally say it's in walking distance from Old Town but you could walk it if you wanted to.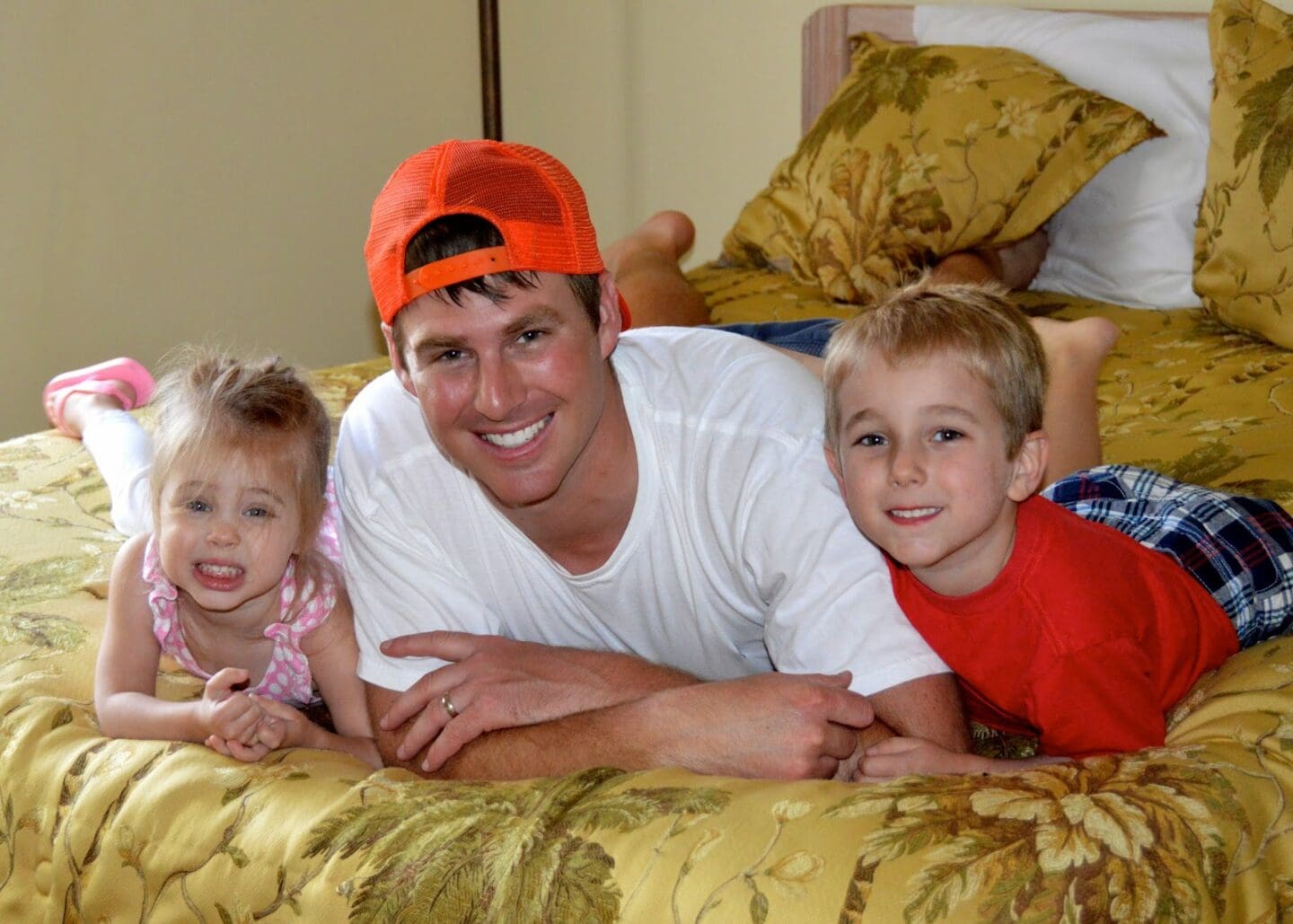 We have also stayed at The Cozy Inn which is located in the same general area and it was COZY to say the least.
However, if you're planning to do a lot in the historic district including a walk around Old City, it may be worth having closer quarters!
When we travel we try to stick to a budget and the cost for accommodations, especially for a family vacation with young kids, can be outrageous in the downtown area.
While there are several beautiful places and it'd be awesome to be surrounded by the rich history and to be able to stay so close to St George Street and Flagler College, it just isn't cost-effective for our family.
However, if you're planning a romantic getaway, you may want to look into a stay in the historic district!
Vilano Beach Area
The St Augustine area has many great spots to enjoy the beautiful beaches. At my children's ages it makes the MOST sense for us to focus the majority of our time in the St Augustine area on the beach!
When we just had one child, and then two children, our favorite place to stay was at The Inn at Camachee Harbor.
It's located in a GREAT spot close to Old Town area and super close to the beach.
It's not located directly on the beach but is a very close drive and the rooms are super spacious, on the marina, and pet friendly!
This location was the best way for us to accommodate our needs as a family at that stage of life. We had a short drive to visit downtown St. Augustine, a quick run over the bridge to Vilano Beach, and plenty to do on the property like walk down to the marina to look at all the boats and watch the wildlife for free.
We have so many fond memories of this location and I cannot recommend The Inn at Camachee Harbor enough if you're able to fit your family!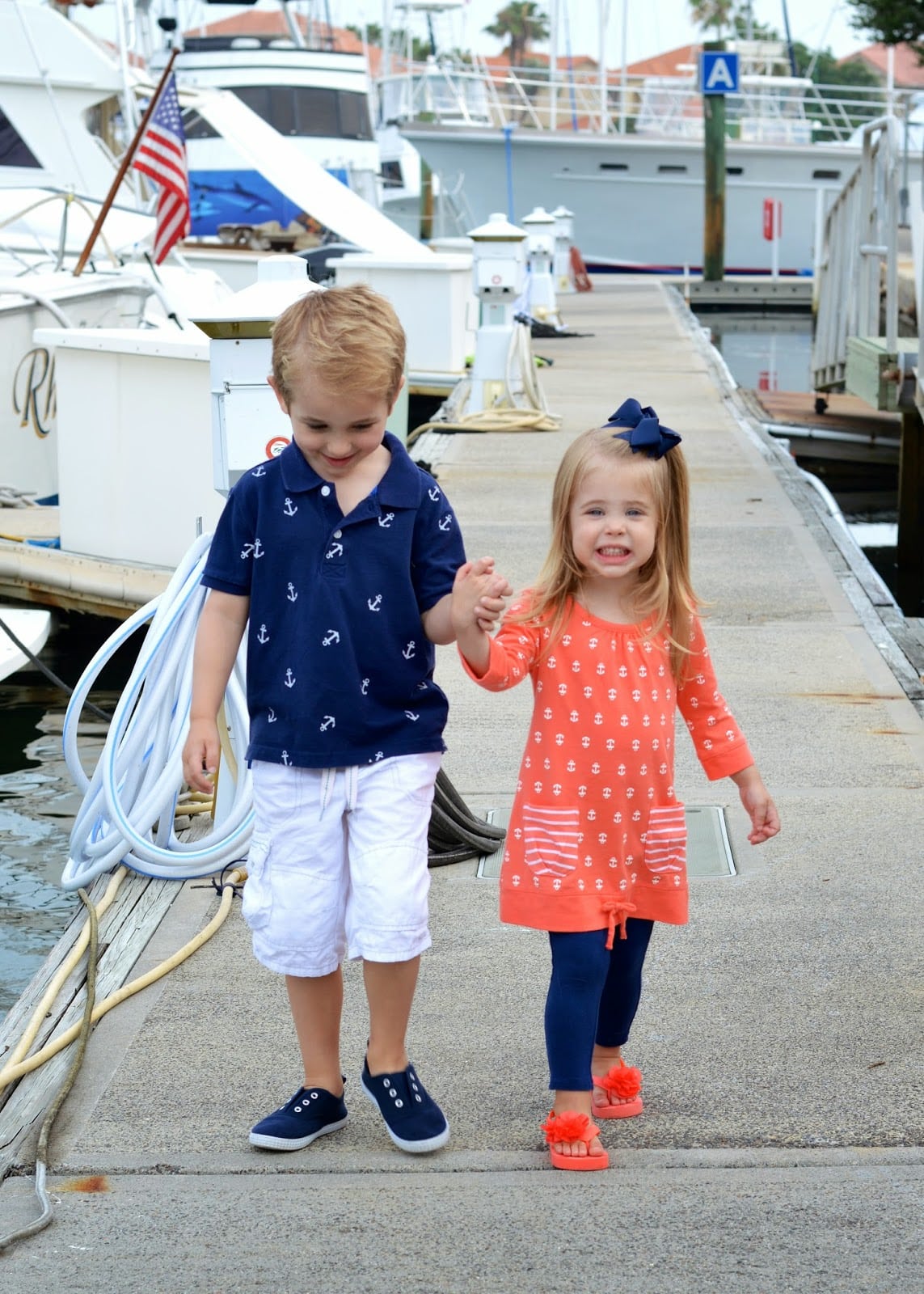 St Augustine Beach Area
Once our family outgrew Camachee Inn we decided to go further south in St Augustine and stay in the beach area.
We have stayed at two condominium units in St Augustine Beach.
Ocean and Racquet Club was a great place for our family for several years. It's located directly on the beach which made access SO EASY.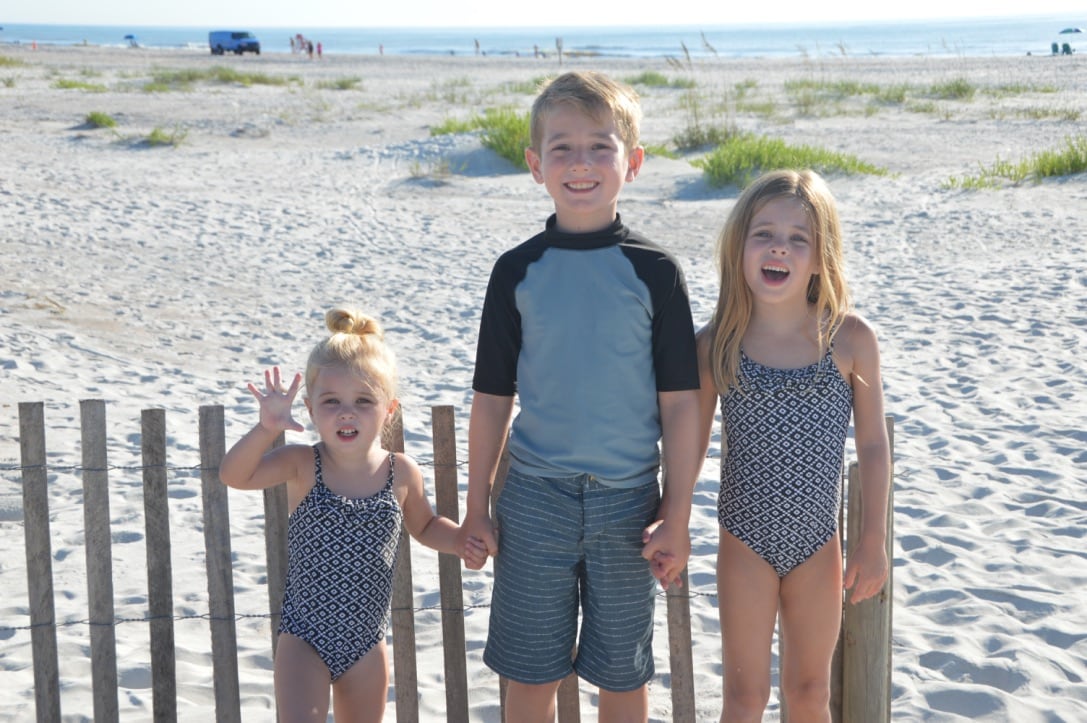 Once we added a fourth child we just weren't able to fit in a two-bedroom unit anymore.
We recently switched over to another condo that is located next door to Ocean and Racquet.
Sea Winds Condos are also located on the beach and are much larger units, but also for a much larger price 🙂
I wouldn't recommend staying where we stay if you're a family traveling on a budget, but if you need a lot of space – it's wonderful! It has truly become the perfect place for our entire family.
When comparing the two properties, Sea Winds is much quieter. Guests are typically older or families whereas Ocean and Racquet tended to be a younger crowd during our stay over the 4th of July each summer.
We have made many sweet beach friends during our stay and each year we find ourselves hanging more and more at the condo just relaxing and enjoying the ocean and sand and not participating in as many St Augustine attractions!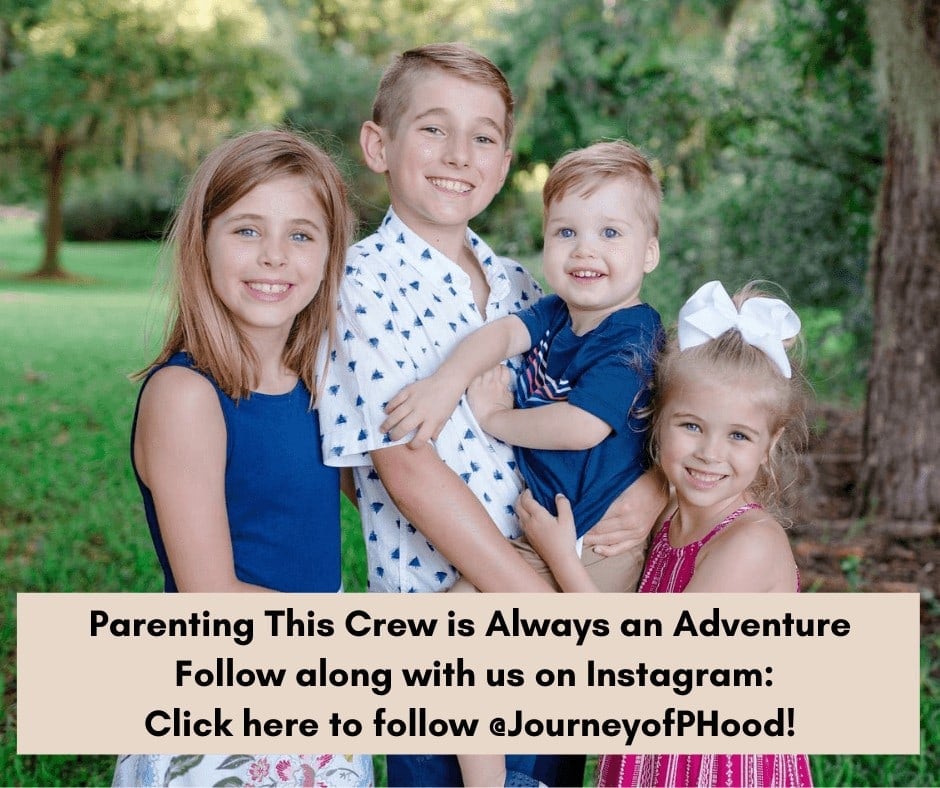 Where To Eat in St. Augustine, Florida
We tend to not eat out often when visiting St. Augustine. As a larger family, we spend our money in our accommodations and the location and choose to take advantage of the full kitchen in the condo to cook many of our meals.
We have too many kids to spend the cost of eating out regularly while on vacation and really many of the "must eat" places in America's oldest city just aren't all that kid-friendly.
However, we do have a few favorite spots for our crew:
Pizzalley's
Every single year we visit Pizzalley's.
It's located in historic downtown on St George Street and is SO GOOD!
Pizza is always an affordable option for a larger family 🙂 We have a great time every year on our outing and love this local favorite spot for pizza as well as a chance to walk around the historic district where the Spanish explorers first walked too!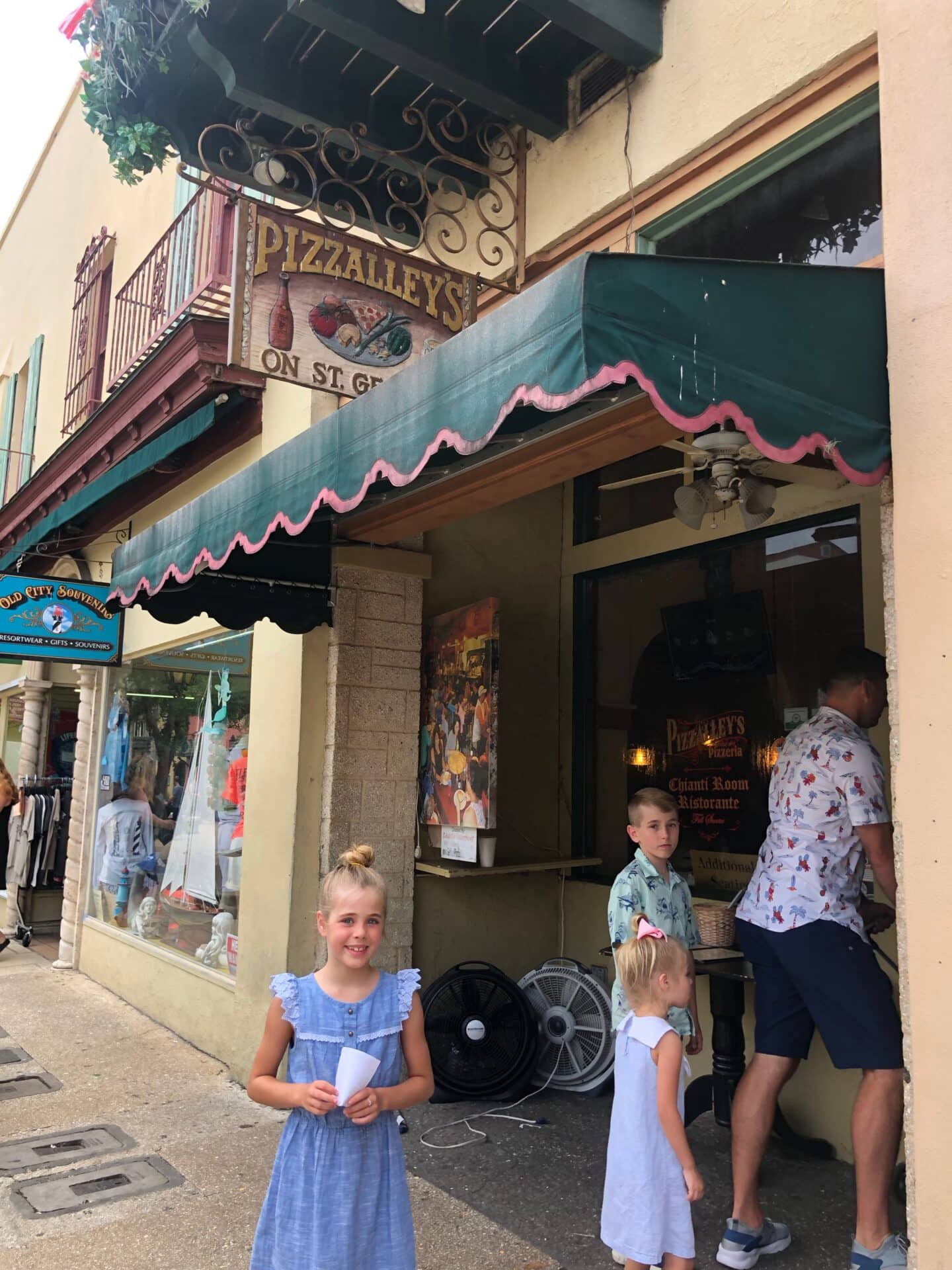 Kilwin's
We also have a tradition of walking a little further down St George Street and eating some ice cream at Kilwin's!
It is NOT cheap by any means, hello tourist trap, but they offer both free samples as well as child size cones if you ask! It's one of our special events for our kids and something they look forward to all year long.
And another tip: don't let your kids eat Superman flavor. Hello, stains!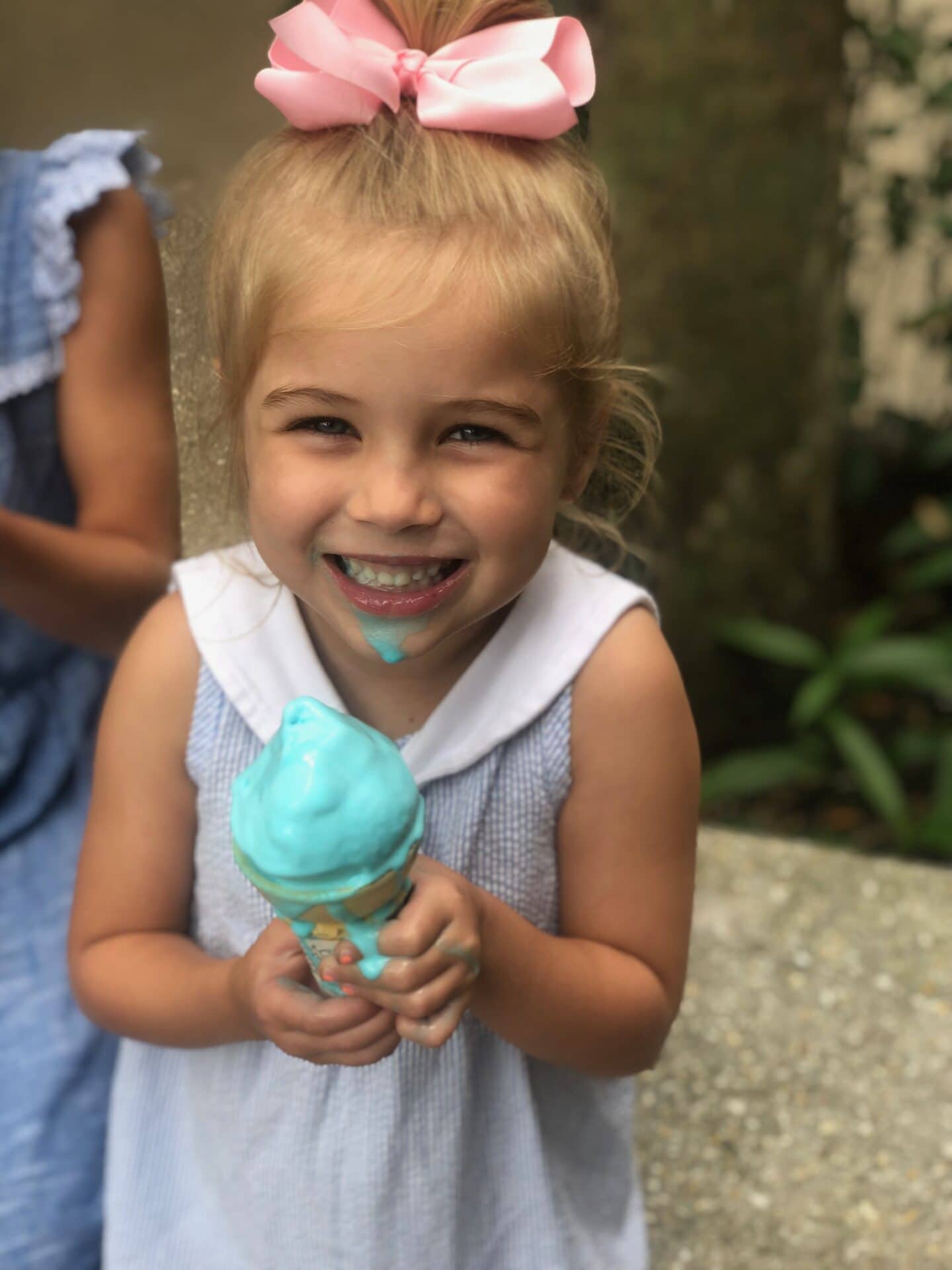 Sea Oats Caffe
Since our move to staying on St Augustine Beach we have found a couple of places that we really love.
Sea Oats Caffe has DELICIOUS breakfasts. Especially the fun pancake options!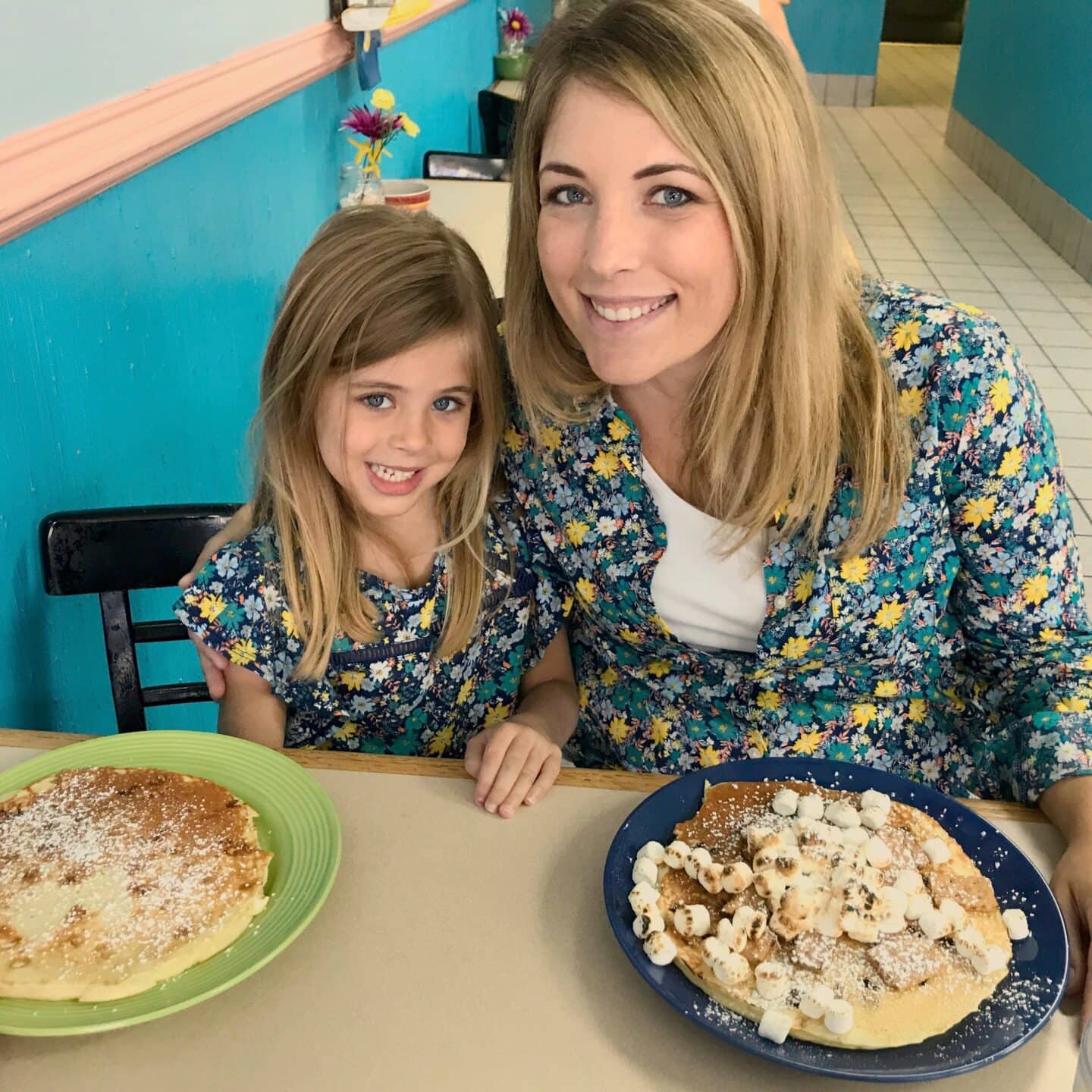 Obi's Fillin' Station
Obi's Fillin' Station is also located beachside and is another fun-themed restaurant.
It's all based on car-related decor and has a very relaxed, kid-friendly vibe. Every year we pass by it on our way to the condo and every year it looks like they've add more fun decor!
And even features a donut hamburger on the menu – YUM!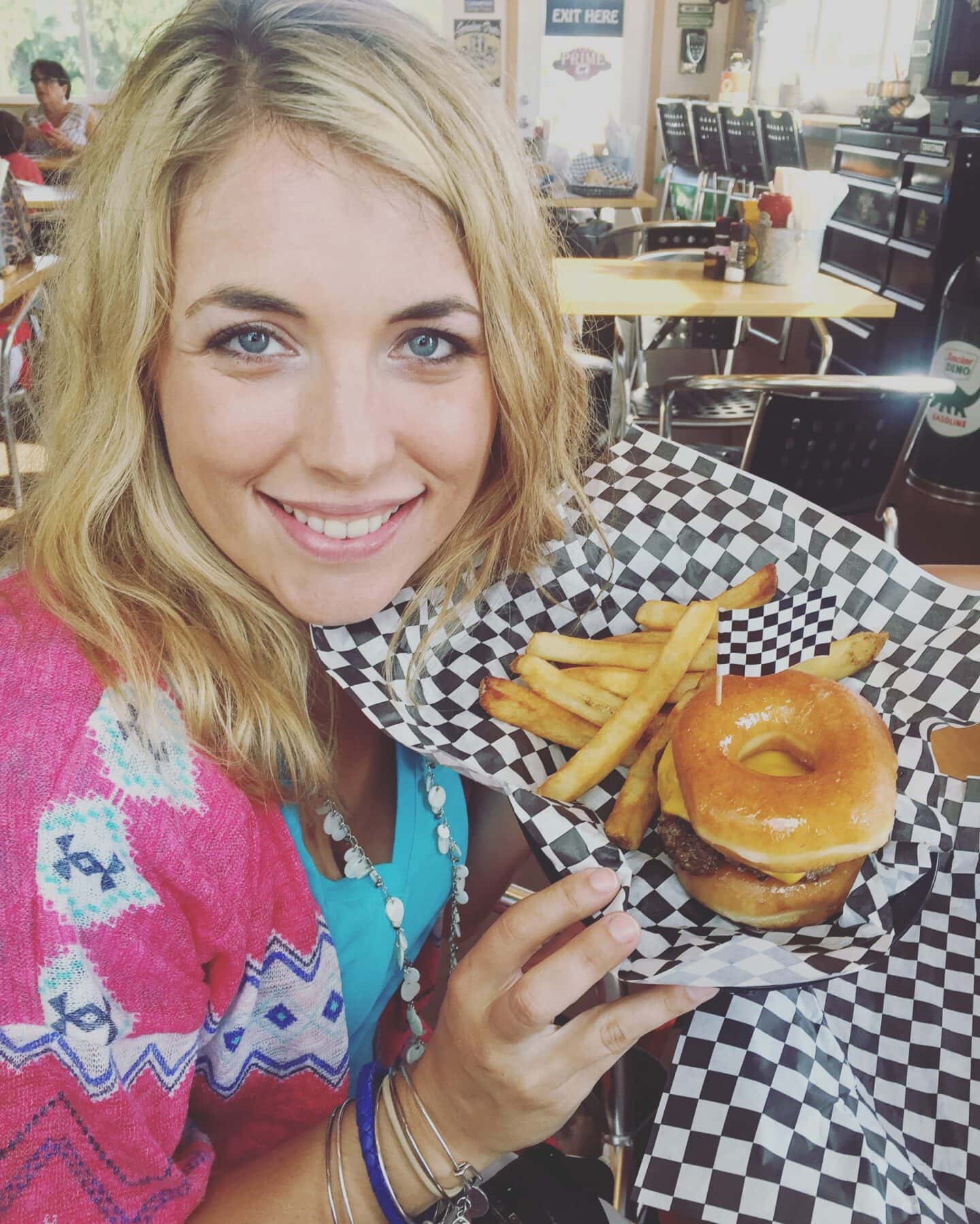 Have a Date Night at Elkhouse Eatery
I recently visited St Augustine for the first time in AGES without my kids! I went for a weekend with friends and had a great time and got to eat at places that I've never been able to try with all my kids with me 😉
One of the BEST places we ate was our dinner was at Elkhouse Eatery. It was fantastic! It's located on the beachside as well which means you get to avoid the traffic heading into the downtown district as well as avoid paying the parking fees too.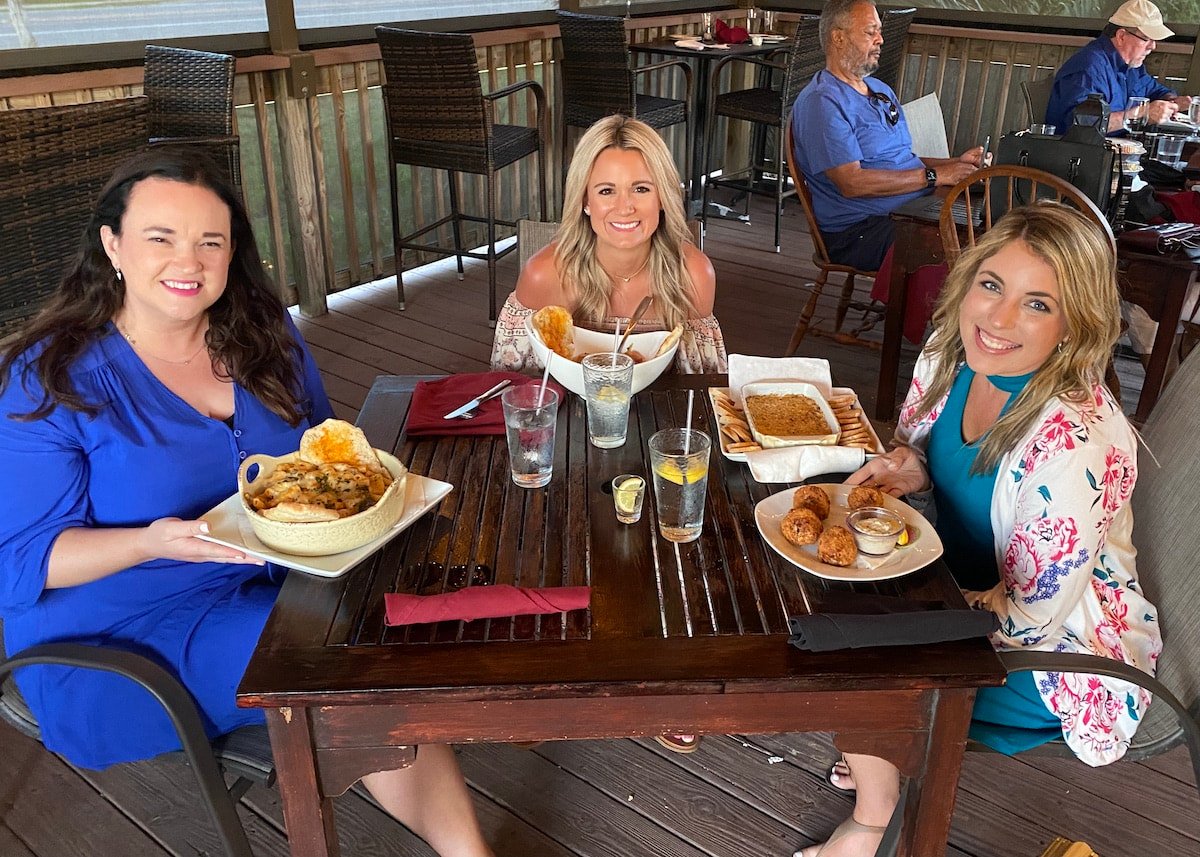 What to do in St Augustine Florida with Kids
We have visited St. Augustine many times without kids and during those trips, we ate at different restaurants and did some different activities.
Shopping down St George Street? Late-night ghost tours? Great to do kid-free but not so great with little ones.
So here are some kid friendly ideas for all ages, including things to do in St. Augustine with toddlers:
Visit Buc-ee's
Yes, Buc-ee's is a gas station – but it's also an EXPERIENCE and is a great stop for any family! Our crew each got a slushee and a different Buc-ee's snack to sample. Just walking around and even just using the bathroom is a fun outing!
Buc-ee's is located off interstate I-95 and was a super fun way for us to start our trip. We loved it so much we went back on our way home too and plan for it to be a yearly tradition!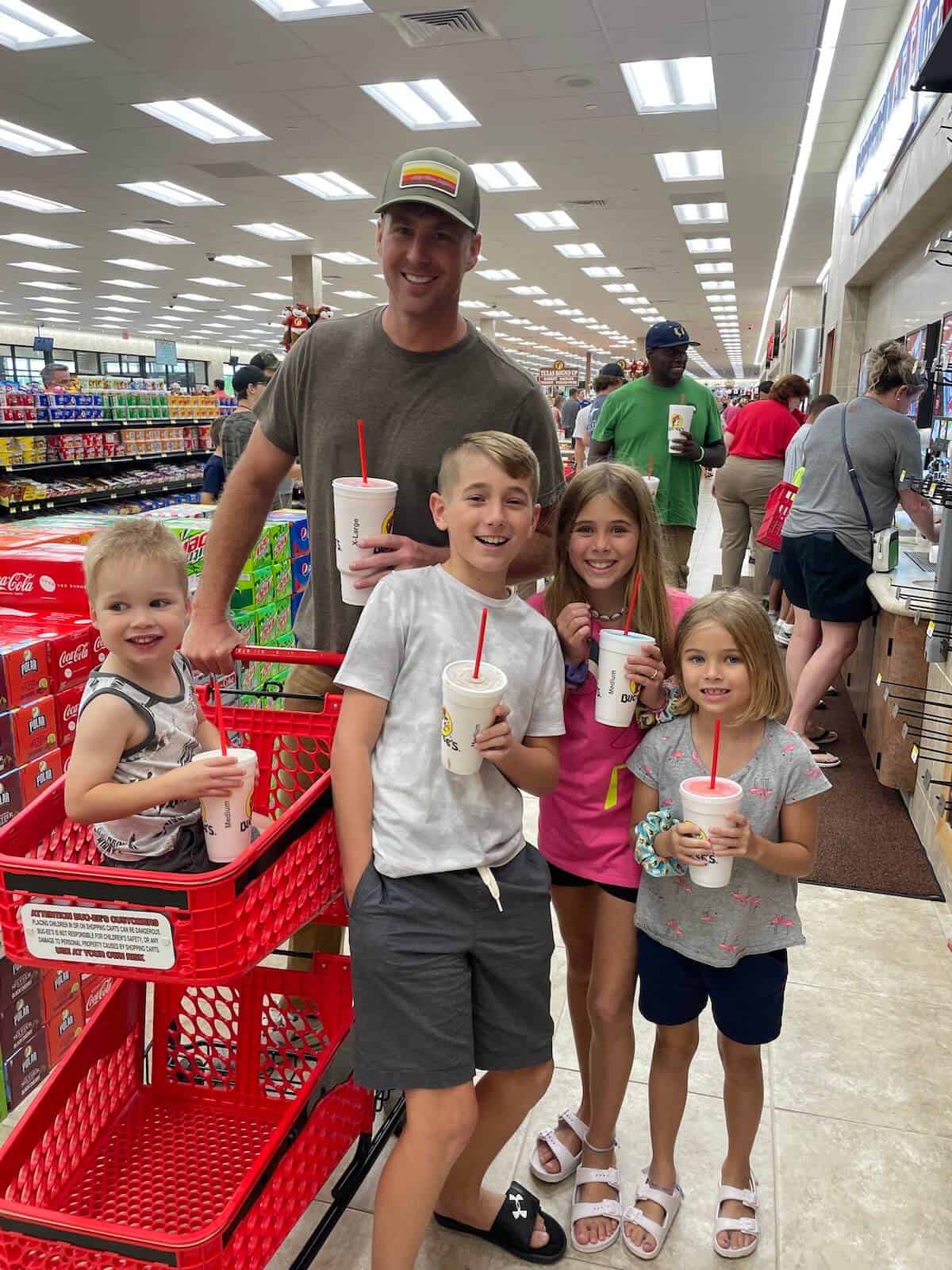 Miniature Golf
Putt-Putt is one of our yearly traditions as a family.
We have found that Fiesta Falls (St Augustine Beach) is our favorite and there are often coupon codes to help lower the ticket prices!
It's also not overly crowded during the times we visit. If you are visiting in the summertime I recommend going right at opening as the course does get HOT. We've also found it to be the least crowded then as well!
If you have little ones who just can't make it through all 18 holes there is also a covered shaded area to sit at picnic tables and ice cream and other treats can be purchased.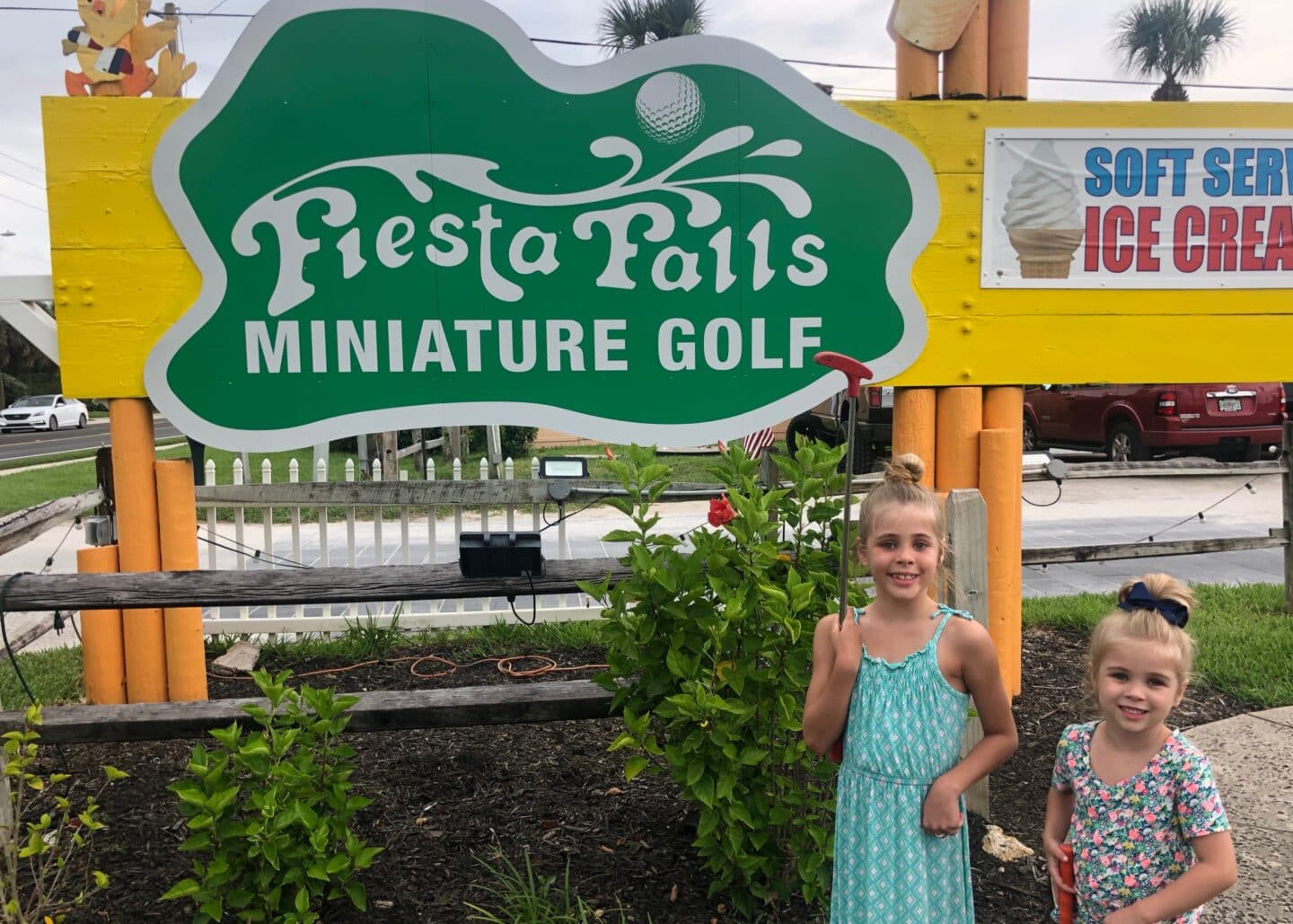 St Augustine Alligator Farm
One of the most famous St. Augustine family attractions is the St Augustine Alligator Farm Zoological Park. It originally opened in 1893!!!
While I don't recommend it for an annual tradition, we've visited every few years and it's especially fun for children ages 10 and under as kids past age 10 seem to be less interested in walking nature trails and looking at animals and exotic birds and such. Even our 12 year old enjoyed reading all the animal facts!
However, kids and adults alike will LOVE watching the alligators eat. Everyone can agree – It's REALLY cool to see an alligator eat a huge rat. For real. It's epic. Hands down the best part of the day!
Park maps are offered at the entrance but also be sure to check out the feeding schedule posted as you walk in as it does change daily. While we usually arrive at opening kinda people we have learned that it's better to arrive a little bit later at the alligator farm because the feeding times are usually 12:00, 3:00 and 6:00.
They have great little shows and lots of hands-on fun and it's a small enough environment to only spend half a day and see it all.
One of the best things for our kids is also getting to hold a real live alligator and take a photo! Be sure to ask when you arrive at the photo booth if they will allow you to take photos with your phone. Usually, they allow a small fee to take the photo yourself rather than purchase the photo package.
There is also a playground with plenty of shade and lots of space to run as well as slides and areas to climb. There is not a splash pad at the playground which personally I prefer. Kids always want to run through a splash pad but then regret it later when their clothes are all wet!
AND it's also good to mention that the gift shop is AWESOME. Very, very well priced and if you're allowing a souvenir from your trip, it's a great way to let the kids choose something on their own without breaking the budget.
One last tip – be sure to bring along some cash as there are change machines located near the entrance to exchange so you will have coins to purchase alligator food on the bridge for the kids to get to feed the gators!
If you're mapping out your travel plans I would set aside half a day to explore the St. Augustine Alligator Farm. It's a great spot for families and if you're staying at the beach it is also located prior to crossing the Bridge of Lions which helps avoid traffic and parking costs too!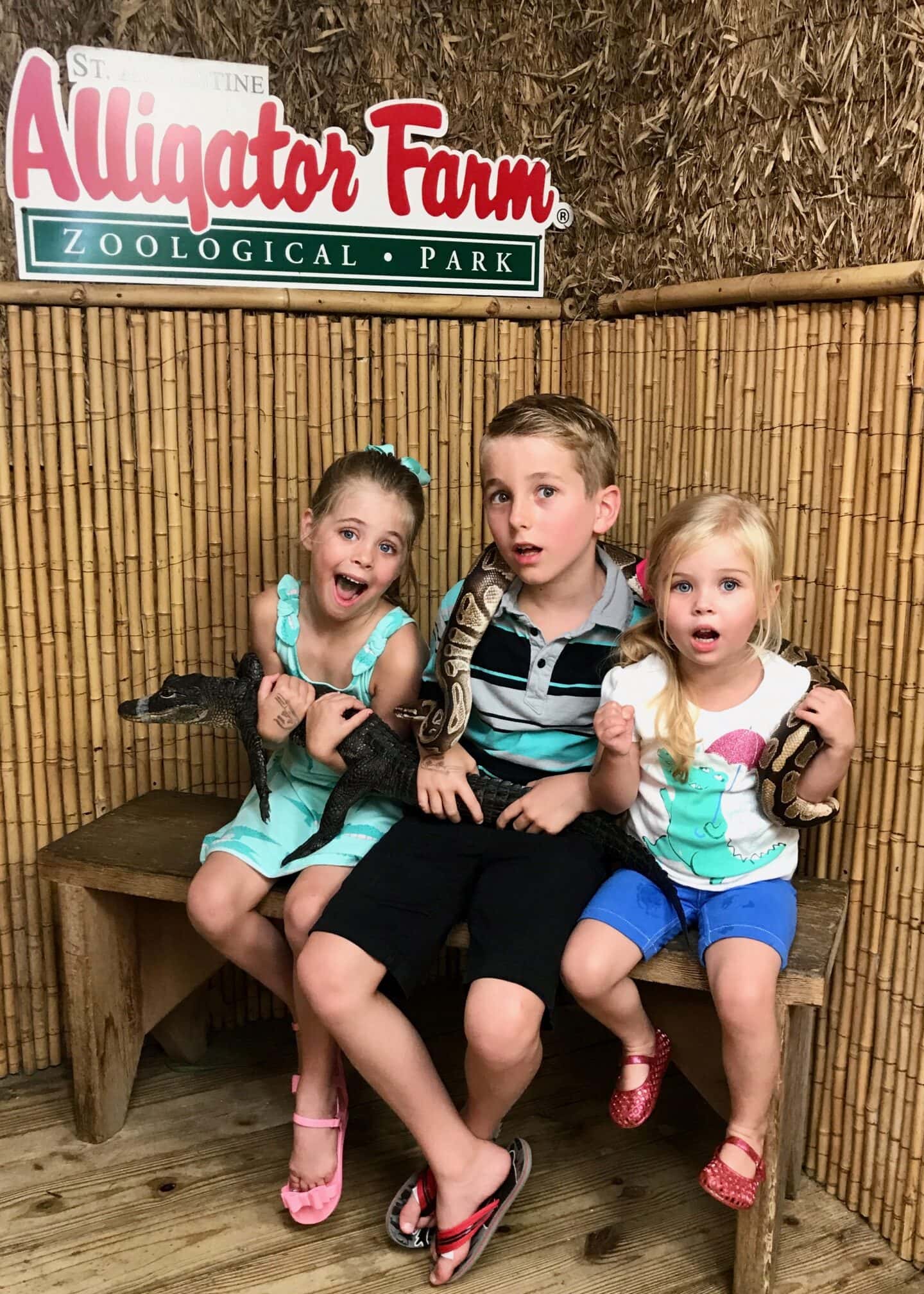 Outlet Shopping
St Augustine Premium Outlets are located off 95 and have TONS of stores! A great place to do some shopping for the kids, or yourself.
Be sure to google for coupons as many stores have deals throughout the year. We started a tradition a few years ago where my daughters and I do an afternoon of shopping together. There are actually two outlet shopping areas one is an outdoor outlet and the other is across 95 and has indoor stores. Be sure to check out both!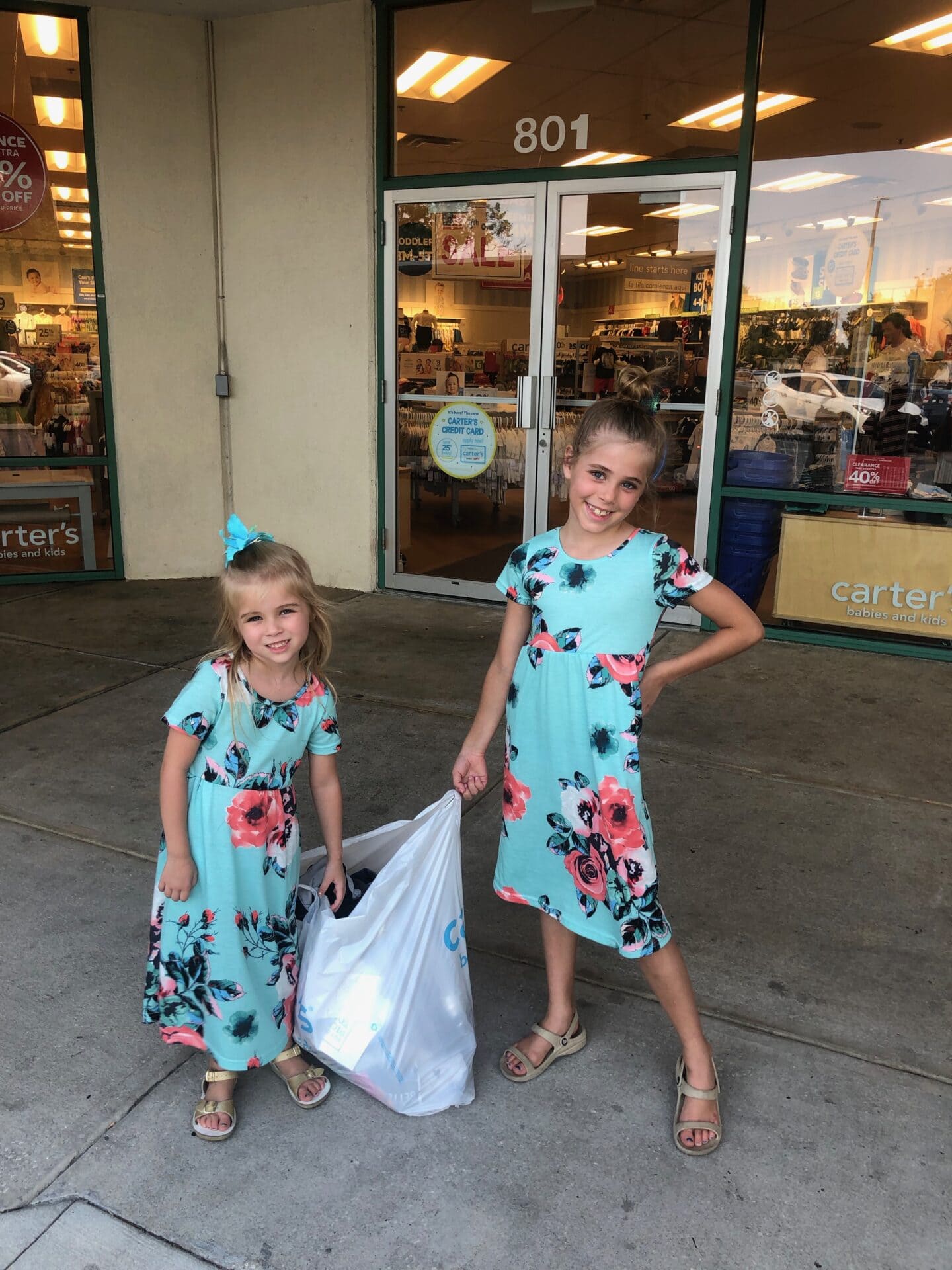 Visit Castillo De San Marcos
Castillo De San Marcos is the oldest masonry fort in the continental United States. Castillo De San Marcos National Monument is the fort located in the historic city of St. Augustine and is REALLY cool.
We have not ever paid for the guided tour but have been allowed to walk around the fort with free admission and really enjoyed it.
It's on our list of things to do again when the kids are older and better able to appreciate it! There is so much history in the area and it can be overwhelming for little ones to take all of it in but seeing a cannon? That's exciting 😉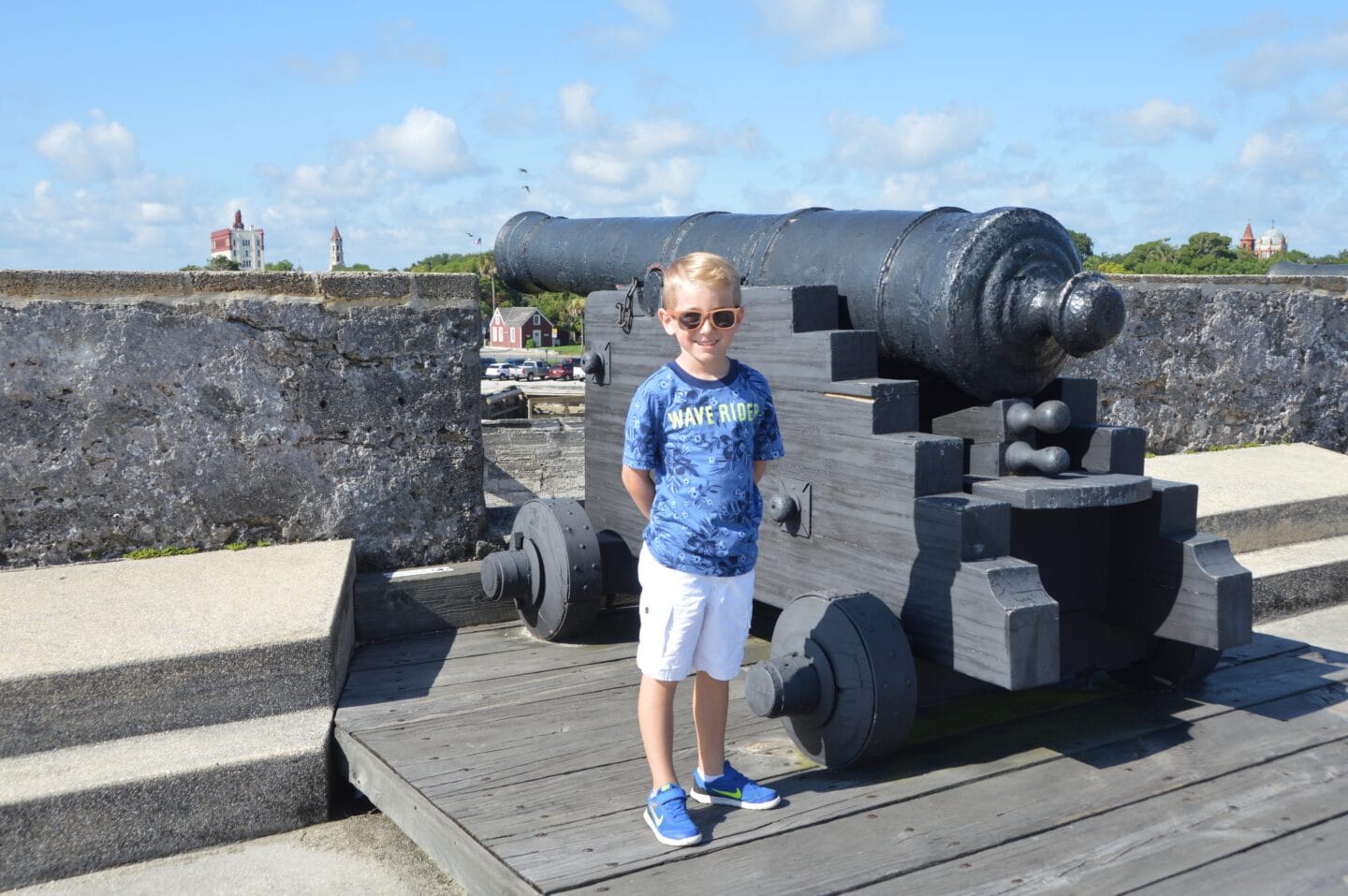 Explore Historic District in St. Augustine
When many people picture Old Town St. Augustine they see St. George street and all of the shops and restaurants. As a parent planning a family vacation, it'd be easy to say "let's AVOID that mess!" but there are lots of family-friendly activities to take part in that shouldn't be missed!
Just walking the streets can be fun, especially when it's not too hot 😉 Several of the restaurants and sweet shops offer free samples. The magic shop puts on magic shows. Window shopping can be a lot of fun too!
We have an annual tradition of taking a photo on this canon in the square located across from the Bridge of Lions. I literally have a picture of each of my kids every year of their lives!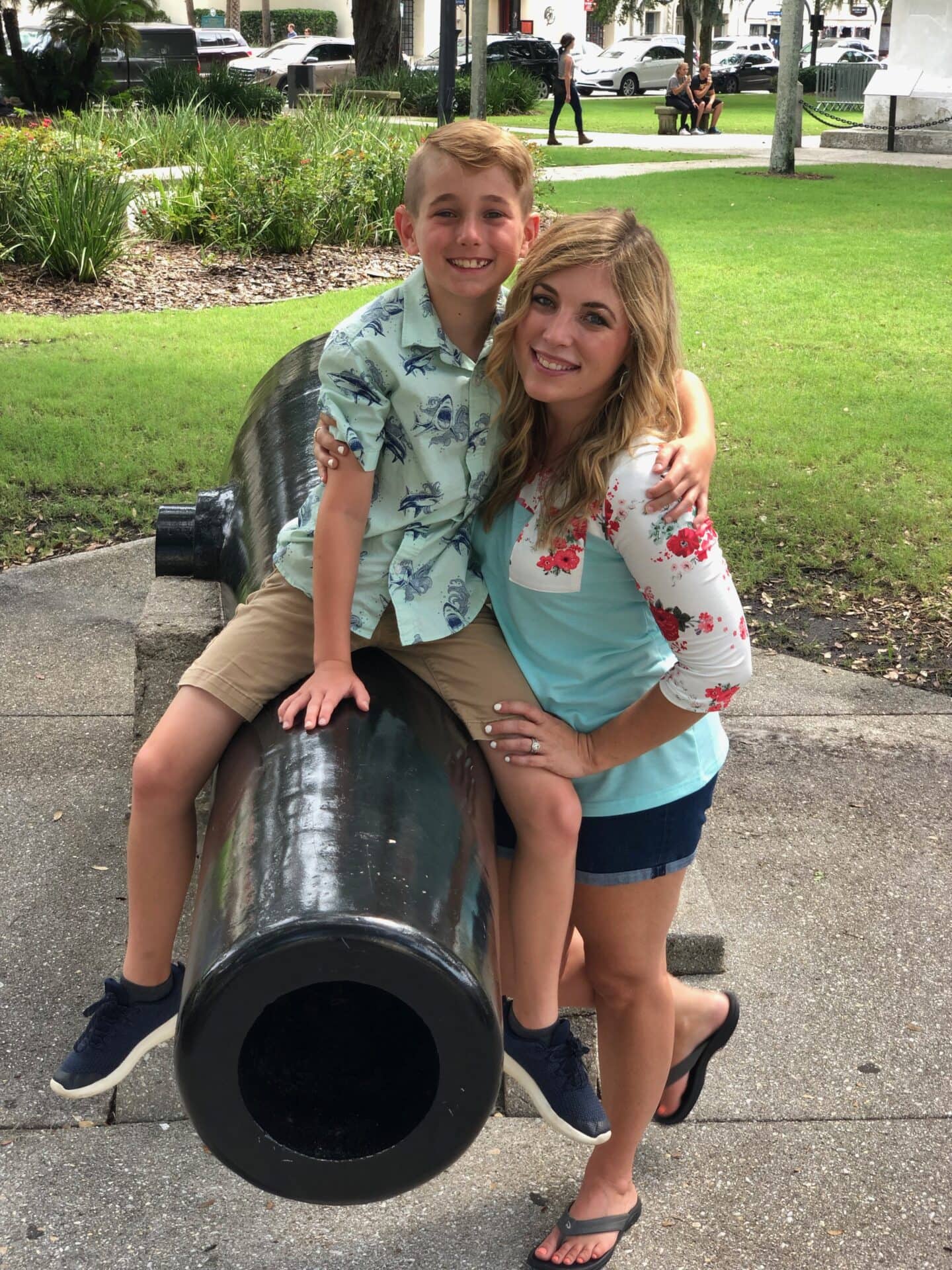 Visit the Oldest Wooden Schoolhouse
The Oldest Wooden School House is located in the historic district and tickets may be purchased when walking up to the tour. It's $5 per person and while the area to look around is small, it is still plenty of fun!
Within the schoolhouse, you are greeted by animatronic figures who put on a bit of a show for you, and then everyone can take turns ringing the school bell.
Don't miss the gift shop as it has lots of cute items to go with the old-school house vibes. Plus don't forget to pick up your free diploma!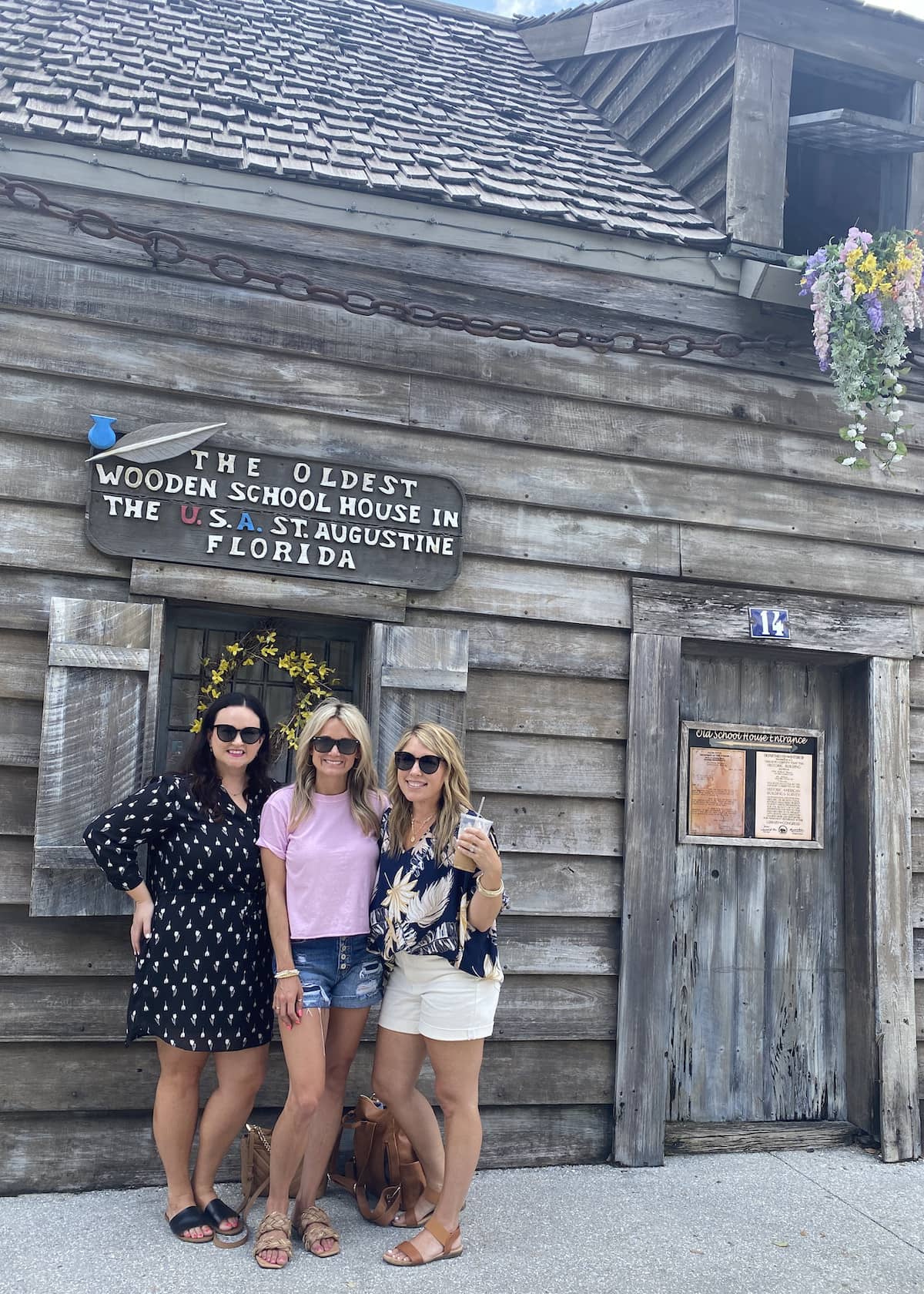 Pirate Museum
Usually, you think museum and kids don't mix…but y'all the Pirate Museum is AWESOME and AMAZING.
We all LOVED it and would totally go back!
So many fun pirate facts and so well done that it was never boring and always interesting.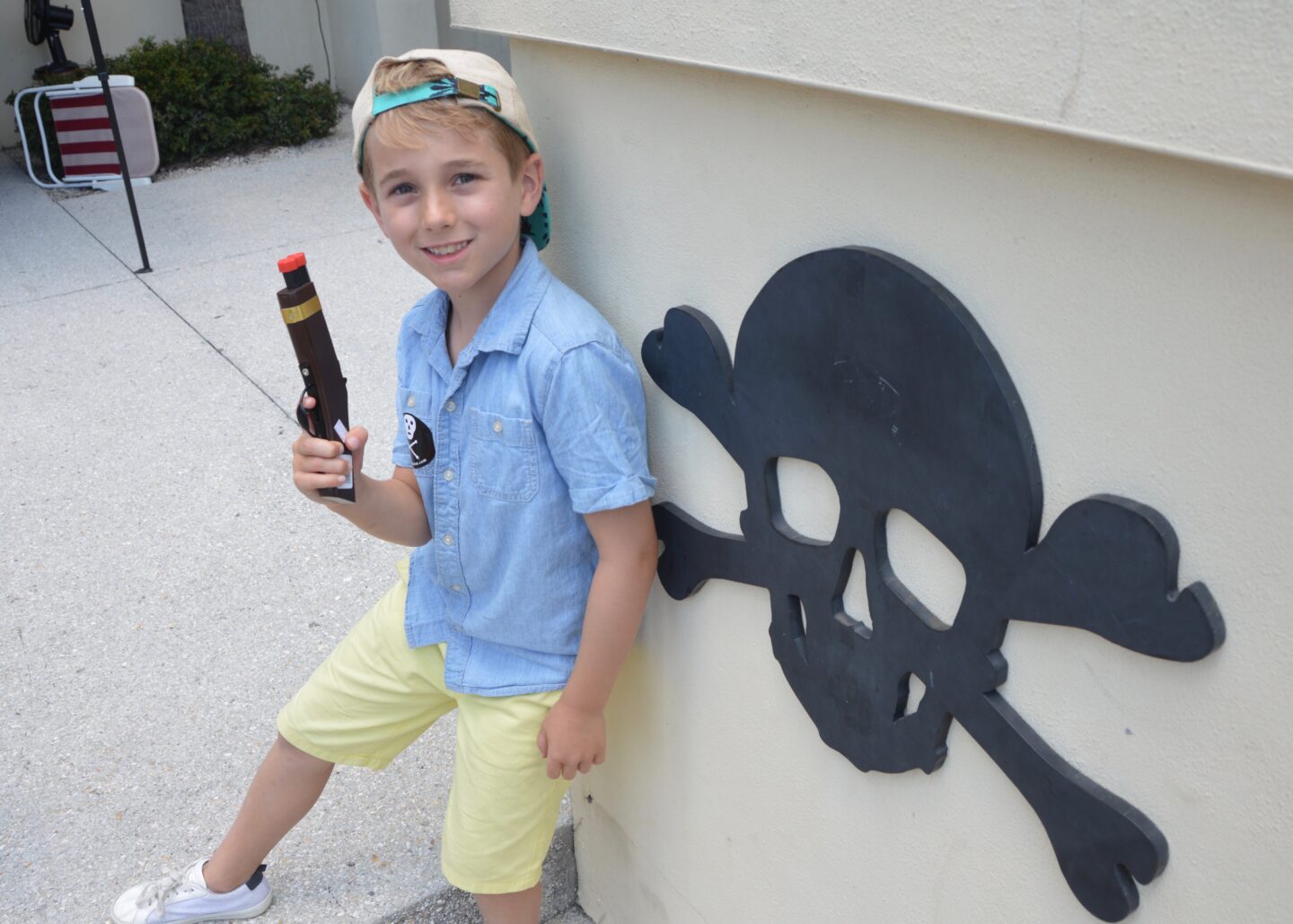 Fountain of Youth Archaeological Park
When I visited with friends recently we spent our trip checking out fun family things to do in St Augustine for kids even though we didn't have any kids with us. I liked the idea of testing out activities while kid-free in order to better gauge if they were kids things my crew would enjoy in the future!
If you're looking for more fun things for families to do in St Augustine Fl I highly recommend a visit to Ponce de Leon's Fountain of Youth Archaeological Park. I always assumed it was just a random fountain of water that people paid to have a sip from but it is SO much more!
The 15 acre property is beautiful (they even host weddings) and there are several different exhibits that are all very well done and both educational as well as entertaining. They even have staff dressed in character sharing stories of the natives and the history of St Augustine and the early settlers.
Of course you can also take a sip from the famous fountain as well!
My favorite part of the day though? Feeding the birds! You will want to have change in order to purchase the bird food but it was SO fun feeding the beautiful peacocks and having the pigeons eat out of our hands.
Not only is the park itself one of the fun family places I'd recommend but there is also a little miniature town area with cute shops and such that I wished we'd had time to check out. We were limited on our time to tour the full park area but could have easily spent a full day enjoying everything it had to offer and I would consider a visit to the Fountain of Youth to be one of the top things to do in St Augustine and it's added to our list of future family activities in St Augustine FL to explore in the future.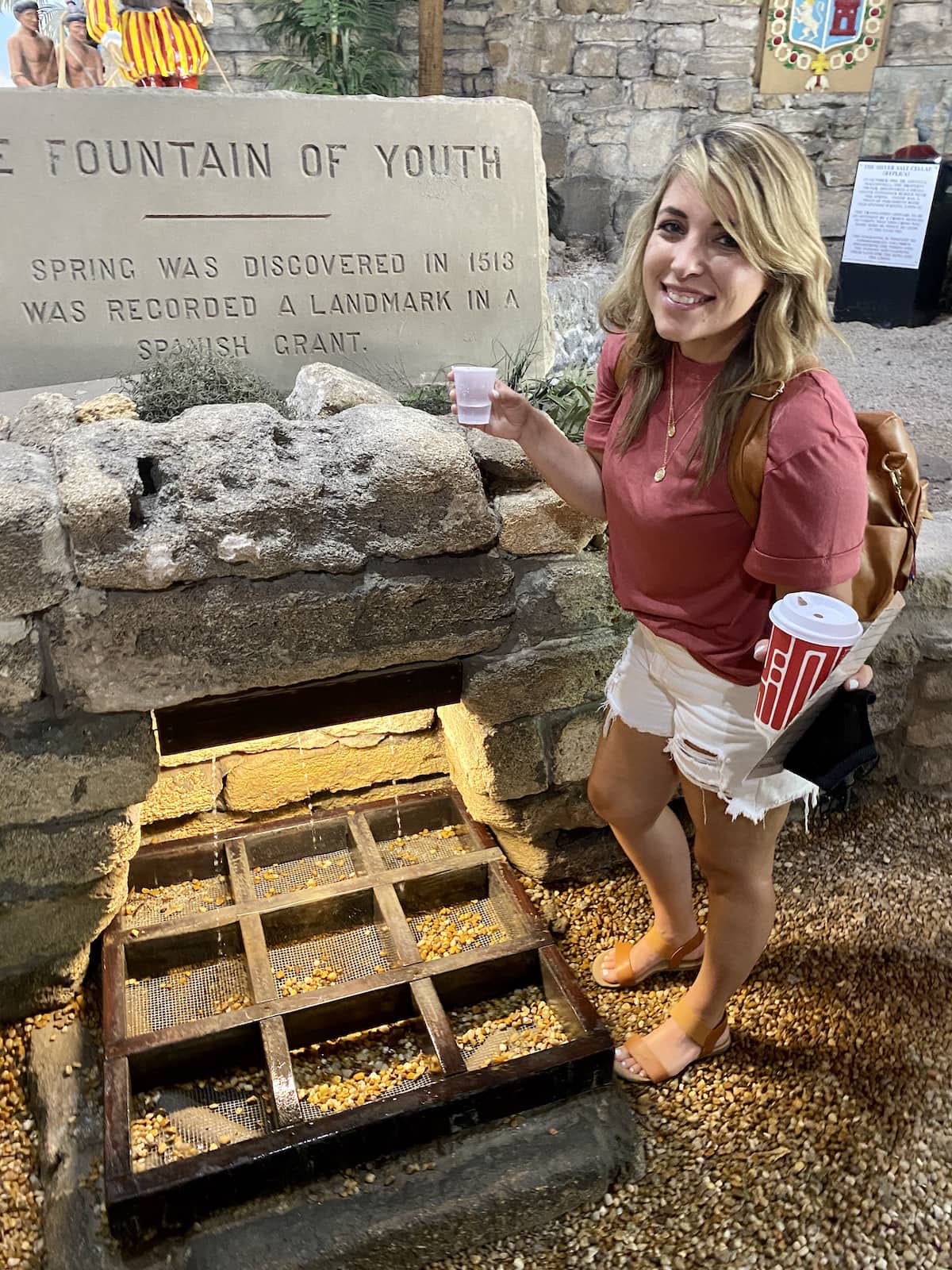 Davenport Park
Personally, one of my favorite traditions each year is our visit to Davenport Park. Even in the heat of summer, the park stays cool thanks to the plentiful trees and shade.
I have so many sweet memories with each of my babies at this park. While we are so sad that the carousel is no longer there (but the story behind it is pretty awesome!) Even without the carousel, it's still a great spot to go with little ones. There are always lots of kids but it never feels crowded and there are plenty of benches in the shade for parents to relax as well as picnic tables for snacks and such.
There is a large playground as well as several swings and plenty of room to run and play. It's also located by the library and if you're visiting for an extended time it may be worthwhile to check out some books or at least do some browsing to cool off.
It's a great place for families and there is a Subway nearby that is perfect for a picnic lunch too! If you're looking for free things to do in St Augustine hitting up the playgrounds is a big win for kids!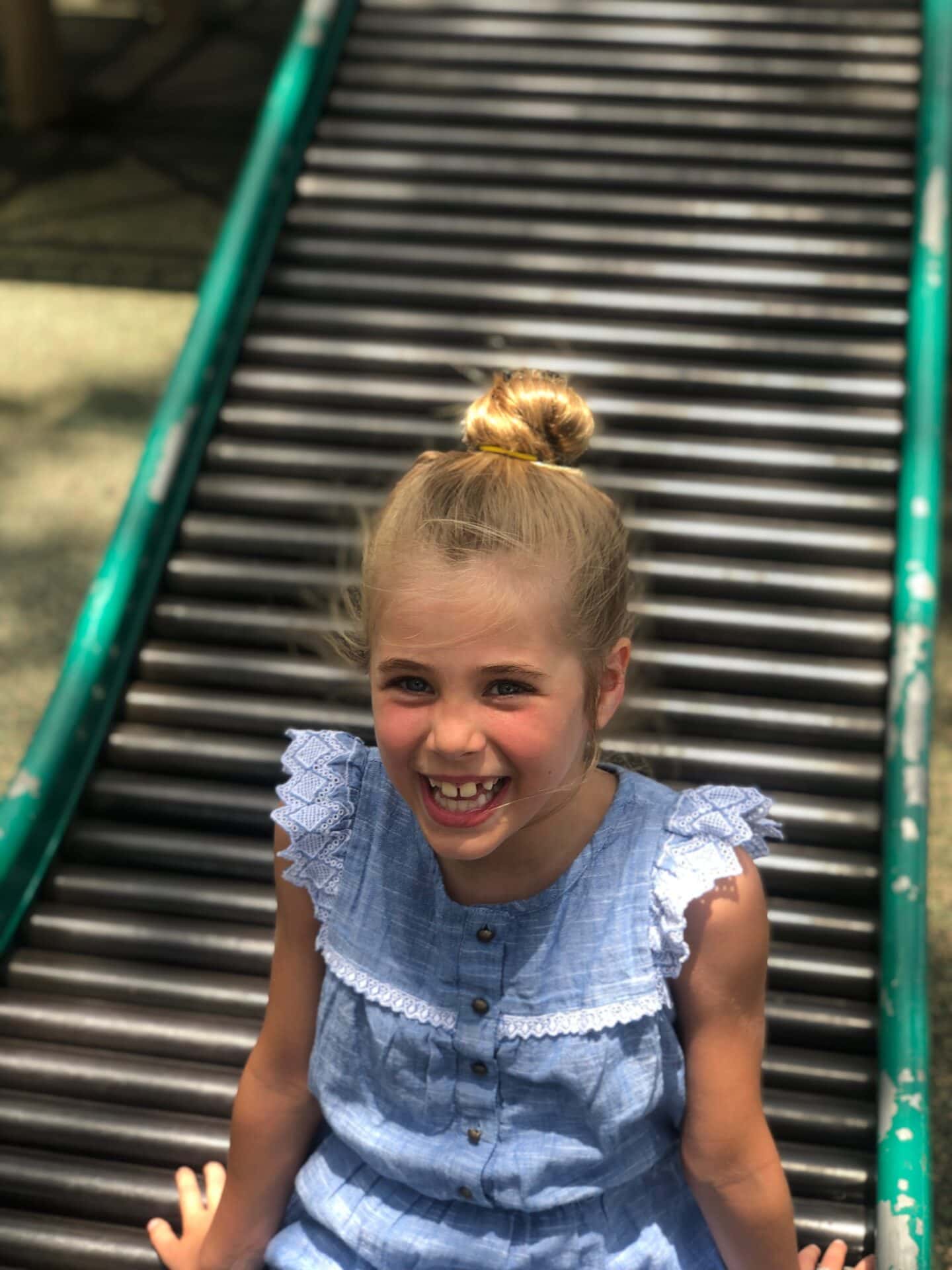 Take a Ghost Tour
St. Augustine is a very historic town and is known for pirates and battles and rich history which also means a past of haunted tales and ghost stories too.
We have not yet taken our kids on a ghost tour while visiting St. Augustine. I feel confident our older three would enjoy it as we recently took them on their first ghost tour on our visit to Key West, Florida but since we have a little guy still we are holding off for a bit to add a ghost tour on our St. Augustine travel agenda.
However, when I visited with friends recently we did a good bit of research into the local ghost tour options and decided to do the Sheriff's Ghost Walk Tour and it was EPIC. The Sheriff was energetic, entertaining, and engaging. He clearly knew the area well, knew his stories well, and believed in what he was telling. I'd highly recommend his tour for an older group or an adult-only trip!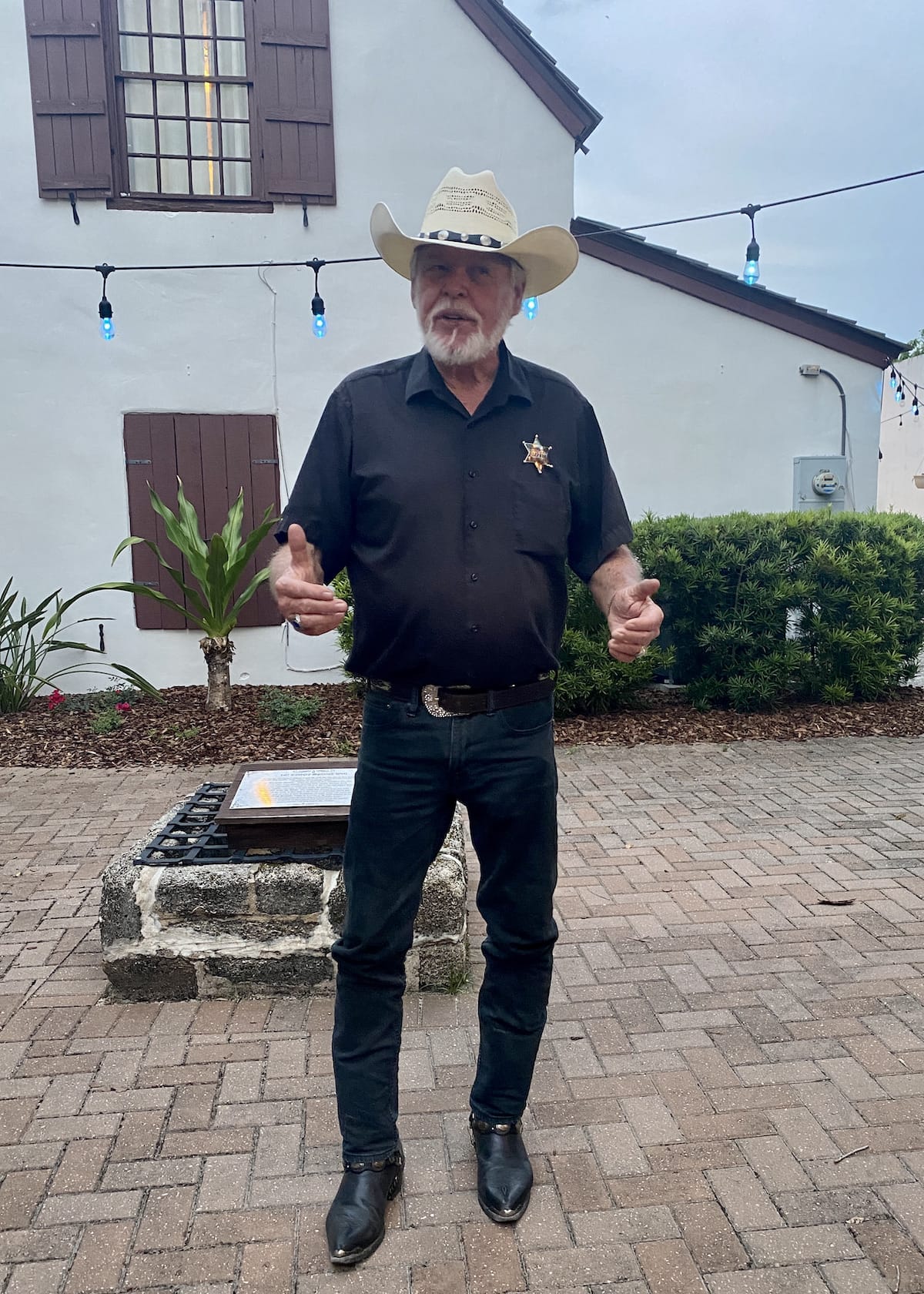 Beaches and Pools
It's tempting to fill up a family vacation with lots of things to do… but in St Augustine? ENJOY THE BEACH.
It's a gorgeous, family-friendly beach area. Not staying on the beach? There are also many public beach access areas to allow for those beach memories!
Most hotels and condos also have a pool and pool swimming can provide a break from the beach from time to time as well.
You spend so much money on the accommodations…save money and just enjoy the FREE ocean! We enjoy packing food to eat on the beach and always make sure to bring along our favorite toddler pool to keep the little ones happy and safe out of the dangerous waves. If you're visiting St Augustine with toddlers, I highly recommend it!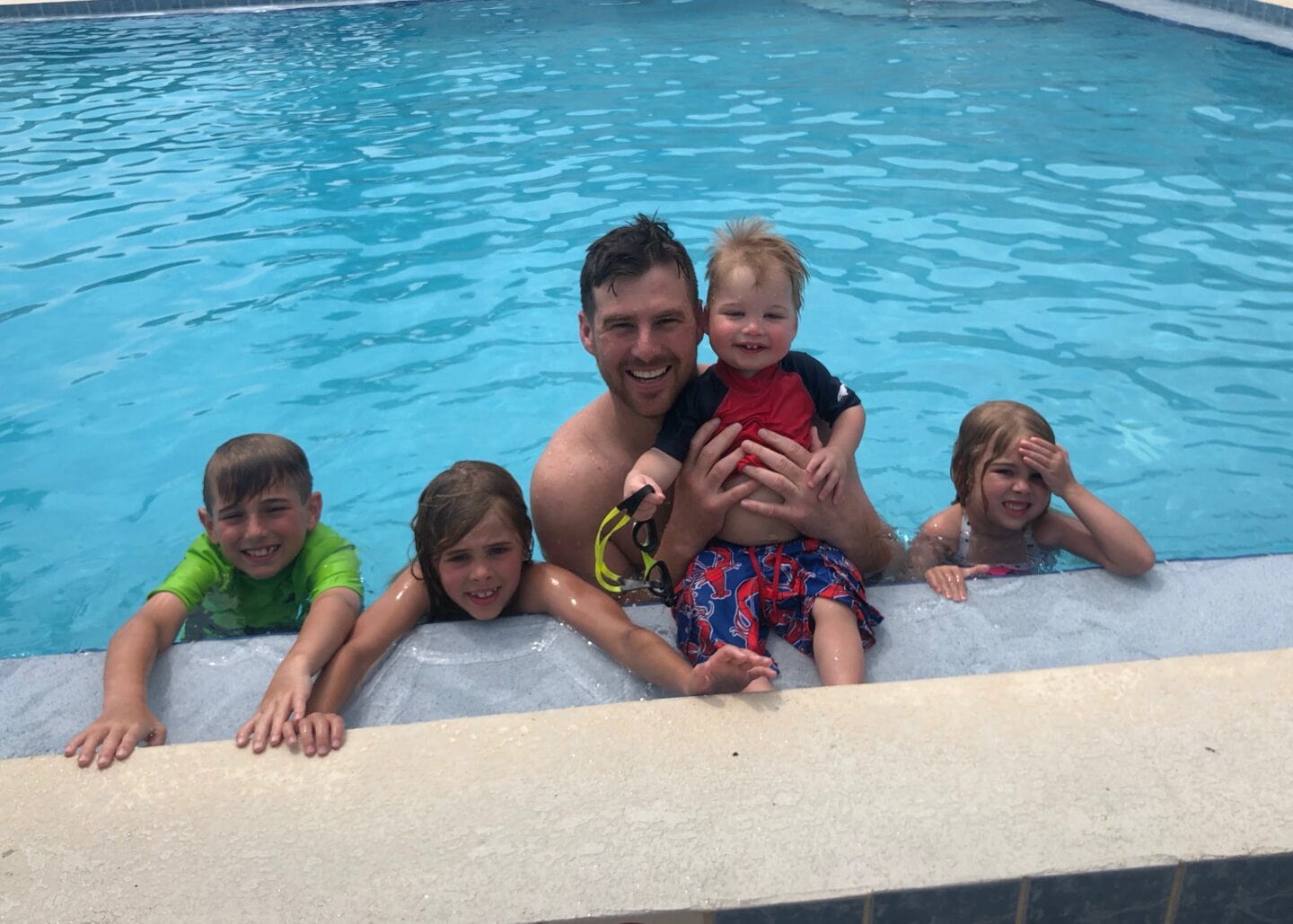 Other St Augustine Attractions to Visit
Something I love about visiting St. Augustine is that there are SO many family friendly things to do that we truly can visit year after year and never run out of new ideas to try or things on our list for the future!
Someday we plan to visit Marineland Dolphin Adventure, hang out at Anastasia State Park, tour Ripley's Believe it or Not, walk the St. Augustine Lighthouse, visit the Old Jail, check out Potter's Wax Museum, and take the Red Train Tour or the Old Town Trolley Tour to learn more about the history of one of our favorite places!
Final Thoughts
St. Augustine has been a place filled with many memories for our family and a vacation spot we look forward to visiting every year.
As our children get older I know this list of activities and eating spots will probably evolve and change over time, but I think it's important for families with younger children to be able to know the best spots with the best value!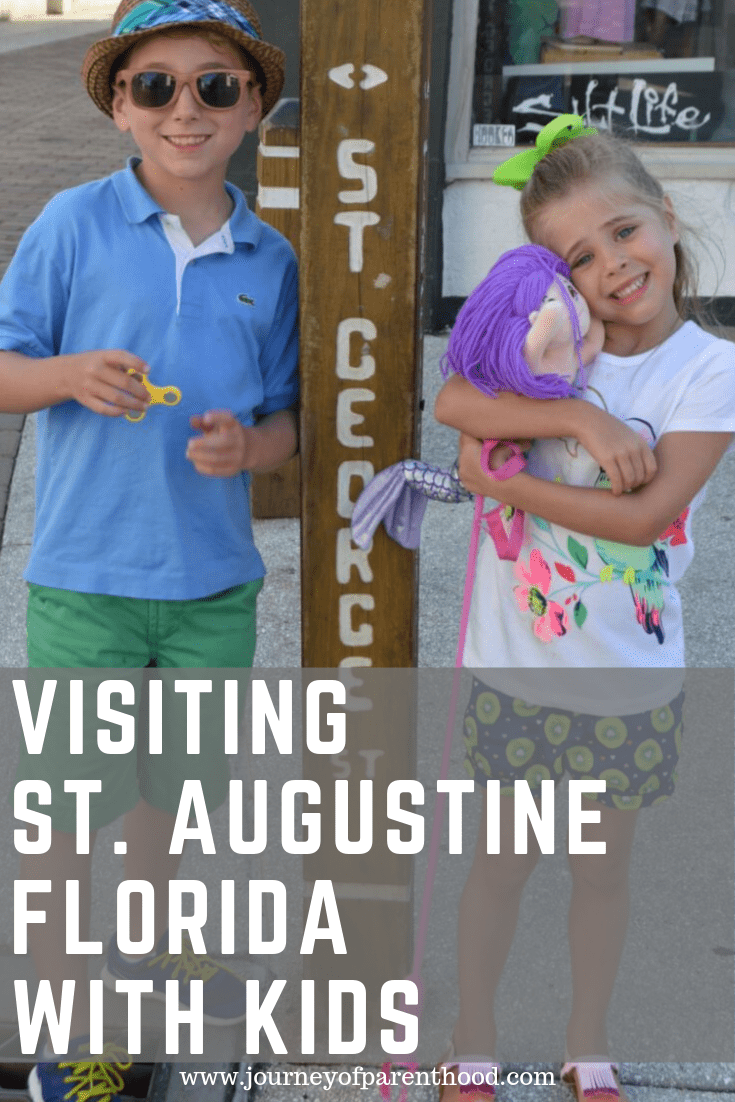 See All of Our St. Augustine Vacation Posts:
Other Family Travel Guides: