For our 14th wedding anniversary, my husband and I decided to visit Charleston, South Carolina. We had THE best time exploring this historic area and found many fun things to do in Charleston, SC for couples but that would also be great for the entire family. I thought it'd be helpful to put together a quick reference Charleston travel guide to help offer planning tips for vacationing in Charleston, South Carolina.
We have always enjoyed visiting Savannah, Georgia and had an incredible time on our trip to Williamsburg, Virginia a couple of years ago so we were pretty confident going into our Charleston trip that we'd love it – and we did!
There's so much to do in Charleston, SC for couples so if you've been wanting to plan a romantic getaway, read on! But remember that much of this Charleston travel guide can be applied to a family vacation, too!
You can read about the trip in these personal Charleston travel blog posts: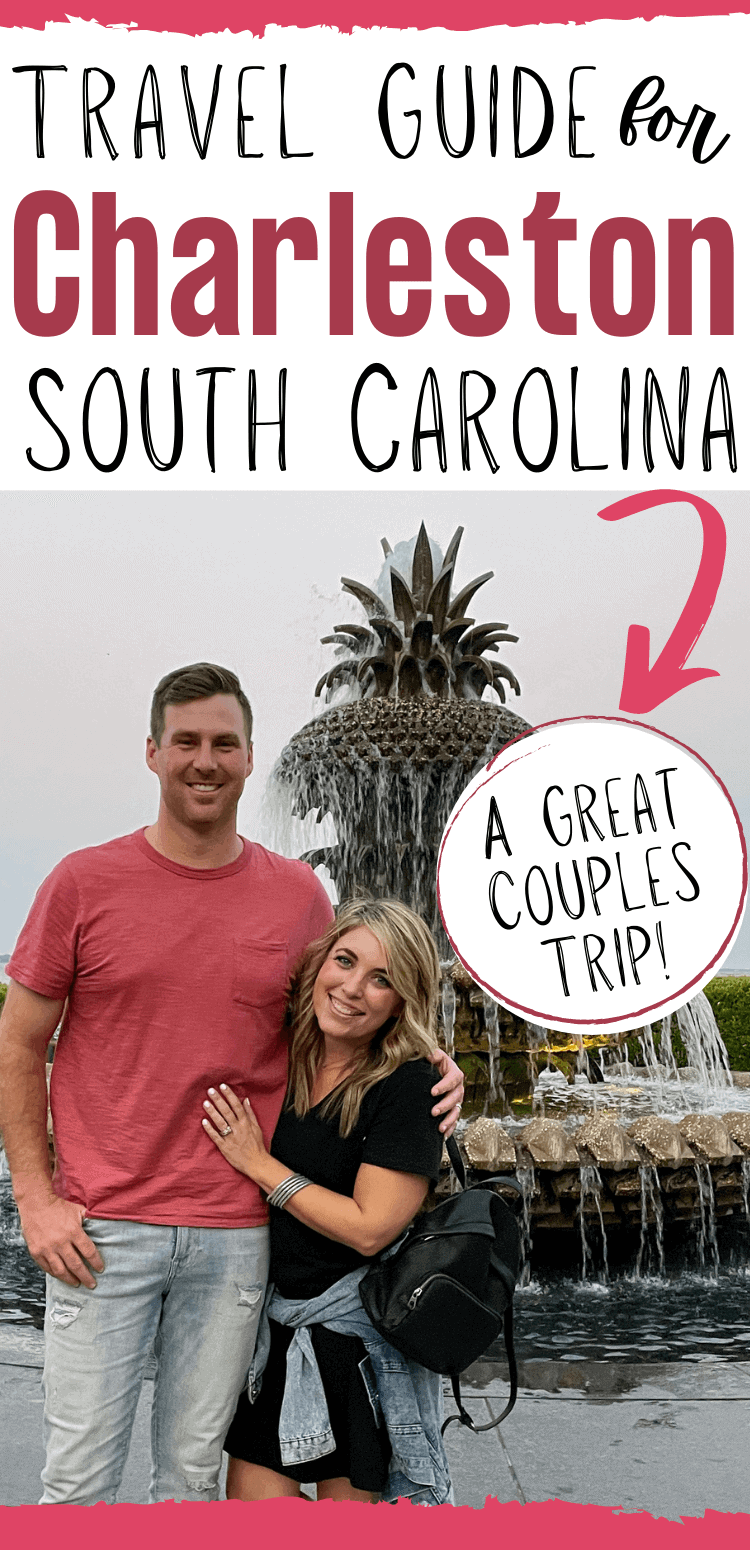 Disclaimer: post contains affiliate links.
Charleston Travel Guide: Where to Stay in Charleston, SC for Couples
I cannot offer advice on where to stay with children or as a family when traveling to Charleston, South Carolina but 100% hands down we would totally stay in the same place we did this time if we were to visit Charleston again as a couples trip!
When planning our trip we learned that there are TONS of hotel and bed and breakfast options in and around the Charleston area. My husband really loves a good bed and breakfast as well as a more historical location and vibe. Whereas I like my hotels to be comfortable beds with stellar lighting and prefer more modern accommodations.
We really went on the hunt for the perfect place to suit us both and found it with our stay at the Andrew Pinckney Inn. When we booked our stay we tried to find something with a historic feel but with up-to-date conveniences as well as relatively close to all of the sites to see and places to visit in the area without costing a fortune.
We did not anticipate just how perfect the location of Andrew Pickney would be and it was FABULOUS! We did the pay to park option which kept our vehicle safe and they had a parking attendant who would go get our vehicle anytime we needed it. We ended up barely using it though as we were able to walk comfortably to just about everywhere from the hotel!
It's located right around the corner from the Historic Charleston City Market which has tons of shops and great dining options! We spent a TON of time in this area and loved being able to walk back to the room to freshen up or take a mid-day break in the cool AC that the room provided, as well as hang out in the super comfortable bed for some romantic snuggle sessions too 😉
If we were to visit again I would totally recommend staying in the City Market area of Charleston. I know The Battery and Rainbow Road location, as well as King Street, are all desirable spots but we found the walk to these areas to be very easy and enjoyable and loved that we were able to save money by not staying in the fancier sections of town.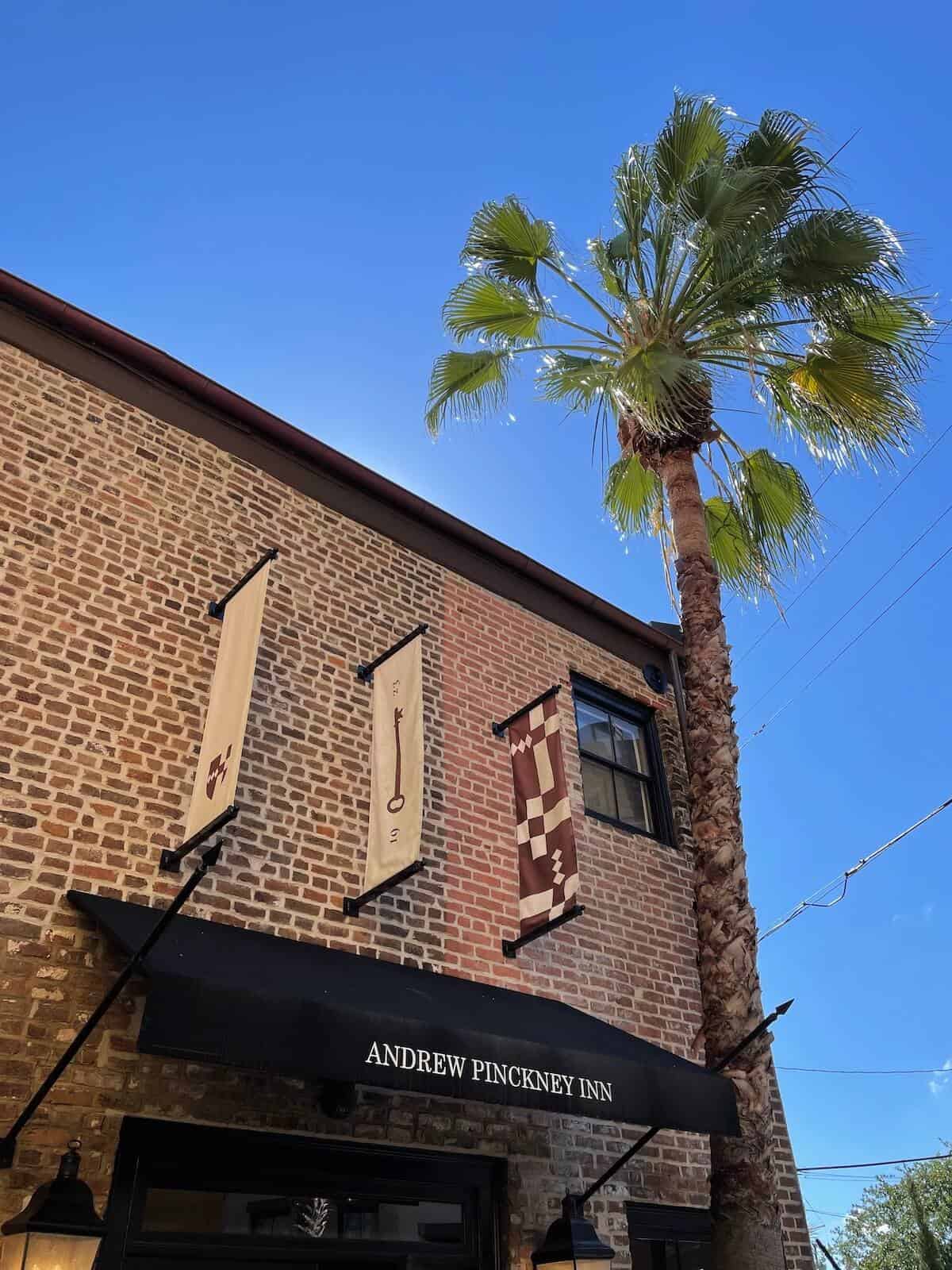 Best Time to Visit Charleston, South Carolina
Charleston is located in South Carolina which is an area known to have beautiful weather most of the year. We are from South Georgia so the heat is not a huge bother to us. We visited over Memorial Day and found the weather to be gorgeous but heard a LOT of fellow tourists complaining that it was super hot.
The weather also tends to be very humid and visiting in the fall or spring season is probably preferred to most travelers as those times of year prove to be the mildest temperatures and still beautiful foliage to enjoy while walking throughout the city.
It is wise to do a bit of research about the area as Charleston is a larger tourist destination and you would hate to plan your trip at the same time as a large event. We lucked out and JUST missed the PGA Championship when we visited. We heard the city was PACKED and we were thankful we didn't have plans for the same time period as the event!
How Much Time do you Need to Explore Charleston?
Charleston, SC is about a 5-6 hour drive for us. On our way we broke up the trip by spending a night in Savannah which put us roughly 2-3 hours away from Charleston the next morning. By splitting up the trip our arrival day in Charleston was still a solid half day to be able to enjoy the city!
Much of the length of time needed is dependent on what you want to do and how you plan to travel to arrive to Charleston.
We stayed for 4 nights and had more than enough time to do everything we wanted to do. We could have easily just stayed 3 nights and left the trip feeling fulfilled but the extra night was nice to allow us to relax and explore the Charleston area without any urgency and at a leisurely pace.
Charleston SC Travel Guide: Fun Things to Do in Charleston SC for Couples
There is SO much to do in Charleston, South Carolina! I had NO idea that there was going to be so much to do or that we'd fall in love with the city so quickly.
I will say that while visiting I wasn't overwhelmed with that feeling I sometimes get when visiting a new place without my kids. Guilt.
I had zero guilt that I was exploring this fantastic city without them. I didn't see things or experience things that made me think my kids would enjoy them or that our experience would have been further enhanced if we'd had our children with us.
I did however think about how much fun a girl's trip could be and we saw TONS of brides on their bachelorette trips!
I am sure that there are family friendly things to do in Charleston and I'm sure we could bring our children with us and have an awesome trip and make great memories together there, but I really think Charleston, SC is perfect for couples.
It is a romantic town. Beautiful homes. Beautiful scenic views. Rich history. Great shopping. Amazing food.
This Charleston, SC city guide will help you plan a fantastic couples trip!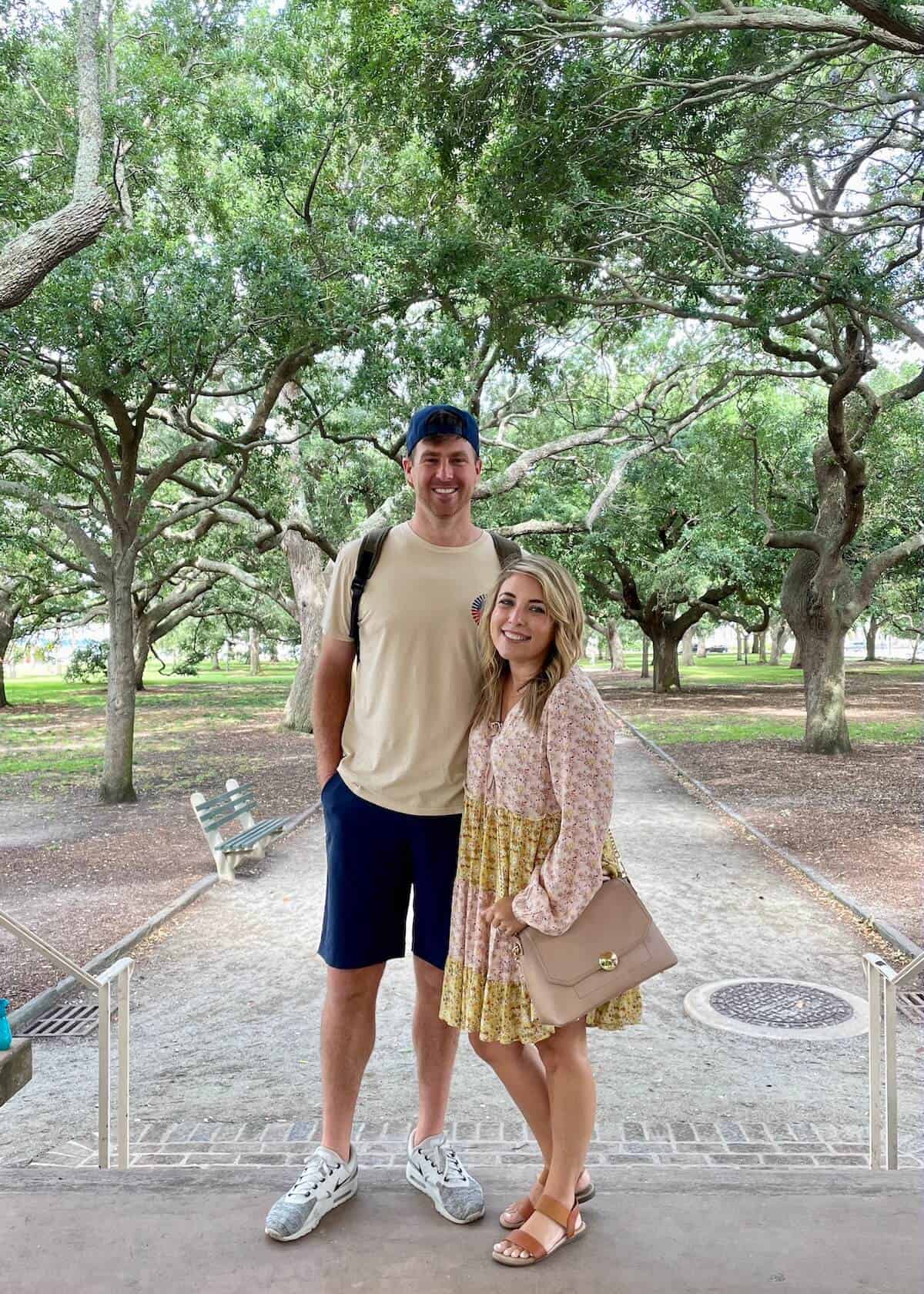 Take a Tour of Historic Charleston
100% the BEST decision we made when planning our couples trip to Charleston was to book a tour on our arrival day. This is probably one of my very favorite travel tips that we've picked up on over the years of exploring new destinations together.
It is wise to plan an around the town style of tour when visiting a new area for the first time and to book that tour for arrival day. This allows you to learn the basics of the area, some fun history, get tips from an expert on the area you're visiting, and see places you want to be sure to visit and things you want to be sure to do.
Not only is it wise to book a tour on arrival day but it is also a good tip not to overbook your trip too far in advance. Having too many set in stone plans limits the ability to be flexible and take advantage of the tips and things you learn on the tour!
We booked our tour with Pineapple Tours and it was THE best tour experience we've EVER had anywhere. Neil, our guide, had SO much knowledge about the area and a true love and passion for Charleston. I cannot recommend booking them enough!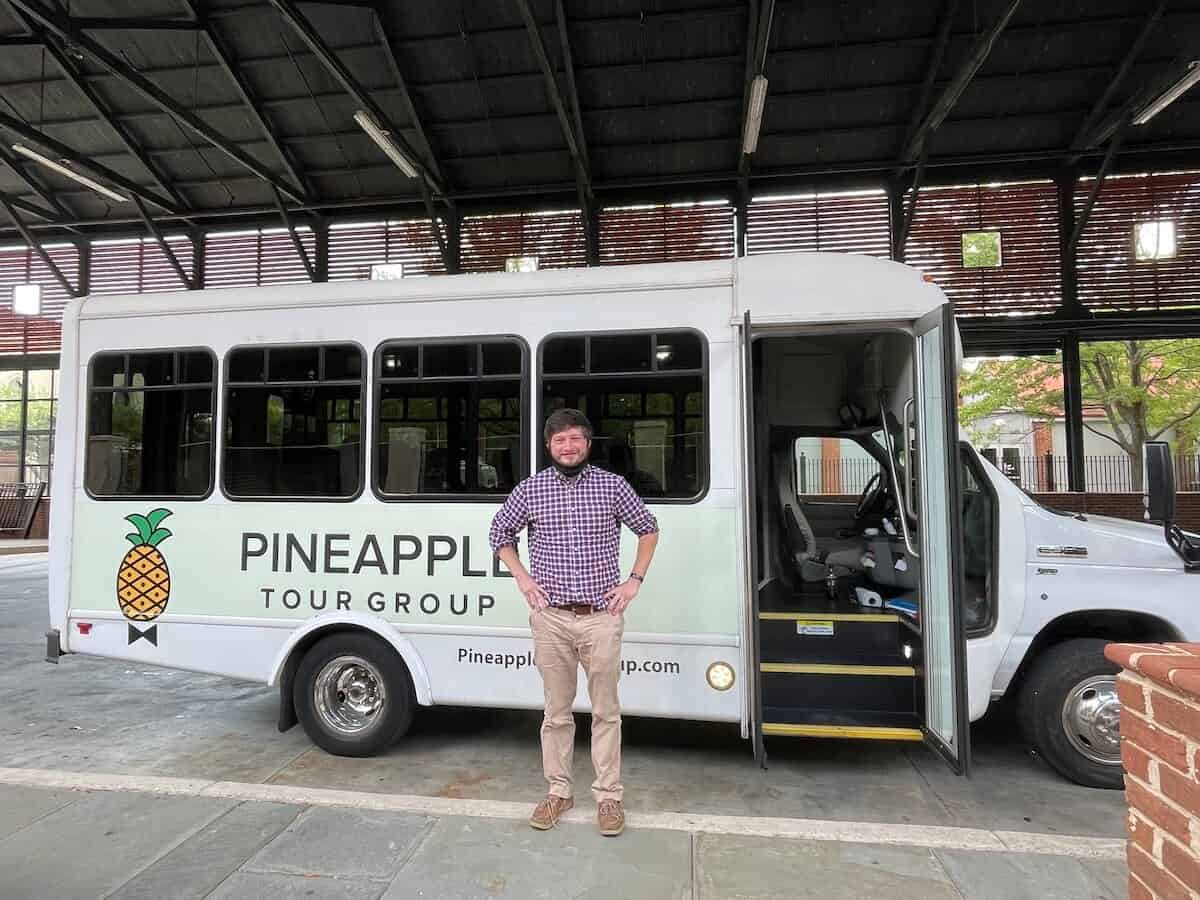 Ghost Tours in Charleston
Much like many historic cities, Charleston has a spooky side to it's history as well and that means there are a ton of ghost tours to choose from when planning your trip.
Being that we were on a couples trip to Charleston we wanted to go as spooky as possible for our ghost tours.
We decided to book two and one was the worst ghost tour we've ever been on. It was SO BAD and I feel guilty calling out a touring company but it was bad enough that I want to make sure no one spends the money we did on this tour again. When researching I found some adult-only tours and assumed they'd be extra-spooky.
We booked the Death and Depravity Tour through Ghost City Tours and the guide was terrible. Truly. She spent more time talking about her lack of technical knowledge than she did telling any stories and she constantly talked in this condescending tone when telling the stories in a way that made it sound like you're stupid if you believe any of them!
We wanted to visit the Old City Jail and learned that there is a Charleston Haunted Jail Tour that combines a ghost tour with a history tour of the Old City Jail. It was an awesome experience getting to walk through the old jail and hear the stories that took place there during its operation from 1809 through 1939.
We really enjoyed the jail tour and recommend checking that out on your couples visit, I also think older kids would enjoy it (it was one thing we did that I thought my 12-year-old son would LOVE). The old jail tour is Bulldog Tours and if we were to return to the area we'd use one of their ghost tours over Ghost City Tours after having experienced one tour from each group!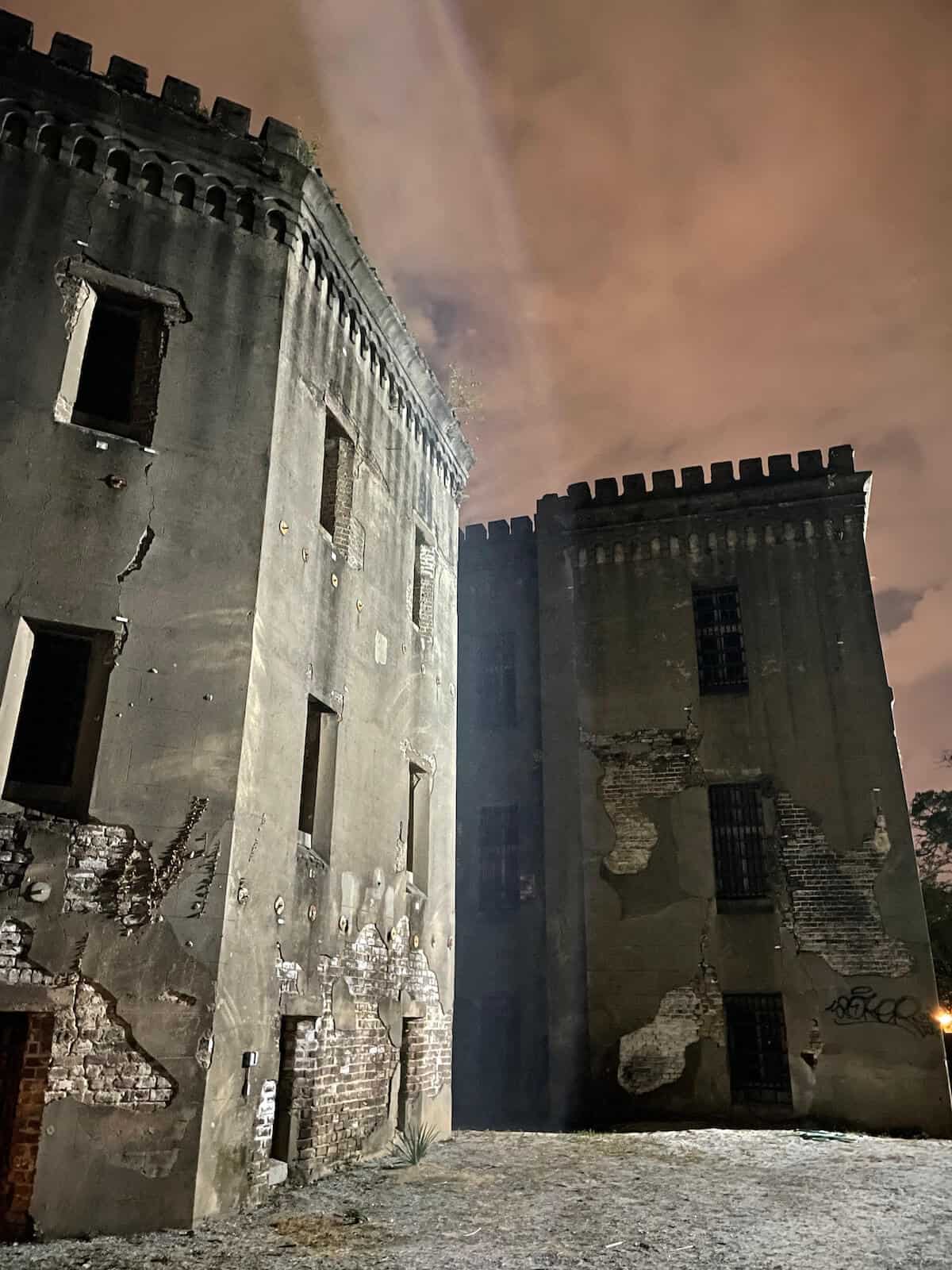 Visit Historic Charleston City Market
My husband and I love a good deal and have fond memories of shopping the markets on our travels together. We knew we'd for sure want to check out The Historic Charleston City Market and it didn't disappoint!
When we think of a market we tend to think of visiting the Bahamas and haggling prices on handmade goods or trinkets. The City Market in Charleston is not that kind of market. It is very well organized and put together with booths and vendors.
Anything from artwork to toys to jewelry to food items can be found throughout the market. It is so large that it crosses over multiple streets and you should devote a solid half-day to be able to see it all. We made several stops back into the market to purchase things that we regretted not buying the first time though! SO many great items to be found and a great spot to find things to take home as gifts to the kids as well. Definitely a must-see in Charleston SC for couples!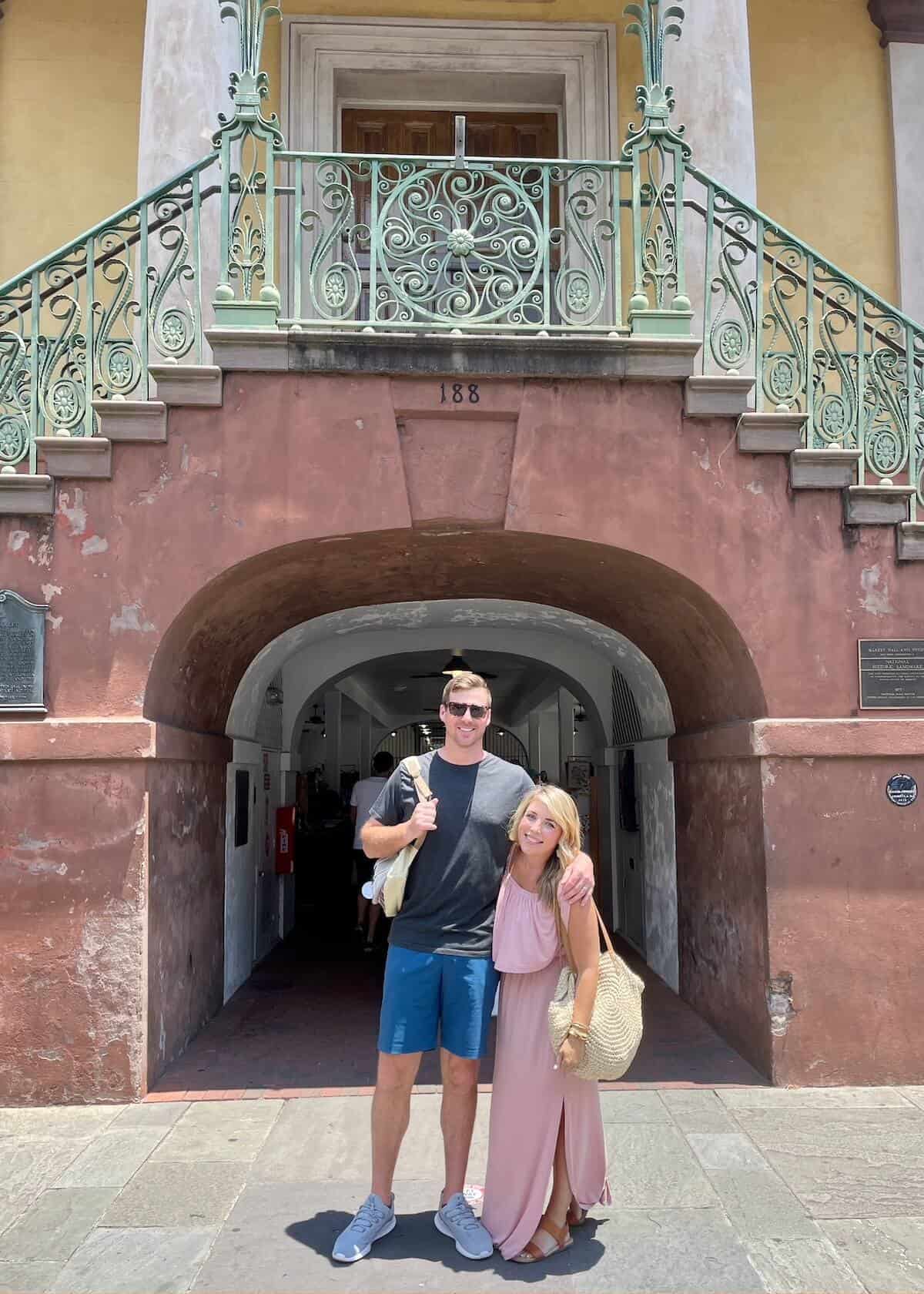 Shop Kings Street
King Street is another excellent place for shopping! It is what we like to call "fancy" and you can find every shop under the sun down King's Street.
My personal favorite thing to do when traveling with my husband on a romantic getaway together is to walk hand and hand through a new town. My favorite day of our Charleston trip is when we explored the town together and walked down King Street through all the shops. Mostly browsing but doing some fun buying too!
Something to note when planning your shopping time is that a LOT of the stores opened later in the morning and closed early in the evening! We spent the morning sleeping in on our shopping day and were forced to end the day earlier than we would have due to all the shops closing!
Visit The Must-See Sights
We love taking trips to historic cities because there is always a wide variety of things to do. My husband loves history and learning about historic areas and areas that are well known for their past also tends to have many beautiful sights to see and places to explore!
Churches and Cemeteries
Charleston is known as the holy city because it has been known for accepting and welcoming all religious affiliations since it became a city back in 1680. There are so many gorgeous churches to visit and very old cemeteries to walk through all throughout the city.
Be sure to stop by Circle Congregational church and it's cemetery as it's one of the oldest congregations in the entire South!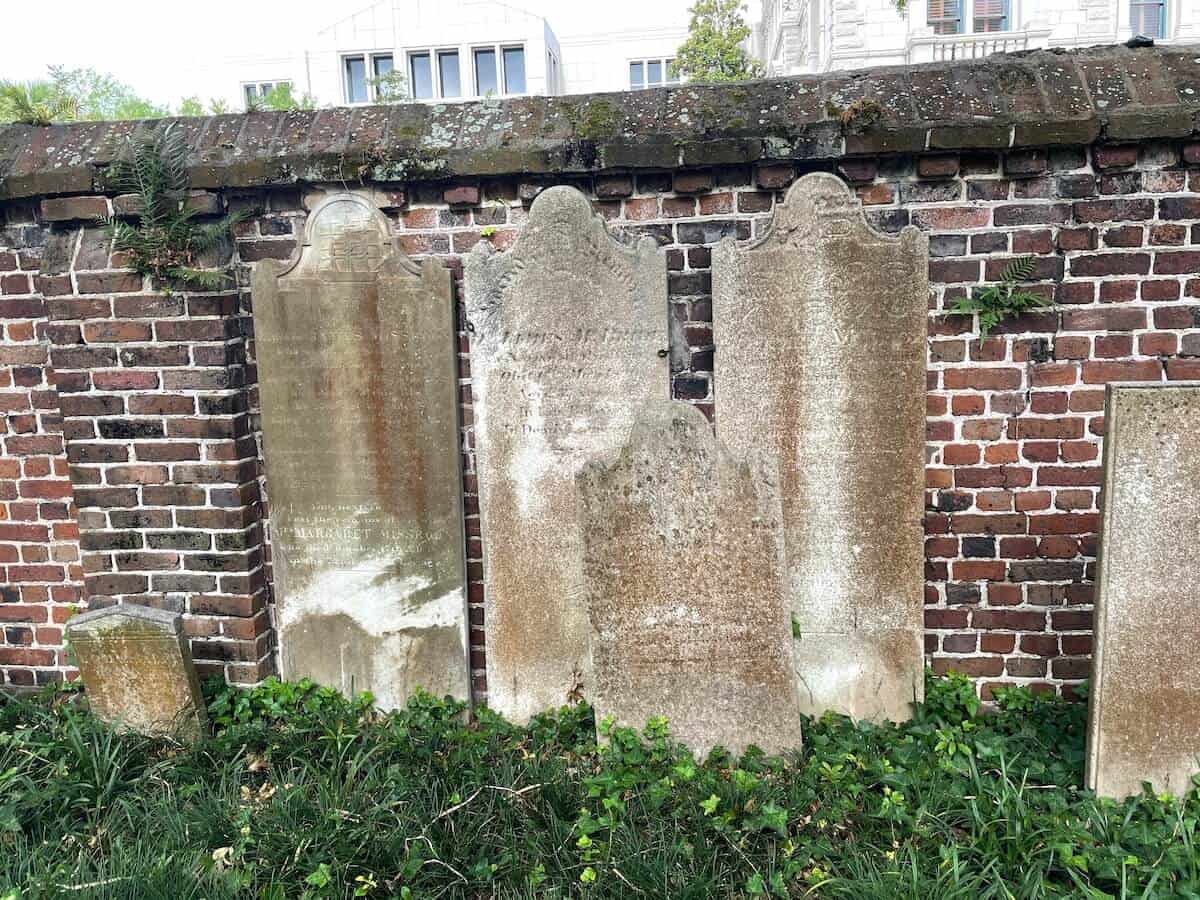 Rainbow Row
Rainbow Row is simply a road of beautiful houses in all sorts of beautiful coastal colors. It reminded me a lot of The Painted Ladies in San Fransisco. I know people tend to be snarky about why visiting Rainbow Row (located along East Bay Street by The Battery) is a must-do thing when literally you're only seeing something you could see in a photo.
I understand that reasoning and would I go out of my way to make SURE I saw the houses? No! But the area is located right beside The Battery which you'll surely be visiting anyway so it's worth the bit of a walk over to check it out!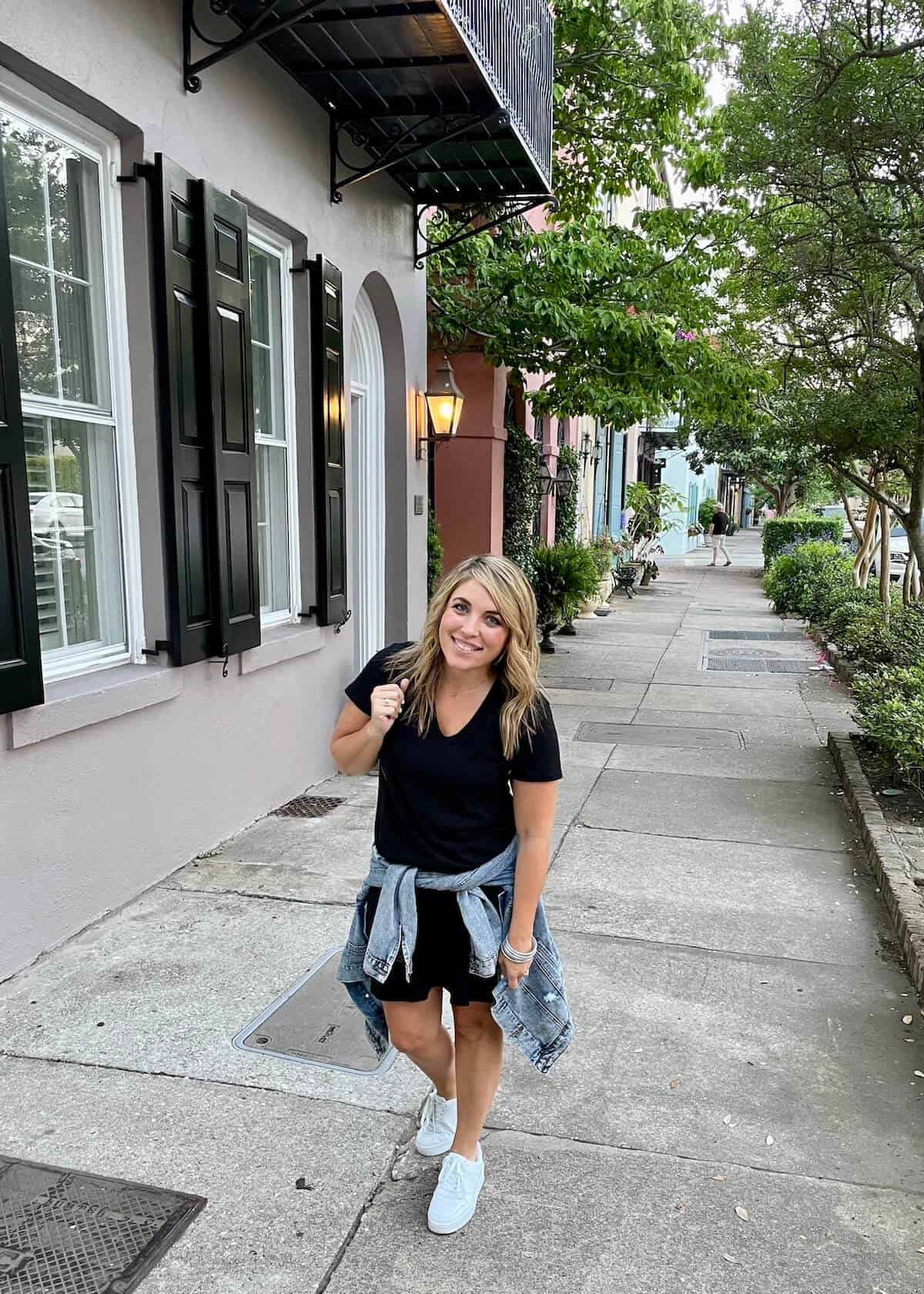 The Battery
Visiting The Battery is considered the top thing to do in Charleston, SC for couples. It is a beautiful stretch of gorgeous homes facing Charleston Harbor. We visited over Memorial Day and the flowers were in full bloom and it was just so pretty! A great romantic spot to be sure to steal a kiss too 🙂
Charleston Waterfront Park – Pineapple Fountain
You can't say you've visited Charleston unless you have a picture in front of the Pineapple Fountain!
We happened to come across it by accident. It was on our list of things to do during our stay but our ghost tour happened to be meeting at Waterfront Park and we had some time to kill before the tour so we walked down the pier and through the park a bit and just happened to see the fountain!
Rainbow Road, The Battery, Charleston Waterfront Park and the Pineapple Fountain are all located within a short walking distance of each other and can be easily seen and enjoyed in a short span of time.
Depending on how much you enjoy looking at the old homes you can also make the experience take longer by touring some of them! Unfortunately, we visited during the Covid pandemic and touring the homes wasn't an option during our stay but it's on our list for next visit!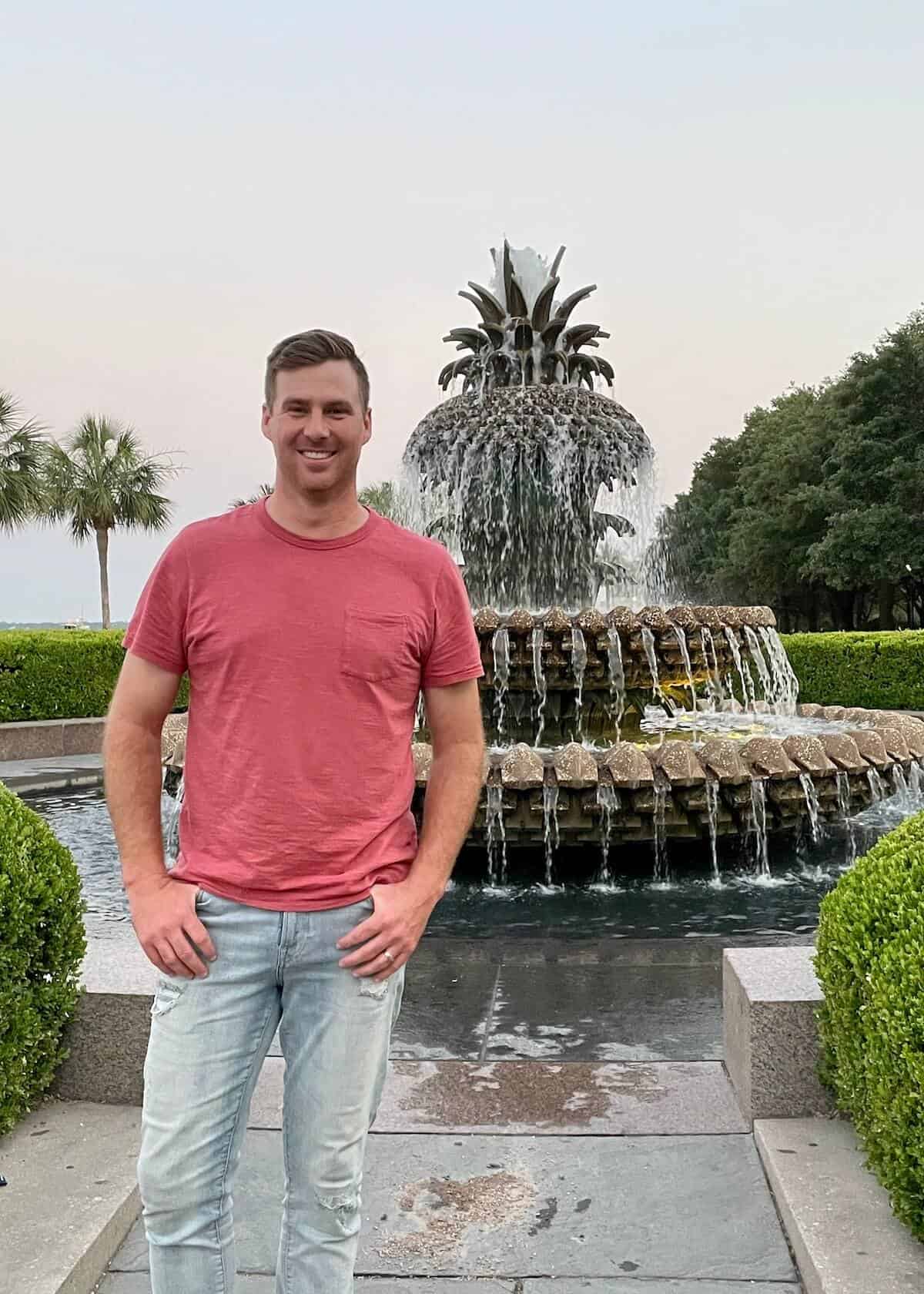 Fort Sumter
Fort Sumter is known as the place where the first shot of the Civil War was fired in 1861. It is a small island that is only reachable by ferry. It is a national historic park and tickets can be purchased in advance on their website. You must book a tour time when purchasing.
We did an early morning ferry ride out to Fort Sumter and were able to see the Fort Sumter National Monument before it got too hot outside to be enjoyable. The ferry takes 30 minutes to reach the fort and during that time a park ranger goes over some interesting facts and hands out Junior Ranger Adventure Books to anyone interested.
Even if you don't have children with you, grab a book! It has a lot of interesting facts and if you complete the book during the tour you receive a free pin 🙂
Once docked the ranger has everyone gather at the flag pole on the property and gives a brief, 15 minutes, history of the island. Our ranger did a fantastic job at sharing and appreciating history but also respecting the present.
Then you have roughly 40 minutes of free time to explore on your own before boarding the ferry boat to head back which takes about 20 minutes.
It's a very well timed and well planned out tour experience and I was very impressed with it from start to finish! If you are prone to motion sickness I would recommend taking anti-nausea medicine prior to the ferry ride! I felt a bit sick and wished I'd had some with me.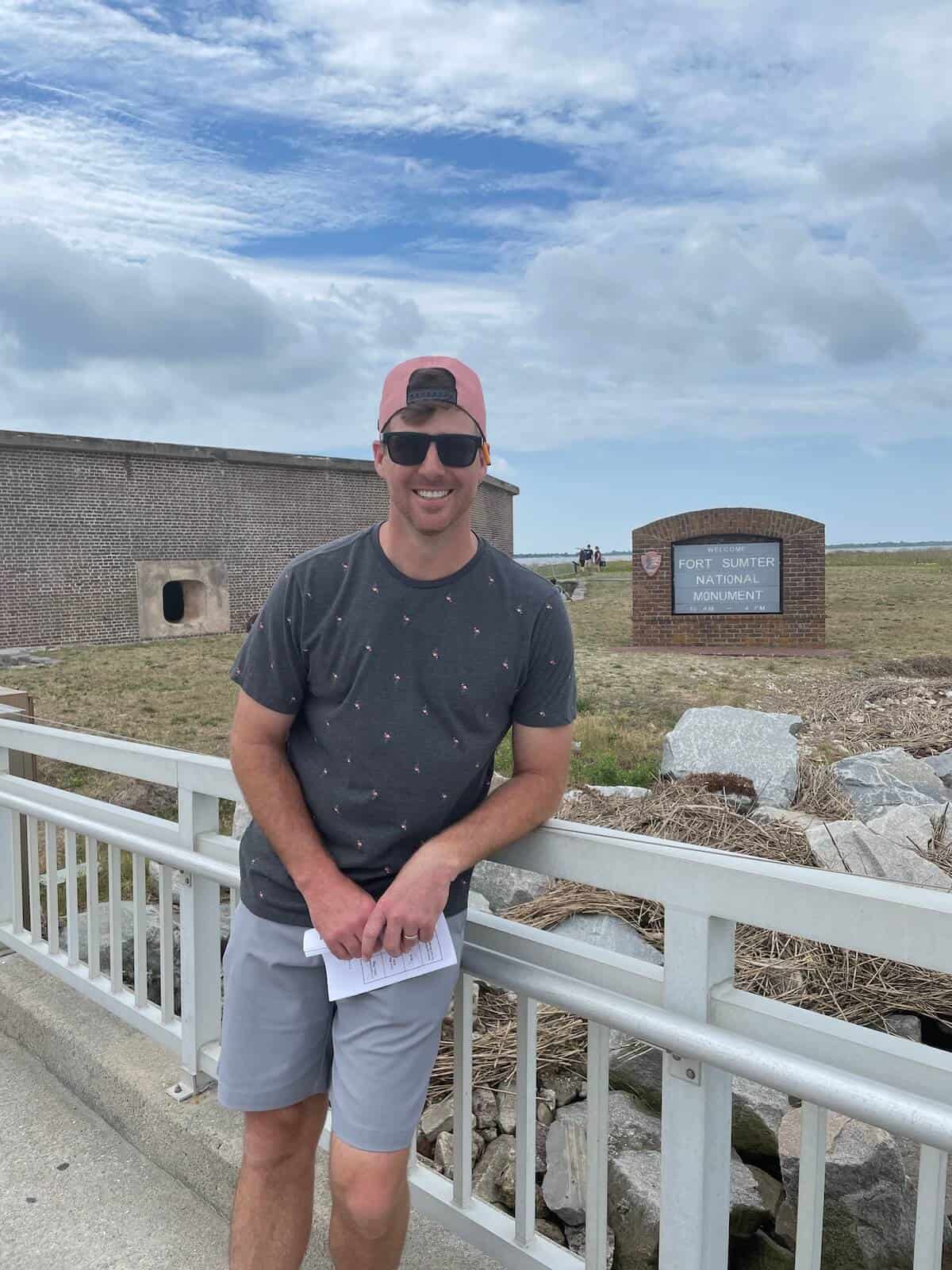 Boone Hall Plantation and Gardens
Boone Hall Plantation is not located in the historic downtown area of Charleston where we were staying and required about a 20-minute car ride to enter the grounds.
We opted to visit in the afternoon and do wish we'd gone earlier in the day. Much like the shops on King Street, Boone Hall also closed a bit earlier than we were anticipating. They do, however, allow you to come back with your ticket if desired!
Boone Hall is the most photographed plantation in the world and is known for being where The Notebook was filmed. It's truly breathtakingly beautiful. Be sure to take part in many of the brief tours and guides while walking the property – the Gullah exhibit should not be missed!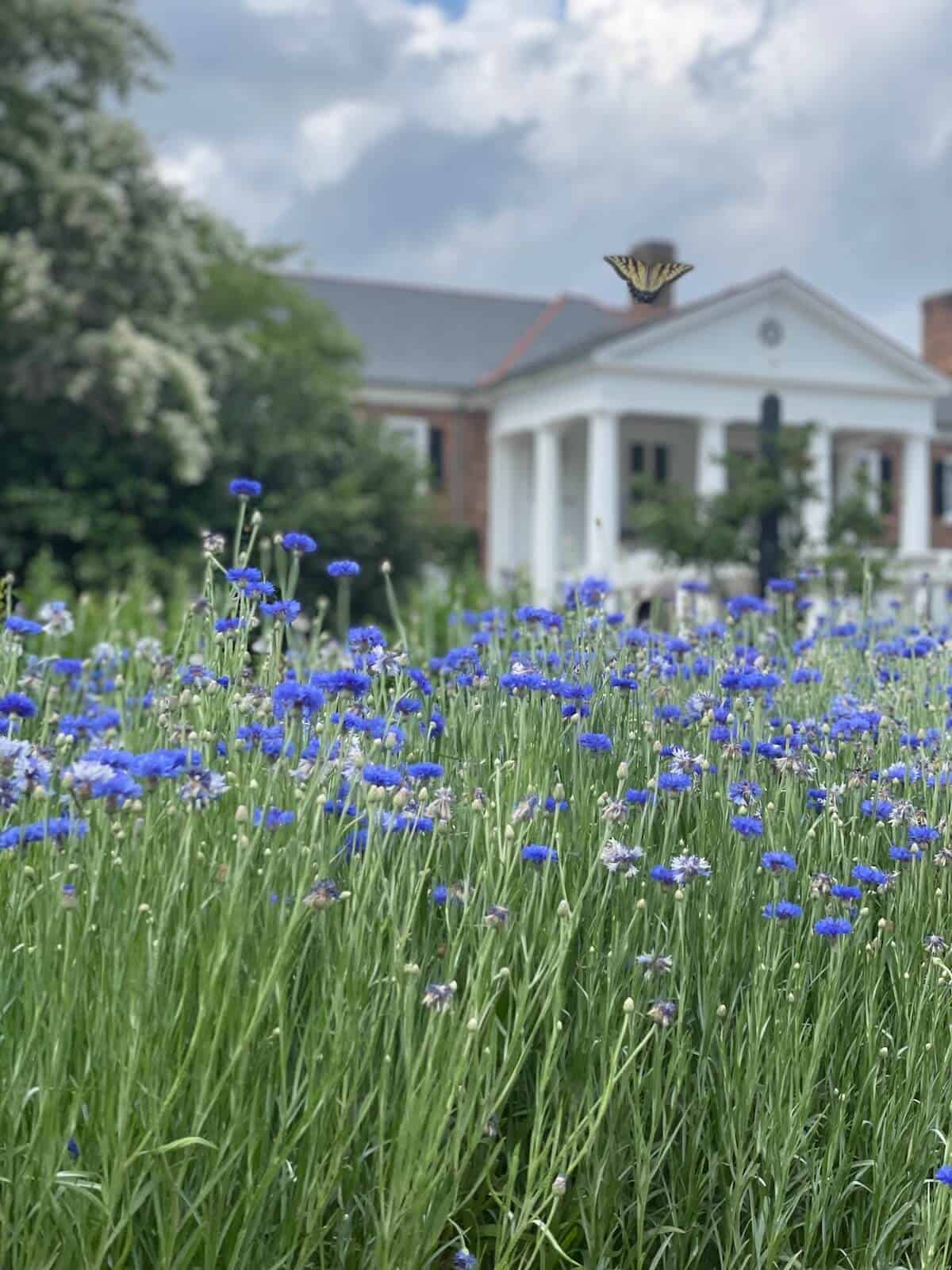 Visit Charleston Beaches
We live in South Georgia and visit the beach decently often so our visit to Charleston did not include a beach day. We debated it but in the end decided against visiting any of the beaches during our couples getaway.
However, I heard wonderful things about the beautiful sandy beaches in the Charleston area including Kiawah Island, Folly Beach, Sullivan's Island, Isle of Palms and Seabrook Island.
You can learn more about each of them here.
You may also want to go across the Cooper River while in Charleston to visit Mount Pleasant while in the area as well!
Charleston Travel Guide: Eating Around Charleston, SC for Couples
We had NO idea when we planned our trip that Charleston is such a "foodie" town. We learned on our tour that there are no bad options when it comes to eating in Charleston. You literally cannot go wrong anywhere.
It is so well known to be fantastic with dining that anywhere that is not good closes down quickly!
Knowing that helped take a LOT of the pressure off of our trip revolved around where to eat in Charleston. We knew anywhere we went we could be confident that we'd find something delicious waiting for us!
And that ended up being very true for our entire visit. We had AWESOME meals and I can't remember one "bad dish" in the bunch!
Best Brunch in Charleston, SC for Couples
Brunch is a THING in Charleston, SC. We wished we'd known that fact when we planned our trip because we LOVE brunch food. Who doesn't love to sleep in and eat a breakfast meal at lunchtime, right?
Not only is brunch a thing, but Sunday Brunch in Charleston is THE thing. With that in mind – plan accordingly and eat a snack before because you're gonna have a long wait!
We enjoyed brunch at Miller's All Day and it was adorable! The decor is awesome and the vibe is very retro cool and the food (gotta try the Unicorn Grits!) was great as well!
While we didn't have brunch elsewhere in Charleston, I do not think that Miller's All Day would qualify as the best brunch. Glad we went? Yes. Worth the epic long wait? Eh.
If we were to go again, hands down, we'd do whatever we could to get a reservation at Hall's Chophouse for the Sunday Gospel Brunch. We were able to enjoy dinner at Hall's and it was amazing (best steak ever) but man that brunch is apparently an incredible experience.
I overheard TONS of different people on our trip mentioning it and based on the reviews of the Gospel Brunch online I'm confident in saying it'd be my pick as the best brunch in Charleston, SC for couples!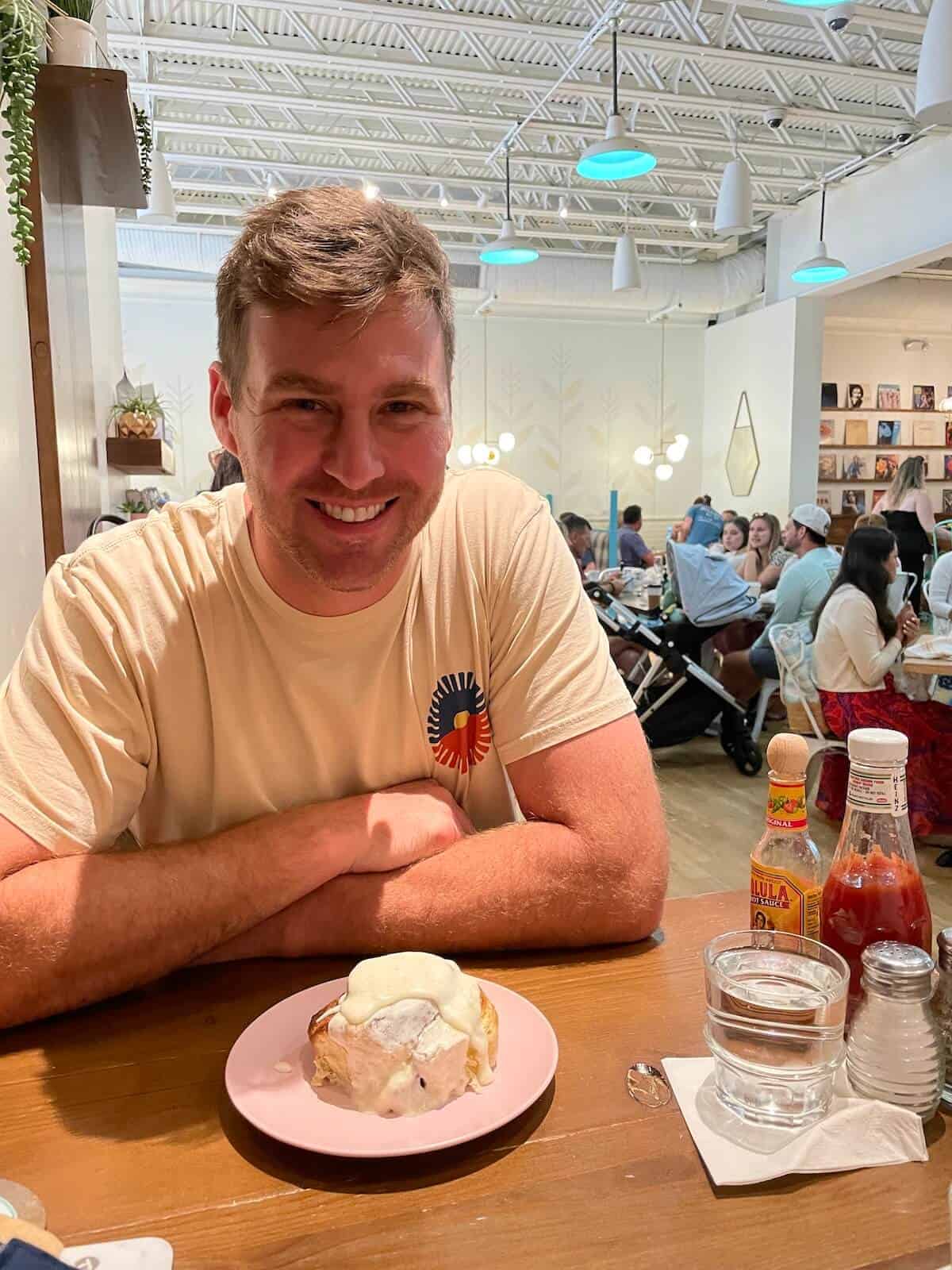 Our Favorite Eats in Charleston
As I mentioned earlier, you can't go wrong anywhere you eat while visiting Charleston. Part of the fun on a couples trip is trying new places to eat and there are SO MANY awesome choices in the area!
We didn't have a single bad meal our entire visit but I am also in no way trying to say that we ate at THE BEST restaurants in Charleston either. Being that there are so many options for places to eat, we didn't overly worry about making sure we had the best because we knew it'd all be great.
My husband is not a huge seafood guy and since we live in the south we already eat our fair share of fried chicken. He was focused on finding steak and I was focused on eating all the seafood since it's not something we typically eat at home!
Here's where we ate on our stay to Charleston: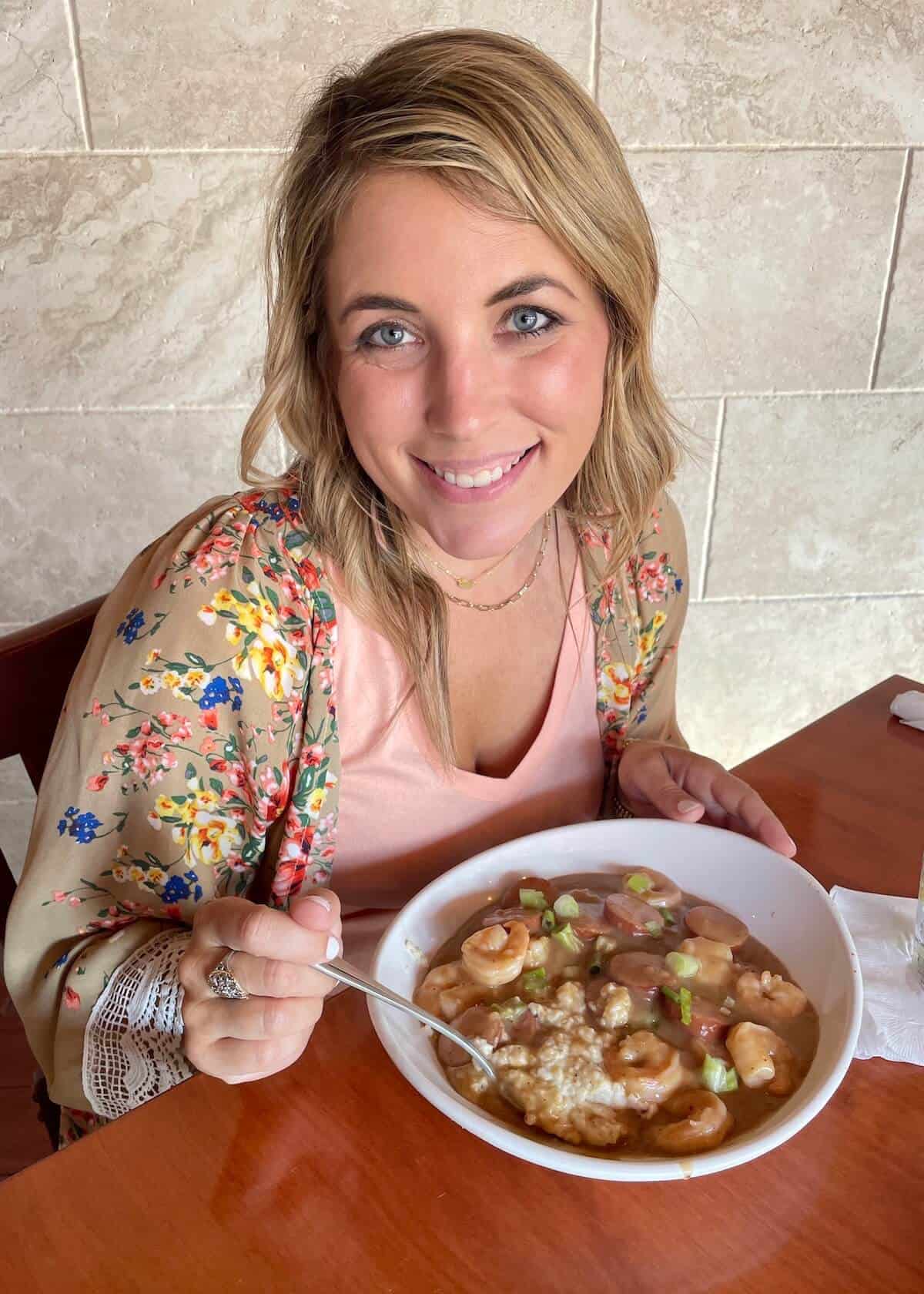 Tip for Dining in Charleston, SC for Couples
A BIG tip we wished we'd known before visiting Charleston, SC for the first time was to GET RESERVATIONS. We had no clue where we wanted to eat and therefore hadn't made reservations and it was basically impossible to do so by the time we'd arrived, especially when visiting on a busy holiday weekend.
So if you have a solid list of must-eat spots on your itinerary – book dining reservations and book 'em early!
But if you're like us and don't have any reservations…all hope is not lost.
Find out what time the restaurant opens and then arrive to the restaurant 20-30 minutes before opening. We learned that most, if not all, of the hot spots to eat have walk-in tables available right at opening. We were able to walk into Hall's Chophouse without a reservation and secured a beautiful table to enjoy our (very early) dinner.
Many of the restaurants do open at like 4 PM so you have to be willing to eat early in order to make this trick work out but we don't mind eating early anyway so it suited us just fine!
We tried the same tactic for Husk, another popular dining spot, but we arrived right at opening time and the line was already out the door. We were able to go around the corner to 82 Queen and were seated right away. So if you have a place you REALLY want to eat – arrive 30 min before opening and even arriving right at opening time you should still be fine to walk into many great restaurants too!
And again, truly, anywhere in Charleston is going to have good food so don't overly stress on getting THE reservation or eating at THE restaurant. It's all good!!!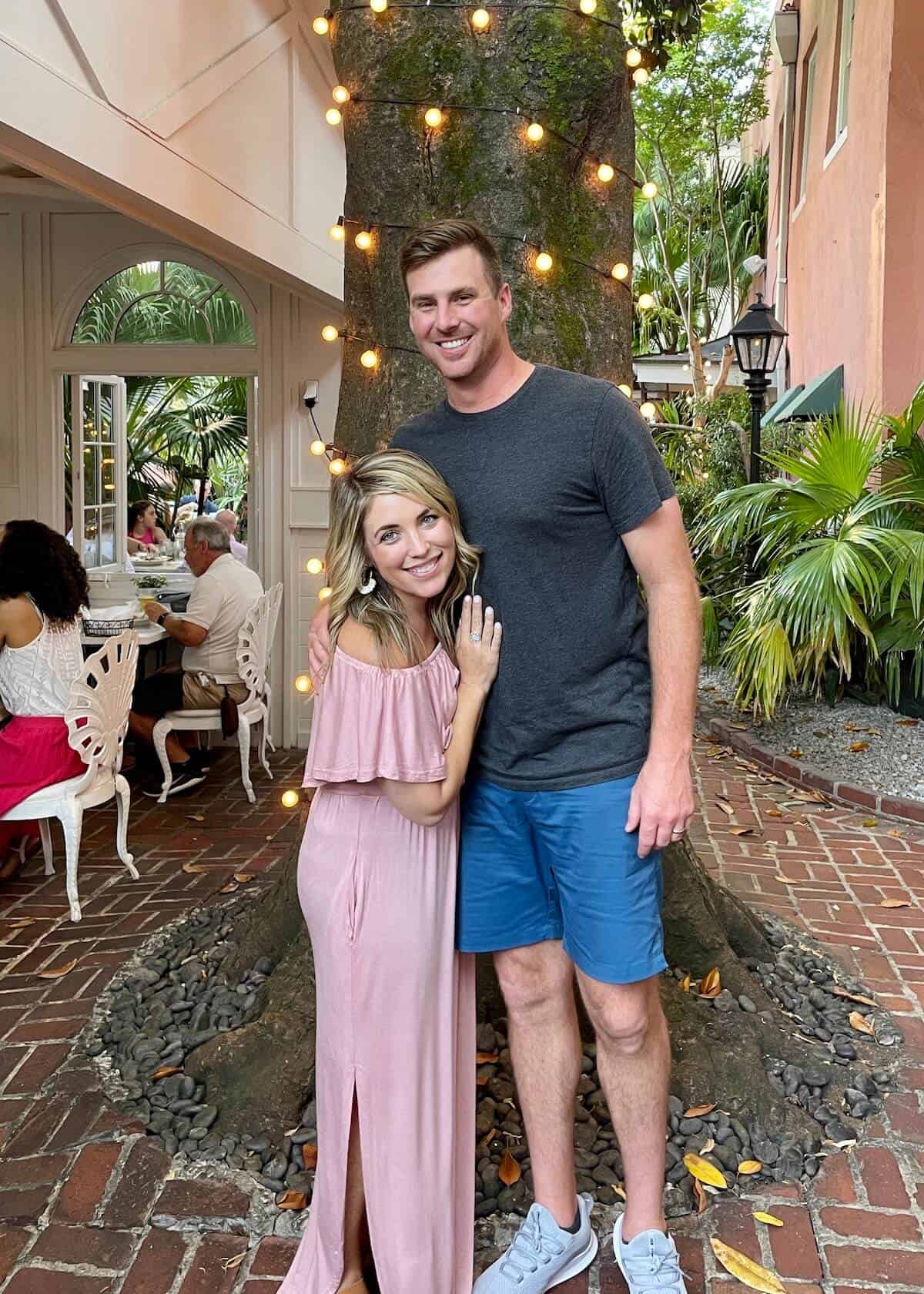 Final Thoughts on Visiting Charleston, SC for Couples
Our trip to Charleston, SC can be summed up in three words: WE LOVED IT.
We loved the history, the beauty, the vibe, the food, the shopping. We had an absolute blast enjoying each other and enjoying everything Charleston had to offer! We will be back and I hope this Charleston travel guide helps others in their planning a visit as well!