Updates have been made to this post to add information about PVC and non-toxic toddler pool options.
Today I've got the scoop on the BEST toddler pool I've ever used! It's an inflatable pool that you don't have to inflate!
Summertime means a lot of time outdoors, a lot of time in swimming pools, and (for our family) many trips to the beach.
Entertaining infants and toddlers can be especially tough at pools or the ocean. When you attend a pool party with LOTS of kids in the swimming pool (whether it's an in-ground pool or above-ground pool) it can be overwhelming for the young kids and can be anxiety-inducing as a mom to keep eyes on everyone everywhere.
Same goes for the beach! The ocean is unpredictable and taking a baby or toddler out in the crashing waves can be more worrisome than enjoyable. All the more reason that water safety skills are so crucial for children!
We take a family vacation to the beach every summer, and as we have added to our family, we've grown accustomed to purchasing an inflatable pool for the beach every summer. We pack it in our beach stuff and then spend time blowing it up in the hot summer sun so our baby or toddler can play in it.
For years, we had a plastic baby pool to use in our backyard beside our inground swimming pool as it was a great spot to keep the little ones safe and happily playing with their toys out of the way of the wild older kids!
Over the years we have learned a LOT about baby pools and toddler pools and have discovered THE very best toddler pool option!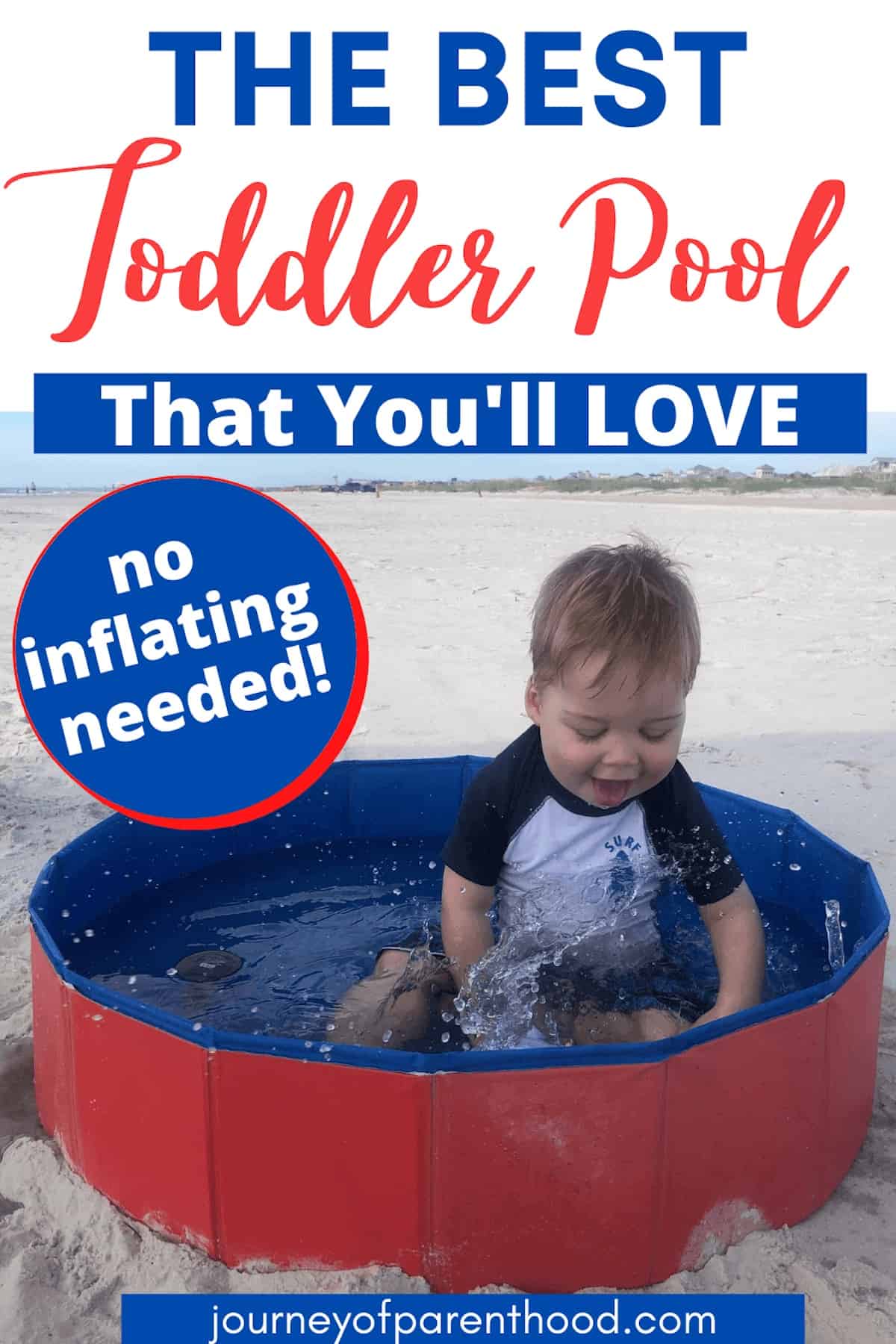 Disclaimer: post contains affiliate links.
Disadvantages of a Plastic Pool
As I mentioned, for several years we kept various, hard plastic kiddie pools in our storage shed to drag out to our pool deck for times when we had company over to allow little kids to play safely outside the larger swimming pool.
I didn't LOVE this situation for many reasons. The first is a hard plastic pool is a more expensive backyard pool option and can sometimes be tough to find! And, in the summer heat, those things sell out quickly.
So when I needed to replace it, I'd have to go from store to store in search of them. Not fun!
Another disadvantage of a plastic pool is that it's crazy tricky to store. It takes up a ton of space in our storage shed, and it's such a hassle that we usually end up just leaving it sitting out by the pool all summer so we have a wading pool on hand.
Having the plastic kiddie pool sitting out causes it to fill with rainwater. It would stain our pool deck. Or it would just break if we tried to store it upside down or lean it against something. It can also easily blow away in a storm or become damaged in bad weather.
Another downside? We were still stuck buying and replacing inflatable kiddie pools for travel. It's not like you're going to load up a big plastic pool anytime you go on a family vacation to the beach, right?
We eventually transitioned to no longer investing in plastic pools and instead just using inflatable pools for both our backyard baby pool as well as our travel beach pool too.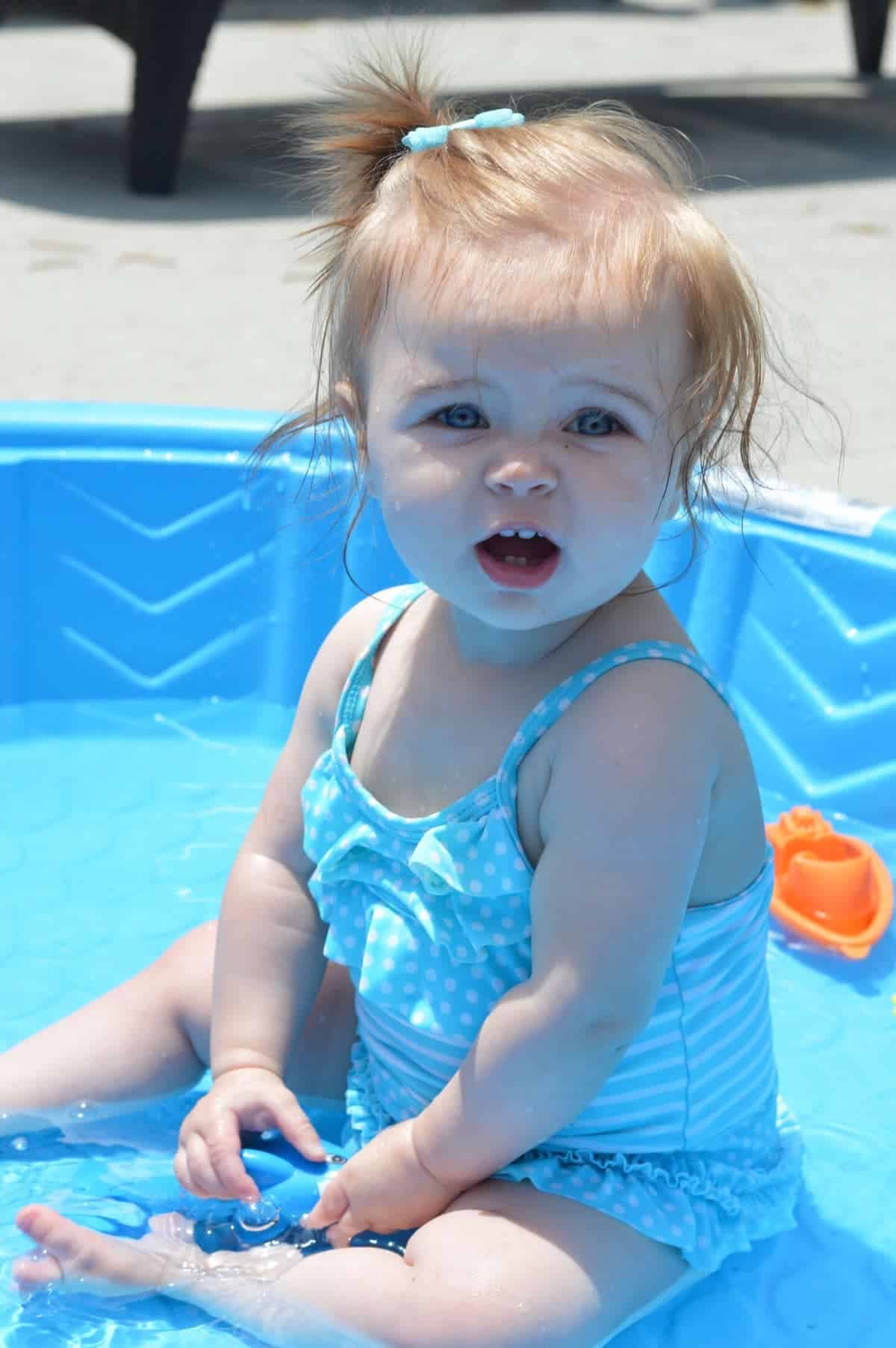 Disadvantages of Inflatable Pools
Inflatable pools are convenient to take on trips because they deflate for easy storage. They are easy to keep on hand in our backyard to blow up whenever we have guests over to swim. Inflatable play pools also provide a great spot for a play center to keep babies entertained when mama needs to do a million things 😉
However, they are also SUCH a pain.
For starters, you have to inflate the inflatable kiddie pool anytime you want to use it.
It's not too bad if you have an air compressor or air pump on hand to do the tough work for you, but who brings an air compressor to the beach? Or to a friend's backyard pool party?
Instead, one adult is stuck blowing up the pool while the other has to keep an eager infant or toddler entertained while they wait, often impatiently, to be able to play in their inflatable pool.
Summertime is hot. Kids need A LOT of accessories. So typically, the parents are already worn out from lugging all the beach essentials down to the sand, and then they have to spend time sweating in the sun while blowing up a baby pool.
On top of that frustration, inflatable swimming pools can be easily damaged. All it takes is an eager toddler with a stick and boom – their toddler pool dreams are over.
One pop and it's DONE.
While inflatable pools are easy to store, they also get easily damaged in storage. Every summer we tend to pull out our above-ground blow-up pool only to realize it's now got a rip or tear or hole in it or is in some other way unusable.
We end up having to rush order a new one, which adds up over time! When you have four kids and have to buy a new play pool every summer, it gets pretty frustrating and starts to feel like a waste of money.
I knew there HAD to be a better option out there. So I went hunting for the best toddler pool I could find. And I had success!
(I do have to say though that the rainbow ring inflatable swimming pool was dang cute for pics!)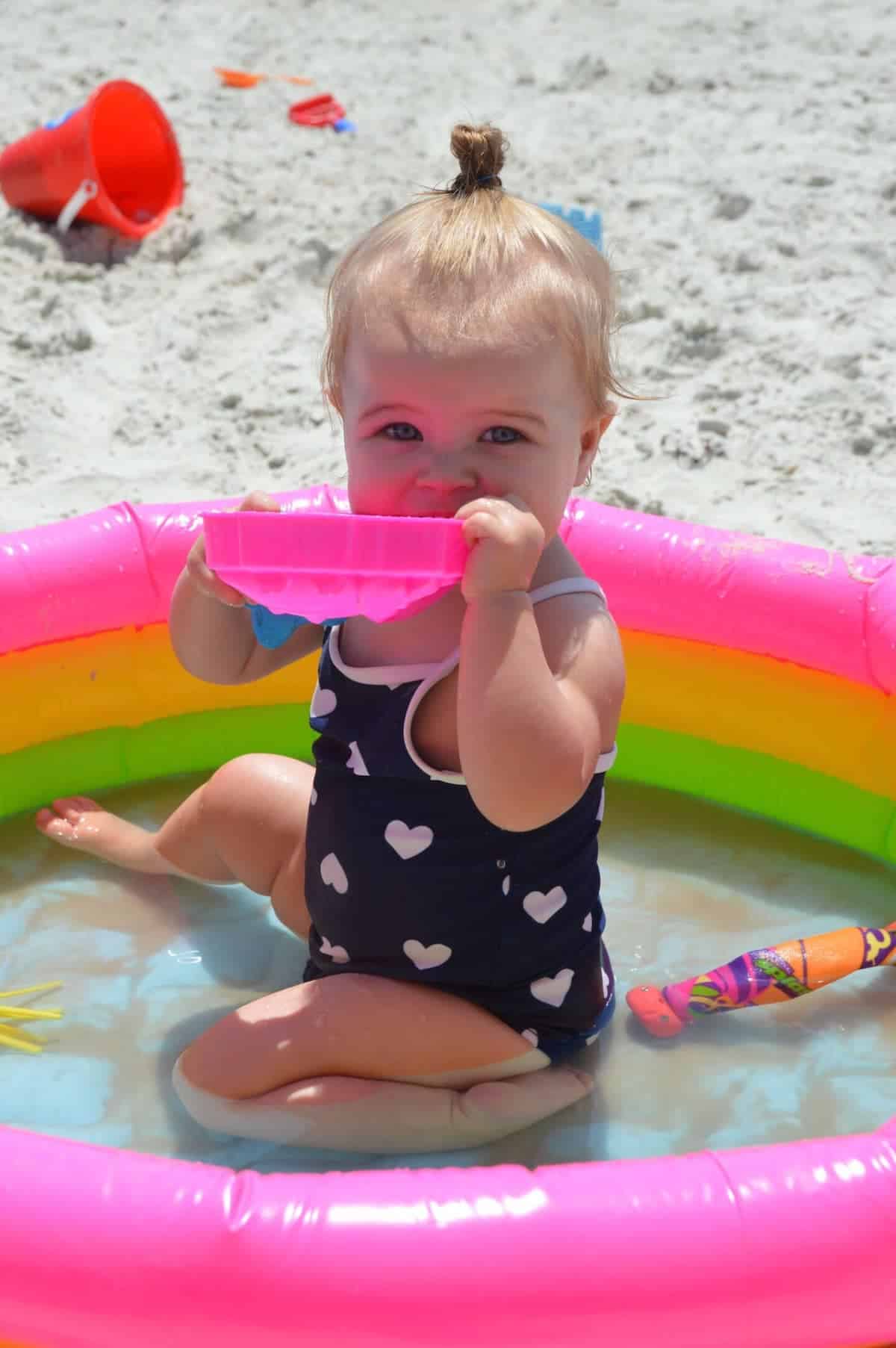 What's the Deal with Phthalate-free PVC?
You may have heard whispers about "phthalate-free PVC" and the push for non-toxic PVC baby accessories.
In case you aren't familiar, PVC or polyvinyl chloride, is a common plastic material. It is found in so many household items from shower curtains to swimsuits. Unfortunately, more and more studies are showing that it is filled with toxins.
Governments and organizations around the globe are banning the use of PVC, especially in kids' toys. But with a global marketplace and discoveries still being made, it can be challenging to fully weed out all PVC products.
It's also hard to tell which plastics are safe at this point. PVC is presently known to be toxic, but it can be challenging to decipher which substitutes for PVC are safer.
"Phthalate-free PVC," "non-toxic PVC" and "environmentally-friendly PVC" seem to be safe alternatives to regular PVC.
Natural materials, like organic cotton and hemp, are also safe options for things like towels and swimsuits but they can't be used for everything.
At the bottom of the post, I've added some phthalate-free PVC kiddie pool options.
That being said, it is up to your own parental discretion which products you will use for your whole family. We can do our best for our kids but we are working off of limited information.
I talk a bit about mom guilt in my post about my youngest son's speech delay. I had to realize then that mom guilt comes from love but also from wanting to be in control. The sense that I was not in control left me feeling frustrated and guilty.
Please stop by my post if you are struggling with mom guilt or if this topic of PVC brings you anxiety.
We can't do everything perfectly. And we don't have to! With faith, we can trust that God knows all and knows everything we and our kids need. We are not God.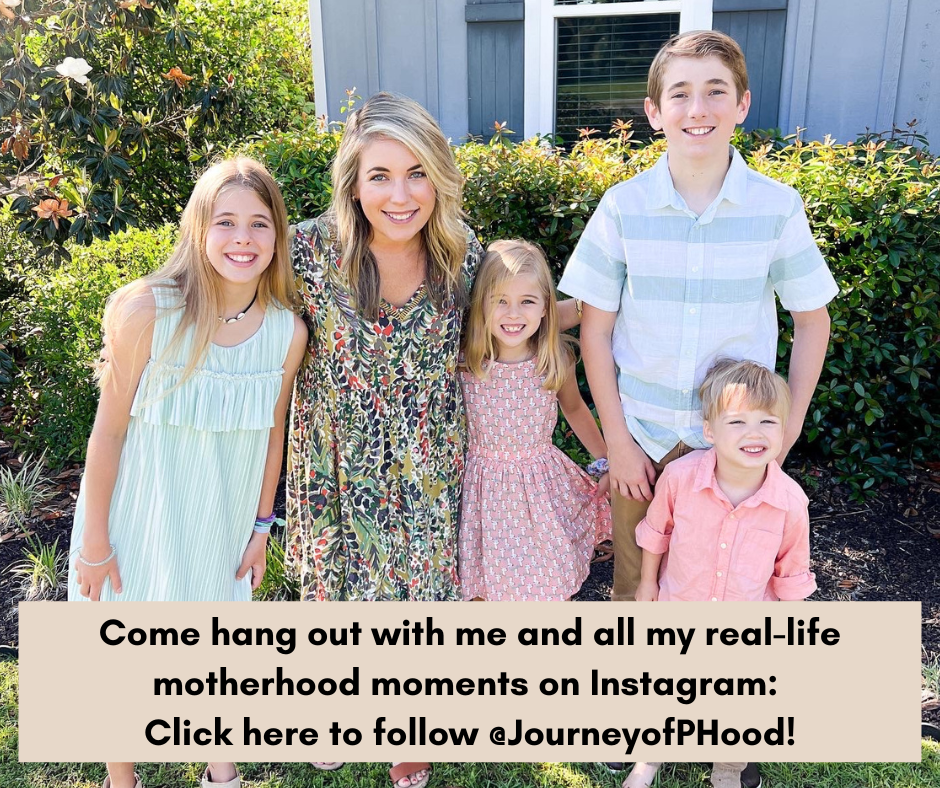 The Best Toddler Pool
In all my years of searching for a baby pool for the beach or toddler swimming pool option, I never thought to look at dog pools. But somehow one night in my search, I stumbled upon a pool that met EVERY need we had without any of the disadvantages of our prior kiddie pools!
We have used this pool for several years with infants, toddlers, and even older kids and still LOVE it.
We've never once had to replace it. It's held up great through traveling and summertime sunshine.
It is easy to store – it folds up very small. Actually, smaller than any inflatable baby pool too.
It is easy to set up. No inflating needed! No one has to blow it up. No one has to drag out the air compressor to inflate it.
Just unfold, fill with water and it's DONE!
It is collapsible for storage but does NOT collapse when the kids are playing in it.
No worrying about it getting damaged, no needing to replace it year after year, and even the small pool size has been plenty big for our needs. Even three kids have played in it together with no complaints! (It does comes in different sizes so you can pick what's best for your family or buy a few different sizes!)
We have the smallest size and you can purchase it here!
It has been the best kiddie pool for when my babies are new at sitting because it's sturdy enough for them to lean their backs against without falling over. My older children love interacting with the baby and feeling part of the fun with them together in this pool.
My third daughter loves the pool so much that she says playing in it is her favorite part of our annual beach vacation 😉
It is hands-down my most must-have item for any beach trip with the kids and is an item we use all the time at home too when we have company over for pool parties!
I cannot recommend this toddler beach pool enough – it's the best inflatable pool that you don't have to inflate 😉
Now, some parents do intentionally look for a kiddie pool with a soft inflatable floor. This one does not have that, but it does have a non-slip bottom. This helps younger children sit in the pool. And it helps bigger kids not eat it every time they step into the pool.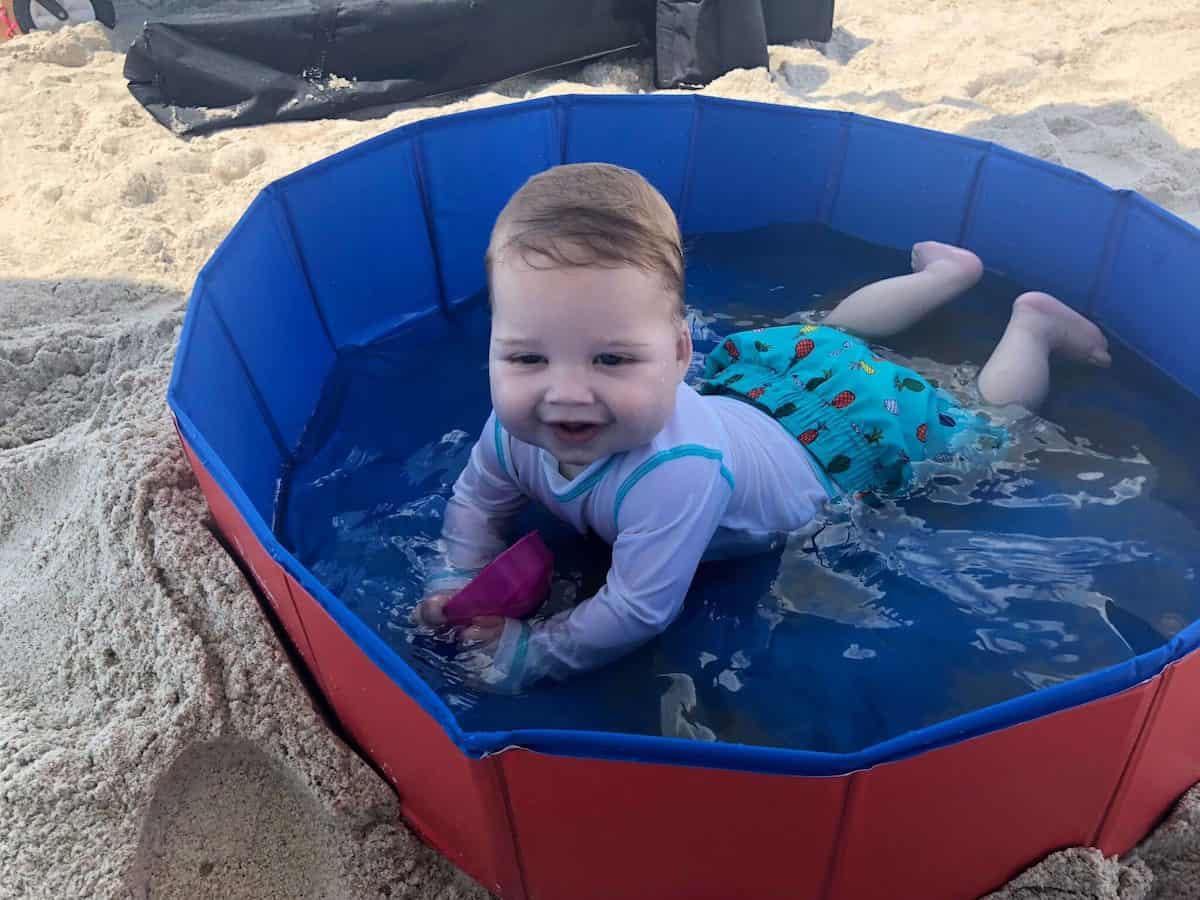 —-> Looking for the best baby pool float? Be sure to read my post here!
Other Uses for the Best Toddler Pool
Obviously, we use our travel pool for beach trips and pool days, and it really is the best baby pool for the beach! The drain plug makes it especially easy to travel with. But it has many other uses as well other than just keeping a little one safely away from the crashing waves of the ocean or chaos of the pool party!
Water play is SO wonderful for kids of all ages. Learning to love the water encourages children to quickly learn water safety skills necessary to be safe in the water and to be able to float if they were to fall in.
Flotation devices are not recommended in swimming pools (or the ocean) for children as they can cause kids to have a false security in the water due to their floaties. Using an infant and toddler pool allows little ones to play in the water without floatation devices!
It helps them gain confidence in the water and allows them to become familiar and comfortable in the water without a false sense of security.
The dog-pool-turned-human-pool isn't only great for kids – the larger sizes would work GREAT for adults too! Prior to us putting in a pool, I used a blow-up pool in my backyard to lay out in a hot summer day for some "mommy solo me time". It's a large pool that doesn't have to take up a lot of storage space! This adult pool makes for a way quicker set-up when you want to get some sun, stay cool in the water, and read a good summer book 😉
This wading pool doesn't just have to be used outdoors either. It makes a great inflatable play center (without the inflation step!) to allow your infant a safe, confined place to play.
It would make a wonderful ball pit for kids of all ages to enjoy. For our playroom ball pit, we found that these are the best ball pit balls and are a great size and don't break as easily as some of the others we've tried. We also added this slide to our ball pit and even our pre-teen still enjoys playing!
The pool can also provide a perfect spot to start some independent playtime as well. Before baby is mobile enough to climb out, it's a great confined space where baby can safely play on his or her own. Stick some age-appropriate toys in it, and you're good to go!
Since this beach pool for a toddler is advertised as a place to give your dog a bath, it clearly works well for that purpose as well and can be enjoyed by your fur babies just as much as your human ones.
From travel to beach days to poolside, to a safe spot to play this pool is by far the best toddler pool we've found!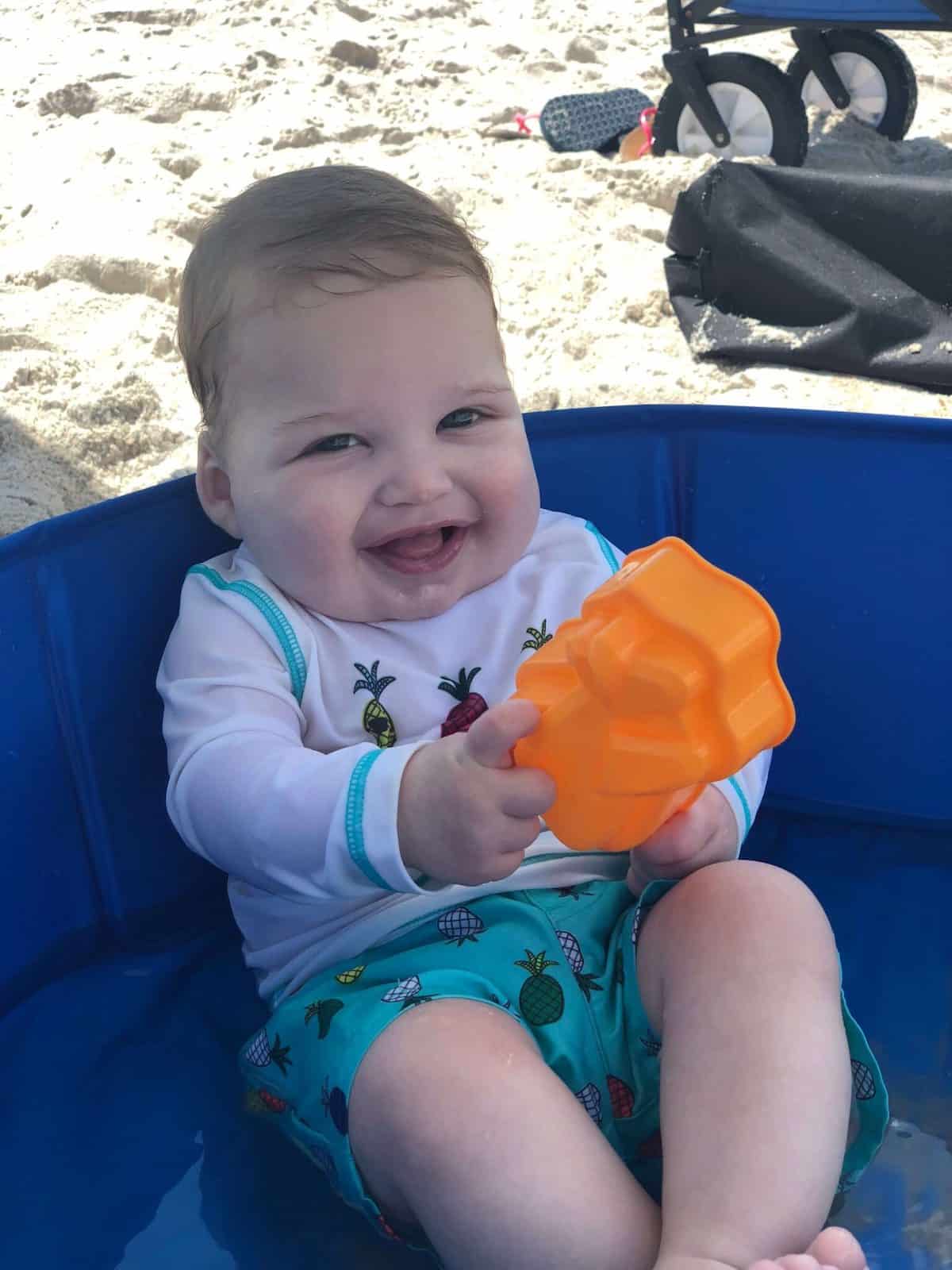 My Favorite Phthalate-free PVC Kiddie Pool Options
For those of you who are curious about phthalate-free PVC kiddie pool options, I've added what looks to be the best kiddie pools that are non-toxic, as of 2023.
Please note, when it comes to non-toxic kiddie pools, you may have to go with the best option rather than the perfect option. As I said before, some plastics are safer than others, but they are not perfectly safe.
Also, the number of household items that contain PVC material is surprising. You may want to consider doing an audit of your home for things like PVC, lead, and BPA if you are especially concerned about this topic. (Don't forget the garden hose!)
WellFor Collapsible Kiddie Pool
This is a great option made with non-toxic PVC! It is a lot like the one I have been recommending for years, with the exception that it's sold at Lowe's and at a bit of a higher price point. But for its durability and non-toxic qualities, it may be worth the additional cost!
EverEarth Waterproof Blanket and Kiddie Pool
I love this option because it is so great for the beach! Unfortunately, it is not as convenient when it comes to taking it to swim parties or using it as a backyard kiddie pool.
This toddler pool from the Step2 brand is made from plastic and will entertain your baby as they grow. With this option, you give up the ease of travel, but you do get a non-toxic kiddie pool.
Cinnamon Stripe Inflatable Pool by Hello Samah
If you are interested in an inflatable option that is made without the harmful components of PVC and is super stylish, you'll want to check out Hello Samah. This business began during COVID-19 when it became clear that the kiddie pool market lacked a stylish, durable AND safe option for inflatable pools. You're going to want to have a camera handy when your kids play with any of their products!
I hope this post has helped you find a great kiddie pool for your toddler this summer and all the warm days ahead!
If you are looking for more information about the different types of plastic and which you should steer clear of, I recommend stopping by The Filtery. They offer a helpful breakdown of the seven types of plastic and what to look for when it comes to products for your entire family and home.