The first half of our trip was busier than the second half! We knew the weather would only be getting worse due to Hurricane (I think it got changed to a tropical storm though?) Elsa heading that way. It was funny talking to friends on the beach who are from other states on vacation to Florida because they were NERVOUS. I mean I get it, hurricanes are legit! However, being born and raised in hurricane climates we just tend to usually shrug our shoulders and keep rolling. Sometimes they are things to be concerned about but this time wasn't one of those times for sure.
We didn't lose power during Elsa and just had a super lazy family morning! We watched Luca together (and LOVED it!) and snuggled and took things slow. Britt slept in till almost 9 which was the perfect day to do lots of sleeping. We always bring a bit of toys with us on trips to help make sure kids have something to do and they were content playing together all morning long.
By lunch time it cleared up a bit and Zach took the big kids out during naps to play on the sand as the water was ROUGH.
It started coming down again pretty heavy so they came back in and had more hang-out chill time. We busted out the card games and Zach taught the kids how to play War while I enjoyed playing rounds of my fav card game from my babysitting days, Blink.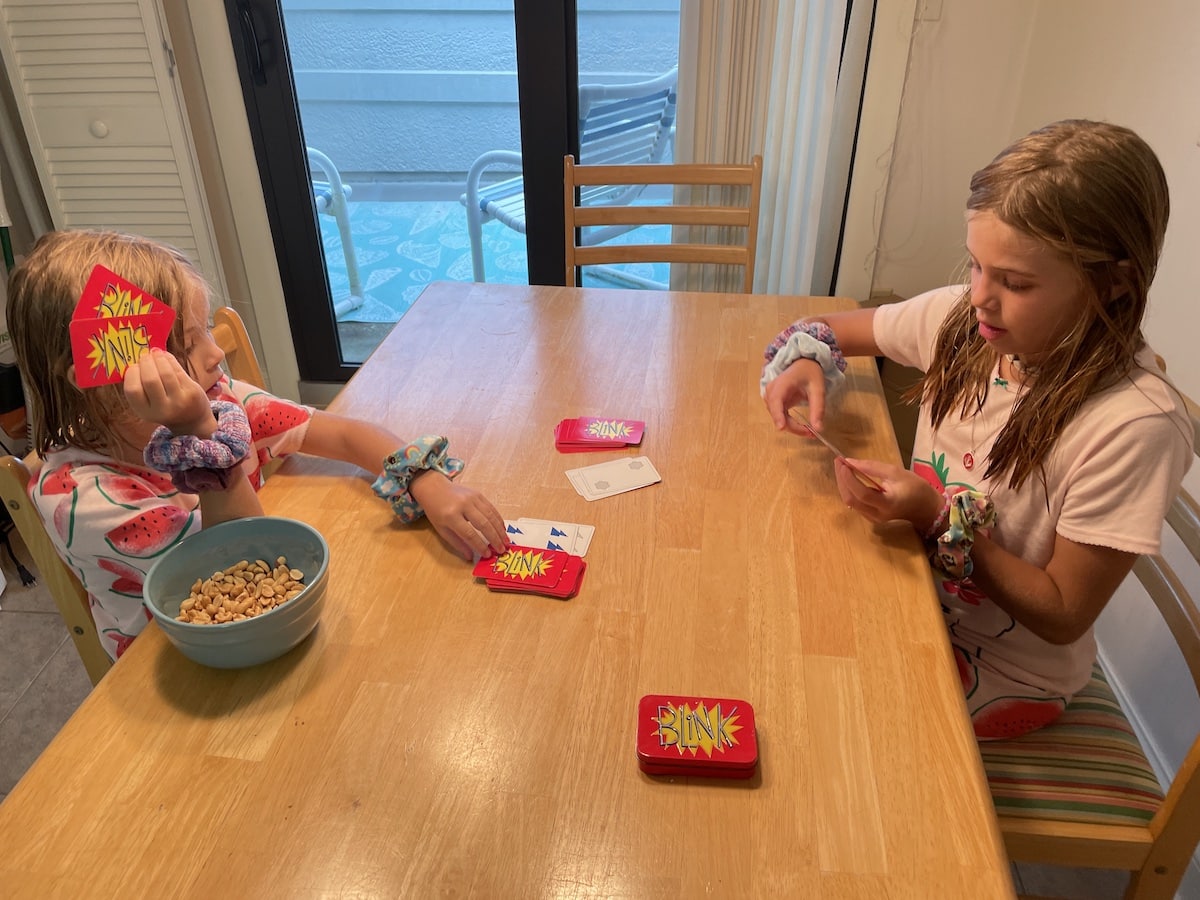 Even though we could have this kinda hang out day at home – let's face it…we RARELY DO. It's super, super hard for me as the "manager of the home" to shut OFF the mental to do list that's always running through my head. I feel like I'm pulled in a million directions so just being AWAY from home allows me to RELAX and truly pour into the kids and Zach and I love the bonding moments vacactions allow our family!
We usually have Aunt Katie over to watch Big Brother with us during our trip and this year was no different! She came early to enjoy dinner and game time with the kids 🙂 They LOVE Aunt Katie time!
Every year we play putt-putt while at the beach. It's often times the ONLY time we play putt putt all year so it's a favorite tradition for the kids. This year we invited Britt's beach buddy to come along with us 🙂 When you have four kids life is already chaotic so what's one more right? It is awesome that the kids are getting old enough where they do have close friends and that we're able to include them too for things like this!
I LOVE our core crew unit and that quality time "just us" but I think it's EXTREMELY important to be flexible and fluid with that. One day our kids WILL date. They WILL, most likely, get married. I want those partners to feel welcomed and comfortable and to always have us six welcoming others with opened arms! I think at this stage of life welcoming friends to join in with us is a great way to help us ALL be flexible for the future 🙂
Kye was a little "Daddy Jr" coaching up his siblings and for the first time EVER in our many, many years of putt-putt adventures I was actually able to PLAY TOO. Spear lasted a full 15 holes (he only PLAYED the game for one of them though haha) which is the longest yet so I feel pretty confident that by next year we will ALL be playing!!!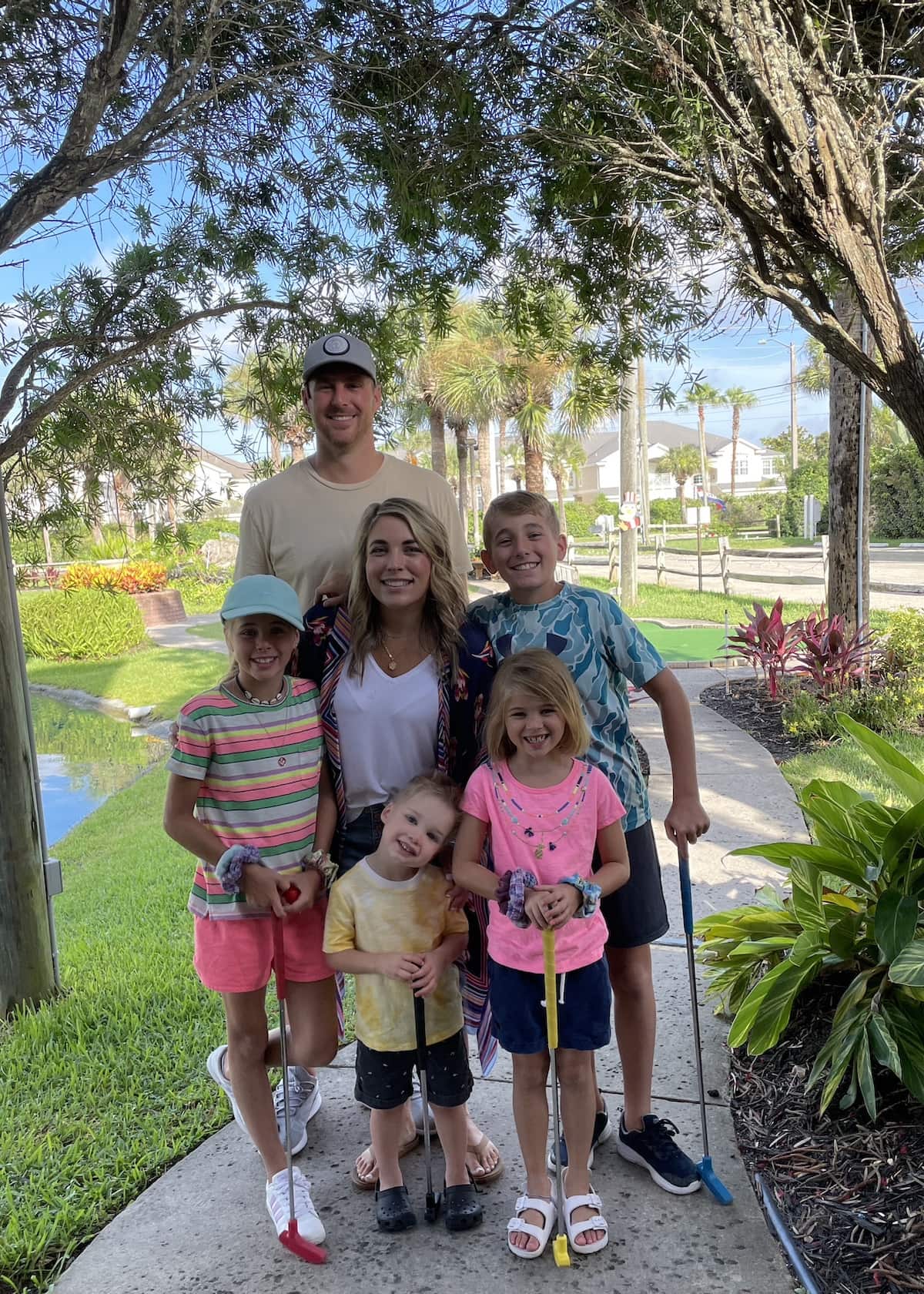 Britt was killing it with the crazy hole in ones. We did kids vs parents for a friendly competition and I was SUPER impressed with how well Kye did with his attitude and not getting frustrated when he wasn't playing as well on some holes as he'd hoped. He never got upset and I also think THAT was a perk in having a friend along too. 🙂
Tess was actually the kids to be the most frustrated and flustered but she finally let Zach help her a bit and her game instantly improved and she started having WAY more fun too!
We all had a BLAST! The putt putt place has ice cream and treats but to save money we opted to drive down the road and get an entire pack of popsicles for less than the cost of ONE 😉 The kids were just as happy! We added up all the scores and, shocker, KIDS WON!
The weather was GORGEOUS and we were back in plenty of time to have some fun at the beach! By this point in the trip the kids all really connected with their favorite beach friends. We've been blessed to make such sweet friendships the last few years for our kids and they all naturally click so well!
Tessie is always drawn to the boys and has big marriage plans in the works for the future 😉 Britt tends to enjoy playing with girls who are a little bit older than she is and Kye found several boogie boarding and football buddies!
Tess is loving the beach more and more but she is still very much my pool child and I'm always glad I bring along our favorite travel toddler pool for her to have that option. The water was also out for low tide which gave these little pools in the sand perfect for her to play in!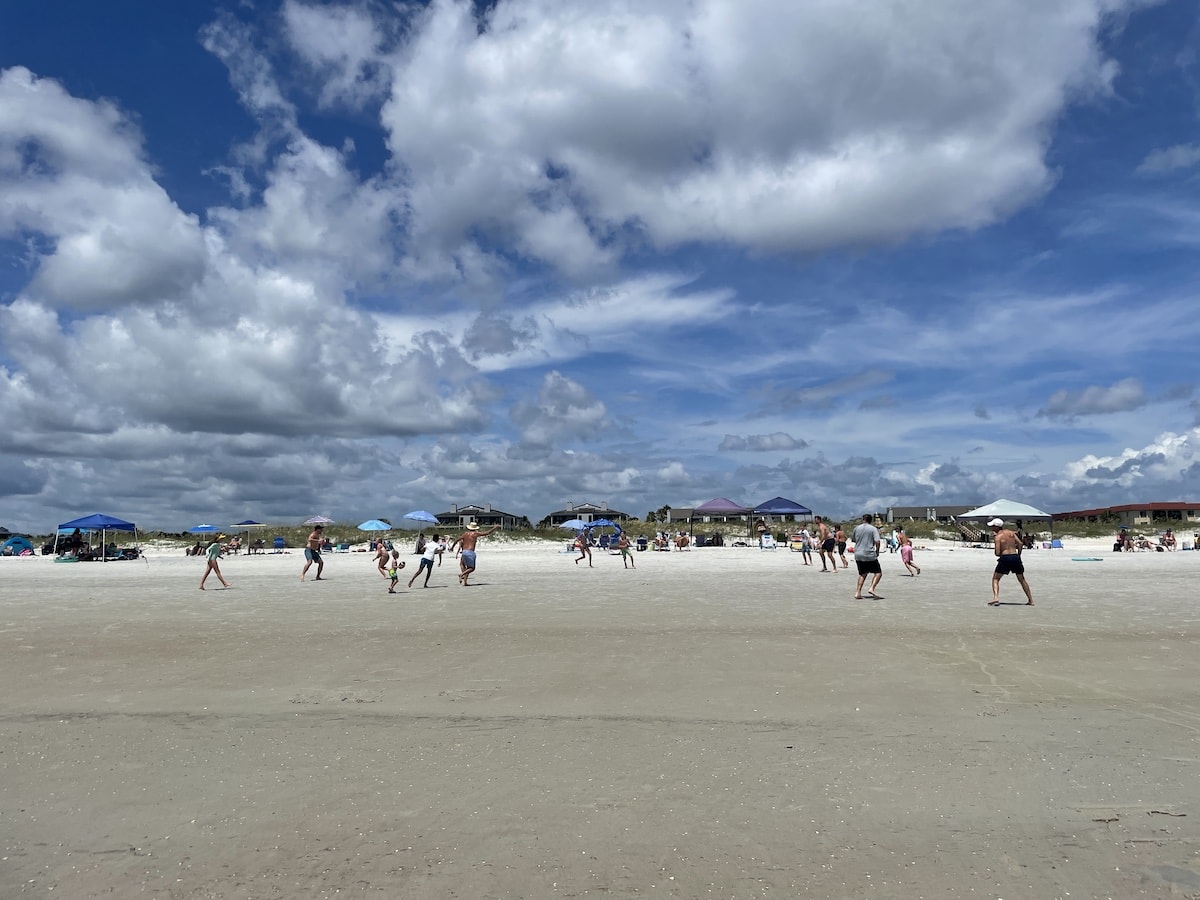 Another must-do tradition for our family is a visit to the Historic Area in St Augustine. We have pictures of every single kid EVERY YEAR of their LIVES on the cannon! I love looking back over the years. Someday if we ever have a beach house or something how cool would it be to have them all printed and framed or something?
We also always eat at our fav pizza spot – Pizzalley's. Buttttt I gotta admit: it's not been as good the last couple of years. We are SO sad about it but think we might actually try somewhere new next year!
During dinner we had an older gentleman come over to us and compliment on the kids and how well behaved they are and he told us that he's been bringing his 5 kids to St Augustine since the 1970s and he had his oldest daughter with him who is now 58 years old! SO COOL!
The kids are not really old enough yet to walk through old town and enjoy shopping and browsing. We usually hit a couple of stores and grab our annual Christmas ornament and that's it. I'm sure as they get older we will do a lot more walking around and shopping!
We do ALWAYS end with some ice cream though. It's another one of those traditions that is special because we don't frequent ice cream buying in our regular lives. The kids look forward to it all year and our rule is ages 11 and up can order Superman ice cream so the girls are counting down until they are allowed to eat Superman haha
Our last day at the beach was another beautiful day. The rougher weather patch really worked in our favor overall because we had a TON of overcast, COOLER temps. SO perfect!!! I don't think I ever got that sticky sweaty feeling that I usually do when walking back and forth from the condo to the beach.
Spear def had his best year yet at the beach! One of the beach friends even mentioned to me that she could see a huge difference in his behavior compared to last year!
We had the morning at the beach to enjoy everything for a little longer and no one wanted to leave! It was SUCH a great week!
I shared this on Instagram but wanted to share it here too because this was a BIG moment for me on this trip:
This year was one of my personal favorite family beach trips – do you wanna know why?
I 👏🏻 Let 👏🏻 Myself 👏🏻 Off 👏🏻 The 👏🏻 Hook
I'm not the fun beach mom. I'm just not. I don't love jumping waves. I don't love body surfing. I don't love playing in the sand. It's just not my jam.
Instead of putting pressure on myself all week to "step up my cool beach mom vibes" I decided before we even left that I wasn't going to try to be something I'm not. I wasn't going to force something or feel guilt about it. I wasn't going to leave the trip feeling regret over it either. 🙅🏼‍♀️
I left the pressure and guilt at home.
I communicated with Zach upfront that I've got the cool Disney mom thing covered. One more ride? Let's do it. Staying late for fireworks? Sign me up. Extra snacks? Yolo. One more Disney stuffed animal? Gotta have it. ✨
I have my super fun mom thing. Everything doesn't have to be my thing.
And my stepping back and staying in my lane? It allowed Zach to thrive as the cool beach dad. He loved it. Ride one more wave? Let's go. Hit up the beach during nap time? Sure! He played and bonded with the kids and embraced his thing with them! And I loved cheering em on from the sidelines!☀️
We all left content. Happy and fulfilled. And guilt free ❤️
What's your thing? And what is an area you need to allow yourself permission to let go of? It's so freeing y'all 👏🏻
The last beach morning was truly something magical as the waters were calm and shallow enough where all four kids could play together and Zach and I were actually able to SIT IN BEACH CHAIRS AND WATCH THEM. It was a first for us and a little taste of the future – we ain't mad about it!
Zach and Kye had some fun guy time to end the week! They had planned to go away together for an archery tournment in June but it was the same week that Big Daddy passed away so they weren't able to go. Instead they planned some guy time during our beach week! They went over to Jacksonville to play Top Golf (Kye's first time) that afternoon and then met up with some of our church fam to watch Kye's first minor league baseball game!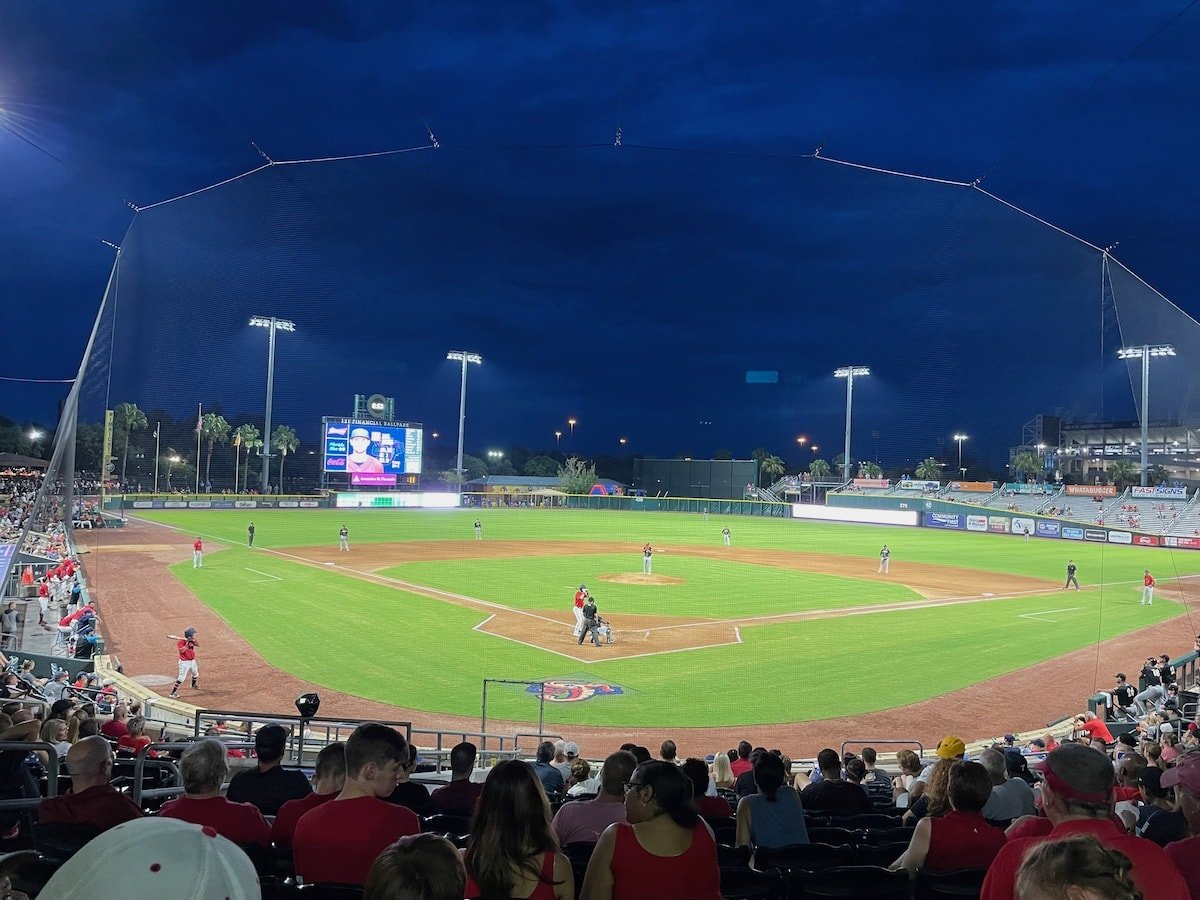 While they were gone the girls and I and Spear worked on getting things packed up and had Aunt Katie over again for a movie night. She hadn't seen the live action Alladdin yet so we enjoyed that with her!
On our way home the next day we decided to stop at Buc-ee's again for lunch and also made a quick stop at the outlets to purchase some new luggage. We are hoppppping to have a good bit of traveling in the future for our family and only have 2 large suitcases which just isn't enough for ALL of us now that the kids are getting bigger!!!
At Buc-ee's we all LOVED everything we ordered. I was obsessed with the chips and the iced coffee as well as the chili cheese fries. The bbq sauce wasn't Kye's favorite and Zach said the melt was a bit spicey but we know what to order next time as I can FOR SURE see Buc-ee's being a new tradition 🙂
We had such a fun week and it was such a great balance of quality time as a family, lots of Daddy focused time, and traditions while also having plenty of chill time. It was probably the best beach trip we've had yet!!!