Check out this travel guide for Disney's Port Orleans Riverside Resort!
I have had experiences staying at several of the Walt Disney World Resort properties but, hands down, Port Orleans Riverside is my absolute favorite.
Disclaimer: post contains affiliate links.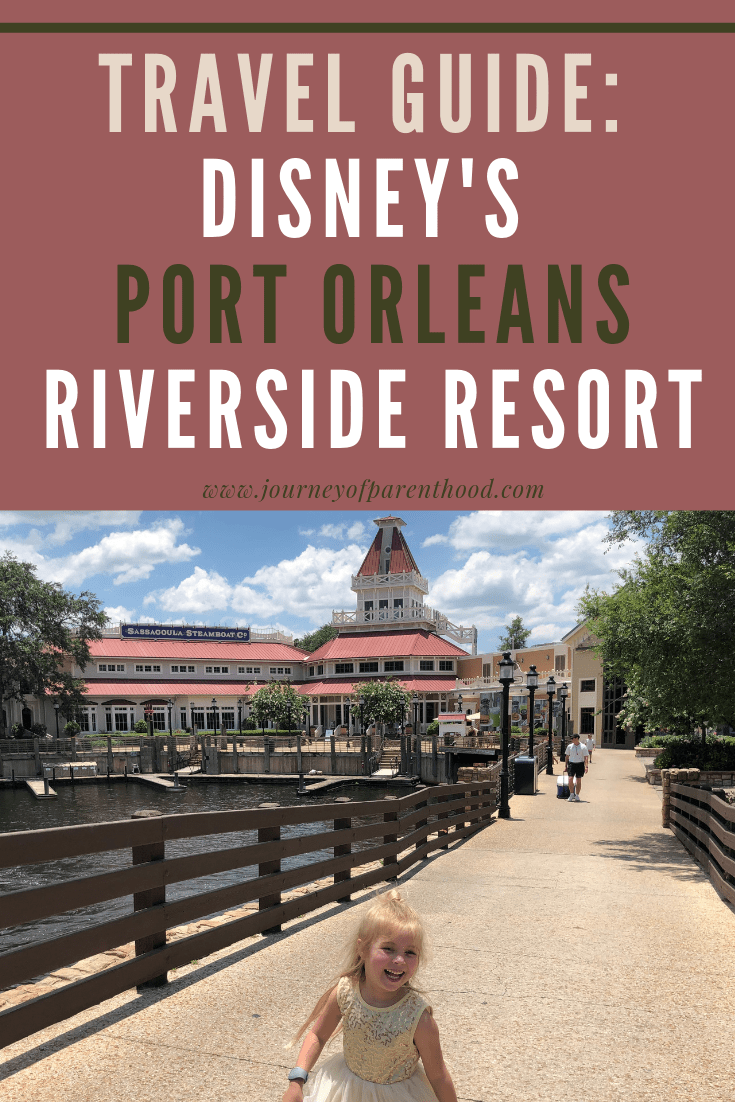 Originally published June 4th, 2019
I've had the pleasure of taking both of my girls to visit the resort for one night on a solo Mommy trip and both times I truly enjoyed just about every aspect of this gorgeous resort.
—–> You can read about my experience with Britt at this resort here
—–> You can read about my experience with Tess at this resort here
As everyone knows, I'm not a fan of staying on property at Disney World with my entire family (there are six of us!) and I wouldn't stay on property for several days in a row or if I was doing the theme parks in a hardcore all-day, everyday way but for a quick trip away I do enjoy the resorts from time to time!
Especially when I went with each child one-on-one and just spent a solid amount of time AT the resort. If you're only sleeping there, then why bother staying there, right?
—–> Debating staying on property? Be sure to read my reasons AGAINST it here!
Keep reading to learn more about my FAVORITE Disney World Resort and all the fun things to do while visiting Port Orleans Riverside!
A Bit About Port Orleans Riverside
Port Orleans Riverside Resort is a Moderate Level Resort at Walt Disney World in Orlando, Florida.
Room prices start at slightly above $200 and go up from there depending on time of year and type of room being booked. (Be sure to check here for the best pricing options)
Upon entering the resort property you are teleported back to the casual charm of a bygone area in New Orleans.
The southern details surround you everywhere you look and you immediately feel relaxed and welcomed.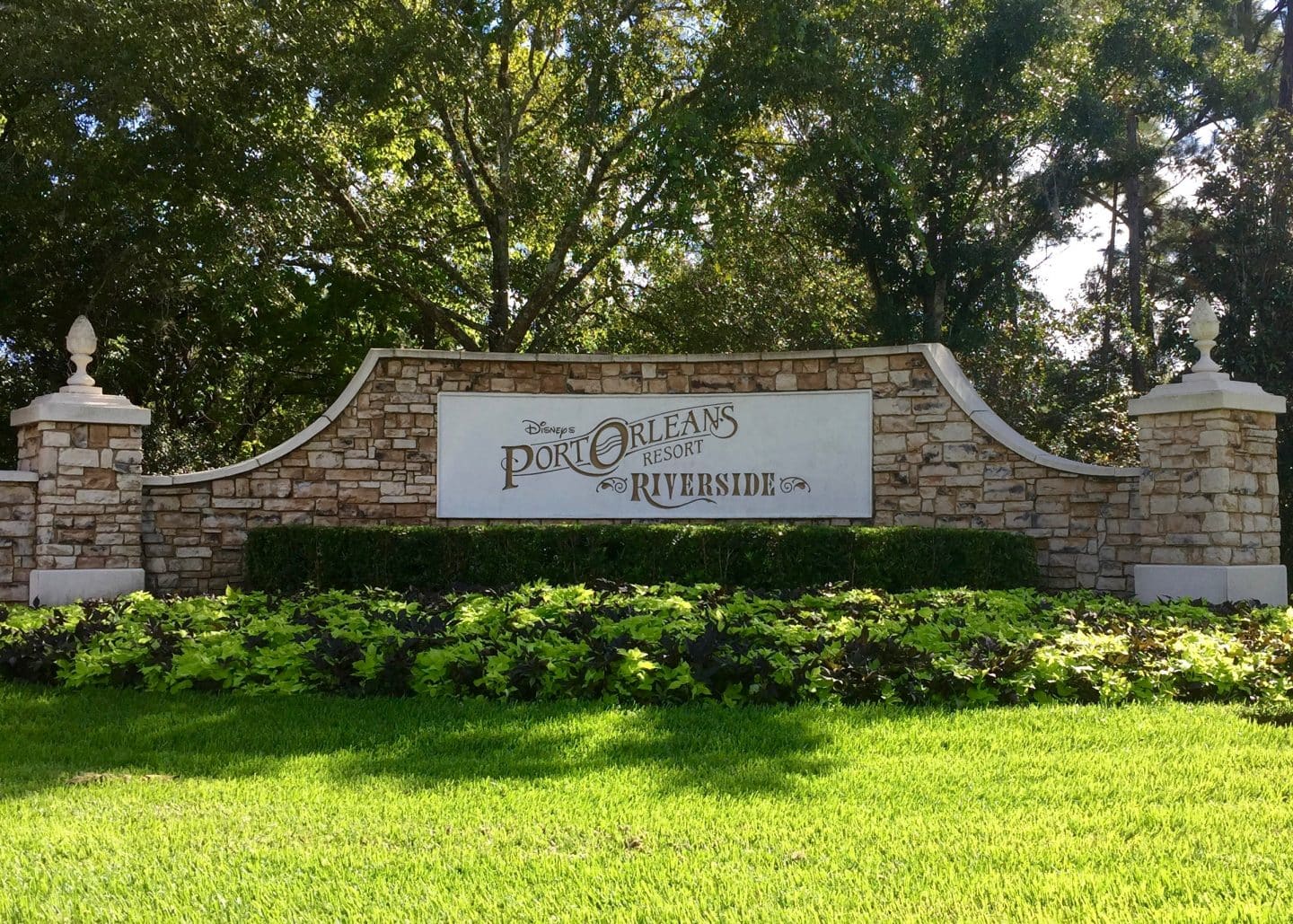 Gorgeous Grounds at Disney's Port Orleans Riverside
Of the Disney Resorts that I've visited, Port Orleans Riverside is my FAVORITE for many reasons but a big one being that the grounds are just so gorgeous.
Even though both of my visits to the resort have been with my daughters, the resort vibe is very romantic and would be wonderful for a kid-free getaway!
It is a bit spread out so be prepared for a decent bit of walking when staying at the resort.
As I've mentioned in other posts, I just can't fathom spending all day walking at the theme parks and then having to do even MORE walking that is required when staying on property. It's a LOT of walking!
Even in the heat, the resort has plenty of shade. Even when crowded, the resort still feels very relaxing.
Be sure to take the time to walk around and explore the resort. It's worth the time to do so and you won't regret soaking in all the beautiful details.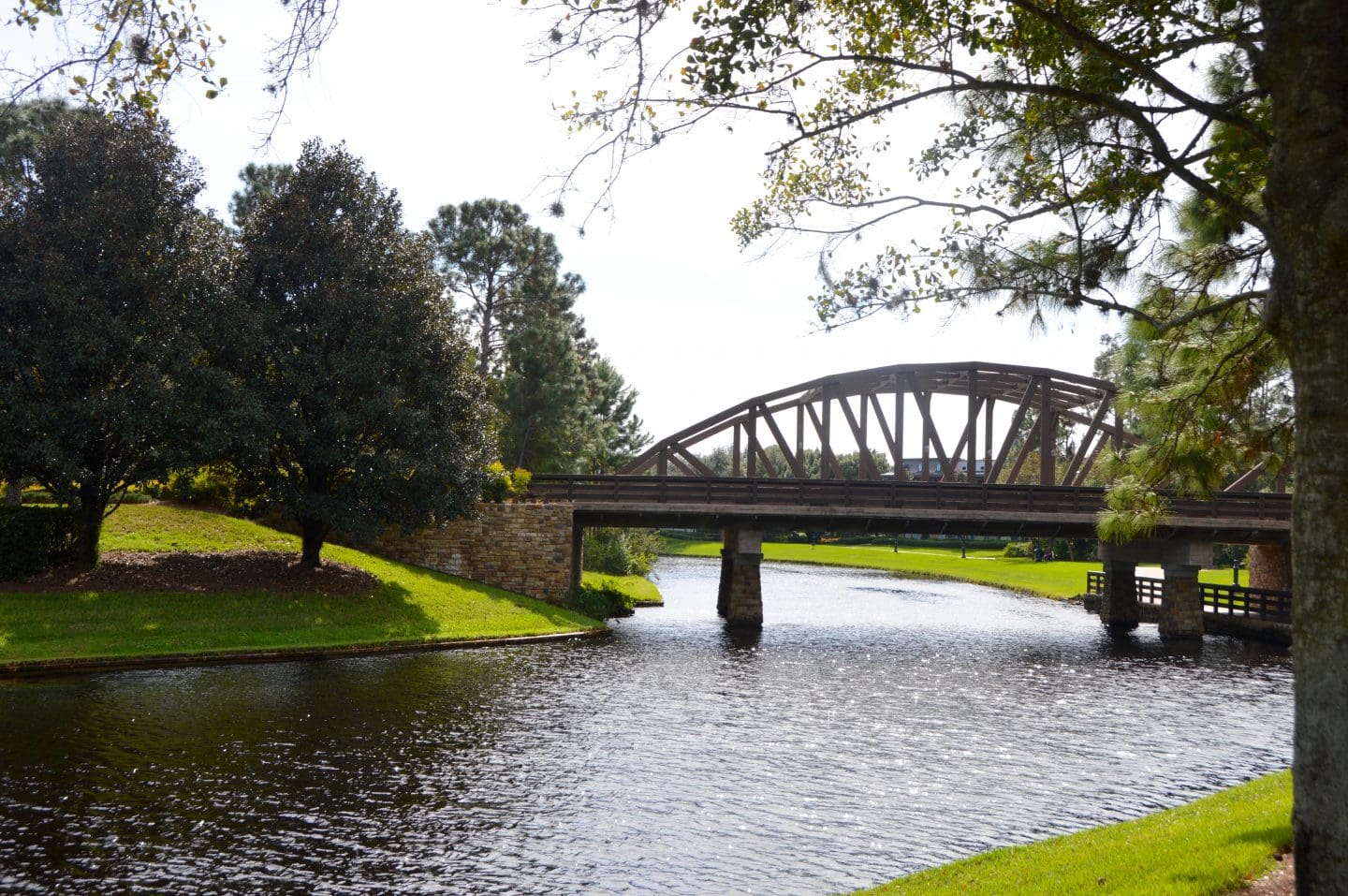 Planning a Disney Trip? Here are Posts to Help:
Accommodations at Port Orleans Riverside – Royal Guest Rooms
Both of my visits to Walt Disney World Port Orleans Riverside, we stayed in a Royal Guest Room.
These rooms are the only rooms on Disney Property that are completely princess themed!
Tiana welcomes you to her royal room and mentions her collection of objects and items from her favorite royal friends.
The details are phenomenal.
During our recent stay we learned an interested bit of information regarding the Royal Rooms as well – these rooms are the same size AND feature the SAME furnishings as the rooms at the Grand Floridian!
I've never stayed at the Grand Floridian myself (total dream to someday have the experience there!) but I can imagine their rooms being the same and still be considered very nice… the Royal Rooms are wonderful at Port Orleans Riverside!
Each Royal Room has two queen size beds with THE most magical headboards you'll ever see 🙂
You can see a Video Room Tour here:
More photos from the Royal Guest Rooms: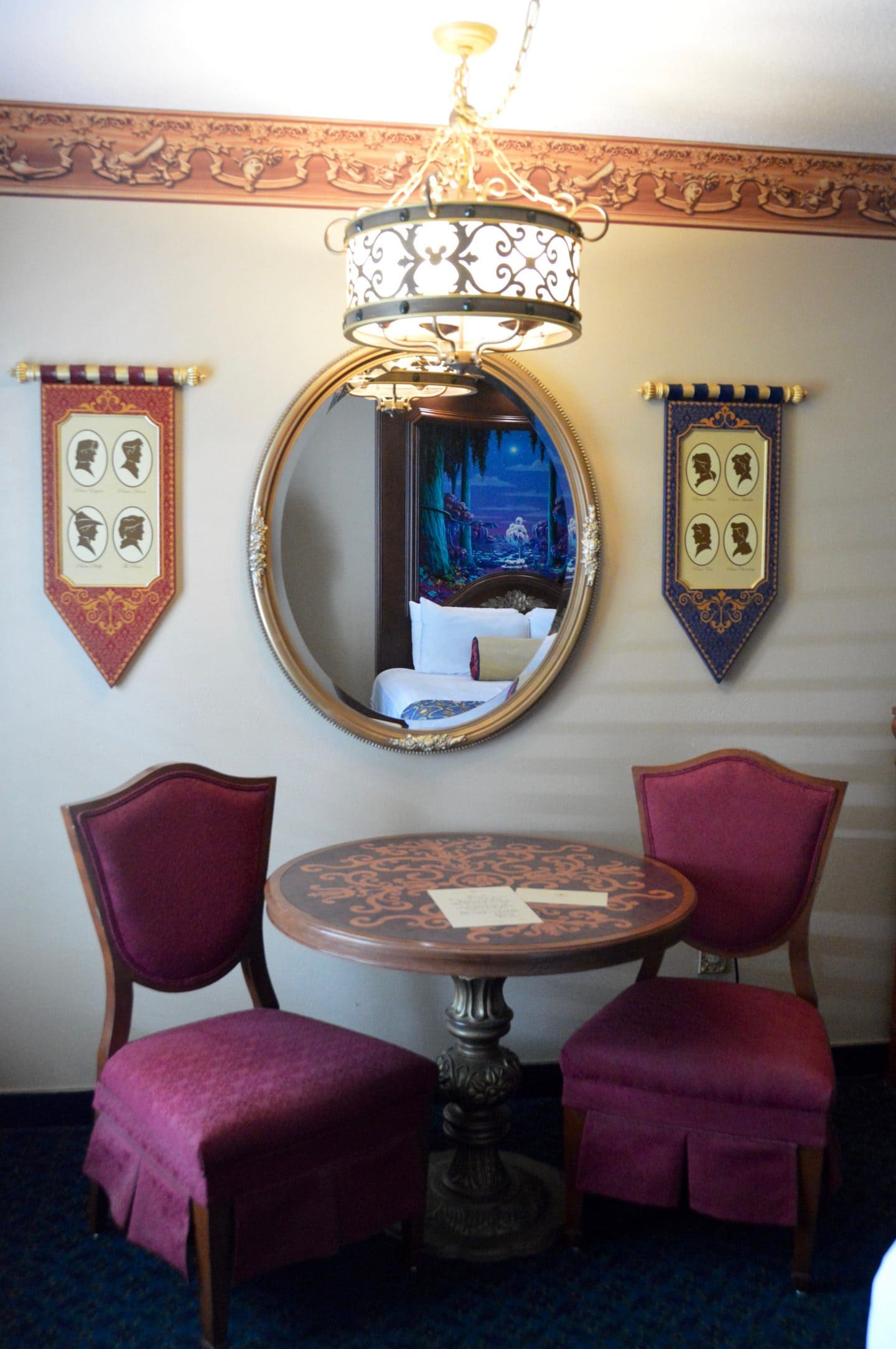 A room fit for a princess!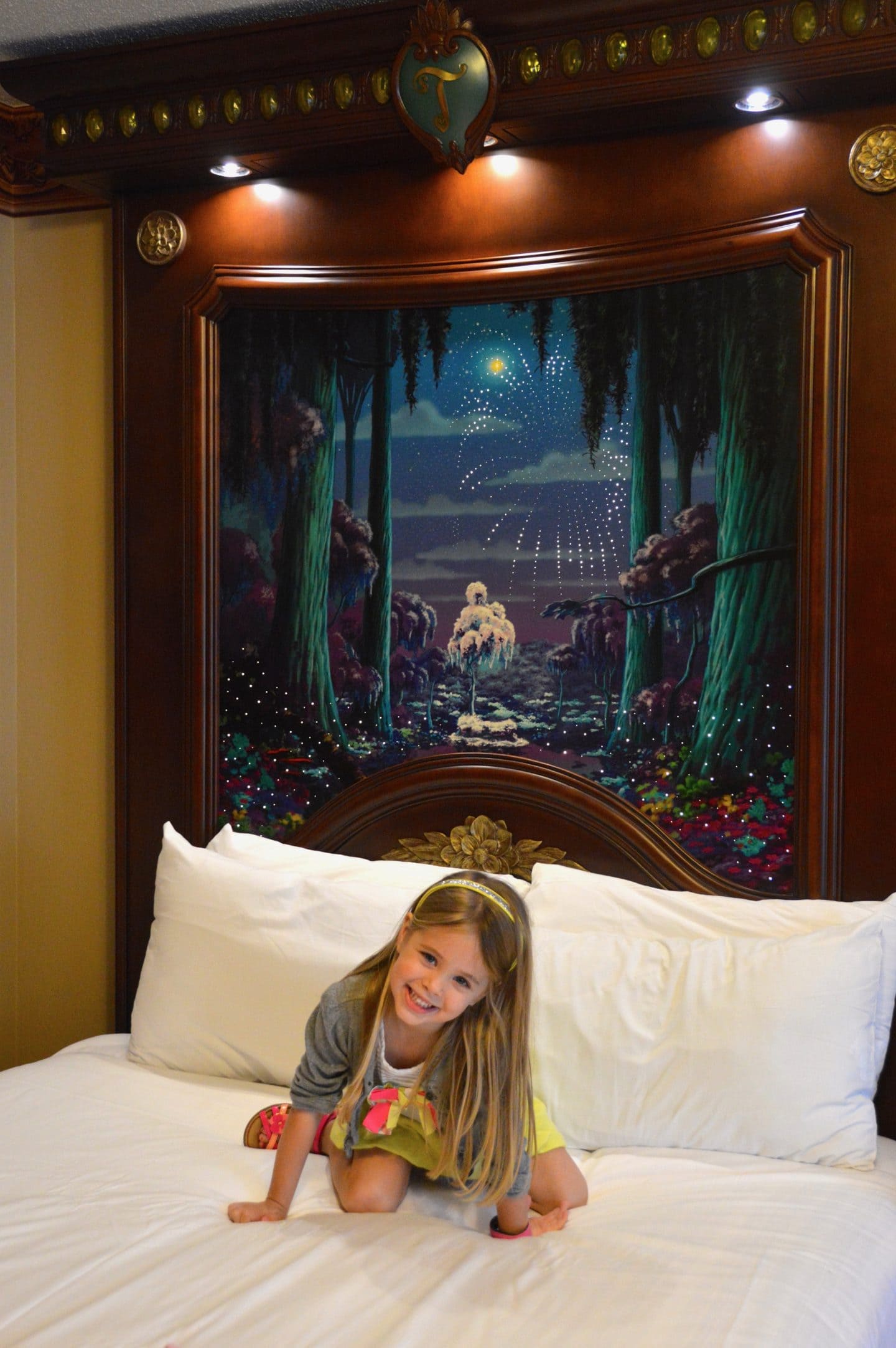 Dining Options Available at Port Orleans Riverside
I like to eat cheap when visiting Disney, especially when spending the money for on-site resorts!
I have never personally purchased the Disney Dining Plan but it is an option available to on-property guests.
—–> Be Sure to Read this post to see if the Disney Dining Plan is right for you!
For Dining at Port Orleans Riverside, there is table service restaurant called Boatwright's Dining Hall which is only open for dinner (I haven't ever personally dined here).
There are also two bars on the property (I don't personally drink so I also haven't experienced either of these): River Roost and Muddy Rivers
Disney also offers a pizza delivery service for their resort properties and this is an option available at Port Orleans Riverside.
For a quick-service meal Riverside Mill Food Court is FABULOUS and offers a wide variety of options for breakfast, lunch and dinner.
The seating area is great to sit and enjoy your meal and there are also many quick grab-and-go options if you're heading to the parks.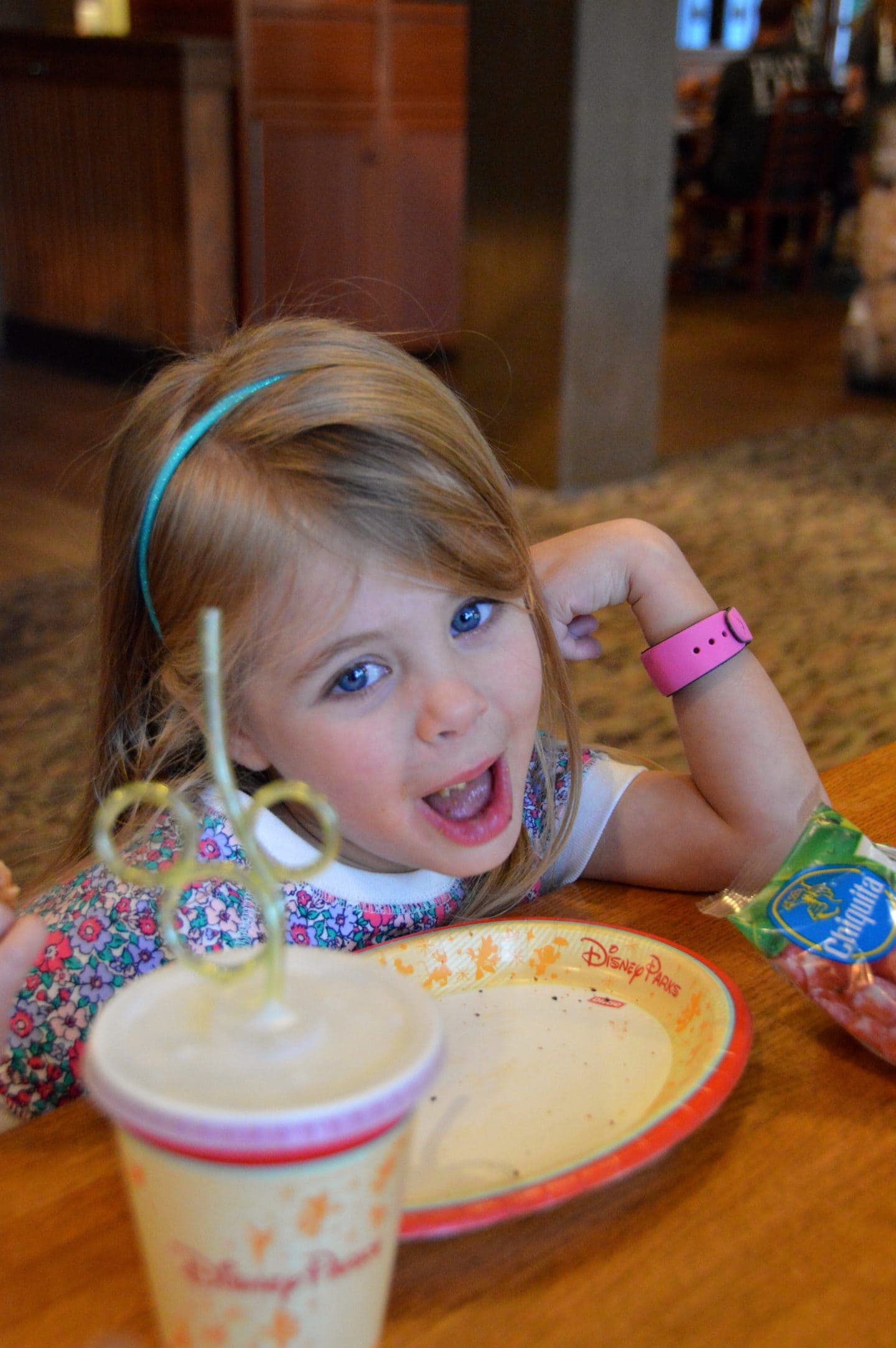 Recreation Options at Disney's Port Orleans Riverside
A big reason I love bringing my girls to Port Orleans Riverside, aside from the amazing princess theming in the Royal Guest Rooms, are all the activities.
The rooms aren't cheap and my personal belief is that if I'm spending that much money on a hotel room then I want to take full advantage of everything the resort has to offer!
Obviously if you're staying at a Walt Disney World Resort, you're probably also visiting the theme parks during your stay!
I do highly recommend planning your trip where you have PLENTY of DOWNTIME at the actual resort so you can fully enjoy everything available to you!
Disney Port Orleans Riverside Pool Options
There are FIVE leisure pools located throughout the resort property but the times I've visited the resort we have hung out at Ol' Man Island.
Ol' Man Island is a large area with multiple options of things to do including a HUGE pool accessible by three wooden bridges.
The pool also has a 95-foot-long rustic water slide (which I've never done…visiting with a four year old means I get to skip that kinda stuff!).
A wonderful thing about Disney Resorts is that the hot tubs aren't "too hot." The temperature is safe for children and is very comfortable for adults as well!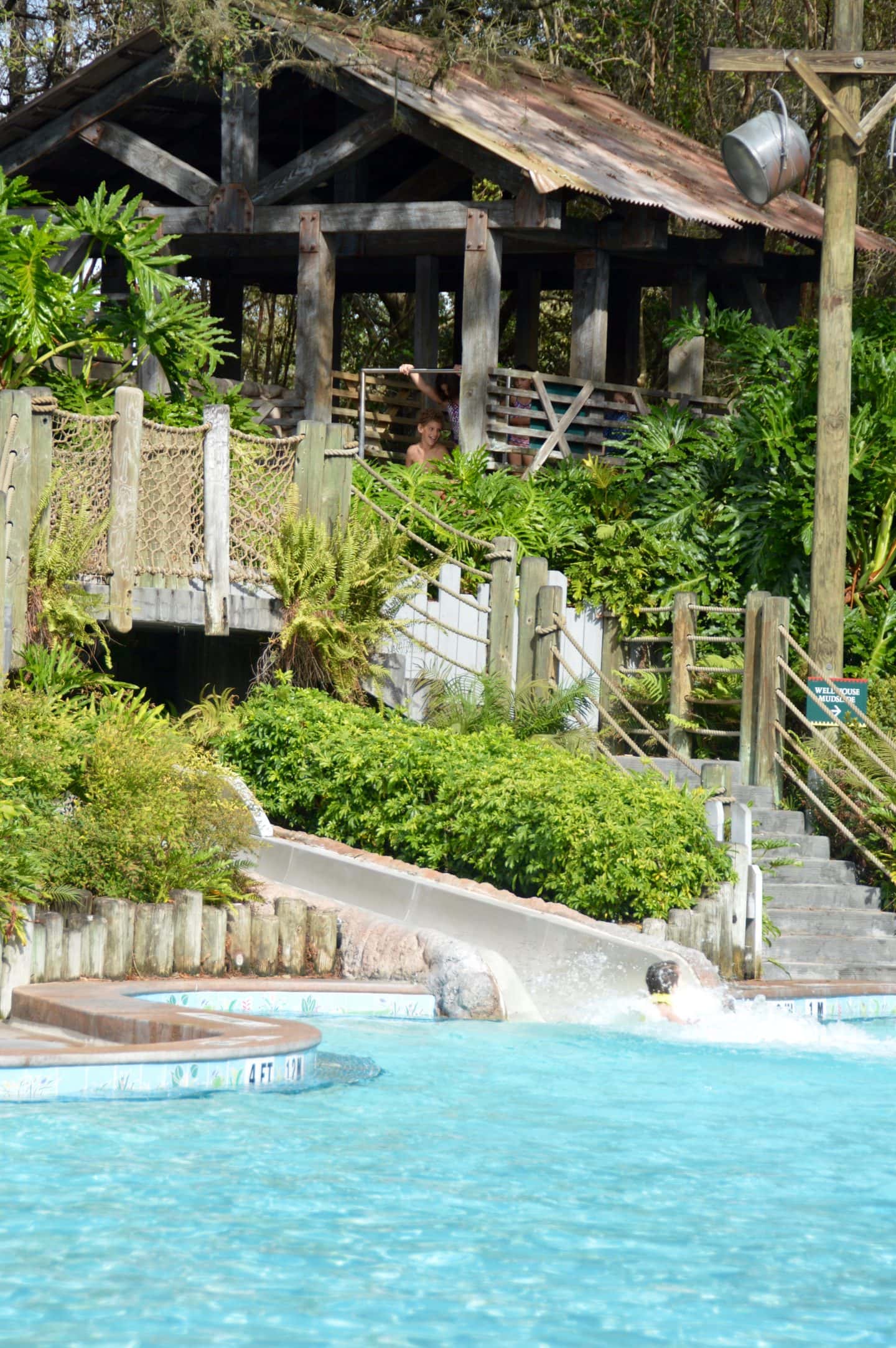 Access to Pools at Port Orleans French Quarter
A great thing about Port Orleans Riverside is that all guests at the resort can also take advantage of the recreational options at the neighboring resort – Port Orleans French Quarter.
There is a walking pathway between the resorts, but we personally chose to drive (as we had to go back to our car anyway to get our suits!).
The pool at Port Orleans French Quarter is GREAT for the younger kids as they have a small waterpark area where a height limit of 48″ or under is required.
The slide for the main pool area features King Neptune and an awesome slide!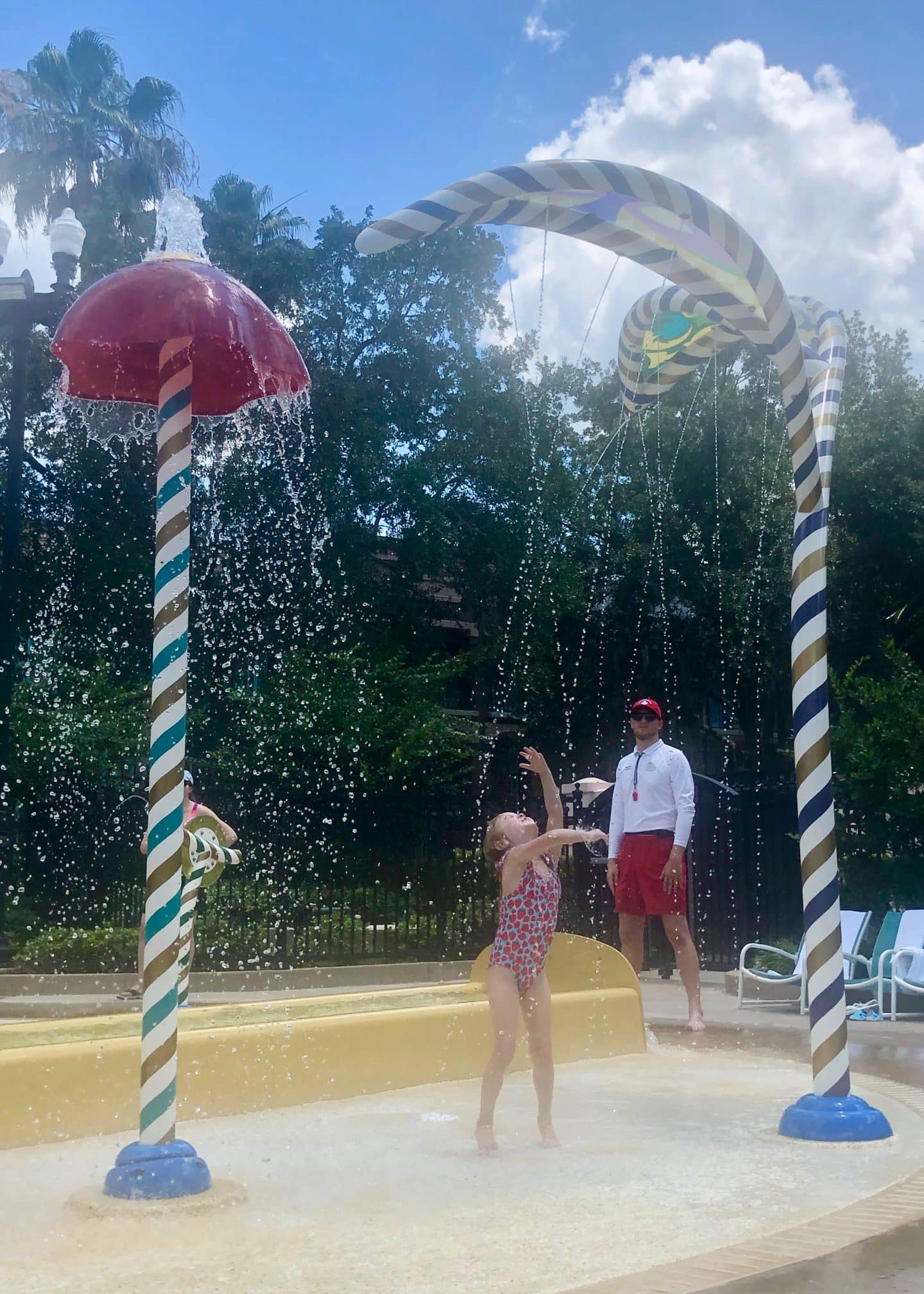 Port Orleans Riverside Playground
All Disney Resorts have at least one playground. Often these are very basic in nature but sometimes they have unique details.
A playground is always a win with kids and a great way to have free fun!
The playground at Port Orleans Riverside is a better option for kids than the one at Port Orleans French Quarter.
While much of the playground is in the shade, a good bit is still affected by the sun so be warned that the slides can be HOT!
The playground has a fun rock climbing section and copies the big mill wheel from the food court area.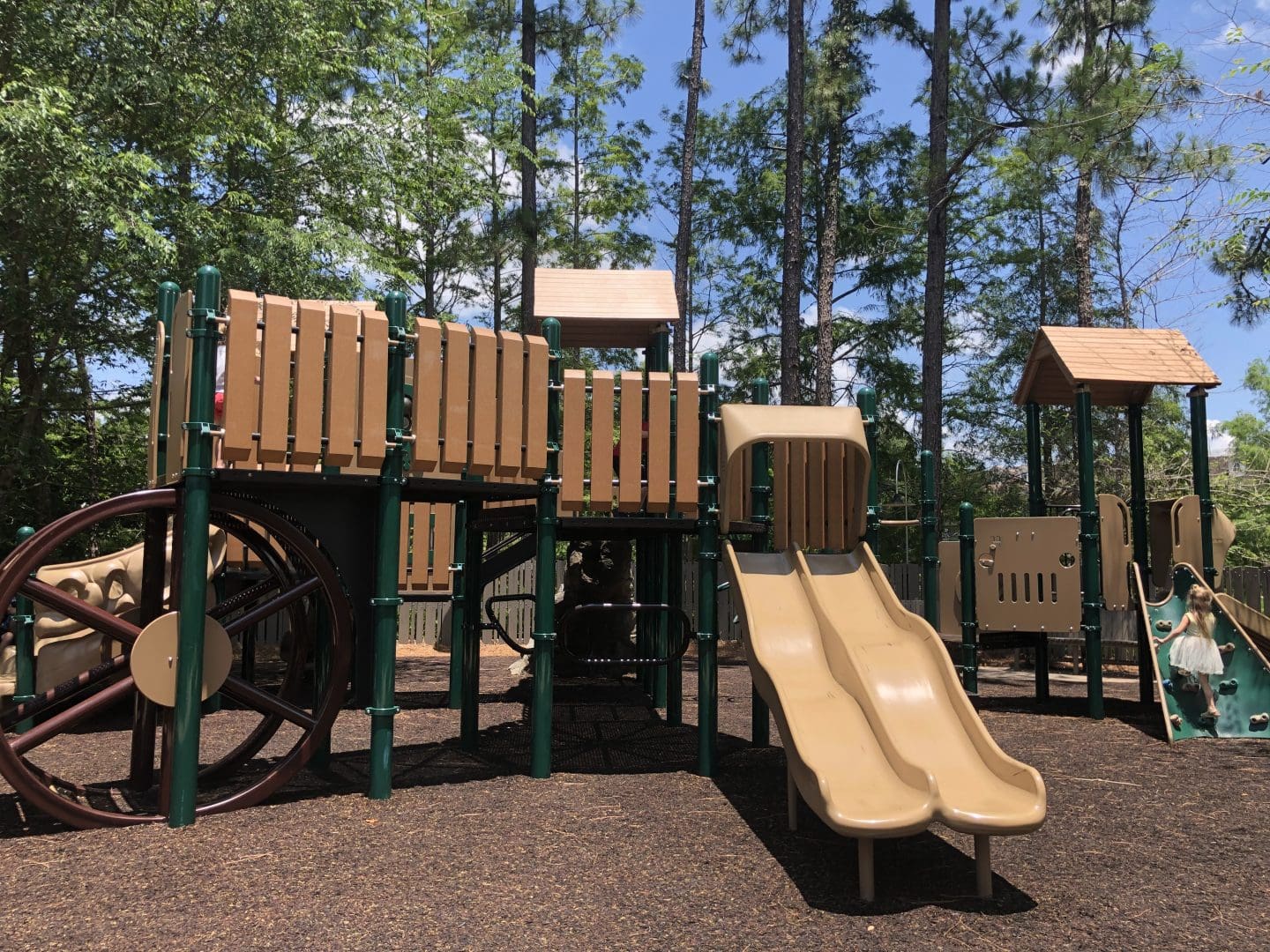 Campfire on de' Bayou at POR
One of the things we've enjoyed most on both of our visits to Port Orleans Riverside has been the firepit and campfire time!
Most evenings the resort offers a campfire for guests to enjoy and it includes unlimited marshmallows to roast.
You can purchase a s'mores kit at an additional fee, or bring your own s'mores supplies!
Both times I've taken part in the campfire it's been very chill and not super crowded. It's always a fun time and sometimes even includes singing campfire songs!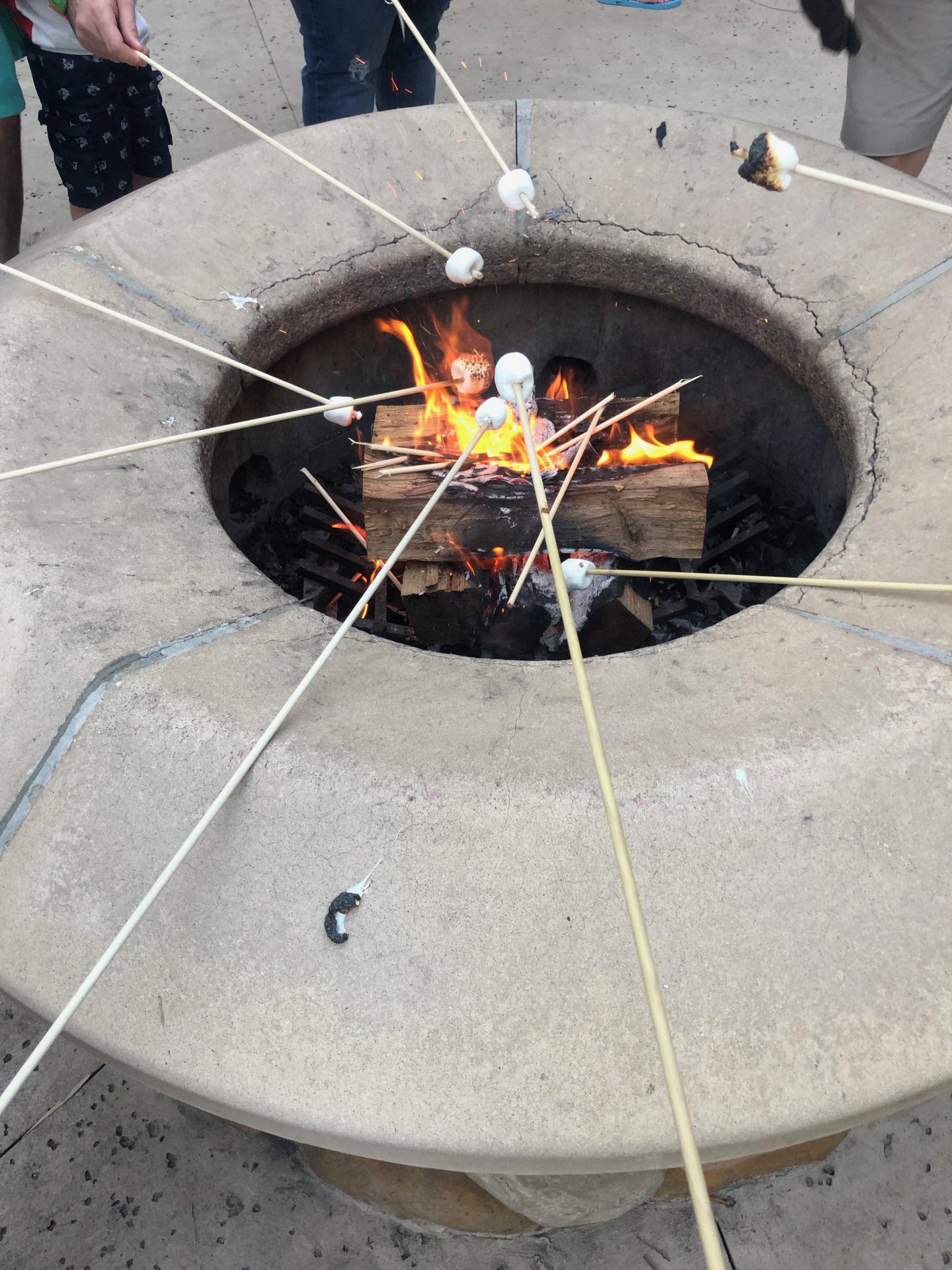 Movies Under the Stars at POR
Another super fun and FREE activity at Port Orleans Riverside is the movies under the stars.
Located on a large lawn area a movie is set up on a large screen for viewing.
This is not a nightly event so be sure to ask for the schedule.
It's also wise to bring along a sleeping bag to be able to sit on the lawn and enjoy the movie!
Both times I visited the resort the movie started rather late. Britt and I did do the movie but didn't stay long and Tess and I didn't have a movie scheduled for the night we were visiting.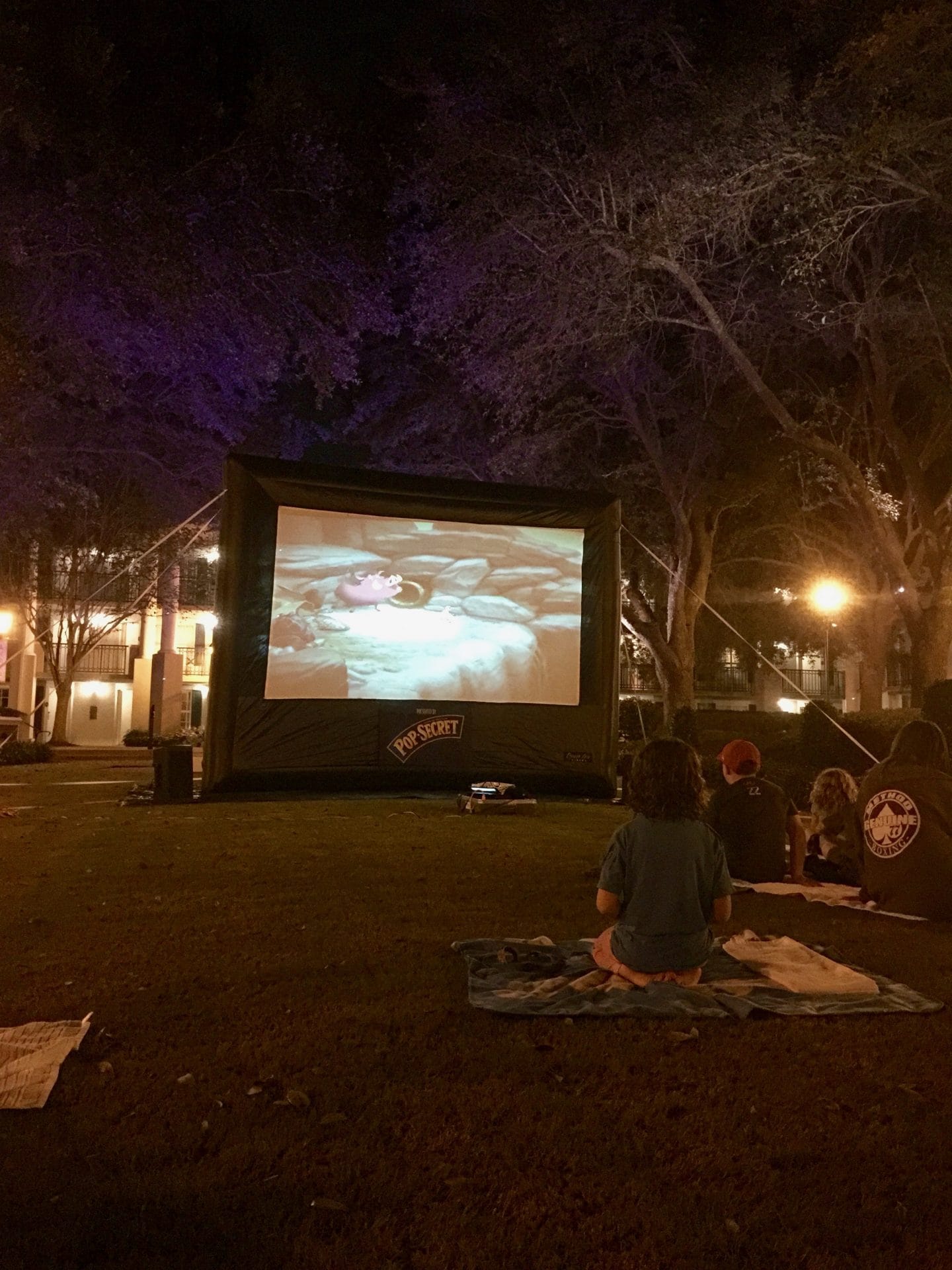 Arcade Fun at POR
All Disney Resorts also have an arcade which is a great spot to spend more money and escape the heat on your vacation 😉
You put money onto a card that can be scanned at each game in the arcade and then more money can easily be added if you run out.
Each arcade is different at each resort but have enough variety to find something for everyone!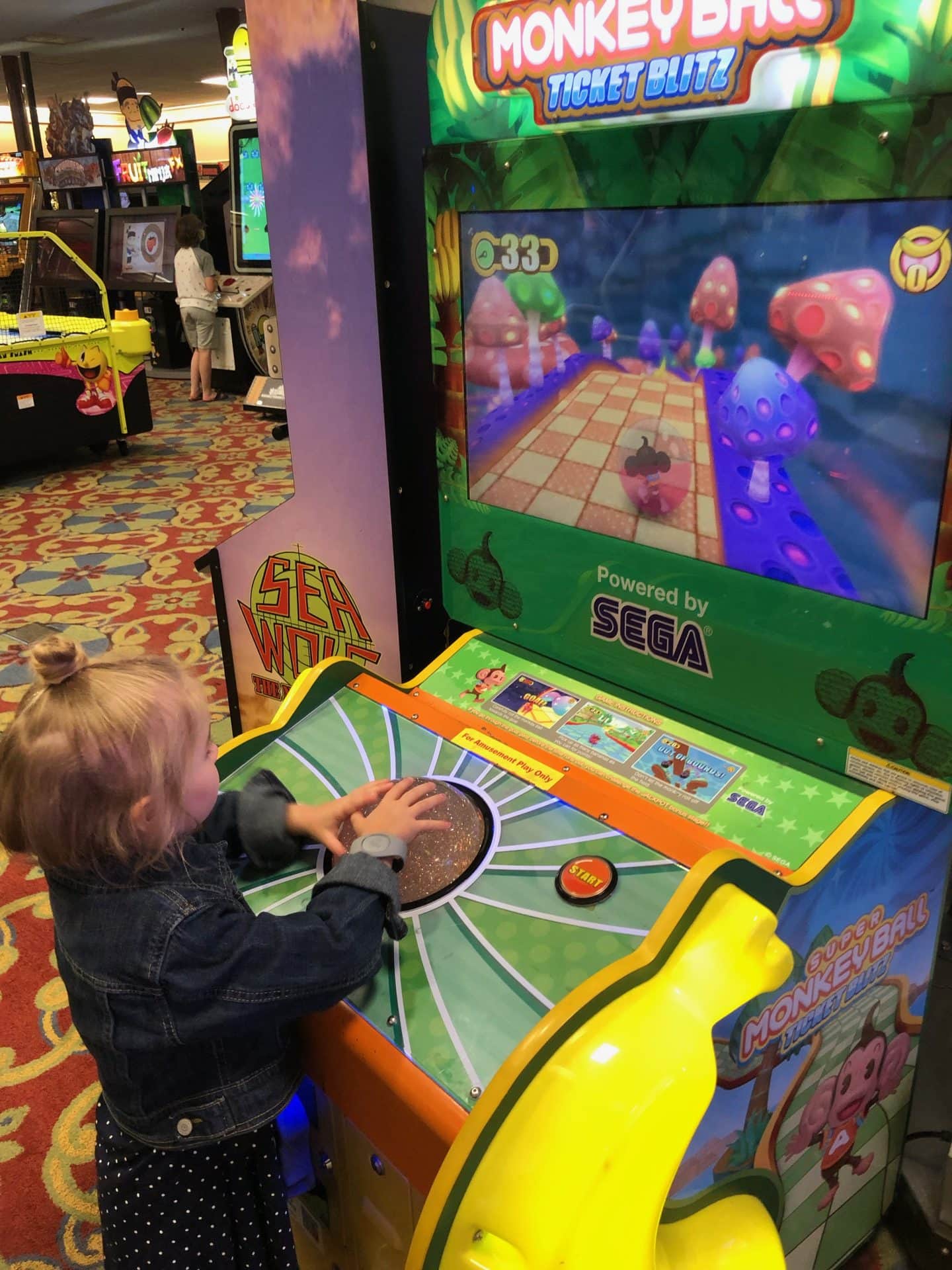 Horse Drawn Carriage Rides
Another additional cost item is a horse drawn carriage ride around the resort.
The carriage picks up at Port Orleans Riverside but can take a path around that resort OR around Port Orleans French Quarter.
You do not have to stay at the resort to take part in the carriage ride and it's VERY romantic!
If you're an annual pass holder a discount is offered for the cost of the carriage ride is $55 per ride (up to 4 adults) and is 25 minutes long.
Reservations can be made 180 days in advance by calling (407) 939-7529.
—–> You can read about our Anniversary trip to Disney, including the carriage ride experience here!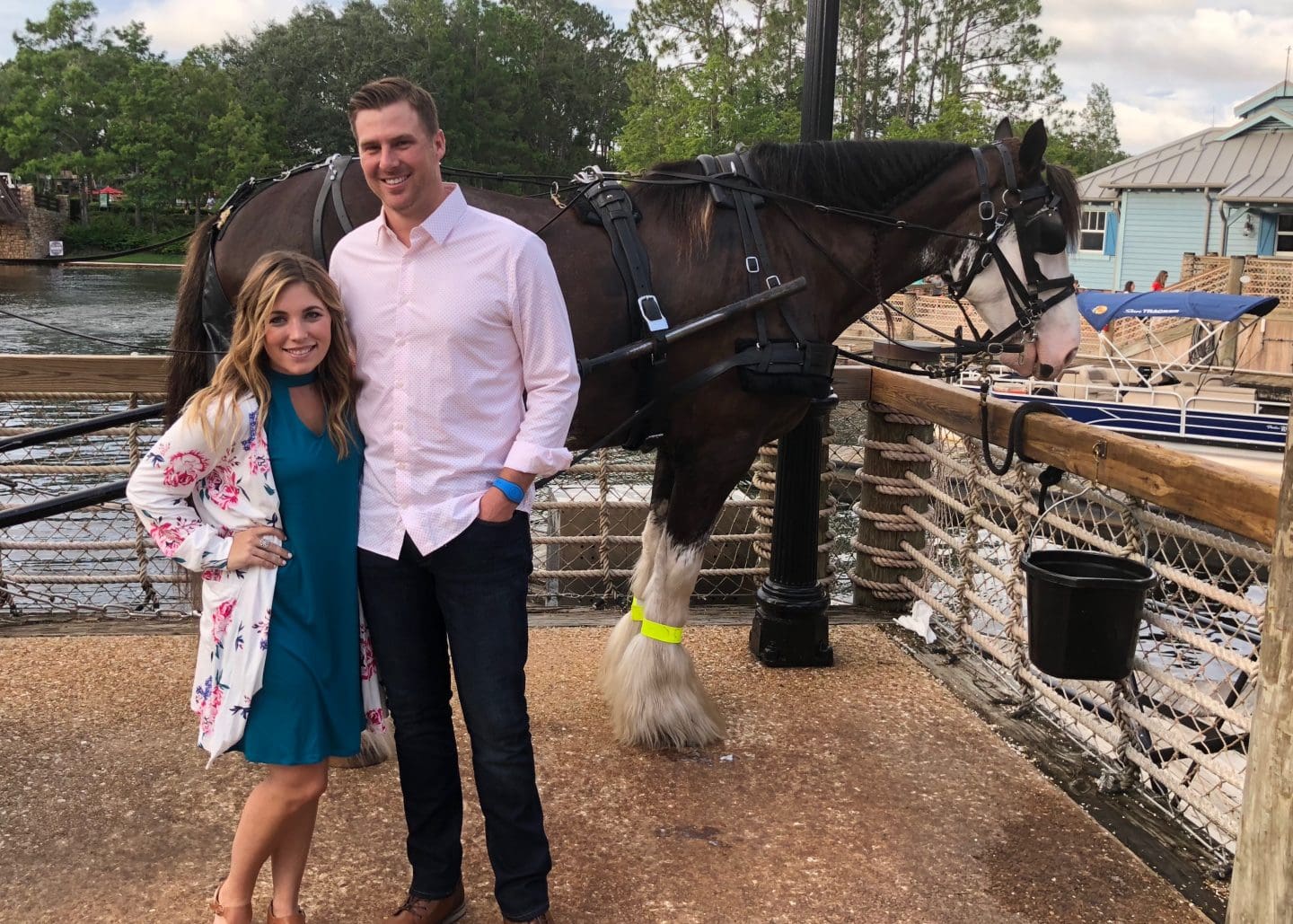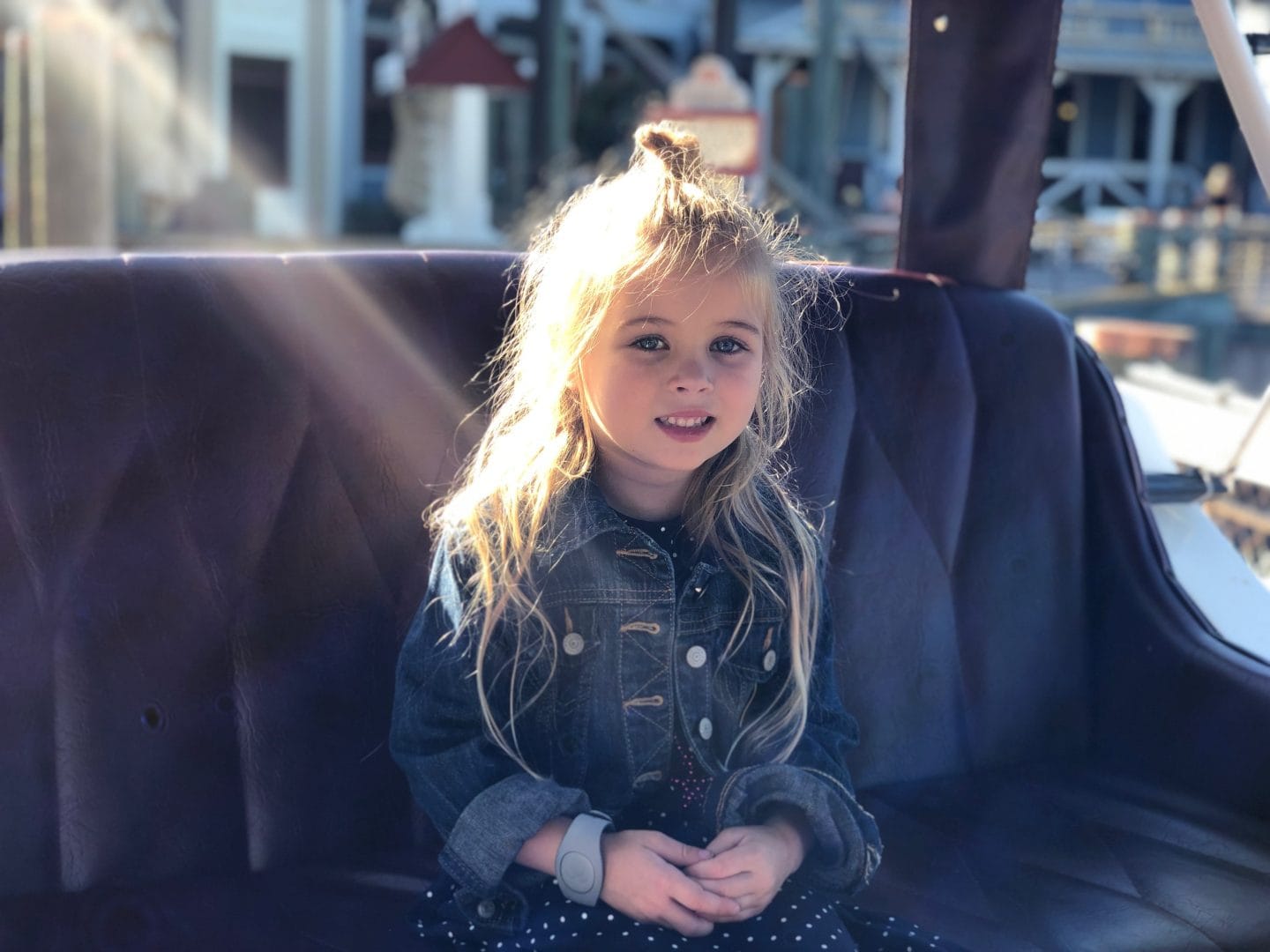 Planning a Trip to Disney?
My favorite planning tool for Walt Disney World parks is Touring Plans. Being a member of their site allows you access to crowd calendars and daily itineraries to avoid waiting in lines! Learn more here!
Other Disney Posts You'll Find Helpful: