My husband and I decided to visit Williamsburg, Virginia for our 12th wedding anniversary. We decided to take this trip because we have enjoyed other historic cities in America and researched the must-visit American History cities in the country and Williamsburg was on the list! Here are all the fun things to do in Williamsburg Virginia that we discovered while we were there!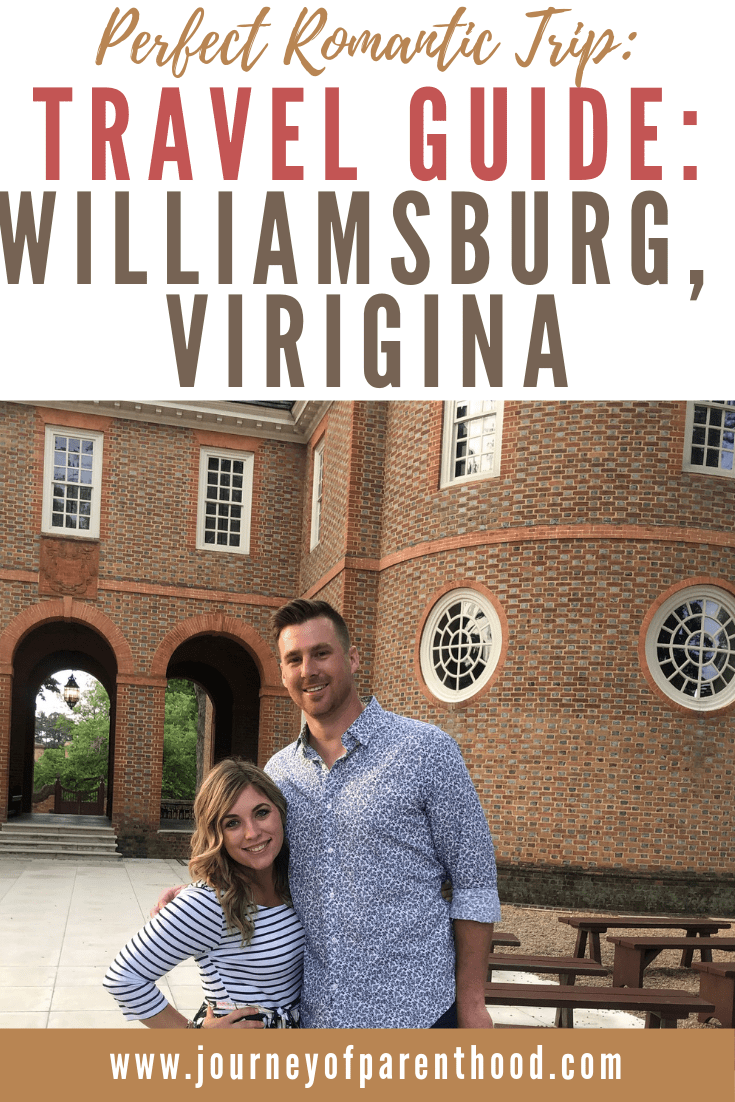 Originally published June 18th, 2019
We assumed we'd enjoy the United States history but had no idea going into the trip that we'd fall in LOVE with the area the way we did.
I highly recommend a visit to Williamsburg VA and wanted to put together a travel guide of the best things to do for those considering a visit to the area.
You can read our personal travel experiences to Colonial Williamsburg and surrounding areas in these posts:
Disclaimer: post may contain affiliate links.
Where to Stay in Williamsburg, Virginia
My husband really enjoys bed and breakfasts and when we researched the area we learned that there is only ONE bed and breakfast located within Colonial Williamsburg.
We were impressed by the history of the location as well as the prices.
We stayed at The Fife And Drum Inn and highly recommend it.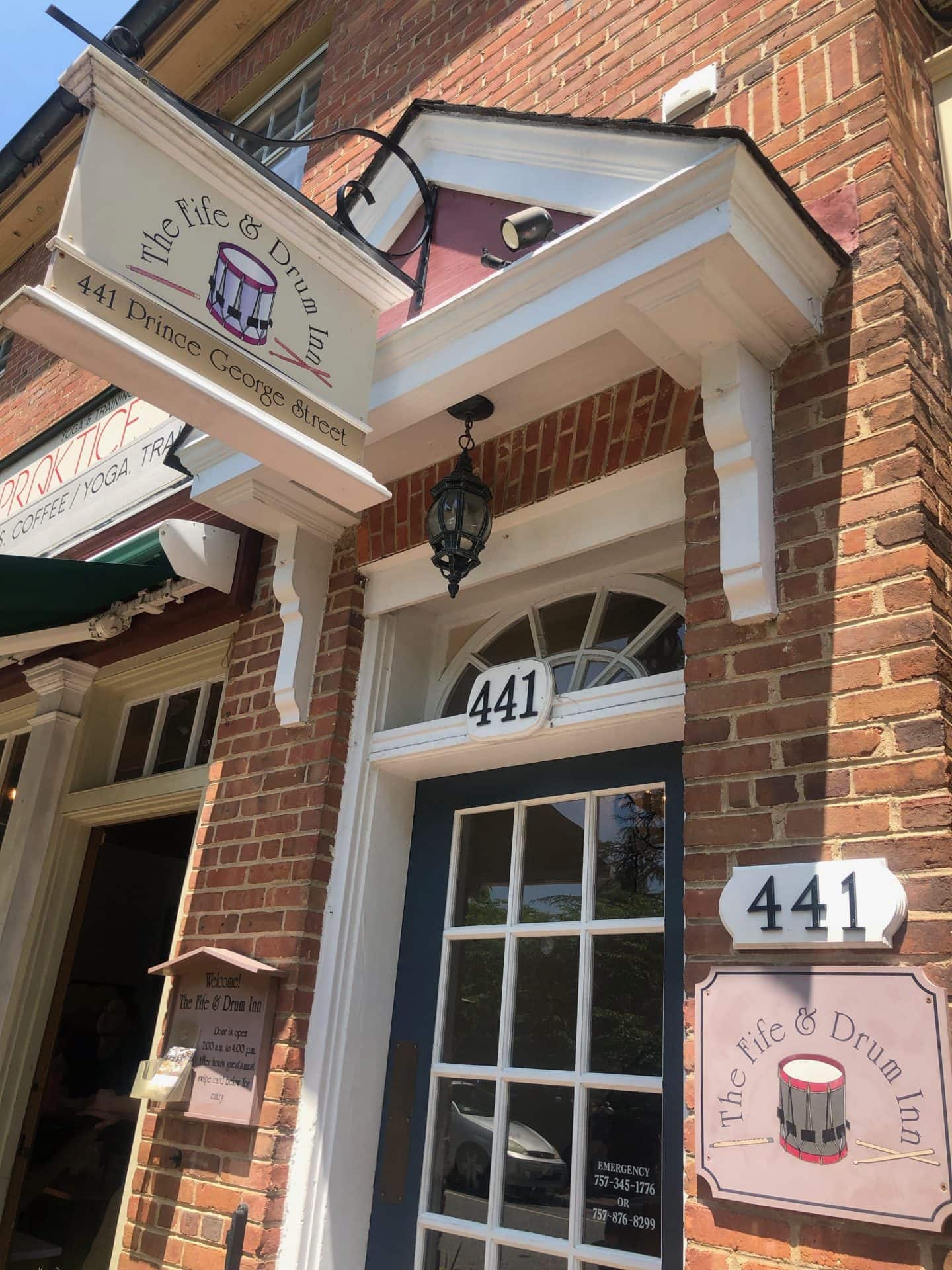 The owners are extremely knowledgable and passionate about the area and are SO helpful in planning your stay.
We enjoyed our stay but would not recommend our room.
We stayed in the Restoration Suite and had anticipated it being a super large room but it was actually a divided room.
While staying there we had the chance to peak into other guest rooms and saw several that would have been a better fit for what we'd wanted.
While visiting Williamsburg we spent time over in Yorktown and it's a beautiful historic area right on the water.
If you're looking for a romantic getaway I imagine it has a LOT to offer as far as places to stay.
We didn't regret staying in Colonial Williamsburg.
We loved the location and just how relaxing it all was and had a great experience at our bed and breakfast.
But if you're looking for more views and a busier stay, check out Yorktown.
Tips for Visiting Colonial Williamsburg
We stayed in Colonial Williamsburg and spent most of our time during our trip in the area. There are so many interesting things to explore and so little time! Here are some of the best places we found to visit during our stay:
Best Time of Year to Visit
We visited over Memorial Day weekend (end of May) and fully expected crowds.
We kept being shocked over and over by how EMPTY it was. We didn't experience ANY mass crowds and the majority of the time we felt like we had the entire city to ourselves.
We asked around a lot about the lack of people. I mean it's a town that THRIVES on tourism. It made no sense that on a holiday weekend it was SO VACANT.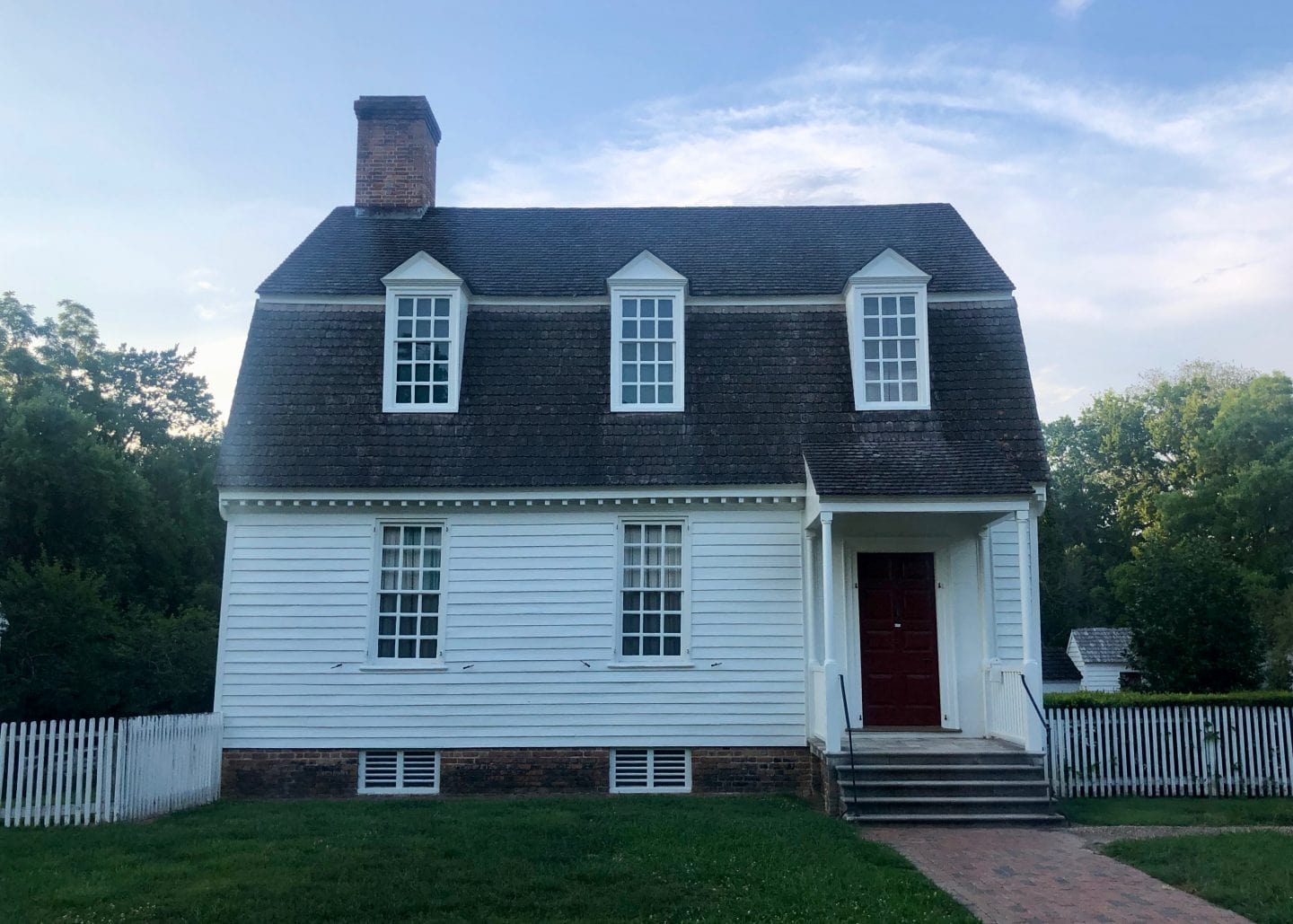 Colonial Williamsburg
The locals we talked to said that Memorial Day is the BEST time to visit. It's hot (but we're used to that with us living in South Georgia) but the local area schools are still in session which cuts down big time on local visitors.
There is also a Busch Gardens in the area and that's where all the crowds were over the holiday weekend.
When we visited Yorktown we did see a lot more people and also assume that it's probably more of the "vacation hot spot."
How Much Time You Need on Your Trip
It all really depends on how much you love history and how deep you want to go into seeing things and learning things and taking tours.
Personally? I'm a hit the highlights kinda girl. I want to see the main points and that's enough for me!
We stayed 4 nights and had 3 full days. It was plenty!
Things to Do in Colonial Williamsburg Virginia
Colonial Williamsburg is very well organized and is very hardcore with their representation of history and they take it seriously – it's not cheesy tourism, it's all real deal. This is the perfect place to step into history whether you're history buffs or can't name any historical figures other than George Washington.
The Colonial Williamsburg website is a wonderful resource in your planning.
It goes through details of the area, what to expect during your visit, and helps in creating an itinerary during your stay.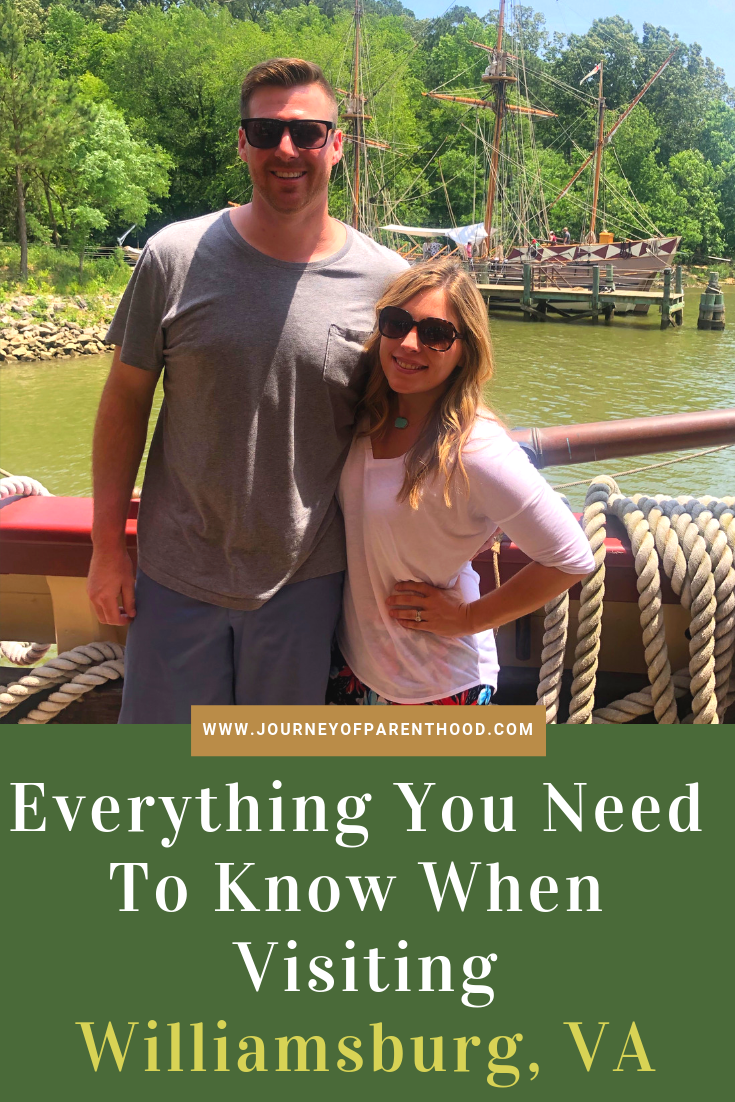 Ticket Purchases
When planning which things to do in Williamsburg, Virginia, it's good to know that tickets for many of the scheduled events can be purchased in advance through the site.
We pre-ordered tickets for a romantic carriage ride, escape room, ghost tour and mock trial. We enjoyed all of these activities but the mock trial was by far the best!
Once there we decided not to do the carriage ride as it was scheduled for 4 PM and the wagon that day was not covered so the sun would have been literally BEATING DOWN on us.
At the visitors center they gave us a full refund for our pre-purchased tickets.
We did not buy visitors passes online and, instead, purchased them in person at the visitors center in Colonial Williamsburg.
We did the two–day pass which allowed access to all of the areas of the town for two days. We honestly could have done it all in one.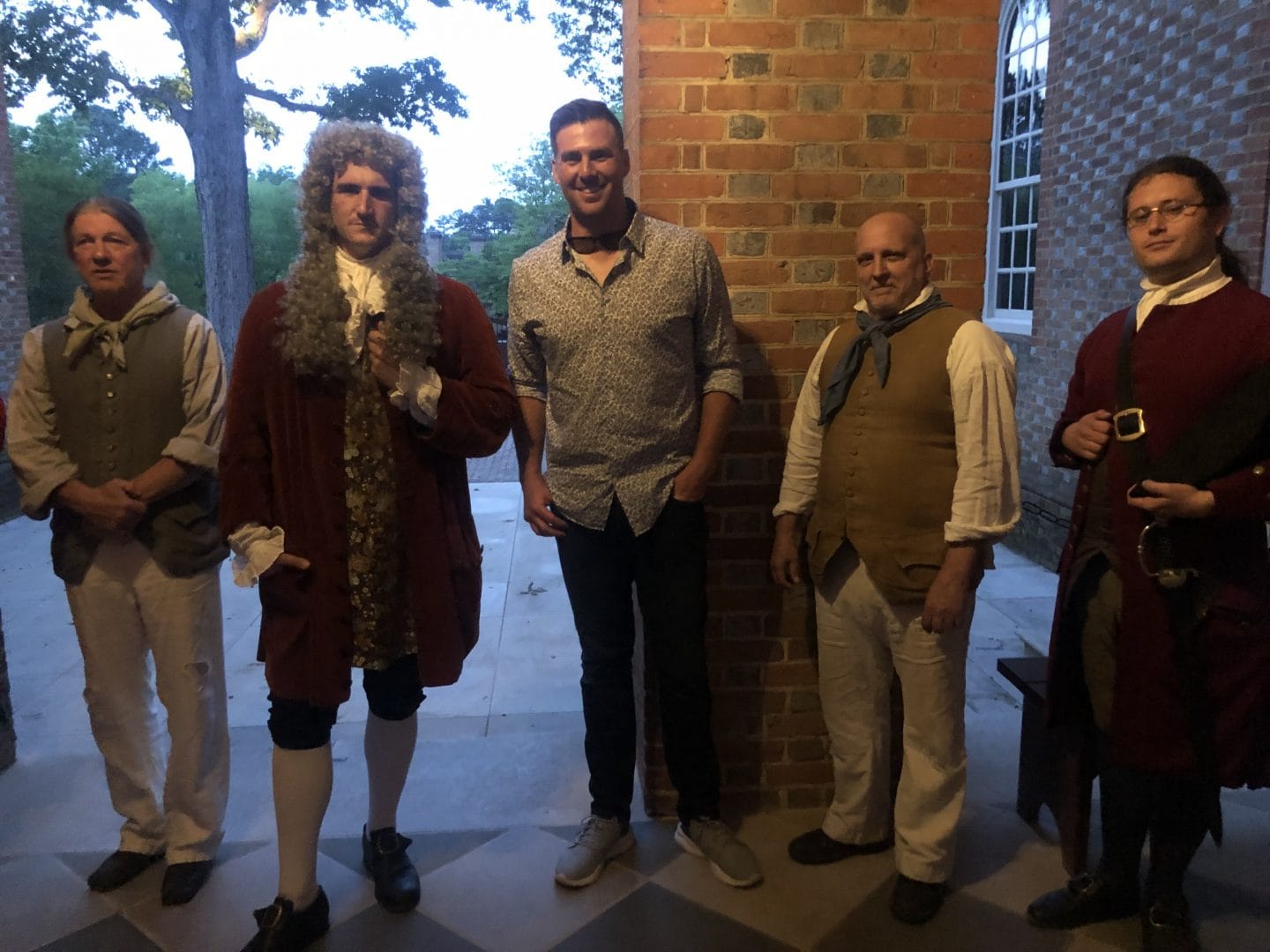 Tips to Keep in Mind:
It is important to keep in mind that even just walking down the paths is a romantic and enjoyable experience. No tickets needed!
When exploring the buildings many of them offer quick tours that typically last 20-30 minutes and are very casual and laid back. If you need to sneak out early it's not a problem
Be sure to have suitable shoes for walking and be aware that many of the paths are dirt or rocks. My feet were pretty filthy from wearing flip flops.
Also always be on the lookout for POOP. The horses from the carriage ride poop everywhere!
There is a free shuttle that drives around the exterior of Colonial Williamsburg and comes in very handy to minimize the walking.
Bathrooms are few and far between. Water fountains and fill up stations are non–existent.
Pack a solid water bottle and fill it up in the room before your day and use the bathroom whenever you pass one!
Everything also closes down very early, like 5 pm. When planning things to do it's wise to pre-book any evening activities, like reservations for restaurants, as everyone flocks to eat once the tours and such stop running.
Things to Do Around Colonial Williamsburg Virginia
Merchants Square
Merchants Square is located right outside of the Colonial Williamsburg town and is filled with many cute shops and amazing restaurant options.
The shops are a bit pricey but the gift shops are cheaper than in actual Colonial Williamsburg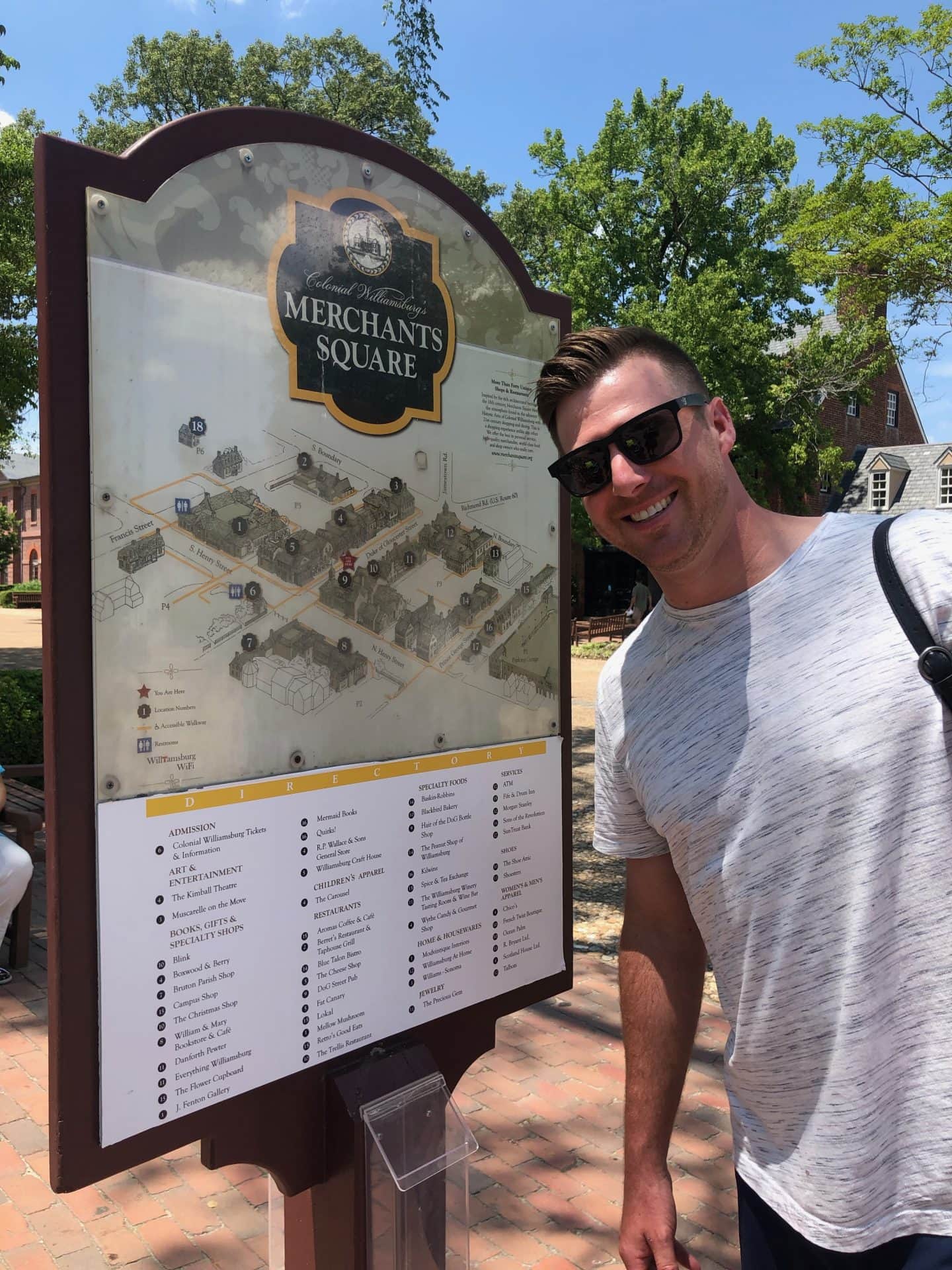 College of William and Mary
Just across the street is the College of William & Mary which is the second oldest college in the country.
It's a GORGEOUS campus and completely open to the public for walking around and exploring.
We took a morning to walk hand in hand through the campus and loved thinking about how Thomas Jefferson had walked similar steps and enjoyed taking in the beautiful landscape and architecture.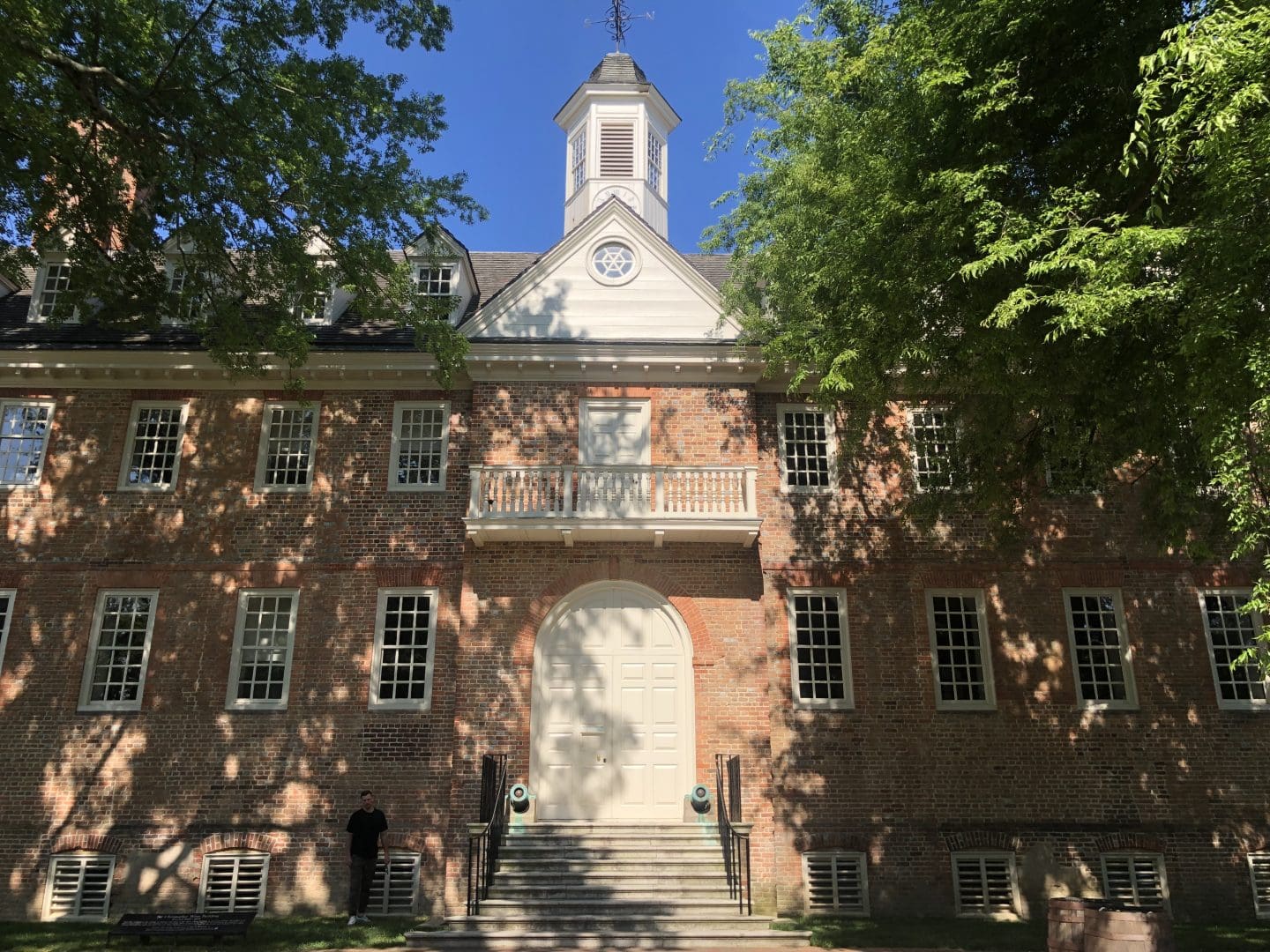 Other Things to Do in Williamsburg Virginia That We Didn't Get To:
Dewitt Wallace Decorative Arts Museum – If you like historic furniture and artifacts, then this is the place for you!
Governor's Palace – A historic building that once housed royal governors before the Revolution and that served as the home of two early American governors, Patrick Henry and Thomas Jefferson! If you like 18th century architecture, put this on your list of historic buildings to tour!
Williamsburg Winery – If you're visiting as a couple or with some friends and like wine, this is a great way to get some history and some wine tasting done in the same day!
Tips for Visiting Jamestown, Virginia
Jamestown is a 20ish minute drive from Colonial Williamsburg. This and Yorktown make up what's called the historic triangle, which as the name implies contains tons of history from colonial times!
Located at Jamestown are two areas: Historic Jamestowne and Jamestown Settlement
The BIG KEY to know is that the two areas are NOT connected. They require different admission and are located 2 miles apart with NO transportation provided between the two.
We had an Uber from our bed and breakfast to Jamestown…and we actually asked a couple in the parking lot of Historic Jamestowne if they'd mind dropping us off at Jamestown Settlement to avoid the 2 mile walk!
We did BOTH Historic Jamestowne and Jamestown Settlement in one day. It's very do-able in that amount of time.
Historic Jamestowne
I highly recommend touring BOTH Historic Jamestown and Jamestown Settlement.
Historic Jamestowne is the location where the first settlers in America landed.
It's filled with such interesting history and historically was my favorite place on the trip. We walked where THE first settlers walked! How cool is that?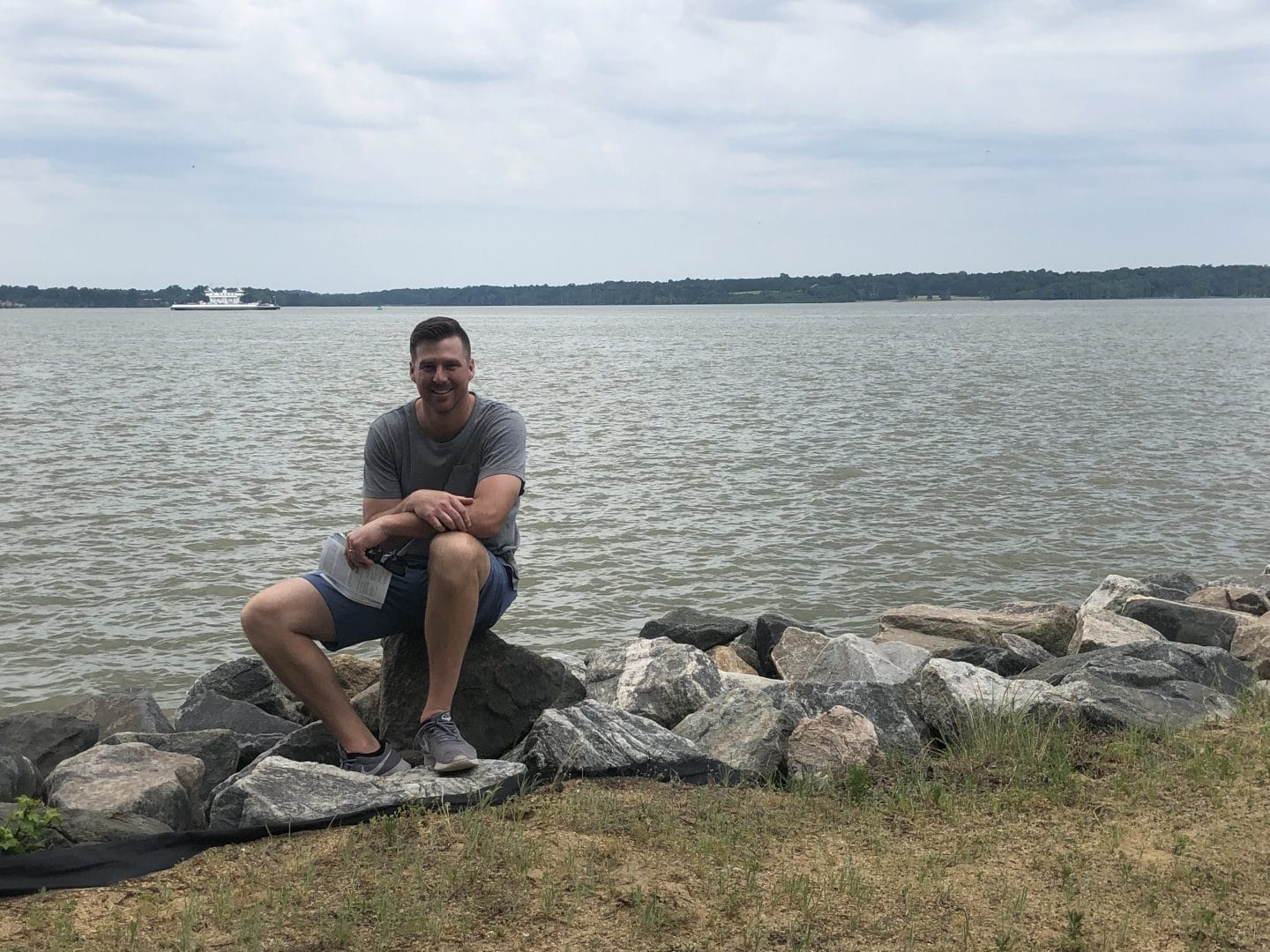 Tips for Visiting Historic Jamestowne / Jamestowne Recovery
Be warned that the paths are mostly dirt so good walking shoes that you don't mind getting dirty are wise.
It is also located on the James River as well as near swamps. Bugs are prevalent. Having some bug spray or repellant will make your day more enjoyable.
There are guided tours but self tours work just fine too!
It is an active archaeological site so you will be able to possibly see people doing digs and can speak to people who have helped to discover historical artifacts.
There is also a wonderfully done museum located near the original fort.
The gift shop at the museum is wonderful. Very reasonable prices and a great spot to get gifts for the kids back home – or for yourself!
The Dale House Cafe is FABULOUS for lunch and has beautiful views along with great food!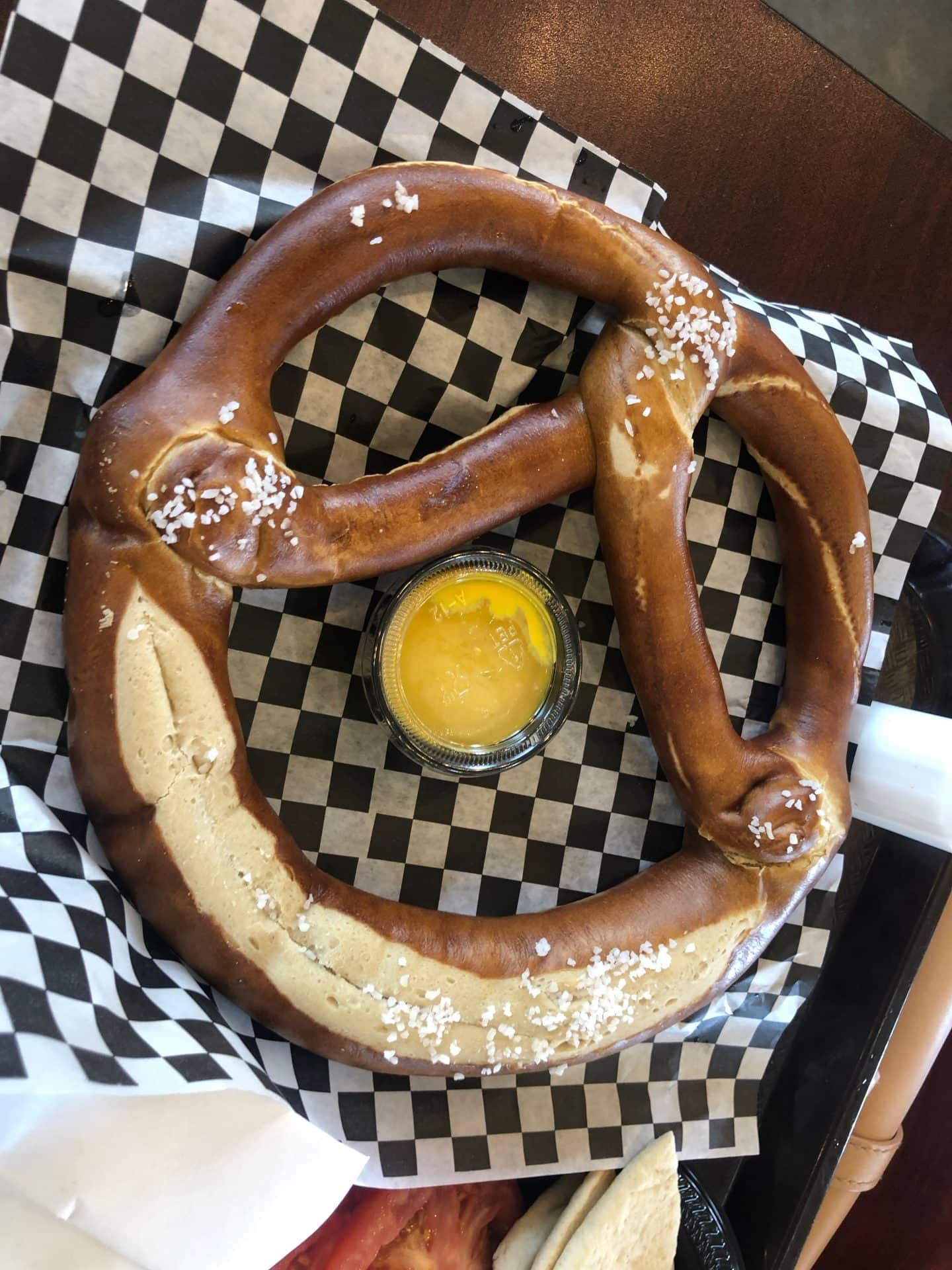 Jamestown Settlement
Historic Jamestowne is like the real deal original site of the history, Jamestown Settlement is the remake version to give a today view on what it looked like back then.
Tips for Visiting Jamestown Settlement
I recommend starting with Historic and ending with Settlement.
The museum is EXTREMELY well done. If you have children with you, they will enjoy it.
Very interactive and interesting and nice cool AC too 😉
There is also an outdoor portion with recreated huts, recreated Jamestown fort, and even recreated ships.
You're able to explore all of these areas and it really gives a great sense as to what life was like back then and what our first settlers went through to be able to form our country.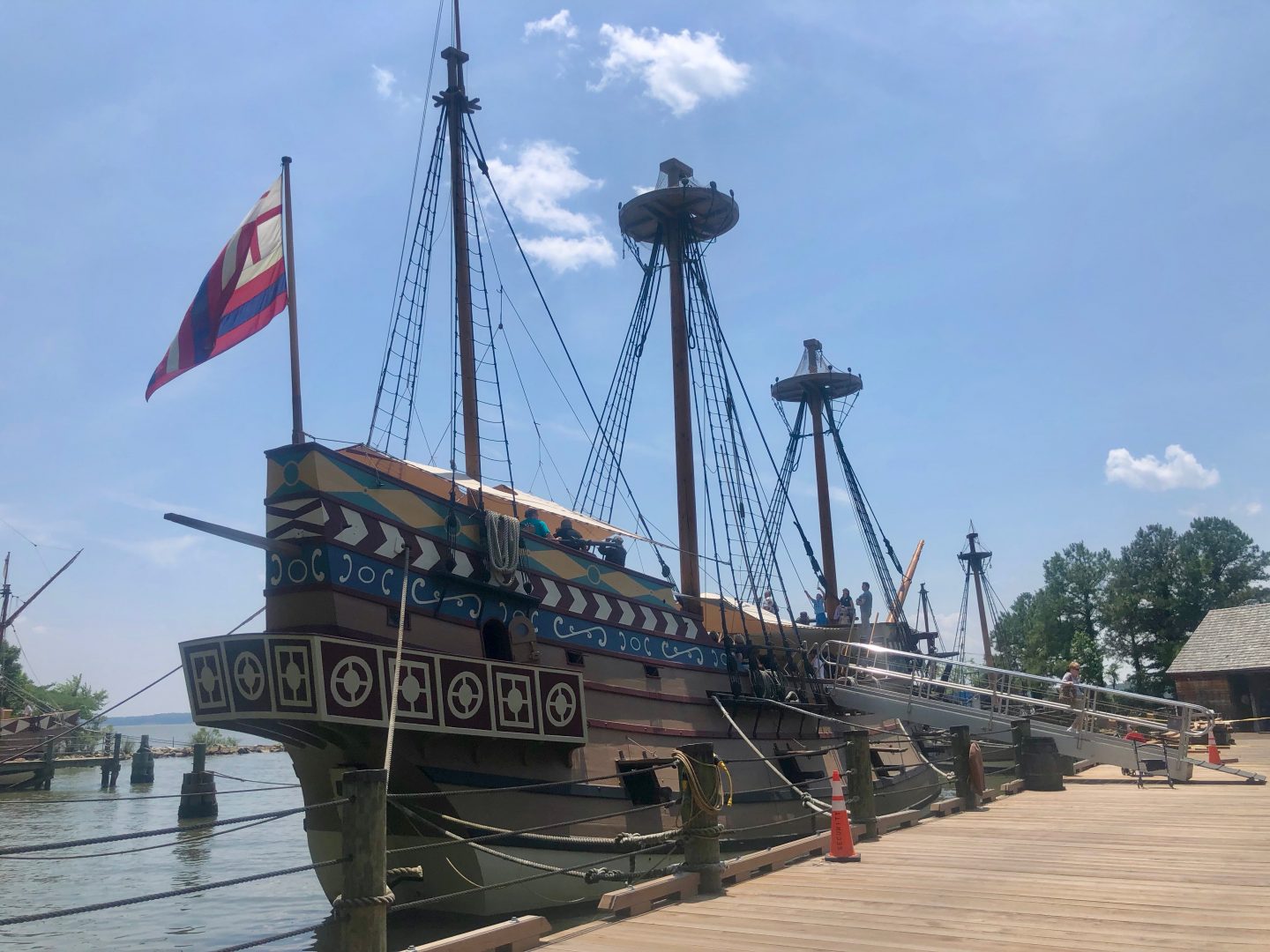 Tips for Visiting Yorktown, Virginia
Yorktown is located 30 minutes from Williamsburg.
It is a beautiful town and is the location of the last major battle in the Revolutionary War.
It is good to know that the Yorktown battlefield is THOUSANDS of miles. So visiting without a car is tough.
We were able to enjoy the small American Revolution museum and informative video and then did a brief outdoor tour to see some of the battlefield area.
There is also a free shuttle that goes around the town of Yorktown and passes by the Victory Monument.
We enjoyed the shuttle and found our driver to be very informative as well so we were able to learn a lot about the history of the area from him.
We only had about two hours to explore Yorktown and could have spent much longer in the area. The town looked beautiful from our shuttle ride and it would have been nice to walk around a bit there!
If you had a full day I think it'd be well worthwhile to spend it there. The York River state park is also said to be a great place to visit and there are even Yorktown sailing charters where you can got on a boat ride and spend a day on the water!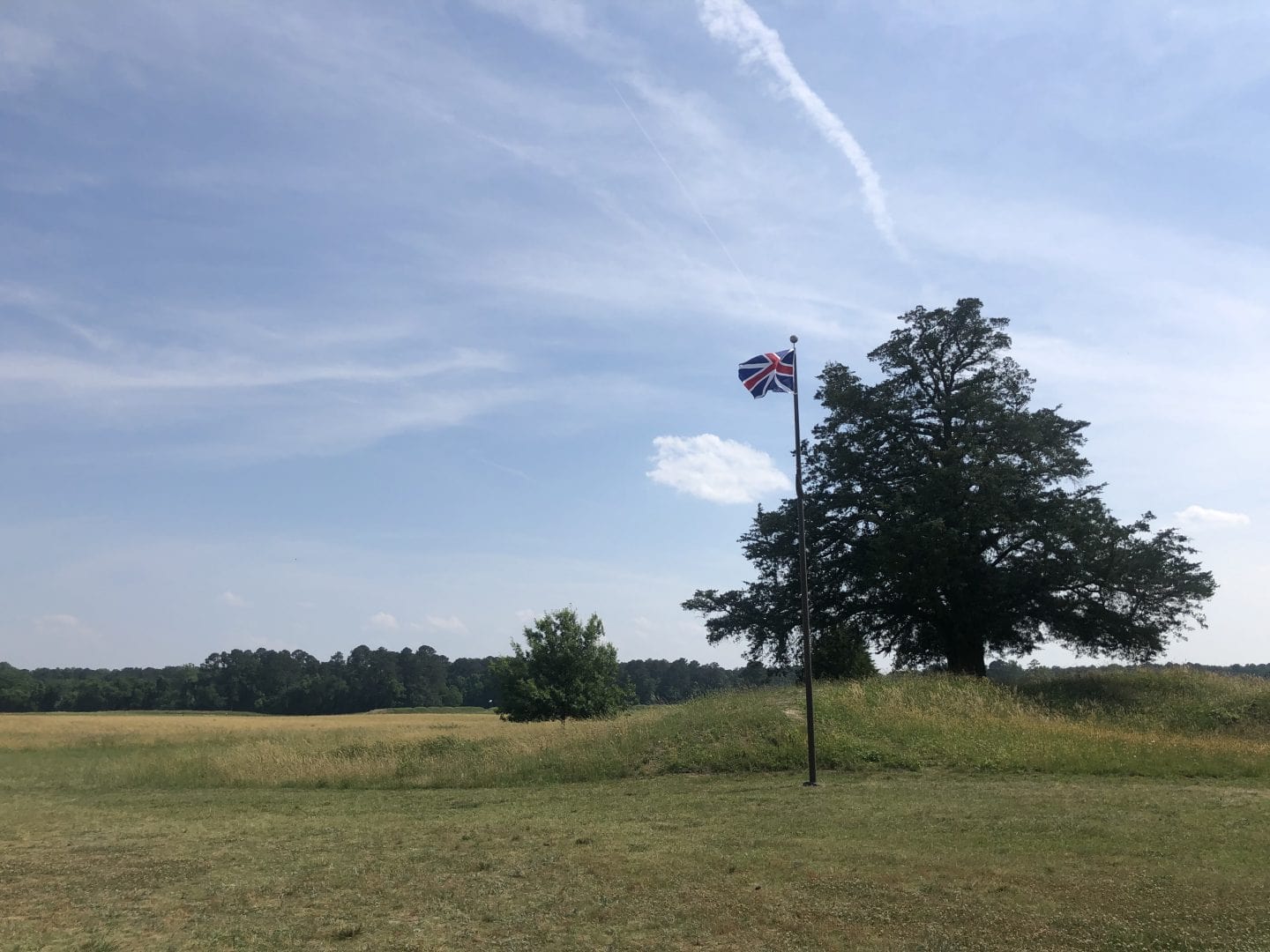 Places to Eat in Williamsburg, Virginia
We had some FABULOUS food experiences while visiting Williamsburg. Here are my recommendations based on where we dined while there:
Chownings is located in Colonial Williamsburg and is based on food eaten in the town during that time.
The service was slow. No reservation was really needed, we got in pretty quick but did eat early (4:30ish).
But the food was fabulous! And pretty affordable, especially considering the location.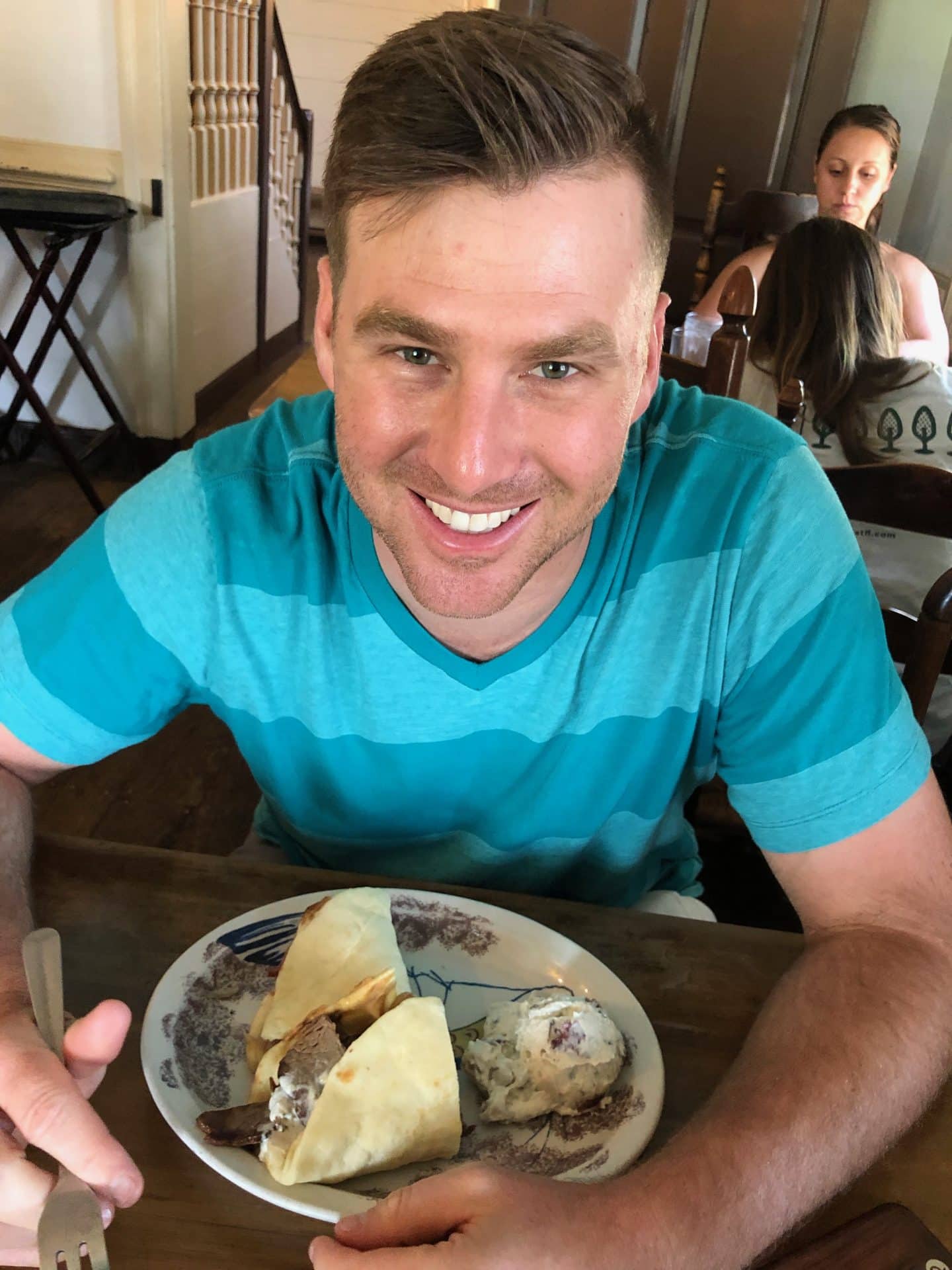 The Cheese Shop is a place that came highly recommended to both my husband and I. Whenever we'd mention to someone that we were visiting Williamsburg they'd say "You HAVE to go to The Cheese Shop!"
It's located in Merchants Square and is a true CHEESE SHOP.
As in, they sell cheese.
There isn't a ton of indoor seating (but plenty available outside).
They have fabulous cheeses and a place to order great lunch bites like sandwiches and such. It was all super tasty and a fun environment/experience.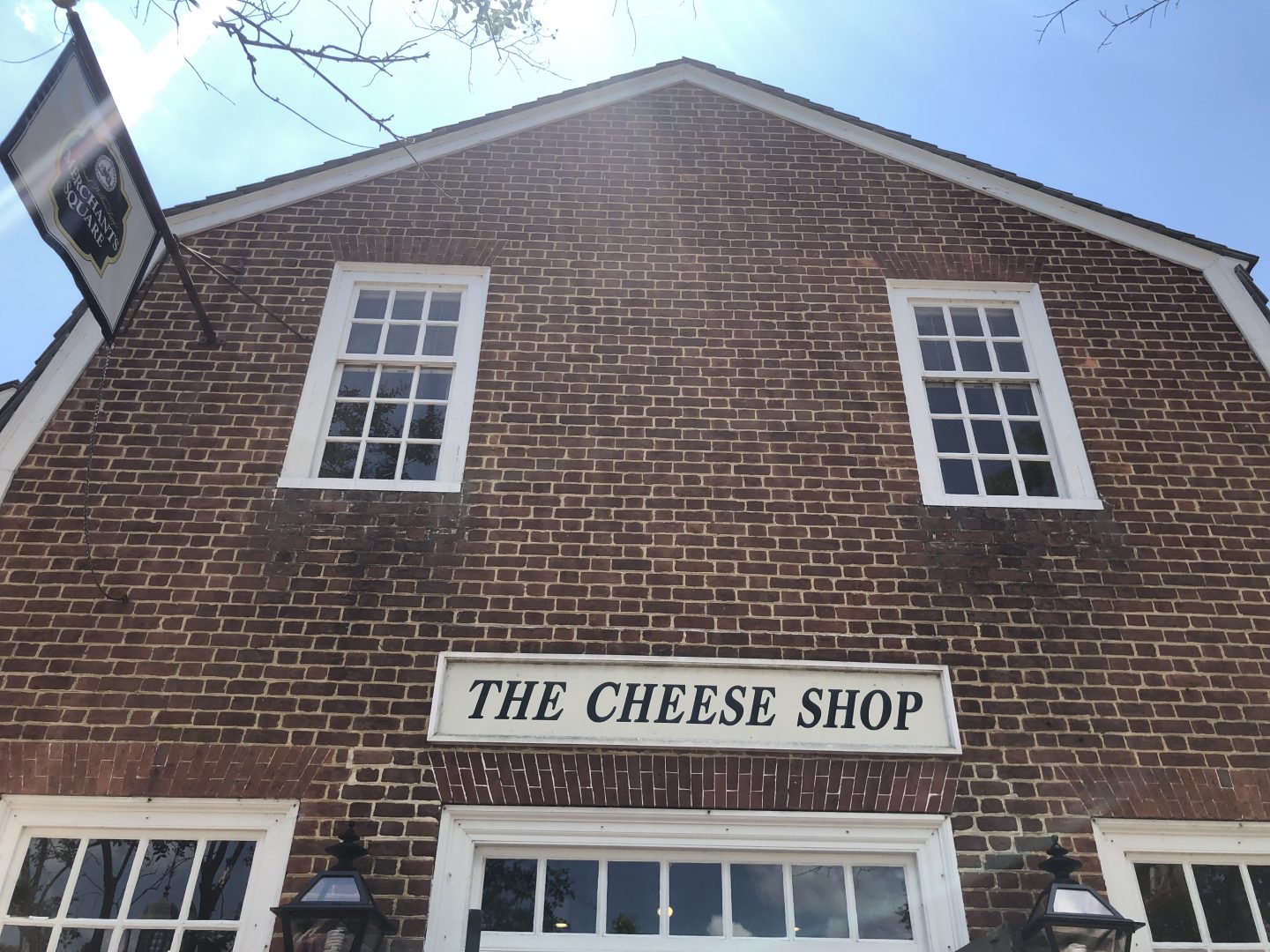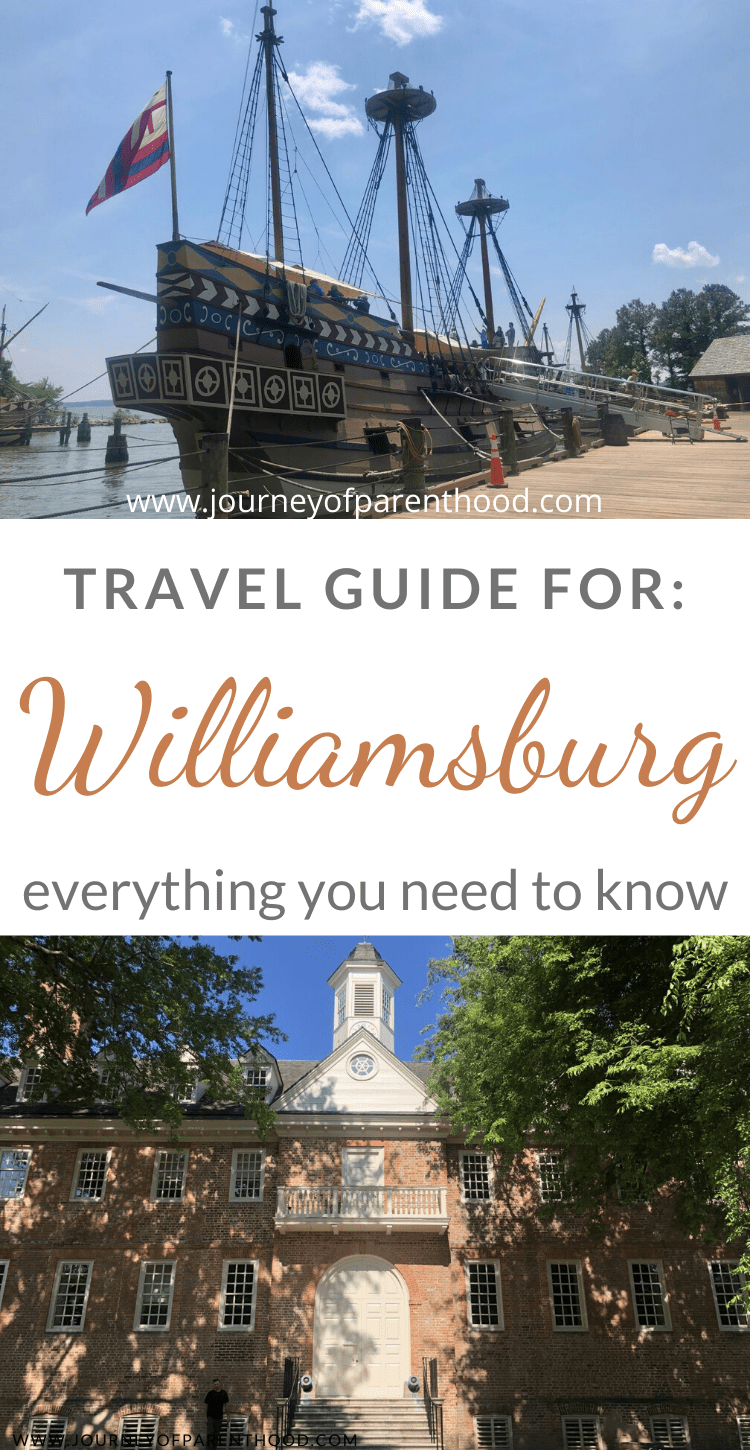 The Amber Ox is located just outside of Colonial Williamsburg (we walked!).
It also came highly recommended. It has a GREAT vibe and a wide variety of menu options.
We personally made a mistake of trying a "mocktail" that ruined our meal but if we hadn't had that drink we would have enjoyed it MUCH more.
My husband said the Mac and Cheese we had was the best Mac and Cheese he's ever had in his life!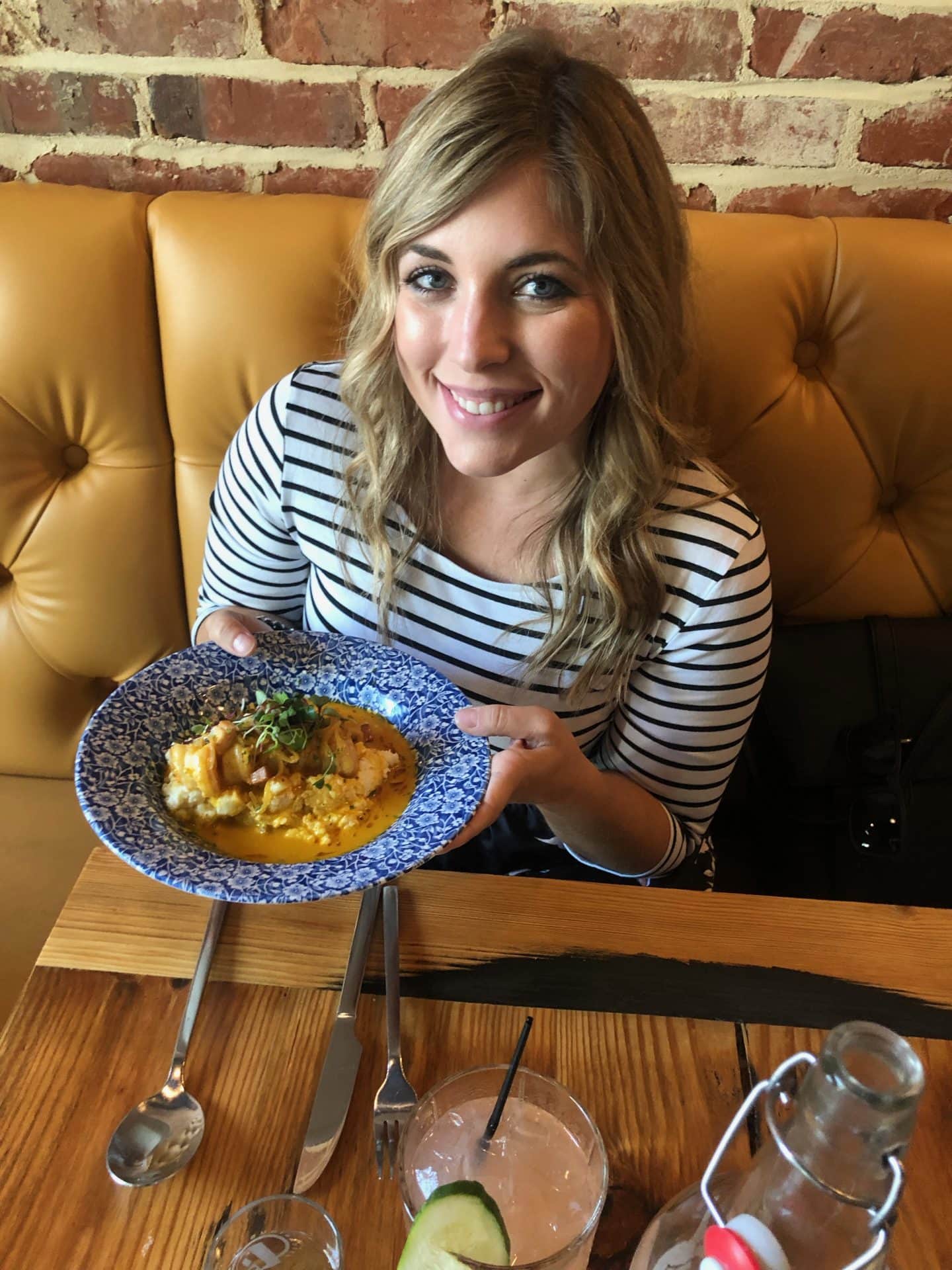 The Blue Talon is located in Colonial Williamsburg (we walked).
I'm not exaggerating when I say that this was quite possibly the very best meal of my entire life.
The corn soup is PHENOMENAL.
We never, ever order a special menu item but the steak special sounded so good and it did not disappoint.
The GÂTEAU BRETON dessert though is something I will crave in my dreams! SO FABULOUS.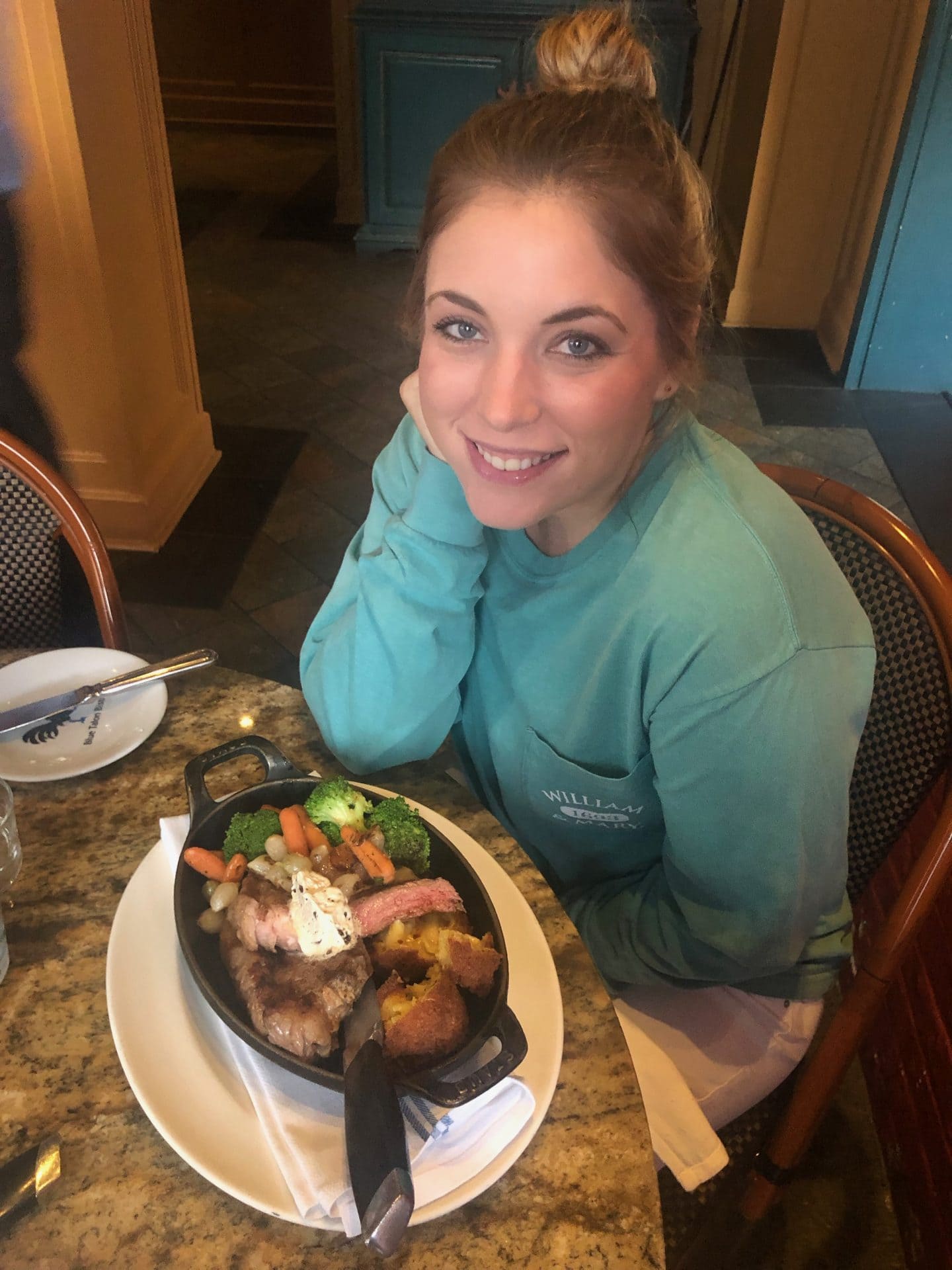 Things to Do in Williamsburg Virginia: Final Thoughts
We had a wonderful time finding fun things to do in Williamsburg Virginia.
I highly recommend it as a romantic (and historical!) getaway. There are so many cool places to explore, tons of historic sites, and such good food!
We did see many families and I think it could be a fun trip with older children who are able to appreciate the history without getting too bored by it. You could also make it a fun trip for the whole family if you plan a visit to a family friendly Water Country USA water park which has water slides, a lazy river, and a wave pool, or Busch Gardens Williamsburg theme park for roller coasters and attractions!
There's also a Great Wolf Lodge there too (we haven't been to it but we have been to the one in LeGrange!)
We don't plan to visit Williamsburg again as we are hoping to see many more historical sites in our great nation but I highly recommend adding Williamsburg to your travel list, especially if you love early American History!
Other Travel Guides You Might Enjoy: