Is the Wizarding World of Harry Potter Vacation Package worth it? Here is everything you need to know about the Universal Orlando Harry Potter package!
Universal Studios in Orlando, Florida is a fun place for any family to visit, but it also offers something else special: The Wizarding World of Harry Potter! If you or your family are Harry Potter fans, then chances are, you have or probably want to visit Universal Studios just for this reason!
But did you know that Universal also offers a special vacation package for The Wizarding World of Harry Potter? Yes, if you have a Harry Potter fan, you'll definitely will want to consider this while booking a trip to Universal Studios Orlando!
That's why we're going through all the important details of the Harry Potter Vacation Package at Universal, including a review of our experience!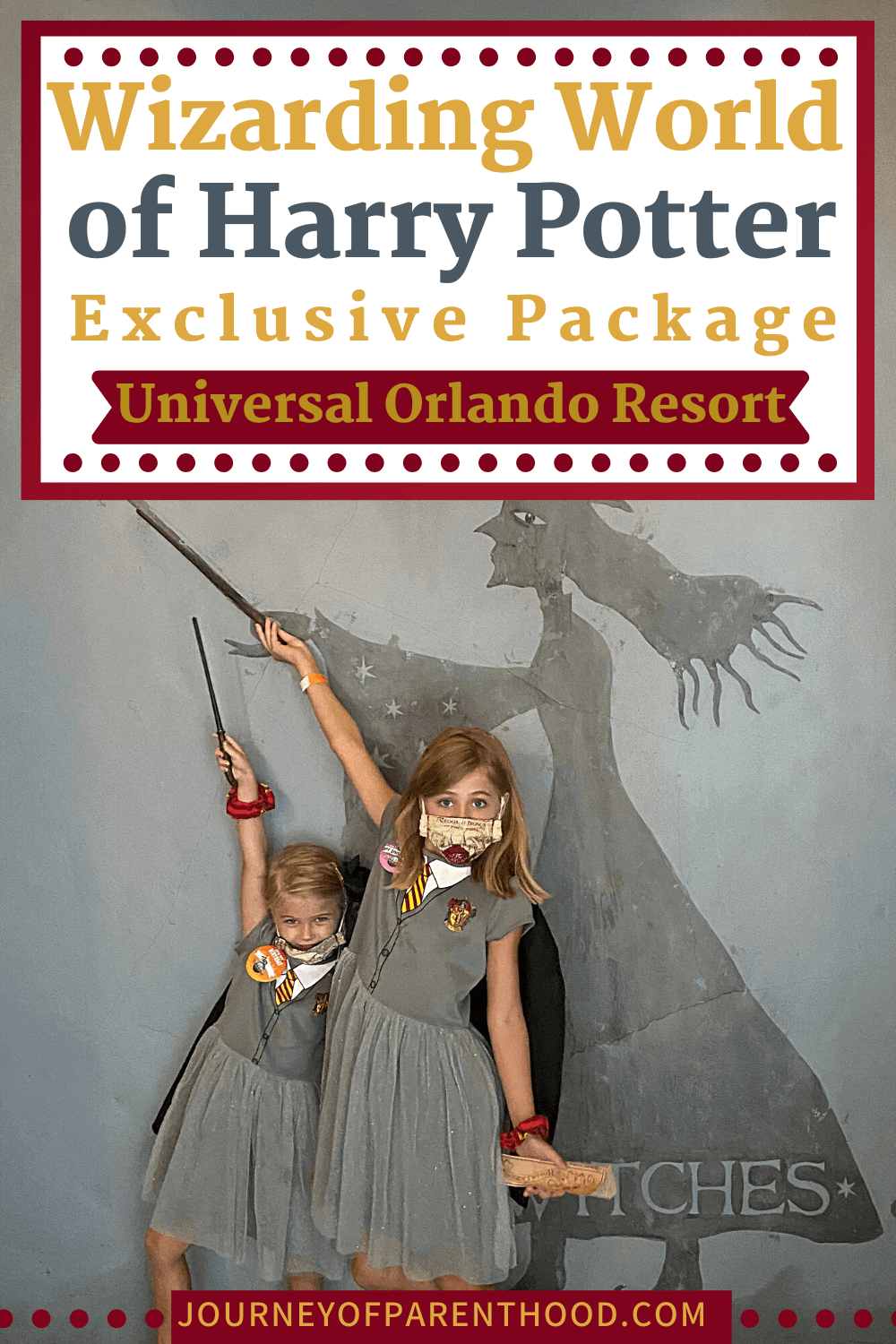 Disclaimer: this post may contain affiliate links.
What is Included in the Wizarding World of Harry Potter Vacation Package?
The Wizarding World of Harry Potter Vacation Package is an exclusive vacation package option offered when booking tickets and accommodations with Universal Orlando Resort.
It is a great option for any Harry Potter fan and worth pricing out when considering options for your family travel plans. Valid theme park admission is required to experience the Wizarding World of Harry Potter, and this exclusive Universal Orlando vacation package enhances your ticket and accommodation booking.
The package may vary with details and may change with what is offered as part of the package at any time. Be sure to visit Universal Orlando's Website for all the details and pricing.
If you're looking for a great deal on your stay at Universal be sure to price compare here to make sure you've saved as much as you can on your stay 🙂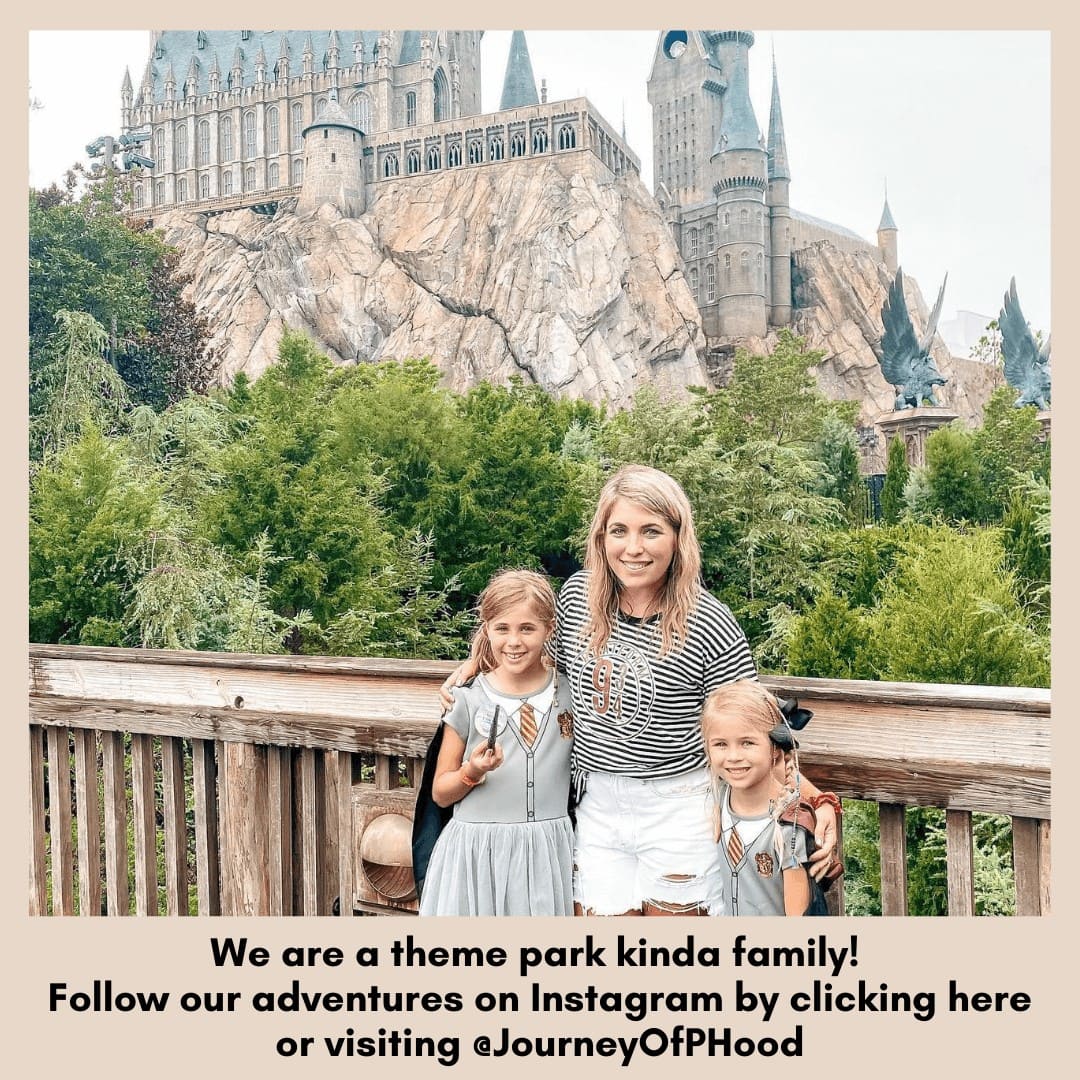 Harry Potter Vacation Package Keepsake Box
As a mom, I love special details that help bring extra magic to our family vacations. The Harry Potter World package includes a special themed keepsake box along with Harry Potter lanyards for your entire party (super handy to carry your hotel room key, park tickets, Express passes etc… and can be used to attach a mask too!)
The themed keepsake also includes three luggage tags (Harry, Hermonie and Ron, naturally) and all the info for your stay!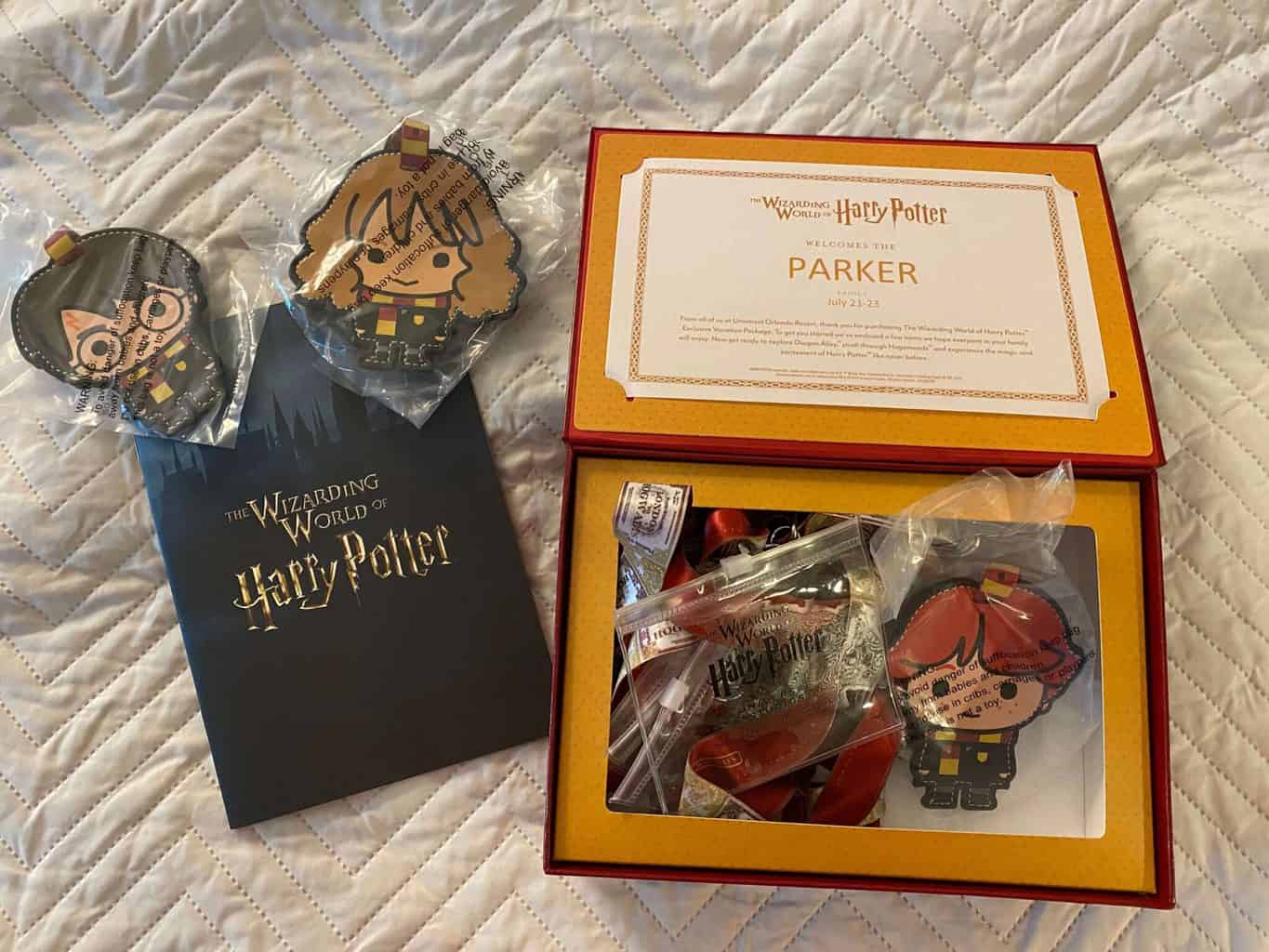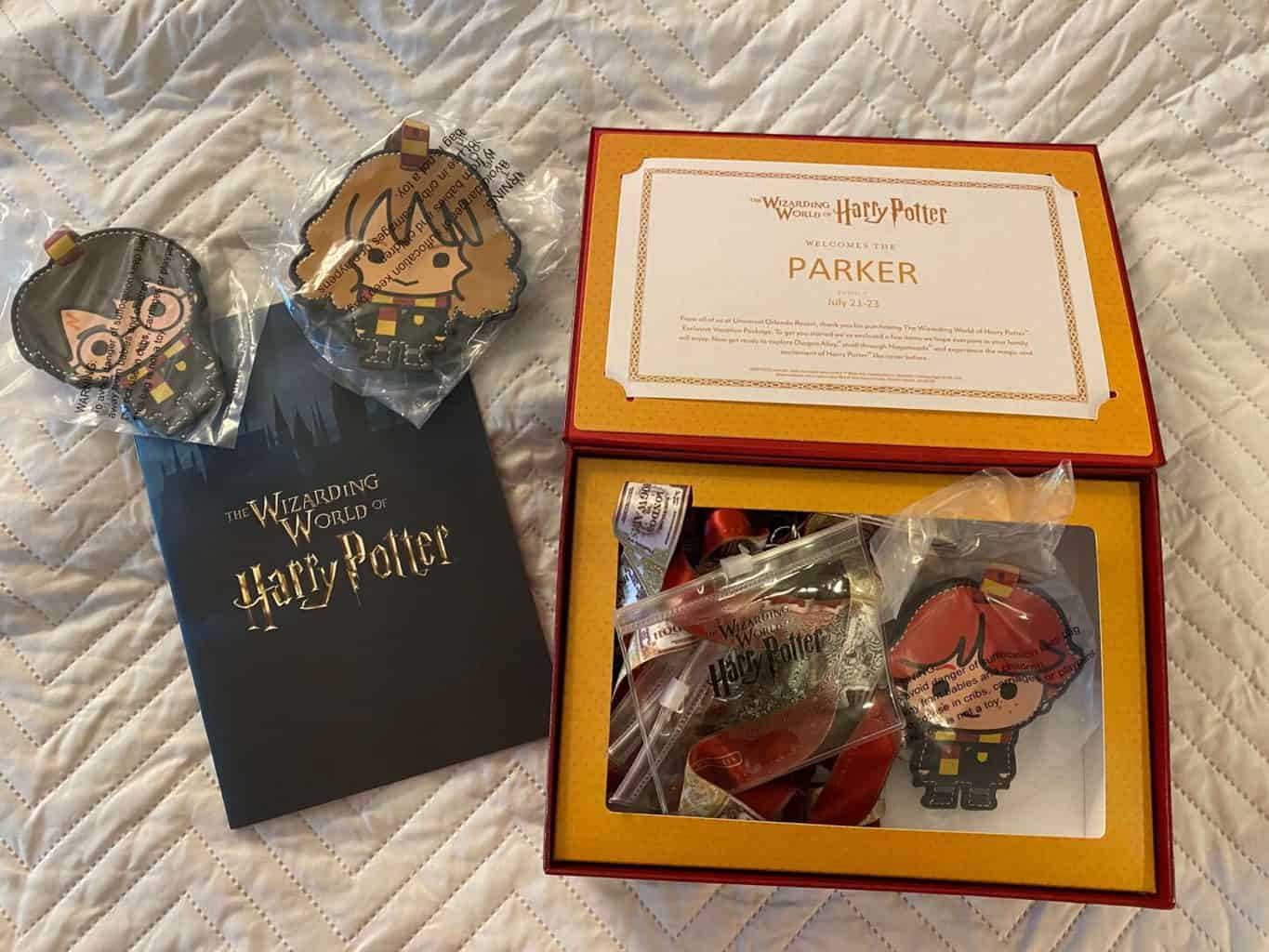 Shutterbutton's Photography Studio Session
Part of the package includes a reservation at the Shutterbutton Photography Studio located in Diagon Ally in Universal Studios Florida.
This session was SO fun for my Harry Potter loving daughters. We were able to act out scenes from the movies in front of a green screen so watching the final product was a fun surprise! The package includes a DVD of the live-action shots as well as 1 print out photo of your choosing (8×10 size) and the digital download of that photo. Additional photos may be purchased for $25 each.
The experience is super, super fun and engaging on its own but getting to watch the DVD at home makes it even more special!
The session time can be arranged when making your vacation reservation. Not able to make it at your time? You can ask at the desk at the Shutterbutton location and they can usually work you in at another time that works better for your schedule.
Upon arrival at your resort stay, you will be given a separate ticket for this experience and must present the ticket at check in to your photo session.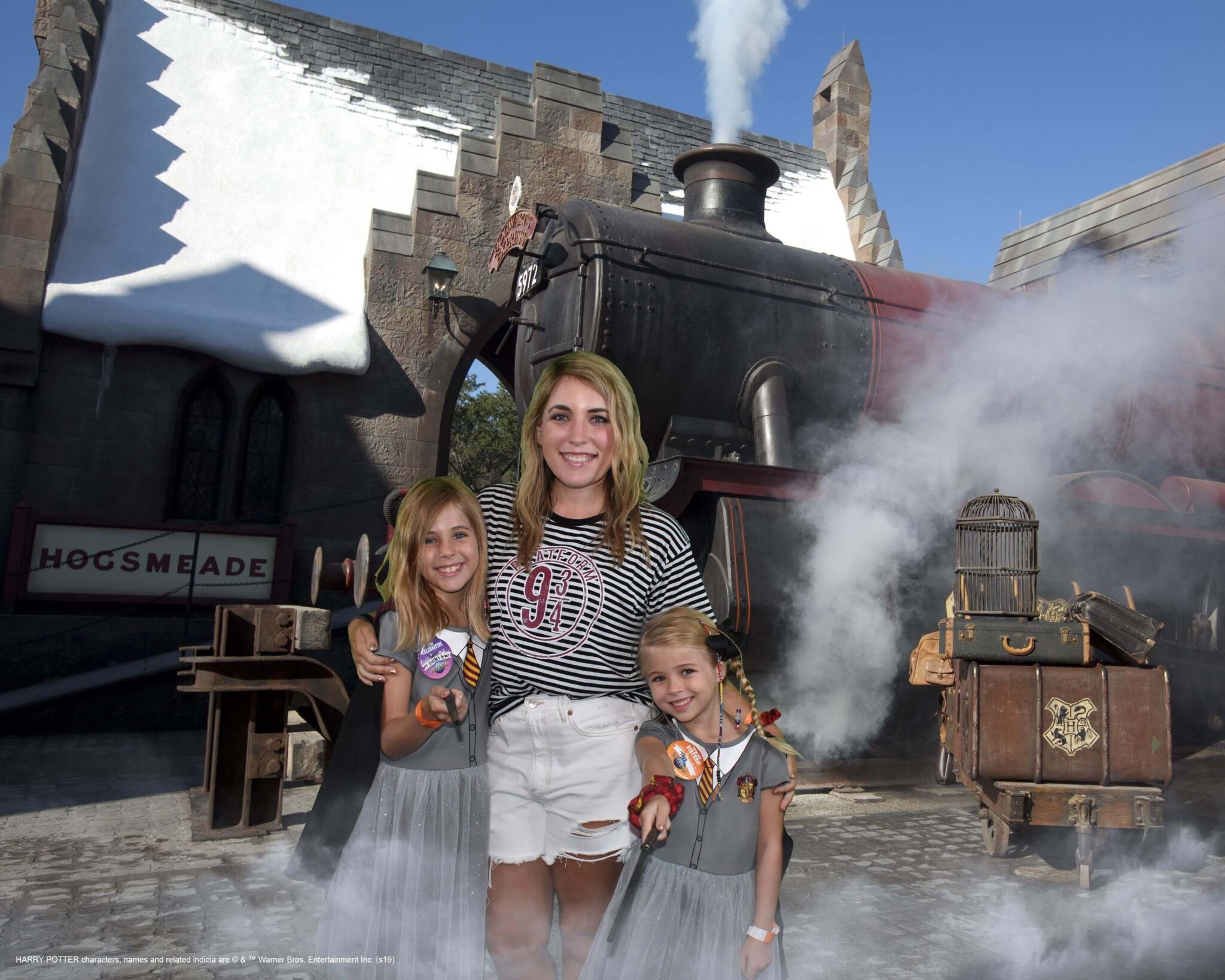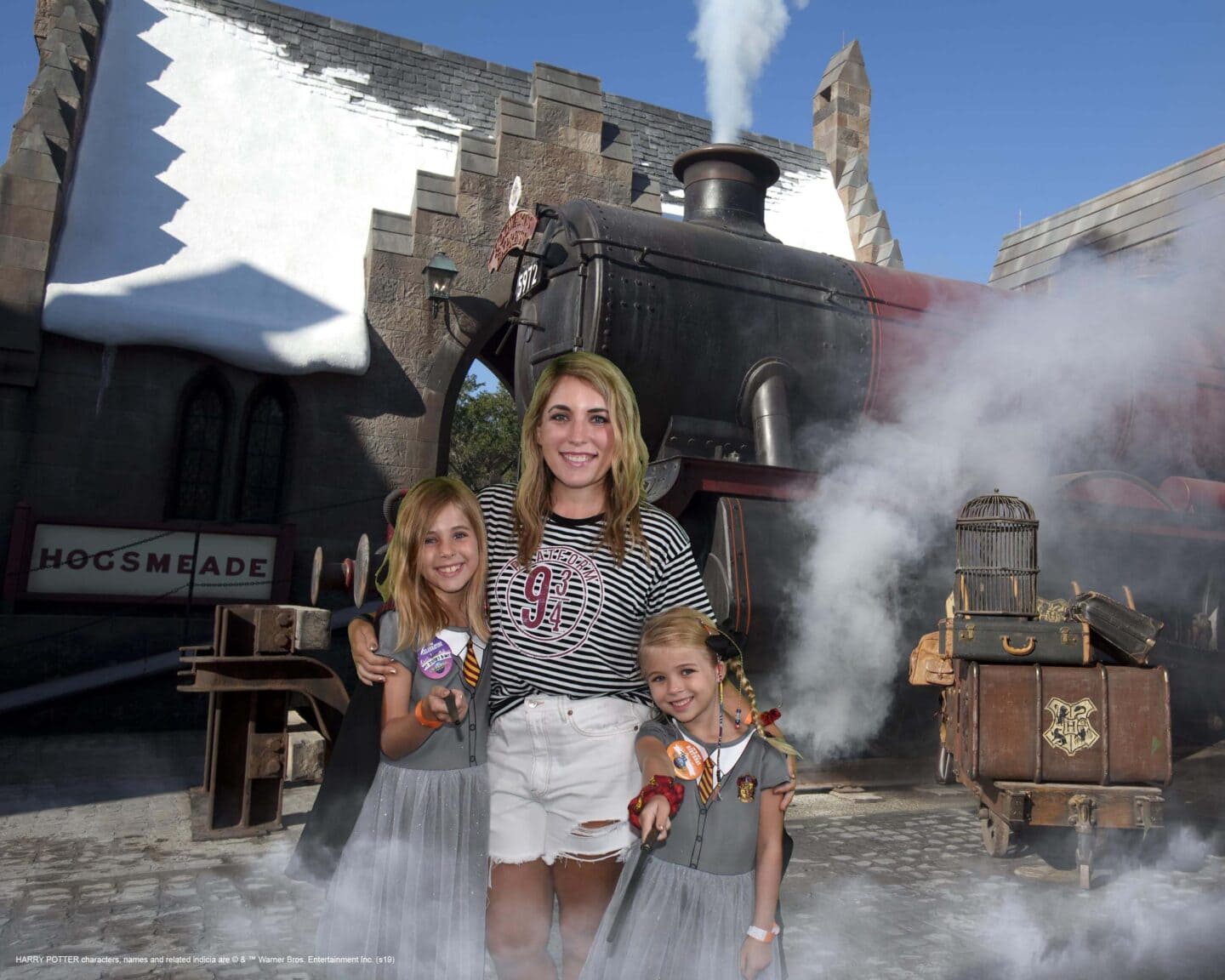 Breakfast at Leaky Cauldron and Three Broomsticks
The Wizarding World of Harry Potter vacation package includes a breakfast at both The Leaky Cauldron in Diagon Ally and Three Broomsticks in Hogsmeade.
Guests are able to schedule their breakfast times when booking the vacation package. If the time you have scheduled doesn't work for you, just visit the restaurant and ask if you can change your time. They tend to be very accommodating and understanding.
The meals include a voucher for each guest in your party to order a breakfast meal and drink from the menu. When we dined at Leaky Cauldron our total would have been over $70!
As a tip, butter beer counts as a drink option! It's a great chance to try the famous drink in one of the three varieties (frozen, cold or warm).
When working out the pricing for the Universal Harry Potter Package, the meal vouchers can really add up to help justify the package cost.
I also recommend scheduling your breakfast reservations for as late as possible. This allows you to take advantage of the lower wait times in the early morning on rides and attractions and can help make the "free" breakfast count for lunch too!
Eat a light snack first thing in the morning and then be nice and hungry by your late brekfast reservation. Fill up with that meal and you'll be good to go to skip lunch!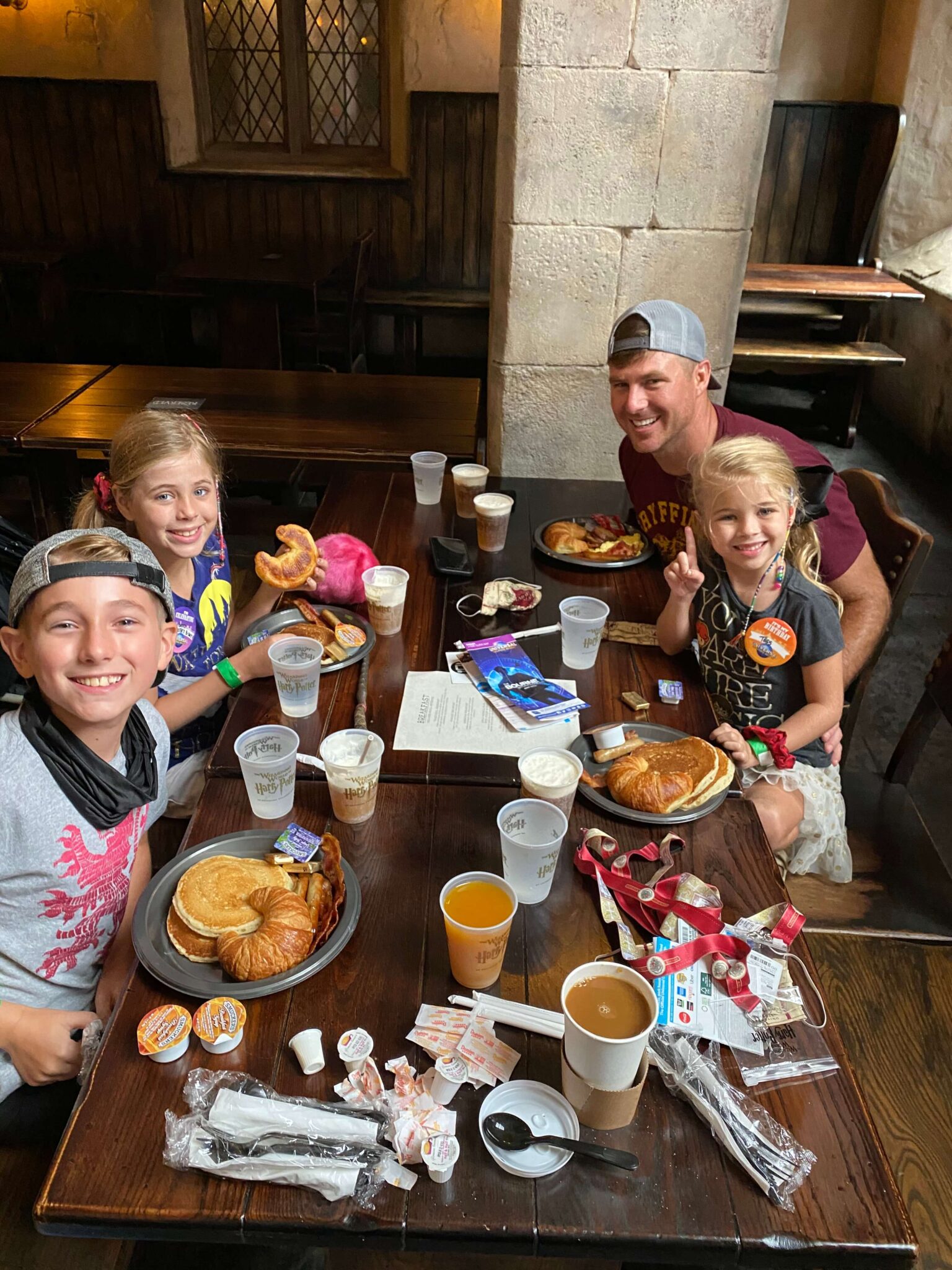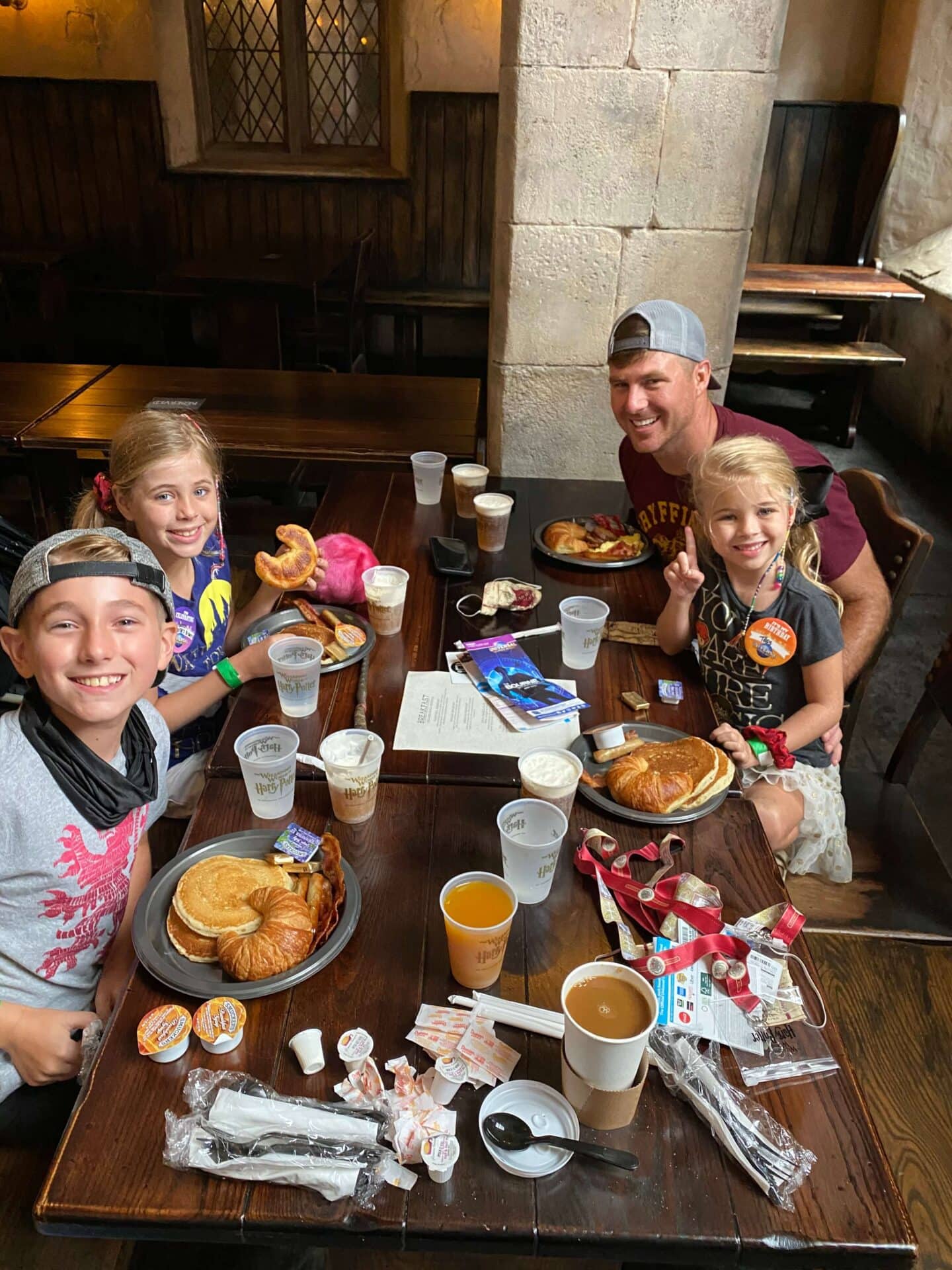 5 Night Hotel Accommodations
When booking the Harry Potter Vacation Package, the website states it is part of a 5 night hotel stay. You can choose any of the Universal Orlando Resort properties, and prices vary depending on where you choose to stay.
Nearby Universal partner hotels are also allowed to be booked as part of this vacation package.
I find it best to call Universal directly and discuss all of the options with a team member who can best guide through the many decisions available and how each choice impacts the price of the overall travel plans.
When we booked our Harry Potter Vacation Package we decided to stay at Loews Royal Pacific Resort and opted to only book three nights rather than five.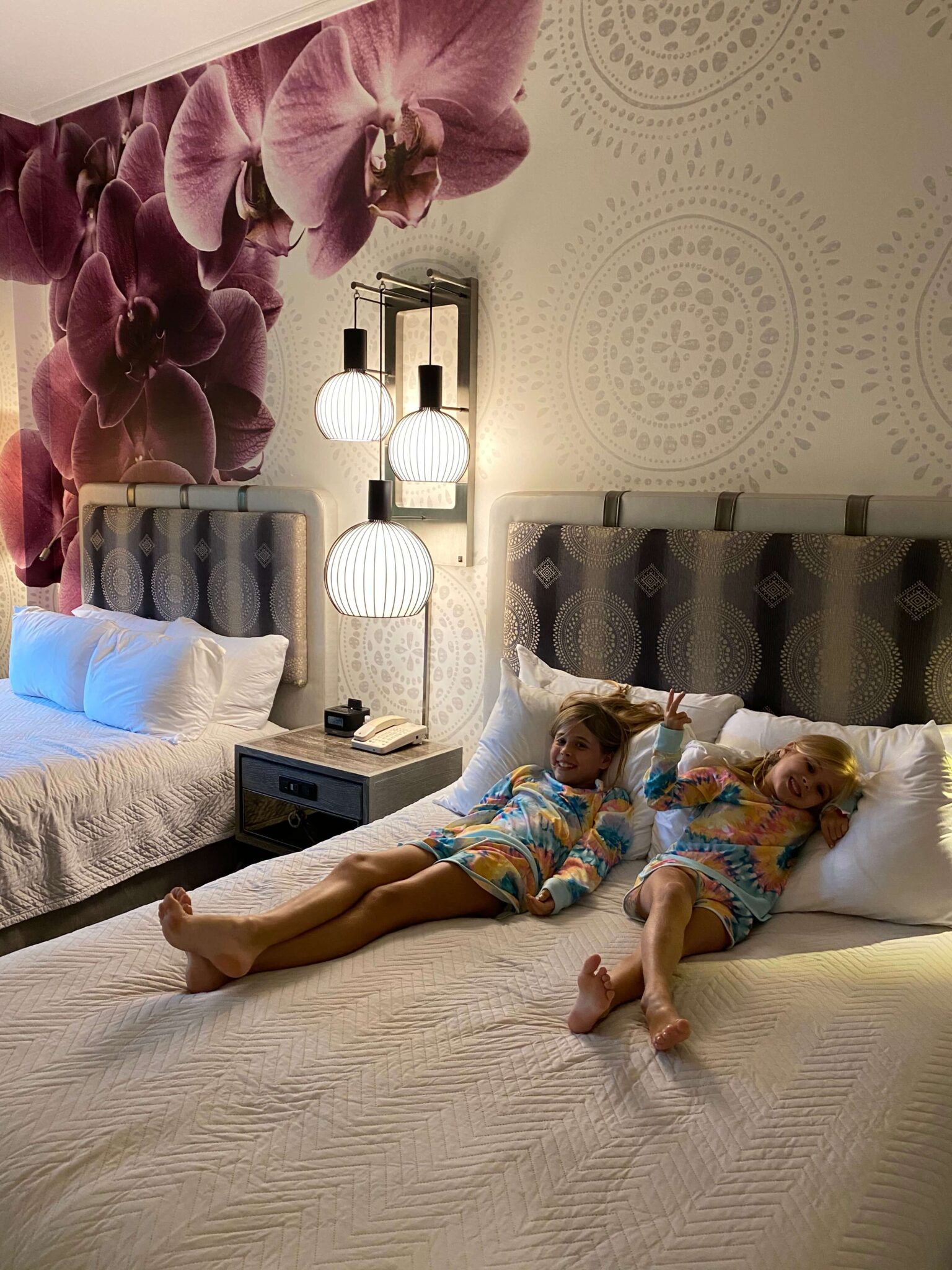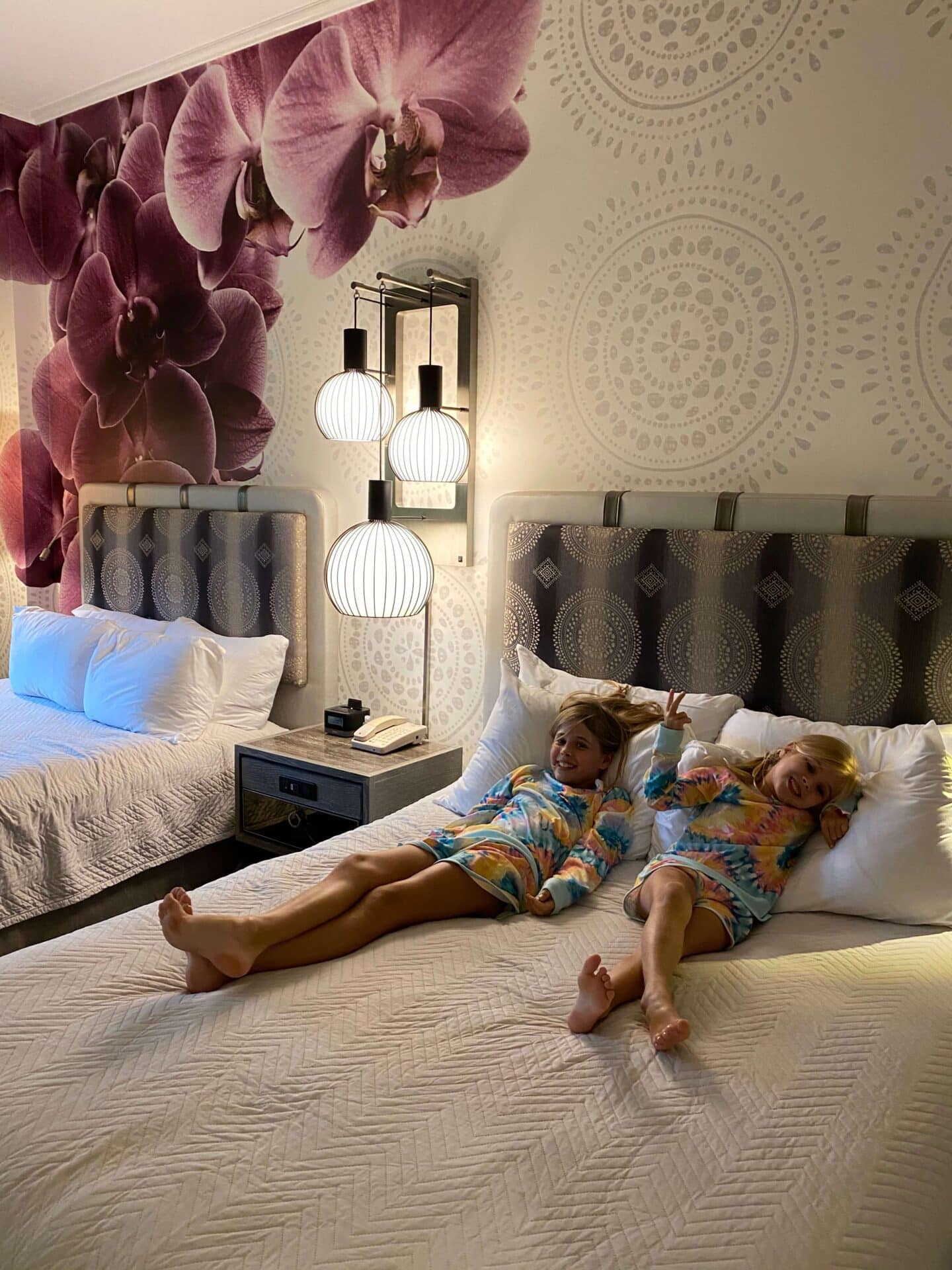 Theme Park Tickets
Creating a vacation package with Universal includes theme park tickets. The current offer included as part of the Wizarding World of Harry Potter package is a 2 park 2 day park to park and 2 free park days promo. Which means you get four park days to use at both Universal Studios Florida as well as Universal's Islands of Adventure and can visit both parks on each day of your stay.
The ability to visit both theme parks on the same day is very important when wanting the full Harry Potter experience at Universal.
In order to ride The Hogwarts Express you must have a park-to-park ticket as the train travels between both theme parks and The Wizarding World is spread out between the two parks.
Diagon Ally is located in Universal Studios Florida (and has the Escape from Gringotts ride) and Hogsmeade is located in Universal Islands of Adventure (and has Harry Potter and the Forbidden Journey, Flight of the Hippogriff, and Hagrid's Magical Creatures Motorbike Adventure).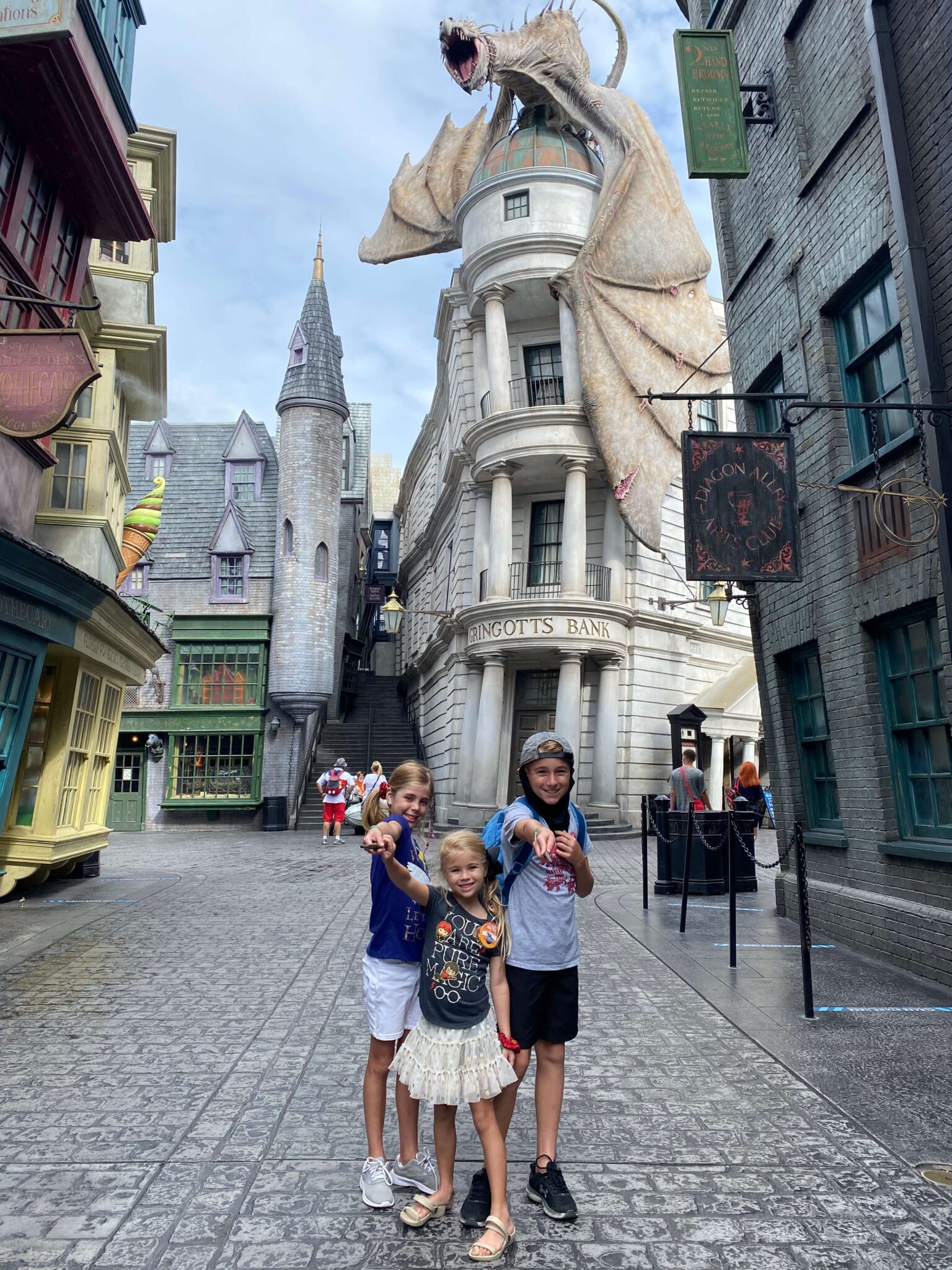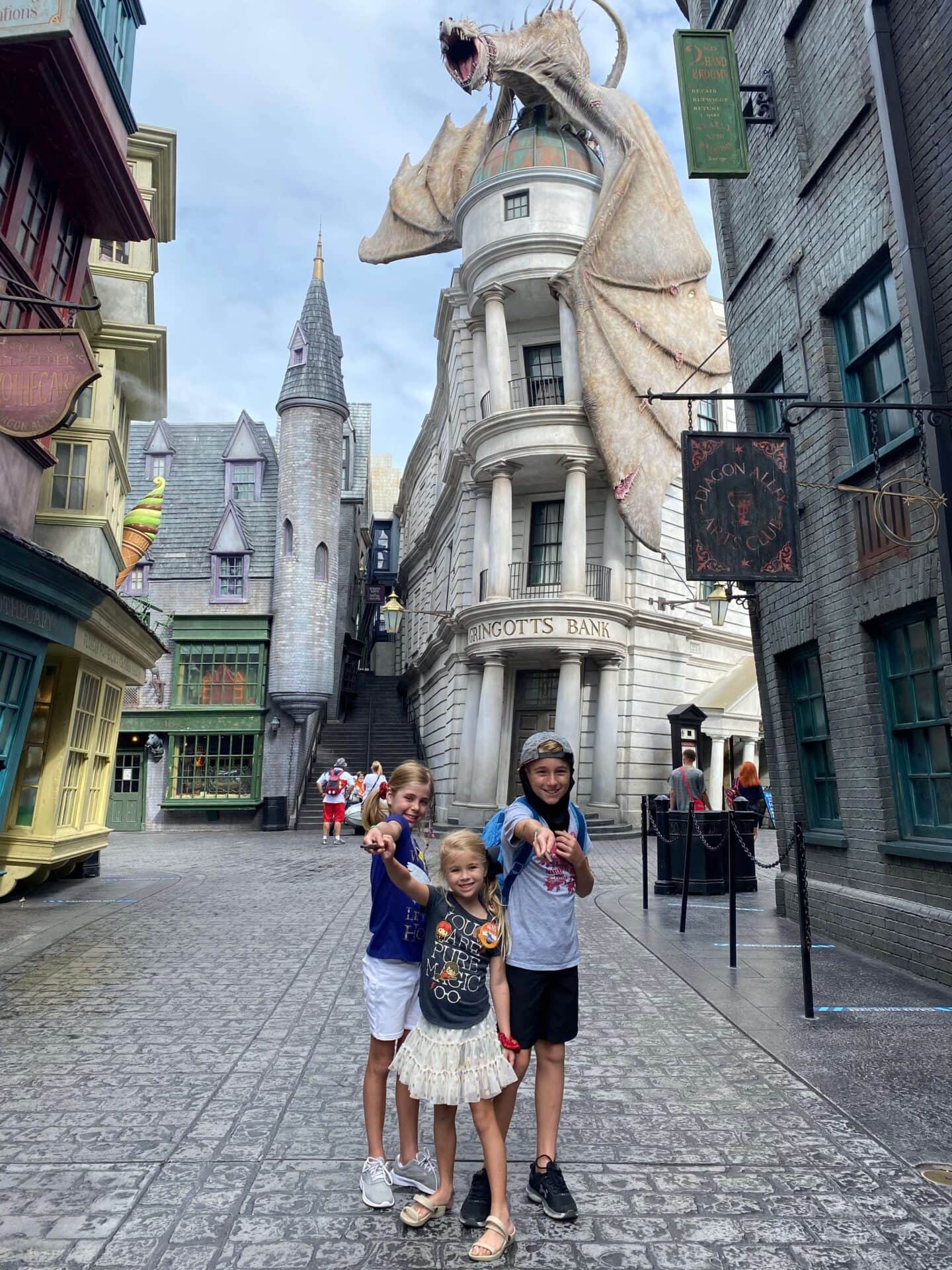 Early Park Admission and Express Pass
An advantage for staying on property at Universal Orlando Resort is the ability to enter the parks and arrive at Universal Citywalk before non-resort staying guests.
Also, depending on which accommodation you book, you may also be able to receive free unlimited expresses passes per person and valid for each day of your stay.
With a focus on all things Harry Potter I highly recommended using that early park admission advantage to head to Ollivanders Wand Shop in Diagon Ally and secure a reservation for your children to experience the wand ceremony. It's incredible and will be THE most magical moment of your stay!
You are able to purchase the interactive wands from Ollivanders which allow you to partake in the spells around both Diagon Ally (don't miss Knockturn Ally too!) and Hogsmeade.
If you opt to purchase the interactive wands they are lifetime guaranteed so if a child breaks it or it stops working for spells simply ask for a repair at any Ollivanders location.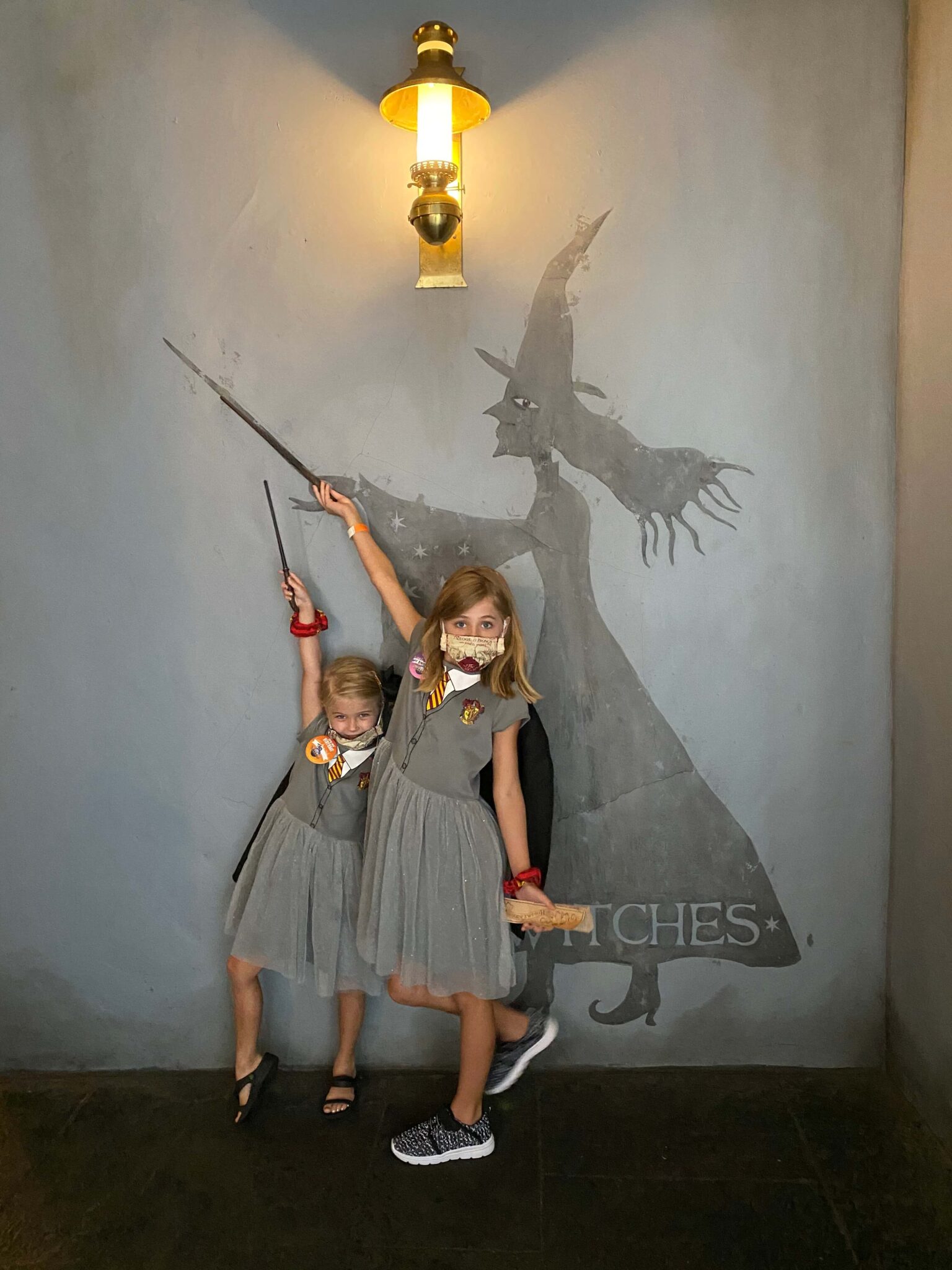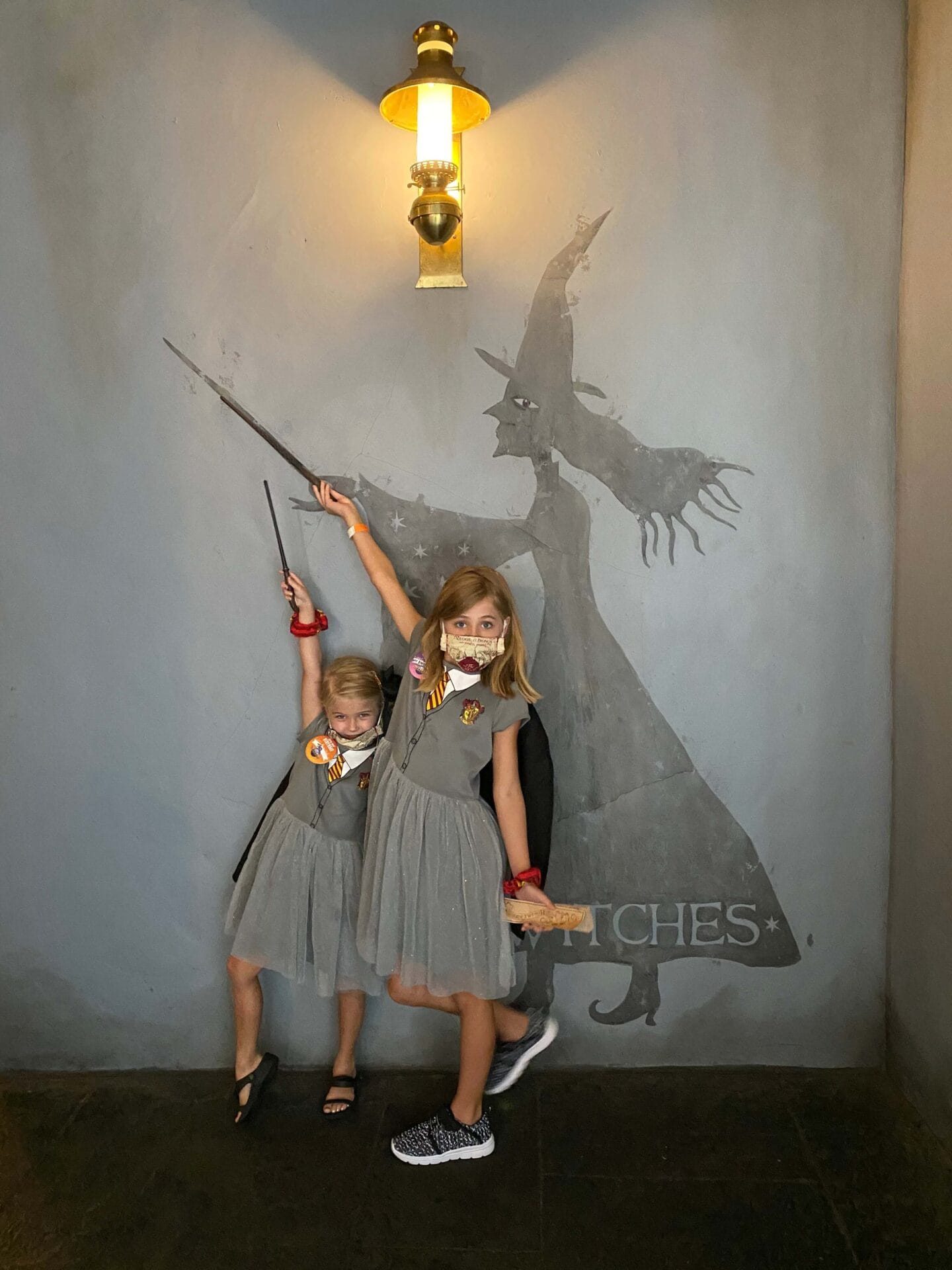 Review of The Wizarding World of Harry Potter Vacation Package at Universal Orlando
When booking our Universal trip, I decided to add the Wizarding World of Harry Potter Vacation Package onto our travel plans.
I did NOT choose to stay for the full five nights and the team member I spoke with was able to adjust the package for a two night stay. In doing so, we did give up one of the free breakfast meal vouchers in the package (we were able to dine at The Leaky Cauldron but not the Three Broomsticks).
I felt the Harry Potter Package was a good value for the type of vacation I was wanting to experience. When I broke down the cost per person the addition of the vacation packages made sense!
My daughters LOVE Harry Potter and I was wanting this trip to be very special for them.
They LOVE the themed keepsake box and the photo session was a highlight of our trip. We have a Nixplay digital photo frame and plan on putting in our oldest daughter's room when she converts it to a Harry Potter theme to showcase the photos from our trip.
I am thankful that Universal is very flexible regarding the Harry Potter exclusive vacation package and I do highly recommend calling Universal Orlando directly and speaking with a team member to help figure out the best pricing, accommodations, tickets, and packages for your unique travel needs.
Planning a Trip to Universal?
A great way to make your trip extra special is to have a countdown leading up to your vacation! It's a simple way to build anticipation for your travels. I made this Harry Potter themed countdown for my girls. Simply print and put in an 8×10 frame then use a dry erase marker to count down each day!