Our annual beach trip to St Augustine is one of our favorite family vacations!
We usually try to go to another beach at some point during the year. All of my babies have had their first time to the beach in Satellite Beach, Florida which is where I'm from originally. It's important to me that each of them have that first beach experience where I first visited the beach as a baby! SO many of our kids' experiences are ones that they share with Zach since we live in the town where he grew up and I just love giving them as many experiences as I can that relate to me too 🙂
Unfortunately it never panned out for us to make it to Satellite Beach prior to our St Augustine trip. We originally planned to go over Spring Break but then it was super chilly so we didn't go. Then we planned another weekend to go and it poured down rain the entire weekend. While it hurts my heart that Spear doesn't have that same "first" as the others…St Augustine is such a special spot for OUR family. It's a tradition Zach and I started when we were dating and THE first family tradition we ever had together so it's still super special!
In recent years our St Augustine trip has become a week long vacation which is SO fun! Having so much time really allows us to RELAX and just enjoy each other! For the last few years we've stayed at Ocean and Racquet and I couldn't recommend it more! We stay in the 500 building which is SUPER close to the beach!
We shared what we were most looking forward to for the week: Kye's answer, Britt's answer and Tess's answer!
Ready for an Epic Week!!!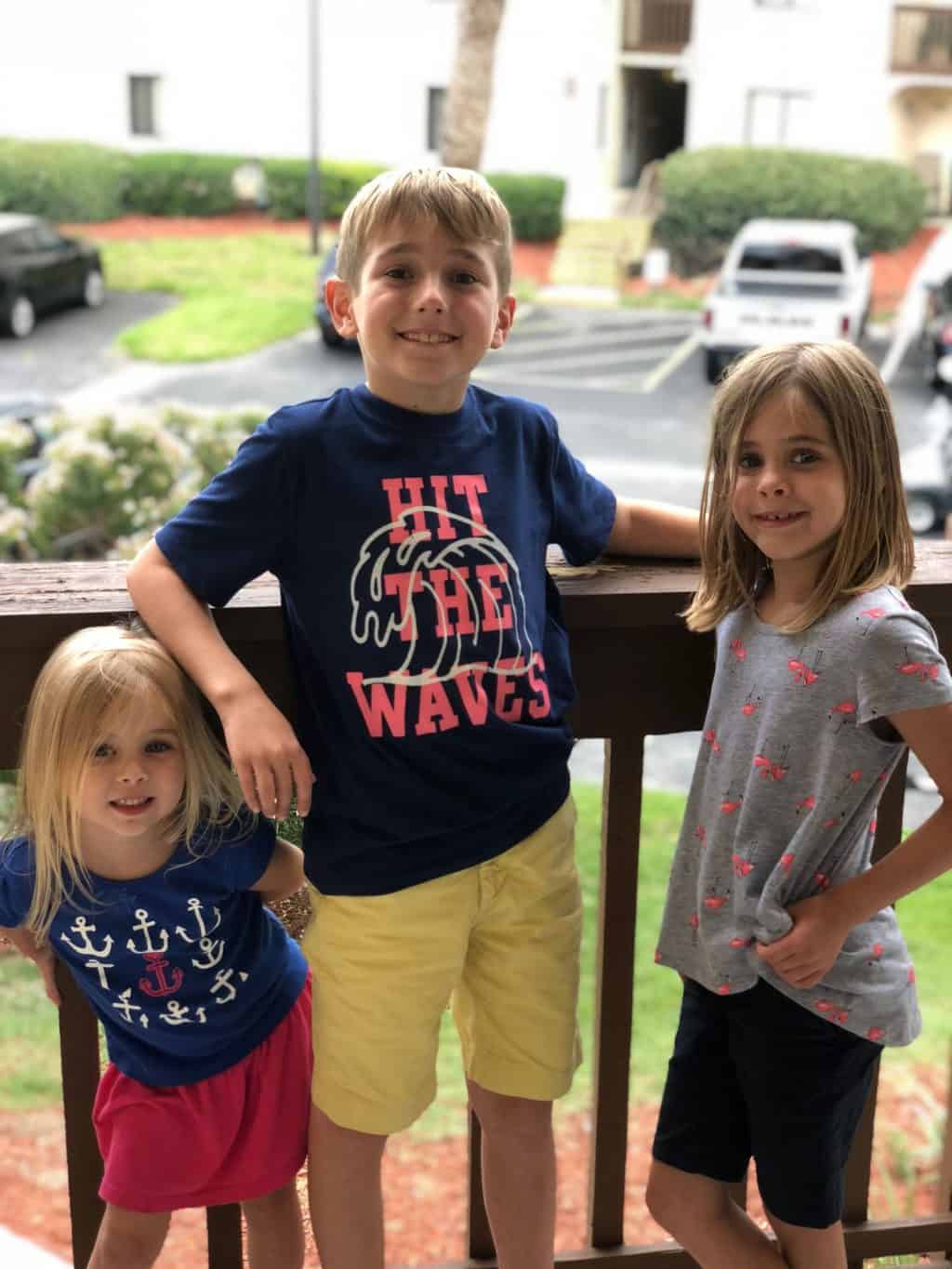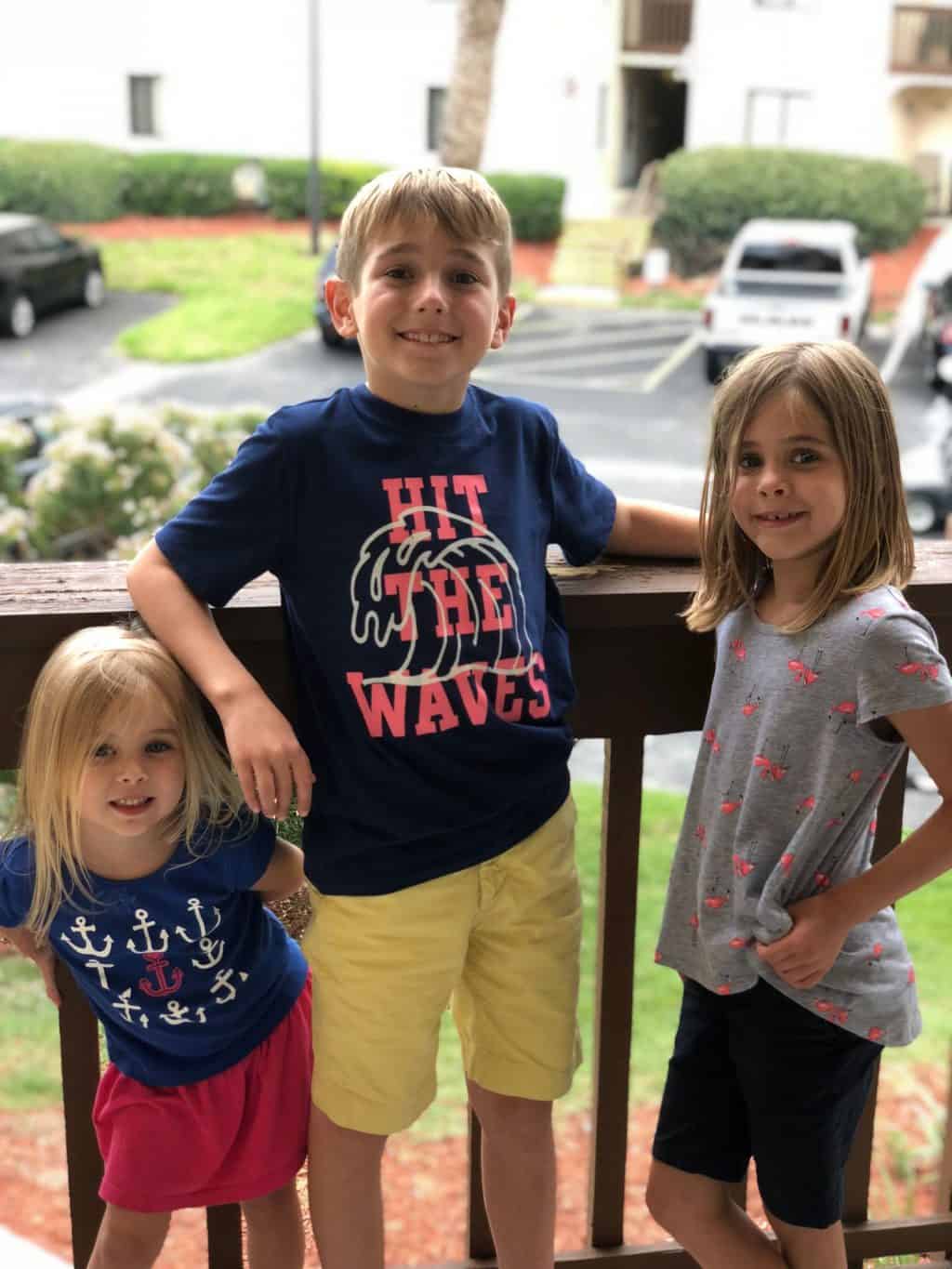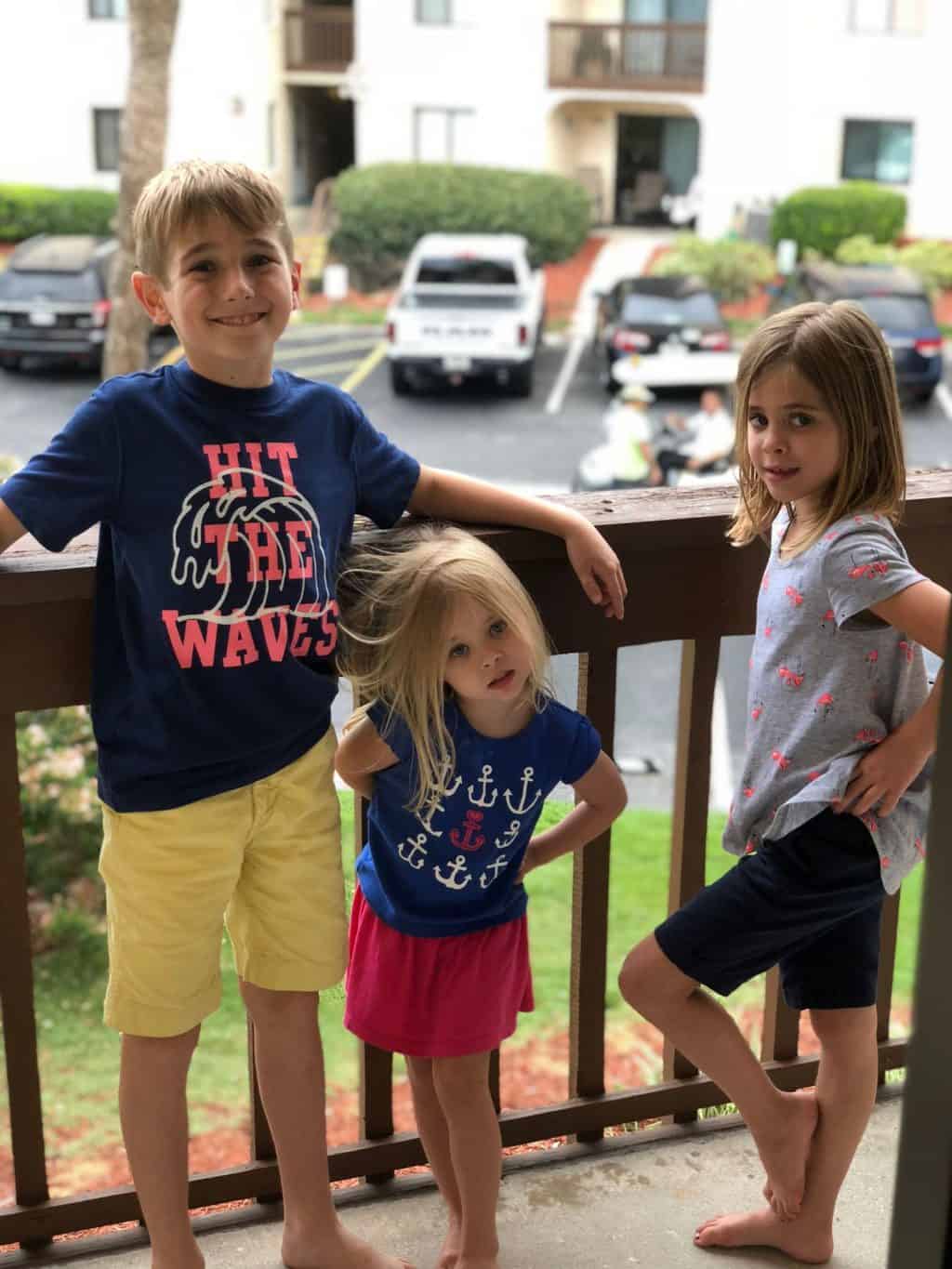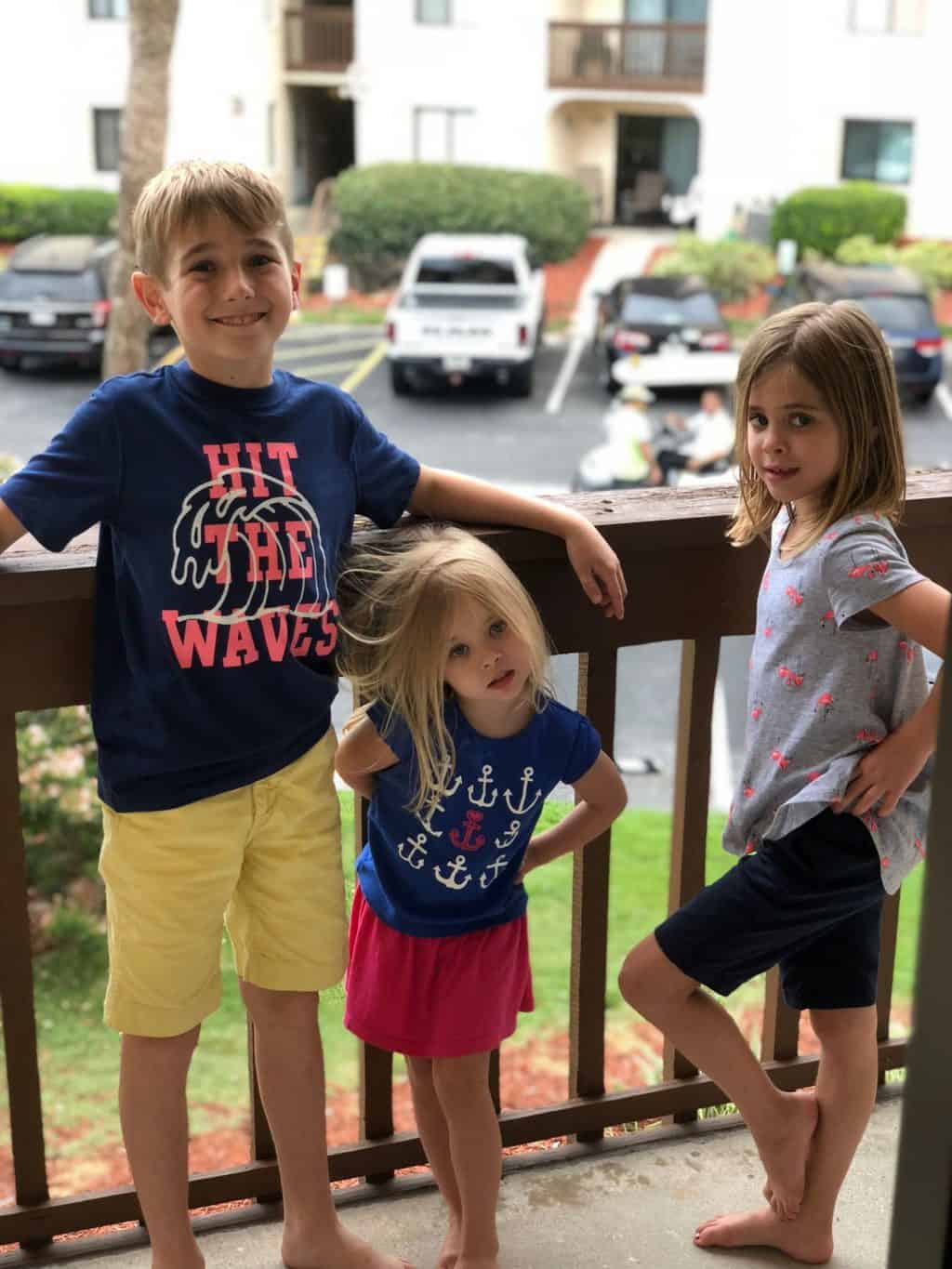 The kids were asking me all sorts of questions about the ocean. Like I'm some geography expert. Yall would have died hearing me try to explain how big the Atlantic is and how far it reaches…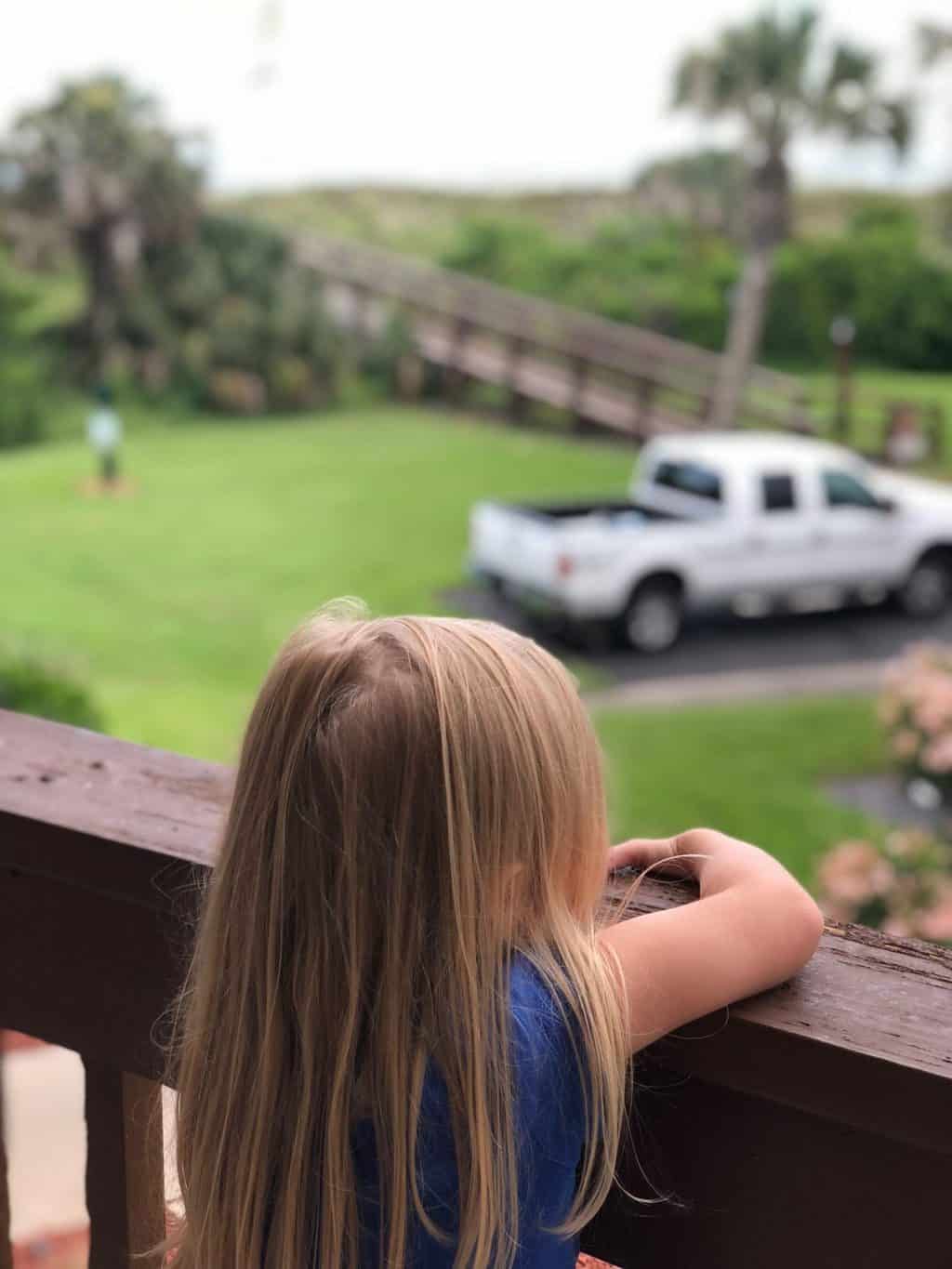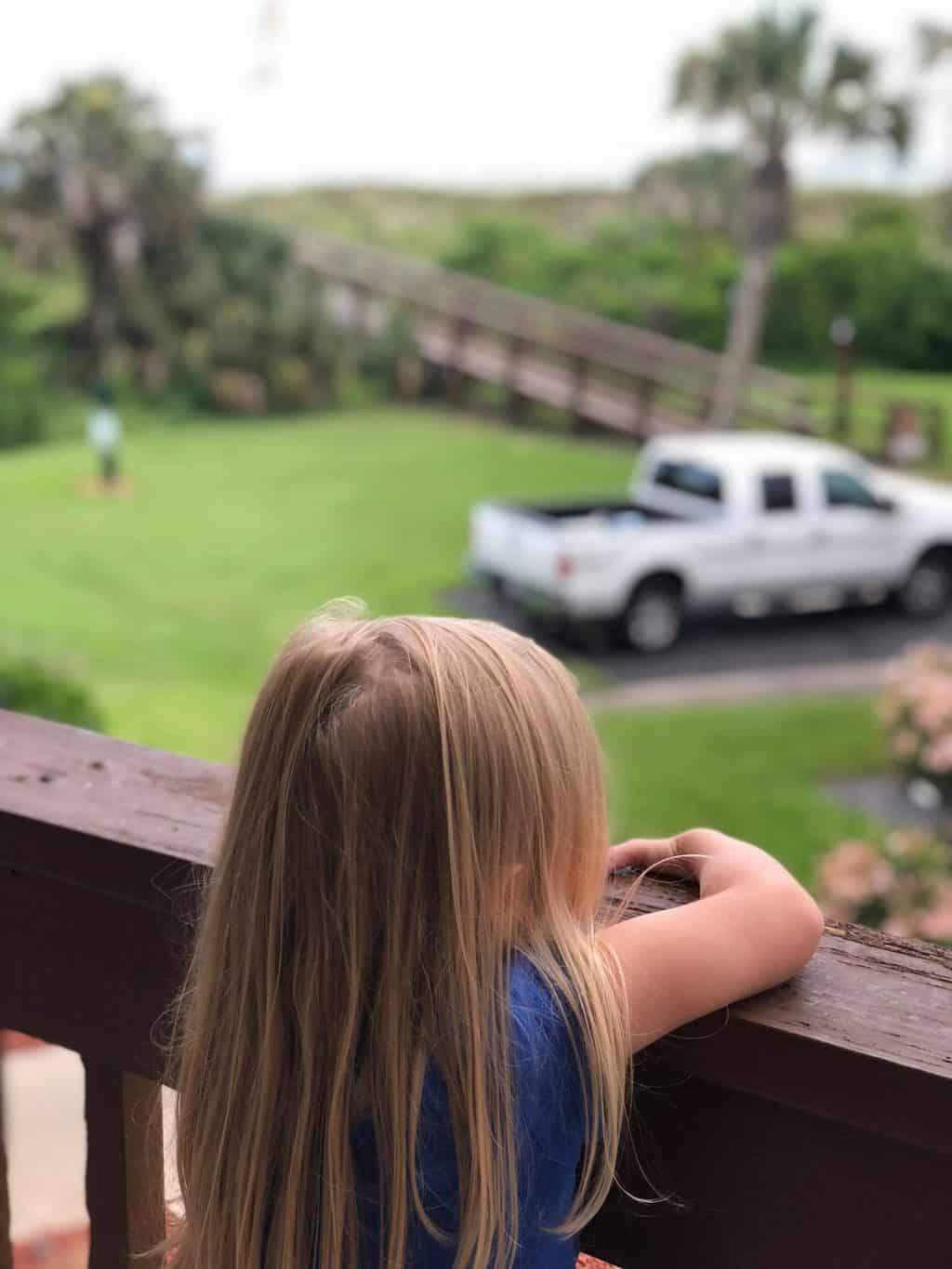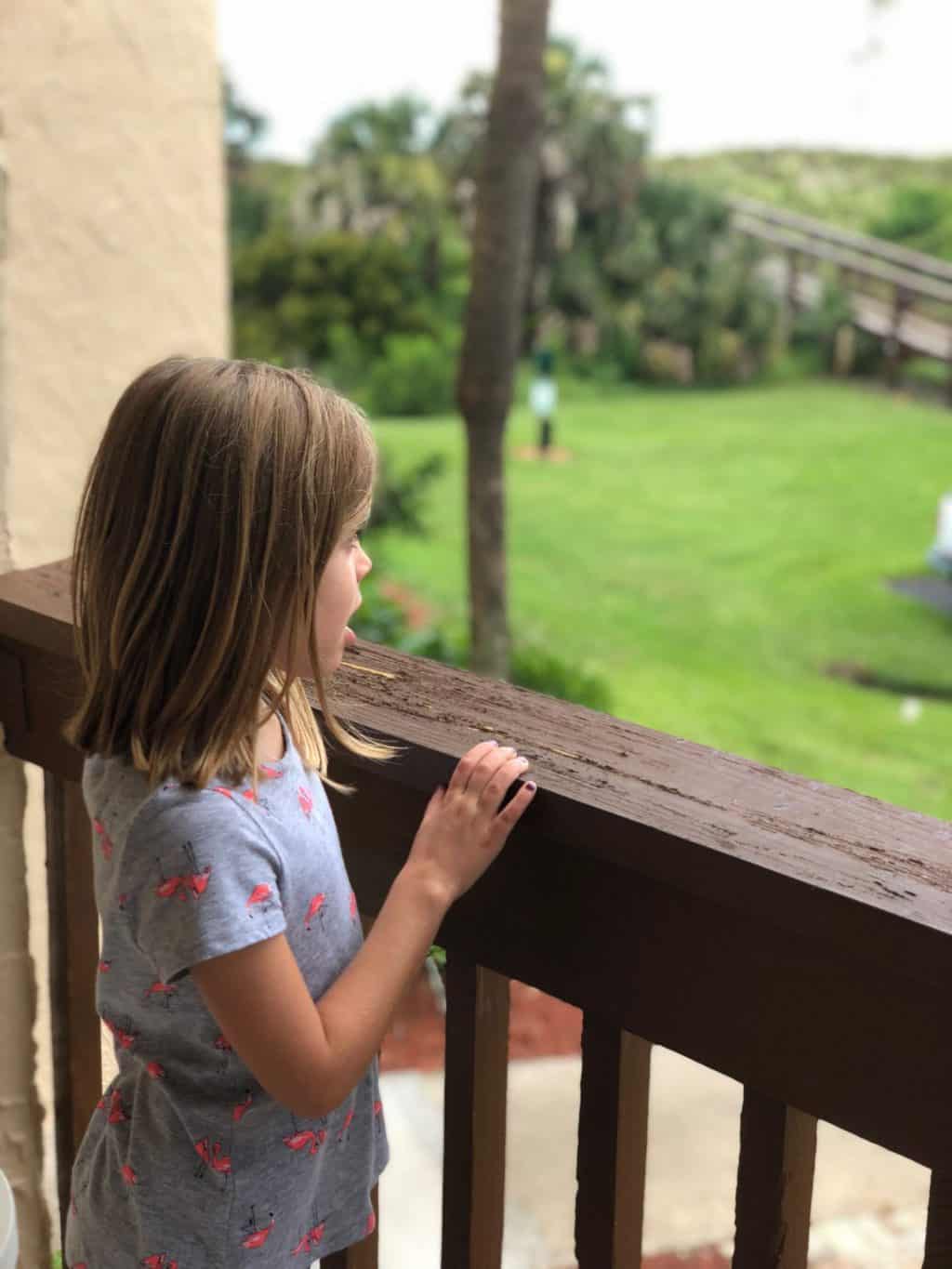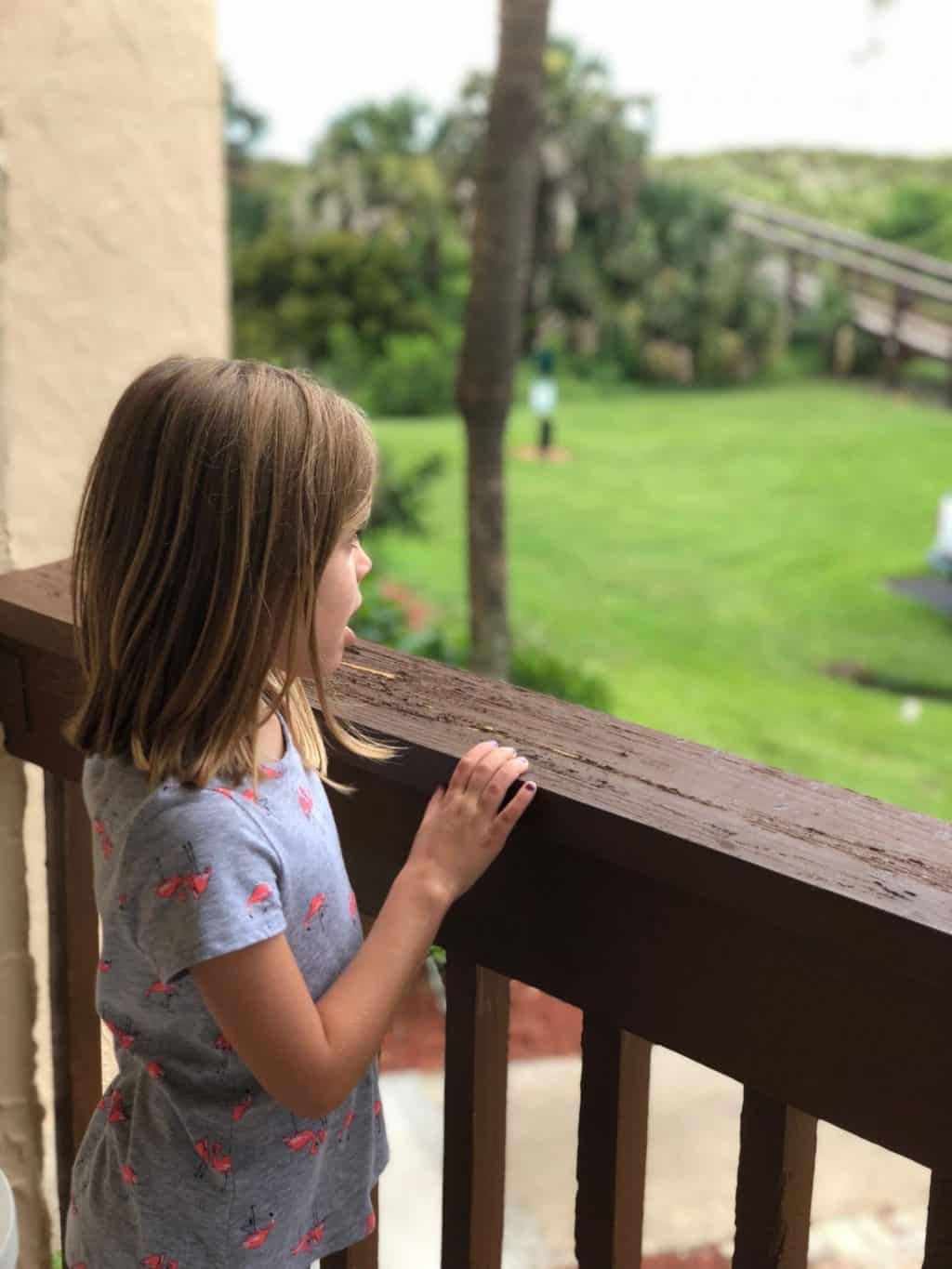 We let the kids bring their tablets for the drive down as well as for any downtime during the week as sometimes sharing a room can mean more of a "rest time" than "nap time" situation. Kye and Britt brought along their Kindle Fires and Tess brought her LeapStart and Minnie Headphones!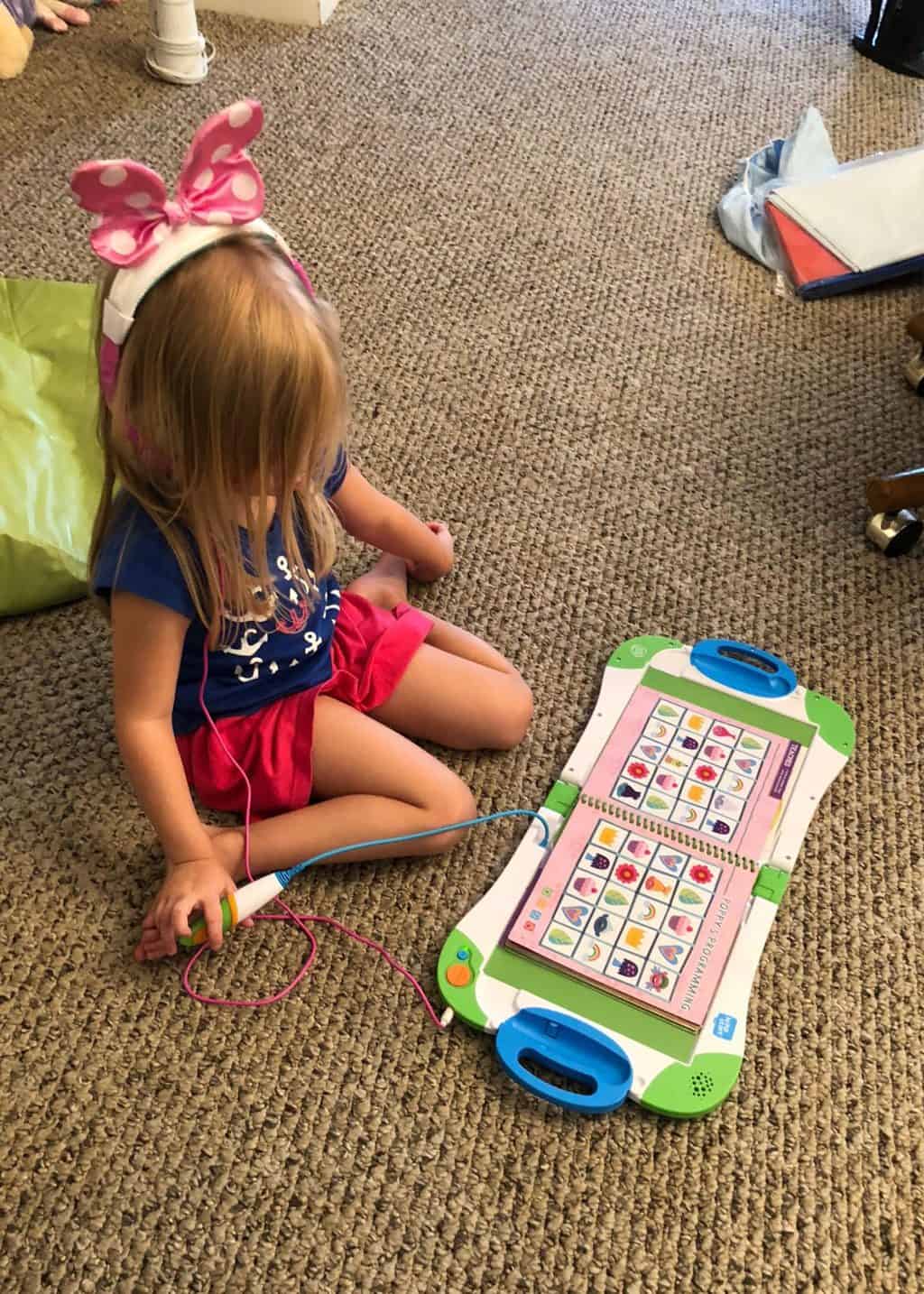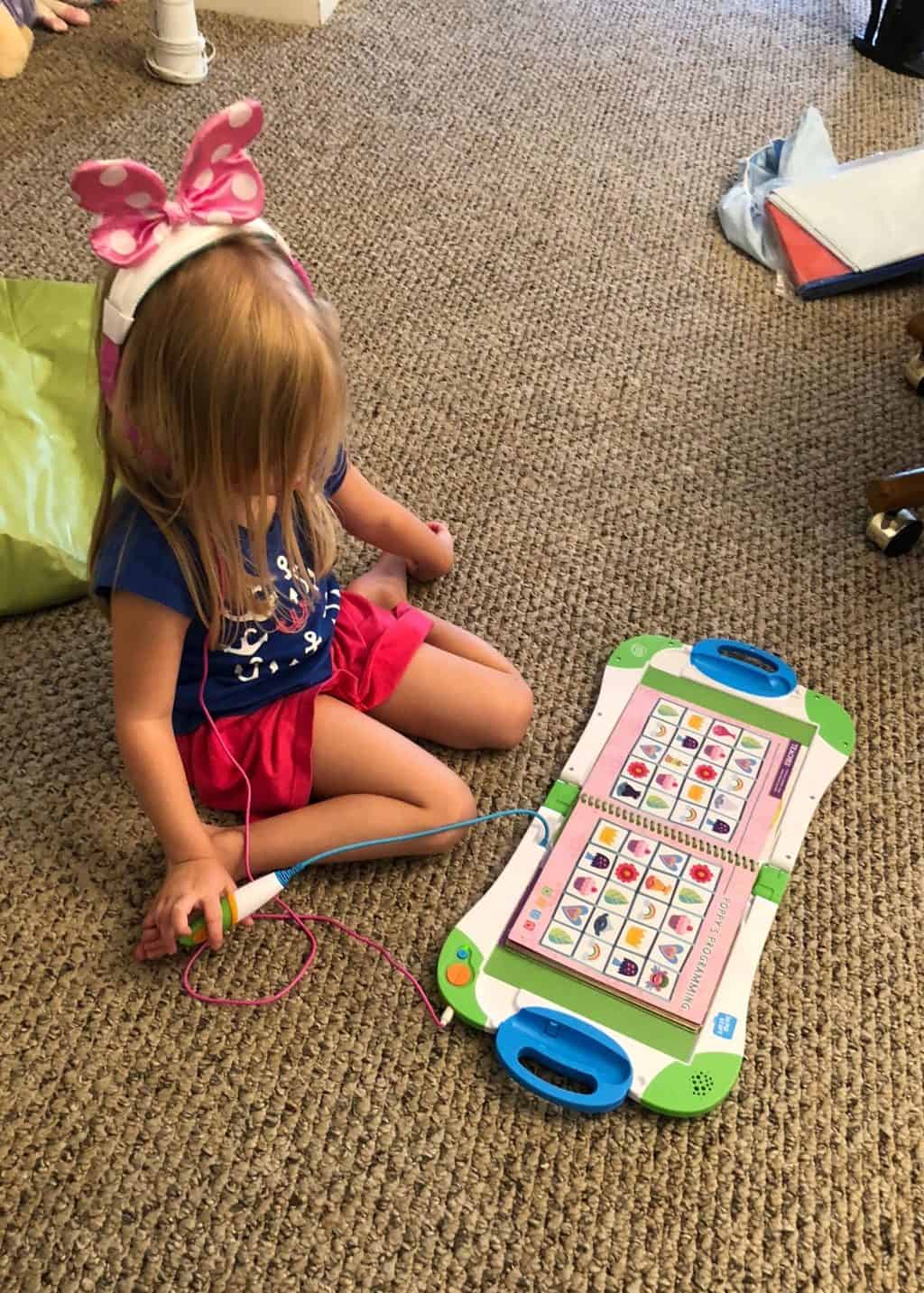 When we arrive our normal routine is for Zach to unload the car while I unpack things and get settled then he goes to the store and I completely unpack all the suitcases. I love being TOTALLY unpacked as it allows me to truly relax for the entire stay of our trip. Even if we only stay for a few days, I just am a big fan of unpacking!
We always get all the groceries for the week and it's also so nice to just have everything we need and have our meals planned out. We kicked off the week with a yummy fried chicken dinner!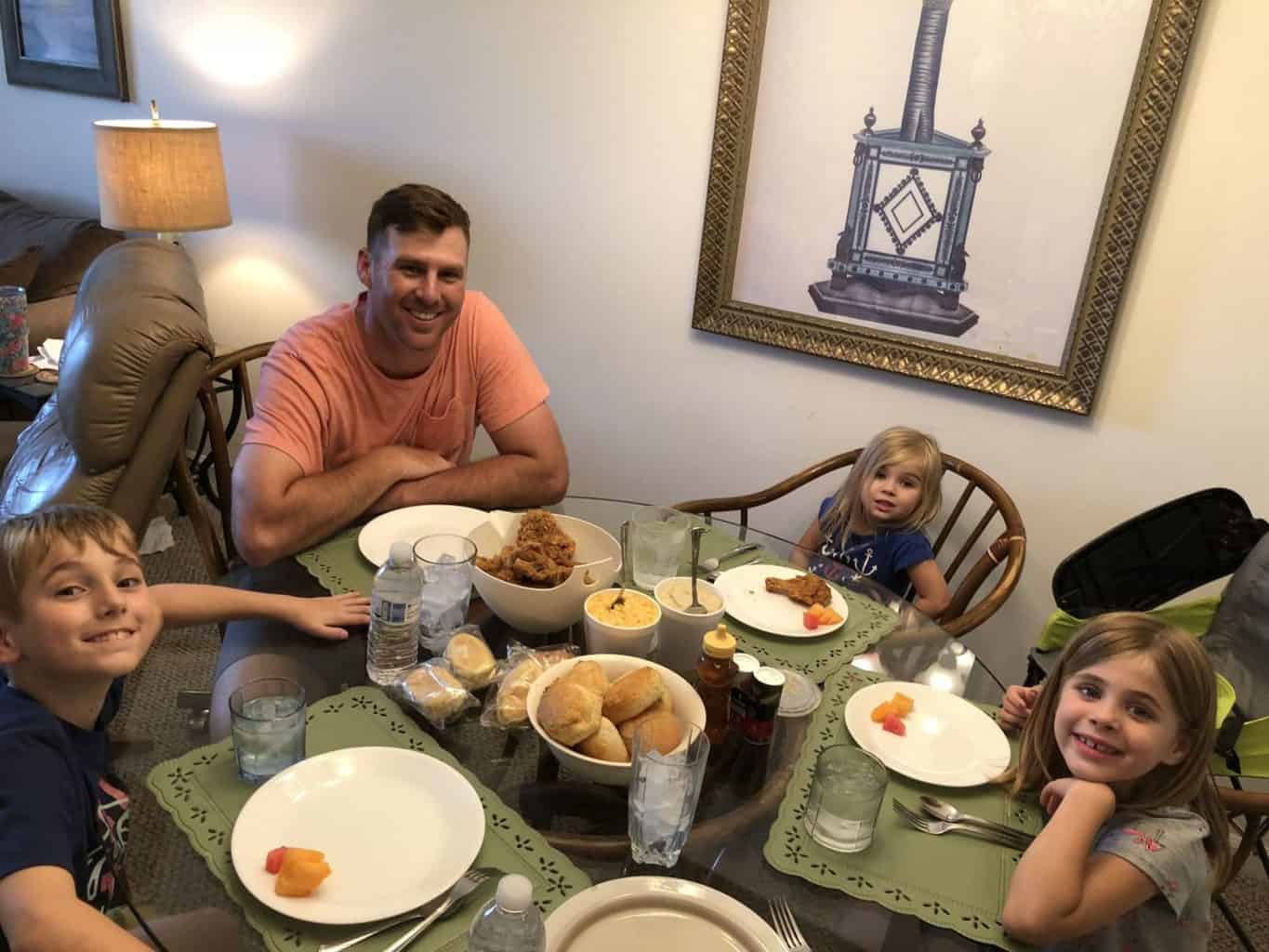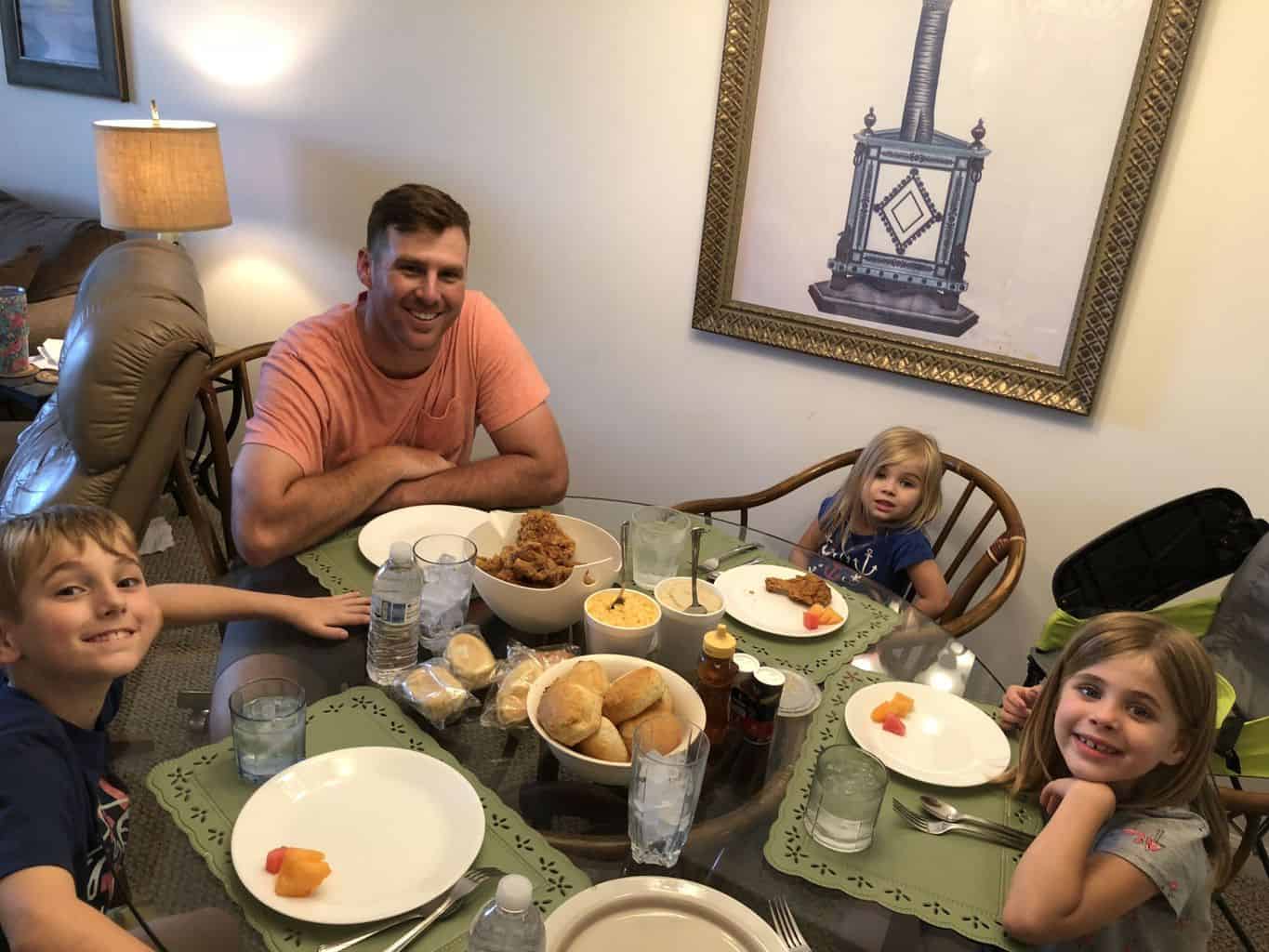 Our traditional pile up on the bed picture!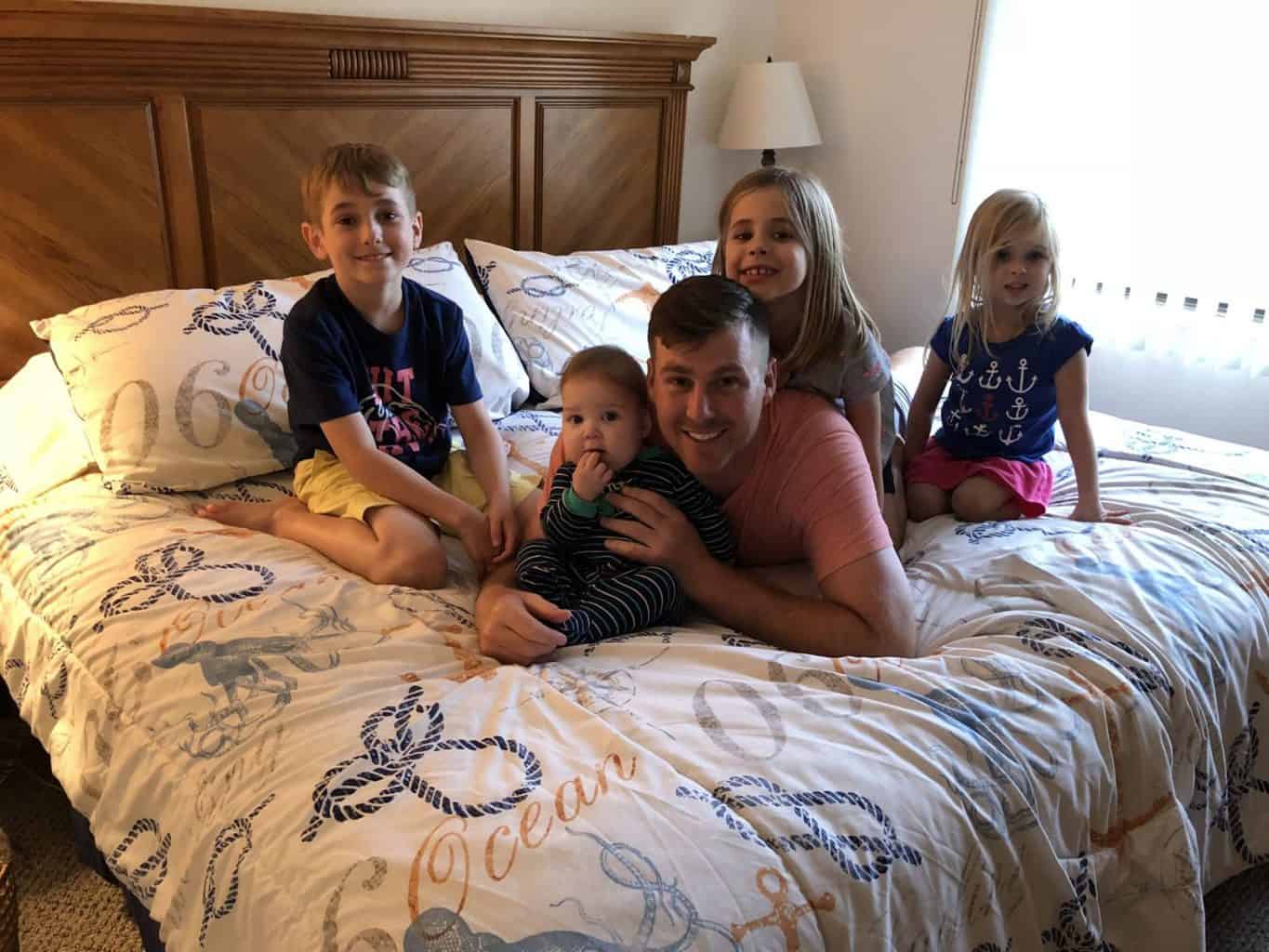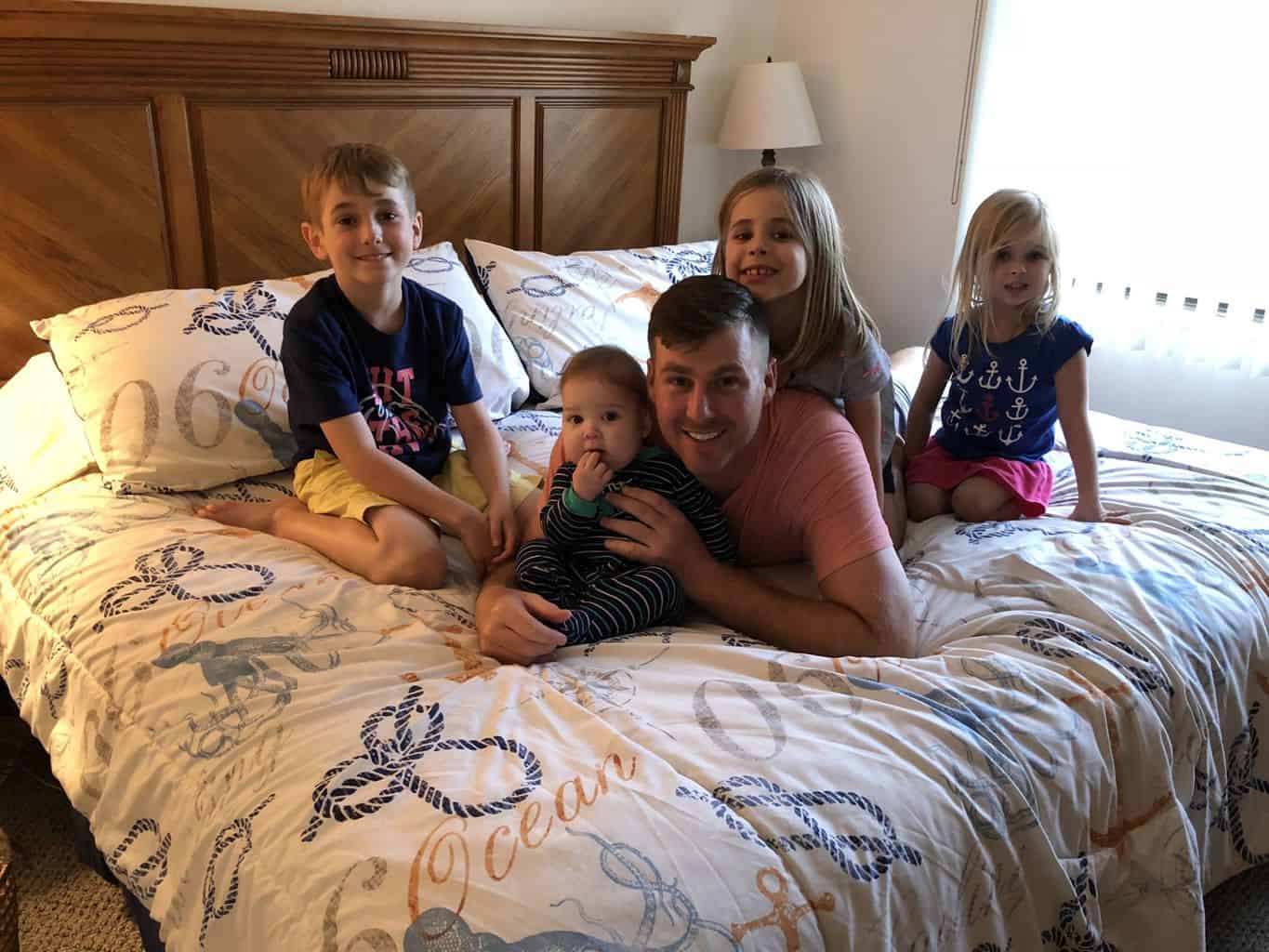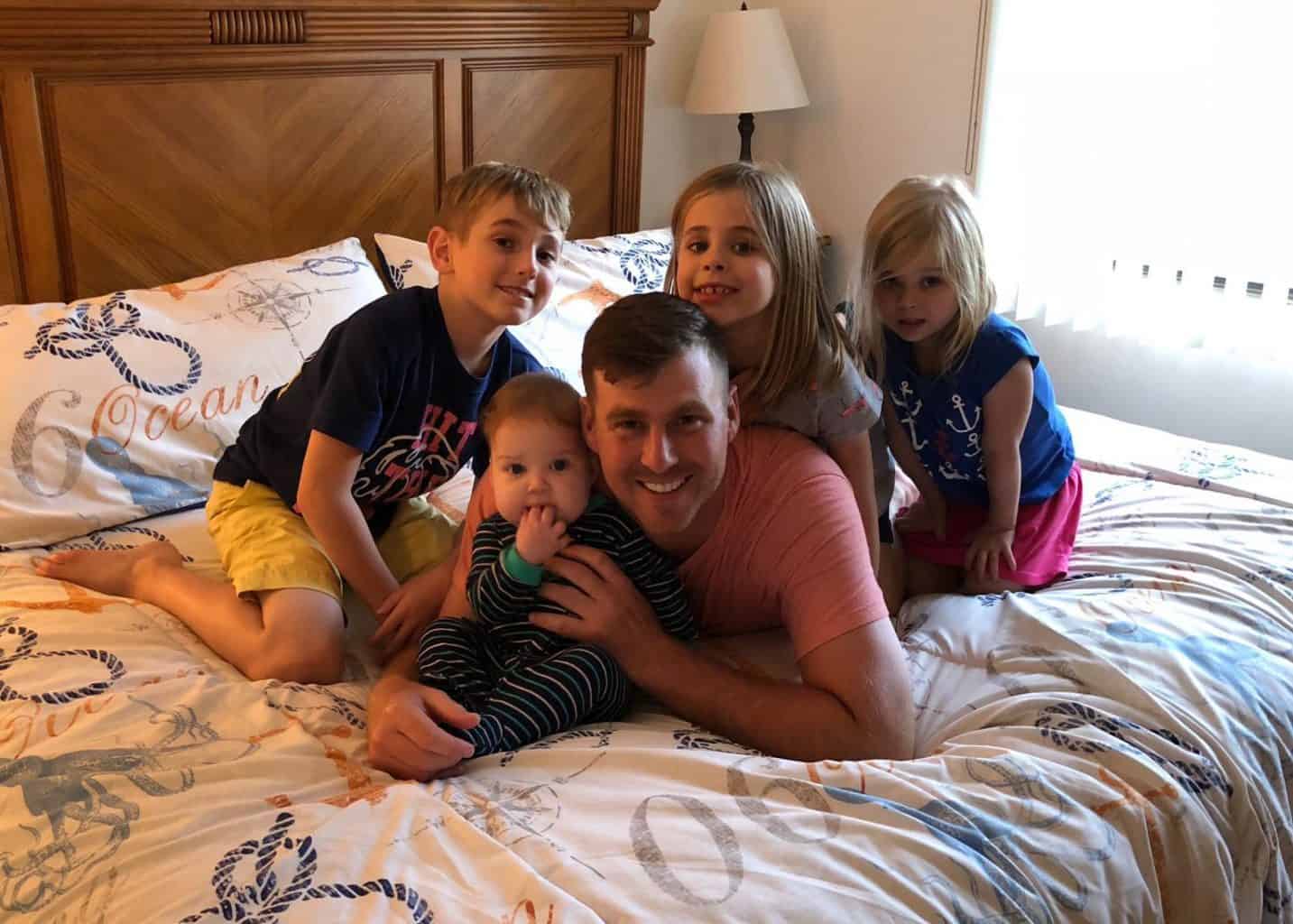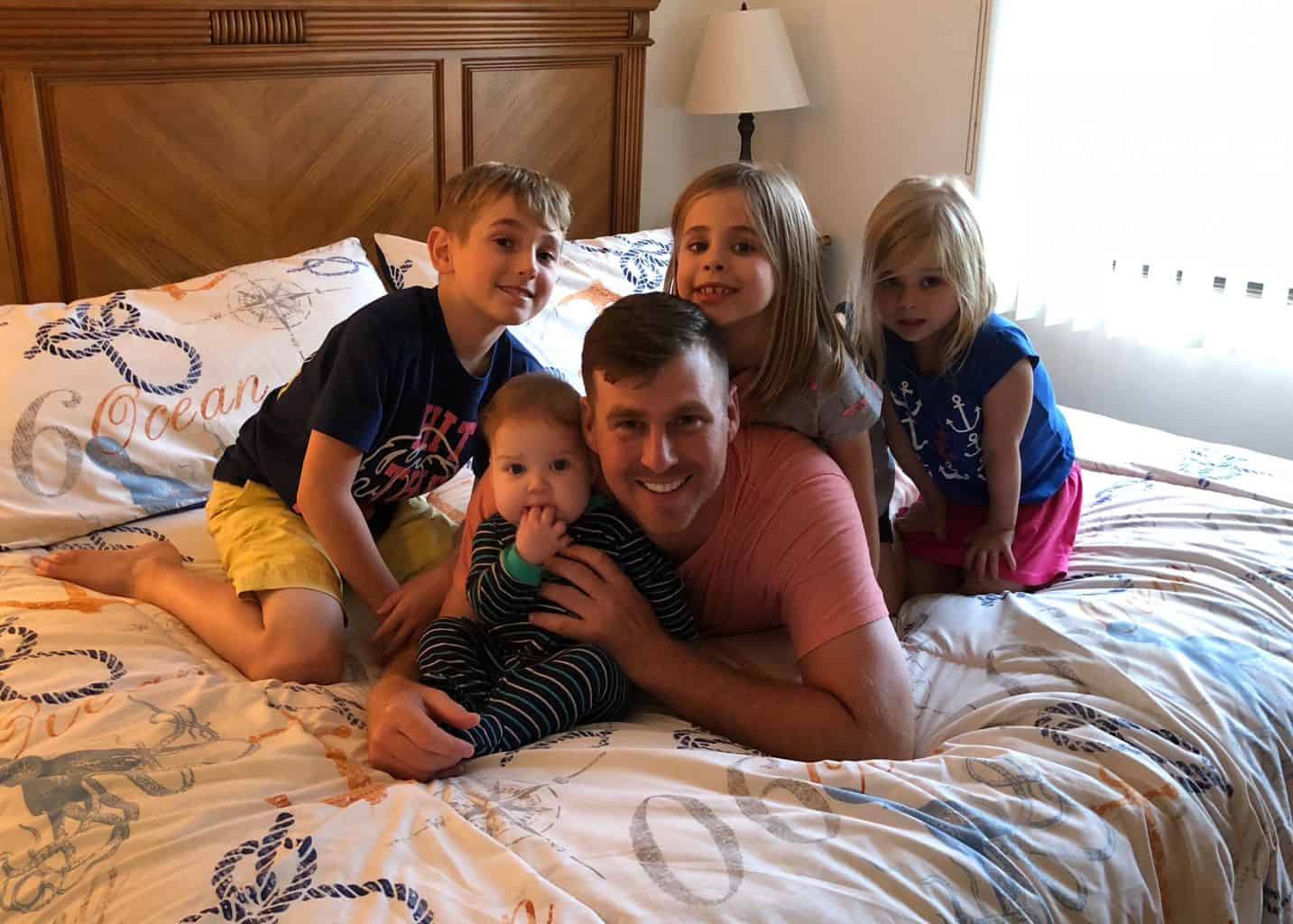 An AWESOME hack I learned from my friend Carrie is to bring along a closet organizer. I hang it up in the closet and put all the kids' clothes for the week in it! I like to pack their outfits in gallon size bags so it makes it super easy to grab what is needed for that day/activity!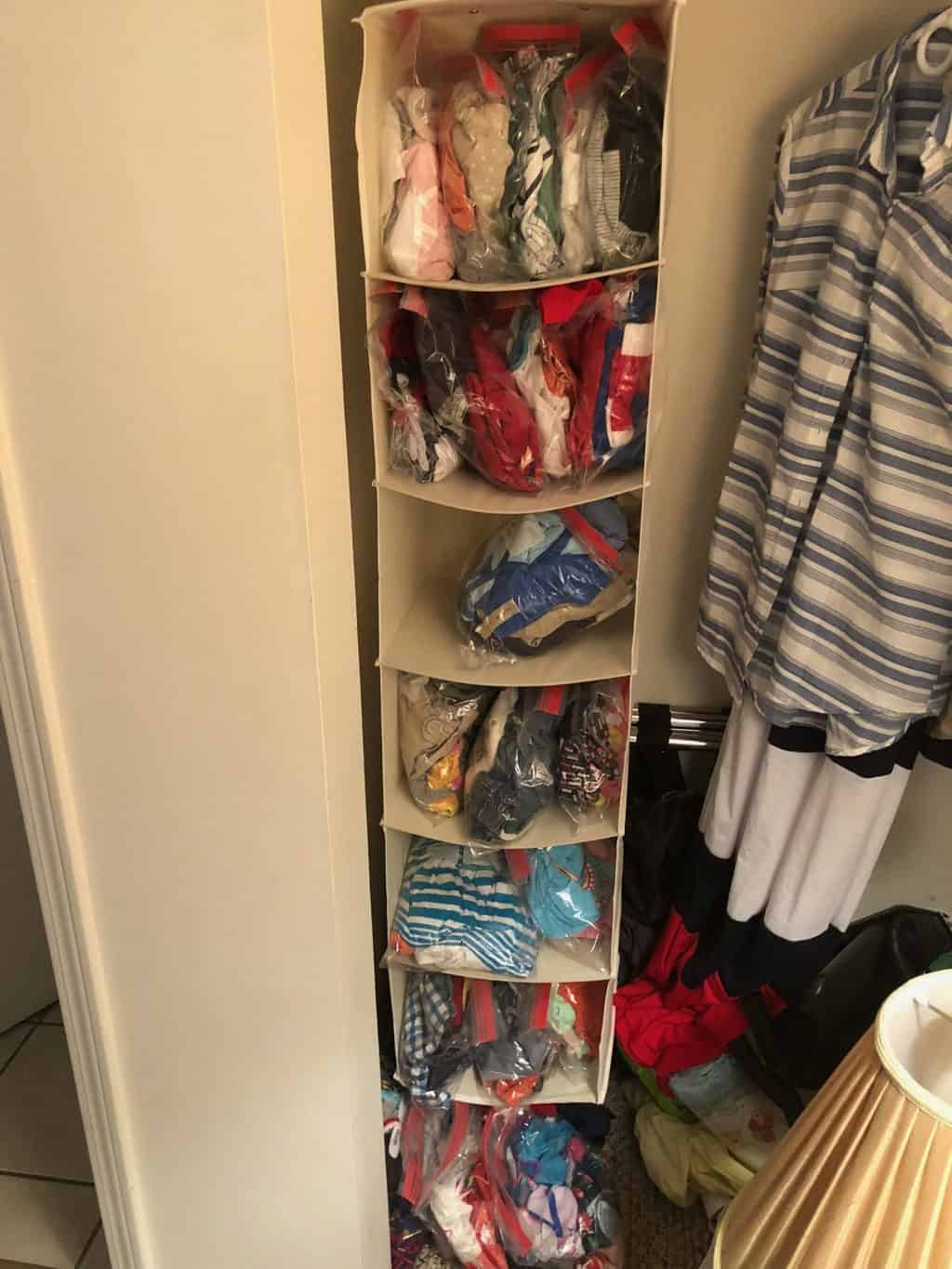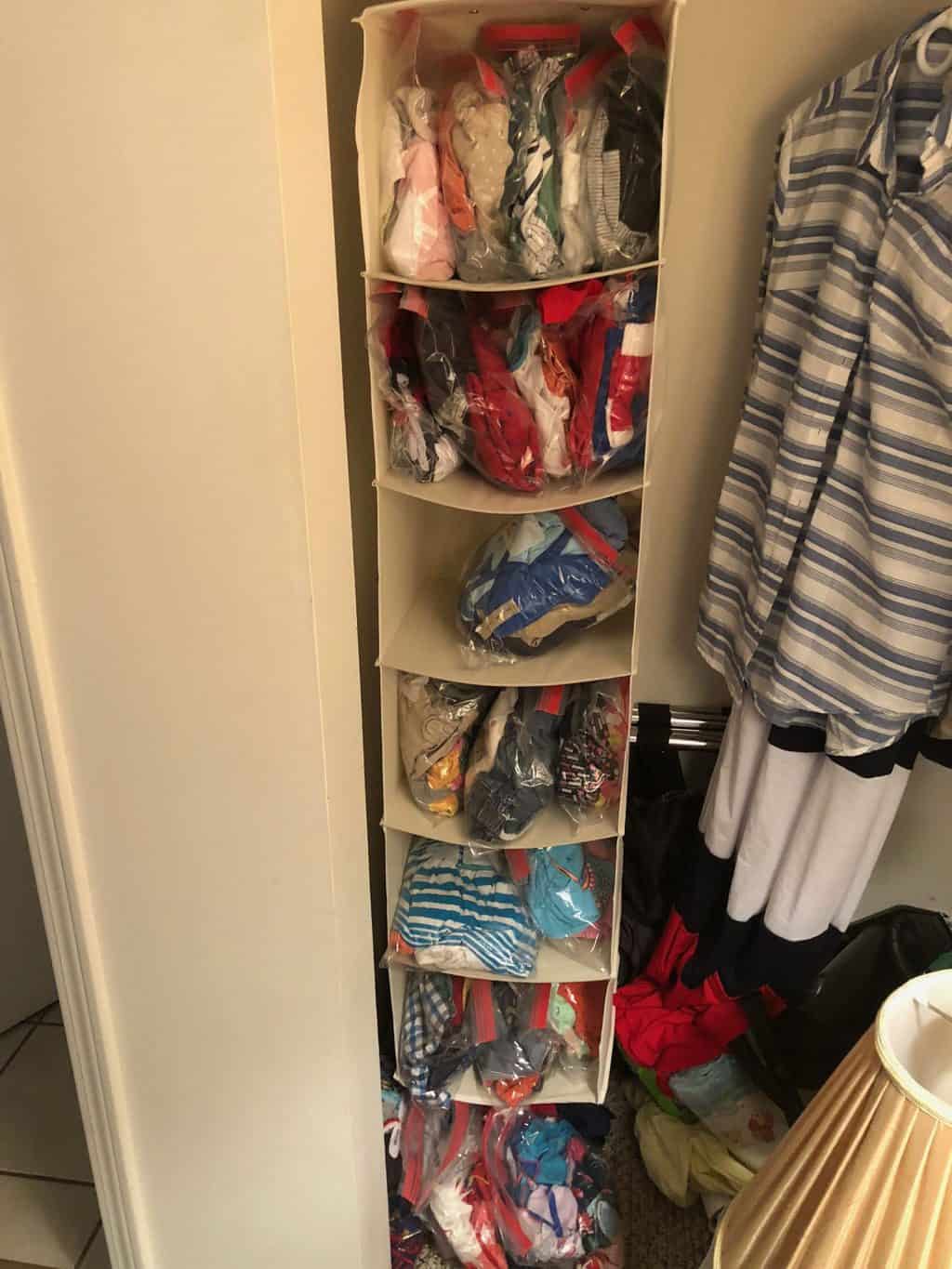 In the condo where we've been staying the last few years there are two bedrooms and two bathrooms. Up until this year Tess has been able to sleep in a pack and play in the bathroom but this year Spear slept in the pack and play and she got to move on up to a sleepover with the big kids! It worked out well but man those were some EARLY wake ups in the morning! And we always had a line for the potty all week haha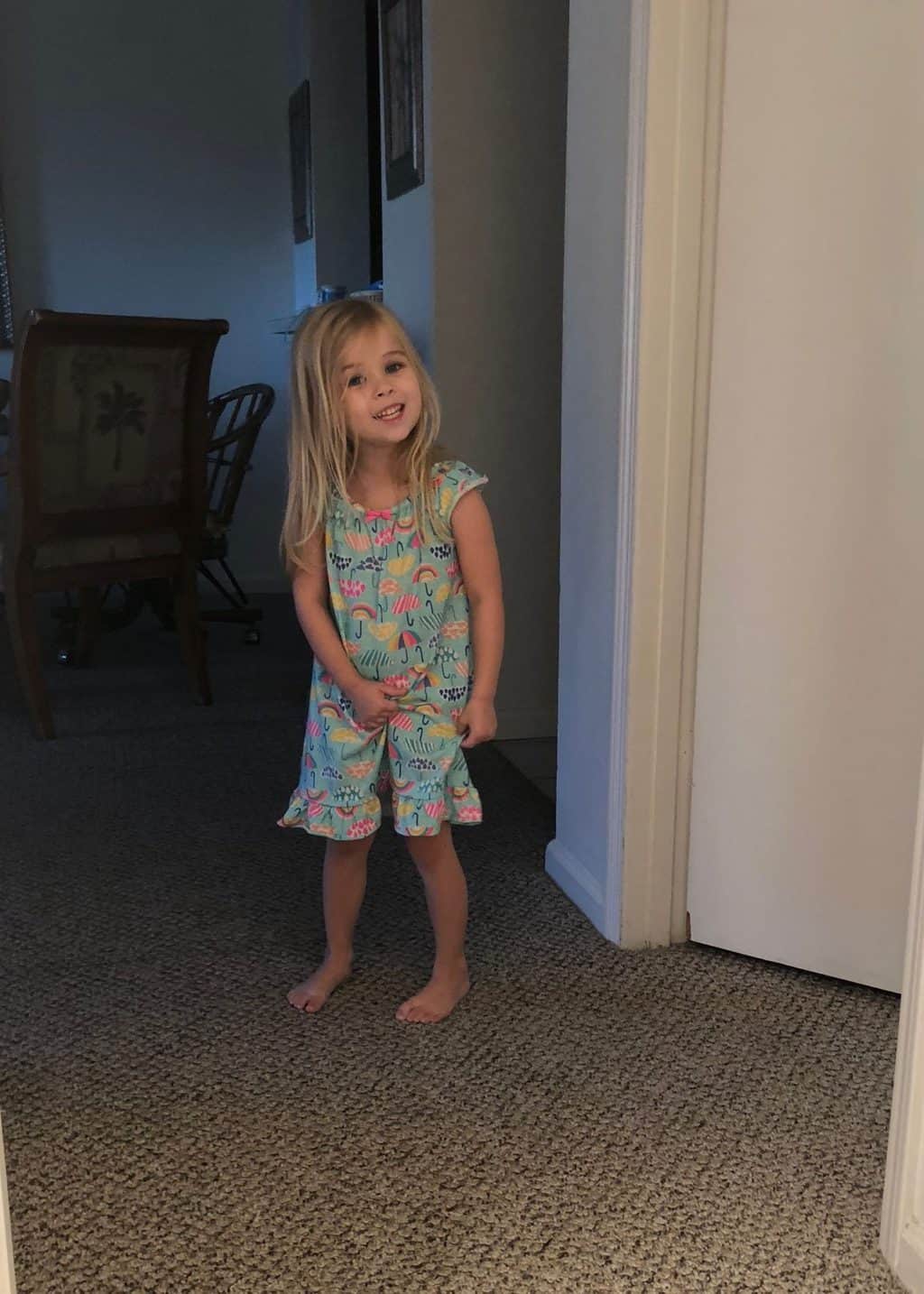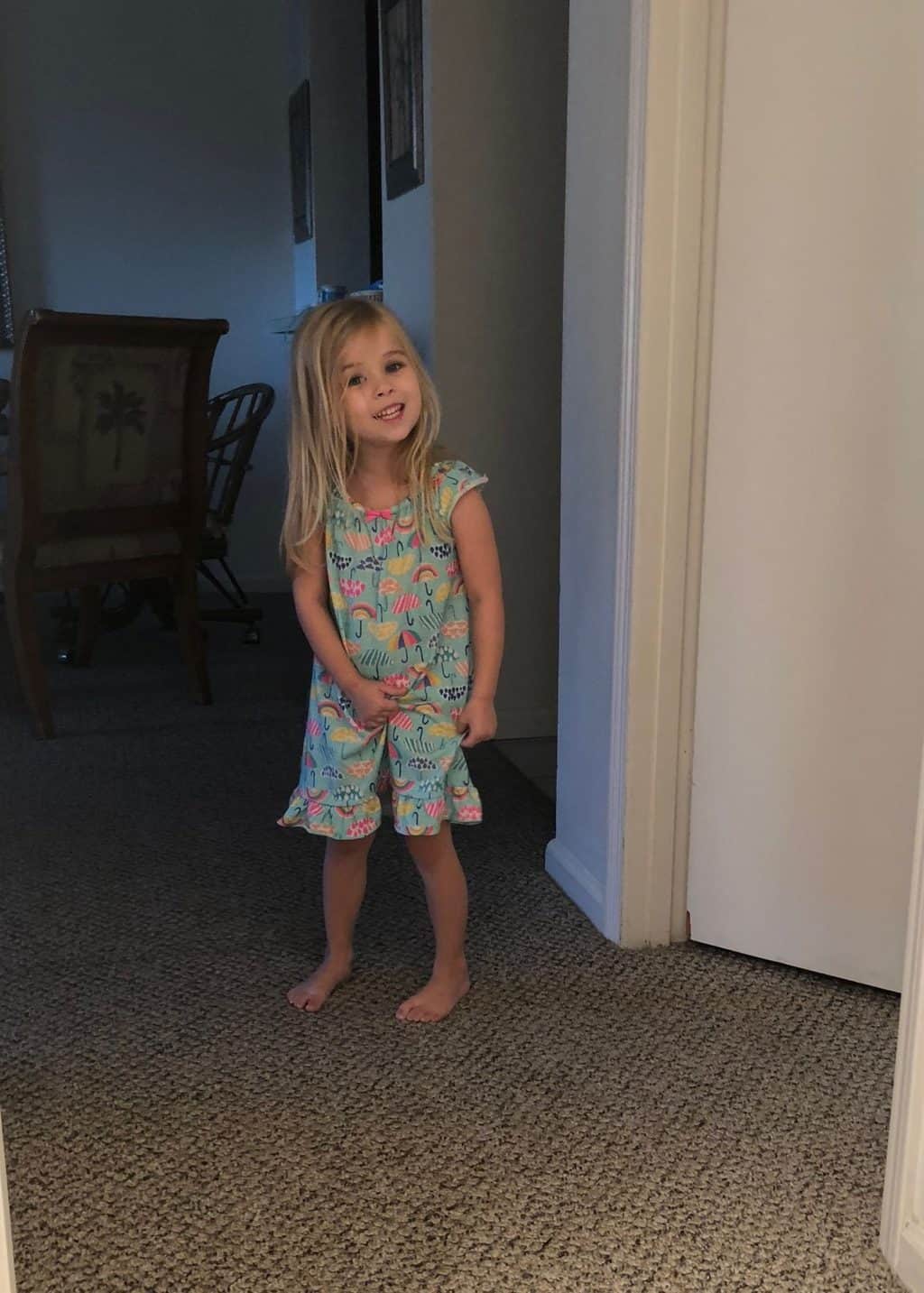 I really, really really appreciate everyone who reached out to me via my IG Stories regarding Britt's hair/head. She had similar spots pop up last year along the base of her hairline and seeing them the week of the beach in her scalp made me more concerned. Twice in one year makes me think something it going on! It all cleared up and was fine but I did take both of these photos to her dr as well as my dermatologist. Both said they'd need her to come in when she has active spots. These weren't contagious so I'm leaning towards psoriasis due to the strong history of auto immune concerns in Zach's family. My dermatologist took one look at my pictures and said that's exactly what she thinks it is as well. Time will tell and I just hope when/if another flair up occurs that we're close to home so I can take her in!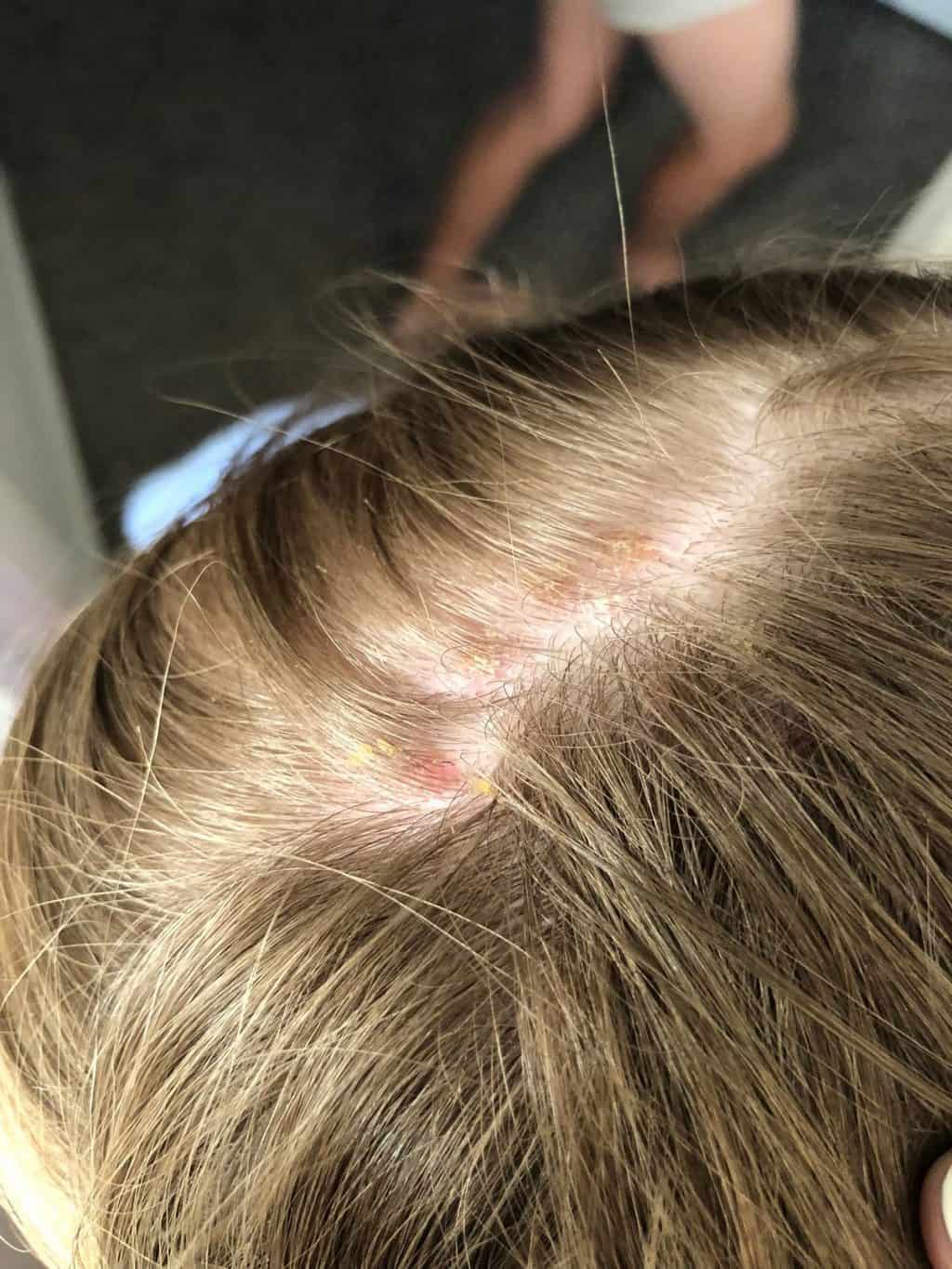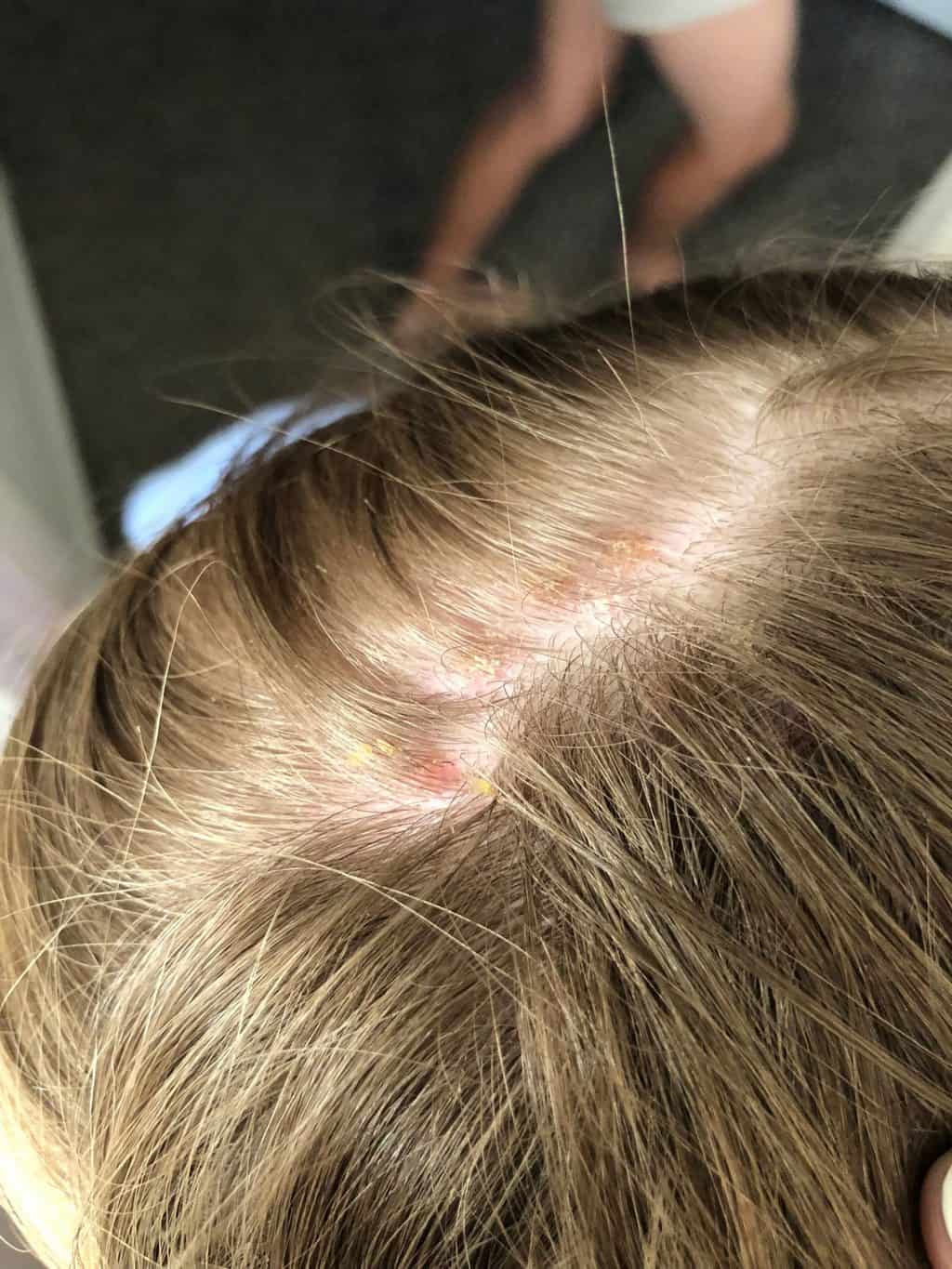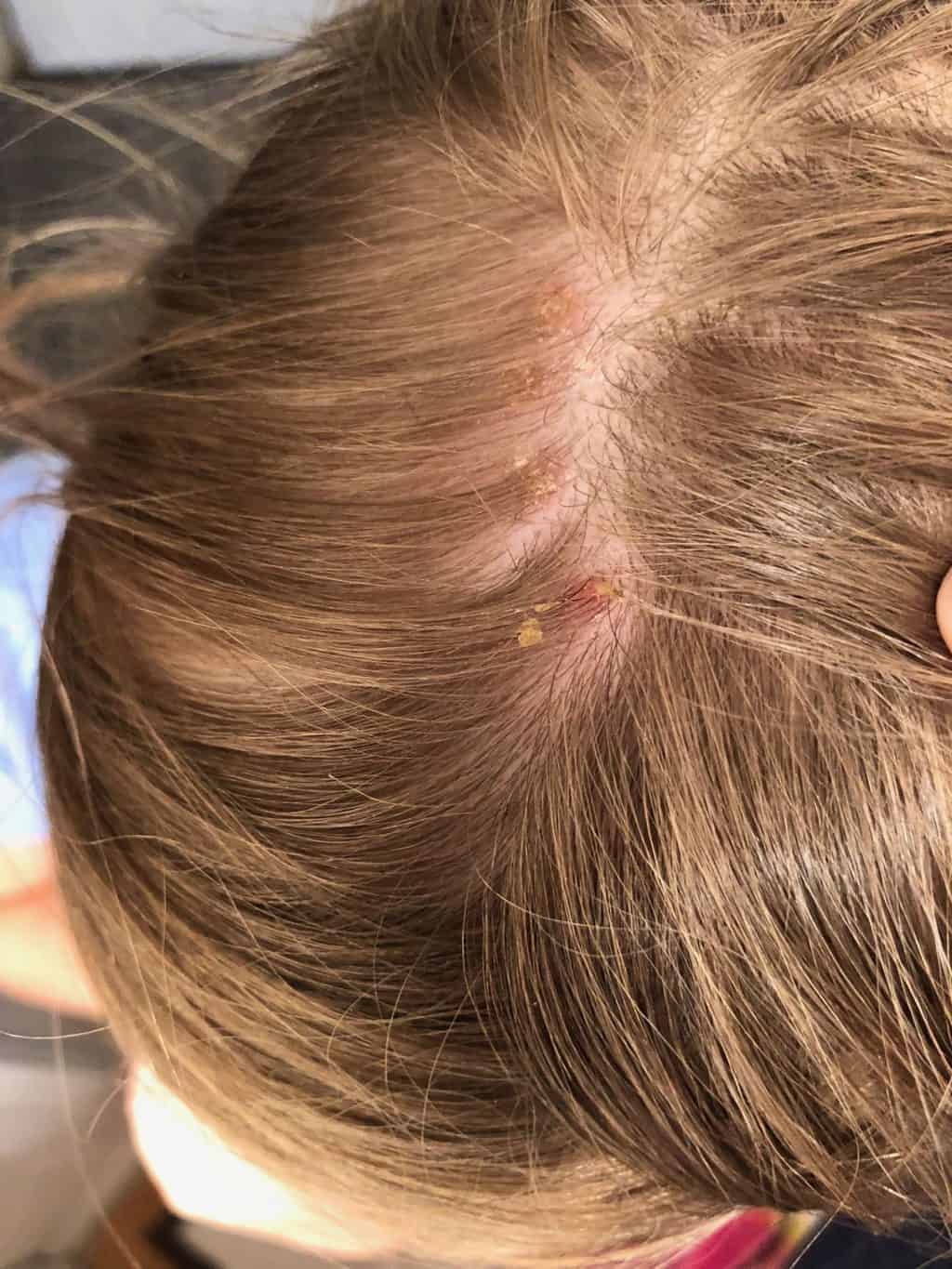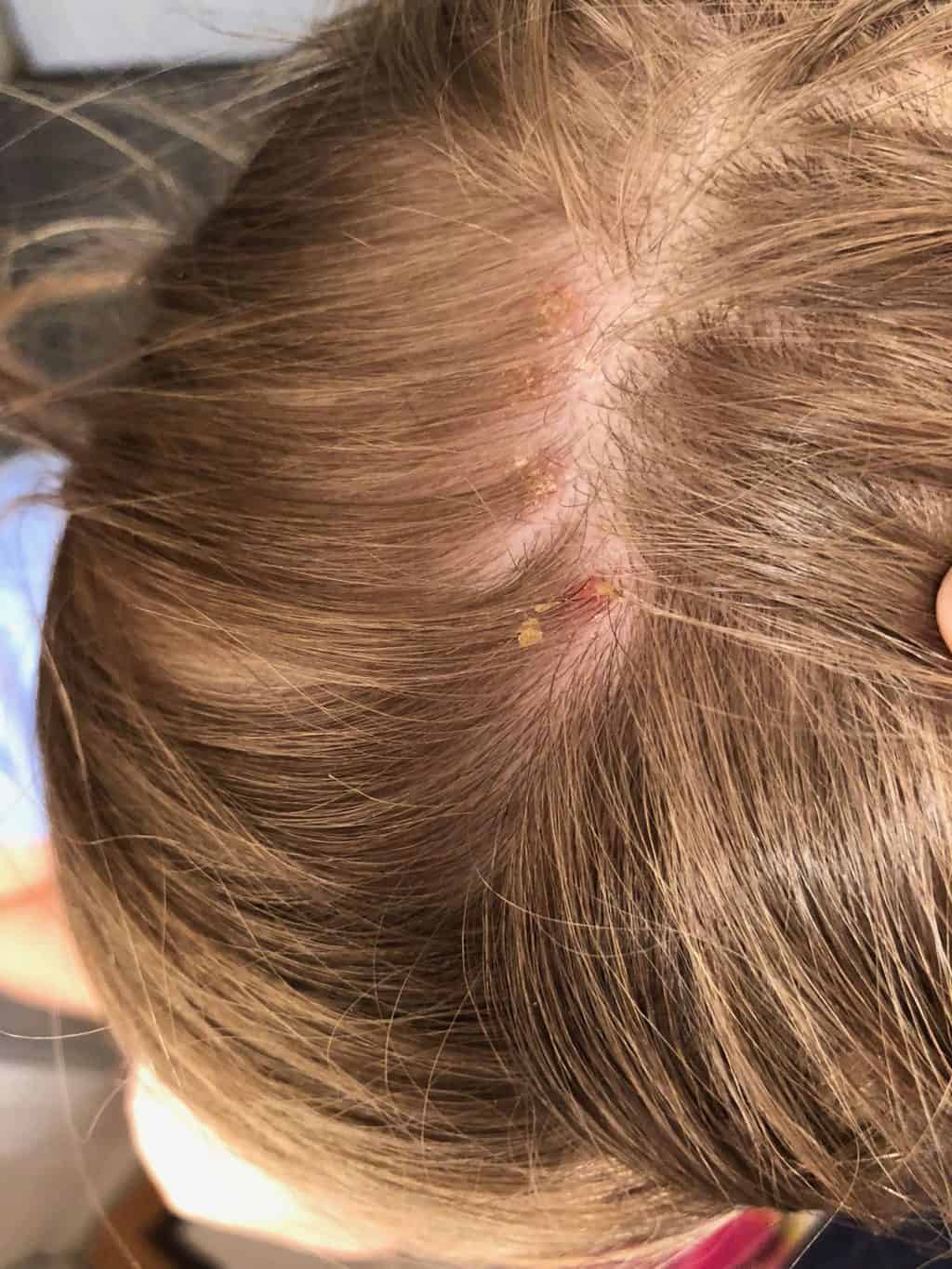 Our last first time taking a baby to the beach!!!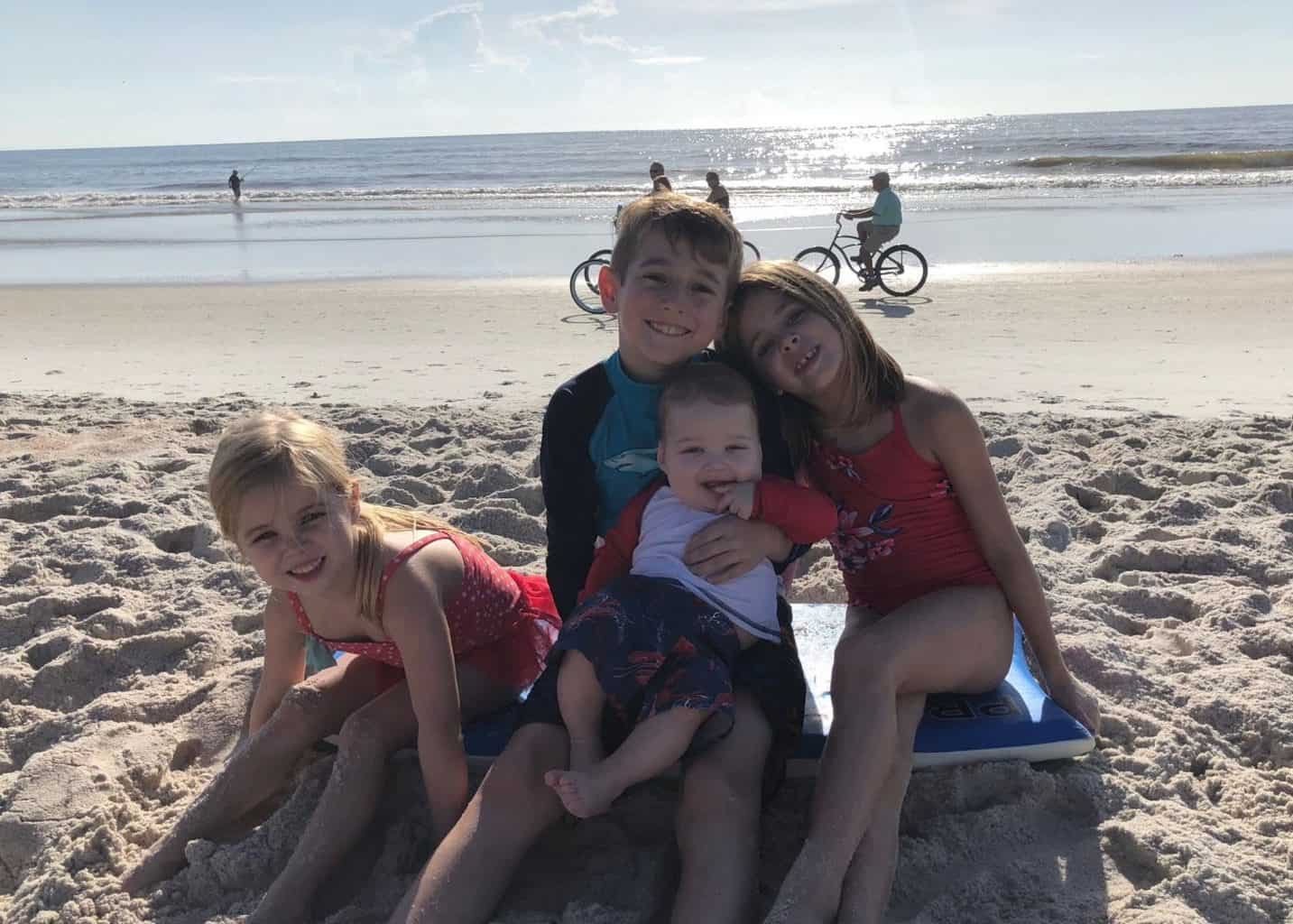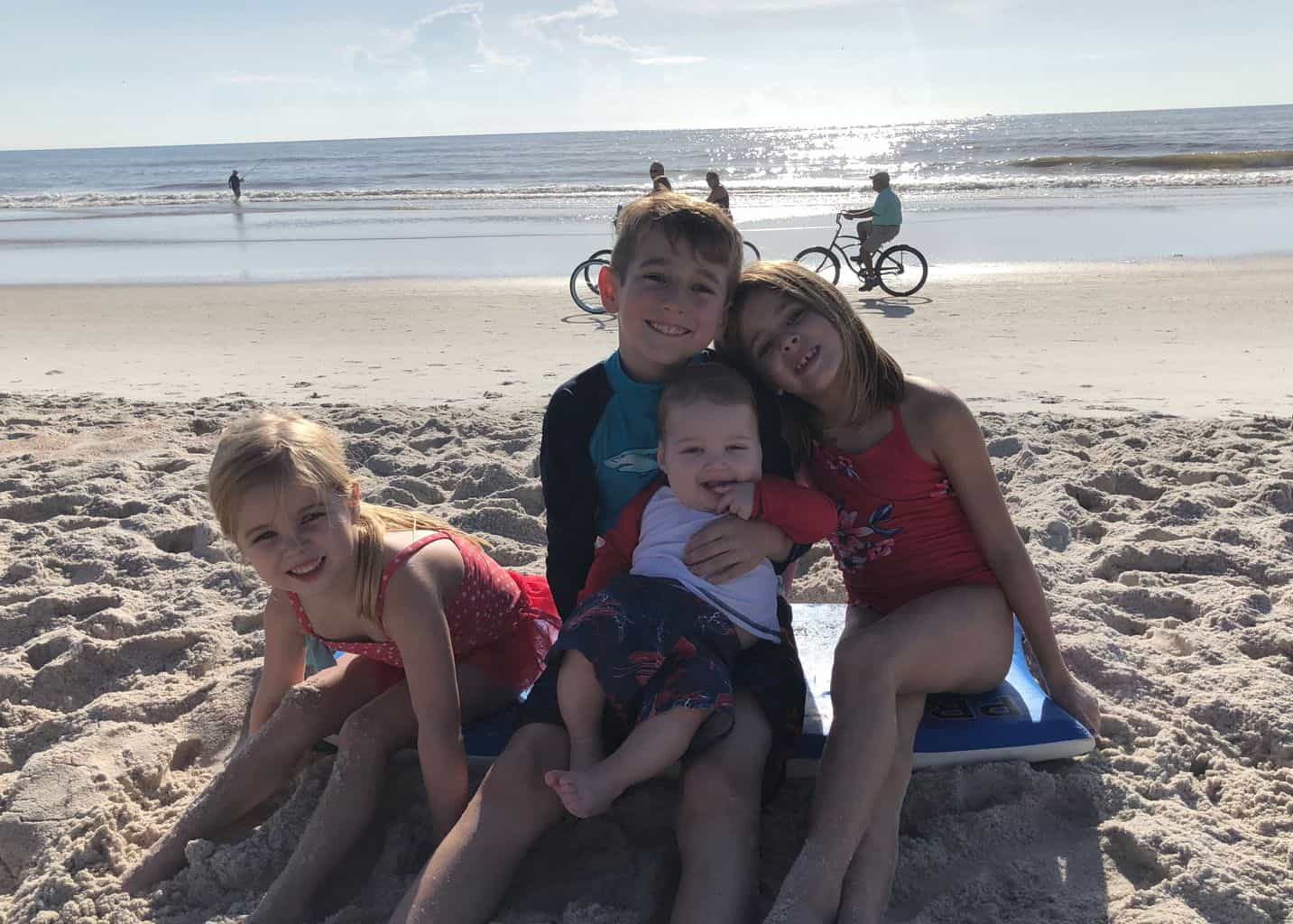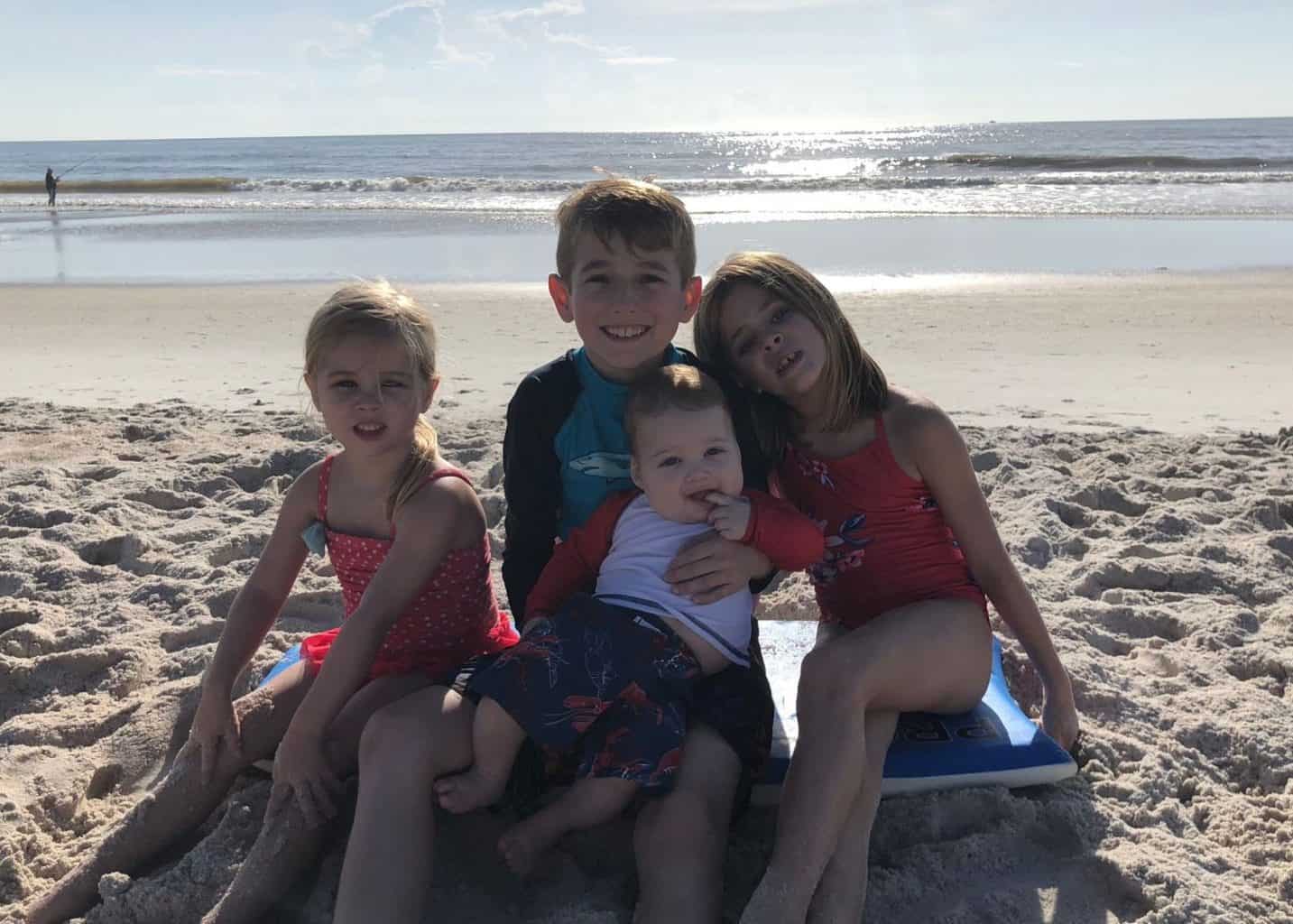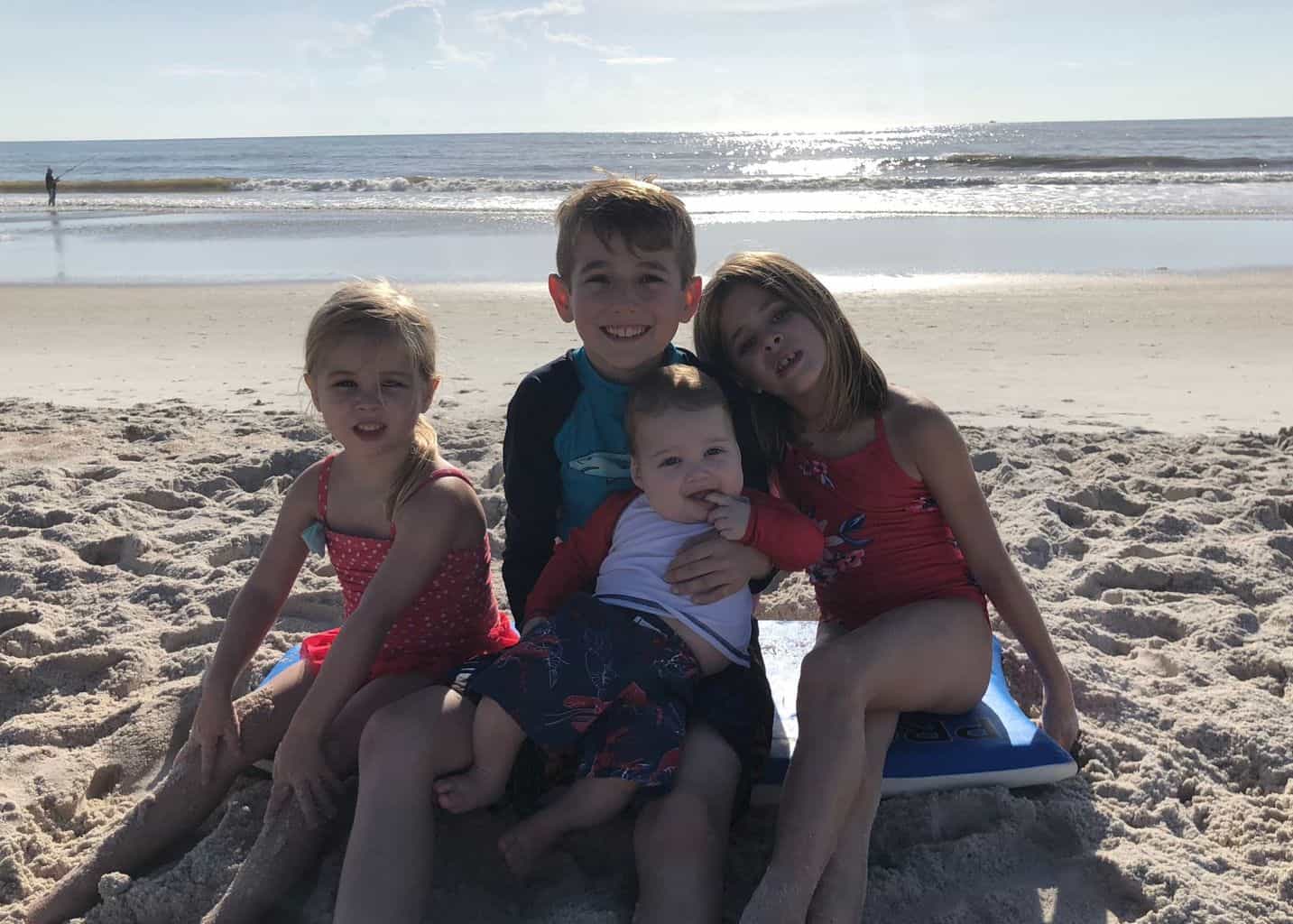 With Spear napping three times a day we had many little short trips down to the beach. Big benefit of our condo being super close to the ocean! It was an easy walk and not a big deal to go up and down. I brought Spear down for a little bit before his morning nap to see how he'd do 🙂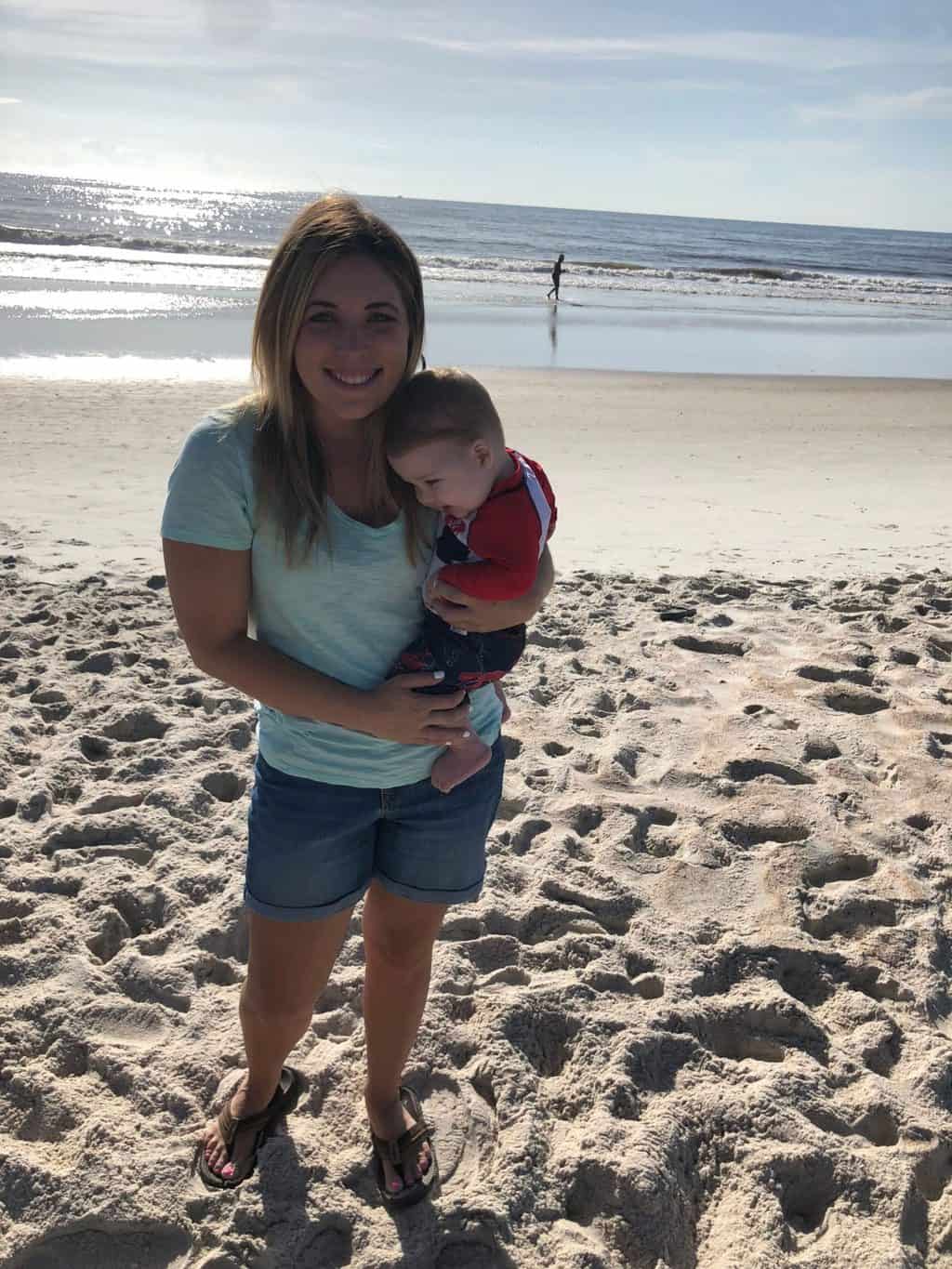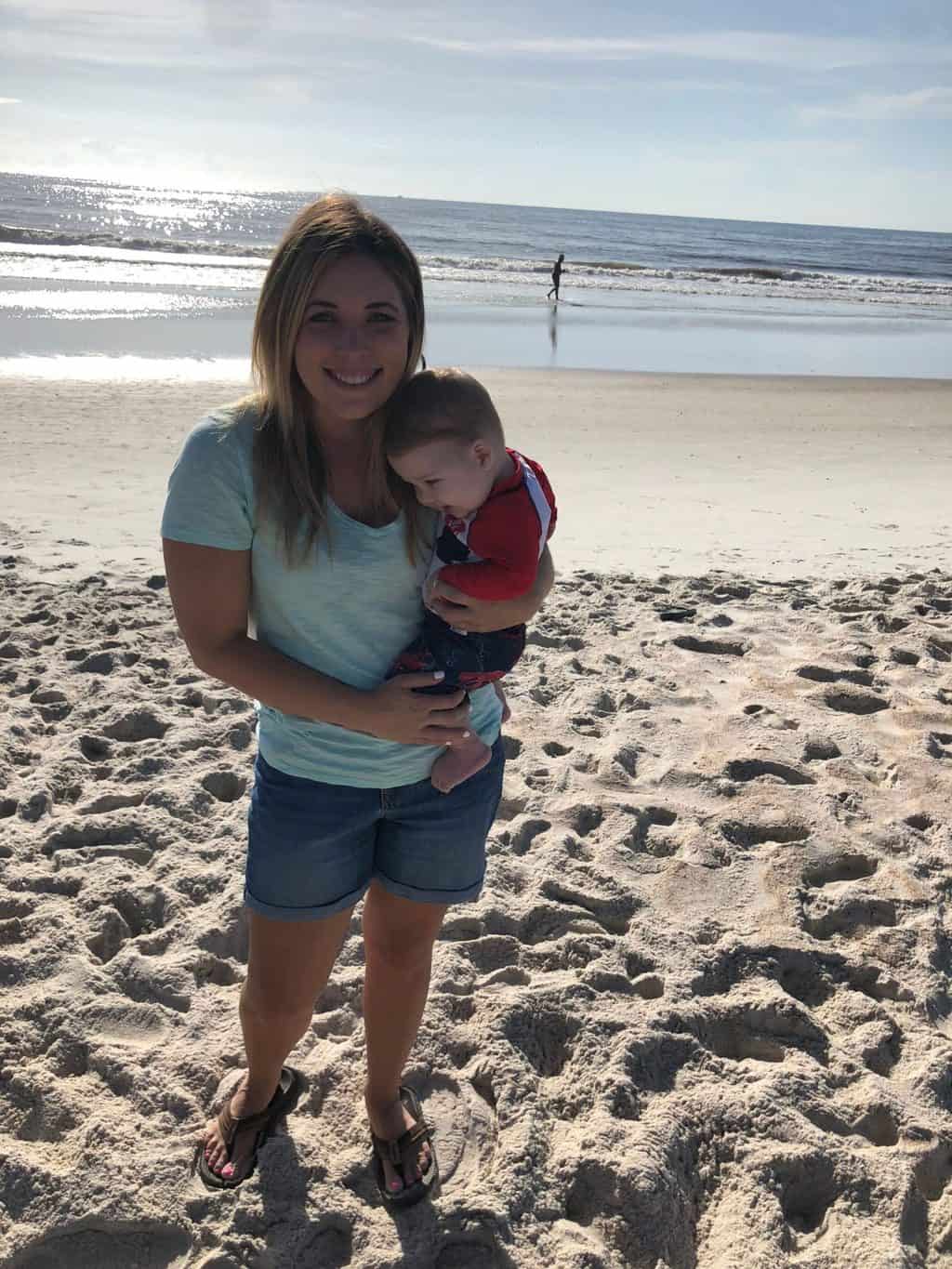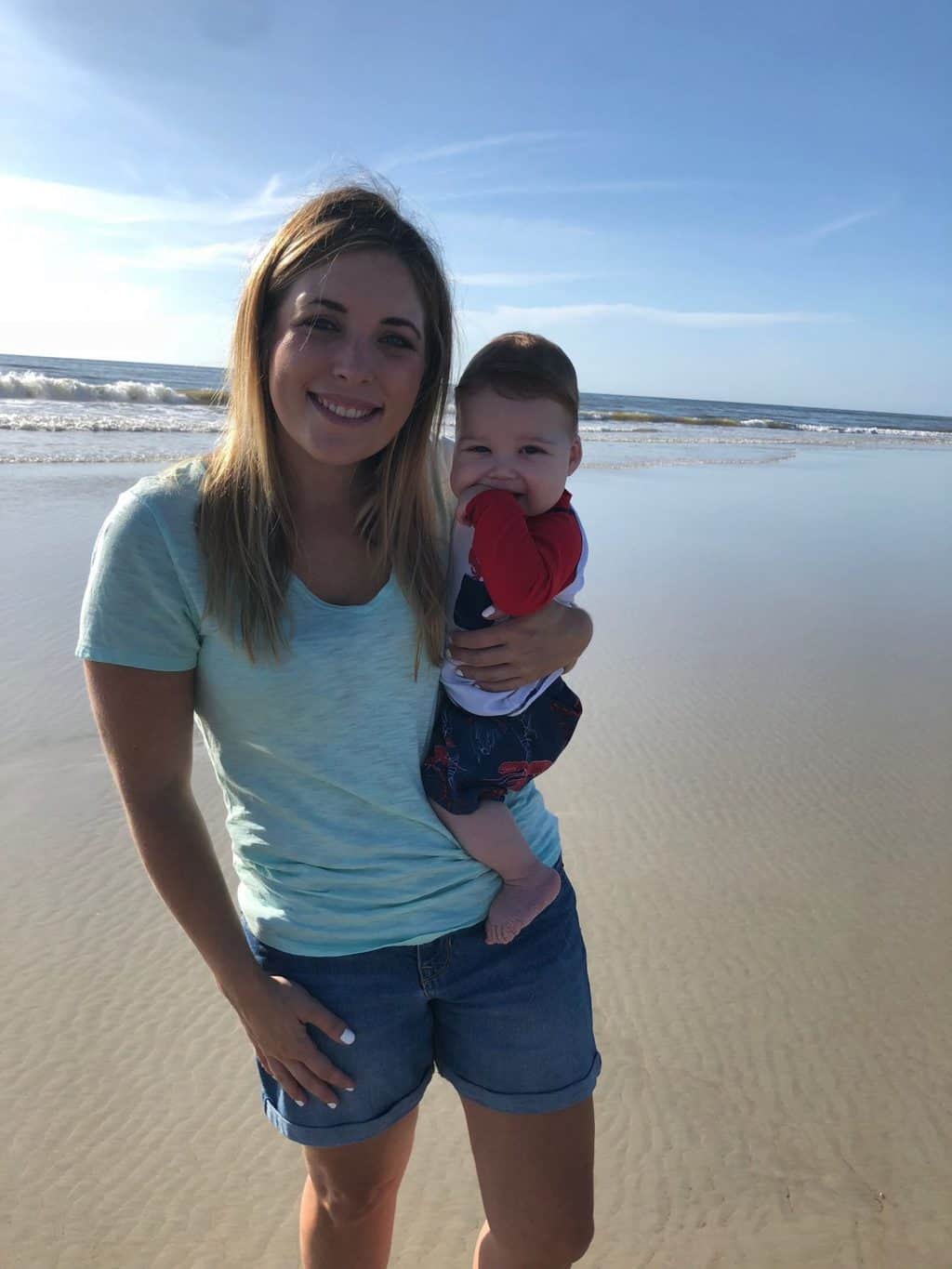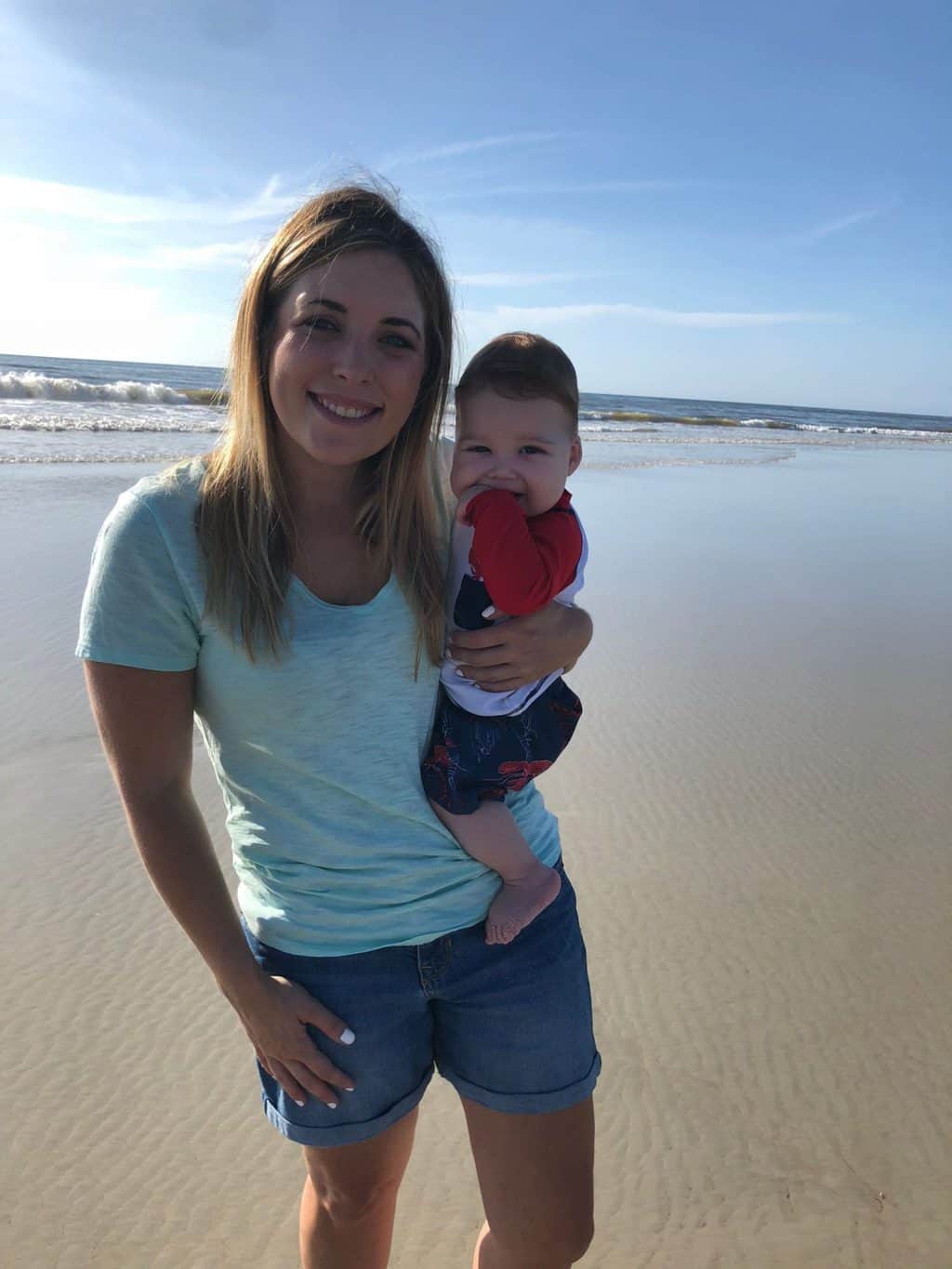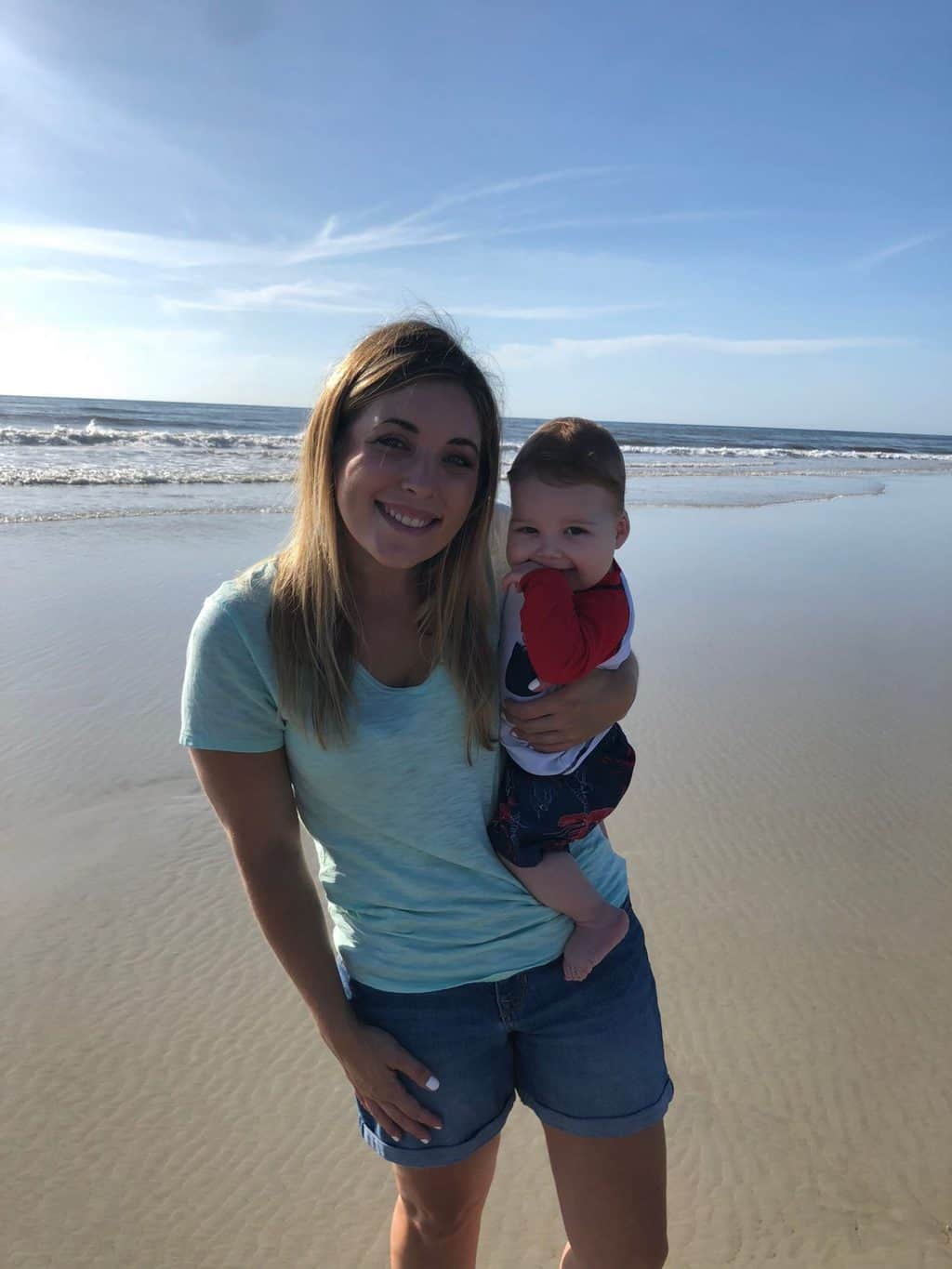 Everyone was excited watching Spear 😉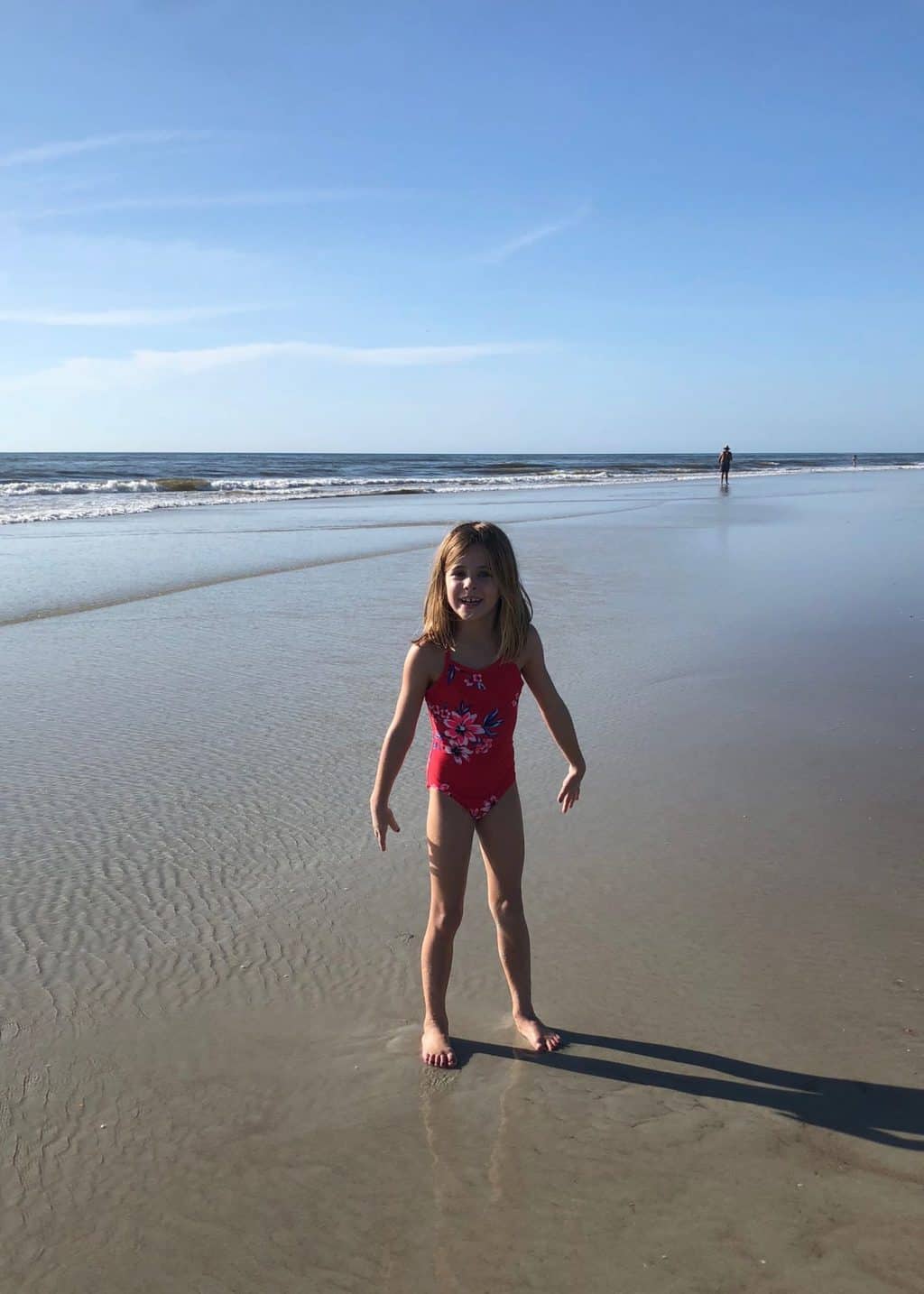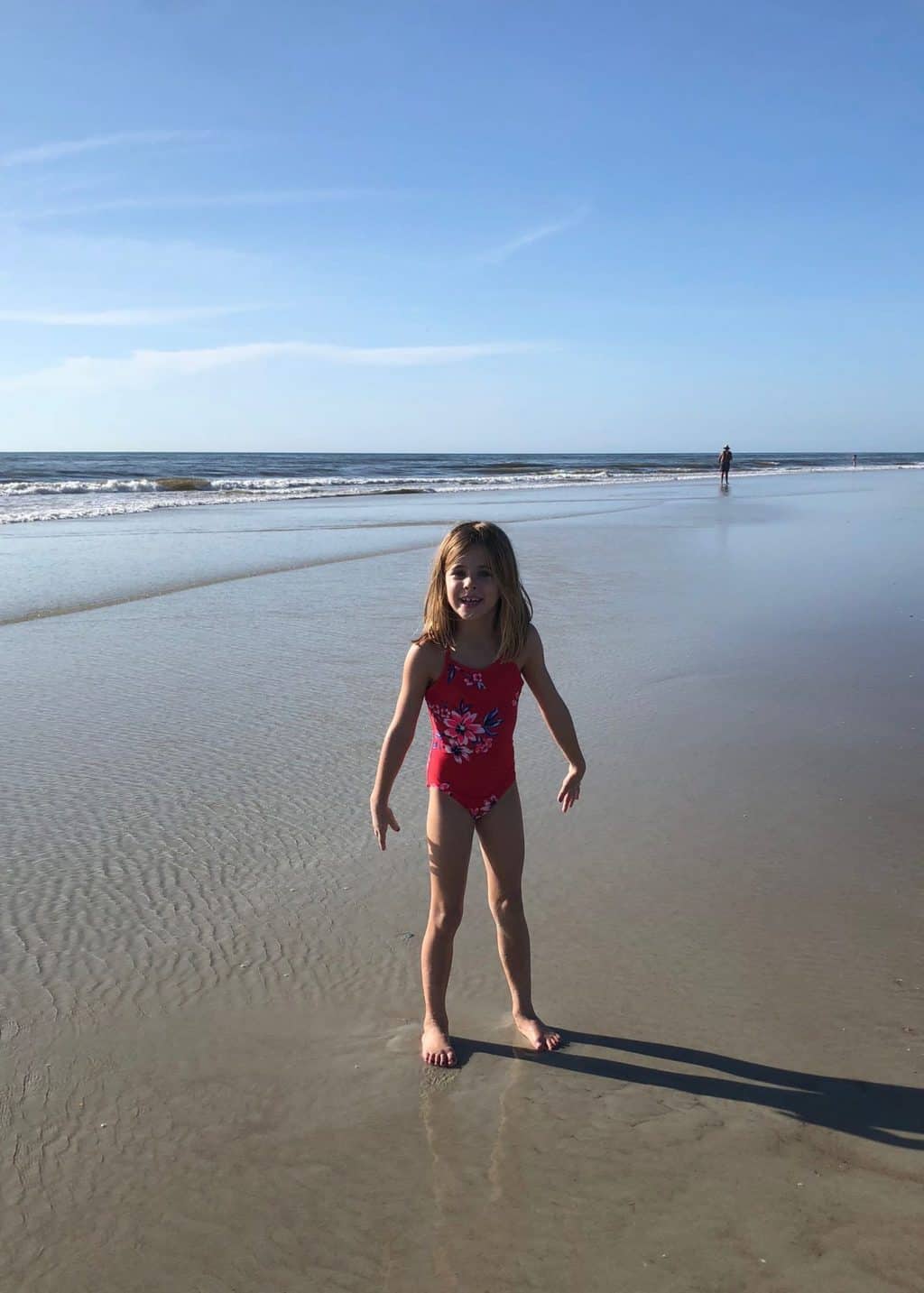 Instant Fan!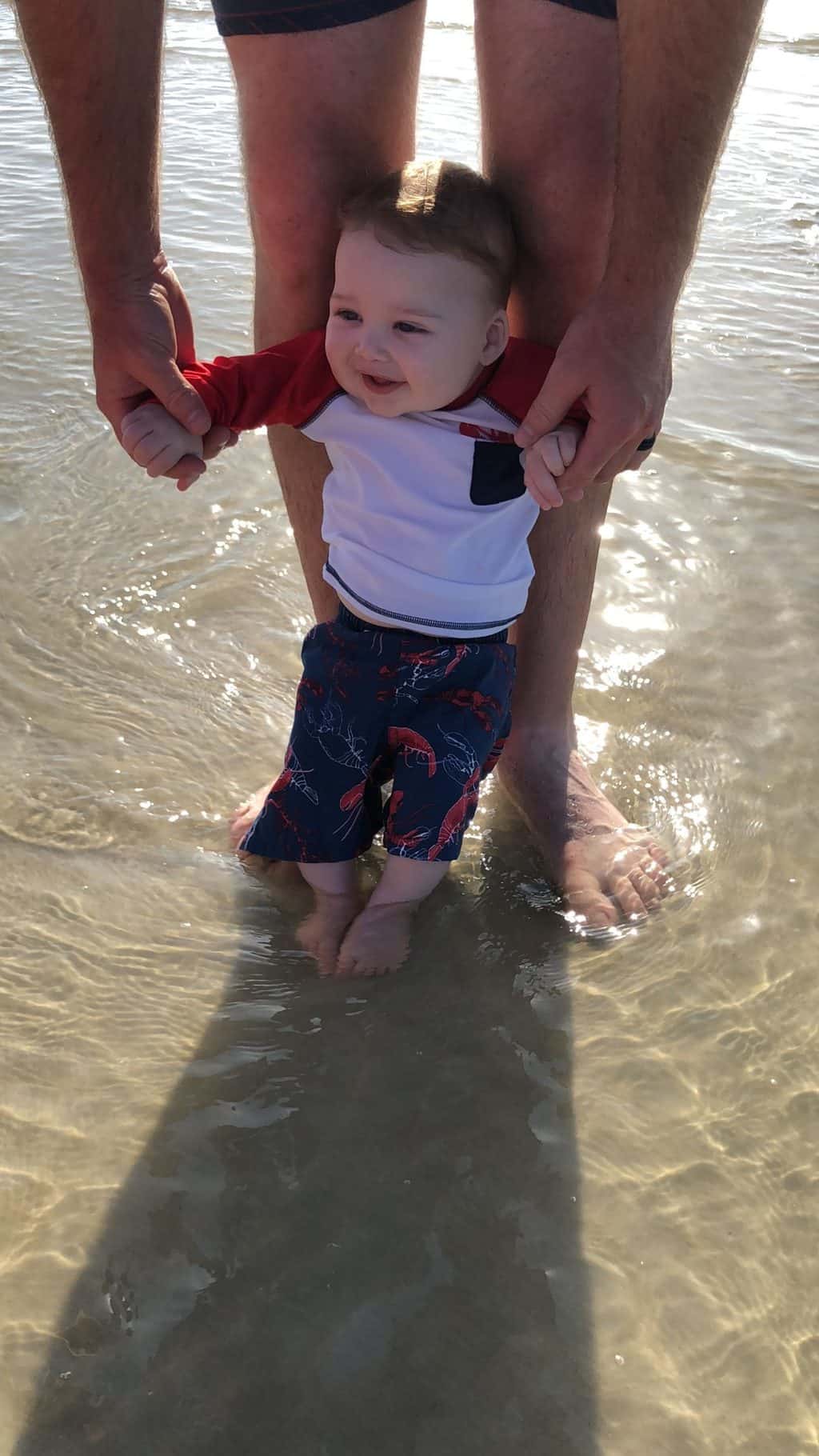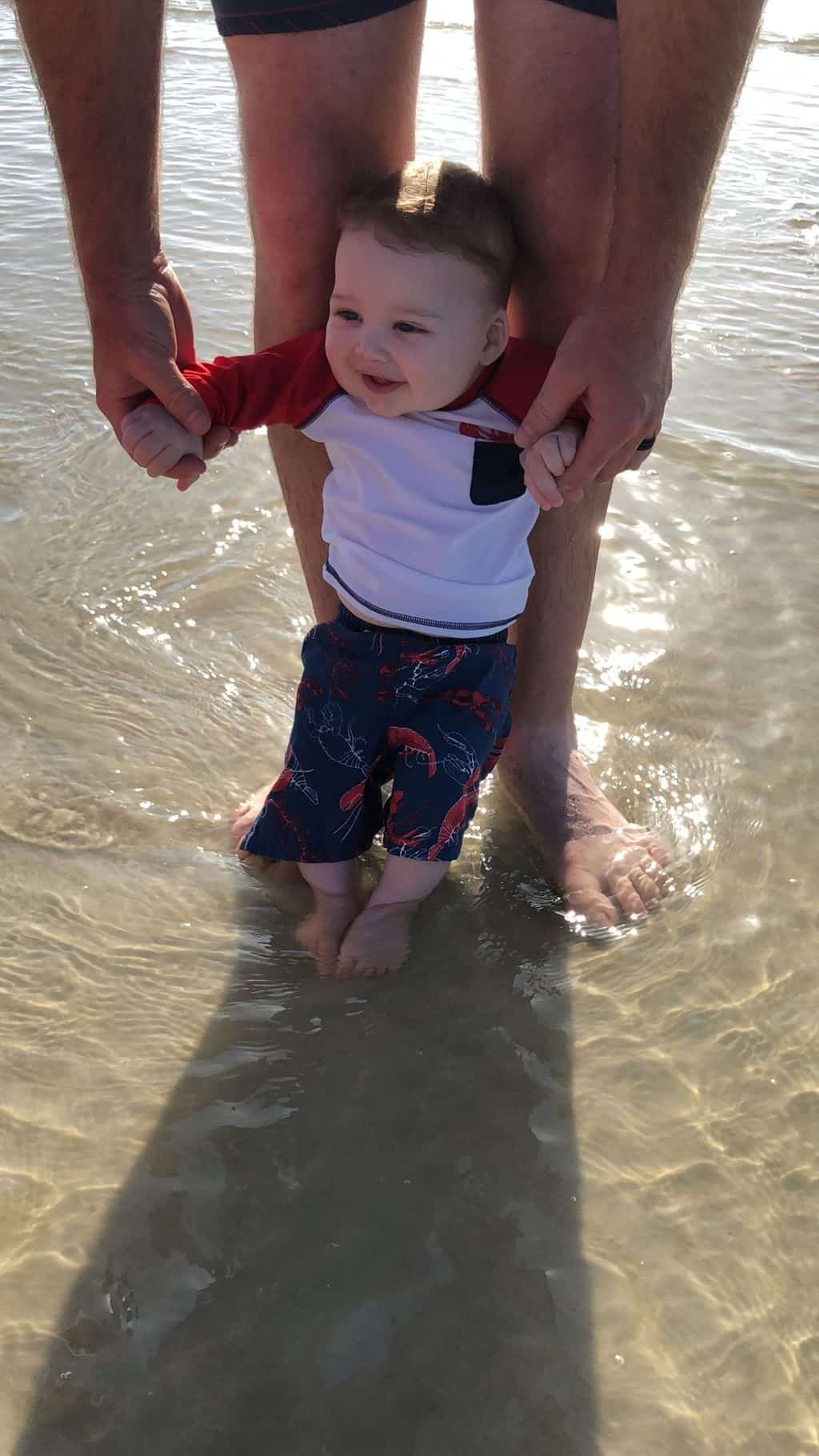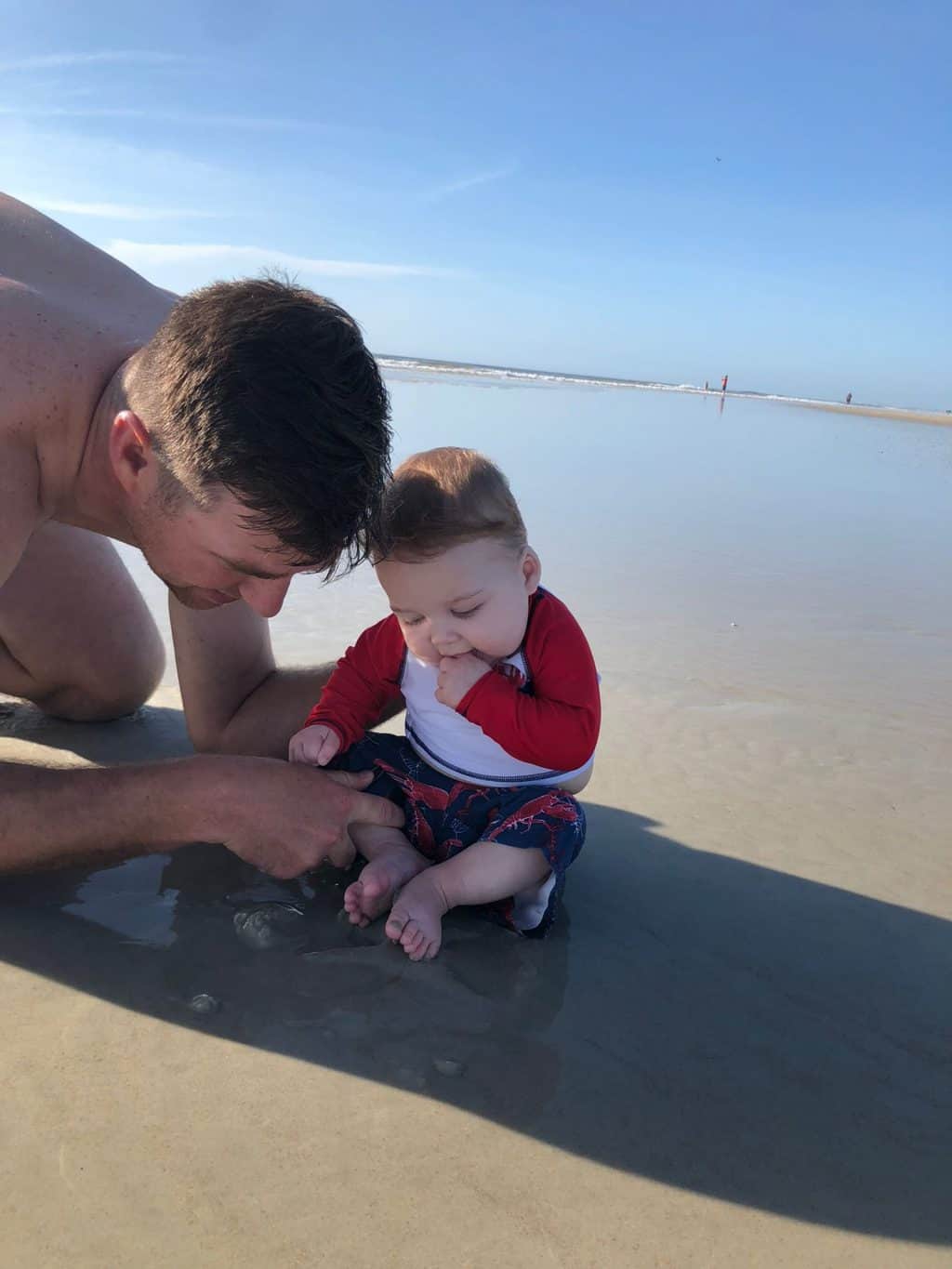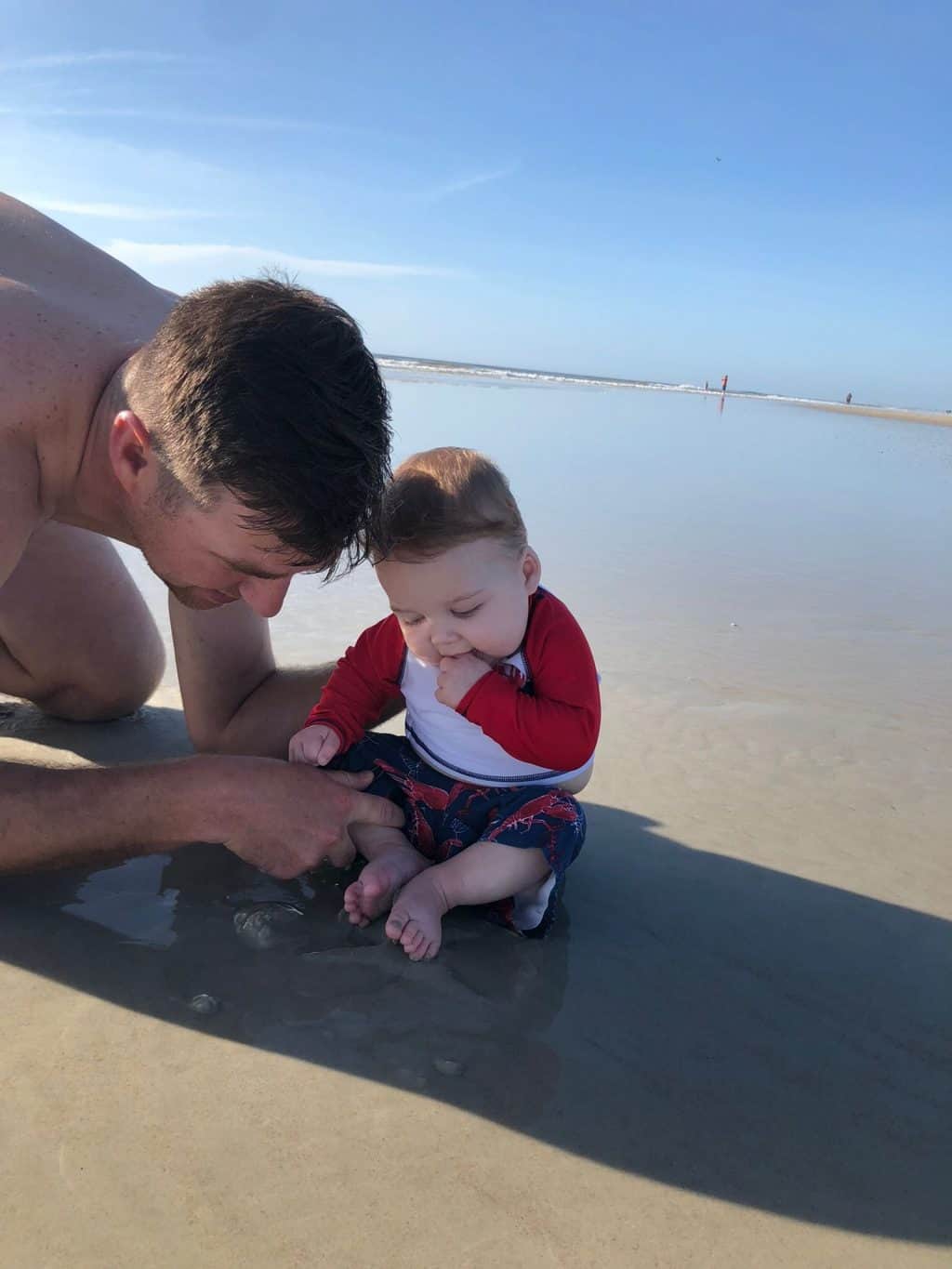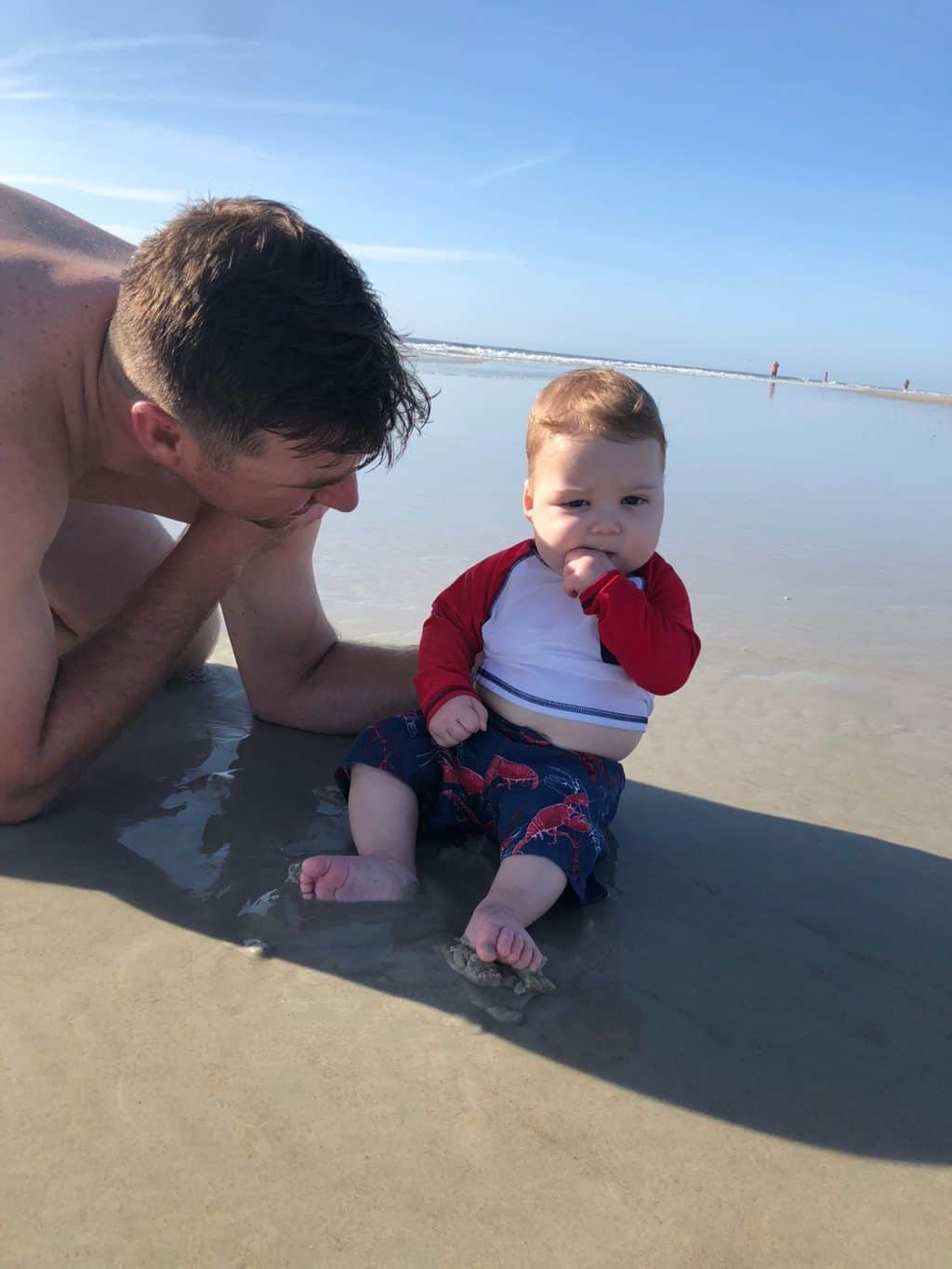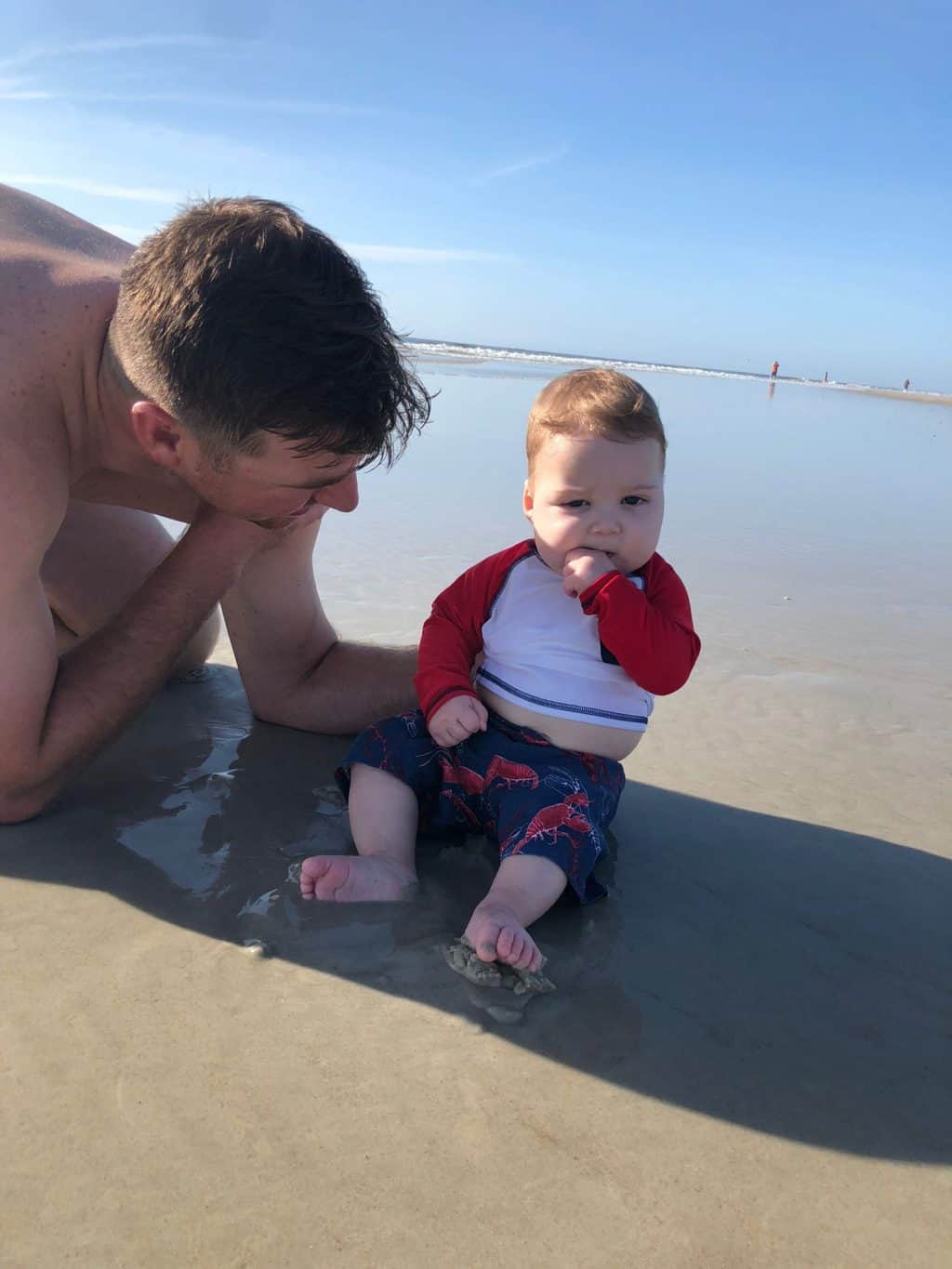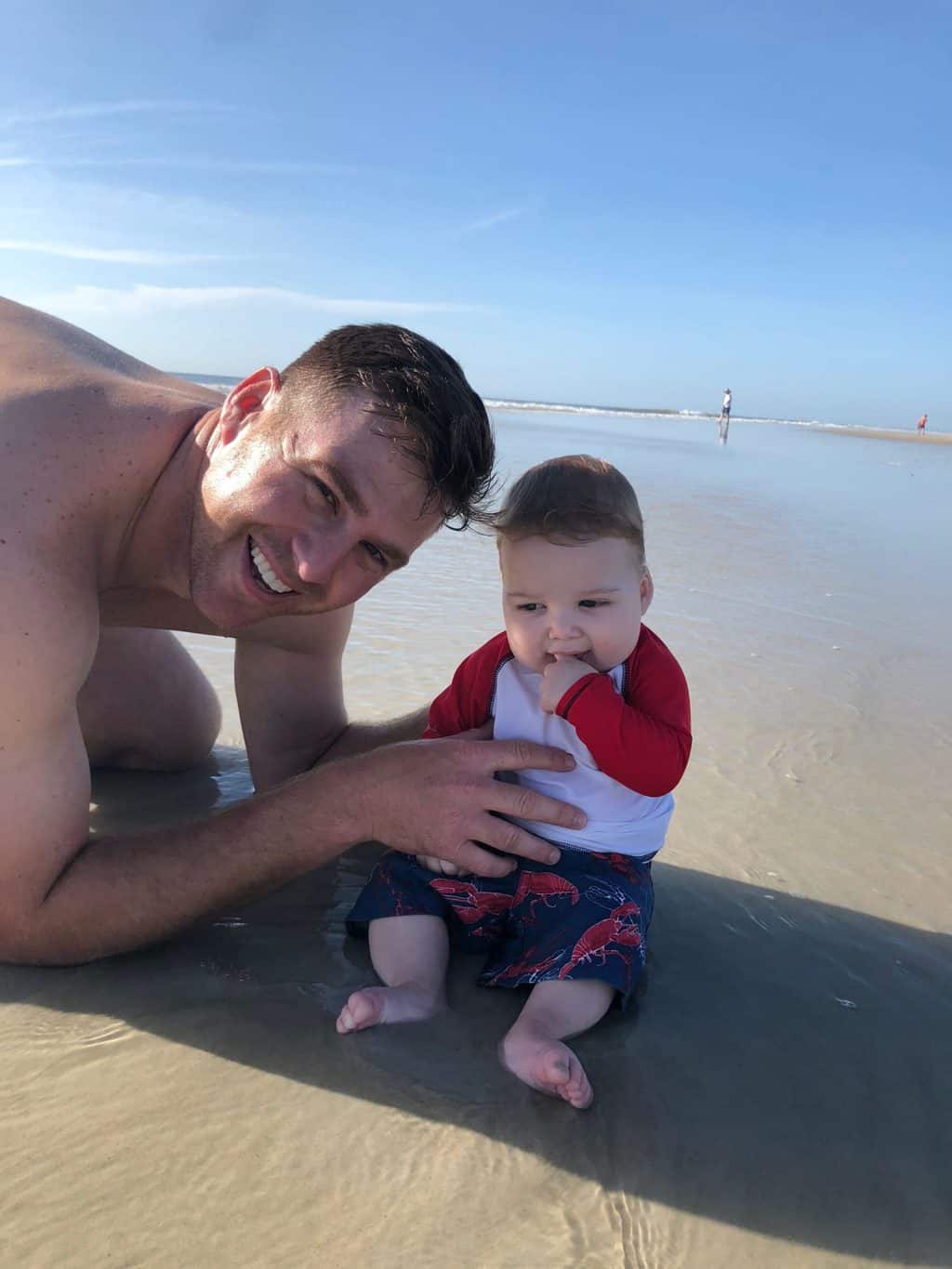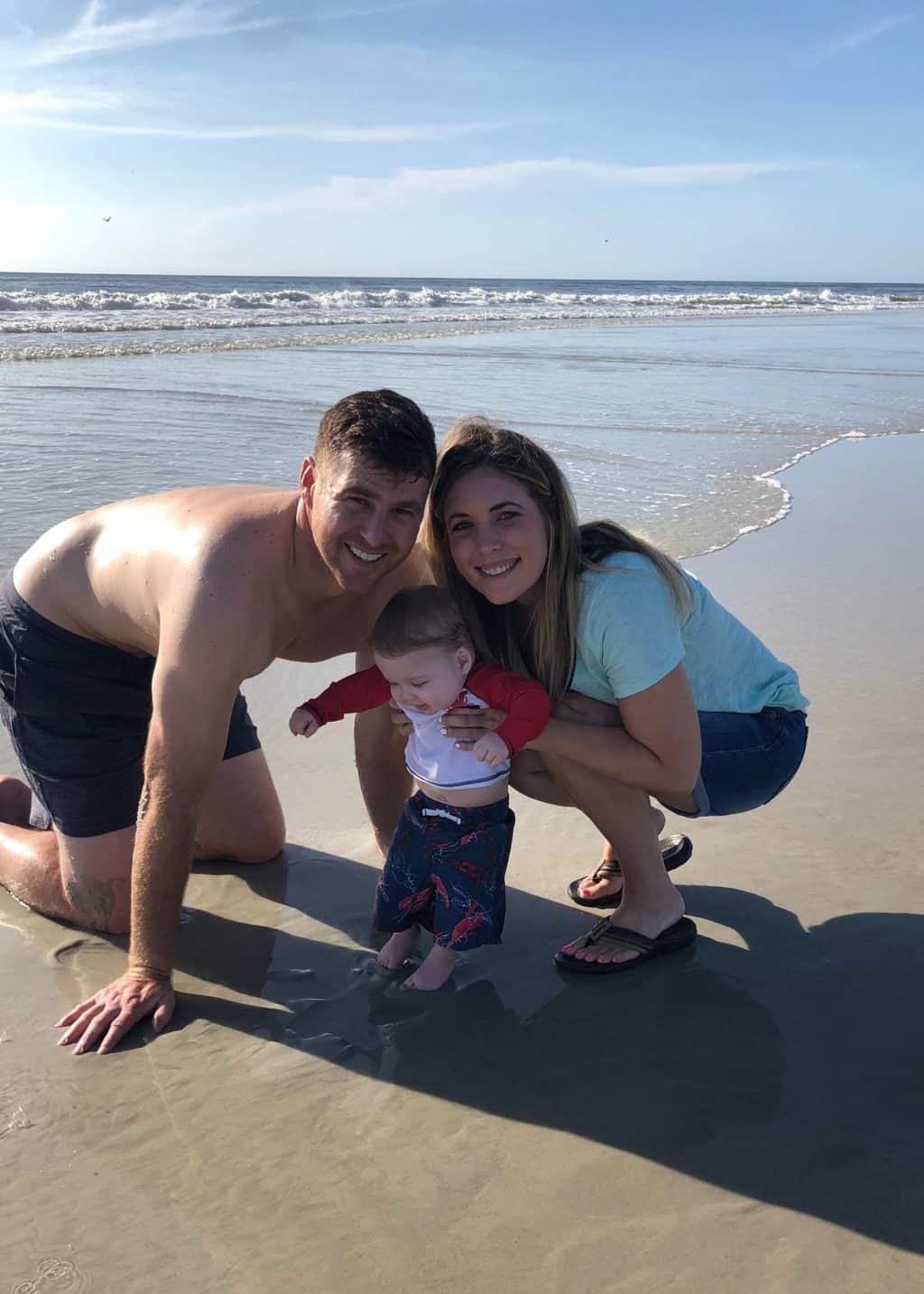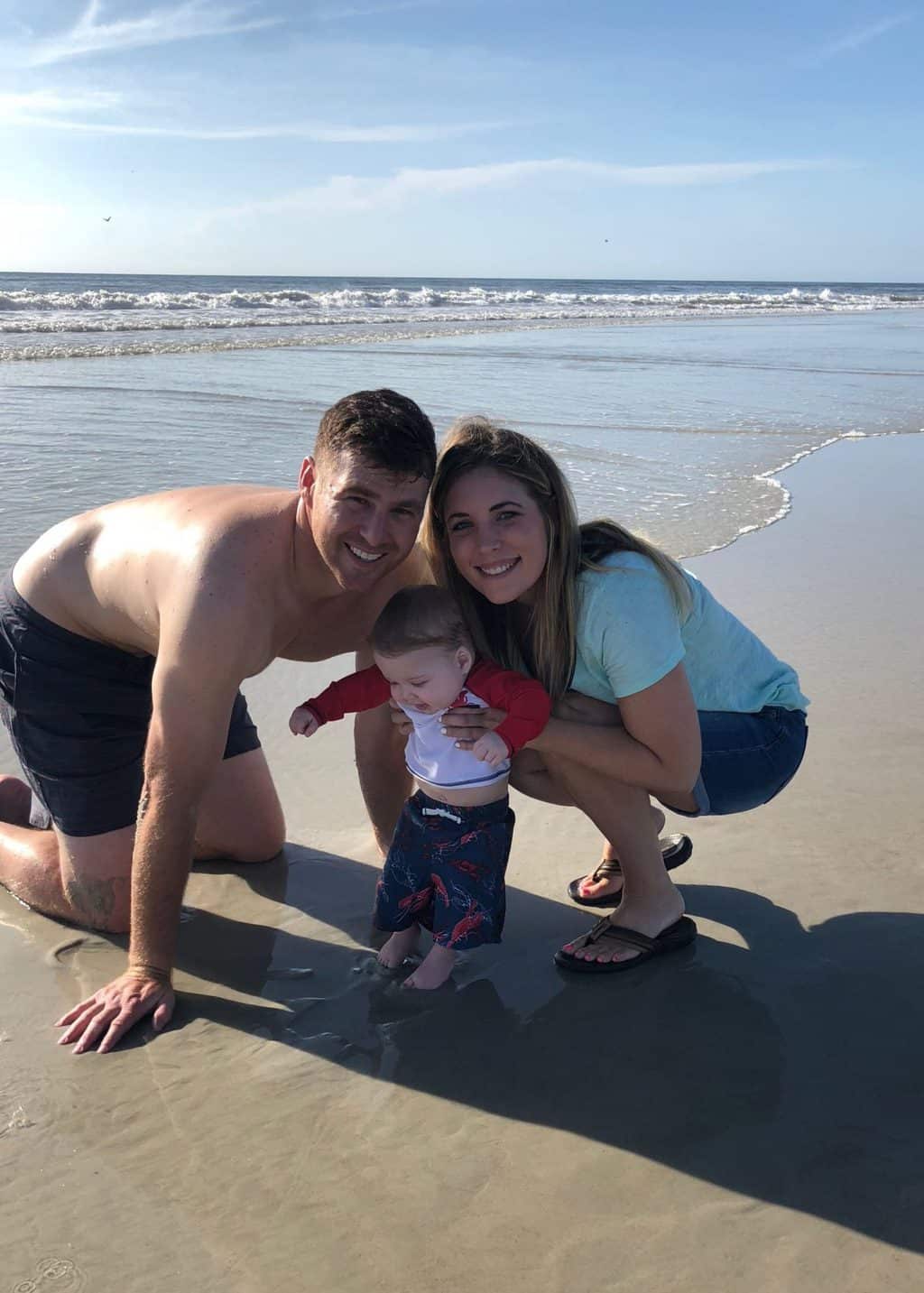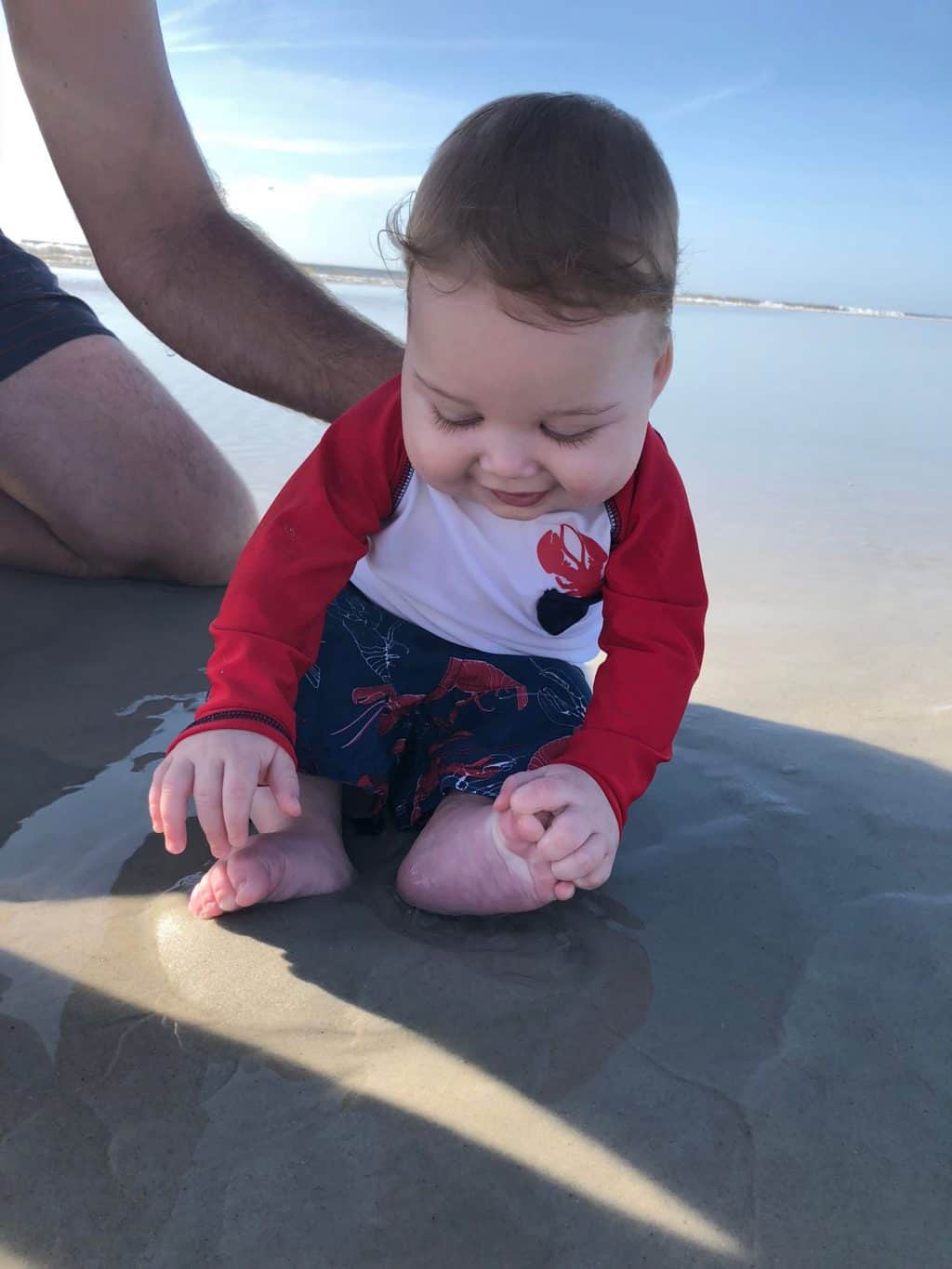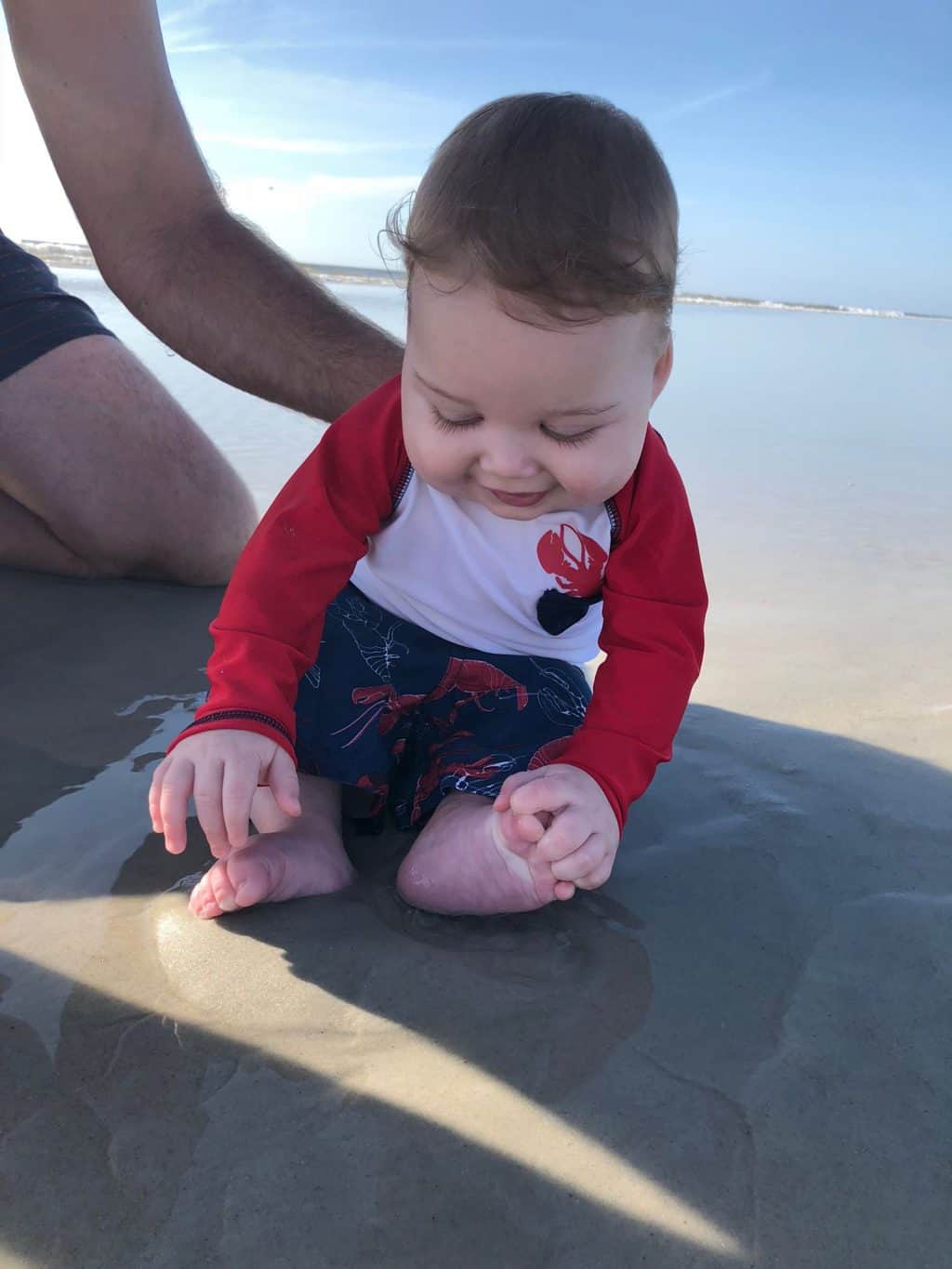 Exploring all the sand and water!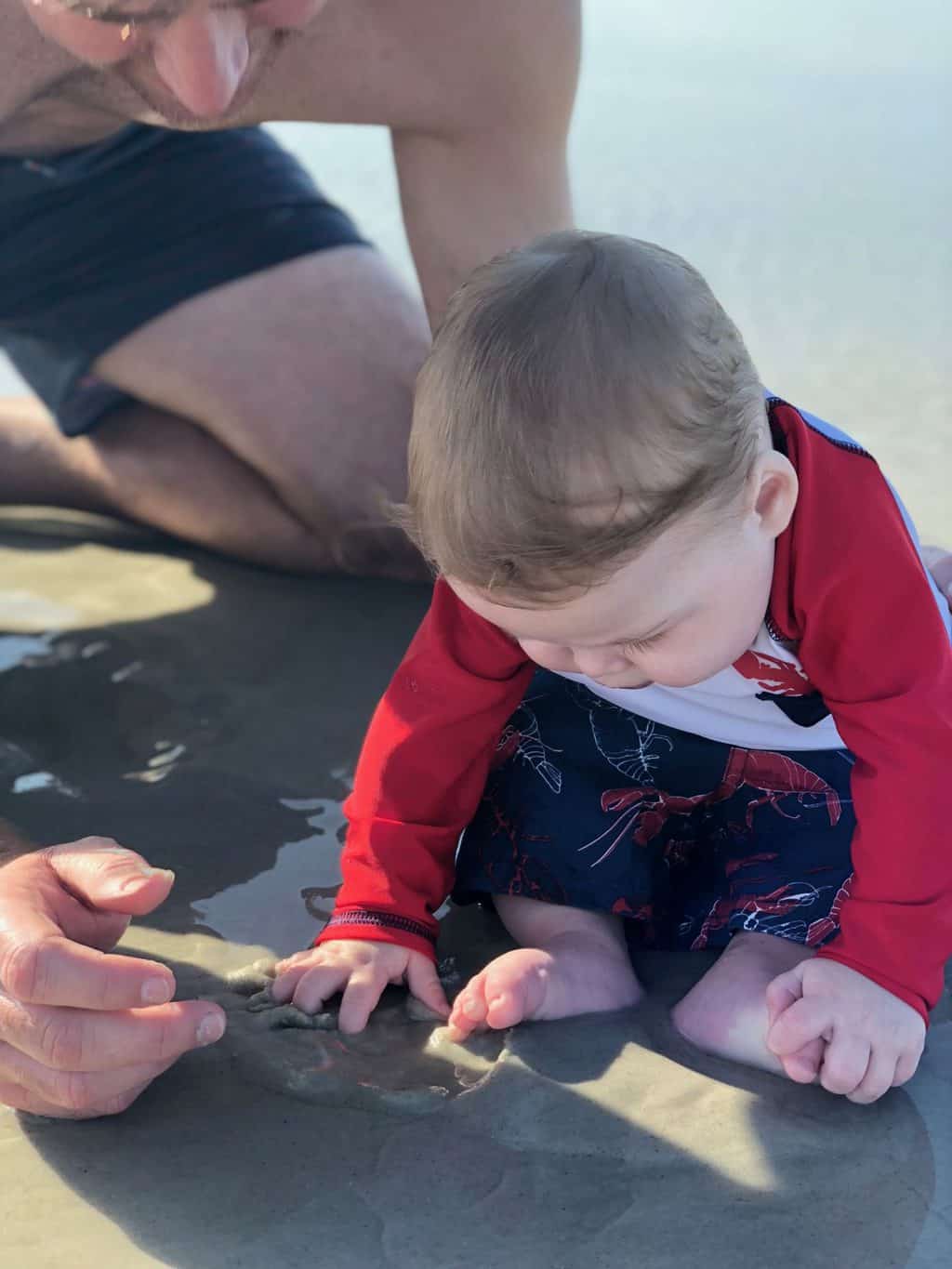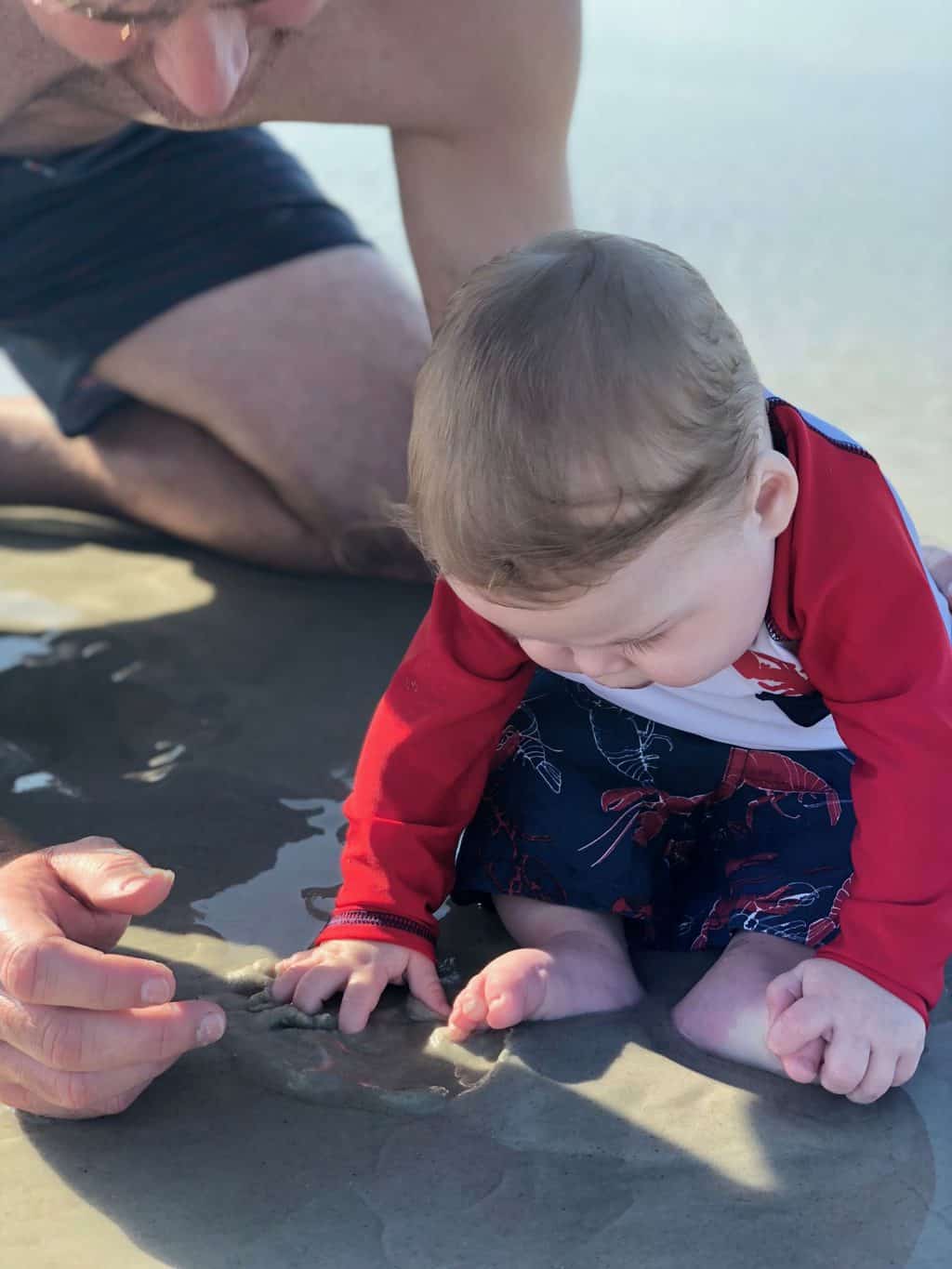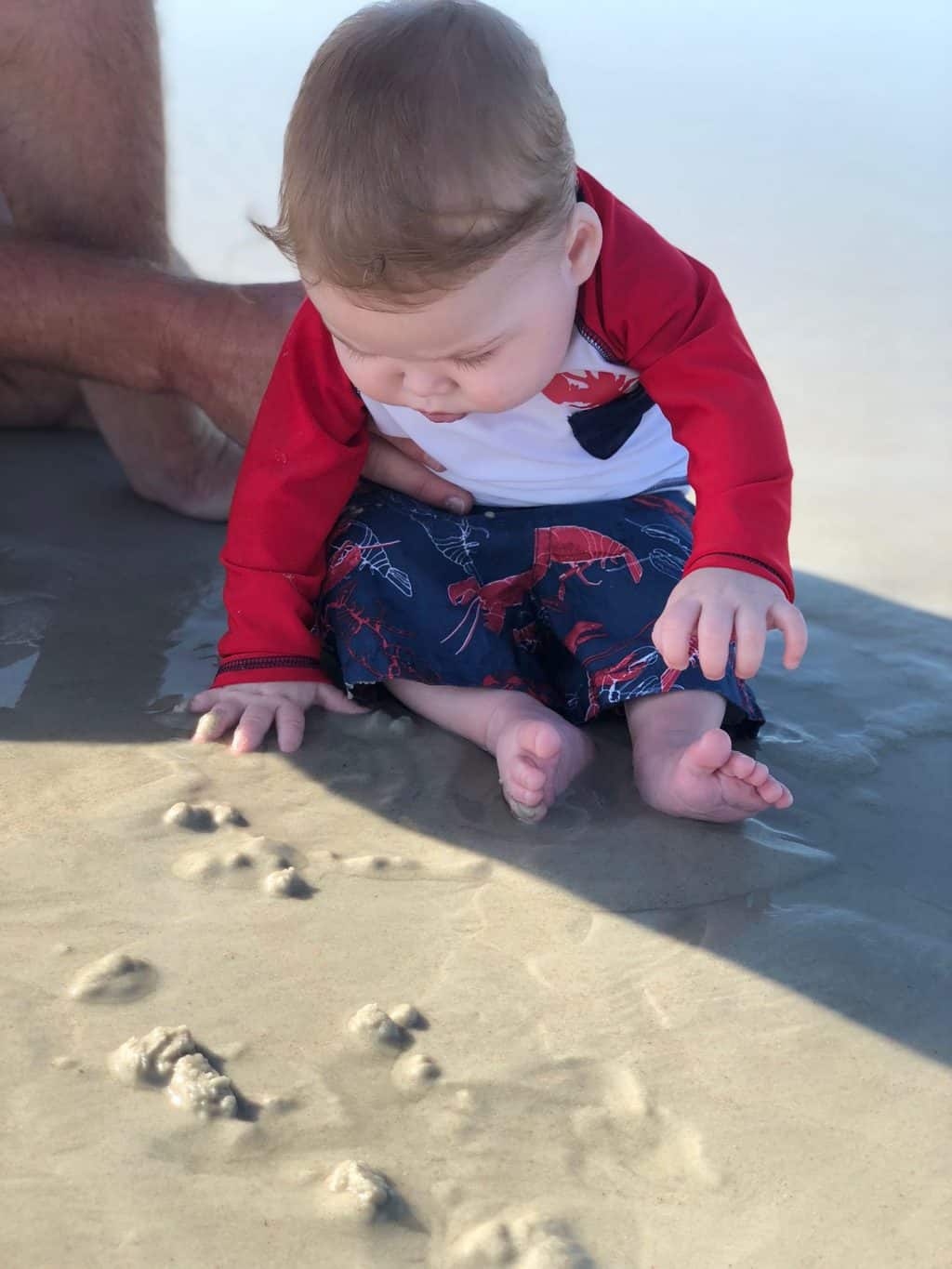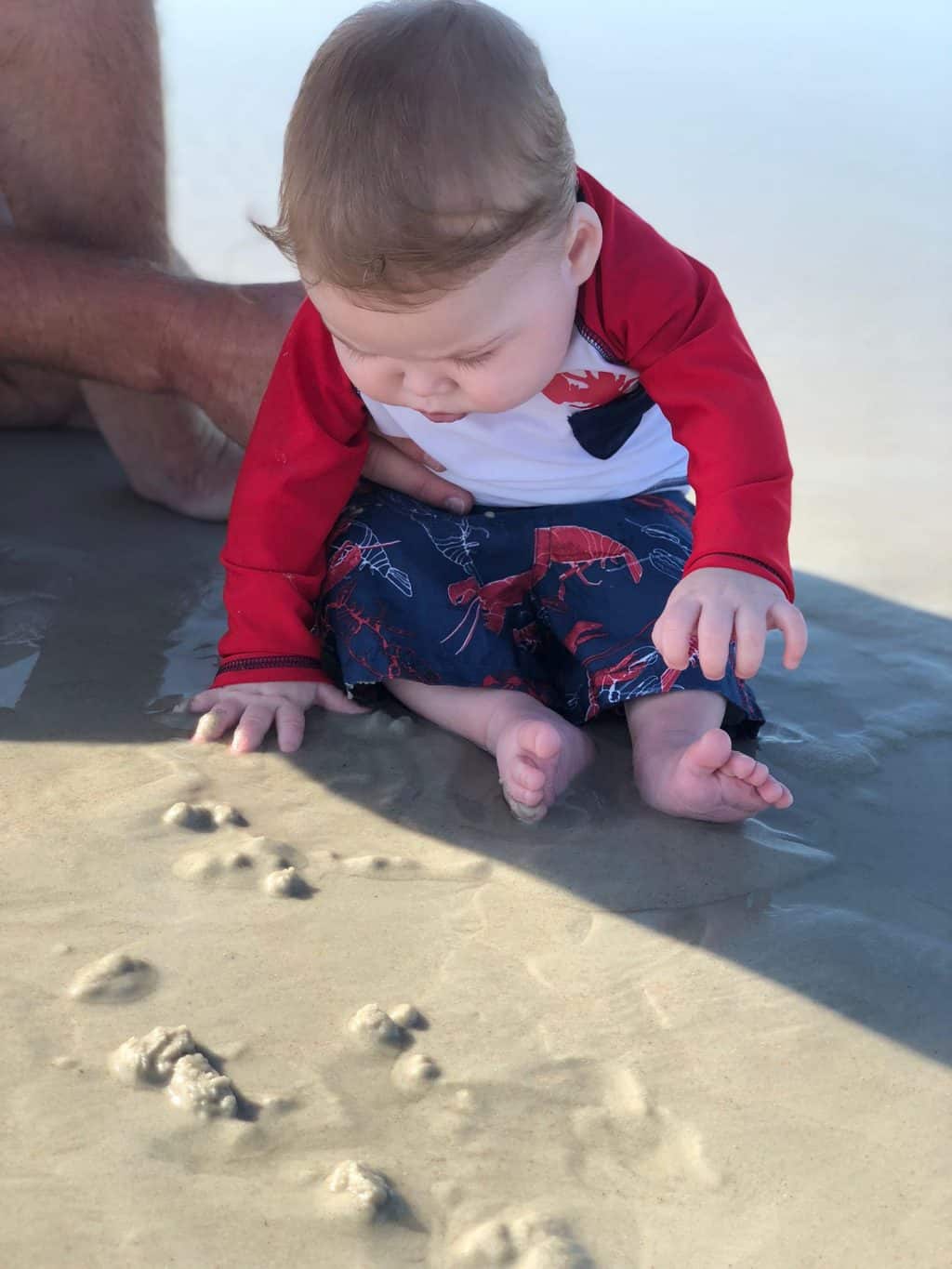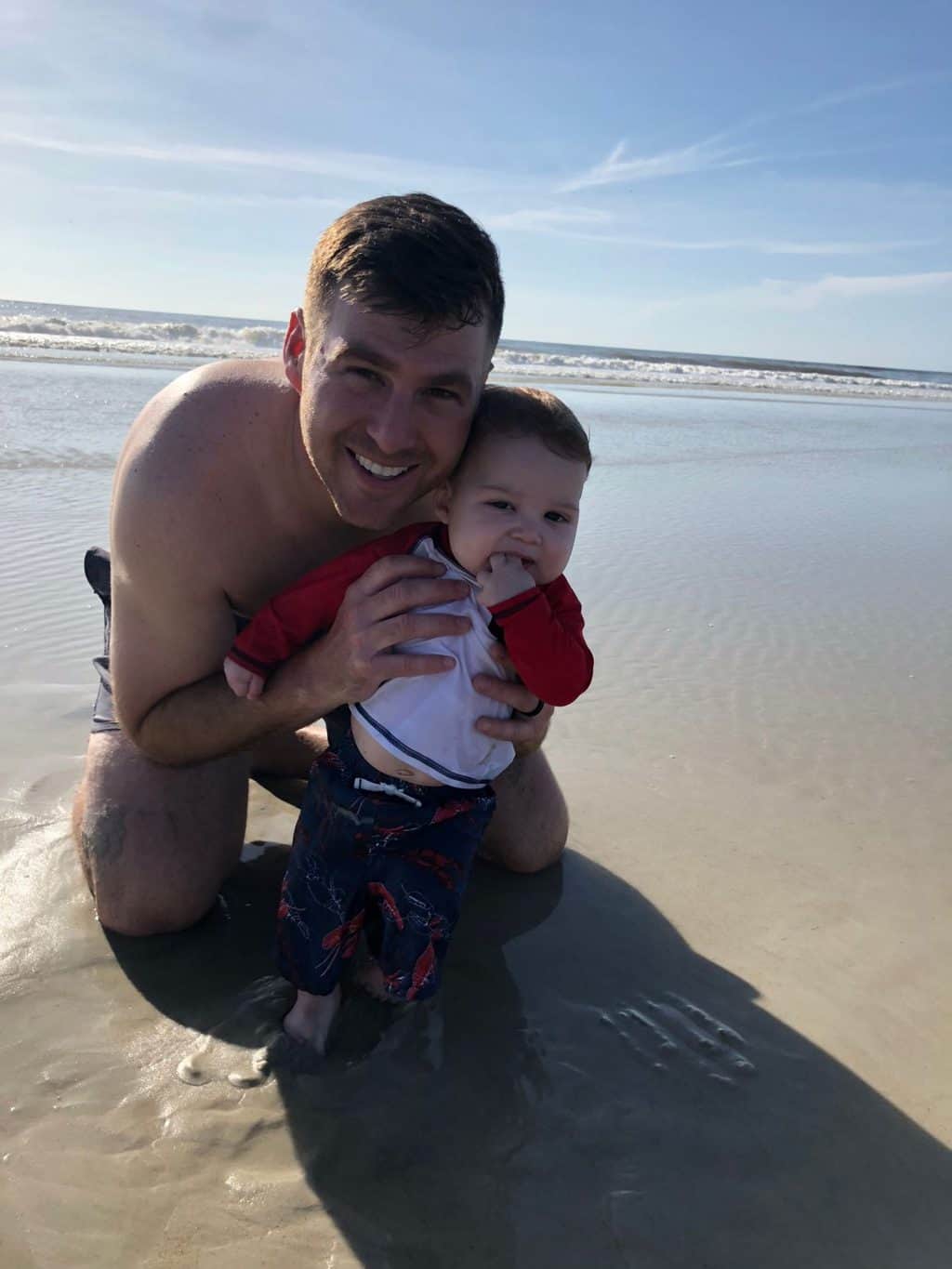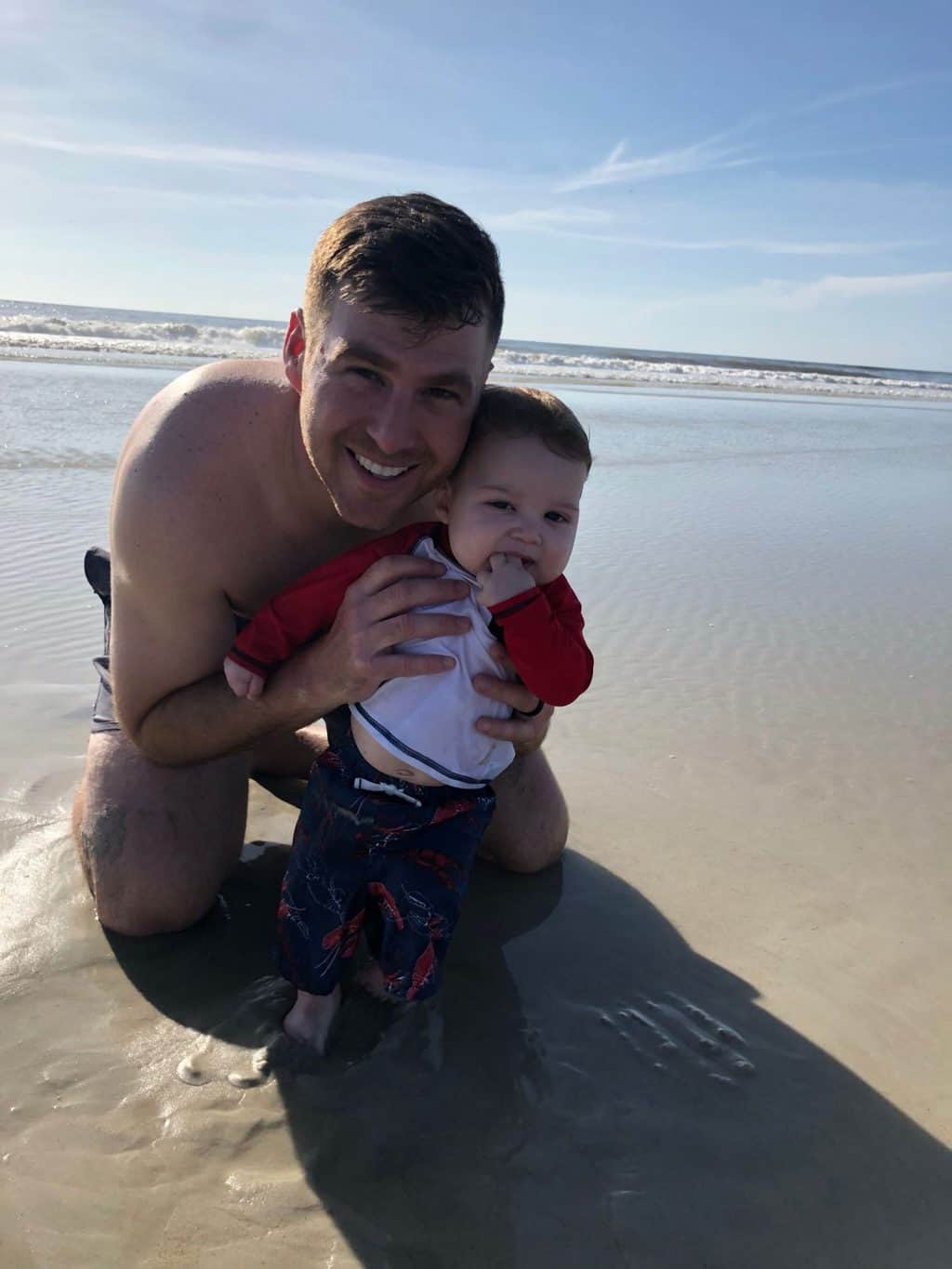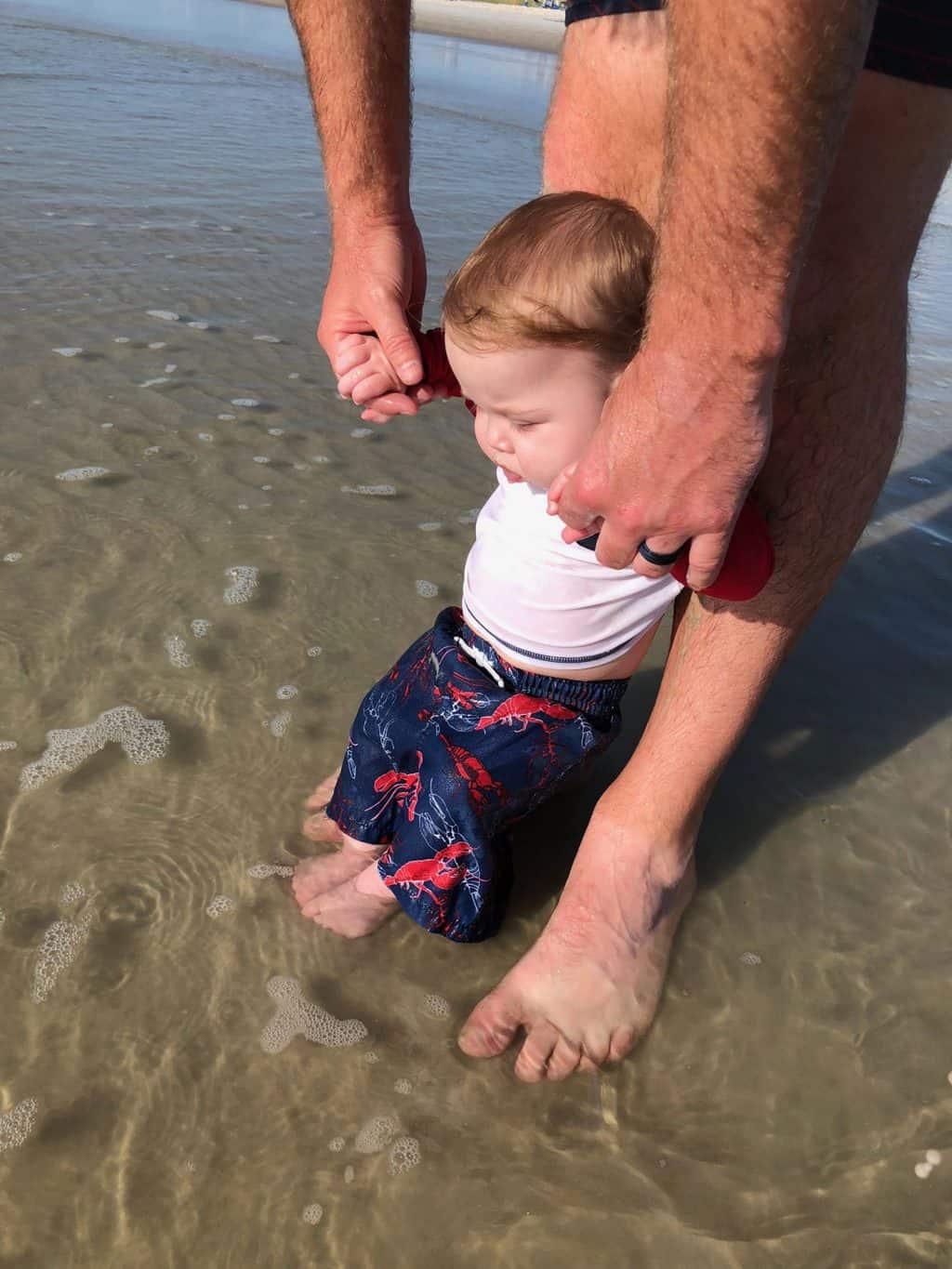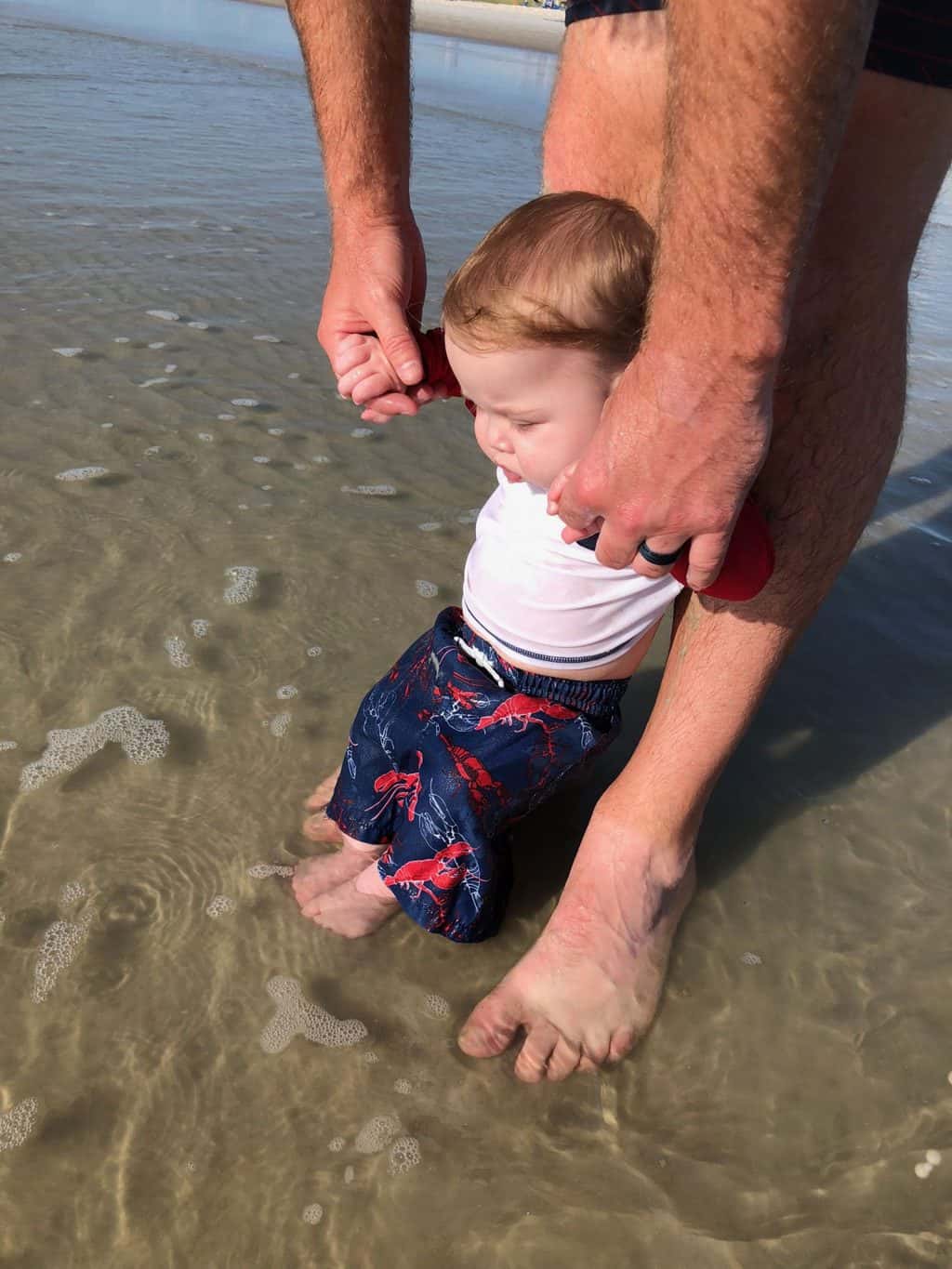 Zach stayed out with the big three kids while Spear and I went back up to the room for his morning nap. It worked out well as Zach is SO FUN at the beach. He takes the kids way out in the water, boogie boards, and builds epic sand creations. I'm just kinda lame haha I shine at Disney…he shines at the beach. So it was nice that after a full week without Daddy time the kids got so much quality fun time with him during that week!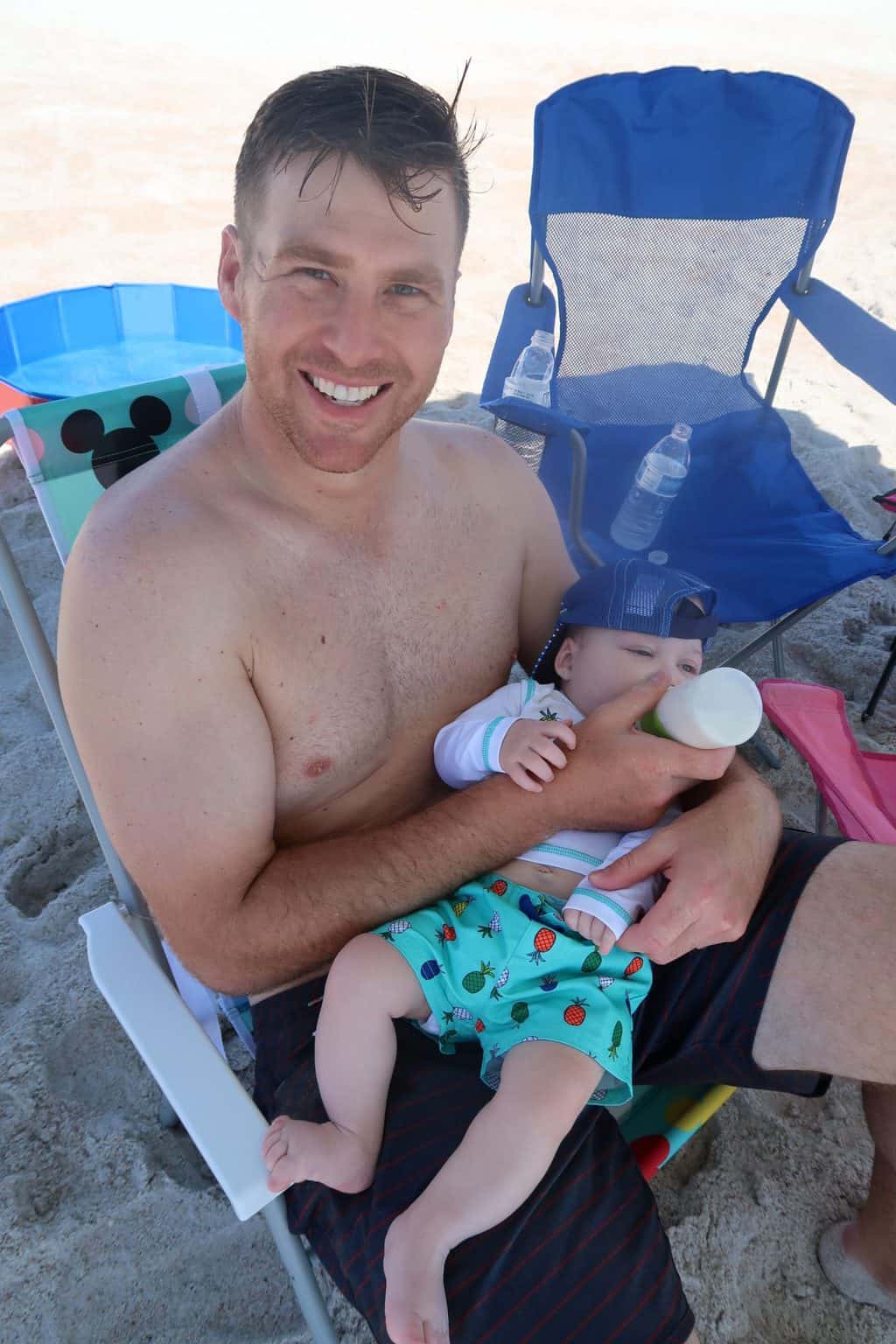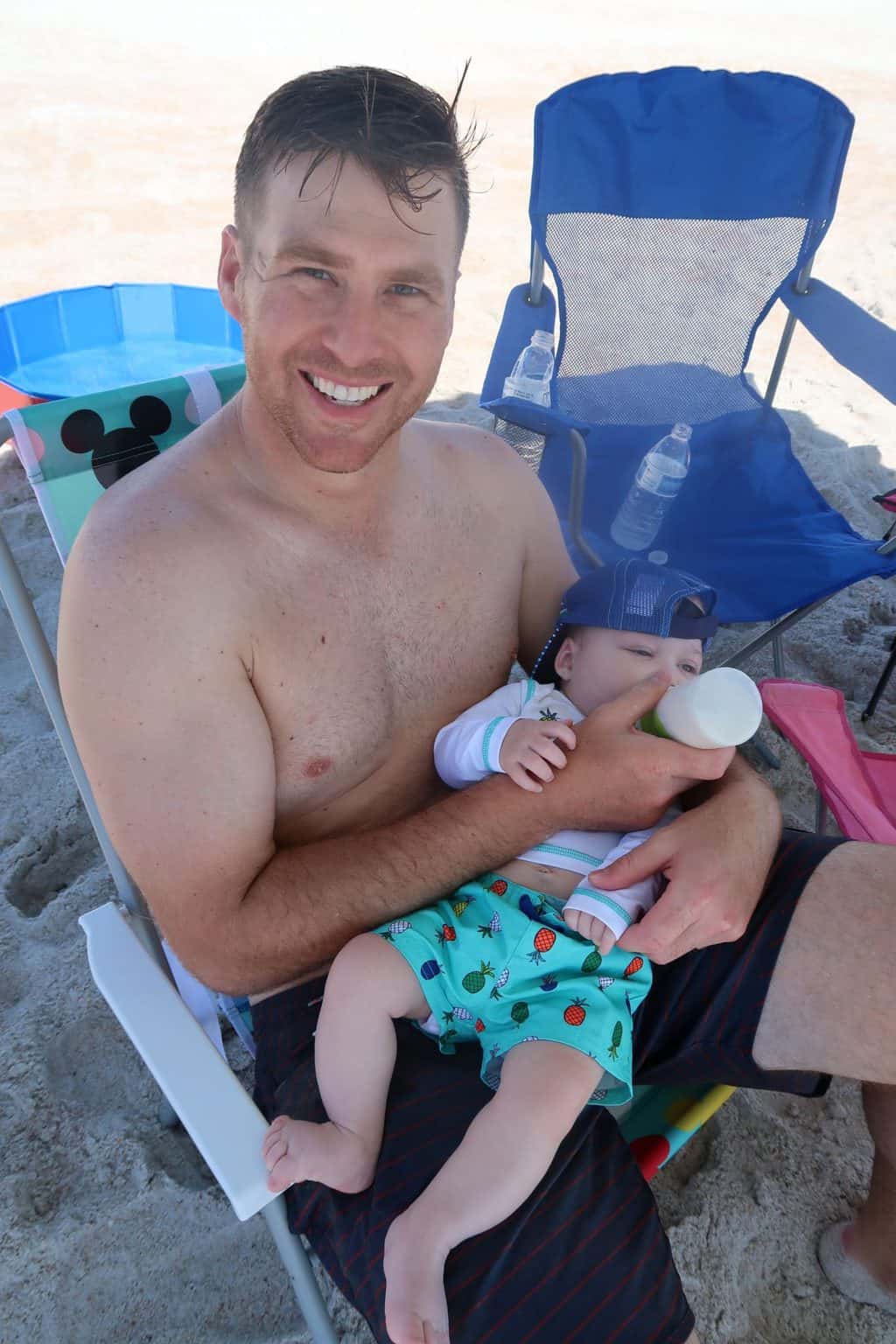 When Spear and I came down Kye was so proud to show off their castle!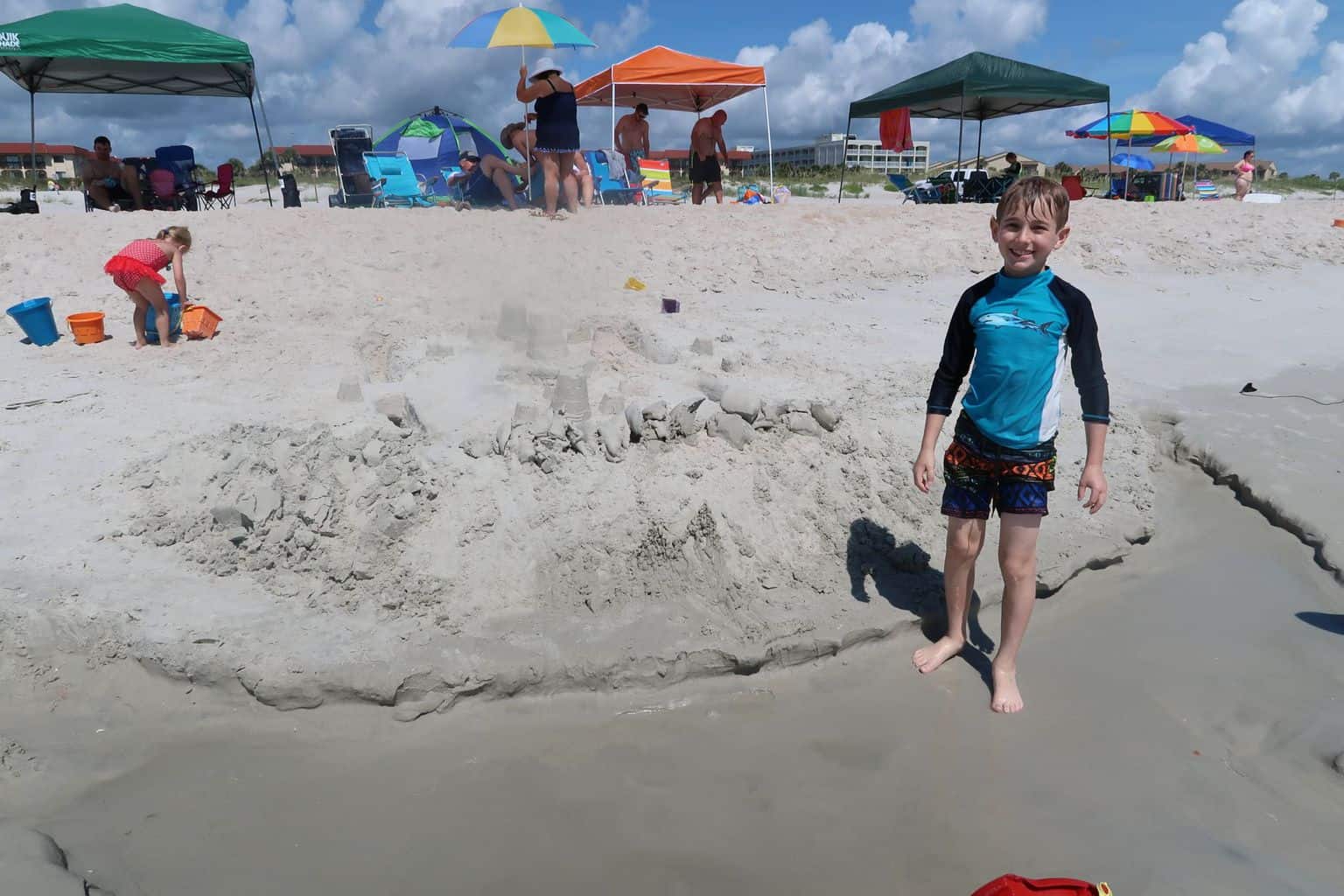 St Augustine is only a couple of hours from Valdosta and every year we run into a least one person we know! This year we ran into quite a few. Zach's former boss actually stays at the condo next to ours every summer so Zach spent a good bit of time with him and Tess got to meet her birthday twin, Davis! His mom Emily (great name ha!) and I are in a birth group together but I actually knew her back in college! Small world and it was great to let them meet…even if they wouldn't get pictures together 🙂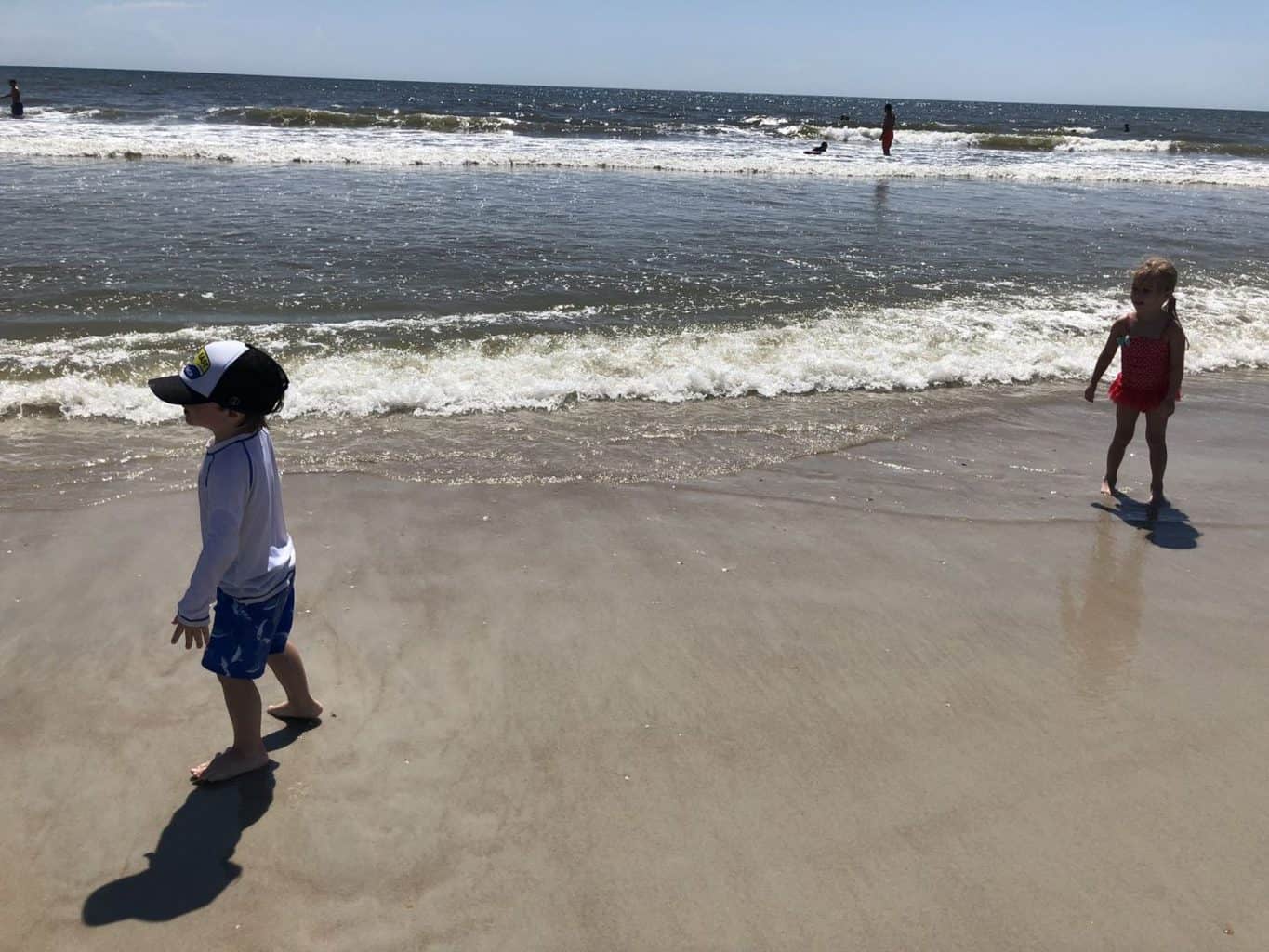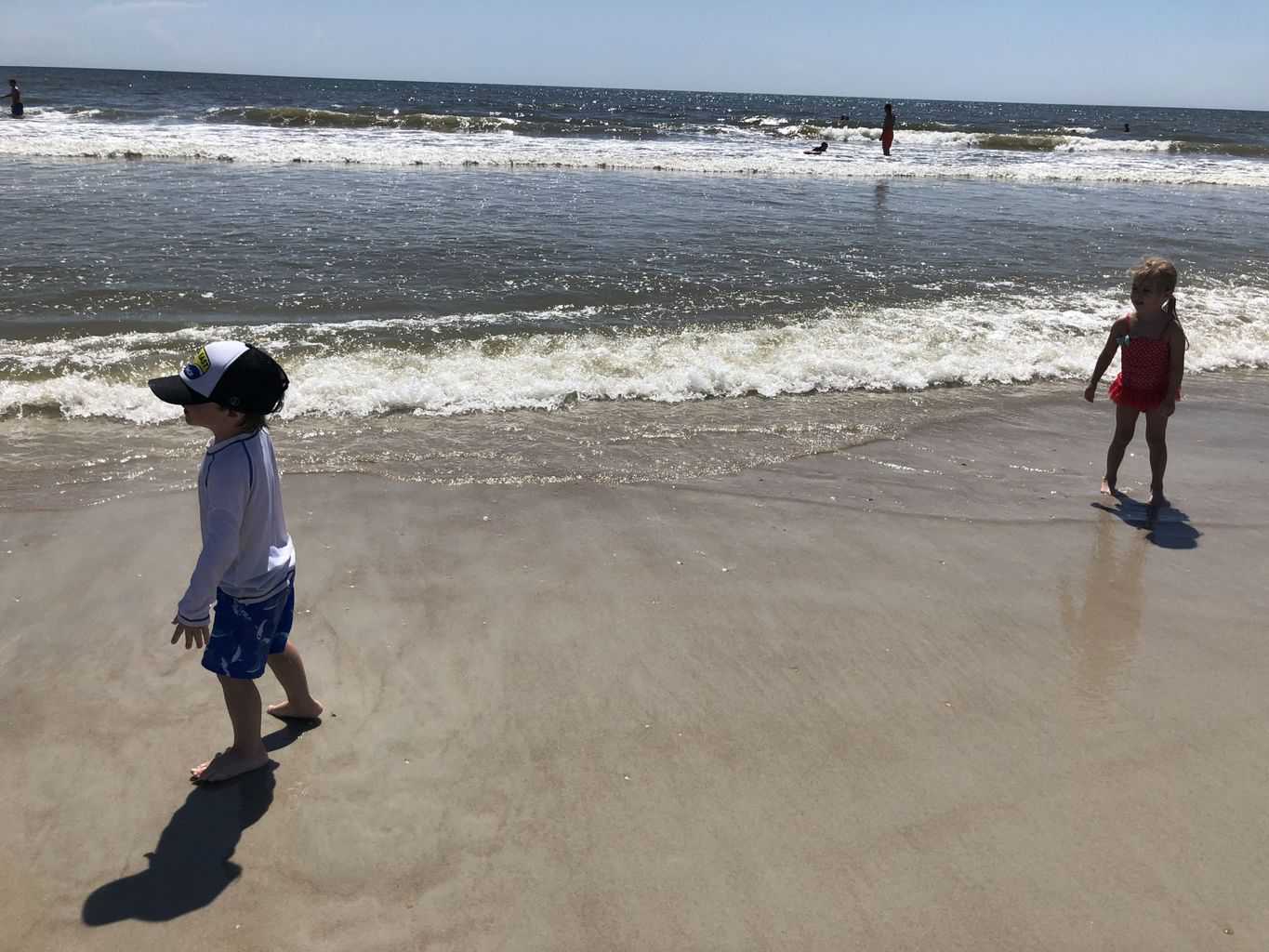 We've had the same beach chairs FOR YEARS and one of them started breaking last summer so it was on my list to hunt for a new one. I always try to find beach stuff for our next trip during the end of summer the year prior for the DEALZ. It cracked me up because our new beach chair still had the tag dangling from it proudly showing off my great deal find 🙂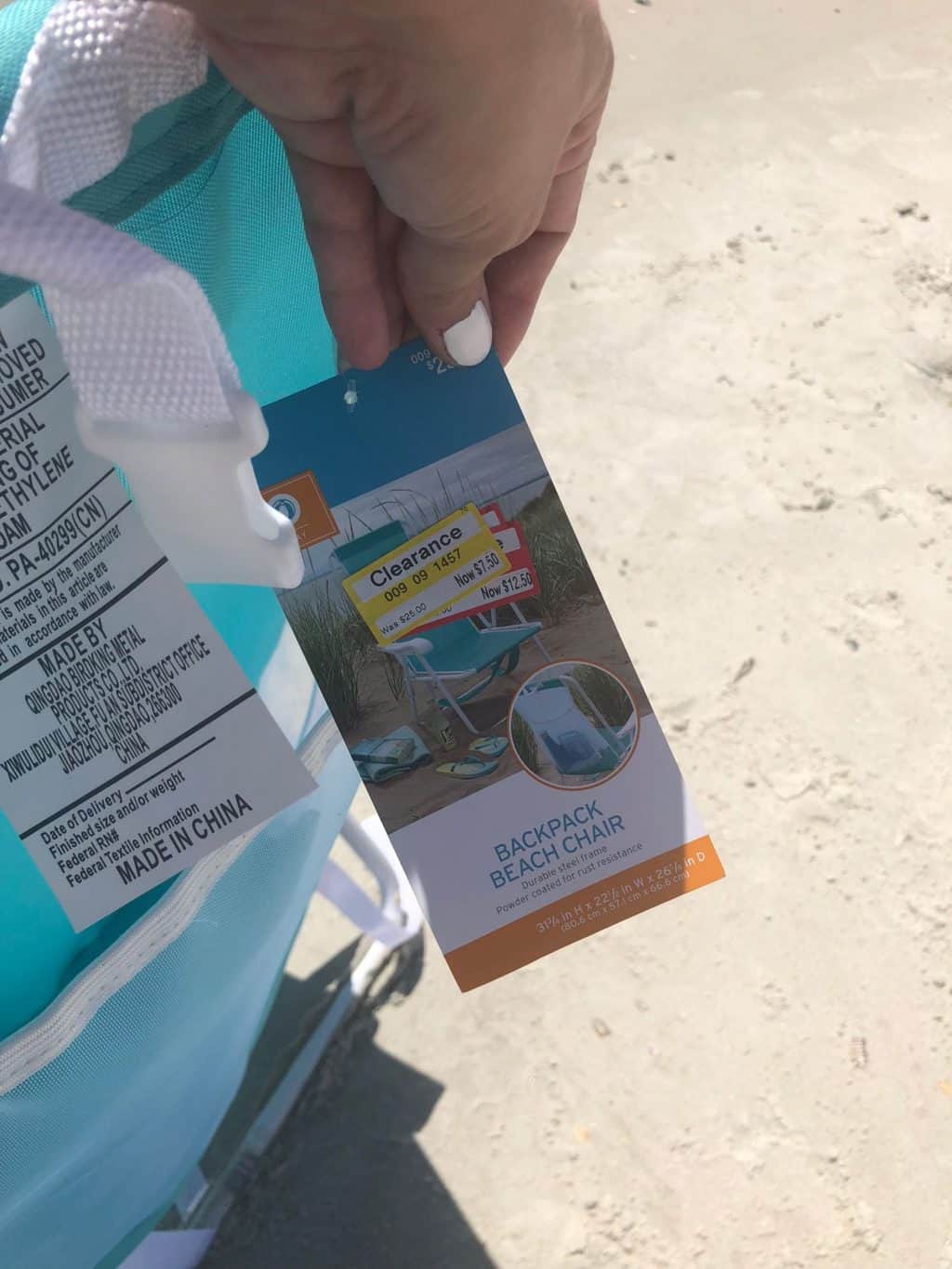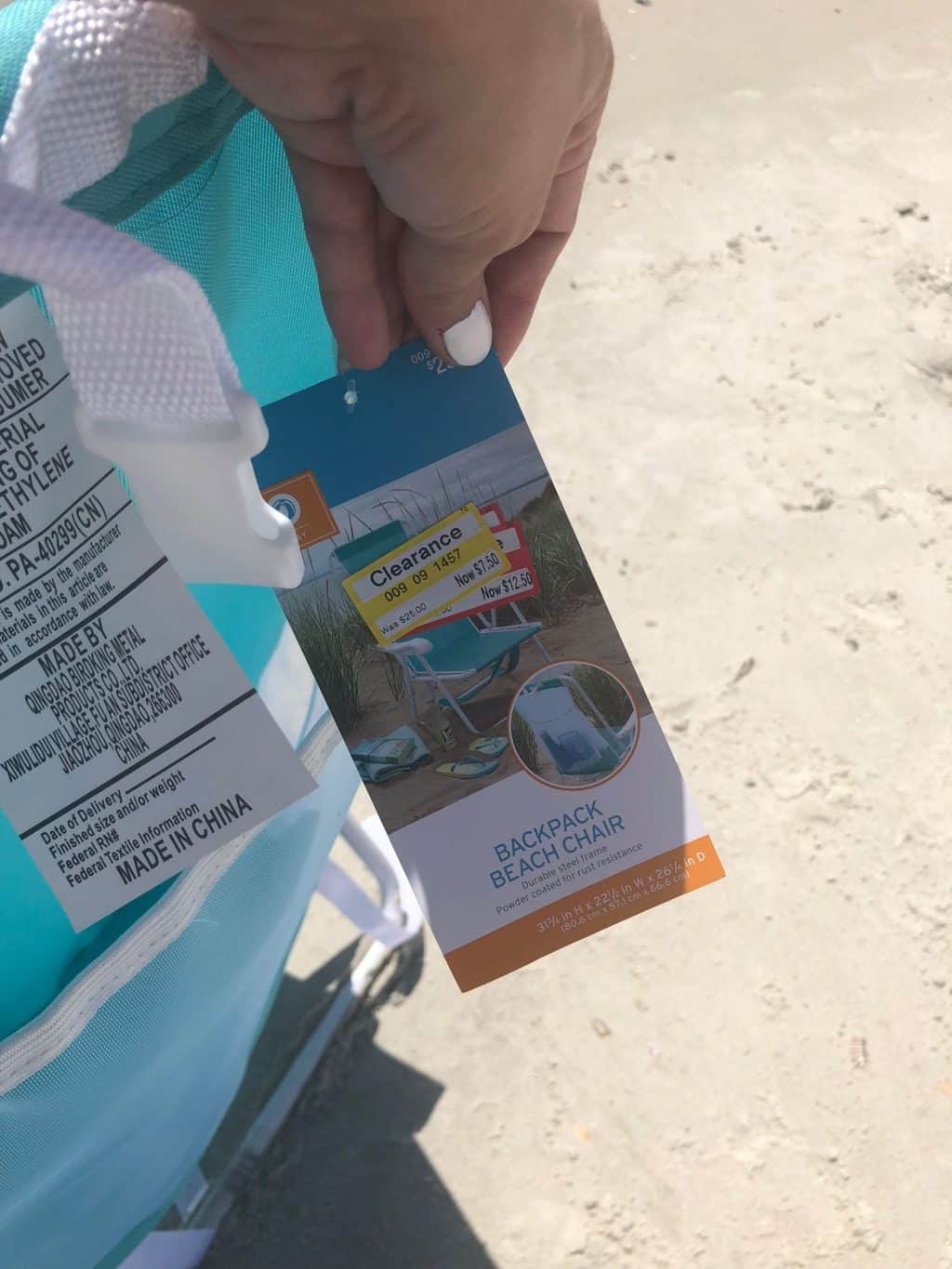 Just about the only cool Mom thing at the beach is that I love finding seashells with the kids 🙂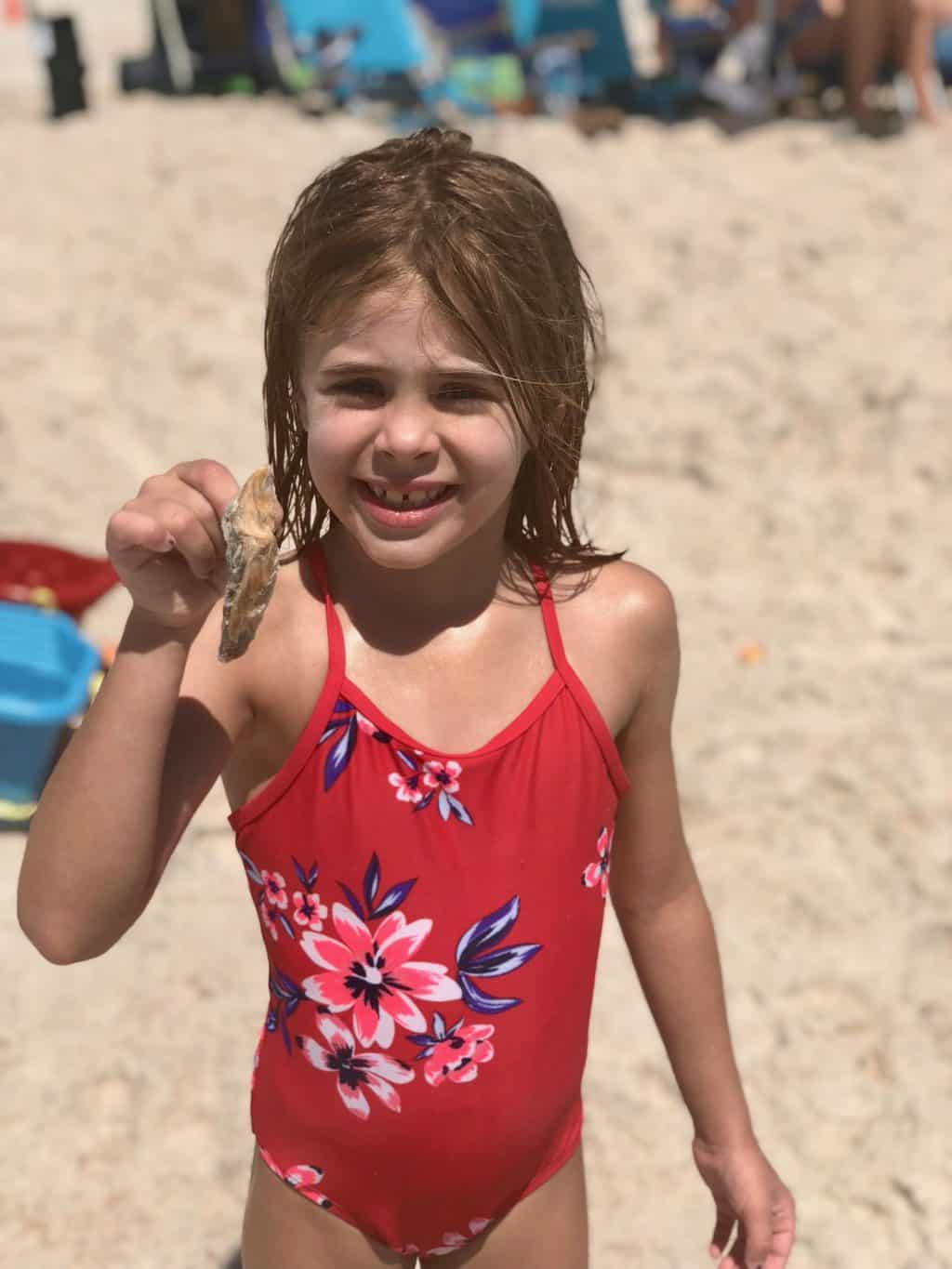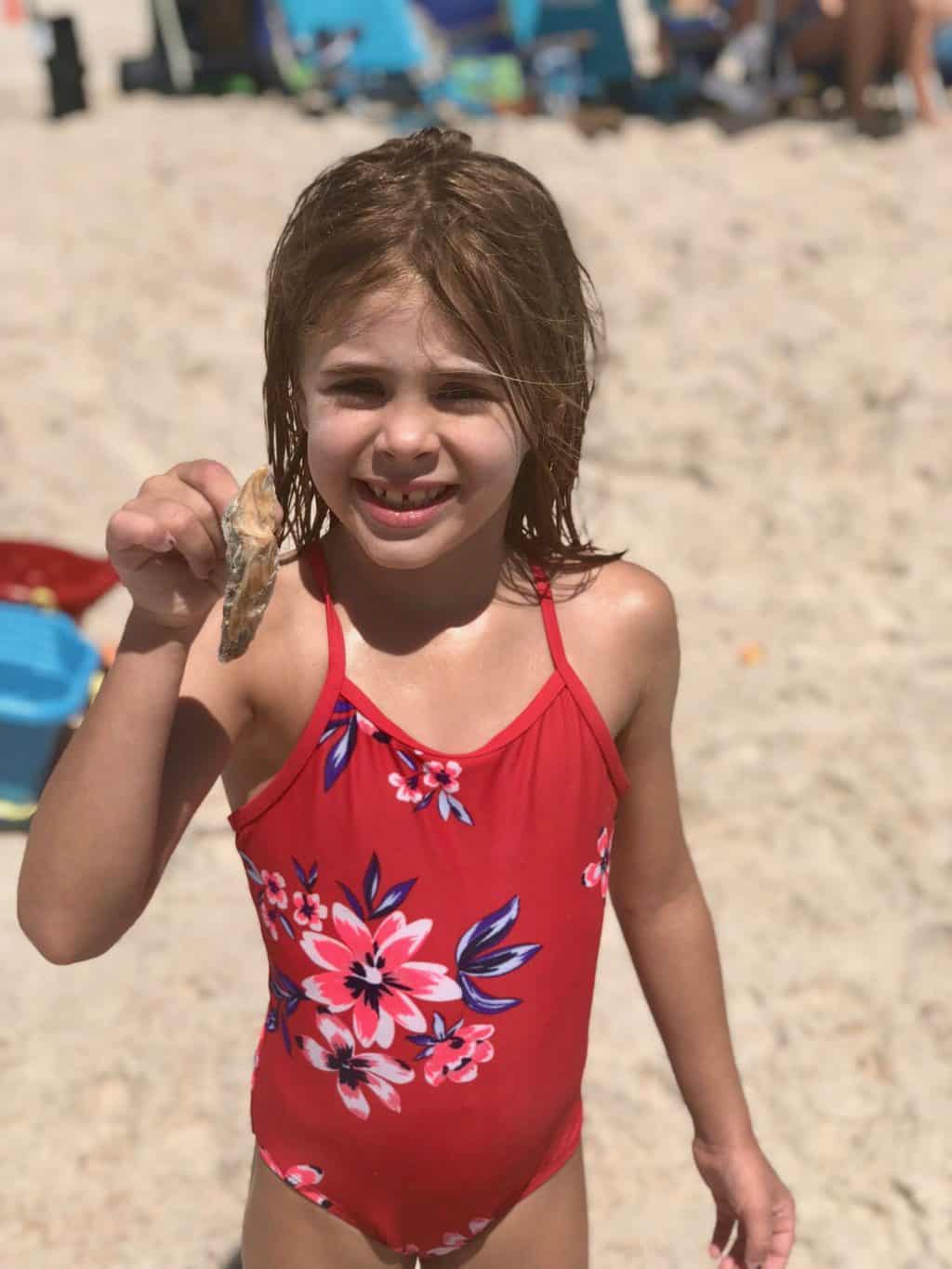 Her toes held up for a few days!!!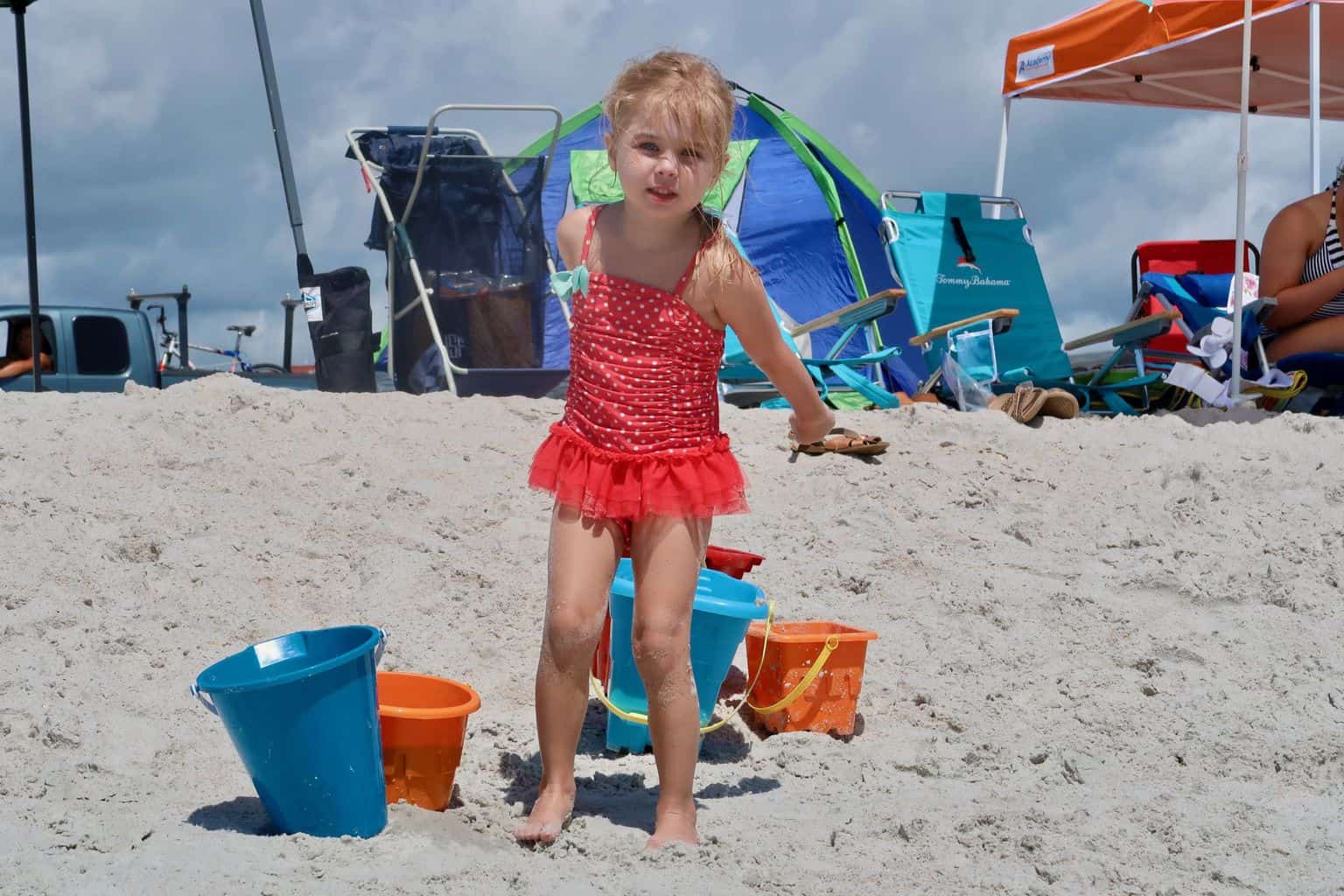 Being at the beach for the week also allows our kids to make friendships that can last the whole trip 🙂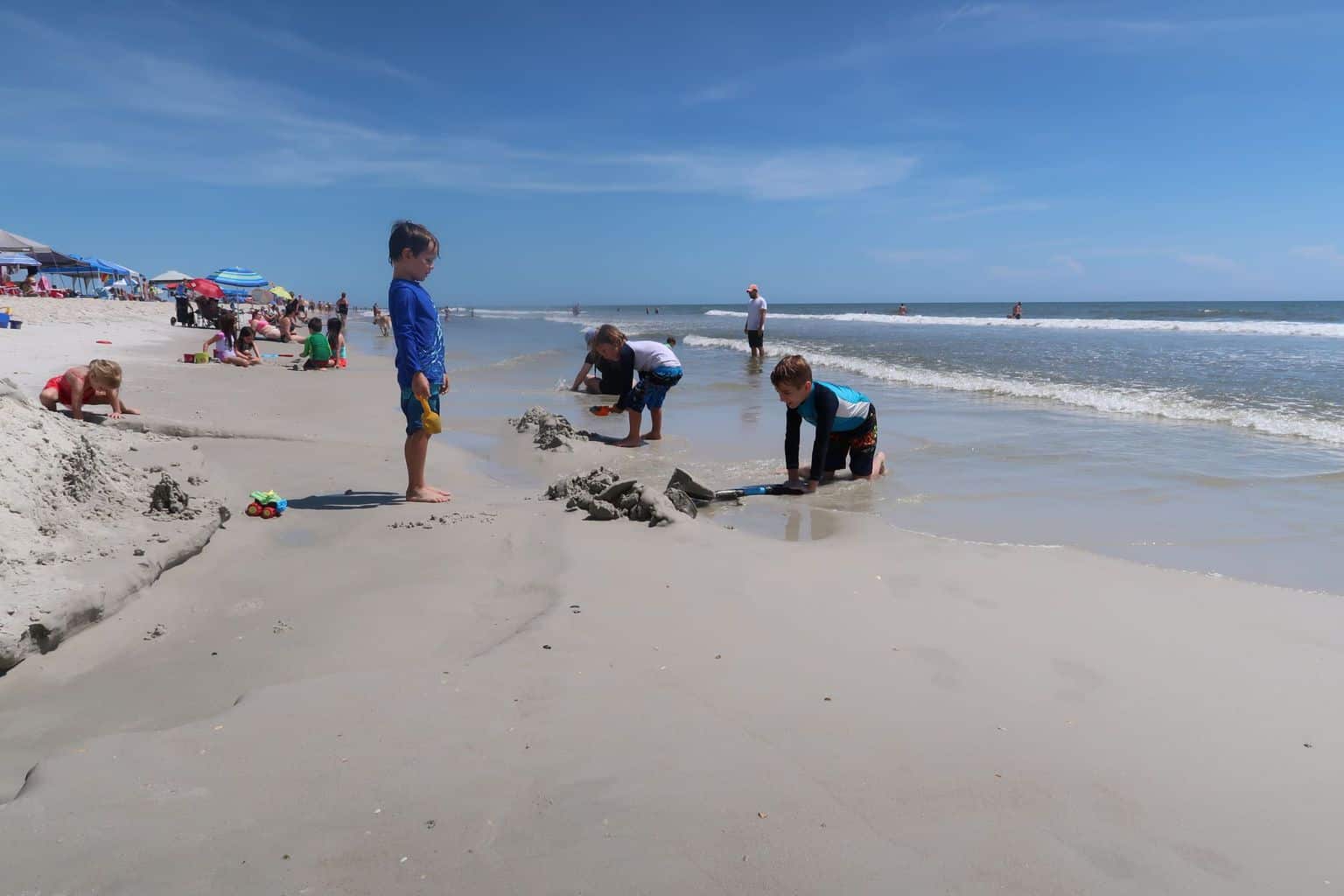 Not only did Spear visit the beach for the first time but we also now have another hardcore boogie boarding kid! Britt LOVES it!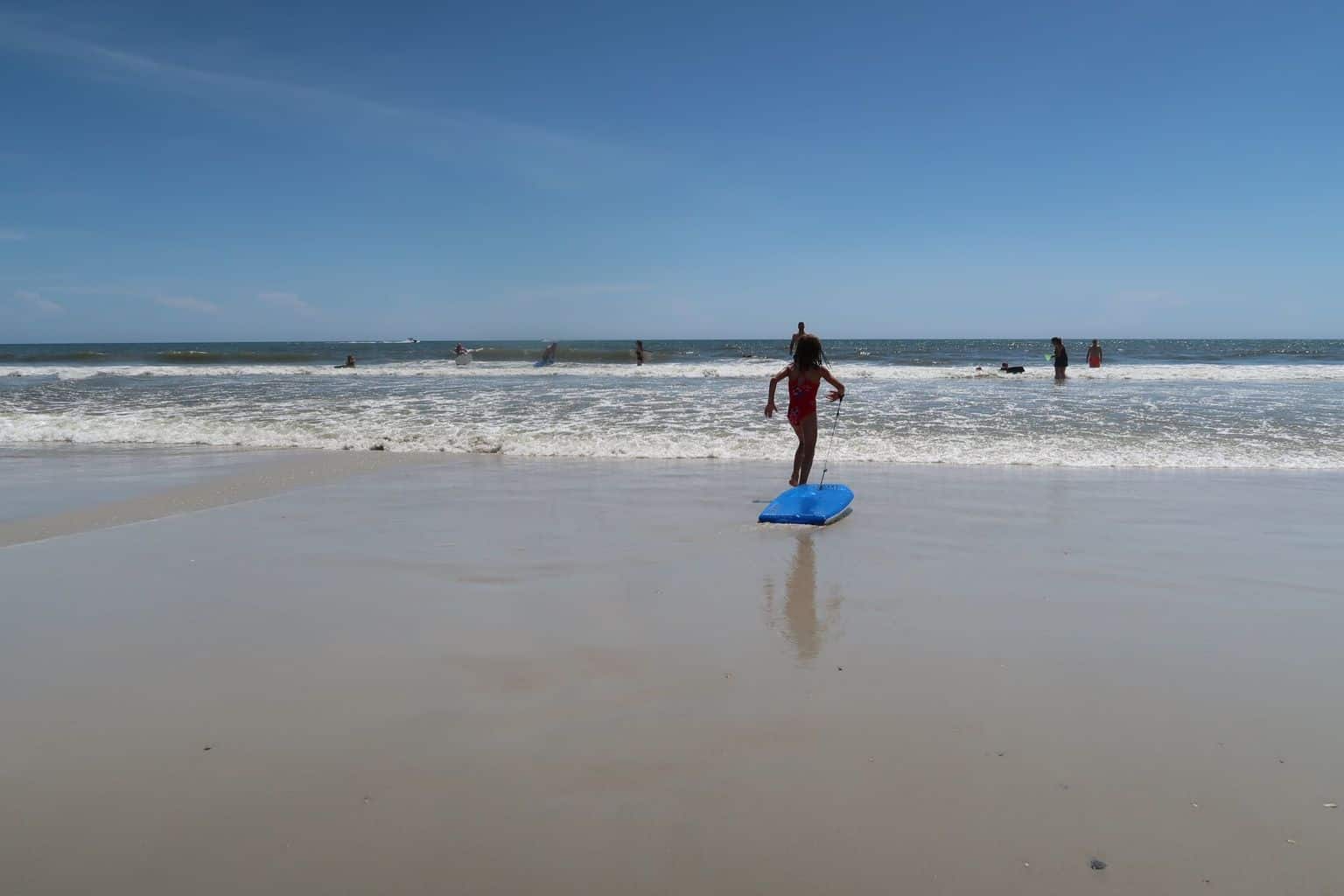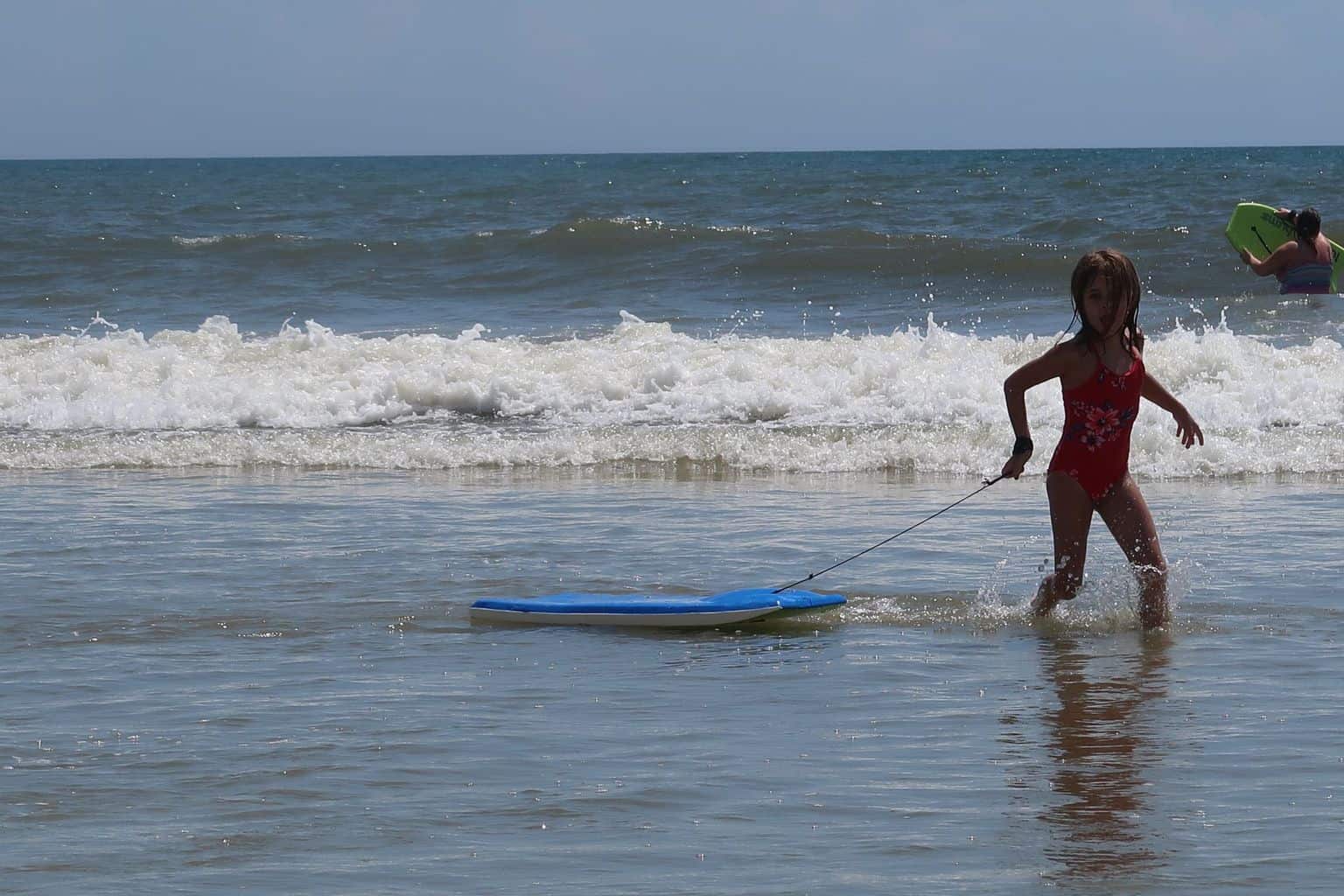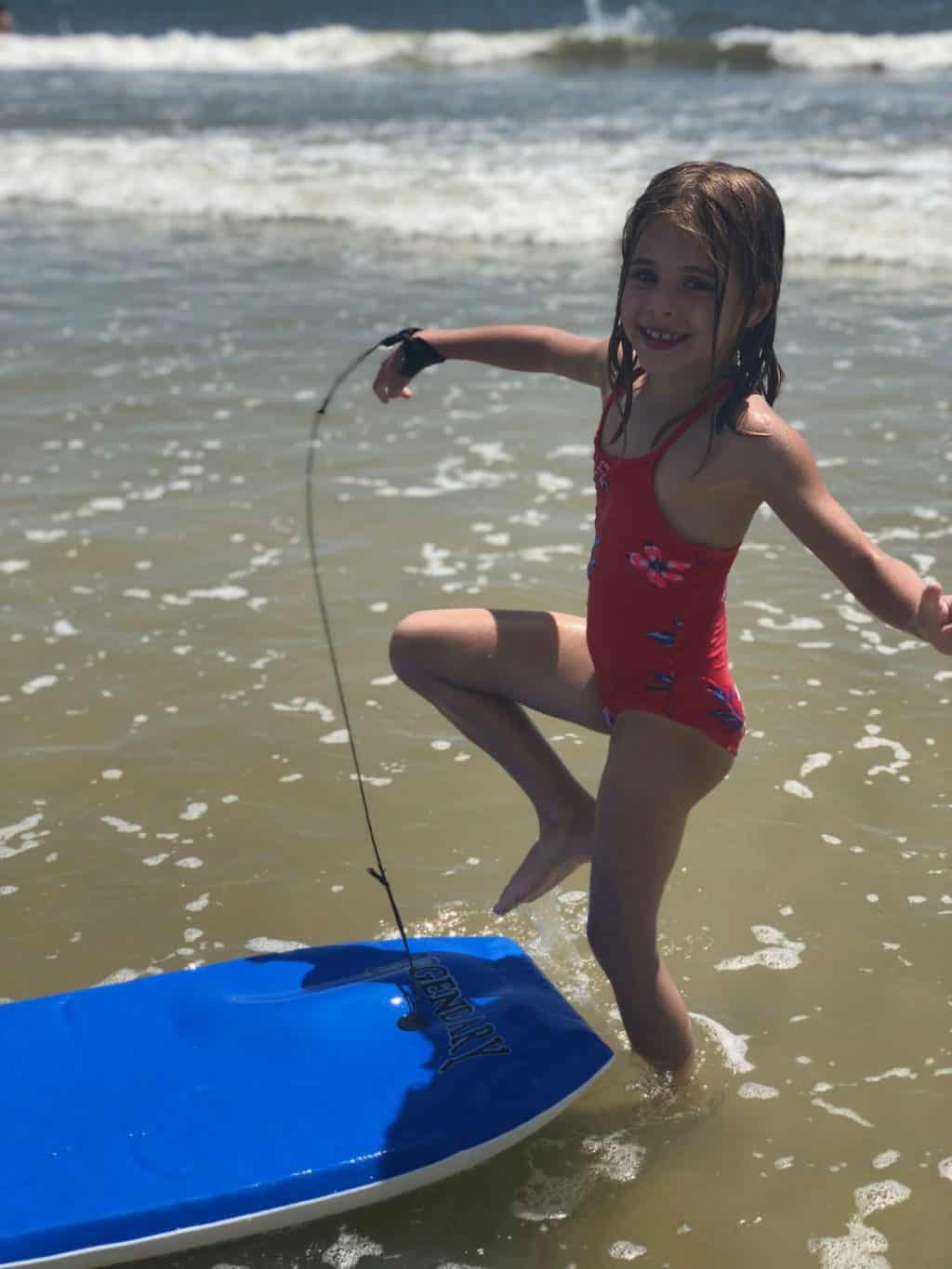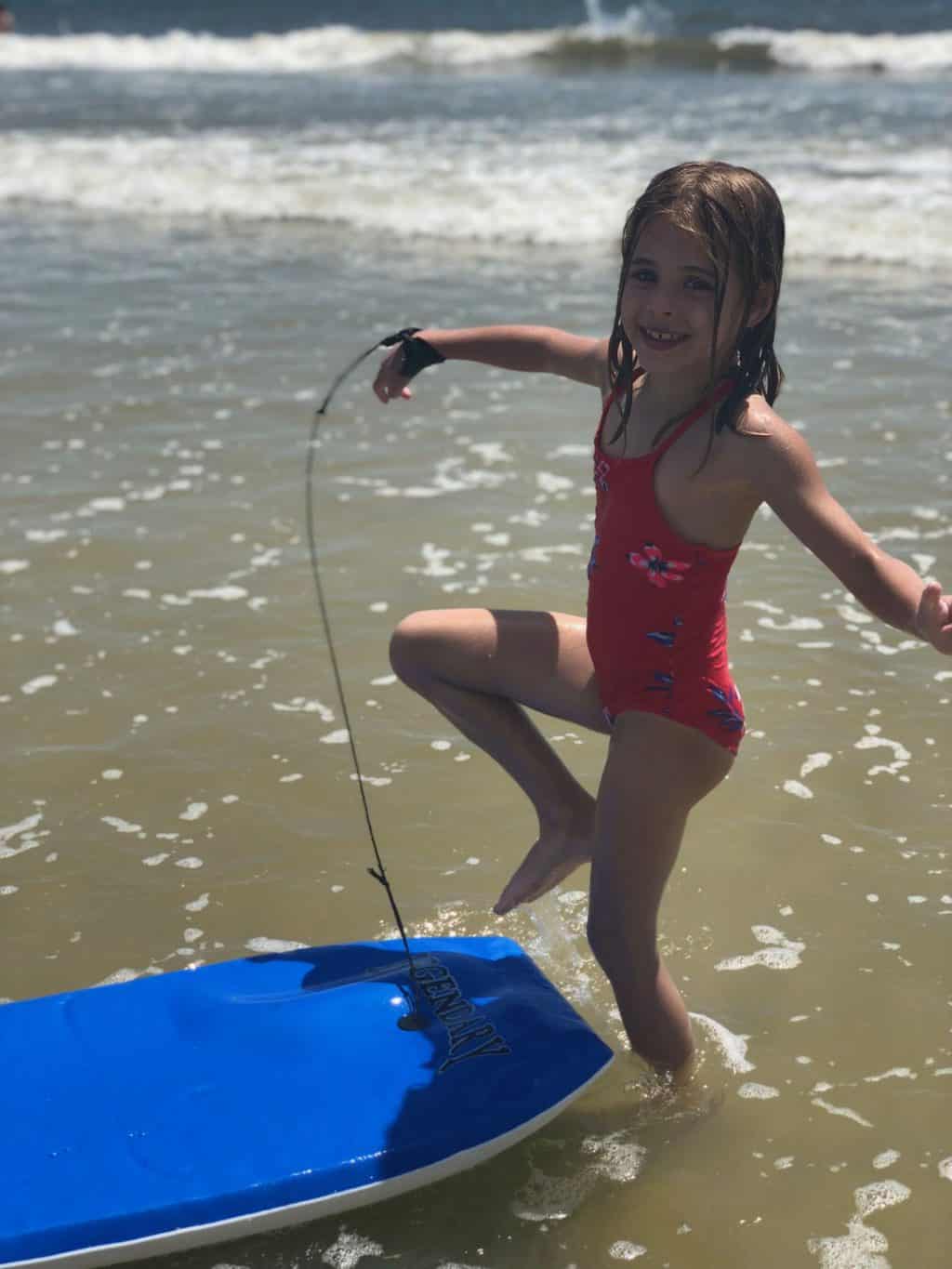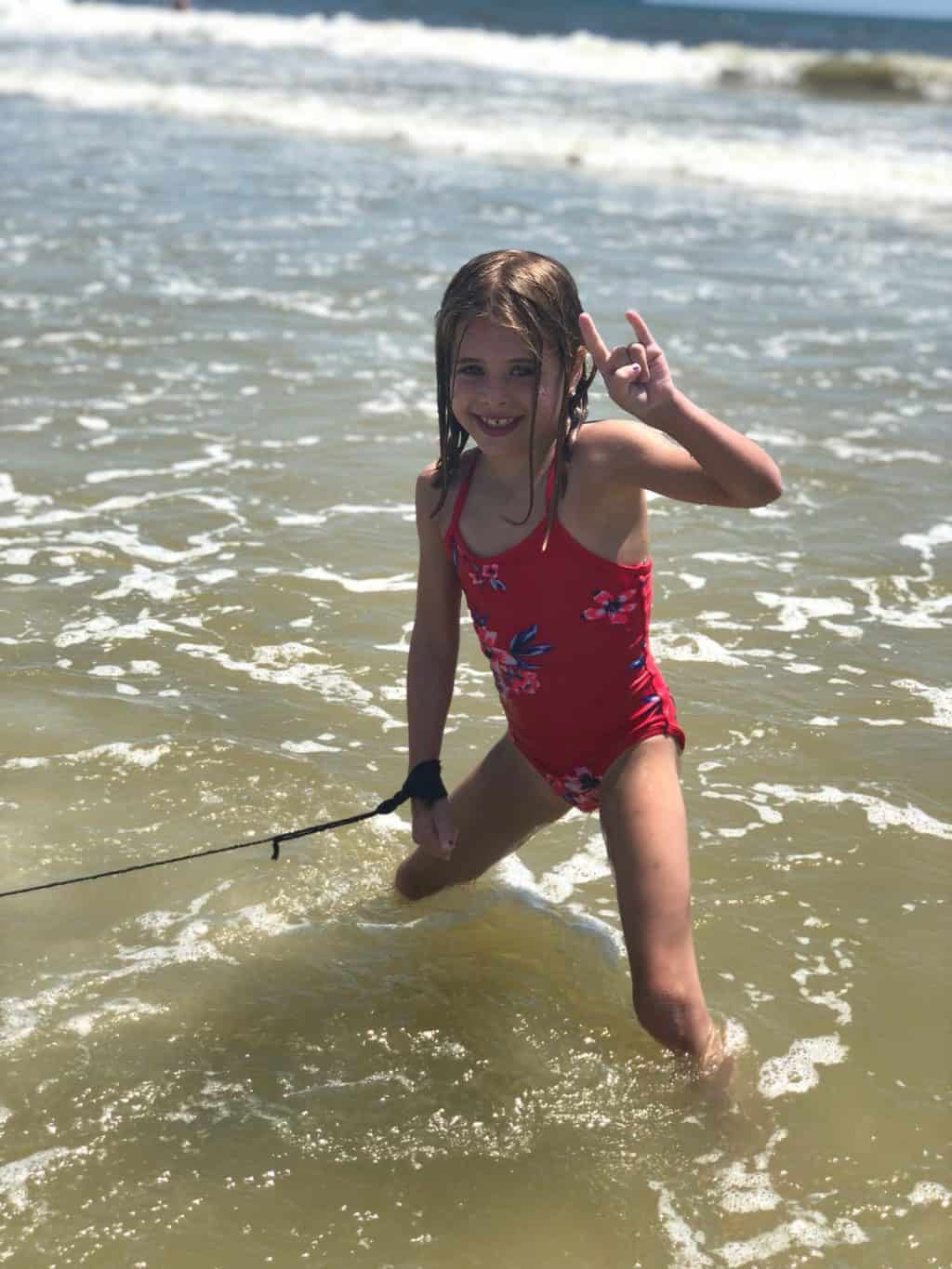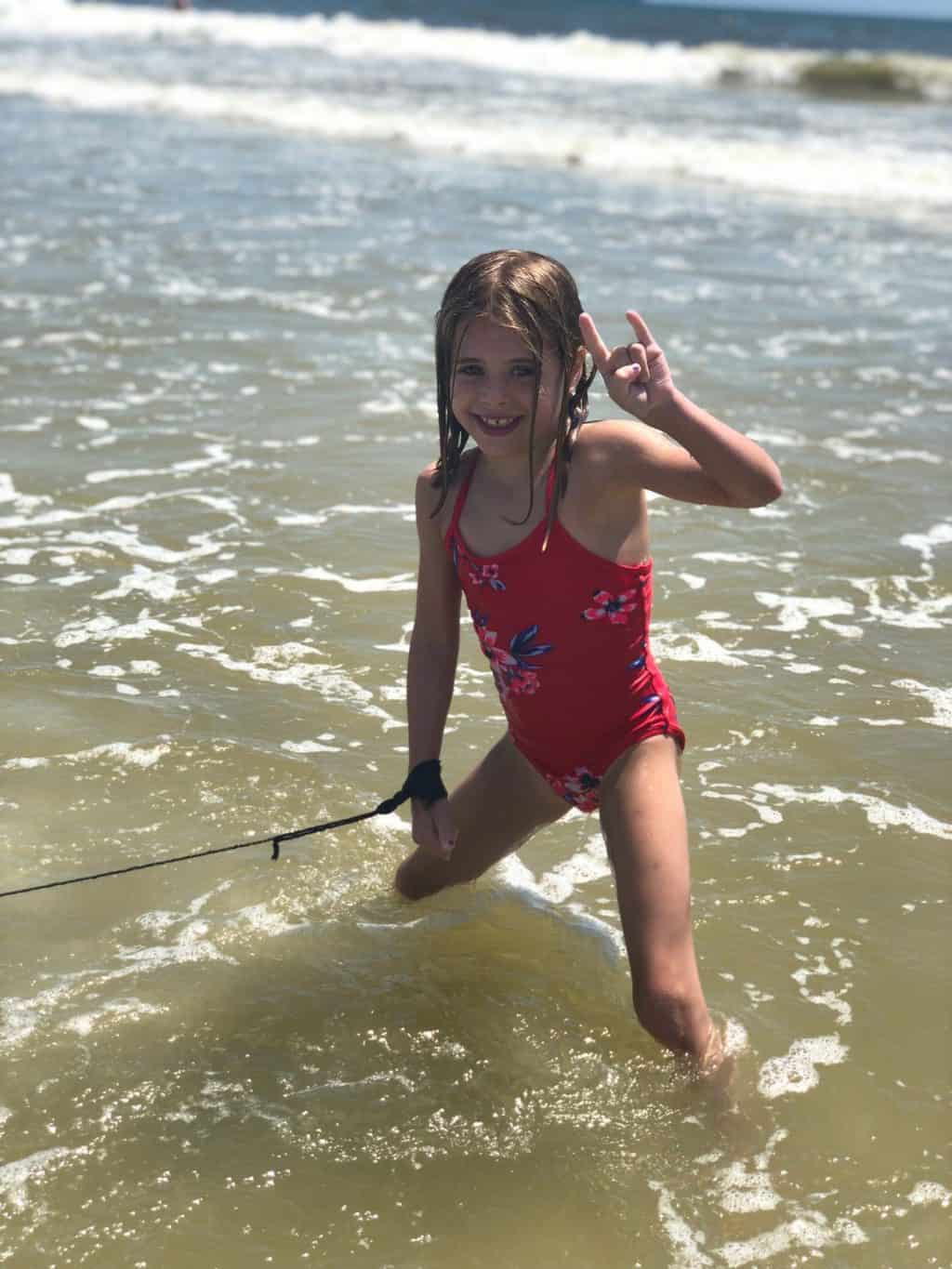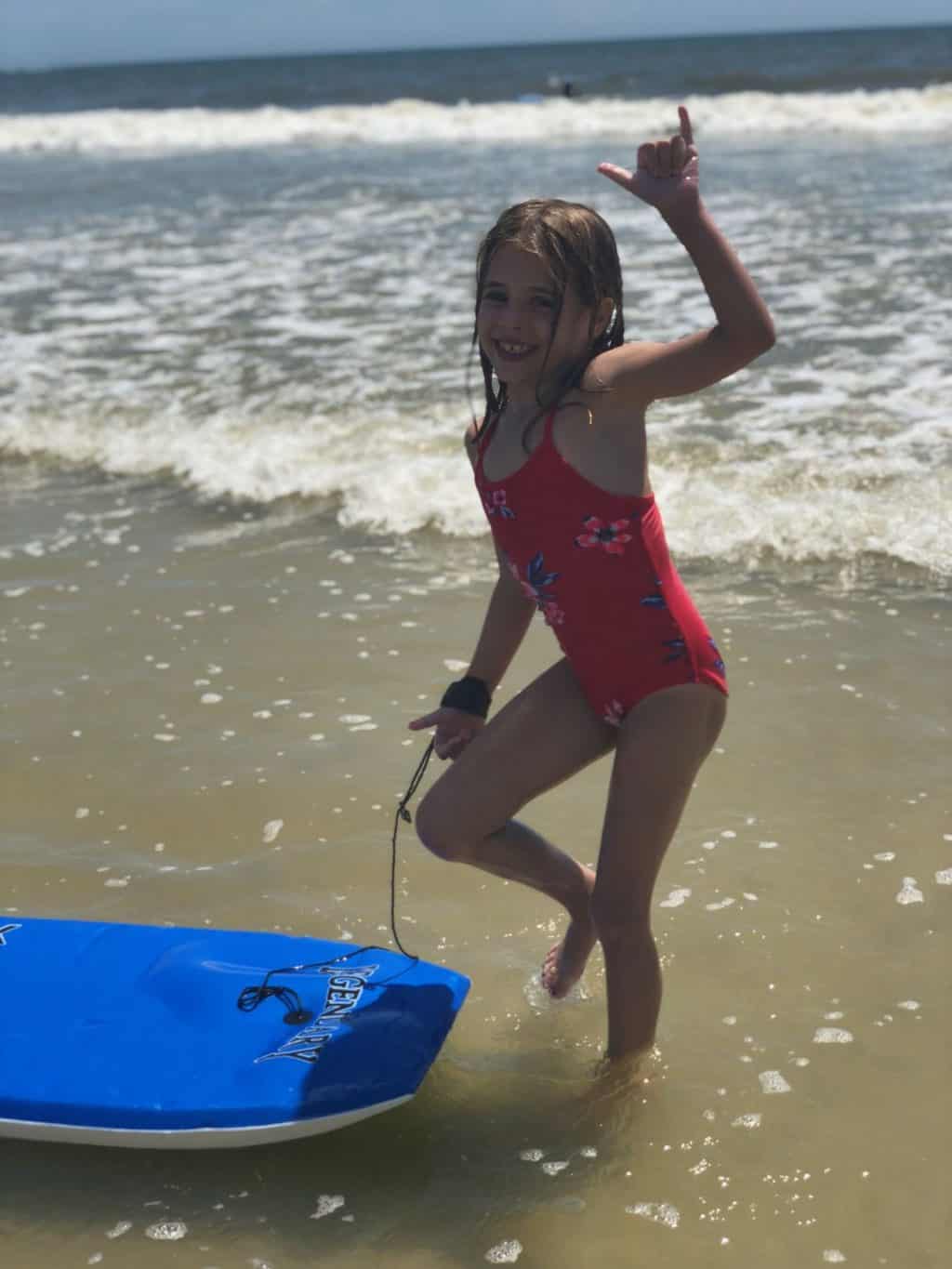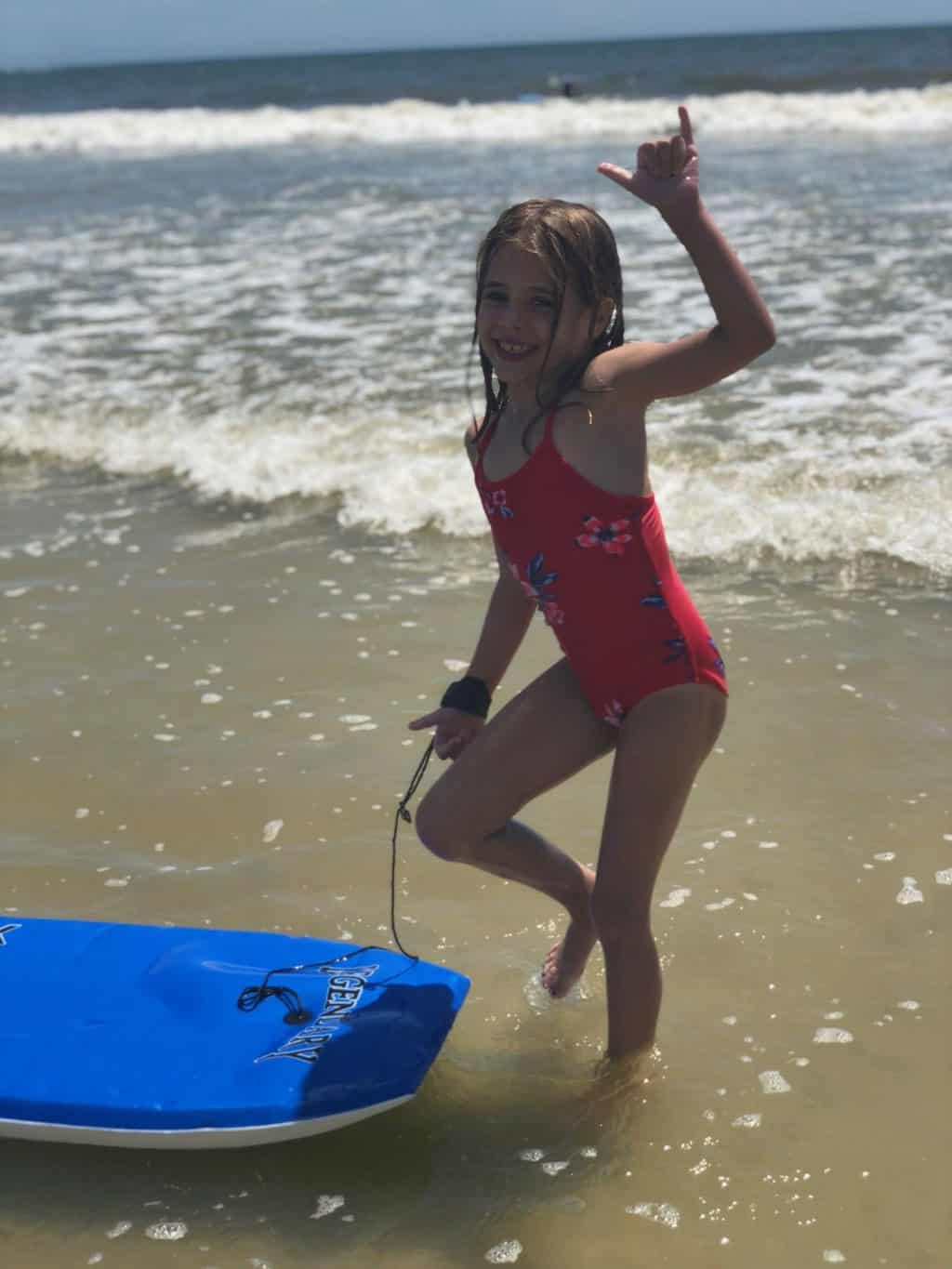 My beach babe!
He was cracking us up yall! All the kid did the whole time while at the beach was GRUNT! And when I'd hold him upright he'd just keep jumping and jumping like as if he was in the jumperoo. So silly! Here's a video of the grunting and one of the grunting/jumping combo!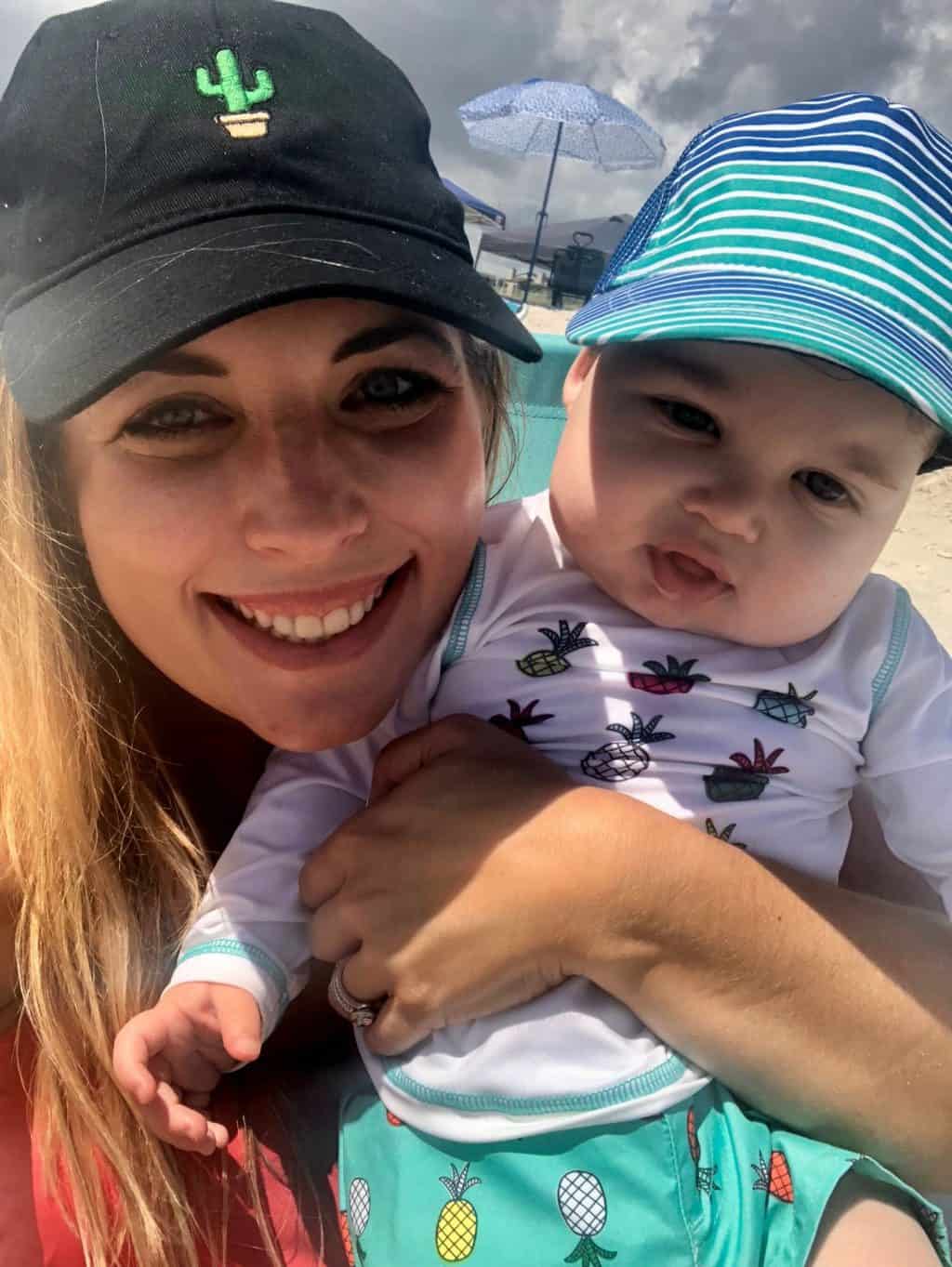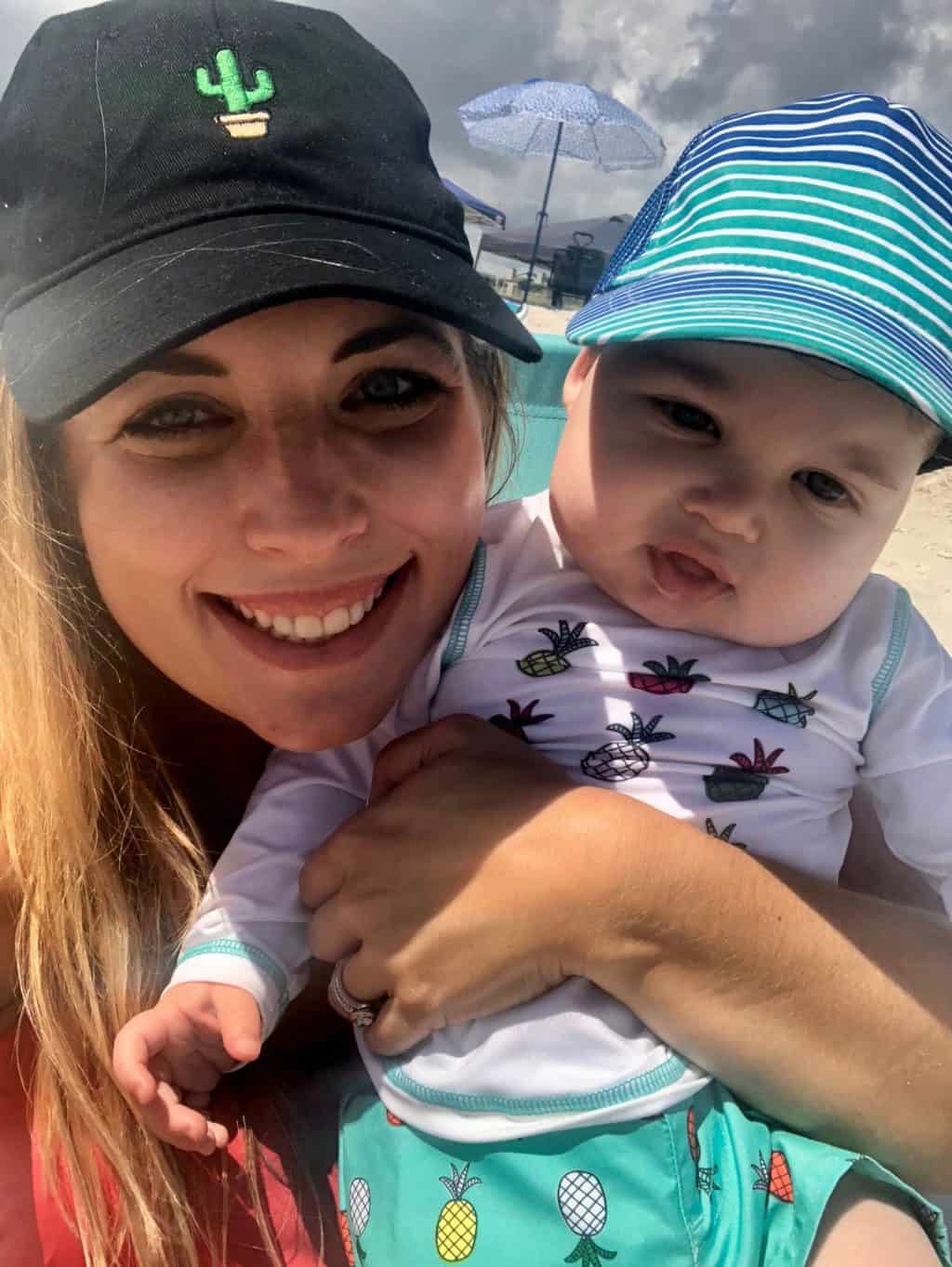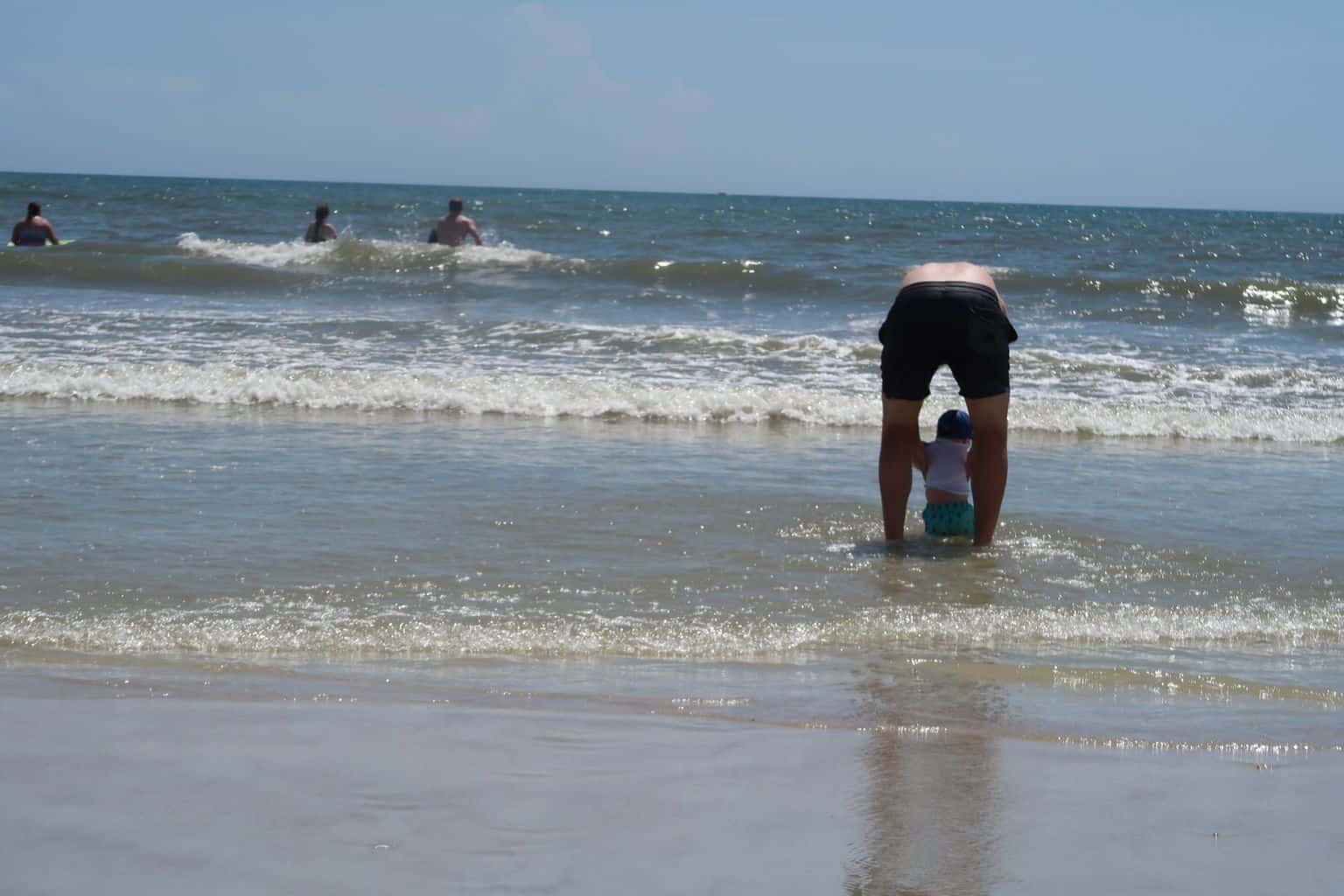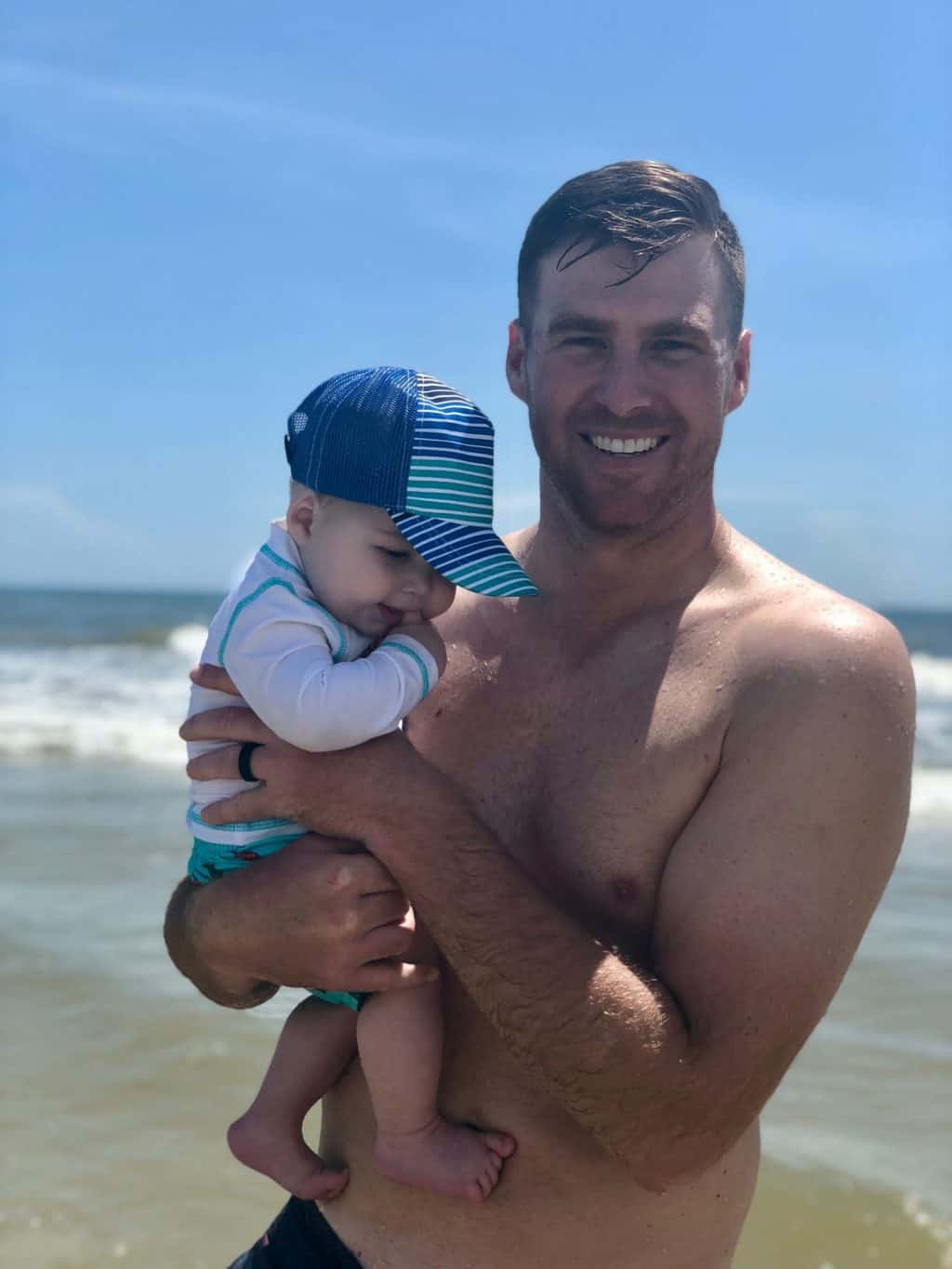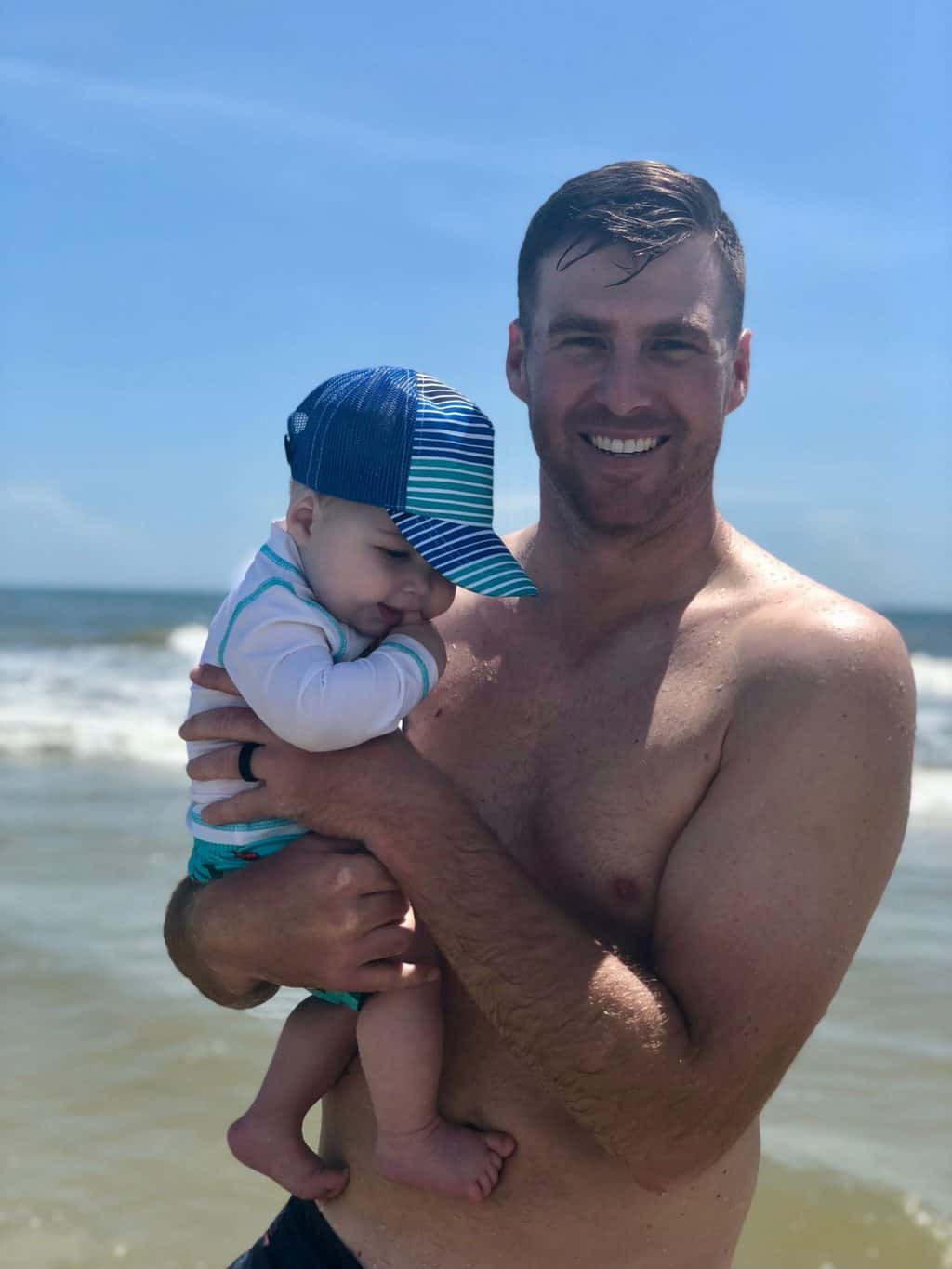 When Tess was a baby we discovered the #genius idea to use a blowup kiddie pool at the beach. This way she could play up on the sand. Away from the waves, in the shade, and could avoid being covered in sand. It was the perfect scenario! She actually LOVED her little pool and the first year we didn't use it was last year and she was upset about us not having it.
This year we got even smarter and decided to invest in the BEST pool EVER. This pool is actually made to bathe dogs but it collapses and folds super small and doesn't require blowing up. It worked SO perfectly. I wish we'd thought of it YEARS sooner! It was super easy to pack and just pull out when we needed it and fill it with water and we were good to go. Spear loved it and was even able to sit up with the support of the sides!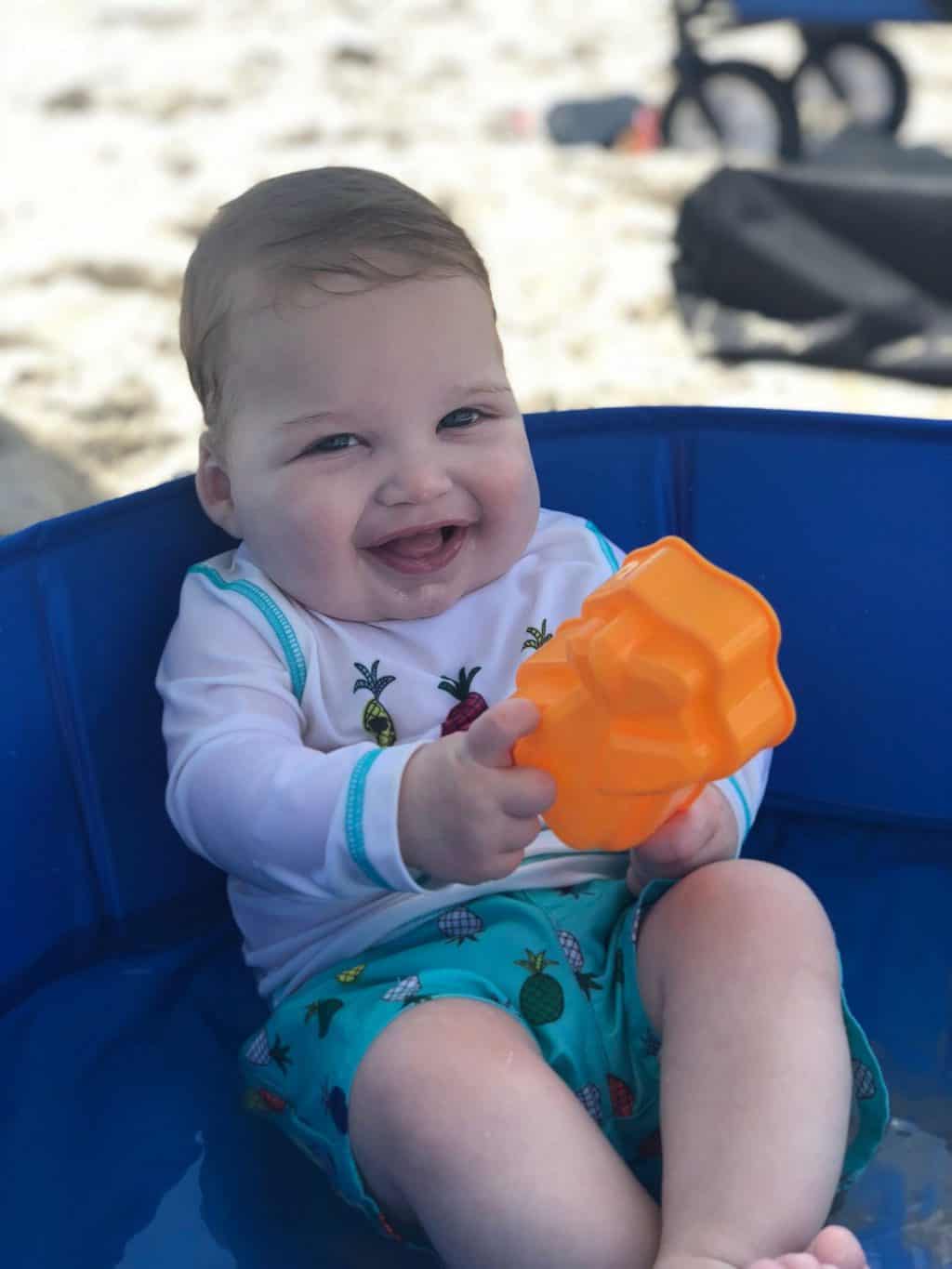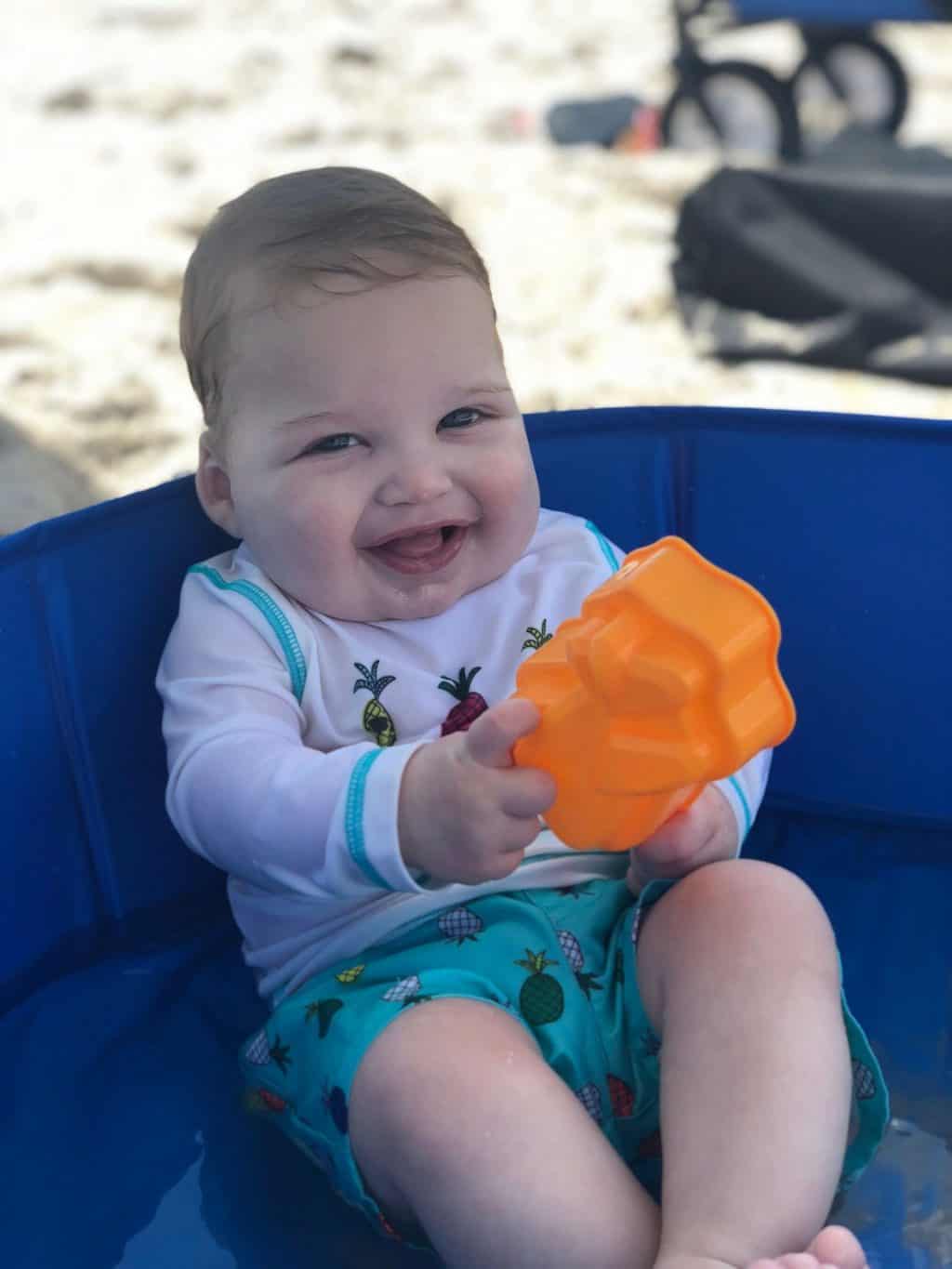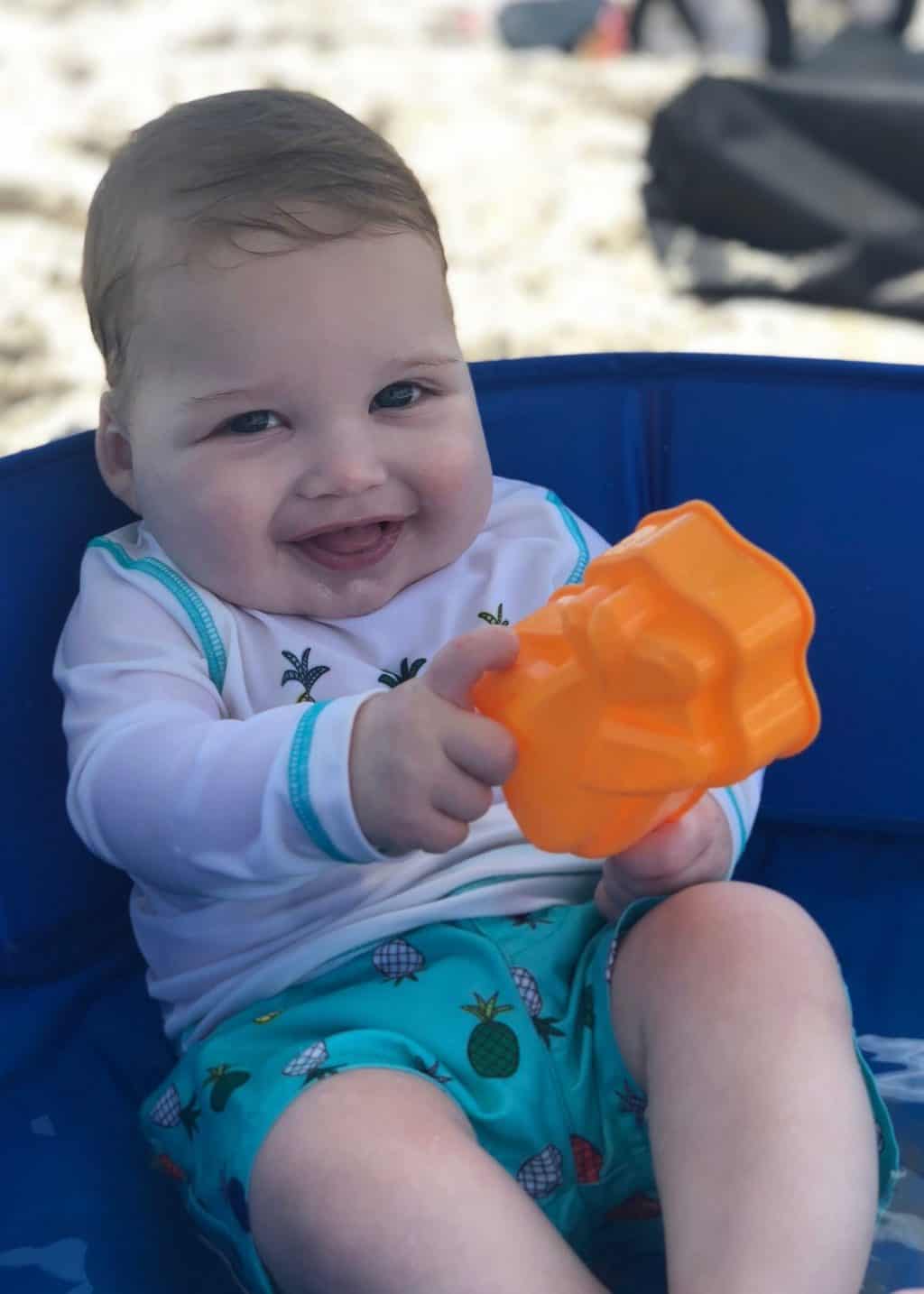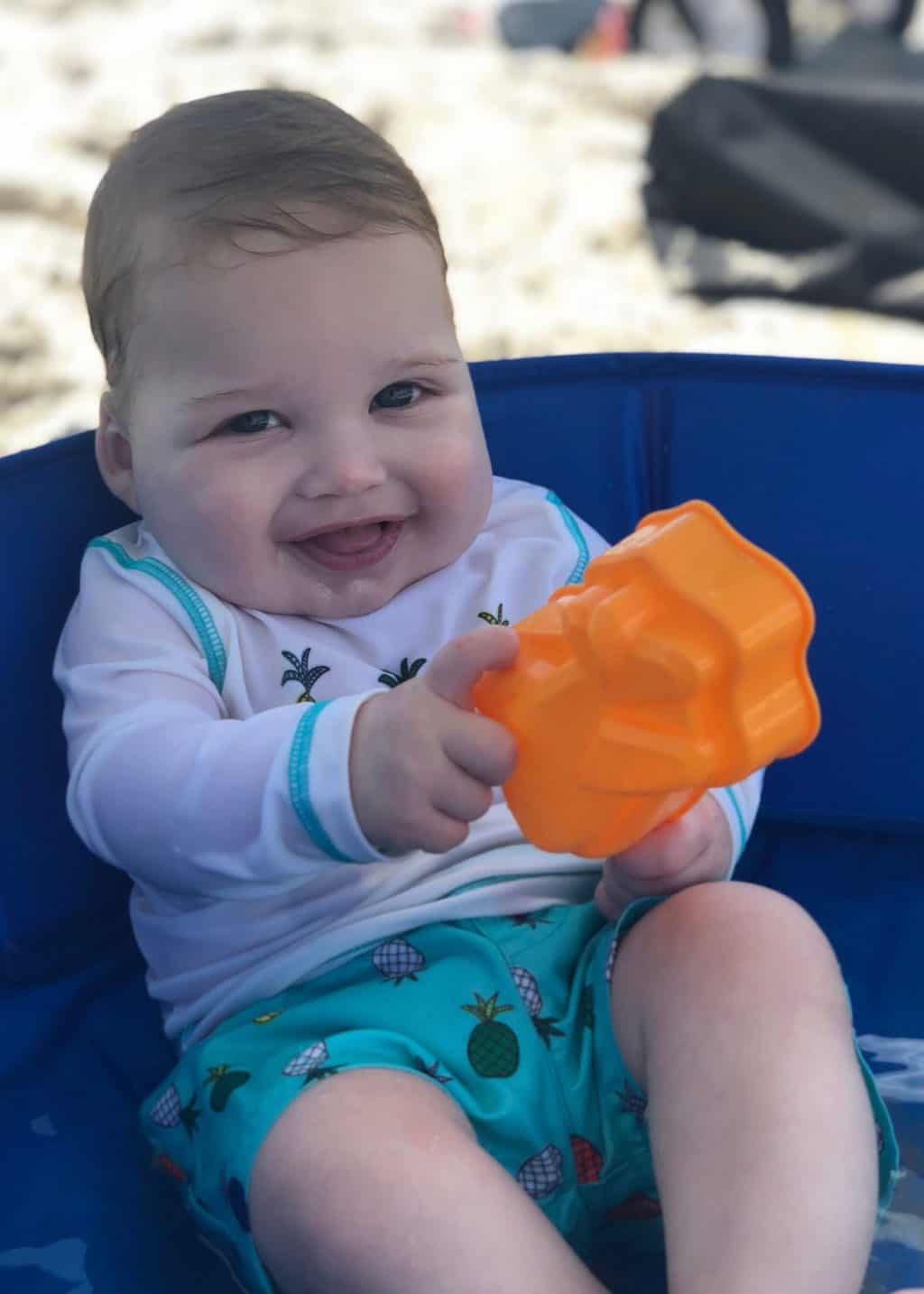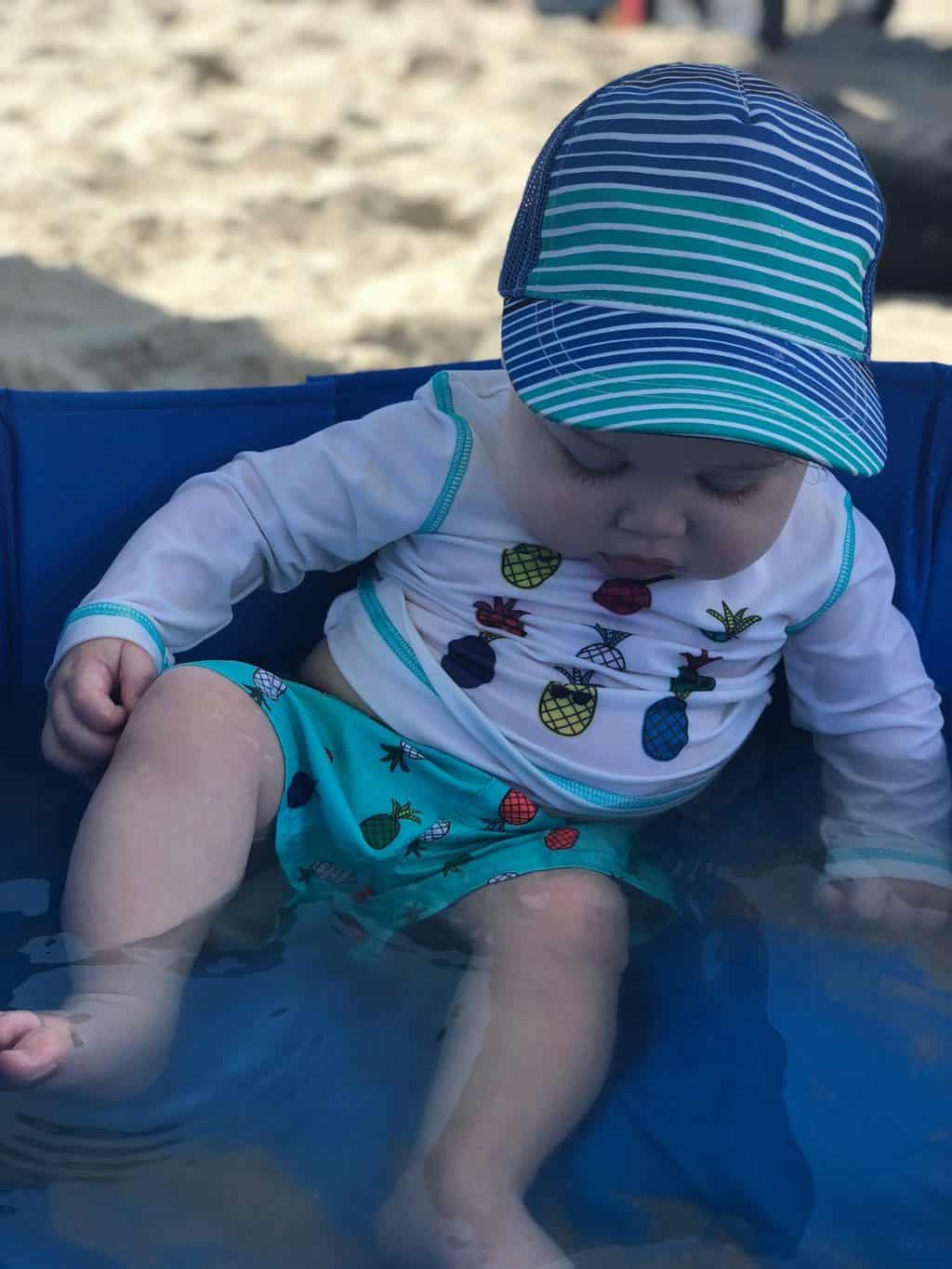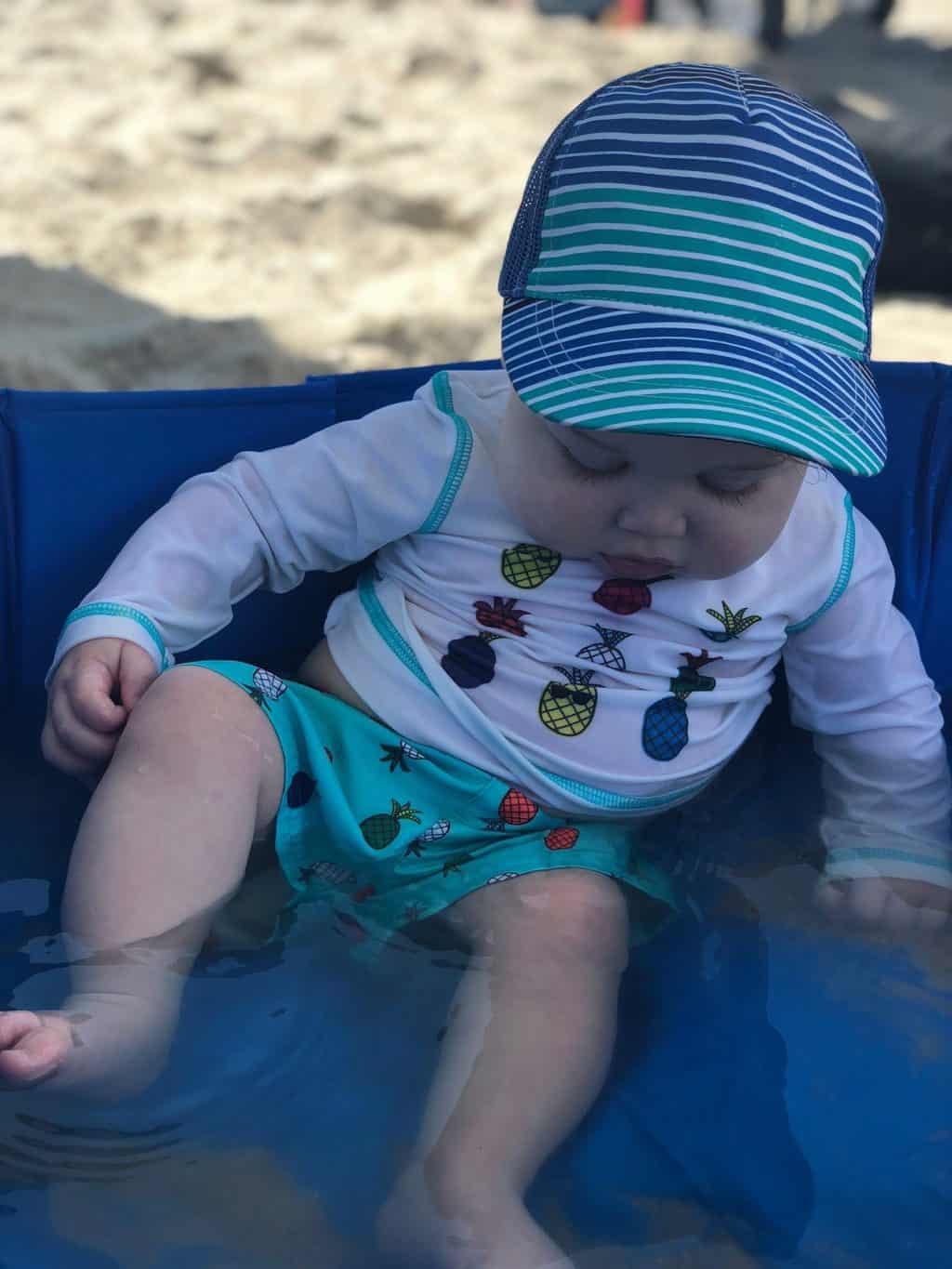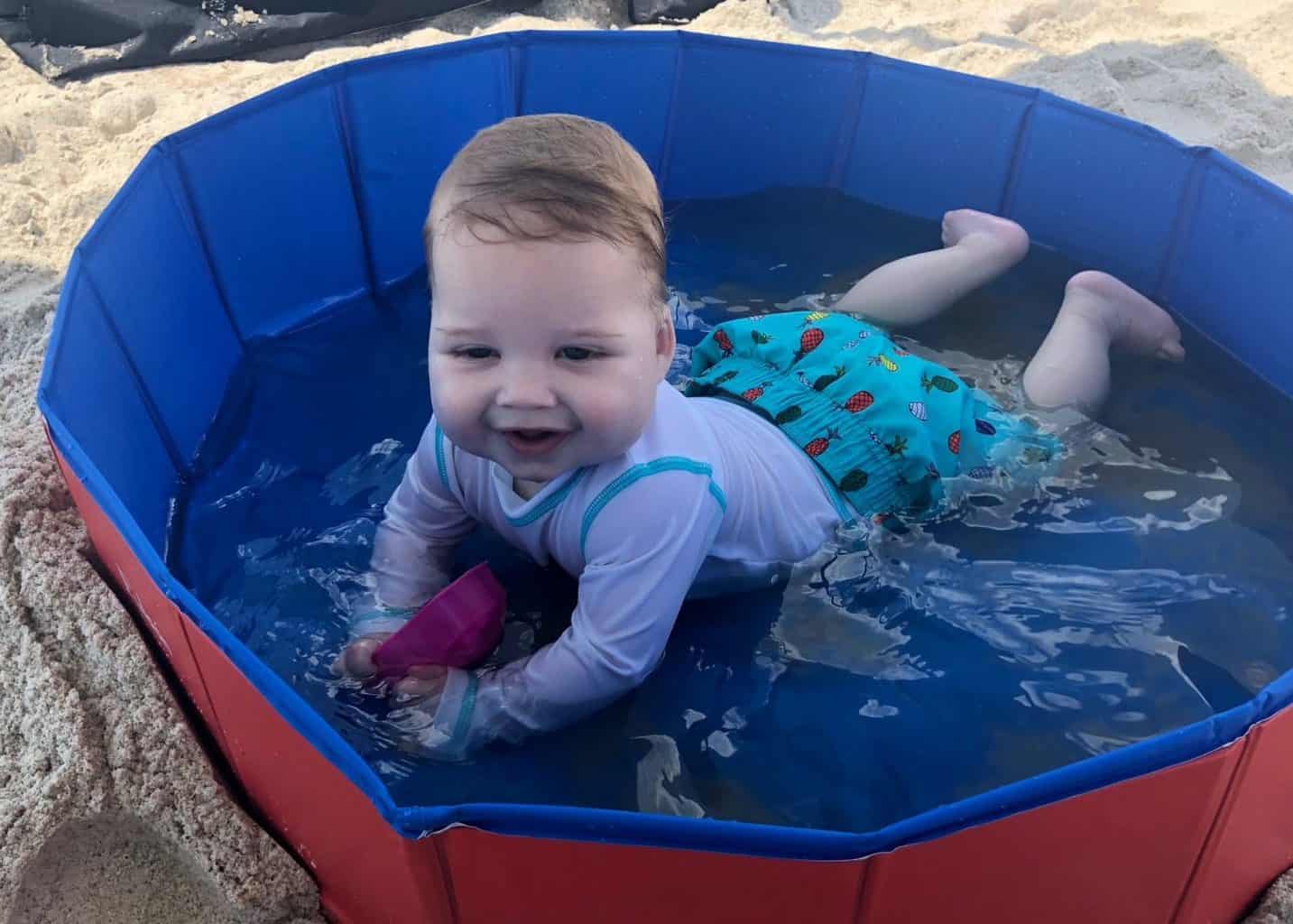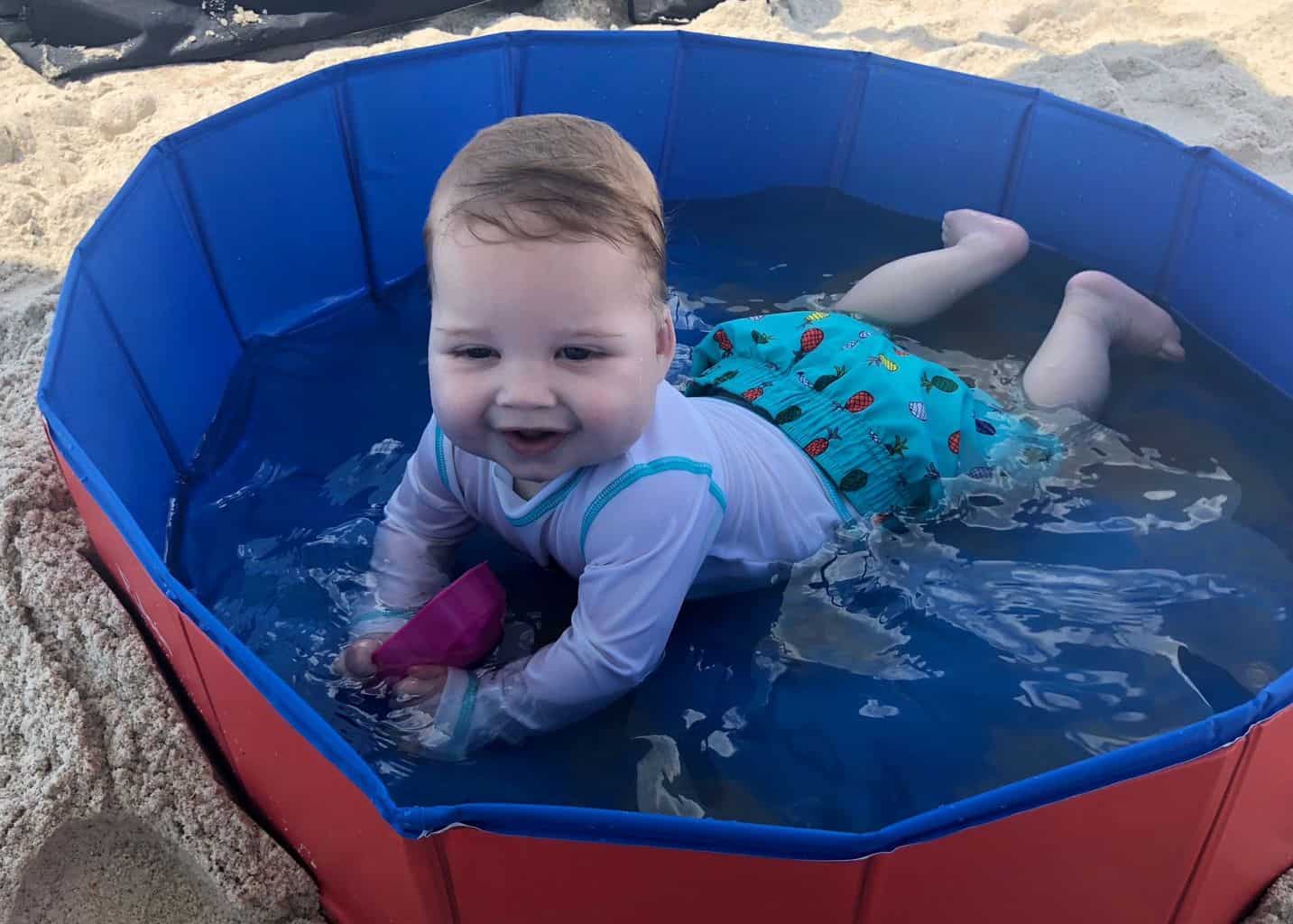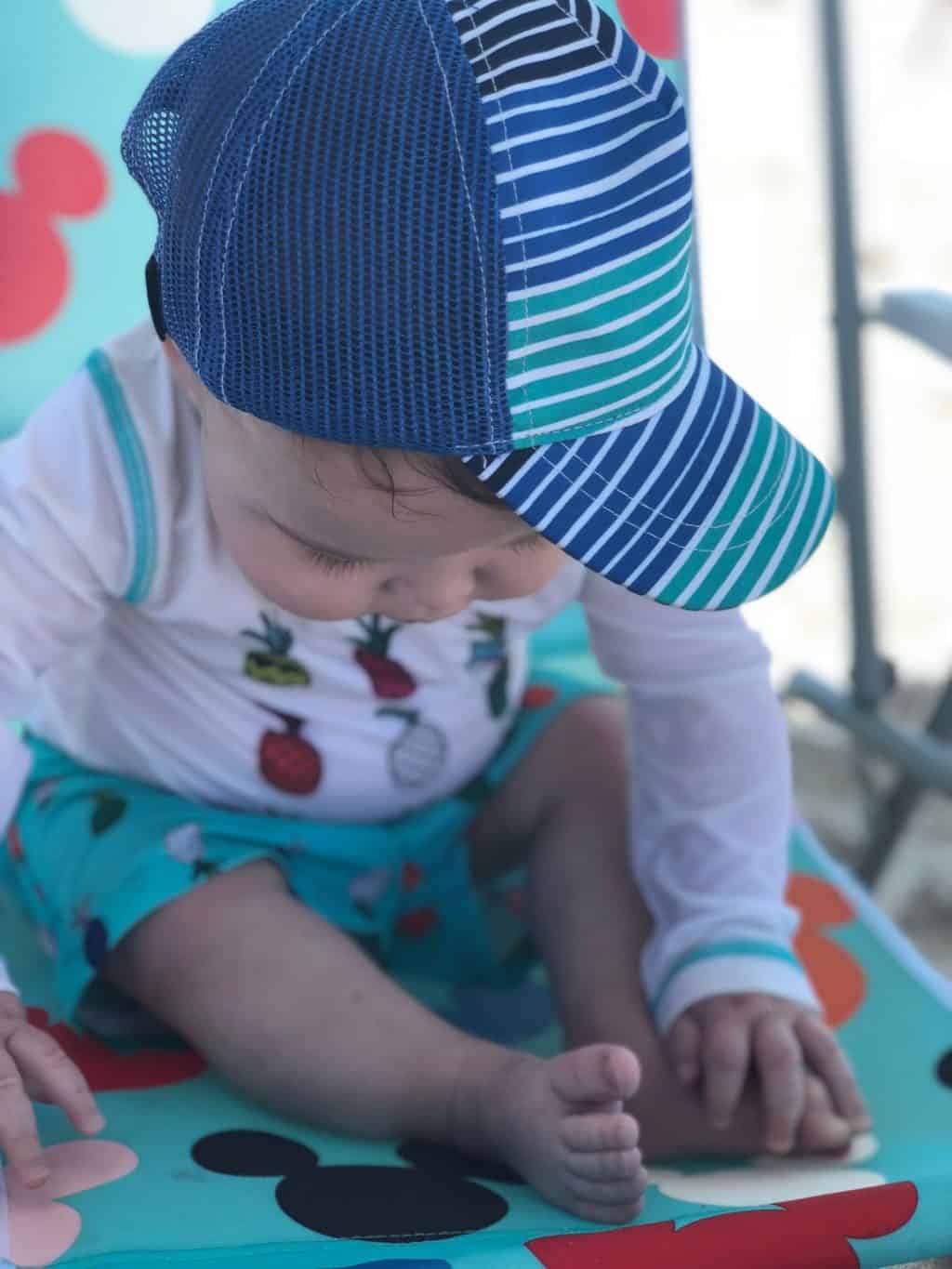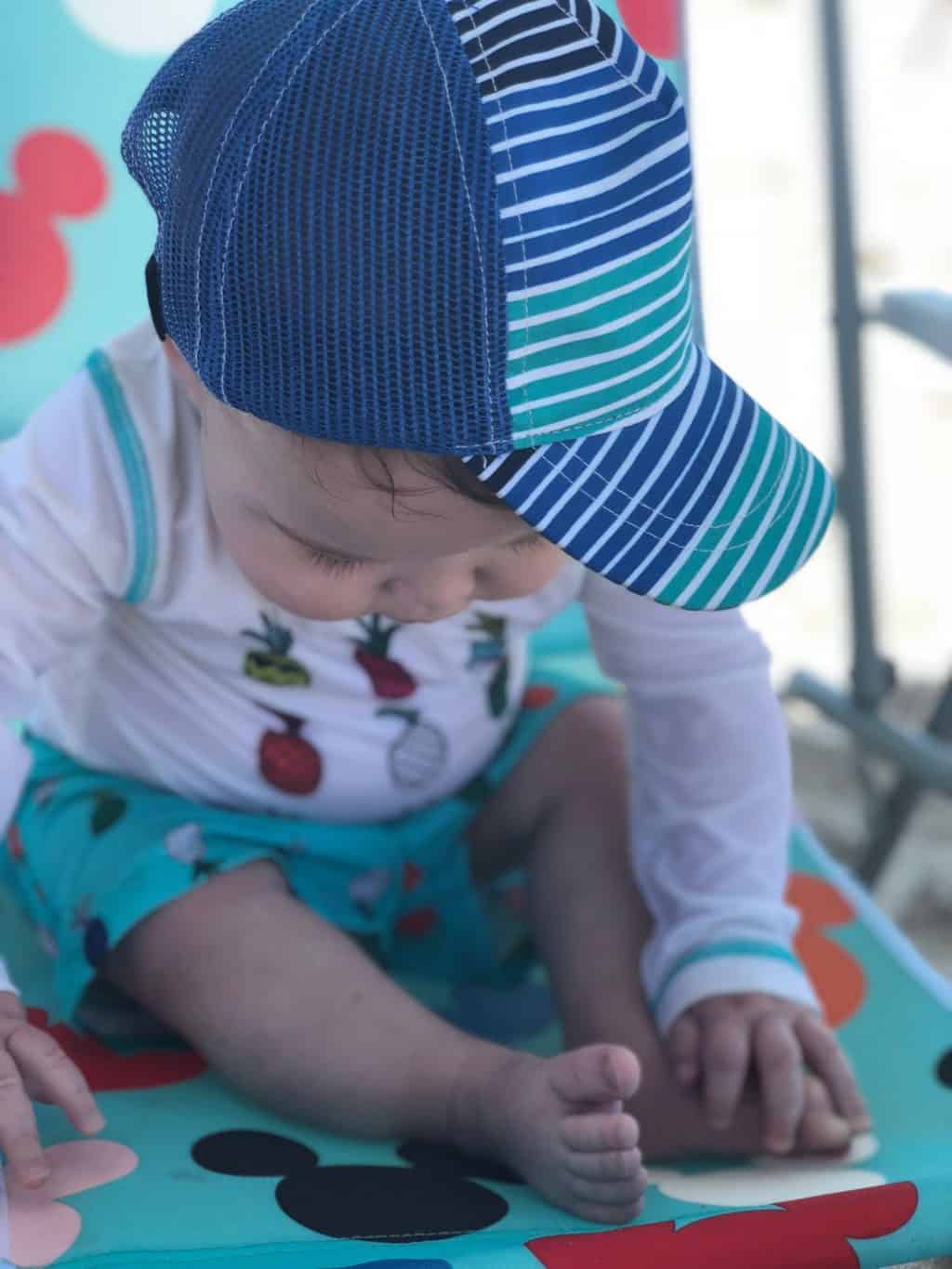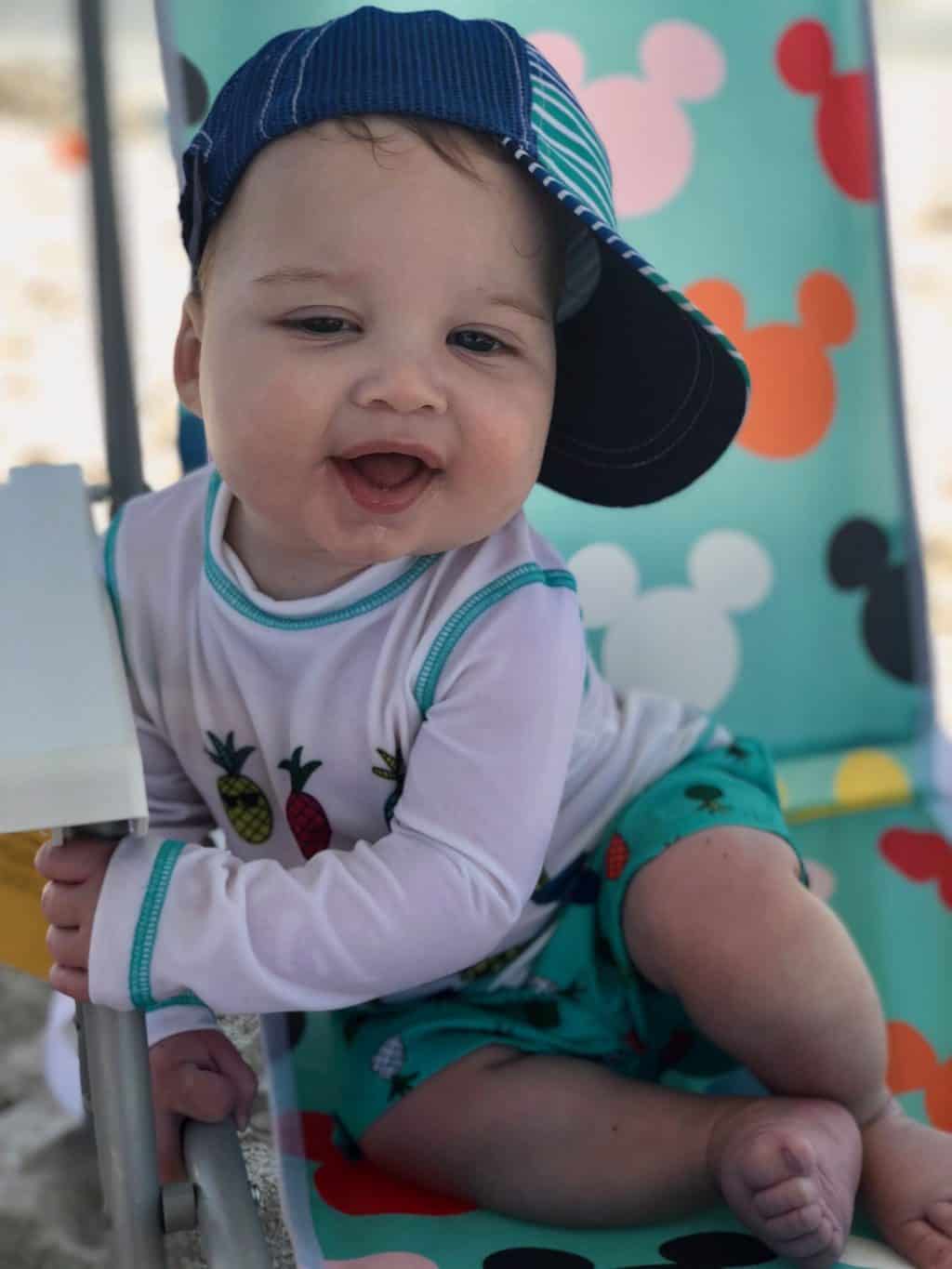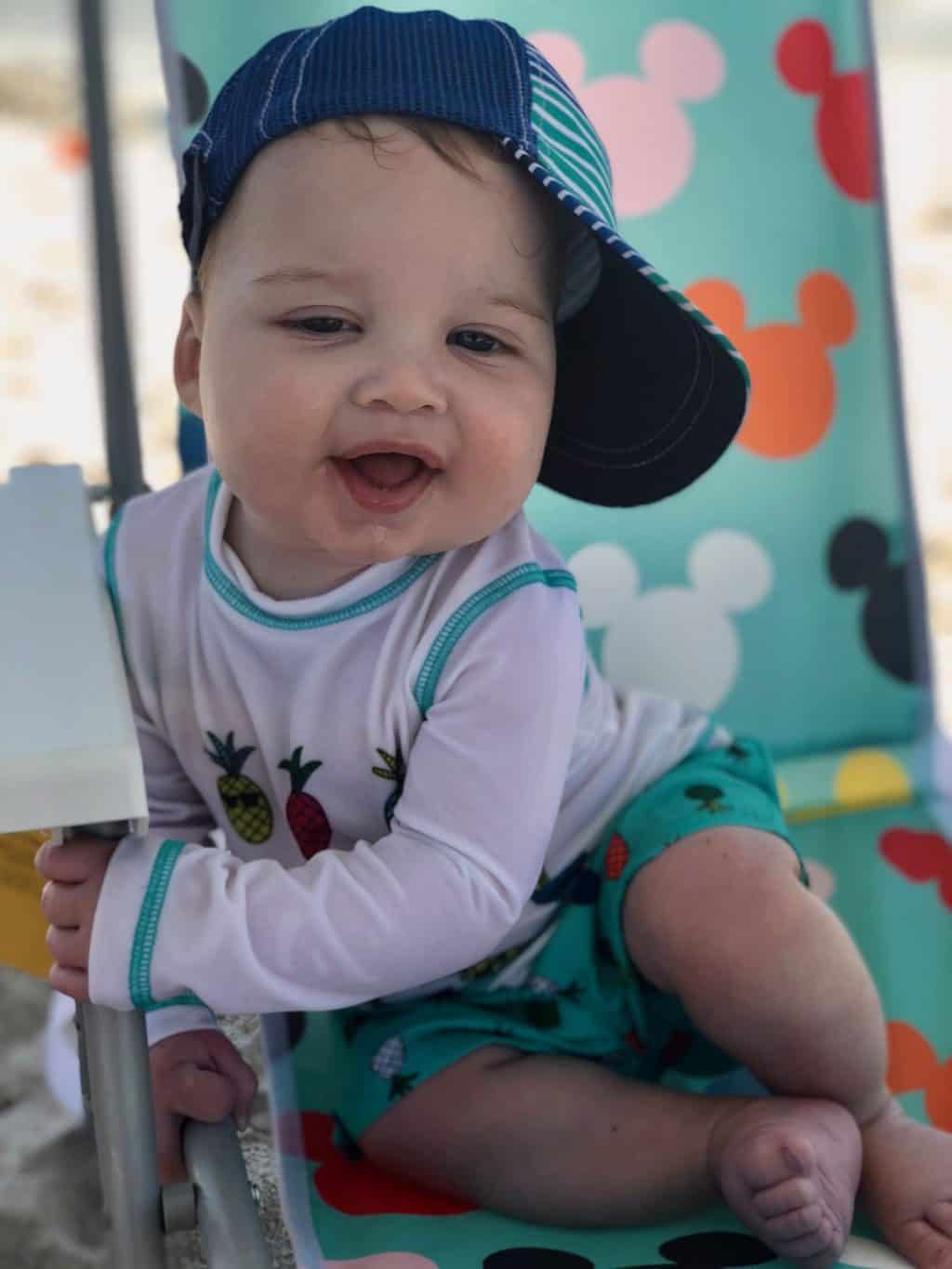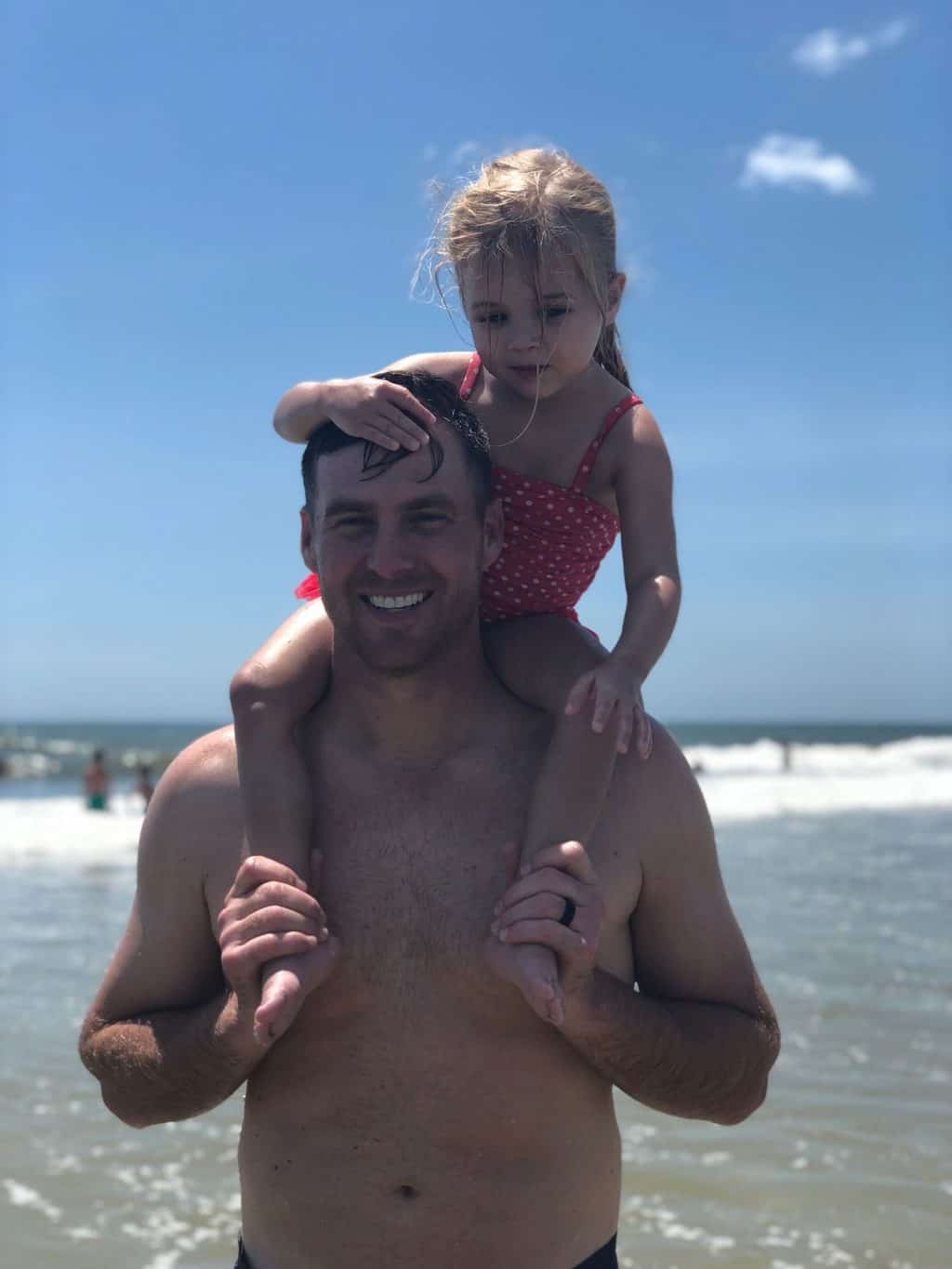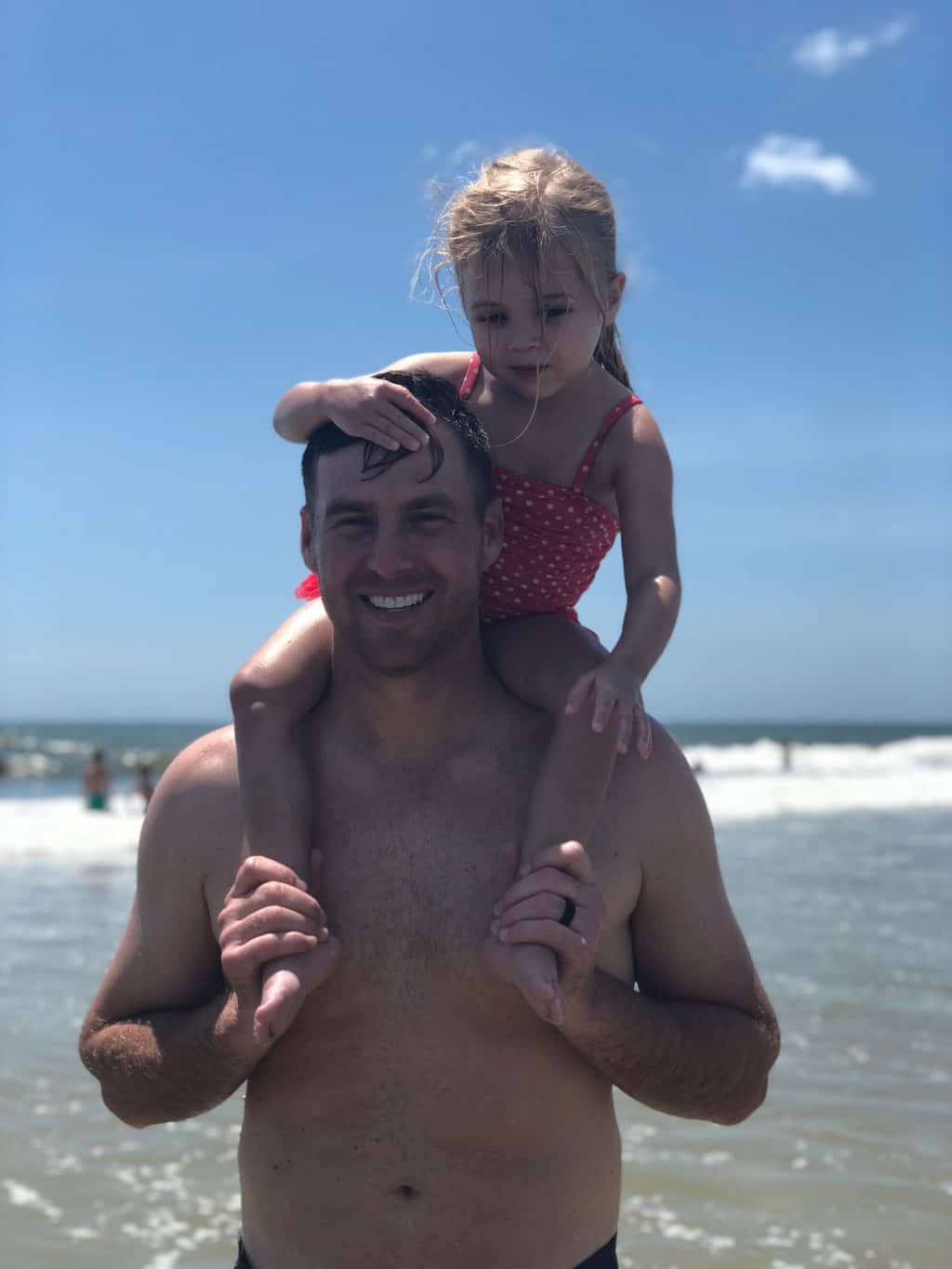 We are big about rest time at the beach. When we travel Zach and I enjoy OUR time together which we can only really get when the kids are napping or sleeping at night so we value that time! Everyone napped and then we went back down to the beach for some more fun! Spear wore three different bathing suits in one day 😉 That's one epic first beach day!!!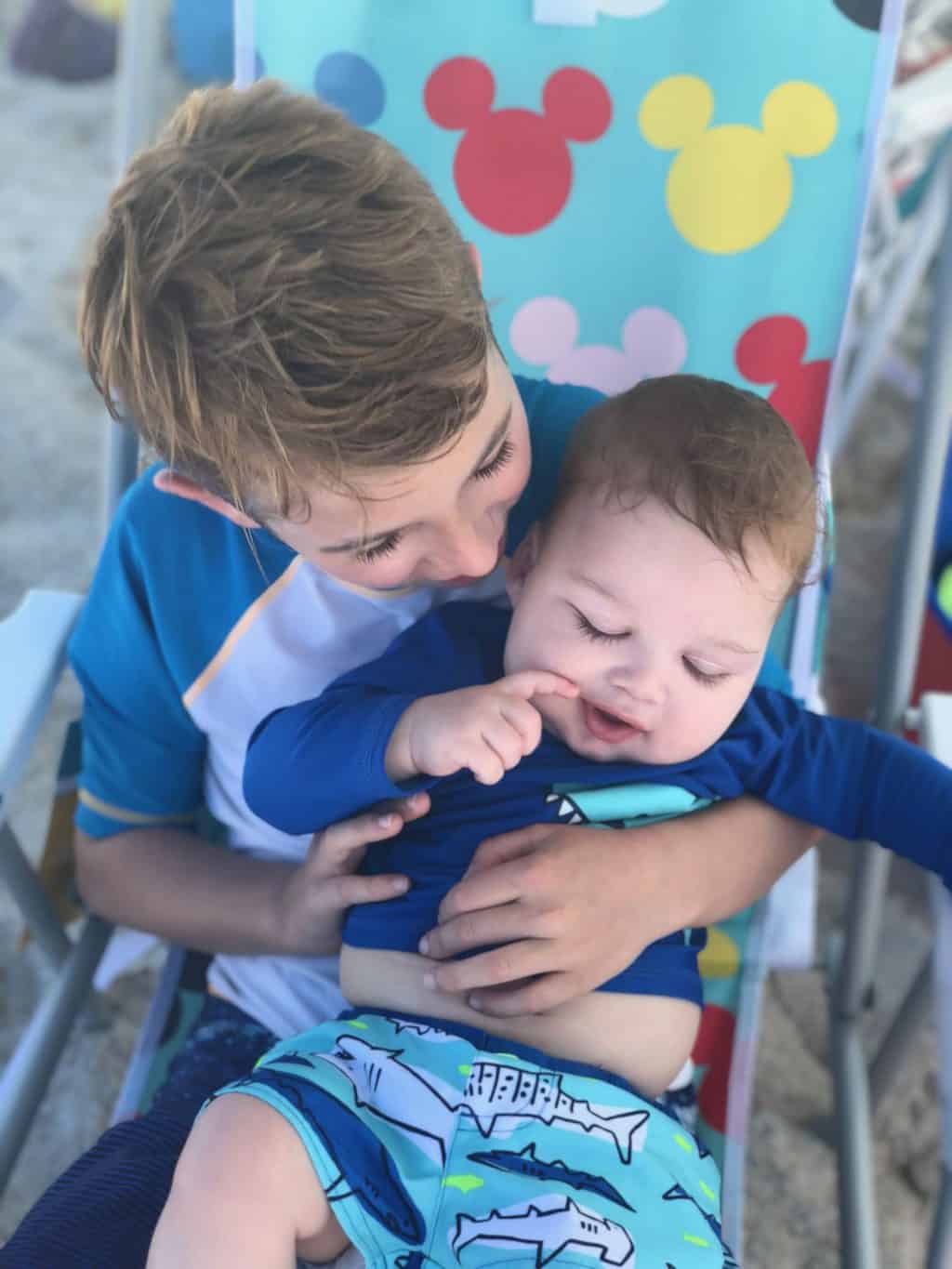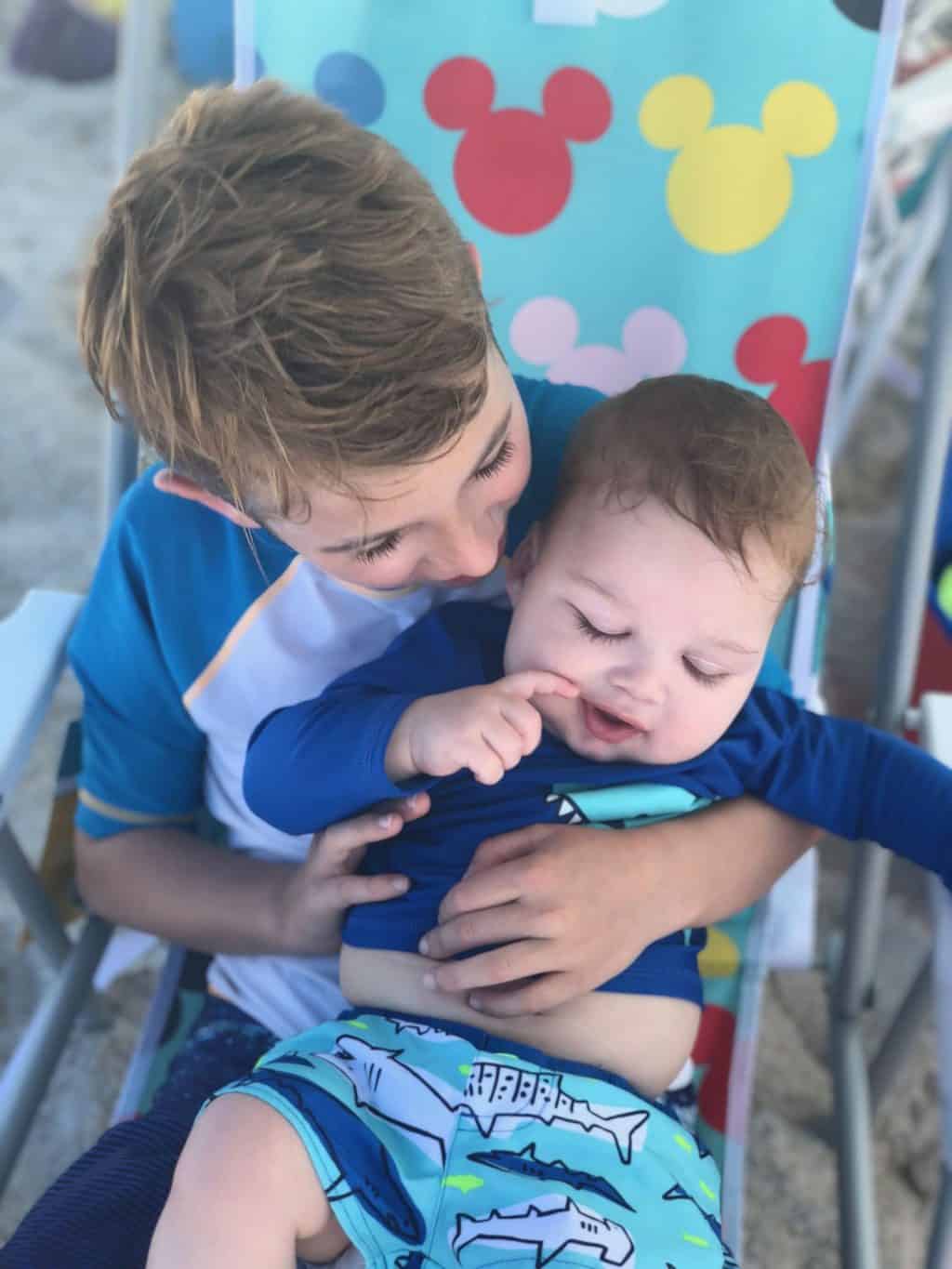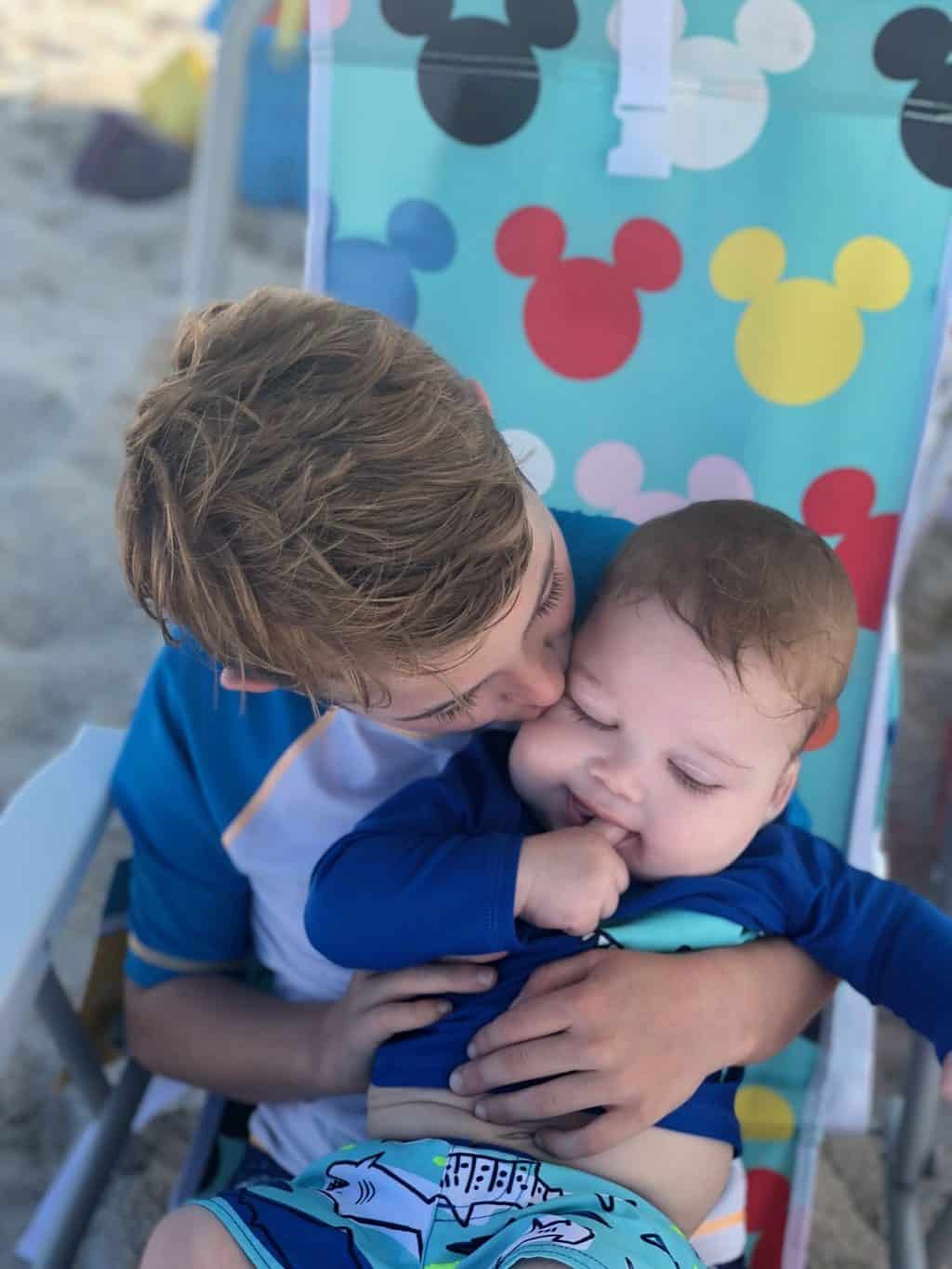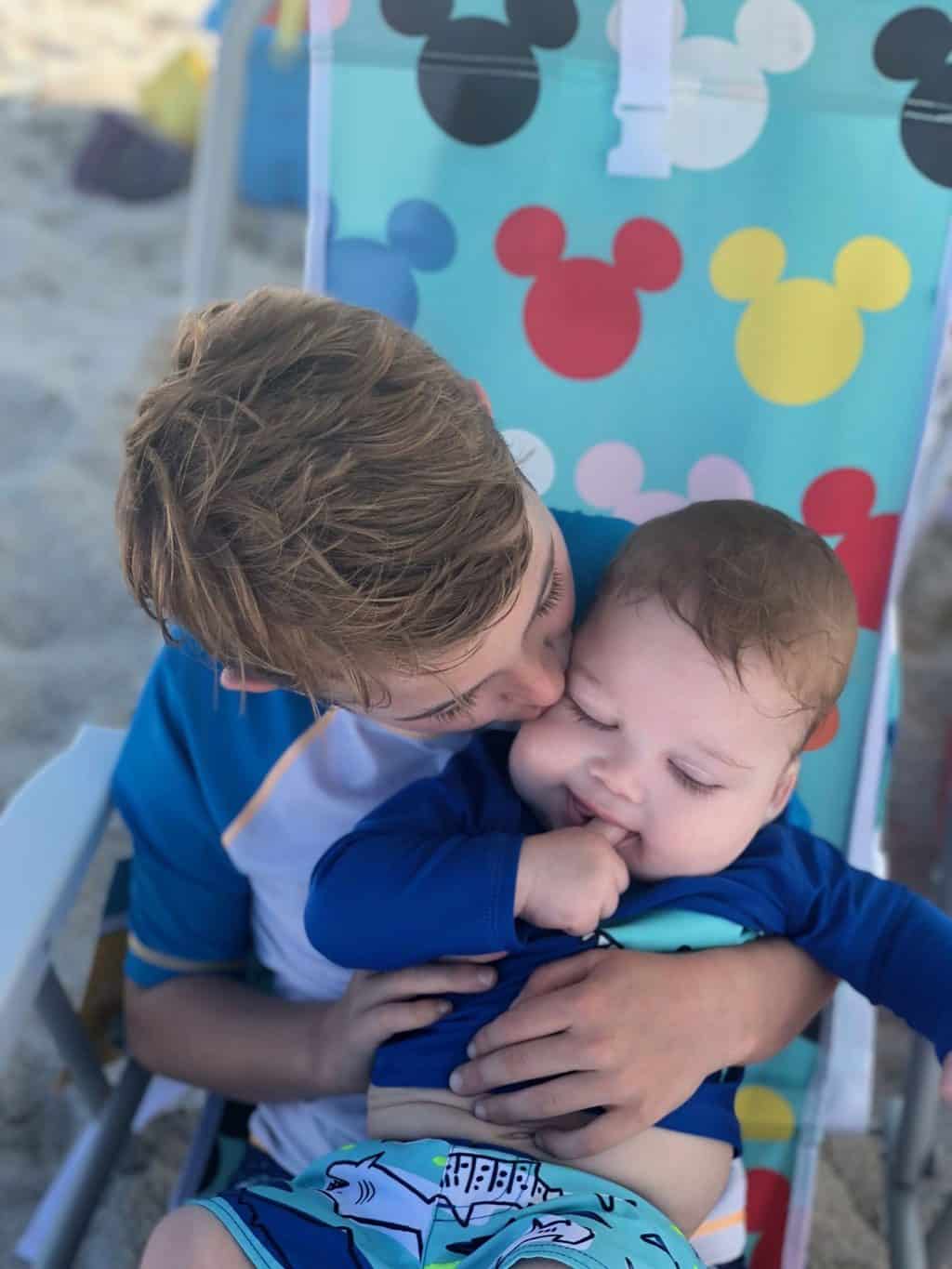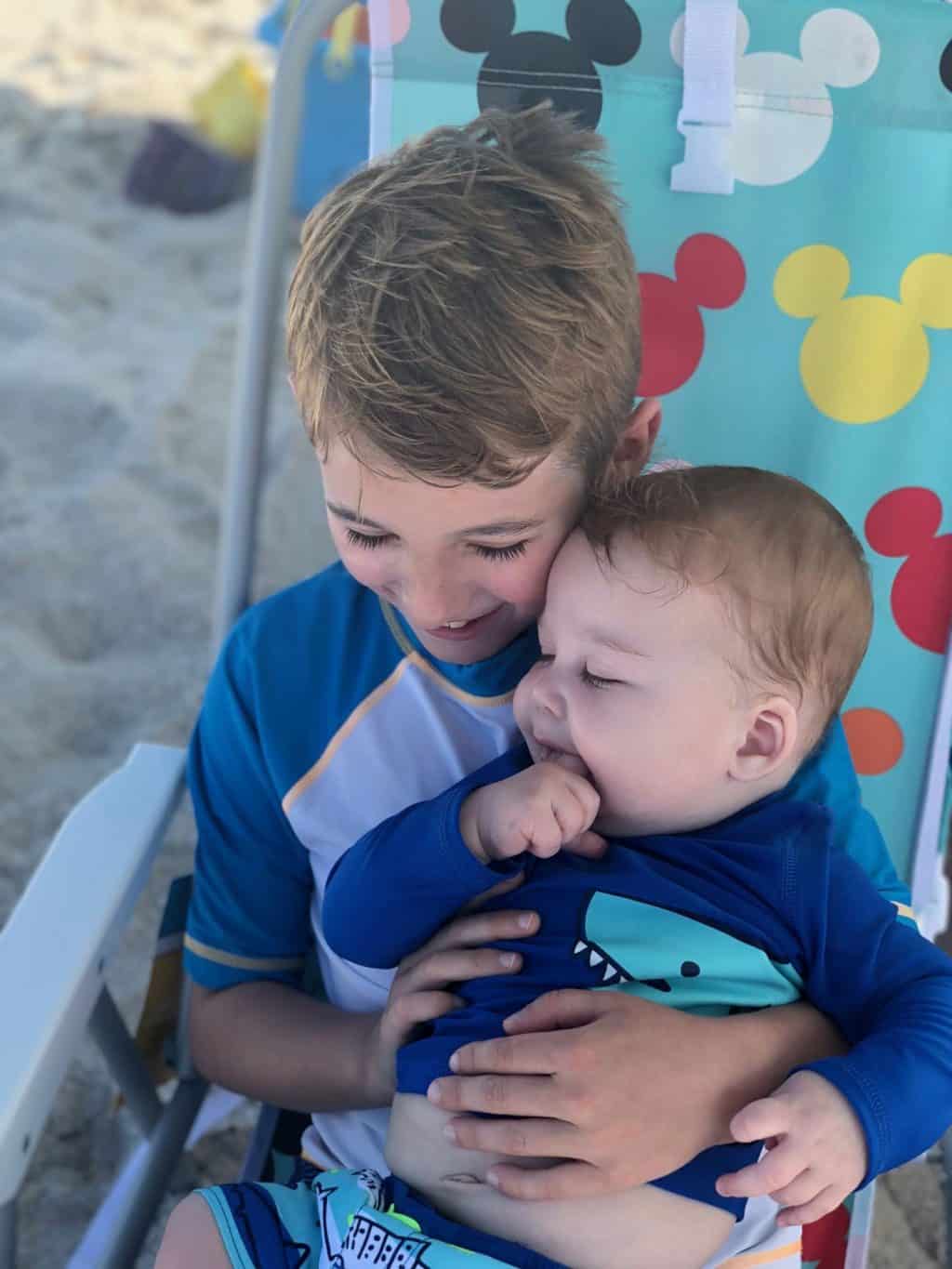 Benefit of bottle feeding 😉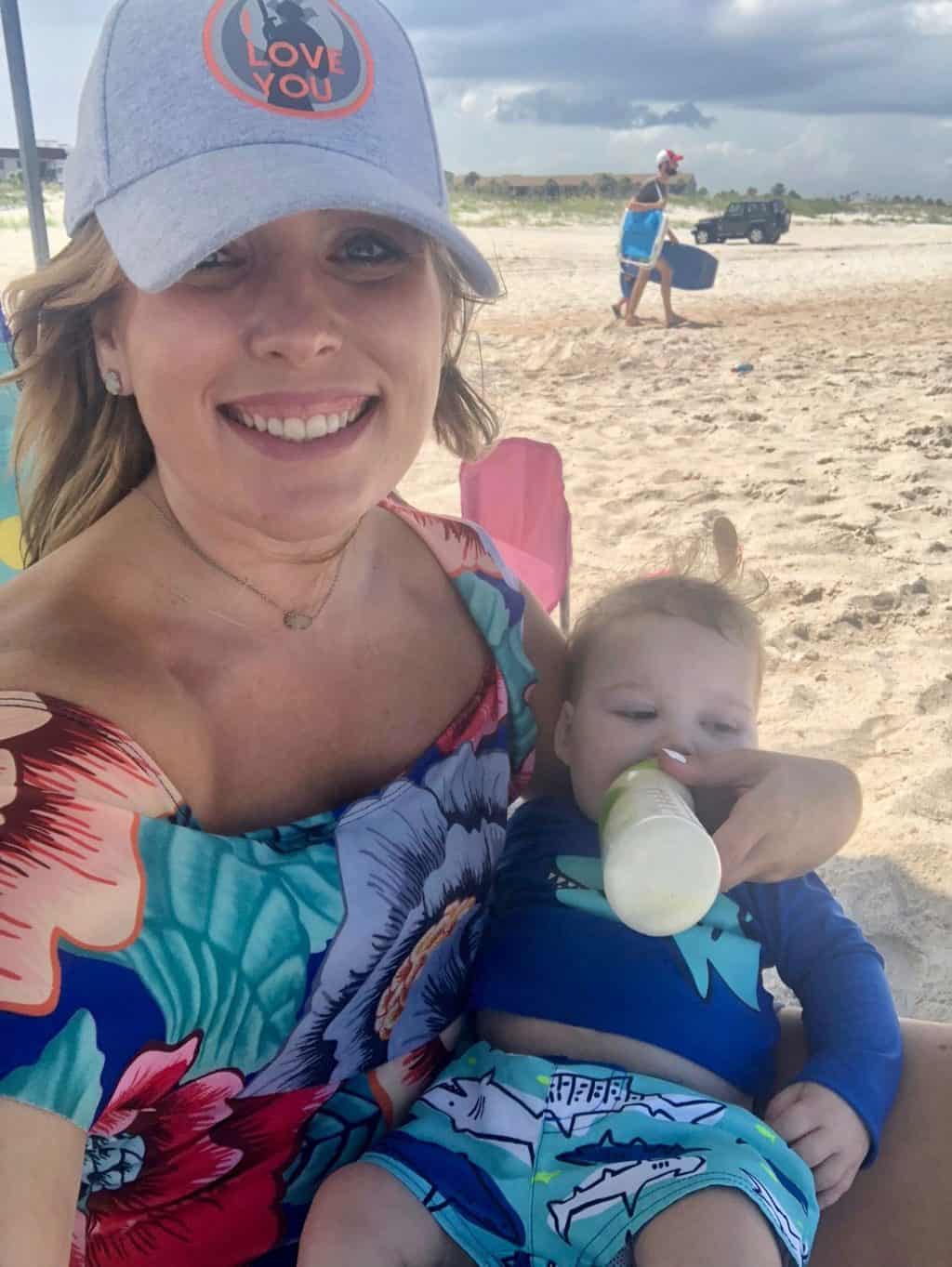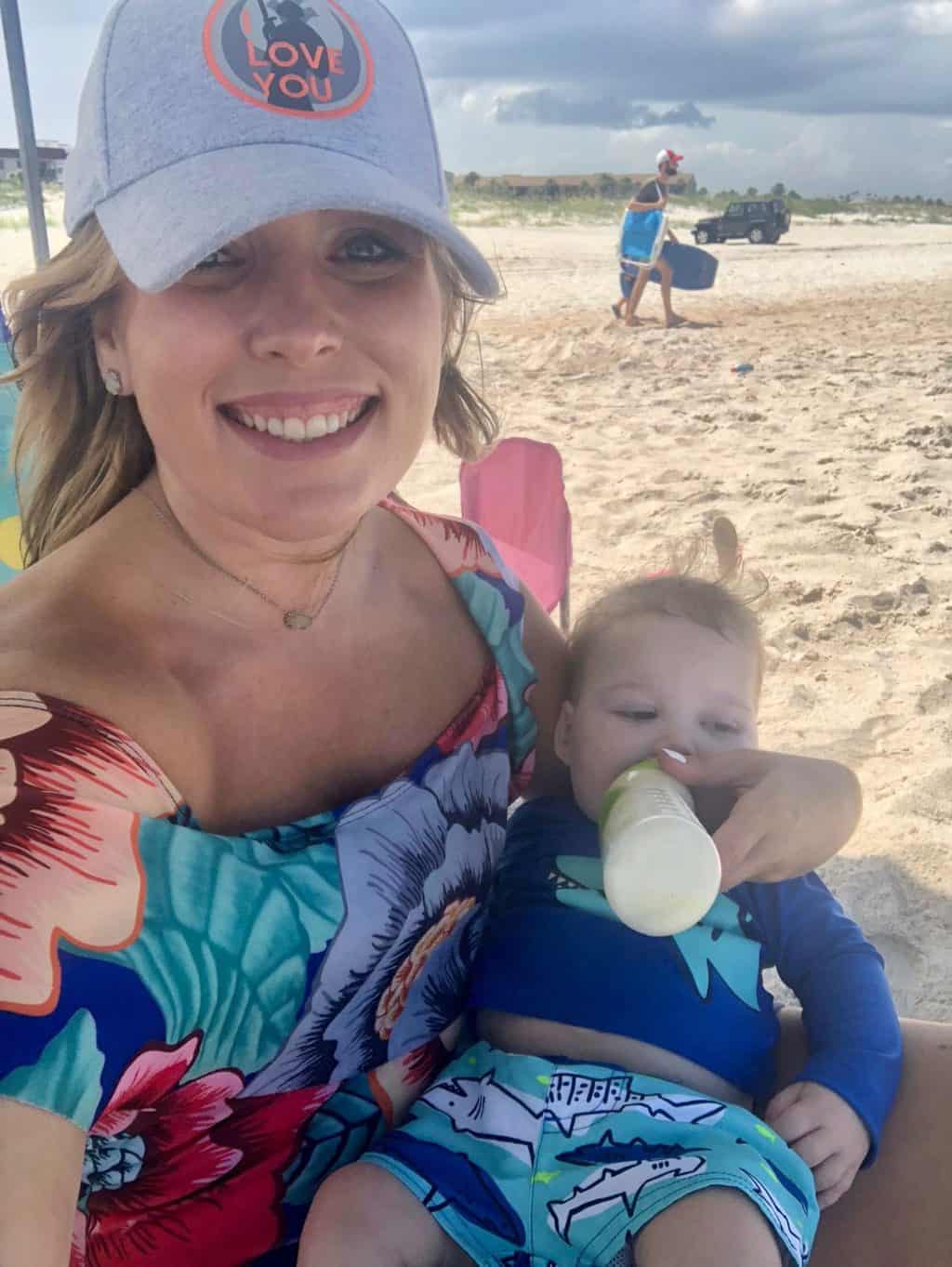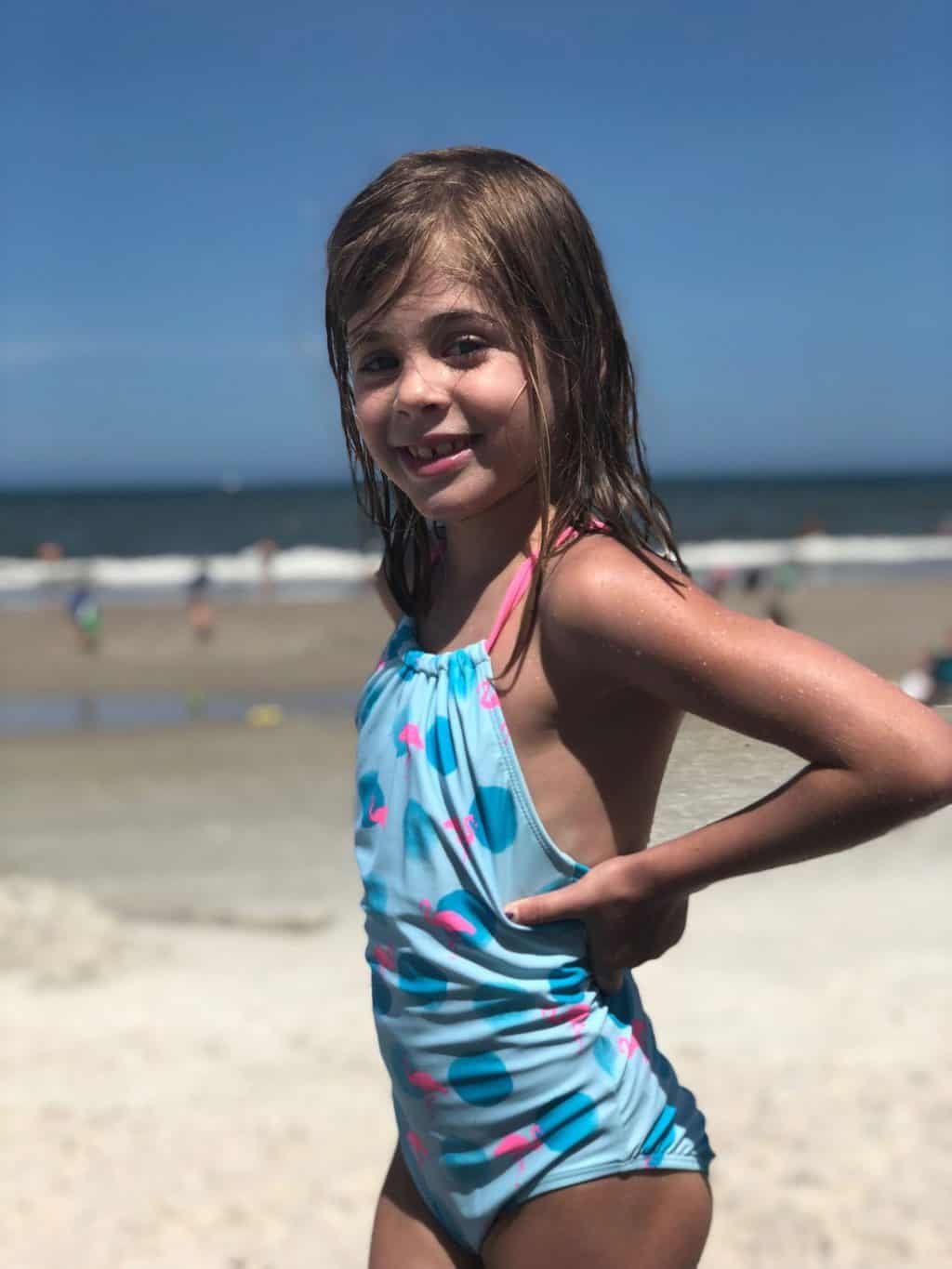 Miss Watermelon is our FAV! We're going to be so sad next summer when this suit will no longer fit!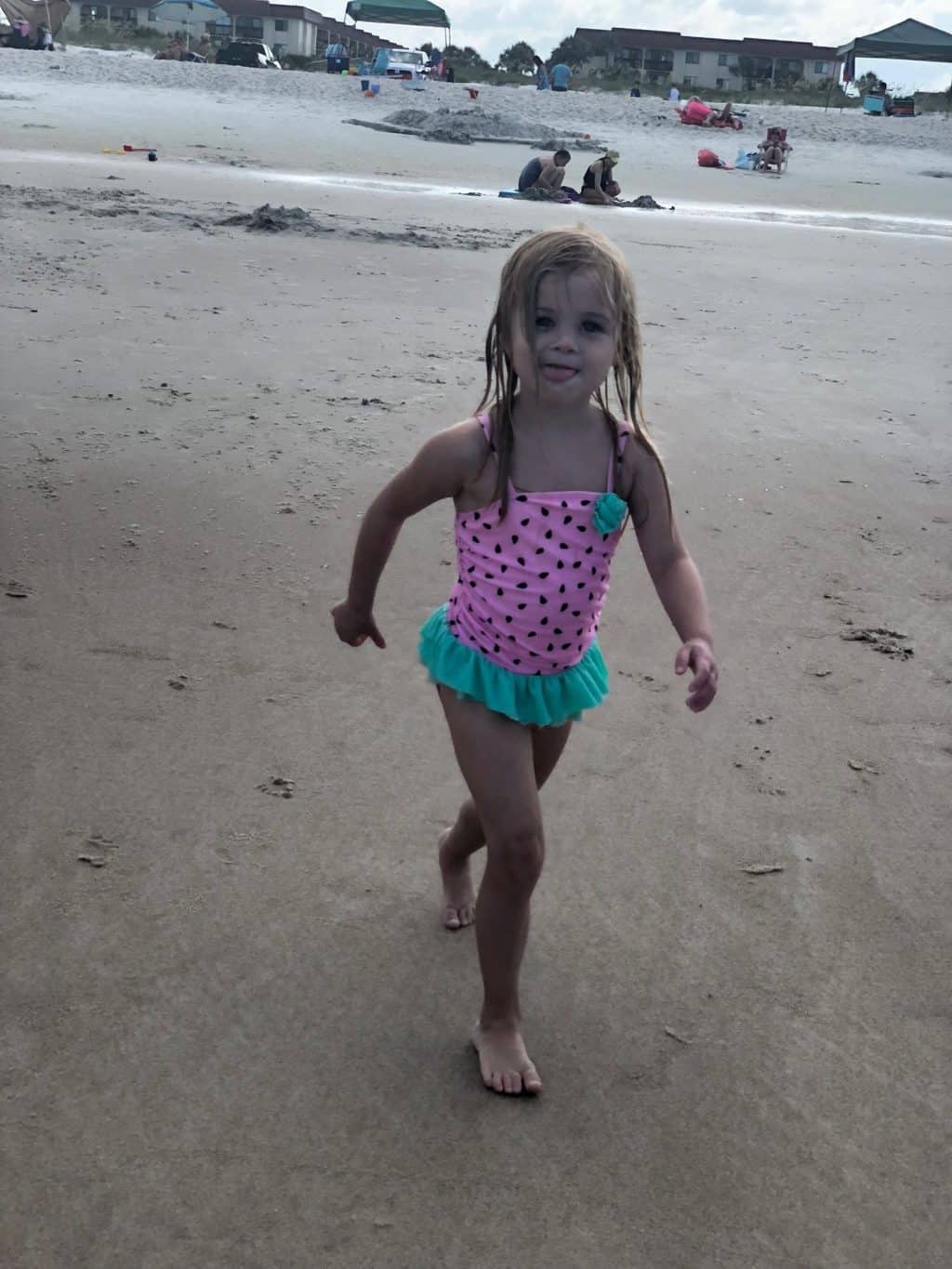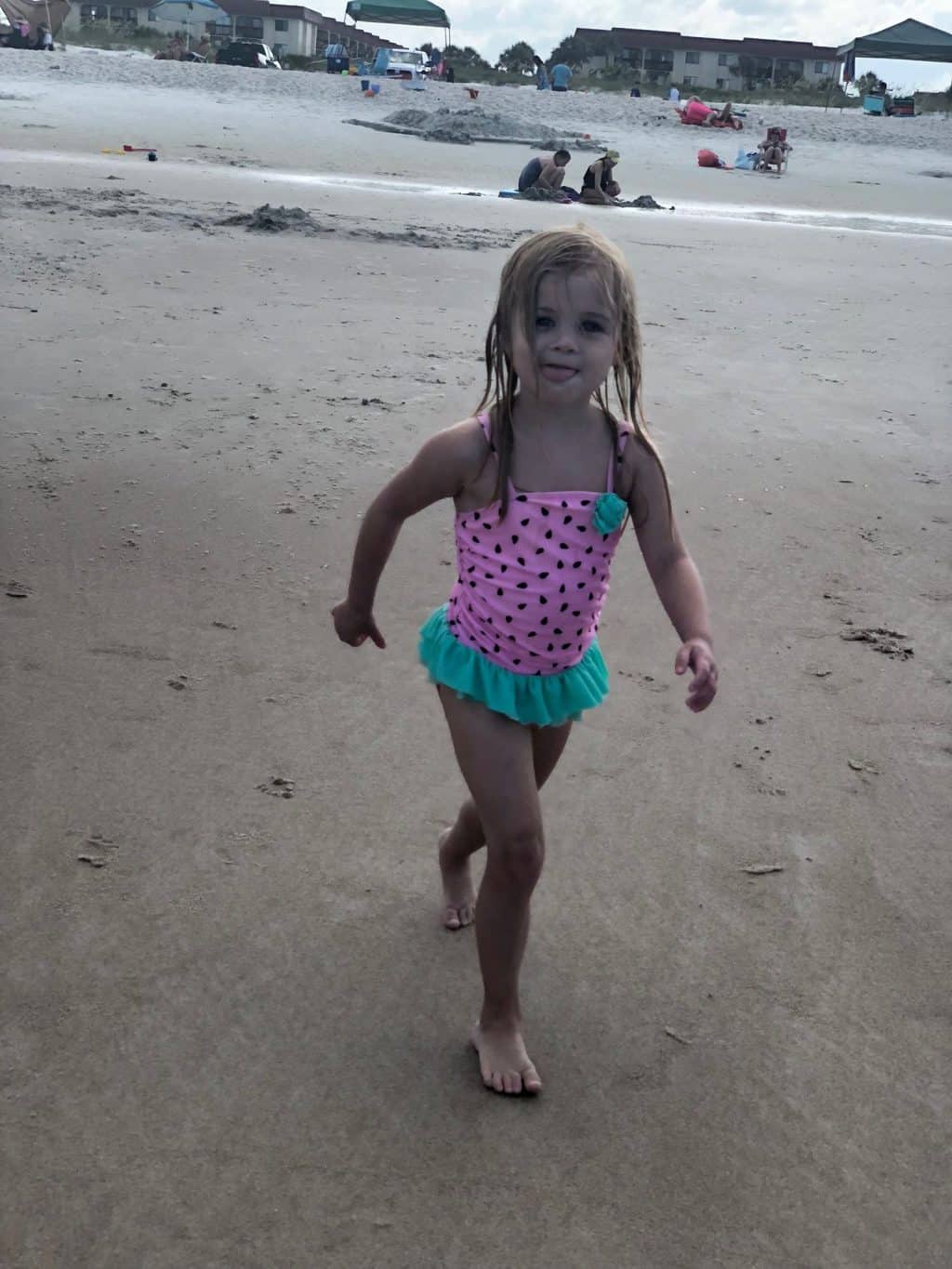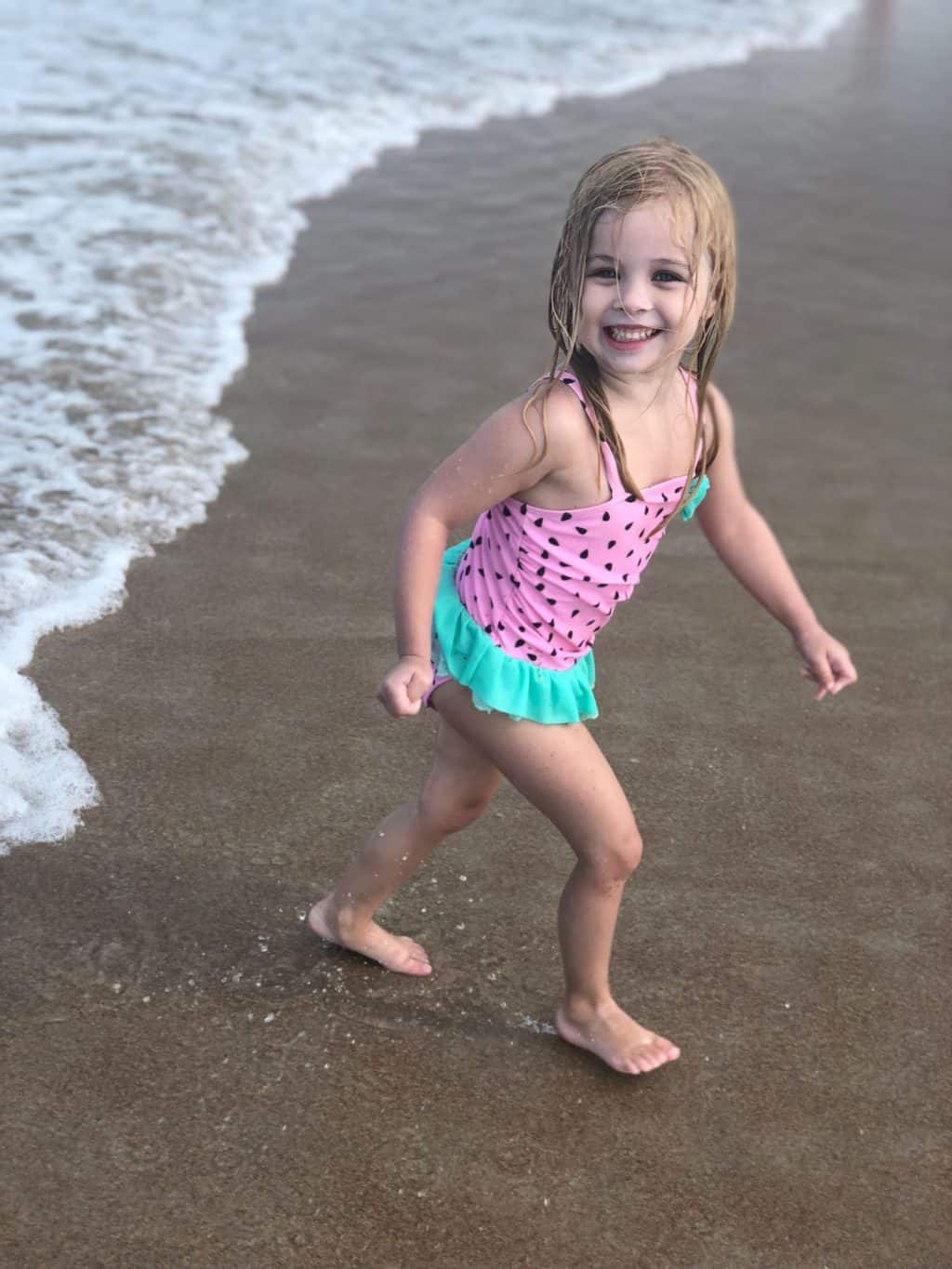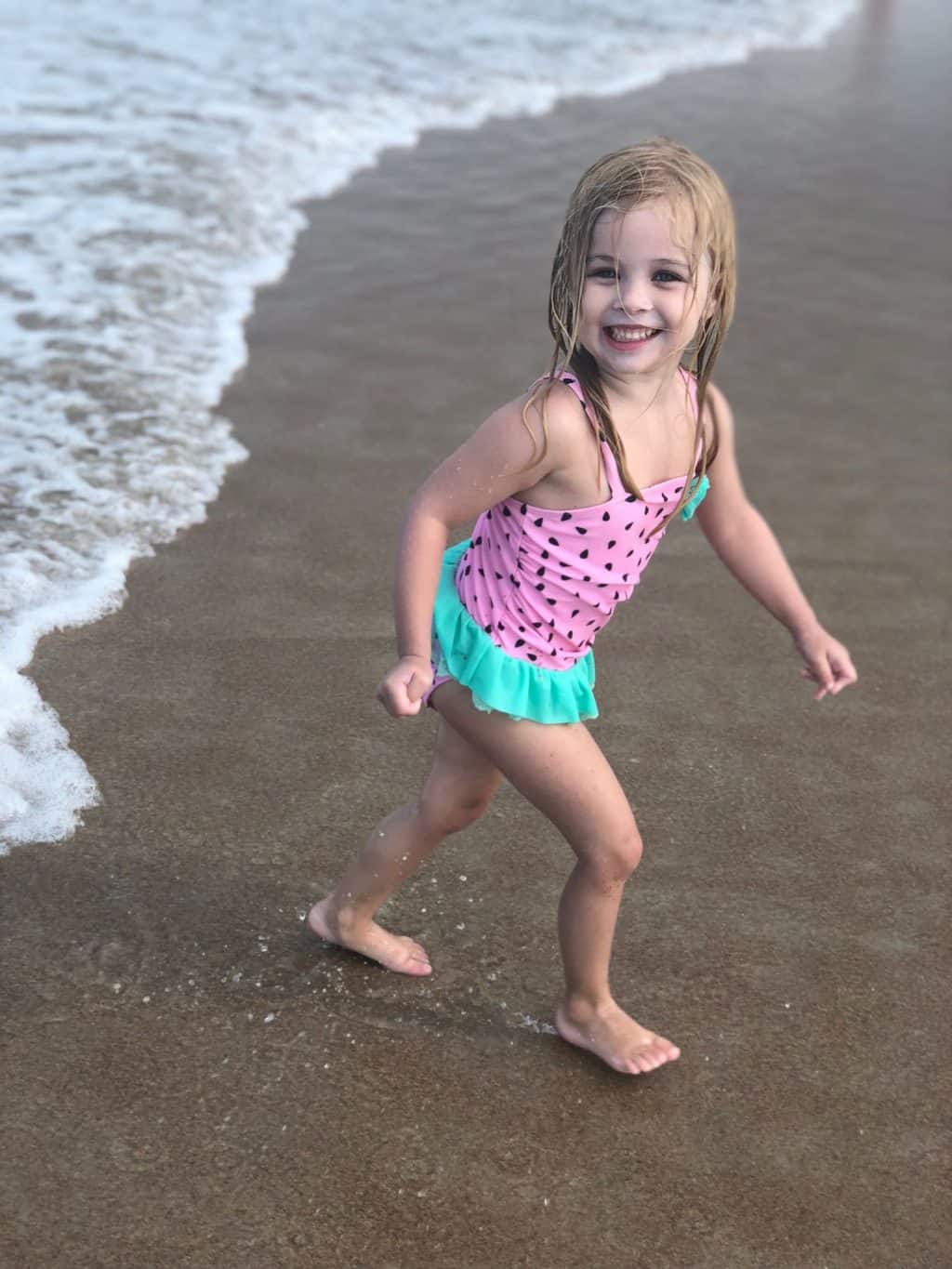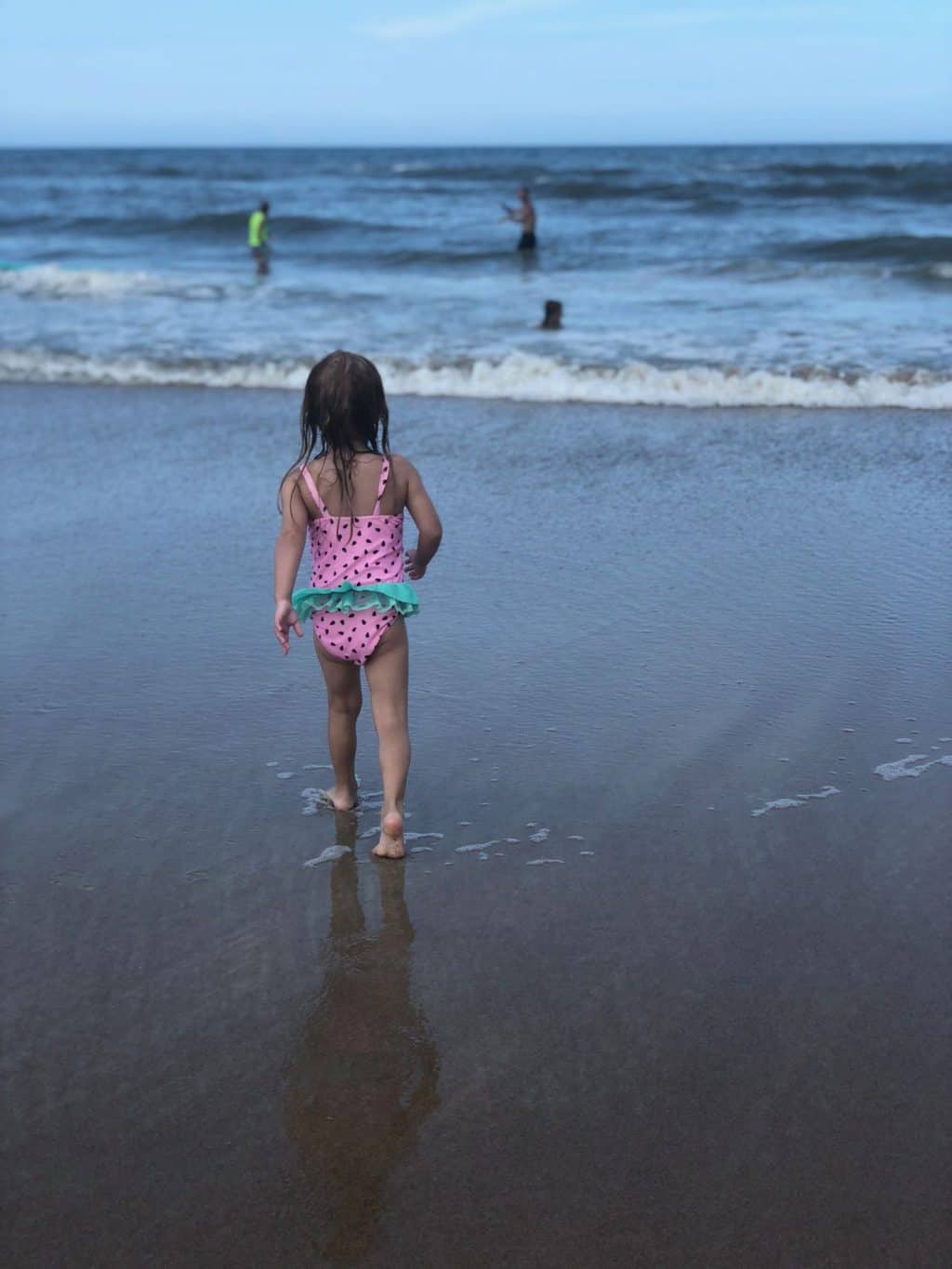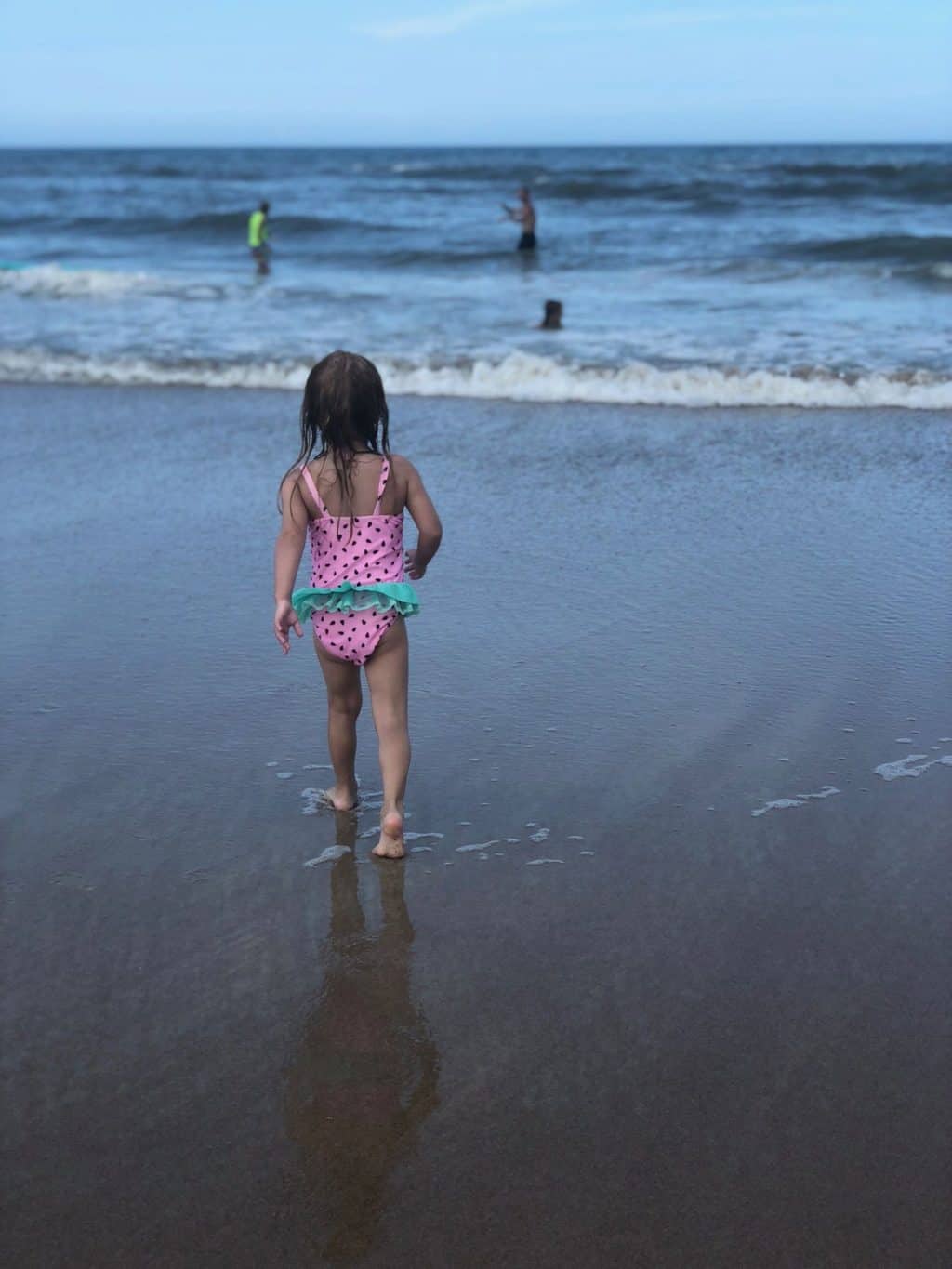 Had to let him play in the sand a little bit 😉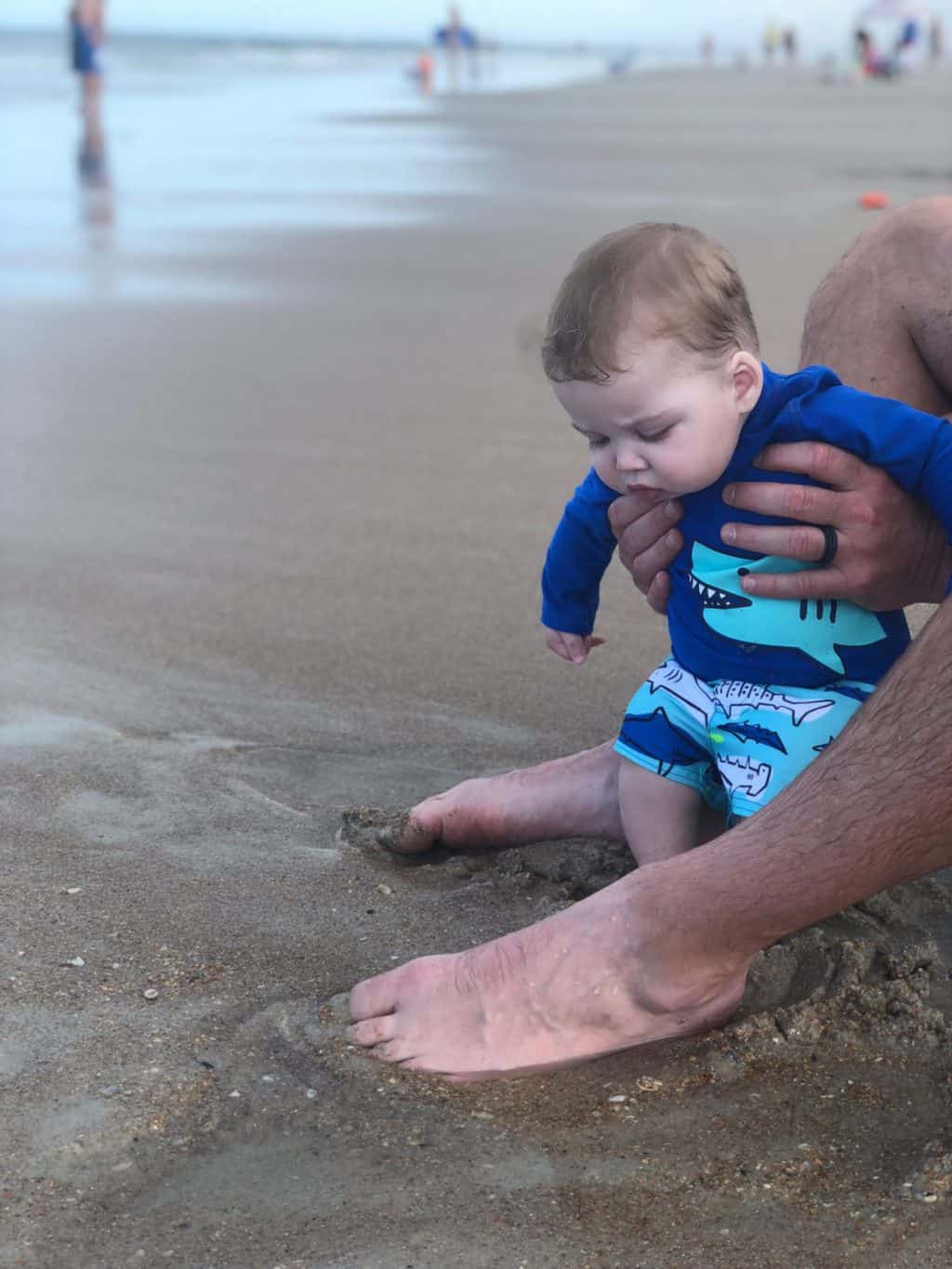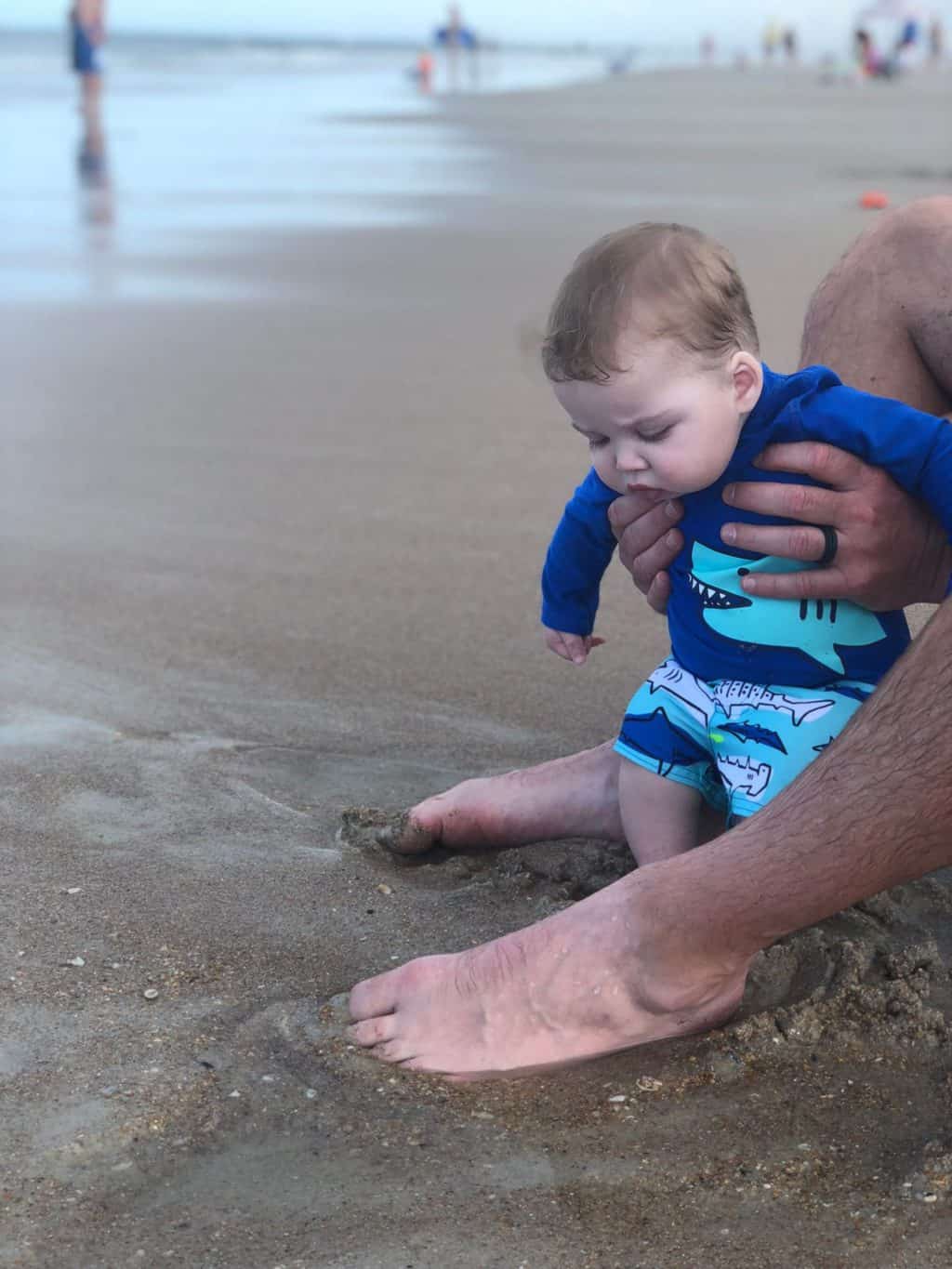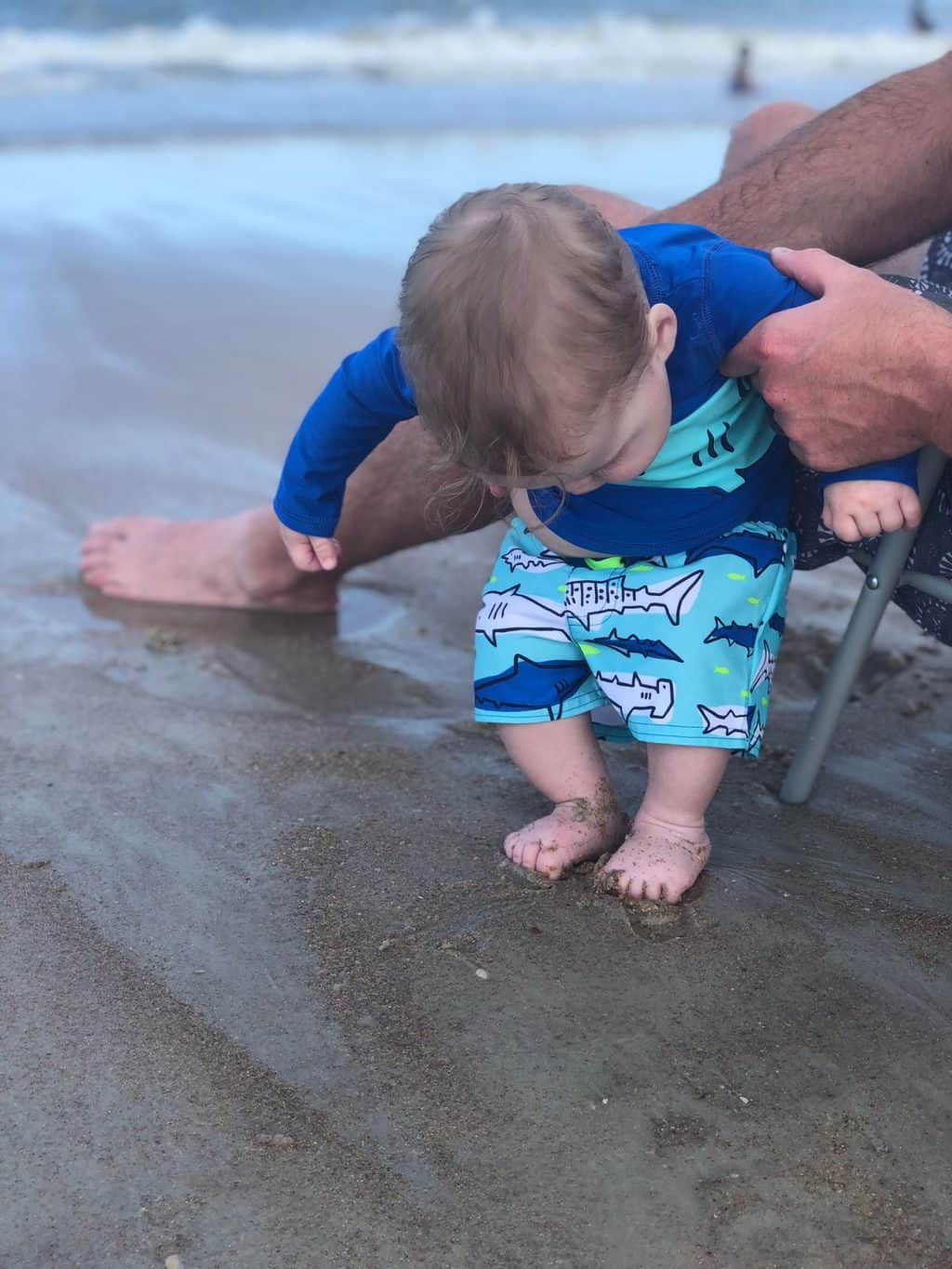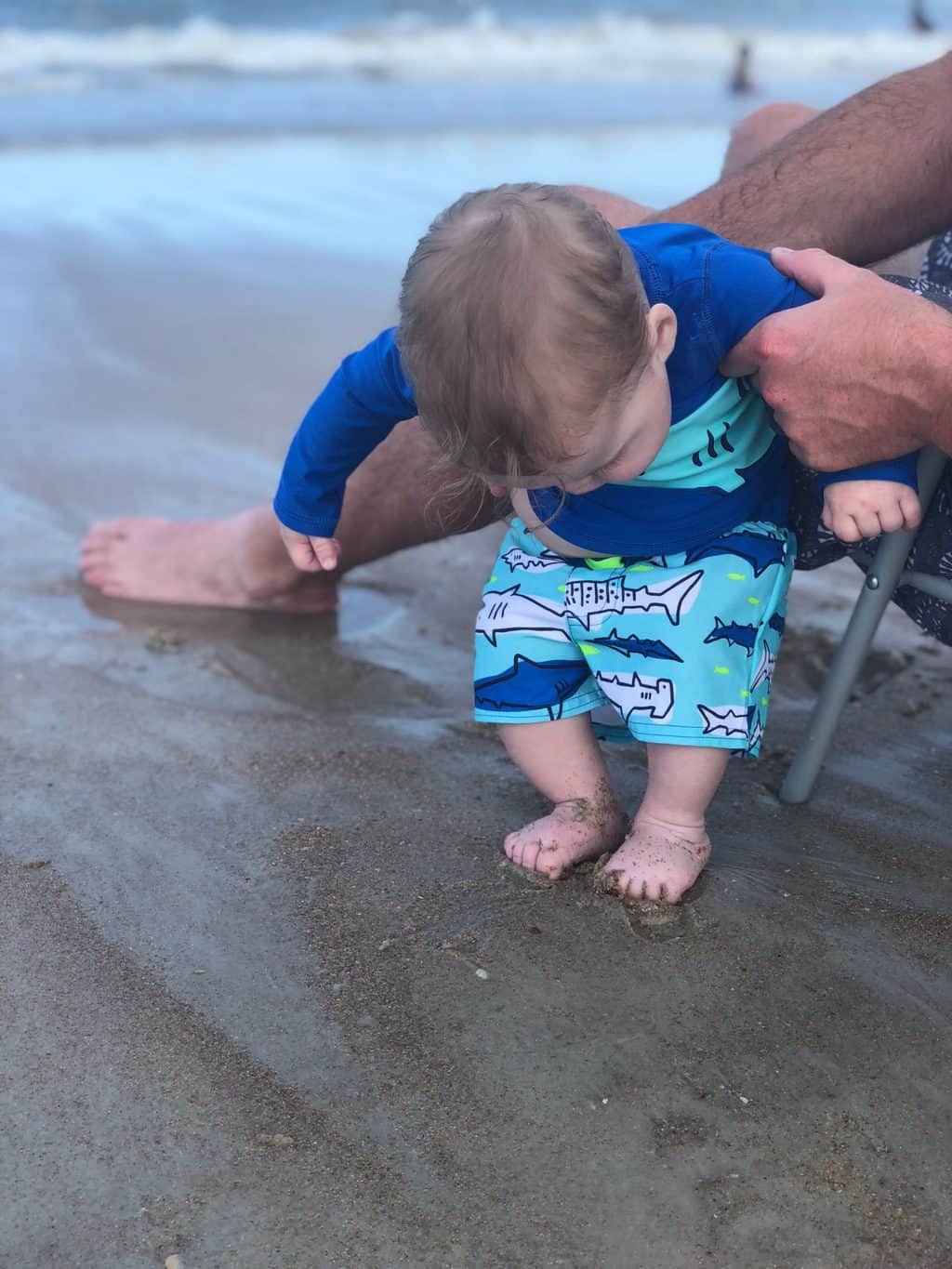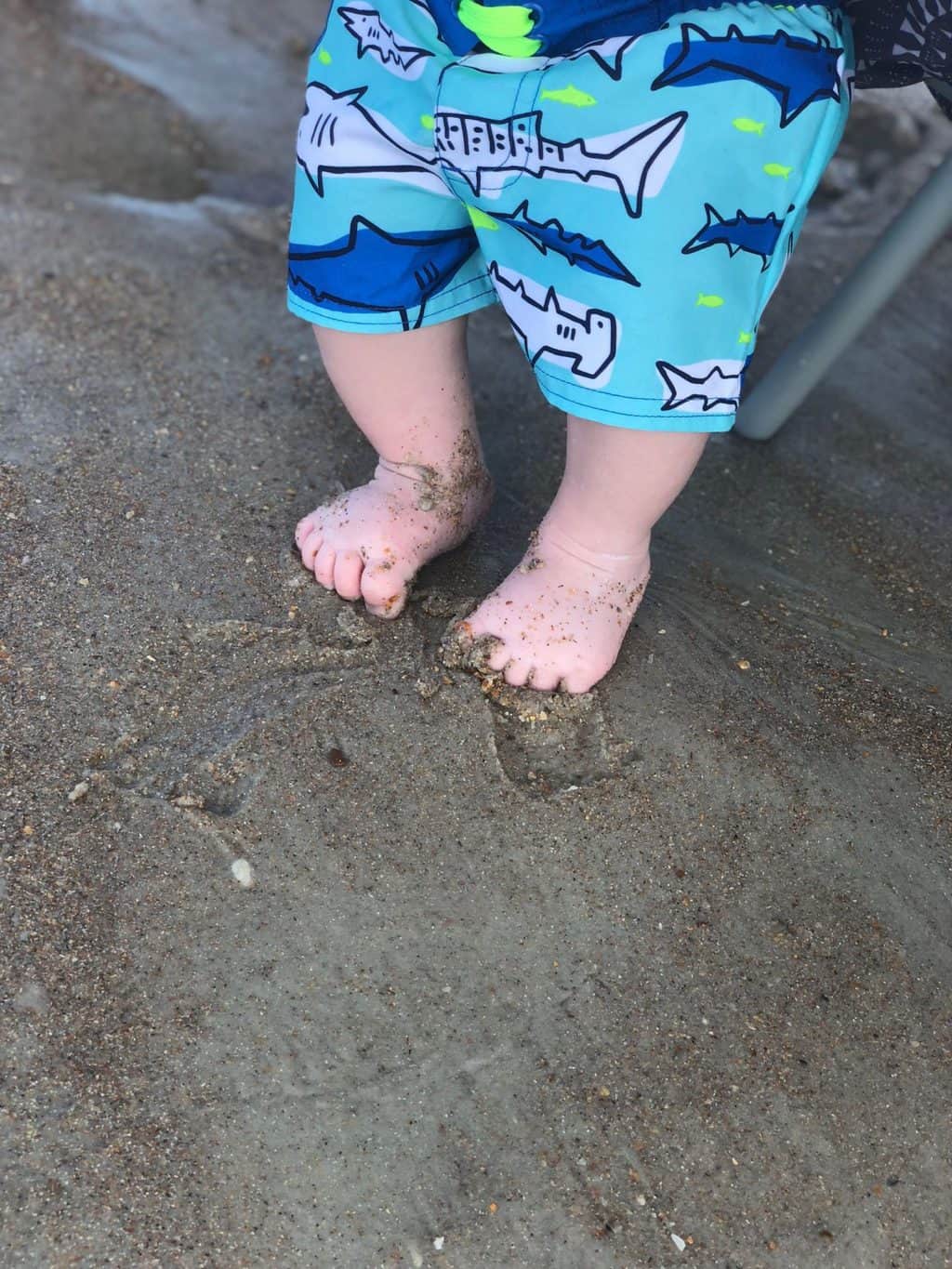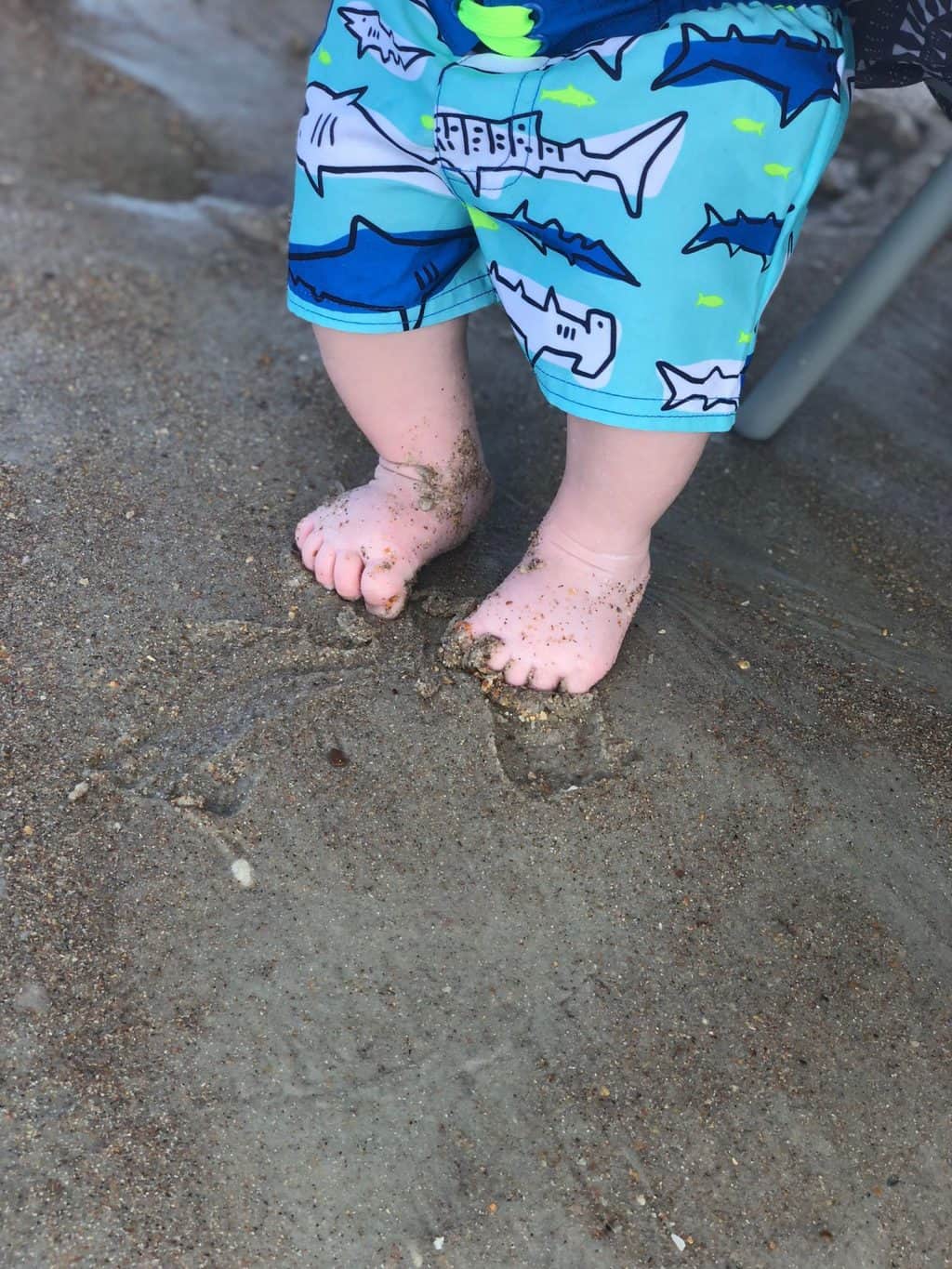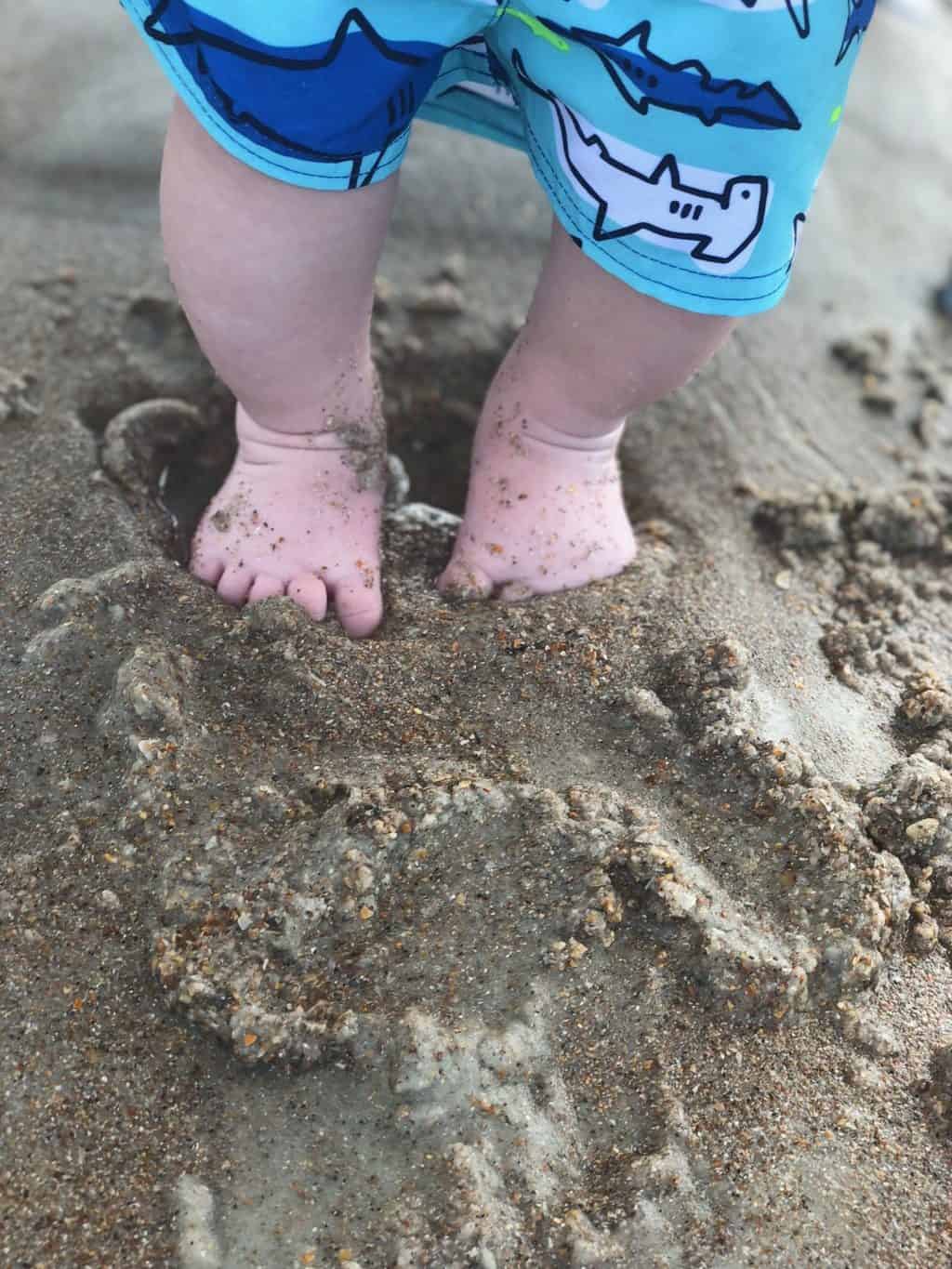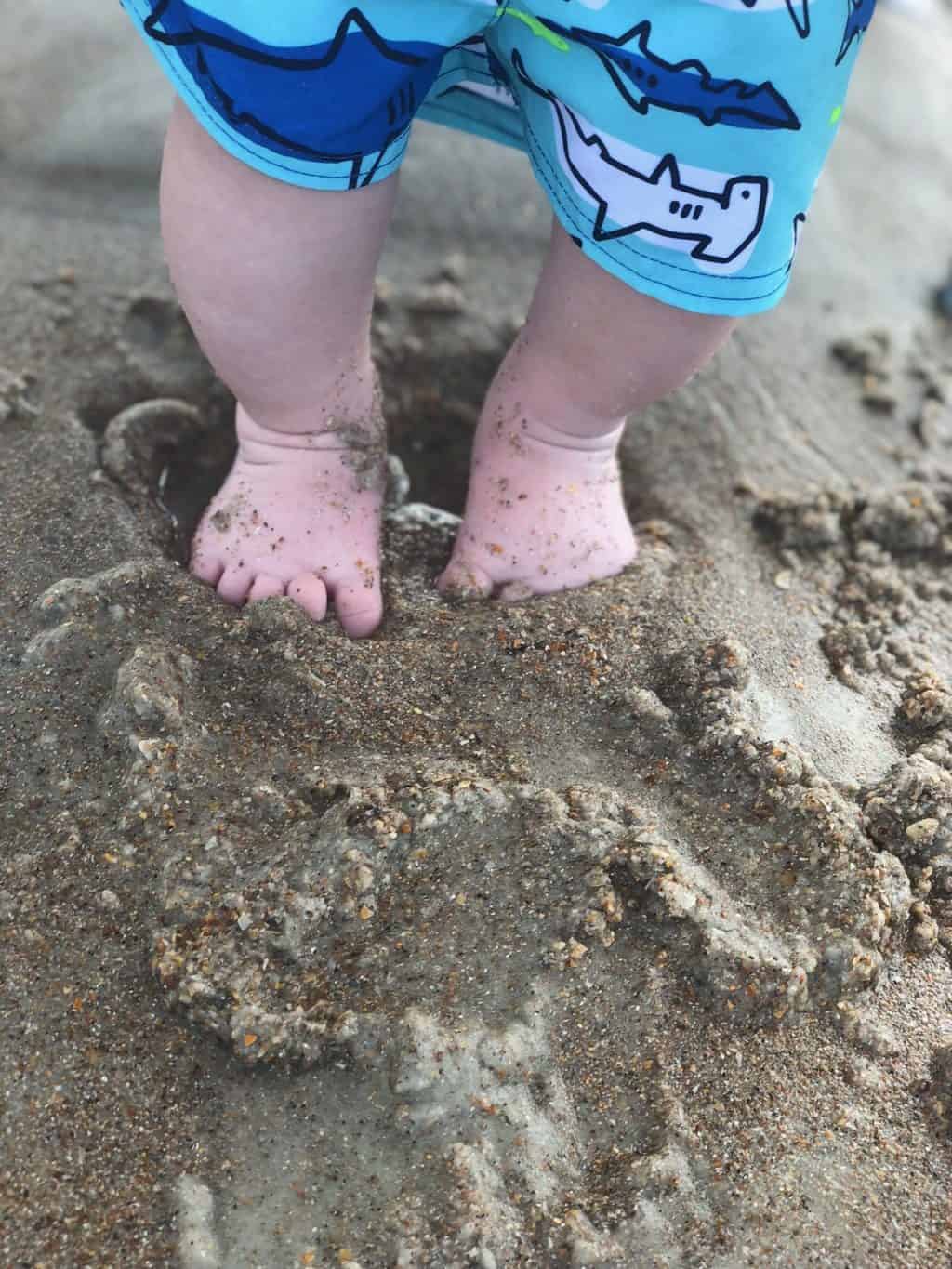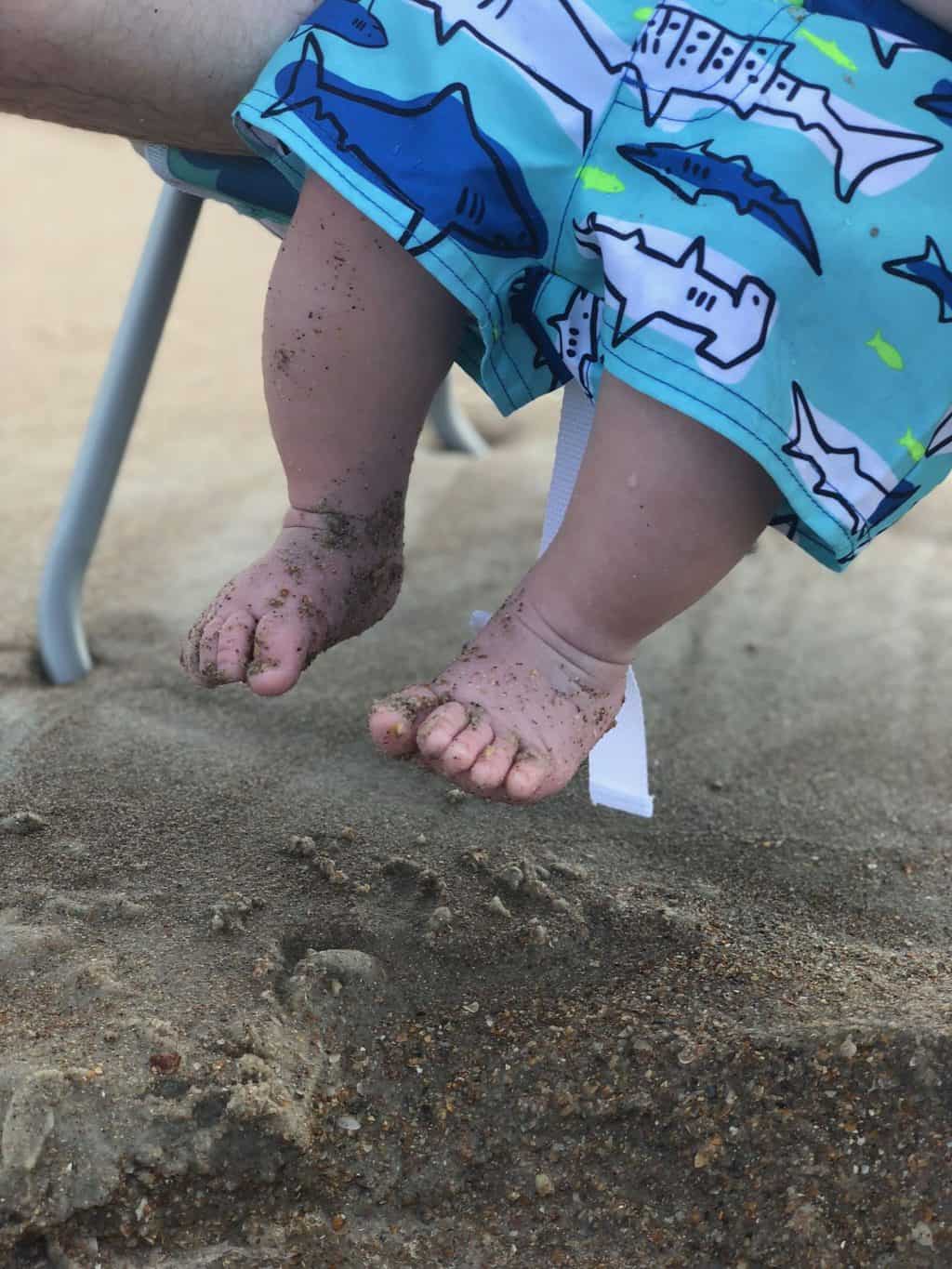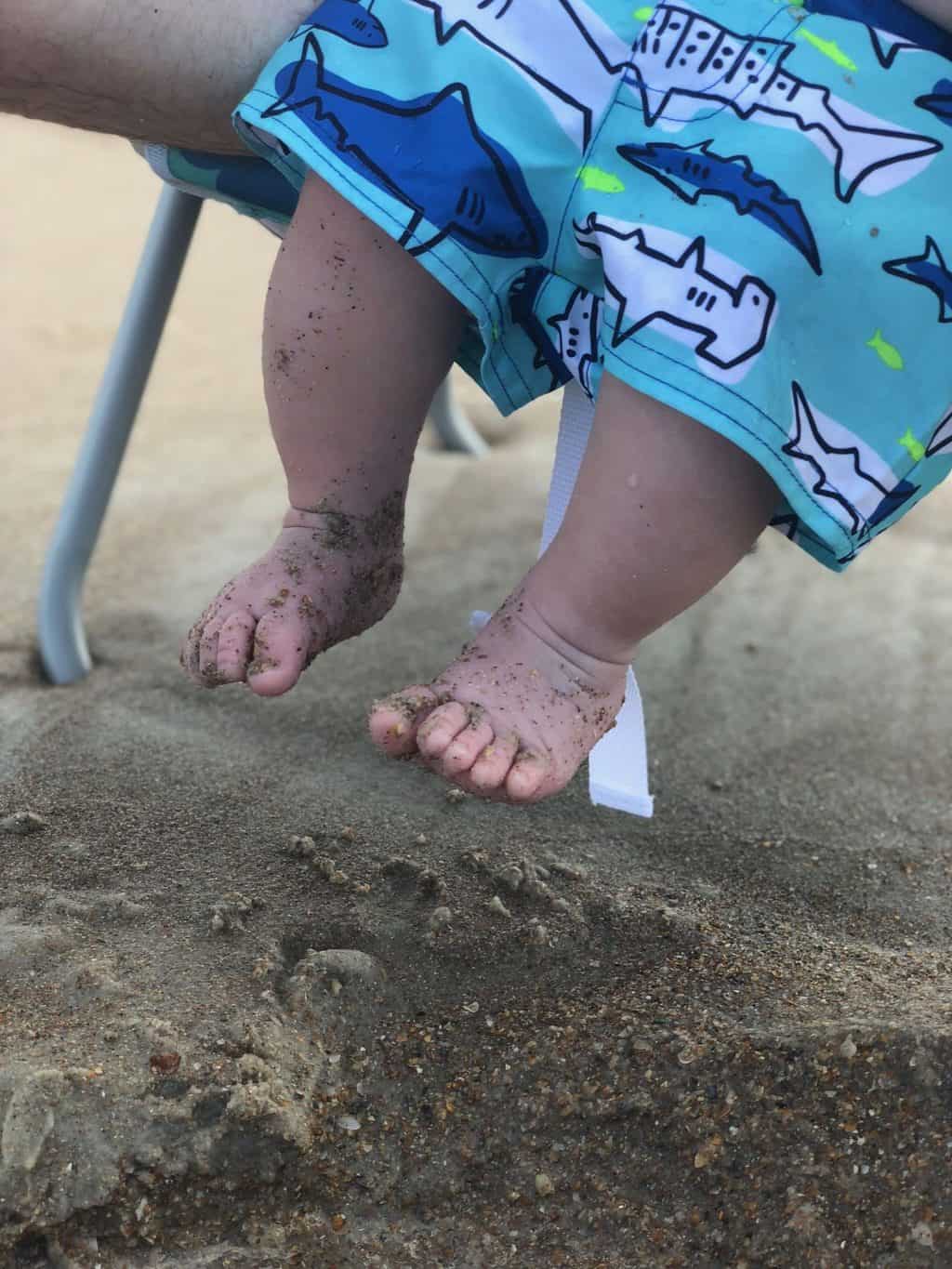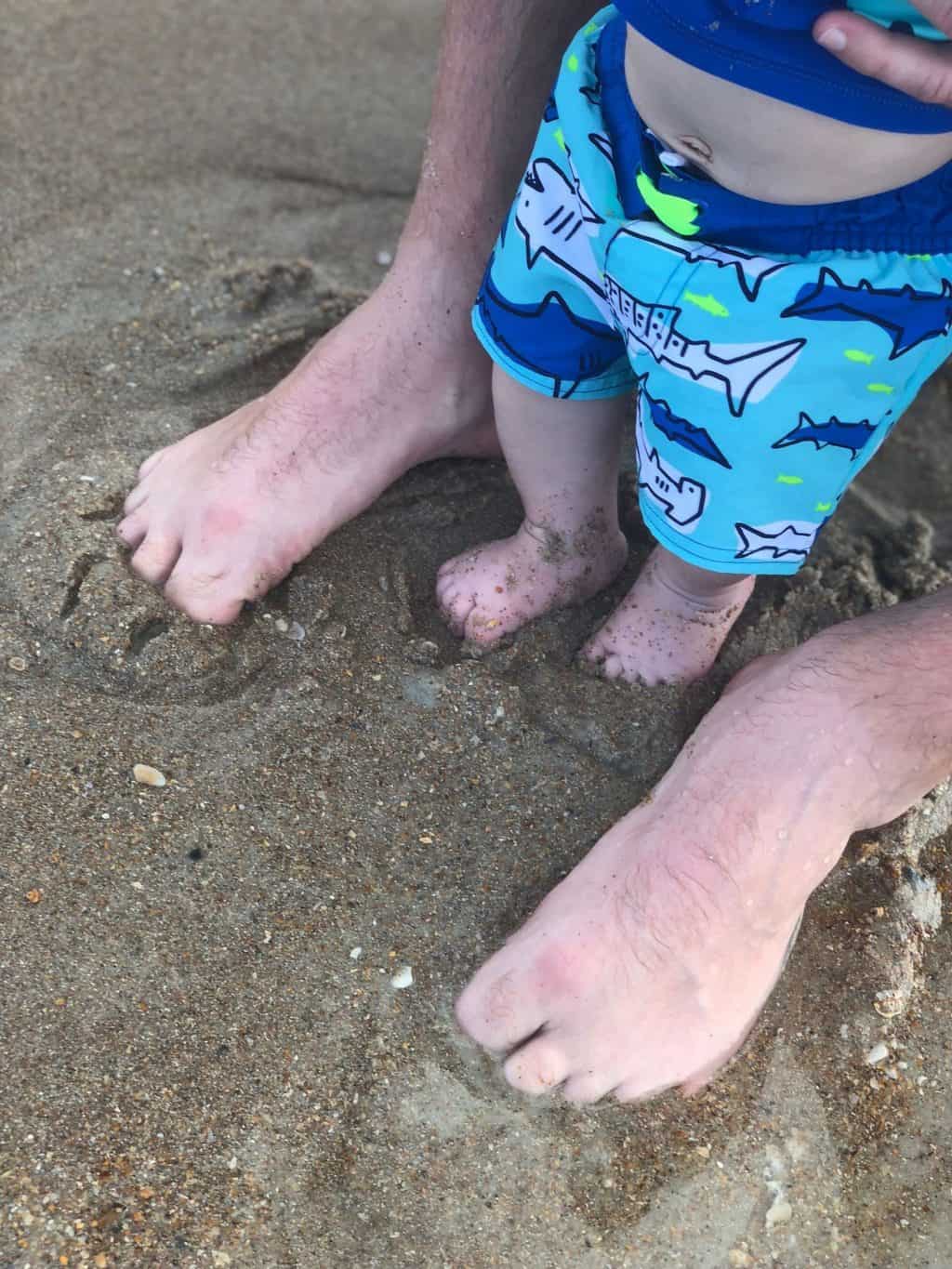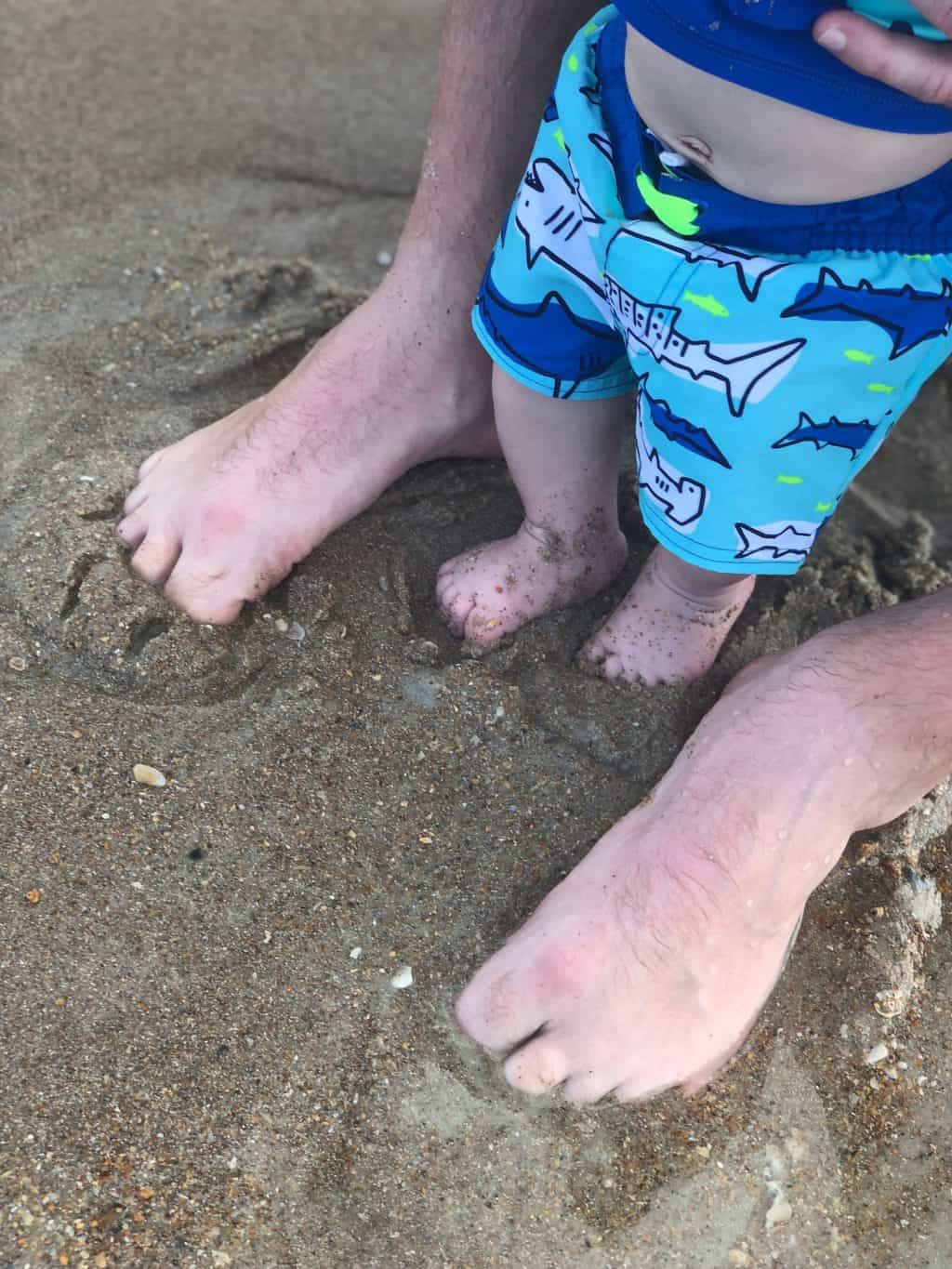 He's SUCH an easy kid! Perfectly content for me to just hold him and sit there while I watched the other kids!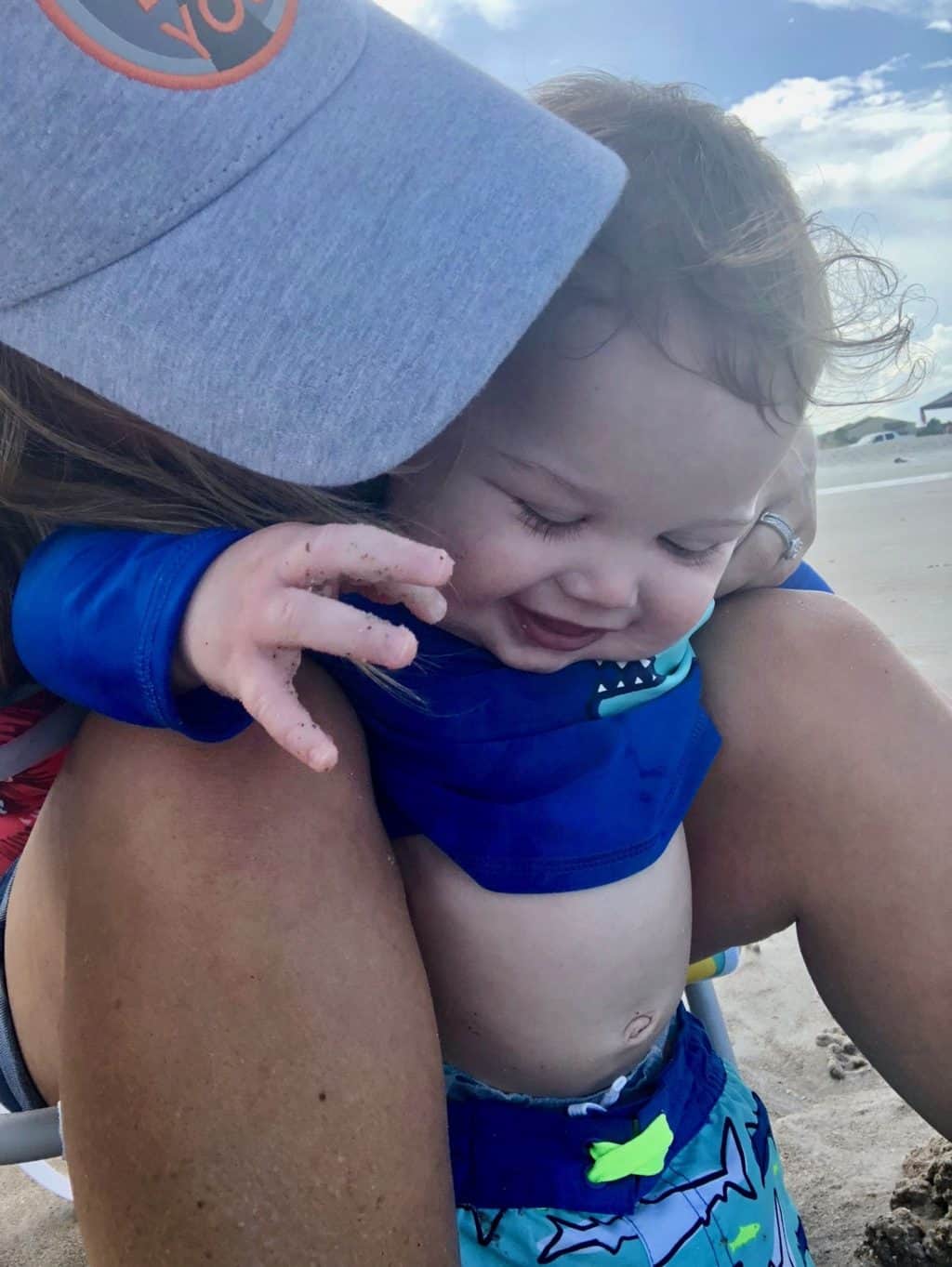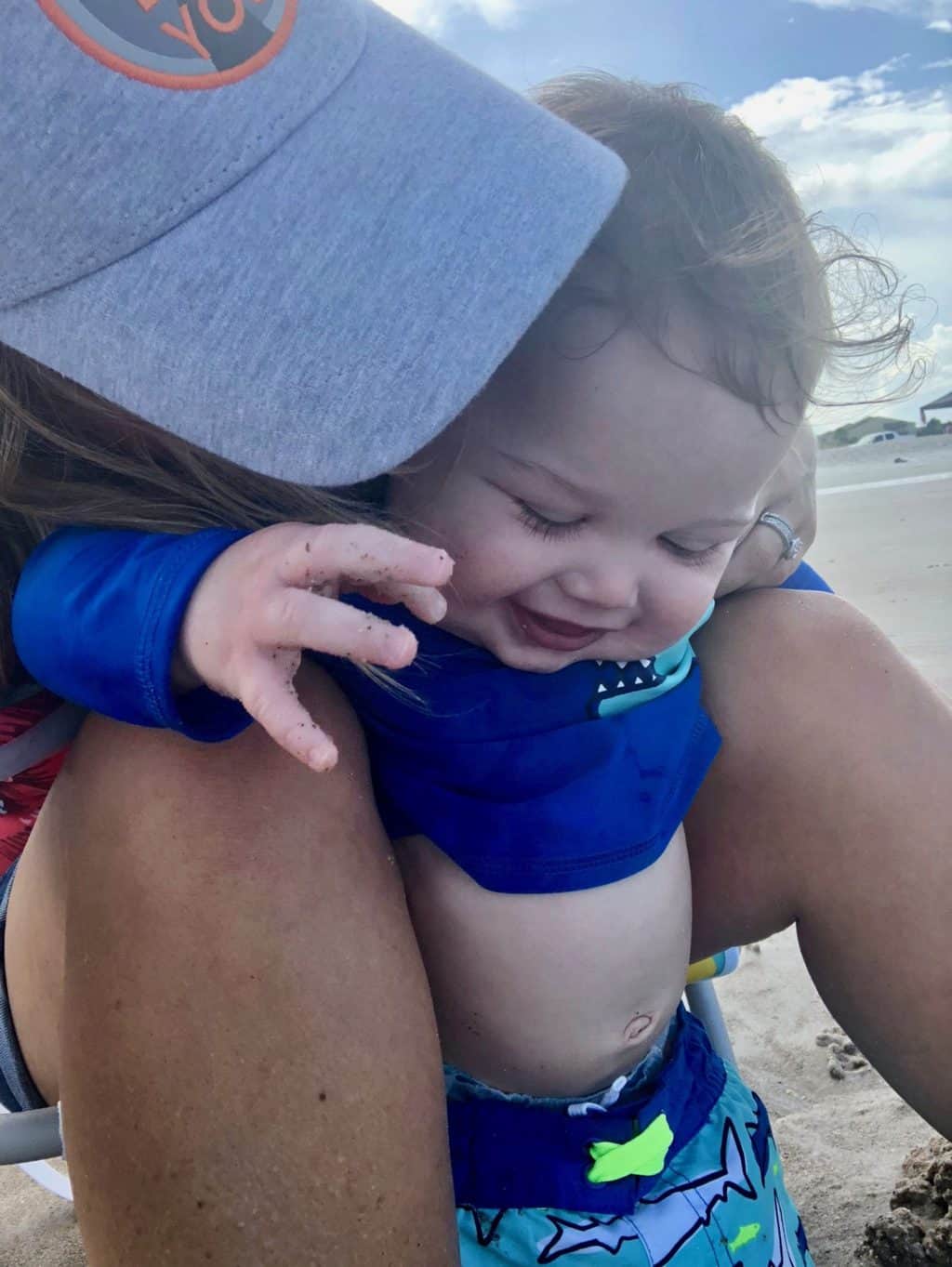 Spear did SO great for his first time ever at the beach! He genuinely seemed to enjoy it (he's so go with the flow, we weren't surprised in the least that he was happy about the entire experience). We haven't always had such great luck on a first beach visit though haha you can look back at Kye's first beach visit here, Britt's here, and Tess's here!
It was Beast Mode Feast Mode Beach Mode night! We always have a night on our trips where Zach makes an epic feast. We always have corn on the cobb and Hawaiian sweet rolls as sides but the main dish often changes. This year he made sliders! While he got dinner ready, and Spear napped, the big three and I hung out and had fun just talking and giggling together.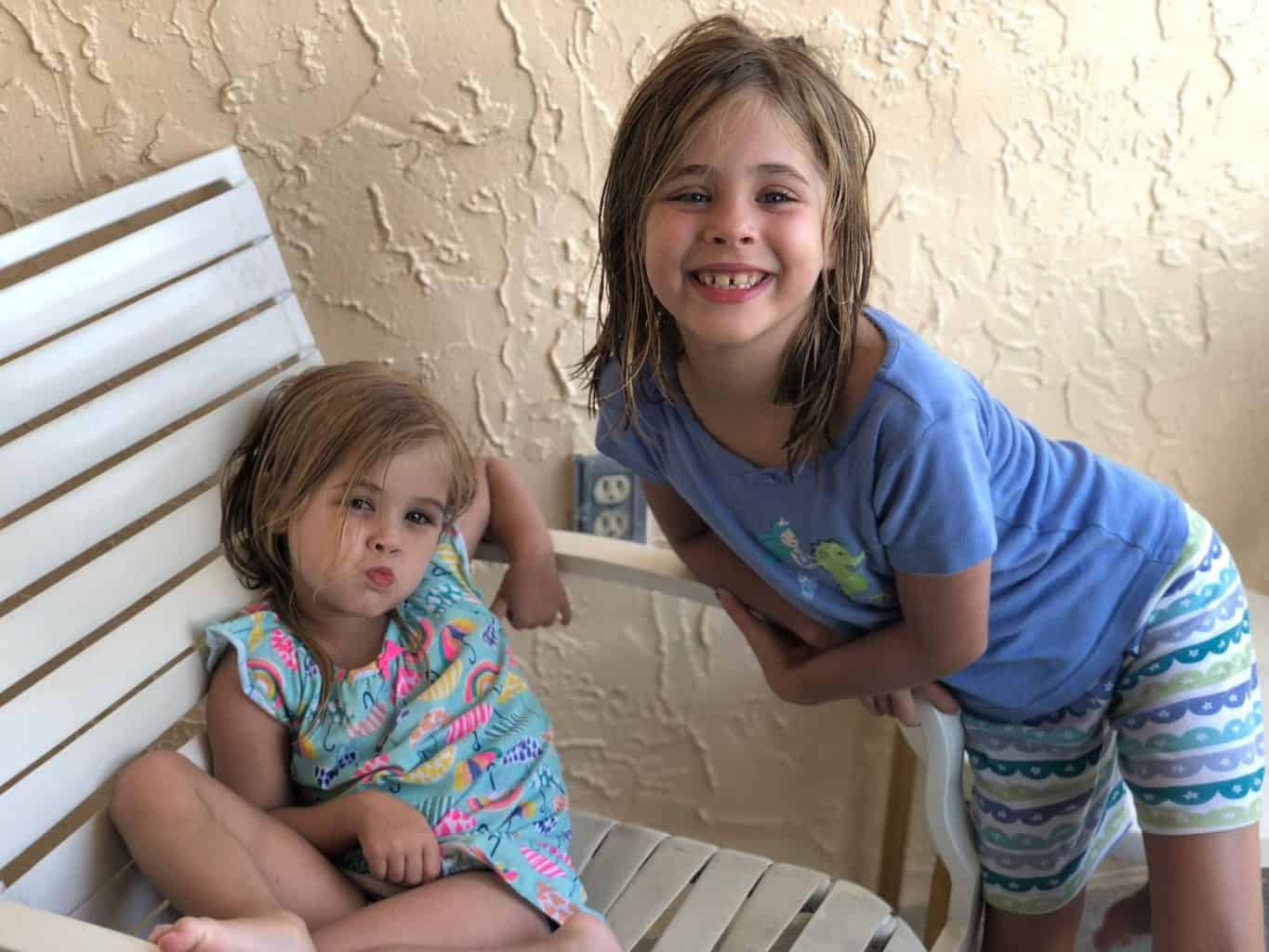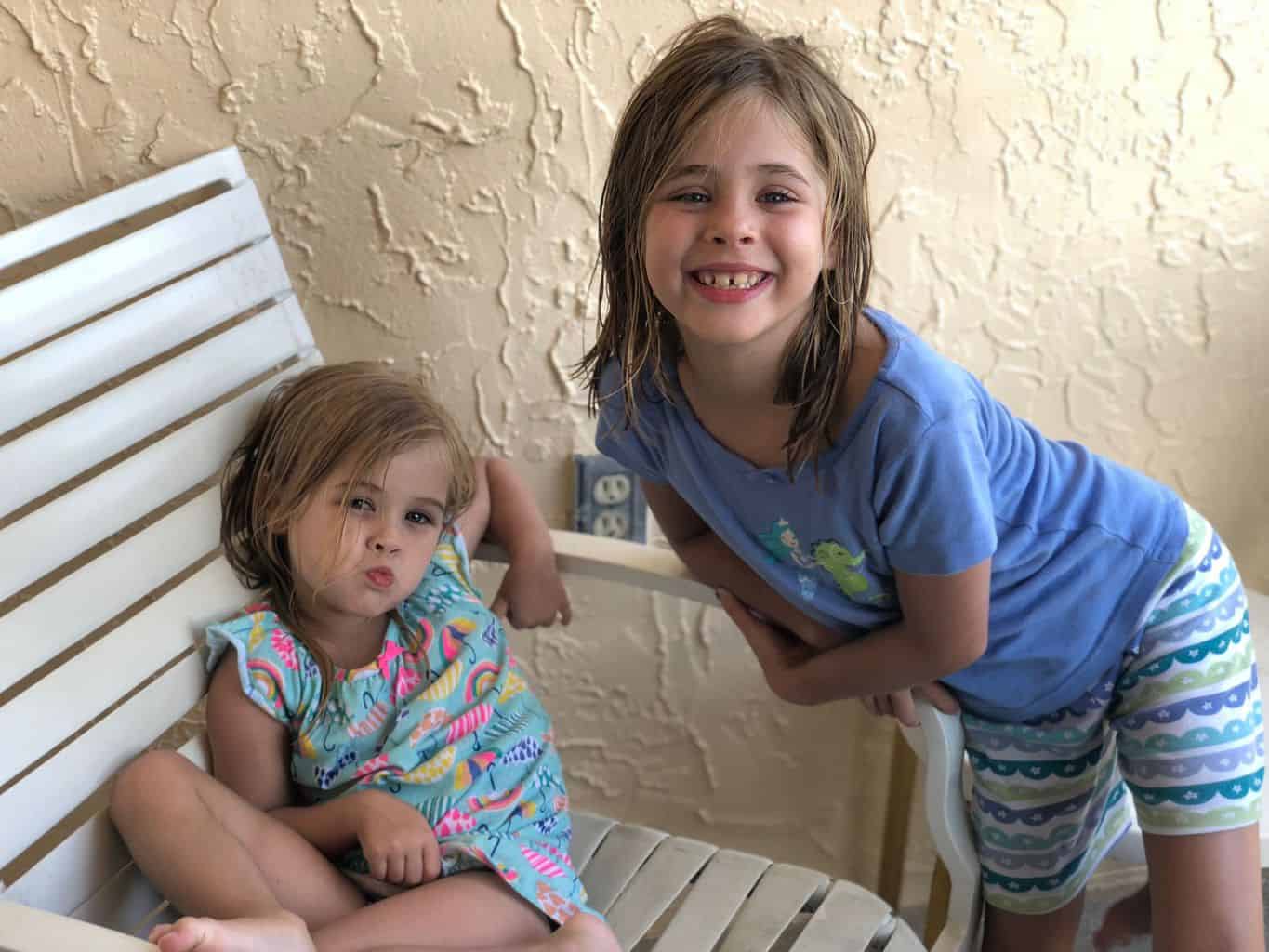 When Mom asks you to pick between Disney World and the beach haha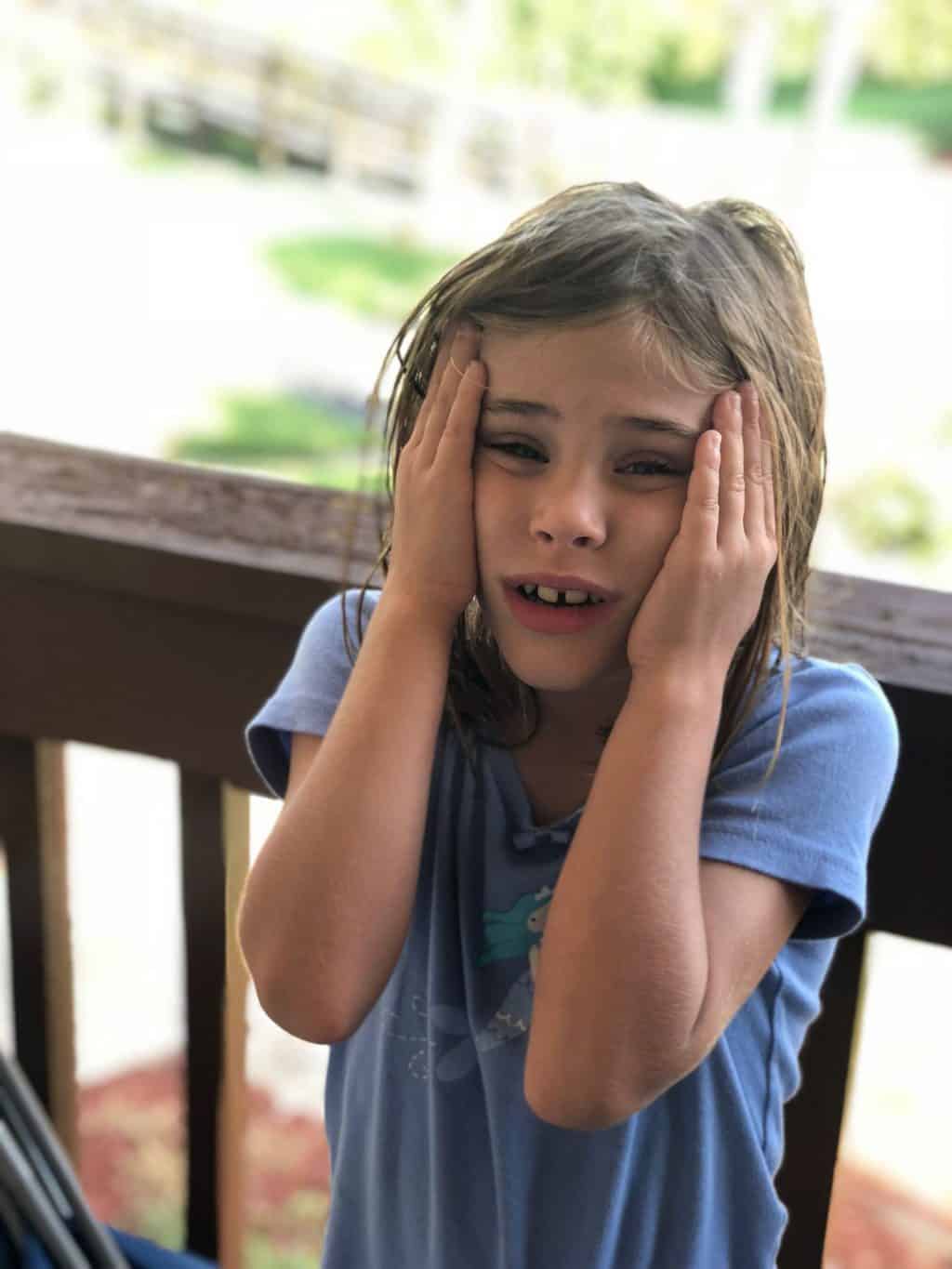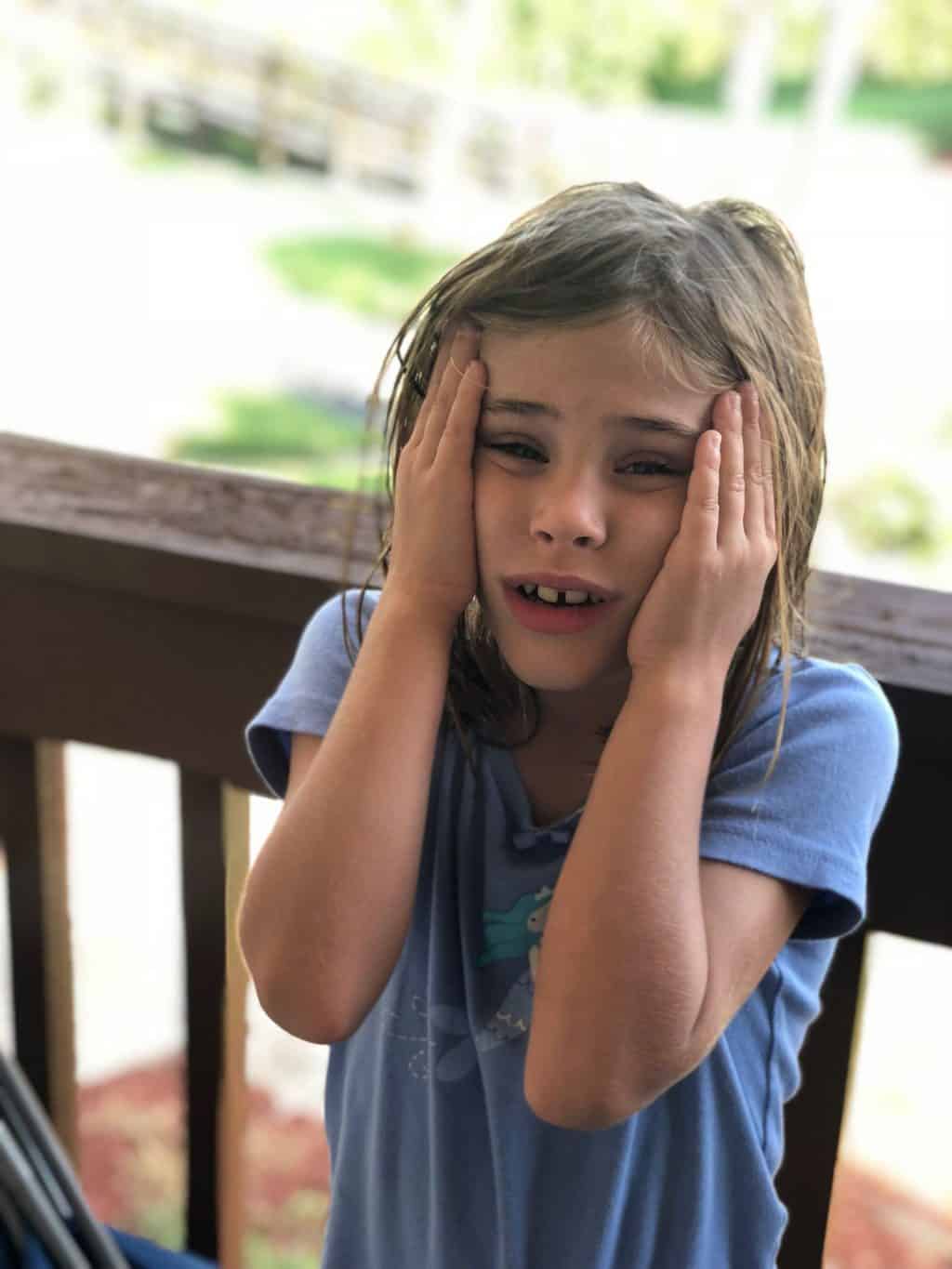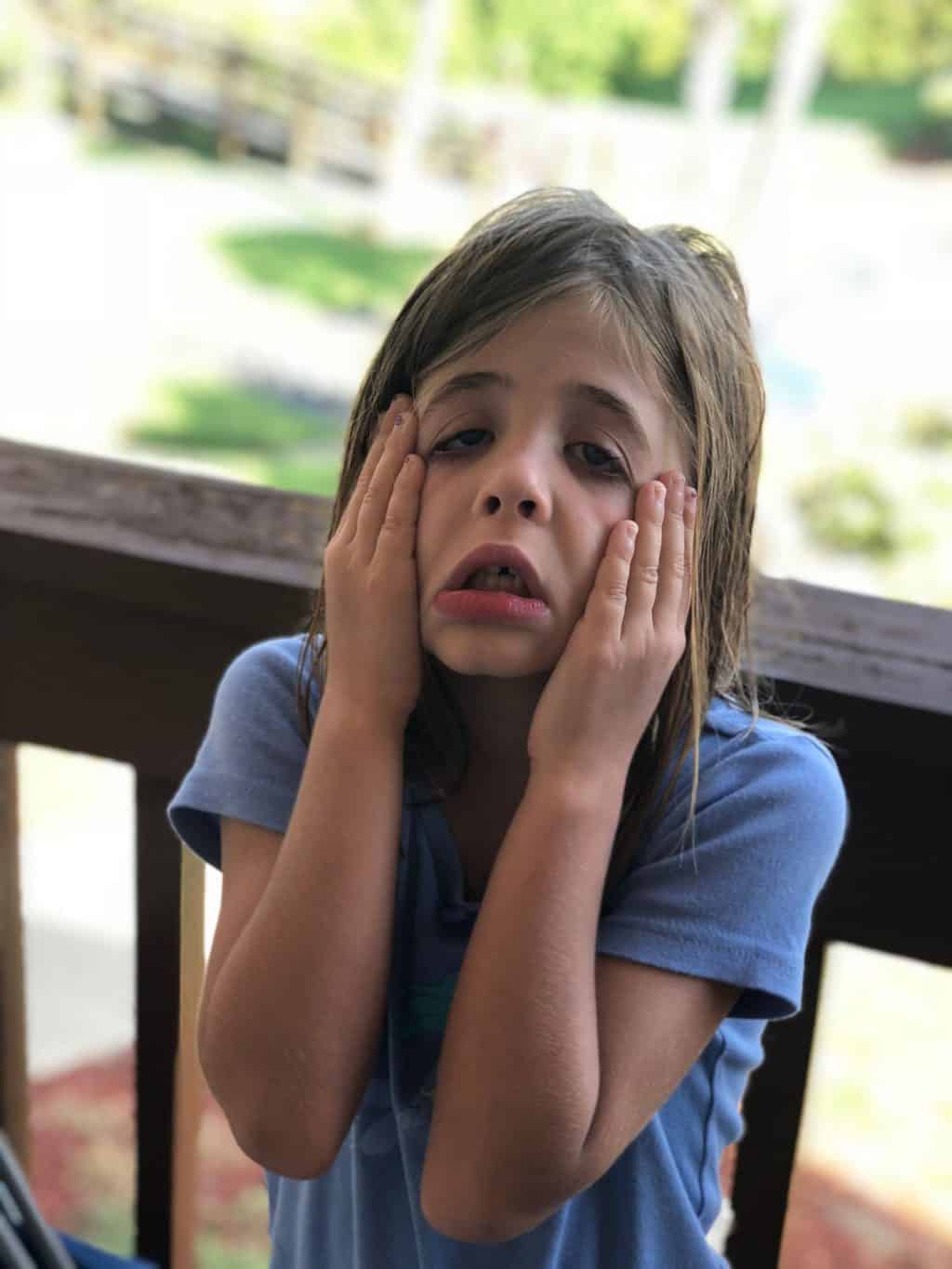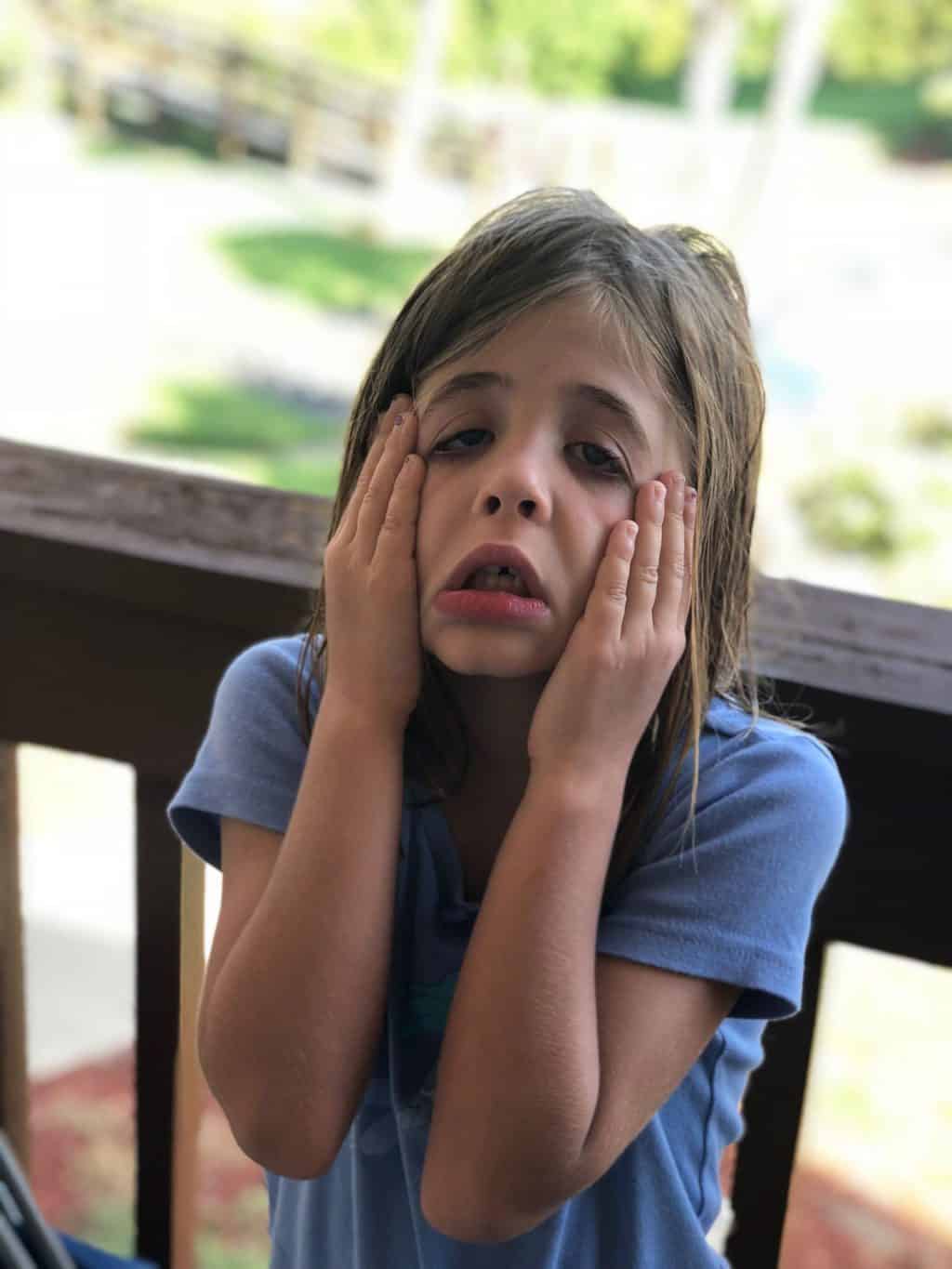 I love my girls!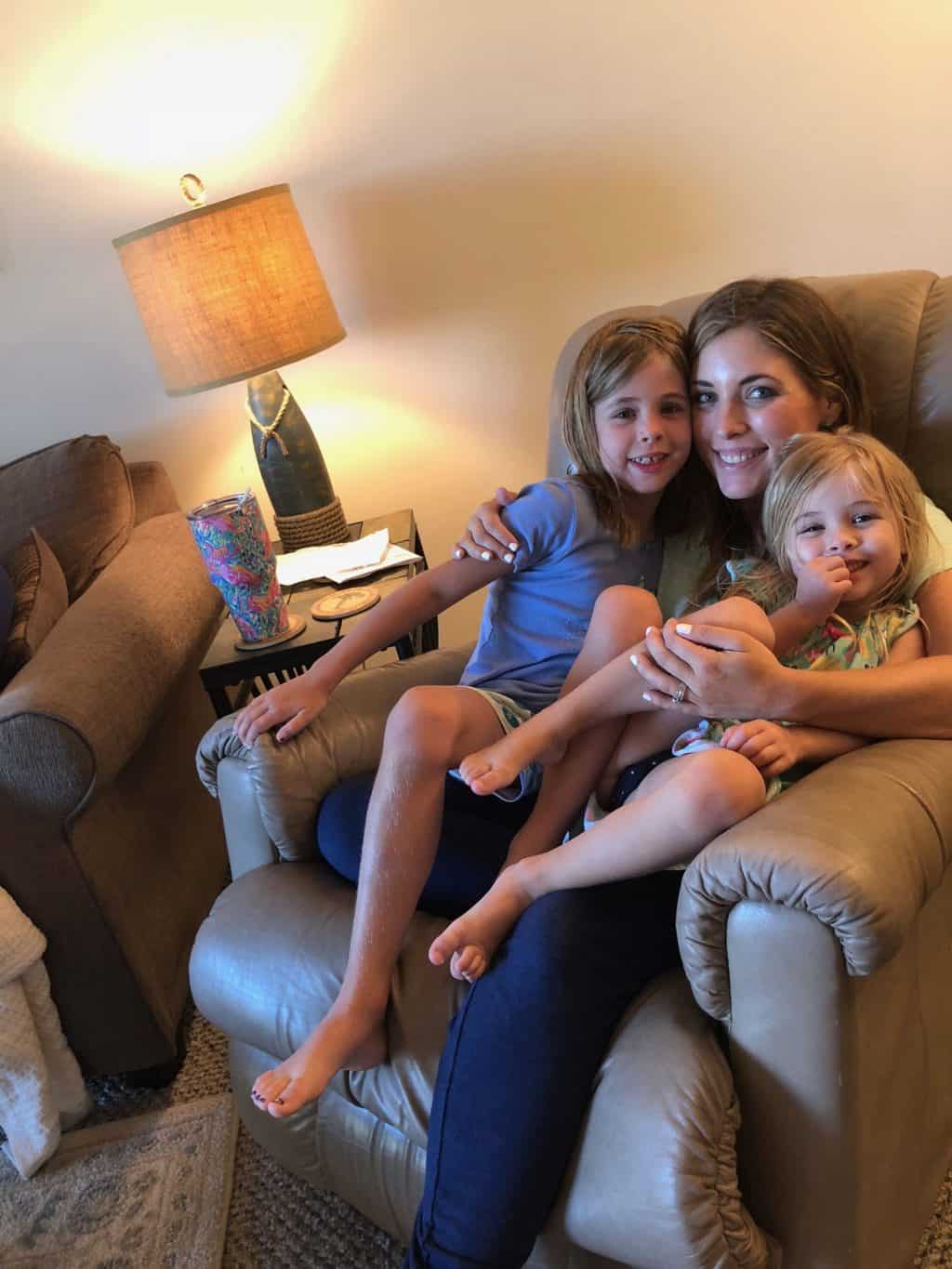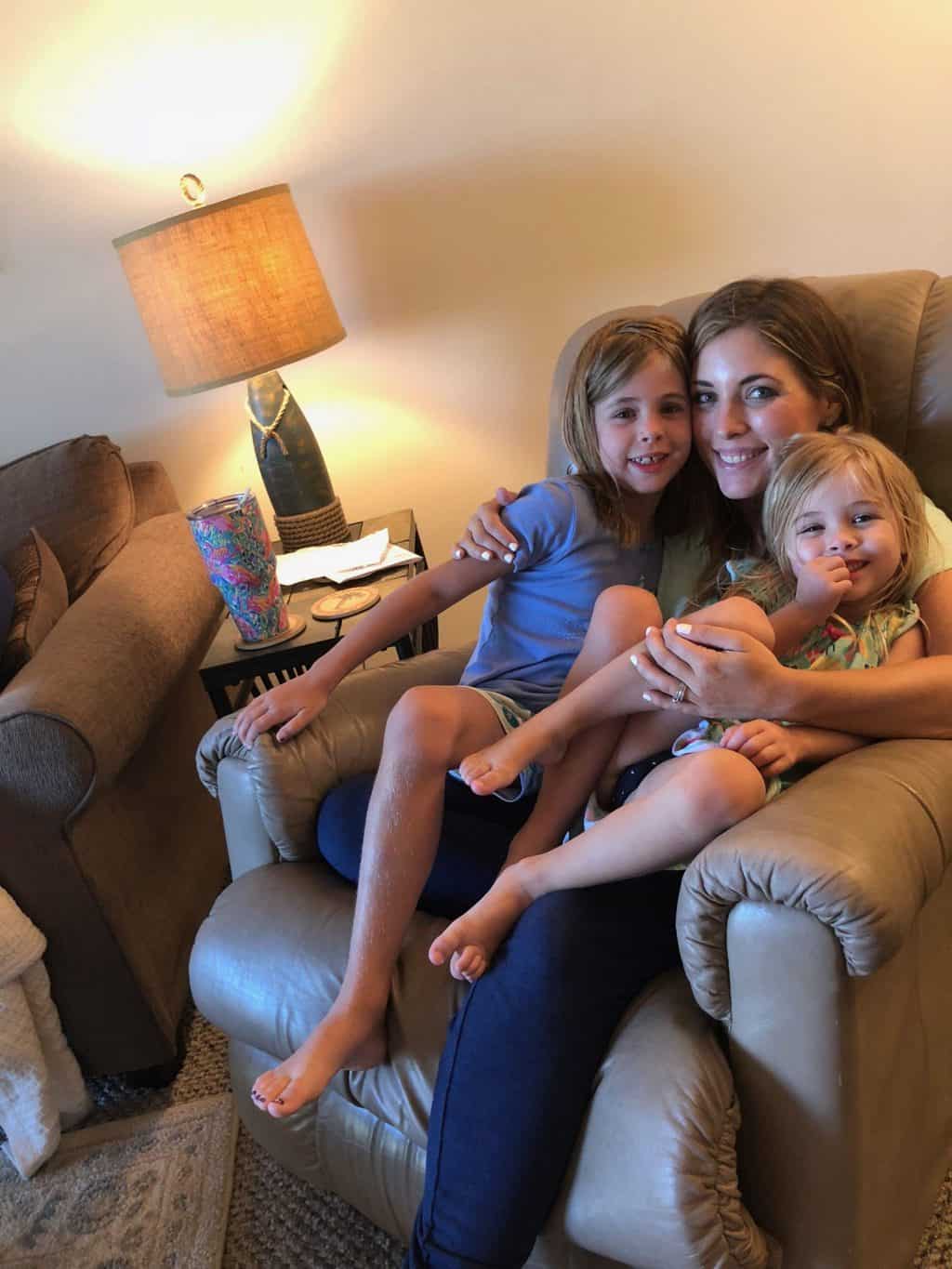 Grub time!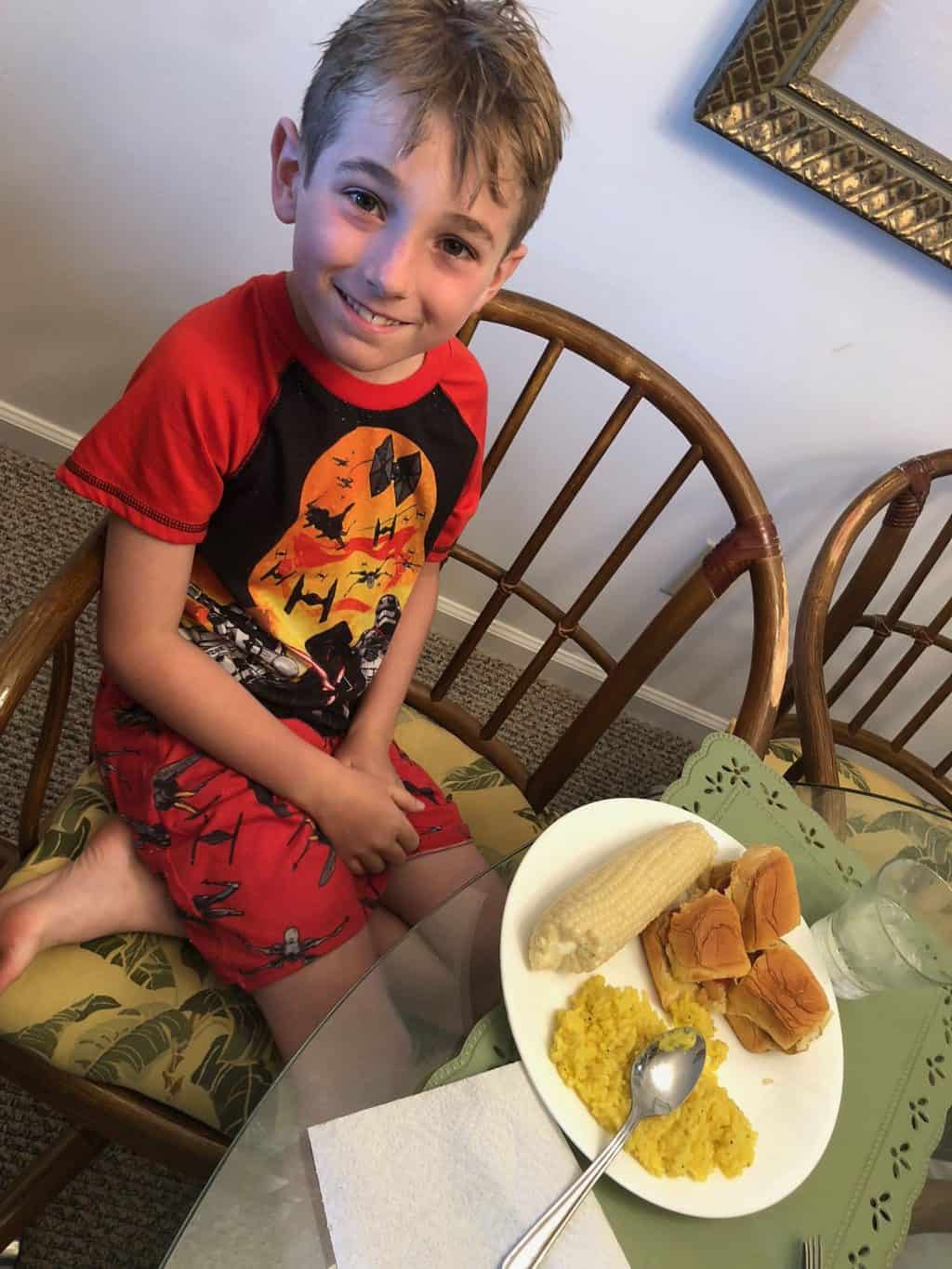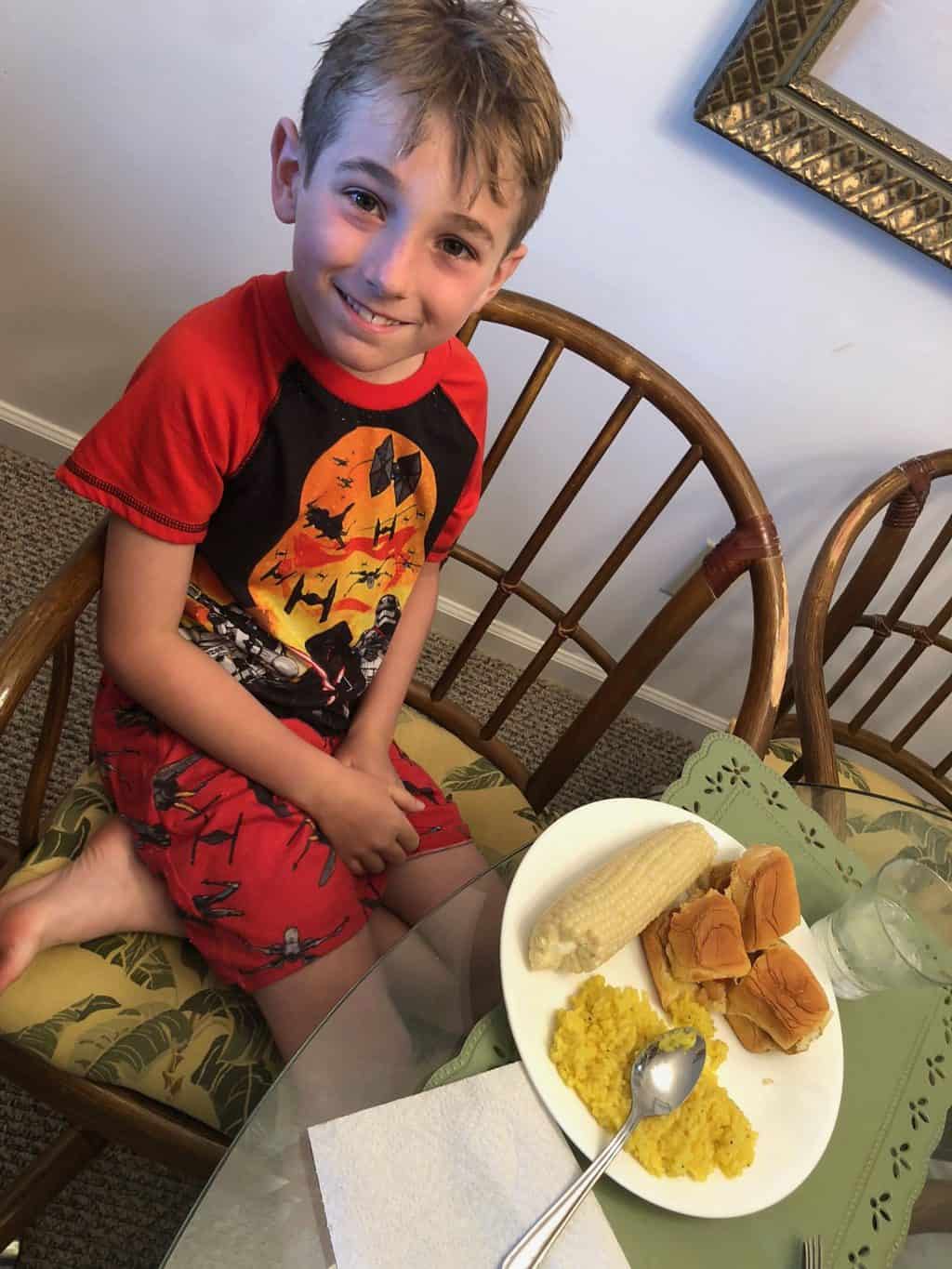 We had an awesome first day at the beach and have LOTS more to come!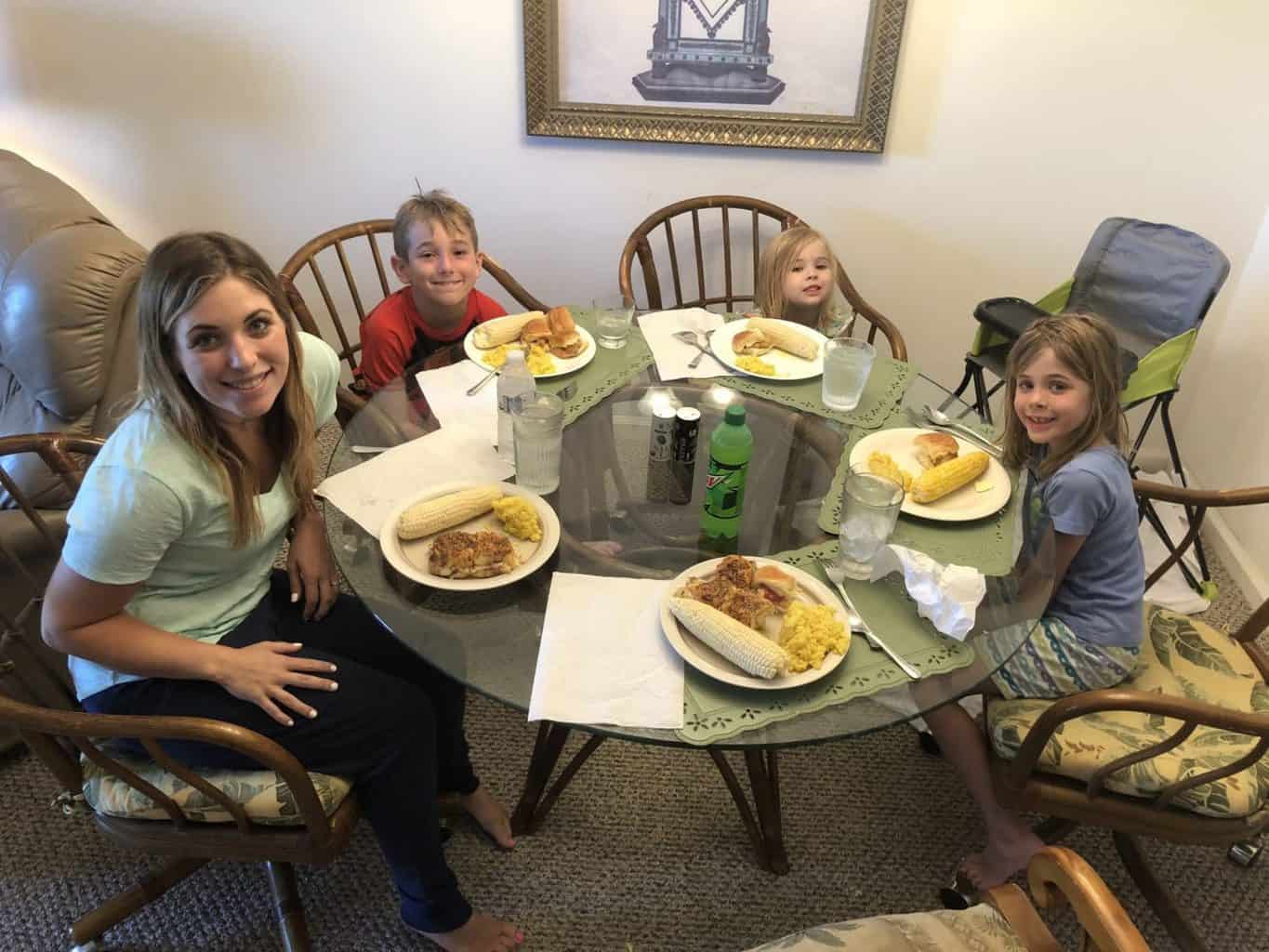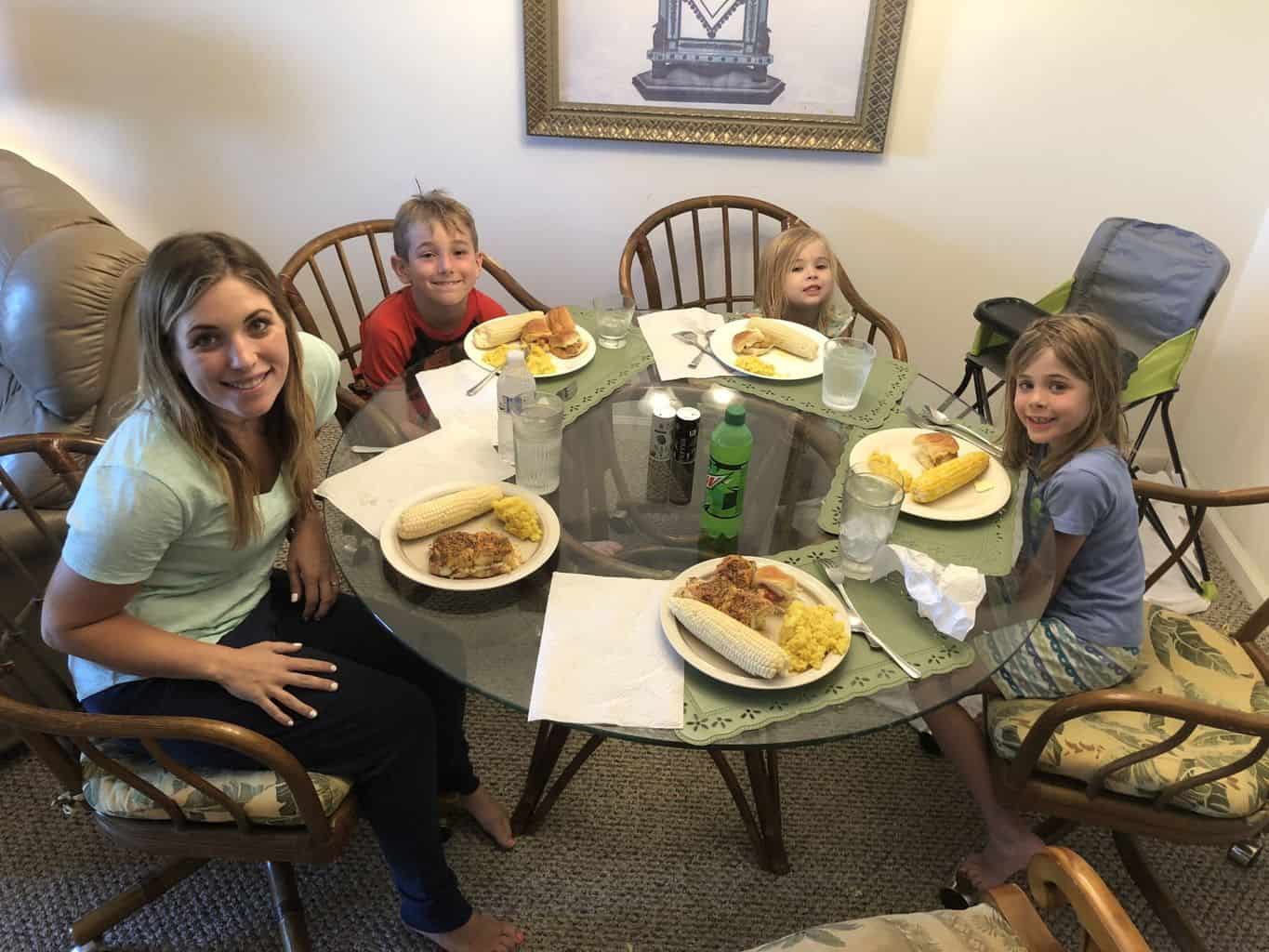 Shop All Our Favorites Listed in This Post: