Every year our family goes to St Augustine Florida for a week over the fourth of July.
It's a tradition that we started before we were even married and it's one of our favorite family vacations every summer!
This year was a new twist on our tradition as it was time to relocate.
The past several years we've stayed in a friend's dad's condo and the location was SO PERFECT but as our family grew, we just needed more space than a 2 bedroom condo could offer us.
So this year we found a place in the condos right next to where we stayed in the past – same great location but SO MUCH MORE ROOM.
As in this beast was three stories and we felt like we were in a palace haha!
Our drive down was quite eventful. We hit bad weather, bad traffic, and finally got off the exit and had a puking child!
I'm pretty sure Spear gets car sick (so does his mama right here!) which is a first for me as a parent as all of the others do just fine on long drives (and theme park rides ha!).
He seemed fine once we arrived and went straight for the stairs!
The condo had two bedrooms on the first floor, one with it's own bath and a separate bathroom.
The girls got to share a room for the week and were THRILLED. Kye got the room with his own bathroom and he was SO PUMPED. Especially about the big tv 😉
The main level was where the living room and kitchen were located and the third floor was the master bedroom.
Even with that much space we still had to have Spear sleep in a bathroom haha and he slept in the one on the main level!
Kye was adorable…getting settled was a bit stressful. Zach had ordered Walmart pickup for our groceries and we took so long to arrive that he was in a mad rush and I was struggling to get us all unpacked while preventing Spear from getting hurt.
Kye said we all needed to abide by the BEACH RULES printed on the wall – especially RELAX and CHILL 😉
Something I've really been working on is not feeling like I "have to" do SO much for my kids.
Like we were spending a WEEK AT THE BEACH. In the most expensive lodging we've ever stayed in.
THAT WAS ENOUGH.
So we didn't fill the week full of plans. We ate a lot at the condo and spent a ton of time at the beach!
And it was wonderful. SO CHILL and fun!
Zach and I both just loved the views from the condo. So many good spots to sit outside and soak in the gorgeous beach views!
Our routine on beach days was for Zach and Kye (and sometimes Britt) to go down to the beach and get set up and then came back and we all went down for a bit.
Then I'd come back for Spear's morning nap and go back out to meet them after he was up and we'd all come in for lunch.
Zach and I talked prior to the trip about how when it comes to Disney World I'm the COOL PARENT. It's my thing and we all know it so he is always the one to hang back at the house with Spear b/c I WANT to be the one taking the kids to the parks.
But the beach? That's his place to shine! It went really well having a game plan and expectations up front. He's the fun beach dad so I hung back with Spear at naps and he got to be hands on with the kids and make memories like I do with Disney 🙂
We brought one of our baby gates with us and set it up on both sets of stairs. I was also mindful to bring plenty of toys for Spear and it worked out SUPER well!
Tessie is more like her mama (shocker) when it comes to the beach and sometimes didn't want to go down during Spear's nap with the big two so I also brought coloring stuff and things for her which I'm glad I packed!
First morning and it was GORGEOUS!
My mission every beach trip is to get ONE good pic of my crew together.
These weren't bad for Day 1 but the light behind Kye was weird so they weren't my FAVORITES.
Tessie loves our matching cover-ups 🙂
I know I say this in every single beach post I write but this pool guys is a GAME CHANGER.
It was so perfect for Spear to be able to play safely away from the ocean waves AND for Tess to have a place to go.
She specifically asked multiple times leading up to the trip if we had the little pool and toys for her. She insisted that she "doesn't like the beach" (which spoiler alert…changed this trip! Yay!).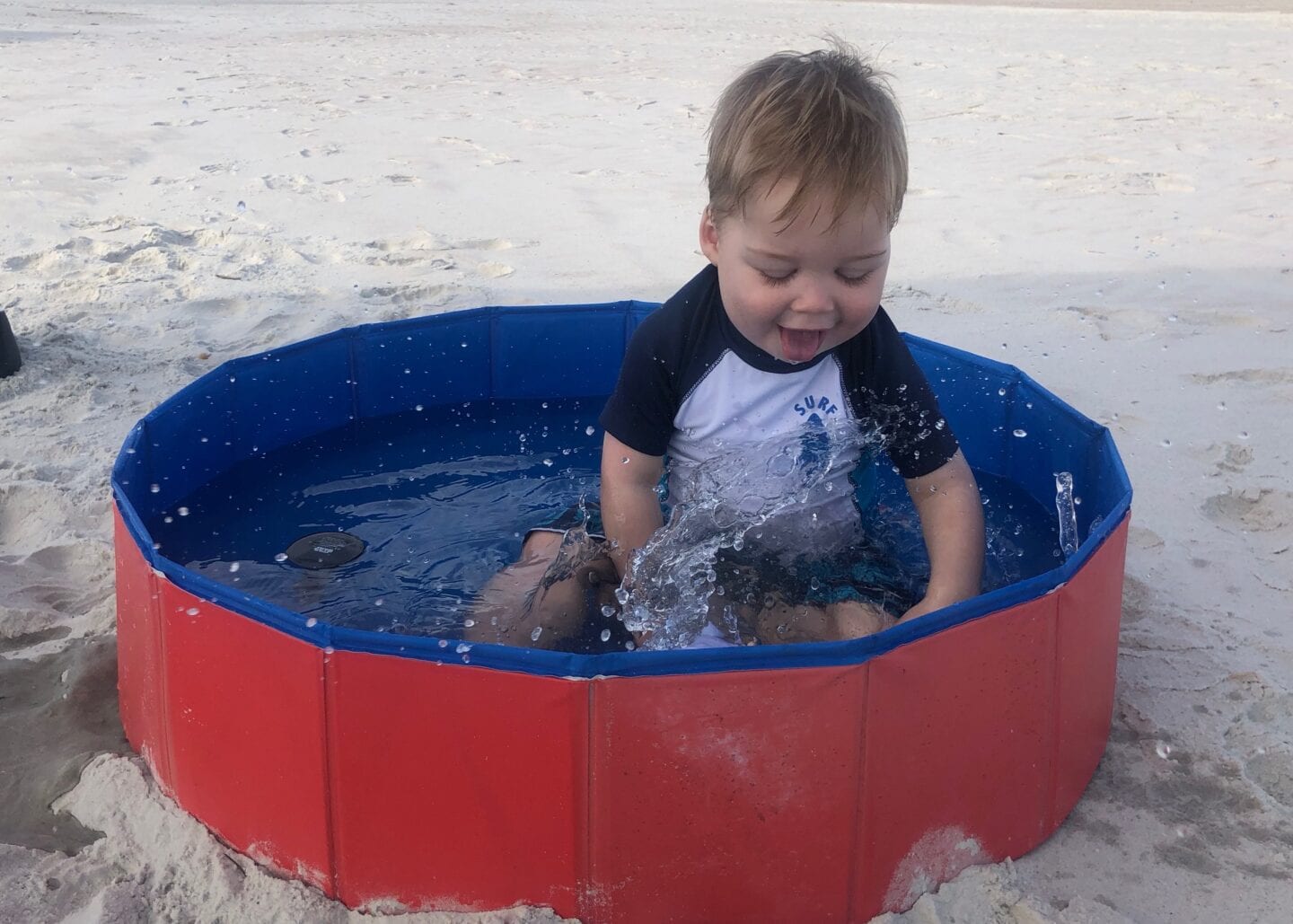 St Augustine isn't the best beach for seashells but that doesn't stop us from searching 🙂
Zach and Kye had an epic plan to make a putt-putt course on the beach and spent a lot of time putting that together!
The putt-putt course turned out super awesome and everyone loved playing.
Zach is so great about making sure he gives each child attention.
Four kids at the beach is no joke and we def had to have eyes everywhere all at once!
Spear took a bit to warm up with the beach and sand and ocean but loved it once he got going.
We all came up for lunch and naps/rest time.
I went in to get Spear up from nap and thought he'd peed through his diaper because his friend was SOAKED.
Then I realized my smarty pants toddler figured out to put the friend In the toilet for a swim! SO FUNNY!
The first evening we had BIG PLANS so I needed to get ready and get all the kids ready.
We fed them an early dinner and kept them distracted while we got everything ready for our FAMILY PICS!
I was so pumped to have them on the beach and am so thankful to Lindsay for coming to do them for us.
They turned out A-MAZING!
Special thanks to Katie and Willis too for being a HUGE help in making it all possible!
After the pics we let the kids have a special treat (finally got the Mickey Bars!) and Katie stayed to hang and watch Big Brother.
Day 2 was our first FULL beach day of the week!
I love that we did pics in the beginning of the trip because I didn't have to worry about injuries or sunburn happening and messing up the photos 😉
And it was the only real thing ON the agenda for the week so it was nice to have it checked off and then we really could just fully relax with nothing else to do!
One of my big goals this week was to just ENJOY.
Enjoy the little moments.
Spend quality time.
Make memories.
So when the girls wanted flowers in our hair – we stopped and put them in our hair.
We tried a day 2 beach pic…hey so far we're two for two on the kids all at least looking at the camera 😉
Tess decided she wanted to try out boogie boarding which was really exciting!
Boogie boarding morning and the change Tess needed in order for her to start liking the beach! Girl loves some boogie boarding now just like Kye and Britt!
Spear also warmed up a good bit to the beach vibe which I kinda regretted because he was ON THE GO non-stop the rest of the week.
I burned a lot of calories chasing him down the beach and stopping him from getting into random strangers stuff haha!
I took Spear up for morning nap and Tess came with me to have some chill time for a bit.
I loved our walk back together.
There is a great boardwalk at the condos with a pond and TONS of wild life. Tess loves finding the turtles and fish and showing Spear 🙂
After nap we headed back down and got to check out another epic putt putt course the guys put together that morning.
Spear instantly was drawn to the putter and the rest of the trip it was a struggle to be able to putt-putt as he kept running off with it. Mental note to pack an extra one next summer!
Along with my goal of spending quality time in the moment with my kids I also had the goal to get into the water.
I know, dumb goal haha
But truly I don't love the ocean water (gimme a pool and I'm down) and I am not into the ocean water type activities.
But this time?
I body surfed with Britt and boogie boarded with Kye!
My favorite moment of the week was sitting out in the water with Kye and having him teach me all about boogie boarding. It was just precious the way he was "coaching me up" just Like Zach did for him.
I am totally team beach nap.
Actually I'm kinda just team nap in general. I love a good nap!
I napped it UP this trip and it was so great waking up to the beautiful views of the ocean 🙂
For our day 2 we decided to do a super early dinner (Brinner for the WIN!) and go BACK to the beach!
Spear loved all the pots and pans and I was down for whatever kept him occupied 😉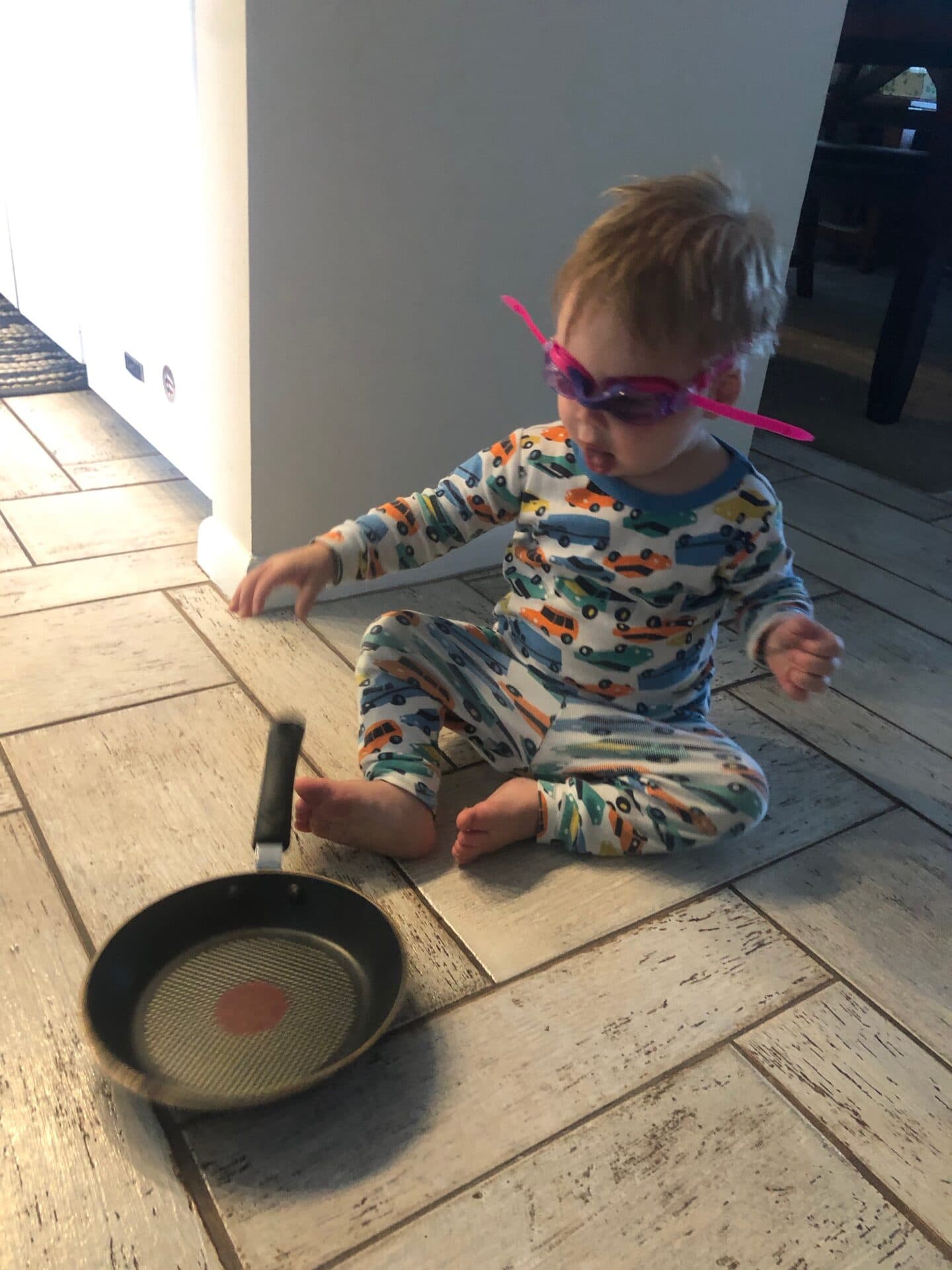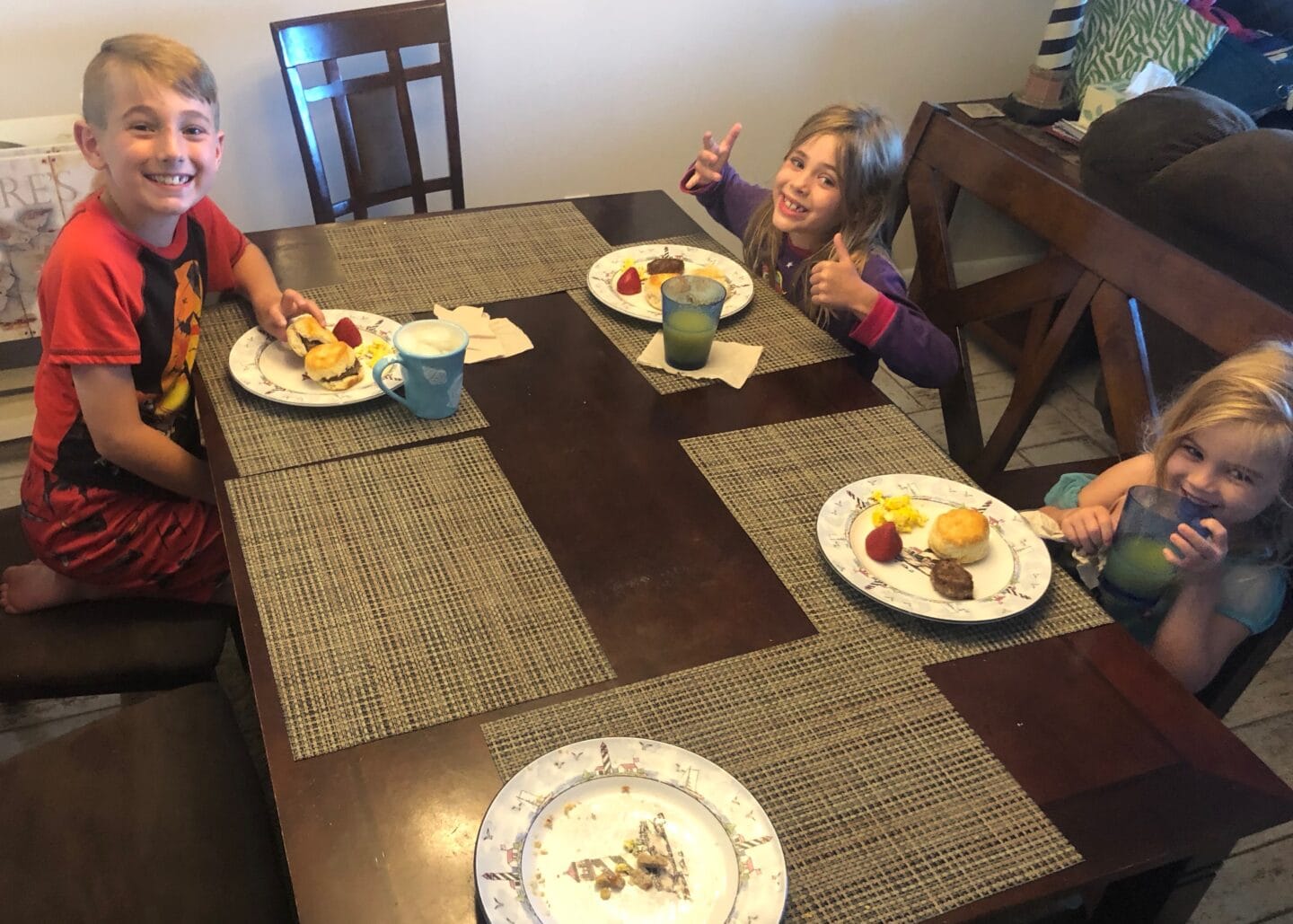 Beach night! Tessie is a little BEACH GIRL now 🙂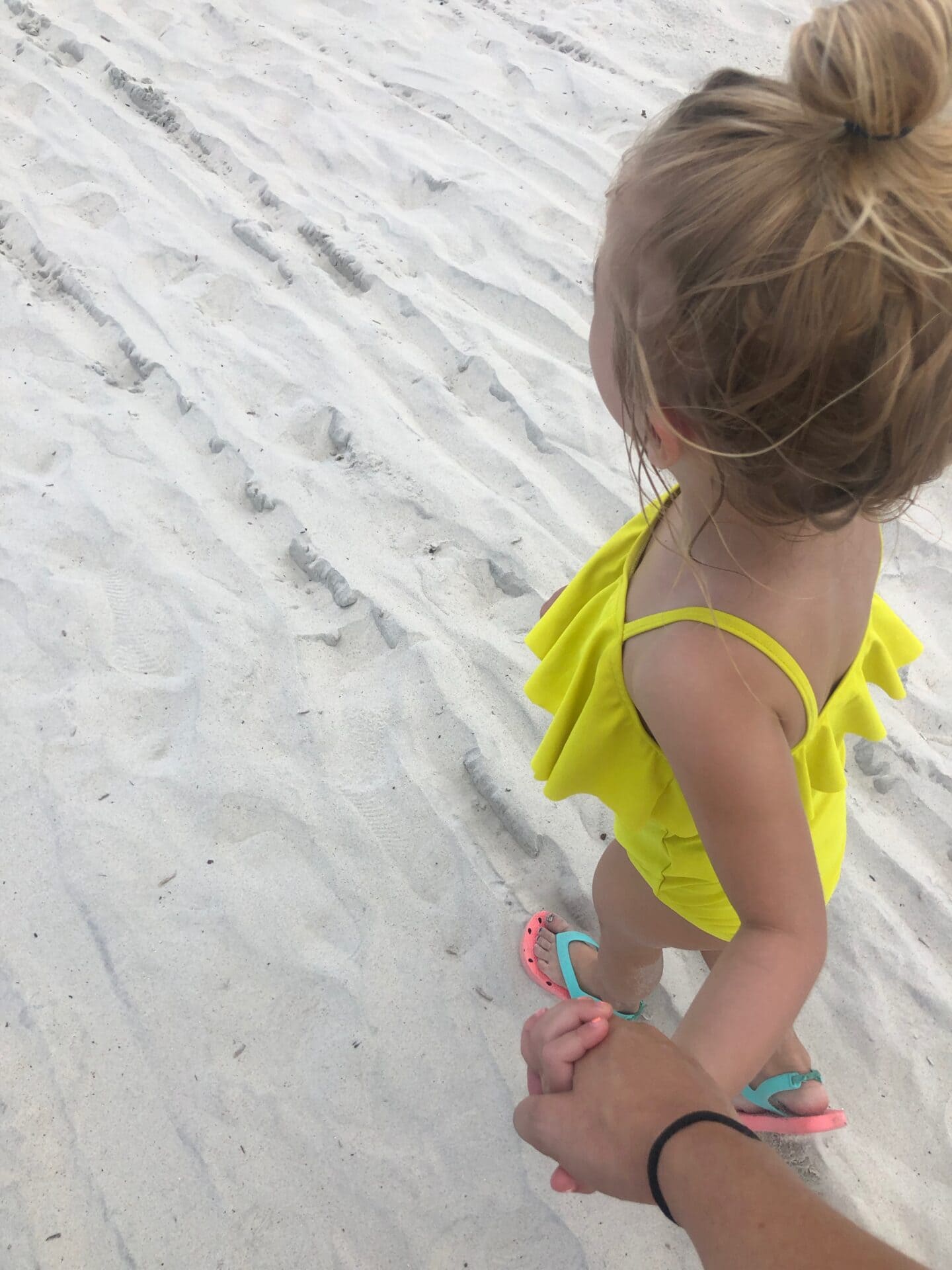 Britt was VERY interested in hanging with friends she made at the beach and that was OKAY.
I didn't want to put any pressure on the kids to HAVE to spend a quality time moment with me.
I embraced them as they came and I know that Britt is my one that loves being social and making connections outside of our family unit. She loved it and had a BLAST and that's great!
I had my playtime with Tessie and she loved helping me "fight the waves"
I also enjoyed just watching the kids have SO MUCH FUN boogie boarding!
Tess def hit big kid status on this trip with the big two doing their thing!
Zach gets so annoyed at my insisting on packing this beach toy every trip but I love looking back at pics of Kye playing with it as a toddler and really wanted Spear to have the same opportunity #worthit
The putter was the favorite beach toy though for this kid 😉
With running down the beach, meeting strangers, stealing stuff from people's tents and changing birds a close second!
I think my favorite moments at the beach were the evening ones as it was just more chill and so pretty!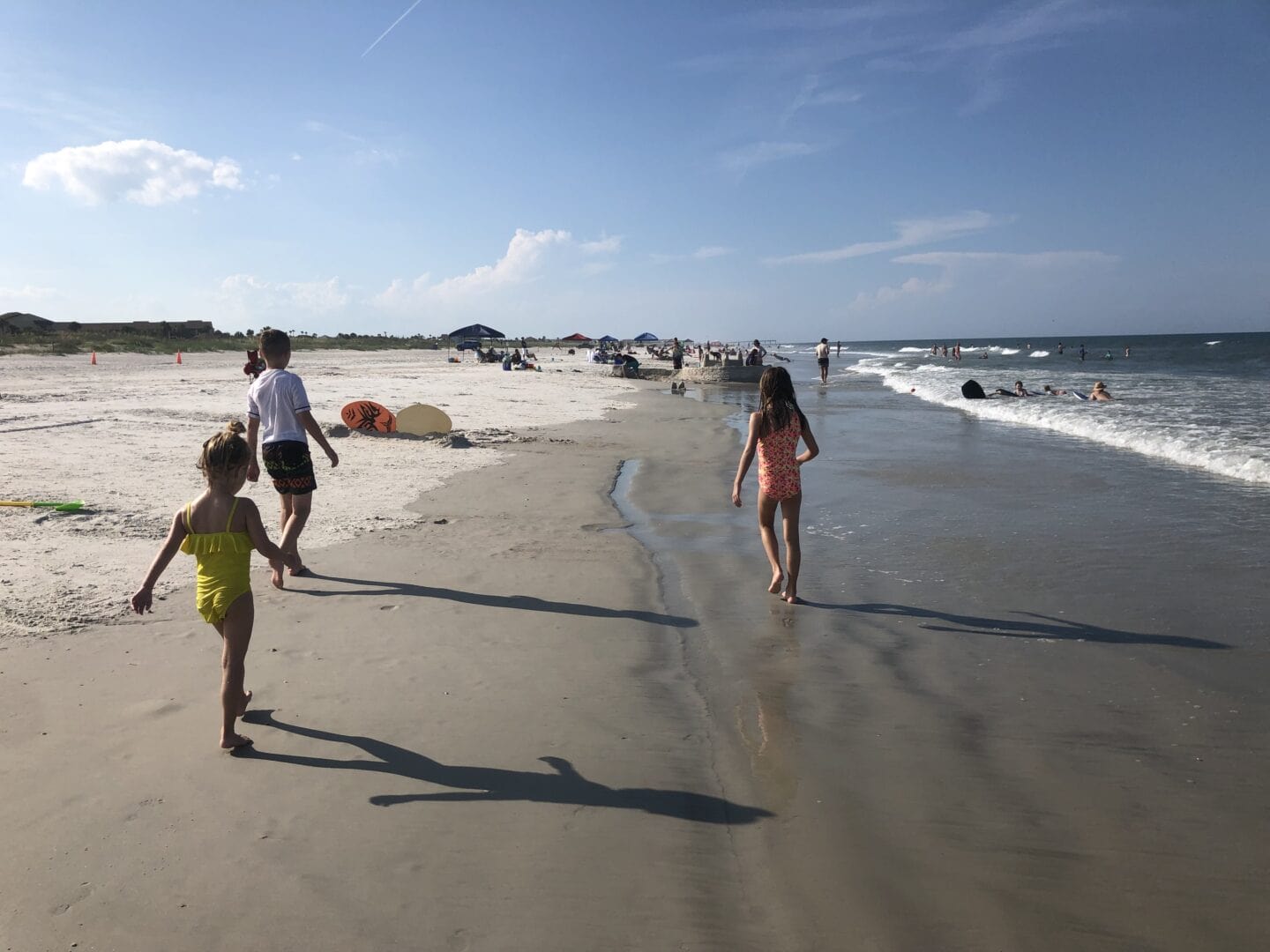 Since we had an early breakfast we packed a little snack to eat on the beach!
I soaked up ALL the sleepy snack snuggles 🙂
We headed back to the condo as a team effort and got ready for bed to start day 3!
Zach and I waited to eat our dinner until we had the kids down for bed and watched The Bachelorette while we chowder down on our brinner 🙂
This trip is always so bonding for us! And we still are only 1/3 of the way in 😉