Considering a visit to LEGOLAND Florida? Here are all of the best tips for visiting LEGOLAND Florida, from what to pack, what to wear, where to stay, and more!
LEGOLAND Florida is located in Winter Haven, Florida. As theme park people we tend to lump a lot of areas in central Florida together and call them "Orlando theme parks" when they are not, in fact, located in Orlando.
LEGOLAND is about a 30-45 minute drive from Walt Disney World and 45-an hour drive from Universal Orlando Resort. It is about an hour from Orlando International Airport.
If you're planning to visit LEGOLAND along with other theme parks in the Orlando area during your vacation I would be mindful to plan for those travel times.
For our trip we planned a "down day" where we were visiting any Florida theme parks and used that day to travel to LEGOLAND and for checking into our room at LEGOLAND Pirate Island Hotel. We then drove back to the Disney World area following our day at the LEGOLAND theme park.
I do think if you're staying in the Disney World or Universal Studios area and want to make LEGOLAND a one-day experience that it's very doable! Especially depending on the current operating schedule. And these tips for visiting LEGOLAND Florida will help you make the most of your visit!
And if you're looking for where to stay in the Orlando area? Be sure to check out our family vacation home located just 3 miles from Disney World and 20 minutes from Universal and Sea World our home is 6 bedrooms and has a private pool in a gated community. Plus we offer a GREAT deal to blog readers. Learn more and check availability here!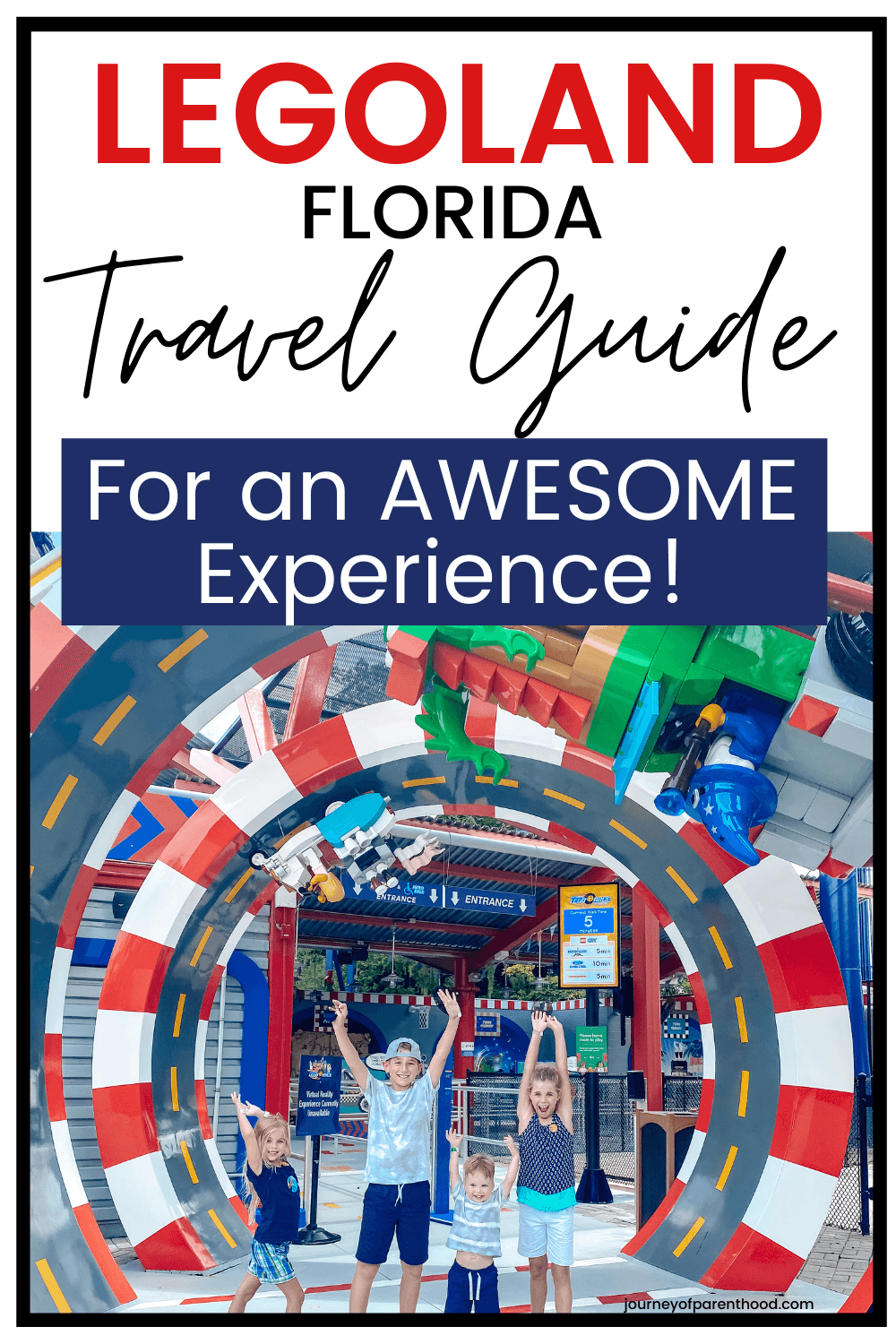 Disclaimer: This post was originally published in October of 2020 and has been updated for accuracy and comprehensiveness. Post contains affiliate links
Best Ages for LEGOLAND Florida
A common theme I've heard about LEGOLAND in the past is that it's geared toward the younger crowd. The typical recommended ages for the park are ages 2-12.
For our first visit my kids were ages: 11, 8, 5 and 2. They ALL loved it and I truly believe the 11 year old will still enjoy visiting even when he's over age 12.
Update: we visited LEGOLAND Florida again when my kids were ages 13, 10, 8 and 4 and, sure enough, they will still absolutely LOVED it!
There are lots of attractions that appeal to all ages and even adults enjoy and appreciate LEGOS and the park has countless well-done LEGO creations on display as well as SO many hands-on experiences and opportunities.
I was very impressed with the number of attractions our two year old was able to experience and enjoy. There were even attractions that all four of our kids could ride together without adults riding which was SUCH a special experience to watch them together from the sidelines!
The Duplo Fun Town area and Duplo Valley was especially a HUGE hit with our toddler and I loved that the theme park put energy into making this area well-themed and truly geared towards the younger ages.
So often at theme parks toddlers seem forgotten and the most you'll find is a random slide somewhere! This was a true experience for our two year old and out of all the things we did that week he talked about riding the Choo Choo with his grandmother the most 🙂
If you have younger kids I would highly recommend LEGOLAND over Universal Orlando. For our family with our kids ages LEGOLAND was more of a FAMILY experience and there were more things we could ALL enjoy than Universal was!
We have two sons and two daughters and all four of our kids loved LEGOLAND. Our five year old daughter said it was her favorite trip ever (she loved it so much that we did a return visit for her 8th birthday!) 🙂 So with that said, here is our first time at Legoland Florida review!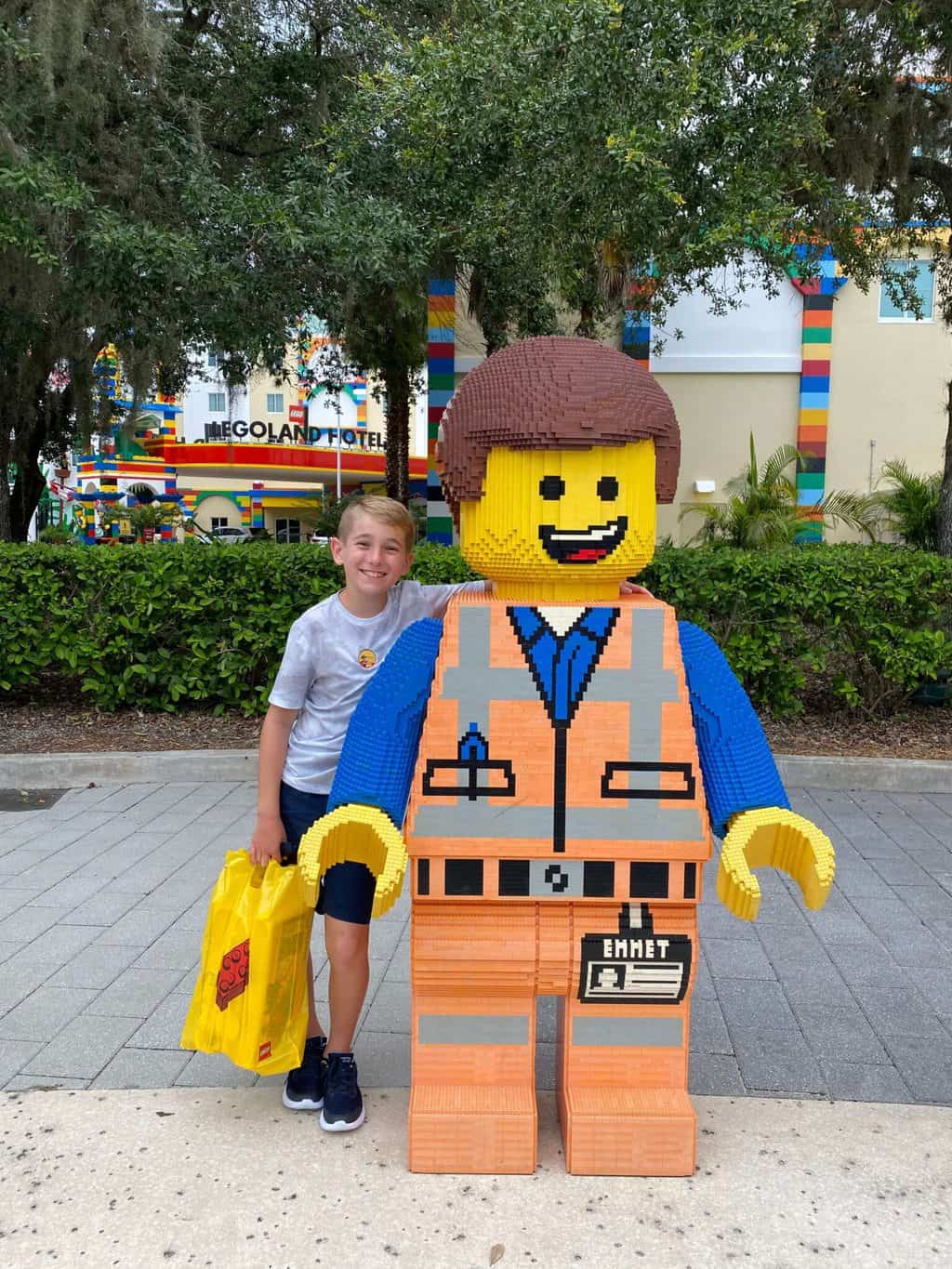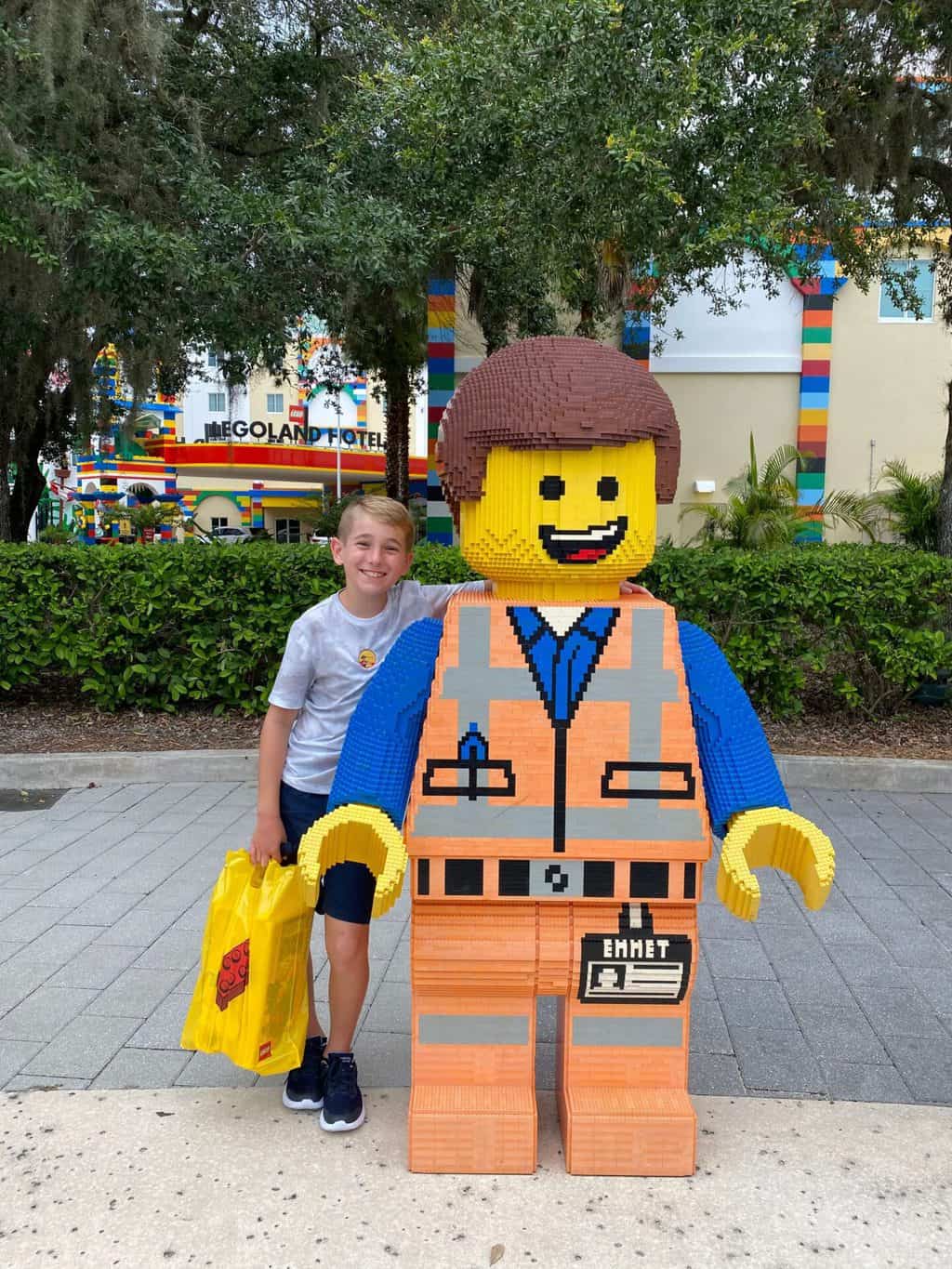 Accommodations at LEGOLAND Florida
We stayed at LEGOLAND Pirate Island Hotel during our visit to LEGOLAND Florida and were BLOWN AWAY impressed with the accommodations and entire experience.
If you're considering a trip to LEGOLAND Florida theme park then I cannot stress it enough – STAY ON PROPERTY.
The Pirate Island Hotel is THE coolest hotel we've ever stayed in as a family. We. Love. It. It's extremely detailed and themed and has SO much to offer for families.
The rooms have a bunk bed area (with three beds!) that is completely separated from the bathroom and adult bedroom. It also has an Alexa and a REAL treasure hunt in each room – including a prize at the end of the hunt.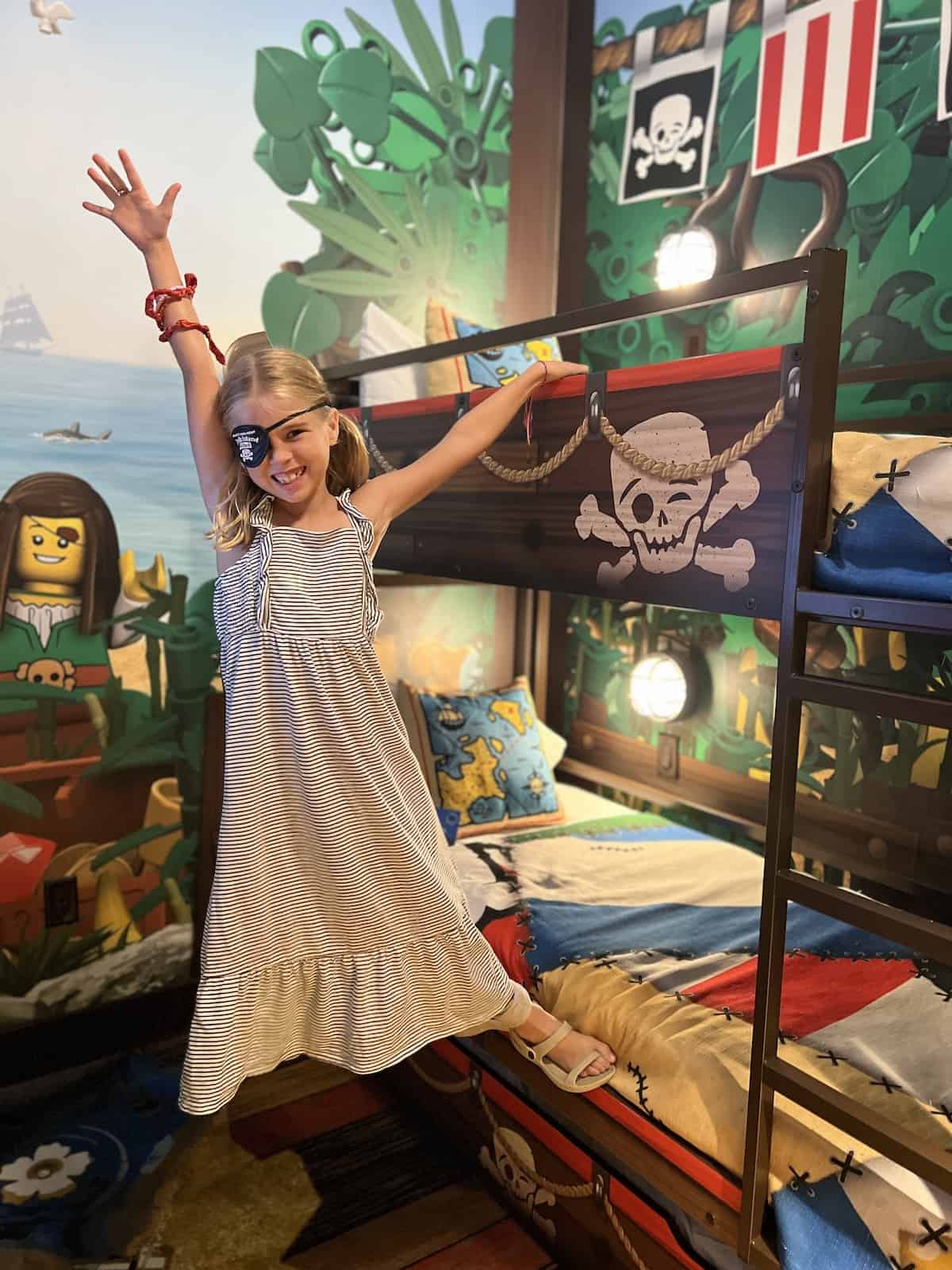 Every room also features building stations with plenty of LEGO bricks for kids to stay busy for hours. My kids had a LEGO Masters Build Challenge and had a blast making creations which allowed my husband and I plenty of downtime to relax.
The lobby includes a playground, building stations, play areas, and many activities. There is a guide to the times for all the activities including LEGO Bingo, PJ Dance Party, and more.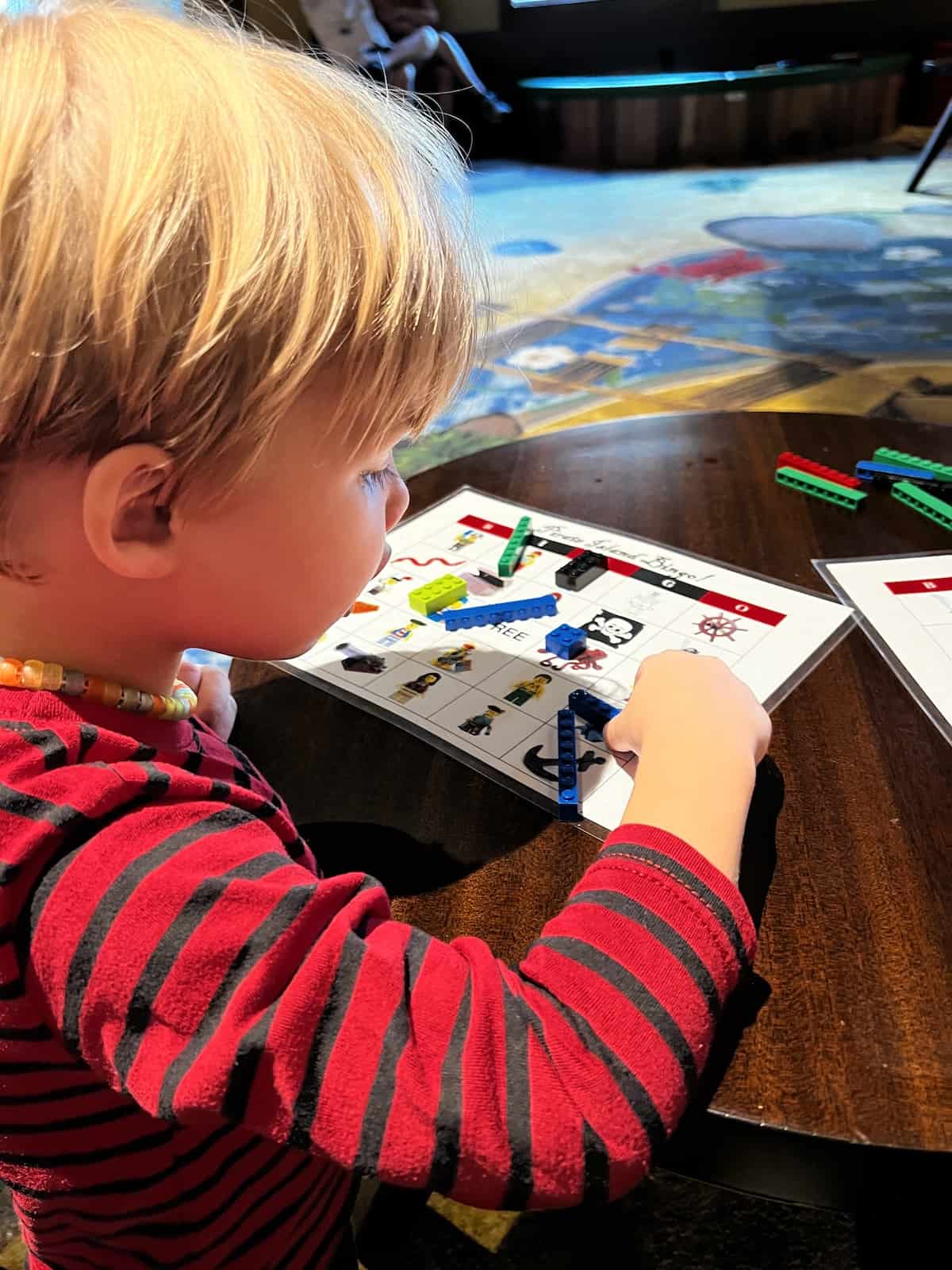 Tip: Be sure to register in advance for the Creative Workshop! It's a free LEGO Build Class where you also get to take the creation home with you – totally free but requires advanced reservations and it fills up FAST!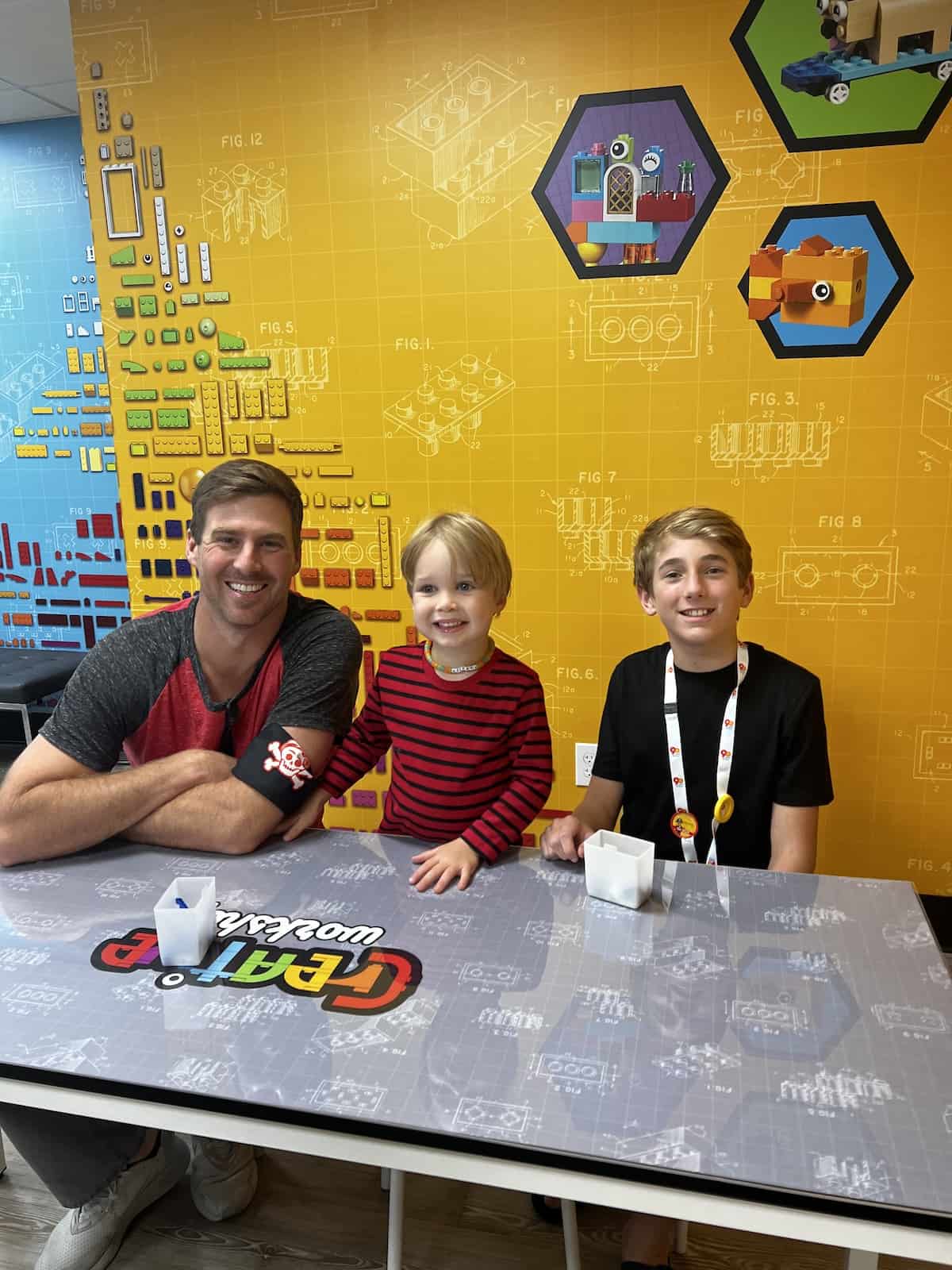 You can read my post with all the details about Pirate Island Hotel and tips for visiting a LEGOLAND Florida hotel here.
Along with the Pirate Island Hotel, LEGOLAND Florida Resort also has two other on-property hotel options: LEGOLAND Hotel and LEGOLAND Beach Retreat. You can learn about all the accommodation options and price your vacation here!
Seriously I cannot stress enough how amazingly awesome this hotel stay is! The hotel room and all the details make it SUCH a memorable experience!!!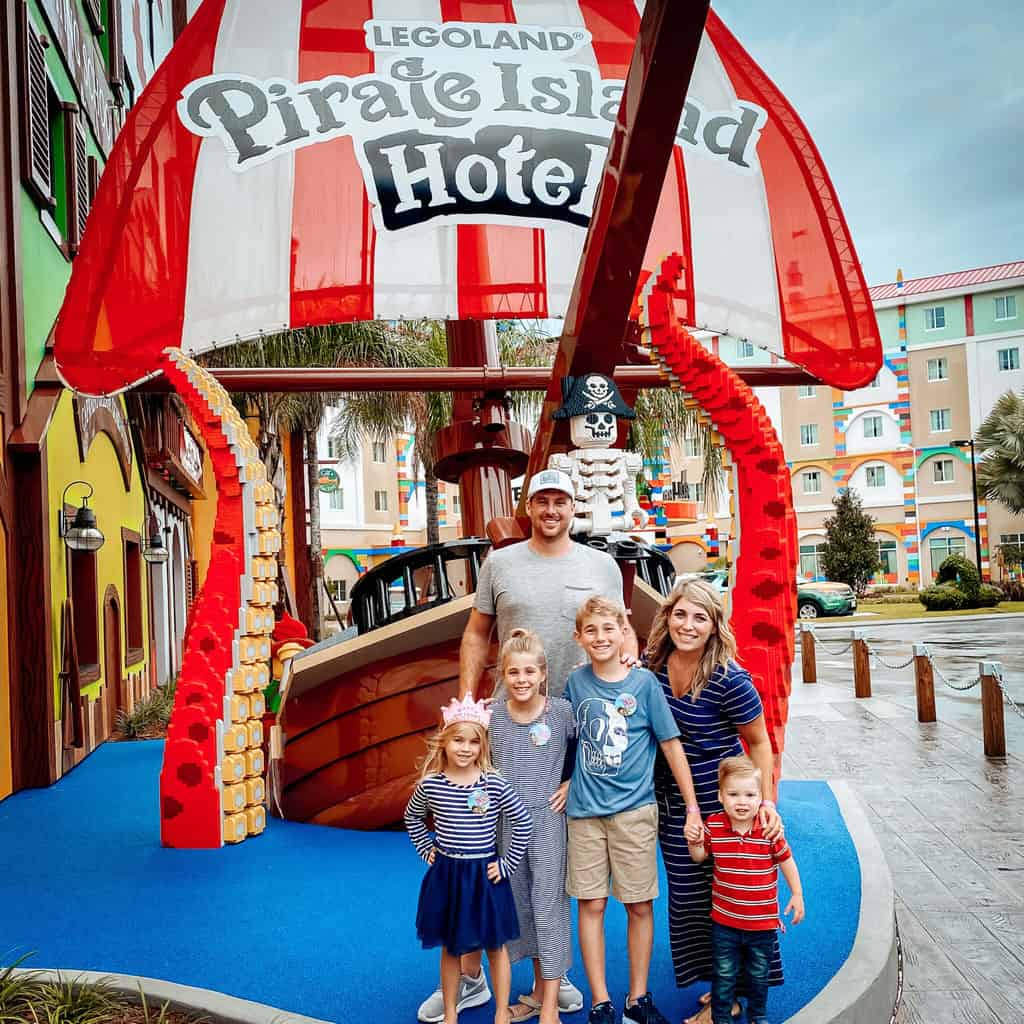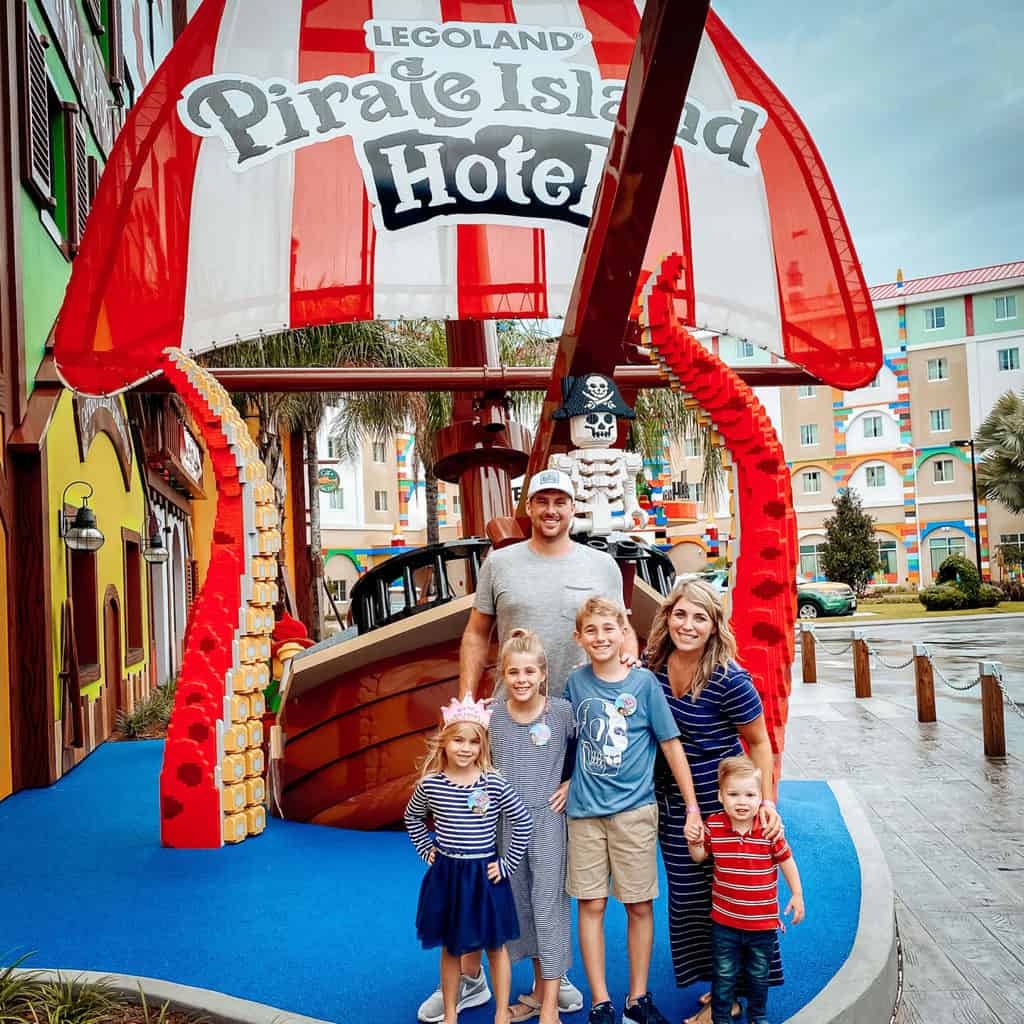 Dining at LEGOLAND Florida
The food at LEGOLAND Pirate Island Hotel is straight-up phenomenal. We frequent theme park dining and agreed that it was THE BEST dinner we've had anywhere! Probably are all time favorite family meal. Truly. SO GOOD.
We had dinner and breakfast at Shipwreck Restaurant and loved BOTH meals. Currently, they are only taking reservations for guests staying on property at LEGOLAND Orlando Resort, but if they begin to take outside reservations I cannot recommend it enough!
The meals are served family style and all you care to enjoy. Be sure to try the desserts too – delicious! They even hand out adorable pirate bandanas and eye patches to wear during your meal!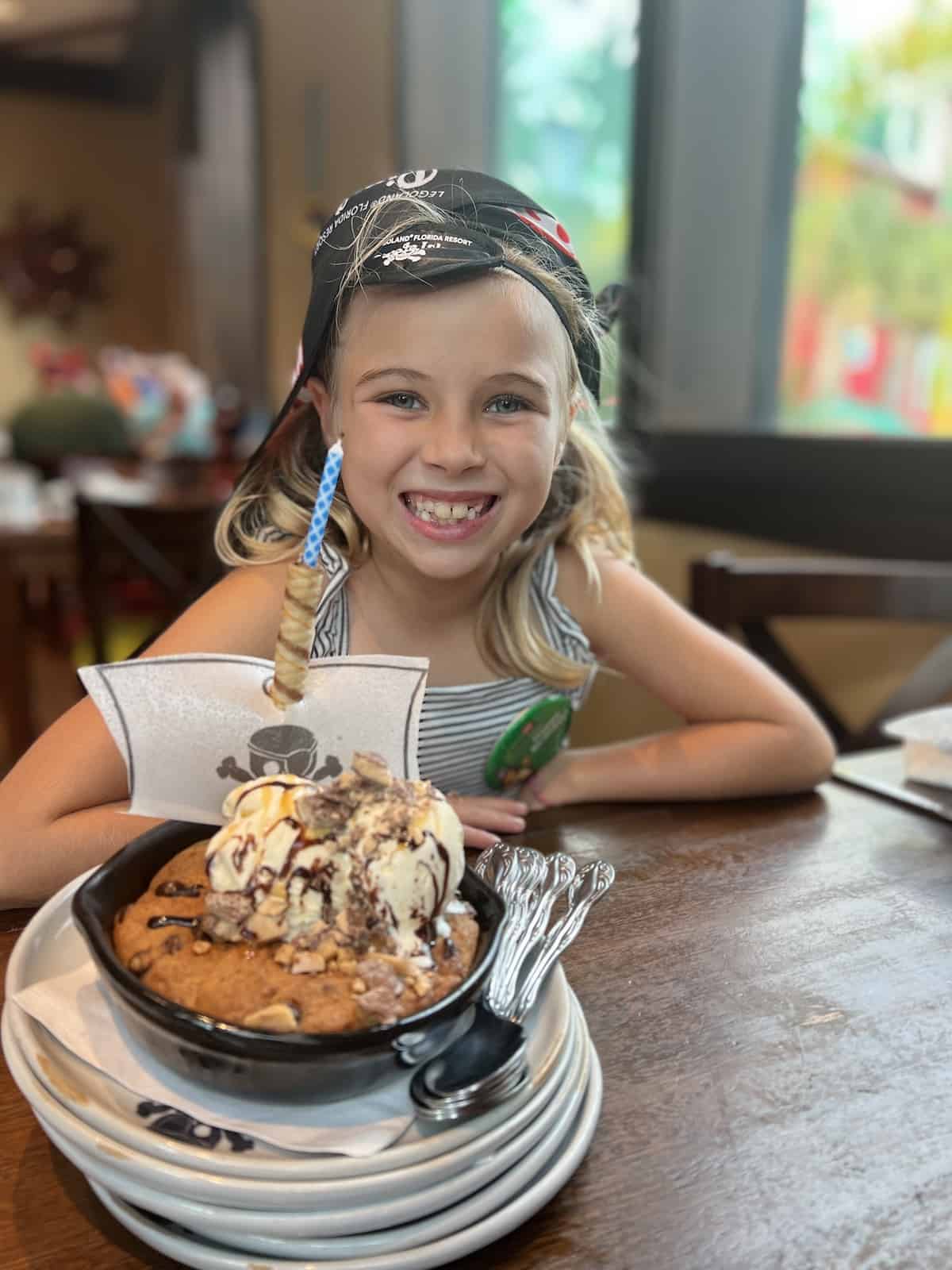 If you're staying at the resort and don't have a reservation for dining – you're in luck! You can arrive to any of the dining locations prior to their opening and shouldn't have a problem getting seated.
We were able to rearrange our reservation without any issue and met several other families who were waiting to do a walk-up and they also didn't have a hard time getting seated.
We filled up on breakfast to avoid spending a lot on actual food inside the LEGOLAND parks. We brought snacks and did buy the refillable cups (a GREAT bargain…there are refill stations throughout the park and ICEE is included as a free refill option!).
Outside food IS allowed at LEGOLAND so on our return visit we packed lunches and brought them in with us to the theme park.
Our first visit to the park had modified operating hours so we chose to eat at a Ruby Tuesday's located right outside the parking lot of the theme park for dinner as they had a kids night.
There are a plethora of dining options on the main road where LEGOLAND is located so it's worth exploring to help cut costs during your stay!
I have heard so many amazing things about the famous apple fries at LEGOLAND and was eager to try them! When we had our return visit we brought our packed lunches into the Granny's Apple Fries dining area. We enjoyed our lunches and then bought two of the apple fry ice cream sundaes for dessert to share!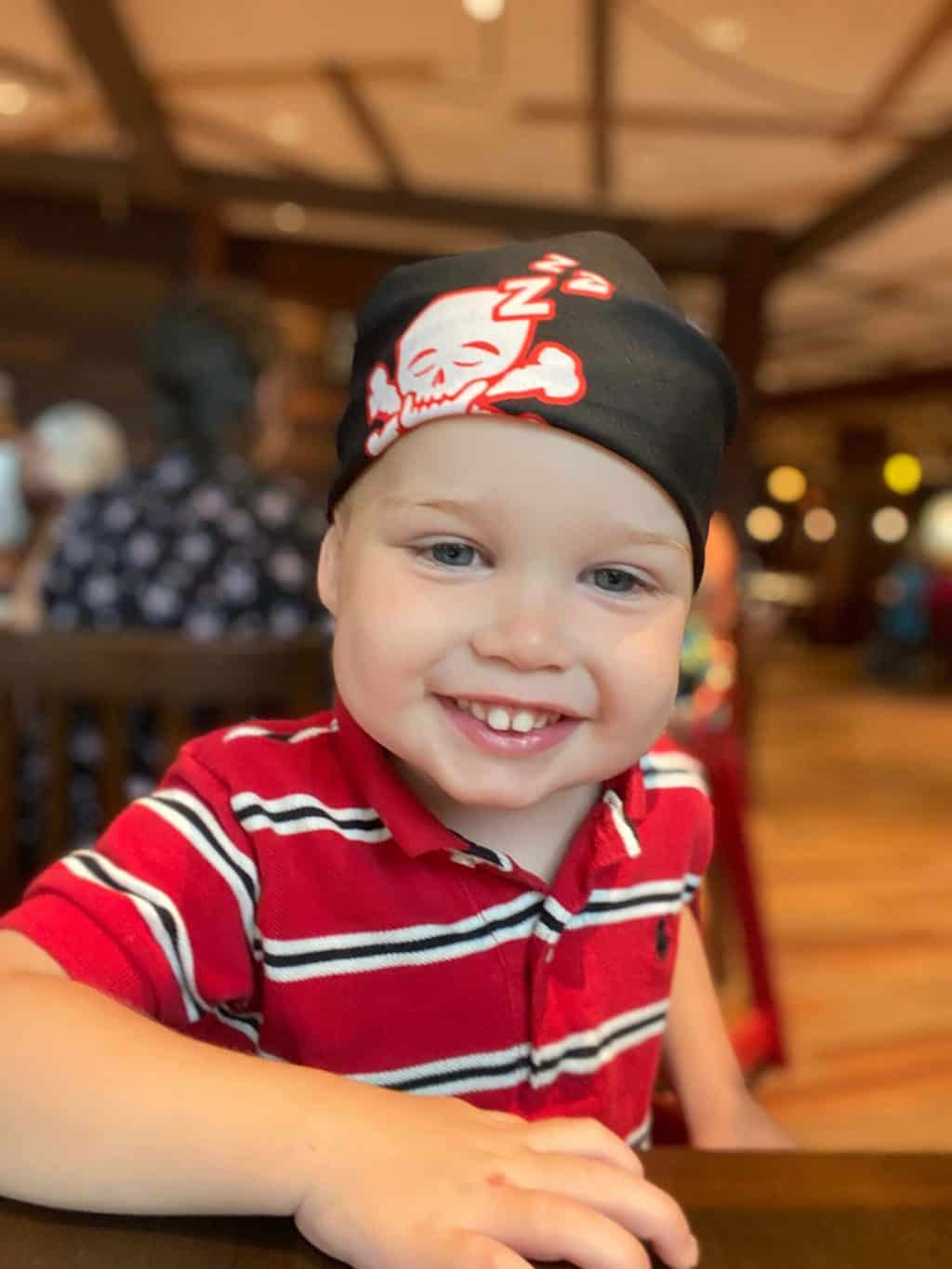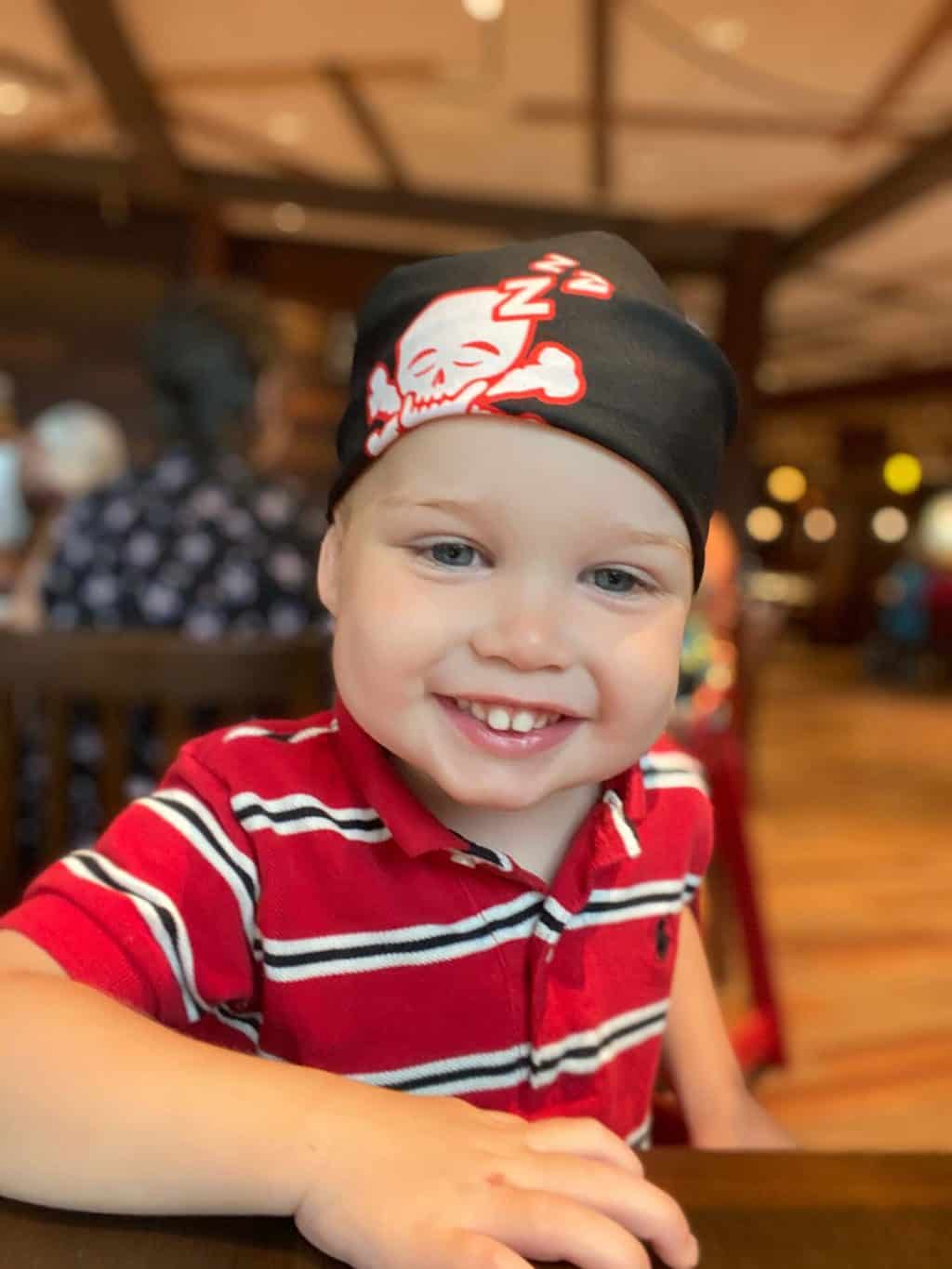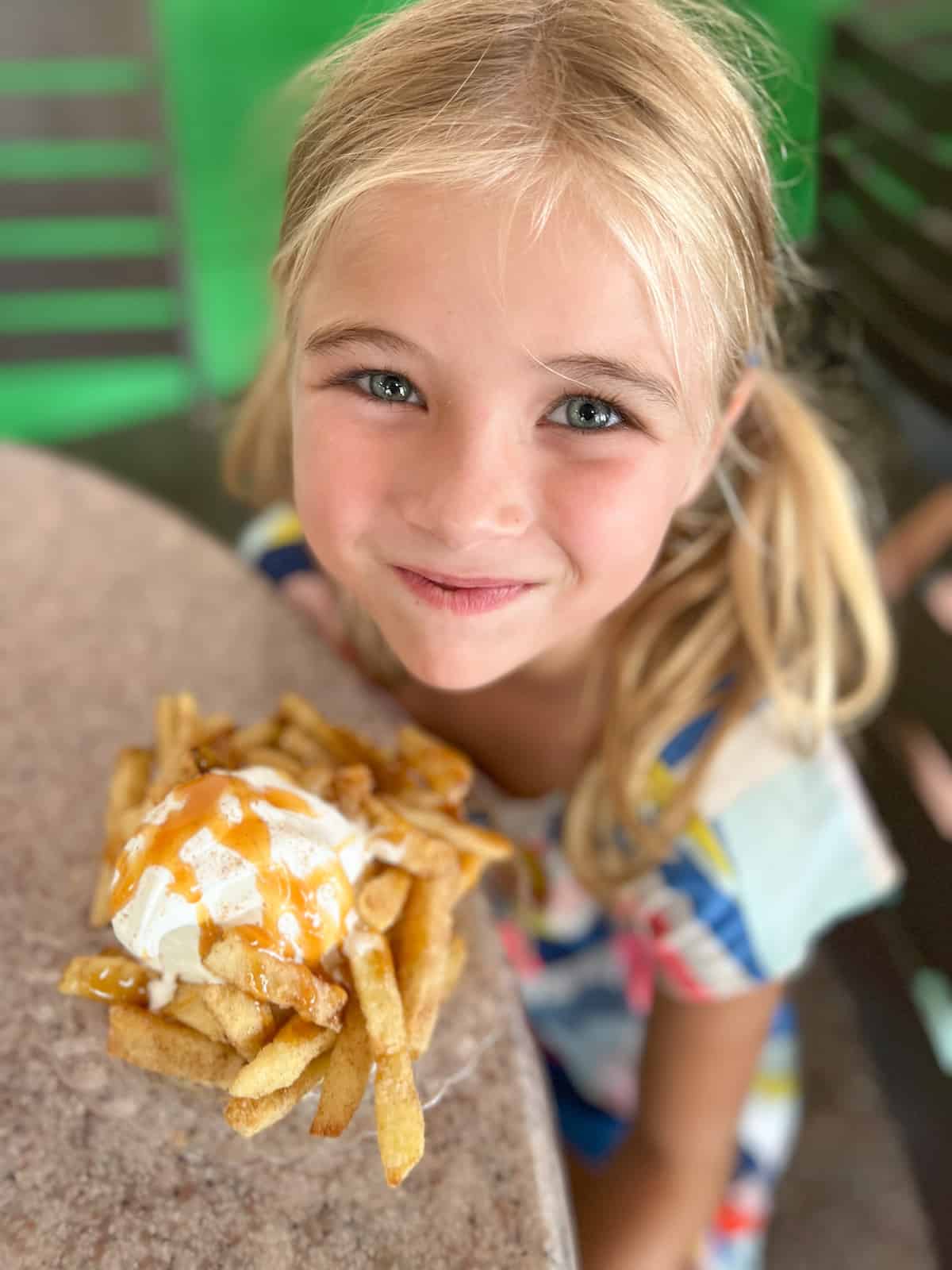 Planning Your Day at LEGOLAND Florida
If you're familiar with other Orlando-area theme parks (Disney World Resort, SeaWorld, Universal) then you may be wondering how many days you need for LEGOLAND Florida.
LEGOLAND Florida is easily a one-day theme park if you do not plan to stay overnight on the property. Yes, even including a visit to the LEGOLAND Water Park.
Both the water park and theme park are located in the same location – the water park is in the very back of the theme park. I think any family would enjoy having the leisurely experience of two days at the theme park, but it's not a must.
LEGOLAND has gone completely cashless so be sure to have a credit card or debit card with you during your trip.
There is a helpful LEGOLAND app you may want to download prior to your visit, but the park also has park maps that are useful for mapping out your day.
In both of our experiences, the park was not crowded and we rarely had to wait in line our entire day at LEGOLAND theme park.
We visited on a Tuesday in July! If you're planning a visit, a weekday visit to ANY theme park will always be less crowded.
We arrived 30 minutes prior to opening and had plenty of time to get into the park, look over the park map to plan out our day, get a Birthday button and check heights!
At the park entrance, there is a wall to check your child's height.
I LOVE this feature so much as it allows kids to know from the start of the day which attractions they will and won't be tall enough to experience. It takes the guesswork out of it all as well as the disappointment!
Nothing is worse as a kid than to be all pumped to ride a roller coaster only to get to the front of the line and be turned away!
You can read more about the most up-to-date health and safety guidelines at LEGOLAND Florida here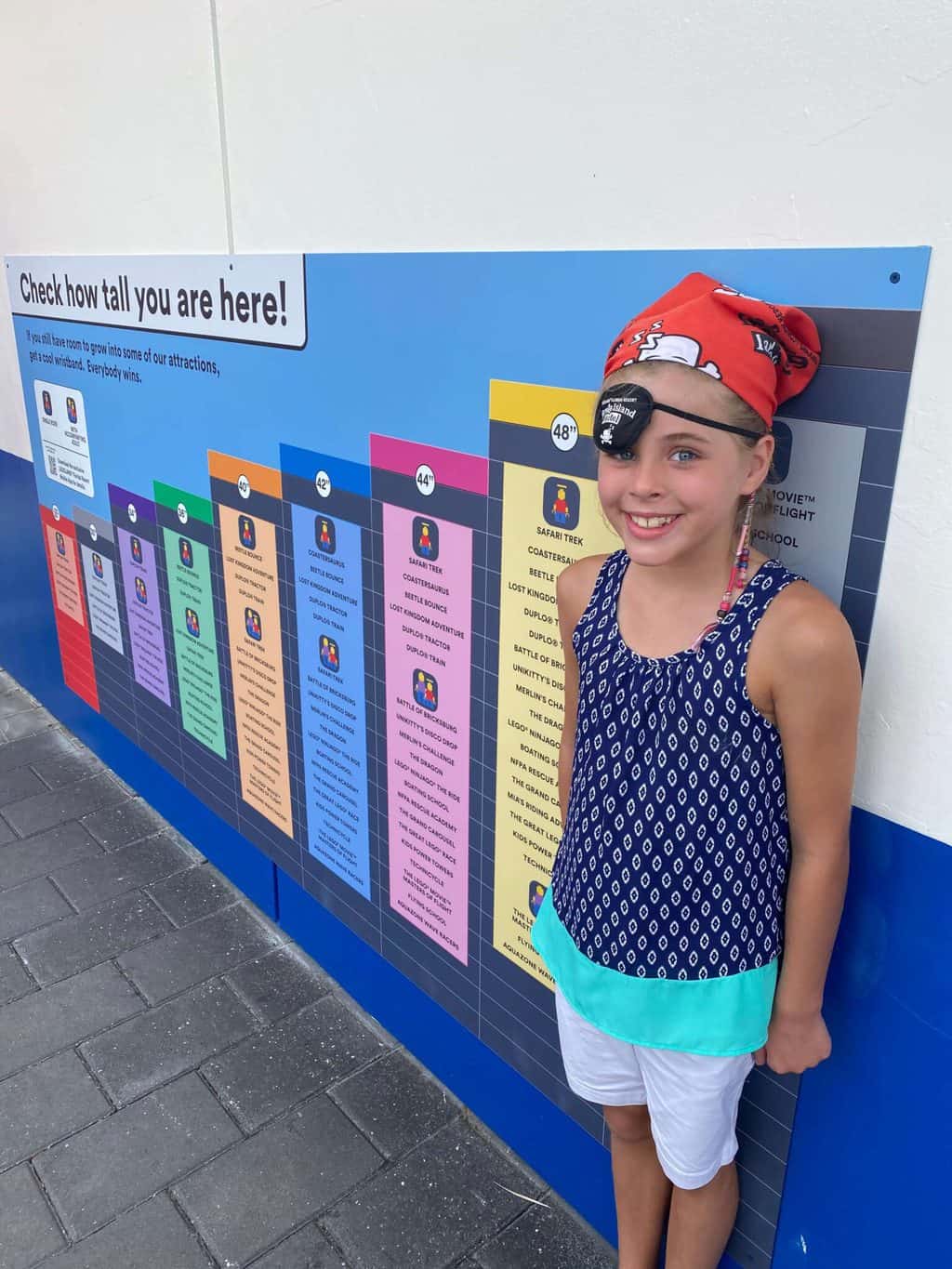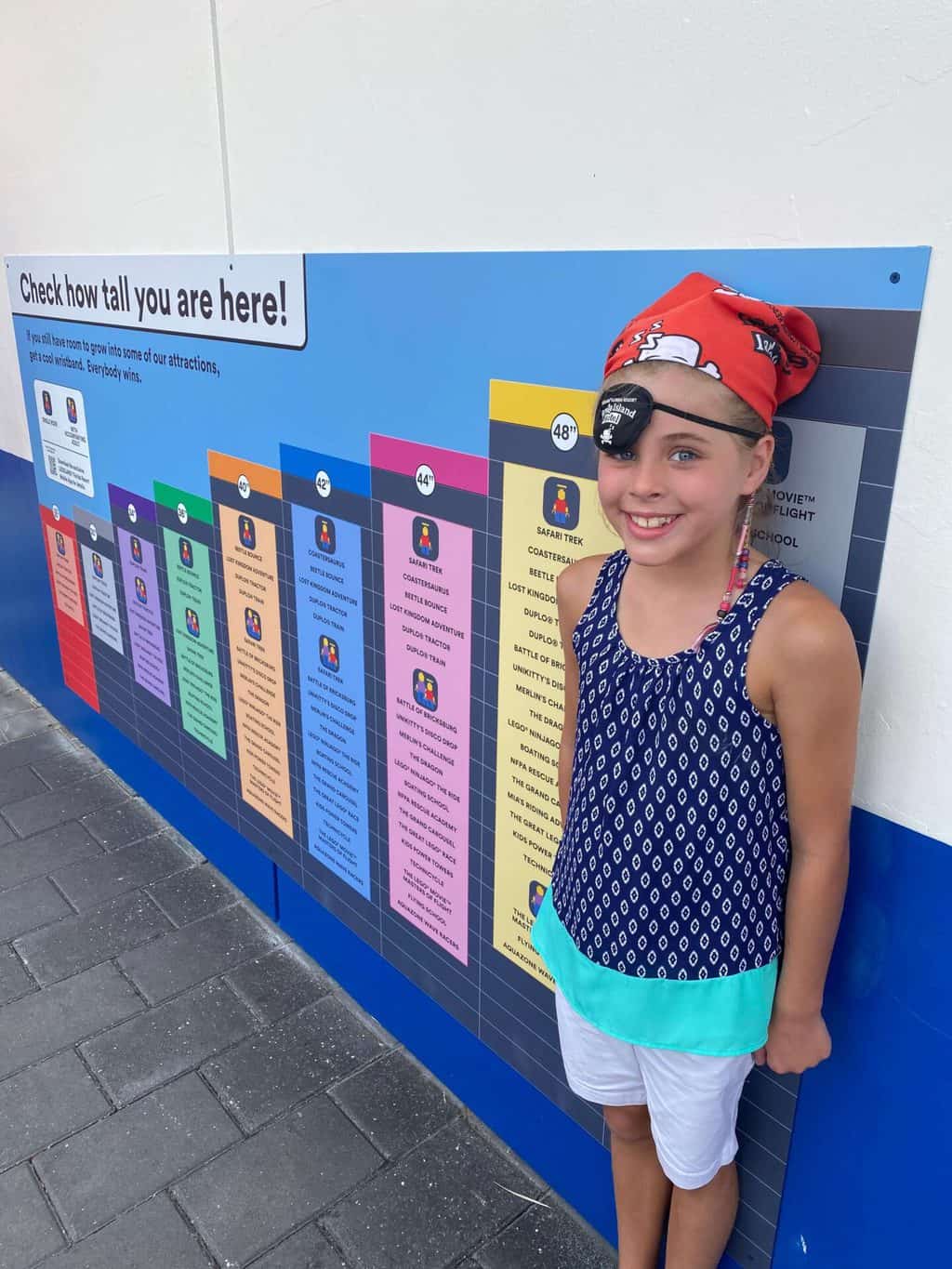 If you purchased water park tickets I would highly recommend working your way BACK to the water park. Start with rides and attractions in the theme park FIRST!
During both of our visits, we started with the attractions and had NO lines. We could ride multiple things multiple times in a row!
An employee told me that most people go straight for the water park and work their way back through the theme park portion to the exit.
Instead, we worked our way back to the water park. This had us doing the water park portion during the afternoon. The hottest time of the day!
This method allowed us no waits for attractions, a chance to cool off in the afternoon, and then we hit up anything else we wanted to ride or experience on the walk back through the theme park to the car (which was plenty of time to get dried off and by being wet we didn't feel as hot in the afternoon heat either!)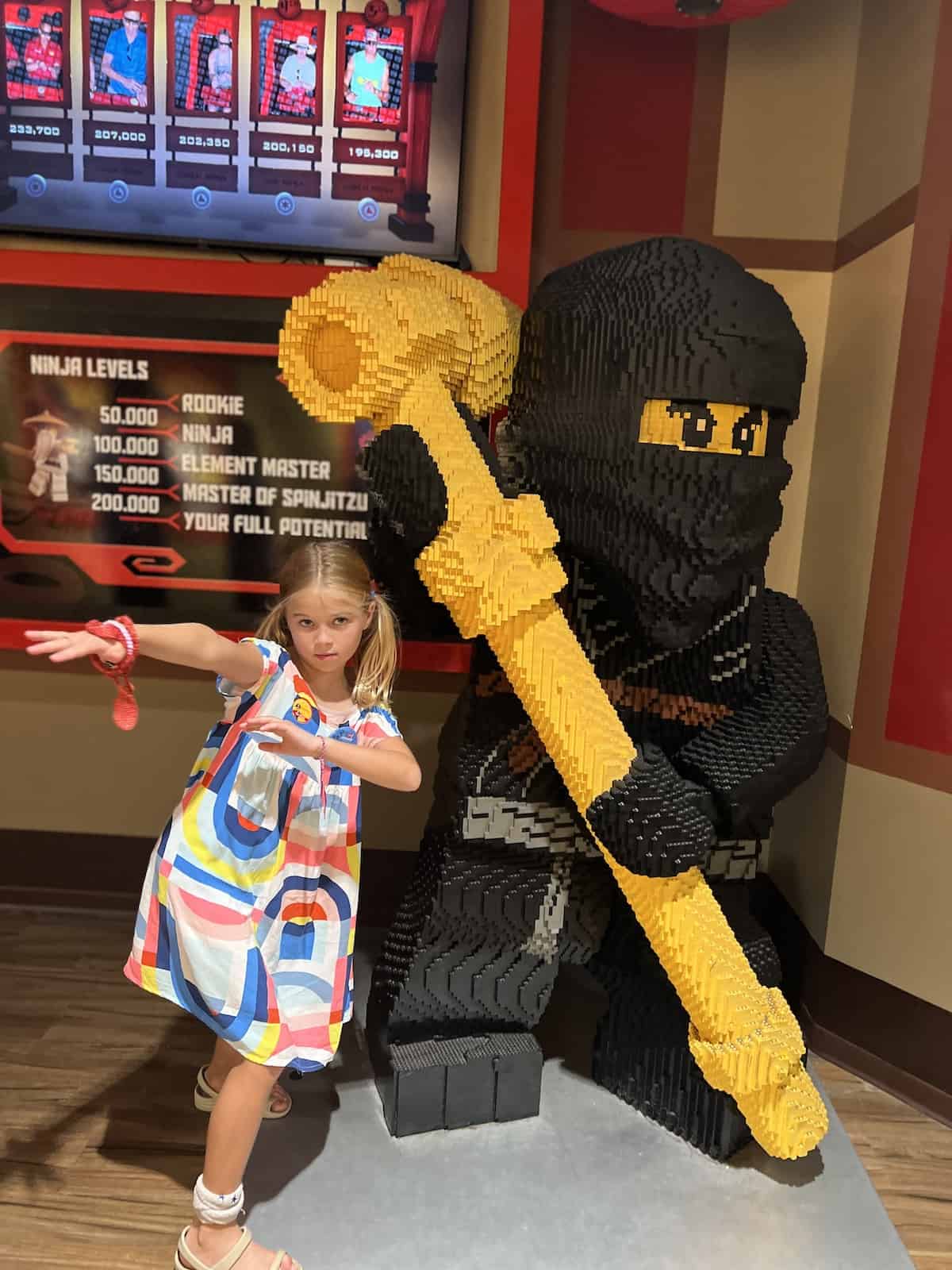 What to Pack for LEGOLAND Florida
Figuring out what to bring to LEGOLAND Florida is much like packing for any other family theme park experience.
Book bags are allowed into the park as well as refillable water bottles and outside food and drinks.
It is important to wear proper shoes as the park does require a lot of walking.
If you plan to visit the Water Park area be sure to bring your bathing suits, towels, and other such items in with you upon your arrival to the theme park.
—-> These are my absolute FAVORITE towels! They fold up small (perfect for storage) and dry super quick!
The water park is located at the very BACK of the theme park so it's wise to carry your water park items with you so as to not have to backtrack to get them from your car.
A stroller is highly recommended for younger kids. We had our double stroller and both our two year old and five year old did opt to ride in it most of the day between attractions.
When we visited wait times were a minimum and there were PLENTY of distractions and things to do to keep the two-year-old happily entertained during times when the older kids rode attractions he wasn't quite yet tall enough to ride.
Therefore you don't need to be overly concerned with packing toys or books or things to keep little ones busy – we never had any boredom issues!
I love the layout of LEGOLAND as there has been a lot of thought put into the location of attractions, wherever there are height restriction attractions there are also toddler play areas and rides that little ones can enjoy nearby.
Families come first at LEGOLAND and it's clear by the design of the park that it was all planned with families in mind!
All of the rides have fun interactive moments in the LINES themselves. Helping to keep kids happy and entertained while they wait.
Many of the attractions also have LEGO build areas at the attraction so younger ones or those who don't choose to ride (or aren't tall enough) can be happily entertained building while others ride (this works great to keep Dad busy and happy too!)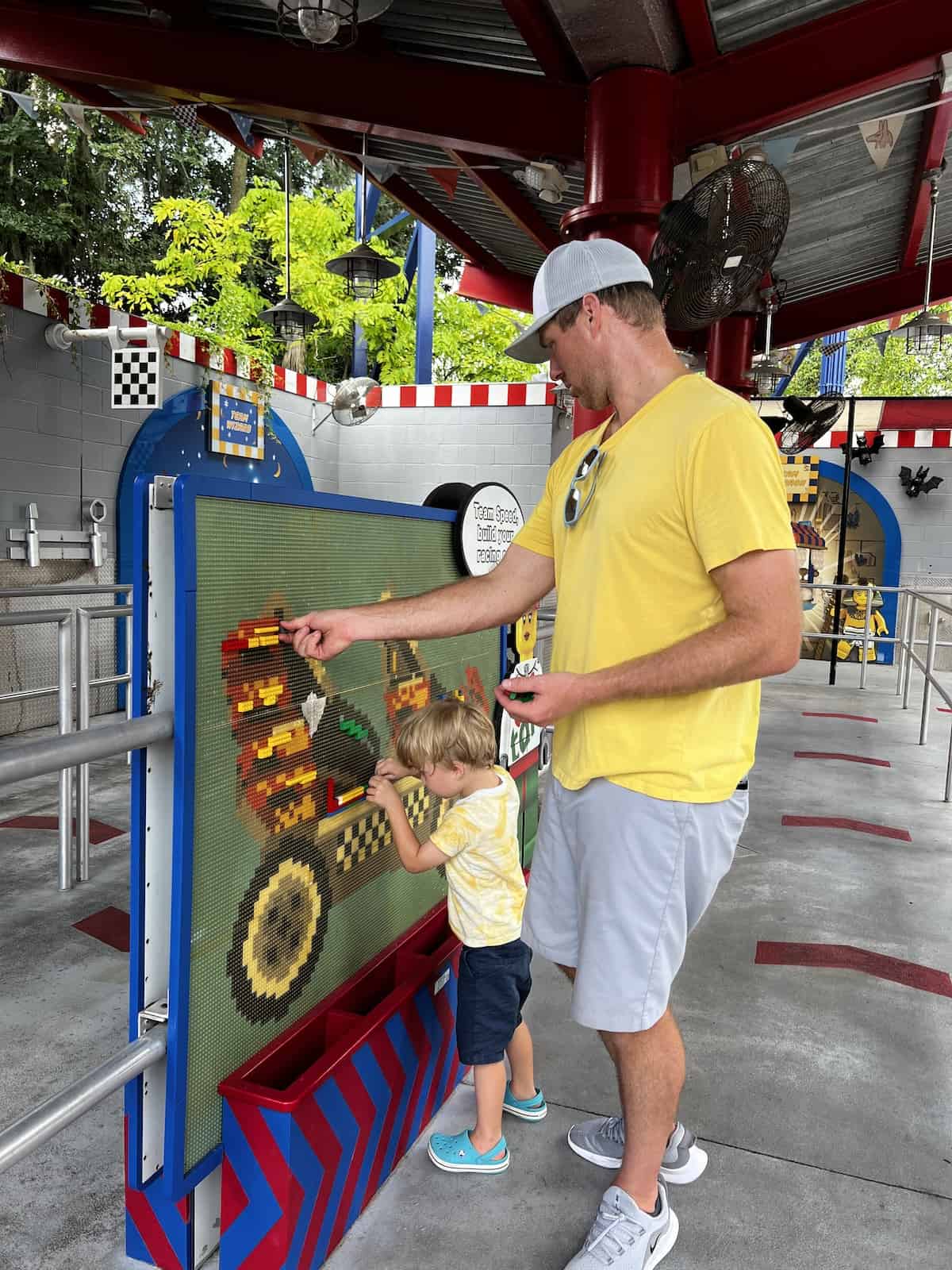 There is surprisingly a lot of shade at LEGOLAND and many of the attractions are indoors, however, it's still best to anticipate a good bit of time outdoors.
LEGOLAND recently added a large tent over their Miniland USA area creating nice shade to allow for more enjoyment of all the LEGO recreations of famous landmarks and architecture. Be sure to take time to explore this area! It even has a replica of Kennedy Space Center with a countdown for take off 🙂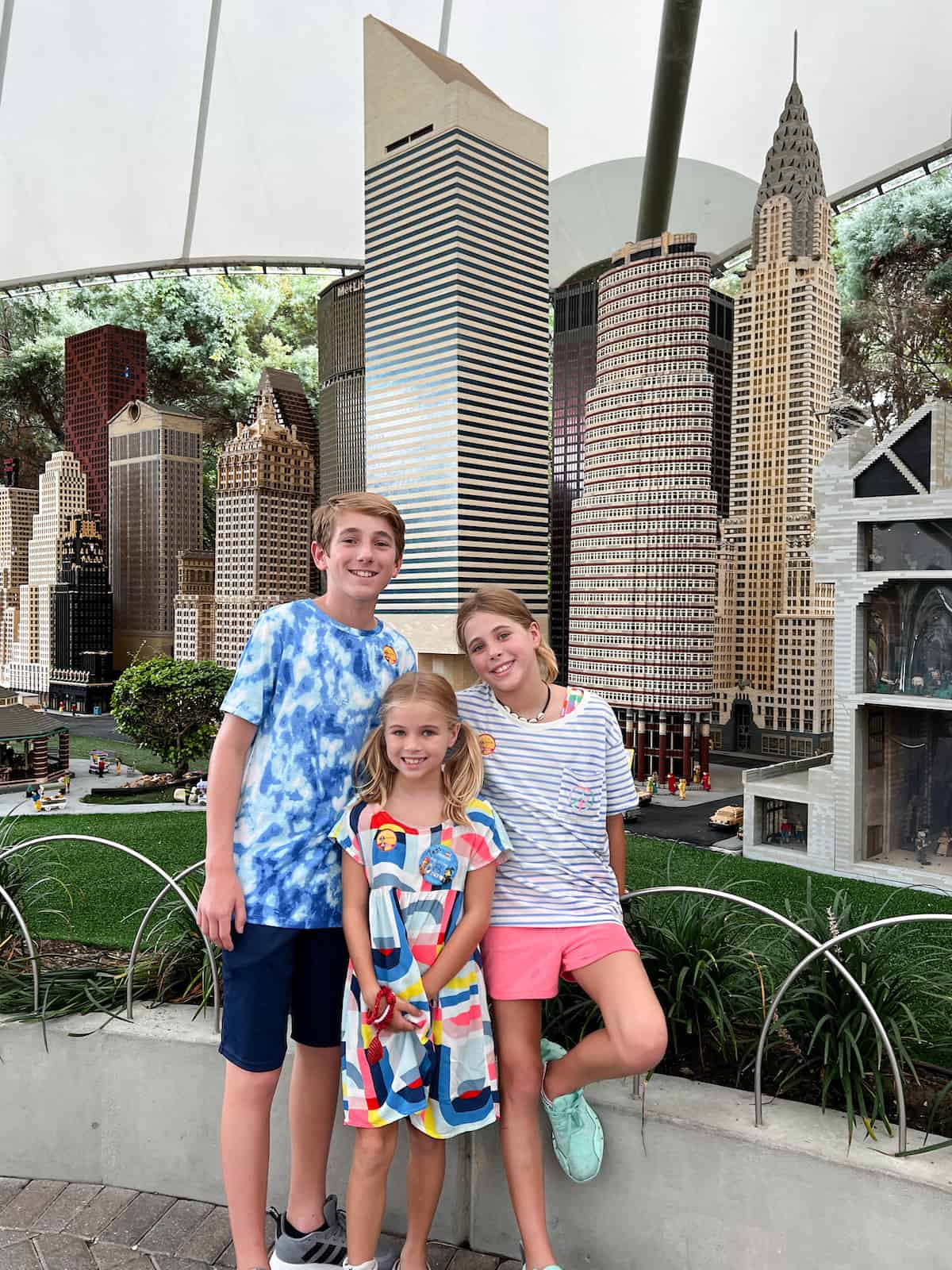 When packing be sure to bring sunscreen, hats, cooling towels, fans, etc to help everyone in your party stay cool during the warm Florida weather (which is the majority of the year!).
Also be sure to bring along your LEGO Mini Figures as they allow trading of the mini-figures with their employees as well as at the gift shops!
Trading mini figs was THE highlight for our kids. They loved getting to swap and trade 'em throughout our visit and they served as a great reminder of our fun trip once we returned home as well.
A visit to the 150-acre theme park is sure to reignite the spark of joy that LEGO brings. Be ready for lots of LEGO Models being built when you get home!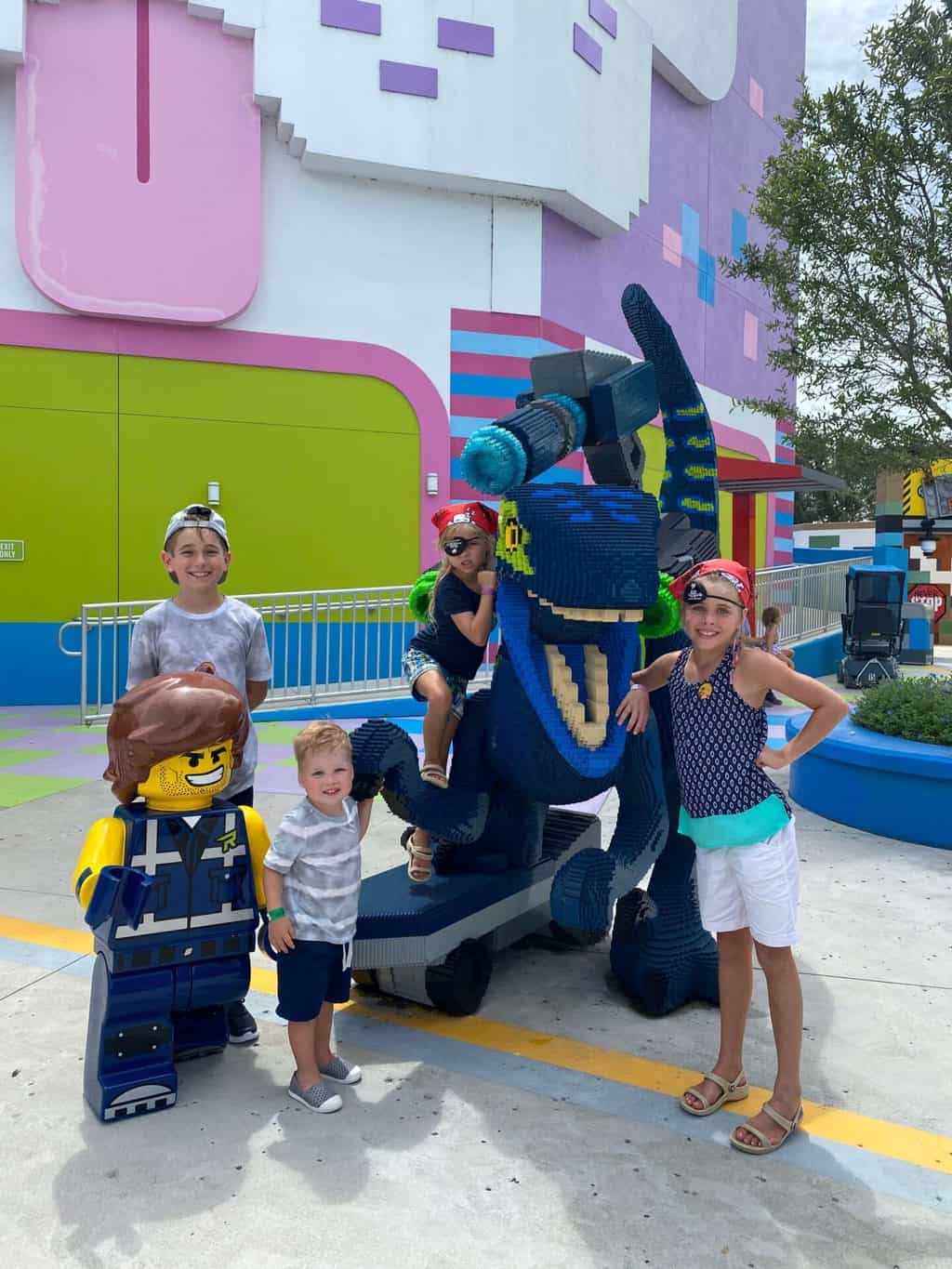 Attractions at LEGOLAND Florida
LEGO fans are loyal fans. Once you love LEGO bricks, you love it for life.
Even as a non-LEGO kid, I still really appreciate them as an adult and especially love the way LEGO sets bond my kids together and provide a way for my husband to connect with them too!
From Star Wars scenes to a replica of real-life cities we all know and love (like New York City, Washington DC, San Diego, and others) there are incredible master builder LEGO designs everywhere you look at LEGOLAND park in Florida.
You do not have to be huge LEGO fans or have seen any of the LEGO movies in order to appreciate the parks and attractions – you'll still have the best time!
Our family hasn't yet watched any of the films in the LEGO Movie world and we still even enjoyed the LEGO Movie and LEGO Ninjago elements in the parks.
There are also opportunities for a character meet – we did not meet any characters and instead focused on the interactive rides and hands-on experiences as well as just about every outdoor play area we came across.
There are several shows and even a 4D movie you can enjoy. Fun music plays throughout the park, reminding you that "Everything is Awesome!" and there are tons of attractions for younger kids and older kids alike.
Truly, there is literally an attraction for everyone at LEGOLAND Florida. I was beyond impressed with the number of rides (more than 50!) but also the layout of the park.
It's done in a way where there isn't a TON of walking and each area has multiple attractions with a variety of height allowances to make sure everyone in your party has SOMETHING they can enjoy!
Our family's favorite attractions at LEGOLAND Florida that the entire family can enjoy include Lego Ninjago (in LEGO Ninjago World) (slice your arms like a ninja to score points…it's a legit work out ha!) and Lost Kingdom Adventure (a shooting ride that is so fun!). The Pirate River Quest is also fun and a chance to get wet!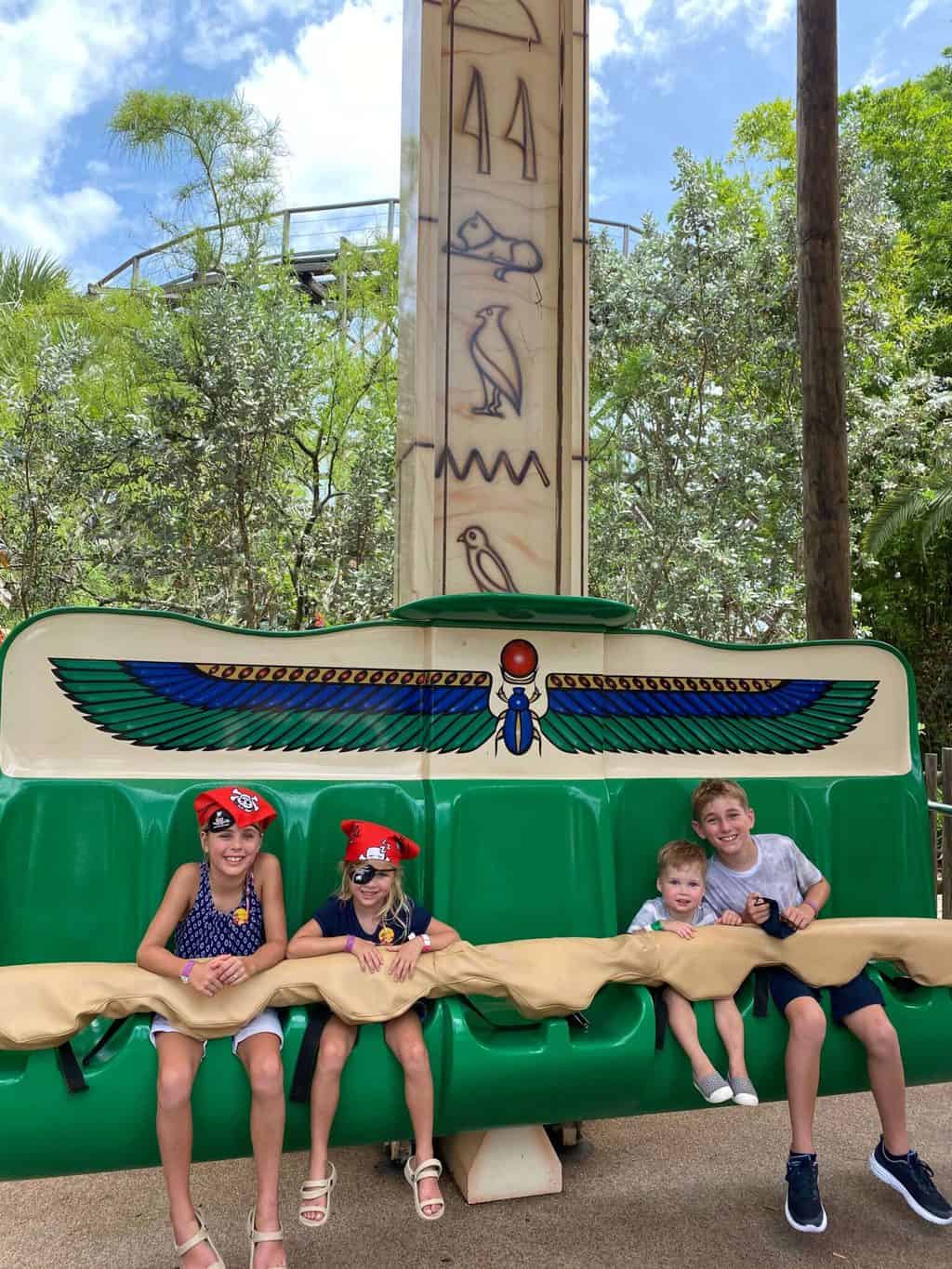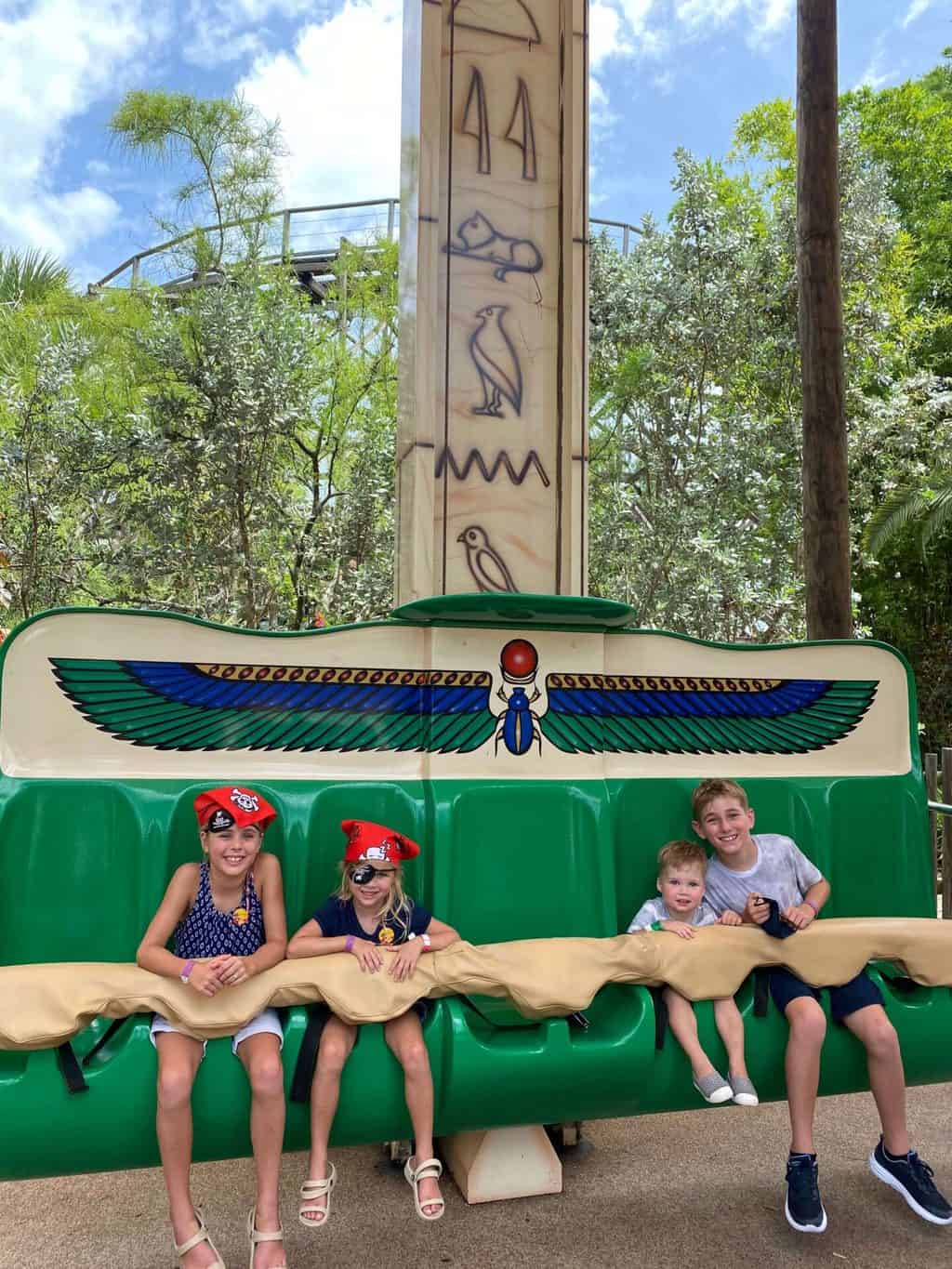 Not only are there epic attractions – there are many opportunities for imaginative play throughout the park. Build stations, building areas, LEGO everywhere!
LEGOLAND Florida is constantly changing their activities and adding new rides and experiences so no two visits are ever exactly the same. There are always new offerings and challenges to explore. Plus – they are typically all located indoors in nice AC (win for the whole family!)
My kids spent over an HOUR in Planet LEGO creating their own builds and then sharing their builds and the stories behind them to earn lanyards and buttons! (Yes, for free!)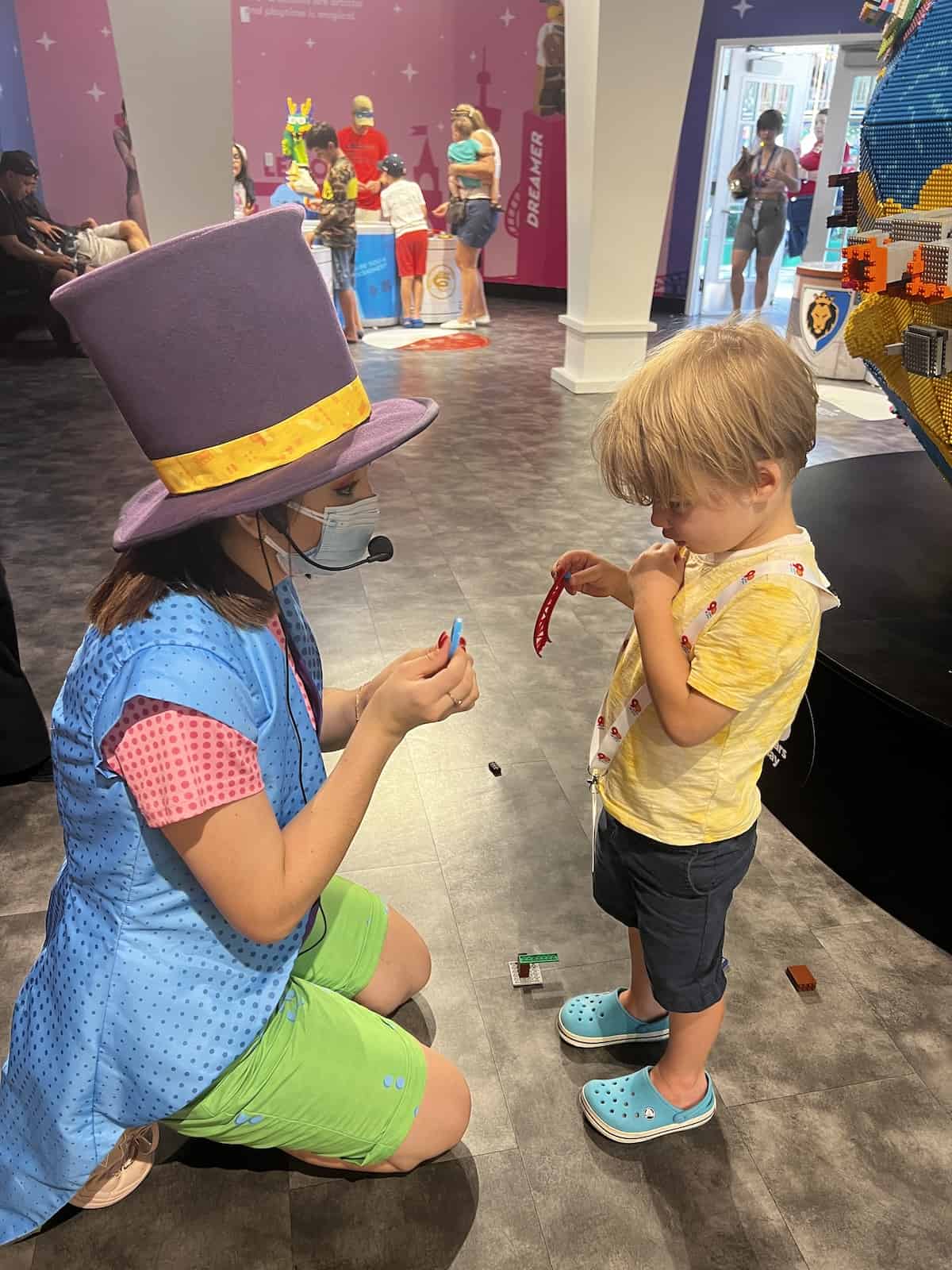 A note to be aware of: The Great Lego Race Coaster has previously been advertised as a virtual reality ride experience, however, as of the publication date the attraction has not had the virtual feature re-added since Covid shutdowns.
Tips for Visiting LEGOLAND Florida – Theme Park
When the park first opens, after you scan your Legoland tickets, you will be directed to signage with various height markers. This is located at the theme park entrance.
This is a really genius idea on LEGOLAND's part! It's one of the best things I've seen a theme park do.
You can go ahead and get your child measured and handed a specific wristband that alerts the employees at the rides of their height.
Before you make your LEGOLAND Florida attractions itinerary, you will also see a list of the rides, roller coasters, and attractions listed under each height marker that will allow you to know upfront which rides your child can and cannot ride.
This will prevent any potential disappointment if they were to try to ride something they won't be allowed to ride. While a proper height requirement is an important safety feature, it can also be a let down!
Also, be sure to alert the employees at the gate of any celebrations. Everyone in our party was given a really cute "first visit button." The cool thing about the button too is that it is NOT a pin!
Doesn't go through the fabric or mess up any clothes or cause any pricks. It is a really unique design that sort of snaps to their top and truly stays put too!
LEGOLAND is a park you can do in one day and are able to fit in the majority of the attractions, even with our visit being shortened hours we still got everything done and didn't feel rushed!
We saved our shopping for the end of the day. The largest gift shop is located at the park exit and stays open an hour or so later than the theme park.
They have TONS of great gift ideas as well as really cute merchandise.
I do not think the theme park itself requires a lot of pre-planning. The layout of the park is very easy to follow and the rides and attractions are all easily accessible and along a clear-to-follow path.
In addition, Legoland® Florida has recently added the Peppa Pig Theme Park to Legoland® Florida Resort. This theme park is, as you can tell by the name, a Peppa Pig theme and requires additional tickets and may be purchased as part of a ticket package.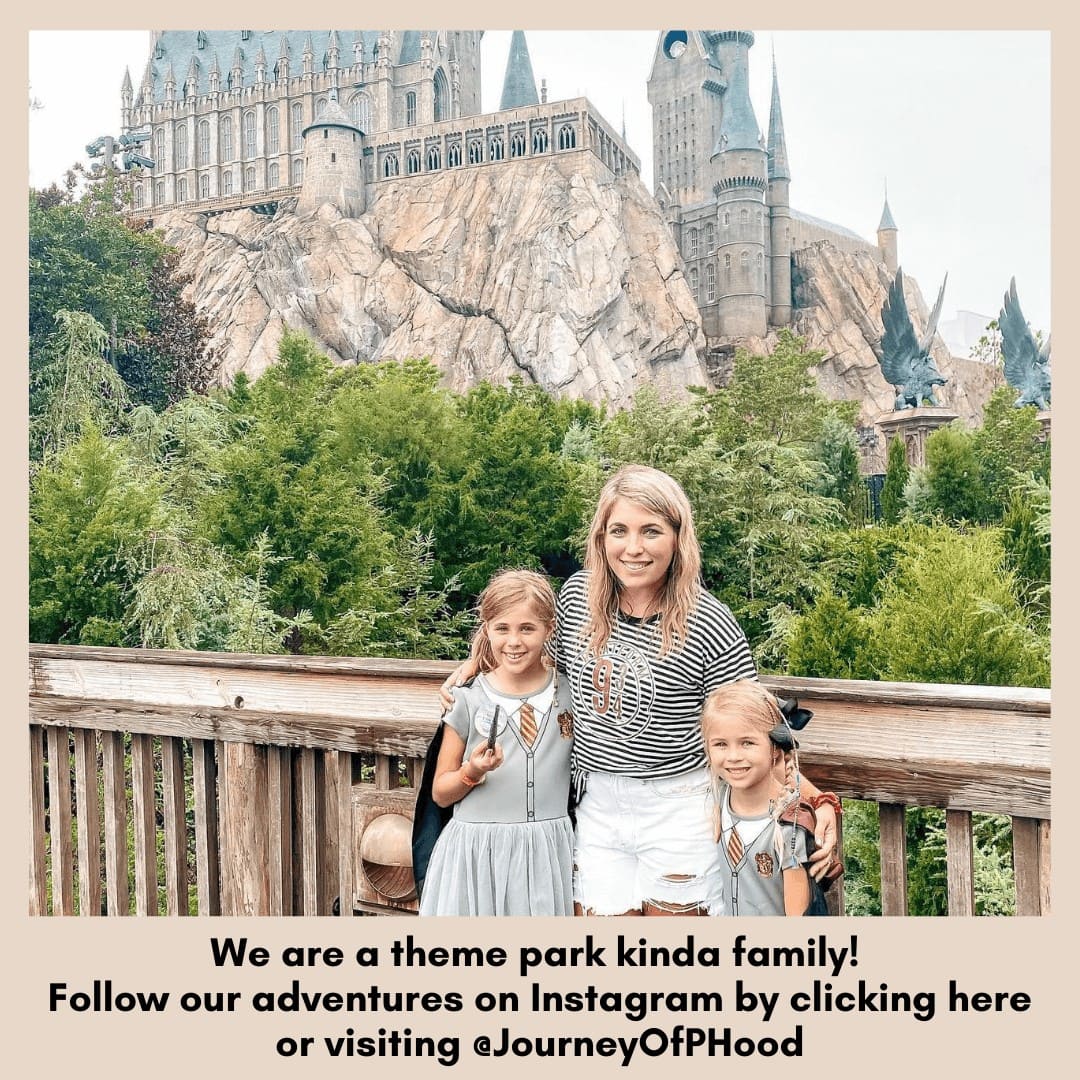 Tips for Visiting LEGOLAND Florida Water Park
The LEGOLAND Florida water park is located within the theme park (at the back area of the park) but requires additional admission and separate tickets per person. Stick to the main park if you want to avoid the extra cost for water park tickets.
If you're planning to do BOTH the theme park and the water park AND plan to stay on property at LEGOLAND resort then I would plan for a 2-3 night stay in order to allow you to fully enjoy all of the experiences!
It CAN all be done in one day, but the LEGOLAND Pirate Island Hotel and Resort has soo many fun things to offer that I'd try to do 2-3 nights and spread out the park over 2 days. Any LEGO lover will be in HEAVEN!
The water park has a lot to do, including a wave pool, water park rides and even a lazy river. Like the theme park, there are activities geared towards every age (The Build-A-Boat was my FAVORITE moment of the entire day).
Be sure to bring along swim diapers for any younger ones who aren't quite potty trained as well as deodorant for when you change back into your clothing!
I've heard lots of people say they wear bathing suits under their clothes so it's easy to change when transitioning from the theme park to the water park but we had no issues using the changing areas at the water park entrance and were more comfortable wearing regular clothes rather than swimsuits during the theme park portion of our day. (I personally never walk around anywhere in a bathing suit IYKYK)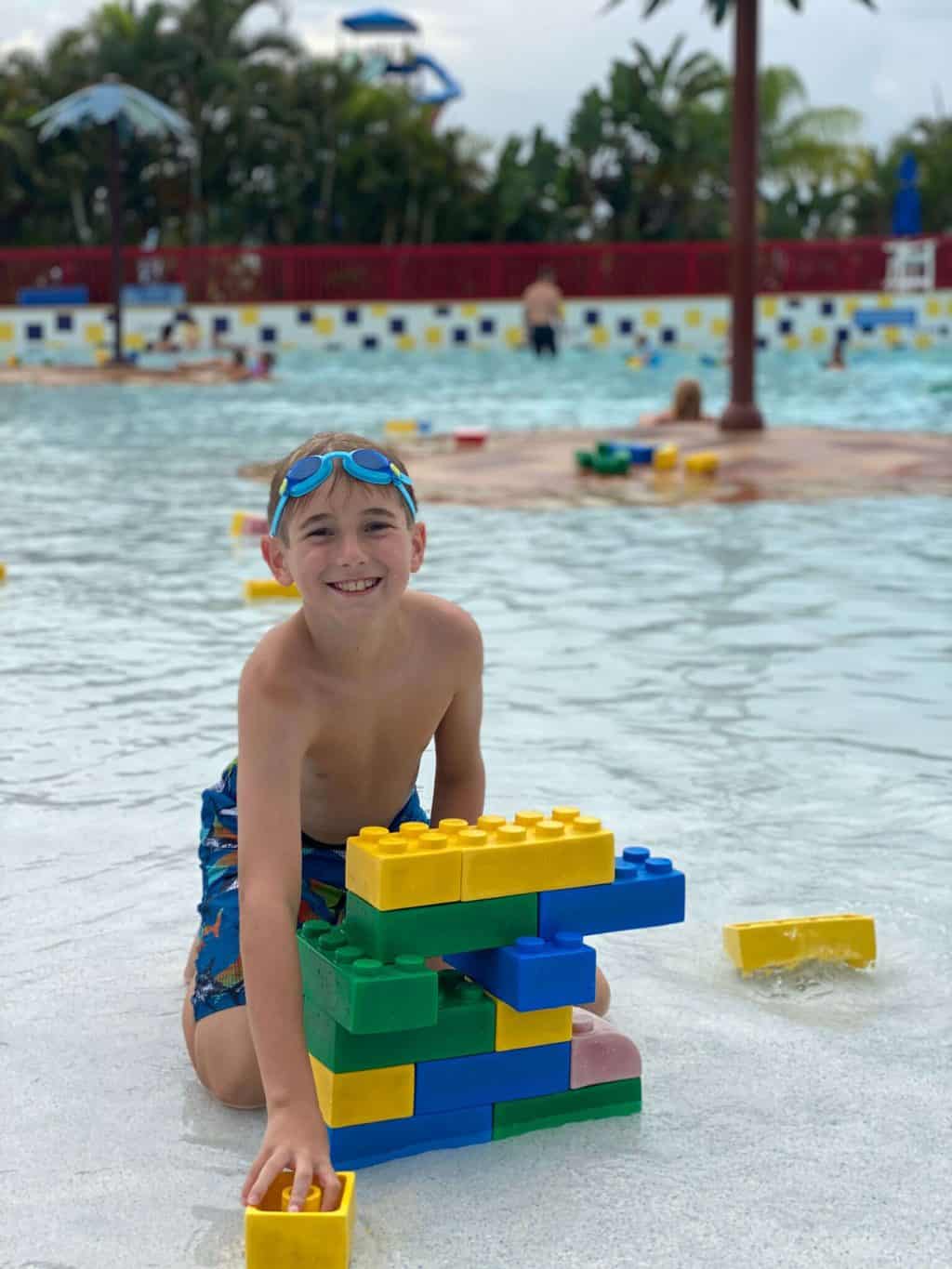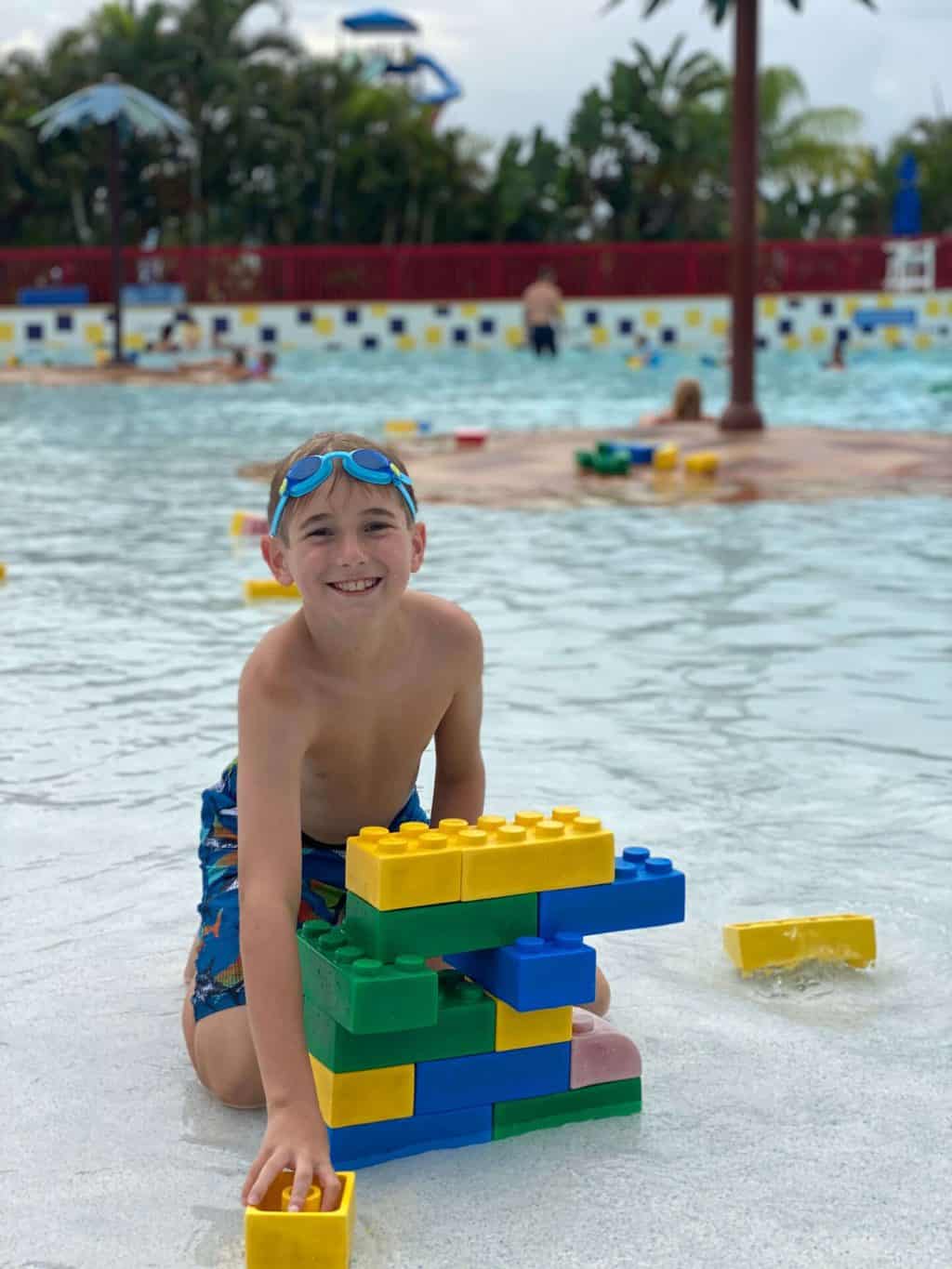 LEGOLAND Florida Tips and Travel Guide: Final Thoughts
I feel like LEGOLAND is the secret gem of theme parks in the Orlando area. We are avid Orlando visitors and had NEVER been before and ALL of our group LOVED it.
We had such a good time and plan to go back again in the future. If you're considering a theme park visit during your Florida travels, be sure to give LEGOLAND a shot because it's a great place for the entire family!
It's less intimating than many of the other theme park options and would be an excellent first theme park experience to help ease young kids (and husbands!) into the larger, more involved theme parks!
So often when we think of theme parks we think of theme park rides and long lines but that isn't the case with LEGOLAND. Yes, the attractions are great but there is SO much to do beyond just rides!
LEGOLAND is the perfect place to enjoy family time together. From younger children to little kids, big kids and adults there is something for everyone! It's one of the best theme parks for families!
If we were local Florida Residents, LEGOLAND is a park that I would purchase annual passes for our family. They have so many cool seasonal events and I can see us spending lots of time at LEGOLAND Florida.
—–> Looking for the BEST prices on LEGOLAND Florida theme park admission for the true LEGO fan in your life? Be sure to check out Undercover Tourist for discounted tickets!
If you're visiting the west coast be sure to look into LEGOLAND California as well, including the new Sea Life LEGOLAND Aquarium! I hope these tips for visiting LEGOLAND Florida have helped you in your planning, help you save money and have encouraged you to check out LEGOLAND the next time you're planning a family vacation!
You can read about our day at LEGOLAND in this post and all the details about our stay at LEGOLAND Pirate Island Hotel here 🙂
You can learn more about LEGOLAND and see special offers here.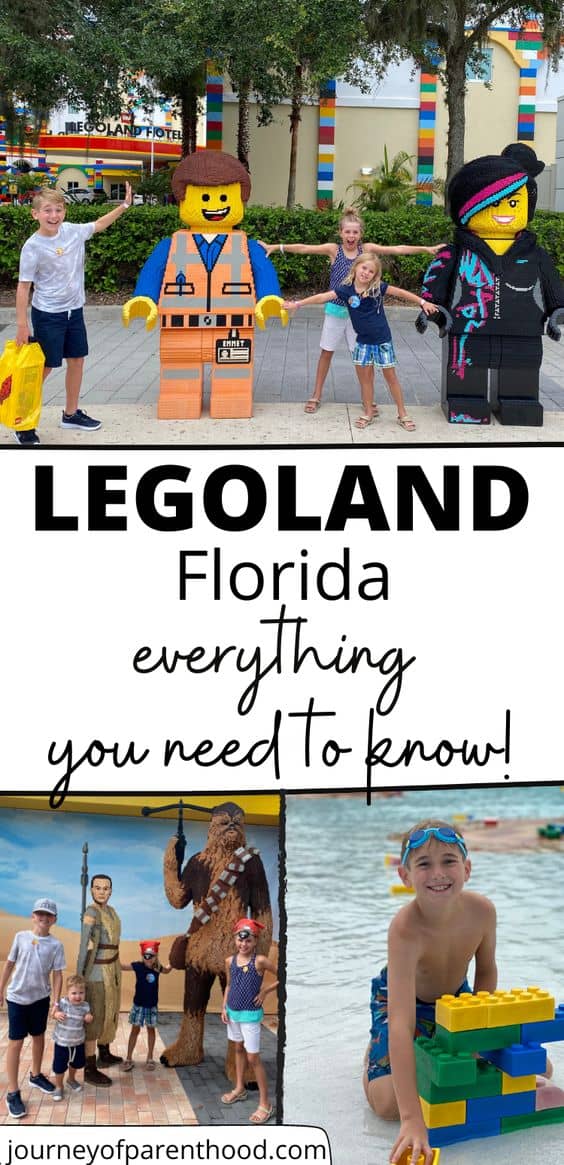 Planning to Visit Disney Parks During Your Orlando Vacation?
My favorite planning tool for Walt Disney World parks is Touring Plans. Being a member of their site allows you access to crowd calendars and daily itineraries to avoid waiting in lines! Learn more here!
Check out our other family travel guides: