A family travel guide with everything you need to know about ICON Park Orlando and all the ICON Park Orlando tips!
Our family visits Orlando frequently and now that we own a vacation rental home in the central Florida area we LOVE spending as much time in Orlando as possible. One of our family goals has been to explore ALL of the fun things to do that don't involve a theme park admission 🙂
During our stay in November, we were fortunate to have the opportunity to visit ICON Park Orlando for the first time. You can read all the details of our family fun ICON Park Orlando experience here. I thought it'd be helpful to provide a travel guides post with all of the info and tips we learned to help other families when planning an Orlando, Florida vacation.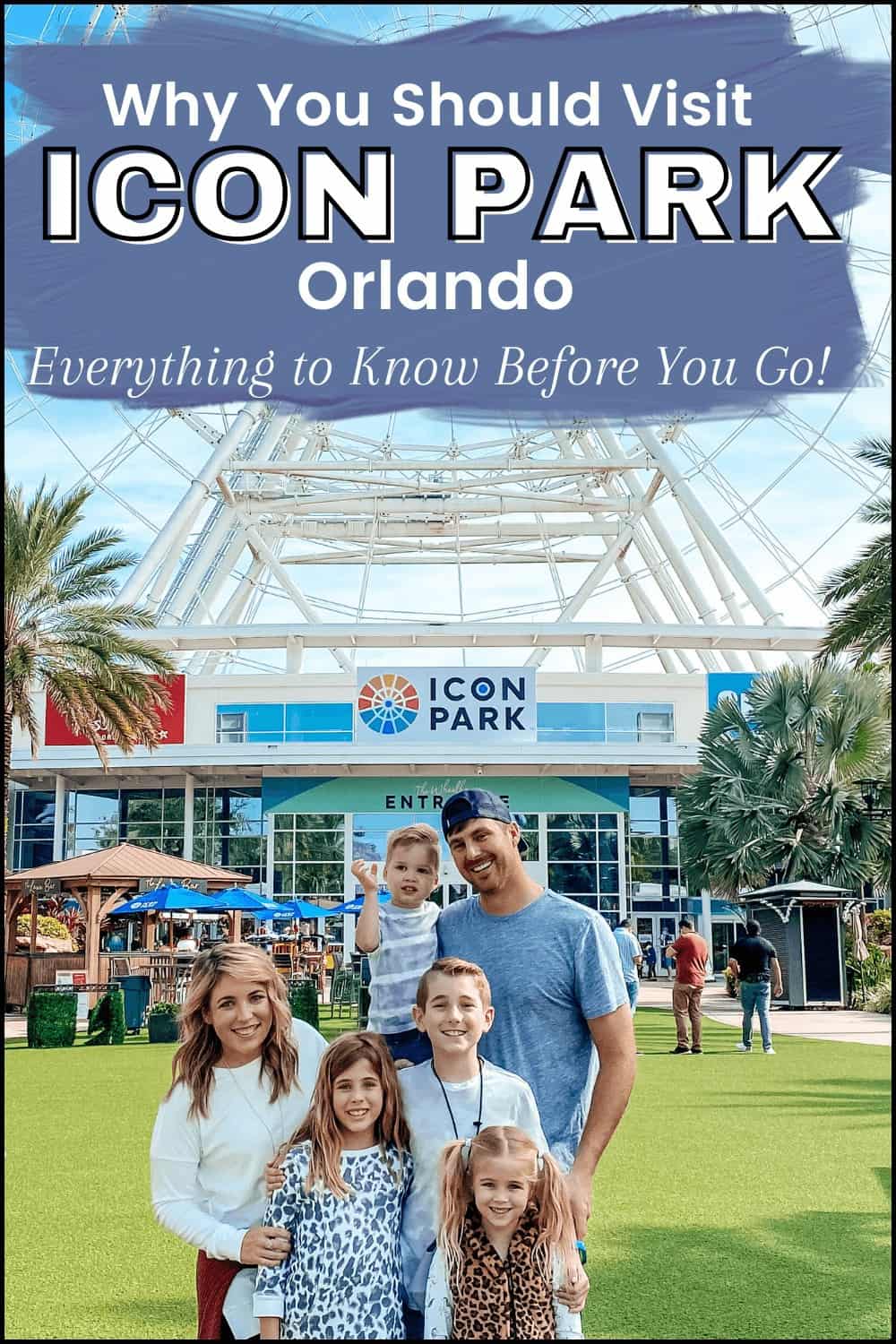 What is ICON Park Orlando?
ICON Park Orlando is an entertainment complex featuring TONS to do for the whole family with over 40 restaurants, shops, amusement park rides, attractions, and more. It has options sure to appeal to anyone in your group – from toddlers and up!
Where is ICON Park Orlando?
ICON Park Orlando is conveniently located just off I-4 in the heart of International Drive Orlando and is close to all the major Orlando, Florida theme parks and a quick drive from Disney World or Universal.
What are the ICON Park Hours and Prices?
Icon Park is open 365 days a year. Specific hours of operation can be seen on their website here.
Free parking and free admission are offered all year long, advanced tickets may also be purchased online here.
How Much Time do I need at ICON Park?
We spent about five hours at ICON Park but you could easily spend much longer if desired too! There is PLENTY to do for all ages and if you're planning your family vacation to Orlando I'd recommend setting aside one full day to really enjoy all the amenities at ICON Park.
We spent all of our time participating in the attractions located at ICON Park and during our five hours on the property we did not do any shopping or dining in any of the amazing restaurant options so you could truly spend a FULL day if desired!
The layout of ICON Park is also easy to visit for a shorter time period as well. With free parking you could come and go and pick and choose which activities to participate in.
What Should I Bring to ICON Park?
I was impressed with the location of all of the family attractions. We always bring a stroller along as we're used to the long walks at theme parks but the parking garage at ICON Park was located directly next to all of the attractions we participated in and all of the activities were located very close to each other as well.
Even with our wild man three-year-old, we truly didn't even need the stroller and in many instances, it was just used to carry the cooler and book bags and not any children.
A lot of the attractions are also indoors so a light sweater may also be desired as typically it's VERY hot in Orlando and indoor activities blast the AC to counteract the heatwave outside so I tend to get chilly!
There is a beautiful outdoor green space perfect for a picnic. We packed a cooler with lunch for us all and purchased some heavy snacks at the food court area and ate them along with our packed lunch. It was a great way to cut down on spending and outside food and drinks are permitted on property.
Currently health and safety guidelines require masks and it's wise to review the current guidelines here before planning your trip to make sure you have everything you need!
Should I Buy the Park Play Pass at ICON Park?
If you've never visited ICON Park the Park Play Pass is a GREAT way to hit all the major attractions at a great discount.
What I loved about it is that there was something for everyone in our family to enjoy within the Play Pass and that it can be purchased in advance so there is no hassle of buying any sort of tickets or anything upon arrival.
Makes it super simple to plan your day and know you're doing all the big ticket items for one low price!
Included in each Play Pass:
1 ride on The Wheel
1 visit to Madame Tussauds Orlando
1 visit to SEA LIFE Orlando Aquarium
1 ride on the Orlando StarFlyer
1 ride on the Pearl Express Train
1 visit to the 7D Dark Ride Adventure
1 $5 Play Card at Arcade City
1 visit to Museum of Illusions (JUST added – brand new opening in Jan 2021!)
Discounts for shopping (including The Wheel gift shop)
Discounts for dining (including The Wheelhouse Food Court area)
Free digital photo at The Wheel
The Park Play Pass costs $69 plus tax per person, ages 3 and under are free.
Learn more about the Park Play Pass here!
Attractions at ICON Park Orlando
There are TONS of fun attractions and things to do for families at ICON Park Orlando. We are thankful to ICON Park for hosting us and providing our family with Play Passes! We utilized the entire Play Pass and did ALL the items included with it. Here is more details about each!
When we visited we were also able to take part in the Santa Workshop Experience and I cannot recommend it enough!!! If you're planning to visit around the Christmas season be sure to reserve a time slot for the best Santa pictures EVER (you can learn all the details here!).
This is one of the free Digital download photos we were given as part of our Play Pass: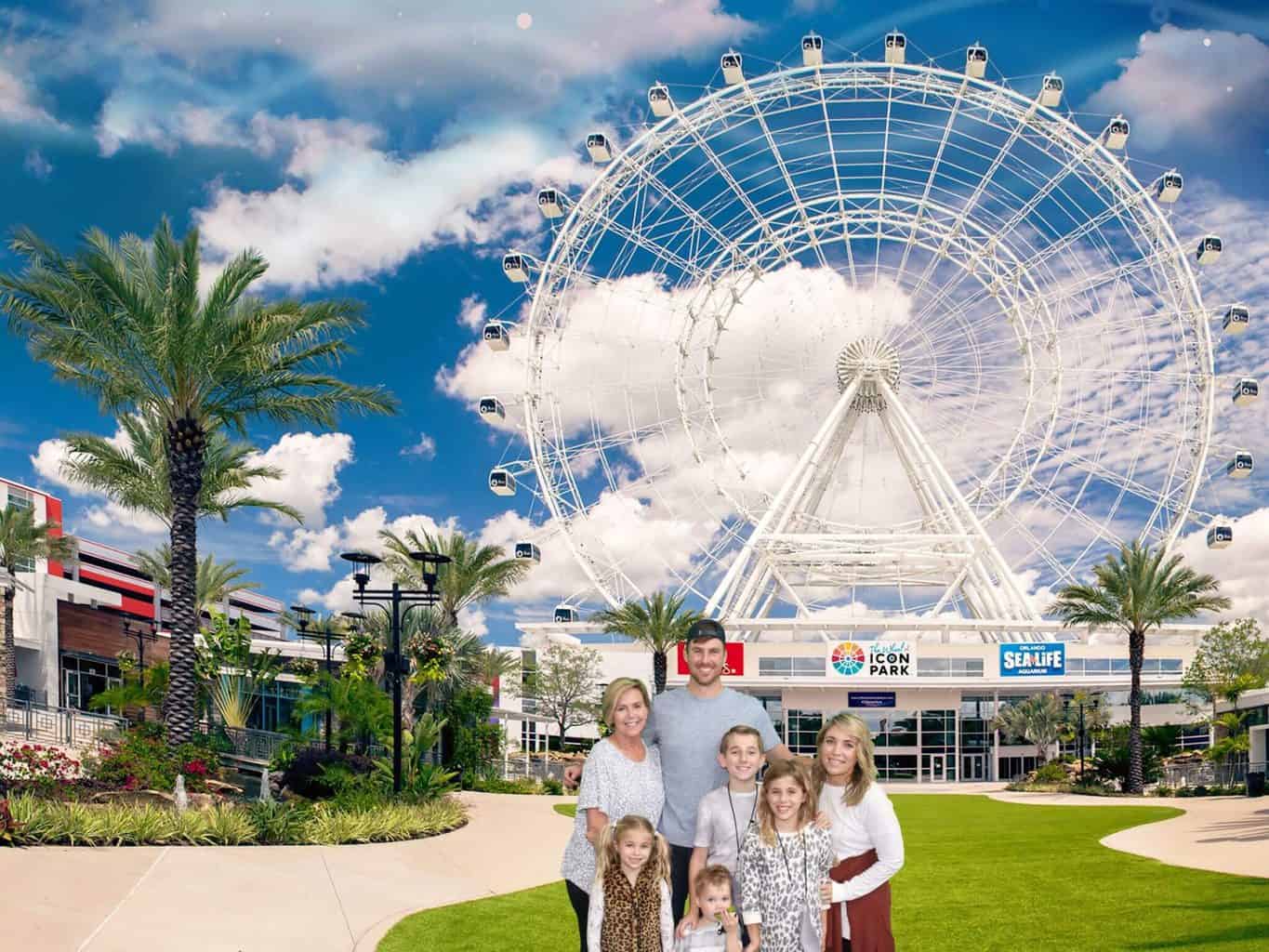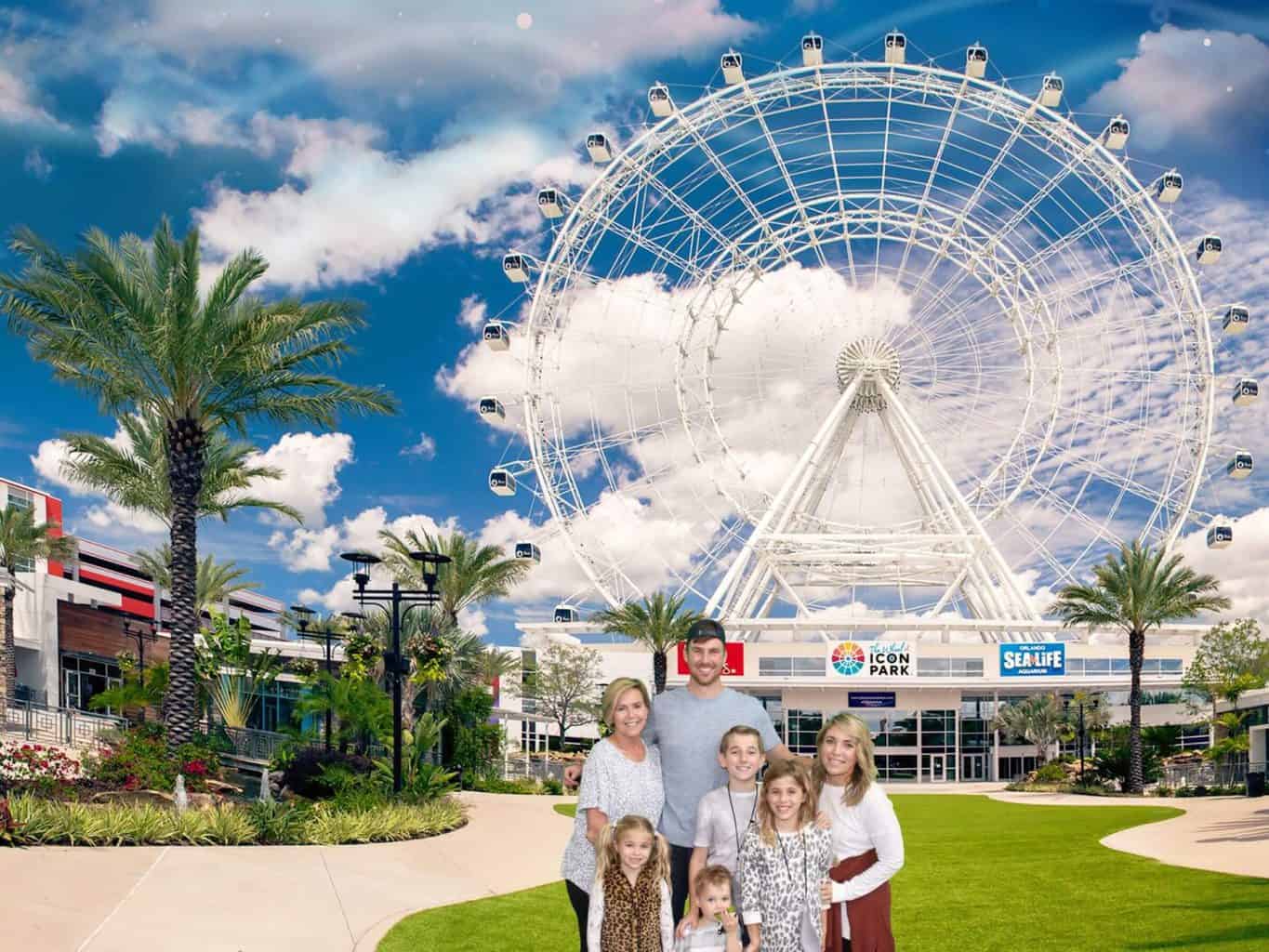 The Wheel at ICON Park
ICON Park is most famously known for The Wheel. It stands over 400 feet tall and gives an awesome birds-eye view of Orlando.
Currently all parties are given a private capsule as well to enjoy all the sights in a safe, private environment.
The Wheel is 400 feet tall and made from 3,000,000 pounds of steel. It is the tallest wheel on the east coast of the United States and is the highest moving sky bar on the east coast too.
The entire ride is about 25 minutes long, has a viewing distance of 57 miles, and moves at a speed of less than 1 mile per hour.
All seven of us rode it with no motion sickness or heights concerns. I often struggle with both (and don't ride any sort of motion ride or rollercoaster) and I was totally comfortable riding in The Wheel.
A neat feature is the digital screen inside the capsule that helps you locate some of your favorite Orlando attractions and a great way to learn more about the views you're seeing.
The Play Pass also included the Digital downloads of the photos taken before riding The Wheel so be sure to get those as well and get the card from the photographer to access the photos online.
I was also impressed with The Wheel gift shop as it had a ton of very affordable items and souvenirs for purchase – the Play Pass also included a nice discount on any merchandise in the gift shop too!
Madame Tussauds Orlando at ICON Park
Our family had never visited a Madame Tussauds and I honestly had never had the desire to visit a wax museum before. I always assumed it was going to be boring…but I was very wrong!
Madame Tussauds was much more interactive and hands-on than I'd anticipated and all four of our kids (ages 3, 6, 9 and 11). All of the wax figures were also fully themed and well laid out throughout the exhibit in an organized way that flowed very smoothly.
There were also lots of informative guides about each figure as well as staff on hand walking throughout the exhibits to offer up interesting information and to take photos etc for us. It wasn't like normal tours that can get boring, the staff didn't guide us through but rather just checked in from time time which really enhanced our experience.
We took our time walking through and getting photos with our favorites! It was really fun and SO well done. We were super impressed!
Of course Walt Disney was our family favorite: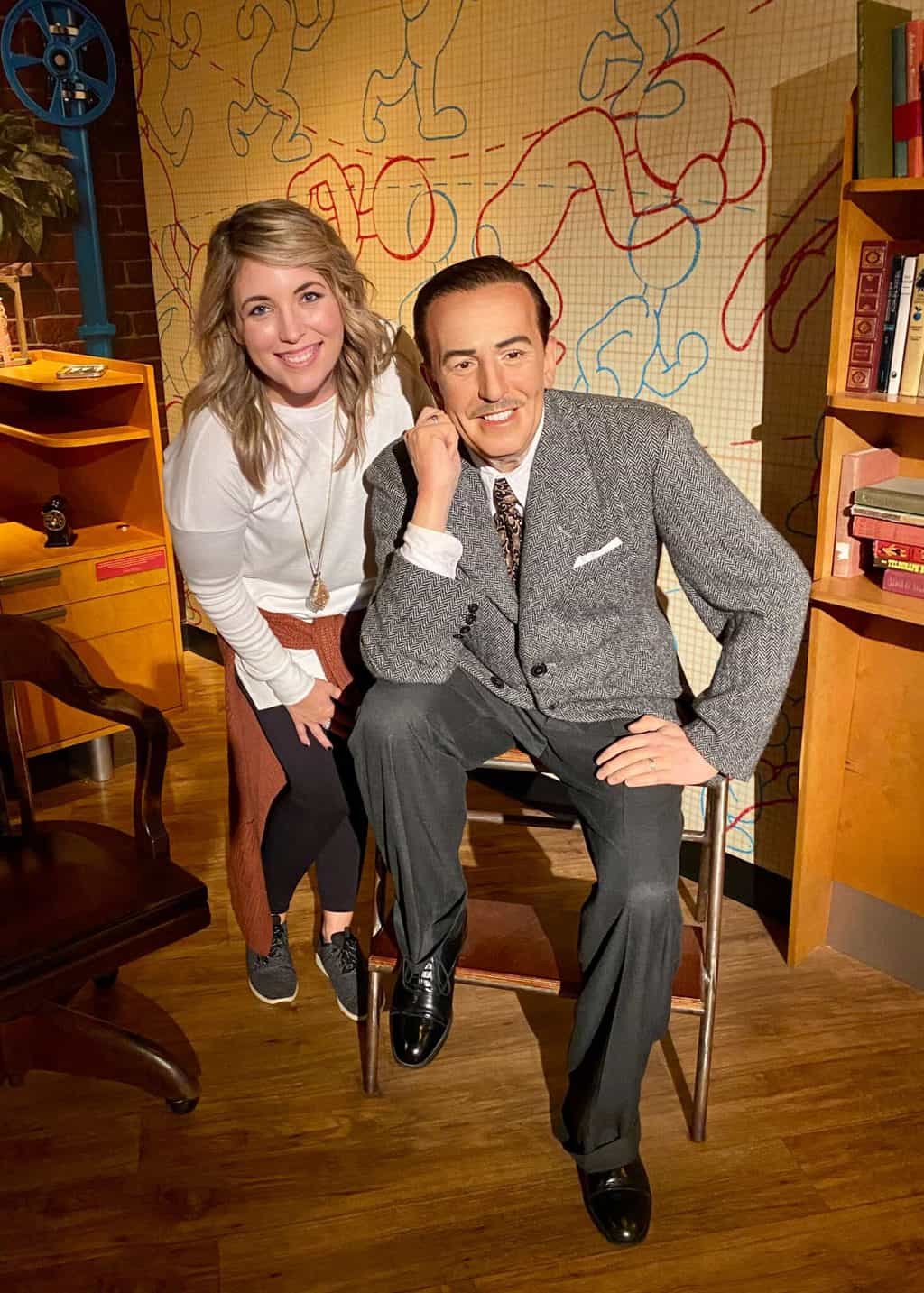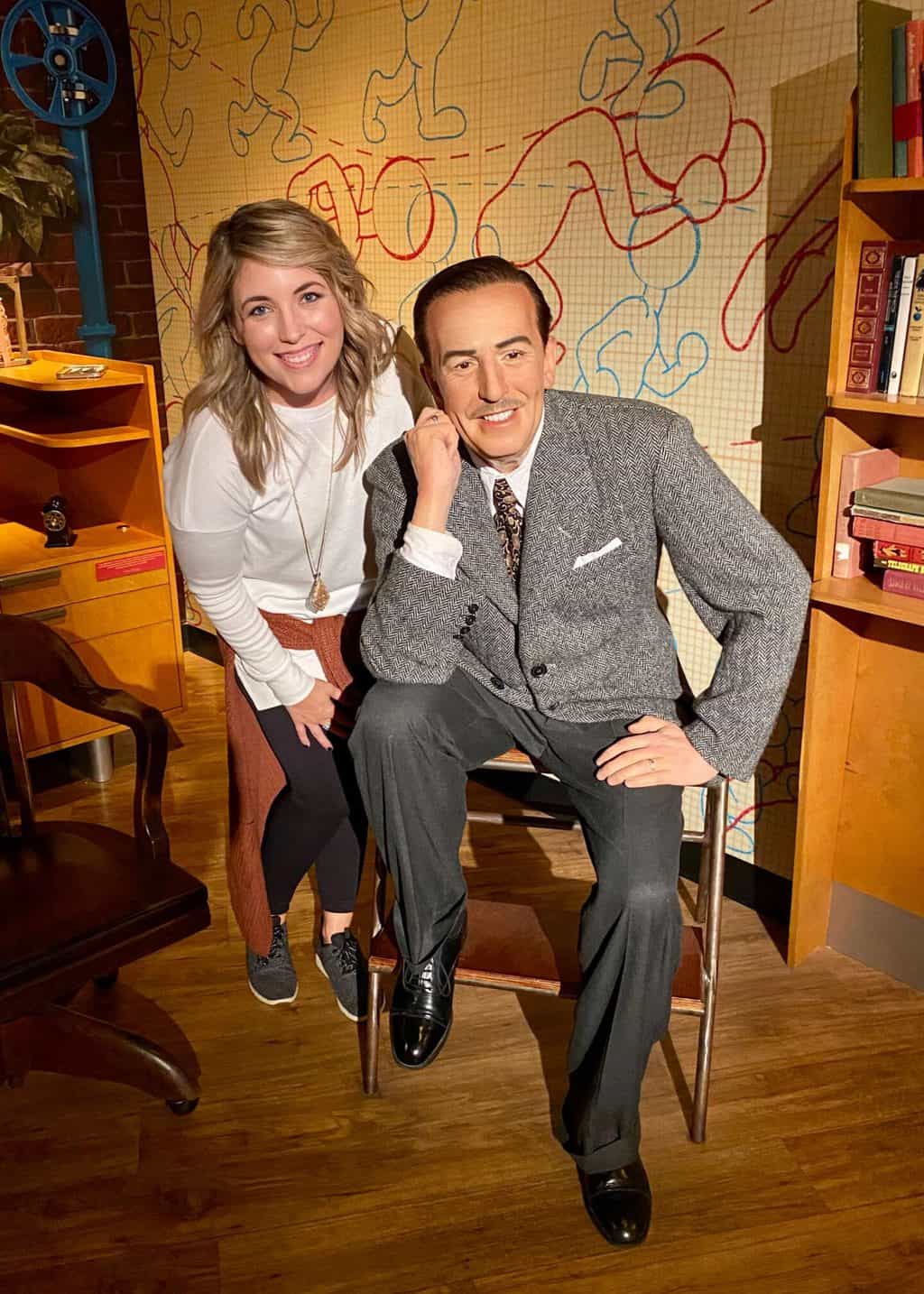 SEA LIFE Orlando Aquarium
I had very low expectations when it came to SEA LIFE Orlando Aquarium. I assumed that since it was part of the Play Pass package and located within ICON Park that it'd be a small, short and quick walk through with a couple fish tanks.
I was super wrong! We were all blown away impressed with how well done SEA LIFE Orlando Aquarium is and how many rooms and animals it offered.
This was an area where a stroller may be helpful but our toddler loved looking up close at all the tanks and did a great job exploring without wondering away from us so he was fine without using the stroller. The lay out is perfect for families as it was easy to let the kids look around without losing sight of them.
I loved that so many of the tanks had opportunities for the kids to go "inside" the tank for a closer look and that they had lots of hands on activities as well.
The Dive Log was a great way to keep older kids interested and entertained with stations to add pressed stamps to their logs at each location. Our 11 year old especially enjoyed this element and all the fun facts on the Dive Log as well.
My favorite part was the touch tank section as I am all about a hands on experience. I was very impressed with SEA LIFE Orlando and it's SUCH a great value as being included in the Play Pass!
Orlando StarFlyer
The Orlando StarFlyer is thought to be the world's tallest swinging ride and stands at 450 feet!
It is a double seater experience which is perfect for couples or sibling pairs too. I am a total ride-wuss so there was no way I was doing it, but my three oldest kids as well as my husband had a blast and said it was a very smooth ride with awesome views!
They all had a BLAST and it was so neat watching from below as they spun around and around.
Be sure to note that riders must be at least 44 inches tall to ride.
Pearl Express Train
The Pearl Express Train is a "real-life Choo Choo" that rides around the perimeter of Icon Park Orlando and allows for little ones, and the young at heart too, to enjoy the sites from within a train.
My son was just shy of three when we visited and if you have a small child they will FLIP OUT when they see the train. Plan on riding it because it is the first thing we saw when we left the parking garage and it was ALL my son could talk about until we were able to get aboard for the ride!
It is a quick trip but super cute and adults are able to ride along with the kids as well. This experience isn't something I'd say is worth going to ICON Park specifically for, but it's a great add-on to your day and a great way to keep the little ones happy!
7D Dark Ride Adventure
My eleven year old was the most excited about partaking in the 7D Dark Ride Adventure. It is an interactive first-person shooter game experience that puts you into the action!
The staff member running the experience was very up front with us about what to expect. You're able to choose one of three different storylines and they can all be pretty intense and frightening for younger kids.
Our three year old did not ride and our six year old probably also shouldn't have. She was tough but was pretty spooked out by the zombies jumping out at her.
The game itself is on the violent side with shooting and blood and the scenes are in 3D so they are more life-like and can be very frightening for young kids.
While the six year old cried, the eleven year old wished it never ended 😉
It was a fun experience and if we go back we'd allot more time for our older kids to play multiple times and have the other adult take the younger kids on the Pearl Express Train during that time instead!
Much like the Pearl Express Train I also wouldn't visit ICON Park with ONLY the 7D Dark Ride Adventure on my agenda, but it was a fun thing for our older kids and an experience unlike anything any of us had ever done and something we'd totally do again too.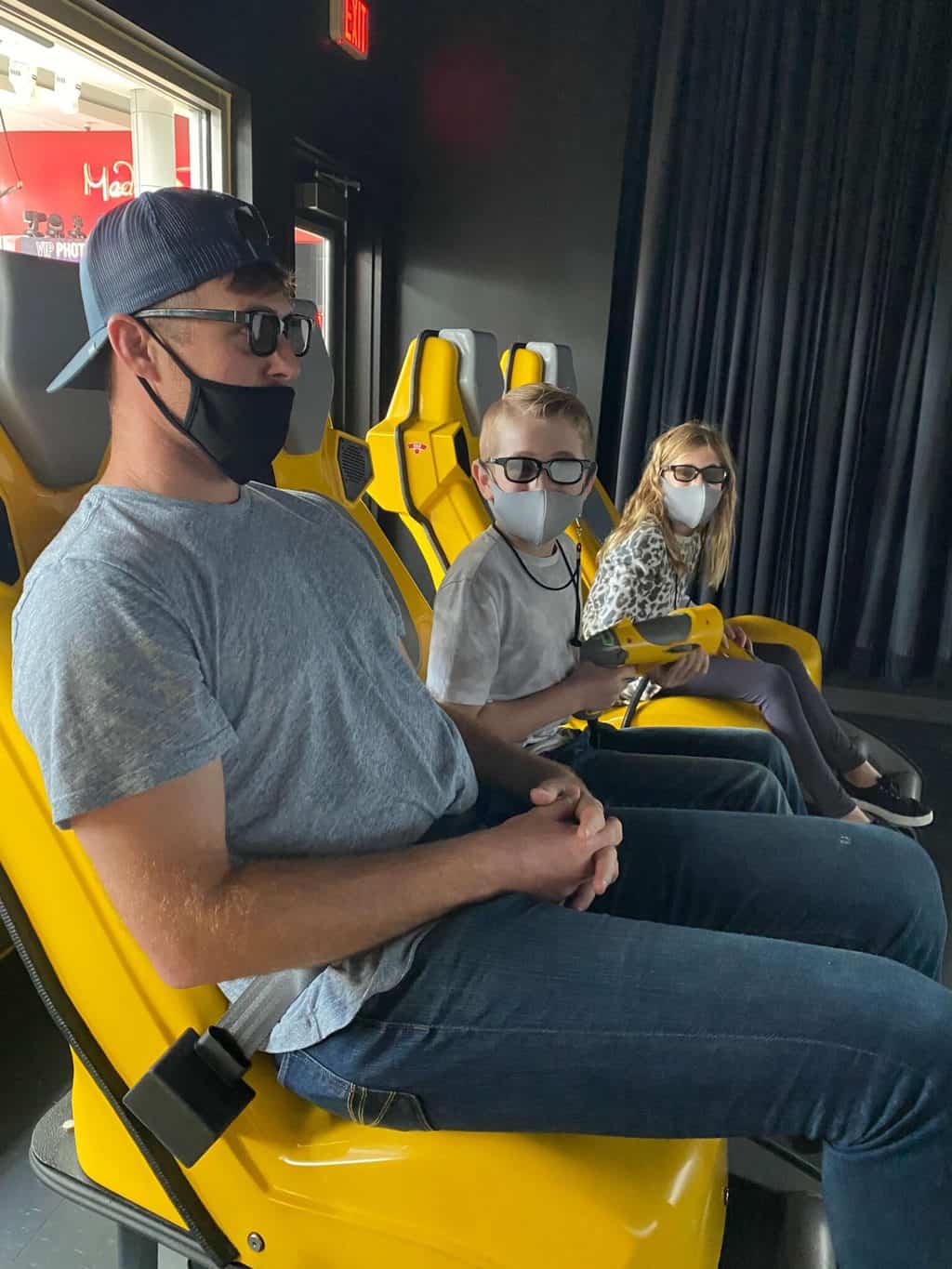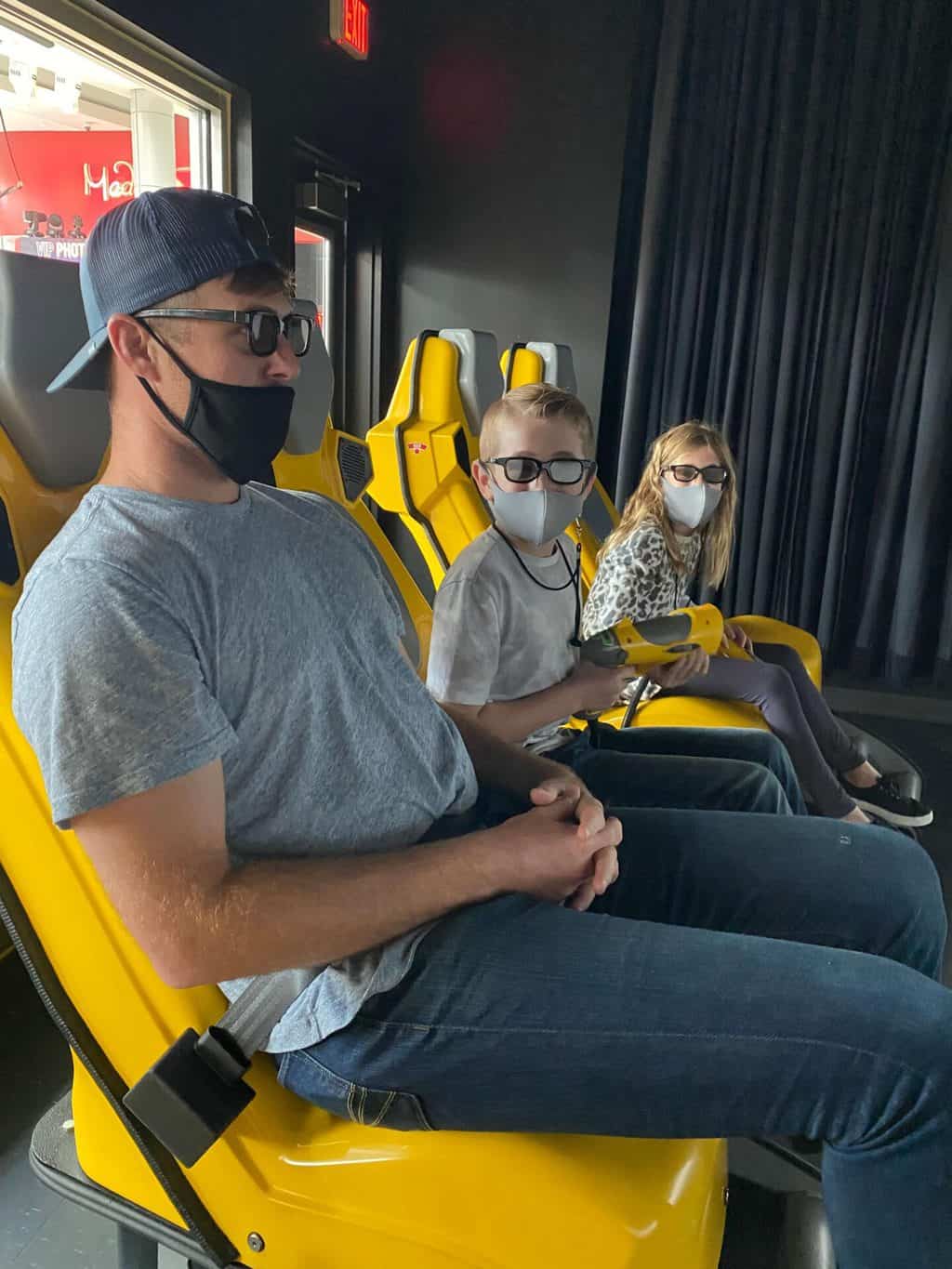 Arcade City
I love that the Play Pass included $5 in credits for the arcade area at ICON Park. It was the perfect amount to let all the kids play whatever they wanted to play and it was just enough time for them to have fun without it getting boring for the toddler.
My oldest LOVES video games and I loved that the Arcade City had plenty to excite him but also LOTS of family friendly arcade games too.
We loved racing each other at Mario Kart and competing in skeeball too. Plus many of the games gave tickets and the girls LOVED combining their earnings to cash in on some prizes 😉
It was a nice sized arcade area and inclosed all in one open room so we could easily keep eyes on all of our kids while also chasing the three year old around.
It is possible to add additional money on the Arcade Card if desired, but we found that the $5 per person was plenty (we gave the kids ours too so they had more than enough to be entertained).
Museum of Illusions at ICON Park Orlando
The Museum of Illusions is a new addition to ICON Park Orlando and was not opened during our visit but is something we are eager to explore next time we have the opportunity to visit ICON Park!
The entrance fee into the Museum of Illusions is now included in the Play Pass and I would allow an additional hour to your day in order to give enough time to enjoy the full experience. I have visited a Museum of Illusions in New York City and there were TONS of fun interactive elements and awesome photo taking opportunities as well and I believe this will be a wonderful addition to the already fun and diverse entertainment offerings at ICON Park.
Where Should I Eat at ICON Park?
Icon Park Orlando has TONS of restaurant options! We did not take the time to explore many of the offerings as we had to drive back home the same day we visited ICON Park and we were limited on time.
We brought in food for lunch but also bought some heavier snack items (a massive pretzel and pizza) from The Wheelhouse Market Food Hall food court style area.
We were extremely impressed with the pricing as well as the quality of the food offered. My husband said it was the best pizza he's had at an amusement park style of place ever!
The Play Pass included an additional discount on the already affordable dining options and we were also blown away by the service we were given. The staff were very attentive and even asked specifically if my husband liked his pizza crust a little crispier or softer, etc.
ICON Park is well known for their bars and restaurants. Being a family with four small children we tend to avoid a lot of restaurant dining (and we personally don't drink alcohol so we don't visit bars either) but I do think it'd make a great date night to come back to visit ICON Park and ride The Wheel at night and eat at one of the restaurants!
When we go back I'd love to eat at Shake Shack and have some of the yummy dessert offerings at Sugar Factory.
Learn about all the available restaurant options at ICON Park here!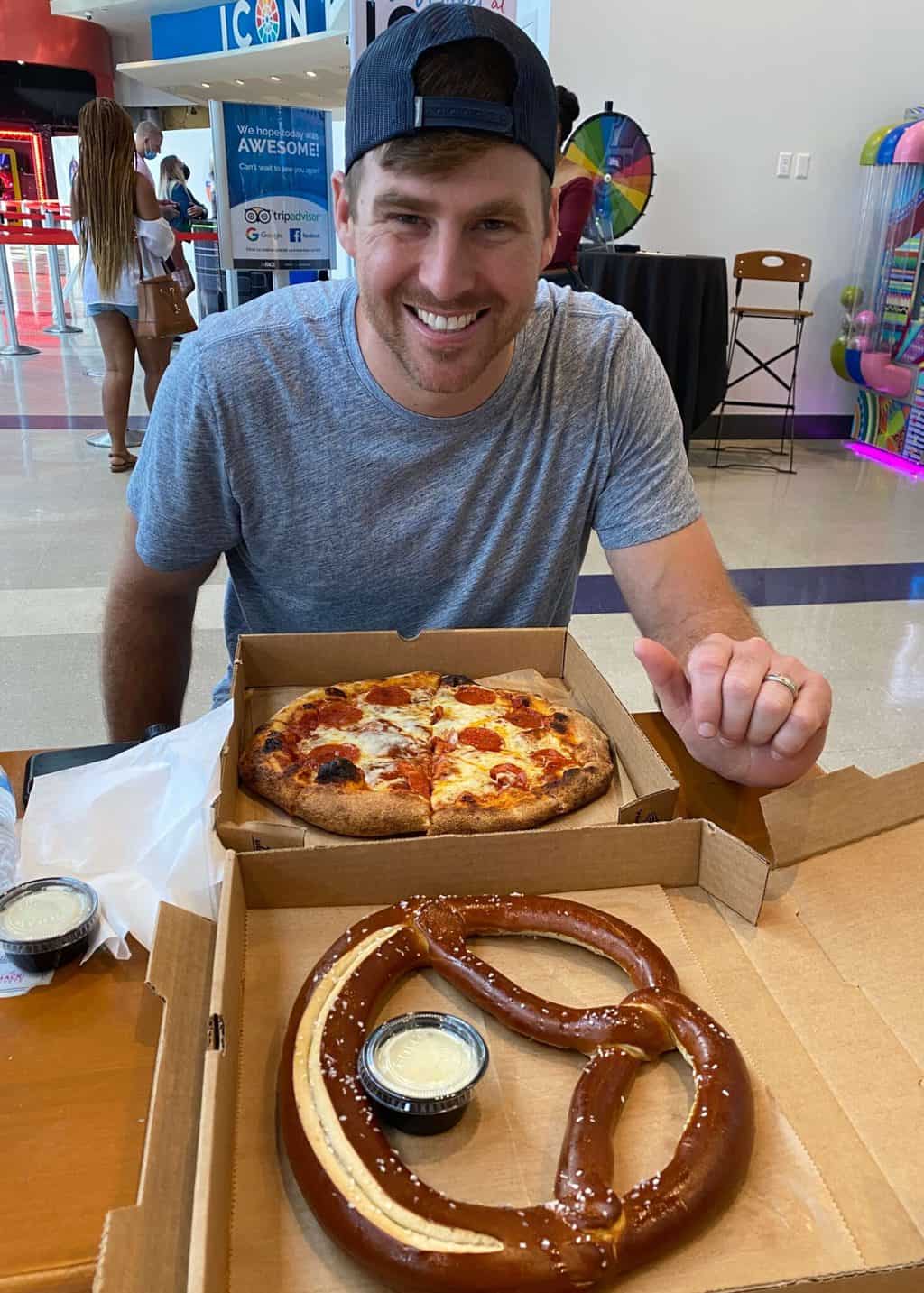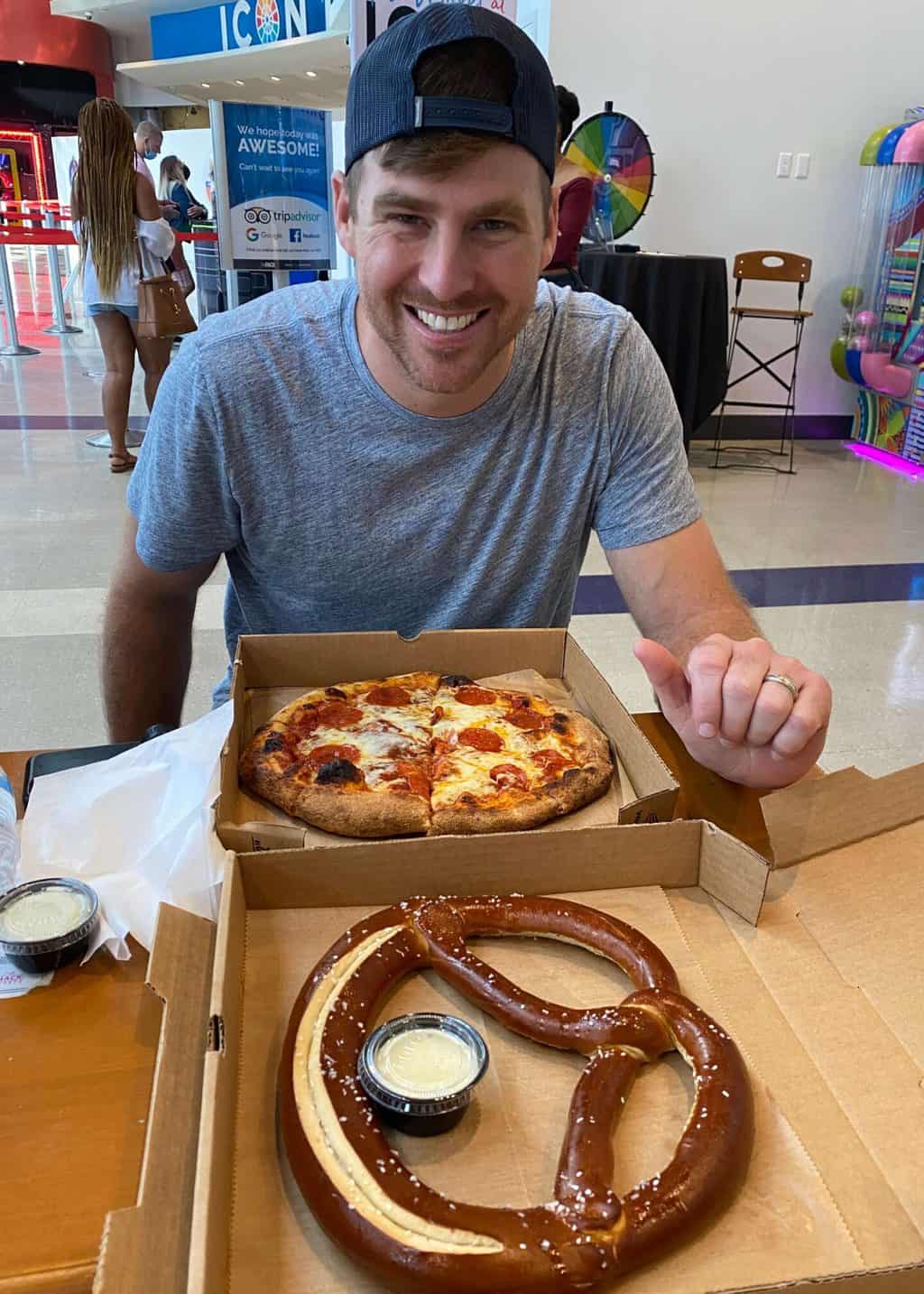 Final Thoughts About ICON Park Orlando
Overall our family really loved our time spent at ICON Park Orlando!
If you're already planning a visit to the Orlando, Florida area then I highly recommend adding time to visit ICON Park into your schedule.
I also think it would be a much more affordable option than many of the surrounding theme parks in the area and would be great for families who are looking to save money while still having unique, fun, and memorable experiences as while traveling.
Looking for other ways to have a magical trip without breaking the bank? Be sure to look into staying at our vacation rental home! Close to all the fun that Orlando has to offer (3 miles from Walt Disney World and only 20 minutes to Universal Orlando as well as just 15 minutes to ICON Park and about 45 minutes to the beach) our home has 6 bedrooms, 4.5 bathrooms, a private pool and game room. It's also more affordable than most of the basic hotels in the same area! You can see a full tour, tons of photos, check for availability and see the discounts we offer here.
Thank you again to Icon Park Orlando for hosting such a fun family day for our crew! You can learn more about ICON Park and purchase park tickets in advance (including the Play Pass) here.