A few years ago we started the tradition of cutting back on the amount of Christmas gifts we buy for the kids and instead using Christmas as a chance to have a special surprise trip as a big gift for them! In 2019 we gifted Kye a ski trip with Daddy and the girls a Disney Cruise with Mommy, which was then canceled due to the pandemic in 2020 (the girls and I went to Universal instead). For Christmas 2020, we gifted a trip to Mexico…which was then canceled due to guidelines changing during the pandemic (so we went to Key West instead).
This year for Christmas I wanted a SURE THING. We had multiple trips planned for 2022. Two of which ended up being rearranged or canceled altogether which is why I'm SO thankful we opted to use the ski trip as the surprise Christmas gift. One of the trips we are going to wait a couple years before trying to reschedule and the other we decided to hold off until September 2022 which would have been a LONG time to wait for a Christmas gift trip!
When Kye turned 10 we went skiing in North Carolina for his birthday and Britt LOVED it and said she wanted to go skiing for her 10th birthday as well. Up until Christmas morning the kids thought the plan was to drive to North Carolina in February to celebrate Britt's birthday a couple months late. This was the same time period we went for Kye's birthday and would be a great time to visit the area for skiing for our whole crew.
With all the travel plans we've had canceled and rearranged, we have a few flight credits that will expire so it made sense for us to try to use them and since Zach and Kye LOVED skiing in Colorado we decided to upgrade the birthday trip and convert it to a combo birthday AND Christmas trip! We surprised the kids with the trip the morning of our Core Crew Christmas and we left for Atlanta to fly out on Dec 30th!
This trip was a LOT. I love to travel but I'm pretty picky when it comes to taking a family trip. Ideally, I prefer to take the kids to places I've been before and am familiar with. It makes it WAY easier to go in knowing what to expect and what will work best for our family. Often when Zach and I travel to new places just the two of us I spent a lot of the trip talking about if it'd be a good place to bring the kids 😉 It made a HUGE difference in our big trip to California with the kids that Zach and I had previously visited!!!
Truly that was my error in planning this ski trip. Zach went to Steamboat Colorado twice in 2020 but I haven't been to Colorado since he and I were engaged and went to Breckinridge with this family. The combo of not knowing what to expect as well as haven't ever flown with four kids AND traveling over the busiest time of the year was just a bad combination. We learned a LOT of lessons on this trip!
And I will go ahead and say upfront that when we take another family ski trip we will wait until the littles are older, go in Spring season, and go somewhere closer to a major airport and more family-friendly overall (it would have been well worth the money to make this trip be to Utah instead). We will be sticking to North Carolina for ski-trips for our crew for a looooong time to come 😉
We used to travel over Christmas break to visit my mom in Florida but since 2010 we haven't EVER traveled over Christmas break. I don't think we'll be doing it again anytime soon either!
Kye came home the night prior from Exposure in Alabama not feeling well, he had a cold in both eyes which Britt and Spear both also had (poor Britt has JUST gotten cleared from her nerf bullet eye injury too) I was VERY concerned about Kye and how he was feeling since skiing is literally his FAVORITE thing in the WORLD and I just wanted him to enjoy the trip! We got all loaded up and hit the road to Atlanta and also hit really rough traffic. It was a rocky start and Zach was so sweet to make the call to go out to dinner in an attempt to reset and get everyone in good moods and start the family fun!
Zach and I ate at Serafino's Italian and LOVED it awhile back so we went as a family and even order dessert. Sometimes you just need a yolo kinda vibe 🙂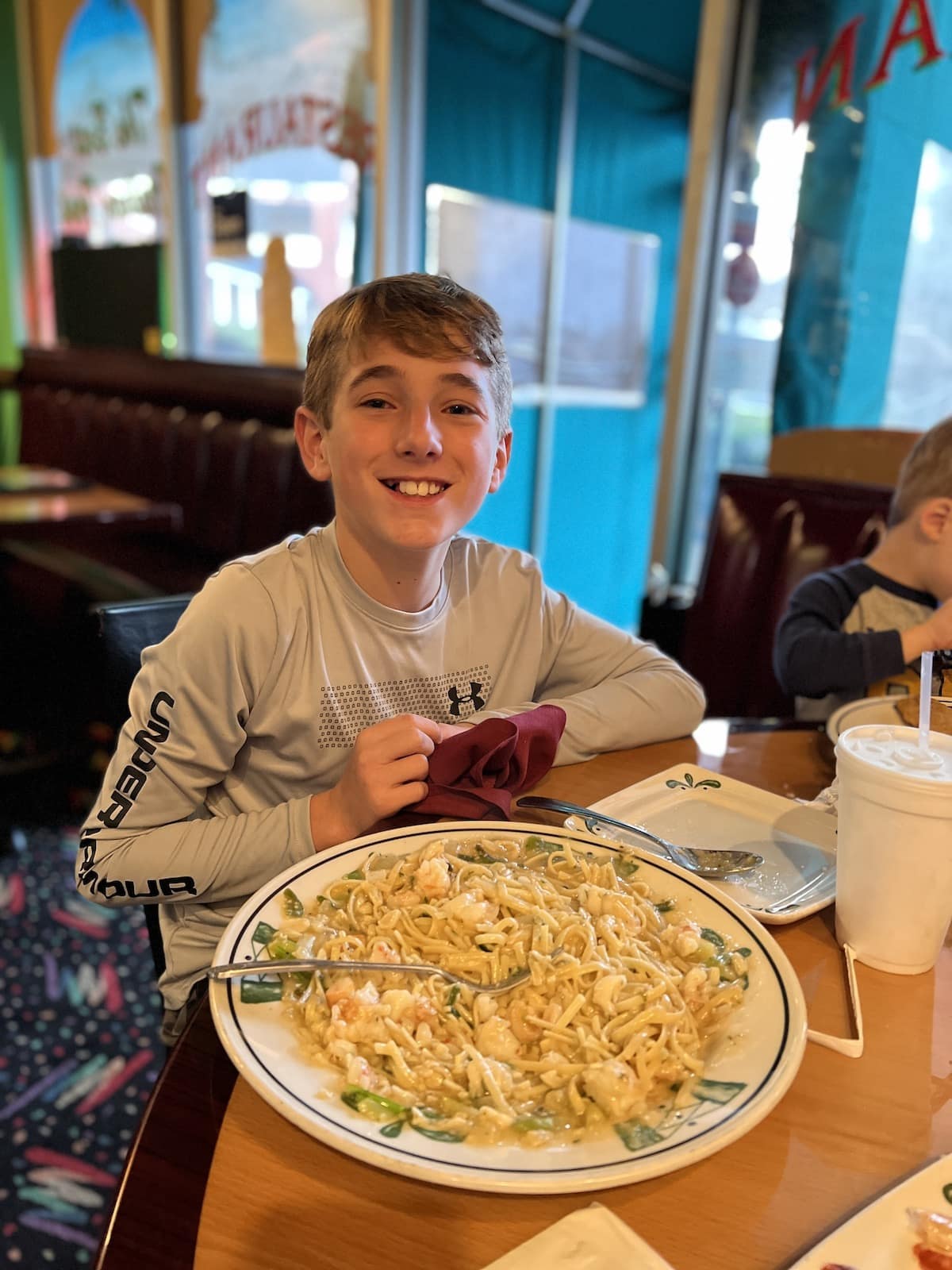 Traveling with four kids is a LOT for a lot of reasons but a big one is hotel space. Hotels just aren't really made for larger families! Atlanta is the cheapest airport to fly out of for most flights so it makes it worth it to drive up the night prior. We were able to find a large hotel room near the Atlanta airport that also provided a shuttle to the airport and we'd be able to leave the car parked at the hotel during our trip.
We got all checked in and organized for the night. Britt and Tess slept on the pull out couch, Kye had a bed, Zach and I shared and bed and Spear had an air mattress. The kids did FANTASTIC! It was Spear's first time ever staying in a hotel which is crazy to think about but he did really well with it and was super pumped about it.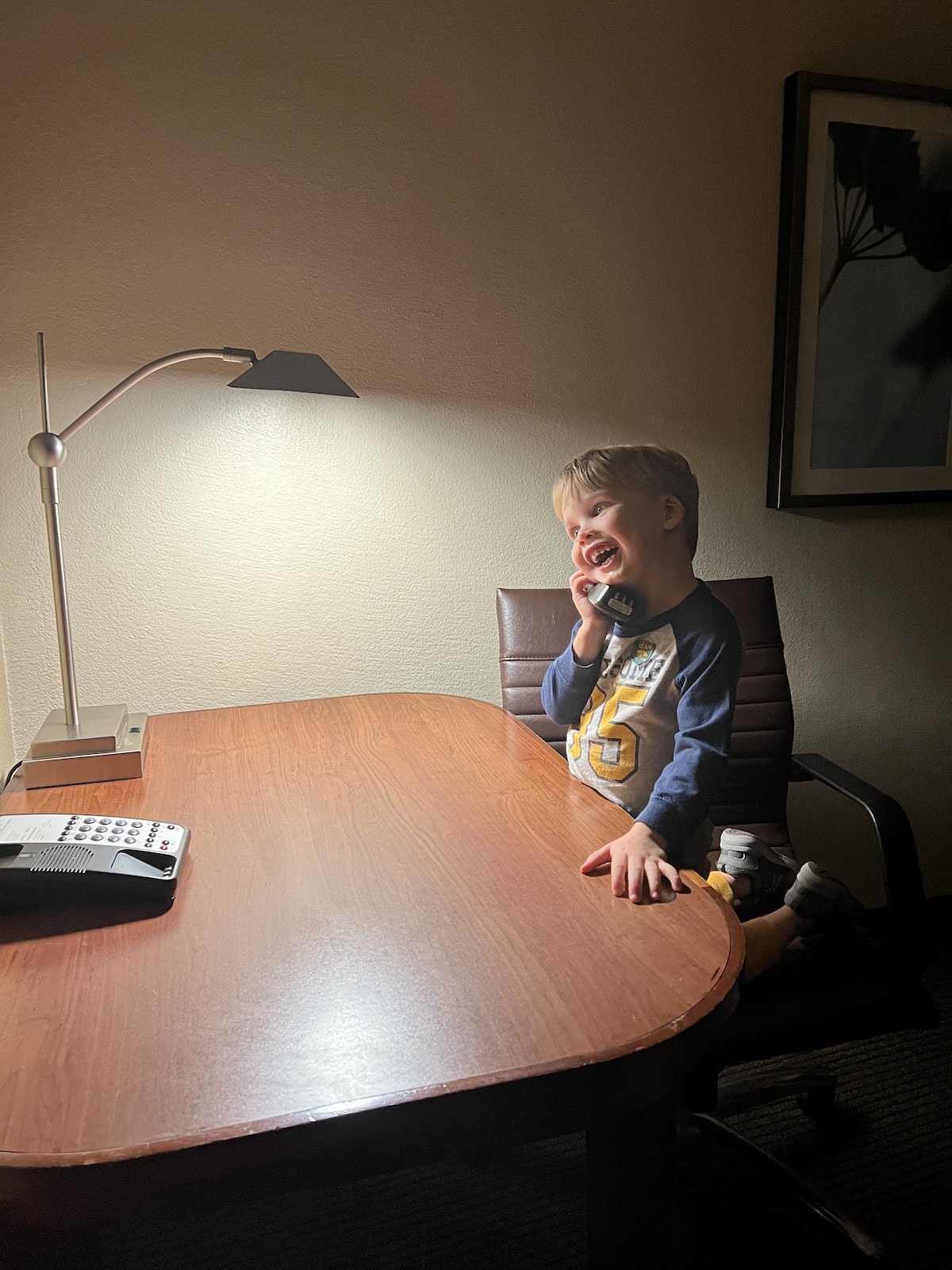 The next morning we had to be at the airport bright and early and wanted to make sure to give plenty of time to get things loaded up and on the shuttle for check in time. We got on the shuttle and to the airport and went to check our bags and realized…one was missing.
We got new luggage and the wheels are SO GOOD that our carry on bag literally ROLLED AWAY when the shuttle driver was loading up all the luggage. Yall. Of course it was the carry on with all the valuables in it too. Thankfully when Zach called the hotel they said someone in the parking lot found it. It had rolled ACROSS THE PARKING LOT and into a parking spot between two cars. It was so dark when we left that no one noticed it!
We were so fortunate that people were honest and turned it in so quickly and that the shuttle driver was kind enough to rush it back to us. I stayed with the kids while Zach rode the shuttle to go back and get it.
During our trip Omicron was in full force (which you just can't predict that kinda stuff when planning ya know?) and a TON of people were out of work. Traveling during a pandemic requires patience no matter what you're doing or where you're going but this trip was especially gracefilled from start to finish. The airport was understaffed and it was the busiest travel time of the year.
When we booked the flights Delta messed up and had all of our names and birthdays scrambled and jumbled and it took a super long time at the check in counter for them to sort it all out. The kids did amazing during the wait and I'm also proud of Zach for remaining calm and collected. Even the Delta reps couldn't figure out how to fix it. They finally got it to work well enough for us to have our boarding passes, but unfortunately they didn't fix it for our return flights so we had another mess to deal with on the way BACK too!
Spear was SO excited for his first flight on an airplane! We had just enough downtime to scoop up some Chickfila for breakfast before it was time to board the plane and Spear had time to watch the luggage get loaded up.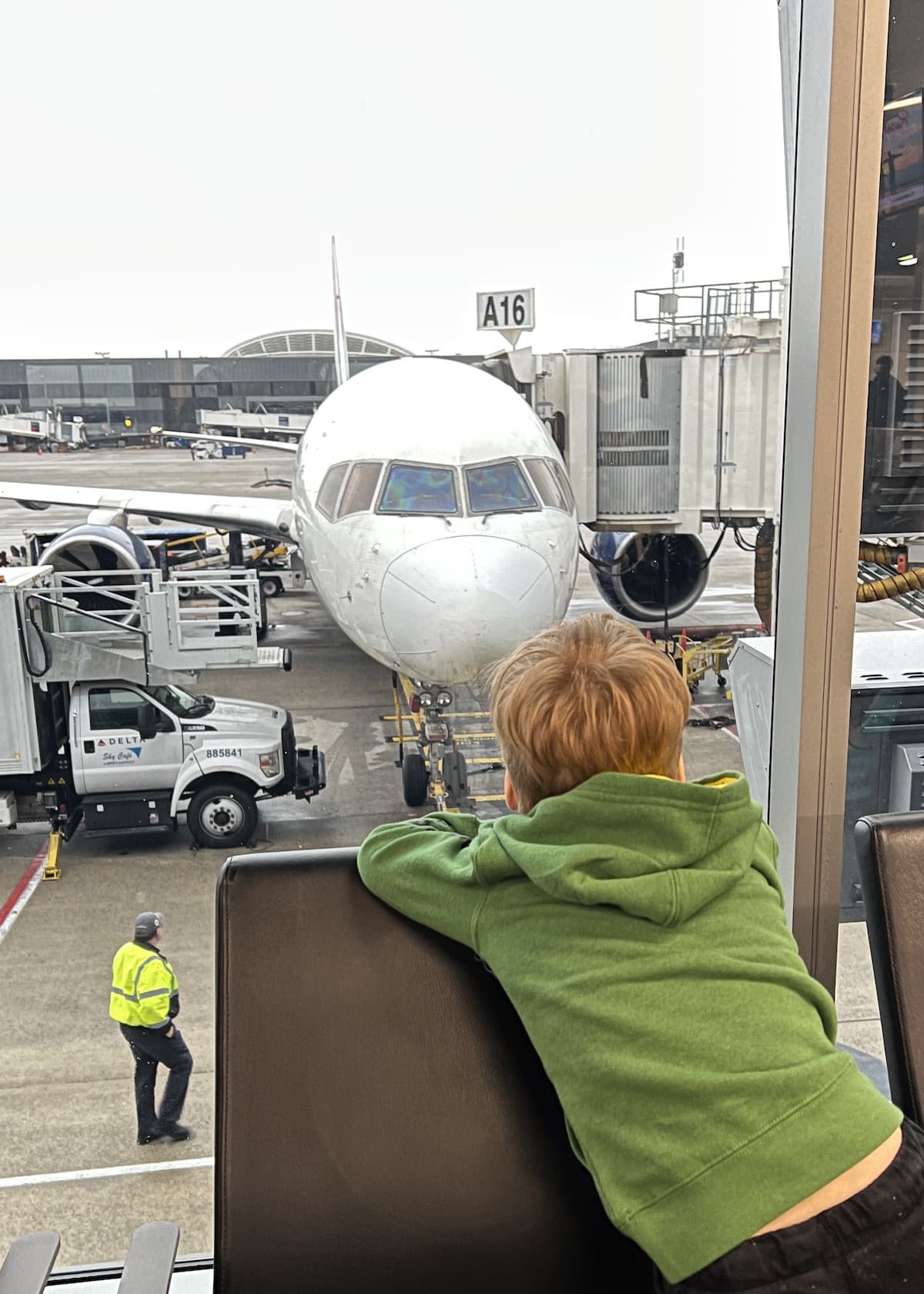 The big kids had their first flights when we went to California and for that trip we flew out of Valdosta so this was their first time at the Atlanta airport and getting to experience the Plane Train too. Tess was a couple months older than Spear was when she had her first flight and I remember she wanted to sit with Kye on the airplane so it was so sweet she wanted to be the big sibling on this trip and sit with Spear during his first time flying.
We flew when masks were still required on flights and this was my first time flying at all during the pandemic (again, an experience I'd wished I'd had prior to taking my kids along so I'd know what to expect). We were never asked to put a mask on Spear which I'm so thankful for as no way would he have kept it on! The big kids did great with not complaining about wearing theirs and they were able to take them off for eating and drinking etc. It wasn't nearly as annoying with the masks on during the flight as I'd thought it be – wearing em while watching a movie wasn't really a big deal. We had a wonderful flight experience with the crew and everyone was very kind!
I sat with the littles on the flight there and Zach got the chill kids 😉 Tess, Spear and I had fun looking out the window and discussing all the different parts of the plane and the different jobs of the vehicles at the airport.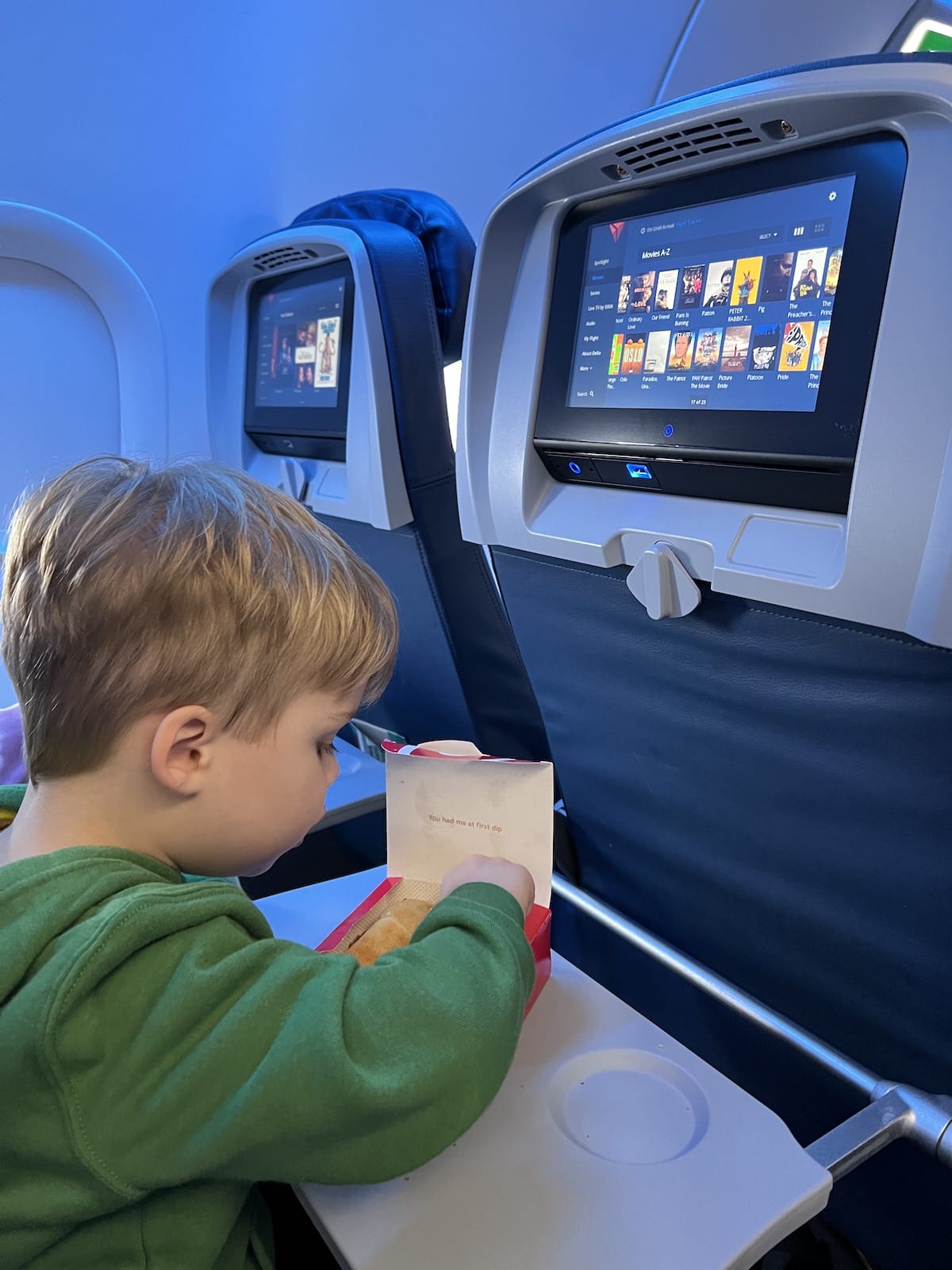 I don't know how parents ever survived flying with kids prior to in-flight movies. Literal travel life saver! For Christmas each of the kids got these headphones and they are awesome! They include a case, wire as well as have bluetooth and work wirelessly with iPads!
I packed each kid a bag of snacks for the flight on the way and had another bag of snacks for the flight home. Snacks on snacks 😉 Spear LOVED the flight experience and did so awesome for the full 4ish hours. We, of course, also went to check out the airplane bathroom 😉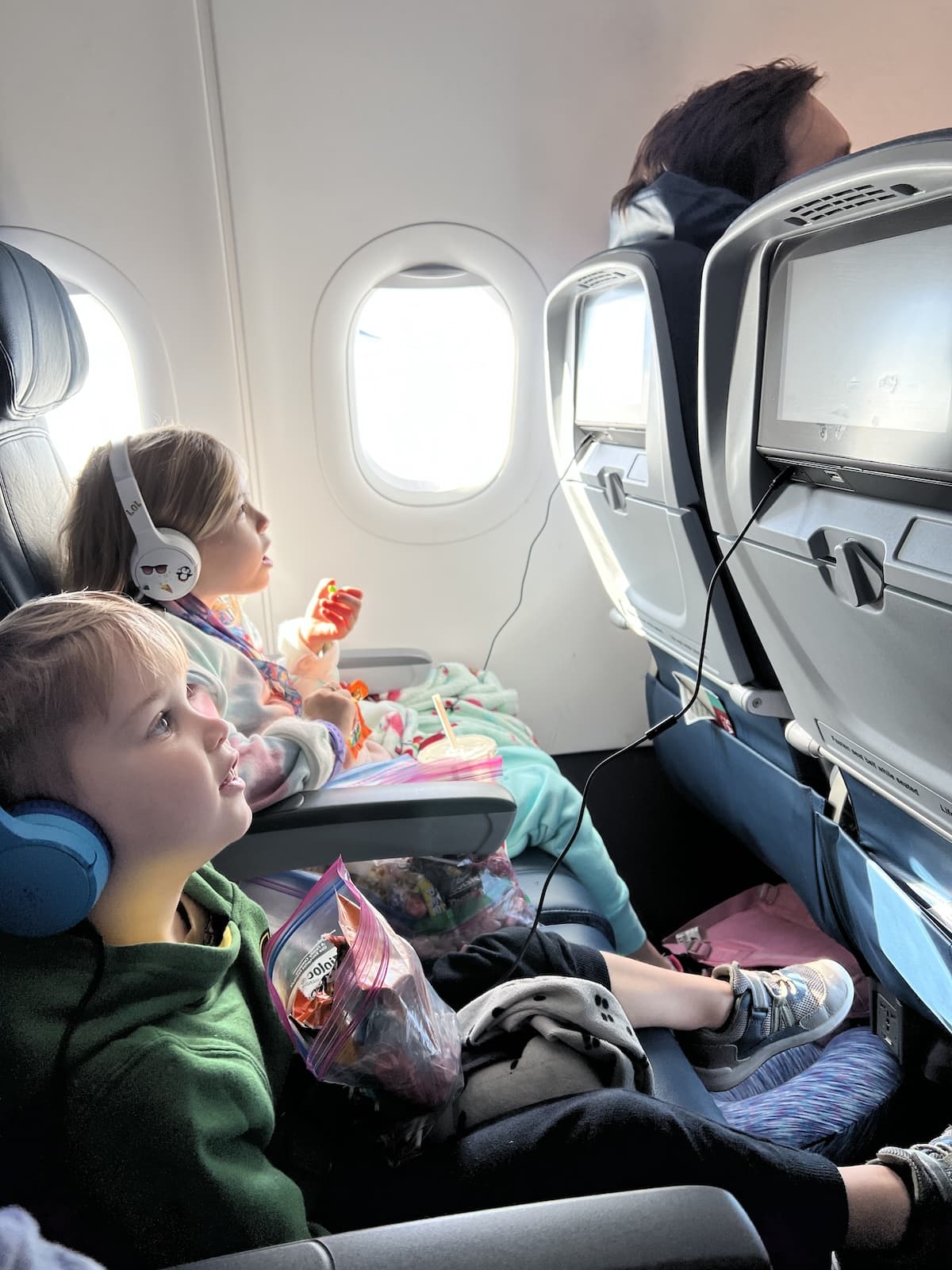 When exiting the plane we were able to visit the cockpit and talk to the pilot and even try on his hat! I asked him why the hat is a "thing" and he said "my job is 90% marketing for the airlines by wearing the full outfit" haha!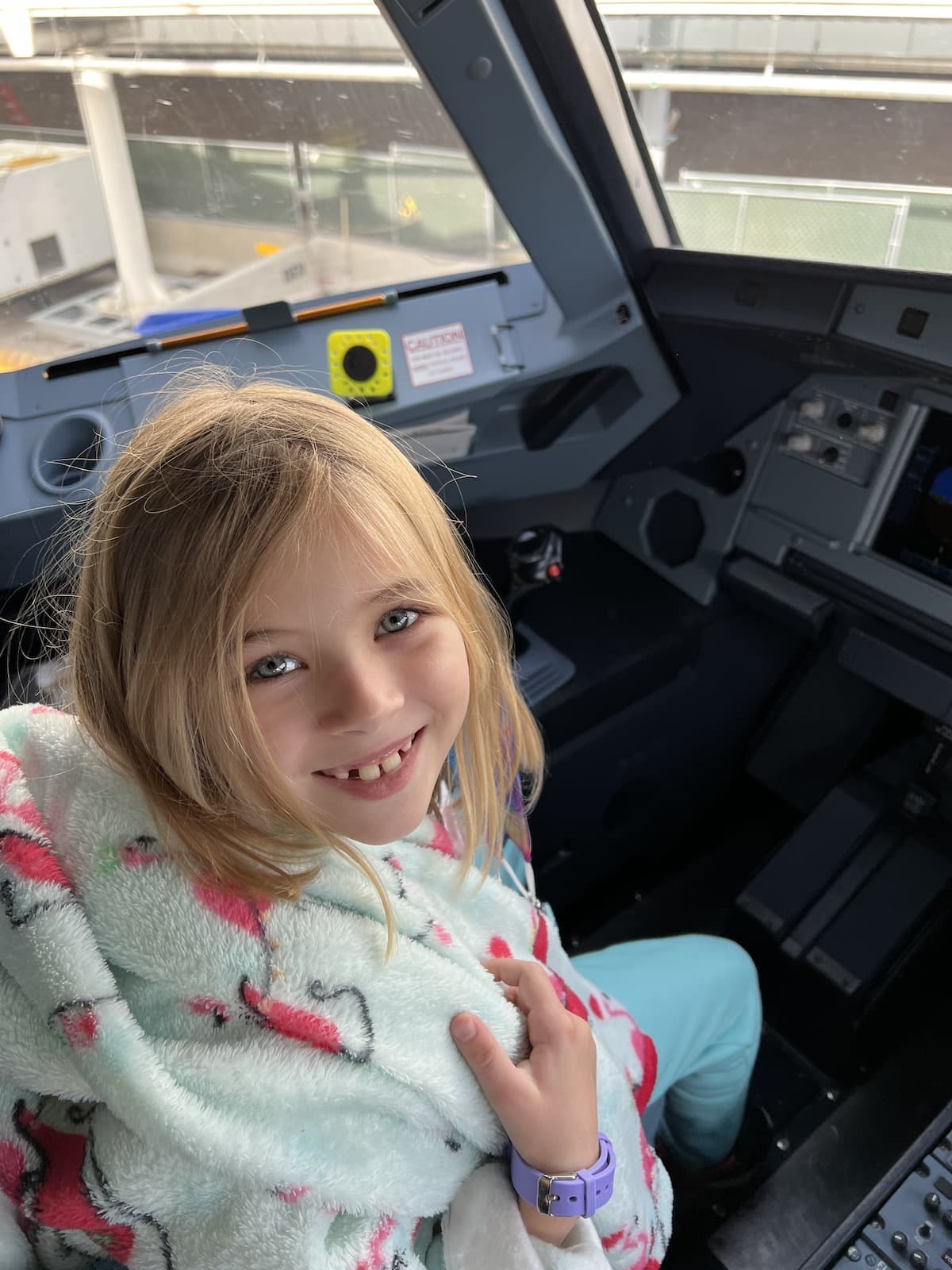 We landed and our shuttle was waiting for us so we went and grabbed McDonald's at the airport to bring with us to eat. The tough thing with flying into Denver is that it's pretty far from all the ski resorts. One of THE BEST decisions we did make was booking a private shuttle for the transfer. When Zach and Kye had their trip the weather was SCARY. Zach told me the story about how he'd never been more scared driving and I just didn't want to be having Zach feel that stress or cause US to bicker or argue because I'd be scared riding! Plus I can only imagine the nightmare it'd have been waiting in line to pick up a rental vehicle at the airport on Dec 31t! Having the private shuttle helped keep us all safe while also keeping us all relaxed 🙂
I also did price check rental cars and to have one big enough for all of US and all of our STUFF would have been crazy expensive! We had 6 people and for a four night trip we had 5 checked bags, 2 carry-on bags, 6 book bags and a stroller! Whew! Oh and a cup holder filled with drinks 😉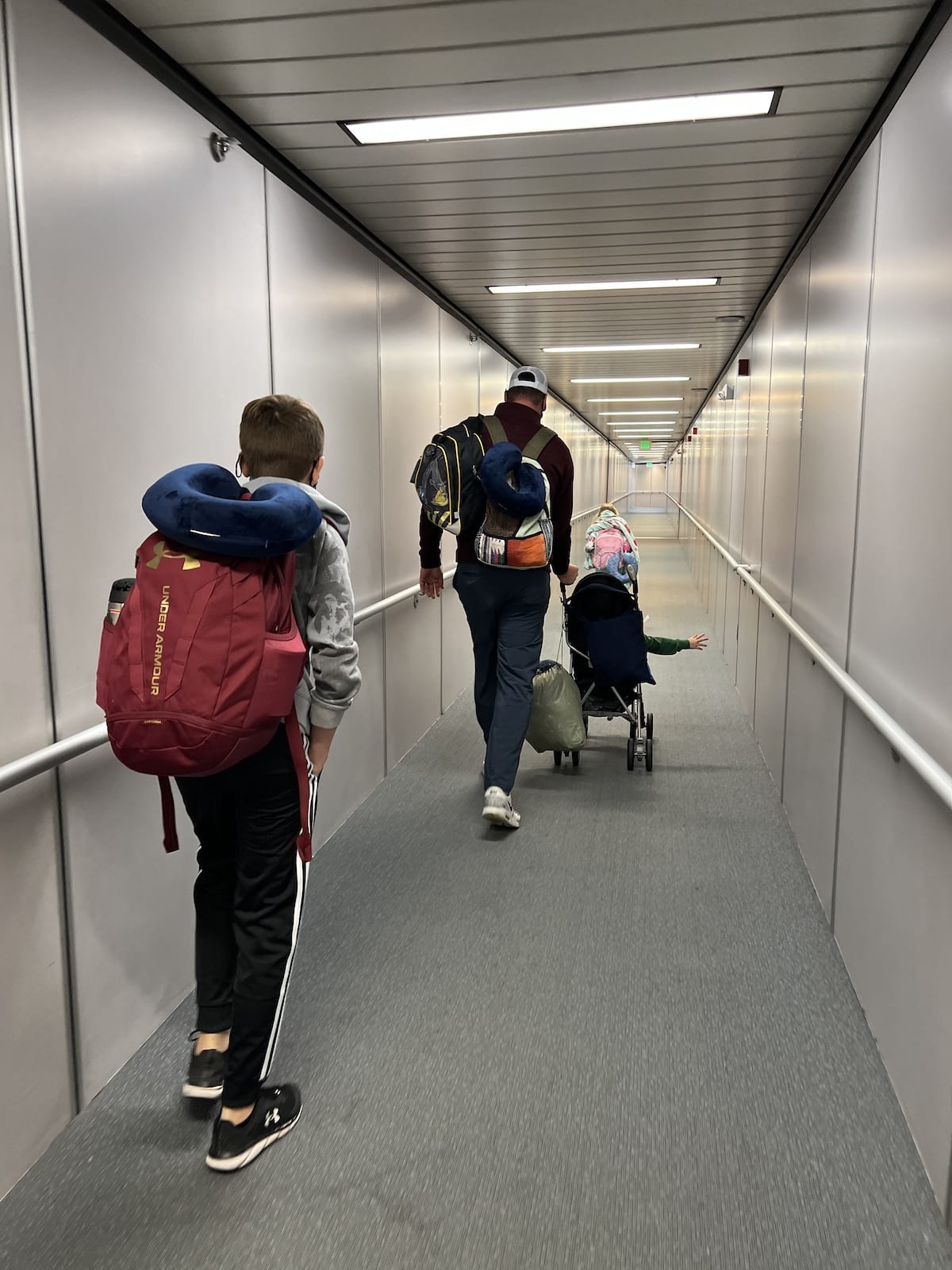 We landed in Denver at 11 am and didn't arrive at our resort at Copper Mountain until 6 PM. WHEW. I cannot say it enough – I'm soooo thankful we rented the shuttle. Our driver was amazing and it was so awesome to have a large 10 passenger van completely to ourselves!
I really wanted to minimize stress on this trip as much as possible (you can understand why better when you read this post) and the shuttle was def the right decision! The shuttle transport included a stop at a grocery store on our way to the mountain and during the stop Britt and I saw our FIRST snow flurries!!!
The kids have seen snow before – the big kids saw it in Banner Elk, NC but their ski experience was on man-made snow not the real deal stuff (other than Kye who went to Colorado with Zach) and all four kids saw snow at our house on the day it snowed in Valdosta!
But Spear was like literally a month old that day it snowed so he has no memory of it and this Colorado snow was gonna be the first REAL DEAL for the girls too! Zach grabbed all the groceries he could at the grocery store and the line was INSANE due to it being both a holiday andddd being during a upcoming snowstorm.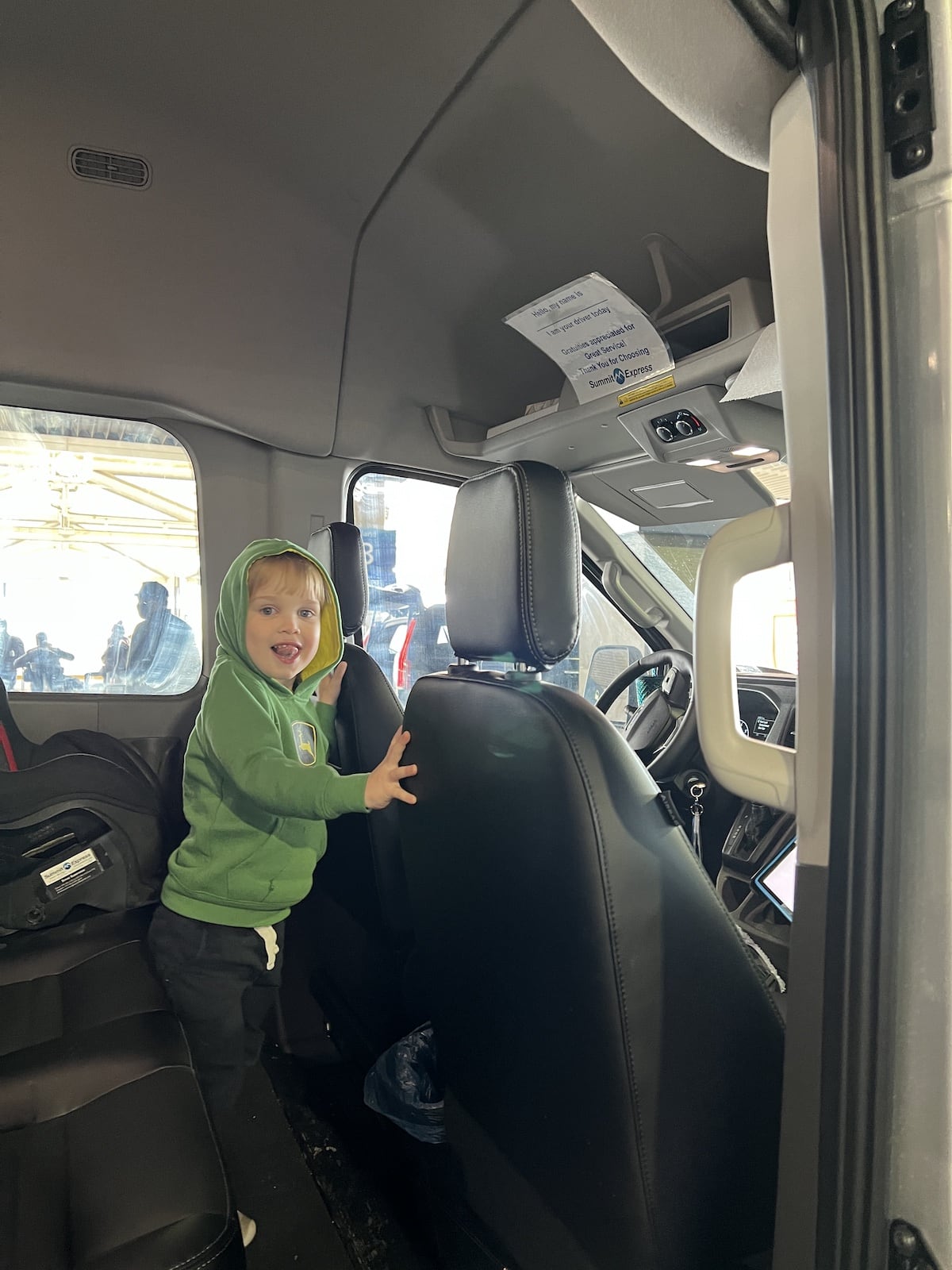 I am SO proud of the kids how they did during the entire day of travel. It was a LOT on them (heck and on us) anddddd we also had a time change going on too. Colorado is 2 hours behind our normal time. The ride was long but there was SO much to see and the views were beautiful and the tunnels were so fun to ride through. I was thankful we had movies on the flight because their iPads were still fully charged for the shuttle portion of the day 😉
We stopped to use the bathroom and got to REALLY see the snow coming down! First time using an outhouse in the snow 😉 When we told the kids about the trip the thing Spear was MOST excited about was to get to see a snowplow and we got to see several on our journey up the mountain! Seeing the snow was SO exciting – we are def some southerns!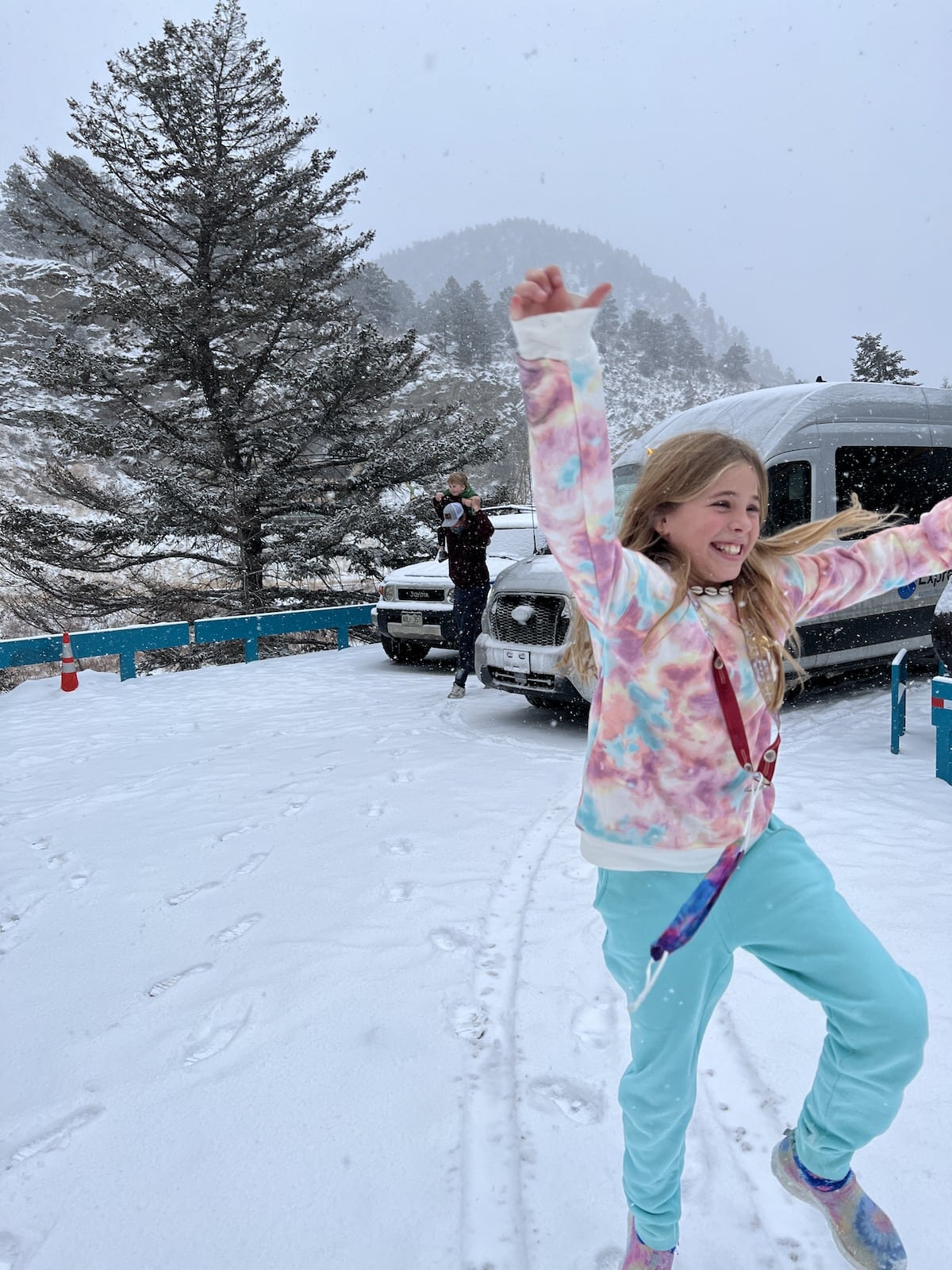 Another great decision we made was in booking our room for the stay. We booked this condo and it was FANTASTIC. The owners were awesome and even spoke to me on the phone prior to our arrival. The condo was perfect for our family and when we hit rough patches in the trip we kept saying how thankful we were to at least be staying where we were.
The condo was located in Passage Pointe which is also a great location on Copper Mountain and close to everything in the area and on the line for the free transportation. We had two bedrooms and two bathrooms with a living room and kitchen in between as well as a private deck.
It was the first time all four kids have shared a sleep space and Spear did REALLY well with it. They loved the double bunk beds! This was Britt's birthday trip and I loved seeing how excited she was. She LOVES staying in new places and her favorite thing is checking out the room when we arrive. She was thrilled!
It was only 6 degrees when we arrived but we still had to check out the porch!
In our planning I reached out to Kit Lender about partnering together for our trip. They are a gear rental company and I was able to order all of our ski gear (jackets, pants, boots, gloves, goggles) ahead of time. The owner of the condo was awesome in arranging everything to make sure the items were there waiting for us. Then when we check out they were helpful in returning the items to be shipped out as well. It helped BIG TIME in minimizing our luggage and the quality of the items was fantastic.
I will say though in the future I would bring my own gloves to ensure quality and fit and that not having the items with me when coming on the trip actually added to my stress levels. I was very concerned what we'd do if they got lost in the mail or if stuff didn't fit properly. So I ended up packing quite a bit just in case because I was too nervous. If you're not a hardcore planner though it's great and the company was awesome and we were able to use WAY nicer stuff than we'd normally use because no way would I spend a bunch of money on ski gear to use once!
The kids were really excited about their ski attire and loved opening everything and checking it out – I knew Britt would feel extra special having the fur trim coat as the birthday girl!
We were all EXHAUSTED and had a huge day to come the next day. We did absolutely nothing for New Year's Eve and instead used the time change in our favor and CRASHED! Zach and I were in the bed by 8:40 with the alarm set for 6 am – almost 10 hours of glorious sleep to kick off the new year!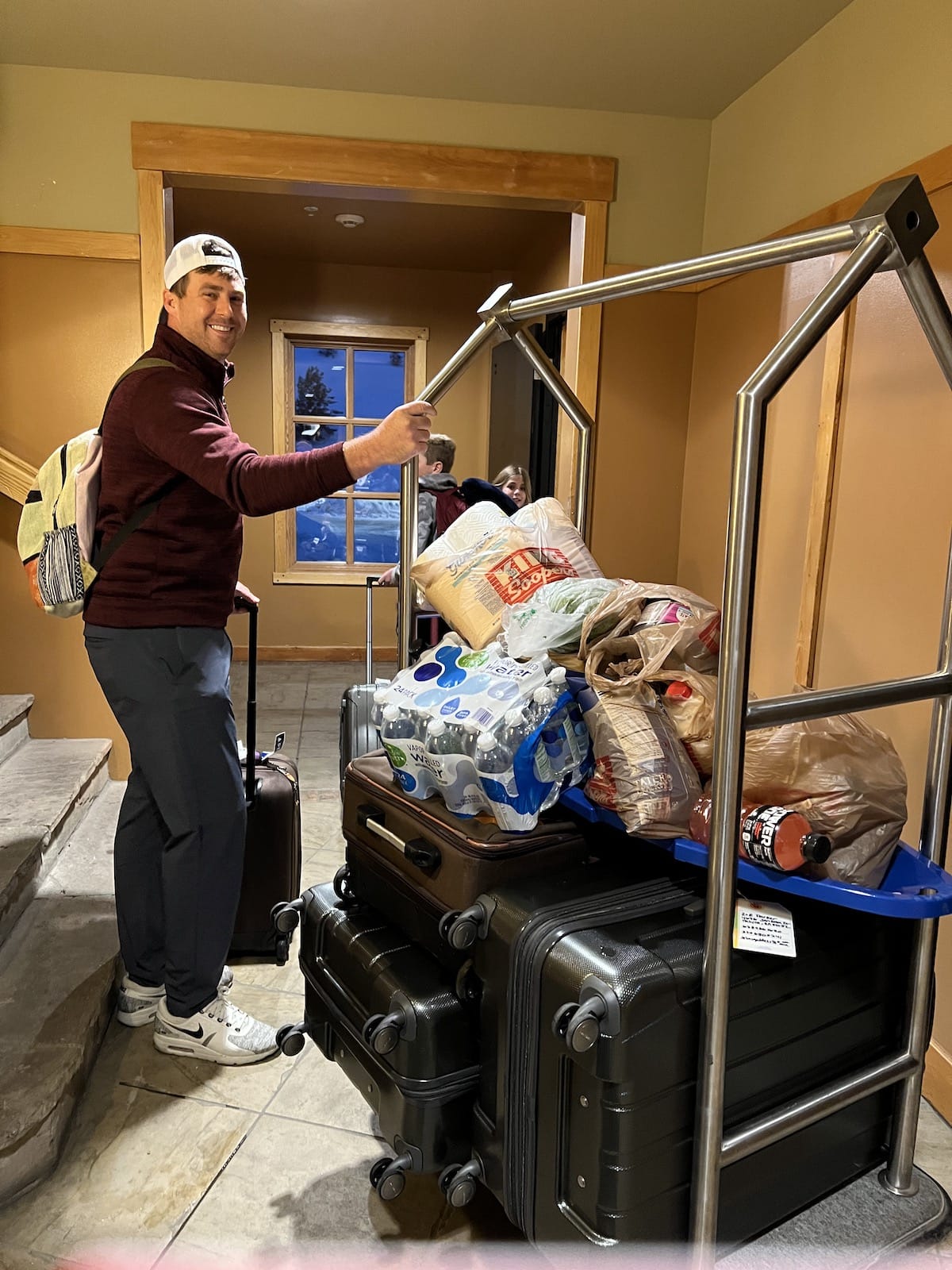 A high of 14 degrees for the first full day of our trip and the first day of 2022!