Ski Trip Packing List: Must Have Kids Ski Gear for Cold Weather
We live in South Georgia. We basically have one season: summer. We see 85 degrees on Christmas. It's snowed once in the last twenty years…and what little snow we got was melted by lunchtime.
When we started planning our recent ski trip to North Carolina (you can see the first part of our trip here and the second part of our trip here) I felt clueless and overwhelmed as to what we'd need in order to stay warm and have fun!
I'm so thankful for the awesome community I have on Instagram – they came to my rescue and helped me navigate cold weather with kids. So today, I'm sharing what I've learned about making a ski trip packing list… especially when you're from a warm climate!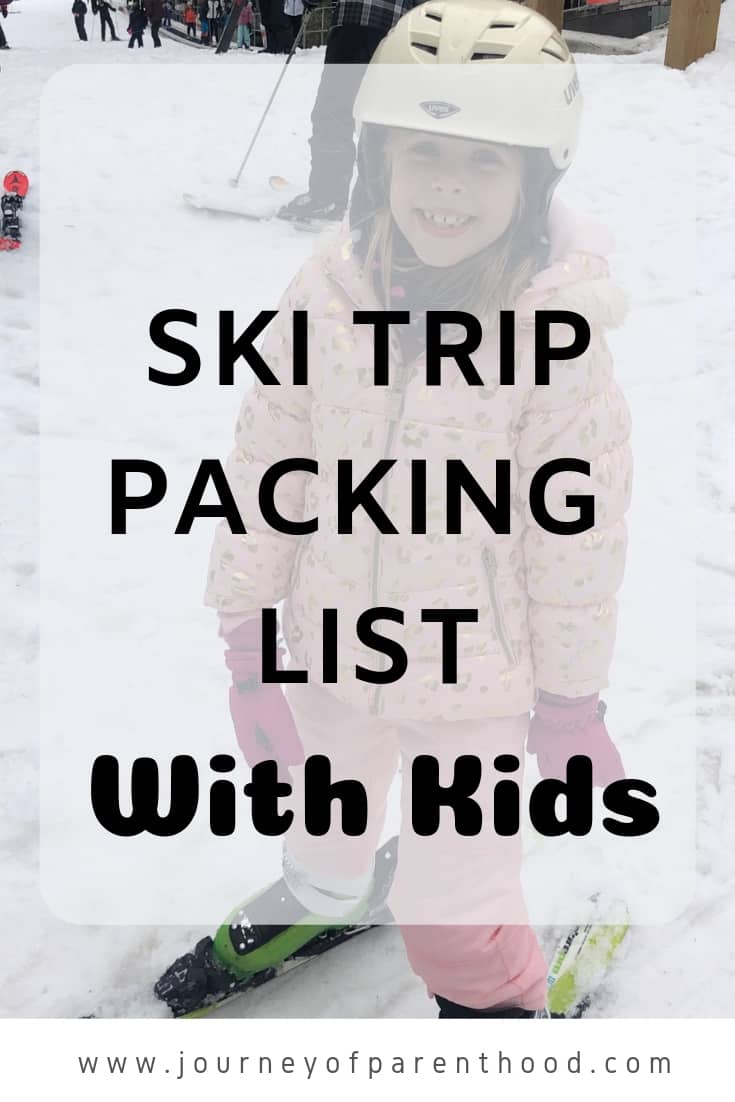 Ski Trip Packing List:
A tip for southern mamas who are considering taking kids skiing: invest in neutral colors.
Ski gear is expensive and if it's not something you are able to go and do on a regular basis it's best to purchase neutral colors that can be passed down to younger siblings for future trips!
I tried to stick to a neutral palate as much as I could with grays and blacks when possible!
A big tip I highly recommend is to purchase everything in advance prior to traveling for your cold weather trip.
Prices are much higher on ski essentials near the ski resorts than they are on Amazon or other such sites online.
Be sure to order well in advance as it's also important to have time to try things on and exchange if needed.
Proper fitting ski essentials are crucial to be comfortable in the cold weather and to stay dry in the wet snow.
We had a difficult time finding mittens to fit my four year old, ordering plenty of time before your trip gives you time to try everything on and exchange items if necessary.
List of Ski Trip Equipment:
Ski Pants / Ski Bibs
Pants made specifically for skiing and other outdoor winter sports are important.
Waterproof ski pants (or snowboard pants) are essential.
Not only to keep you, and your kids, warm but especially DRY. Fit is so crucial and I recommend sizing up.
Length is very important to keep snow from coming up the legs! By ordering up I am hoping to get a couple wears out of the bibs and to be able to pass them down to younger siblings for future trips.
Bibs are where it's at for kids.
A bit of a hassle to use the bathroom but worthwhile to ensure that they stay UP and avoid getting any snow inside their clothes.
A tip for wearing bibs? Put the underlayer of clothes on, then the bibs, then the next layer of a shirt (sweatshirt etc) that way if you get hot you can peel off layers without removing the bibs!
Ski Gloves / Ski Mittens
A lesson we learned very quickly when it comes to taking kids skiing – gloves are a PAIN.
Kids magically can't find their fingers and it's a huge hassle to help them get the gloves on and off. Mittens yall. Mittens are CRUCIAL.
Kye is our oldest and he was 9 on our trip and he got gloves and handled them beautifully.
Our 7 year old, Britt, had gloves the first day and it was a nightmare so mittens went on the second day and it was a WAY better experience.
Also, be sure to look for gloves and mittens with pockets in them for hot hands to help keep hands warm (more on that in a moment).
As I pulled down our ski equipment from the attic I assumed Zach and I would be able to use our old ski gloves for our trip, but they had small rips and tears and I didn't want to risk that cold, wet air getting through them and causing us to be uncomfortable.
It's important to inspect all ski gear prior to traveling and to store it properly too!
I bought these gloves for myself and LOVED them. Very easy to put on and off and I could even get the touch screen on my phone to work through them too 😉
Come Hang With Our Fam and Keep Up With Our Adventures:
Ski Goggles
Even though we were skiing in North Carolina, ski goggles are still a very important item to purchase.
When going through our stored items I realized that ski goggles do not store well.
I had to replace all of the ski goggles we owned and moving forward am being mindful to store them in a climate controlled environment so they can hold up better until we go skiing again!
A good packing tip is to make sure to always keep the ski goggles in their protective sleeves.
Once scratched, ski goggles are impossible to deal with so you really want to protect them as much as possible!
A good fit for ski goggles is very important.
You want them to be able to go over a helmet and stay on without shifting too much.
Often times sunglasses can be worn instead of goggles but it's always the best bet to have goggles as preparation. All of us did wear goggles and were glad we had them even in 48 degree weather!
Ski Jacket

One way I really cut costs on our ski trip was when it came to purchasing jackets.
My husband and I both have ski jackets from college that still fit just fine but kids grow so fast and we just don't have a need for heavy winter coats in the South.
Rather than buy jackets specifically designed for skiing, I instead invested in puffer jackets for my children.
Puffer jackets provide warmth, comfort, and protection from the wet snow.
They aren't as easy to move in as a ski jacket (or snowboard jackets) but they are kids and kids are totally content being little marshmallows 😉
For us, southern mamas be sure to check local kids sales or Goodwill for nice jackets for kids that have very little wear and tear.
I bought a full snowsuit for my toddler for only $5 and it was even a fancy brand name item that didn't have a single sign of being worn!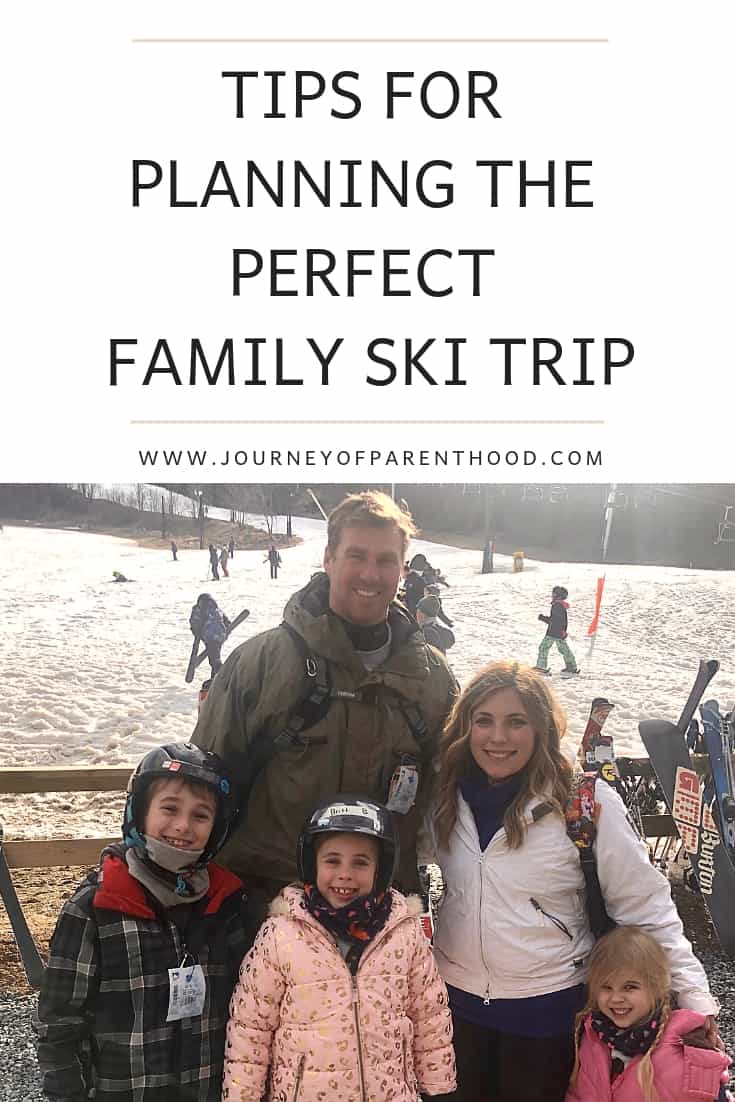 What to Pack for a Ski Trip: The Snow
While the above items are a must-have for a ski trip – it is important to keep in mind that you won't be skiing or snowboarding the entire time during your vacation.
You will want to play in the snow. Explore the mountains. Walk around town. Be out and about. And that means you will need to stay WARM.
Snow Boots
As I mentioned, we live in warm weather.
When it came to purchasing ski items I knew a lot of them wouldn't be things we'd use often – if ever again.
I just couldn't justify purchasing fancy, expensive snow boots for each of us.
When you go skiing you are able to rent equipment and ski boots (or snowboard boots) are included as part of the rental costs, but it's still important to have a waterproof shoe to keep feet warm and dry when not on the slopes.
Rather than buy expensive snow boots when we never see snow at home, I decided to invest in really nice rain boots for my kids.
Easy to put on and take off, waterproof to keep them dry, and something they'd get plenty of use out of at home.
I actually bought my oldest a pair of these same boots when we went skiing several years ago and they have held up AWESOME and now his younger sister can wear them.
The boots are one of the best purchases I've made and have been worth every penny.
Each child could handle putting them on and taking them off without any help and they made the car trips and walking back and forth from the ski lodge really easy!
Long Johns / Thermal Underwear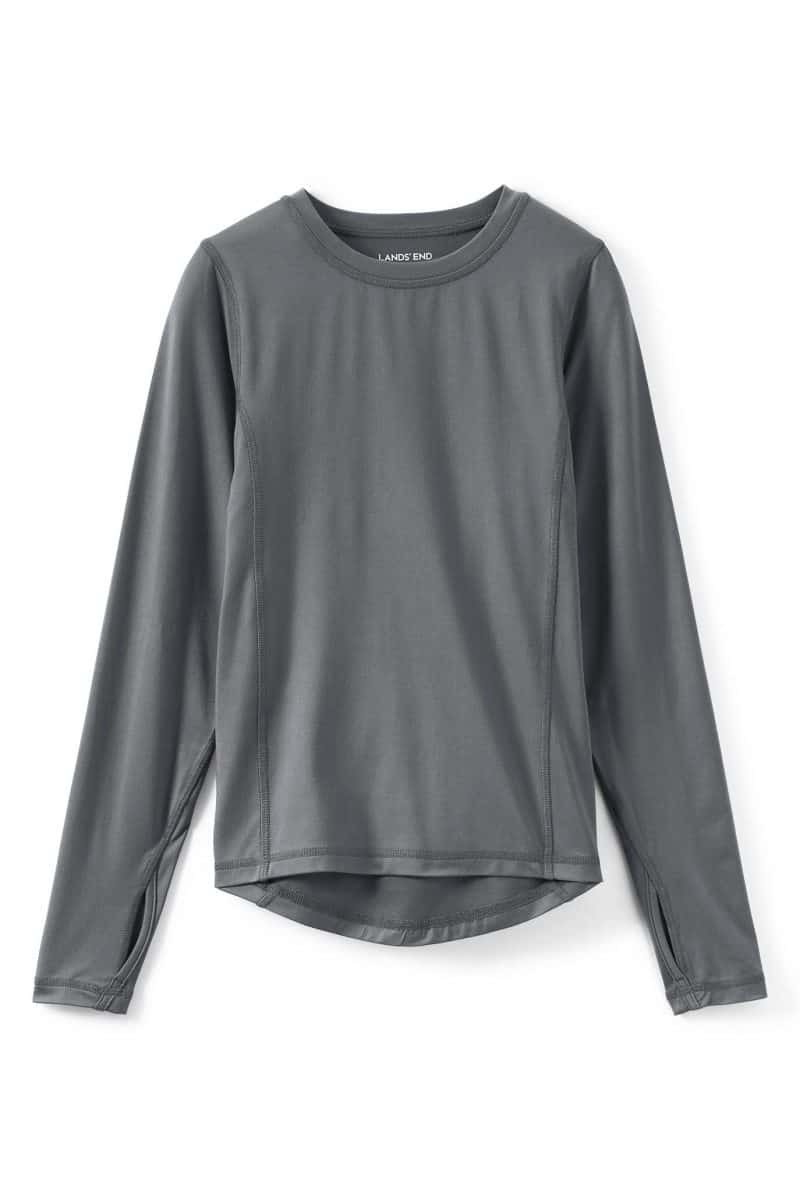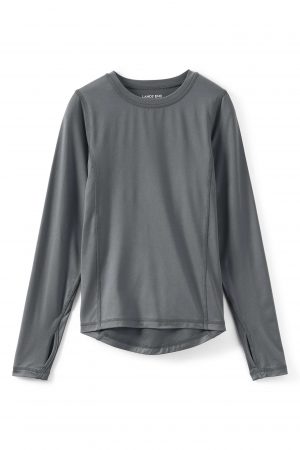 Staying warm and dry all begins with the crucial first layer.
When looking for a lot of the ski items I went with the cheapest I could find, but the reviews I kept seeing on Amazon for thermal underwear made me nervous.
I wanted to make sure the quality was nice and the material was moisture-wicking for ultimate comfort and moveability.
I ended up going with Lands End brand and am so glad I did. I purchased one set for each child and we just washed them in between use!
I know I have been mentioning to size up for items with the ability to wear multiple seasons and pass down to siblings in mind, but when it comes to long underwear, the fit is important.
I worried that if the pants were too large my kids would chafe and everyone knows how miserable that can be! (I also made sure to purchase this spray which is AWESOME for chafe prevention)
My kids also enjoyed having the little thumb slots in their thermal shirts. It helps keep the sleeves down when putting on additional layers and made putting on the gloves and mittens too!
Neck Warmer / Ski Gaiter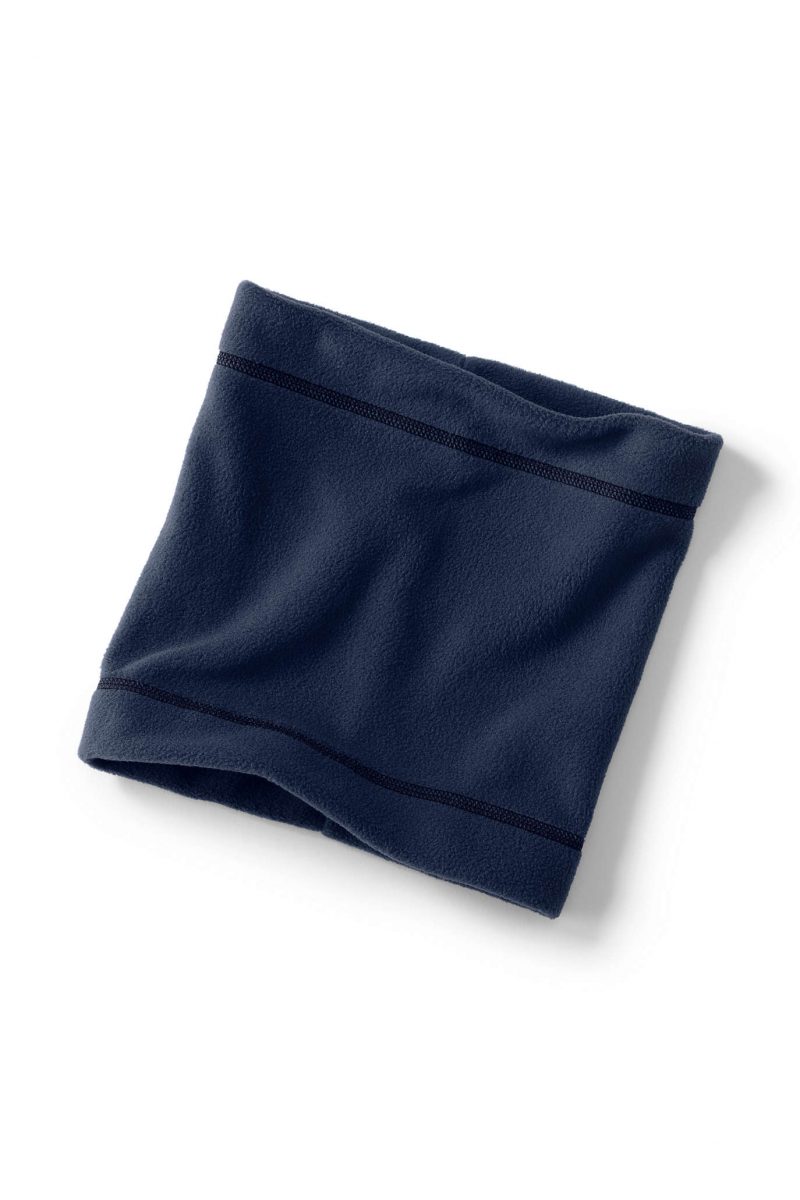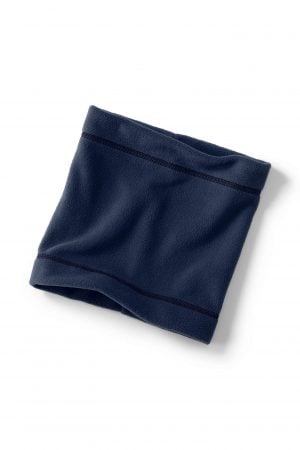 Even though we knew we'd be having "warmer" weather for a ski trip (highs in the upper 40's our whole stay), our bodies are used to WARM weather.
I knew it'd be a big adjustment for our systems being in a higher altitude and colder climate than we're used to.
It was important to me for my kids to have options in staying warm and being comfortable. I invested in a fleece gaiter for each of them (I bought these from Land's End) and out of all the ski gear we had, these were the kids' favorite items!
They really loved them and I can see them wearing them at home too since they loved them so much.
Having a neck warmer is great because you can take them on and off so easily and they can fold up small to easily fit in a bookbag or jacket pocket.
Ski Hat

Originally putting together the ski trip packing list, I made sure each child had a cute ski hat to wear on the slopes.
Then I learned that helmets are now included with the costs of renting skis…so the hats aren't even necessary to wear when skiing anymore!
I was glad I invested in a cute ski hat for myself (and it worked GREAT to keep my head nice and warm too!) and the kids did enjoy wearing their hats to and from the slopes but if helmets are in your ski trip plan (which they should be!) you don't need to spend money on any ski hats for your crew!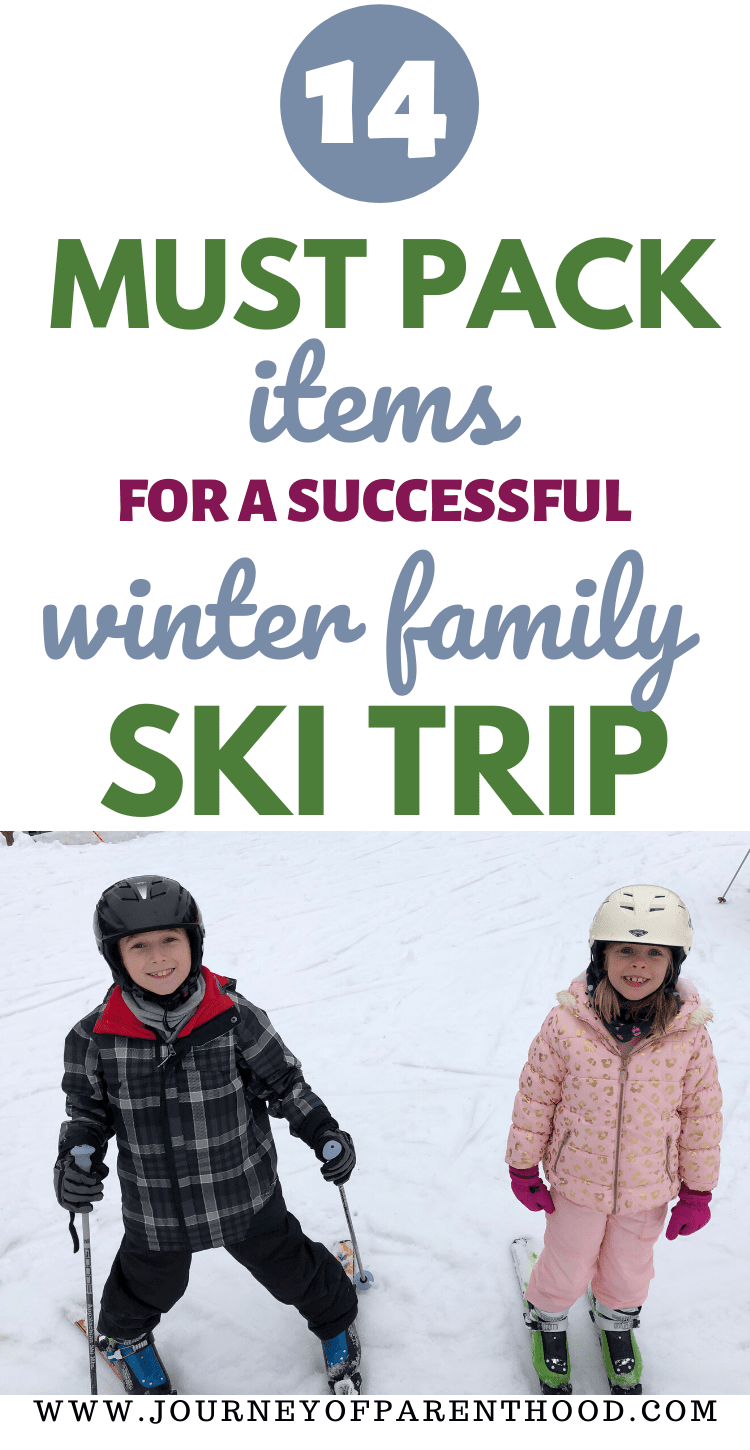 Ski Socks

When I was making my packing list for ski trip I knew we'd be needing socks but I didn't really consider needing ski socks.
What are ski socks? Basically, socks that will keep your feet WARM are so important to include in your ski trip checklist.
The main material you want to look for in socks for cold weather is WOOL. Wool is a great material that creates a nice thick, warm sock.
I am so glad I bought these socks for our trip.
They come in a nice large set which allowed us to have extra pairs for the kids.
Even with doing your best to keep your kids dry – somehow they WILL find a way to get wet!
Having an extra dry pair of socks for each child was a game-changer when finishing up our day skiing and wanting to be comfortable for the ride home.
I also bought these socks for myself. I have foot issues and comfort is very important to me.
This was my first time skiing since I had my foot surgery and my foot did GREAT! I firmly believe these socks made the difference in how well my foot held up with the skiing!

Hand Warmers

When deciding things to take skiing always be mindful to look for items that work well with other products you may want to purchase.
When buying gloves and mittens be sure to buy the type that have a designated pocket to hold a hand warmer.
When it comes to skiing both your hands and feet will feel the coldest and keeping those areas warm can make your entire body feel warmer.
I would highly recommend investing in a large quantity of both hand warmers and toe warmers.
They are easy to activate (just shake!) and then stay warm for a LONG time.
We used them one day of our trip and they really helped keep our hands and feet warm the entire day without any hassle – just remember to throw them away before washing all your ski gear 😉
Sweatshirts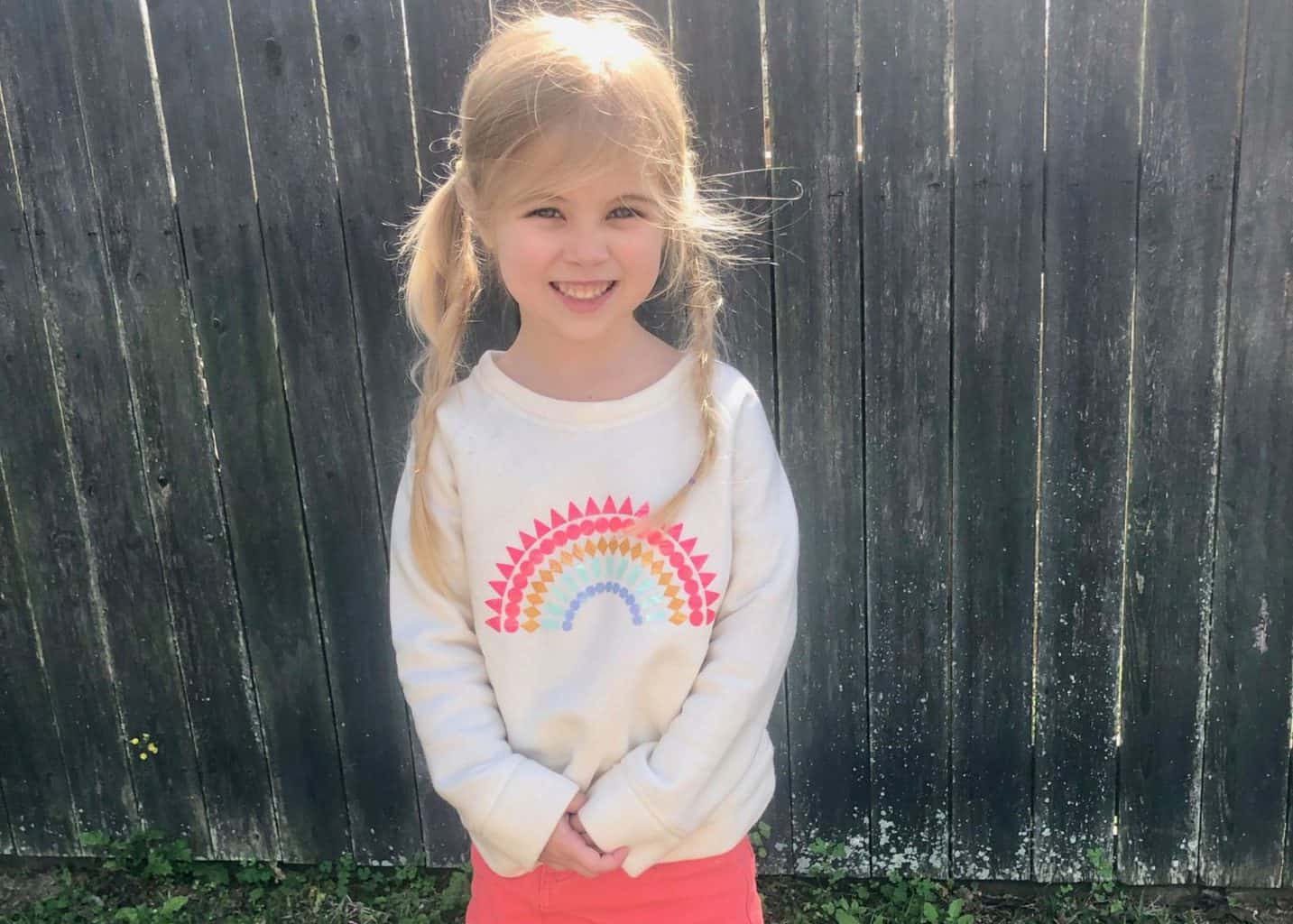 Another item that families who live in warmer climates may not think to add to their ski trip packing list is sweatshirts.
When I started packing for our trip I was shocked to realize my kids didn't own a single sweatshirt or hoodie. We just never need them where we live!
Sweatshirts are great to have as an extra layer for colder days on the slopes. We would have our kids wear their underlayer, ski bibs, then a sweatshirt and finally a jacket.
As they got hot during the day (skiing is hard work yall you will sweat!) they could easily peel off the sweatshirt or sometimes they'd just take off the jacket and use the sweatshirt as their top layer too.
My kids loved their sweatshirts so much that they wore them once we got home (my daughter paired hers with a skirt ha!).
I had also purchased each child fleece sweatpants but quickly discovered they didn't need them.
The long underwear and ski bibs were enough for warmth and when they would play outside on our trip they would just wear their ski bibs too as the waterproof option made it easy for exploring in the woods!
Lip Balm / Chapstick

A must-have item on every ultimate ski trip packing list has to be lip balm.
Skiing down the slopes means wind and that combined with the cold weather can quickly result in chapped lips. I purchased a multi-pack of chapstick with SPF and gave every member of our family their own tube to keep with them at all times.
The kids each had a little pocket in the ski bibs or enough room in the pockets of their jacket to keep their tube of chap stick.
They were encouraged to apply it all throughout the day and no one had any chapping or windburned lips our entire trip!
Sunscreen

A less obvious item to be sure to include in with your ski vacation travel gear is sunscreen.
No, you aren't visiting the beach while on your trip to the mountains…but the sun can be harsh when in the snow. The white snow reflects the sun and can cause sunburn!
This was an item that I did not even think of whatsoever until someone suggested it to me.
It makes SO MUCH SENSE though and is one item I didn't need to buy because every family that lives in the deep South knows you need sunscreen year-round 😉
This is my favorite sunscreen for my kids.
My girls are very sensitive and will say the sunscreen "burns" but with this one, we've never had any complaints!
I put it on each of my kids each morning of our ski trip and never had anyone have any sunburn issues.
Water Bottles

One last item I highly recommend purchasing is a good water bottle for each child.
My kids were in ski school during our stay and having their designated water bottle for their class to be able to stay hydrated throughout the day.
These are by far my favorite water bottles and we love them for all of our traveling – Disney, car trips, flights, and more.
They are durable, keep water cold, and have a great little hook to make carrying them much easier!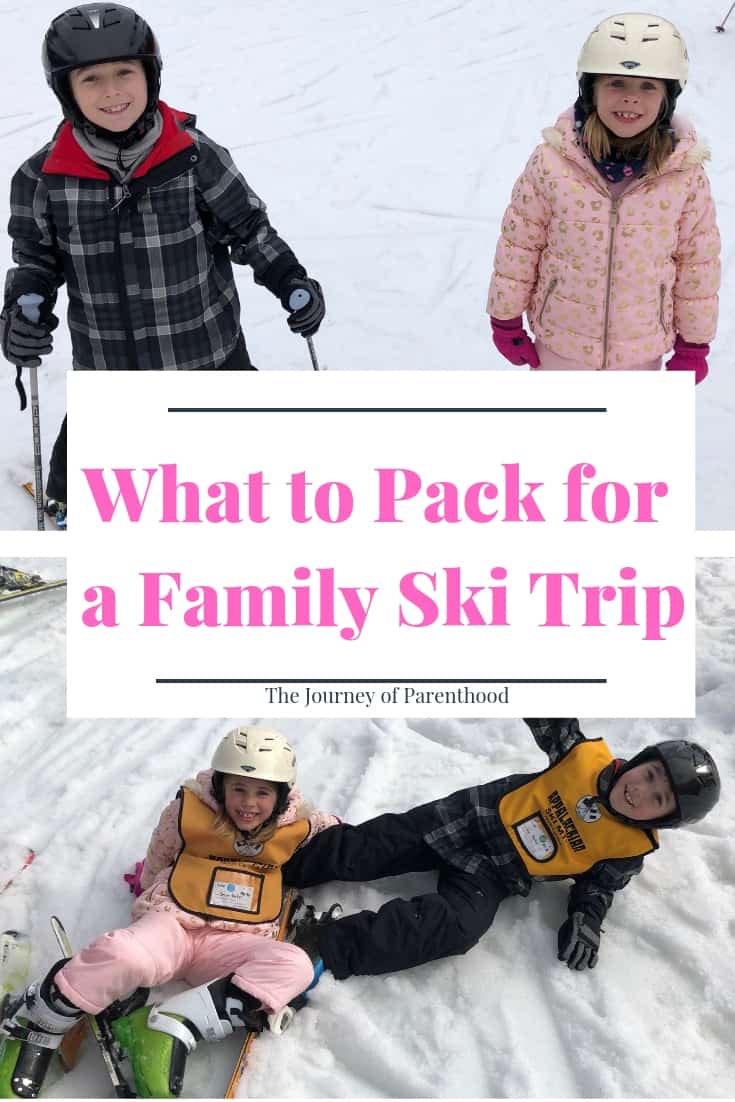 Beyond the Ski Trip Packing List: Tips to Enjoy Your Ski Trip!
I learned so much from our ski trip with our children.
Living in a warm climate means there are many small tips and tricks that are just common knowledge for people who live in snowy weather were totally new to me!
Here are some of the tips I learned and wanted to share with others:
Handle Girls' Hair
A huge tip was to make sure I put my girls' hair either in braids or pigtails.
This was GENIUS. Their hair wasn't all over the place, wasn't in their face, and wasn't a tangled mess by the end of each day on the slopes.
Tess loved her braid pigtails so much and has asked for them again and again at home!
Use the Potty
With all the layers of ski gear, the last thing you want to hear is a child saying "I have to go potty!"
We were VERY mindful to have potty breaks at certain times during the day. Before hitting the slopes and at mealtime breaks we always took the kids potty.
We also made sure an adult was with them to help in taking off the layers and putting them back on.
Set Aside Off Time
Skiing is no joke. It will leave you EXHAUSTED.
I'm so, so thankful when we planned our trip that I planned for an off day between our ski slope days. It was so nice to relax and rest and recover a bit before going back out on the slopes again!
Downtime isn't a waste of your vacation, it's a blessing during all the rushing to be able to spend quality time together just enjoying each other!
Have Towels and Blankets in the Car
Even if you are using a rental car, be sure to pack some blankets and towels.
The towels are great to have on hand when you are wet (even just walking back from the ski resort to the car our boots got filthy!) and the blankets help everyone stay warm when traveling.
Being out in the cold for an extended period of time can really make your body feel like it's freezing and a cuddly blanket will be a pleasant welcome!
Use Bookbags
Yes, ski resorts have lockers where you can store your stuff but both my husband and I also carried around a bookbag.
It's SO much easier to keep everyone's must-have items easily accessible rather than having to trek back and forth to the locker every time someone needs something!
Final Thoughts:
Skiing is a wonderful family-friendly activity that children and adults of all ages can enjoy together!
As a family that lives in hot climates, snow isn't something we're familiar with and visiting colder regions gives us the opportunity to really see snow and enjoy playing and being active in it together.
By being prepared and having a solid packing list you can ensure a fun and memorable ski trip for your entire family!